My boyfriend Ford and I are presently on a trip to Asia. To start off the trip we visited Hong Kong, which is my favorite city in the world. While I've reviewed Cathay Pacific first class a countless number of times, this was Ford's first time flying Cathay Pacific (and first trip to Asia altogether, for that matter). We booked this ticket last minute using 67,500 American AAdvantage miles per person.
Below he's sharing his thoughts on the experience, especially as he just recently flew Emirates A380 first class. Stay tuned for more impressions from Ford about our trip, and in the meantime you can follow him on Instagram.
---
Ben and I are on another adventure, this time in Asia, now that we've conquered Dubai together for the first, but hopefully not last, time.
I'm still adjusting to Ben's last-minute lifestyle and have had a hard time explaining it to "normal" people. We booked our flights to HK less than 48 hours before, don't have a return ticket, and don't even know where we are headed next. A few ideas include Singapore, Kuala Lumpur, and Japan, although I forgot to pack sweaters so anything too far north may not make the cut. I think I'm returning to LA in perhaps the least direct route – heading west, since Ben has to go to the Middle East after this, and suggested I might as well tag along for the flights. I momentarily forgot where I was this morning. Stay tuned!
We flew from LAX to SFO on an American Airlines 737 that I sensed was older than I am (from the rather worn-in seats), but alas it was barely an hour flight and before we knew it we were in SFO and ready for our longer, and more exciting, leg of the trip to HKG.
Interestingly enough, because we picked up our boarding passes for the Cathay Pacific flight at an American Airlines kiosk at LAX, our Cathay boarding passes, printed by American, scanned as PreCheck even though it wasn't written on the boarding pass and even though foreign carriers are not supposed to have access to TSA's PreCheck program. The TSA agent actually directed us to the PreCheck line at SFO after checking our ID and boarding passes, and we gladly obliged!
The flight was delayed, which turned an already long layover into a painfully long one. As an early riser, I find 11 PM departures a struggle, and a midnight departure almost certainly necessitates an afternoon nap on my end in order to be fresh and ready to partake in all the flight has to offer. That said, delays happen and have to be expected from time to time!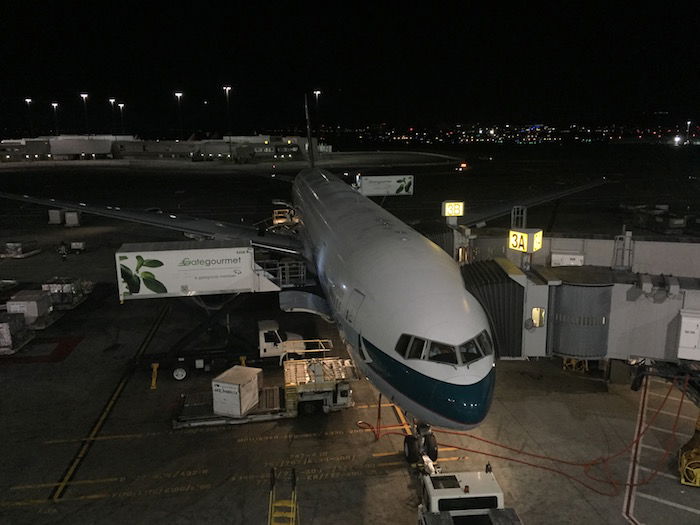 However, the entire Cathay boarding process seemed a bit disorganized – they must have literally called 40 different individuals up to the counter over the loudspeaker (including in the lounge). I would say every 2 minutes for over an hour, they announced (butchered) names and asked flyers to approach the counter to sort out details. Frankly, this was rather annoying to listen to over and over and over again.
They also pushed the delayed boarding time from 10:50 PM to 11 PM to 11:10 PM once we had already begun to form a queue at 11 PM to board, and then didn't allow anyone, including pre-board passengers, onto the plane until 11:25 PM. This is my biggest bone to pick with the experience, and that's because I'm putting on my critical reviewer hat as I write about our journey.
The flight itself was delightful. We boarded, ate a light meal and caviar, enjoyed several glasses of Krug and a tumbler of Johnnie Walker Blue on the rocks, and went to sleep on a very spacious and comfortable bed. I literally slept 8-9 hours total, only interrupted two times by some moderate turbulence that jolted me awake. In the morning, I watched the first episode of the latest season of True Detective on the entertainment systems and enjoyed cooked-to-order scrambled eggs, sausage, bacon, a fruit smoothie, and a couple cappuccinos. An hour later, we landed in Hong Kong. I could hardly believe 14 hours of flying elapsed in the interim. It was magical.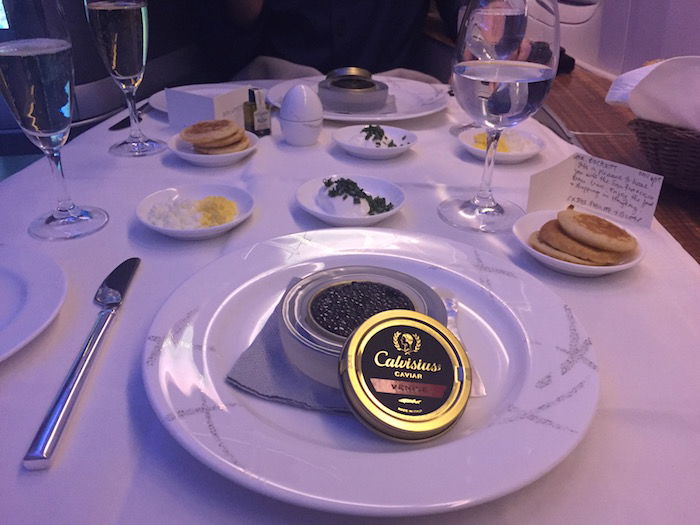 I know many readers have a love-hate for Ben's reviews of Emirates and the Gulf carriers, and given that my other international first class experience was on Emirates just a month ago, I thought I would go ahead and do a side-by-side comparison of some features.
The Plane
Cathay Pacific
The Boeing 777 doesn't have a bar like Emirates, so ultimately I think Emirates wins in this category. While in the aggregate we didn't spend that much time at the bar, the opportunity to make the short journey from our seat to the bar and stretch our legs with purpose is exceptional.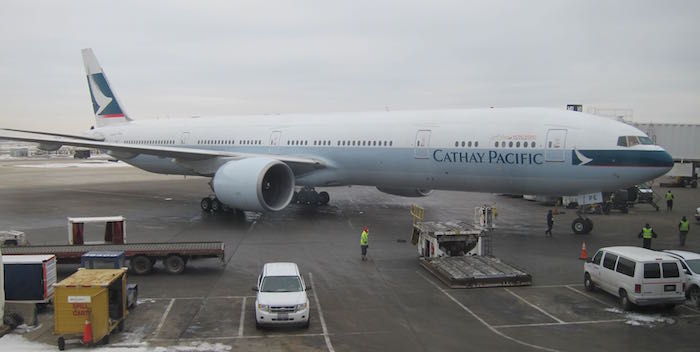 Emirates
The Airbus A380 has the aforementioned bar and massive First Class bathrooms complete with showers… I rest my case.
The Seat
Cathay Pacific: 1-1-1 configuration in First Class
The seat doesn't have doors or an enclosed compartment, but the seats are organized in such a way that while sitting, other passengers and their seats aren't visible. It lacks some of the features that I love about Emirates (which I'll get into below), but the little buddy seat adds so much value. Ben and I were able to dine together and hang out for the first 2 hours, until I nearly keeled over exhaustion and decided it was time to sleep.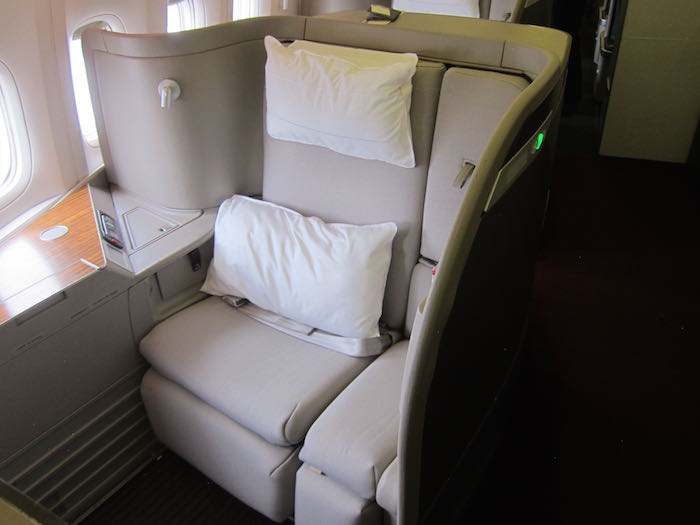 The bed – heavenly. There was so much space. It felt like I was sleeping on a proper twin mattress, between the soft but firm bedding and the wide seat. As I said, I slept a full night thanks to the extremely comfortable seat. Cathay is the clear winner in this competition.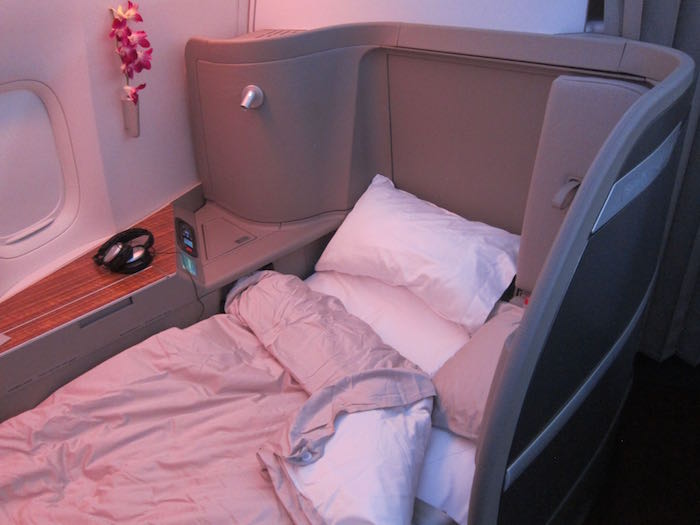 Emirates: 1-2-1 configuration in First Class
The compartment itself is flawless in terms of amenities, with a large storage compartment, a lighted vanity and mirror, a desk lamp, writing kit, and a refreshments bar with Perrier, Voss, and juices. It also has doors, for added privacy. The seat, while spacious in general, isn't the most comfortable, and the mattress they place on the bed tends to slide off over time. When fully flat, my feet were lodged under a compartment that limited my mobility. I didn't feel trapped by any means, but my movement was restricted much more than it was in comparison to CX.
The Amenities
Cathay Pacific
I prefer their pajamas to Emirates simply because their shirt is a button up (with large, easy to button buttons) that can be put on over a t-shirt or other light shirt in the event you don't want to change in the cramped bathroom, which is exactly what I did. Their toiletry kit was a little sparse, but I actually took and use the Aesop Rose Hip lip balm. I often think most of what's included in an amenity kit is thrown away anyway, so my sense is that Cathay has it down to the necessities – a toothbrush with toothpaste and lip balm and moisturizer since the air on planes tends to be dry.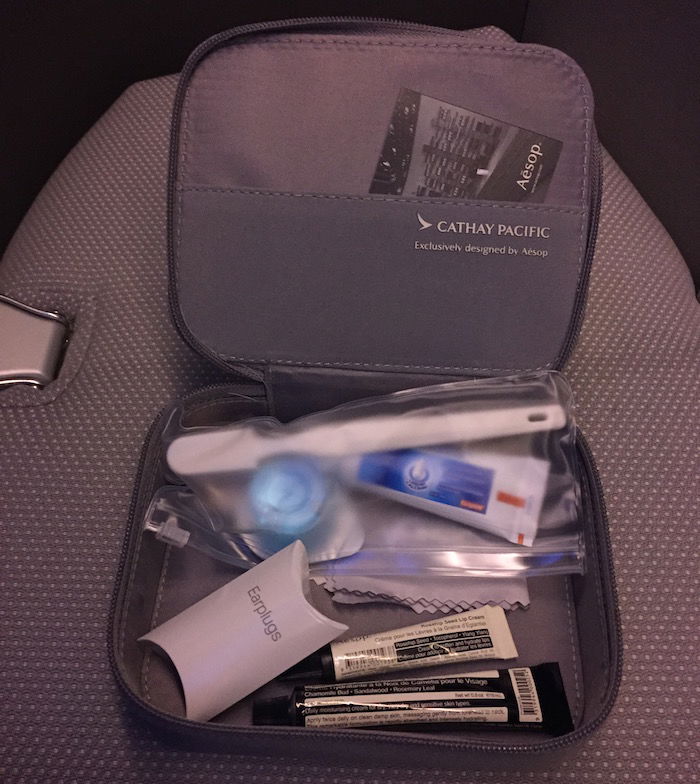 Their entertainment system, StudioCX, is good – but not great. I found the programming to be a bit limited, although I was pleased to see they had both the first and second seasons of True Detective. I'm very particular when it comes to movies and shows and can't/won't pay attention to something I'm bored with. I lucked out! If they hadn't had True Detective, I probably would have found StudioCX to be a complete failure. That said, Cathay clearly studied up on what the best HBO programming of the moment is, so kudos to them.
Emirates
PJs, fully loaded toiletry kit, a writing kit, a personal refreshments bar, lighted vanity. Their entertainment system, ICE, has much more programming than Cathay's and has programs that appeal to a wider audience in a variety of different languages.
The Service
Cathay Pacific
The service was good, but not exceptional. When setting the dinner table, they moved things a number of times, as if they were surprised that the breadbasket would take up room on the table or that our meal would need silverware. Given they were both experienced flight attendants, one would think they'd have it down to a science by now. One would also expect they would, since we were in First Class. Certainly a departure from the videos of Etihad's Butlers, which make it seem as though silverware placement is life or death!
Neither of the flight attendants explained how to use and operate the seat and entertainment system nor did they initially introduce themselves. However, one did introduce himself shortly after we boarded and expressed a genuine interest in our trip and plans. The other flight attendant seemed (was?) devoid of personality. They were both, however, attentive.
Cathay Pacific is ideal for someone who isn't afraid to ask for what they want. When you press the call button, they quite literally drop whatever it is they are doing and appear at your seat within 5 seconds. I didn't count, but it couldn't have been more than 5 seconds. I don't think I could have expected them to be there any faster than they were. I'm the kind of customer who likes to generally be left alone, unless I need something. For example, at a restaurant I detest being checked on periodically. Rather, I appreciate a server who notices when plates need to be cleared and when my glass is near empty.
I recently met a friend of Ben's who said that he only had a bowl of cereal while on an in Business Class on an Etihad flight from IAD-AUH because he was too meek to ask for anything else. Cathay Pacific may not be a match for him in terms of service. I, on the other hand, am well suited for it. 😉
Emirates
The service on our flight blew me away. The attention to detail, as well as the genuine desire to please and provide excellent service on the part of the flight attendants, made it an unforgettable experience. That said, Ben said it was one of the top service experiences he has had on Emirates, so I think he may have ruined me with that flight… Oh, the agony.
The Food and Alcohol
Cathay Pacific
The caviar service was on point, and I very much like that they cook your breakfast eggs to order – a rarity in the sky! Like Emirates, they have a dine on demand menu, although it's not nearly as comprehensive. Perhaps it's best to take a peek at the menus and see for yourself. For Champagne, they serve Krug.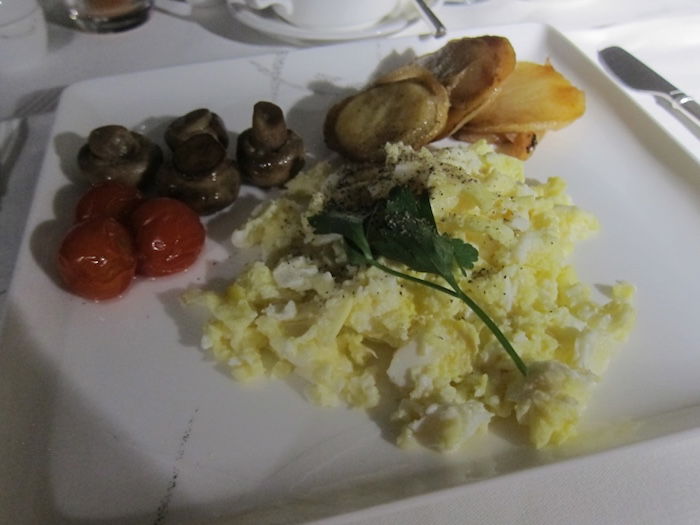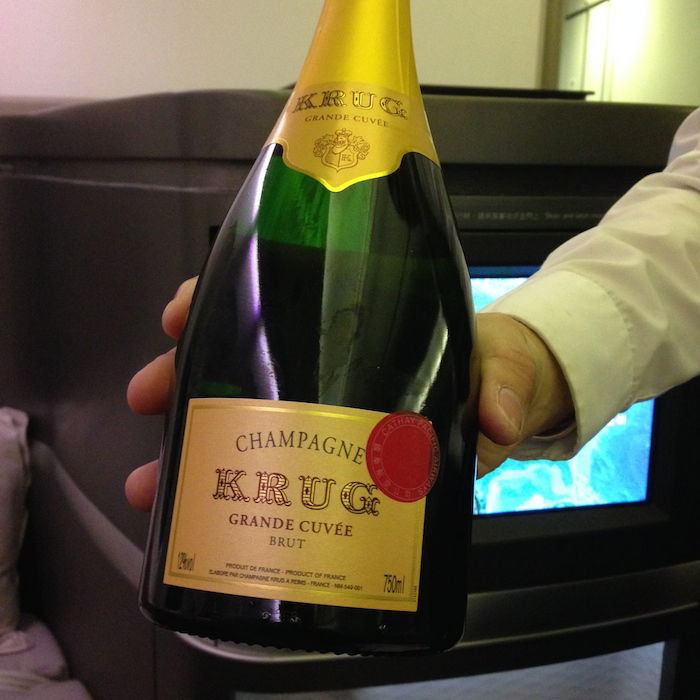 Emirates
The variety and selection of wines and spirits on Emirates is hard to compete with, and the quality of the food, as well as the breadth of the menu, is likewise, the leader here. For Champagne, they serve Dom Perignon.
The Bathrooms
Cathay Pacific
Sadly, they're only a tad larger than what you find on standard US carriers. 🙁 I believe they're supposed to be cleaned fairly often, though I'm not certain this happened on our flight.
Emirates
They're larger than most powder rooms! In fact, they're "full bathrooms" if you're looking at it from a real estate perspective.
Bottom line
For me, there isn't one clear winner. It's a draw. In some fantasy world where you can choose a direct, long haul flight on either Emirates or Cathay, which would I choose? Depends how much l sleep I want to get, since Cathay's seat and bed, in terms of both size and comfort, wins by a landslide.
Regardless of which is better, the value of falling asleep off the coast of California and waking up over Asia cannot be understated.