I got to the airport at around 10:30AM for my 12:30PM flight, and immediately proceeded to the Asiana First Class check-in counter, which was right near the entrance. There was no wait, so I was helped immediately. The conversation went something like this:
Agent: "Hello, where are you traveling to today?"
Me: "Frankfurt."
Agent: "So you're in business class?"
Me: "No, I'm in first class."
Agent: "Hmm, Frankfurt only has economy and business class today."
My heart started racing (mainly because I assumed I showed up for the flight on the wrong date), though after the agents stared at the screen for about 30 seconds, a boarding pass popped out for a first class seat to Frankfurt. They explained to me where security was and indicated they would be escorting me from the lounge to the gate (though not from check-in to the lounge).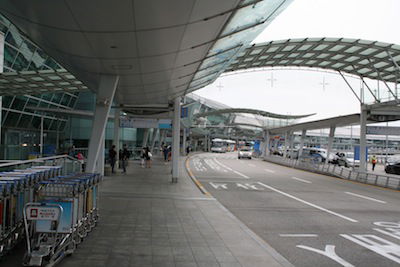 Terminal exterior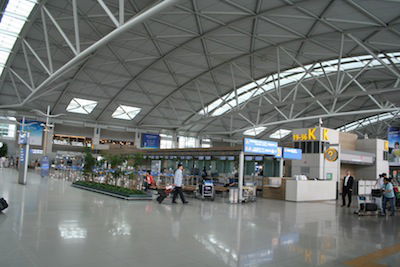 ICN terminal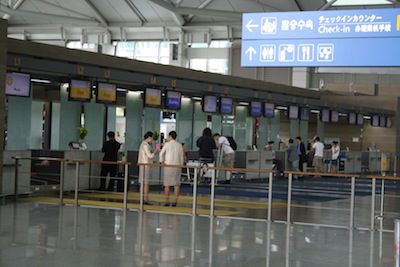 First class check-in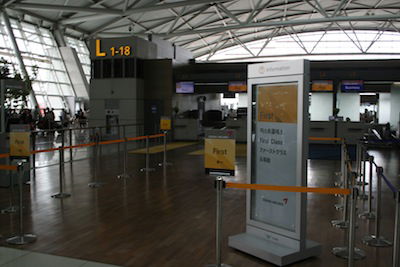 First class check-in
Fortunately the security line wasn't too bad and I was through in minutes. Immigration didn't take more than five minutes either. The Incheon terminal is quite impressive, ranking only slightly behind Hong Kong and Singapore, in my opinion.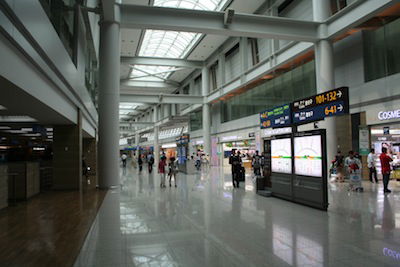 ICN terminal
The Asiana lounges were located up the escalator immediately to the right after security, and the first class lounge, with a grand entrance, was located on the left.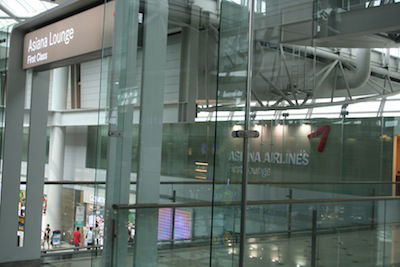 First class lounge
I handed the agent my boarding pass and lounge invitation, and she welcomed me in. I asked for a power adapter, which she gladly provided.
The first class lounge is very nicely designed and was quite empty when I was there, with no more than a handful of people. It has large seating areas with a "library" theme.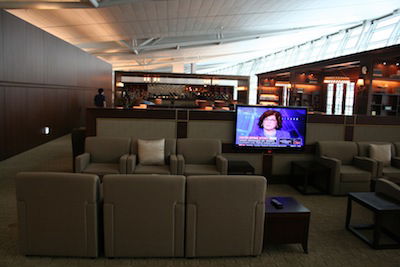 First class lounge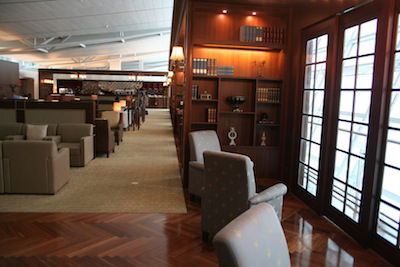 First class lounge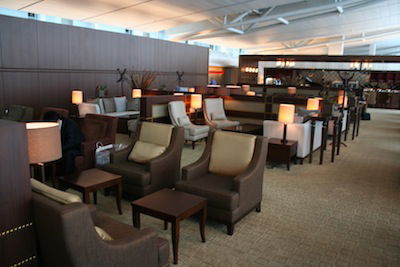 First class lounge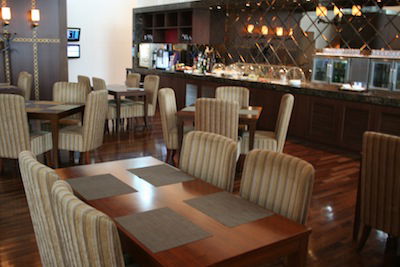 Dining area
The food buffet wasn't spectacular, and looked more like a business class spread at best, with some cold options, lox, tomatoes and mozzarella, etc. Nonetheless that's plenty filling before an international first class flight. Most excitingly, they had all kinds of Haagen Dazs ice cream, both in cups and on the stick. I went with a cookies and cream bar.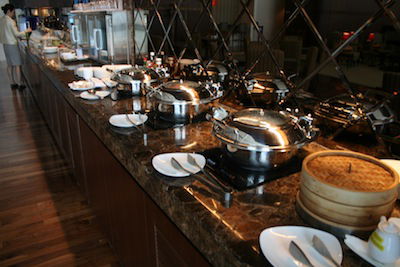 Buffet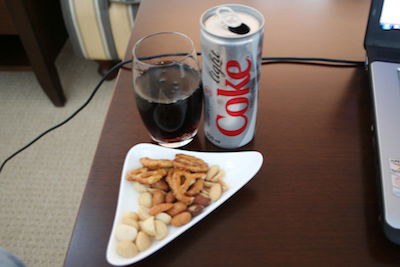 Nuts and pretzels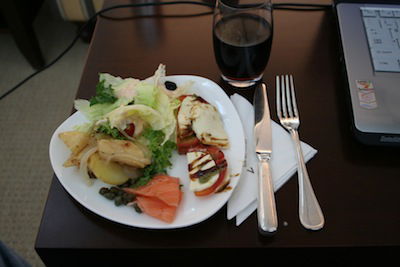 Pre-flight snack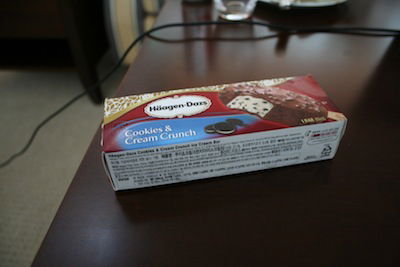 Ice cream
As I tried to take a picture of the buffet area, one of the people working there came up to me and said "sorry sir, no photo." I can understand if the Lufthansa First Class Terminal wanted to restrict photography because it's usually crowded and it could potentially take away from the atmosphere for the "regulars," but this lounge was empty and hardly anything special. I can't take pictures, really? Yet I can freely take pictures on the plane?
I had assumed I would be fetched and escorted to the gate, but at around 12:10PM I still hadn't been fetched, and there were only 20 minutes to go until departure. I went to the entrance to return my power adapter, and asked the agent whether it was time to board yet. She said "yes, board now please," and gestured at a guy in a suit standing there waiting to escort me. I packed up my stuff and followed him to the gate.
Based on our pace, it seemed to me like we were running a bit late. There's not a huge amount of value in this service, since they don't have a golf cart or anything, but something is still better than nothing. We were leaving from gate 41, which was maybe a five minute walk away at the pace we were walking. The agent had already taken my boarding pass, so I was whisked right through the boarding area as he escorted me all the way to the door of the aircraft. Interestingly enough the boarding process was all finished up and the gate area was empty when we arrived, so I'm thinking someone lost track of time.
Asiana 0453, ICN-FRA, 777-200
Tuesday, June 22
Depart: 12:30PM
Arrive: 5:00PM
Duration: 11hr30min
Seat: 2K (First Class)
Once aboard I was greeted by two lovely flight attendants that immediately directed me to my seat. The first class cabin on the 777 has a 1-2-1 configuration, with a very spacious layout. The colors and pattern of the seat made the cabin look pretty old, despite the first class seats only recently being installed on this aircraft.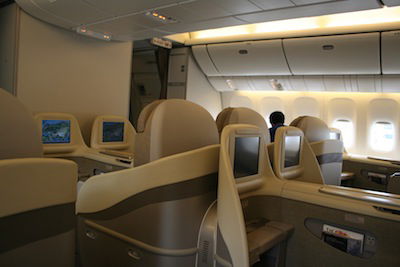 First class cabin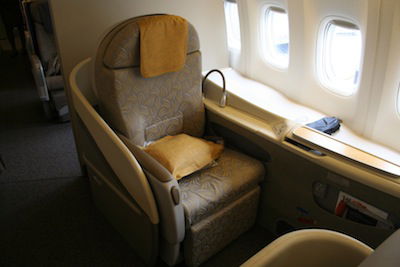 My seat, 2A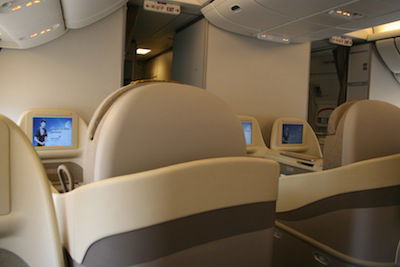 View from my seat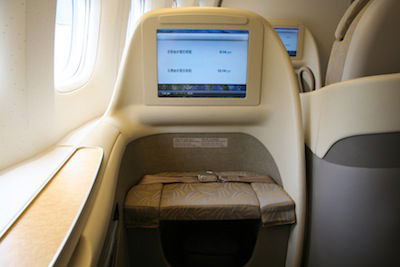 Entertainment system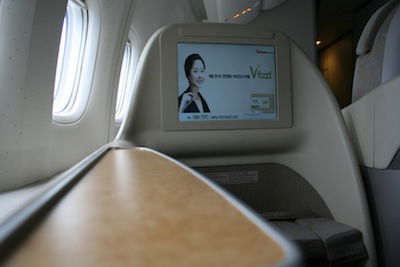 Seat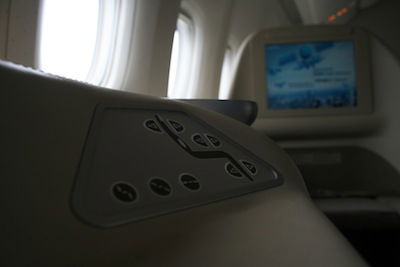 Seat controls
Waiting for me at my seat was a pair of slippers and headsets.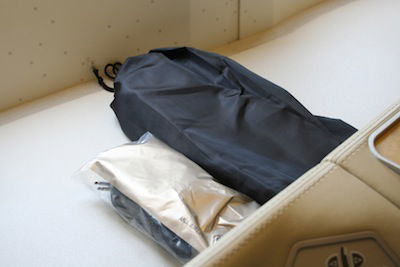 Slippers and headsets
As soon as my bags were stowed the purser came by to introduce herself and wish me a pleasant flight. Another flight attendant addressed me by name, introduced herself as one of the first class flight attendants that would be taking care of me, and offered me a beverage to start off the flight. I asked for still water, which was served with some mixed, hot nuts. That's right, pre-departure hot nuts! Not only that, but the flight attendant scooped the nuts out of the container and into the ramekin right in front of me.

Water and hot nuts
As boarding continued I was offered newspapers and magazines. I chose the Financial Times, along with some of the cool in-flight magazines they had, like Air Transport World and Business Traveler.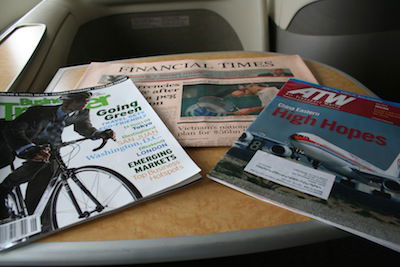 Newspaper and magazines
Shortly thereafter pajamas and amenity kits were offered. I went with a large set of pajamas, which ended up being a bit too small. So it's worth noting that the pajamas on Asiana run much smaller than normal. I'm a medium or sometimes a large, and I needed at least an x-large. The pajamas were nonetheless quite nice. I changed into them almost immediately, and the flight attendants hung my clothes for me.

Pajamas, slippers, and amenity kit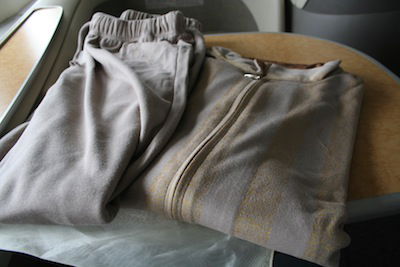 Pajamas
Cabin music continued to play and eventually the occupant of seat 1K boarded. Shortly thereafter the main cabin door closed, and it seemed like I would have yet another flight with only one other cabin mate.
The captain came on the PA and in very broken English explained our flight path, flight time, etc. He indicated our flight time would be 10hr31min, but unfortunately we would be a bit late due to flow control between Asia and Europe.
The delay wasn't too bad, and about 15 minutes after our scheduled departure time we pushed back. The safety video began to play, and the flight attendants stood in the aisle as they bowed down at the beginning of the video. It was quite funny, as I had two flight attendants on my side of the first class aisle that bowed down just for me. They had a hard time keeping a straight face, as they saw me smirking.
I was surprised that announcements were just made in English and Korean, despite the flight being to Germany.
We began our taxi to the runway, and after waiting for a few minutes rocketed off after a long takeoff roll.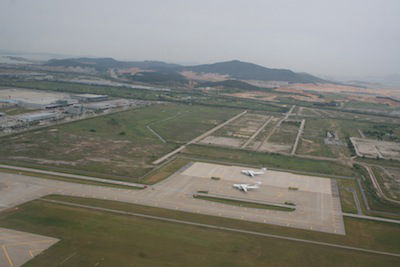 After takeoff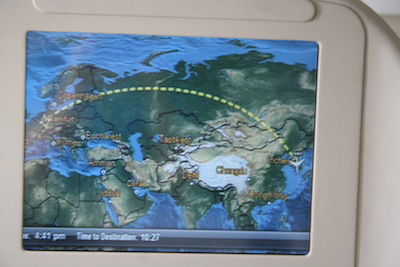 Airshow after takeoff
There were a few bumps on our initial climb out due to some thick cloud coverage, though it smoothed out after a few minutes. The seatbelt sign was turned off for a few minutes, at which point it was turned back on.
Nonetheless, flight attendants sprung into action to begin their service. The "cabin manager," who I had first assumed was a first officer due to his pilot uniform and three stripes, came by to introduce himself and wish me a pleasant flight. His English skills weren't that great, so he left it at that. Shortly thereafter the menus were distributed, which were as thick as a book.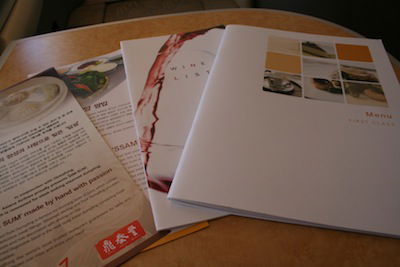 Menu and wine list
The menu read as follows:
Lunch

Western

Starter
Baked Petit Choux Pastry Filled with Prawn and Lobster
Served with Fresh Asparagus

Gravlax, Abalone and Prosciutto Ham with Melon

Asparagus Cream Soup

Mixed Greens
Caesar Dressing

Main Course 1
Pappardelle Pasta with Pinenut Cream Sauce

Main Course 2
Beef Tenderloin Steak
Served with Pizzaiola Sauce
Asparagus and Fried Sweet Potato

or

Lobster Filo
Served with Lobster Bisque Sauce

Cheese and Fruit
Camembert, Edam and Blue

Dessert
Tiramisu Cake

Coffee and Tea

Petit Fours

Chinese

Starter
Deep Fried Sweet Potato & Ginseng
Sweet and Sour Sauce

Assorted Cold Platter

Crabmeat Soup

Main Course 1
Deep Fried Prawn with Oriental Sauce

Main Course 2
Stir-Fried Beef and Goose Liver
Served with Pepper Sauce
Accompanied with Fried Rice and Pak Choi

Dessert
Persimmon Puree
Served with Chinese Rice Cake and Fruit

Coffee and Tea

Petit Fours
And the wine list read as follows:
Champagnes:
Taittinger Comtes de Champagne 1999
Champagne Charles Heidsieck

White Wines:
Corton Charlemagne Grand Cru 2006
Robert Mondavi Fume Blanc Napa Valley 2007
Gewurztraminer Herrenweg de Turckheim 2004

Red Wines:
Chateau Smith Haut Lafitte, Grand Cru Classe, Graves 2004
Charmes Chambertin Grand Cru 2006
Ridgeline Cabernet Sauvignon Alexander Valley 2003

Dessert Wines:
Blandy's 10 Years Old Malmsey Madeira
Port Sandeman 20 Years Old Tawny Porto
Jackson-Triggs Vidal VQA Ice Wine 2007
By the time we reached cruising altitude my beverage order was taken, and I requested a Diet Coke. This was quickly followed by a prawn and lobster pastry.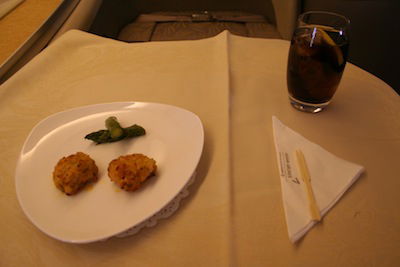 Baked Petit Choux Pastry Filled with Prawn and Lobster
The table setup was brought out shortly thereafter, which included a rose as well as some very nice china.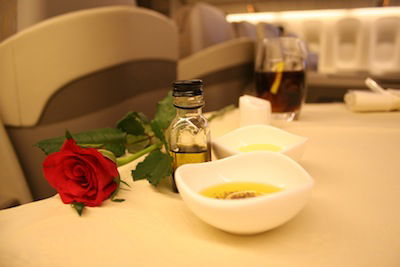 Rose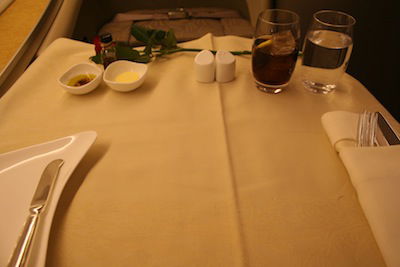 Table setup
The first course was a salmon and prosciutto appetizer, which was tasty. Bread from the bread basket was also offered at this point. I went with one piece of garlic bread and one piece of onion focaccio, both of which were delicious.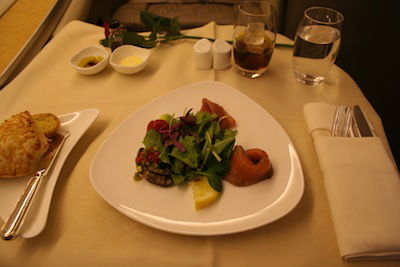 Gravlax, Abalone and Prosciutto Ham with Melon
Given that we always had two flight attendants serving the two passengers, and sometimes even three, the service was incredibly attentive.
Following the appetizer was a delicious soup.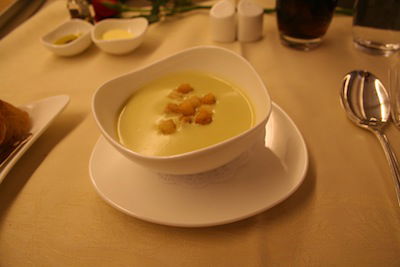 Asparagus cream soup
Then came the salad course, which was a Caesar salad.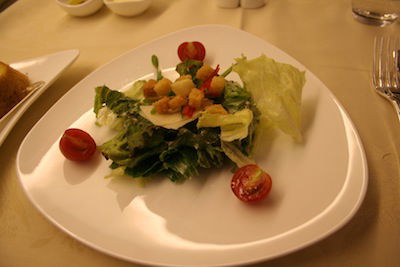 Mixed greens
As soon as I finished that, I was offered the first main course, which consisted of pasta. The pasta rivaled some of the best I've had in Italy!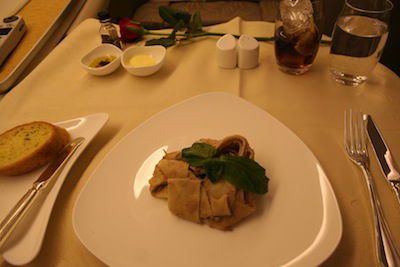 Pappardelle Pasta with Pinenut Cream Sauce
Then the second main course was served, which was a delicious beef tenderloin. It's worth noting that when I ordered, I was asked how I wanted it cooked, and they did prepare it to my specifications.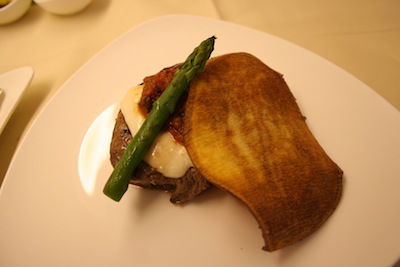 Beef Tenderloin Steak
As soon as the main course was finished, I was offered a cheese and fruit plate.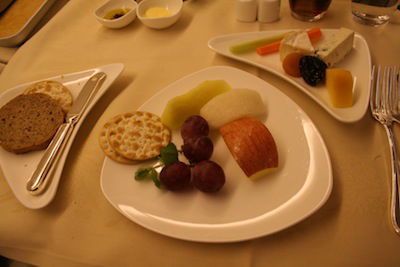 Fruit and cheese plate
Lastly the dessert was served, which consisted of tiramisu. Once again, it was great.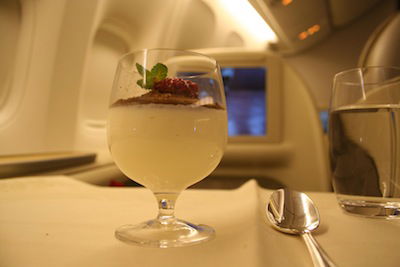 Tiramisu
To finish off the meal I asked for a glass of Baileys on the rocks.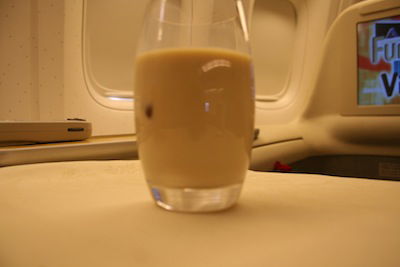 Baileys
At this point I really can't say enough positive things about Asiana. I had fairly low expectations, I'm not quite sure why. But I was blown away in a good way. First of all, the western meal options were spectacular. I'd say this ranks as one of the best meals I've ever had on an airplane. Two main courses, the first being a pasta dish? I'd say that's pretty damn good!
Second, the service was among the best I've received on any airline. The flight attendants were as attentive as I've ever experienced. Their pace was perfect – my plate never sat on my tray table empty for more than a minute, but they never took the plate away from me as I still had food in my mouth or was just finishing.
Lastly, I can't say enough positive things about the small touches. For example, every time my Diet Coke was refilled, it was served in a fresh glass. Perhaps somewhat wasteful, but the glass is catered anyway, so they might as well. And aesthetically it certainly helped, as much of the food left stains on my glasses.
But those were only a few of the small touches. With each course my tableware was rearranged and I was offered fresh silverware. Every course was served with a smile, and I was frequently addressed by name. The English of both of the flight attendants was quite good – one almost had perfect English, which is a rare treat after my brother's recent Asiana flight. 😉
As the movie finished up I played around with the entertainment system for a bit. The selection was a bit better than ANA, actually, though not amazing. I instead just worked on my trip report a bit as I listened to some music from their soundtracks.

Audio selection
After a little bit I got tired, so decided I might as well sleep, with about eight hours to go to Frankfurt. The flight attendant had never offered to make my bed, so I pushed the flight attendant call button, and one of the flight attendants appeared within six seconds. I asked whether it might be possible to have my bed made, and she immediately obliged and even went so far as to apologize for not proactively offering to make my bed. She left a bottle of water at my seat.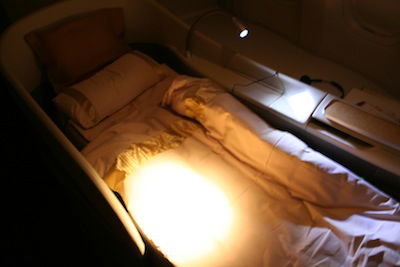 Bed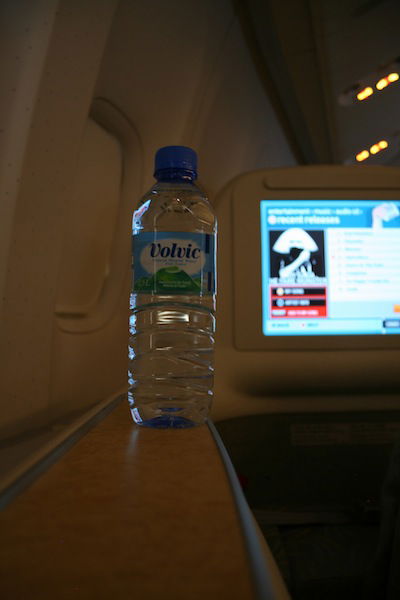 Water
I drifted into sleep within seconds, and woke up with about 3.5 hours to go to Frankfurt. I'd say that's the perfect amount of sleep for a daytime flight, since I still wanted to get a good night of sleep in Frankfurt. Many say that the Asiana first class seat isn't totally flat. That may be true, but if so, the seat is maybe 178 or 179 degrees, instead of the full 180 degrees. But if it actually isn't flat, I found it to be more comfortable than otherwise, as it was one of the most comfortable naps I've taken on a plane. The plane is naturally at a nose up angle, so if anything it's good, since it allows my head to stay slightly above my feet.
As soon as I woke up, one of the first class flight attendants came by and asked if I might be interested in a snack. The snack menu read as follows:
Refreshments

Dim Sum

Ramen

Warm Noodles

Sandwich

Assorted Fresh Fruits
I agreed to a sparkling water and bowl of ramen noodles. While the ramen noodles were spicy, they were delicious.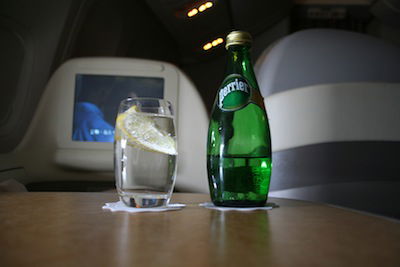 Sparkling water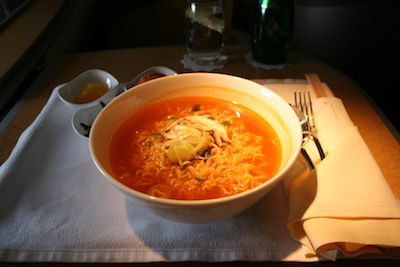 Ramen
At this point I started watching Our Family Wedding, which was one of the few movies available that I hadn't seen. It was a good choice, as it was actually quite entertaining.
By the way, this might be a good time to mention something that really confused me on this flight – the use of the seatbelt sign. I've always said that Asiana seems to be the one airline that *never* turns on the seatbelt sign. I've had some pretty rough rides on Asiana in the past where stuff was nearly flying around the cabin, yet the seatbelt sign never went on. This flight was the opposite. It was off for a couple of minutes the whole flight. The captain would keep it on, and when we actually hit turbulence he would flick it off and then back on again so that the flight attendants had to make the whole "due to turbulence, please return to your seats" announcement. Odd. This made the US airlines look good when it came to seatbelt sign control.
As the movie started to finish up I was offered the pre-arrival meal. While I wasn't particularly hungry, I figured I'd need to eat it so I can report back to you guys. 😉
The menu read as follows:
Snack

Starter
Beef & Asparagus Roll, Grilled Prawn

Main Course
Korean Royal Cuisine 'Spicy Seabream Soup'
Korean Traditional Spicy Fish Soup with Steamed Rice
Served with Various Kinds of Side Dishes

or

Seafood Lasagne
Served with Tomato Sauce
Sweet Pumpkin and Vegetable

or

Chicken Breast
Served with Honey Mustard Sauce
Green Bean and Fried Potato

Dessert
Fresh Fruit

Coffee and Tea
The starter was a lovely prawn and asparagus wrapped in beef appetizer, which was incredibly tasty.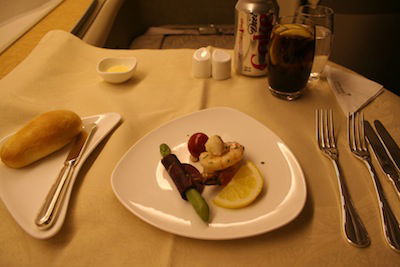 Table setup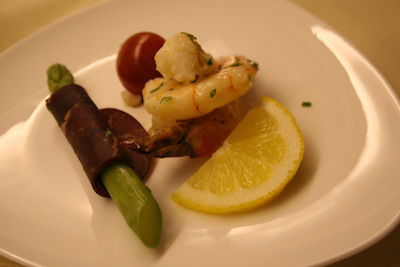 Beef & Asparagus Roll, Grilled Prawn
The main course, which followed, consisted of a chicken breast served with potatoes and green beans and a honey mustard sauce. It was absolutely delicious yet light.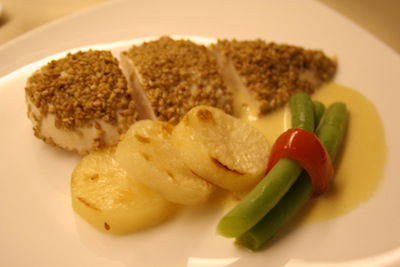 Chicken Breast
Lastly, for dessert, was a fruit plate.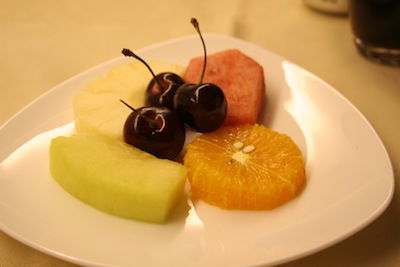 Fresh Fruit
I've gotta give Asiana credit for some of the best meals I've had in the sky. The second meal was perfect – somewhat light yet tasty, while the first meal was a feast. And the service complemented the food quite nicely.
As the meal finished up I played some Blackjack on the entertainment system, which kept me busy for a bit. Soon enough we were an hour out of Frankfurt, and I began to prepare for the arrival. I changed out of my pajamas and restowed everything I took out during the flight.
The two lovely first class flight attendants thanked me for flying Asiana, and offered me a "present." Asiana's the only airline I can think of that offers a pre-arrival present. Even if it's totally useless, it's a very nice gesture. In my case, I received a leather passport case wrapped in a nice box. I requested one last bottle of water as I was still thirsty.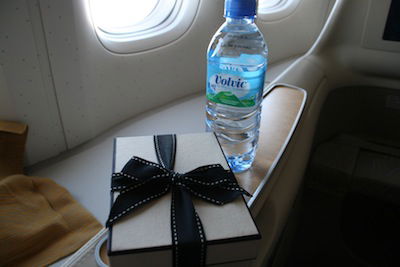 Passport holder
At shortly before 5PM we touched down in Frankfurt with a beautiful landing. Unfortunately we taxied for about 20 minutes, as we had to stop at least a handful of time to wait for other traffic to cross first.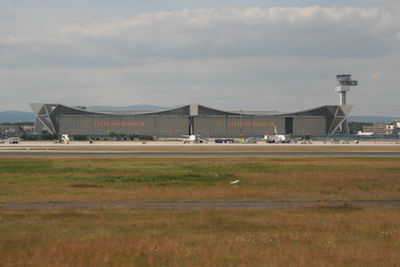 Lufthansa hangar
I was sad the flight was over, though was happy to add a new airline to my favorites list. There's no doubt I'd go out of my way to fly Asiana again, thanks to their incredible food and service, and pretty solid hard product too.
Upon deplaning I headed to immigration, where there was no line, and didn't have to wait for more than a minute or two before my checked bag arrived on the carousel. It was off to the InterContinental Frankfurt for a quick overnight!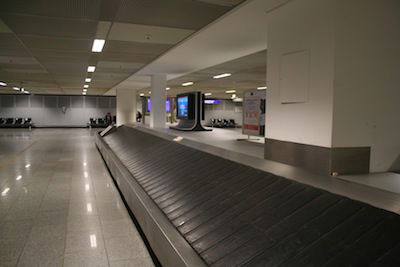 Carousel