During my recent trip to Germany with my parents, I had the chance to check out both the Lufthansa Business Lounge and Lufthansa Senator Lounge at Munich Airport. I visited first thing in the morning, due to an unscheduled overnight in Munich (where I stayed at the Hilton Munich Airport).
While I had access to the Lufthansa First Class Lounge Munich (since I'd be flying Lufthansa's A380 first class to Boston later in the day), I recently reviewed that, so figured I should check out the rest of Lufthansa's lounge offerings at the airport.
In this post I'll be reviewing the Lufthansa Senator Lounge in the Terminal 2 satellite. I found this lounge to be quite good. Ultimately the differences between this and the Lufthansa Business Lounge were fairly minimal, though this lounge was more spacious, and had a larger selection of food and drinks, including more wine options and barista coffee. Let's get into the review.
Lufthansa Senator Lounge Munich location
I visited the Lufthansa Senator Lounge near gate K11. This is located in the Munich Airport Terminal 2 satellite, and the lounge is in the Schengen zone (for eligible flights within Europe). After passing through security, I followed the signage toward gates J, K, and L.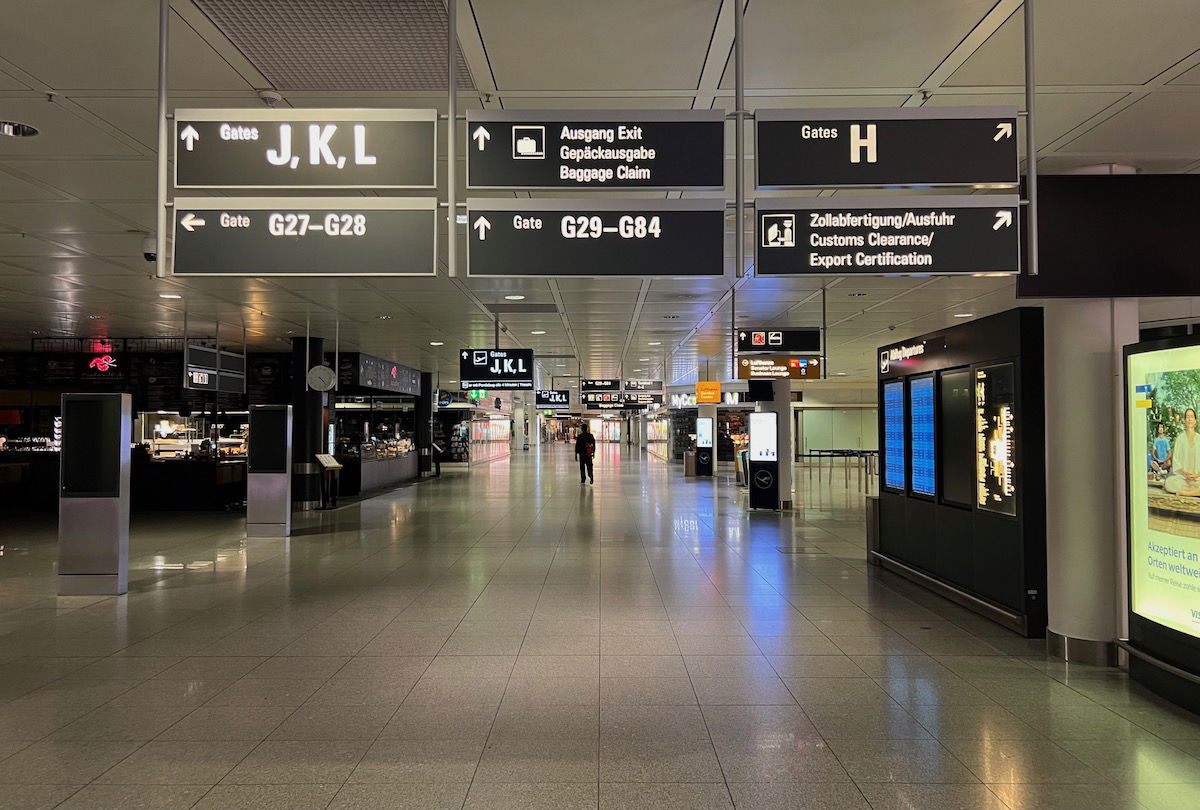 This required then taking the train system to the satellite terminal. The train runs frequently and it's a short distance, so this should only take a few minutes.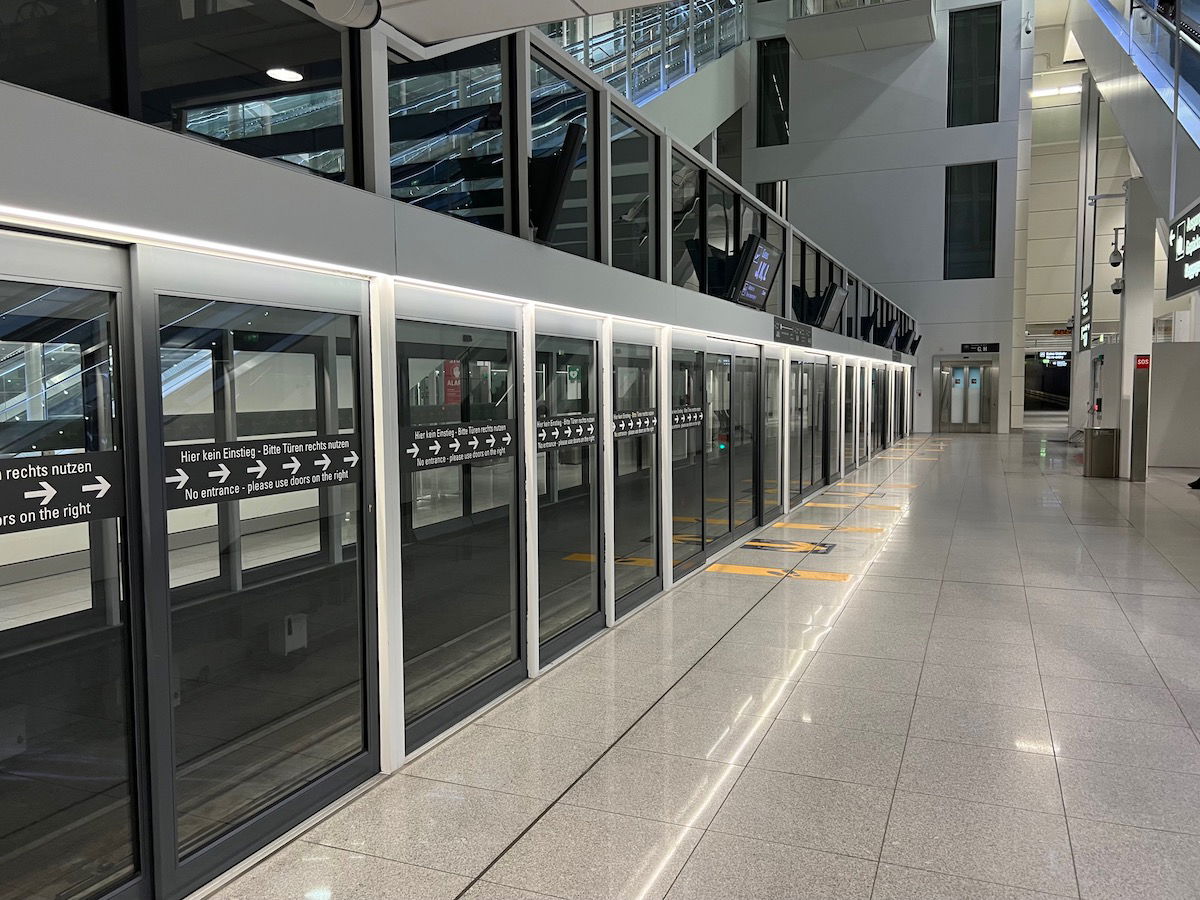 Once in the satellite terminal, I followed the signage in the direction of Lufthansa Lounges, located in the same direction as gates K1-14.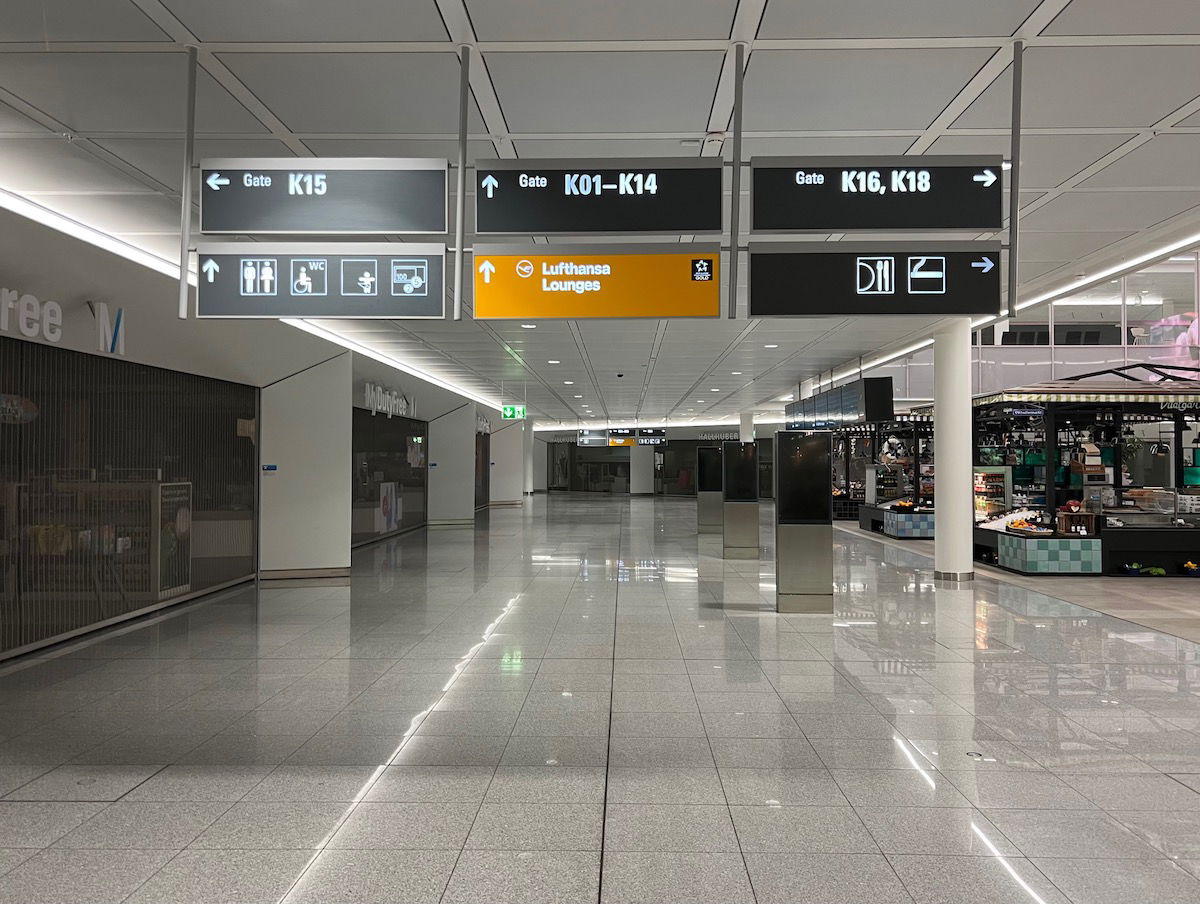 Right near gate K11, I saw the entrance to the lounge on the right.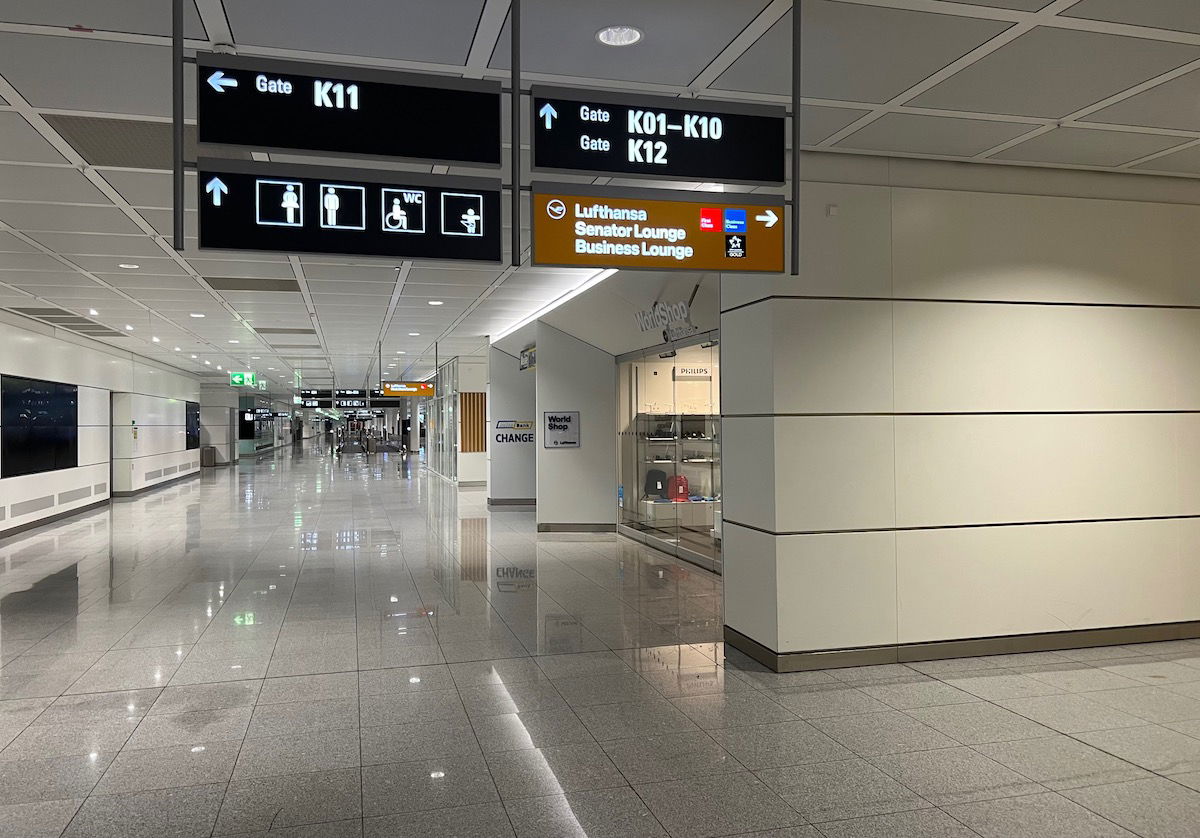 As you can see, the Lufthansa Business Lounge and Lufthansa Senator Lounge share an entrance, so you'll just be directed one way or another based on your ticket type and status.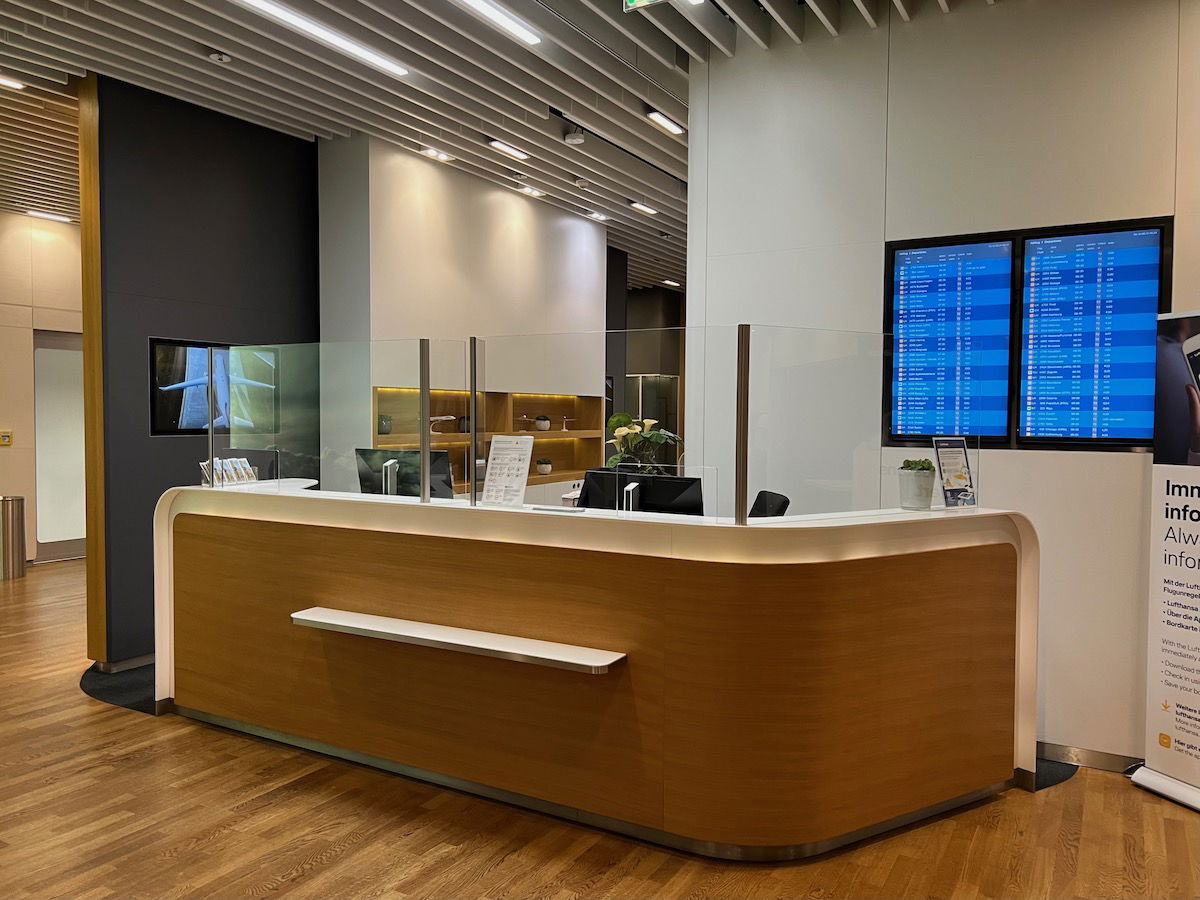 Lufthansa Senator Lounge Munich hours
The Lufthansa Senator Lounge Munich is open daily from 5AM until 10PM, covering virtually all departures from the airport.
Lufthansa Senator Lounge Munich entry requirements
Lufthansa follows standard Star Alliance lounge access policies, though takes a unique approach to how it separates out its lounges:
Lufthansa Business Lounges are the carrier's business class lounges, which are open to all Star Alliance business class passengers
Lufthansa Senator Lounges are more premium, and are open to Star Alliance Gold members plus Star Alliance first class passengers; the airline technically markets this as a first class lounge, so that it doesn't have to let Star Alliance first class passengers into its real first class lounges
Lufthansa First Class Lounges are the carrier's best lounges, though they're reserved for HON Circle members and Lufthansa first class passengers; Lufthansa gets away with this by marketing this as a HON Circle lounge that Lufthansa first class passengers just happen to get access to
Lufthansa Senator Lounge Munich seating & layout
I was a bit surprised that the Lufthansa Senator Lounge seems to be bigger than the adjacent Lufthansa Business Lounge. I guess there are more Star Alliance Gold members than business class passengers, or…?
While the Senator Lounge has the same general design motif as the Business Lounge, it has some differences in terms of the layout. Upon entering the lounge, there's a business center. This consists of both high-top seating, as well as some more traditional semi-private cubicles, with the latter being much more comfortable than what's found in the lounge next door.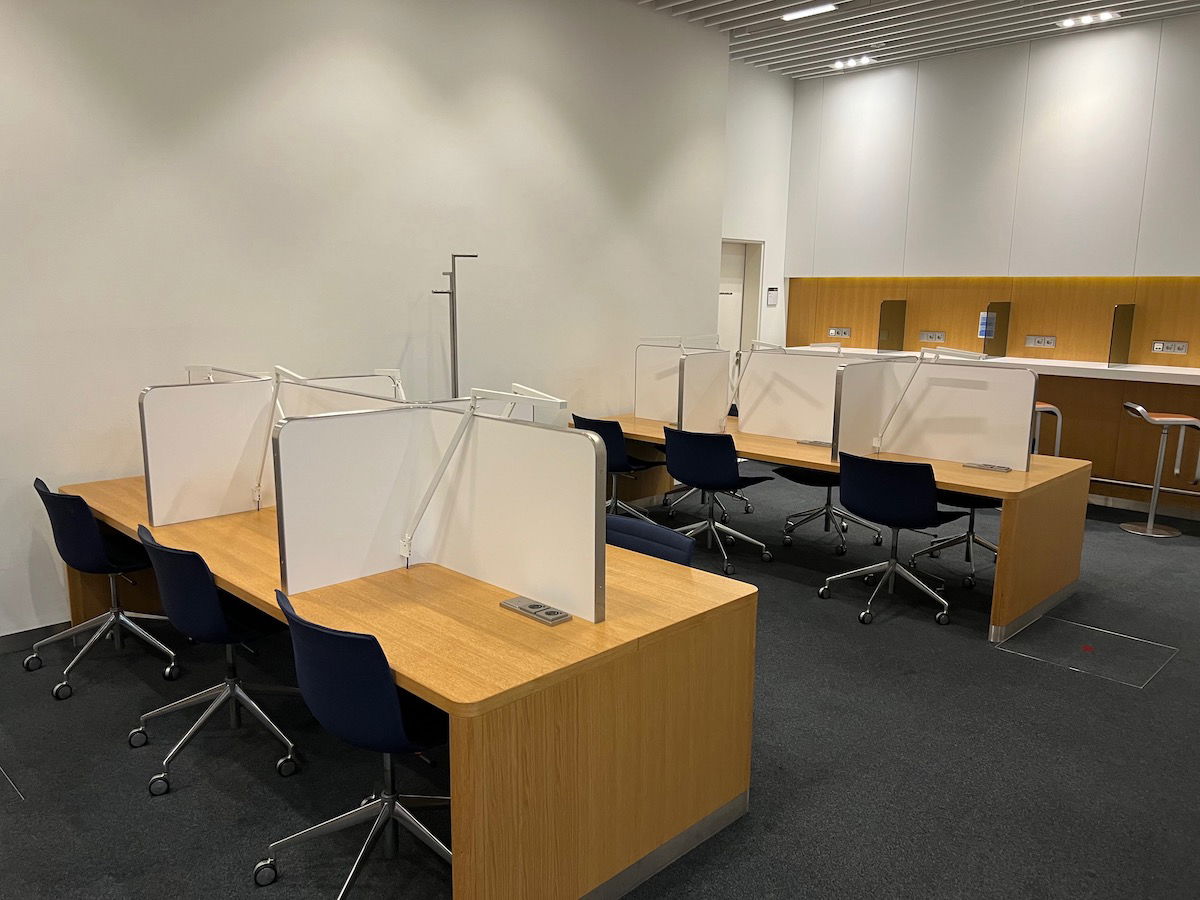 Past the business center is an entertainment room of sorts, with a few TVs facing in different directions, with seats along the edge.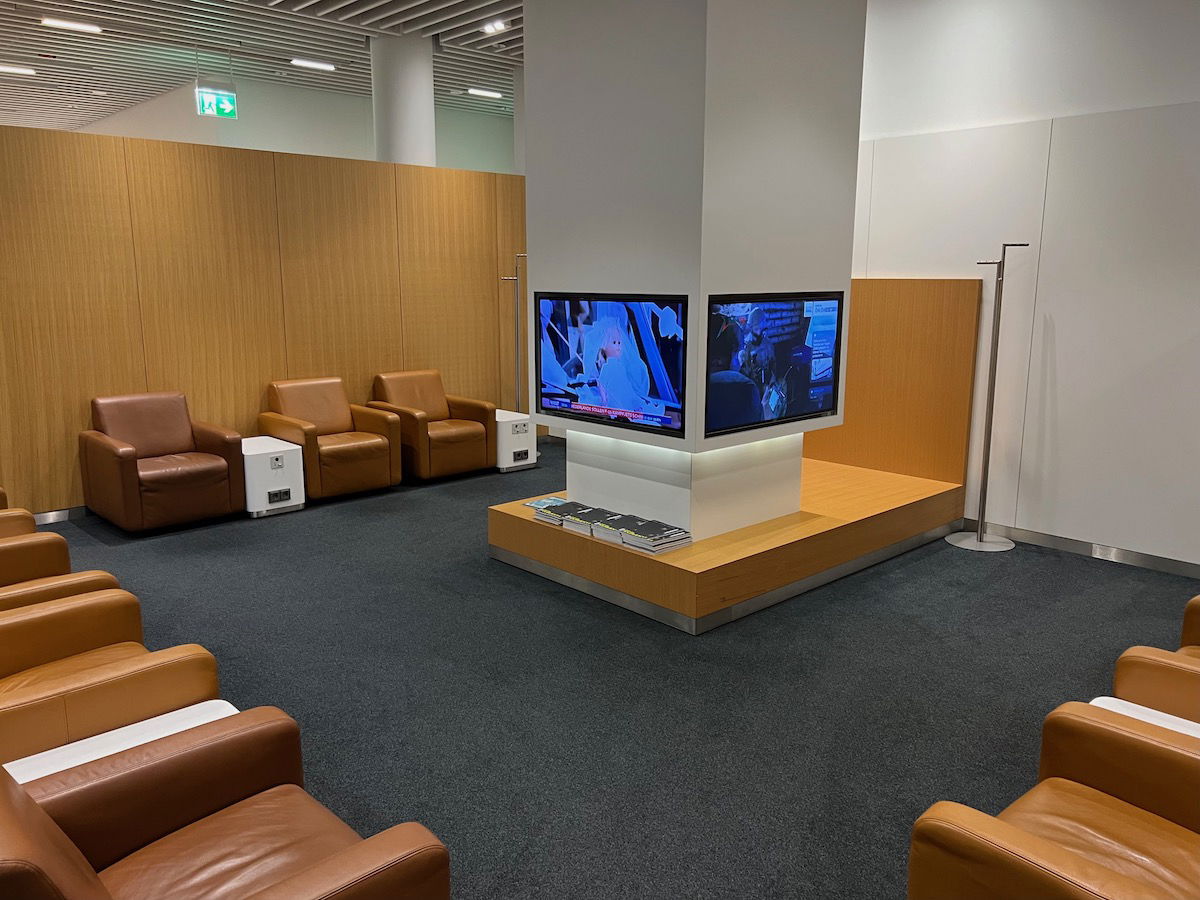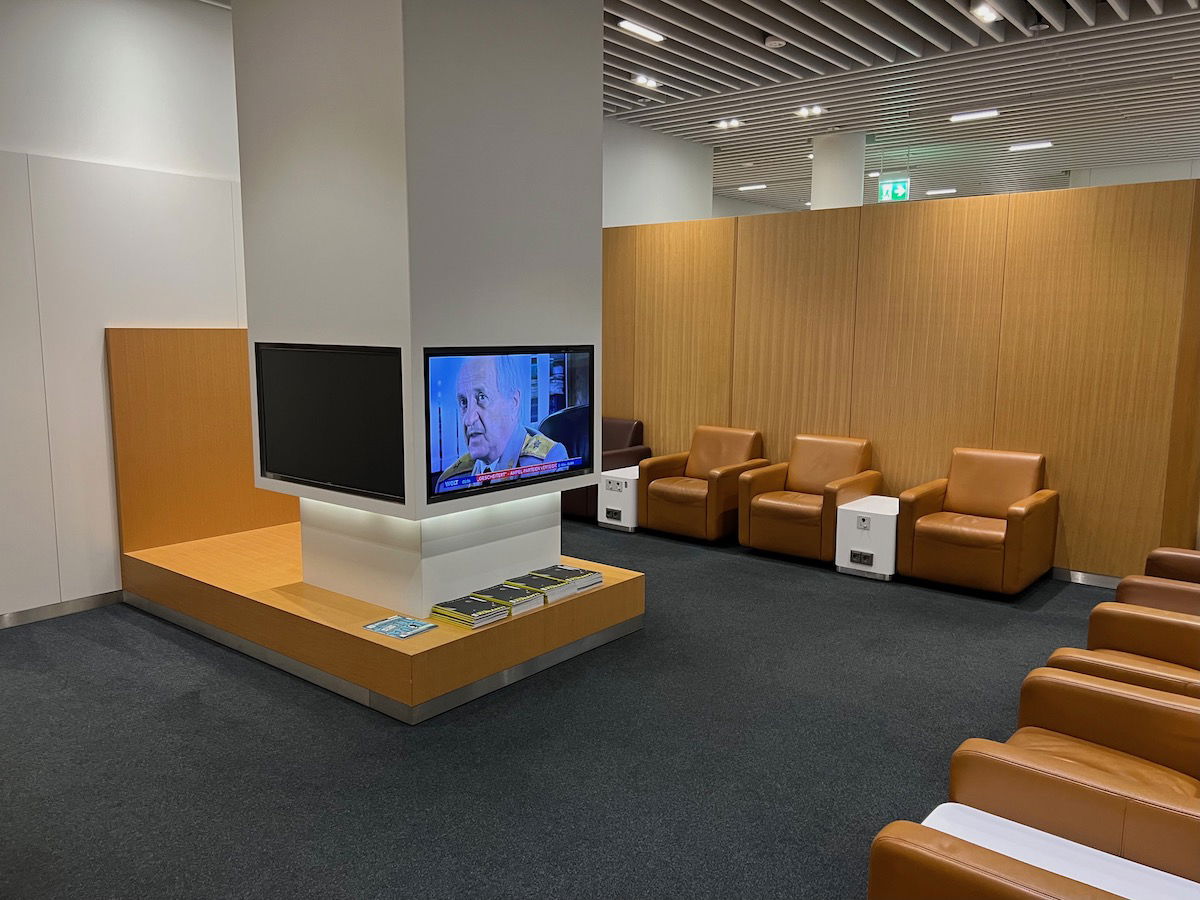 Across from this is an area with some booths, which is one of the cozier places in the lounge to sit.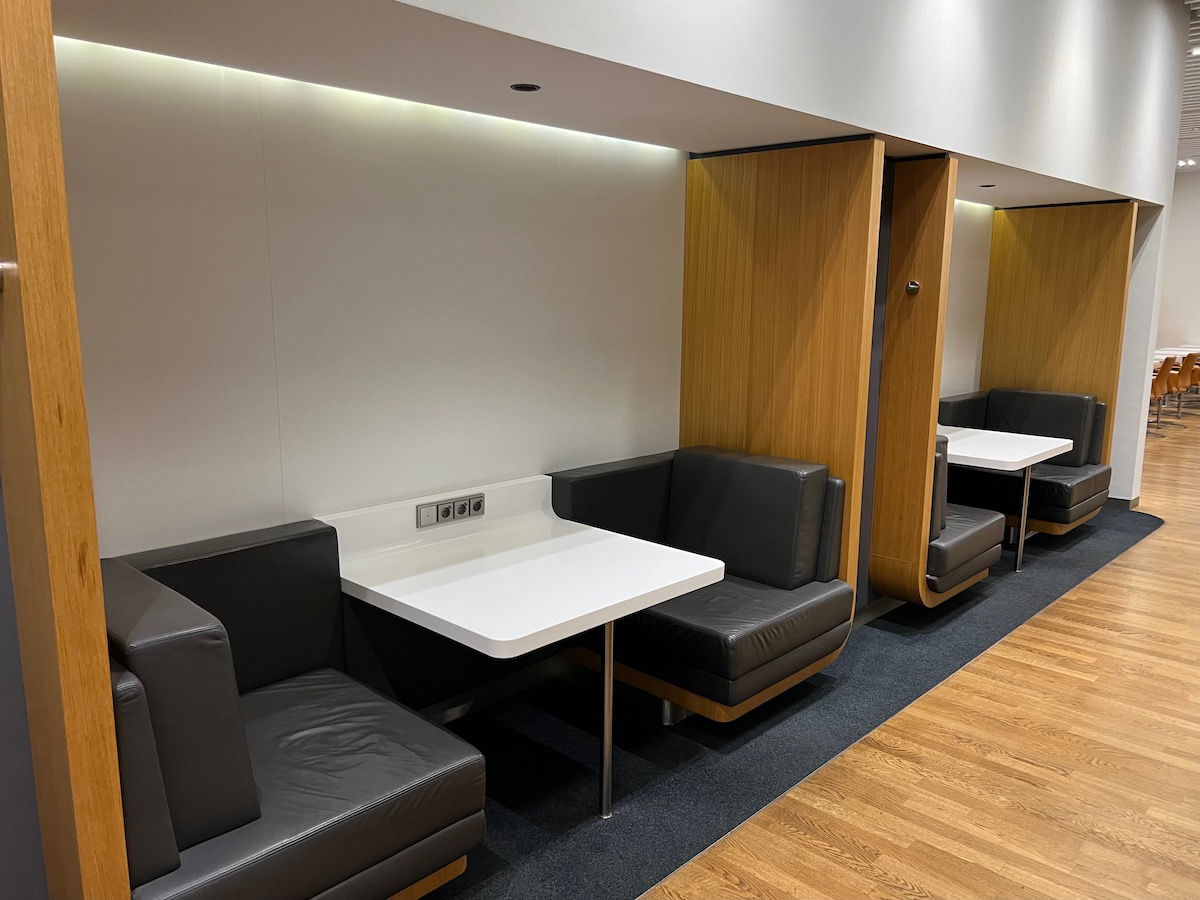 This then leads into the main part of the lounge, which features a bunch of dining tables, most of which accommodate two people. Some tables just have two chairs, while some have a bench on one side and a chair on the other.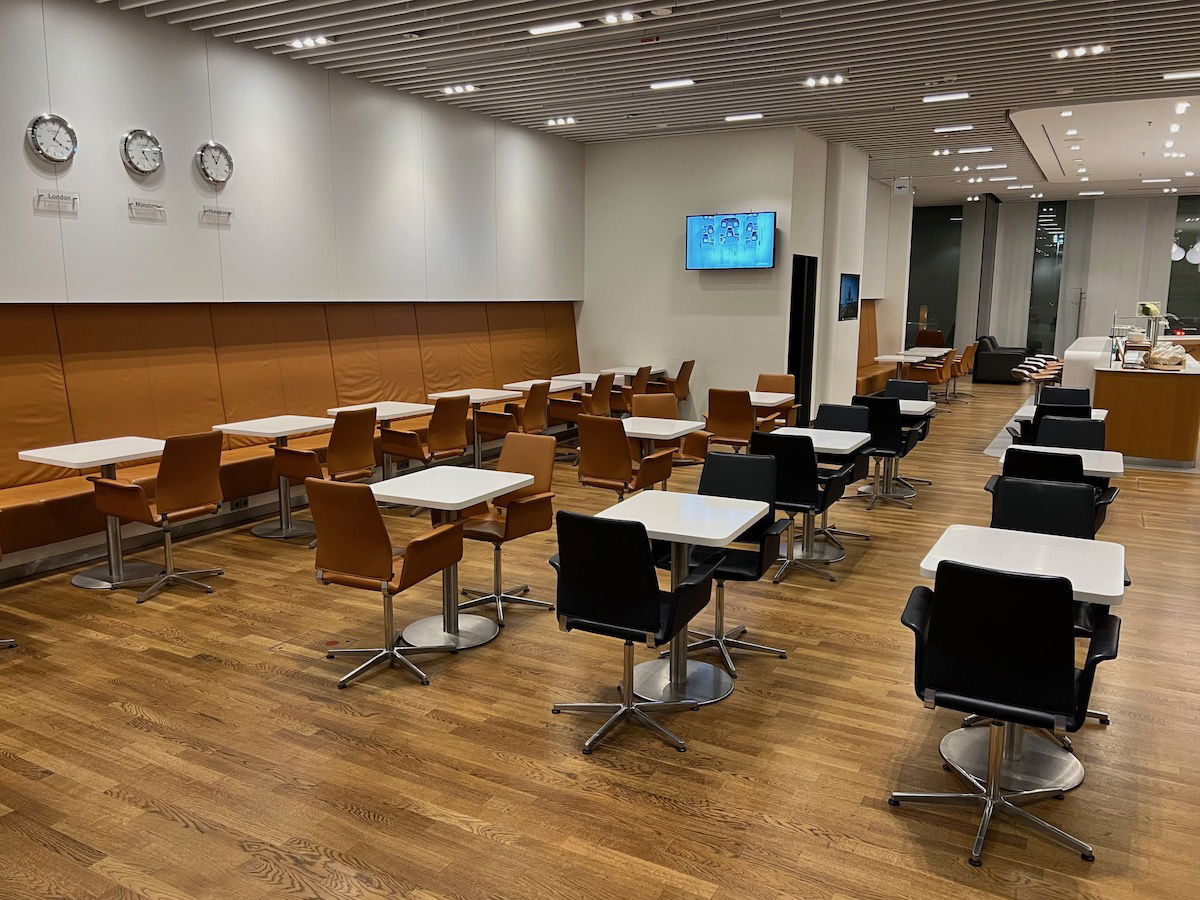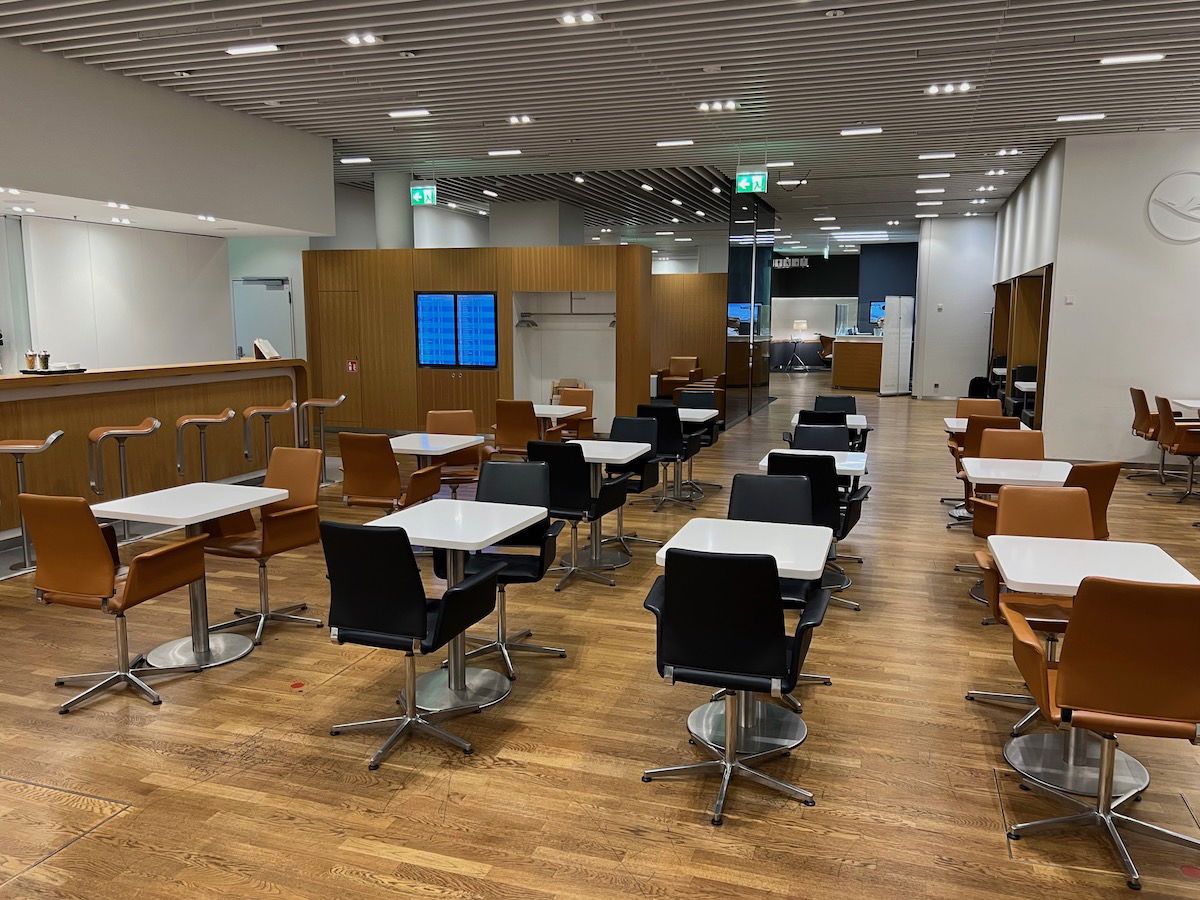 The buffet and bar are past that, and have a few counters with high-top seating as well.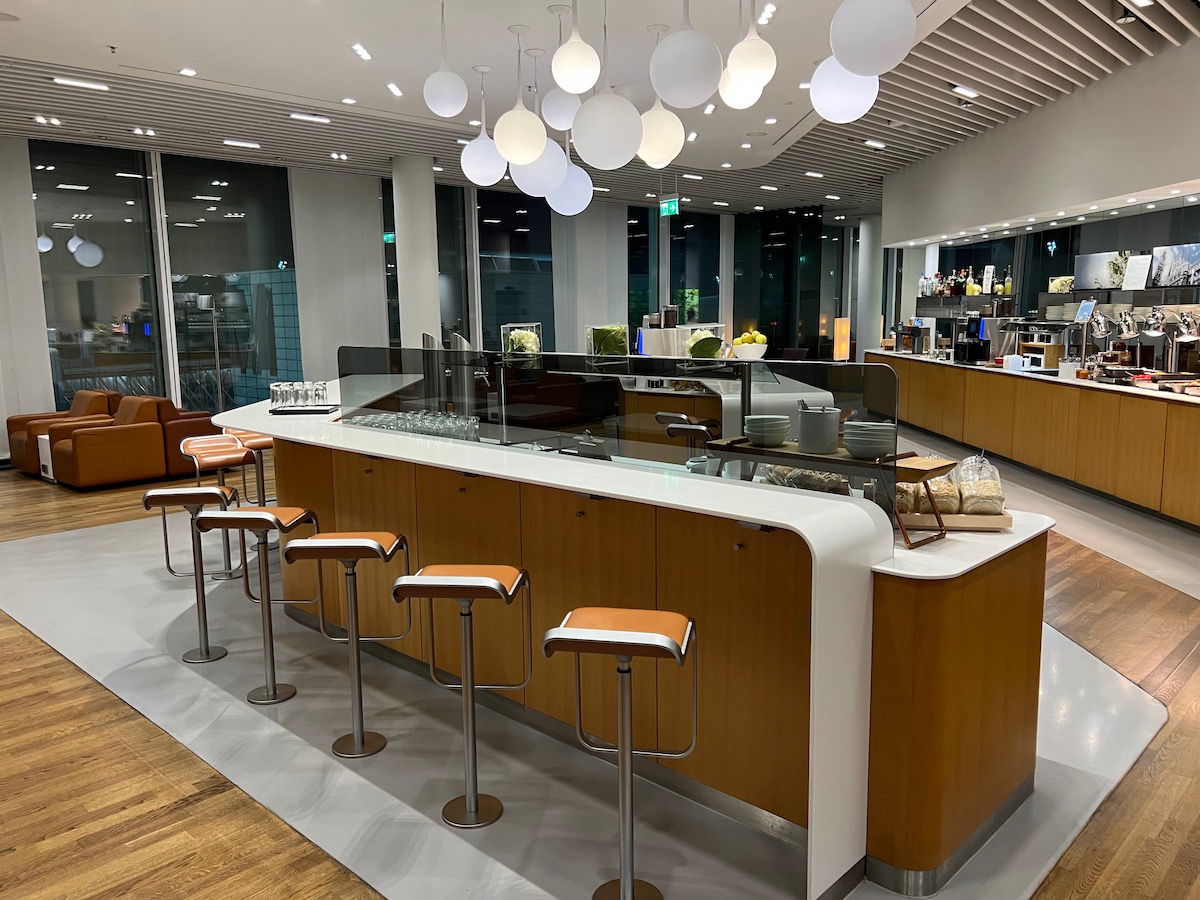 Then the very back of the lounge has your typical seetup of lounger chairs arranged in rows facing one another, right by the windows.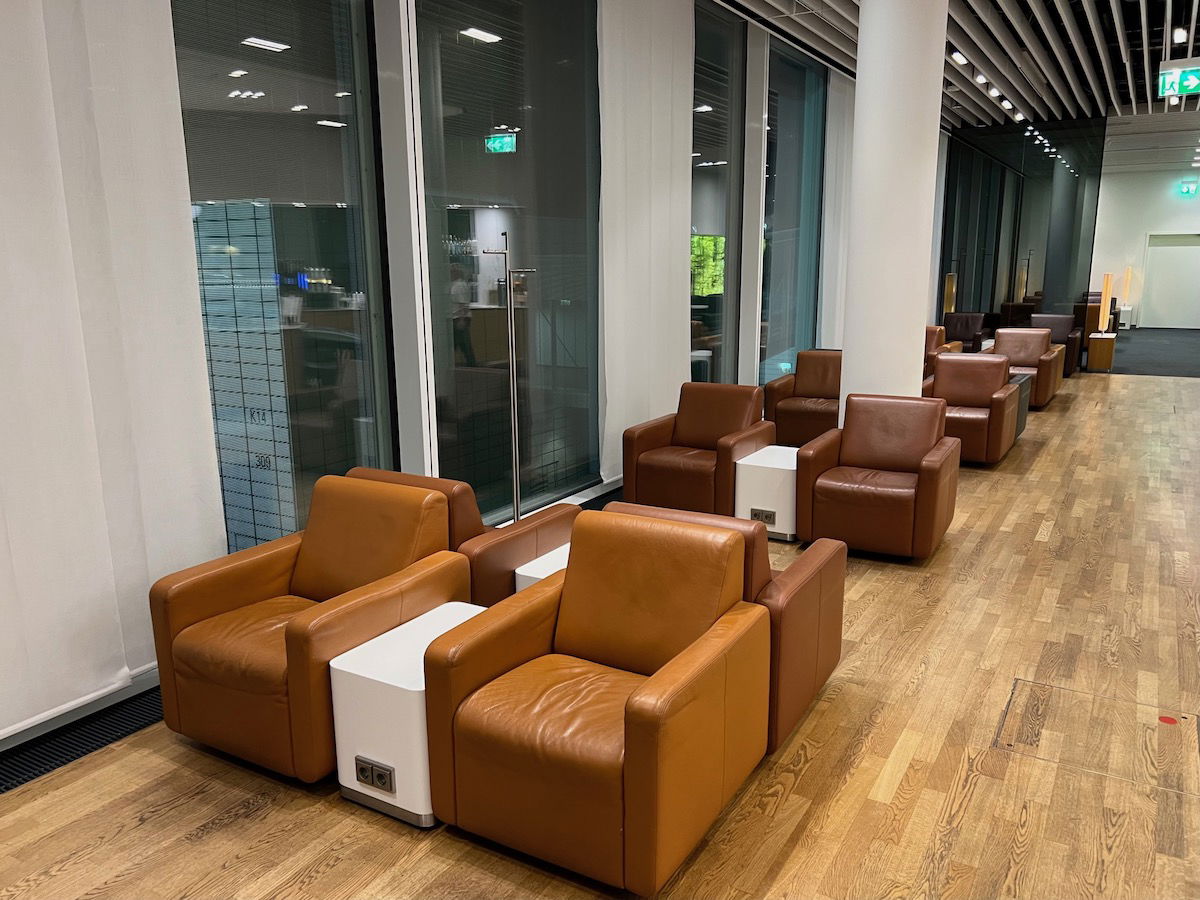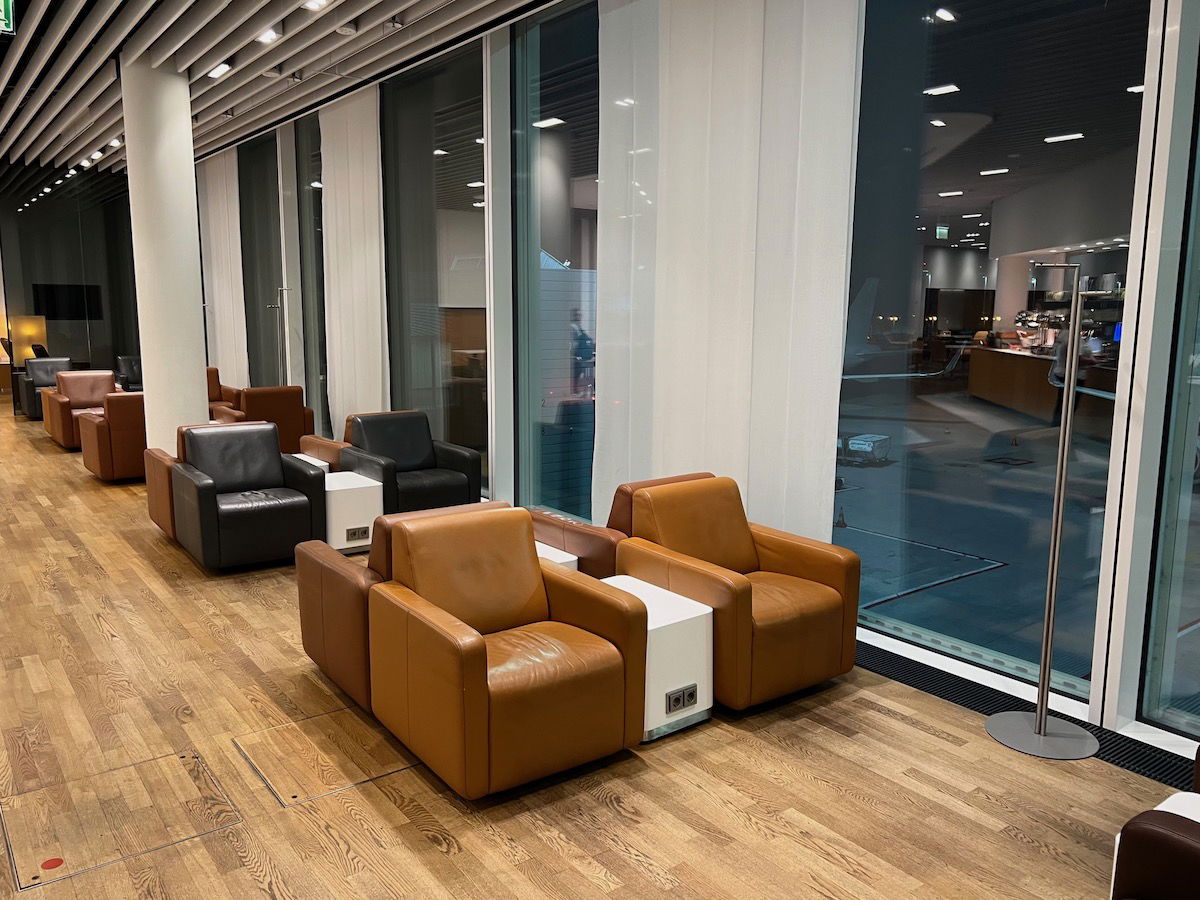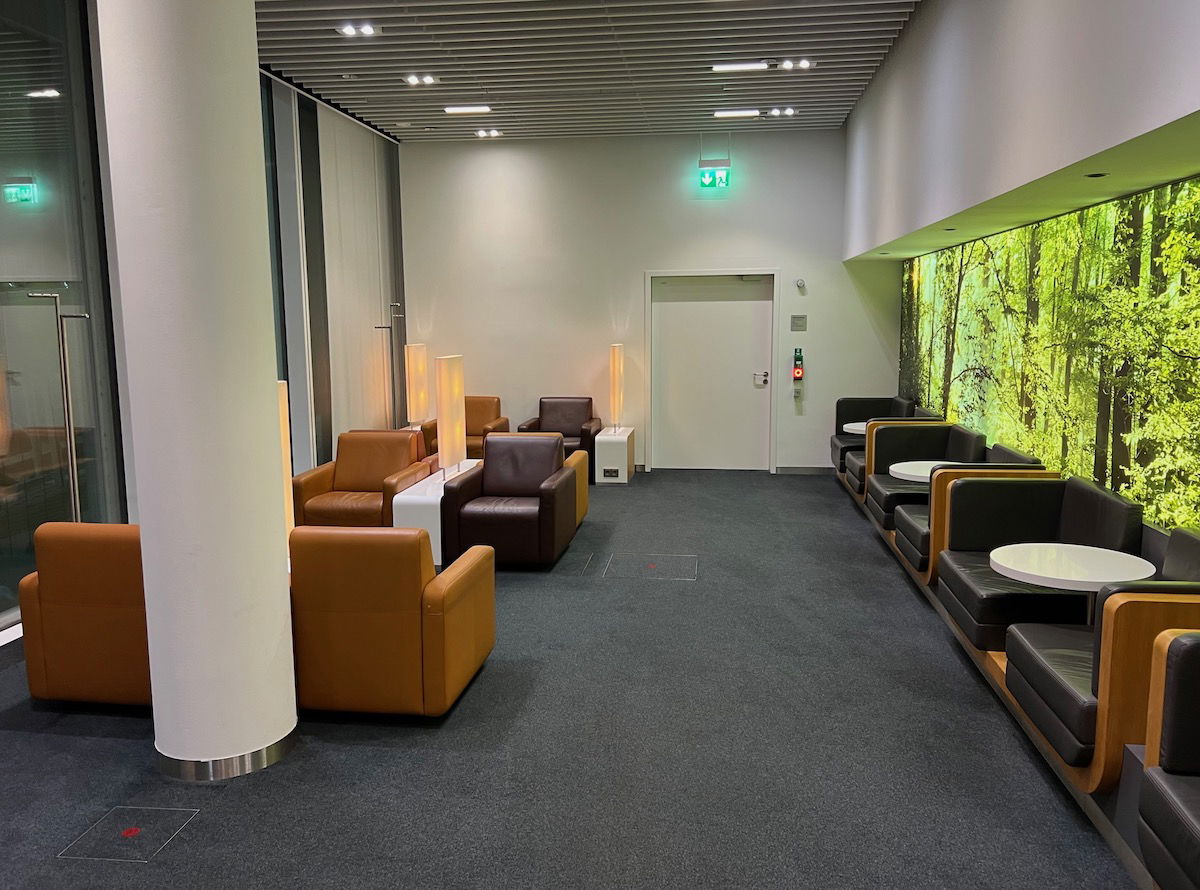 There are also some more booths in this area, as well as an area with a few day beds.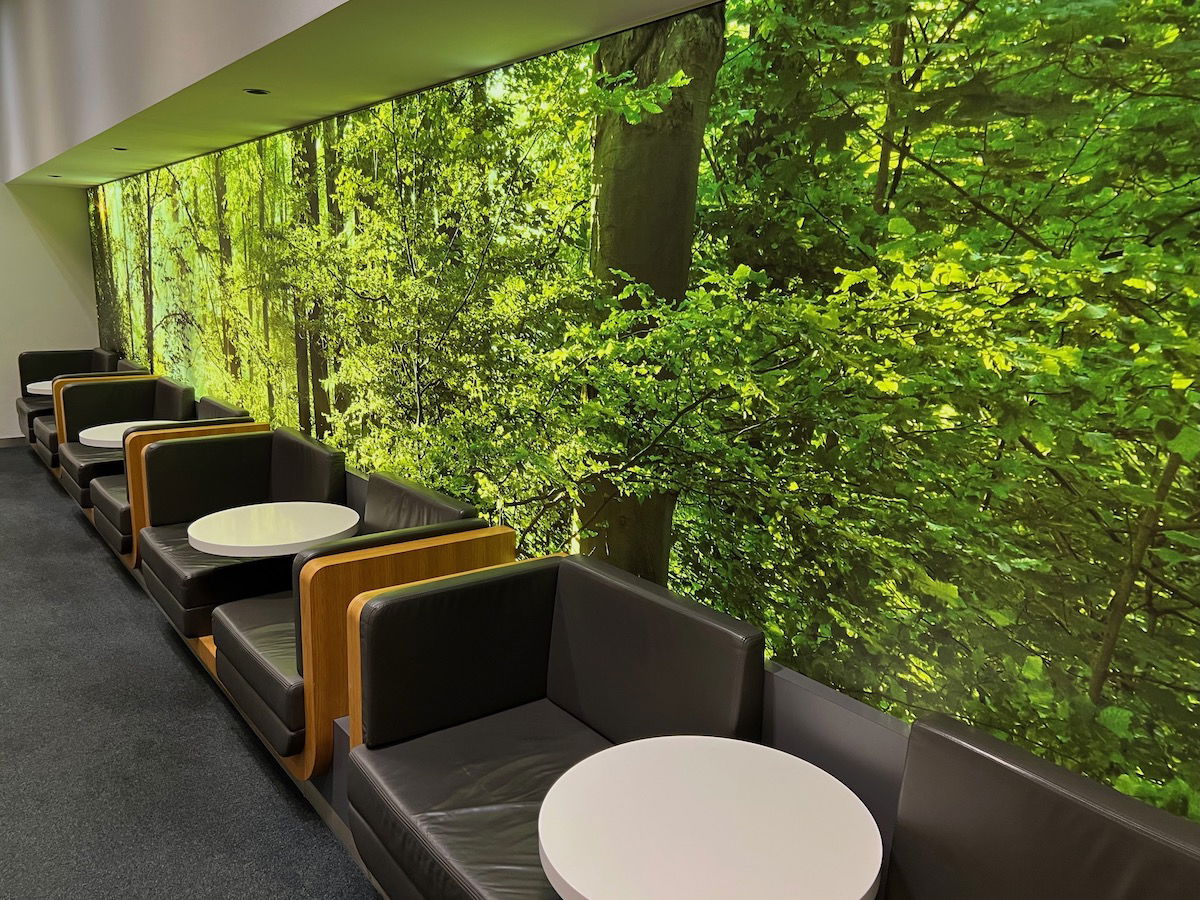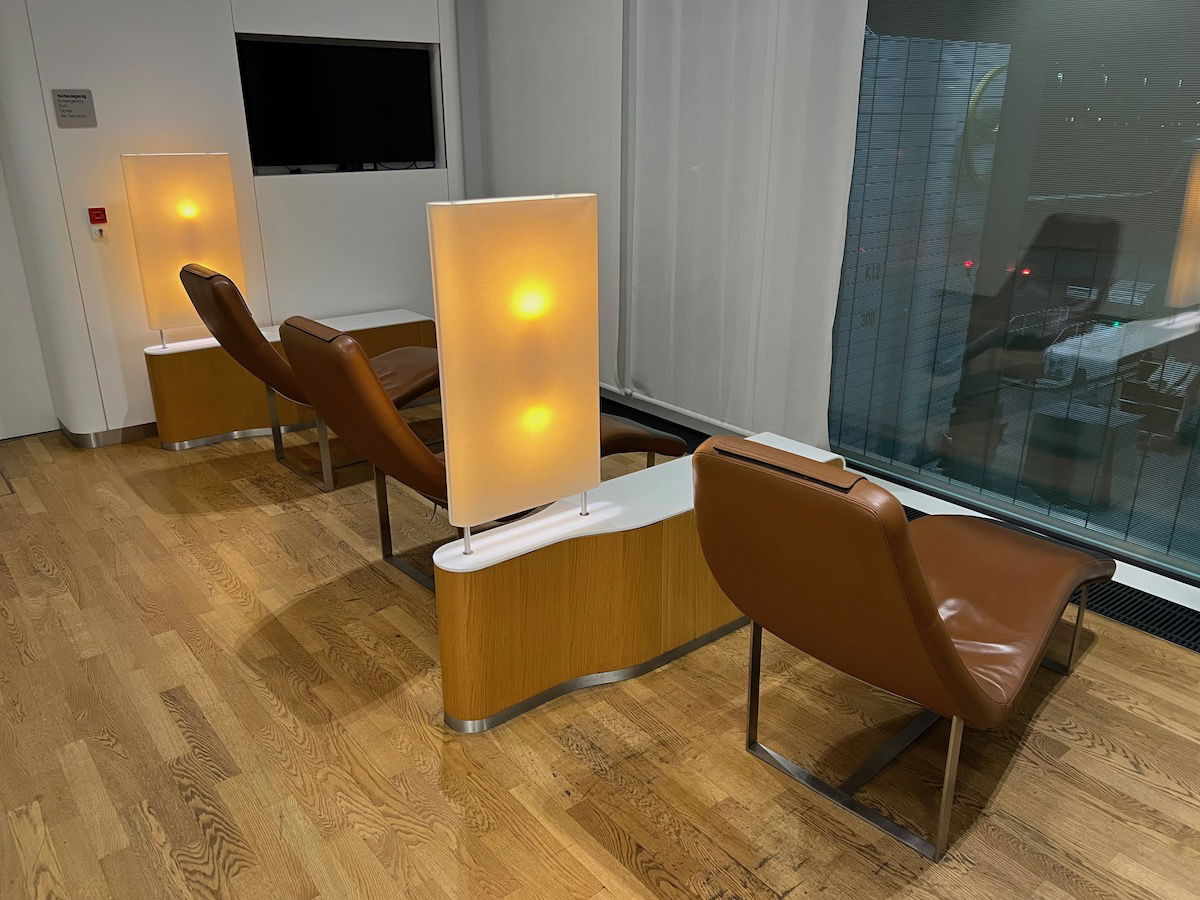 As usual, I found Lufthansa's lounge design to be quite functional yet sterile.
Lufthansa Senator Lounge Munich food & drinks
The main difference between Lufthansa Senator Lounges and Lufthansa Business Lounges is their food and beverage offerings. I wouldn't say the difference is huge, but the upgraded offerings during my visit were definitely noticeable in this lounge.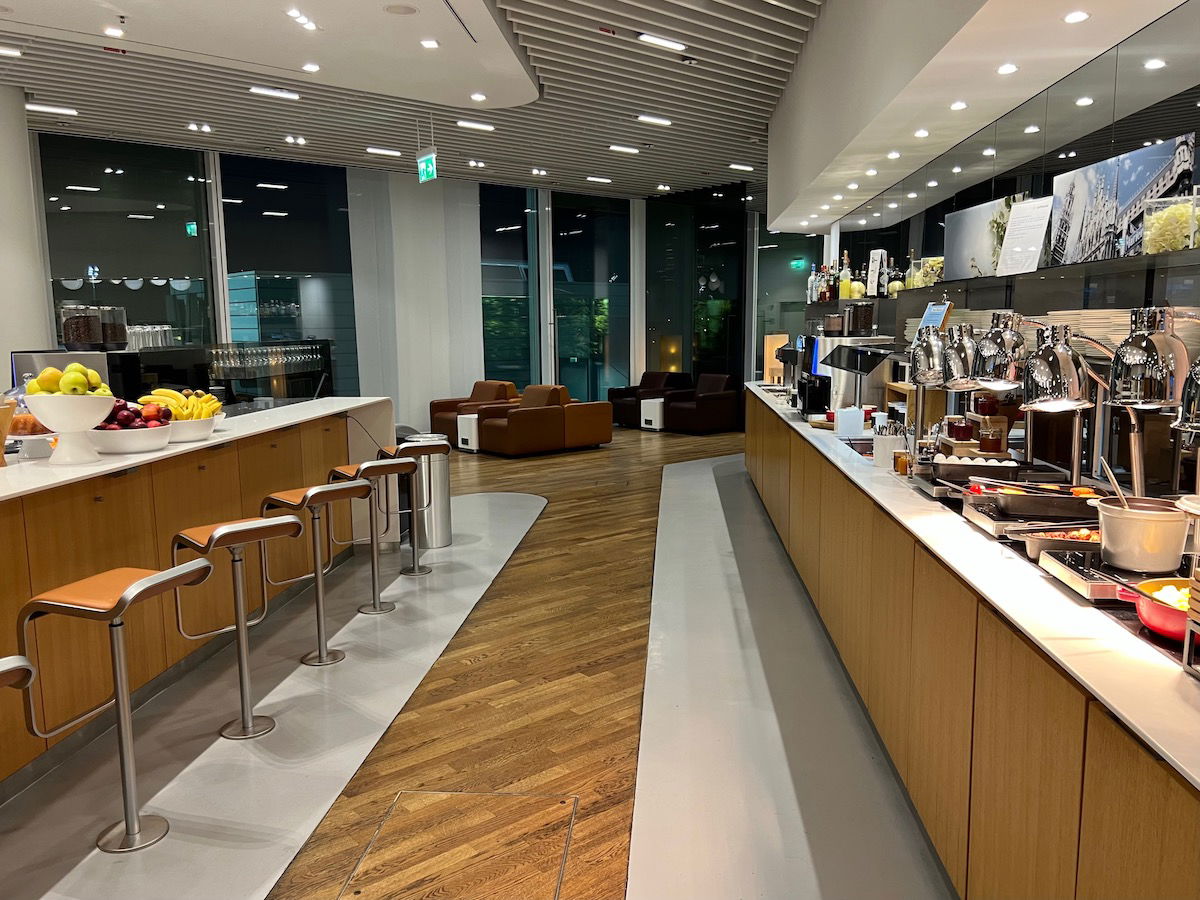 There was a self-serve buffet consisting of cold cuts, veggies, fresh fruit, muesli, yogurt, cereal, cake, and several hot dishes, like scrambled eggs, cherry tomatoes, meatballs, hash browns, and baked beans (why are they bringing this awful British breakfast tradition to Germany?!).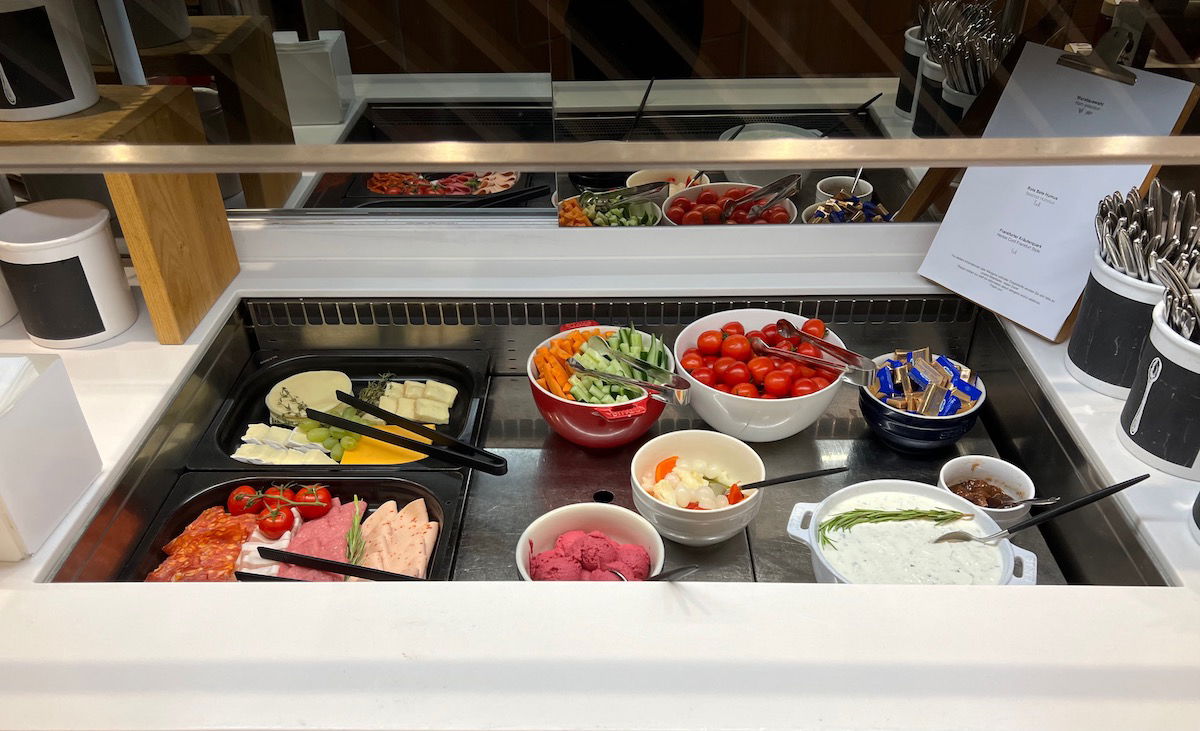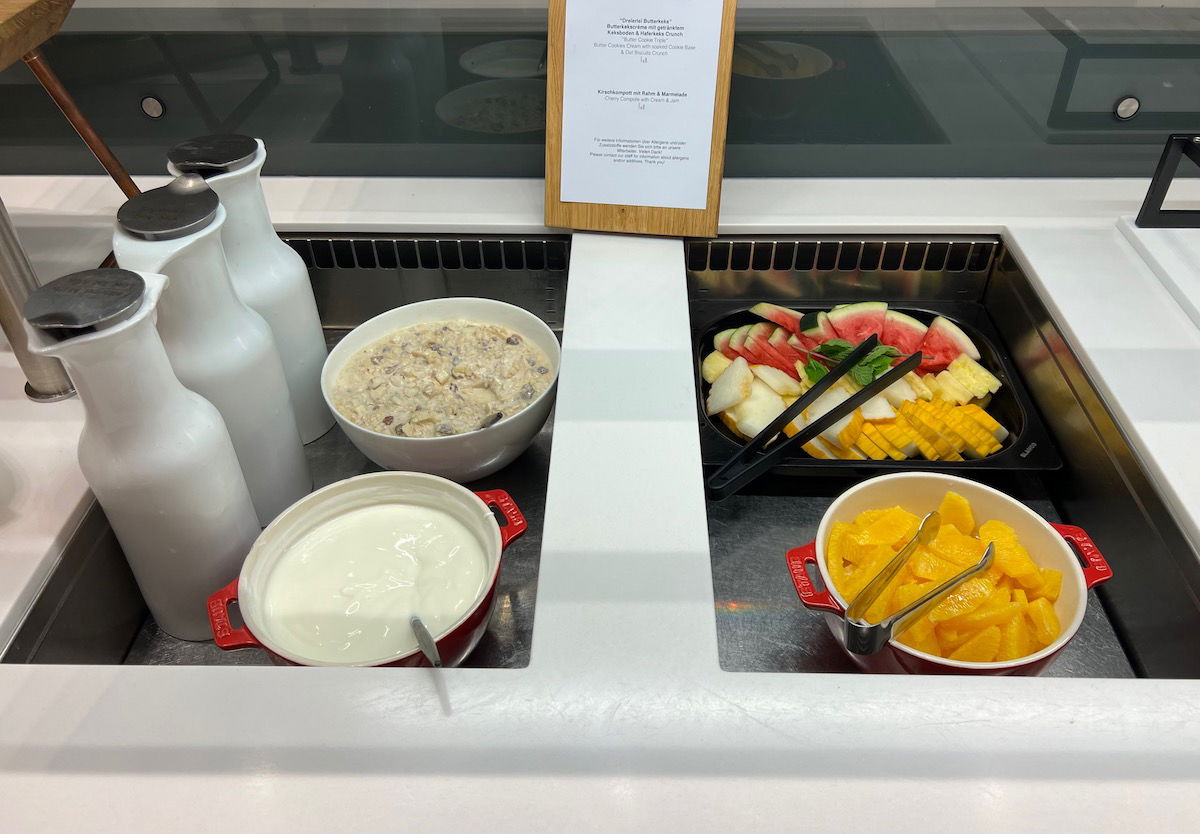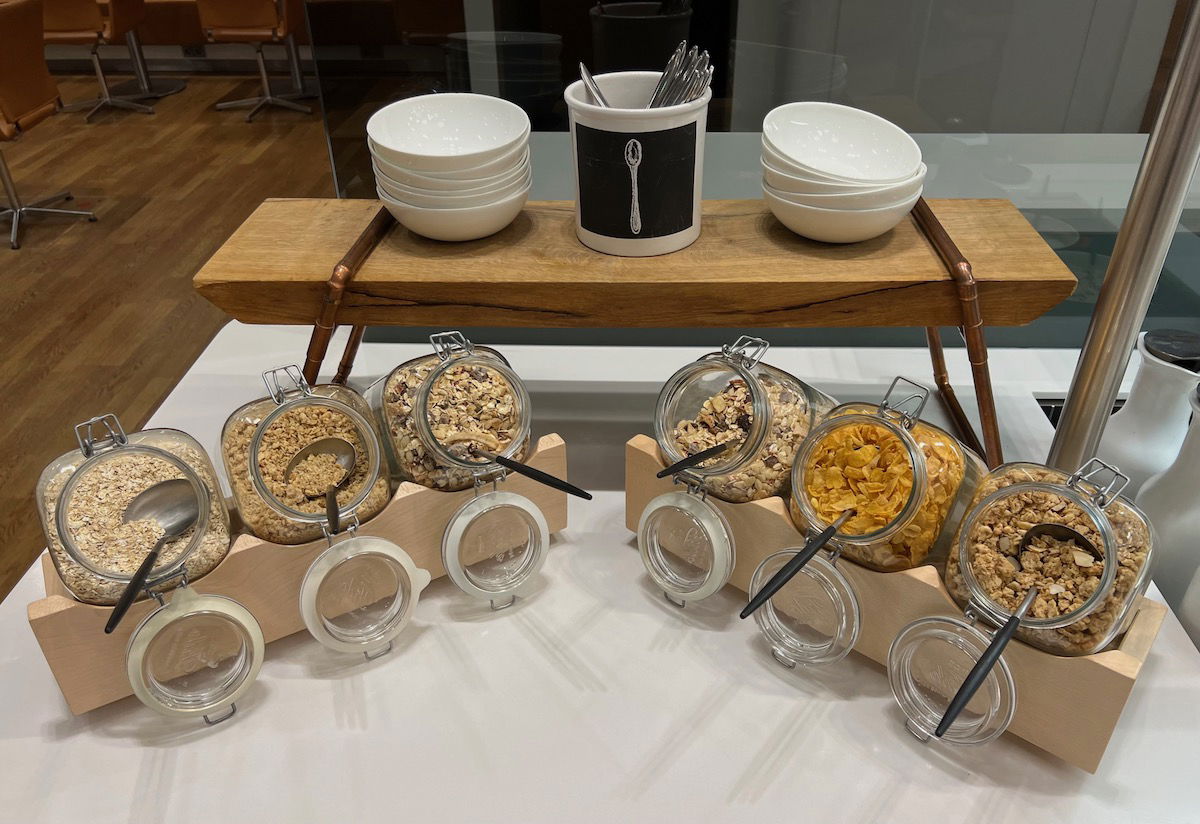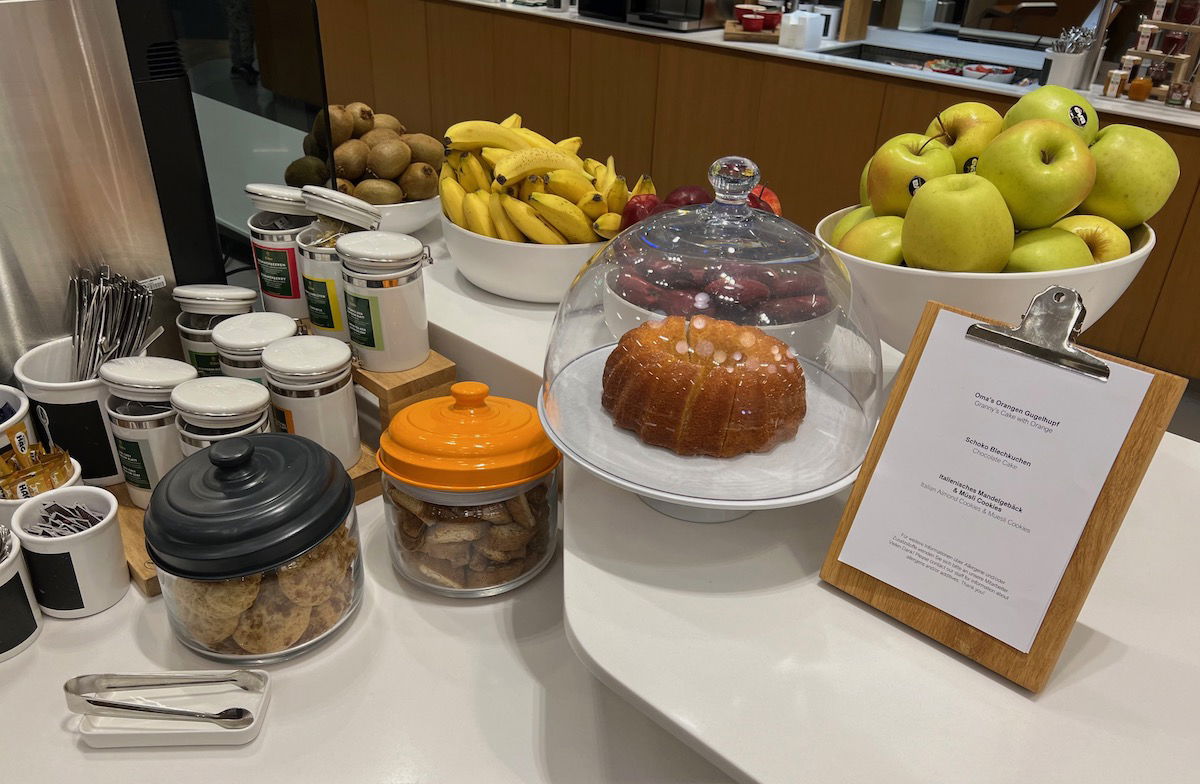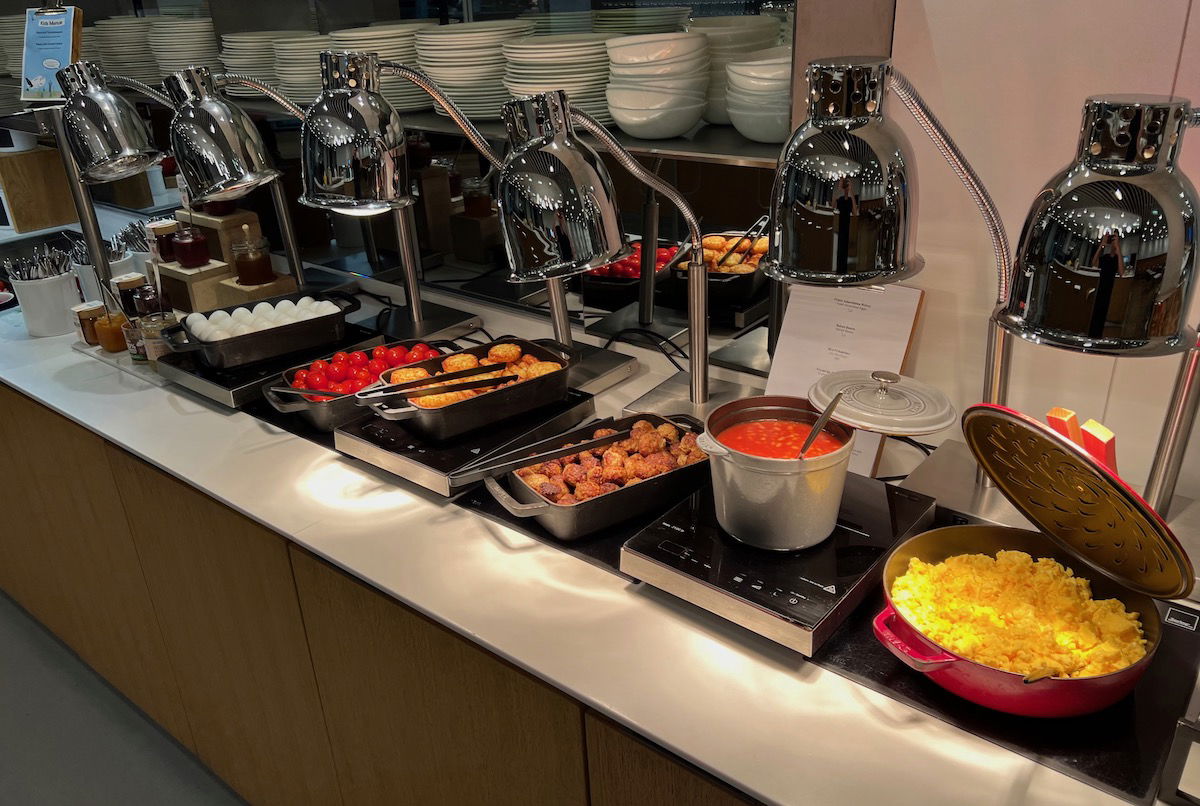 As is standard in Lufthansa's lounges, there was also a selection of sweets, as well as a freezer with ice cream.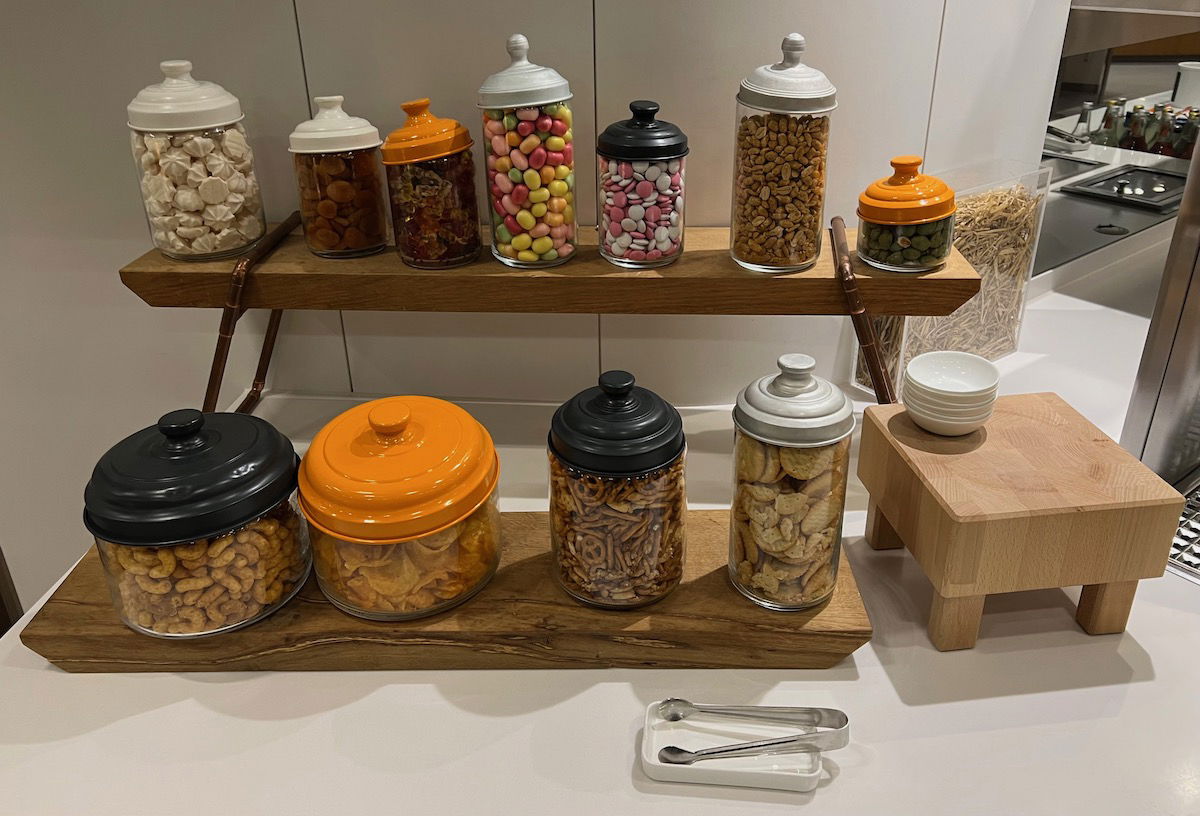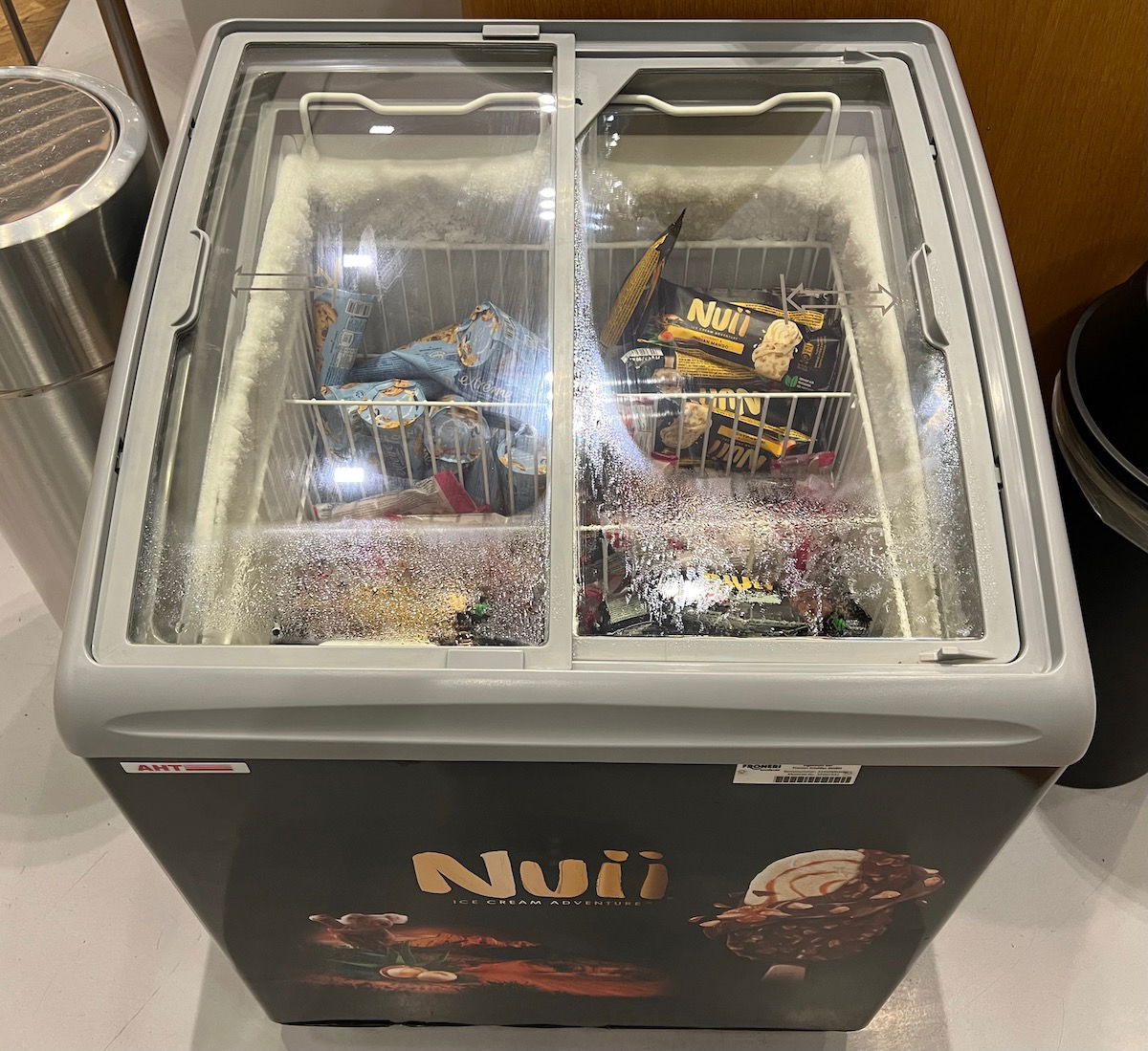 As far as drinks go, there were a variety of self-serve juices, a soda fountain, beer, wine, and liquor. Interestingly, the liquor in both lounges seemed to more or less be identical, while I've in the past found that this is a point of differentiation between them.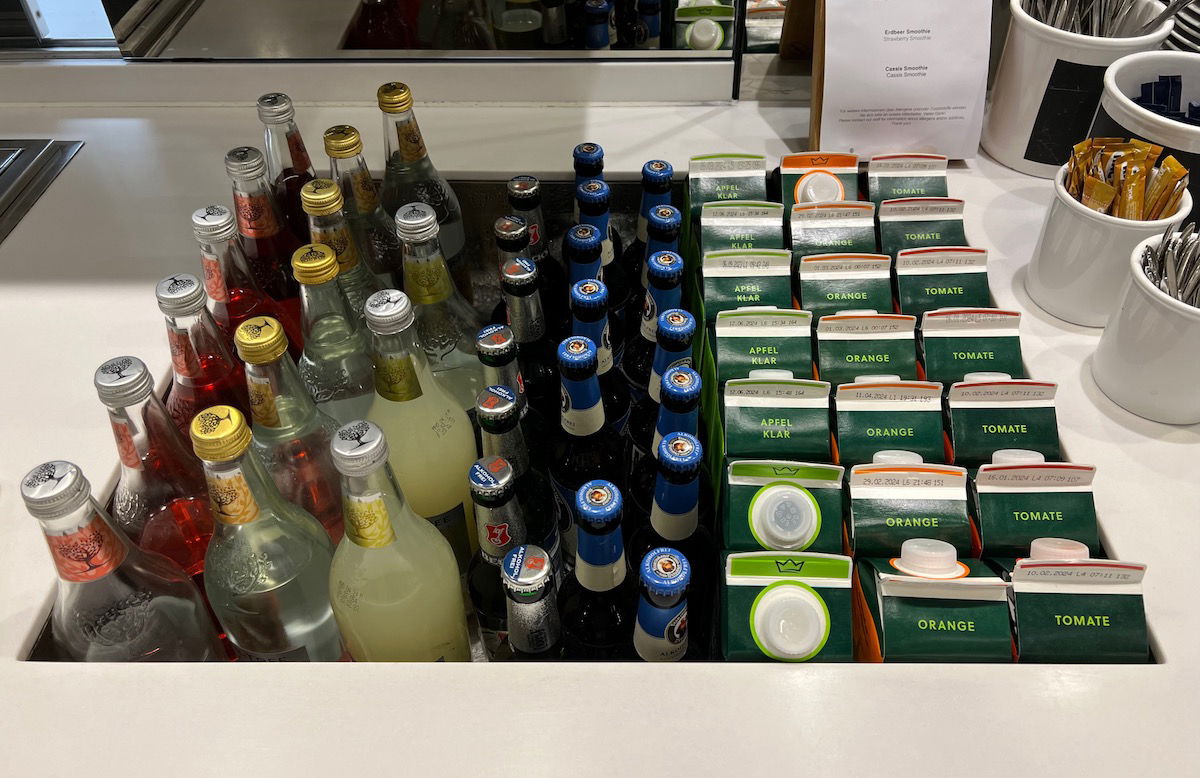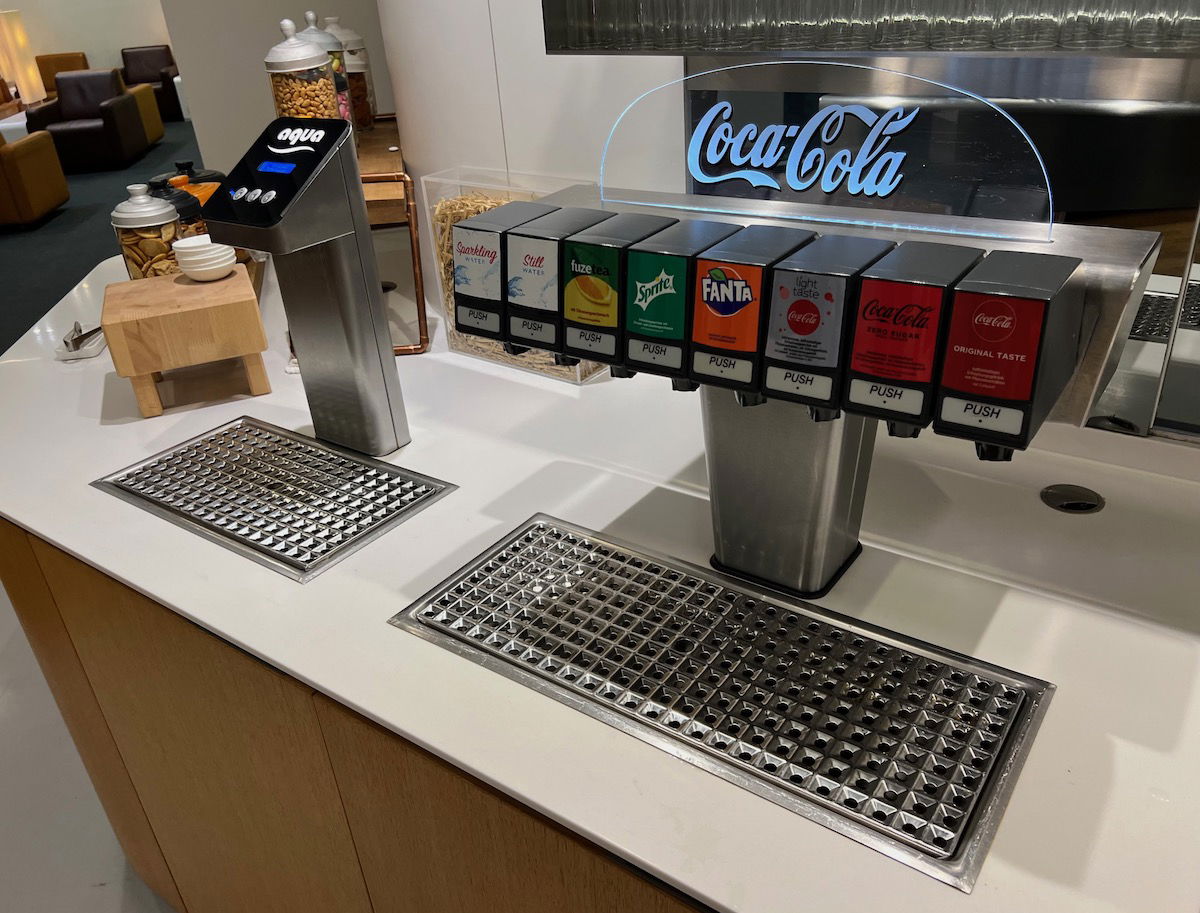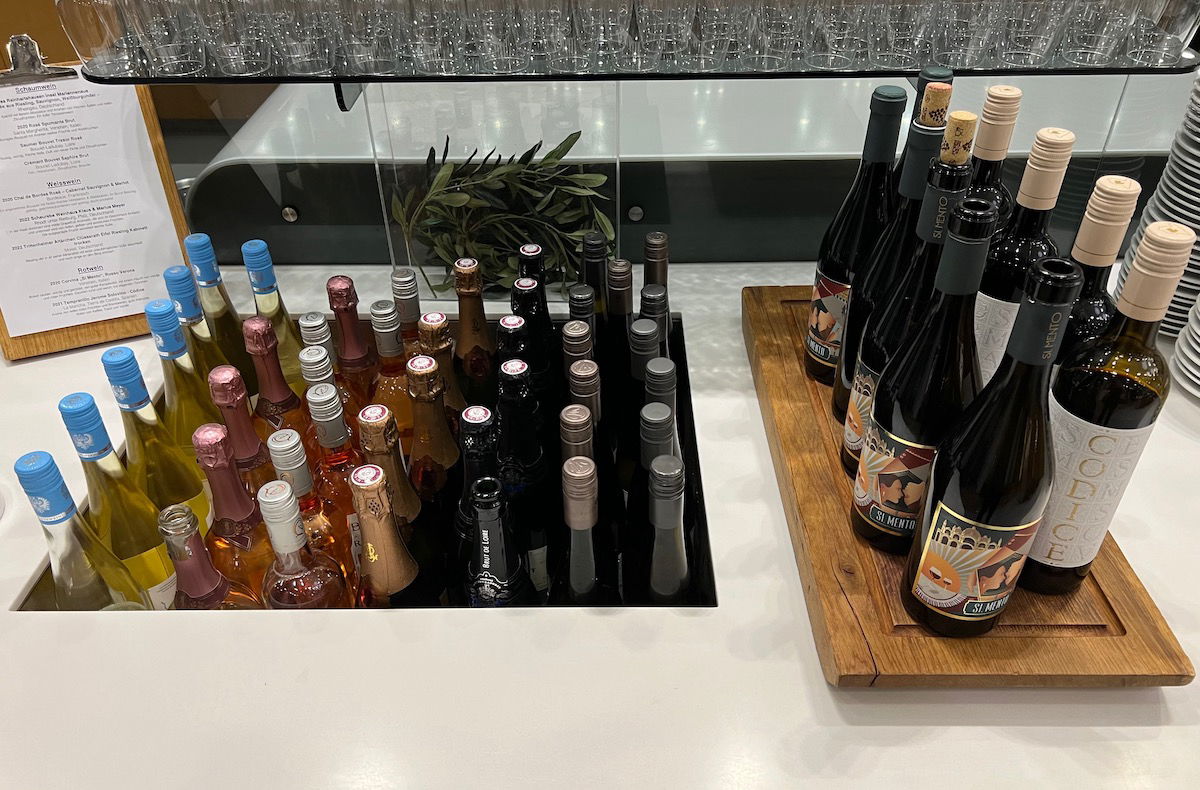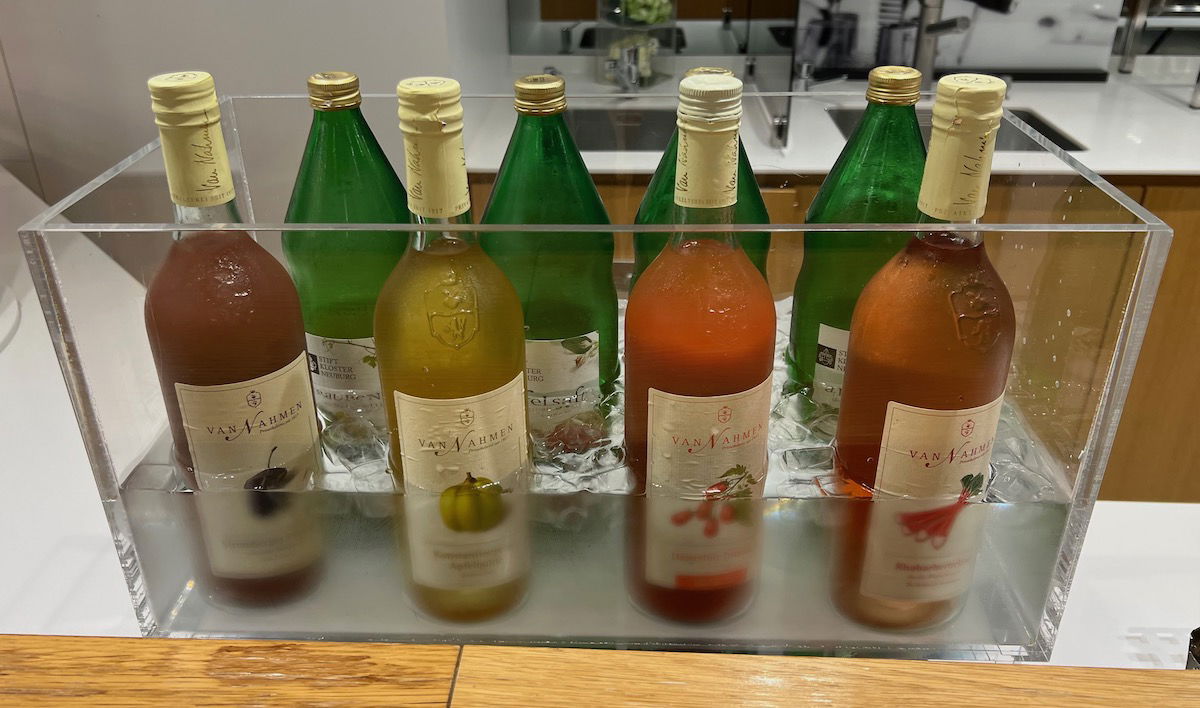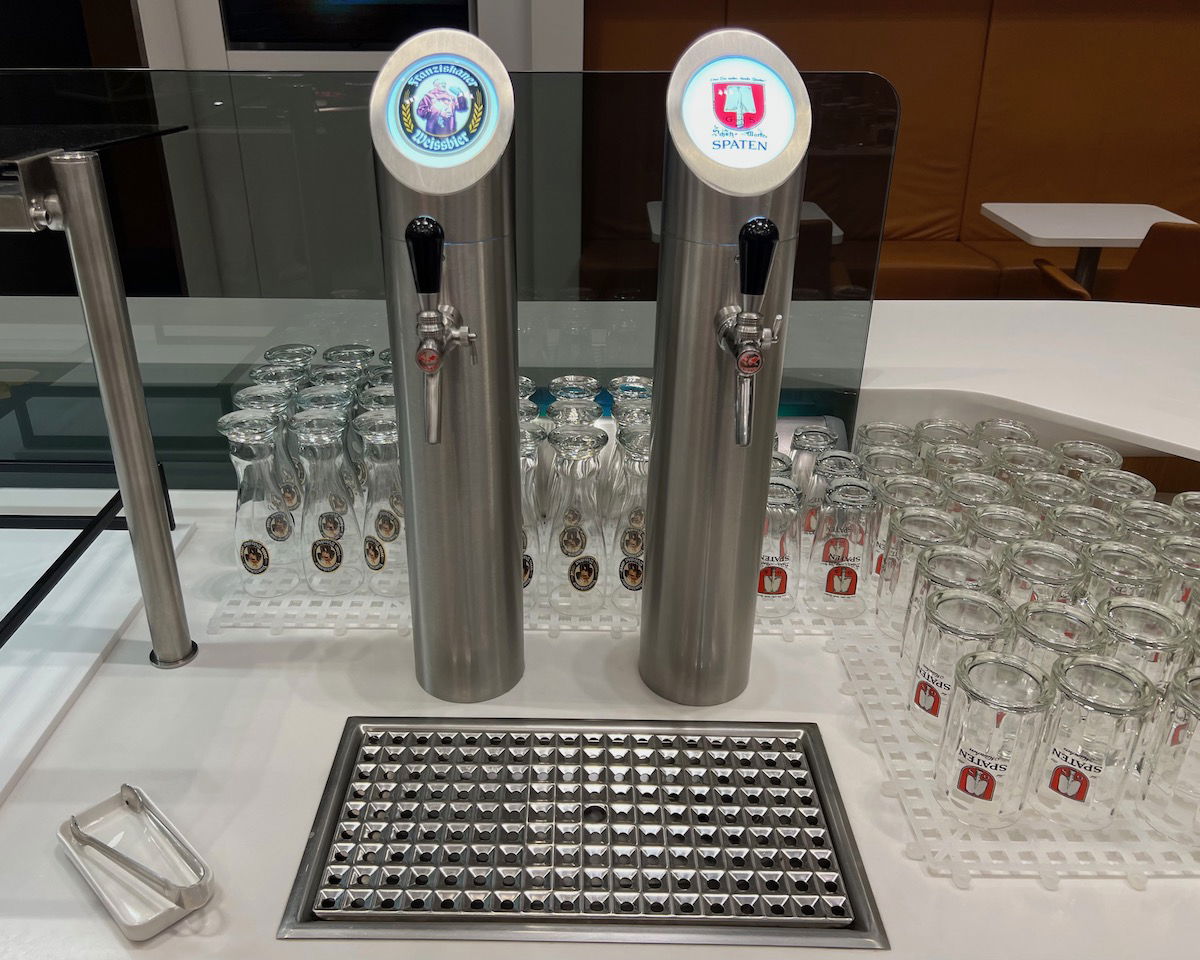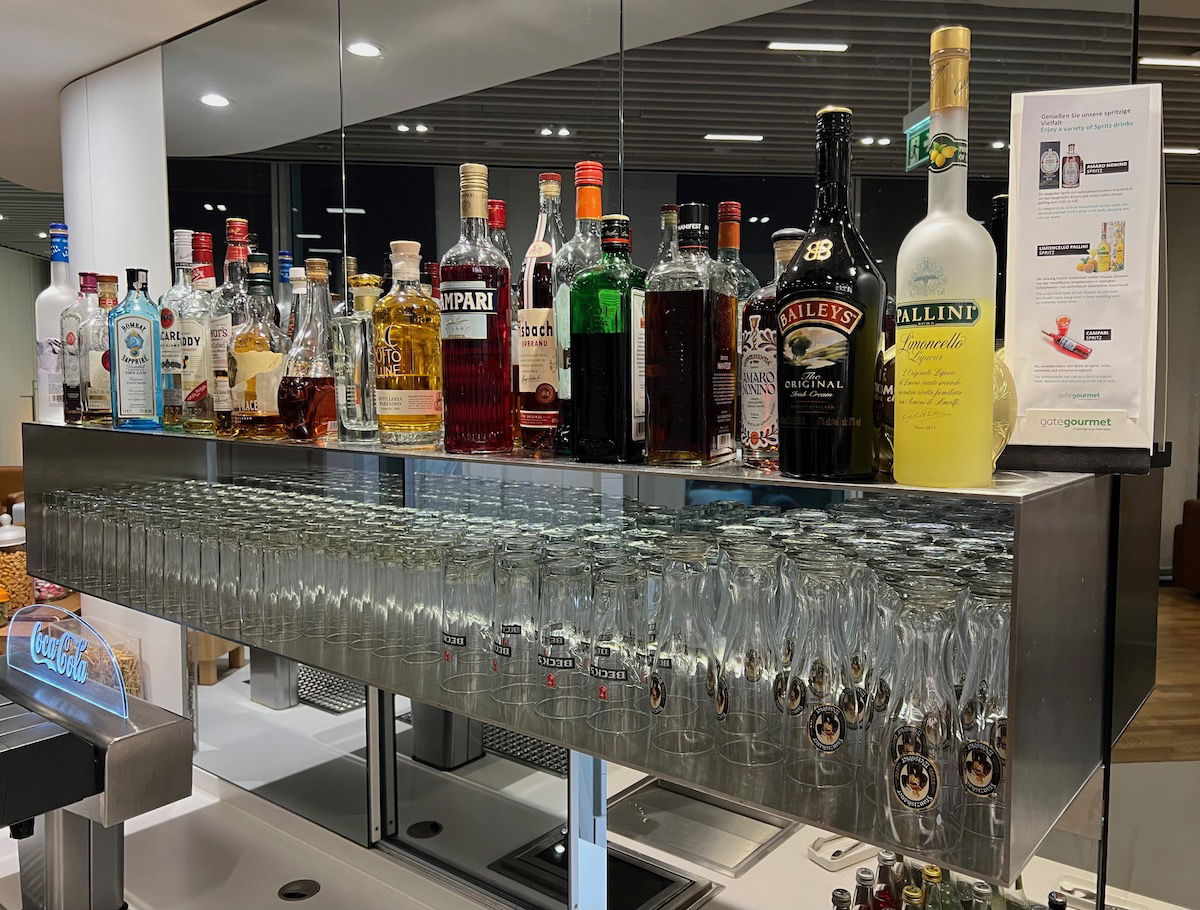 While there was a standard coffee machine, what delighted me most about the lounge was the barista coffee available at the bar. I haven't seen that in many of Lufthansa's lounges, so I was happy to see that.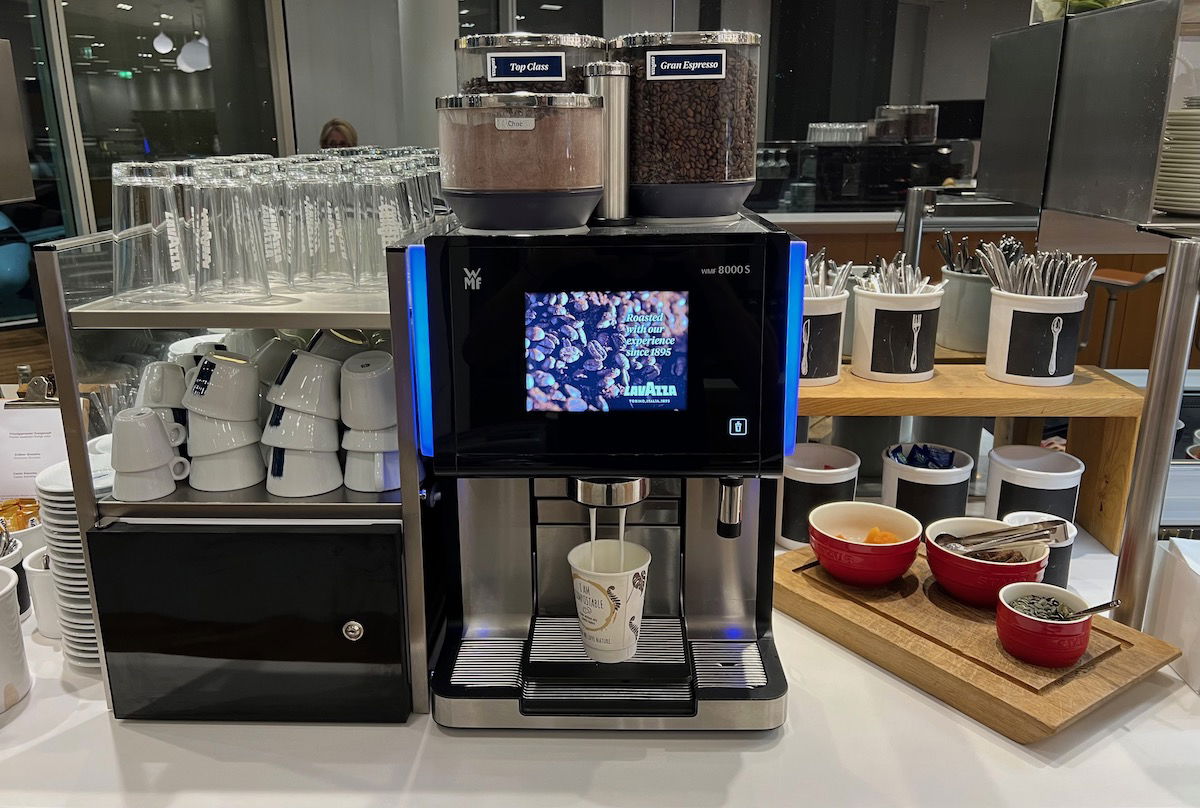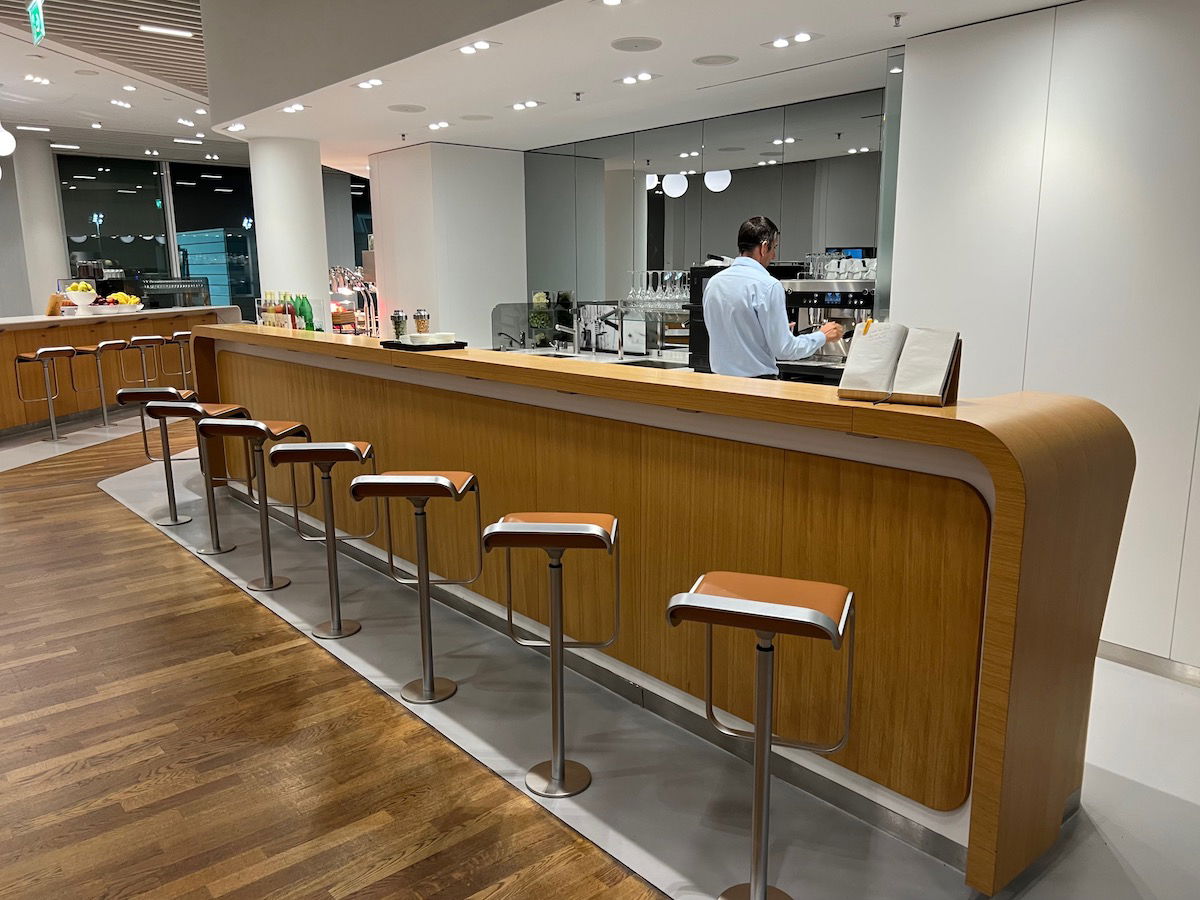 I enjoyed an excellent cappuccino.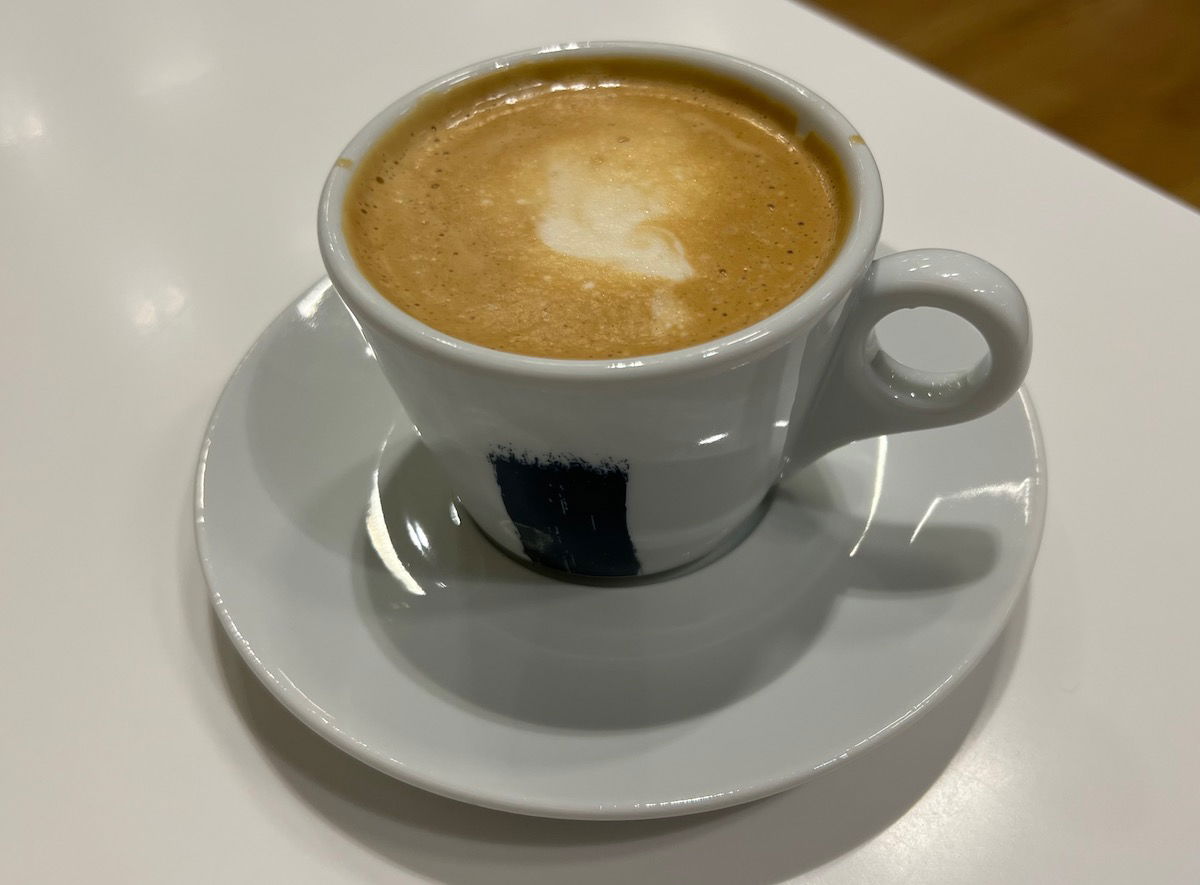 Lufthansa Senator Lounge Munich bathrooms & showers
The Lufthansa Senator Lounge Munich has bathrooms just inside the entrance and to the right, near the business center.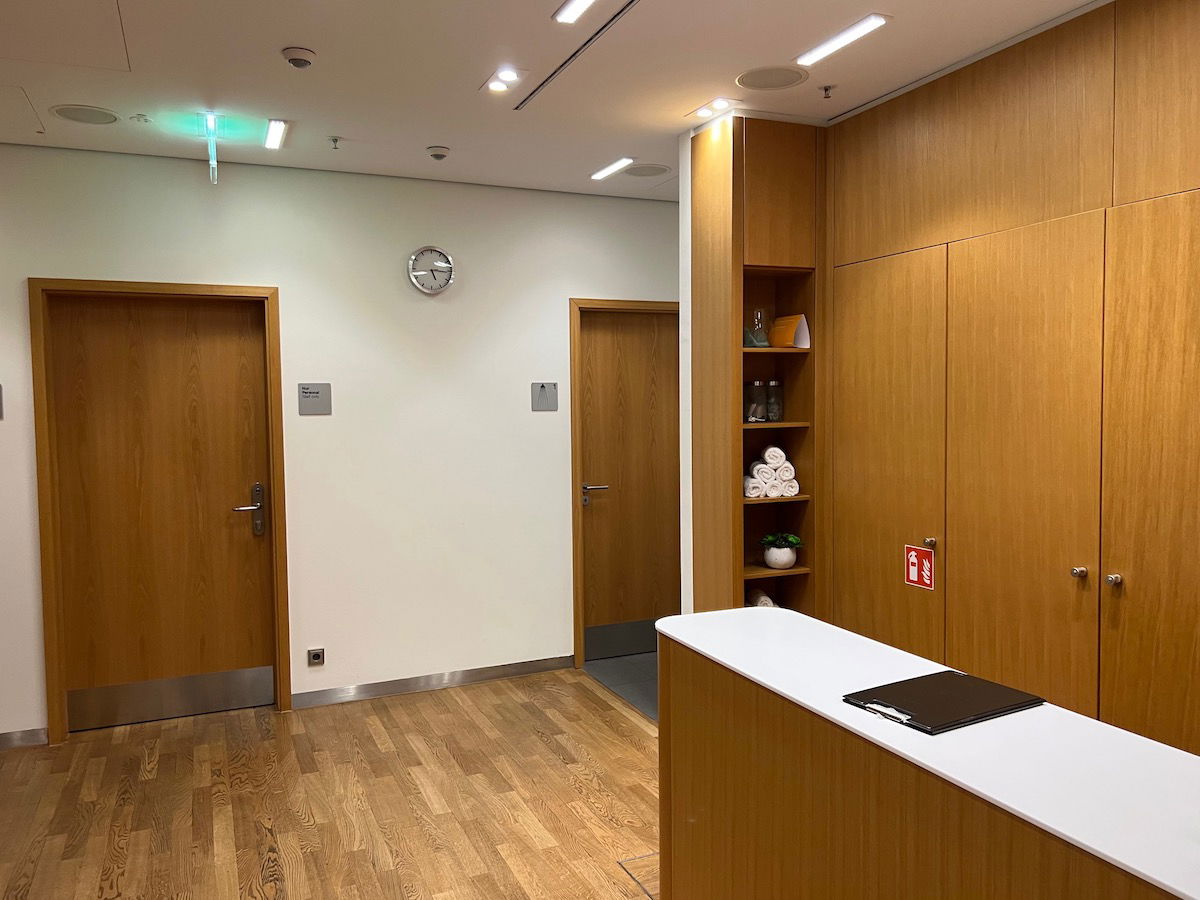 While the sinks in the men's room were quite nice, I think the bathroom may have otherwise been at least somewhat under construction, as it felt really narrow, and there were no urinals.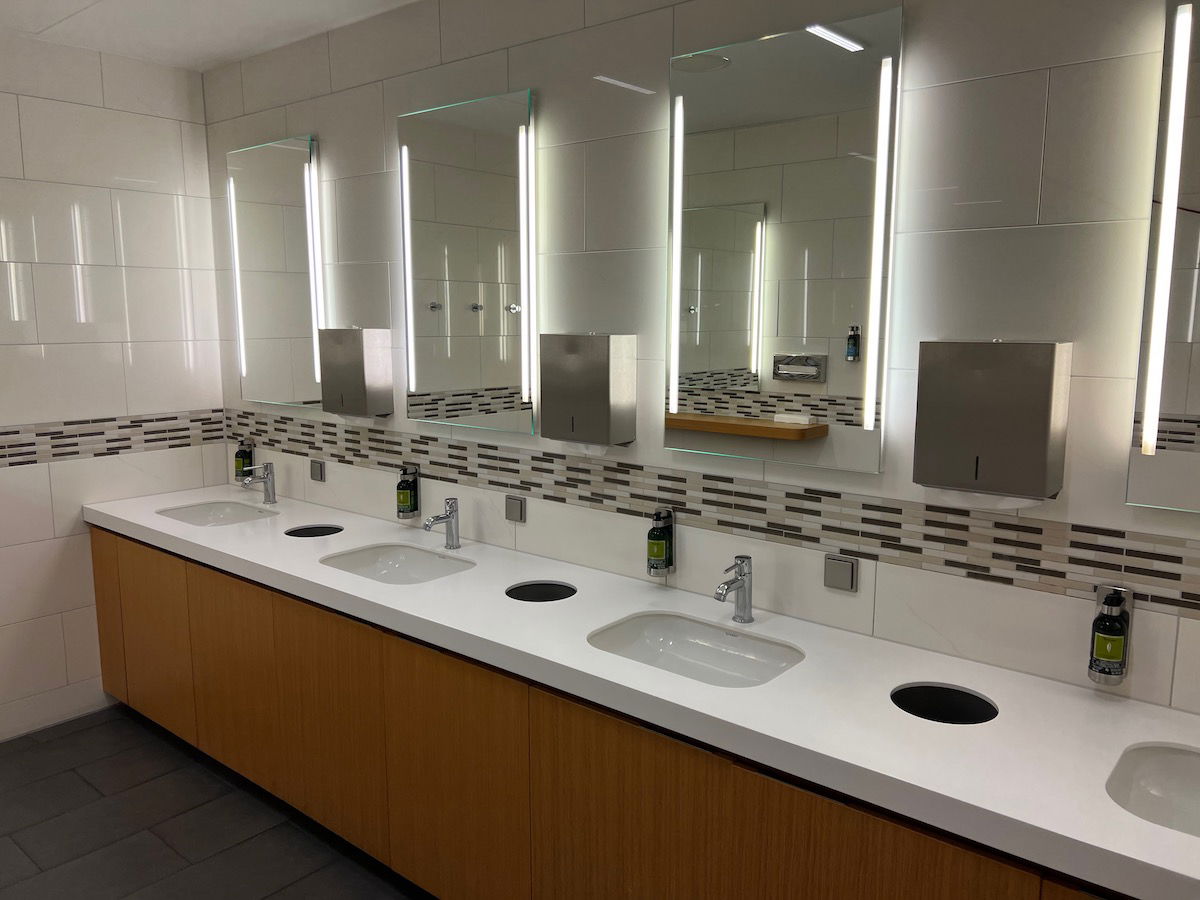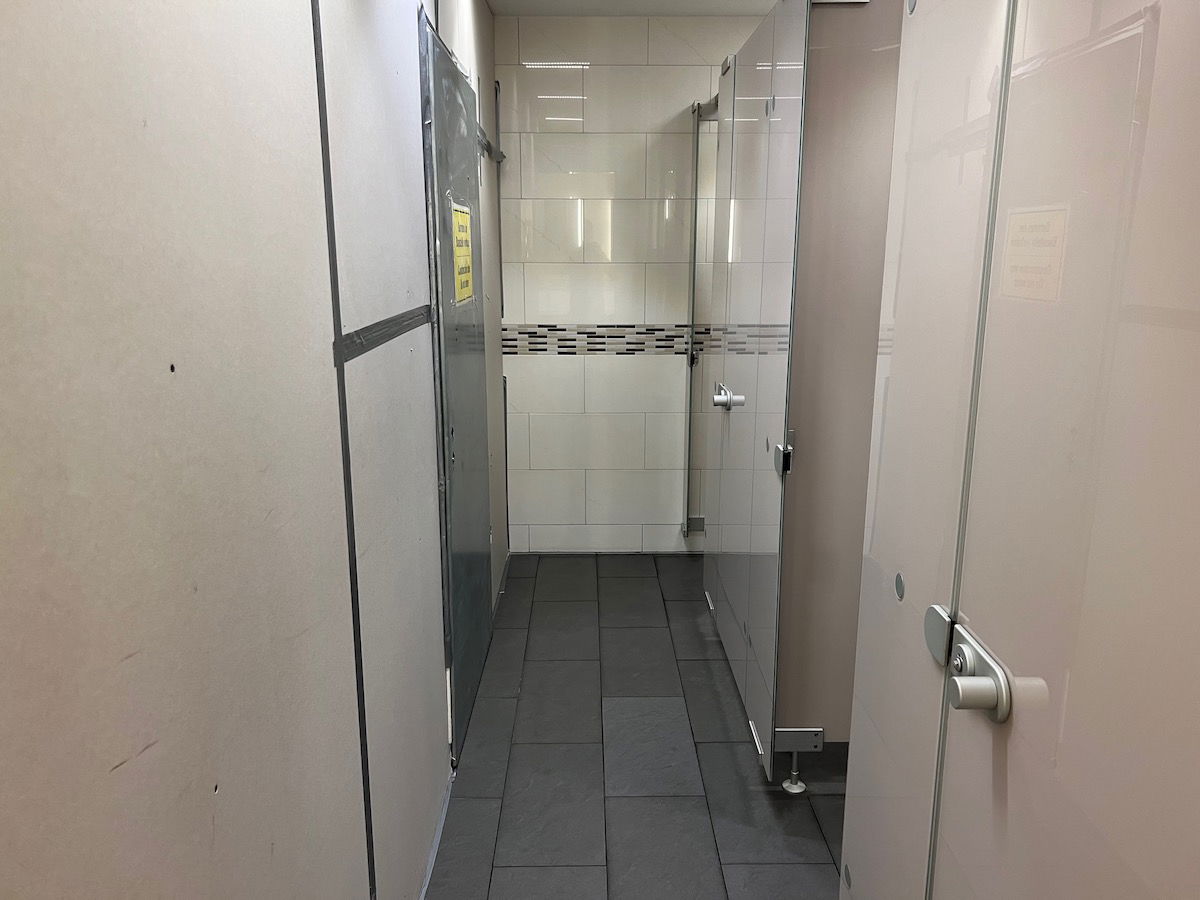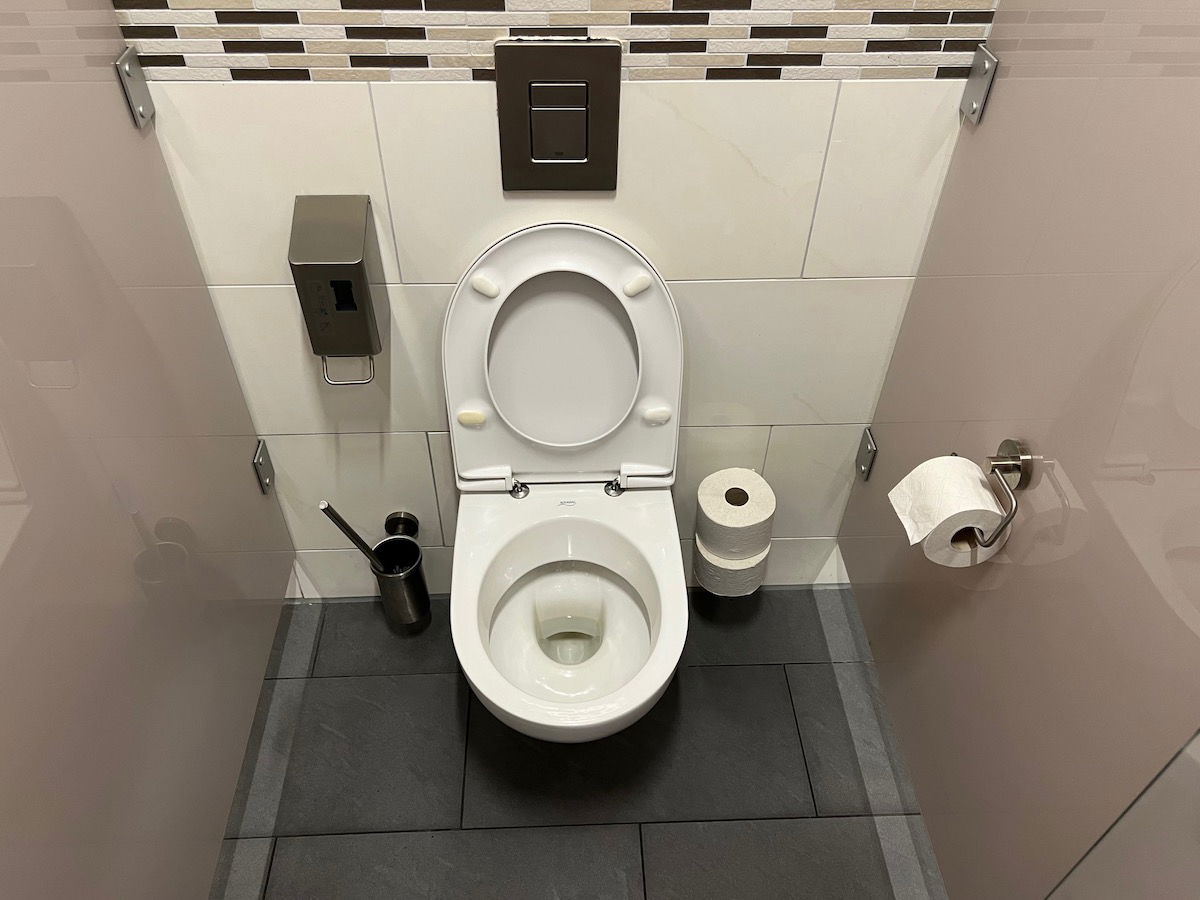 The lounge also has showers, which are identical to the ones that you'll find in the Lufthansa Business Lounge next door.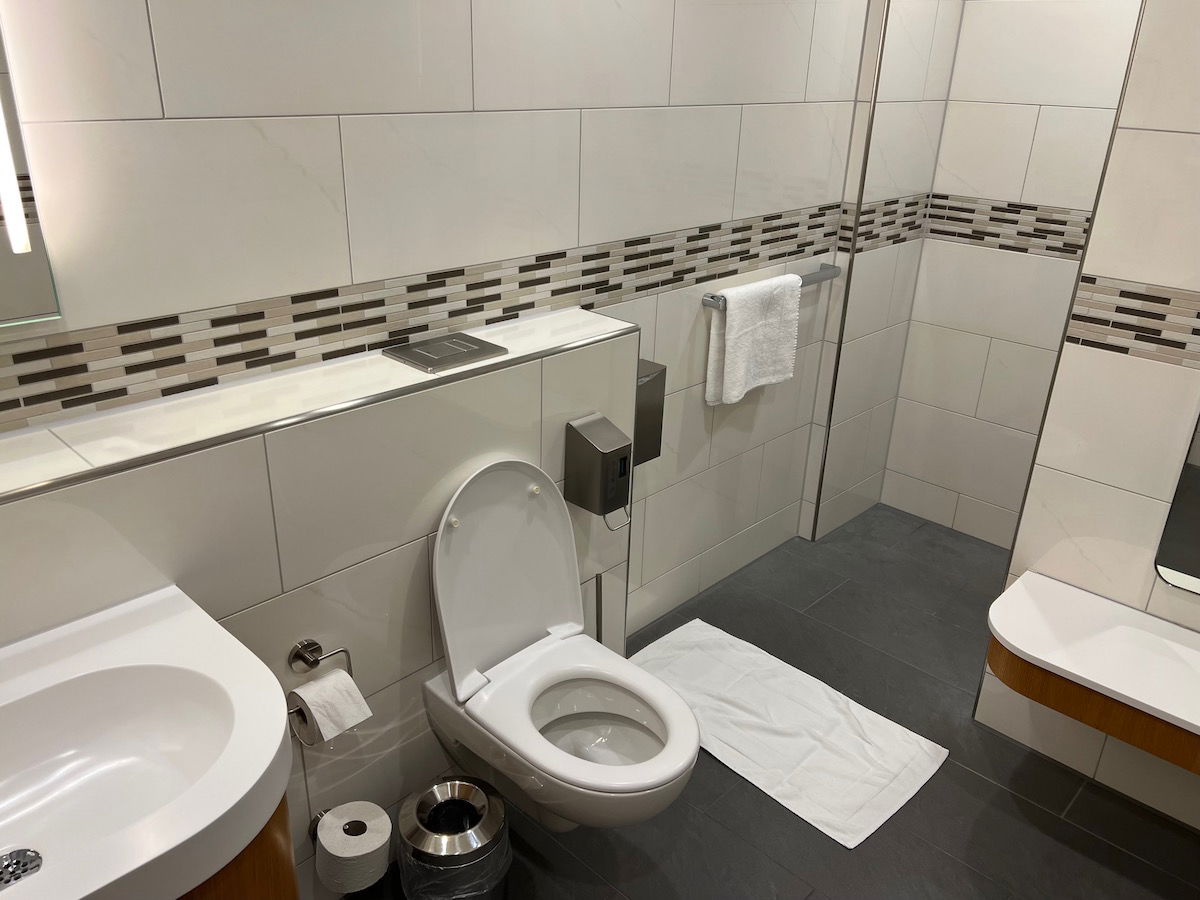 Bottom line
The Lufthansa Senator Lounge Munich is a perfectly nice lounge to spend some time if you're a Star Alliance Gold member, or otherwise have access. The lounge has a comfortable design with a few different seating options, an extensive selection of food and drinks (including barista coffee), and shower rooms.
More broadly speaking, I find it interesting how different airlines treat business class passengers vs. elite members. Lufthansa offers Star Alliance Gold members access to better lounges than business class passengers, while Singapore Airlines and United Airlines offer business class passengers access to better lounges than Star Alliance Gold members.
What do you make of the Lufthansa Senator Lounge Munich?