After an amazing time in Germany with my parents, it was time to start the journey back home. While we all flew back on the same transatlantic flight (in Lufthansa's A380 first class from Munich to Boston), I made a little detour on our return trip (which ended up backfiring), starting with flying Lufthansa's A319 business class from Frankfurt to Munich.
While at Frankfurt Airport, I had the chance to check out the Lufthansa Panorama Lounge, which is quite different than Lufthansa's other lounges. I've reviewed both the Lufthansa Business Lounge Frankfurt and Lufthansa Senator Lounge Frankfurt, and the truth is that Lufthansa is incredibly consistent with its lounge design, perhaps to a fault.
The Panorama Lounge is the exception. Lufthansa took over this lounge in late 2018, as it previously had an independent operator. The design is totally different than what you'll find in other Lufthansa lounges, and since this lounge was previously part of the airport's VIP services, there are a bunch of smaller rooms you can sit in (which used to be private VIP rooms).
Let's get into the review, though I'll note that this lounge could be worth a visit if you have a Lufthansa or Star Alliance partner flight out of the Schengen zone…
Lufthansa Panorama Lounge Frankfurt Airport location
The Lufthansa Panorama Lounge Frankfurt is located in Terminal 1, near gate A26, in the Schengen zone. So when you're in the A-gates, just follow the signage in the direction of gate A26.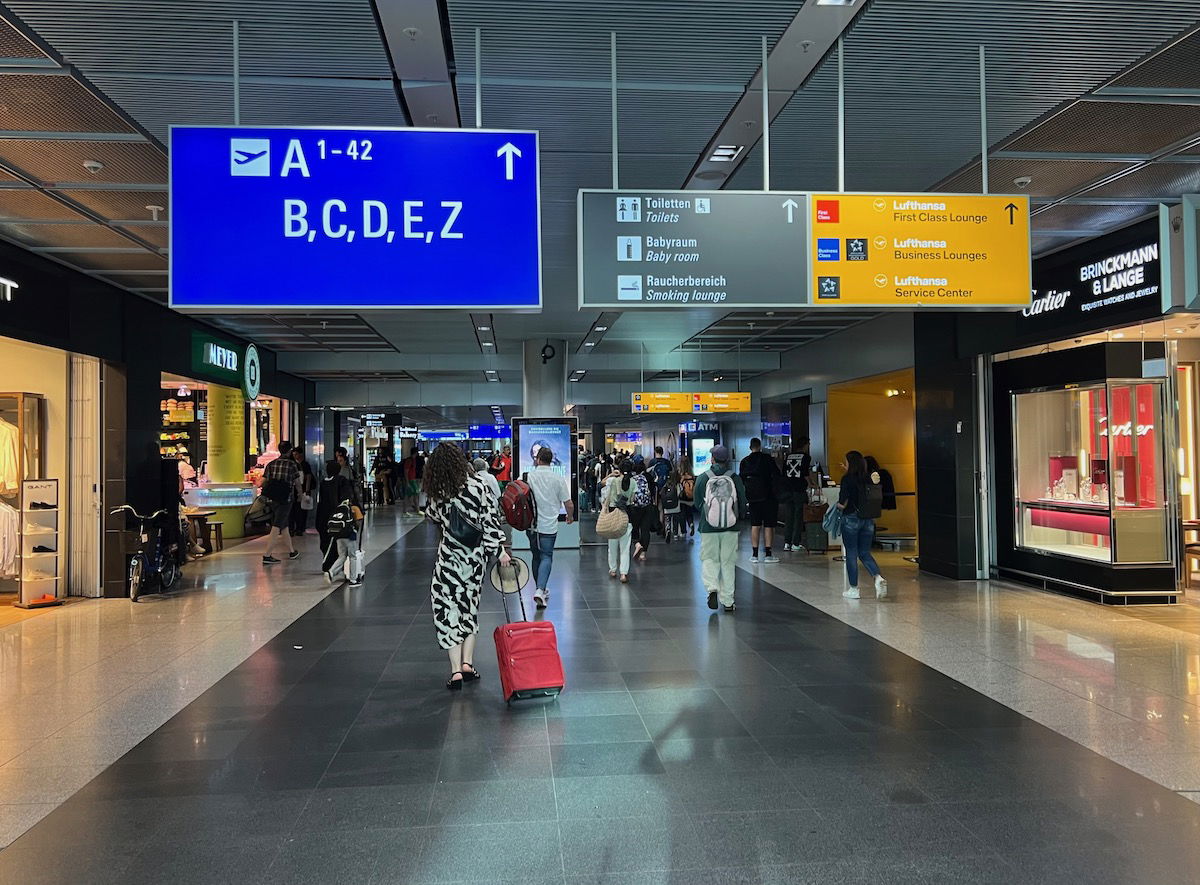 Eventually you'll see the lounge on the left, next to a duty free shop and across from an elevator. This lounge is kind of hidden and a bit out of the way for many, and as a result, it seems like it doesn't get quite as crowded as some other Lufthansa lounge locations.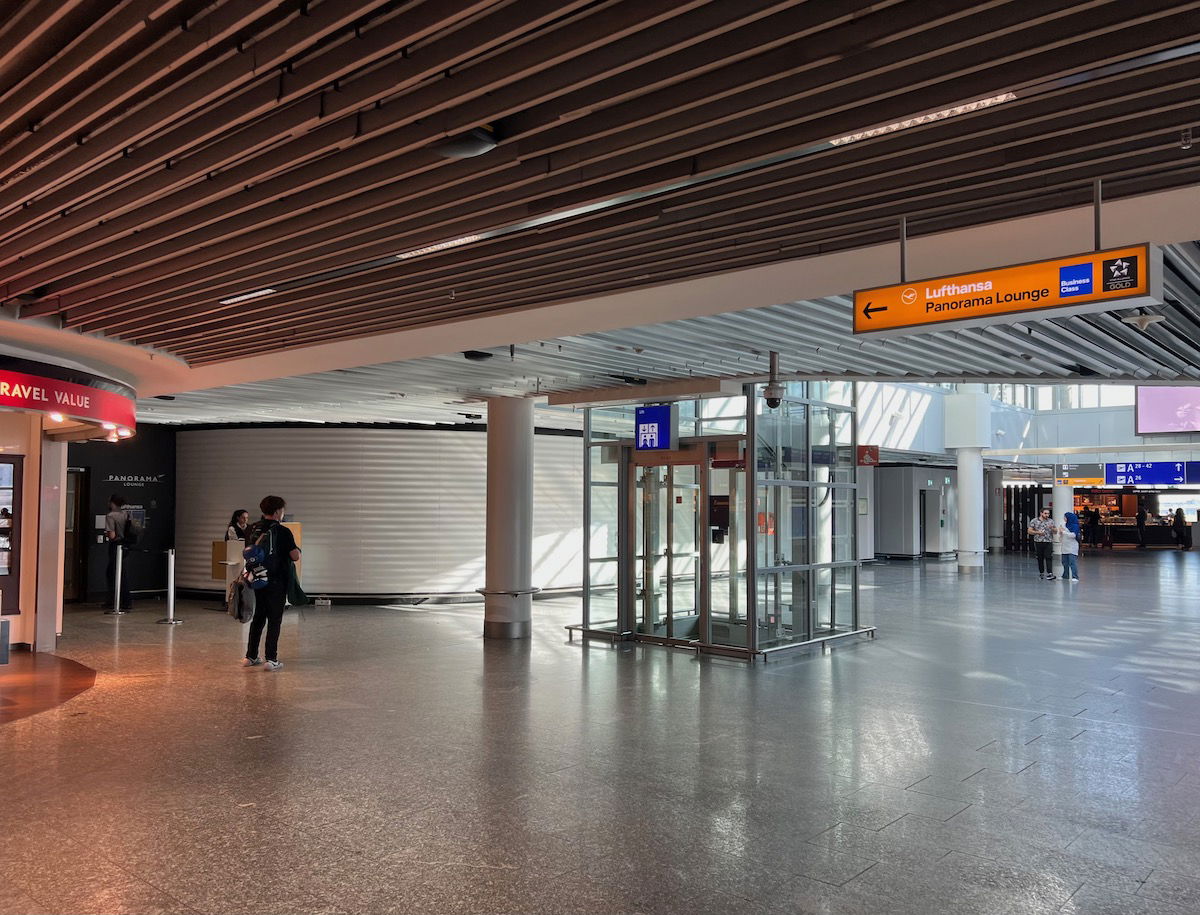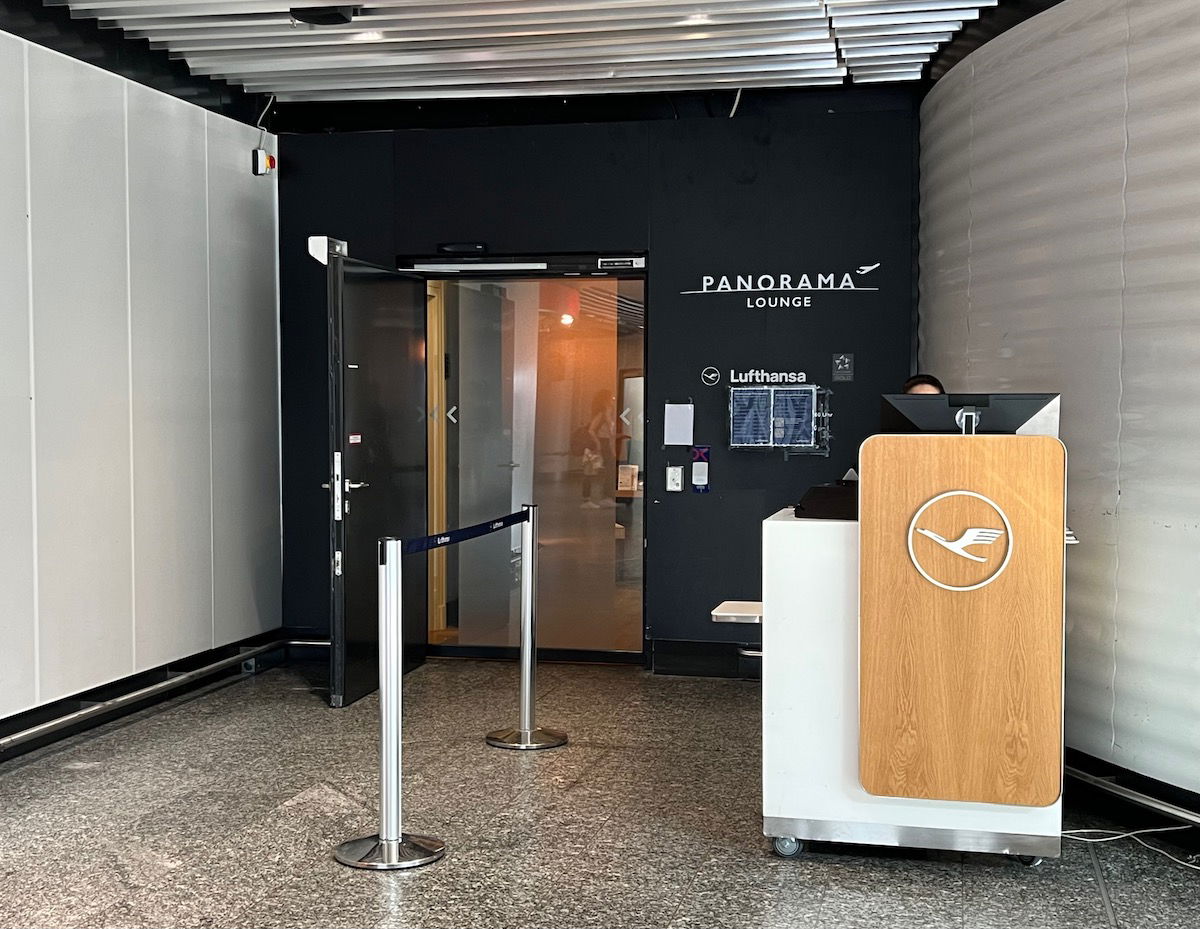 Lufthansa Panorama Lounge Frankfurt Airport hours
The Lufthansa Panorama Lounge Frankfurt is currently open daily from 6AM until 9:30PM, covering virtually all Lufthansa departures from the terminal.
Lufthansa Panorama Lounge Frankfurt Airport entry requirements
Despite its unique branding, the Lufthansa Panorama Lounge is a standard Lufthansa Business Lounge. It follows Star Alliance business class lounge policies, so can be accessed by:
Lufthansa business class passengers, as well as business class passengers on all Star Alliance partner airlines; no guests are allowed
Star Alliance Gold members can also use the lounge and bring a guest when flying Star Alliance the same day; however, they can also use the (theoretically better) Lufthansa Senator Lounges
Lufthansa Miles & More Frequent Traveller members (which otherwise only equates to Star Alliance Silver); no guests are allowed
Those with the Amex Platinum Card can access the lounge when traveling in economy on Lufthansa, as part of the card's overall lounge perks
Lufthansa Panorama Lounge Frankfurt Airport seating & layout
The Lufthansa Panorama Lounge Frankfurt is roughly 12,000 square feet (1,100 square meters), and it has quite the sprawling layout. After entering the lounge, there's a reception desk straight ahead, and then you can turn either left or right.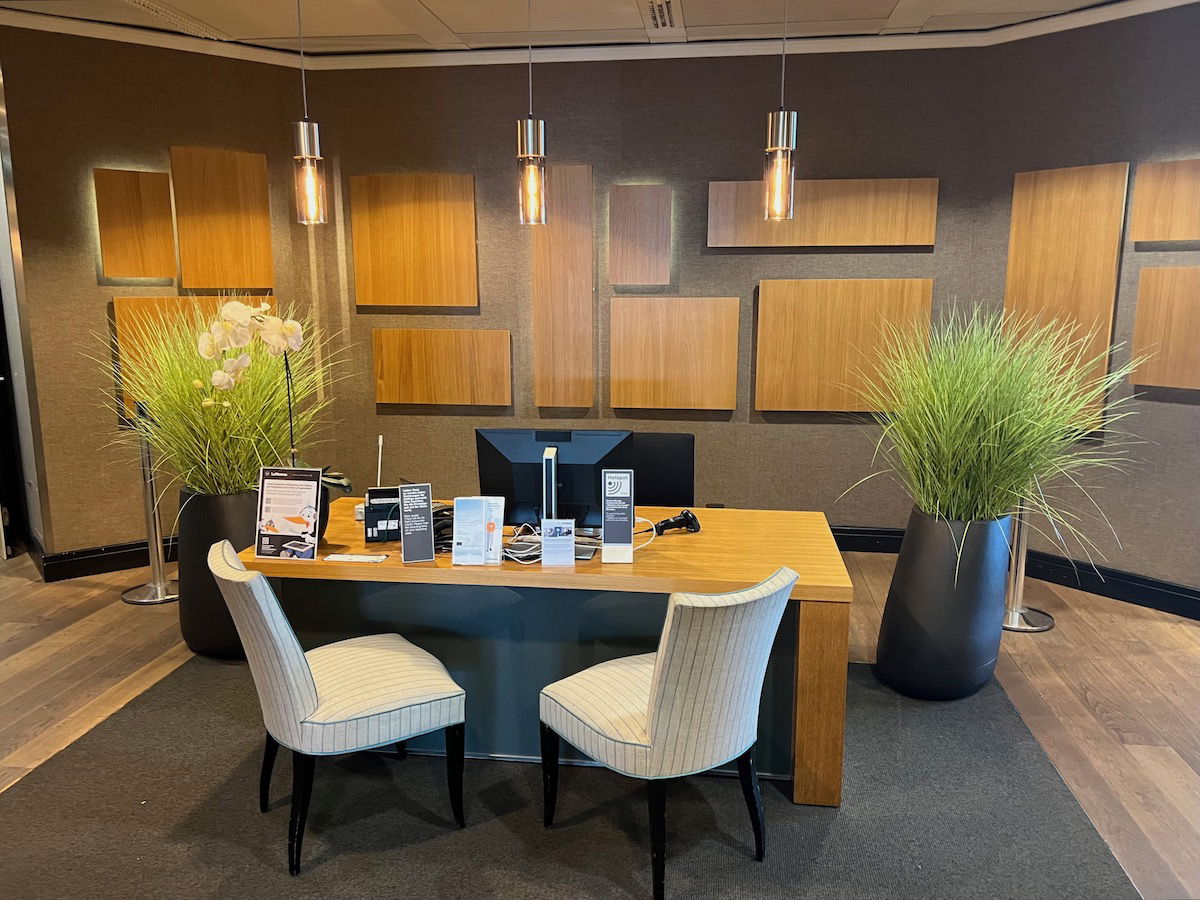 If you turn right, you'll be in the main part of the lounge, which feels like a traditional airport lounge. It has a variety of cafe-style tables and high-top seating, with floor-to-ceiling windows. This part of the lounge tends to get busiest, since it's right by the buffet, and is also the single largest space.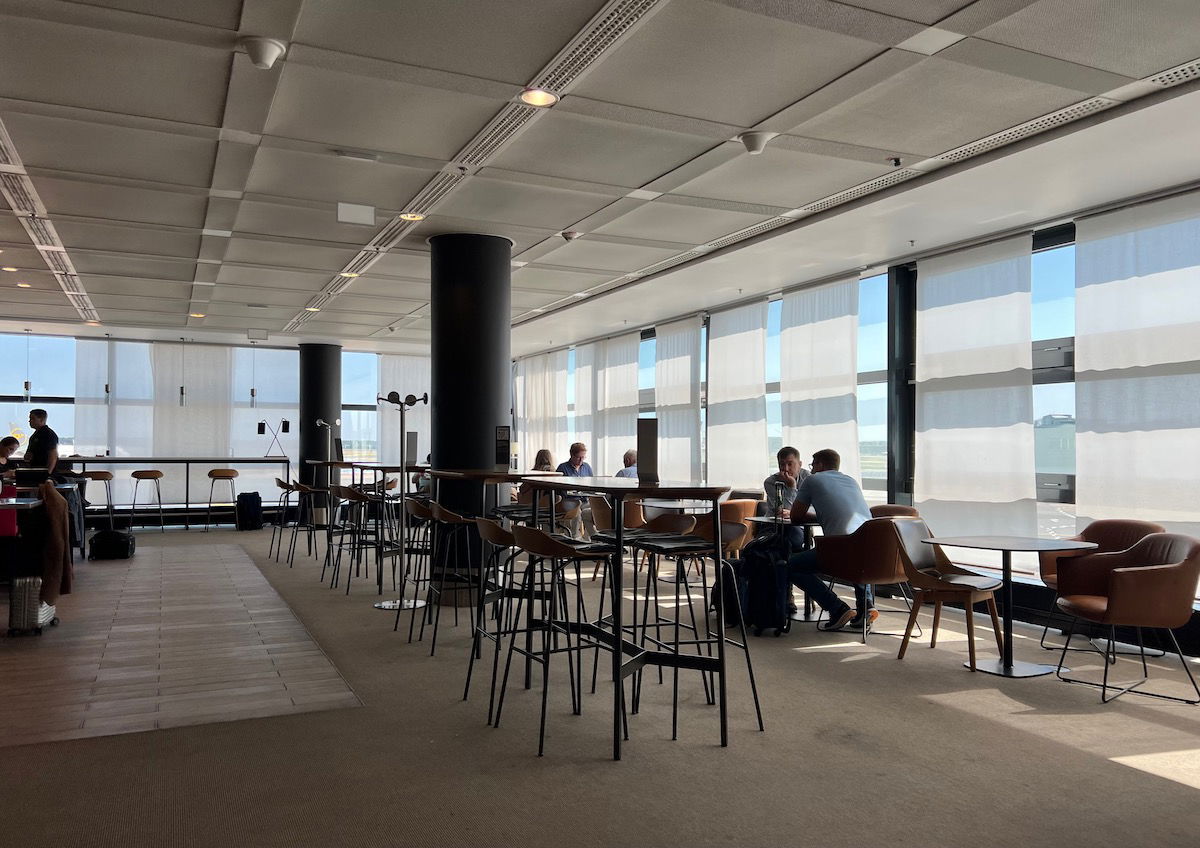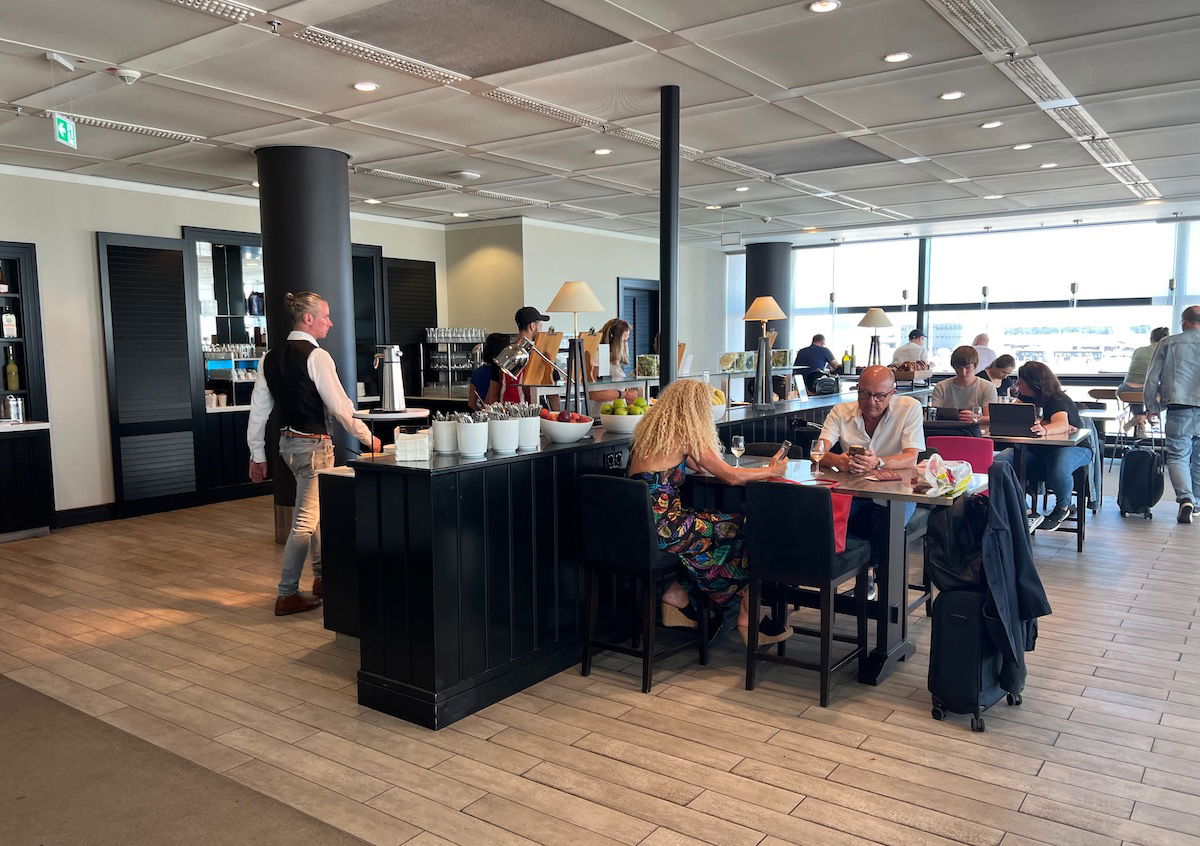 If you turn left, you'll find yourself in an area that most definitely doesn't feel like your typical Lufthansa lounge, as it's very… red. First you'll find a room with several tables, a bench, and some chairs.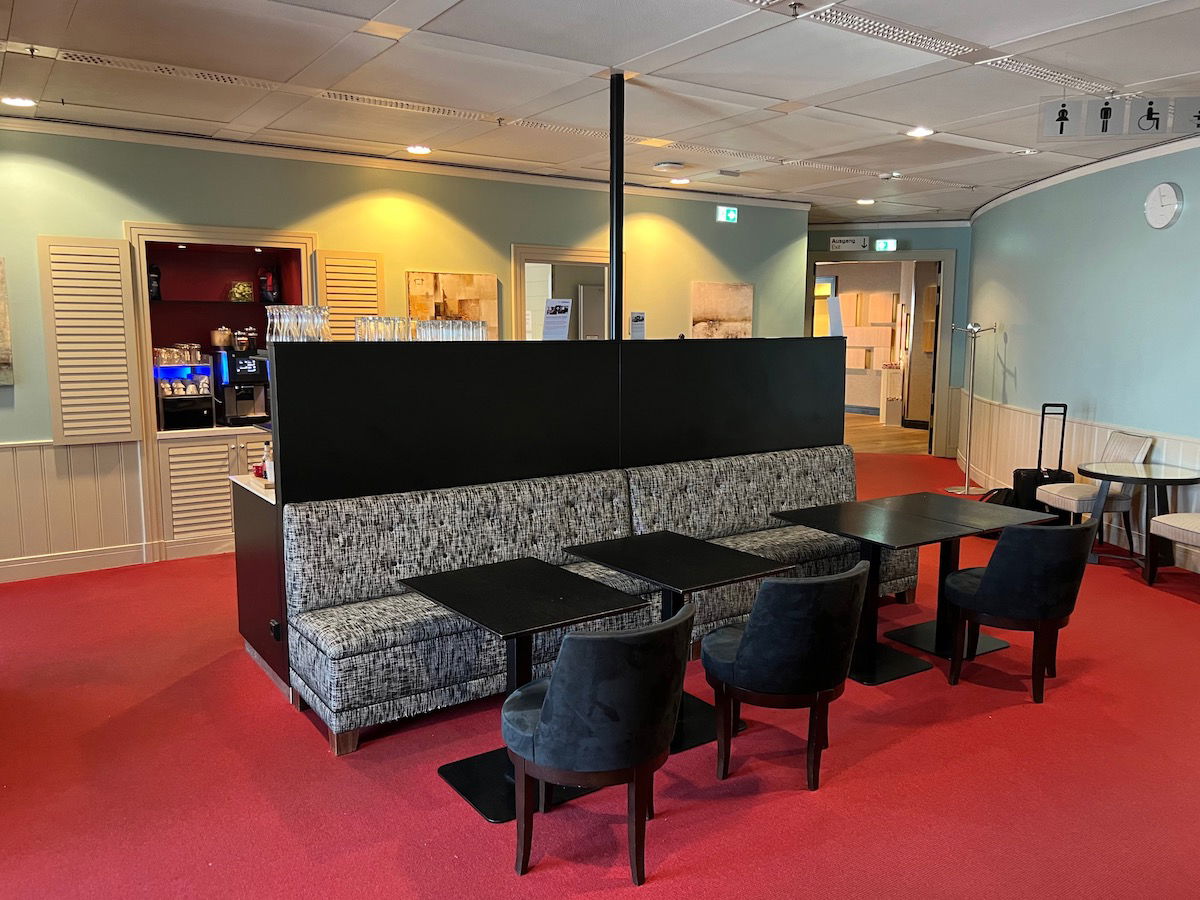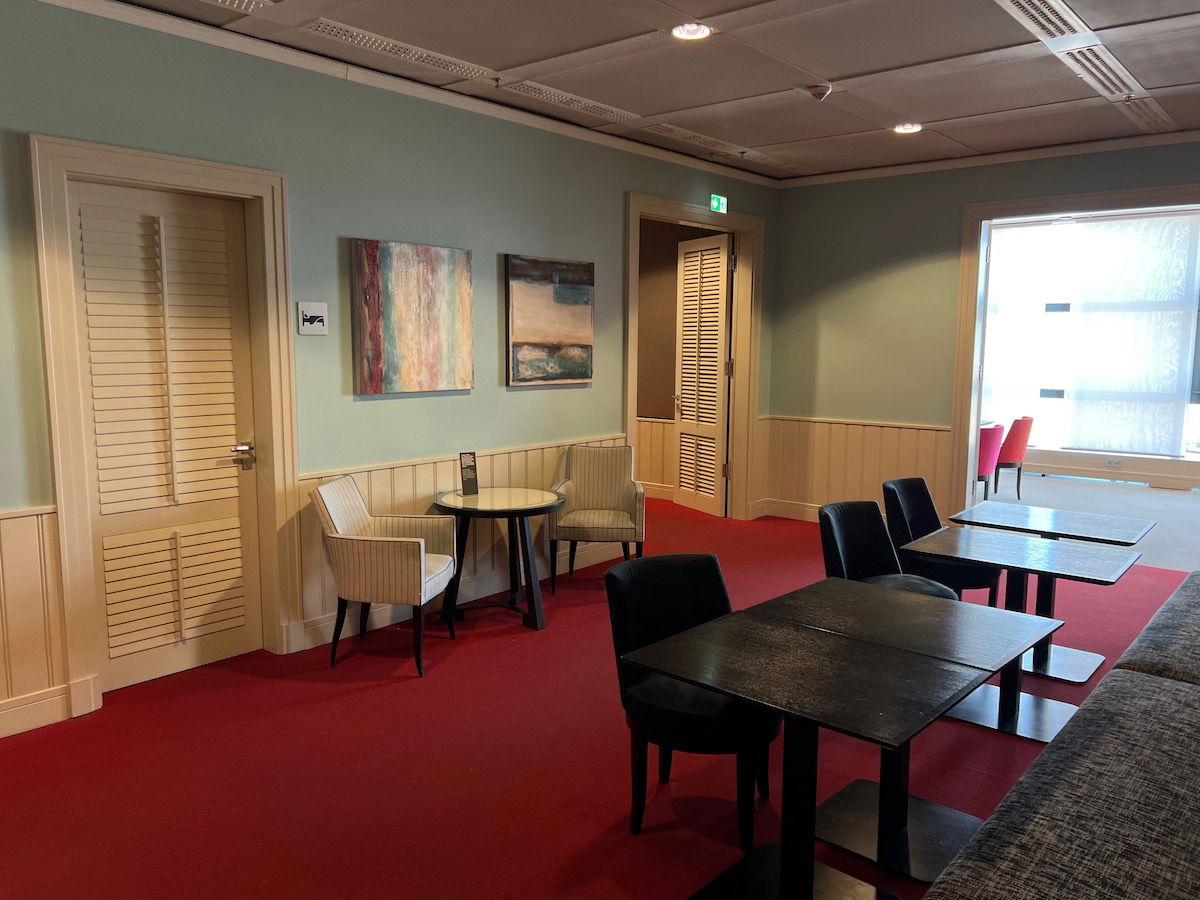 There's then a hallway, with several smaller rooms. I believe that back in the day this was a private VIP lounge where you could rent the rooms, but now these are shared spaces for guests.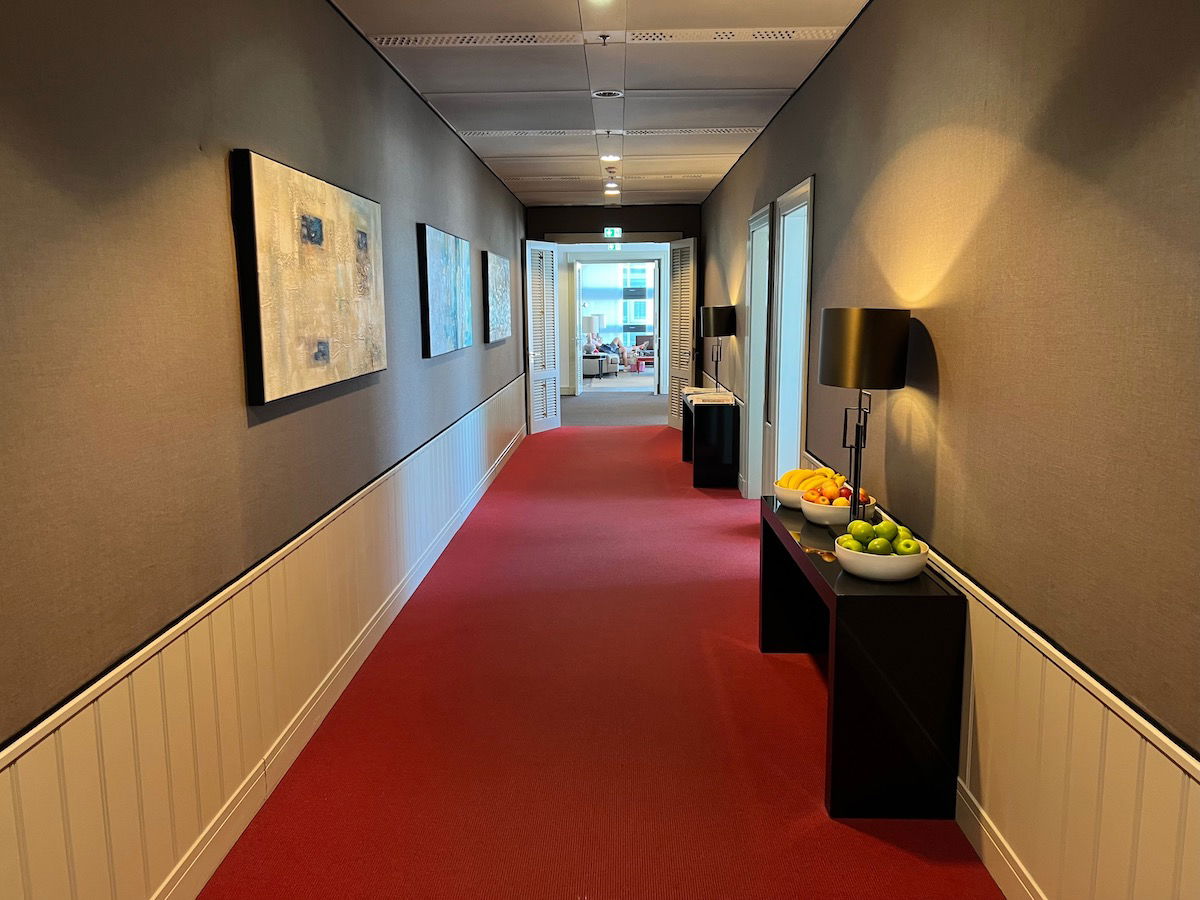 Each room almost feels like a living room, with a couch, some chairs, and even a dining table. The furniture feels a bit mismatched, as it's a combination of the old lounge furniture, plus some newer Lufthansa furniture.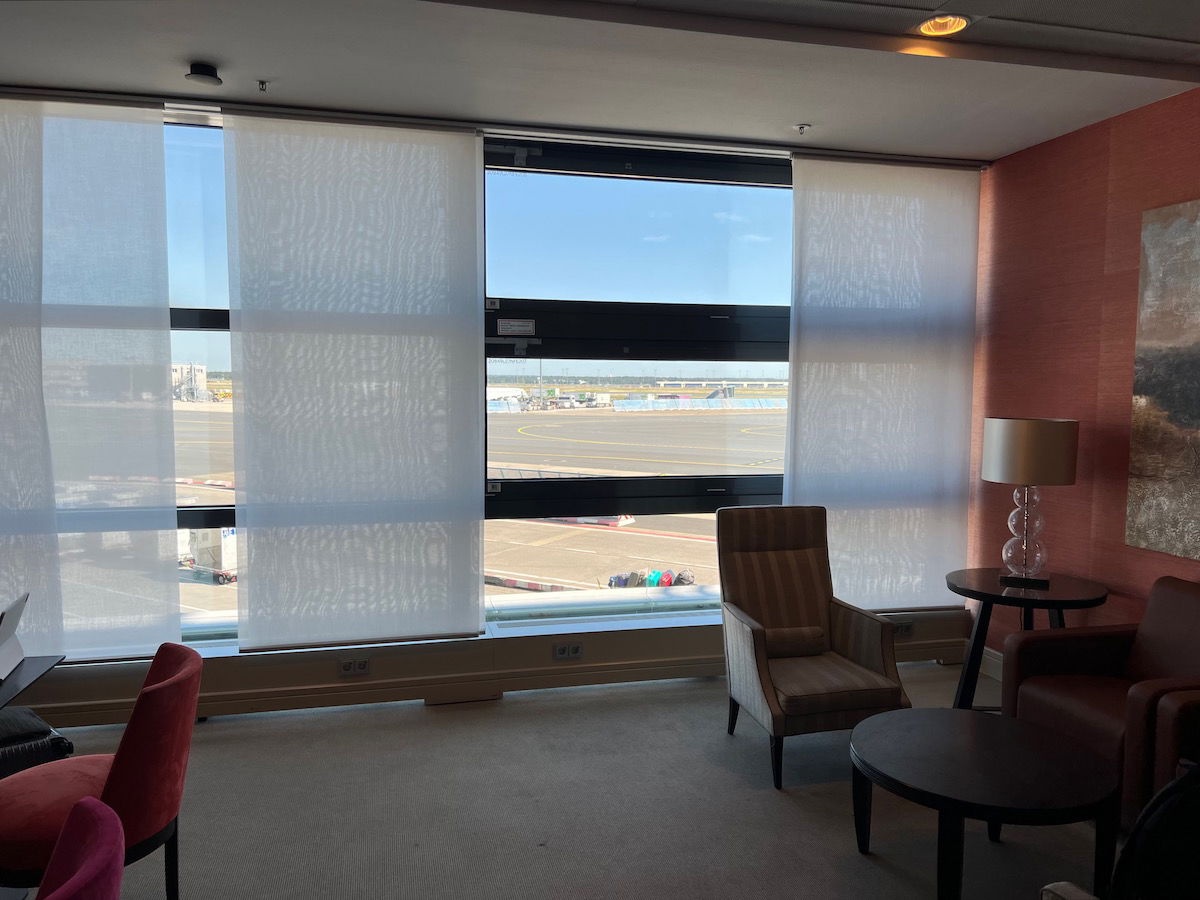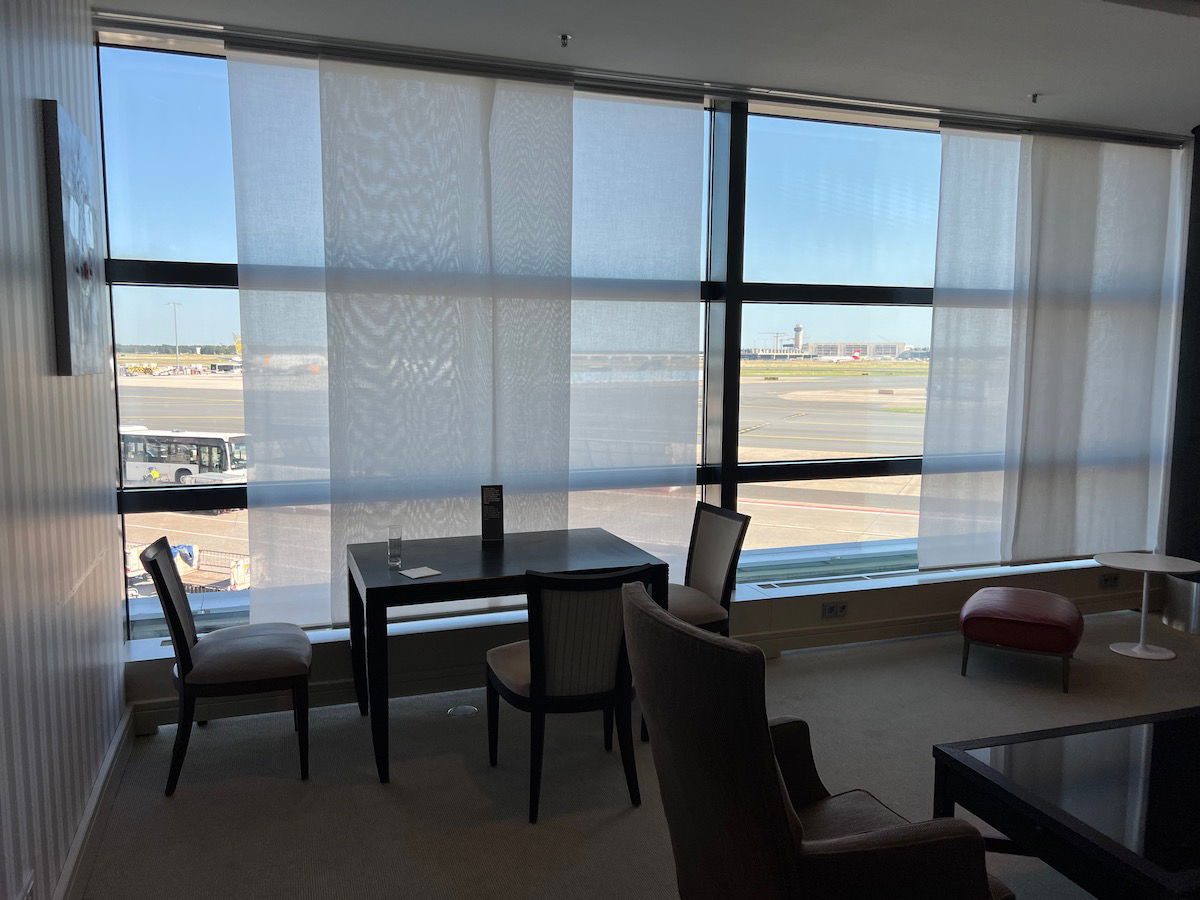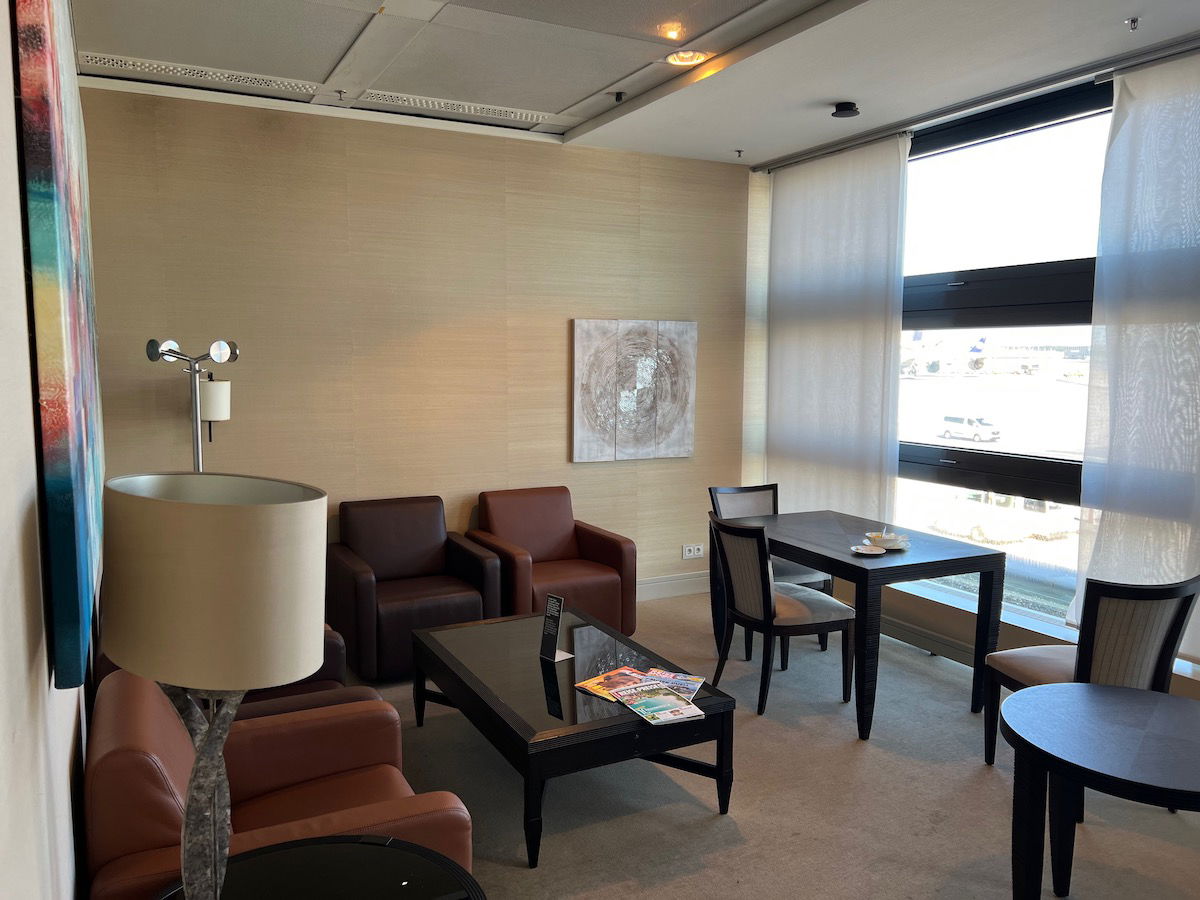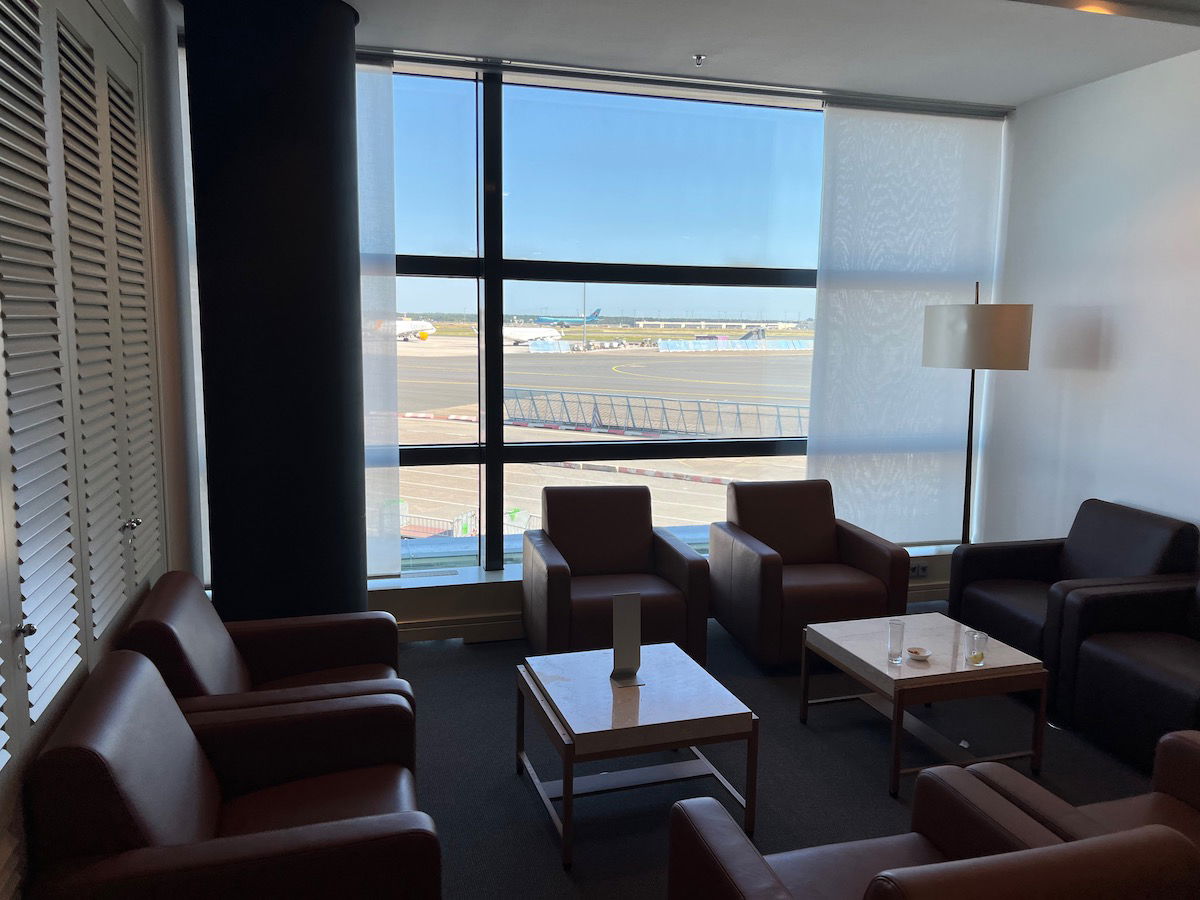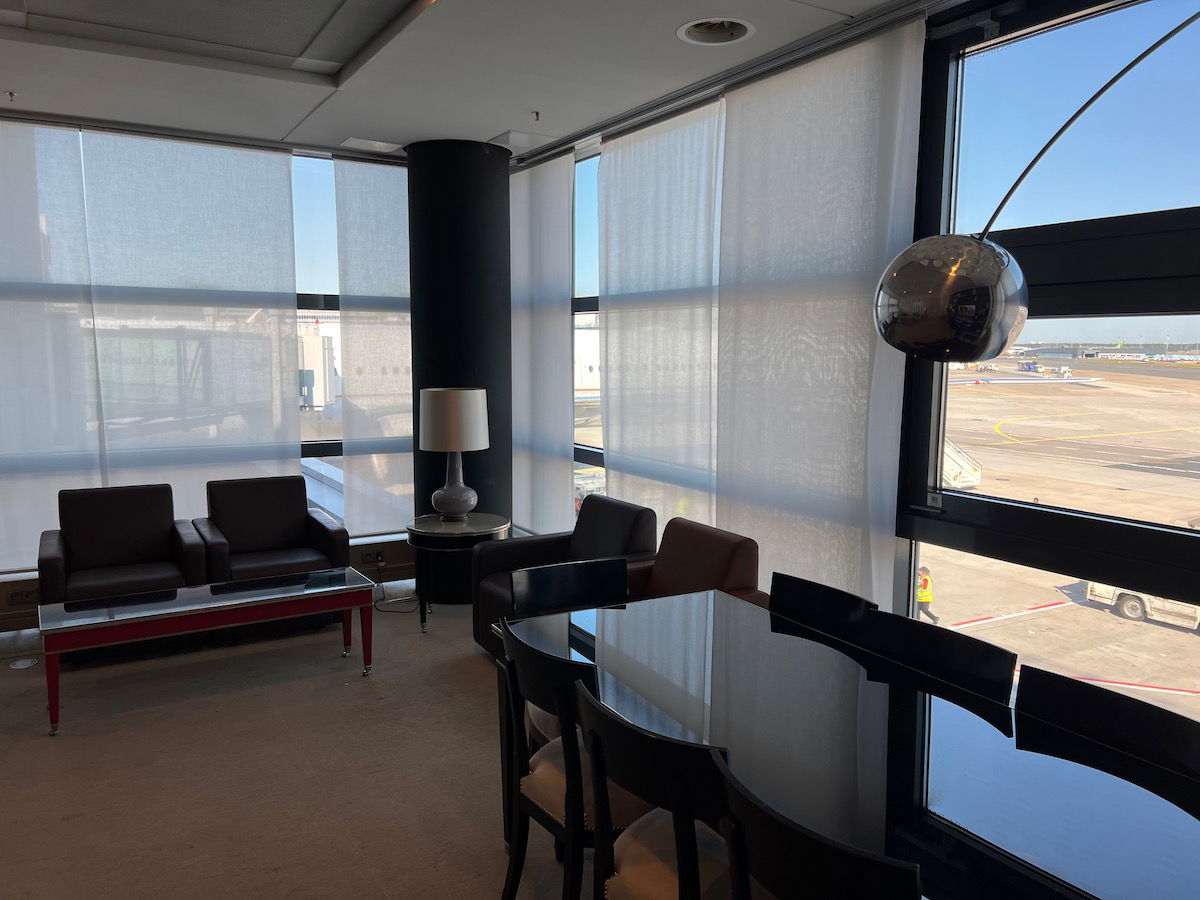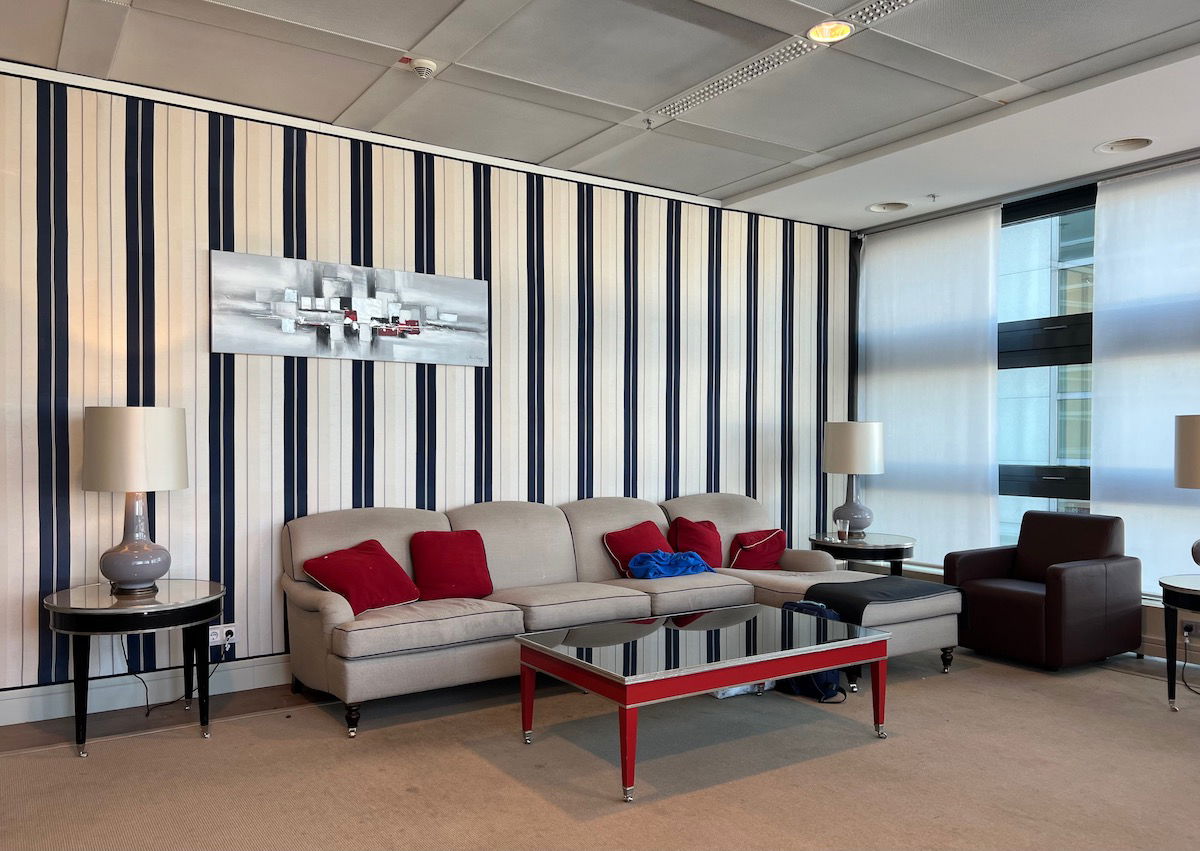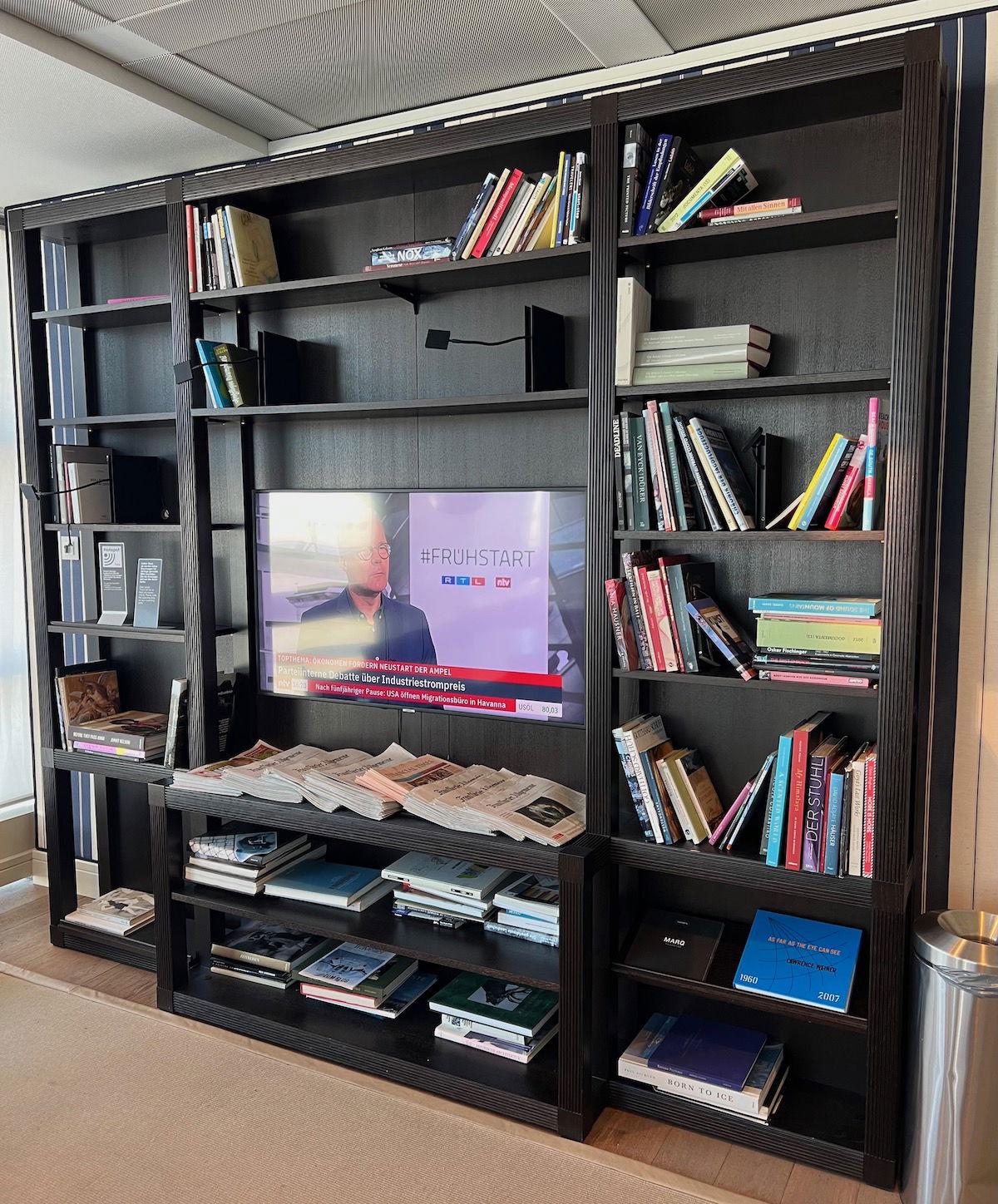 Now, I'd argue that there's almost a hidden part of the lounge, which most people never seem to find. When you walk down that red hallway above, just keep going and turn left, and then look to the right. You'll then find a room with quite a bit of seating. While the lounge was otherwise crowded, I had this whole space to myself for around an hour.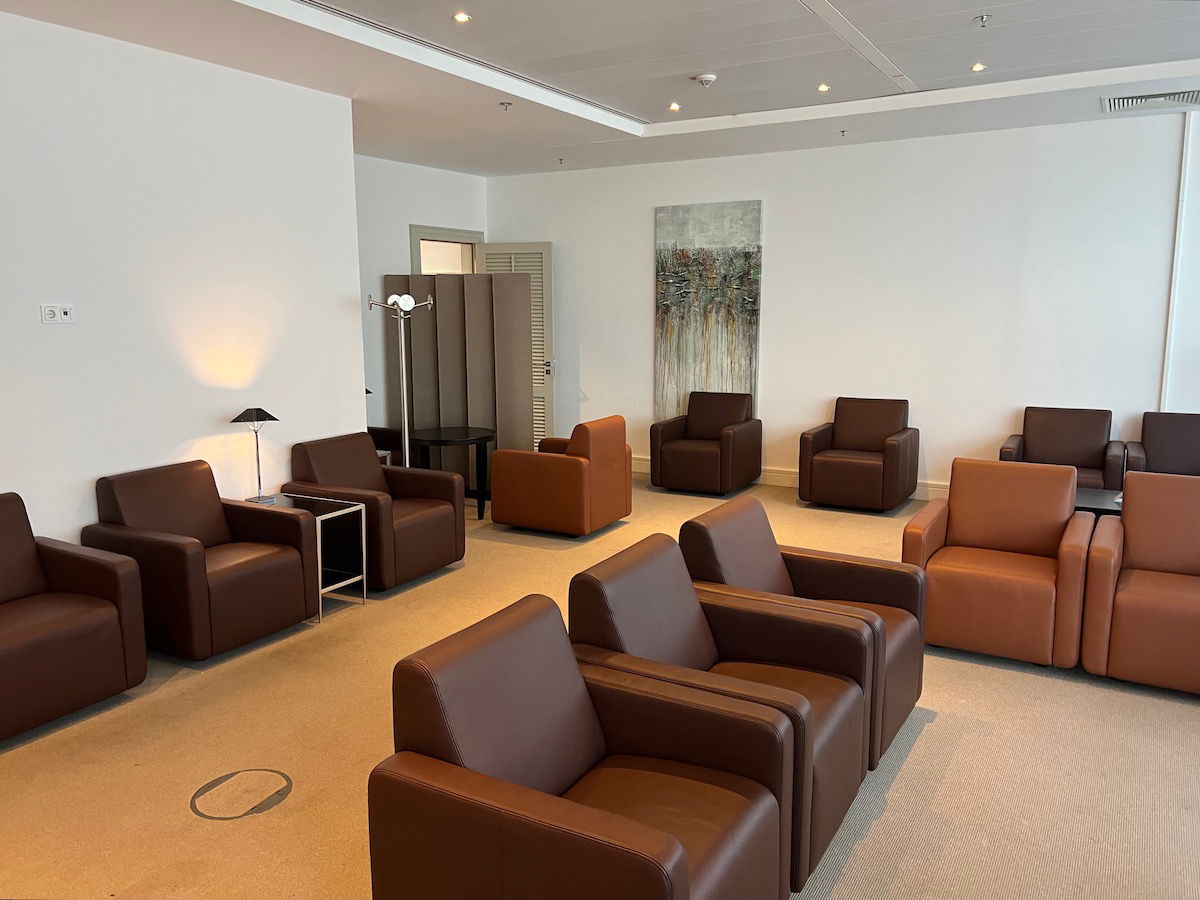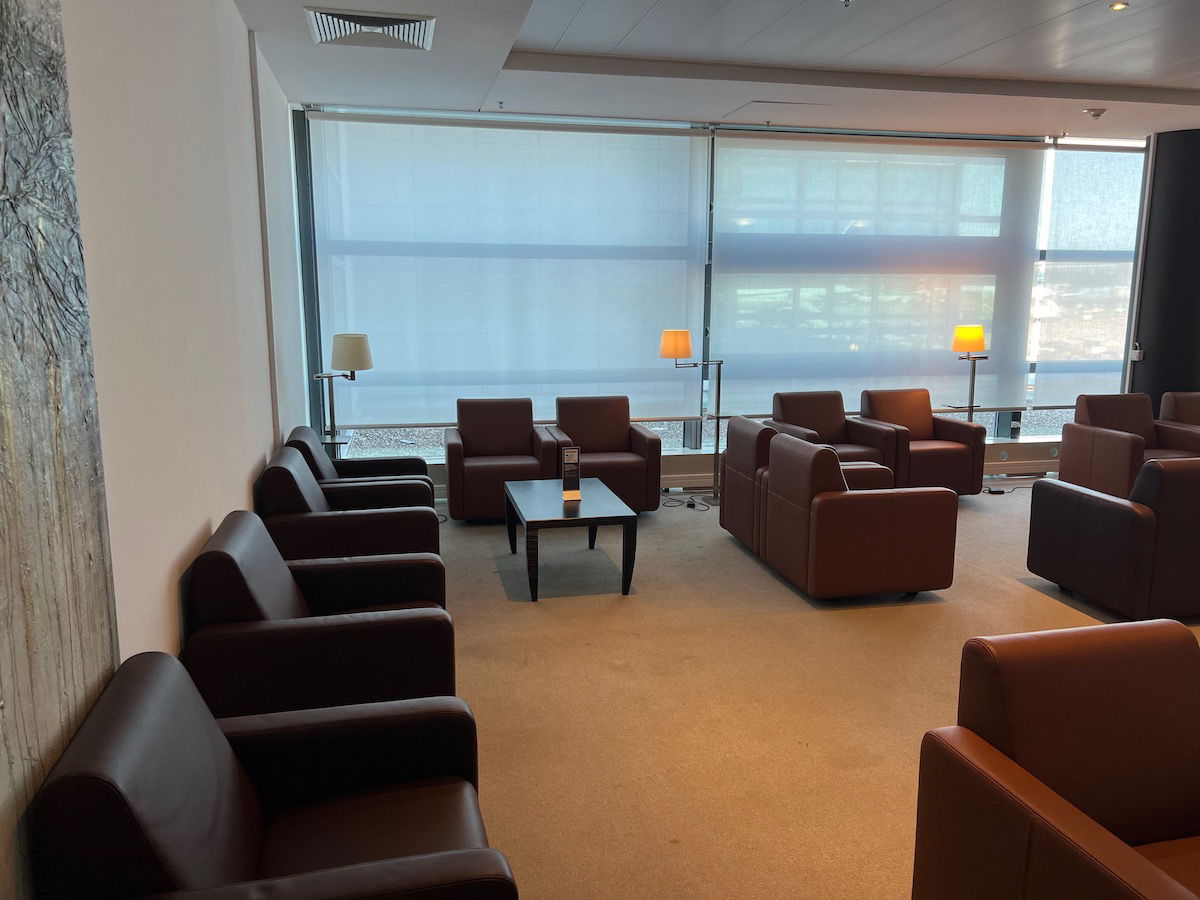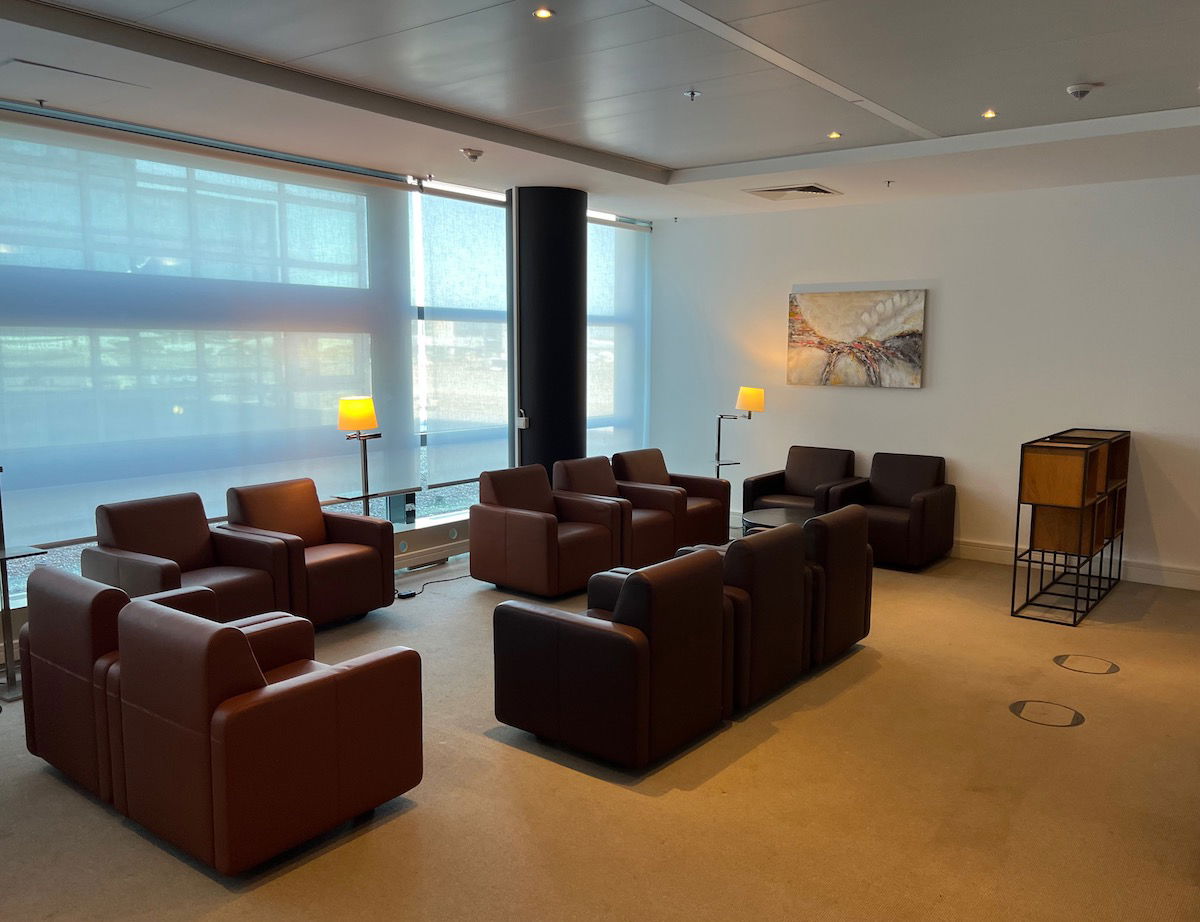 Honestly, the best part of the lounge is the views. The lounge has amazing views of the apron, so it's a paradise for plane spotters.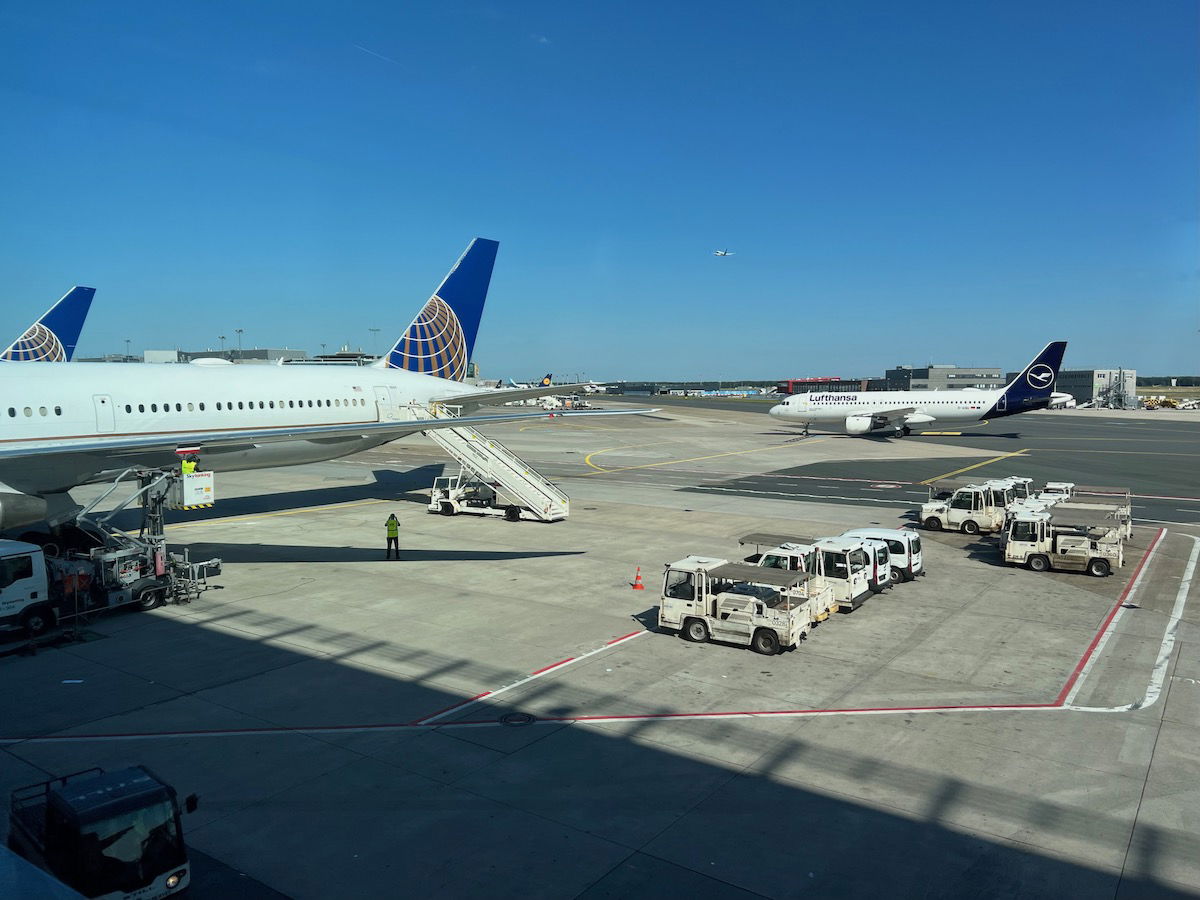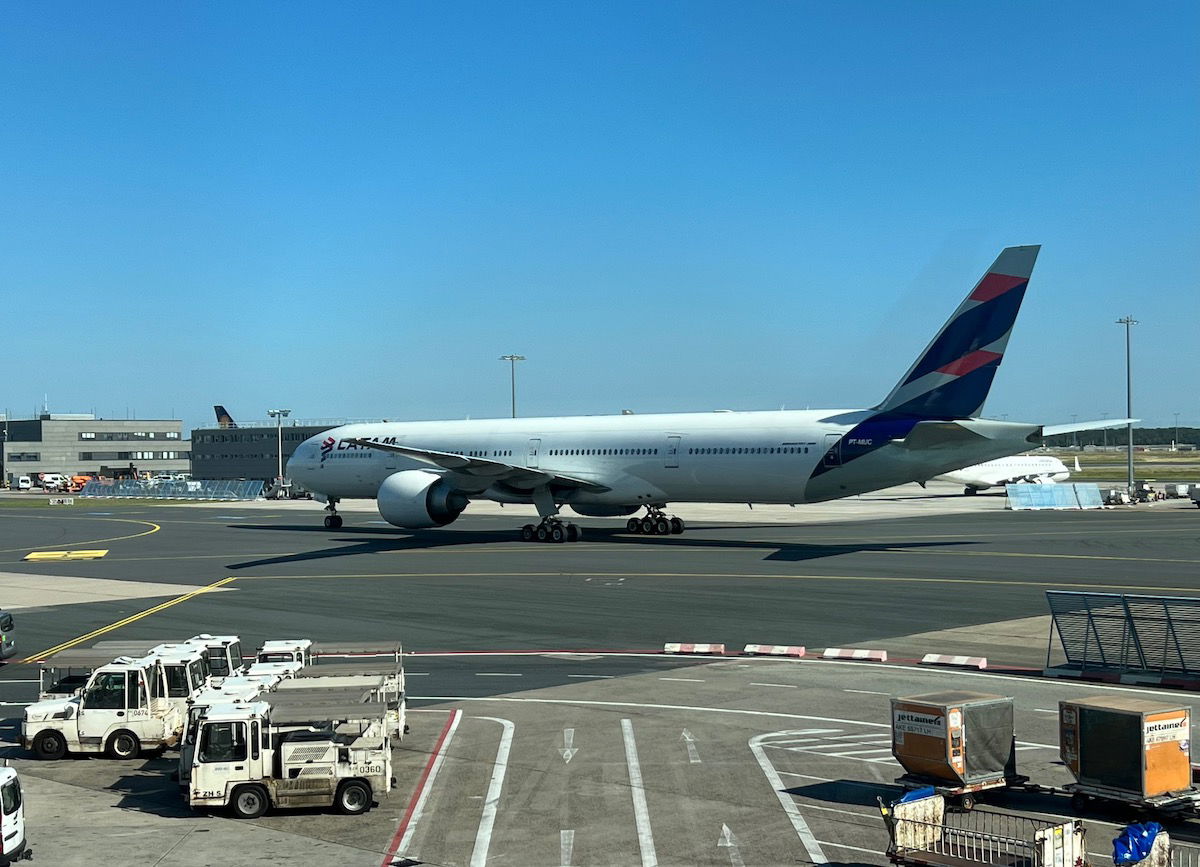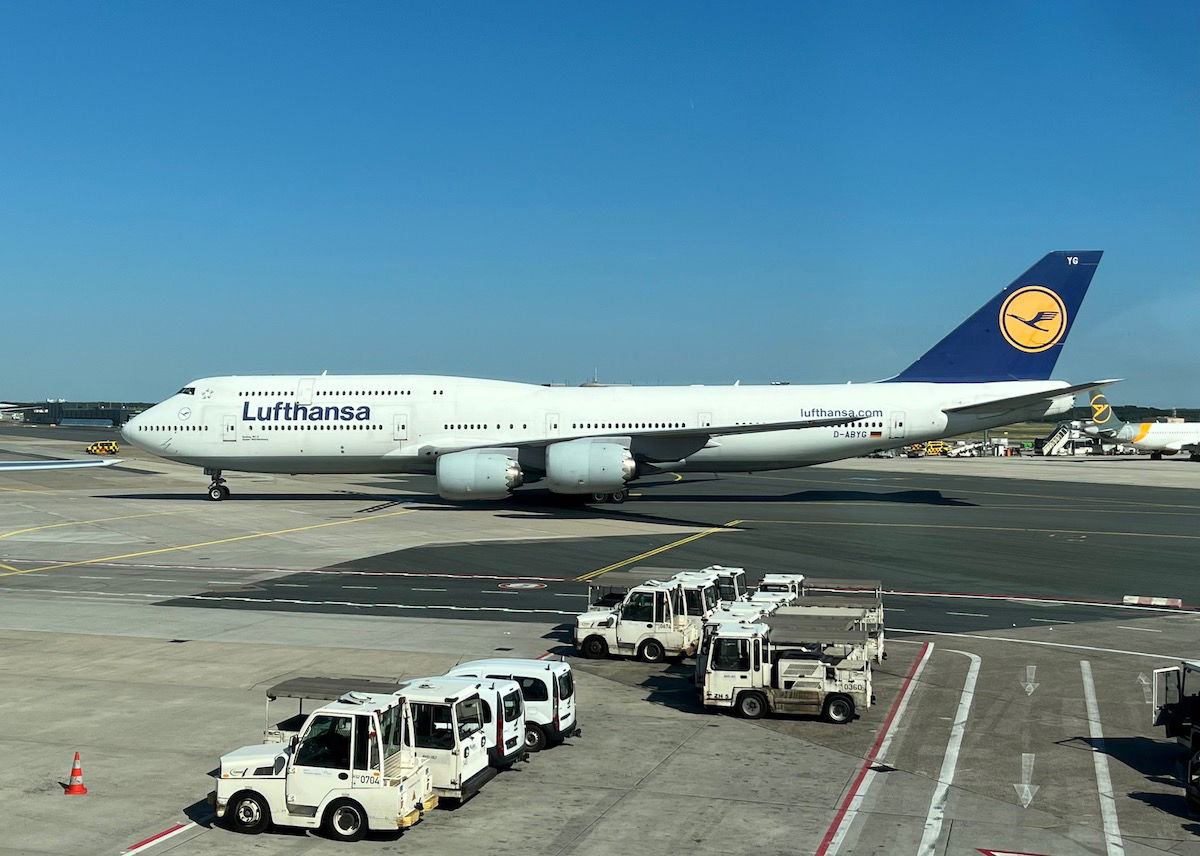 Lufthansa Panorama Lounge Frankfurt Airport food & drinks
The Lufthansa Panorama Lounge Frankfurt has a respectable selection of food and drinks. The main buffet is located inside the entrance to the lounge and to the right. For a Schengen business class lounge, I find that Lufthansa does a pretty good job with its lounge catering.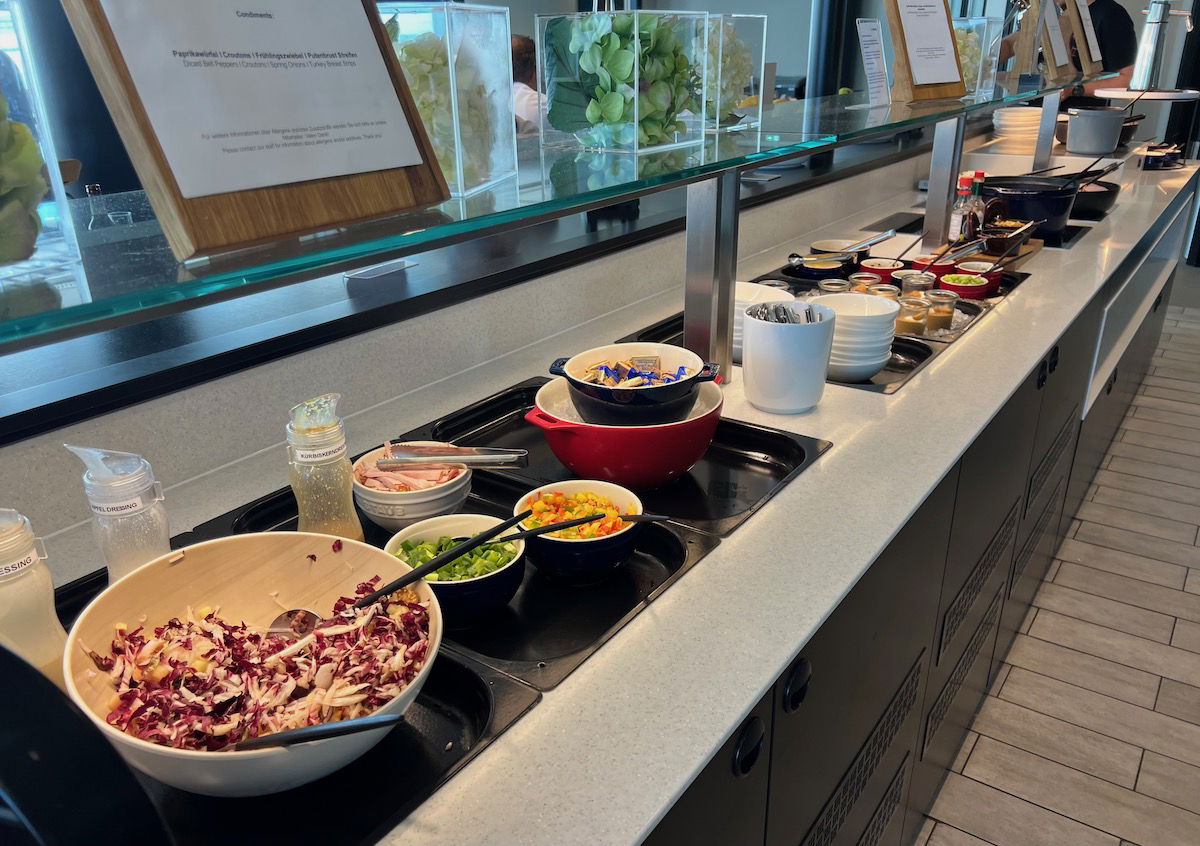 The food selection included all kinds of bread, pretzels (YUM!), salad, soup, several hot dishes, desserts, candy, and even a freezer with ice cream.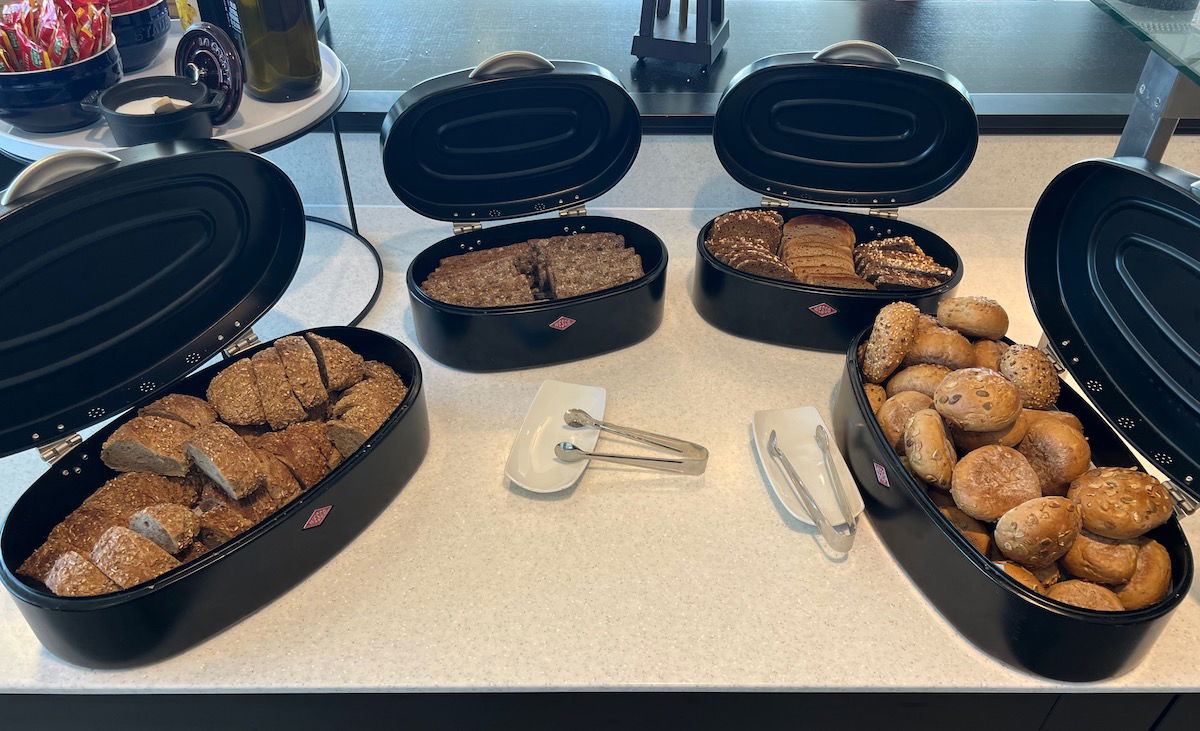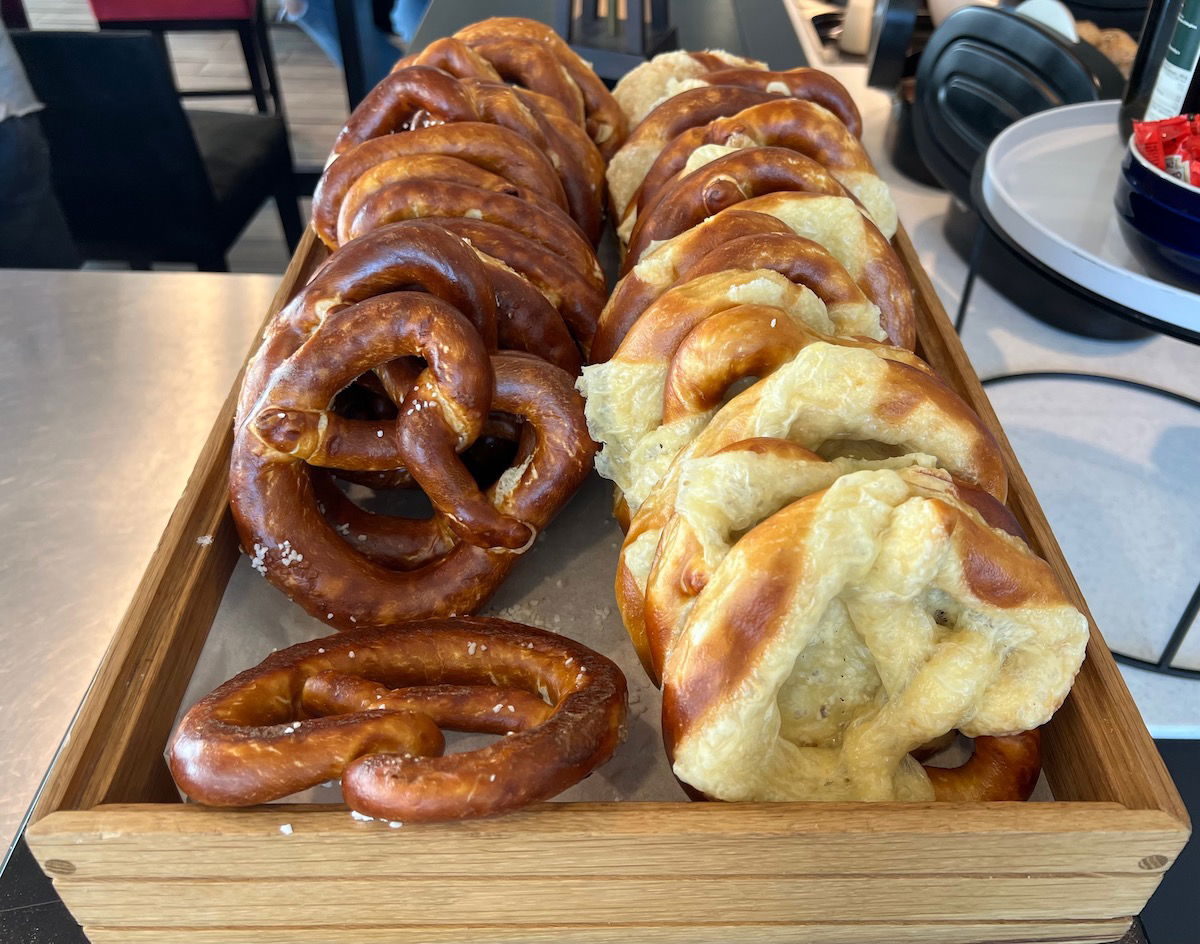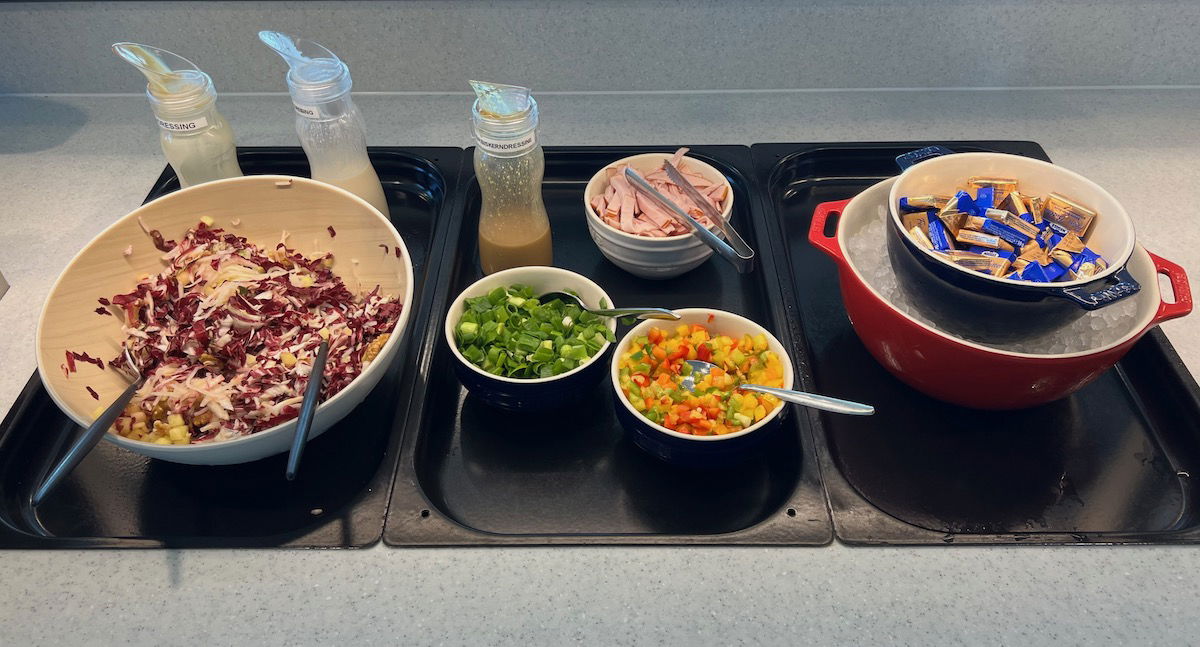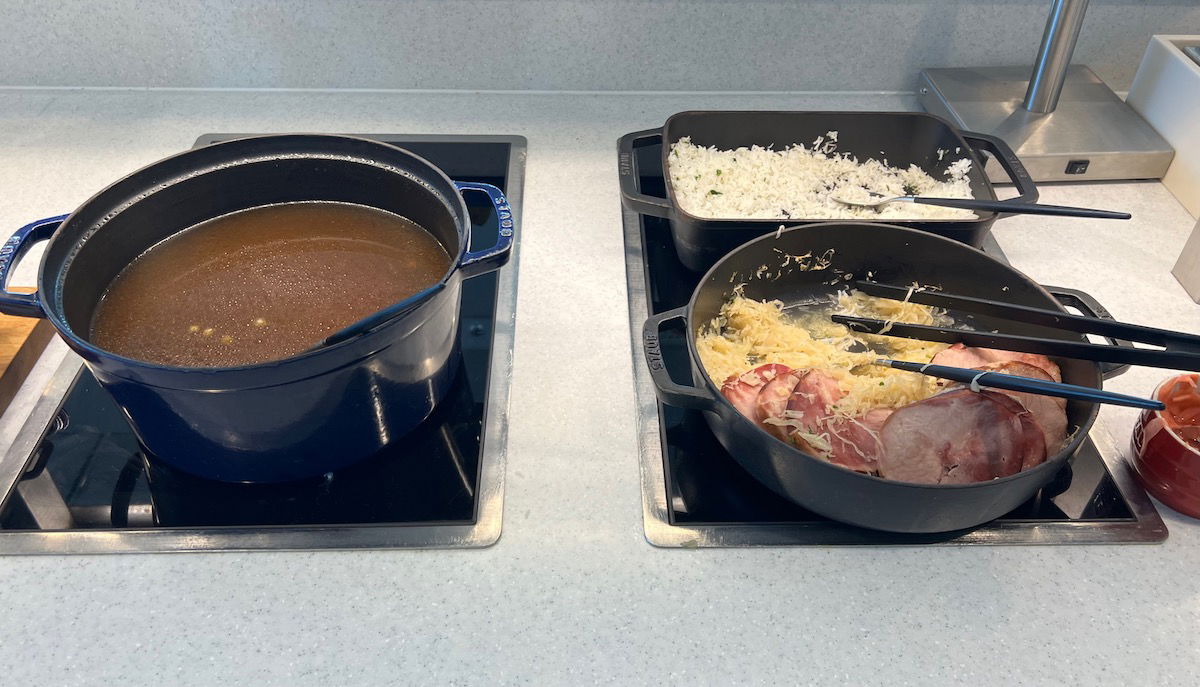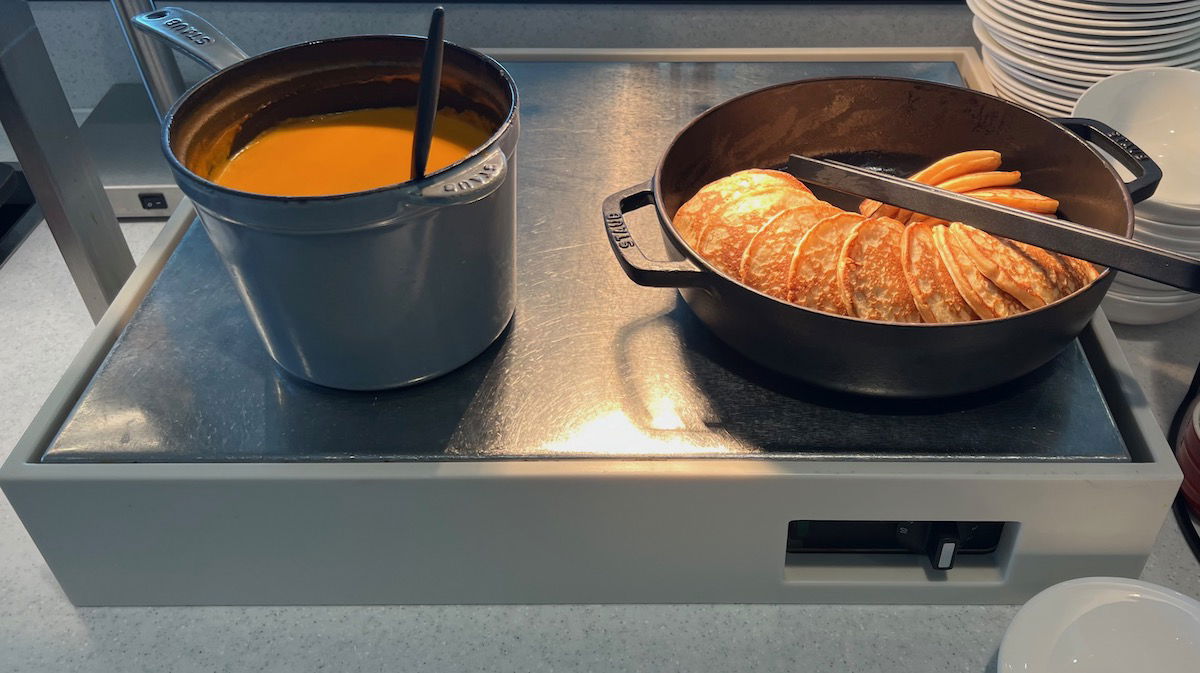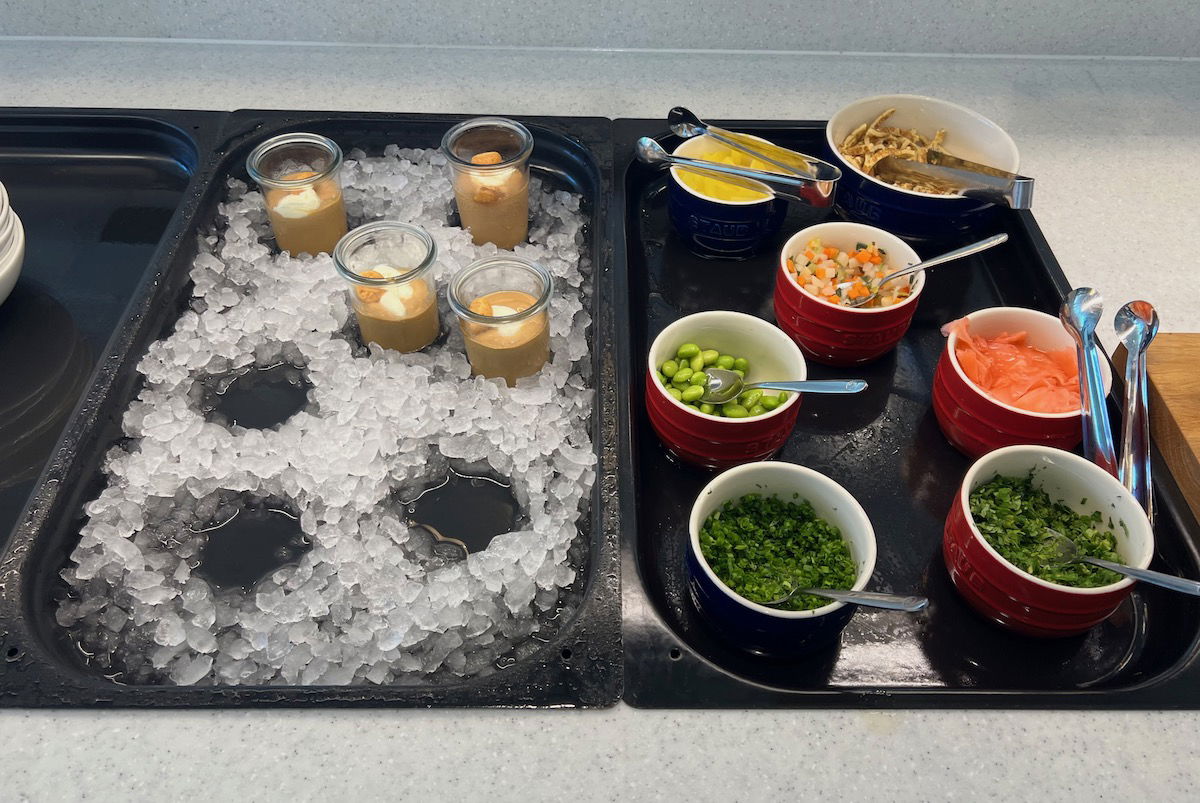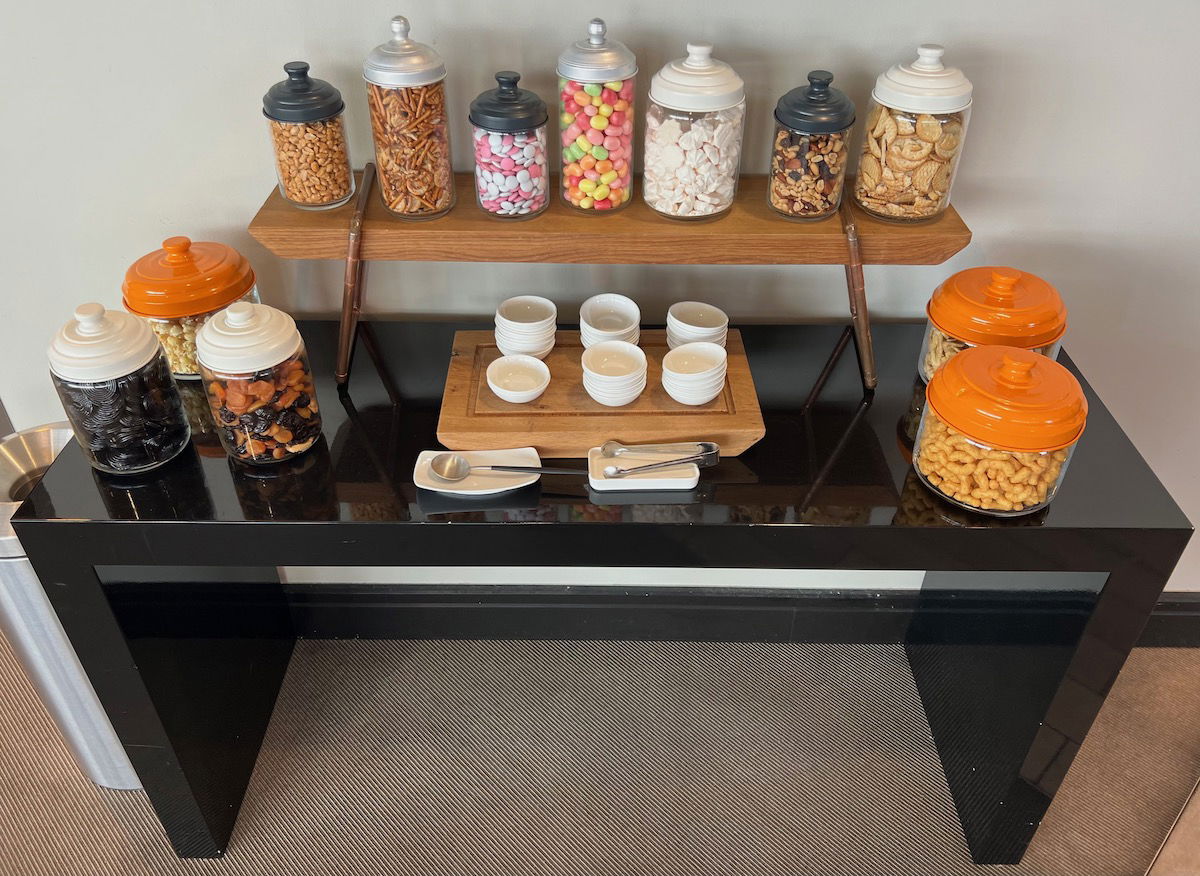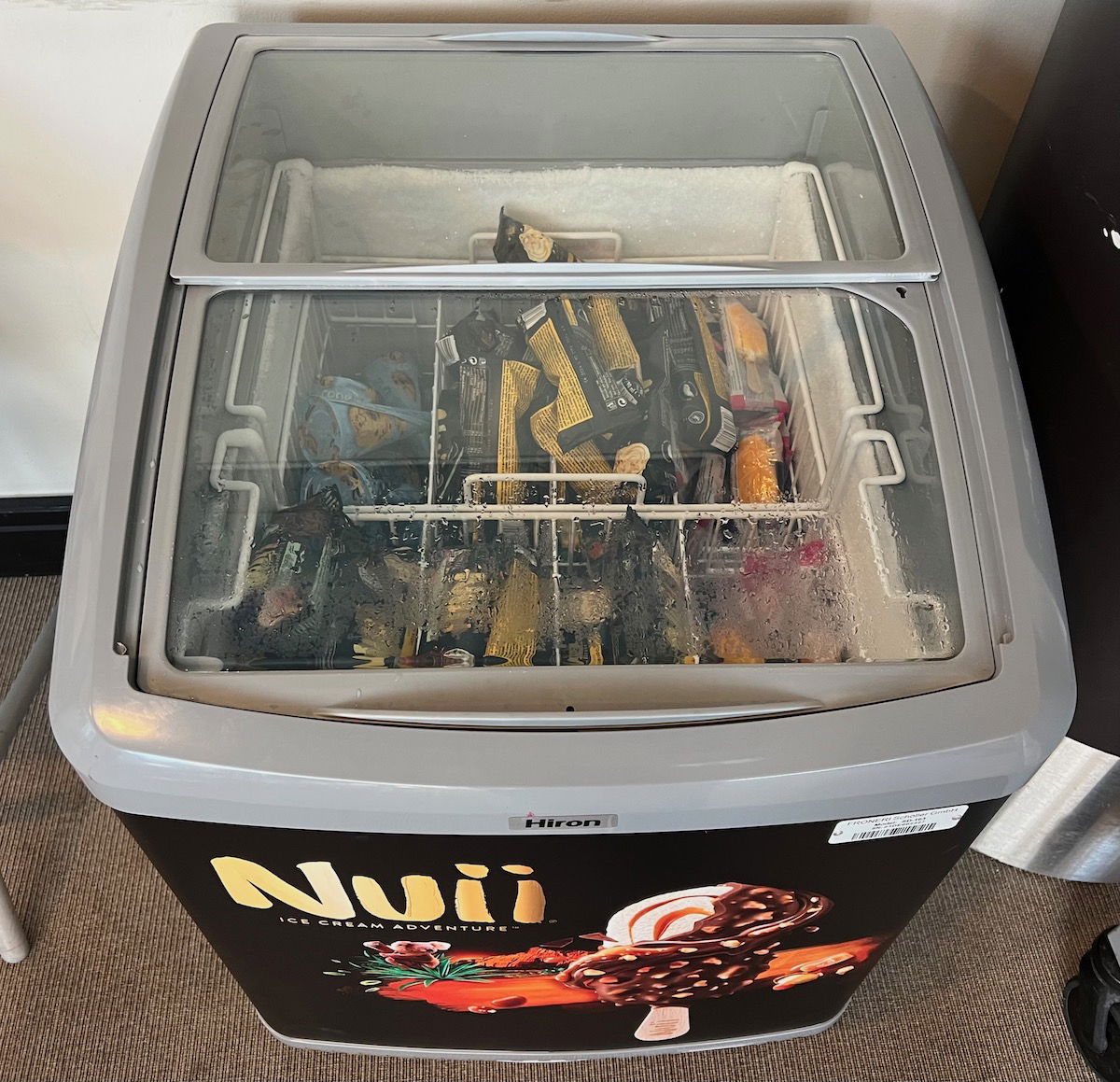 The drink selection included a variety of self-serve juice, soda, beer, wine, and liquor.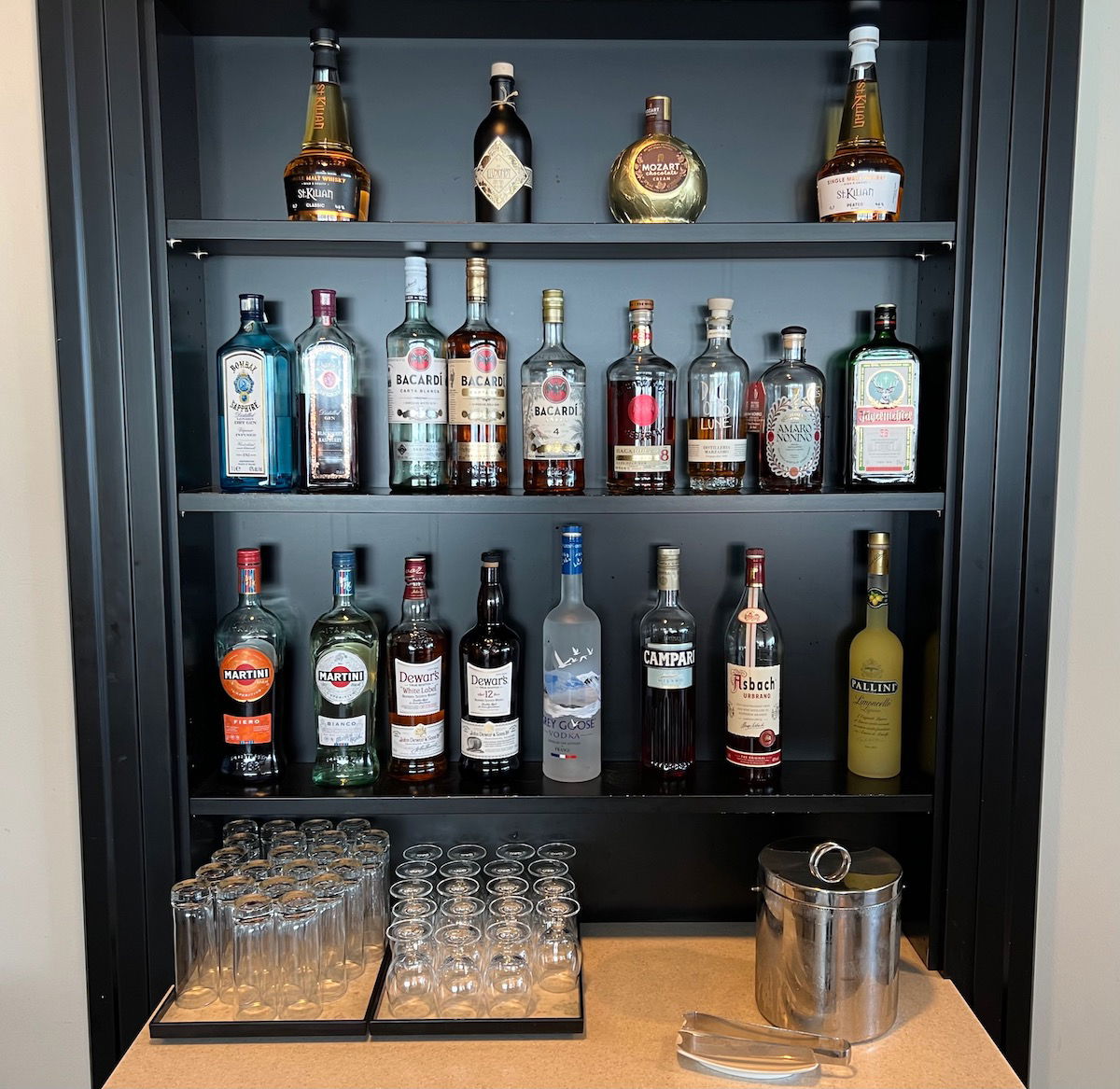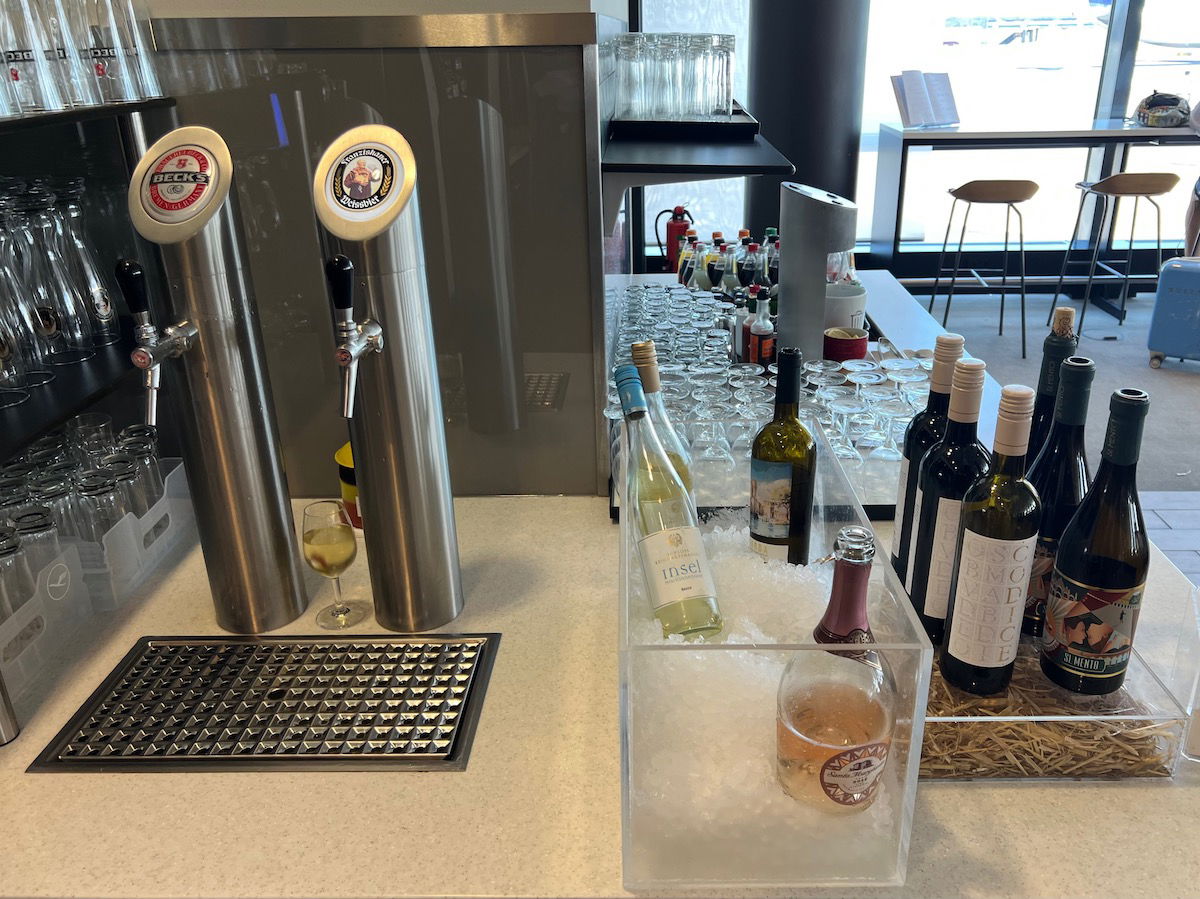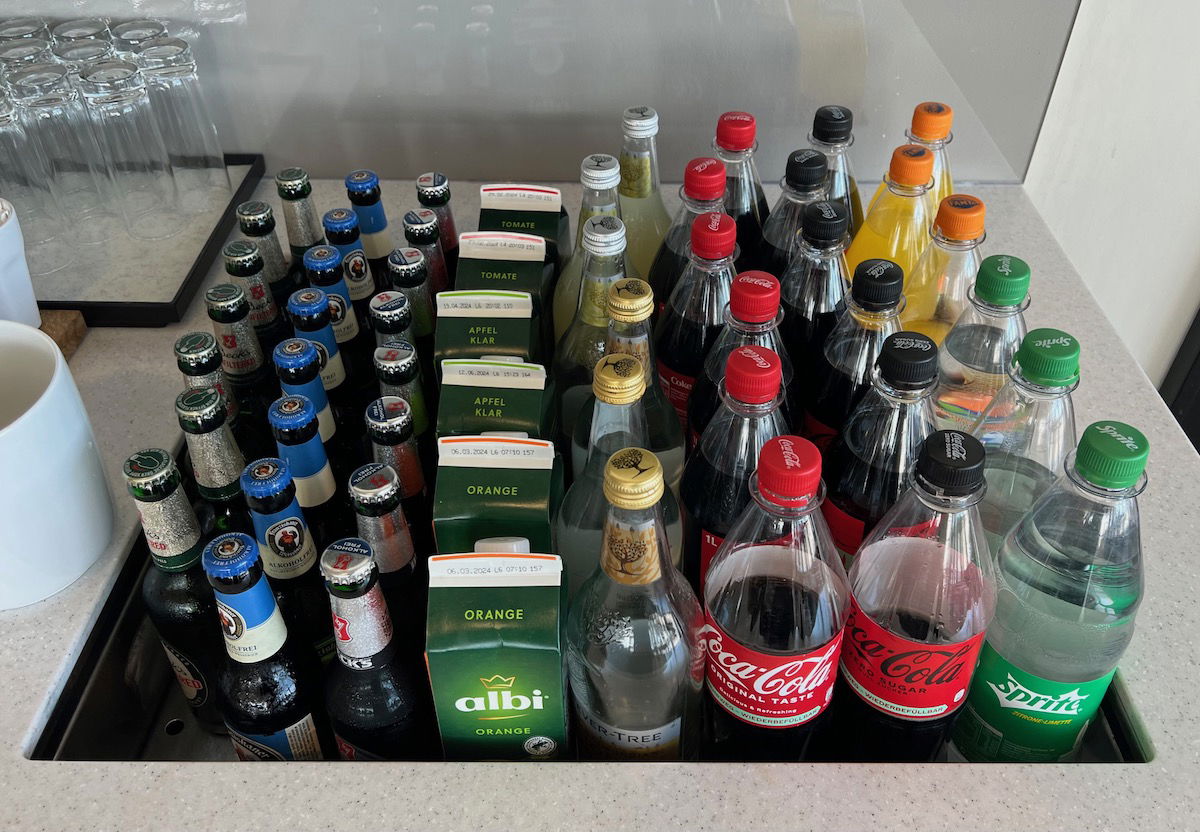 While most of the food was inside the lounge and to the right, there were also a couple of supplementary drink and snack stations inside the lounge and to the left. This included one with light snacks, soft drinks, wine, beer, coffee, and tea.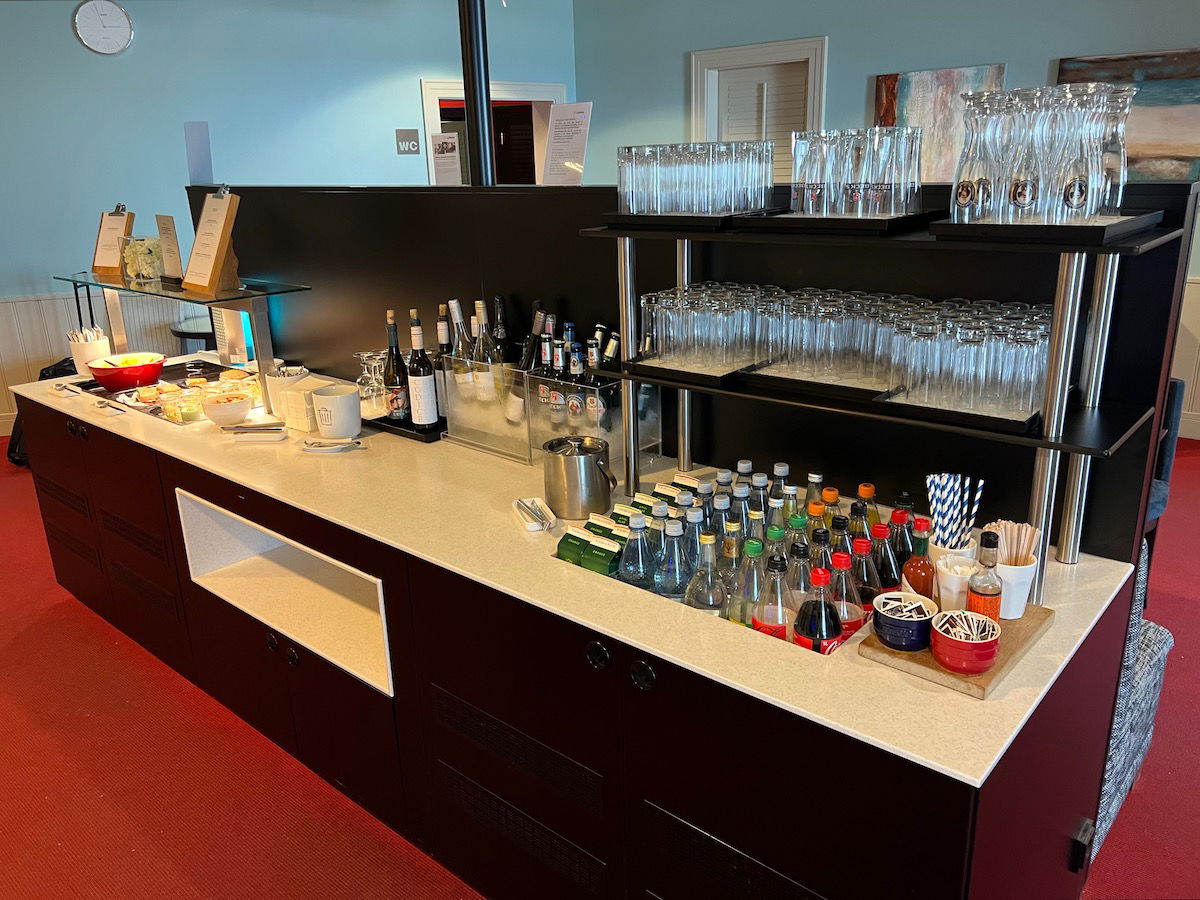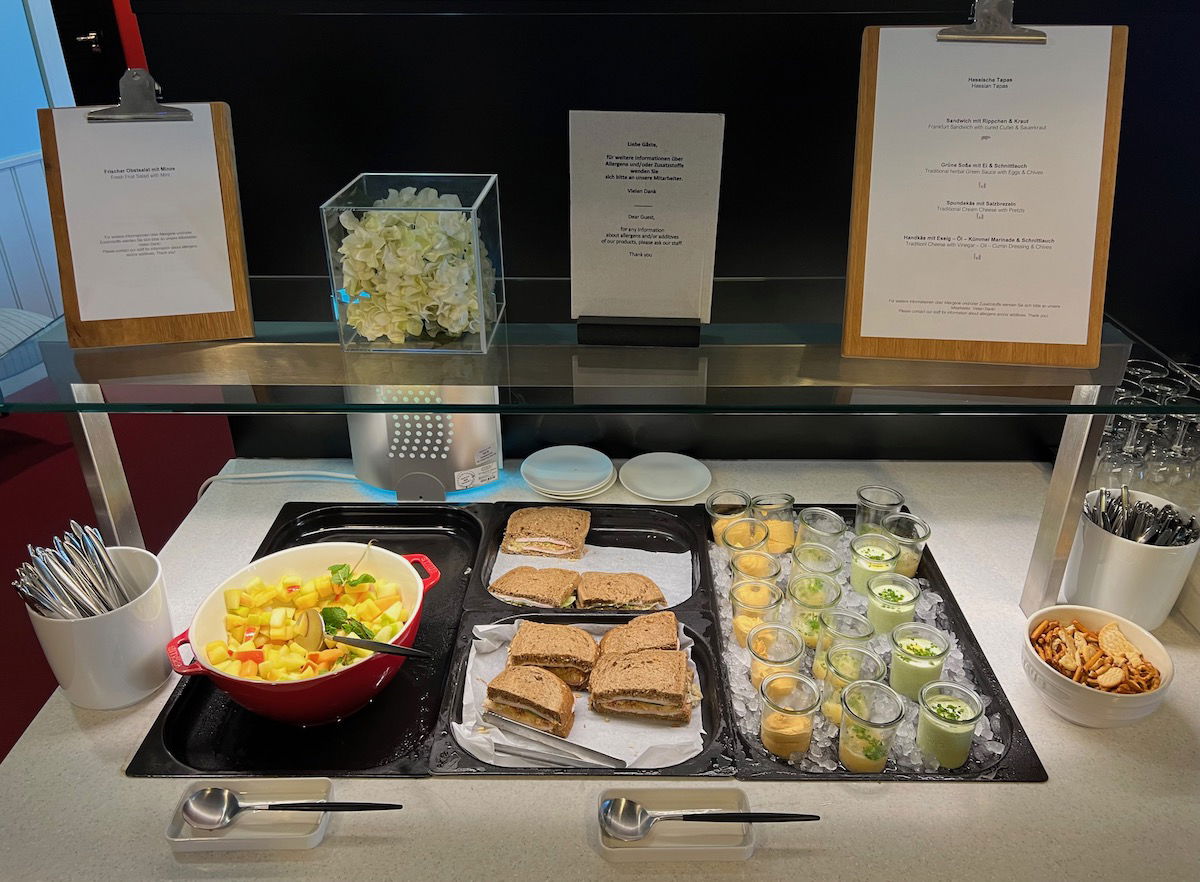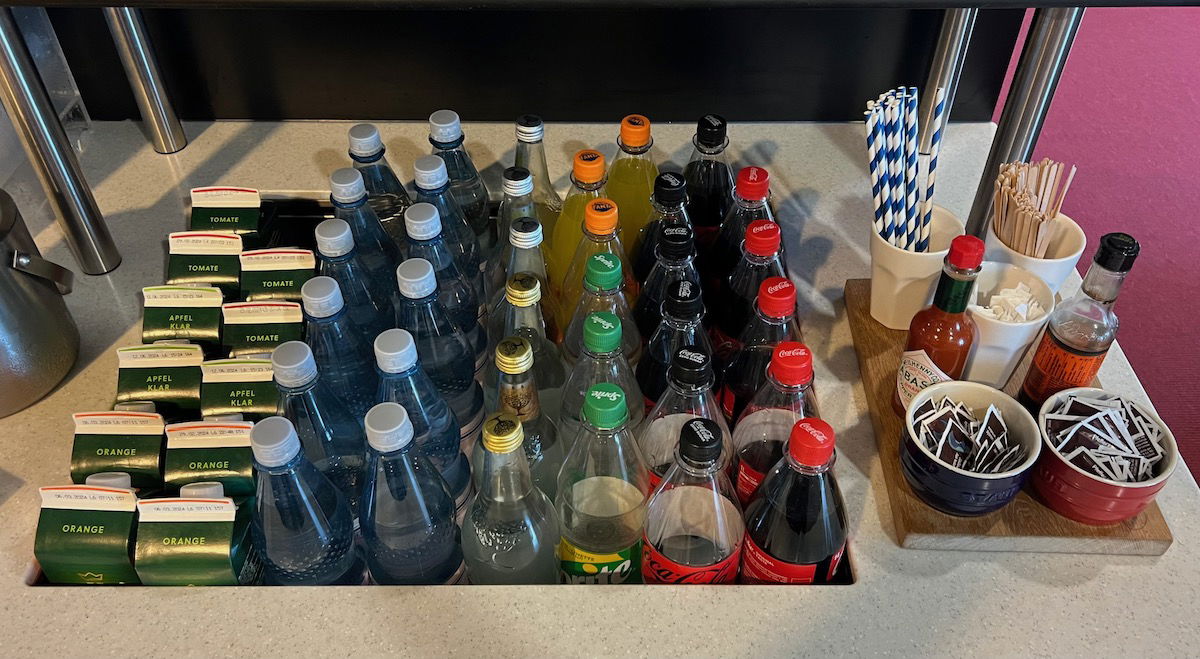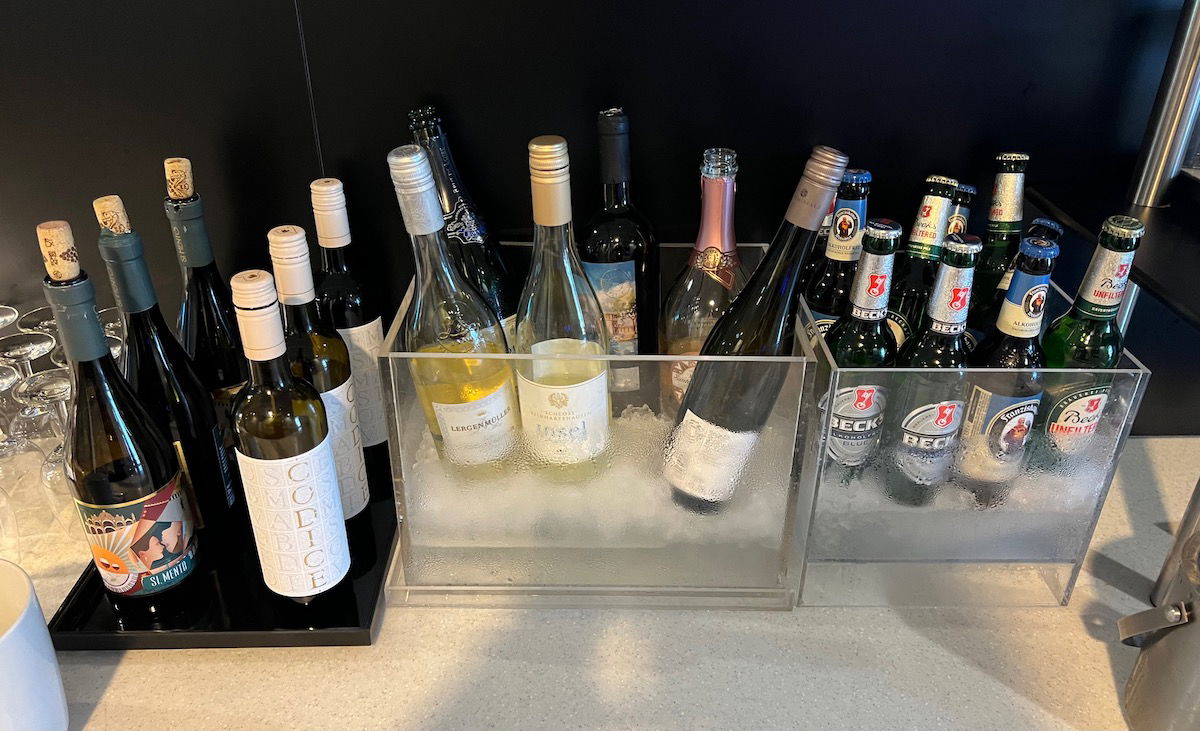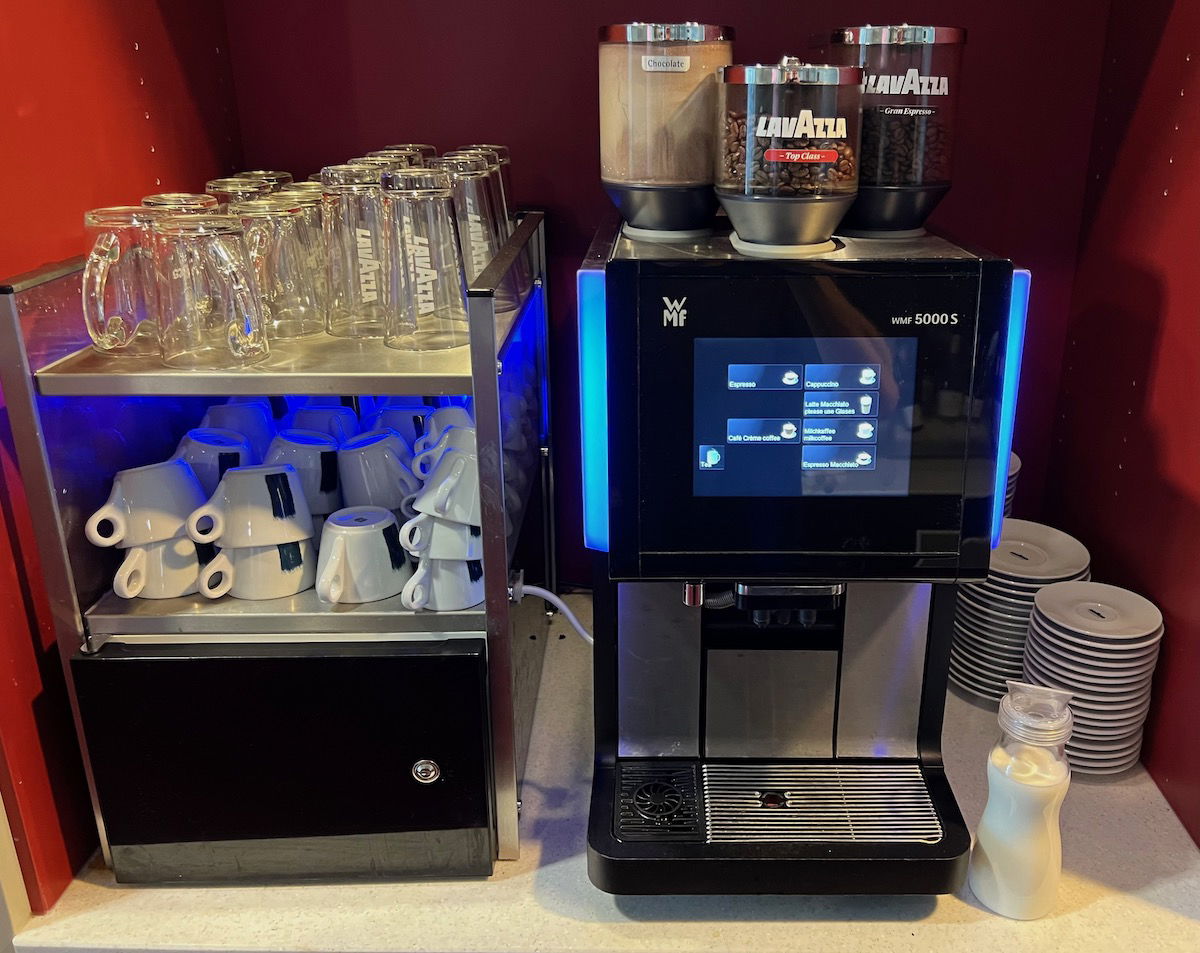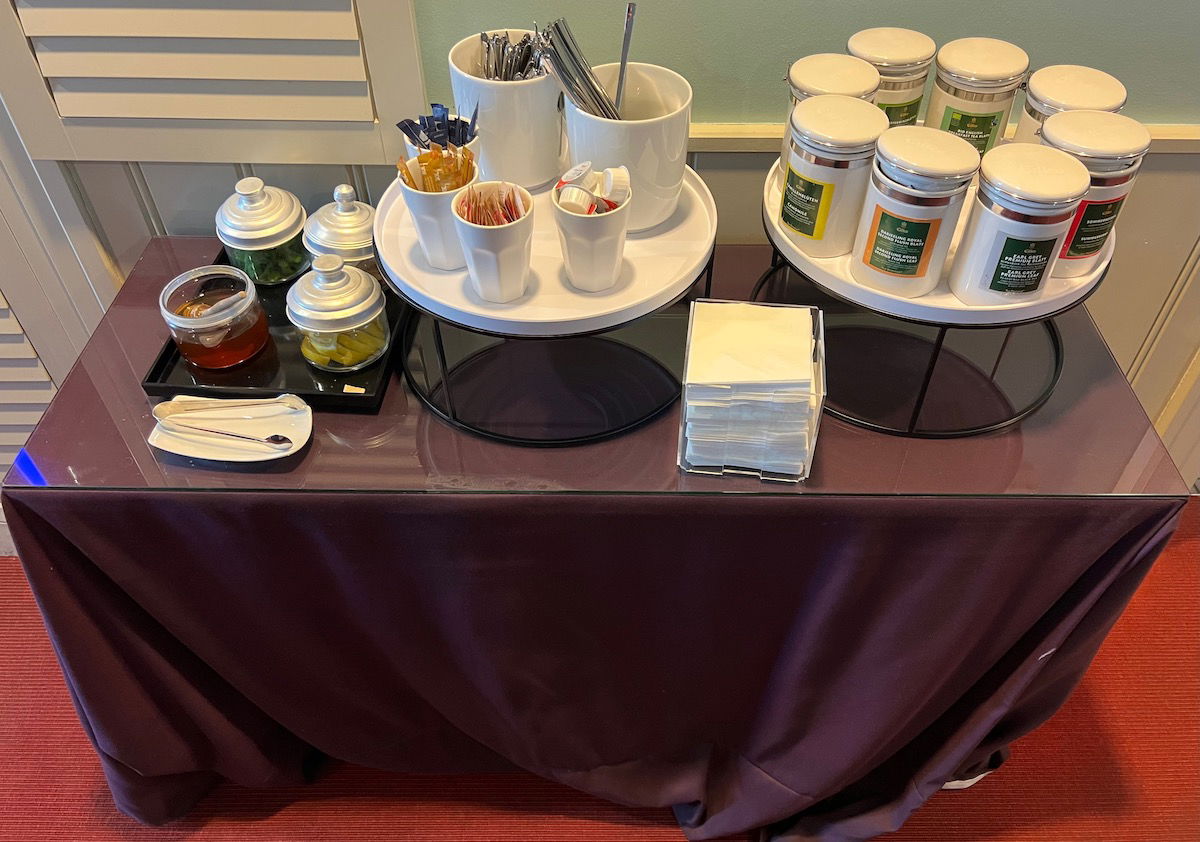 Then there was another station with coffee, tea, candy, and cake.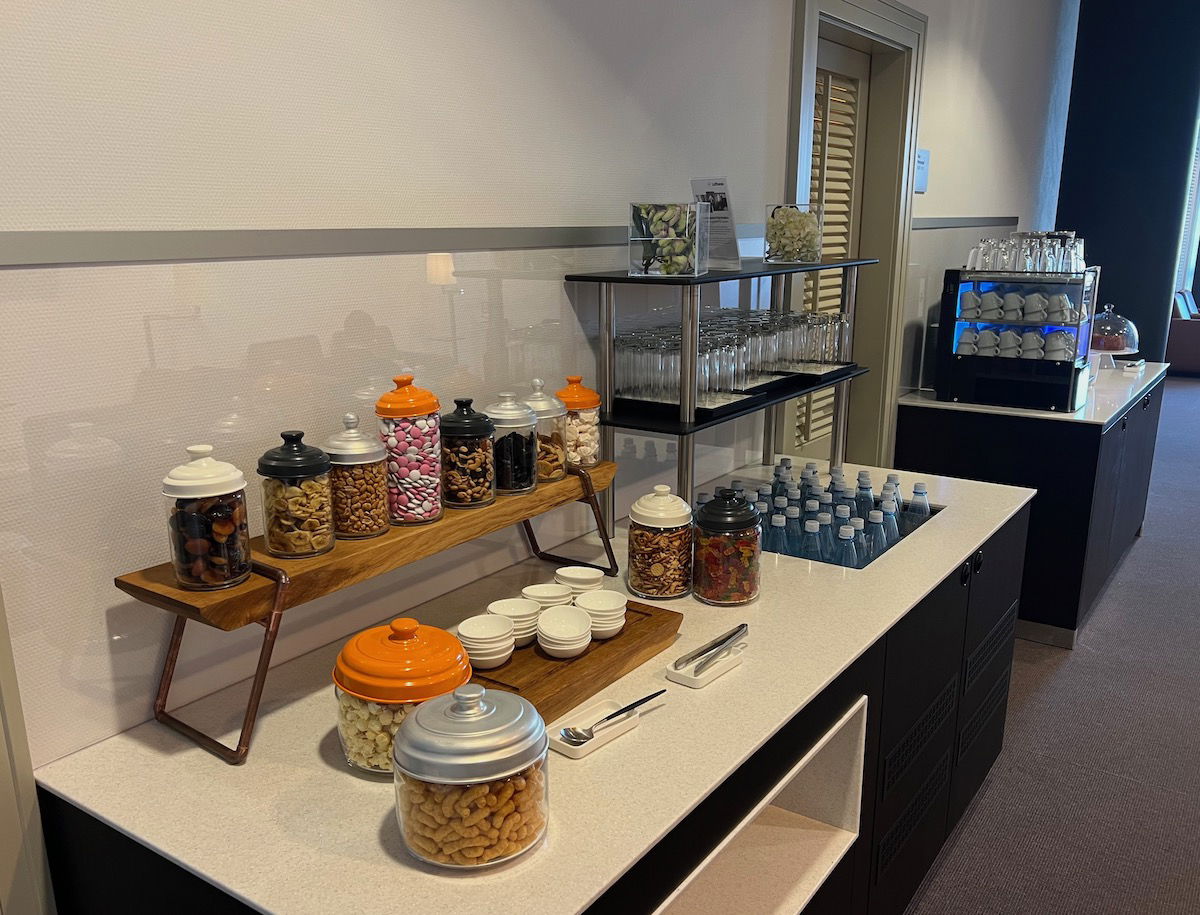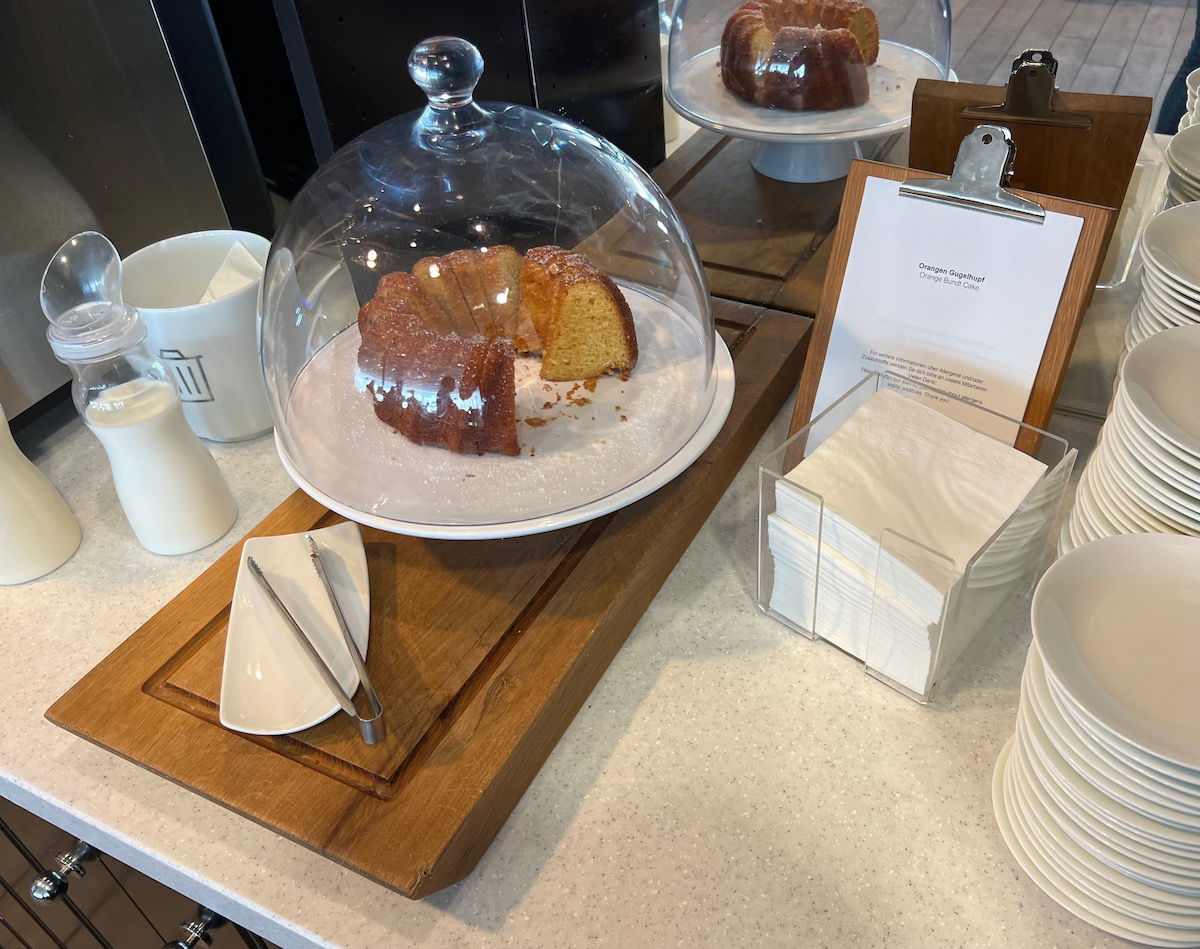 Lufthansa Panorama Lounge Frankfurt Airport bathrooms & showers
The Lufthansa Panorama Lounge Frankfurt bathrooms and showers are just inside the entrance and to the left. The men's room had a few sinks, stalls, and urinals, and was fairly well maintained.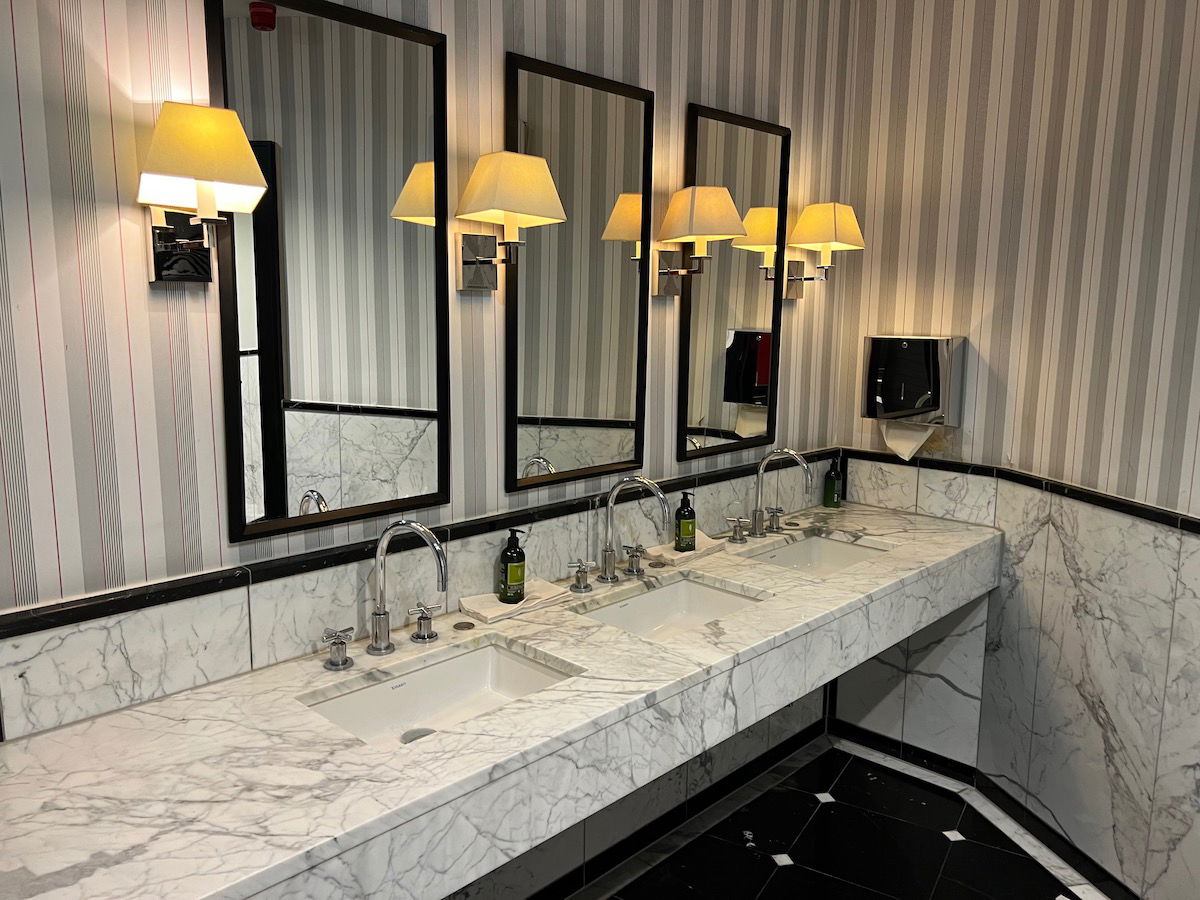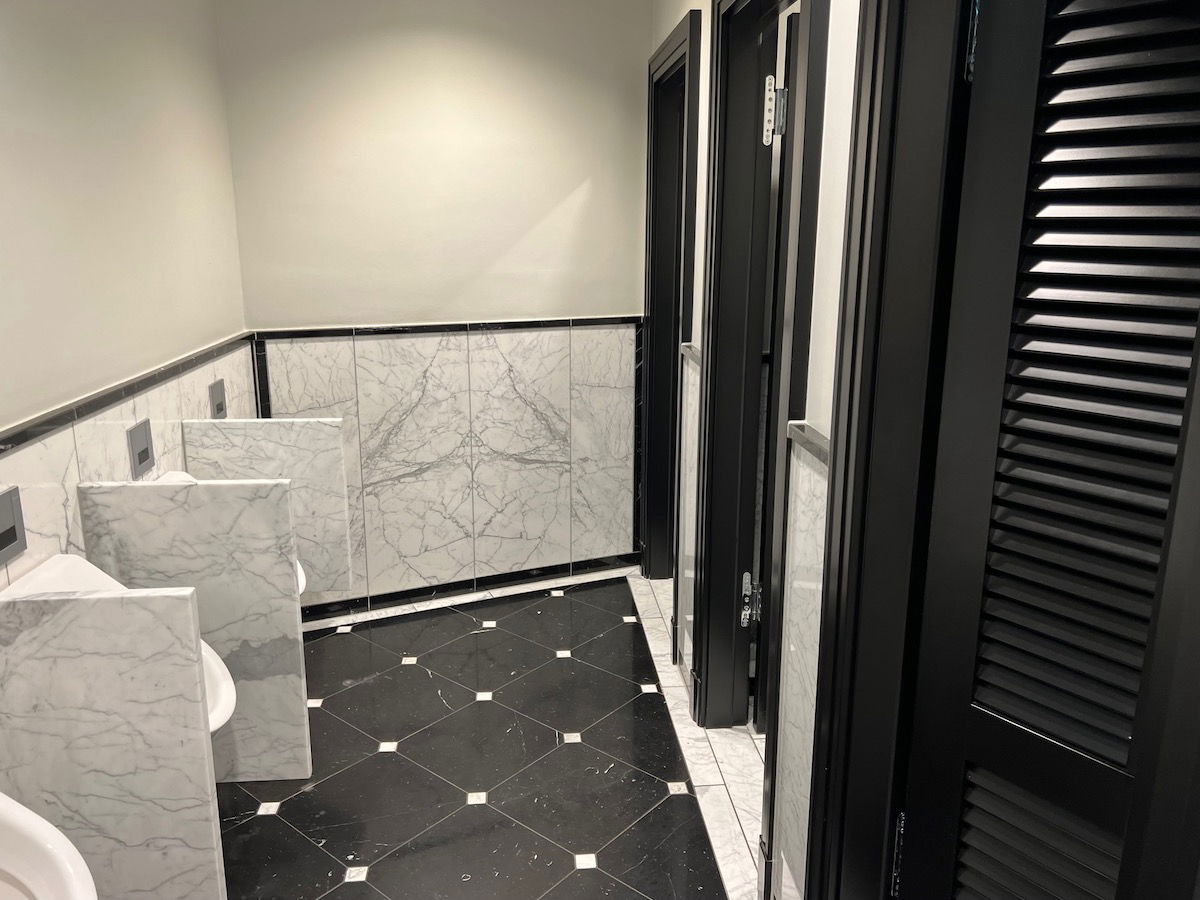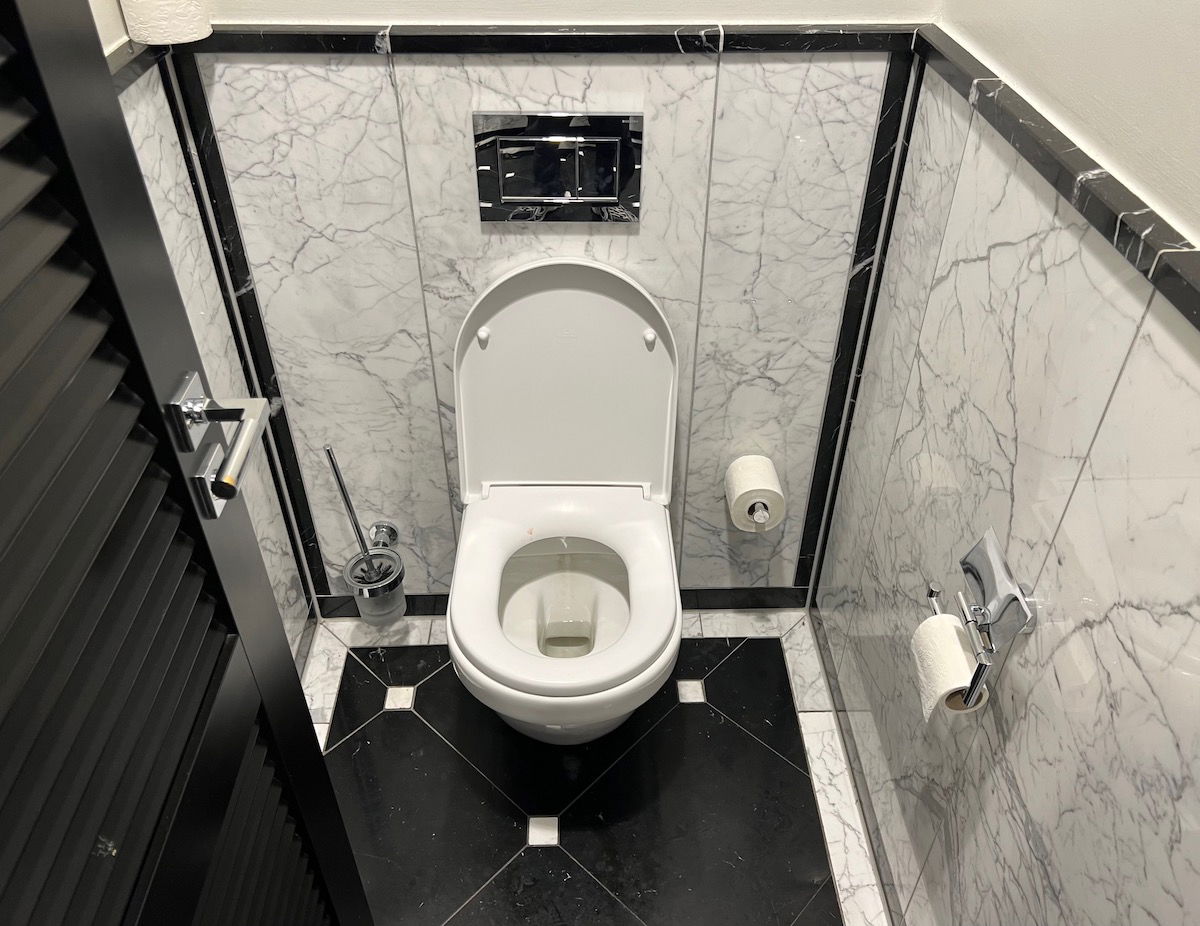 There were also some shower suites, but there was a wait to use them during my visit.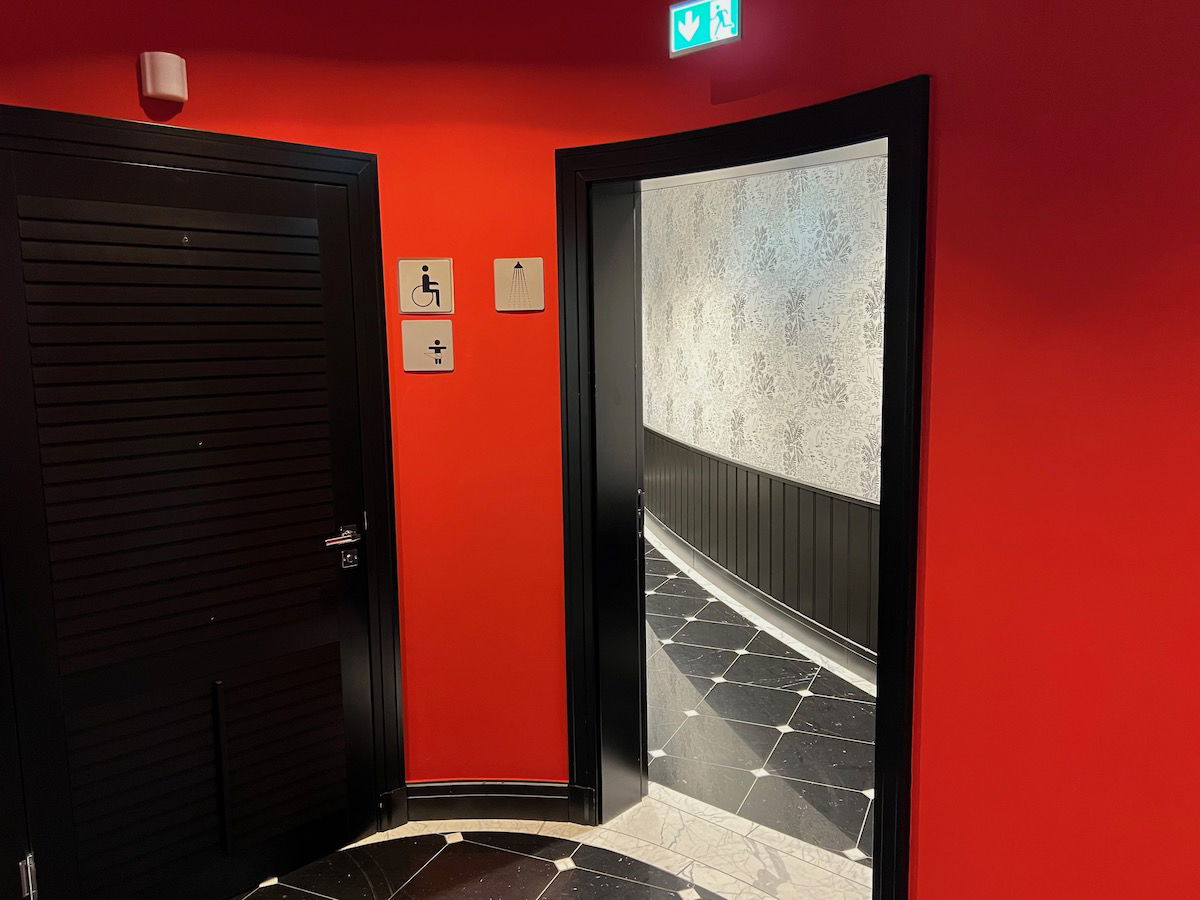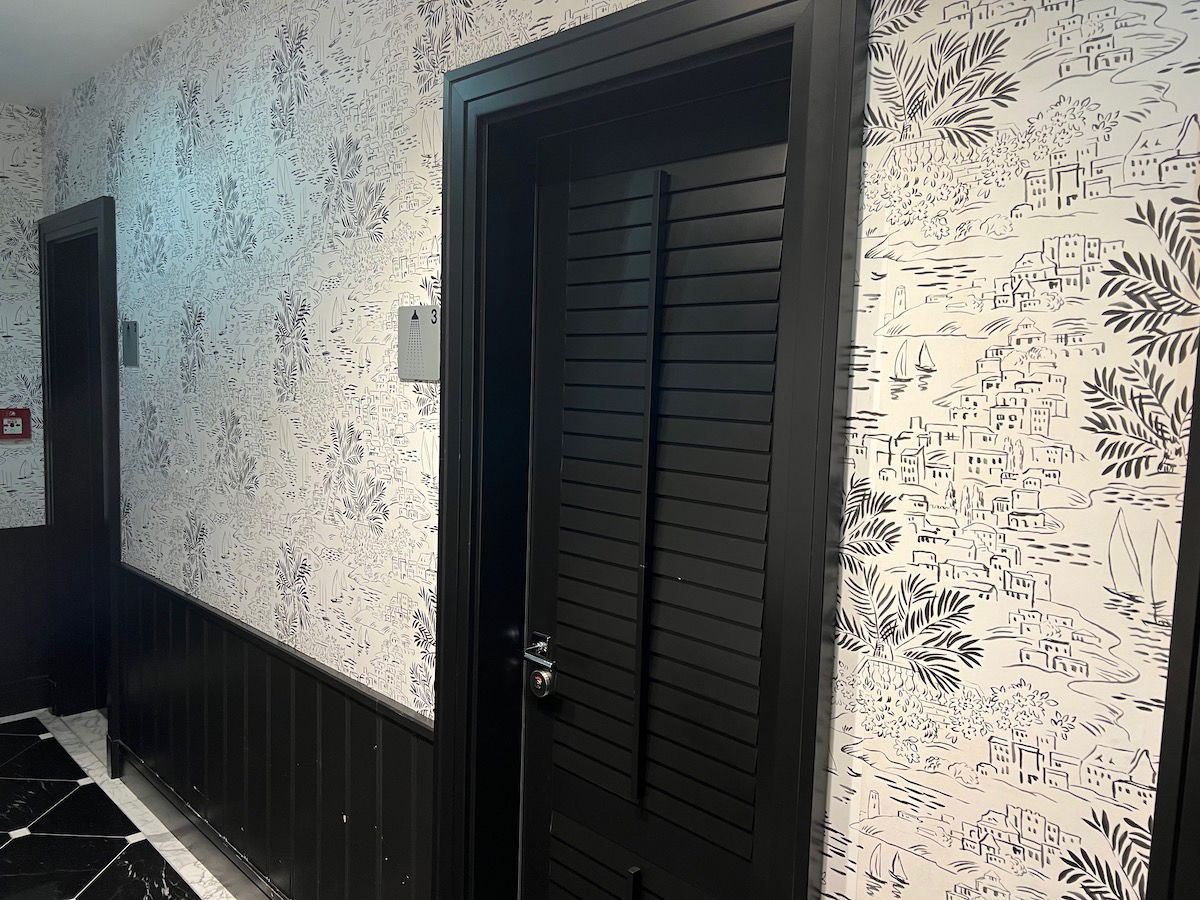 Bottom line
The Lufthansa Panorama Lounge is different than Lufthansa's other lounges at Frankfurt Airport, since the space was taken over several years ago, and hasn't been fully renovated. The lounge has great views of the apron, and an unconventional design, with several smaller rooms.
I found the food and drink selection to be quite good, and while the lounge was busy, I got the sense that it was less busy than other Lufthansa lounges, given that it was a Friday afternoon.
If you're traveling intra-Europe out of Frankfurt, I'd definitely recommend checking out the Panorama Lounge, as I'd say it's marginally better than Lufthansa's other similar lounges.
What do you make of the Lufthansa Panorama Lounge Frankfurt?