For the next stop on the trip with my parents, we spent two nights at the 130-room Roomers Baden-Baden, which belongs to Marriott Autograph Collection. I was looking forward to this stay, especially as many OMAAT readers raved about this property, with some saying it's the best Bonvoy property in Germany.
All-in-all, we had a great stay at this hotel. Roomers had a fun vibe, a great spa and gym, a tasty breakfast, and a beautiful rooftop. The hotel is also very generous with upgrades, which is pretty noteworthy nowadays.
We also all enjoyed Baden-Baden and the surrounding area a lot more than we were expecting to. For those not familiar, Baden-Baden is essentially a spa town at the foothills of the Black Forest. Not only did we find the town of Baden-Baden to be cute, but we also loved exploring the Black Forest. Given Baden-Baden's proximity to Frankfurt, I'd highly recommend checking out this property.
What is the Roomers hotel brand?
To start, let me briefly cover the basics of Roomers. Roomers is a small German hotel group with three properties, in Baden-Baden, Frankfurt, and Munich.
Interestingly the properties in Baden-Baden and Munich are branded as Marriott Autograph Collection hotels, while the property in Frankfurt belongs to Design Hotels, which has a limited partnership with Marriott. I'm curious what the logic is for that decision. Presumably the company just doesn't need as much help filling its Frankfurt property?
Roomers is a pretty cool hotel brand, with a heavy focus on design. Roomers properties somewhat have the vibe of W Hotels, but are much less annoying. They're quirky, with great food and beverage outlets.
Booking Roomers Baden-Baden
I booked our rooms at Roomers Baden-Baden with cash. The rate was roughly €200 per night per room, which seemed reasonable, given how much hotels everywhere else are costing at the moment. I booked our stay through the Marriott Luminous program, which offers free breakfast and room upgrades subject to availability (since technically my Marriott Bonvoy Titanium perks only apply to one room).
As a point of comparison, if redeeming points, the hotel would have cost 42,000 Bonvoy points per night. I value Bonvoy points at 0.7 cents each, meaning an award stay would have cost the equivalent of ~$294. So I paid cash, because I'd rather redeem points for potentially higher value redemptions.
Roomers Baden-Baden location & parking
Baden-Baden is located about a 90-minute drive from Frankfurt Airport, so it's quite easily accessible. You can also take a train, and it just takes a little bit longer. We were coming from the Marriott Heidelberg, and that drive took only an hour, so it was a short journey for us.
While one of the great things about Europe is usually how you can get around by train, I'd highly recommend having a car in Baden-Baden. Our favorite part of our visit was exploring the Black Forest, and all the quaint towns located around it. We couldn't have done this if we hadn't rented a car.
The hotel offers parking for €36 per day, and the cost is the same whether you use valet or park yourself. That's on the steep side no doubt, but space comes at a premium in Baden-Baden. One thing that wasn't great is that there were typically just one or two bellmen on duty who also doubled as valets, so at times valet service wasn't very prompt.
As far as Roomers' location in Baden-Baden goes, the hotel is a roughly 10-minute walk from the town's main pedestrian zone, so it's quite easy to get around town by foot.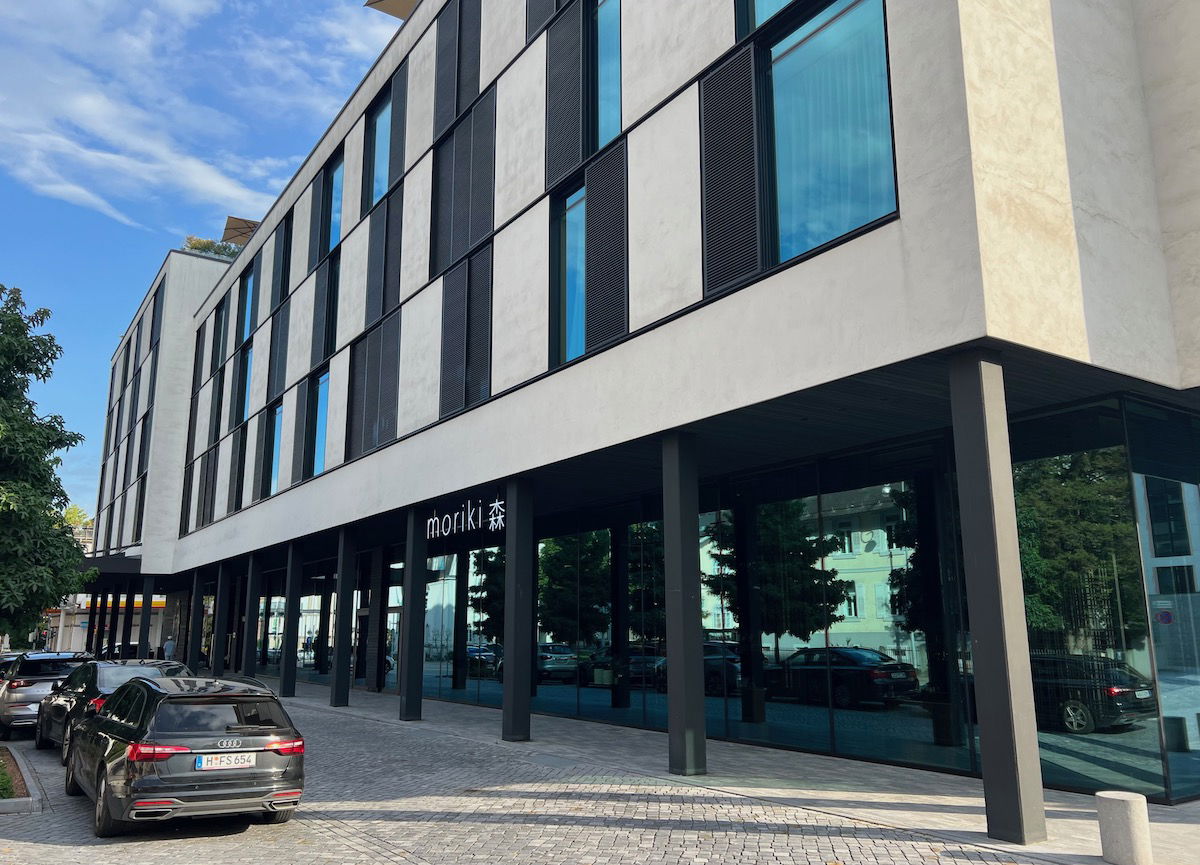 Roomers Baden-Baden lobby & check-in
I fell in love with the design of Roomers Baden-Baden as soon as we walked into the lobby. To me, the design felt cool, quirky, and luxurious.
Before even entering the hotel, I noticed the cute little Porsche "cars" for young kids, plus jars of candy that you could help yourself to.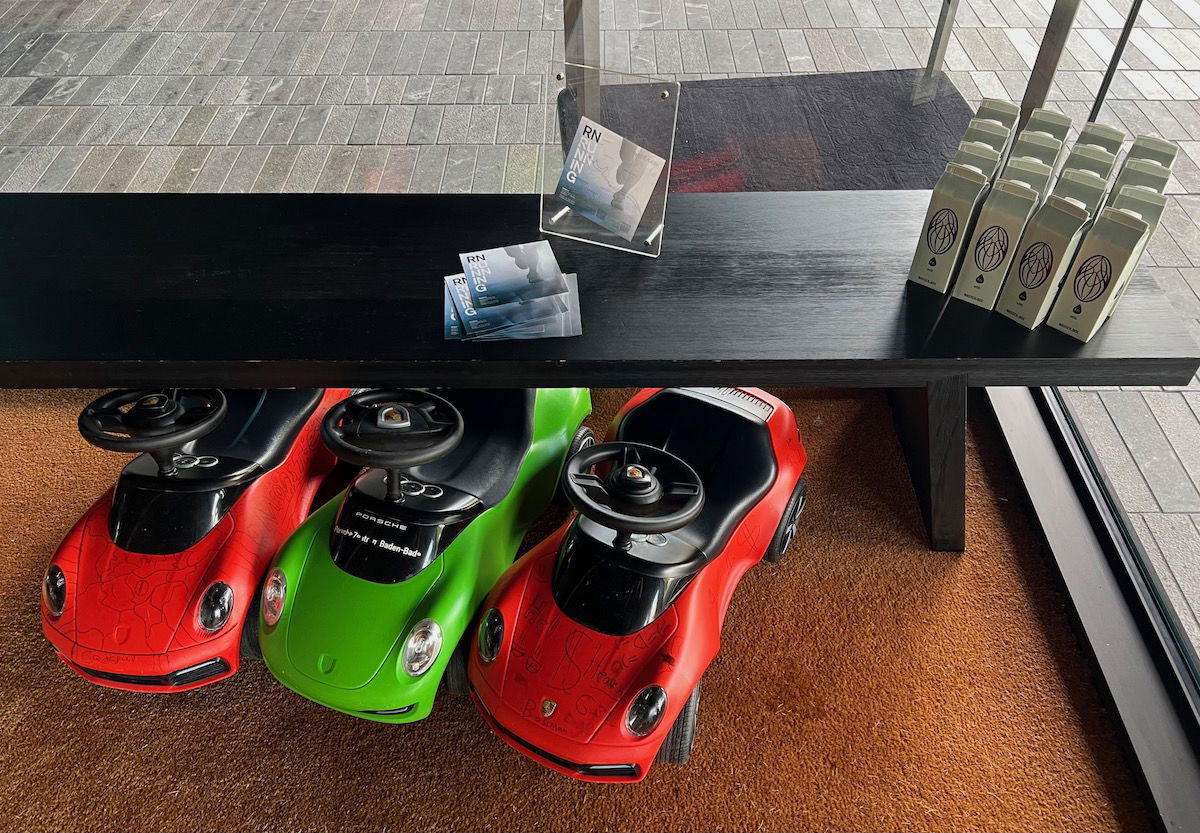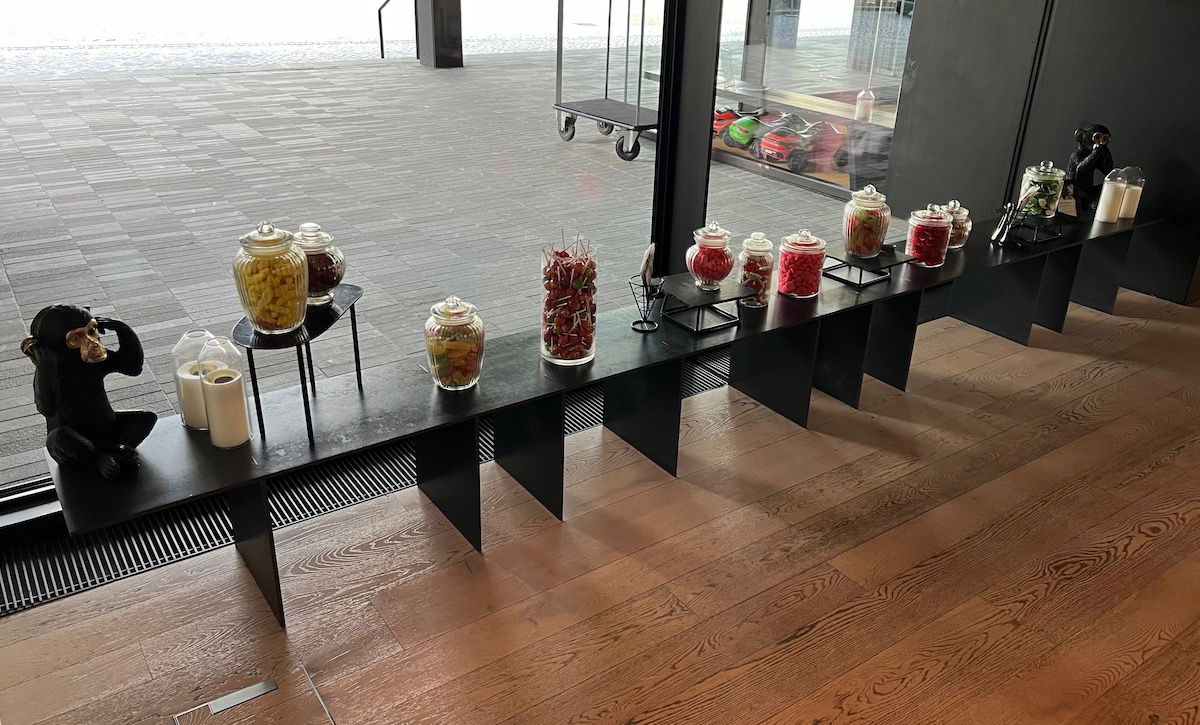 Upon entering the lobby, reception was located to the left, and consisted of individual stations, so you could sit down while checking in.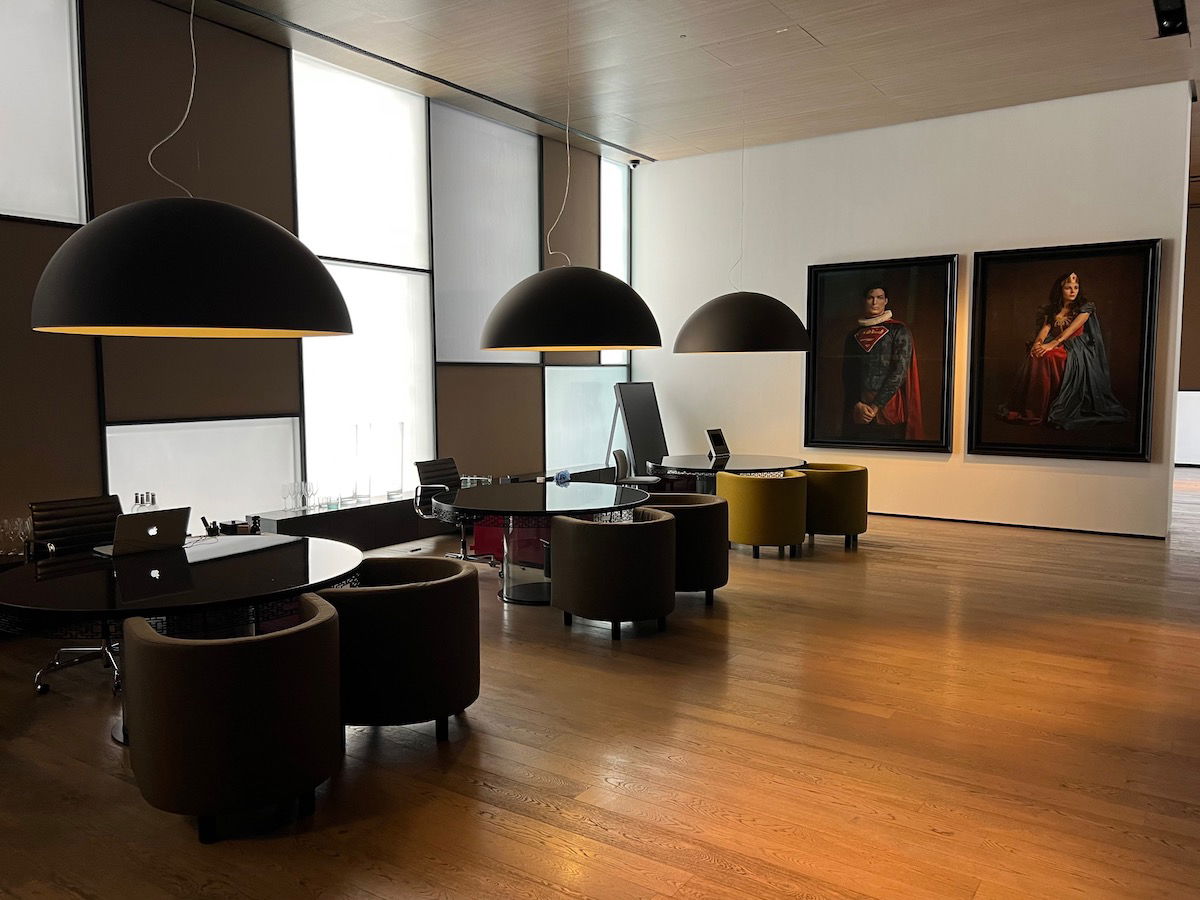 The lobby also had a beautiful sitting area with all kinds of seats, ranging from comfortable couches and chairs, to benches.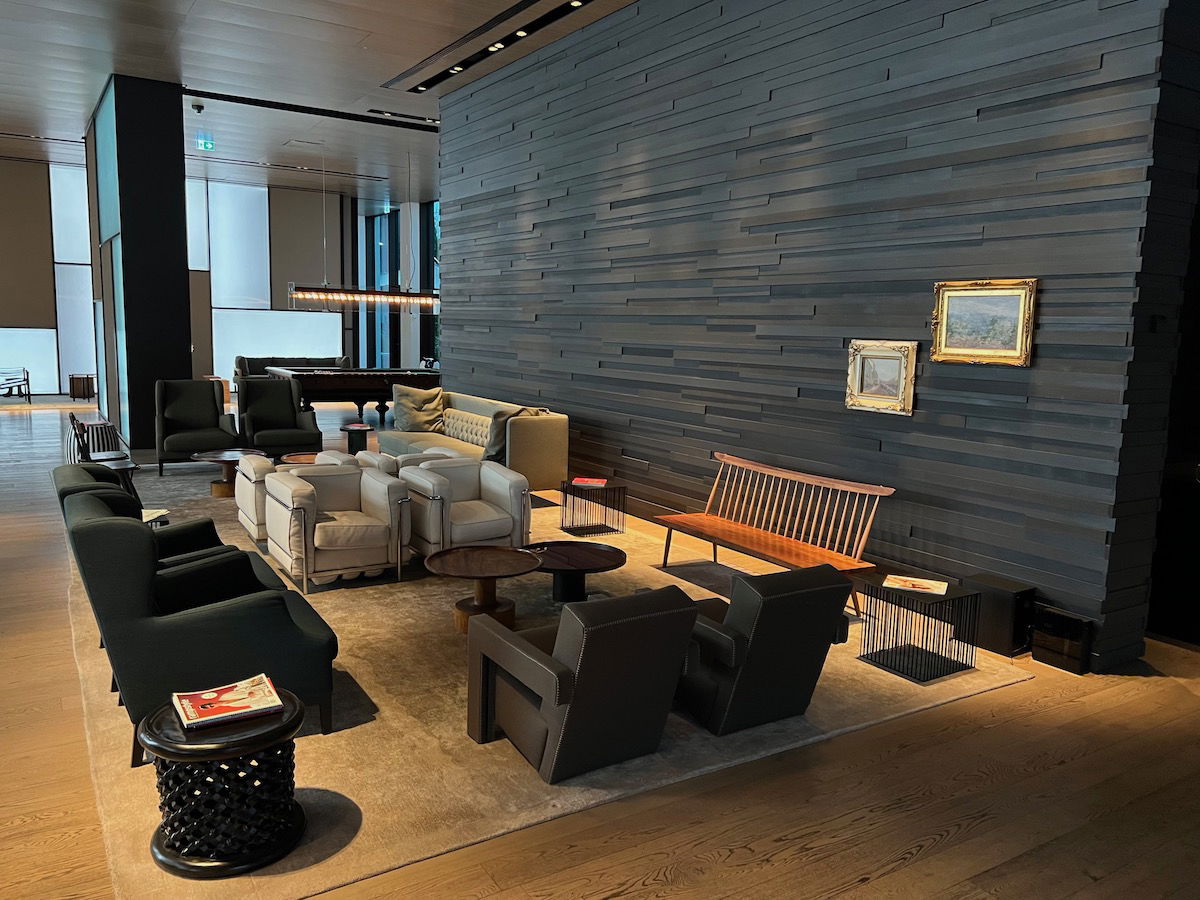 Behind that was a pool table, which you don't often see in a hotel lobby.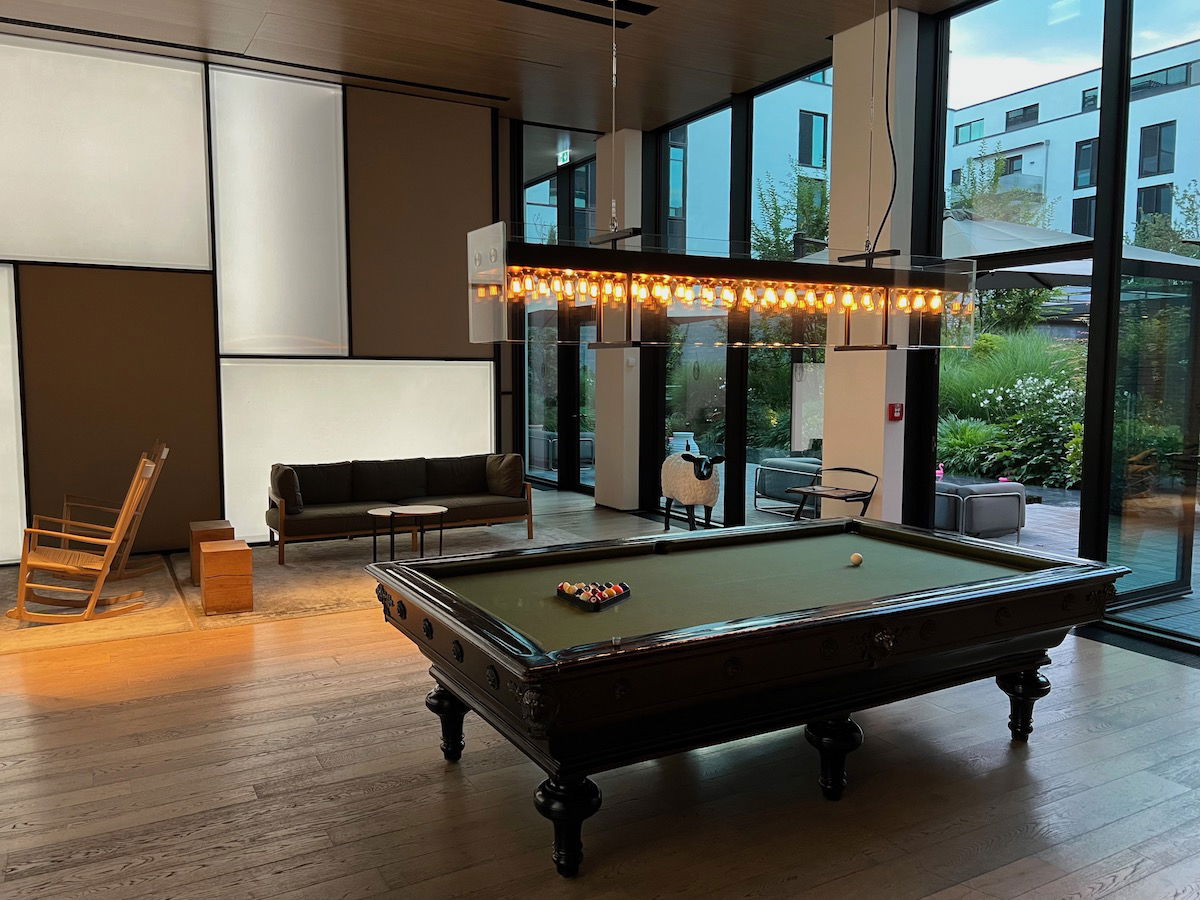 Inside the entrance and to the right was a long hallway leading to the hotel's main restaurant. This had even more seating, plus cuckoo clocks, which are popular in the Black Forest.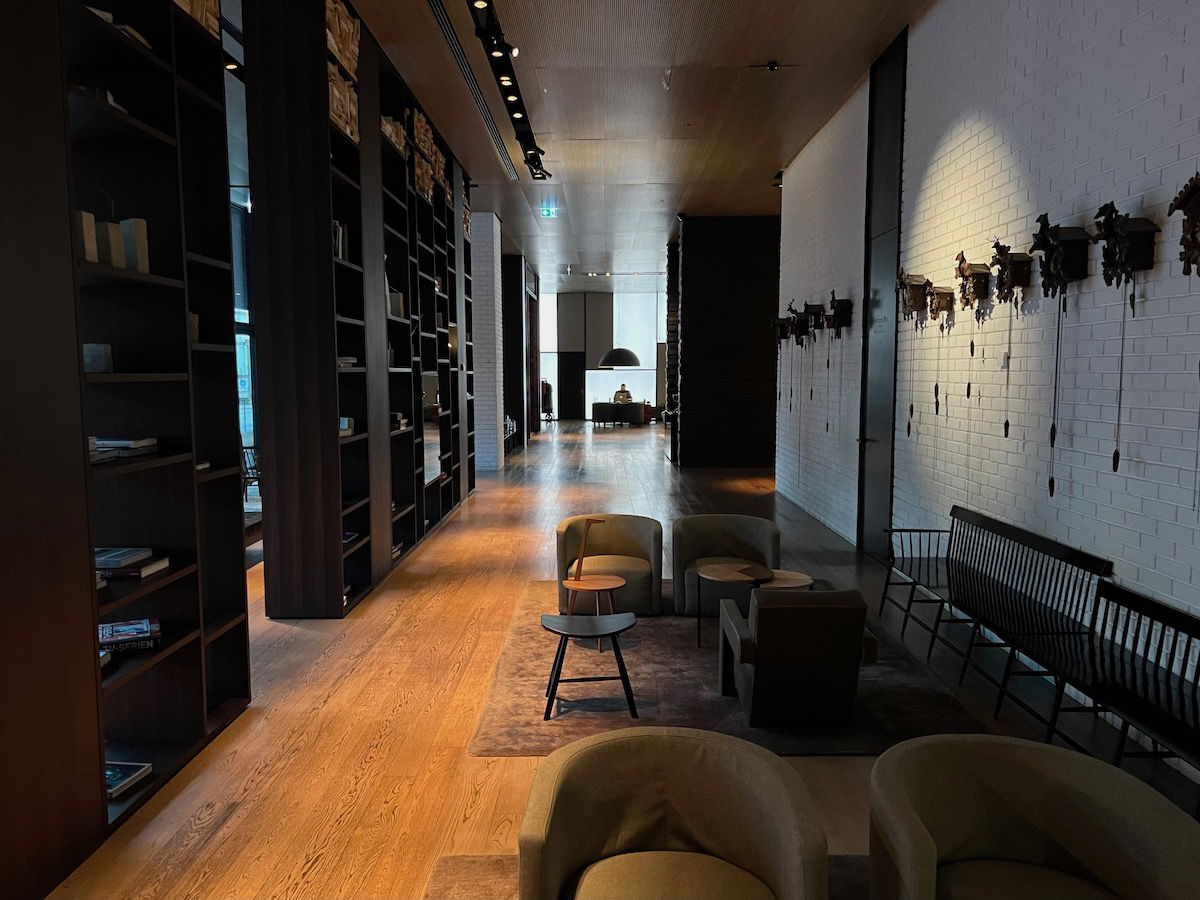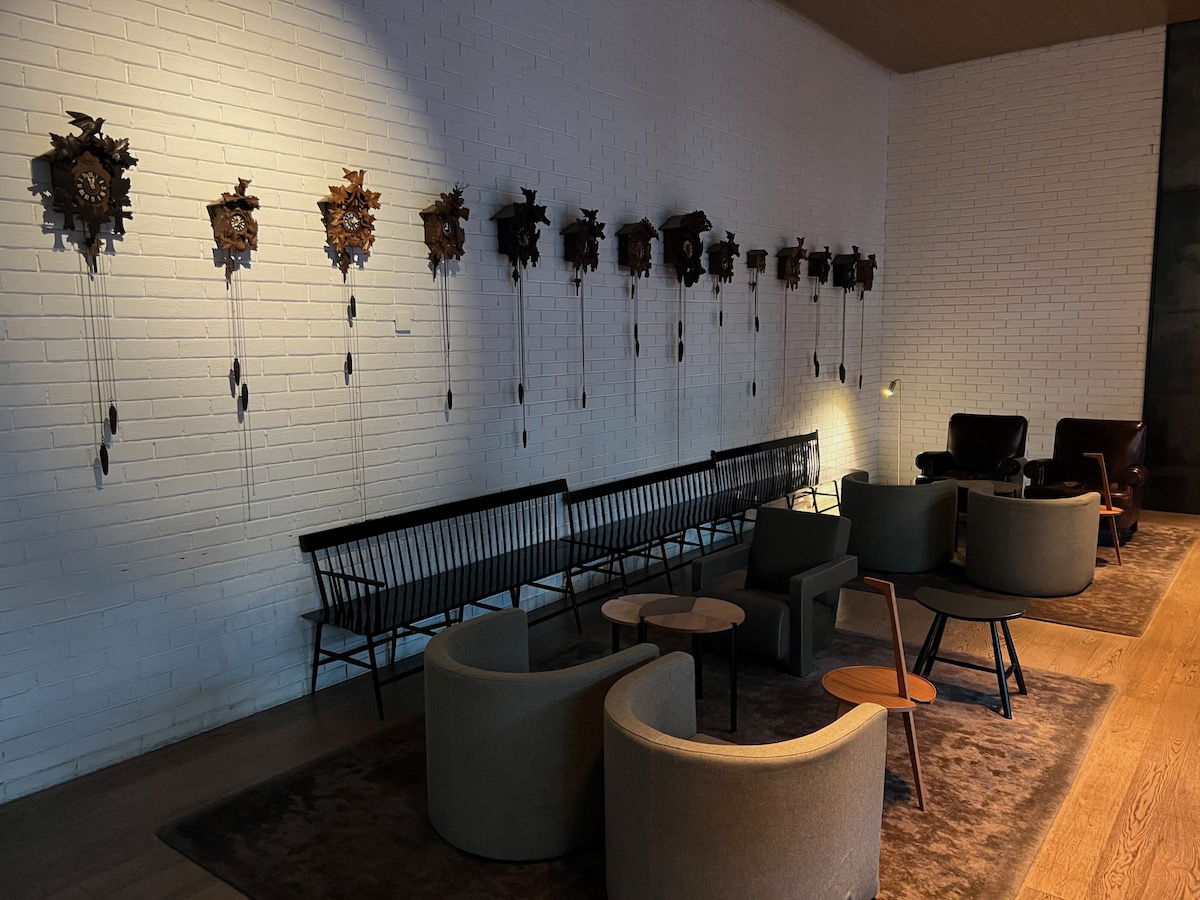 There was yet another sitting area there, separated from the hallway by a very well stocked bookshelf.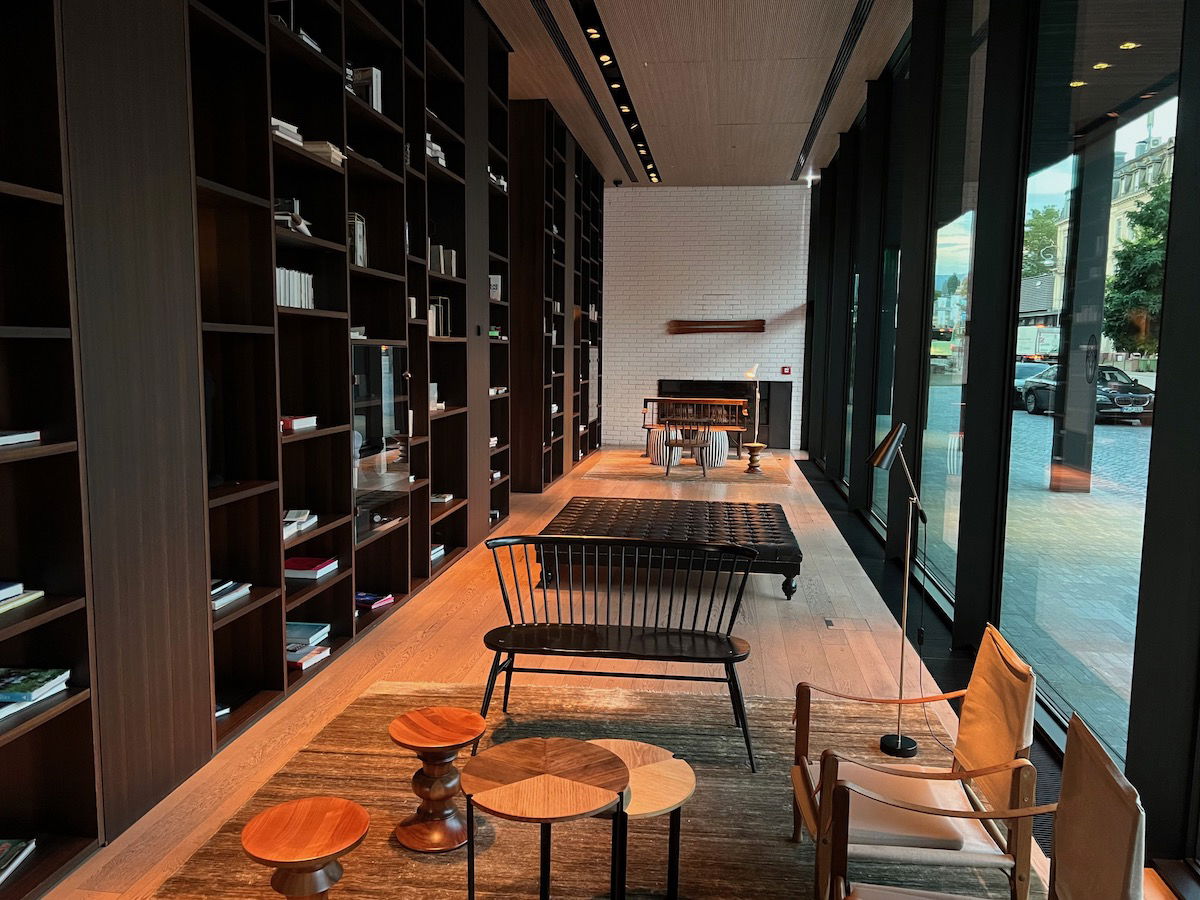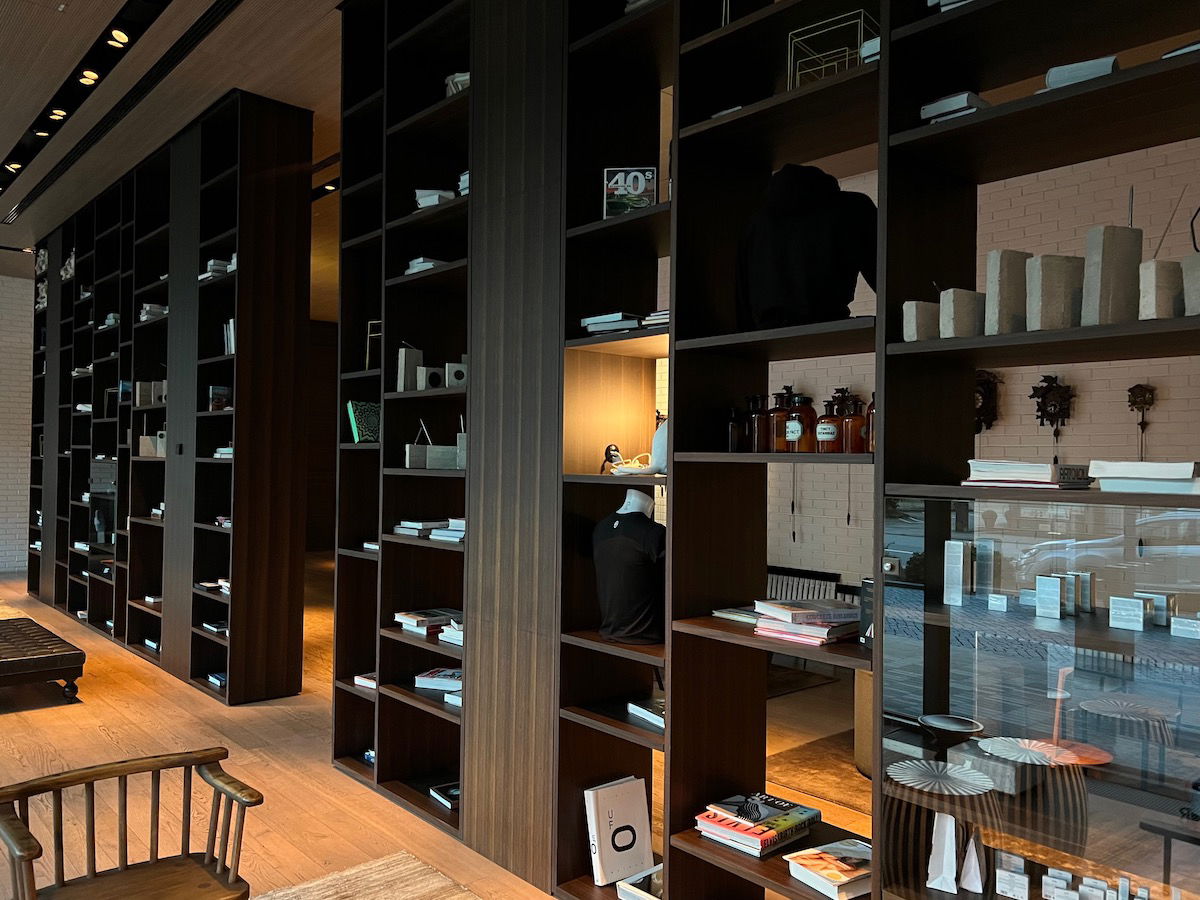 The hotel also has a courtyard with a bunch of couches. This area seemed rather underutilized to me, since it wasn't part of any bar, but rather was just somewhere to chill. You'd think that they would turn this into a bar area, or something.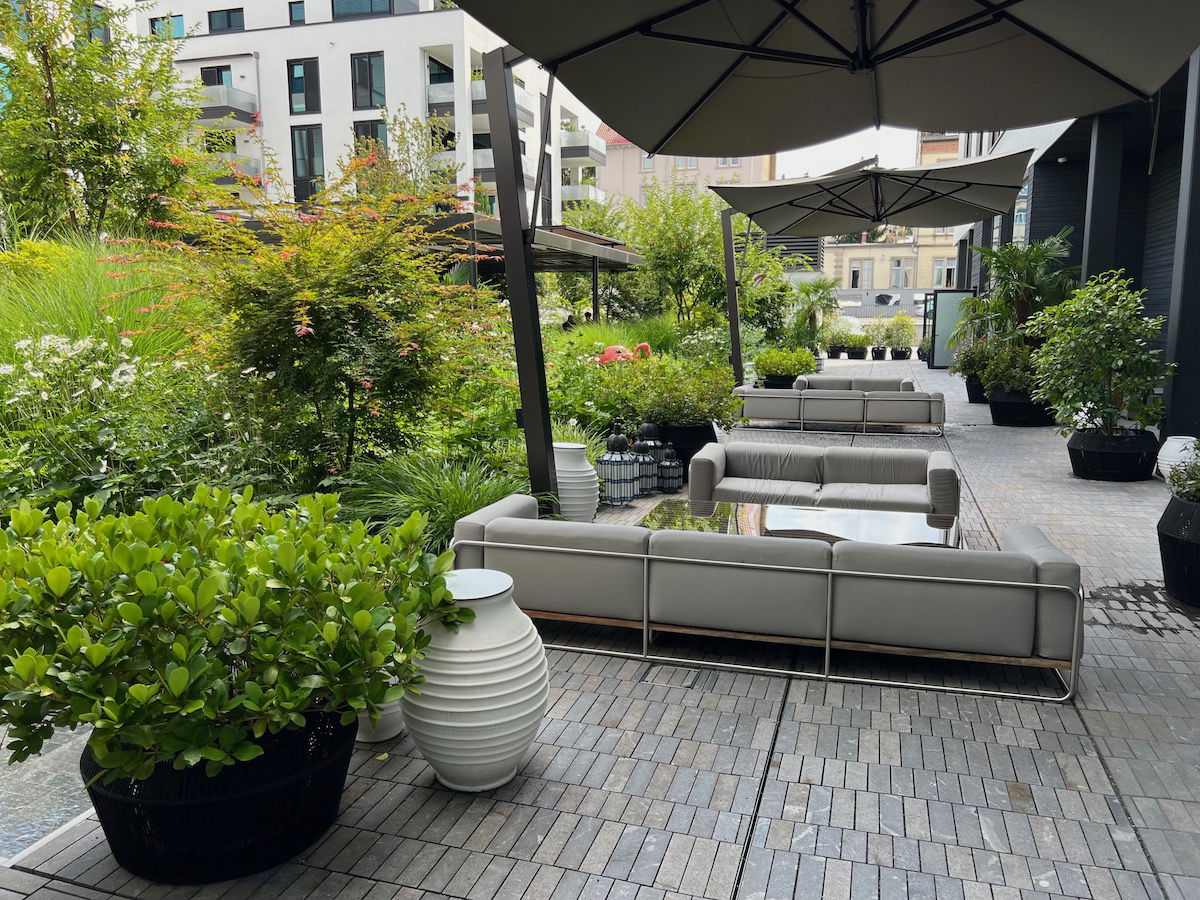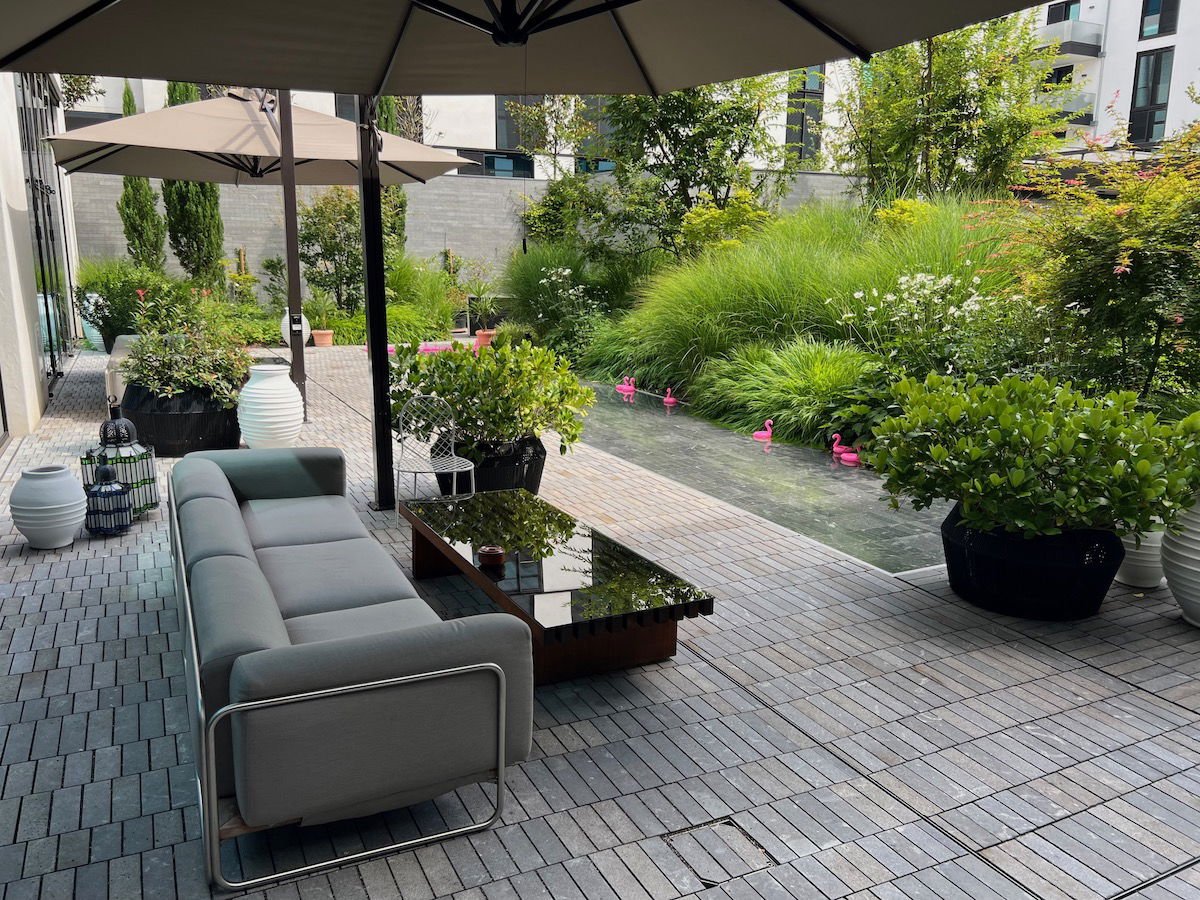 Anyway, our check-in process was efficient and friendly. I had used a Marriott Bonvoy suite night award to confirm an upgrade to a one bedroom deluxe suite, so that we'd all have a place we could hang out. I appreciate how this hotel allows suite night awards to be used to confirm some pretty premium suites, rather than just the most basic ones.
We were also advised that our other two rooms had been upgraded to junior suites, on account of booking through Marriott Luminous. OMAAT readers weren't lying when they said this hotel treats guests well with upgrades!
During check-in, we were all also offered welcome drinks, with the choice of sekt or beer. I thought that was a nice touch, and a good start to our stay.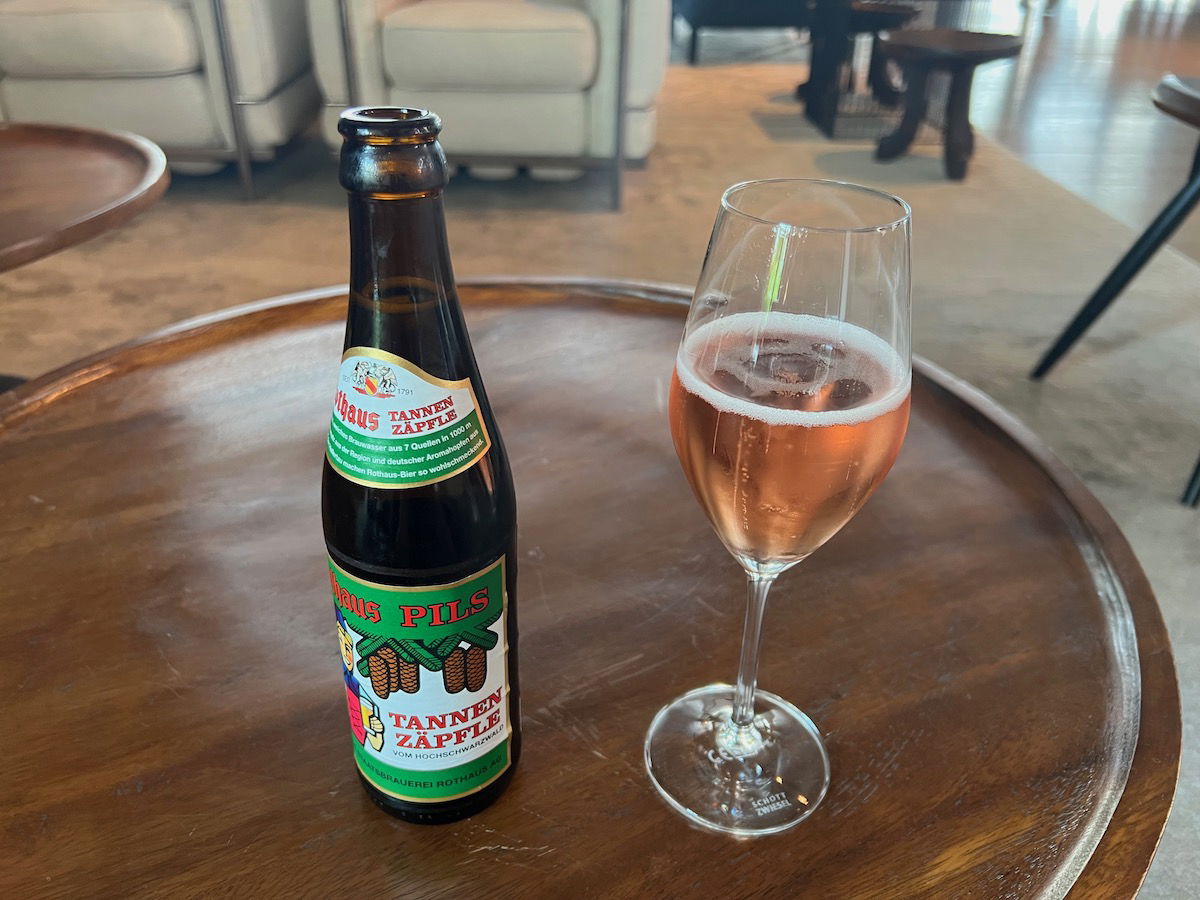 Roomers Baden-Baden one bedroom suite
With keys in hand, we all headed up to our rooms, located on the second floor (the hotel has five floors, plus the rooftop).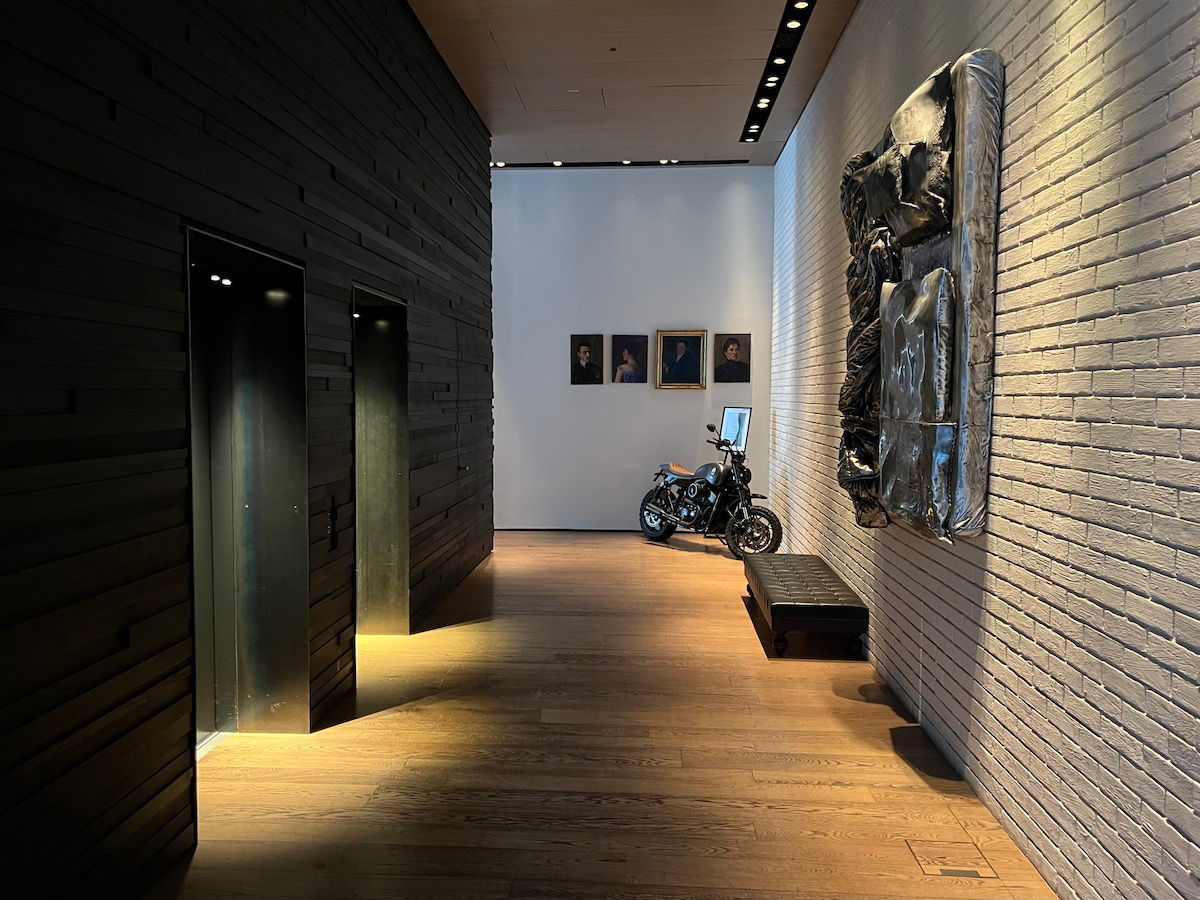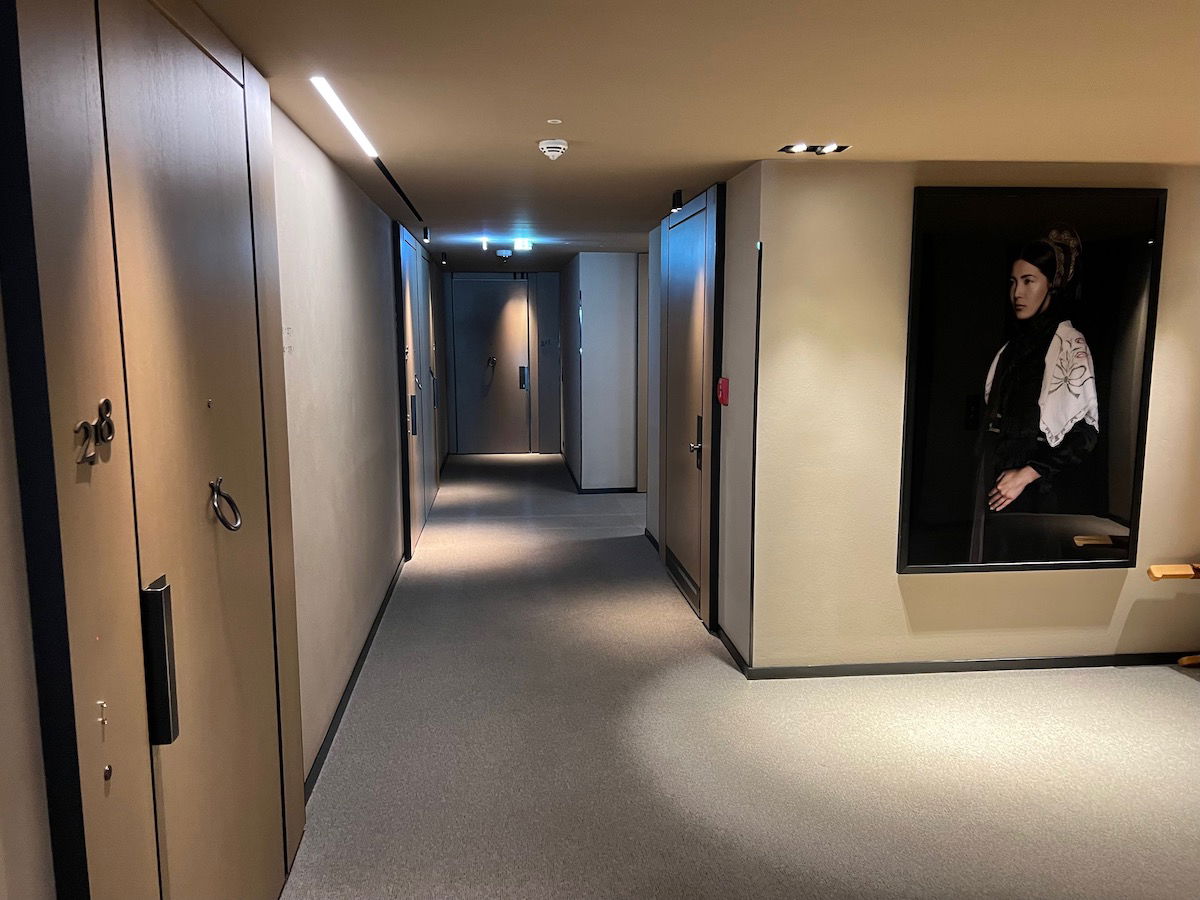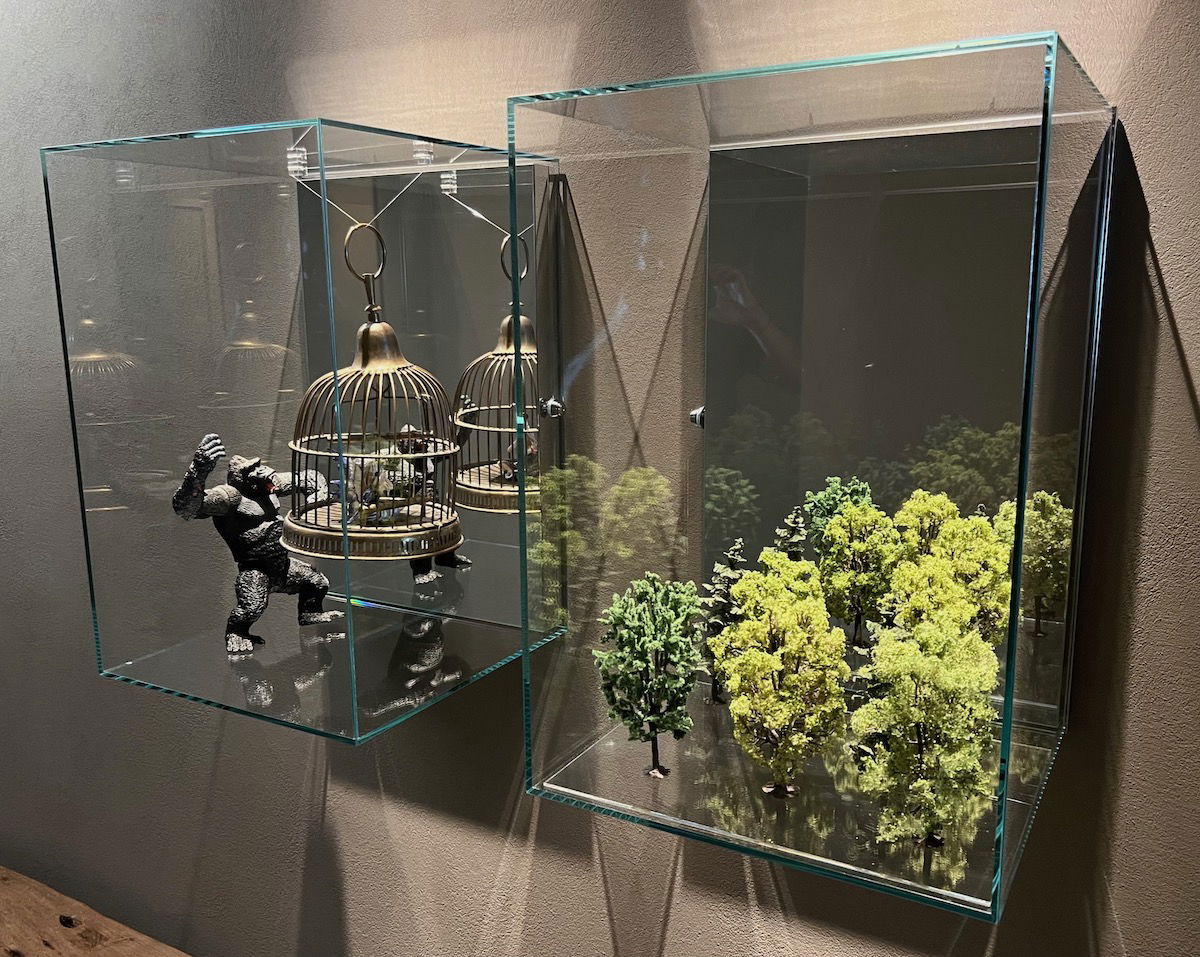 I tried to get my mom and her partner to stay in the one bedroom suite, but she insisted that she didn't want to, and that it would make her feel guilty. So I ended up staying in it.
The one bedroom suites at this property are 839 square feet (78 square meters), so they're very generously sized. Just inside the entrance to the suite was the living room, which was a great size. The living room featured a sitting area with a couch and two chairs, plus a dining table with four chairs.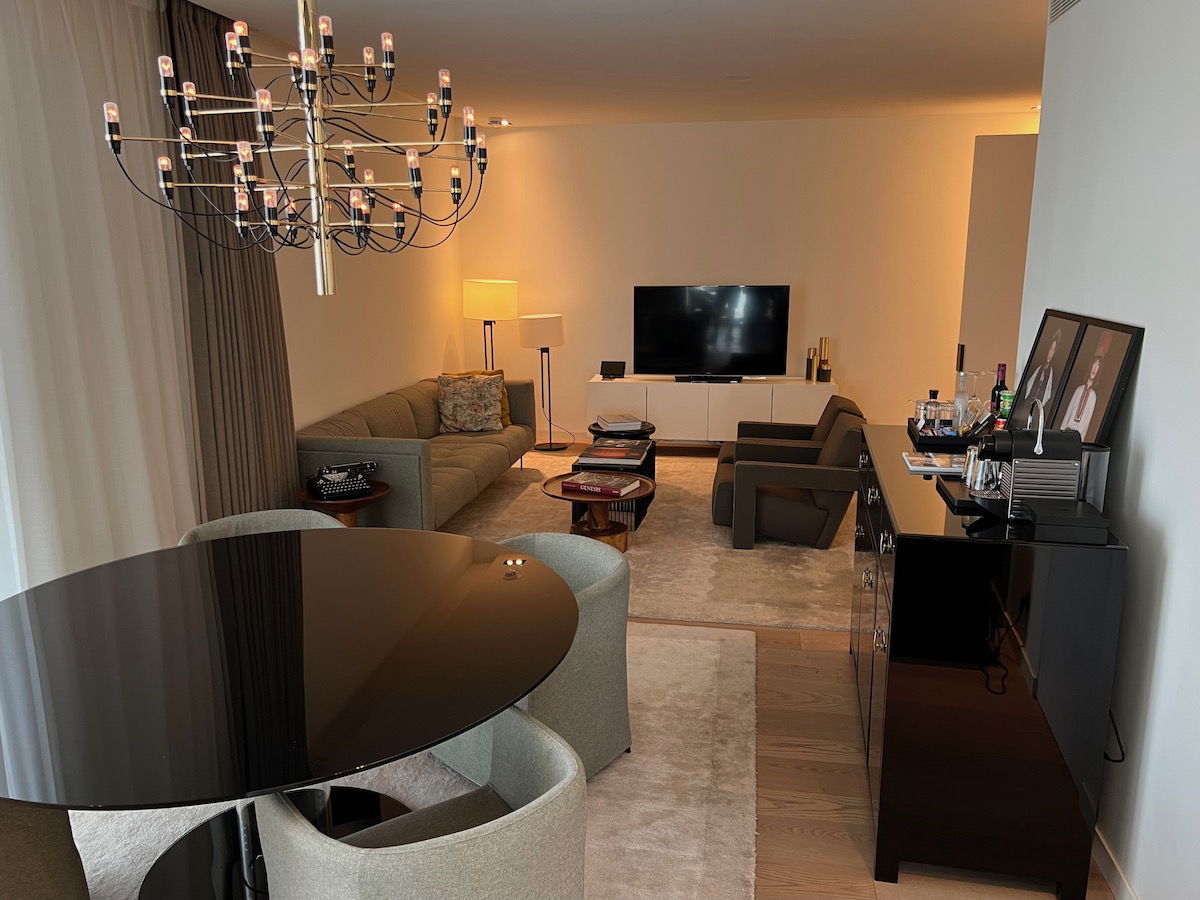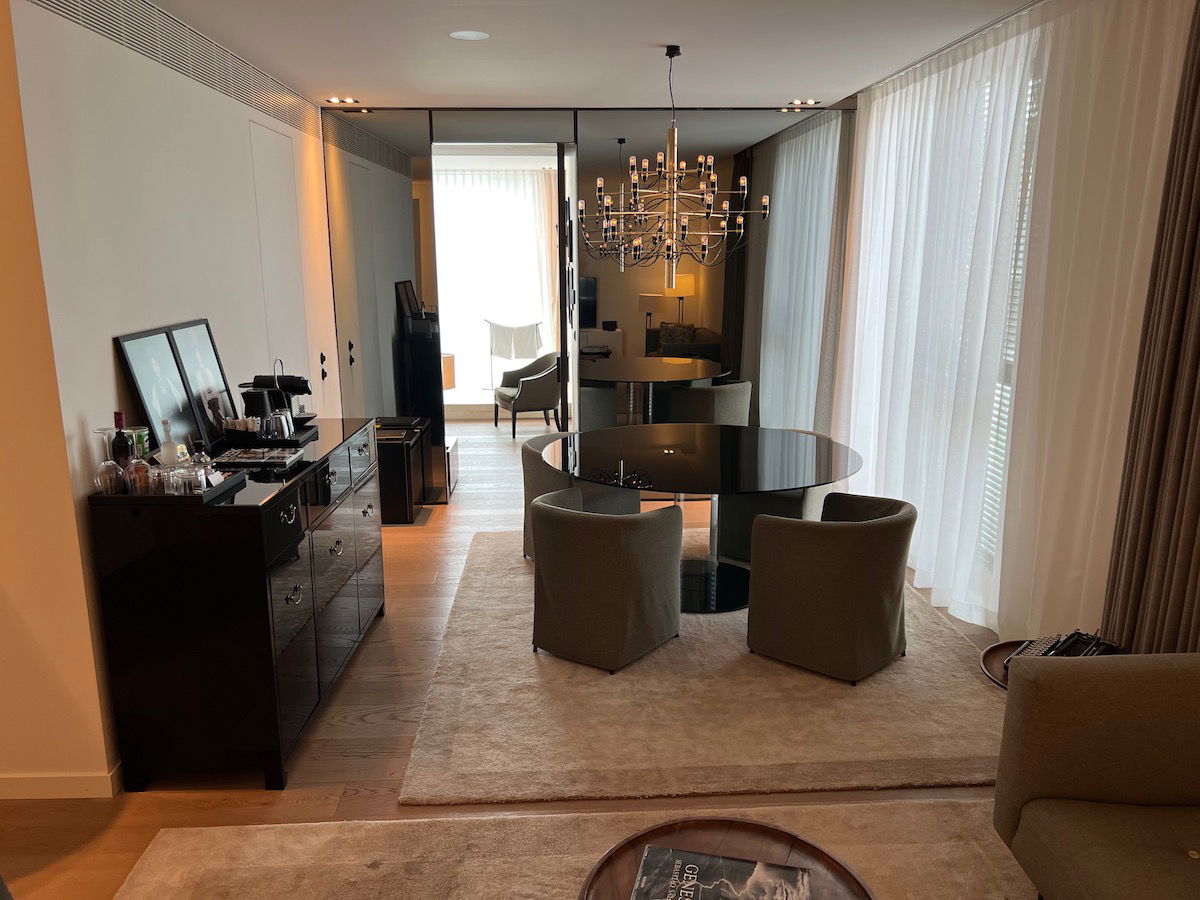 There was a minibar right next to the dining table, with a Nespresso coffee machine, a kettle, and a variety of drinks and snacks for purchase.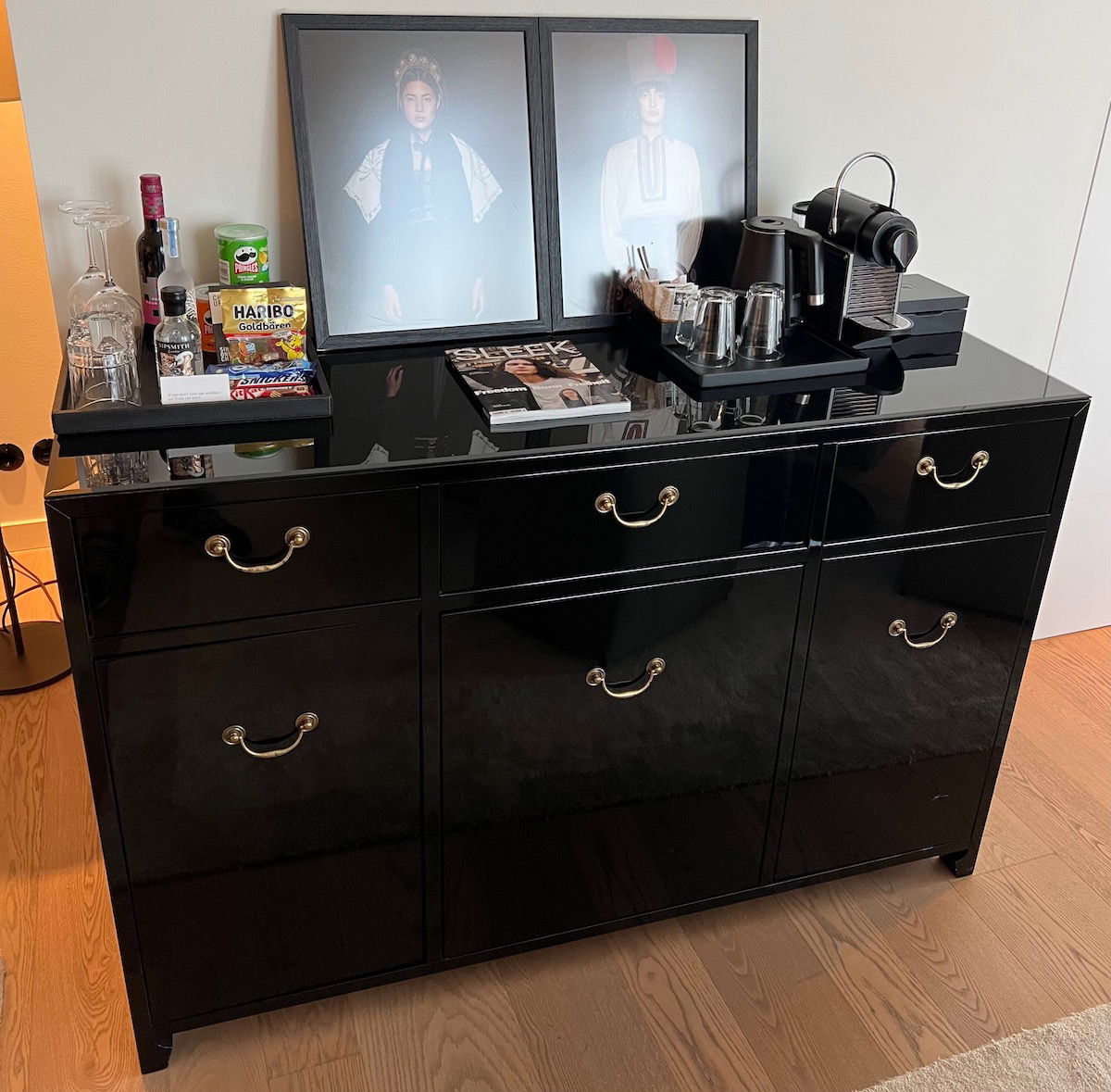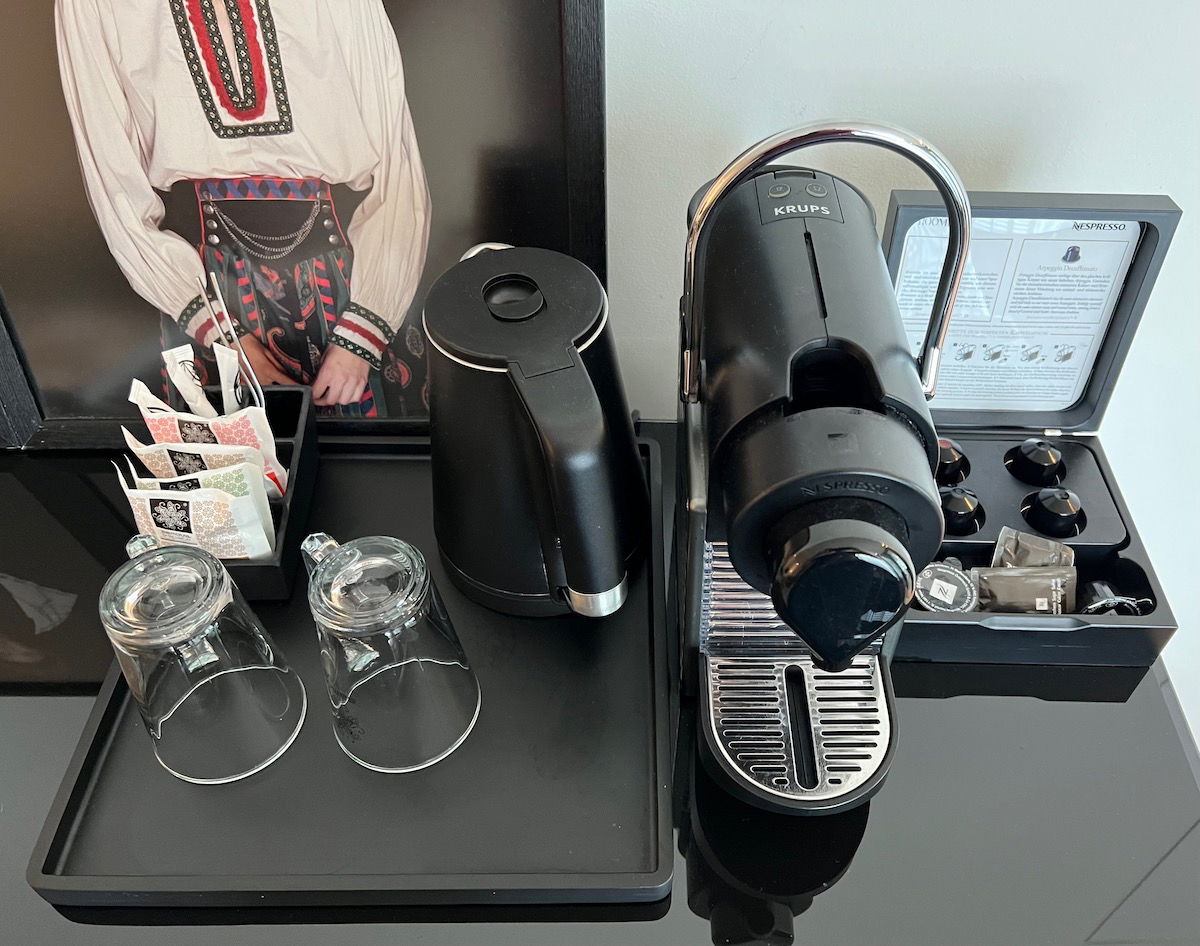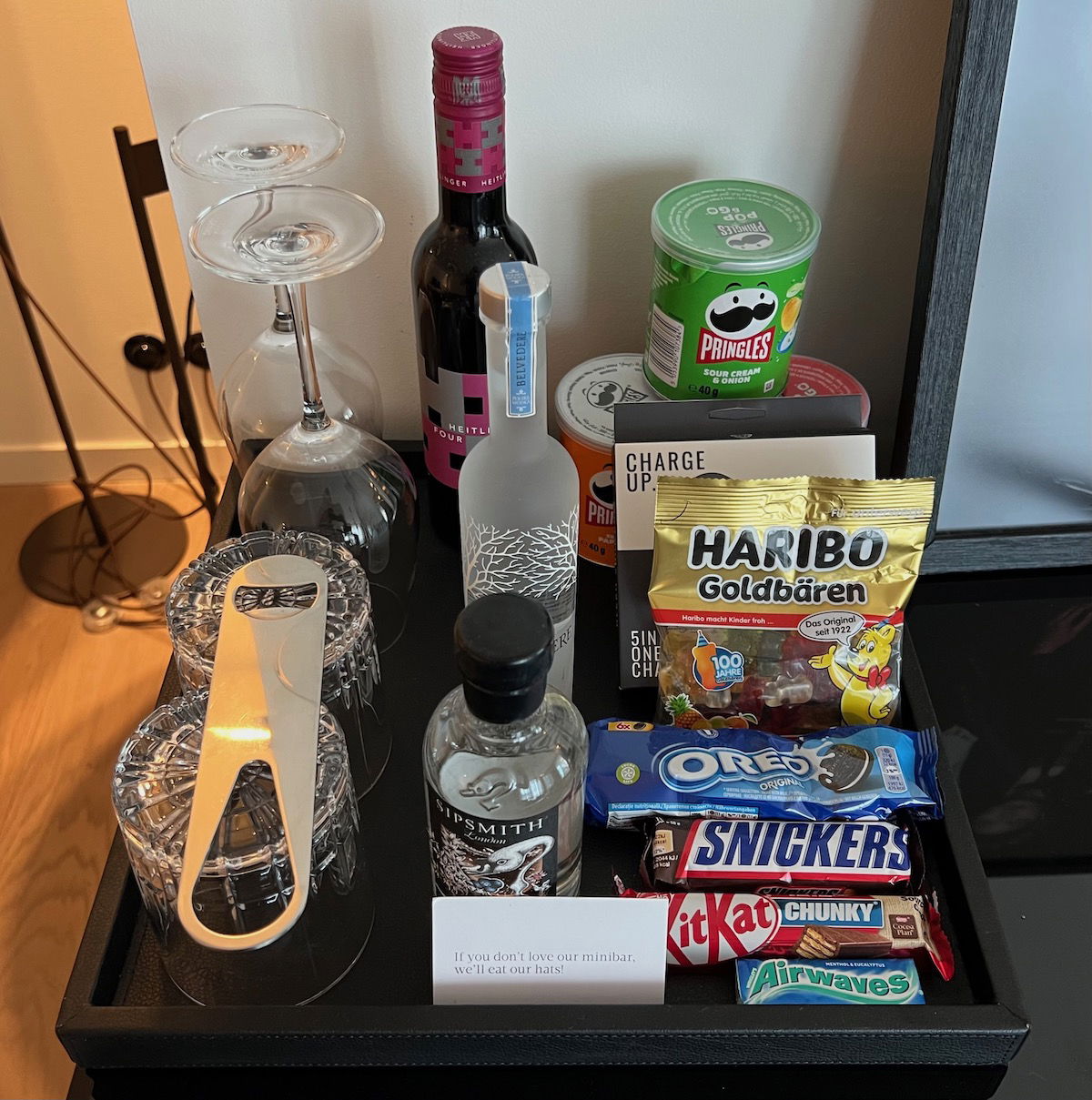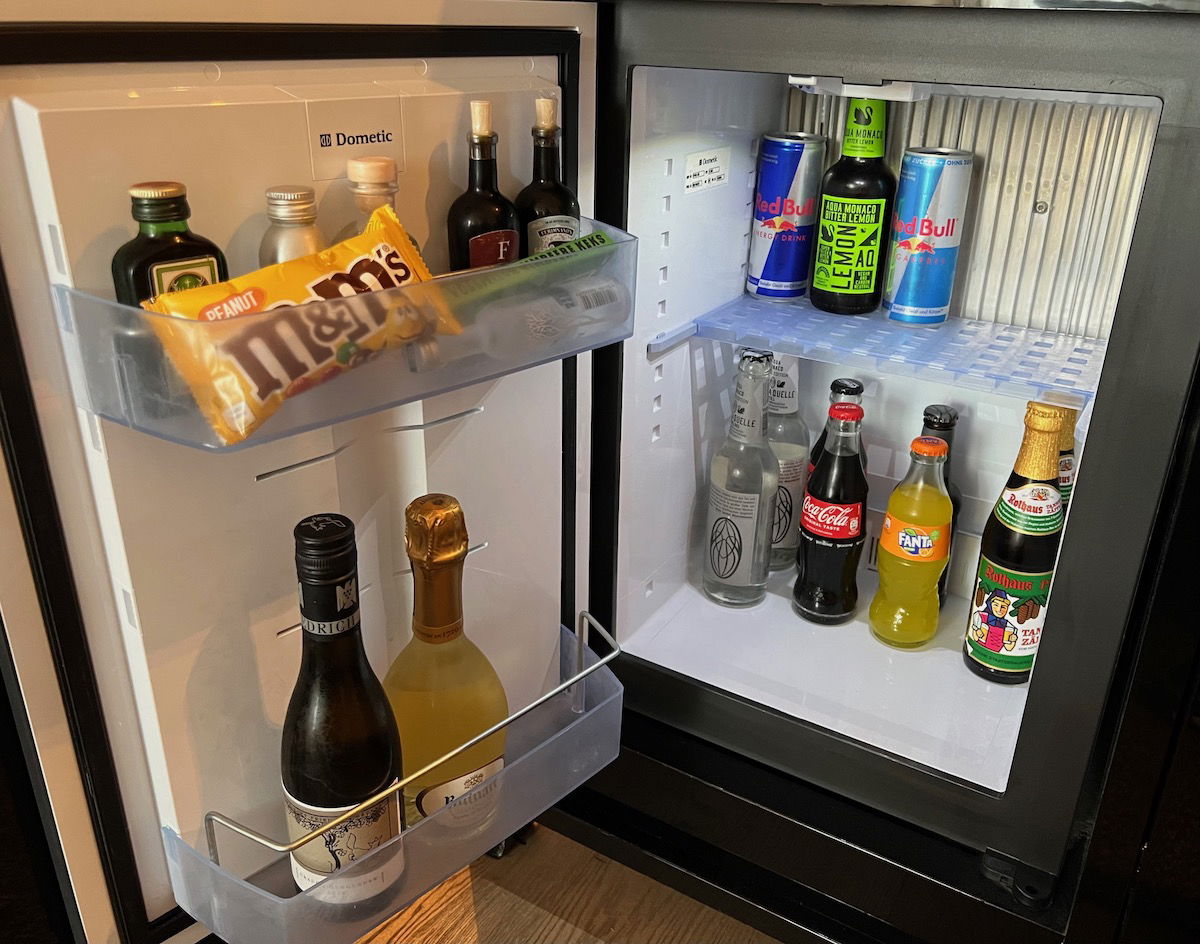 There was also a half bathroom right off the living room.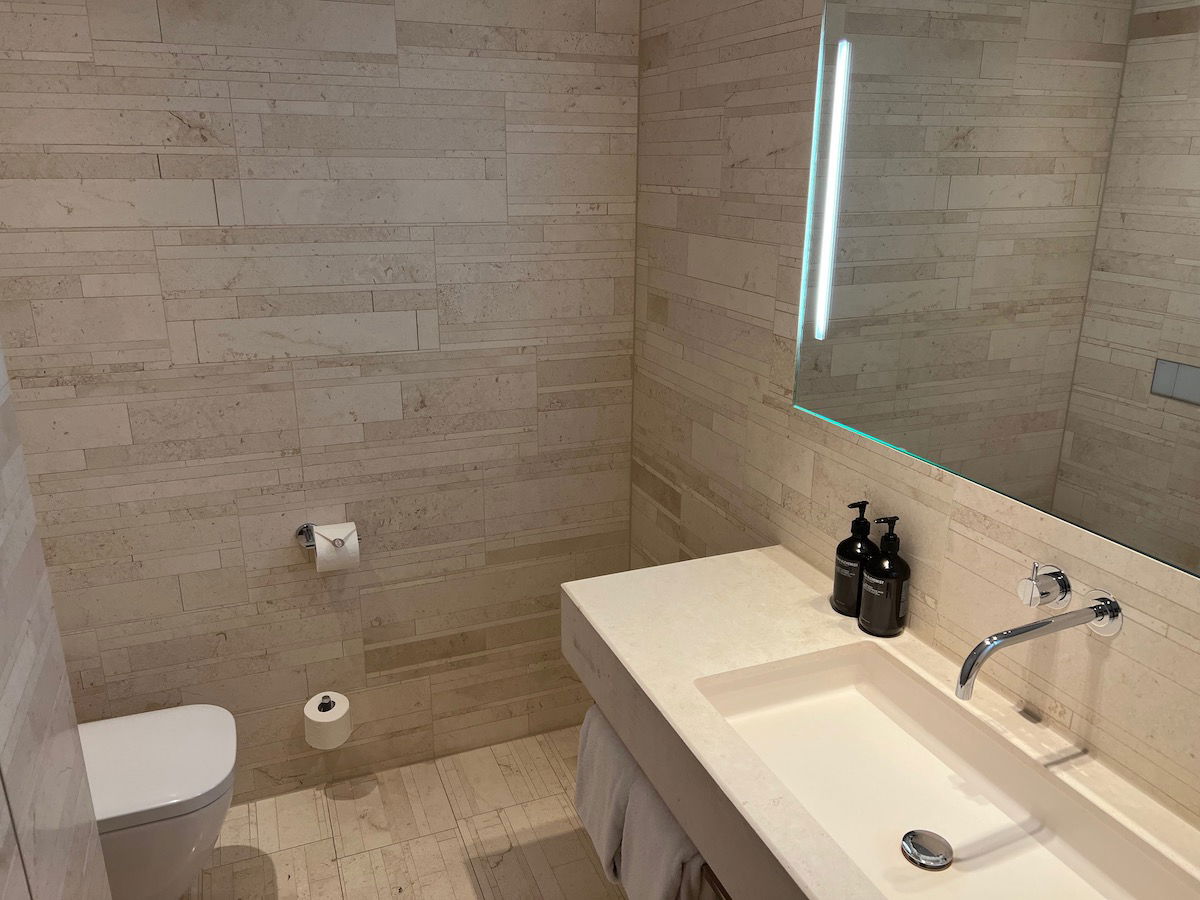 Then there was a door leading to the bedroom, which featured a very low king size bed. I've gotta say, this is the most comfortable bed I've ever had in Germany, as it was very soft (which is my preference).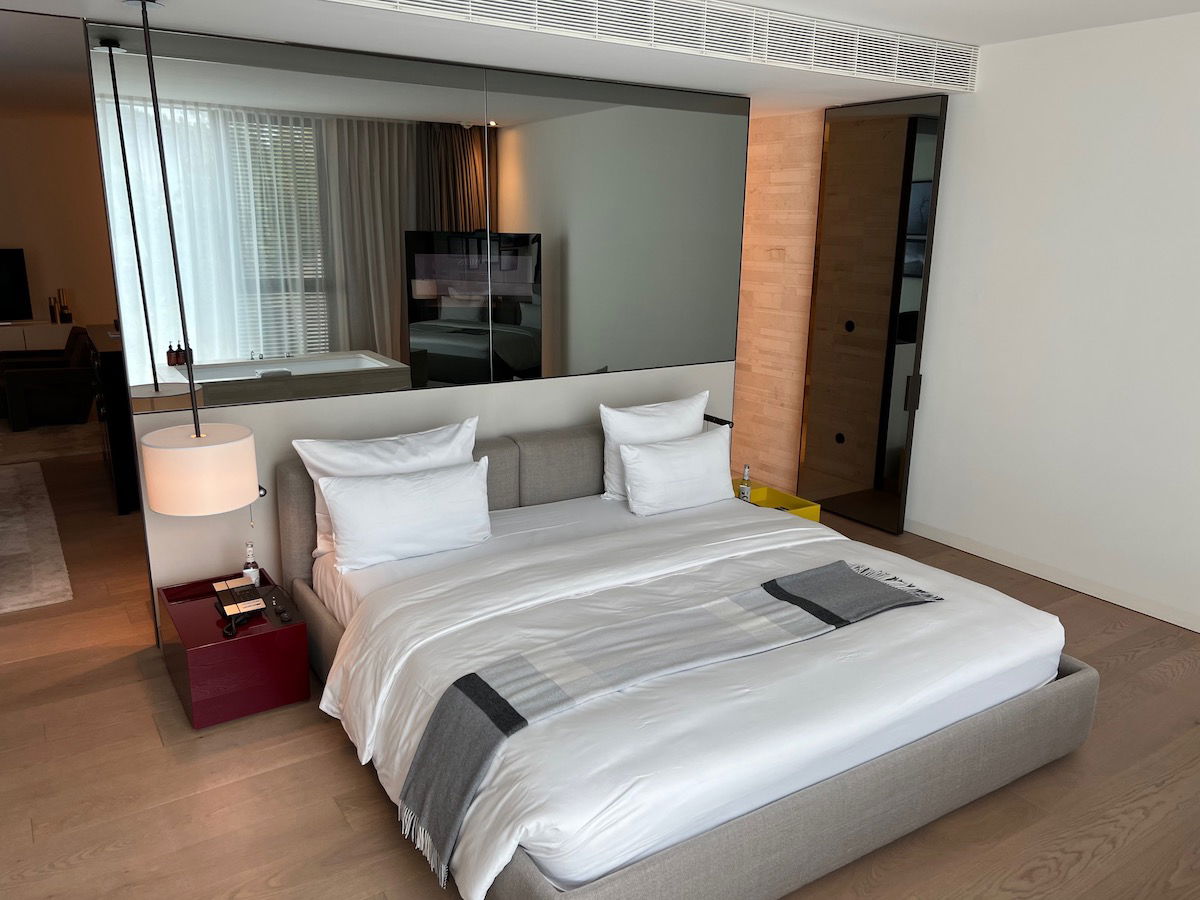 The rest of the bedroom had strong W Hotels vibes, with the bathtub in the middle of the room, right next to a huge TV.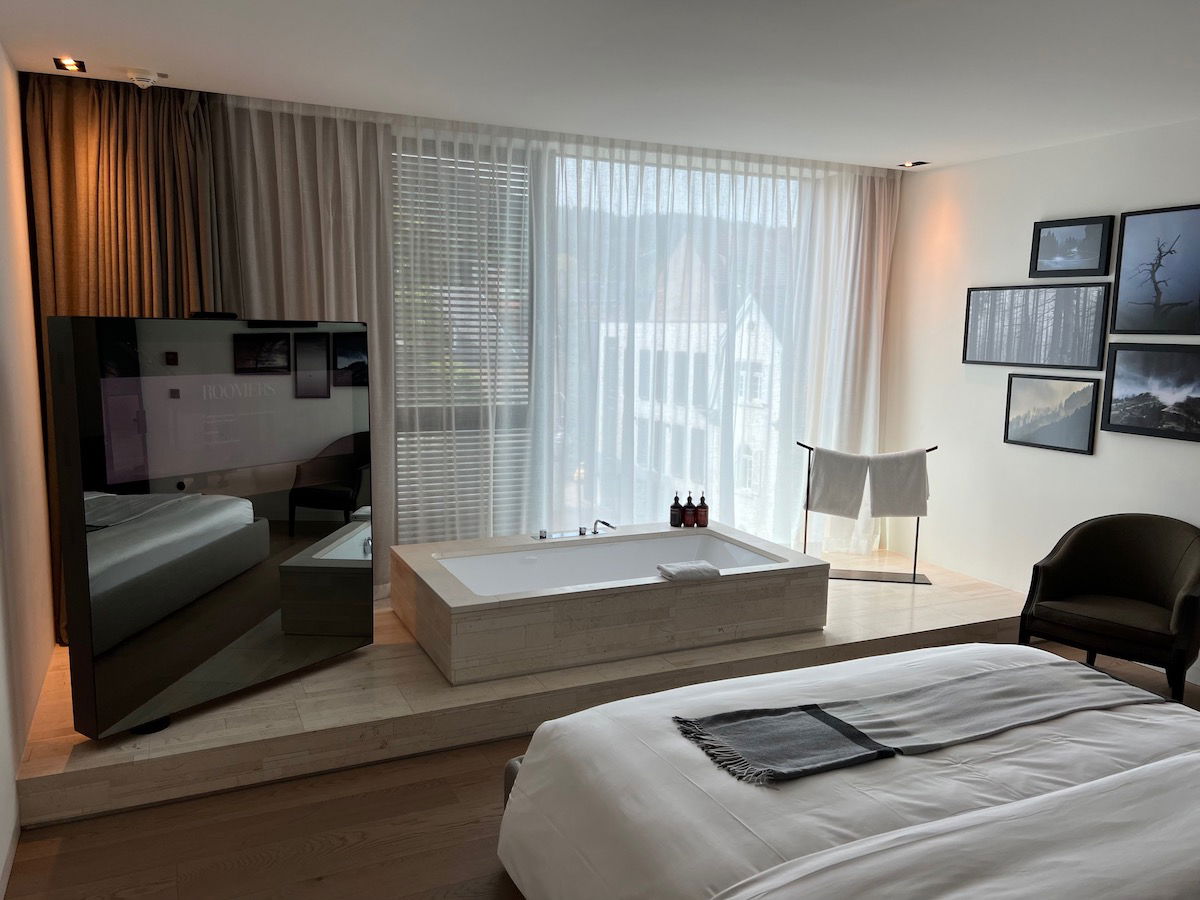 I loved all the art on the wall, plus the cuckoo clock.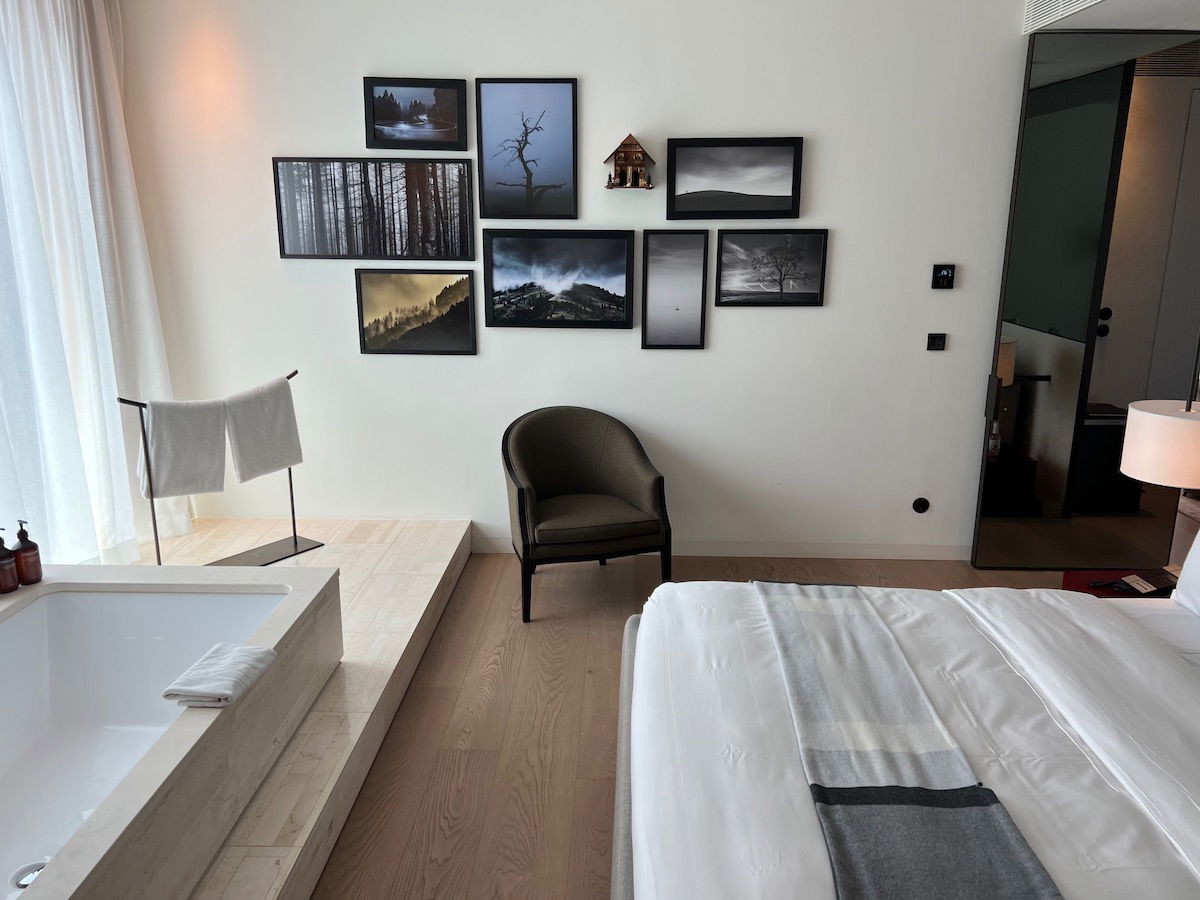 The main bathroom was off the bedroom, and was large. It had double sinks, a toilet and bidet, and a walk-in shower.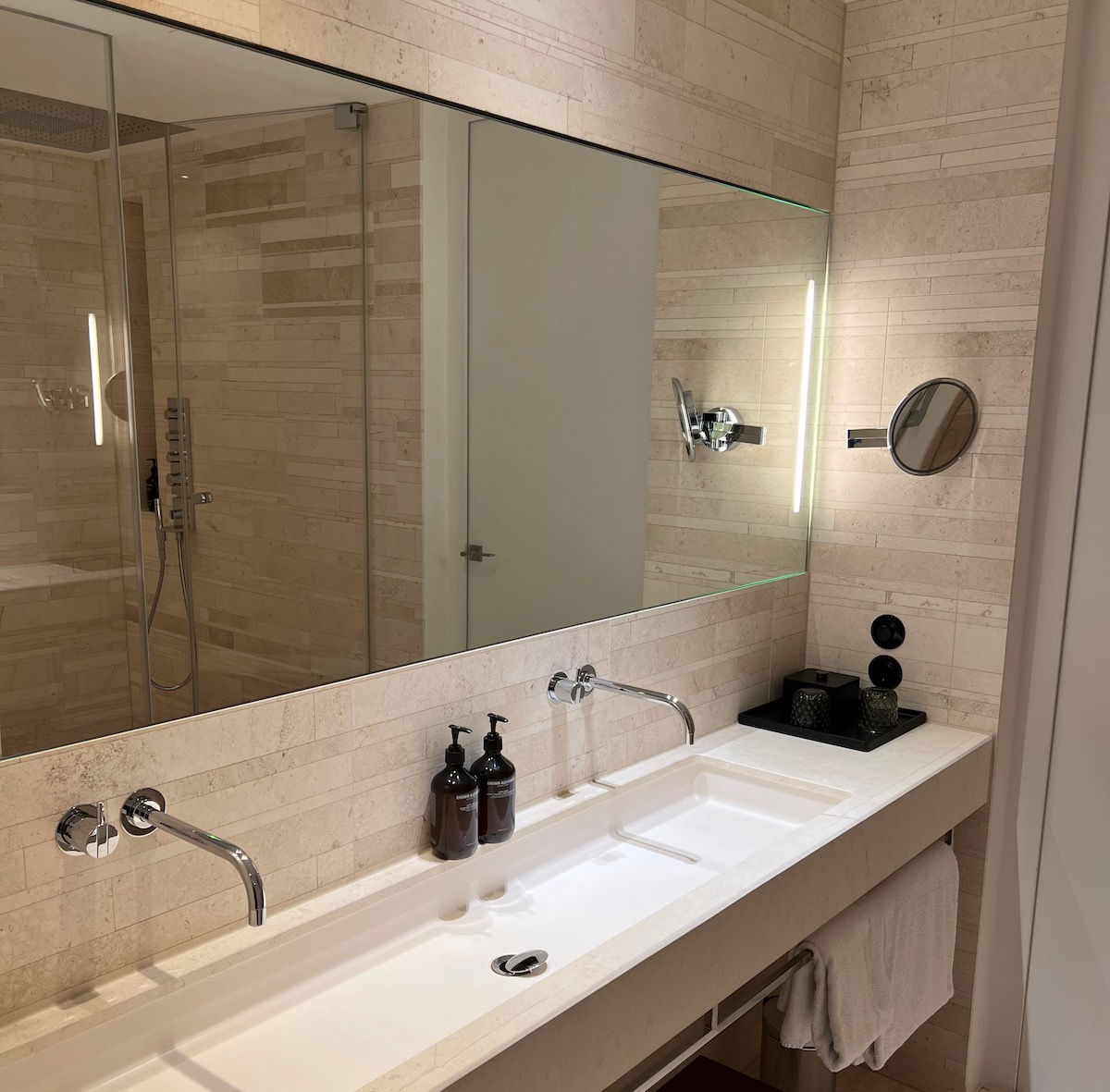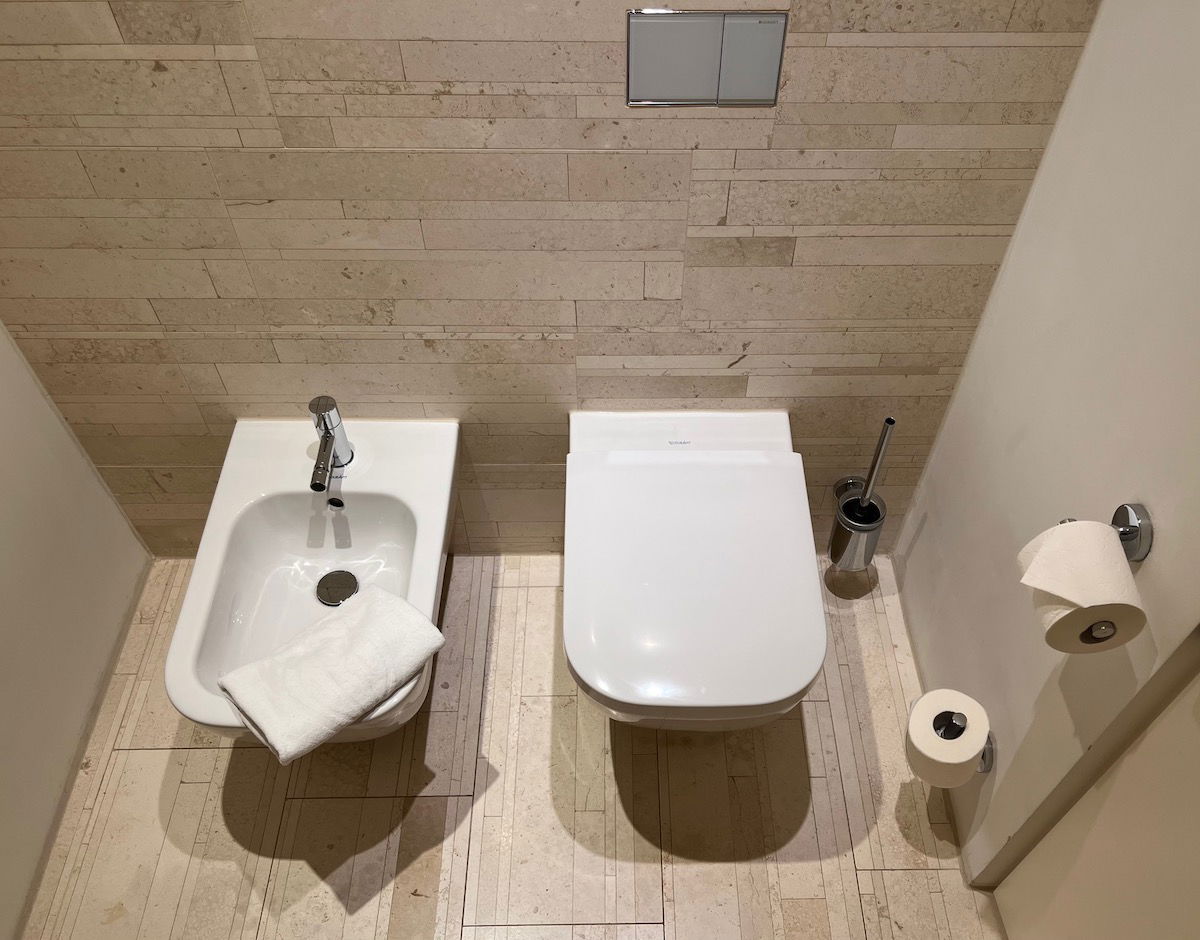 In Germany, I'm pretty used to showers not having great water pressure, generally justified on environmental grounds. OMG, I've never experienced anything like this shower before. It's not just that the water pressure was strong, but it was almost like being power washed. I also liked how customizable the shower was, as water could flow in all kinds of different ways.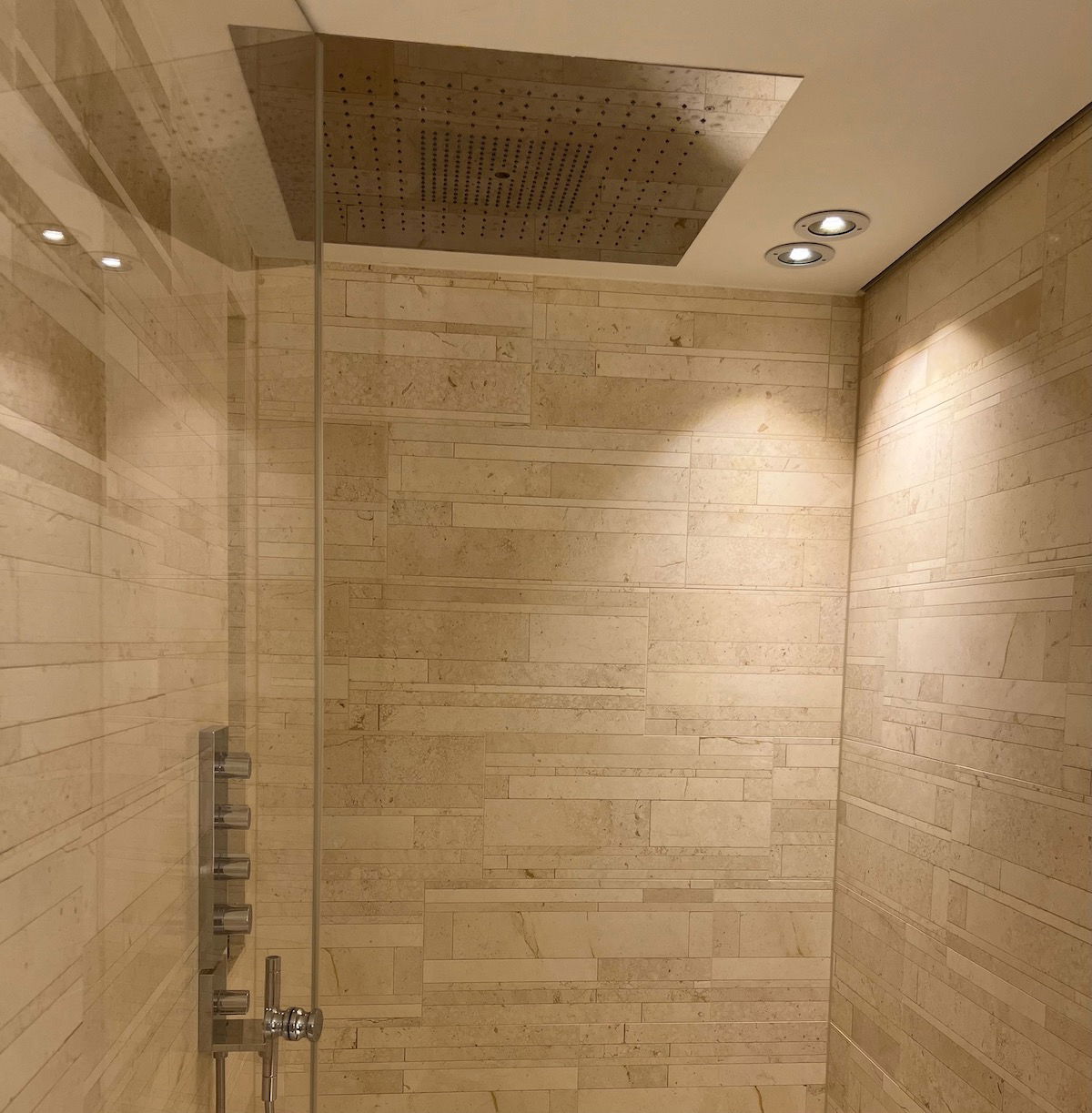 Toiletries in the bathroom were in reusable containers, and were from Grown Alchemist.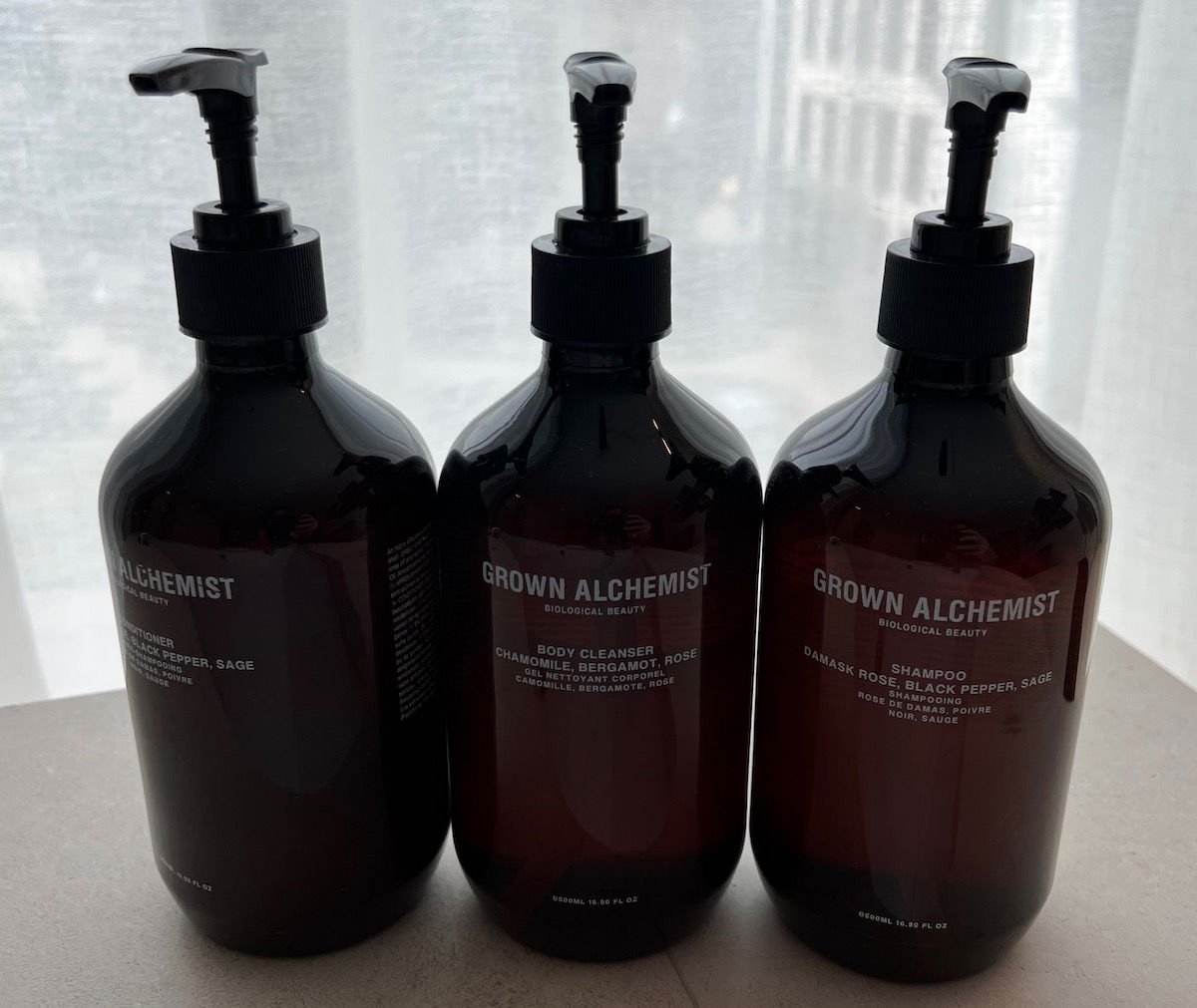 As far as views go, the room faced a nearby street. It was pretty with all the trees, but hardly the most memorable view.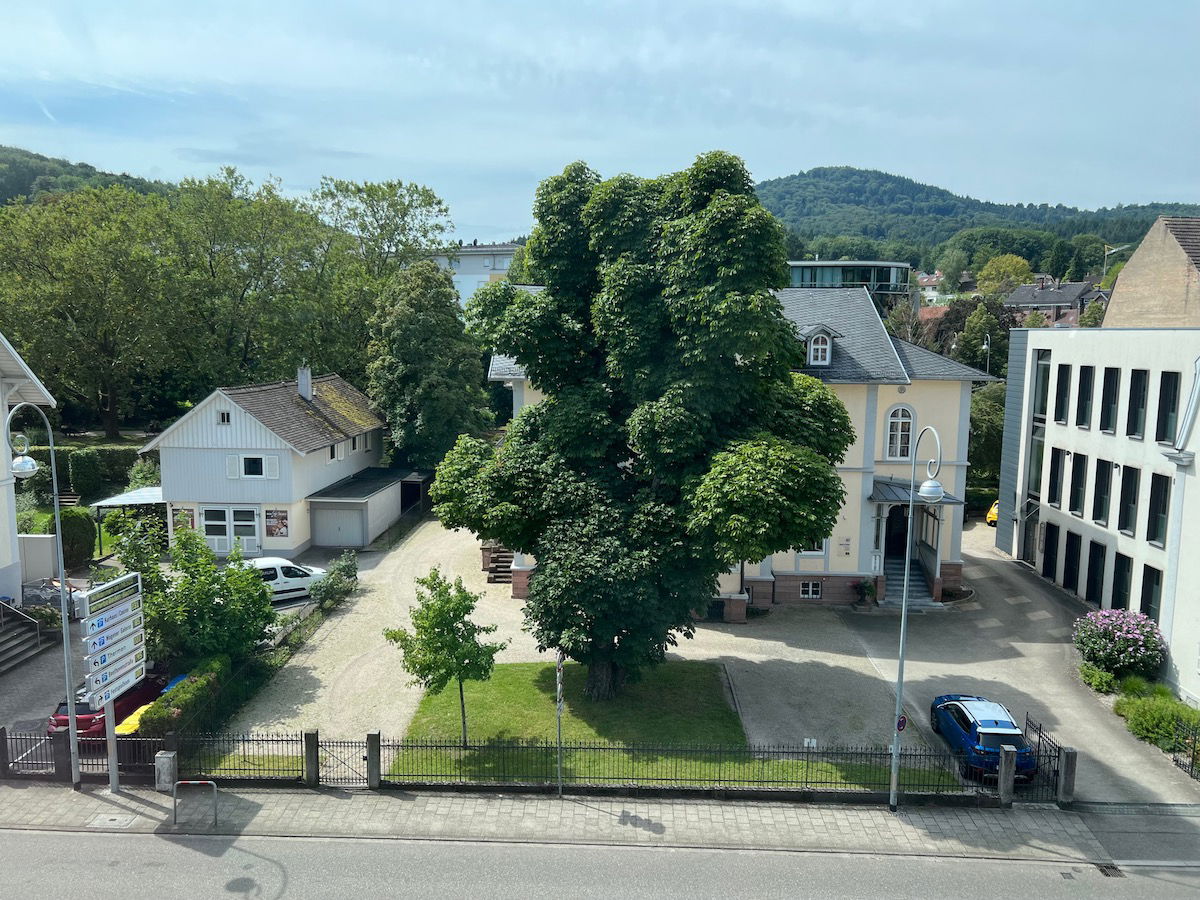 We were also brought a welcome amenity in each of our rooms, which was a tasty chocolate nut cake.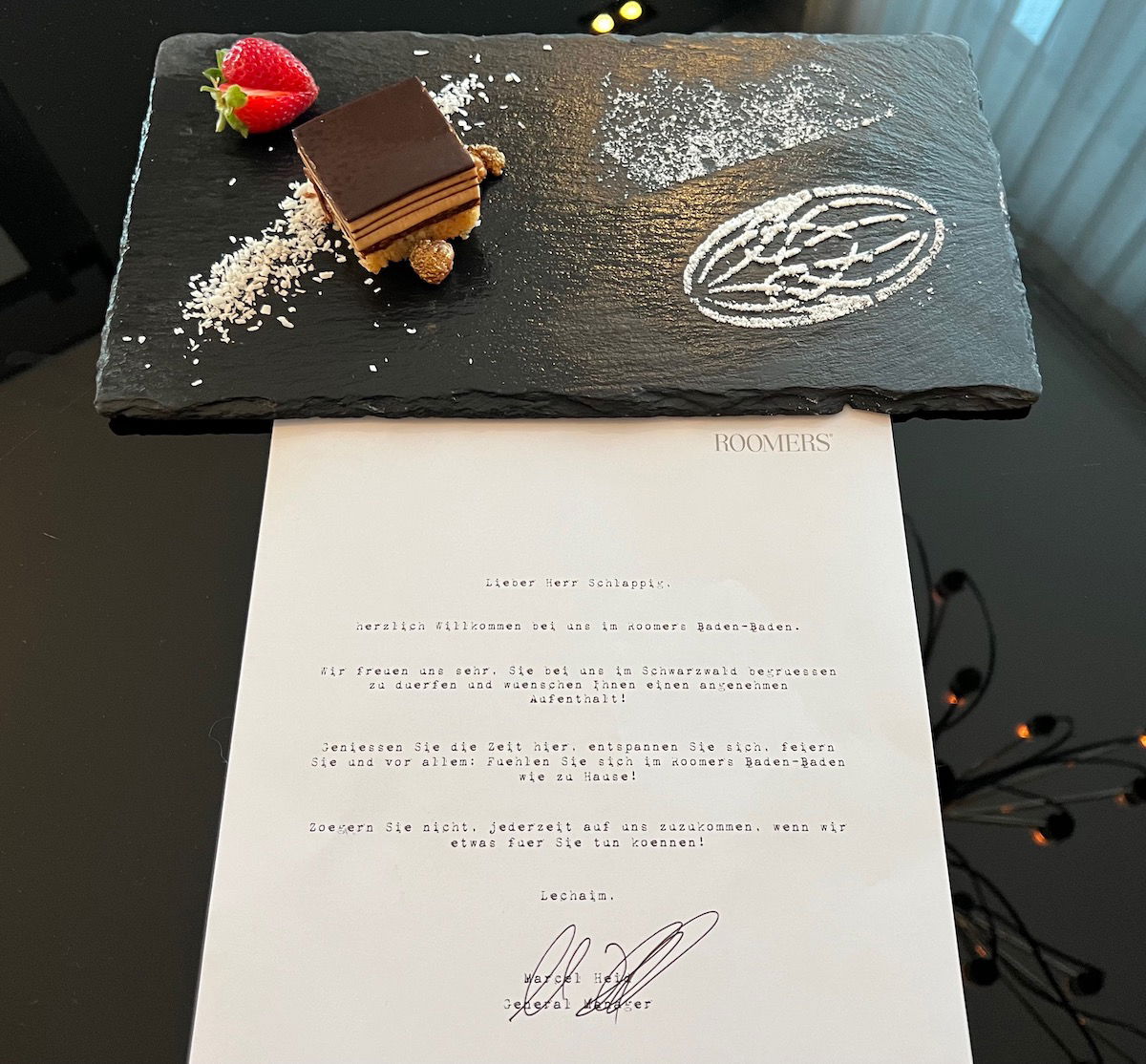 Roomers Baden-Baden junior suite
In the interest of being thorough, I figured I'd also report back on what the junior suites are like at Roomers Baden-Baden. These rooms are 538 square feet (50 square meters), so they're not exactly the most spacious junior suites out there.
The junior suite had a king size bed, and a sitting area by the window with a couch and two chairs.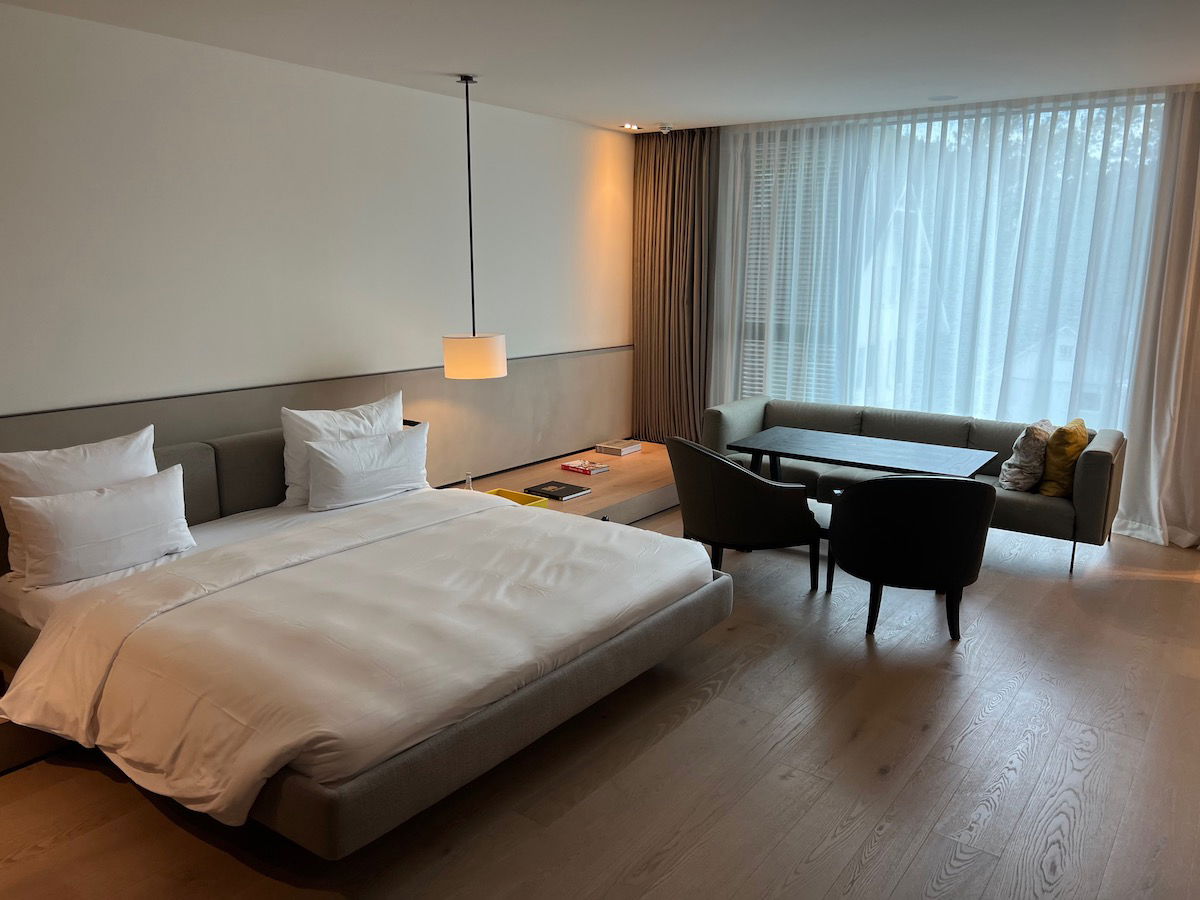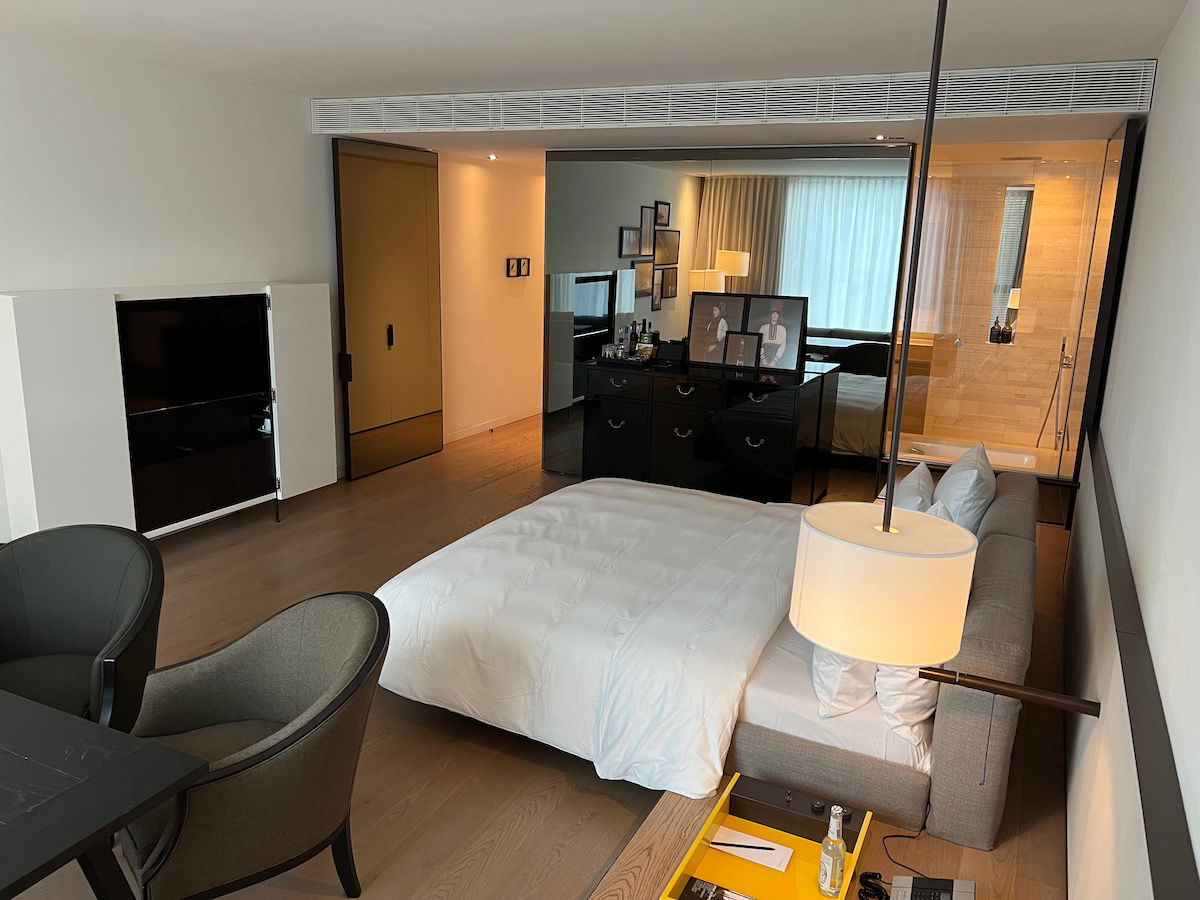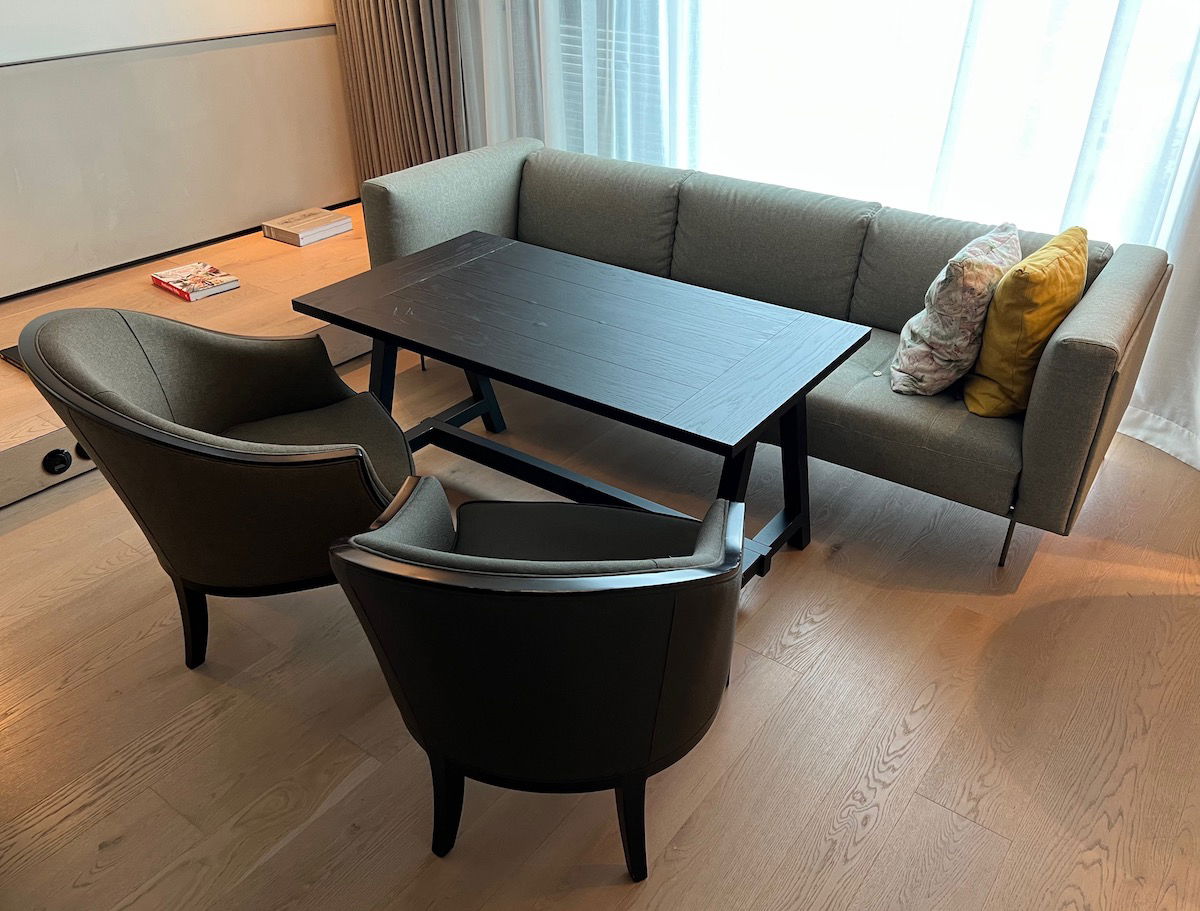 The bathroom was spacious as well, and had double sinks, a huge shower and tub "compound," and then a toilet.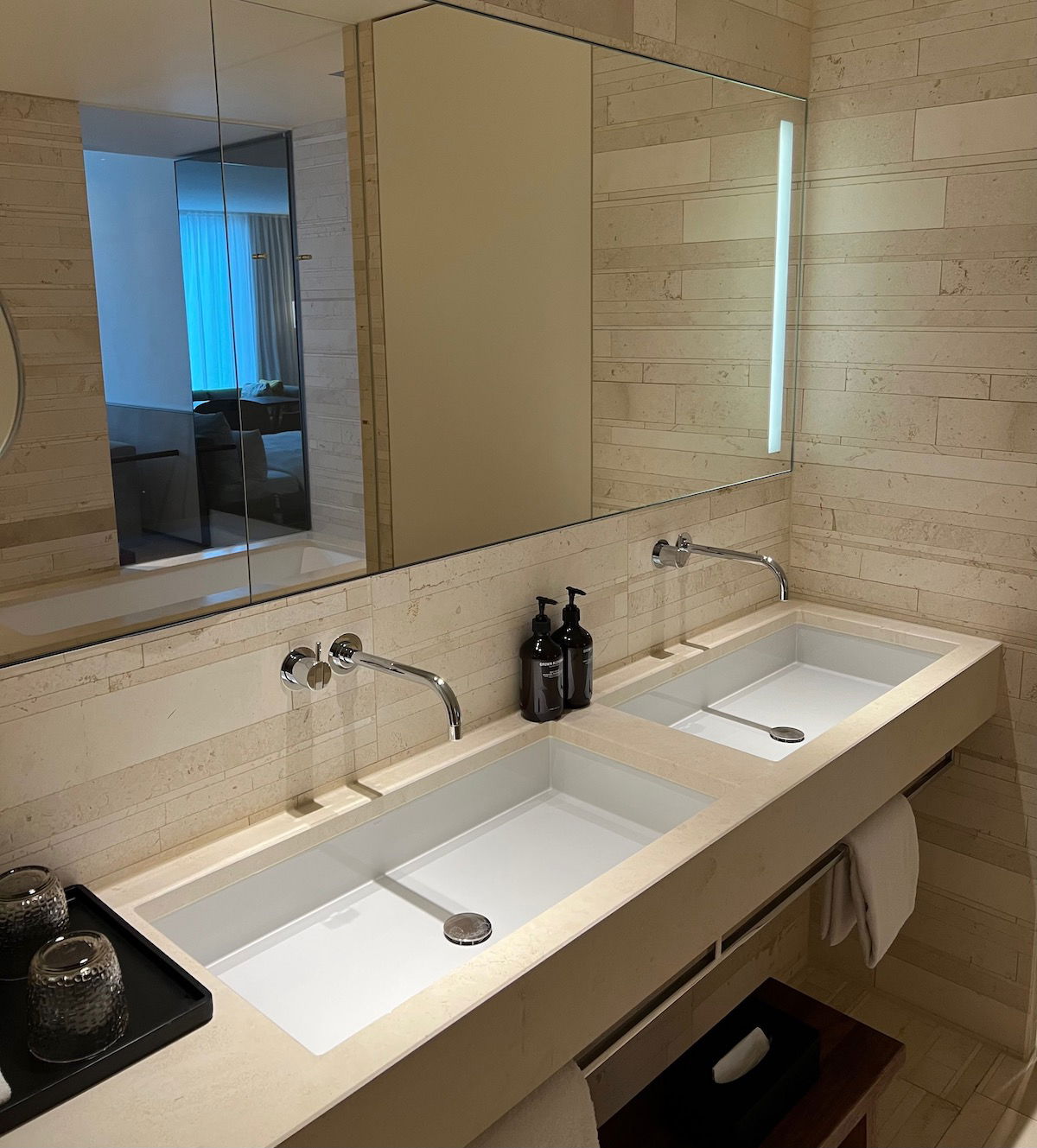 In line with the W Hotels vibe, the shower was separated from the bedroom by a glass shield. I'm not sure if there's any way to add privacy there, but I can't say I'm a huge fan of that design concept.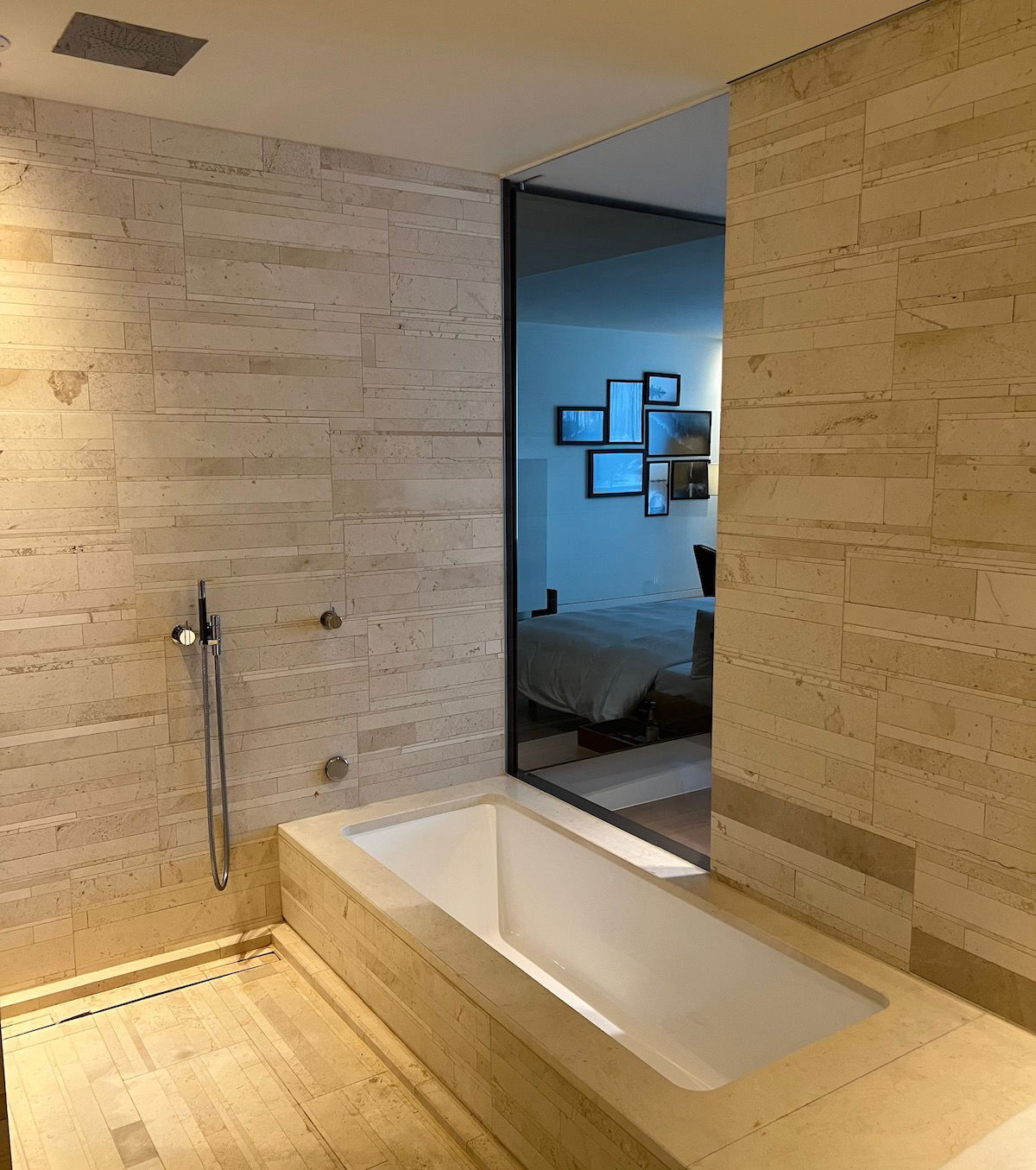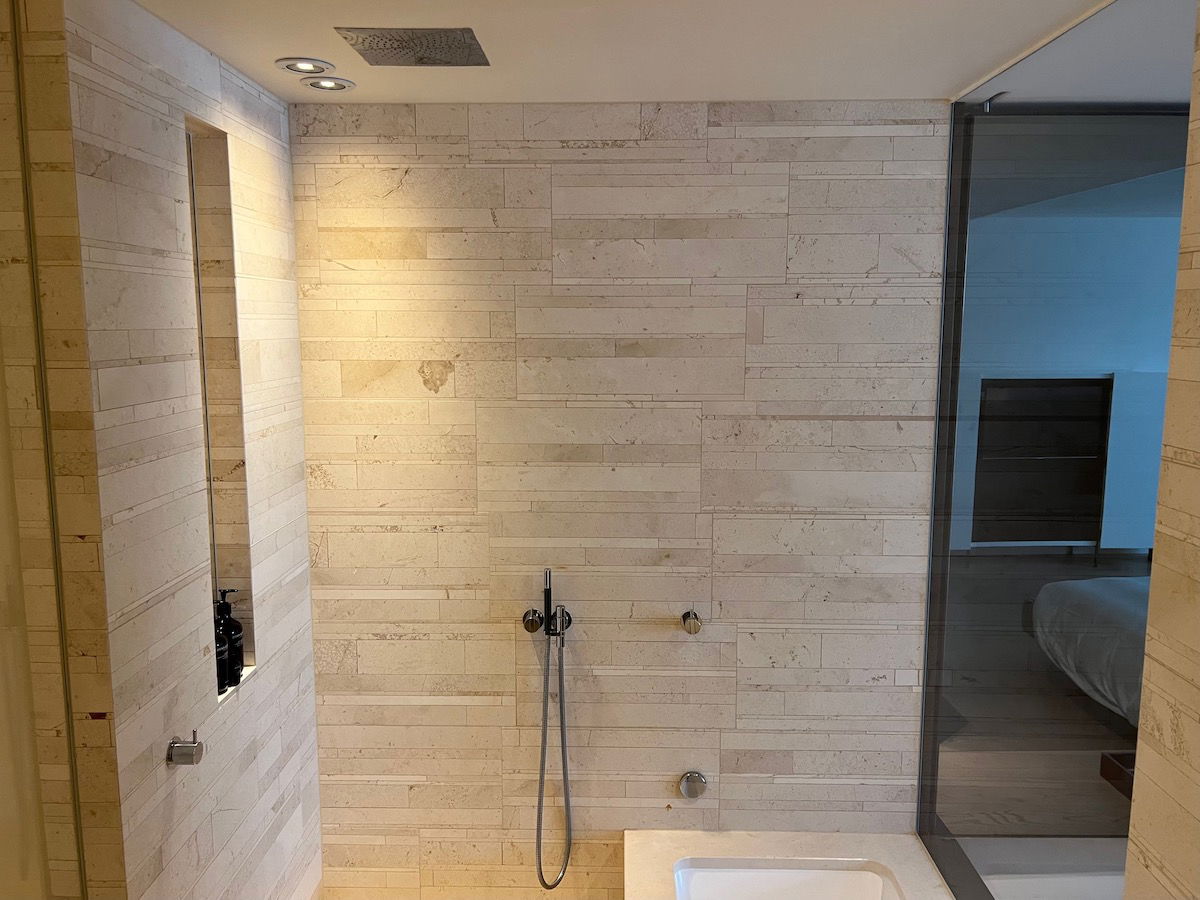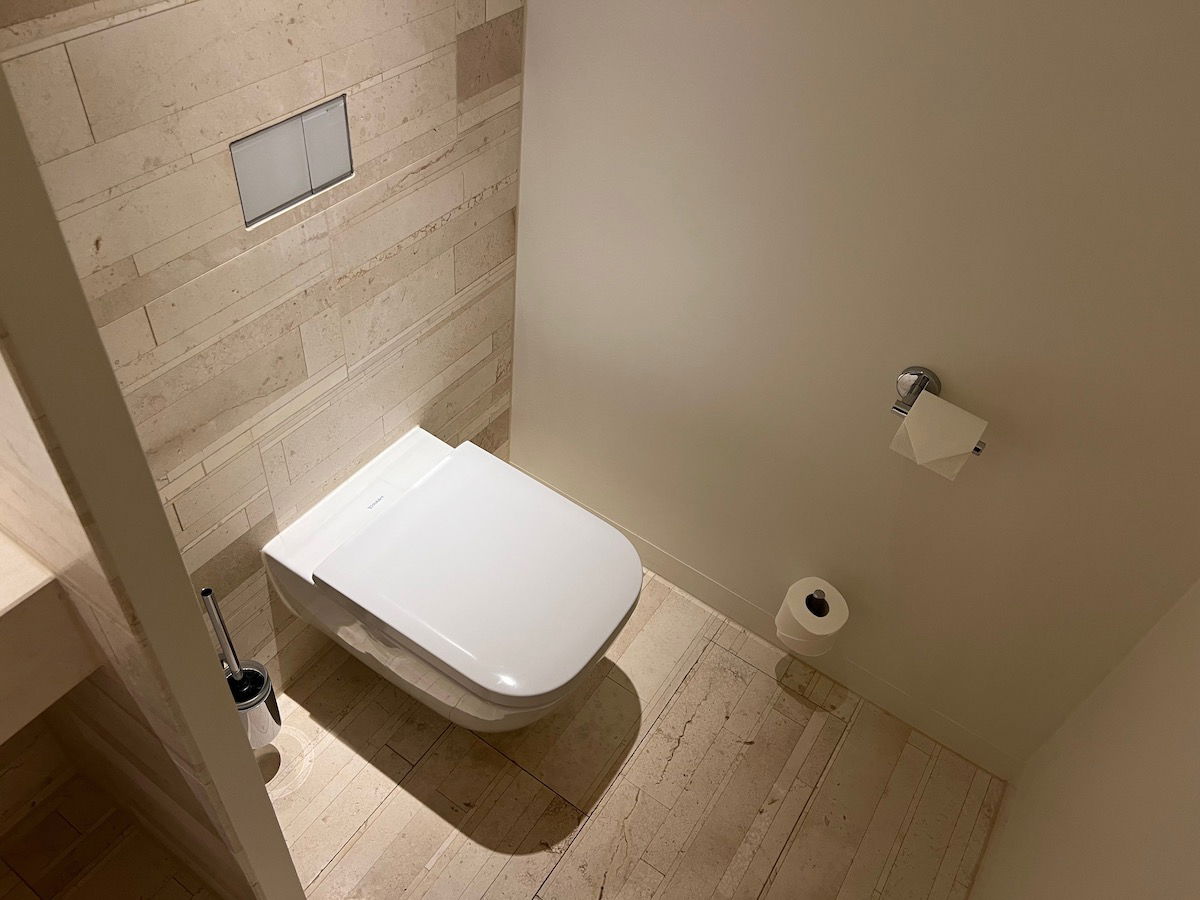 Roomers Baden-Baden Moriki Restaurant (breakfast & dinner)
Moriki Restaurant is the signature restaurant at Roomers Baden-Baden, and it's located just off the lobby. The restaurant is open for breakfast, lunch, and dinner. Breakfast consists of a buffet, while for lunch and dinner it turns into an Asian fusion restaurant (with a focus on sushi), and seems to also be quite popular with non-hotel guests.
The restaurant is a lovely space, with the indoor seating essentially being in an "L" shape.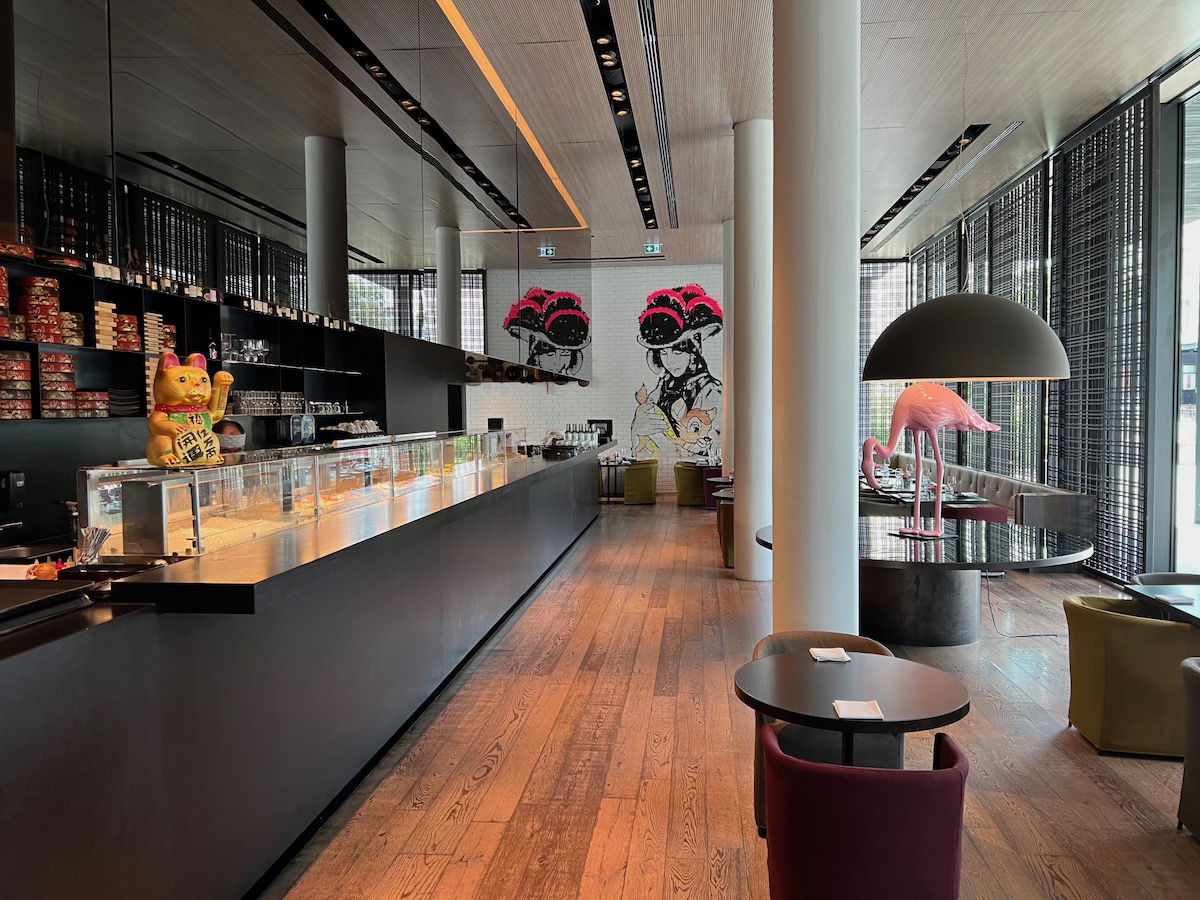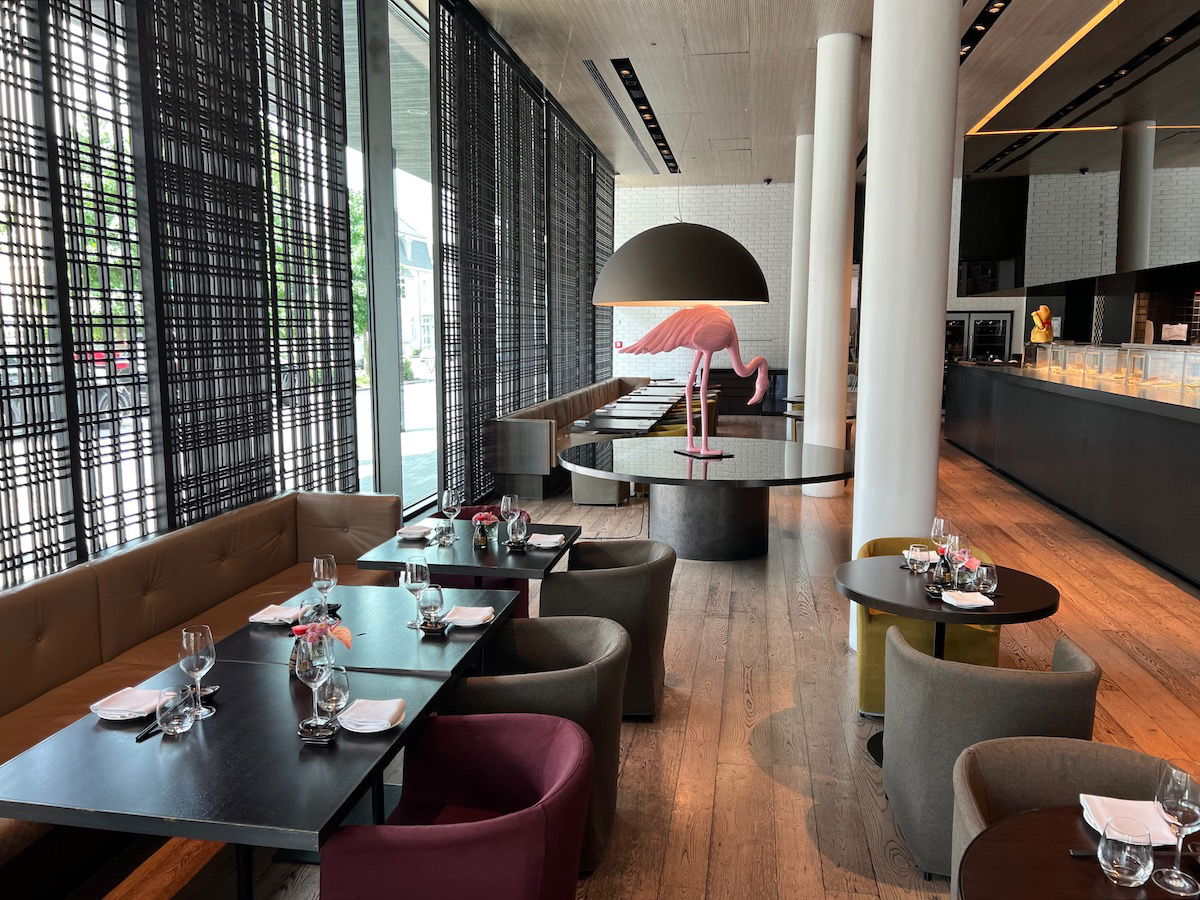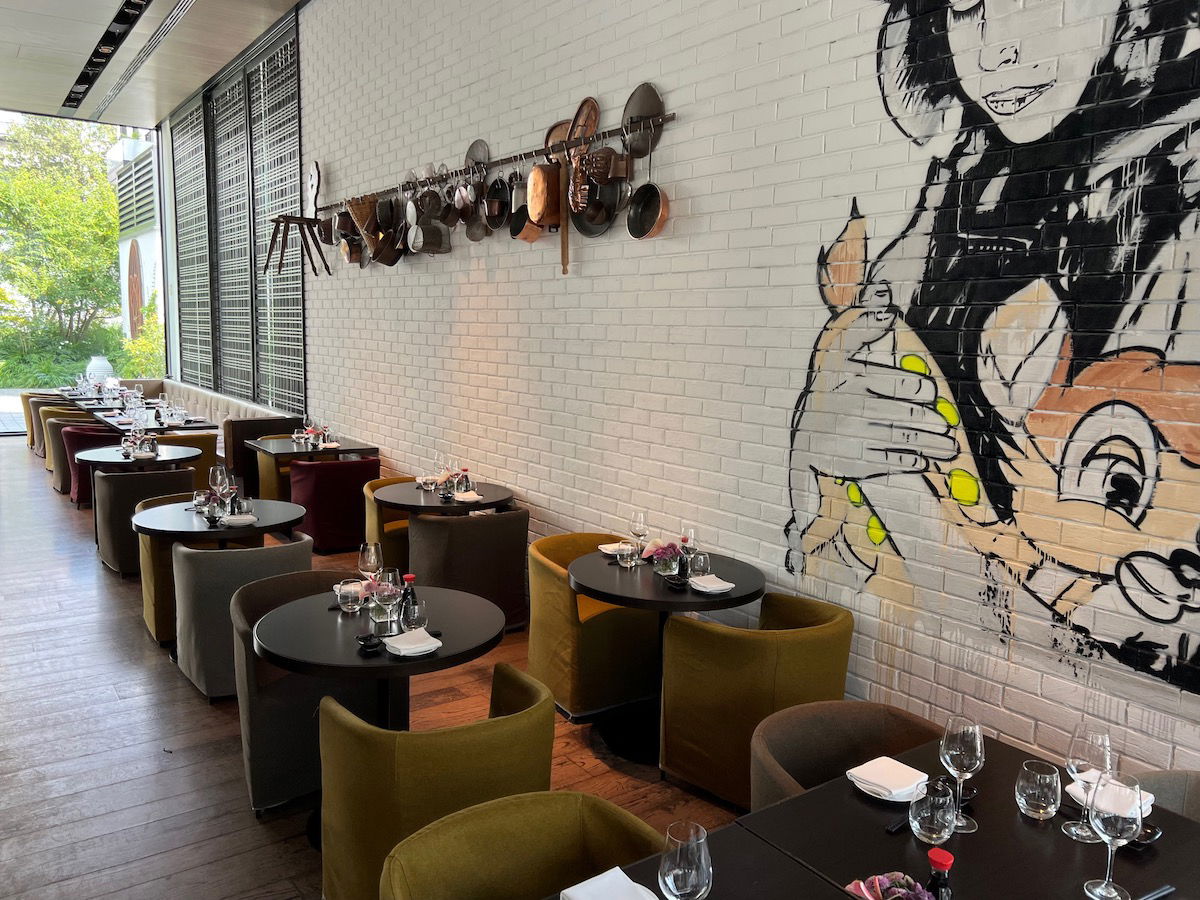 There's also a covered outdoor terrace where you can enjoy a meal in summer, weather permitting.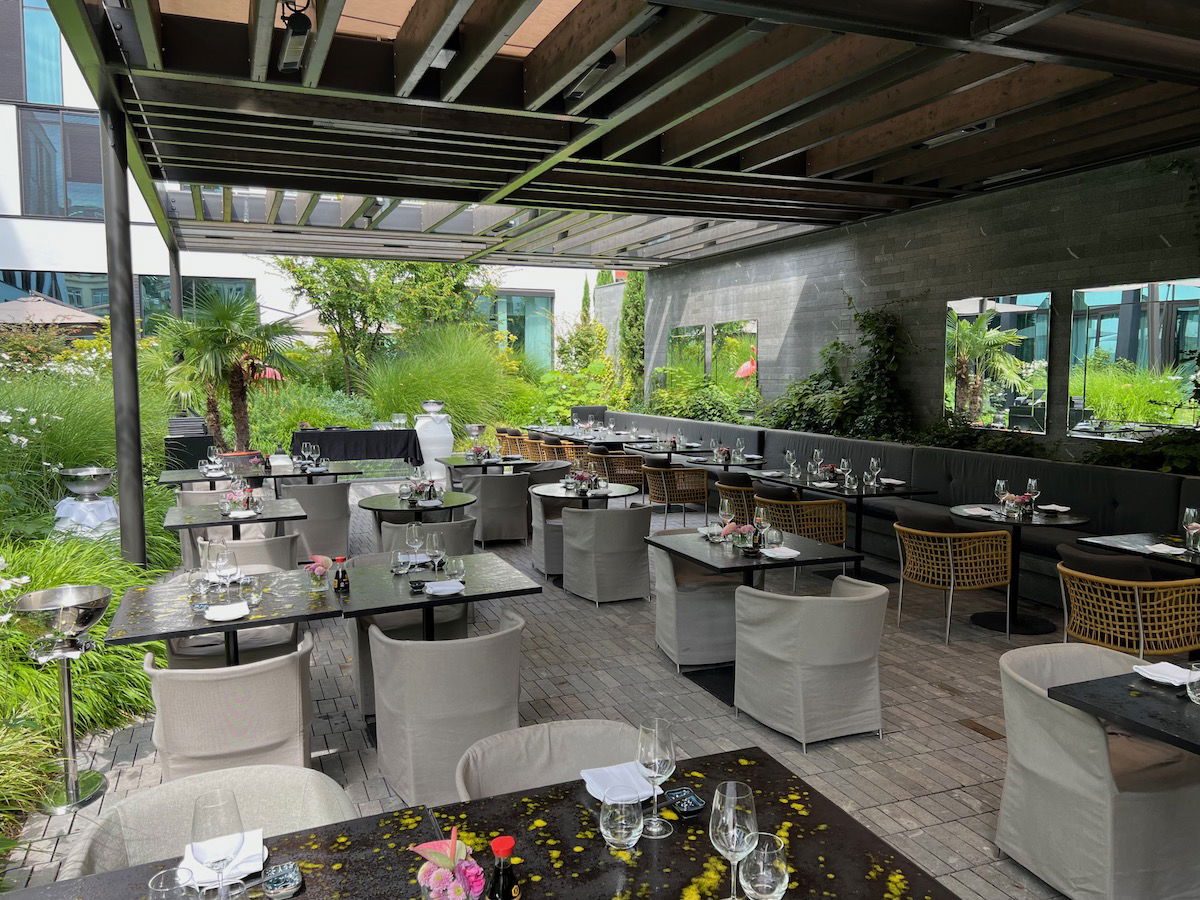 Breakfast was served from 6:30AM until 11AM on weekdays and from 7AM until 12PM on weekends. It consisted of a buffet, plus the ability to order eggs. While the buffet wasn't huge, I found the quality to be very good. The buffet consisted of one main bar at what turns into the sushi counter in the afternoons and evenings, plus a circular table.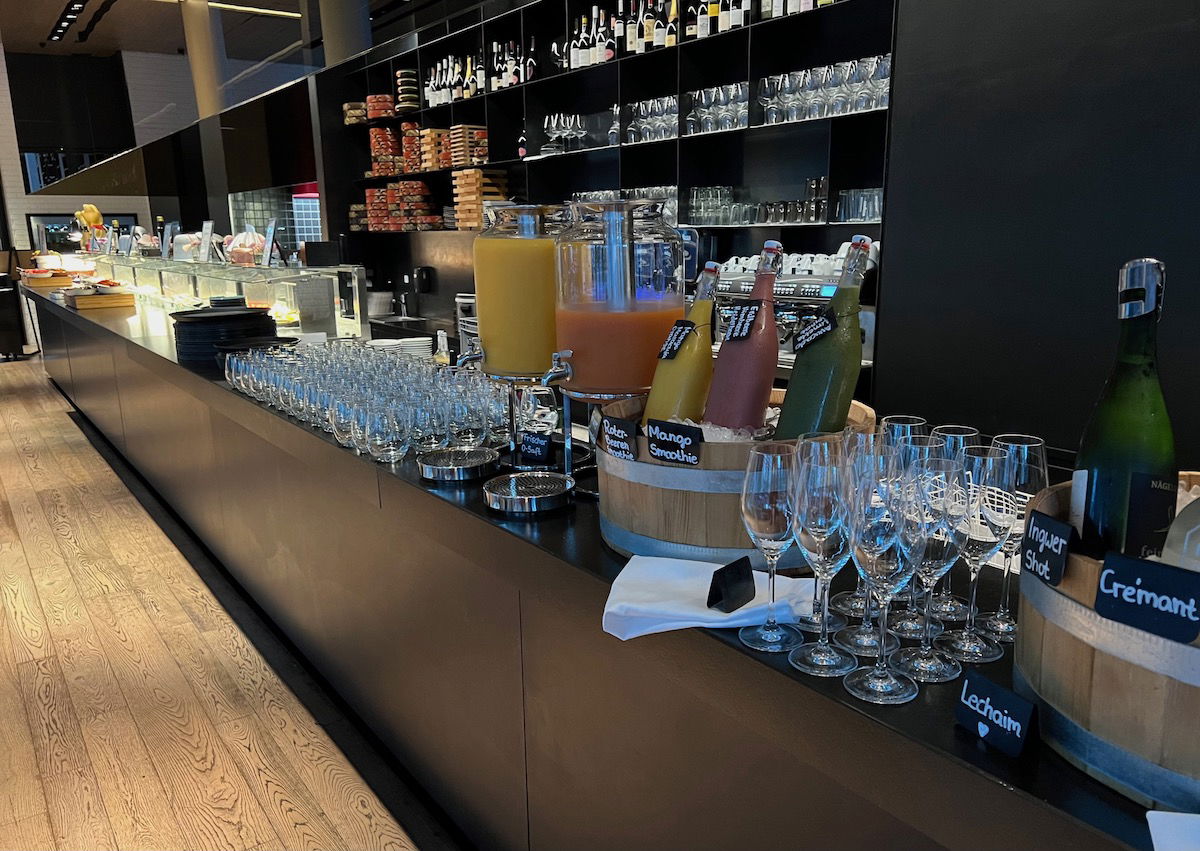 The breakfast selection consisted of fresh fruit, yogurt, cereal, fish, cheese, cold cuts, veggies, scrambled eggs, breakfast potatoes, sausage, bacon, and an endless selection of bread, pastries, etc.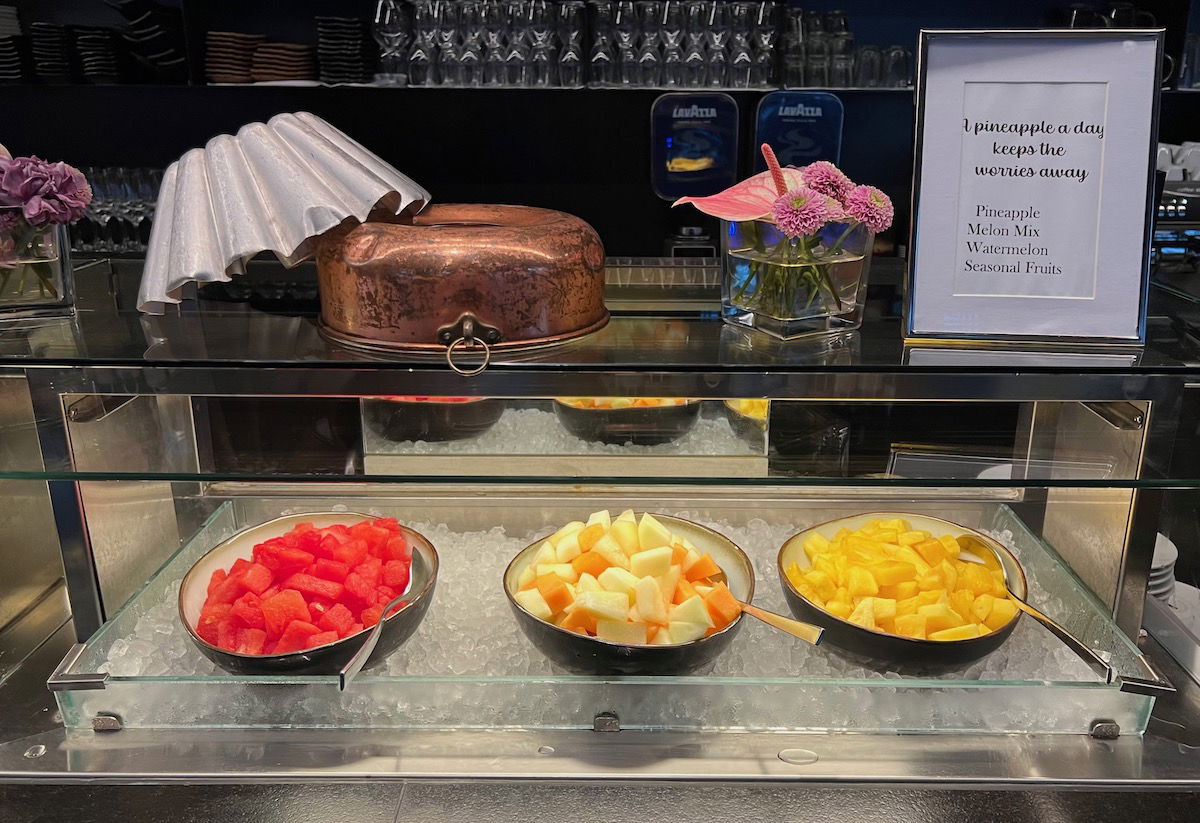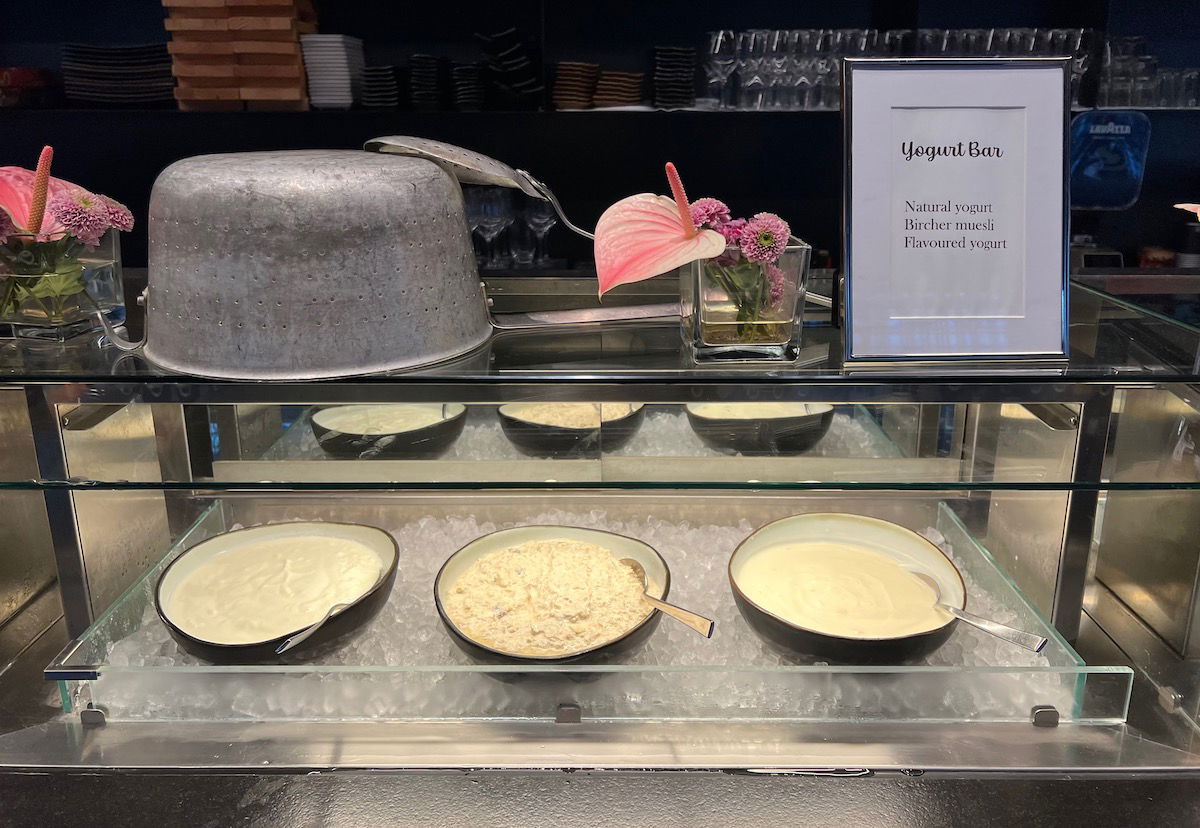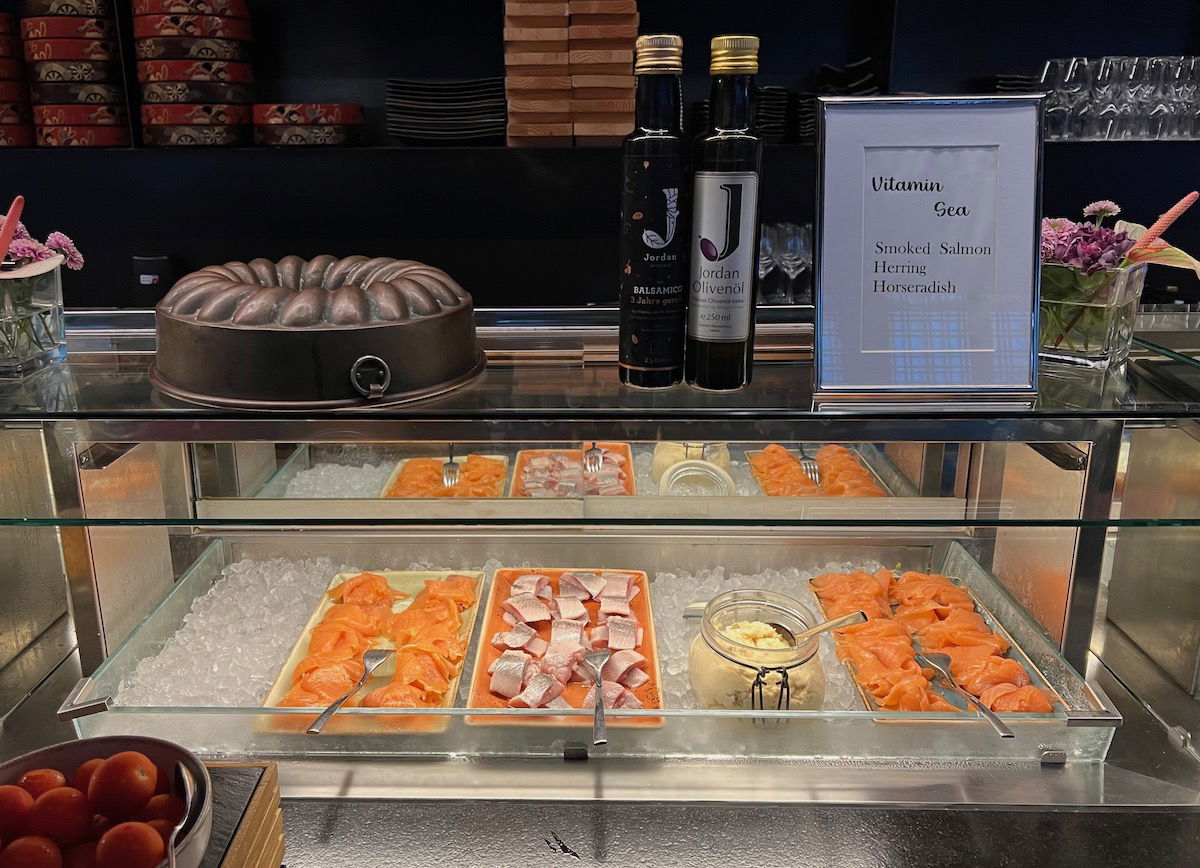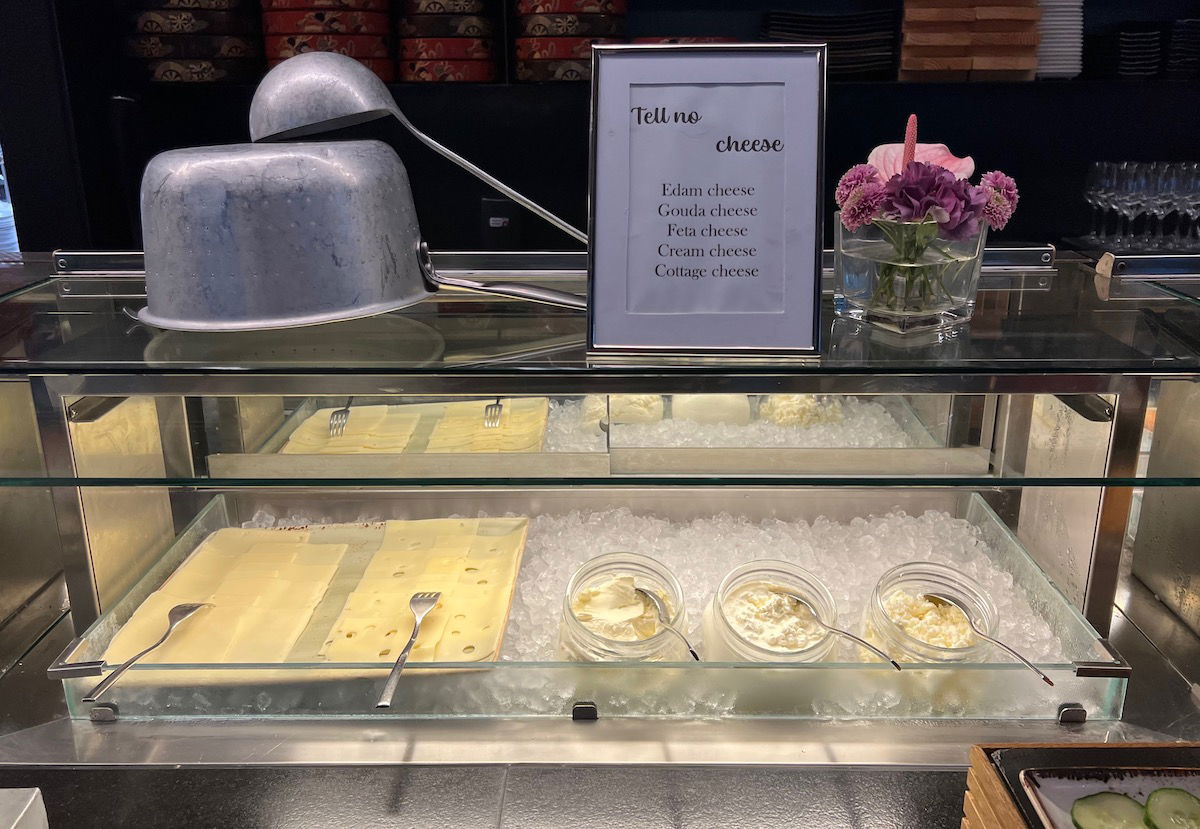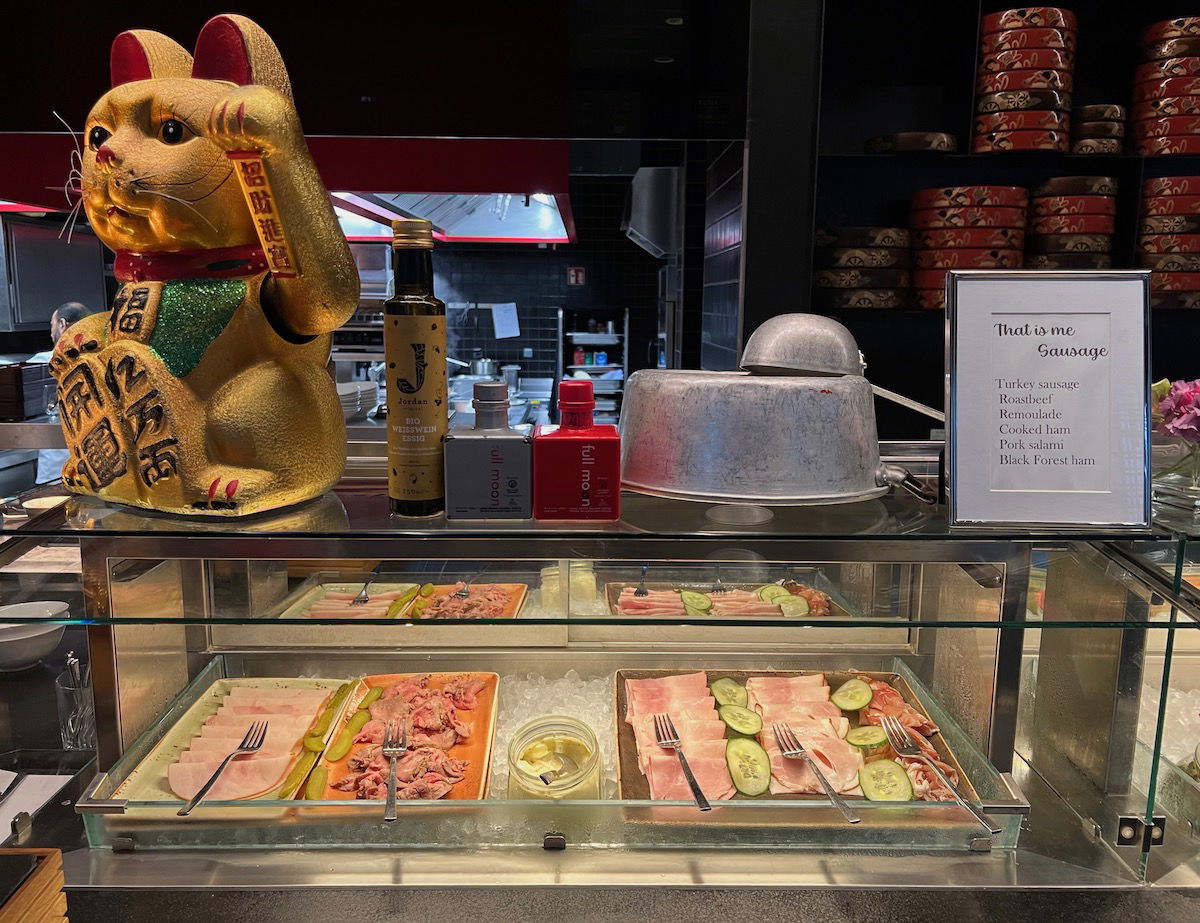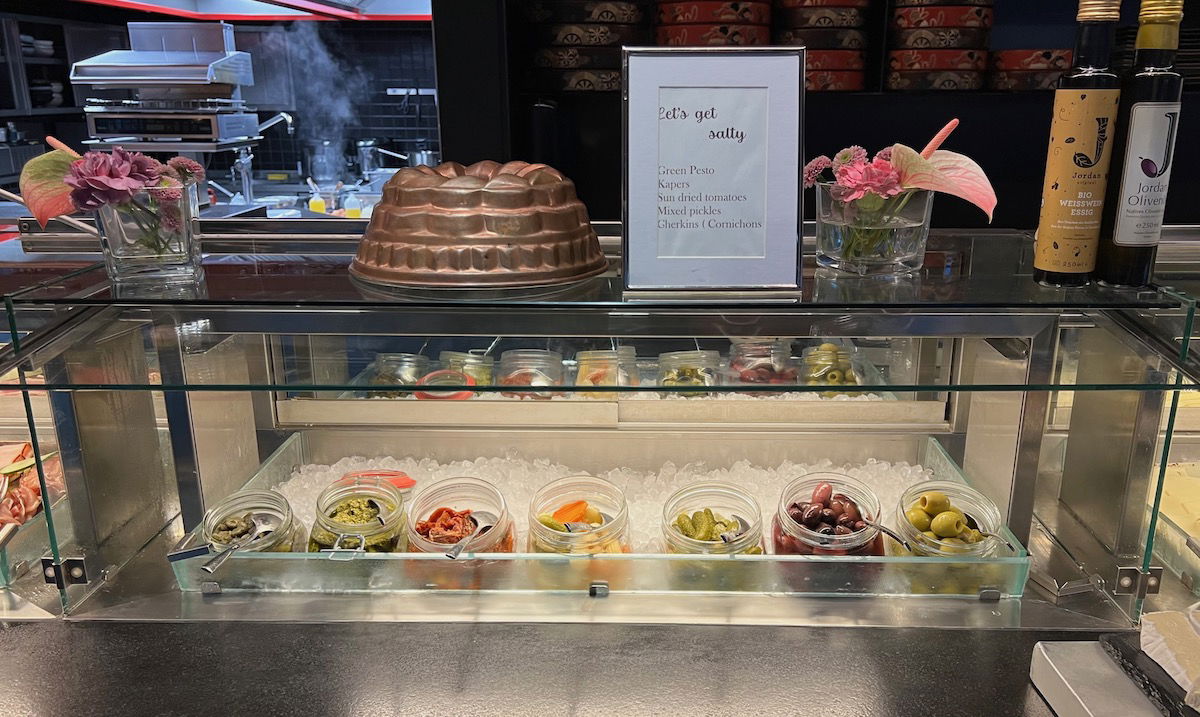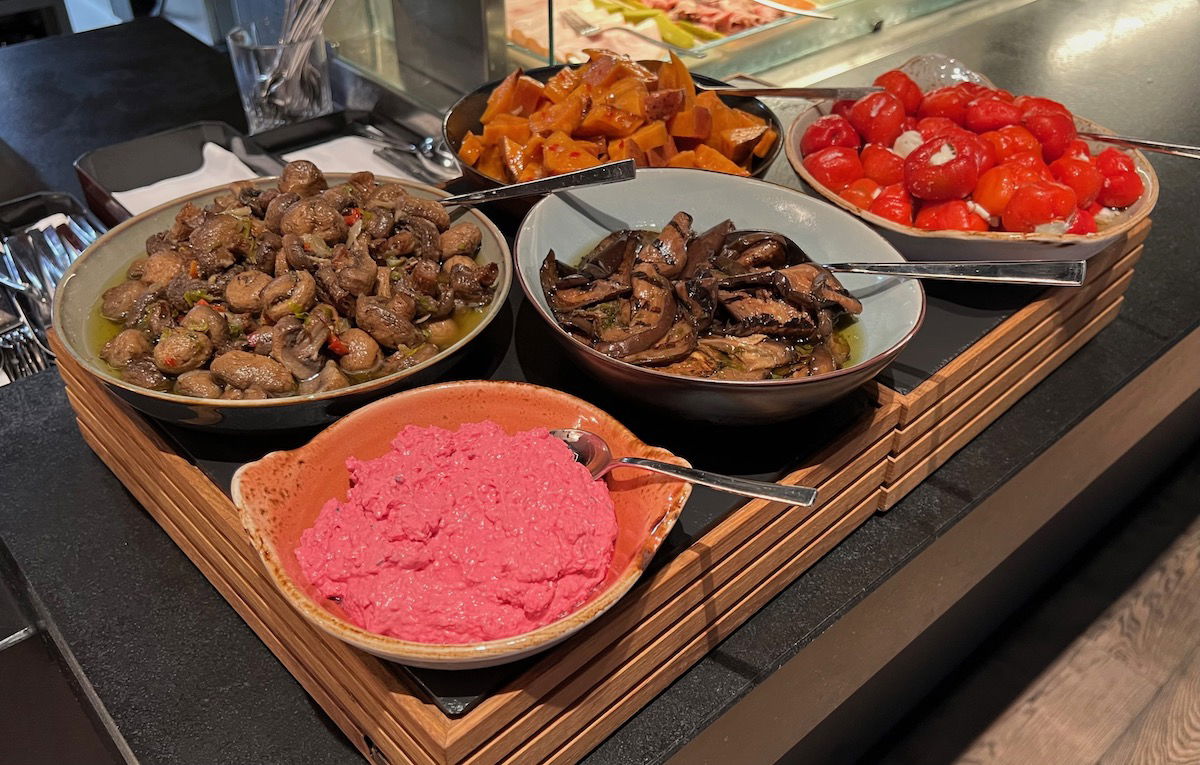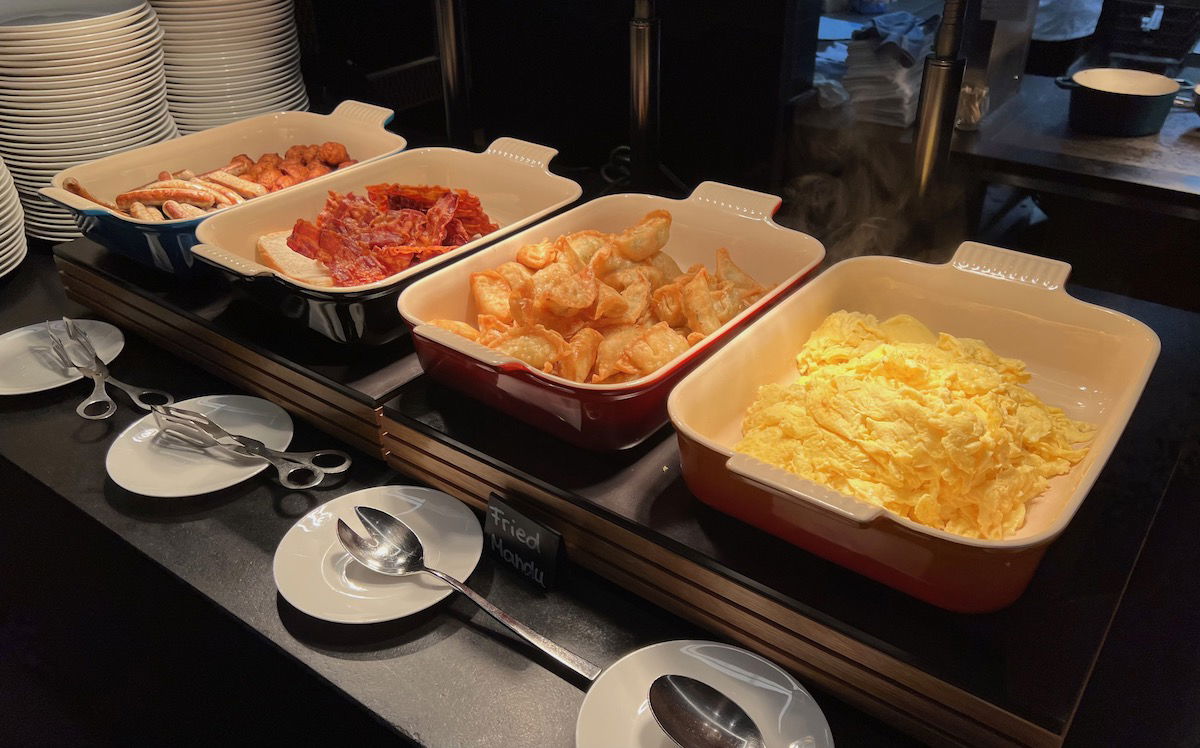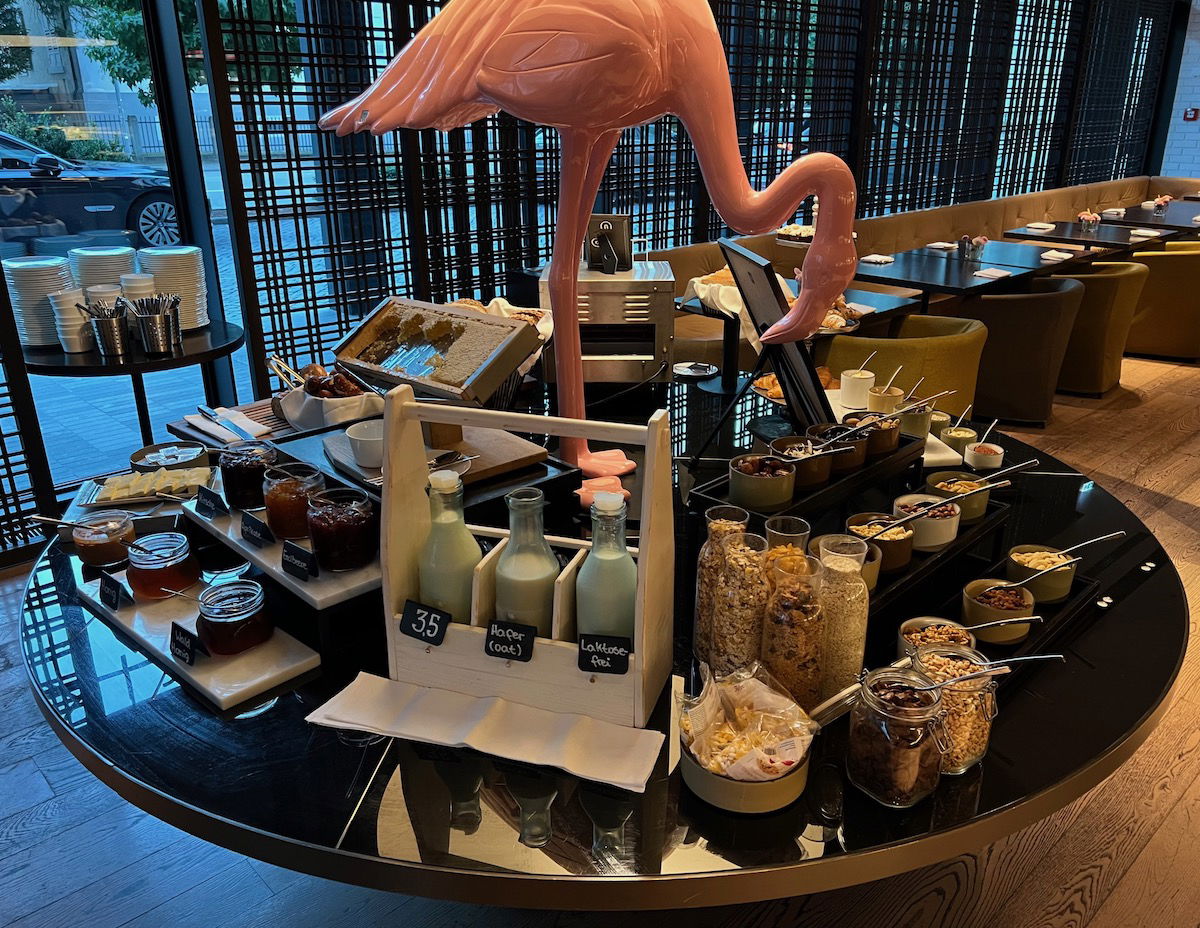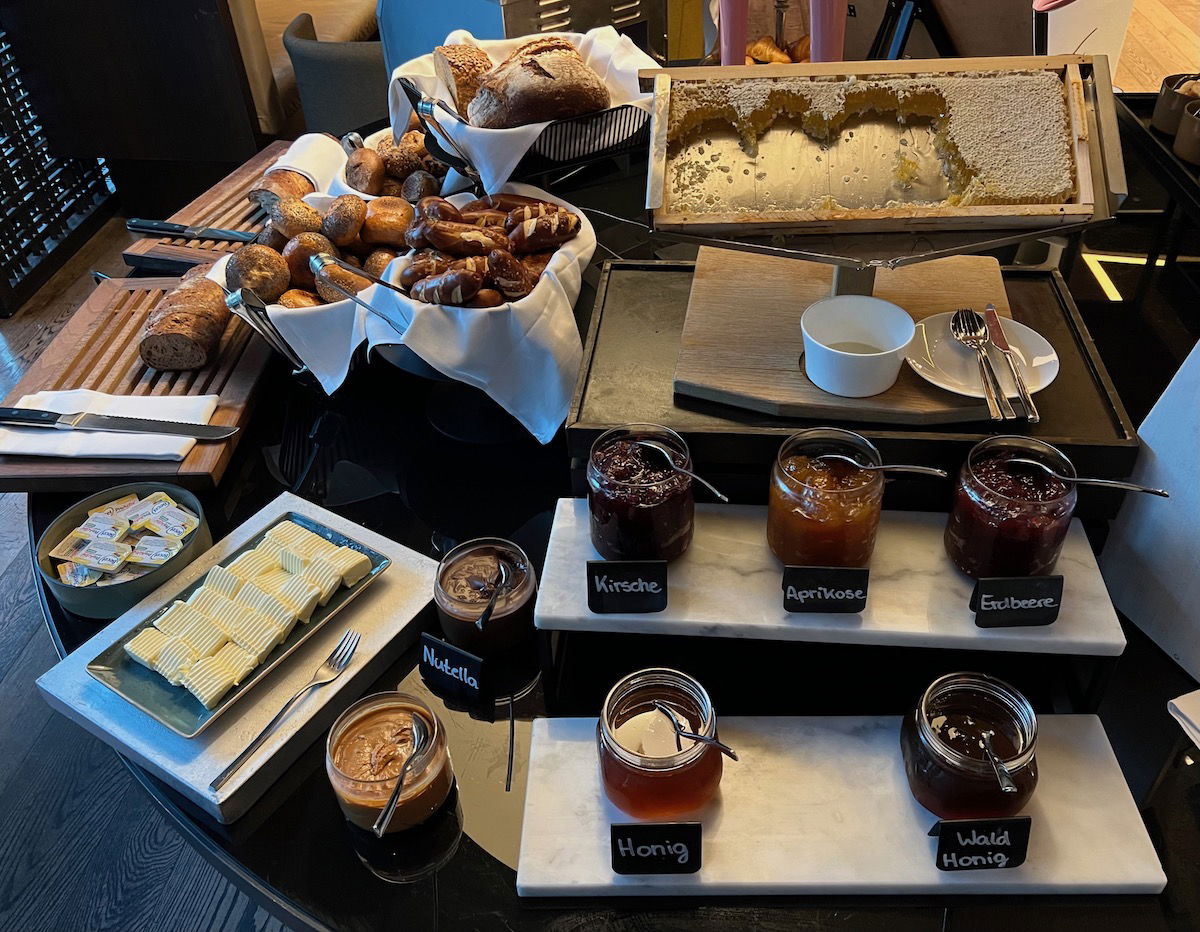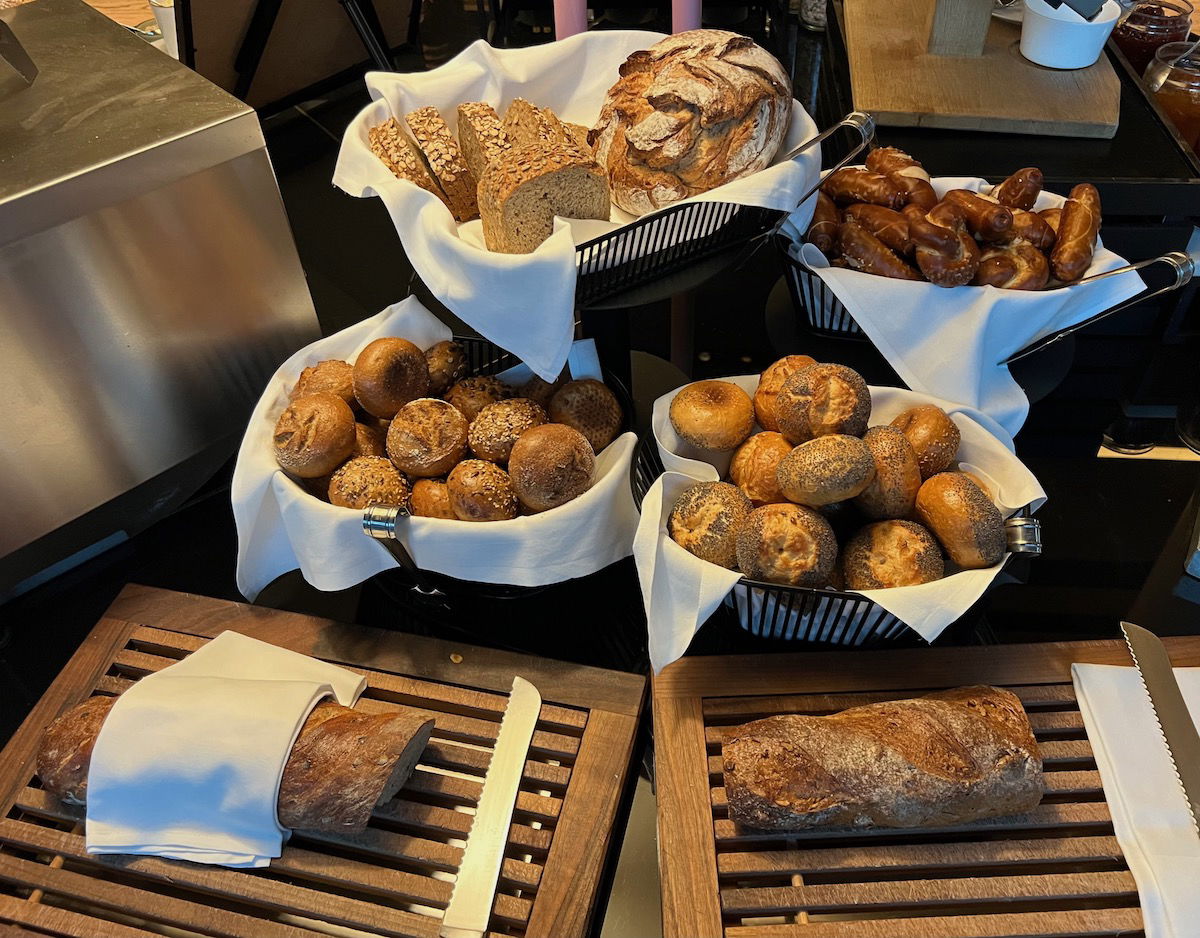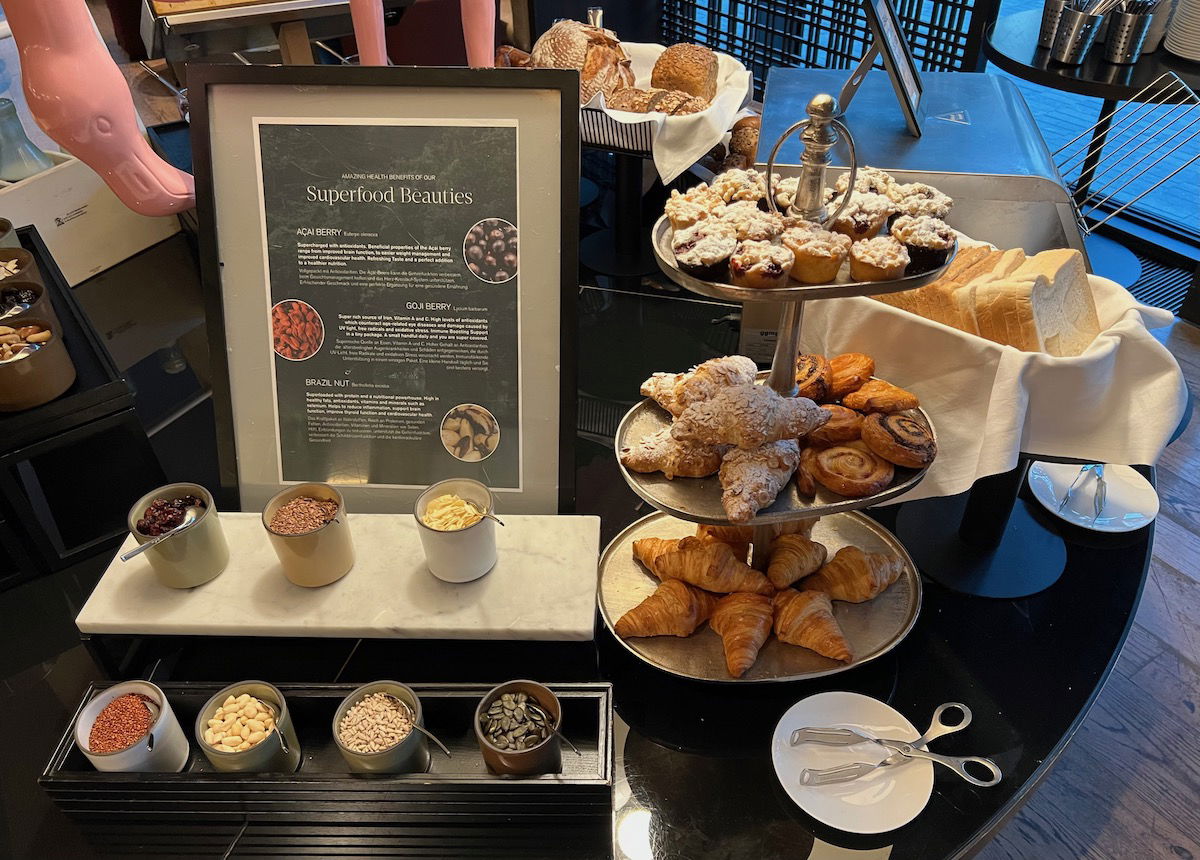 Perhaps the most noteworthy part of the buffet was the self-serve drink selection. In addition smoothies and juice, there was also tequila, vodka, sekt, and more. Like I said, this hotel is a bit quirky, as it's not every day you see that at a breakfast buffet!
I'm not sure if this is just a common feature at all Roomers properties, if this just reflects that Baden-Baden seems to be quite popular with Russians, or what.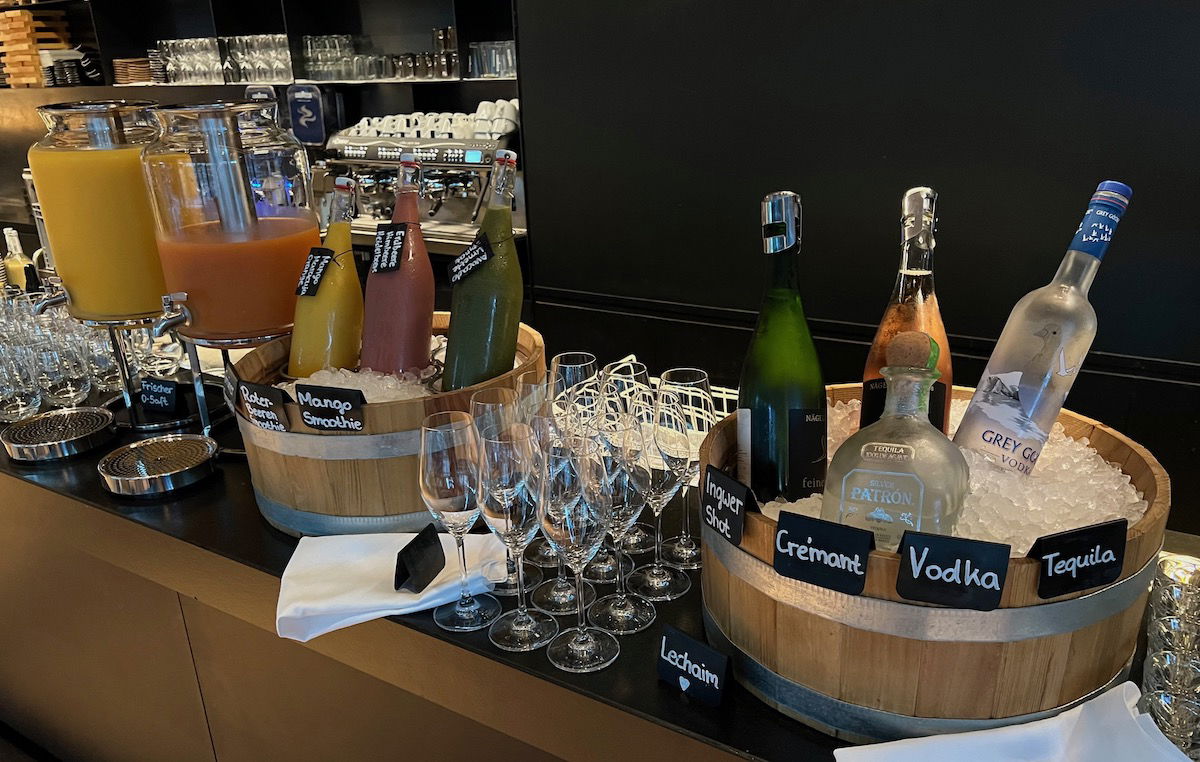 Staff in the restaurant offered coffee, and both the americanos and cappuccinos hit the spot.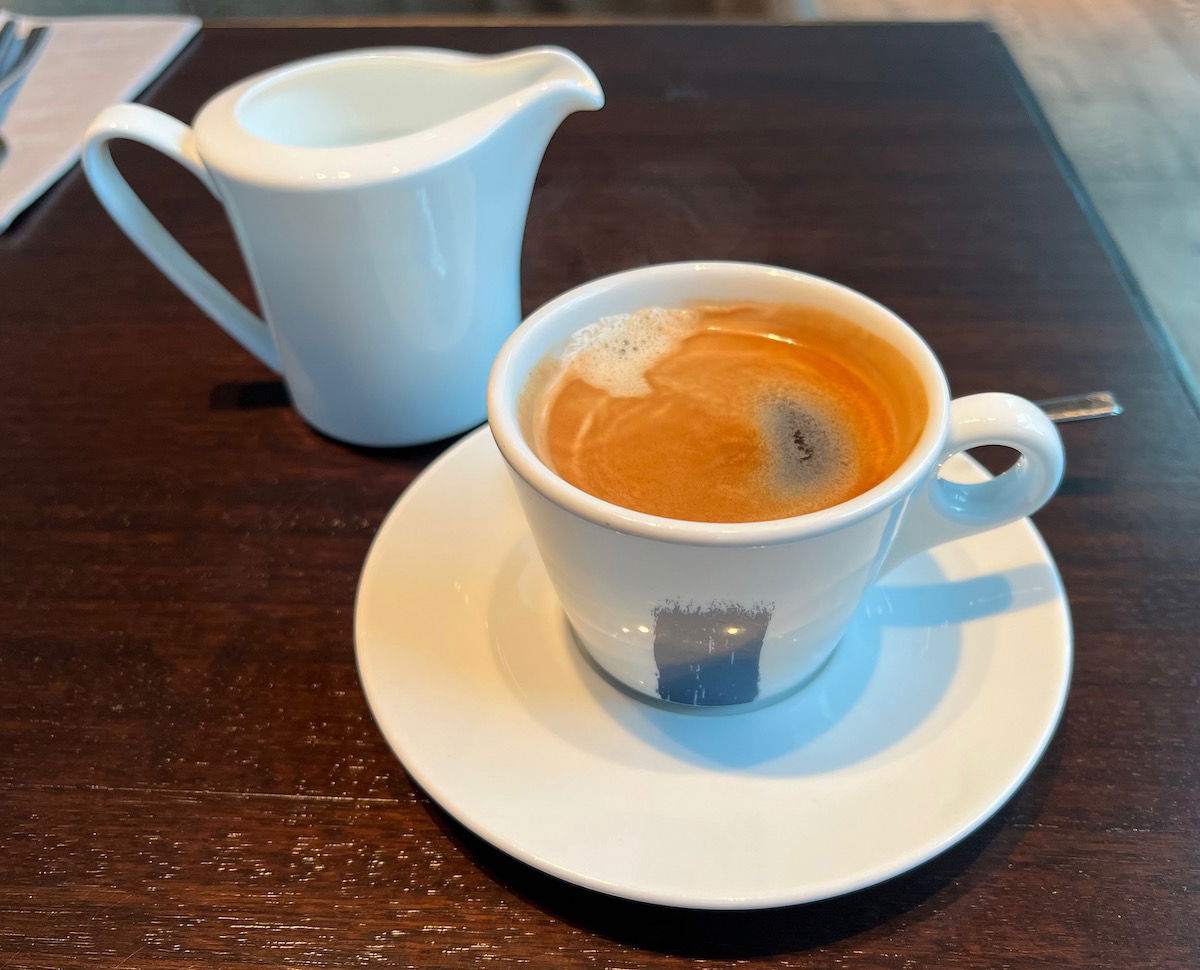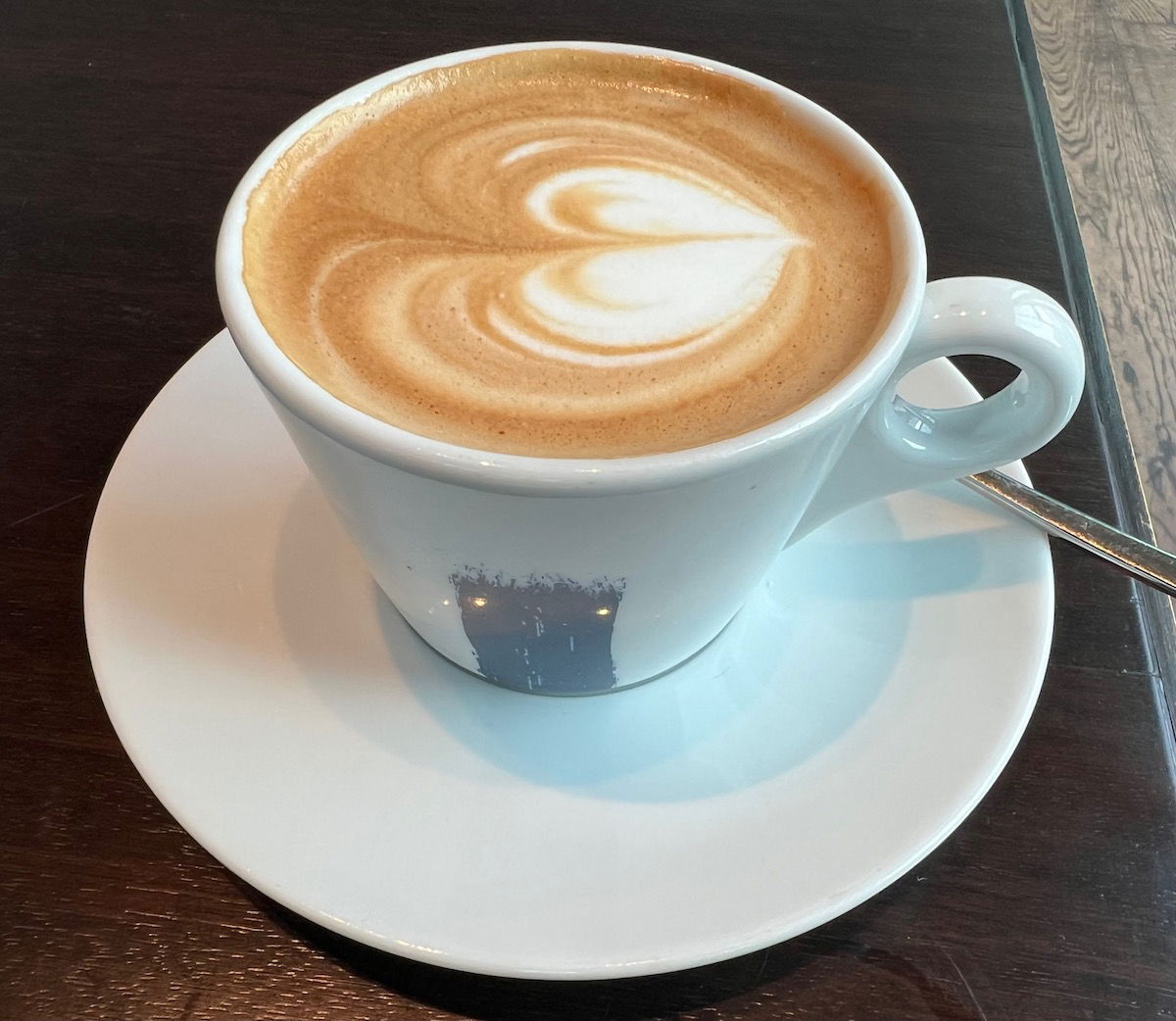 I also enjoyed the veggie omelet that I ordered on our second morning.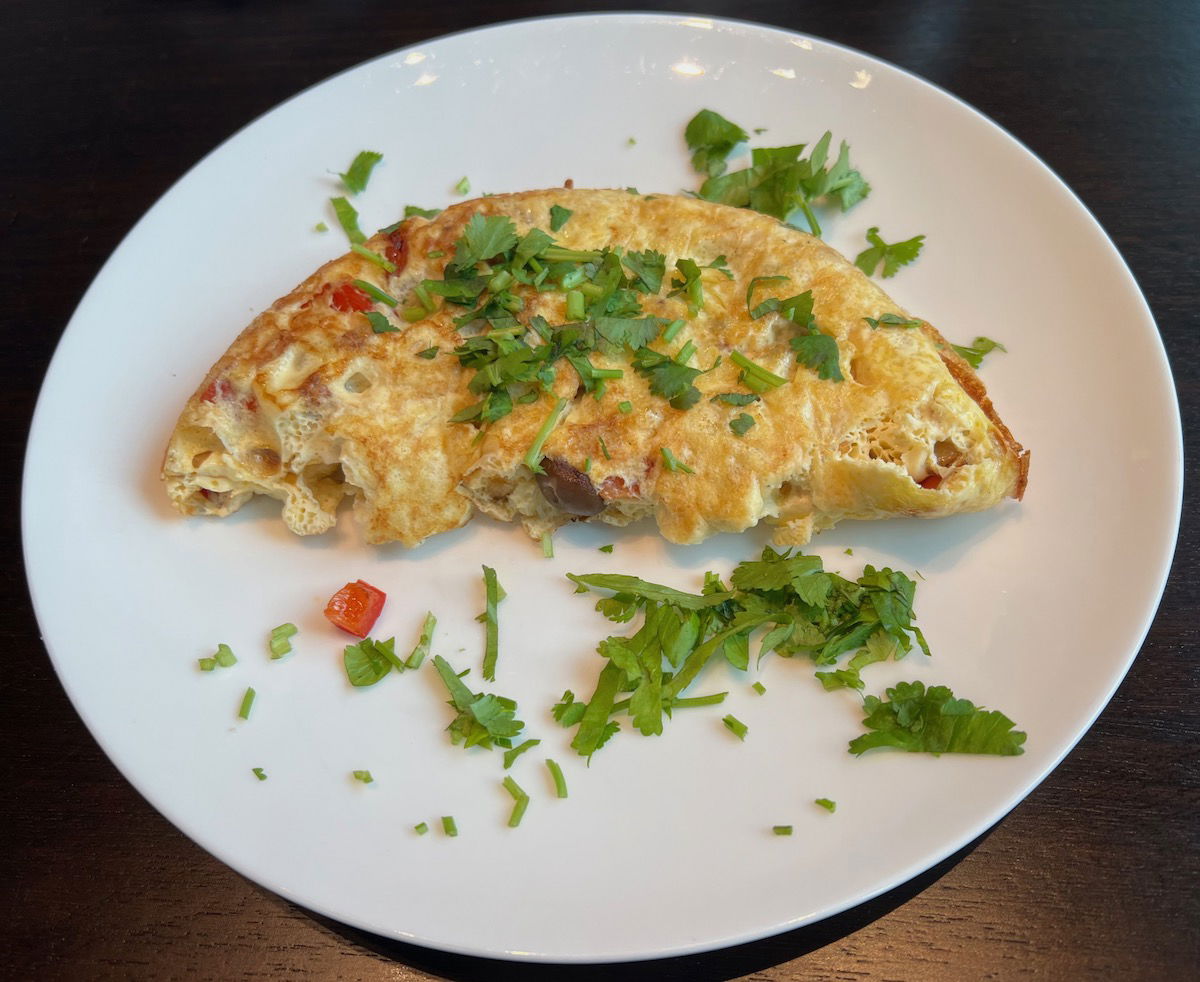 Since my parents had basically exclusively been eating German food for a week straight, we decided to have dinner one evening at Moriki, and you can find the dinner menu here. To drink, we ordered a bottle of sake to share, and we also had some edamame to start.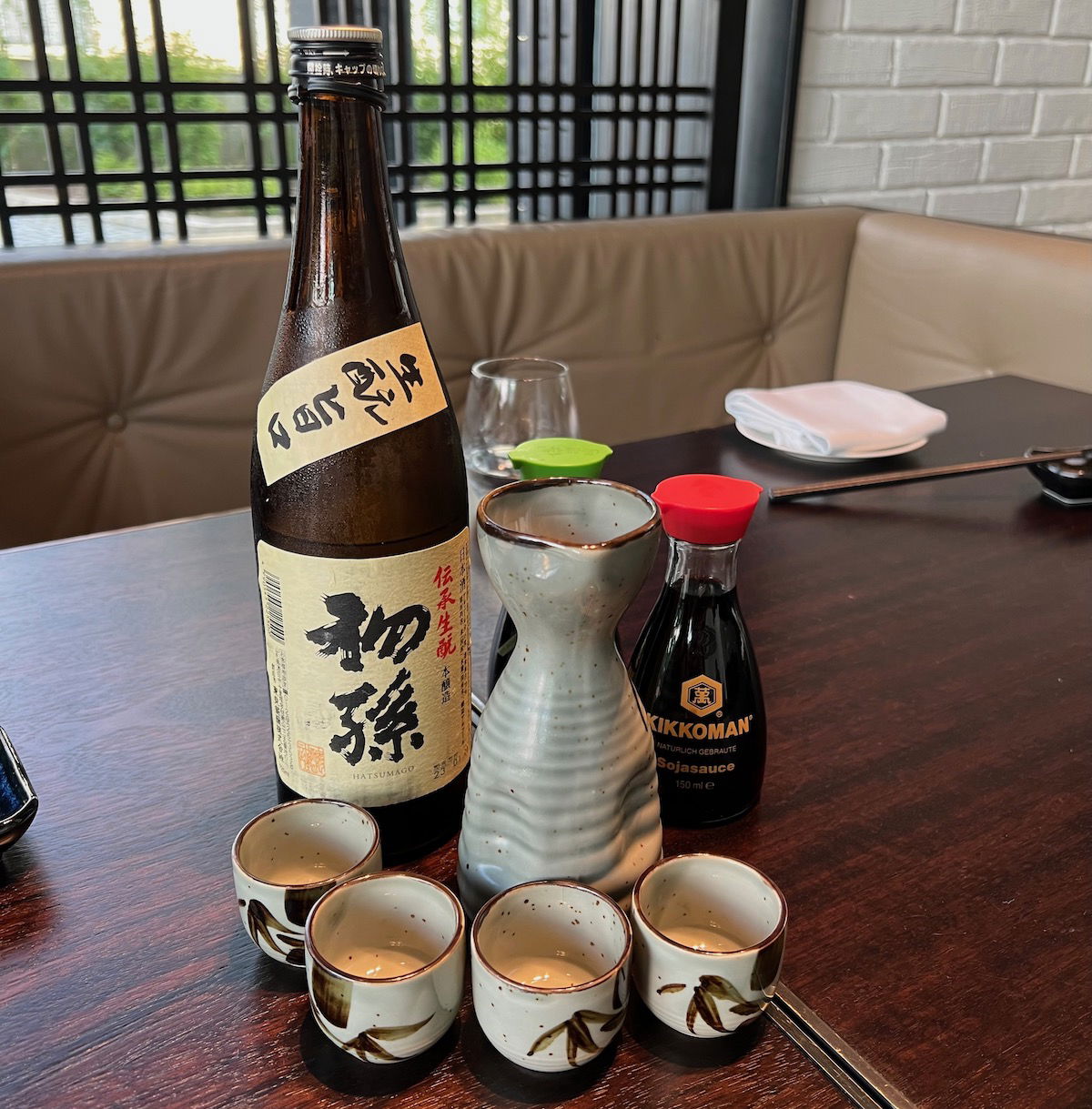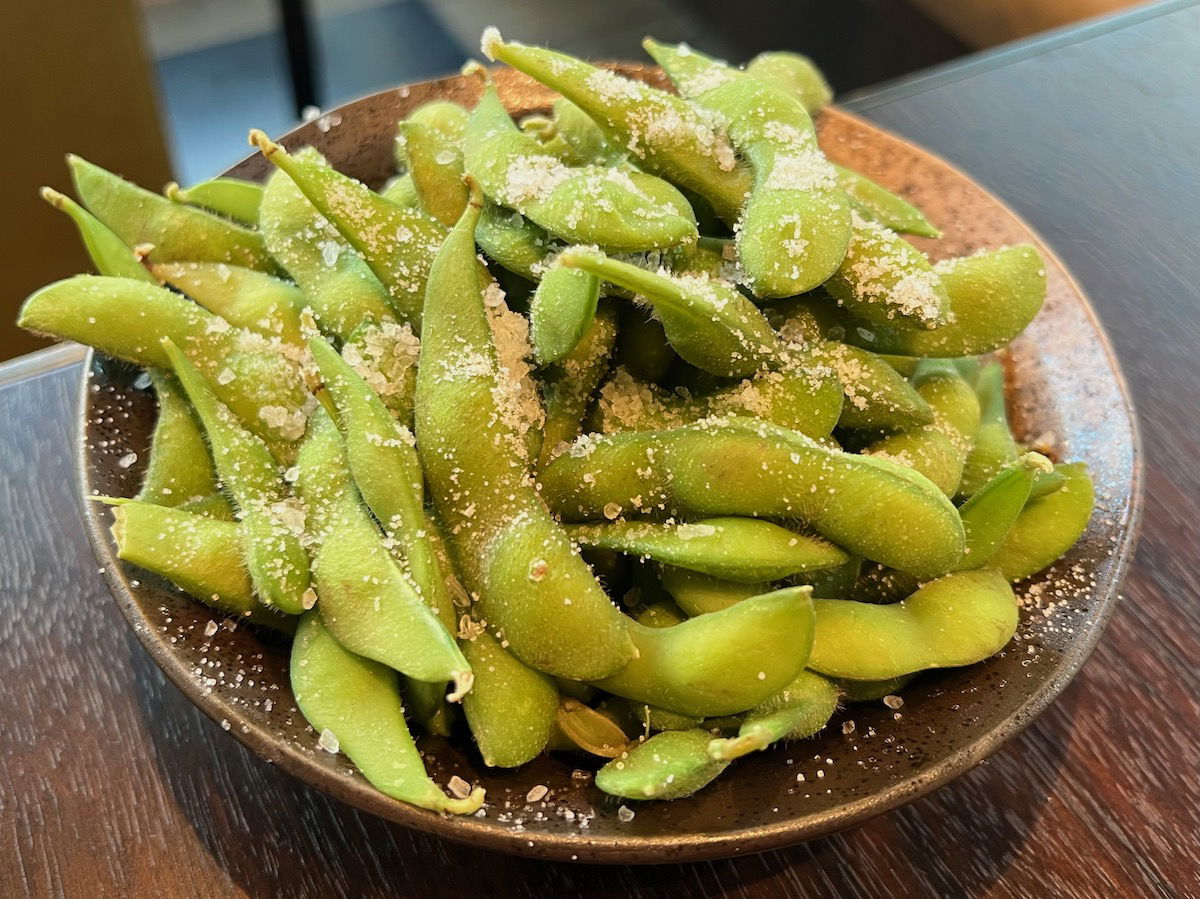 We then ordered the chef's choice selection of sushi and sashimi for four people, which also came with miso soup. It was way more food than we were expecting.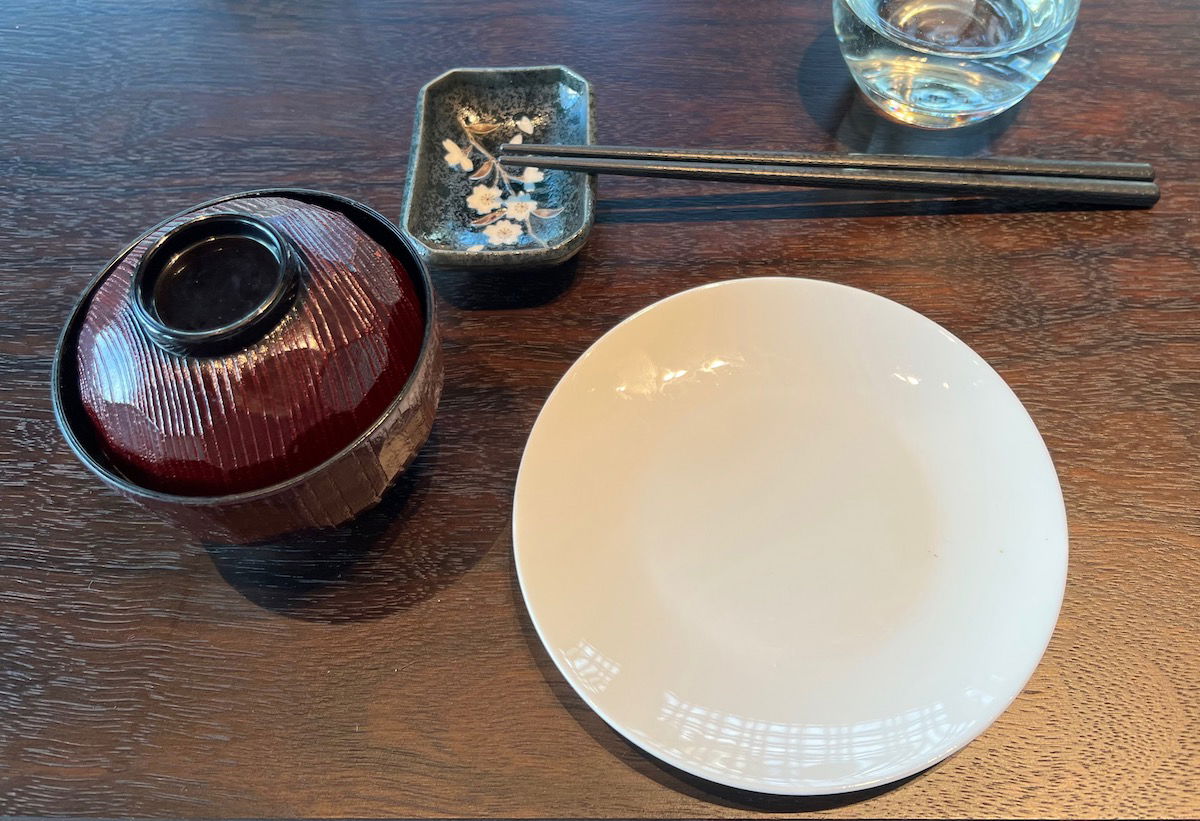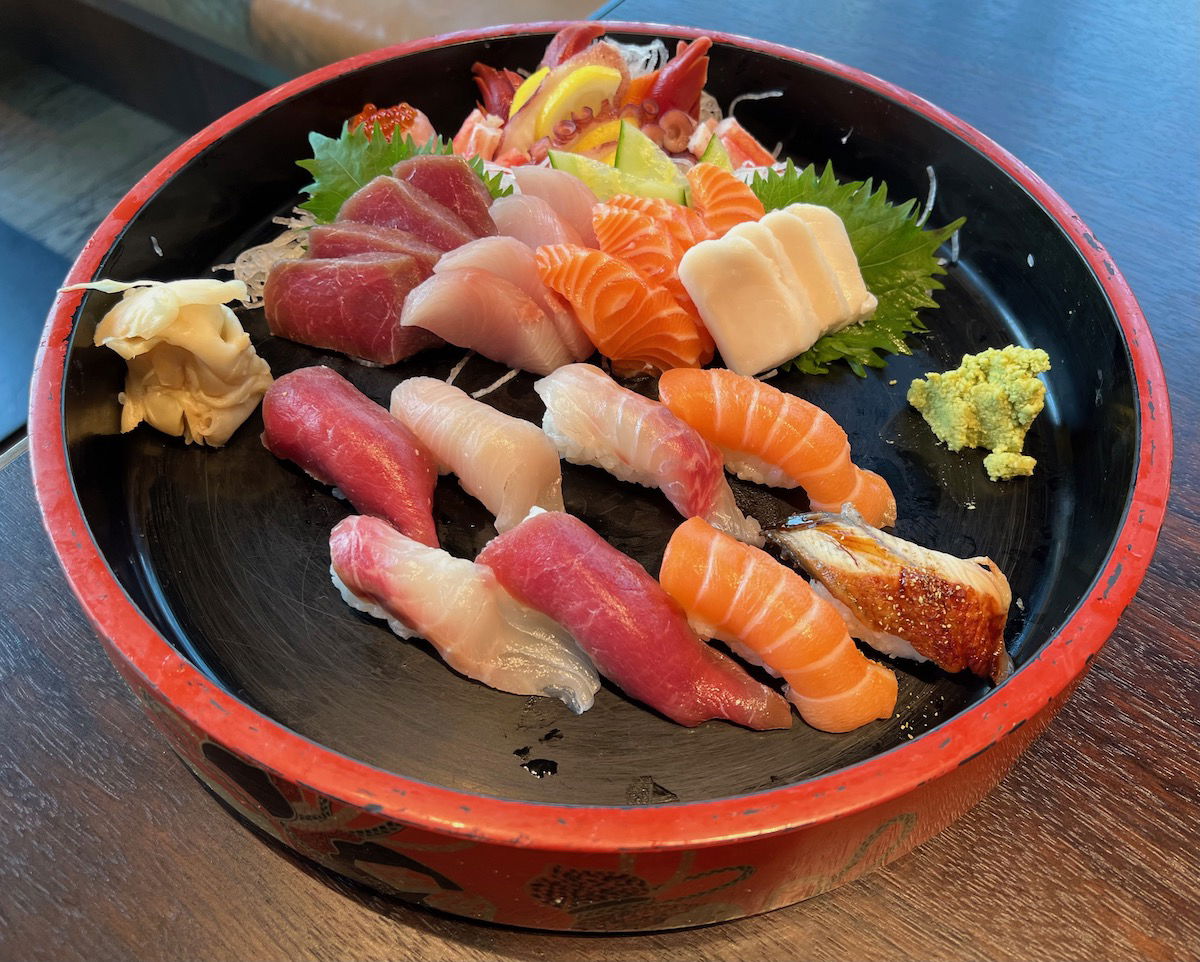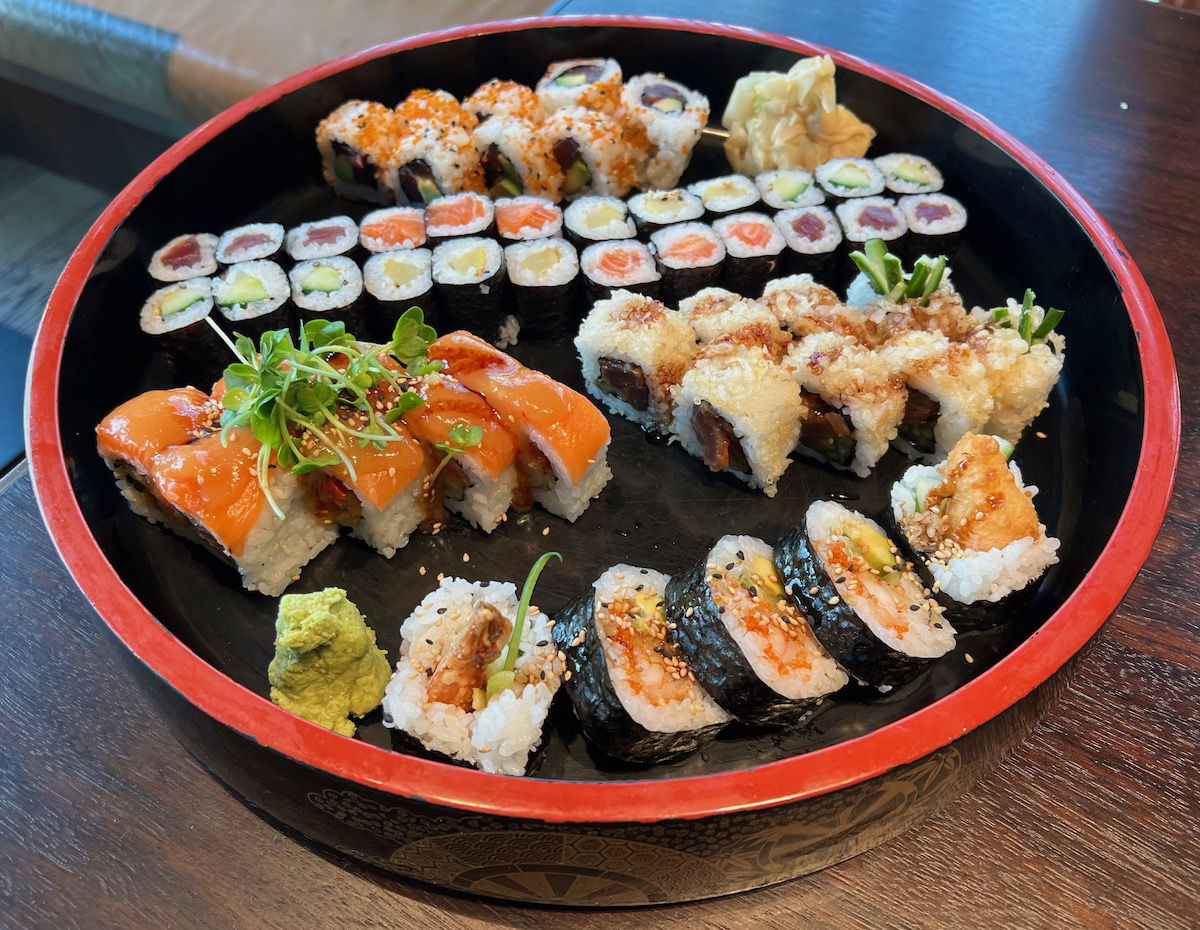 Honestly, the food was much appreciated variety after all the German food we had been eating during our visit. I'd say the sushi and sashimi were quite good, especially given where we were.
Roomers Baden-Baden rooftop pool & bar
Roomers Baden-Baden has a rooftop on the sixth floor, which consists of both a bar and pool. The rooftop bar is open daily from 9AM until 1AM (until 12AM on Sundays). I've heard that this can be a real party spot on weekends, and some people find the noise from here to be bothersome. That wasn't an issue during our stay, though in fairness, we were staying during the week.
There was an interior circular bar, plus a huge indoor couch area.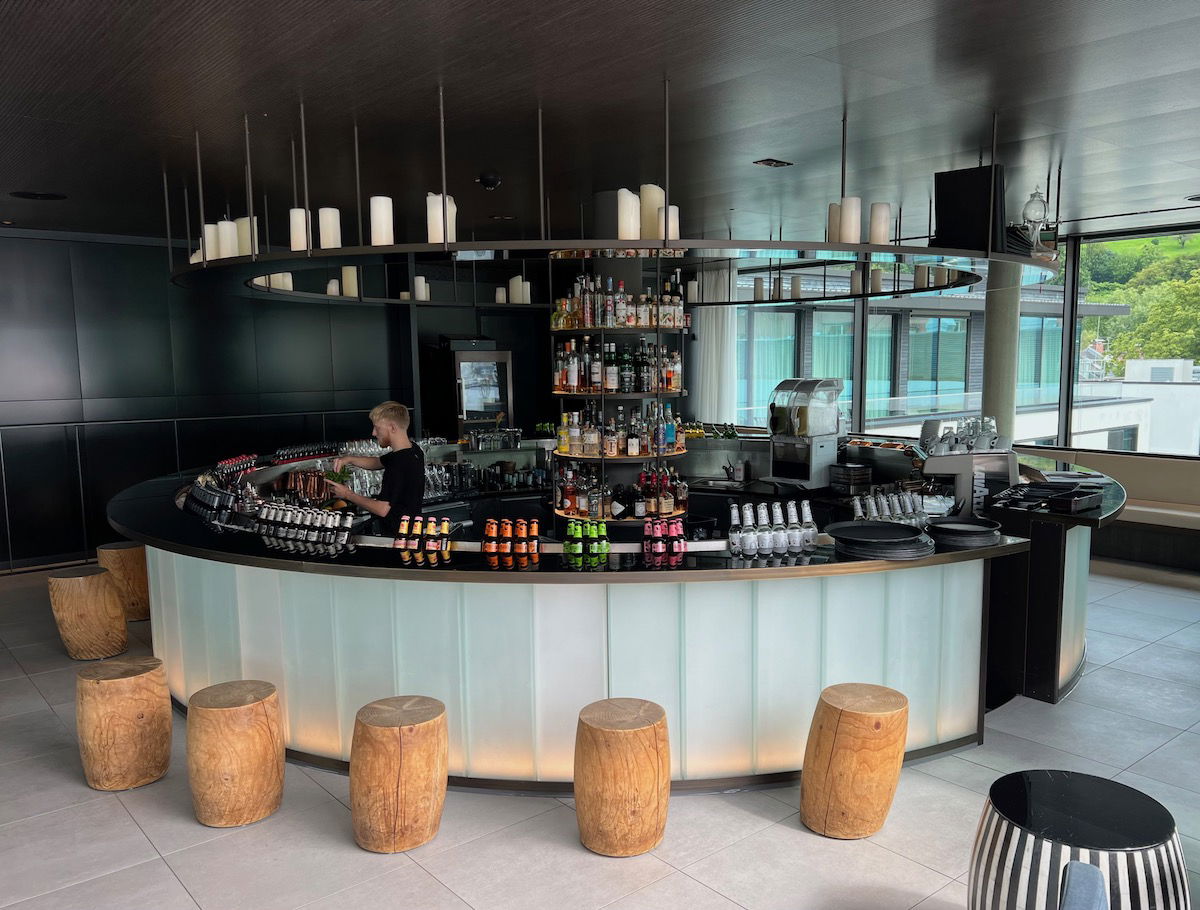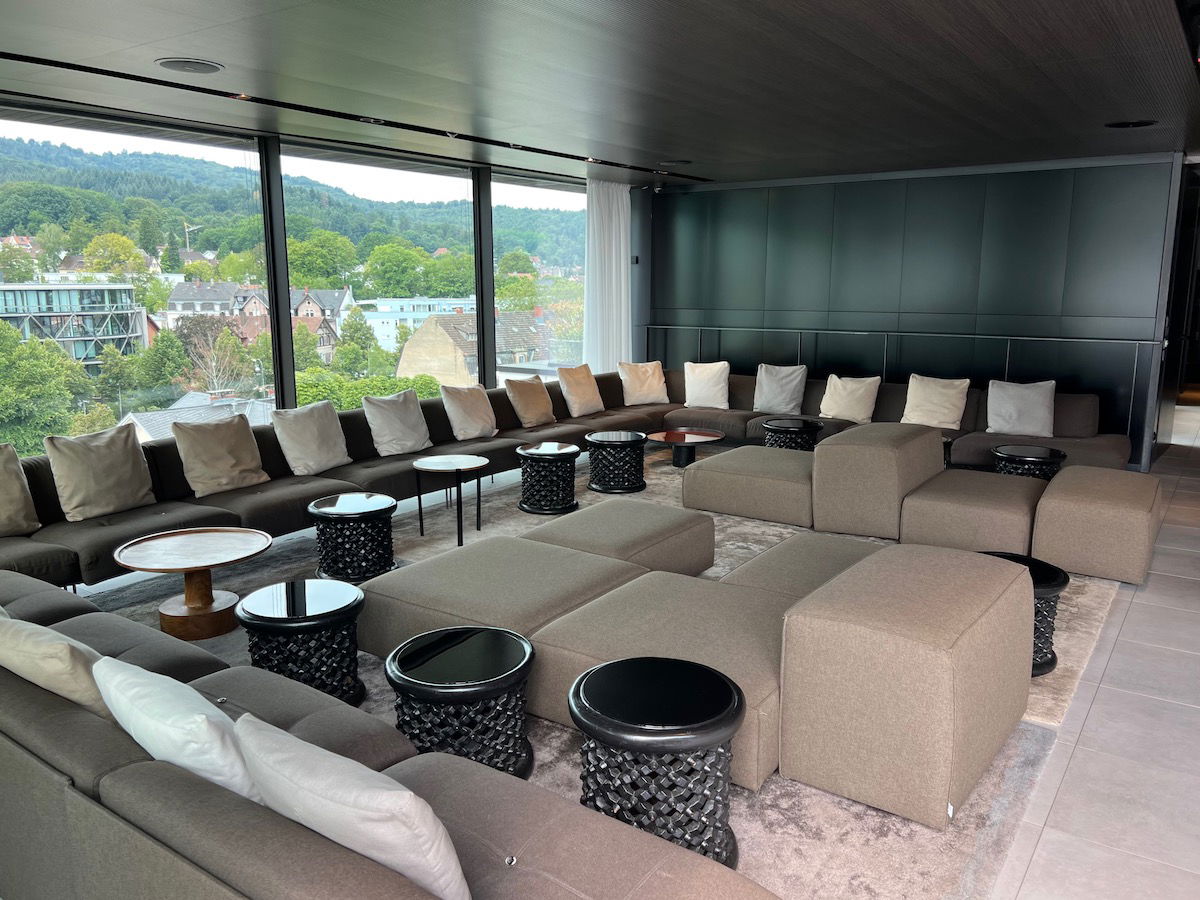 On top of that, there was an outdoor deck with all kinds of seating options.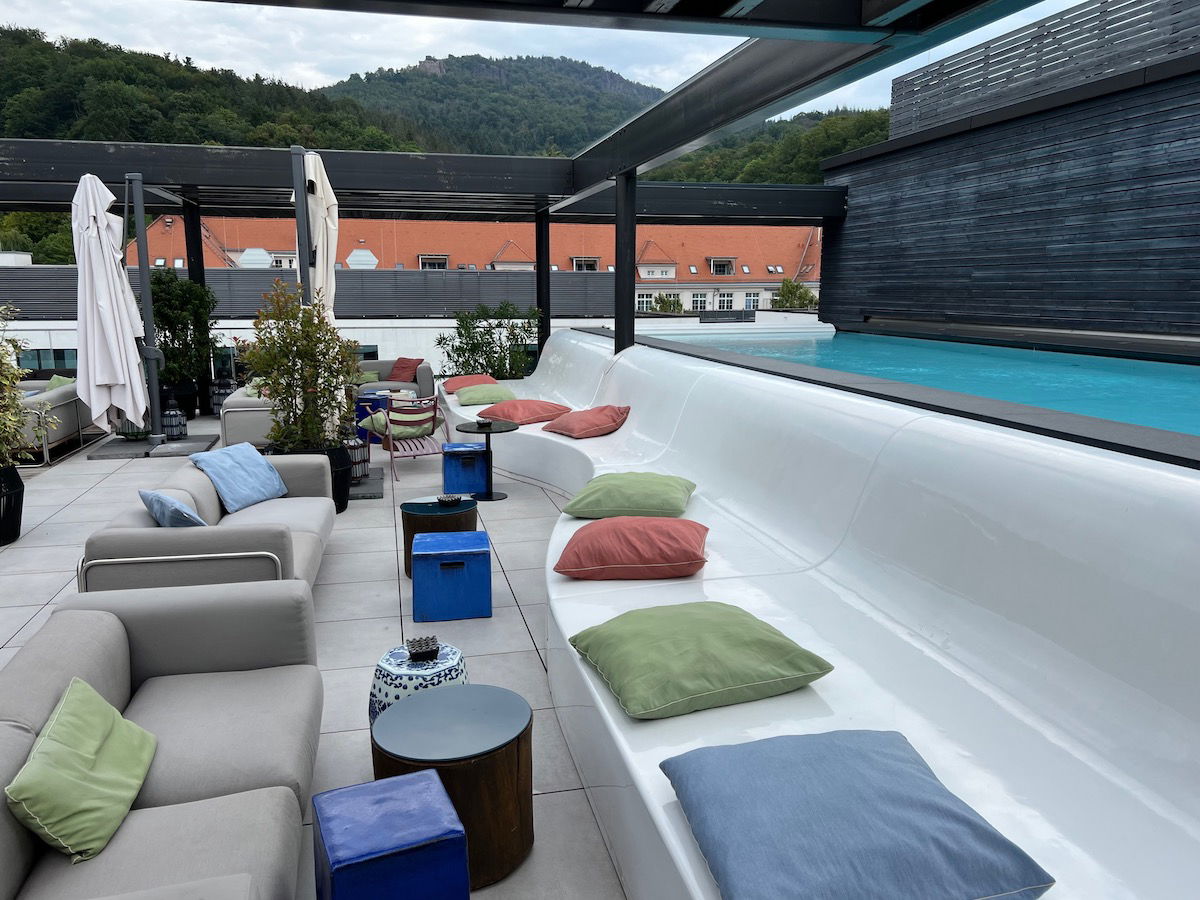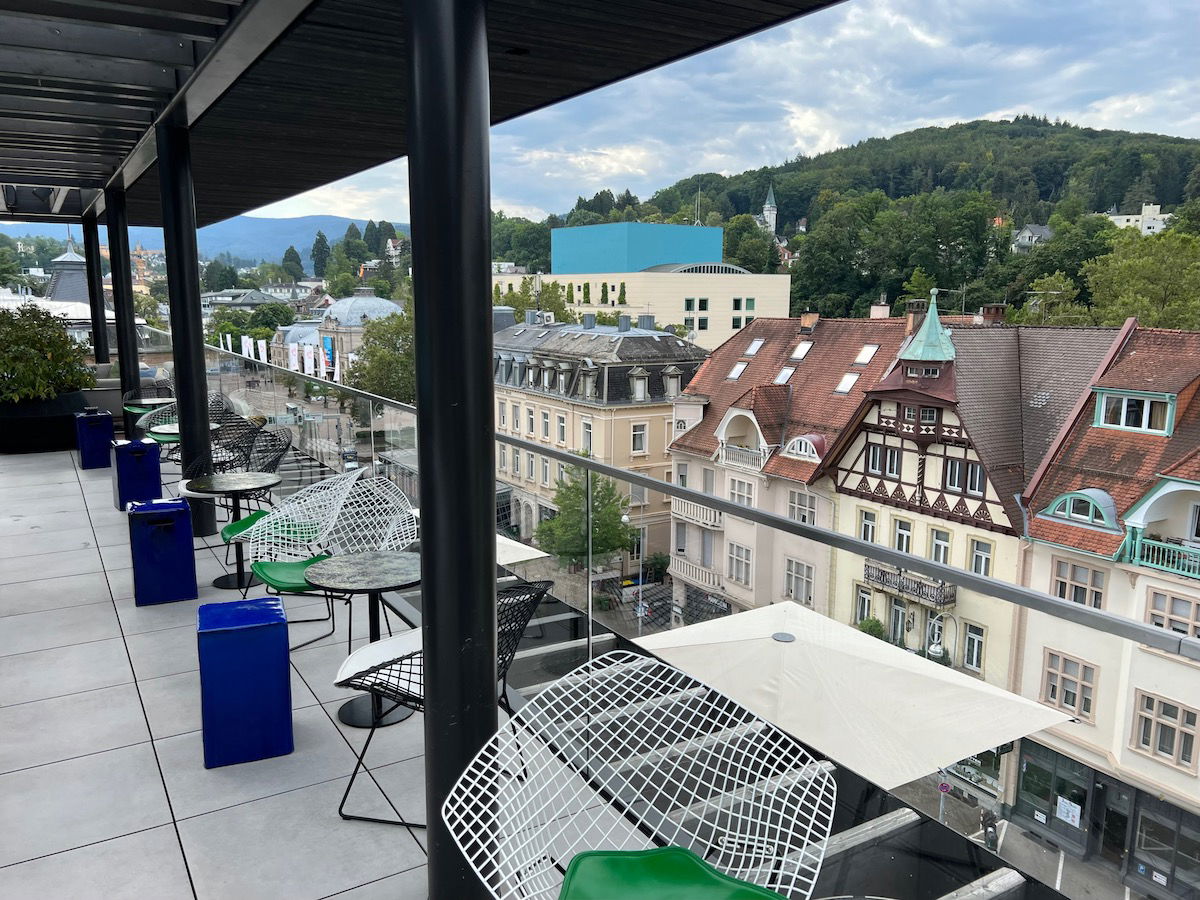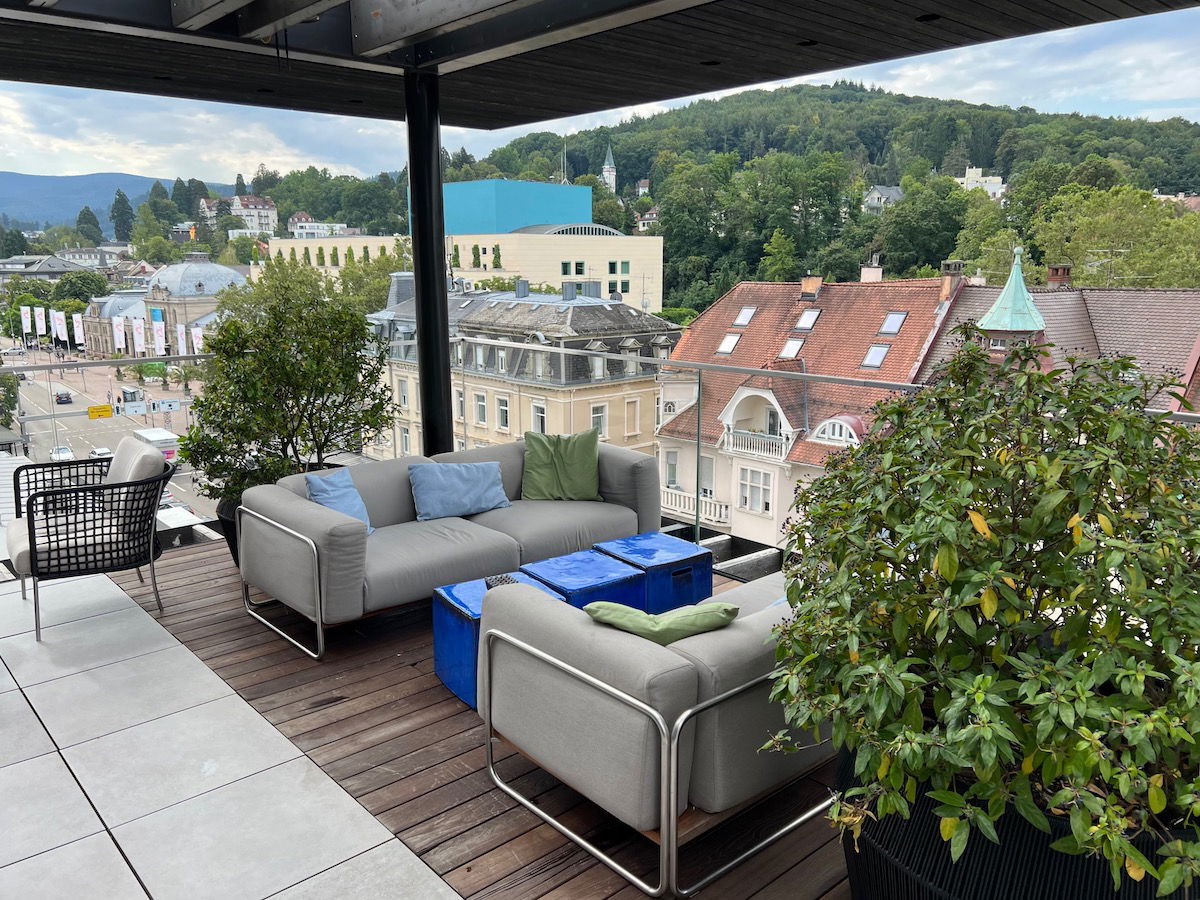 The rooftop boasts cute views of Baden-Baden.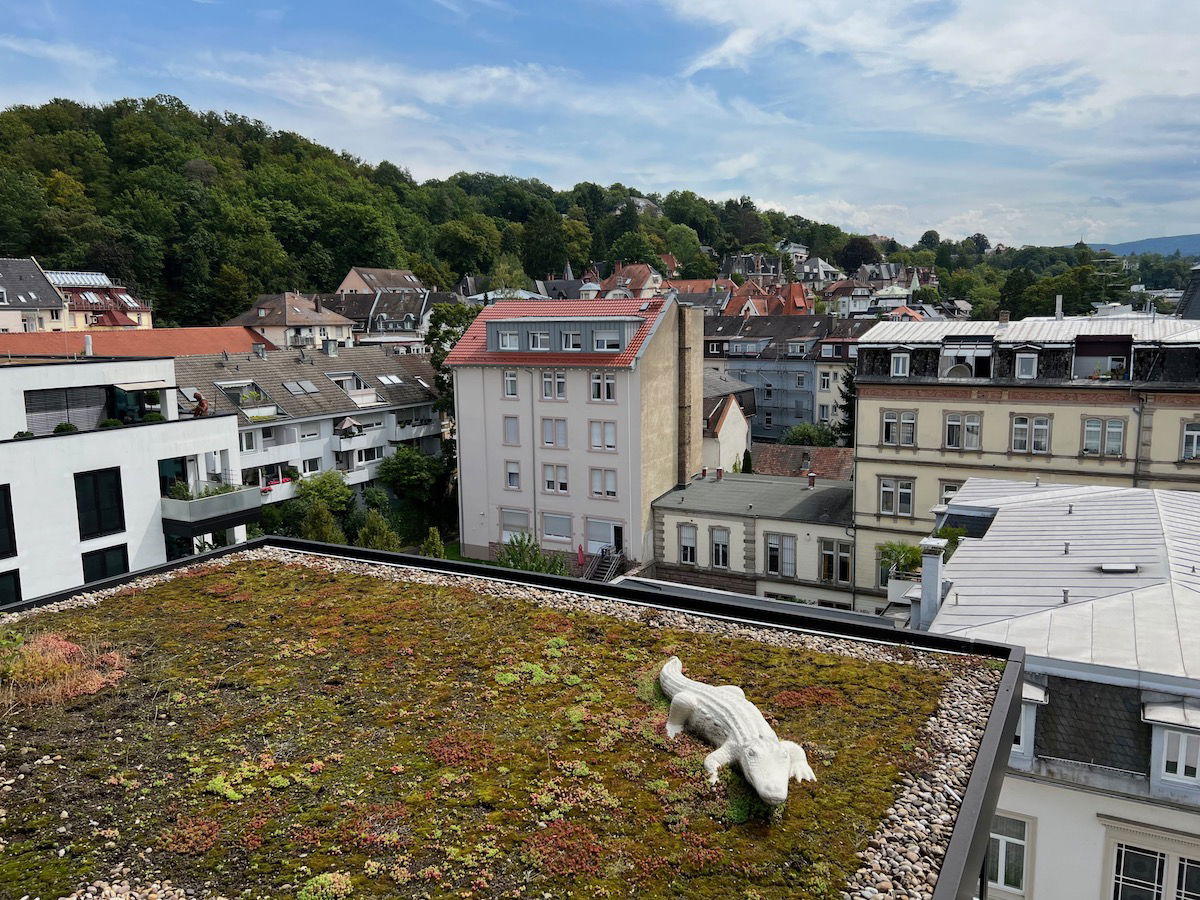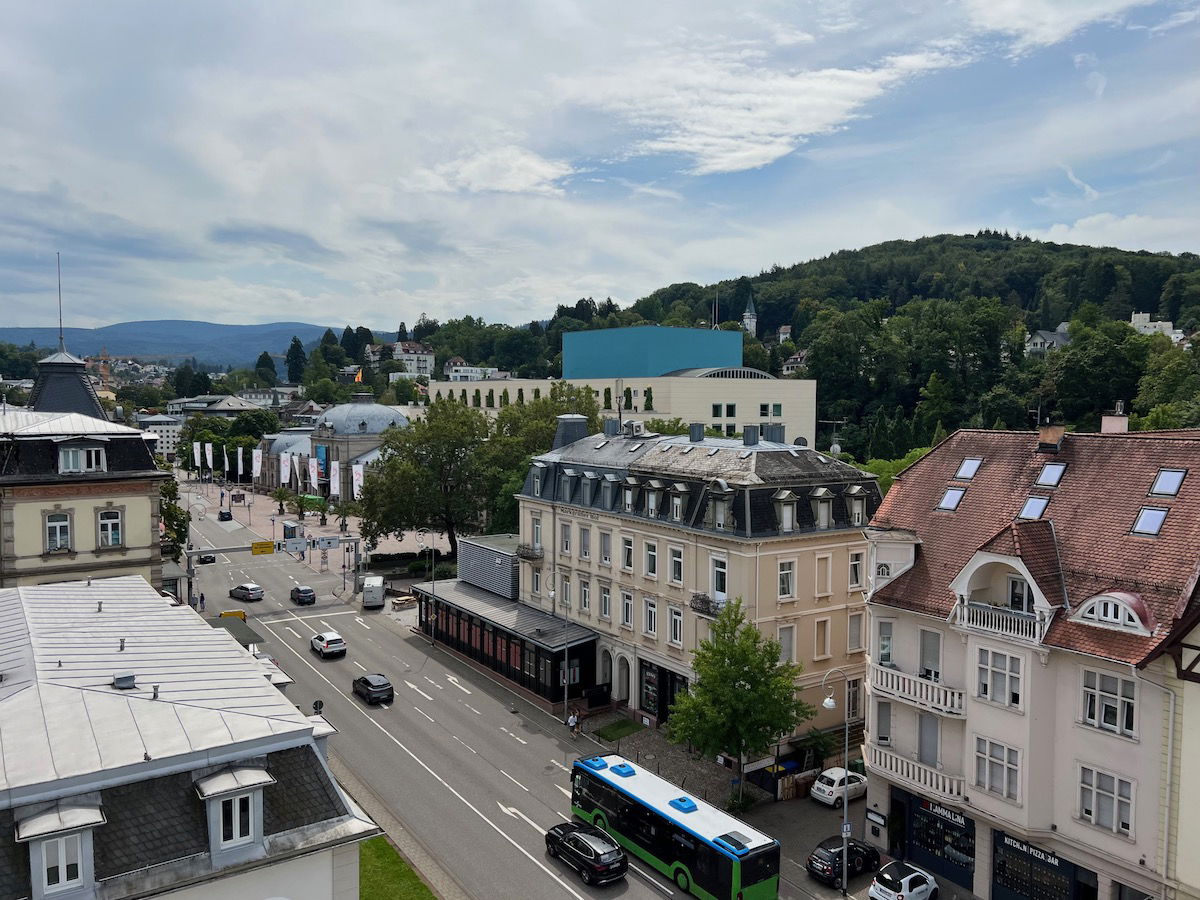 The rooftop also has a pool, though it's almost more of a visual centerpiece for the rooftop bar than something that seems to be that popular with swimmers. The pool has the same hours as the spa, and is open daily from 6:30AM until 1AM.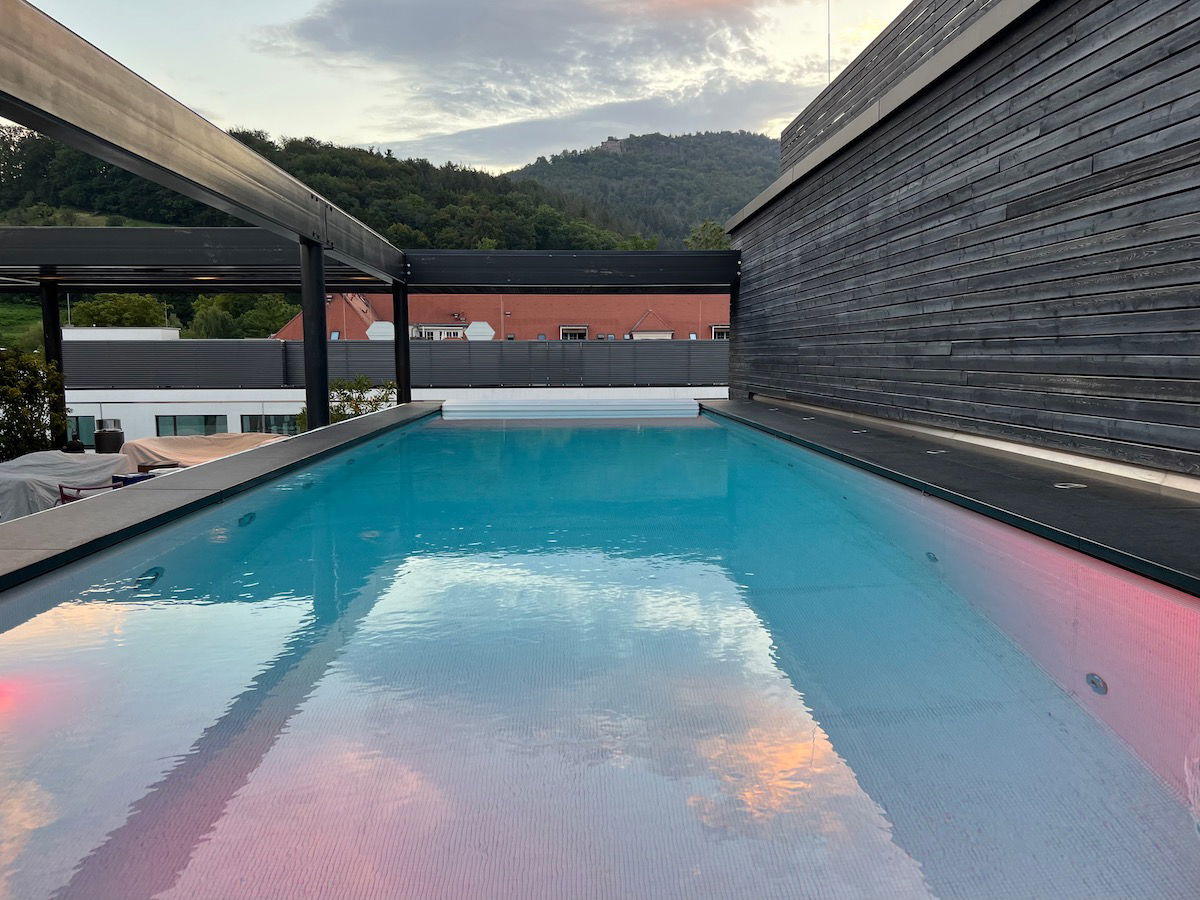 Given how beautiful the weather was, we had drinks on the rooftop a couple of times, and you can find the food menu here and find the drink menu here. We had everything from coffee, to wine, to martinis.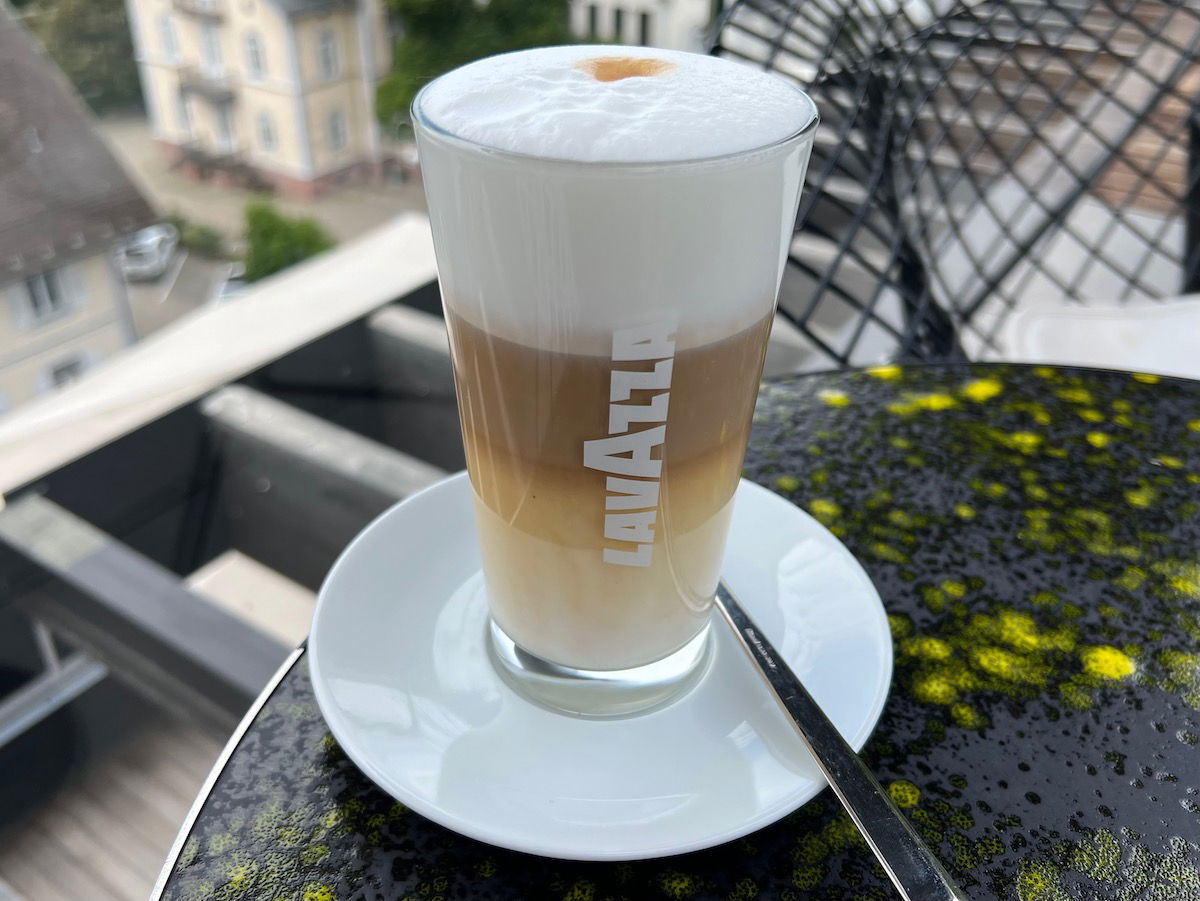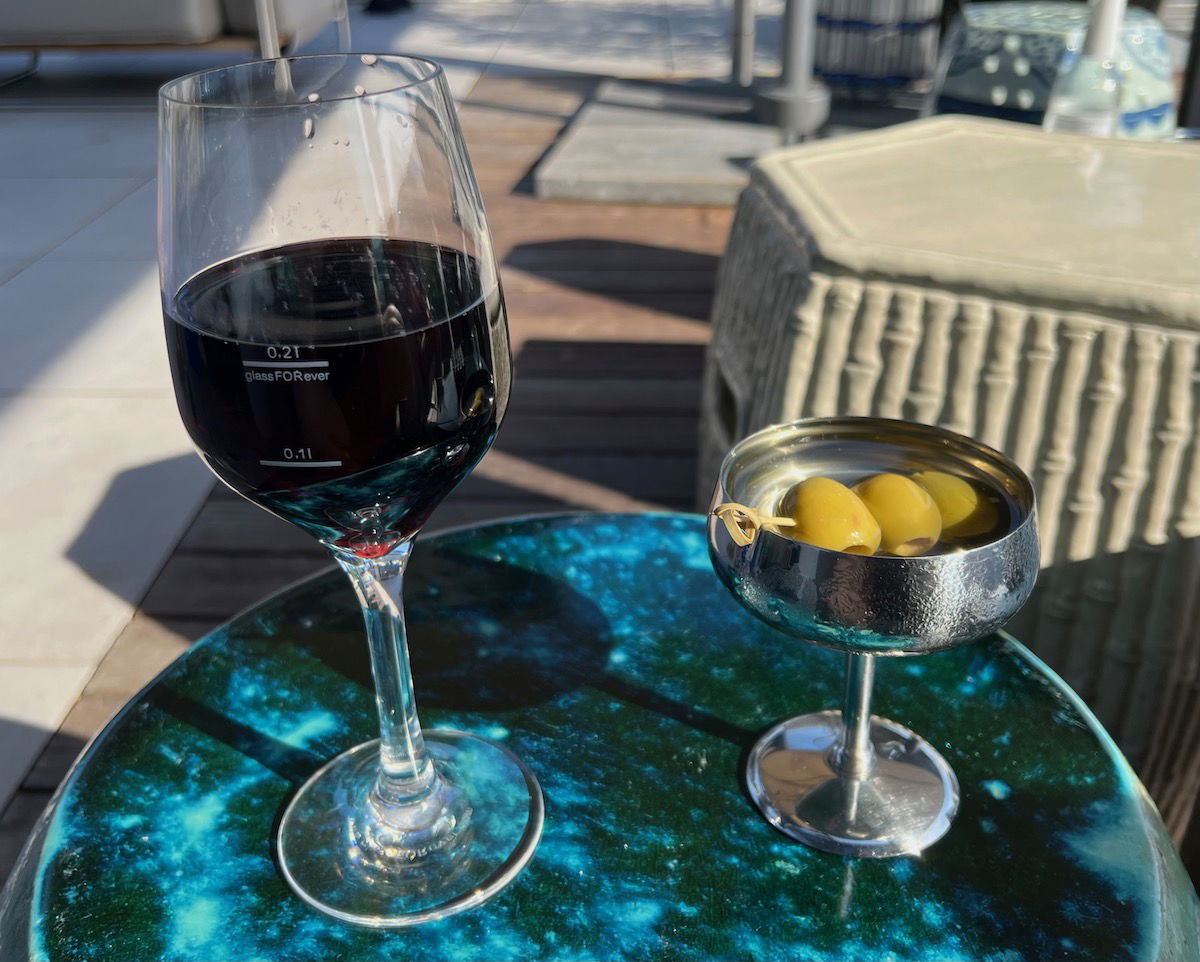 Roomers Baden-Baden gym
Roomers Baden-Baden has a 24/7 gym on the fifth floor, which I found to be quite good. While not huge, it had modern equipment. Cardio equipment included treadmills, bikes, and ellipticals, while there were also free weights plus a few weight training machines.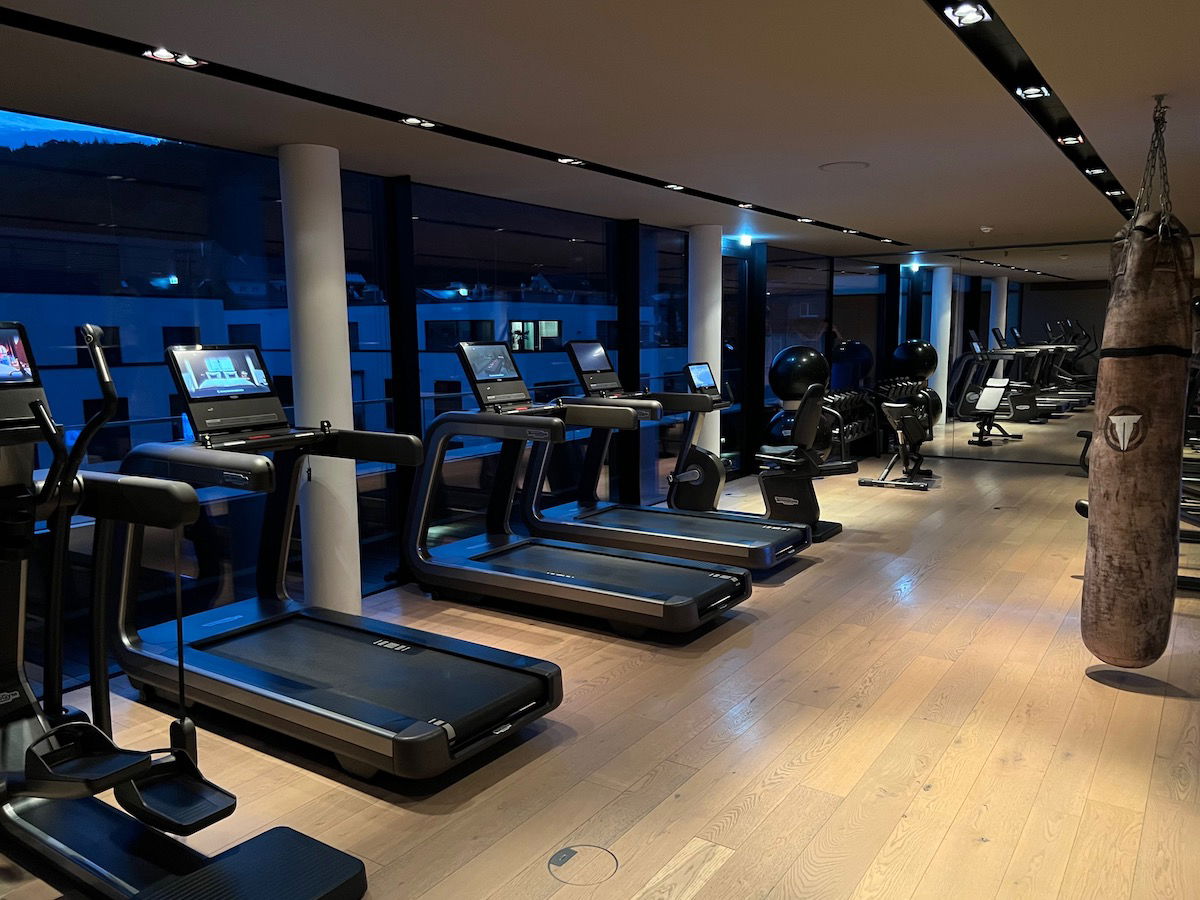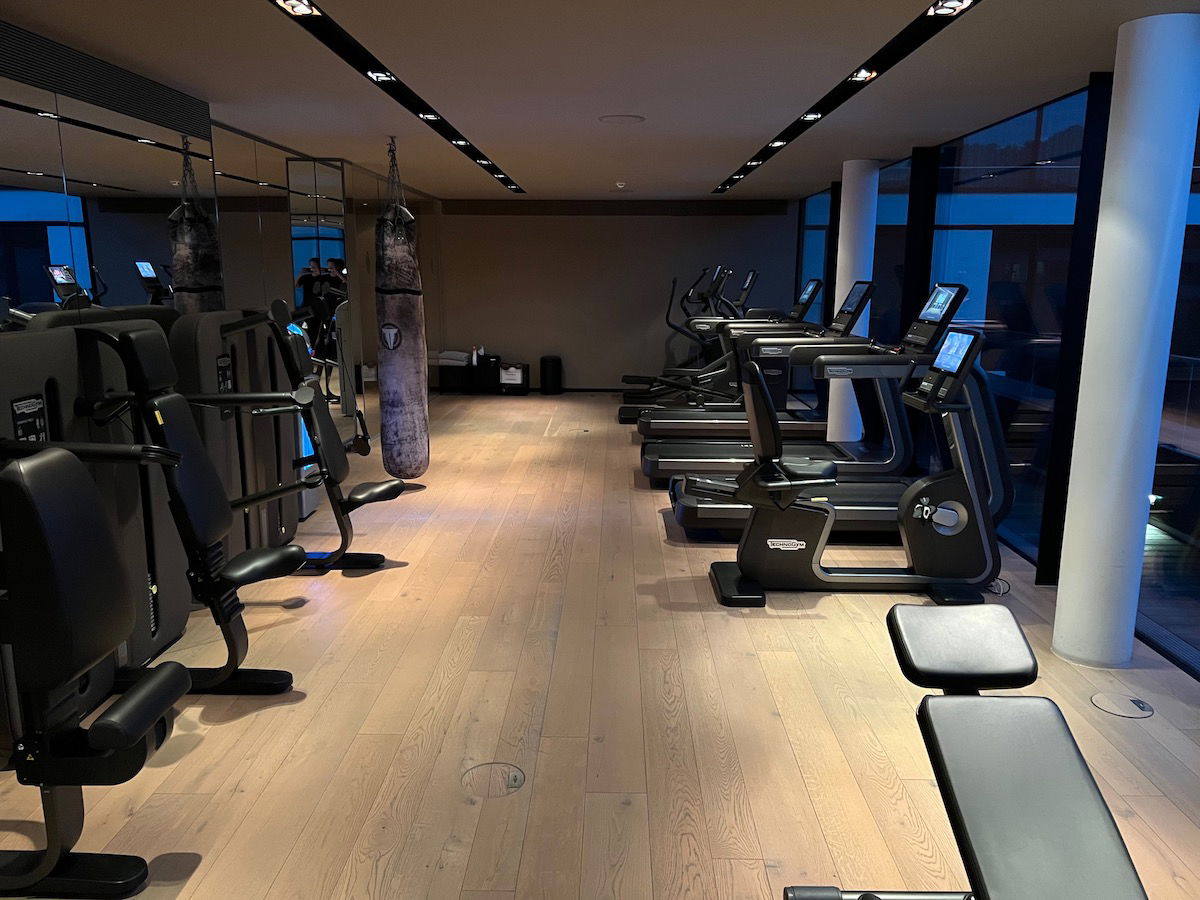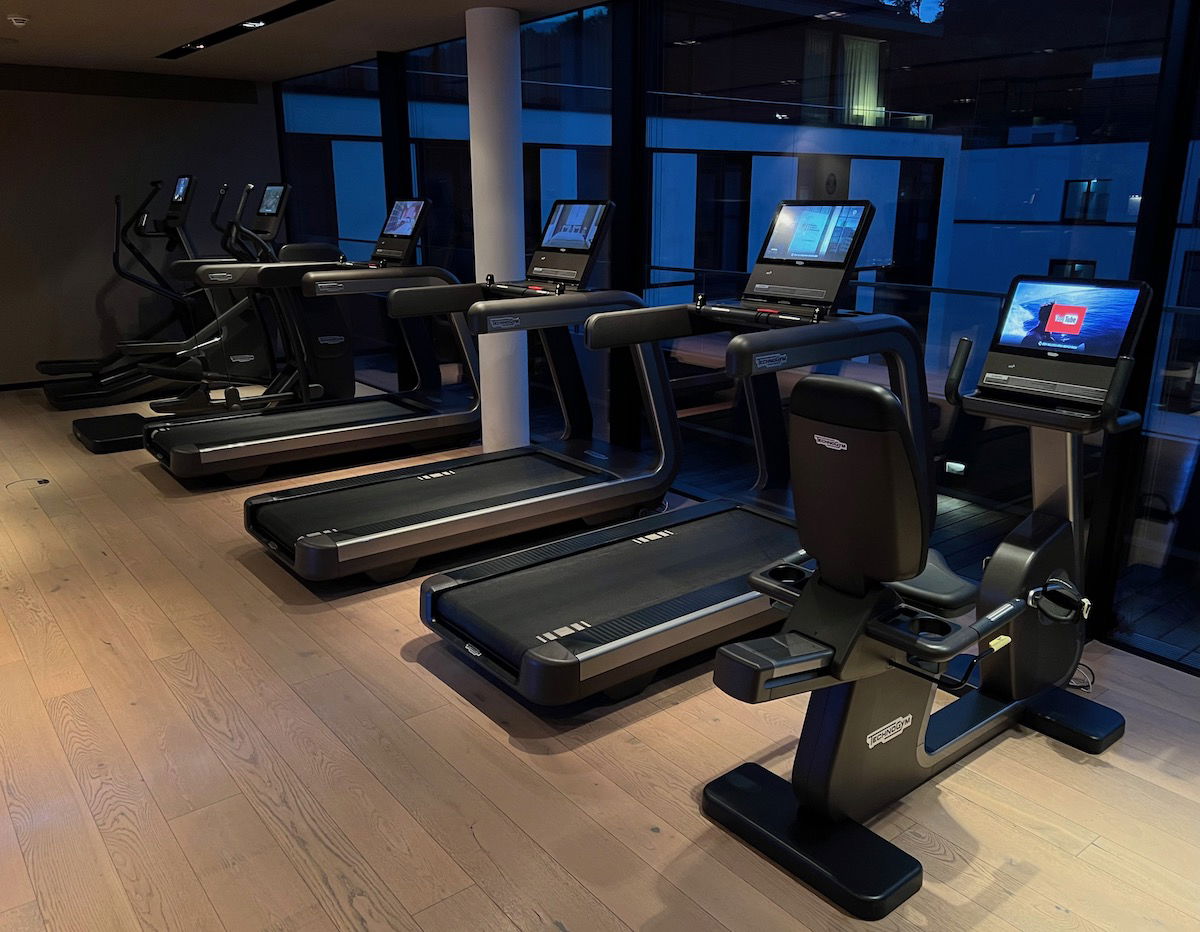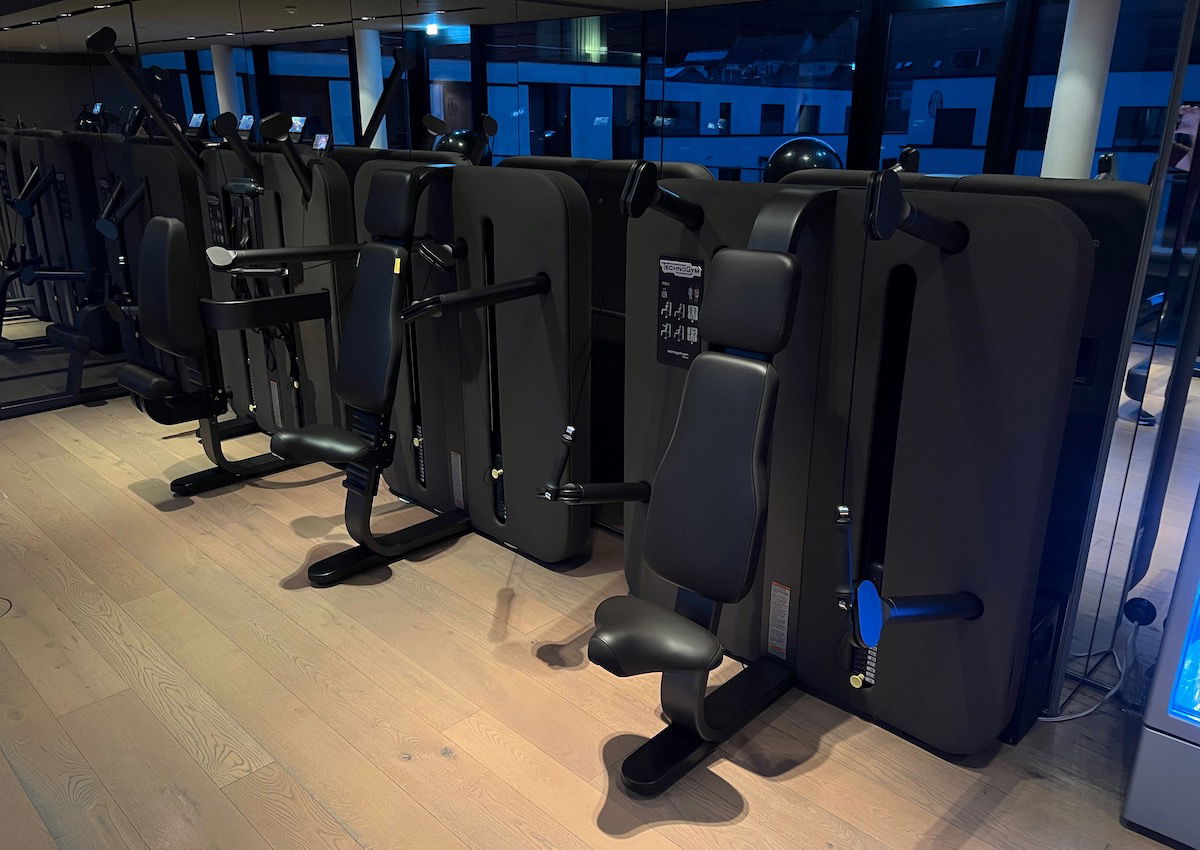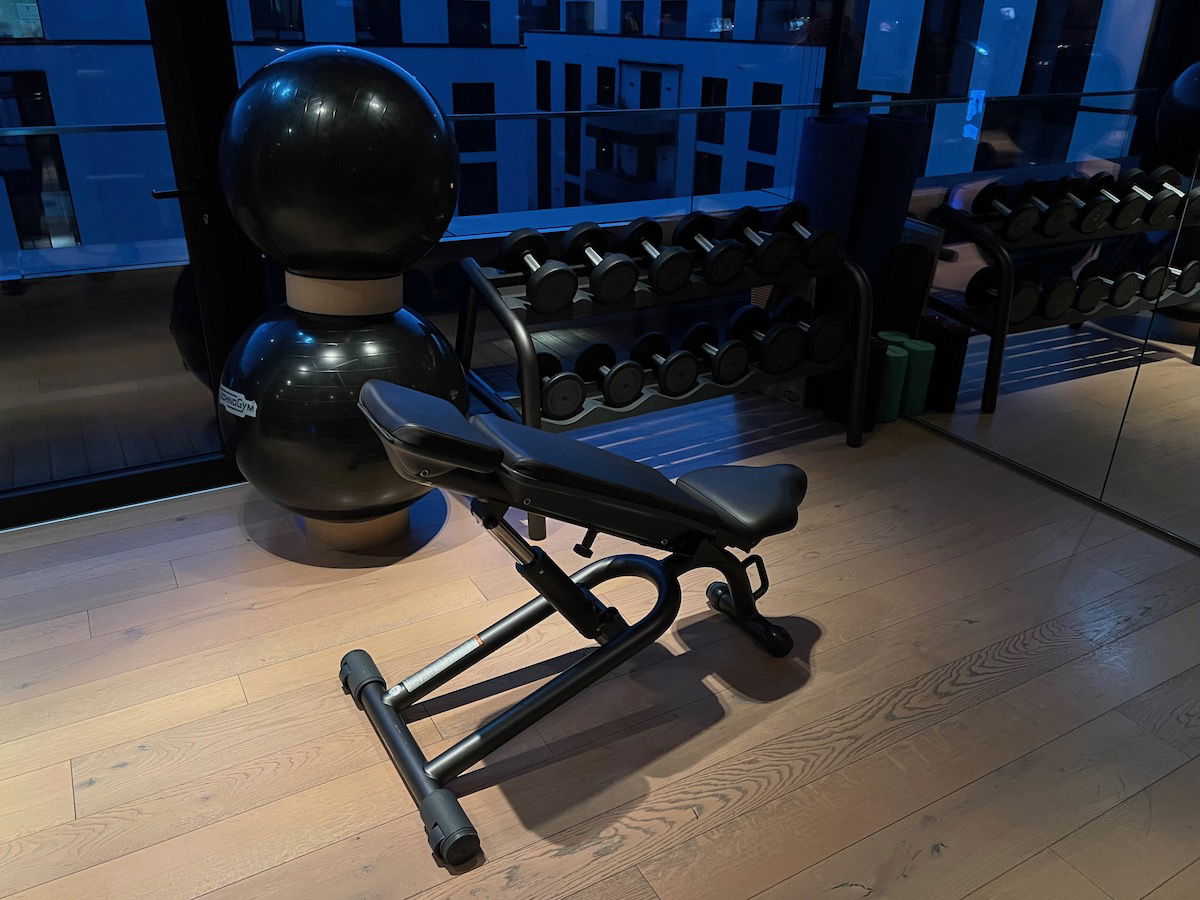 Roomers Baden-Baden spa complex
Roomers Baden-Baden has a pretty epic spa complex on the fifth floor, which all guests have access to. This is absolutely worth visiting if you stay at this hotel. The hours are unheard of as well, as it's open daily from 6:30AM until 1AM.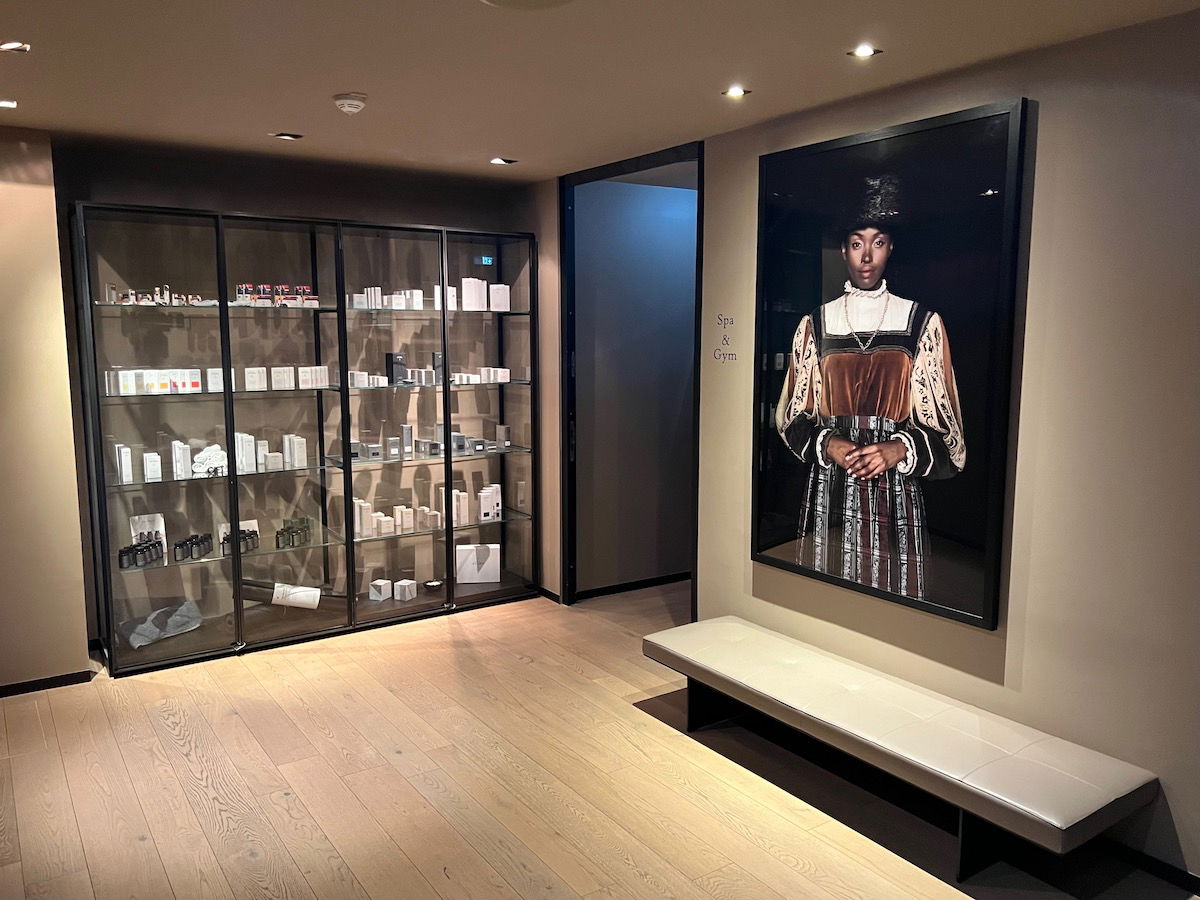 The door leading into the spa has quite the message — "we like it nude."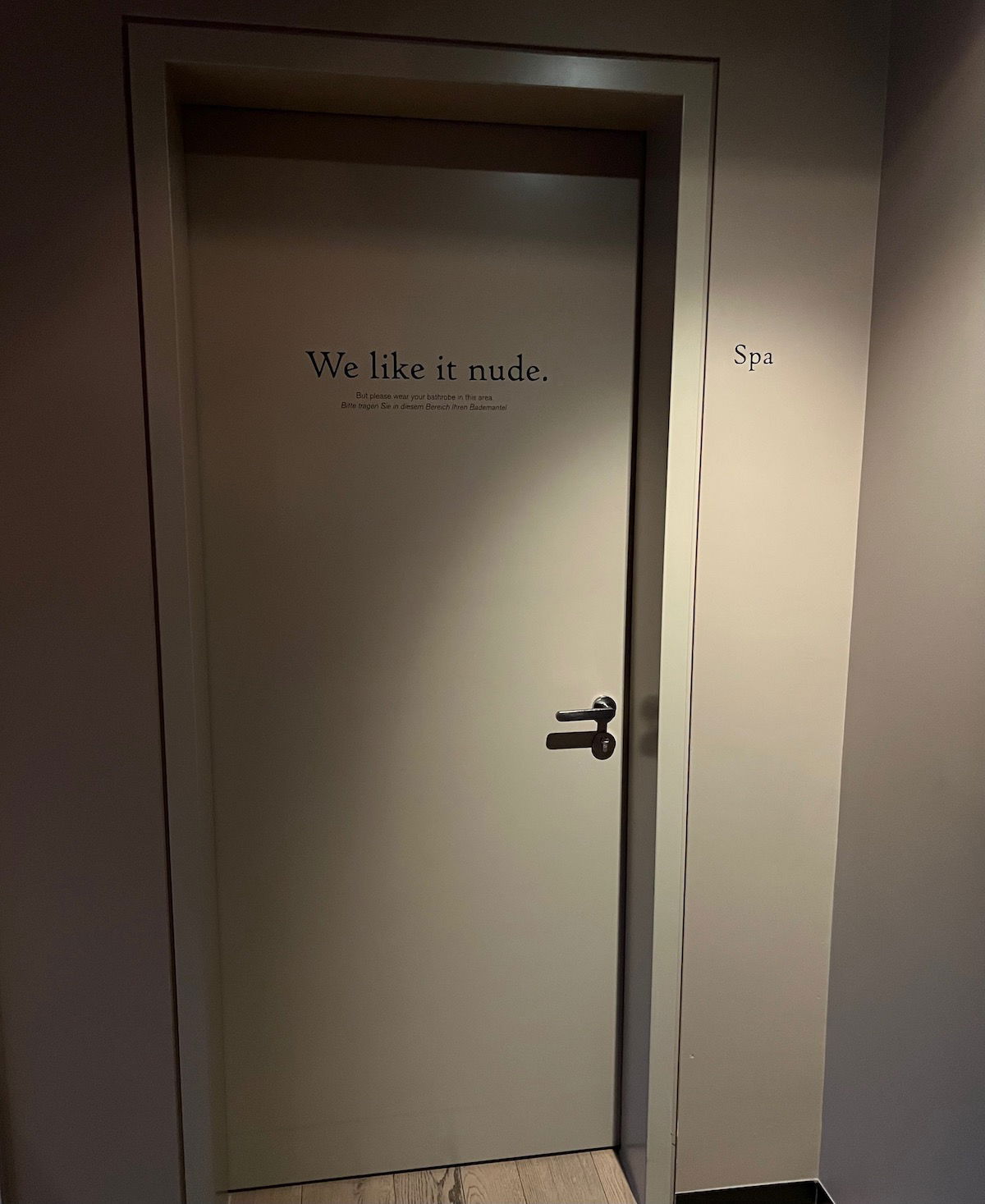 The spa had a beautiful whirlpool, sauna, and steam room, plus a variety of relaxation areas, both indoors and outdoors.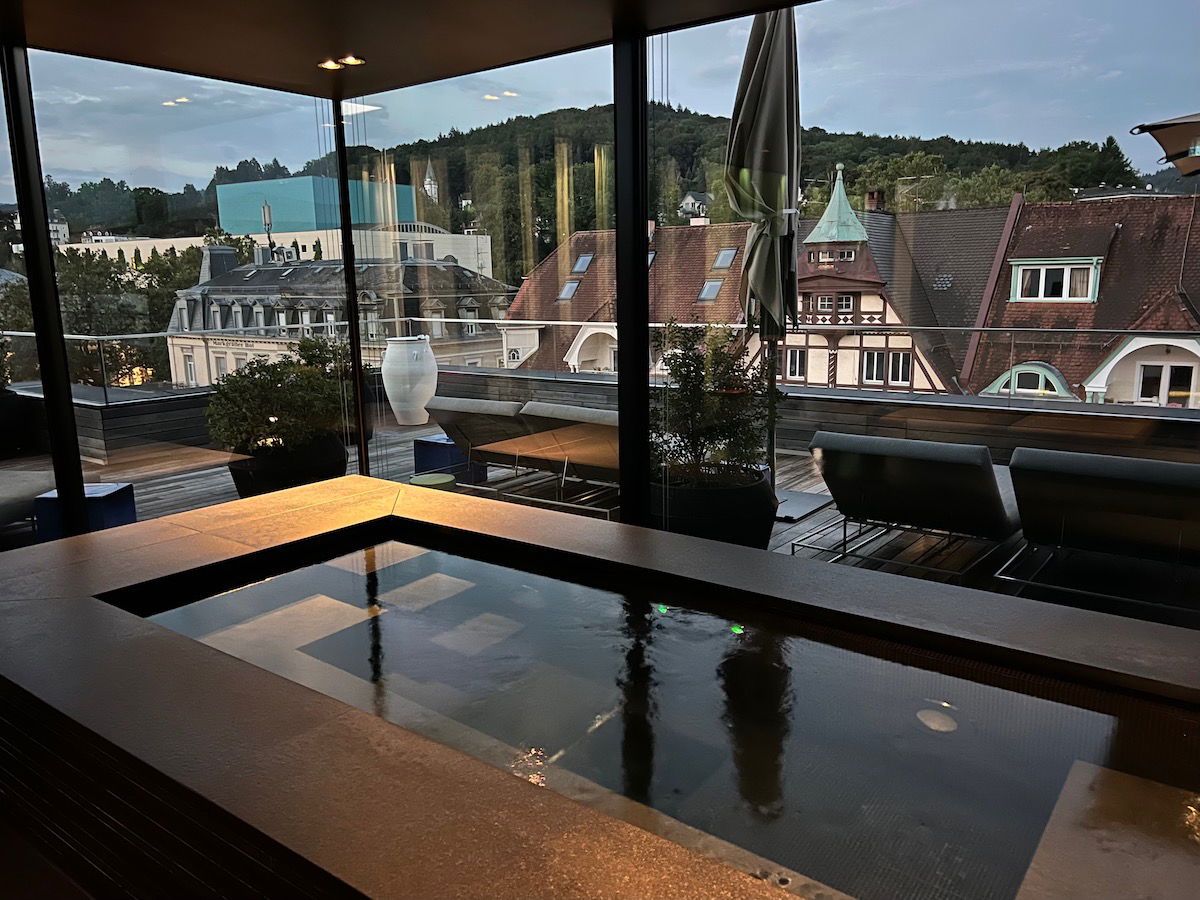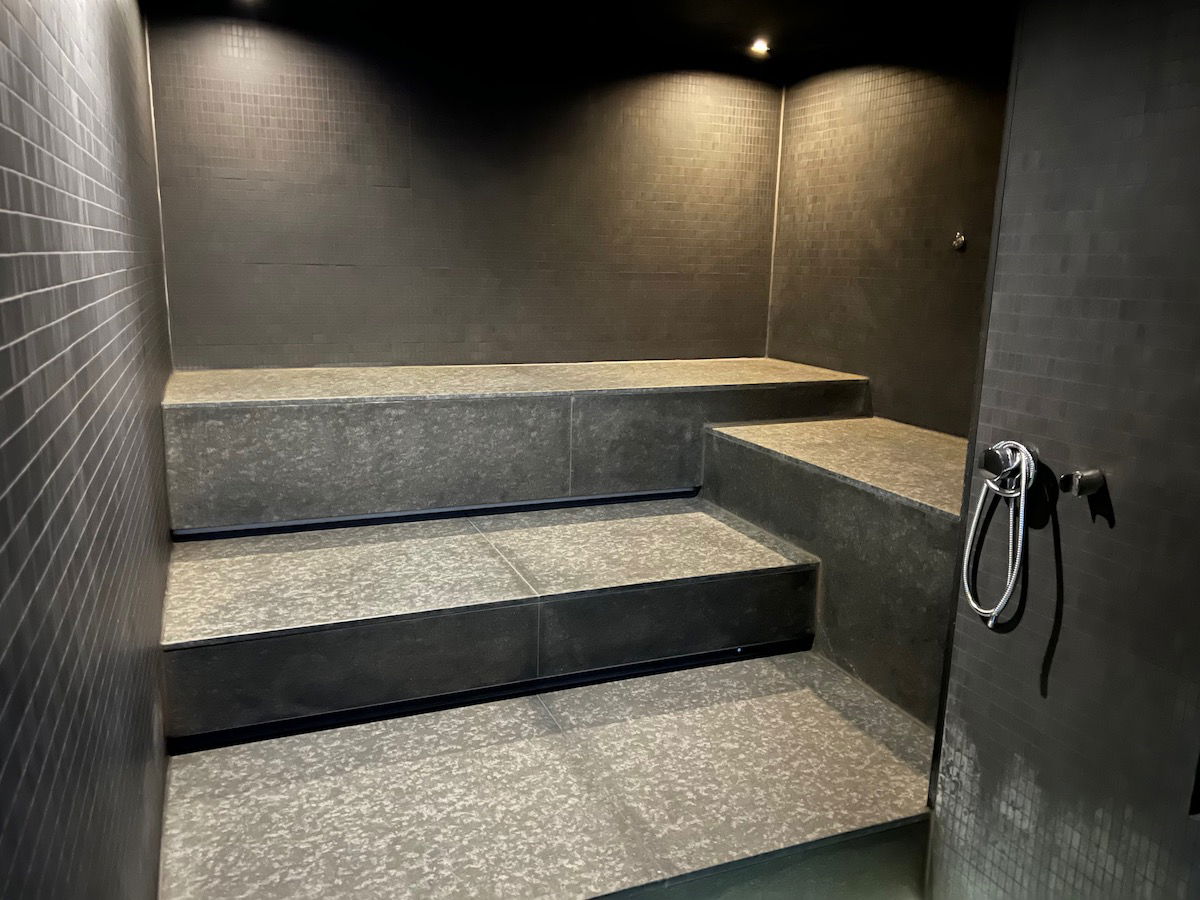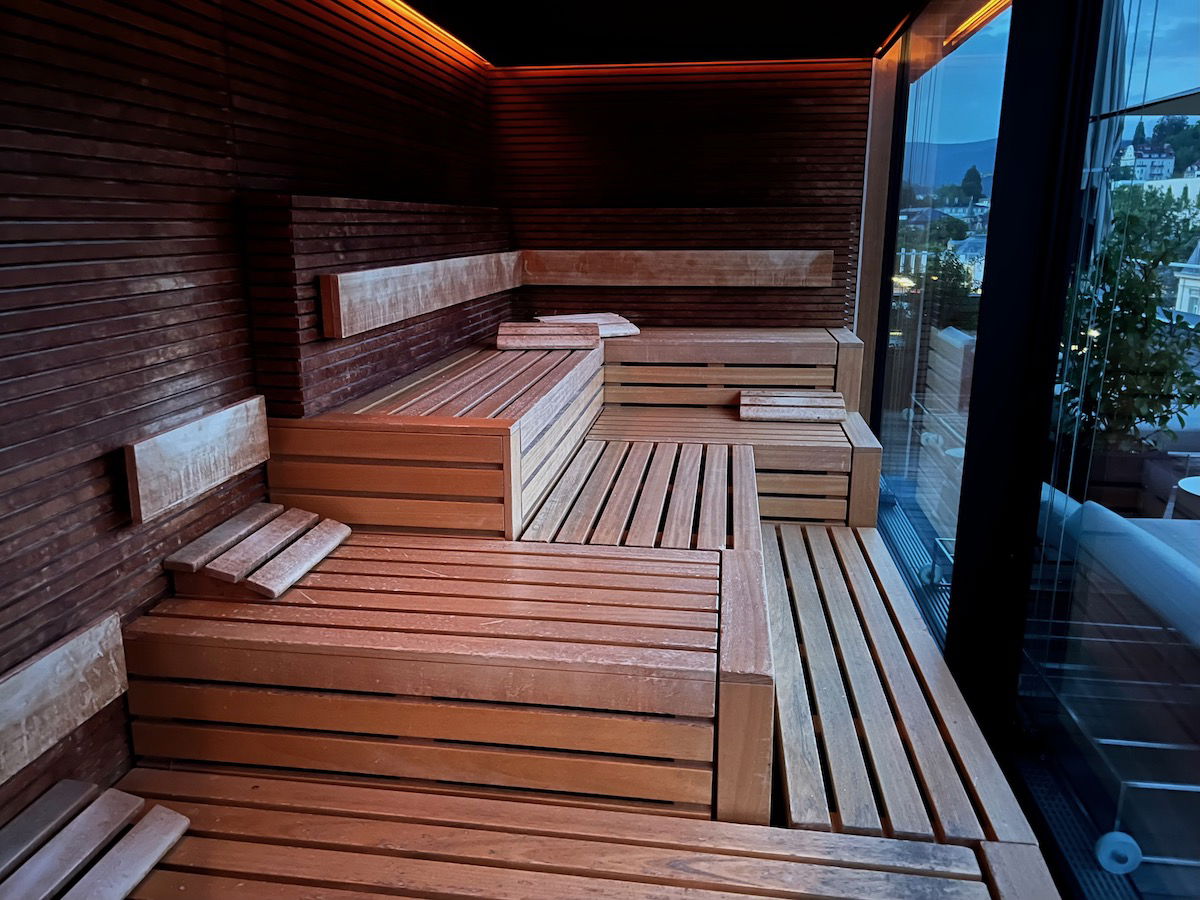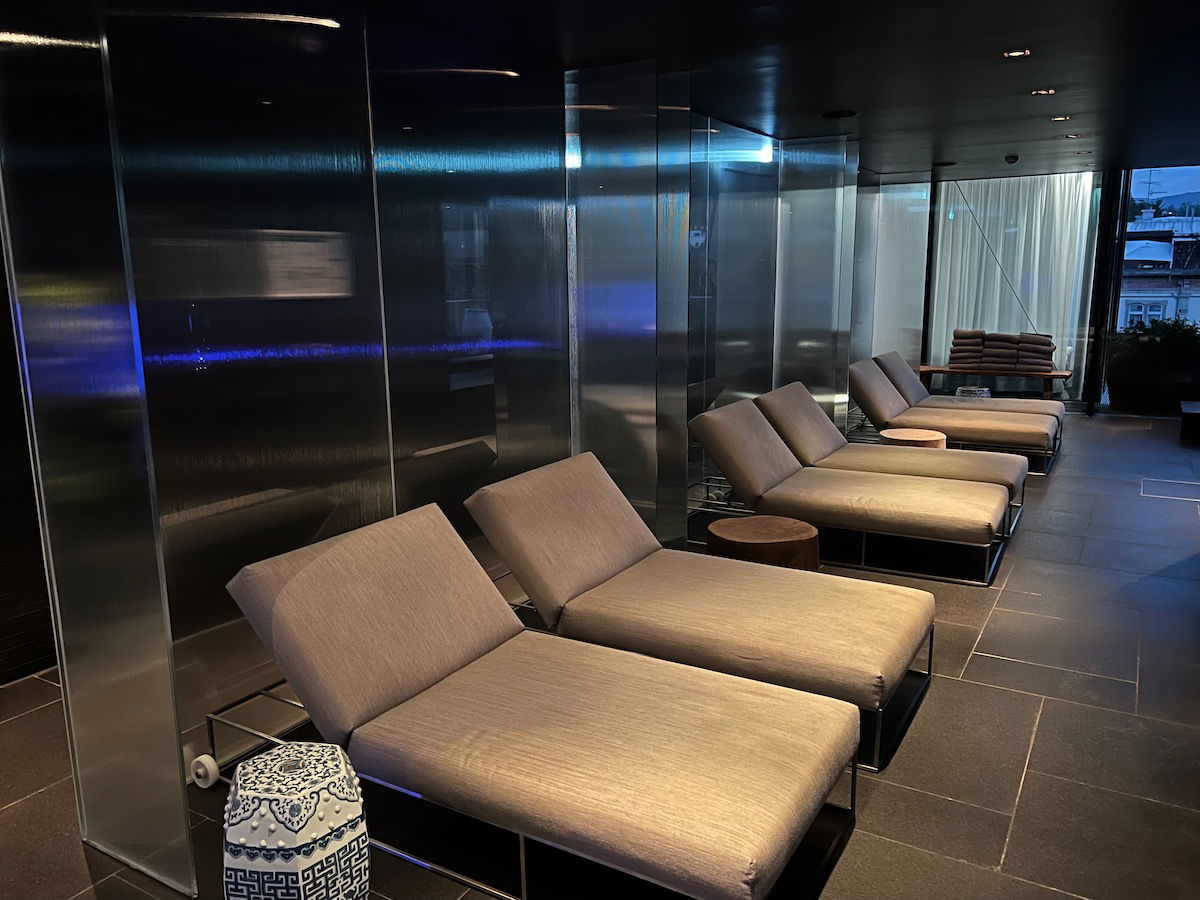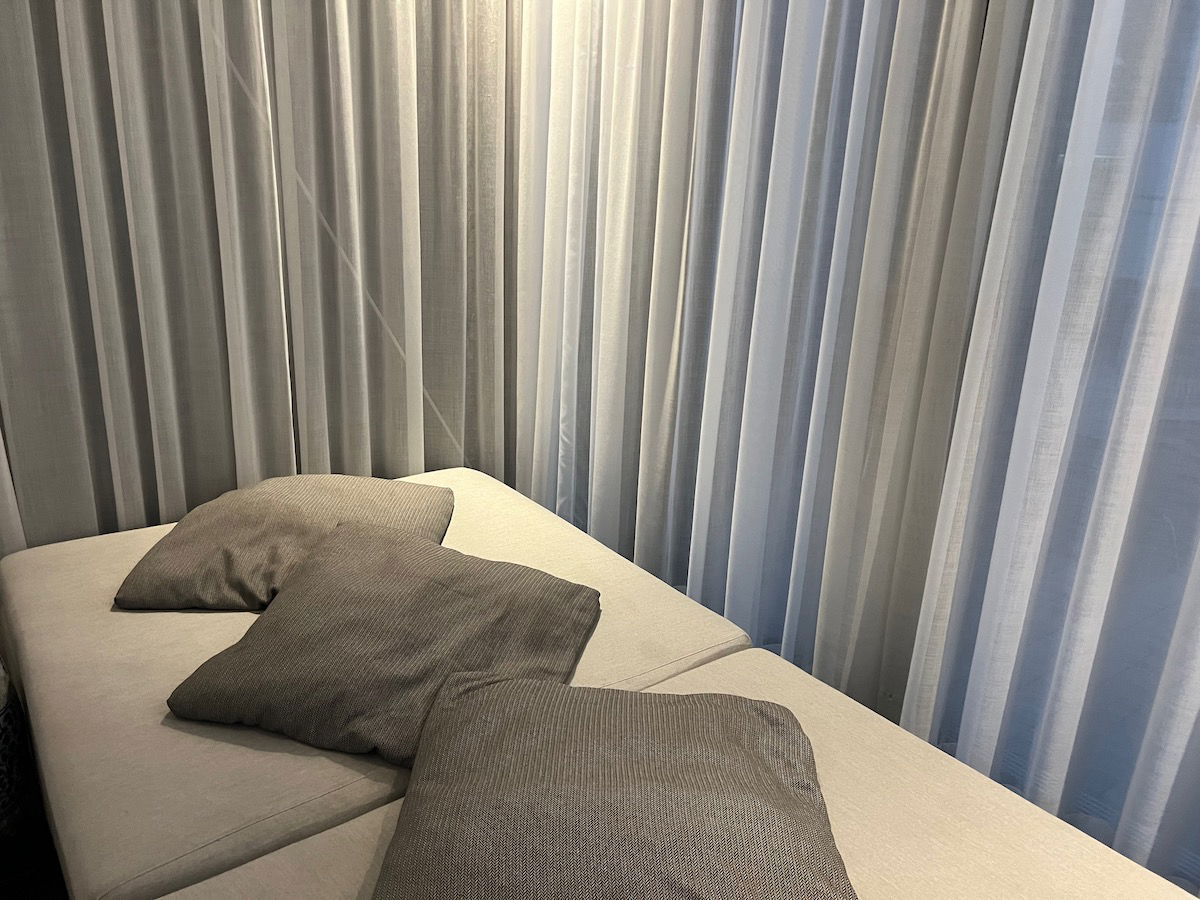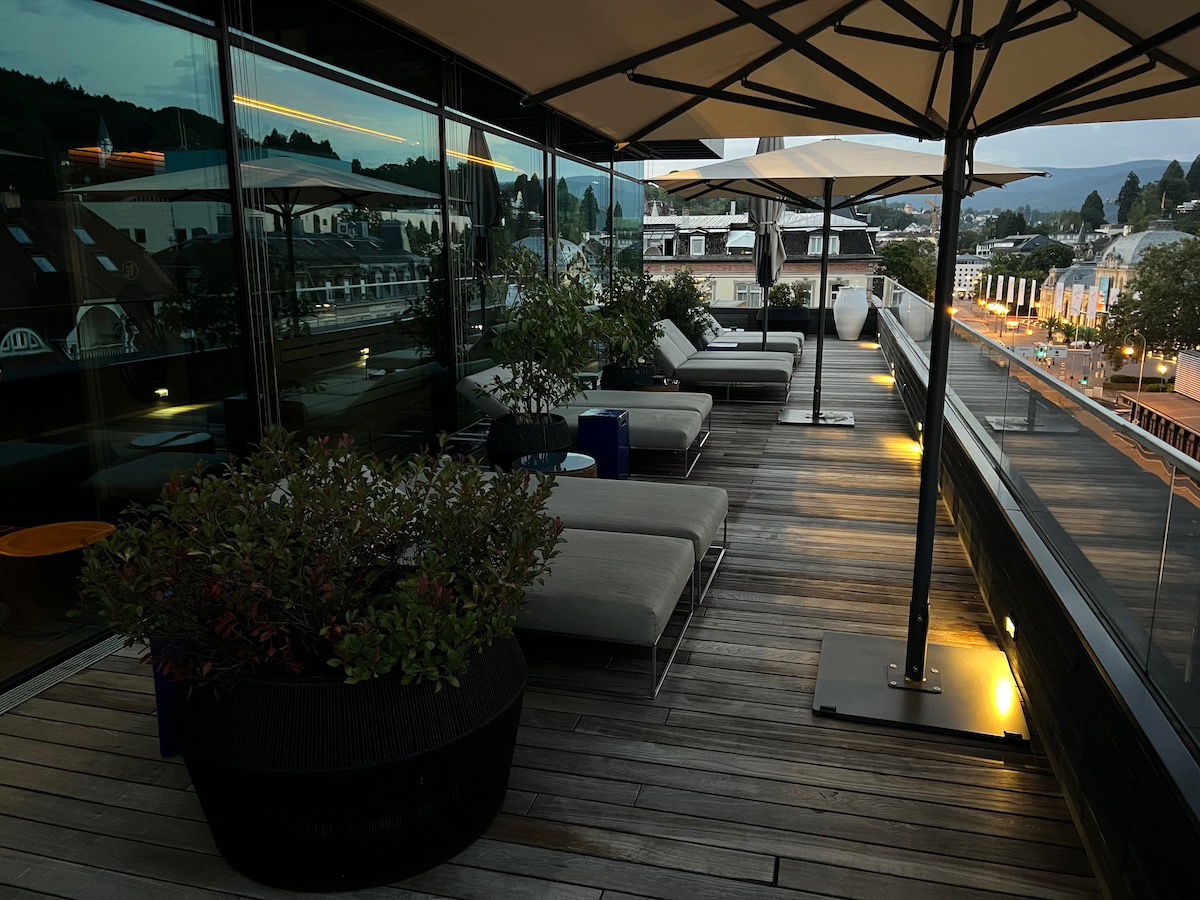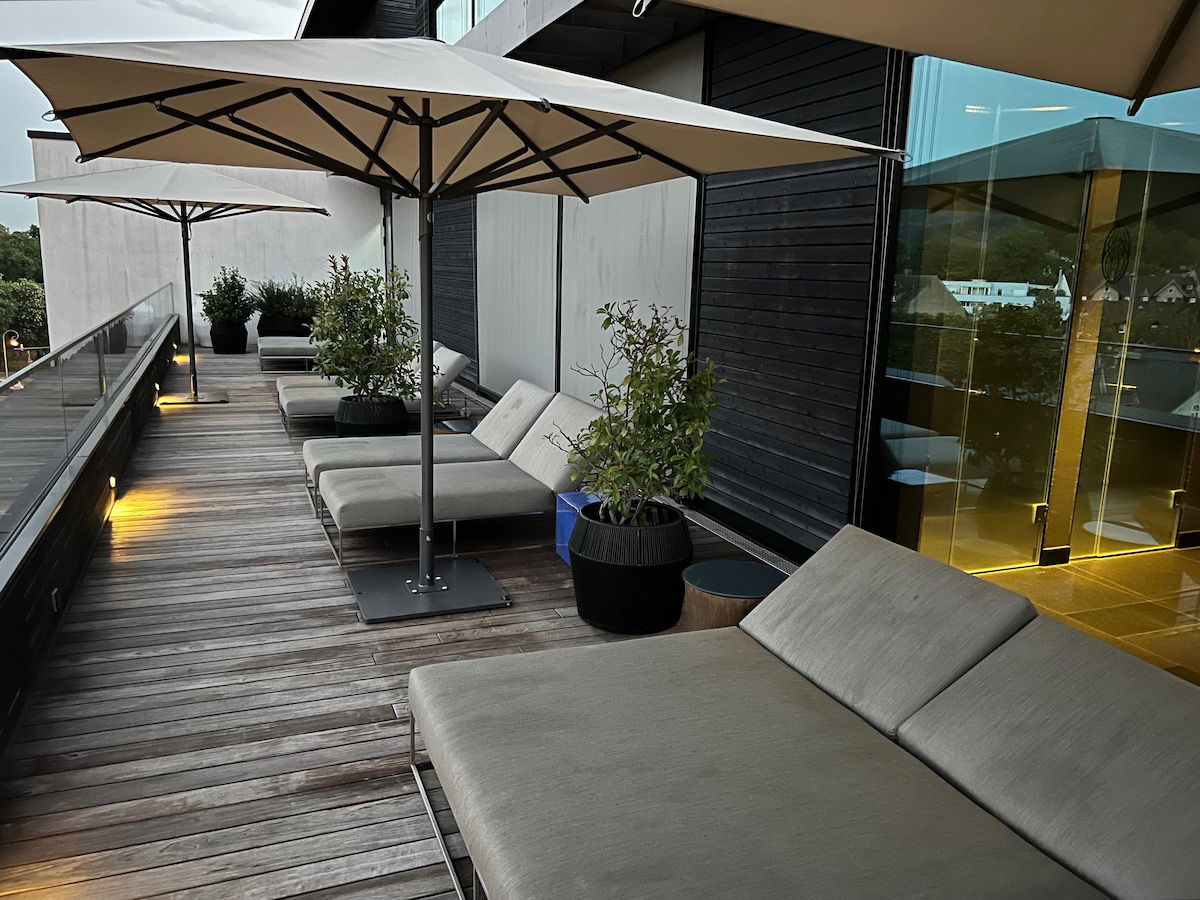 And in case you haven't noticed a pattern yet, yes, the spa also has complimentary vodka. 😉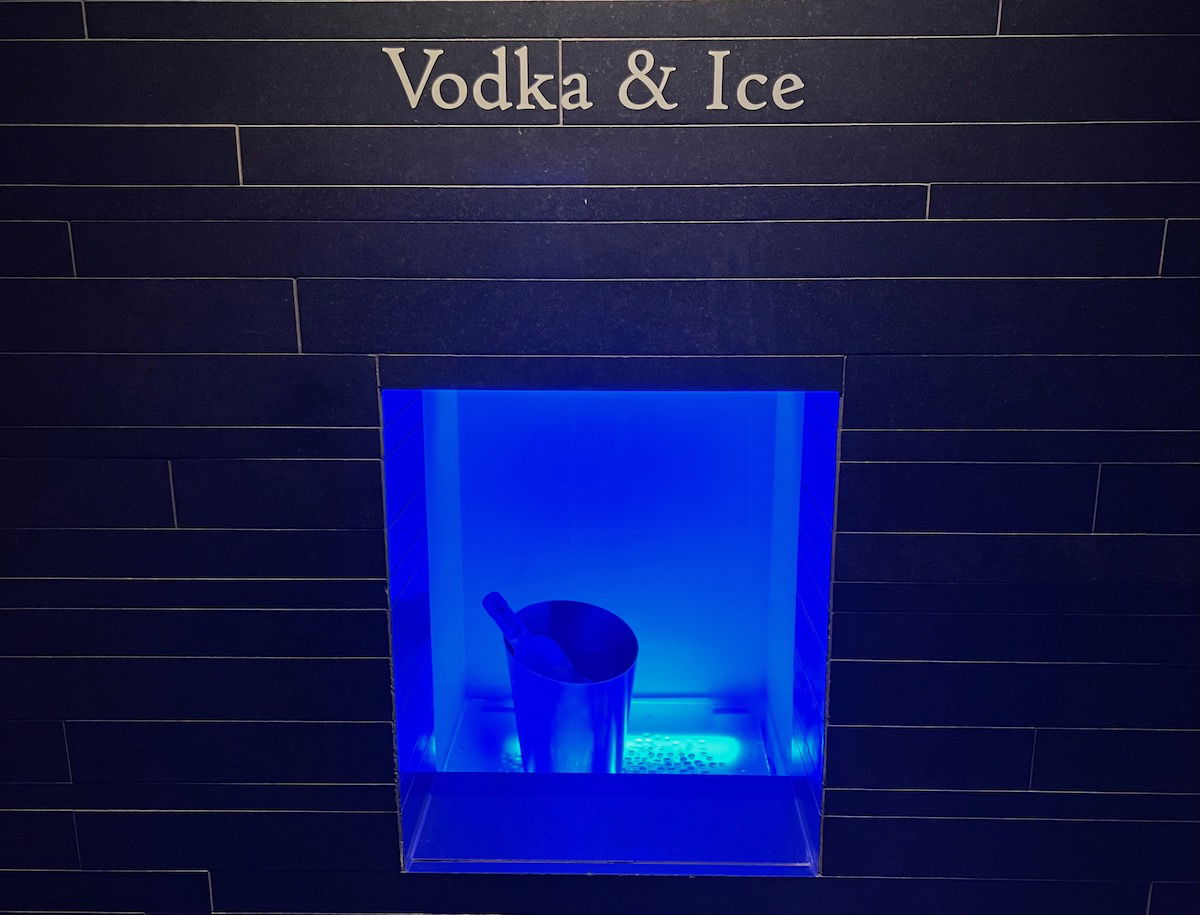 As you'd expect, this is also a full-service spa, and you can find the spa menu here. However, I didn't get any treatments during our visit, since we stayed busy exploring the area.
Impressions of Baden-Baden
When we planned our road trip, my assumption was that Baden-Baden would have the nicest hotel, but that we'd find the destination to be the least interesting. That definitely wasn't the case, and we had a fantastic time here.
For one, the town of Baden-Baden as such is charming. While it's popular with tourists, it's not as overcrowded as Heidelberg or Strasbourg, for example. We enjoyed a couple of nice meals in town, though to be honest, I don't think you need to spend more than a few hours exploring this area.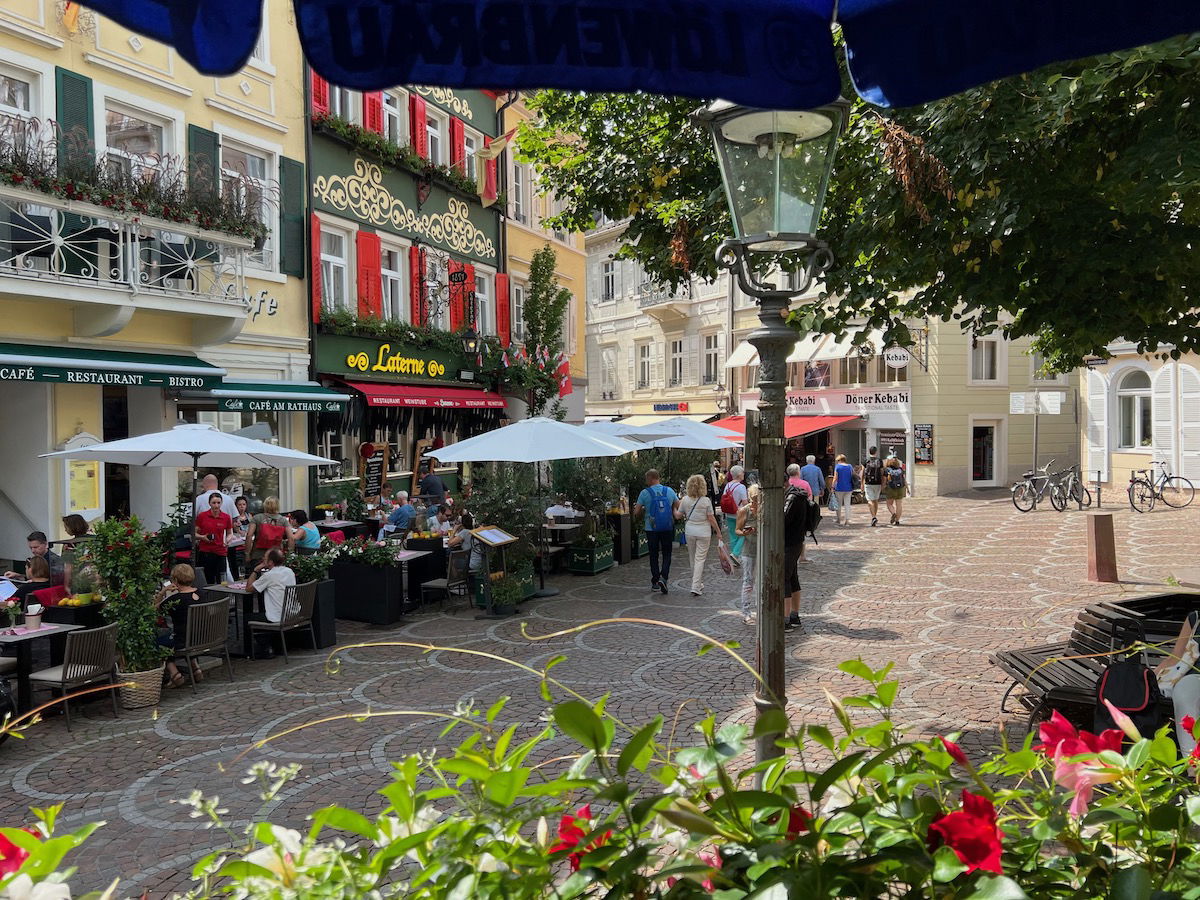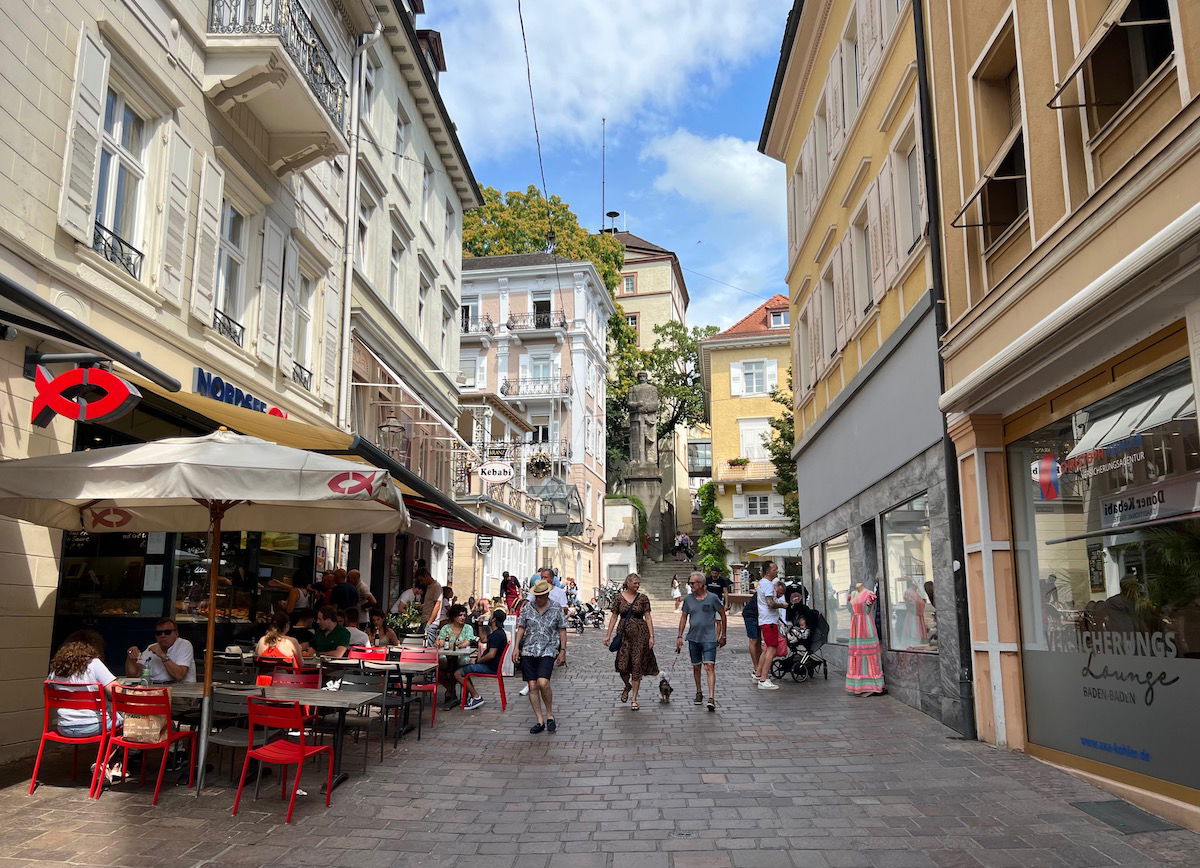 What we absolutely loved about Baden-Baden is how it sits right at the edge of Black Forest National Park. This wasn't crowded at all, and even though we went on one of the main roads, at one point we didn't see another car for 10 minutes.
Pictures don't do justice to how beautiful the Black Forest is, but there's just something so nice about driving through this area with the windows down, taking in the fresh air.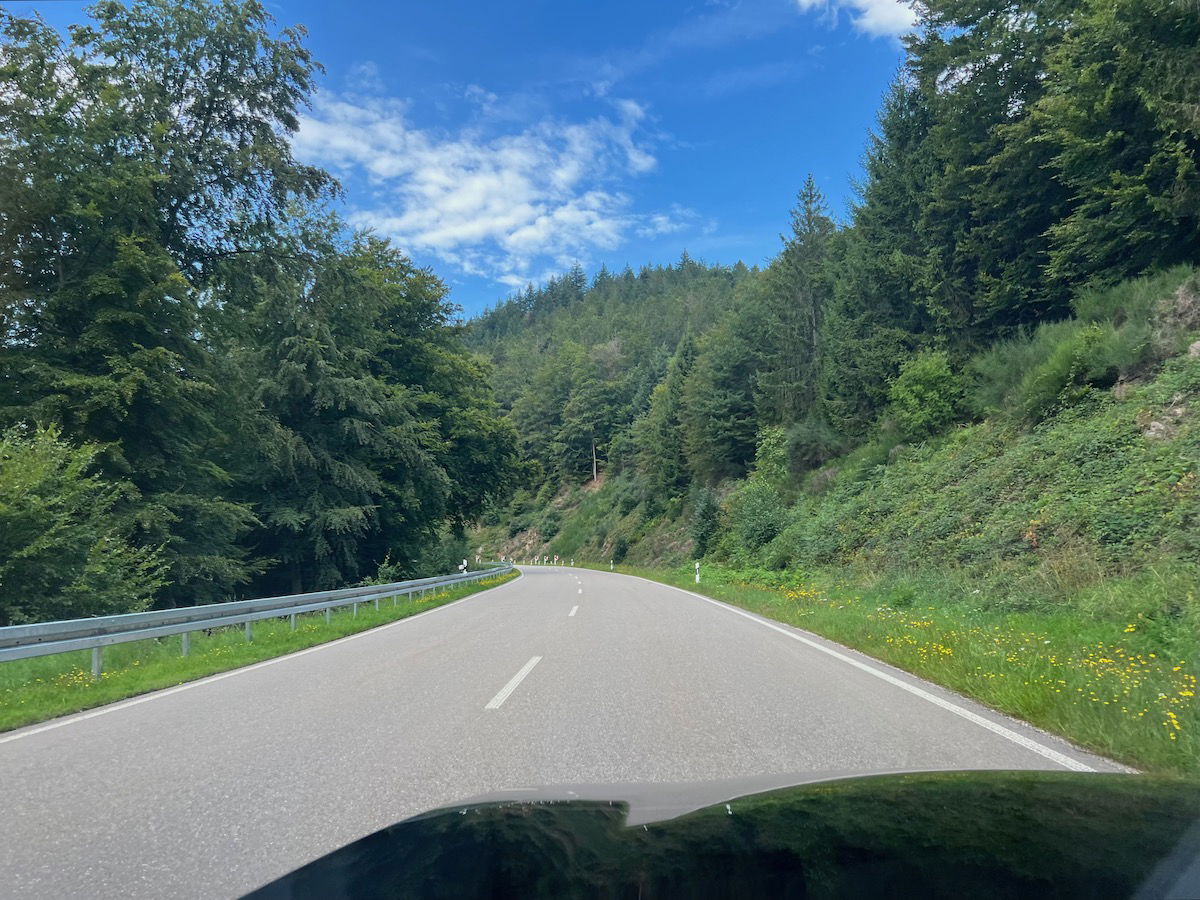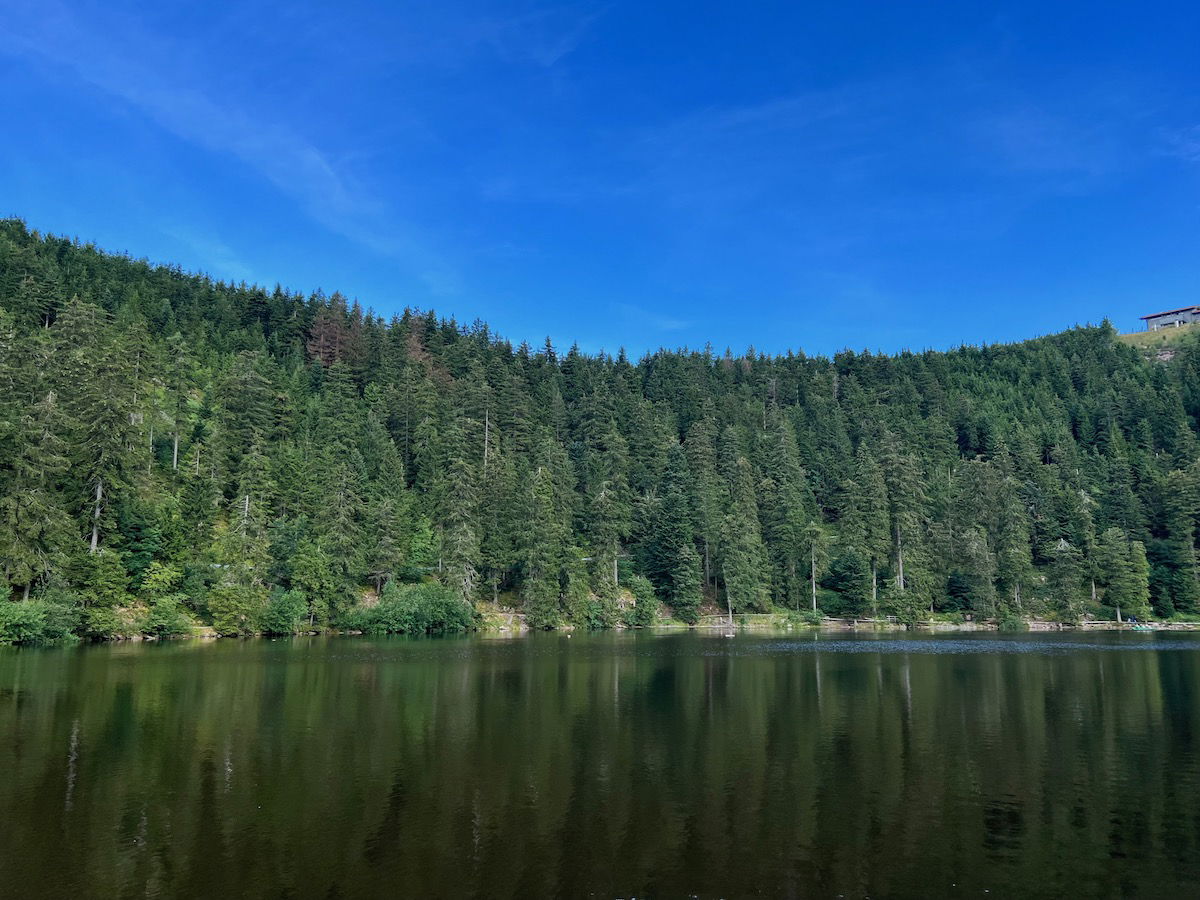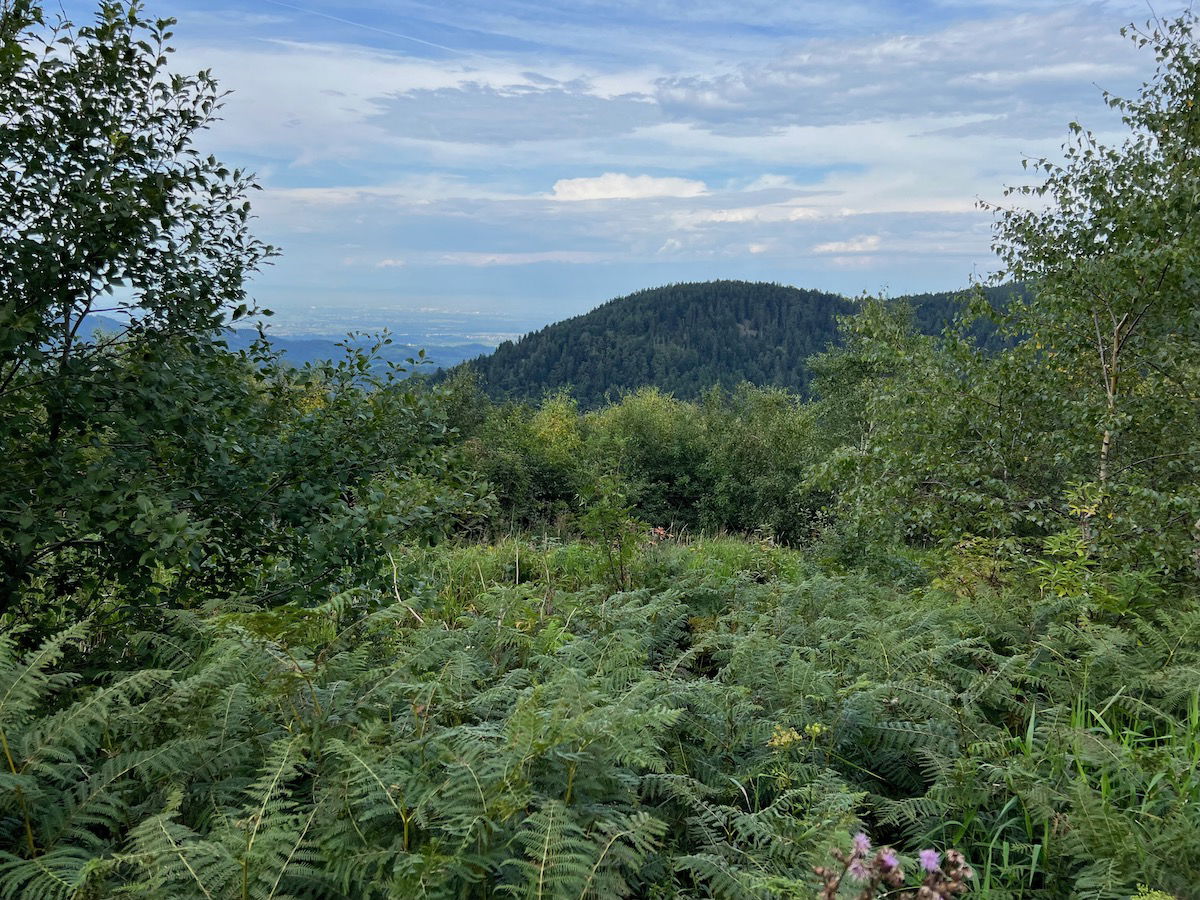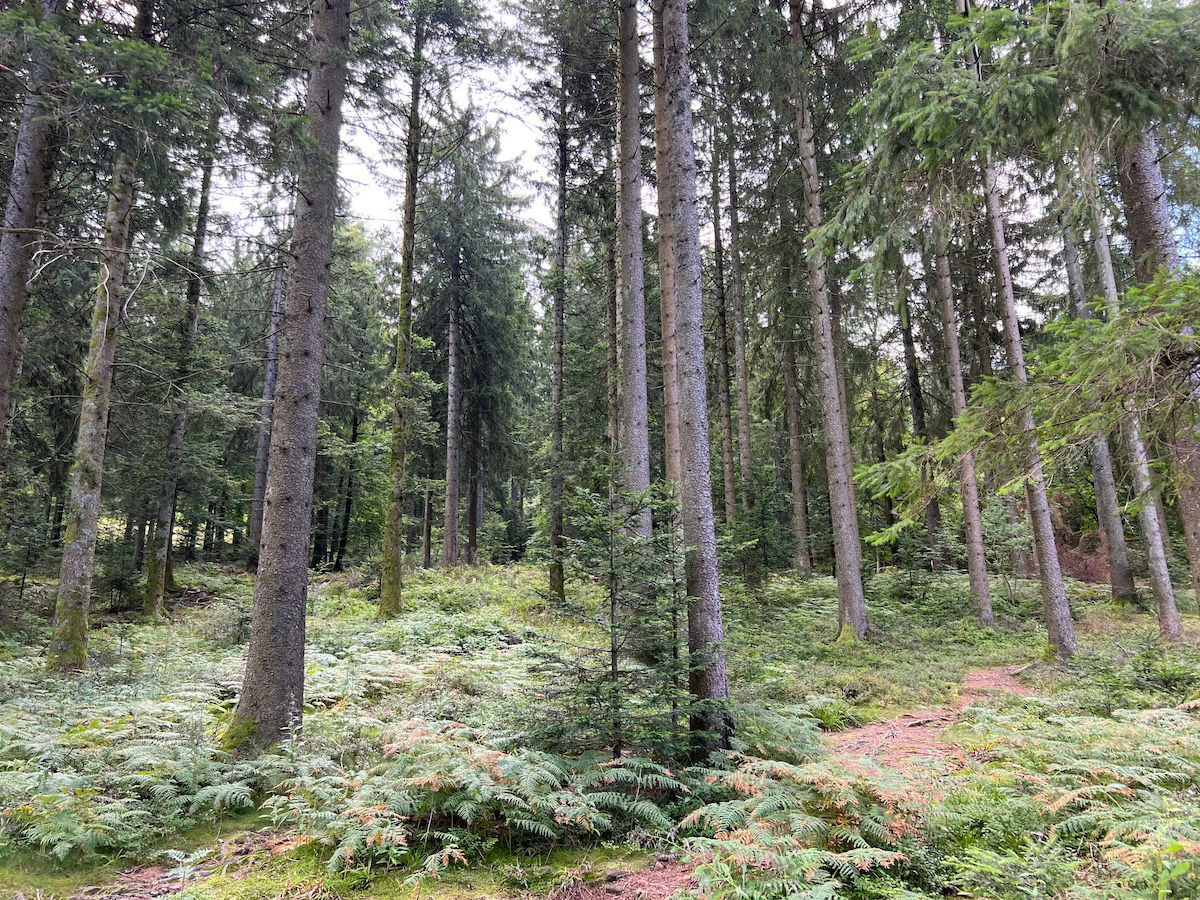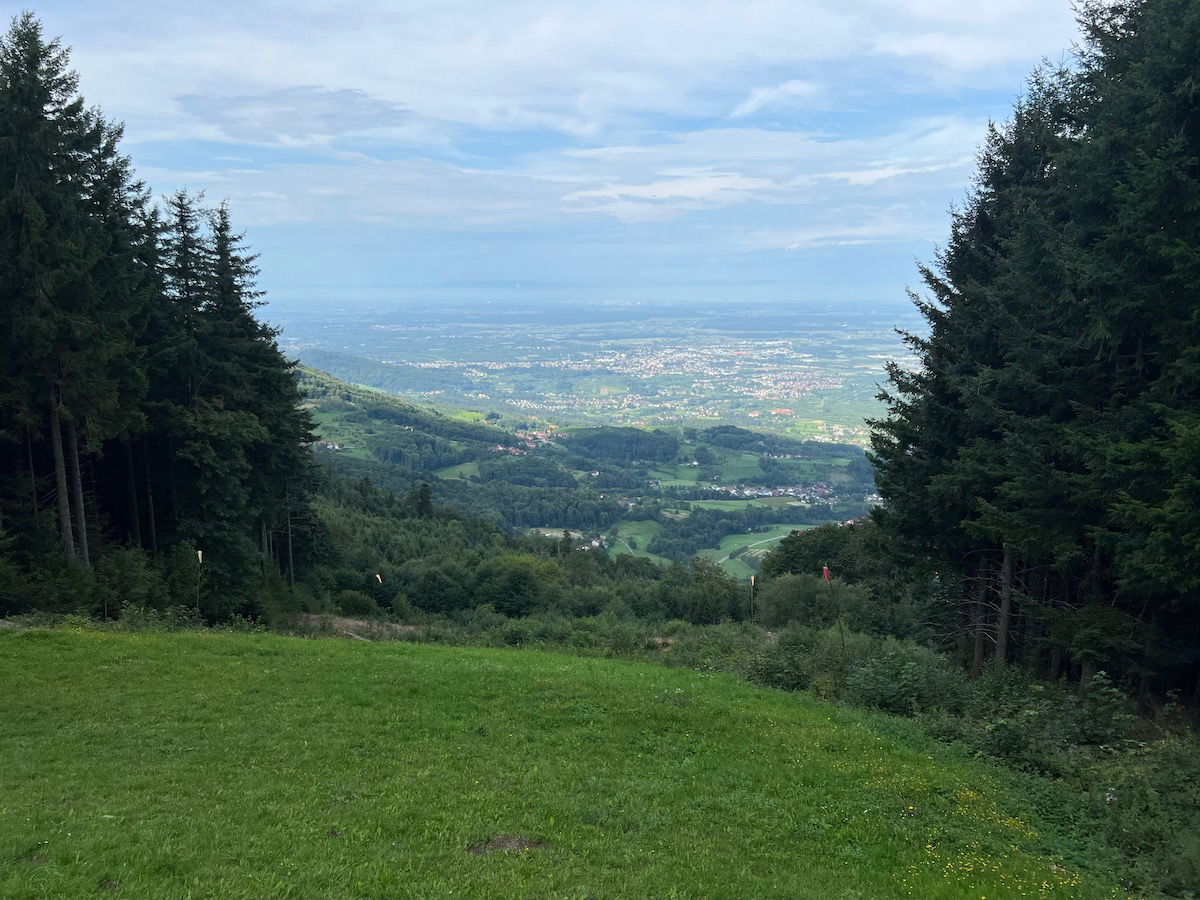 The other thing that's awesome about this area is that there are so many cute villages right at the foothills of the Black Forest. So we kind of just aimlessly drove around, and had a great time. Since I was driving, I didn't get many pictures, so I apologize.
But if you love just driving through beautiful regions, I highly recommend this kind of trip.
Bottom line
We had a great stay at Roomers Baden-Baden. This is a unique property with a fun design, good elite recognition, luxurious rooms, a tasty breakfast, and a beautiful rooftop and spa. While we enjoyed our stay at the hotel, what we loved most was the region, as the Black Forest (and the area around it) has so much to offer.
I intend to return to Baden-Baden in the future with Ford, because I'm sure he'd enjoy it as well. Next time I'd mix things up and stay at Brenners Park, which belongs to Oetker Collection, and which is possibly Germany's most well regarded hotel.
What do you make of Roomers Baden-Baden?