In mid-May we learned that Turkish Airlines ordered some additional Airbus A350s, which have some cool implications for the passenger experience. The airline has now taken delivery of the first of these planes, and we have a sense of the routes they'll operate.
Turkish Airlines getting six more A350s by 2023
In May 2022, Turkish Airlines announced that it decided to purchase an additional six Airbus A350-900s, which will be delivered to the airline in 2022 and 2023.
For context, Turkish Airlines had already previously ordered 25 Airbus A350s. The airline already has seven of these in its fleet, with another 18 due to be delivered. Turkish Airlines took delivery of its first A350 in late 2020, and the plan is for all A350s to be delivered by the end of 2023.
With this latest update, we should expect Turkish Airlines to have 31 A350s by the end of 2023, which helps the airline expand and renew its long haul fleet.
These Airbus A350s were intended for Aeroflot
When Turkish Airlines announced it had ordered six Airbus A350s with short delivery timelines, it was pretty clear that these were initially intended for another airline. Specifically, all of these additional A350s were intended for Aeroflot:
Aeroflot had ordered 22 Airbus A350-900s; seven of these have already been delivered, and the other 15 were supposed to be delivered by the end of 2023
With the sanctions currently in place, along with the overall situation, it seems pretty clear that Aeroflot won't be taking delivery of these planes anymore, and Airbus is looking for new buyers
So it's logical that Turkish Airlines would take over these planes, as the airline continues to look to expand
From a passenger experience standpoint, one cool thing is that these planes will feature the cabins that were intended for Aeroflot. This is pretty exciting, because Aeroflot's A350s feature an all new business class product with doors, which looks pretty nice, certainly nicer than Turkish Airlines' current A350 business class (which is the same as what's available on the 787).
So below are the cabins we can also expect on these six Turkish Airlines A350s.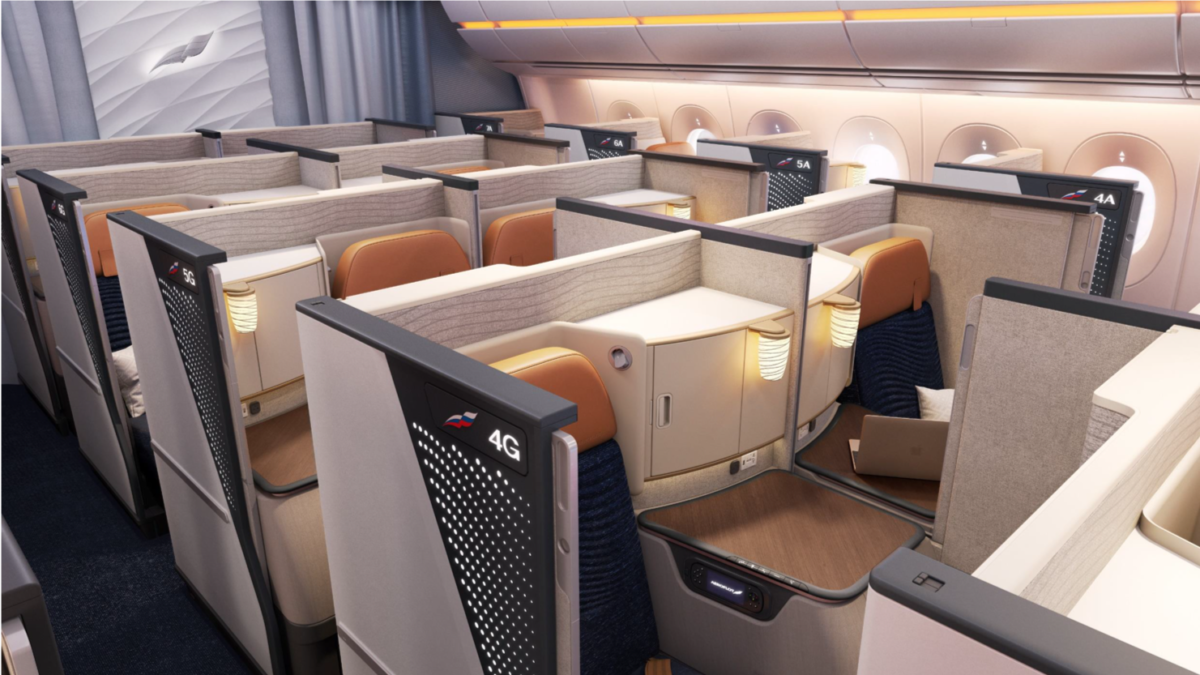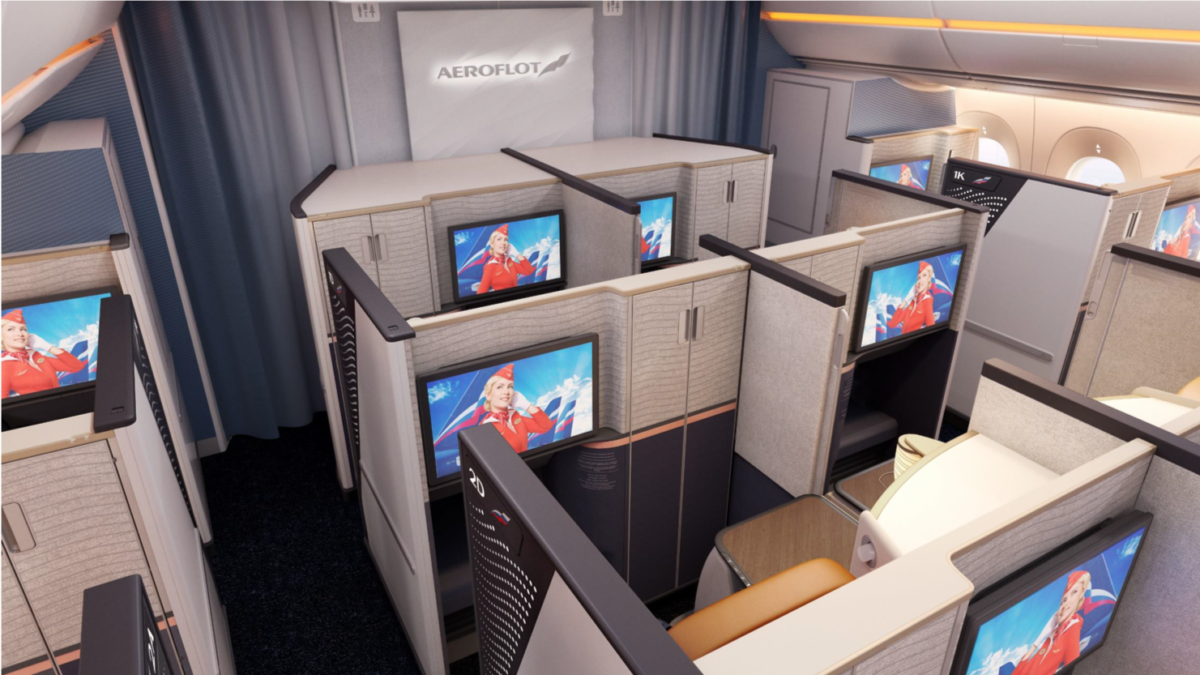 Furthermore, Aeroflot's A350s have a premium economy cabin. Turkish Airlines doesn't sell premium economy, so I'll be curious to see how Turkish Airlines assigns these seats — presumably they'll go to elite members, and/or be available for purchase.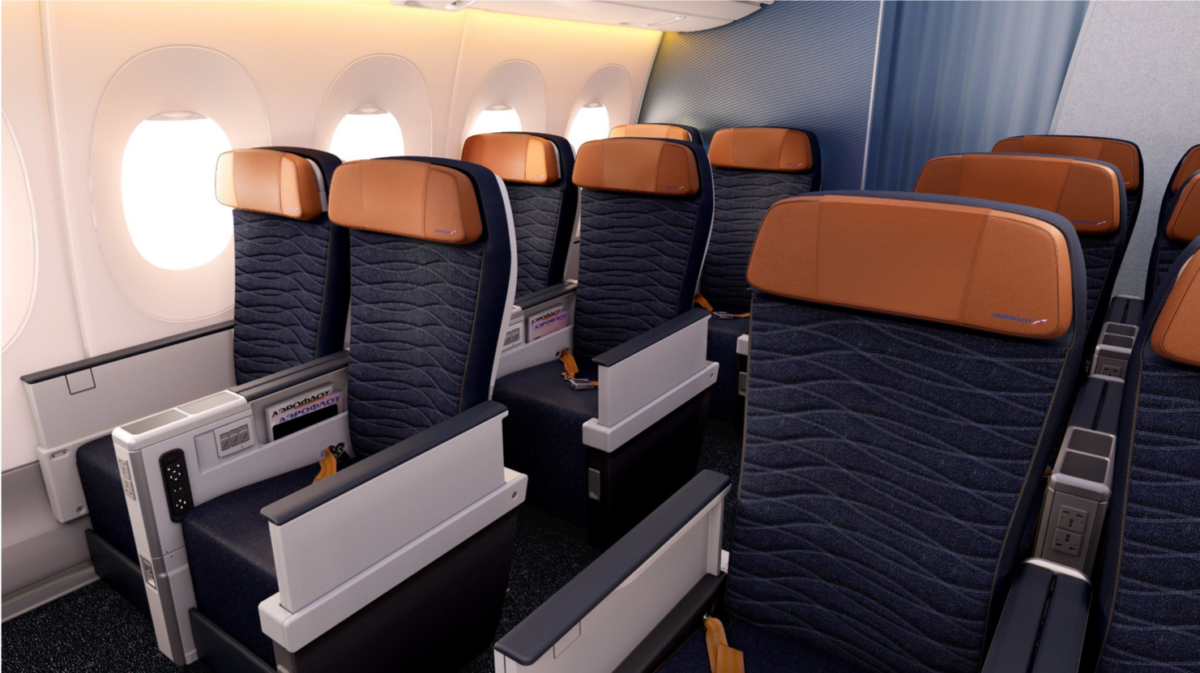 Where Turkish Airlines' Aeroflot A350s will fly
Turkish Airlines has now scheduled these special A350s for the upcoming winter season. As noted by aeroroutes.com, these planes are scheduled to operate the following routes between October 30, 2022, and March 25, 2023:
Istanbul to New York (JFK) daily
Istanbul to Cape Town (JFK) daily
Istanbul to Dubai (DXB) 2x weekly (only as of December 2, 2022)
Istanbul to Stuttgart (STR) 1x weekly
You should be able to tell whether a flight is operated by this A350 vs. a "standard" A350 based on the seatmap. In business class, the Aeroflot configuration has a total of 28 seats spread across seven rows, while the standard configuration has a total of 32 seats spread across eight rows.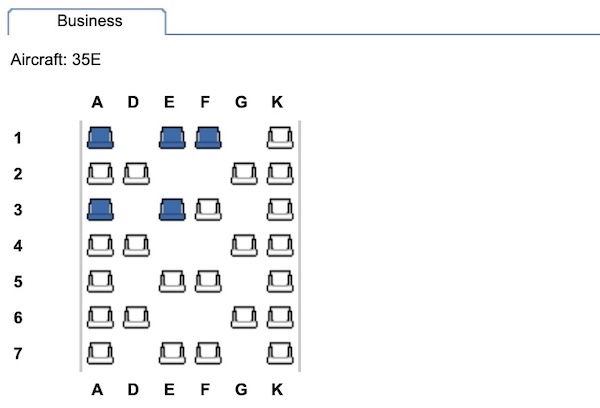 In economy class, the Aeroflot configuration first has a total of 24 premium economy seats that are spread across three rows in a 2-4-2 configuration, while the standard configuration goes straight to a 3-3-3 layout.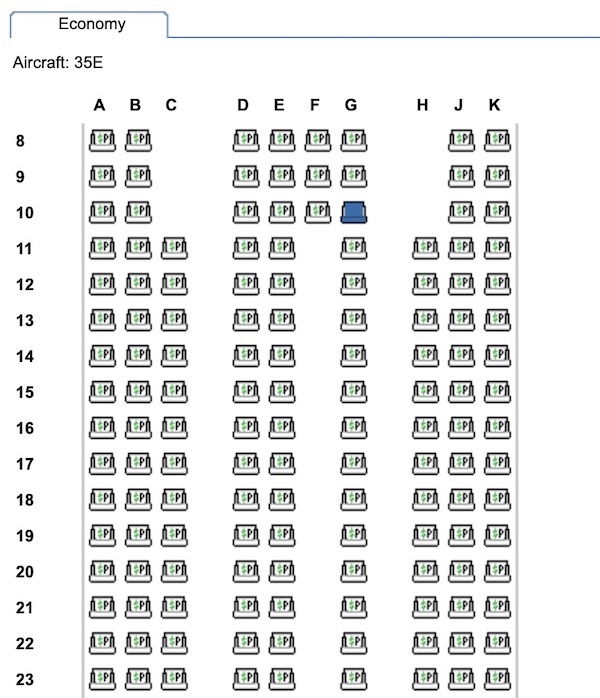 I'm certainly looking forward to giving these special Aeroflot A350s a try. I'd just note that the schedule remains highly subject to change, as Turkish is notorious for swapping planes. So I wouldn't consider these planned routes to be a sure bet.
These A350s will enter service before late October (still during the summer season), but they won't be operating any long haul routes, and schedules seem highly inconsistent.
Bottom line
Turkish Airlines has started taking delivery of its first of six additional Airbus A350s, bringing the carrier's order total to 31 jets. These jets were intended for Aeroflot, and should join Turkish Airlines' fleet in the coming weeks and months.
It's pretty exciting to see Turkish Airlines taking delivery of these planes, given that they feature a much improved business class product, including doors. The planes also have premium economy, but that likely won't be sold.
The plan is for these planes to be flying to New York and Cape Town as of later this year, though we'll see if that sticks.
What do you make of Turkish Airlines acquiring ex-Aeroflot A350s?