For the outbound portion of the trip to Germany with my parents, I flew Turkish Airlines' Airbus A350 business class from Chicago to Istanbul, and then connected to Turkish Airlines' Airbus A330 business class from Istanbul to Frankfurt. In this installment I wanted to review that second segment.
Turkish Airlines has several A330 configurations, and in this case the flight was operated by one of the carrier's regionally configured A330s. It was my first time flying one of these planes. While the hard product isn't as good as you'll find on Turkish's other A330s, it was still an excellent experience, with friendly service and good food. Talk about quite a contrast to what you'd otherwise get on a short haul European flight.
With that out of the way, let's get into the review…
How I booked my Turkish business class ticket
Turkish Airlines' Miles&Smiles frequent flyer program has some sweet spot redemptions, so I booked my ticket through that program. Specifically, I managed to book the following in business class for 45,000 Turkish Miles&Smiles miles plus $285.80 in taxes and fees (including some carrier imposed surcharges):
8/09 TK186 Chicago to Istanbul departing 11:35AM arriving 5:50AM (+1 day)
8/10 TK1591 Istanbul to Frankfurt departing 11:40AM arriving 1:50PM
This has to be one of the best sweet spot award redemptions out there, as you can fly Turkish Airlines from anywhere in the United States to anywhere in Europe for that amount, assuming you can find saver level award space.
Keep in mind that Turkish Miles&Smiles is transfer partners with both Capital One and Citi ThankYou, so there are lots of ways to accrue these points. Lastly, since it's something people are often curious about, I booked this ticket four days before departure, directly on Turkish Airlines' website.
Turkish business class lounge & boarding
I've reviewed the Turkish Airlines Lounge Istanbul before, and not a whole lot has changed, so I won't review it again this time around. The lounge's furniture could use a refresh and is showing some wear and tear, but the lounge has a good selection of food, and several cool amenities.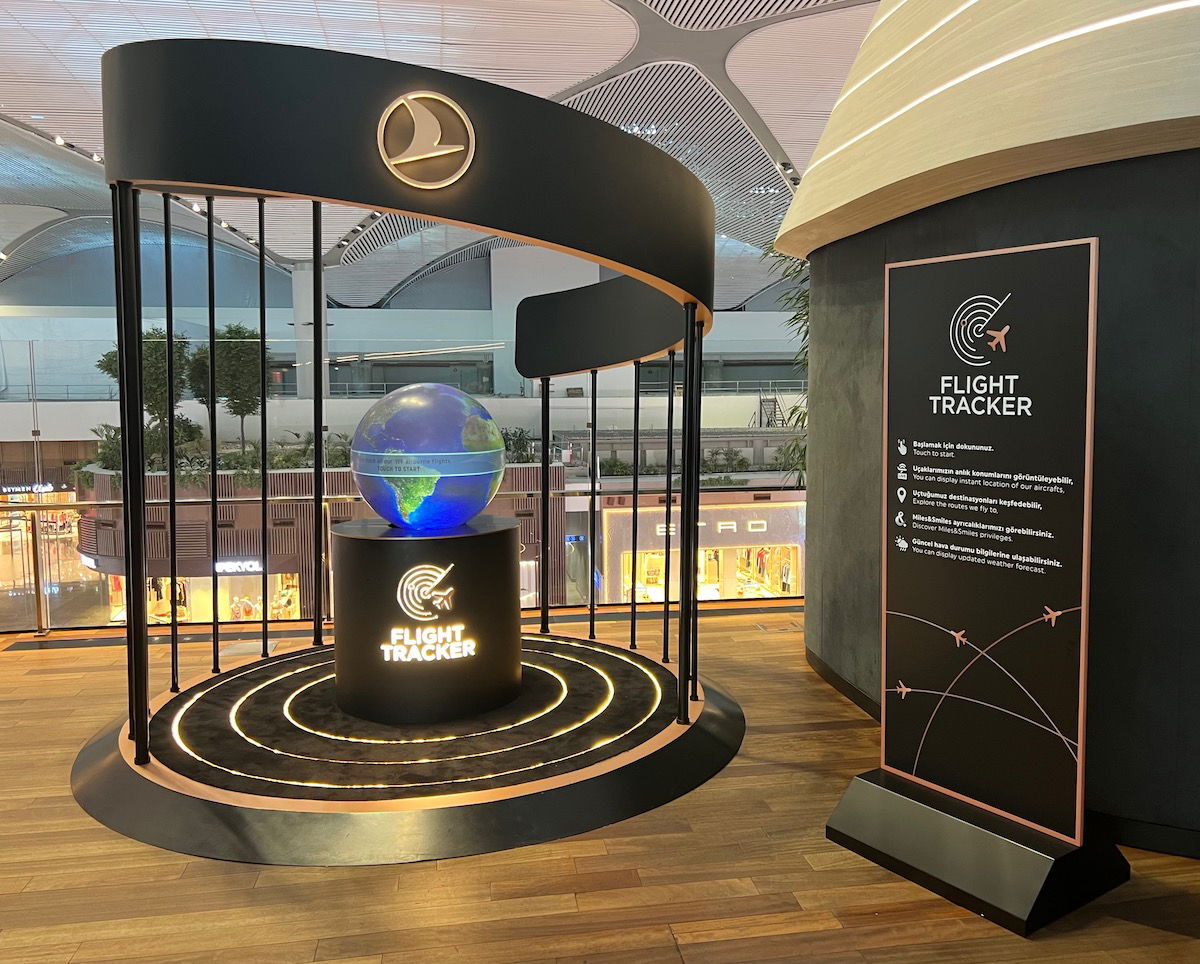 During my layover, I took the opportunity to get some steps in, and Istanbul Airport has no shortage of walking opportunities. 😉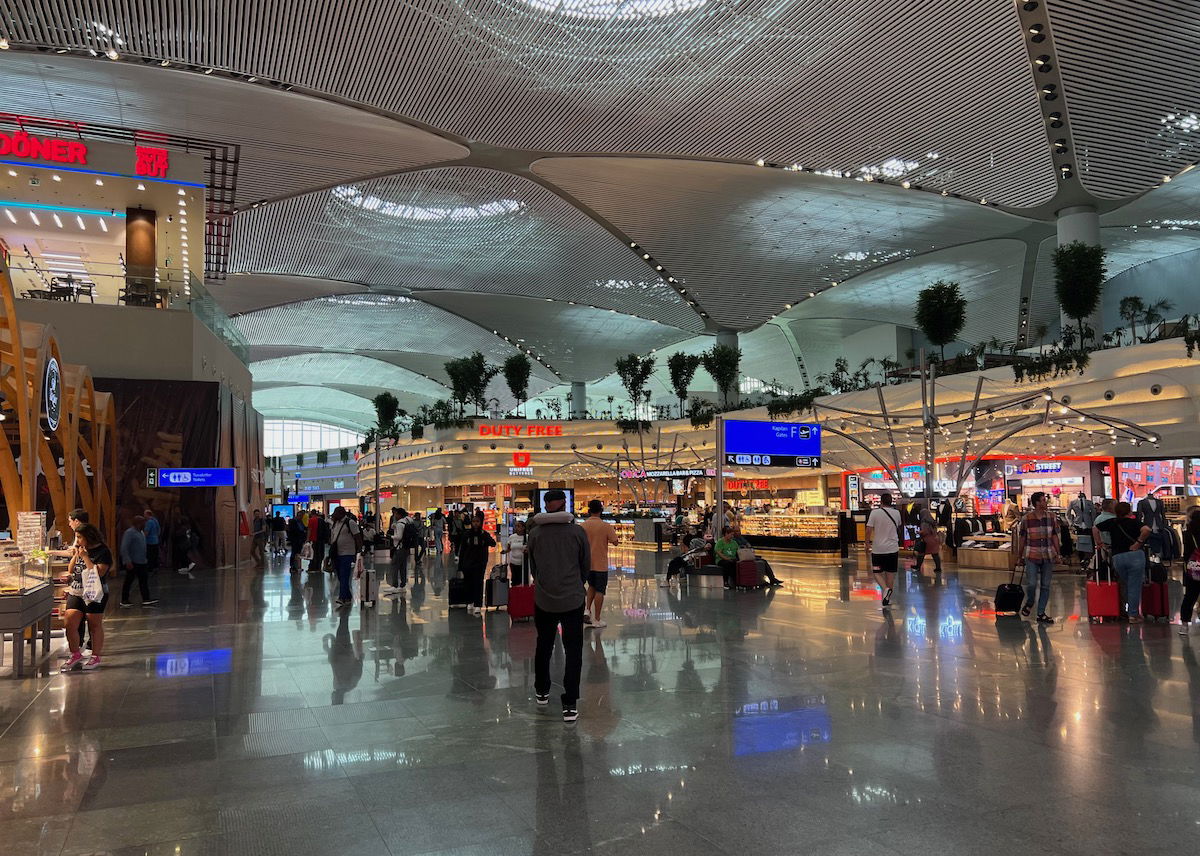 My flight to Frankfurt was departing from gate F16. On the plus side, that was an actual gate with a jet bridge, rather than a remote stand. It was quite a haul from the lounge, but I didn't mind that one bit.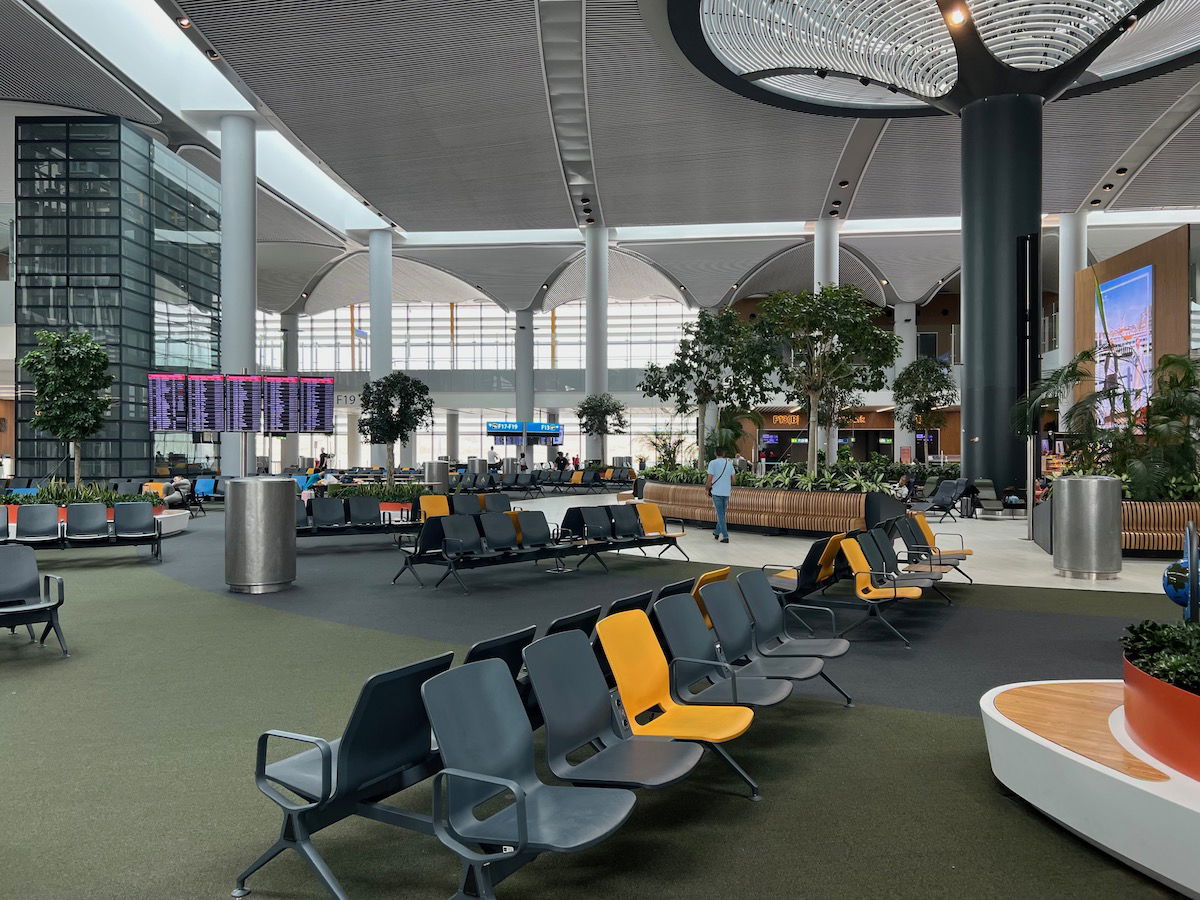 I feel like Turkish Airlines intentionally publishes unrealistically early boarding times, as my boarding pass indicated that boarding would start at 10:40AM, one hour before departure. In reality, boarding started at 11AM, with business class being invited to board first. I suspect that's simply to make sure that people leave plenty of time to get to the gate, given how big the airport is.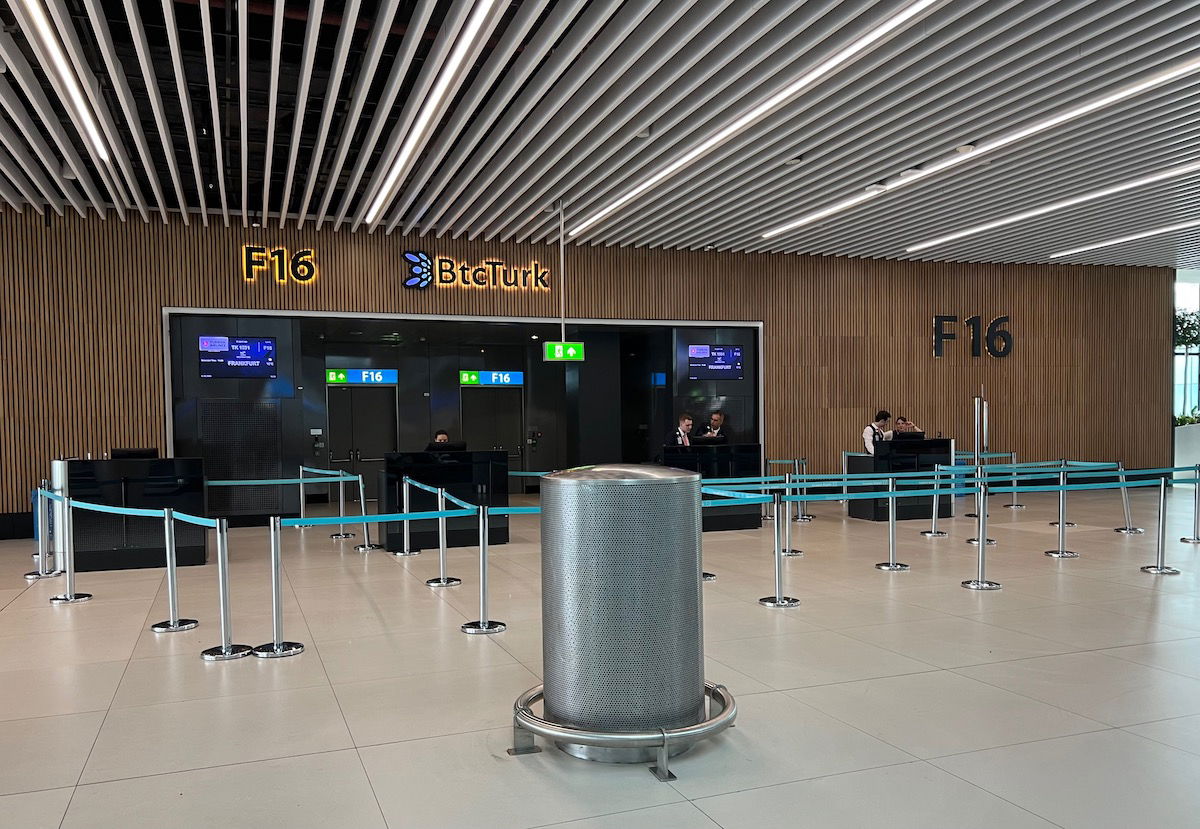 Turkish A330 business class cabin & seats
Both doors were being used to board this flight, so I boarded through the forward door, which was exclusively for business class passengers. At the door I was greeted by the very friendly cabin manager and business class flight attendant, who directed me to my seat.
Before I talk about the cabin, let me note that I was on one of Turkish Airlines' five A330-300s with this configuration. The airline acquired all of these from Japan's Skymark Airlines, for the brief period where the airline flew A330s. All these planes were delivered to Skymark Airlines in 2014 and 2015, and were then transfered to Turkish Airlines in 2017. It's safe to say that experiment didn't work out so well for the airline.
Interestingly the business class seats weren't from Skymark Airlines, so Turkish Airlines chose to install this particular product. I wonder if these were previously on some other Turkish jets — does anyone know?
These planes are primarily used for fairly short flights from Istanbul, and you can tell you're on one of these planes based on the layout, as the business class cabin has seven rows.
Anyway, the business class cabin on these A330s consists of a total of 40 seats, spread across seven rows in a 2-2-2 configuration (the right side of the cabin only has six rows, which is why there aren't 42 seats).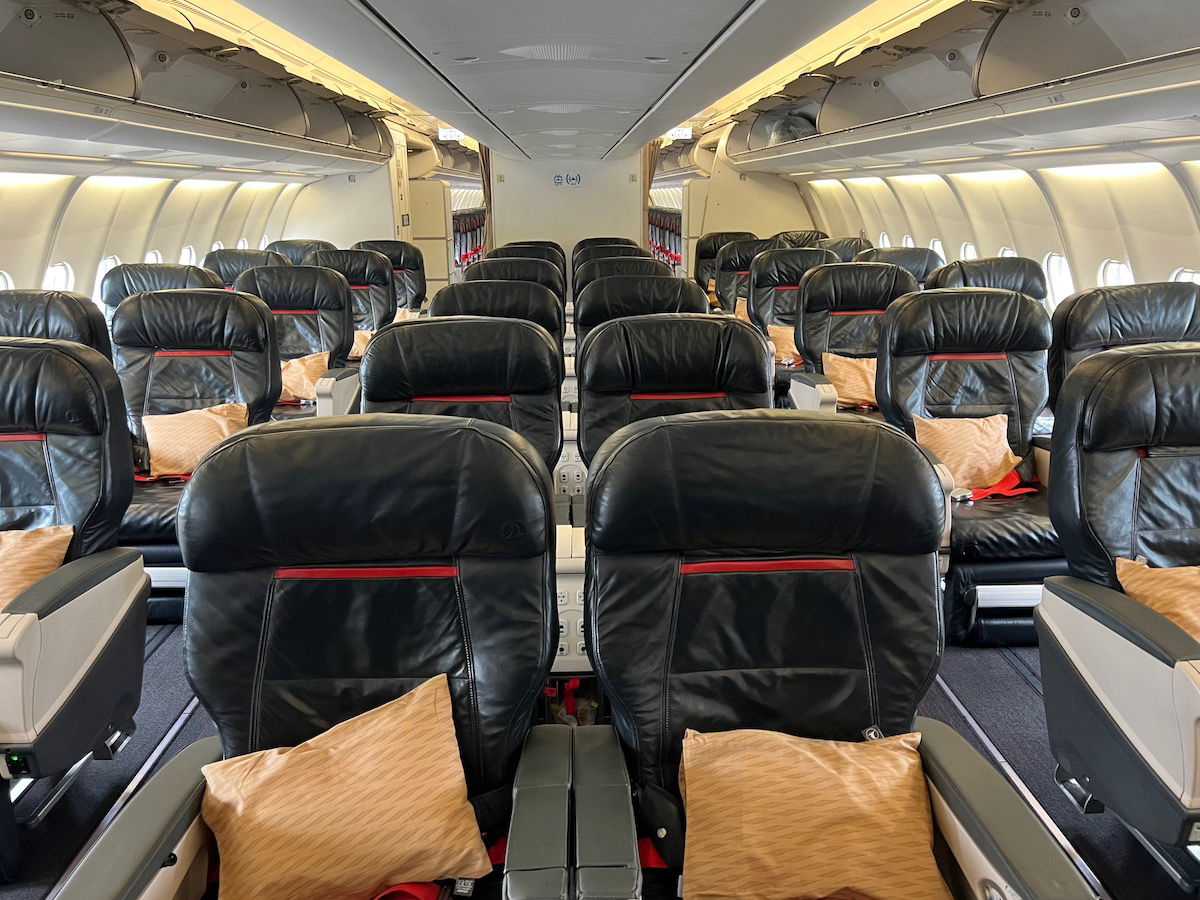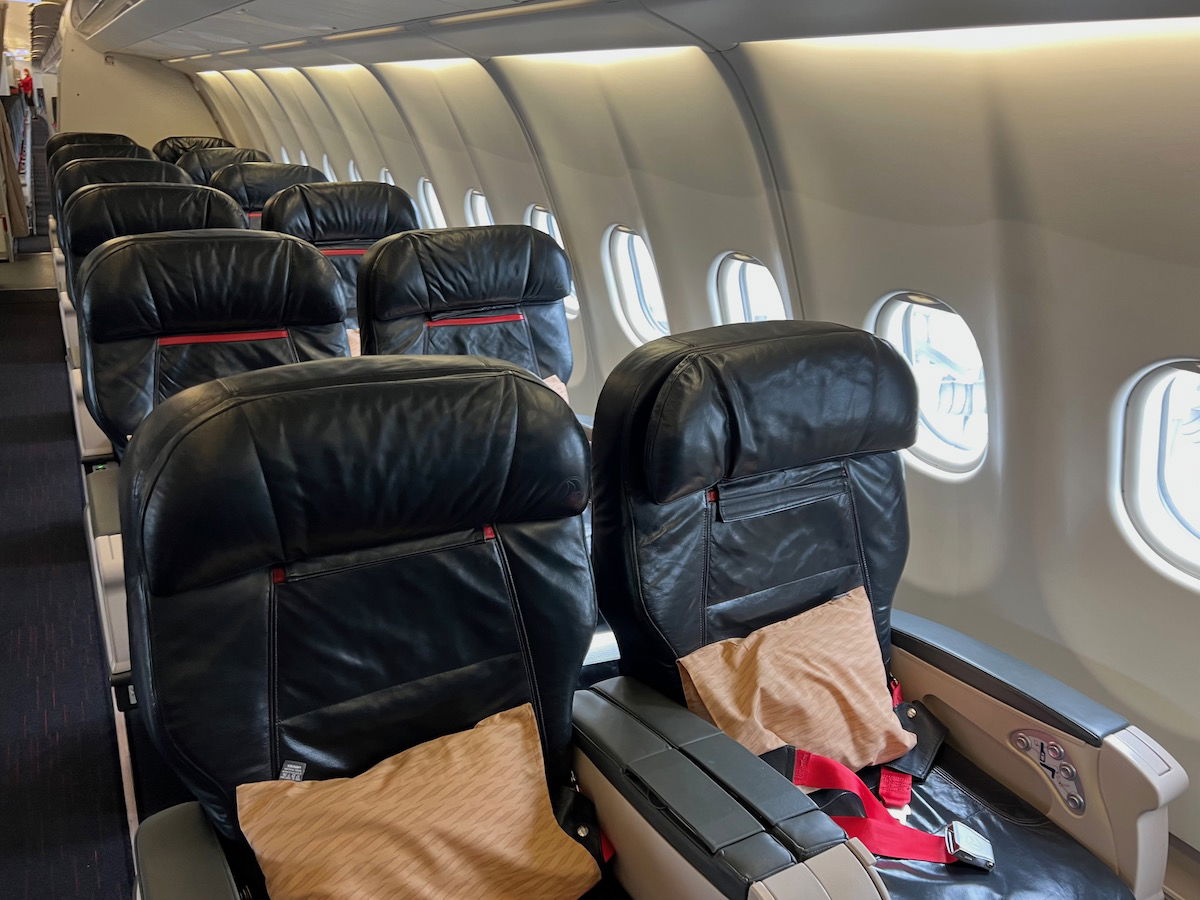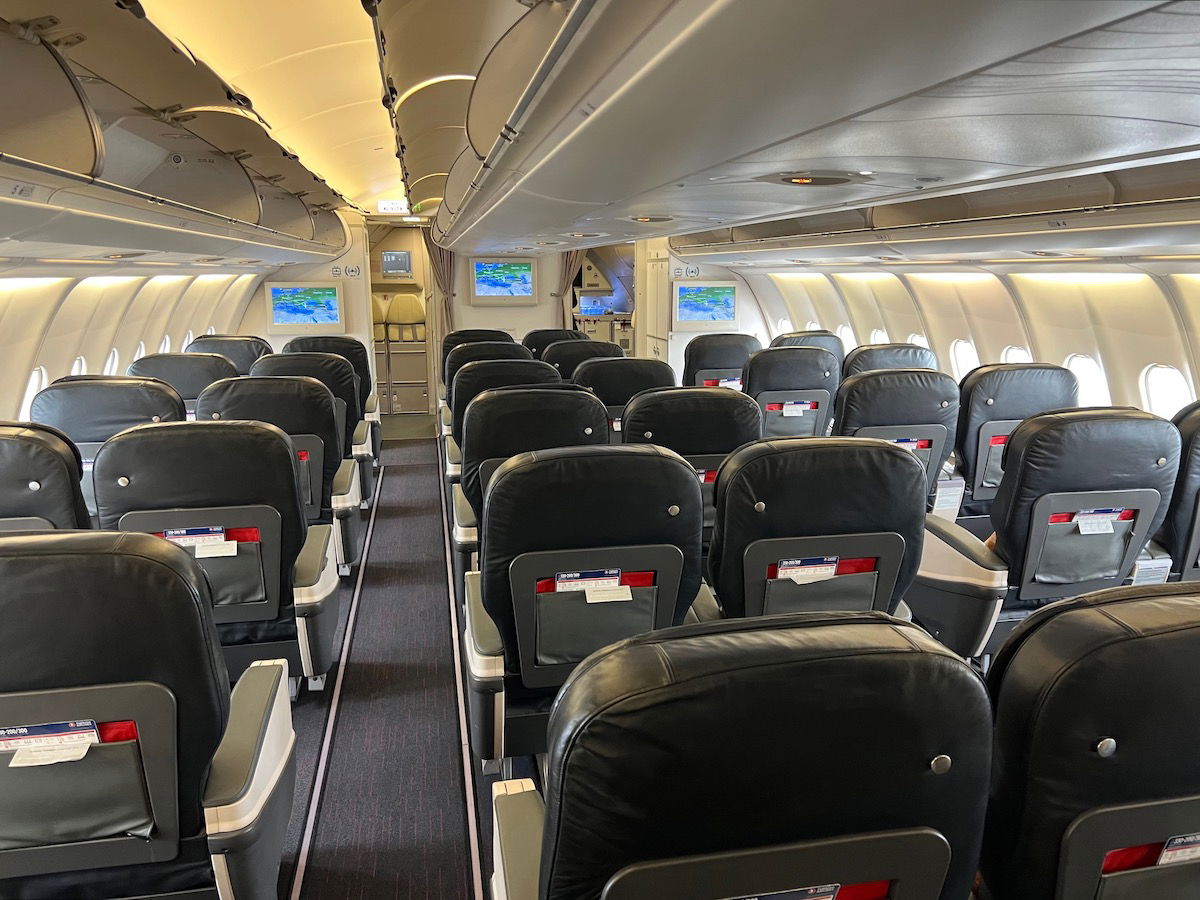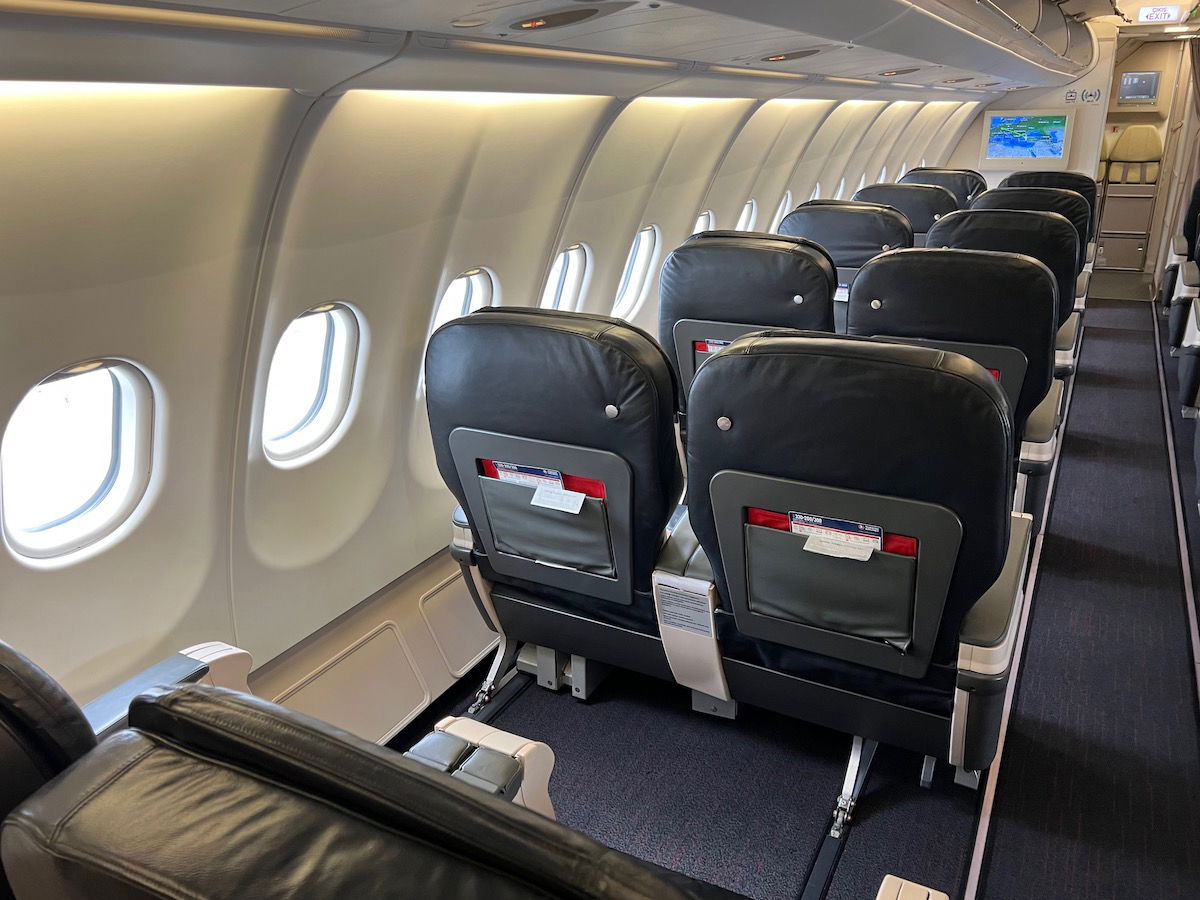 I assigned myself seat 6K, the window seat in the last row on the left.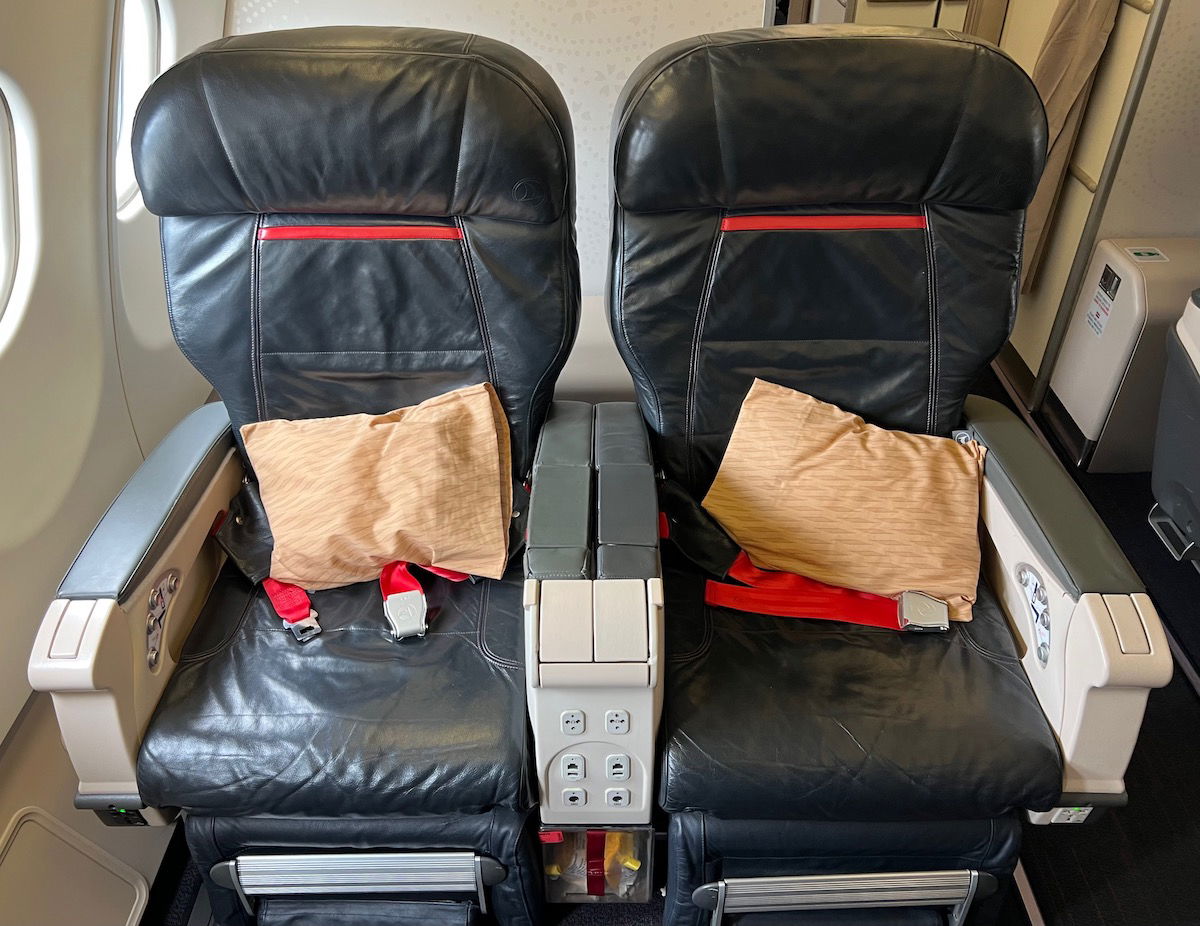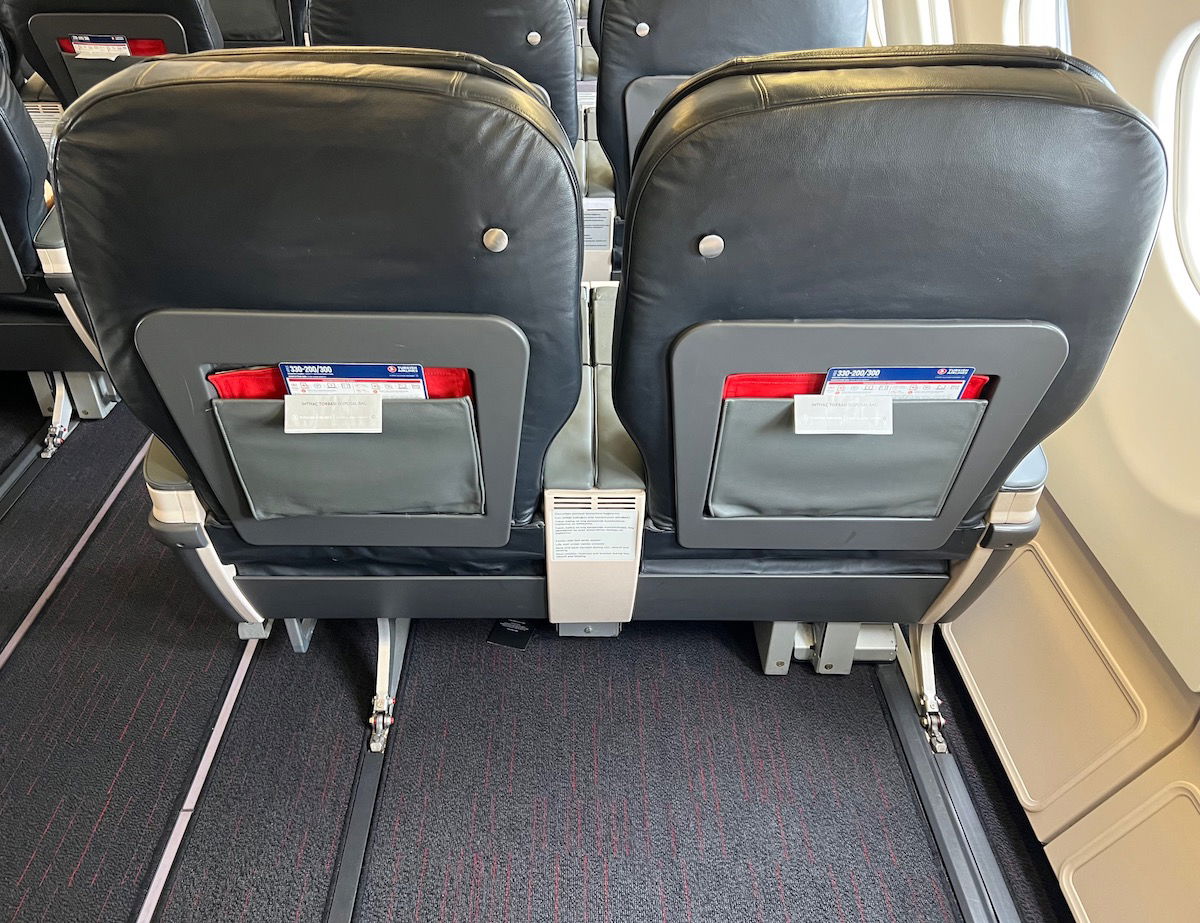 As you can see, seat pitch in these seats is excellent, at 52″. The seats have way more legroom than you'd find on a typical domestic first class flight within the United States.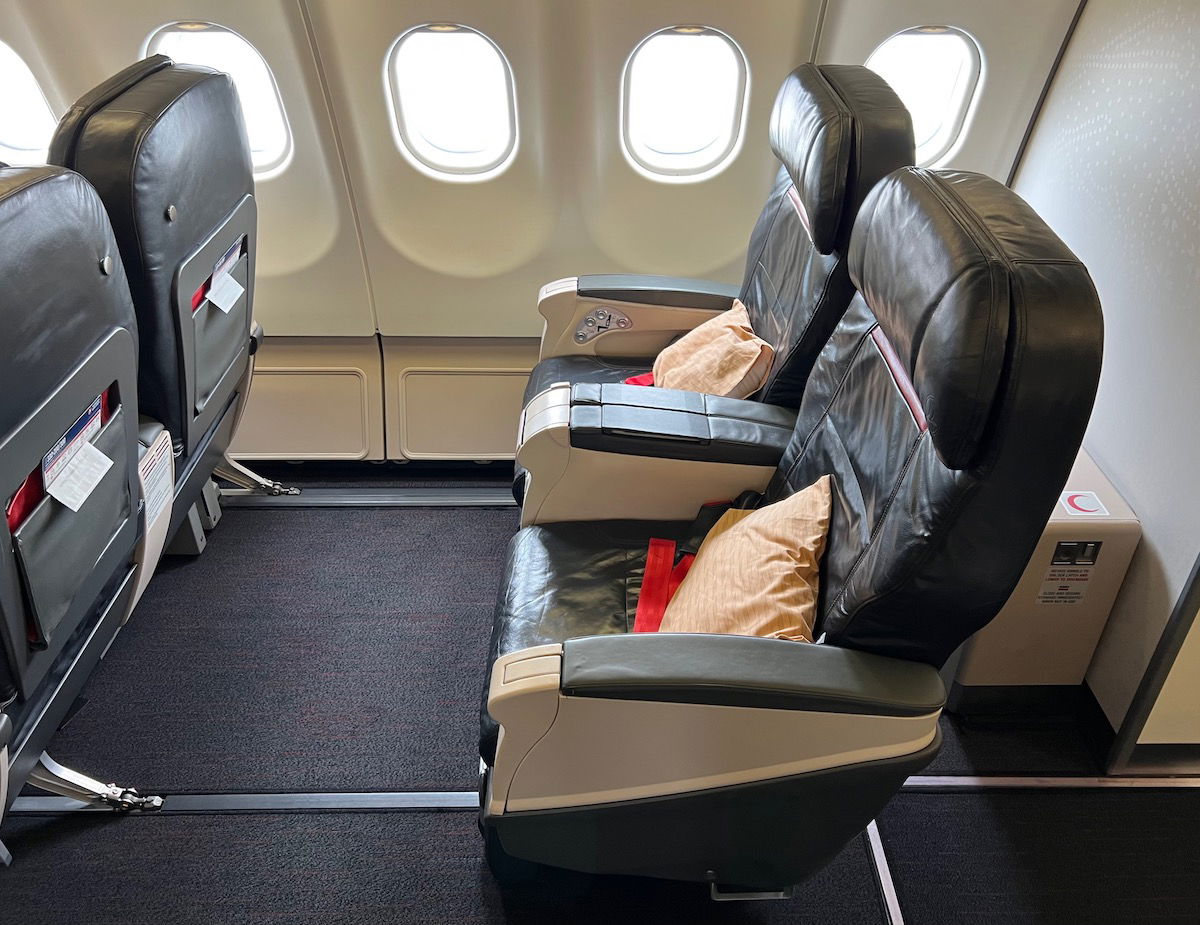 I quite like how the seats are staggered, so the pairs of center seats aren't immediately next to the pairs of window seats.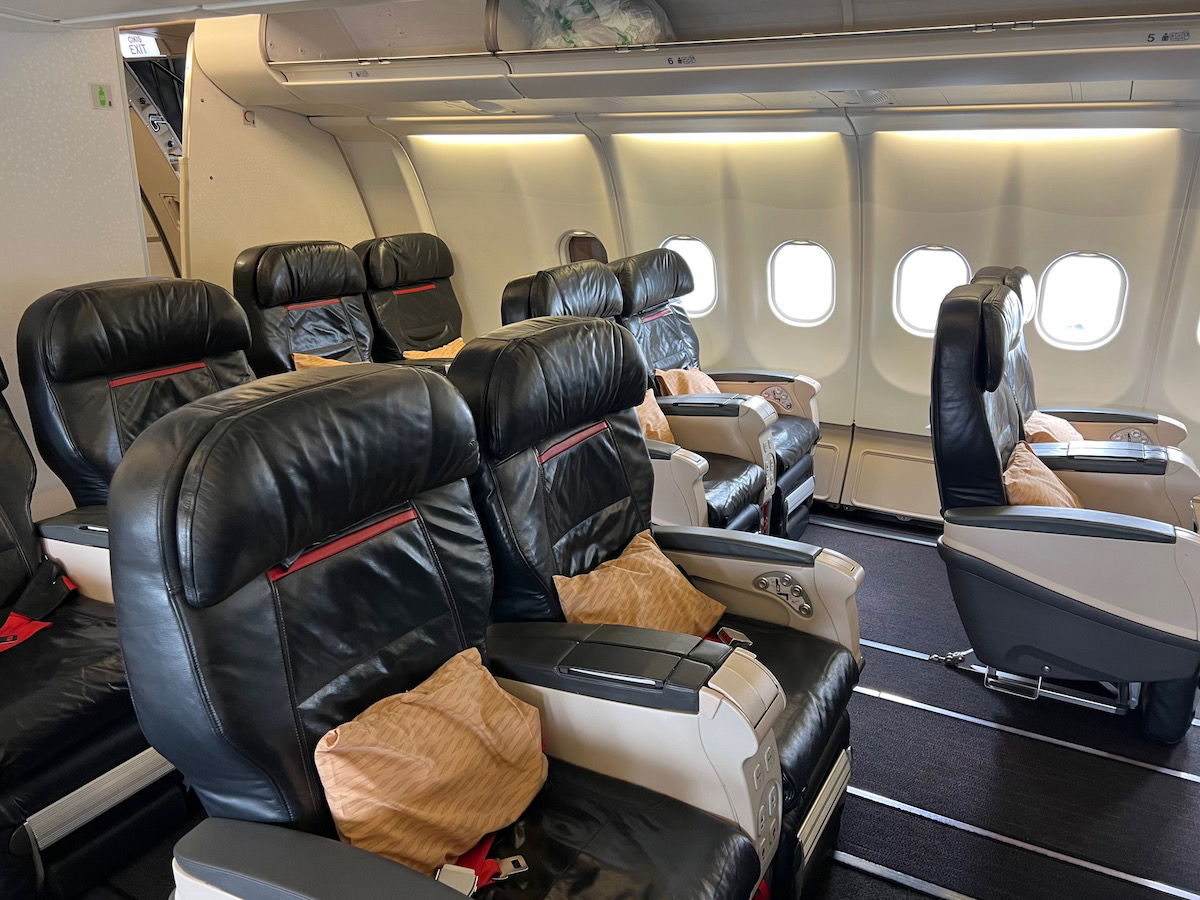 As far as the seat features go, there was a tray table that could be extended out from the side armrest, and which rested on the center armrest, to give it a bit of stability.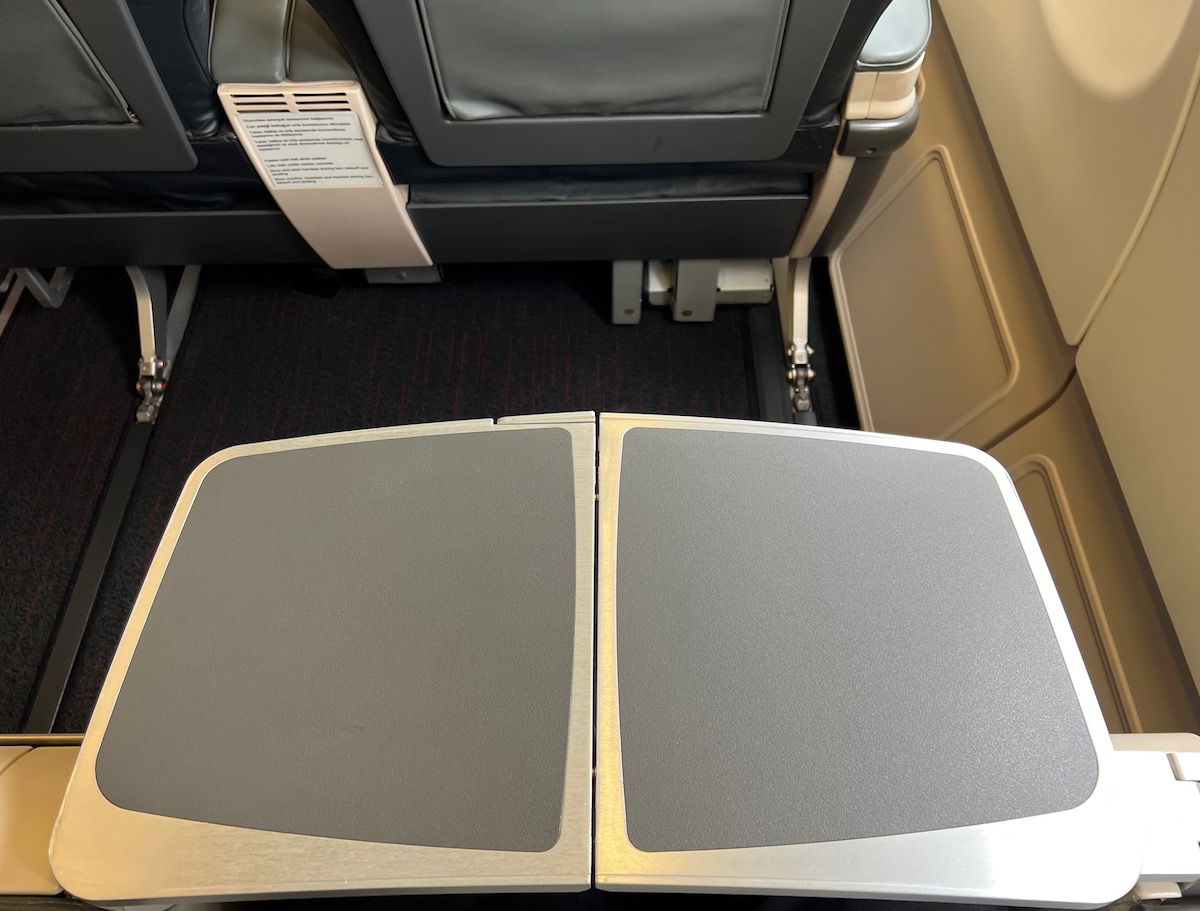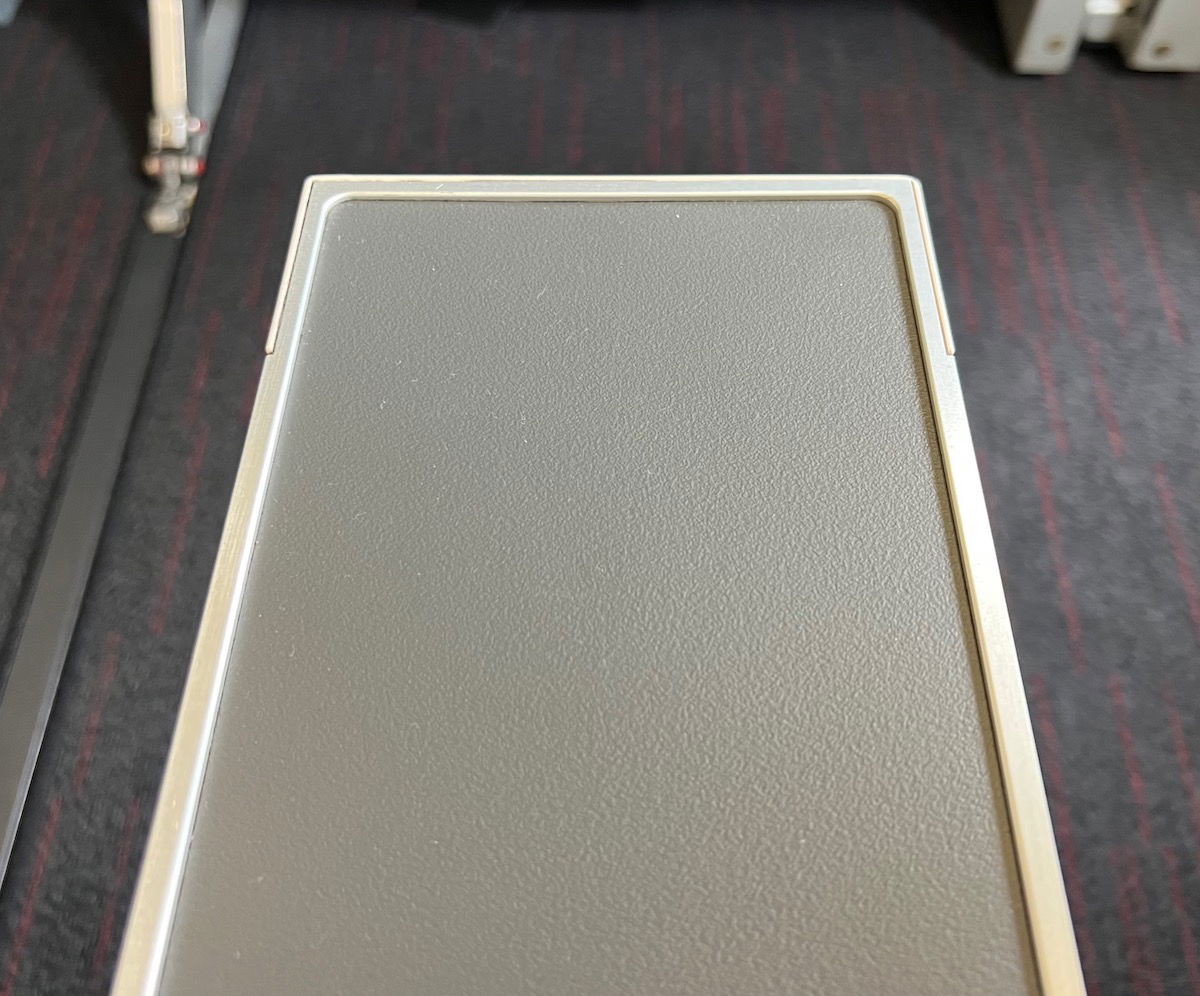 The seat controls were on the side of the seat, and were rather old fashioned, given that this isn't a particularly old product (at least for these planes). I'm almost surprised there was no ashtray!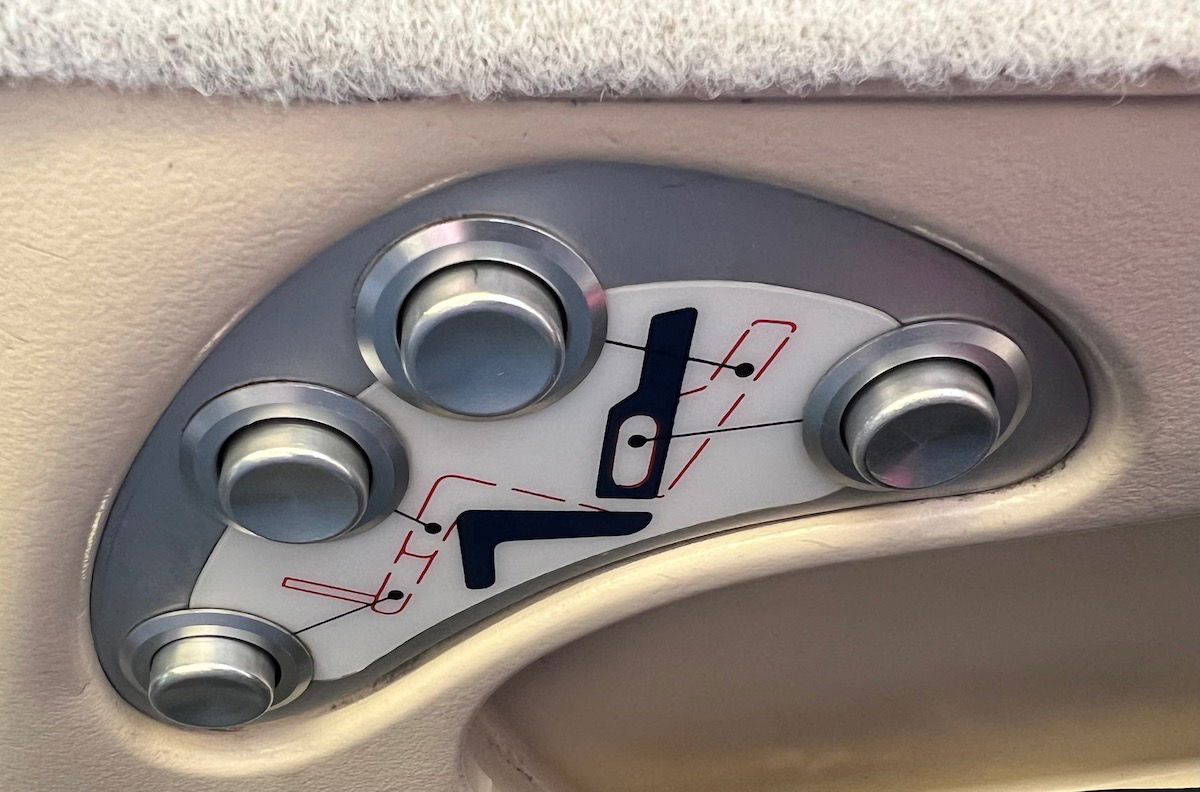 While seat pitch is impressive, the actual recline was fairly limited. The seat did have a leg rest, though, which helped with getting comfortable.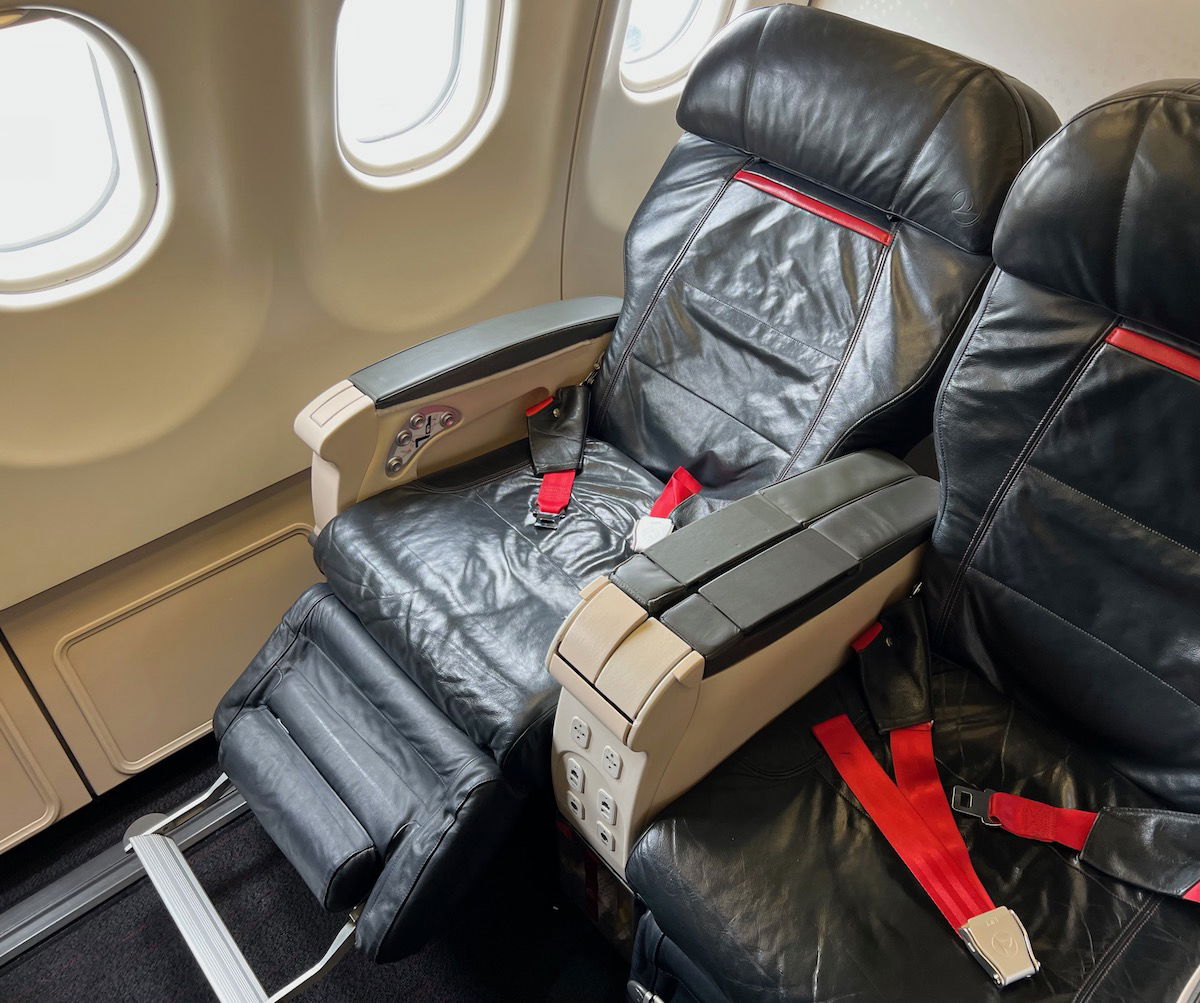 The center console contained the headphone jacks and USB-A outlets.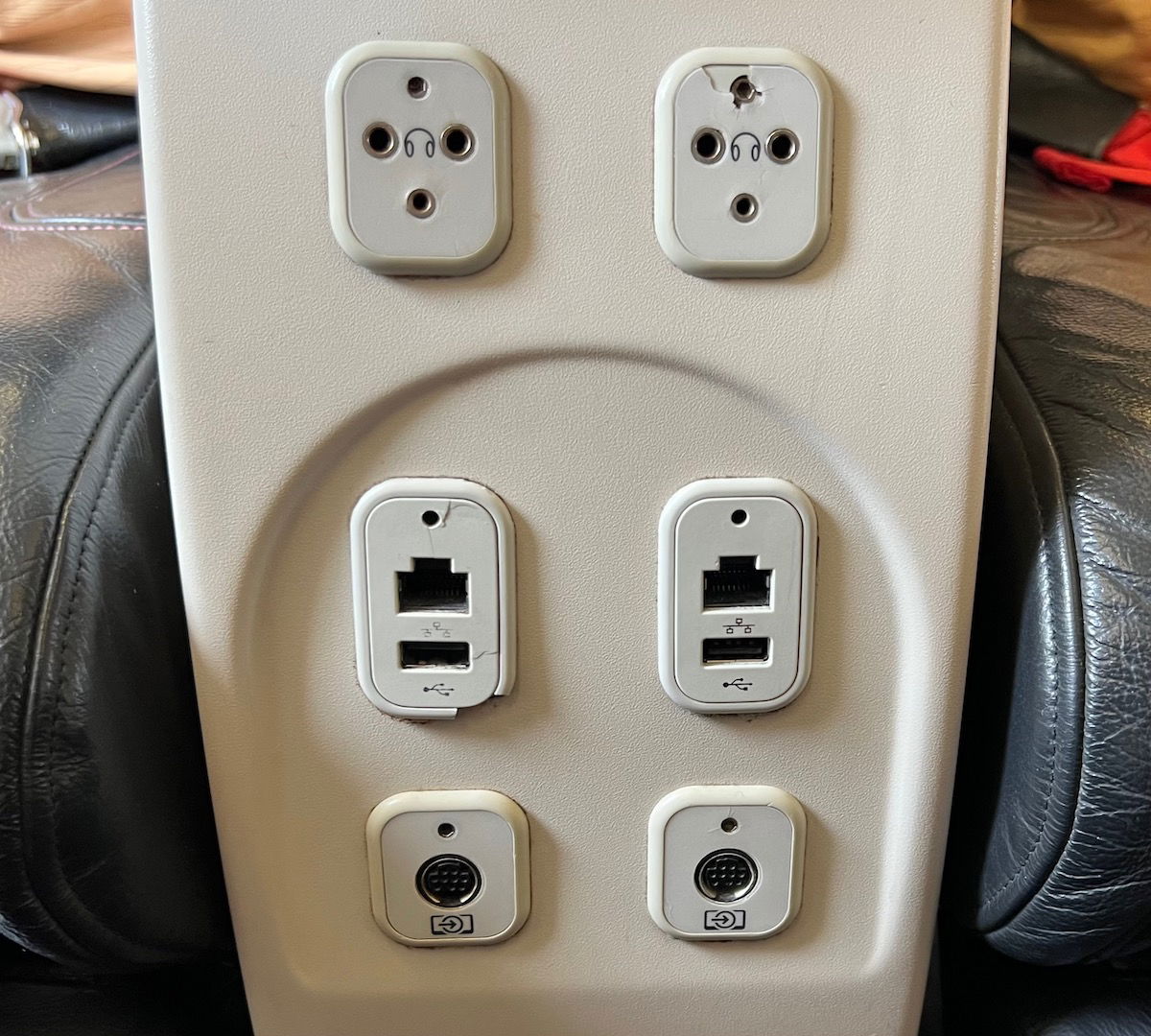 Then the far armrest had the AC power outlets.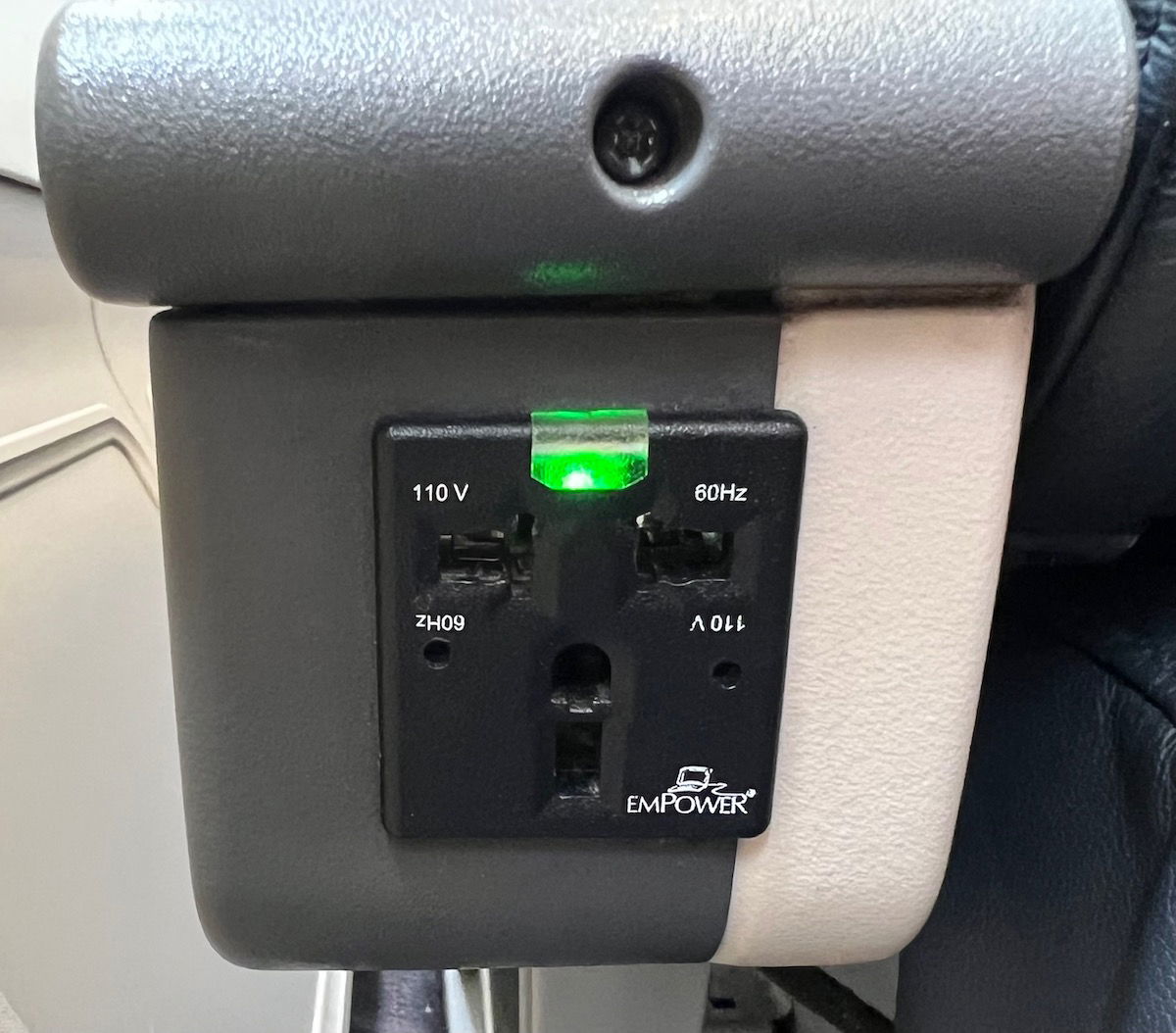 The entertainment monitor folded out from the center armrest, and was super old fashioned, with quite a bit of glare.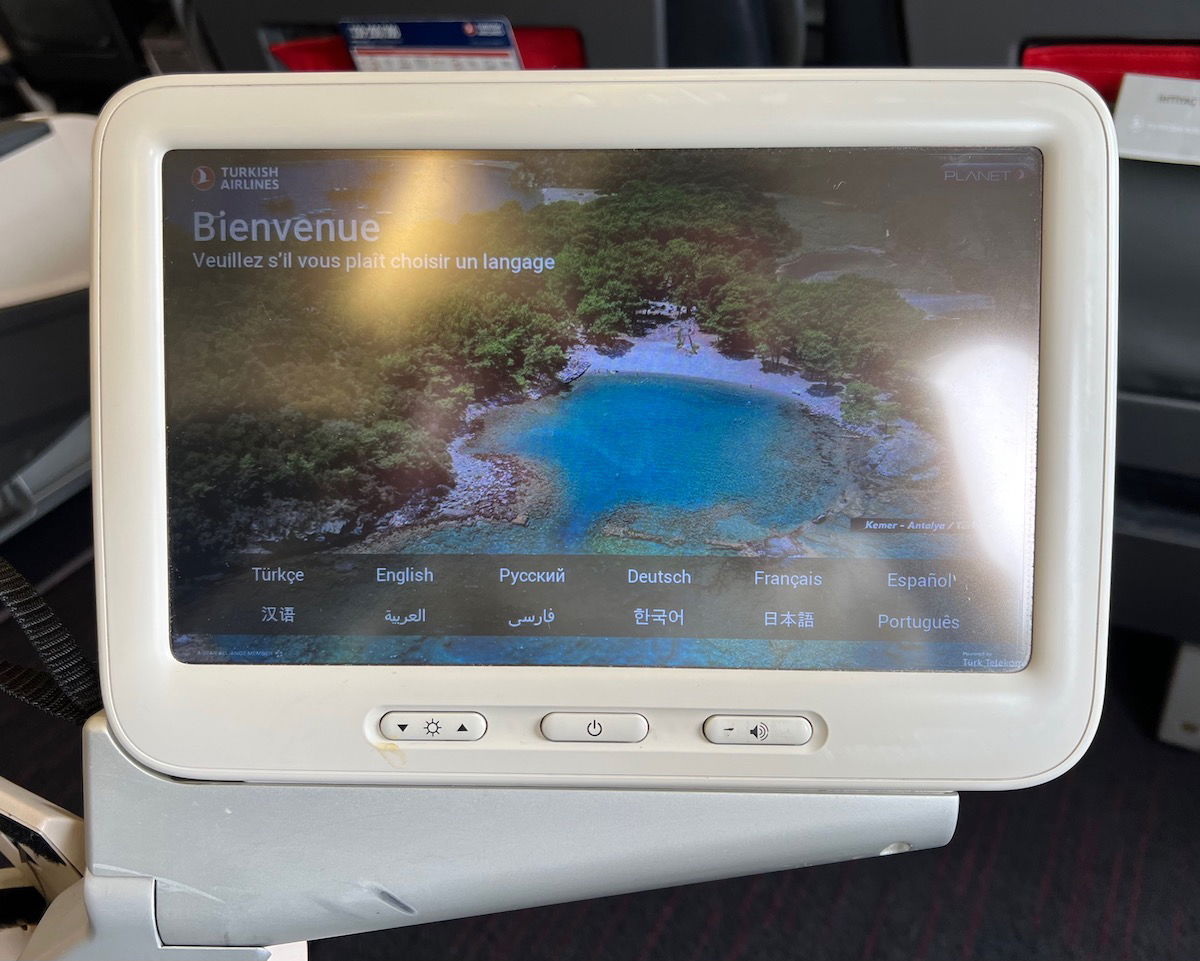 Unfortunately the overhead consoles didn't have individual air nozzles, but rather just had reading lights.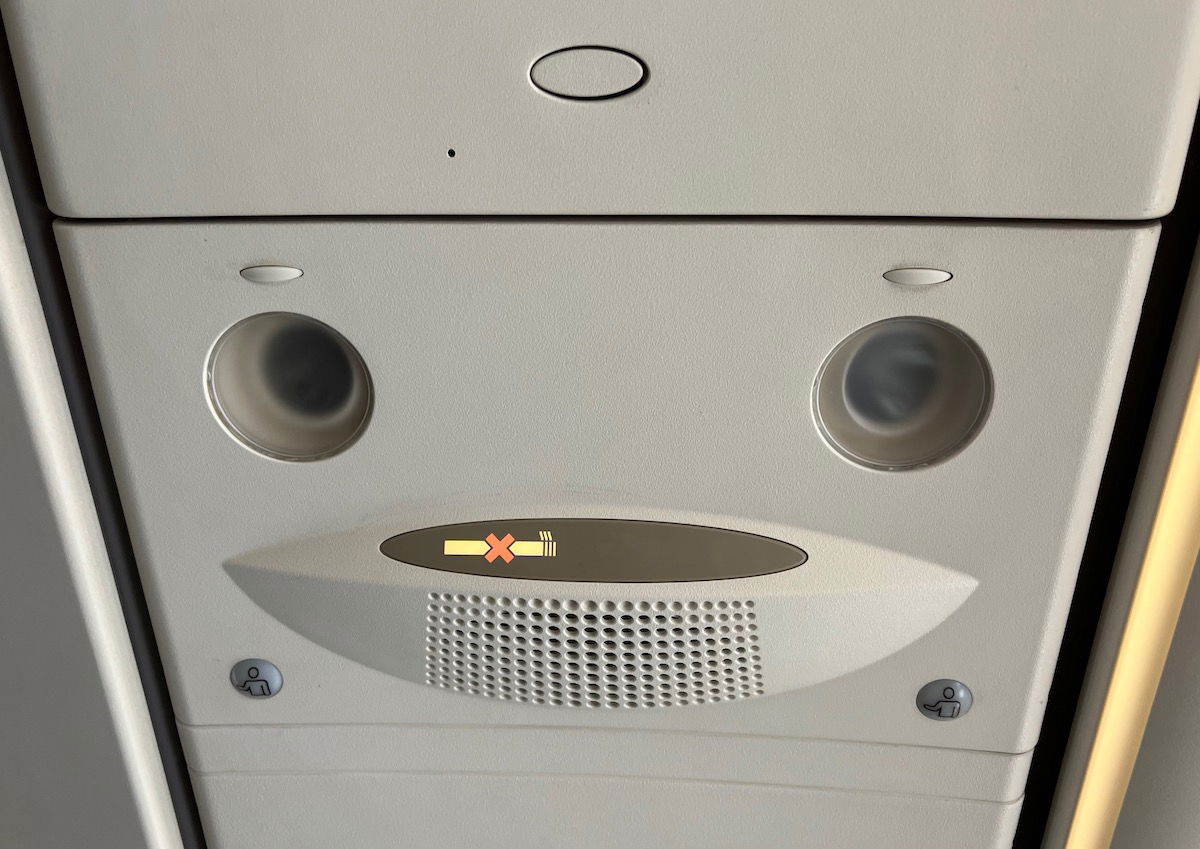 While this is Turkish's weakest wide body business class product, it still blows away the competition. Virtually all European airlines serving Istanbul use their intra-Europe aircraft, which just have economy seats with blocked middles in business class. This is in a completely different league.
Turkish business class amenities
Shortly after settling in, the business class flight attendant, Bahadir, introduced himself to me. He couldn't have been more professional, and perfectly exemplified Turkish hospitality.
Oddly not a single other business class passenger boarded for nearly 30 minutes. It was very strange, as I guess all the other passengers had tight connections, underestimated how far the gate was from the lounge, or something. Therefore I spent some time talking to Bahadir, since he didn't have a whole lot else going on.
He offered the choice of lemon-mint juice, orange juice, raspberry juice, or water. I selected the raspberry juice, and was also offered a glass of champagne, which I gladly accepted, along with a package of hazelnuts.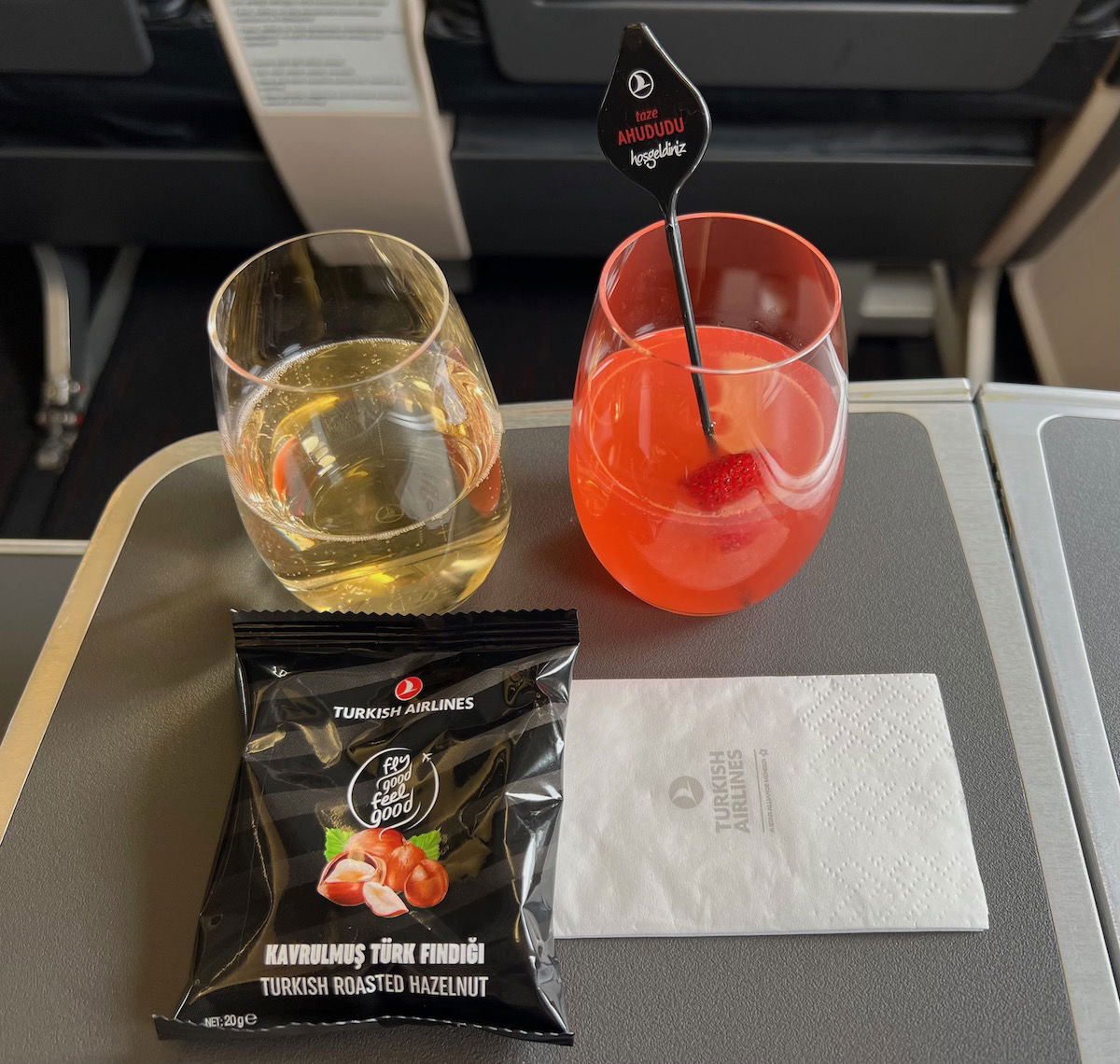 I was also presented with a pair of noise canceling headphones. They weren't as high quality as the ones on the long haul flight, but were still decent.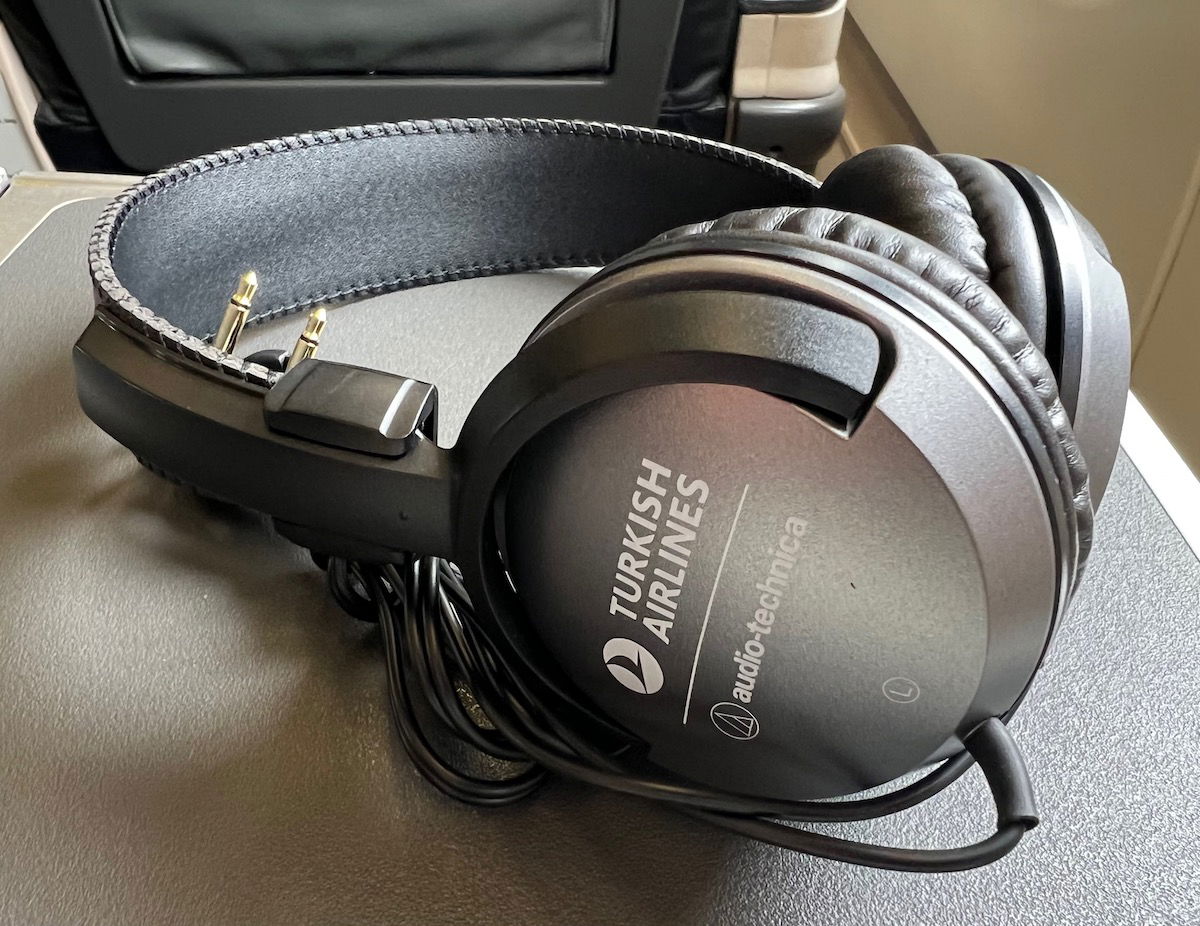 There was also a pillow waiting at each seat, and then I requested a blanket as well.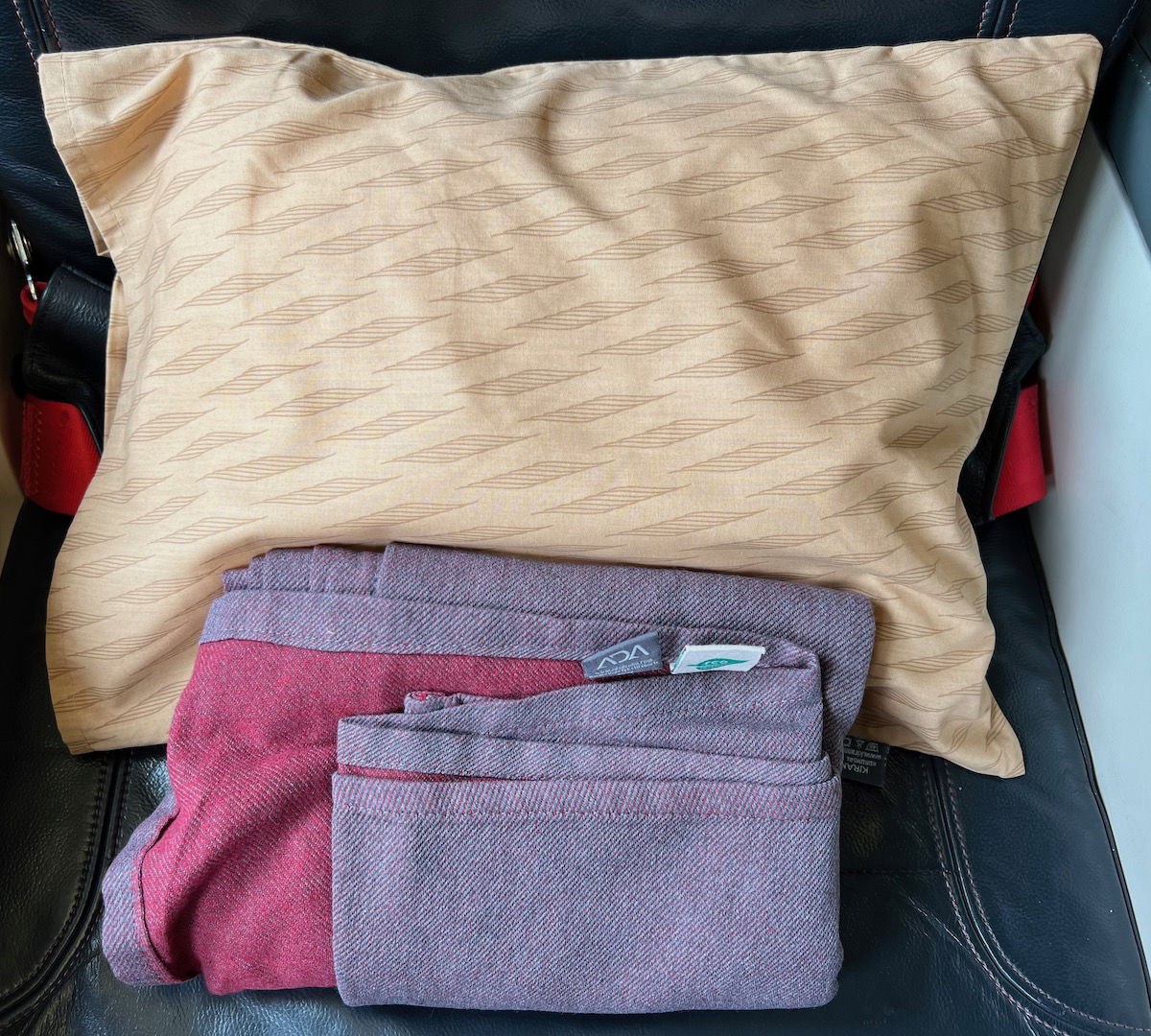 I was also offered the menu for the flight.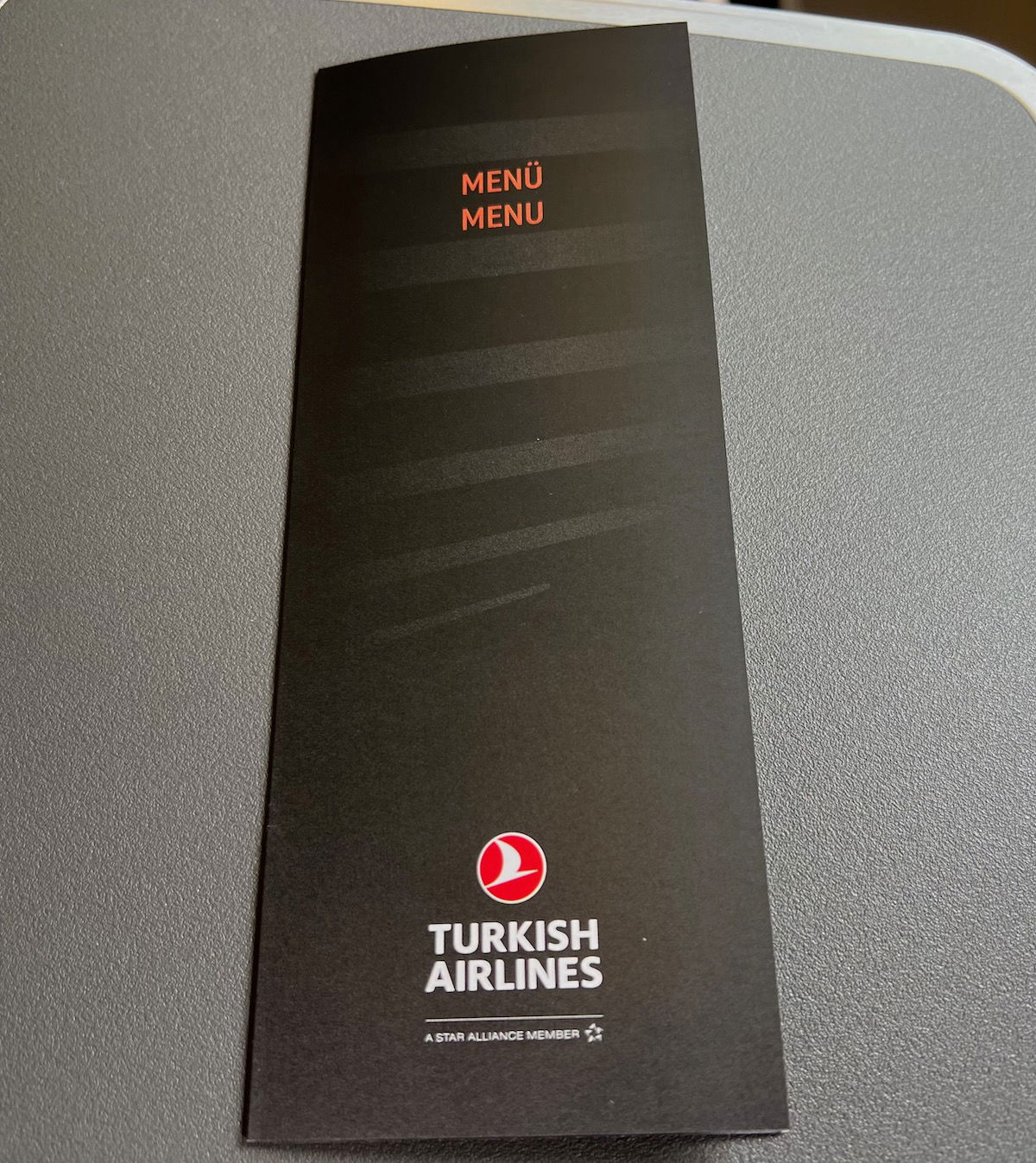 Turkish A330 business class entertainment & Wi-Fi
While the entertainment screen in business class wasn't nearly as good as on other aircraft, the selection was still extensive. There were over 400 movies, over 1,100 TV shows, games, and several live TV options.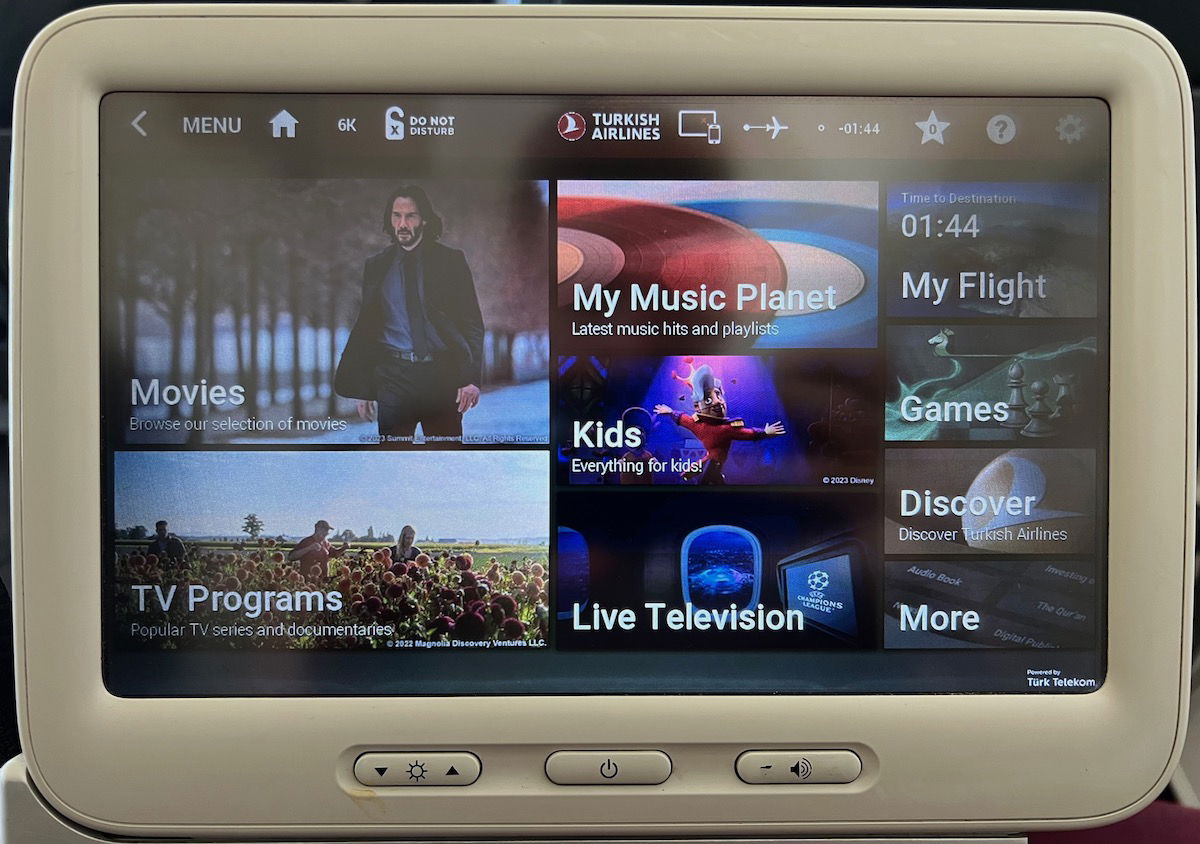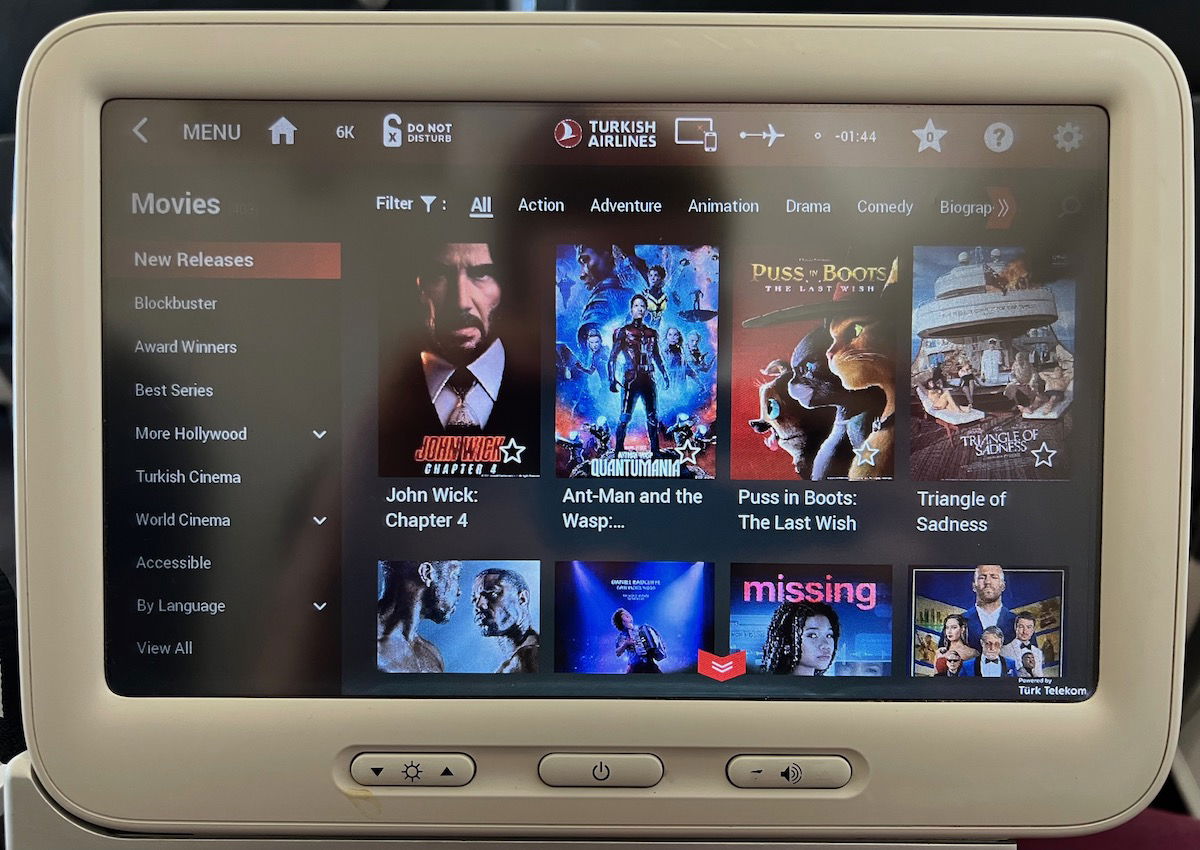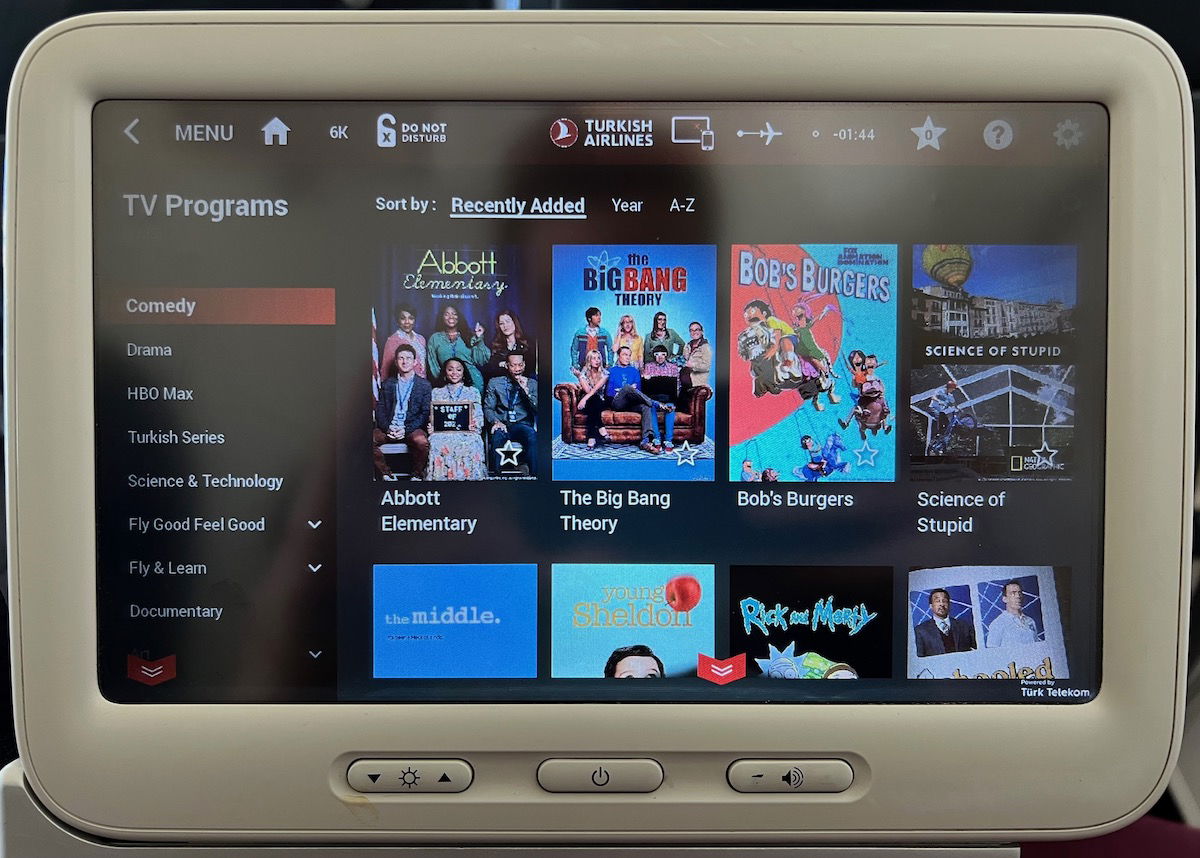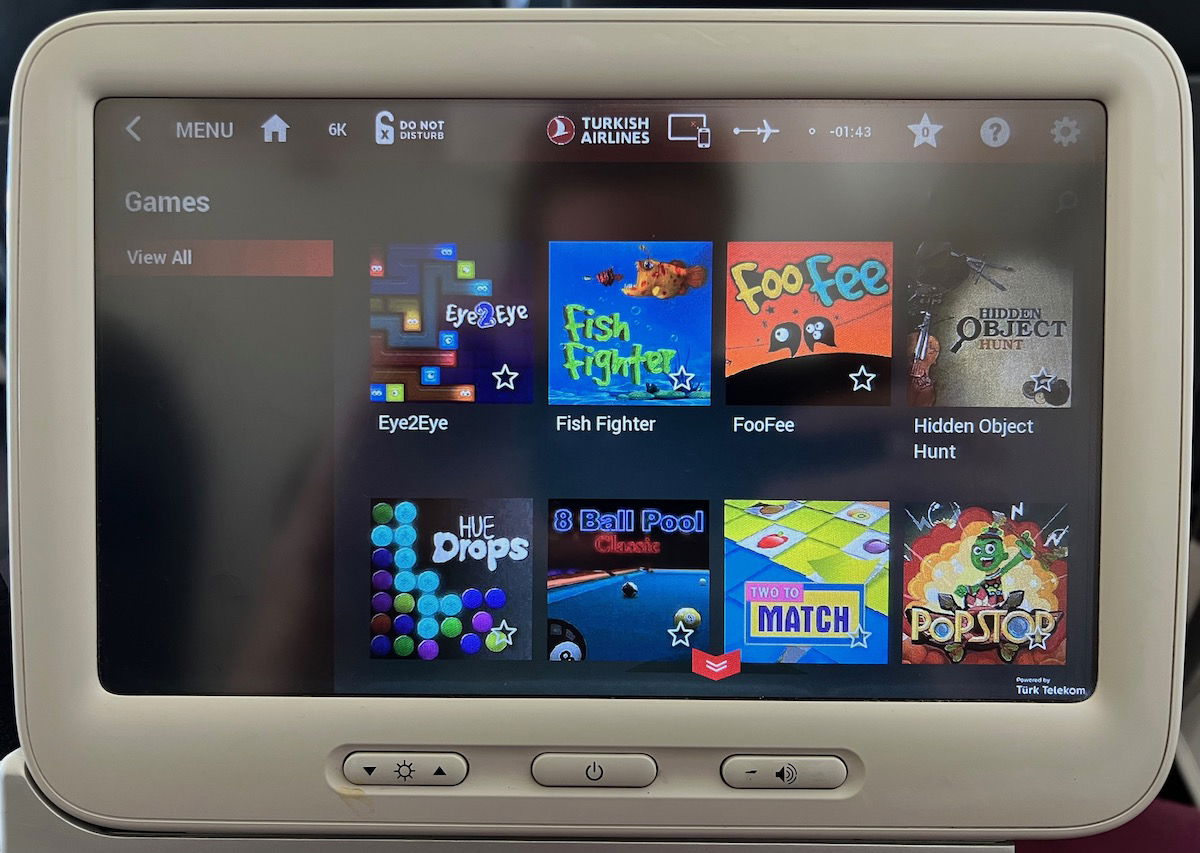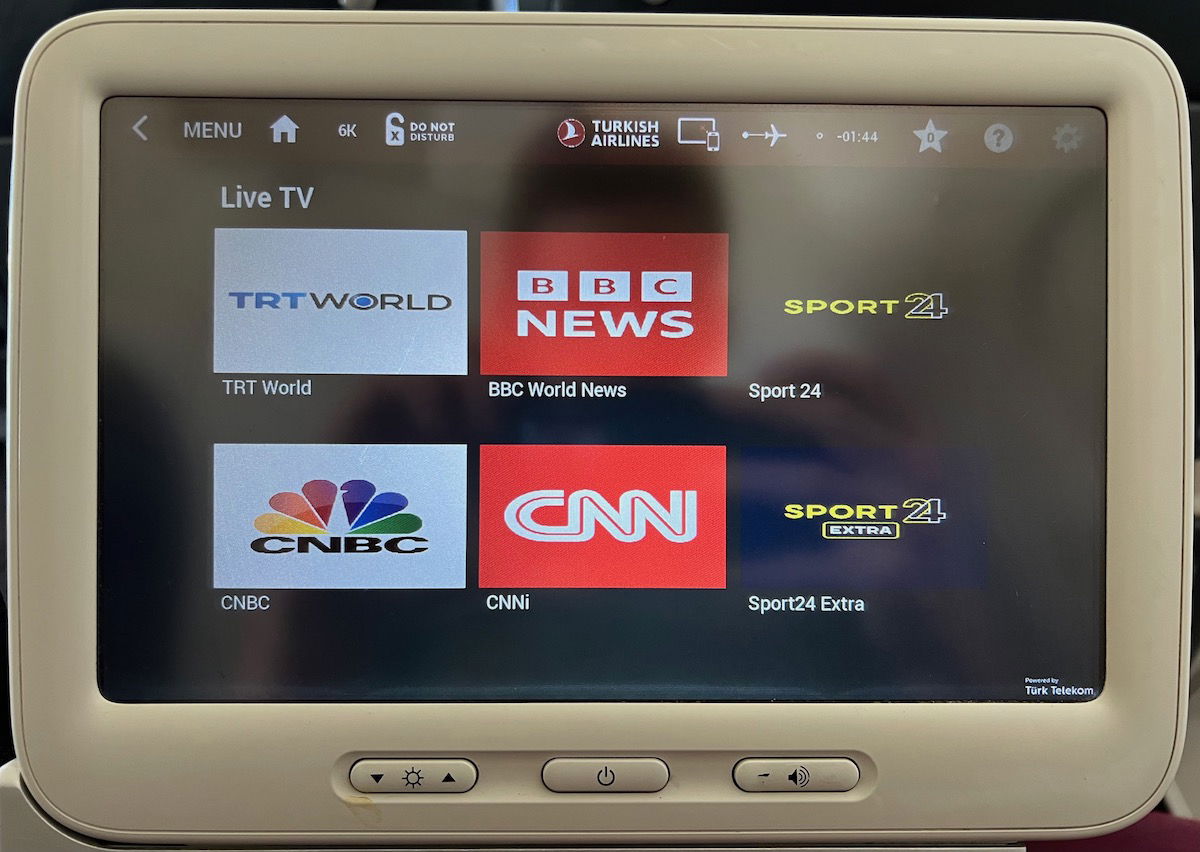 There was of course also the map feature, which I enjoyed following along with for most of the flight.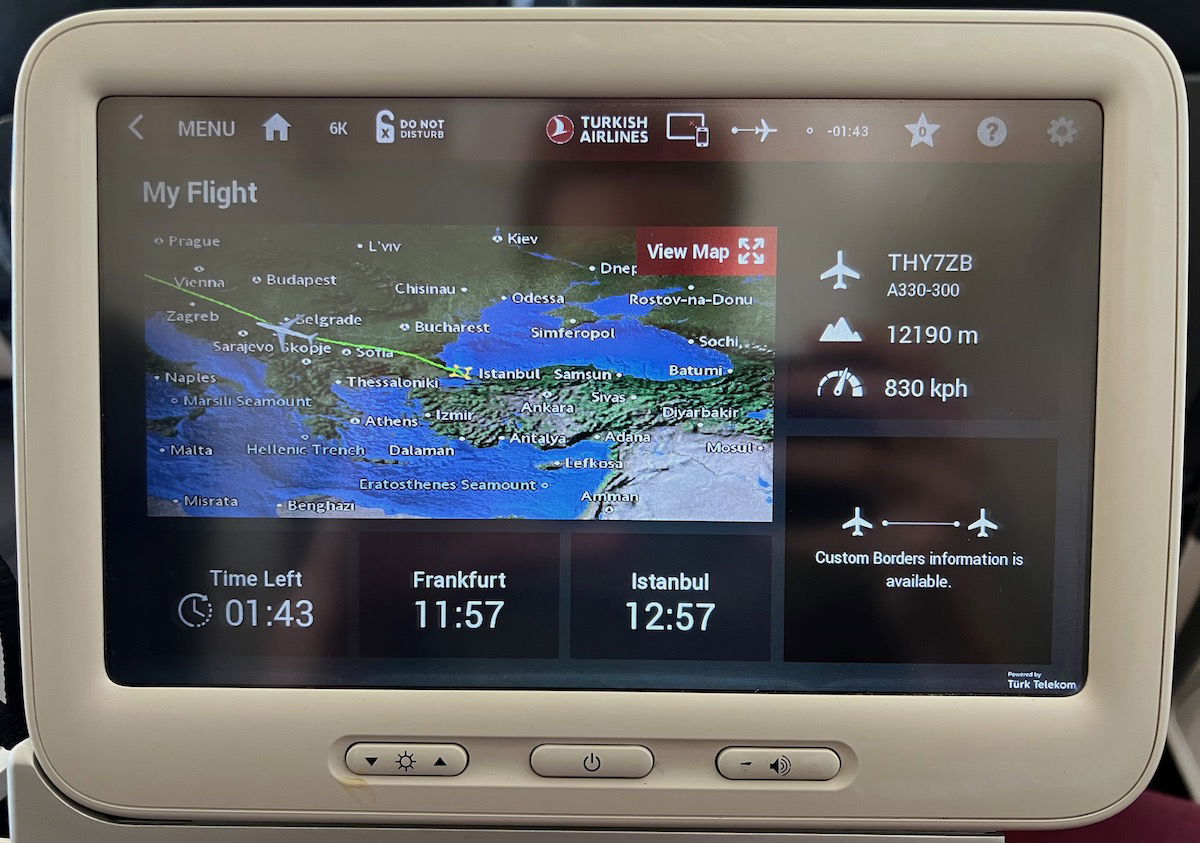 Turkish Airlines' A330s also have Wi-Fi. For this fairly short flight, pricing was as follows:
You could buy a chat pass for $5
You could buy 100MB of data for $8
You could buy unlimited data for $15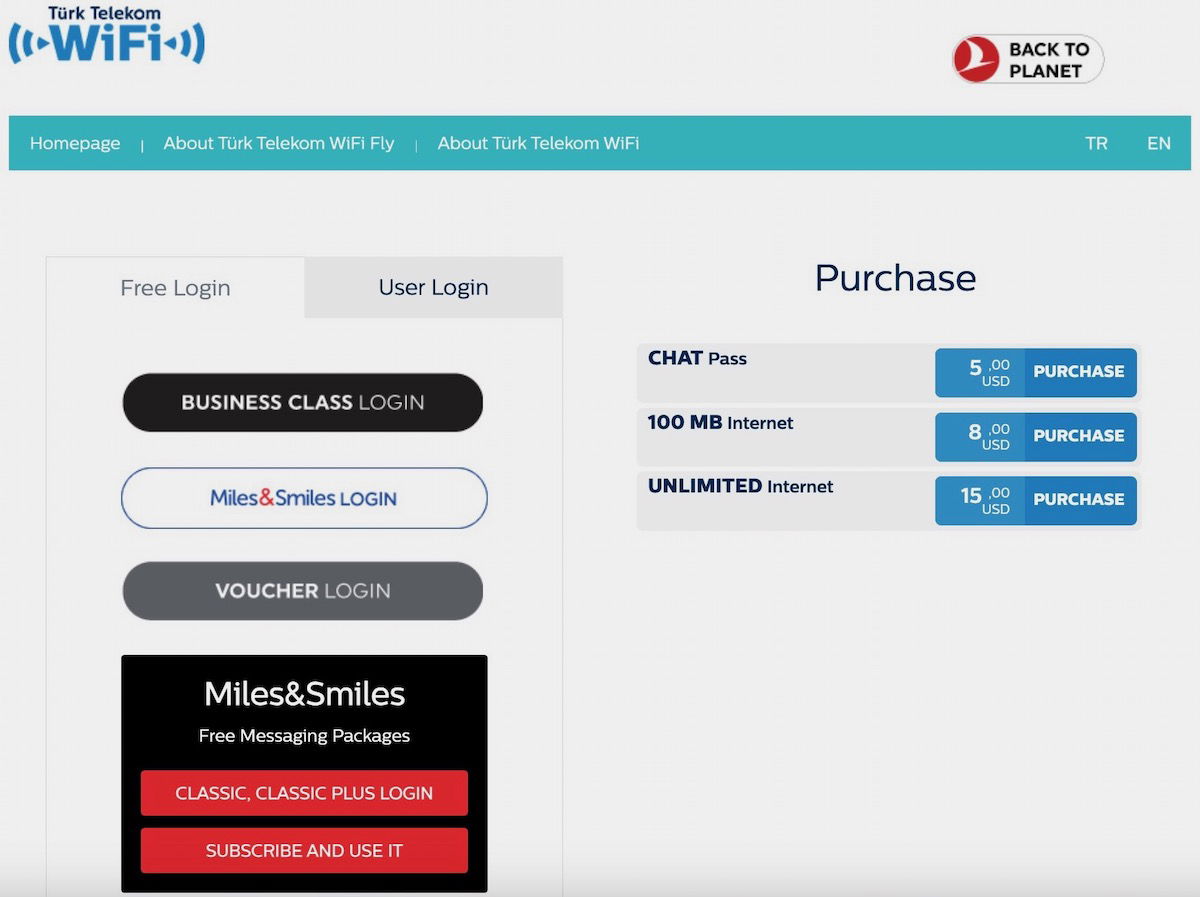 Fortunately Turkish offers free Wi-Fi to business class passengers, simply by entering your last name and seat number. This includes 1,024MB of free data.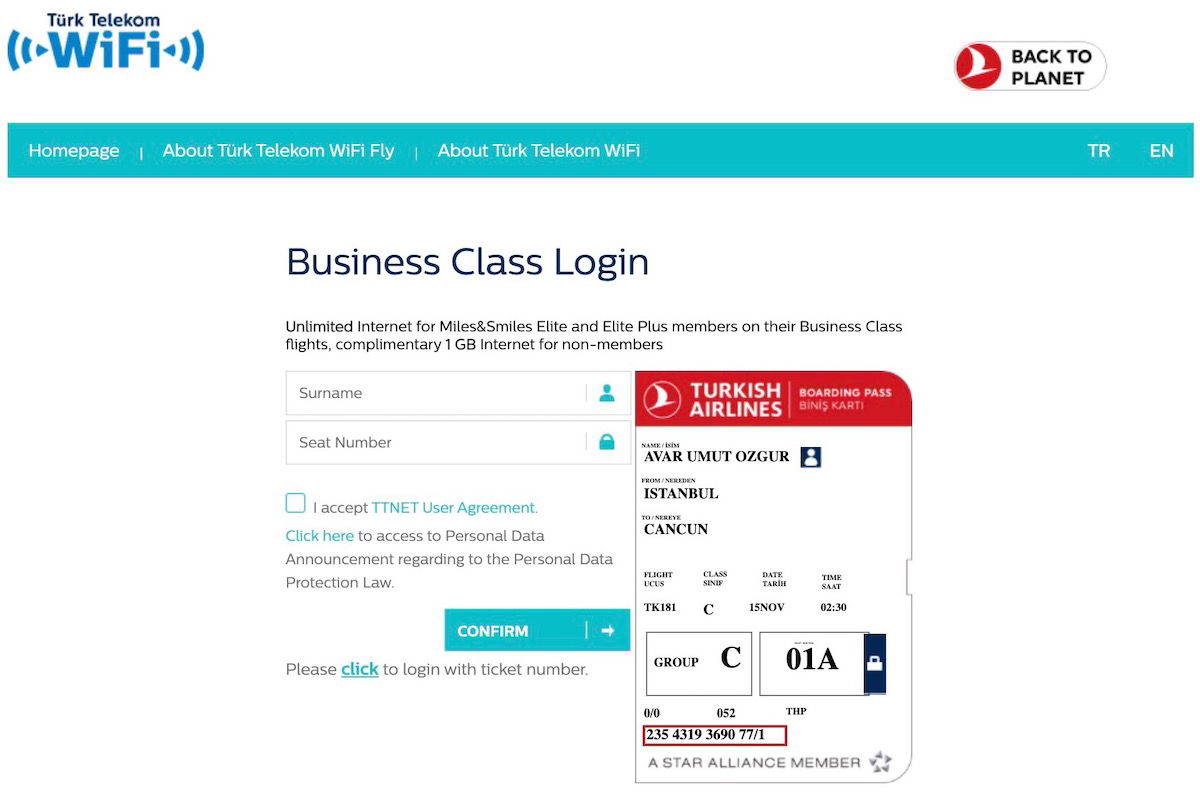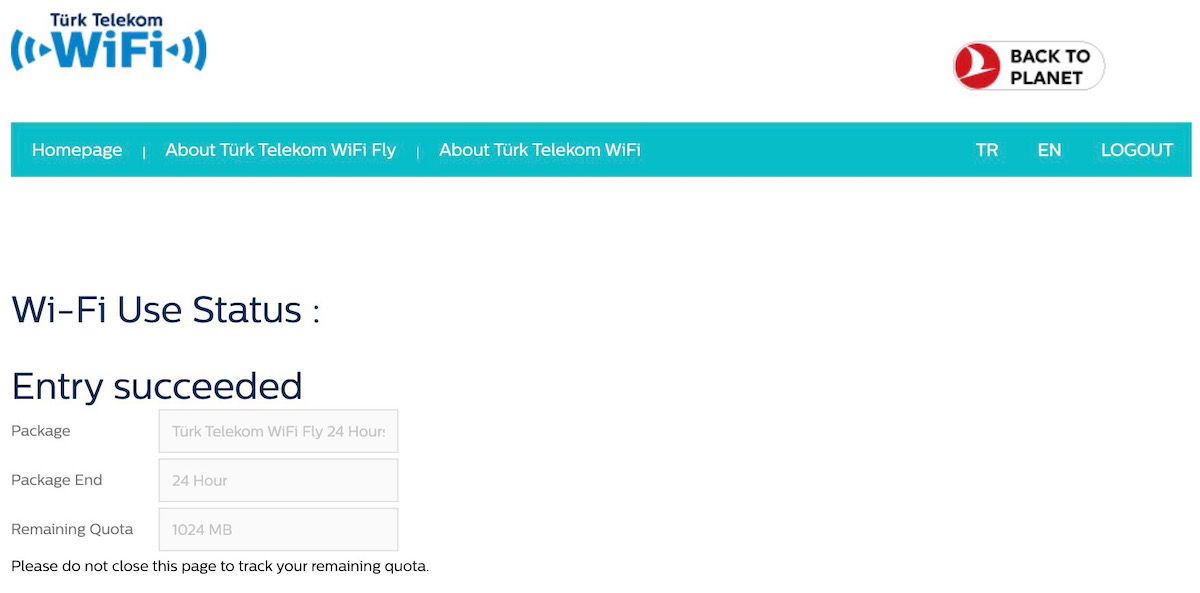 Turkish also offers free messaging for all Miles&Smiles members, even in economy.
While the entertainment system wasn't as cutting edge as on my long haul flight, the huge entertainment library plus free Wi-Fi gives you a better experience than you'd get on just about any airline between Istanbul and other parts of Europe.
Turkish A330 departure from Istanbul
Shortly before 11:30AM, roughly a dozen business class passengers boarded, and a moment later it was announced that boarding was complete. At that point the captain made his welcome aboard announcement, informing us of our flight time of 2hr40min, and our cruising altitude of 40,000 feet.
At 11:35AM the safety video was screened, and then at 11:45AM we began our pushback. OMG, hi, Iran Air Airbus A300!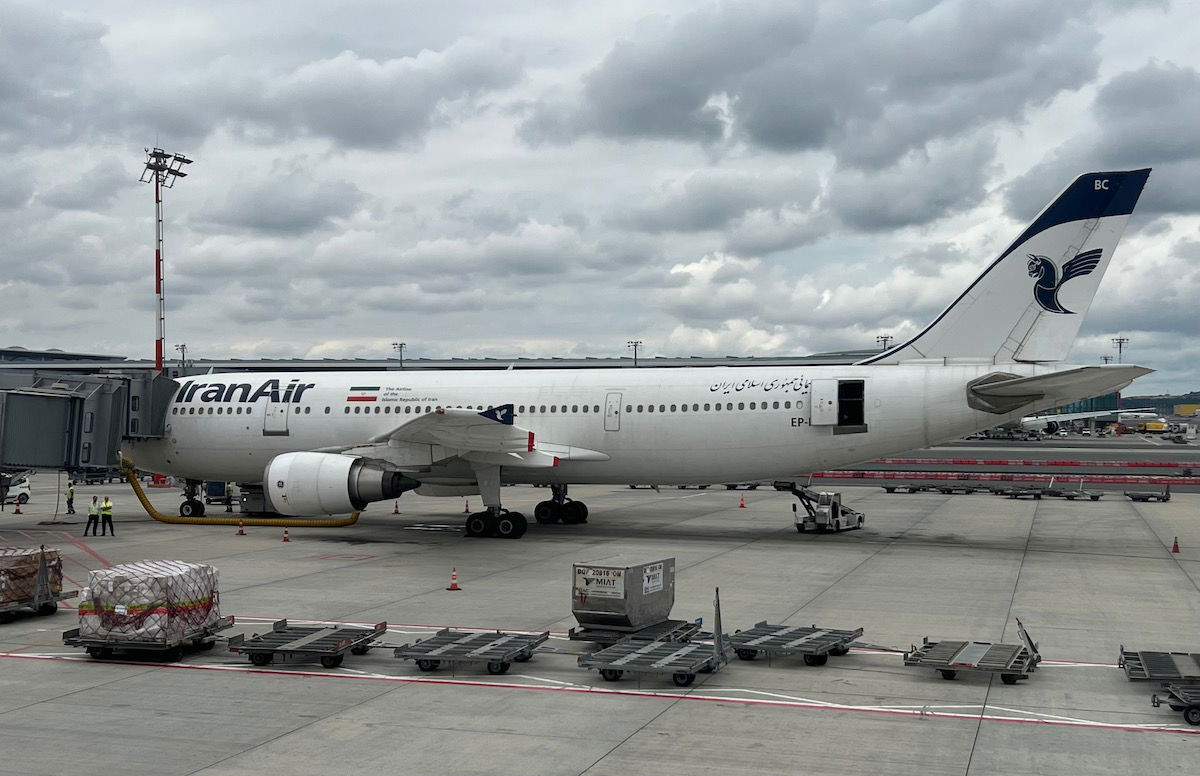 At 11:50AM we began our fairly quick taxi, and as usual, my eyes were glued out the window. Turkish flies to more countries than any other airline in the world, and there's something I enjoy so much about seeing the carrier's operations at Istanbul Airport.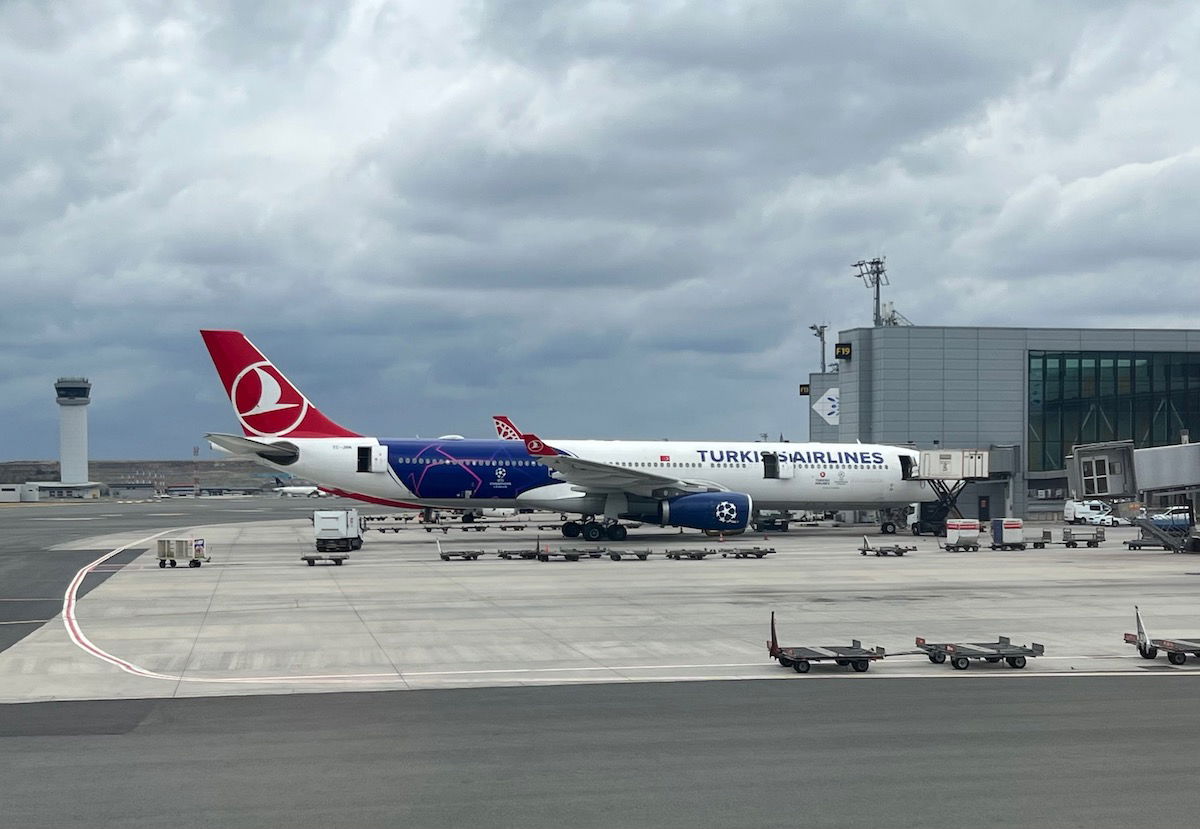 At 12PM we were cleared for takeoff on runway 36, and rocketed off into the north.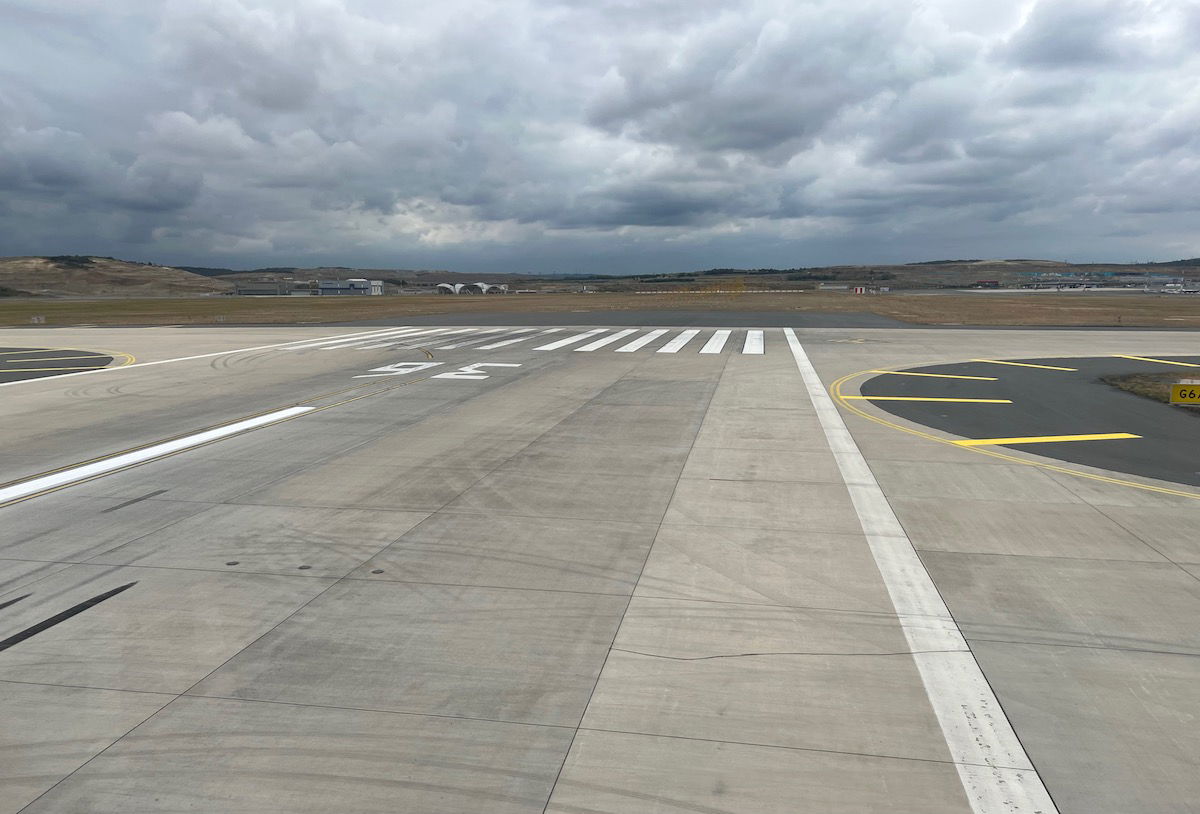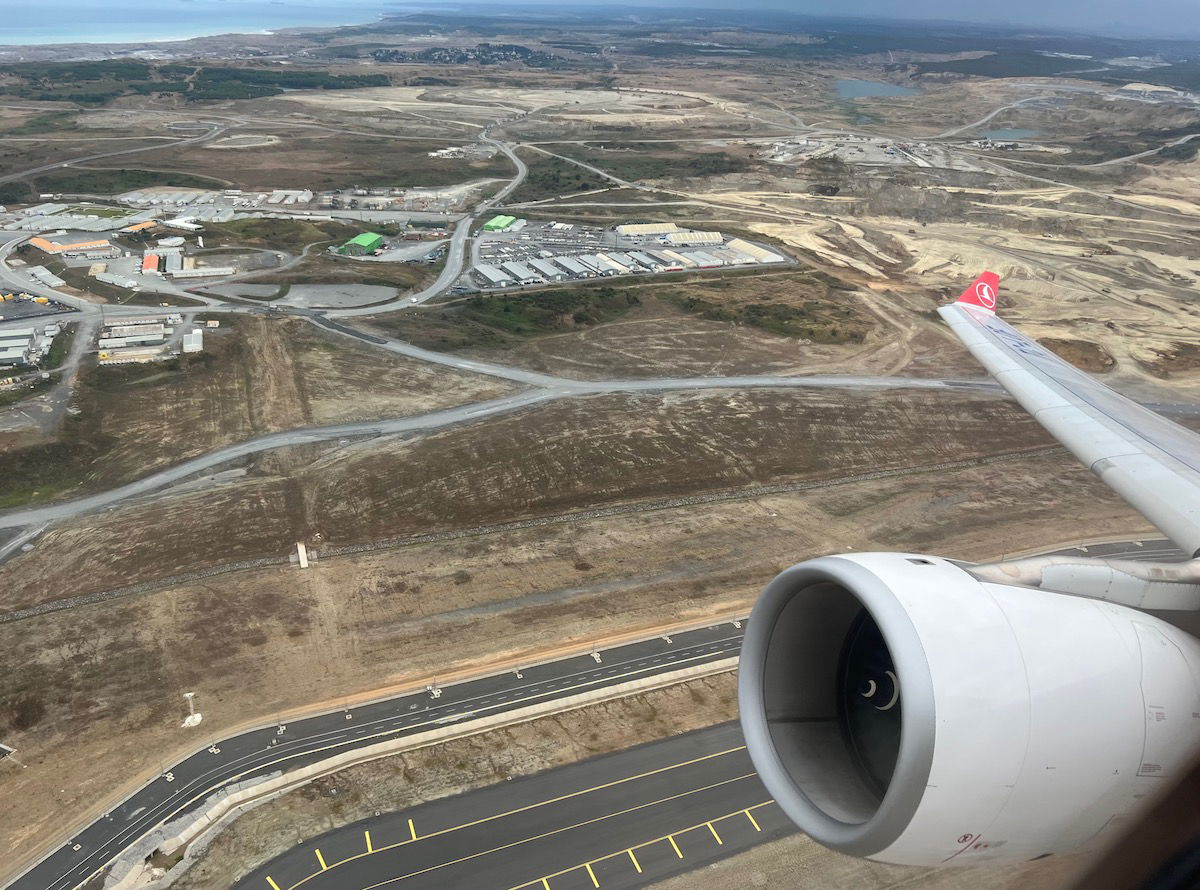 Our climb out was smooth, and the seatbelt sign was turned off about five minutes after takeoff.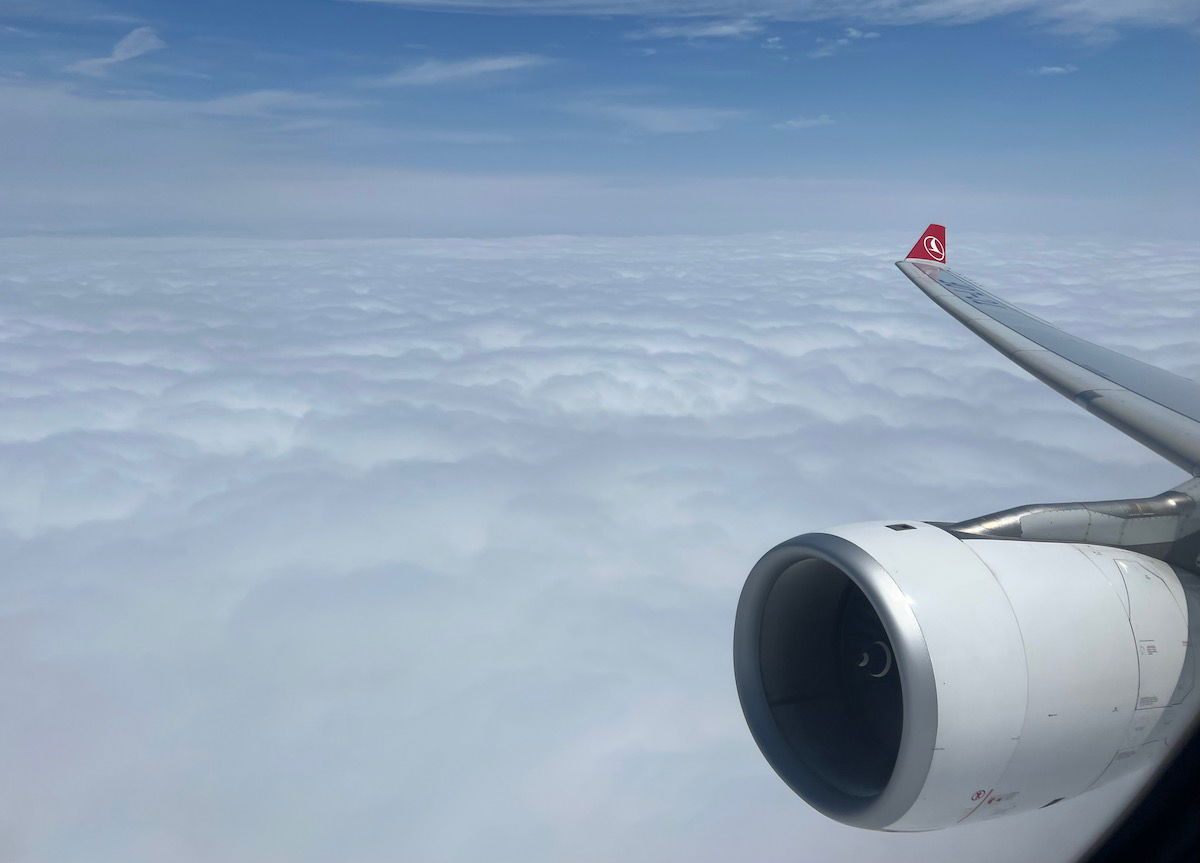 As soon as the seatbelt sign was turned off, the curtains were closed between cabins. I was the only person seated in the last three rows of the cabin, so I had quite a bit of space to myself!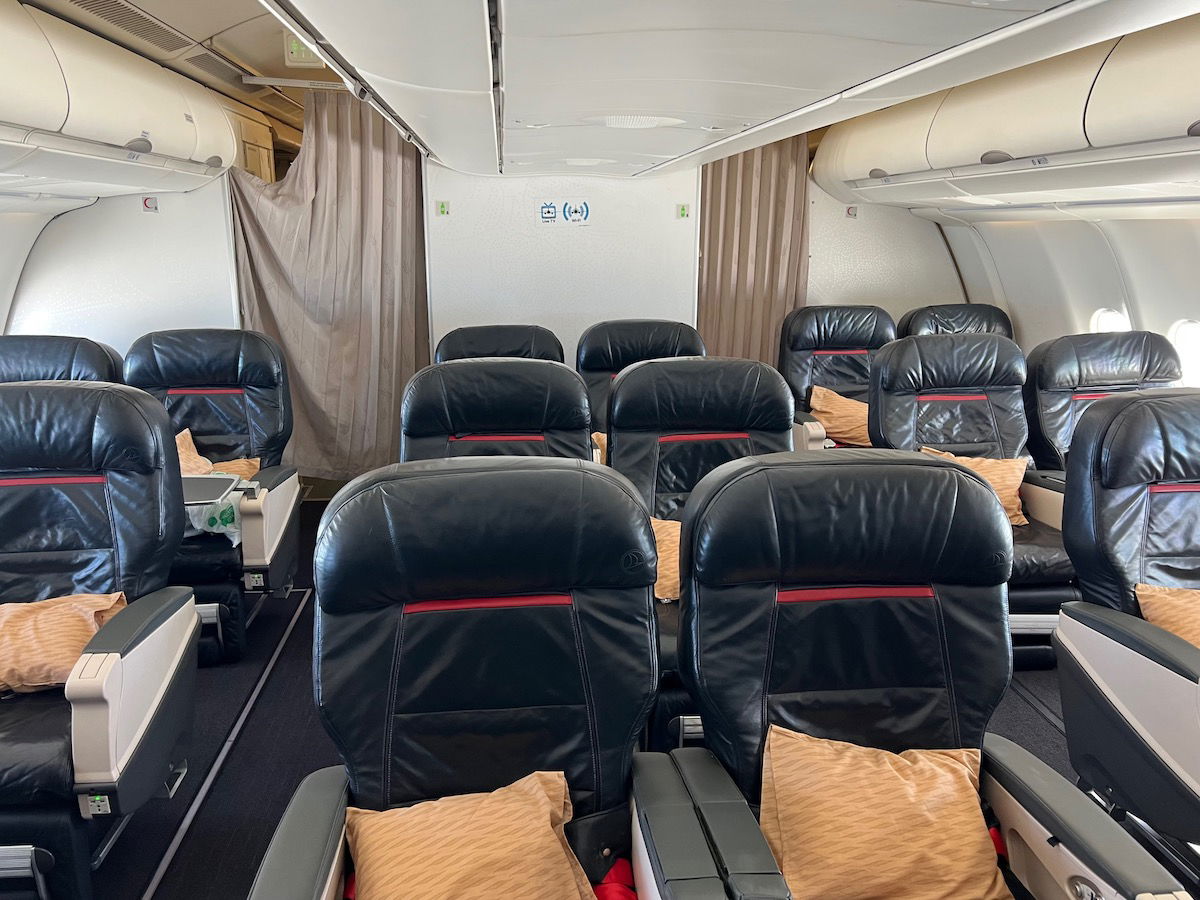 Turkish business class lunch service
Service was pretty quick to get started after takeoff. Within 20 minutes of our departure, warm towels were distributed.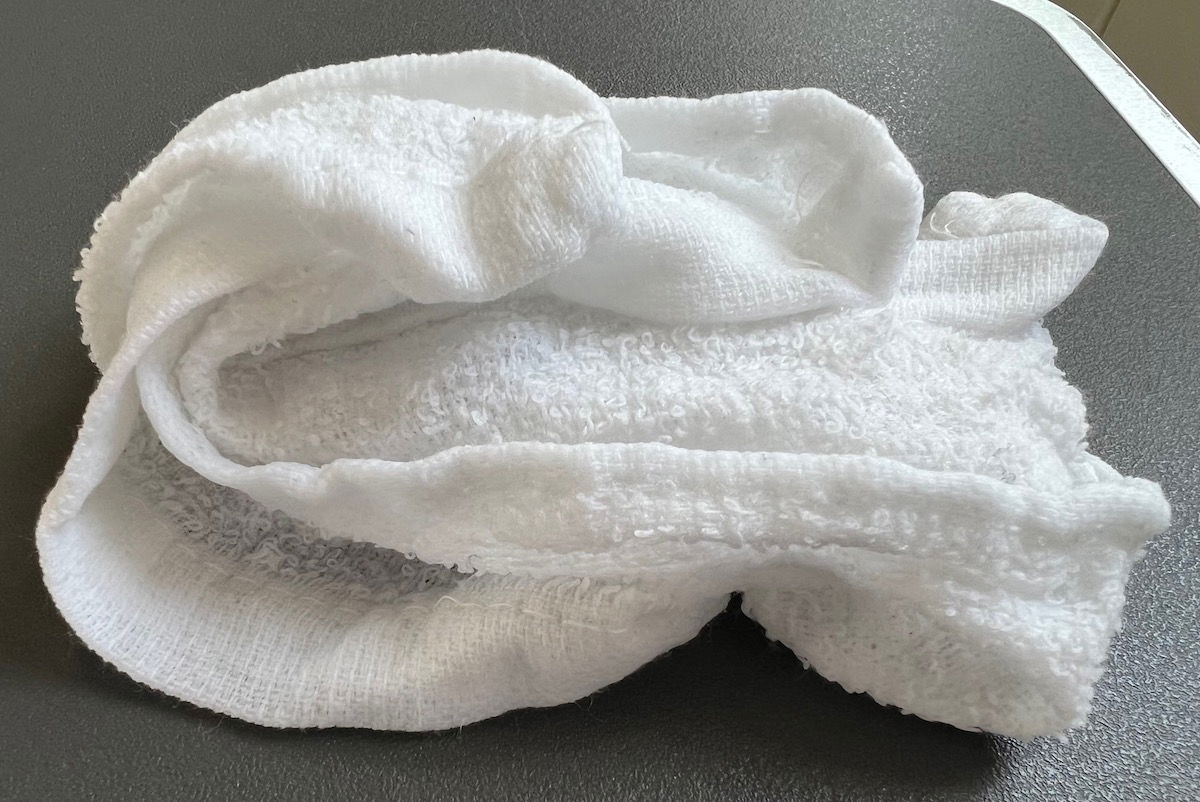 At that point the lunch service began, and you can find the menu and drink list below.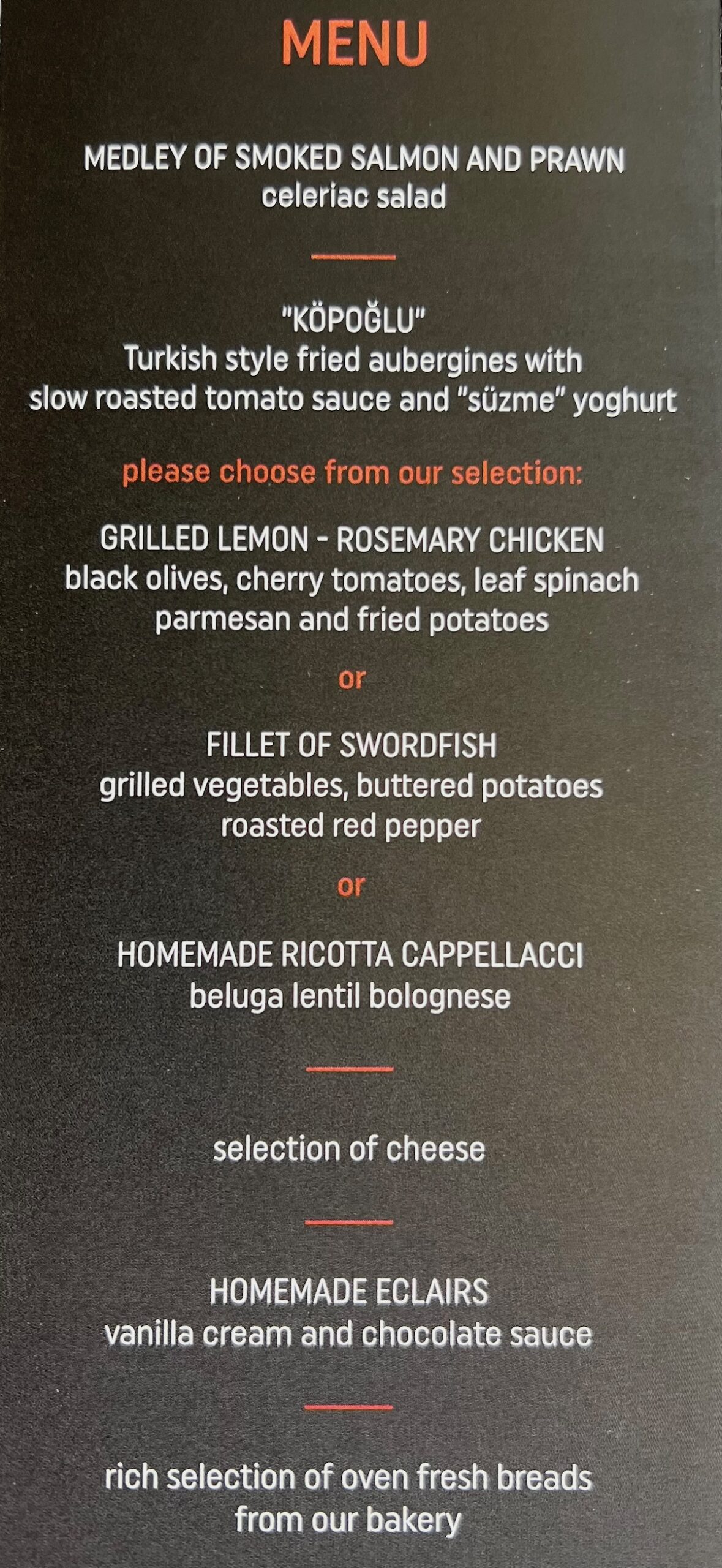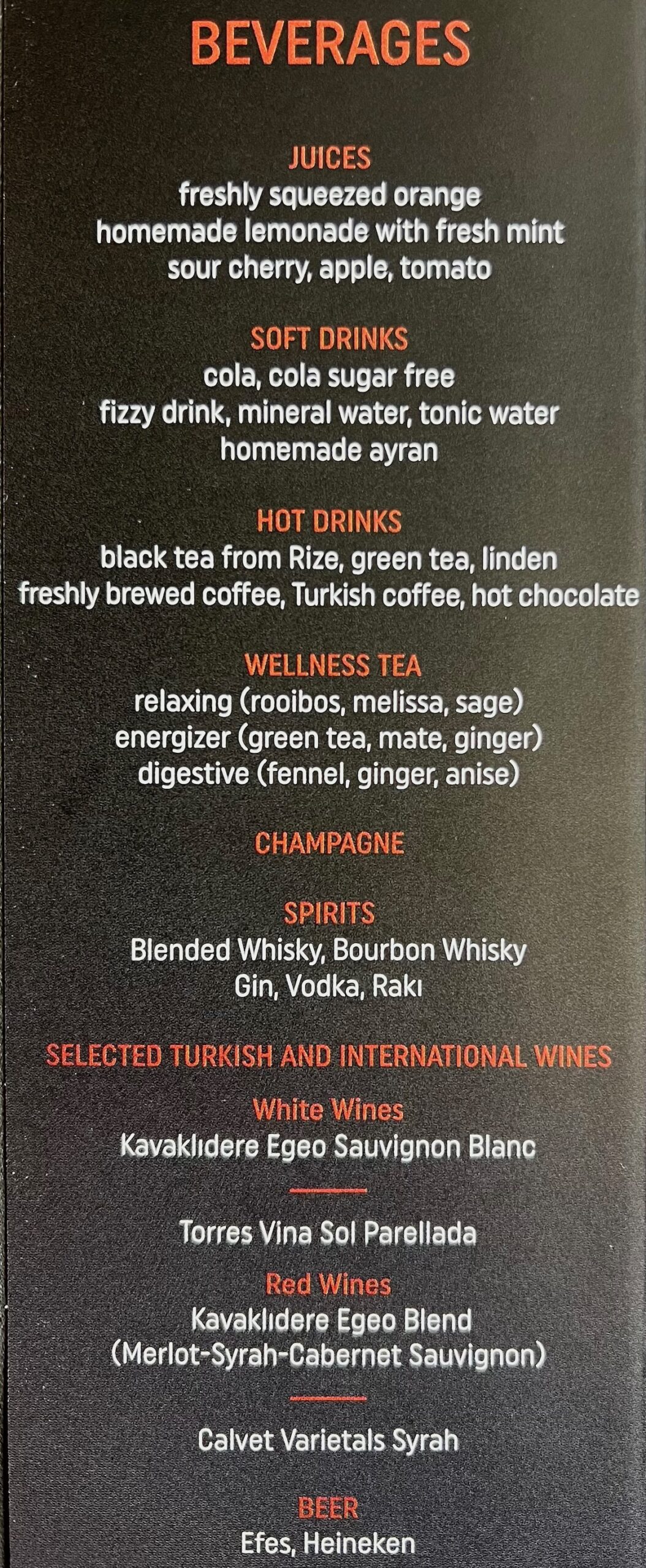 When drink orders were taken, Bahadir asked if I had ever had raki on Turkish Airlines. When I said I hadn't, he insisted that I try it, so that's exactly what I ordered.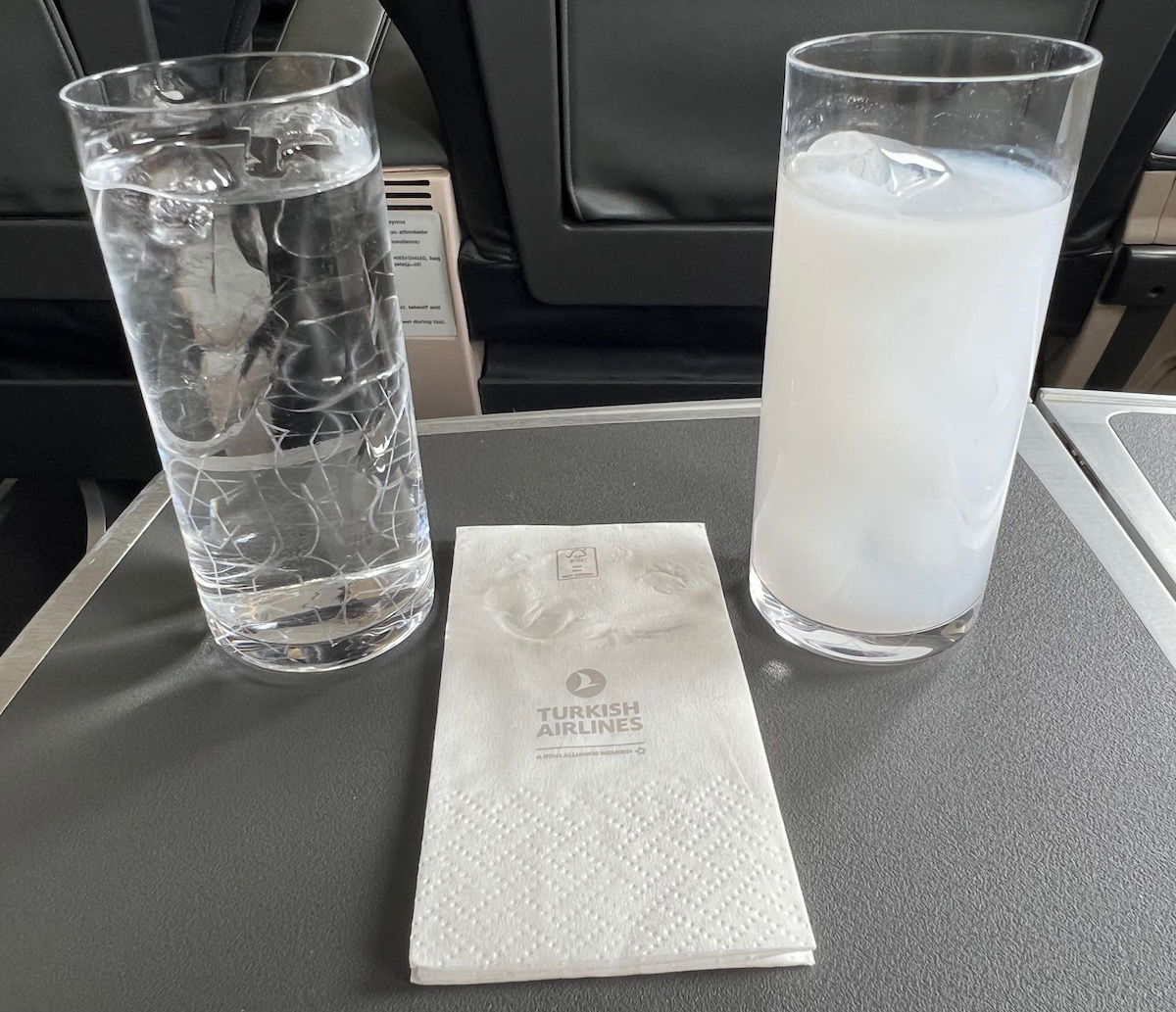 To give you a sense of Bahadir's hospitality, he didn't just serve me the drink, but also a mezze. As he explained, "raki is best not to drink alone, it should be enjoyed with mezze, so I brought you this." When I talk about how service on Turkish is sometimes great, this is the prime example of that.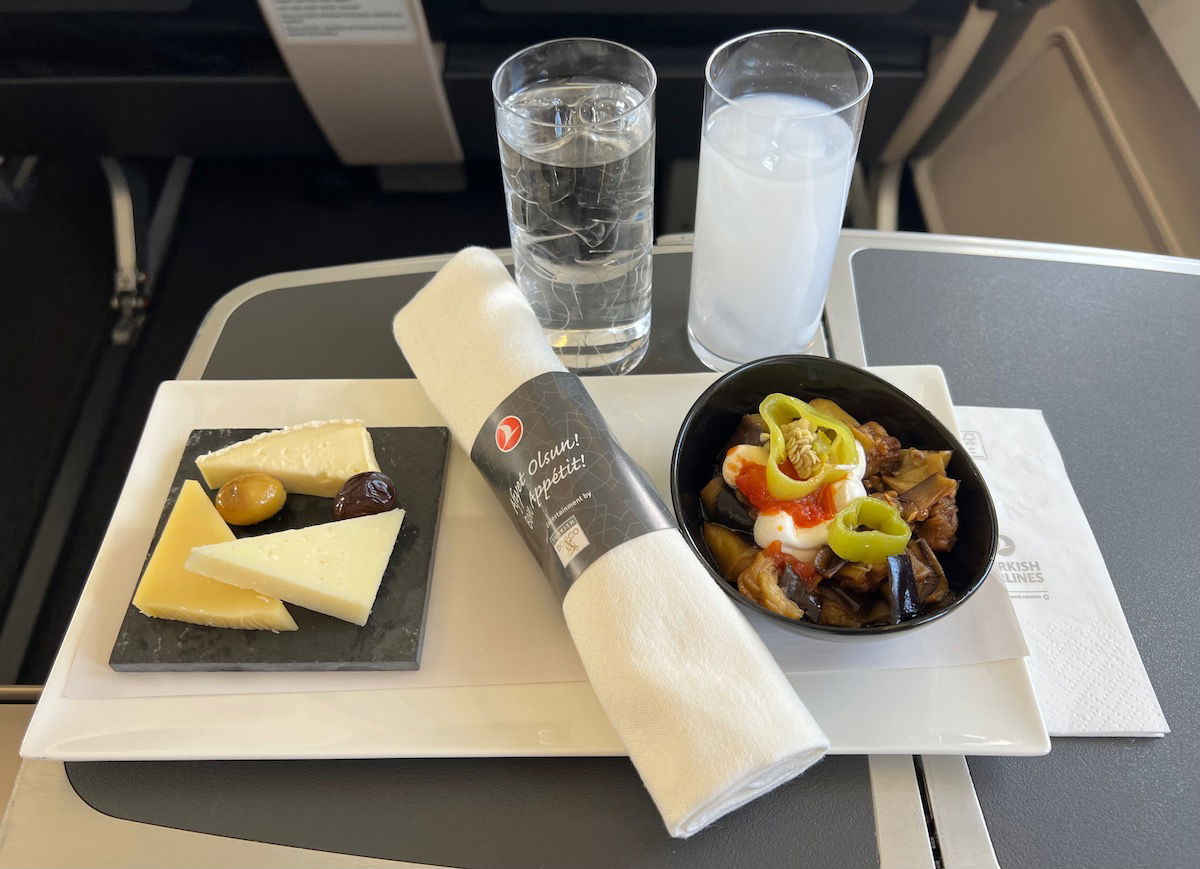 Anyway, about 30 minutes later the full meal service started, and a couple of the items should look familiar. 😉 The tray consisted of a starter of smoked salmon and prawn with celeriac salad. There was also a Turkish style fried aubergines with slow roasted tomato sauce and yogurt, a selection of cheese, and an eclair. I was also offered a selection of bread.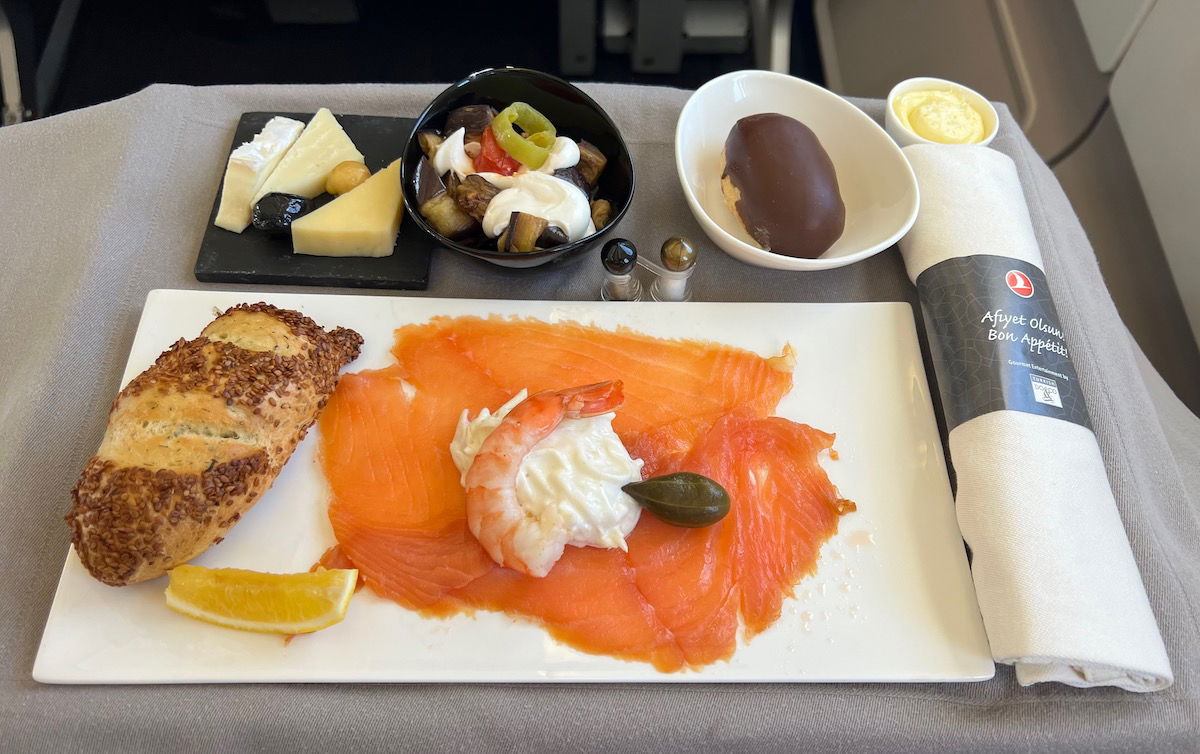 Once I finished the appetizer, I was brought my main course choice, and I selected the ricotta cappellacci with beluga lentil bolognese. I found this dish to be excellent.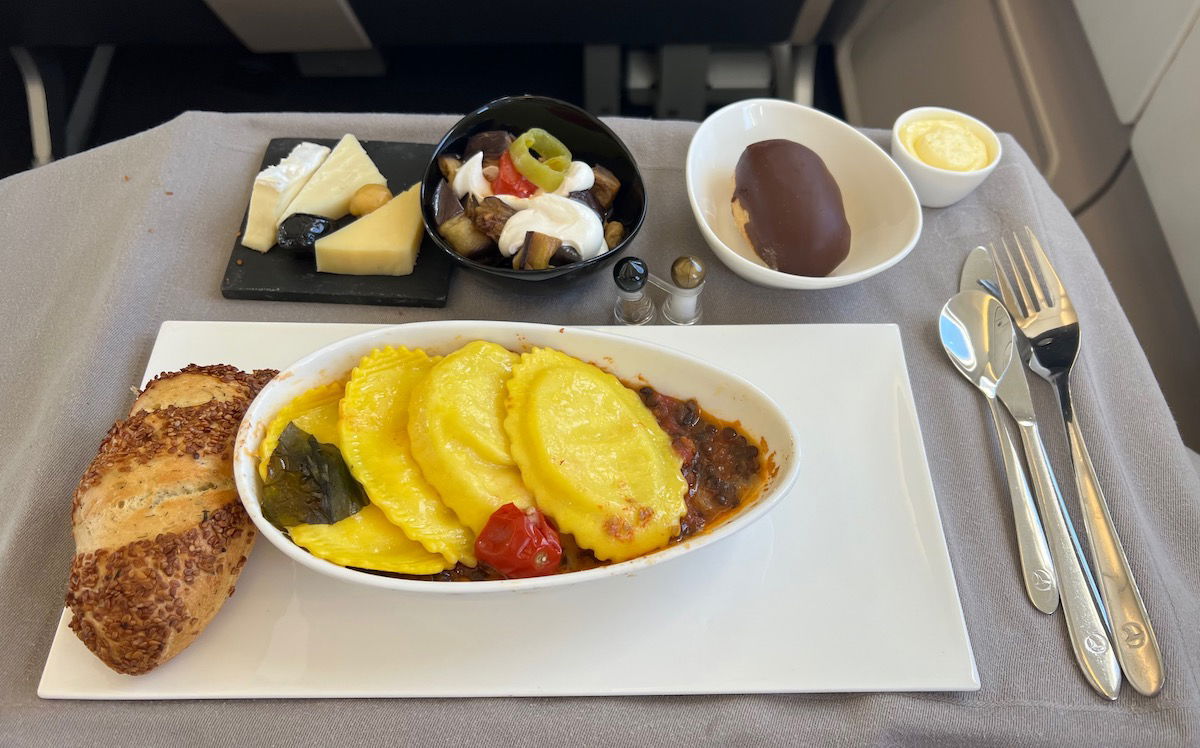 At the conclusion of the meal I ordered a coffee — unfortunately Turkish doesn't have espresso-based drinks on these particular A330s.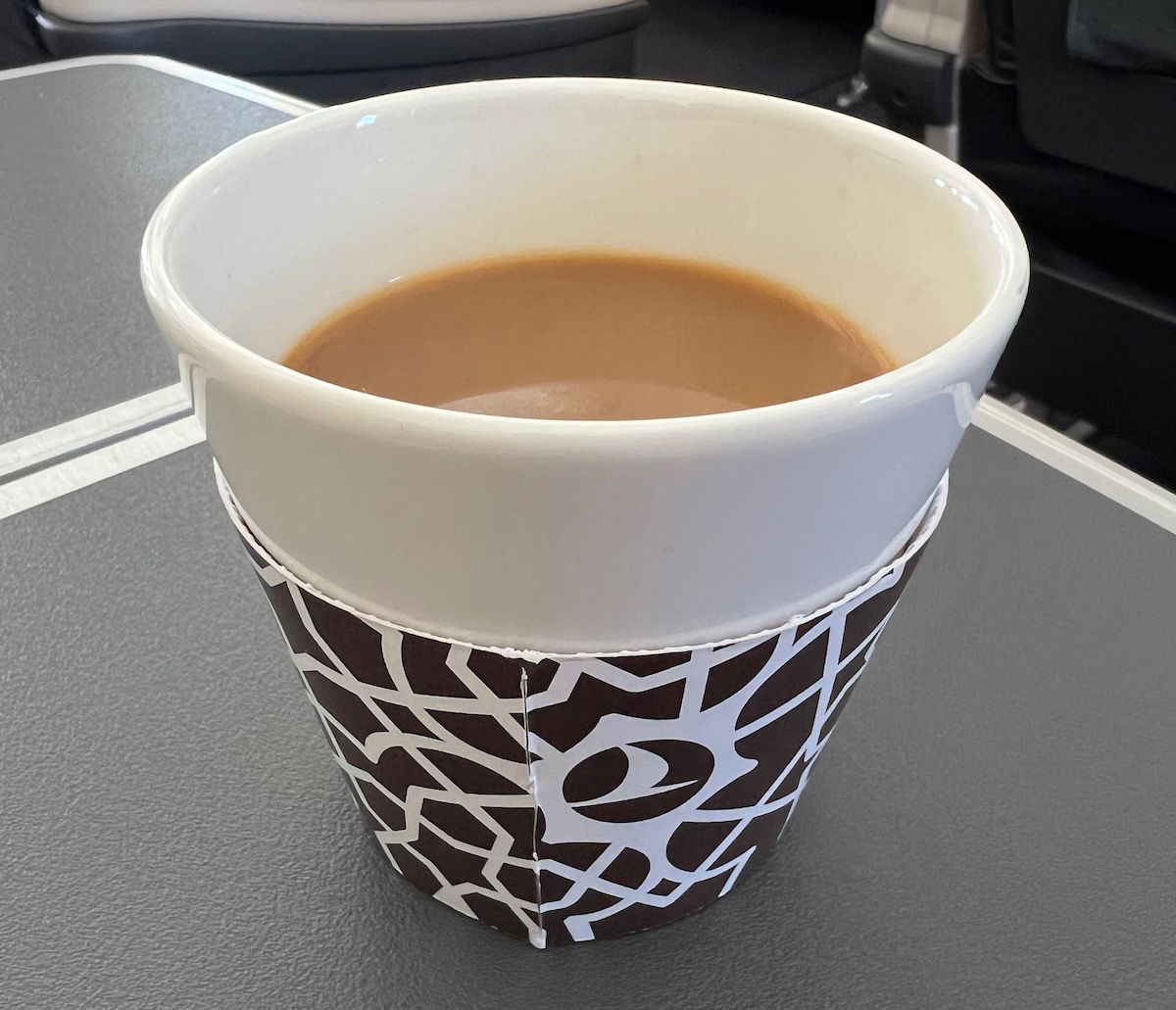 As I enjoyed my lunch I looked out the window and took in the views.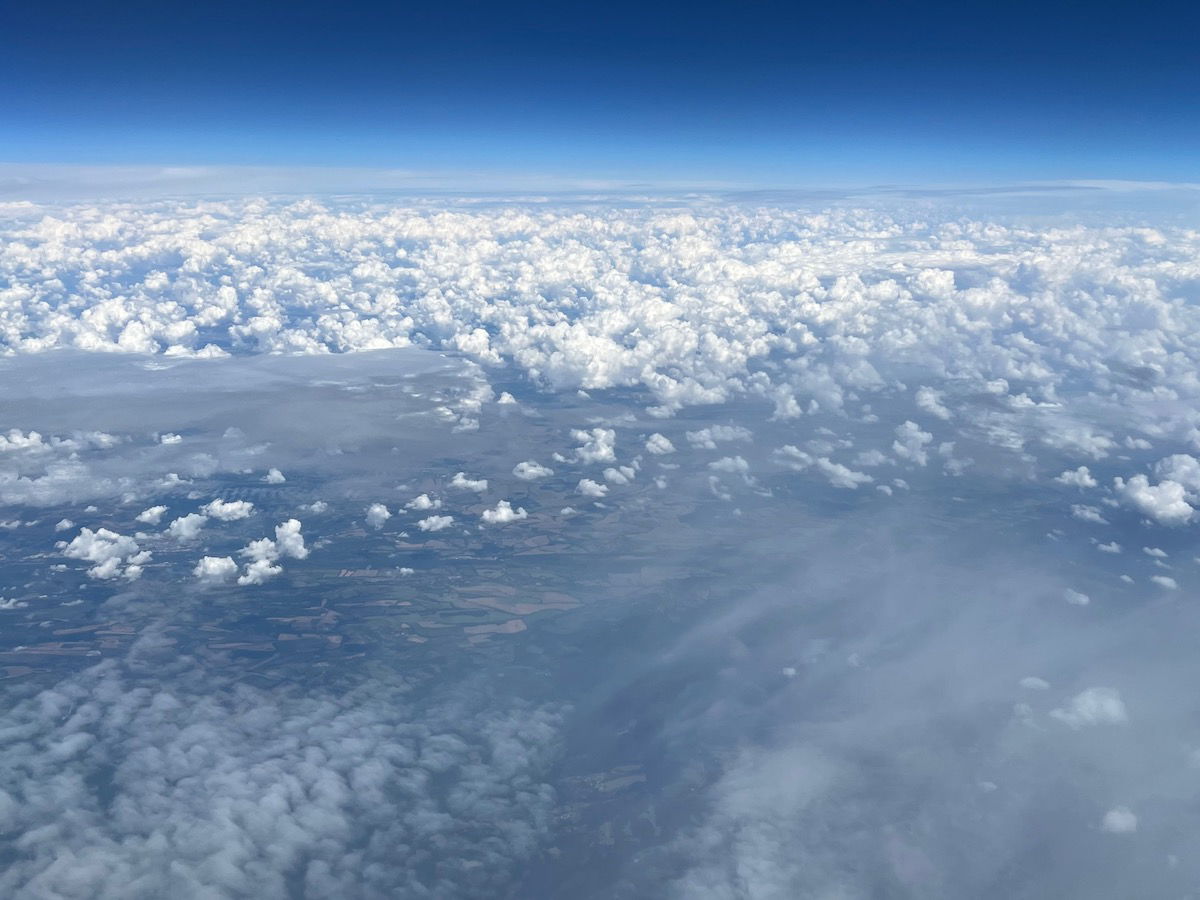 The meal service was done halfway into the flight, and that point I got some work done on my laptop.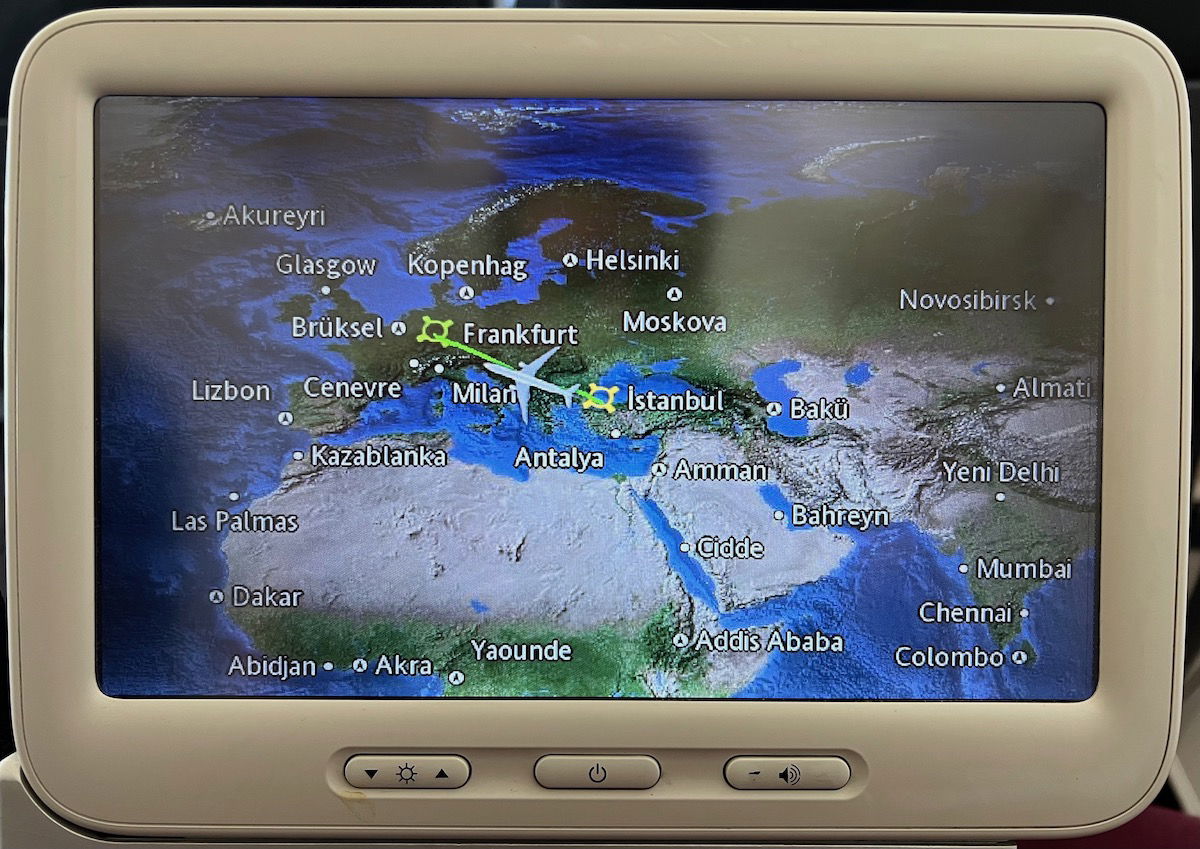 Turkish A330 business class lavatories
The Turkish A330 has two business class lavatories — one in the front of the cabin by the cockpit, and one at the right back of the cabin, immediately behind my seat. If this flight were fuller, that would definitely be a reason I wouldn't choose the seat I was in, but rather would sit on the other side.
The lavatories were pretty basic, aside from the excellent Molton Brown amenities that are standard on Turkish.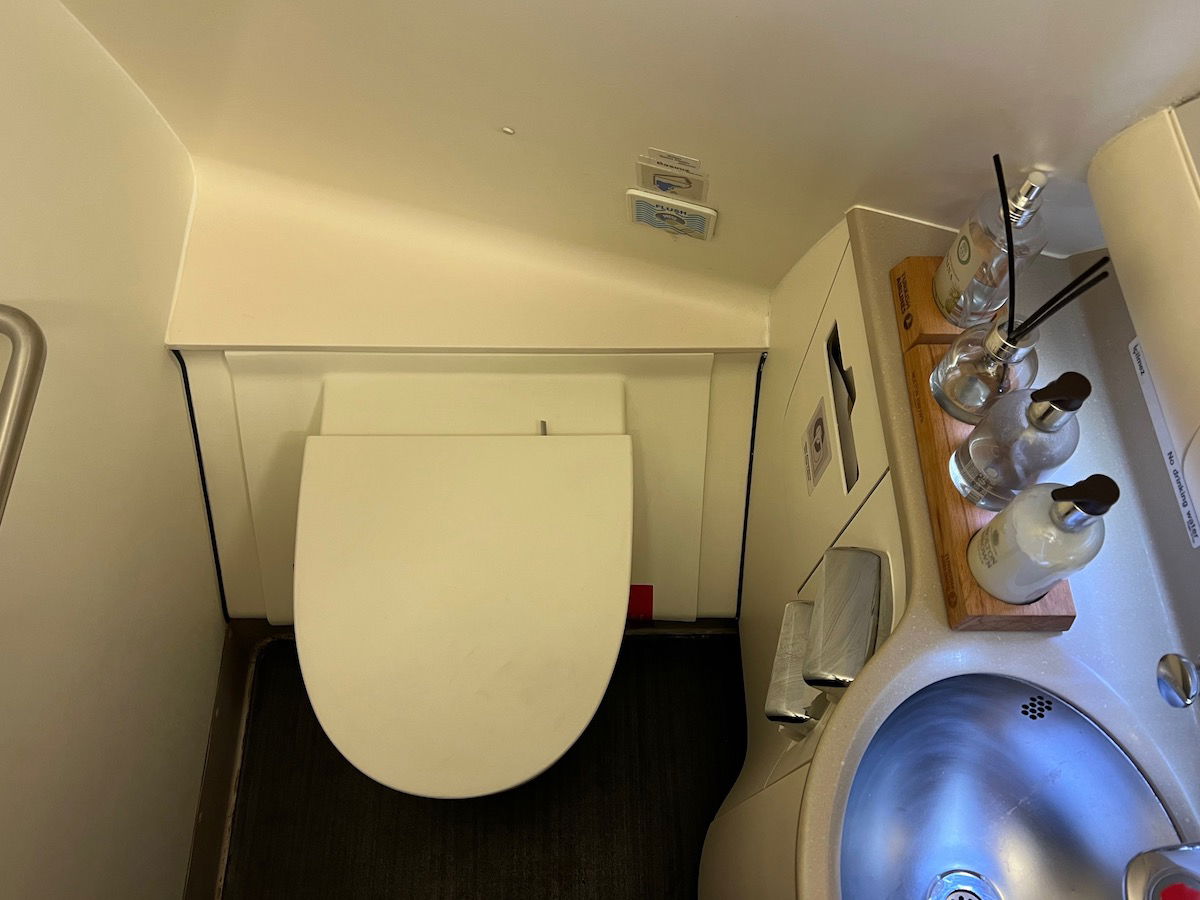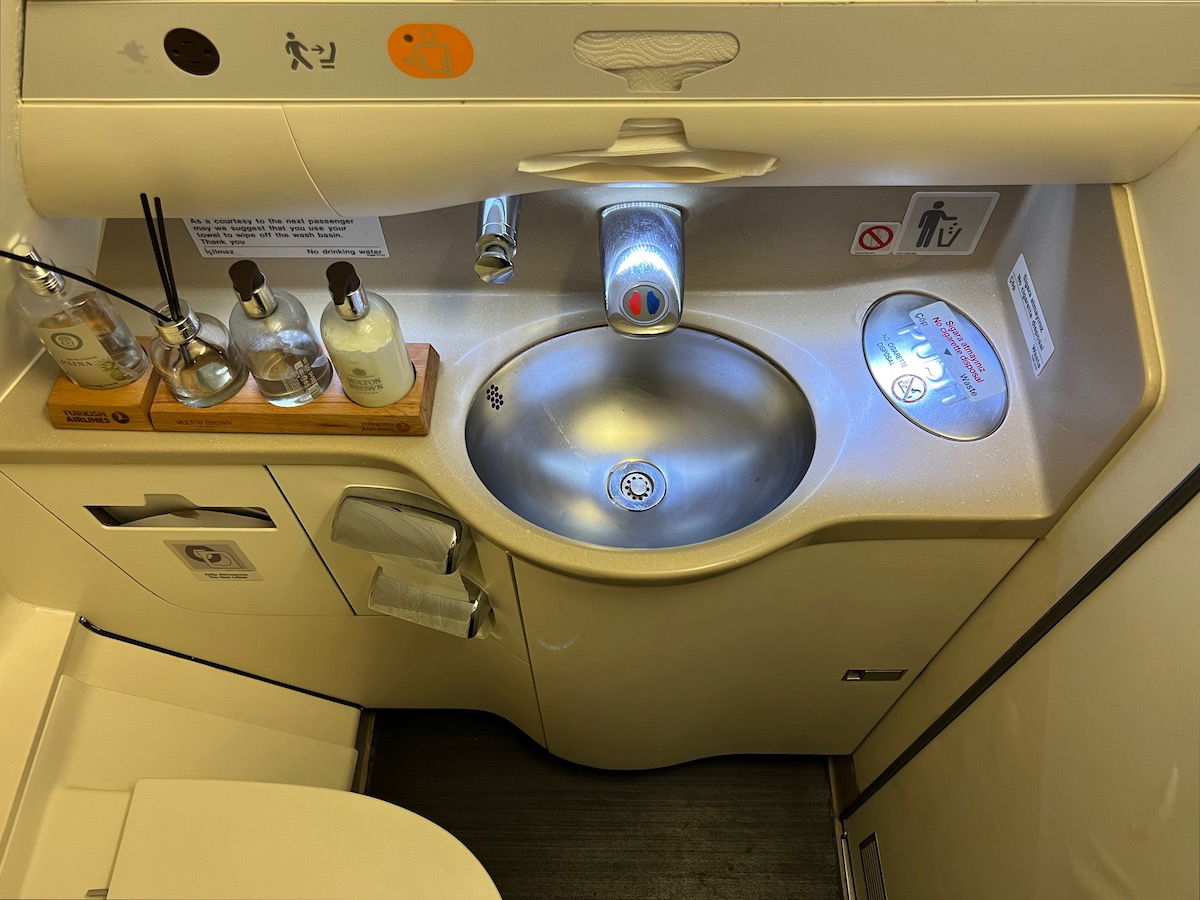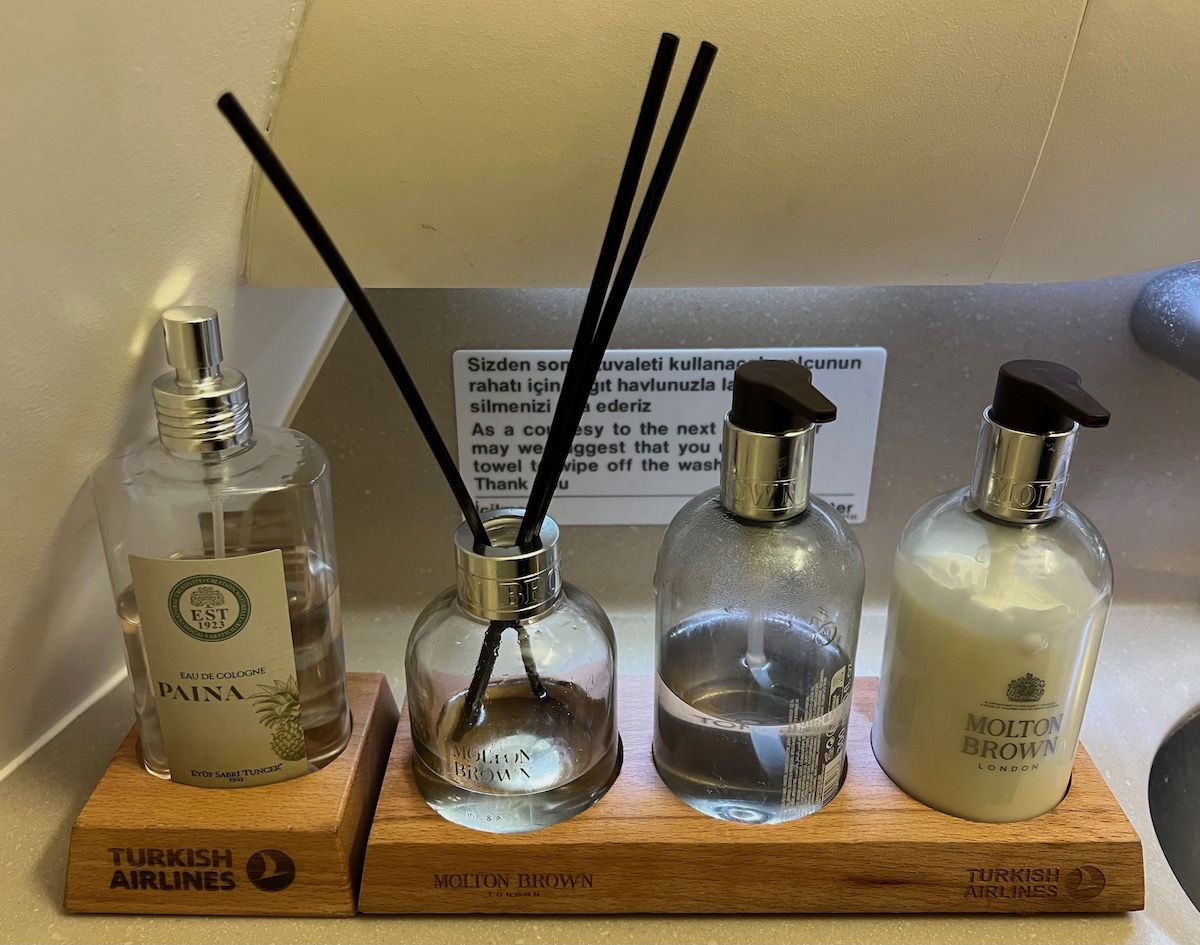 Turkish business class service
I think I've made it clear at this point that service on this flight was excellent. The cabin manager was professional, and in particular, Bahadir couldn't have been better. I've found many Turkish people to be among the most genuinely hospitable people out there, and Bahadir was the prime example of that. I hope I have the chance to fly with him again.
Turkish A330 arrival in Frankfurt
At 12:50PM Frankfurt time, the captain was back on the PA to announce that we'd be descending in about 15 minutes, and should be on the ground in about 40 minutes. At that point I stowed my bags and just looked out the window for the remainder of the flight.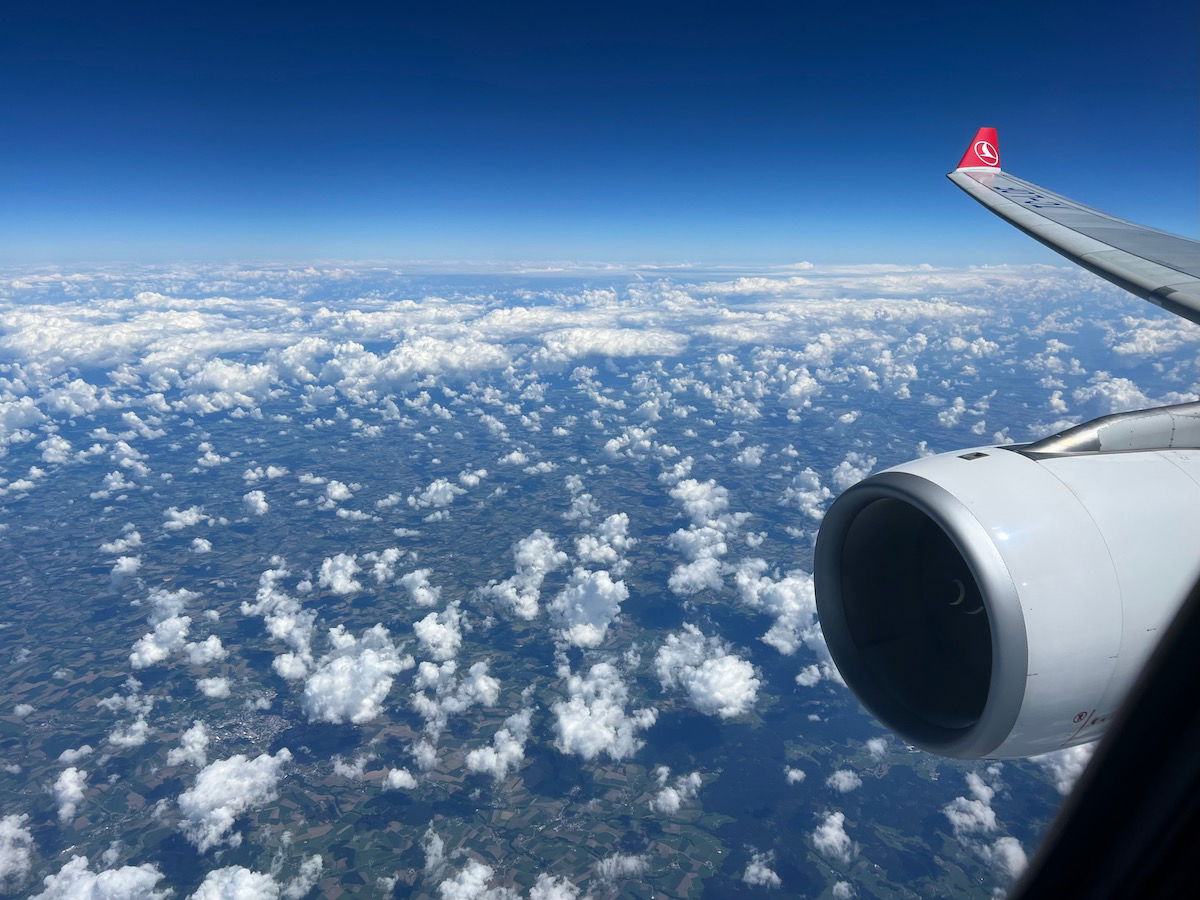 20 minutes before landing the seatbelt sign was turned on, at which point the crew prepared the cabin for arrival. It was a stunning day in Germany, and we had great views of Frankfurt on the approach.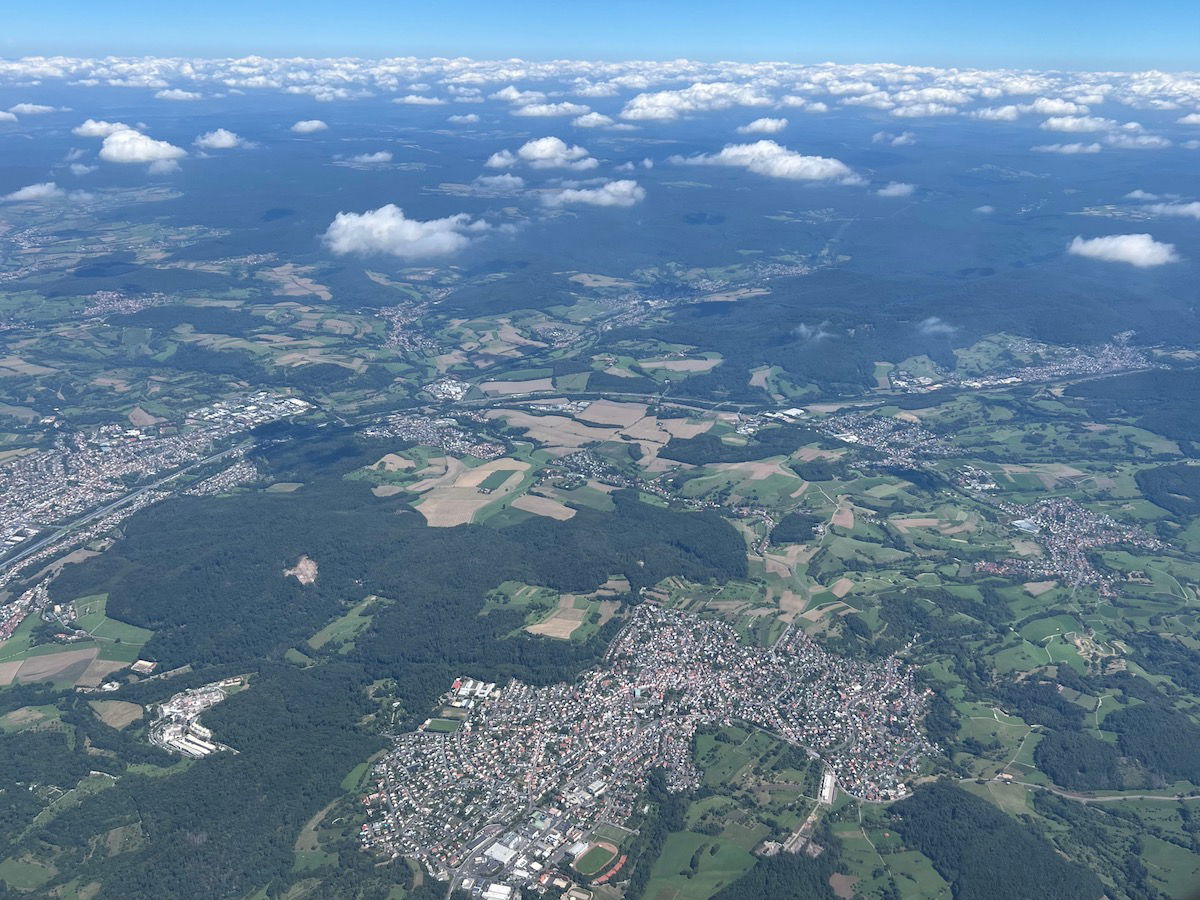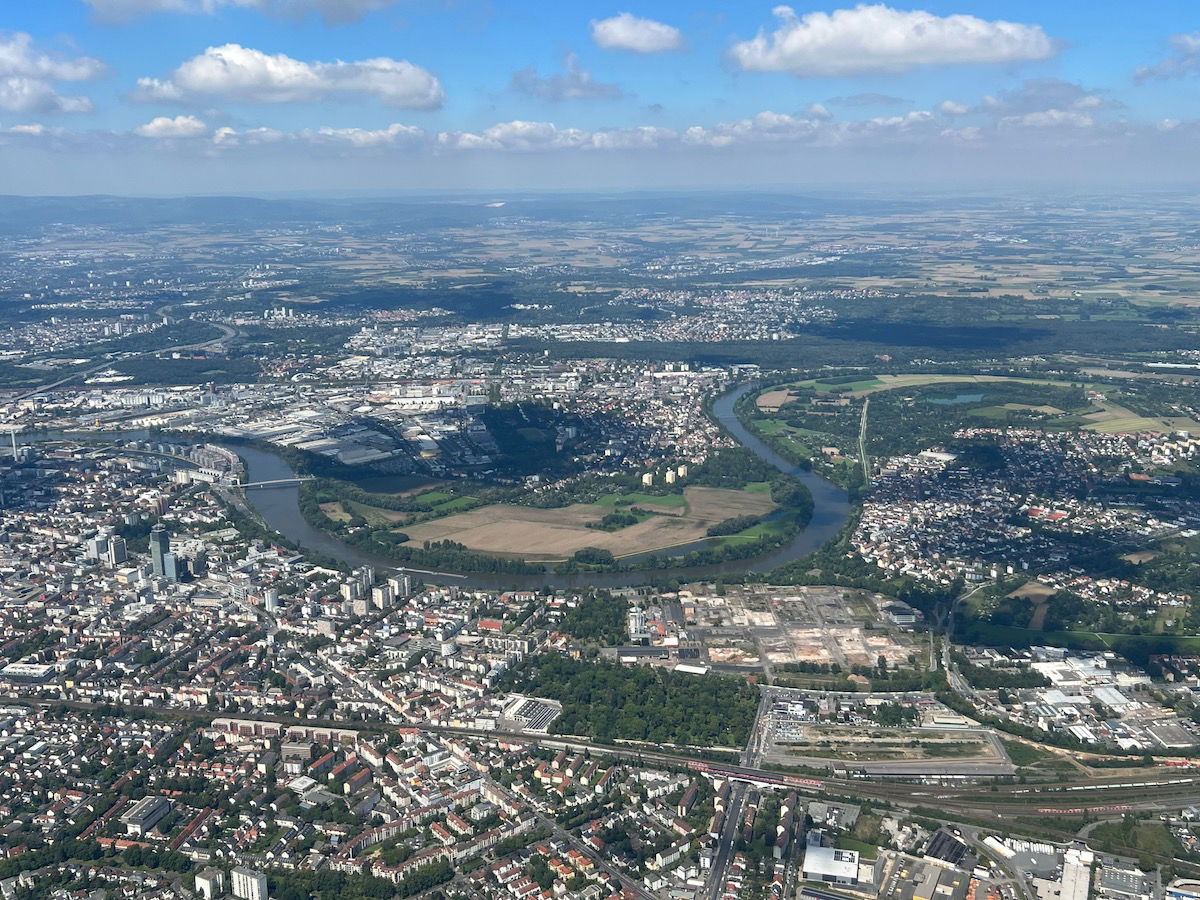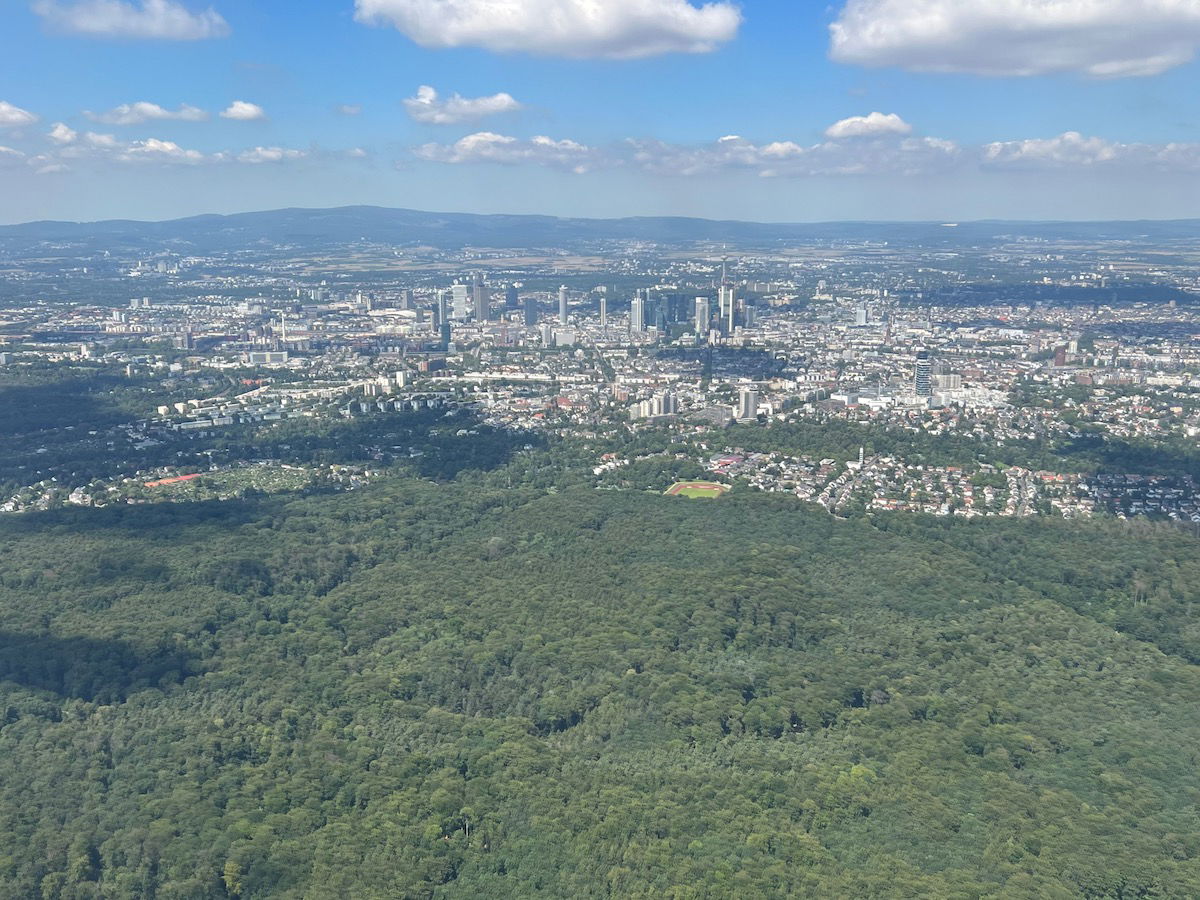 We had a smooth touchdown in Frankfurt at 1:30PM.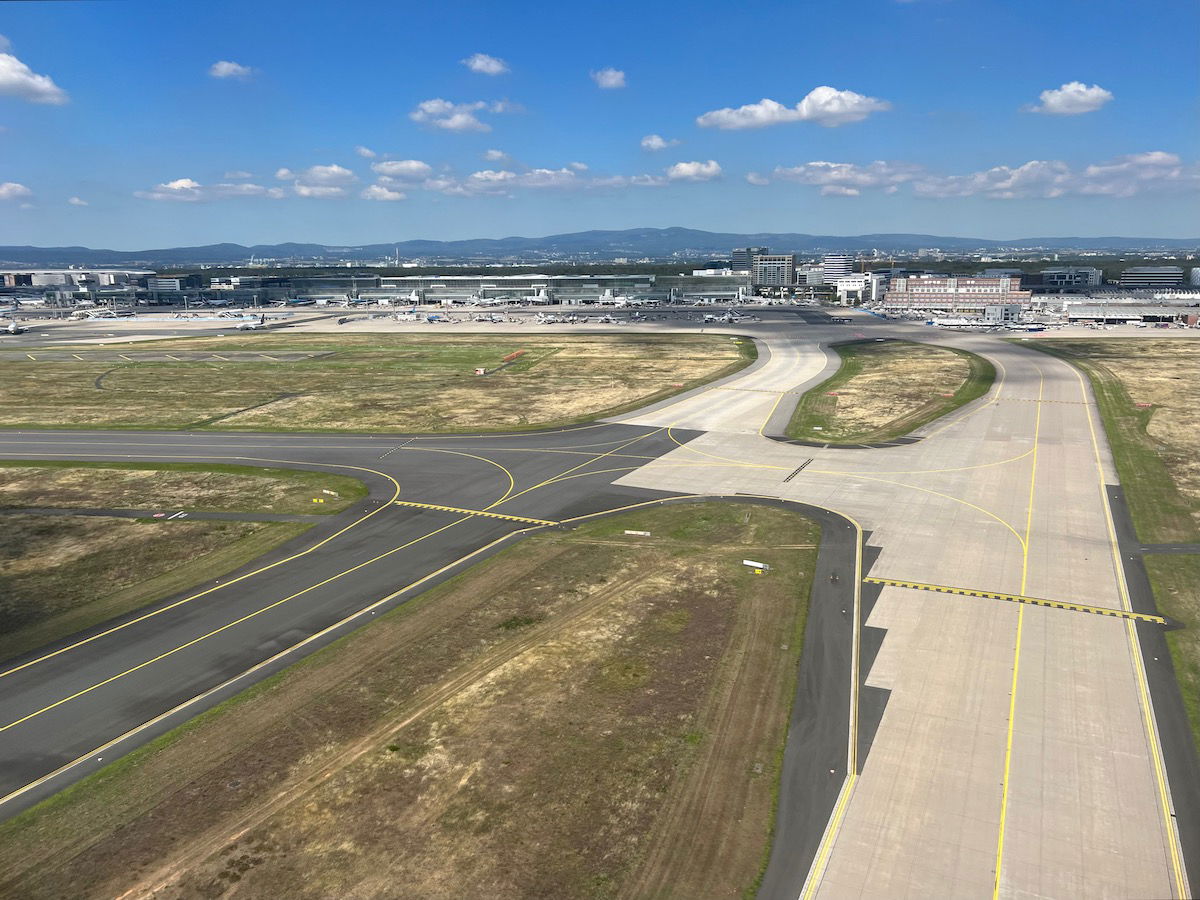 From there we had a long 15-minute taxi to our arrival gate, where we pulled in at 1:45PM, five minutes ahead of schedule.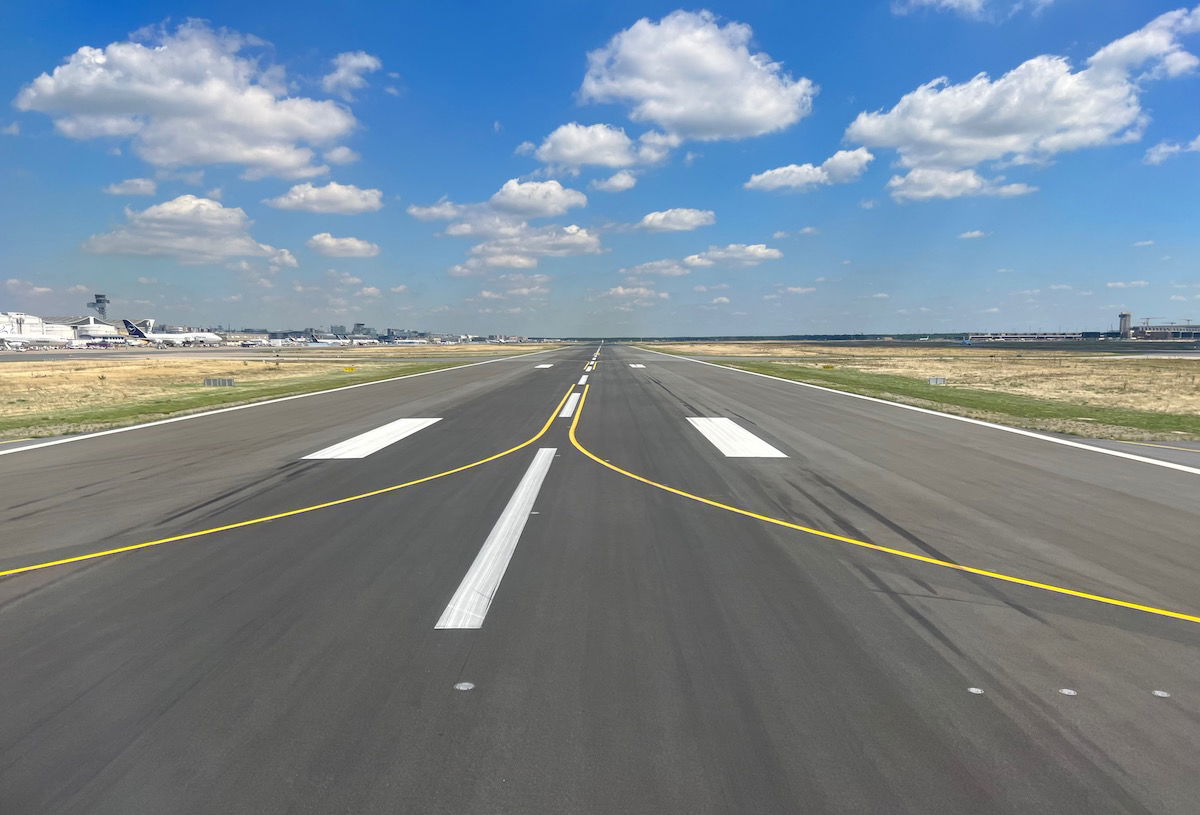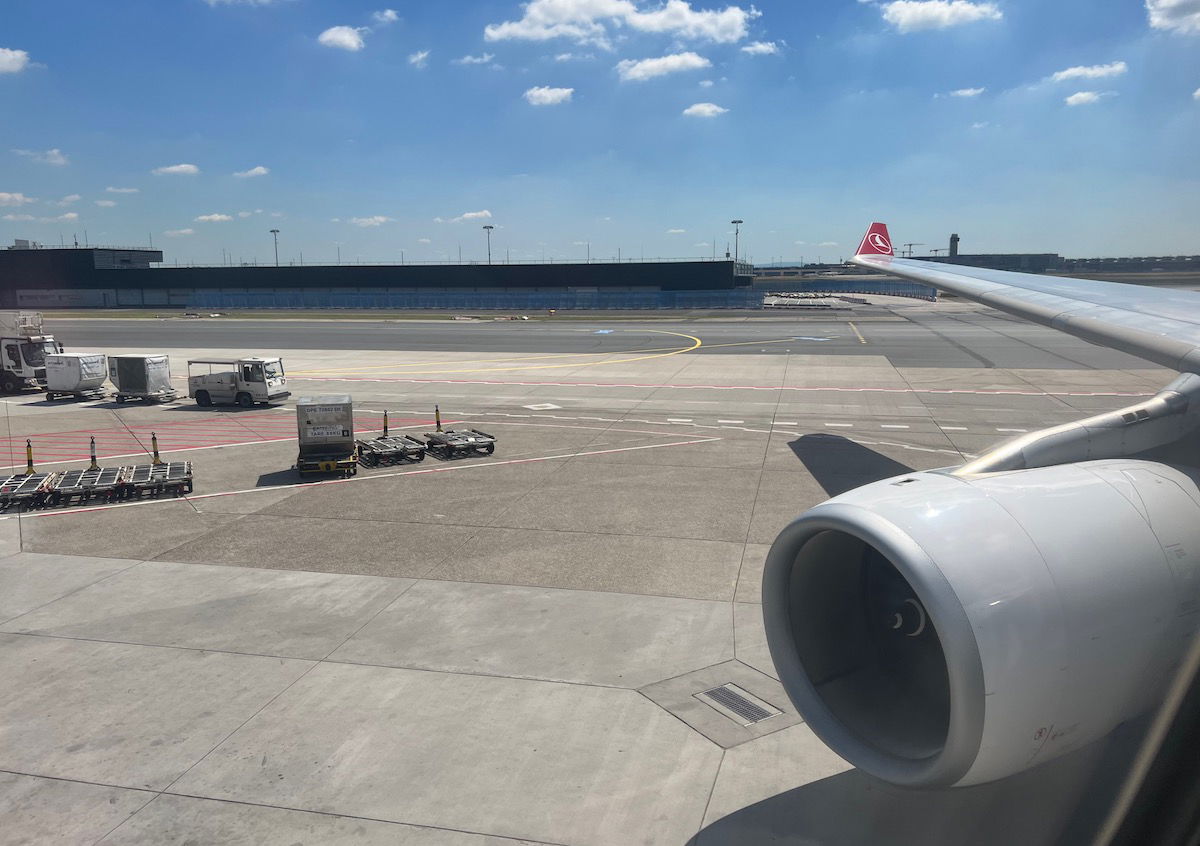 I bid farewell to the crew, headed through immigration, and was excited to meet up with my family!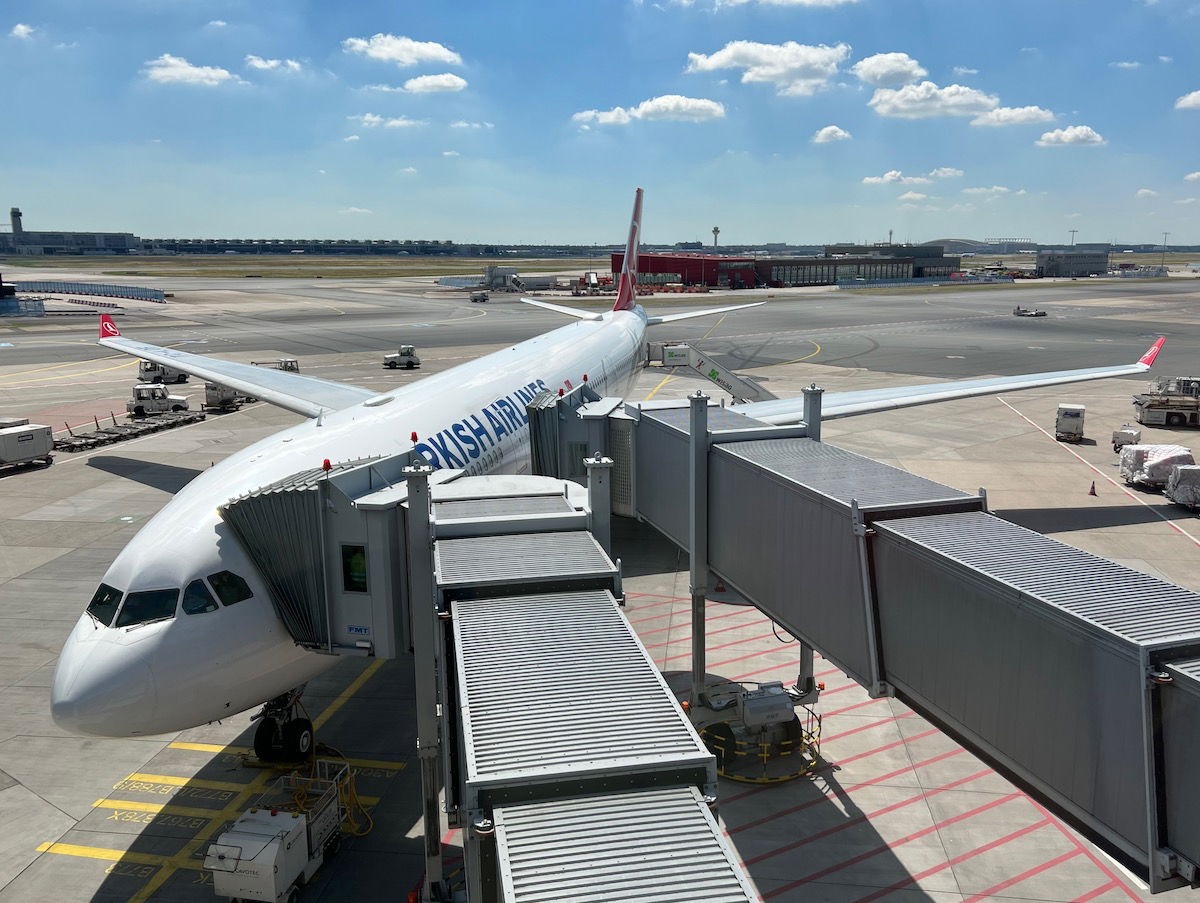 Bottom line
My Turkish Airlines flight from Istanbul to Frankfurt was fantastic. Admittedly this is Turkish Airlines' weakest wide body hard product, with rather small entertainment screens, and without flat beds. However, the soft product on this flight was great, with a very good crew.
It can be tough to decide how to rate flights like this when it comes to the hard product. The flight a couple of hours earlier was operated by an A330 with flat beds, so obviously that would have been a better hard product. However, the competition on this route is Lufthansa's narrow body aircraft with economy seats in business class, so this blows that away, and then some.
What do you make of Turkish Airlines' A330 business class?