Hello from Frankfurt! After flying Turkish Airlines' A350 business class from Chicago to Istanbul, I connected to Frankfurt in Turkish Airlines' A330 business class (I booked the entire itinerary for 45,000 Turkish Miles&Smiles miles).
I was excited about this flight, as it was an opportunity to fly in a new (to me) Turkish Airlines configuration. Specifically, this flight was operated by an A330 with Turkish's regional configuration, so this is the carrier's "worst" wide body business class product.
I had flown Turkish Airlines' standard long haul A330 business class, and I had also flown the carrier's former Jet Airways A330 business class. So, how does the regional A330 business class compare? Let's take a look…
Turkish's regional A330 business product is solid
Turkish Airlines has a subfleet of five A330-300s that used to fly for Japan's Skymark Airlines, and I was on one of those planes.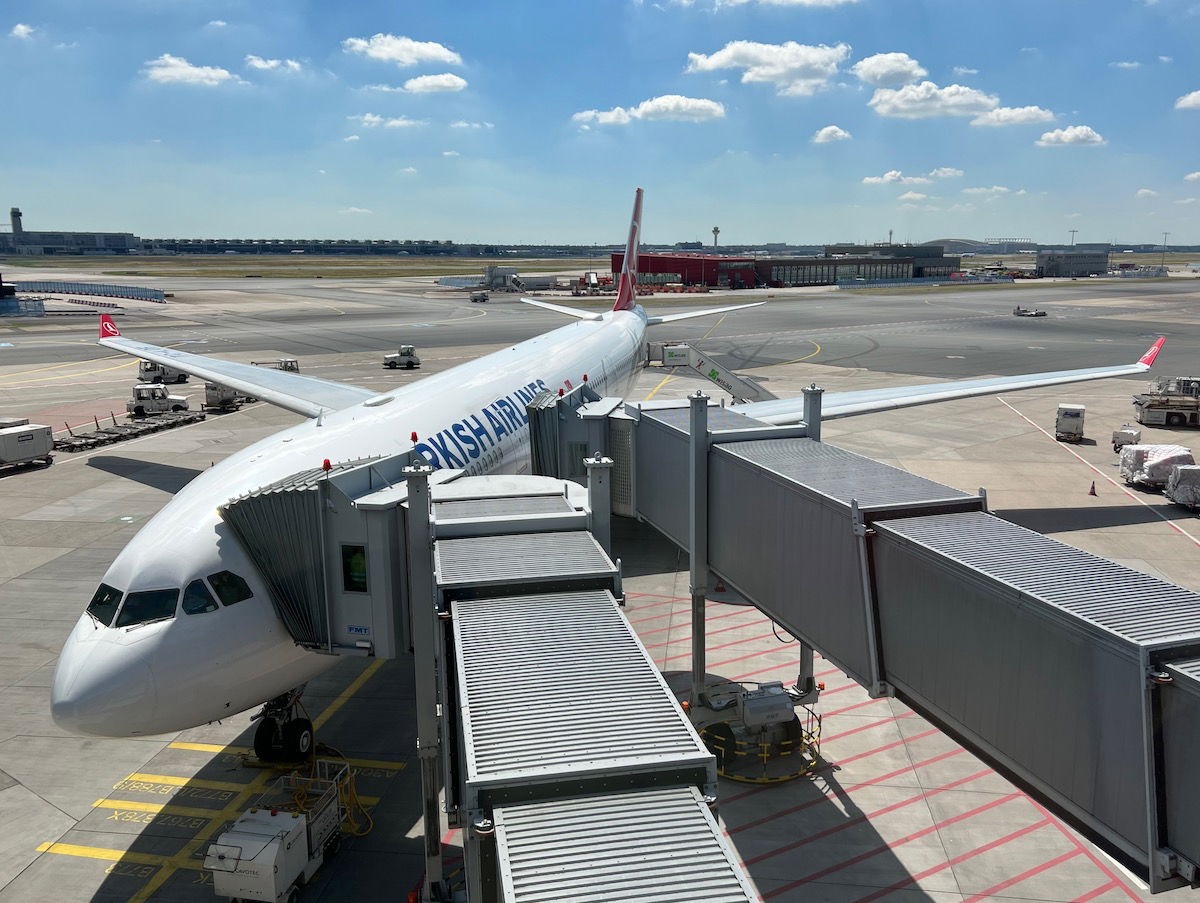 These aircraft have 40 business class seats, spread across seven rows in a 2-2-2 configuration.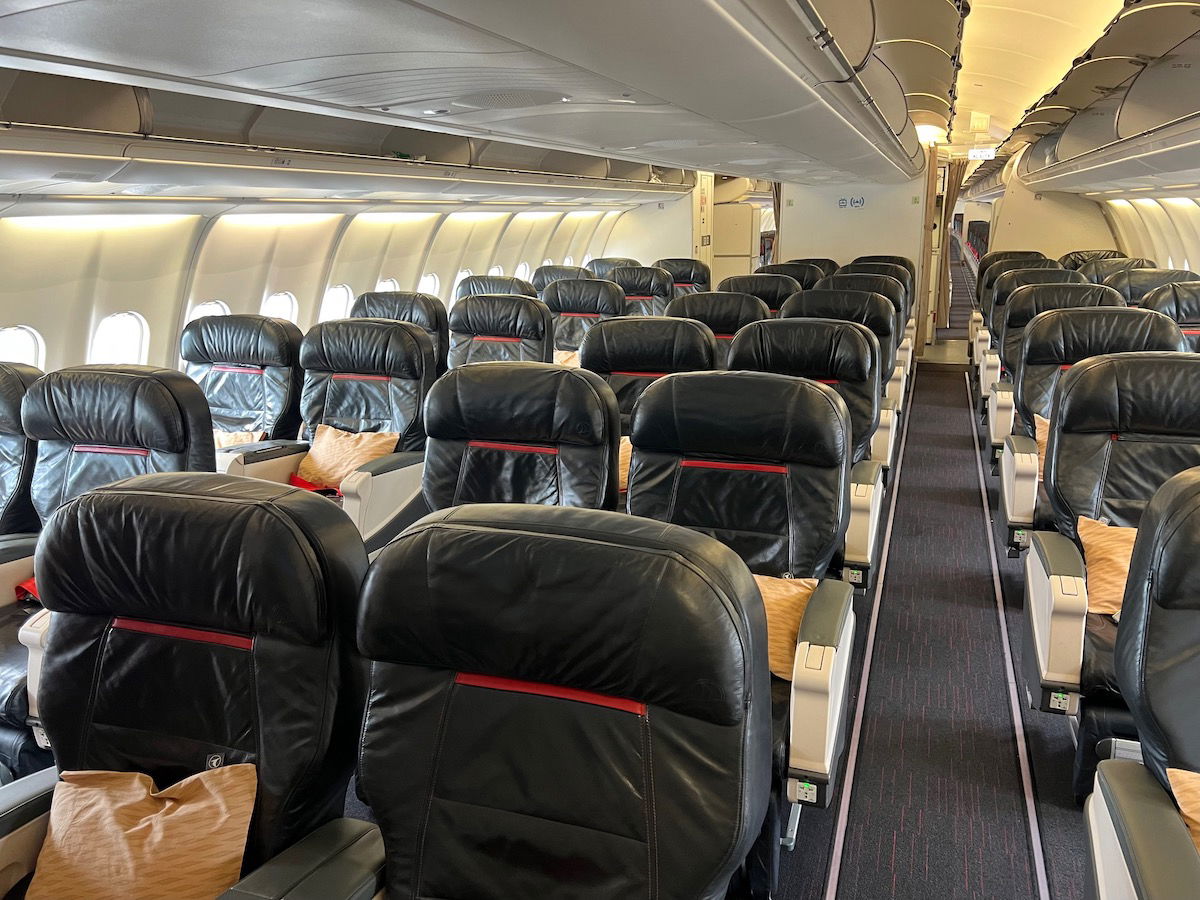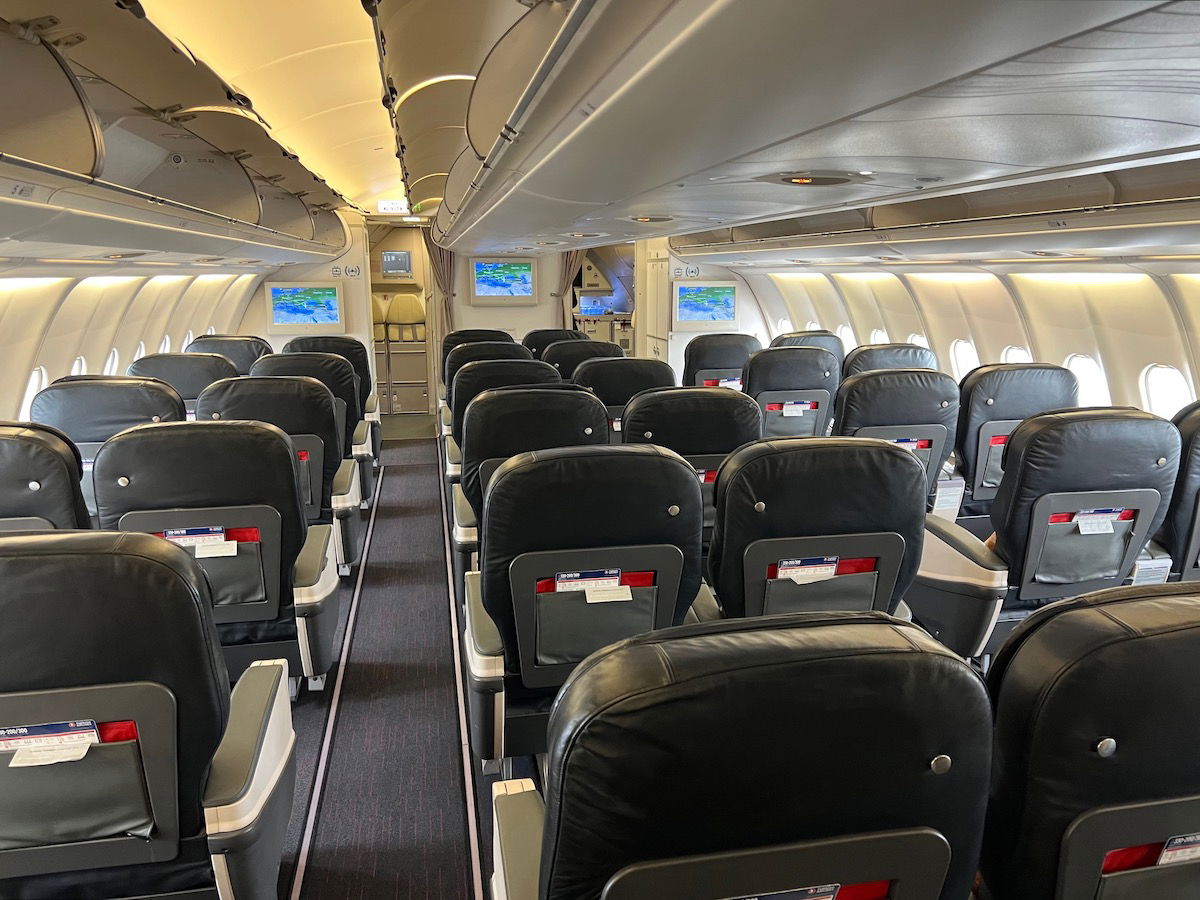 While they're definitely not as comfortable as the carrier's long haul business class product, it's still a comfy ride, especially when you consider that Lufthansa just offers its standard intra-Europe business class on this route.
Seats have way more legroom than you'd find in domestic first class within the United States. Furthermore, seats have AC power outlets, USB-A outlets, Wi-Fi (free for business class passengers), and live TV, so they have all the modern amenities Turkish has on other aircraft.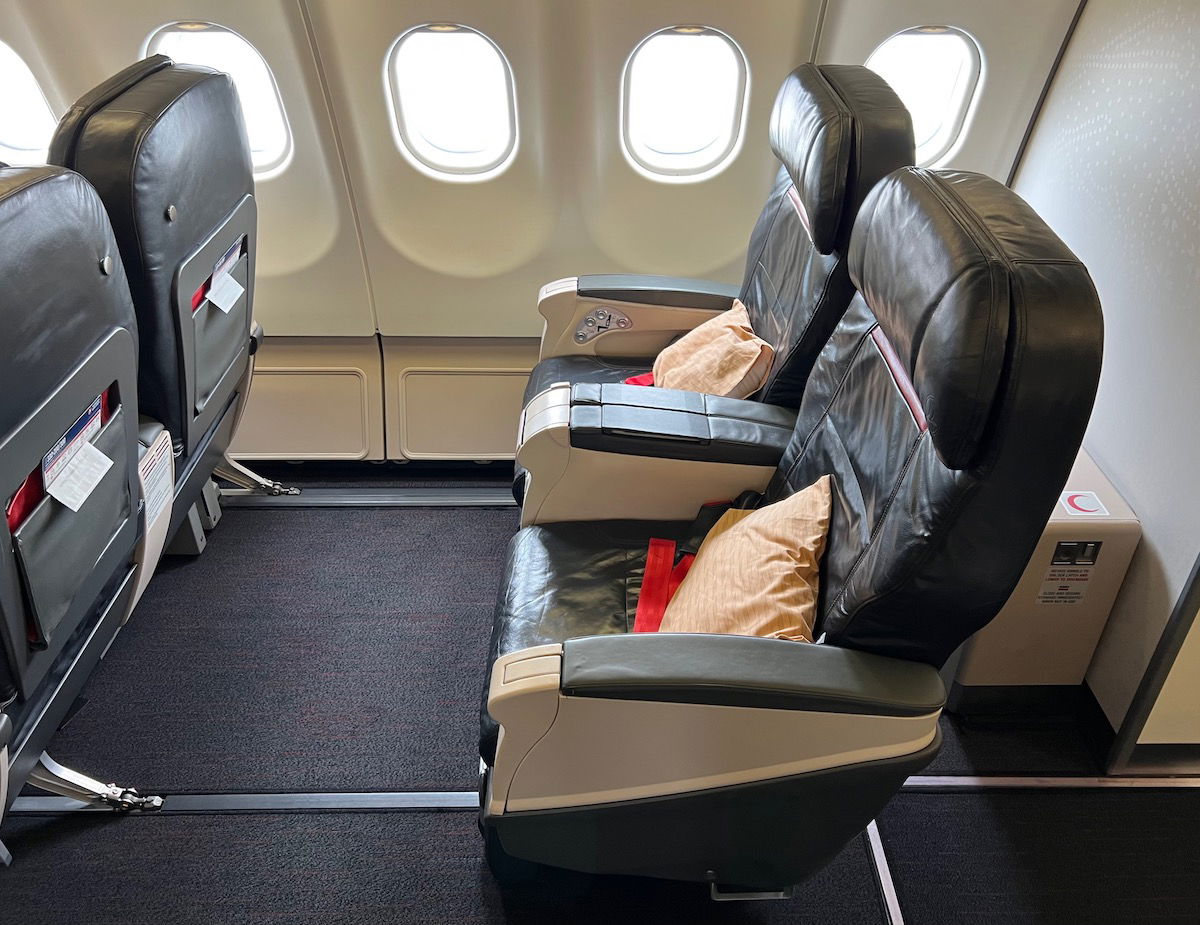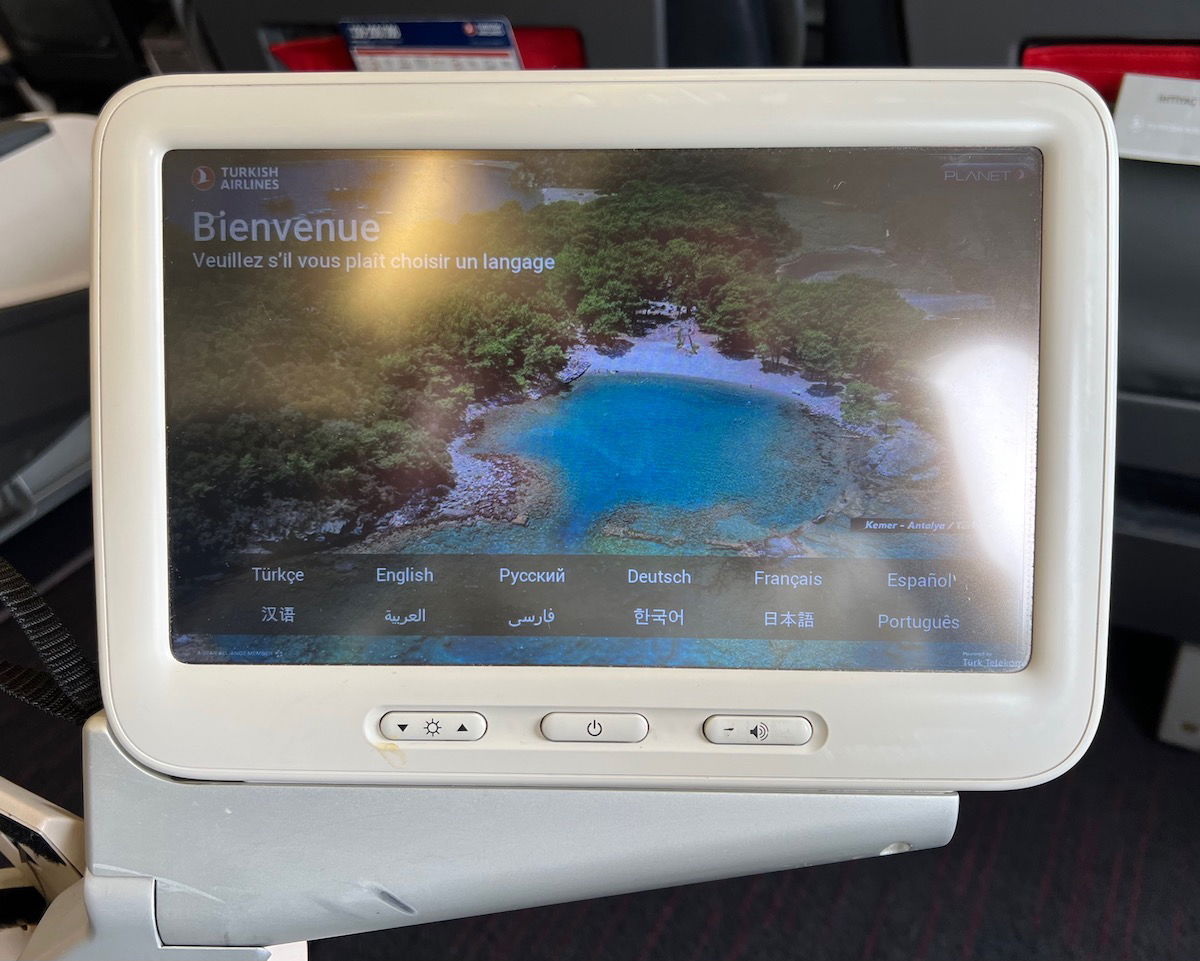 For a 2hr40min flight, this is a more than sufficient product, so much better than you'll find on virtually any other airline in Europe.
What made this especially nice is that the cabin was less than one-third full, and everyone else was seated in the first three rows. Meanwhile I was seated in the last row, so below is a picture of the cabin inflight.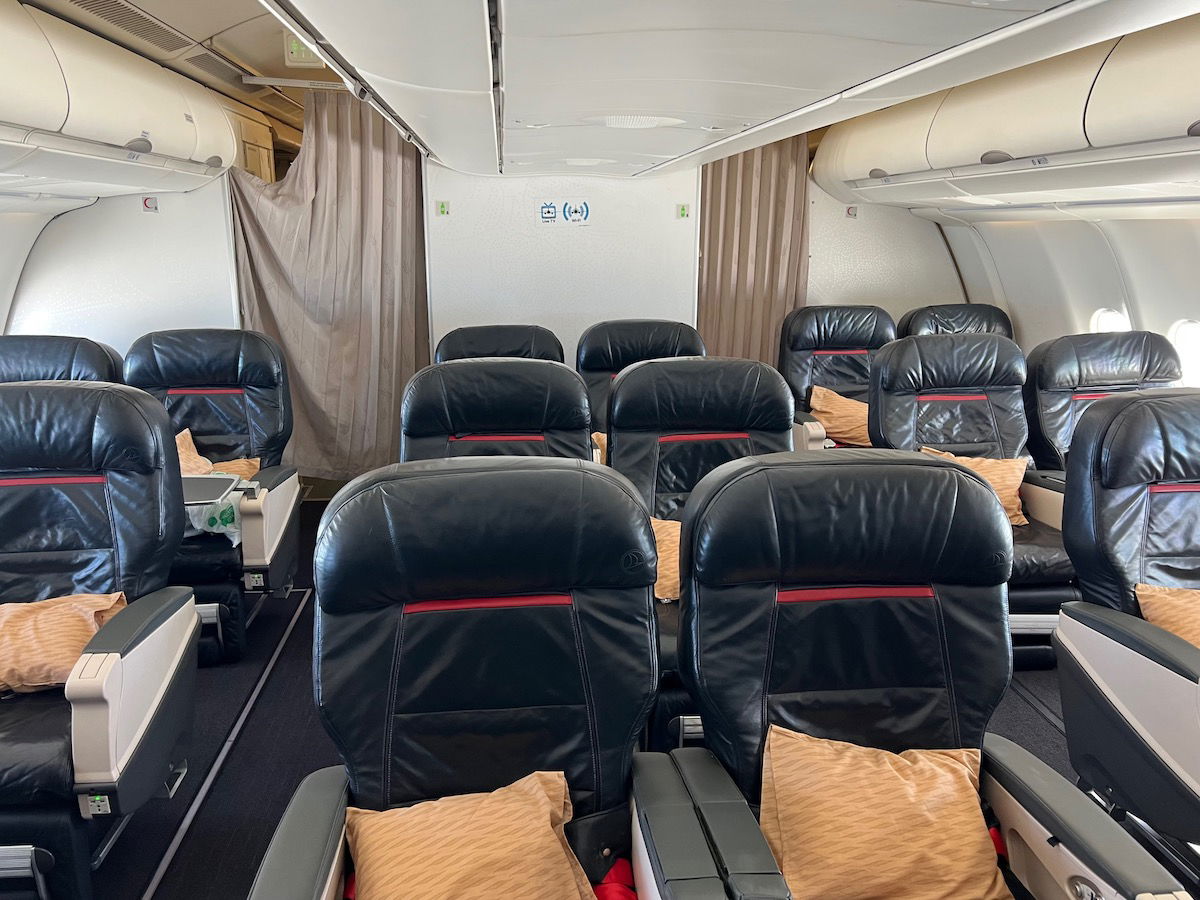 Turkish's delicious inflight catering
While Turkish Airlines' regional catering isn't as extensive as what you'll find on a long haul flight, the selection was still excellent. Menus were distributed, which is always a nice touch.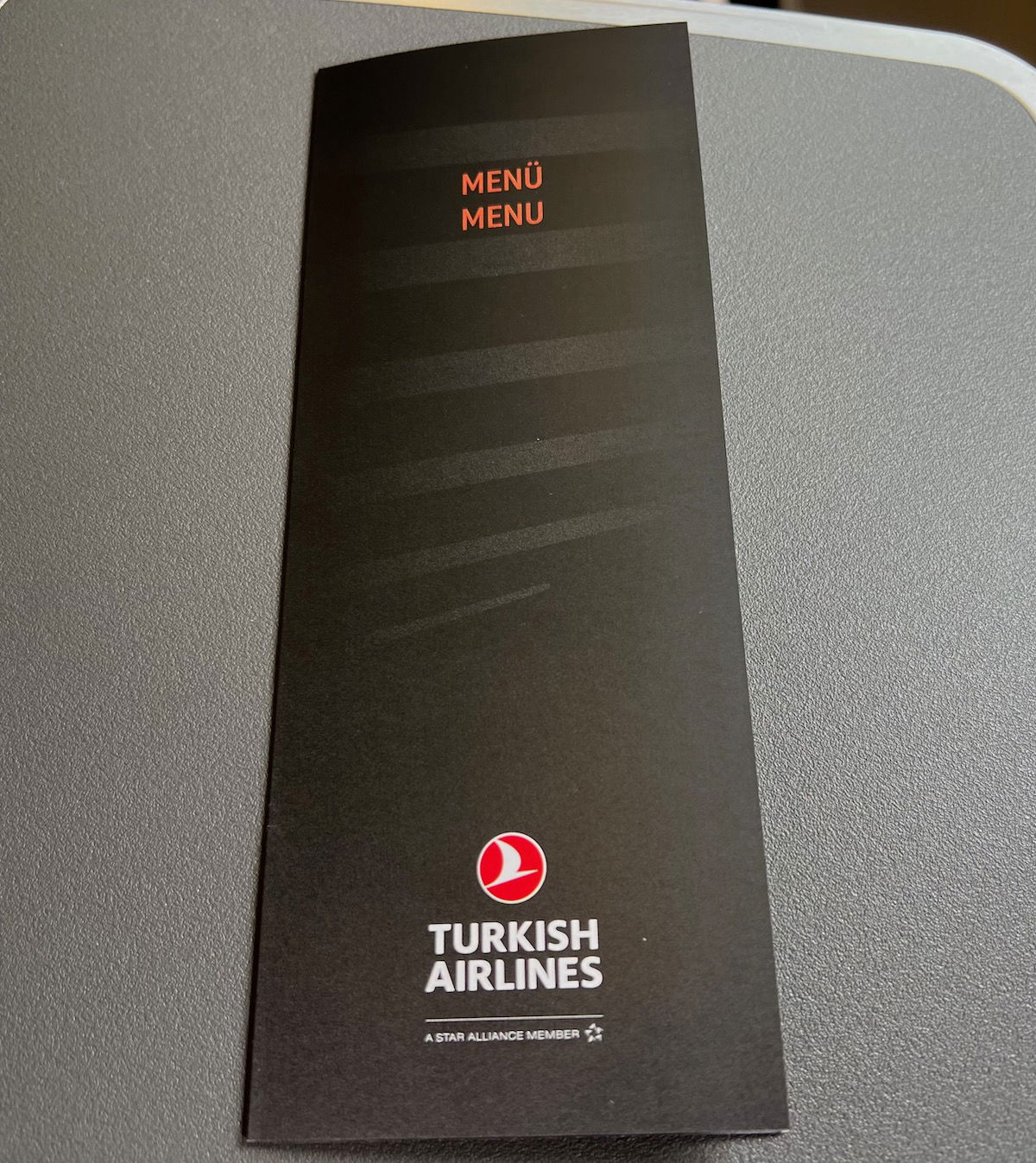 Lunch was served on this flight, and that consisted of a starter of smoked salmon with prawns. There were also Turkish style fried aubergines with tomato sauce and yogurt, a cheese plate, and homemade eclairs.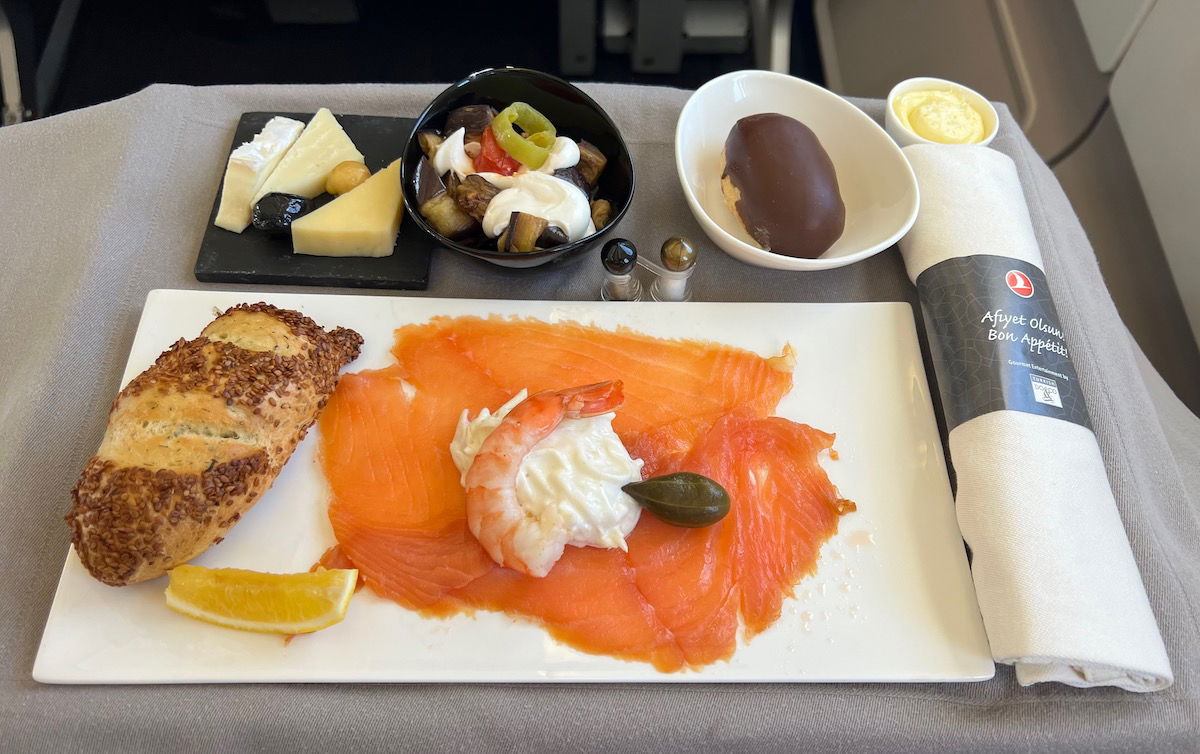 For the main course I decided to mix things up and not order fish for once, so instead I had the ricotta cappellacci with beluga lentil bolognese, which was tasty.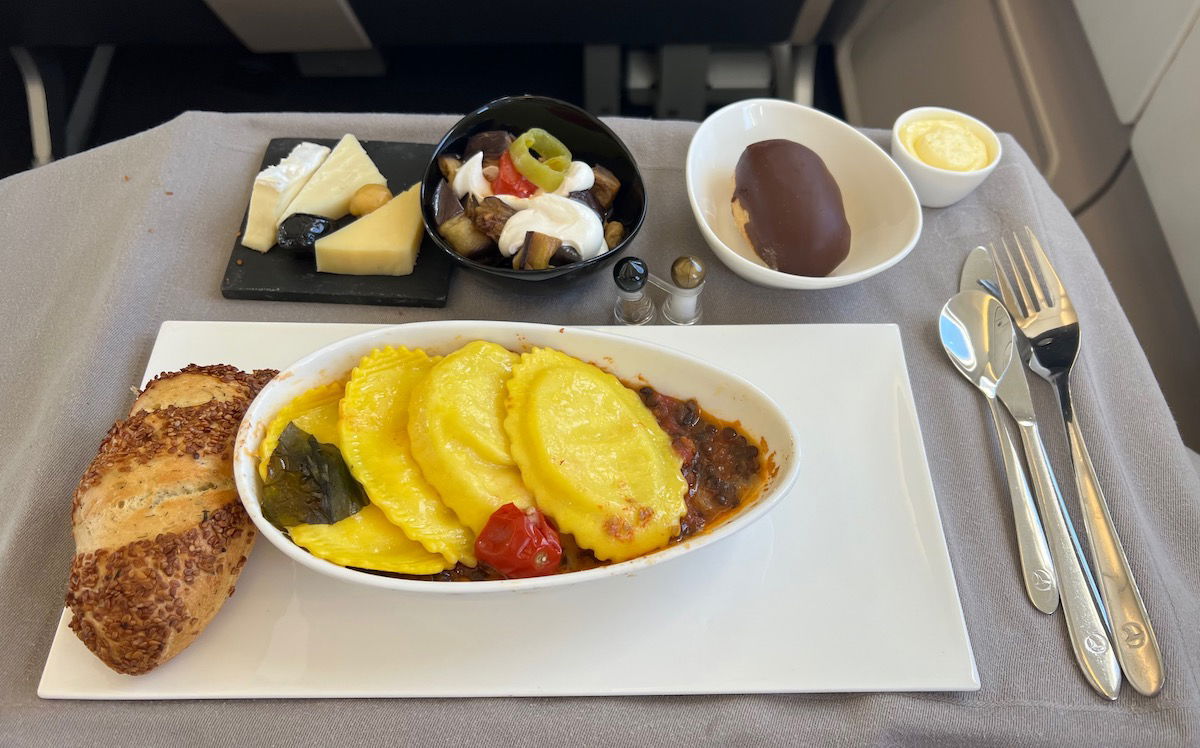 An example of genuine Turkish hospitality
As mentioned above, this flight was very empty in business class. During boarding I was talking with Bahadir, the very friendly business class flight attendant. We were talking about Turkish Airlines, the new A350 I had just flown, etc., and eventually the conversation changed to him asking me if I had ever had raki on Turkish Airlines before. I hadn't, so he insisted he serve me some after takeoff.
Sure enough, after takeoff he brought me that, along with a glass of water.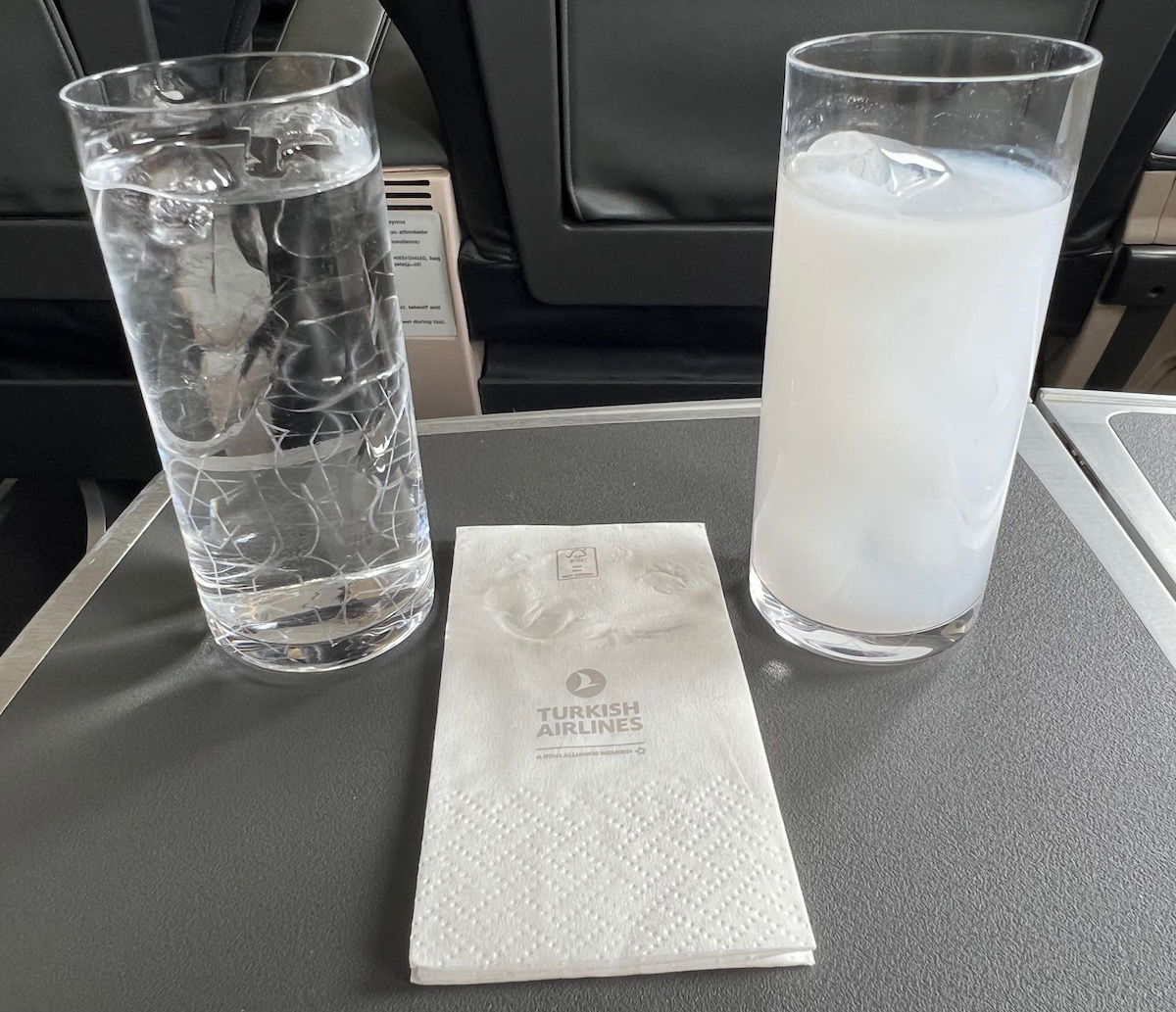 Not only that, but he brought me a tray with both the cheese plate and the mezze. "Raki is best not to drink alone, it should be enjoyed with mezze, so I brought you this." I'm guessing they had catered a lot of extra meals based on how empty the cabin was.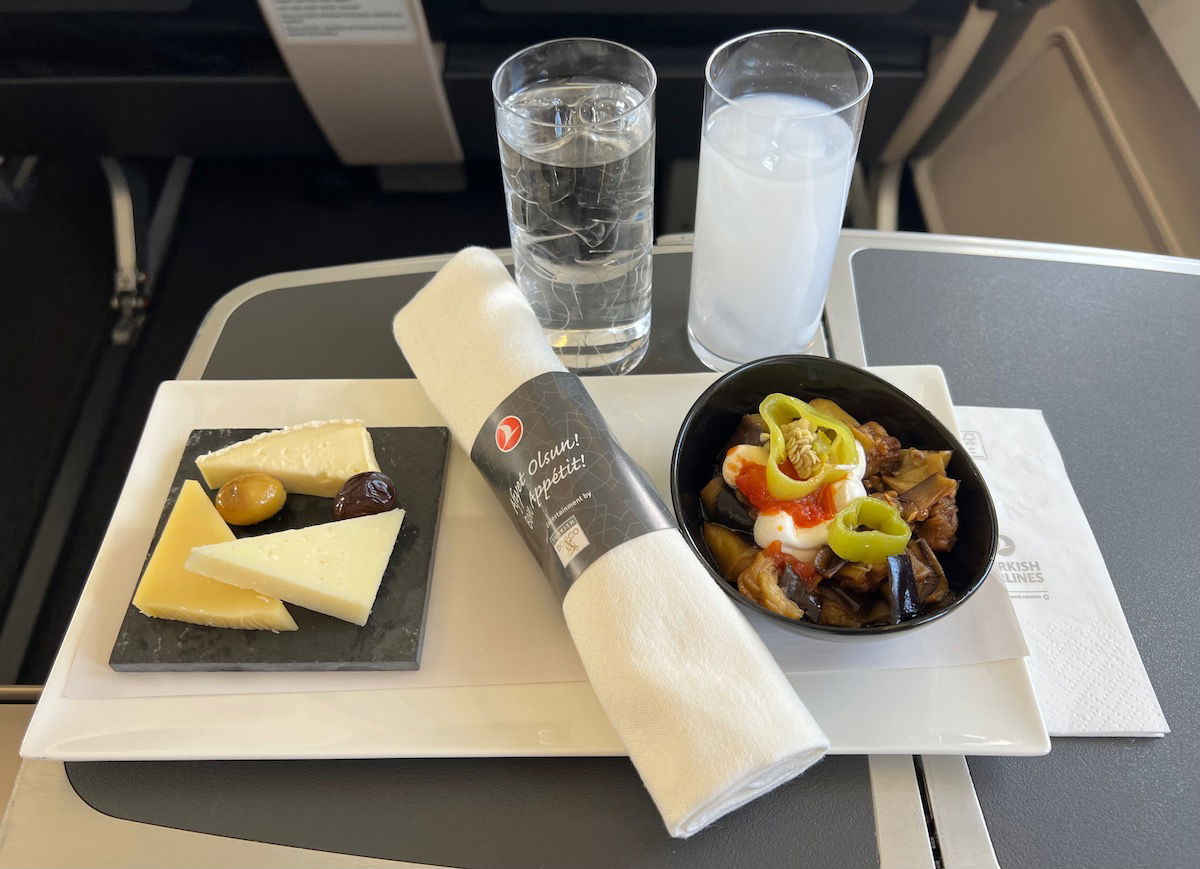 When I talk about how I find inflight service on Turkish Airlines to range from good to exceptional, this is an example of the genuine hospitality that I love about the airline.
For example, I find that if I ask about a particular Turkish dish, or say something nice about it, the crew will often say "oh you must try X," almost as a point of national pride. I very much appreciate that.
Bottom line
I finally had the chance to fly Turkish Airlines' "worst" wide body business class, which is on the A330s that used to fly for Skymark Airlines. While the plane didn't offer flat beds, it was still a great experience, with comfortable seats, delicious food, free Wi-Fi, extensive entertainment, and very friendly service.
In many ways, Turkish shines even more on short haul flights than long haul flights, given the huge difference compared to what you'd find on short haul flights with competitors.
What do you make of Turkish Airlines' regional A330 business class?