After an amazing time in Germany with my parents, it was time to start the journey back home. While we all flew back on the same transatlantic flight (in Lufthansa's A380 first class from Munich to Boston), I made a little detour on our return trip, starting with flying Lufthansa's A319 business class from Frankfurt to Munich.
In this post I wanted to review the short business class flight from Frankfurt to Munich (Lufthansa's two biggest hubs), operated by an Airbus A319. Lufthansa's intra-Europe business class product is totally average and nothing to get excited about… and this flight was no exception.
How I booked my Lufthansa business class ticket
I booked the following itinerary from Frankfurt to Zurich in business class, for 15,000 Air Canada Aeroplan points plus $103.16 in taxes and fees:
8/18 LH116 Frankfurt to Munich departing 6:15PM arriving 7:10PM
8/18 LX1111 Munich to Zurich departing 9:00PM arriving 9:55PM
Why did I make this side trip to Zurich? Well, my goal was to spend the night in Zurich in order to review the SWISS First Lounge Zurich. However, unfortunately my flight from Munich to Zurich got canceled, so that didn't end up happening. On the plus side, at least I qualified for EU261 compensation.
Lufthansa business class lounge & boarding
In the previous installment I reviewed the Lufthansa Panorama Lounge Frankfurt, which is probably the best business class lounge at the airport (in fairness, that's a pretty low bar). Boarding for my flight to Munich was scheduled for 5:45PM, 30 minutes before departure. The flight was departing from gate A17, just a short walk from the lounge.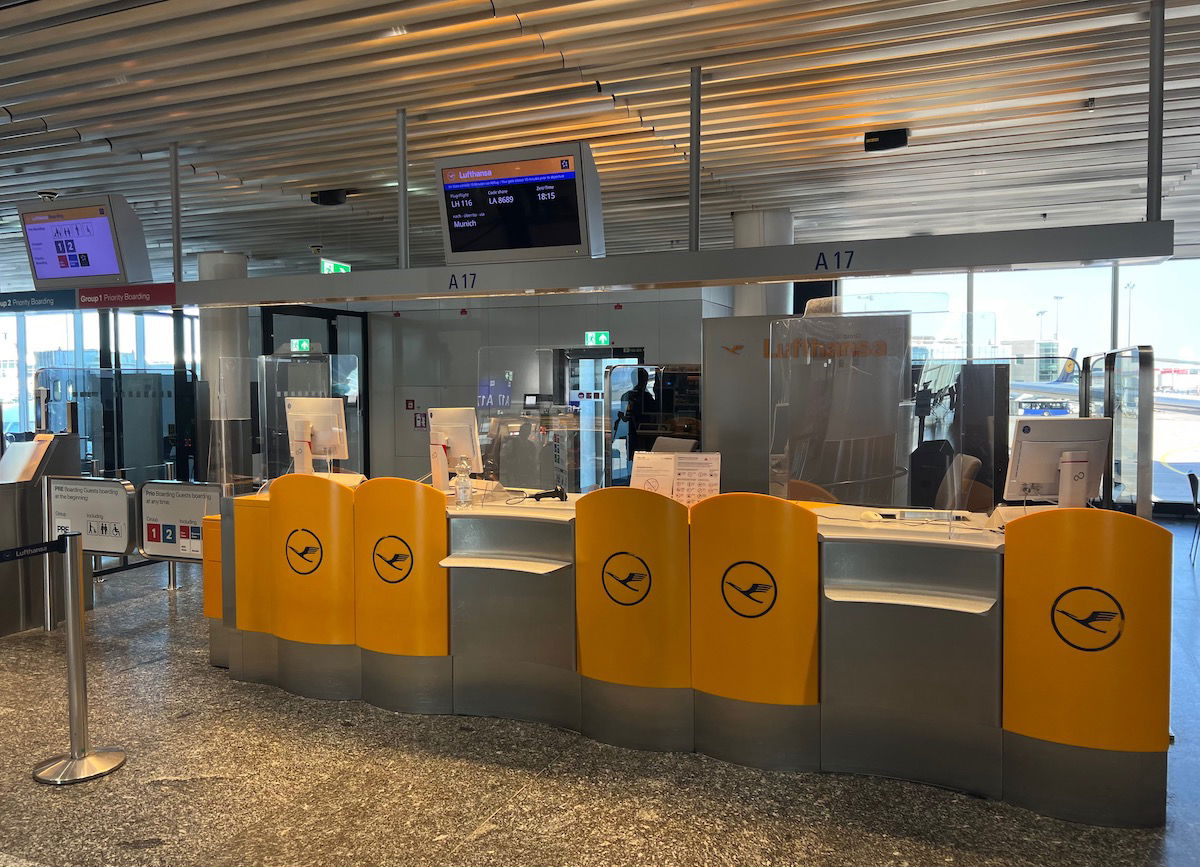 When I arrived at the gate, I saw the 26-year-old A319 with the registration code D-AILK parked there.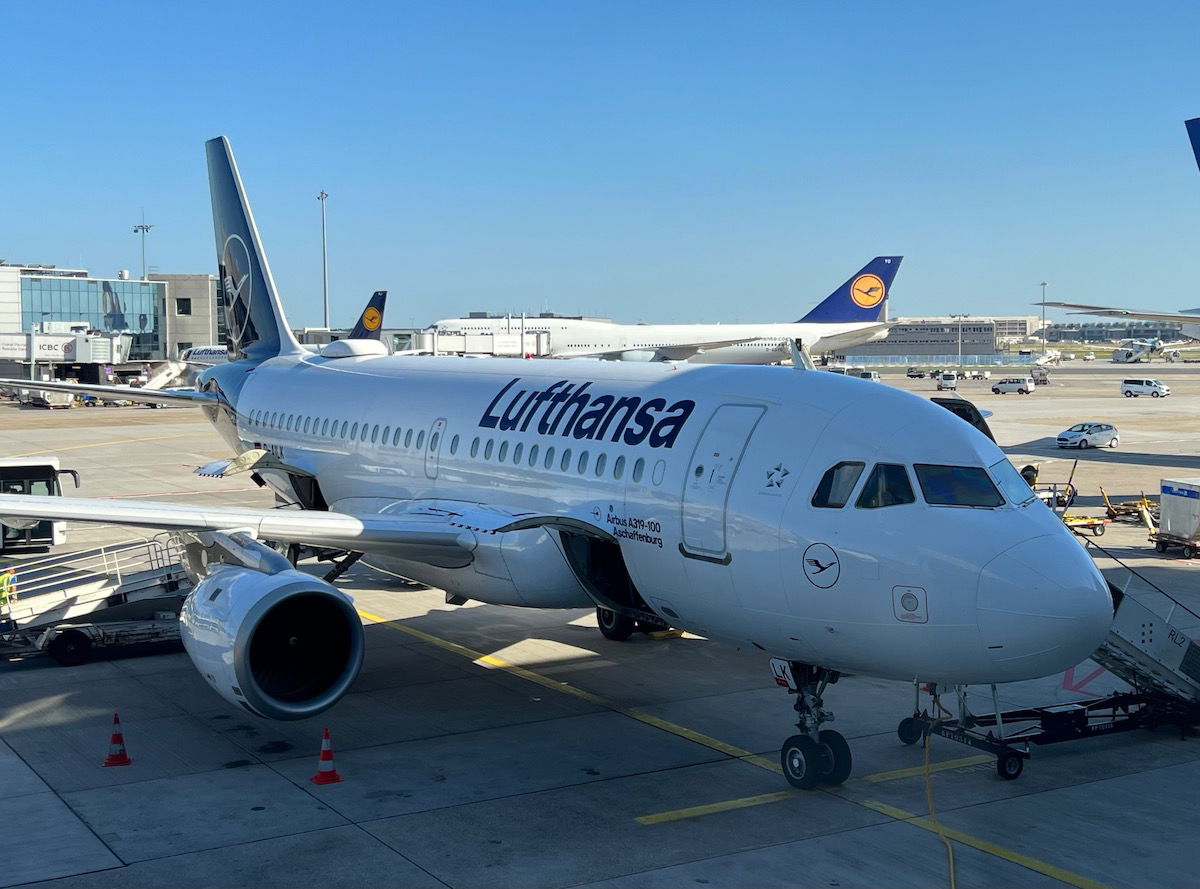 The plane had just arrived from Skopje (SKP), which is why stairs were pulled up to the aircraft, and passengers were put on buses. Macedonia isn't in the Schengen zone, so arriving passengers had to enter through a different part of the terminal. Once everyone was deplaned, the jet bridge was pulled up to the aircraft.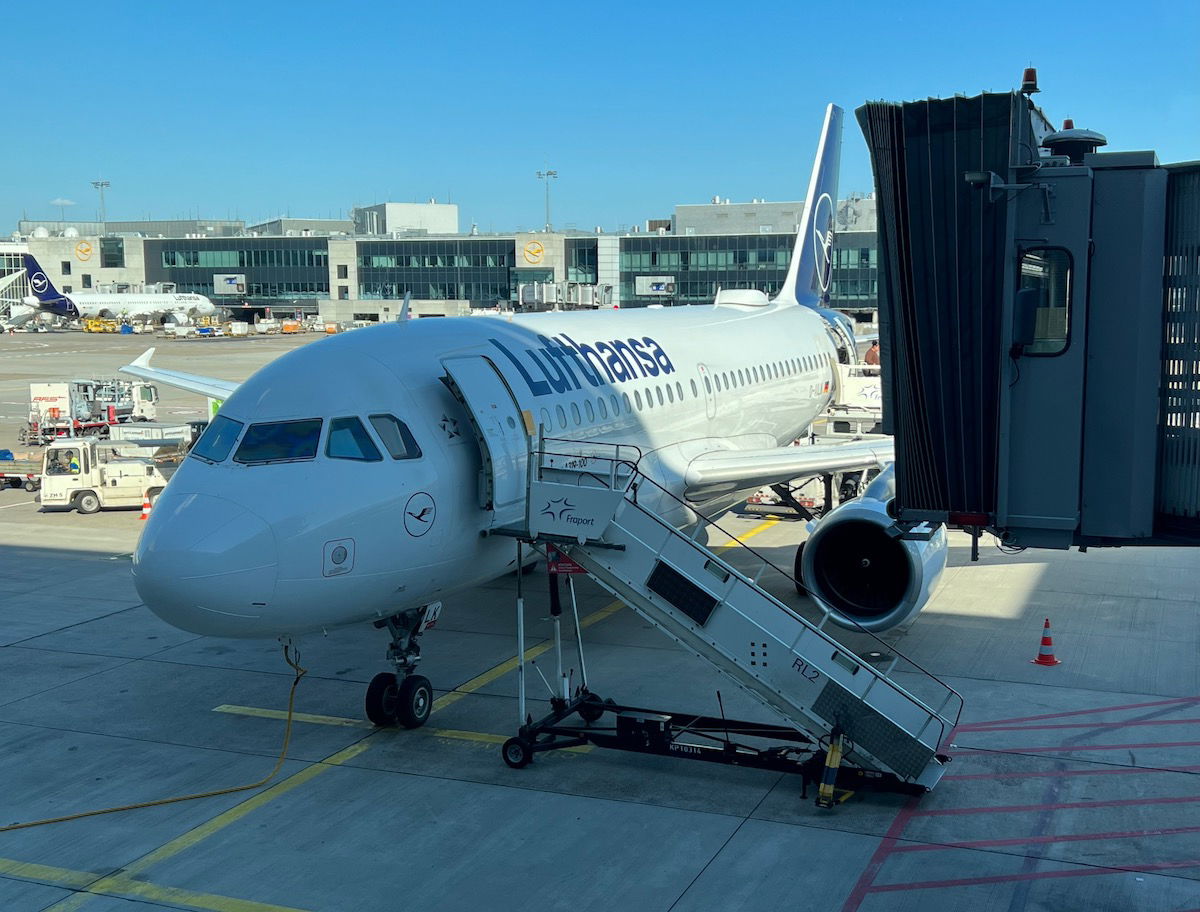 Boarding was delayed a bit due to cabin servicing, and ended up starting at 5:55PM. Families were invited to board first (which seemed to be about half the plane — not surprising in August), followed by business class.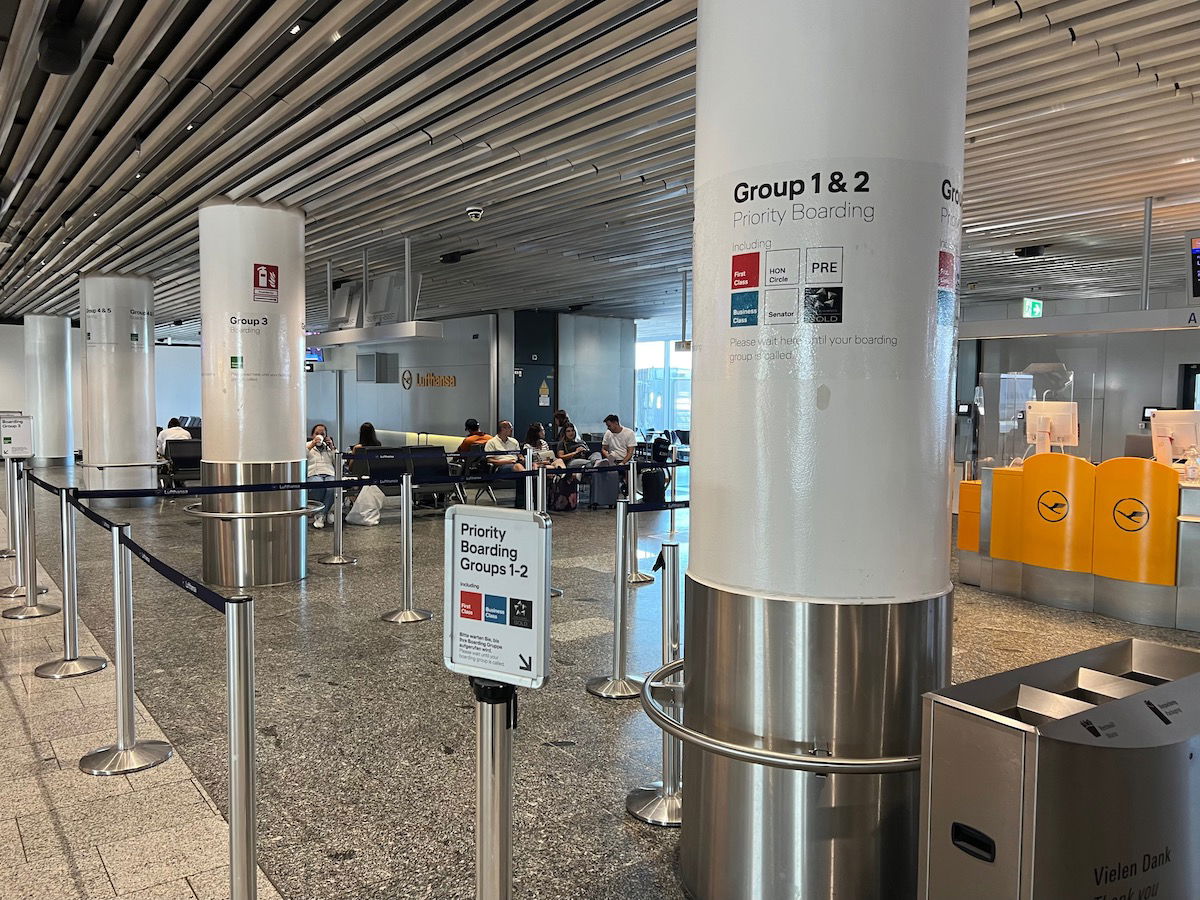 Lufthansa A319 business class cabin & seats
As is standard on intra-Europe flights, business class simply consisted of economy with a blocked middle seat. This allows airlines to change the size of the cabin on each flight based on demand, as the curtain can easily be moved. On this particular flight, there were four rows of business class, which could accommodate up to 16 passengers.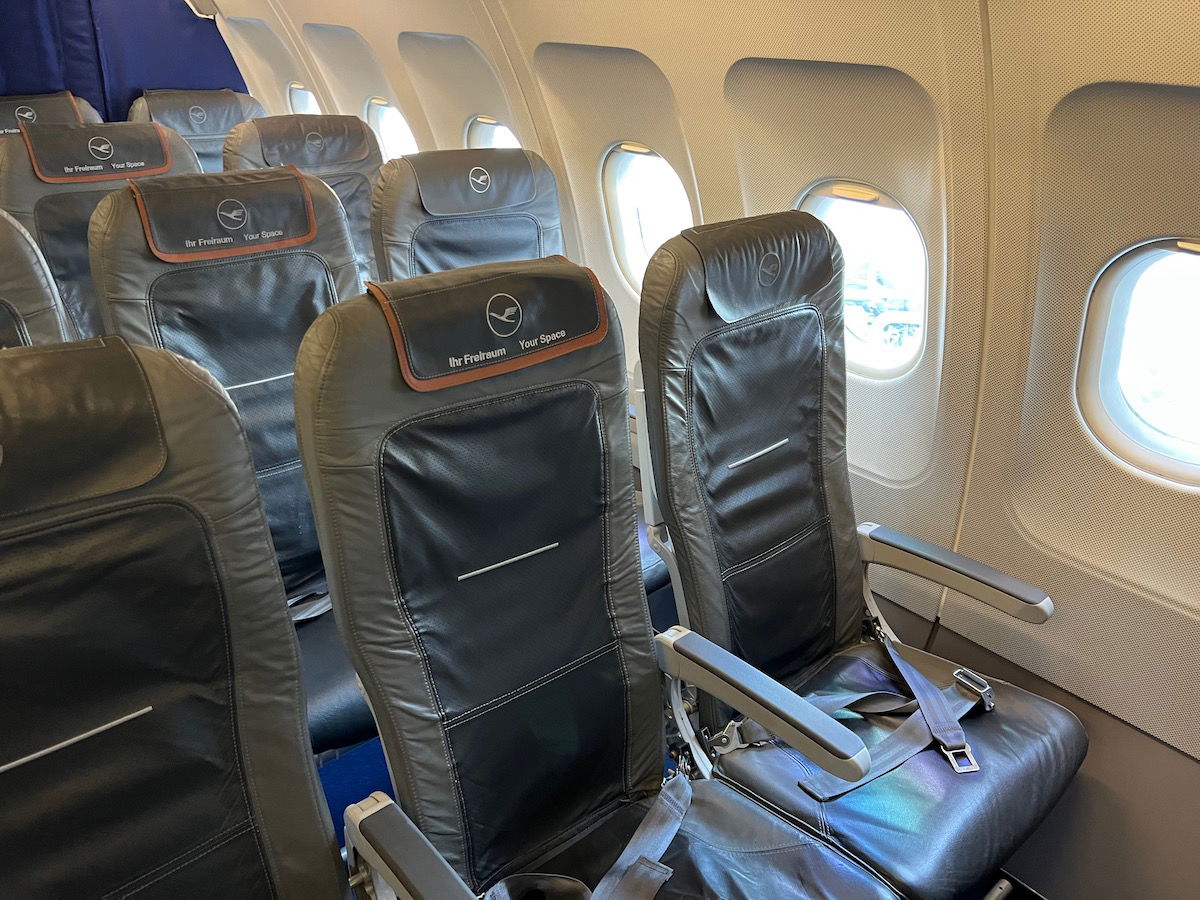 While I otherwise often avoid bulkhead seats, within Europe I actually prefer these, since they often have significantly more legroom.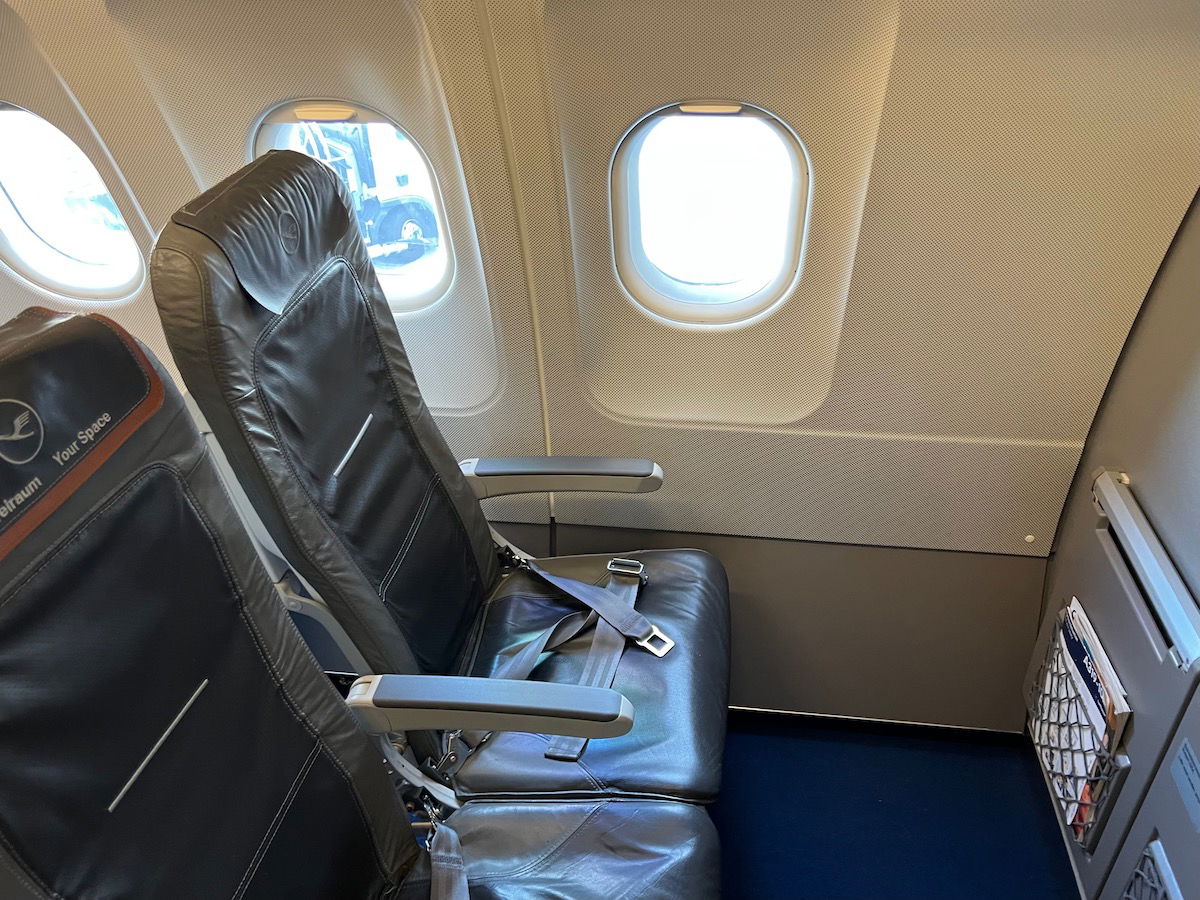 However, on this flight I assigned myself seat 4F, the window seat on the right side in the last row of business class.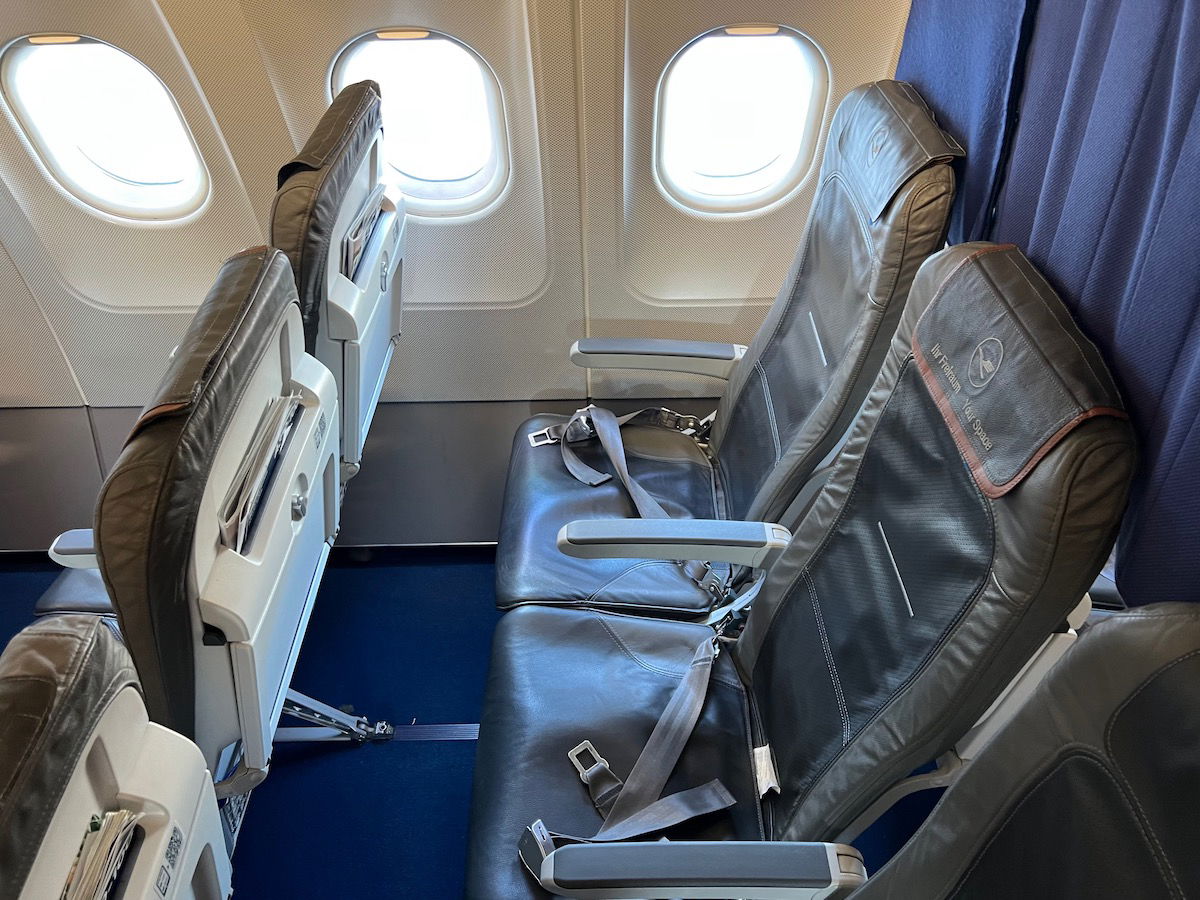 While business class ended up having nine of 16 seats occupied, I had the entire fourth row to myself.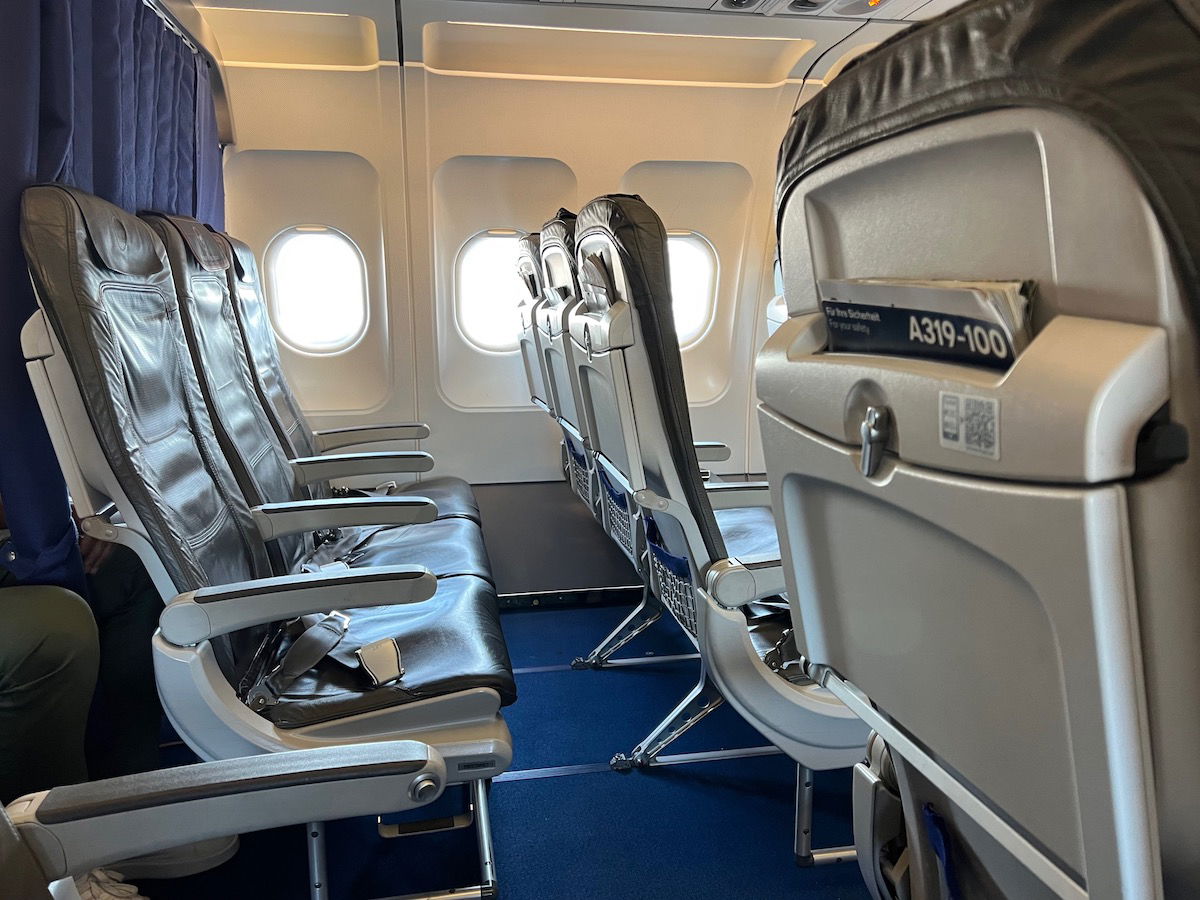 Unfortunately Lufthansa's short haul seats aren't very comfortable. They're slimline seats, so lack padding, and also don't have much legroom.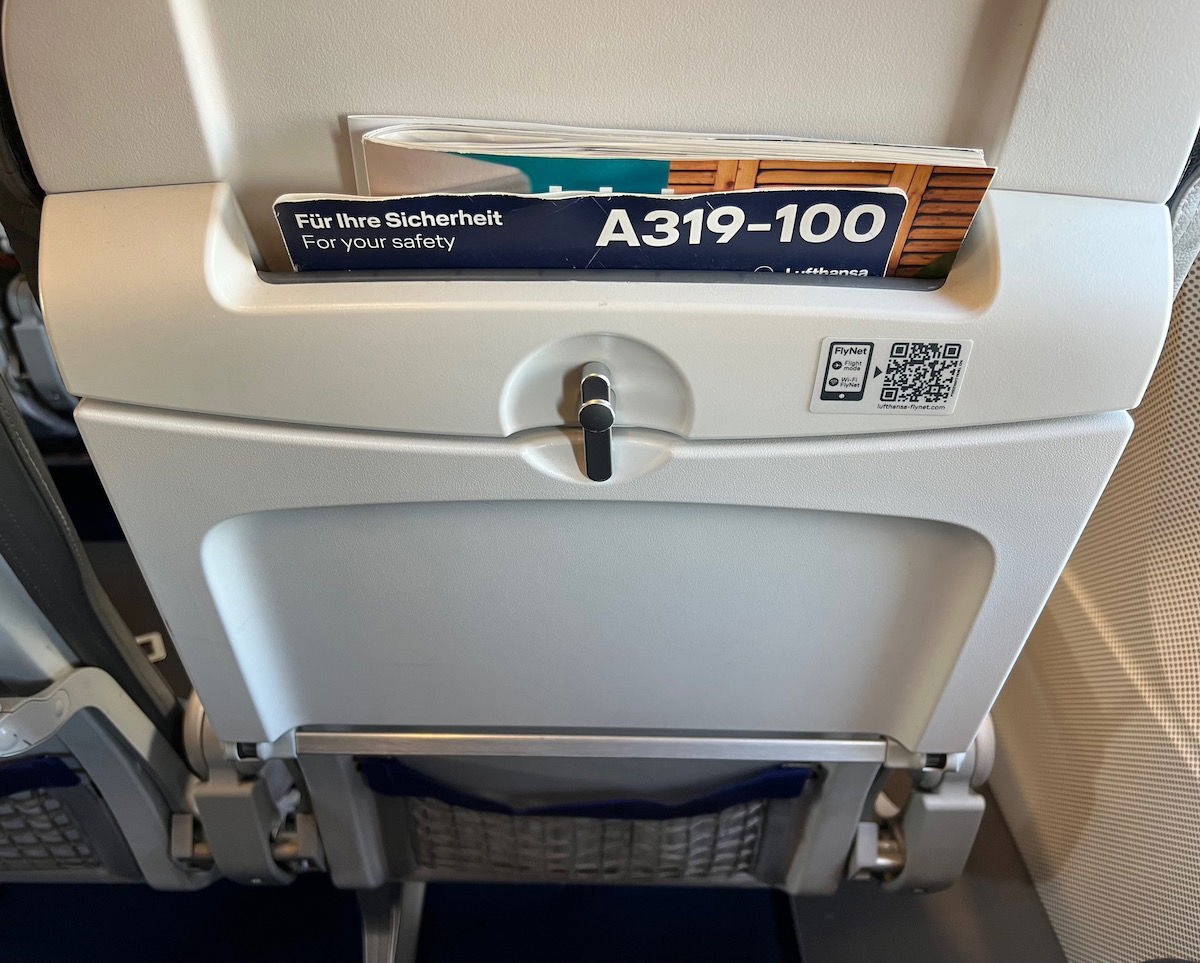 The tray table folded out from the seat in front, and was a standard size. As far as seat back storage goes, these seats just had very loose nets in which you could place items, plus a literature pocket.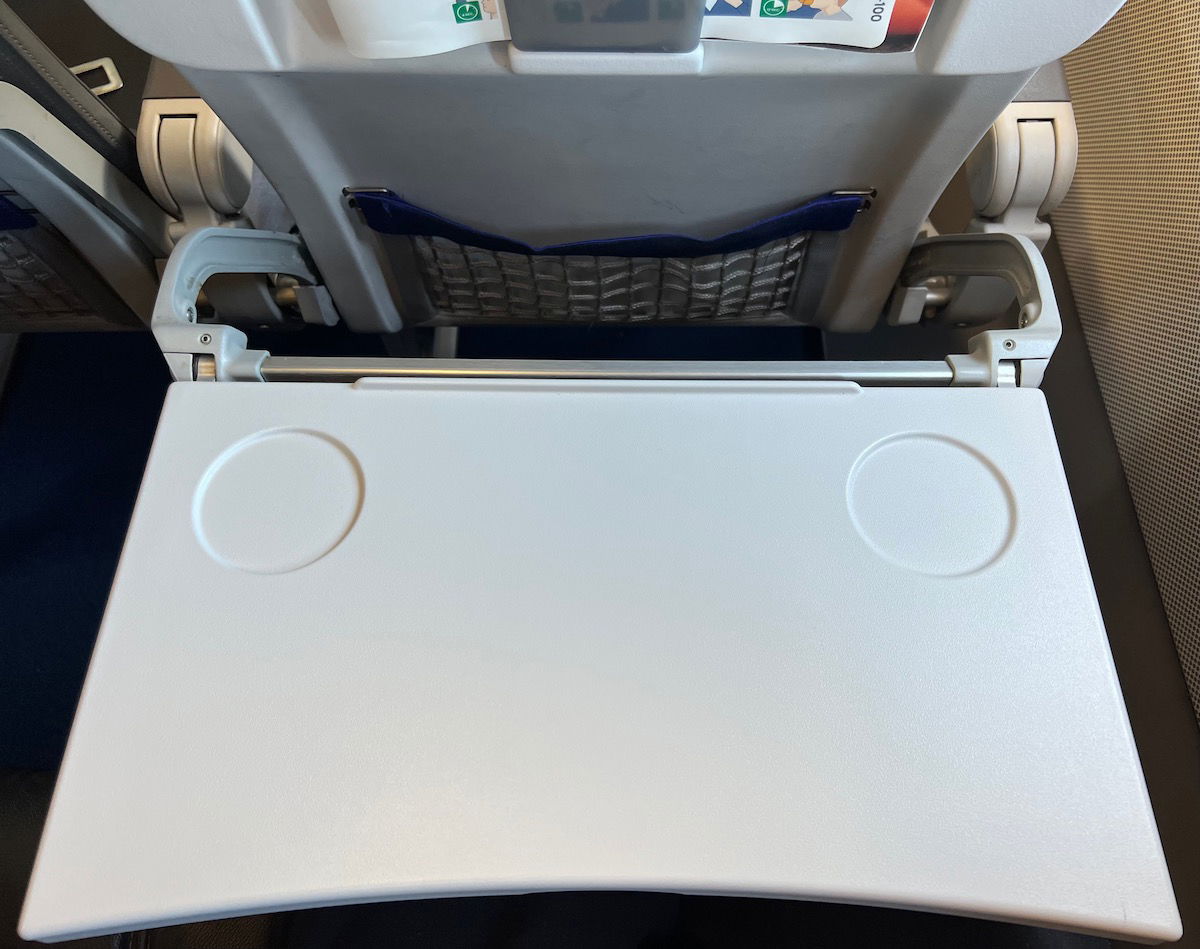 The overhead console had both reading lights and individual air nozzles.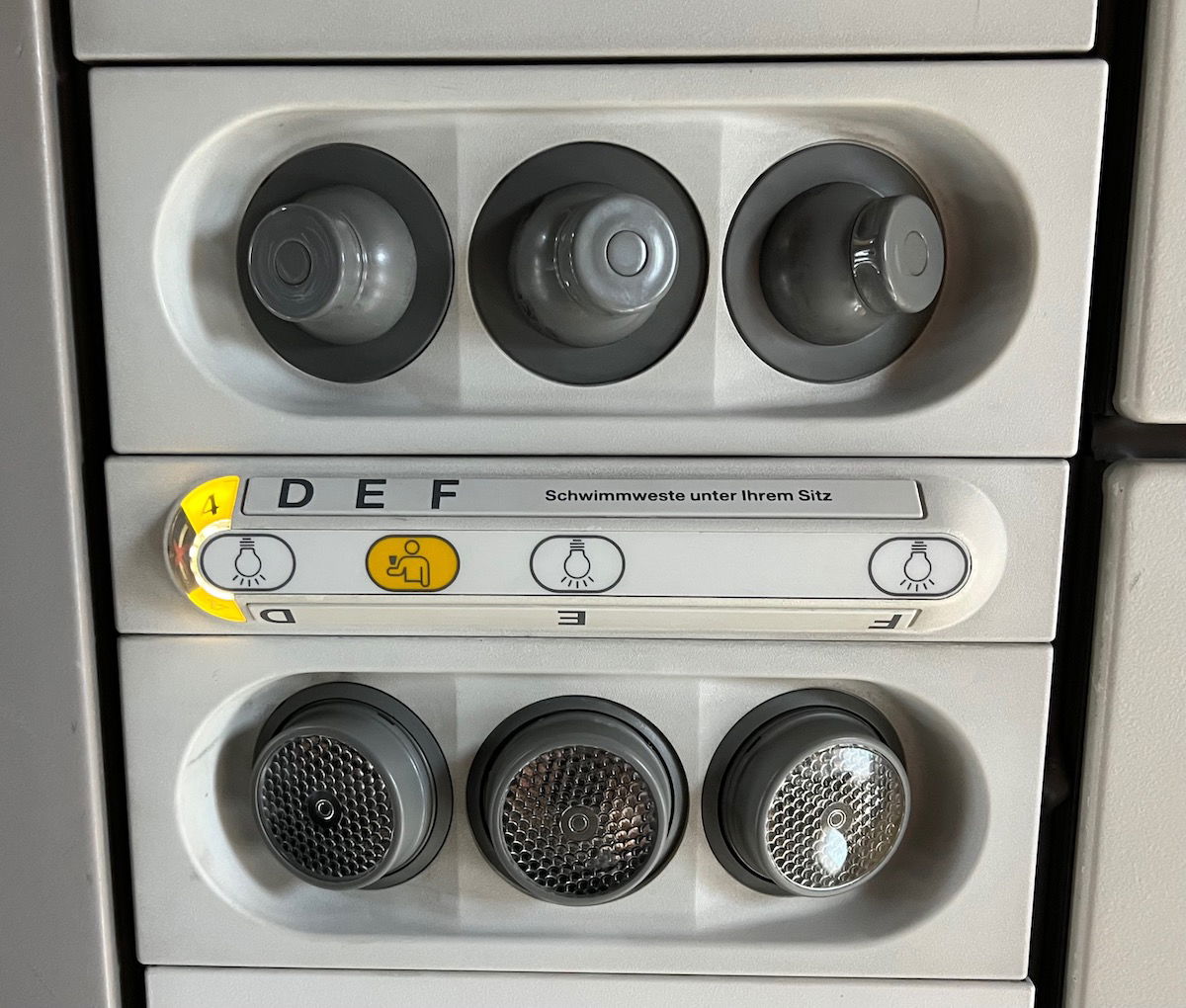 Unfortunately the cabin was otherwise quite no frills, as there were no power outlets, or any other amenities (except Wi-Fi, which I'll cover below). So at this point I'd say this is a slightly below average intra-Europe cabin.
Lufthansa A319 departure from Frankfurt
While business class was just over half full, the economy cabin was packed. Despite the late start to boarding and full flight, boarding was completed within 15 minutes, at 6:10PM. At that point the main cabin door closed.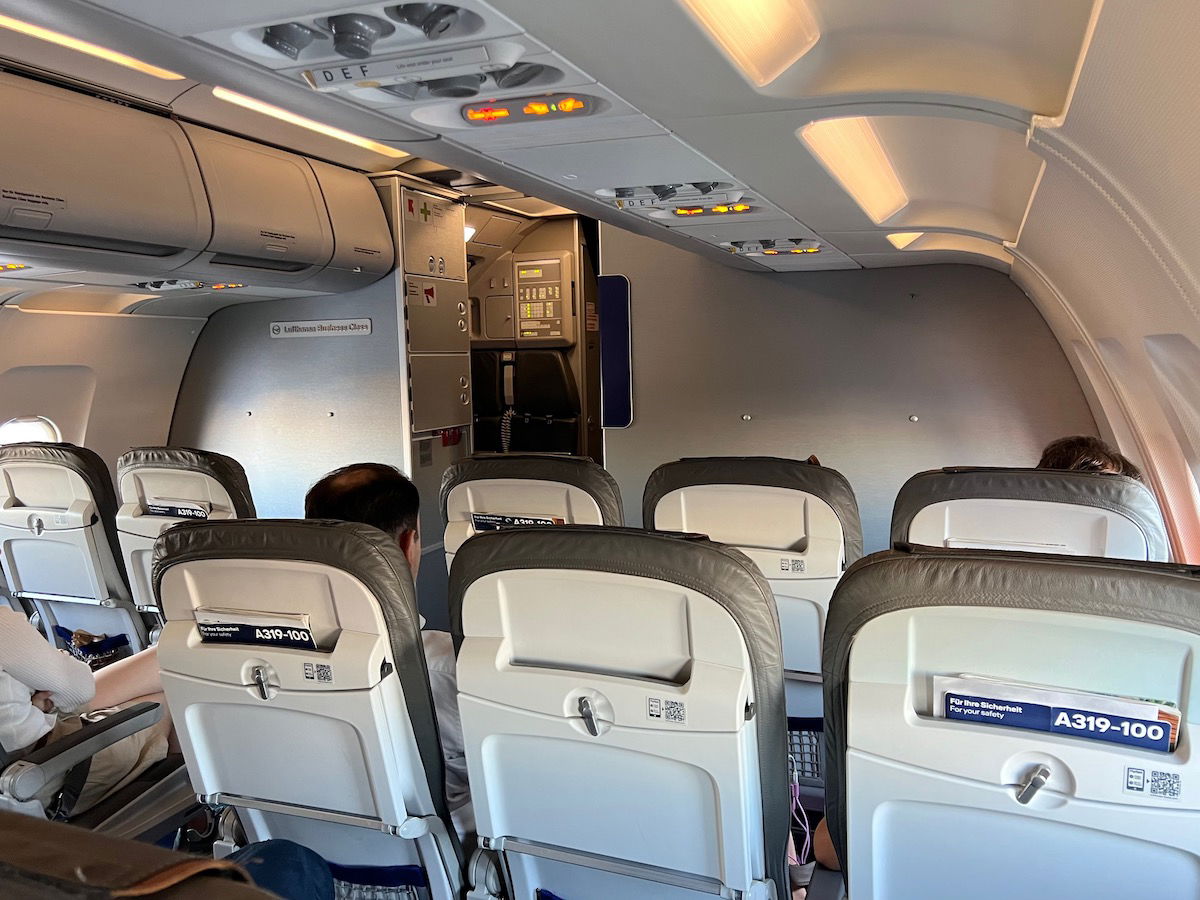 A moment later, the captain made his welcome aboard announcement, informing us of our anticipated flight time of 35 minutes. Thereafter, the manual safety demonstration was performed.
Unfortunately we didn't actually push back, though the captain was very proactive in keeping us informed. He advised that there was a delay with getting a tug to push us back, and he apologized for the delay. We finally ended up pushing back at 6:30PM.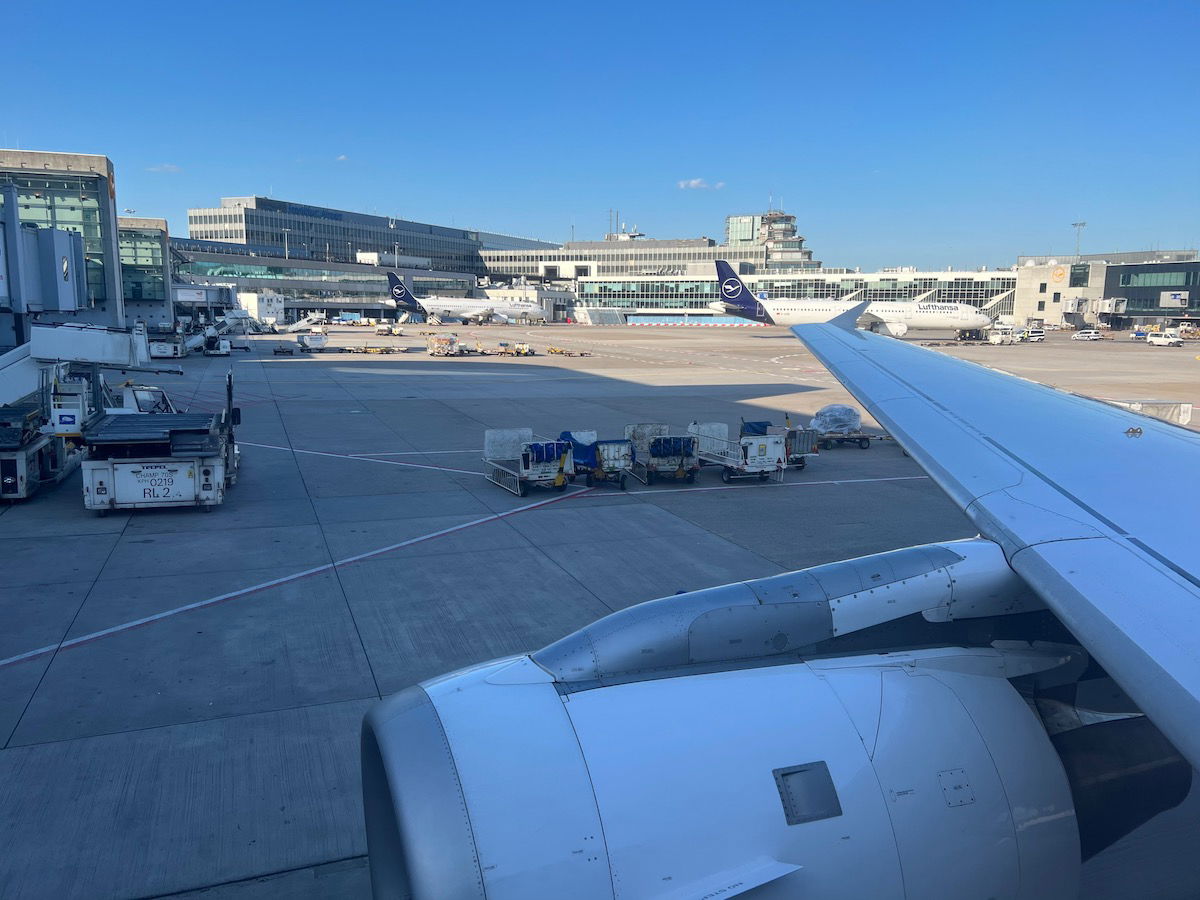 We then started our taxi, and had a high speed taxi to runway 18, where we were cleared for takeoff by 6:40PM.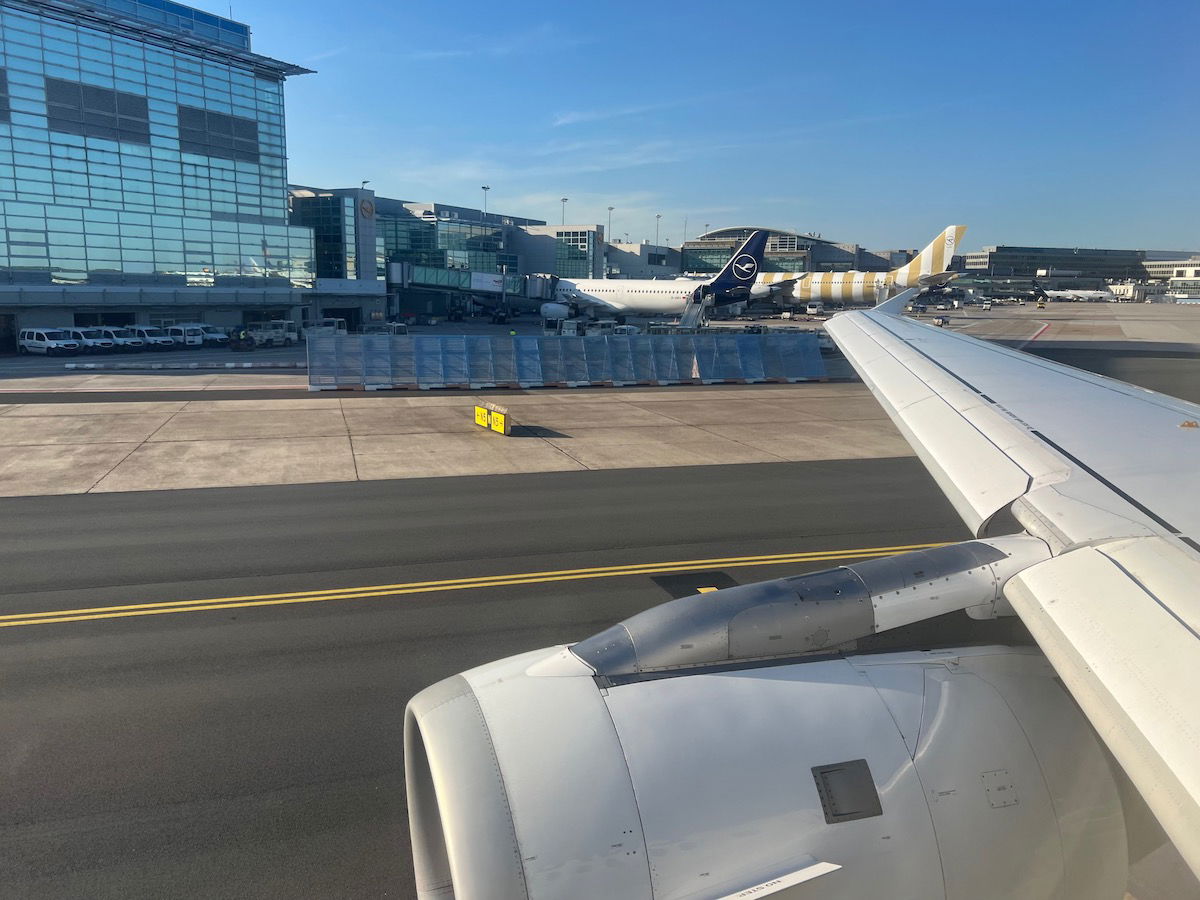 We had a smooth climb out, and the seatbelt sign was turned off just a few minutes after takeoff.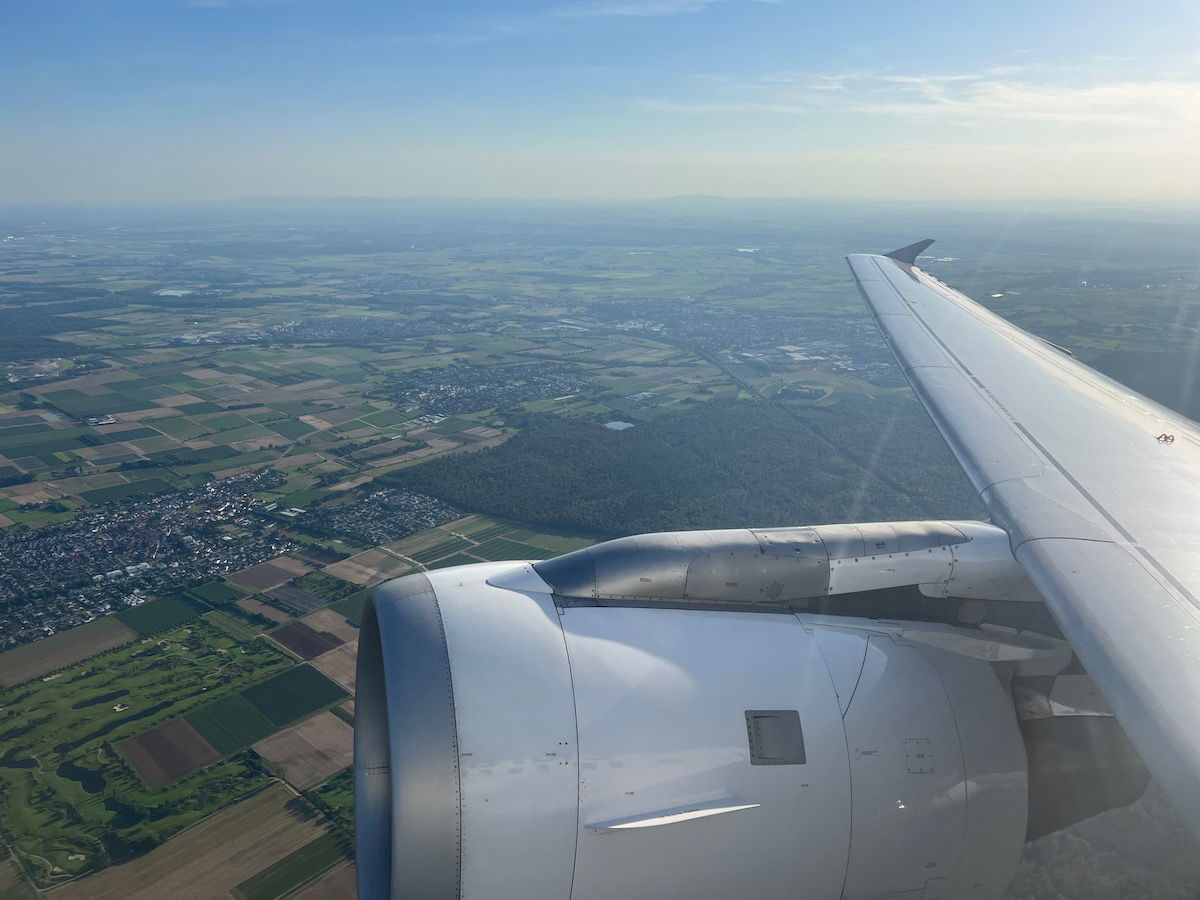 Once the sign was off, the crew immediately closed the curtains between business class and both the galley and economy.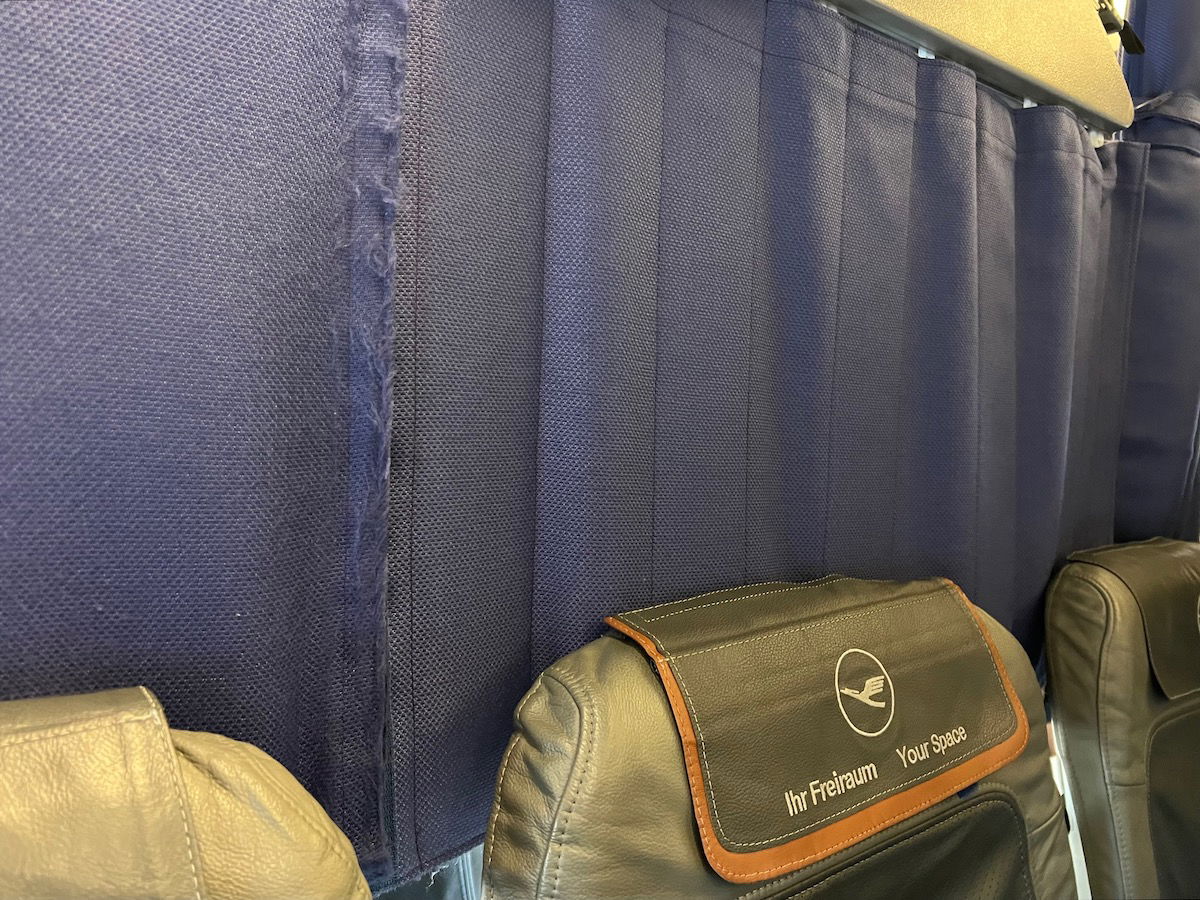 Lufthansa A319 business class Wi-Fi
One positive aspect of Lufthansa's short haul aircraft is that a vast majority of them feature Wi-Fi. Admittedly this would be more useful on a flight lasting a couple of hours, rather than one lasting just over 30 minutes (where you really only have 10-15 minutes where you can use your electronics).
For what it's worth, pricing was as follows:
You could buy a chat pass for €3, offering messaging through apps like WhatsApp, Facebook Messenger, and iMessage
You could buy a mail & surf pass for €5, offering unlimited data at lower speeds
You could buy a stream pass for €10, offering unlimited data at higher speeds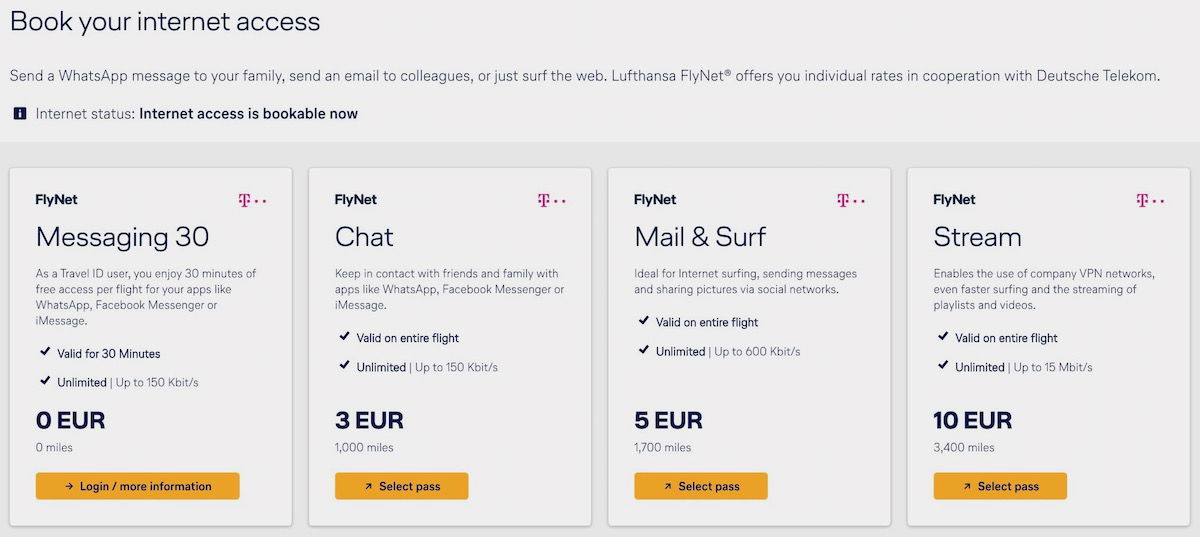 Lufthansa also offers 30 minutes of free messaging, but it requires logging in with your Miles & More profile. So it can be worth having your Miles & More details on hand to use this, even if you're not usually a Lufthansa flyer.

I've found Lufthansa's intra-Europe Wi-Fi speeds to be quite good.
Lufthansa business class snack service
Just five minutes after takeoff, the crew passed through the cabin with the snack for the flight. This was from Lufthansa's "Tasting Heimat" menu, intended to offer tastes from different parts of Germany. There's no choice of snacks, though I do wish there were a menu card or general description of what's being served, rather than having to ask the crew.
On this flight, the snack consisted of some sort of turkey with carrot, some nuts, and a piece of bread. There was also a raspberry mousse for dessert.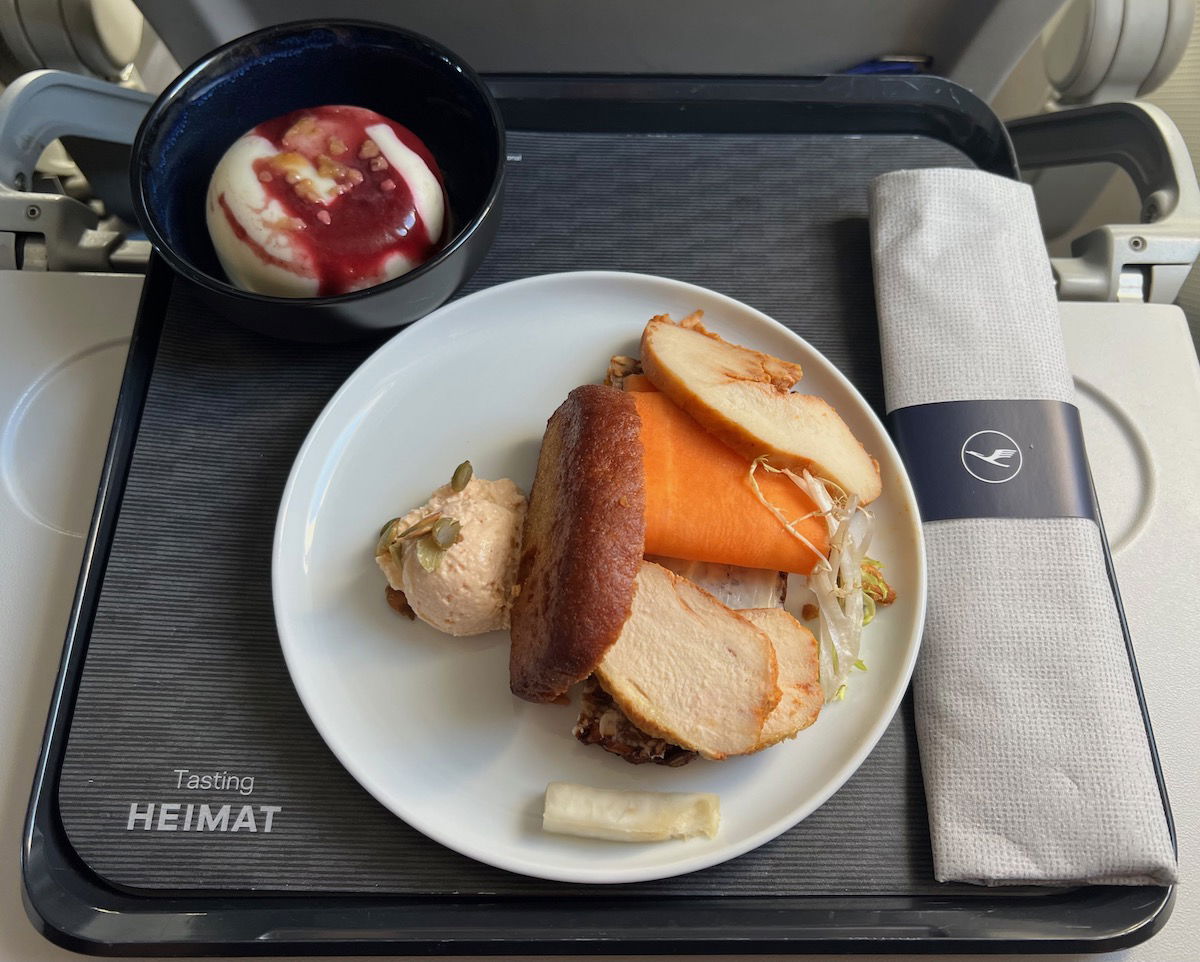 Once snacks were distributed, the crew came through the cabin to serve drinks. I had a glass of sparkling water, as well as a glass of white wine.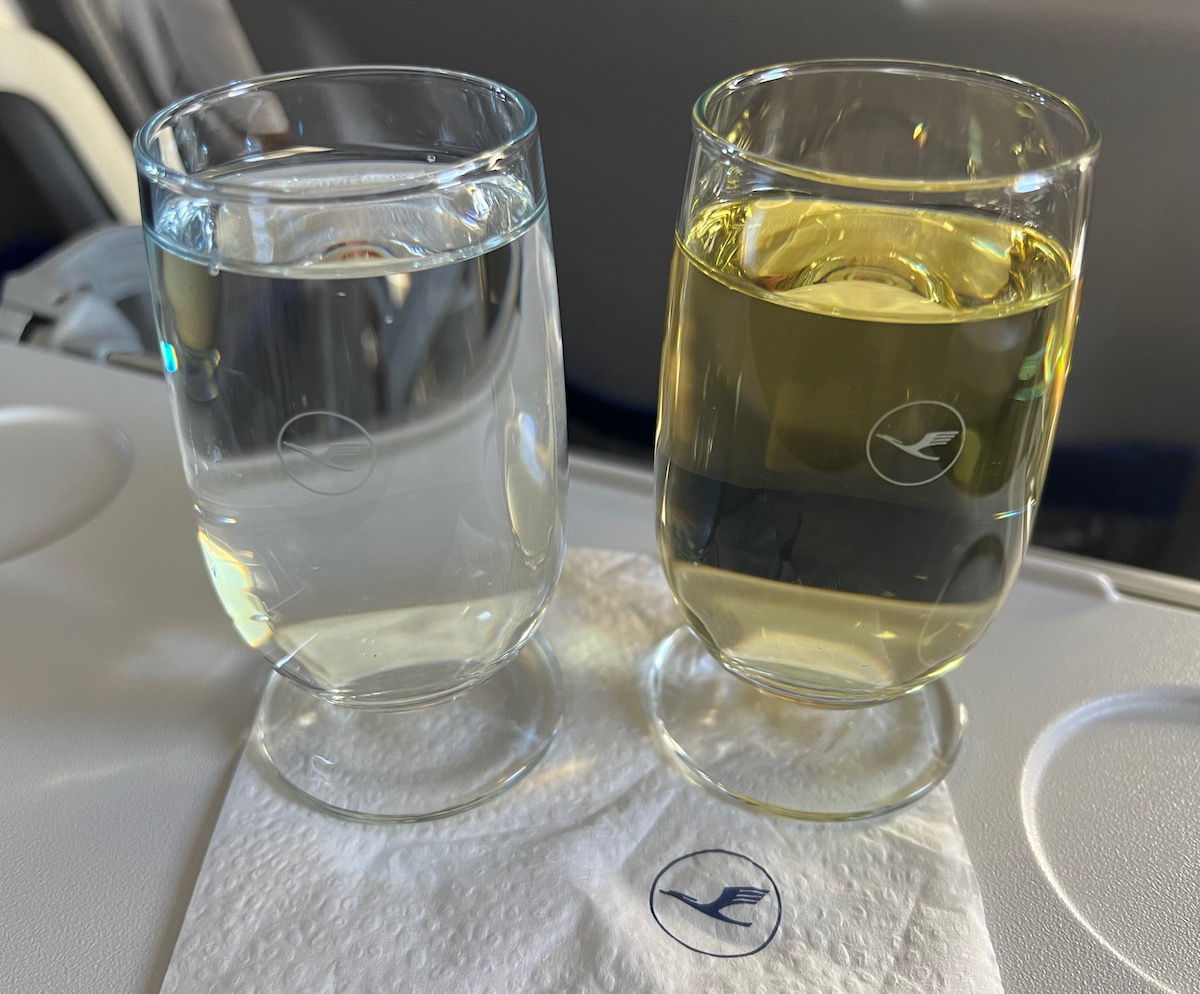 Drink refills were offered, and the crew was pretty attentive for the entire 15 or so minutes that they could provide service.
As we began our descent, each passenger on the plane (not just in business class) was offered a chocolate.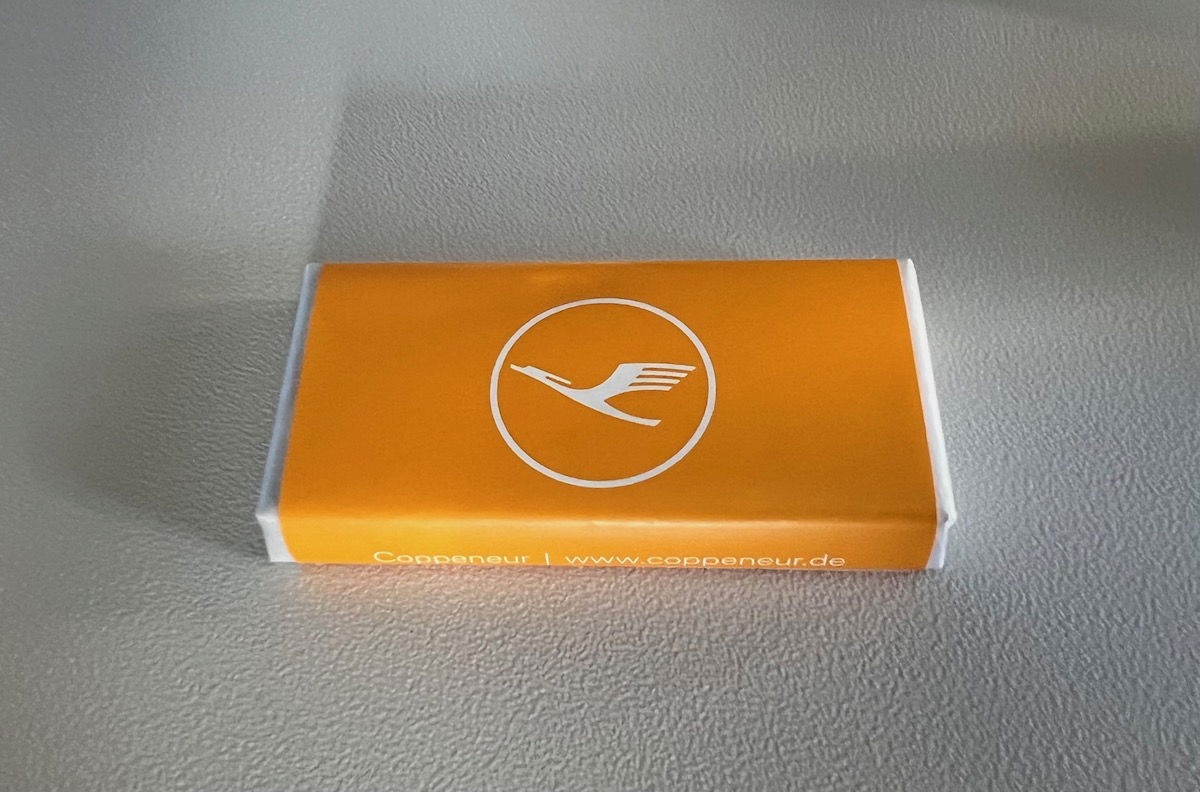 Business class passengers were then offered a second chocolate, which at least had classy presentation, and was offered out of a proper box. It would appear that this new chocolate replaces the apples that Lufthansa used to serve before landing (which I could never make sense of). I'd consider that to be an upgrade, though I'm not sure I totally get being offered chocolate back-to-back.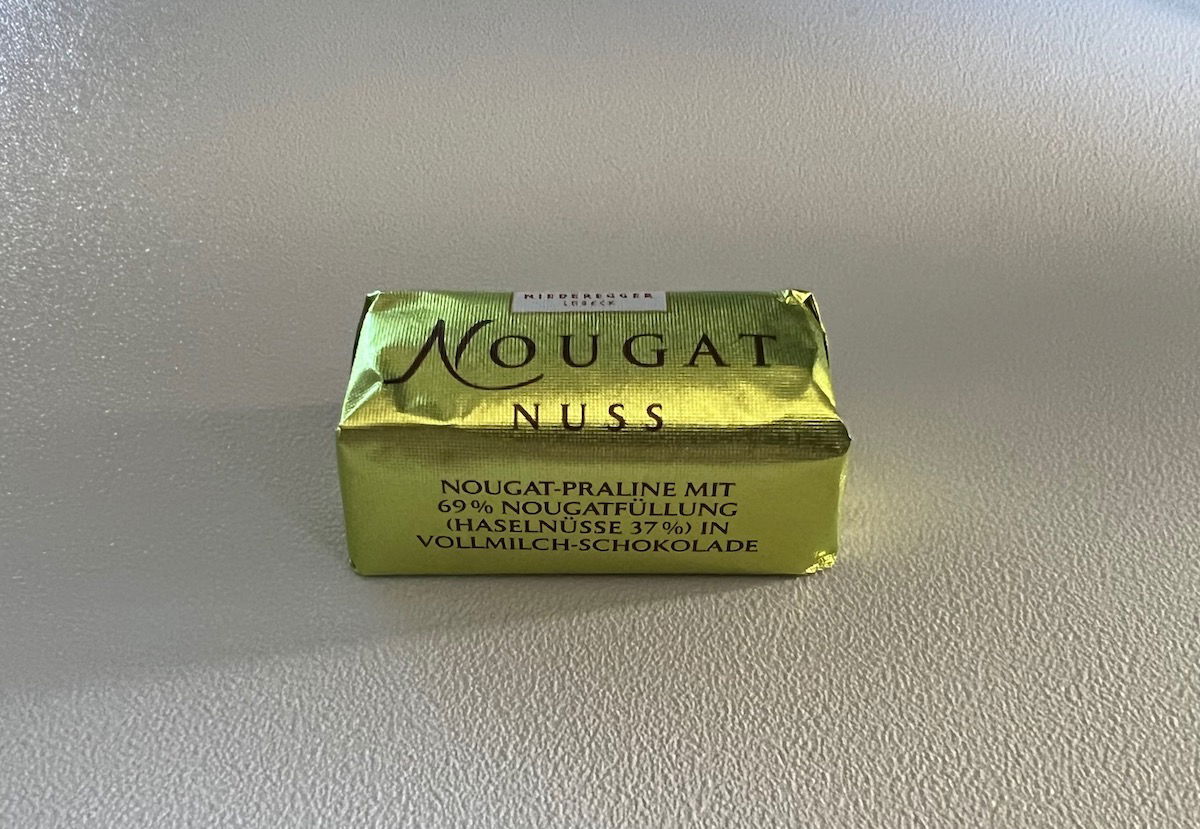 Lufthansa A319 business class lavatory
Just before landing I checked out the lavatory at the front of the cabin. While the cabin otherwise felt pretty modern, in the lavatory you could definitely tell that this was one of Lufthansa's older aircraft.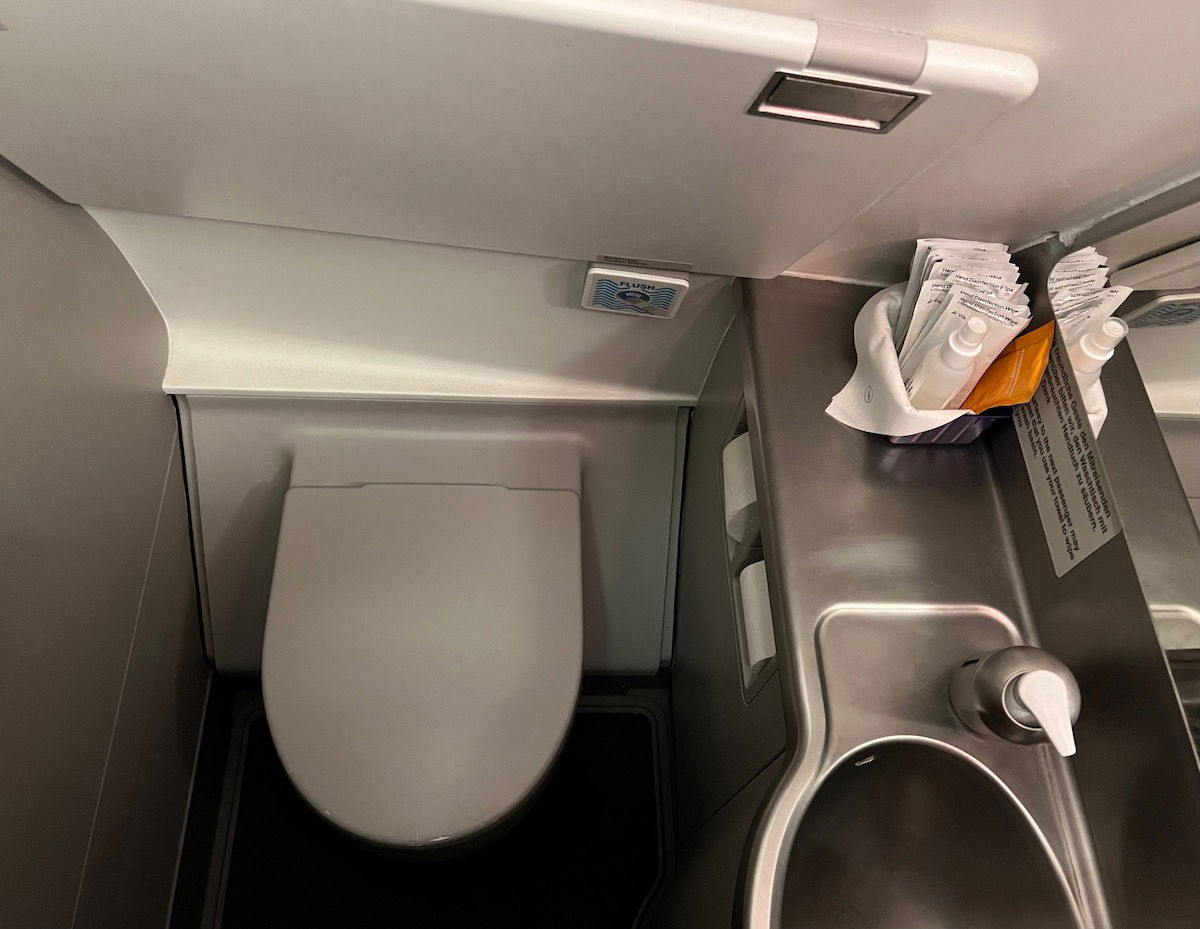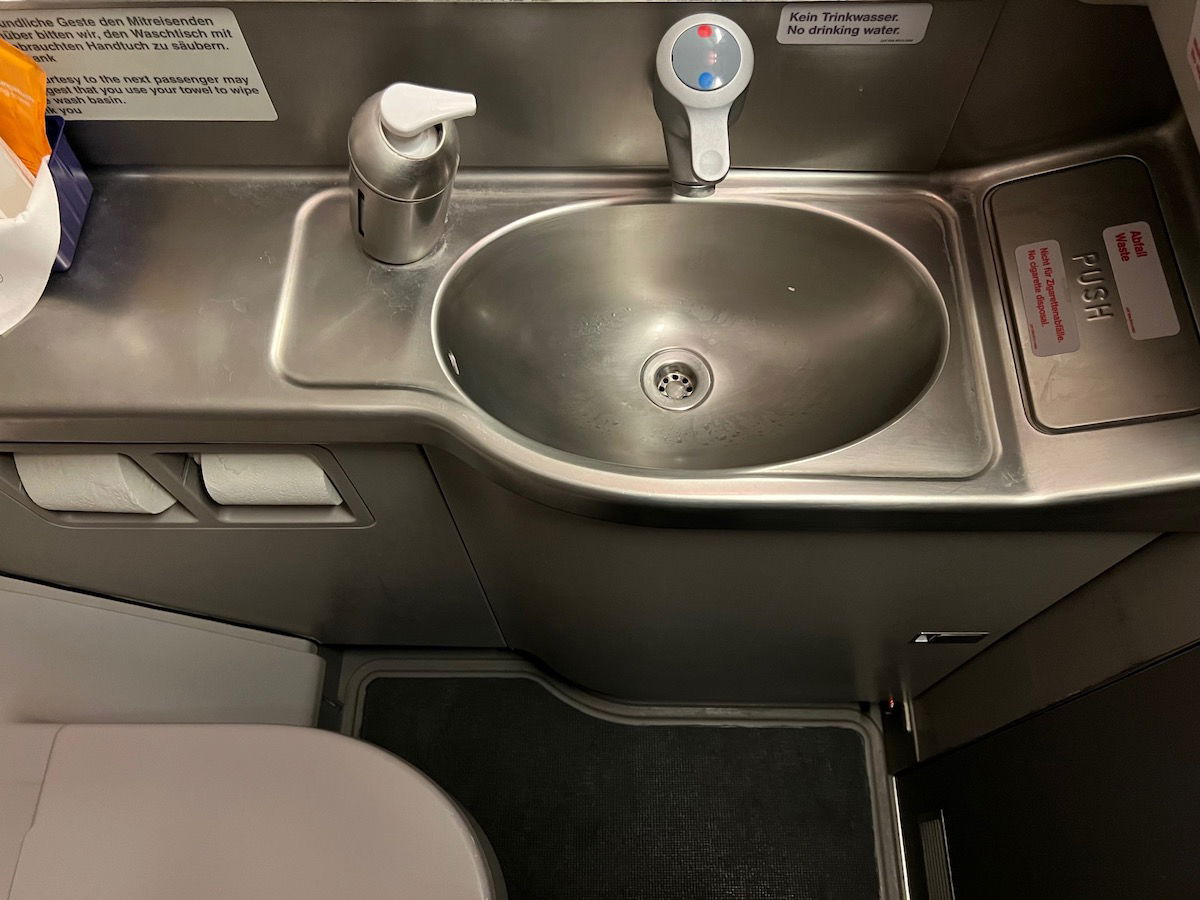 The lavatory was clean, and also had some refreshing wipes.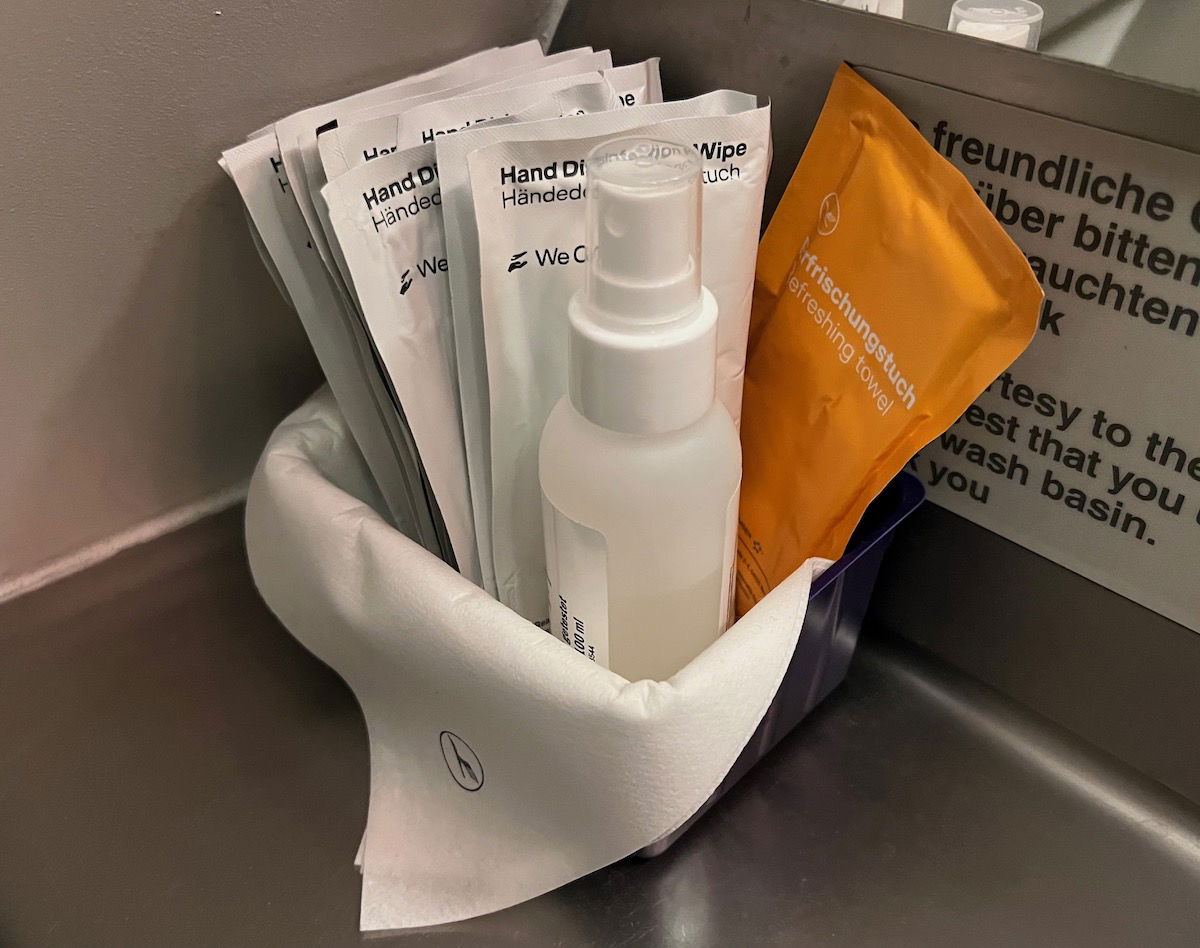 Lufthansa A319 arrival in Munich
Just 20 minutes after takeoff, at 7PM local time, the captain announced that we'd be landing in just over 10 minutes, at which point the seatbelt sign was turned on. As is the norm, the views on approach to Munich were gorgeous, so I just gazed out the window for the entire descent.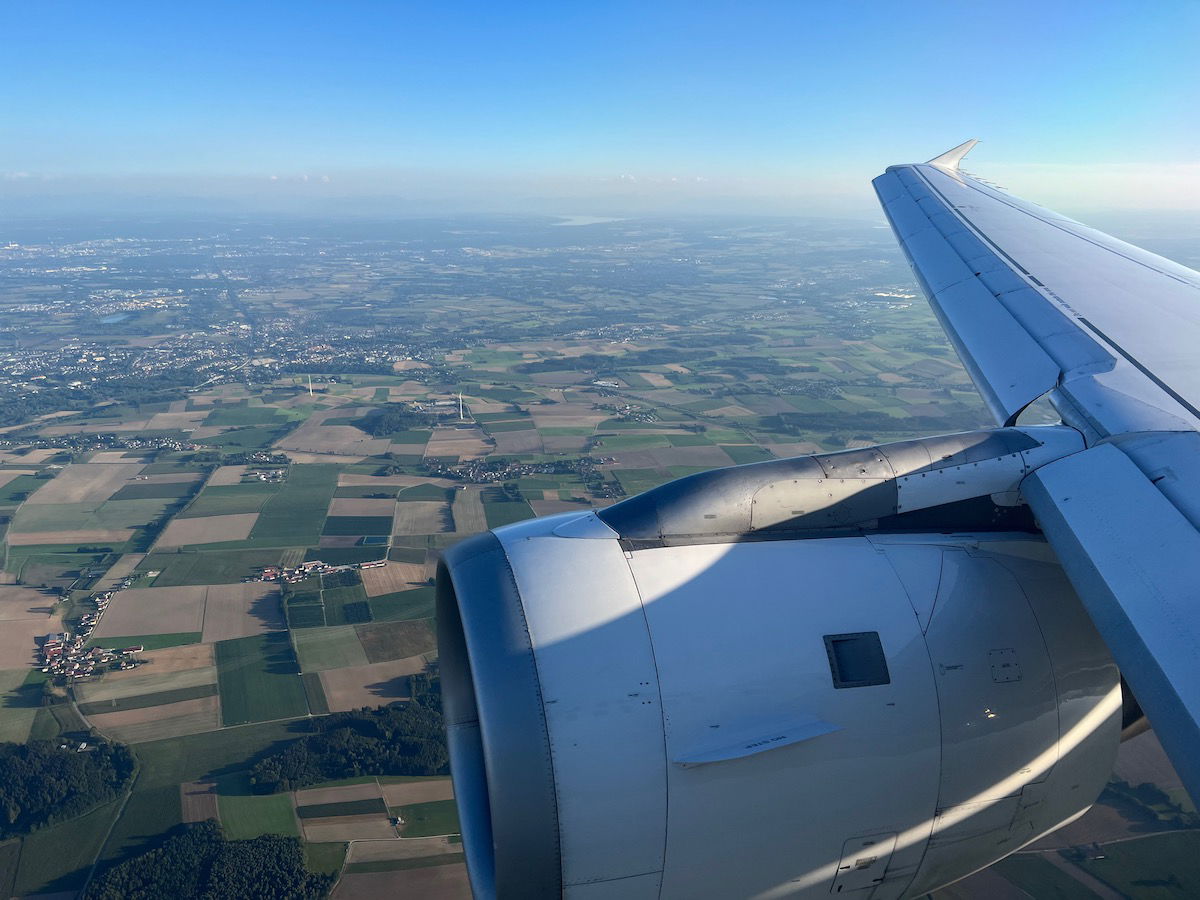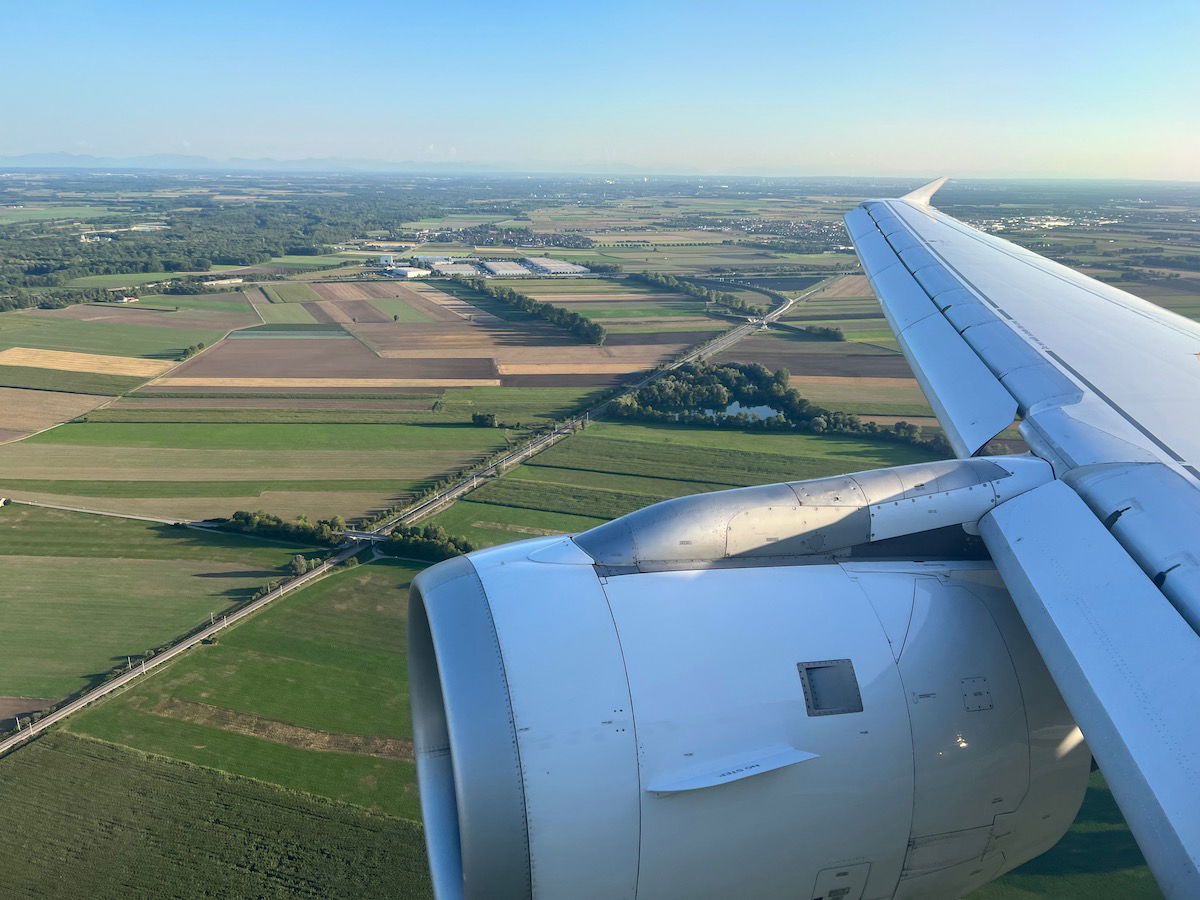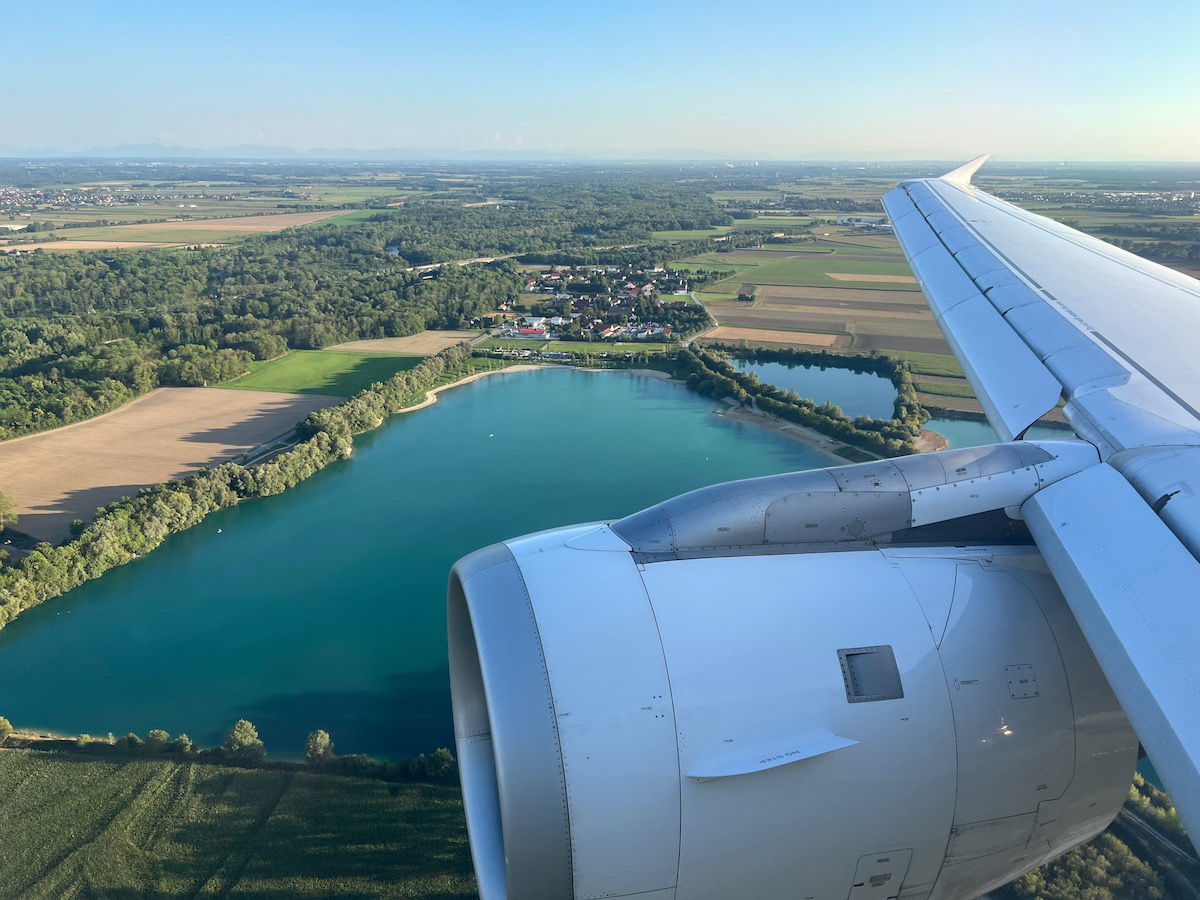 We touched down in Munich at 7:10PM.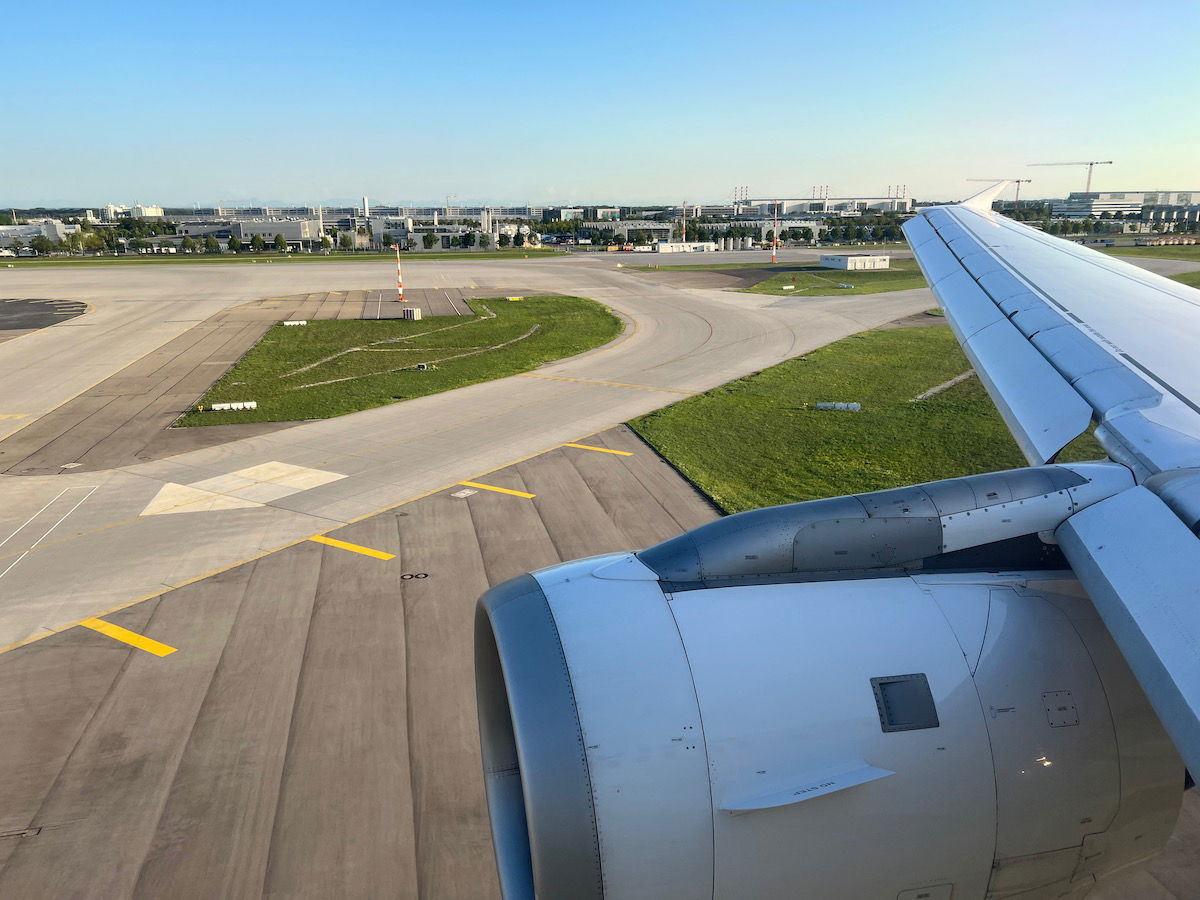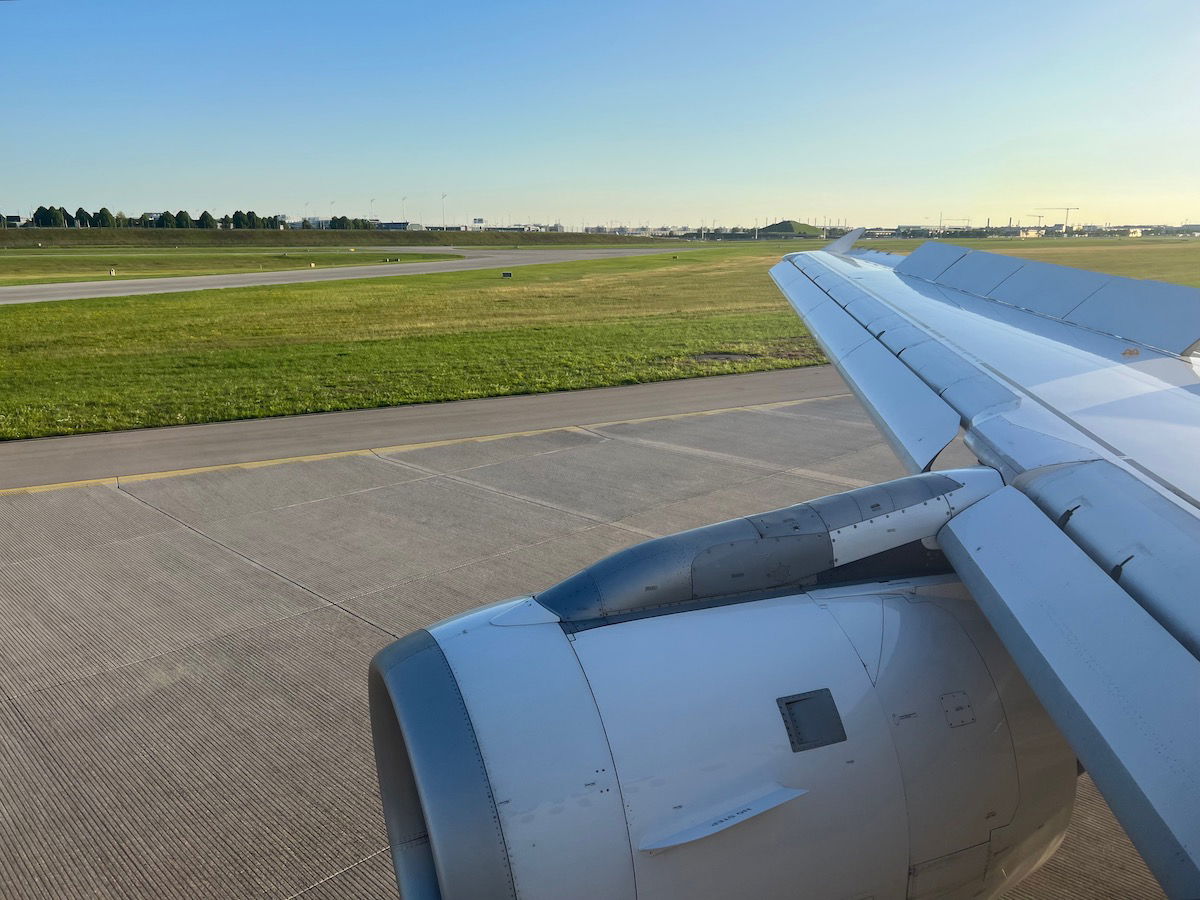 From there we had a very quick taxi to our arrival gate, where we pulled in at 7:15PM. Despite our departure delay, we only arrived about five minutes behind schedule, which was impressive.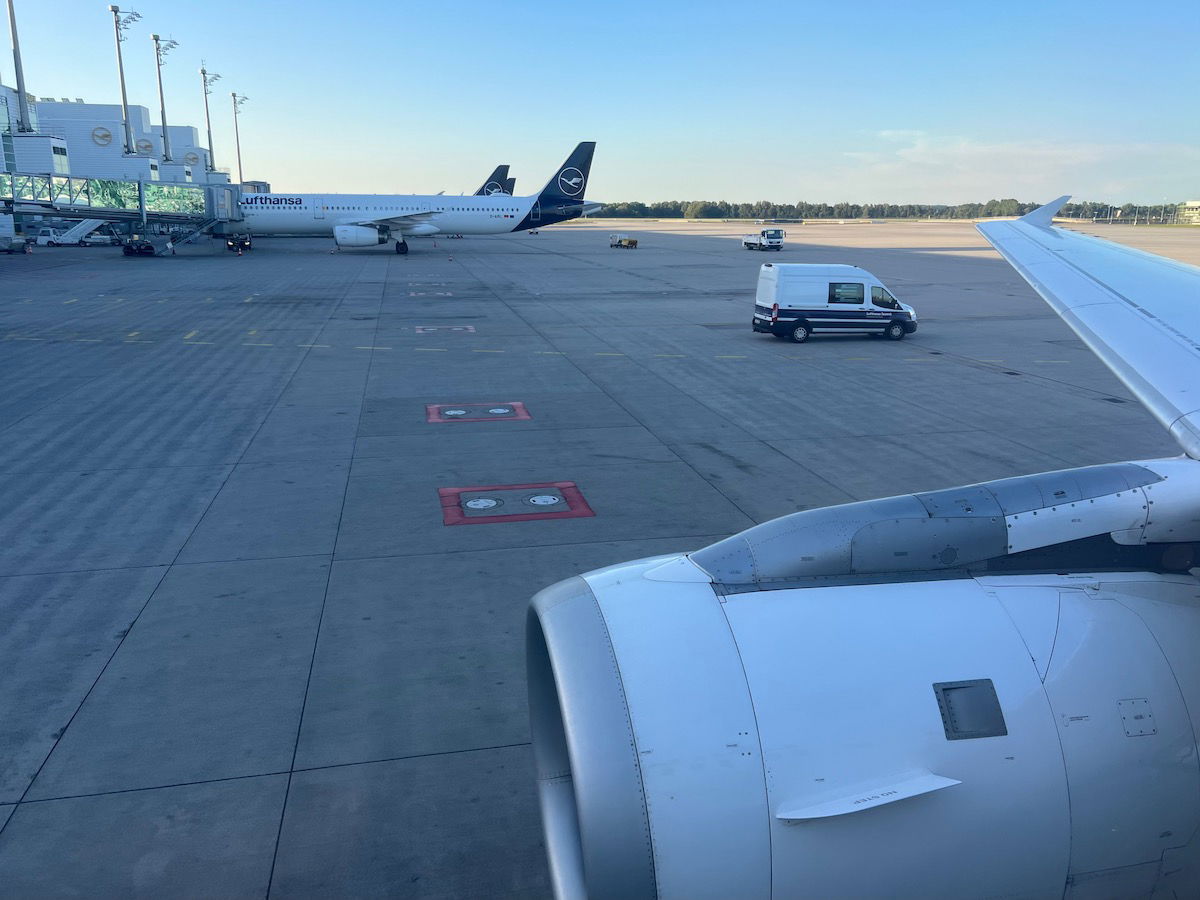 From there I headed to the Lufthansa Business Lounge, only to then have my connecting flight be canceled…
Bottom line
Lufthansa offers a totally average intra-Europe business class product. On the plus side, the snack was pretty decent, service friendly, and the plane had Wi-Fi (though that's of limited value on a flight this short). However, Lufthansa's A319 seats are pretty hard, and there are no power outlets on these planes.
Lufthansa's intra-Europe business class isn't worth avoiding (well, unless you can fly Turkish Airlines instead), but it's also definitely not worth seeking out.
What do you make of Lufthansa's A319 business class?