Qatar Airways is known for its incredible Qsuites business class, considered by many (including me) to be one of the best in the world.
Just as we've seen airlines unbundle economy class over the years, we've also seen airlines start to unbundle business class. This is a trend that was started by Emirates Airline last year, and Qatar Airways is now doing something similar.
Qatar Airways unbundles business class
Qatar Airways has announced that it's launching "simplified fare families offering greater choice and flexibility." Going forward, all fares will fall into the following categories:
Business class will have Classic, Comfort, and Elite fares
Economy class will have Classic, Convenience, and Comfort fares
The catch is that the airline isn't just rebranding existing fare classes, but rather is taking things away. With these changes, Qatar Airways business class fares that book into the "R" fare class will no longer offer the following as standard benefits:
Lounge access
Advance seat selection
The new fares have already been loaded into the system. When you go to select a business class fare, you'll now see that in many markets the cheapest option reflects seat assignments only being available at check-in, as well as lounge access not being mentioned.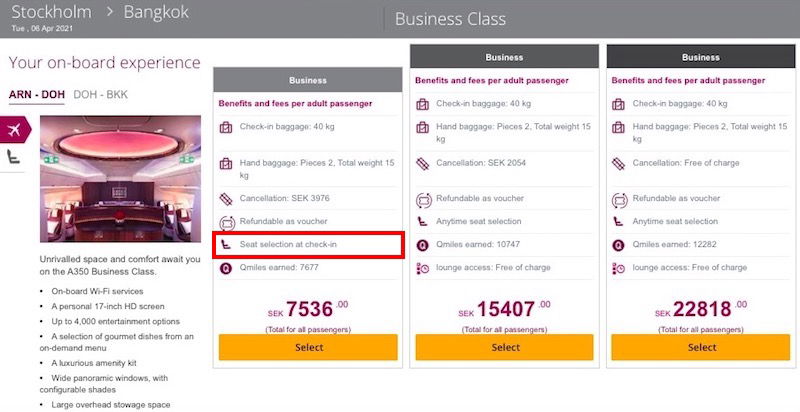 Qatar Airways' new business class fare structure
I've now managed to clarify a few more points, so let me go over those below.
This doesn't apply to previously booked tickets
If you booked your ticket prior to November 8, 2020, the rules at the time you ticketed your reservation apply. In other words, previously booked "R" class tickets are still eligible for lounge access and seat assignments.
That being said:
If you reissue your ticket you may be subjected to the new rules
While the above is the policy, it's anyone's guess if individual lounge attendants will be aware that previously booked tickets are eligible for lounge access
This doesn't apply to award tickets
This policy change applies specifically to revenue discounted business class tickets, so it doesn't apply if redeeming miles, whether directly through the Qatar Airways Privilege Club program, or through a partner program like American AAdvantage.
So if you redeem miles, expect you can still select seats and access lounges.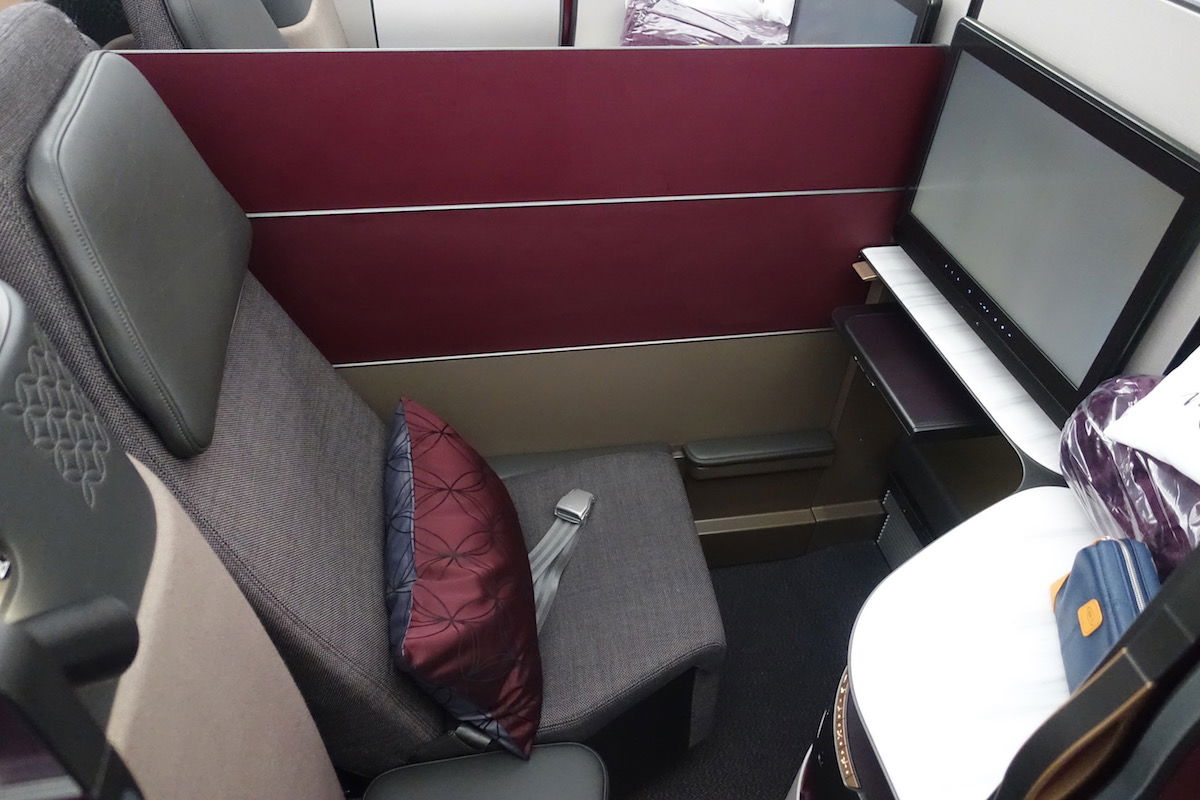 Qatar Airways' new business class fares don't include advance seat assignments
Oneworld elite members can still select seats
Here's some good news — oneworld Sapphire and Emerald members (whether through the Qatar Airways frequent flyer program or a partner program) can continue to select seats in advance, even if booking one of these discounted fares. Just make sure you add your frequent flyer number at the time of booking.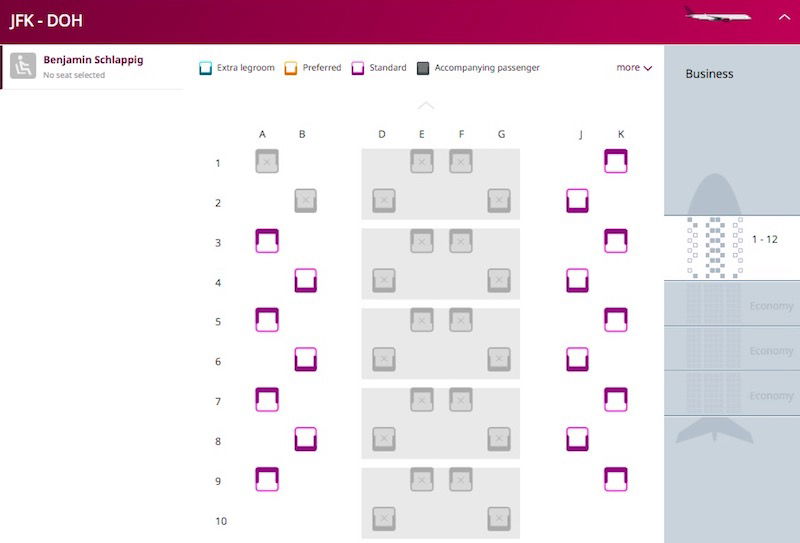 Select elite members are exempt from the seat assignment restriction
Oneworld lounge access rules still apply
If you're a oneworld Sapphire or Emerald member, you can still access lounges in line with the standard lounge access policies. Note that:
Generally speaking Qatar Airways doesn't allow oneworld Sapphire and Emerald members into the Al Mourjan Lounge Doha, but rather redirects those passengers to inferior lounges
However, other lounges are closed right now at Doha Hamad International Airport due to lack of demand, so temporarily all passengers are being redirected to this lounge
So the good news is that oneworld elite members will still get access to some lounges when traveling on these Qatar Airways fares, but just generally not the same quality lounges.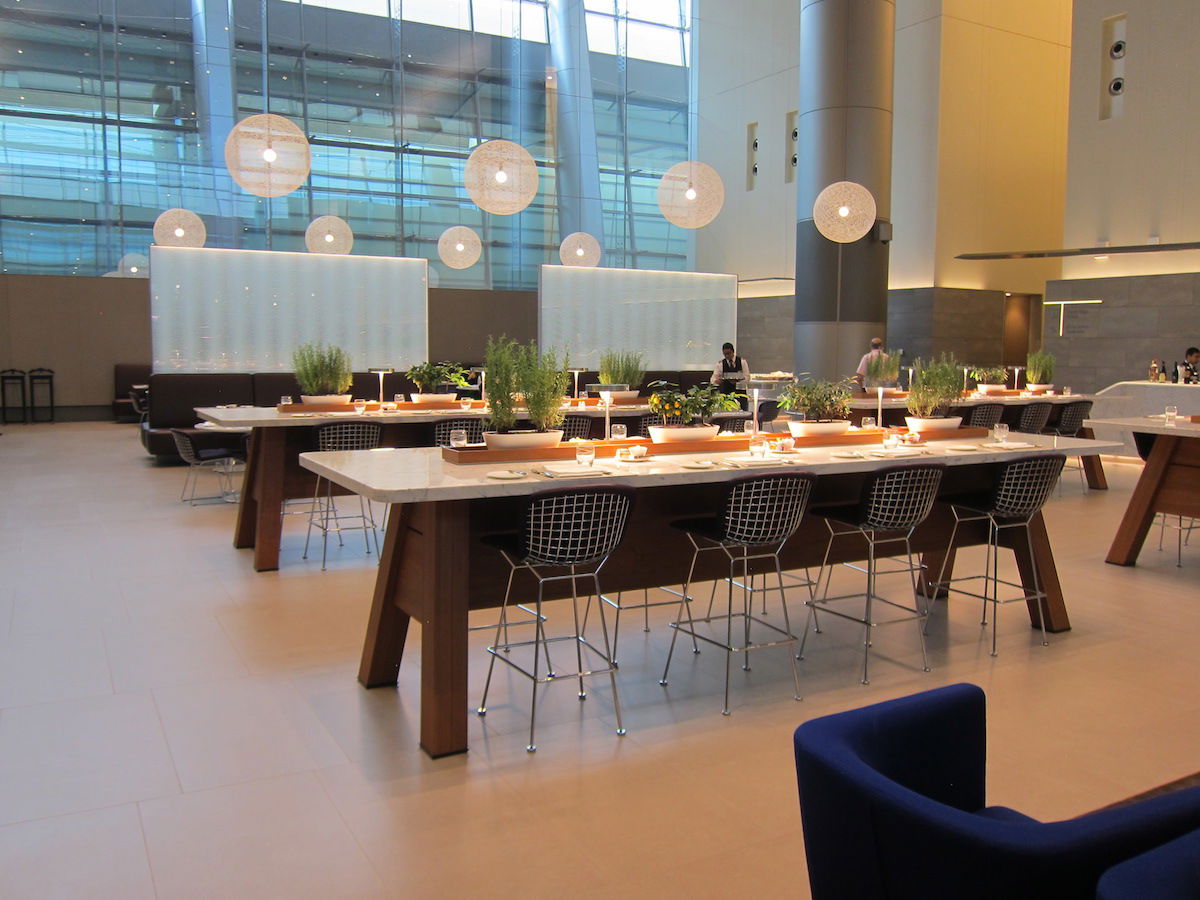 The cheapest business class fares no longer include Al Mourjan Lounge access
Qatar Airways has NOT lowered business class fares
I'm sure Qatar Airways will no doubt try to make it sound like this is a great new option for cost conscious travelers, suggesting that fares have been lowered with the introduction of this new option. That's also what people genuinely seem to believe. Just look at some of the comments on this post so far:
"FINALLY!!!!"
"This would make me fly them more"
"If the savings were great enough then I'd consider a cheaper fare with no advanced seat selection or lounge access as long as luggage and onboard service was the same."
"Ben what is all the drama about?! So you don't get lounge access (most have Amex lounges and/or priority pass) and can't prebook a seat (they are basically the same). If it saves me $500 I will jump on it. Why do you have to be a drama queen about everything?"
"A good thing if you are leisure traveller who does not have a status anyway."
Folks, don't fall for it:
Qatar Airways has not lowered business class fares with the introduction of these new restrictions
Fares cost just as much as before (as of now), but with fewer inclusions
Now, it's possible that this could change in the future, but unless the airline backtracks, I see no reason it would. It's not like the airline is introducing new fare classes or has adjusted its fares, but rather it's just changing the inclusions on existing fares.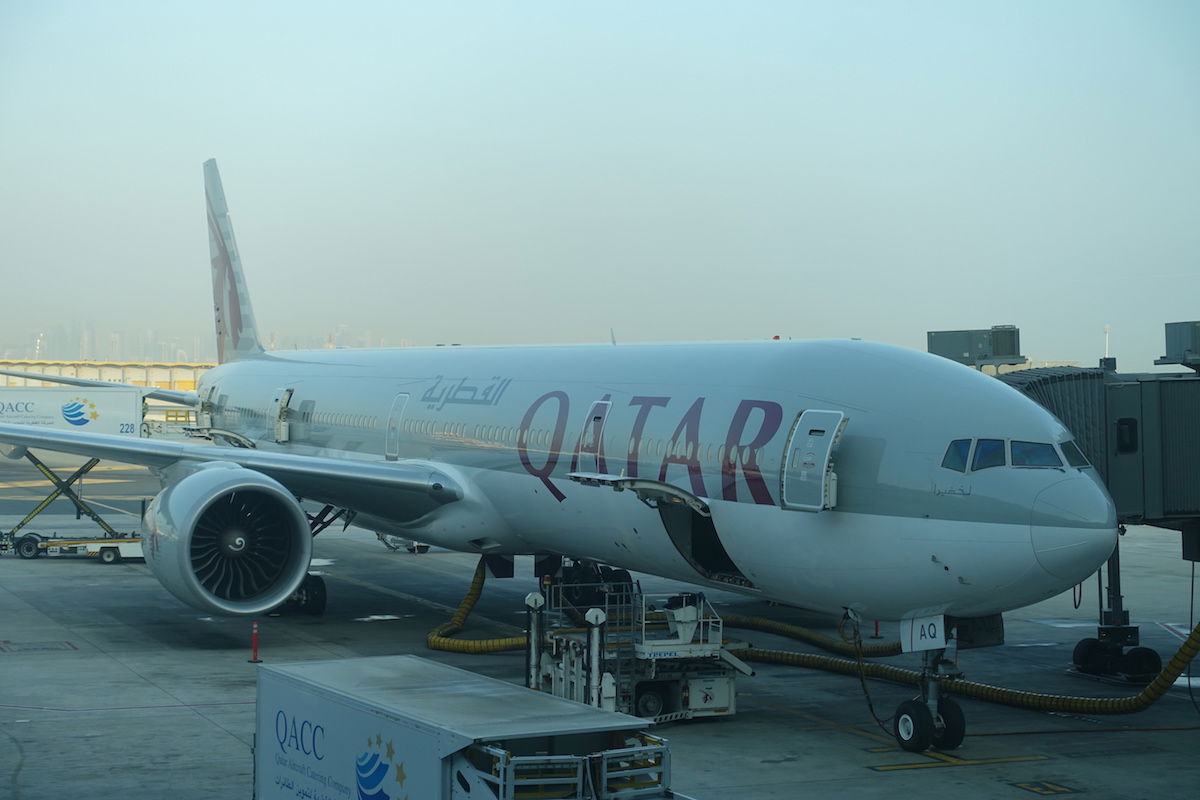 This eliminates a big incentive to book Qatar Airways
Why Qatar Airways is taking the wrong approach
Let me start by saying that I think the concept of unbundling business class is absolutely the way of the future, and we're going to see a lot more of this. The problem is just that Qatar Airways is going about it completely wrong. Let me explain.
The reason to unbundle business class is because you're trying to increase demand among consumers for business class, and not because you're addressing any cost issues:
It doesn't cost Qatar Airways anything to assign someone a seat, and there's not even a direct revenue opportunity here, since they're not letting those on "basic" business class fares pay extra to assign a seat
The cost of admitting a passenger to a lounge is minimal; we're talking almost nothing if the lounge is managed by Qatar Airways, while maybe $20-30 if we're talking about a partner lounge
Airline pricing is a complex art, and the motivation behind "basic" business class should be pretty simple — how can you get people to buy up to business class who wouldn't otherwise do so, without cannibalizing the revenue you'd get from people who are willing to pay for business class.
There's arguably even more value to be had with this on Qatar Airways than other airlines, since Qatar Airways doesn't have premium economy. How can the airline capture the business of people who are willing to pay more than an economy fare, but not quite a business class fare, as there's a huge gap here?
That's why Qatar Airways got this so wrong:
Fares haven't been lowered, so economy travelers aren't any more likely than before to buy up to business class; if anything they're less likely to buy up, since they want good value, and these fares now offer less value
For those people booking discounted business class fares, no one in their right mind is going to buy up to the next higher business class fare, if it's literally thousands of dollars more, as a seat assignment and lounge access aren't worth that much; if the airline wanted to get business class passengers to buy up to higher fares, the price difference should be smaller
If anything, the only impact of this change is that people may end up booking other airlines
Let's be very clear here, Qatar Airways has just cut lounge access on plenty of roundtrip tickets that cost $5,000+. We're not talking about super cheap business class fares, but rather pretty standard ones. A roundtrip business class ticket from New York to Bangkok that costs $5,200 roundtrip ($2,600 each way)? Yep, that no lounger includes lounge access.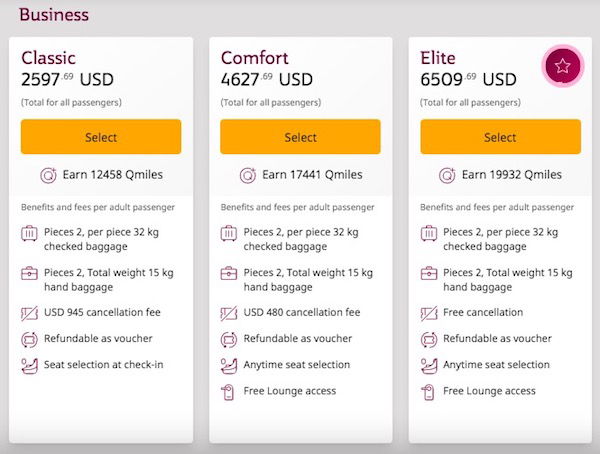 A $5,200 business class fare no longer includes lounge access
Bottom line
Qatar Airways has introduced new unbundled business class fares, which no longer include lounge access and advance seat assignments. The good news is that oneworld Emerald and Sapphire members can still select seats in advance, and can use lounges in line with their oneworld privileges (which largely excludes Qatar Airways' own lounges).
Personally I find this move to be incredibly short-sighted. I do think "basic" business class will become much more popular, but Qatar Airways has gone about it wrong — the system creates no incremental demand, and wouldn't make any reasonable person buy up to a higher fare. Instead it may just push people to book another airline.
I wouldn't be surprised to see the airline either backtrack with this policy, or actually introduce an unbundled business class that makes sense at some point in the future.
No matter how you slice it, this is a sad change for one of the world's best business class products, and this also seems like an especially strange time to make a change like this. I can't think of a single other airline in the world that denies people on $5,000+ business class tickets lounge access.
What do you make of Qatar Airways' new "basic" business class fares? I'd love to hear from anyone who disagrees with me and thinks Qatar Airways' implementation of this is logical.