EXTRA PERKS AVAILABLE
Enjoy breakfast, upgrades, & more
Want to take advantage of Virtuoso benefits at no extra cost, including a room upgrade, free breakfast, a hotel credit, and more? Contact Ford ([email protected]) for more details. He doesn't charge booking fees, and may even be able to help if you already have a stay booked.
Our primary destination for our ski trip to the French Alps was Airelles Val d'Isère, an incredible 46-room ski resort located in France (we also stayed at the Four Seasons Megeve). While the town of Val d'Isère perhaps isn't the most exciting ski town in the Alps, the skiing is excellent, and I can't say enough good things about this resort, which is a destination in and of itself.
The rooms, amenities, service, restaurants, and more, simply couldn't be better. That's exactly what I've come to expect from the Airelles brand, though.
Why we decided to stay at Airelles Val d'Isère
Ford enjoys skiing, so we try to go on at least one skip trip per year. While there's great skiing in the United States, we still enjoy the overall experience more in the Alps. You can't beat the quality of hotels, food, and the all-around service level that you'll find at many of Europe's top ski resorts vs. the top ski resorts in the United States.
Last year we decided to ski at Airelles Courchevel, which was one of the most amazing resorts I've ever stayed at. That stay has kind of made us obsessed with Airelles, which is a small French hotel brand that has a handful of resorts. We loved our stay in Courchevel so much that we decided to stay at Airelles Saint-Tropez in summer, and then stayed at Airelles Gordes in fall.
For this year's ski trip, we decided to check out Airelles' other ski resort, located in Val d'Isère. Not only were we curious to see how it compared to the Courchevel property, but many of the incredible staff we met at Airelles Gordes said they worked at this resort in winter, so we knew that service would be amazing. Suffice it to say the resort didn't disappoint.
We even managed to convince friends to go with us, which made it even more fun.
Booking Airelles Val d'Isère
Airelles Val d'Isère is open seasonally (from early December until early April). We decided to visit toward the end of the season, in the second half of March. Airelles Val d'Isère has two kinds of rates.
There's the standard rate, which includes breakfast, a complimentary minibar, and some other basic amenities. Then there's the "all-in escape," which includes three meals per day (breakfast, lunch, and dinner), ski equipment rentals, and ski passes.
I'd also note that Airelles is ridiculously generous with its rates that are inclusive of meals. This isn't a situation where you have some limited menu you can order off of, and then there are supplements for just about everything. Rather you can basically order whatever you want, from truffles, to wagyu, to whatever.
For our dates, the rate was €1,600 per night for the "all-in" rate (the "basic" rate was €400 per night less). It goes without saying that this is a lot of money, but Airelles really offers a spectacularly good experience. In my opinion you also get a lot more value for your money in Europe than in the United States when it comes to luxury hotels. For example, for the same dates, the St. Regis Aspen was running $2,300 for a base room, and that rate included… *checks notes* not a whole lot.
The great thing is that all rates available directly with Airelles are bookable through Virtuoso, so that's how Ford booked us. This offers additional perks, including an upgrade subject to availability, a $100 property credit, and more. If you'd like any help with a Virtuoso booking at an Airelles property, you can reach out to Ford at [email protected]
Airelles Val d'Isère location
Val d'Isère is located in the French Alps. If you're flying in to visit the resort, the closest major international airport is Geneva (GVA), which is around a three hour drive away. If you're coming from within Europe (particularly the UK), you can also fly to Chambery Airport (CMF), which is around a two hour drive away.
There are many different options for getting to Val d'Isère. For example, if you're coming from Milan, you could take Trenitalia (which has an incredible Executive Class) to Chambery, and then take a car from there.
Airelles couldn't have a more central location within the town of Val d'Isère. The resort is ski-in, ski-out, and you can walk just about everywhere.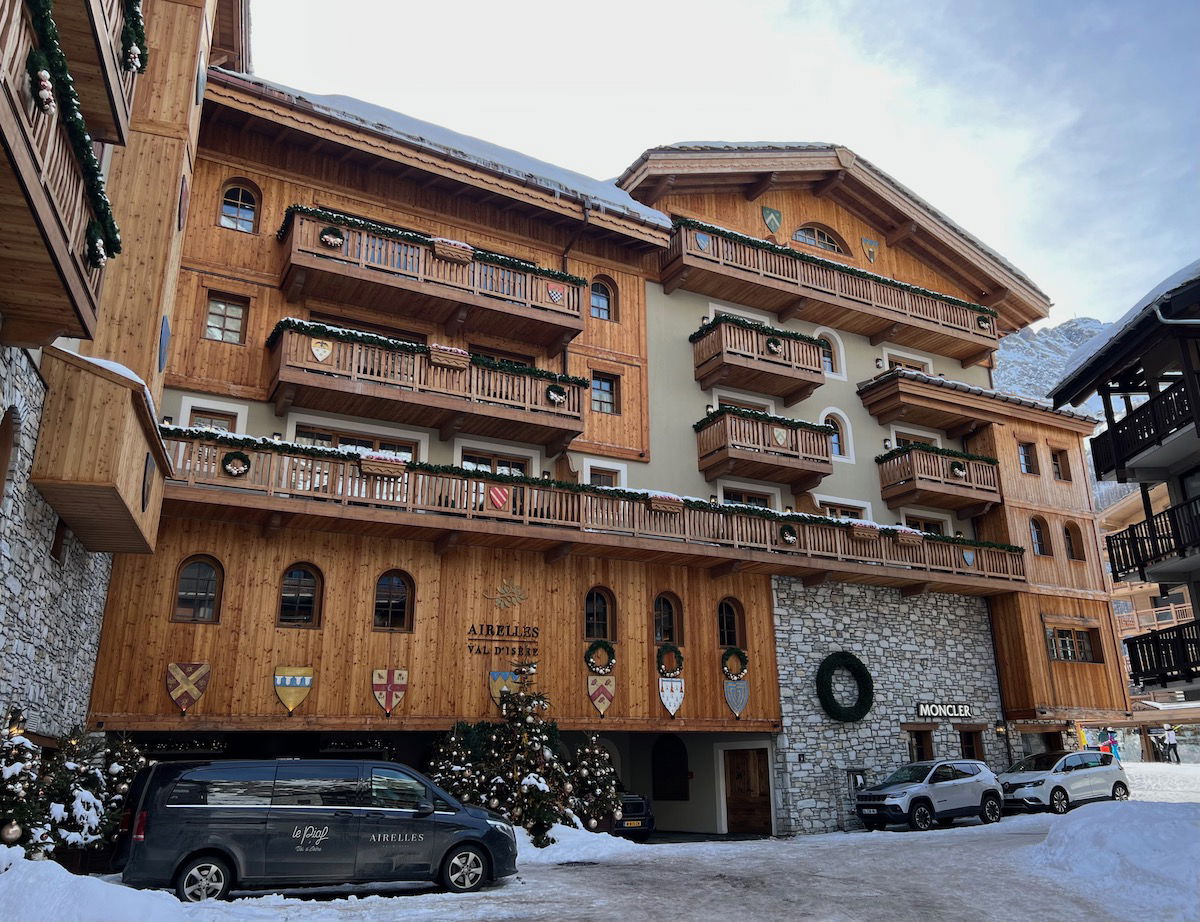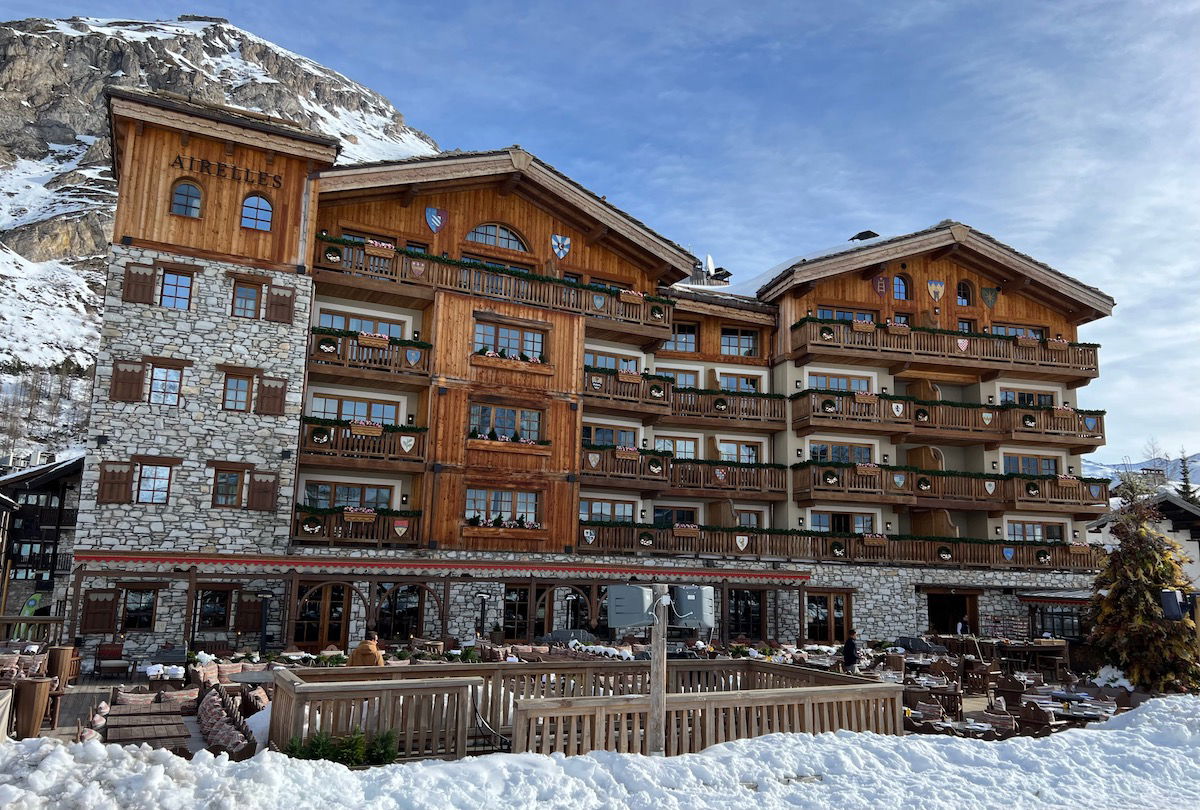 If you don't want to walk, the hotel also offers a complimentary shuttle service within town.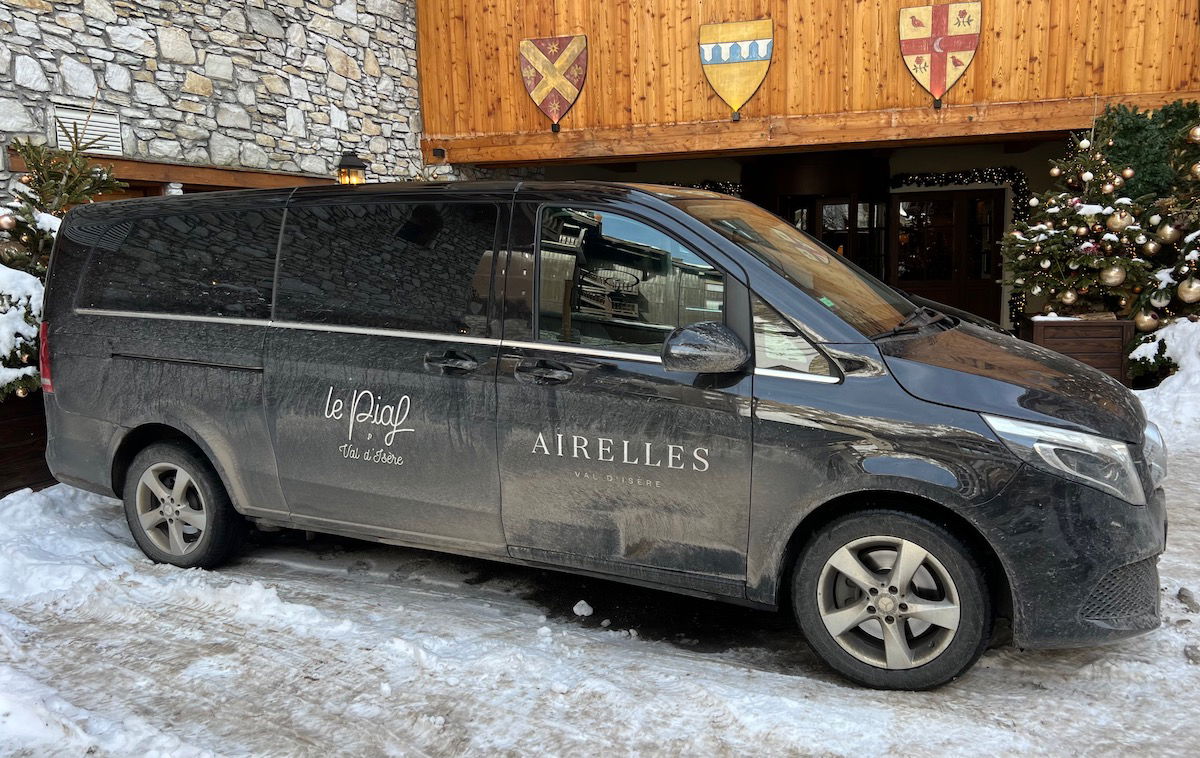 Val d'Isère has a gorgeous setting in the Alps, as the town is located at an altitude of 1,850 meters (around 6,000 feet). The town itself isn't particularly posh, though, especially in comparison to Courchevel. Whether that's good or bad depends on what you're looking for. In Val d'Isère you most definitely get the sense that Airelles is the "it" spot.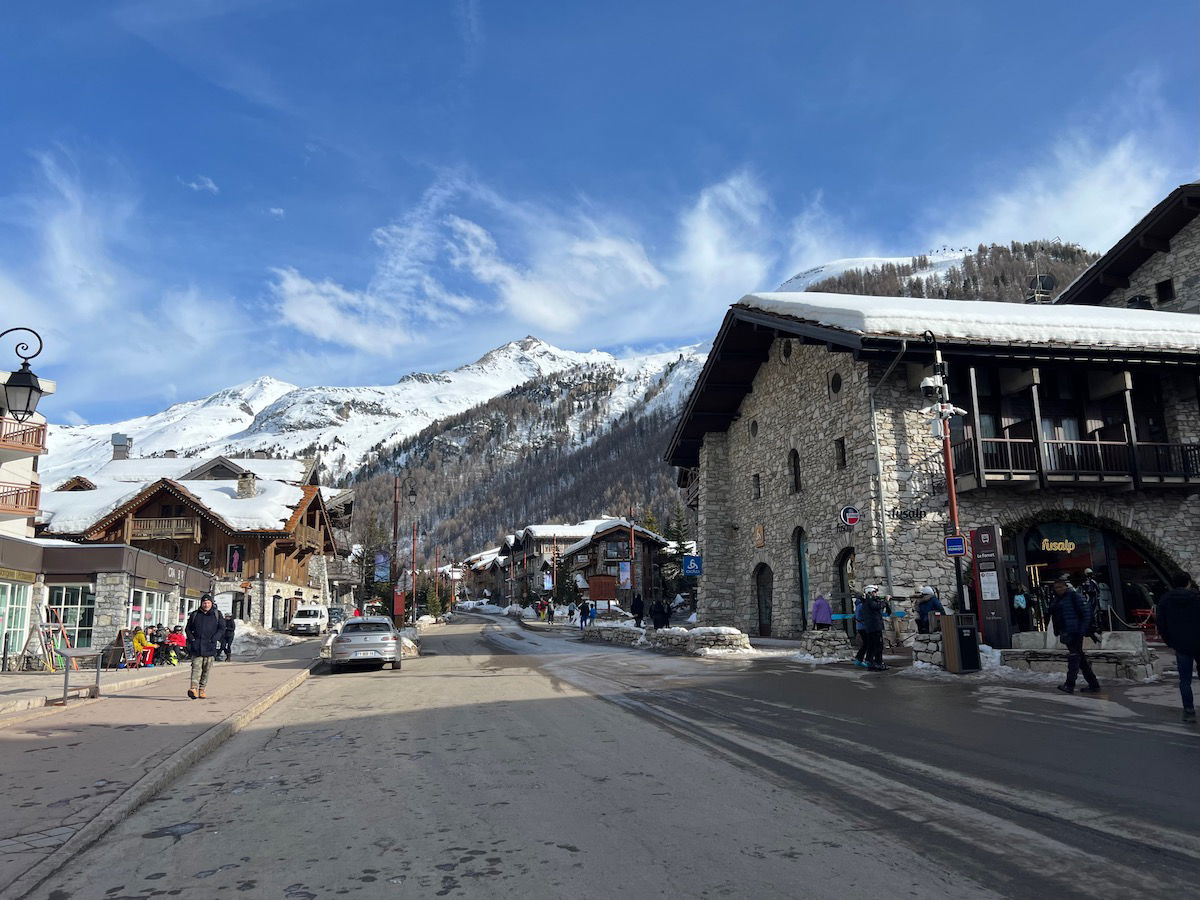 Airelles Val d'Isère lobby & check-in
We arrived at Airelles Val d'Isère in the early afternoon. Before we could even enter the hotel we were greeted by Elio, the awesome concierge who we had met a few months earlier at Airelles Gordes (and his awesomeness is one of the reasons we chose to stay here).
Airelles Val d'Isère has a charming lobby, with several comfortable seating arrangements. It was even cuter in the evenings, when there were candles throughout the lobby, along with a fireplace.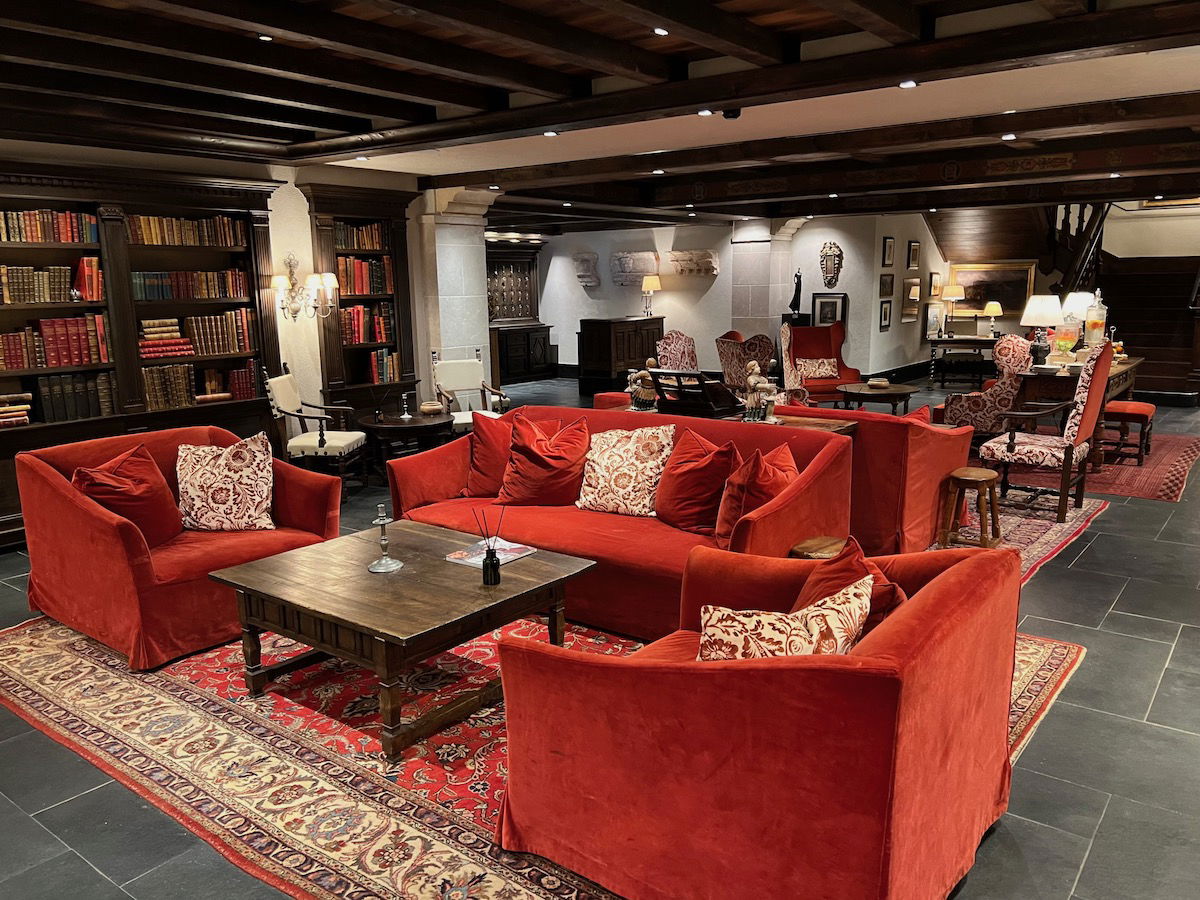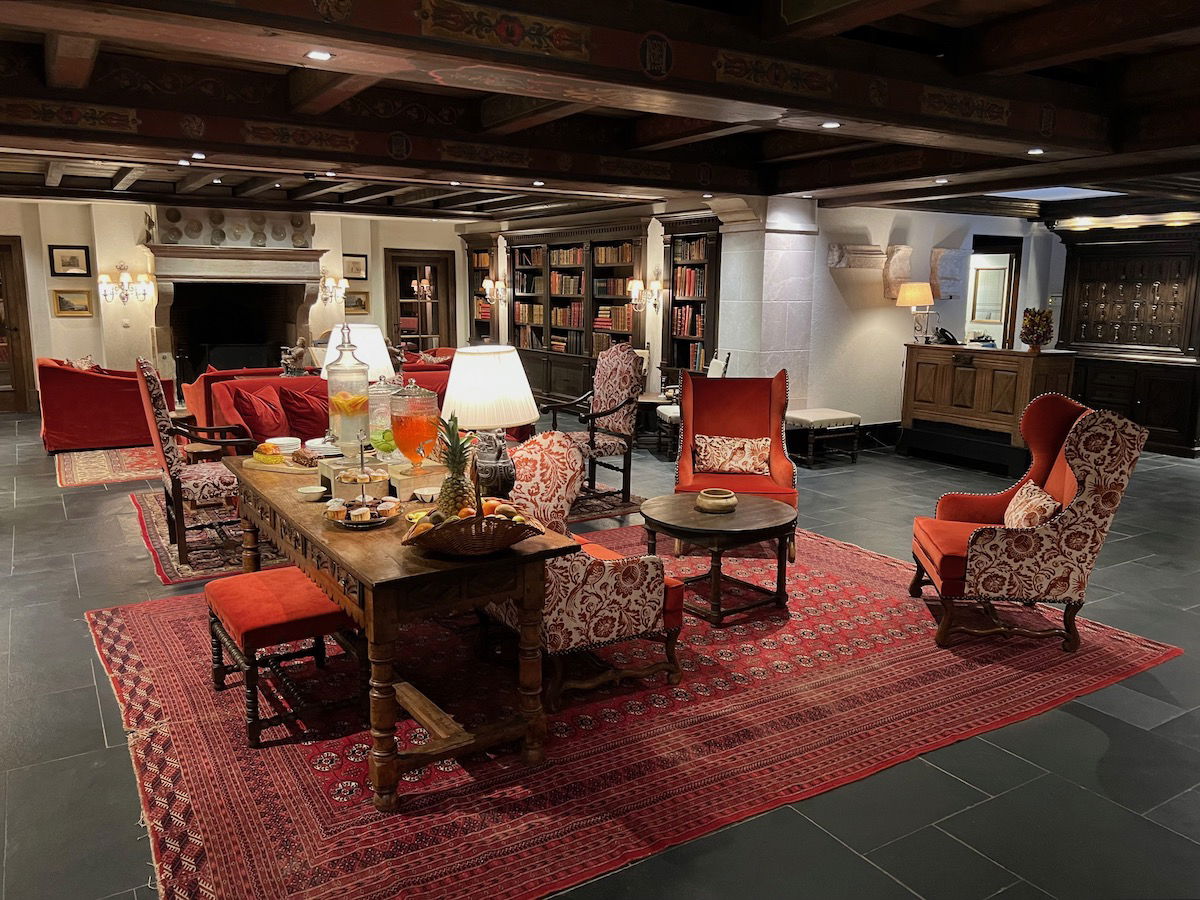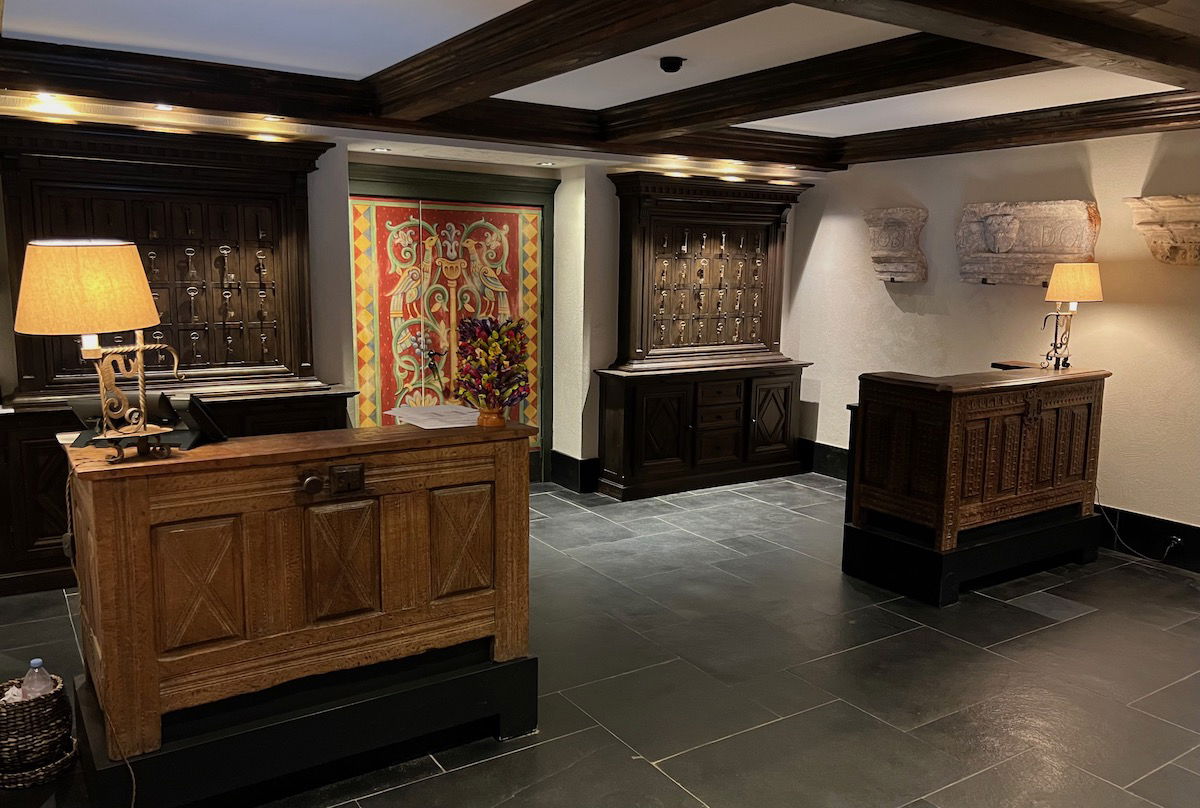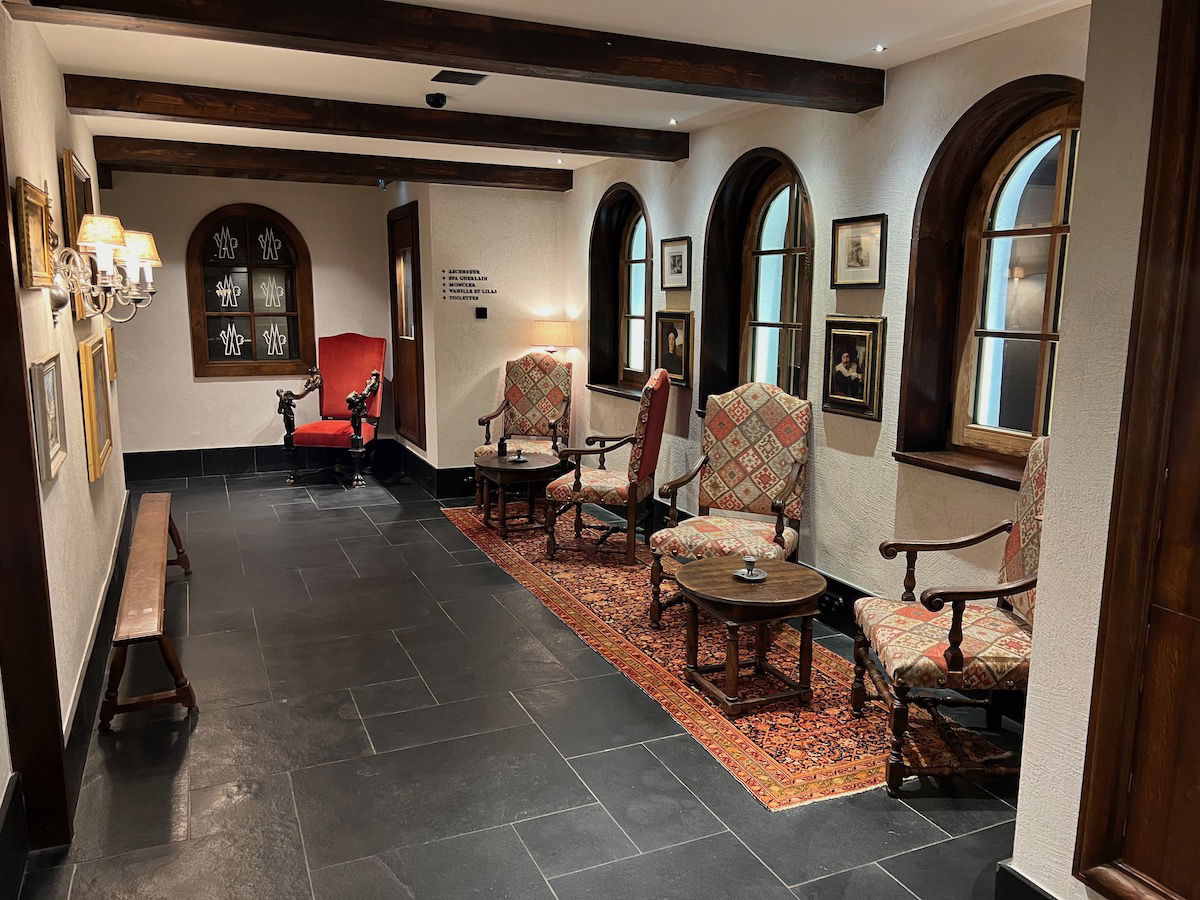 Setting the tone of overindulgence at the resort, there's a table with all kinds of sweets that guests can help themselves to just inside the lobby. Honestly, I feel like I deserve some sort of an award for how well I resisted most of the desserts at the resort, because I wanted to eat just about everything. All the sweets at Airelles are homemade, and are too tasty for anyone's good.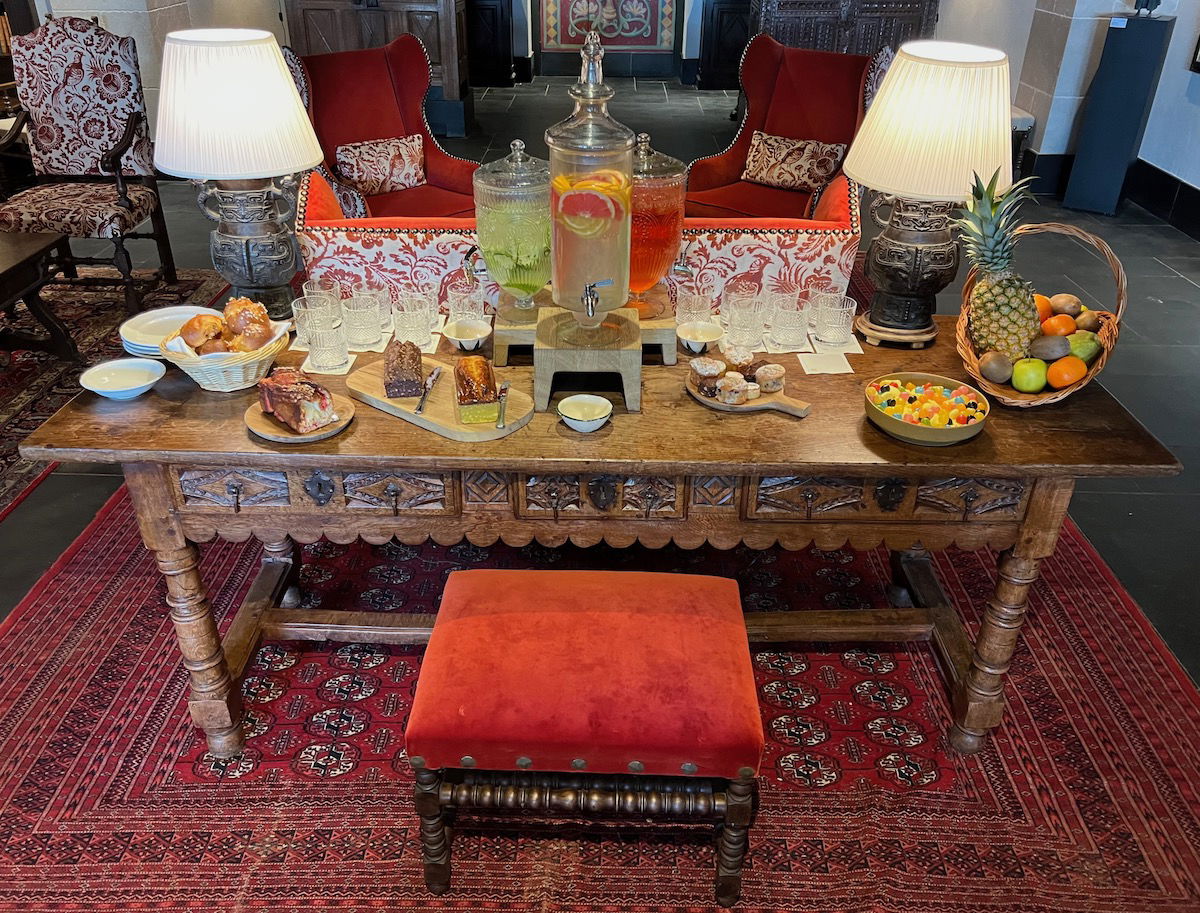 Just off the lobby is the cigar lounge, which also has an honor bar with spirits. You can just pour yourself whatever you'd like, and then write down your name and room number.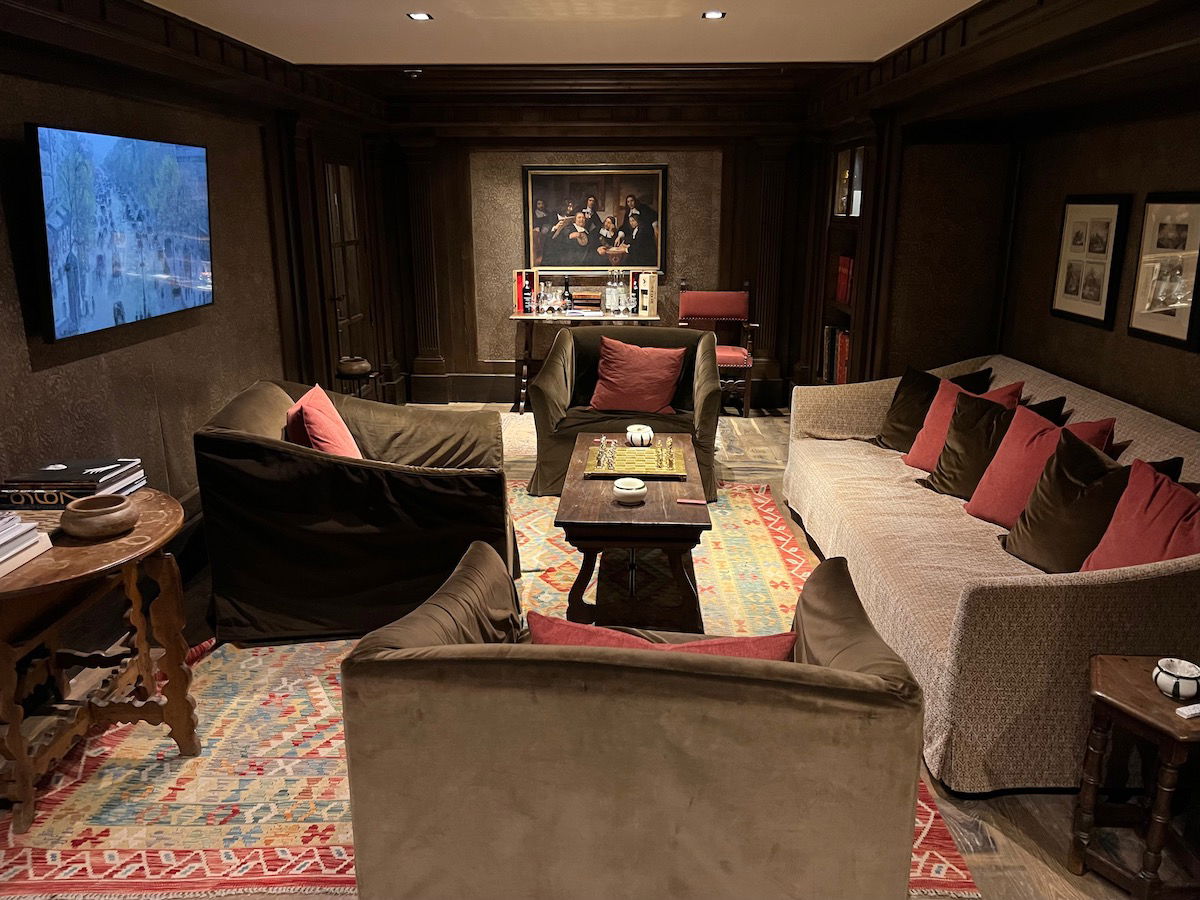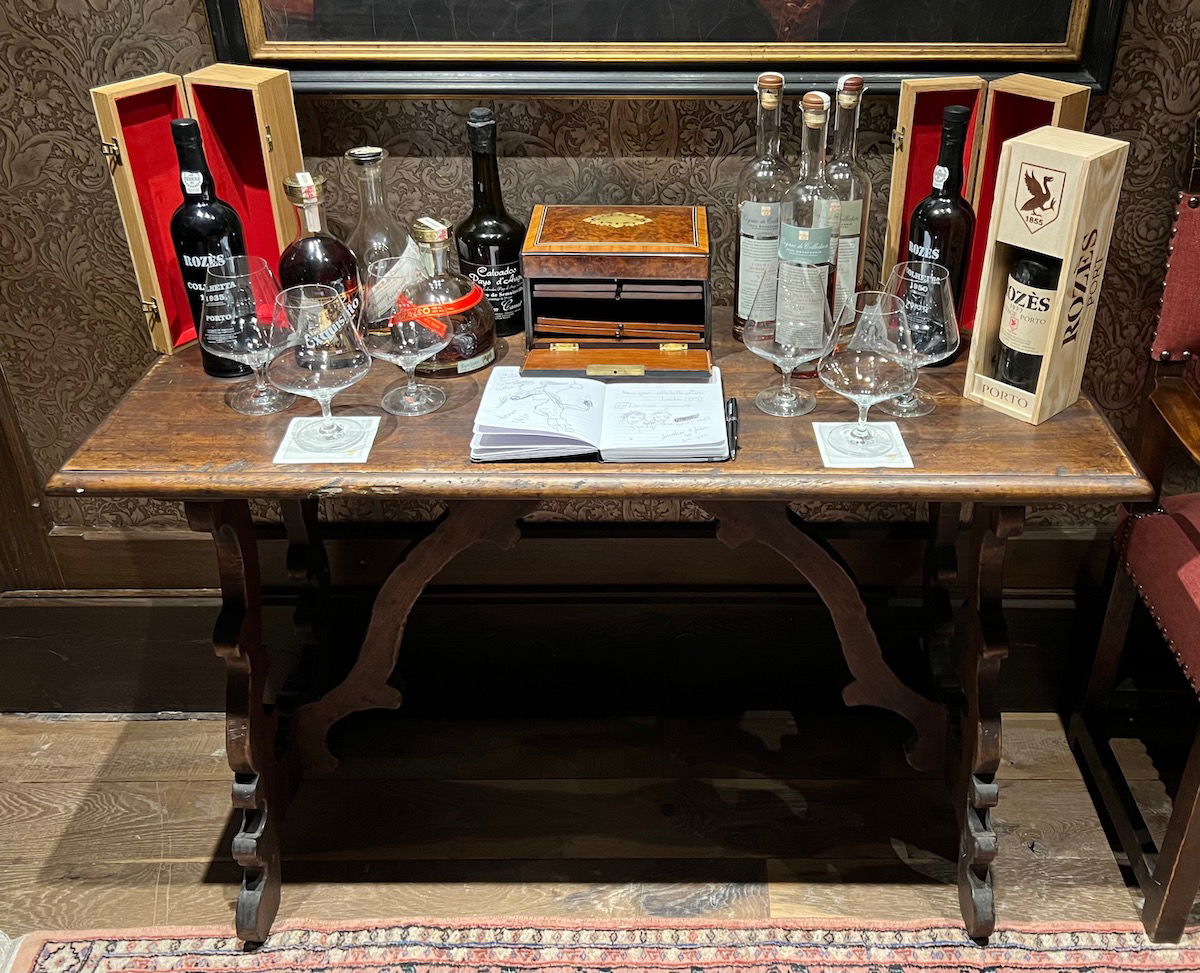 We were checked in by the lovely Arline, and the process was quick and friendly. We were also offered warm towels and pear juice as a welcome drink.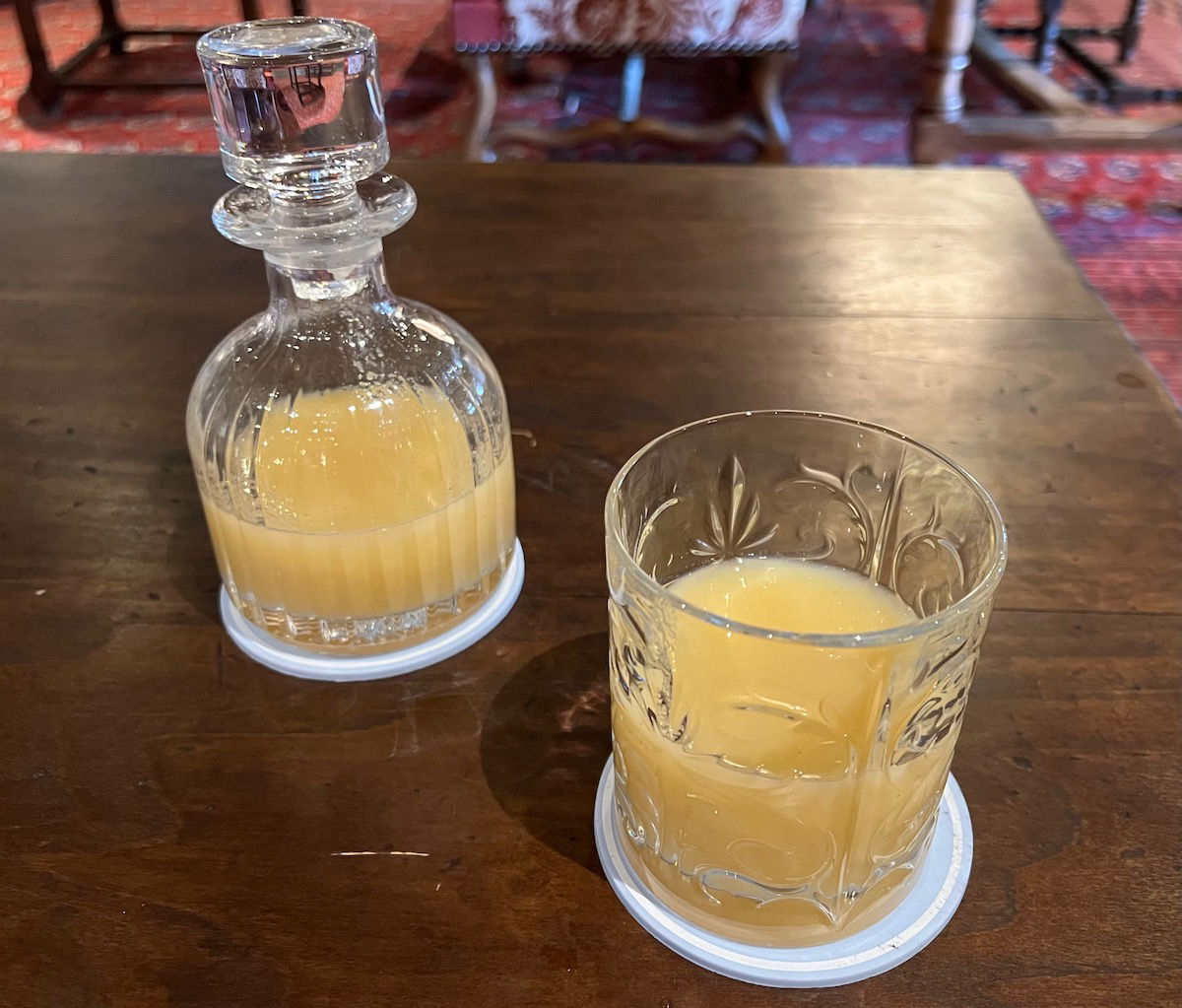 Our room wasn't quite ready yet, so we went to enjoy lunch, and then our room was ready shortly after that.
Airelles Val d'Isère room
For our stay we were upgraded to room 501, one of the accommodations on the top floor (the hotel has five floors). These are technically marketed as "apartments," and our room was the Chantemerle Apartment, measuring 68 square meters (just over 700 square feet).
Even though the hotel only opened in 2019, it doesn't feel new, in a good way. Everything feels modern and well maintained, while still having a sense of place, and blending in perfectly. Airelles properties have what I'd describe as quirky decor, which I love.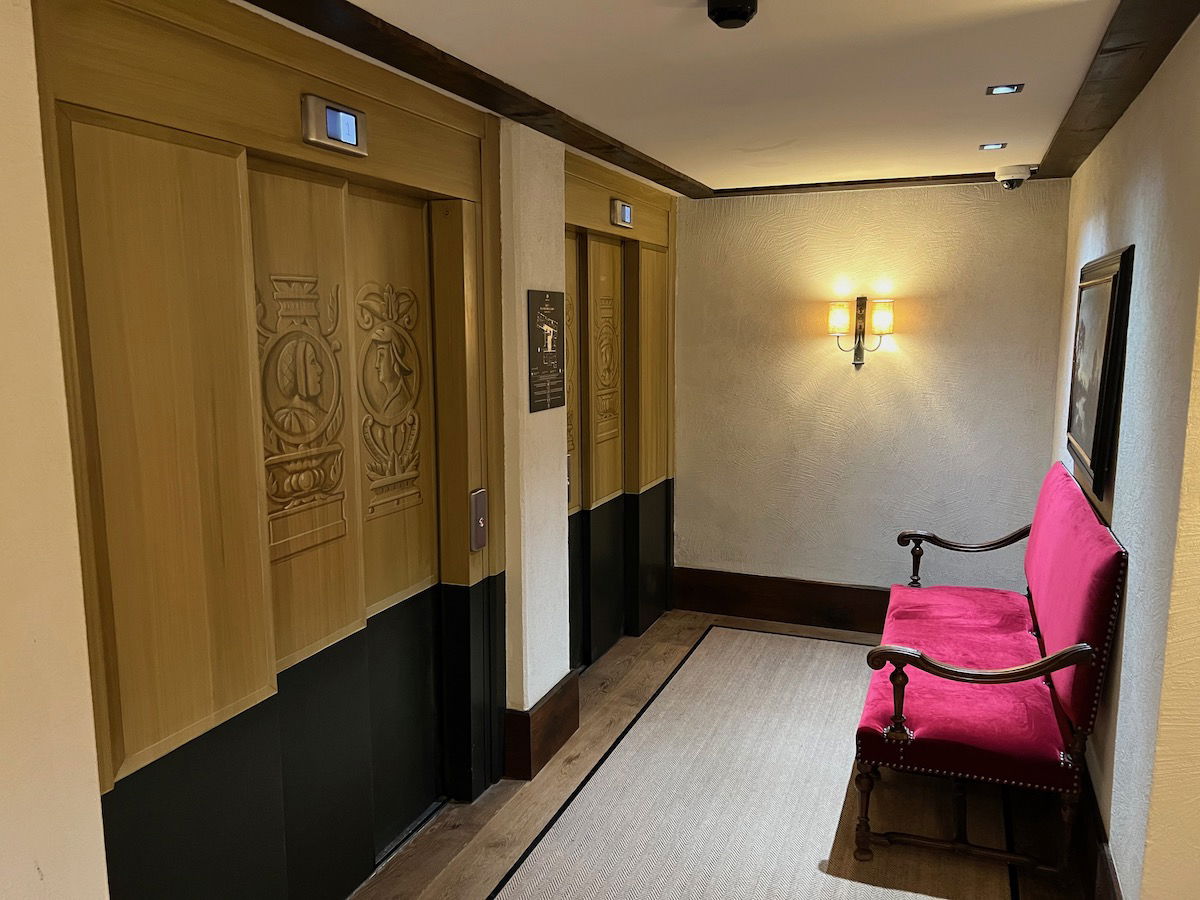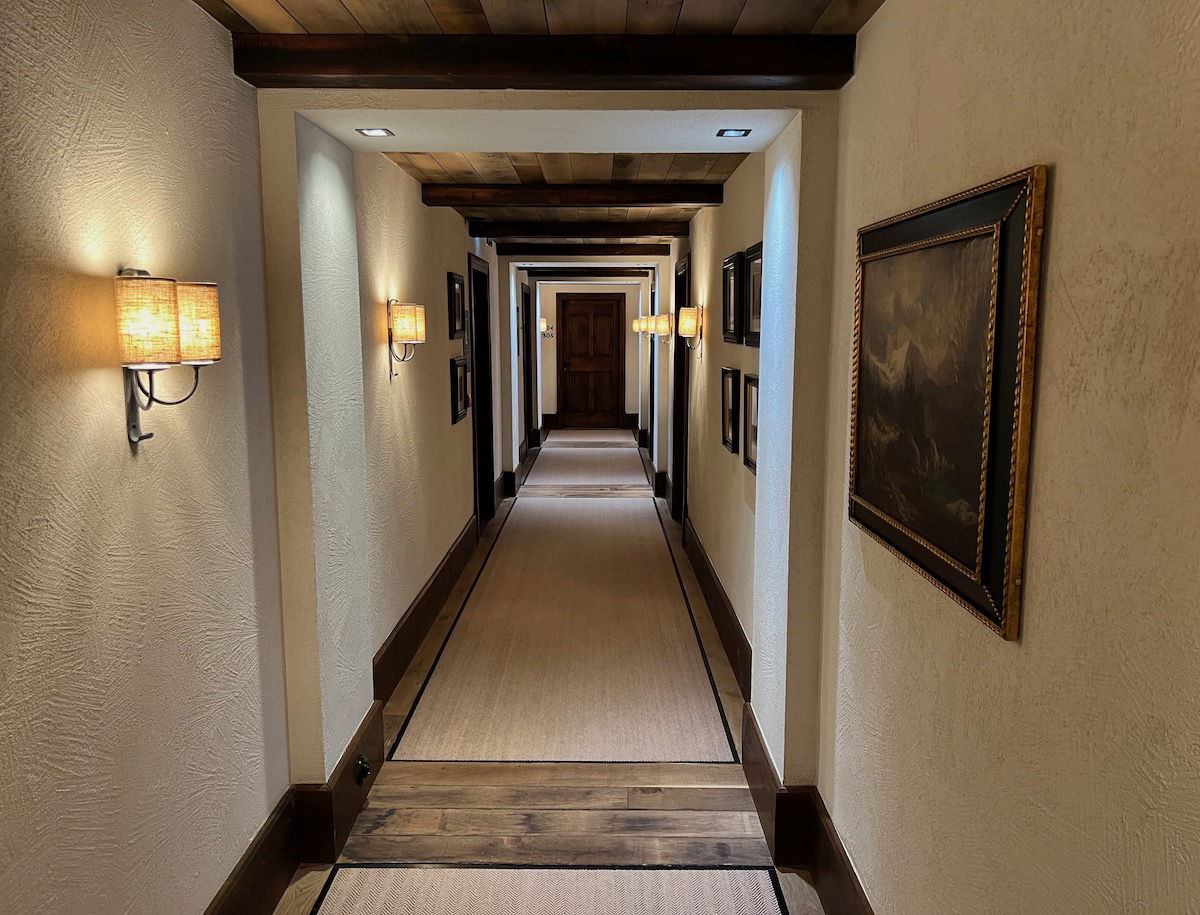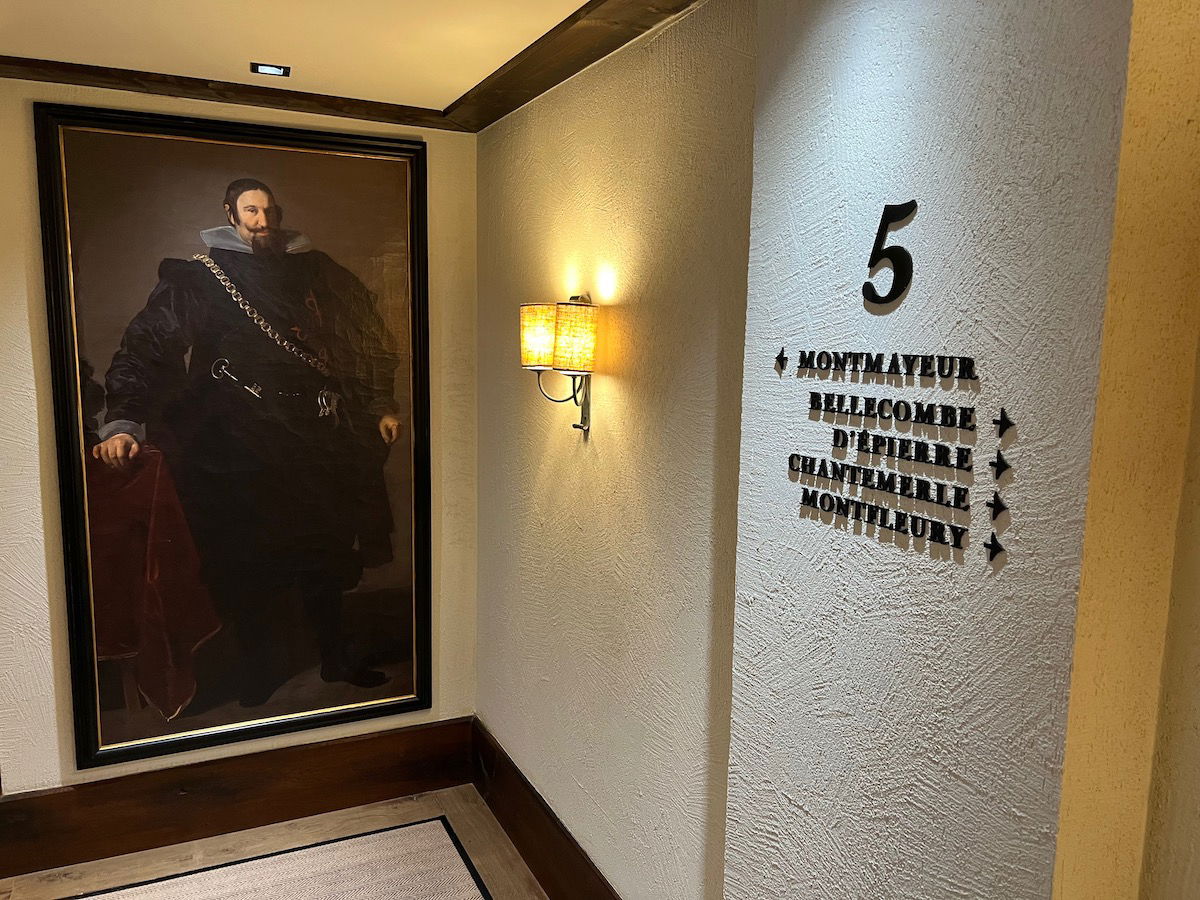 Our room featured a long entryway with the bathroom area to the right, and the main part of the room to the left.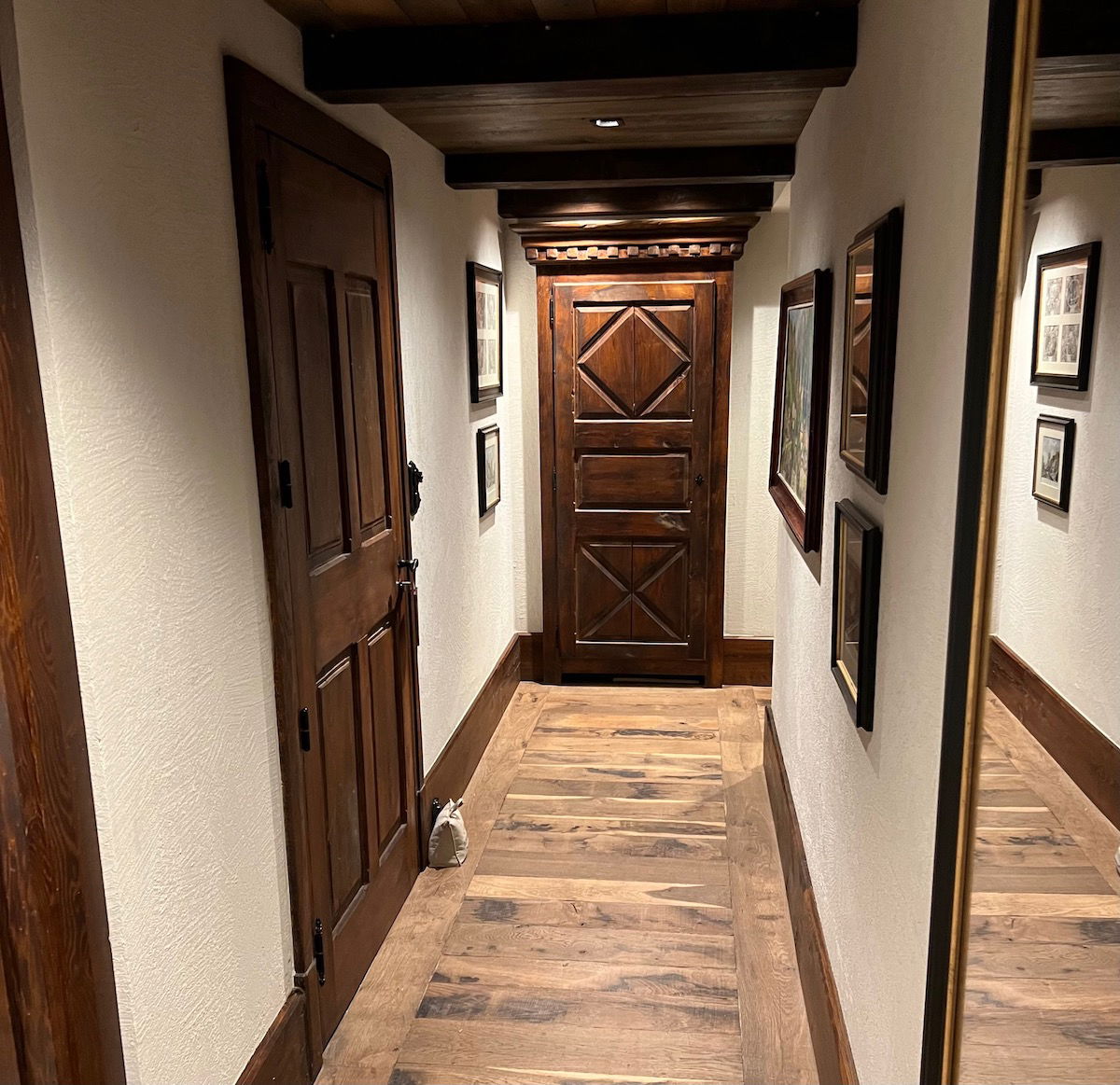 Since this room is on the top floor, there are even slanted ceilings, which I thought was fun.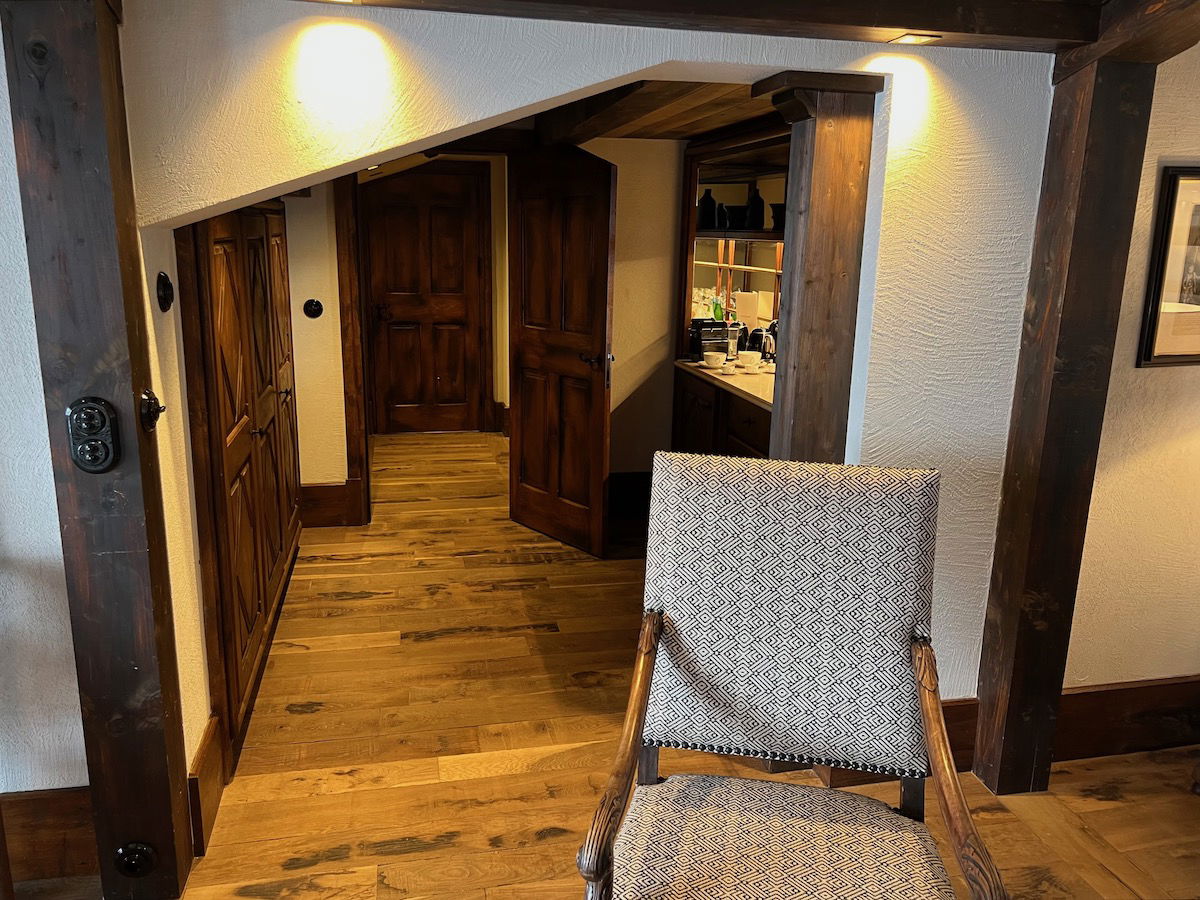 The room featured a comfortable king size bed, and a sitting area with a couch and two chairs.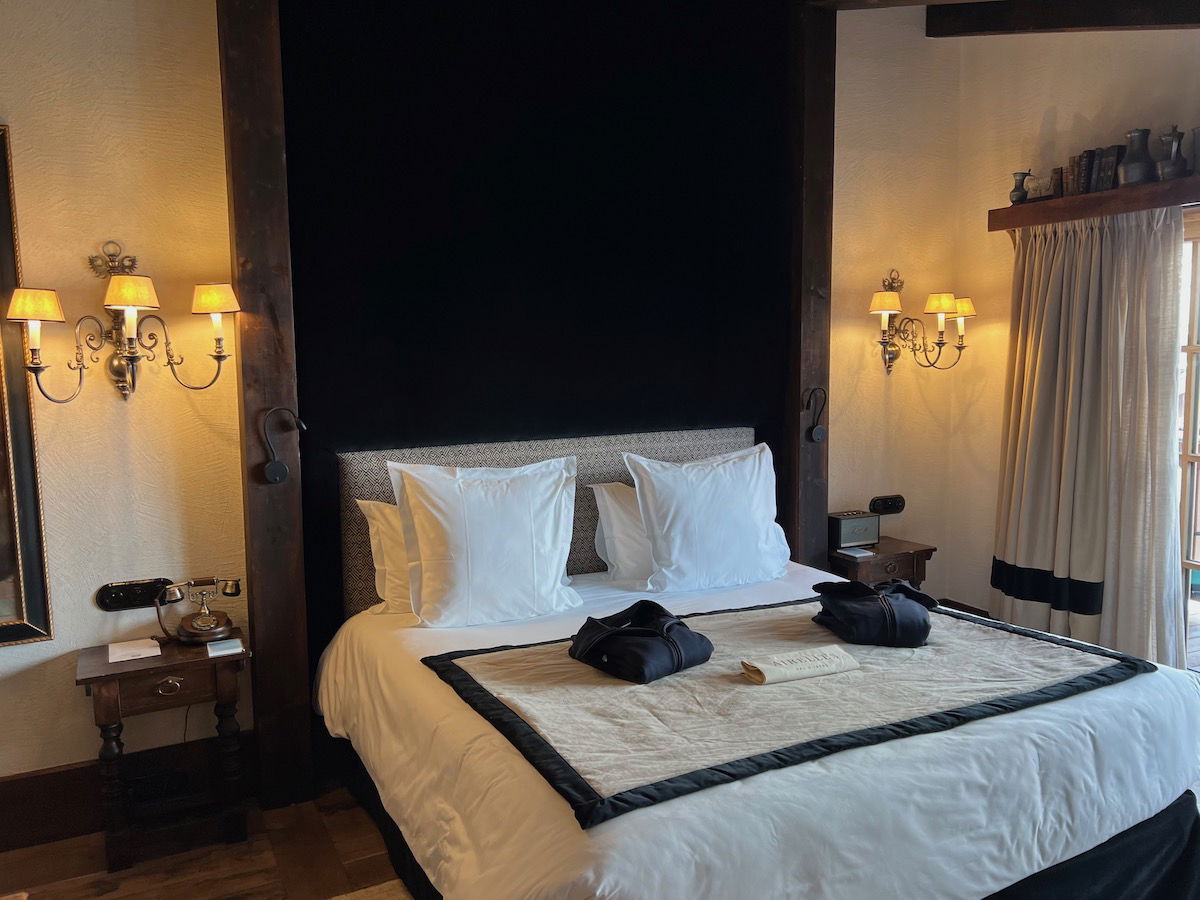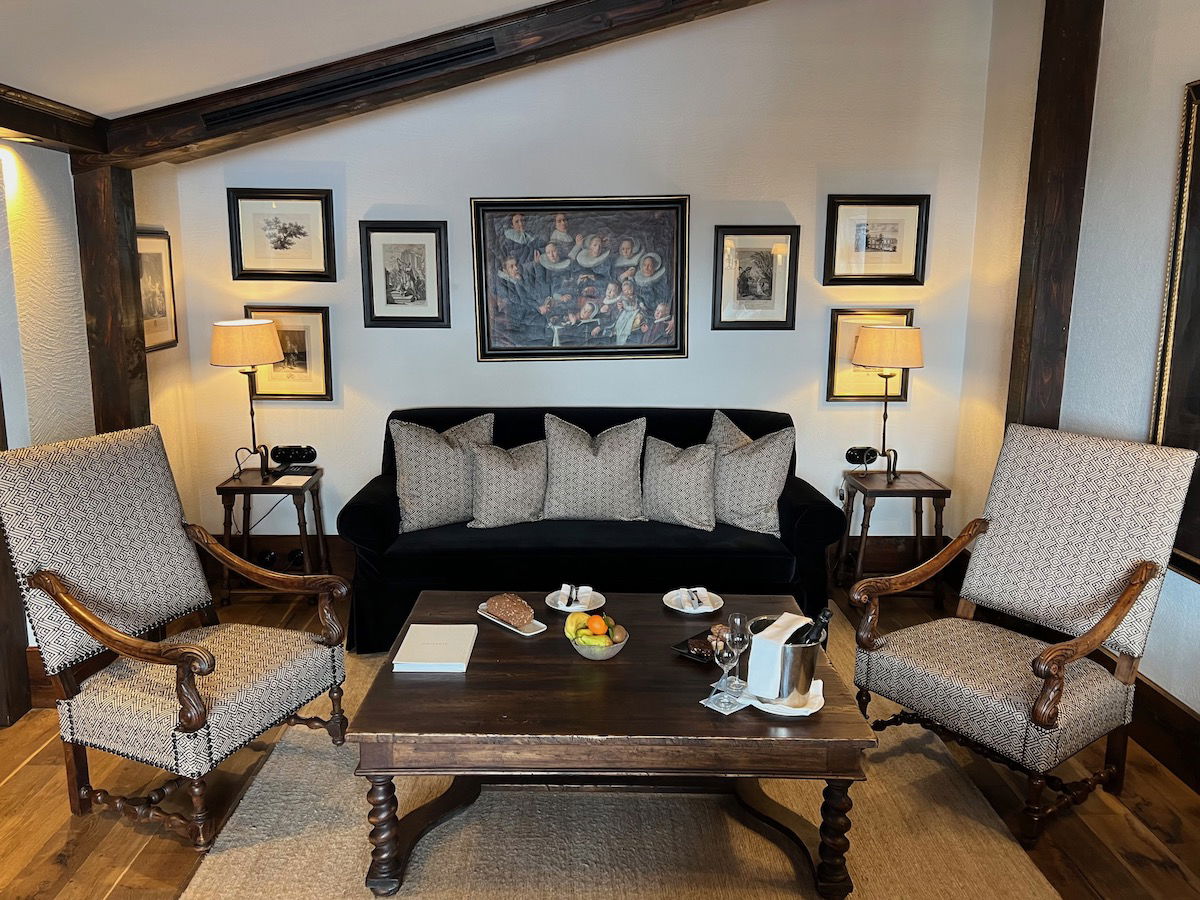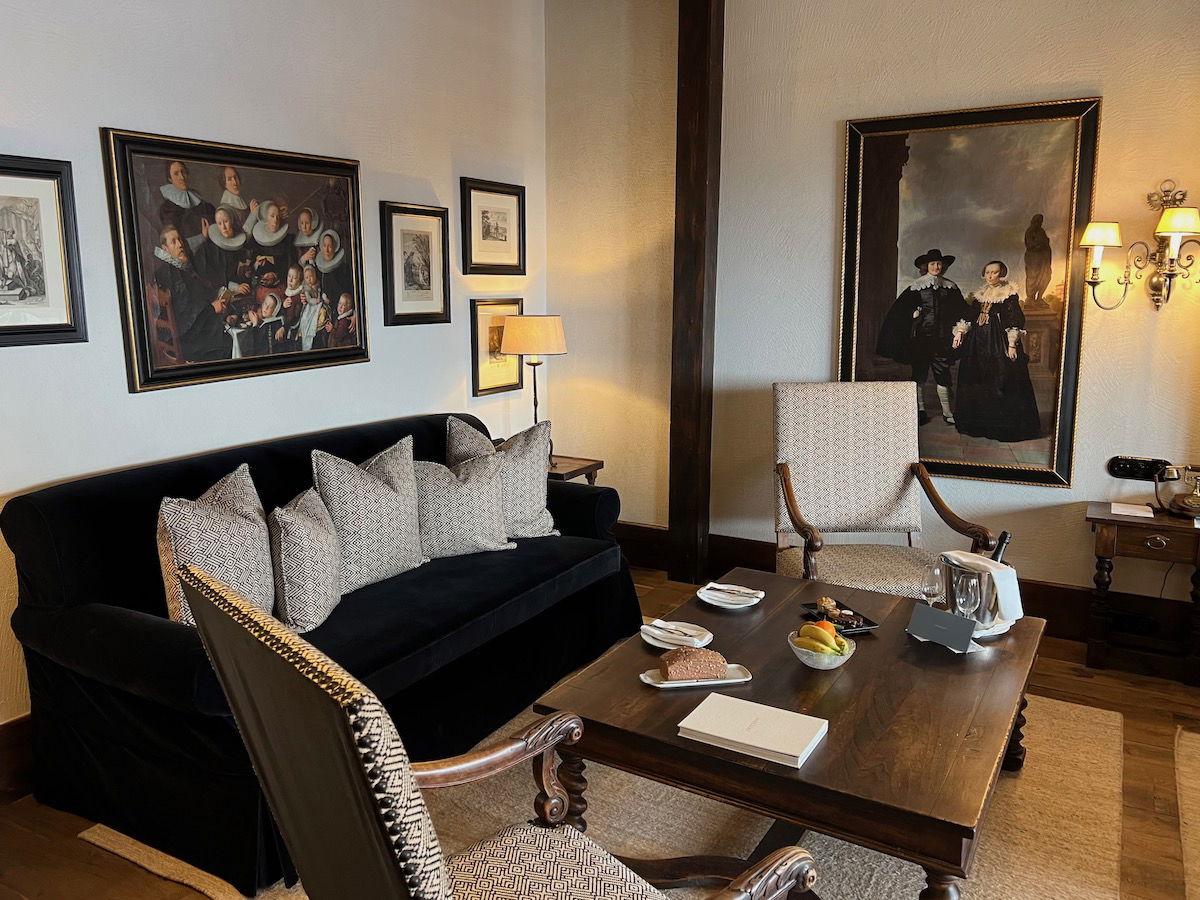 There's also a desk area with a further two chairs, as well as a mirror that's actually a secret TV.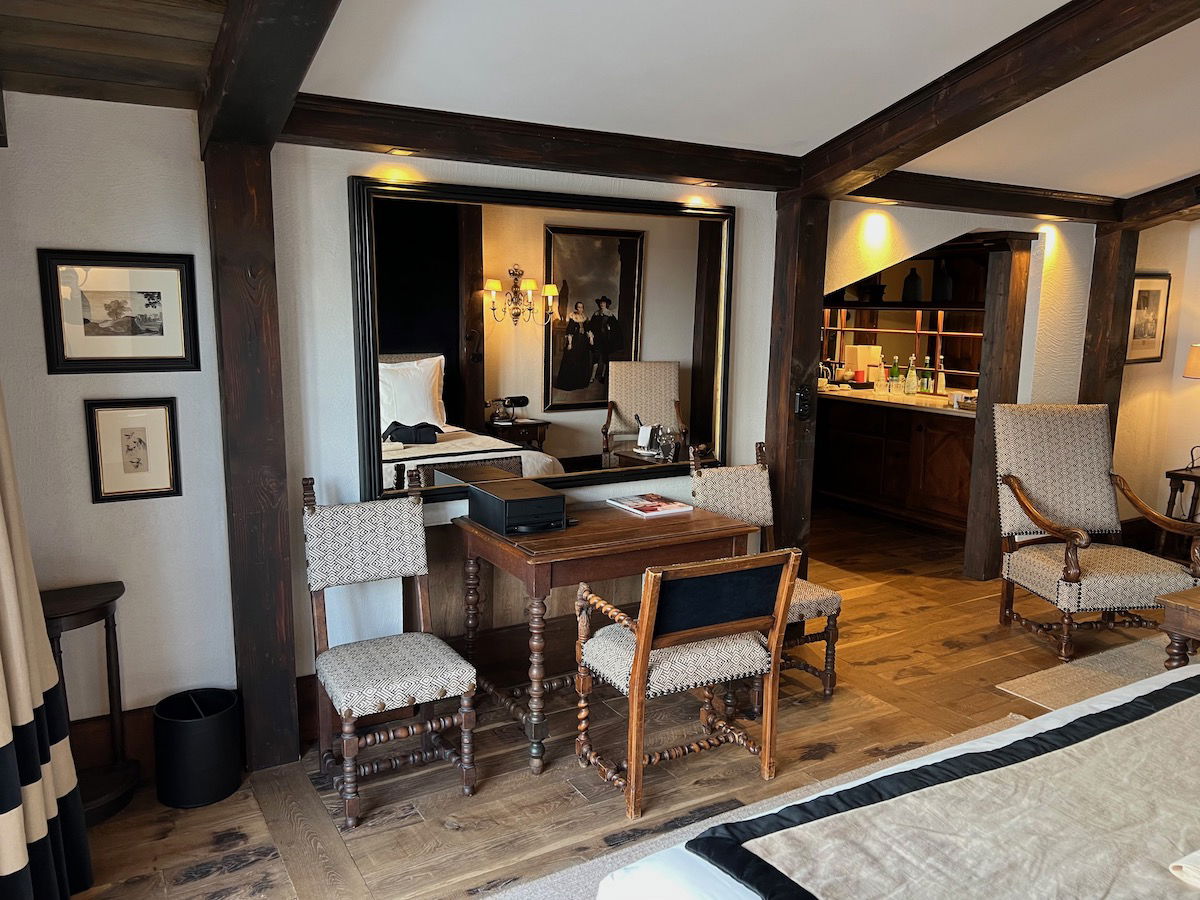 As is the norm at Airelles, the welcome gifts were pretty lavish. For one, there were two Airelles-branded shell ski jackets, which you're free to enjoy during your stay, and also take home.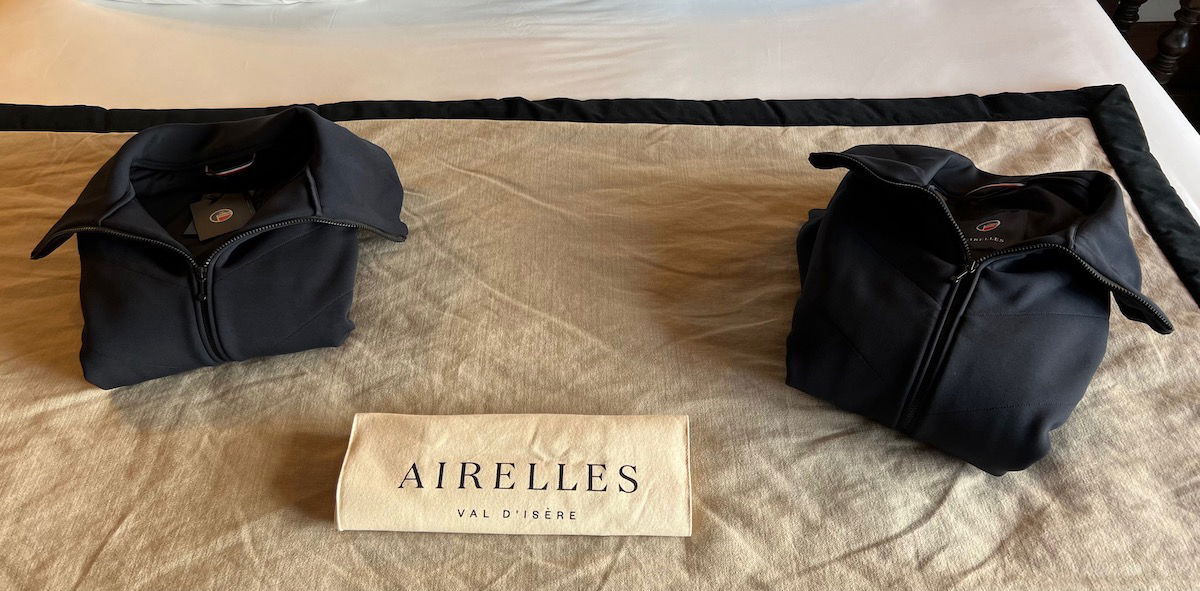 On top of that, there was a welcome gift consisting of some fresh fruit, all kinds of sweets, and a bottle of champagne. Honestly, one of my biggest complaints about Airelles is how much delicious food they constantly give you, as it's impossible to maximize the experience.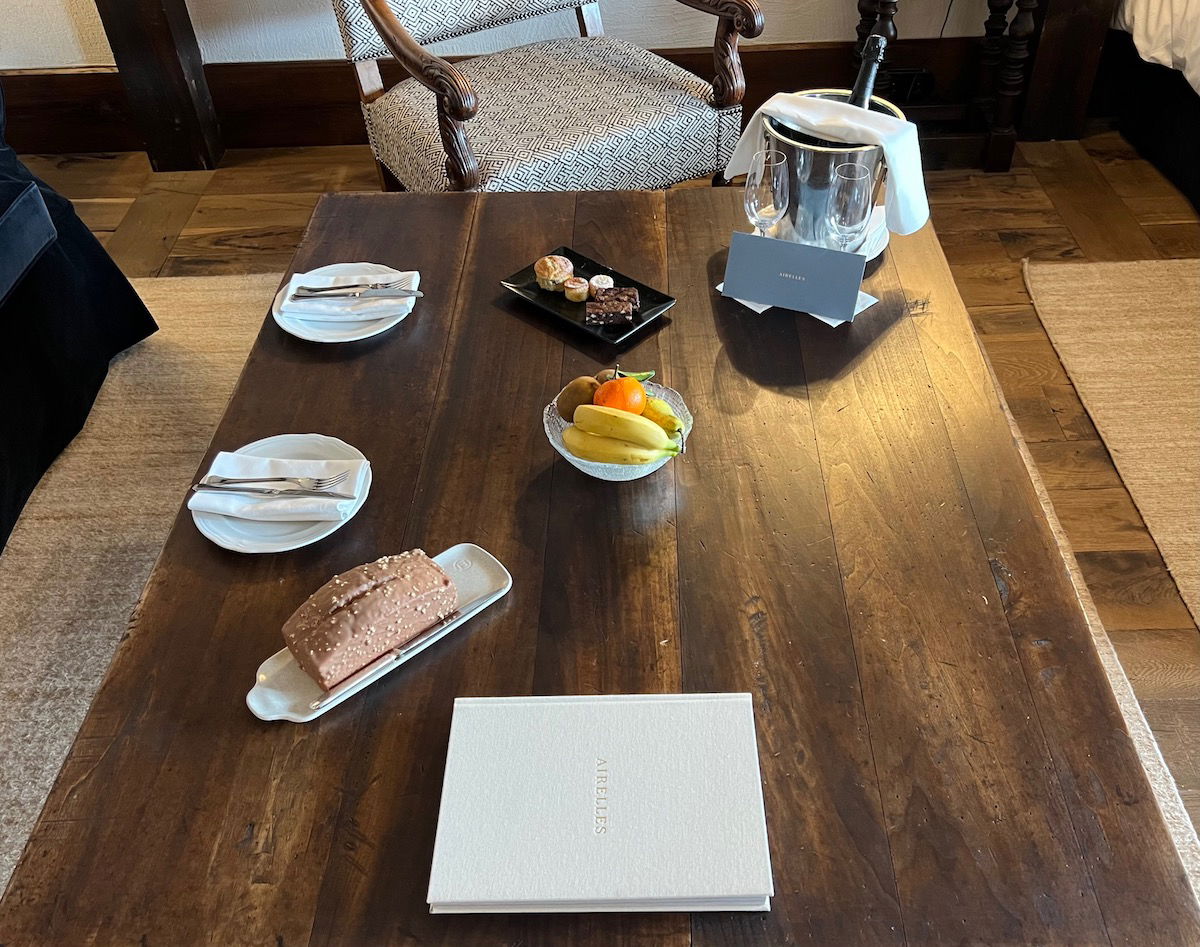 The champagne welcome gift was a bottle of Dom Perignon 2013 — very nice!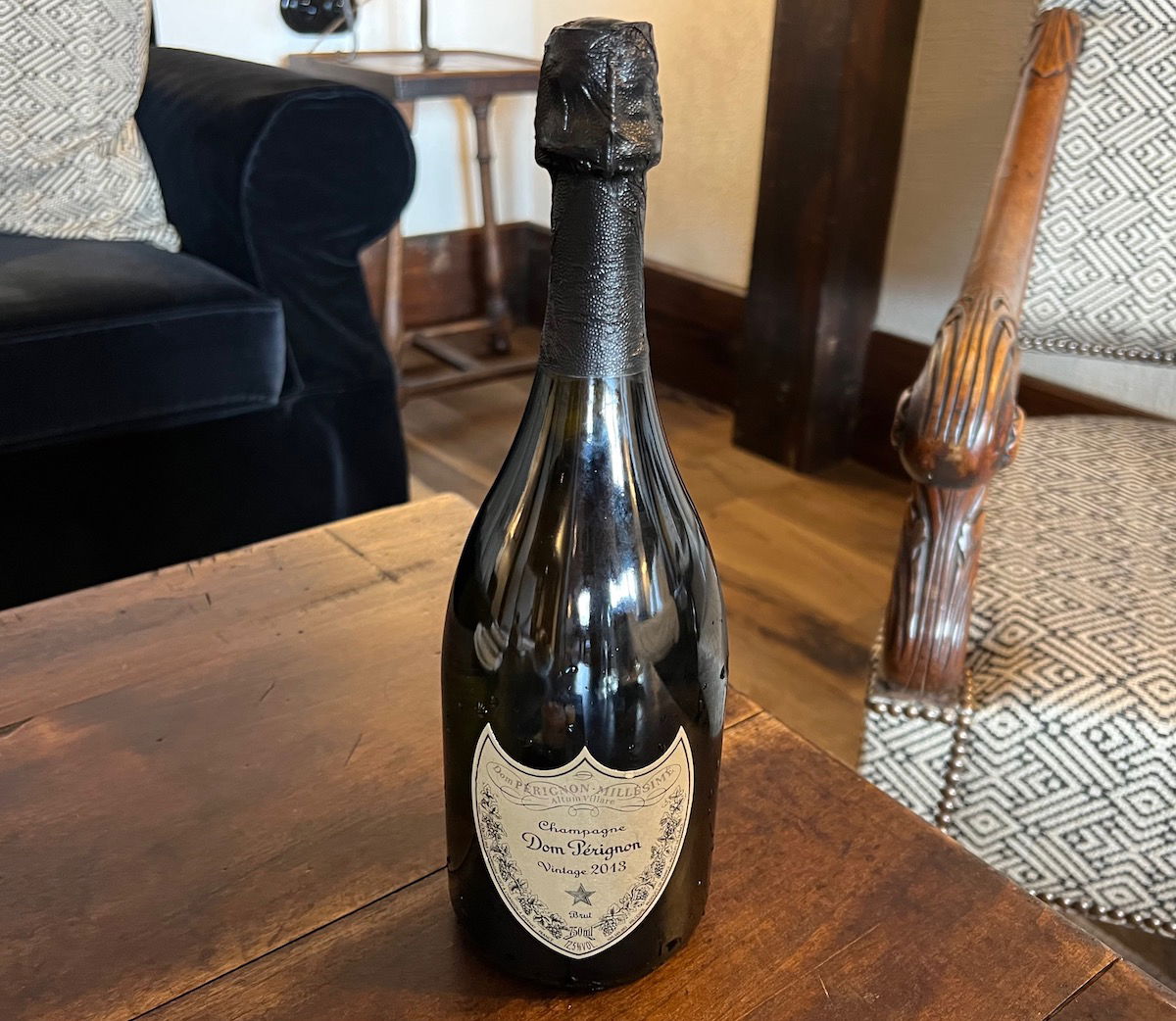 Just off the bedroom area was the minibar, where everything is complimentary.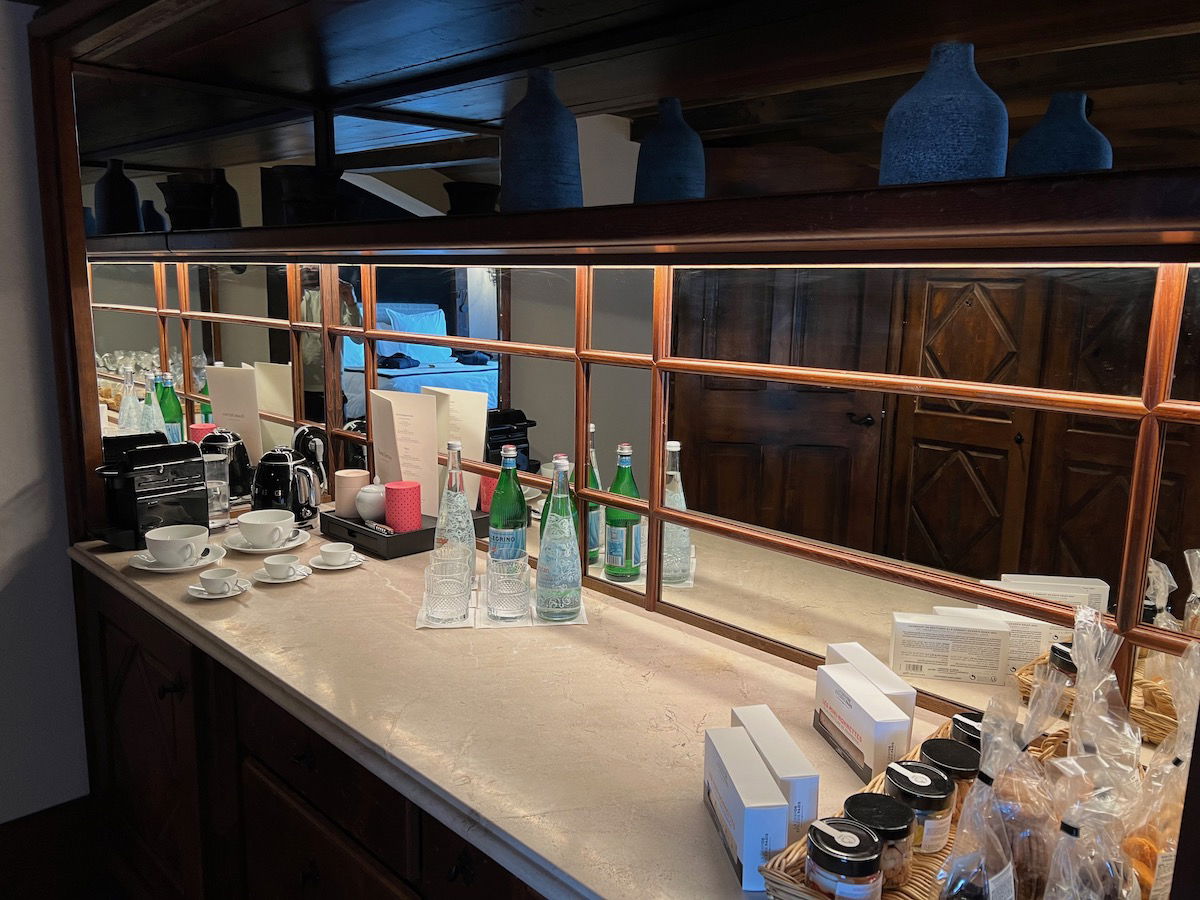 This includes 19 different sweet and savoy snacks, all of which can be replenished daily.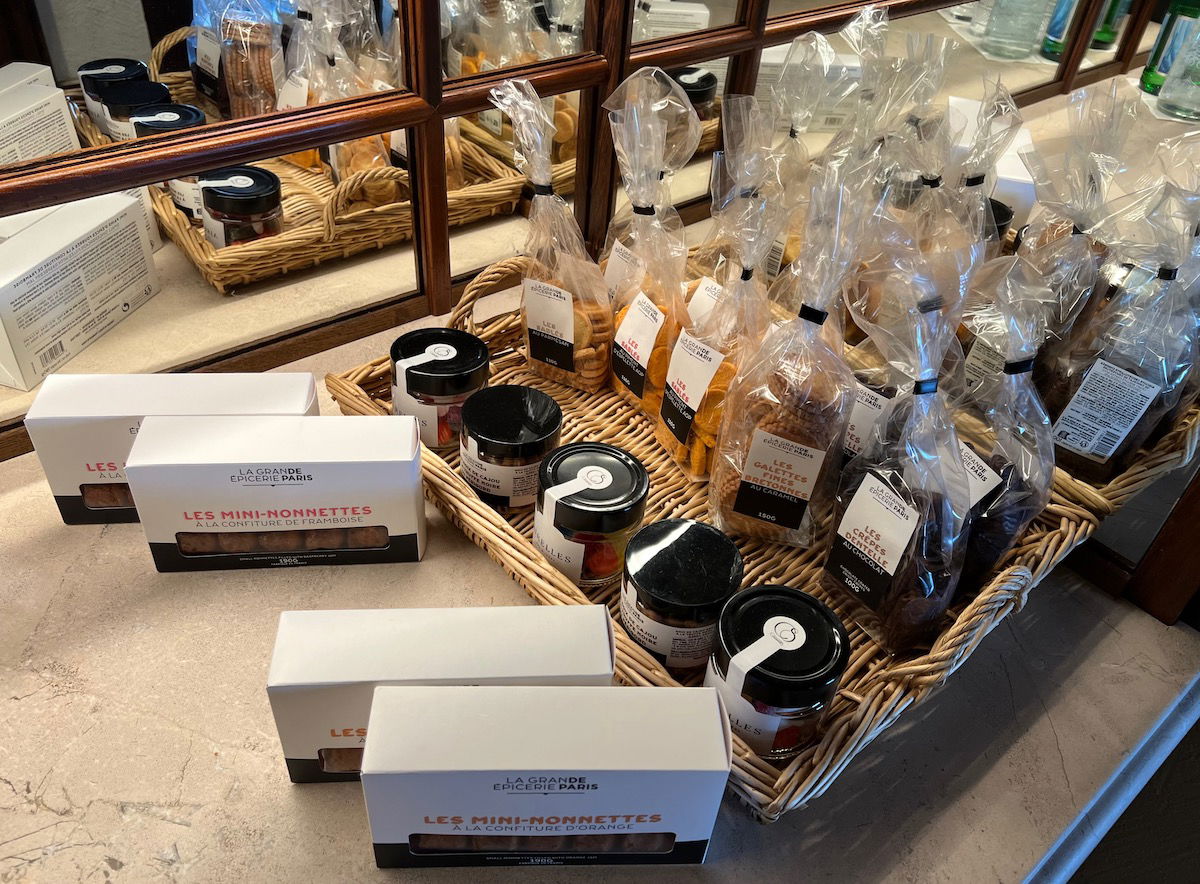 There was also a Nespresso machine, as well as a kettle, with a selection of tea.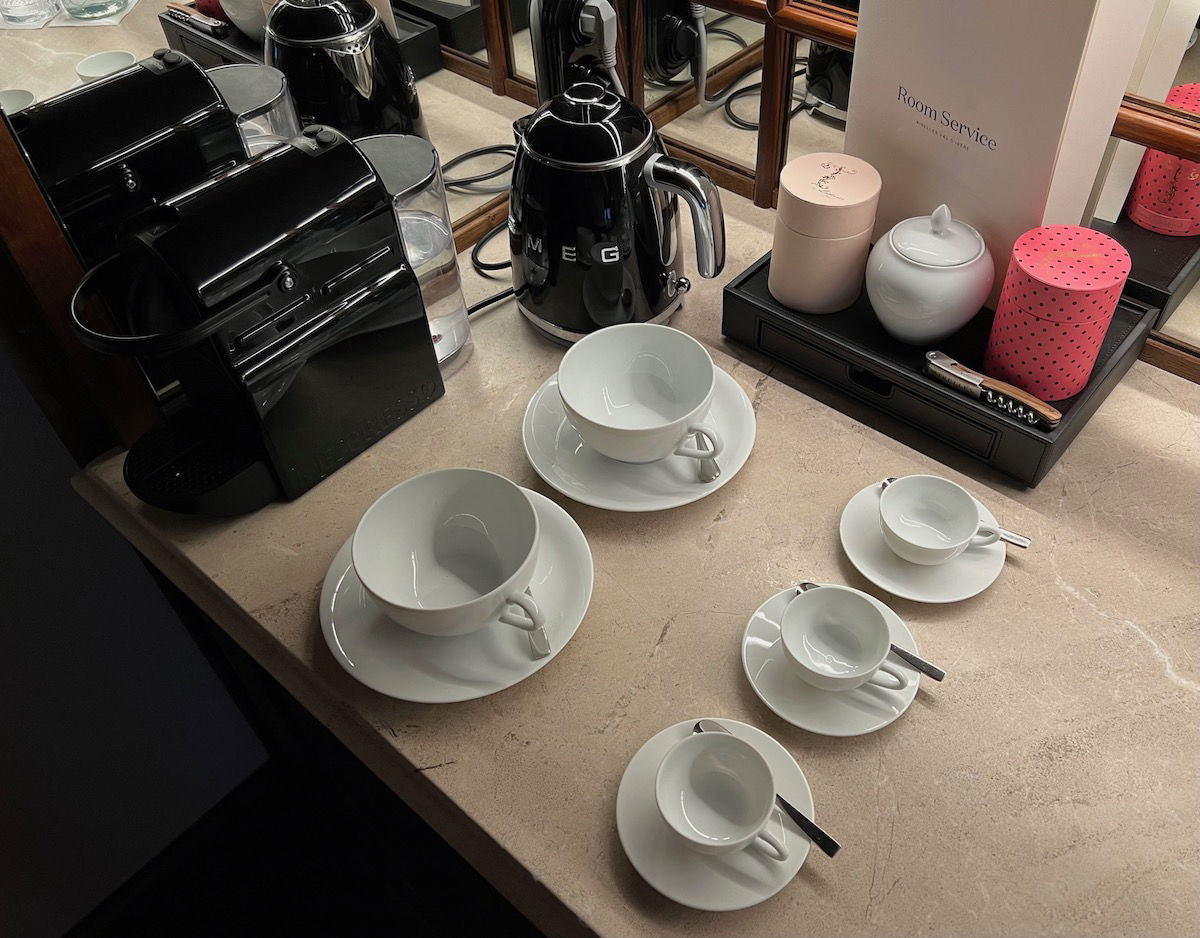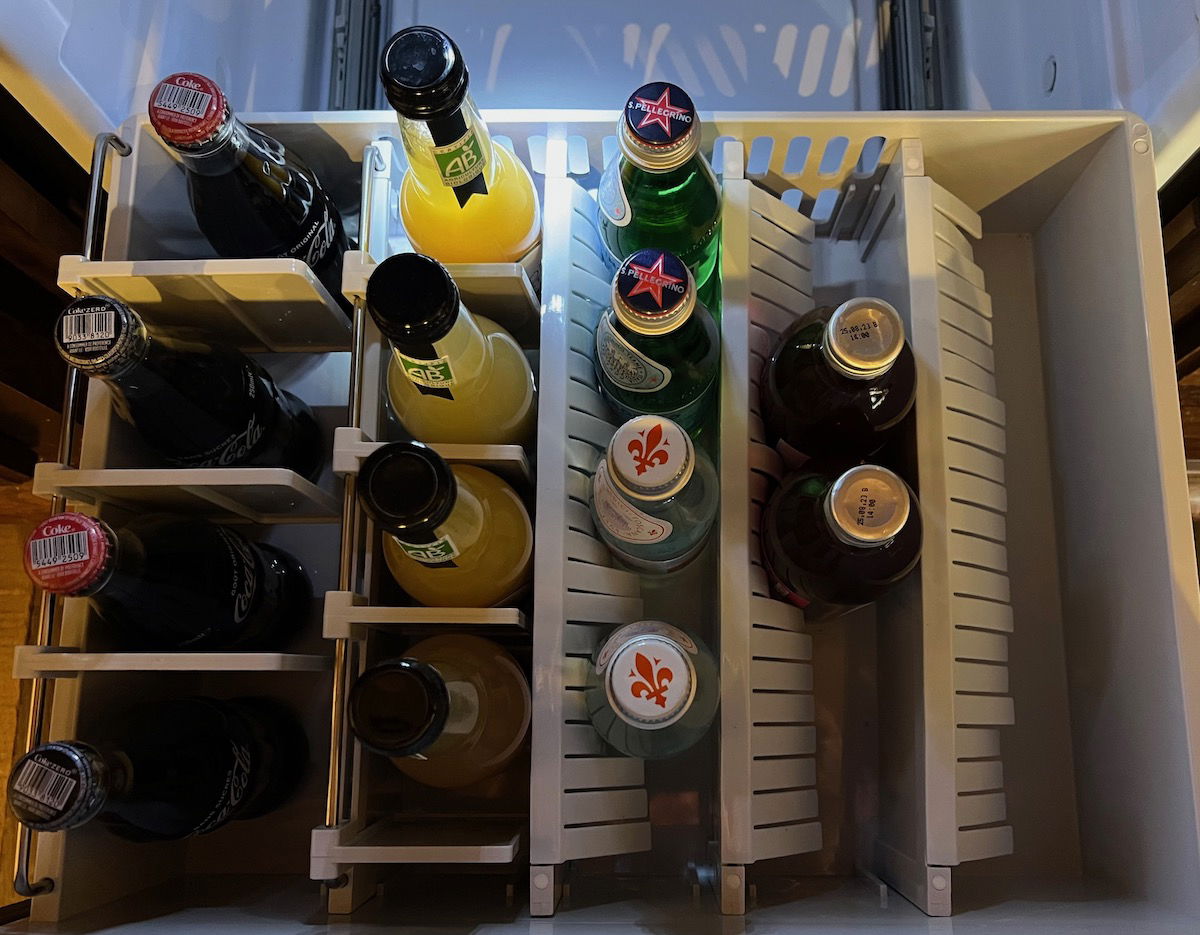 Then there was the minibar, with a variety of soft drinks and water.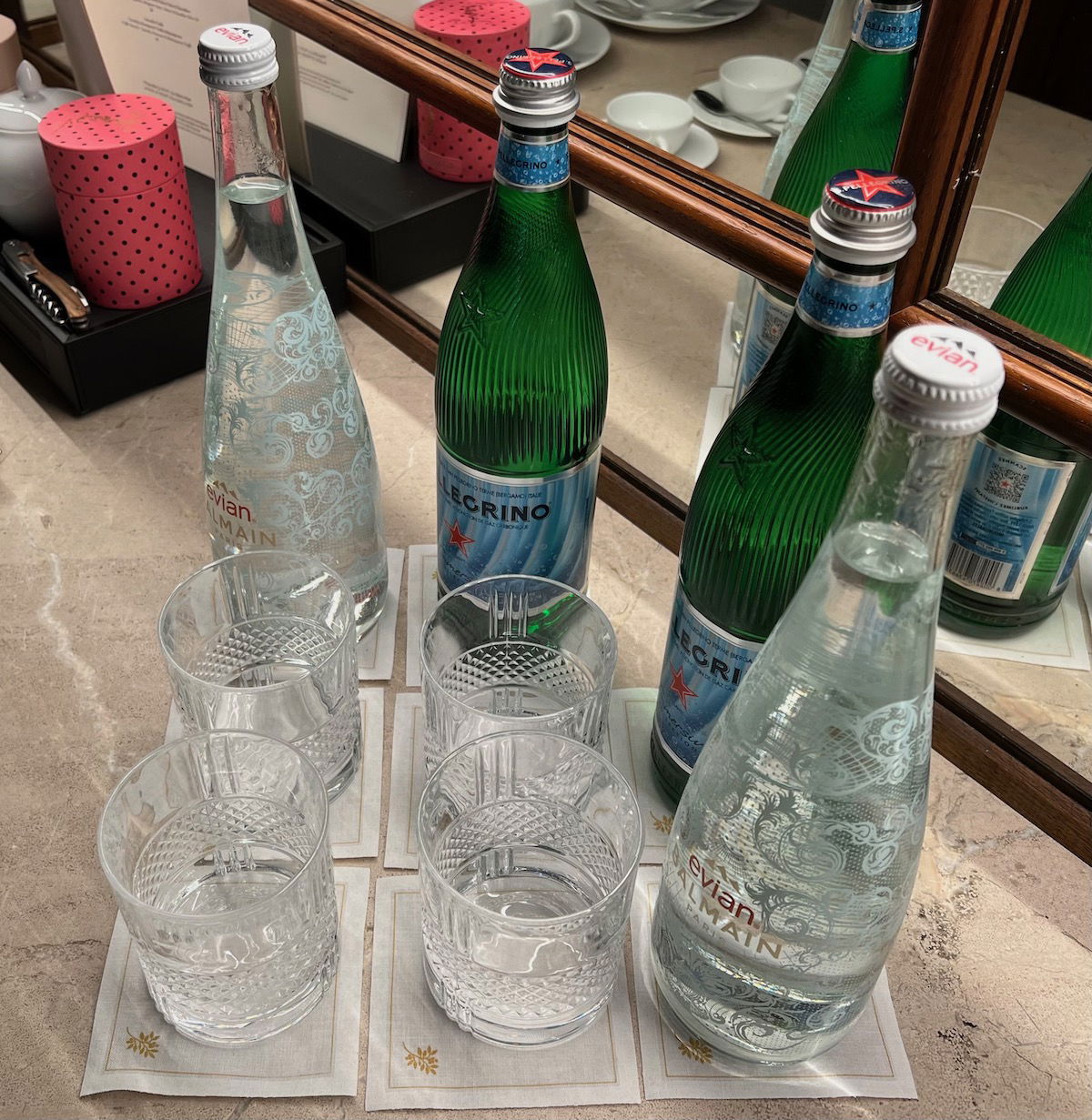 The room had a small balcony overlooking the village.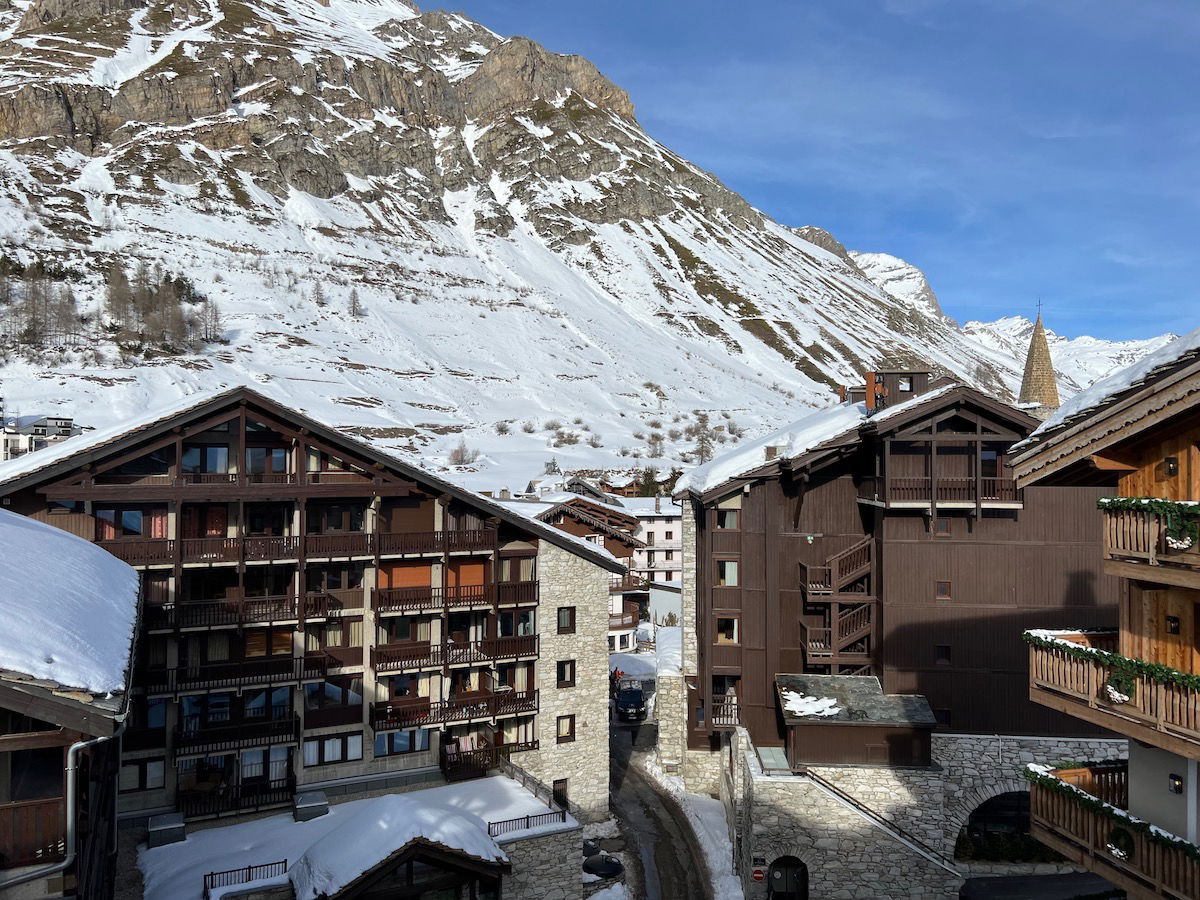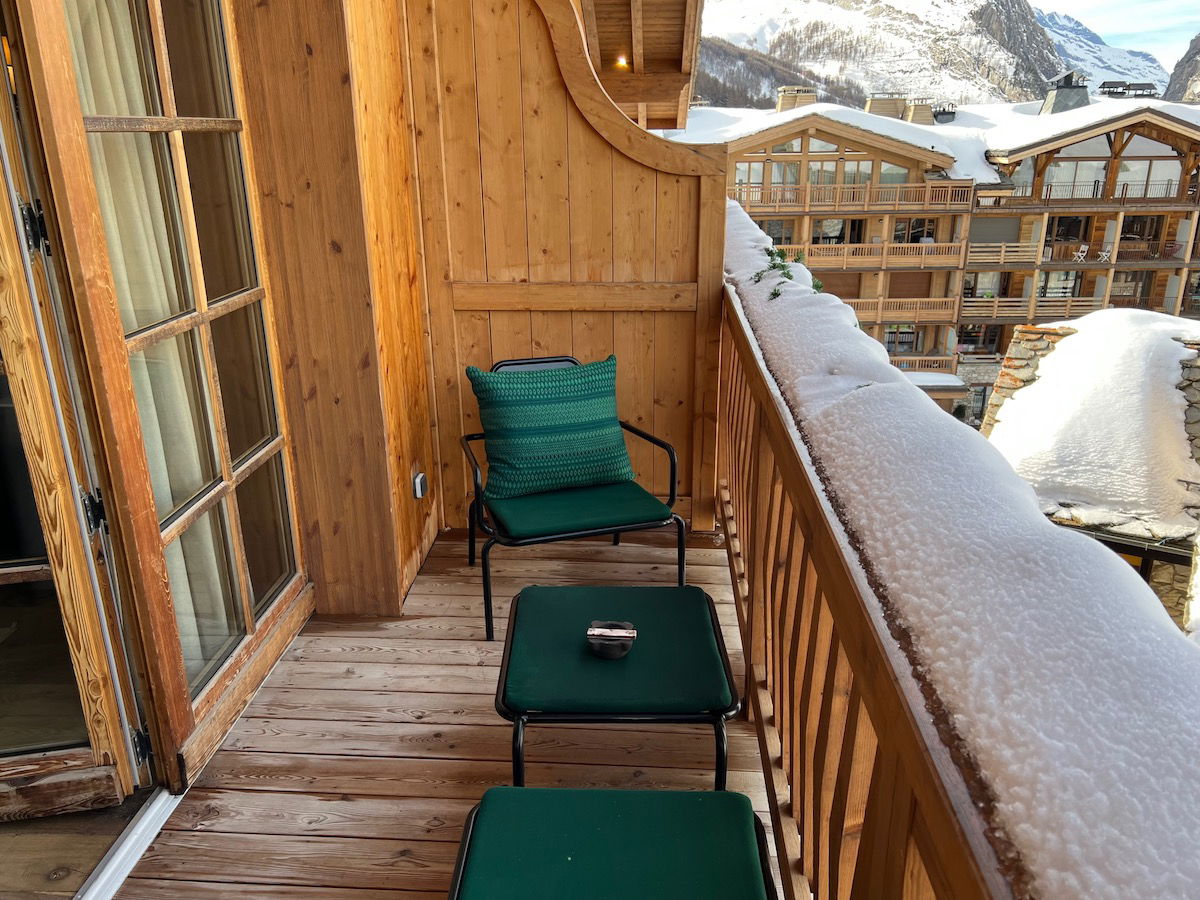 Back down the hall was a small (windowless) second bedroom, featuring two twin beds. This is obviously intended for families with small children, so we didn't use this area.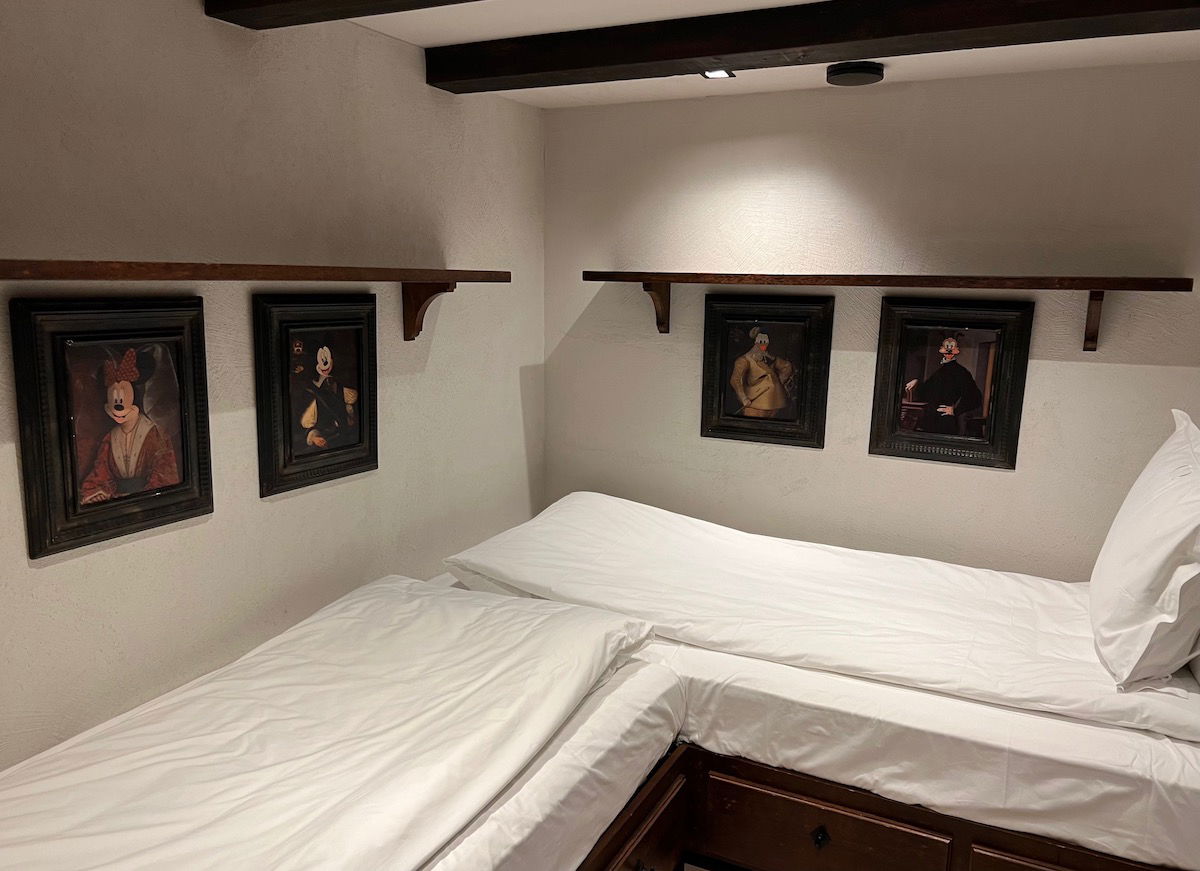 Then there was the bathroom, featuring double sinks, a soaking tub, and a walk-in shower, which doubled as a steam room.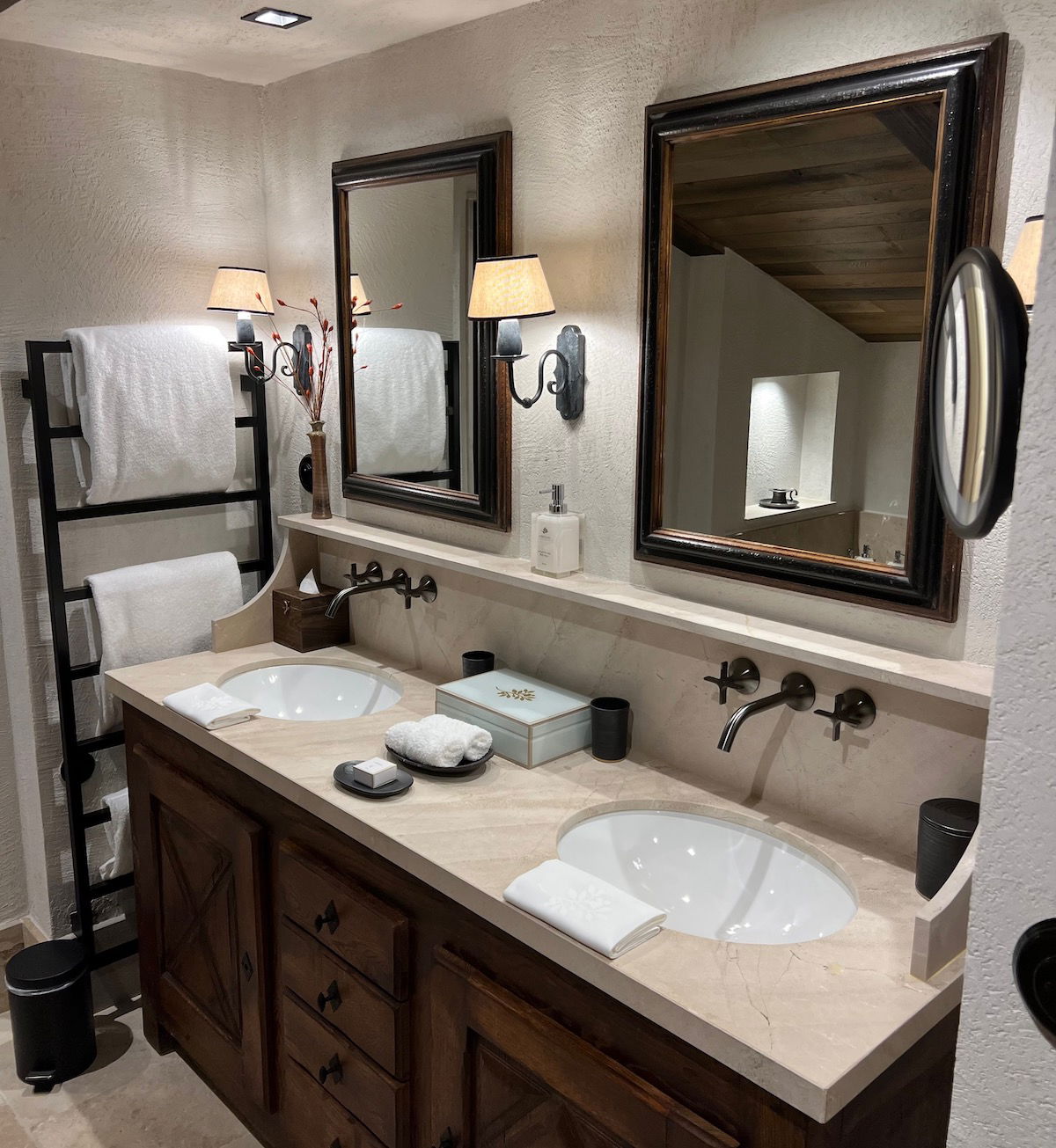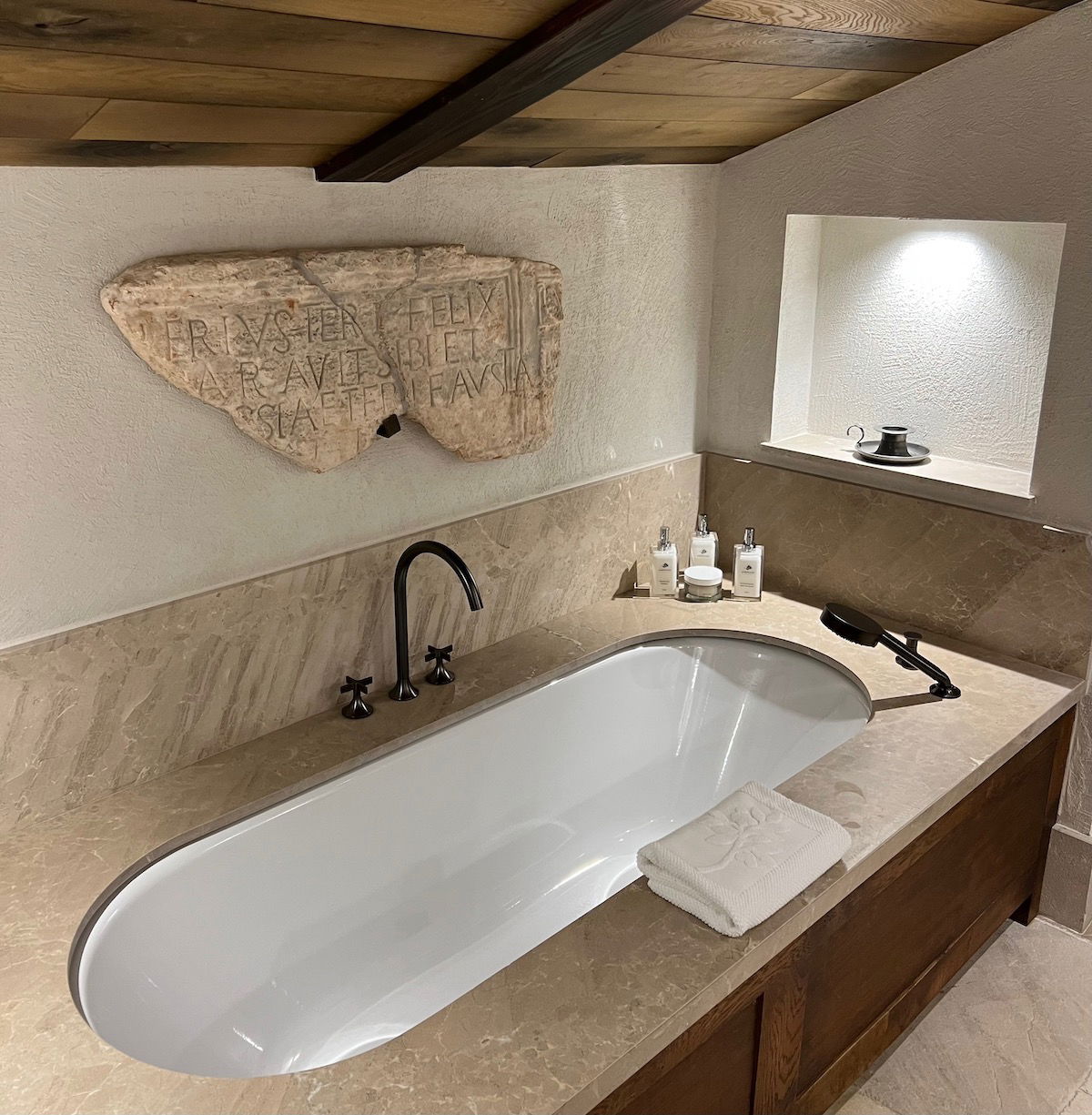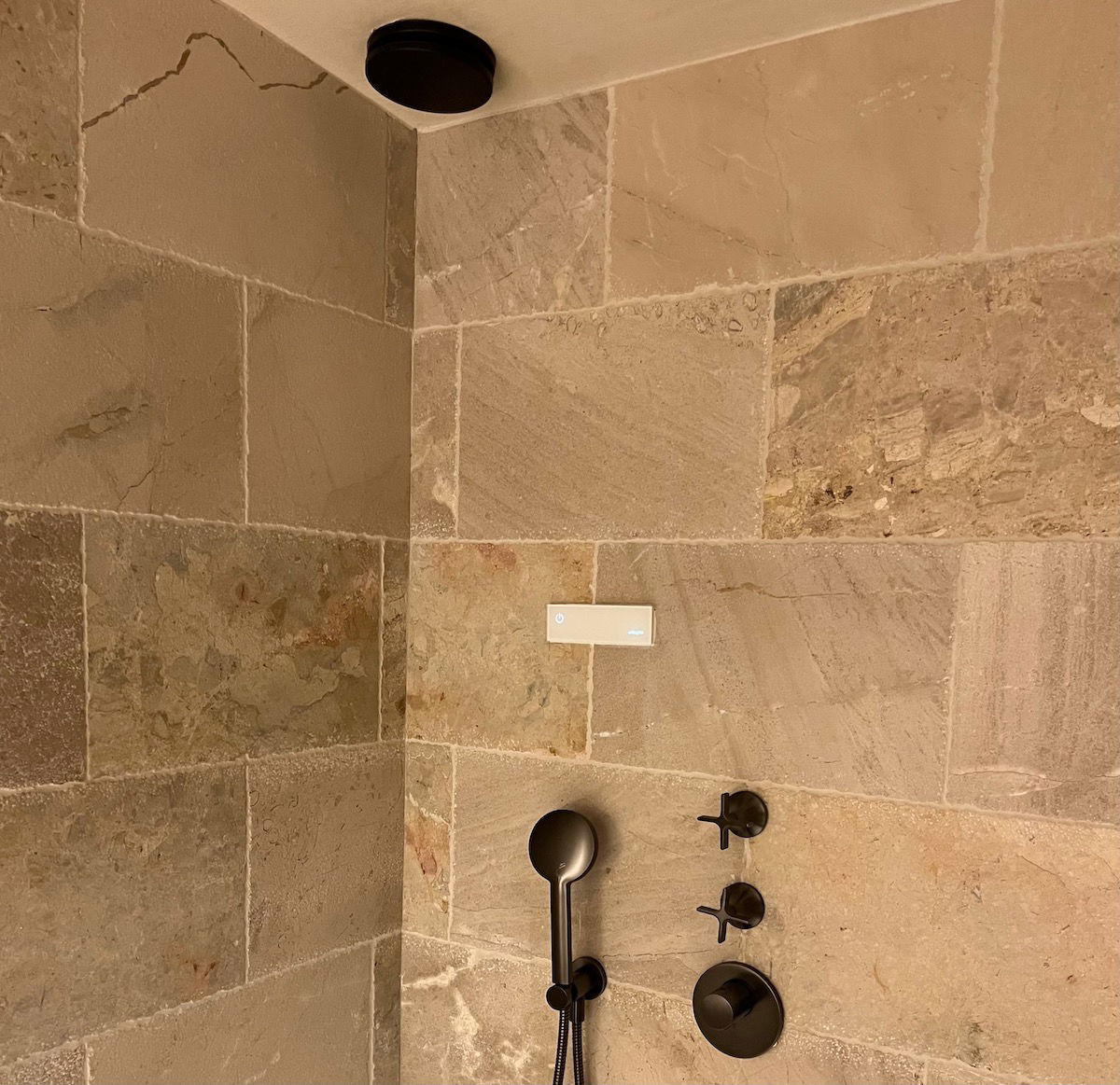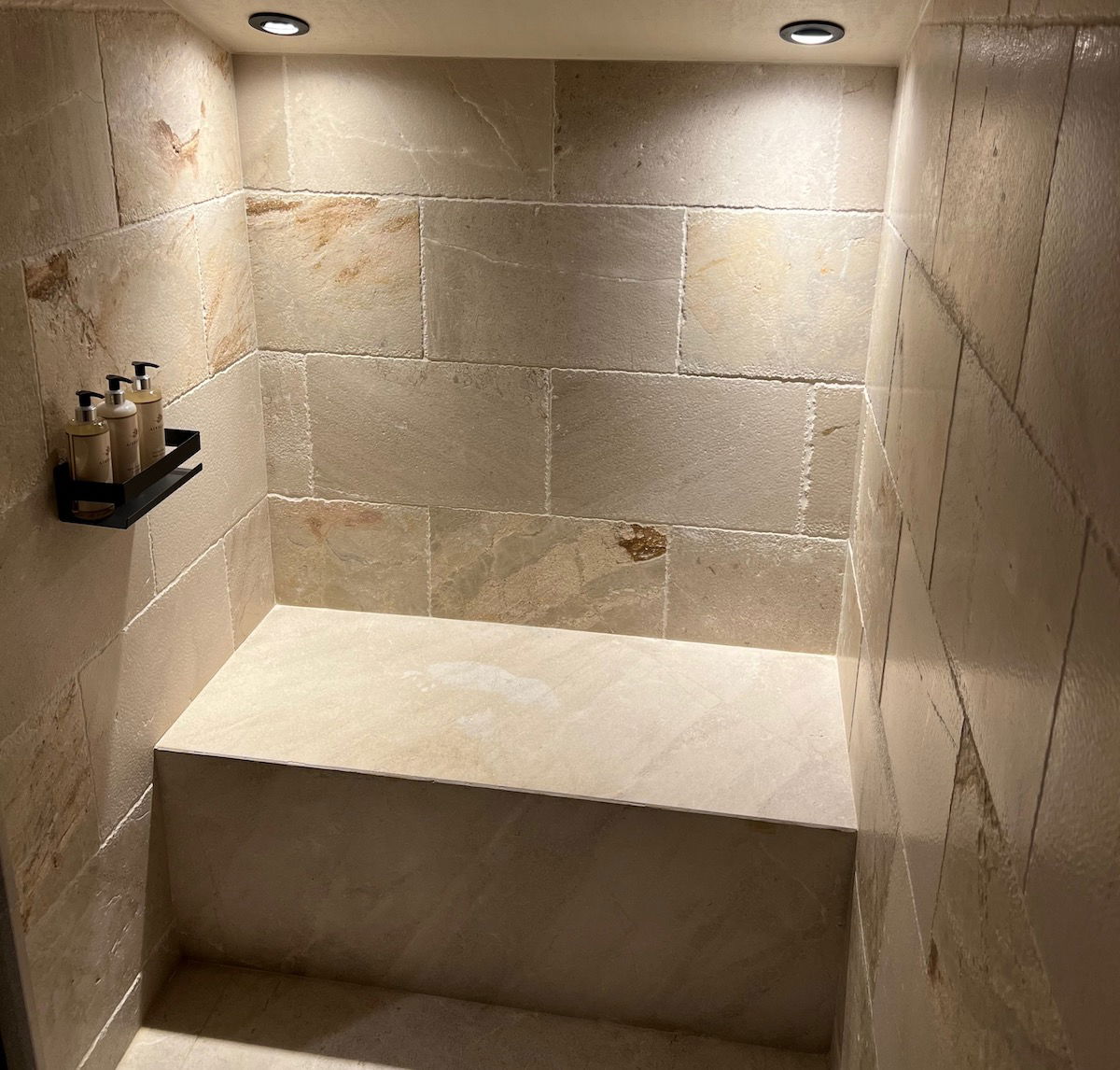 Toiletries were in Airelles-branded bottles, and seemed to be high quality.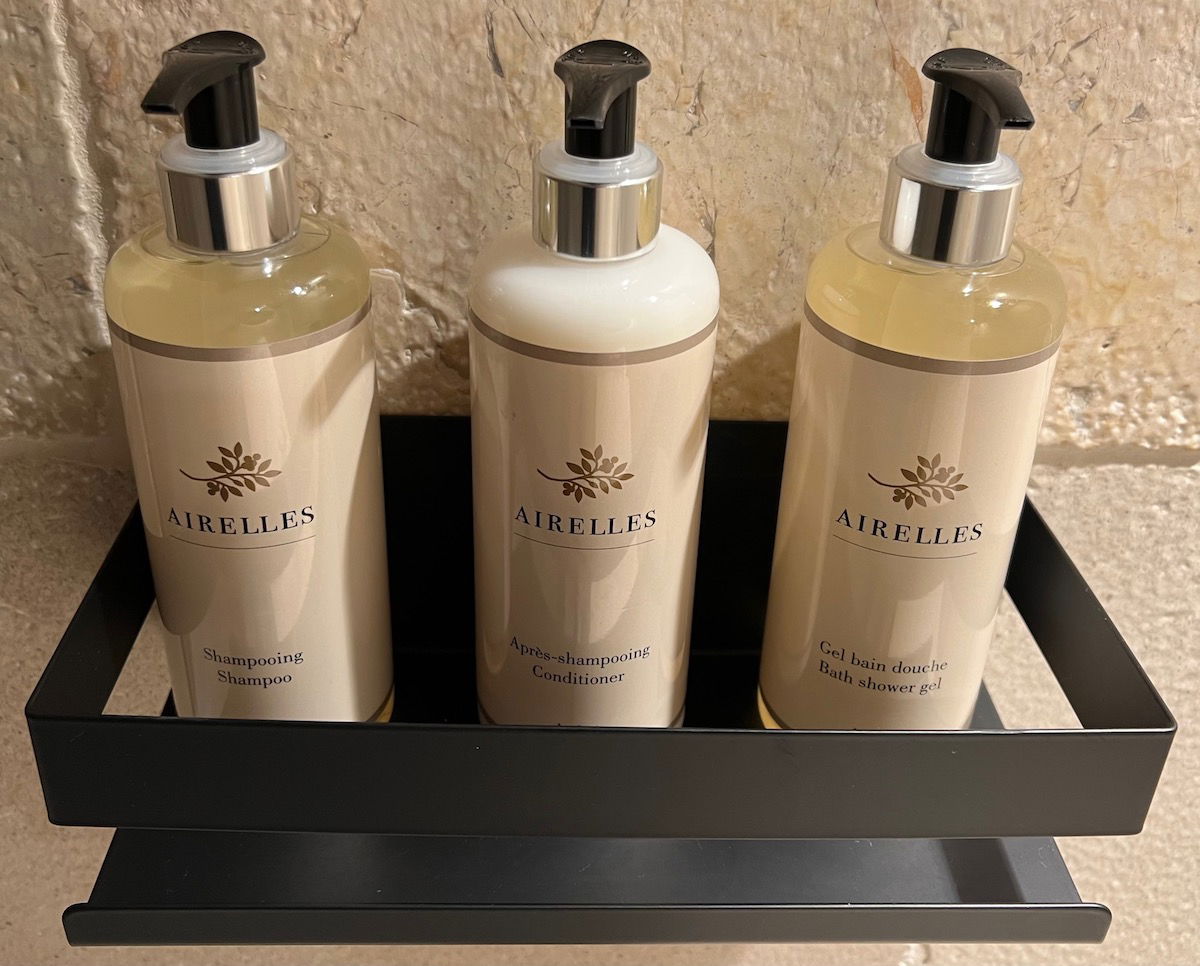 The bathroom also had one of the best stocked kits I've ever seen with bathroom essentials, from a hair brush to lip balm.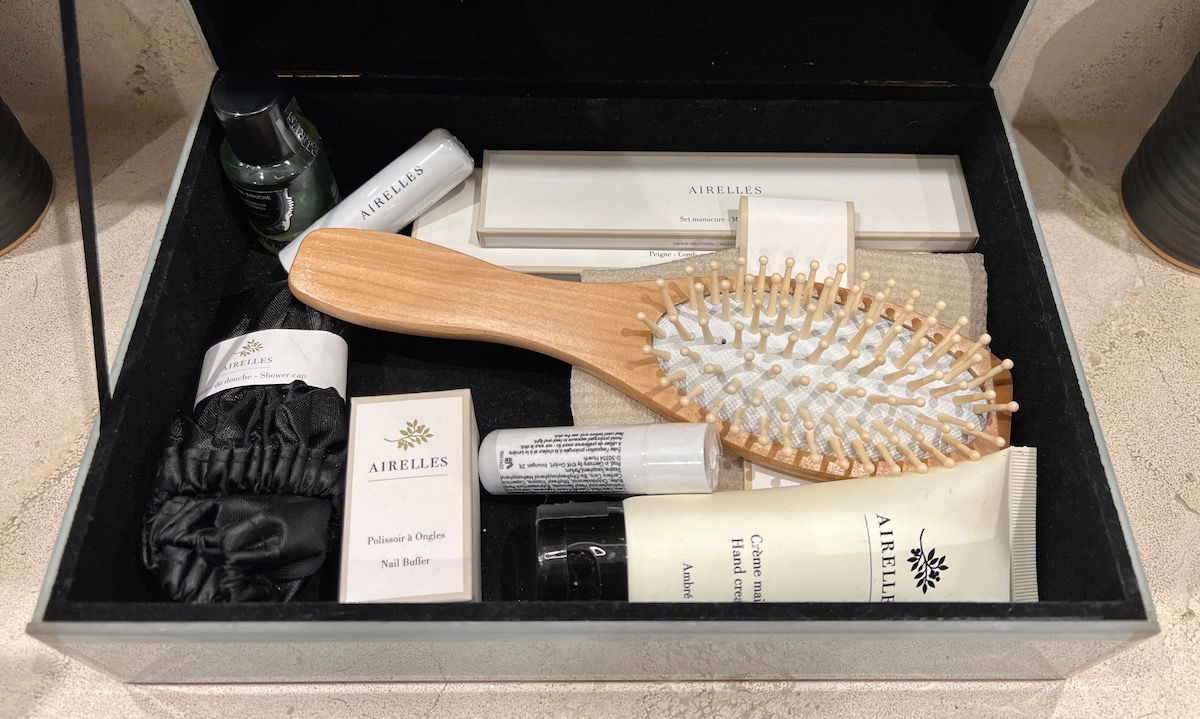 The bathroom was located in a separate room, and featured a bidet-style toilet.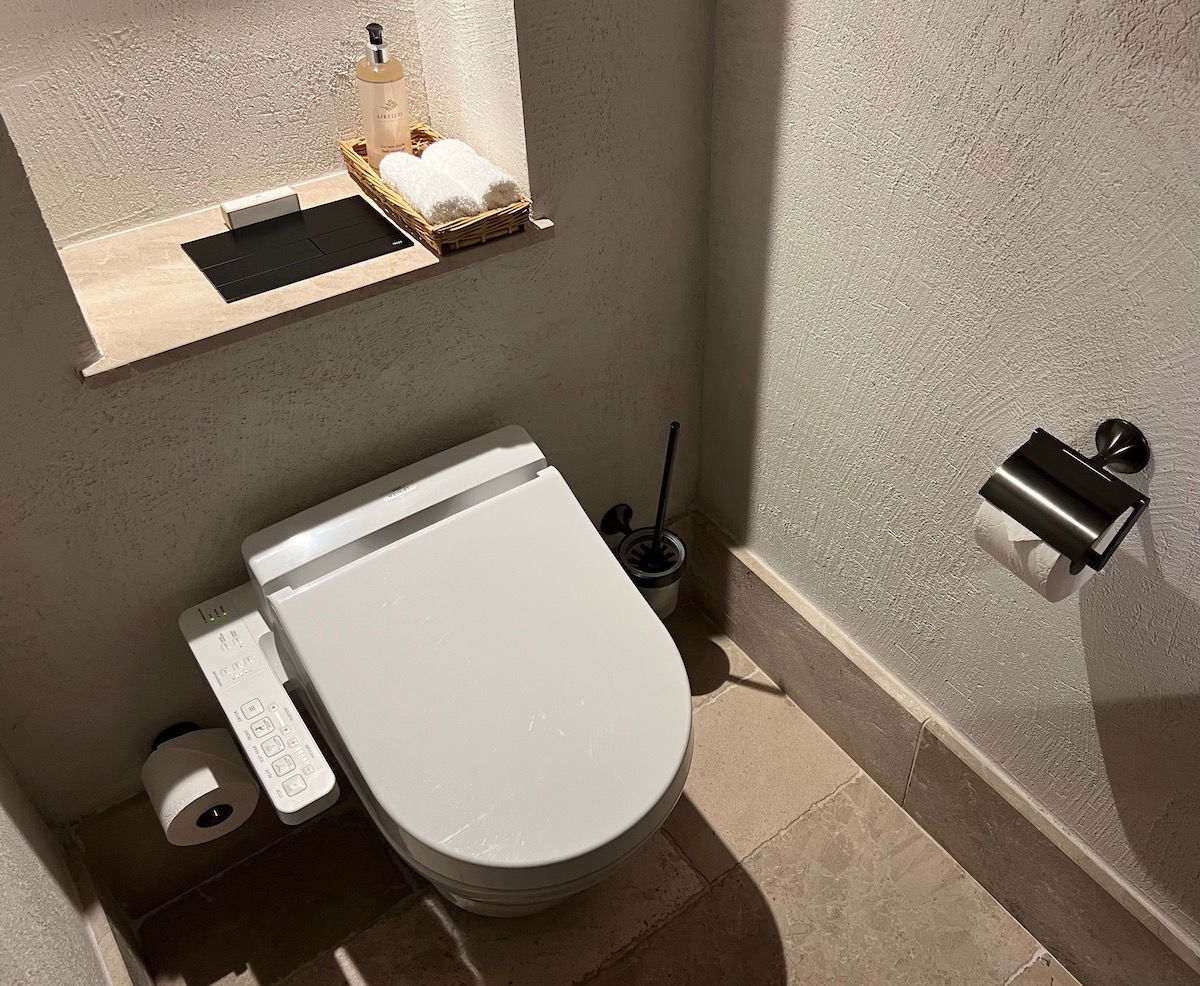 Suffice it to say that this is a pretty awesome room. A couple of other things to note…
While I found the bedding to be comfortable, there's a drawer with some pillow samples, should you want a different kind of pillow during your stay.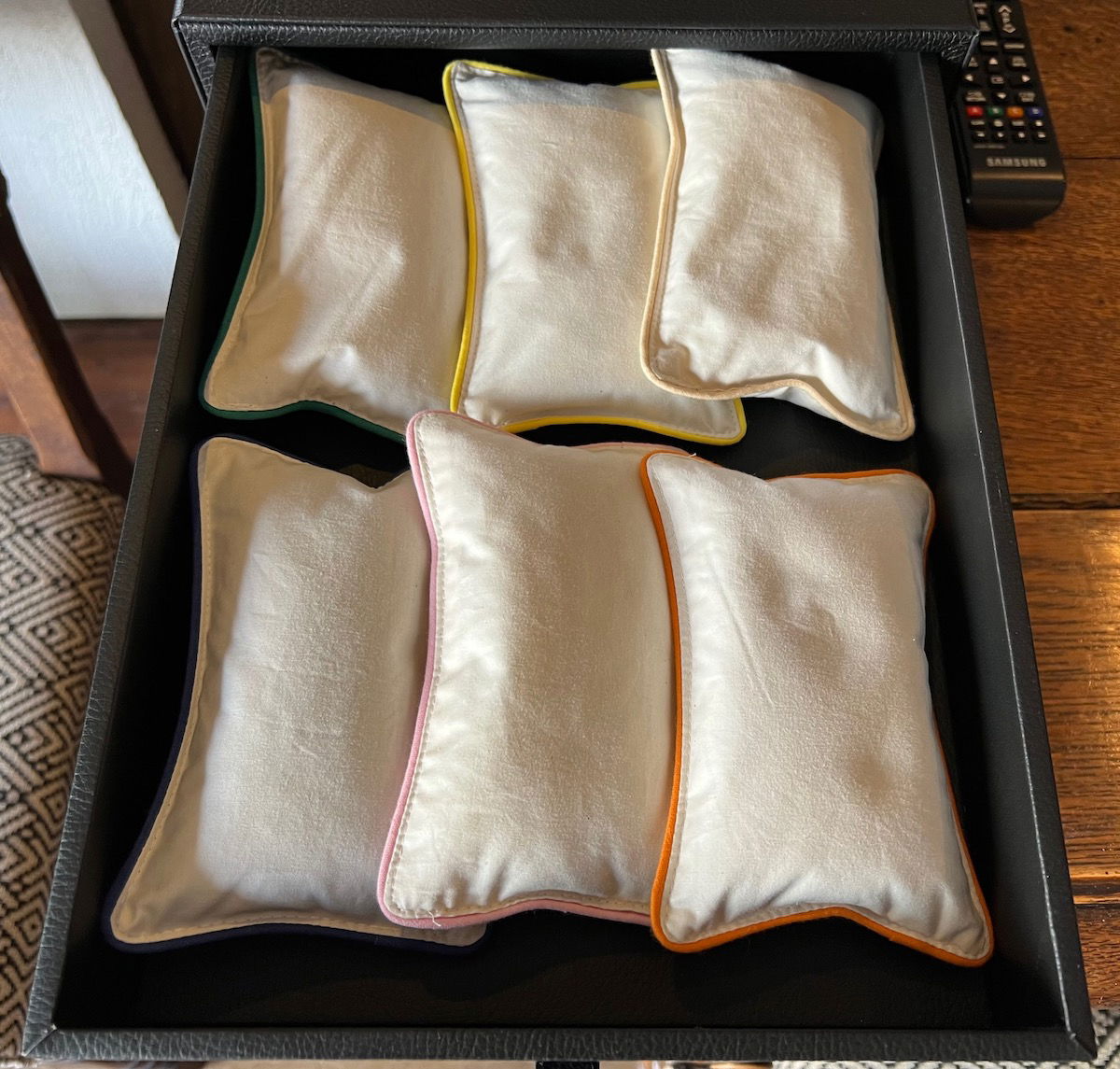 I was also impressed how the notepads by the bed had been monogrammed with our initials.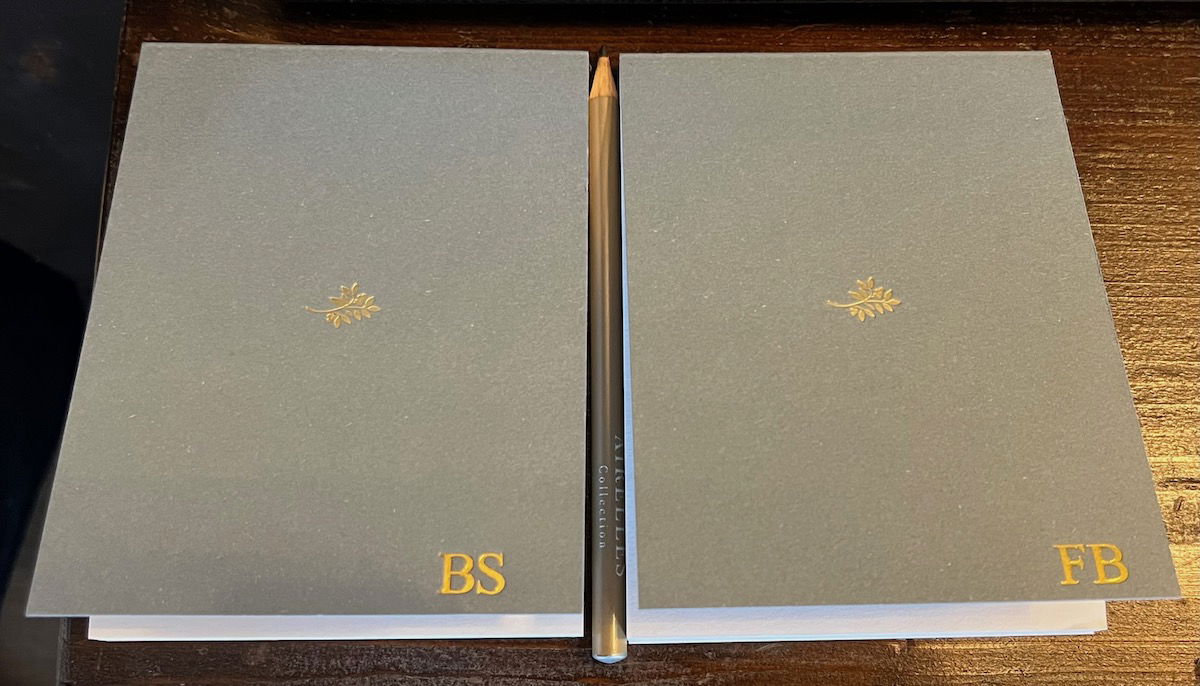 Furthermore, as is standard at Airelles properties, there was a nightly gift with turndown service, ranging from ski socks, to pajamas, to perfume.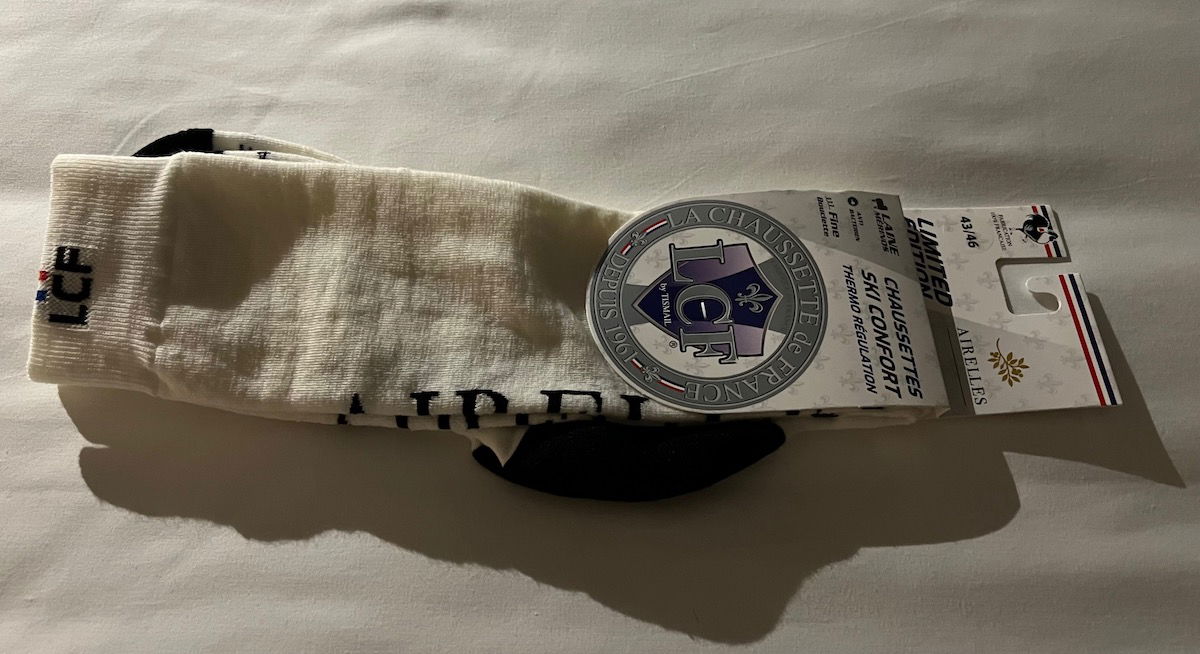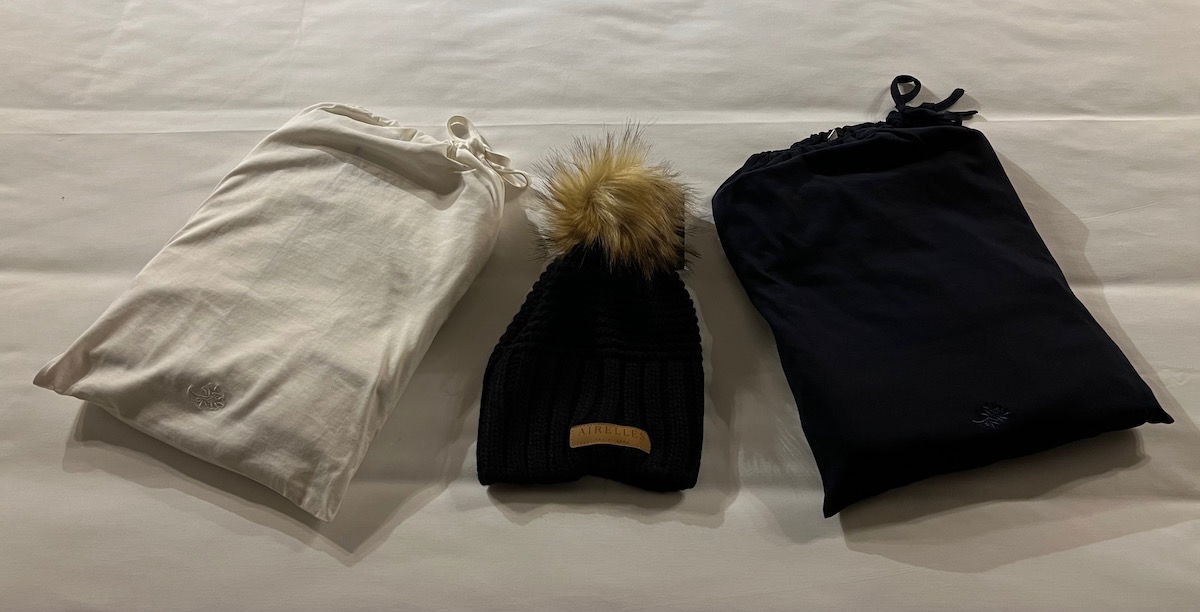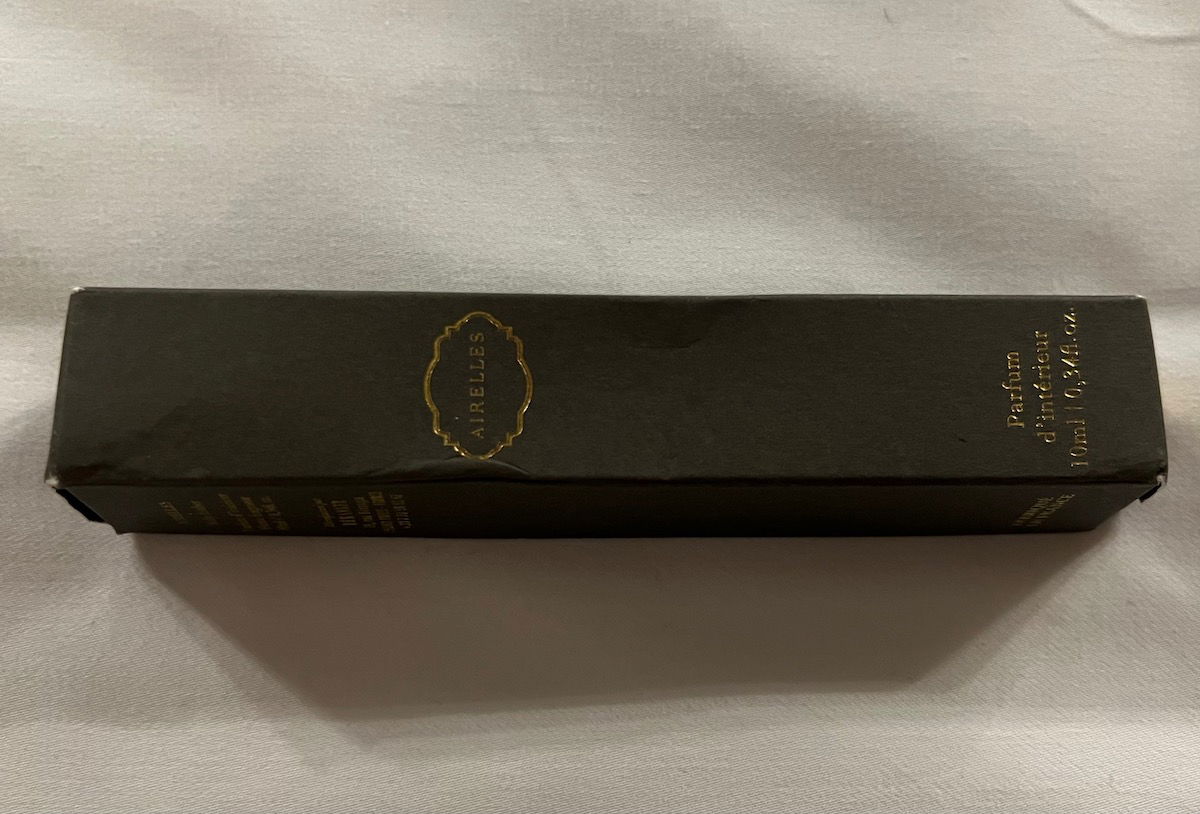 Airelles Val d'Isère spa & pool
For a ski resort, Airelles Val d'Isère has an obscene number of non-ski amenities. For example, the hotel has a 1,200 square meter (13,000 square foot) spa and wellness area. The wellness area is open daily from 9AM until 9PM, while spa treatments are available from 10AM until 8PM.
Let's start with the wellness area, which has a gorgeous 20 meter (66 foot) indoor pool, with plenty of seating.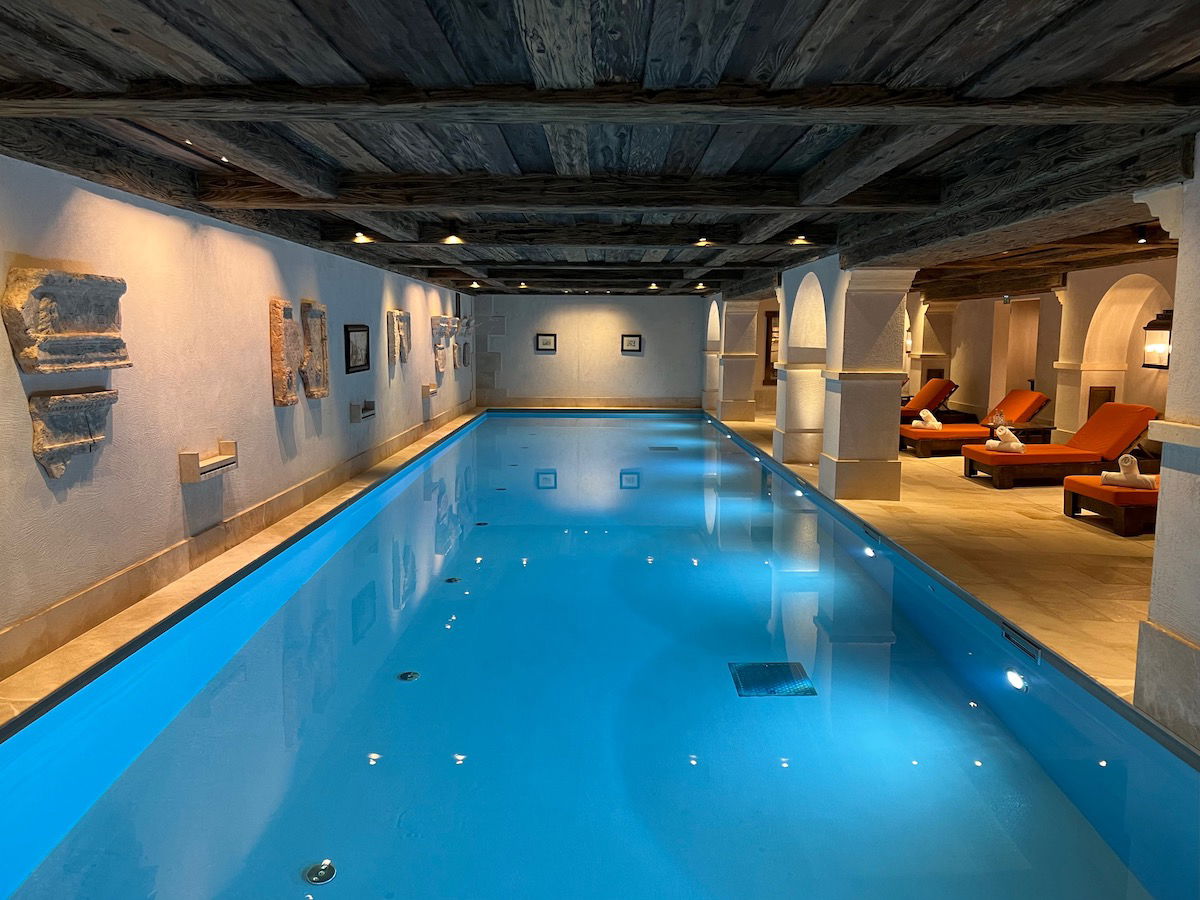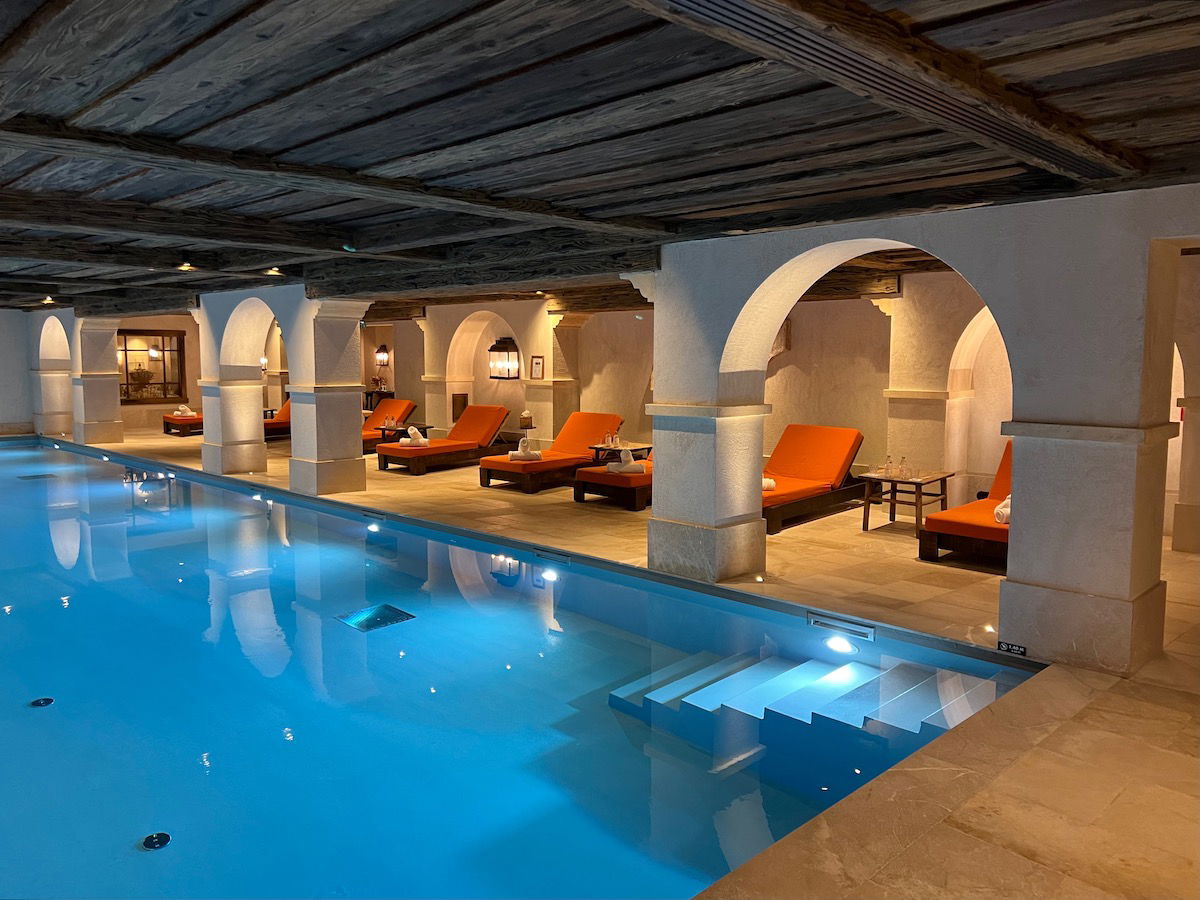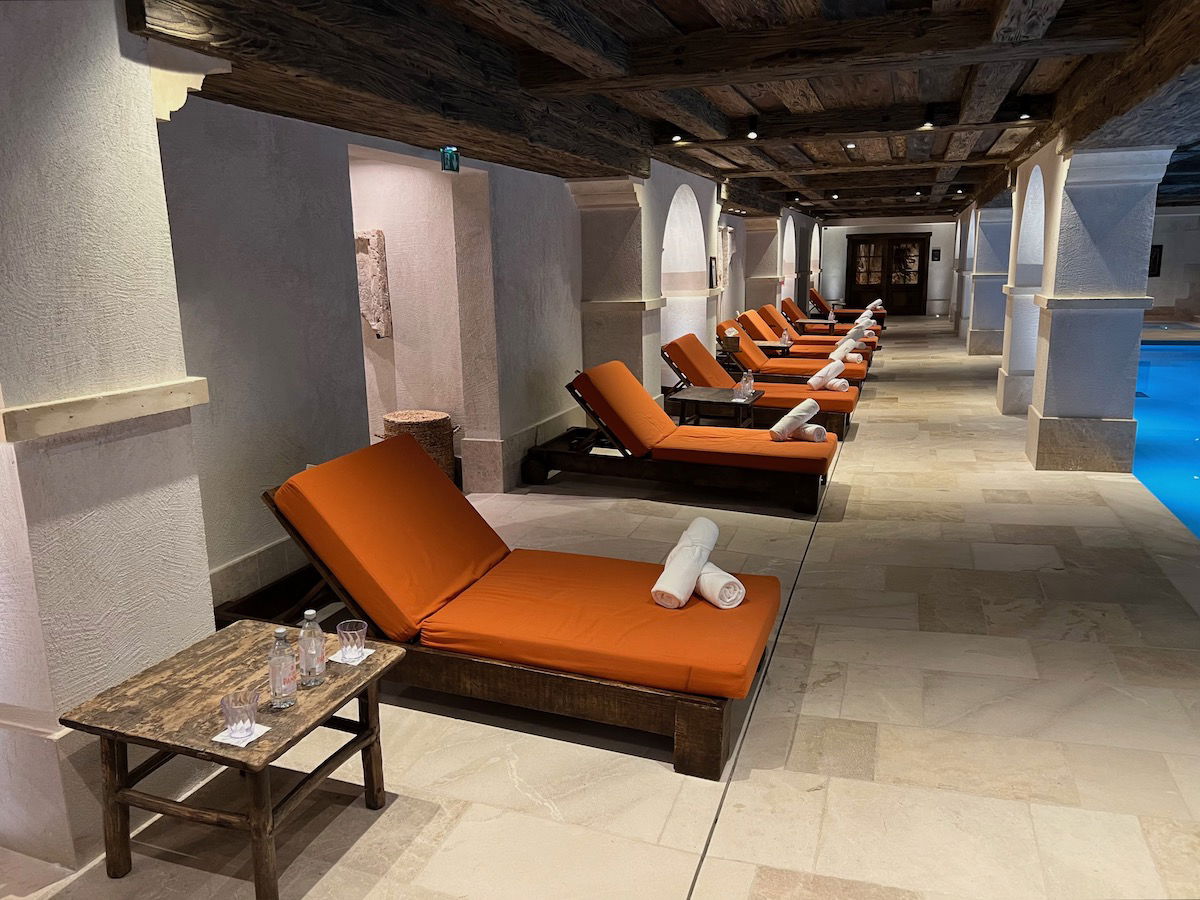 There's also a huge hot tub located next to the pool.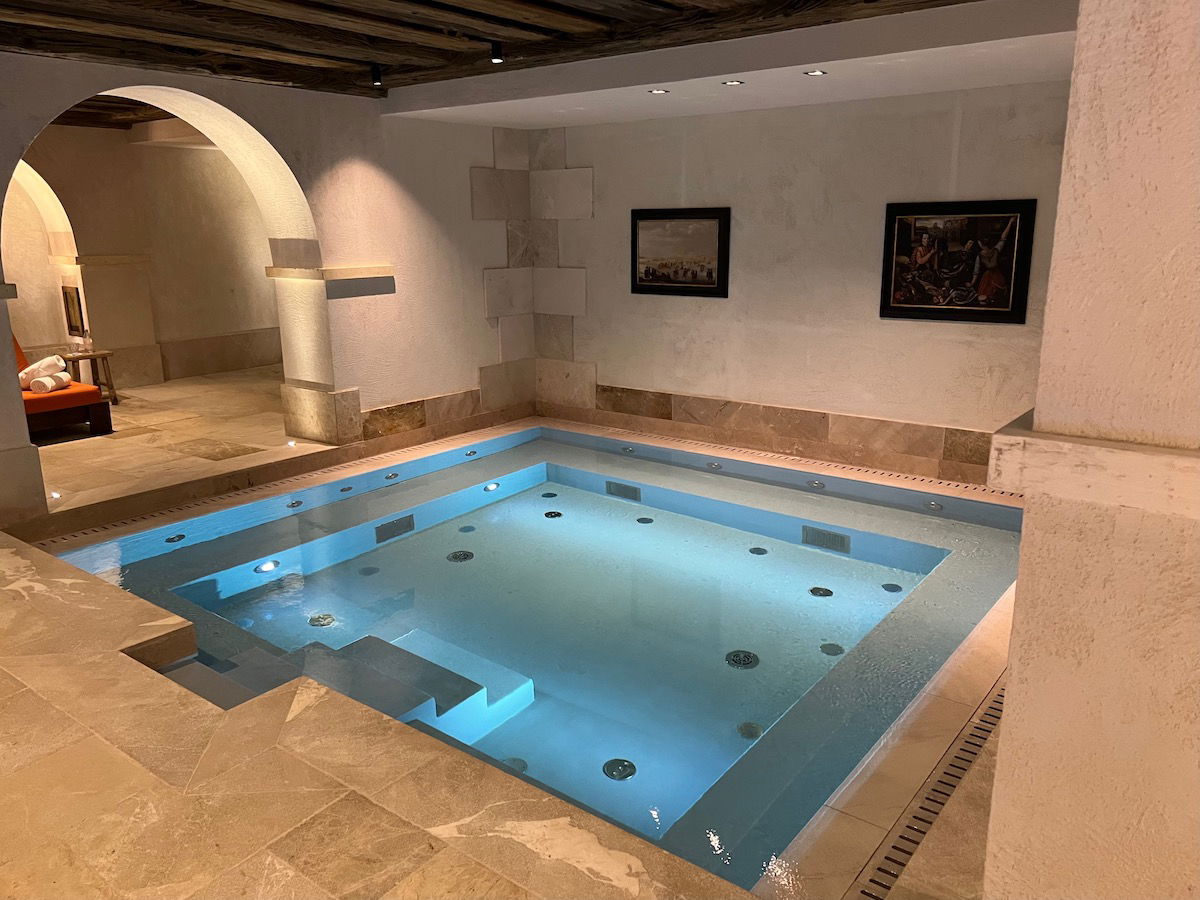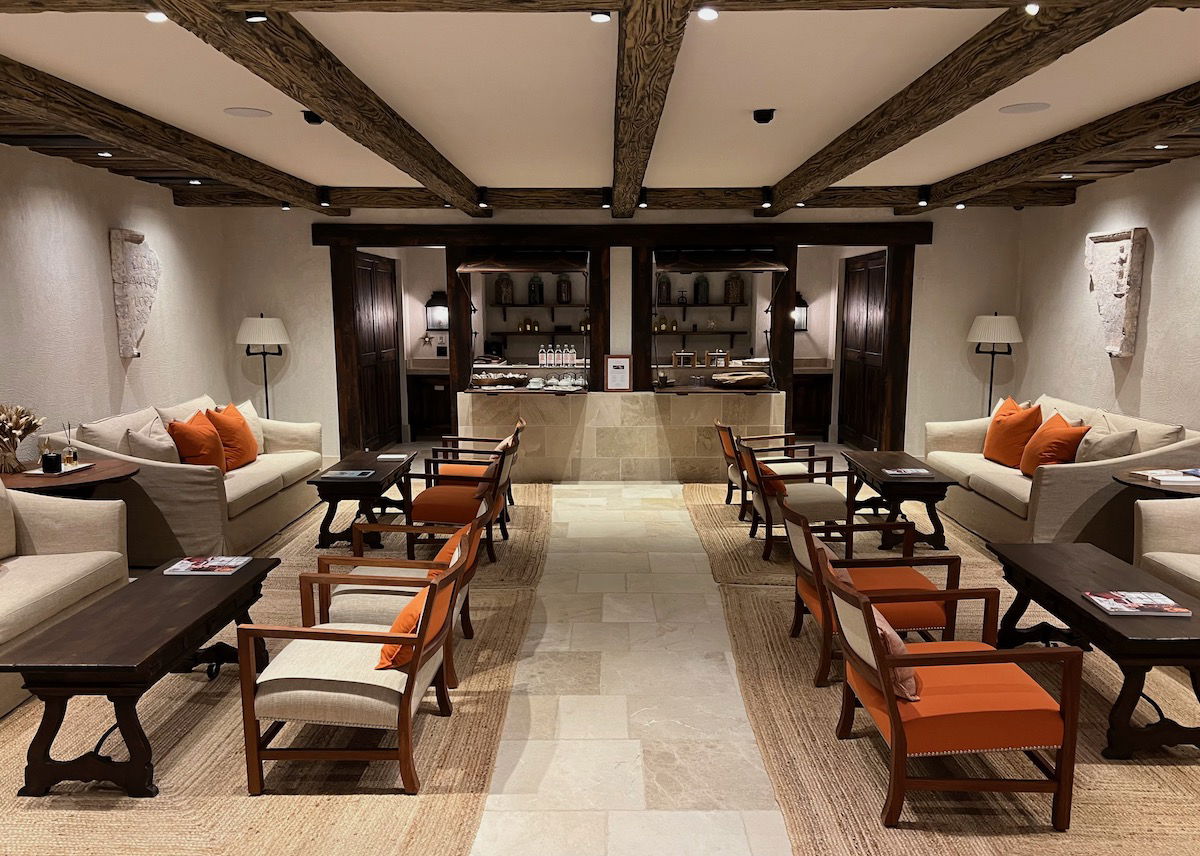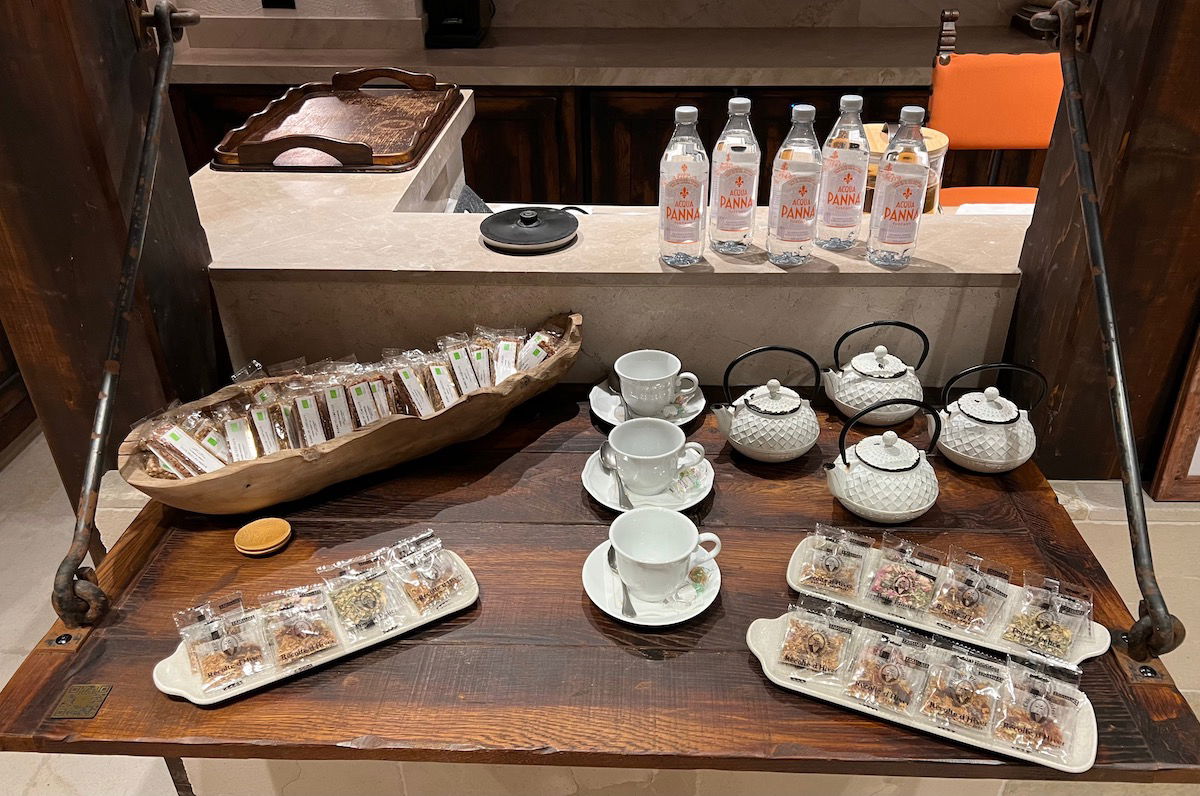 There's even a separate pool for kids — how epic is this?!?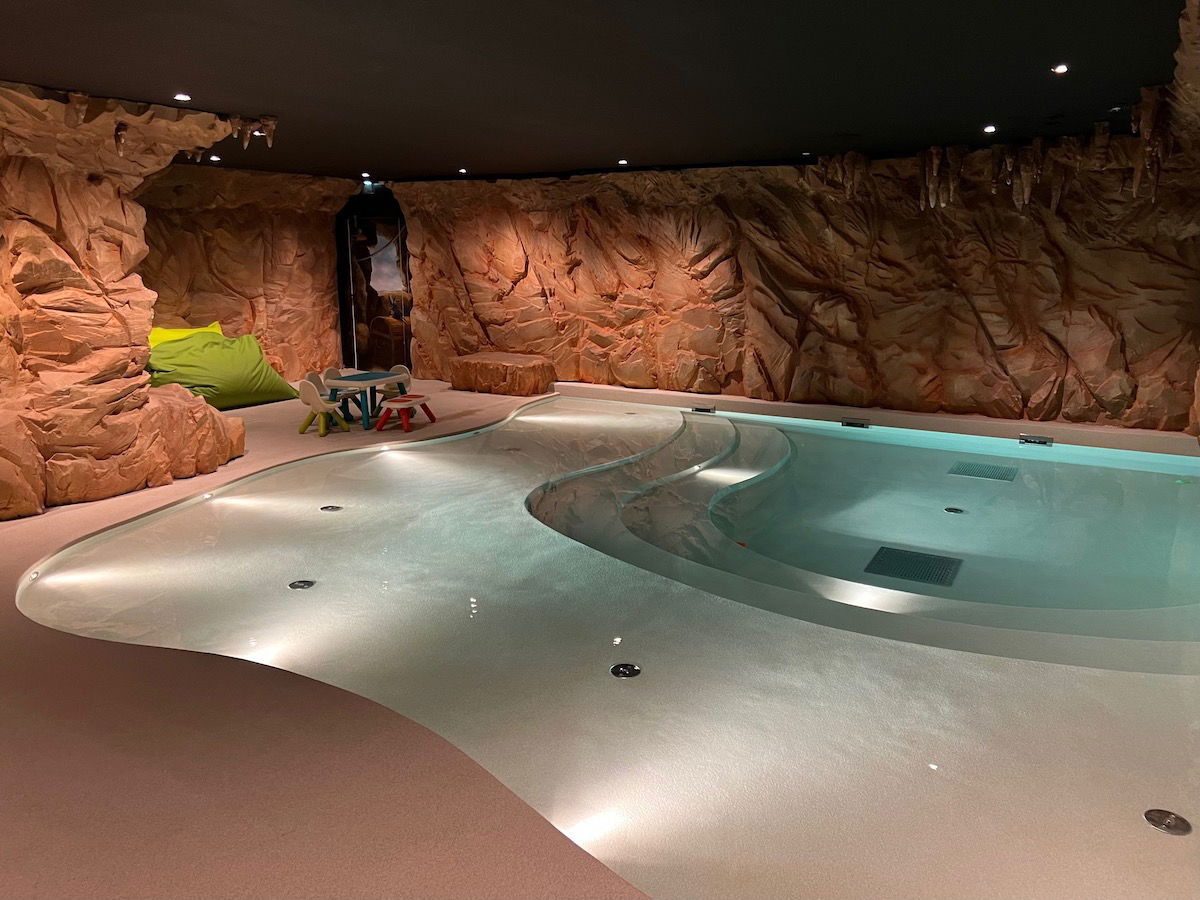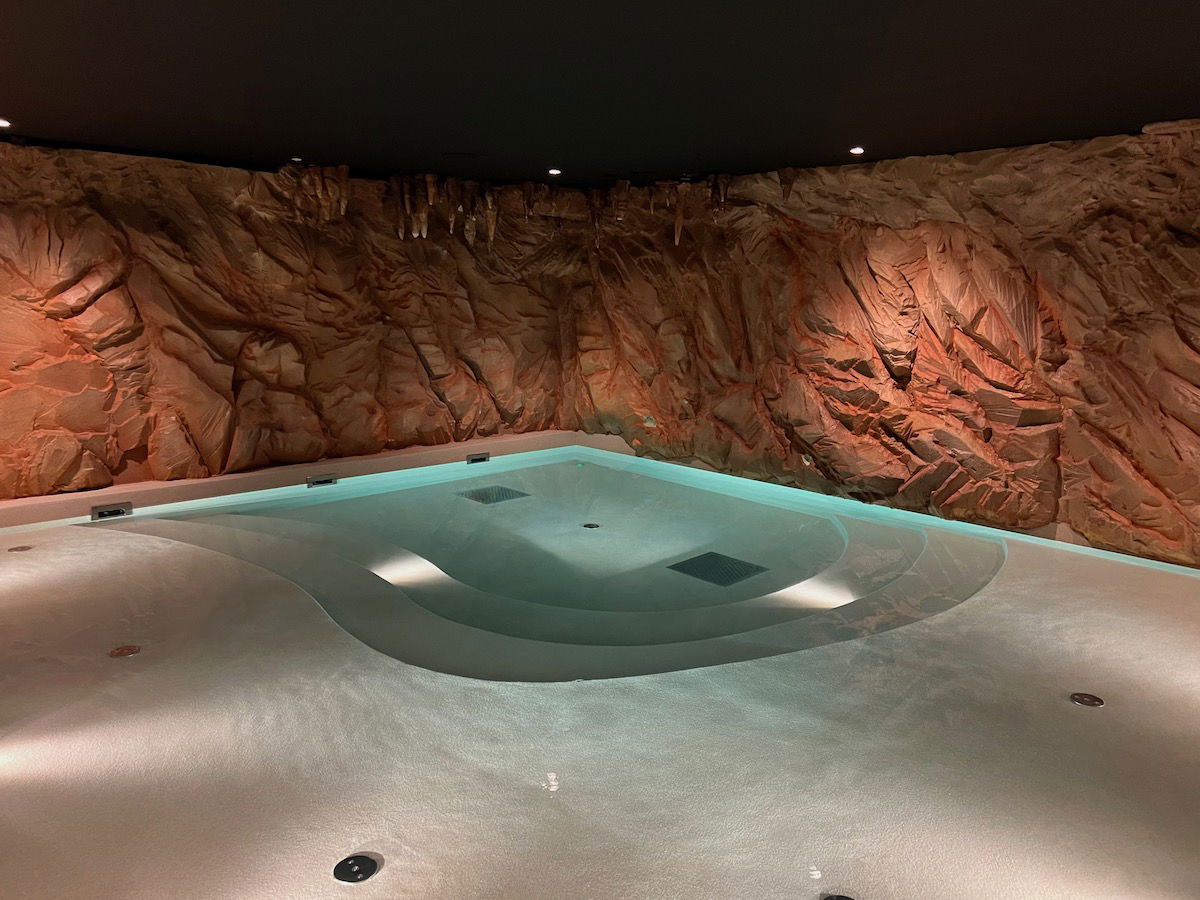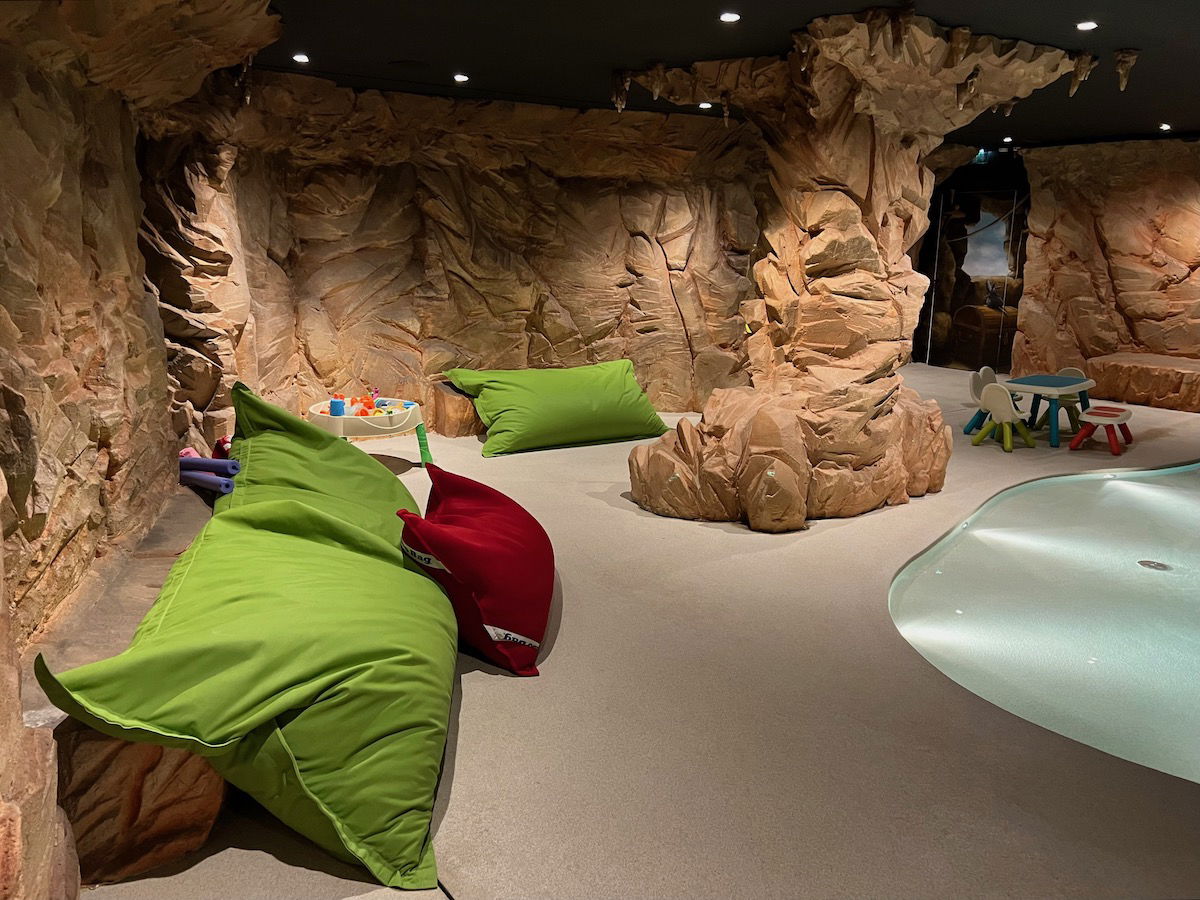 In addition to the pools and hot tubs, the wellness area also had one of the biggest saunas and steam rooms I've seen just about anywhere.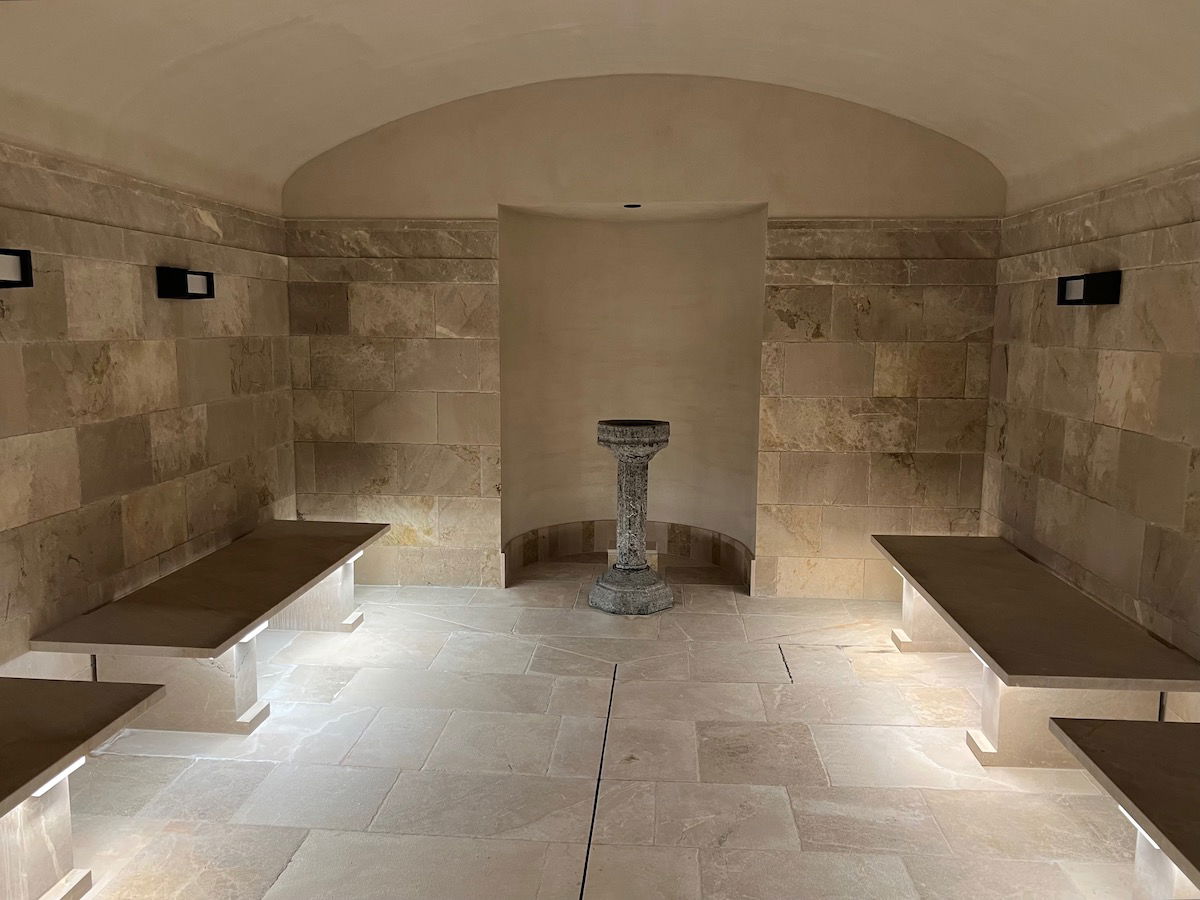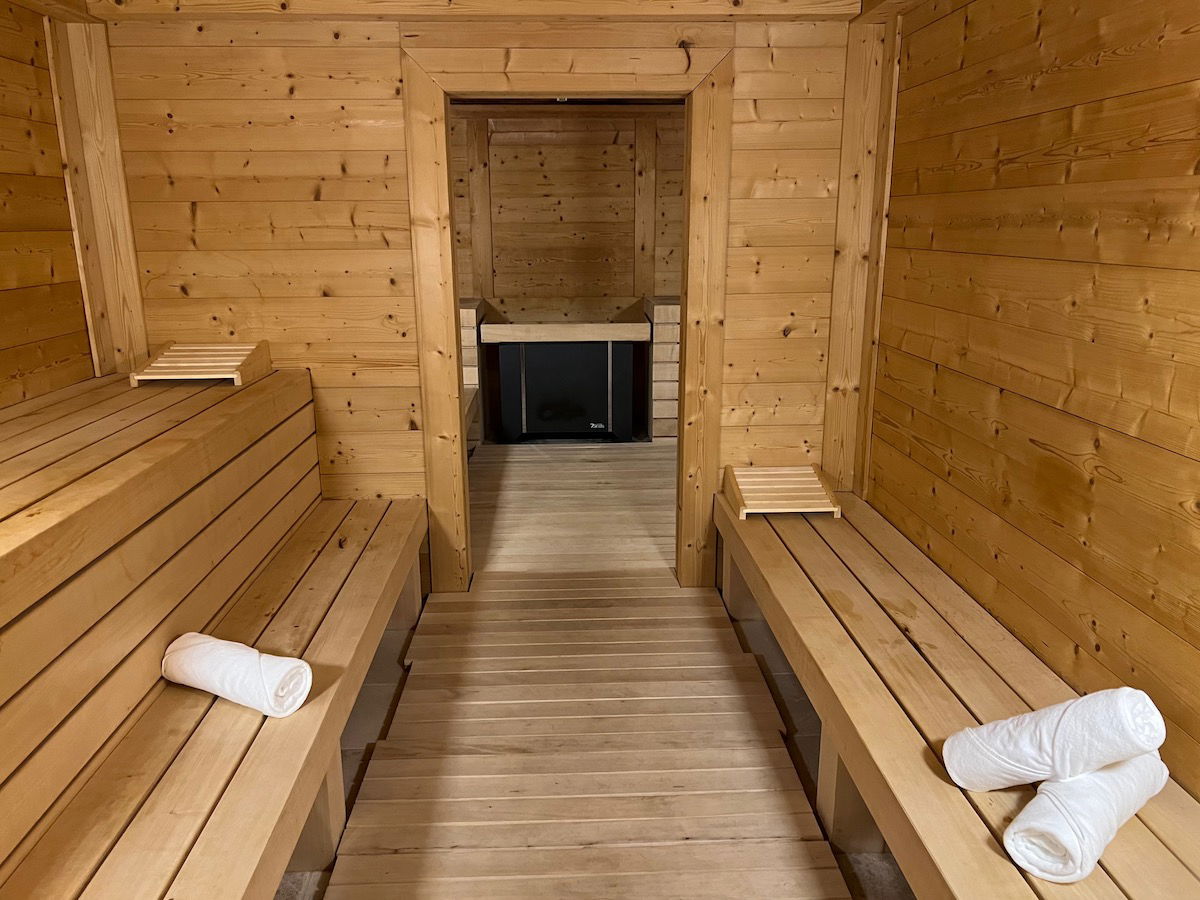 I'm not usually a big pool person, but I visited this pool every day of our stay.
In addition to the wellness area, Airelles Val d'Isère has a Guerlain Spa, and you can find the menu here.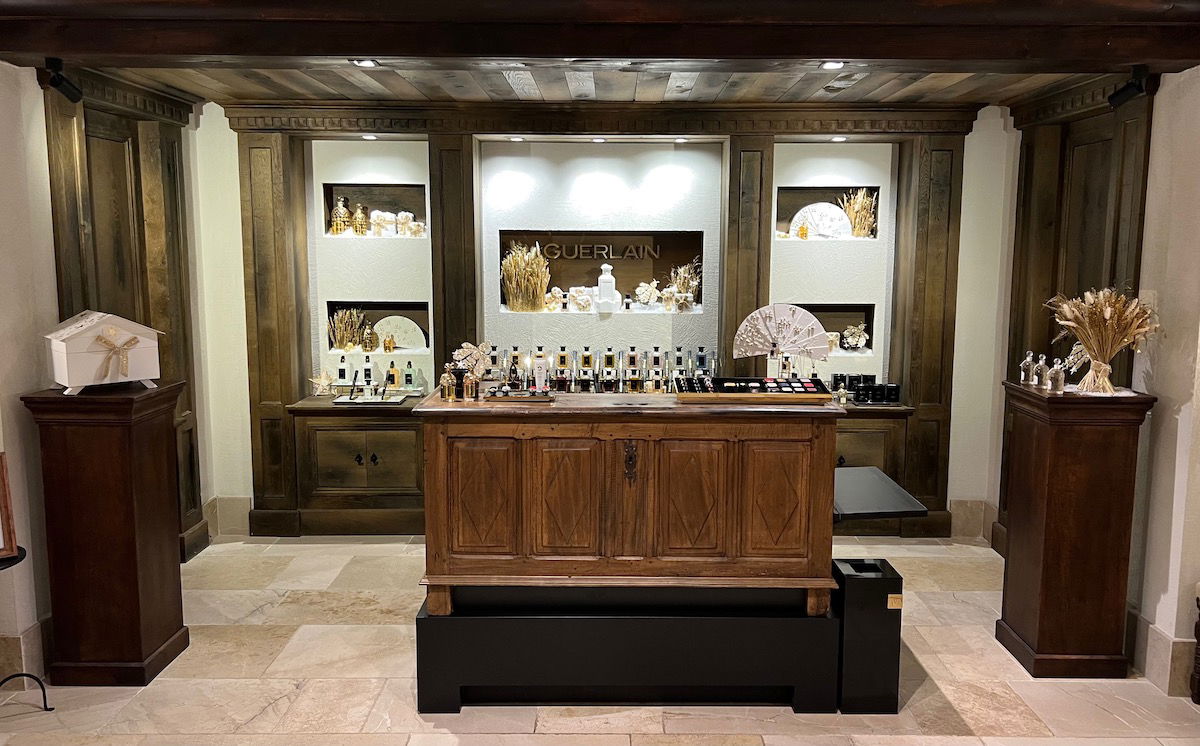 While I didn't get any treatments, the spa looked great, and I have to say, the pricing for treatments wasn't as high as you might expect.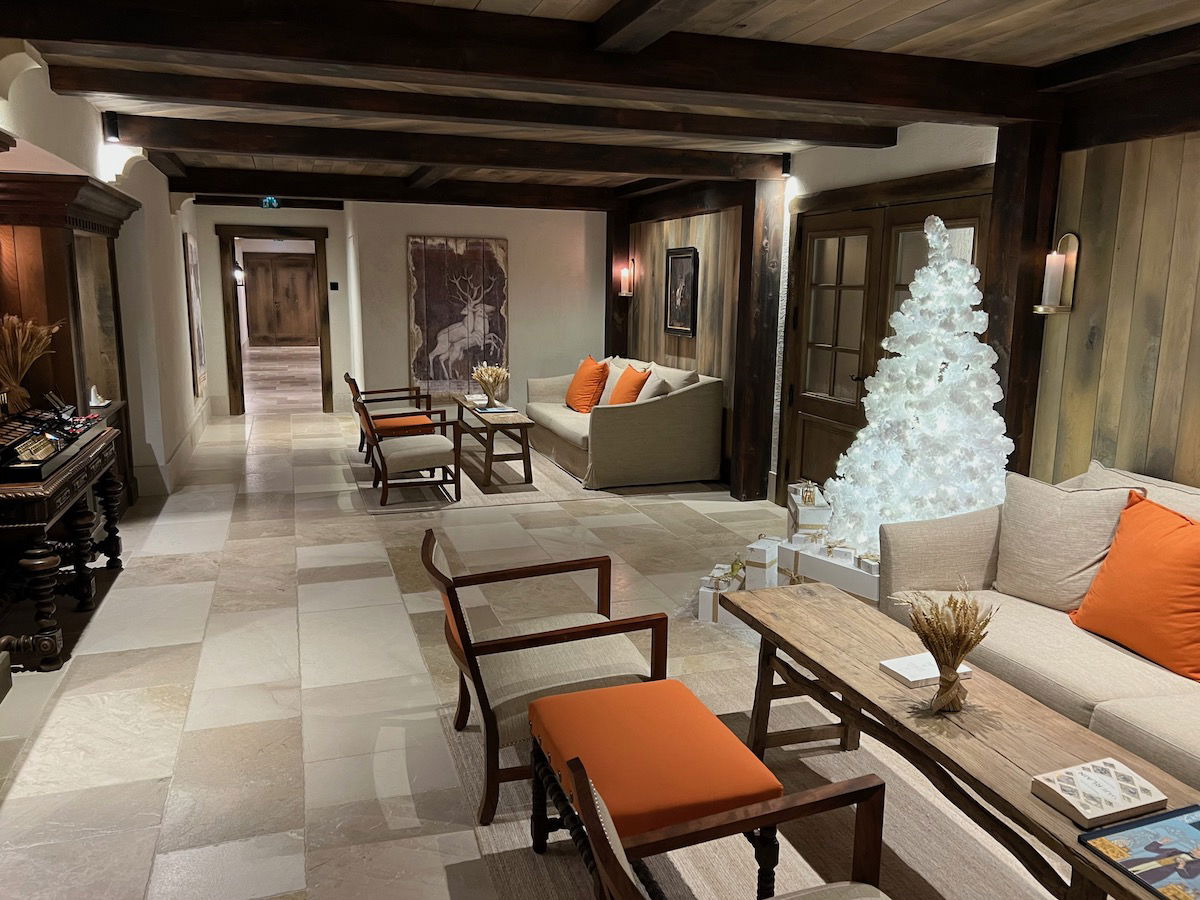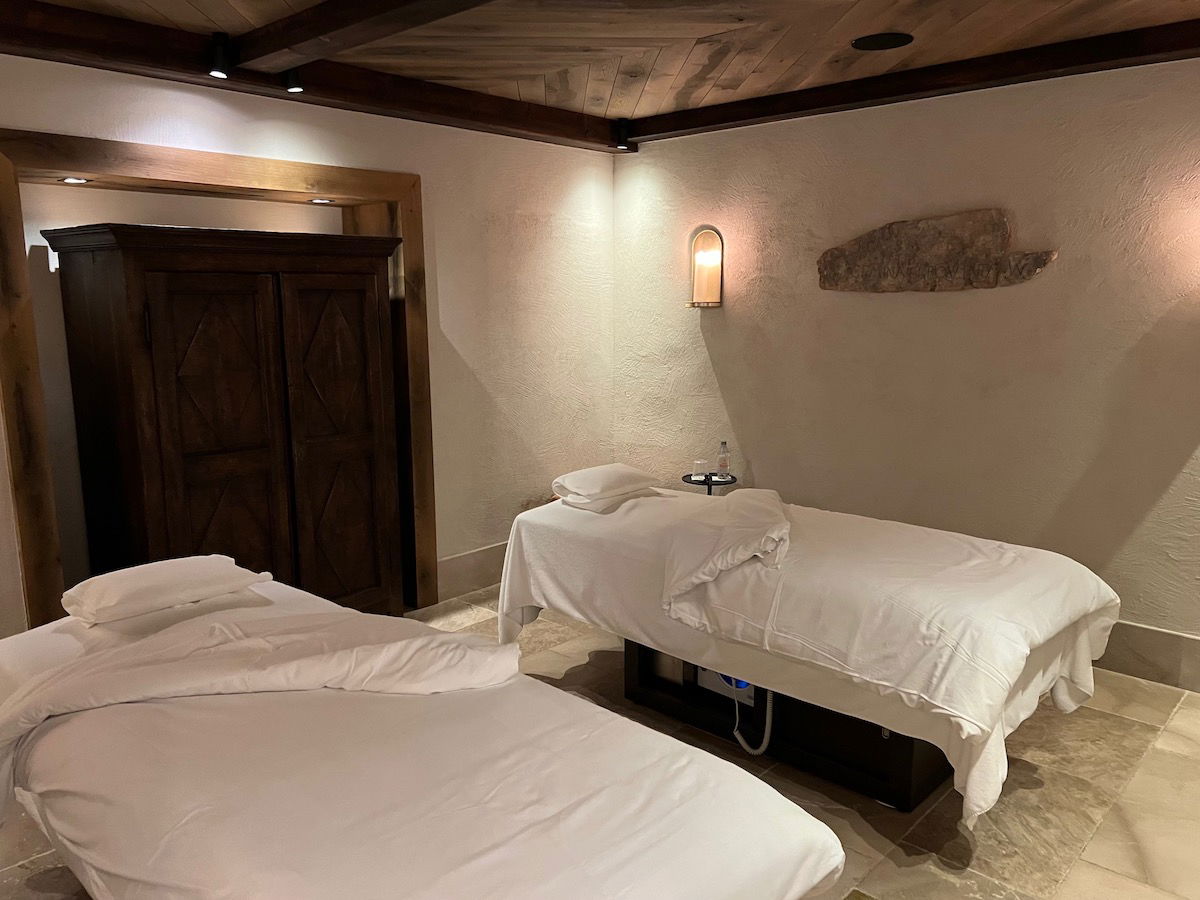 Airelles Val d'Isère gym
Right next to the wellness area is Airelles Val d'Isère's gym, which can be accessed by guests 24/7. While not the world's biggest gym, it had a variety of modern cardio and weight equipment, and was more than sufficient.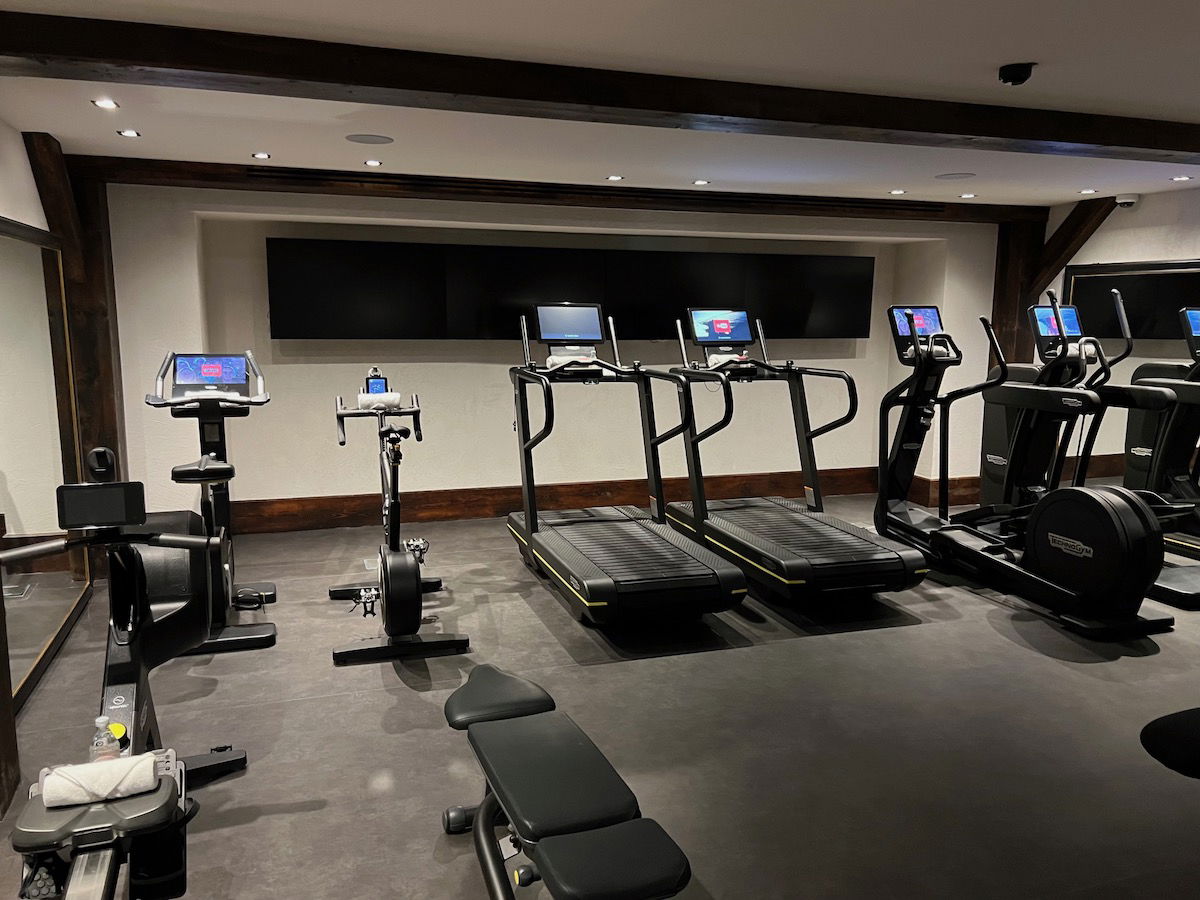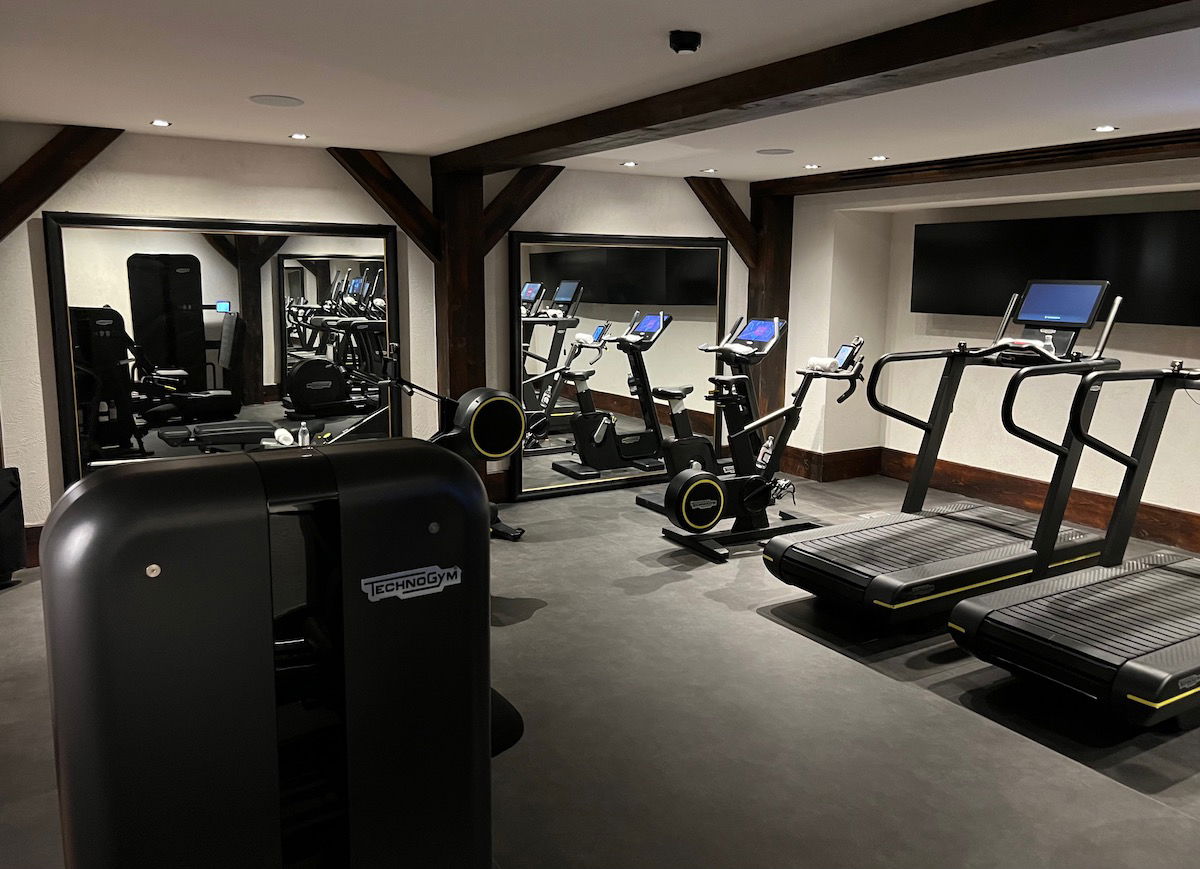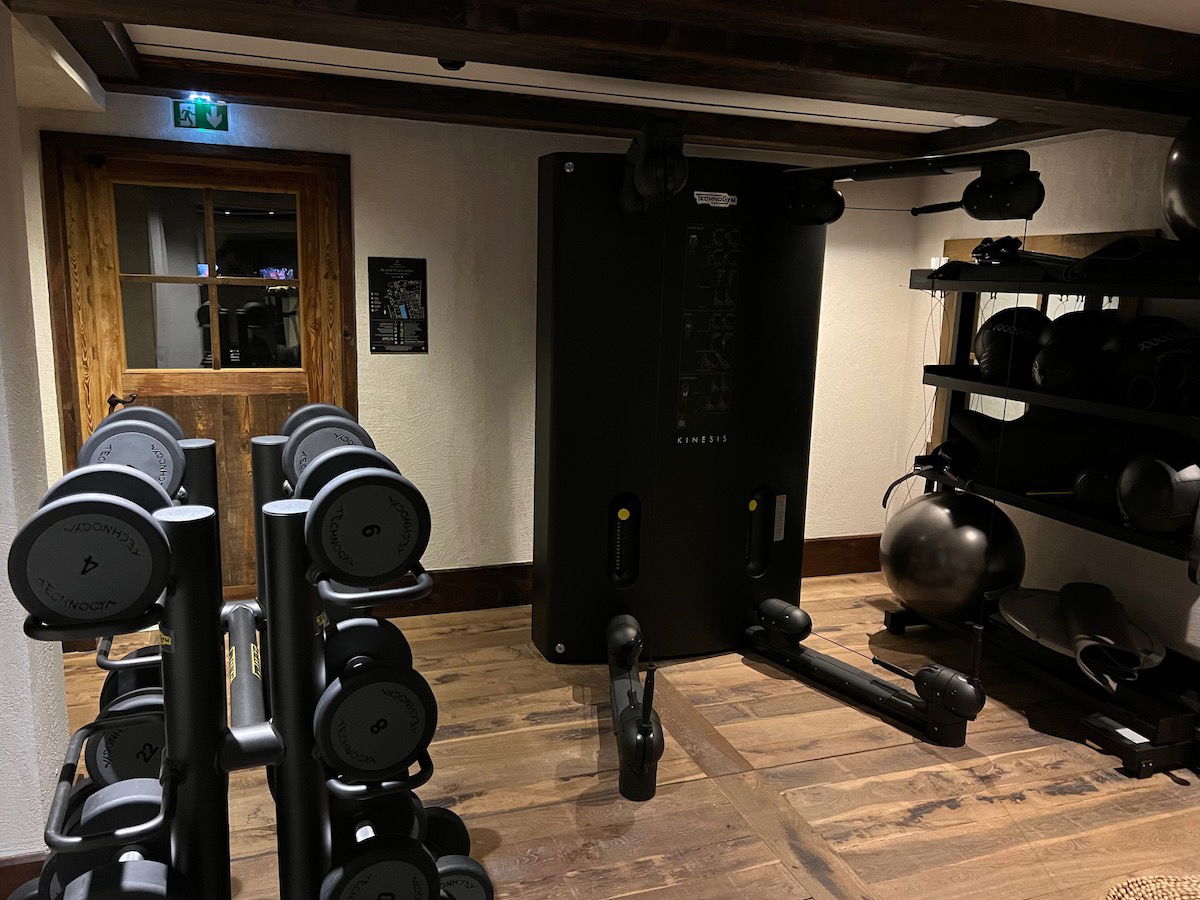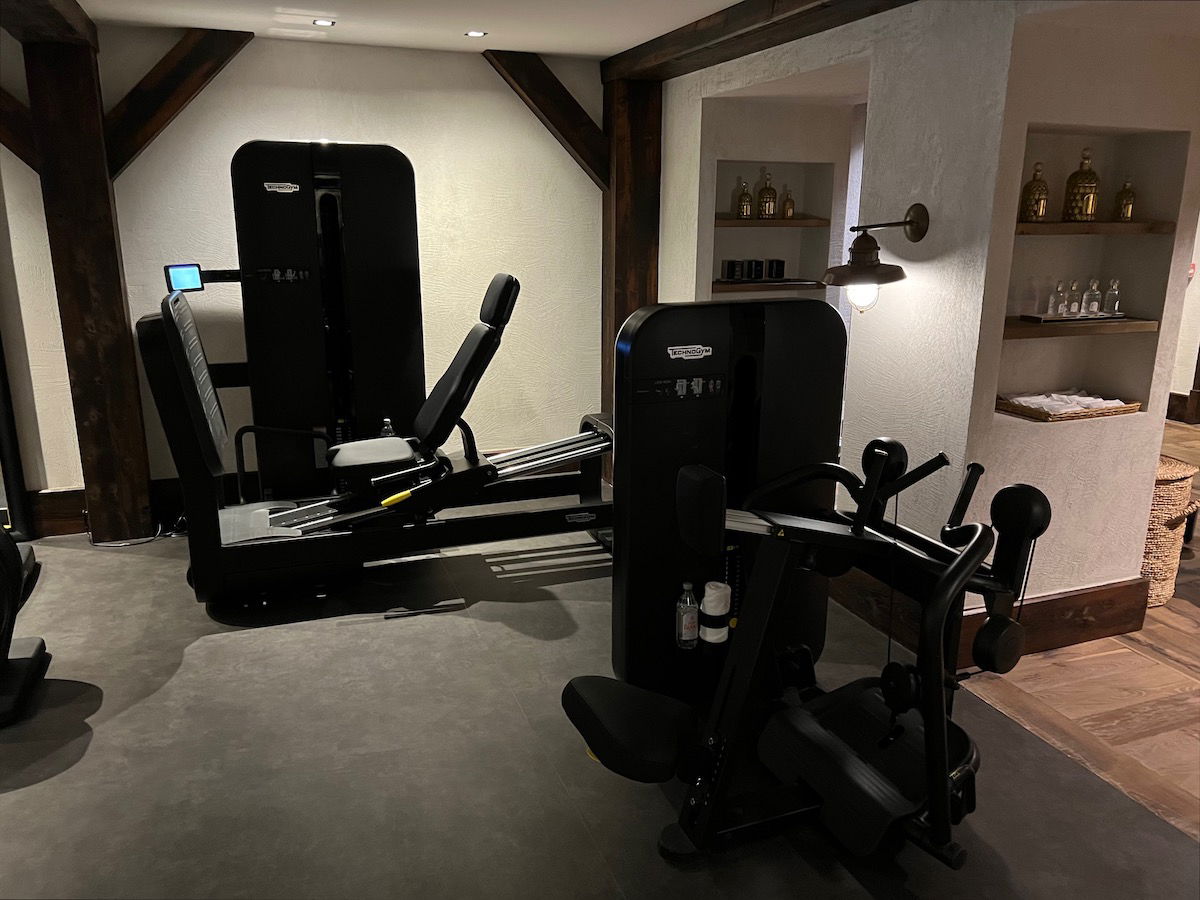 You also have to appreciate the attention to detail that goes into everything at Airelles, from the variety of fragrances you can spray yourself with, to the juices, fruit, and granola bars, you can help yourself to in the gym.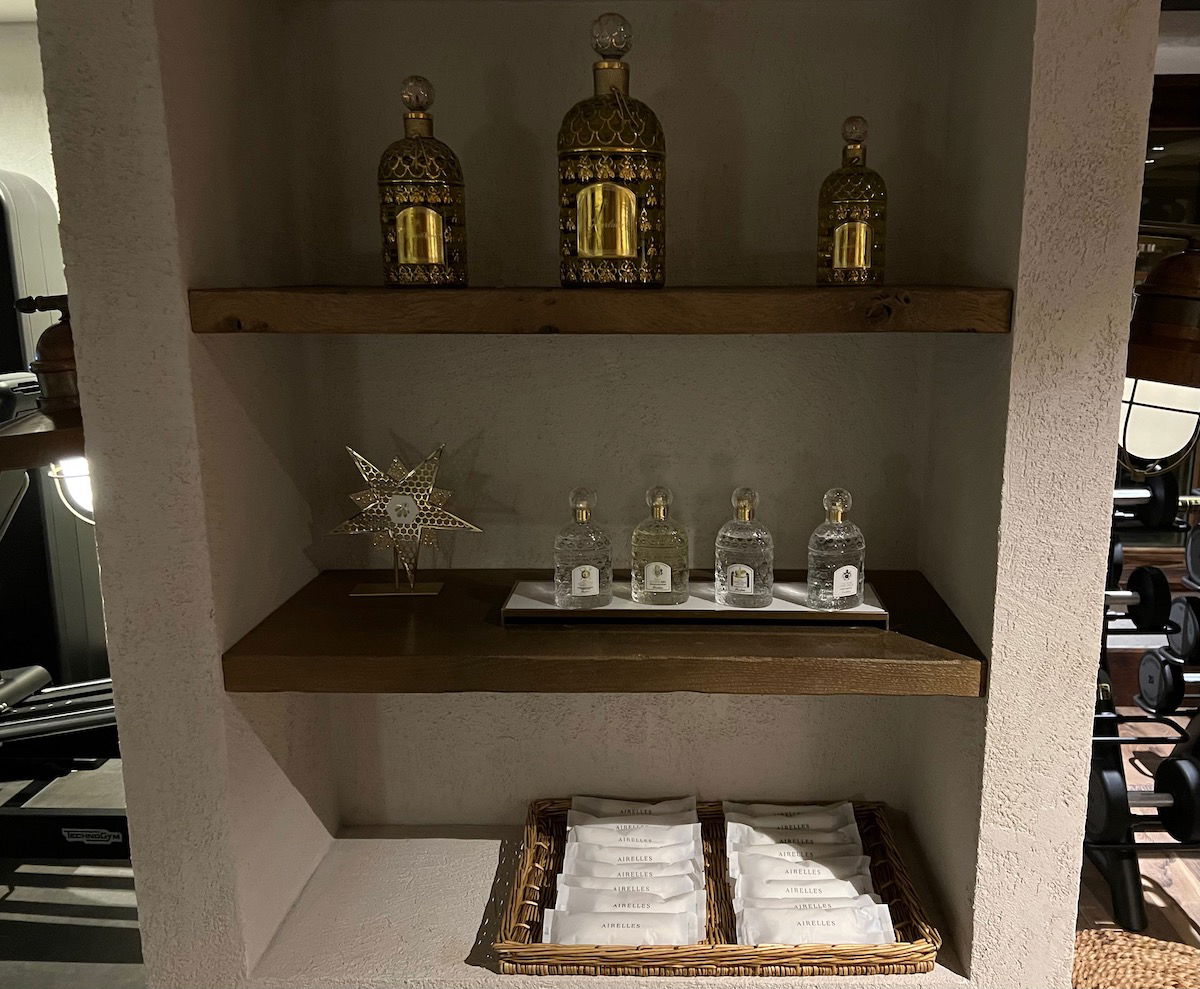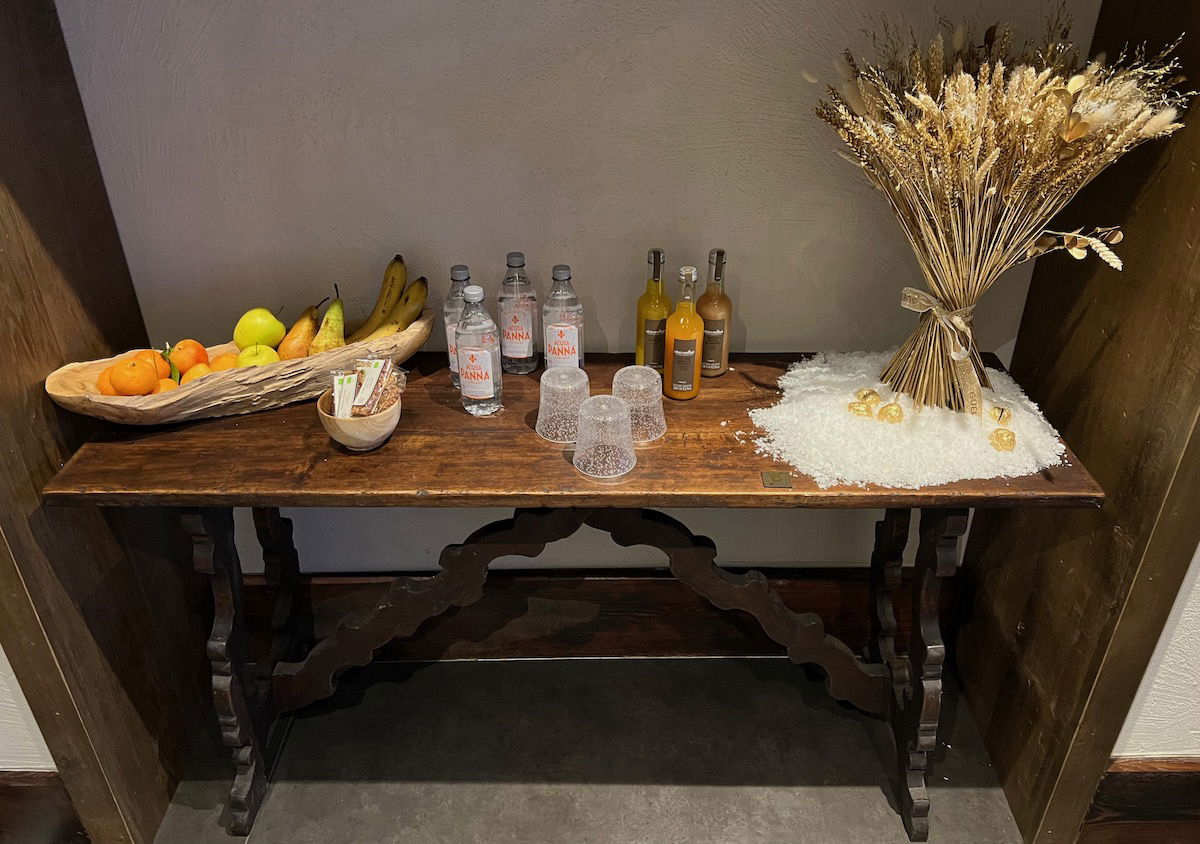 Airelles Val d'Isère kids & teens room
Airelles Val d'Isère has incredible amenities for both kids and teens. In reality the teens room is for everyone, and we spent quite a bit of time here. In addition to an unlimited supply of jelly beans and M&Ms, it had endless games, ranging from air hockey, to racing, to pinball. How fun!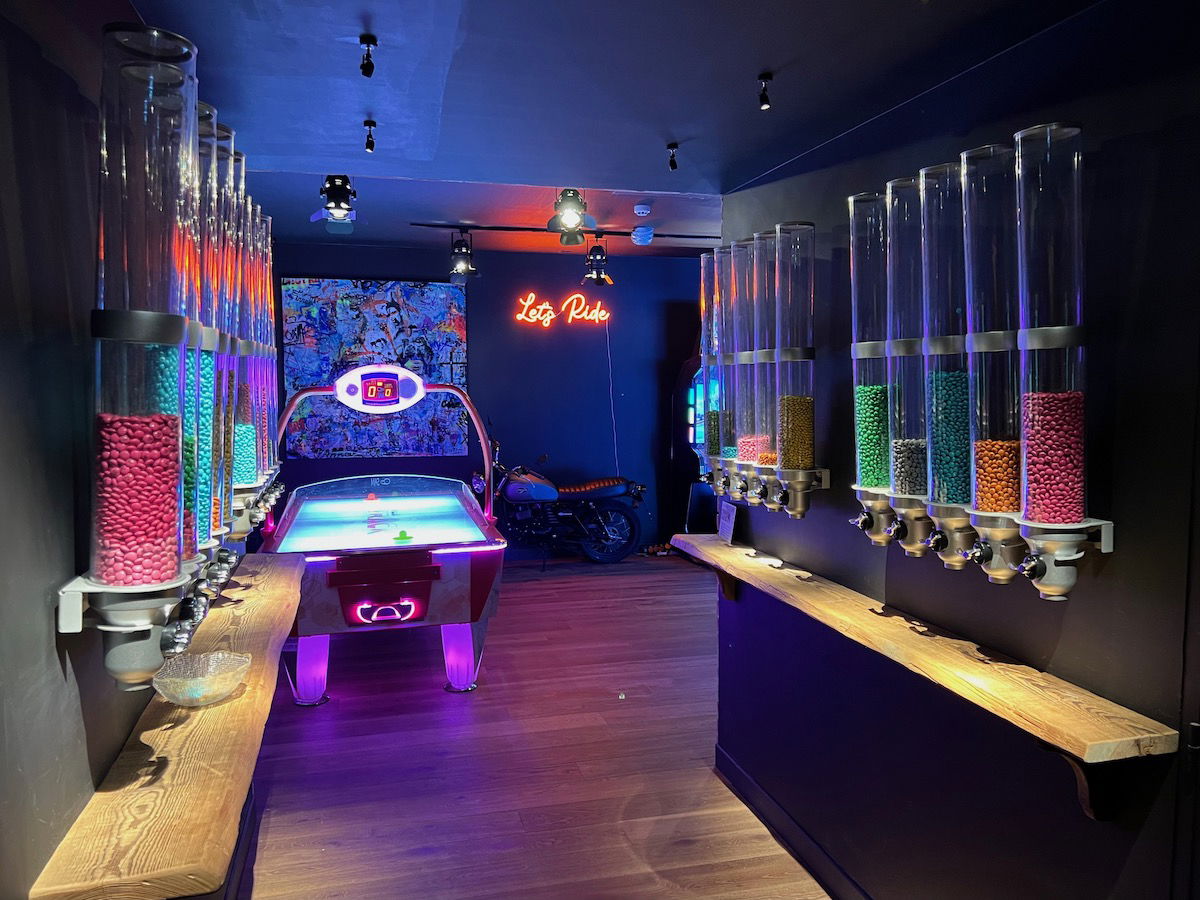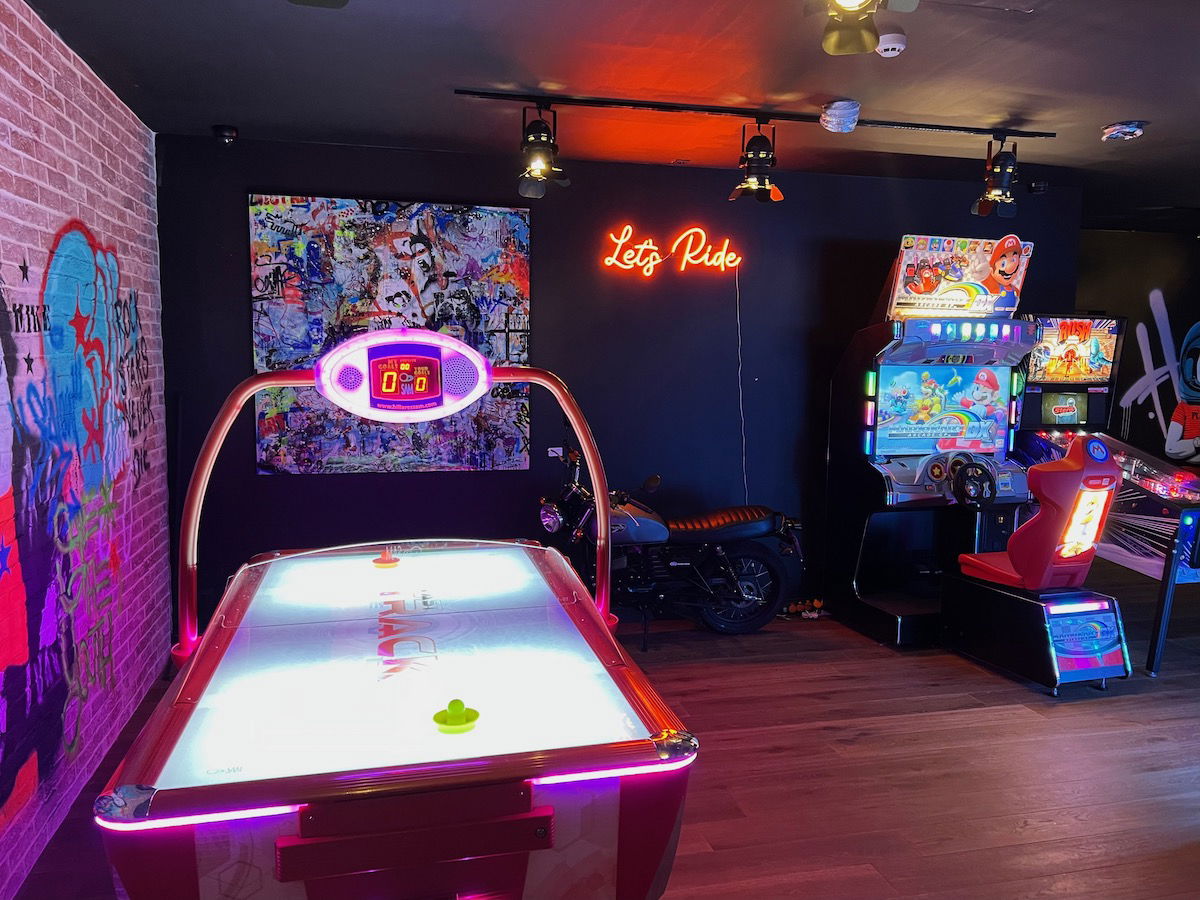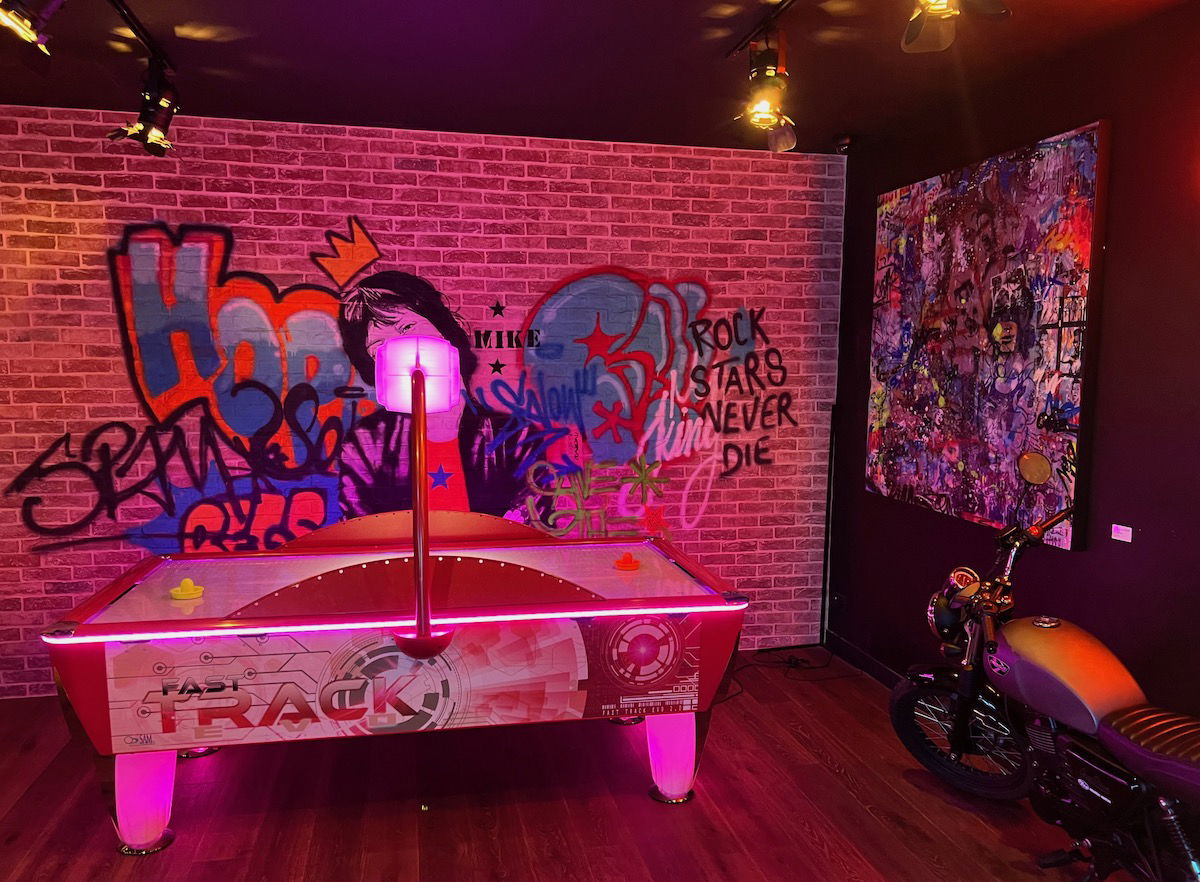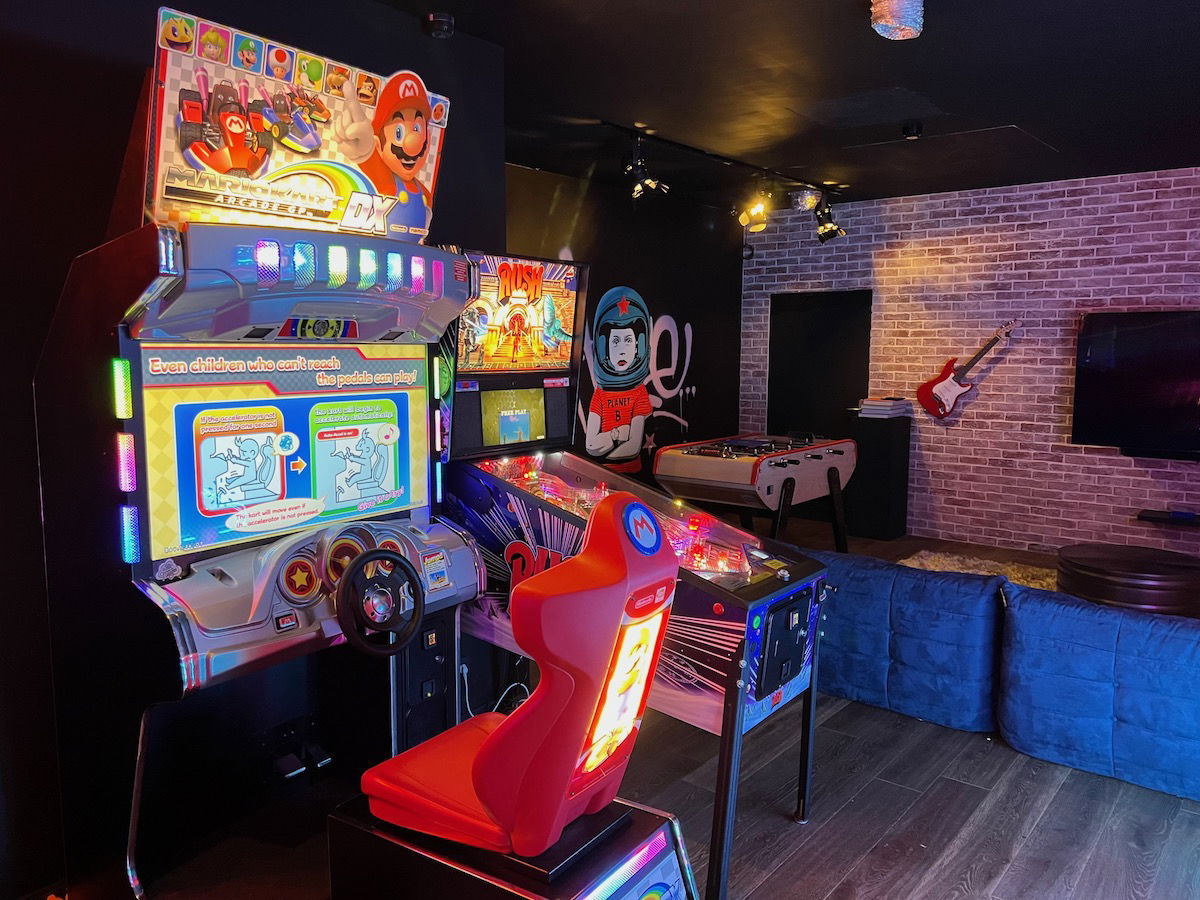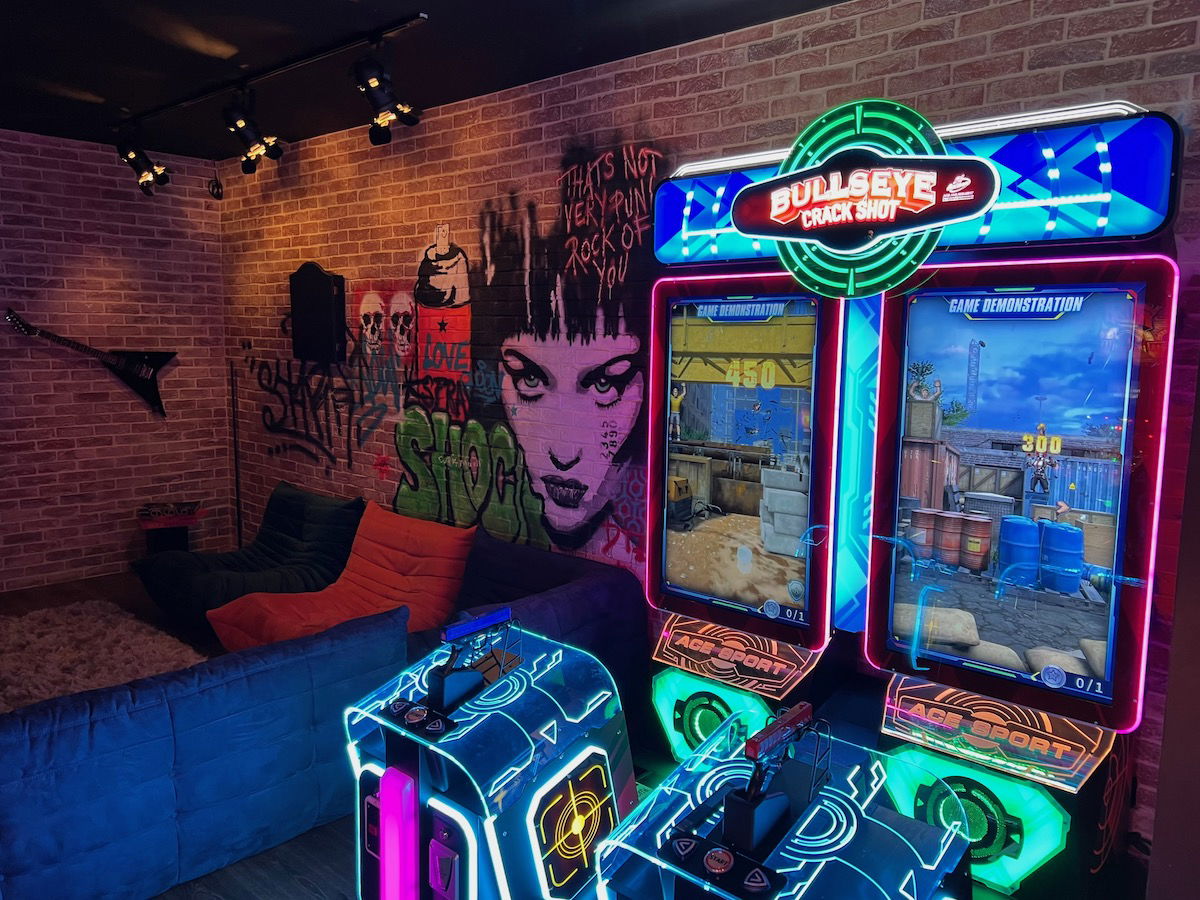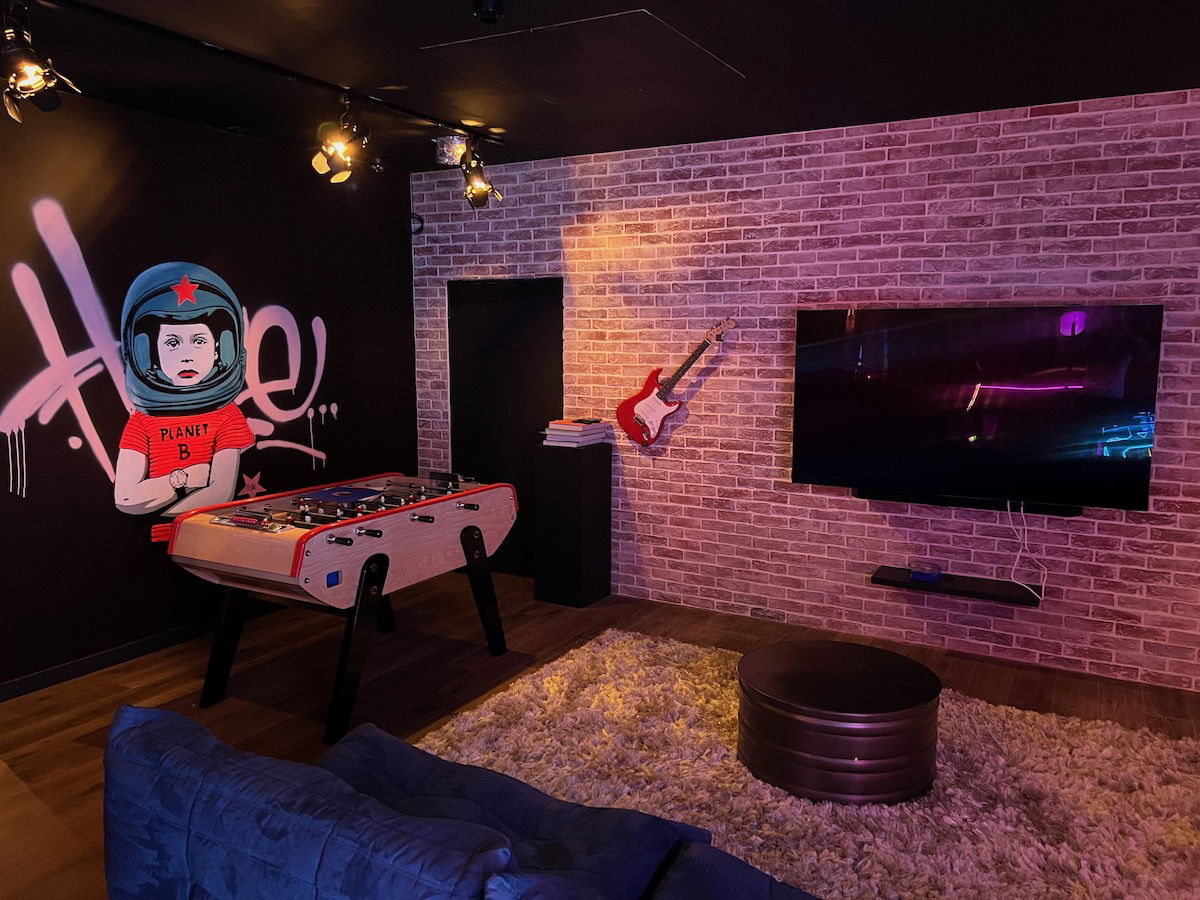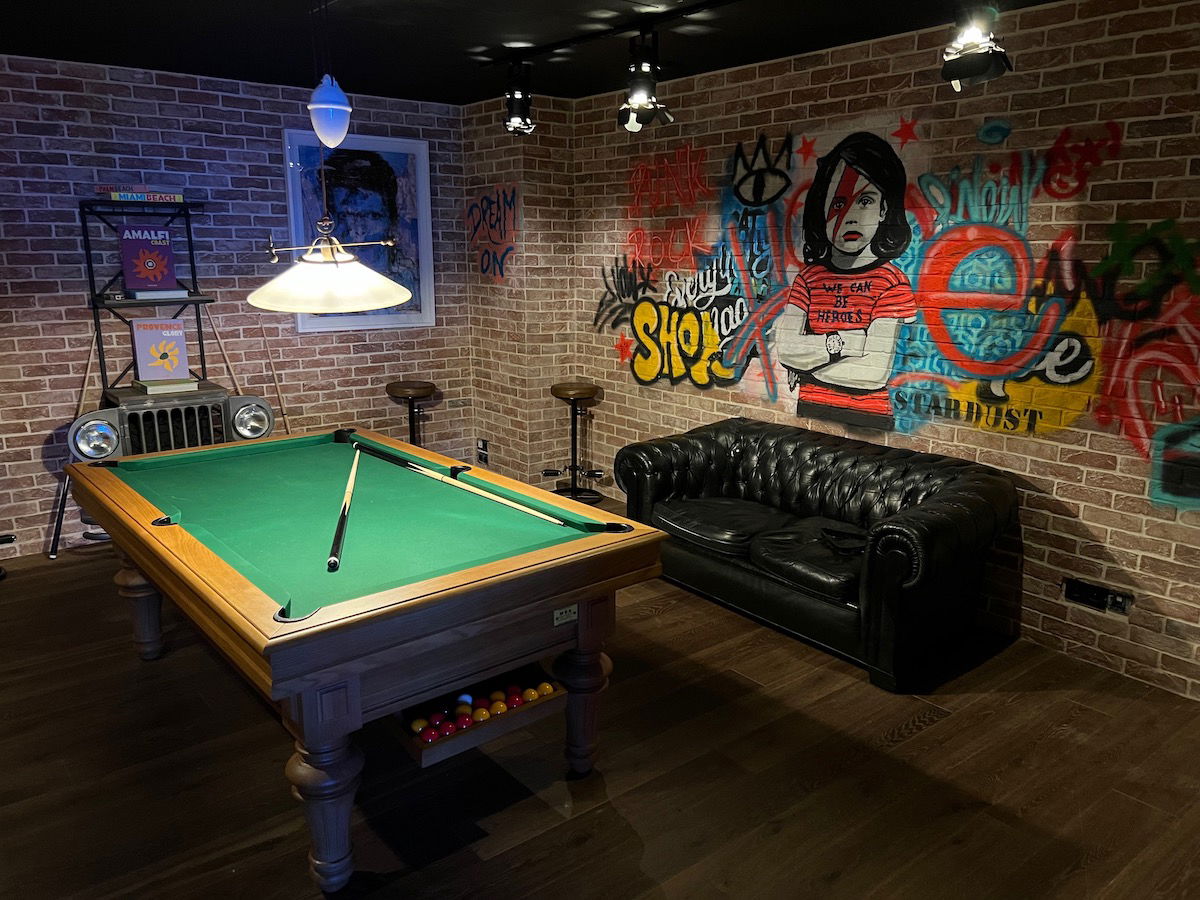 There was then a separate room for younger kids.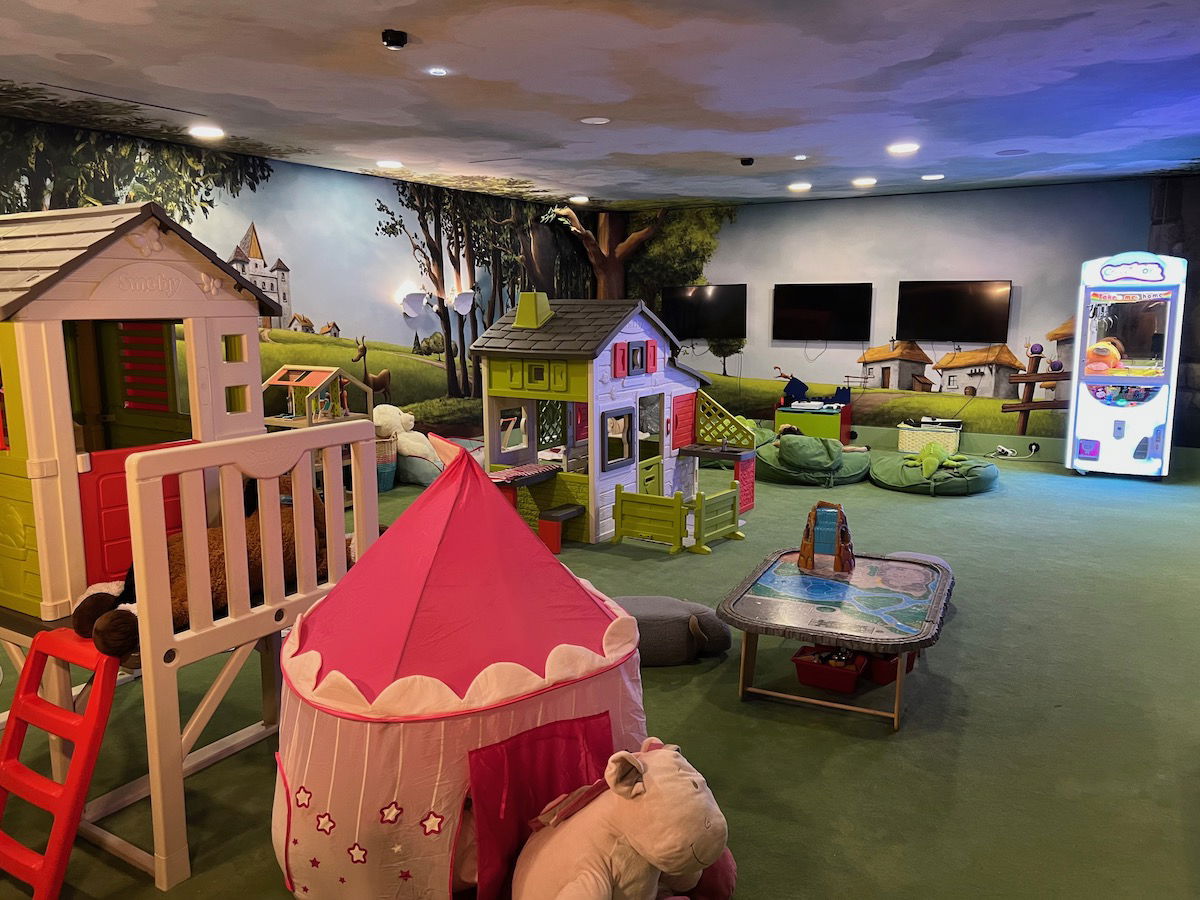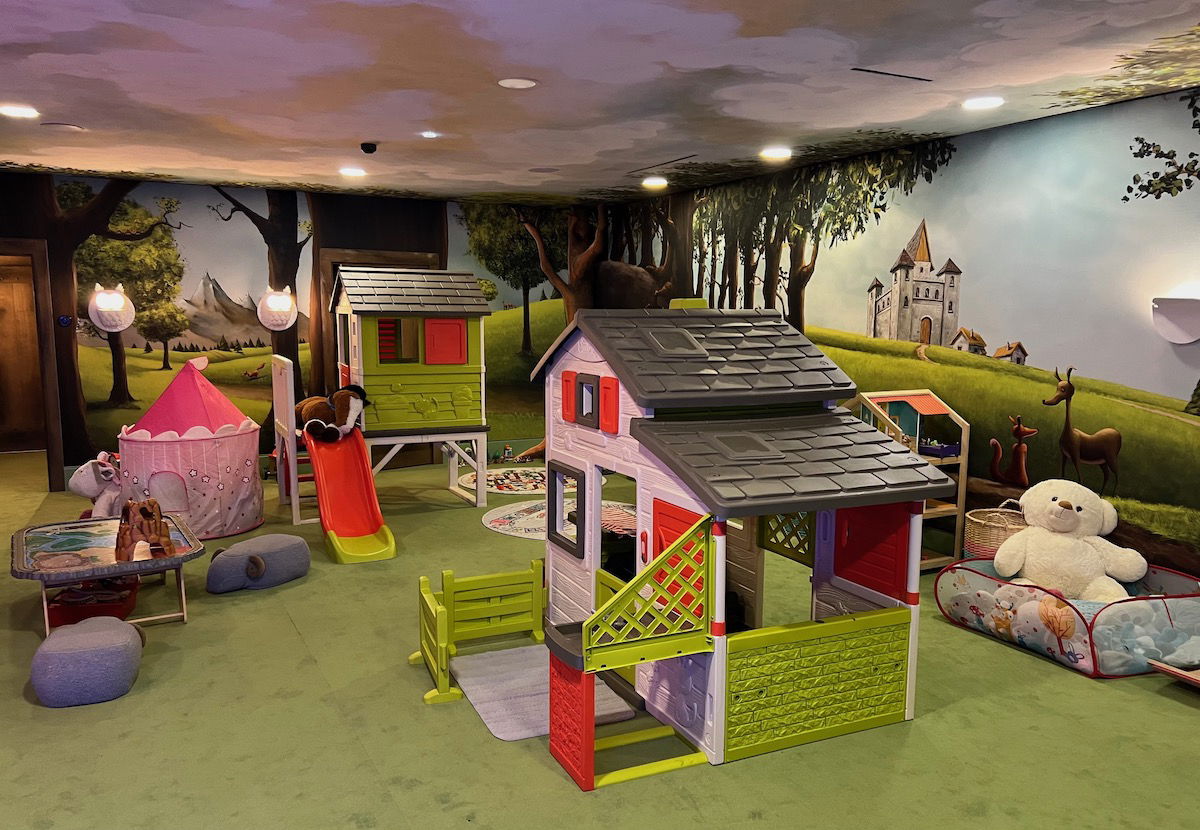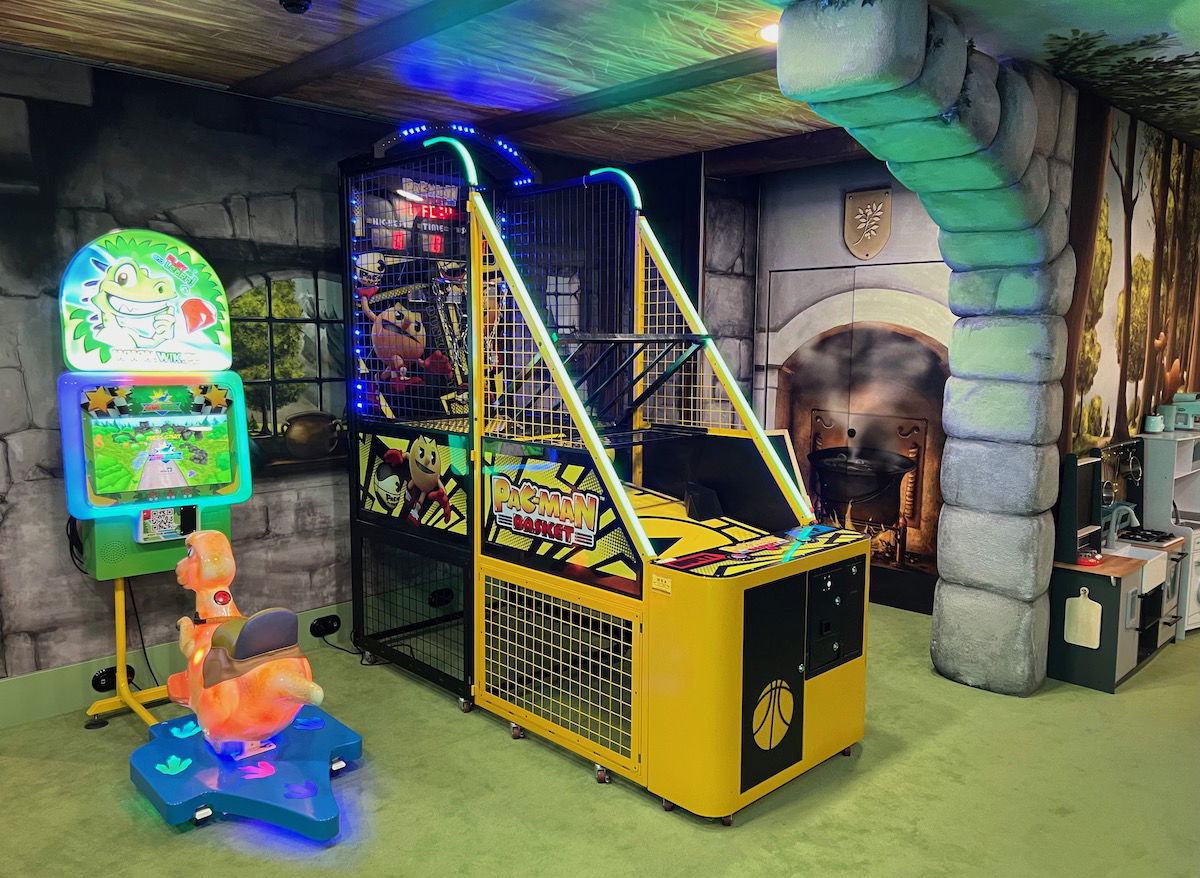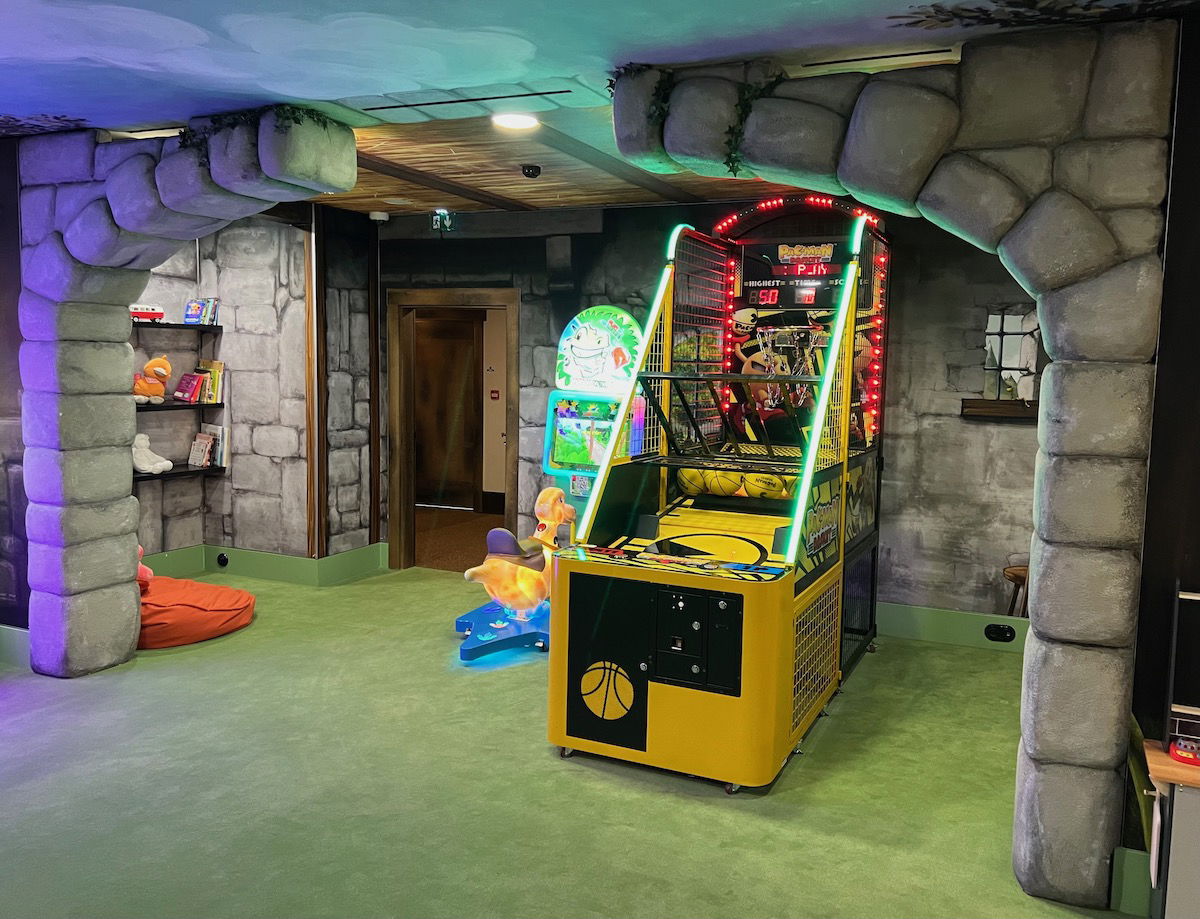 Airelles Val d'Isère private cinema
Airelles Val d'Isère also has a private cinema, which can be reserved for free any hour of the day or night. Just tell the staff ahead of time, and they can basically screen whatever you'd like there, from a classic movie, to a trashy reality TV show. There's even a popcorn machine, should you want a movie snack.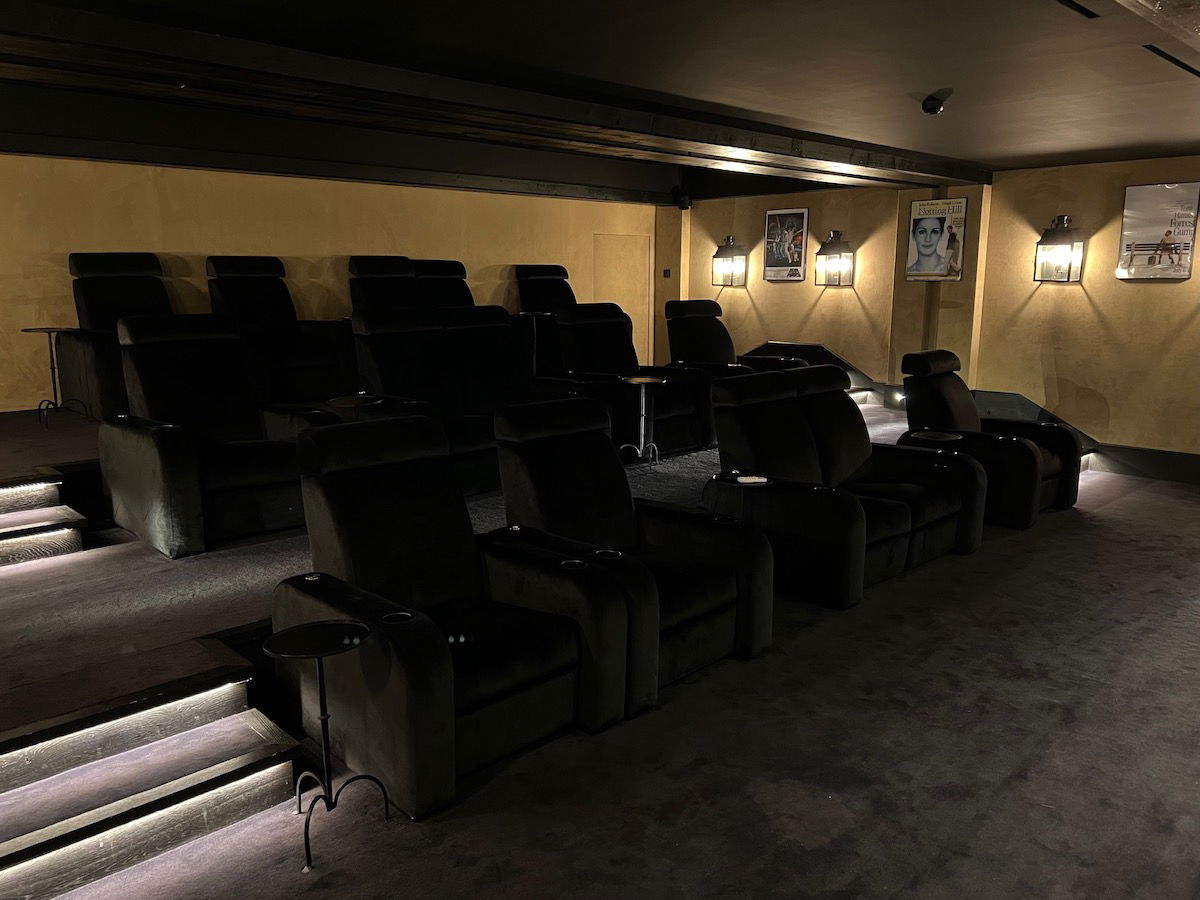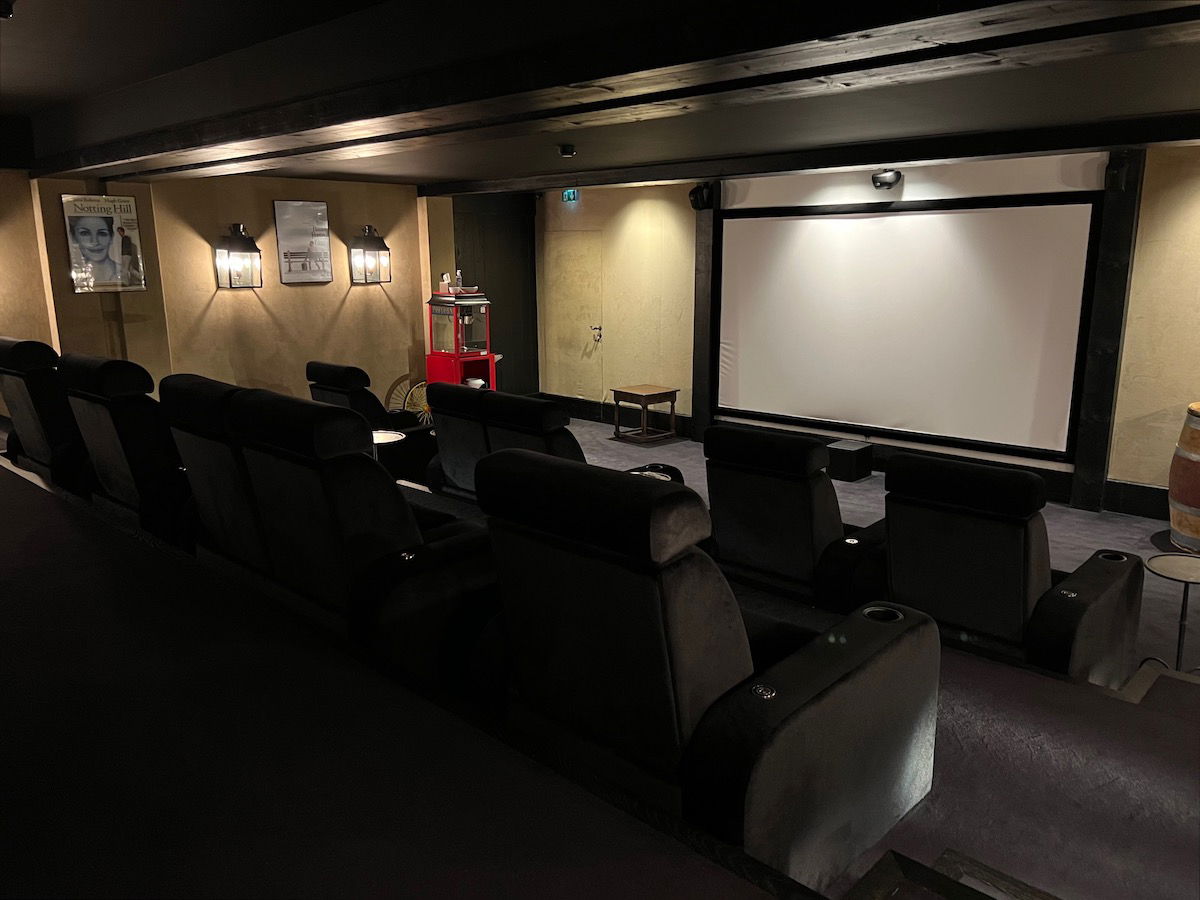 Airelles Val d'Isère ski room & skiing
Airelles Val d'Isère is a ski-in, ski-out property, and has a huge ski room. There are ski concierges there throughout the day who can help you with getting the right equipment, and will carry everything outside for you.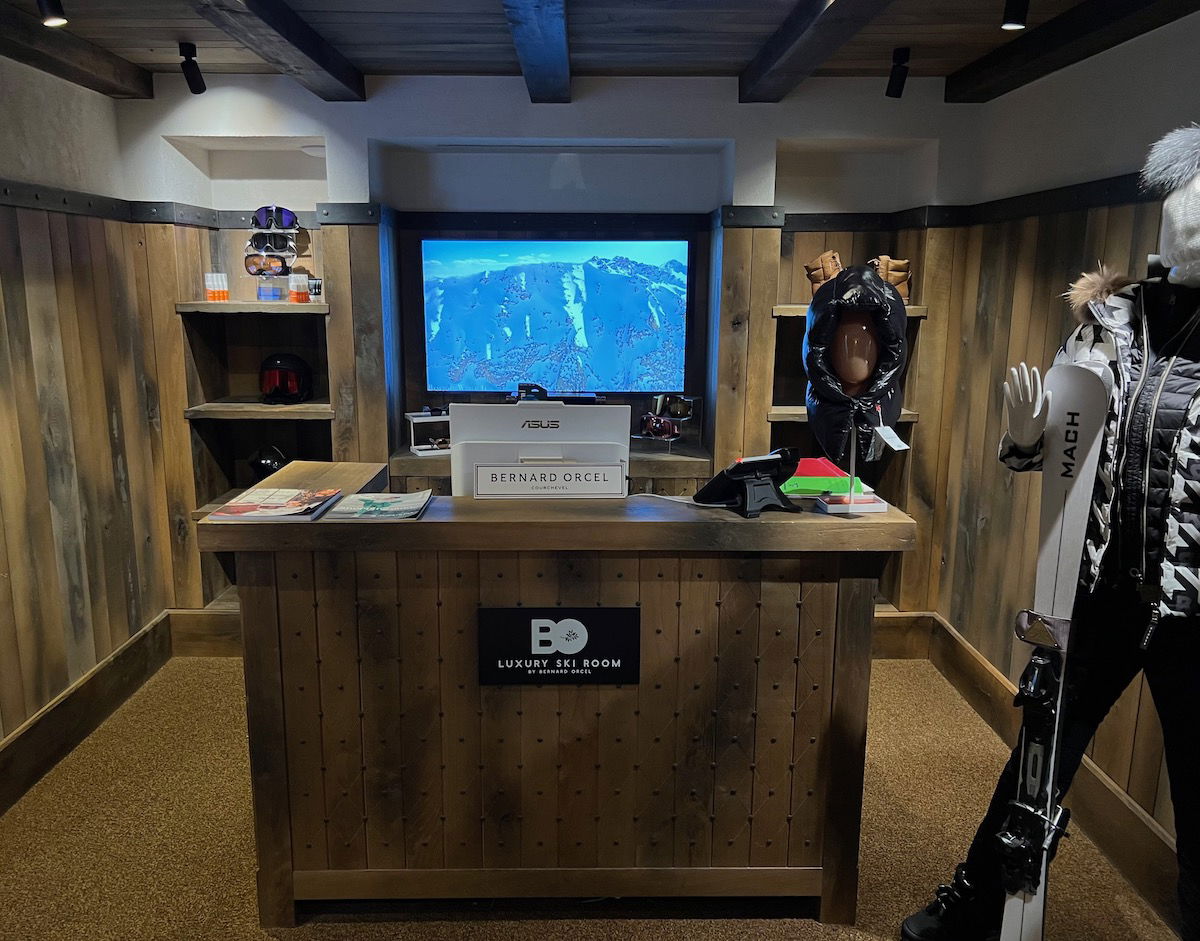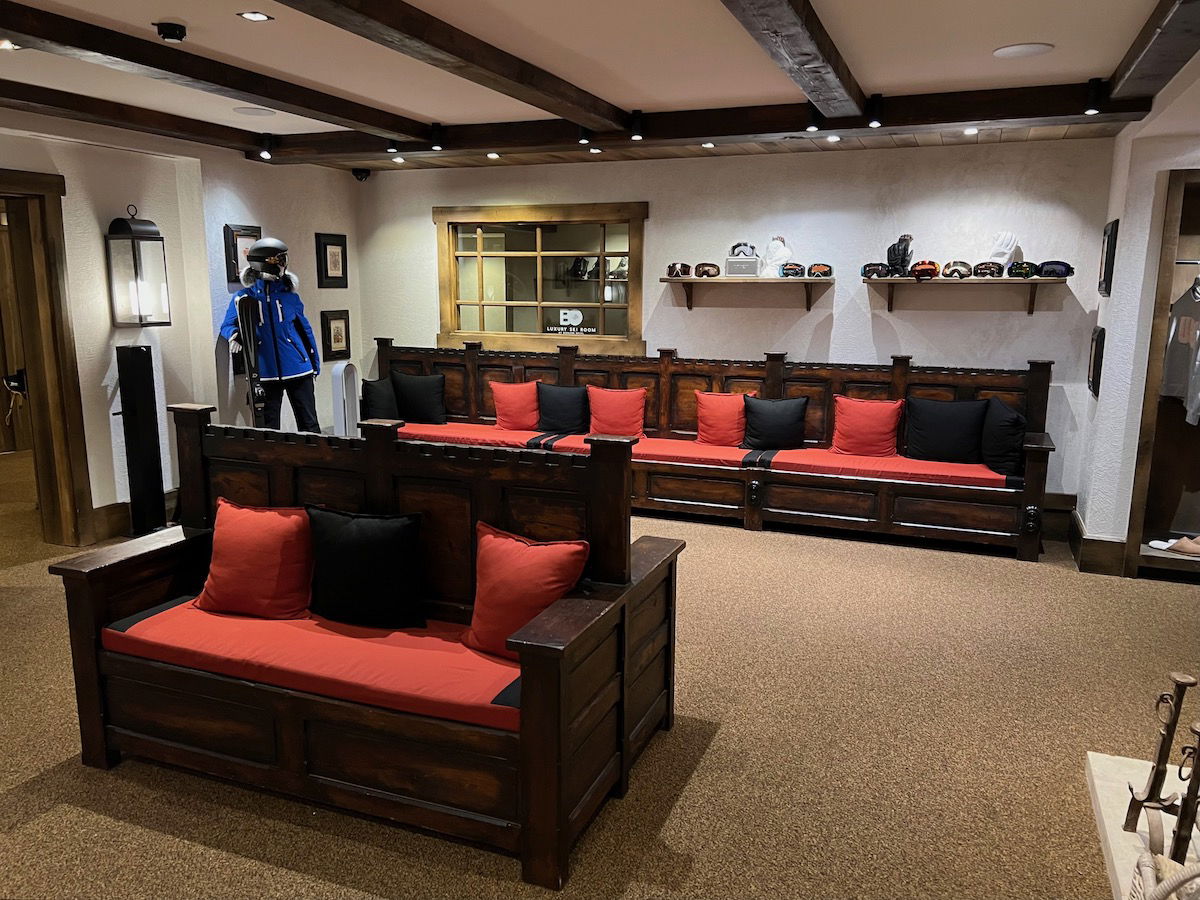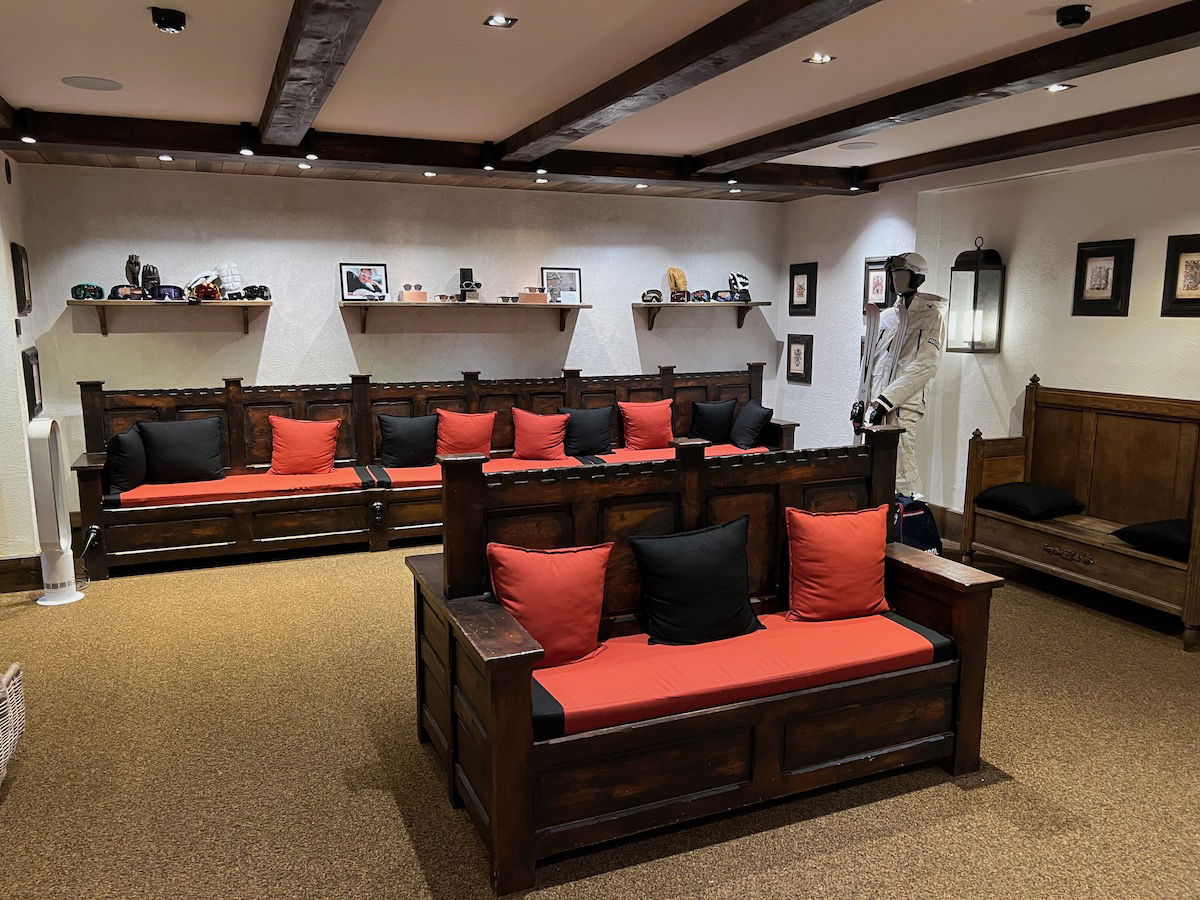 On top of that, the ski room had a variety of tasty treats, from cake, to juice, to espresso.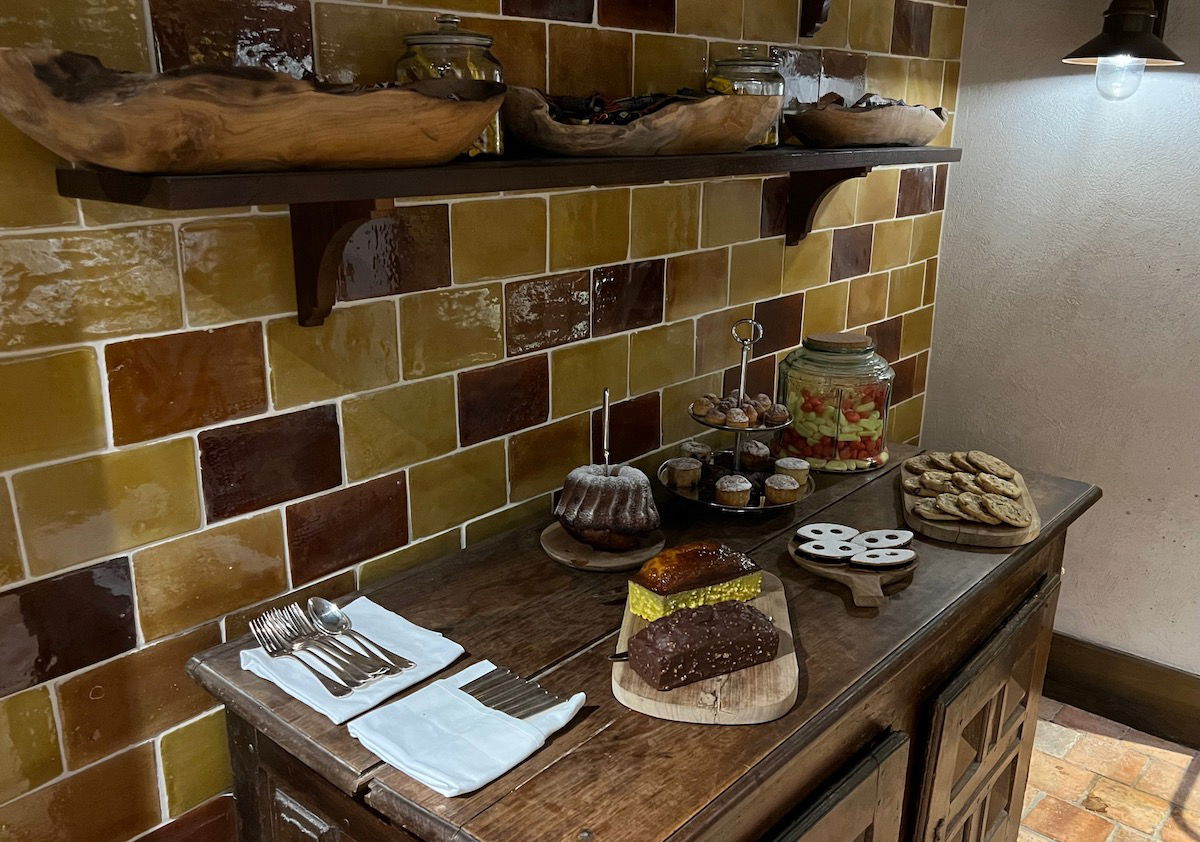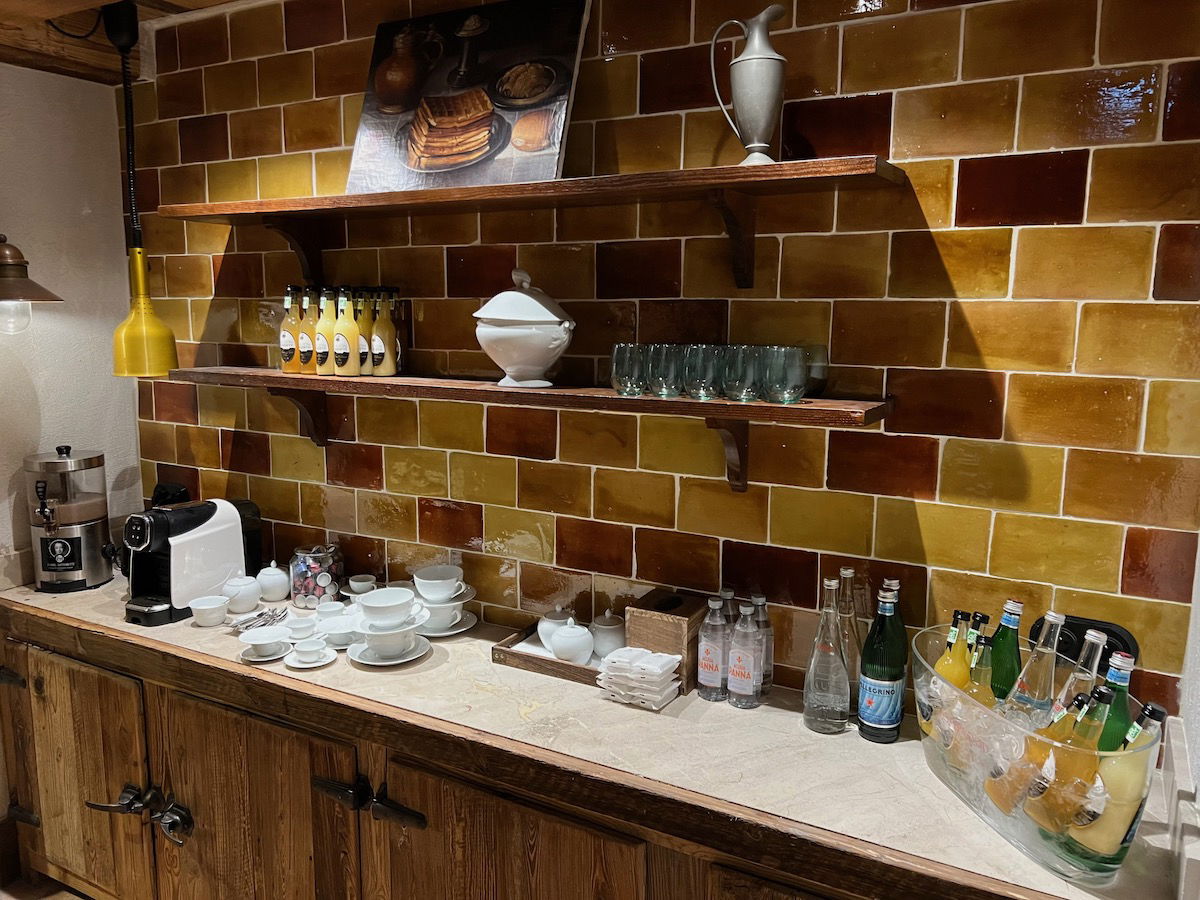 How are the skiing conditions in Val d'Isère? Let me remind everyone that I only learned to ski last year, so I'm not really the person to ask. Val d'Isère is located at an altitude of 1,850 meters, on the edge of the Vanoise National Park.
The altitude of Val d'Isère is a huge advantage, since Europe otherwise had a really rough winter for snow. Fortunately thanks to the high altitude, this wasn't a major issue in Val d'Isère. We were also there at the very end of the season, so I imagine conditions would have been even better earlier on.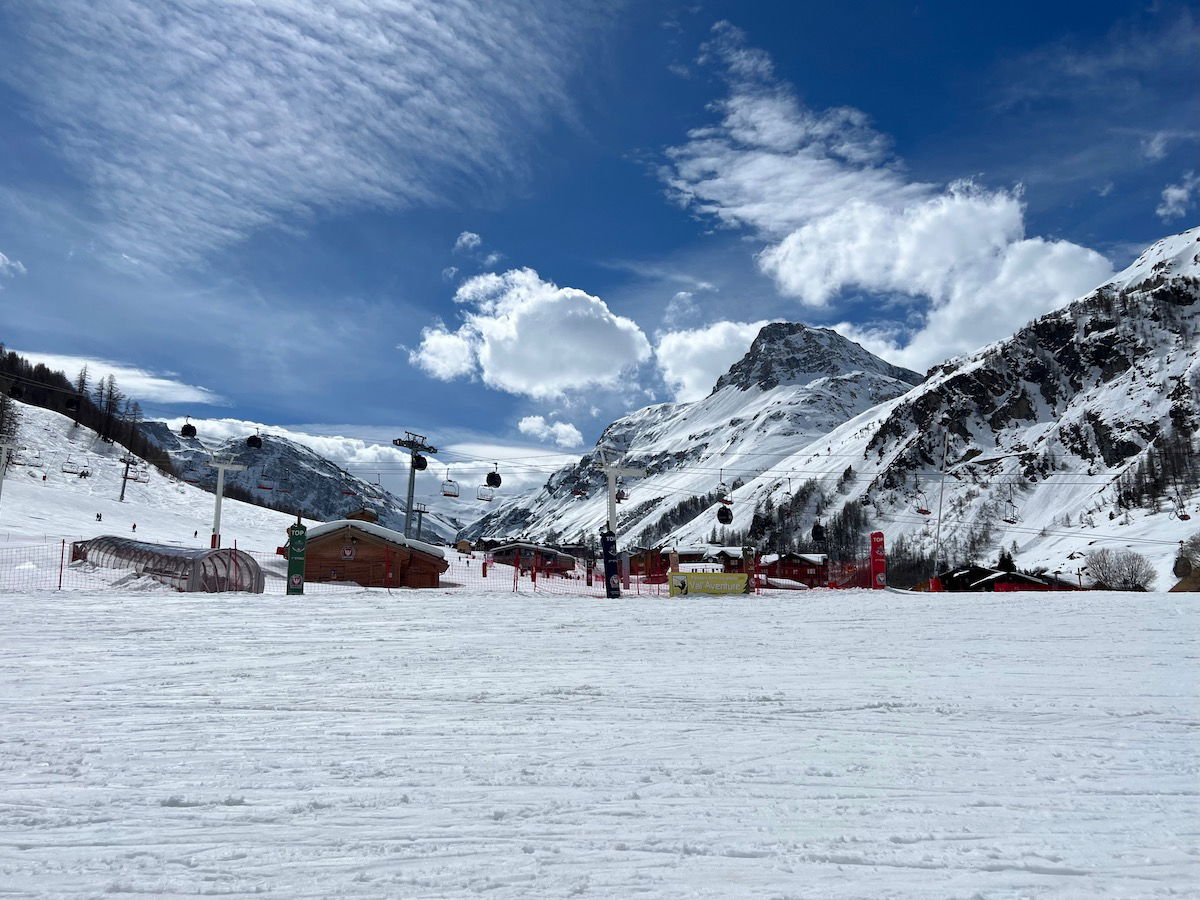 Are the Alps pretty, or what?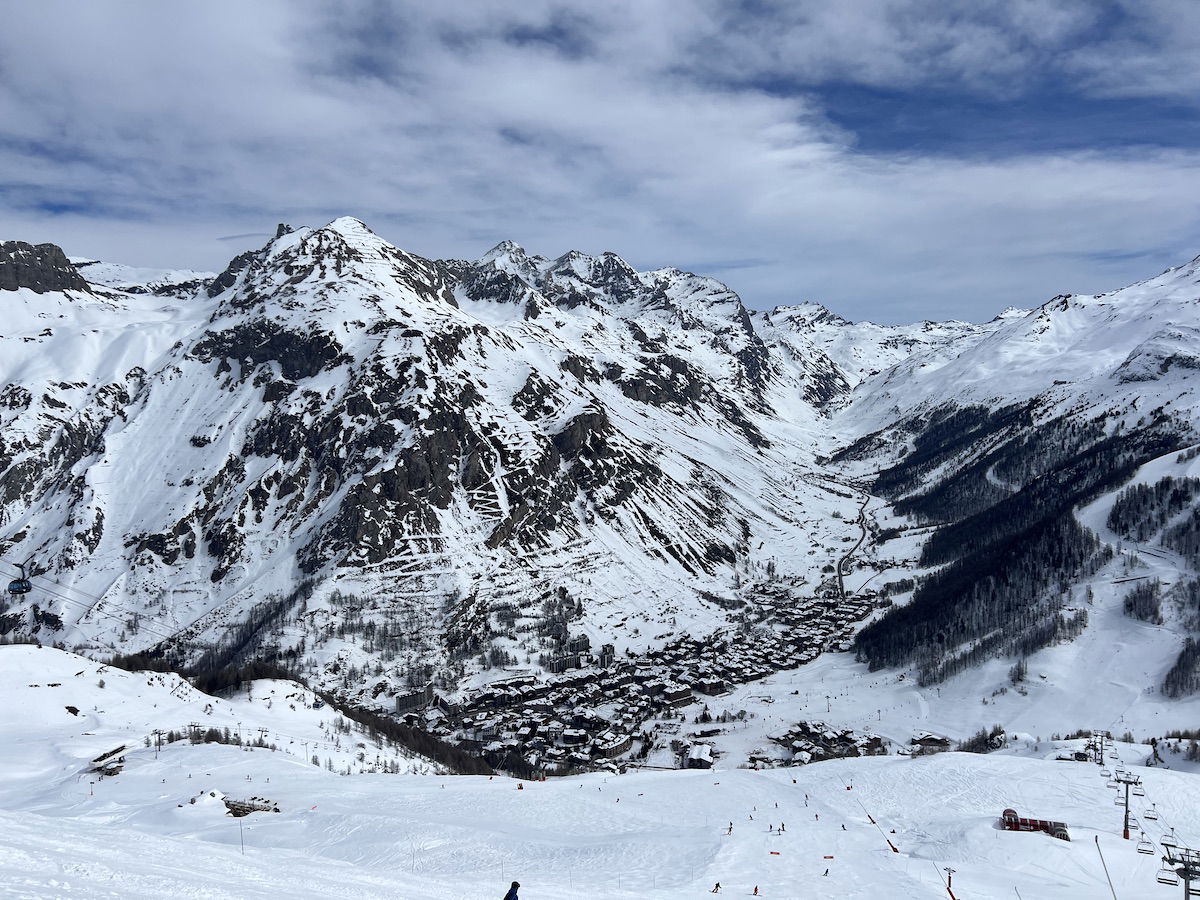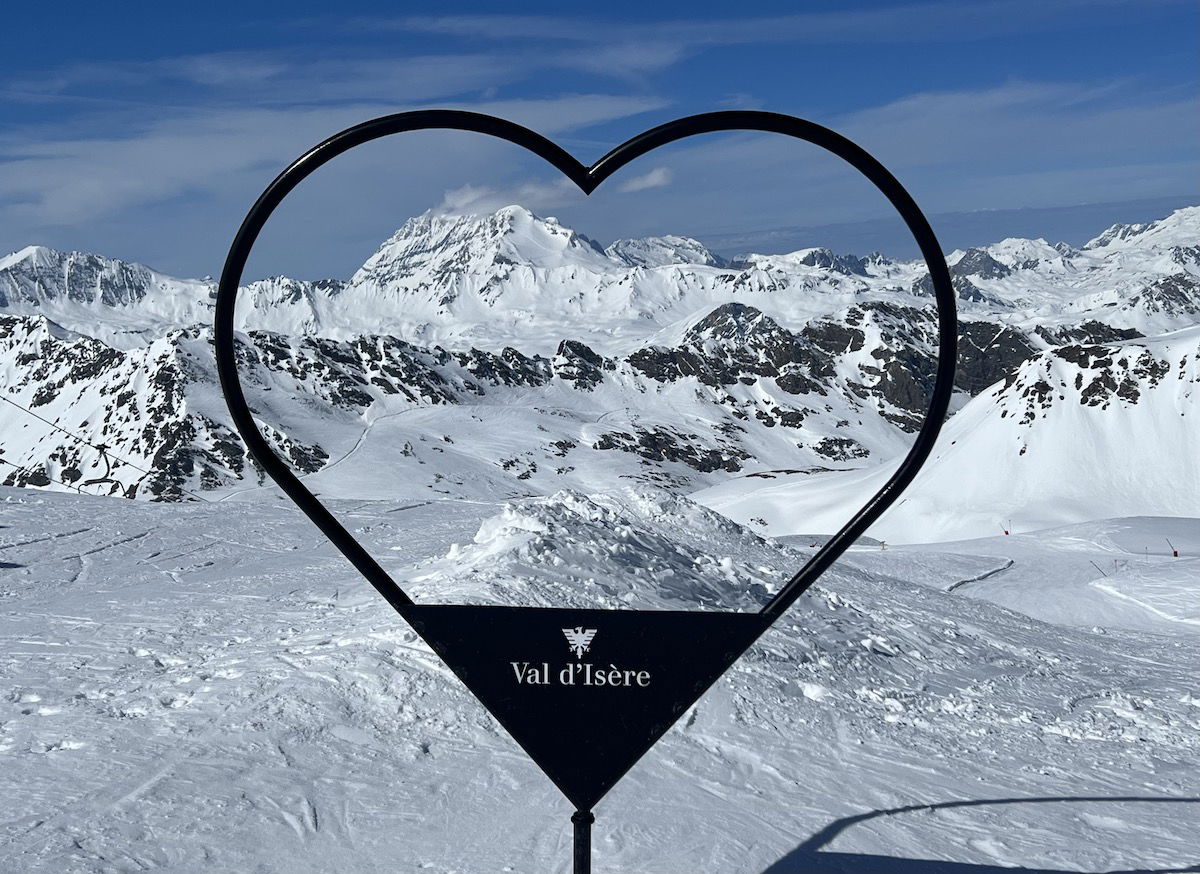 Dining at Airelles Val d'Isère
Now on to my favorite part of any Airelles property — the food. Airelles properties consistently have amazing food, and the Val d'Isère location is no exception. As mentioned above, we booked the "all-in escape," so that includes three meals a day in any of the hotel's restaurants.
Just to be clear, don't expect this to be a cruise ship-esque all inclusive experience. Rather you can order whatever you'd like at some amazing restaurants, you sign for the meals, and then they're simply removed from your bill in the background. The quality is amazing, and there are no restrictions on what you can order.
Here's a summary of the hotel's food & beverage outlets, to give you a sense of what to expect:
Loulou is the all-day dining restaurant, serving breakfast, lunch, and dinner; it serves Mediterranean cuisine, and is located on-property, on the ski slopes
La Grande Ourse is open for lunch and dinner; it serves traditional Savoyard cuisine, and is located right next to the resort, on the ski slopes
Matsuhisa is only open for dinner; it serves Japanese & Peruvian food, and is located on-property
Le Piaf is only open for dinner; this is more of a party restaurant and nightclub, and it's about a five minute drive from the hotel
Le Bar Rouge is open throughout the day; it serves drinks and light snacks, and is located on-property, between Loulou and Matsuhisa
Now let's go over the details of each of these restauratns.
Airelles Val d'Isère Loulou
Loulou is such a cute restaurant, and has both a beautiful indoor seating area (where we enjoyed breakfast each morning) and also a huge outdoor terrace (where we enjoyed lunch most days).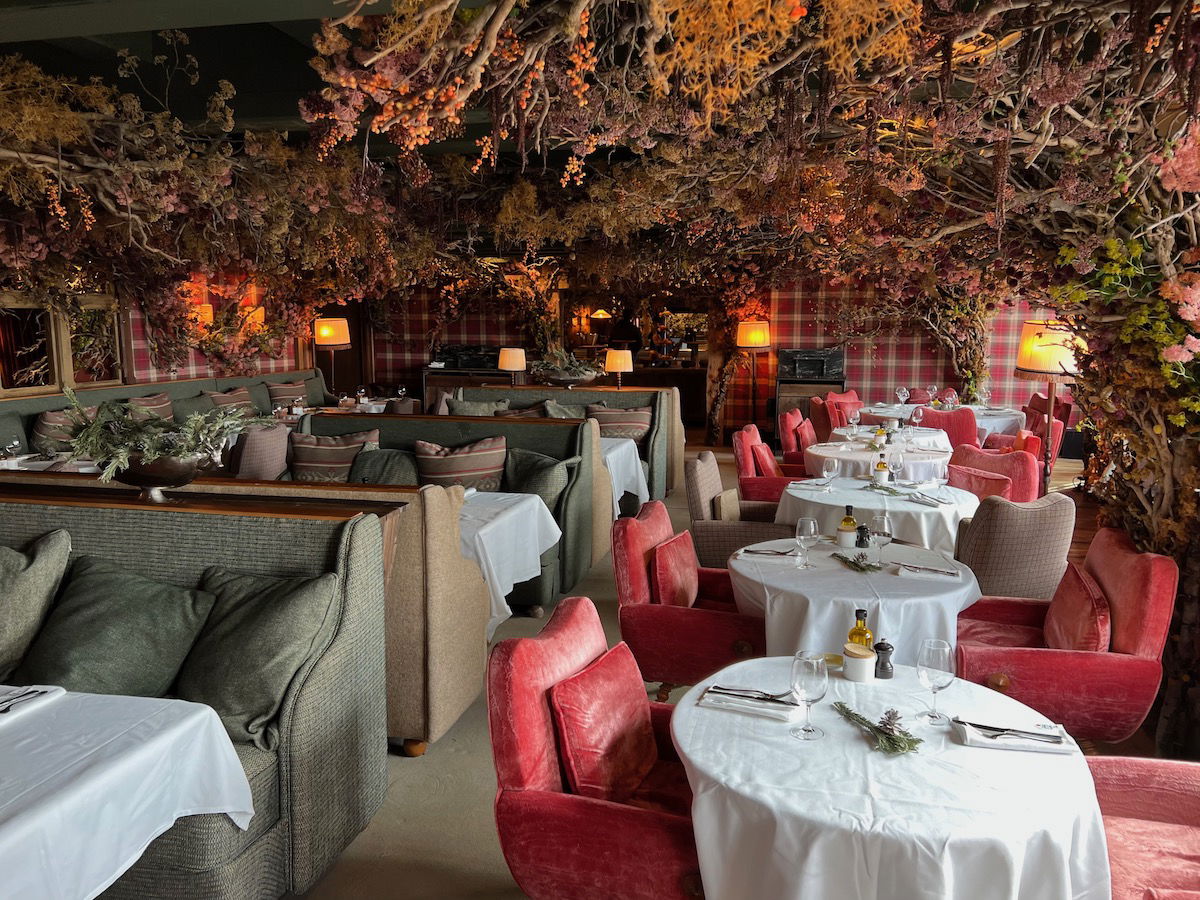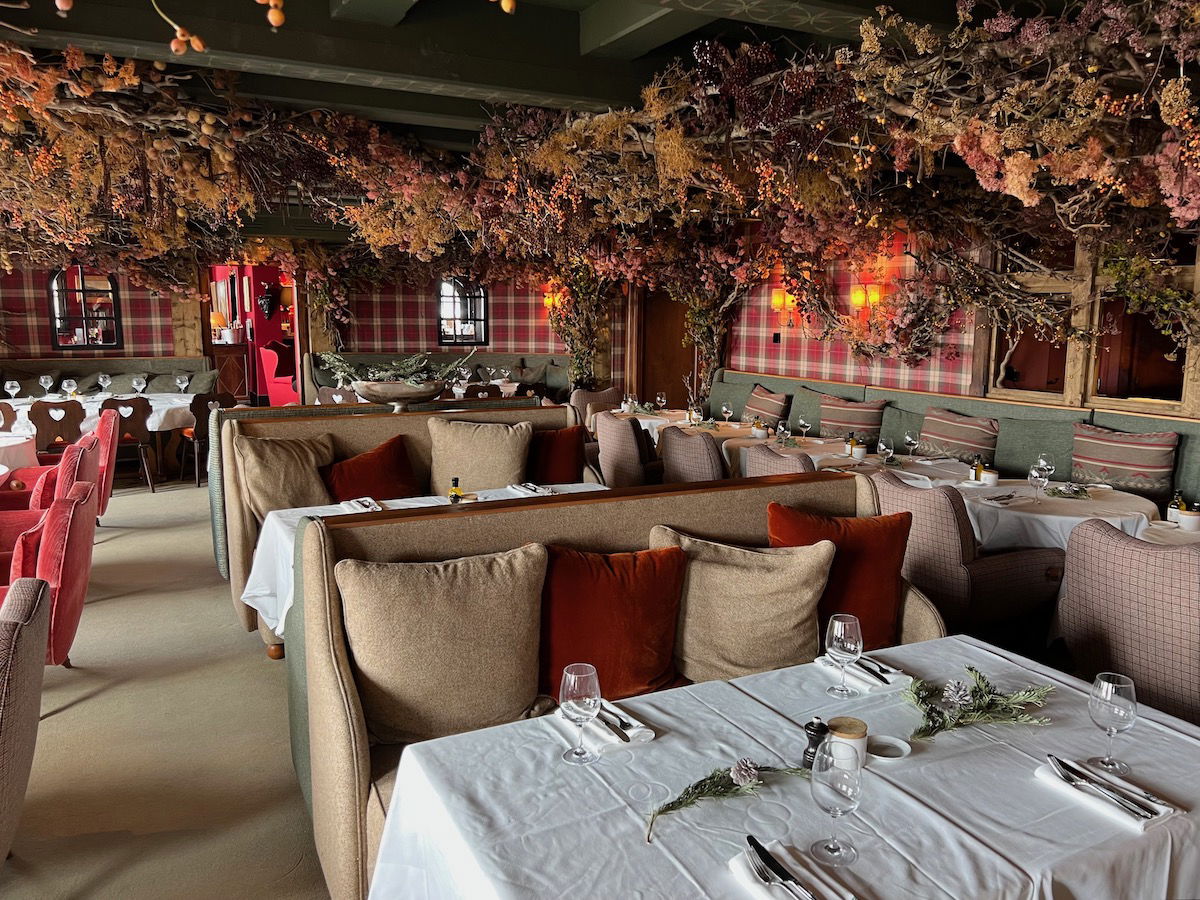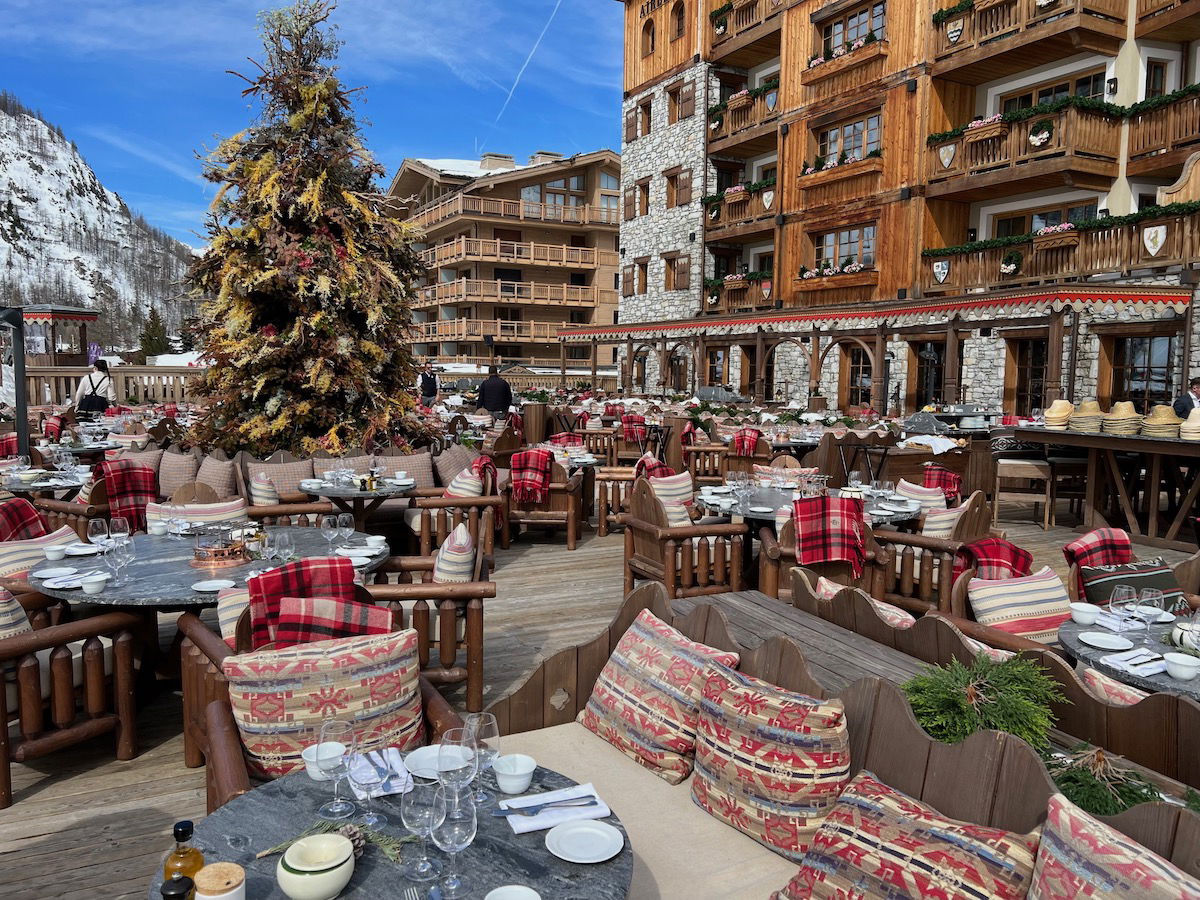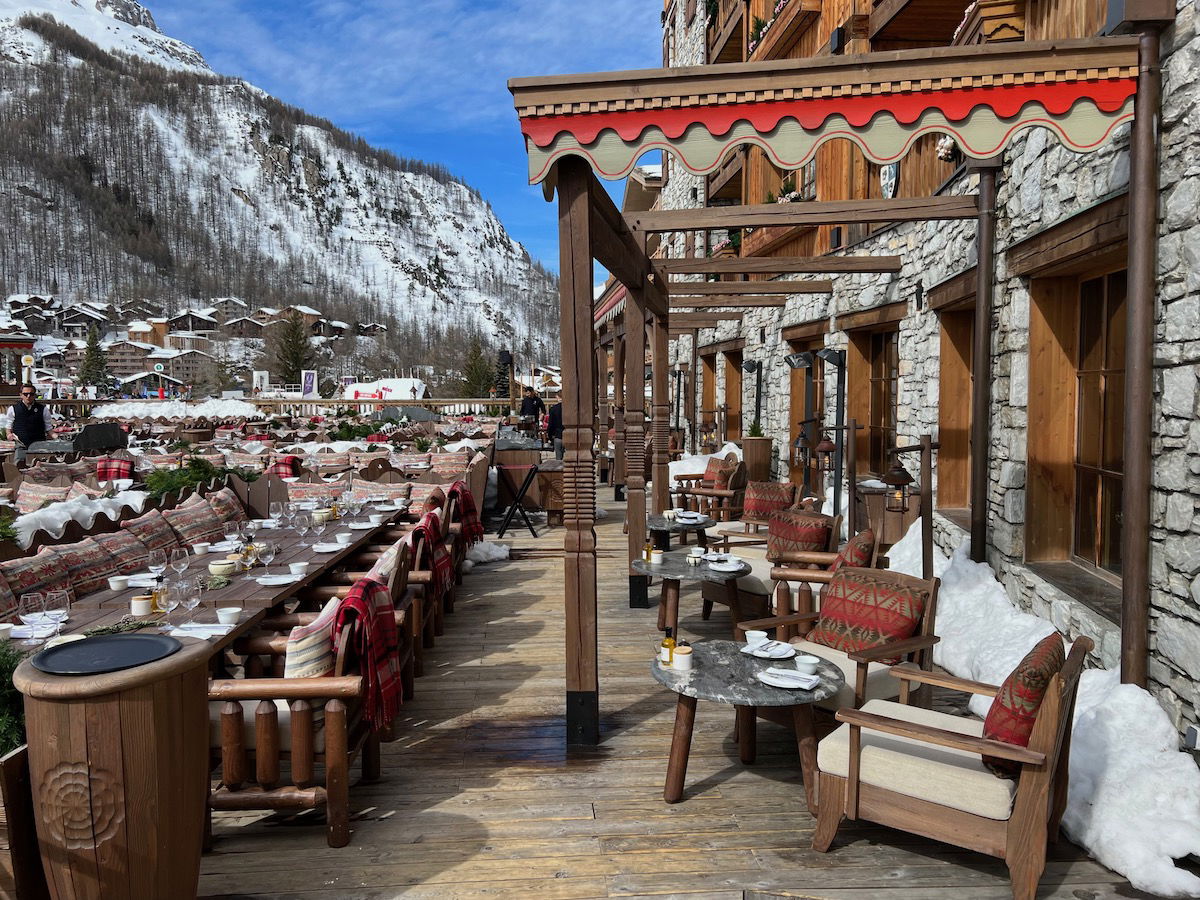 There are also two rows of seats right on the ski slope, should you want to enjoy a drink there.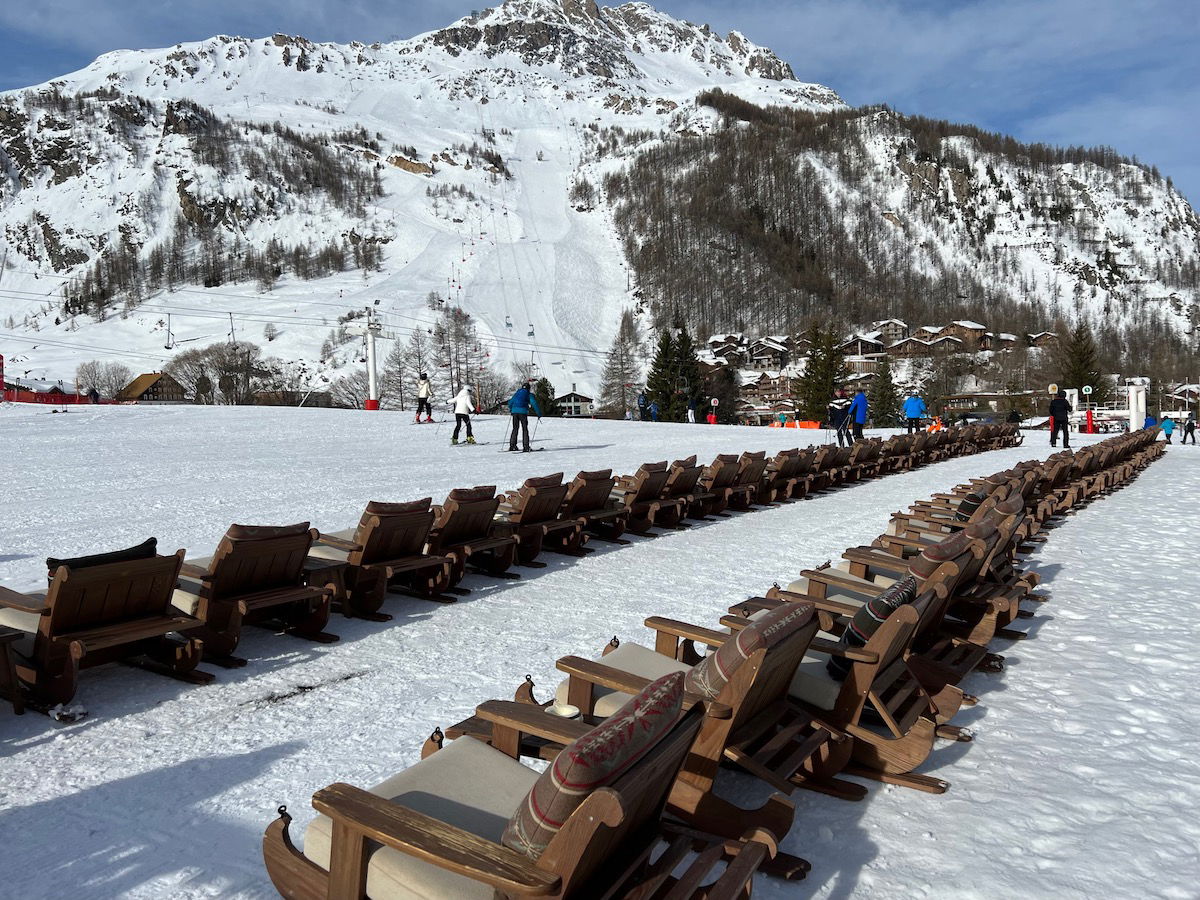 Breakfast was served daily at Loulou from 7AM until 11AM. This included a buffet — while not the biggest buffet ever, everything was high quality and homemade. The buffet had everything from pastries and bread, to cold cuts, to veggies, to yogurt, to cereal, to chocolate.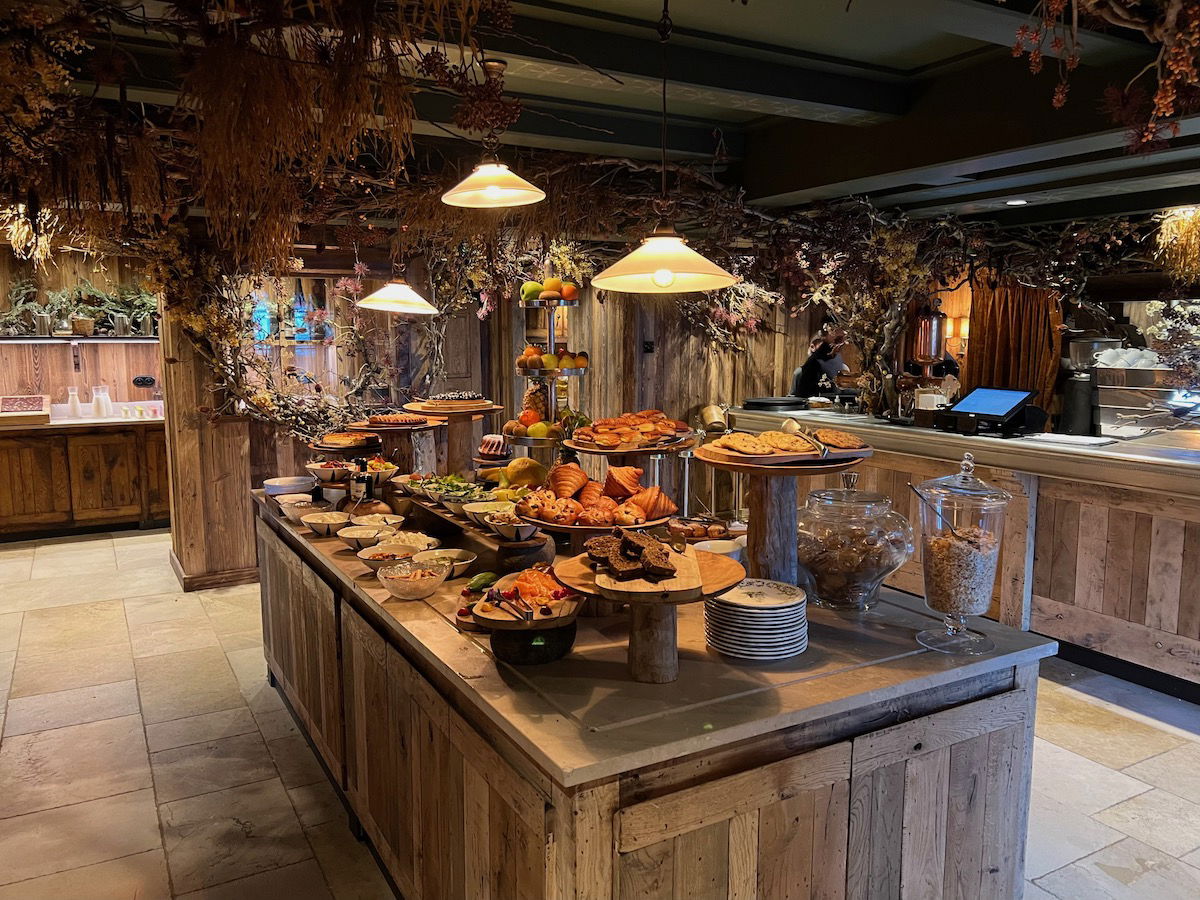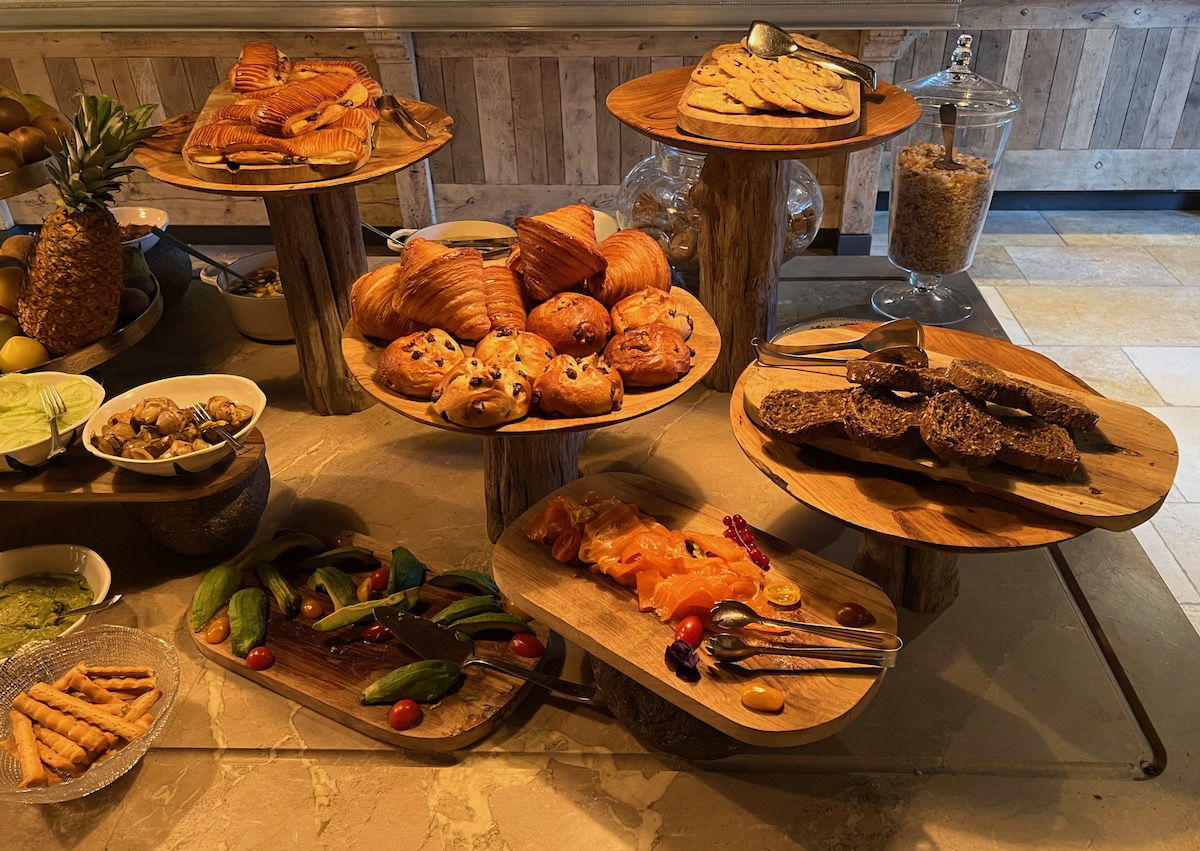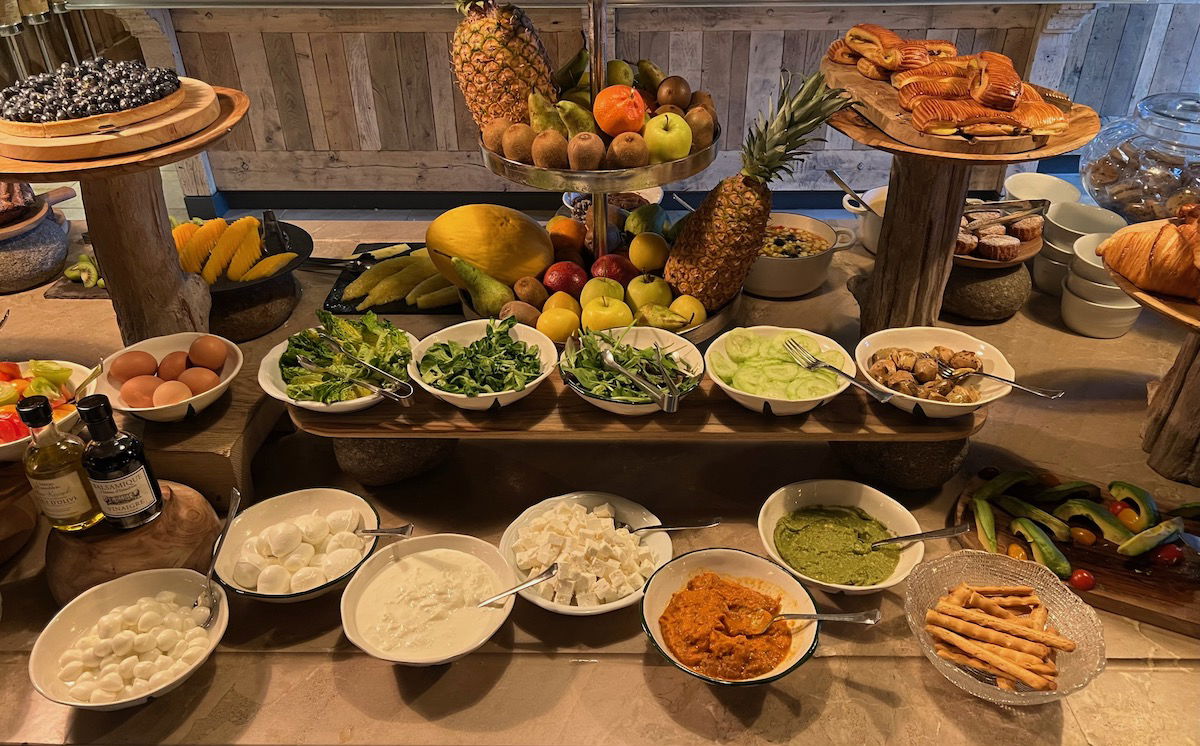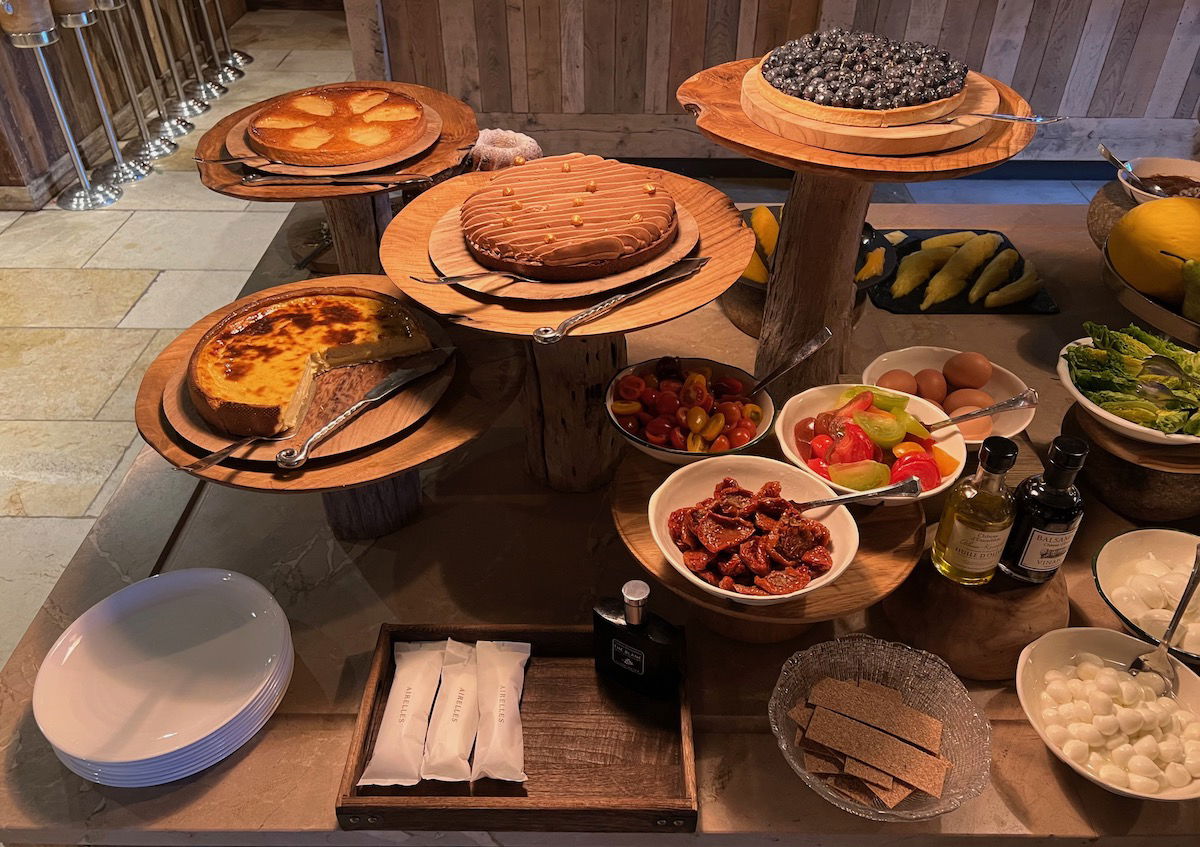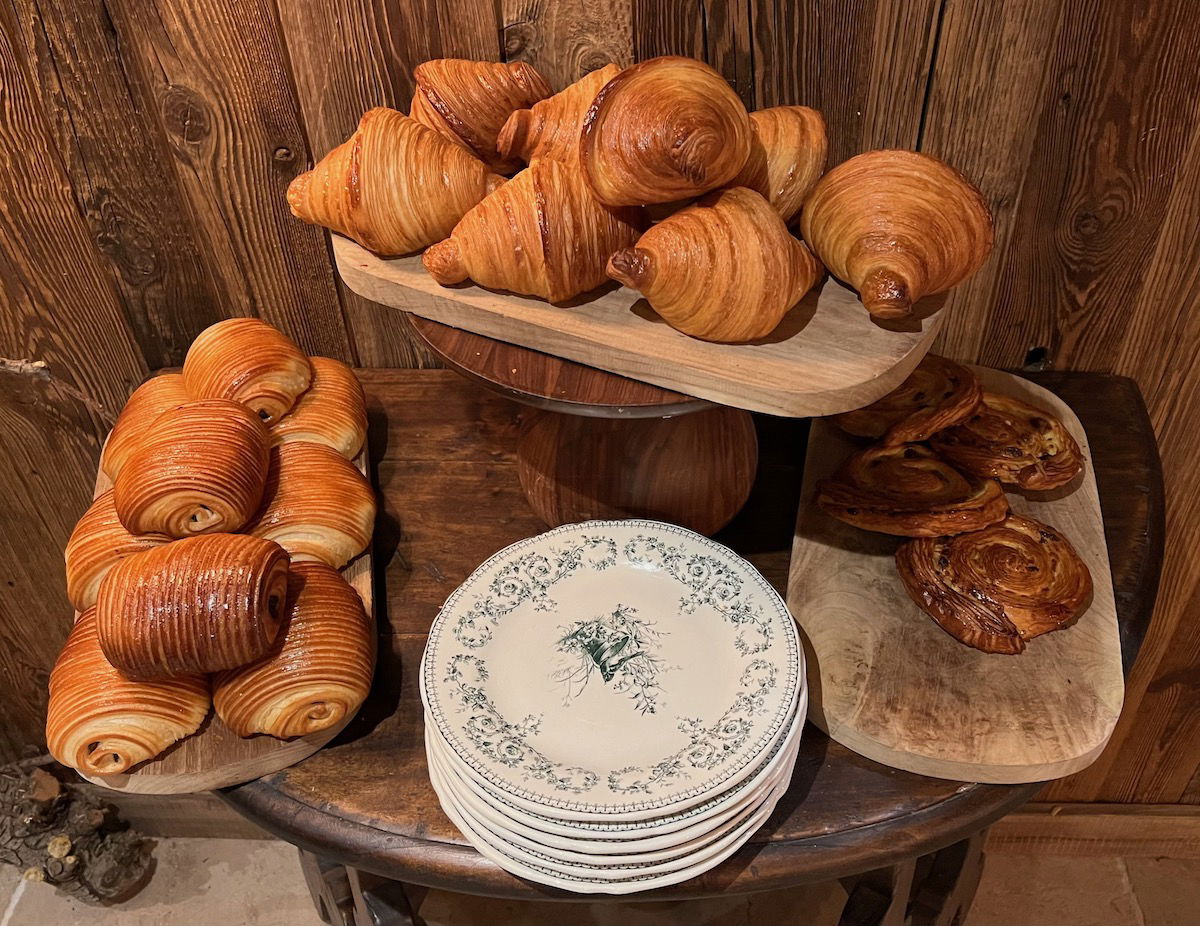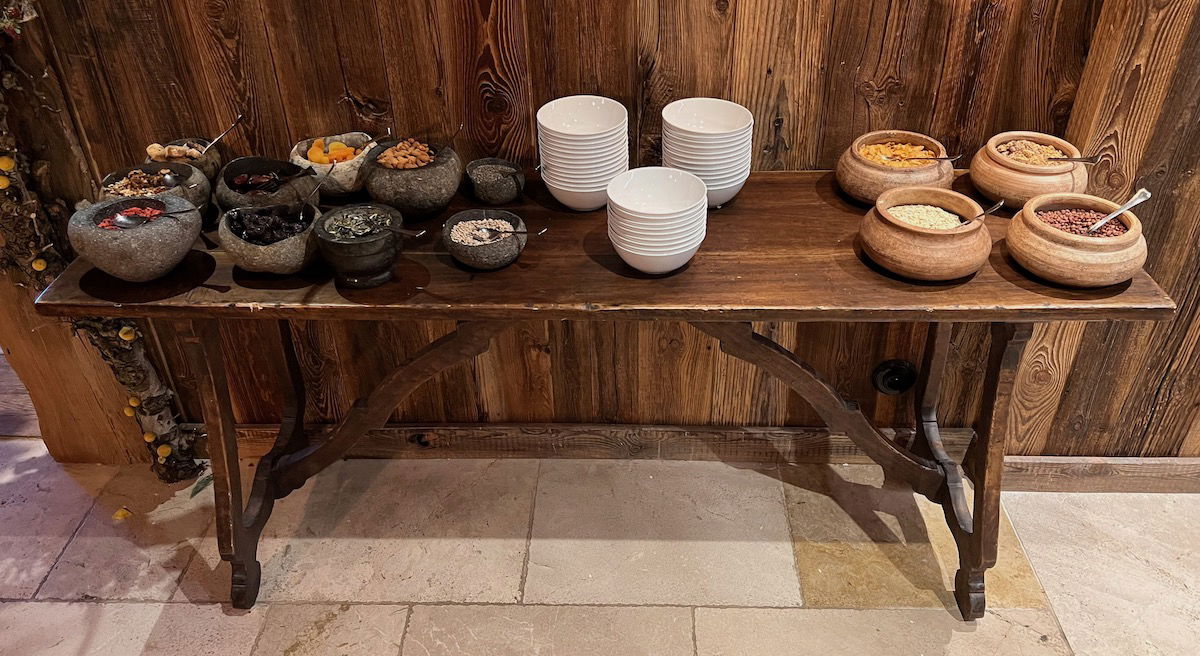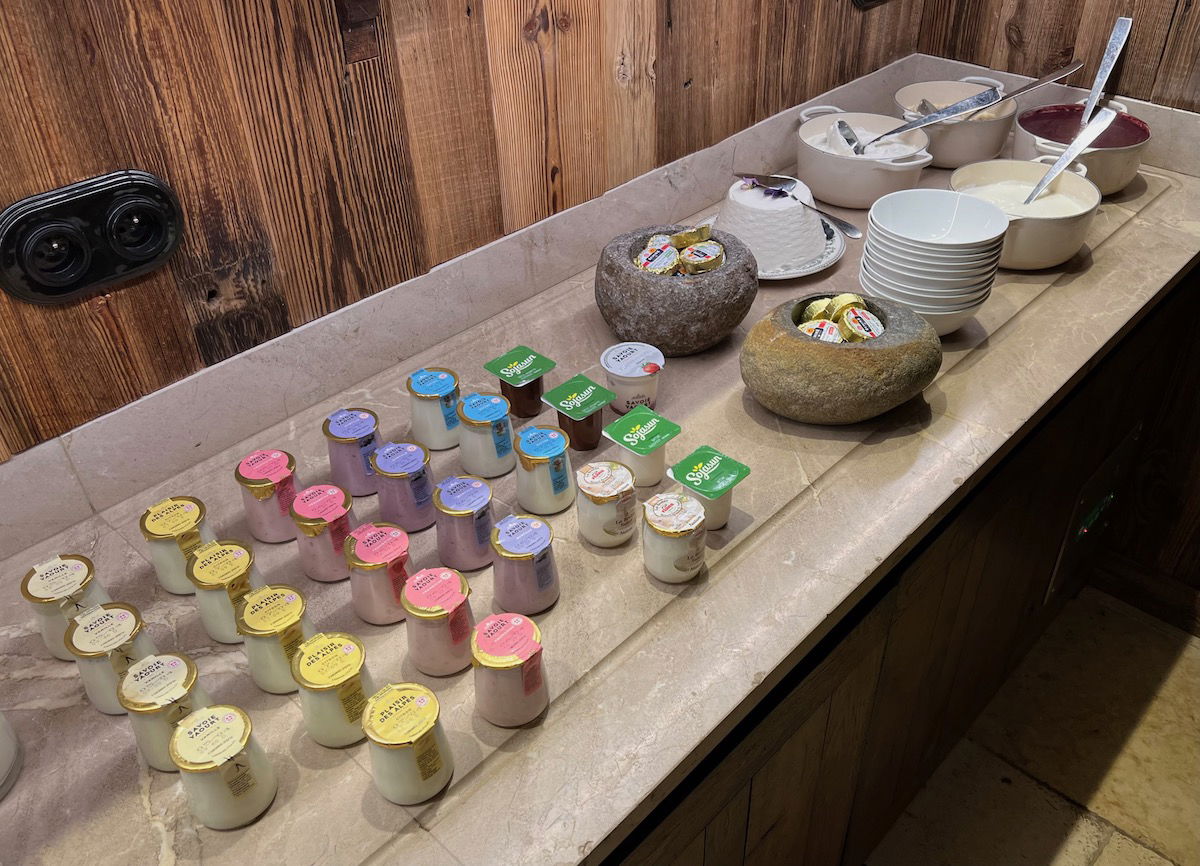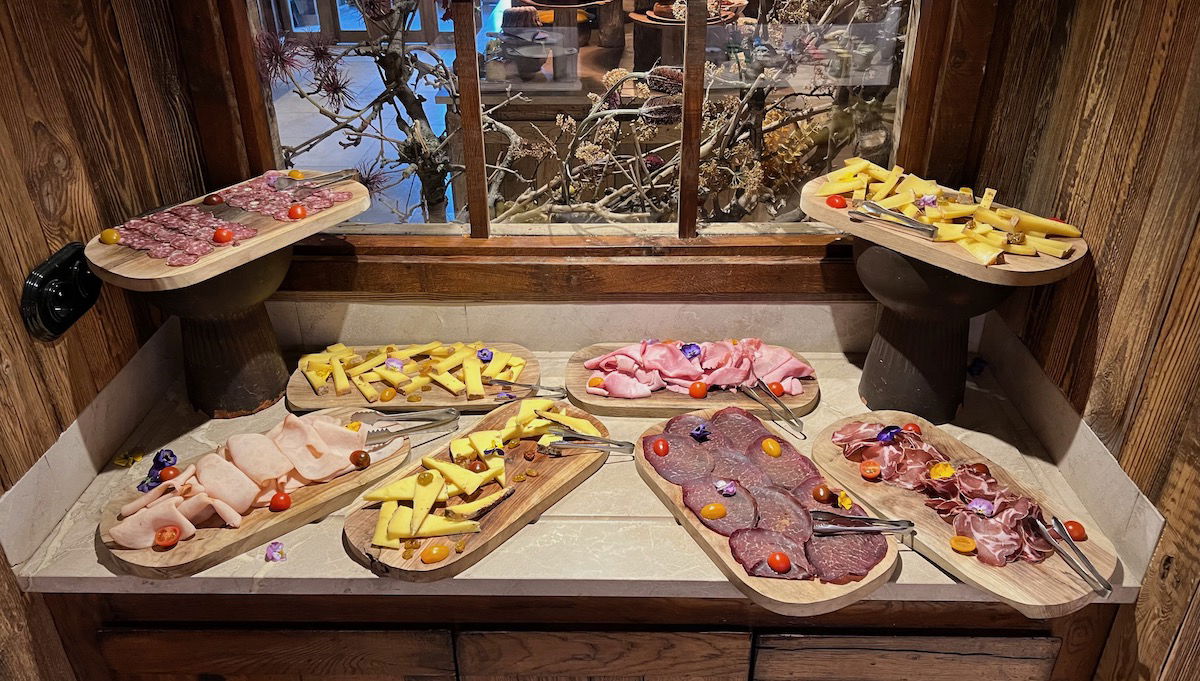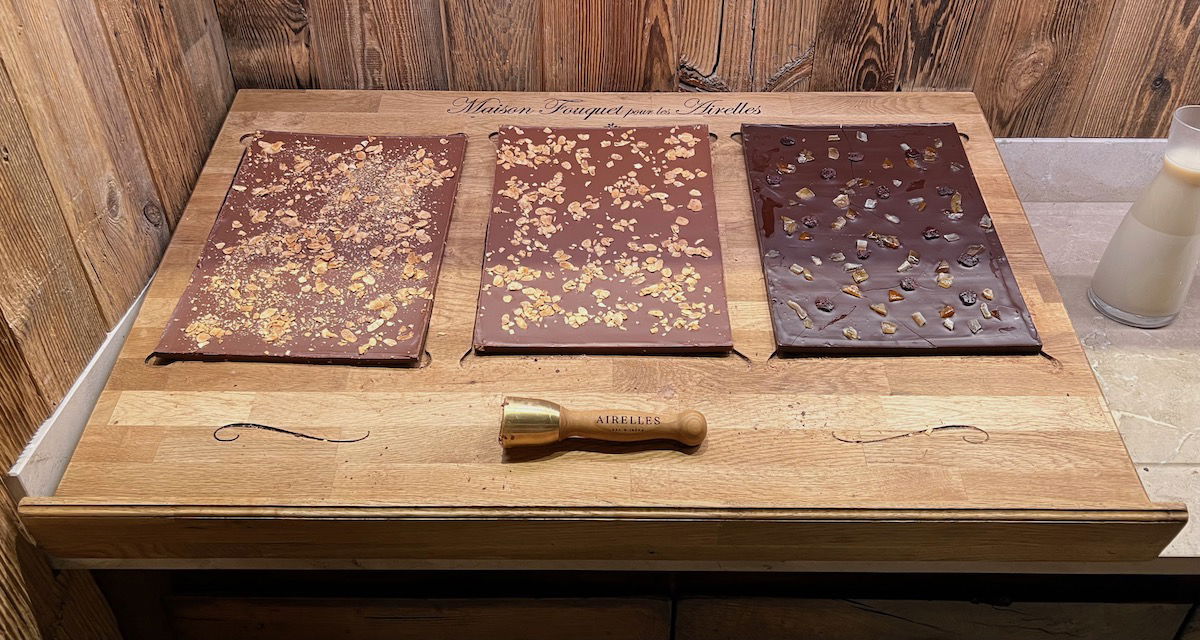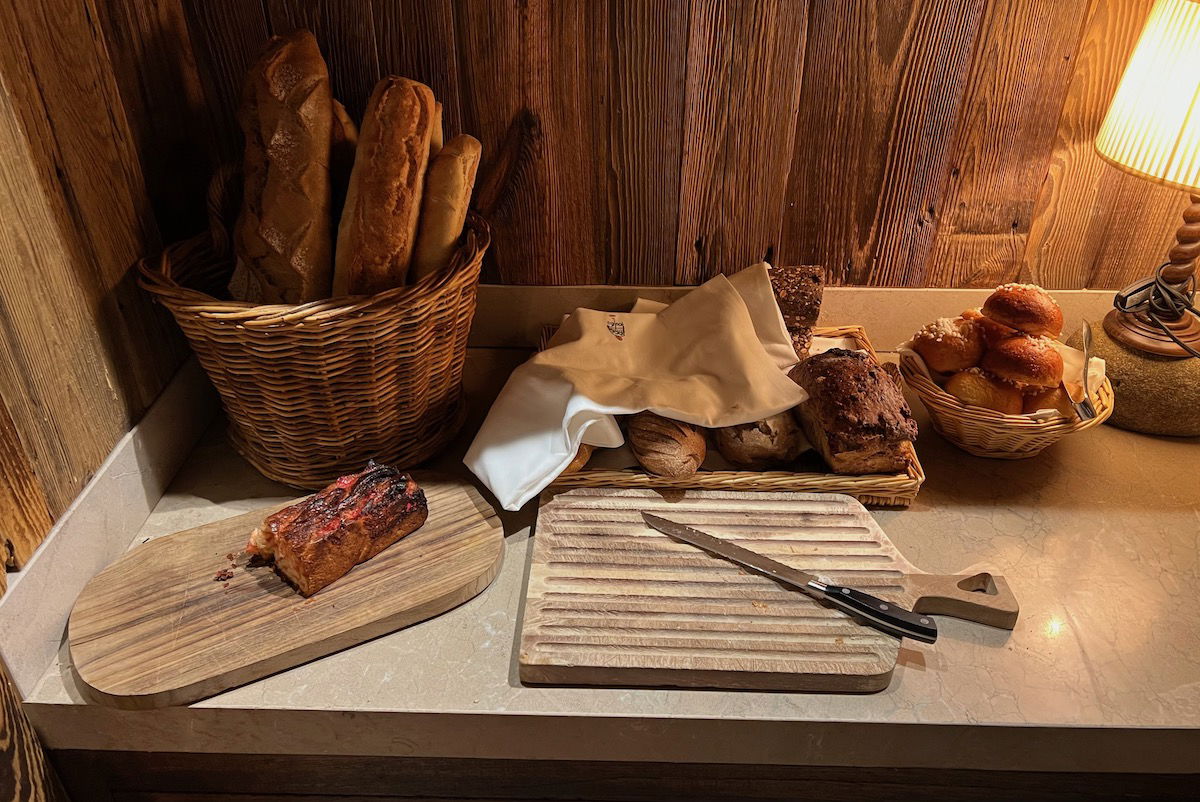 You could supplement the buffet with anything from the menu, with options including pancakes, crepes, oatmeal, french toast, or eggs any style.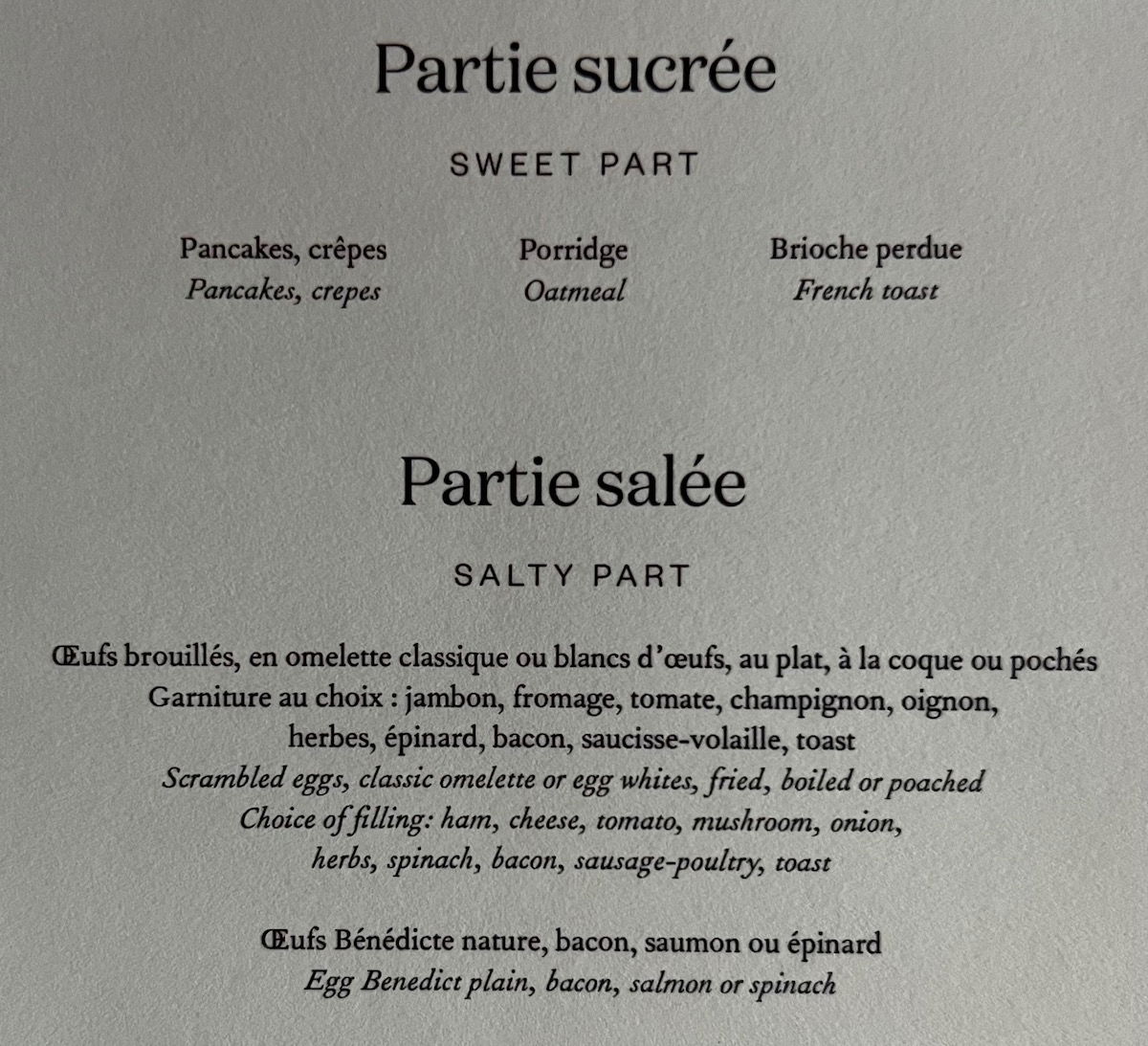 I tried to limit how much I ate for breakfast, though I did have an omelet one morning.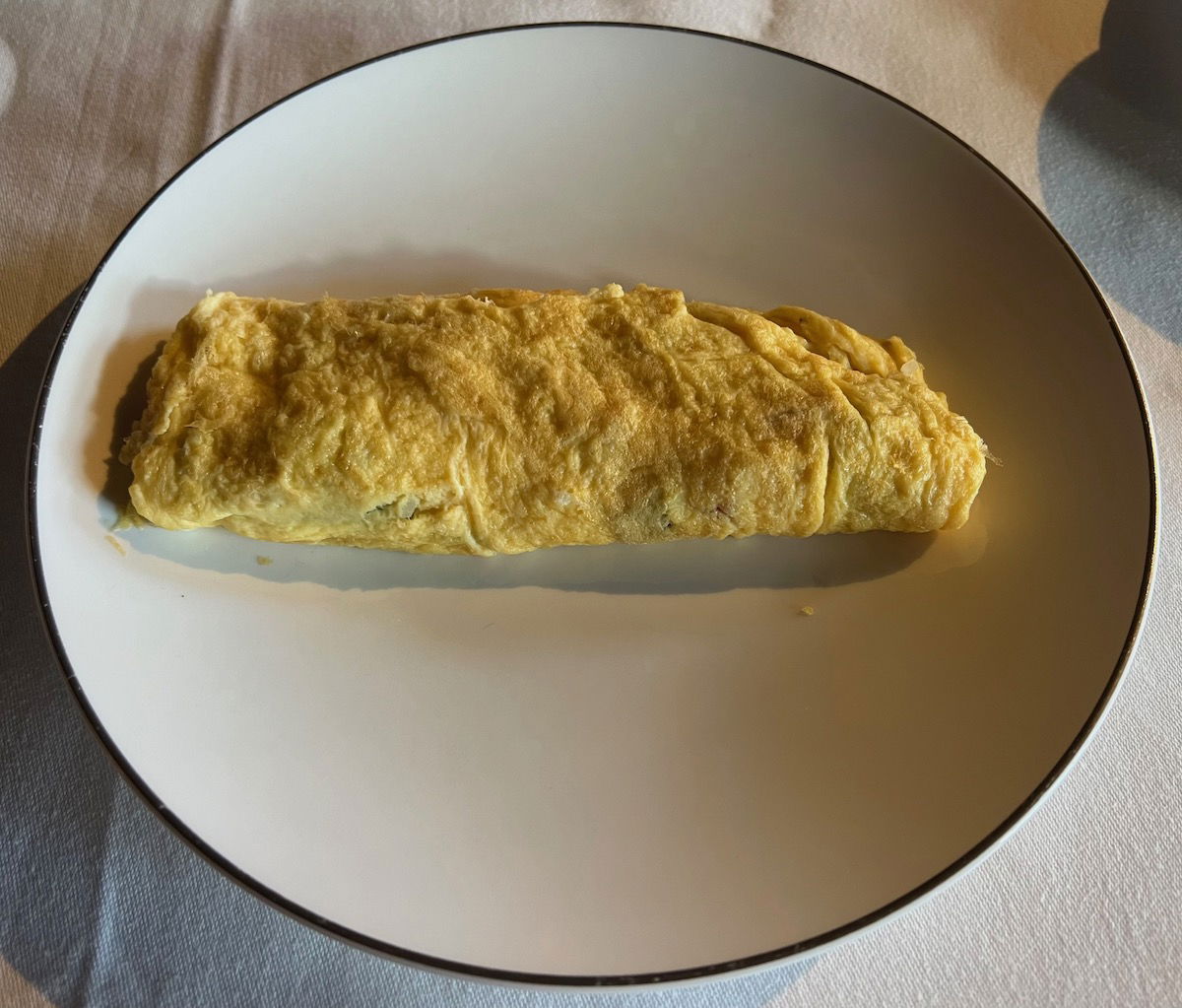 There were also a variety of drink options, including great coffee and cappuccino.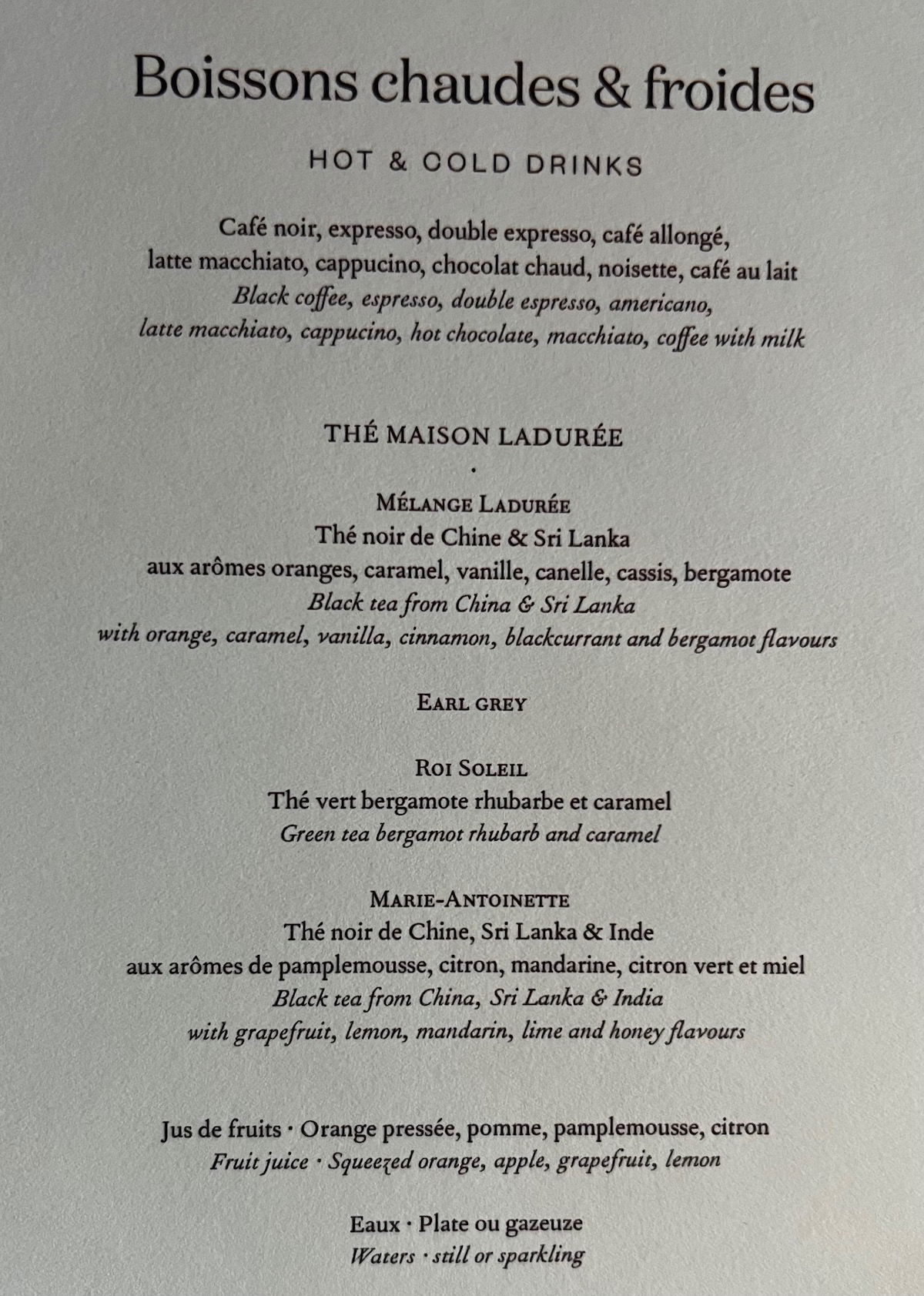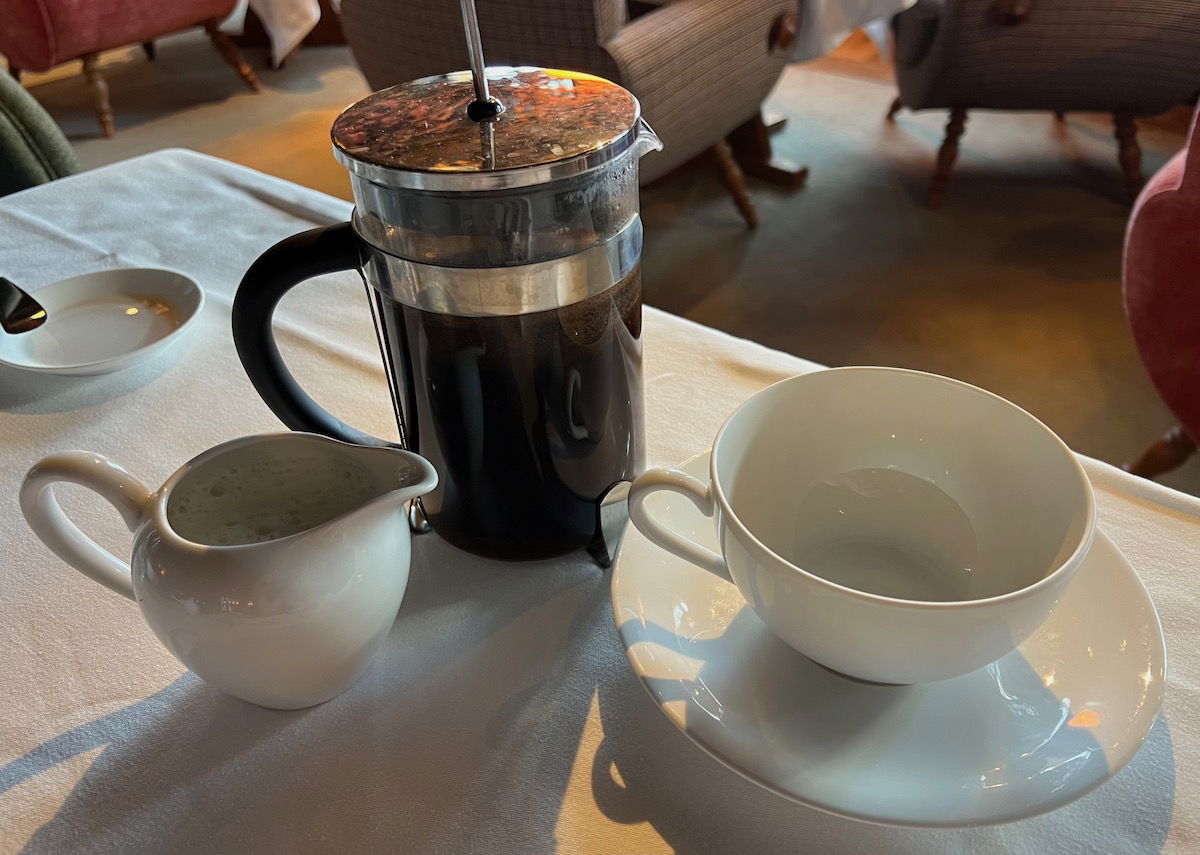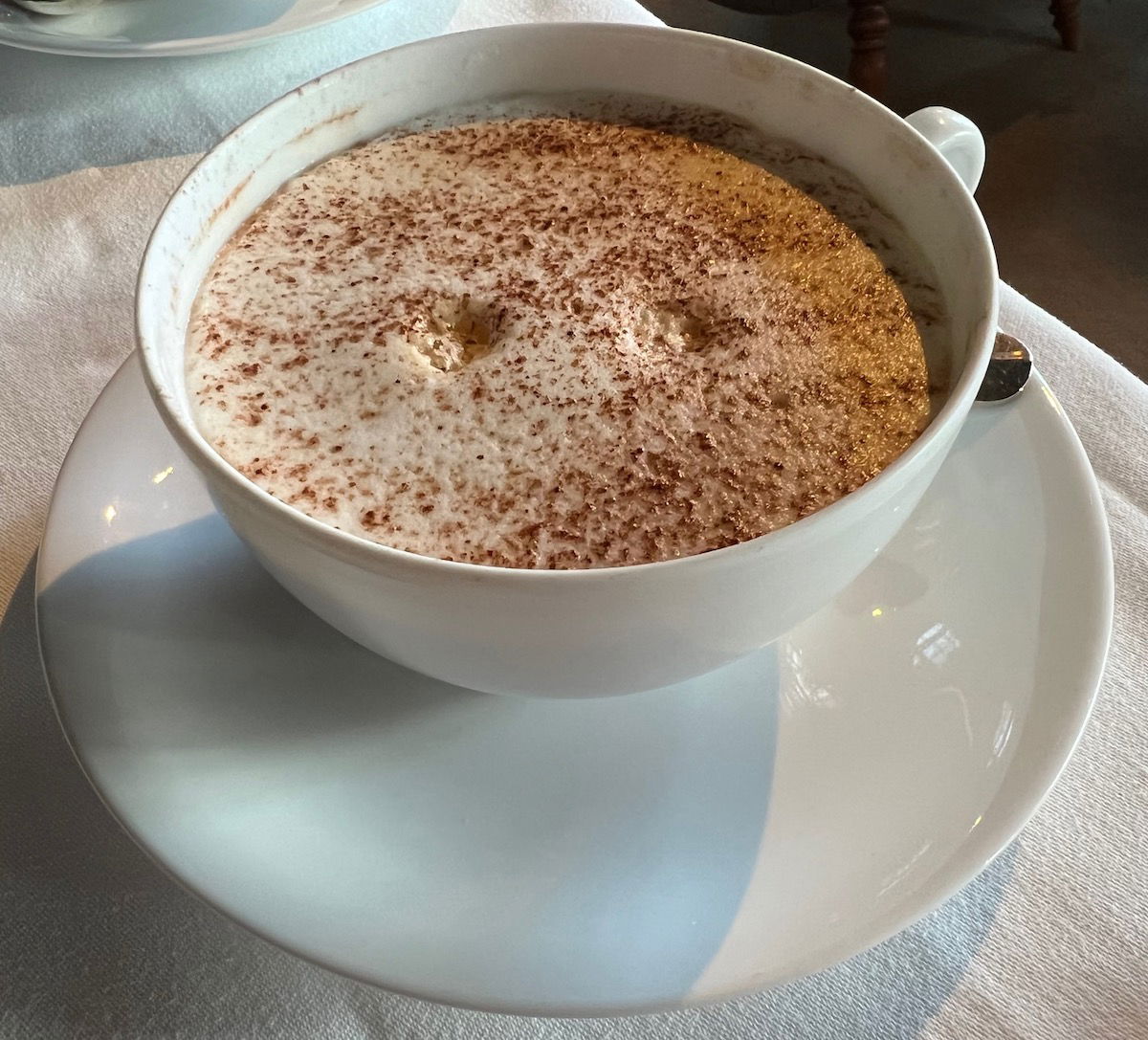 You can find the Loulou lunch & dinner menu here. The meal always started with a selection of freshly baked bread, as well as a vegetable consommé.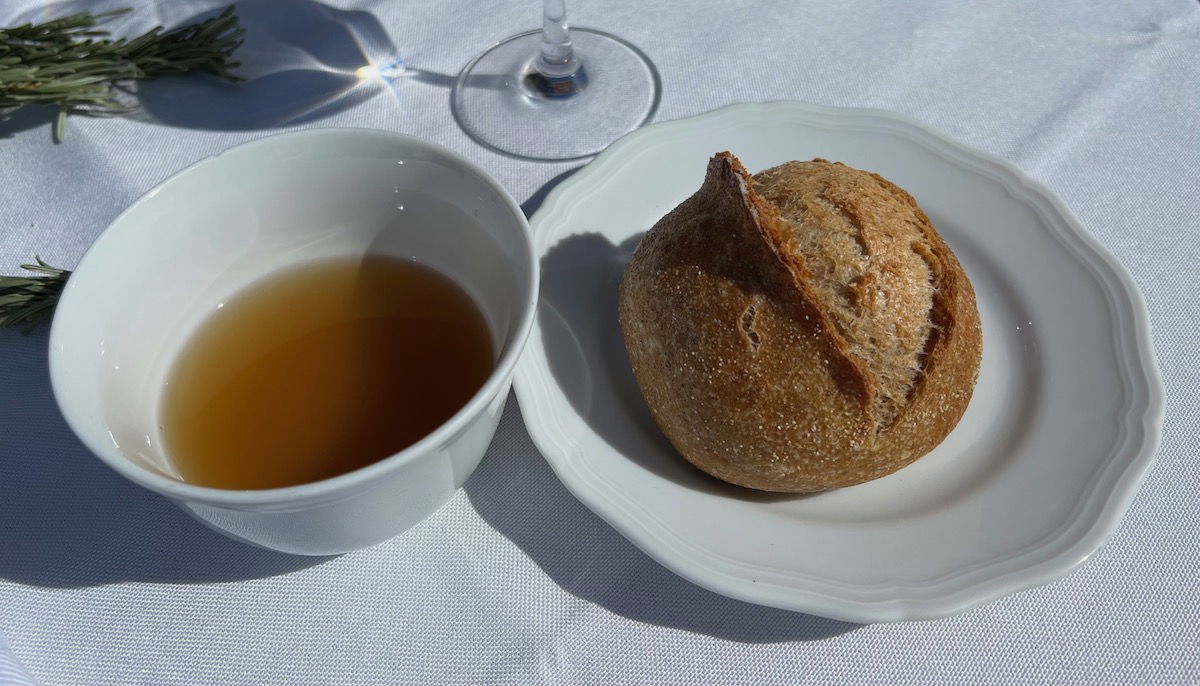 The food was unbelievably good, and over the course of our stay we tried the truffle pizza, beef carpaccio, kale salad, tomato soup, sea bass fillet, veal milanese, scallops, and lobster spaghetti.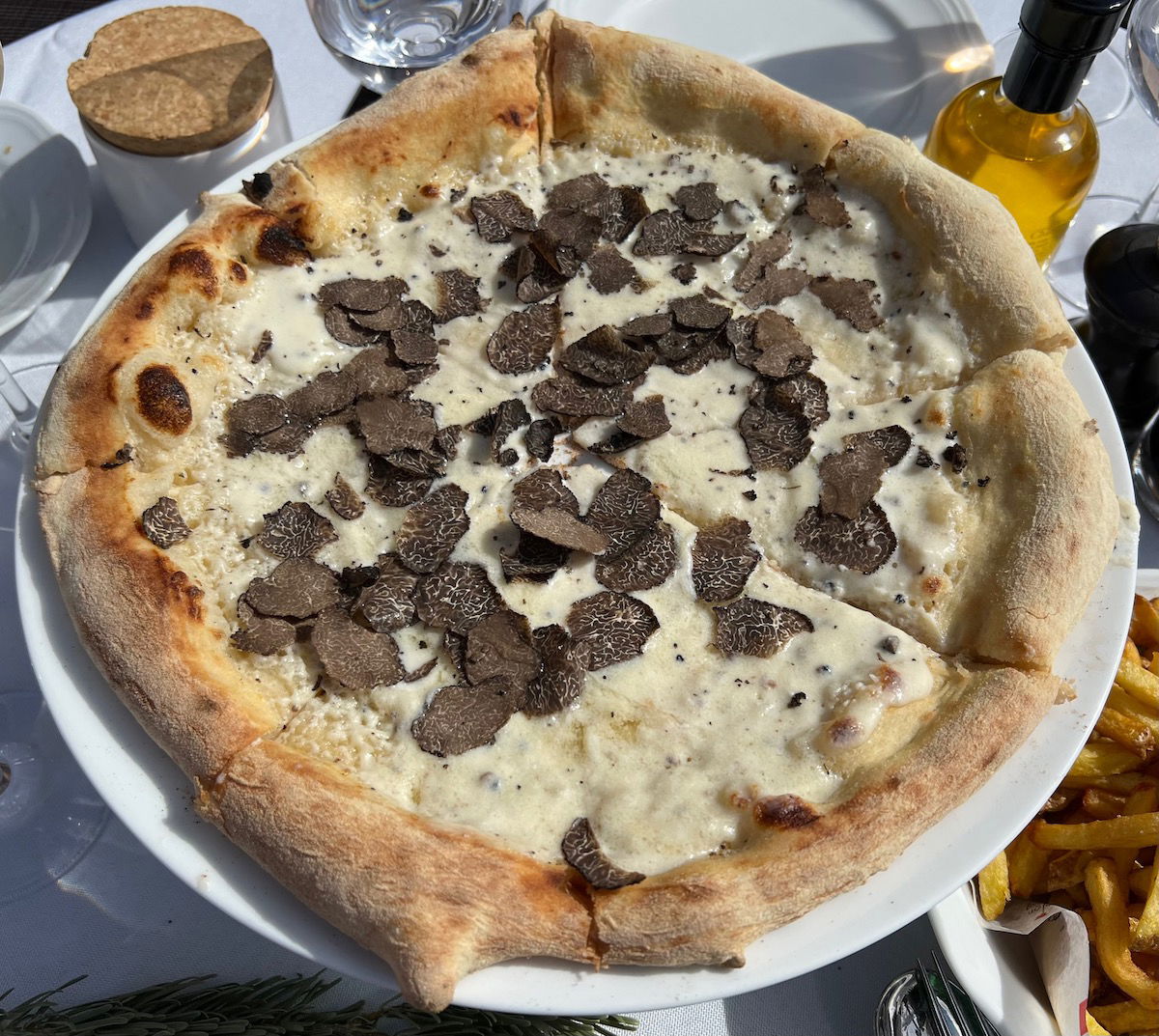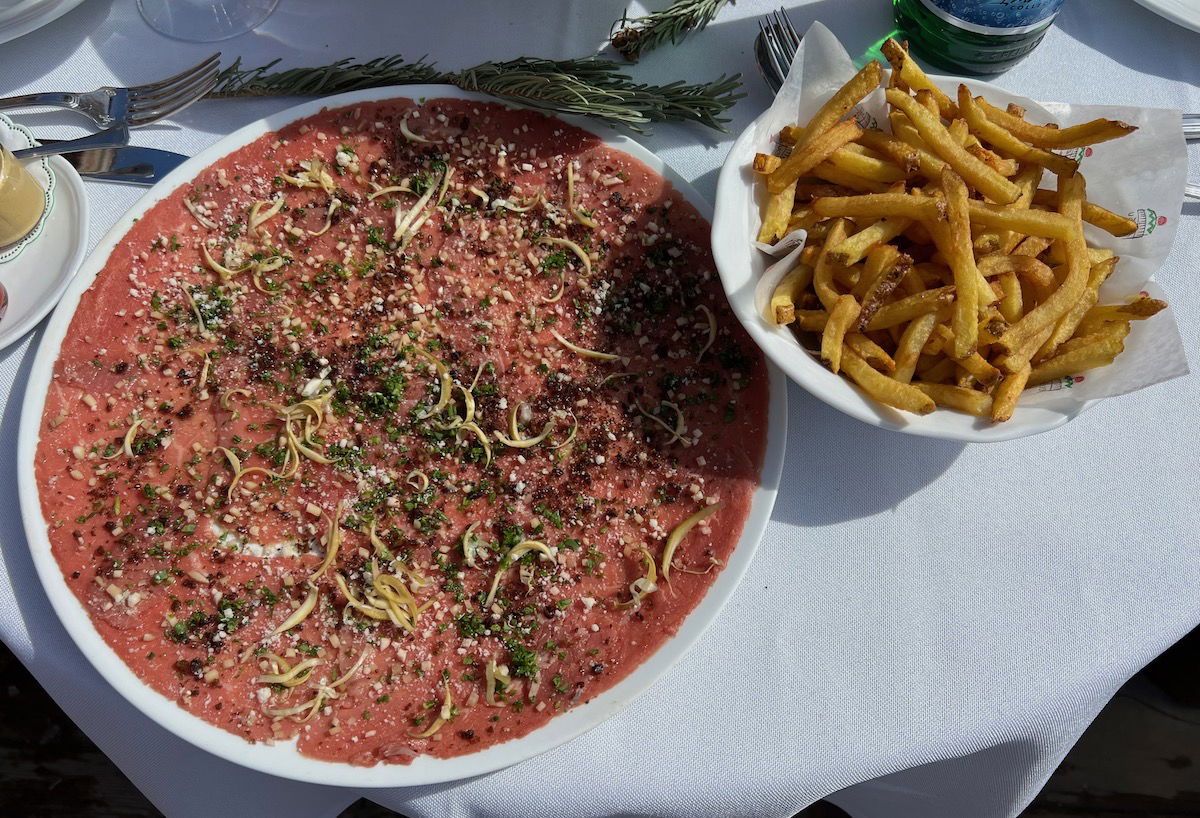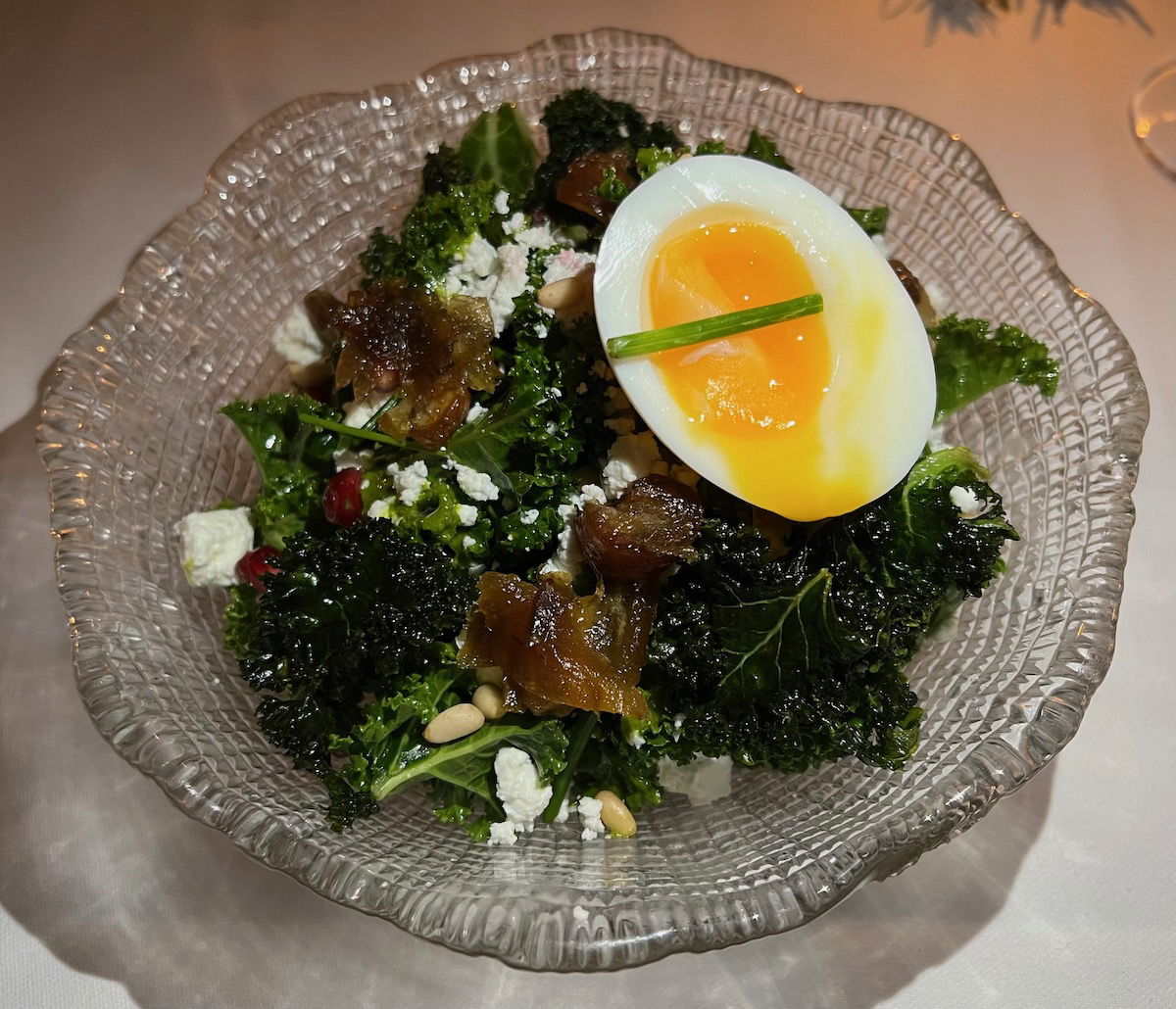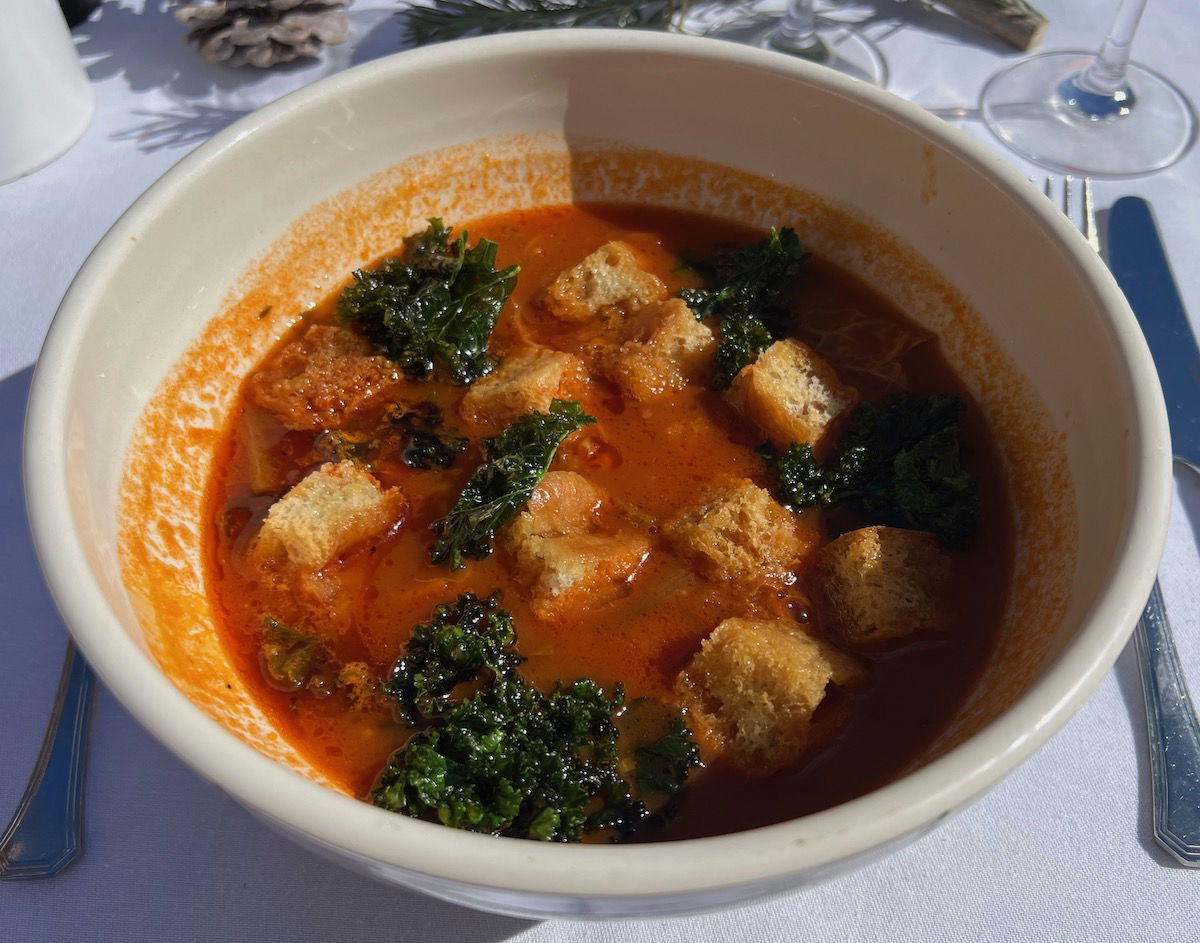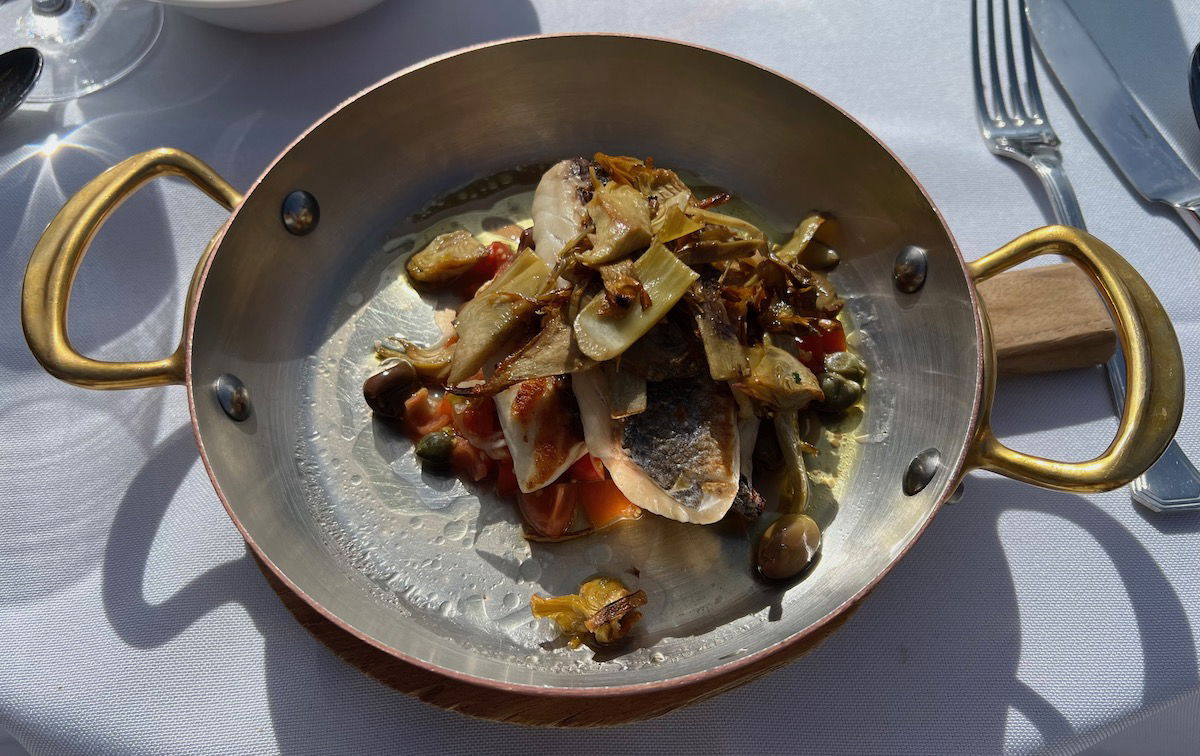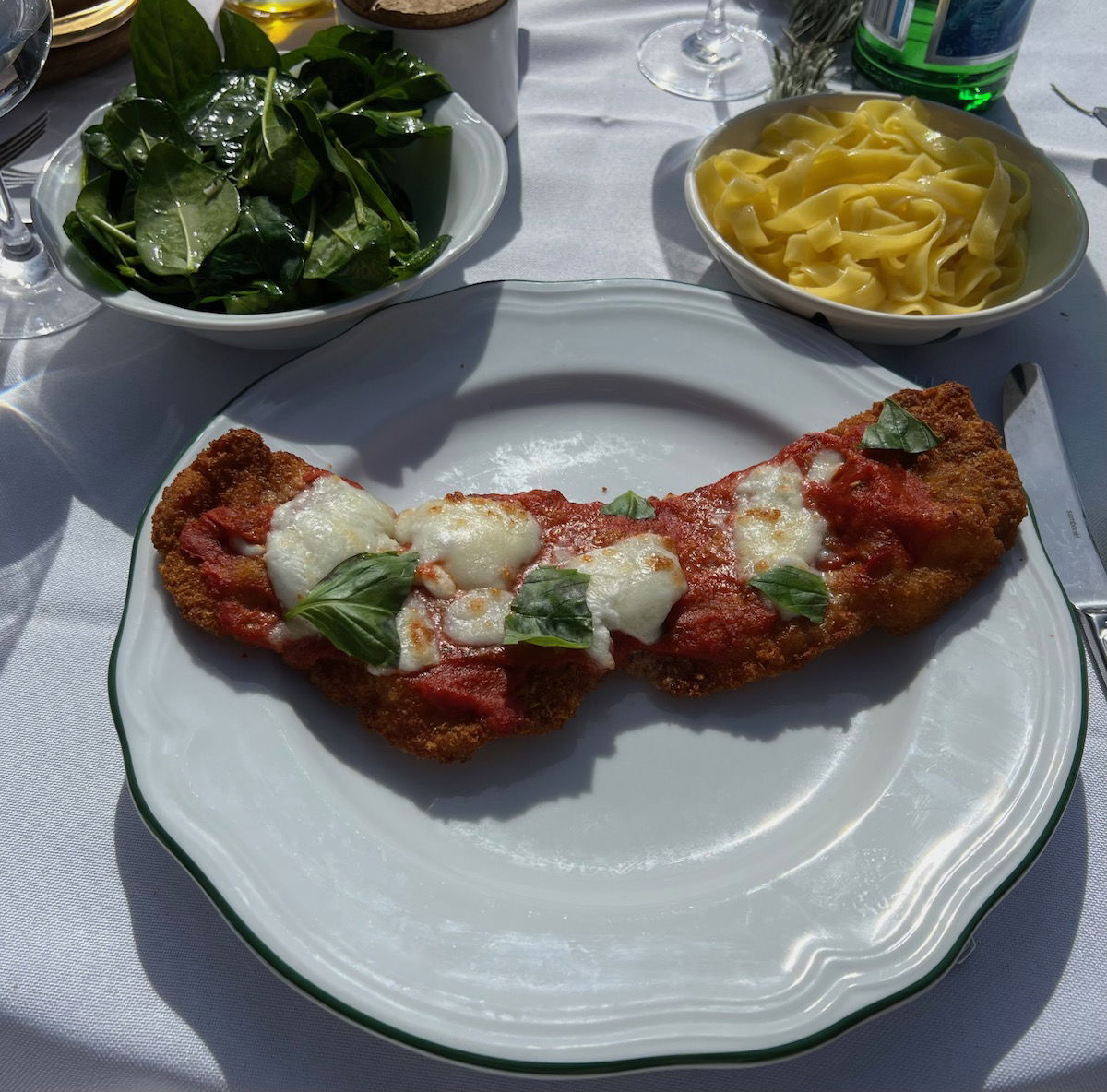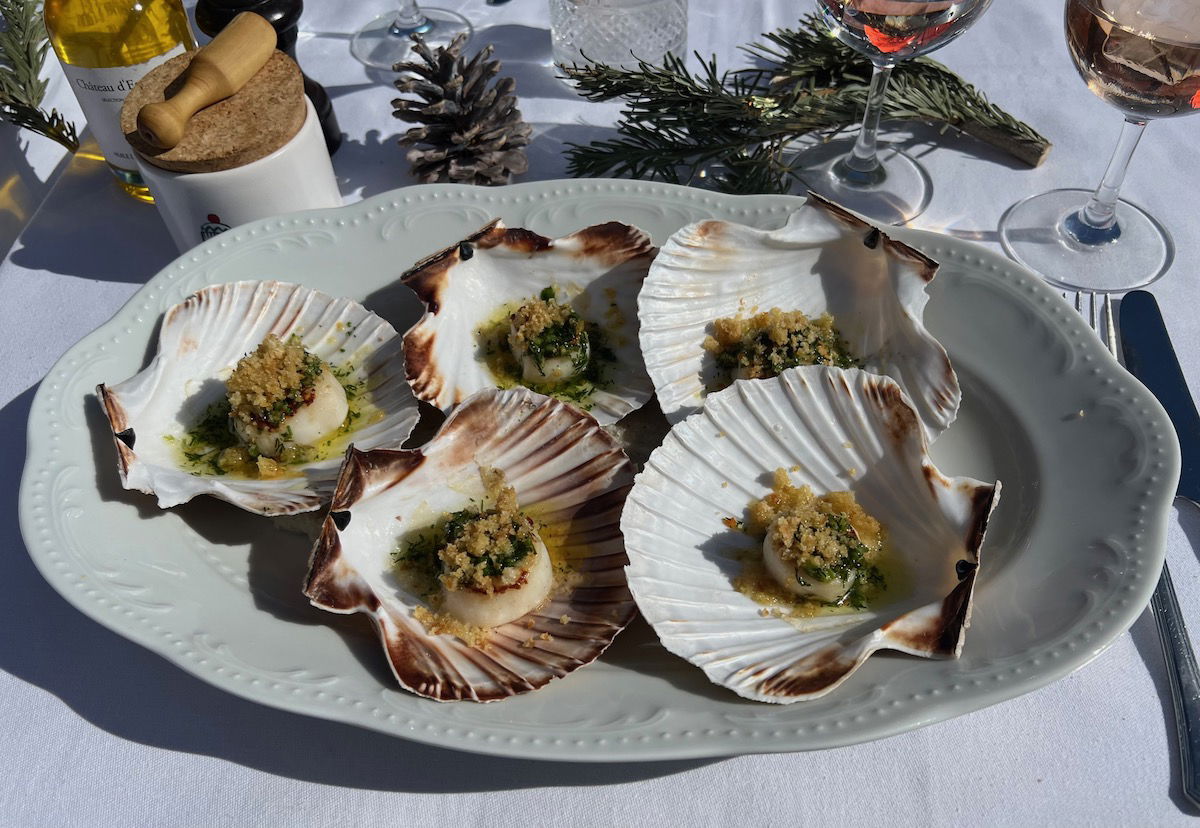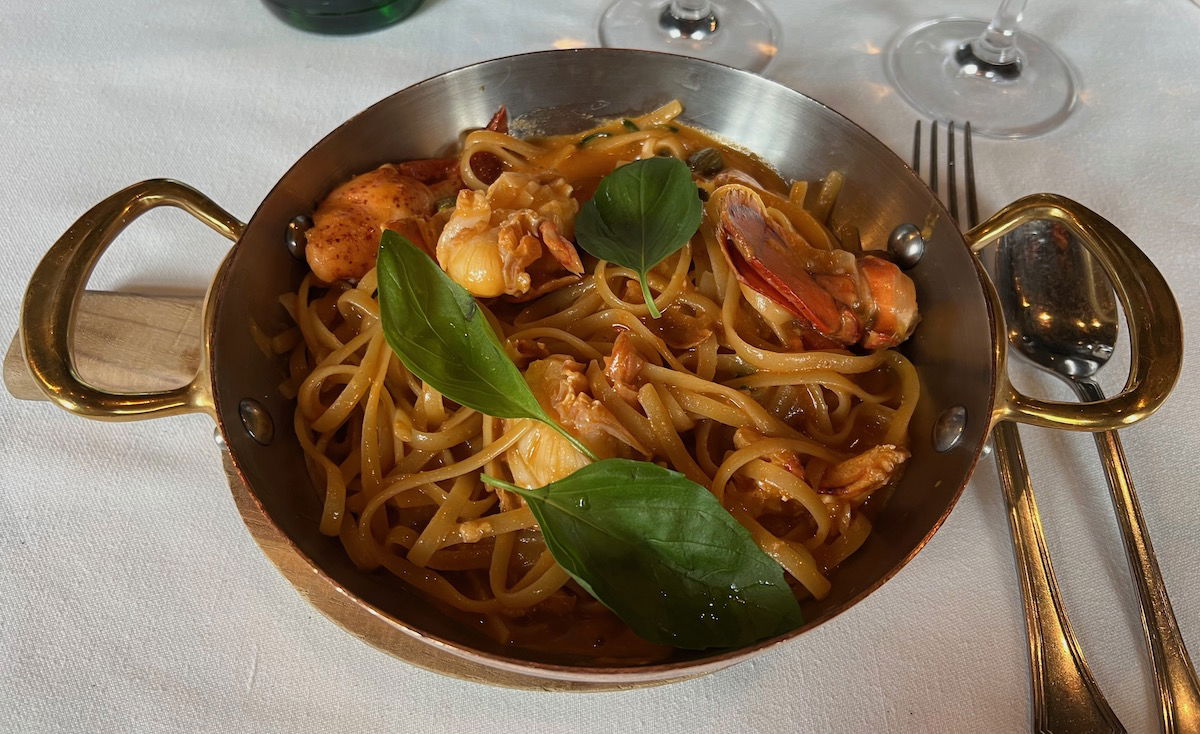 On top of that, there was a gorgeous dessert buffet at both lunch and dinner. I have a confession to make, which I am embarrassed to admit — I was always so full after the other amazing food that I didn't actually consume anything from here. Oops.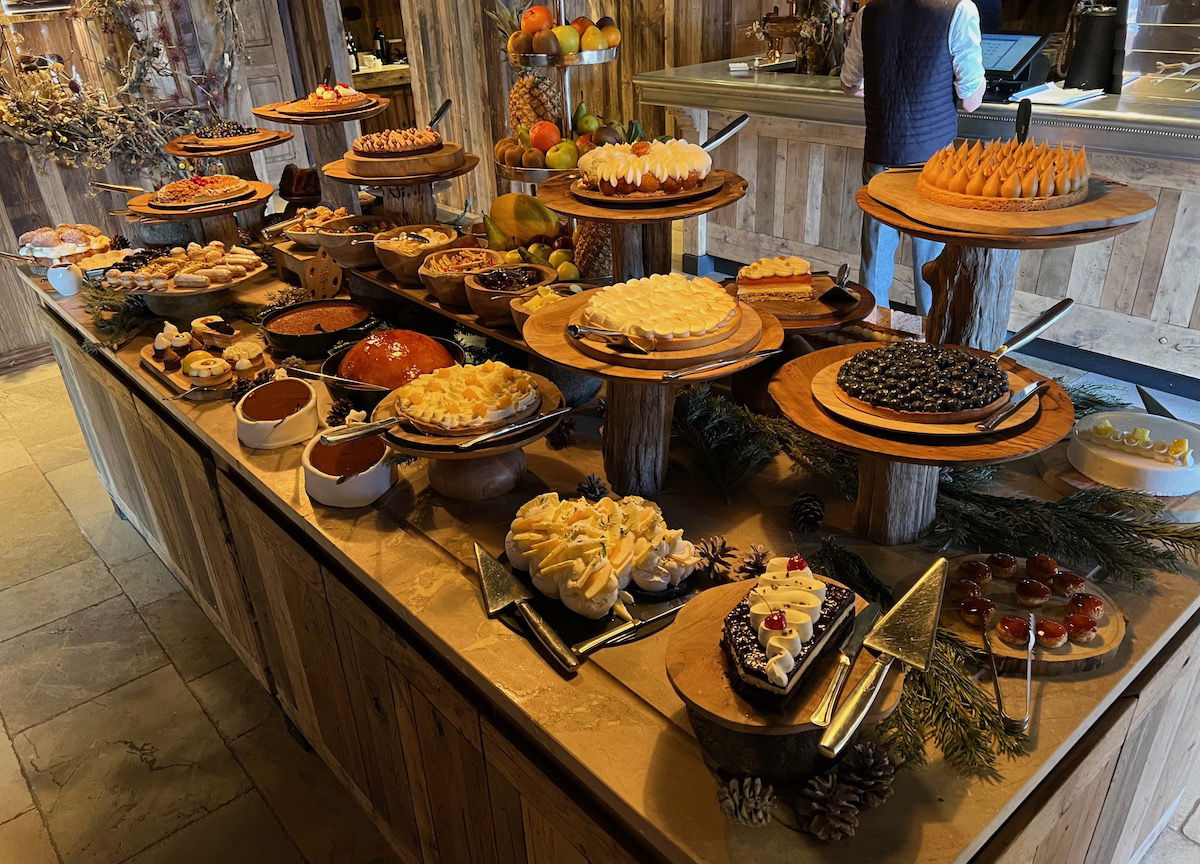 Airelles Val d'Isère La Grande Ourse
We had lunch and dinner one day at La Grande Ourse. The restaurant has a nice outdoor terrace where you can enjoy lunch, and then the inside is cozy for dinner, especially with the fireplace.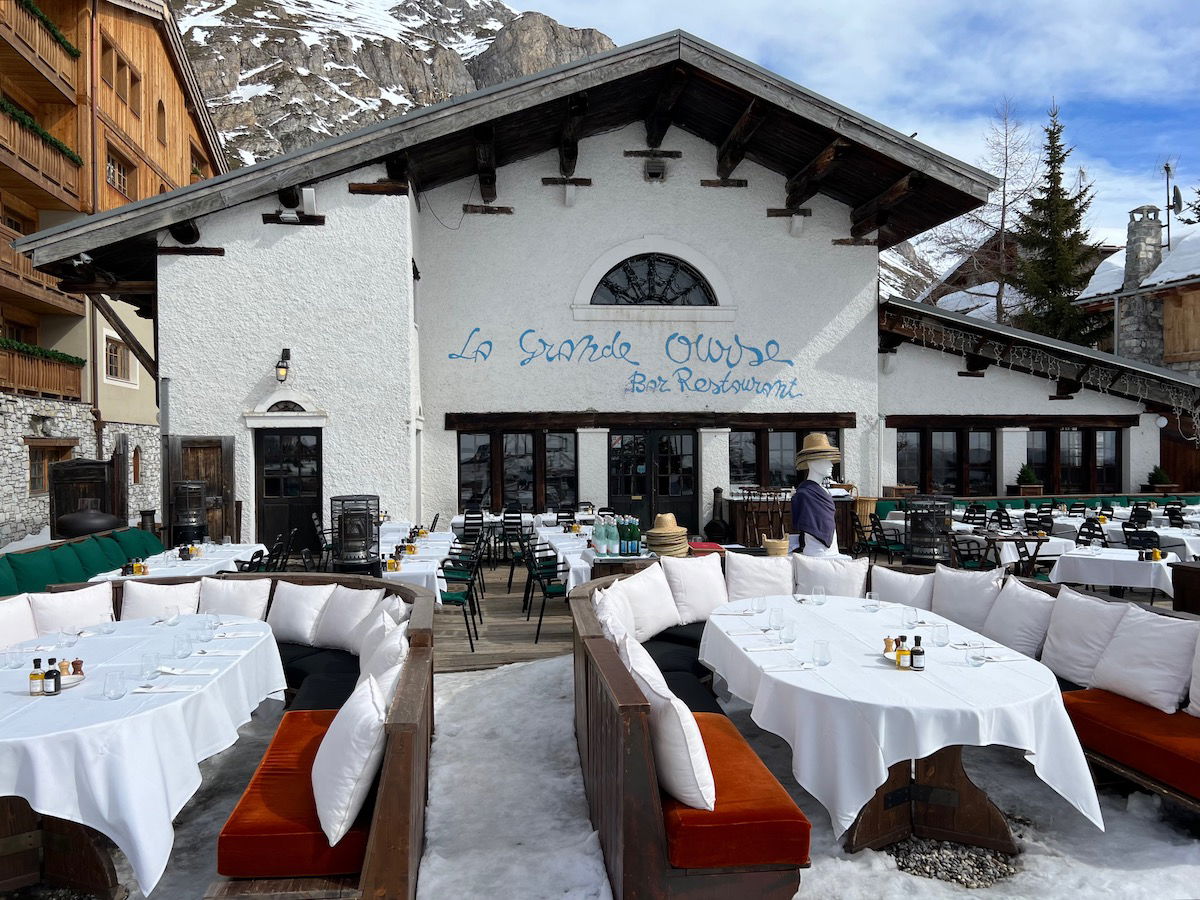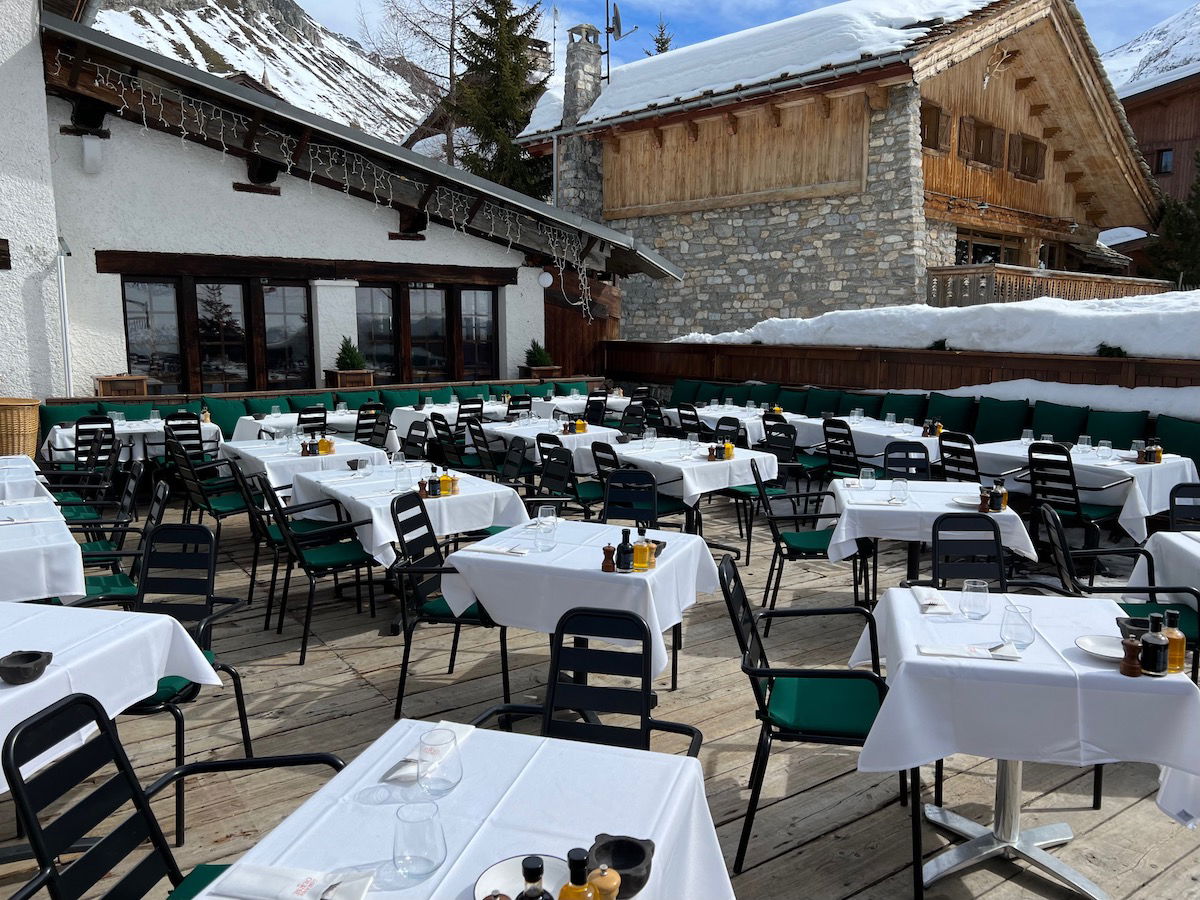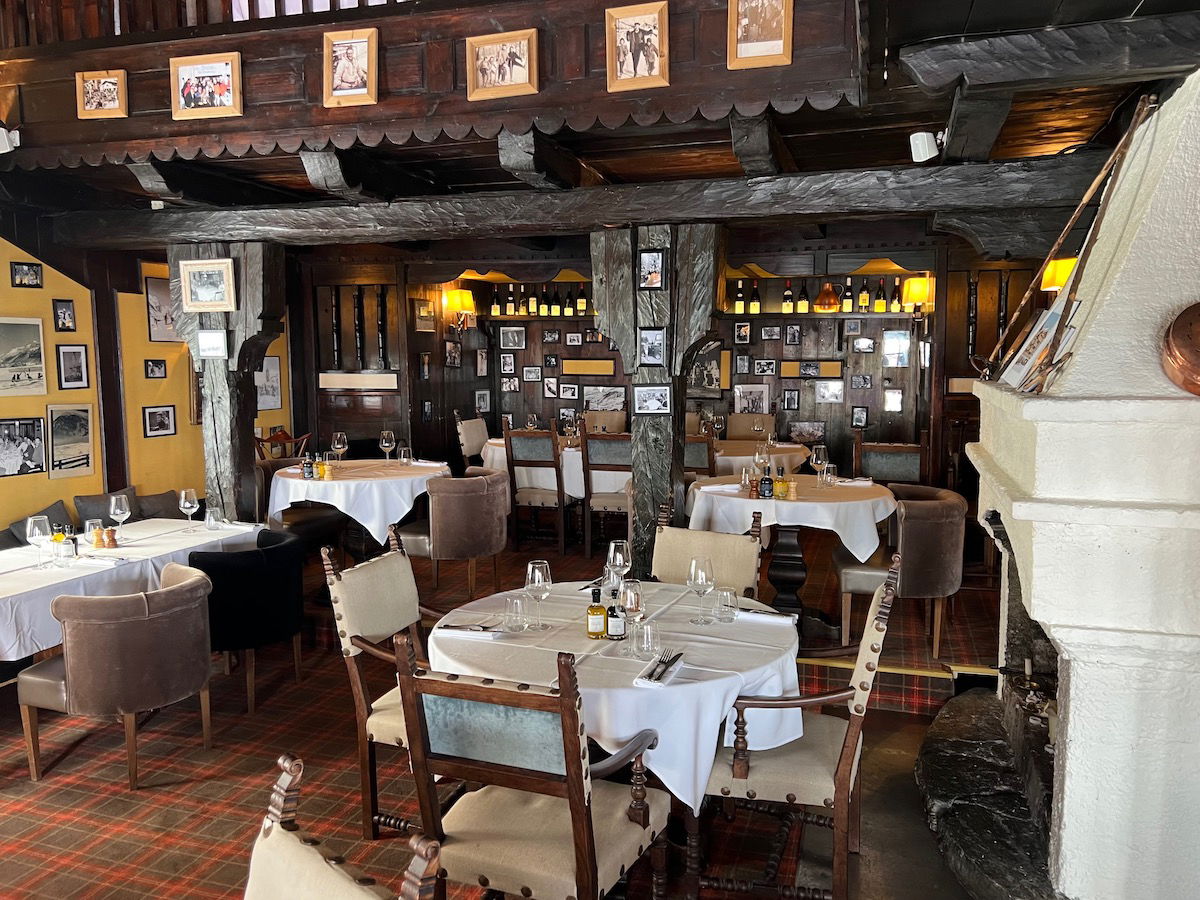 You can find the La Grande Ourse lunch & dinner menu here. For lunch we had the onion soup, endive salad, roasted salmon, and the burger.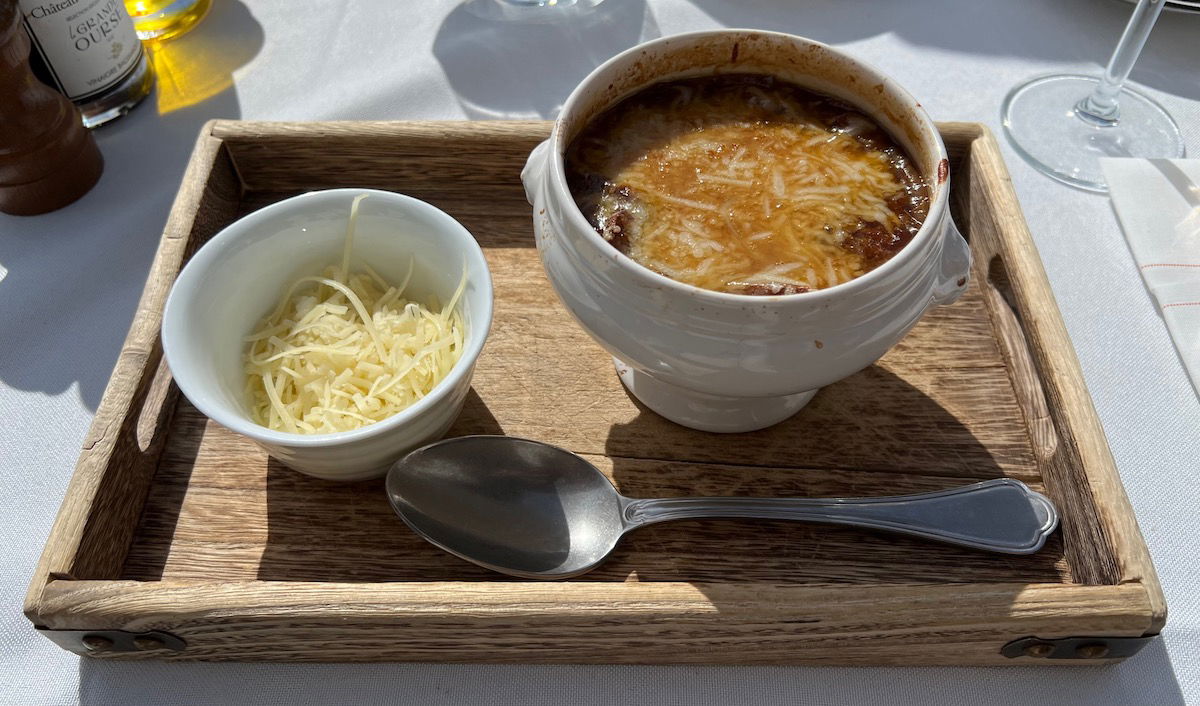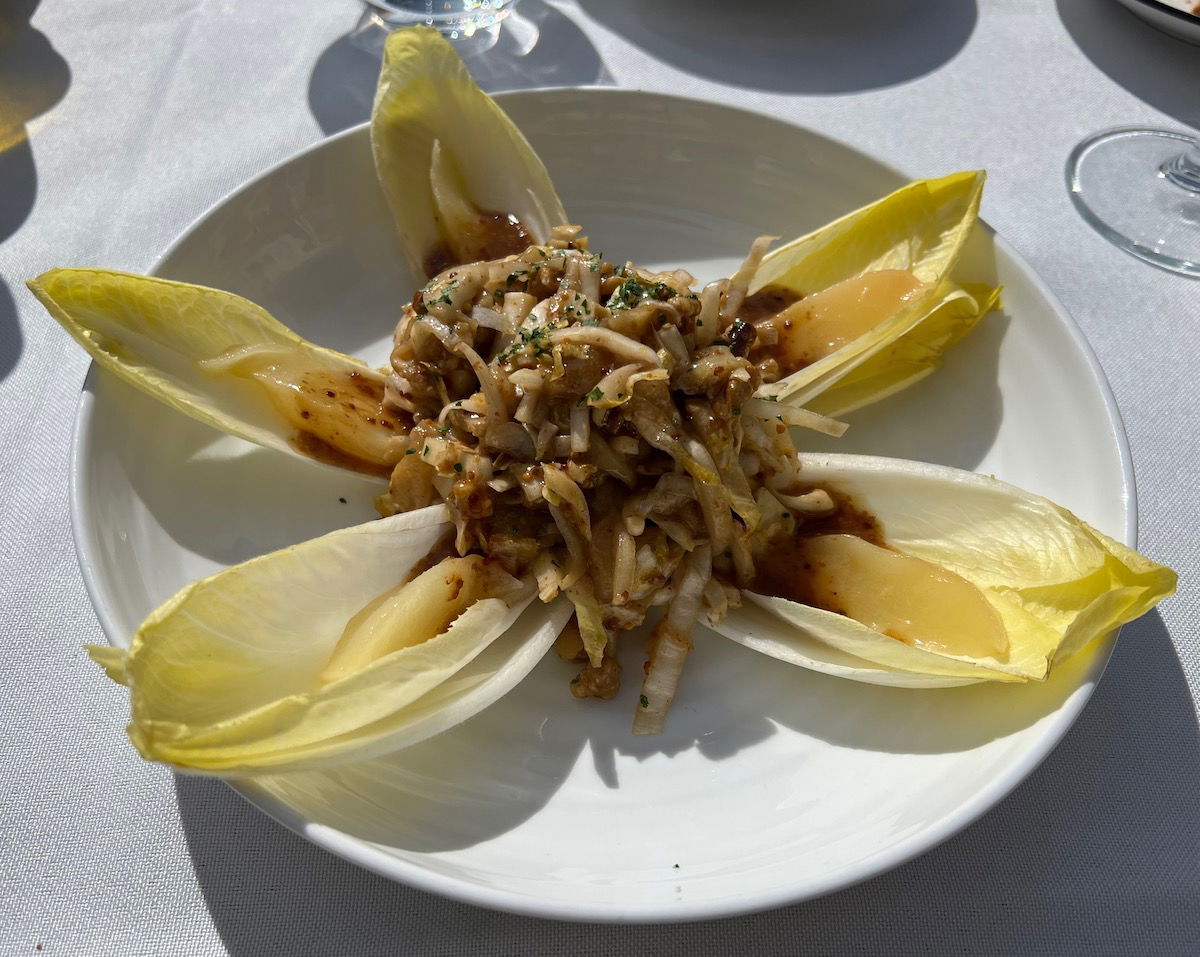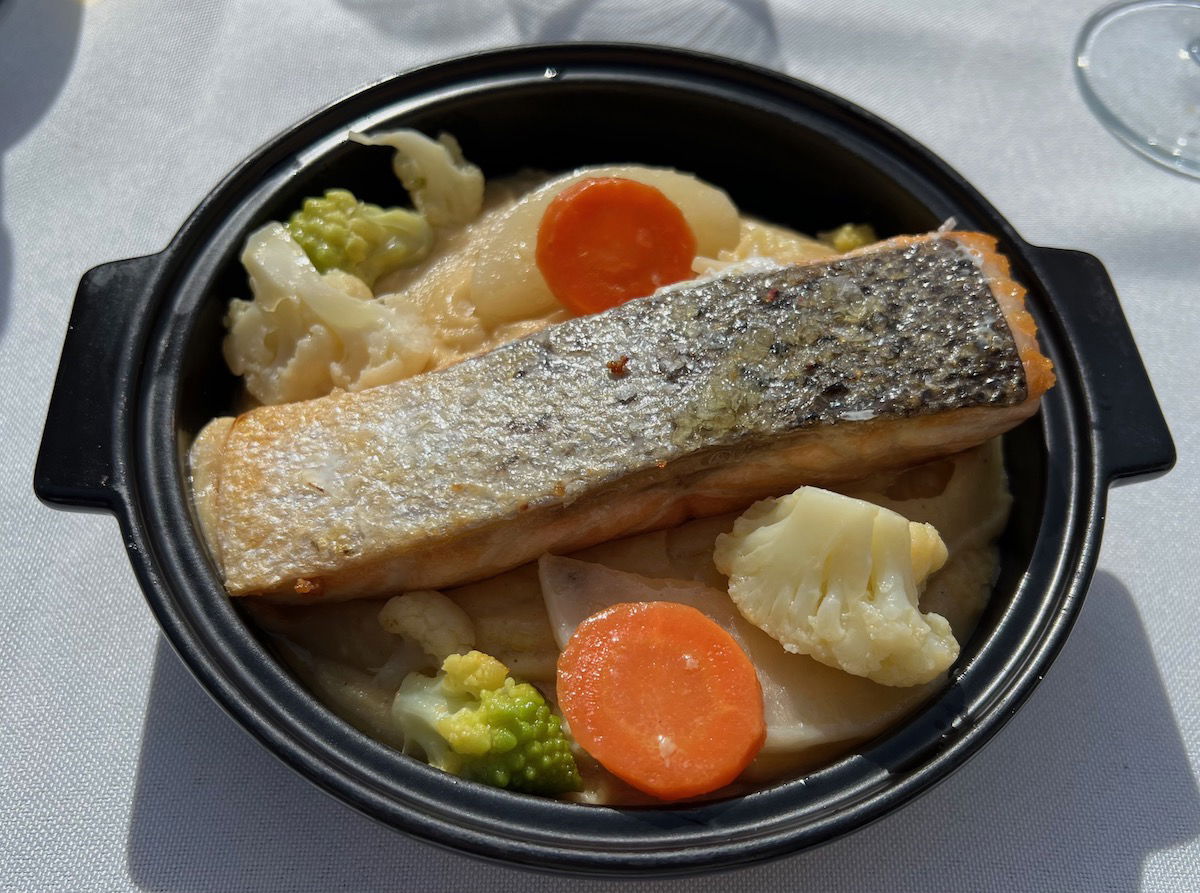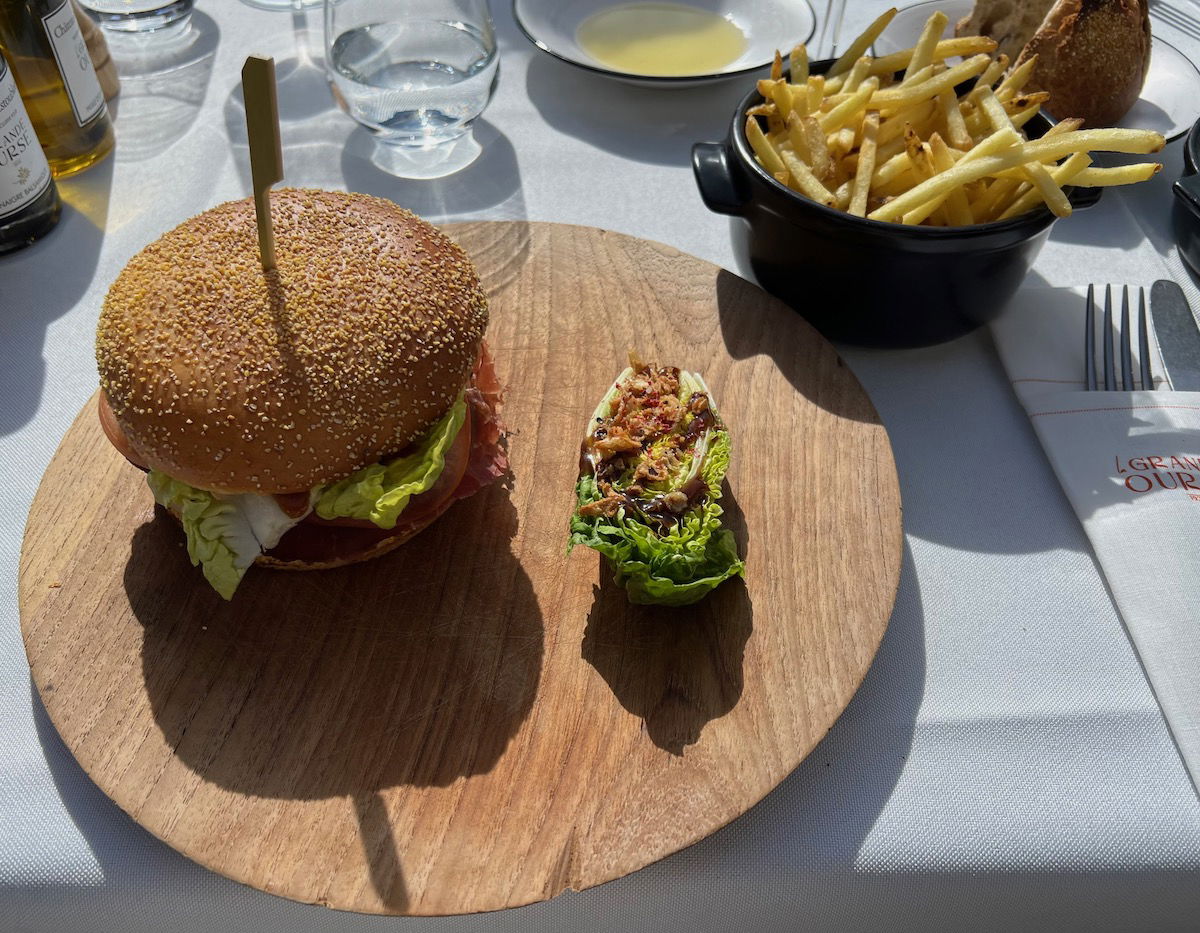 Then for dinner, we had the foie gras, cheese fondue, and the wagyu steak.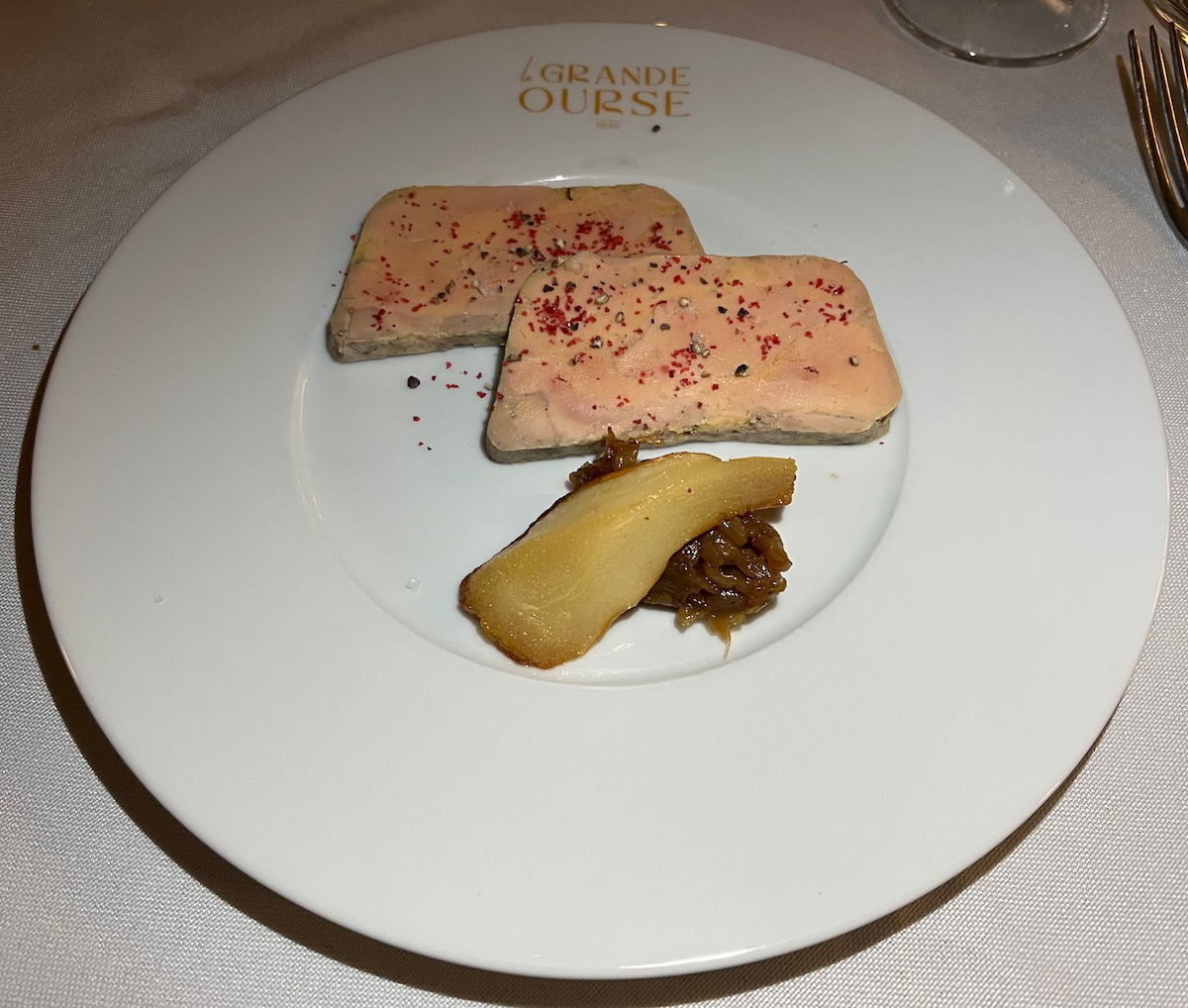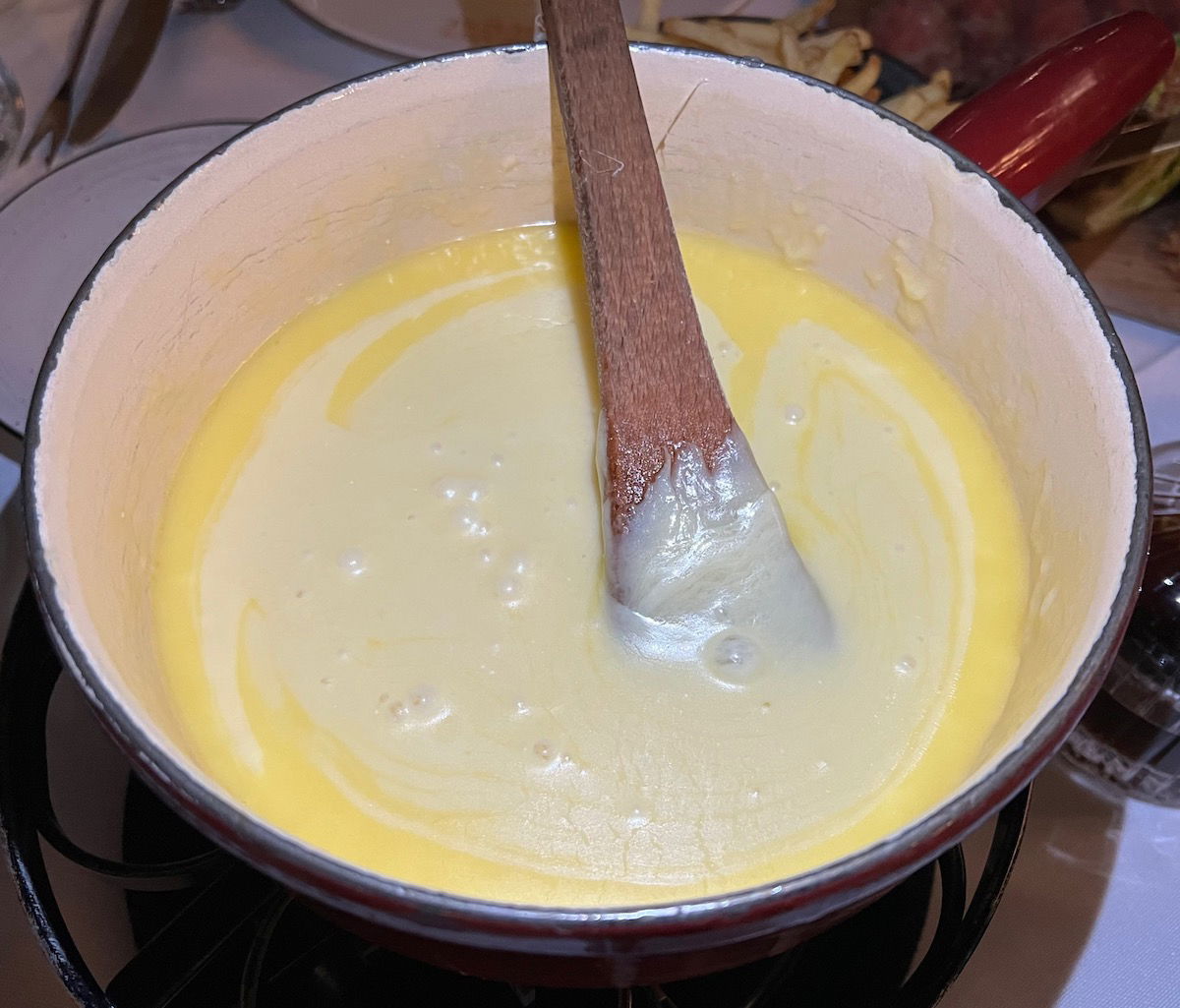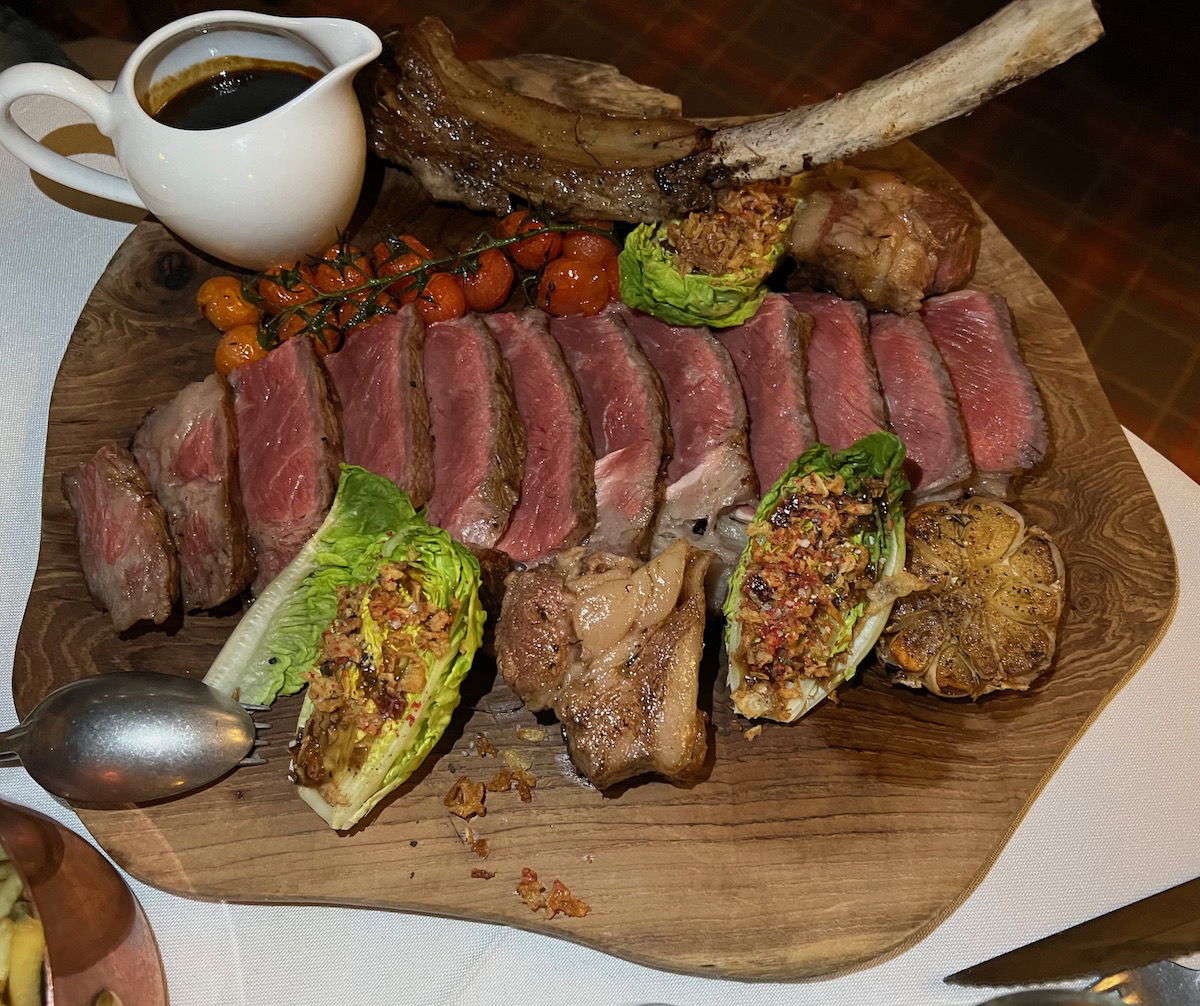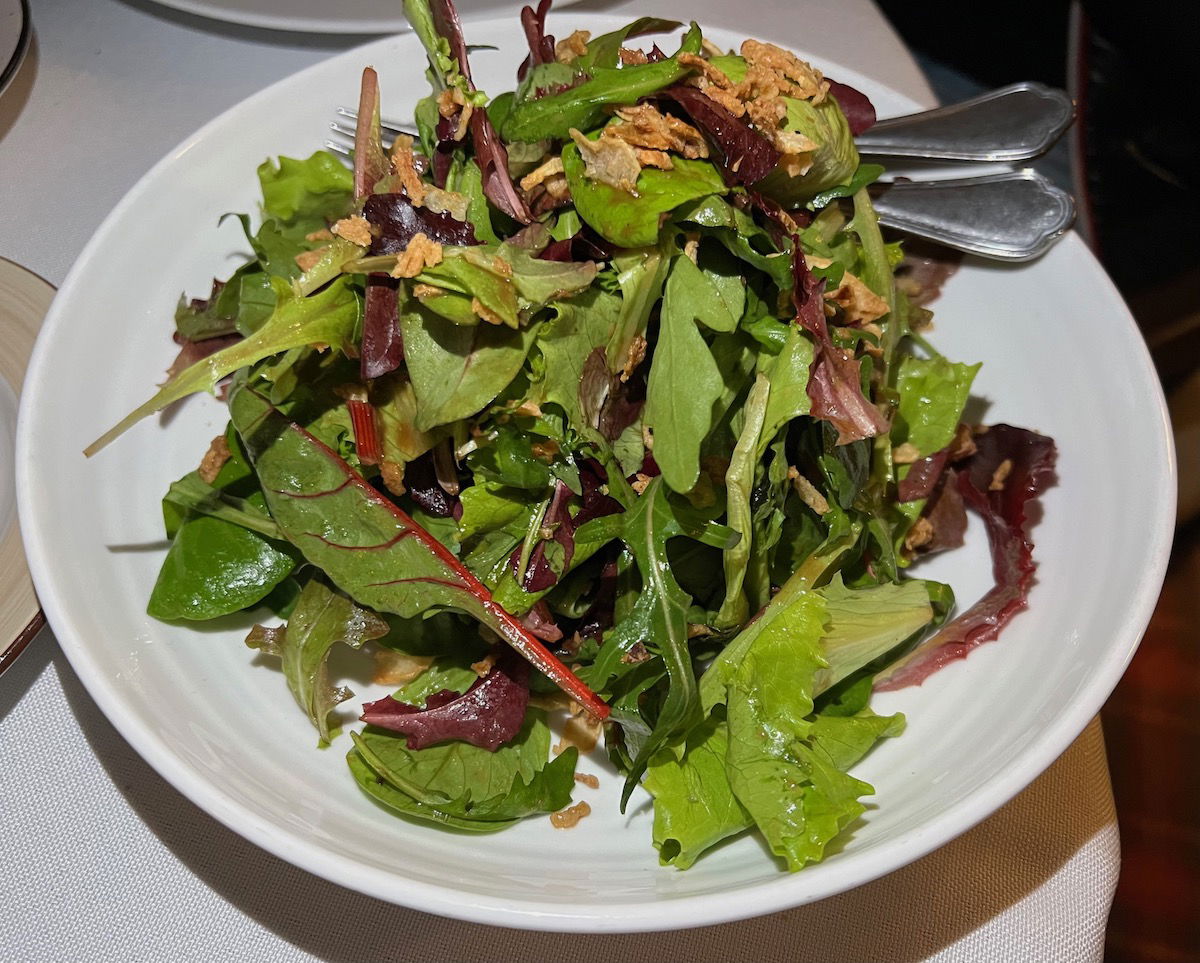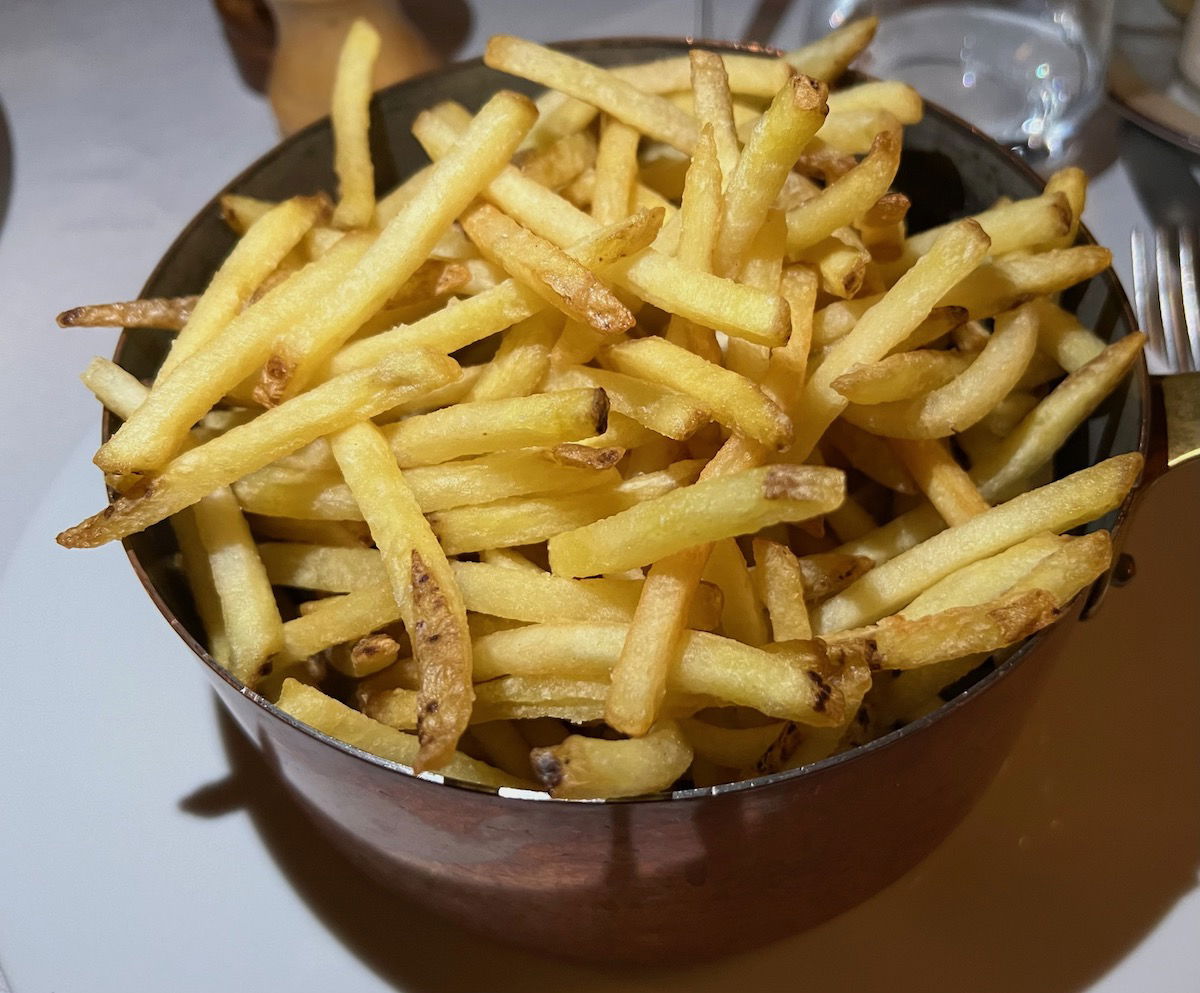 Airelles Val d'Isère Matsuhisa
Matsuhisa is located right next to Loulou, and also has a charming design.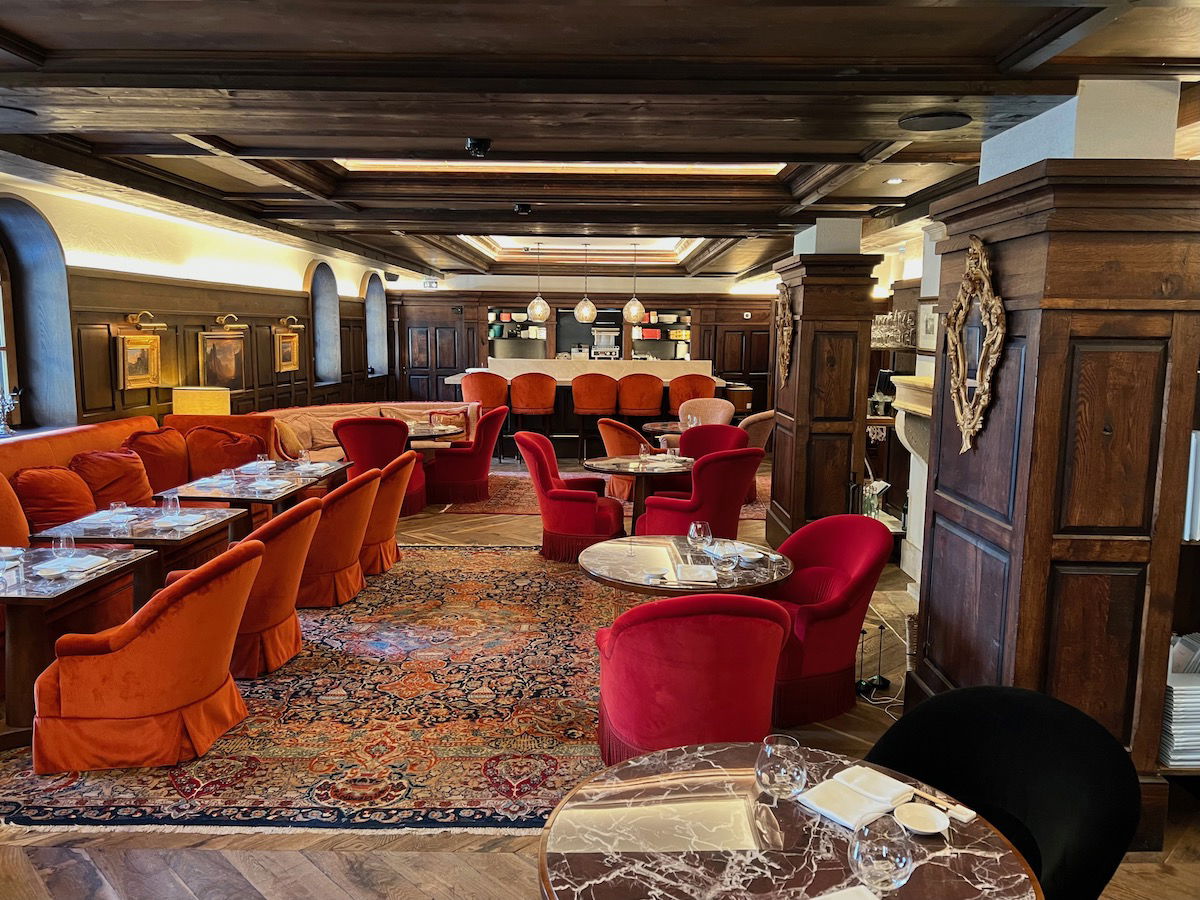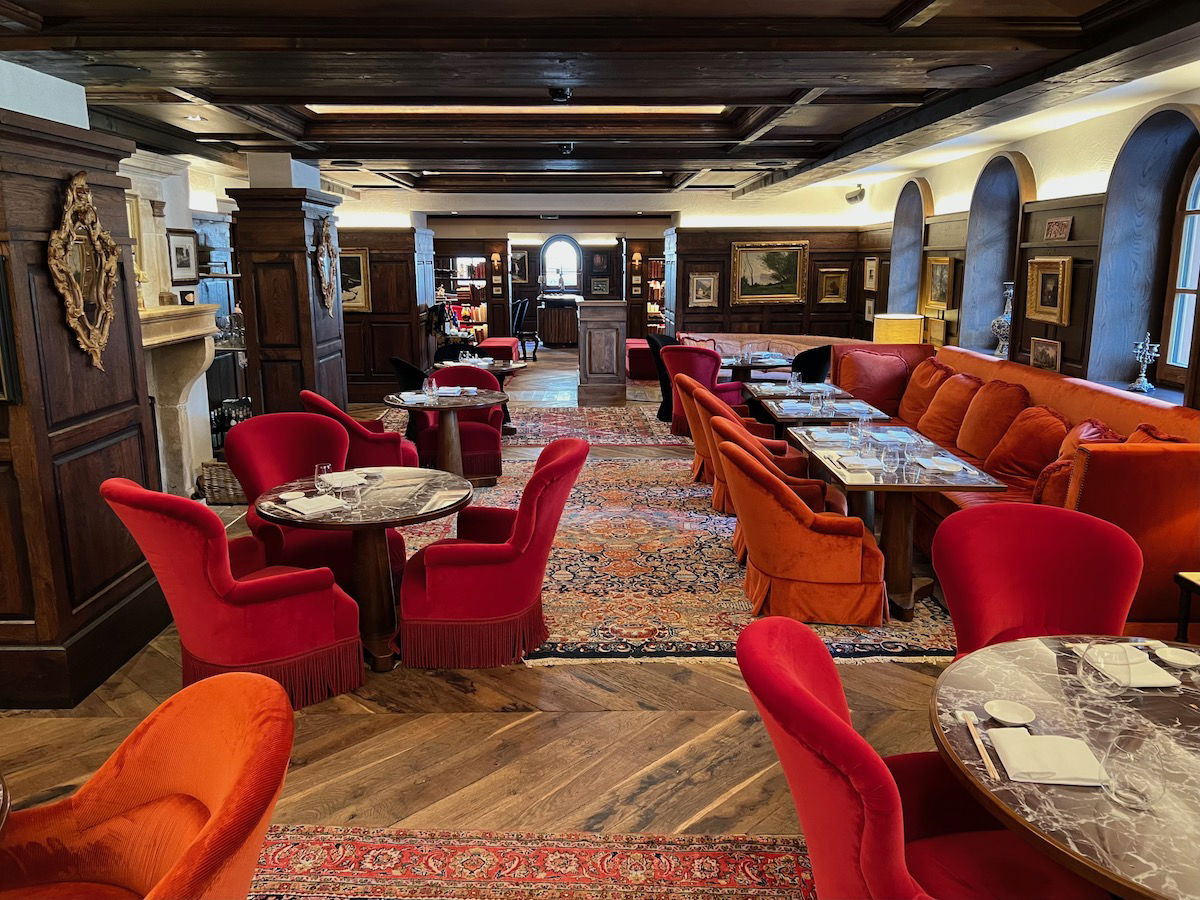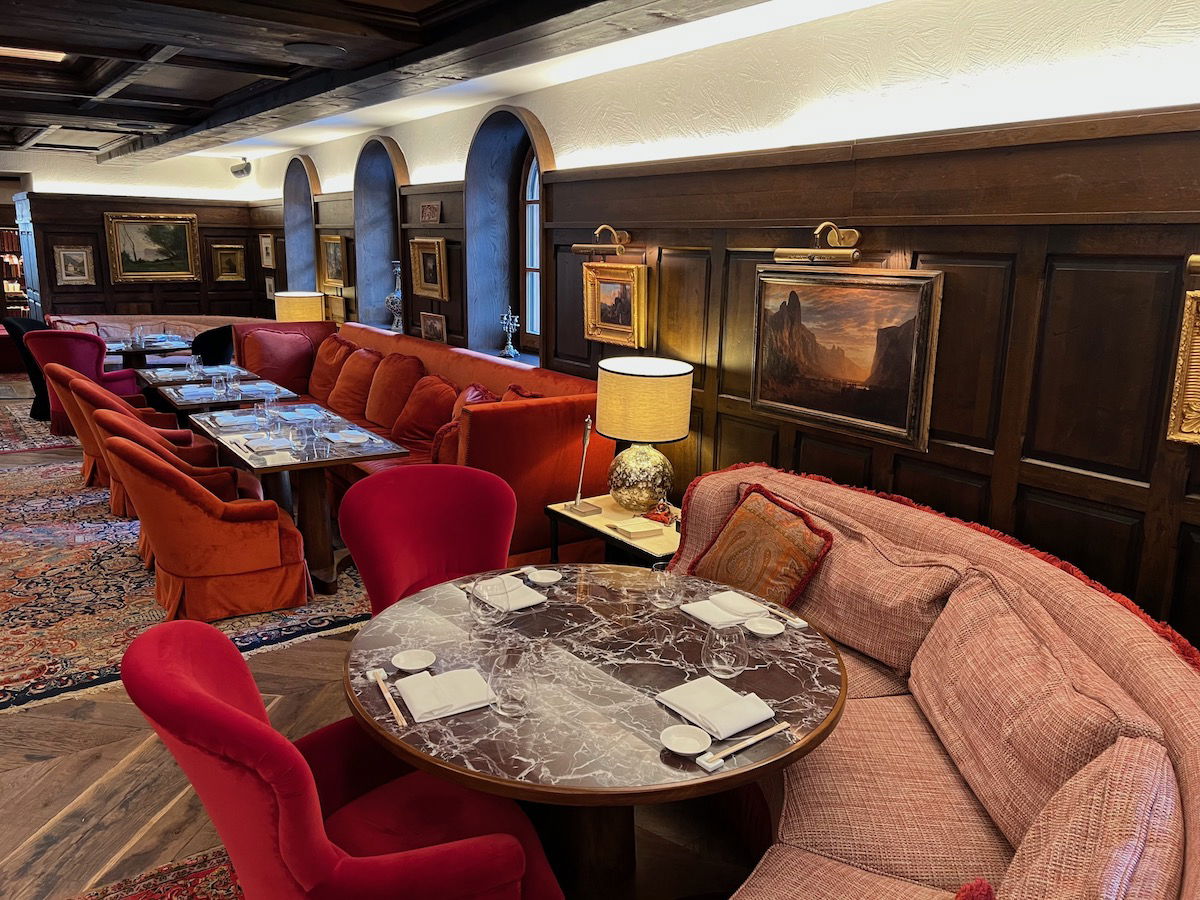 This is a brand that of course needs no introduction — Matsuhisa is essentially the more intimate version of Nobu, and has fewer locations. You can find the Matsuhisa dinner menu here. To drink, I had the wasabi martini, which I highly recommend.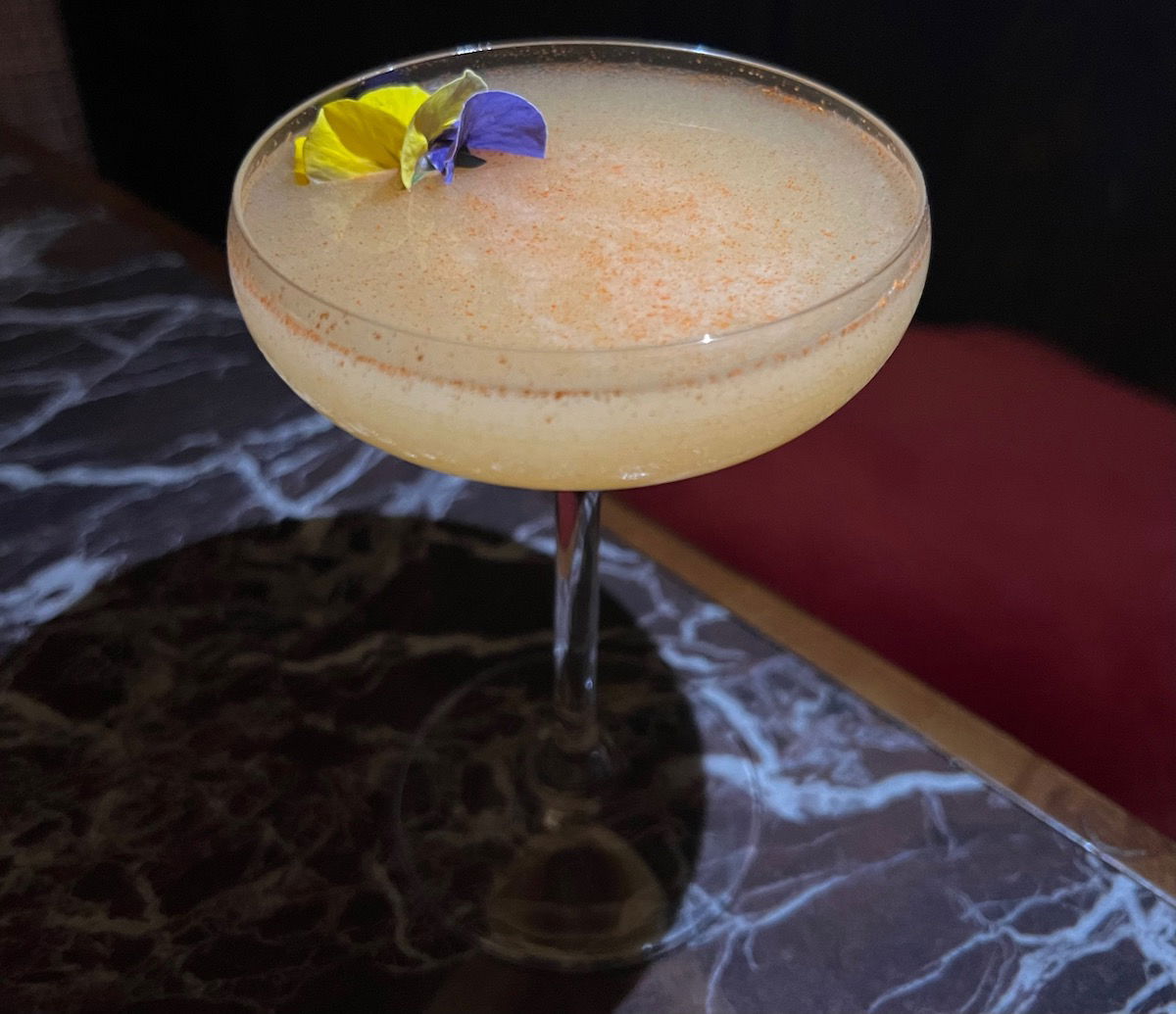 To eat, we had the edamame, sashimi salad, crispy rice with salmon, yellowtail jalapeño, rock shrimp, and a selection of sushi.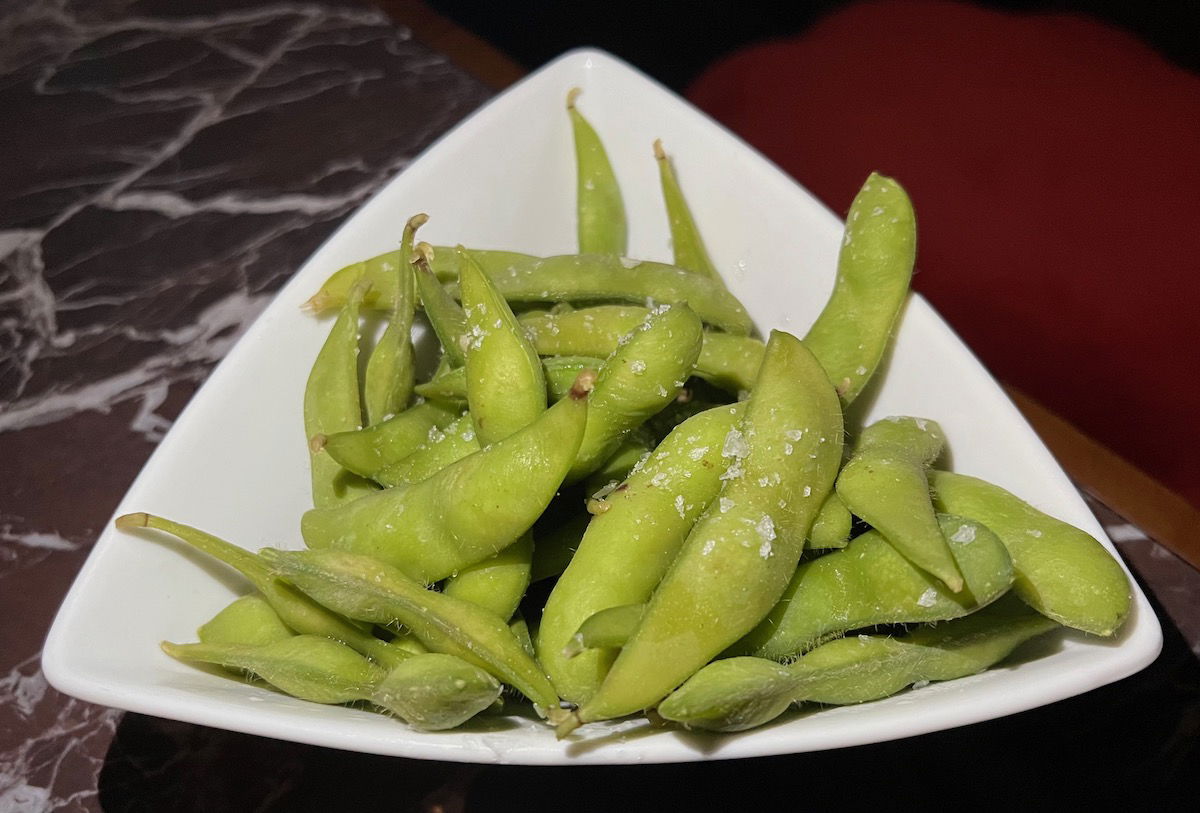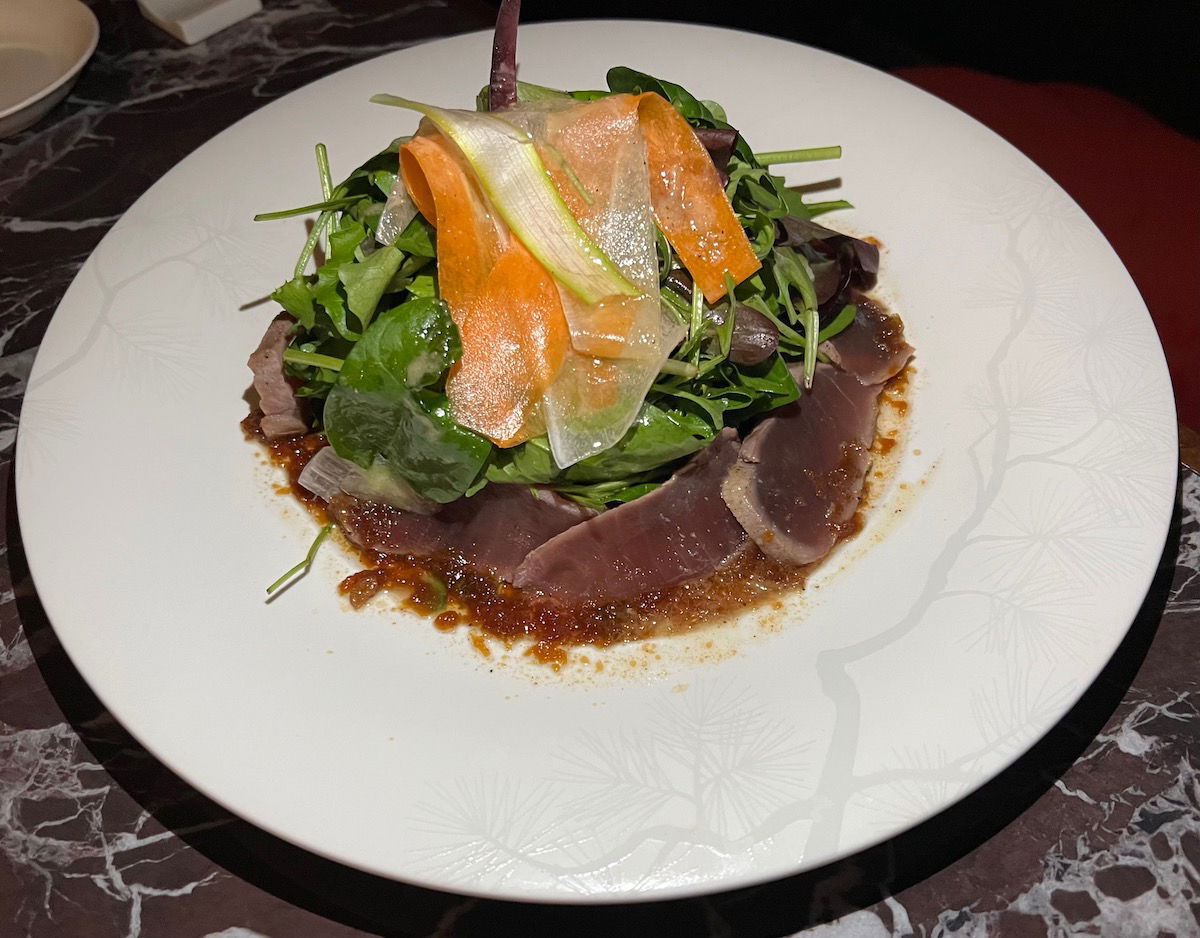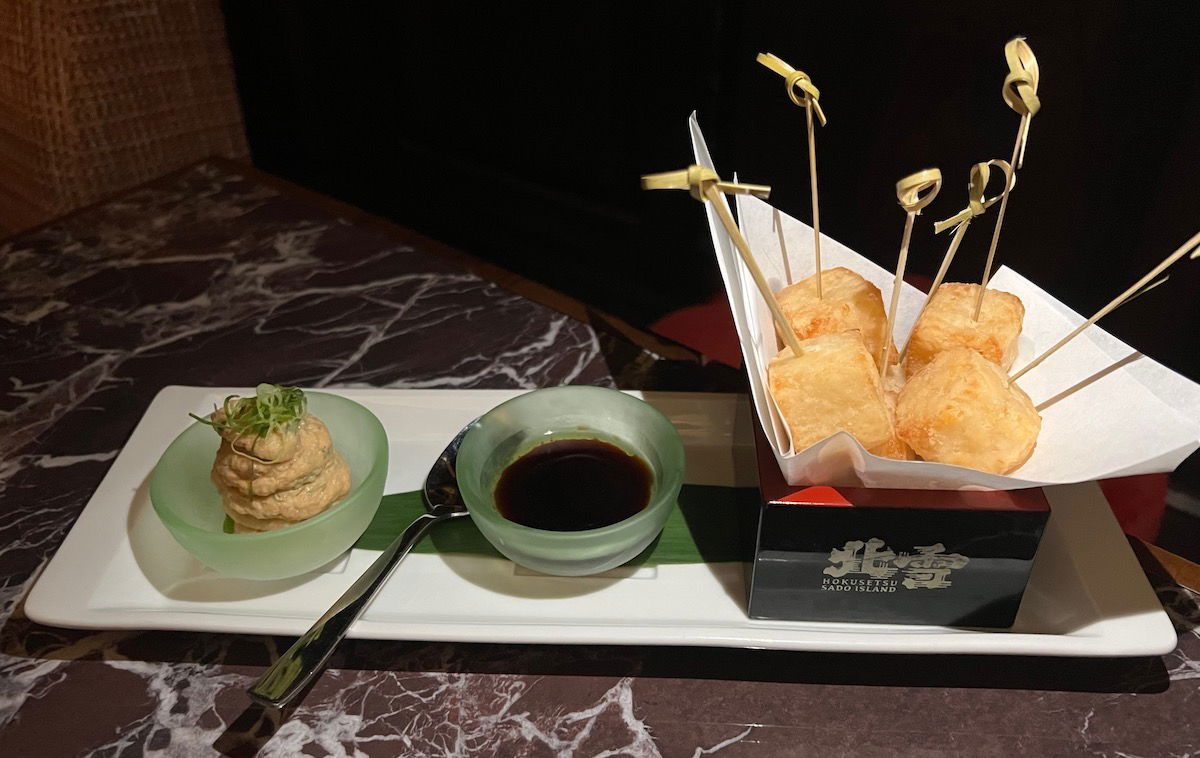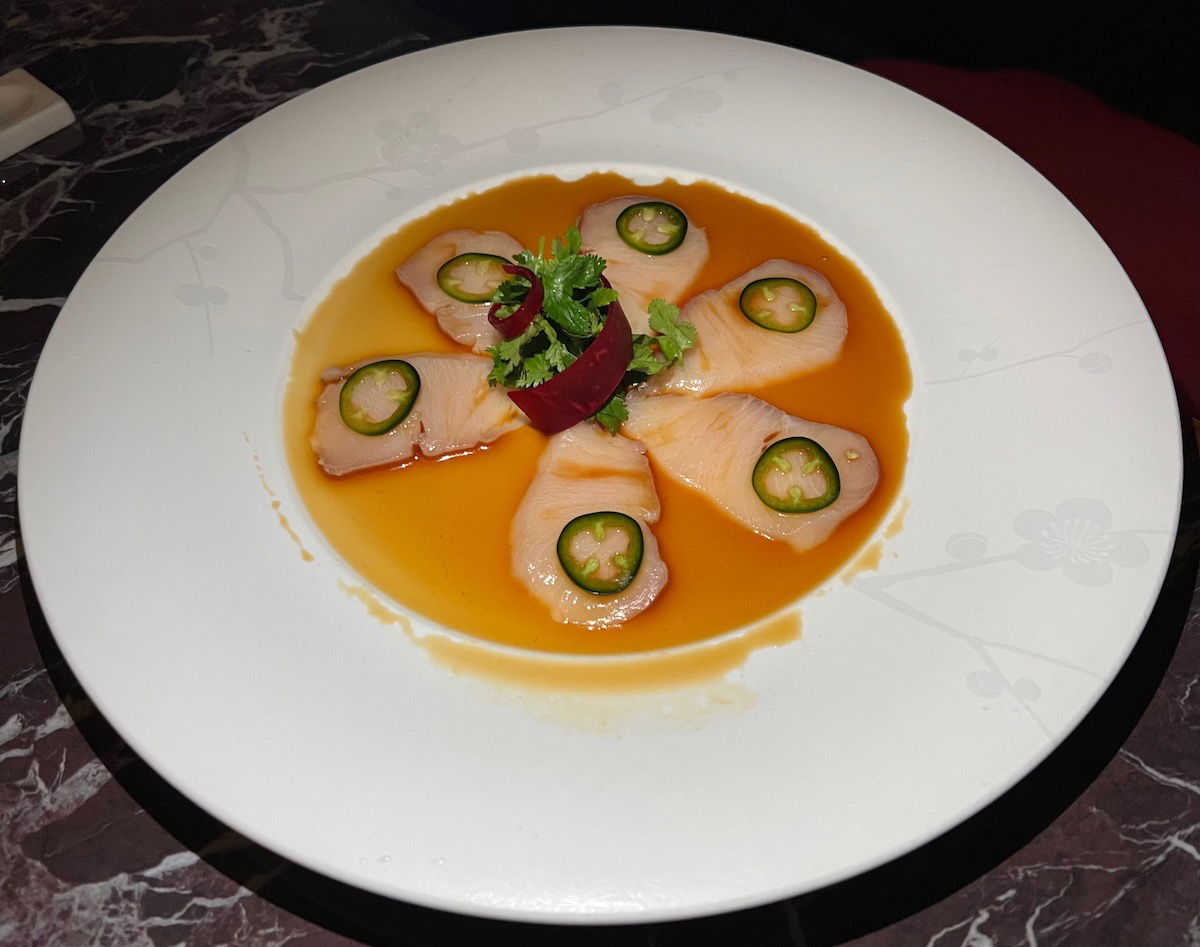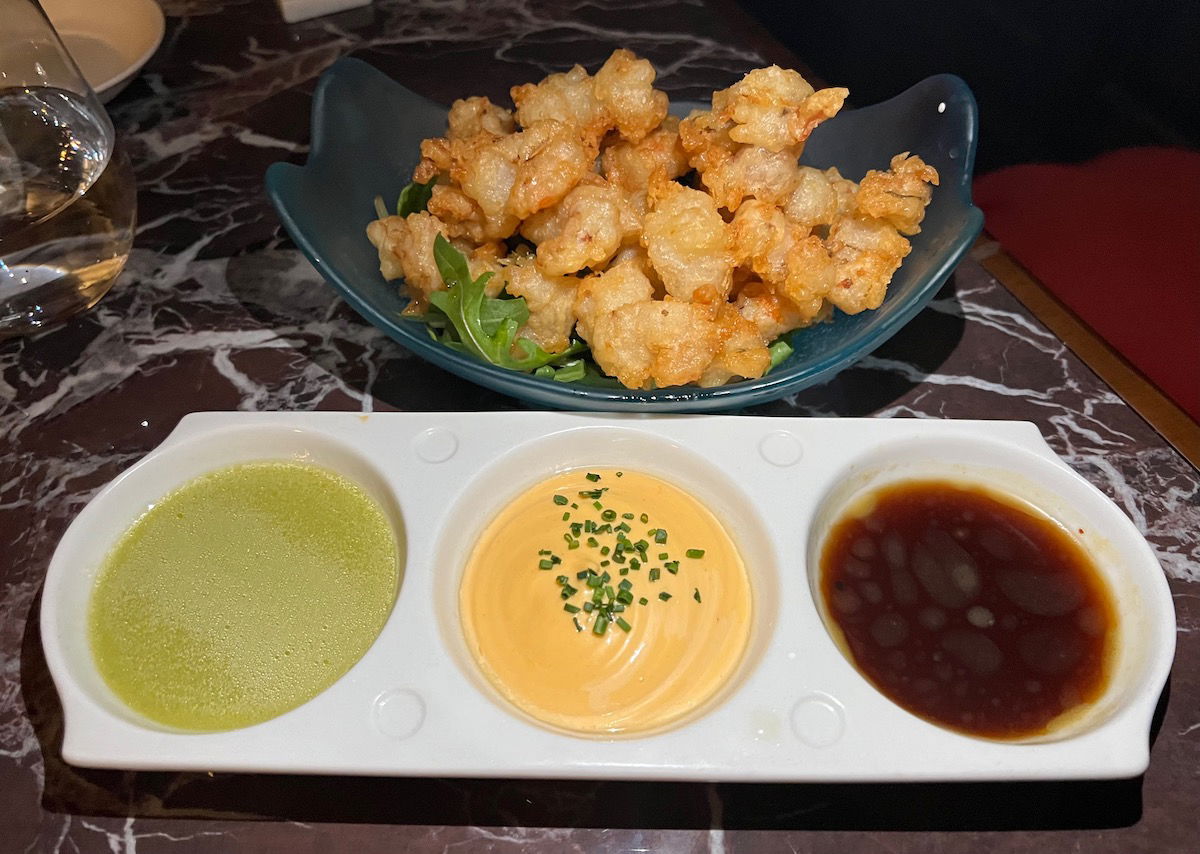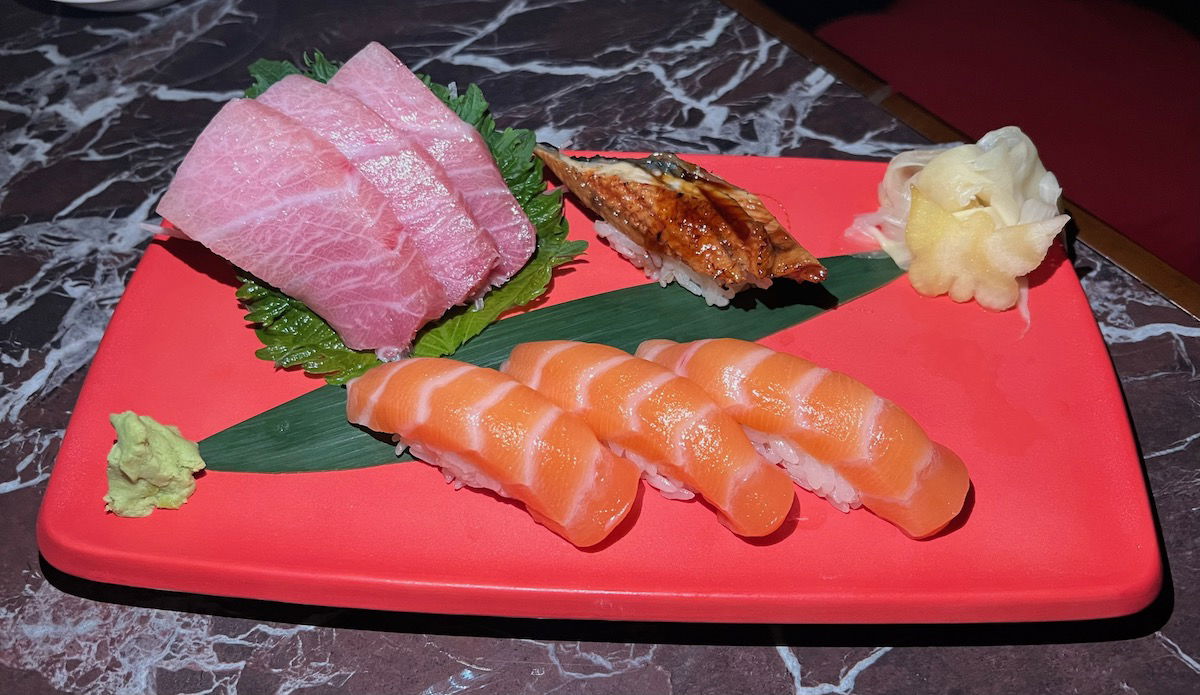 After that we had a selection of mochi, plus the cappuccino dessert.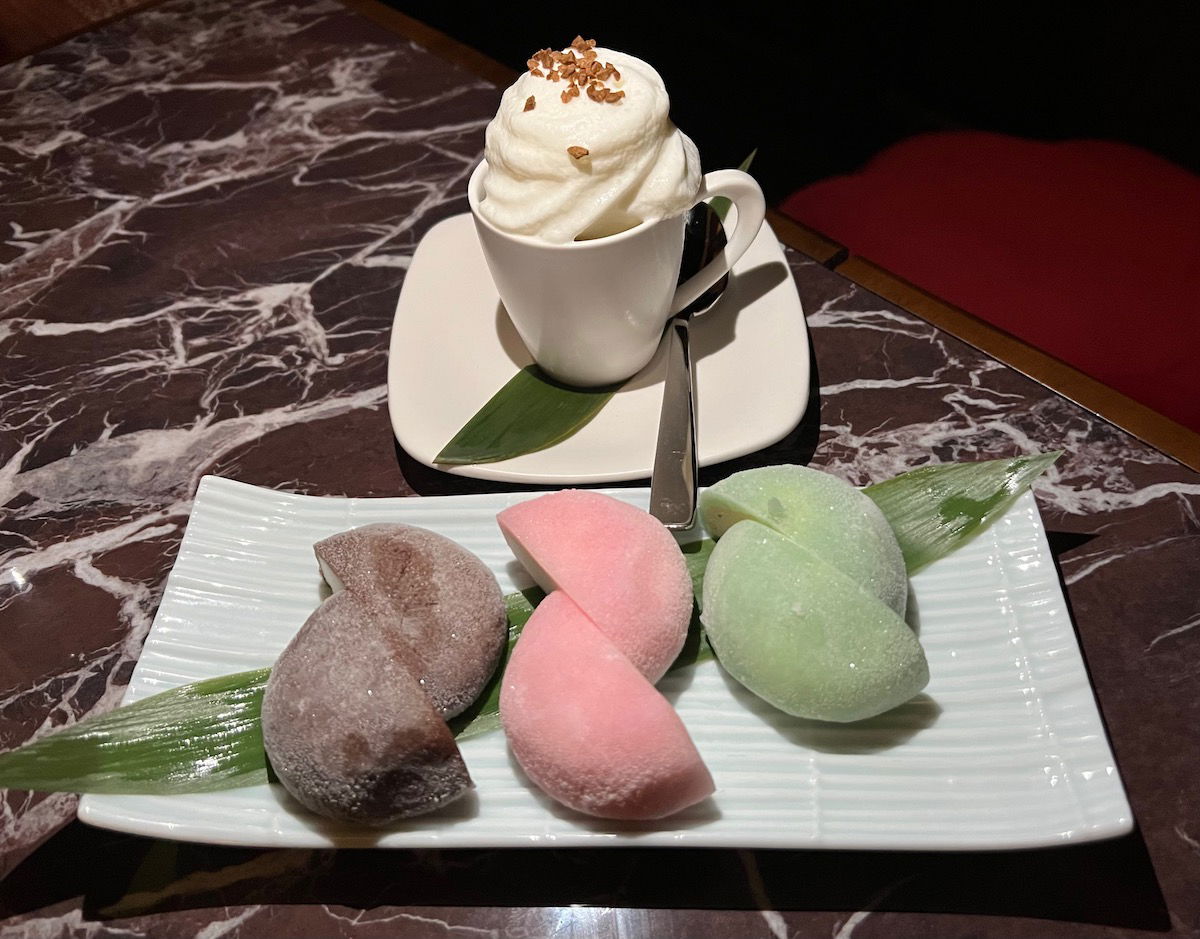 Airelles Val d'Isère Le Piaf
While the hotel in general has a lively atmosphere, if you really want to turn up, Le Piaf is the place to go. This is the only one of the hotel's restaurants that you need to drive to, as it's about a five minute drive away. It's open for dinner, and remains open until 2AM (or later), as you can also just go here to party.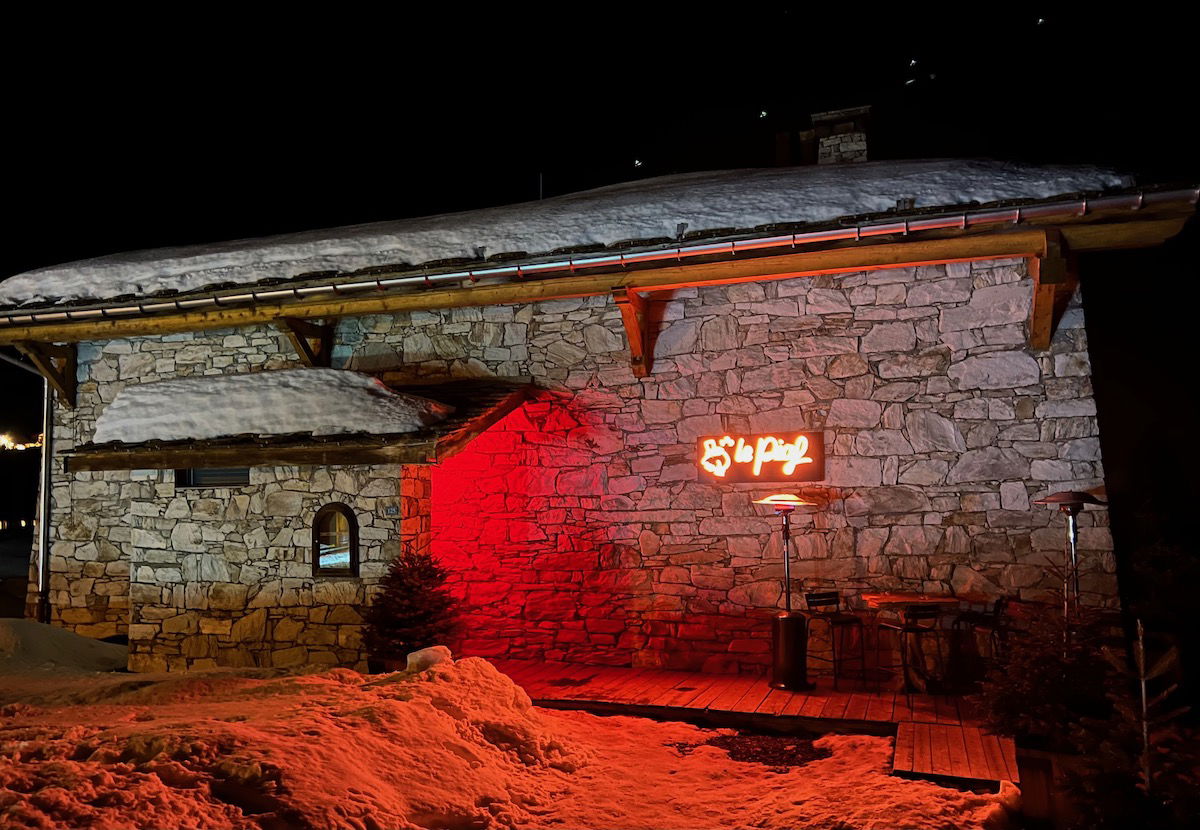 This was probably my least favorite of the dining outlets at the hotel. That's not to say it was bad, it just wasn't as exceptional as the other options. While service throughout rest of the hotel is amazing and incredibly attentive, service here is a bit more night-clubby, which is fair enough.
You can find the Le Piaf dinner menu here.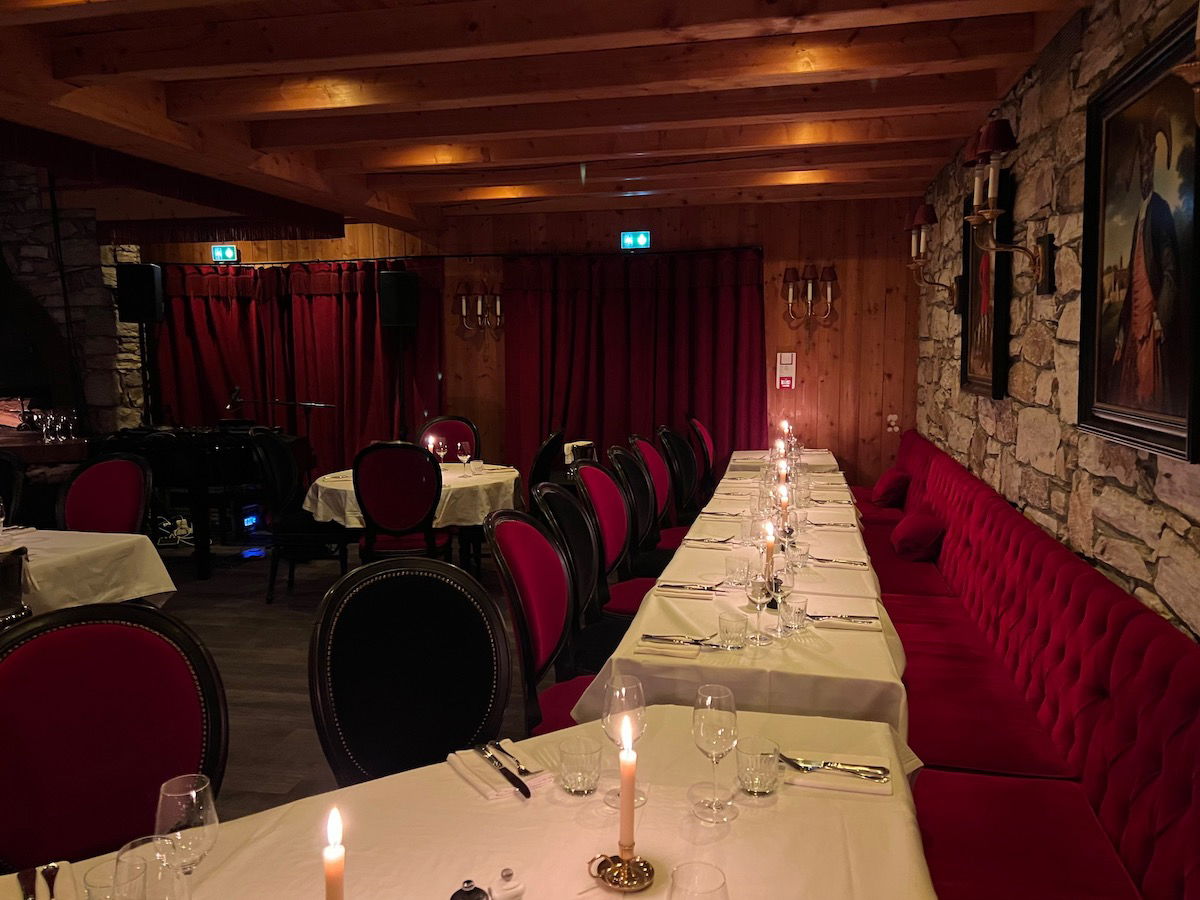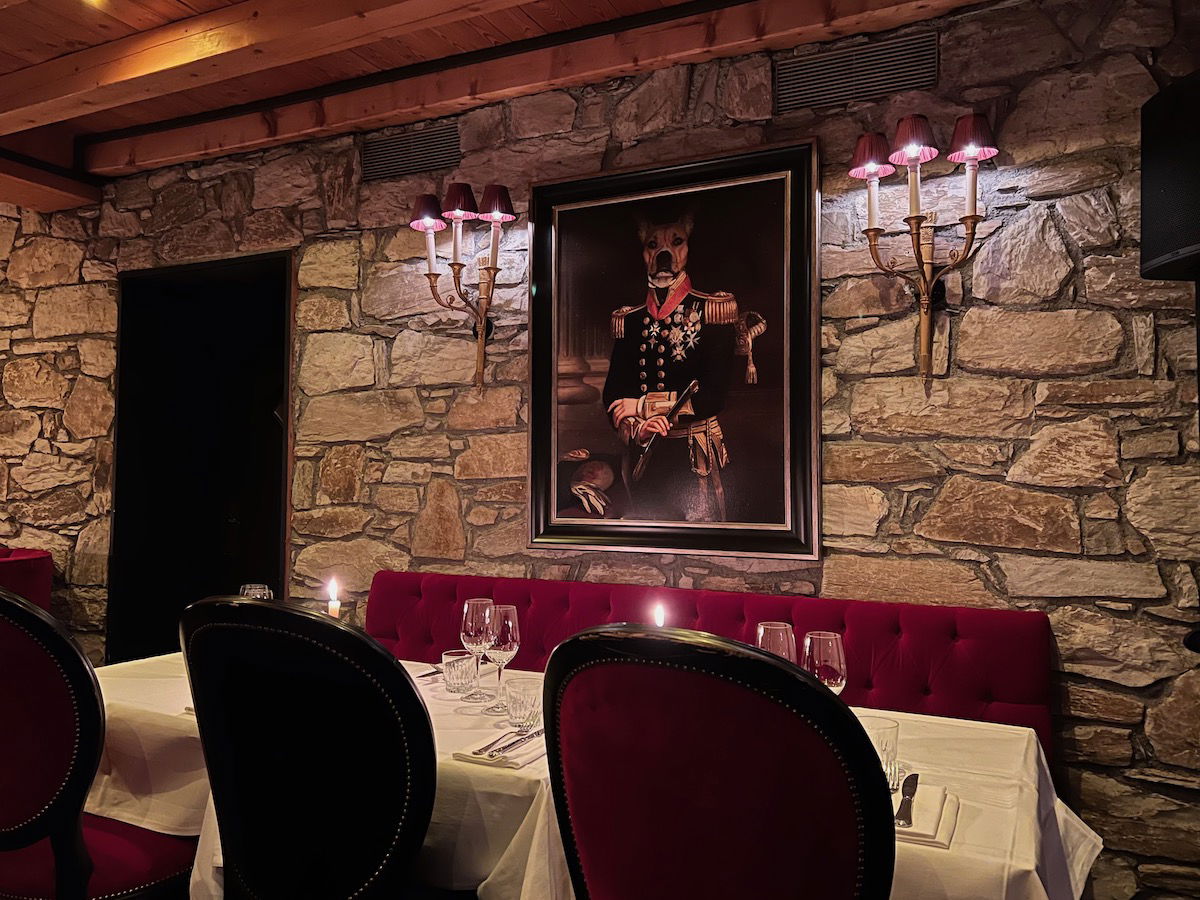 To eat, we had the pumpkin soup, frisée salad, scallops, and truffle pasta.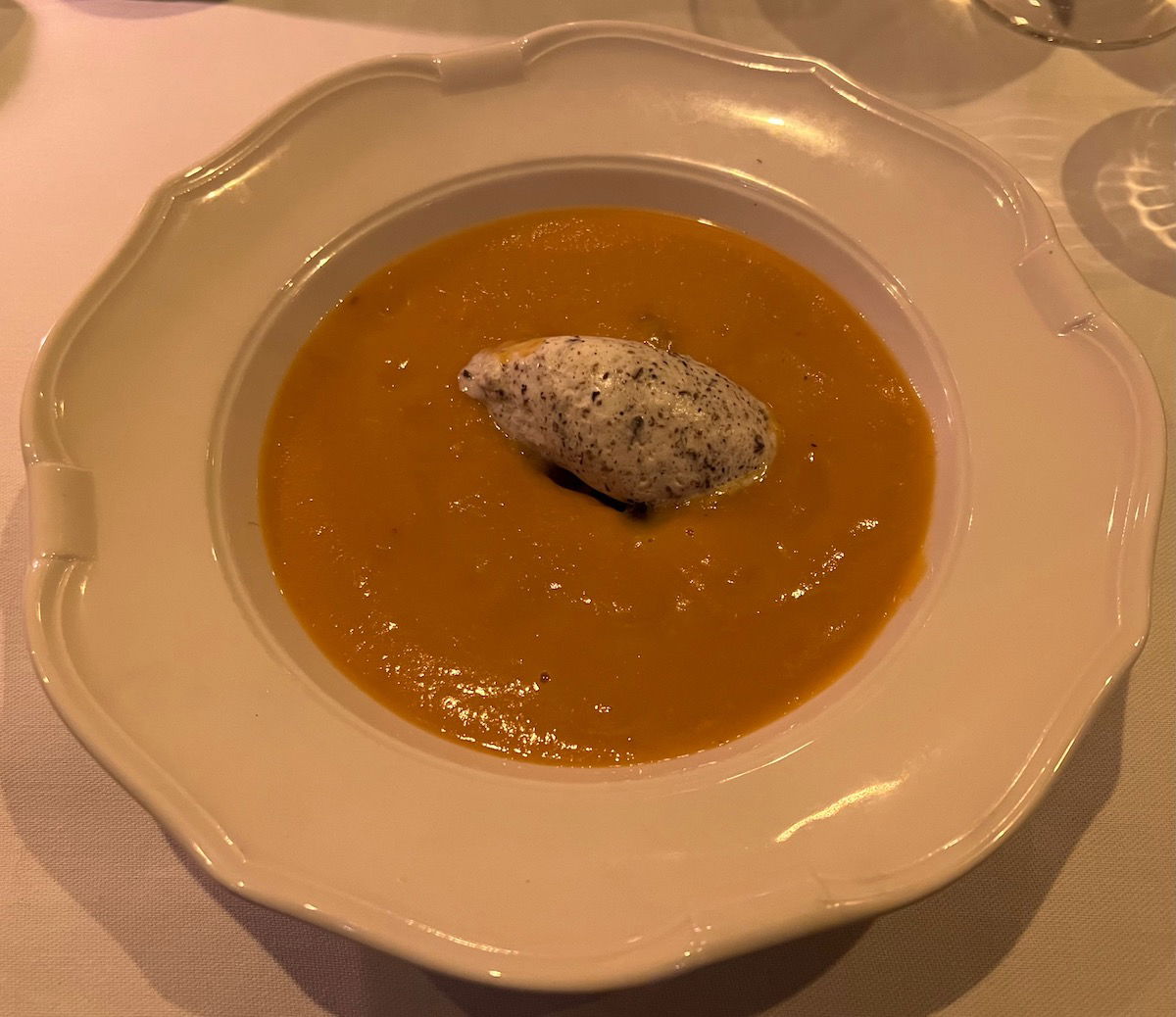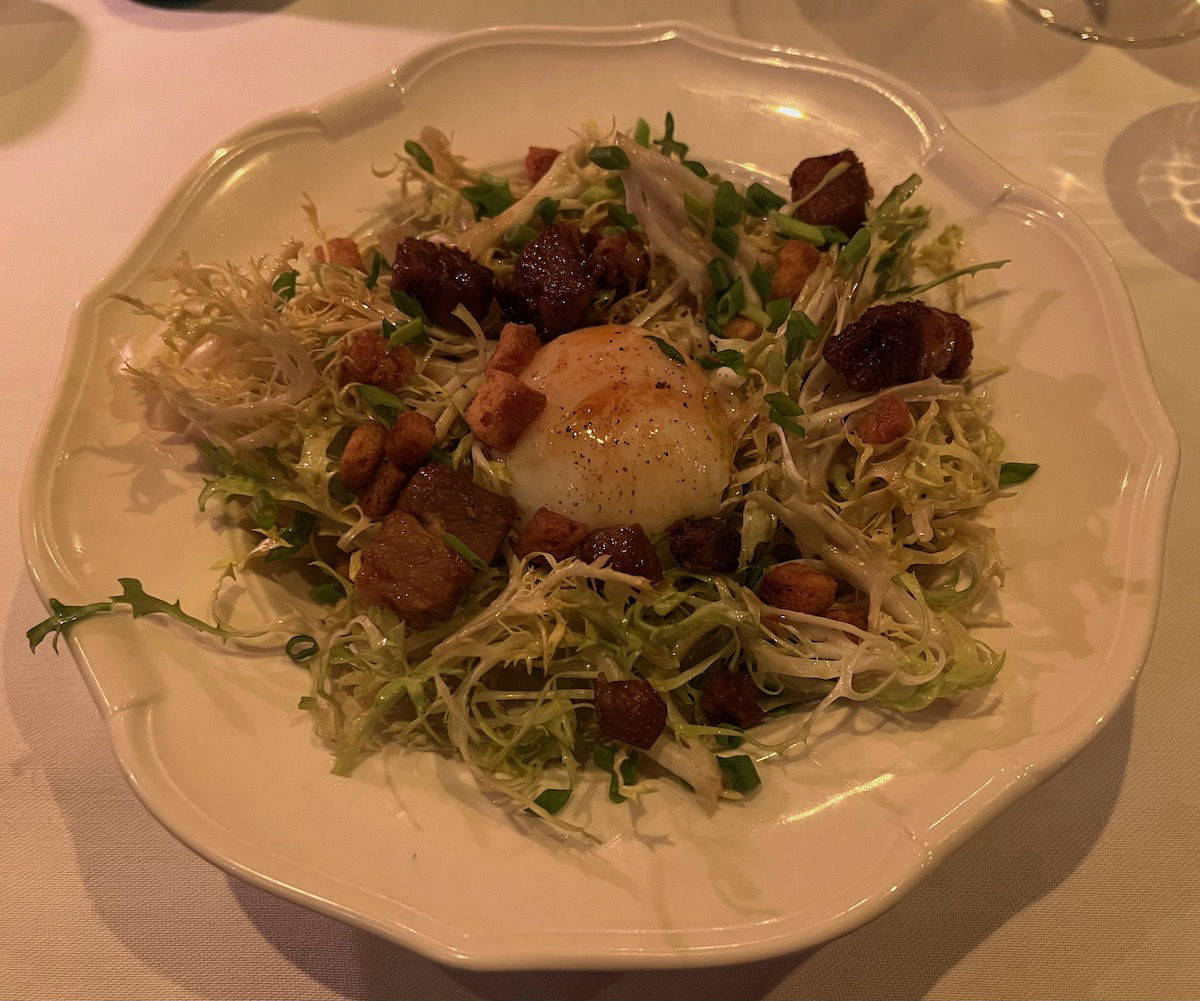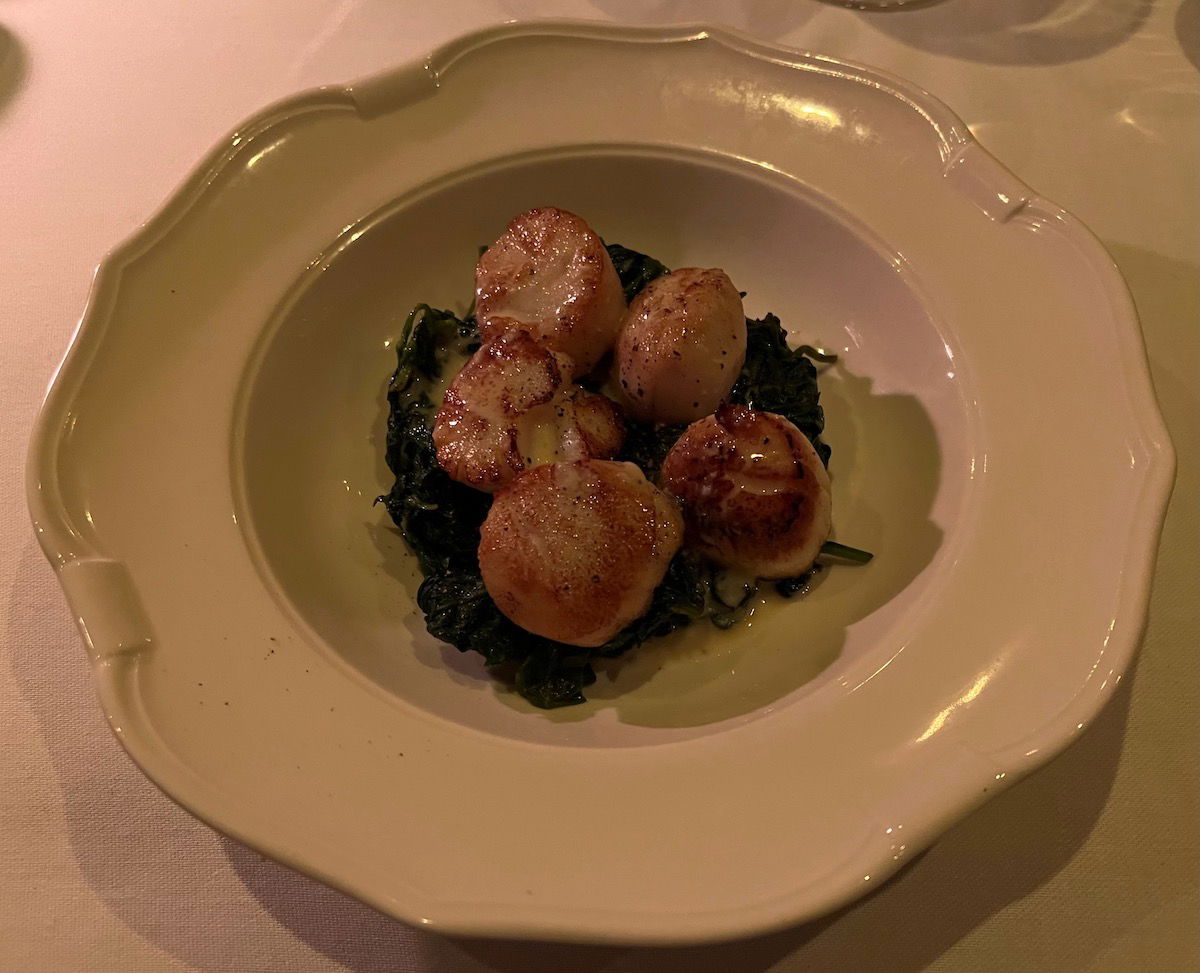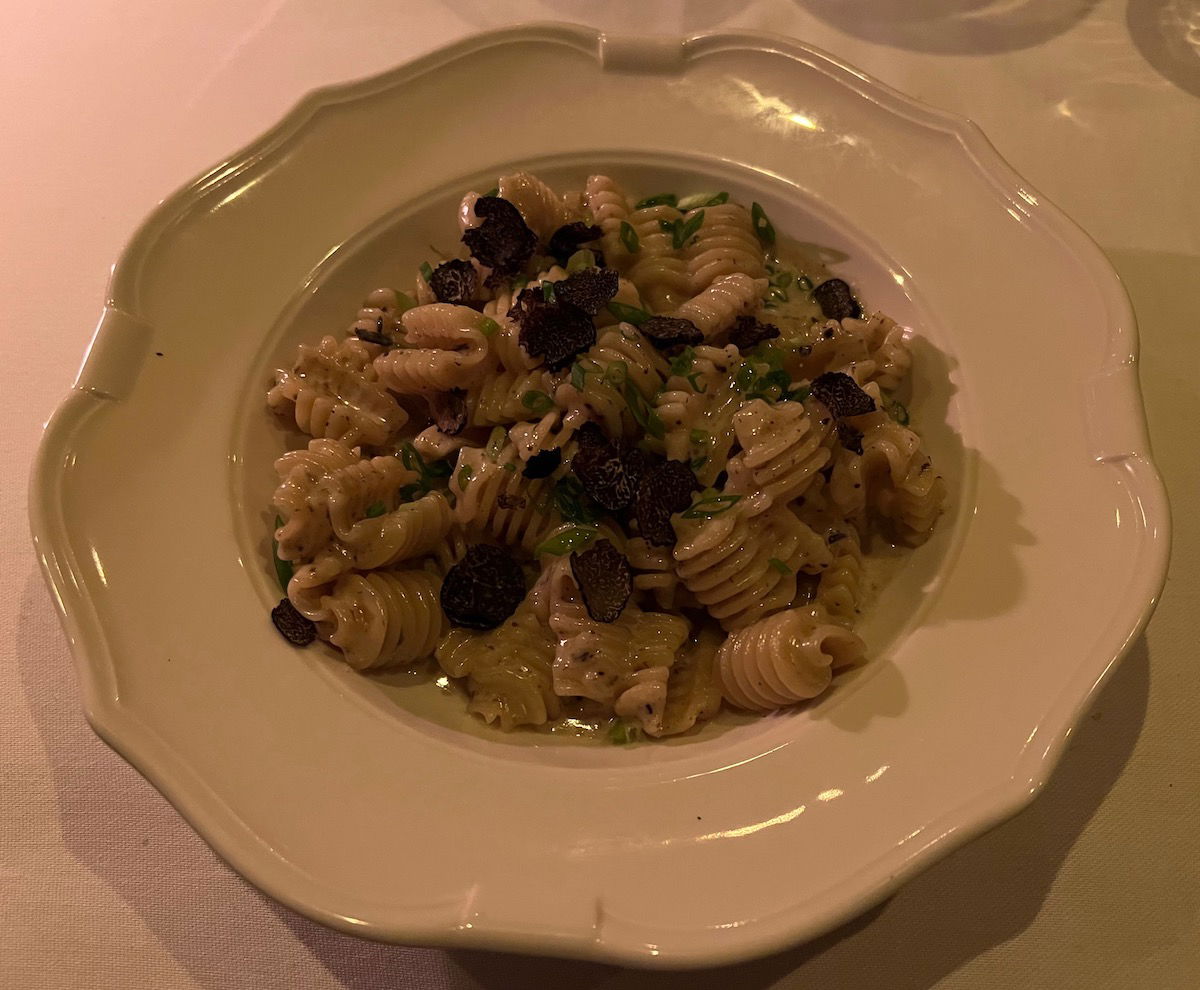 Then for dessert we split the roasted pineapple with vanilla ice cream and the creamy puff pasty with chocolate sauce.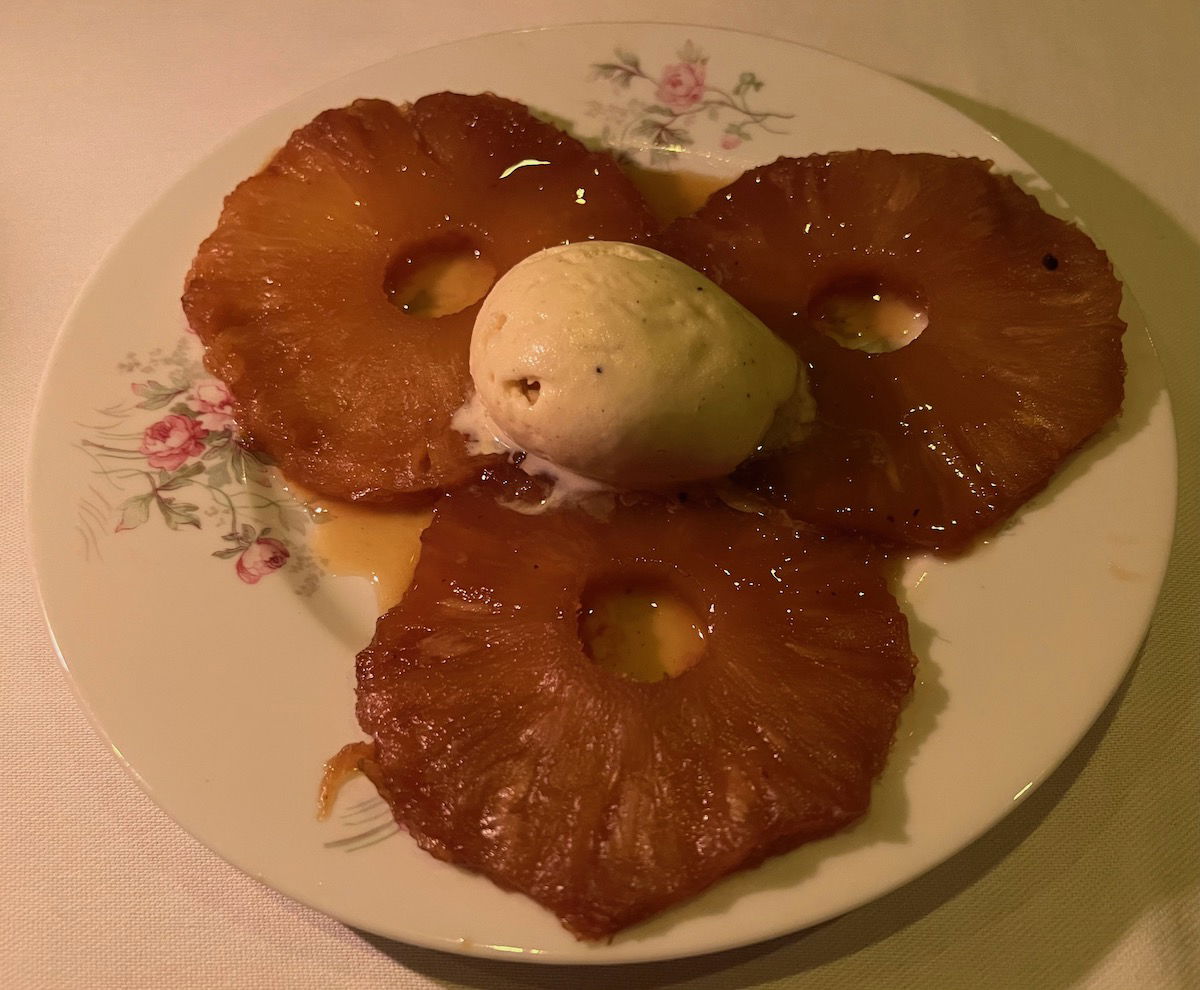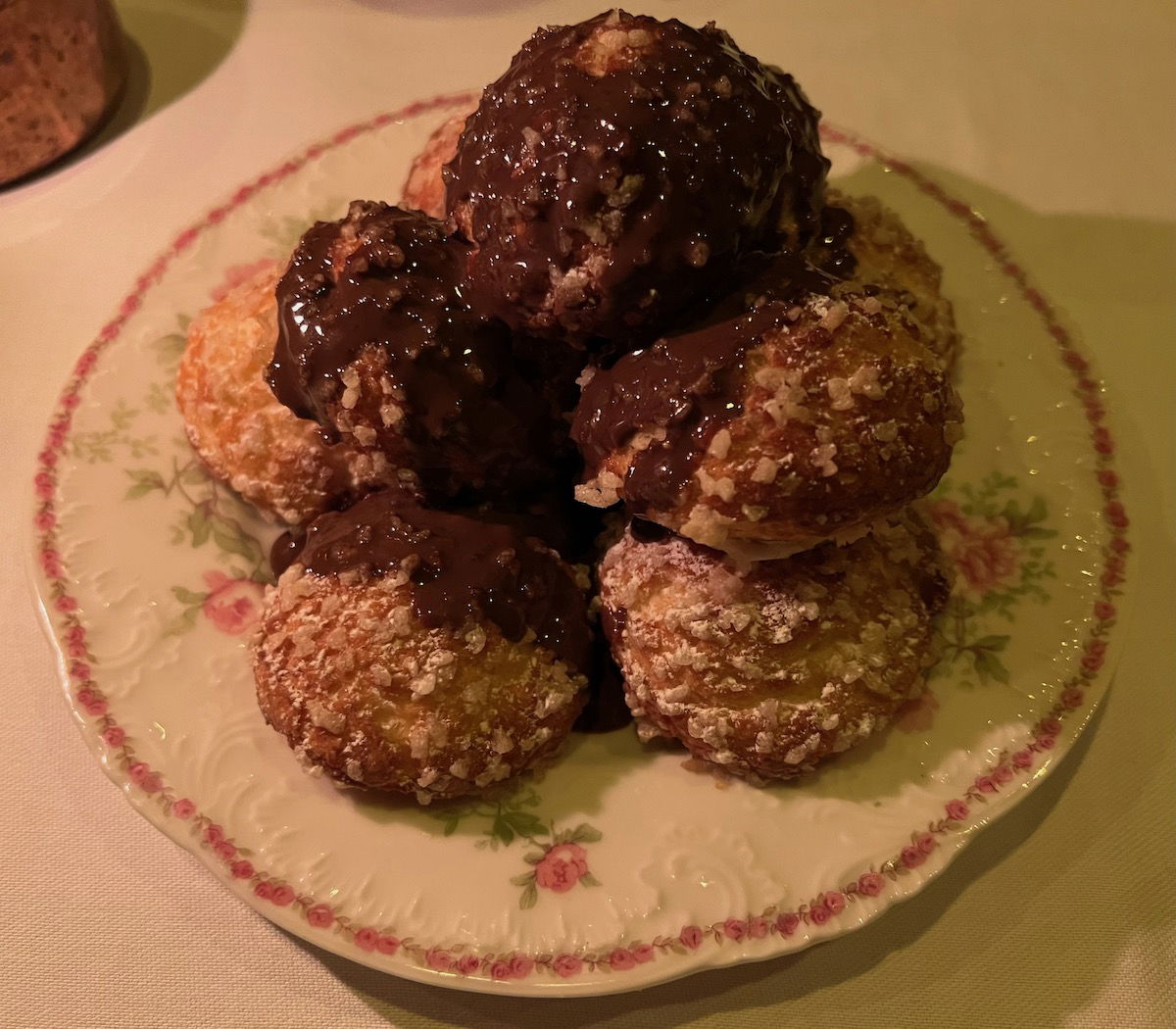 Le Piaf has live music for most of the night. Honestly, I adore live music, and will go out of my way to eat somewhere with it. Let me just say that the performer the evening we visited was… not amazing. I'll just leave it at that. We still enjoyed ourselves, but this isn't a place we felt we needed to return to.
Airelles Val d'Isère Le Bar Rouge
Last but not least, Le Bar Rouge is the hotel's bar, which has a fireplace burning throughout the day, and live music in the evenings (unlike at Le Piaf, we loved the music).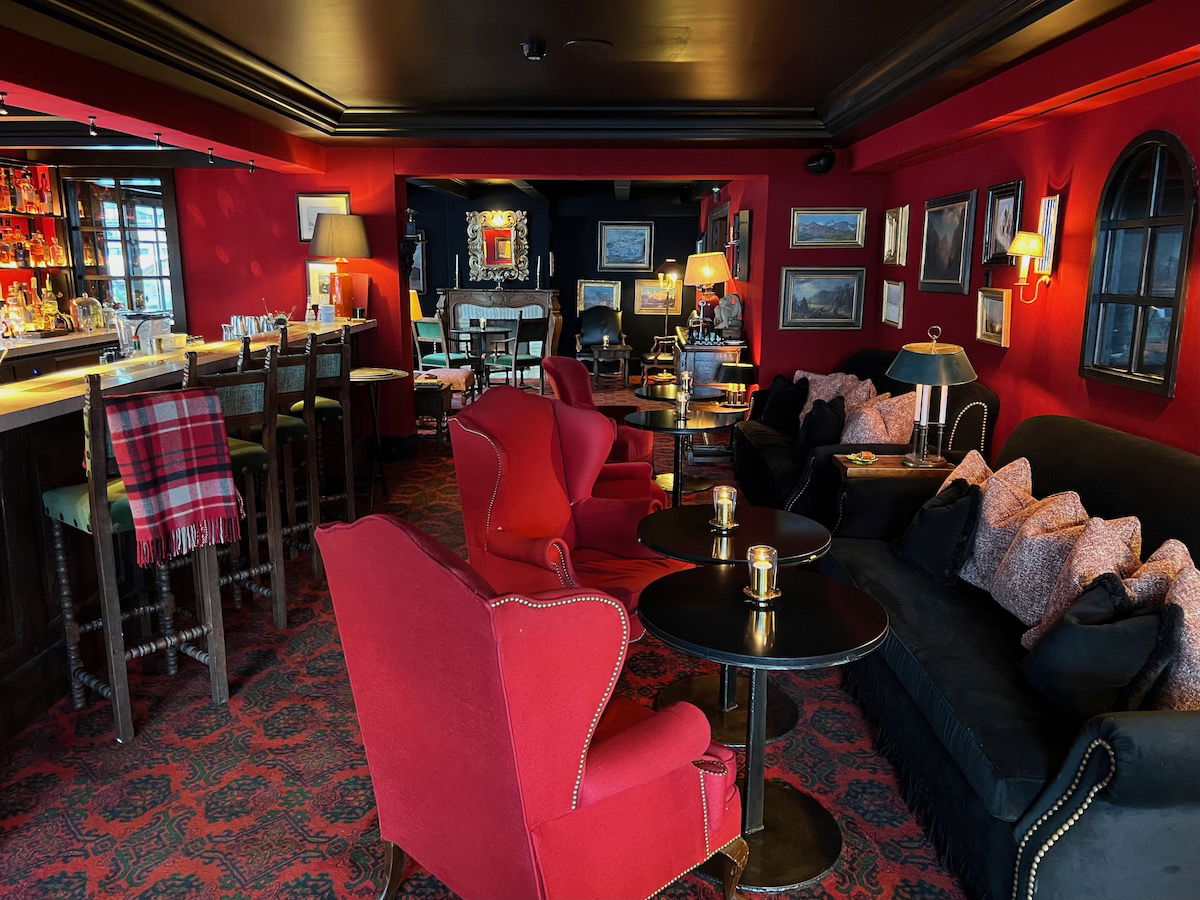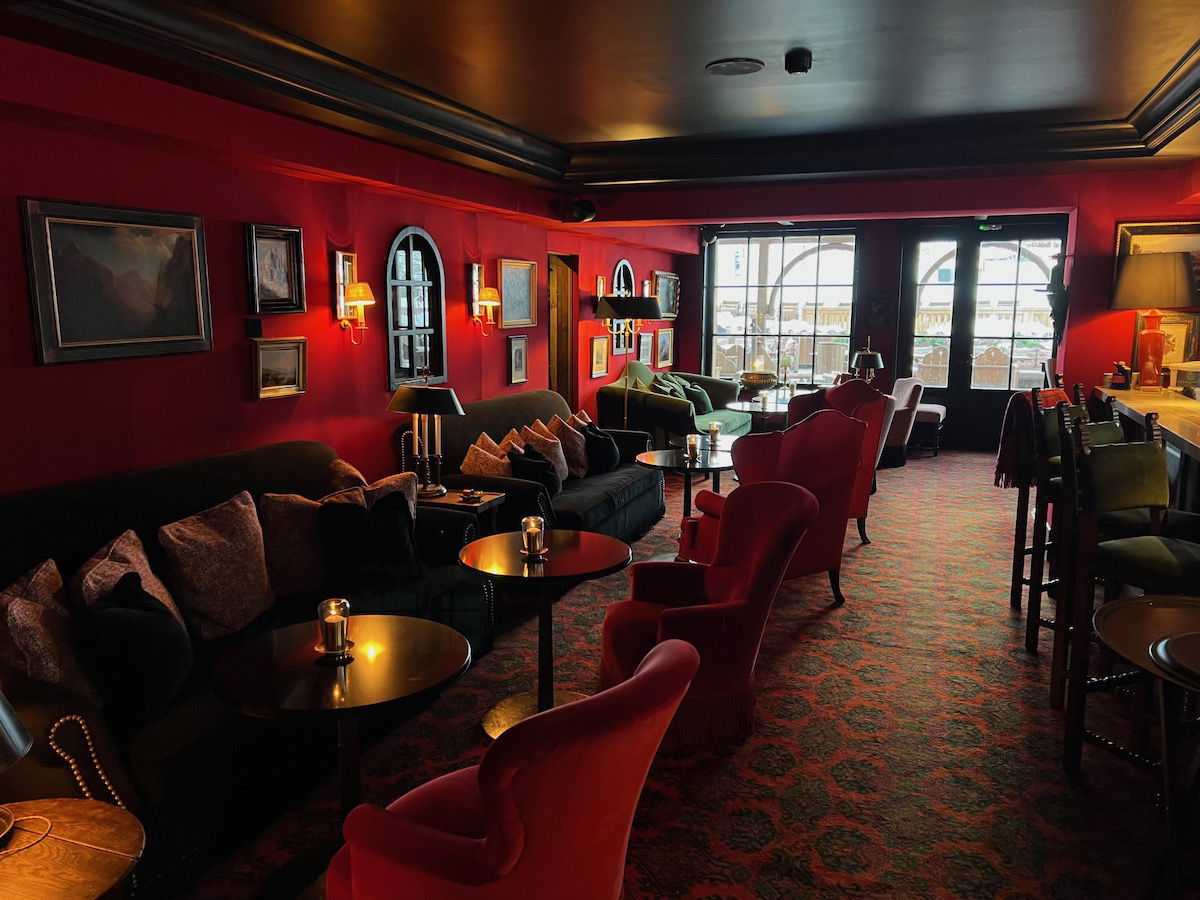 You can find the Le Bar Rouge drink menu here. The cocktails here were very good, and beautifully presented.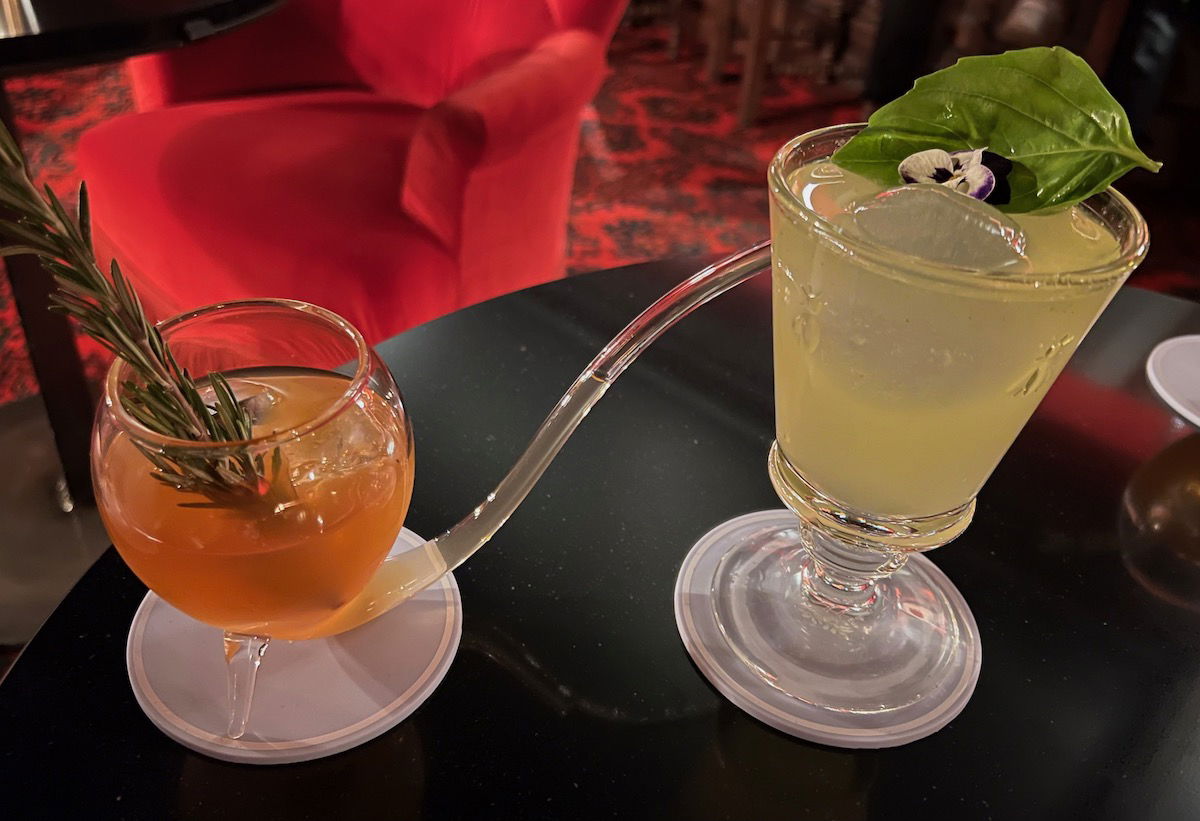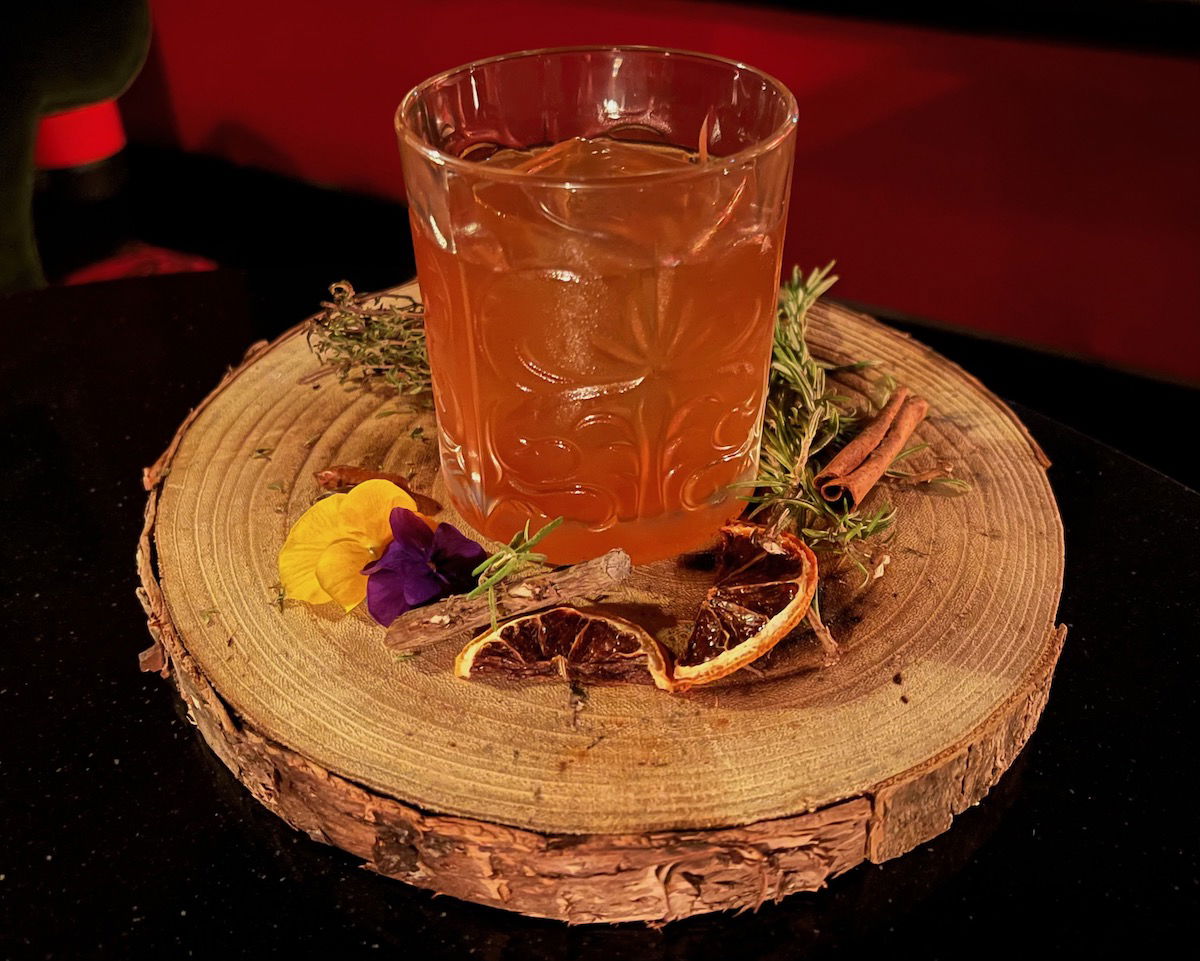 Airelles Val d'Isère service
I honestly can't say enough good things about the service at Airelles Val d'Isère. In my experience, France has some of the best service in the world, and also some of the worst service in the world, and this hotel definitely fit in the former category.
Every single employee just seemed like they wanted to make sure you had a great stay. There wasn't a single service failure during our entire stay, which is quite rare. It was nice to see so many familiar faces from Airelles Gordes, but honestly everyone was amazing.
It's so nice to be somewhere where you feel like you're genuinely welcome, and that's something Airelles does a great job with.
The concierge, Elio, really is in a league of his own. We had the pleasure of interacting with him at Airelles Gordes, and he was just as great here. He's one of the most present concierges you'll find at any hotel, he makes an effort to get to know each guest, and he even makes the rounds each morning during breakfast to see if anyone wants anything.
Airelles Courchevel vs. Airelles Val d'Isère
Now that we've stayed at both of Airelles' ski resorts, which would I recommend? In terms of service, inclusions, and general philosophy, they have a lot in common. However, they're also very different. Let me share a few of the things that stood out to me.
For one, Courchevel is way more over-the-top than Val d'Isère. Val d'Isère is largely popular with Brits, while Courchevel is largely popular with Russians. The general vibe of the towns, and the over-the-topness of everything, reflects that.
For example, you'll find every designer store on earth in Courchevel. Meanwhile the only luxury store you'll find in Val d'Isère is the Moncler located inside Airelles. At Airelles Courchevel, the hotel's house car is a Rolls Royce Cullinan. At Airelles Val d'Isère, the hotel's house car is a (still very nice) Mercedes van.
I don't think one hotel is better than the other, necessarily, but rather that it all depends on what you're looking for. If you want a scene, you'll want to go to Courchevel. If you want quality and don't care about the scene, Val d'Isère is great.
There were also things I preferred about the Val d'Isère property. For example, I preferred the restaurant concepts a bit, the base rooms in Val d'Isère are significantly larger than in Courchevel, and I think I slightly preferred the decor of the hotel.
Bottom line
Airelles Val d'Isère is a flawless resort. It has all the essentials you'd expect from a luxury ski resort, and so much more, from an amazing wellness area, to a fun teens room, to a private cinema, to exceptionally good restaurants. Having now stayed at four Airelles properties within the past year, I can say that this is one of my favorite hotel brands.
It goes without saying that our stay at Airelles Val d'Isère wasn't cheap, but honestly, I thought the value was great for what it was, especially when you compare it to ski options in the United States (how much you'd pay for hotels, ski passes, restaurants, etc.). Yes, you have great skiing in the United States, but you won't find this quality of lodging and dining in any US ski resort (at least not one that I've seen).
I can't recommend Airelles Val d'Isère enough!
What's your take on Airelles Val d'Isère?