EXTRA PERKS AVAILABLE
Enjoy breakfast, upgrades, & more
Want to take advantage of Marriott STARS benefits, including a space available room upgrade, complimentary breakfast, a hotel credit, and more? Contact Ford ([email protected]) for more details. He may even be able to help if you already have a stay booked. This is valid for paid stays at BVLGARI, EDITION, Ritz-Carlton, Ritz-Carlton Reserve, and St. Regis.
Ford and I recently wrapped up a five night stay at the 179-room St. Regis Aspen, which we booked with Marriott Bonvoy points. This was my first time visiting the property in several years, and I was curious to see how it's holding up. I was also looking forward to comparing it to the St. Regis Deer Valley, which I reviewed last year.
Long story short, I'm a huge fan of the St. Regis Aspen. The hotel has a fantastic location, great service, and I appreciate the lack of nickel-and-diming.
Redeeming points at the St. Regis Aspen
Marriott Bonvoy will soon be introducing dynamic award pricing, which will likely be a huge devaluation for aspirational redemptions. As a result, I'm trying to redeem as many of my Bonvoy points as possible. I managed to find award availability for five nights in mid-January, and the entire five night stay cost 400,000 points (the cost was 100,000 points per night, plus a fifth night free).
As a point of comparison, the cash rate at this hotel for a standard room was over $2,000 per night, so we got a phenomenal value. It's worth acknowledging that these rates really just reflect the absolutely incredible demand for luxury hotels in the United States, as we've seen rates more or less double at many properties. Despite that, hotels are full. Also keep in mind the frustrating cancelation policy when redeeming points.
I decided to apply some of my Marriott Bonvoy suite night awards to the reservation. I figured there was no chance that they'd clear, given that the hotel was more or less sold out. So I was delighted when the upgrade did end up automatically clearing at the five day window, all the way into a one bedroom suite. I really lucked out.
For context, that five night stay would have cost $13,605 if paying cash.

I also want to take a moment to commend the St. Regis Aspen for not having a resort fee. This is incredibly rare for a resort in the United States. The hotel doesn't charge a fee like this in spite of offering all kinds of value-add services, which I'll cover in more detail below.
Book St. Regis Aspen with Marriott STARS
If you're booking a paid stay at the St. Regis Aspen, I'd highly recommend booking through a travel advisor affiliated with the Marriott STARS program. You'll pay the same as the flexible cash rate available on Marriott's website, and you'll receive the following additional perks:
Complimentary full or continental breakfast daily for up to two people per room
Hotel credit valued at 100USD once per stay
Room upgrade, subject to availability at check-in
Complimentary basic Wi-Fi daily
In-person welcome
Personalized welcome amenity and note
Note that Marriott STARS upgrades are prioritized ahead of upgrades through other programs, like Amex Fine Hotels & Resorts, which is why I'd recommend booking through STARS. You can earn Bonvoy points when booking a Marriott STARS rate, and can also take advantage of any elite benefits, should you have status.
If you want help with a Marriott STARS booking at the St. Regis Aspen, Ford is happy to help, and can be reached at [email protected]
St. Regis Aspen location & transportation
Arguably the biggest selling point of the St. Regis Aspen is its location, right in the heart of Aspen. You can walk anywhere in town within a few minutes. I consider this to be a major advantage compared to other ski hotels in the United States, where you can get almost nowhere by foot.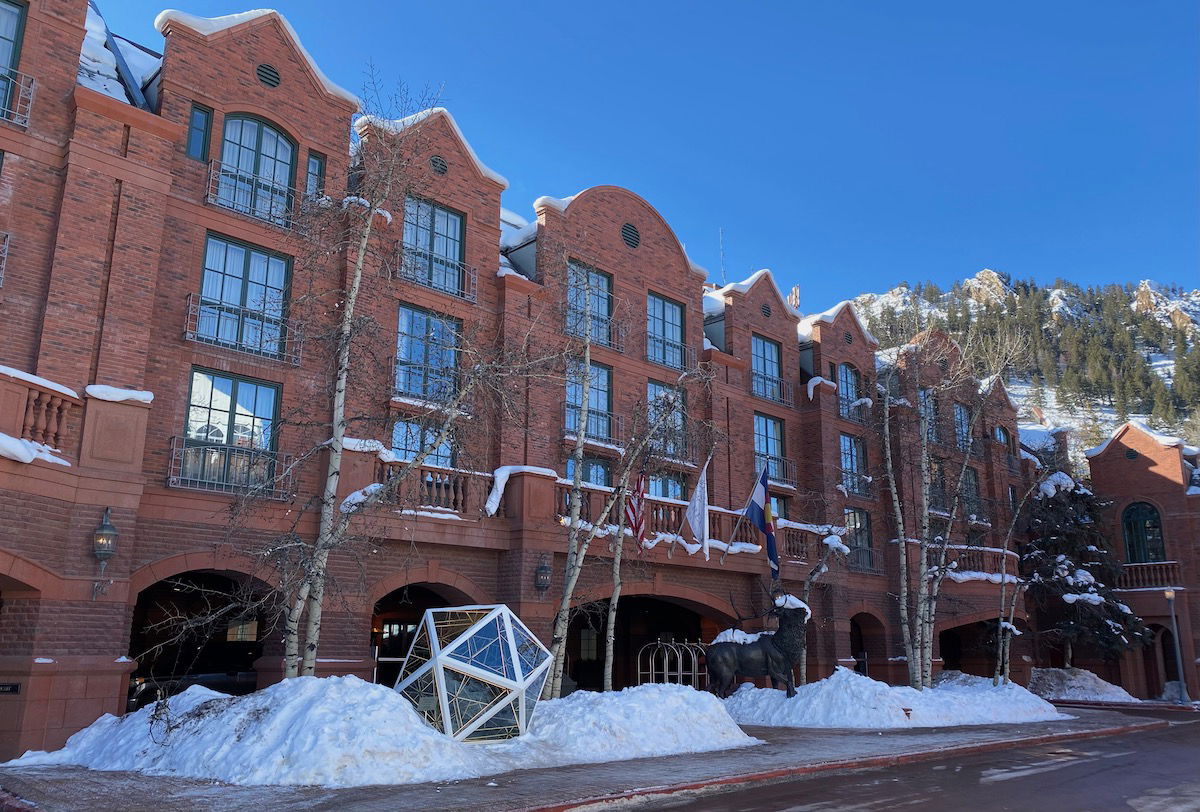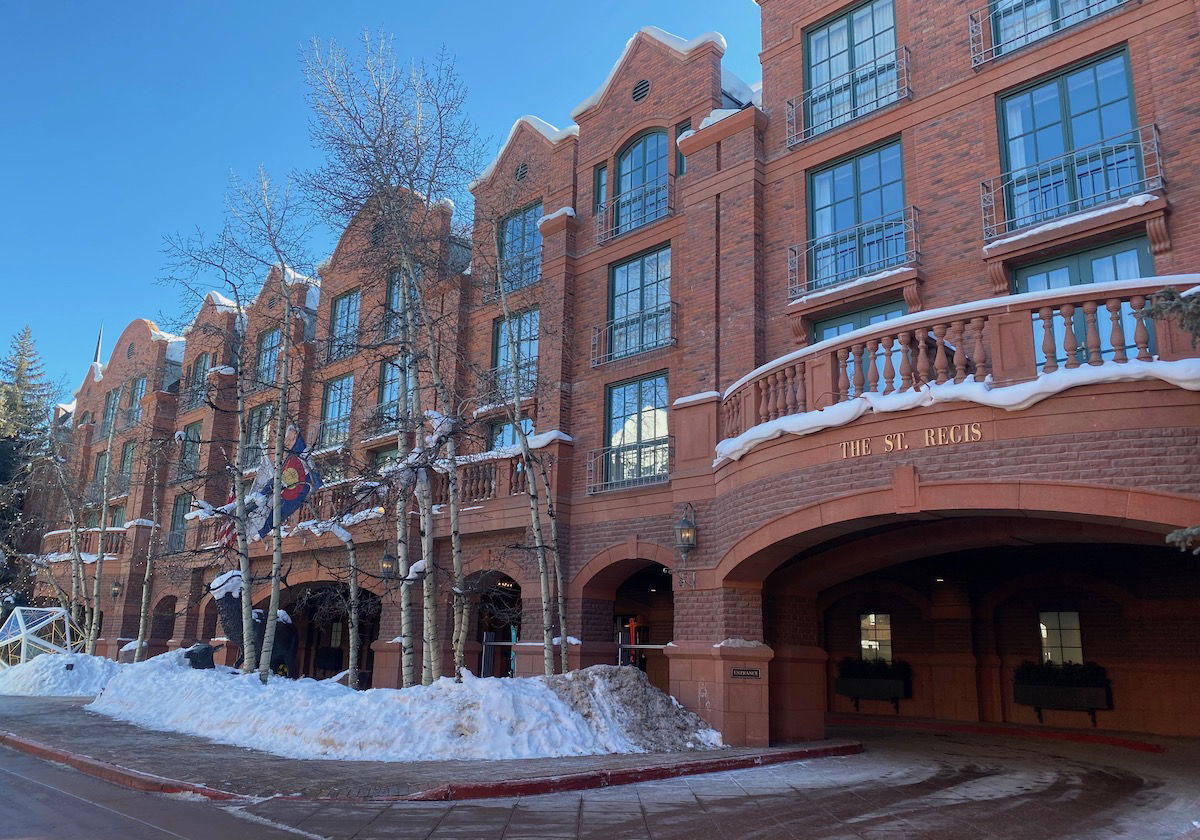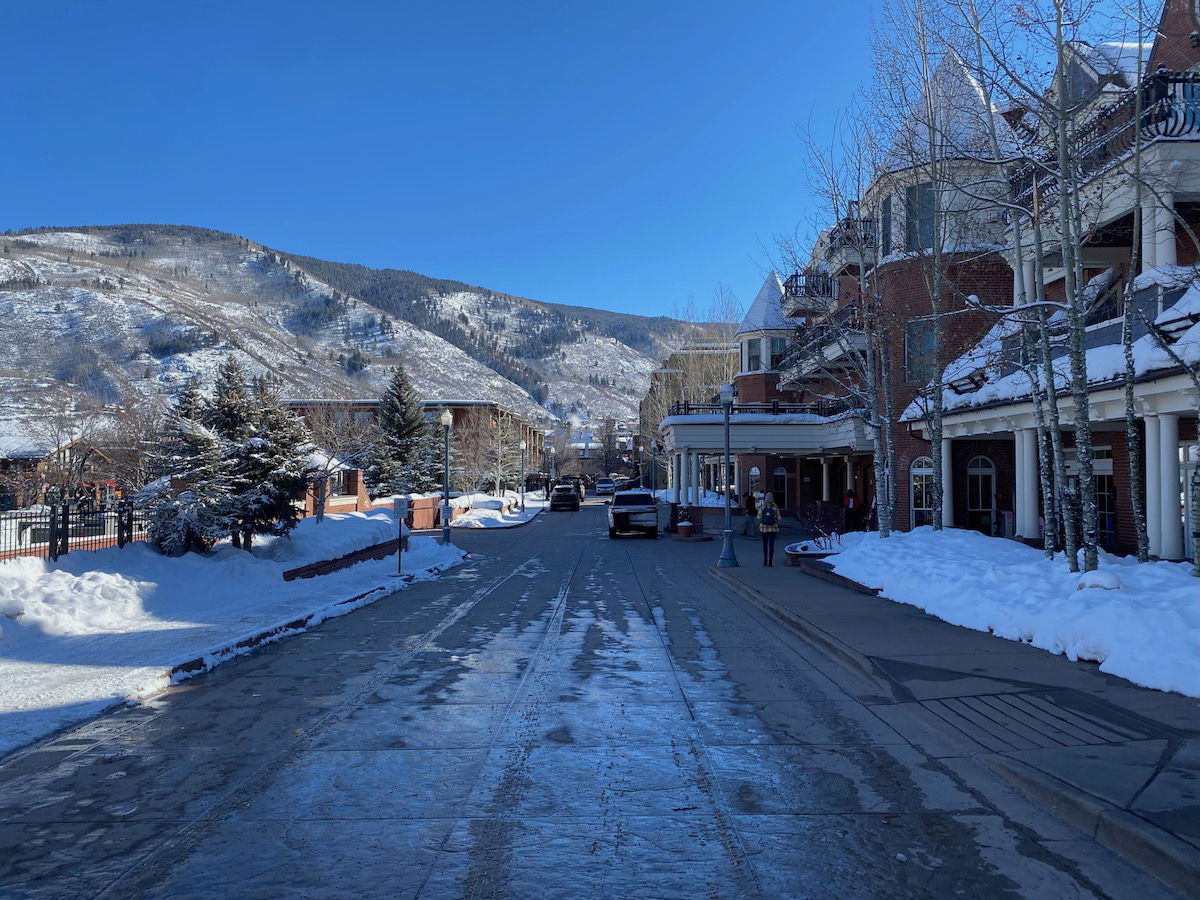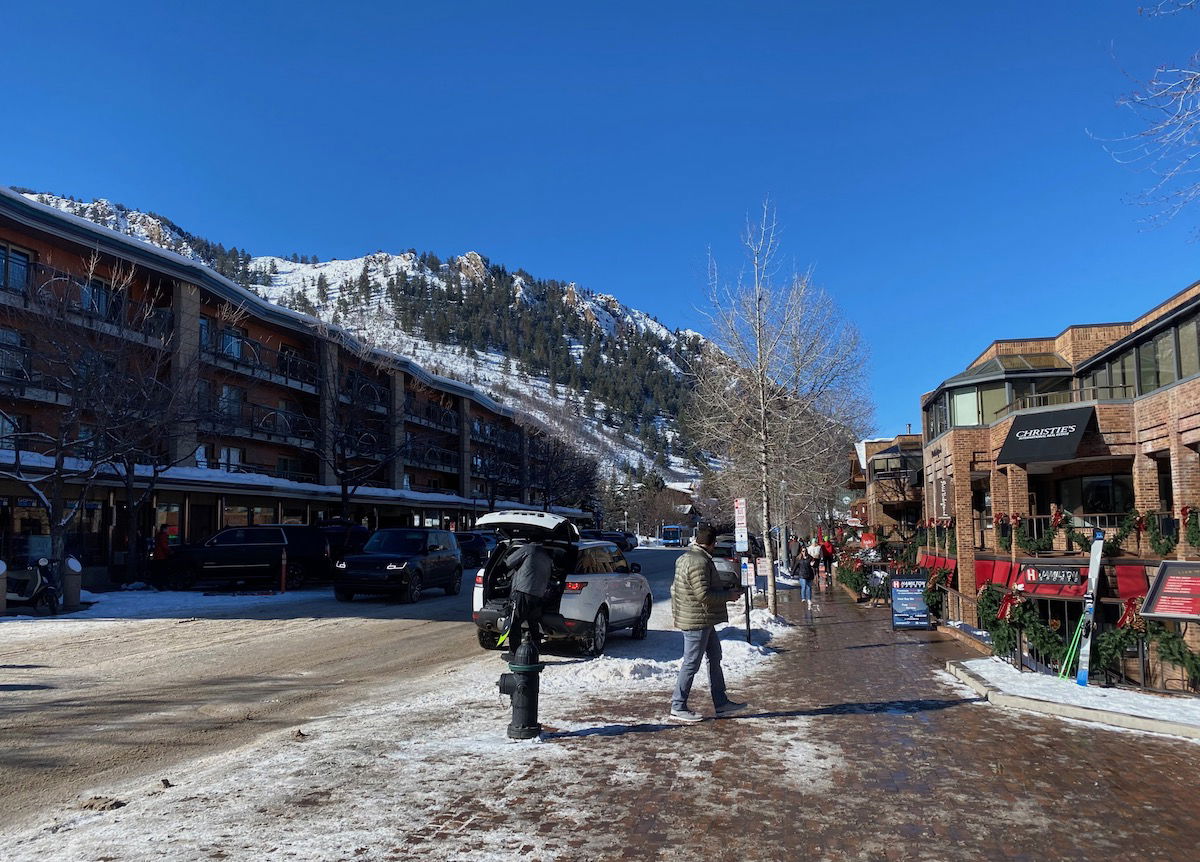 If you prefer not to walk (after all, the streets can be slippery), the hotel offers a complimentary shuttle anywhere in the downtown area.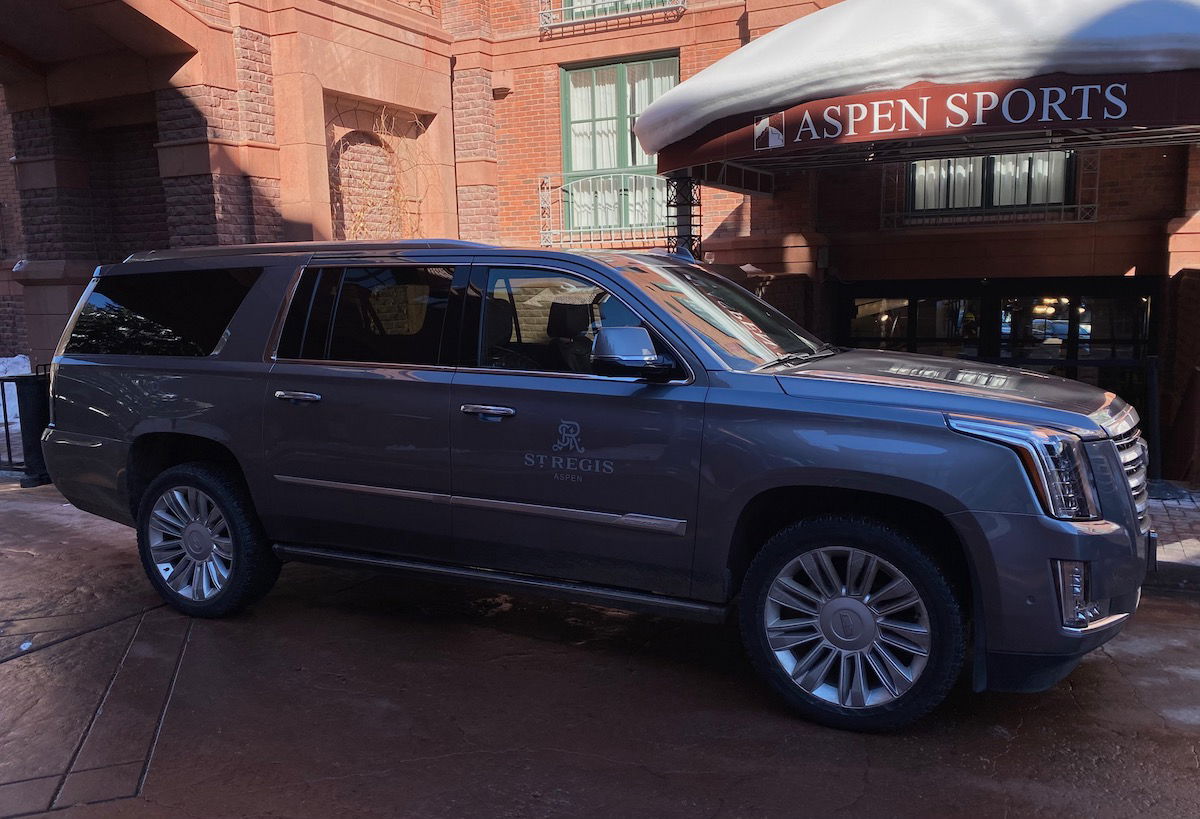 The St. Regis Aspen also offers a complimentary shuttle to Aspen Pitkin County Airport (ASE), which sure is convenient. The airport is only a 10-15 minute drive from the hotel.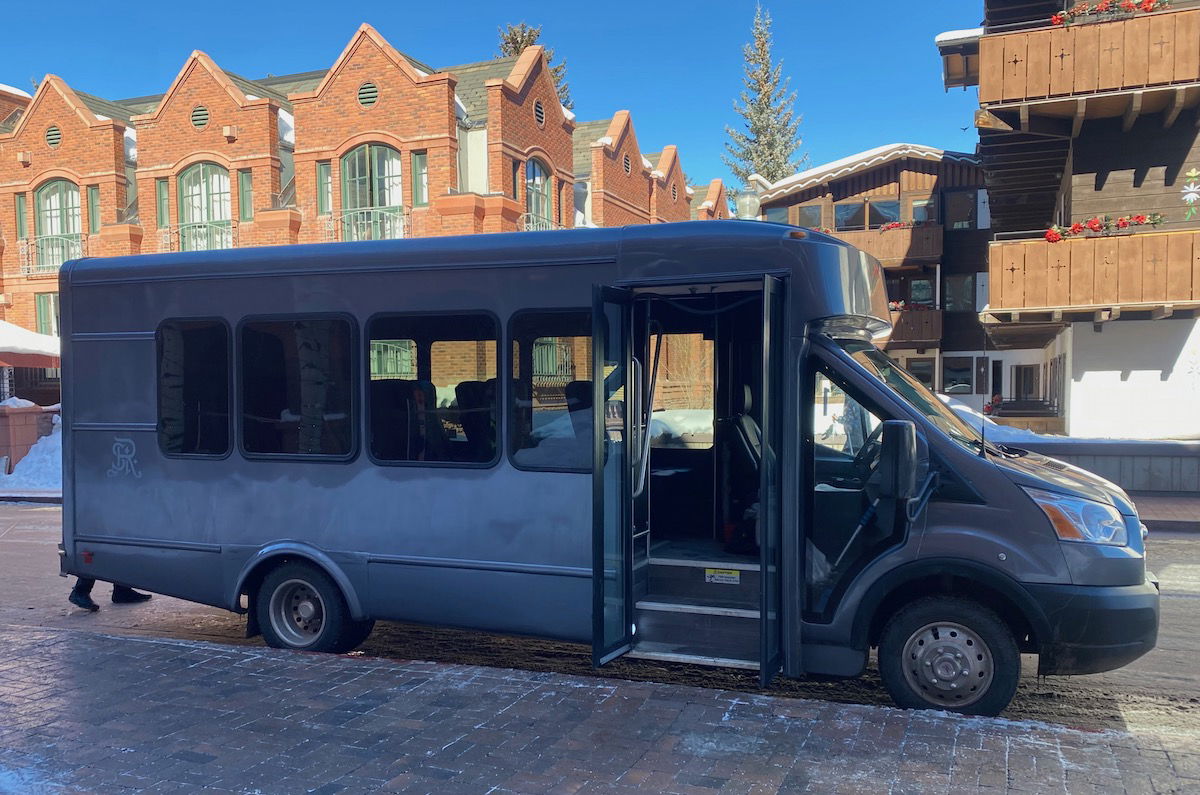 Lastly, while we're talking about transportation, the St. Regis Aspen also has a BMW X7, which can be reserved for four hours on a complimentary basis, between 7AM and 9PM. We didn't use this (since we didn't have anywhere to drive), but essentially getting an X7 for free for four hours is pretty awesome.
St. Regis Aspen check-in & lobby
Upon arrival at the hotel I first checked out the lobby. The St. Regis Aspen's lobby is large, and I'd say it's cozy and traditional for a mountain resort. It's well maintained and feels nice, without being overly luxurious. Inside the entrance and to the right was reception, while straight ahead was the lobby bar.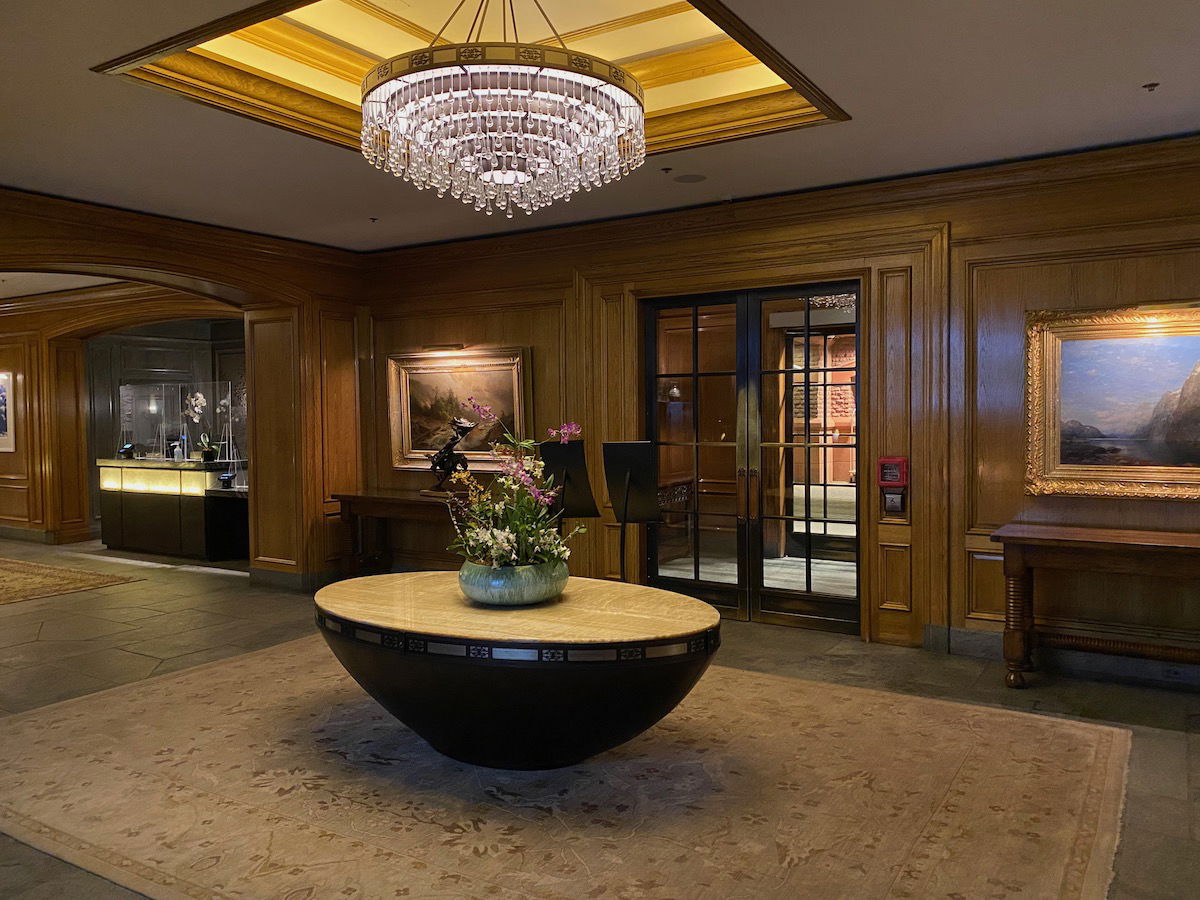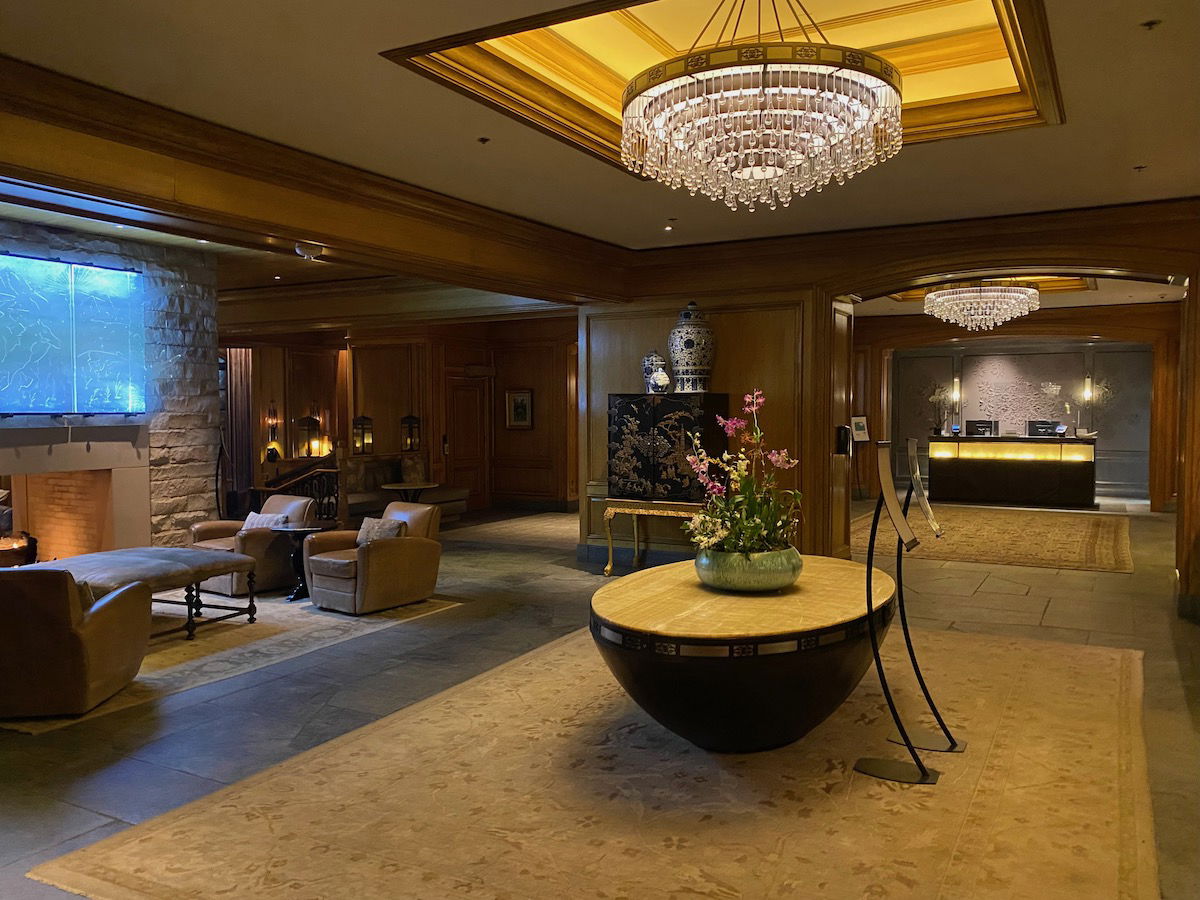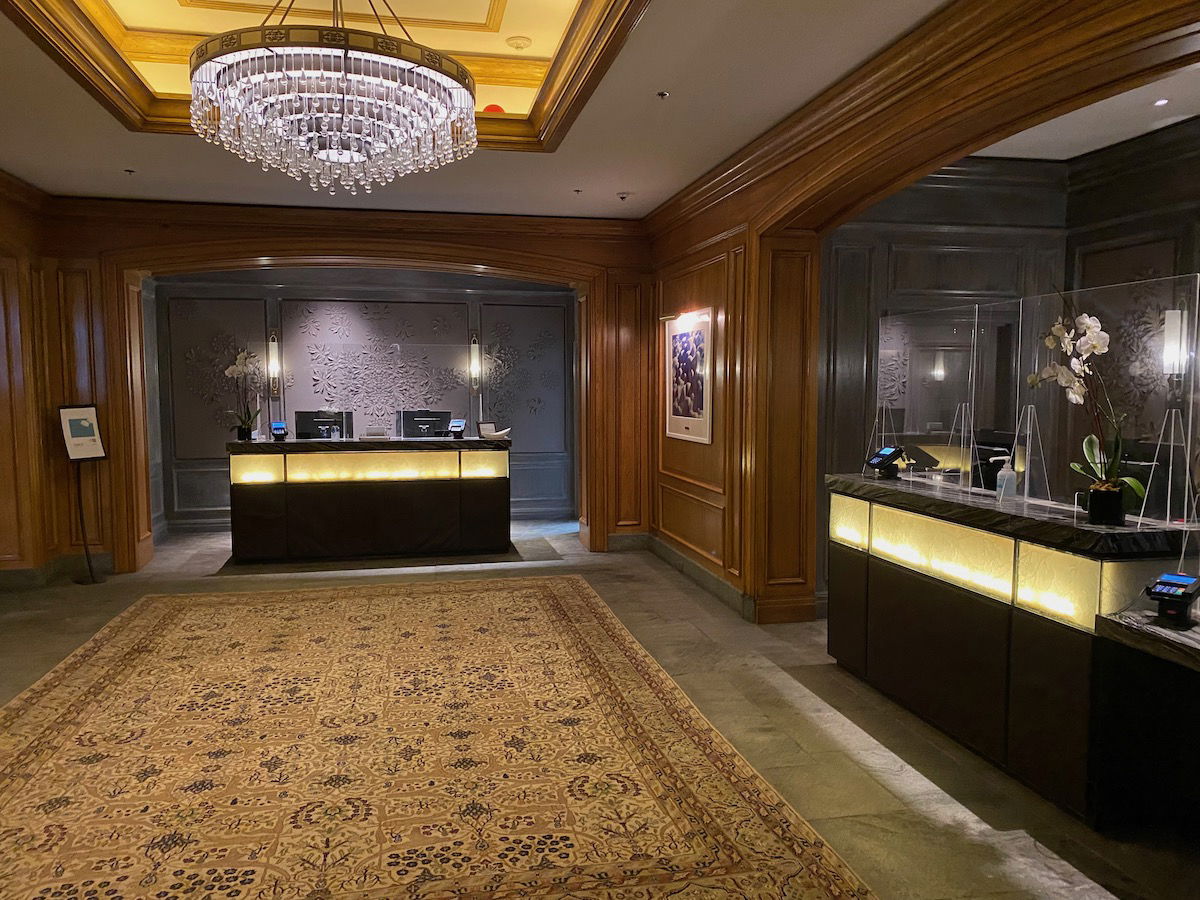 There are also several hallways leading to various wings of the property, as well as some cute places to sit.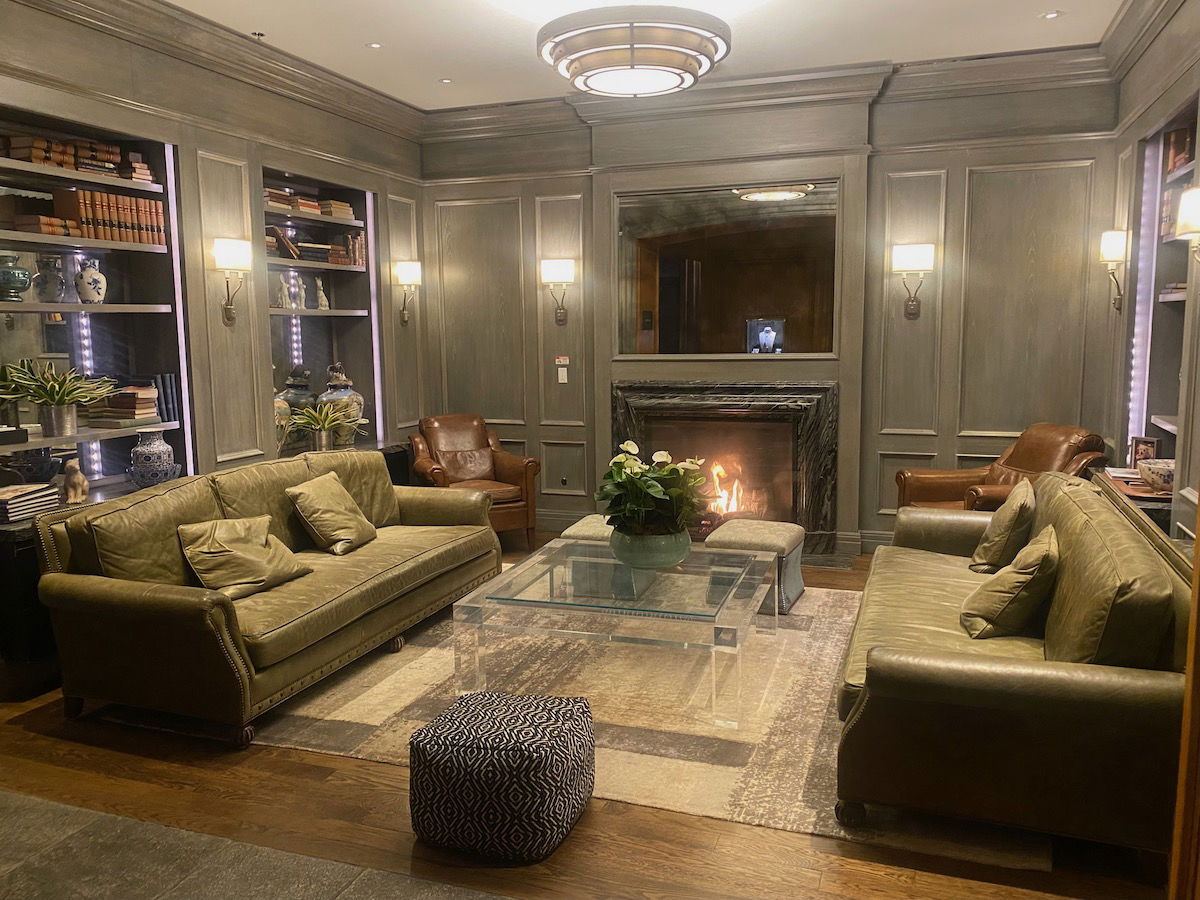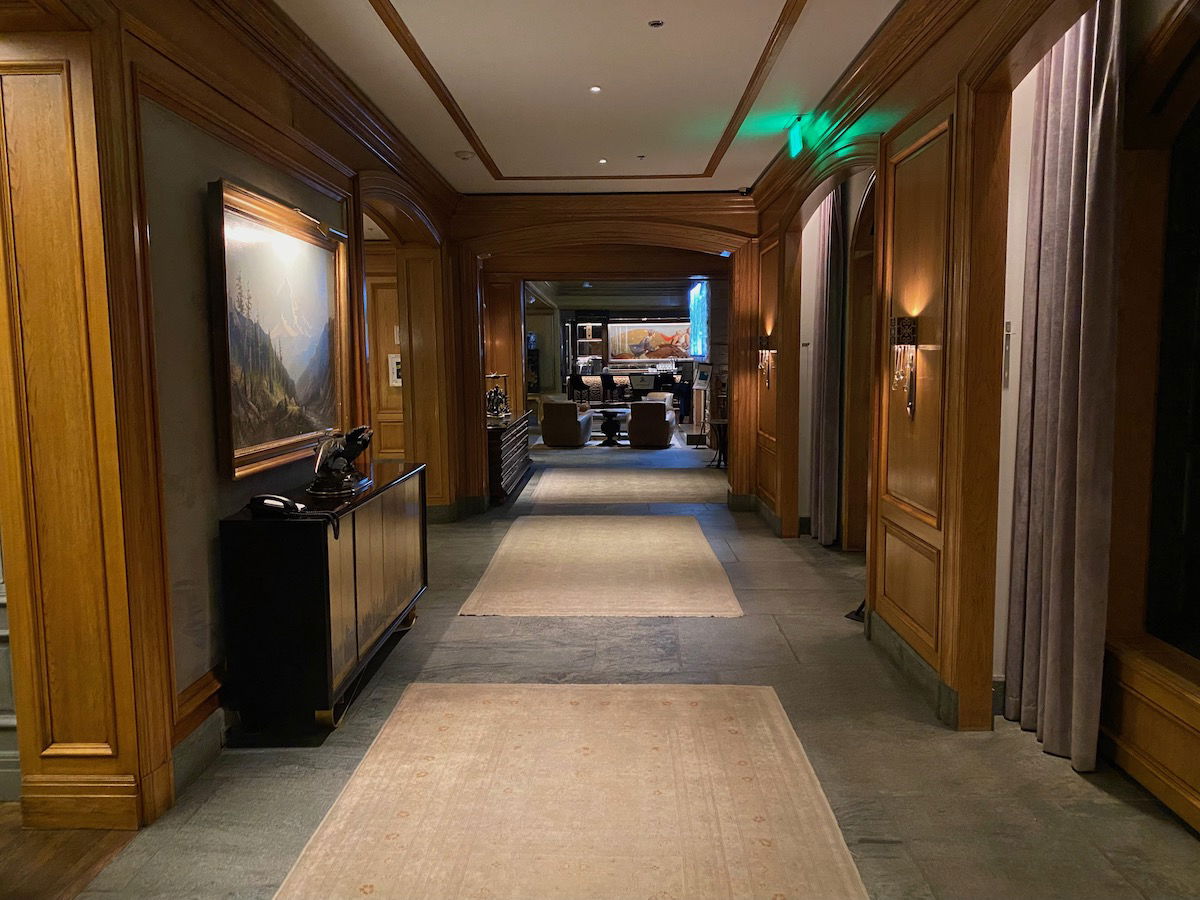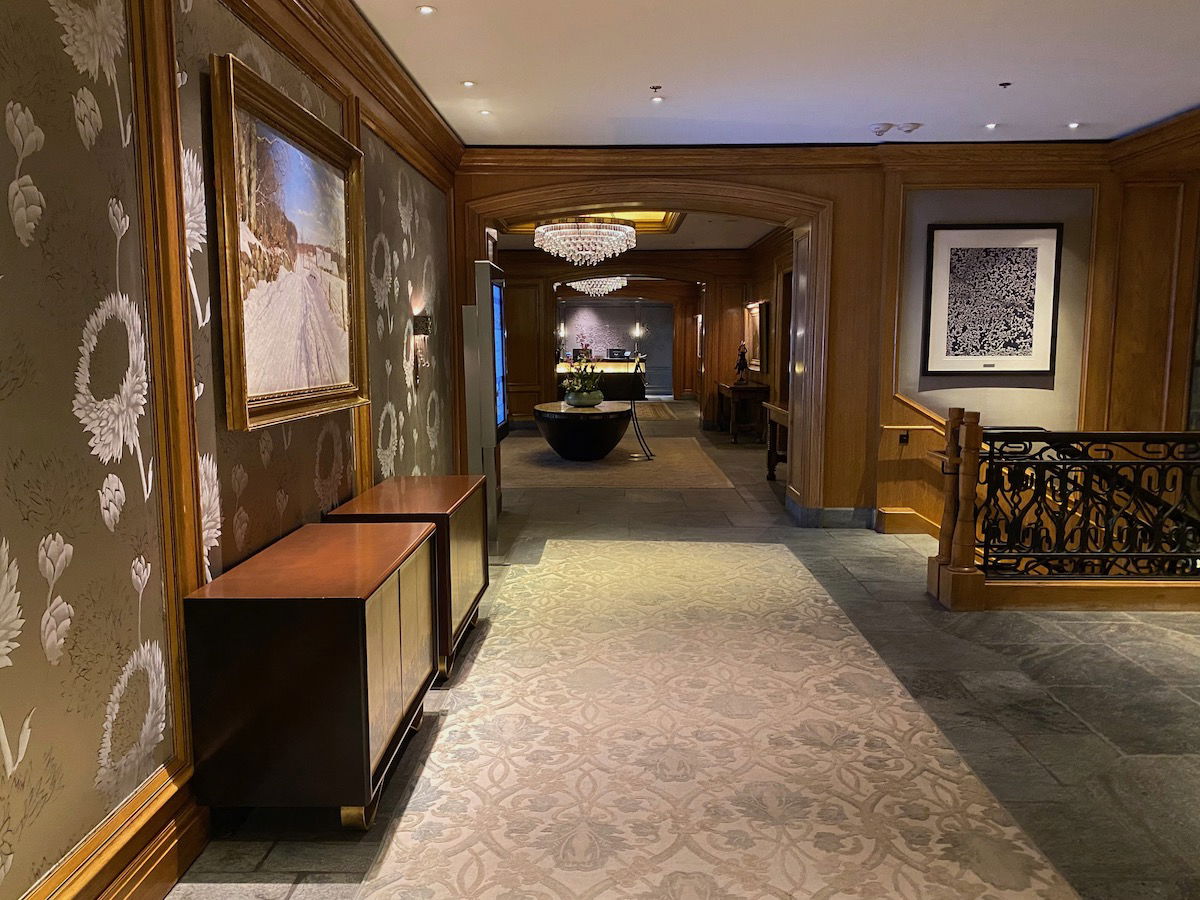 Inside the entrance and to the left was a staircase leading down a level, as that's where the gym, spa, and conference rooms are located.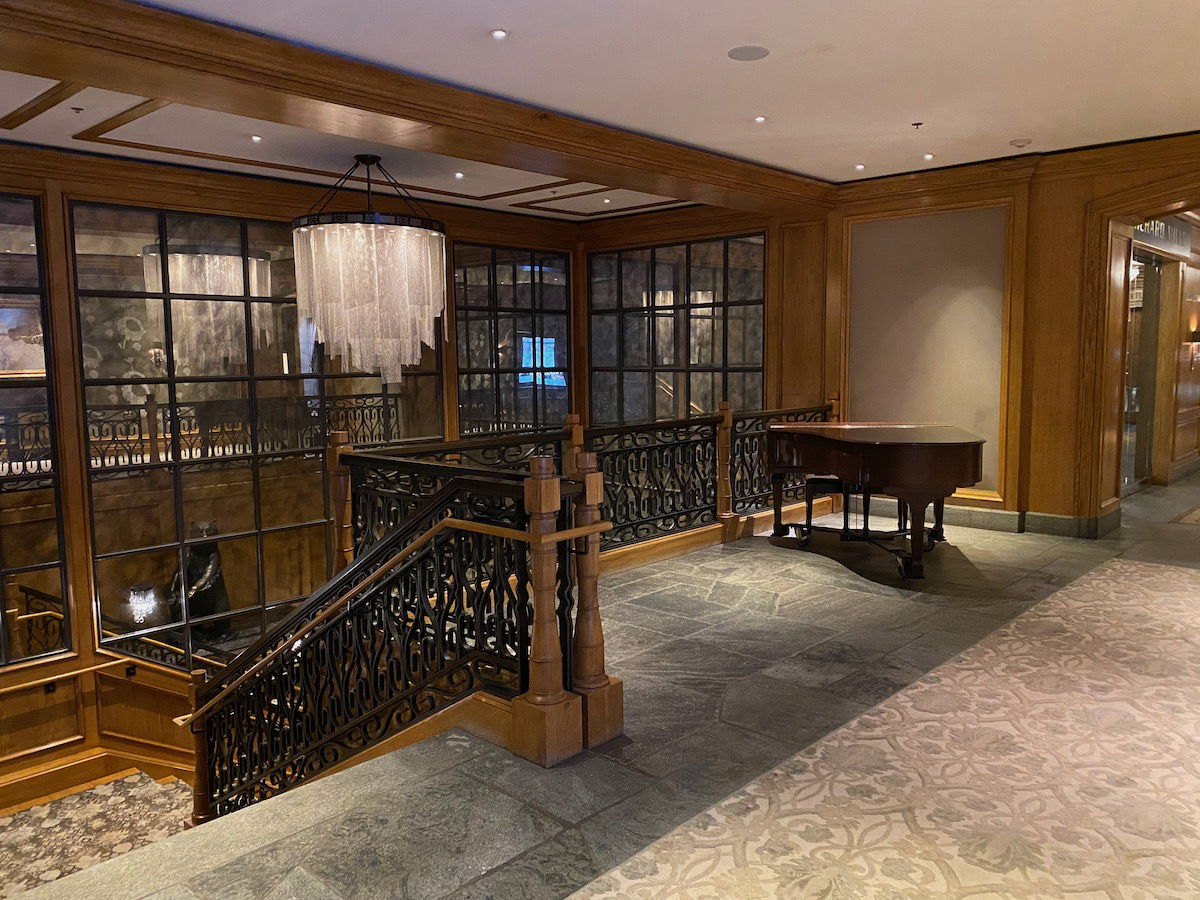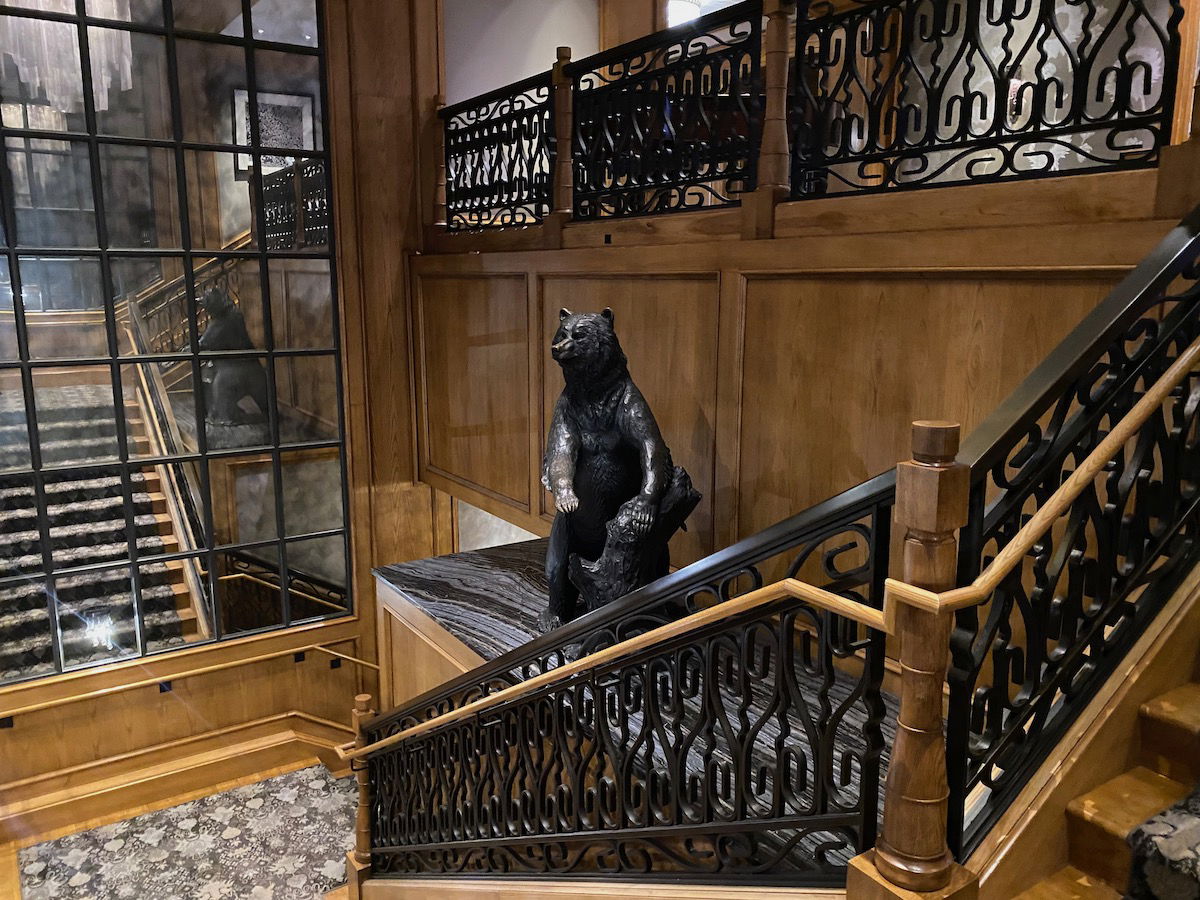 Our check-in experience was efficient and professional. We were advised of many of the hotel's features, and were also told that on account of my Marriott Bonvoy Titanium status we had a $52 daily breakfast credit, which could be used in the restaurant or via in-room dining.
Since we were in a suite, we were also introduced to a butler, who escorted us to our room. We were assigned room 405, located on the fourth floor (the hotel has five floors). The elevators were just behind reception and to the right.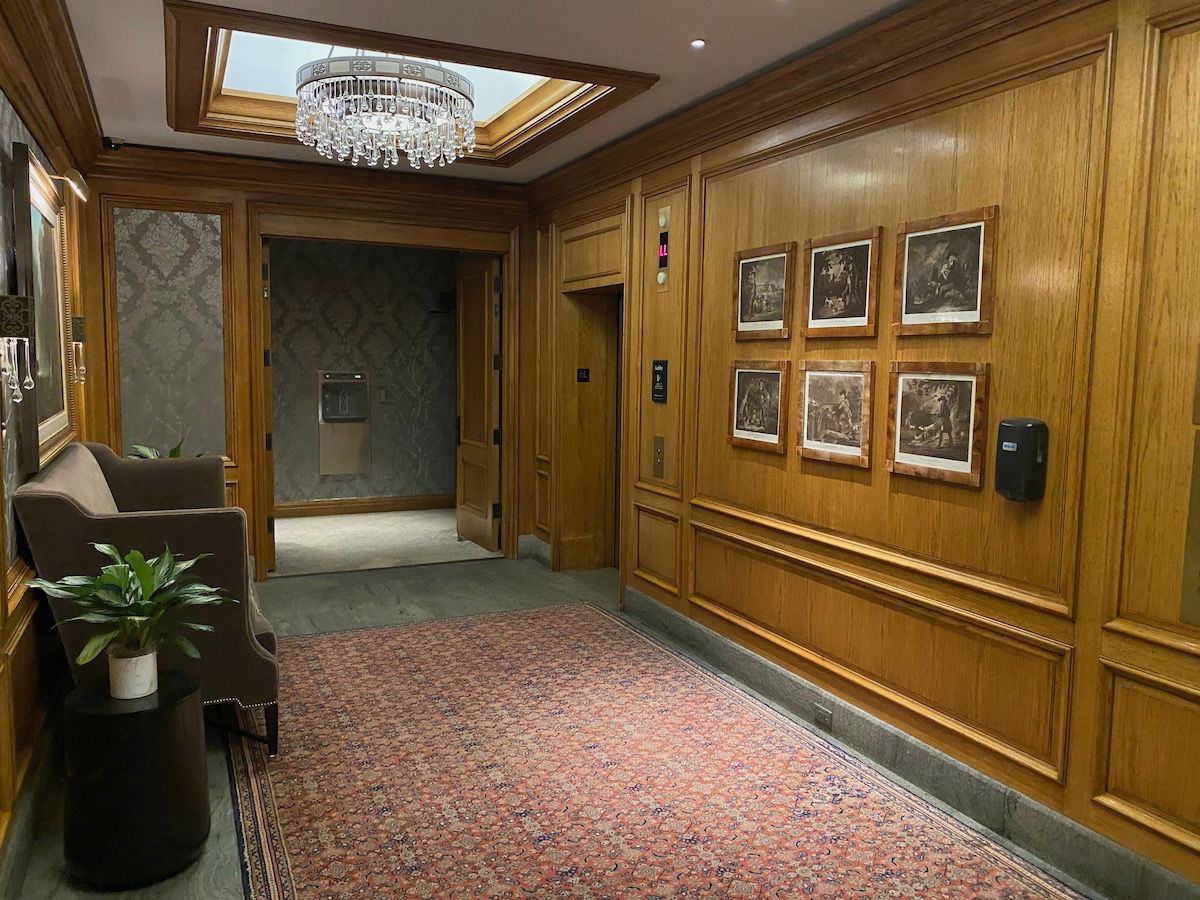 St. Regis Aspen one bedroom suite
Interestingly the decor in the hallways feels very different than the decor in the lobby. Upon exiting the elevators we turned left, and then our room was just a short walk down the hallway and on the right.
The St. Regis Aspen's one bedroom suites are generously sized, at 820 square feet. There was a long hallway leading into the living area, with a half bathroom on the right.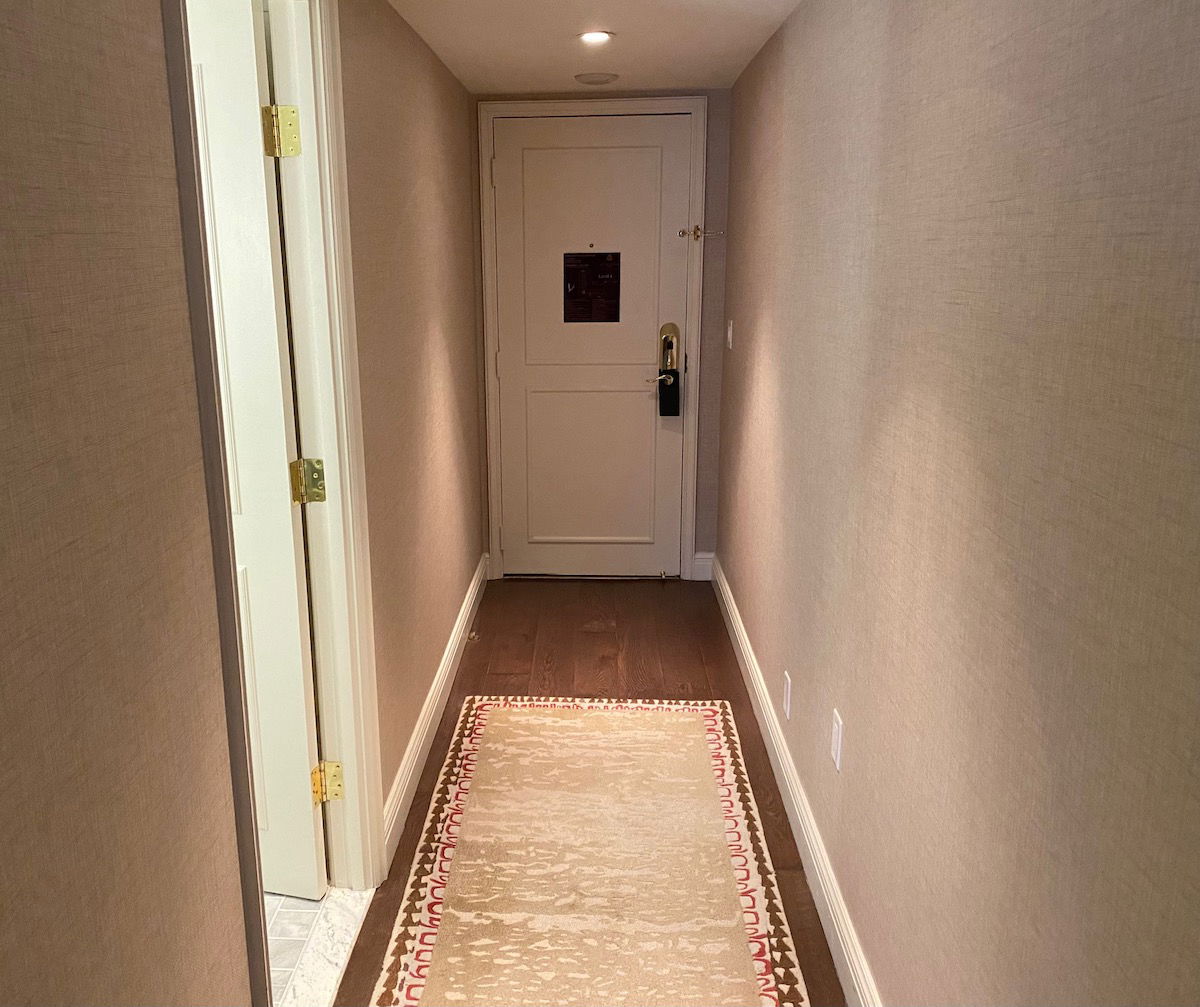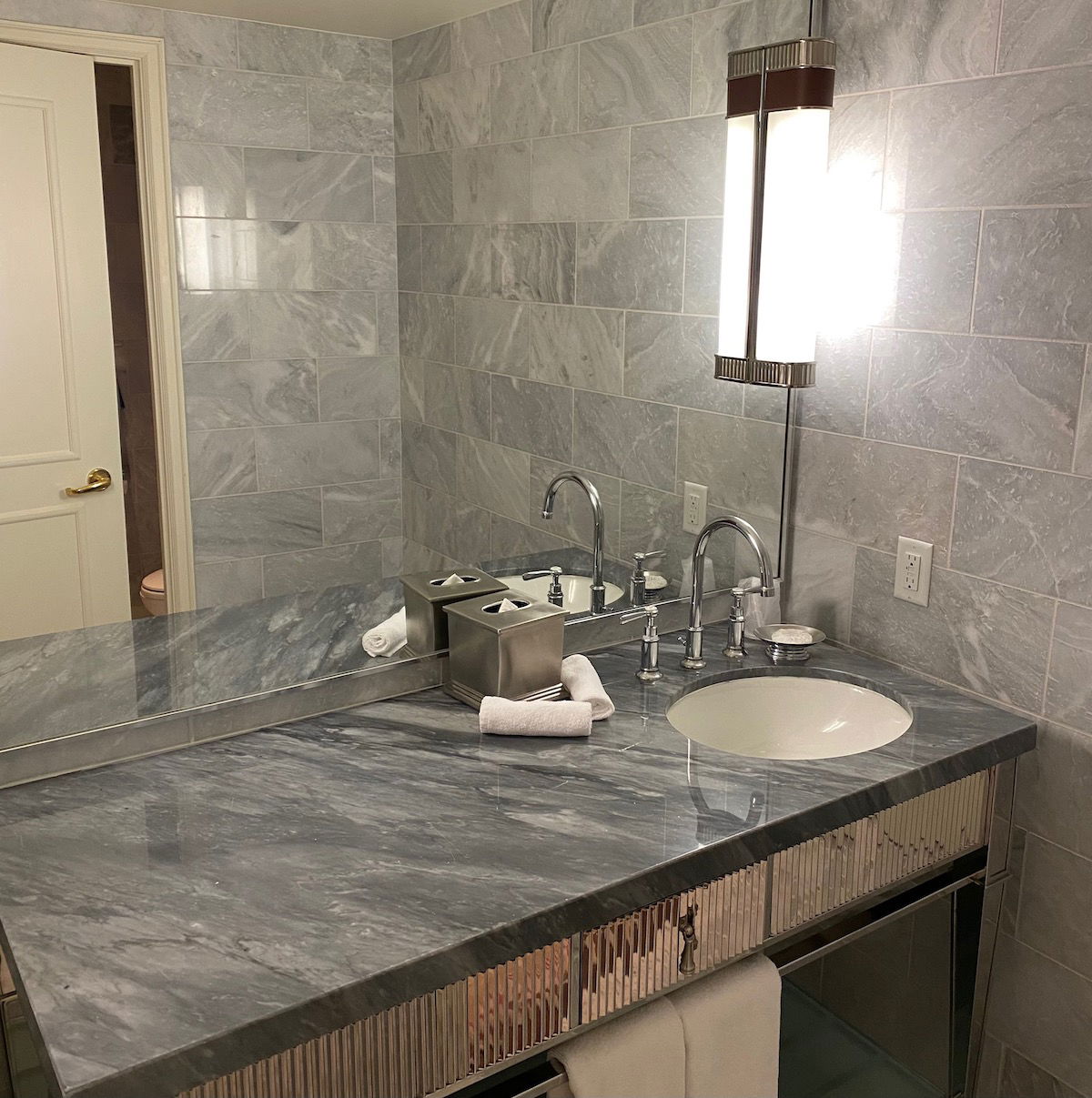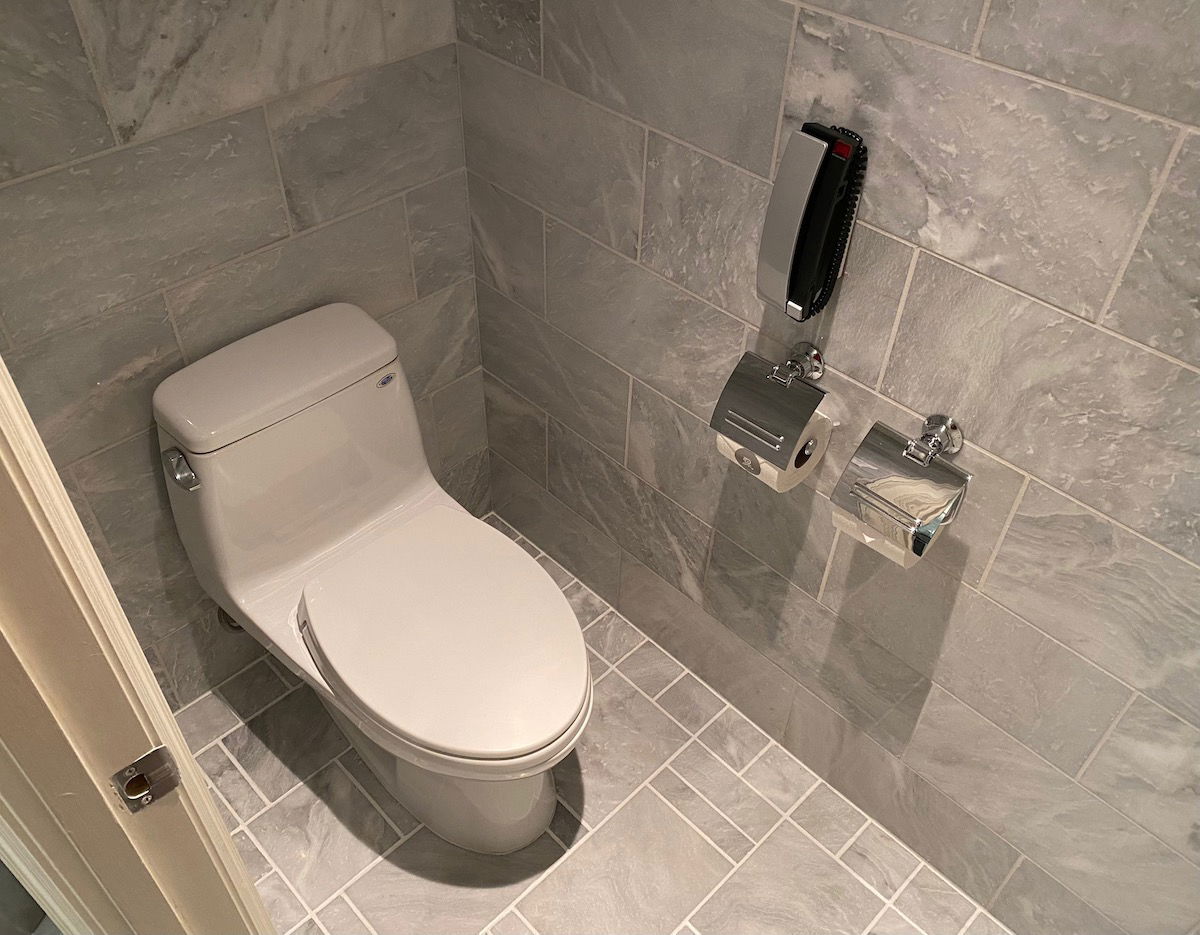 The living room was quite large, and featured a pull-out sofa, a leather lounger chair, and a desk with a seat.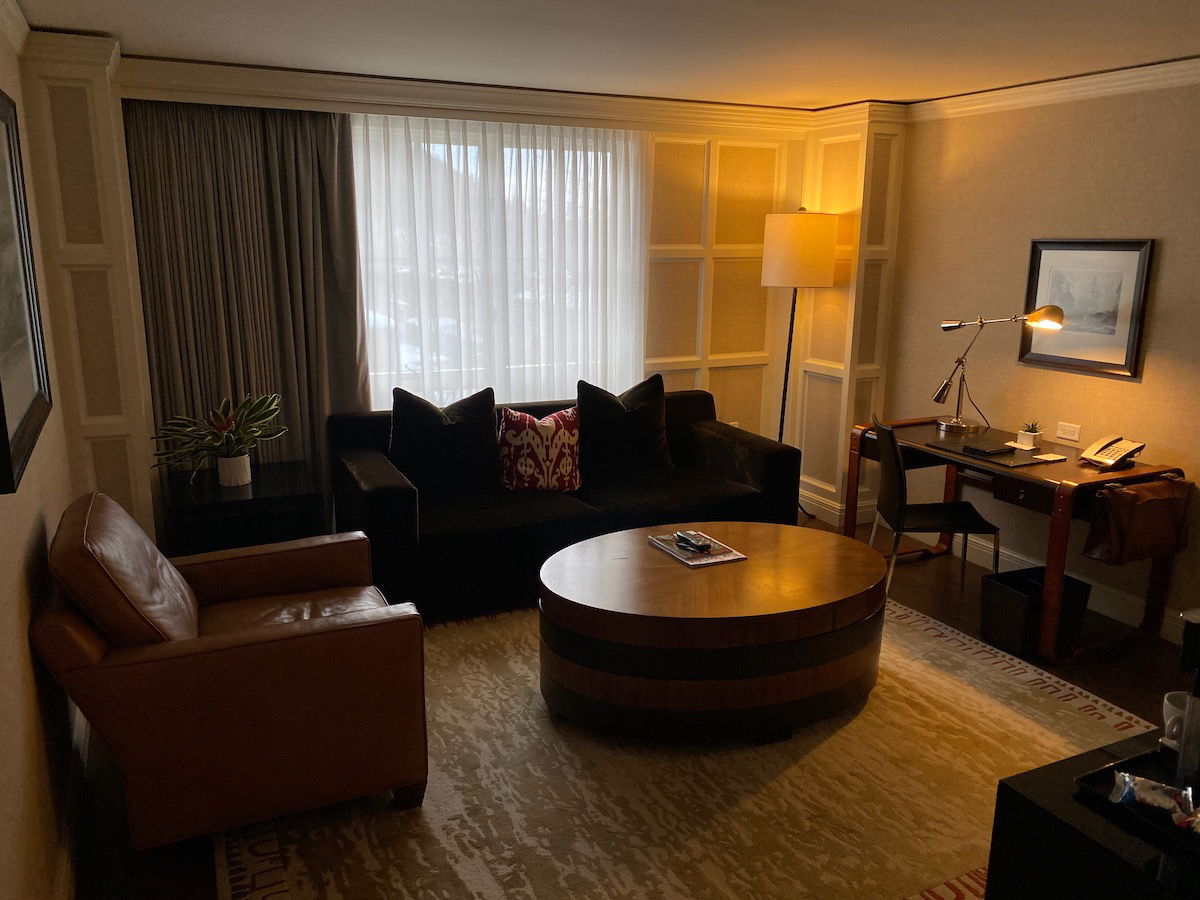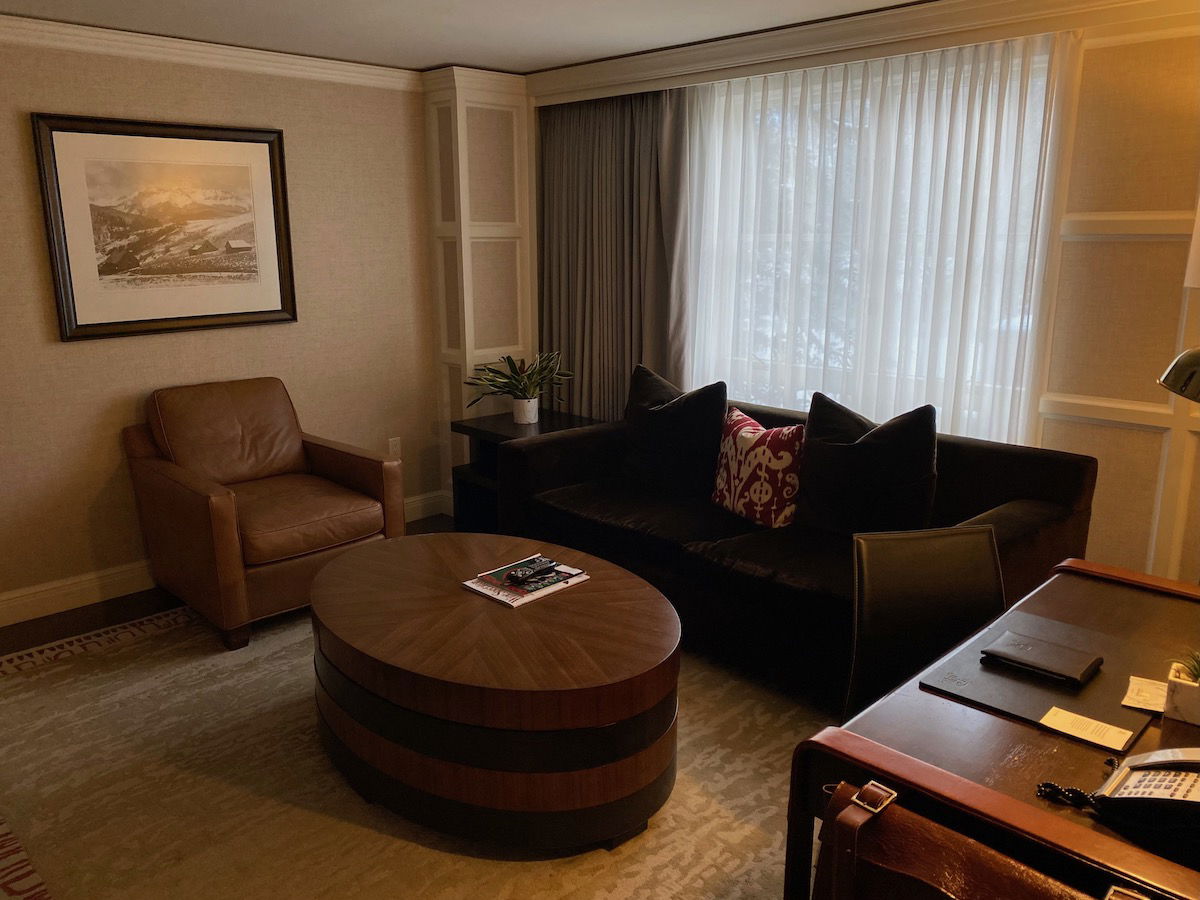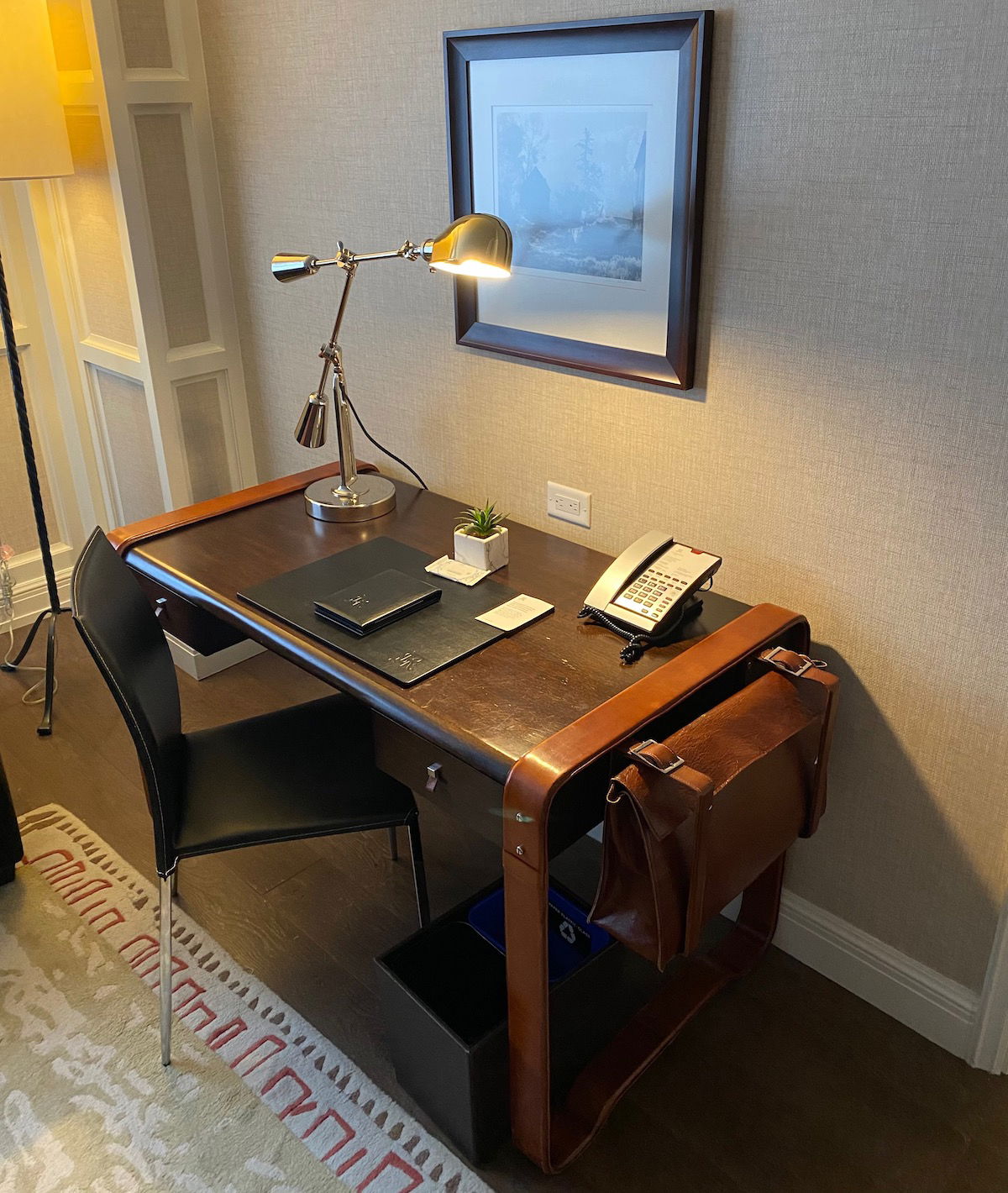 Along the interior wall of the living room was a wall-mounted TV, plus an illy coffee machine.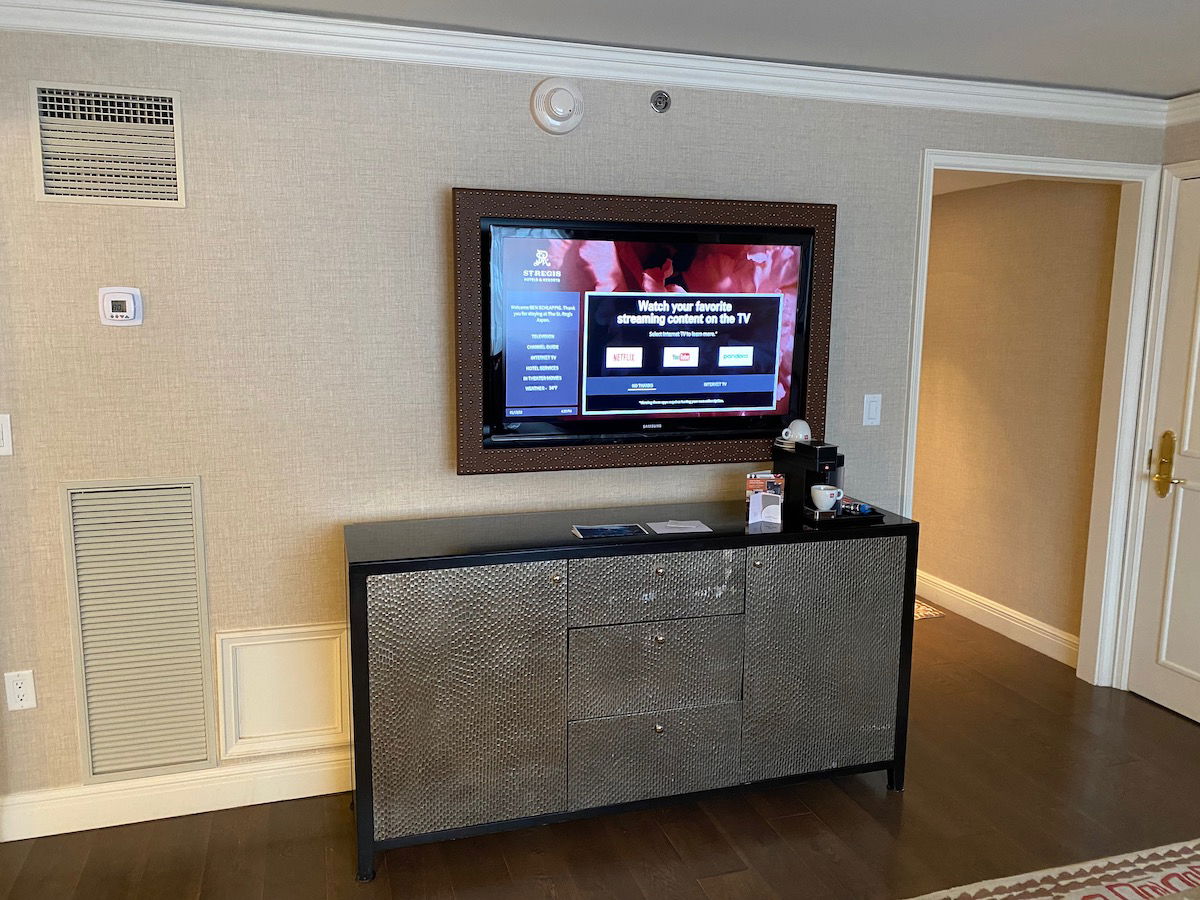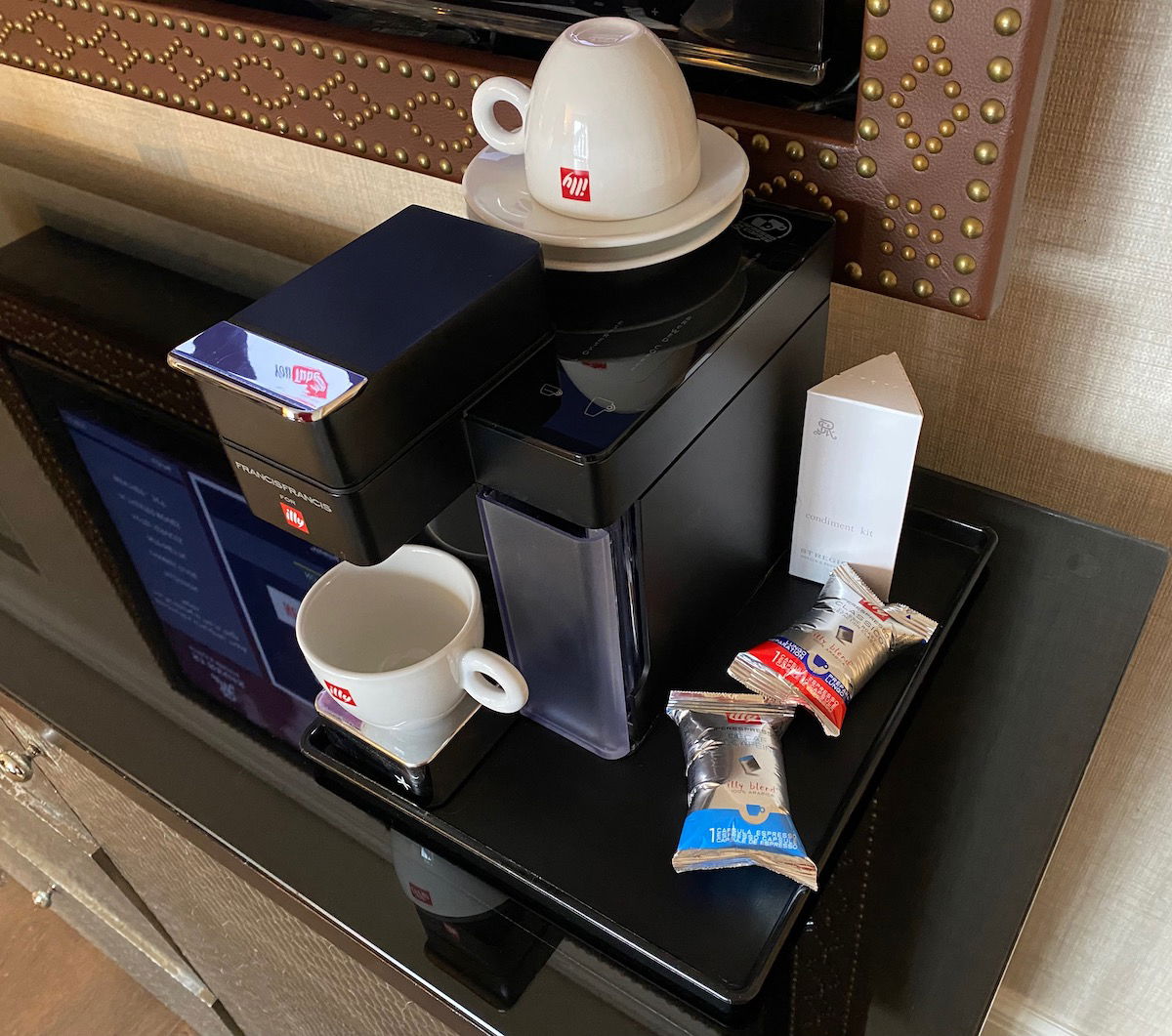 There were double doors leading into the bedroom, which had a signature St. Regis king size bed (super comfy!), plus a chair by the window. There was also a dresser and TV along the inner wall.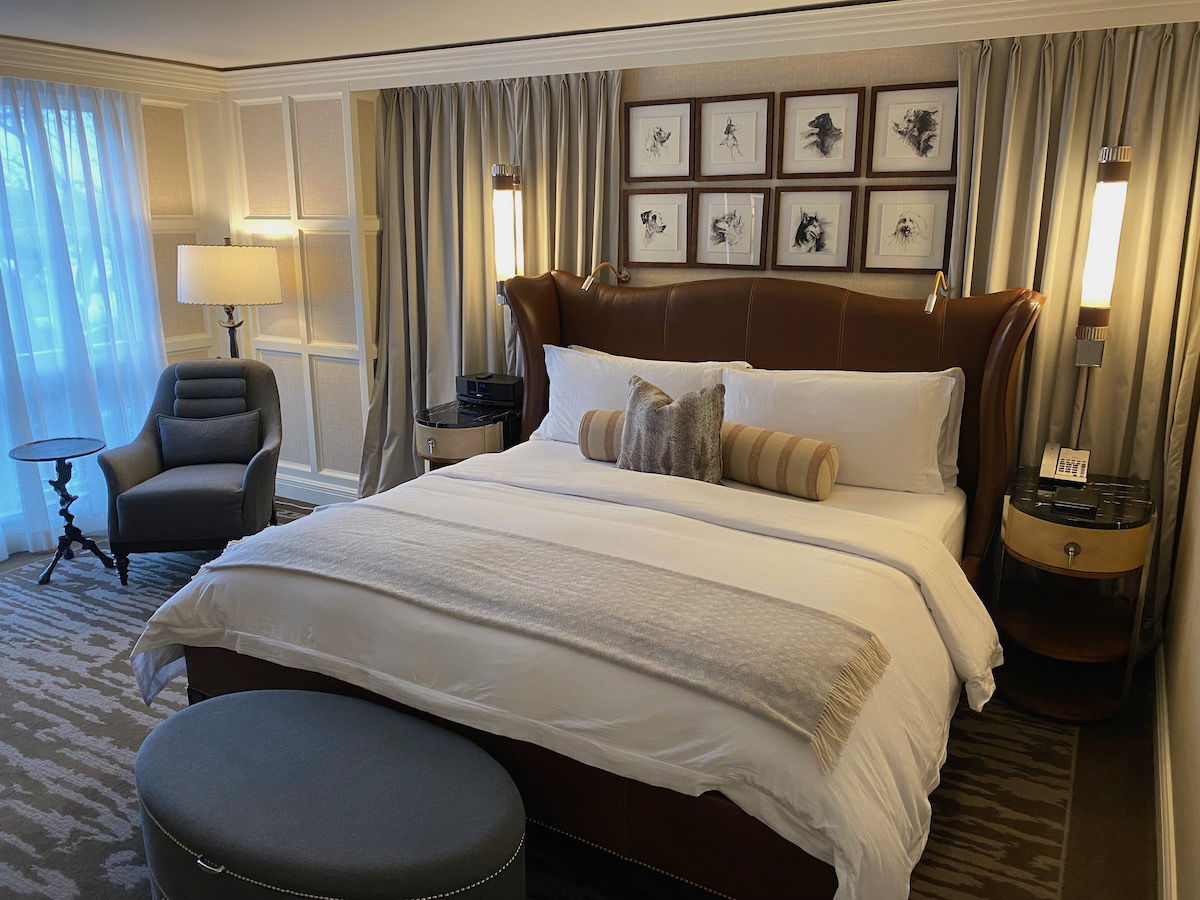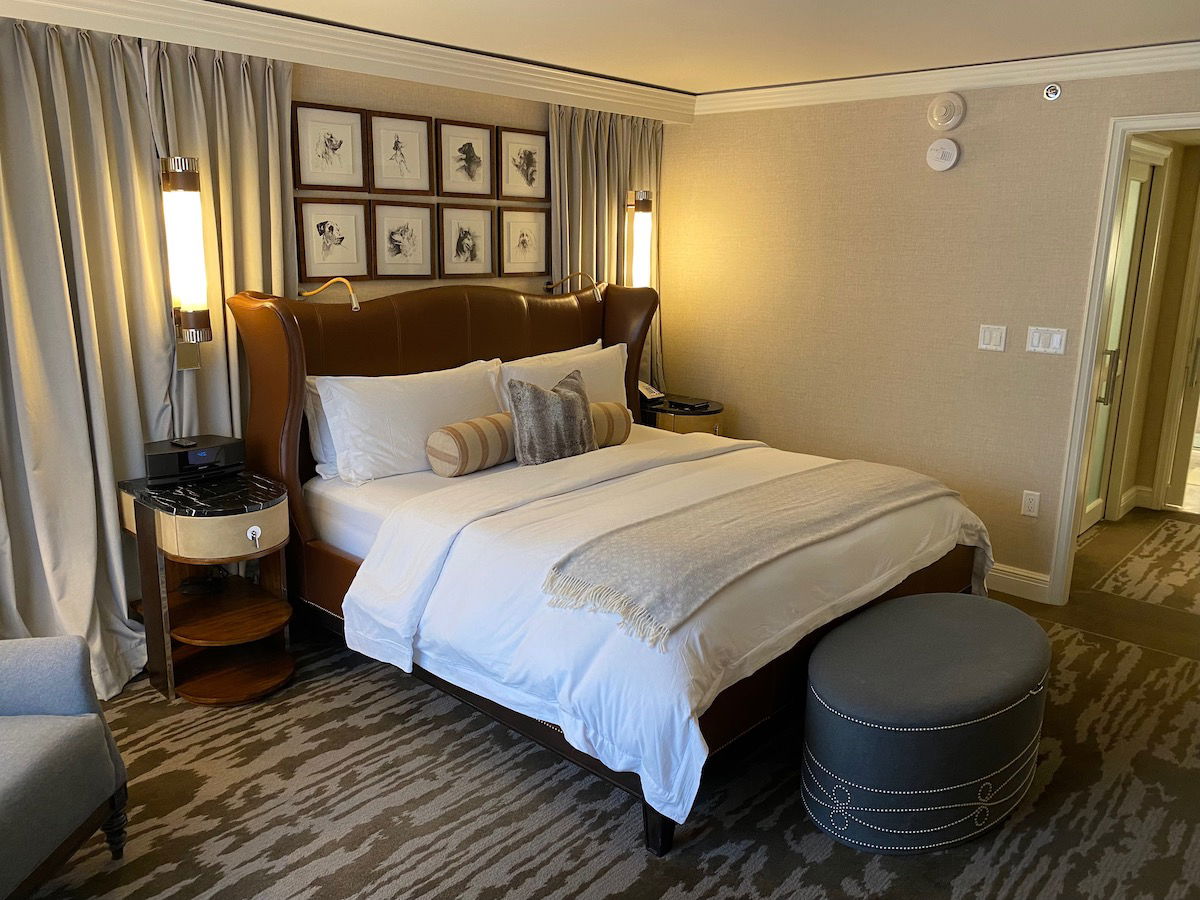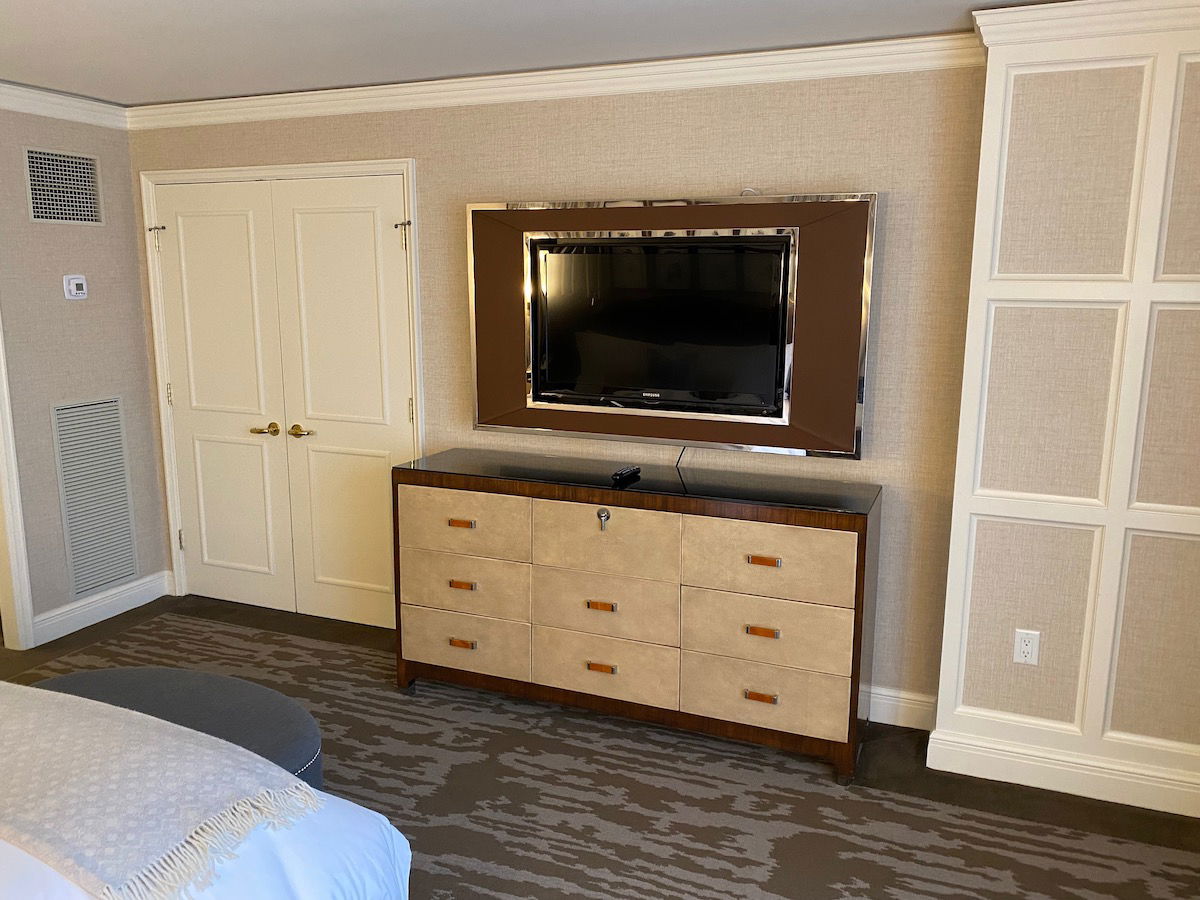 There was a hallway in the bedroom leading to the bathroom. Along that hallway was a large walk-in closet, plus the minibar, featuring a variety of drinks and snacks for purchase.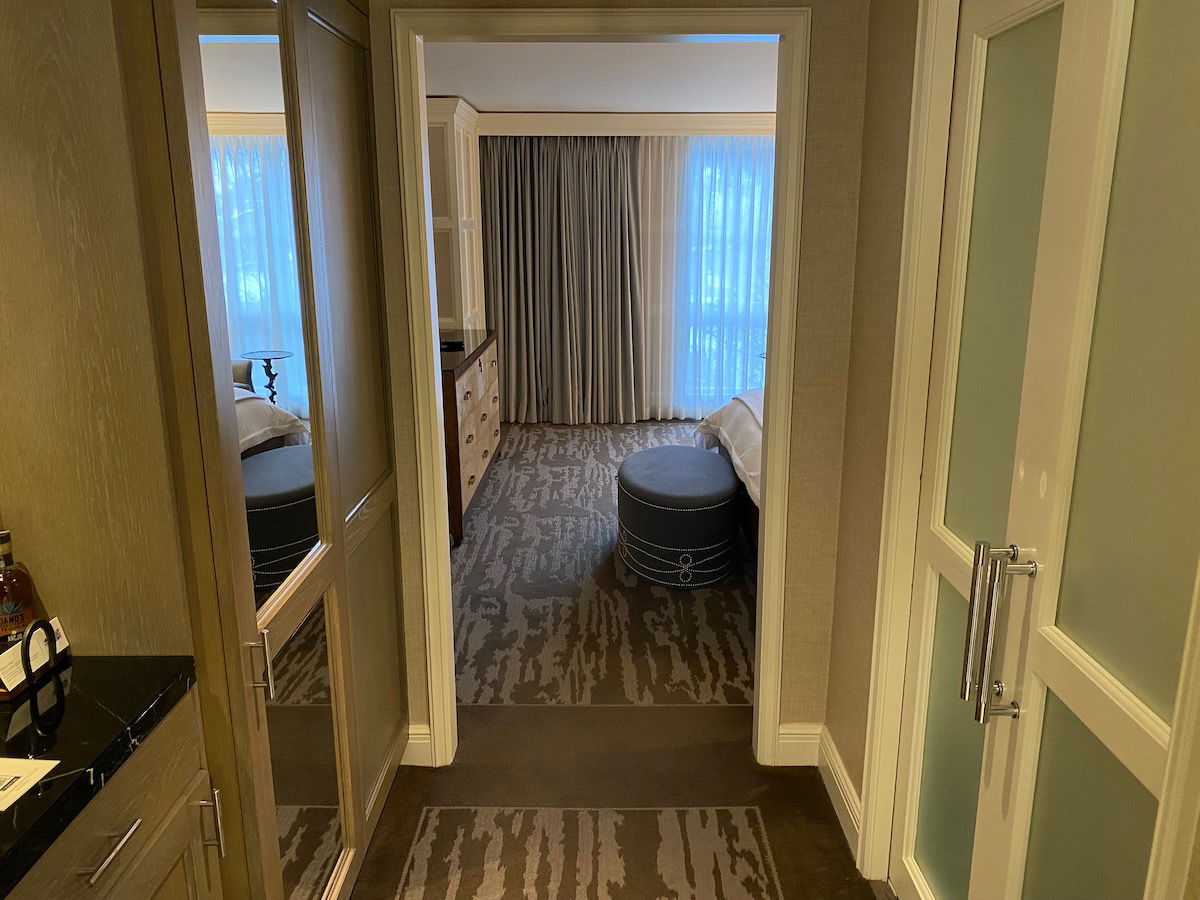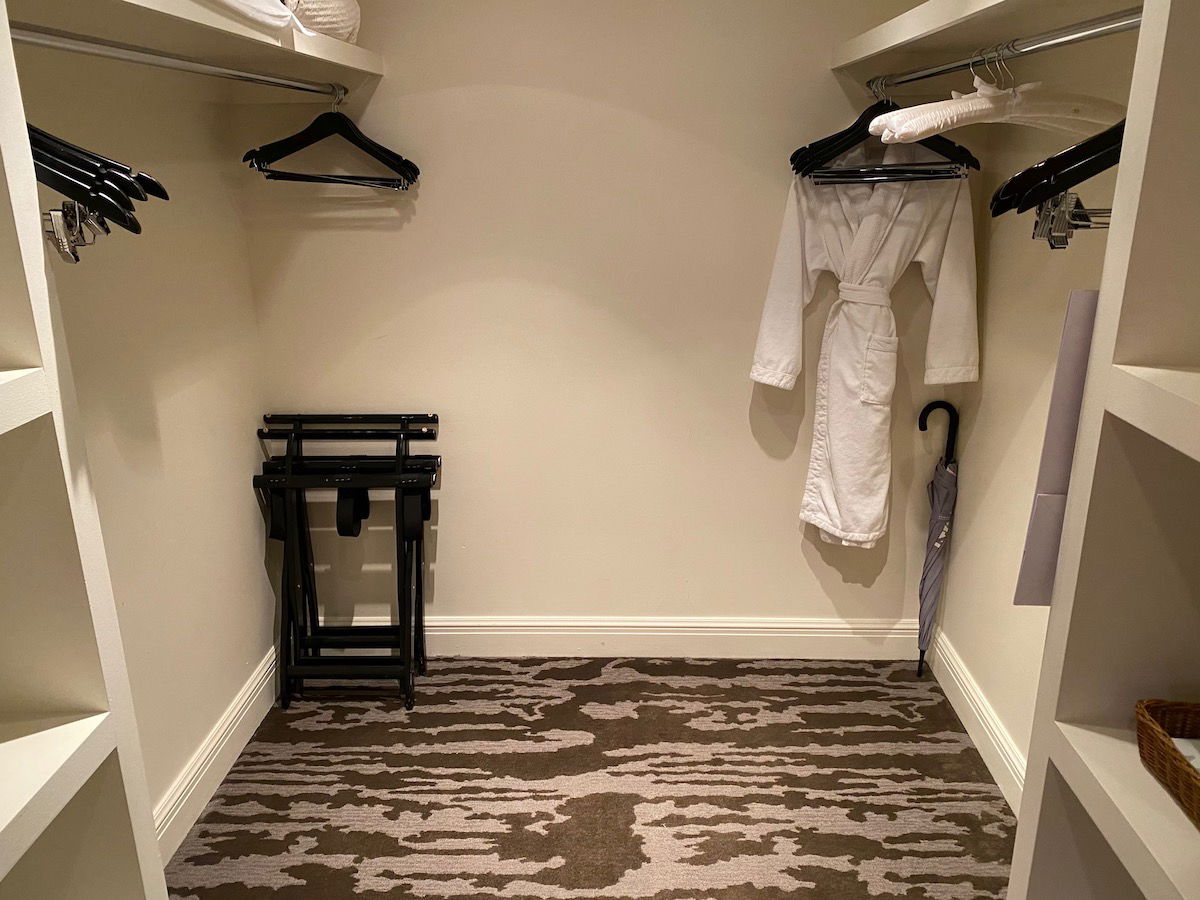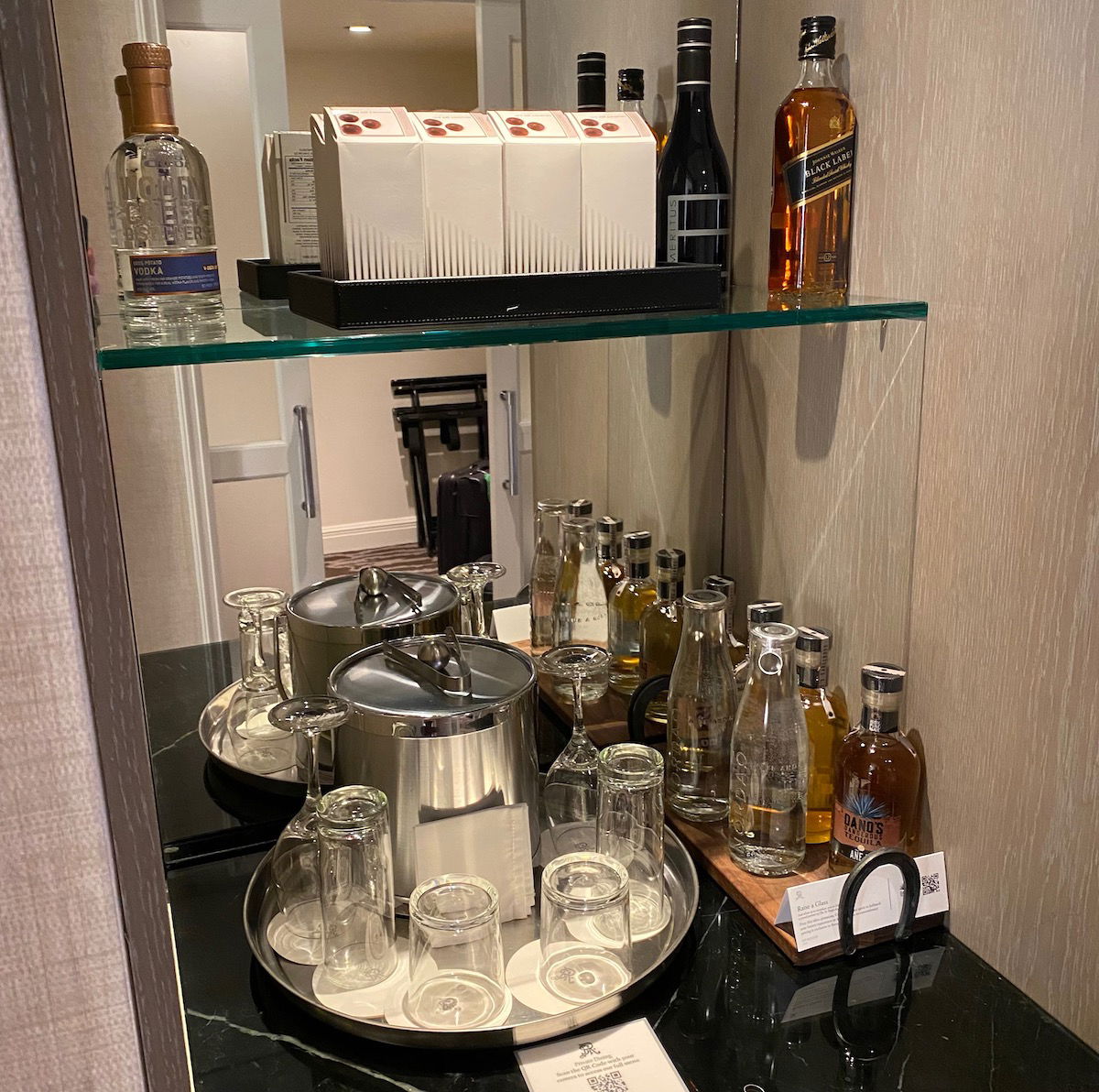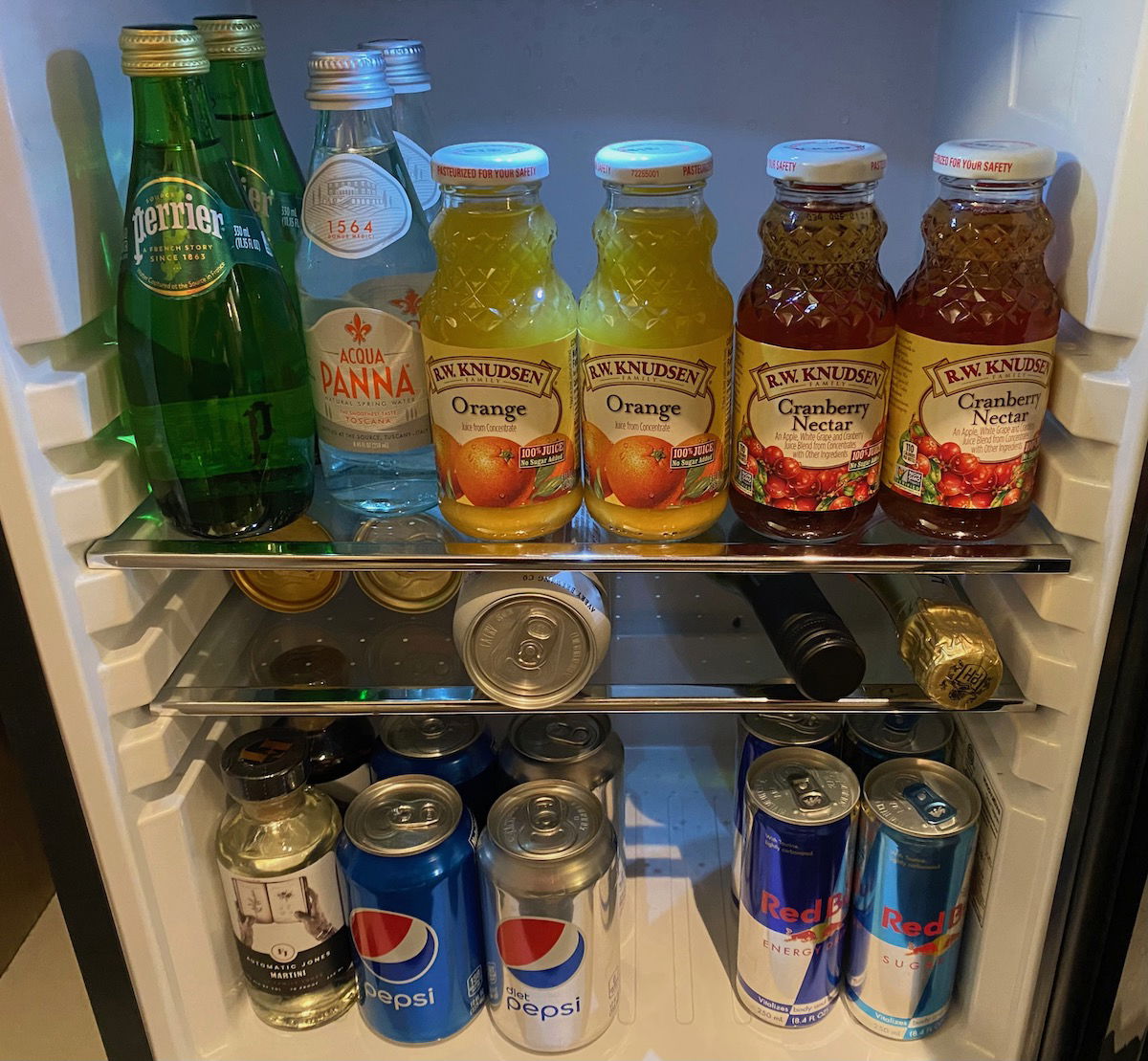 Then there was the main bathroom, which was huge. It had double sinks, a soaking tub, a walk-in shower, and a toilet.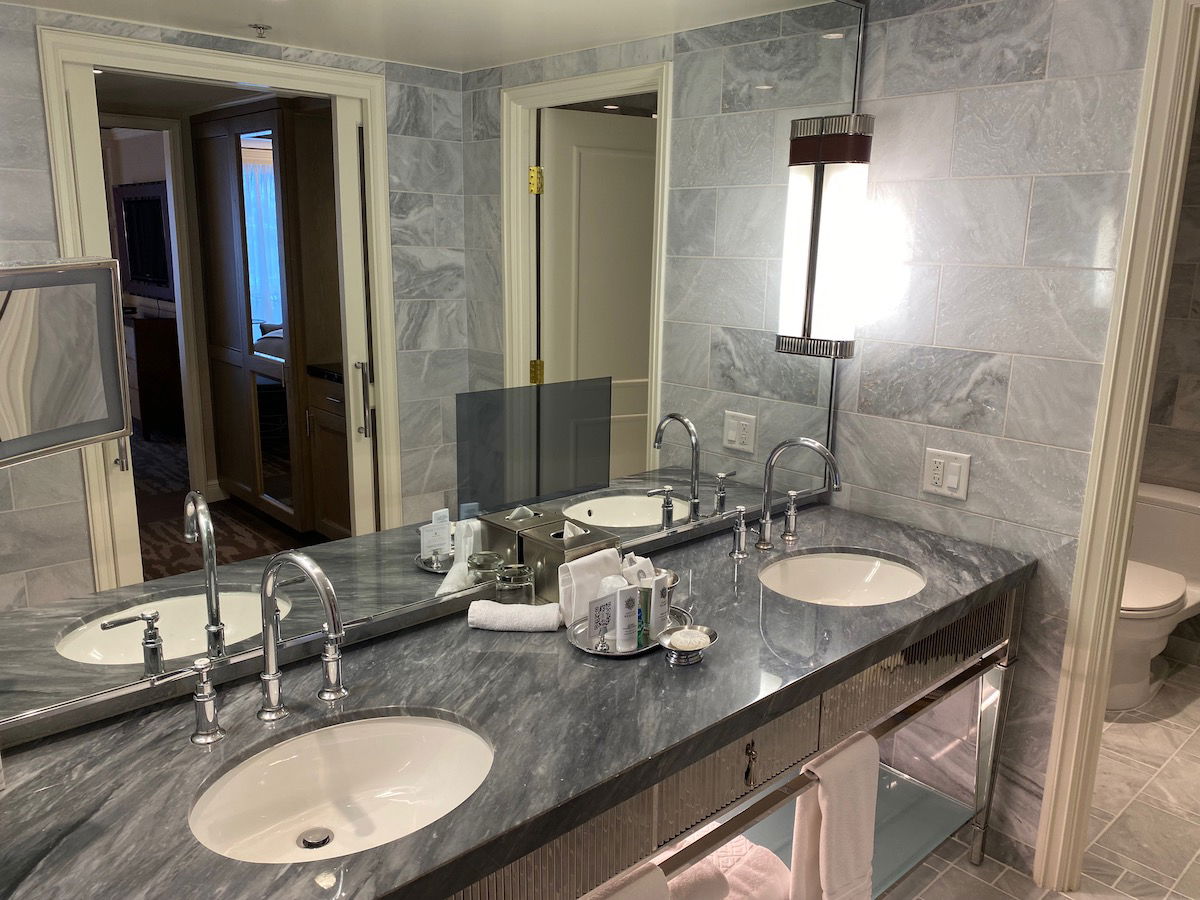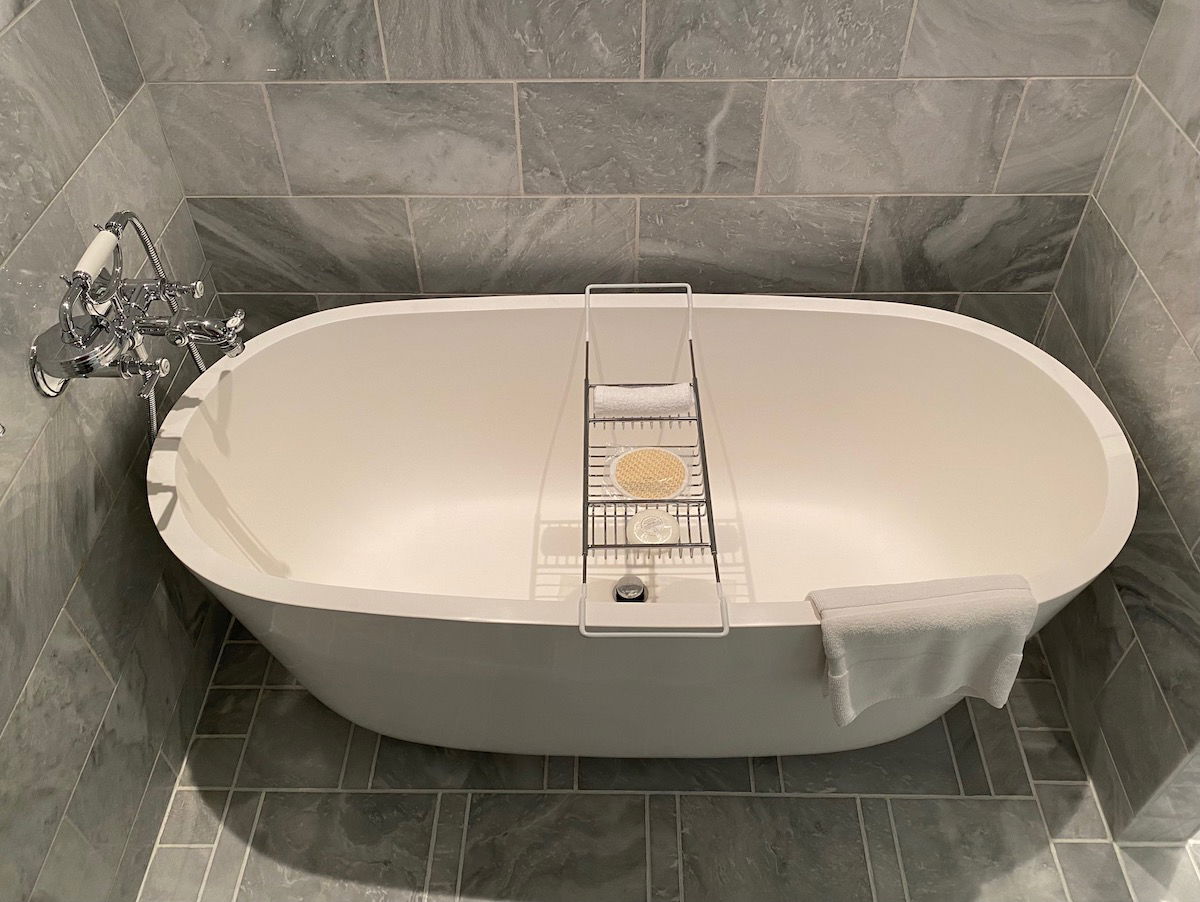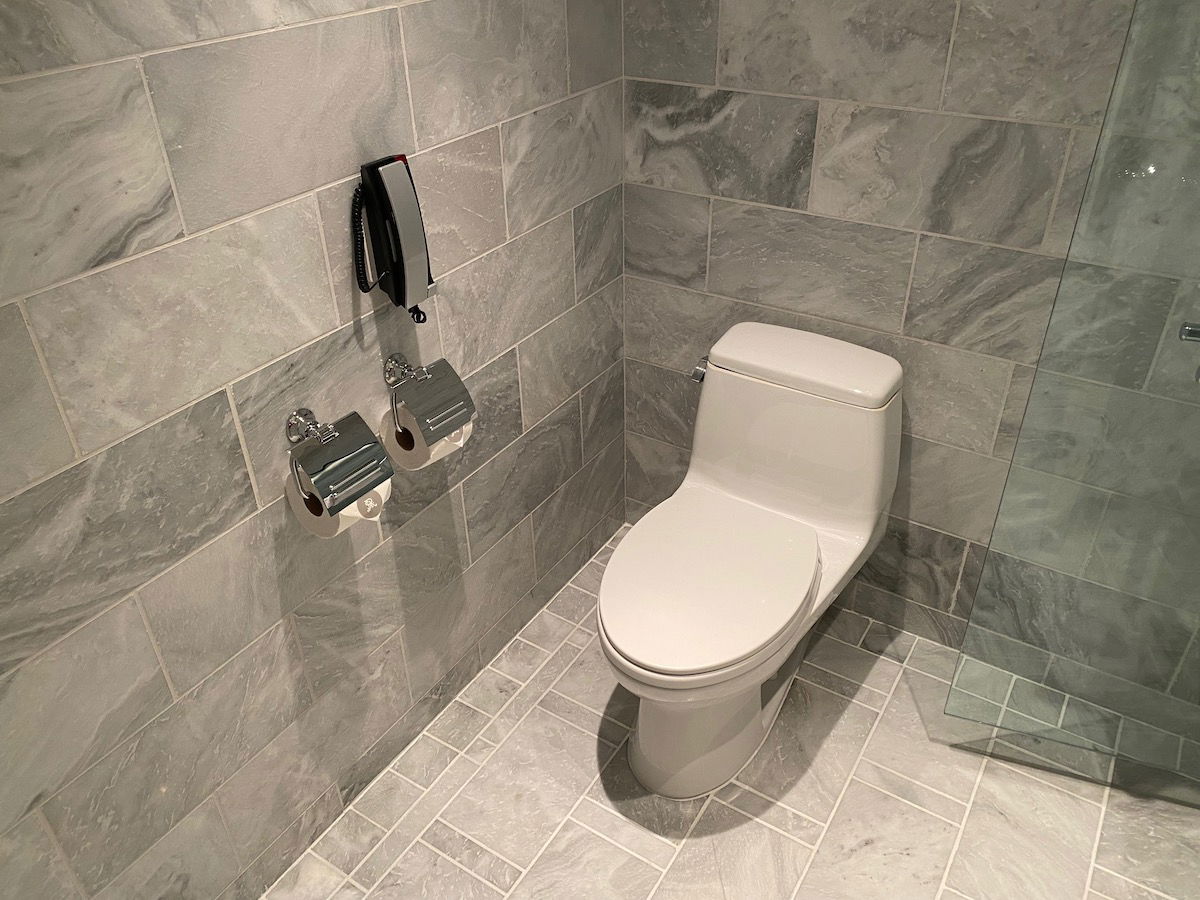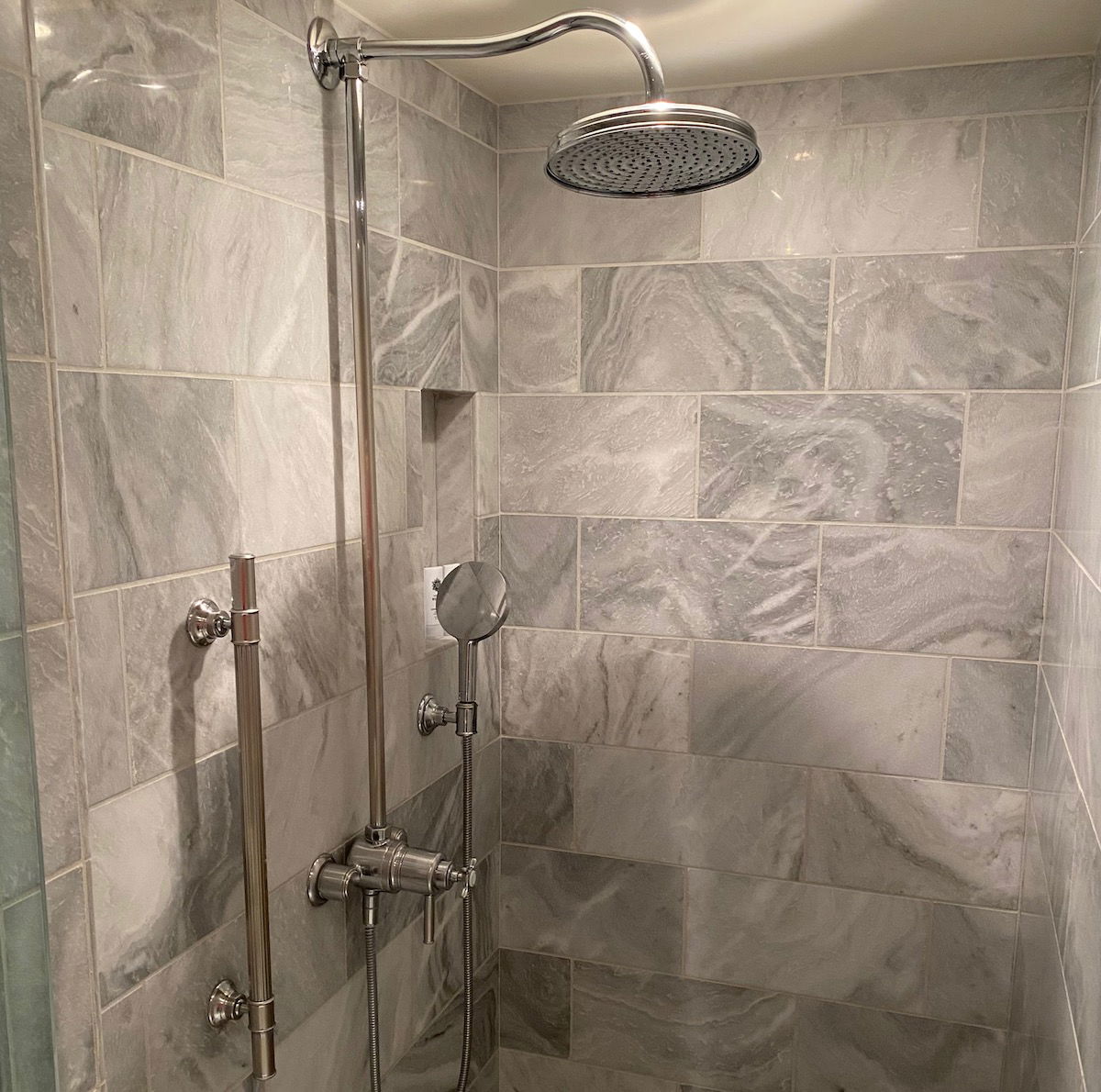 Toiletries were from Remede, as is brand standard at St. Regis properties. The Remede toiletries are among my favorite hotel toiletries out there — I appreciate that they have a bit of a kick to them, and also like the "beads" in the body wash.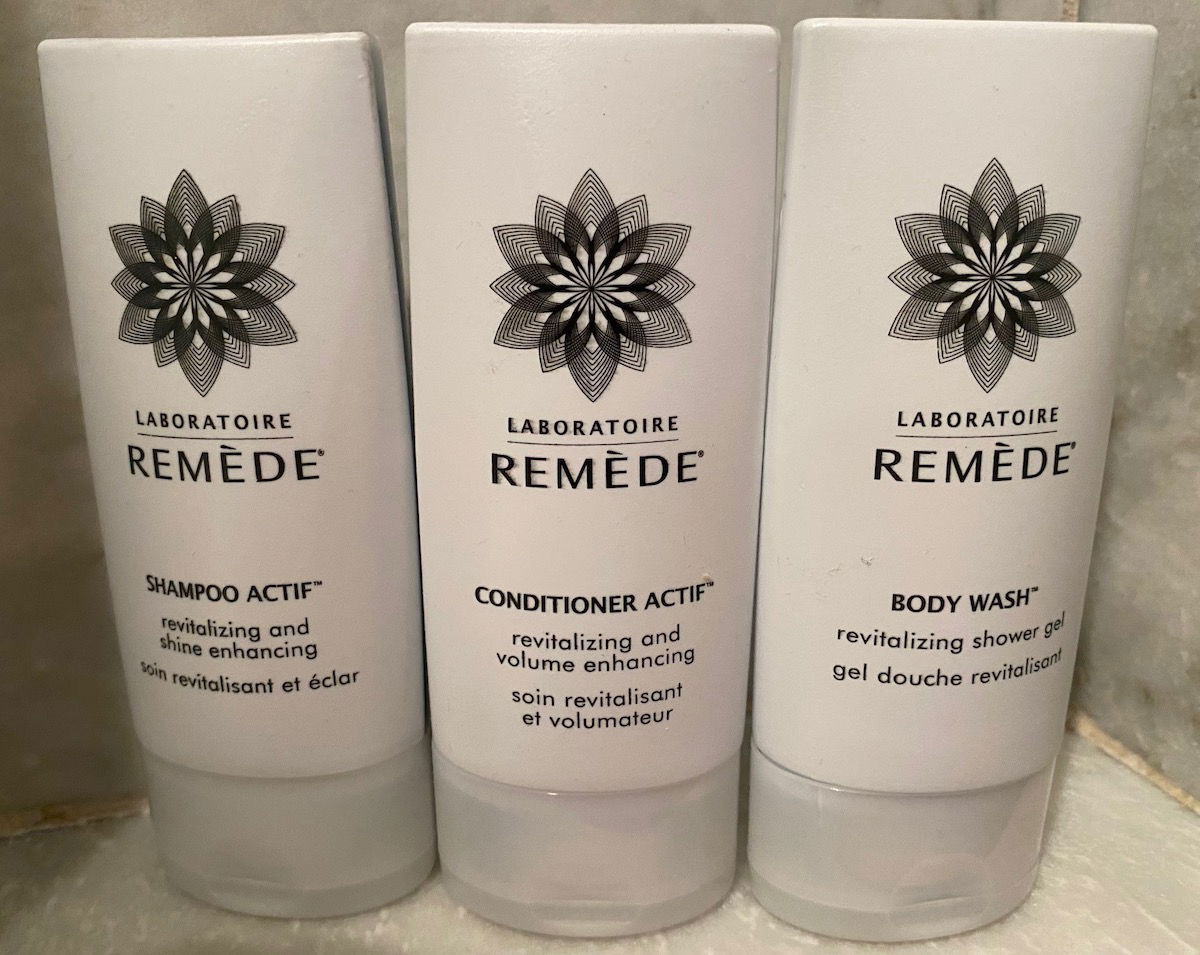 As far as views go, the room faced some nearby buildings, and there were mountain views in the distance.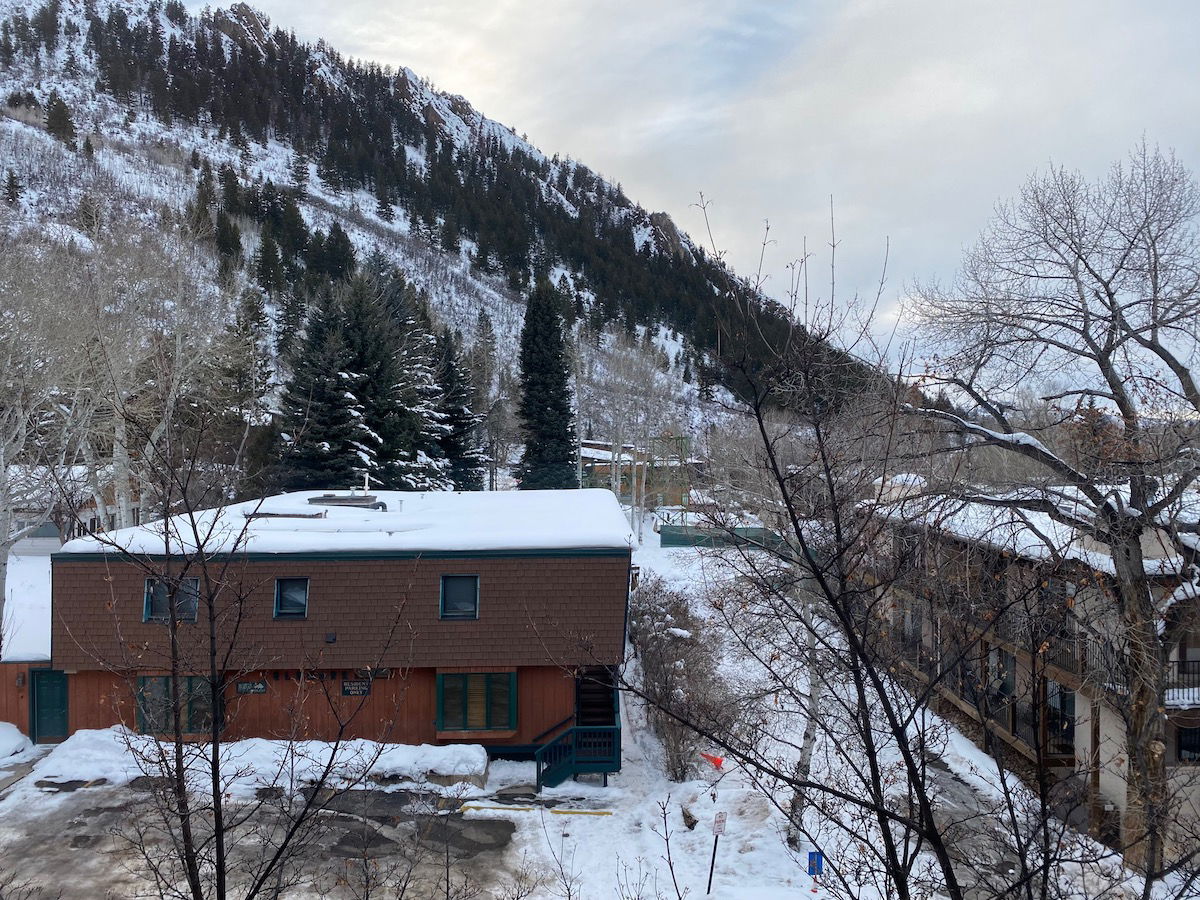 It was nice to see that the St. Regis Aspen didn't seem to have any pandemic cutbacks. For example, twice daily housekeeping was standard, and there were even chocolates left by the bed at night. I haven't seen those much in the past couple of years!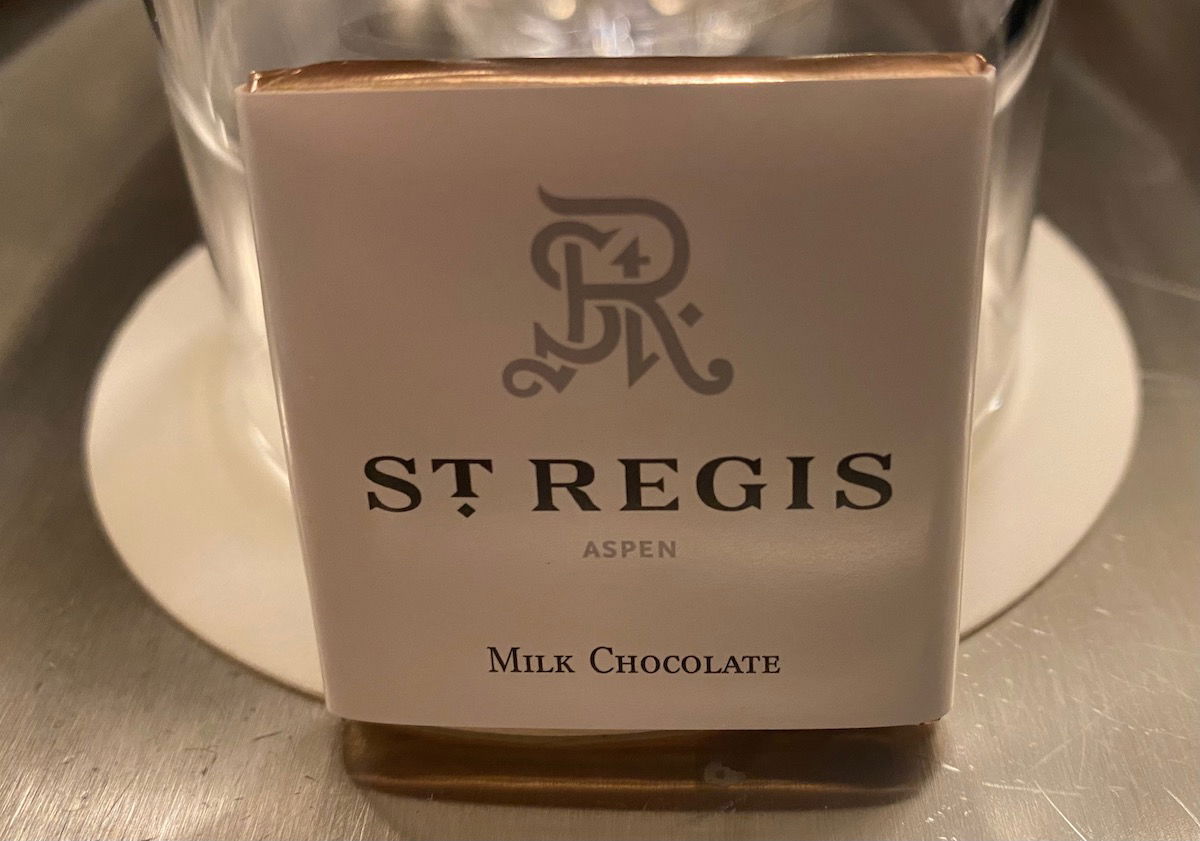 Since we were staying in a suite, we also received St. Regis' signature butler service, including help with packing & unpacking, garment pressing, a butler desk, shoe shine service, and complimentary coffee, tea, and hot chocolate.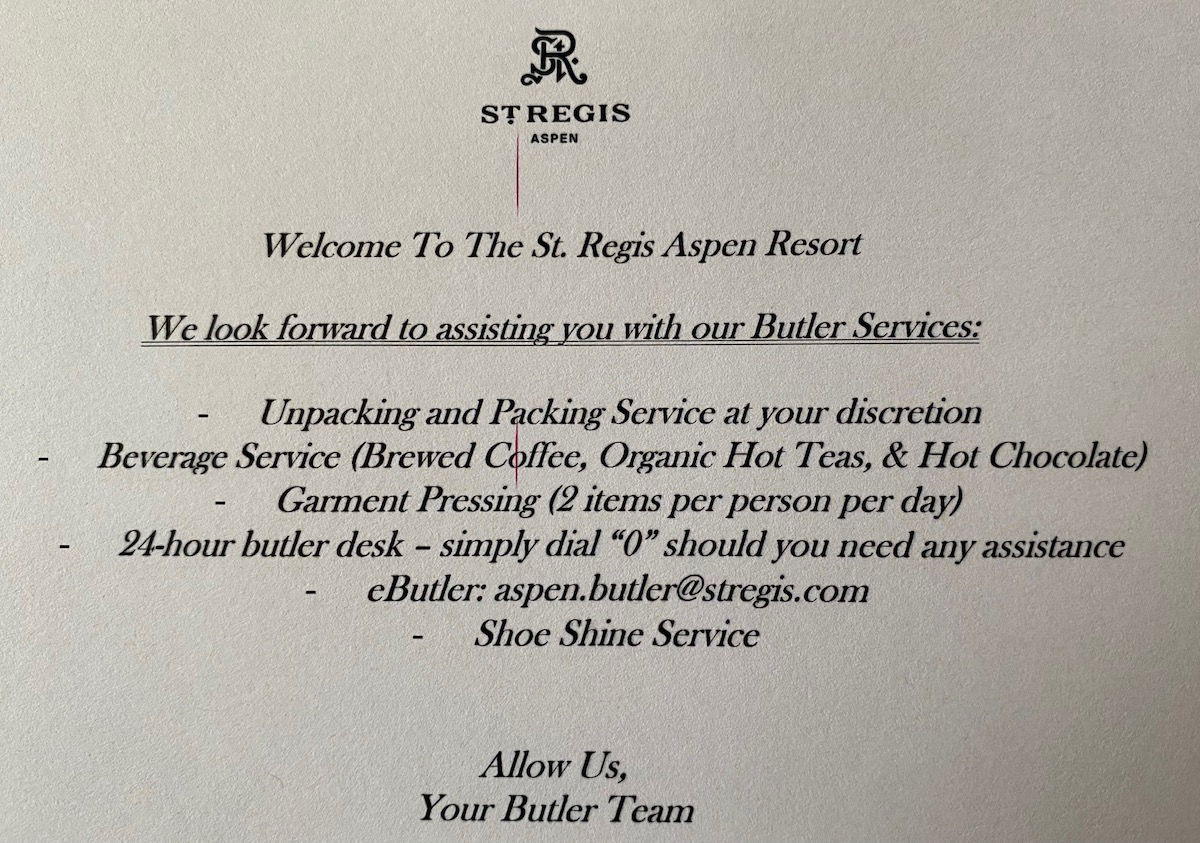 Of those features, the one I really value is coffee. Most days I ordered some coffee, while Ford ordered hot chocolate after skiing (which was quite a setup, with marshmallows and whipped cream).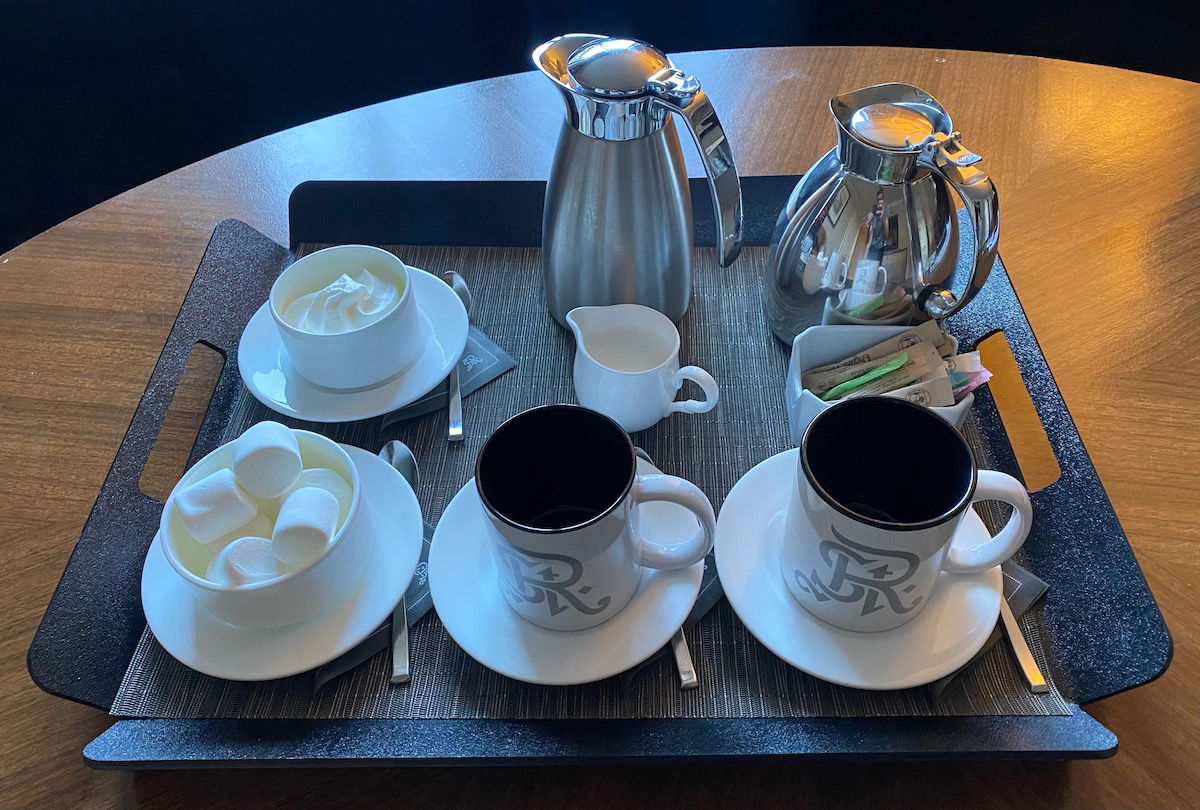 I have nothing but good things to say about our room. We got a great upgrade, and it's always nice to have extra space. On top of that the room had a comfortable bed and generally felt well maintained.
The only thing that I wish we had was a fireplace. For what it's worth, there are other one bedroom suites (and rooms) with fireplaces, so that is something you can specifically guarantee.
St. Regis Aspen pool & hot tubs
The St. Regis Aspen has an outdoor courtyard with one heated pool and three hot tubs. I was impressed by how warm the pool was, given the outdoor temperatures. Even so, I'm not much of a pool person (and that's not just in winter destinations).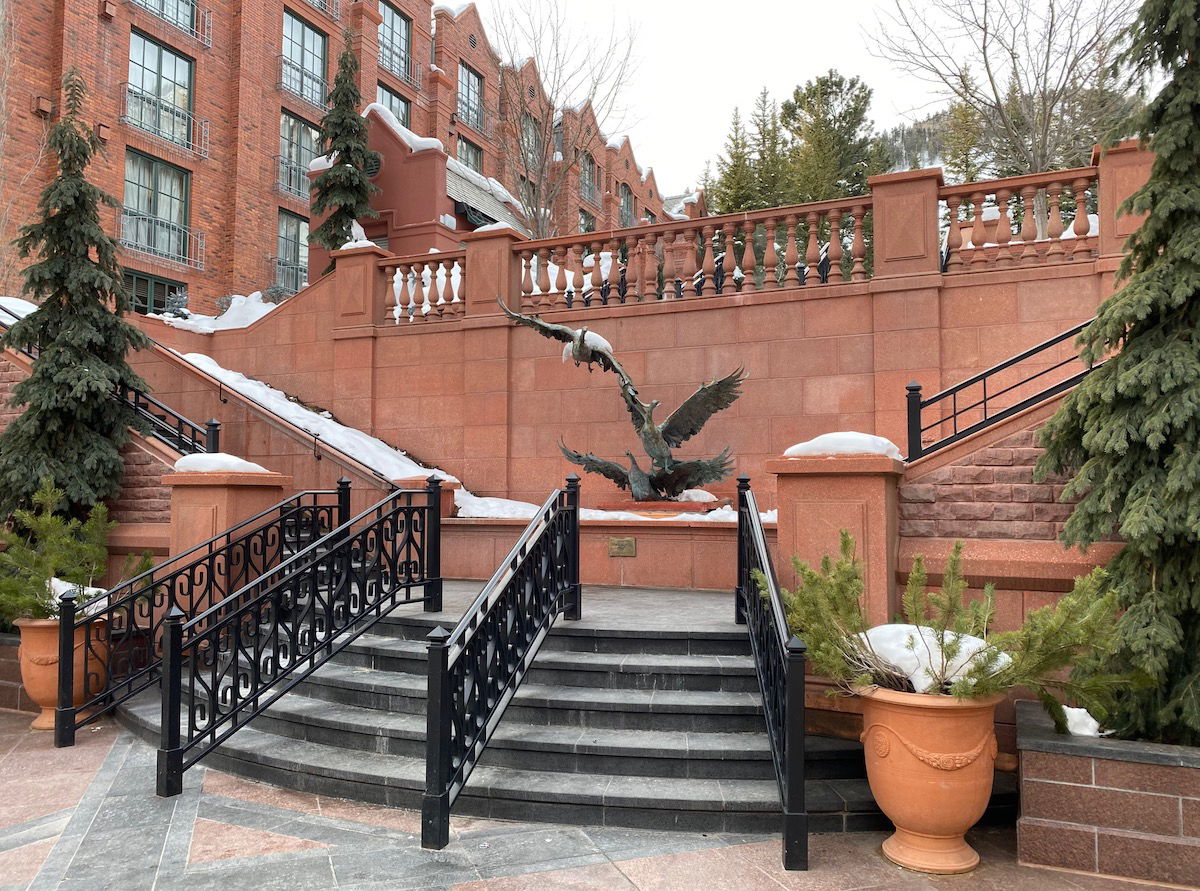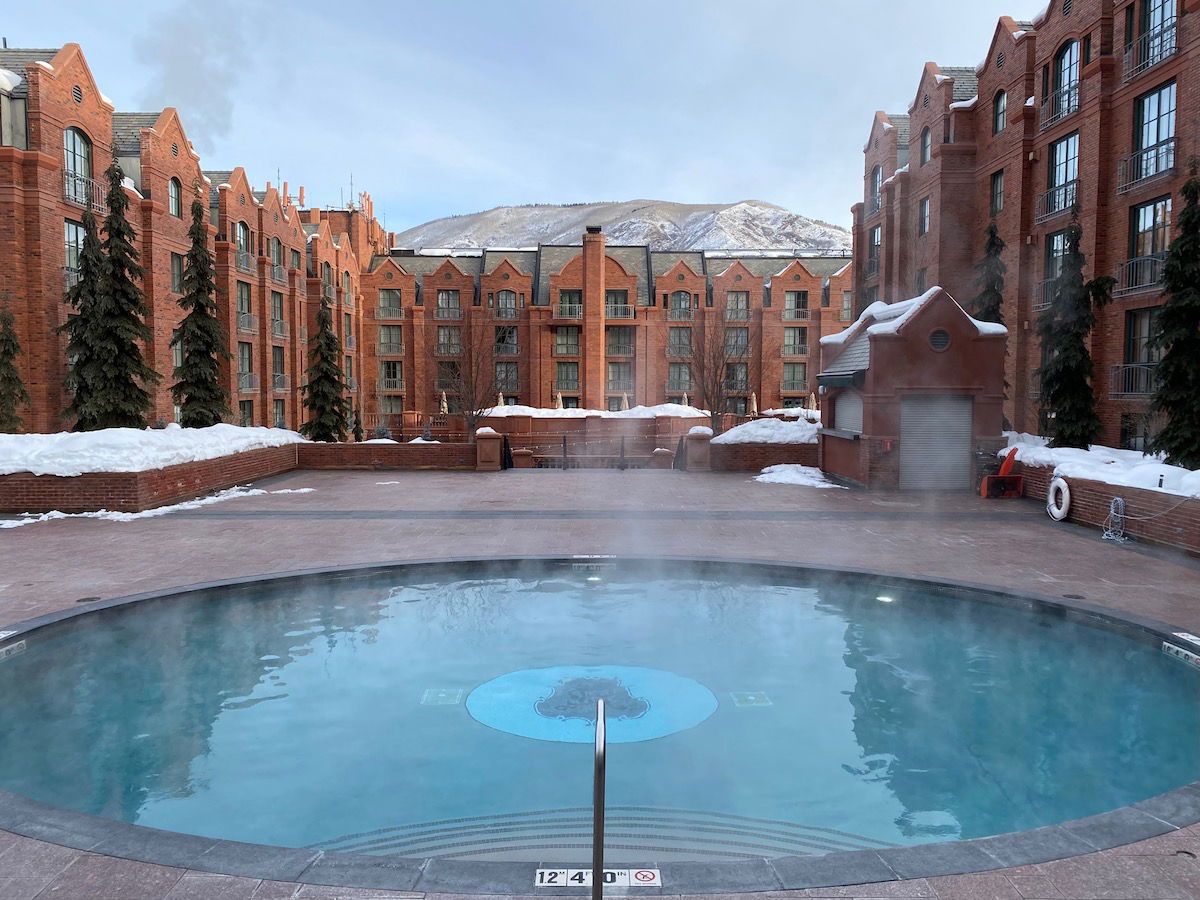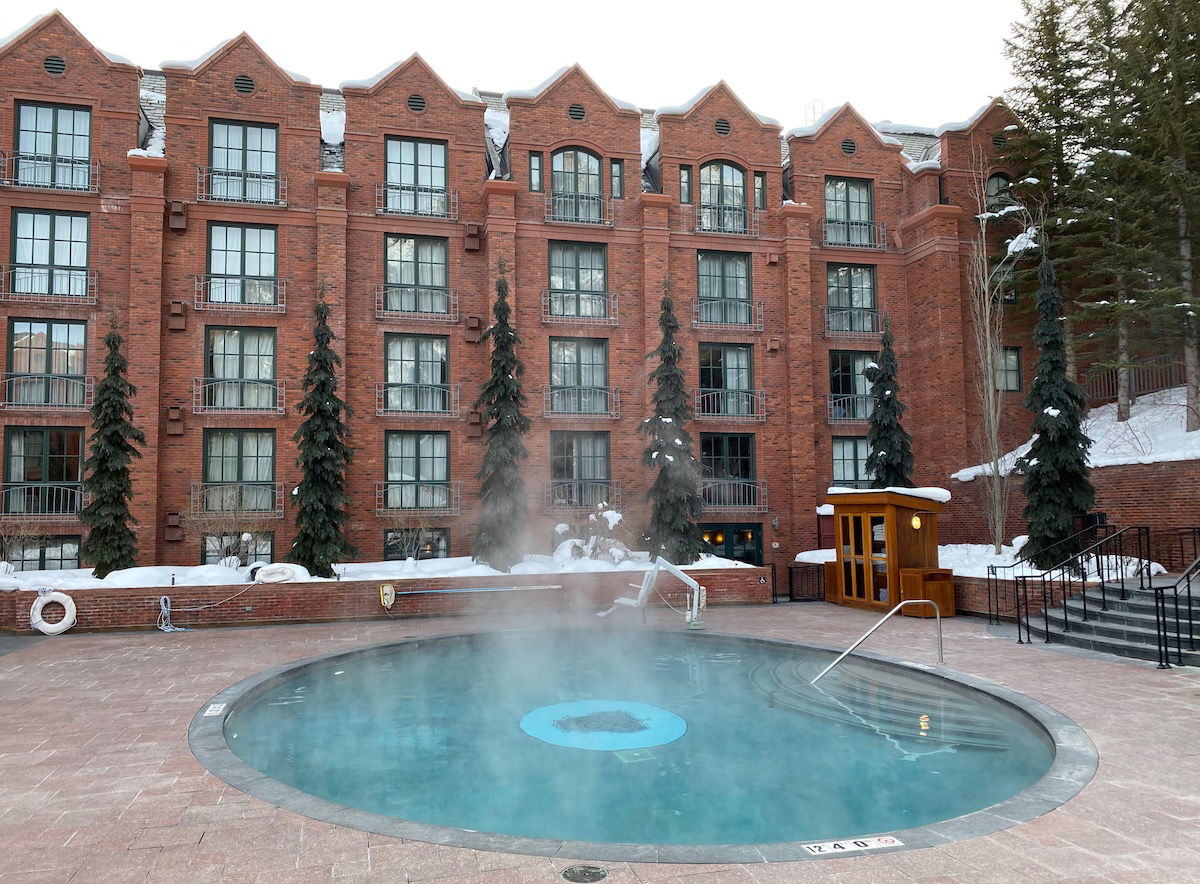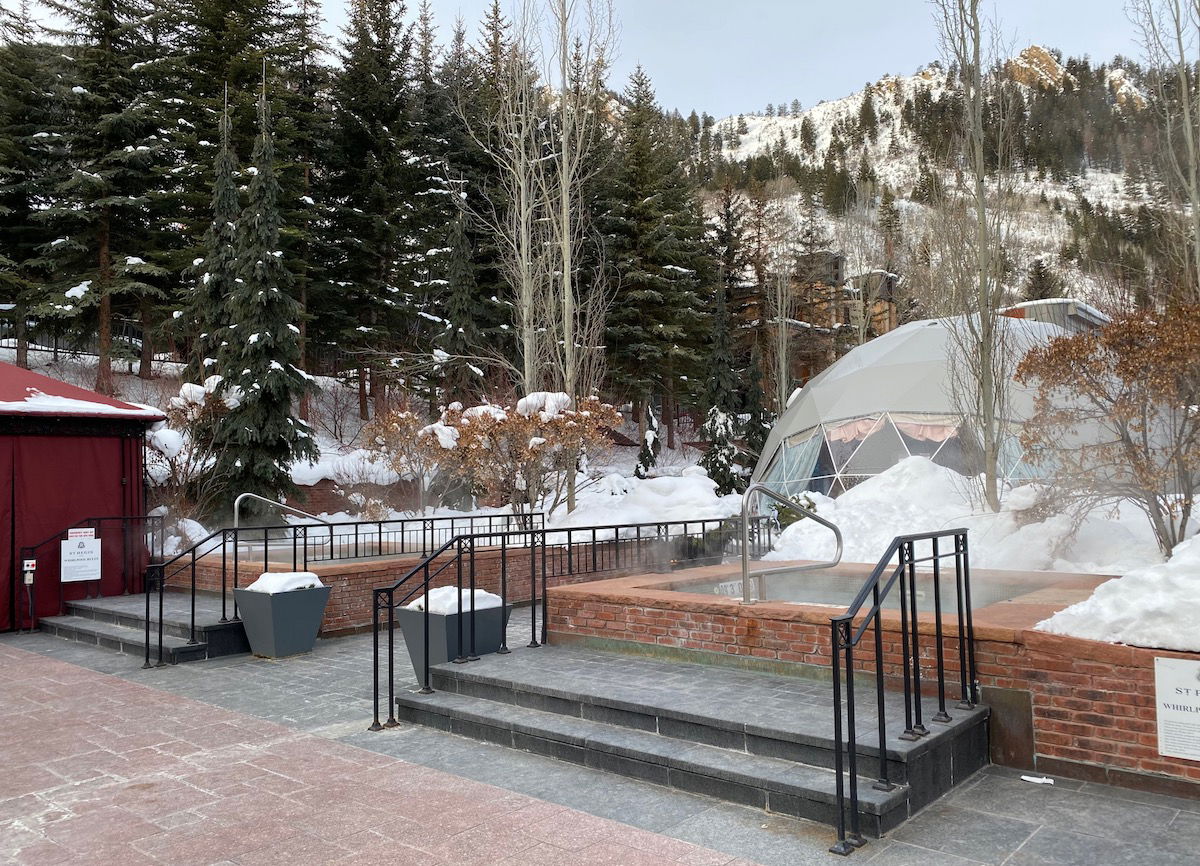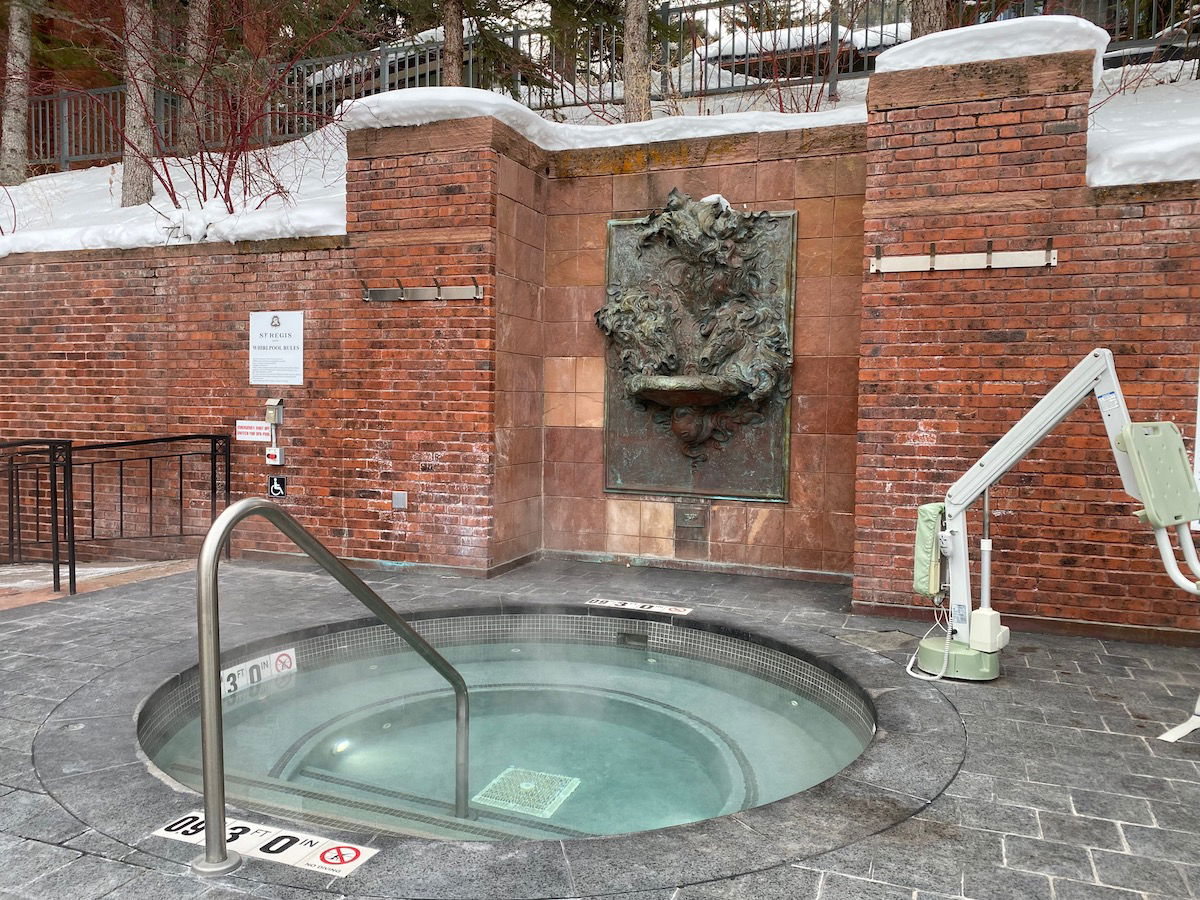 There's another outdoor area with a fire pit, as well as some yurts which can be reserved for a private lunch or dinner.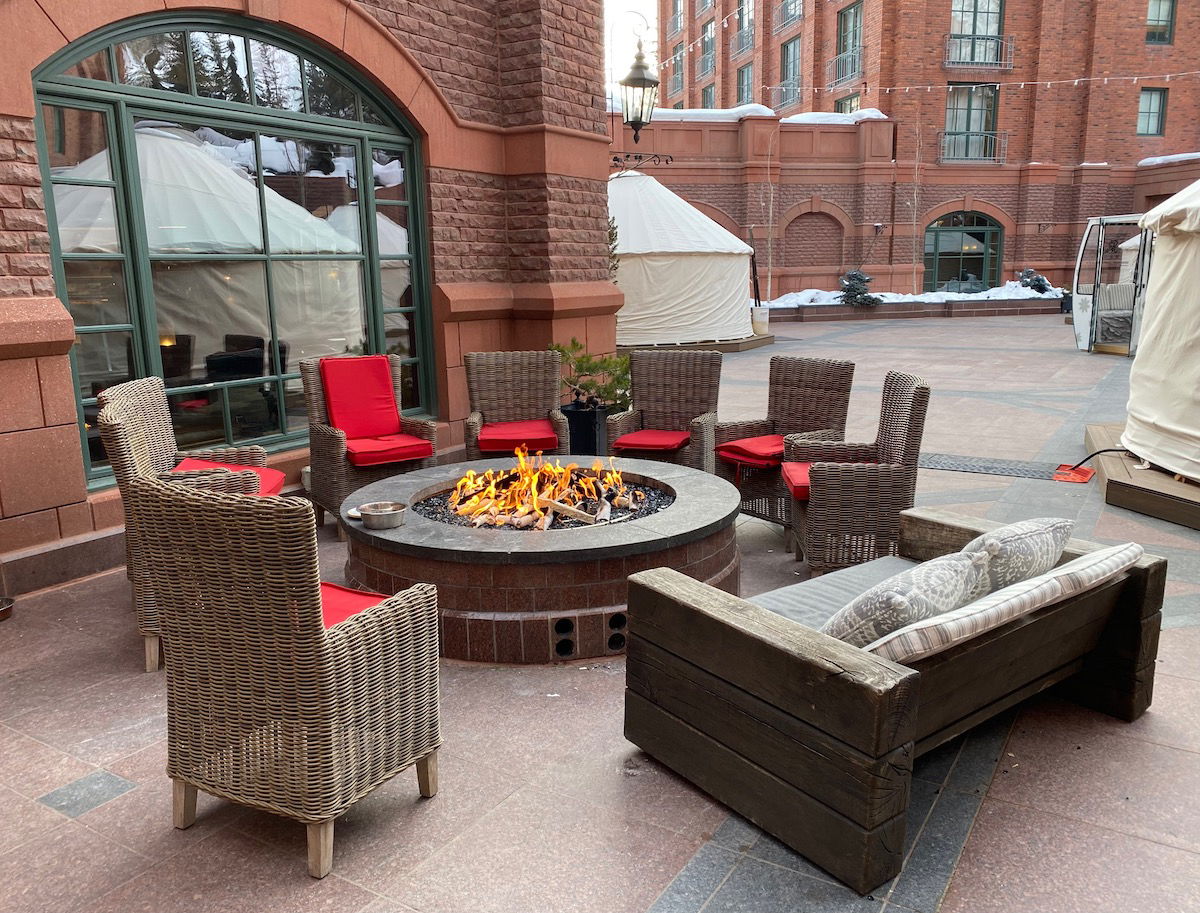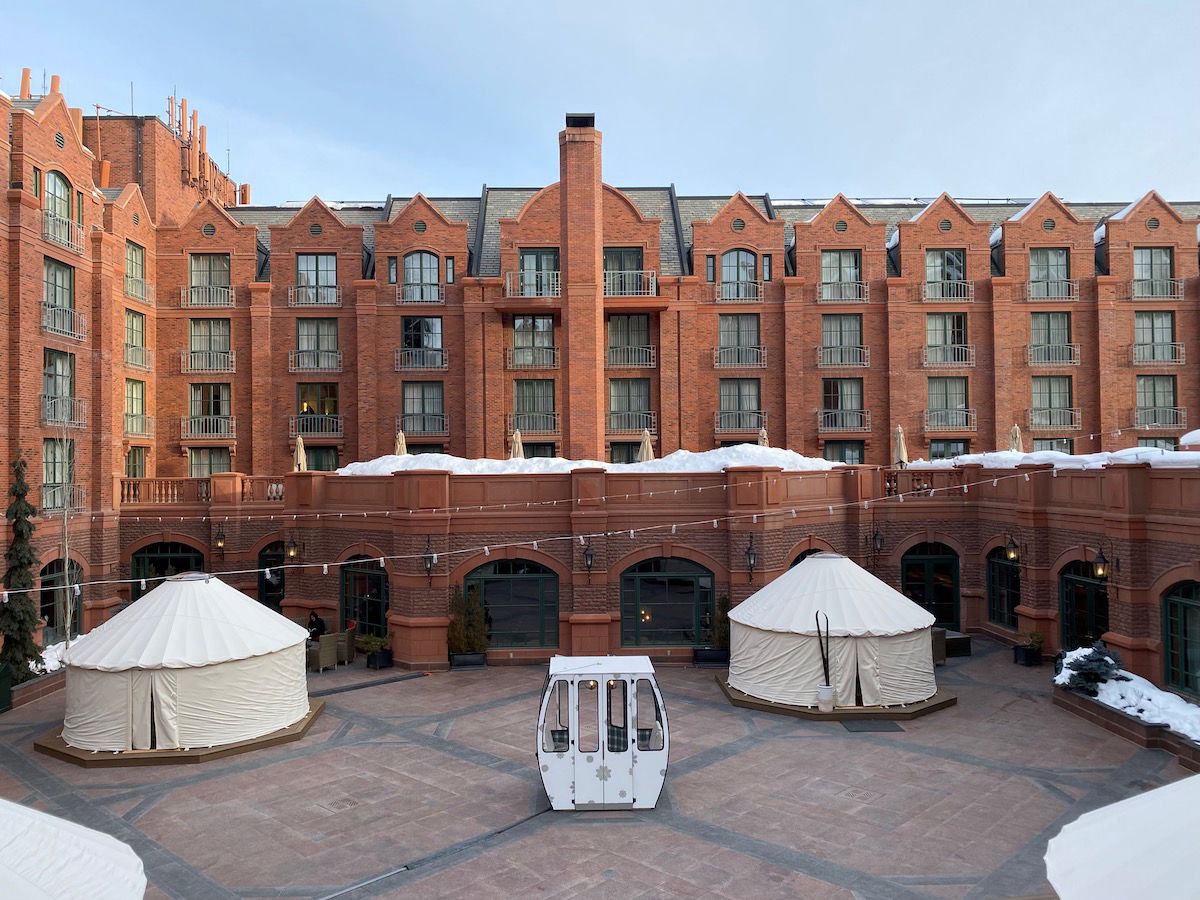 St. Regis Aspen gym & spa
The St. Regis Aspen gym is located on the basement level, and is open 24/7. The gym is in the same area as the conference rooms.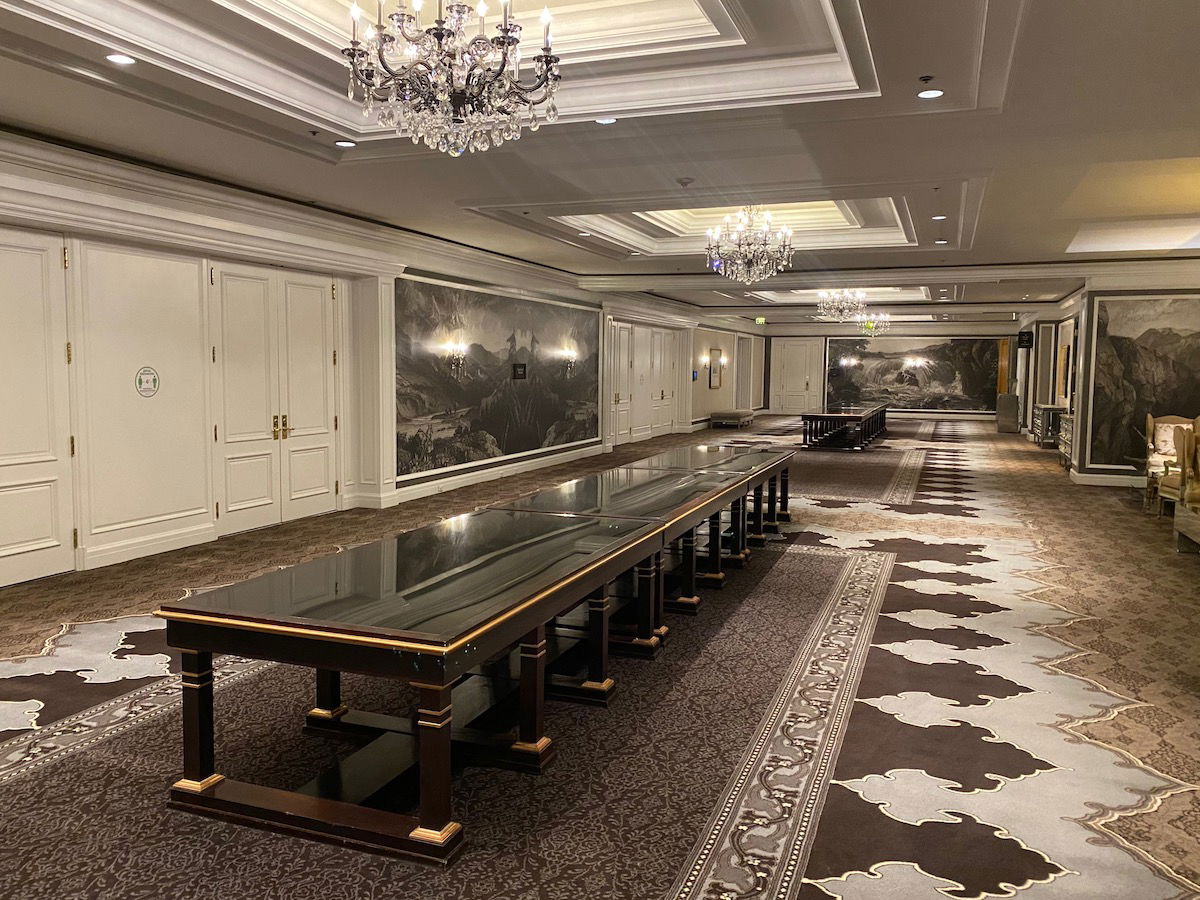 The gym had an excellent selection of equipment and was quite large. The only downside was that there was no natural light, given that it's underground.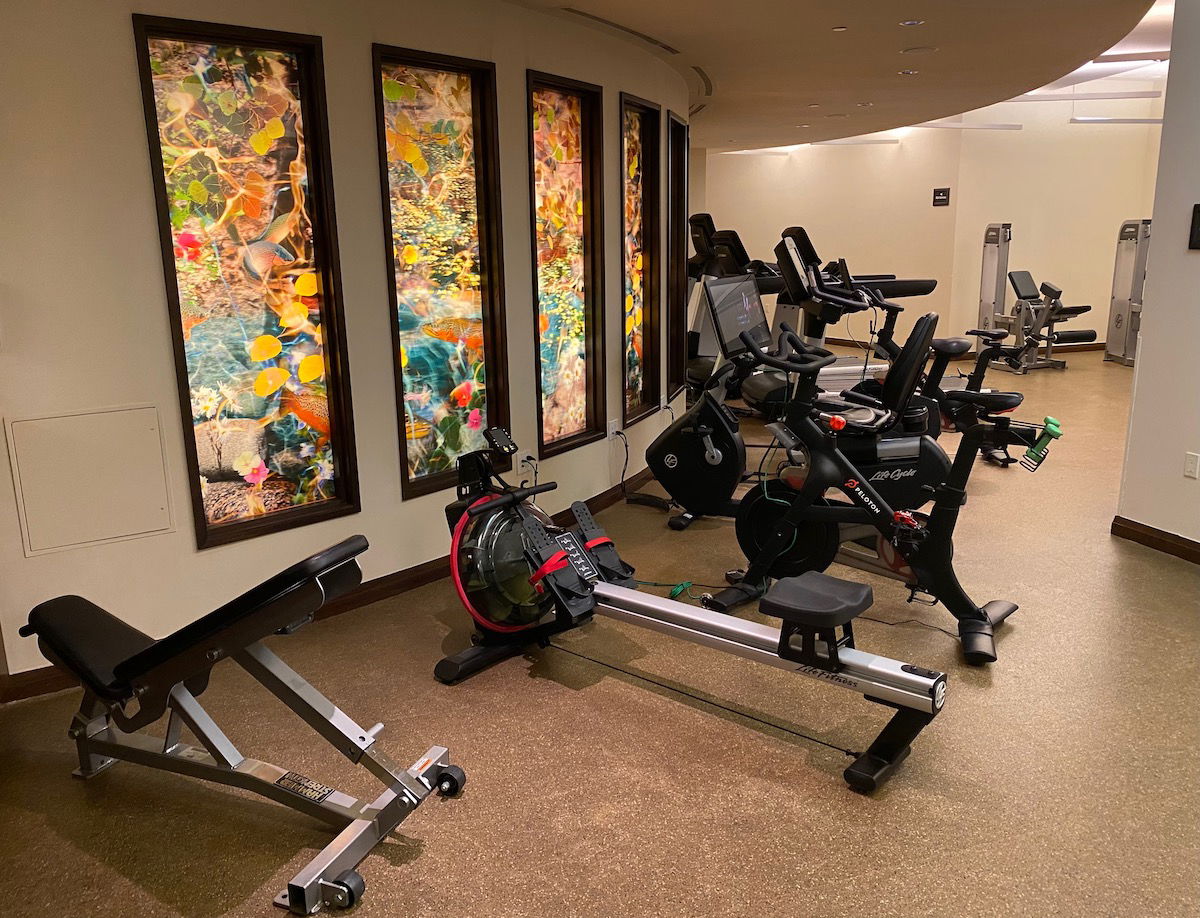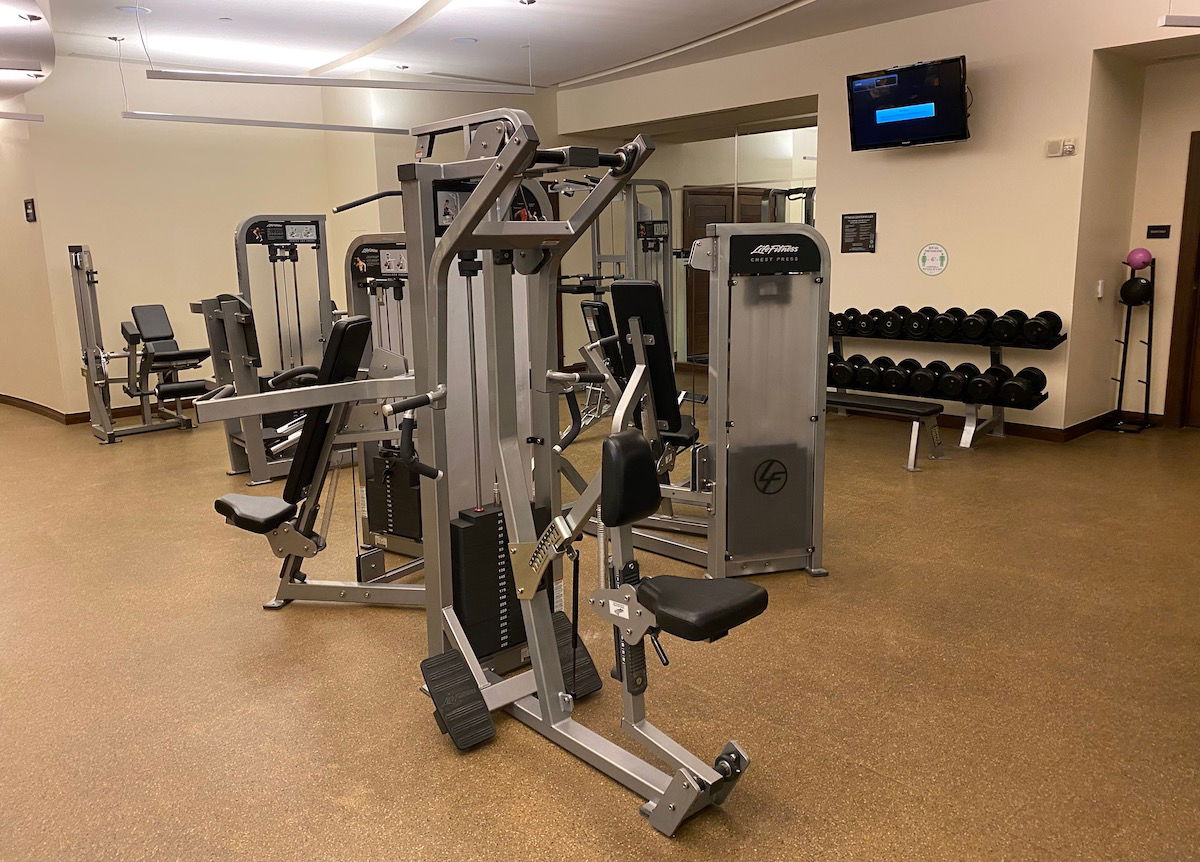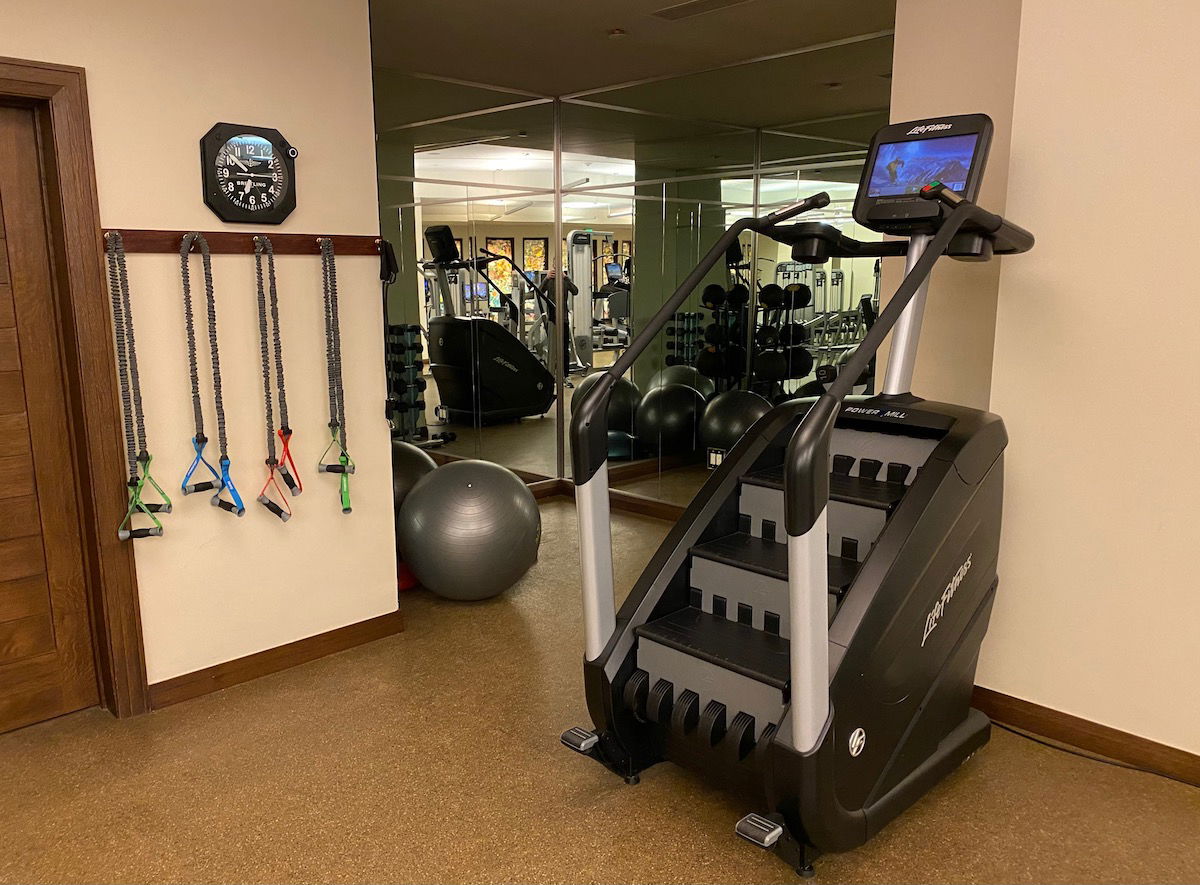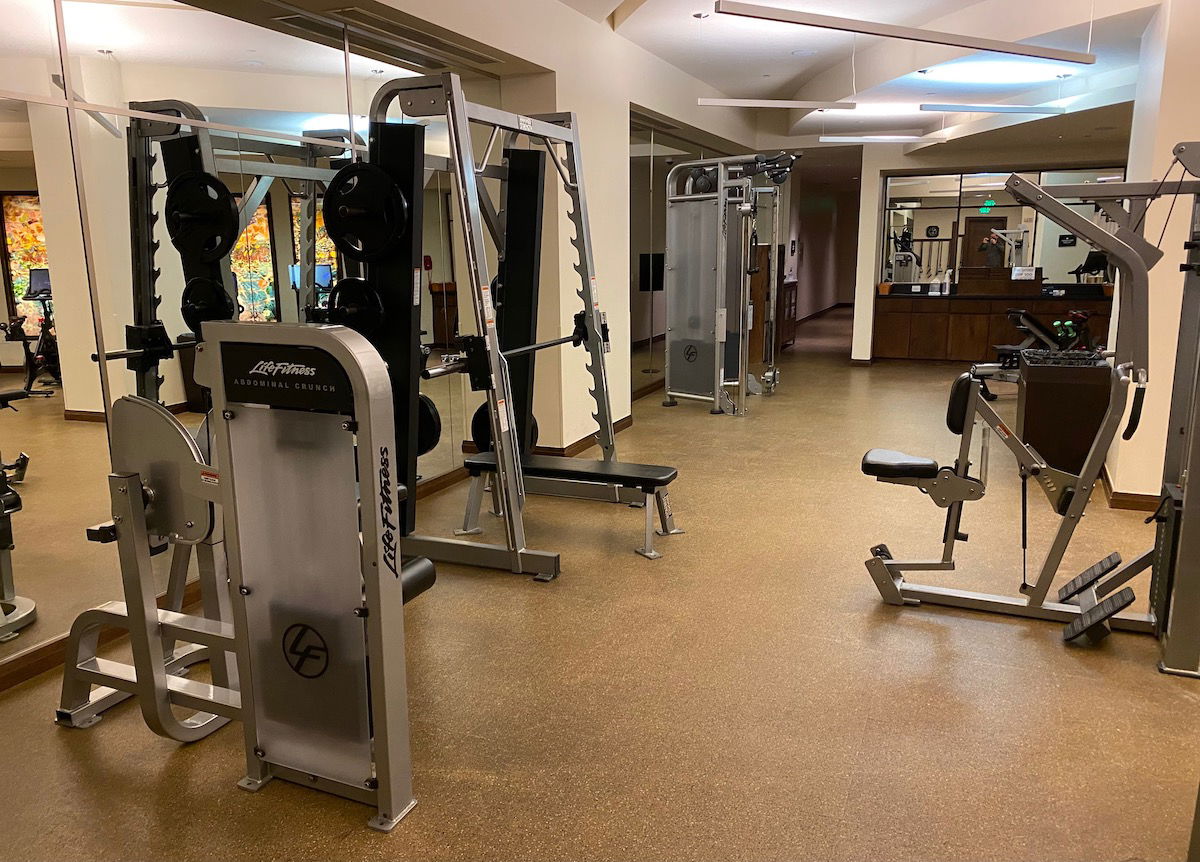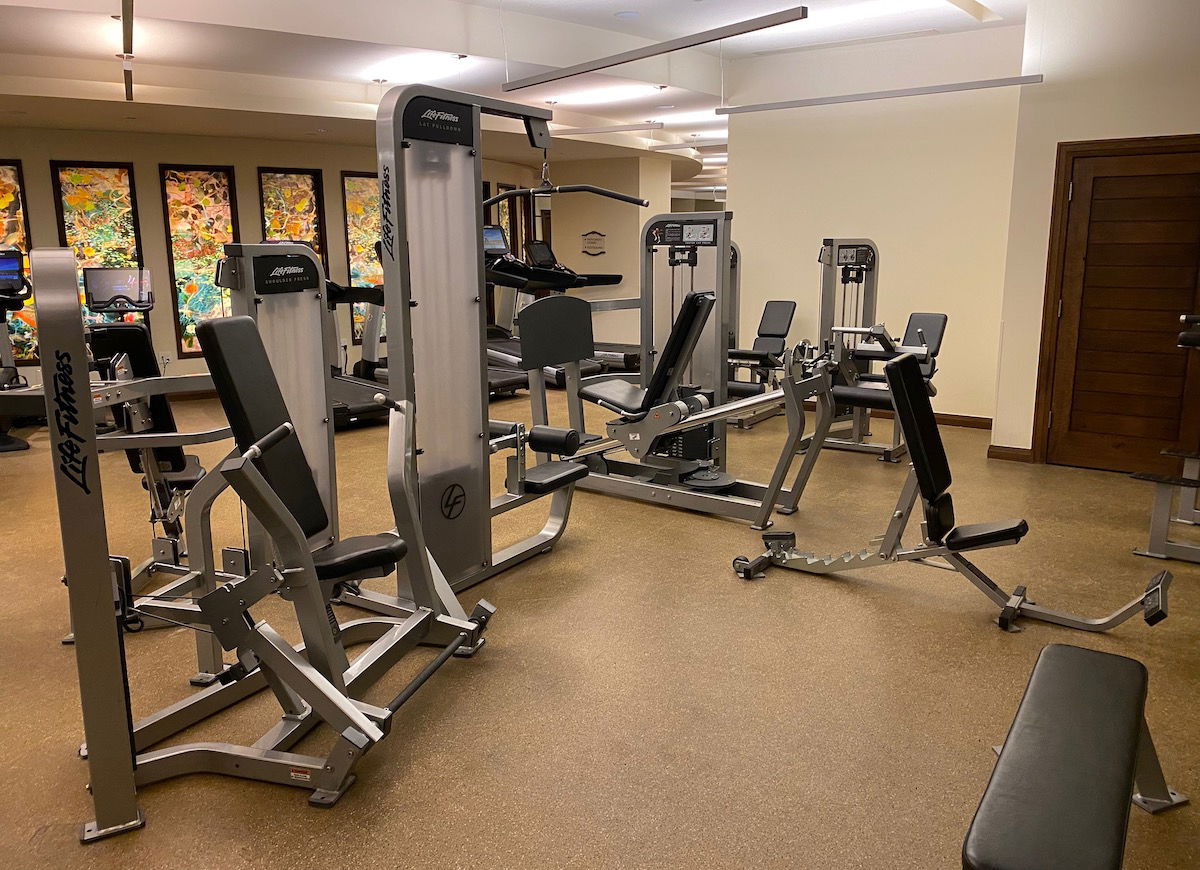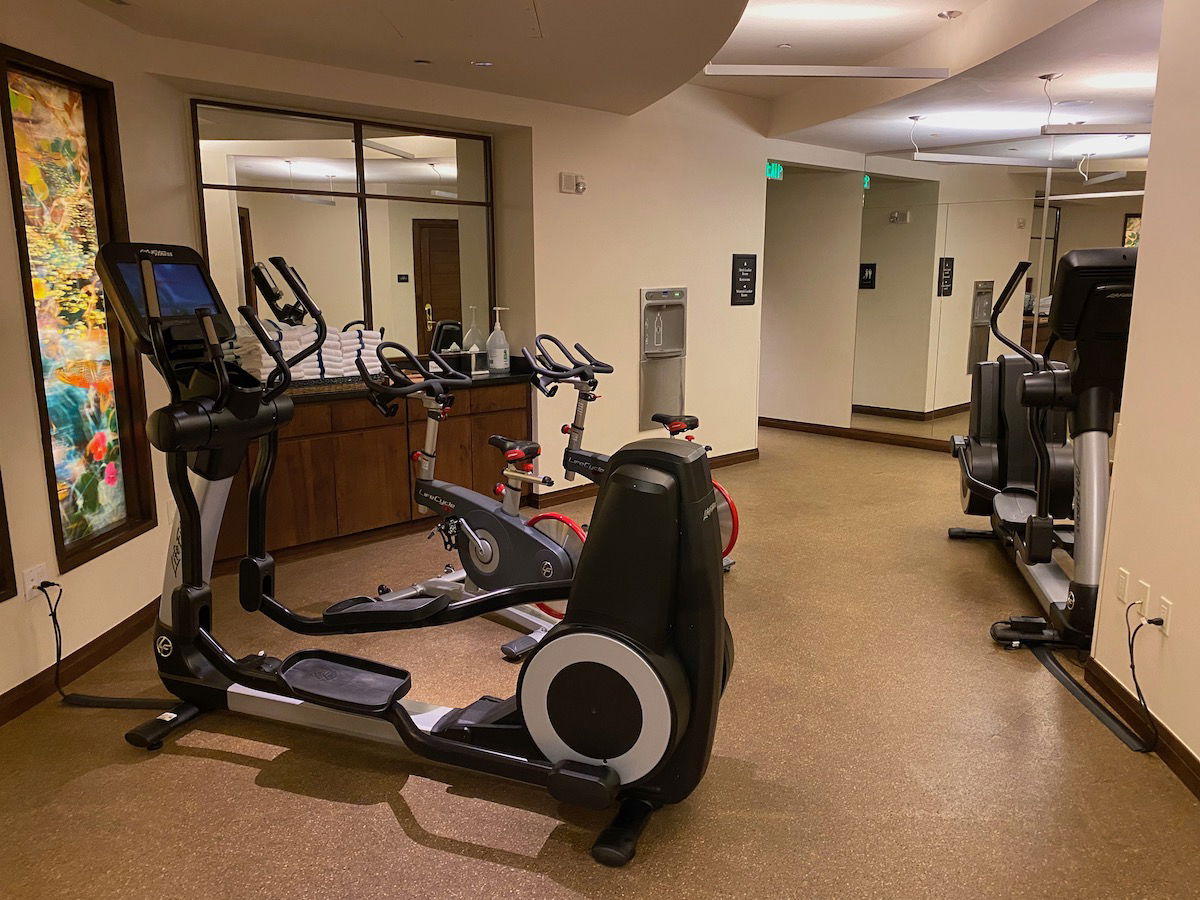 The St. Regis Aspen also has a Remede Spa. The spa can only be used in conjunction with spa treatments. I didn't get any treatments at the spa, though you can find the spa menu here.
St. Regis Aspen Velvet Buck Restaurant (breakfast)
Velvet Buck is the St. Regis Aspen's only "real" restaurant, and it's located just off the lobby. Currently the restaurant is only serving breakfast, which is available daily from 7AM until 11AM. On the one hand I'm surprised the hotel doesn't have a proper all-day dining restaurant, though on the other hand Aspen has so many amazing restaurants within walking distance that it would probably be tough to compete.
Velvet Buck was a good size, and there was never a wait for a table, even though tables were very spread out.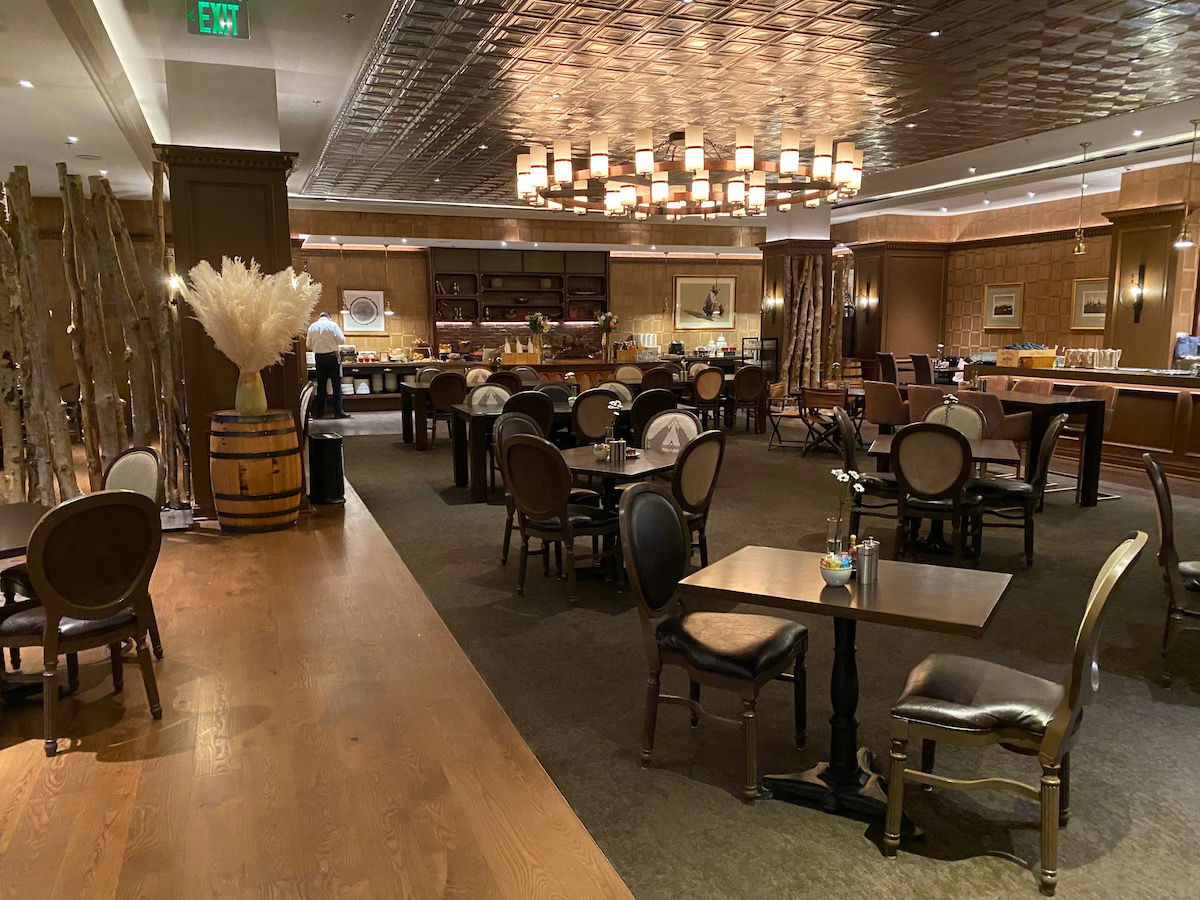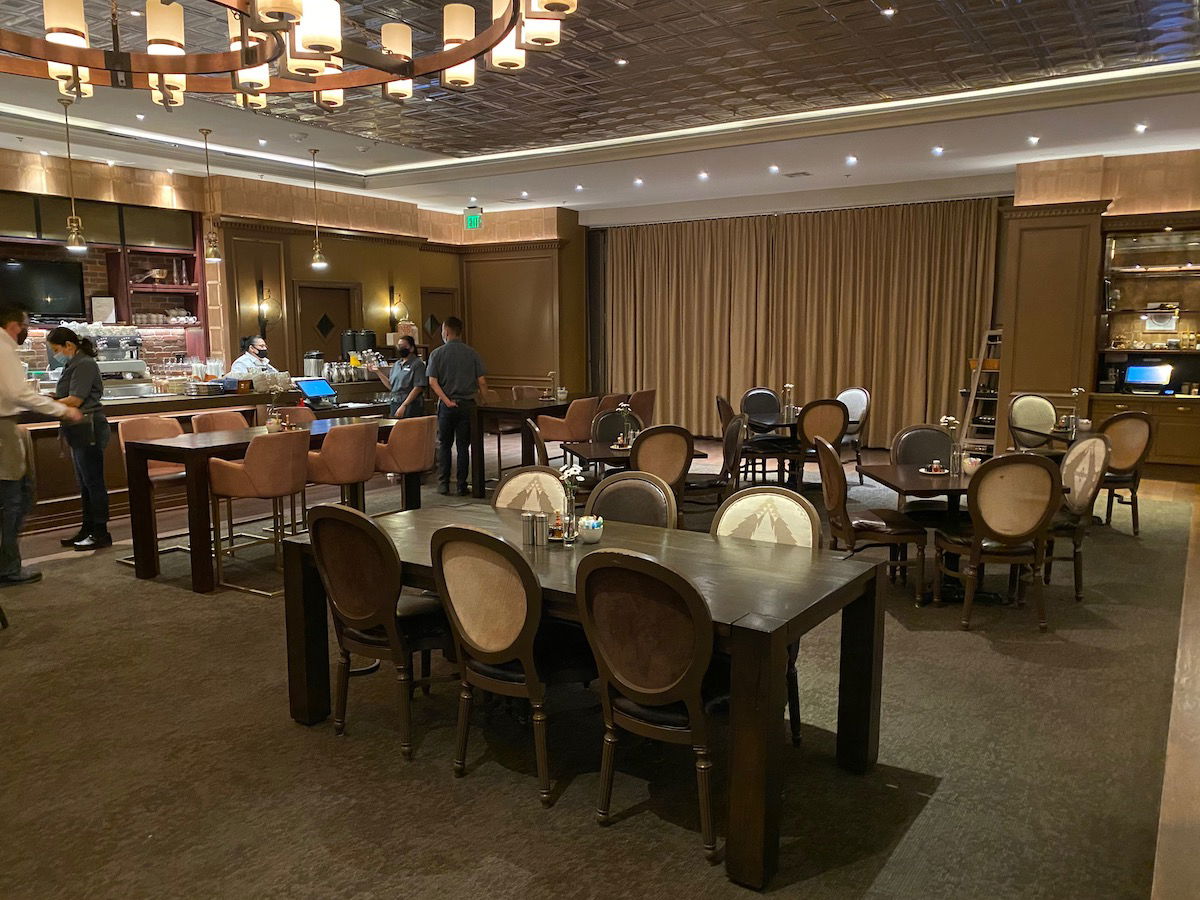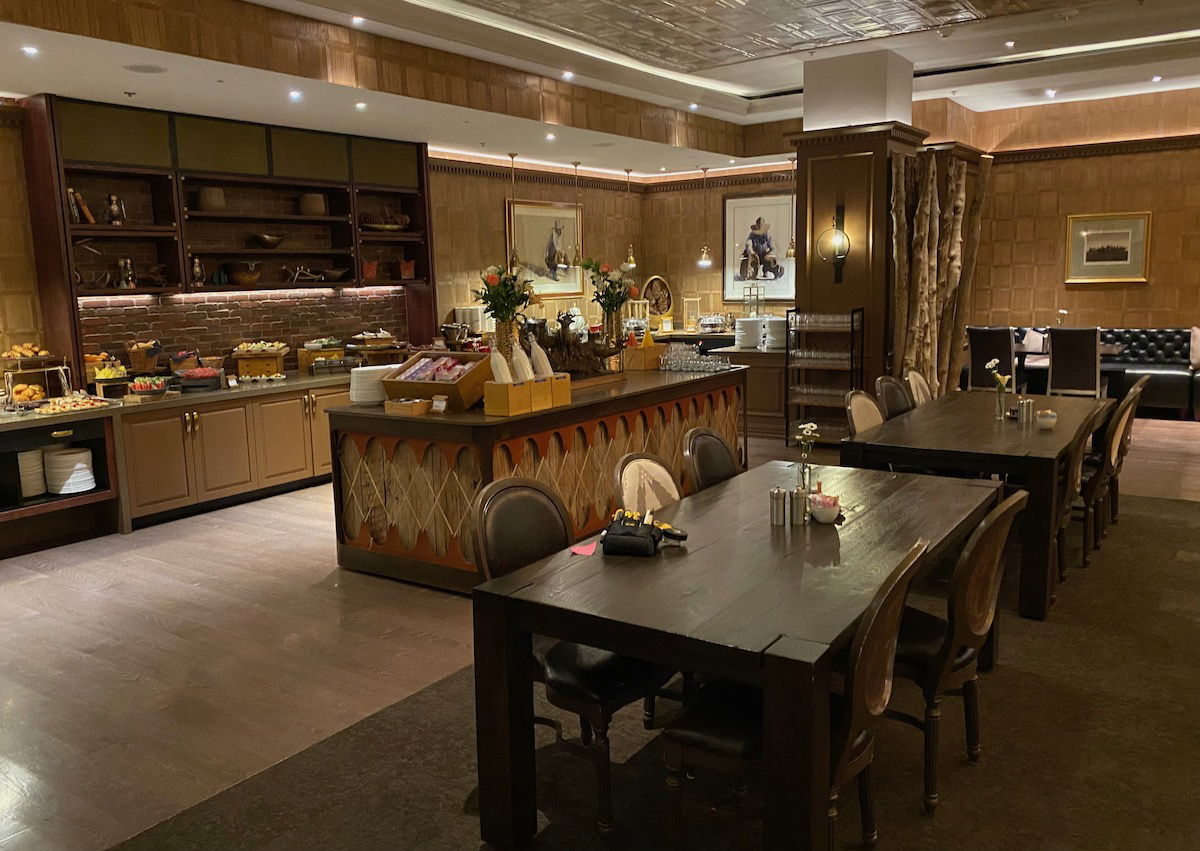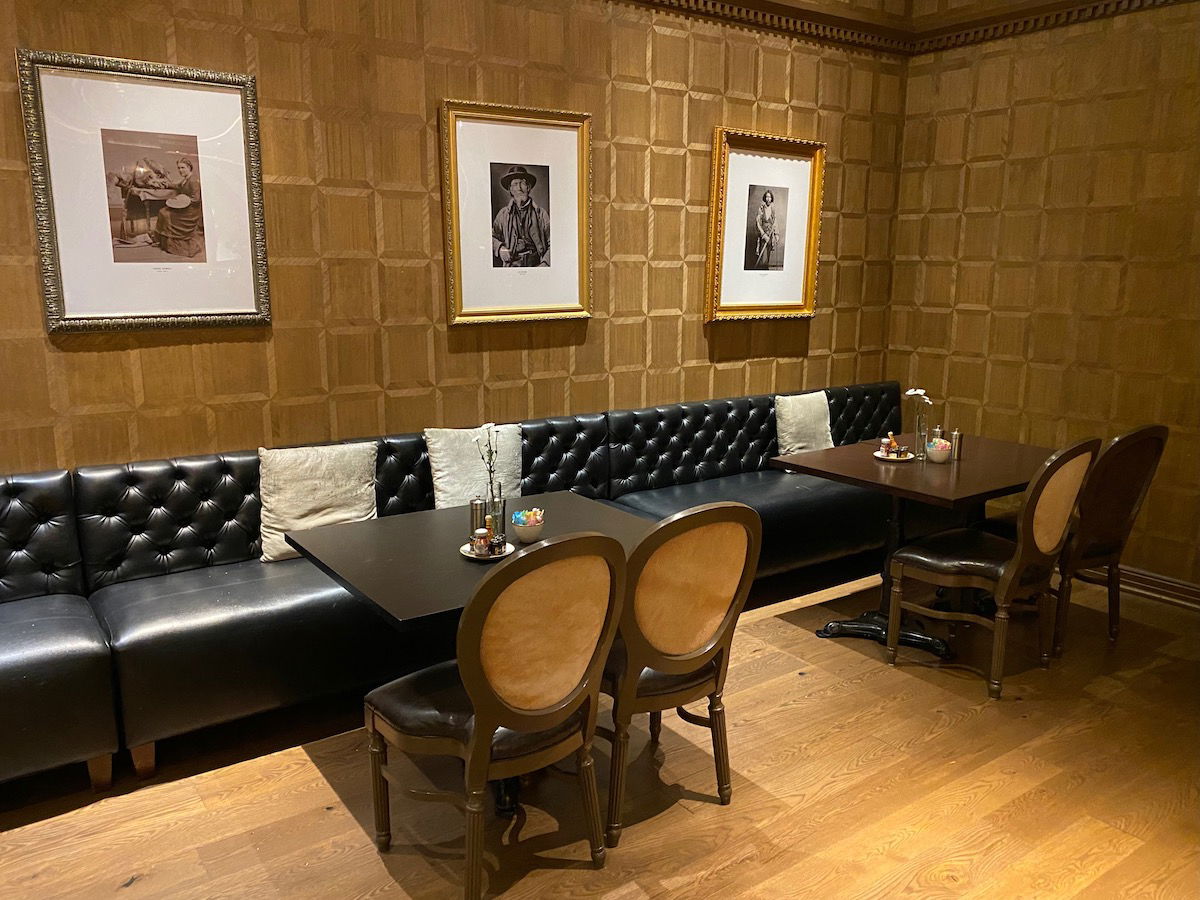 For breakfast there were two options — there was either a menu, or there was a buffet available for $45 per person (including coffee, juice, and eggs).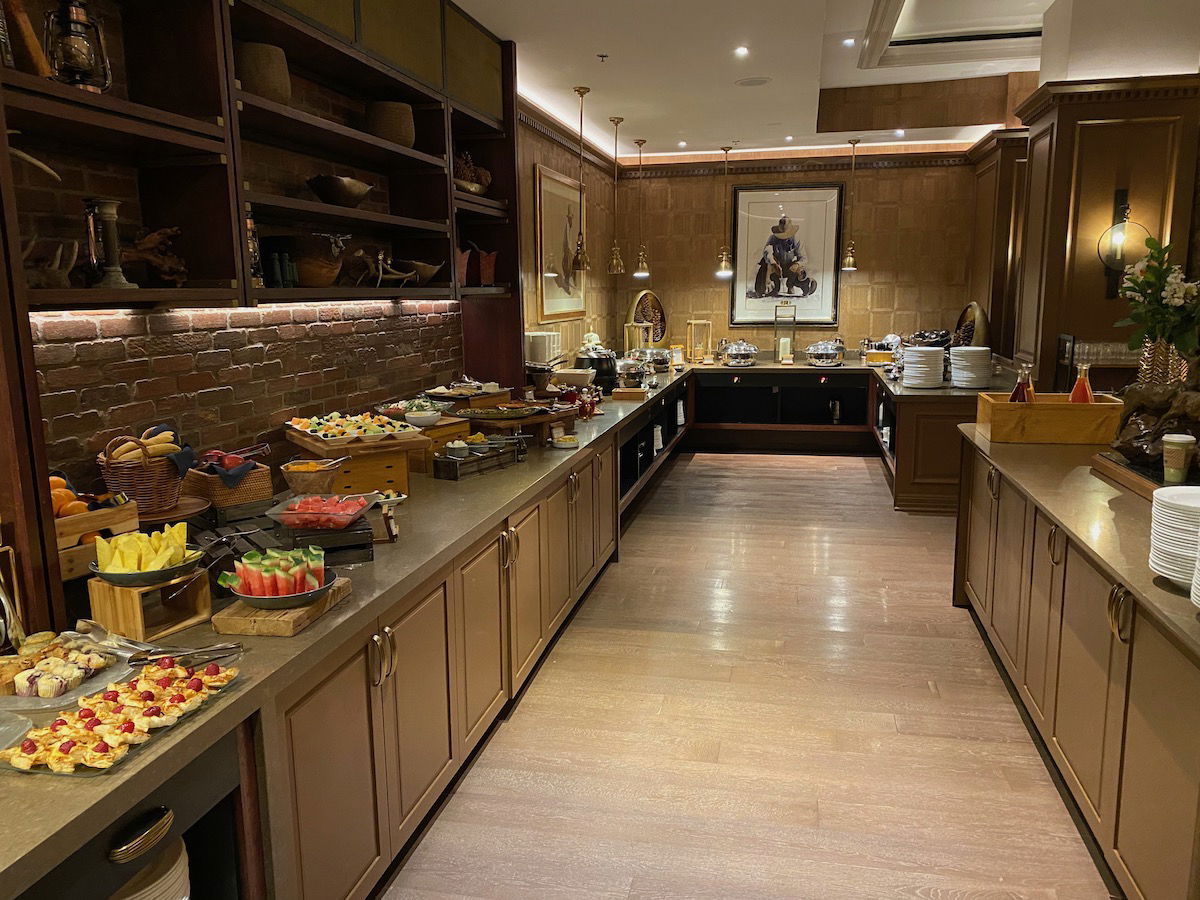 We ordered off the menu each morning, which you can find below.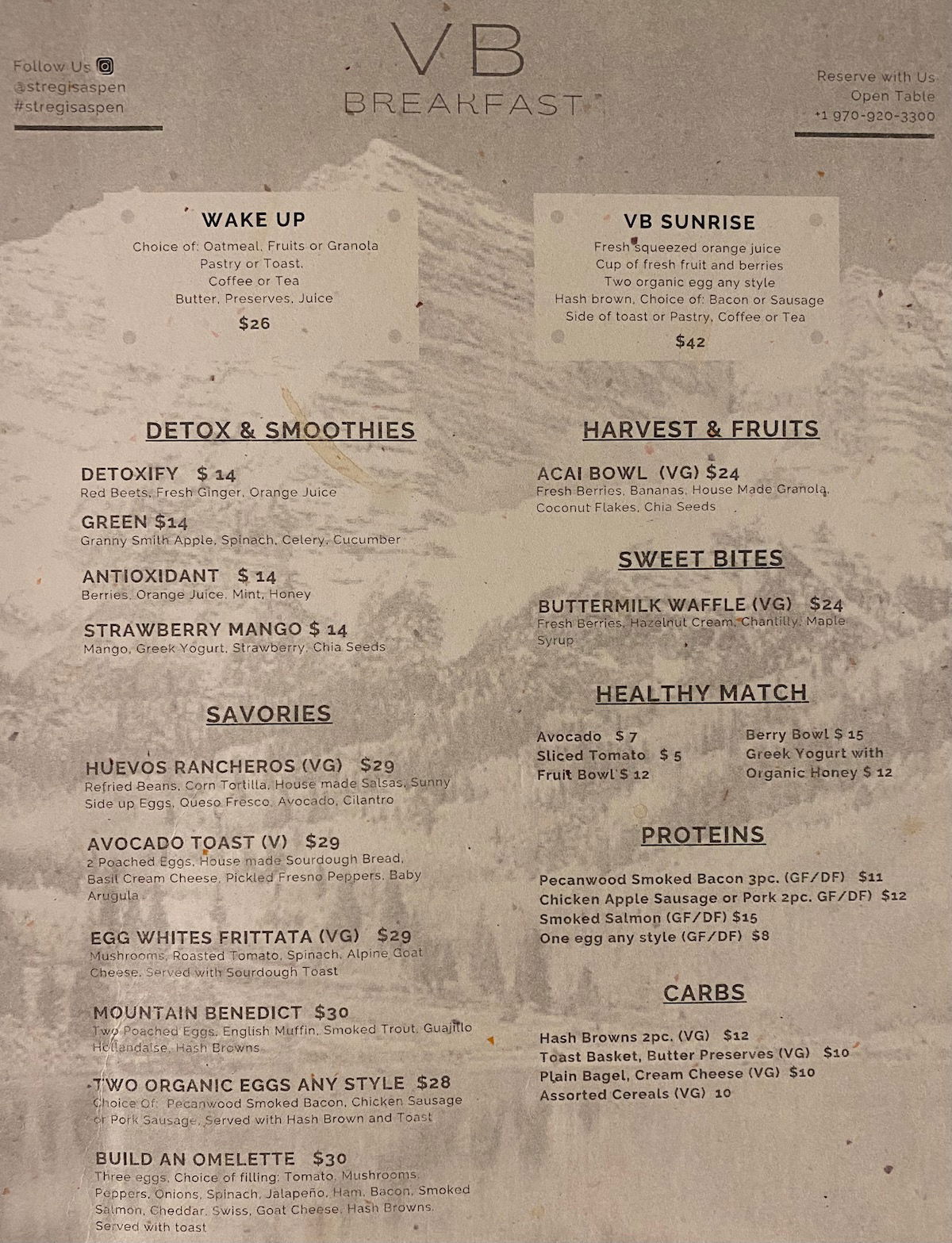 The breakfast selection at the St. Regis was excellent overall. The fresh juices were great, while the cappuccinos weren't so amazing.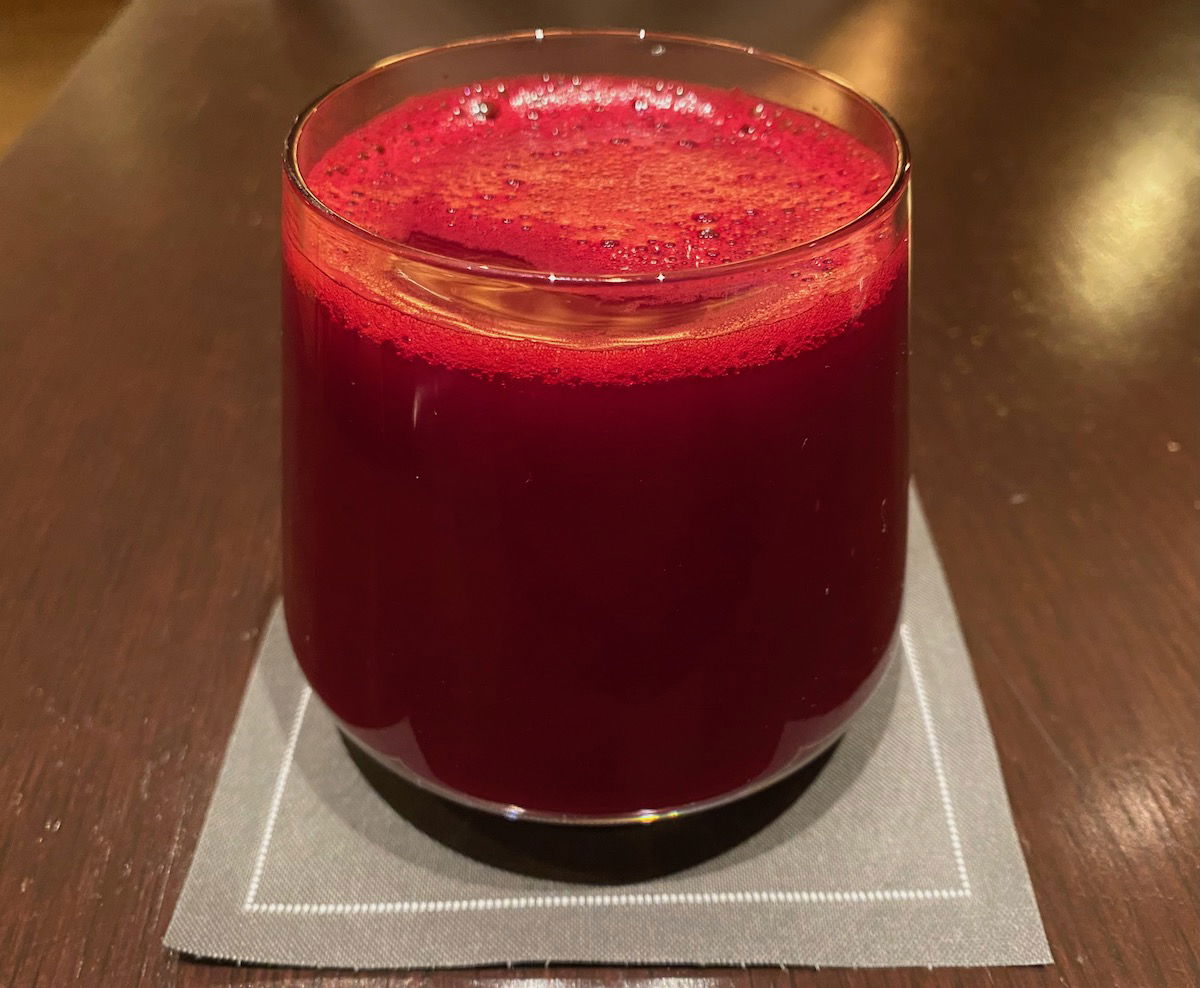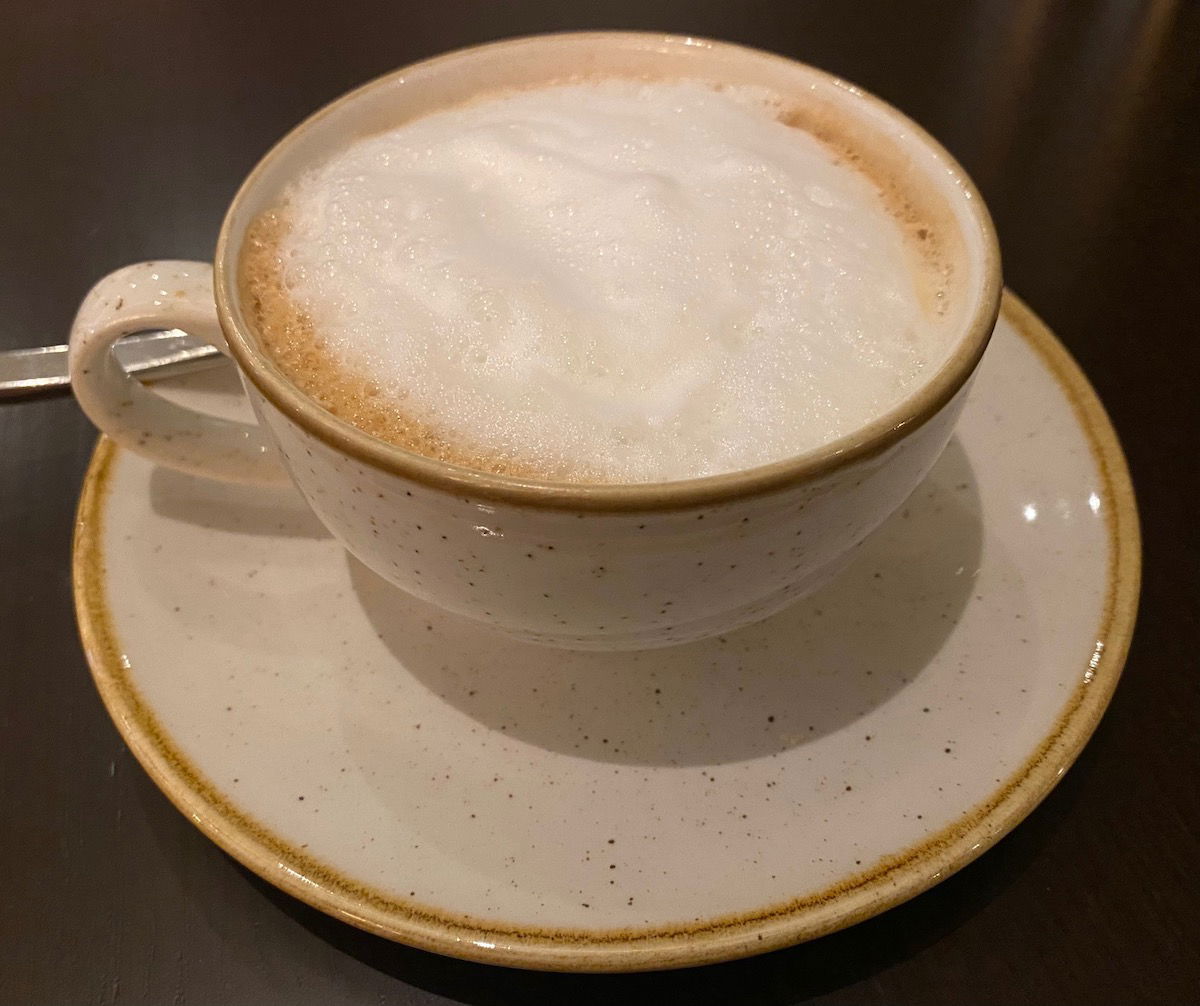 The food was phenomenal across the board, though, from the acai bowl, to the avocado toast, to the build-your-own omelet.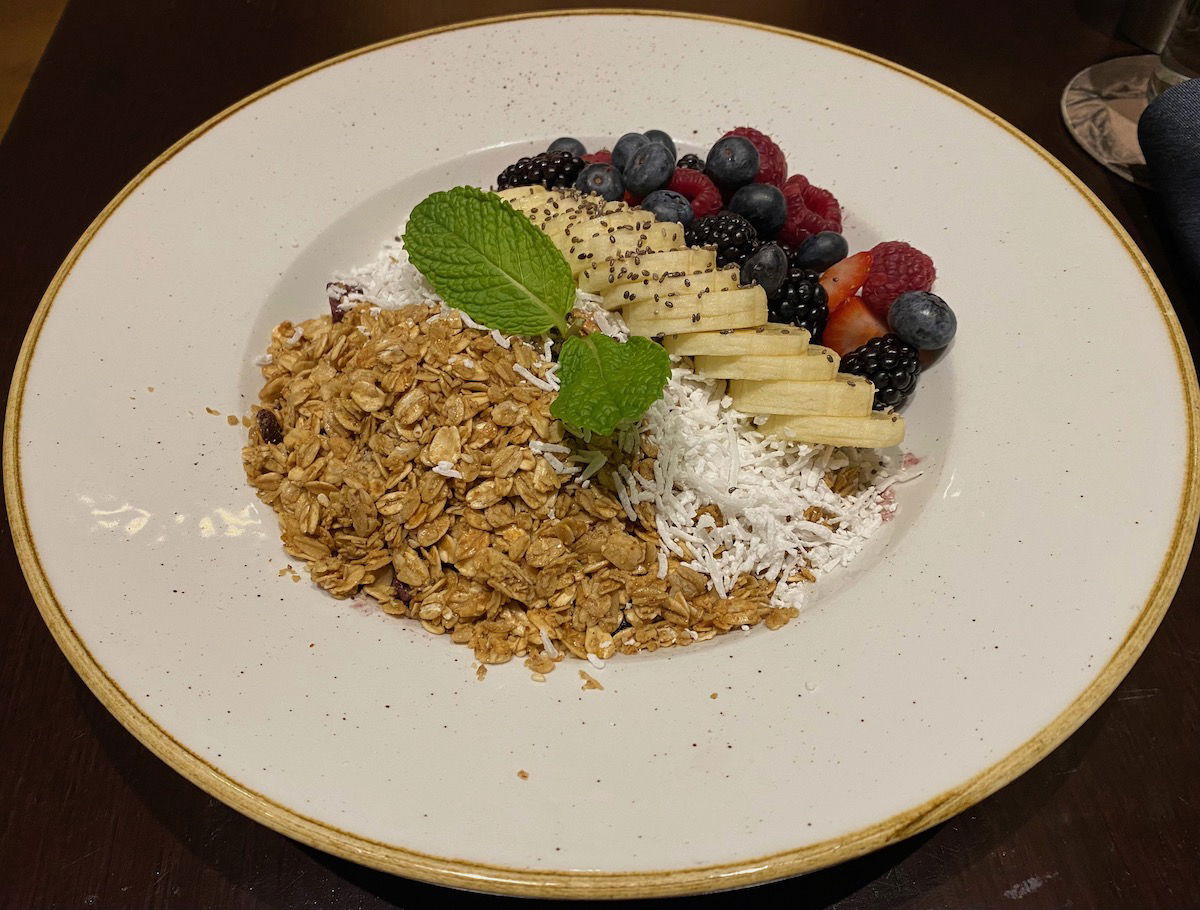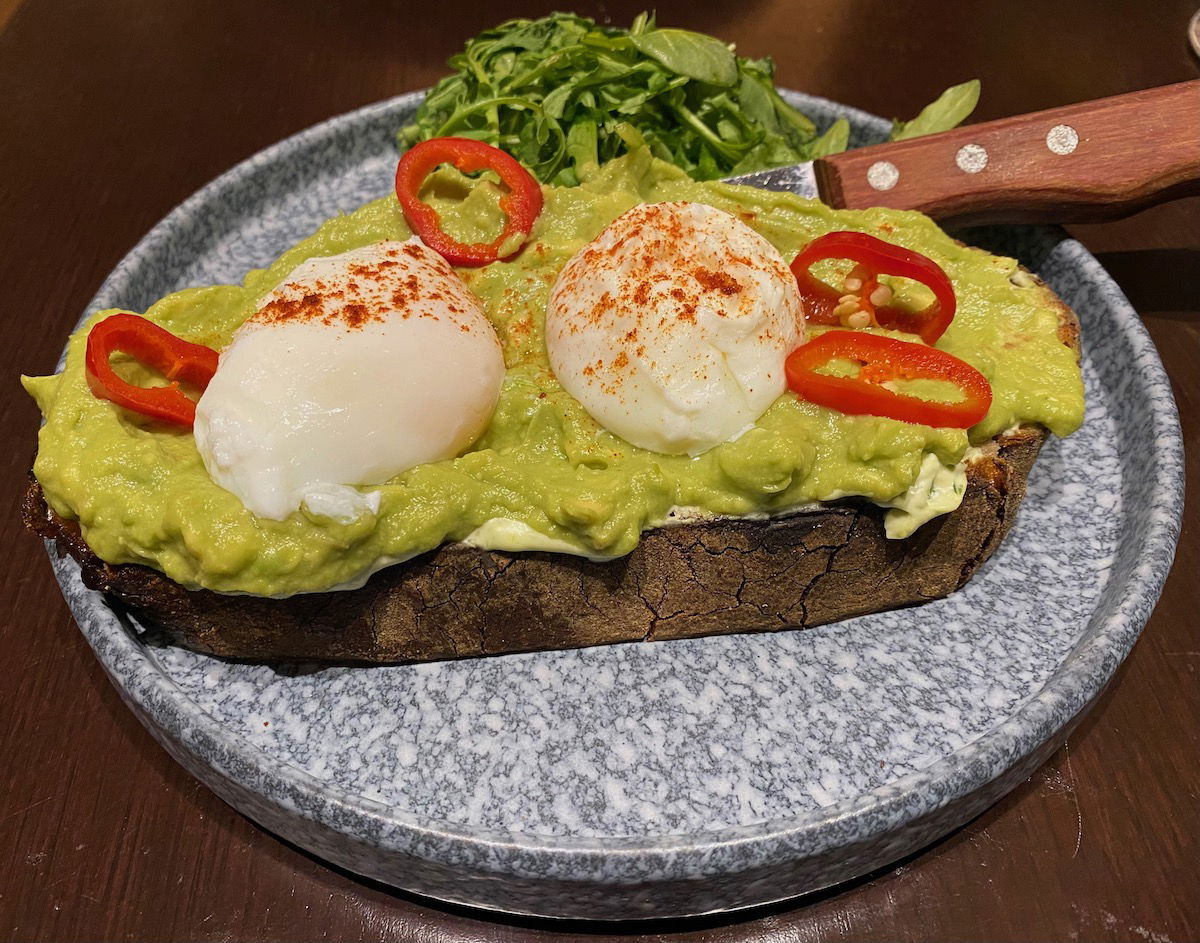 As mentioned above, Marriott Bonvoy Platinum members and above can select breakfast as their welcome amenity, and that's a $52 daily credit. While that won't realistically cover a full hot breakfast for two people, it is a significant discount, and makes breakfast much more reasonably priced.
I'll take a credit like this any day over the hotels that offer a complimentary continental breakfast consisting of coffee and a muffin. As you can see, on the menu there's a $26 continental breakfast, so presumably that's where the $52 credit amount comes from.
Another nice feature was that there was complimentary coffee and tea in the lobby each morning until 11AM. Between the coffee in the lobby and the coffee via butler service, I managed to stay well caffeinated throughout our stay. 😉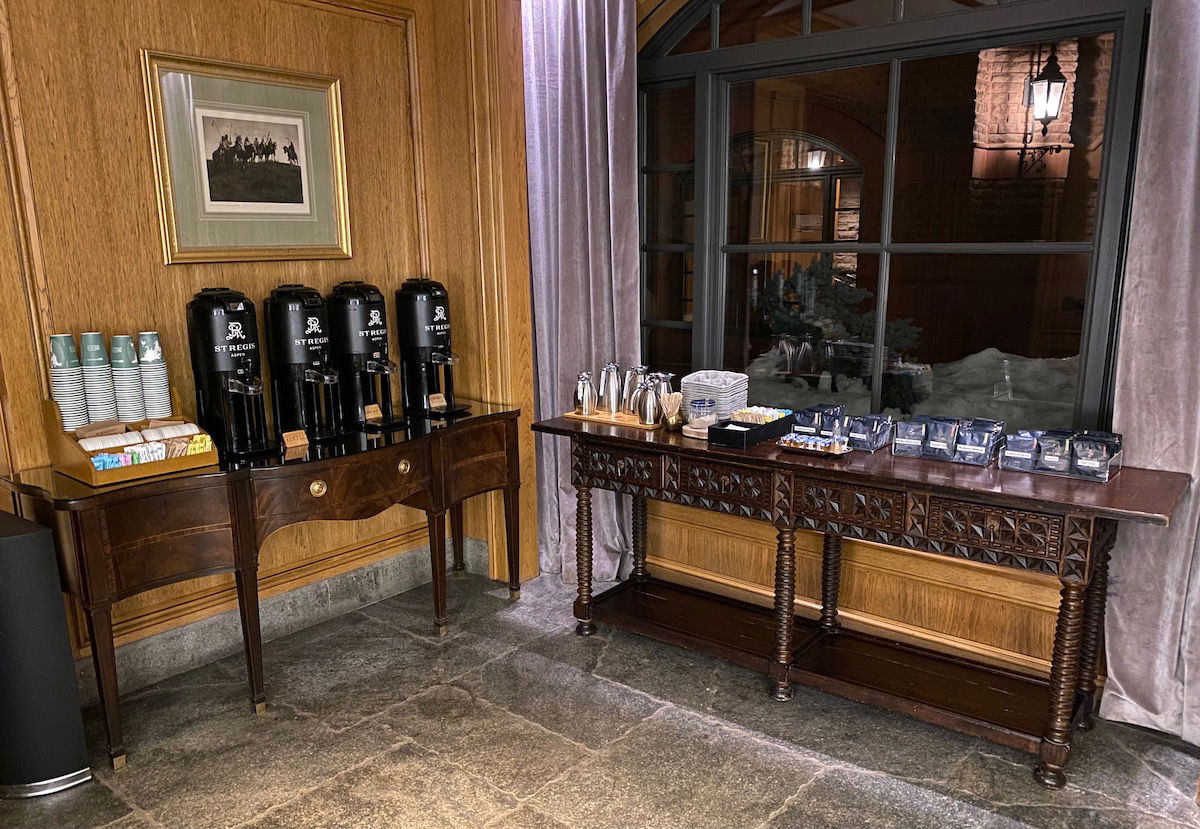 St. Regis Aspen Mountain Social Bar & Lounge
Mountain Social Bar & Lounge is the St. Regis' lobby bar, and it's open daily from 12PM until 10:30PM. This is a place you can get drinks, and on top of that lunch and dinner is served here as well. There's both a bar area and then a bunch of couches by a fireplace where you could sit. There was even live music in the evenings.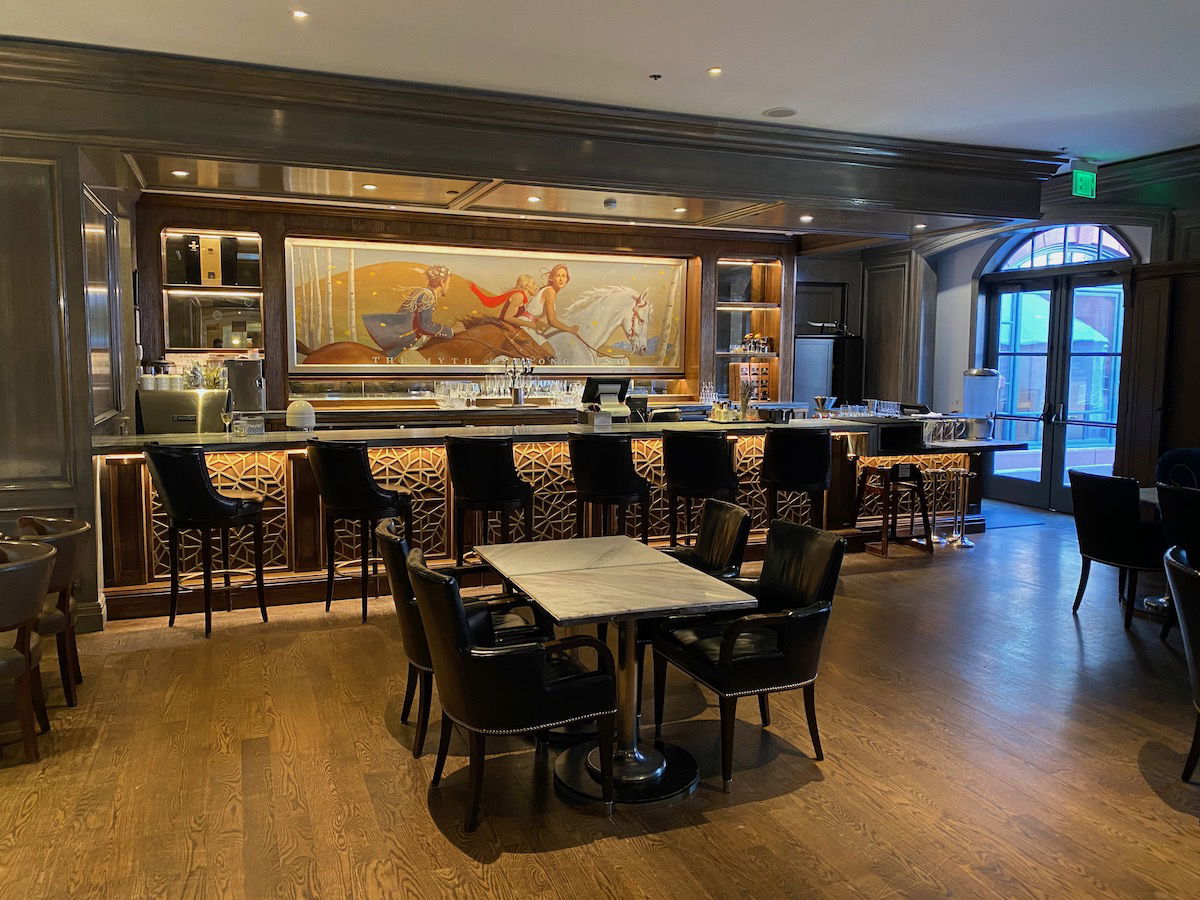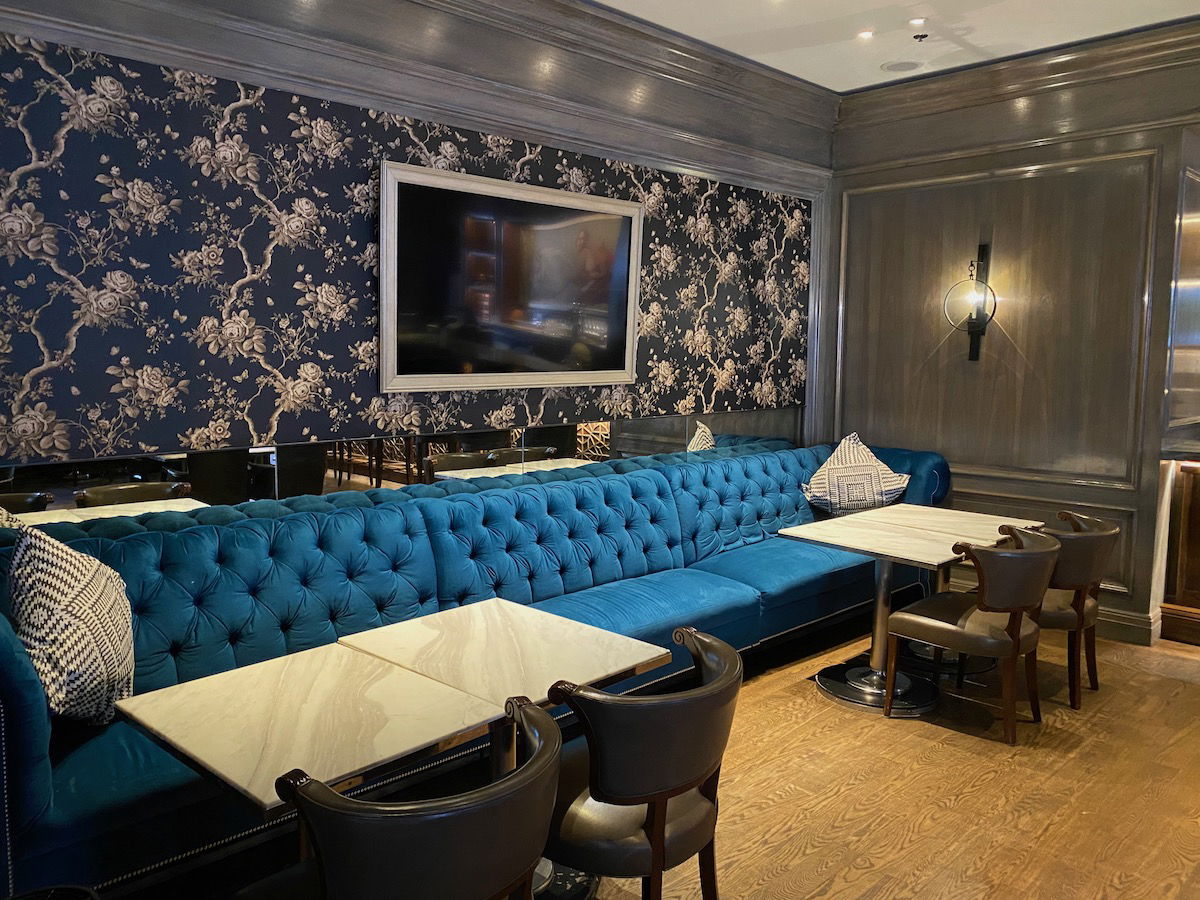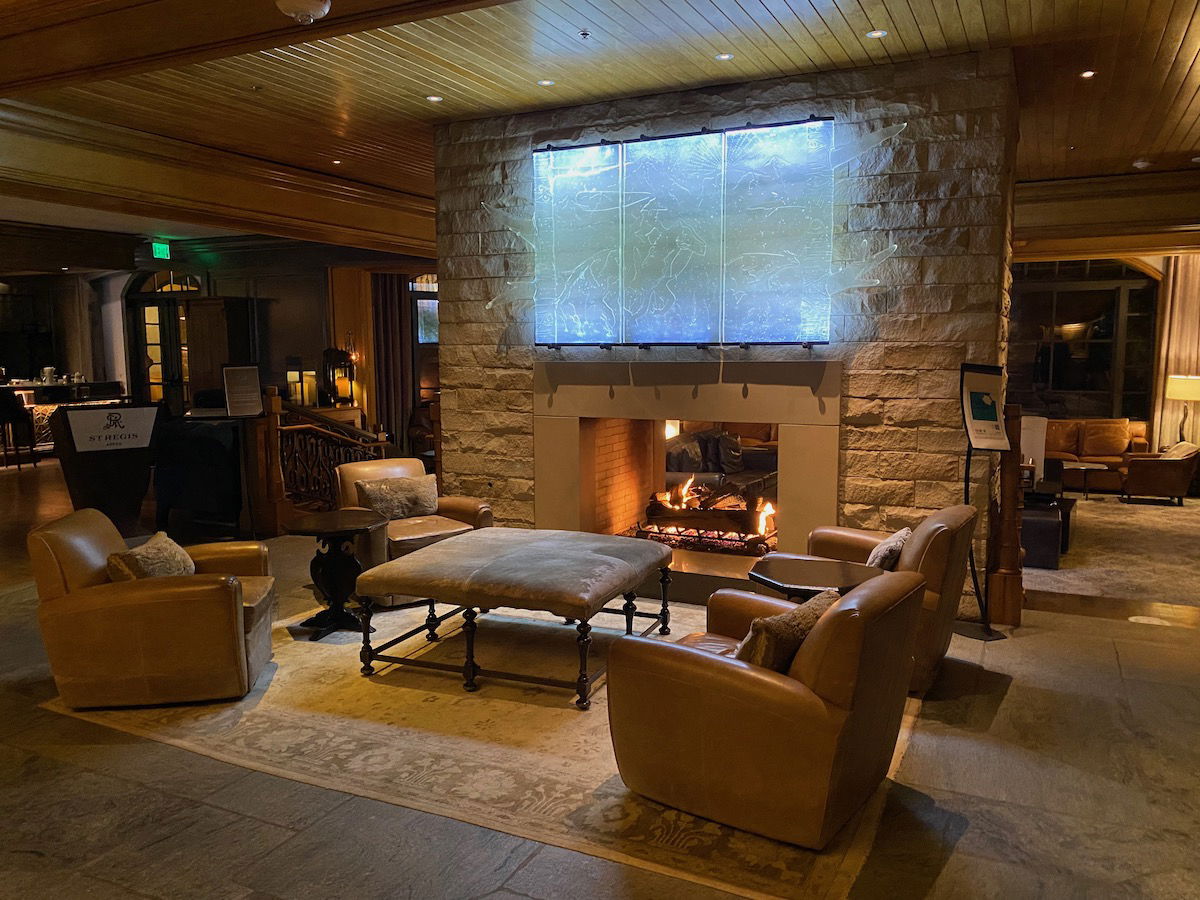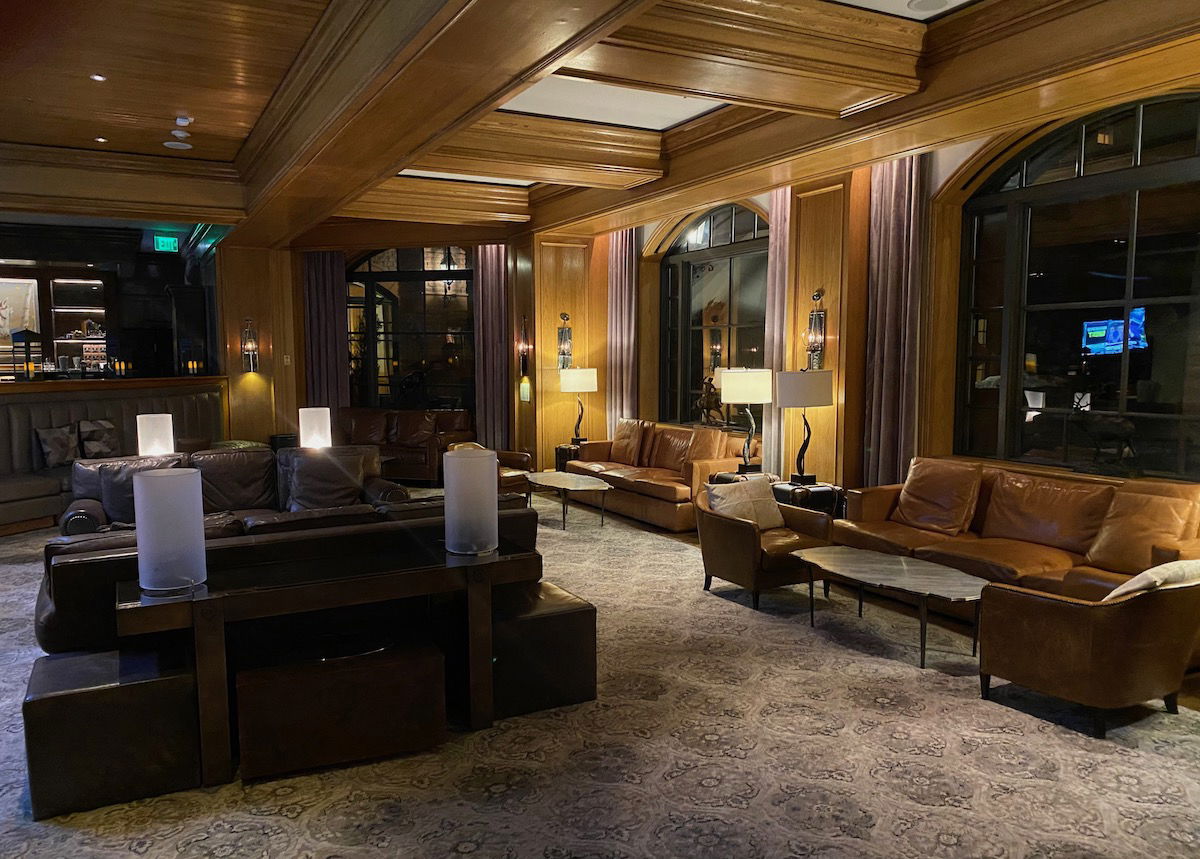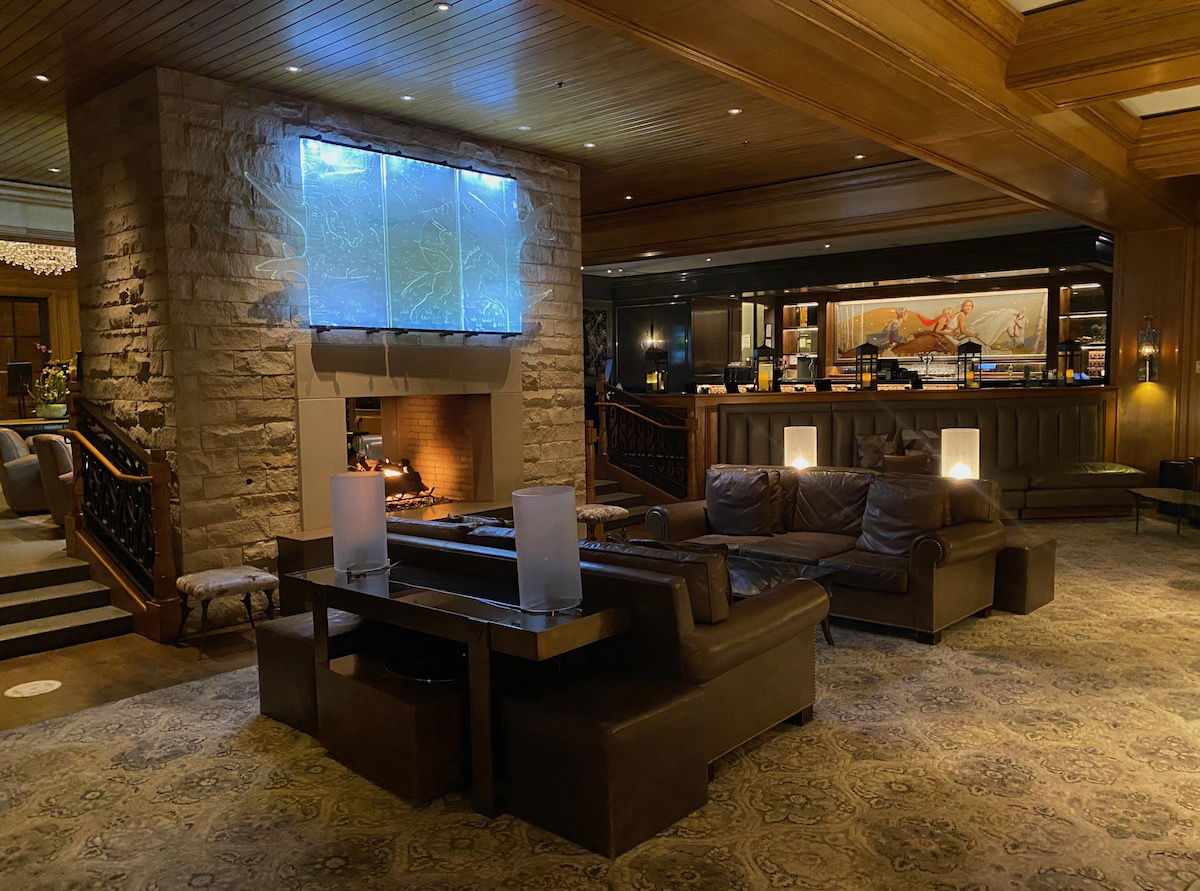 We had drinks here several times. While I'm not usually a bloody mary fan, I make an exception when staying at St. Regis properties, and try to have one with each stay (given that the bloody mary was founded at the St. Regis New York).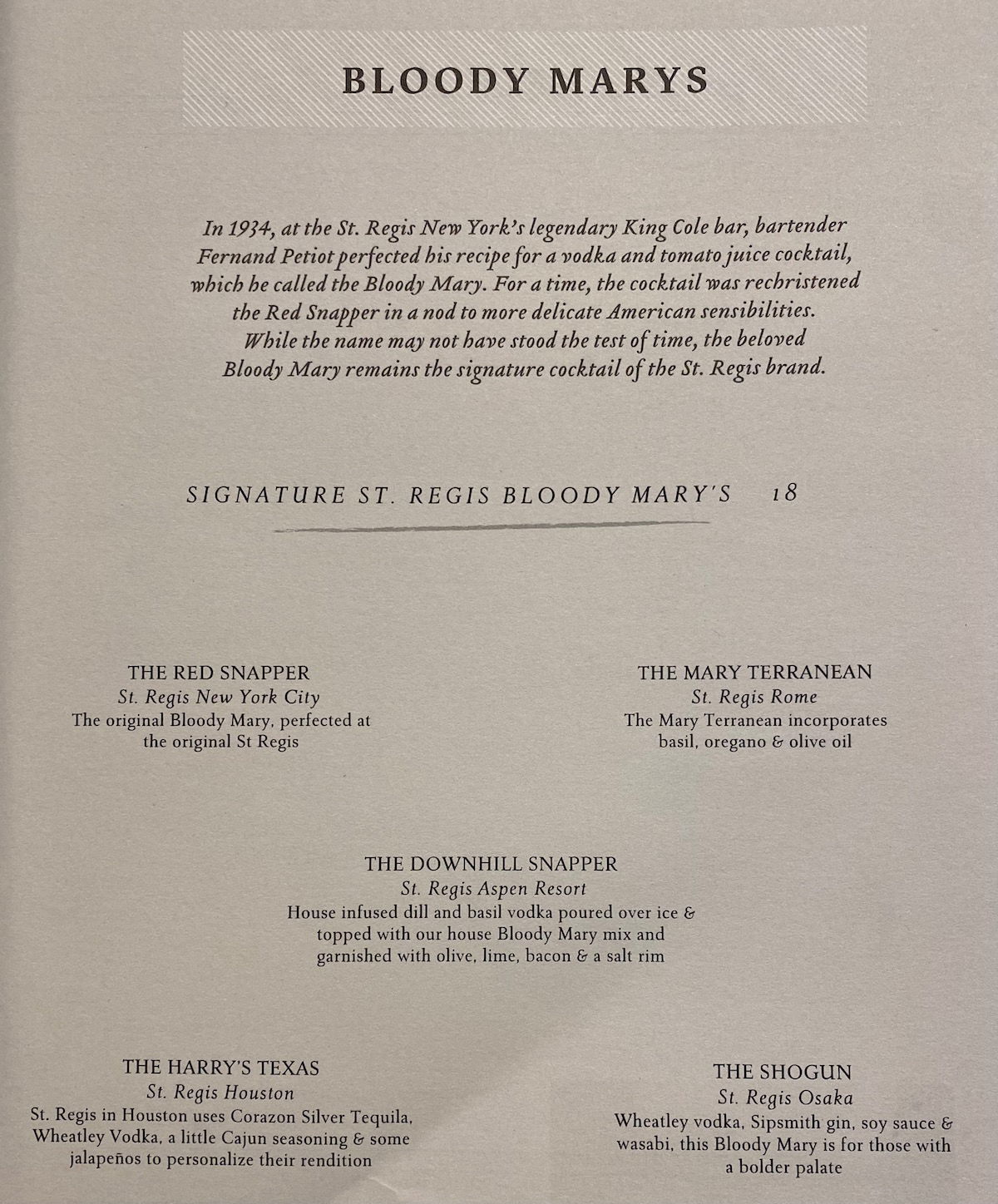 Ford had The Shogun (from the St. Regis Osaka), while I had The Harry's Texas (from the St. Regis Houston). Both were excellent. Usually I'd try to have the "local" bloody mary, but it had bacon, so…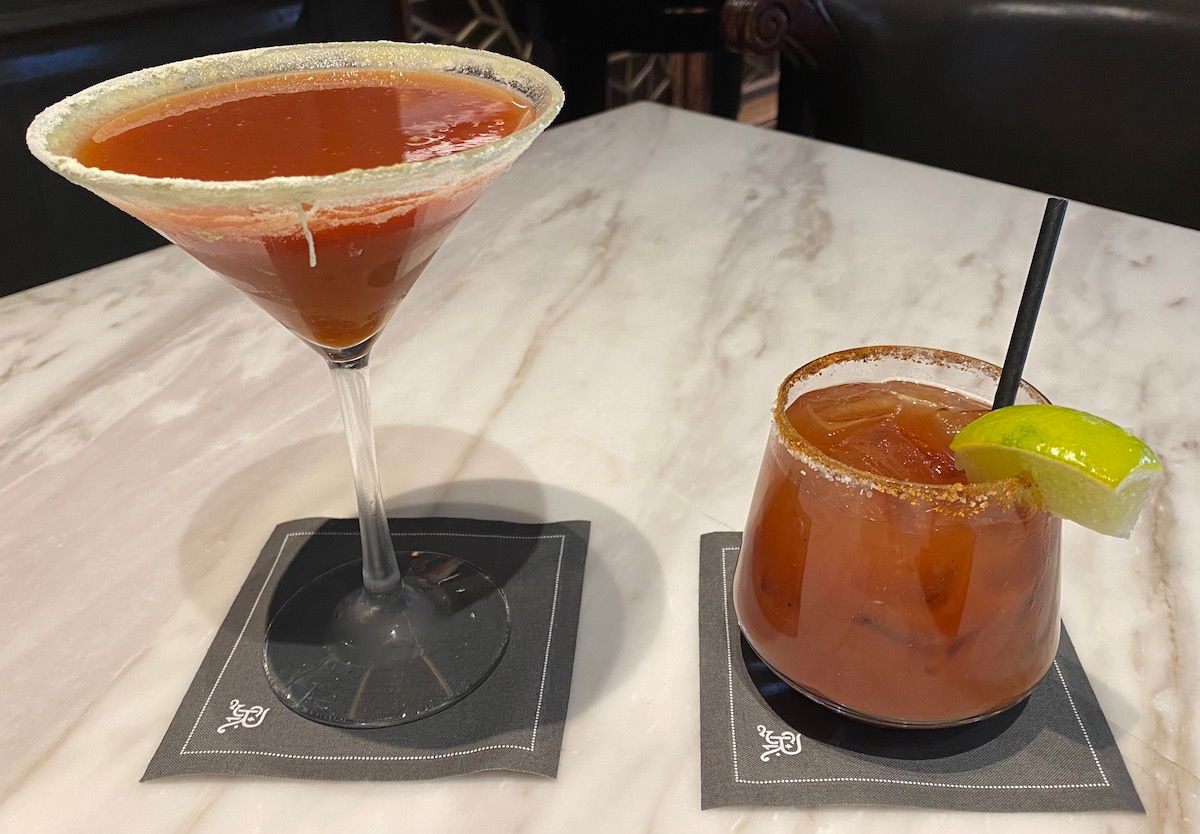 The rest of the cocktail list was great as well.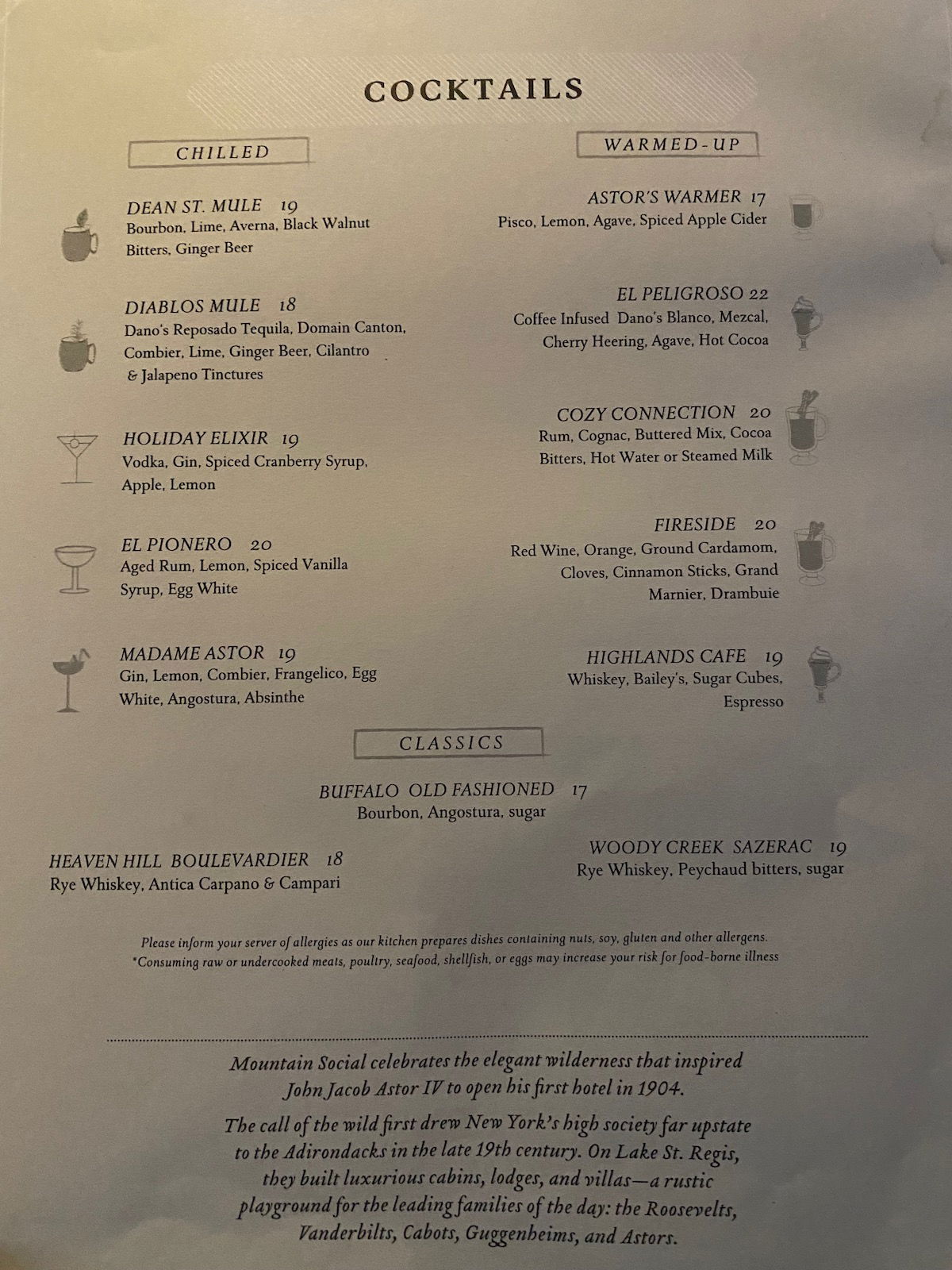 I enjoyed the Dean St. Mule.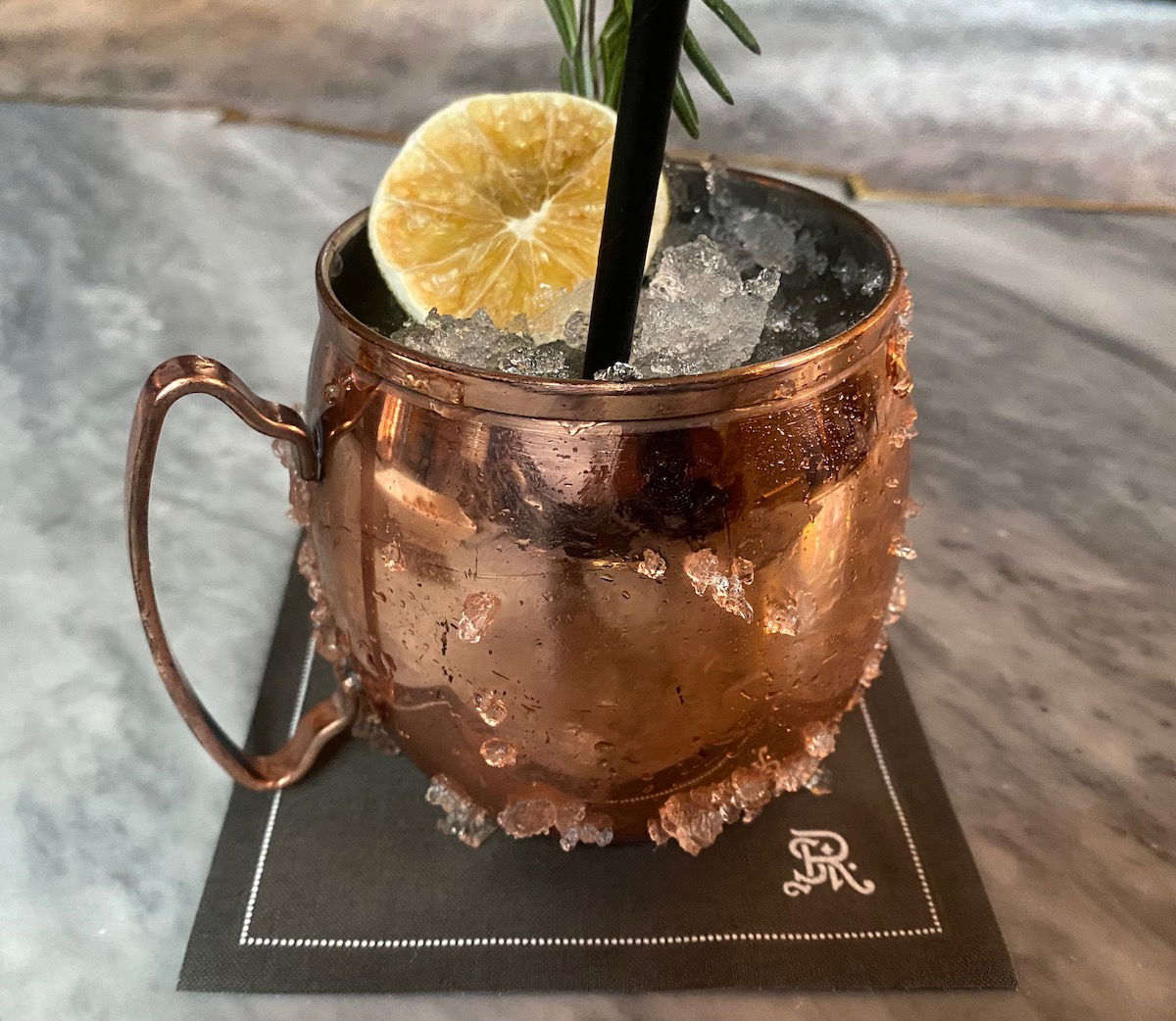 The traditional cocktails were also good, including a dirty martini and old fashioned.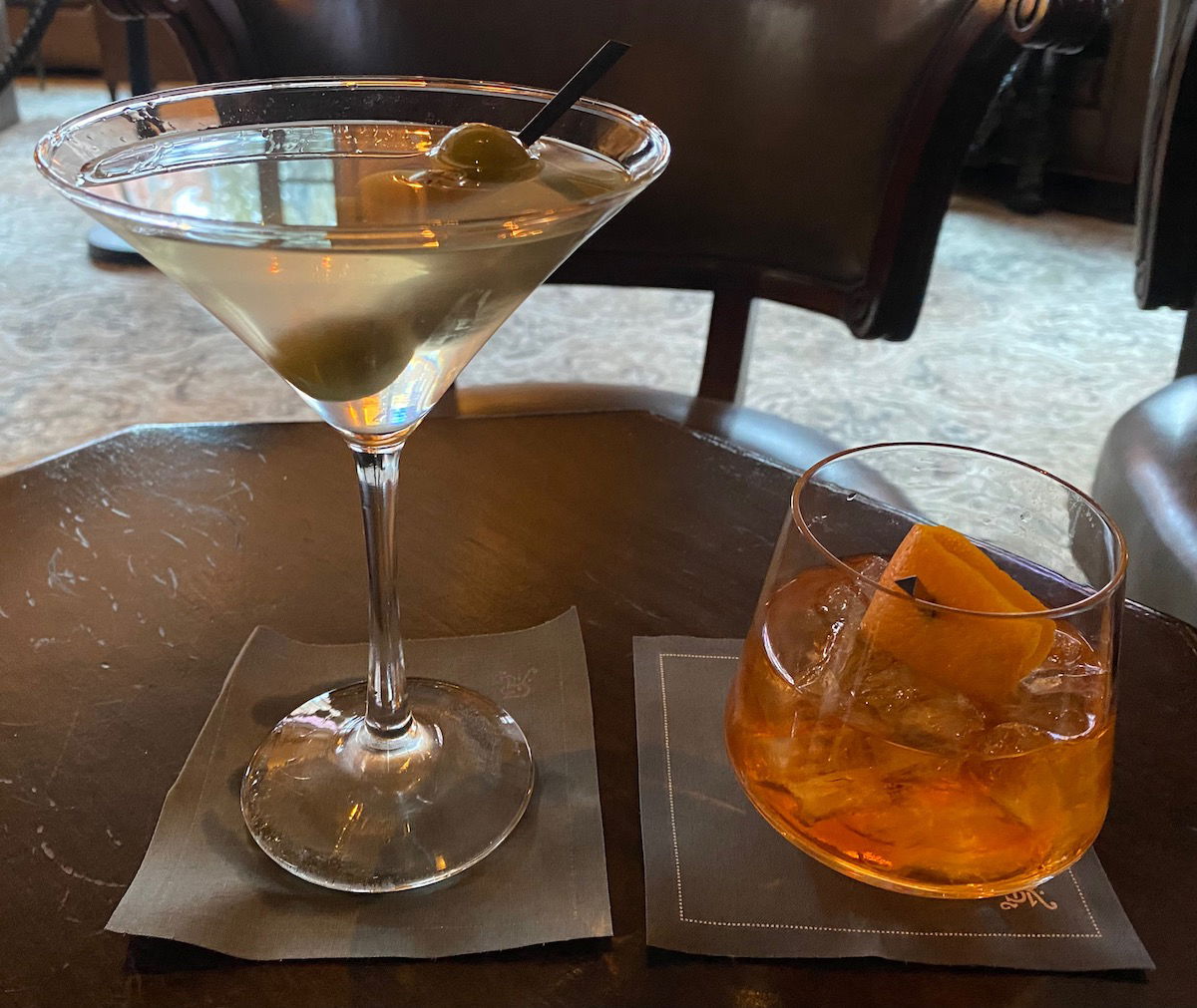 The bar snacks here were also mildly addictive…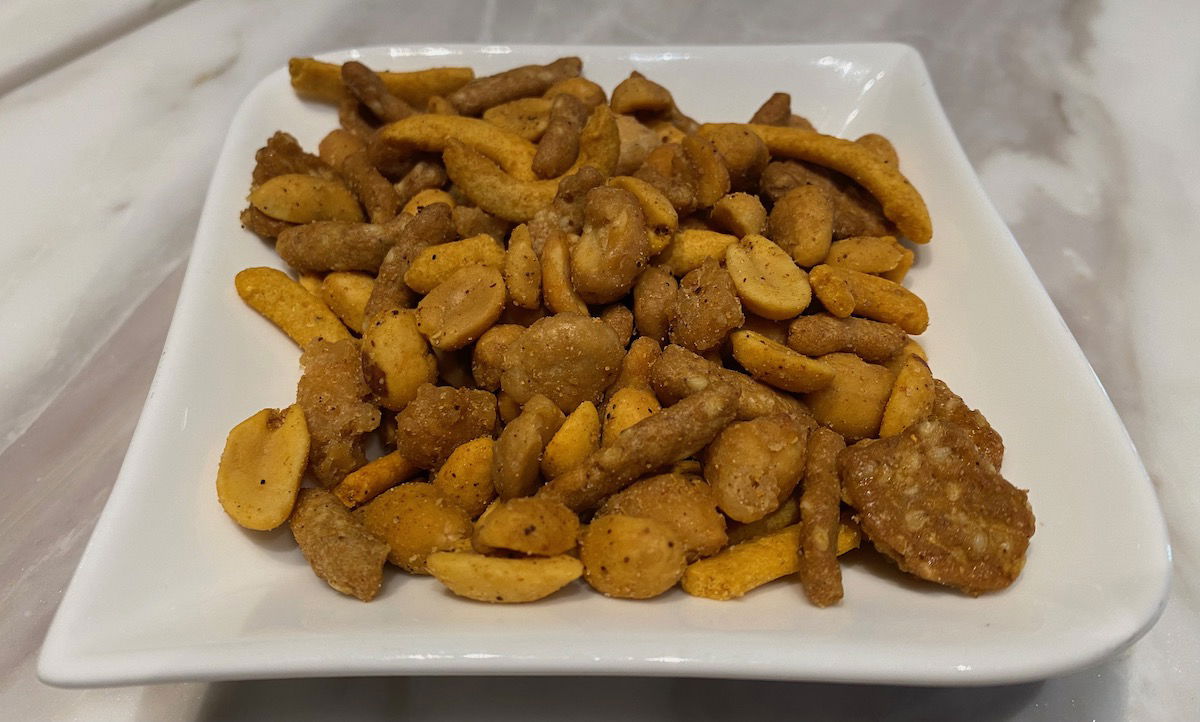 St. Regis Aspen skiing
I'm not a skier, so I can't chime in firsthand on the skiing conditions in Aspen. However, I can point out that the St. Regis Aspen isn't ski-in/ski-out. The hotel is very close to the base of Aspen Mountain, and there's a ski concierge, but you do have to leave the property to get to the mountain.
It's either a very short walk (let's call it five minutes with gear), or the hotel has a complimentary shuttle, which shows up very quickly. This is hardly a big deal, but it is a small disadvantage compared to some other popular ski resorts.
St. Regis Aspen service
I was impressed by the service at the St. Regis Aspen, especially given the staffing issues so many hotels are having. As is the case at so many seasonal ski resorts, the staff at the hotel were very international. It kind of felt like flying Emirates. There were staff from all over the world, and in particular there were dozens of people from Italy and South Africa.
Across the board service was very good. Every request was quickly taken care of, and there wasn't a single service lapse.
Literally the only service feedback I have involves being seated at breakfast. When you arrive at the restaurant they ask for your room number, and then they leaf through pages and pages of documents for at least two minutes before seating you.
I'm guessing that they're checking whether a guest has breakfast included or not, but it seems like this could be done more efficiently. Without exception, each morning it took that long, which just makes me think they must have a very inefficient system for managing this.
Bottom line
The St. Regis Aspen is one of my favorite Marriott resorts in the United States. The property has an ideal location, friendly service, and nice facilities. In particular, you can't beat this place as a Marriott Bonvoy member — we were able to redeem points when a base room would have cost $2,000+ per night, and on top of that could use a suite night award to confirm an upgrade to a one bedroom suite. In fairness, this was my first time ever clearing an upgrade here, so I lucked out.
I also appreciate how this property doesn't nickel-and-dime. Not only is there no resort fee, but the hotel does offer a lot of useful amenities, from complimentary coffee in the morning, to an airport and town shuttle.
If you're a skier I'd highly recommend the St. Regis Aspen. I'm just sad about the upcoming Marriott Bonvoy devaluation, because I can only imagine how many points this property will cost in peak season.
If you've stayed at the St. Regis Aspen, what was your experience like?