EXTRA PERKS AVAILABLE
Enjoy breakfast, upgrades, & more
Want to take advantage of Virtuoso benefits at no extra cost, including a room upgrade, free breakfast, a hotel credit, and more? Contact Ford ([email protected]) for more details. He doesn't charge booking fees, and may even be able to help if you already have a stay booked.
We recently spent a few nights at Airelles Gordes, La Bastide, located in Provence, France. I can't say enough good things about this property. It's simply a dream — there's so much to love, from the incredible history and sense of place of the property, to the amazing food, to the flawless service. If you have the opportunity to check out this hotel, I highly recommend it.
Why we decided to stay at Airelles Gordes
We're new parents, so we haven't been doing much traveling lately. Ford's birthday was in October, and initially we weren't planning on doing anything. However, at the very last minute we decided to go away for a long weekend.
With encouragement from our family (who were excited to take care of Miles), we jetted off on a quick adventure. While we would have loved to take Miles, he's finally sleeping 12+ hours through the night, and we didn't want to get in the way of his groove. We considered various options, but eventually decided on Airelles Gordes.
Why? First for some context, Airelles is a boutique luxury hotel group, which has a handful of properties in France:
Earlier this year we stayed at Airelles Courchevel, an incredible ski resort in France, which was easily one of the most amazing hotels I've stayed at
We loved our stay in Courchevel so much that we visited Airelles Saint-Tropez over the summer; while the resort was gorgeous, unfortunately we had some service snafus there, though we weren't about to give up on the brand
Neither of us had ever been to Provence before, and I knew one of Airelles' other highly regarded properties was Airelles Gordes. With a beautiful weather forecast and easy flight options from Florida, we visited Airelles Gordes for a few nights.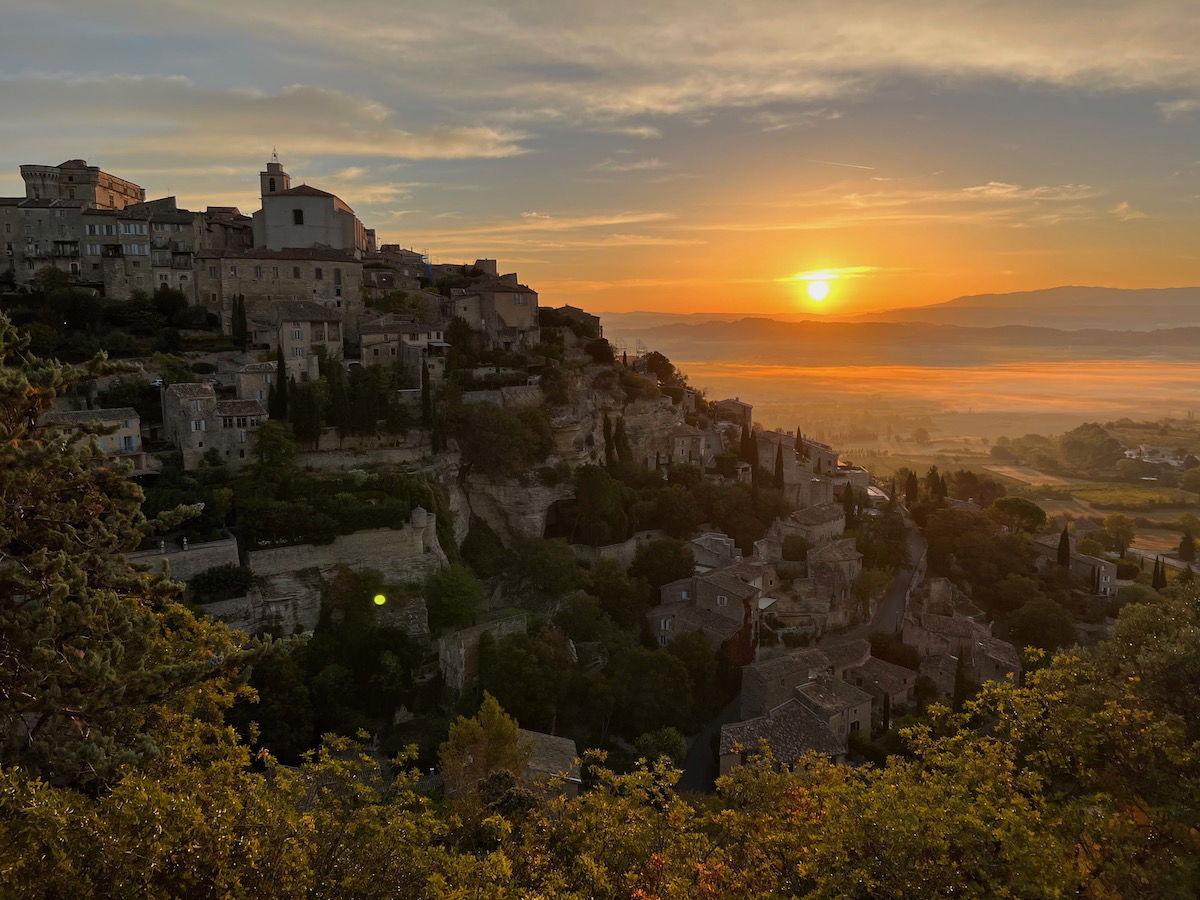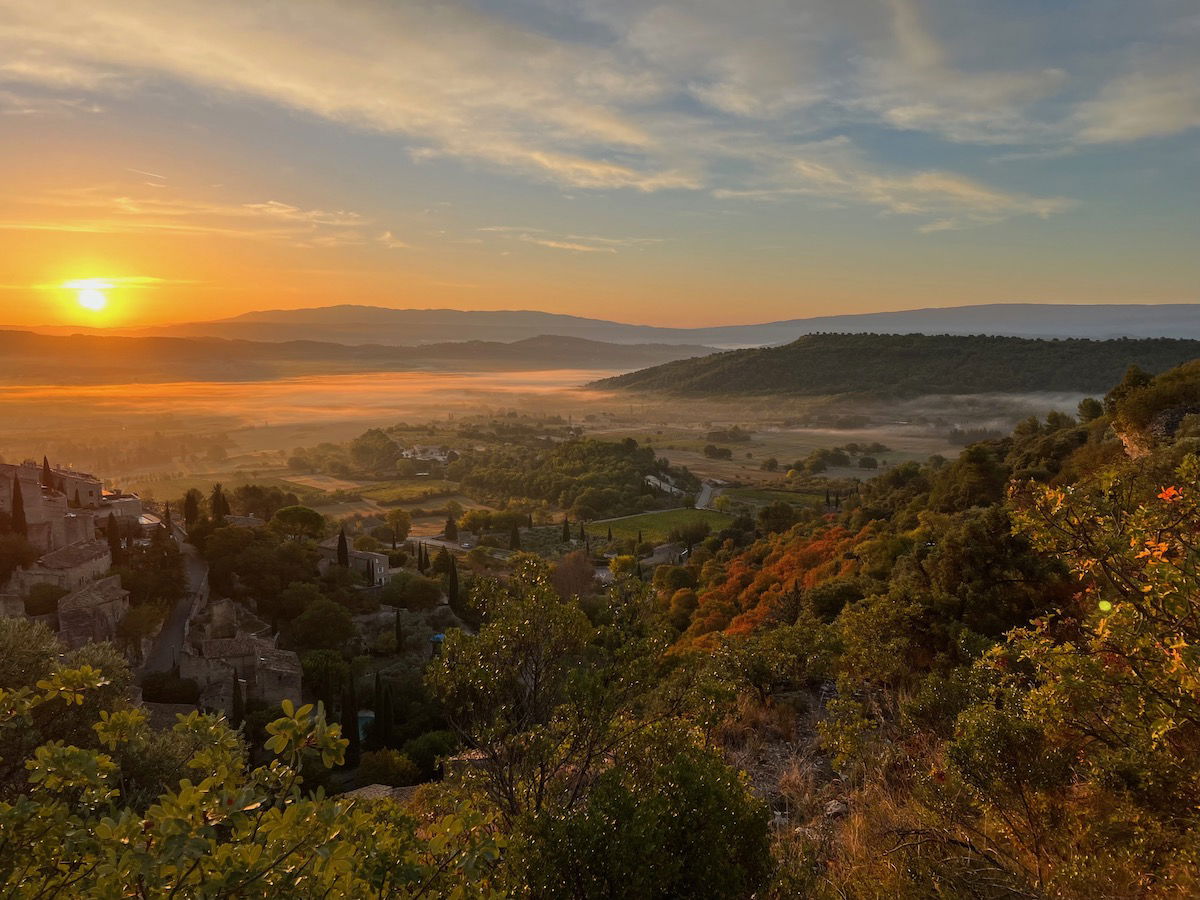 Booking Airelles Gordes
Airelles Gordes is open for roughly six months each year, from late April through late October. We visited in mid-October, which I can't recommend enough:
The weather was perfect — it was 60-70 Fahrenheit during the day, and either sunny or partly cloudy
We stayed when the rates were the lowest, and the hotel wasn't at capacity
It felt like we had the town of Gordes and most of Provence to ourselves; by comparison, I've heard Gordes can get really busy in the peak of summer, since it's such an idyllic little town
Anyway, Airelles Gordes has two kinds of rates:
There's the "Best Available Rate & Benefits," which includes breakfast, the minibar, valet parking, soft drinks by the pool, up to 10 laundry items per day, and more
There's the "All-In-Escape," which includes all of the above, plus breakfast, lunch, and dinner, at any of the restaurants
For what it's worth, for our dates the standard rate was 720 Euro per night, while the full board rate was 1,020 Euro per night. We decided to book the full board rate. Obviously this is a pricey hotel, but I felt like the hotel was offering value compared to so many other properties nowadays.
The great thing is that all rates available directly with Airelles are bookable through Virtuoso, so that's how Ford booked us. This offers additional perks, including an upgrade subject to availability, a $100 property credit, and more. If you'd like any help with a Virtuoso booking here, you can reach out to Ford at [email protected].
Airelles Gordes service
Usually I talk about service at the end of my hotel reviews, but with Airelles Gordes it's worth leading with that. During my hotel stays I take notes in shorthand on my phone, intended to be a reminder for me when I go to write my reviews. In this case let me directly share one of my notes I wrote down during our stay — "the kind of hotel that reminds you hospitality is an art and passion, and not just a business."
Much like at Airelles Courchevel, here we felt like we were staying in someone's home, and they were really happy we were there. There's simply no other way to describe it.
I recognize my praise here almost sounds like one of those fake TripAdvisor reviews where you wonder if a hotel employee wrote it. But nope, I'm dead serious. Where do we even begin?
The general manager here is a rockstar, and she's one of the most hands-on GMs I've seen at any hotel; she was there morning to night, and checked in with each guest daily
Elio and Jose, the two concierges, couldn't have been more professional; they were responsive before the stay, and would proactively check in with us every day to make sure we were making the most of our time in Provence
There wasn't a single service failure during our entire stay — whenever you requested something it was immediately taken care of
Even beyond just fulfilling requests, the proactive attention to detail was impressive, from remembering morning drink preferences, to remembering that Ford is a hot sauce fiend, to ironing tablecloths at breakfast before each guest sat down
Service in France can be polarizing. When service is done right, it's very good. Airelles Gordes offers exquisite French service, with confidence and attention to detail. Essentially it felt like everyone knew they were working at one of France's finest hotels, and they wanted to do their part to make sure guests were happy.
Airelles Gordes location
As the name suggests, Airelles Gordes is located in Gordes, France. Gordes is a tiny but very popular and picturesque town in Provence. The history of Gordes dates back to the Roman empire, but nowadays it's just a ridiculously charming town. And as luck would have it, Airelles Gordes is quite literally the centerpiece of the town.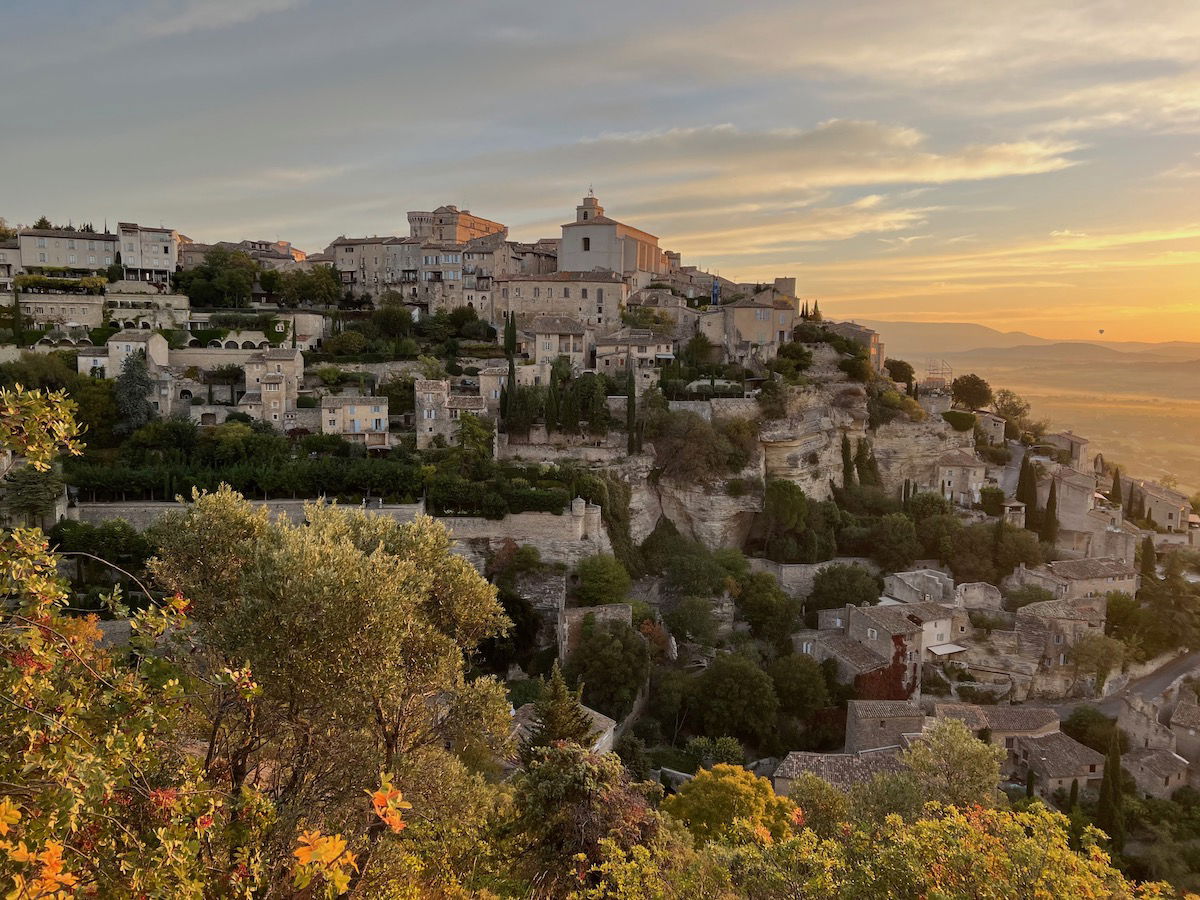 Funny enough when you drive through the town of Gordes, it would be very easy to miss the entrance to the hotel, as it blends into the neighborhood perfectly. Who would've guessed that the middle building there is the entrance to a French Palace hotel?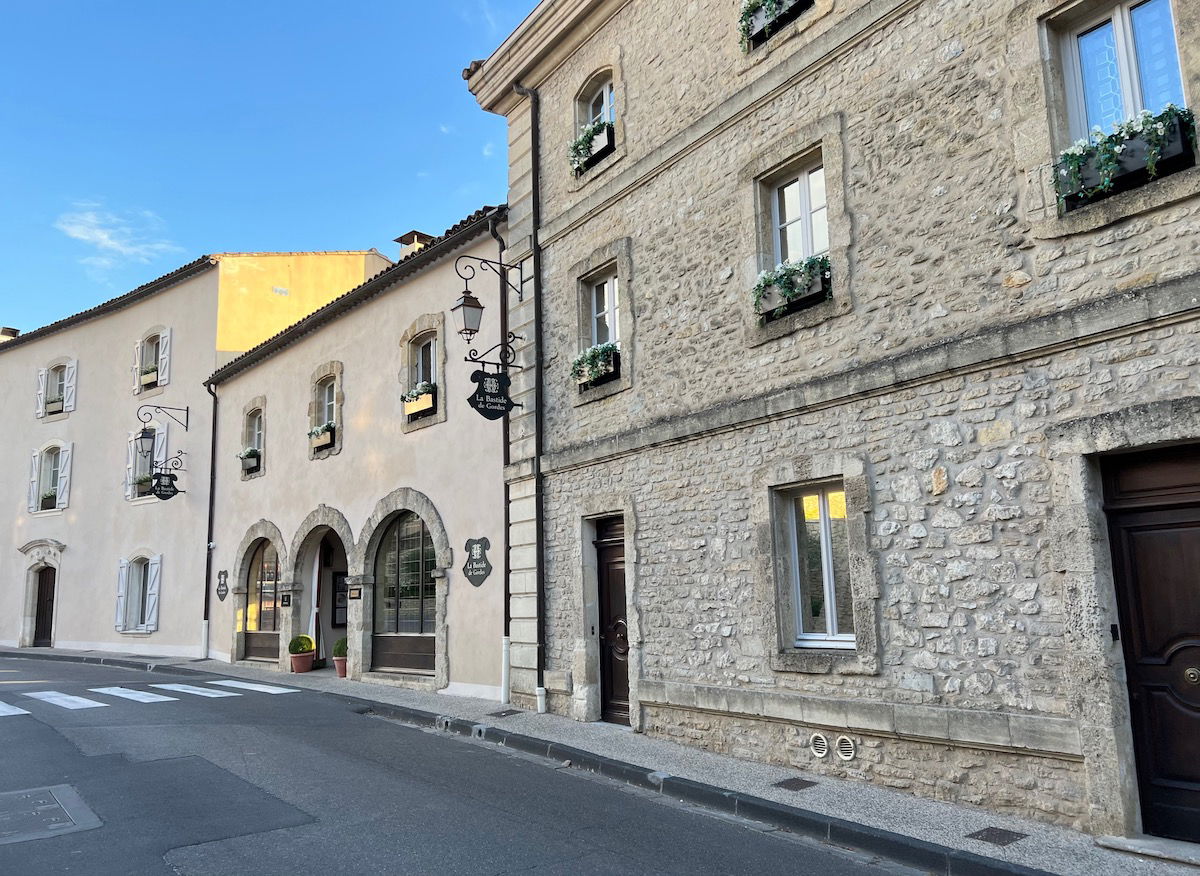 If you're flying in to visit Airelles Gordes, you'll want to travel to Marseille Airport (MRS). From there it's about a one hour drive. For what it's worth, I'd highly recommend renting a car, so that you can explore the area (while the hotel offers guests electric bikes, the roads are really narrow and winding, and I'd rather be in a car than on a bike).
Airelles Gordes check-in, lobby, & layout
The 41-room Airelles Gordes really transports you to a different era, all without sacrificing modern luxuries. The hotel is spread out over eight floors and 10,000 square meters, so it's a very vertical property. Interestingly the hotel goes from levels minus five to level two (with the lobby being on zero).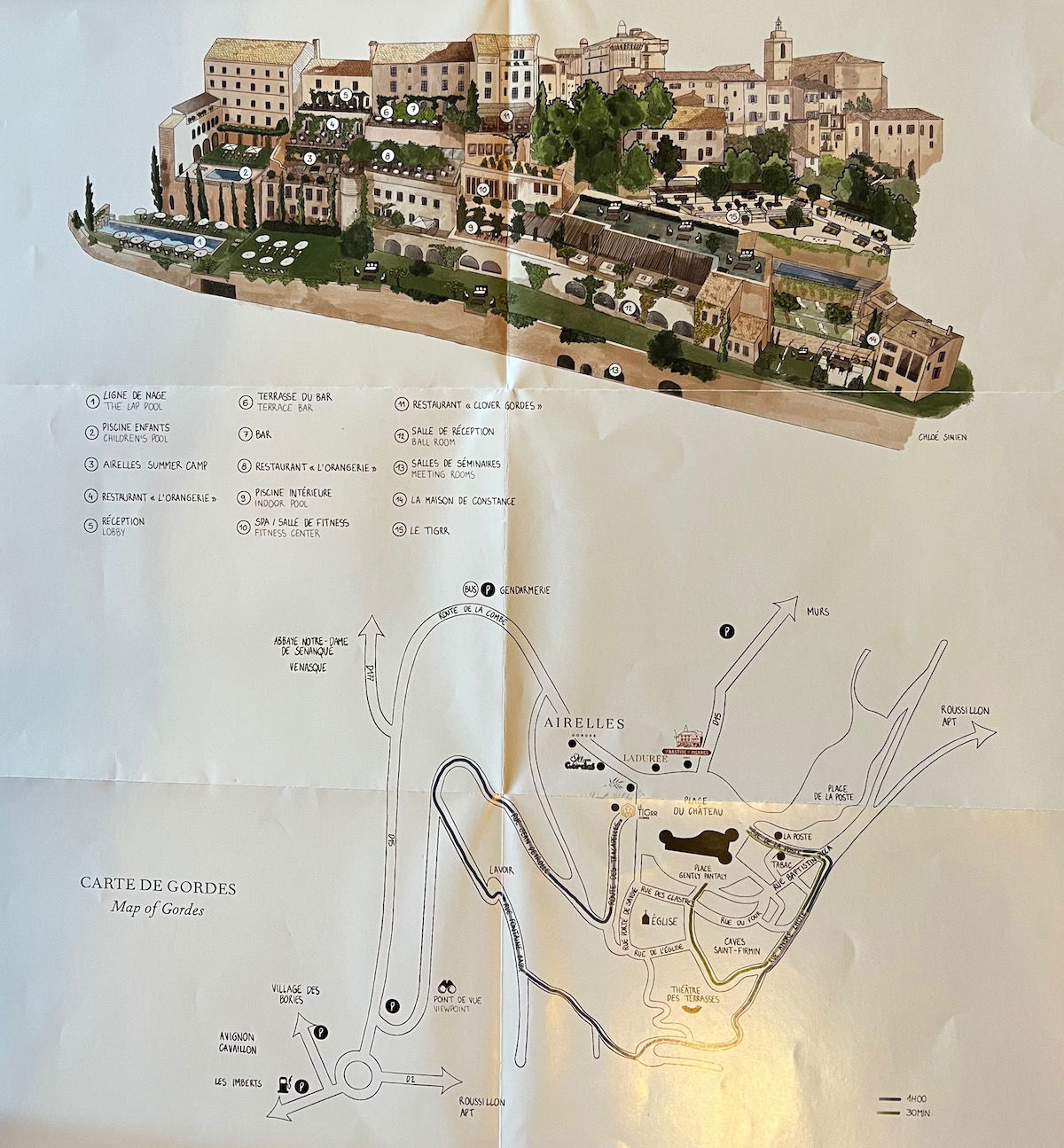 Our arrival experience was great — as we pulled up to the hotel, a bellman immediately helped us with our bags, escorted us to check-in, and offered to park our car. The hotel's lobby is intimate, and immediately gives you a taste for the decor of the rest of the property.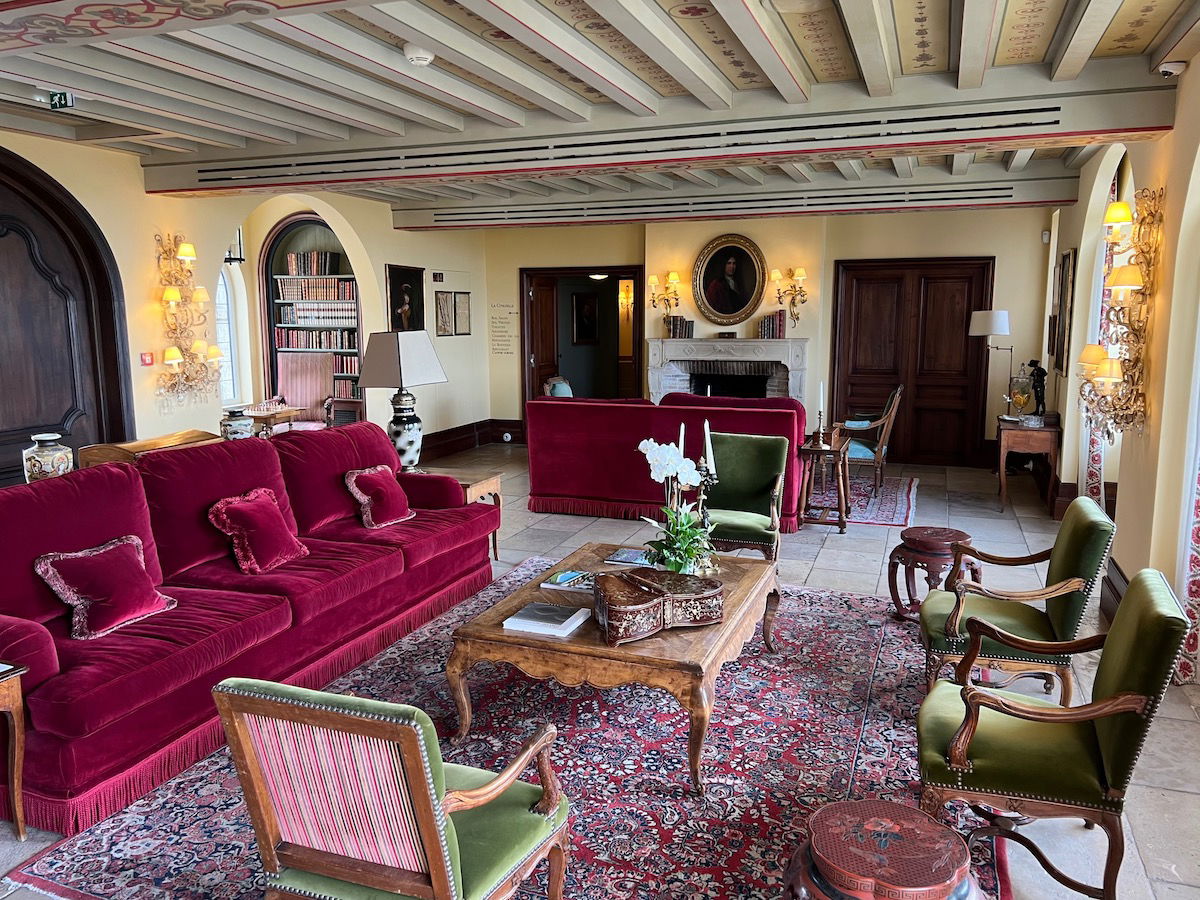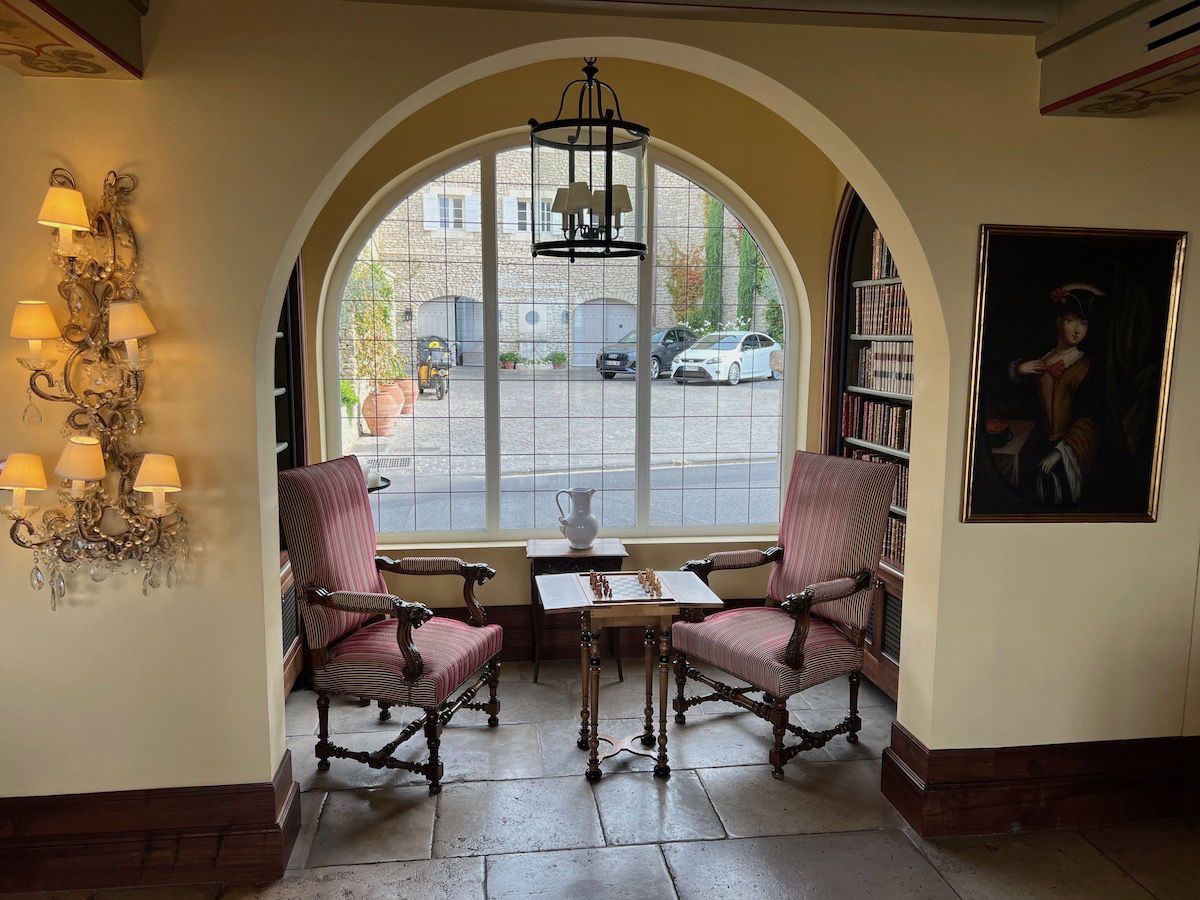 The lobby also has a beautiful balcony looking out over the valley.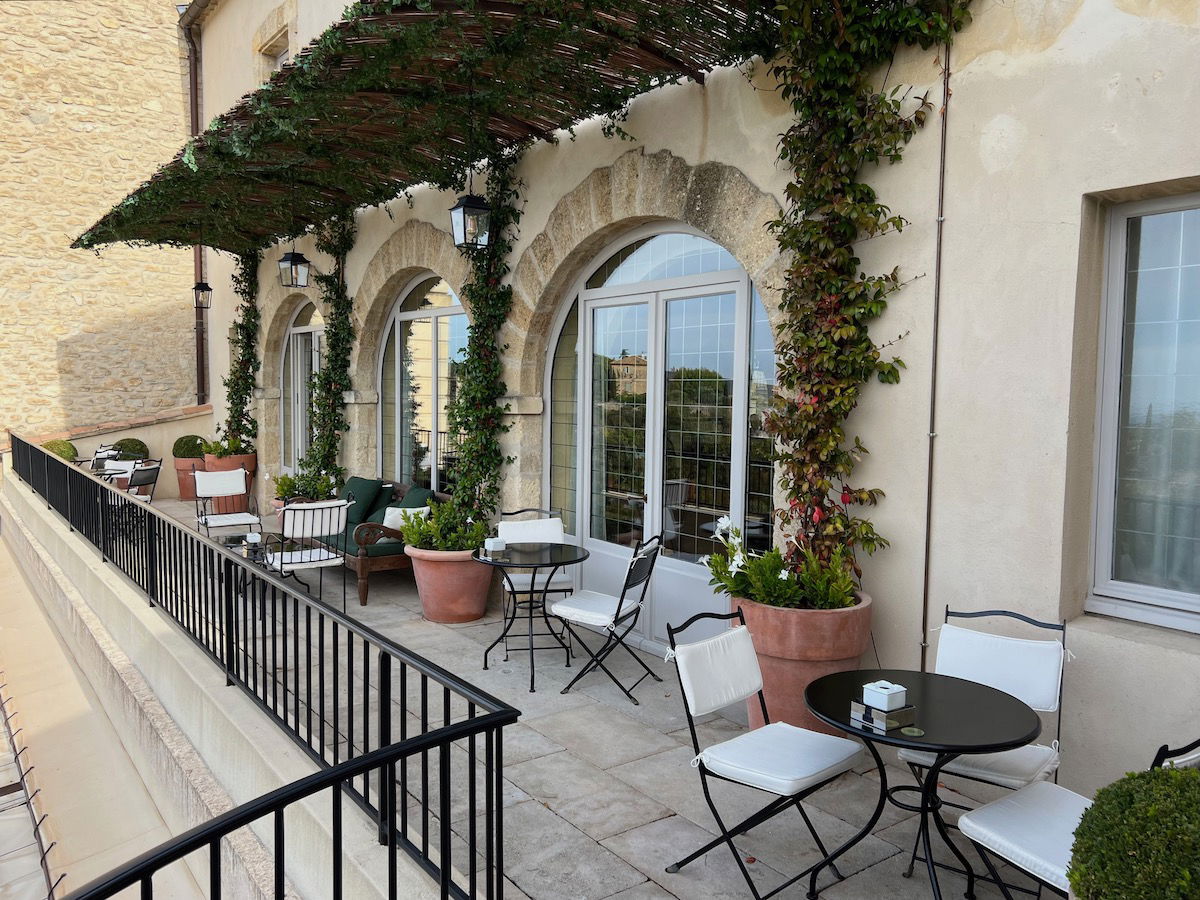 Our room wasn't quite ready yet, but we were invited to enjoy our lunch. Upon the conclusion of our lunch, we were escorted straight to our room.
Airelles Gordes one bedroom suite
We were assigned room 322, a one bedroom suite on the second floor (we got a nice upgrade — the hotel seemed to be pretty empty for our late season stay). First of all, how epic are the hotel's hallways? You really feel like you're staying in someone's palace, rather than at a hotel.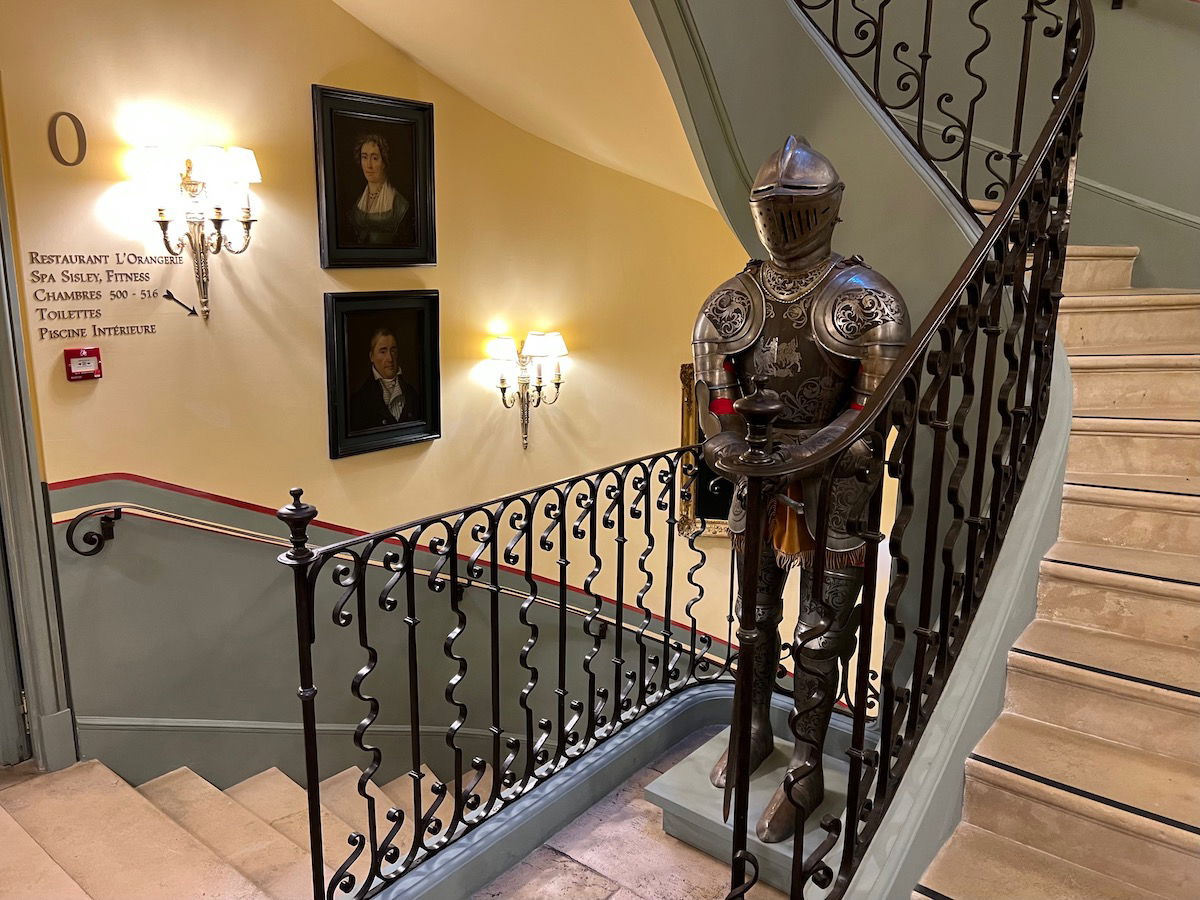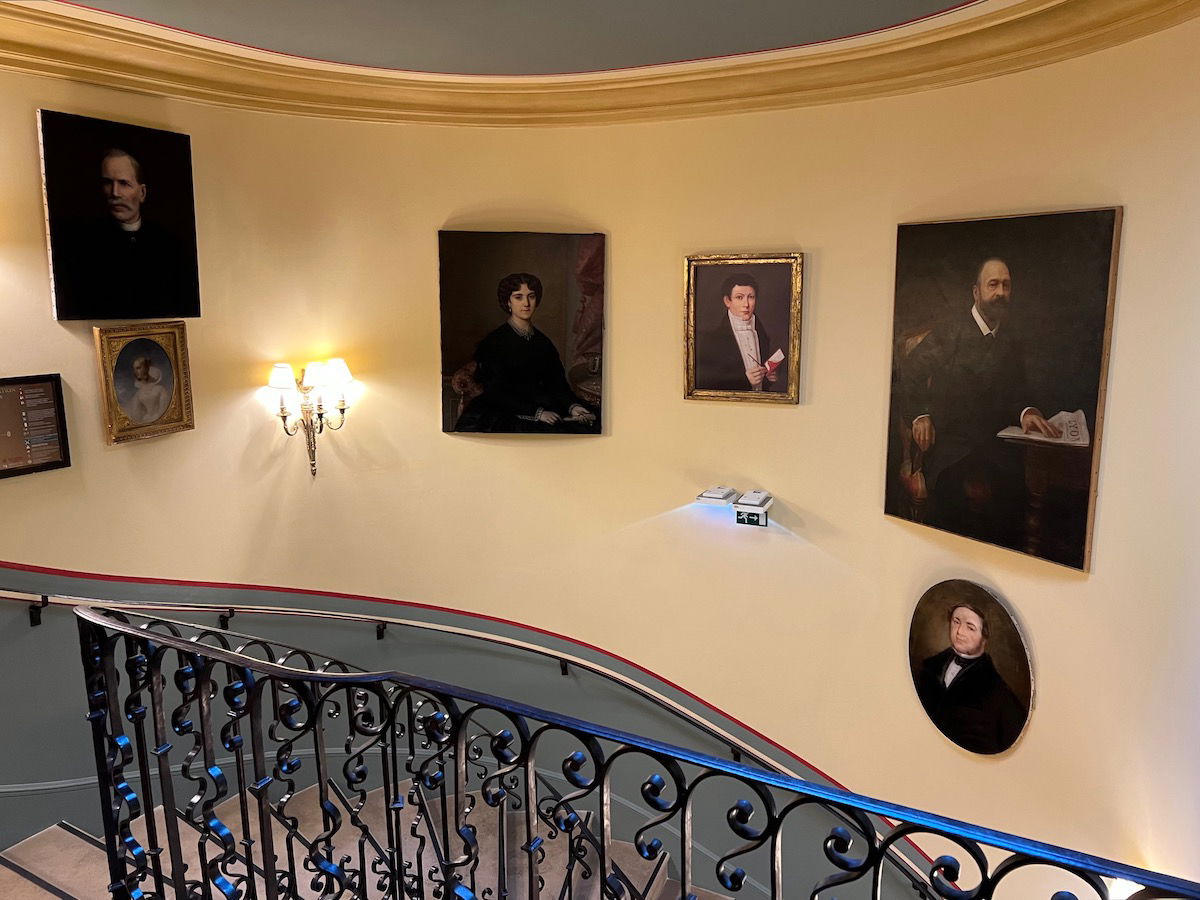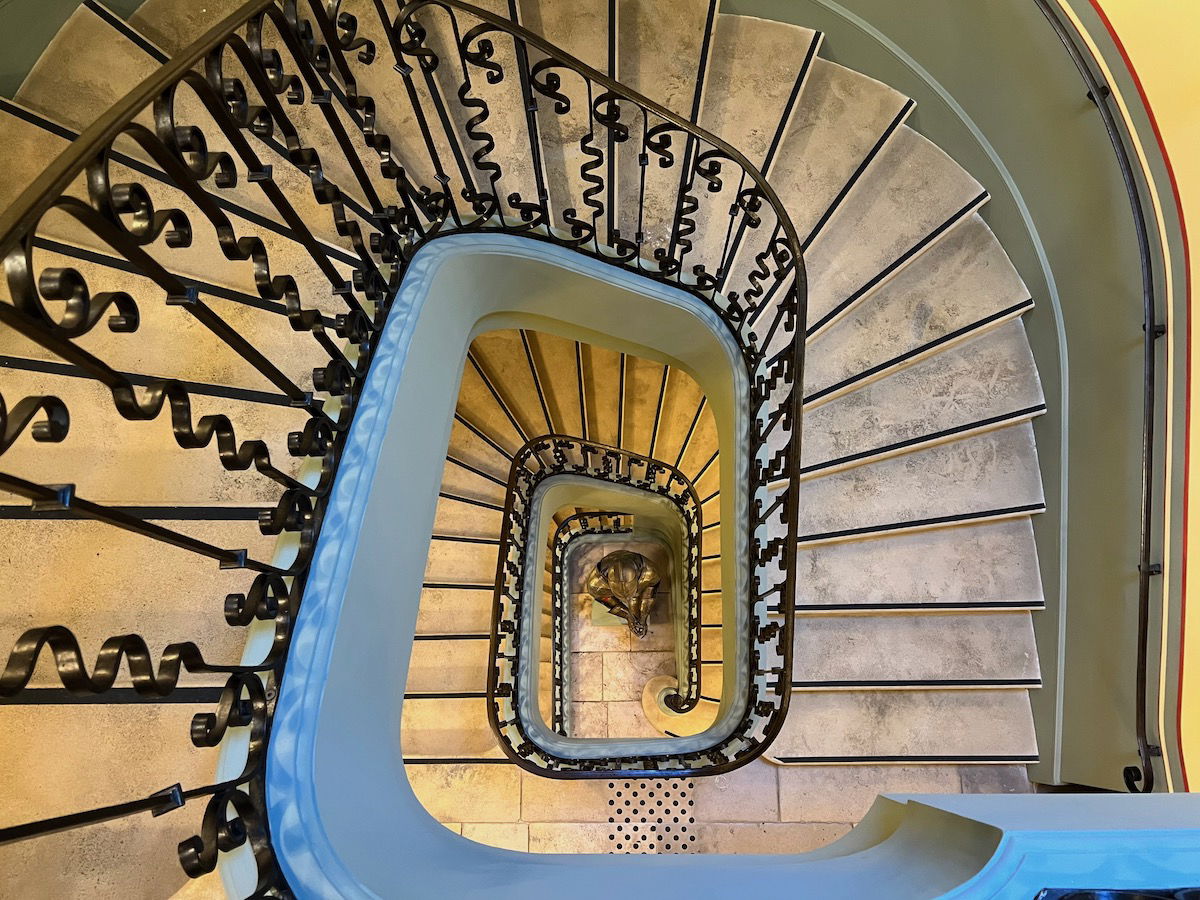 The hotel also has a very cool-looking elevator, though we appreciated the opportunity to get some bonus steps with the stairs, given all that we were eating here.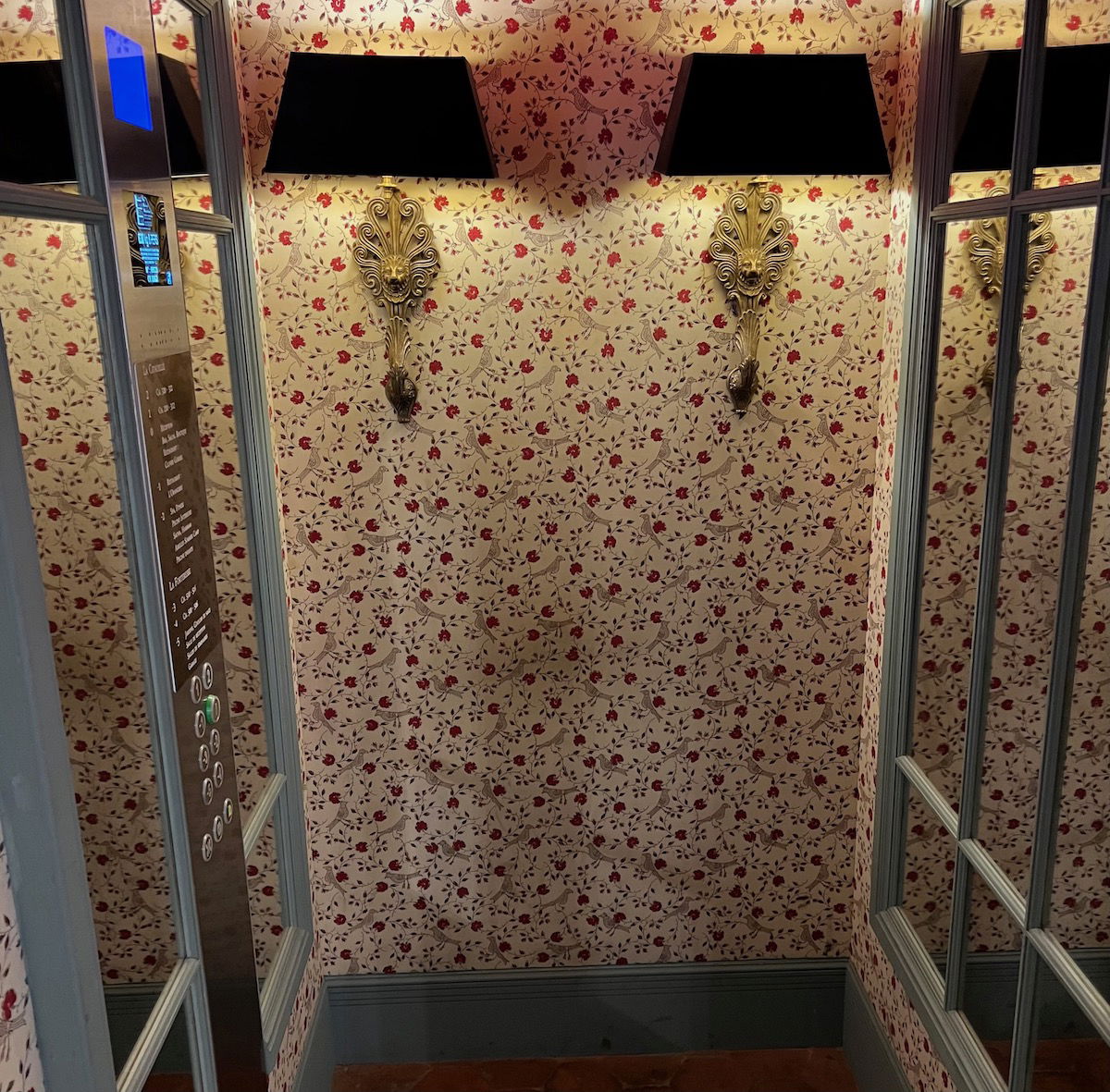 Inside the entrance to our room was the living room. WOW. I'm pretty sure this room alone made up for every limited service hotel I've stayed at over the years that had nothing on the walls. I counted at least 33 pieces of artwork on the walls throughout our room.
The living room had a couch, a couple of chairs, and a vanity.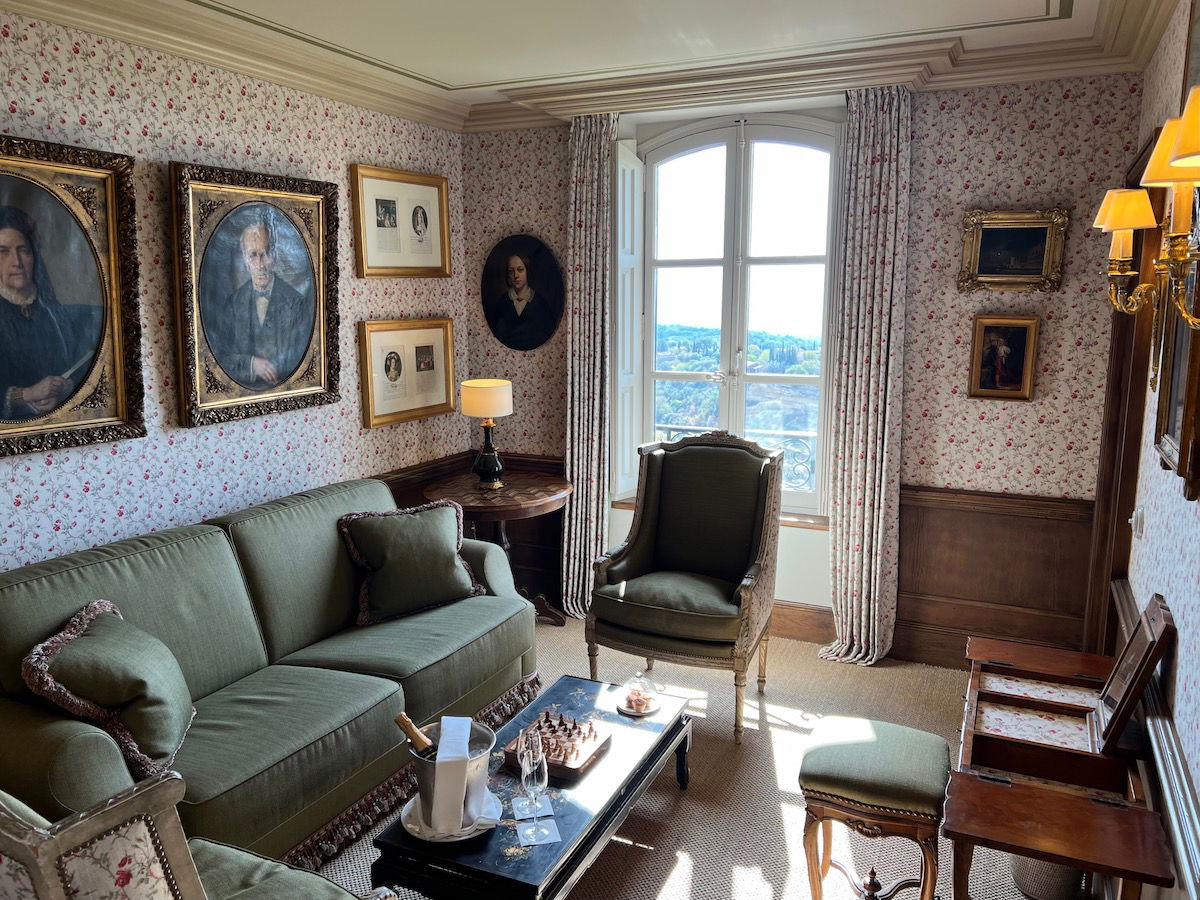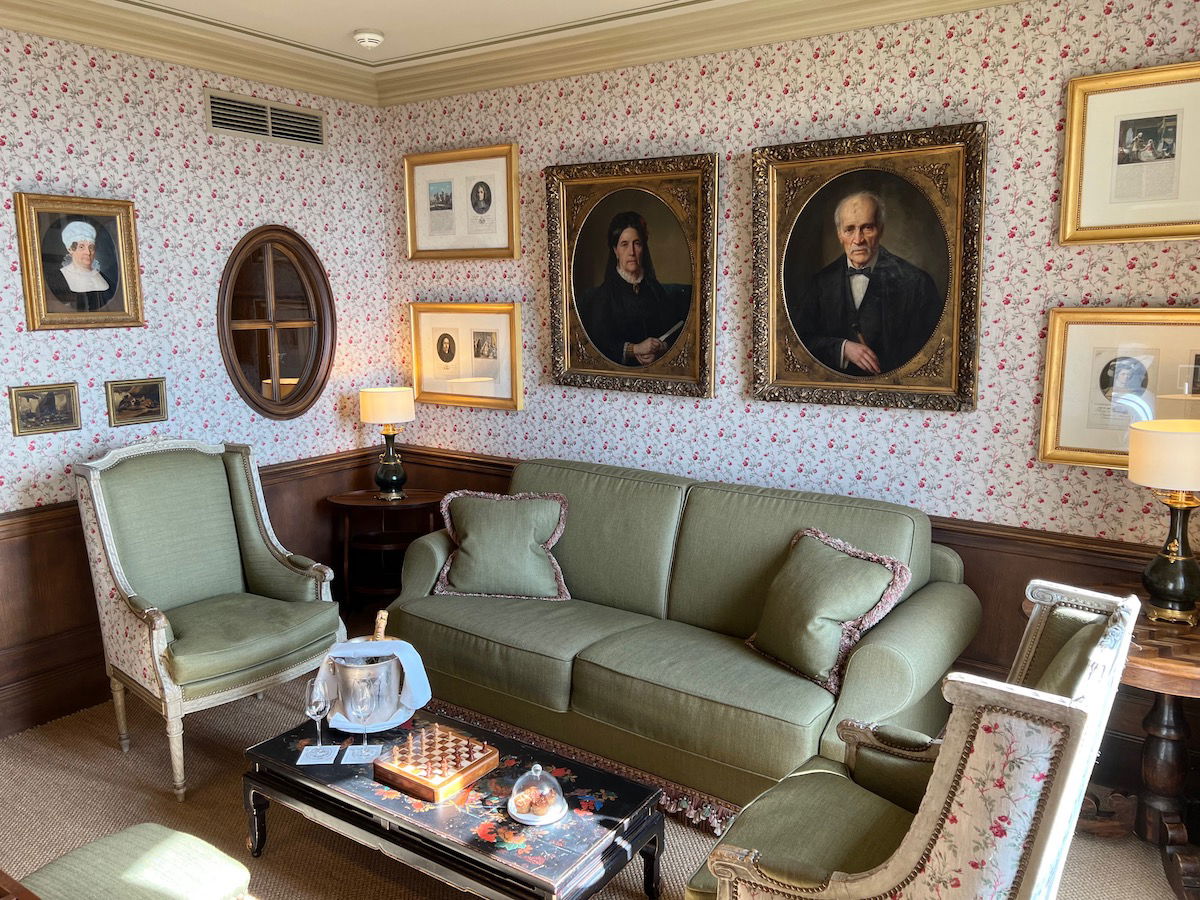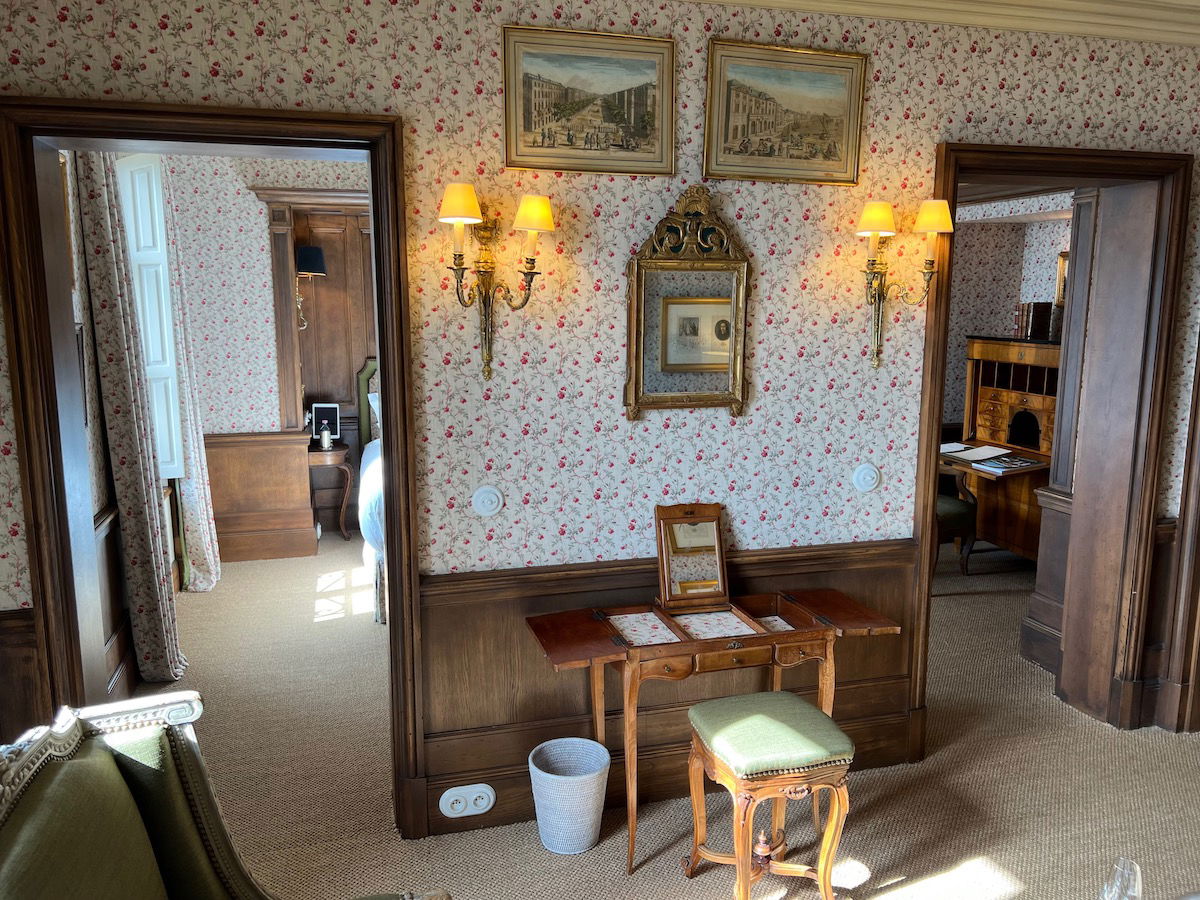 Waiting on the living room table was a welcome amenity (Airelles consistently offers great welcome amenities), including a bottle of Moet champagne, and some delicious sweets.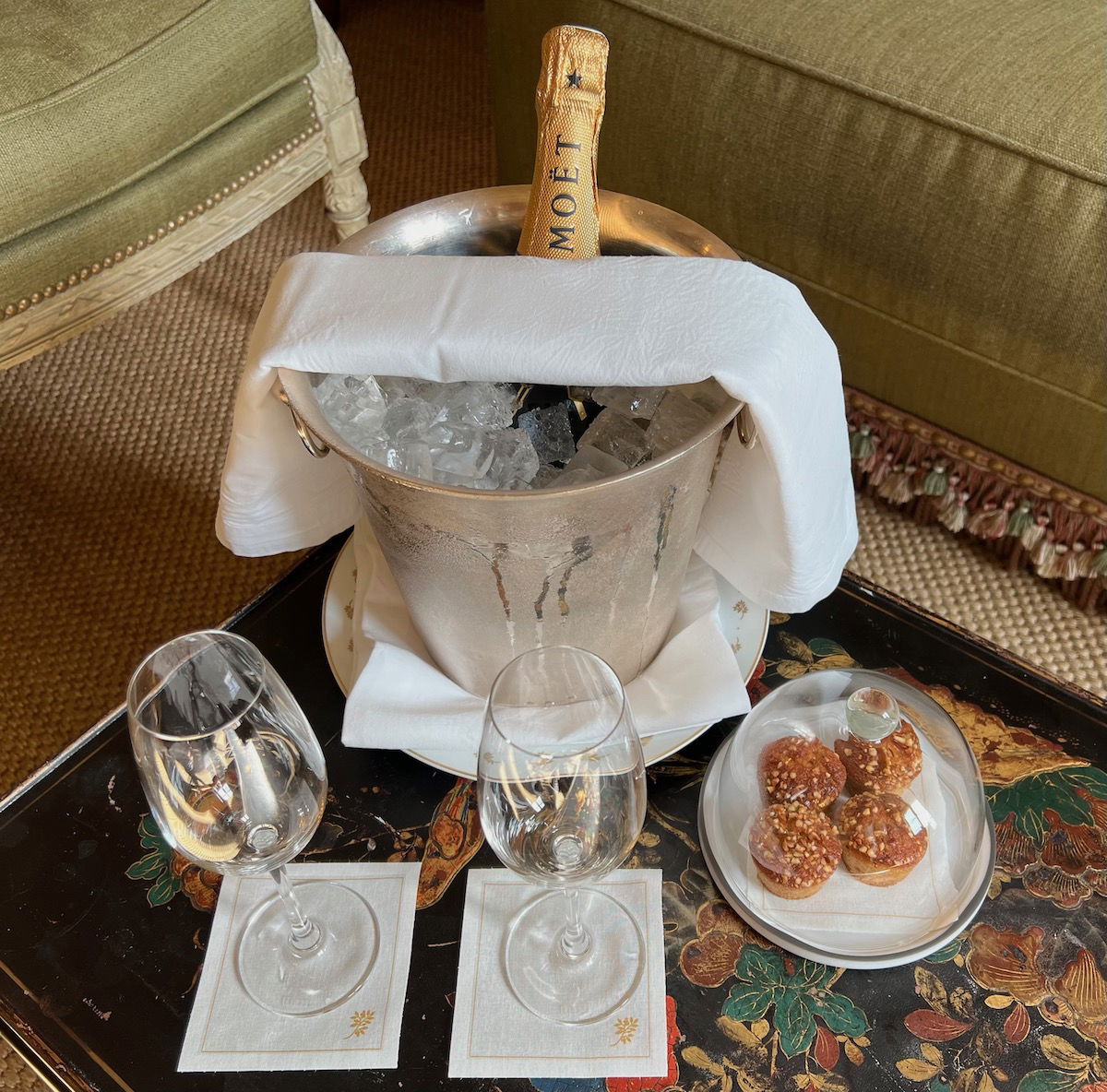 The bedroom was next to the living room, and featured a comfortable king size bed, as well as a desk area. There was even a TV located in a mirror of sorts, as well as a decorative fireplace.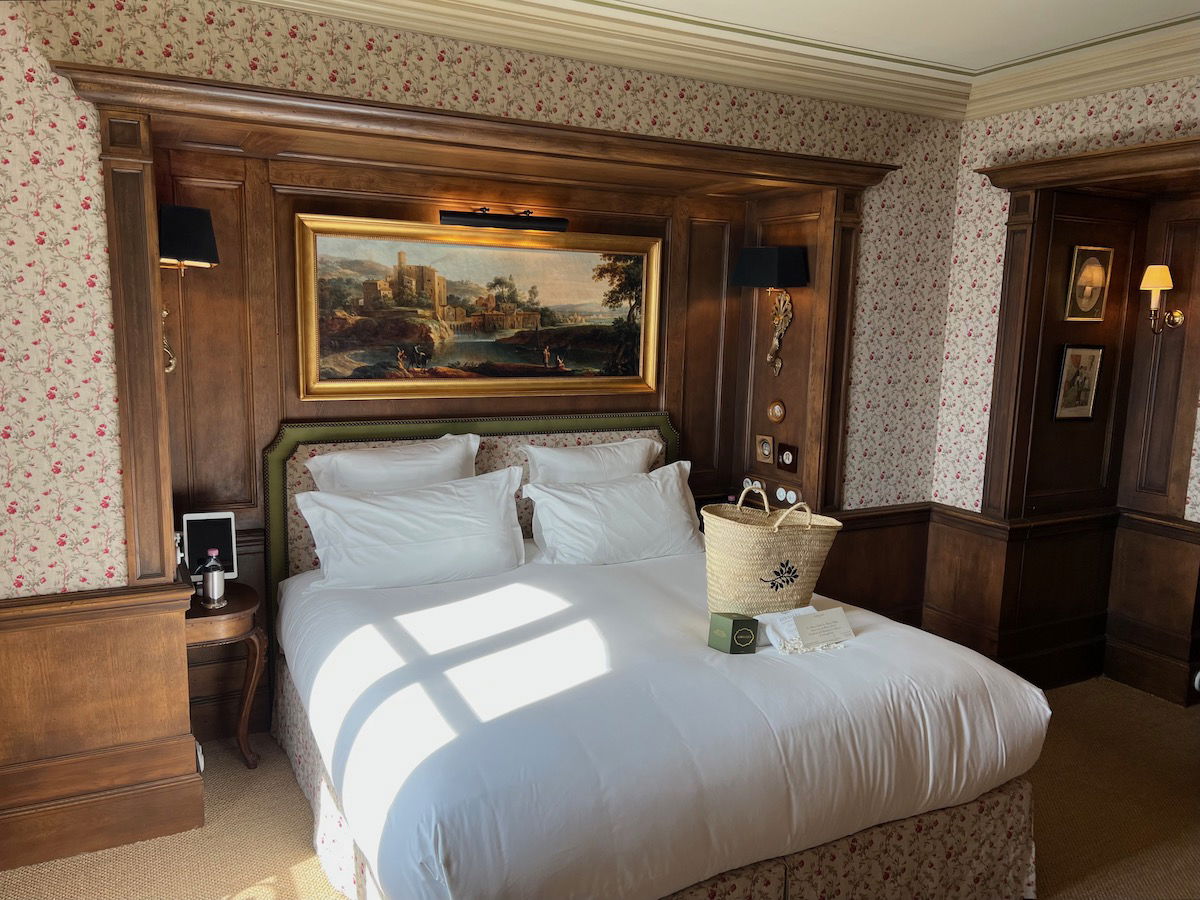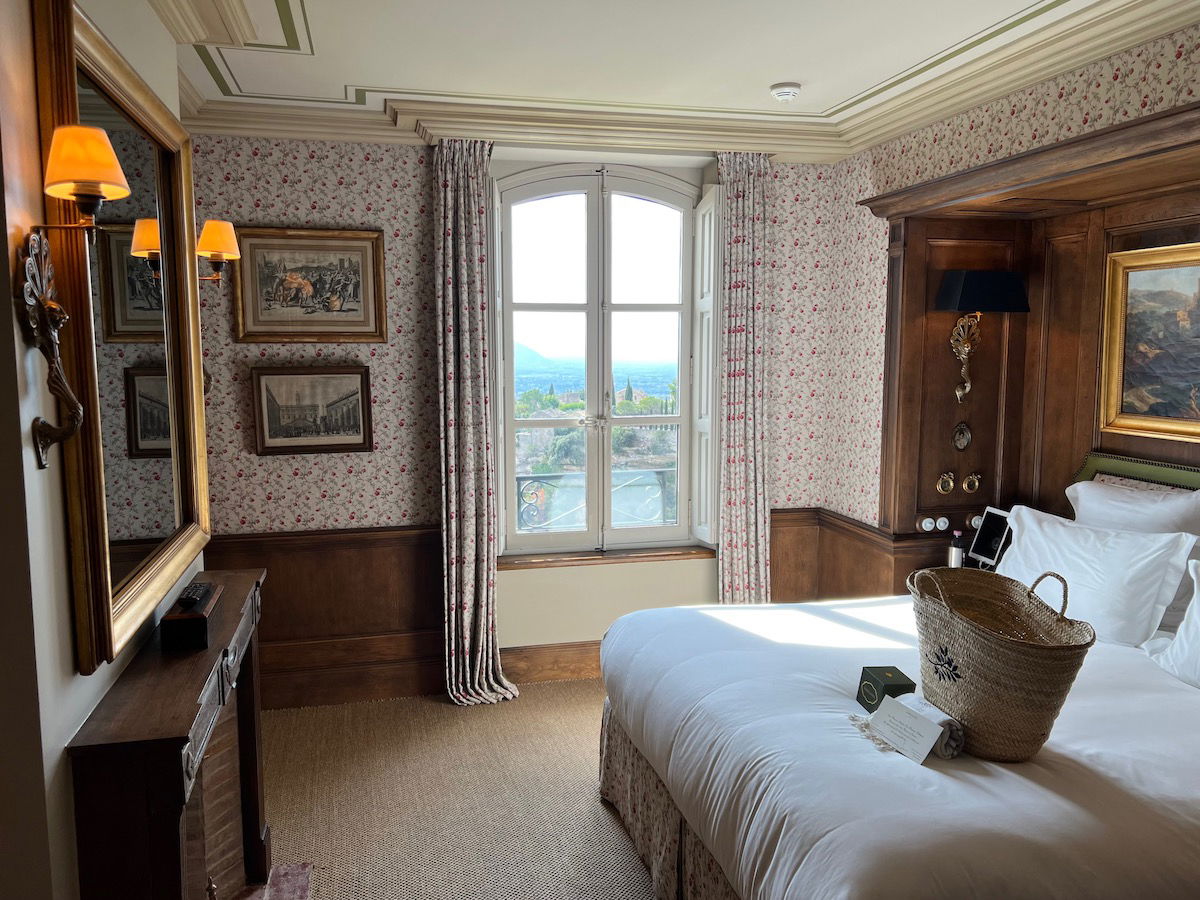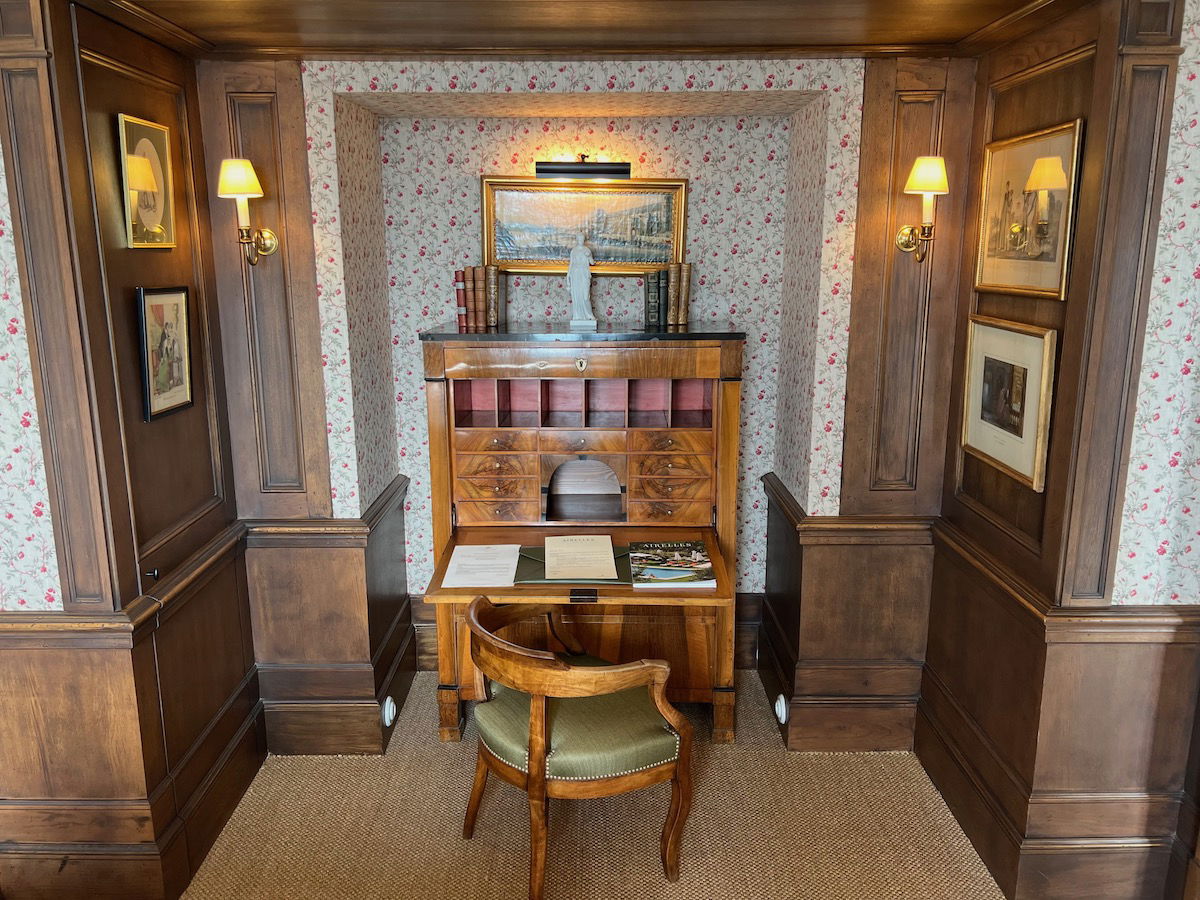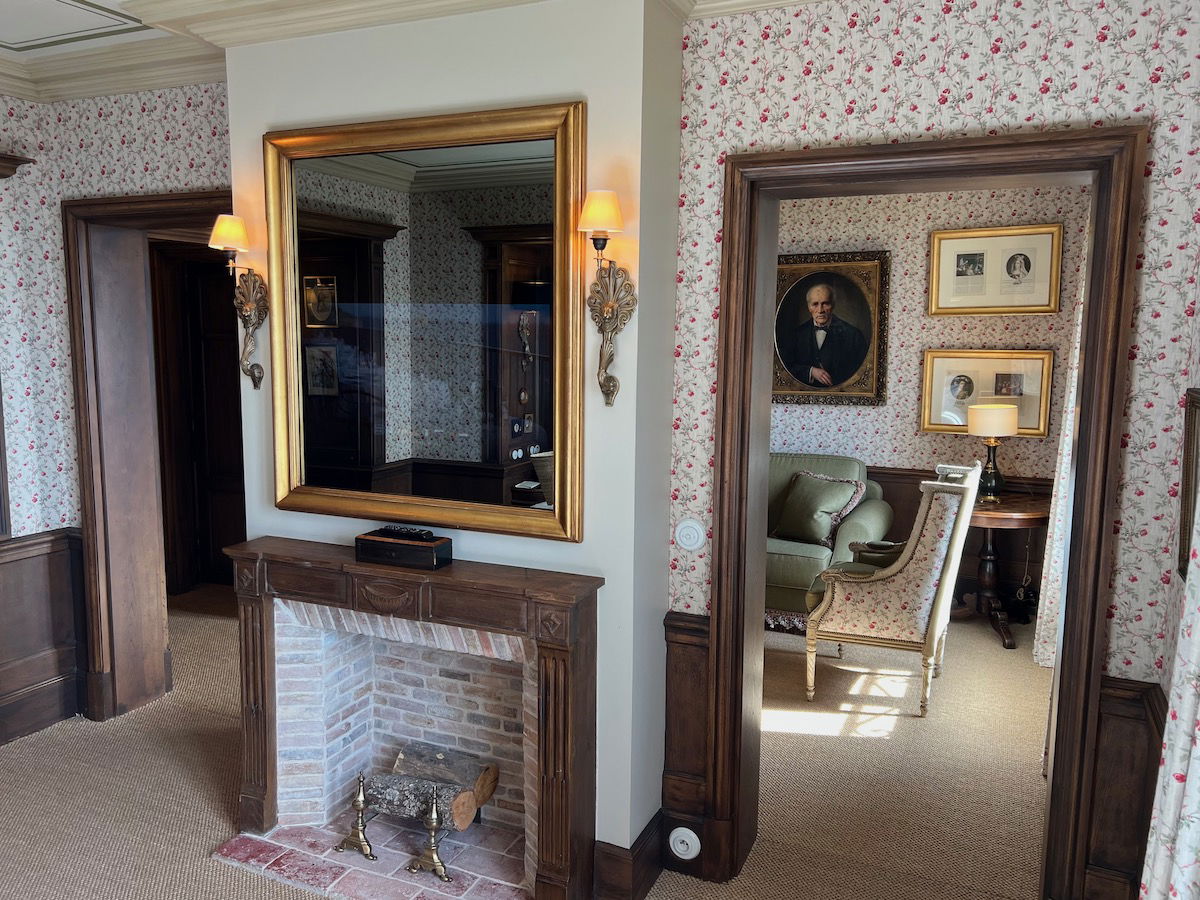 There was a further welcome amenity on the bed, consisting of a basket, a blanket, and a lovely scented candle.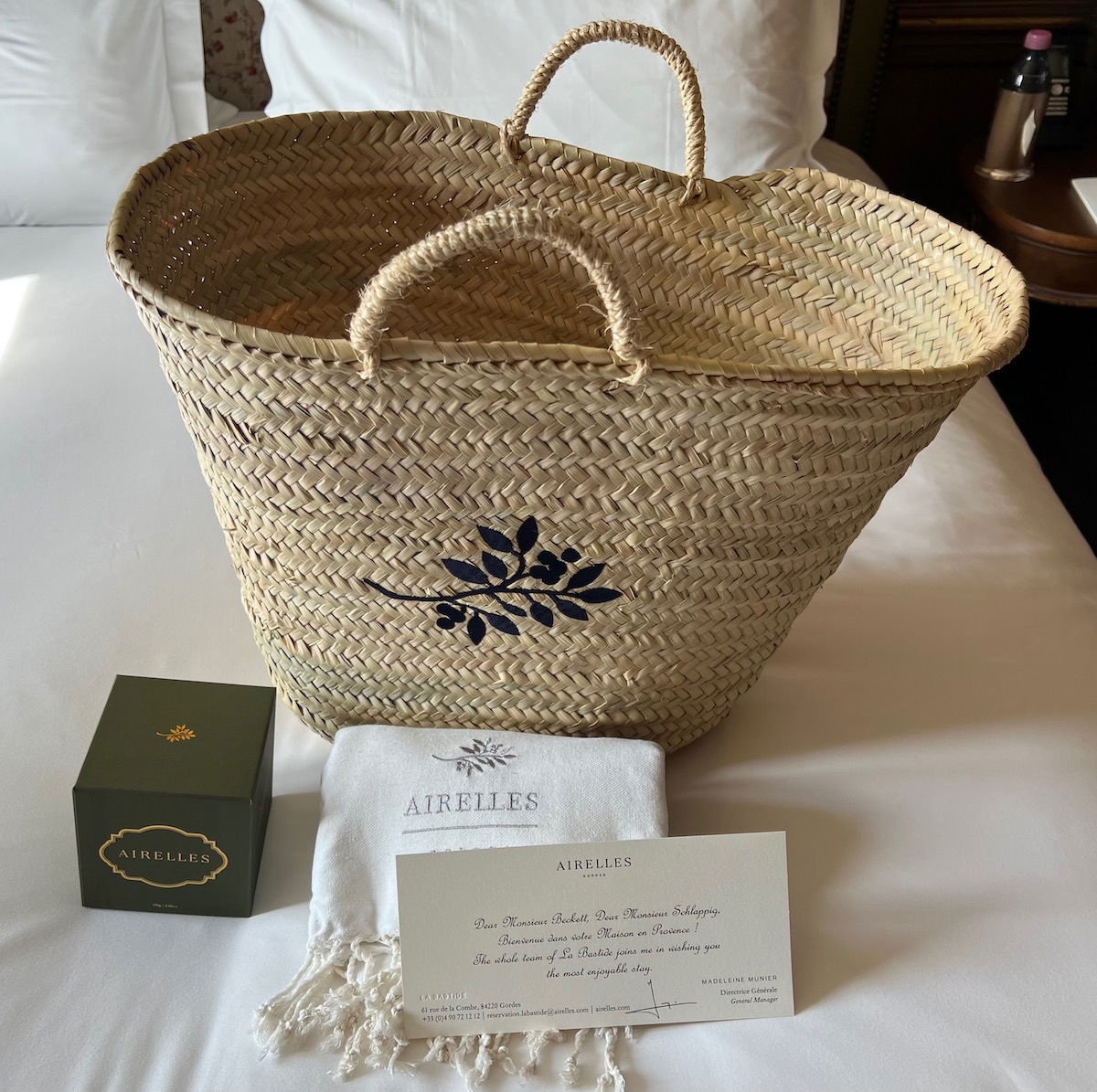 The bathroom was down the hallway from the living room.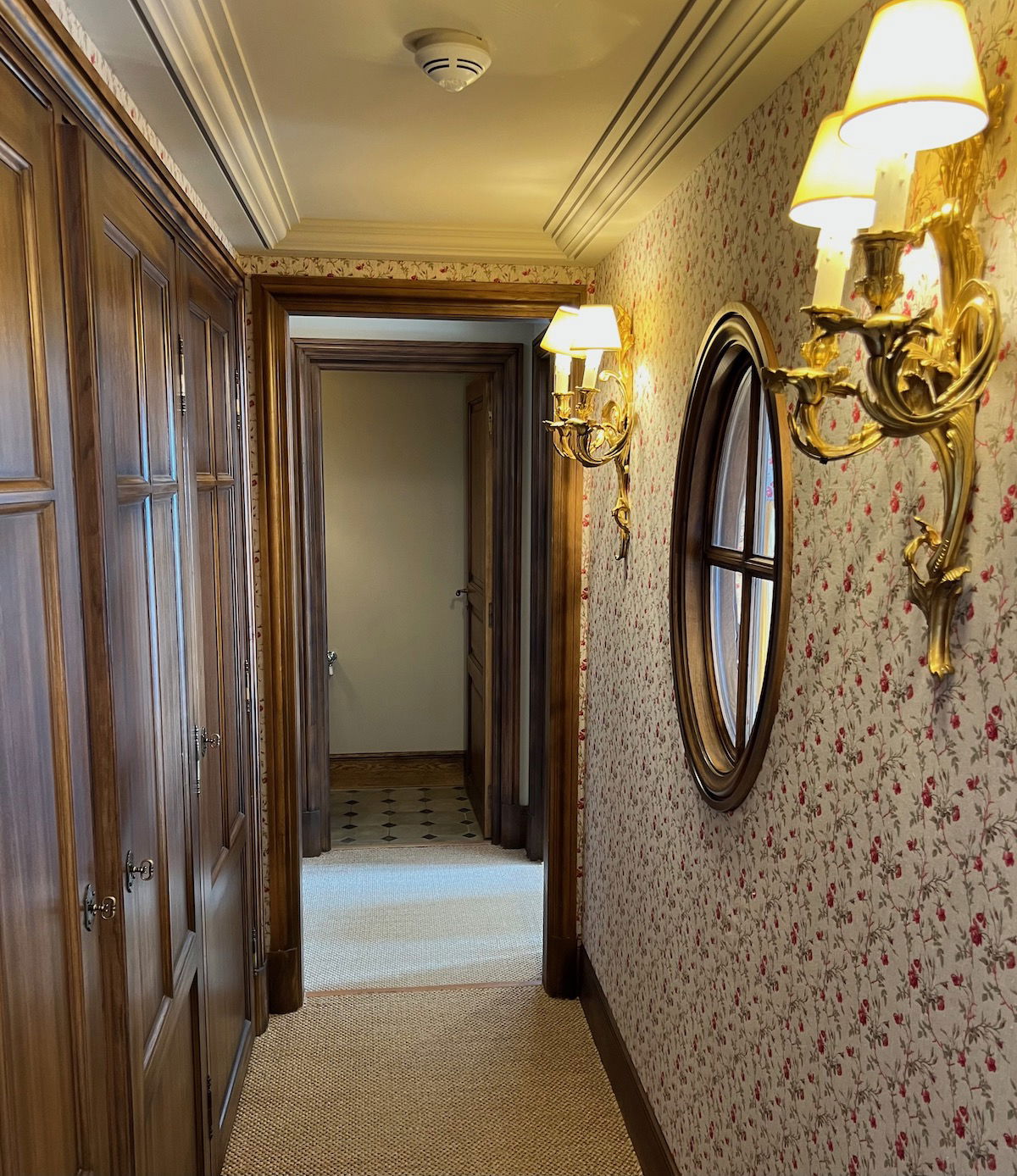 In that hallway was the minibar, which had a Nespresso coffee machine, as well as a variety of snacks and soft drinks. As is standard at Airelles properties, everything was complimentary, and restocked daily.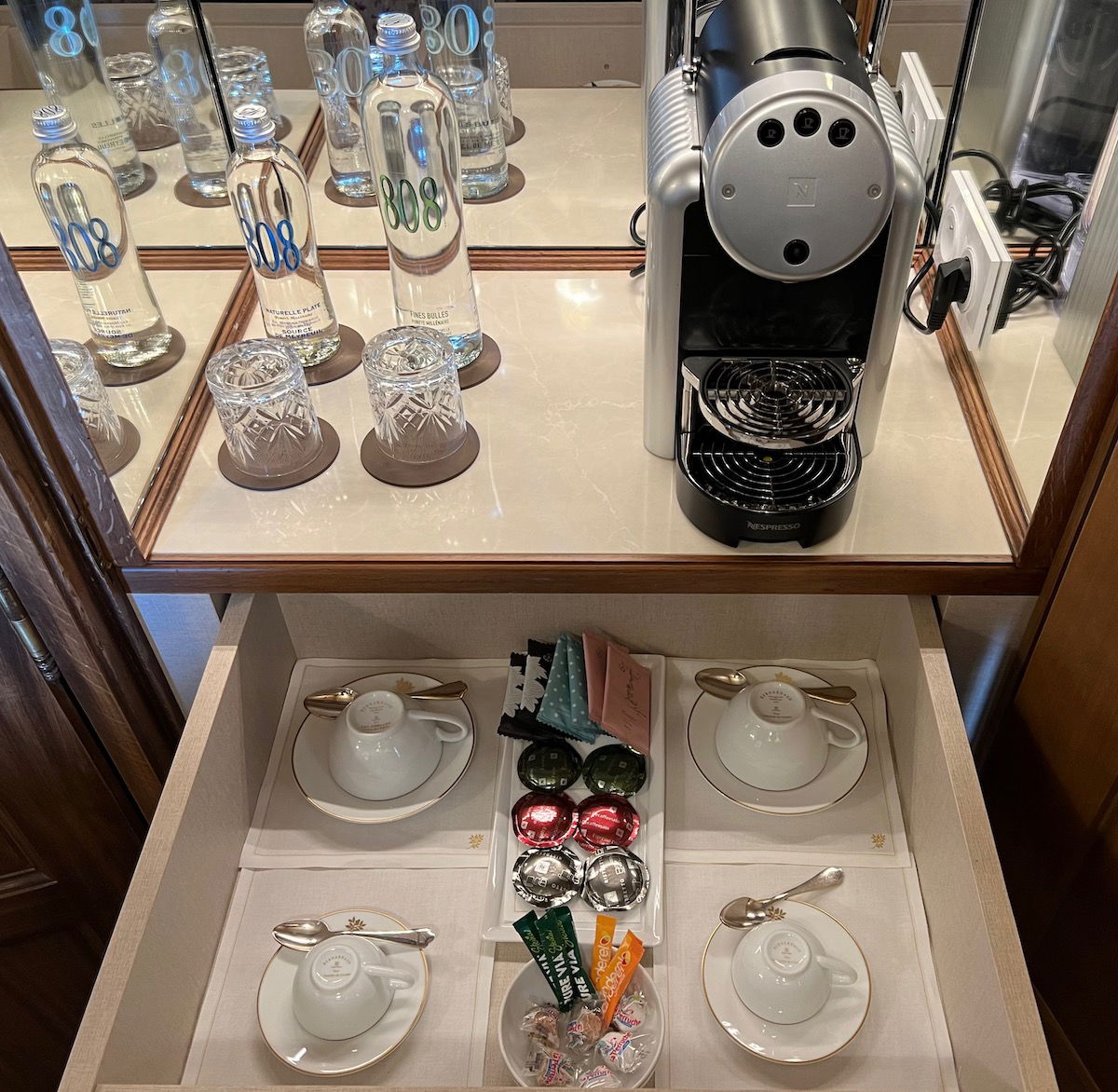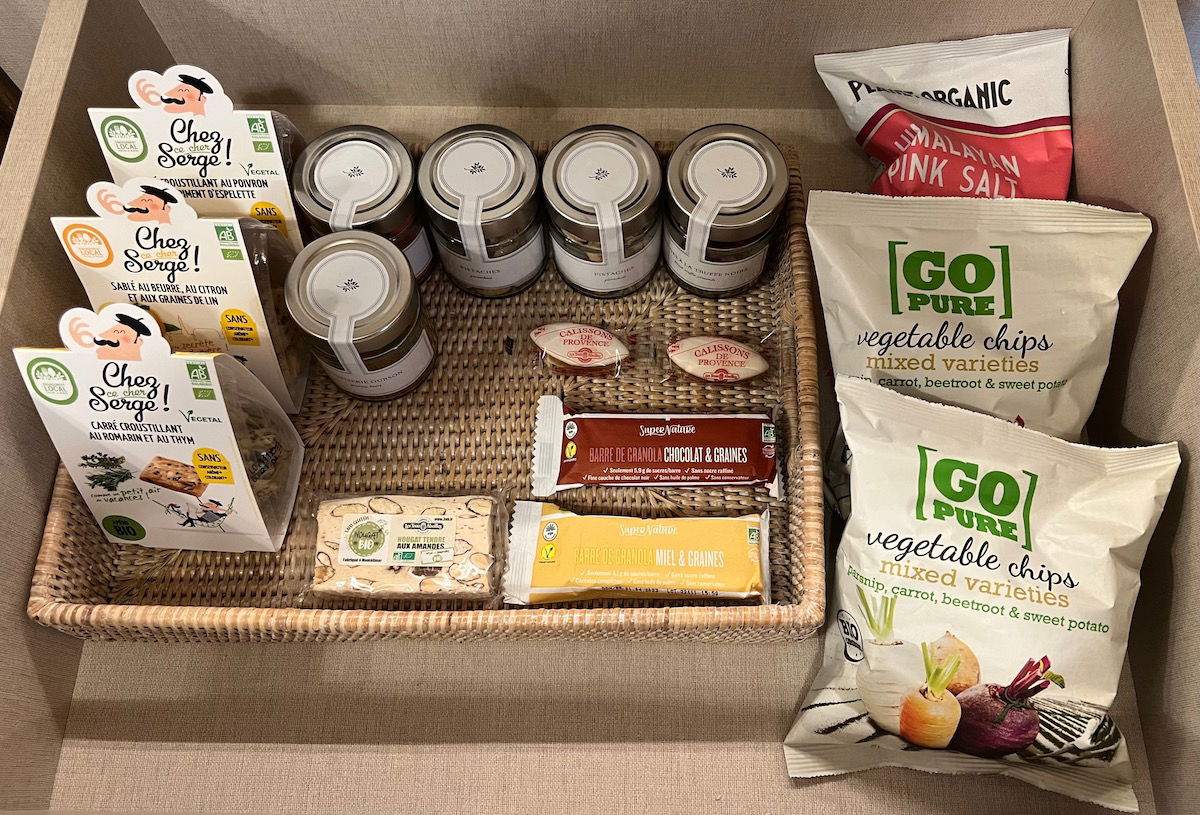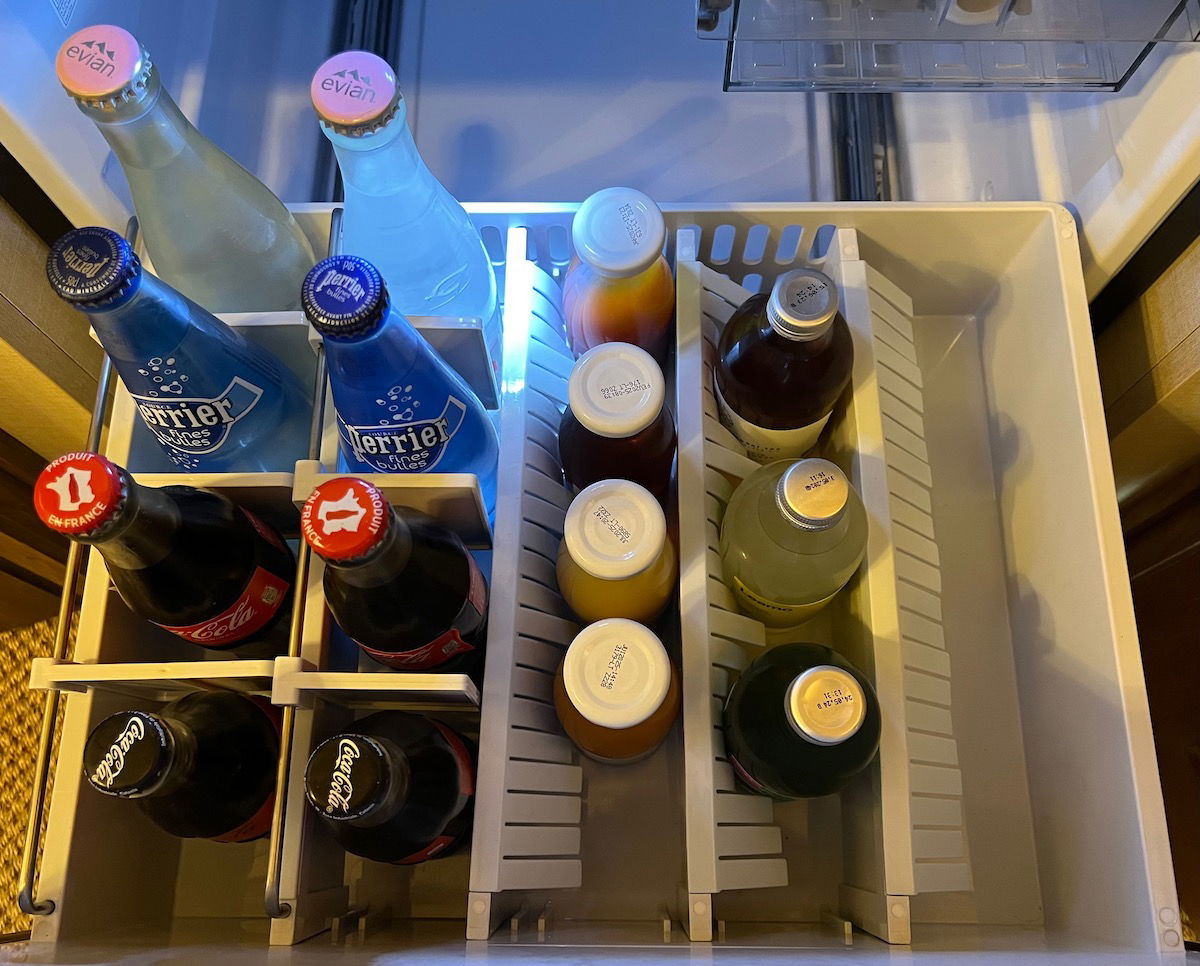 The bathroom was a great size, and featured double sinks, a soaking tub, a walk-in shower, and a toilet.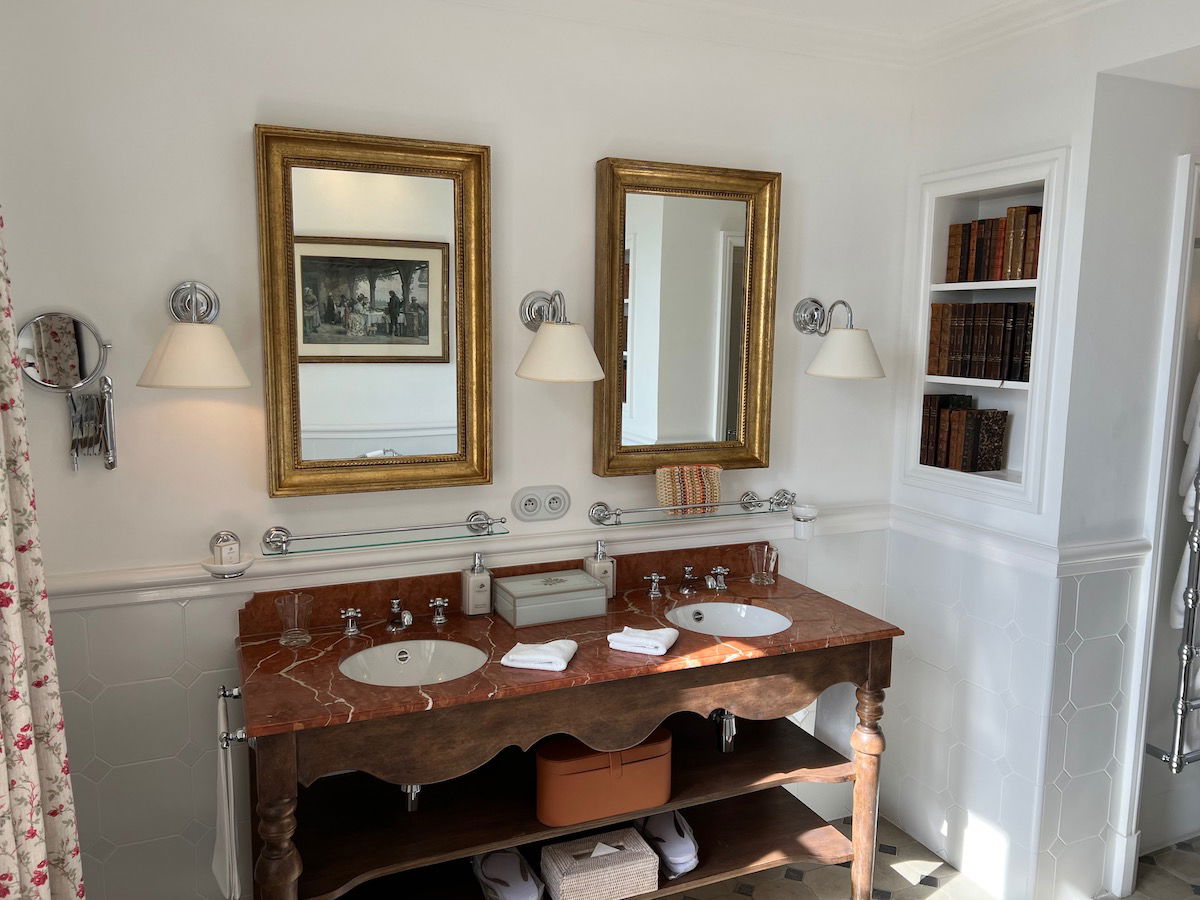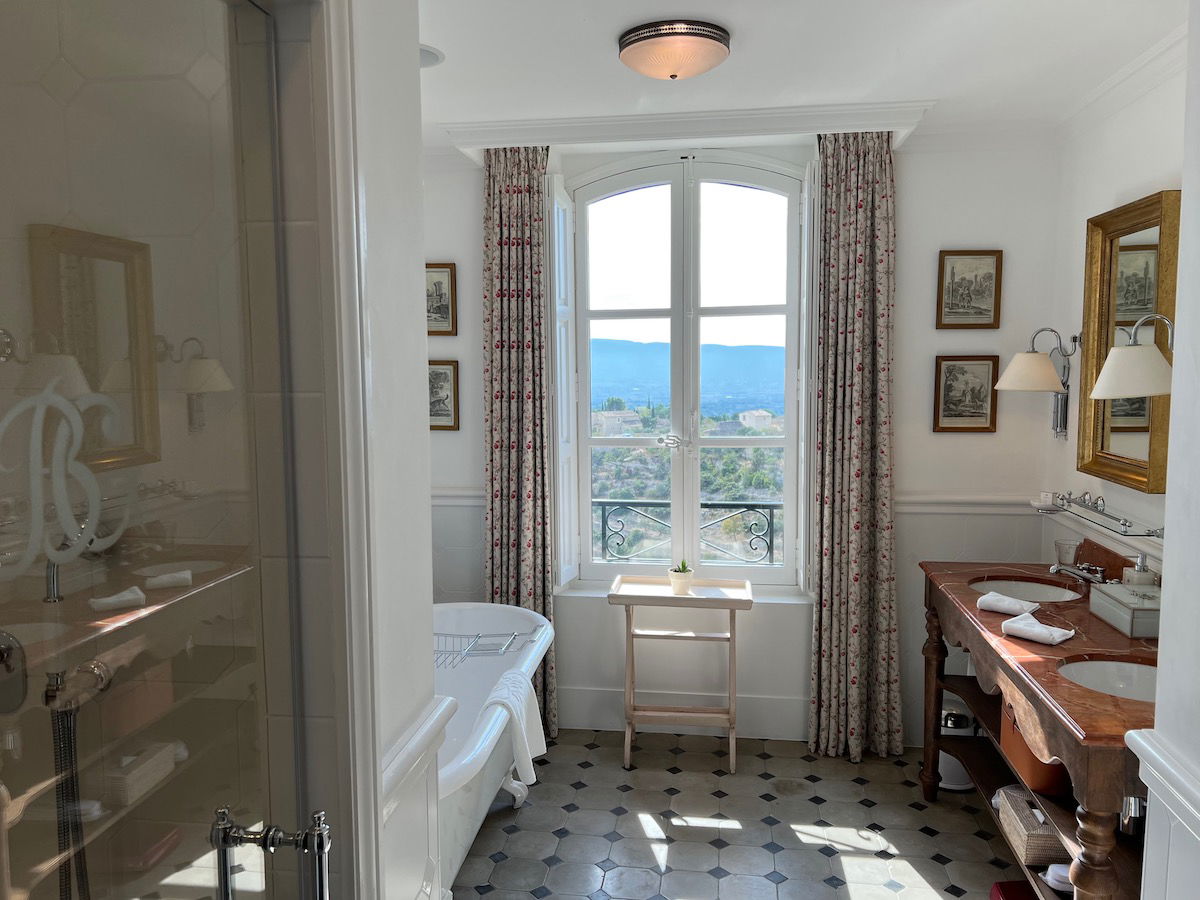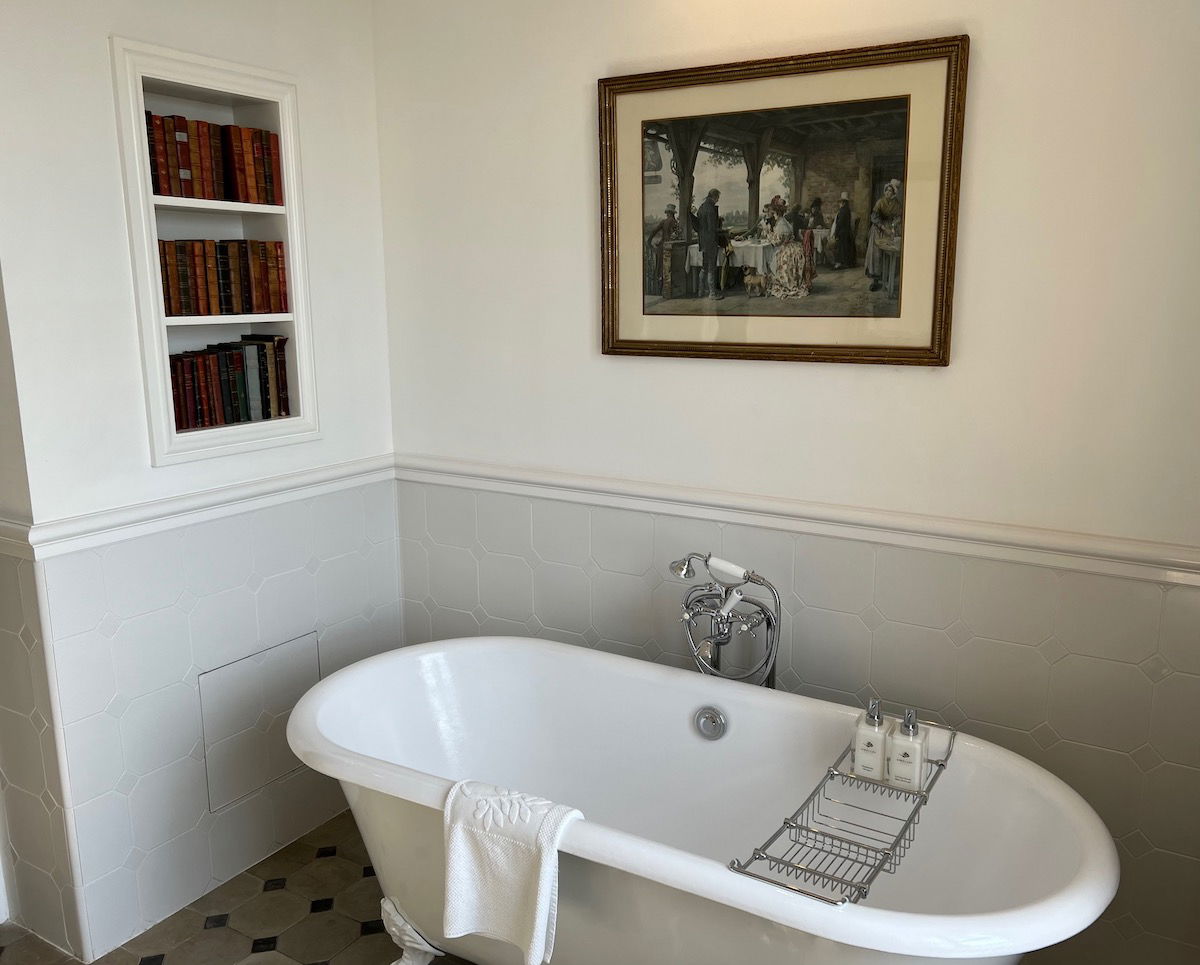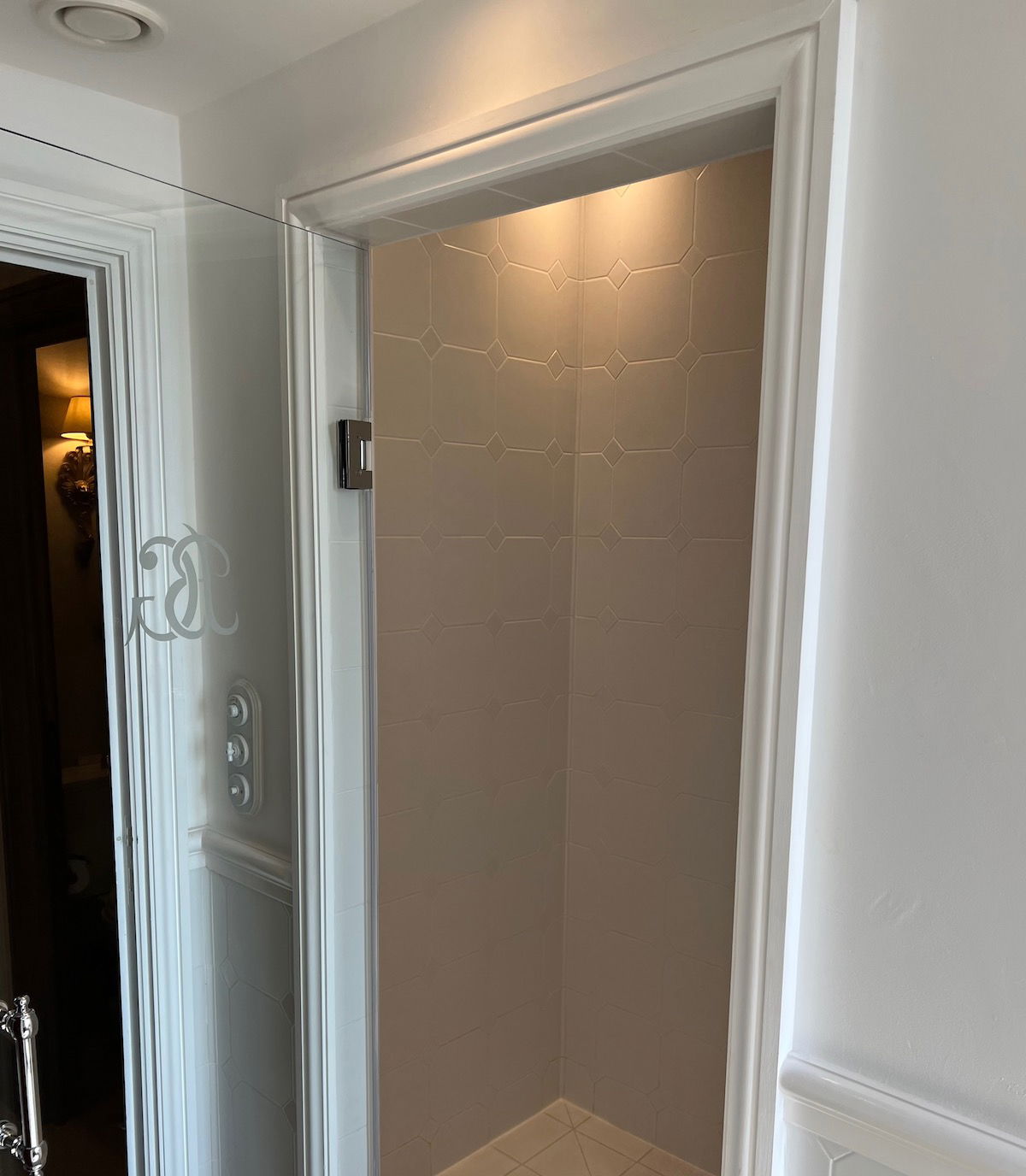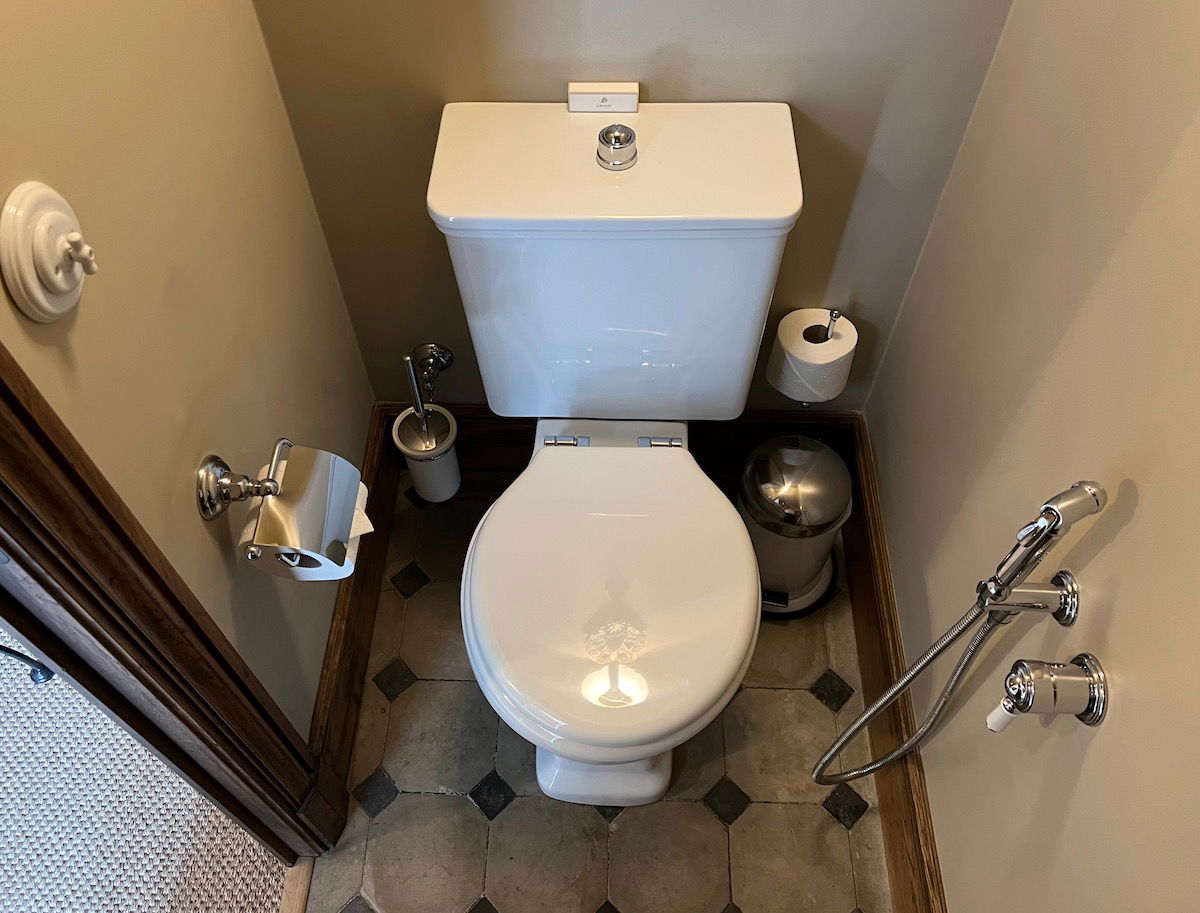 Toiletries were in reusable Airelles branded bottles, and were high quality.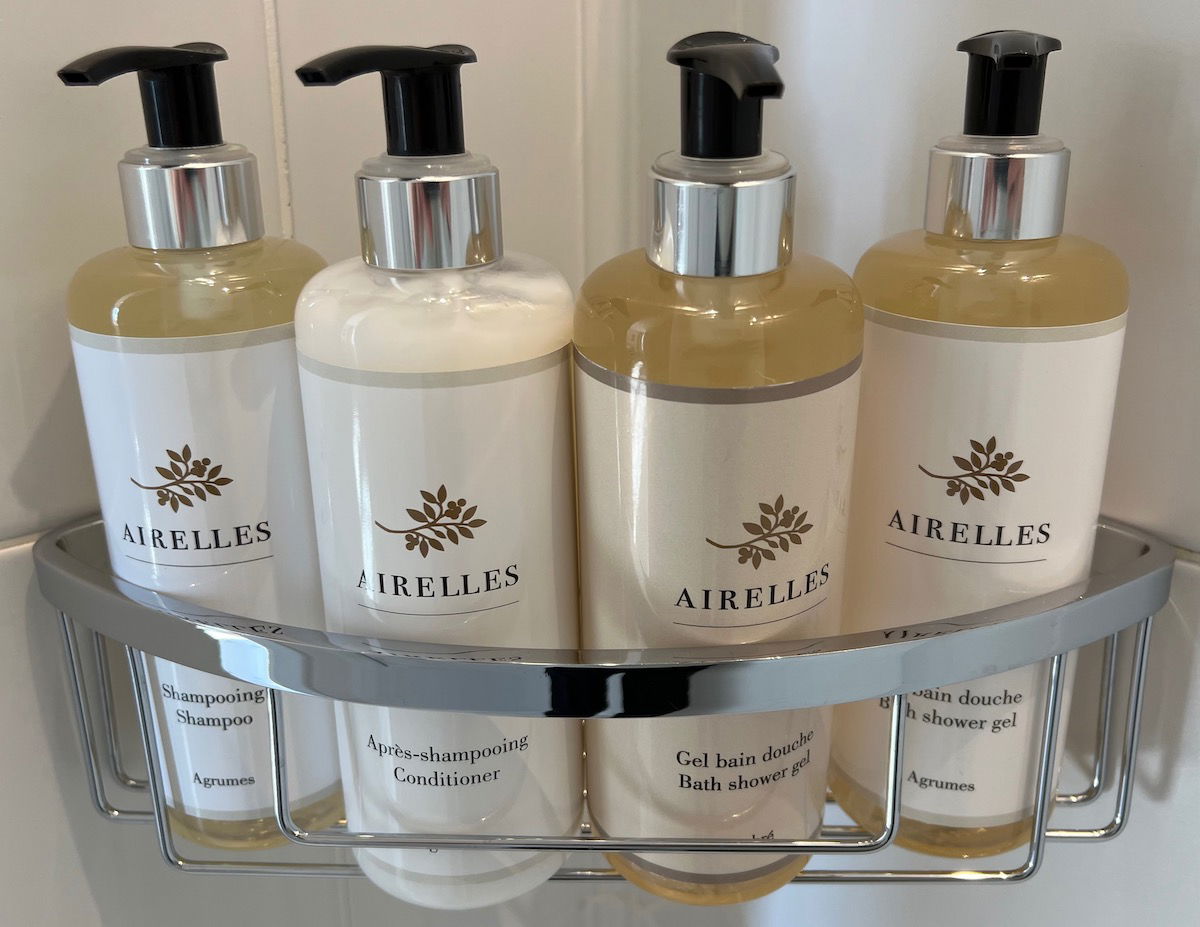 Perhaps most impressive of all was the view from our room.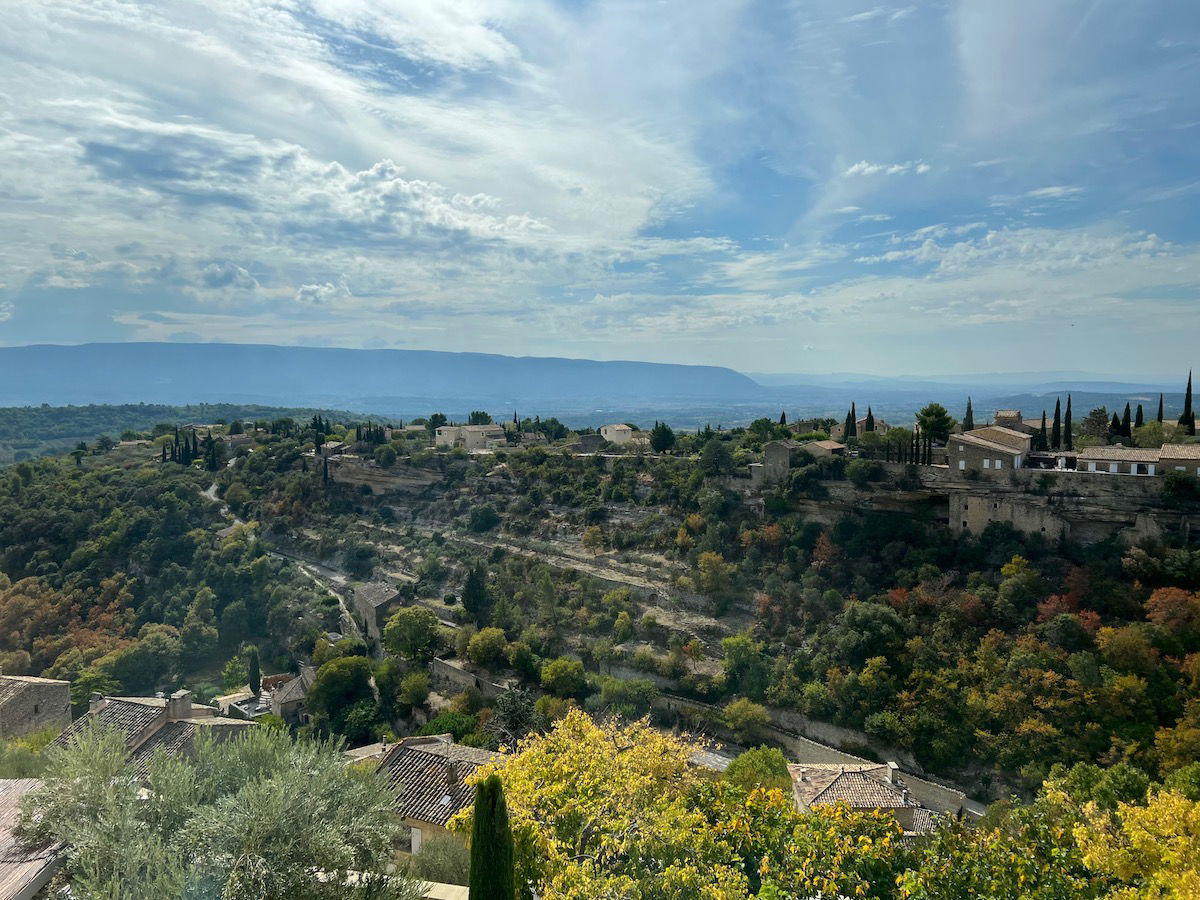 The views only got more spectacular in the mornings (especially when it was foggy) and at sunset…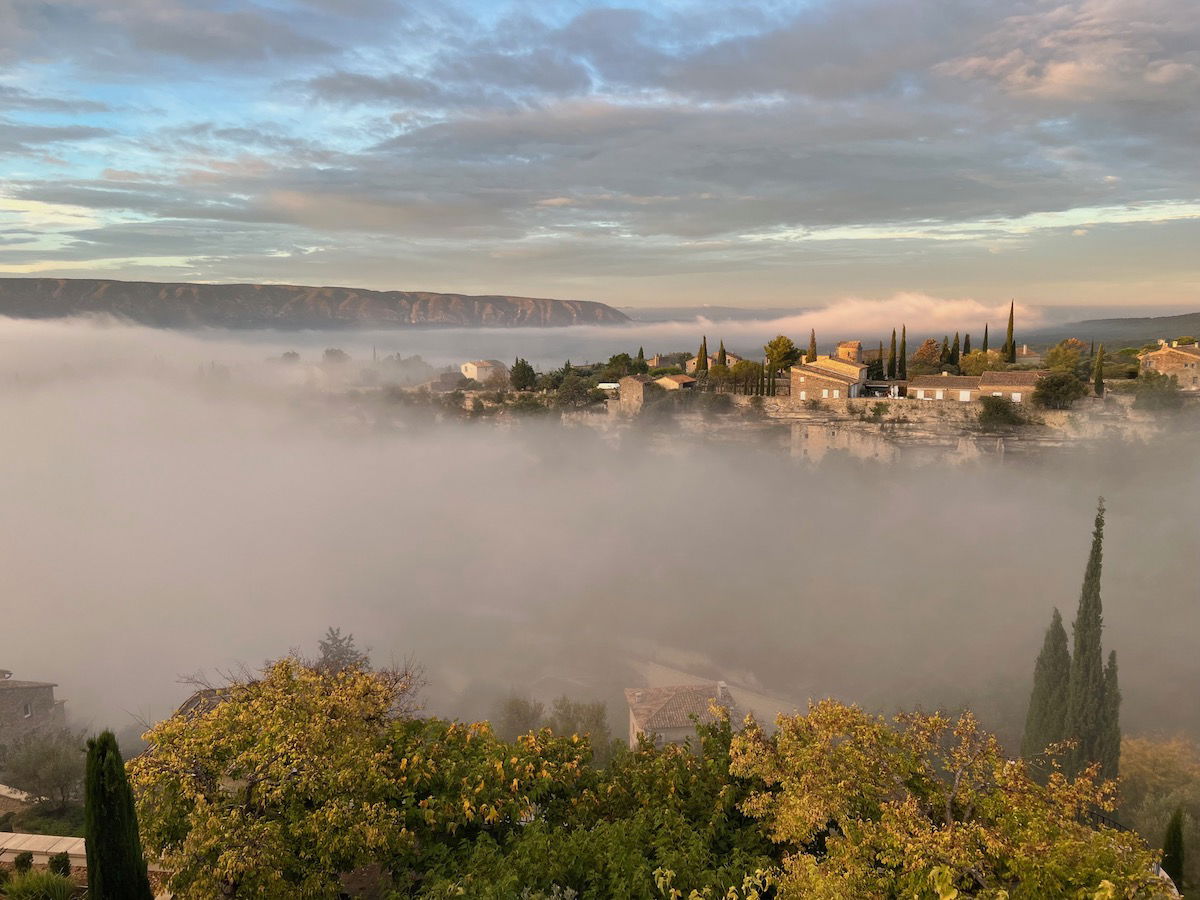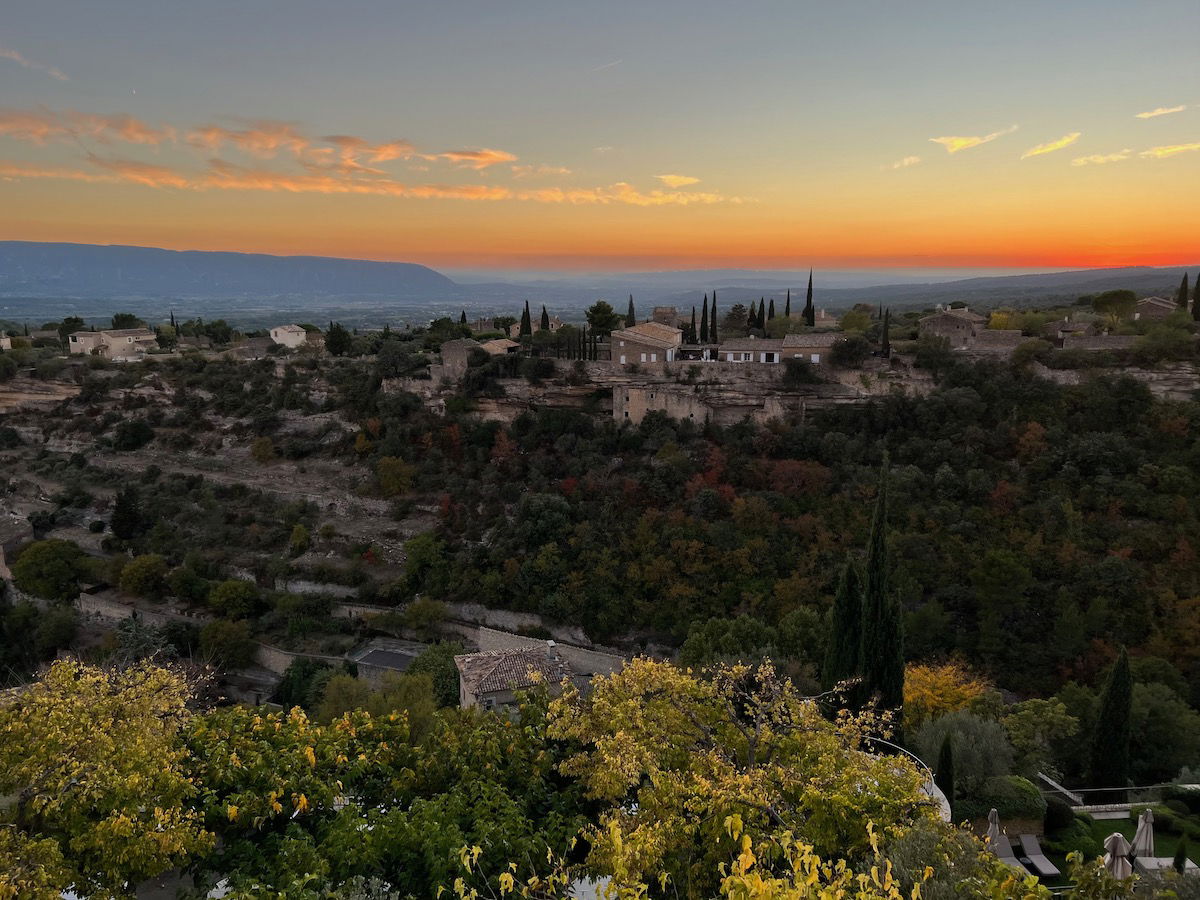 Airelles Gordes offers twice daily housekeeping, and as is standard at Airelles properties, there was a different gift on the bed each evening with turndown service.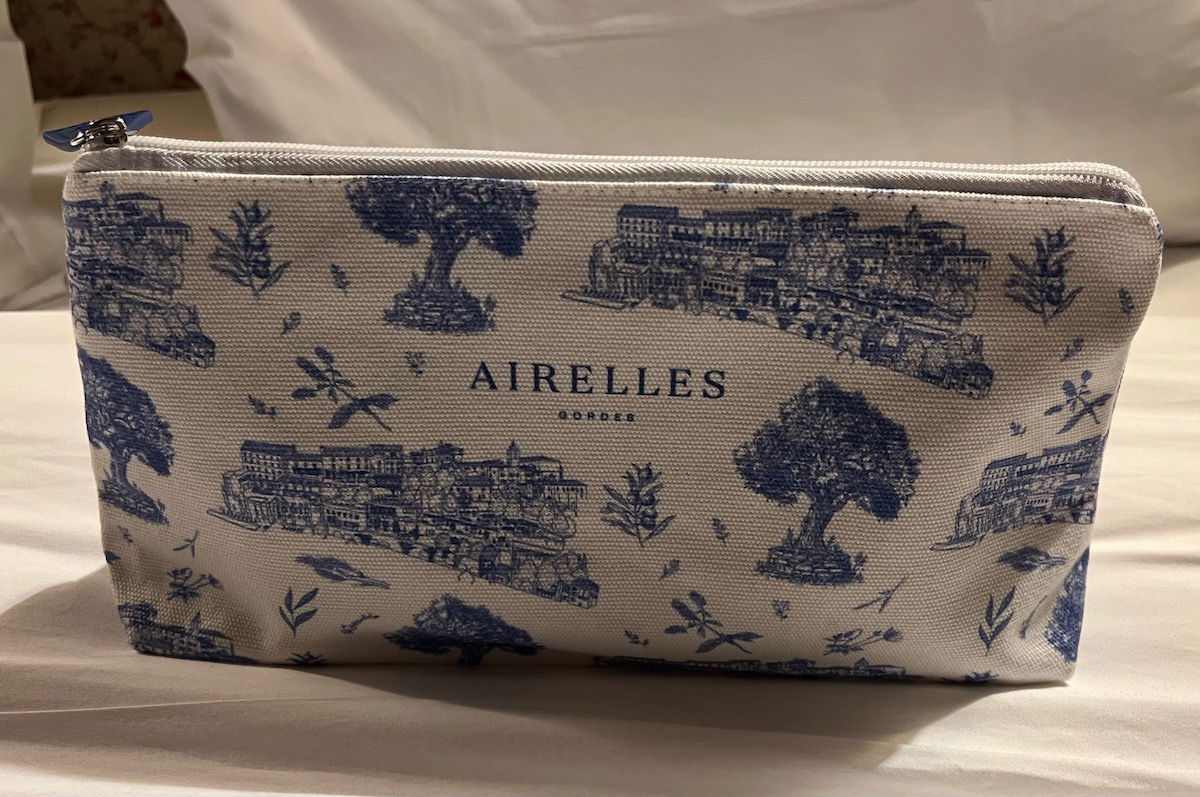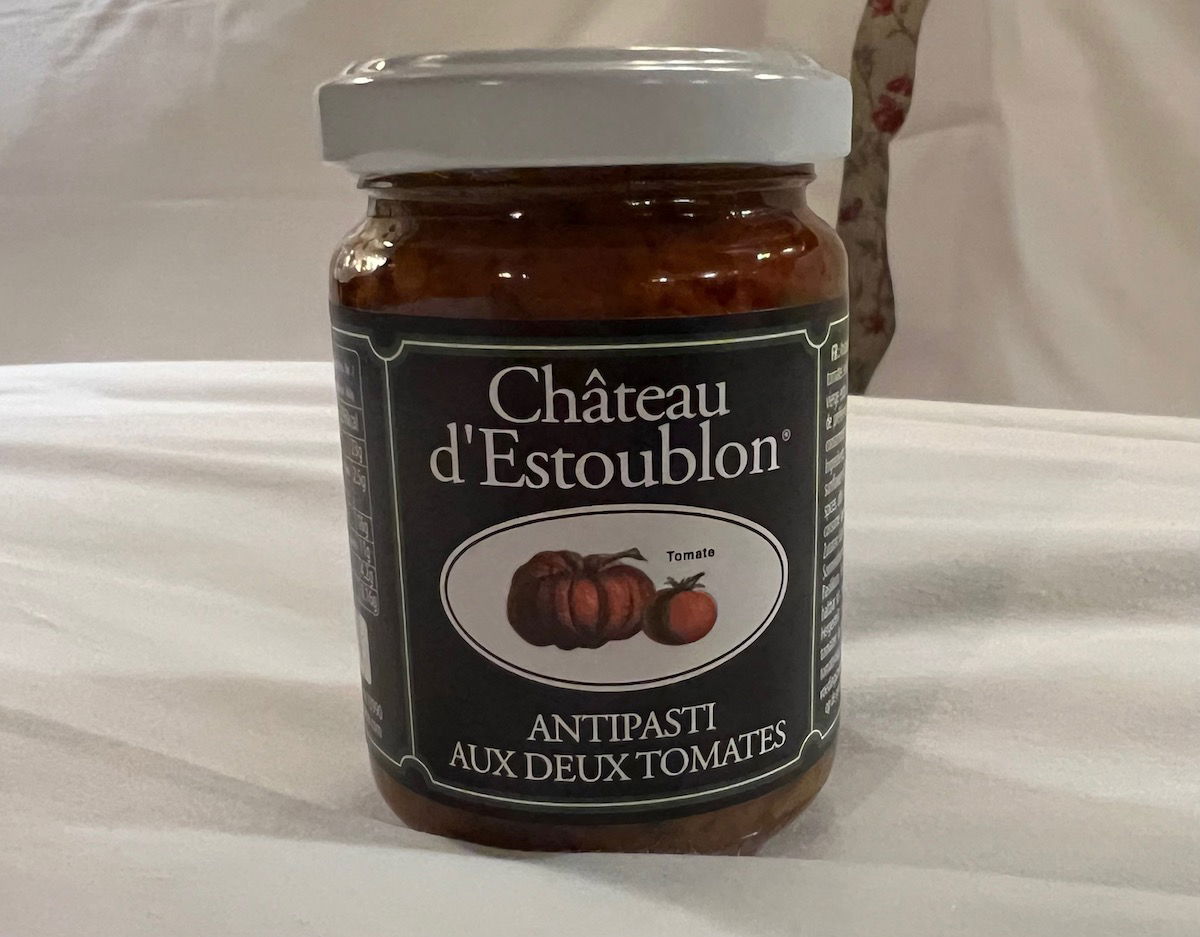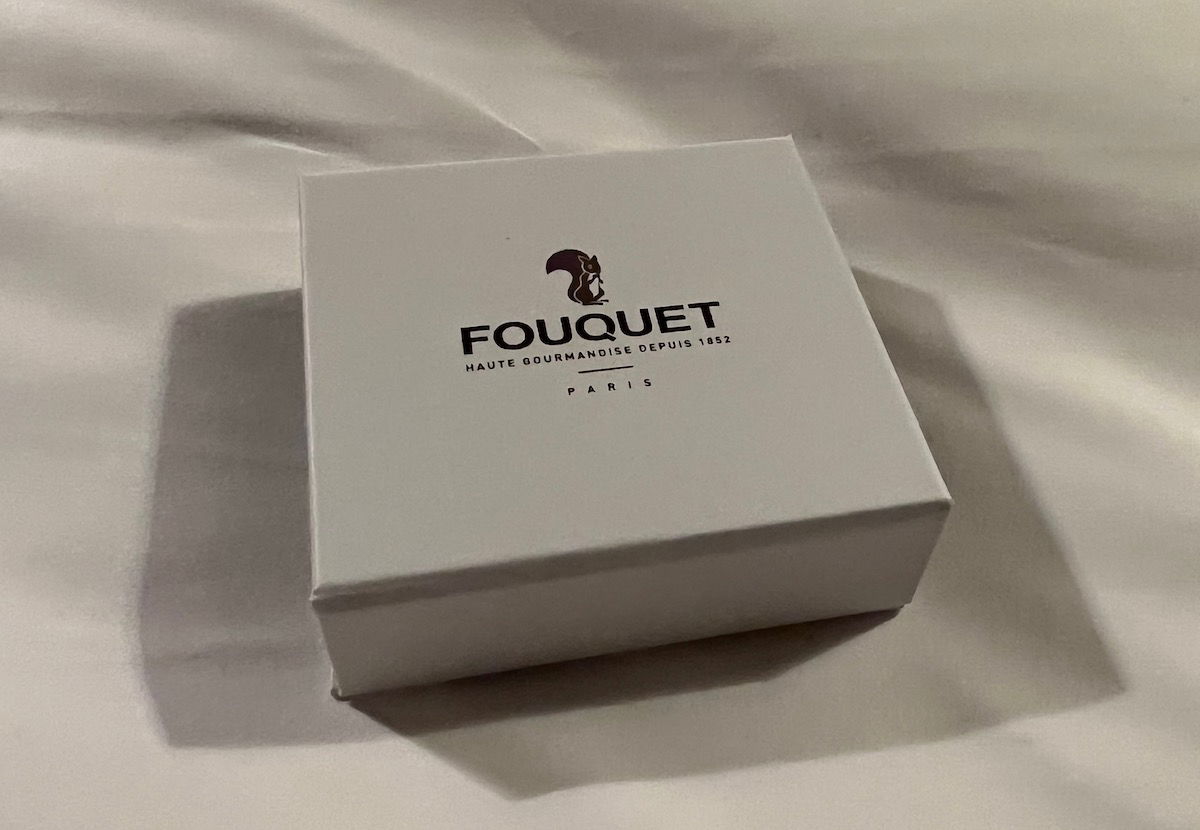 What an incredibly charming room that strikes the perfect balance between having a perfect sense of place while not feeling outdated or shabby.
Airelles Gordes outdoor pool
Airelles Gordes has lots of amenities, but let's start with the outdoor pool. The property has a beautiful outdoor pool with a sublime setting — it's not often you get this kind of backdrop at a pool. This is a great place to lounge, and there's service at the pool throughout the day. You can order food or drinks, and even enjoy complimentary ice cream.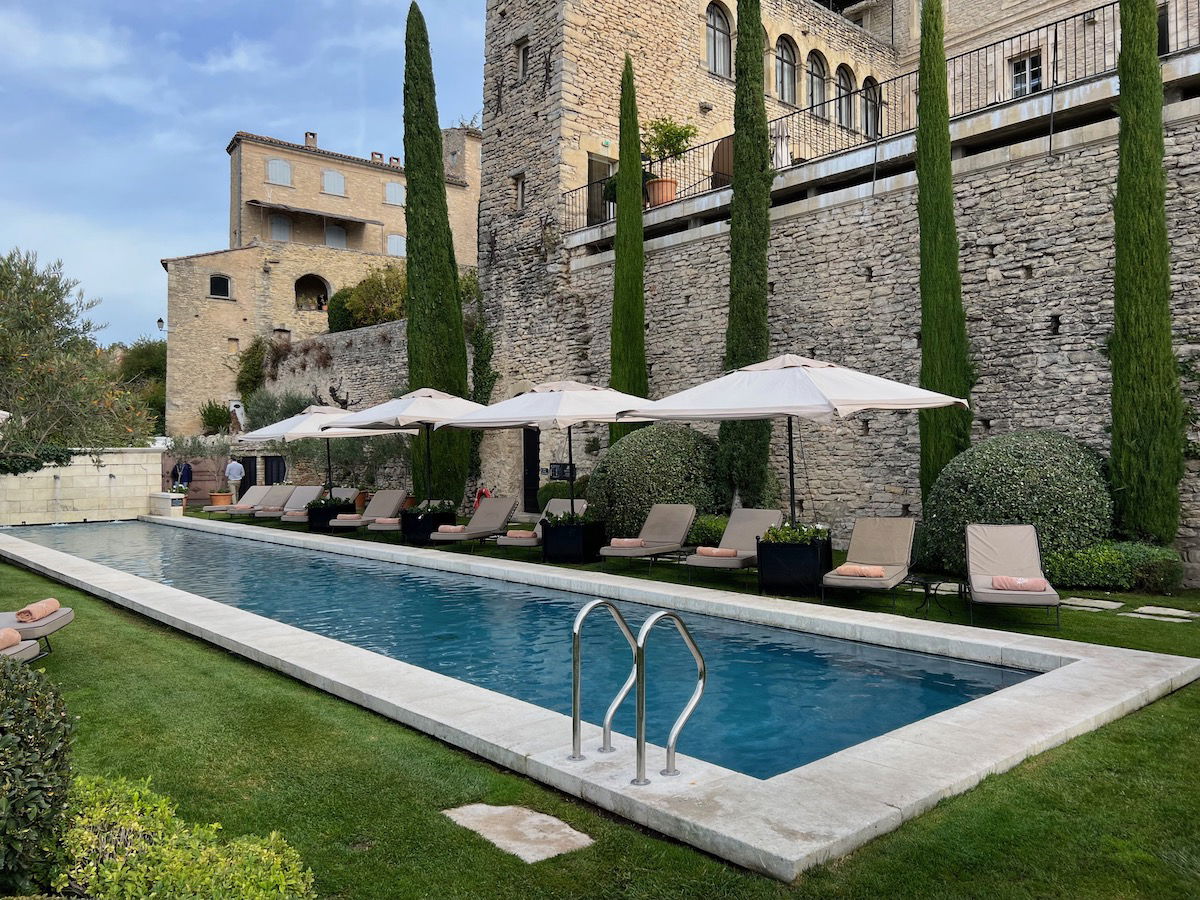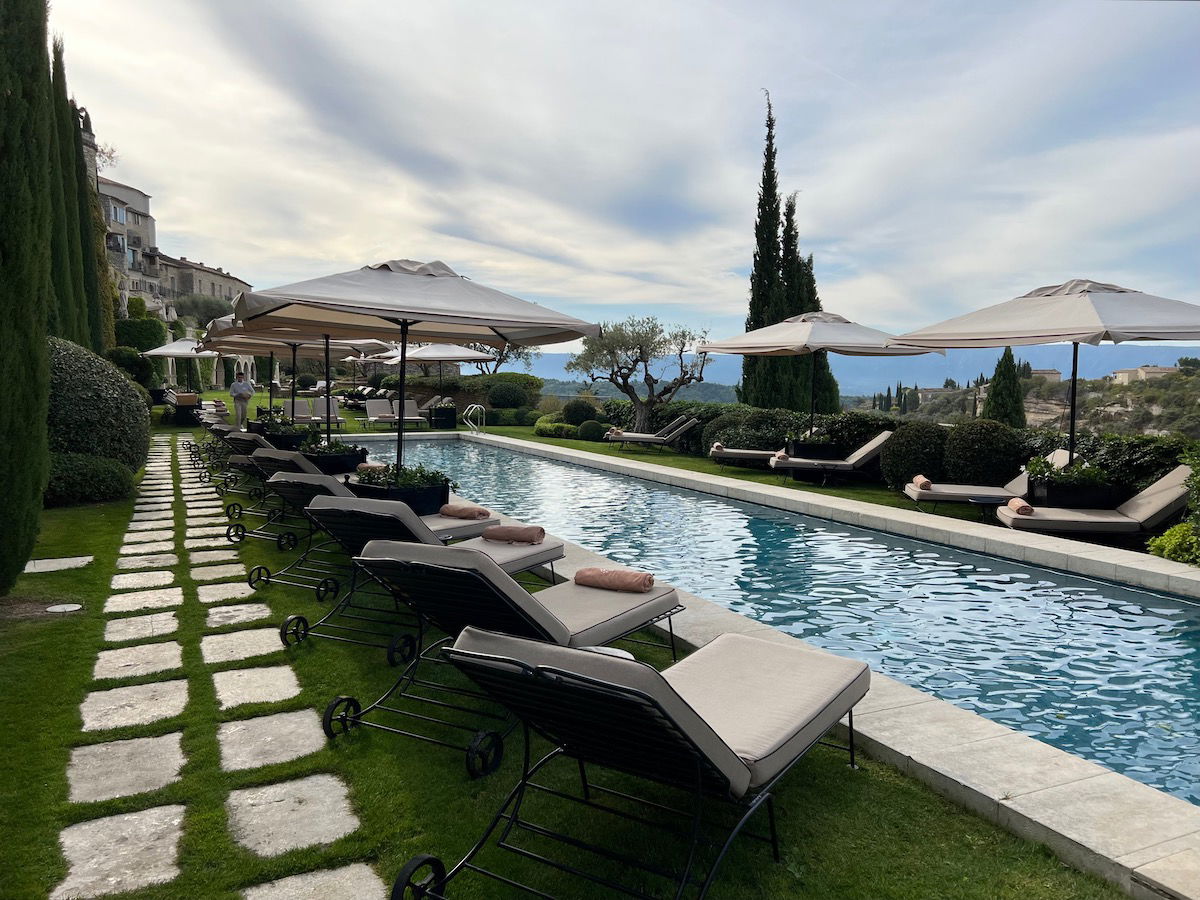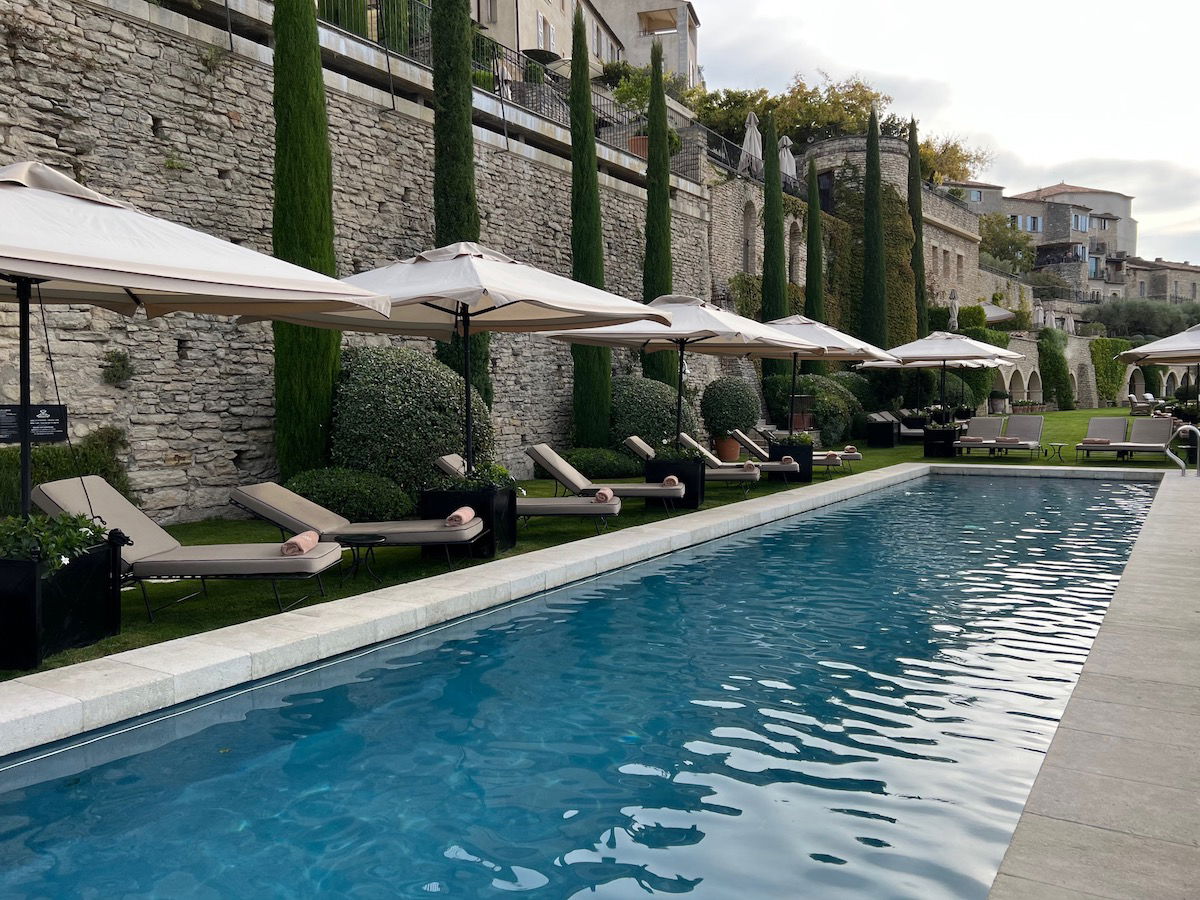 Even beyond the pool, there's a huge lawn where you can hang out, which is a great place to pass time.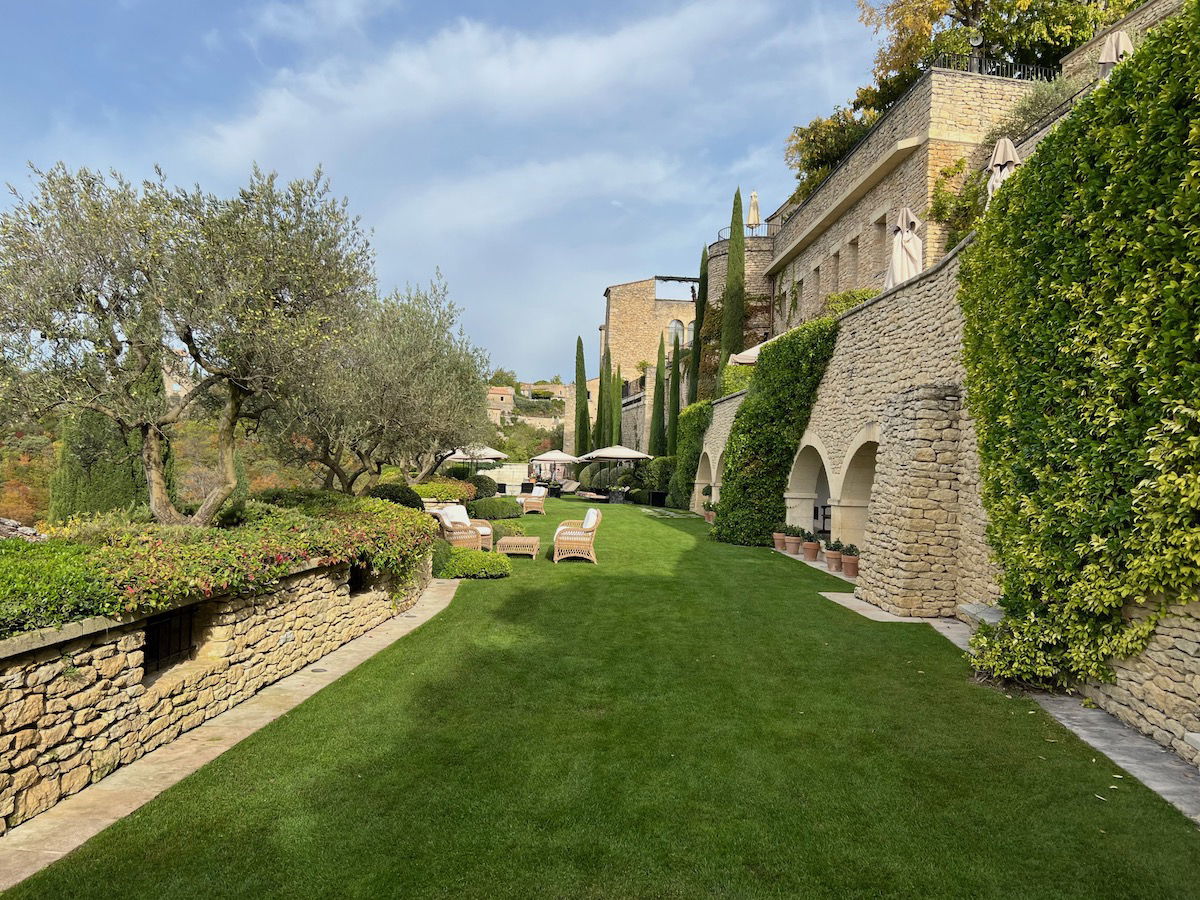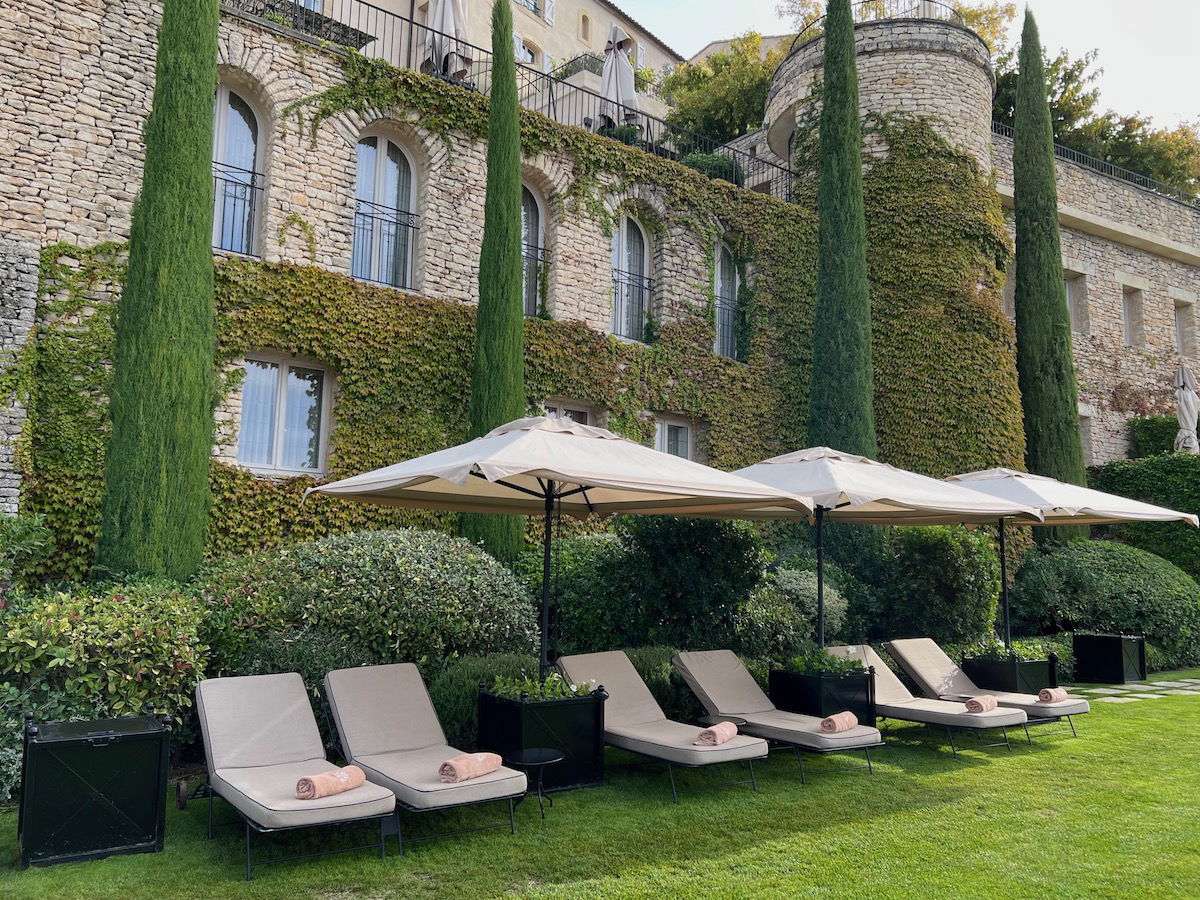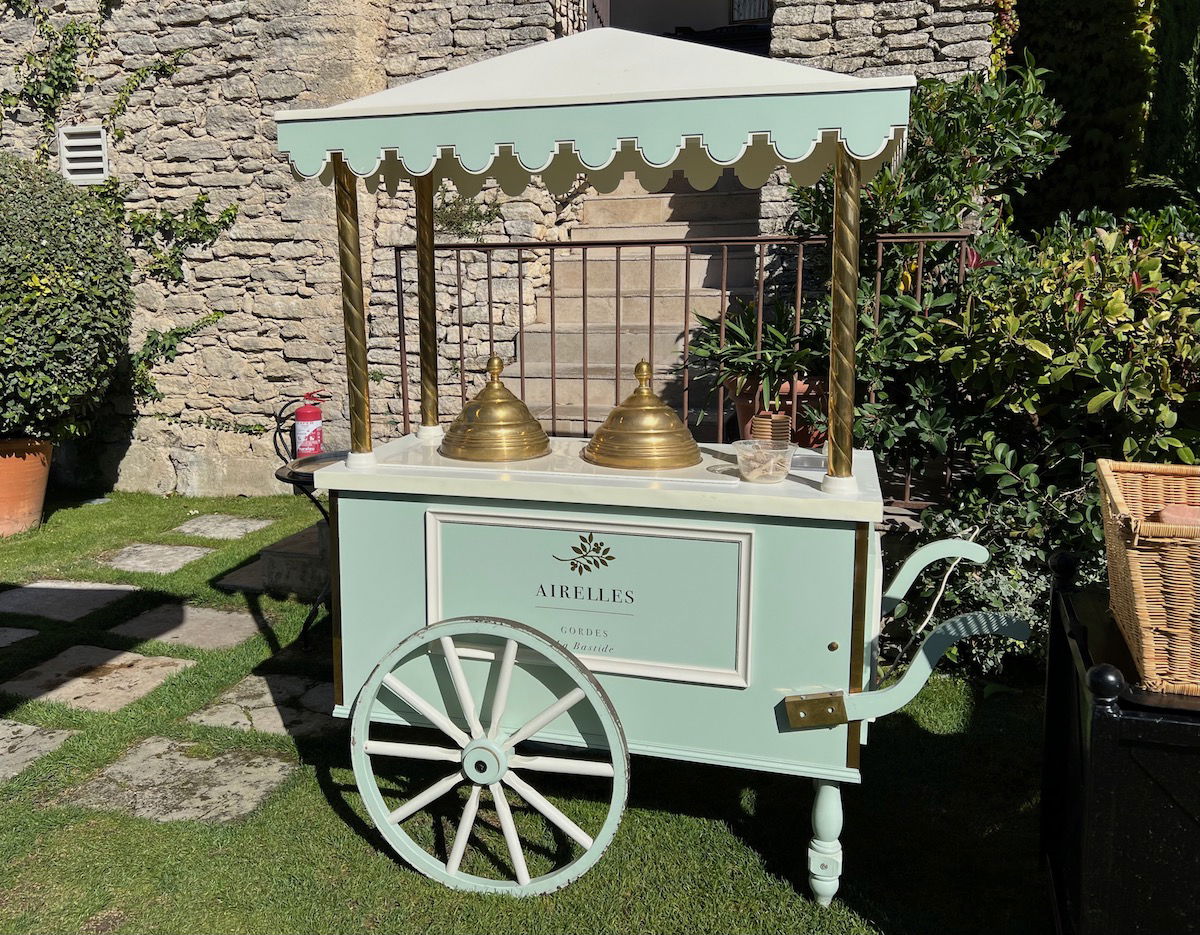 Airelles Gordes spa & indoor pool
Airelles Gordes has a gorgeous Sisley Spa, which is open to hotel guests even without booking a spa treatment. If you want a spa treatment, you can find the menu here. I didn't end up getting any treatments, but did visit the spa area otherwise.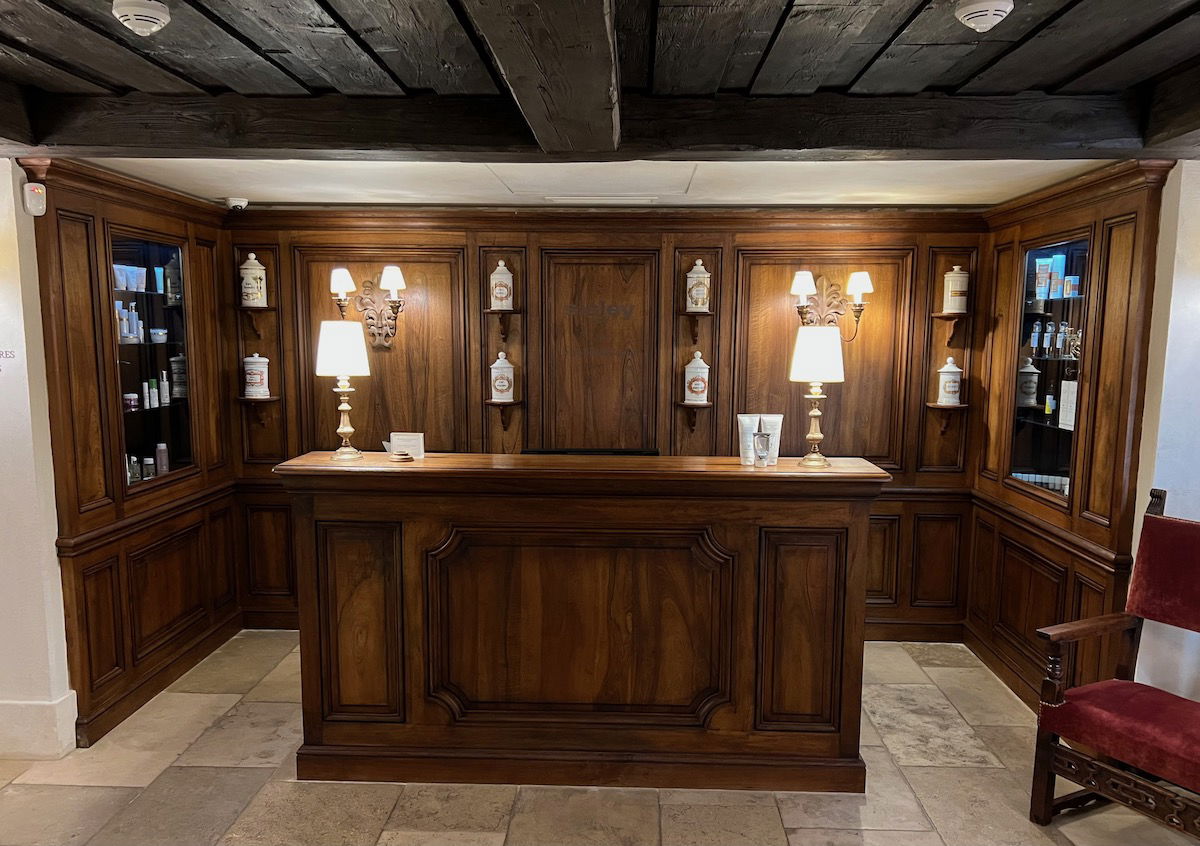 For one, the spa has an indoor pool, which is a great place to lounge if the weather isn't otherwise cooperating. The spa also has all the amenities you'd typically expect, including a sauna and steam room.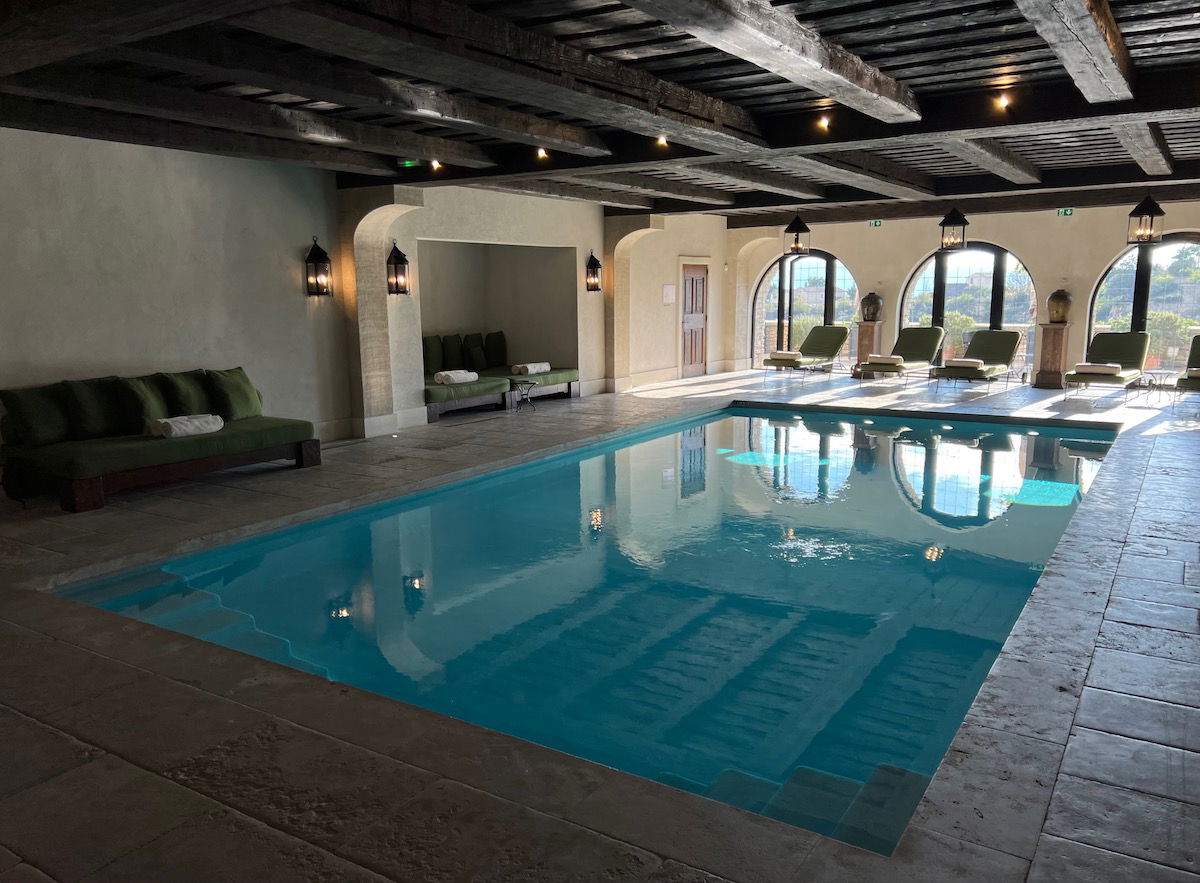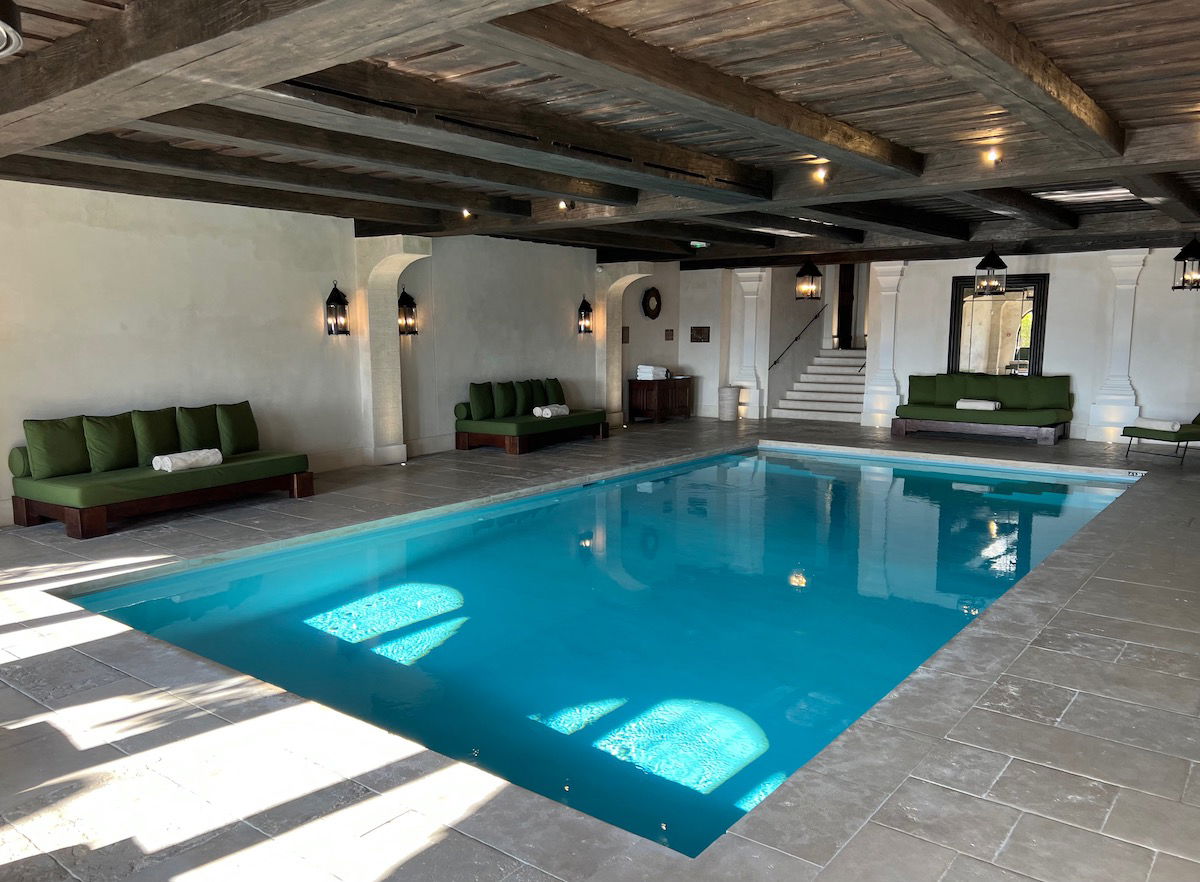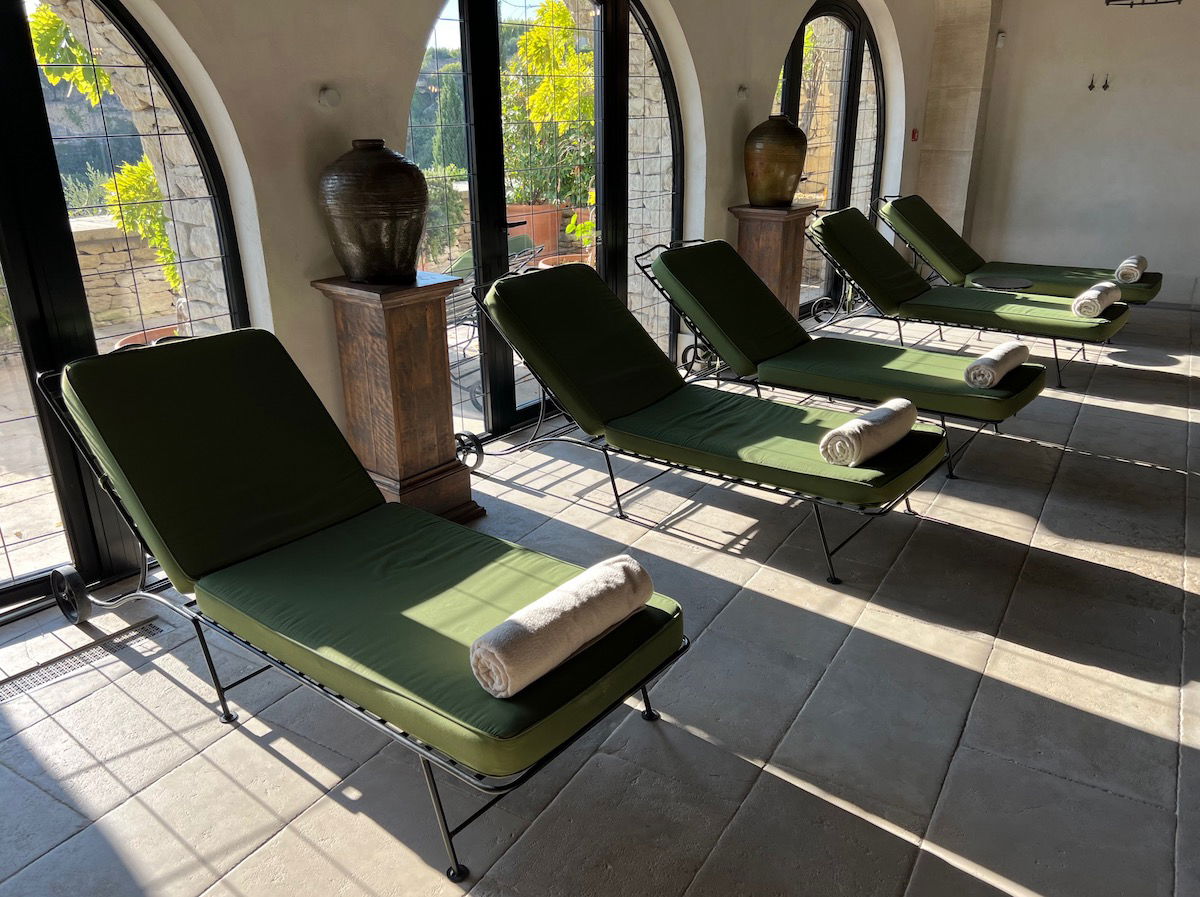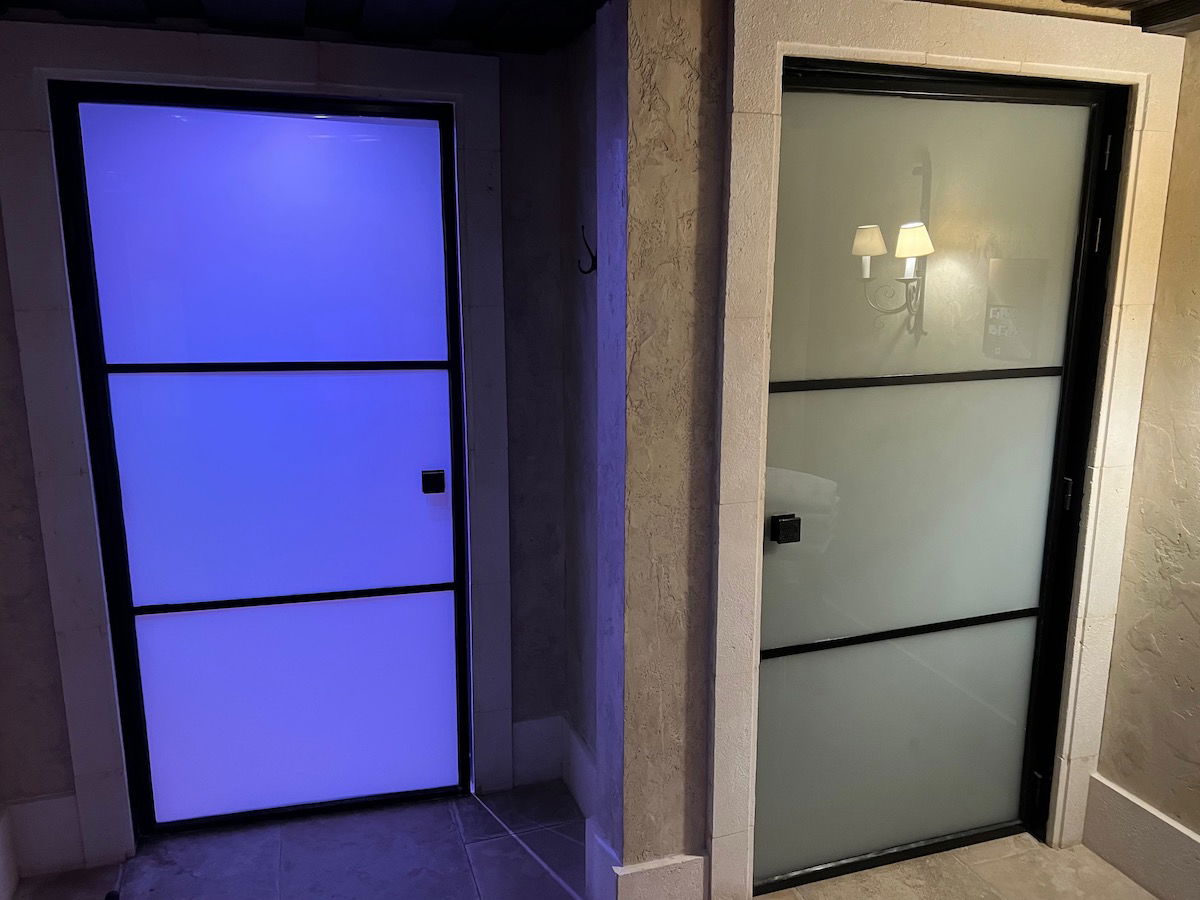 Airelles Gordes gym
Also located in the Airelles Gordes spa is a gym. While it's on the modest side, it had treadmills, ellipticals, a selection of free weights, and a yoga room.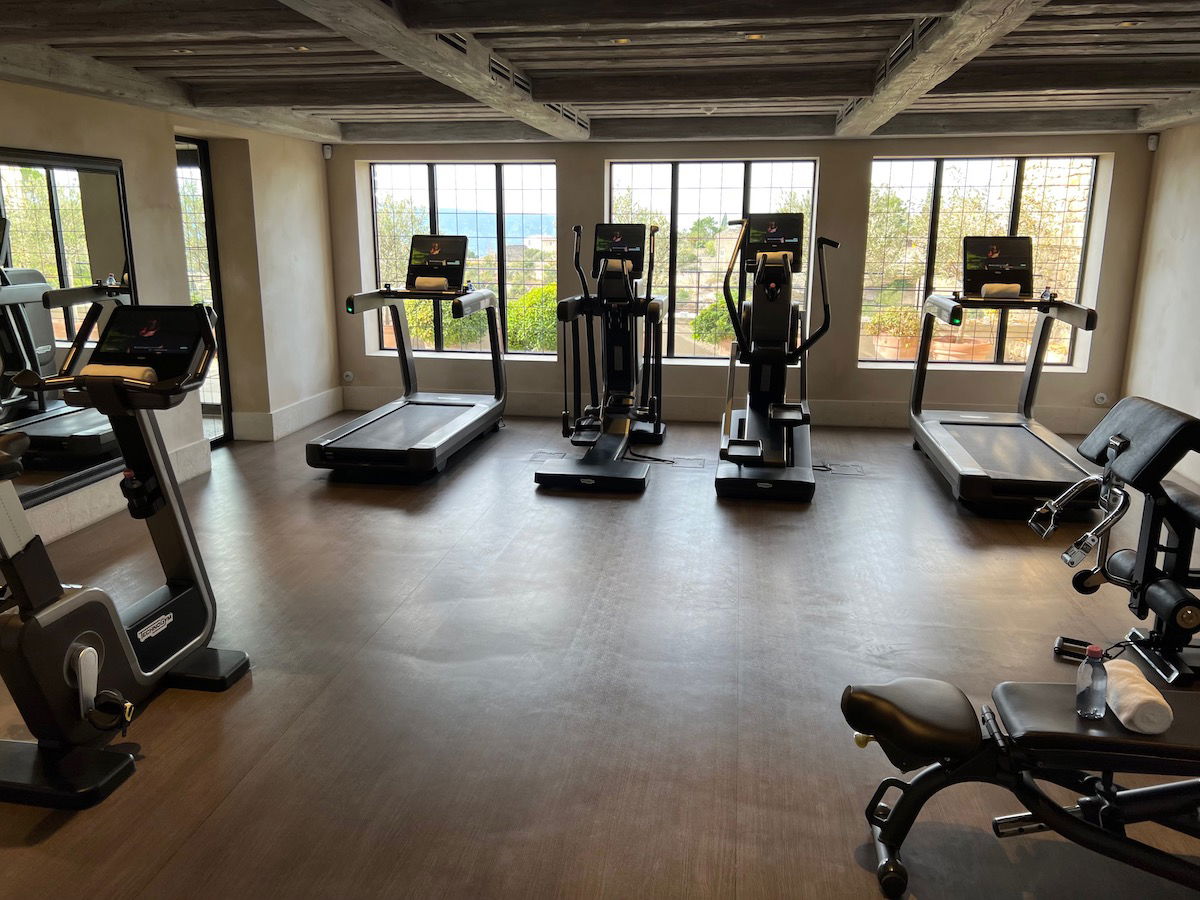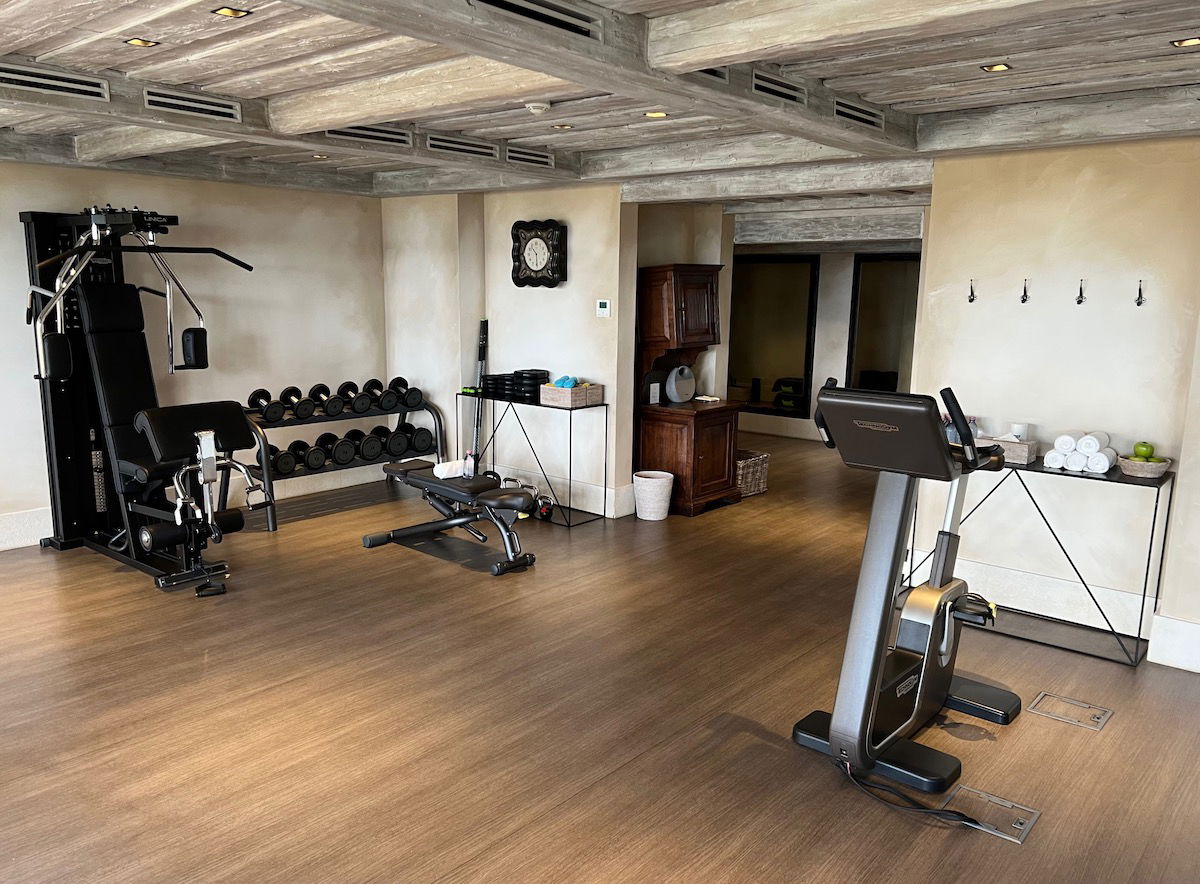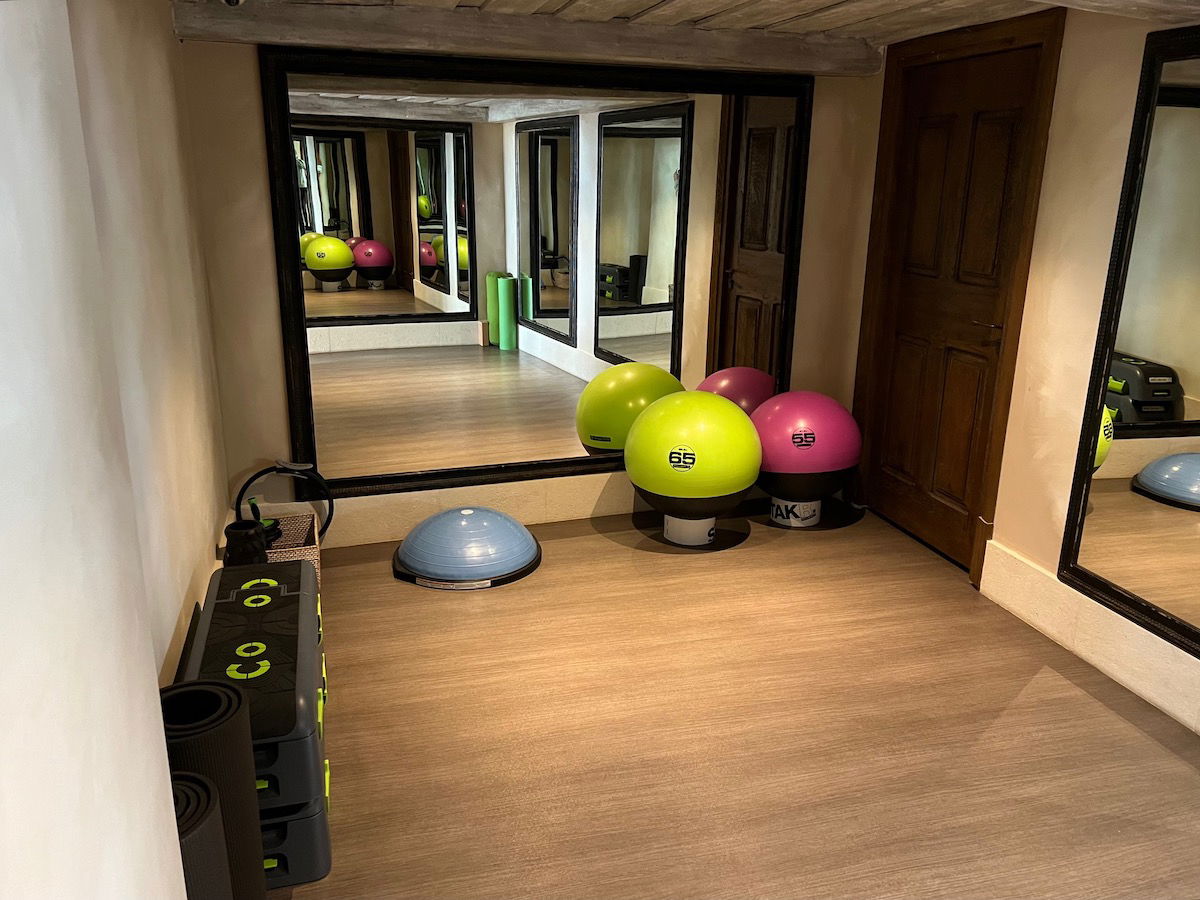 Airelles Gordes summer camp & game room
Airelles Summer Camp is the property's kids club. I don't think there were any kids at the property during our stay, but the area was still open. While most Airelles Gordes hallways look like this…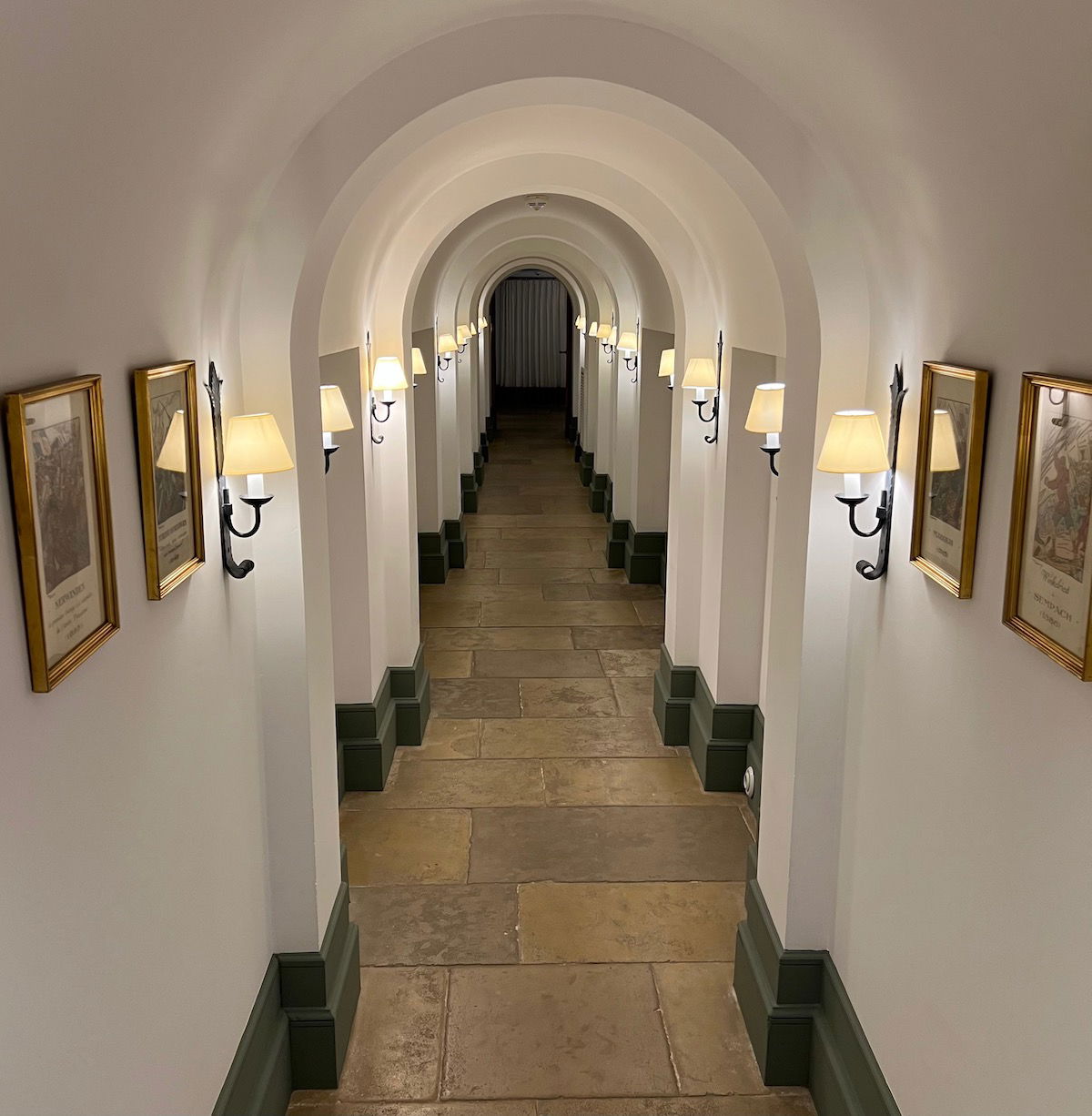 …there's quite a fun transformation when you walk down the hallway to the kids club.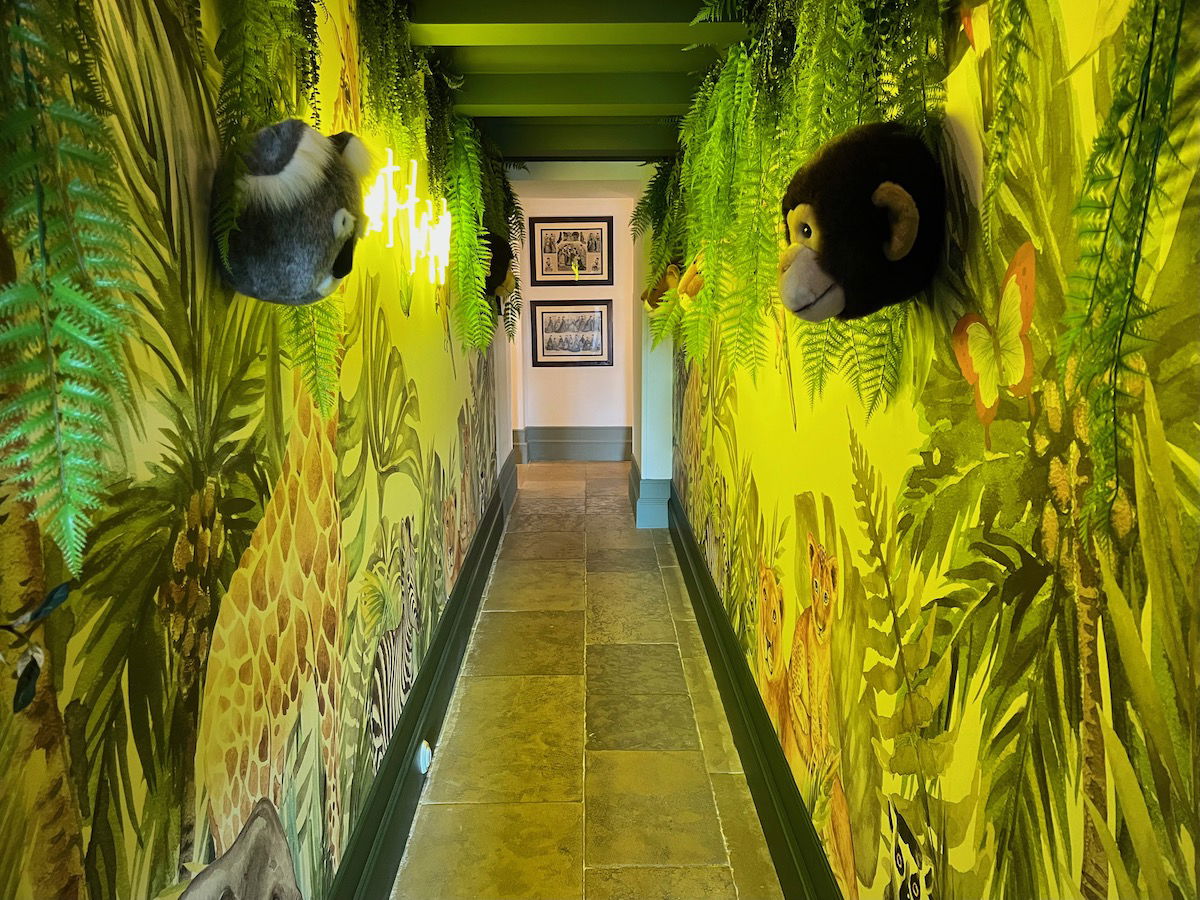 The kids club had a game room, which had several arcade games, and even had one of those machines where you can "claw" out a toy. The catch? It was free to use, and you get a toy each time you play. It was almost so easy that it wasn't fair.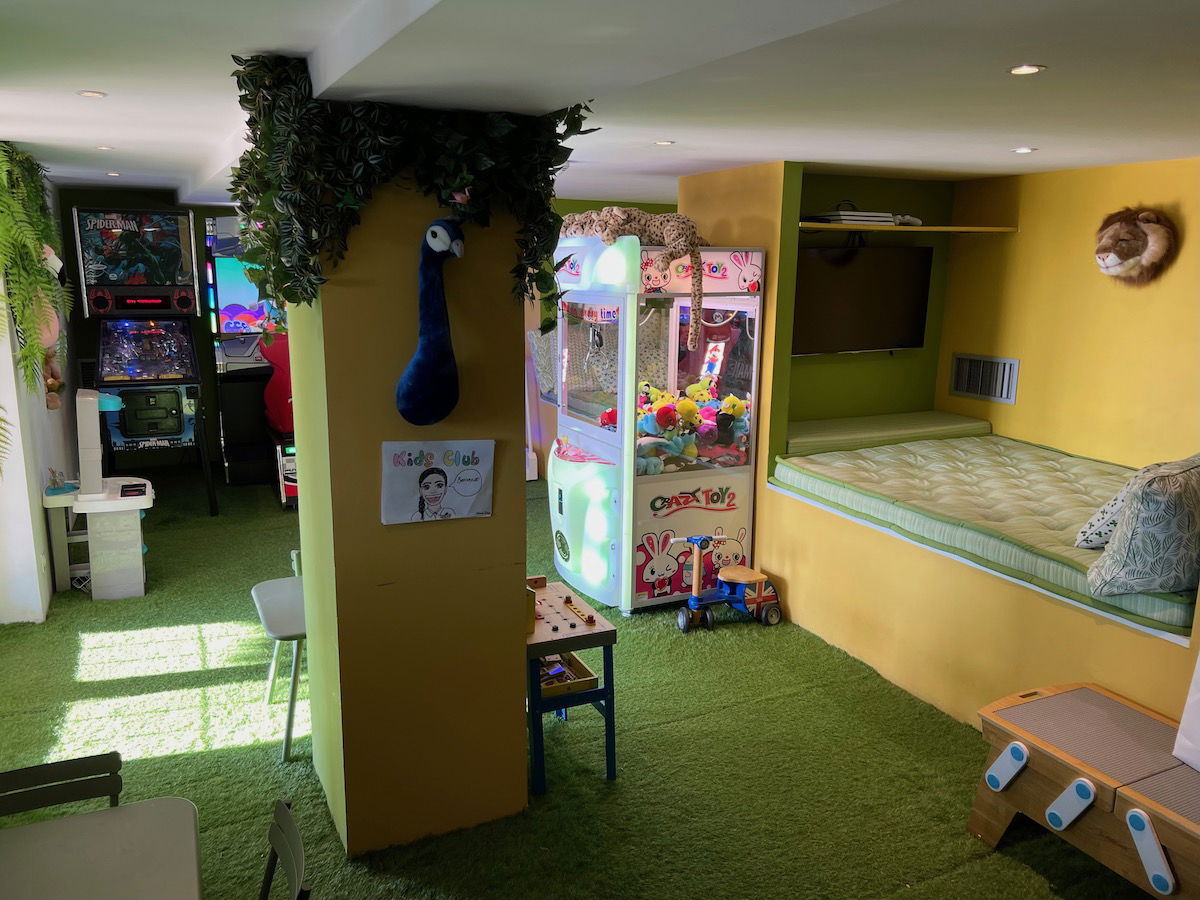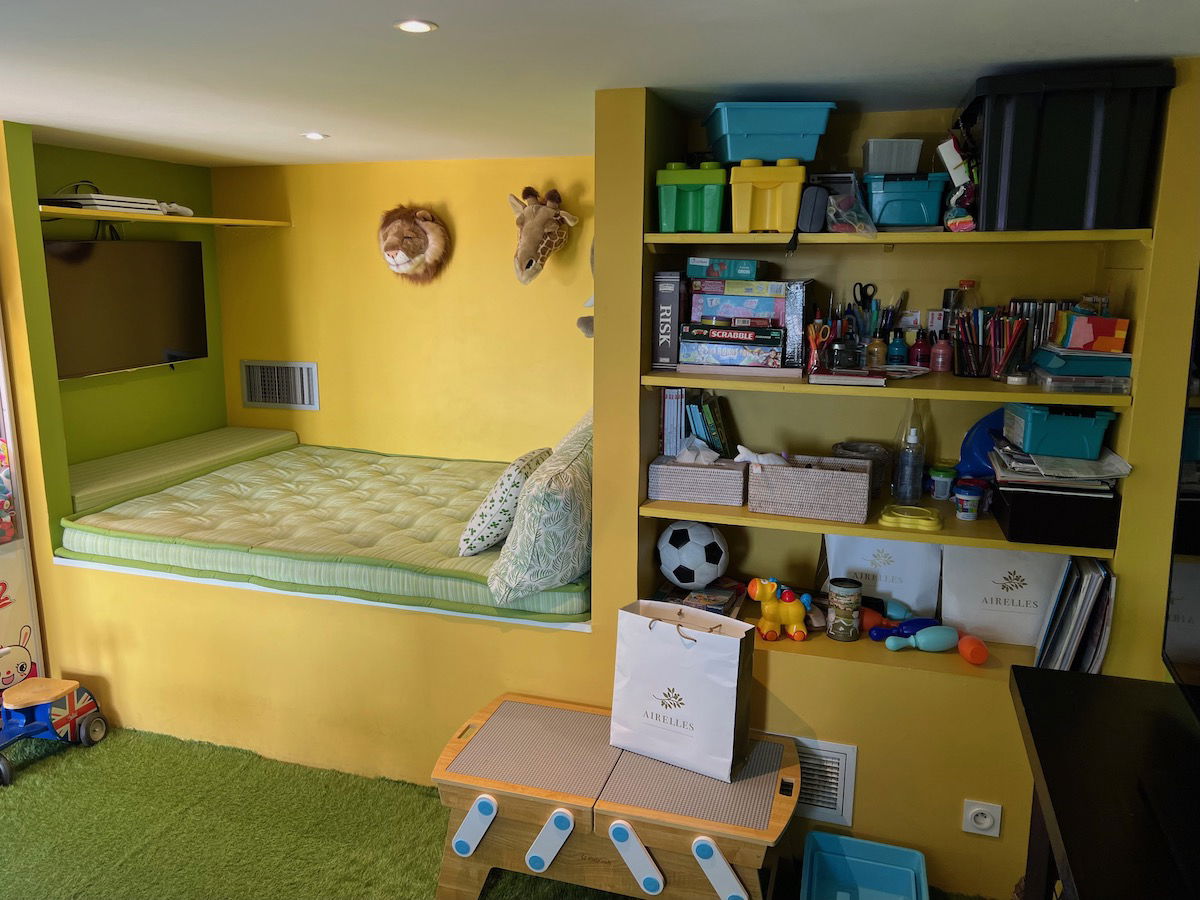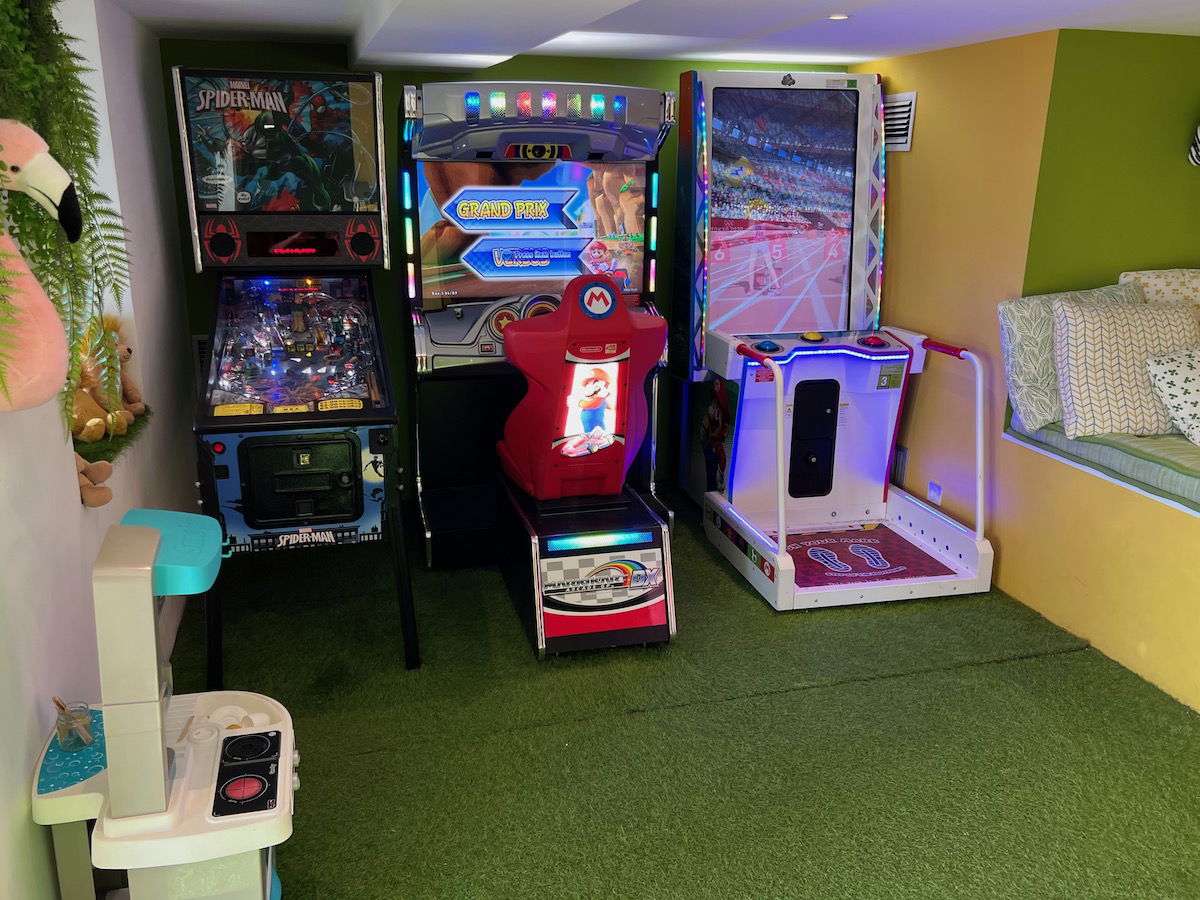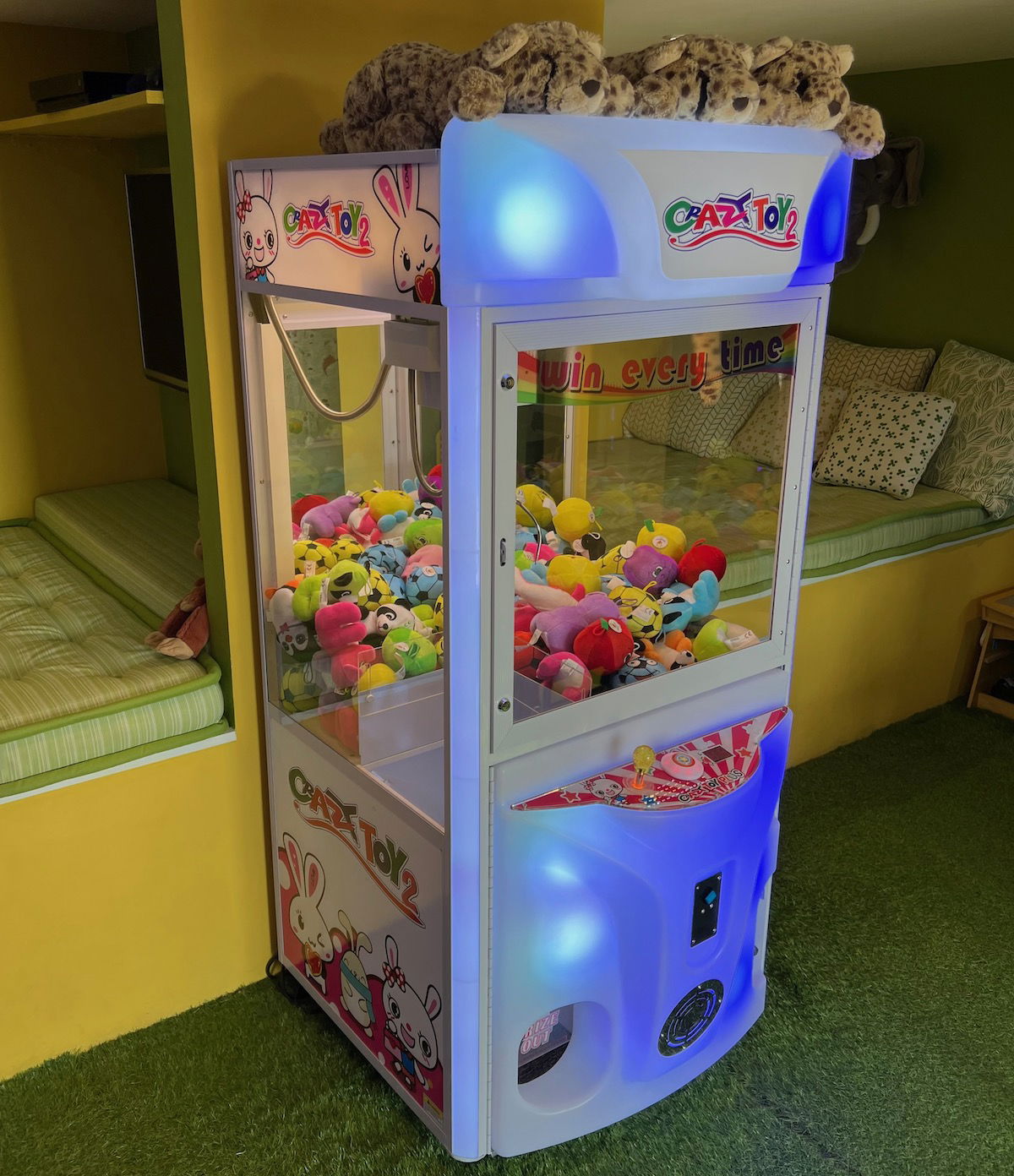 Beyond the indoor space, there's a pool table, ping pong table, foosball table, and a kids pool.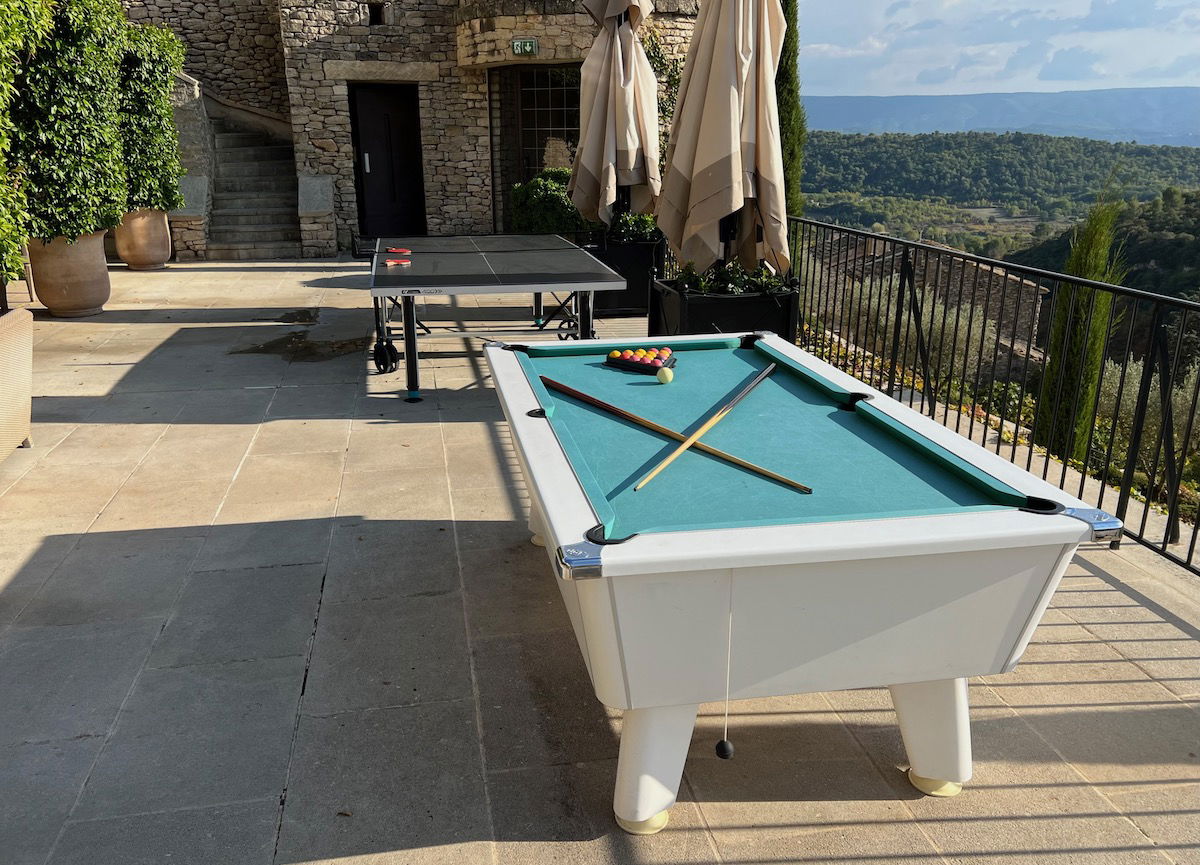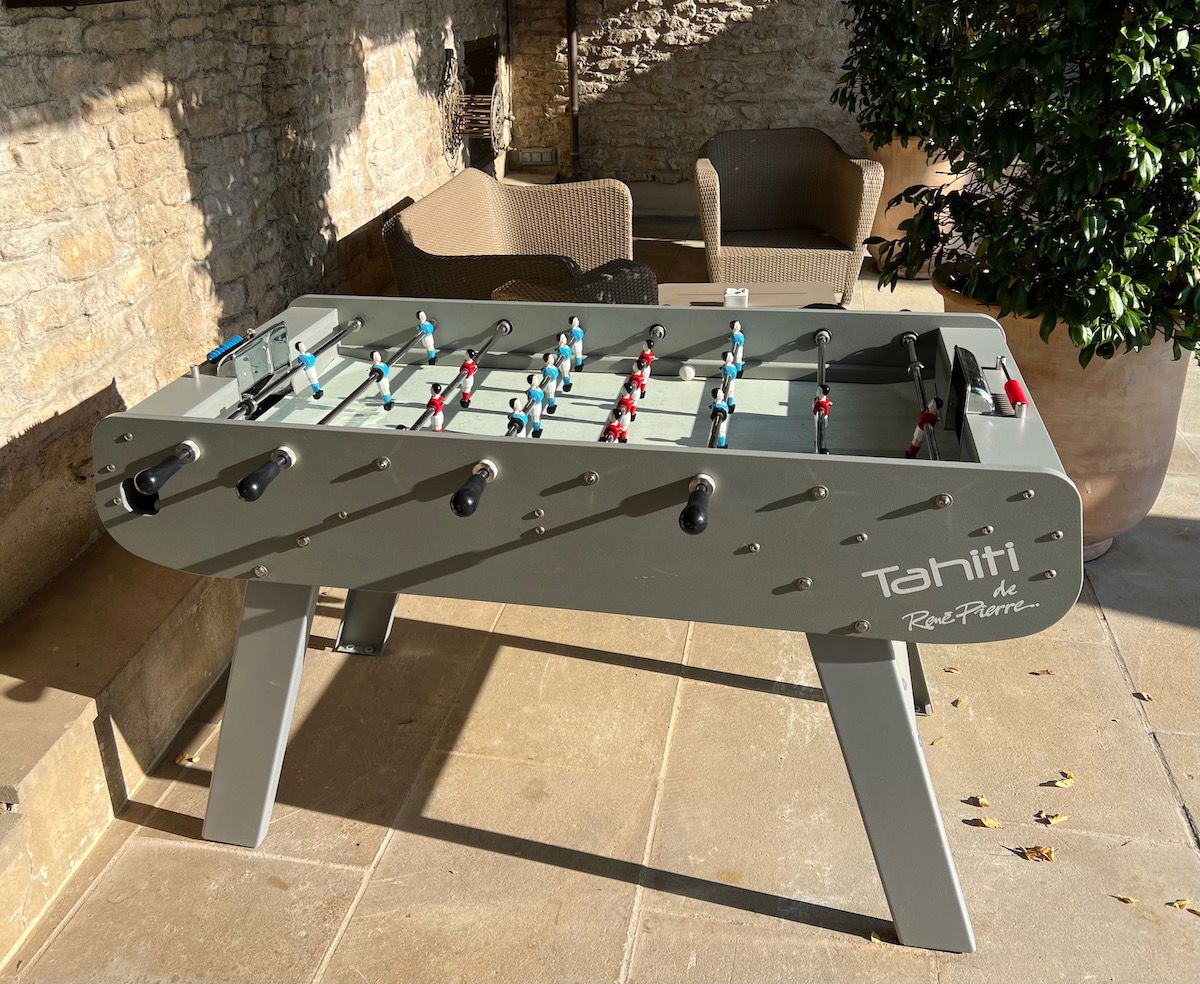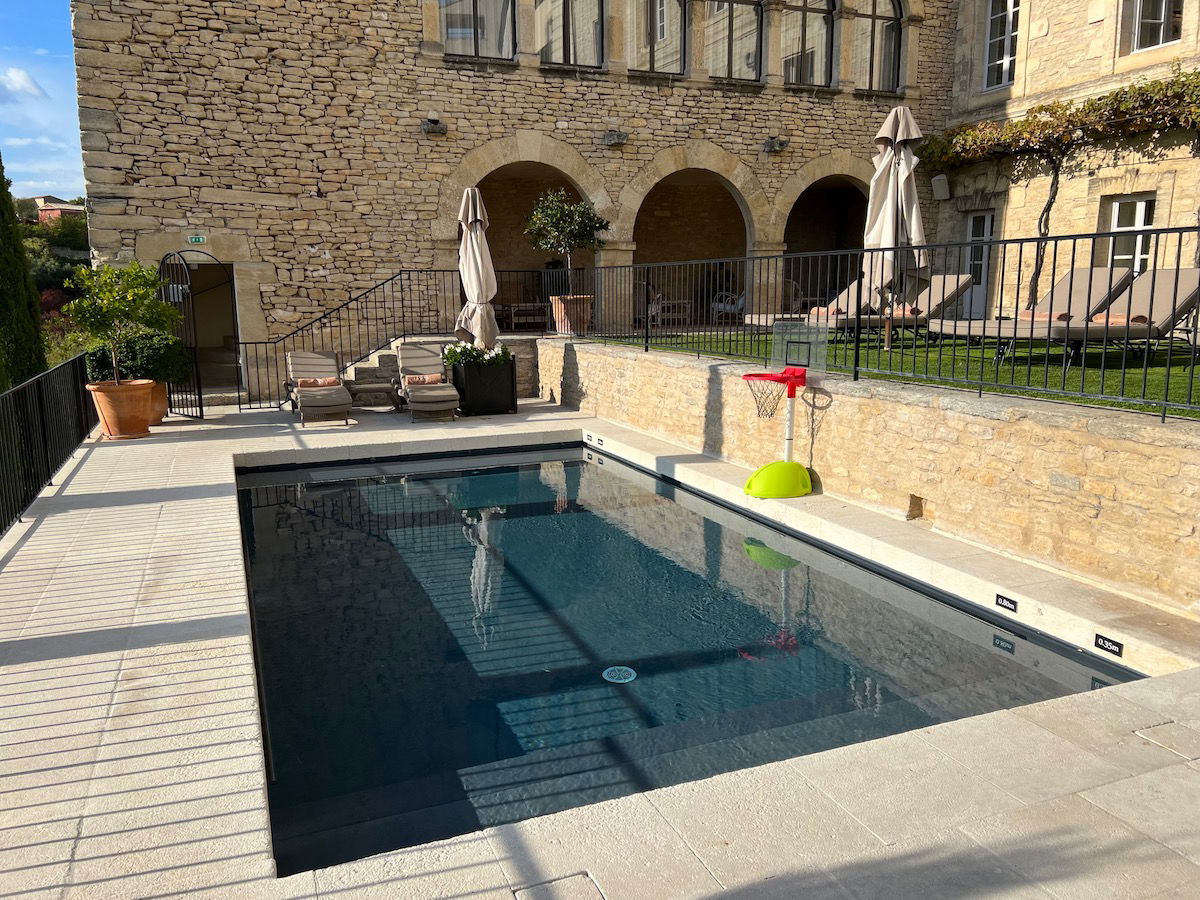 Dining at Airelles Gordes
As you'd expect, Airelles Gordes has a very strong food & beverage game. It's almost problematic how good the food is, because there's only so much one can reasonably eat over the course of a few days. Here's a summary of the hotel's food & beverage outlets, to give you a sense of what to expect:
L'Orangerie is the all-day dining restaurant, serving breakfast, lunch, and dinner; it's located on property, and serves Mediterranean cuisine
Clover Gordes by Jean-François Piège serves lunch and dinner; it's located on property, and serves Provencal cuisine
La Bastide de Pierre serves lunch and dinner; it's located off property in town, and serves Italian cuisine
Le TIGrr serves dinner; it's located in town, and serves Asian fusion cuisine
The hotel also has a bar, located just off the lobby
If you book a full board rate, you can enjoy any of your meals at any of these venues. With those basics out of the way, let's get into the details…
Airelles Gordes breakfast
Airelles Gordes serves breakfast daily from 7:30AM until 11AM. While it's technically served at L'Orangerie, in reality it's served in a separate room that's different from where lunch and dinner are served. There's both indoor and outdoor seating, depending on your preference.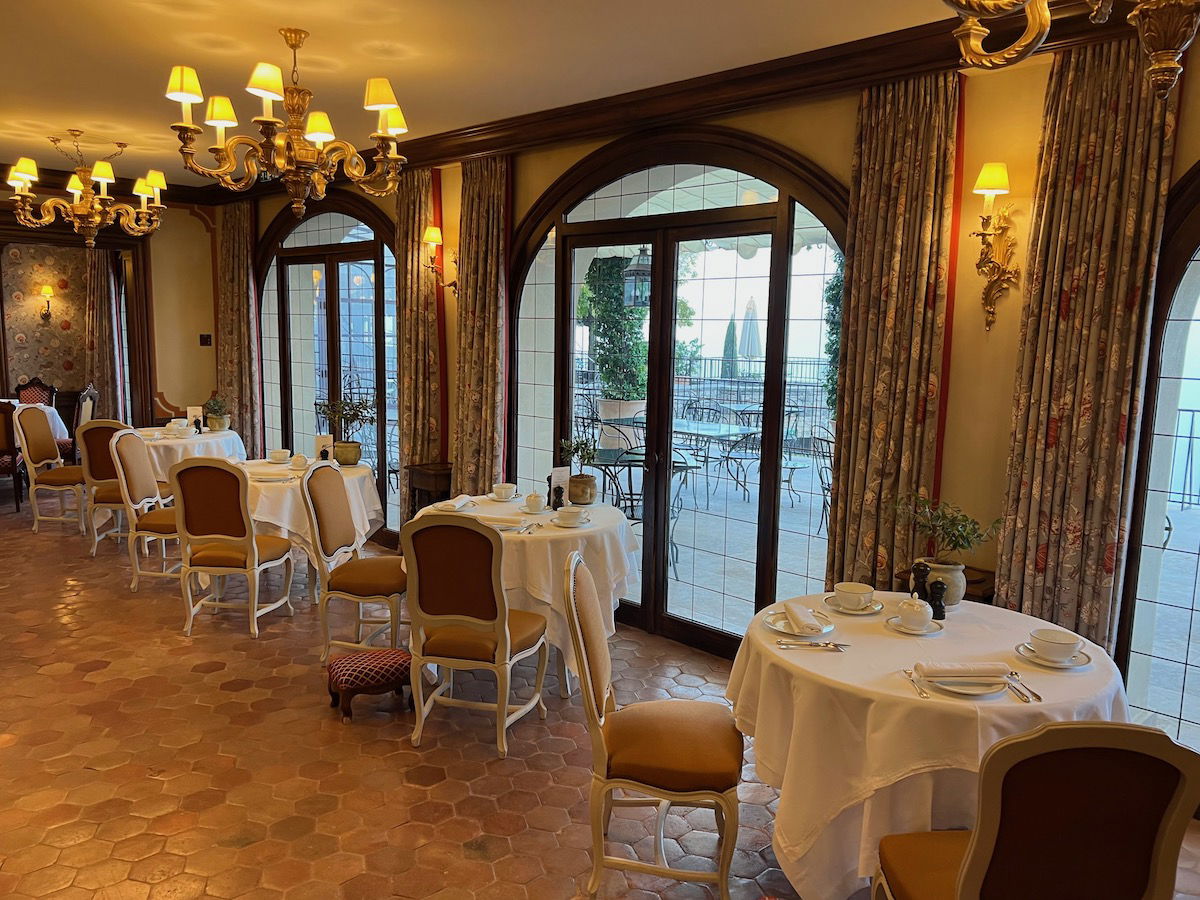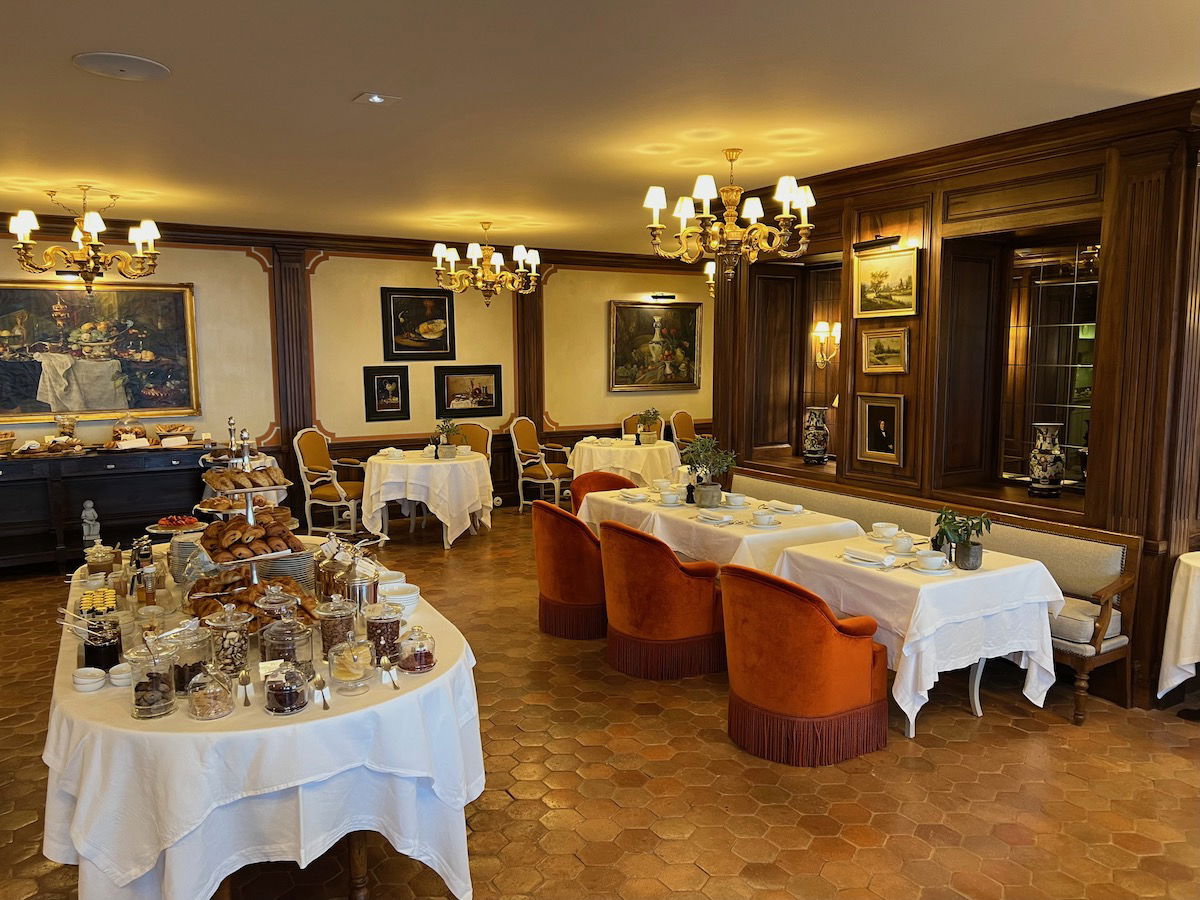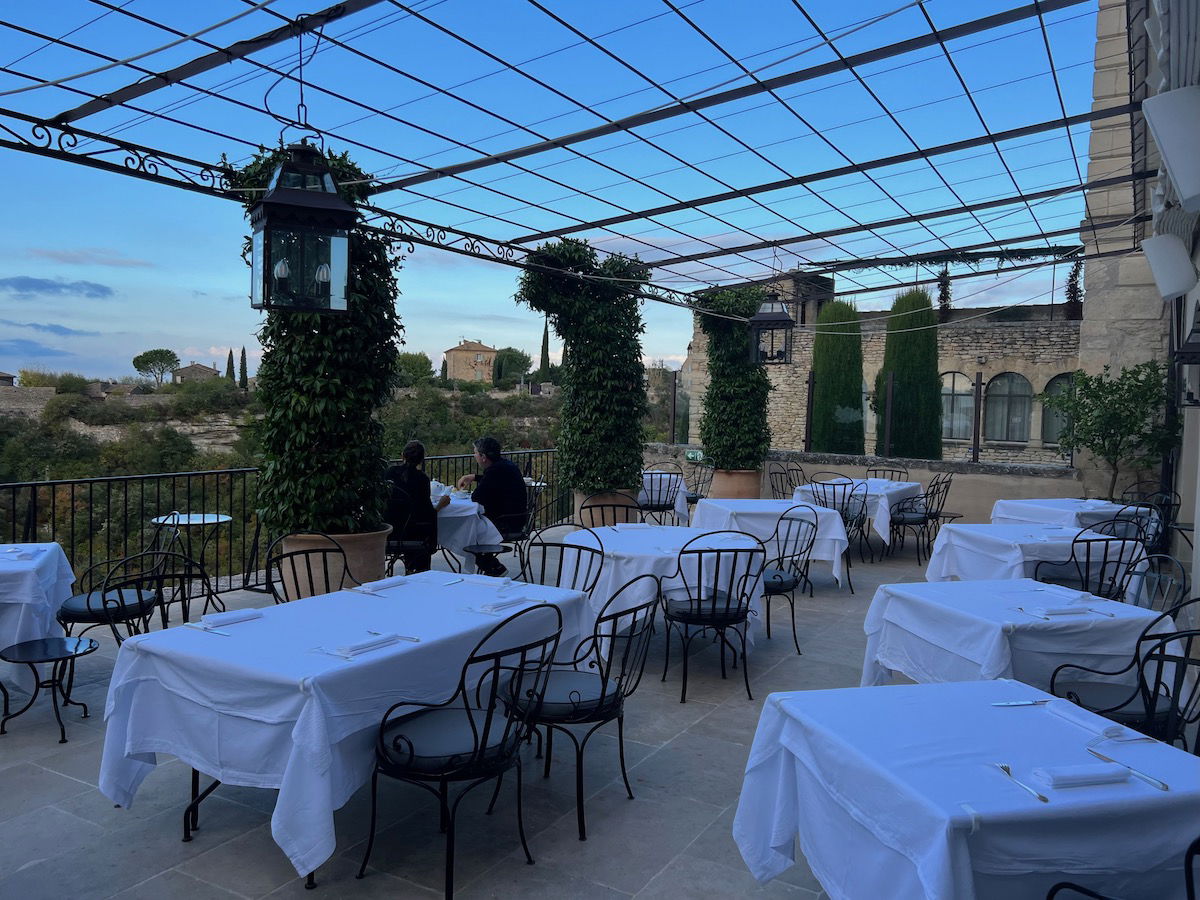 Breakfast consists of a buffet, and then you can also order a variety of things off a menu.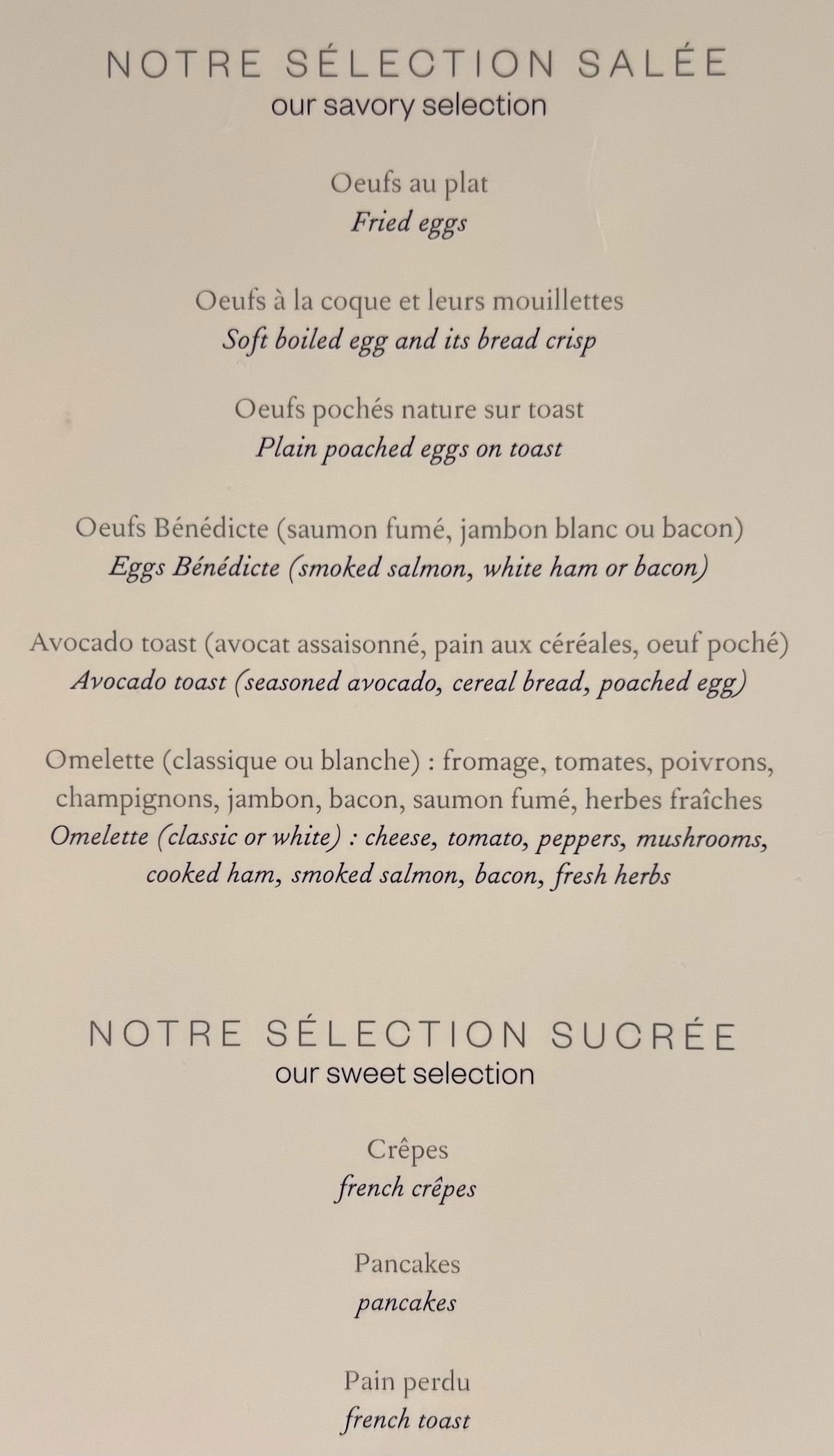 Ultimately breakfast buffets in France aren't going to be as expansive as what you'd find in Southeast Asia or the Middle East, though everything was high quality and delicious. There was one room that had a variety of yogurt, fruit, veggies, cold cuts, and a few hot options.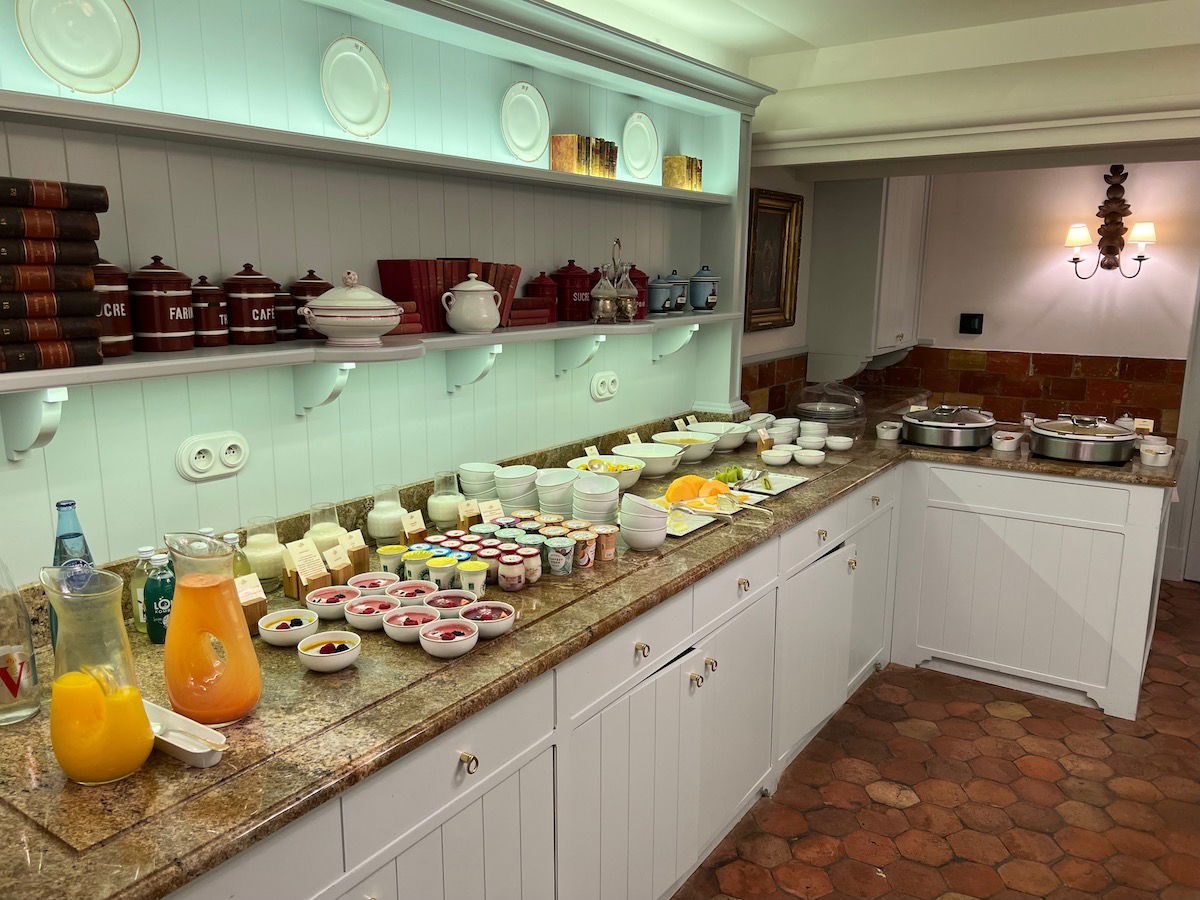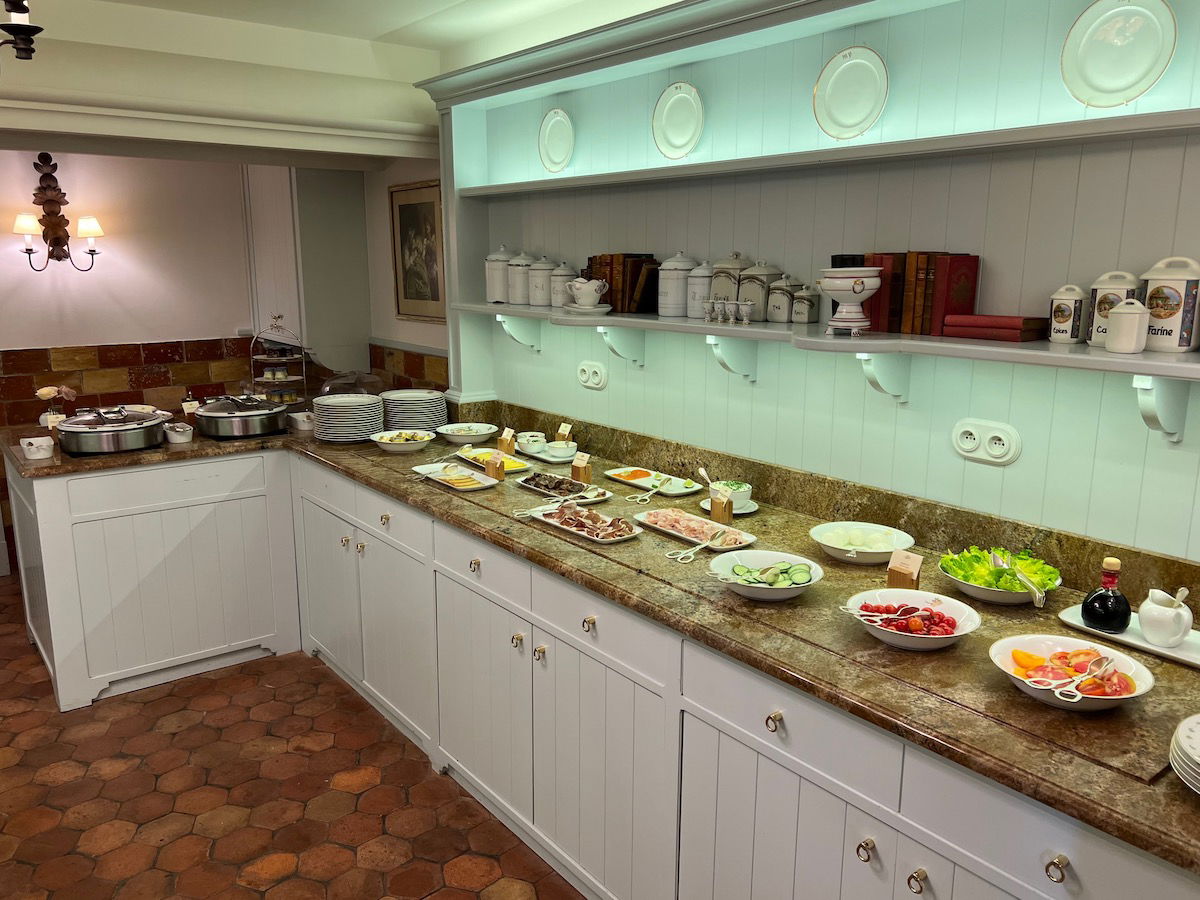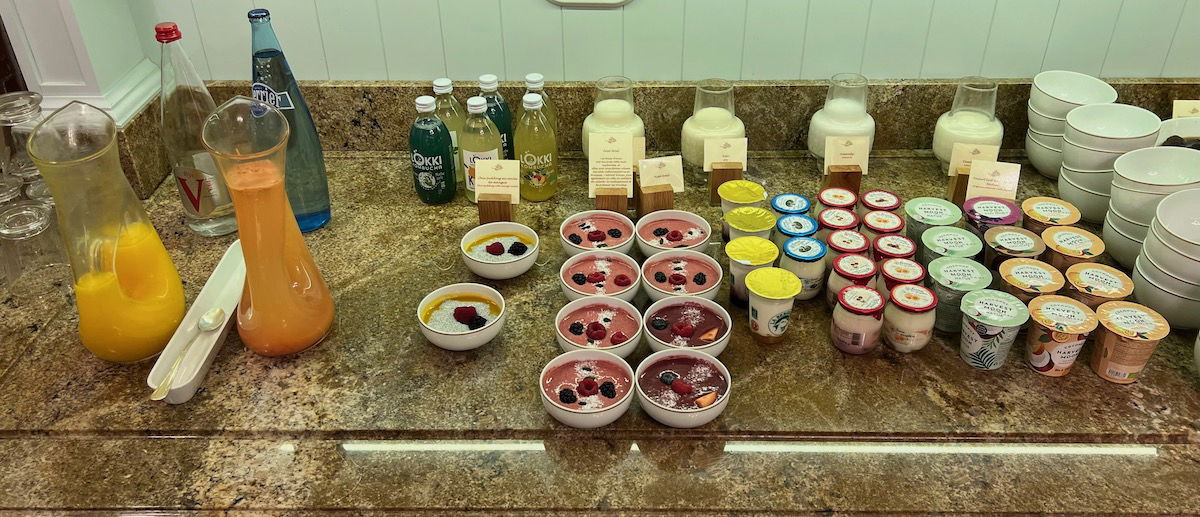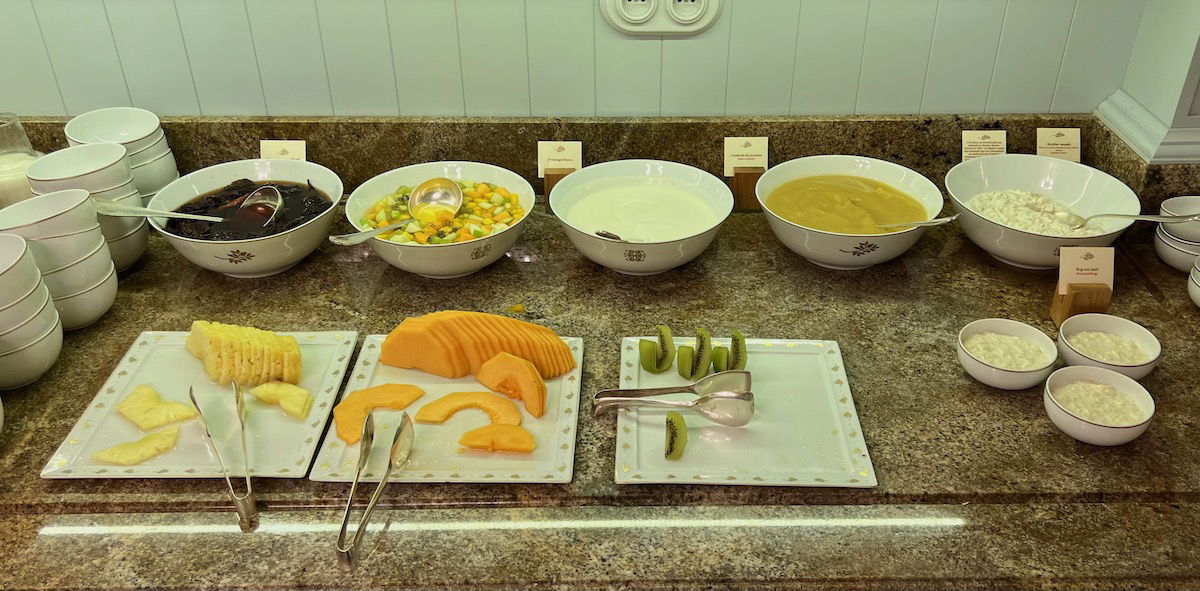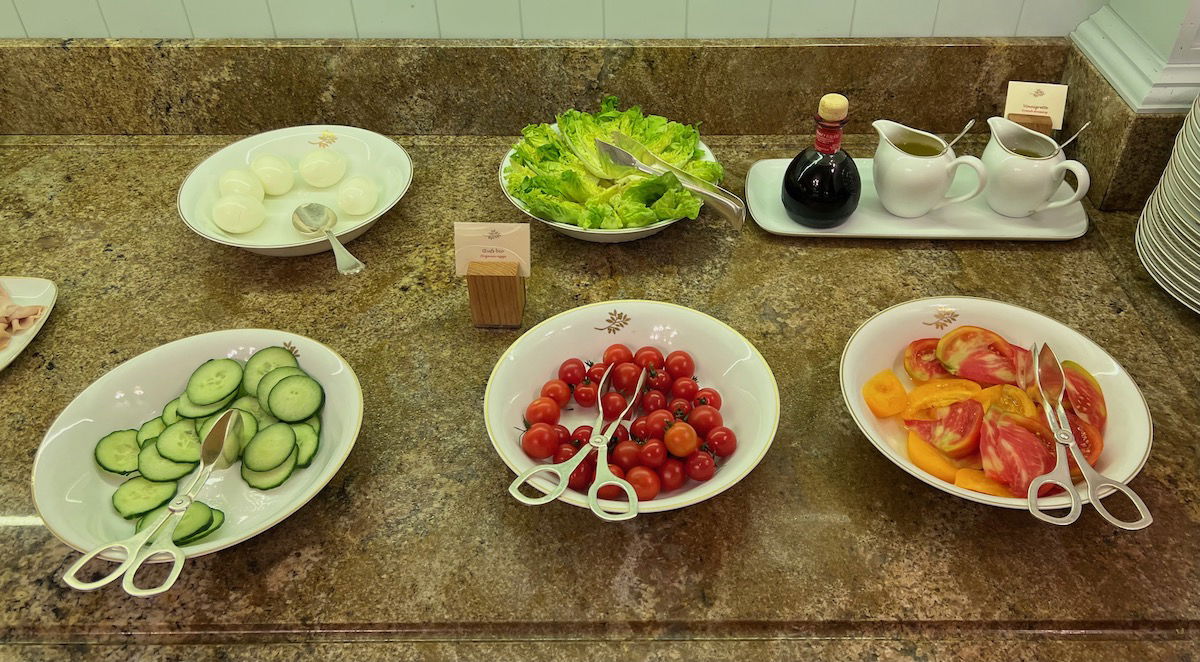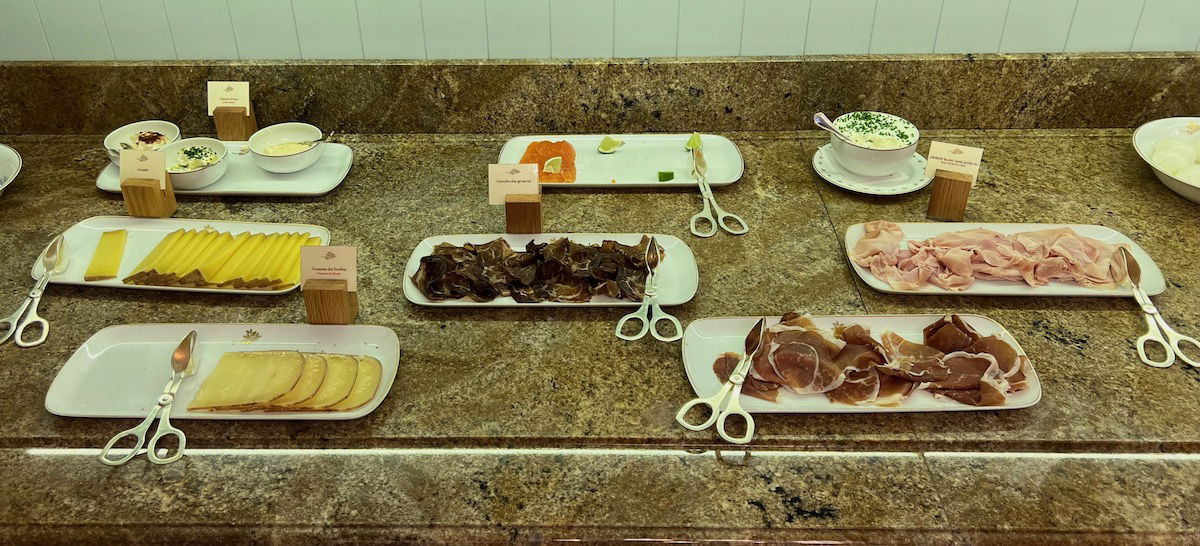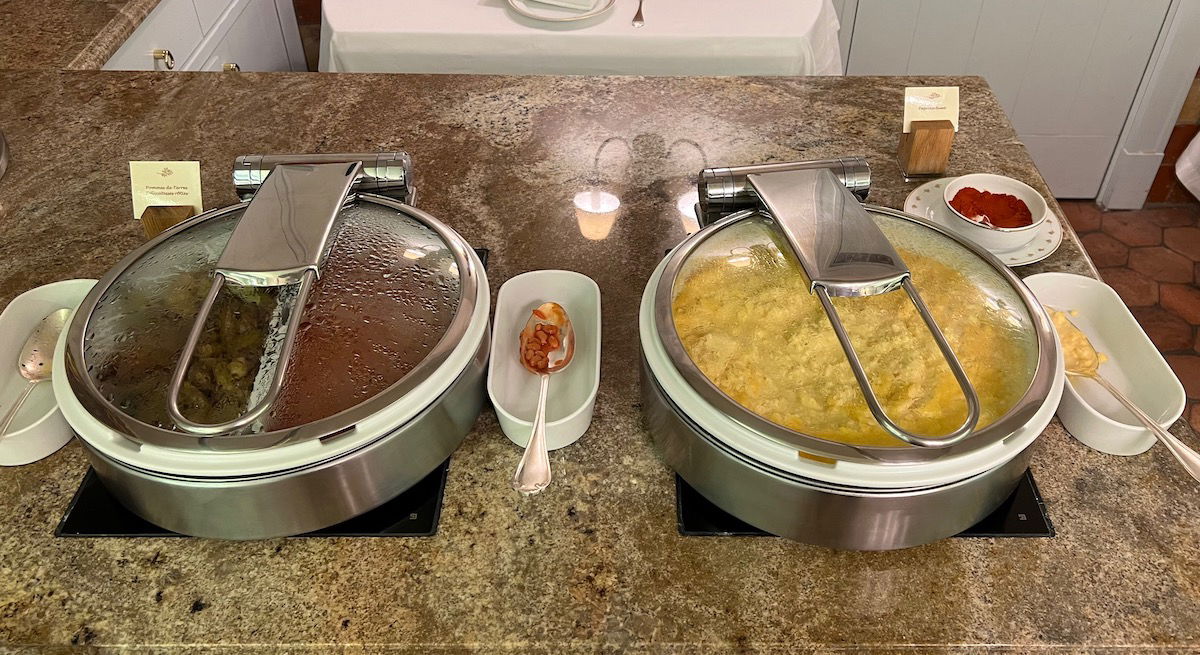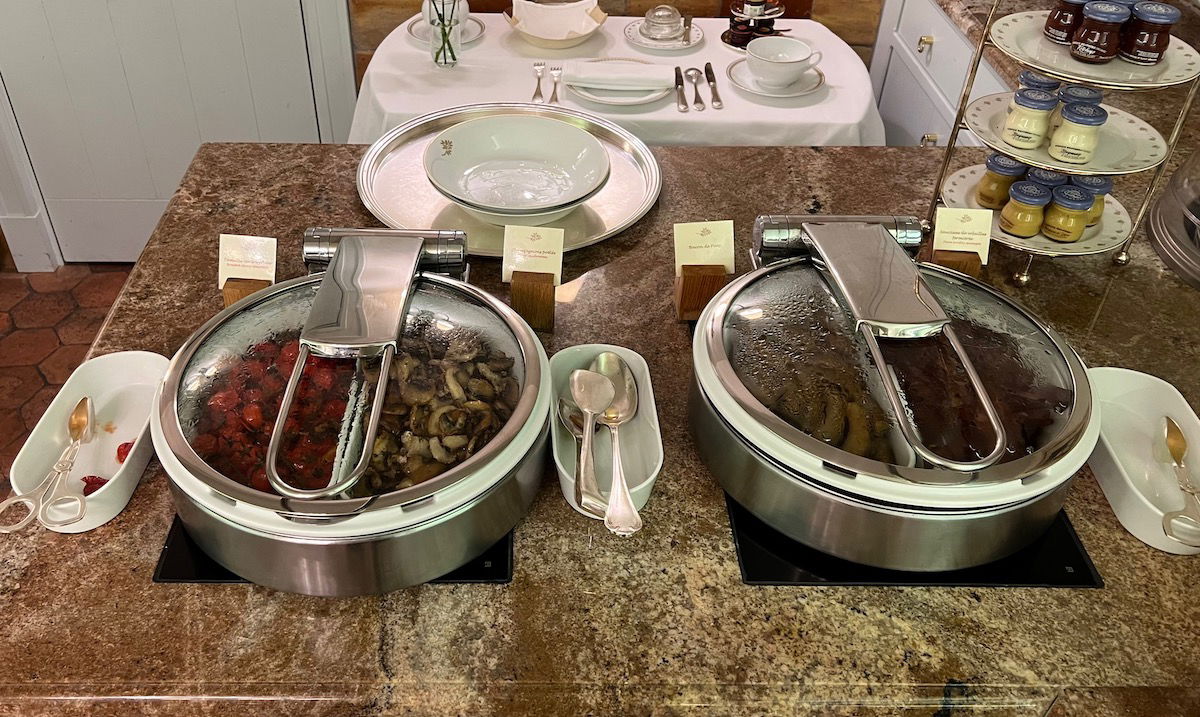 Then there was a table in the main dining room with all kinds of freshly baked goods, including bread, croissants, pastries, and more.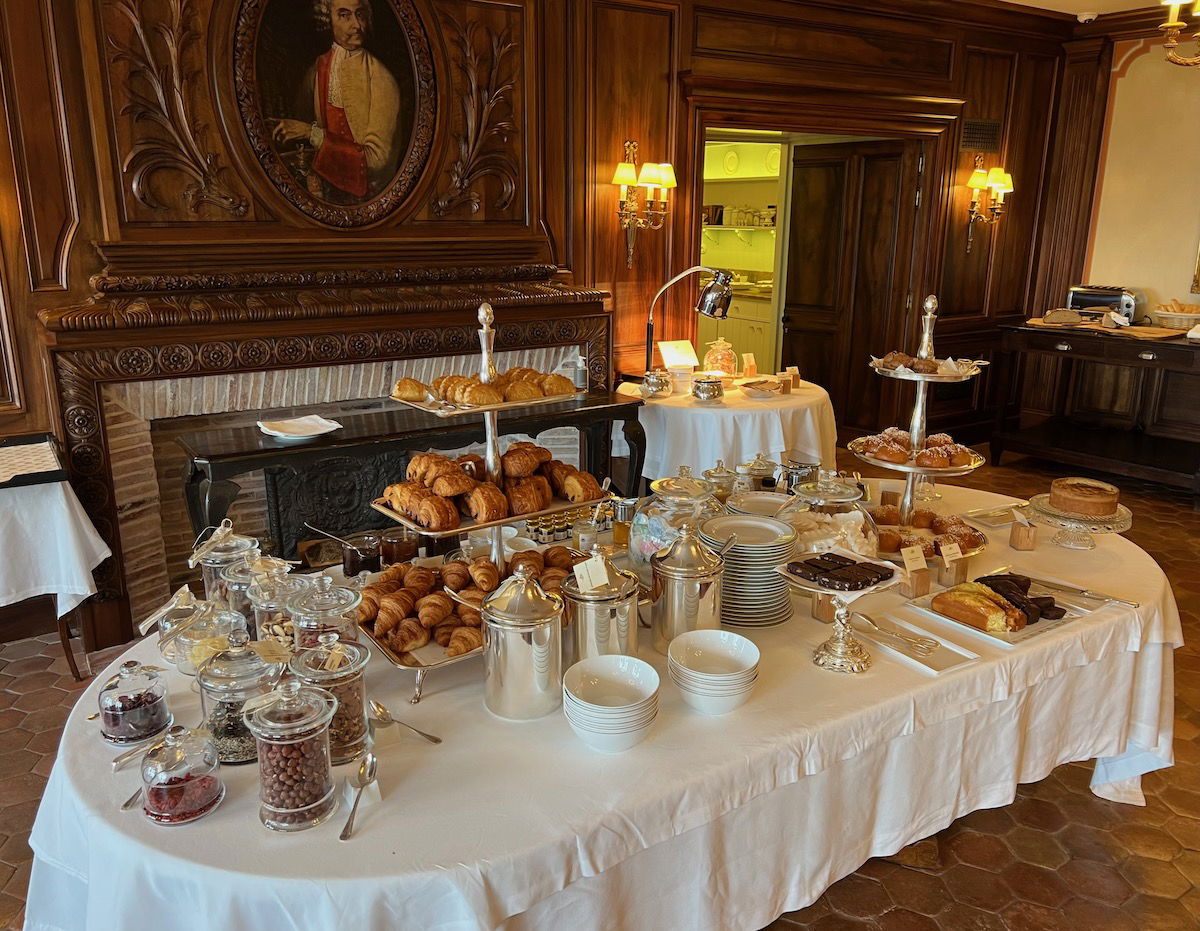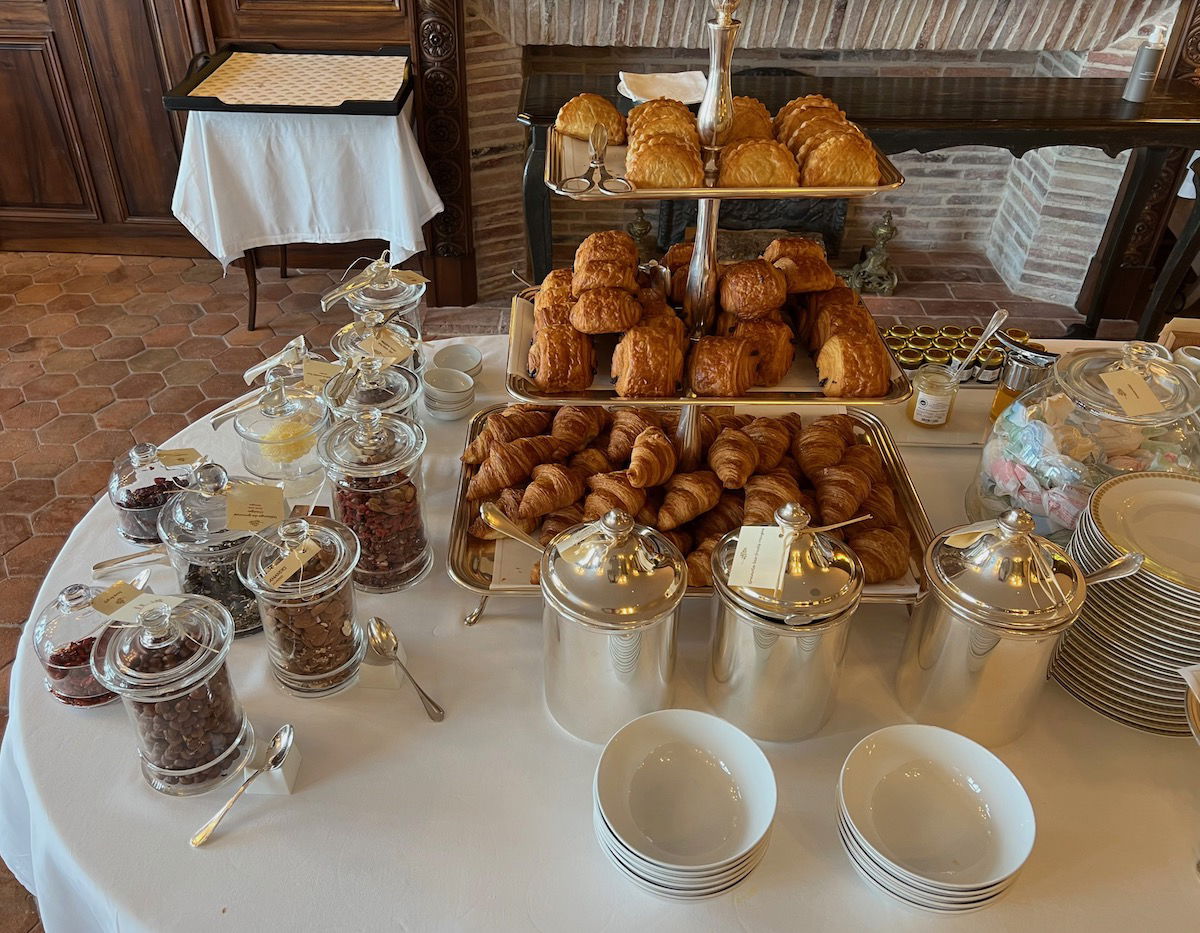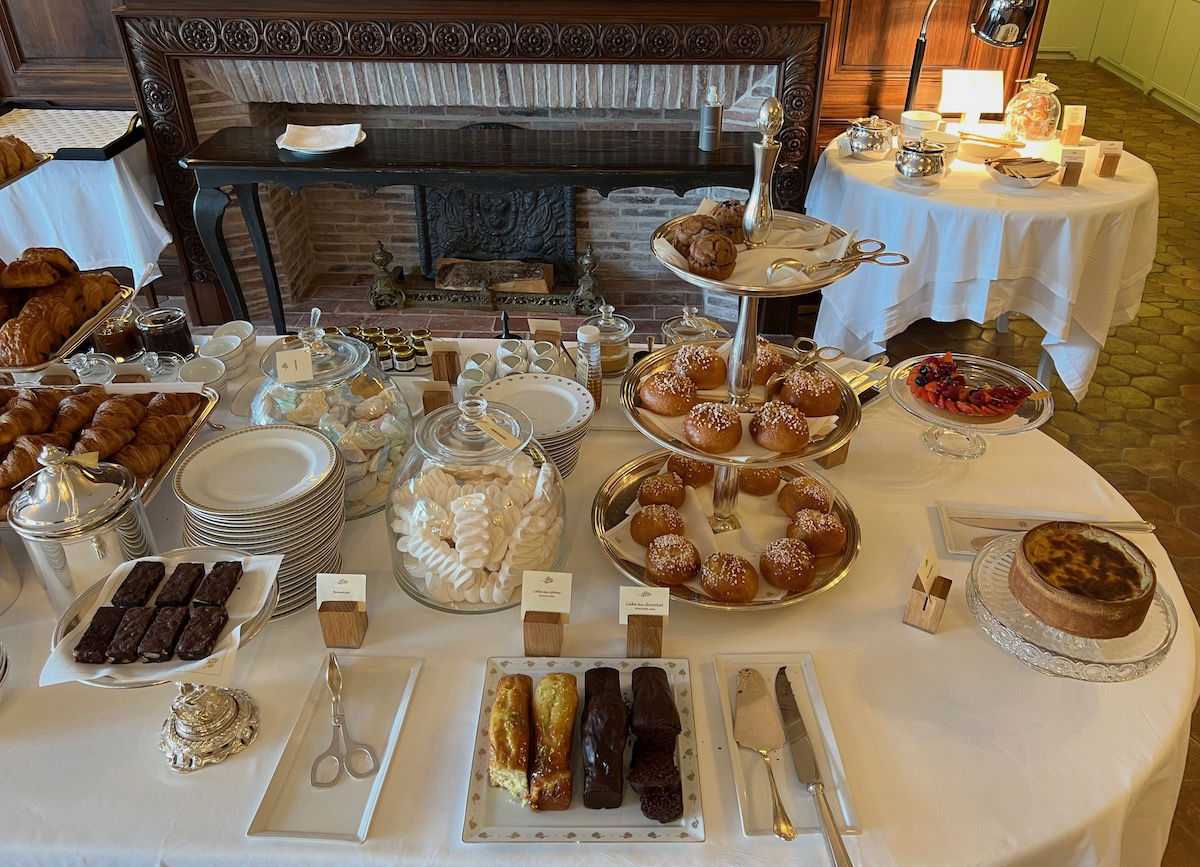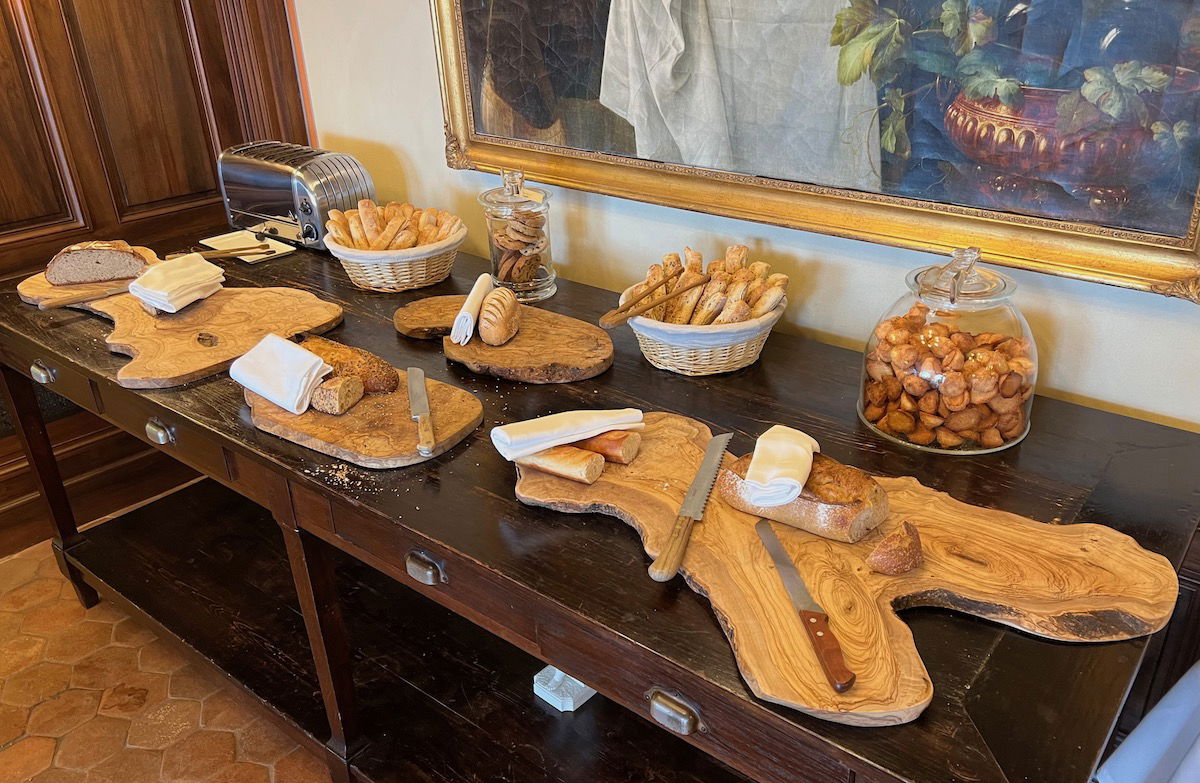 There were all kinds of great drinks at breakfast as well, ranging from freshly squeezed juices to cappuccinos.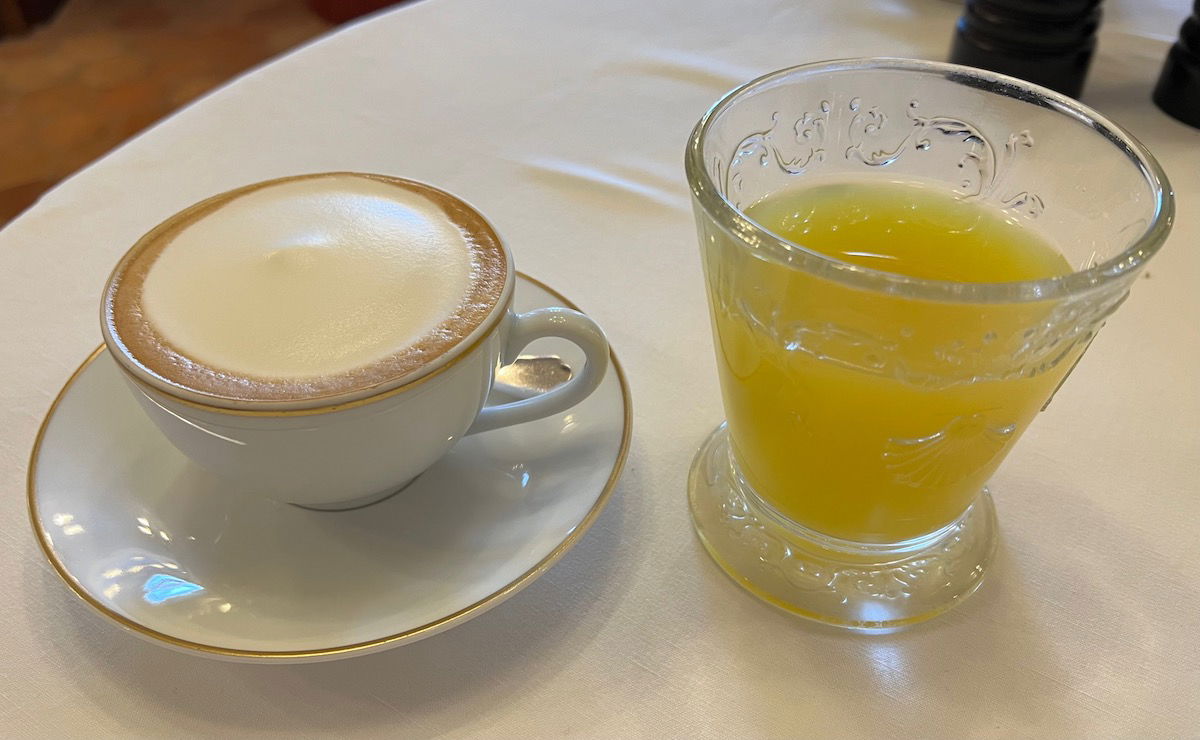 The items on the menu were delicious, including the avocado toast and omelets.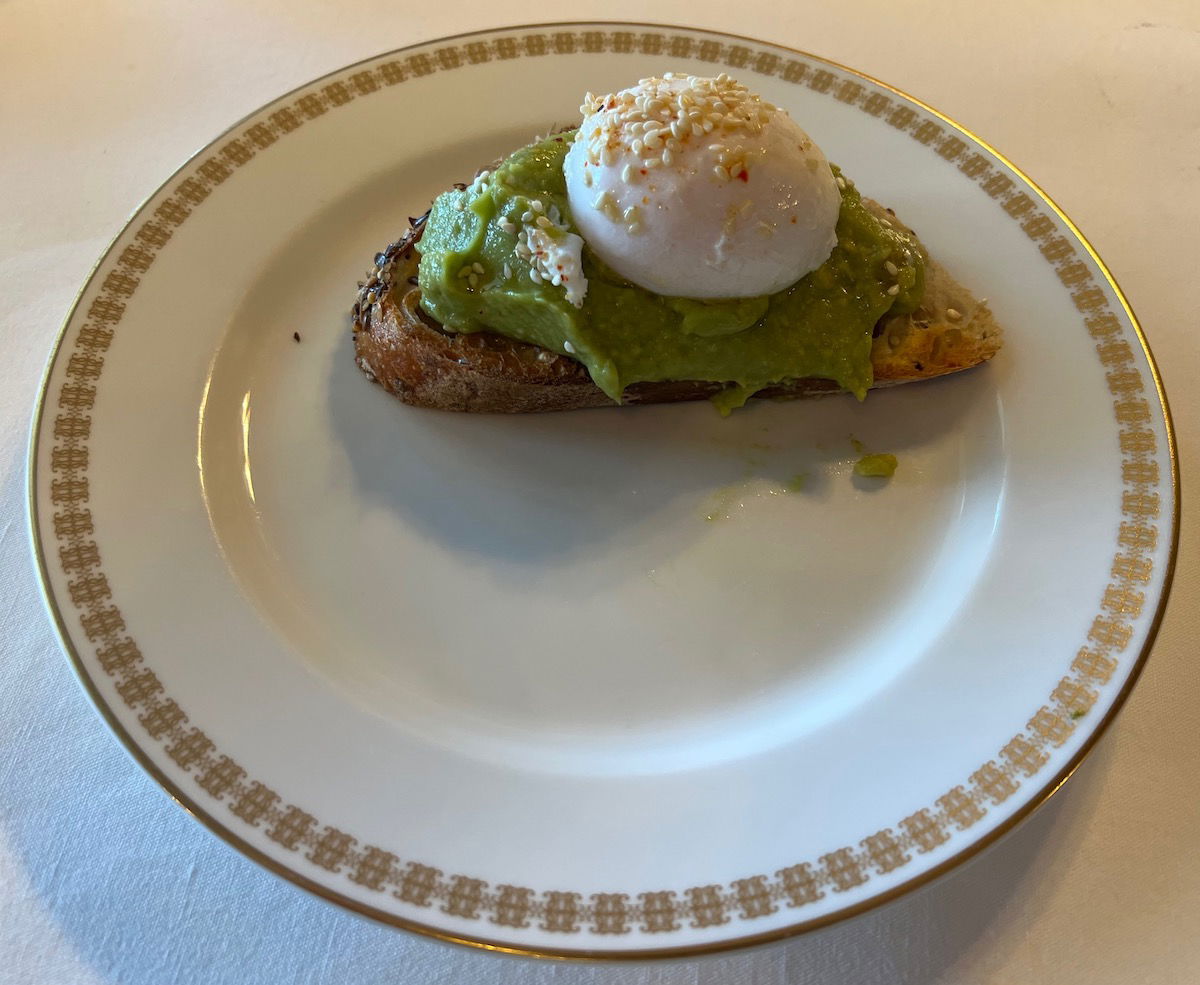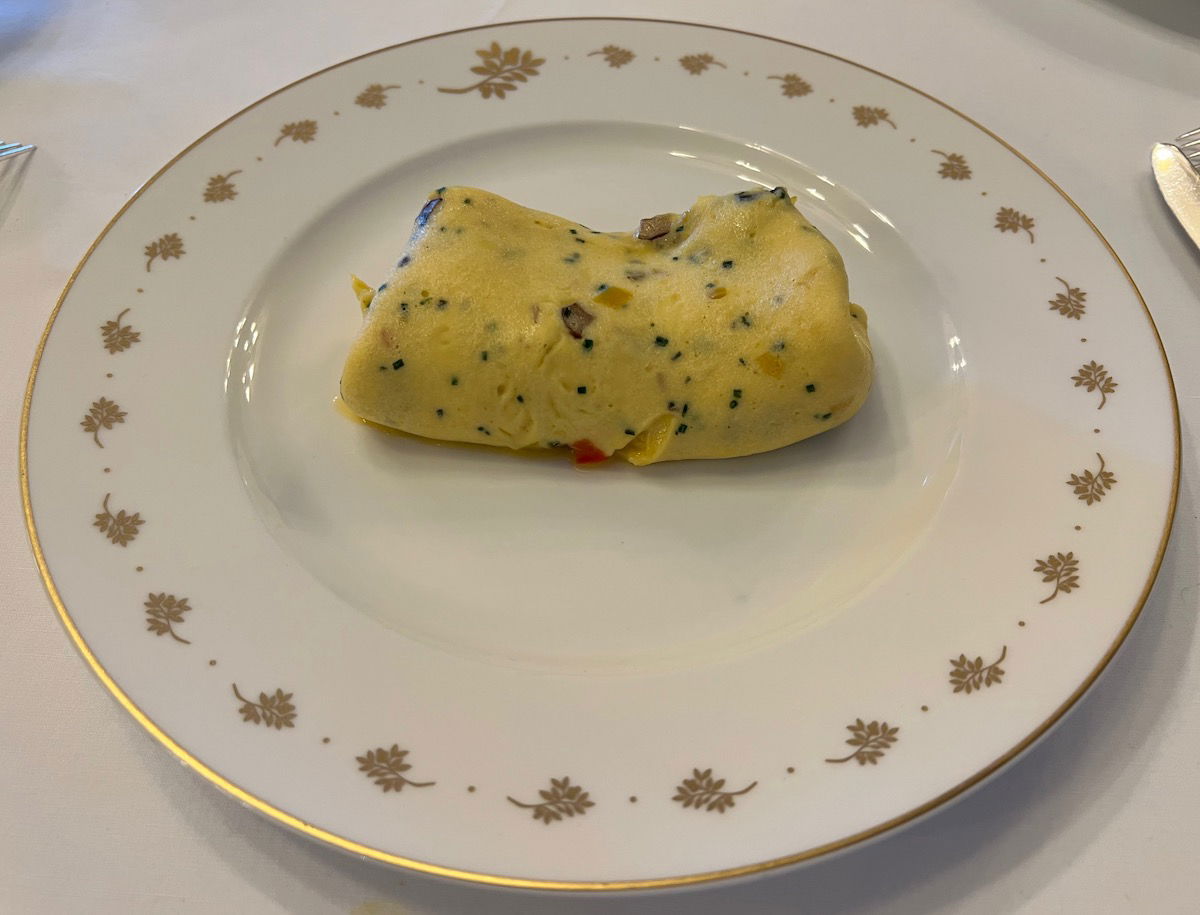 Airelles Gordes L'Orangerie
L'Orangerie serves both lunch and dinner, and you can find the menu here. This is such a cute restaurant, as the indoor space has some cool decor, while the outdoor space has great views.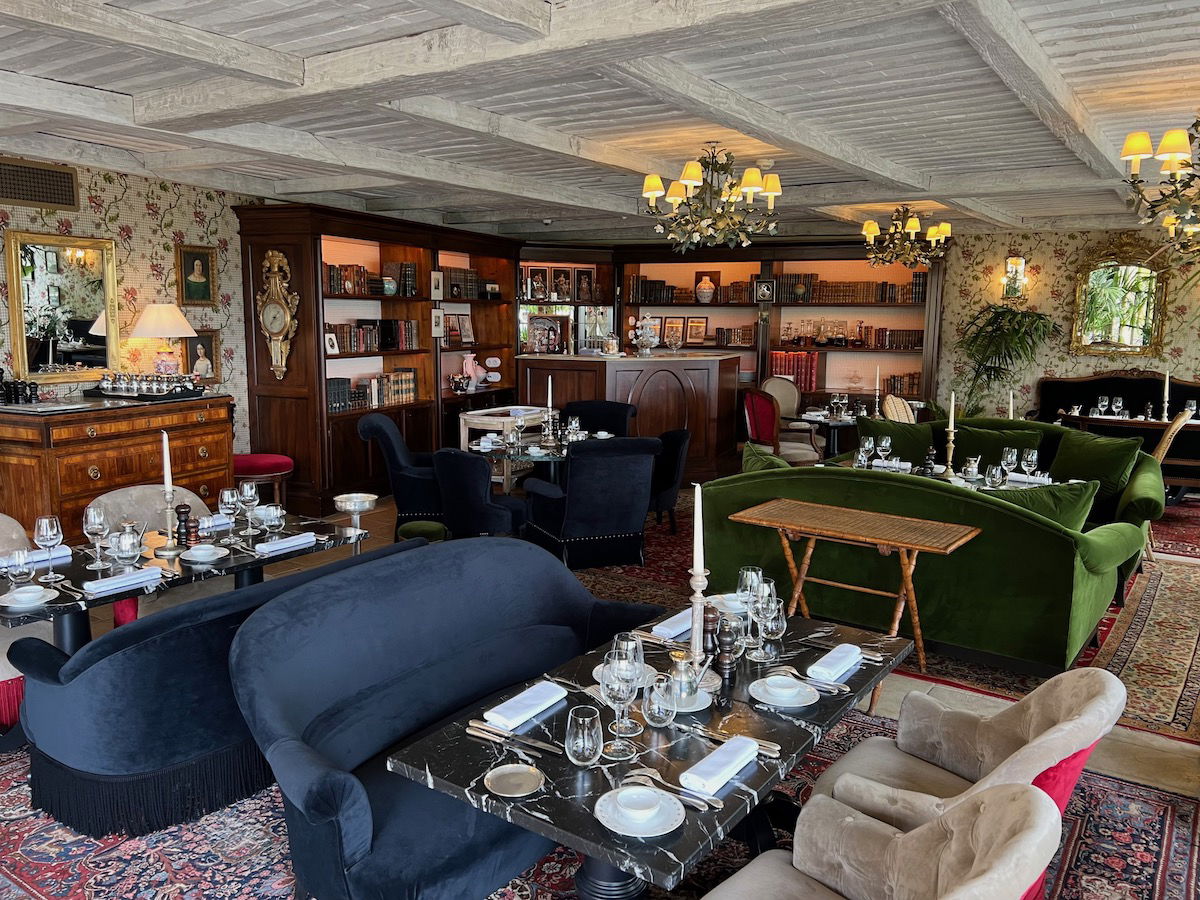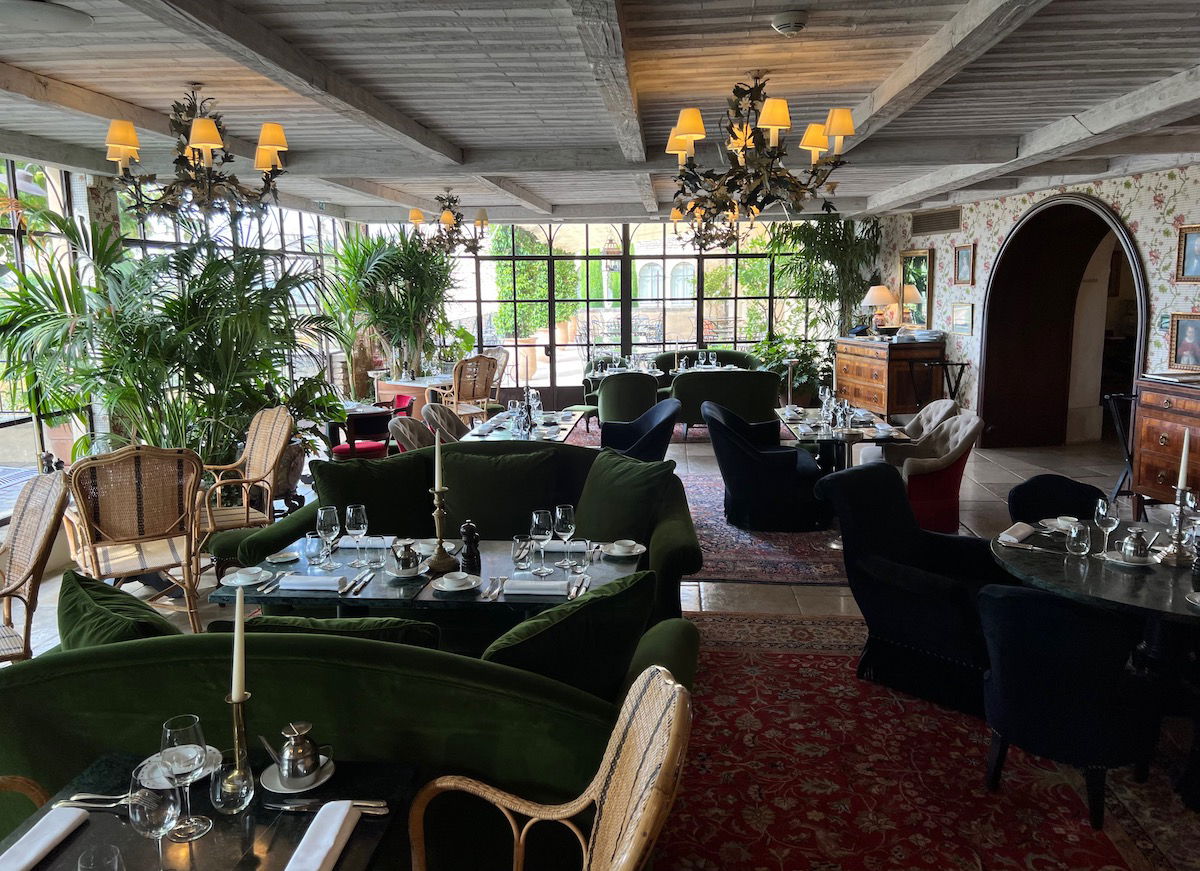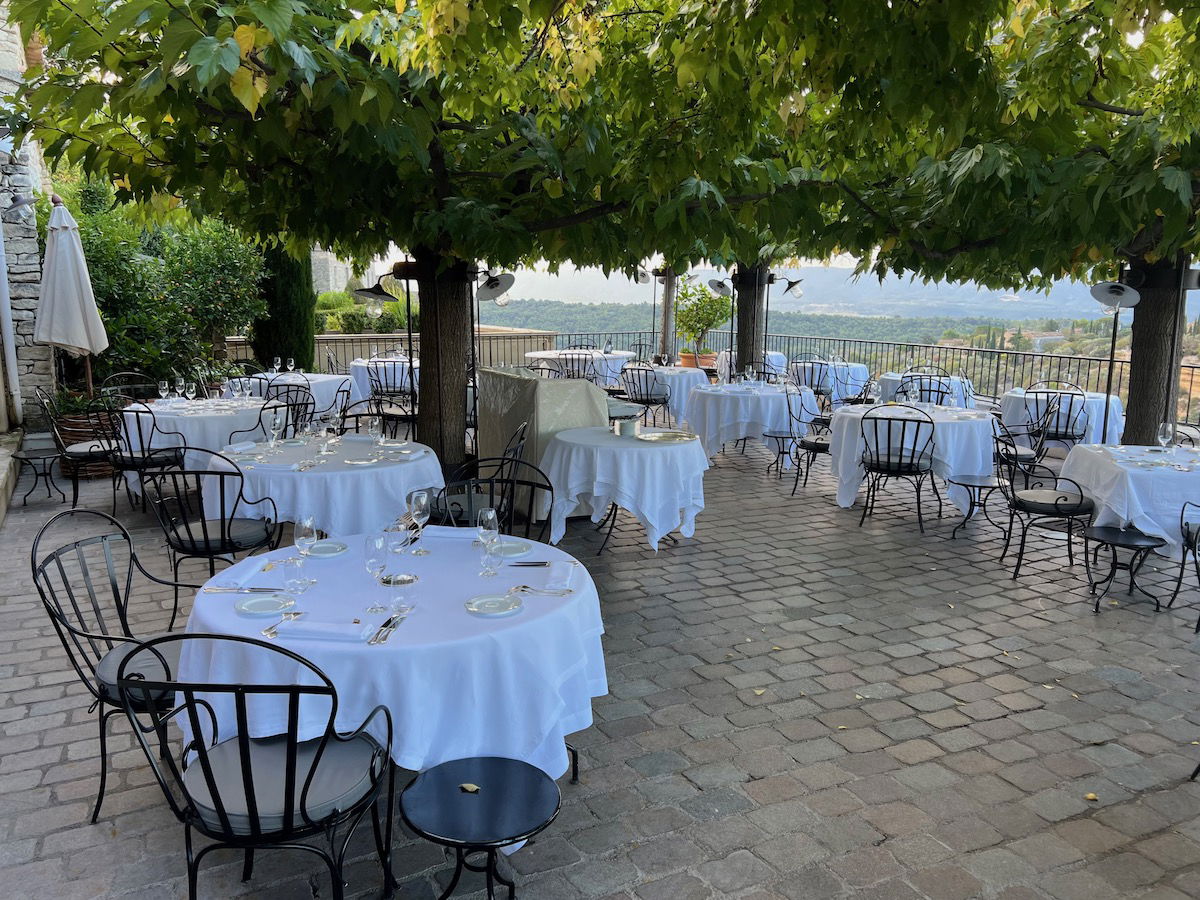 Lunch here began with a tasty amuse bouche, as well as some sinfully tasty ciabatta.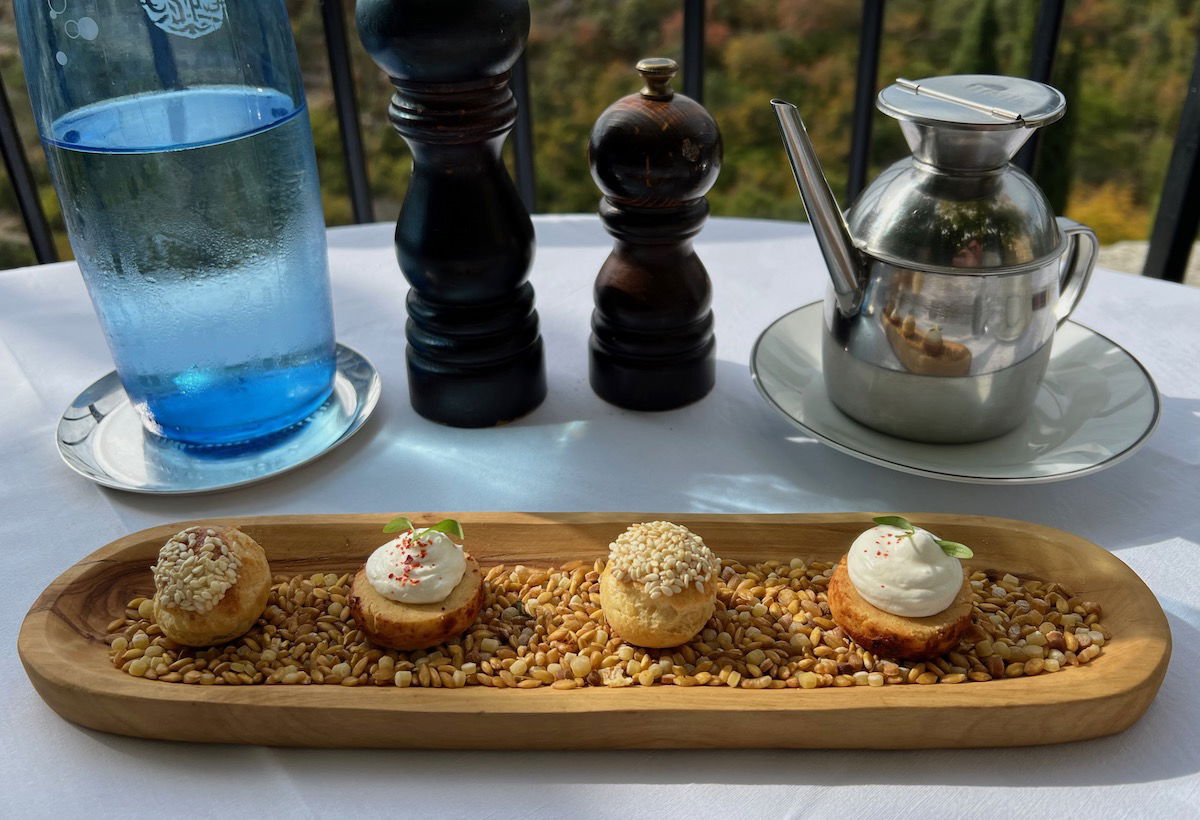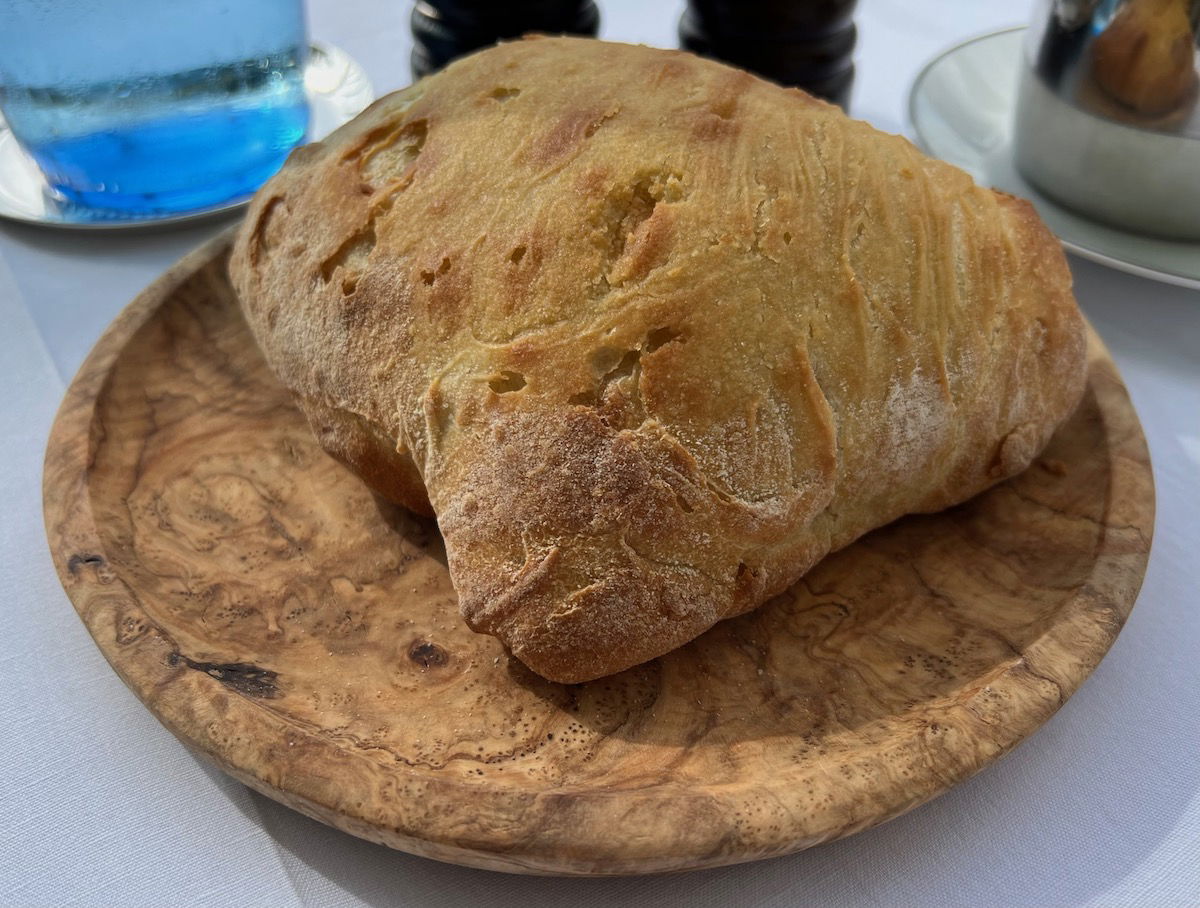 Before we even talk about what we ordered to eat, this hotel deserves credit for having the classiest Diet Coke presentation I've ever seen.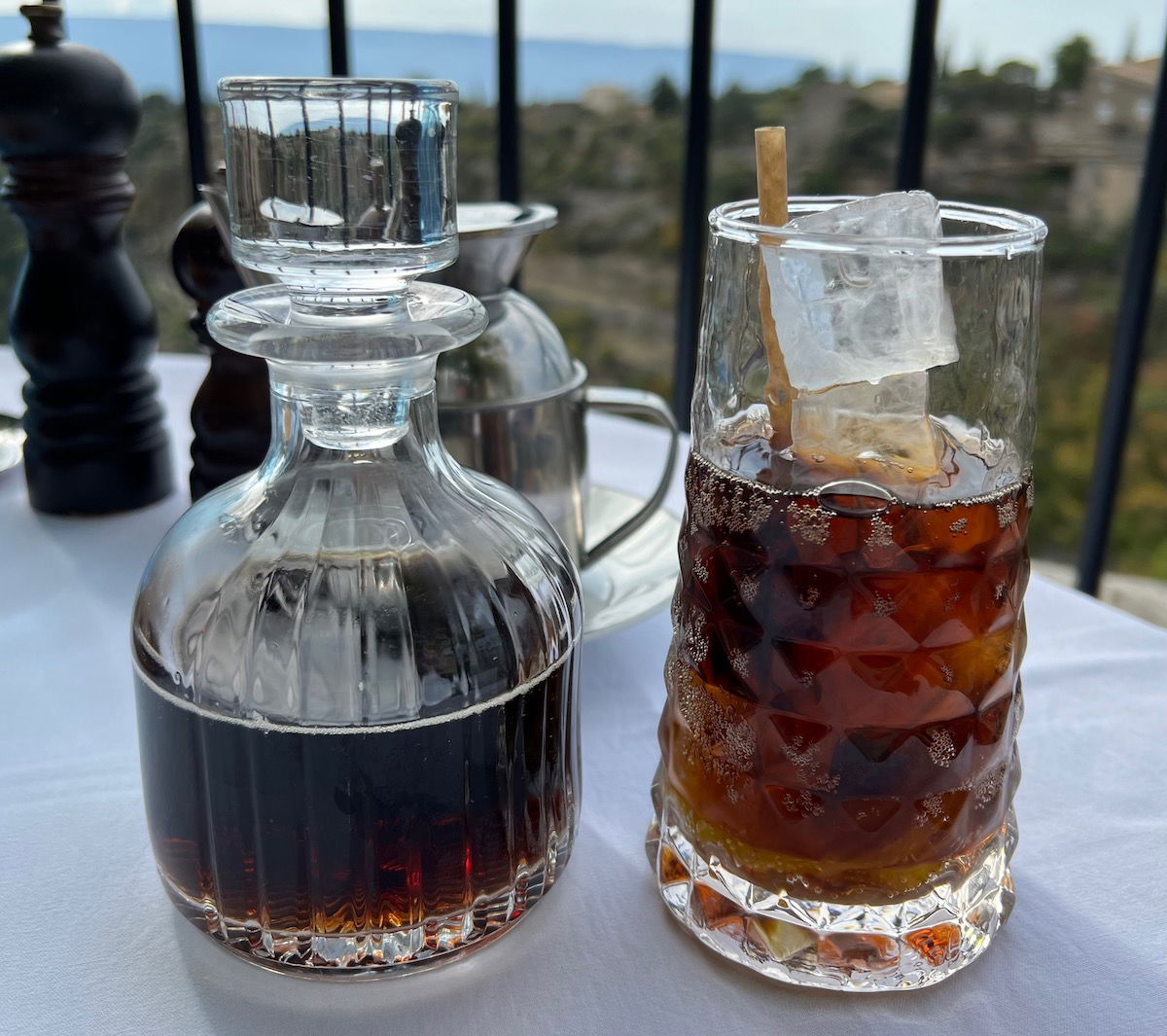 To start, I ordered the marinated tuna with crispy risotto, soy caramel, and peanuts, while Ford ordered the foie gras terrine with artichoke salad, mousse, and brioche.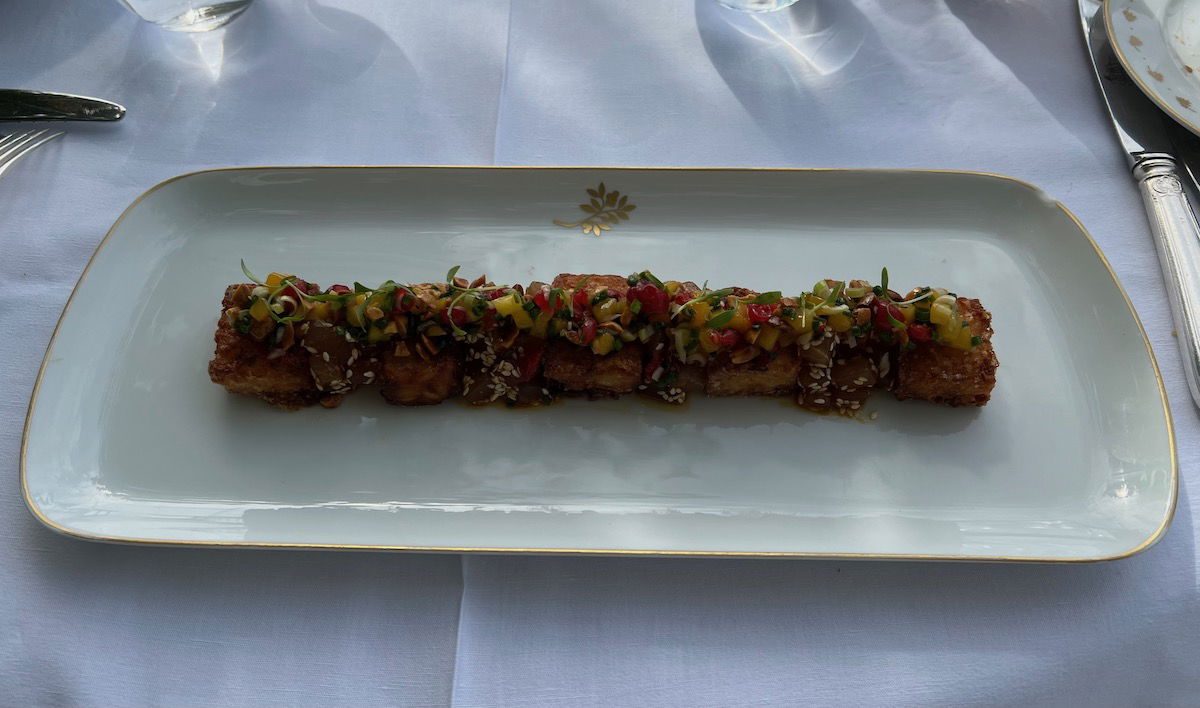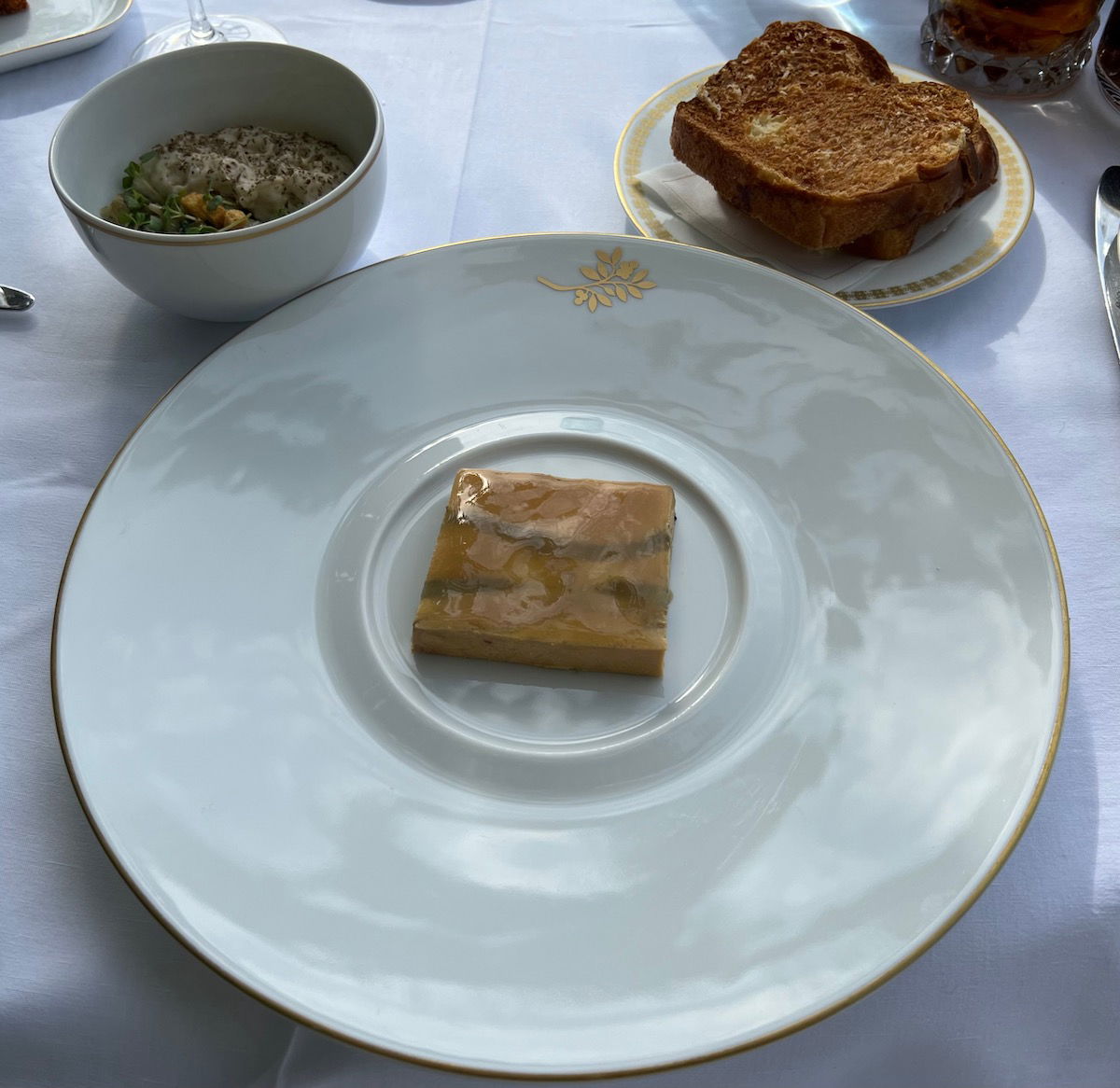 Then for our mains, I ordered the coral butter wild scallops with sunchoke mousseline and crisps, and scallop sauce, while Ford ordered the vegetable and pistou consomme with fresh herbs.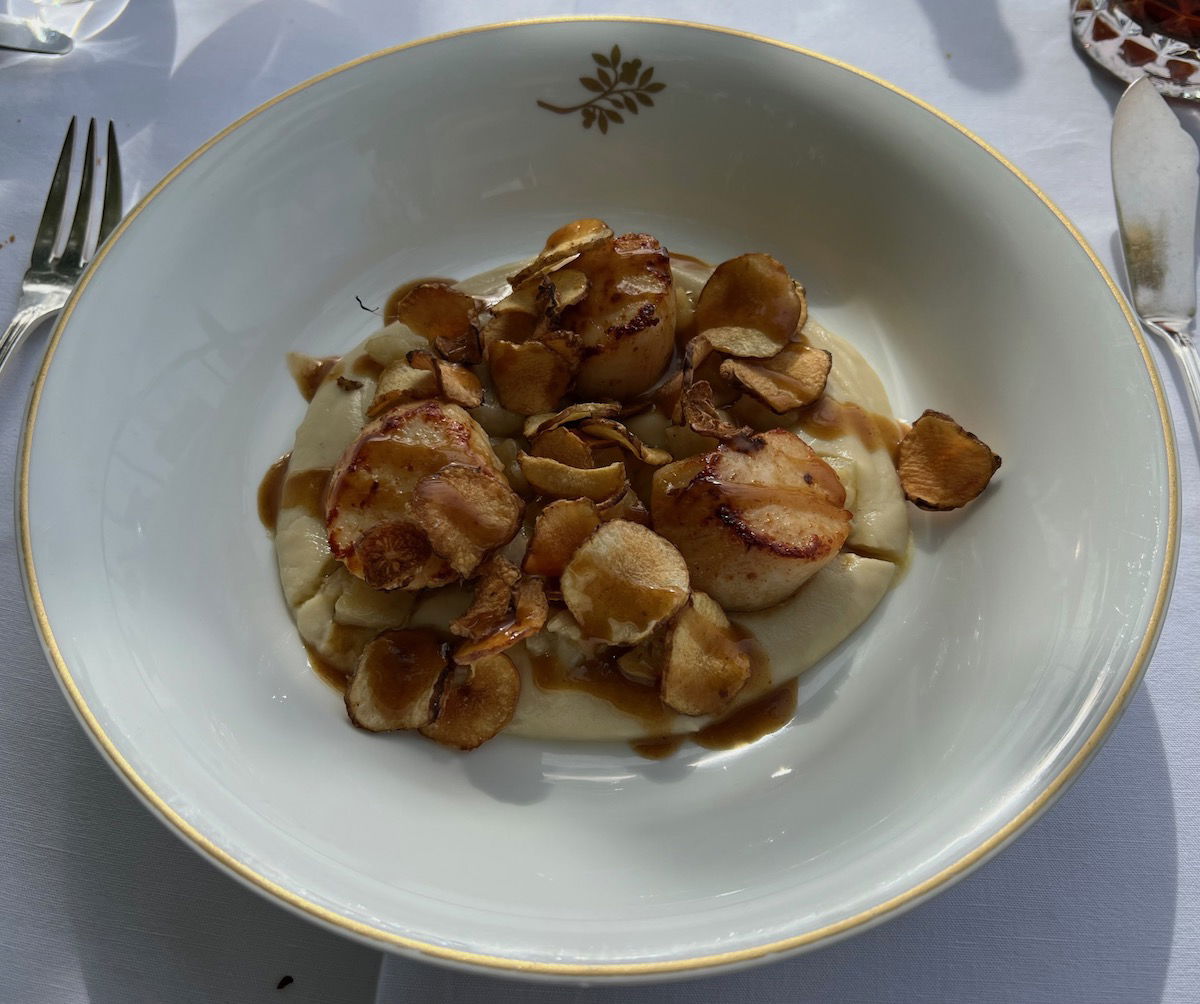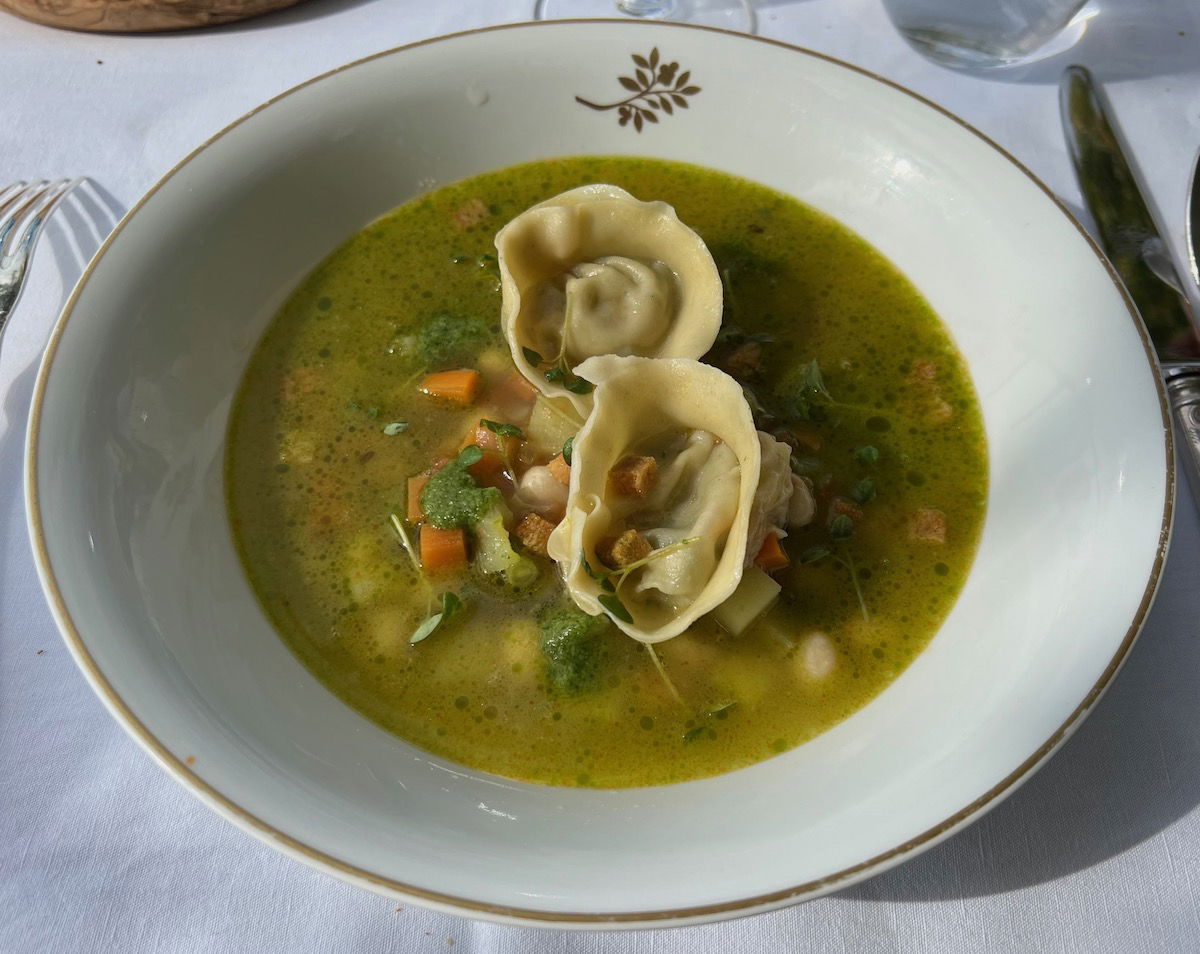 We were way too full too enjoy a dessert, but were still brought some petit fours.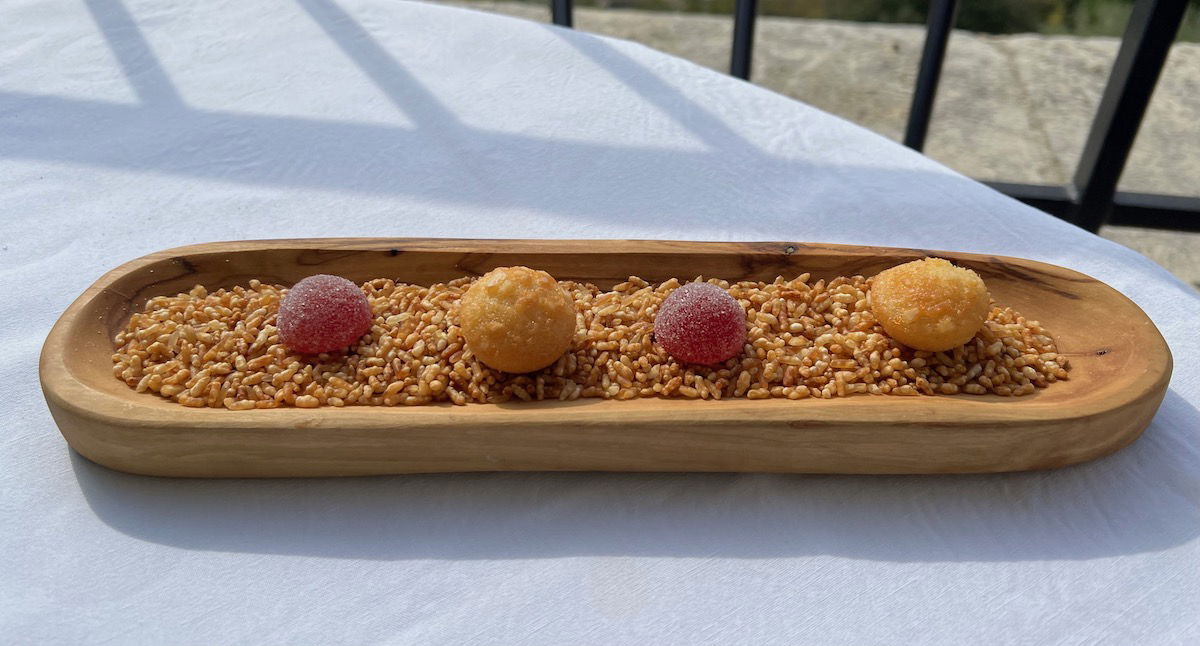 We also had a delicious dinner here one evening. To start we ordered the salmon gravalax with cauliflower salad and bavaroise, as well as a special that was available that evening.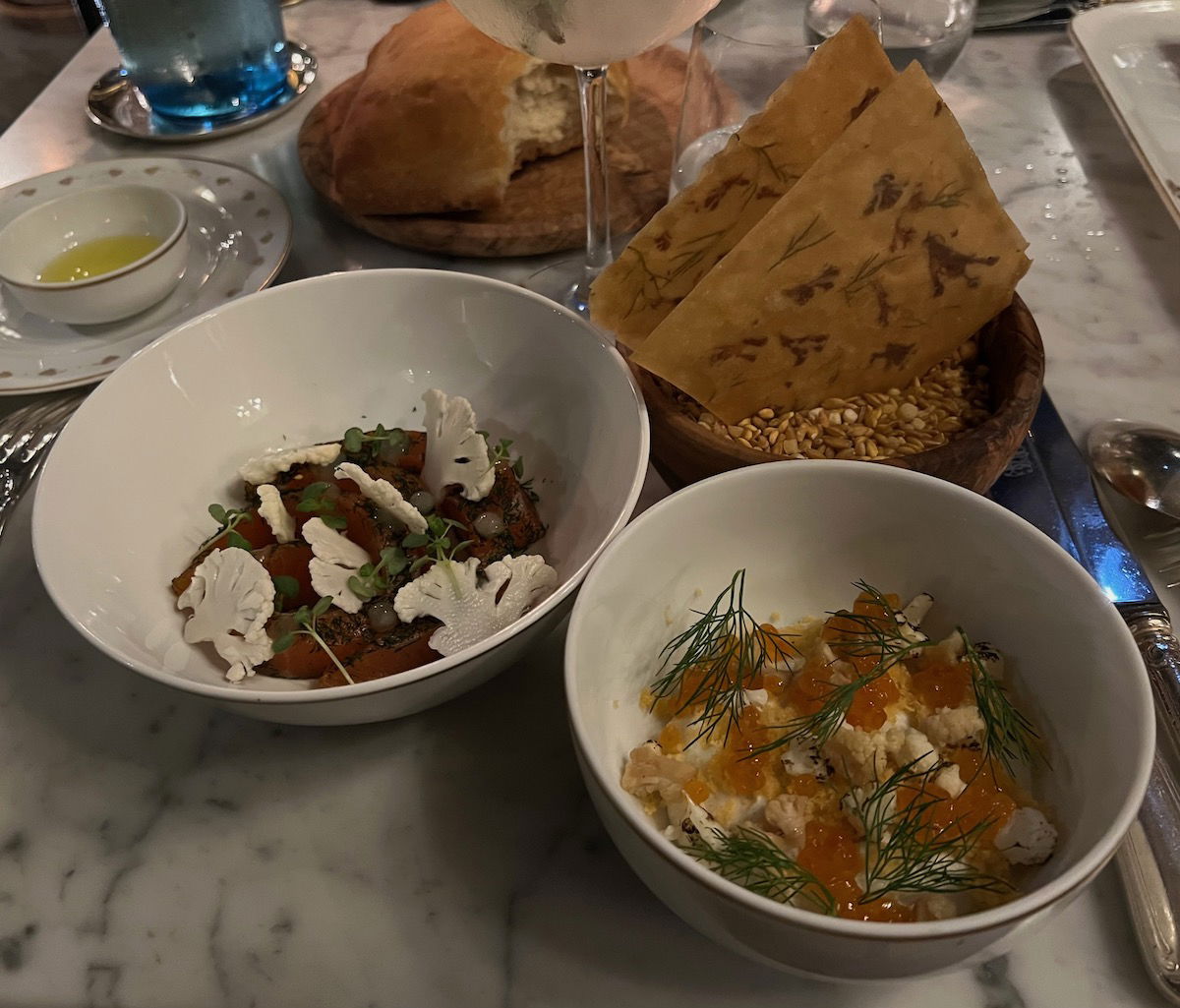 Then for our mains, I ordered the lobster ravioli with ricotta and pumpkin seeds, butternut veloute, and lobster bisque, while Ford had the sole amandine with lemon, parsley, almonds, and almond potatoes.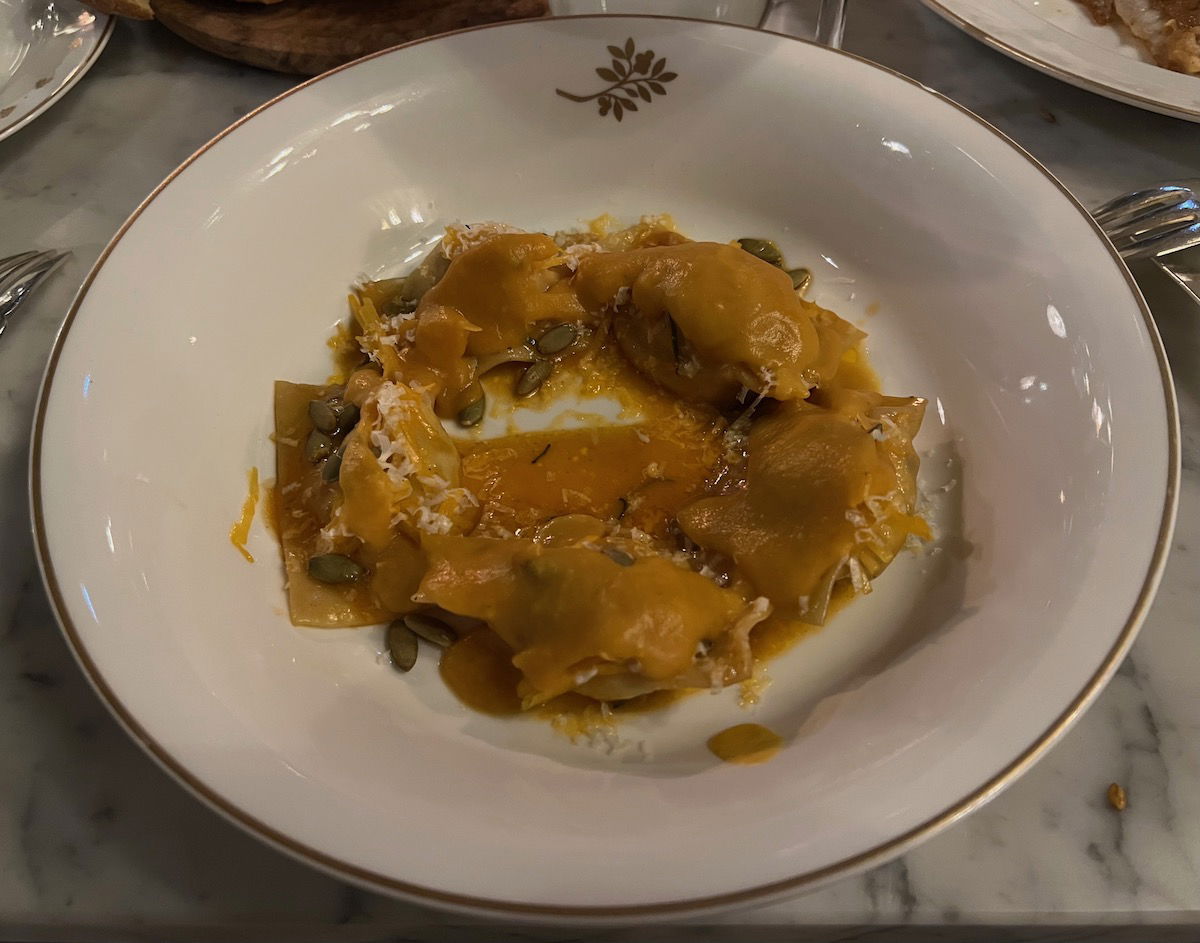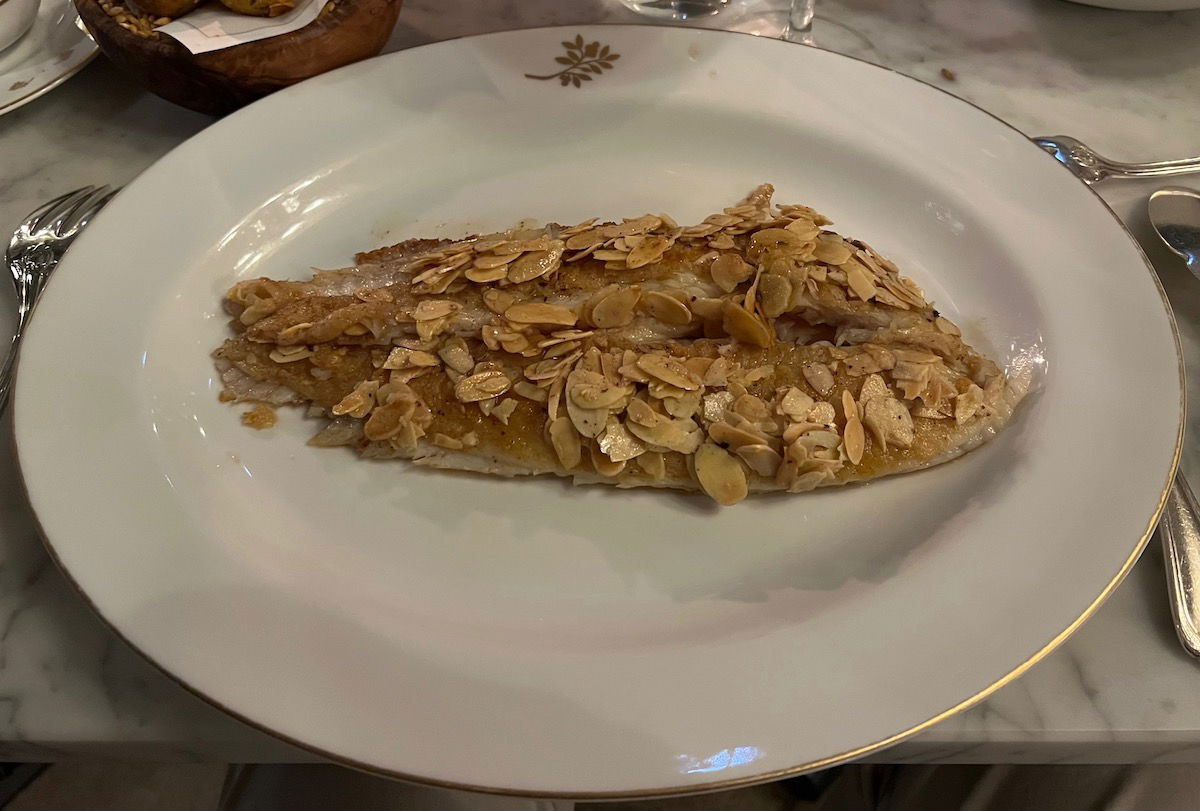 We didn't have any room for dessert, but were given a to-go bag with some delicious sweet treats.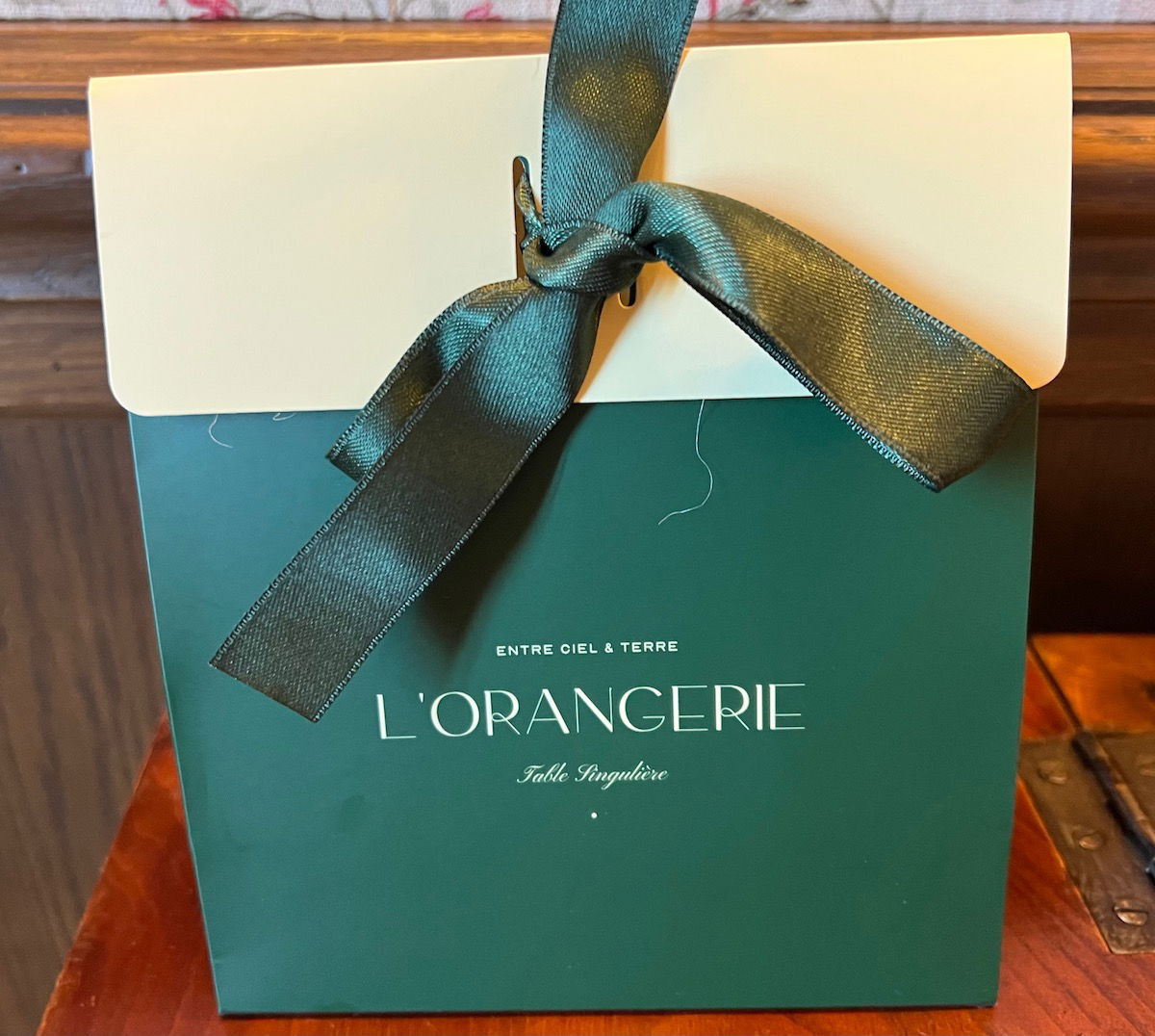 Airelles Gordes Clover Gordes by Jean-François Piège
Clover Gordes by Jean-François Piège serves both lunch and dinner, and you can find the menu here. While we loved both of the on-property restaurants, I think this one was our favorite. The indoor dining room was nice, though the outdoor dining area was incredible, especially around sunset. What a treat.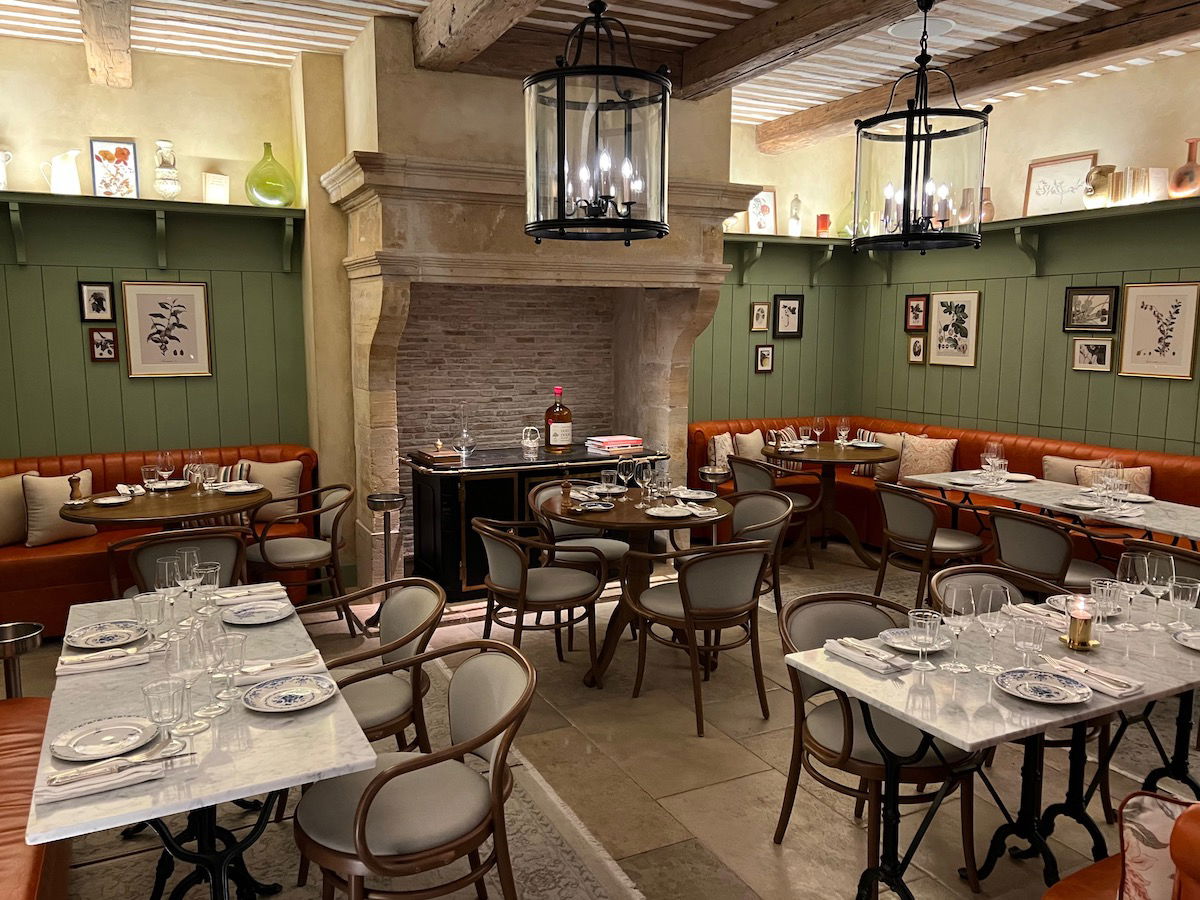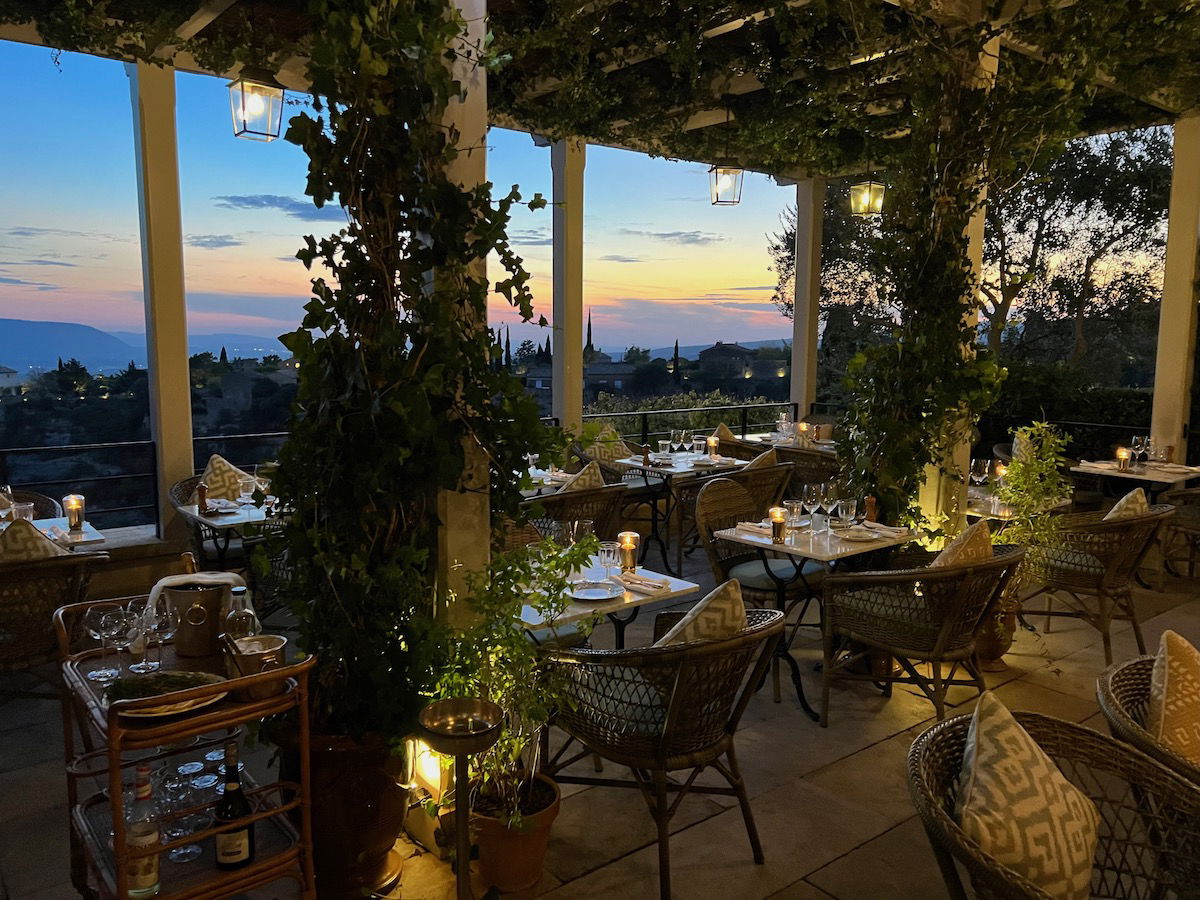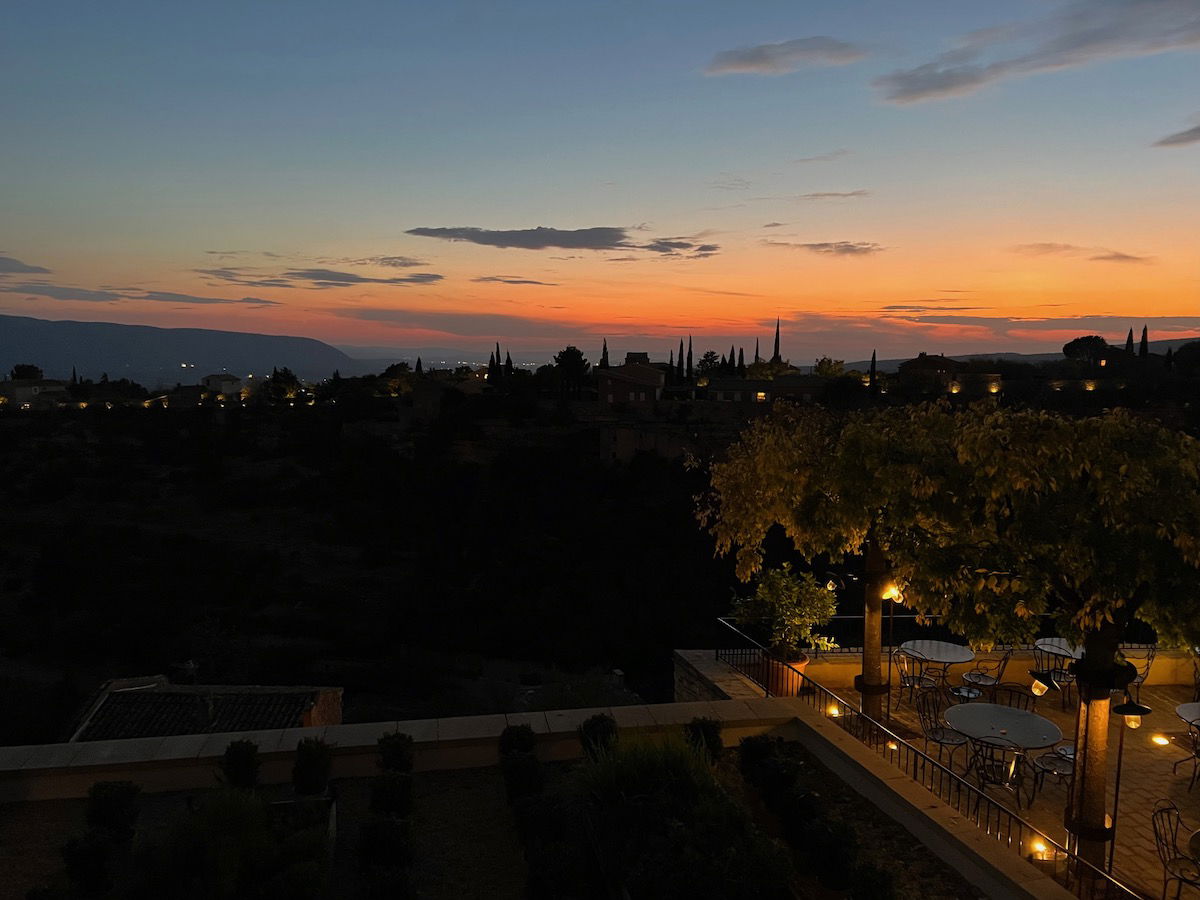 Each meal at Clover Gordes starts with some bread and radishes, as well as an olive oil tasting, as you can select the type of olive oil you like most.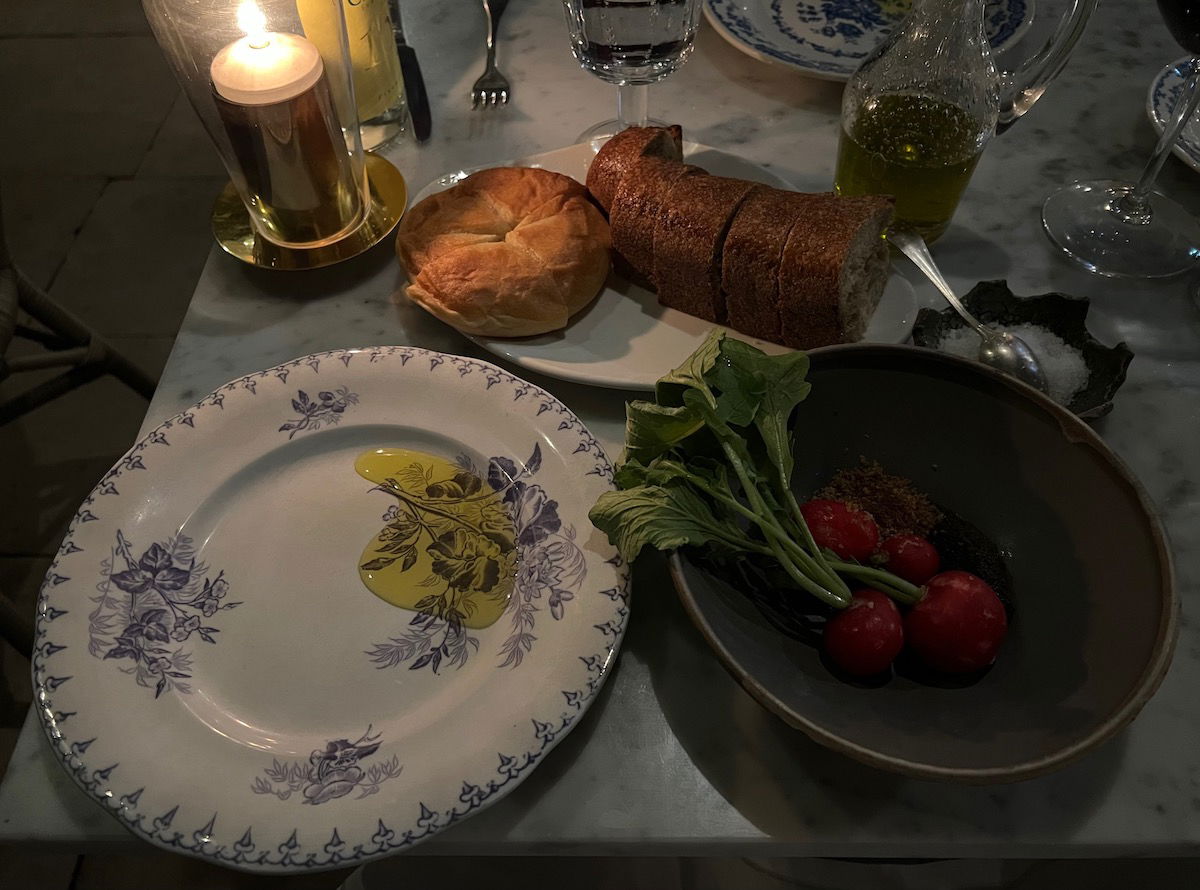 Our very friendly server, Juliette, recommended that we split a few starters. We tried the fennel salad with stracciatella and grated poutargue, the marinated bluefin tuna with orange, basil, and sweet pepper, and the flamed eggplants on the embers, with tomatoes, basil, and olives.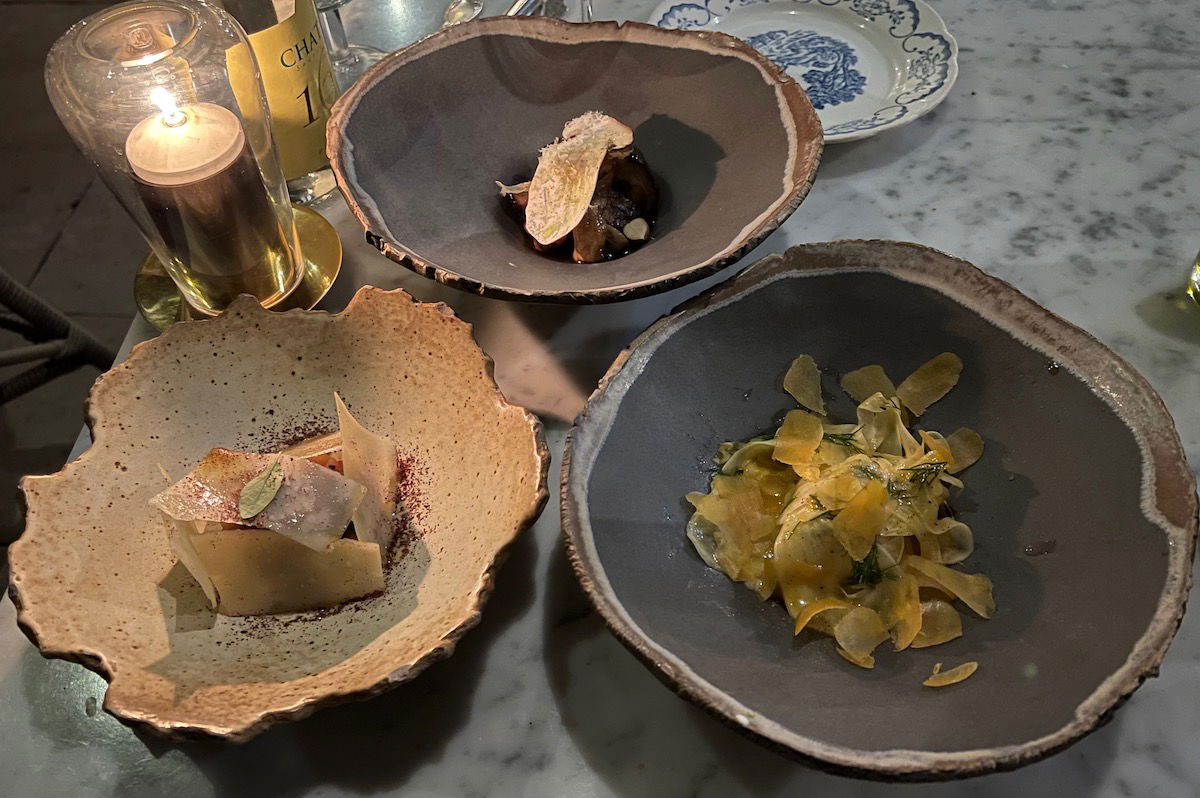 For mains, I had the grilled Provence vegetable pie with parmesan, while Ford had the "beef meatballs like a pizza."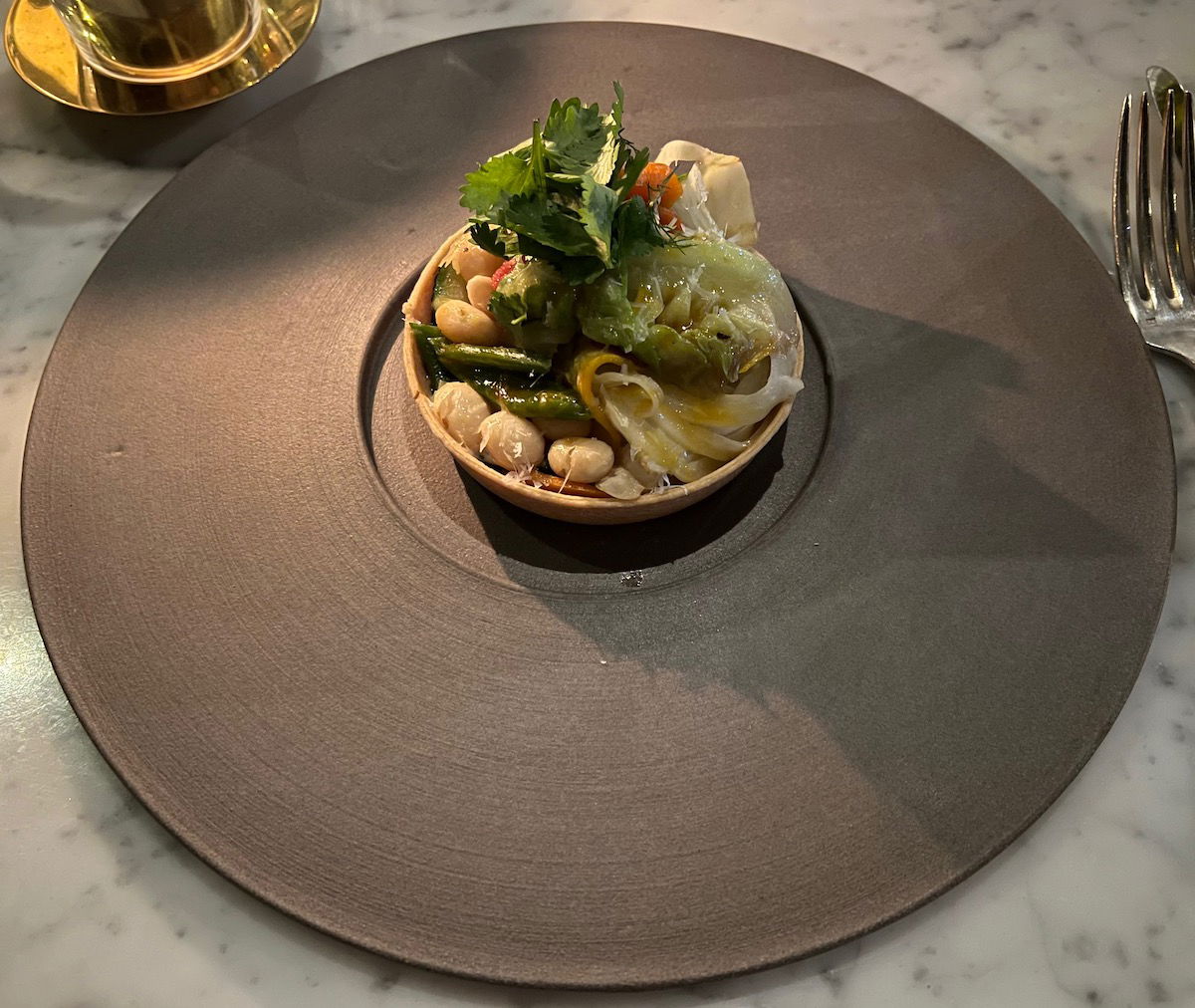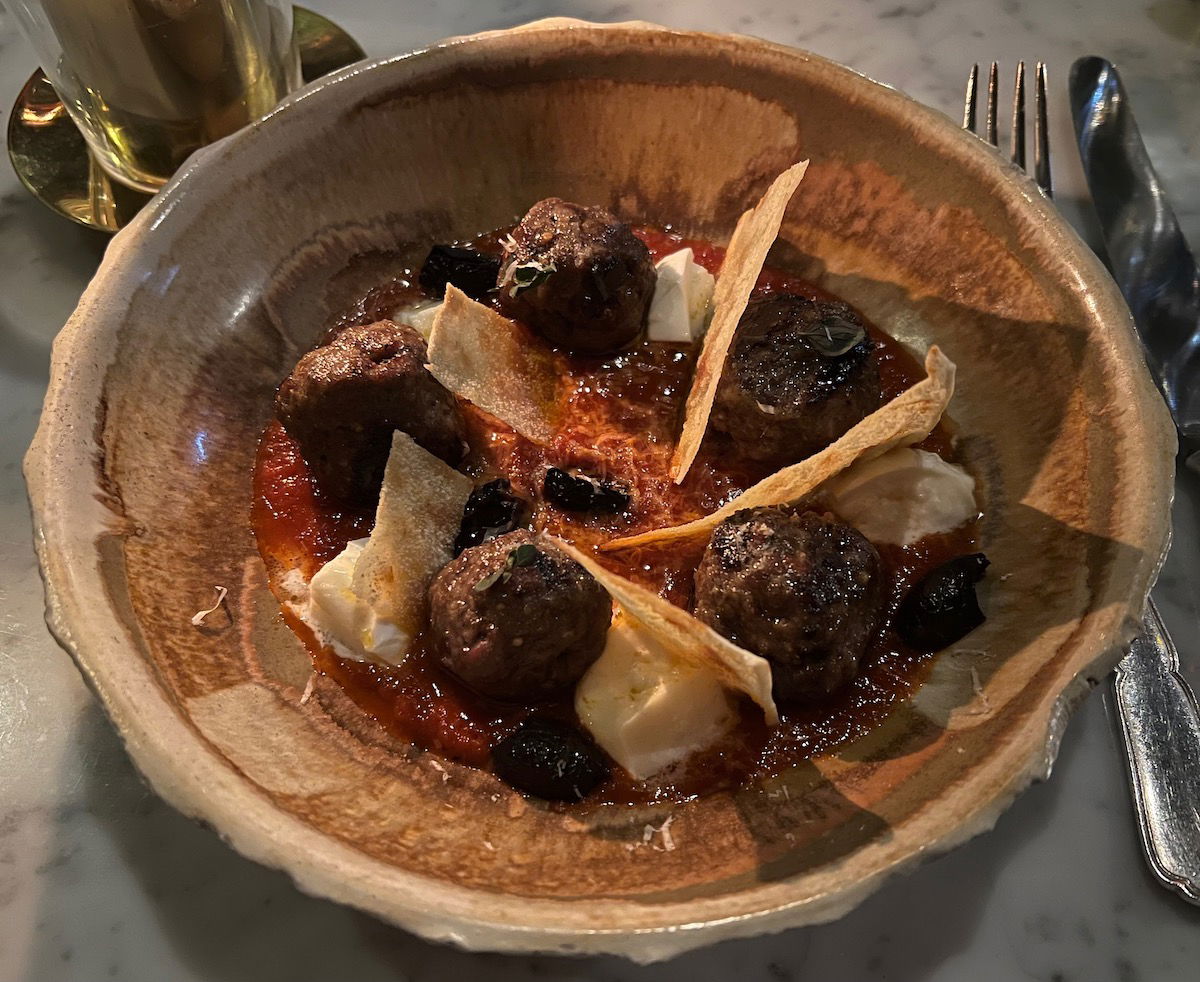 We split an orange millefleur for dessert, and were offered some petit fours in addition to that.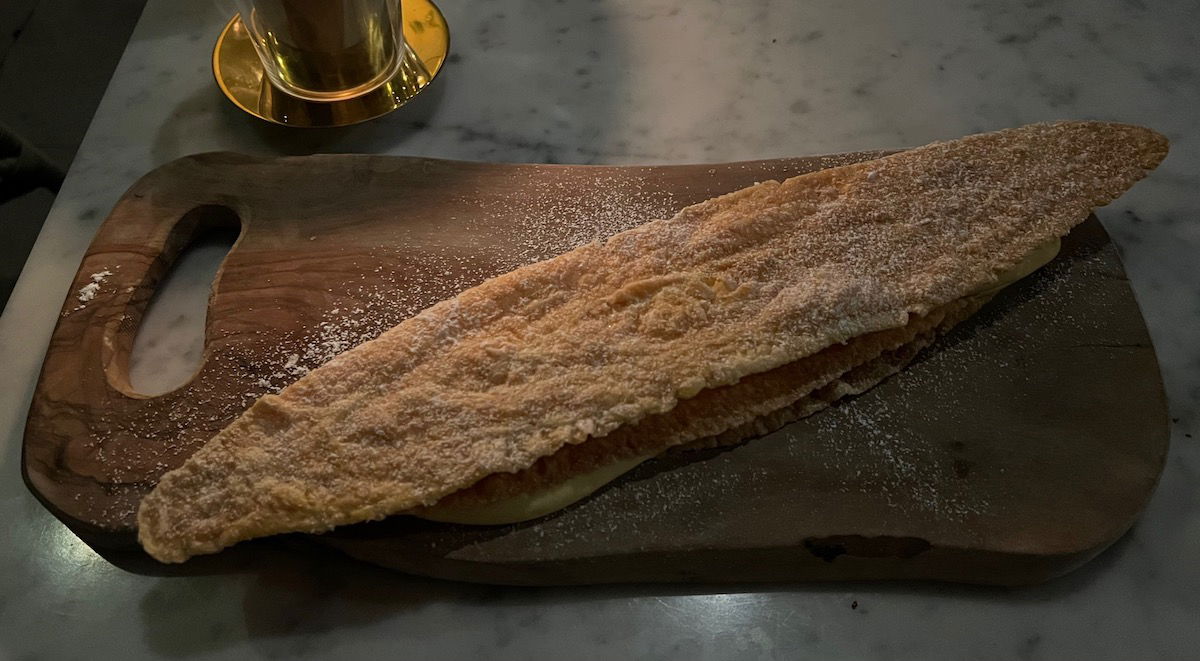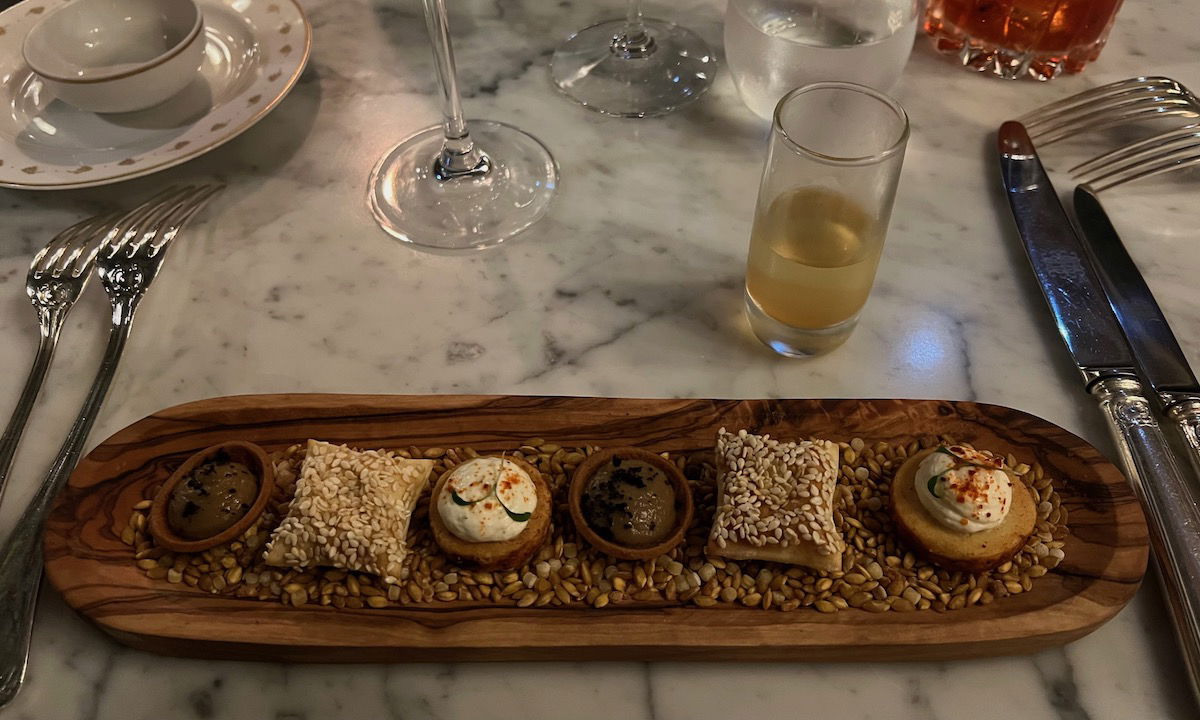 Airelles Gordes La Bastide de Pierres
La Bastide de Pierres is the hotel's Italian restaurant. It's not on property, but rather is located just down the street, a short walk away. It's much more casual than the property's other restaurants, and is popular with people visiting Gordes for the day. La Bastide de Pierres serves lunch and dinner, and you can find the menu here.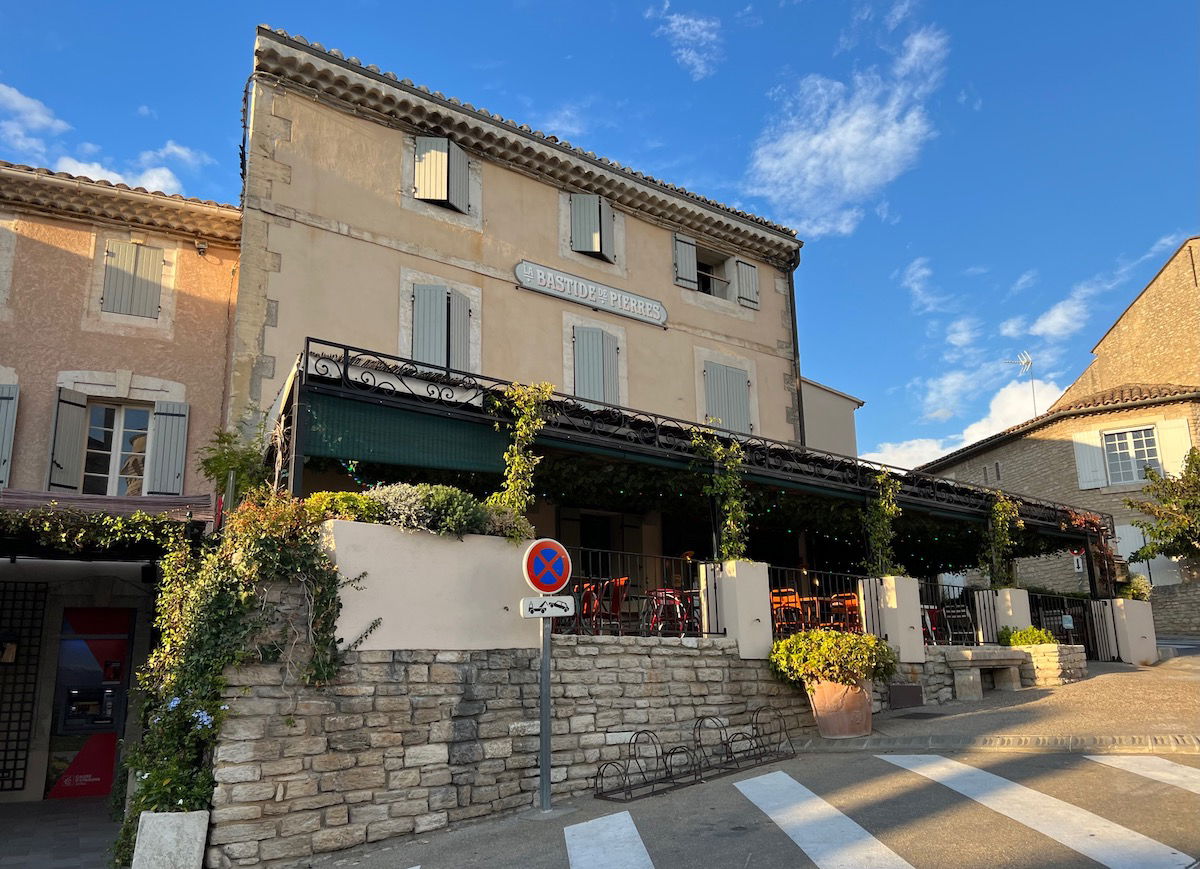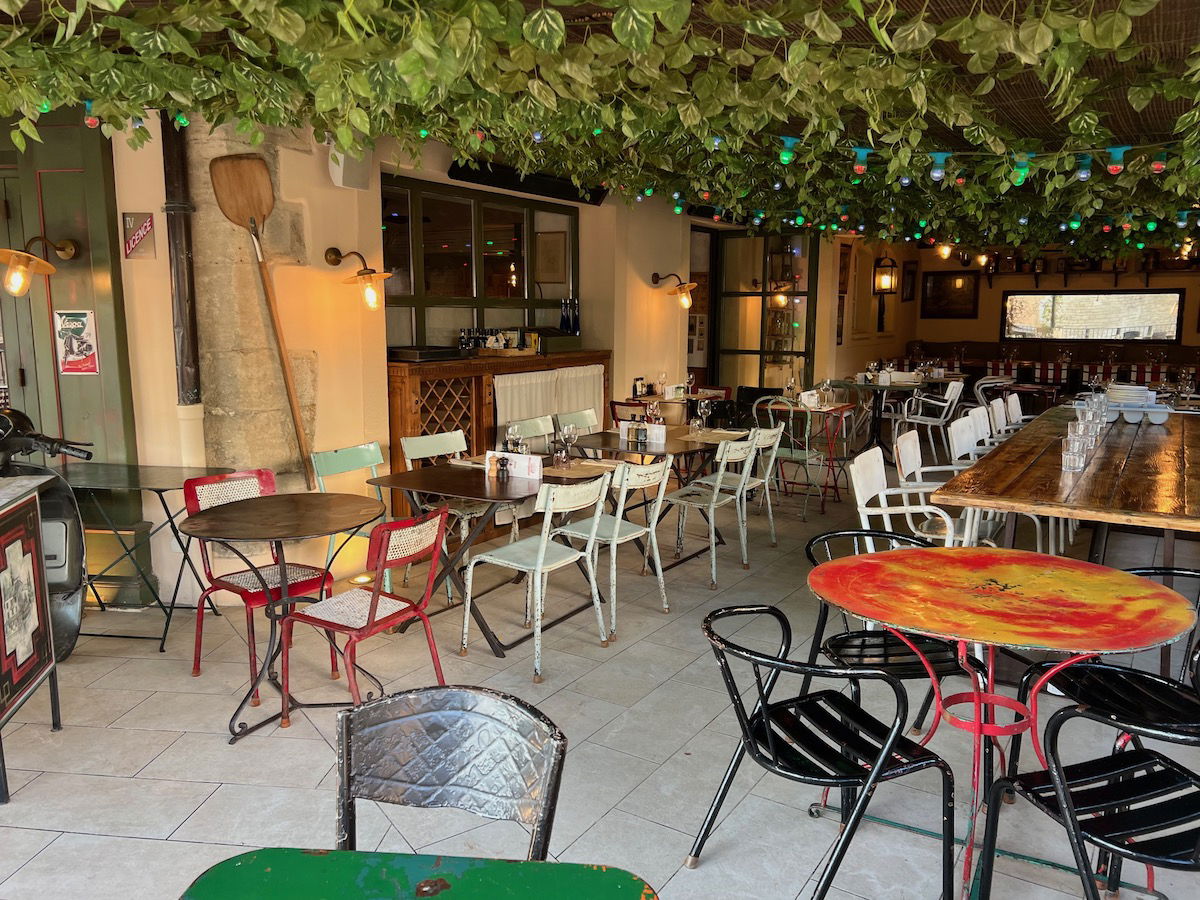 We had lunch here one afternoon, and split the niçoise salad and the truffle pizza. Yum.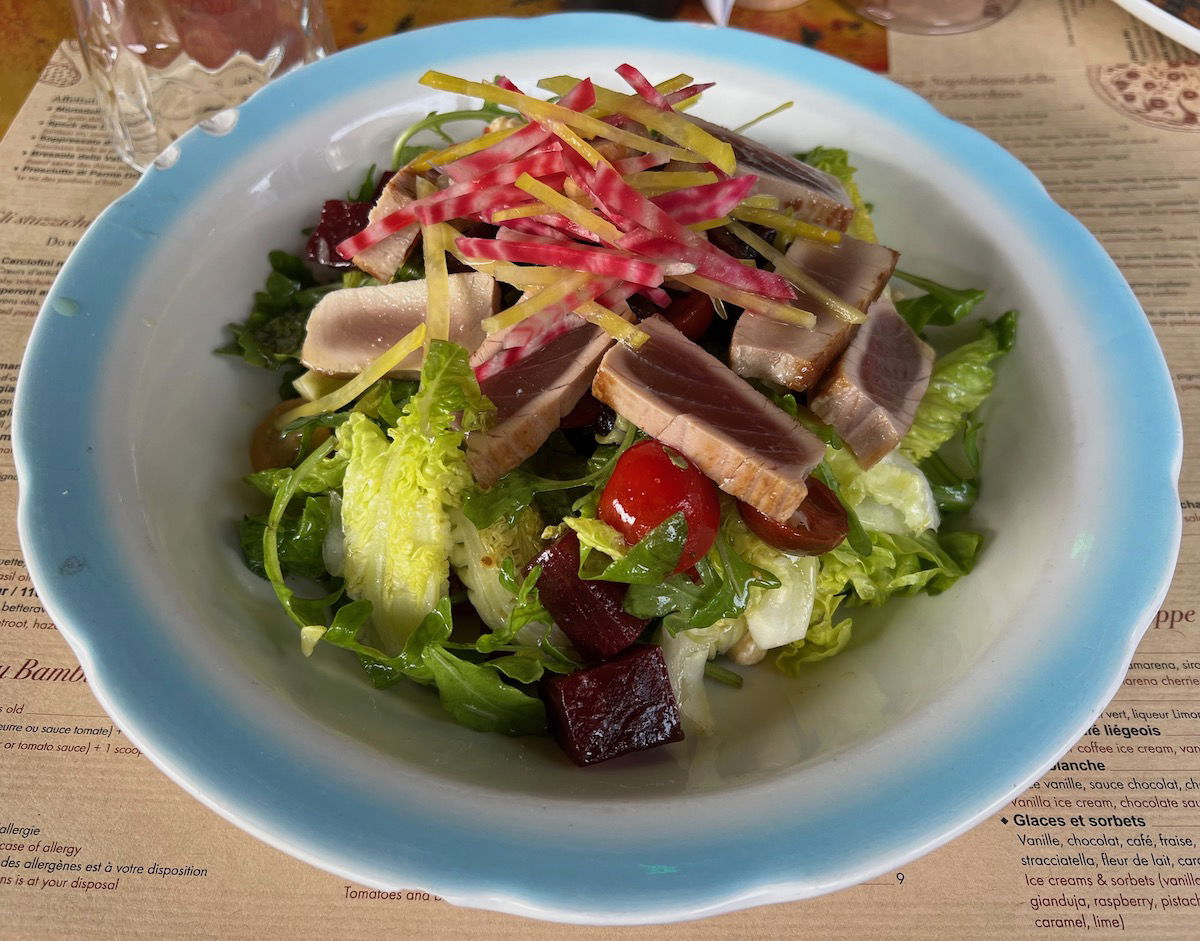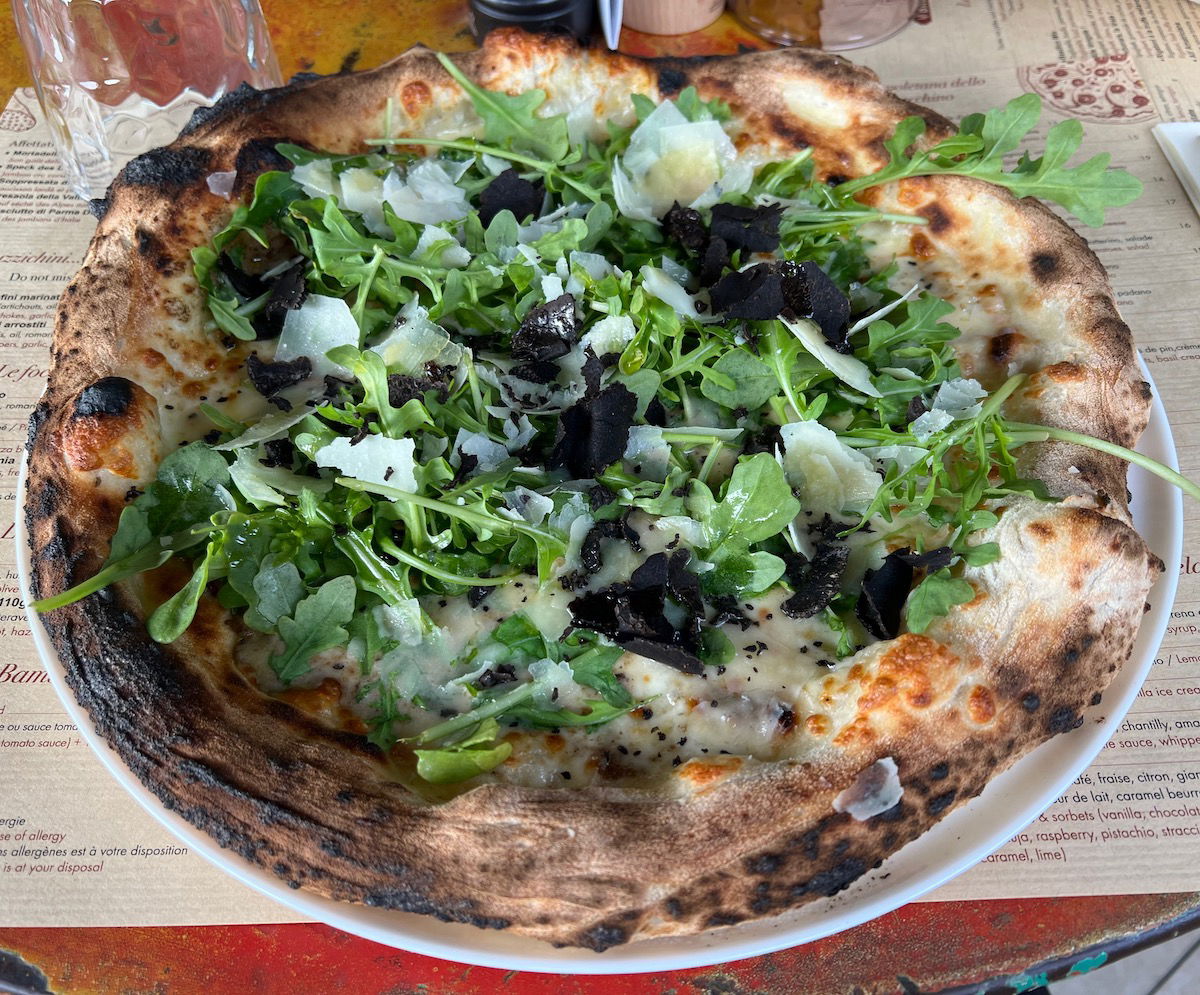 Airelles Gordes Le TIGrr
Le TIGrr is Airelles Gordes' Asian fusion restaurant. It's located a short walk from the hotel, and it's built into the side of the hill, so has awesome views. Le TIGrr has a different DJ every night, and has quite a party atmosphere, unlike the rest of the hotel, so that contrast is kind of cool. The restaurant is open nightly for dinner, and you can find the menu here.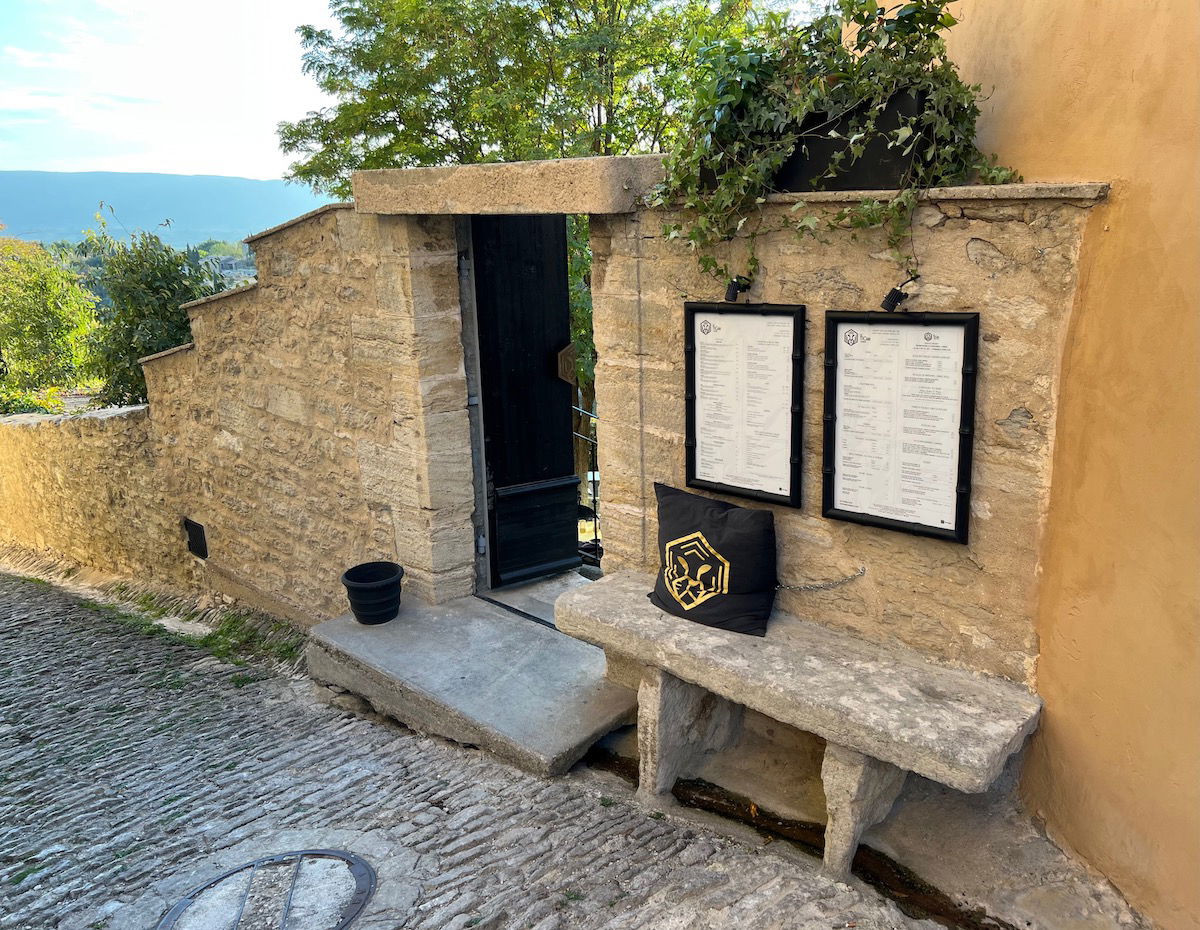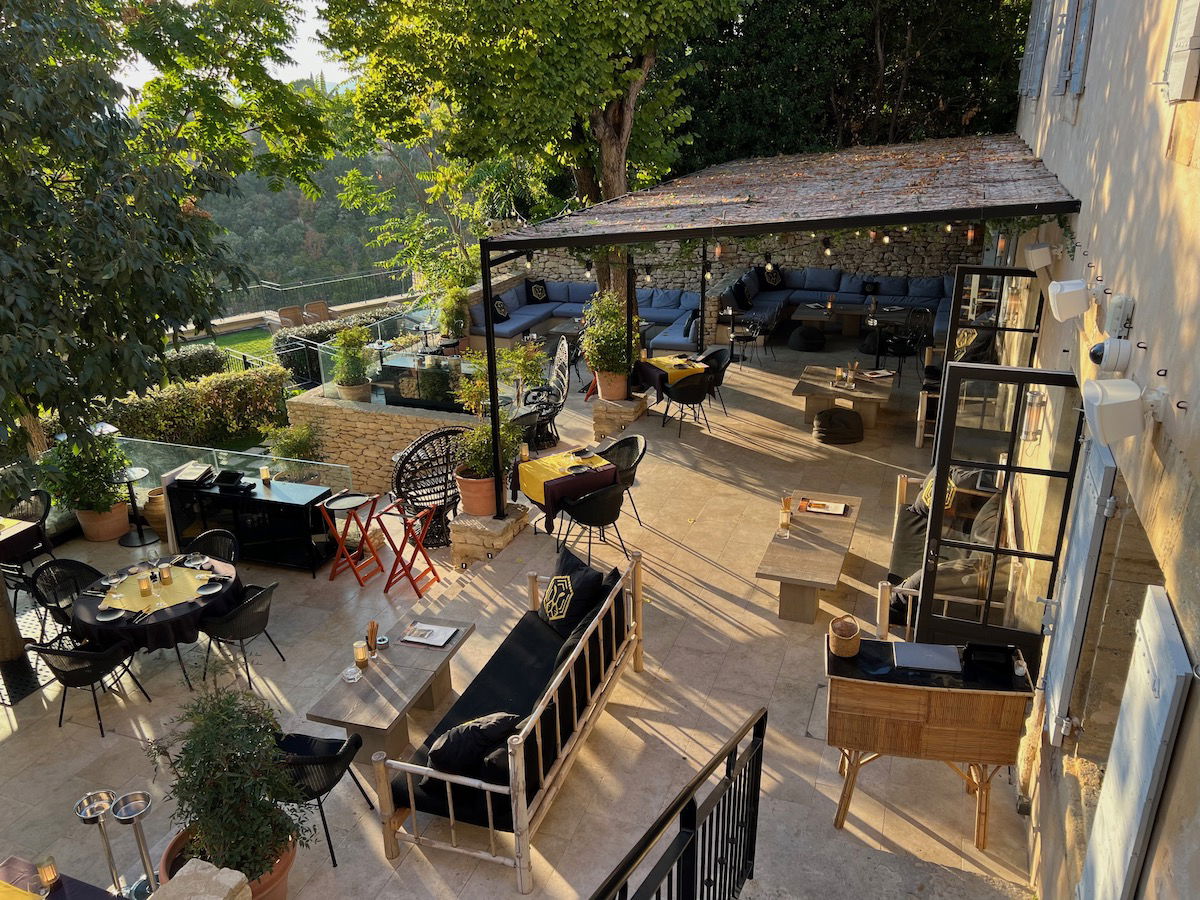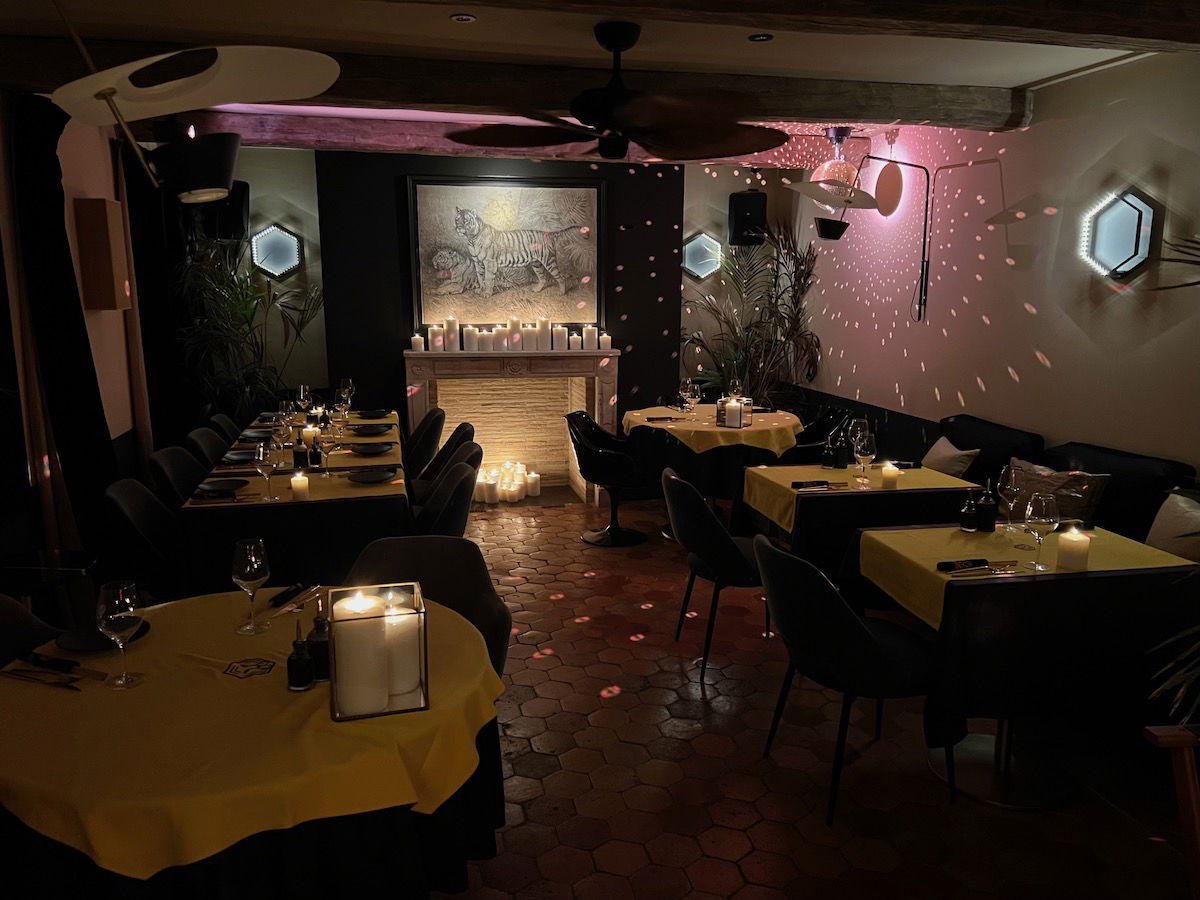 They had wasabi martinis here, which we particularly enjoyed.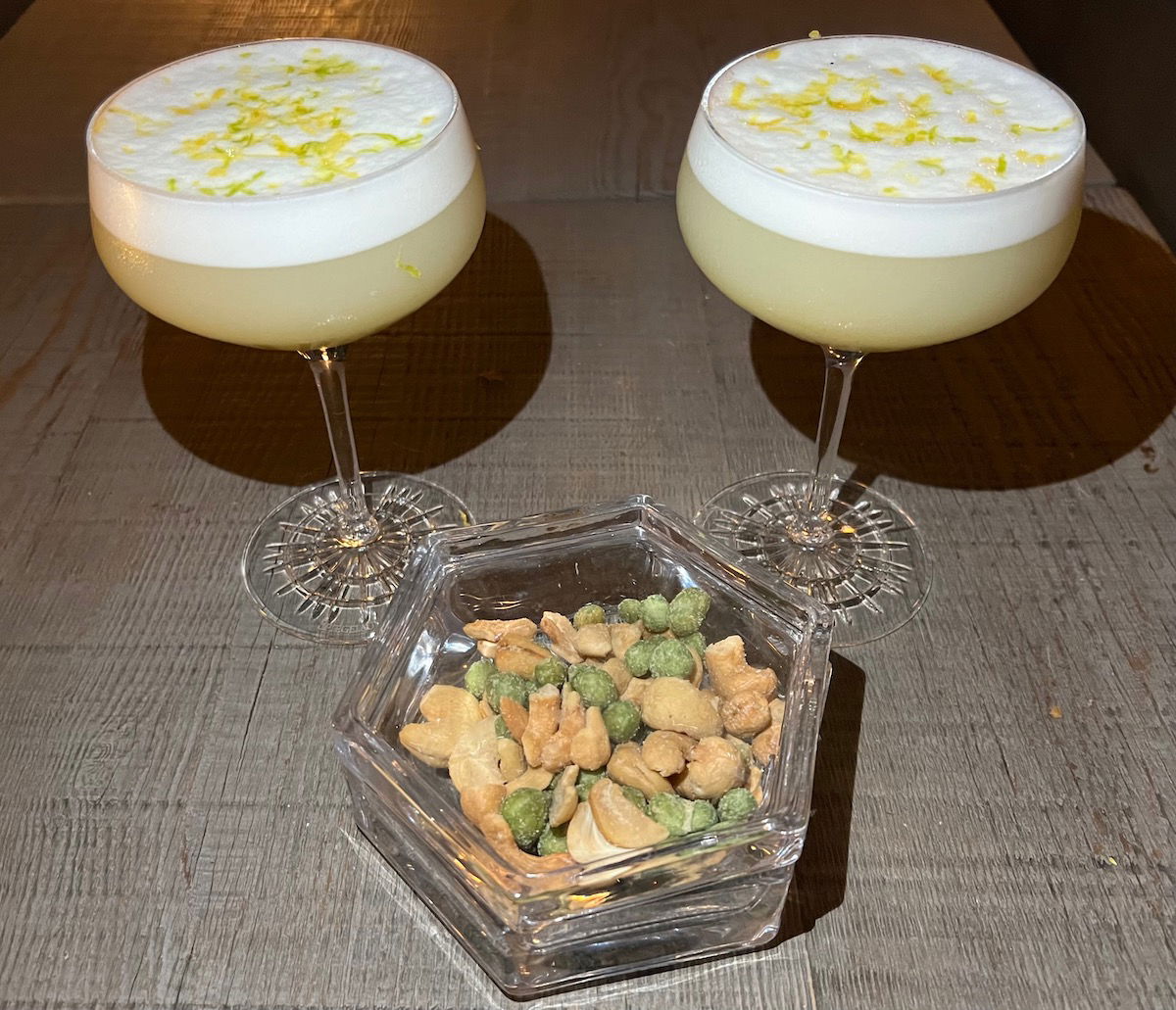 To eat, we ordered a couple of types of sushi, some shrimp rolls, Cambodian style beef salad. and kung pao chicken dumplings.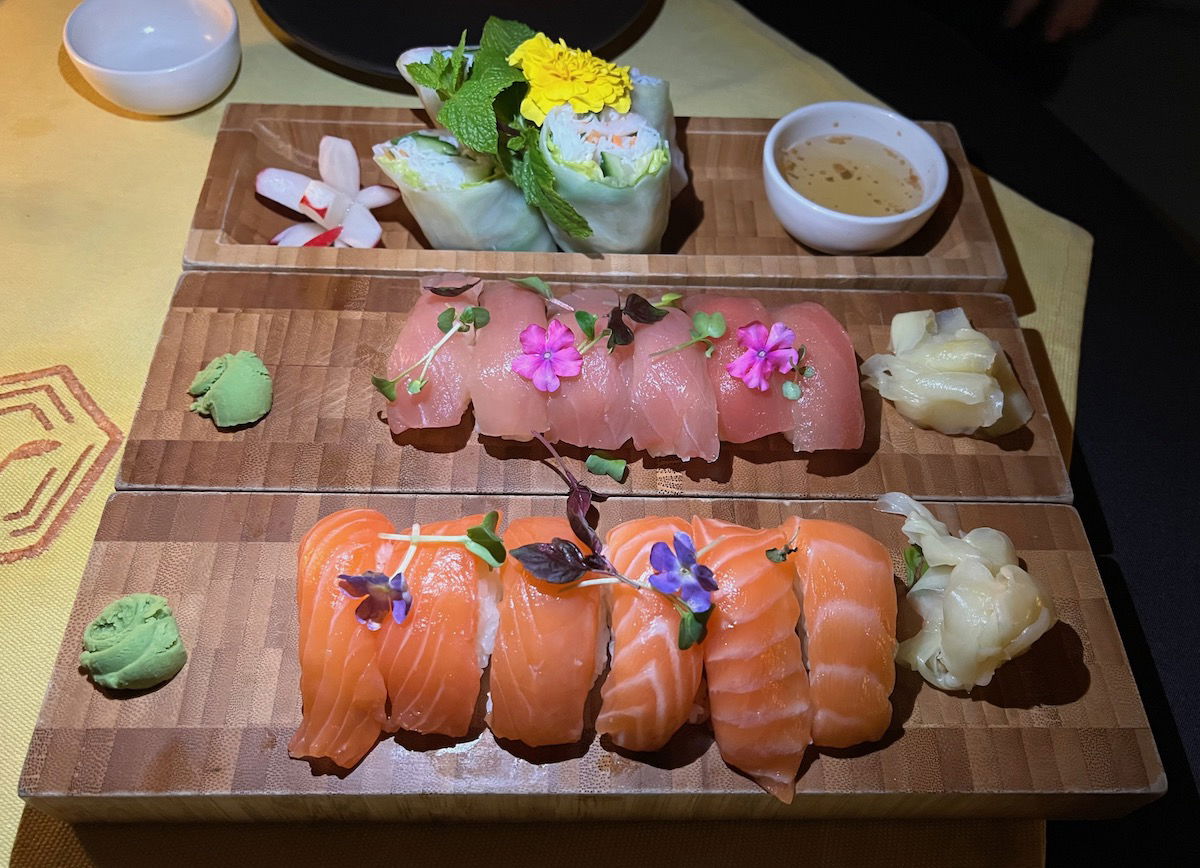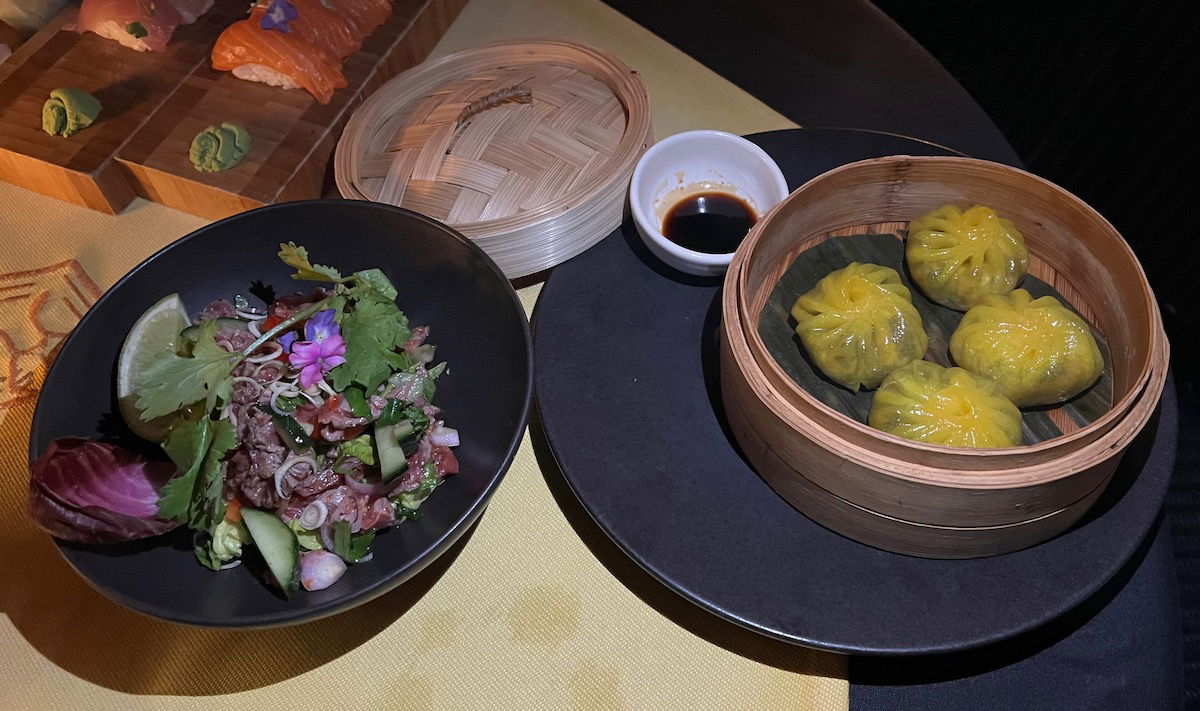 Then for dessert we shared some mango and mochi.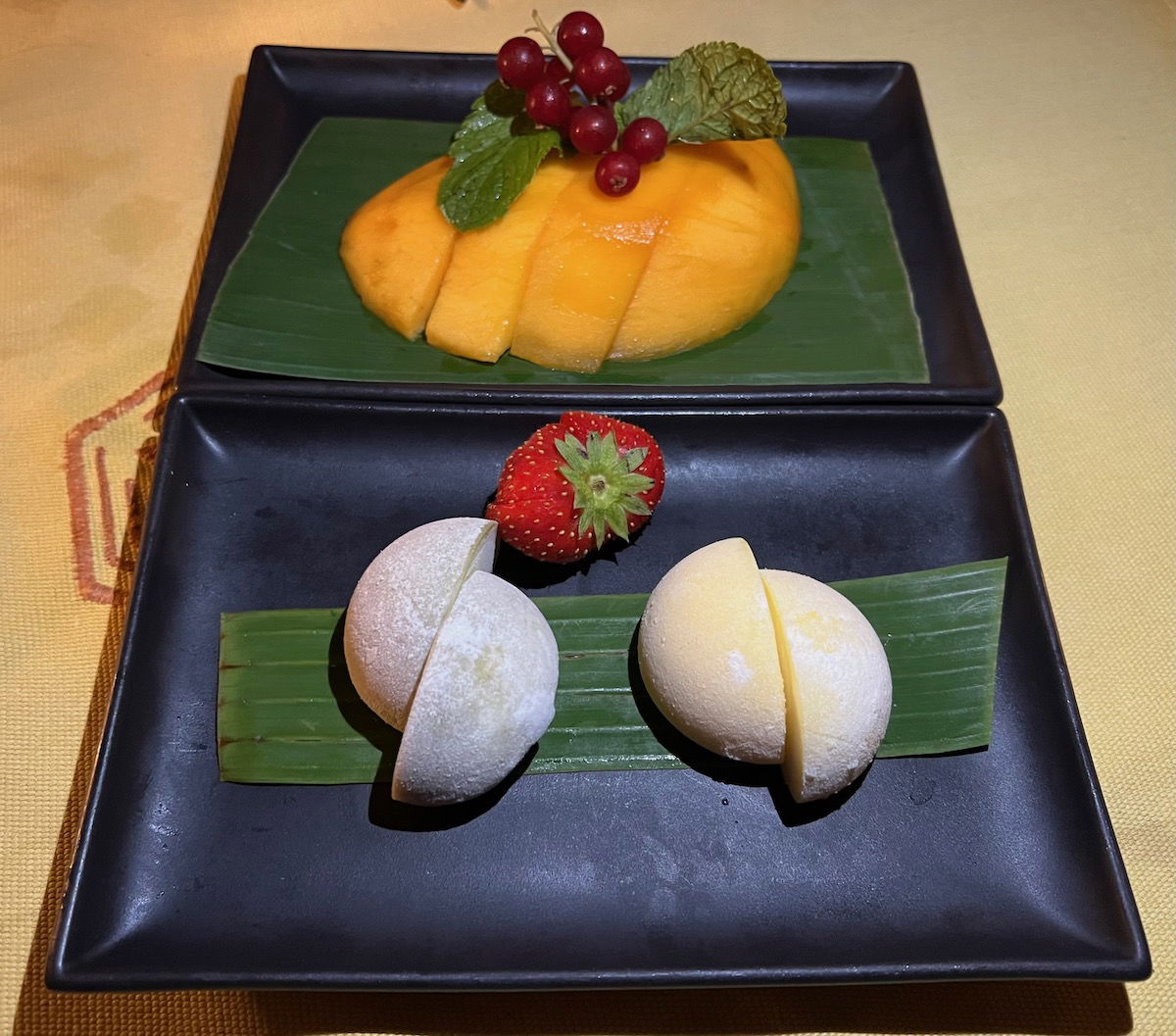 While we loved the ambiance here, I'd say this was the only dining venue that wasn't exceptional. The service was friendly, but it was often hard to flag down a server. Furthermore, everything was simply brought out at once, so it seems like they could do a better job coursing things. Lastly, I'd say the food was good, but not memorable (unlike the rest of the food at the hotel).
Airelles Gordes bar
Airelles Gordes has a bar located just off the lobby, and you can find the menu here. It has both indoor seating near a fireplace, as well as an outdoor terrace. It's open throughout the day, so it's a great place to grab a coffee or cocktail.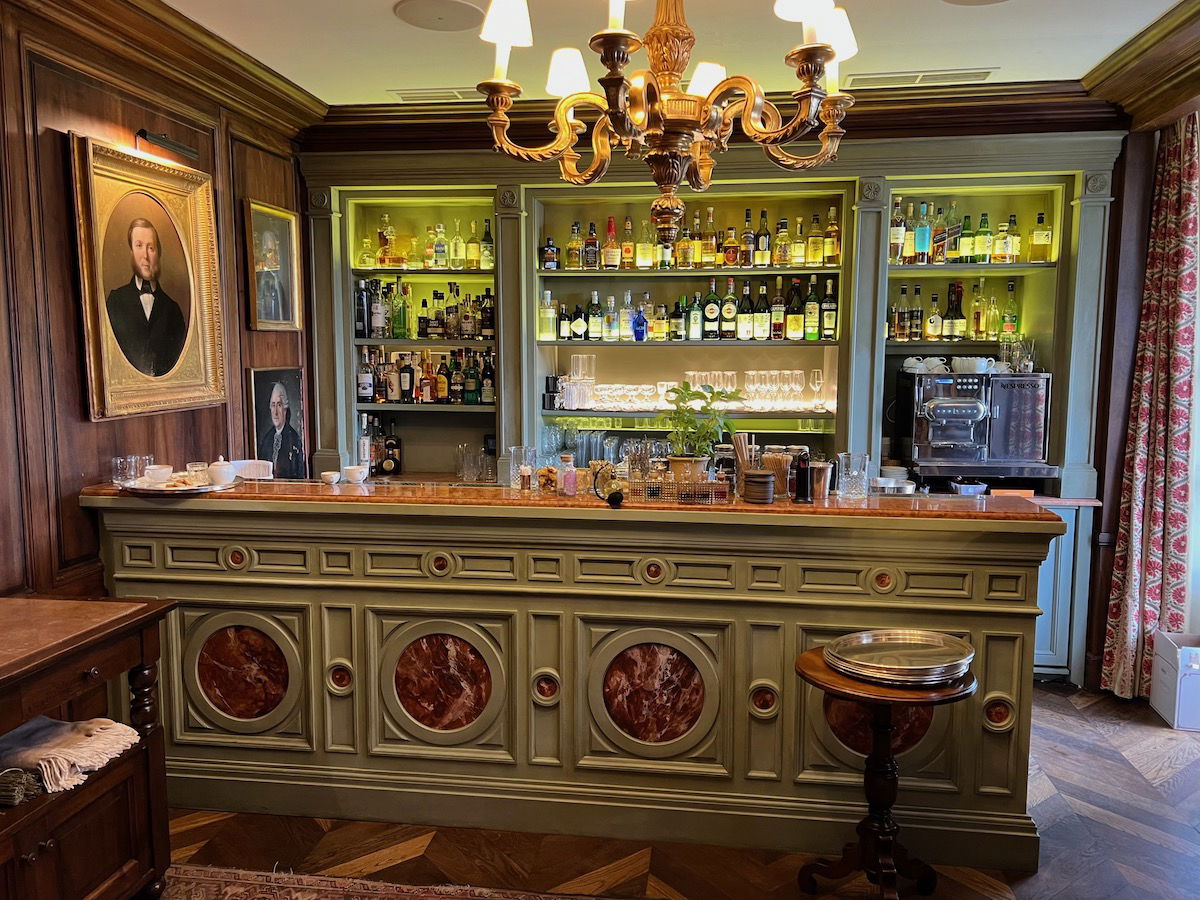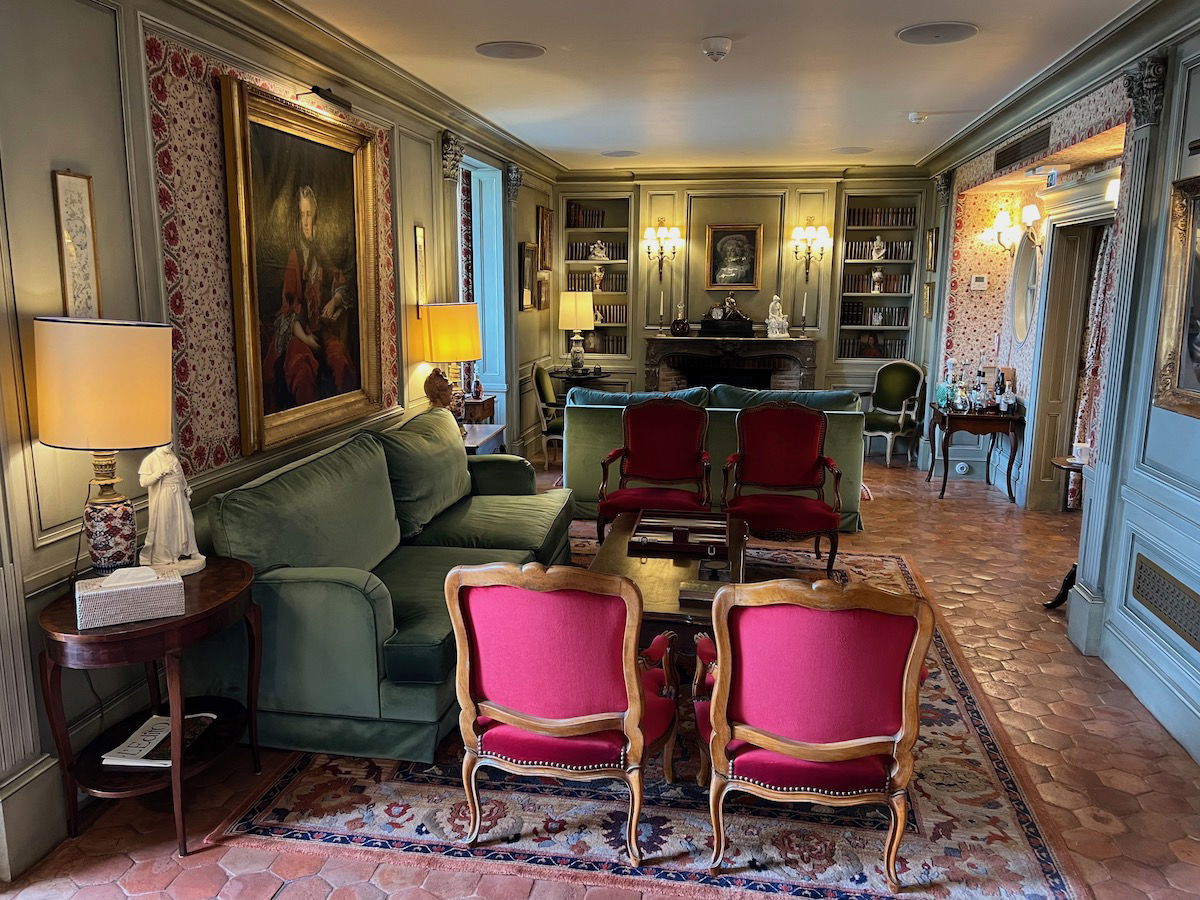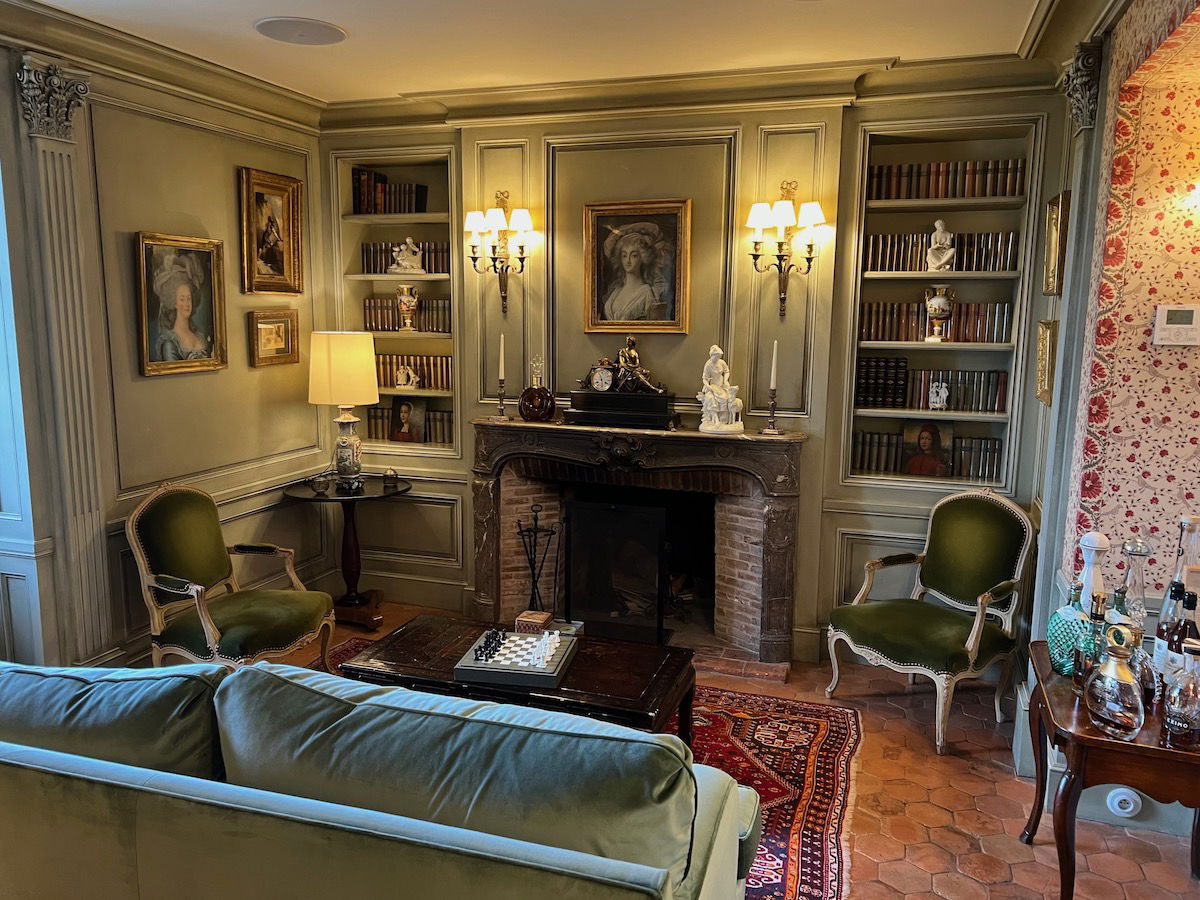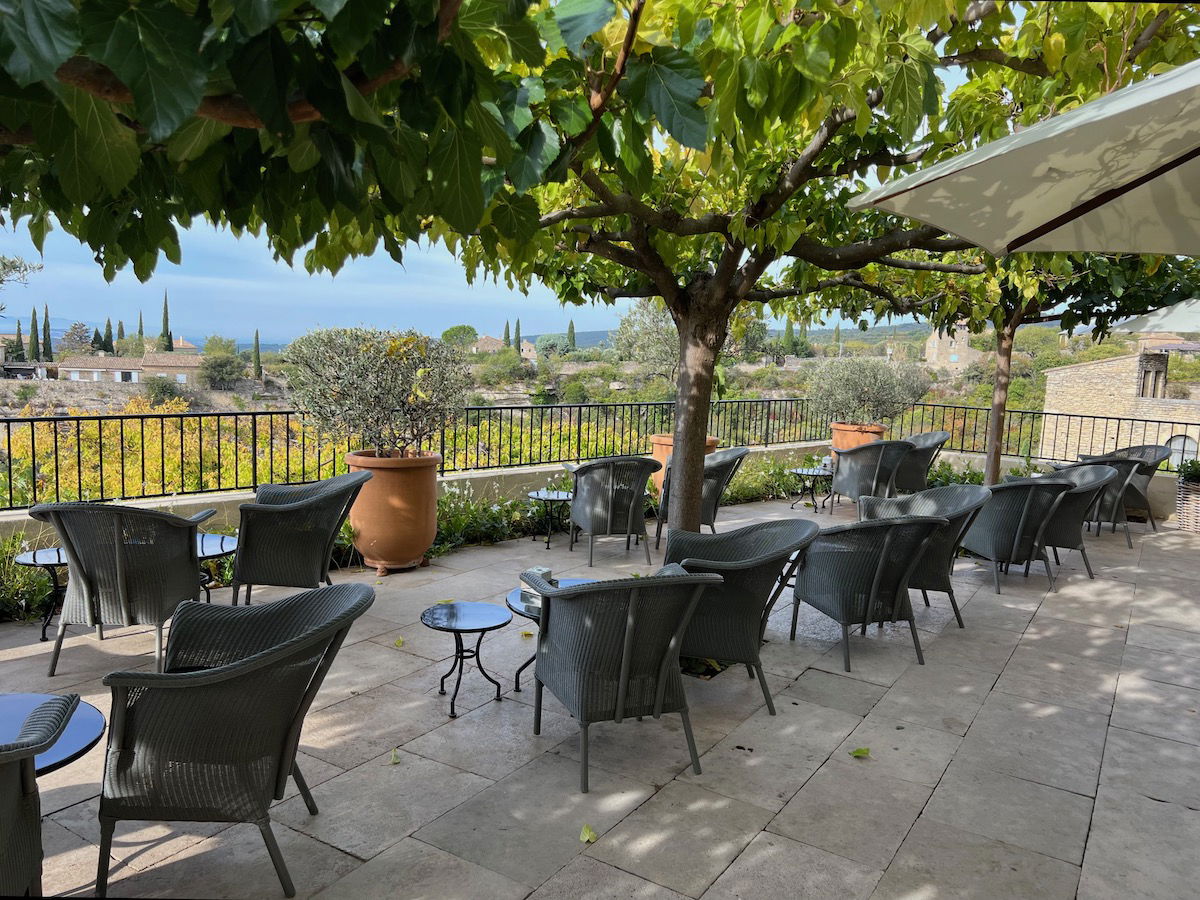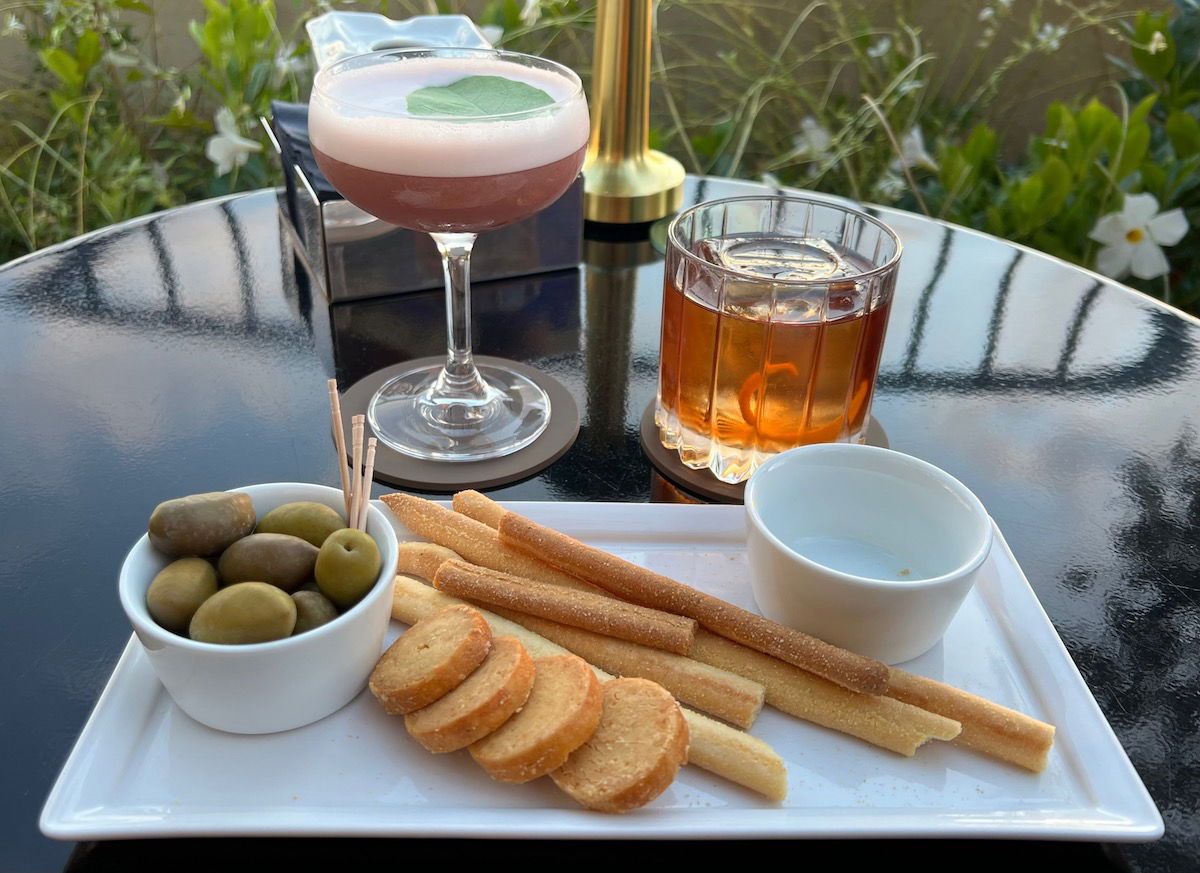 Things to do around Airelles Gordes & Provence
So, what does one actually do when staying at Airelles Gordes, other than eating and drinking? 😉
This was our first time in Provence, and we really enjoyed our time, and feel like we could have spent a week exploring the area. There are all kinds of small towns in the region, and the concierge team was great with recommending which areas were most worth seeing, so we typically drove off for a few hours each day to enjoy the area.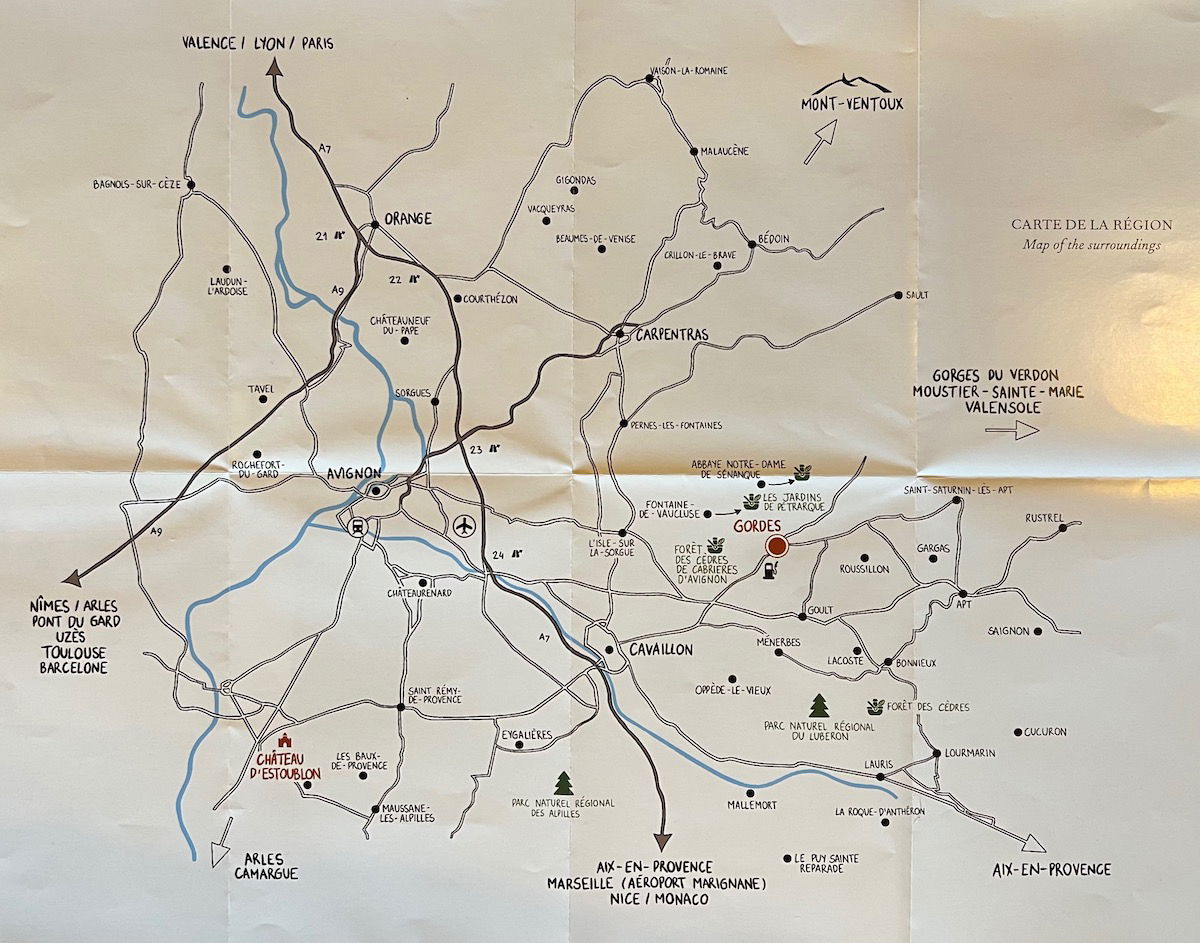 Below are just a few pictures from our excursions to nearby towns…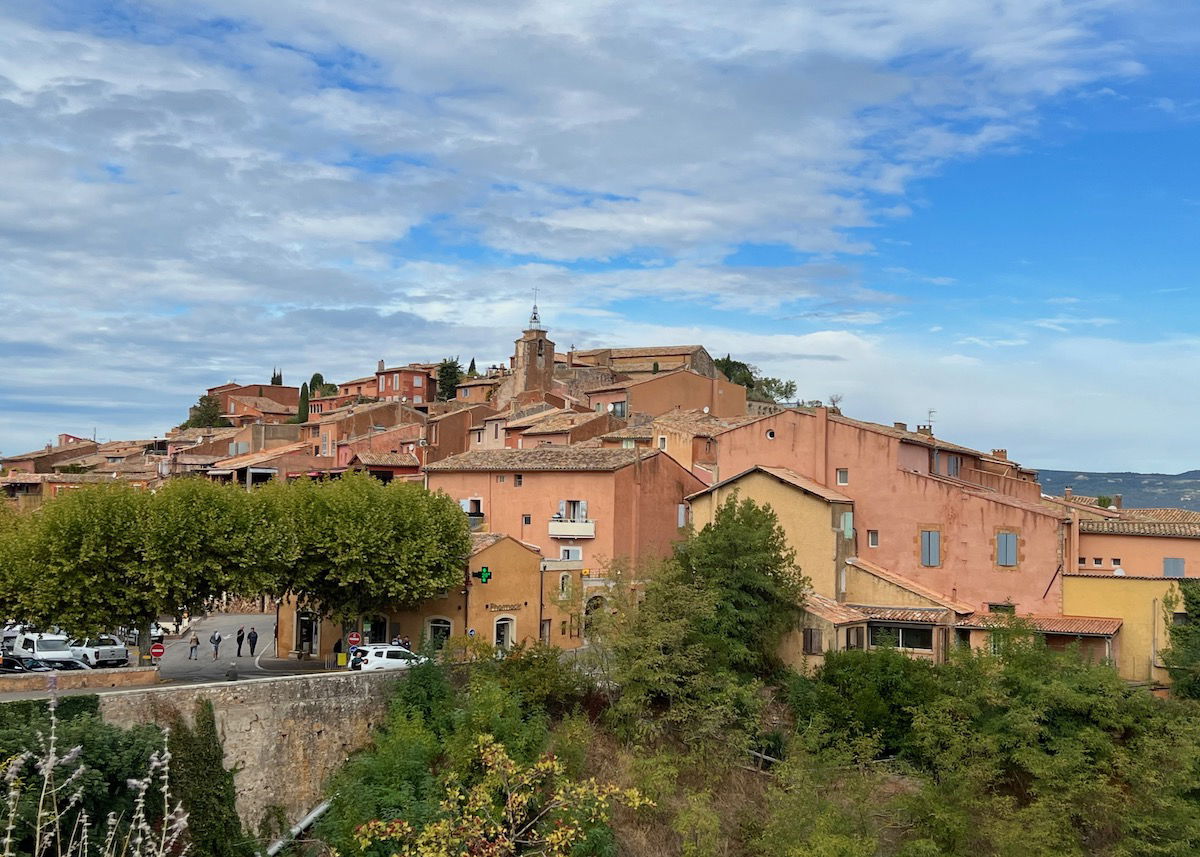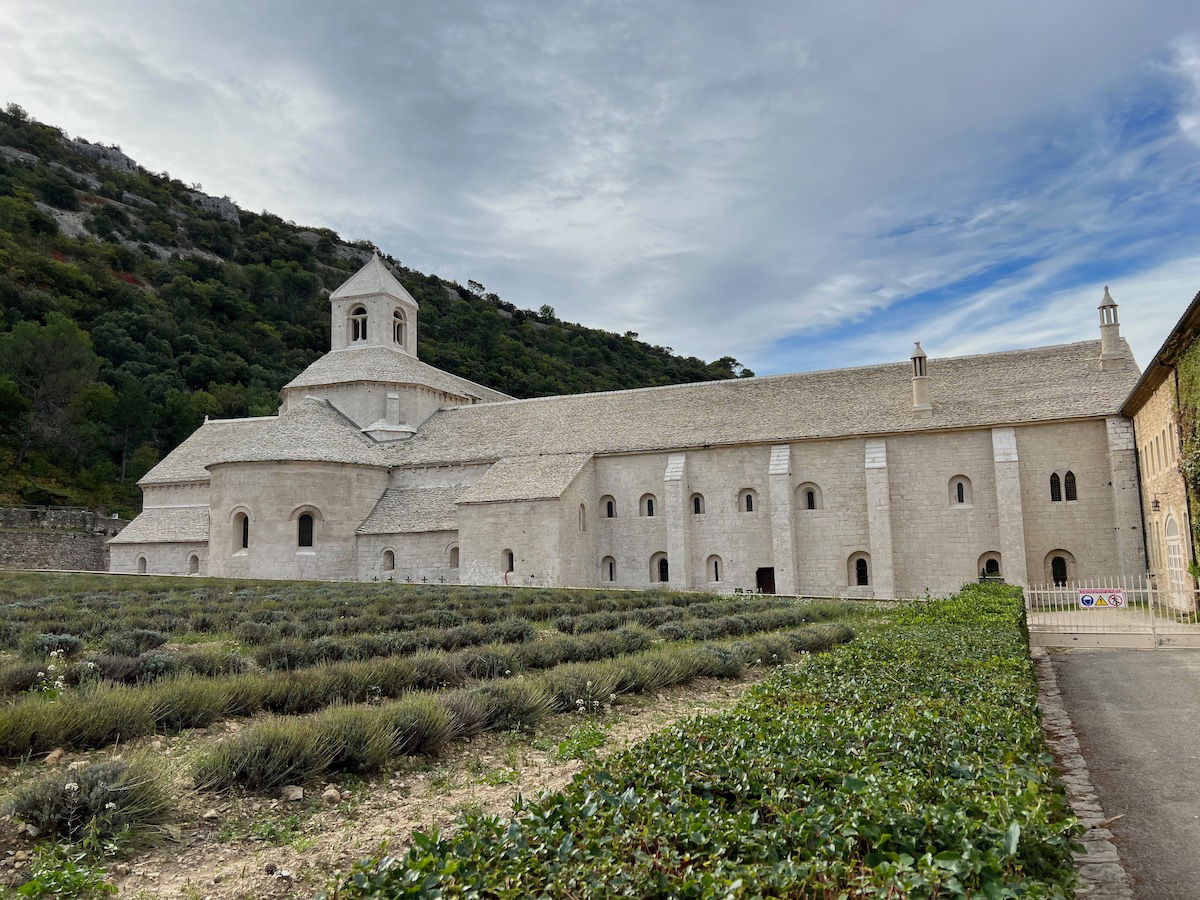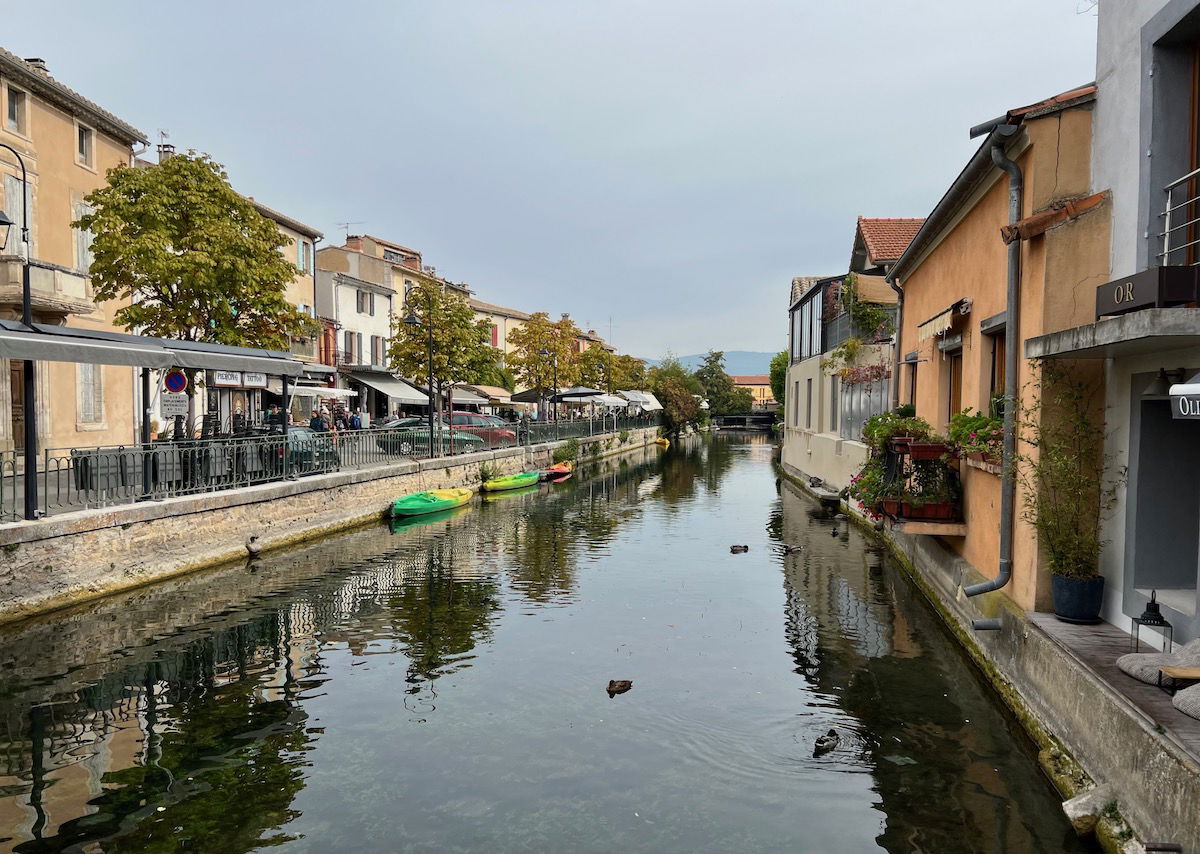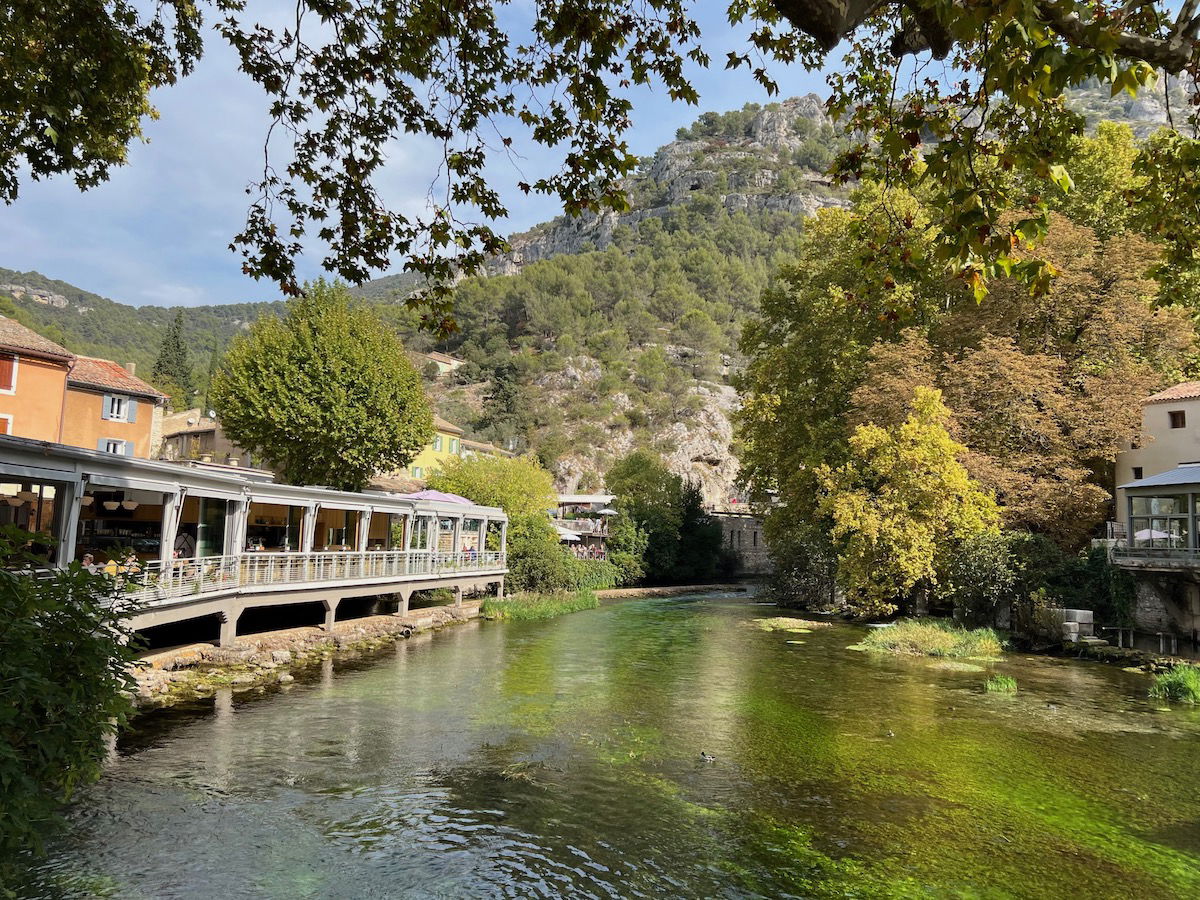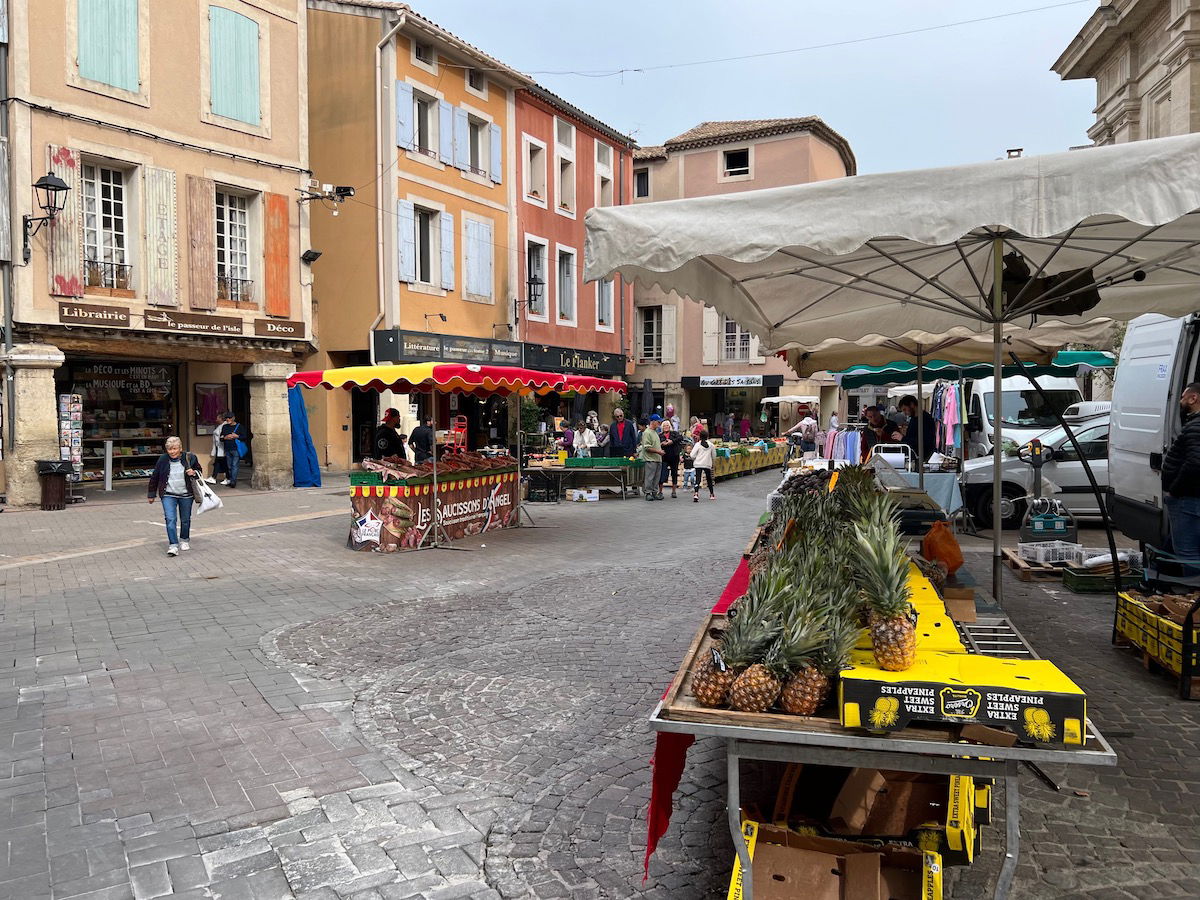 Bottom line
Airelles Gordes, La Bastide, is a spectacular hotel that I can't recommend enough. This hotel has it all — perfect service, an amazing sense of place, great food, and lots of amenities. If you're a Francophile or are interested in traveling to Provence, this can't be beat.