---
After flying from Hartford to Dublin on Aer Lingus and then from Porto to Newark on TAP Air Portugal, I spent a night at the Marriott Newark Airport. I've reviewed the hotel before, so won't be doing so again.
The next evening it was off to Brussels on the United 787-10. I've reviewed United's 777-300ER with the new Polaris seats, but was excited to check out the 787-10 for a couple of reasons:
How I booked United Polaris with miles
United had a lot of award seats (more than nine) from Newark to Brussels for the date I was looking to travel. To see that kind of award availability during peak summer travel season is pretty awesome.
So I could have easily booked with with Air Canada Aeroplan miles, Avianca LifeMiles, or United MileagePlus miles. But I decided to have more fun instead.
Rather than just terminating in Europe, I decided to connect the same day to Bangkok. So for 77,500 Aeroplan miles plus about $150 in taxes and fees I was able to book a ticket from Newark to Bangkok.
I won't reveal my connecting itinerary just yet, because what would be the fun in that? But you're welcome to guess in the comments. 😉
I'd say that was a great award redemption. Aeroplan would have charged 55,000 miles for a one-way ticket from the US to Europe, so for just 22,500 more miles I could continue all the way to Asia.
United 787-10 Polaris business class review
I stayed at the Marriott Newark Airport until 4PM, and then headed over to the airport. I reviewed United's Newark Polaris Lounge last year, so won't be doing so again this year. It's an impressive lounge, though it was much busier than the last time I visited.
And it's not just that it was more crowded, but it was also a very different crowd. Let me just say that I'm shocked that the seats weren't stained from the degree to which many of the guests were spray tanned. Also, what is it with so many people from New Jersey not understanding the concept of inside voices?
Beyond the lounge, I have to note how good of a job has been done with United's terminal at Newark. It's a legitimately nice terminal, and the contrast between that and the other terminals at the airport is night-and-day.
There was lots of great plane spotting at the airport (assuming you're like me and like seeing the same types of planes over and over), as 787s and 767s were all getting ready for their Atlantic crossings.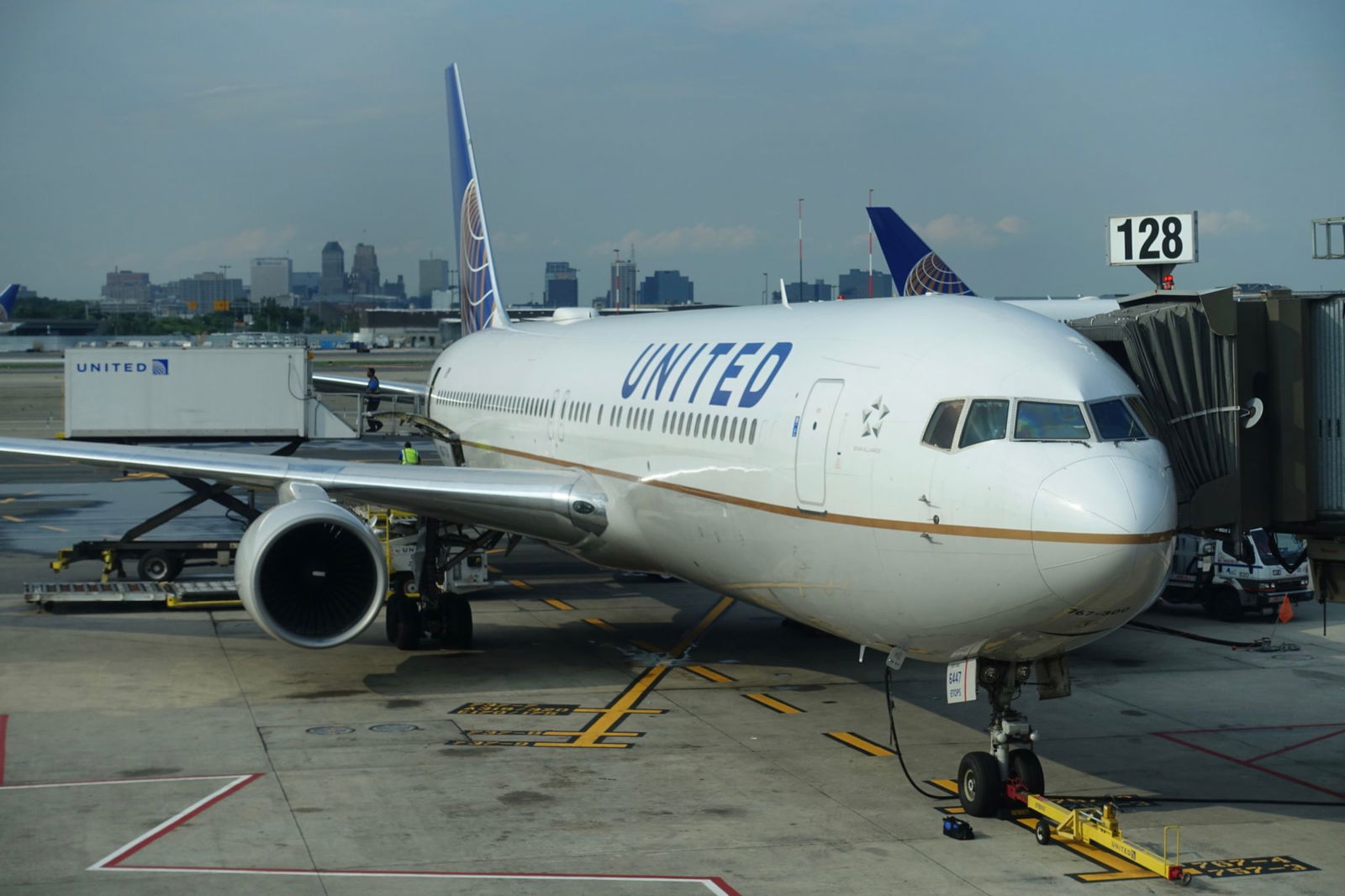 United 767 Newark Airport
I was surprised by just how many 787-10s there were, given that this is still a new plane type for them. As it turns out, United already has nine of their 14 787-10s, having taken delivery of their first one in March 2018.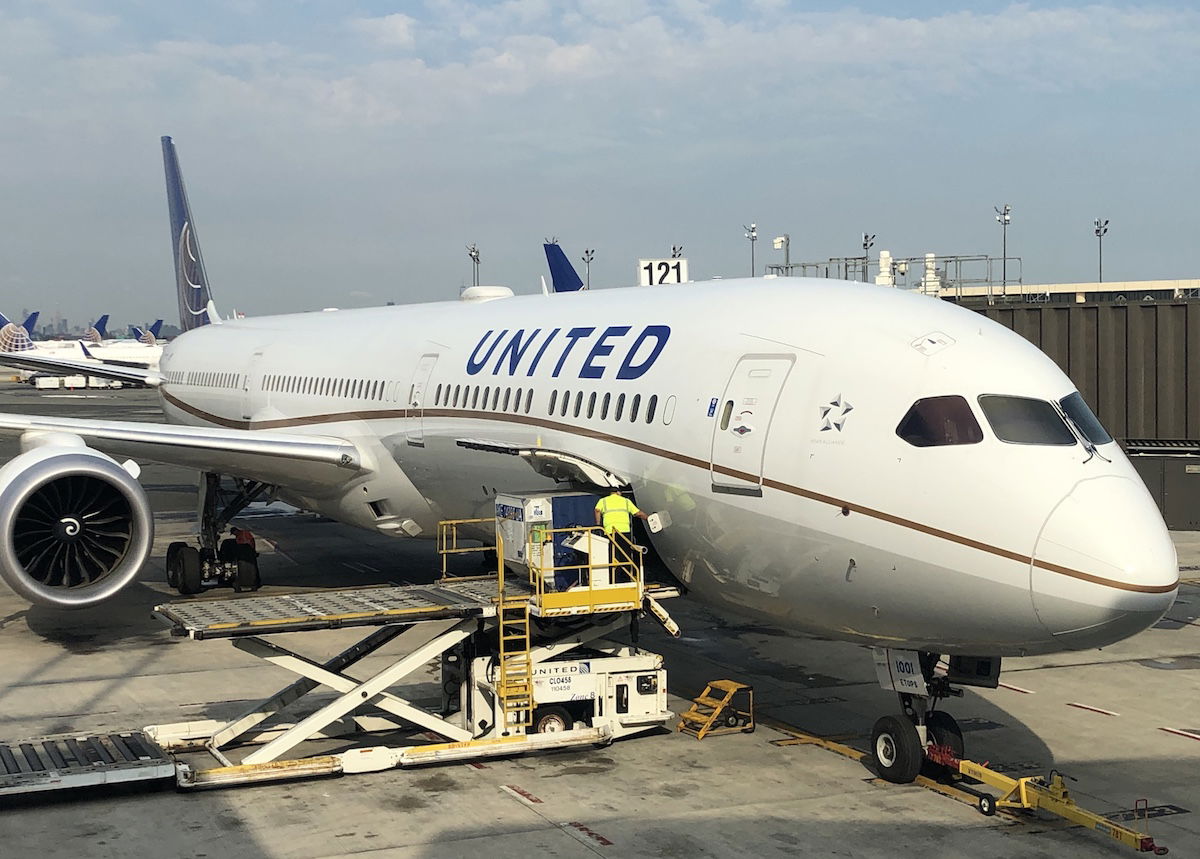 United 787-10 Newark Airport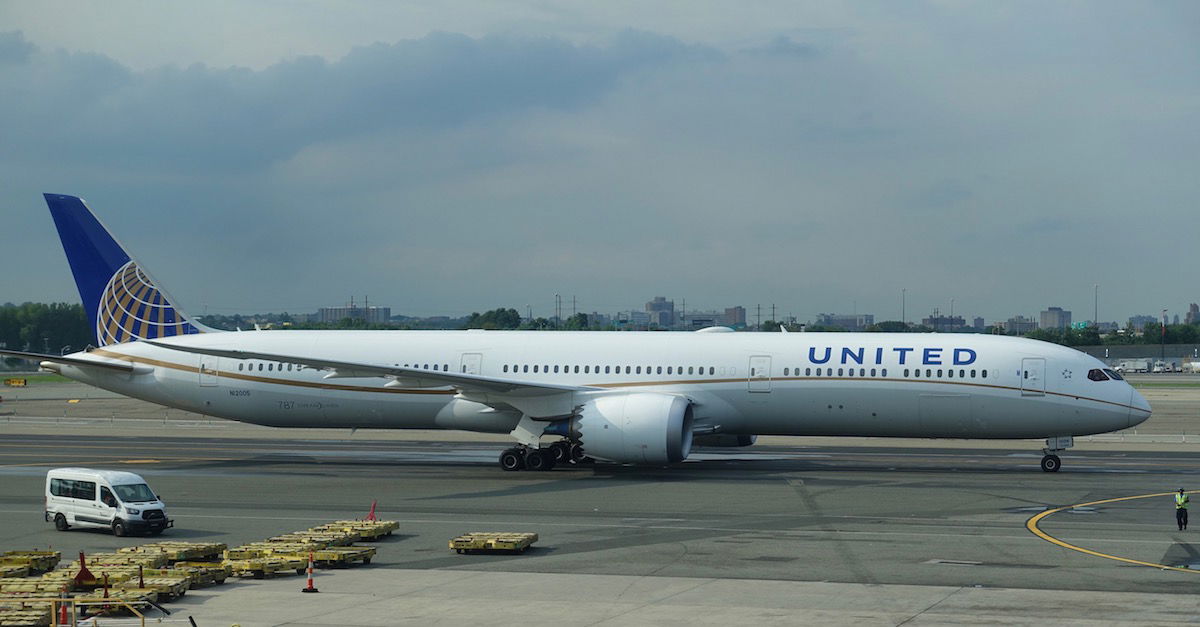 United 787 Newark Airport
My boarding pass indicated that boarding was supposed to start at 5:40PM, so I headed to the gate at around 5:20PM. At that point the crew was just getting on the plane.
Personally I find United's boarding process rather confusing, especially given that they have signs for zones one and two, even though most people aren't in those zones.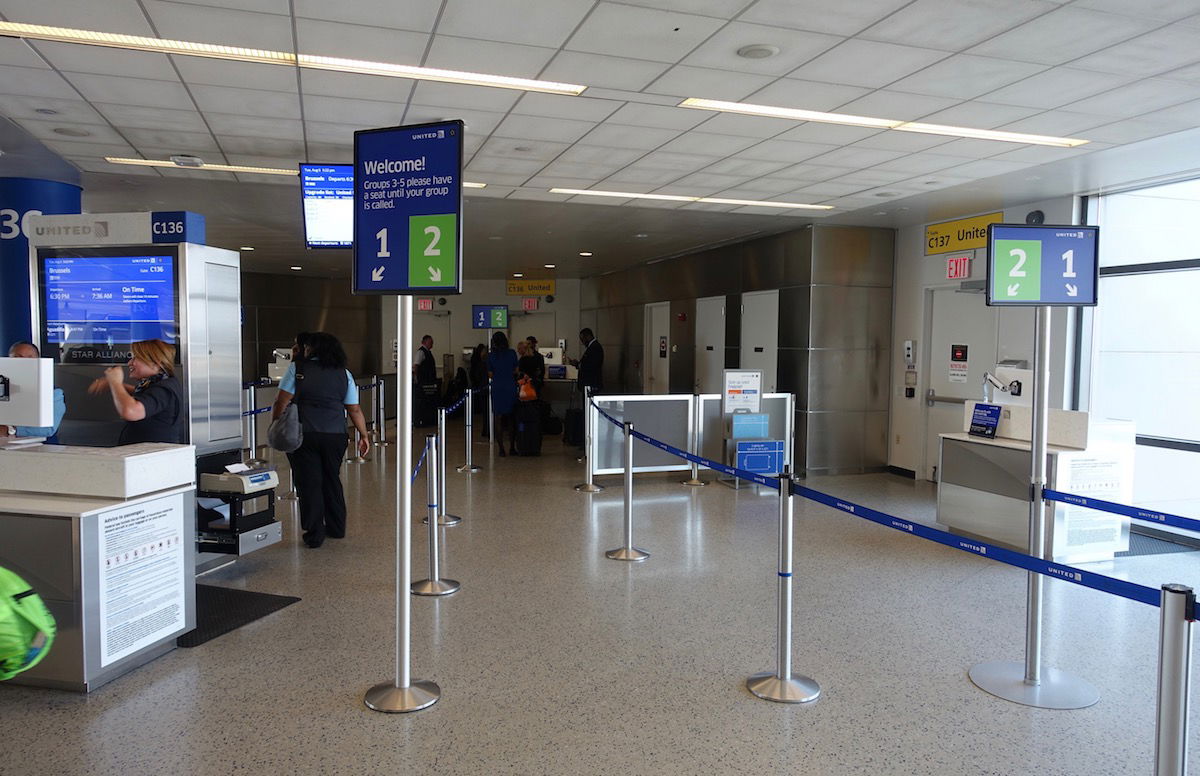 Newark Airport departure gate
I was standing near the gate agent, and overheard no fewer than a dozen people come up and ask her where they should stand since they were in other groups.
One other impressive thing about this flight — it wasn't full in business class, even after all upgrades and even non-revs. The travel benefits offered to airline employees often aren't quite as glamorous as they seem, though on this flight everyone got business class, and there were still 10 empty seats.
Boarding actually only started at 6:05PM. The gate agents didn't make any sort of announcement about why there was a delay.
Boarding started with those who need extra time, followed by active duty military, followed by Global Services members, followed by families, followed by 1Ks, followed by Polaris. Yay, it's fun to be the sixth group invited to board when you're in the forward-most cabin on a plane. 😉
United Airlines 999
Newark (EWR) – Brussels (BRU)
Tuesday, August 6
Depart: 6:30PM
Arrive: 7:45AM (+1 day)
Duration: 7hr15min
Aircraft: Boeing 787-10
Seat: 9L (Polaris Business Class)
I boarded through the second set of doors, and the first thing I noticed was just how massive the space between doors one and two is on the 787-10. The Polaris cabin consisted of 44 seats, all between doors one and two.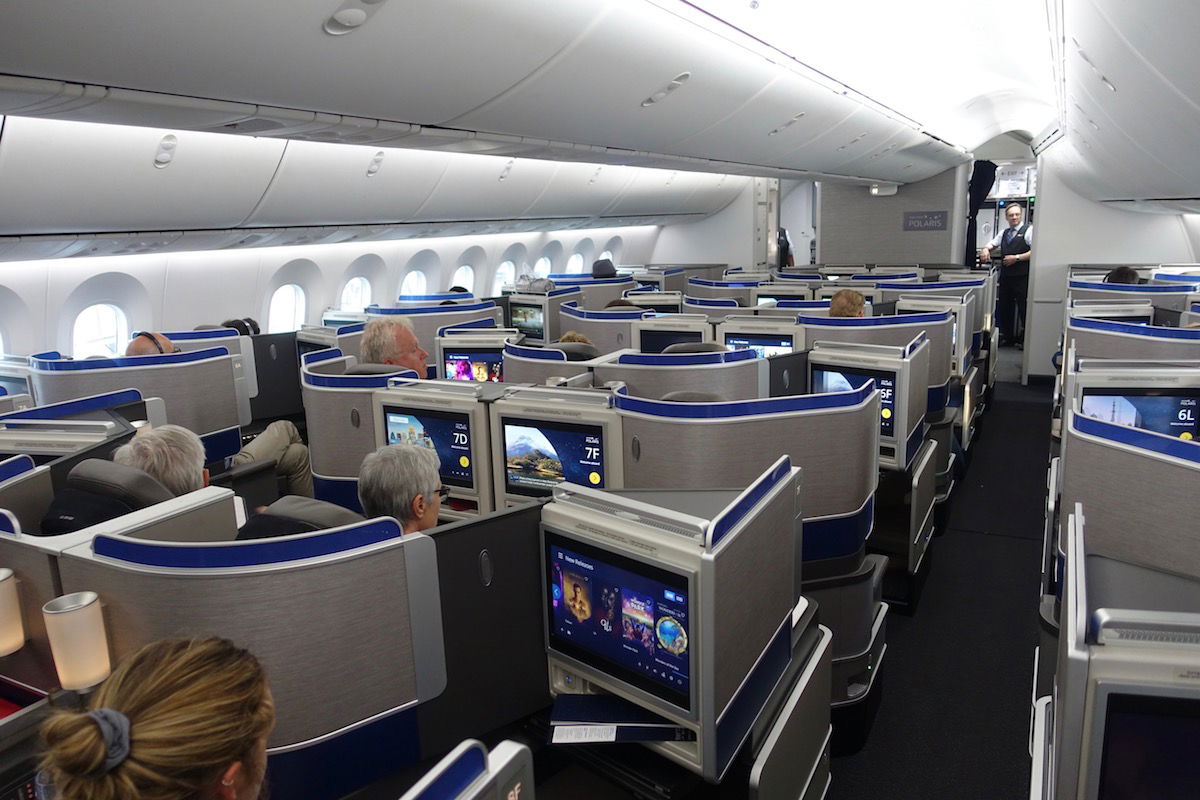 United 787-10 Polaris cabin
I've gotta give United credit, the 787-10 Polaris cabin is really, really pretty, and even prettier with mood lighting.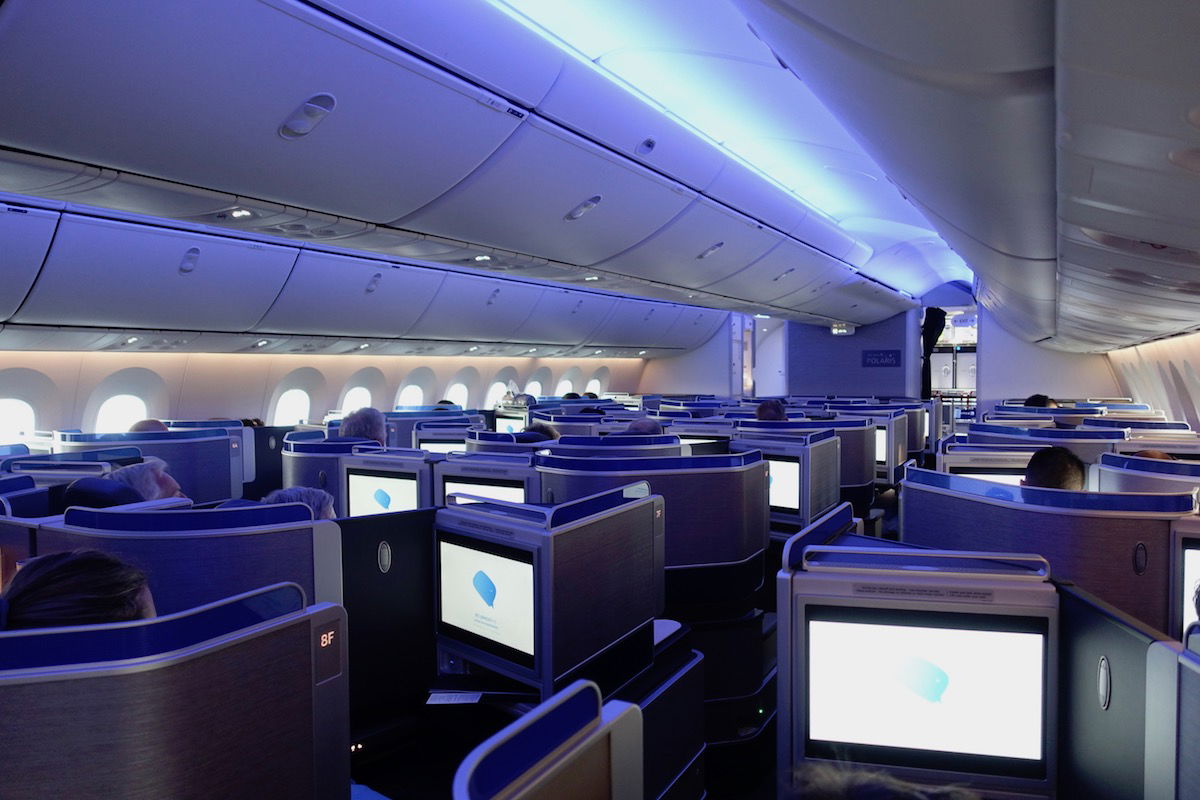 United 787-10 Polaris cabin
Polaris seats alternate in each row to maximize space:
In the center section in odd numbered rows there are "honeymoon" seats, where you're seated very close to your seatmate, and far from the aisle
In the center section in even numbered rows the two center seats are further apart from one another and closer to the aisle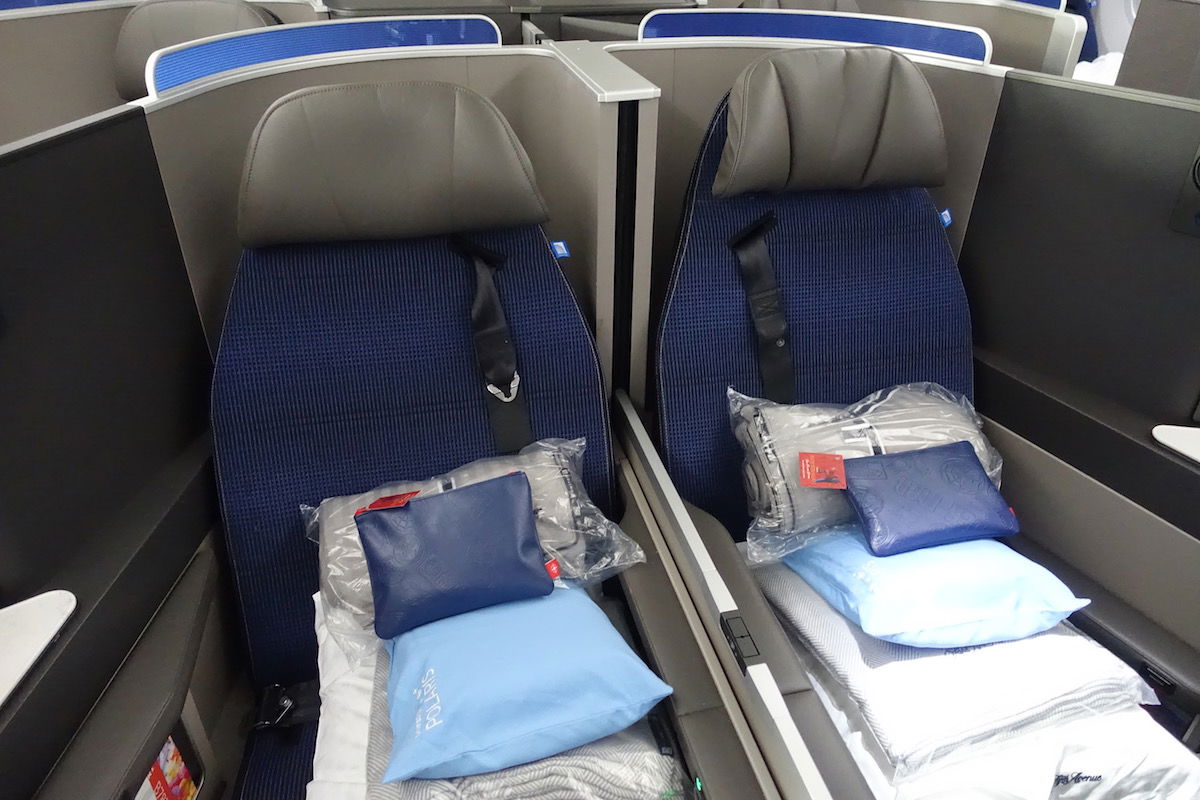 United 787-10 Polaris business class center seats
The same concept is true in the window seats. In even numbered rows, seats are closer to the aisle, meaning that your seat is more exposed and the console is closer to the window.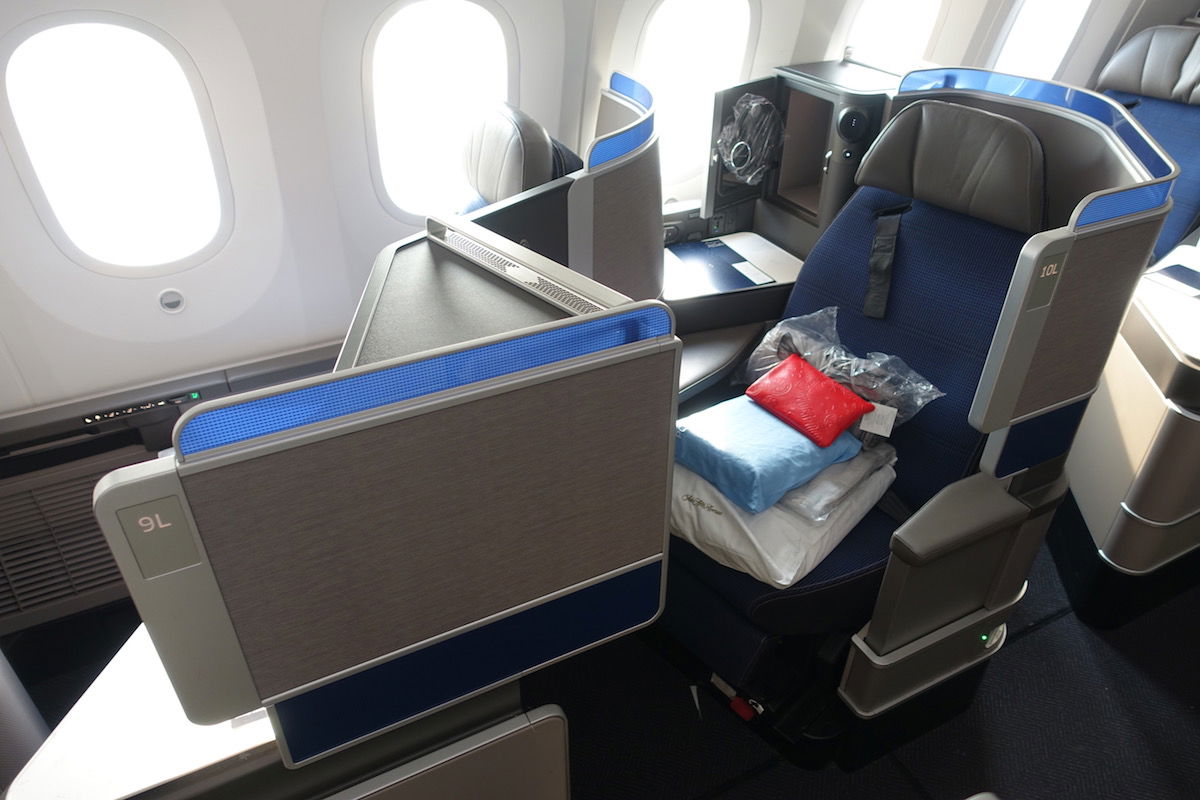 United 787-10 Polaris business class seats
These would be my less-preferred seats, given that you're much closer to the aisle, and it's more difficult to look outside.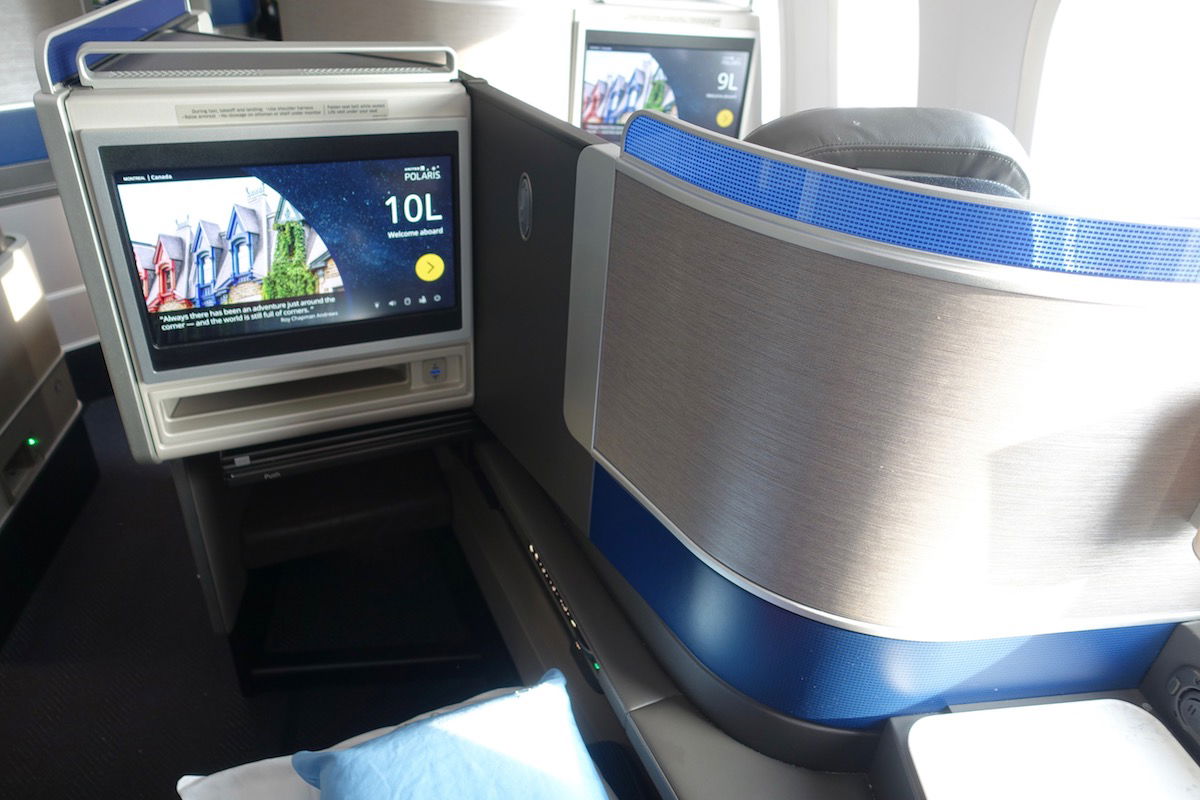 United 787-10 Polaris business class seats
The seats you want here are the "true" window seats, which are in odd numbered rows. These seats have better views out the windows and a lot more privacy. My seat, 9L, was one of those seats closer to the windows.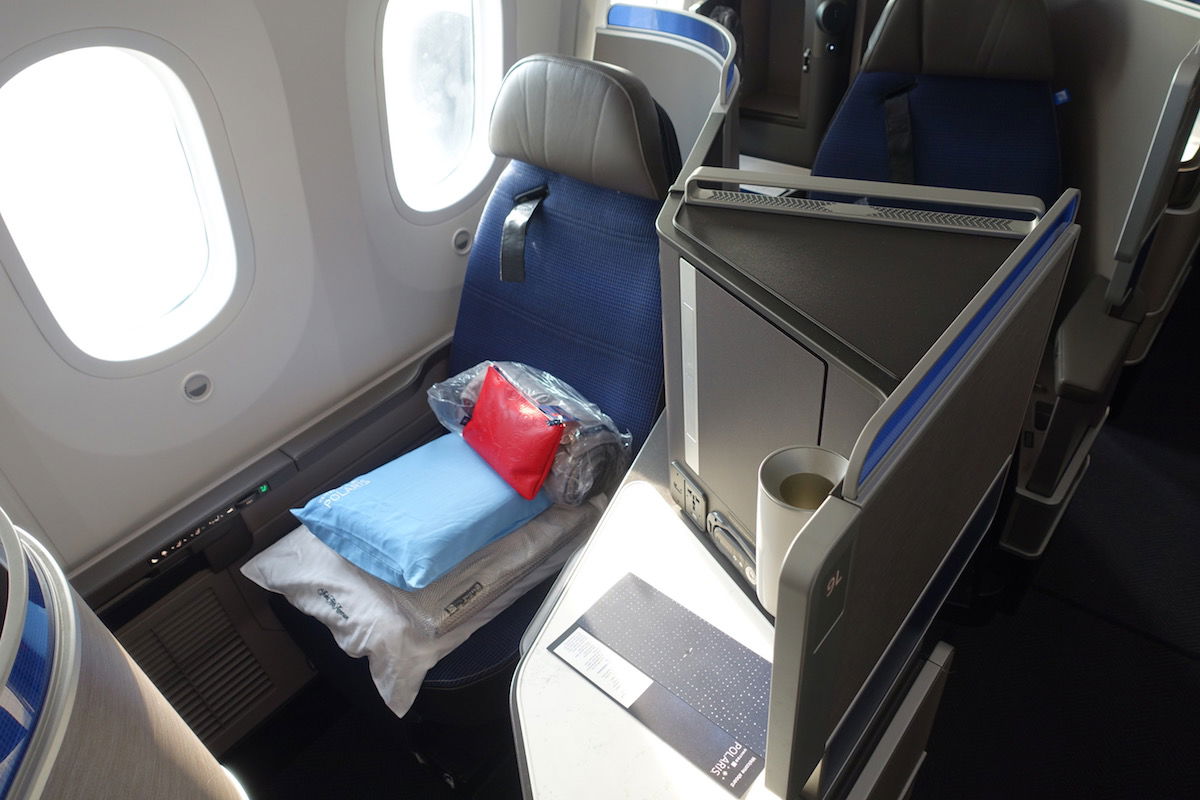 United Polaris business class seats 787-10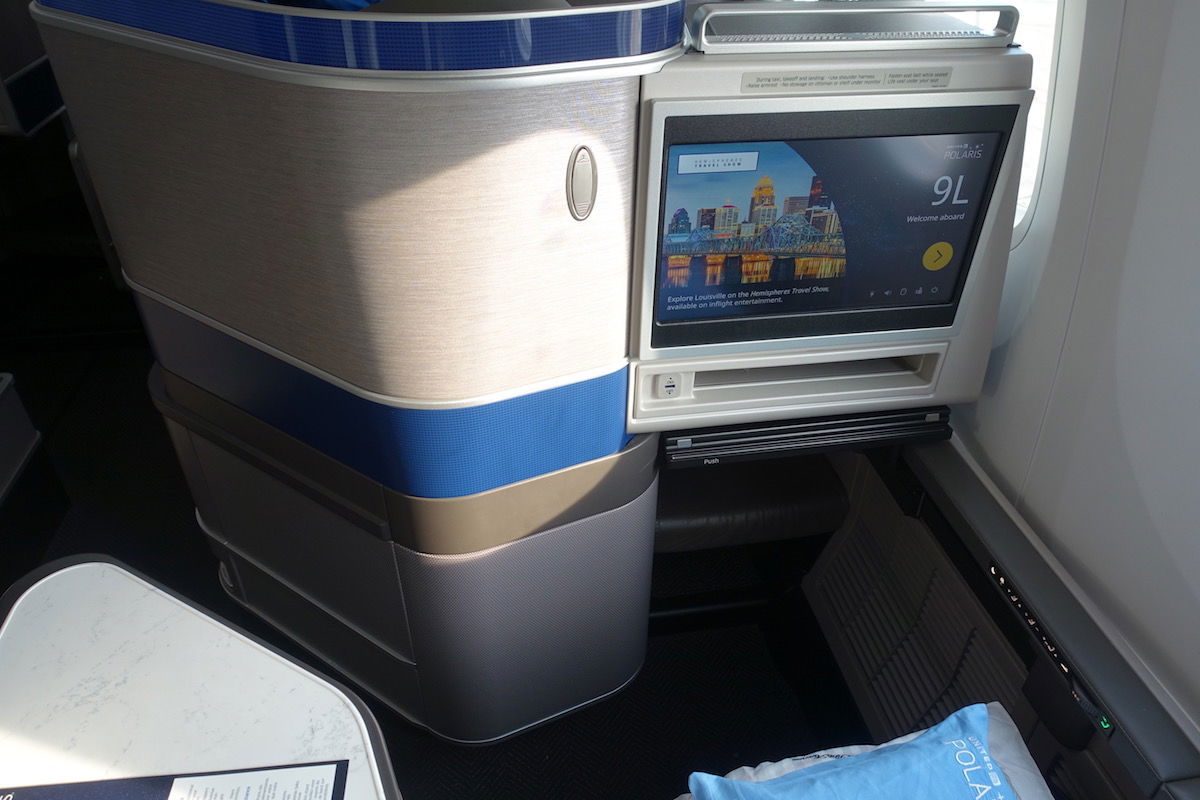 United 787-10 Polaris business class seats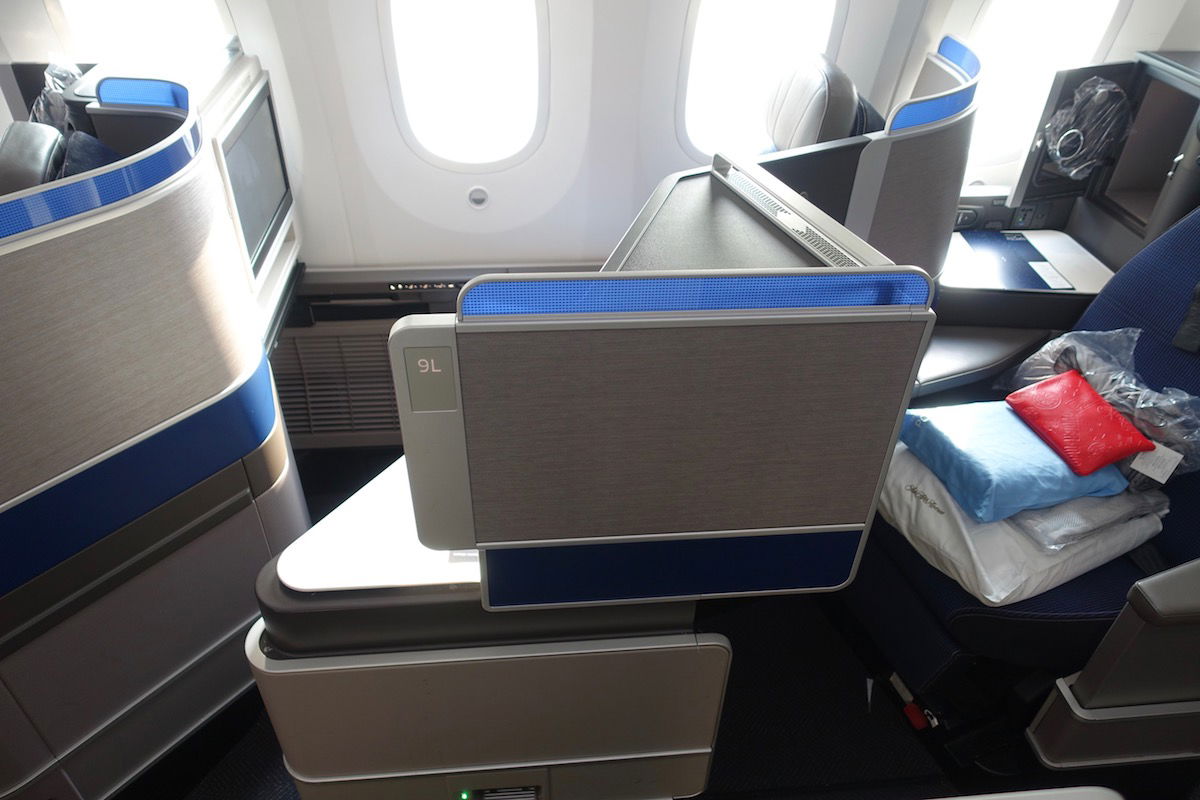 United Polaris business class seats 787-10
These "true" window seats have a small walkway connecting the aisle to the seat.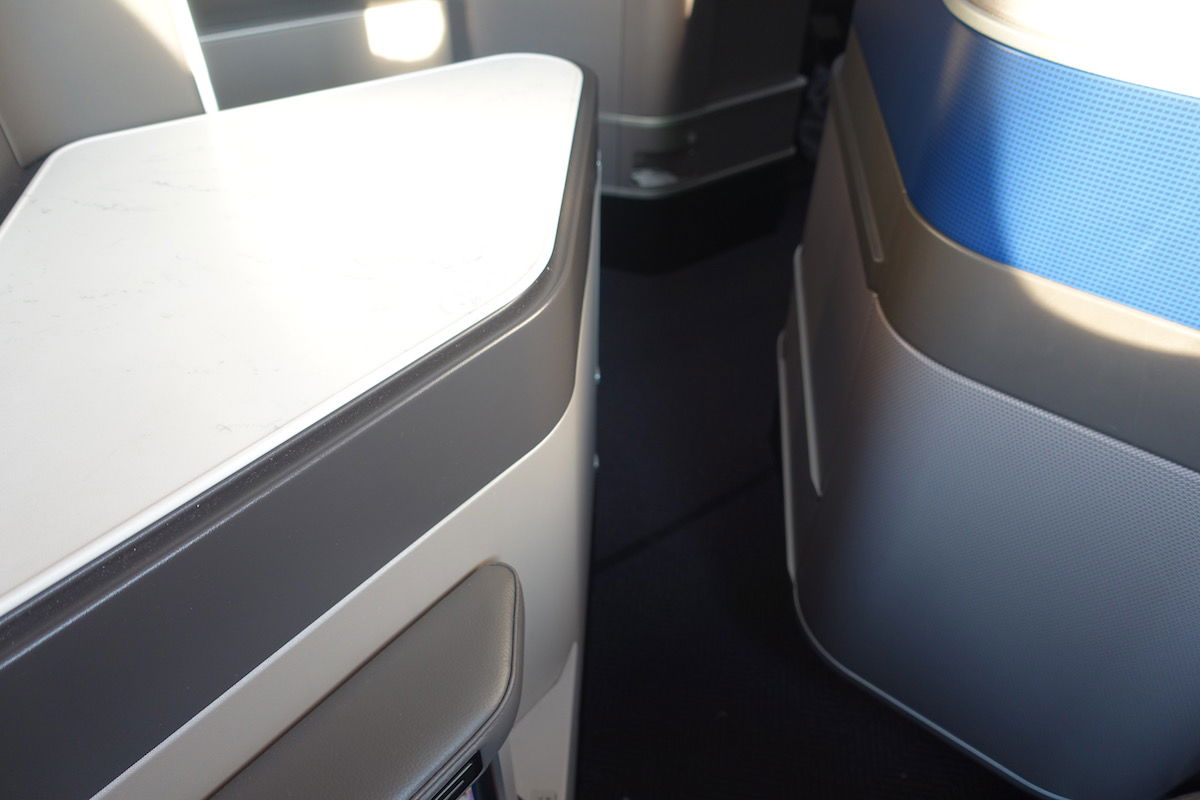 United Polaris seat access 787-10
To the left of my seat was the console. United did a great job with the faux-marble they use, because it actually looks pretty nice in my opinion (for the avoidance of doubt, I'm not being sarcastic, as it's rare I'd complement faux-marble and call it "classy")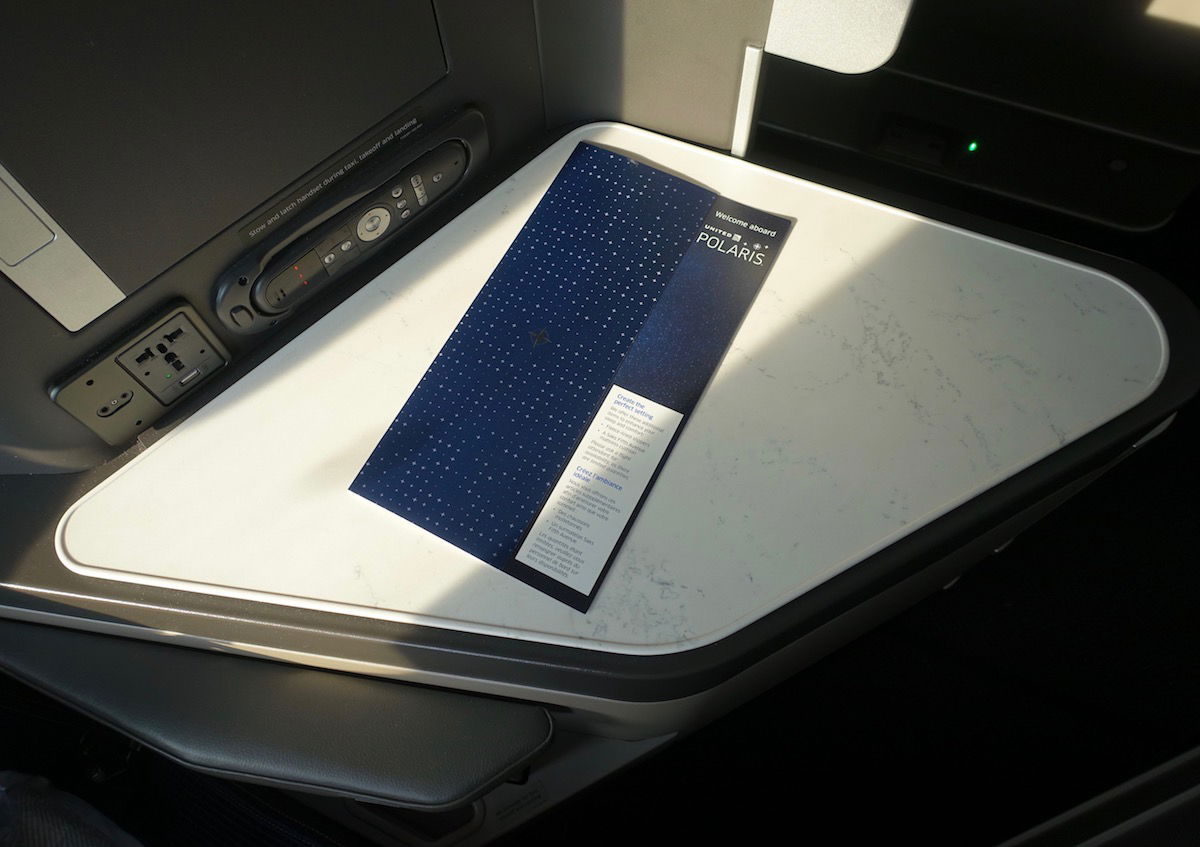 United Polaris seat counter & storage
Immediately above the counter were the entertainment controls, headphone jacks, and power outlets. Then above that was an enclosed storage compartment and reading light.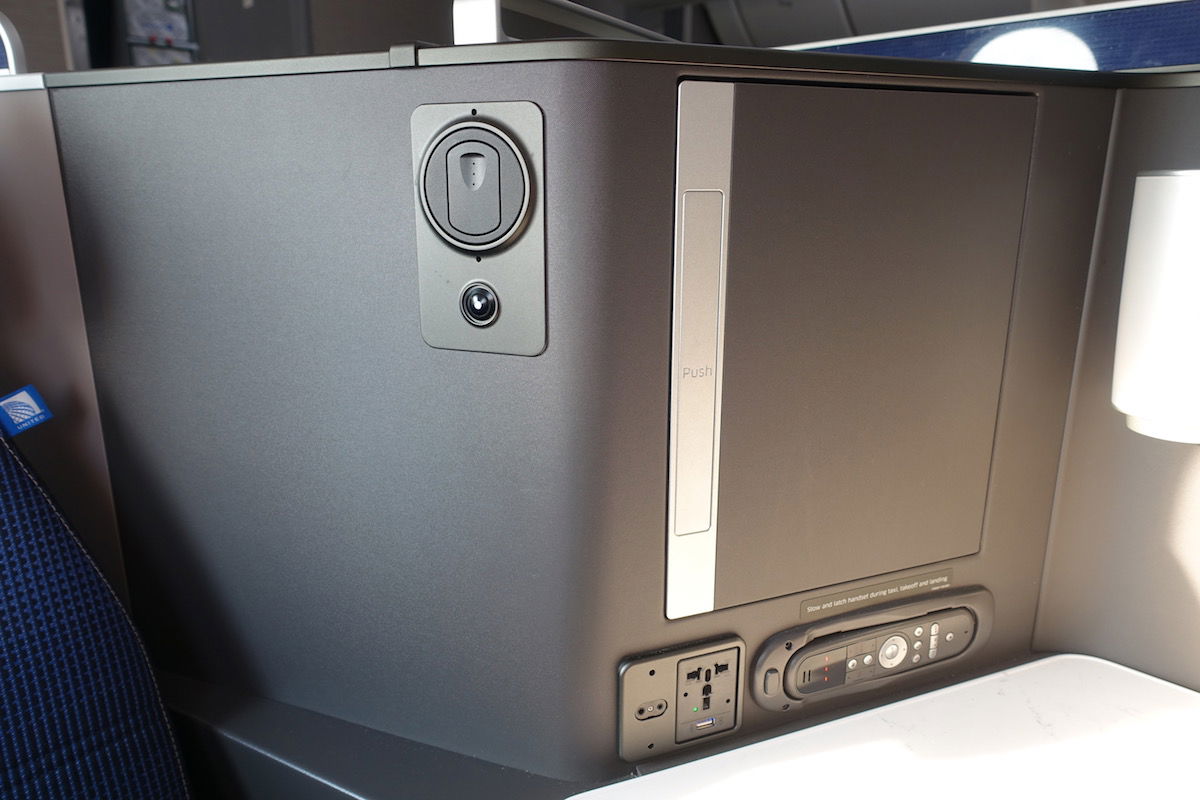 United Polaris seat storage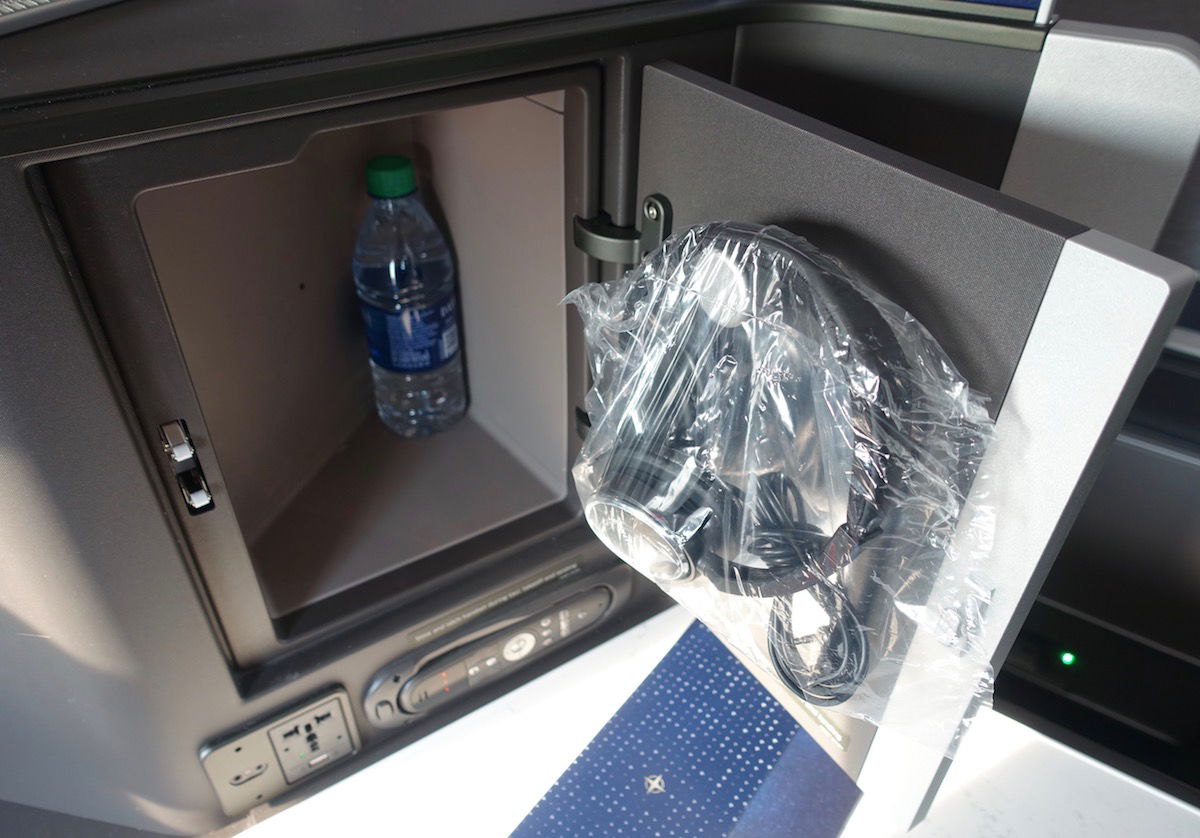 United Polaris seat storage
To the left of the seat below the counter was an armrest as well as a literature pocket.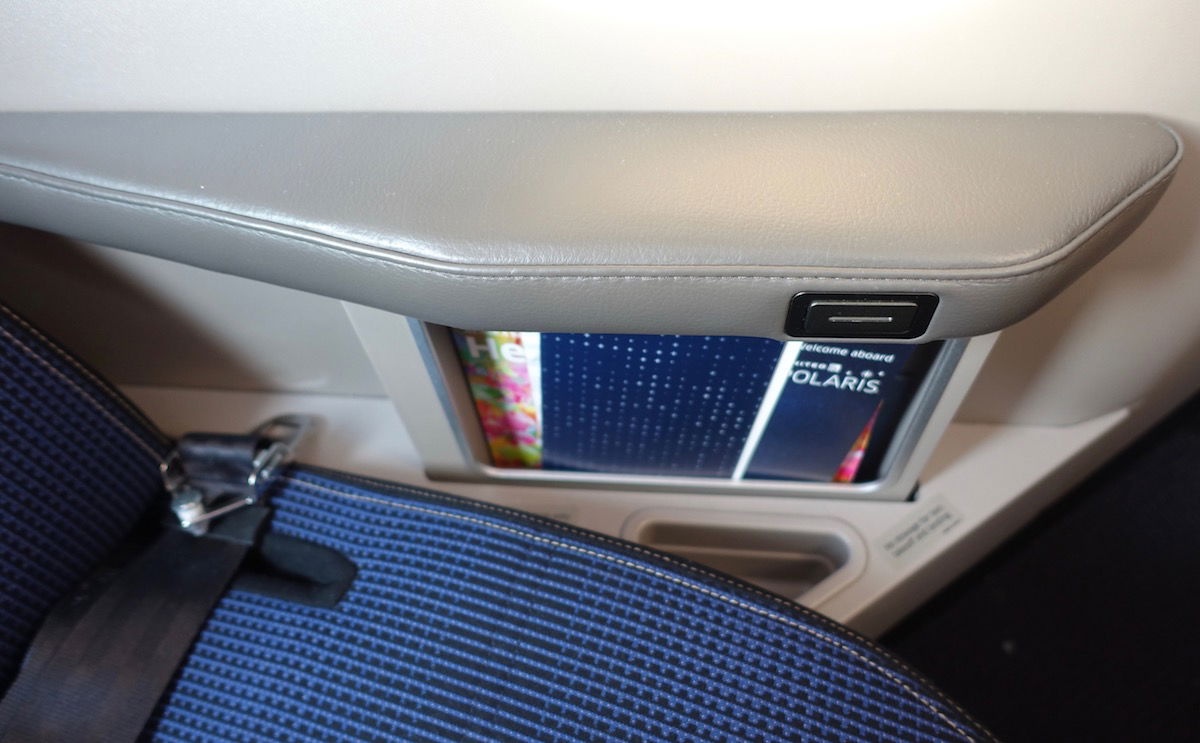 United Polaris seat literature pocket
The seat controls were along the window-side of the seat, and were easy to use. I especially love the wheel you can turn to adjust the position of your seat.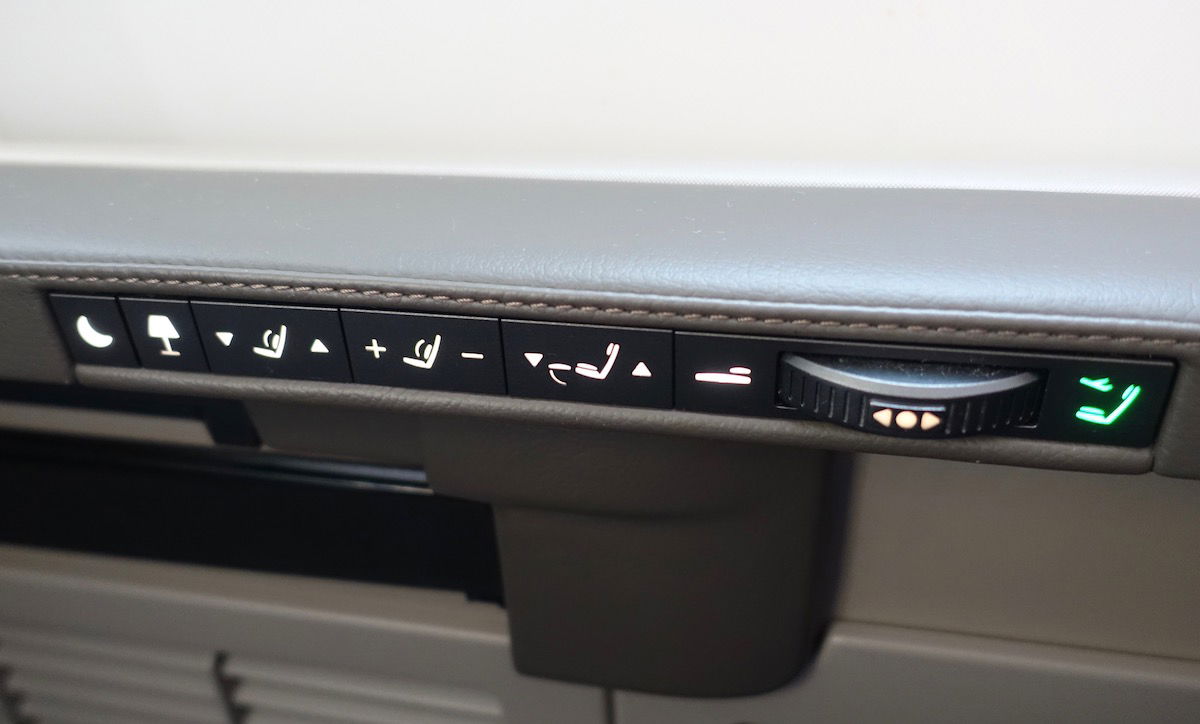 United Polaris seat controls 787-10
The tray table folded out from underneath the personal television in front, and could be folded over in half. It was sturdy and easy to move around.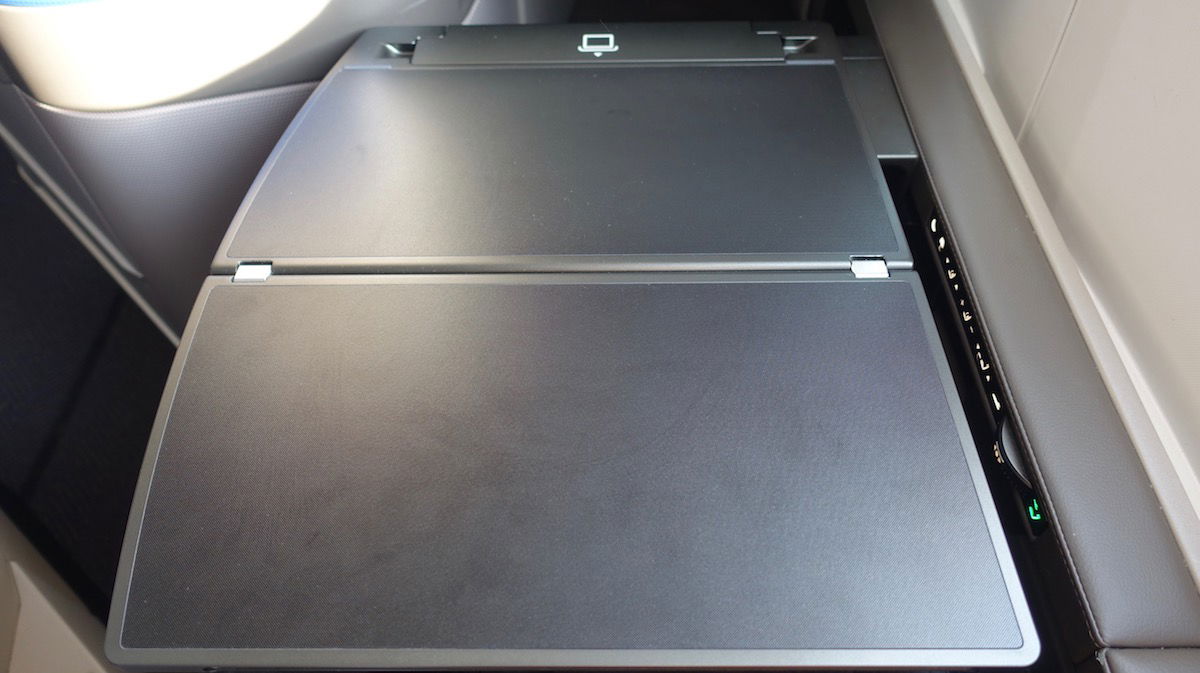 United Polaris seat tray table 787-10
Generally with staggered seats the biggest issue is that the footwells tend to be small, which can be uncomfortable when sleeping. The good news is that this footwell didn't feel small at all.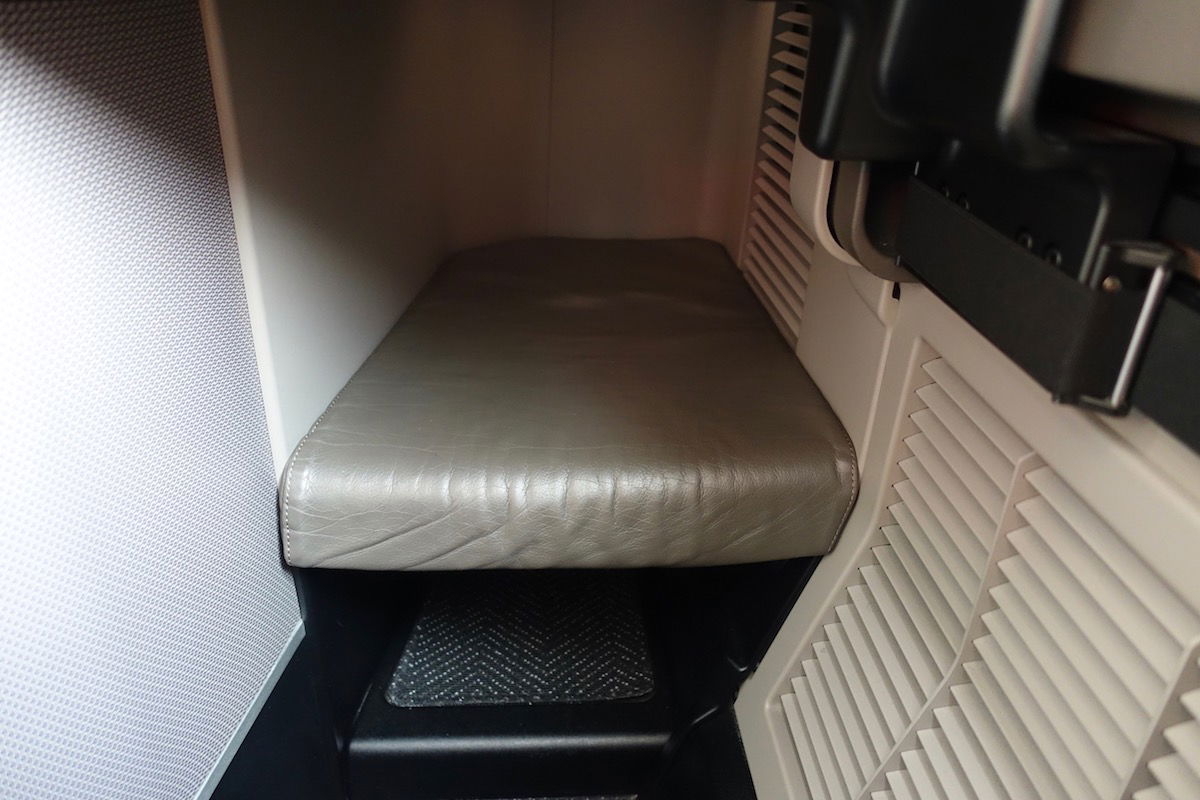 United Polaris seat footwell 787-10
I was expecting the seat might feel a bit more compact than on the 777-300ER, given that the cabin isn't quite as wide. However, I didn't find that to be the case.
Each seat also had an individual air nozzle, which is much appreciated.
Already waiting at my seat upon boarding were a pair of headphones. While not Bose or Bang & Olufsen quality, they were pretty good.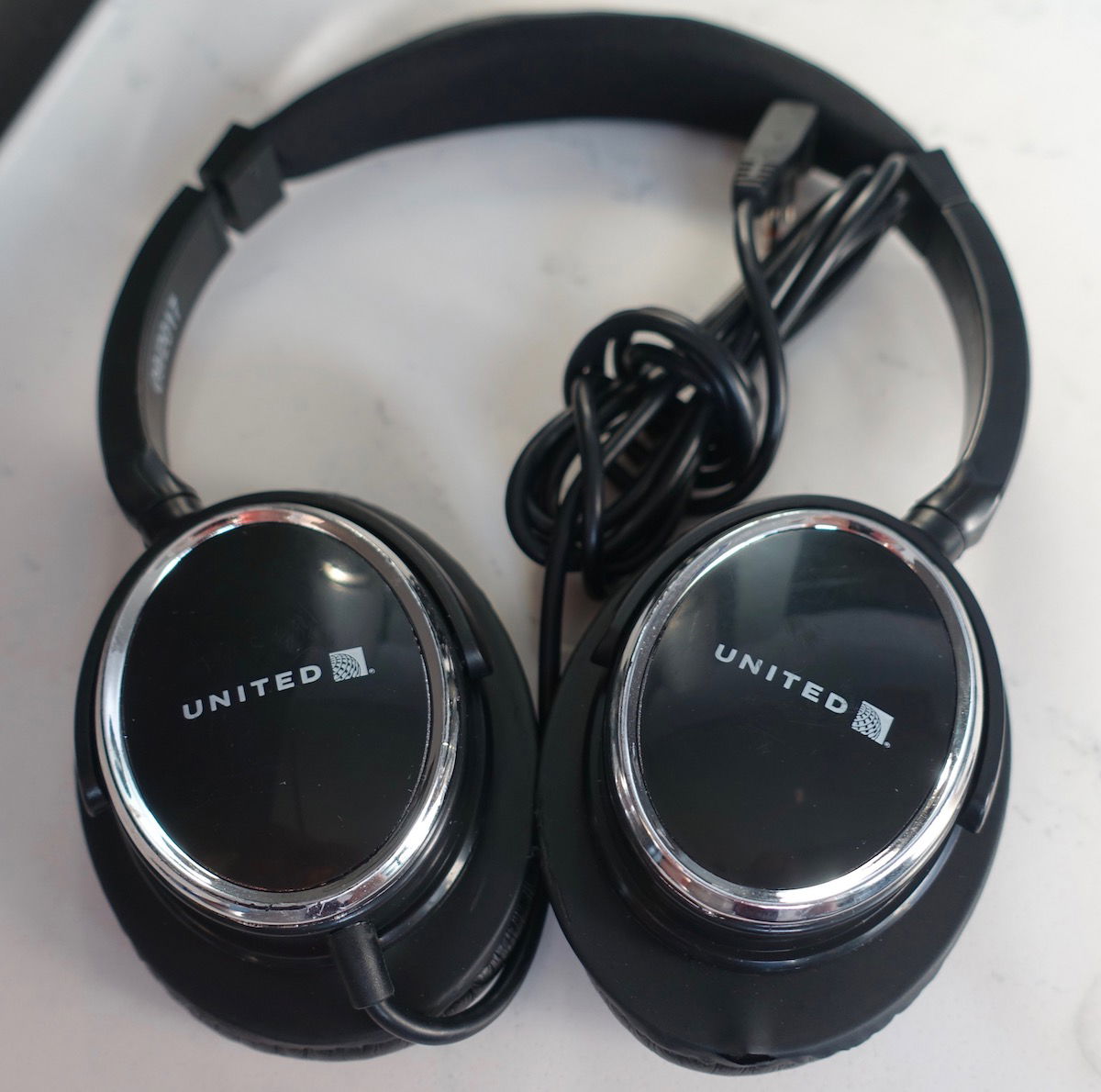 United Polaris headphones
Also already waiting at my seat was United's spectacular bedding. This is where Polaris really shines, as I think they have the best business class bedding in the world. This included a duvet, a light blanket, a regular pillow, and a cooling gel pillow. Not even pictured is the mattress pad, available on demand.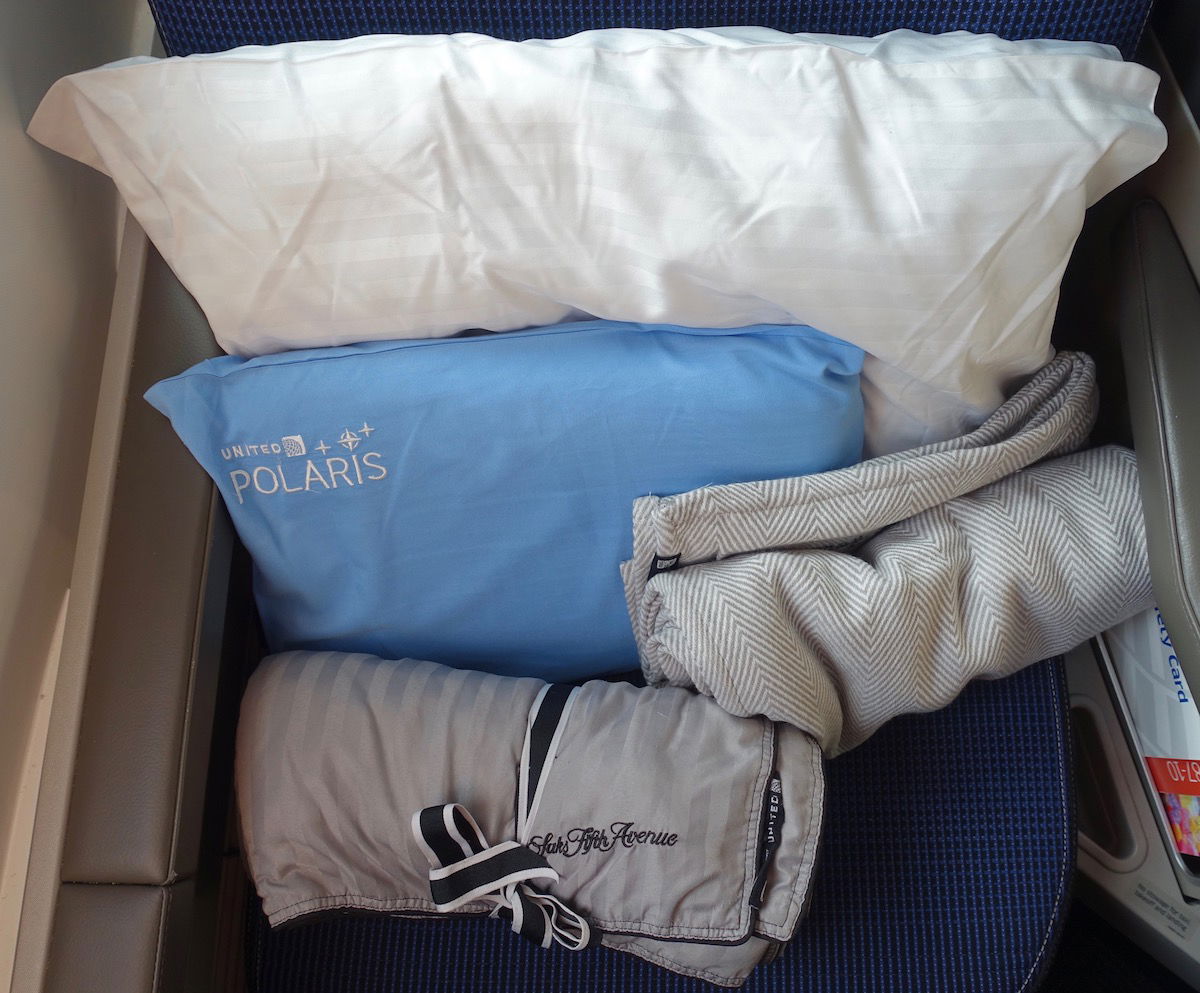 United Polaris bedding
Spoiler alert: I fear at this point the bedding is literally the only aspect of the Polaris soft product that still impresses.
Also at my seat was a Spider-Man amenity kit.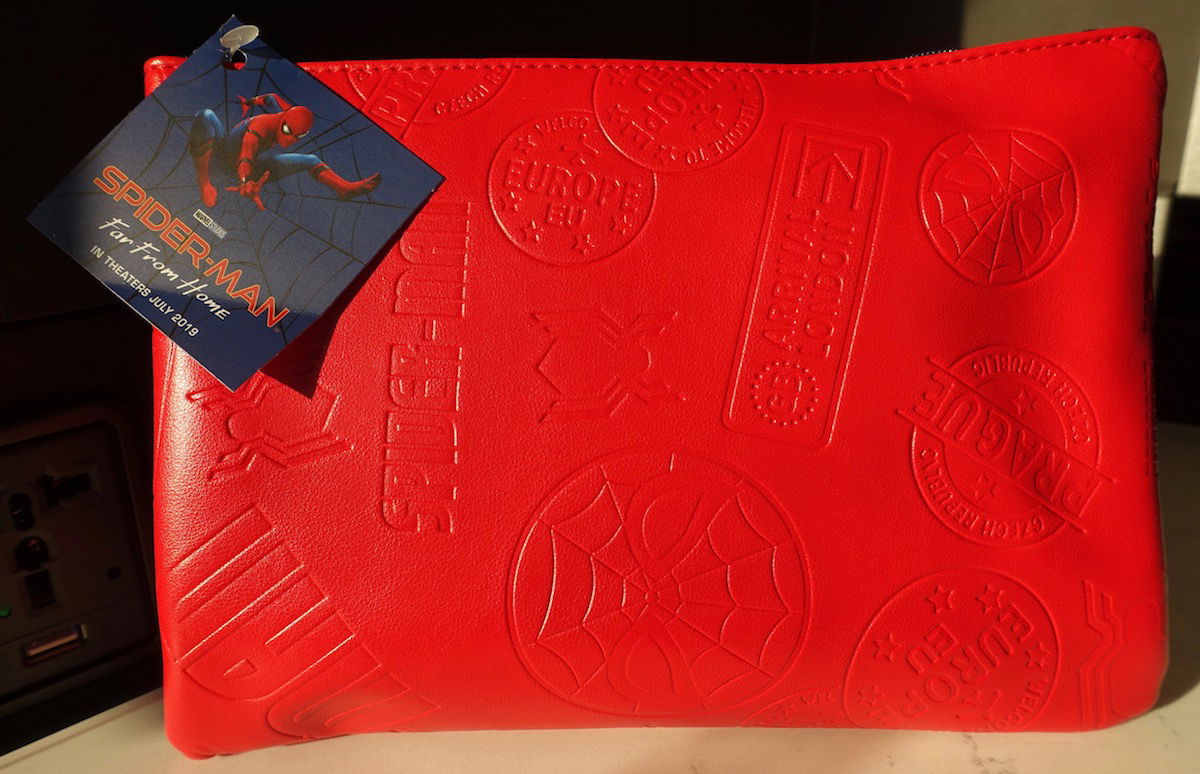 United Polaris amenity kit
The kit was well stocked, and I couldn't help but laugh out loud when I walked to the bathroom mid-flight and saw someone with the Spider-Man eye shades on.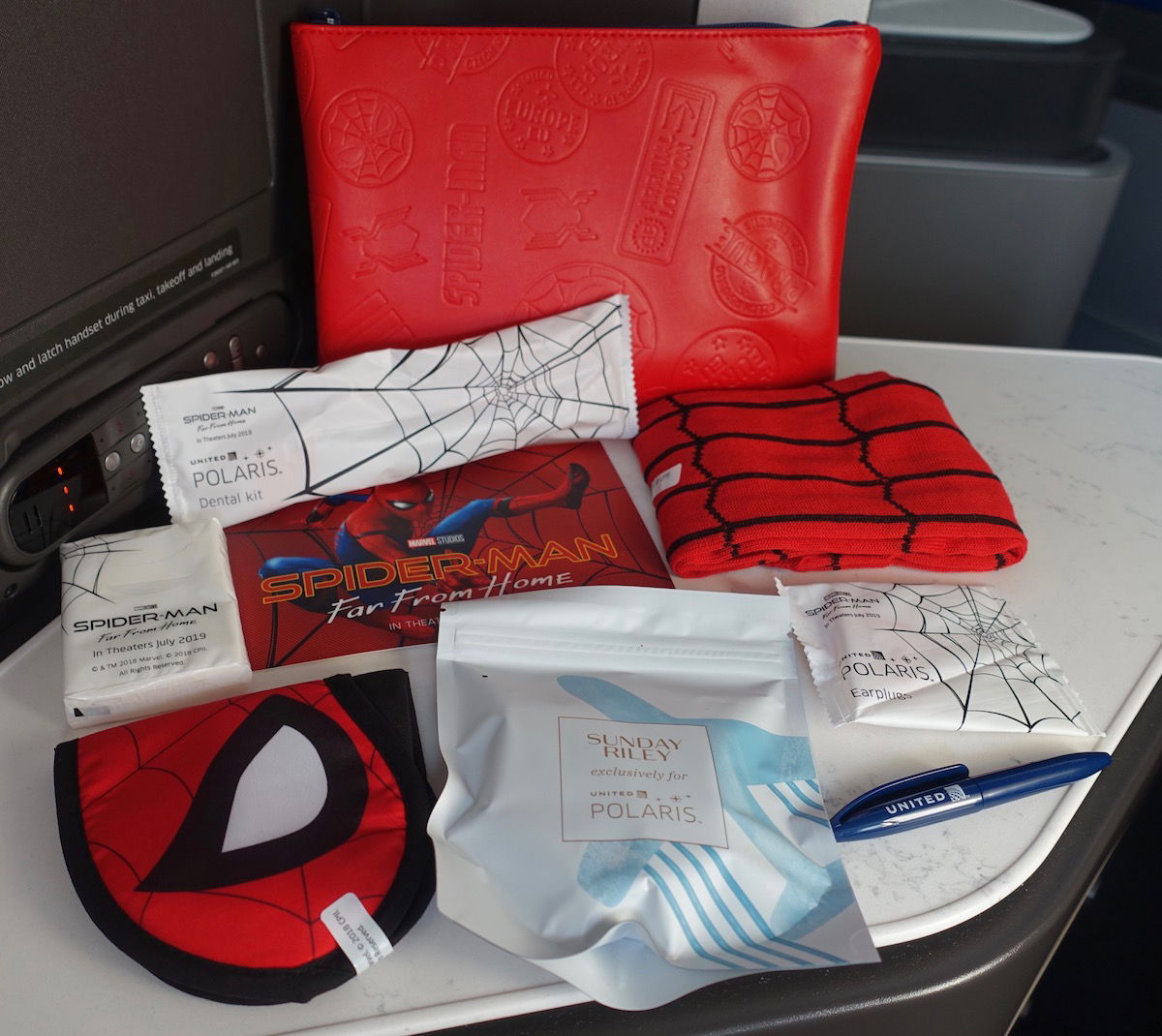 United Polaris amenity kit contents
United used to offer chocolates and pre-departure drinks of choice. This time I just had a flight attendant hold out a tray and say "water… orange juice… champagne." That's quite a generous pour! Apparently you can still request other pre-departure drinks, though champagne worked for me.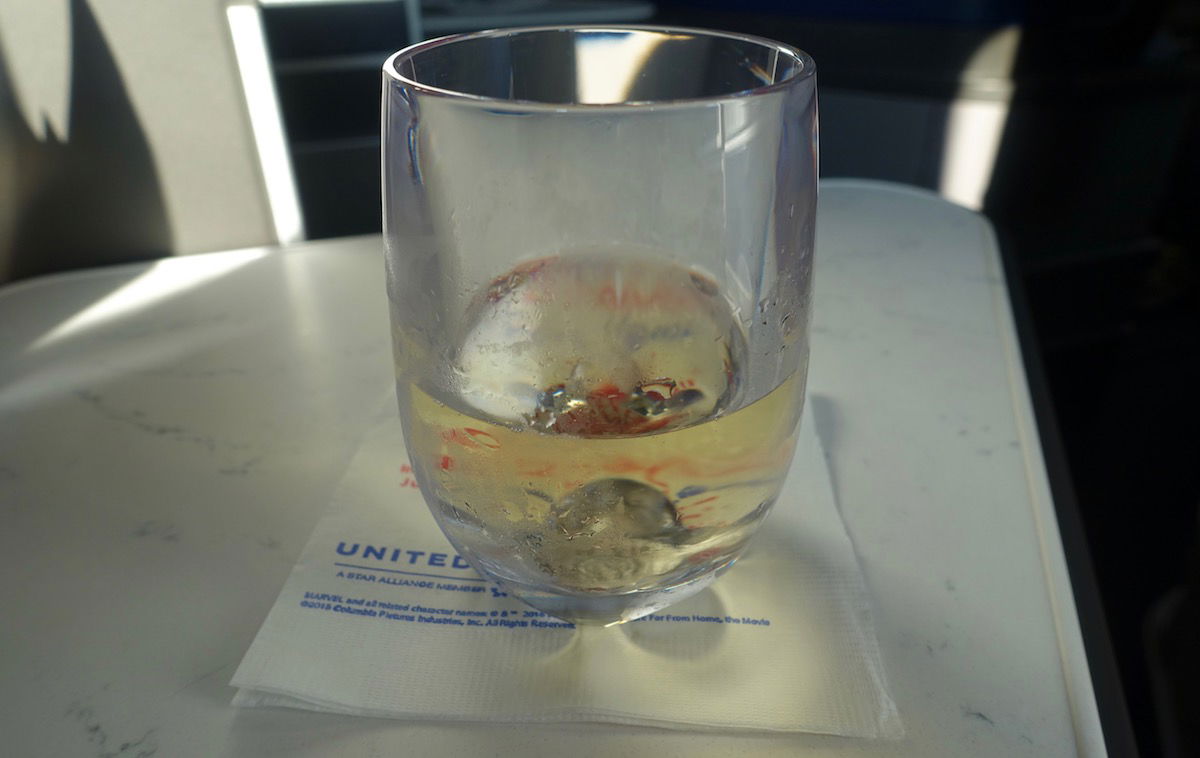 United Polaris pre-departure champagne
Also waiting at my seat was the menu.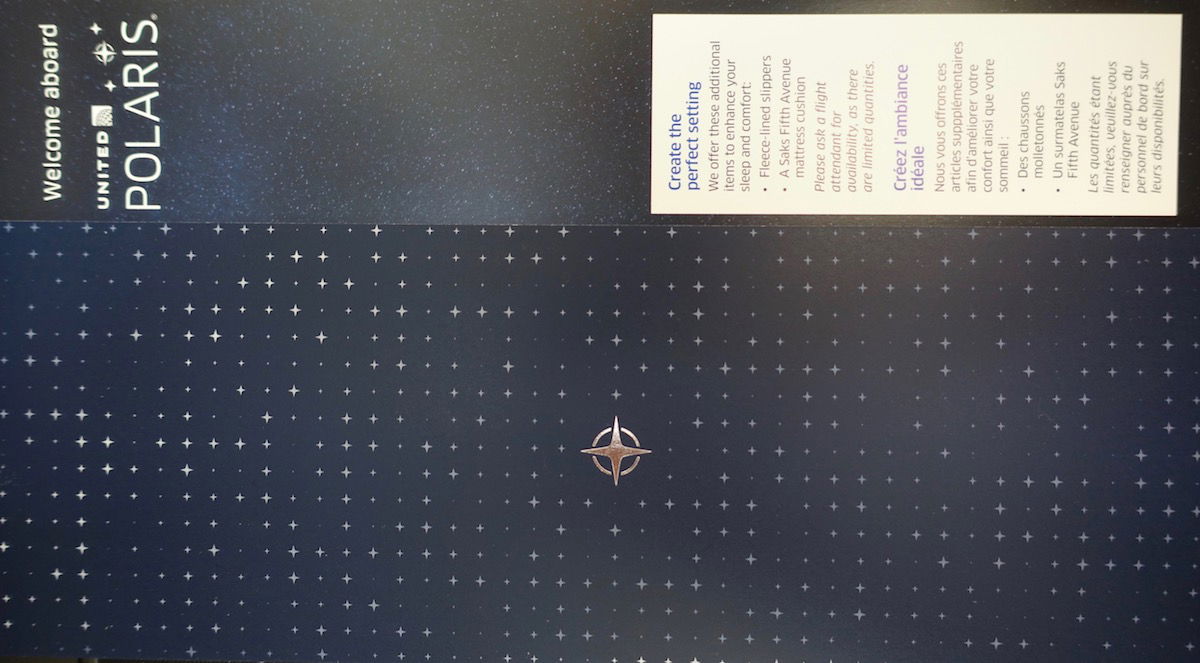 United Polaris menu
At 6:35PM the main cabin door was closed, and at 6:45PM meal orders were taken. To my surprise I wasn't even asked for a second choice.
Around the same time the captain made his welcome aboard announcement, informing us of our flight time of 6h33min. At that point the Spider-Man safety video was screened.
We pushed back at 6:50PM — a bit behind schedule — and started our taxi at 7PM. There were several United heavies at remote stands as we taxied to the runway.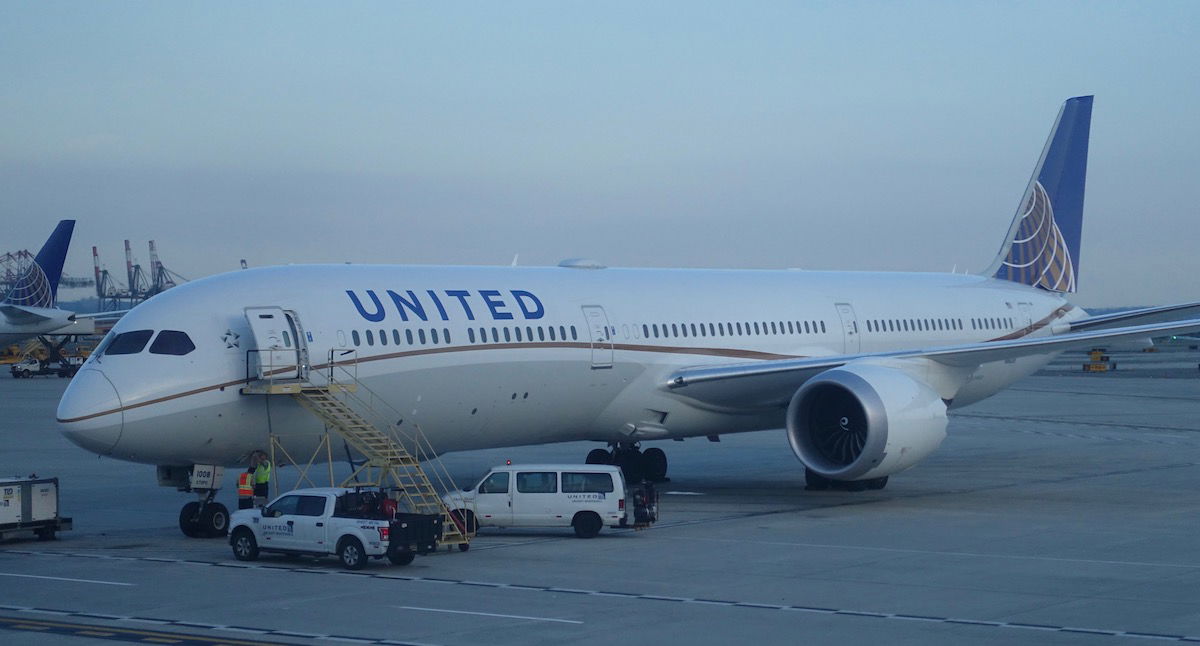 United 787-10 Newark Airport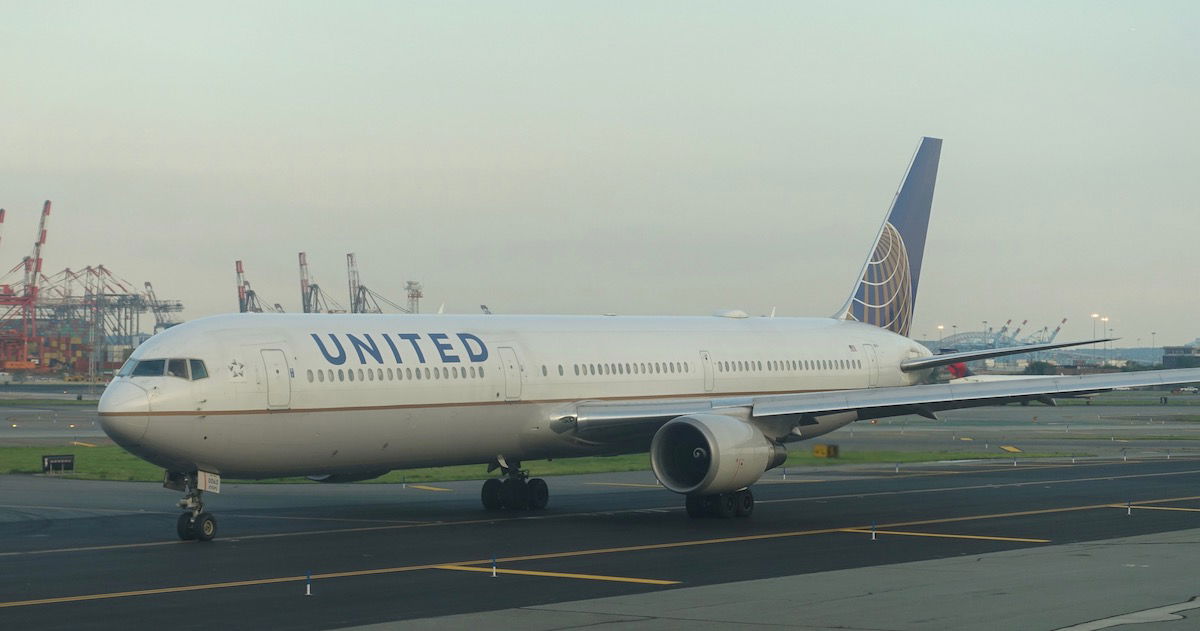 United 767-400 Newark Airport
We had a quick taxi to runway 22R, and surprisingly there wasn't much of a queue. There was a La Compagnie A321neo taking off right ahead of us, which is another product on my review list.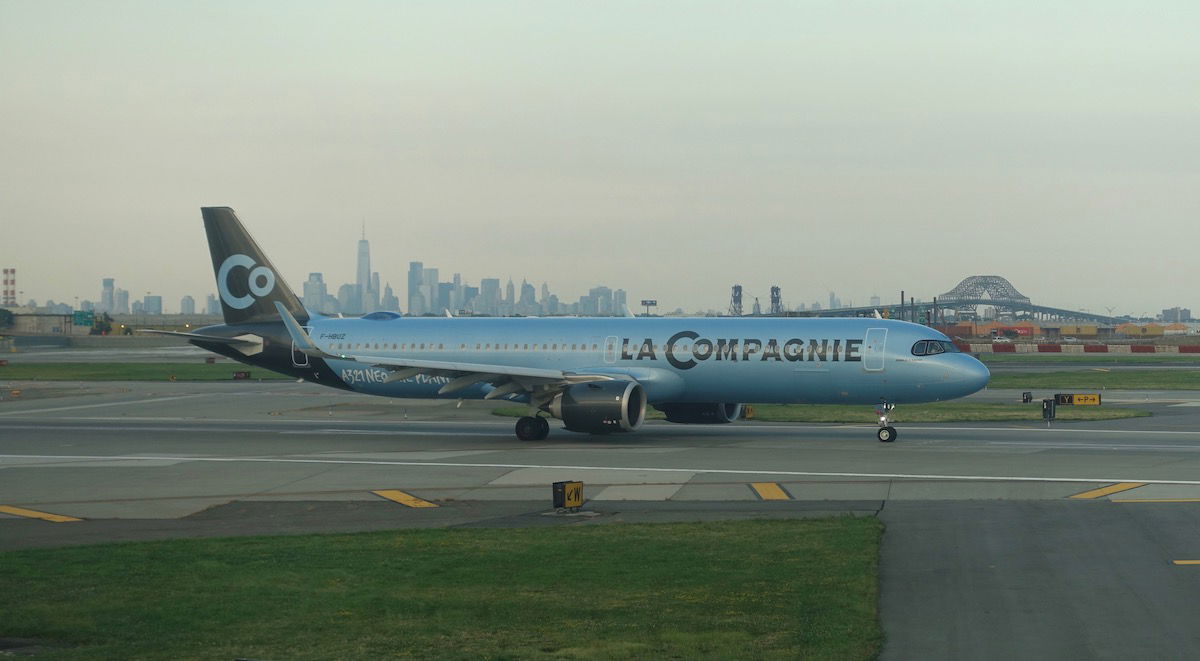 La Compagnie A321 Newark Airport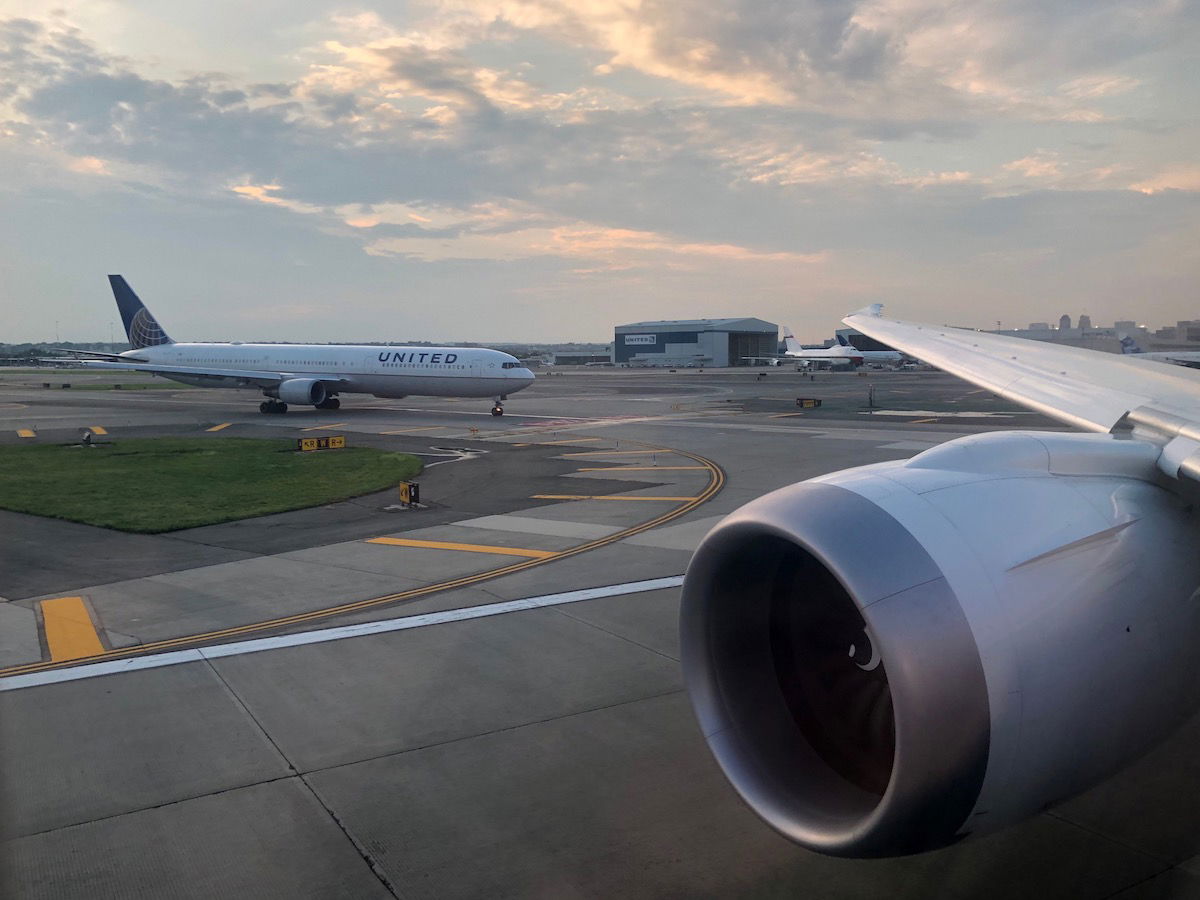 Taxiing Newark Airport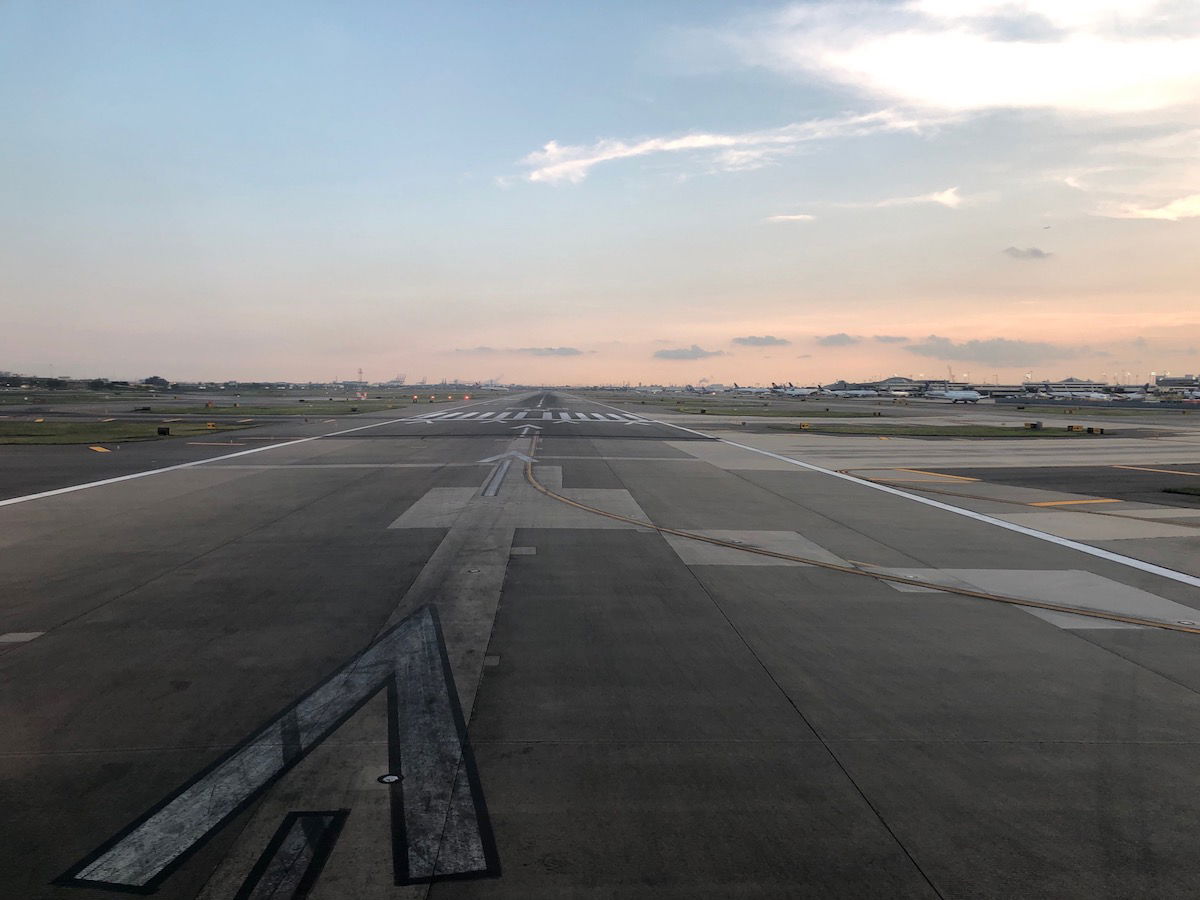 Taking off from Newark
Our takeoff roll was pretty quick, and we had a smooth climb out.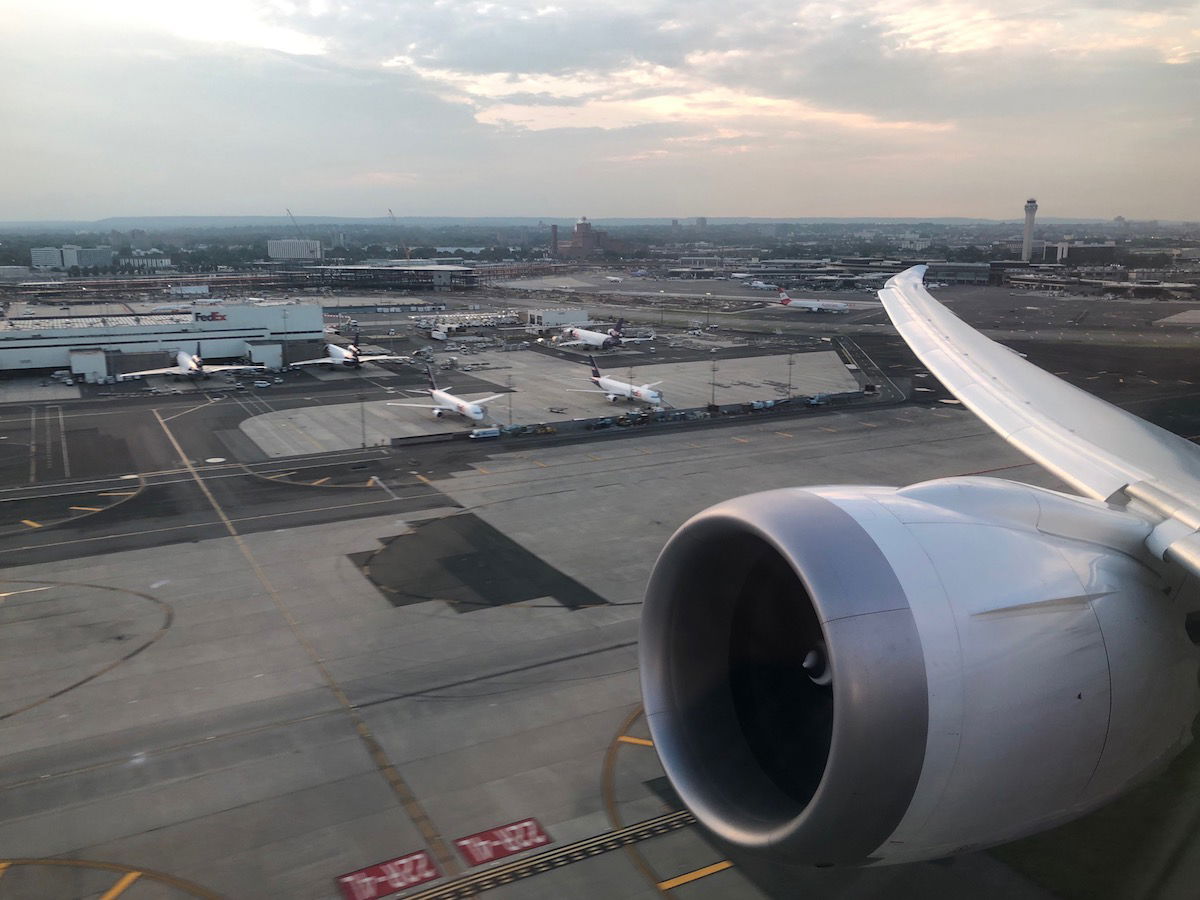 View after takeoff from Newark
As we climbed out I played around with the entertainment system, starting with looking at the moving map.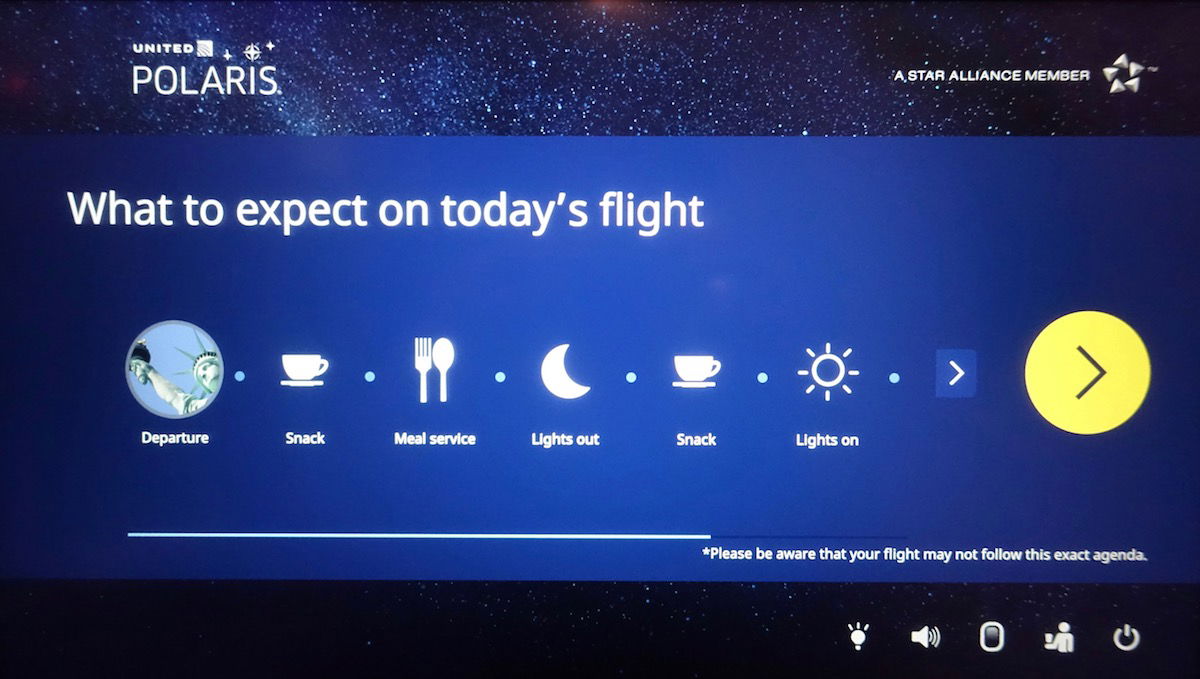 United entertainment selection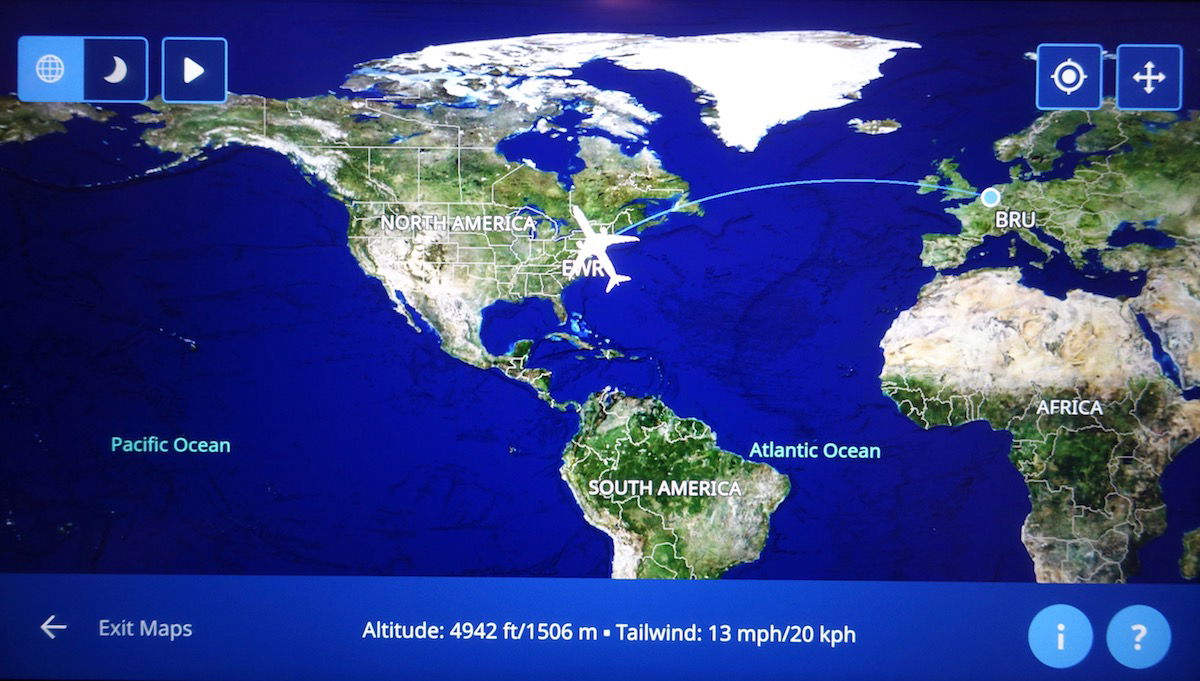 Moving map enroute to Brussels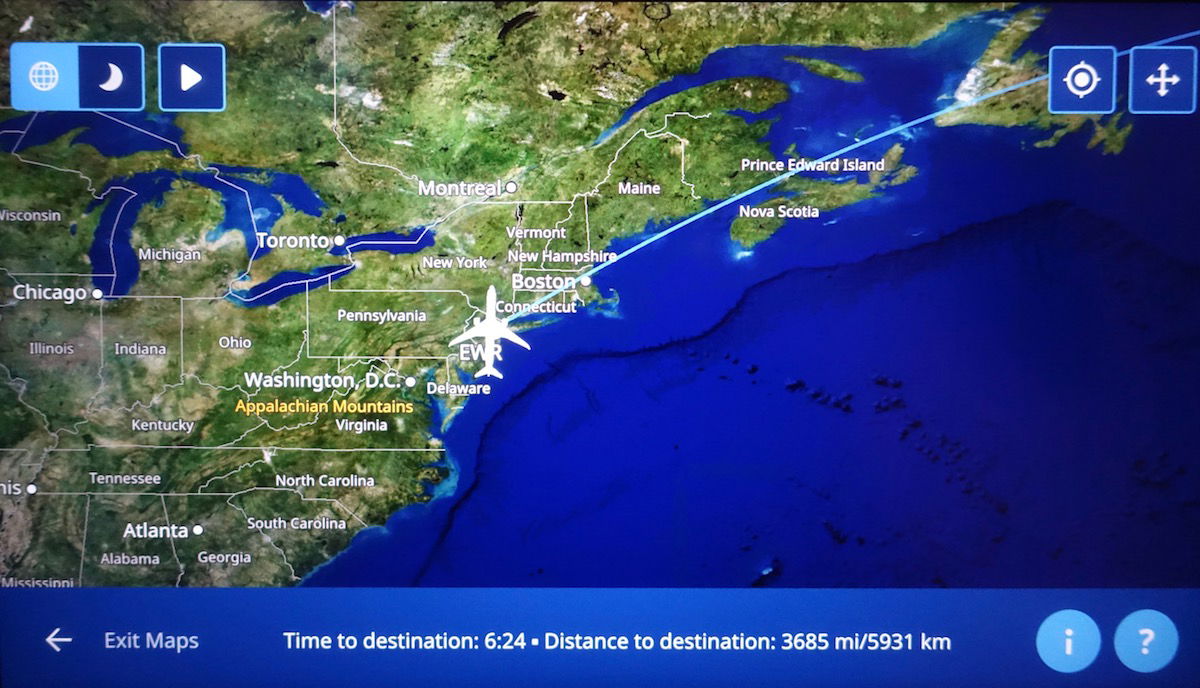 Moving map enroute to Brussels
The entertainment selection was excellent, with a seemingly never-ending choice of TV shows and movies.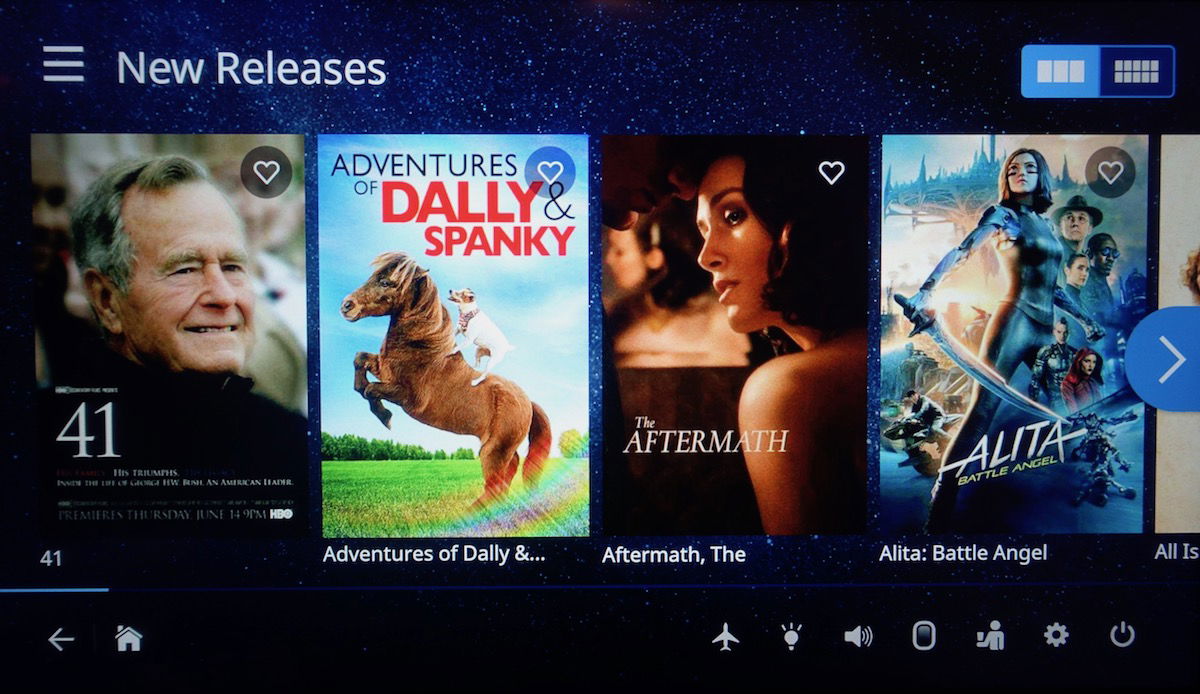 United entertainment selection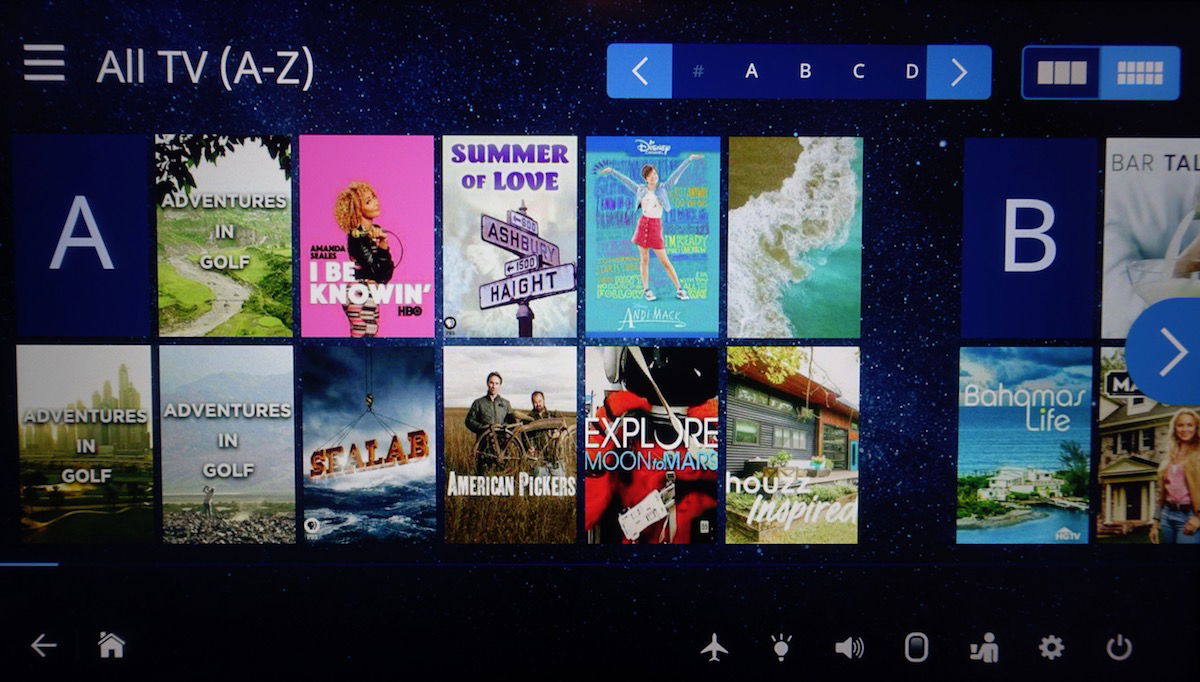 United entertainment selection
I also connected to the Wi-Fi.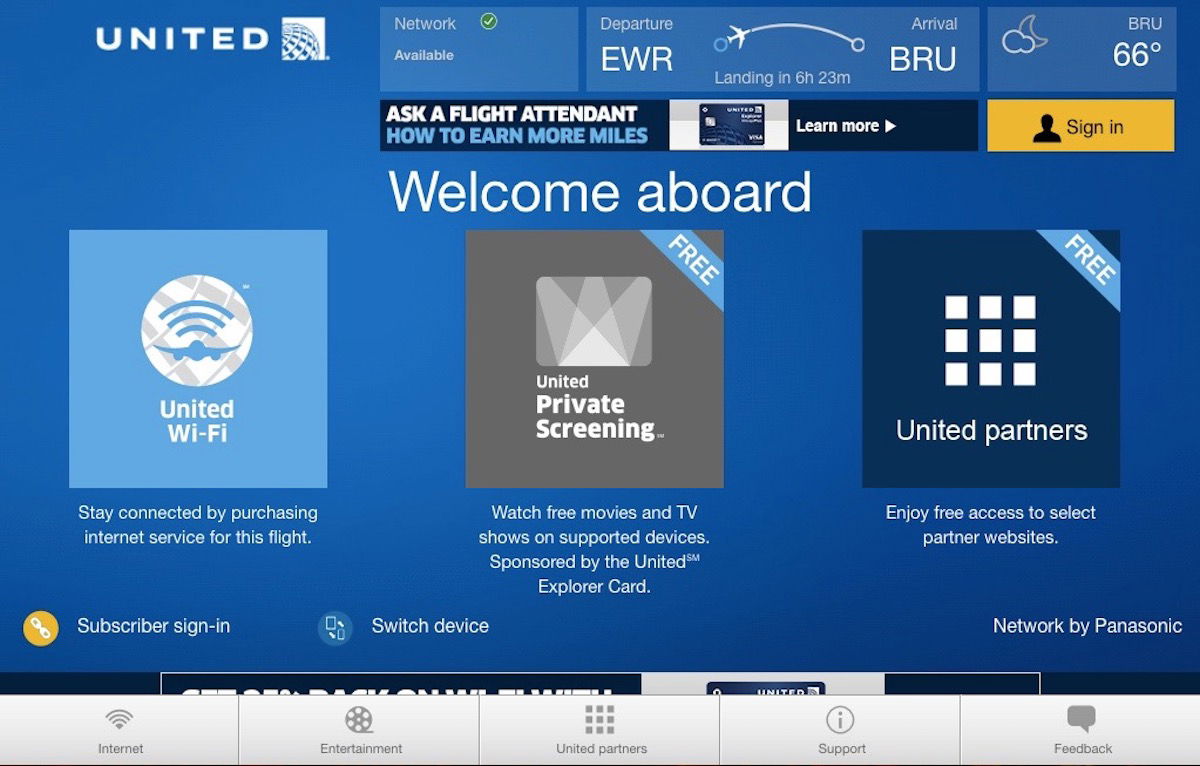 United Wi-Fi 787-10
United had three pricing options for Wi-Fi:
One hour for $8.99
Two hours for $12.99
Full flight for $22.99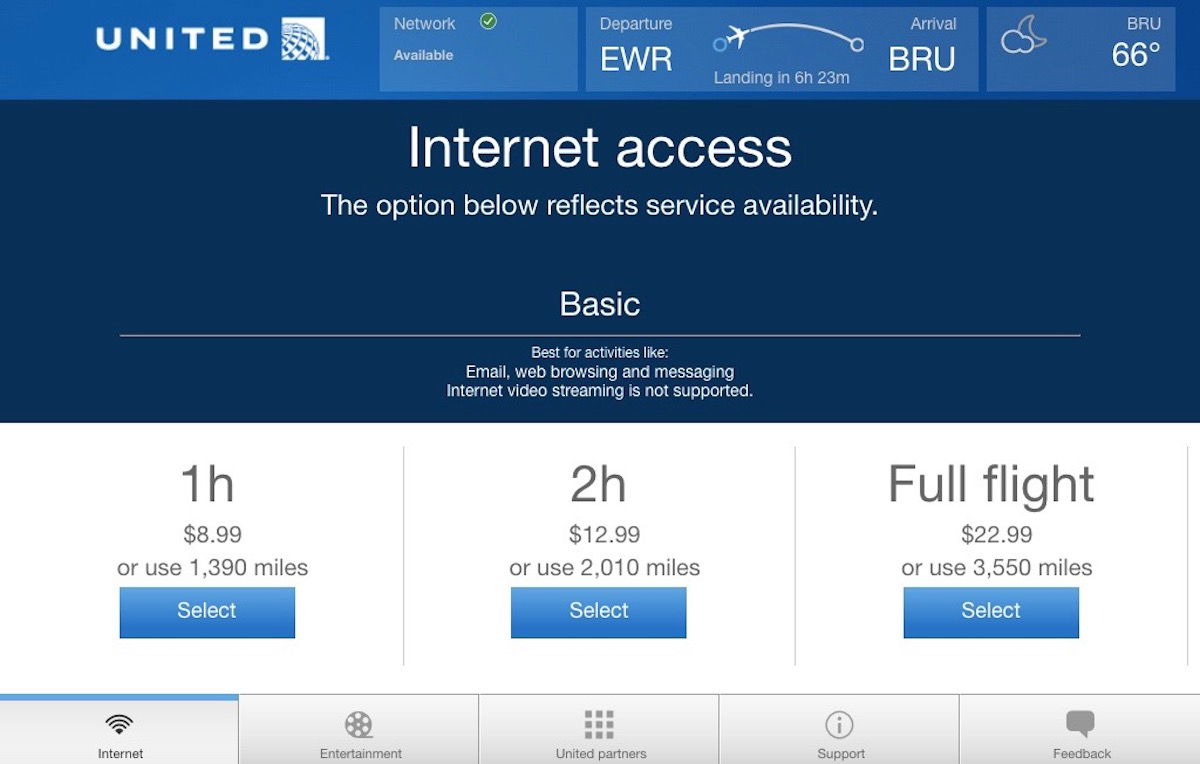 United Wi-Fi pricing
The internet speeds were good, and I didn't notice any coverage gaps.
The crew was quick to start the service after takeoff. The menu read as follows (annoyingly they don't publish a drink list):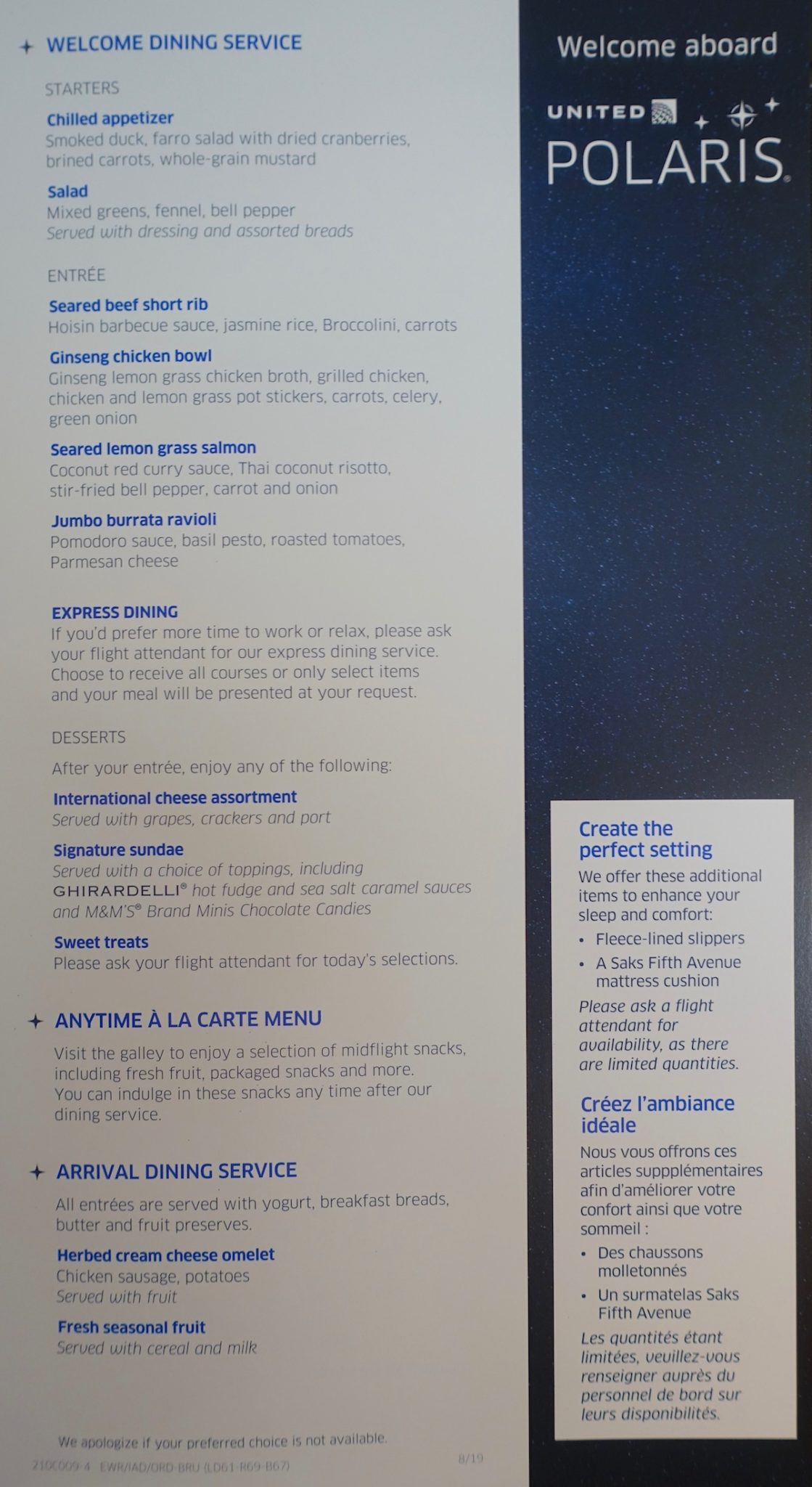 Service began with warm towels being distributed, followed by tablecloths.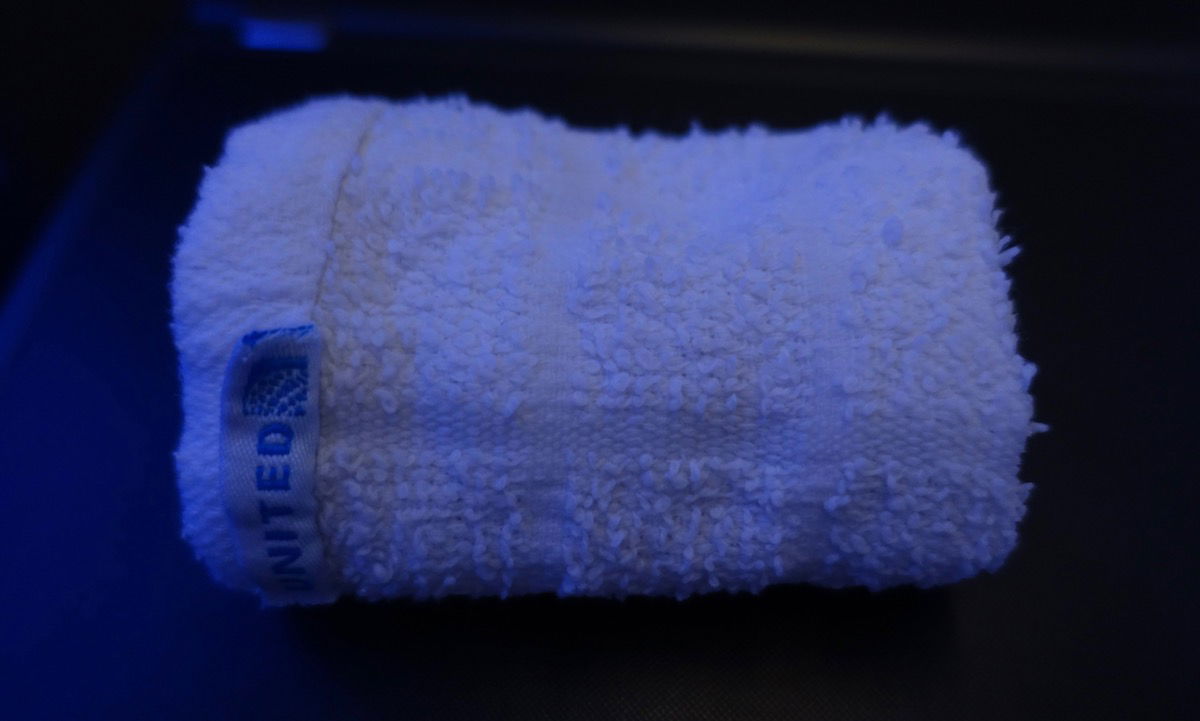 United Polaris warm towel
35 minutes after takeoff a flight attendant reached my seat with a cart to offer me a drink. I ordered some champagne and sparkling water, along with United's signature warm nuts.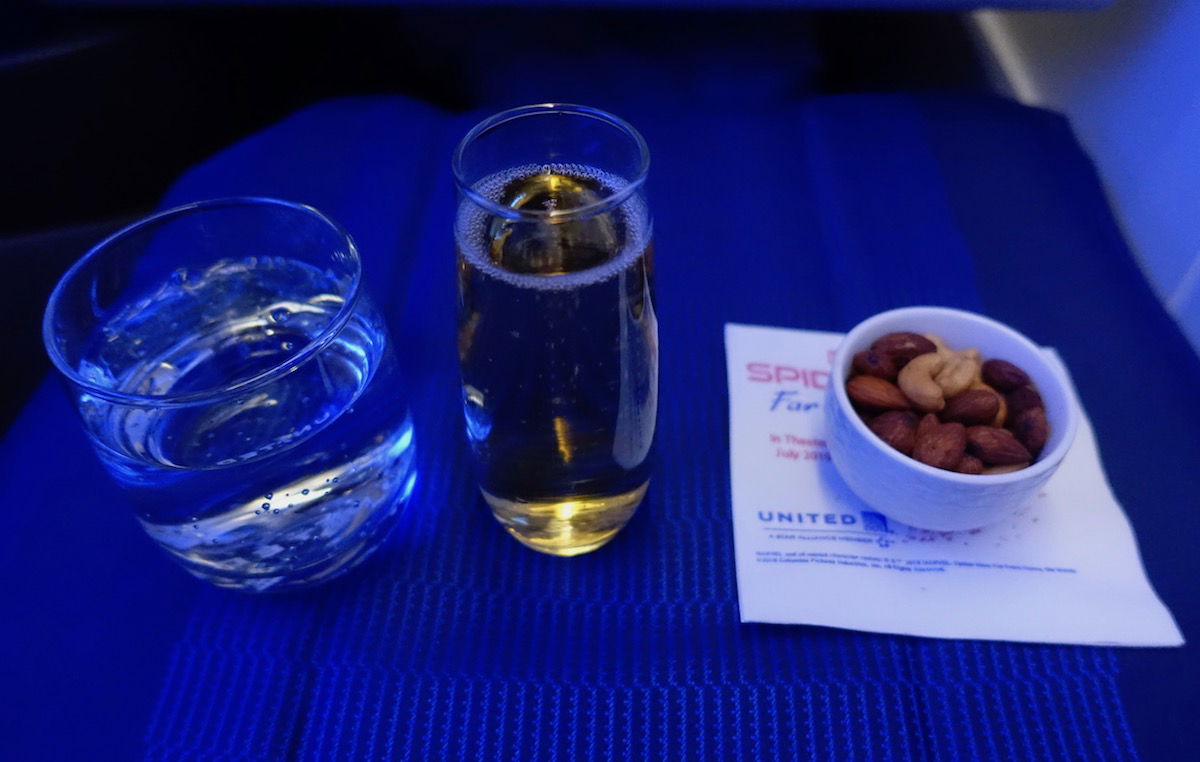 United Polaris dinner — warm nuts and drinks
There was a second flight attendant with another cart right behind her, so less than a minute later I was served the appetizer and salad on a tray.
The appetizer consisted of smoked duck, farro salad with dried cranberries, brined carrots, and whole-grain mustard, and just tasted a bit off to me. I also thought the salad of mixed greens, fennel, and bell pepper, was super bland. On the plus side, the pretzel bread was good.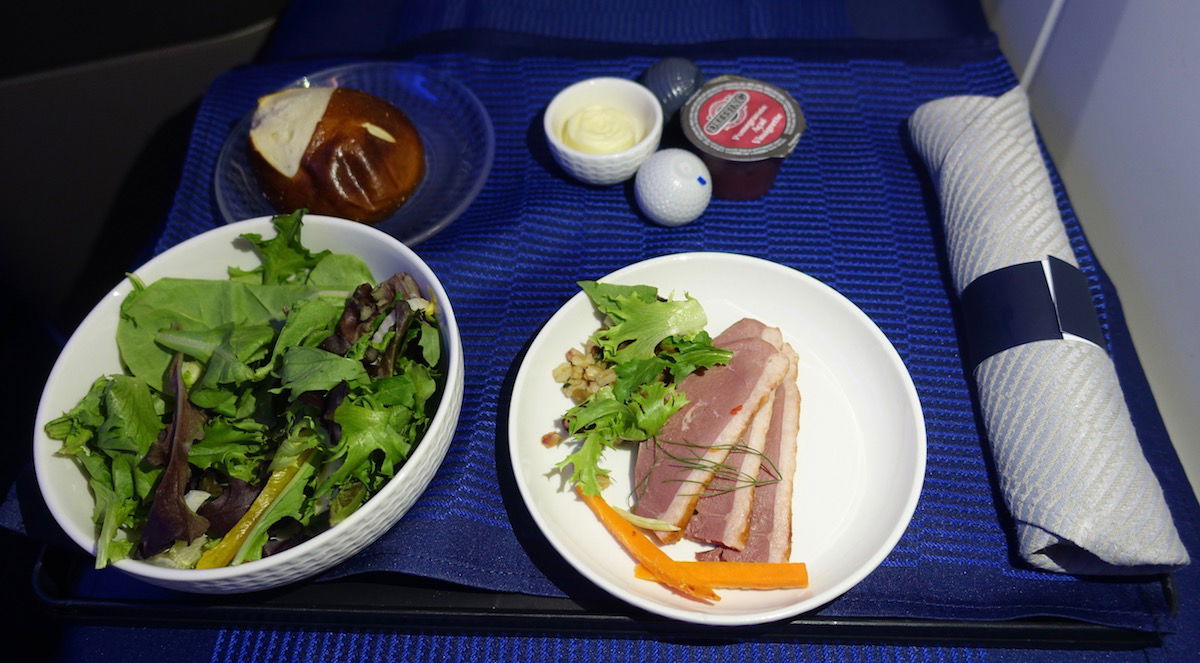 United Polaris dinner — salad and appetizer
55 minutes after takeoff I was served the main course. United has switched from plating dishes onboard to already loading them pre-plated so that the crews just have to put them in the ovens. That most definitely shows when it comes to presentation. Like all changes that are made in the airline industry, United has assured me that this was due to customer feedback. 😉
I ordered the seared lemon grass salmon with coconut red curry sauce, Thai coconut risotto, stir-fried bell pepper, carrot, and onion. The dish was alright.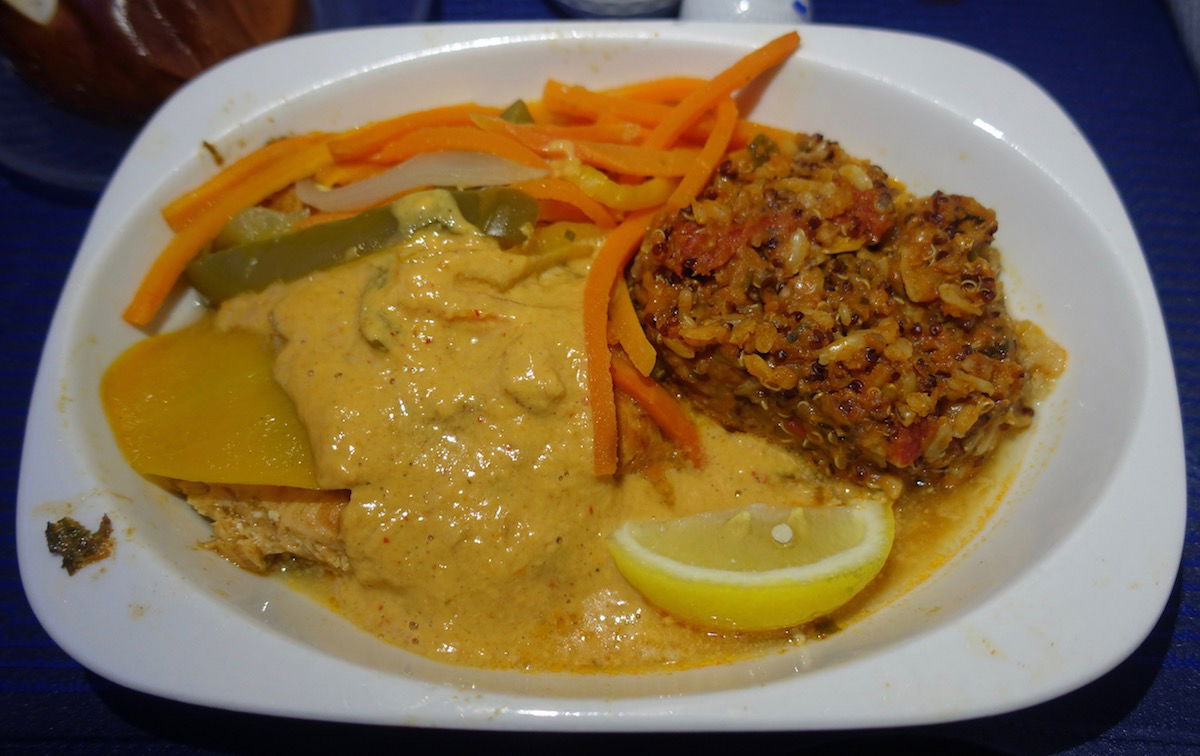 United Polaris dinner — main course
Lastly the dessert trolly was rolled through the cabin about 75 minutes after takeoff. I asked for ice cream with nuts and strawberries.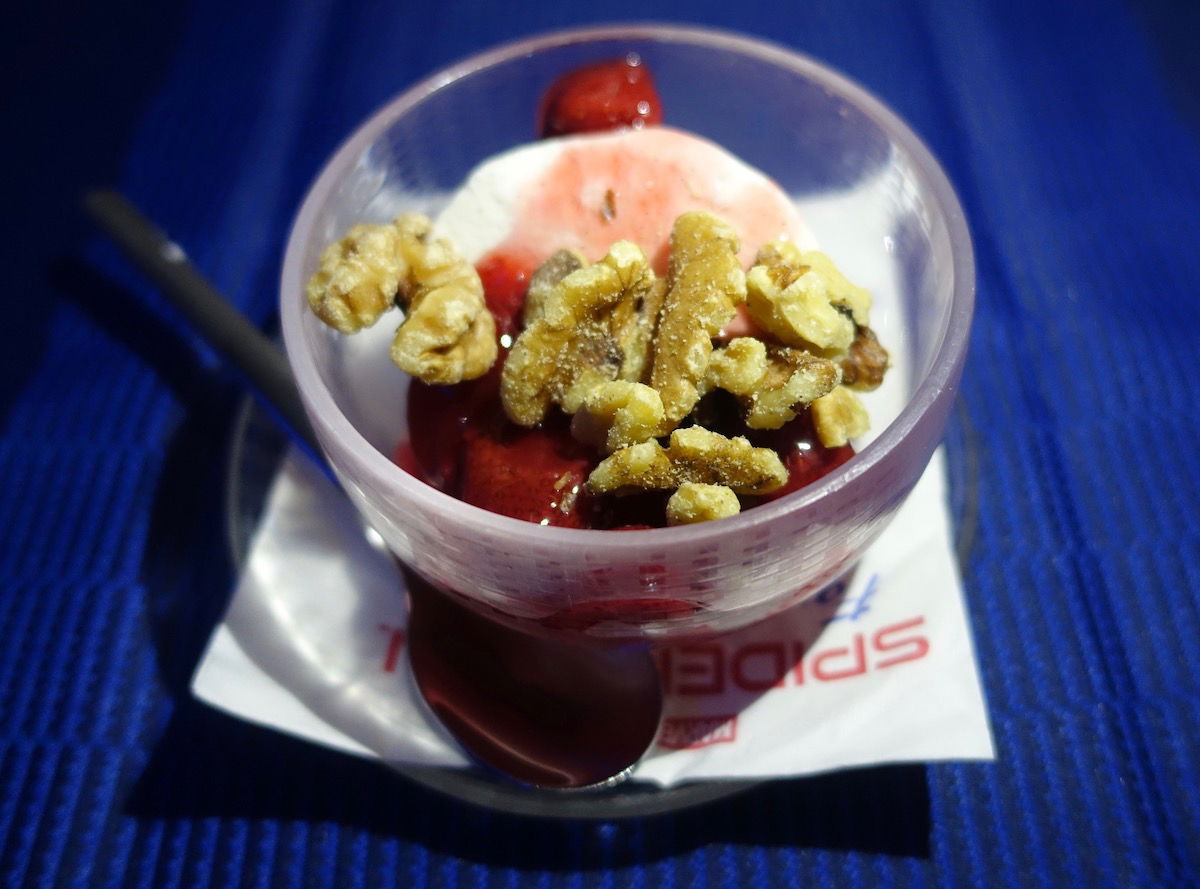 United Polaris dinner — dessert
On the plus side, I appreciated that the meal service was done within 90 minutes of takeoff. Unfortunately the speed of the service was the only part of the meal that impressed me.
I'm not sure if this was just a bad flight, but I feel like Polaris has fallen quite a bit when it comes to food quality. They used to be above average for US airline catering, while now I think they're on par with American (which is not where you want to be).
The flight attendants were fine-ish. Some were friendly-ish. Some were efficient but not friendly. Overall they went through the motions and that's about it.
After the meal I checked out the lavatory — there were two in front of the cabin and two behind. I'm not sure if the ones behind are shared with premium economy, or what, because the curtains suggested they all belonged to business class (in which case four lavatories for 44 seats is an excellent ratio).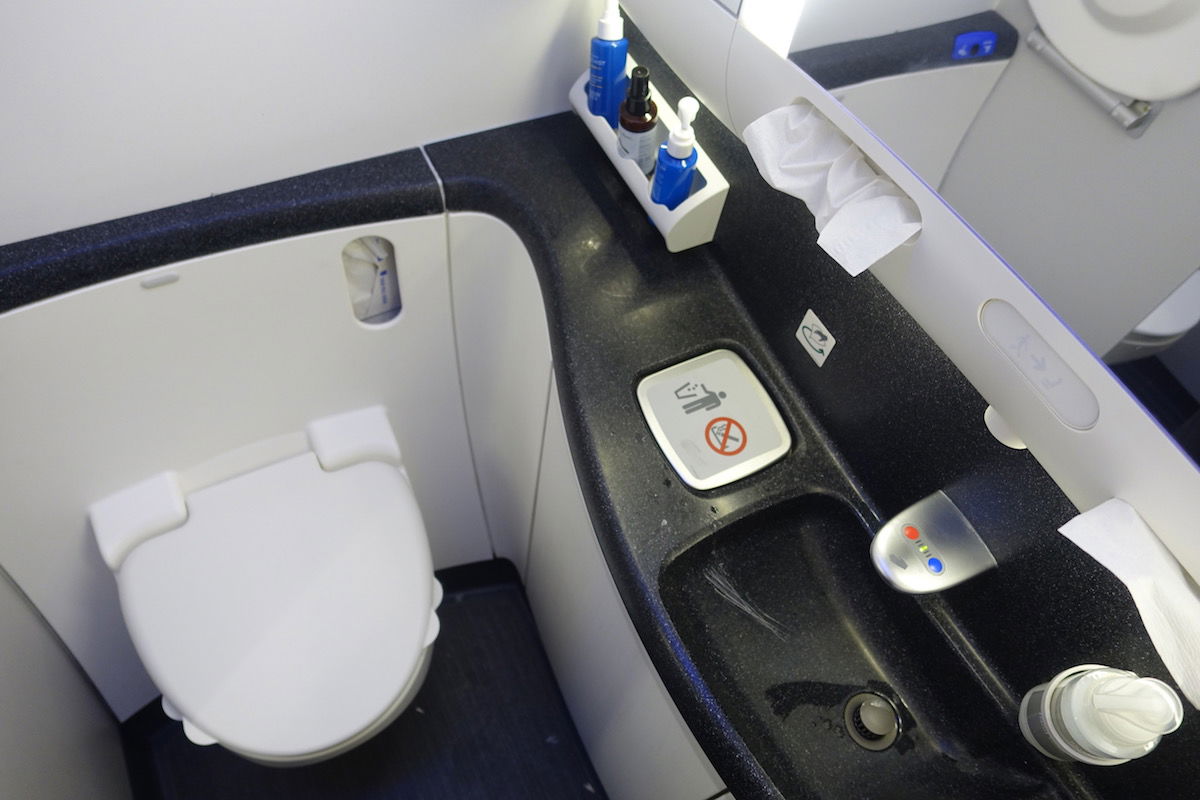 United 787 lavatory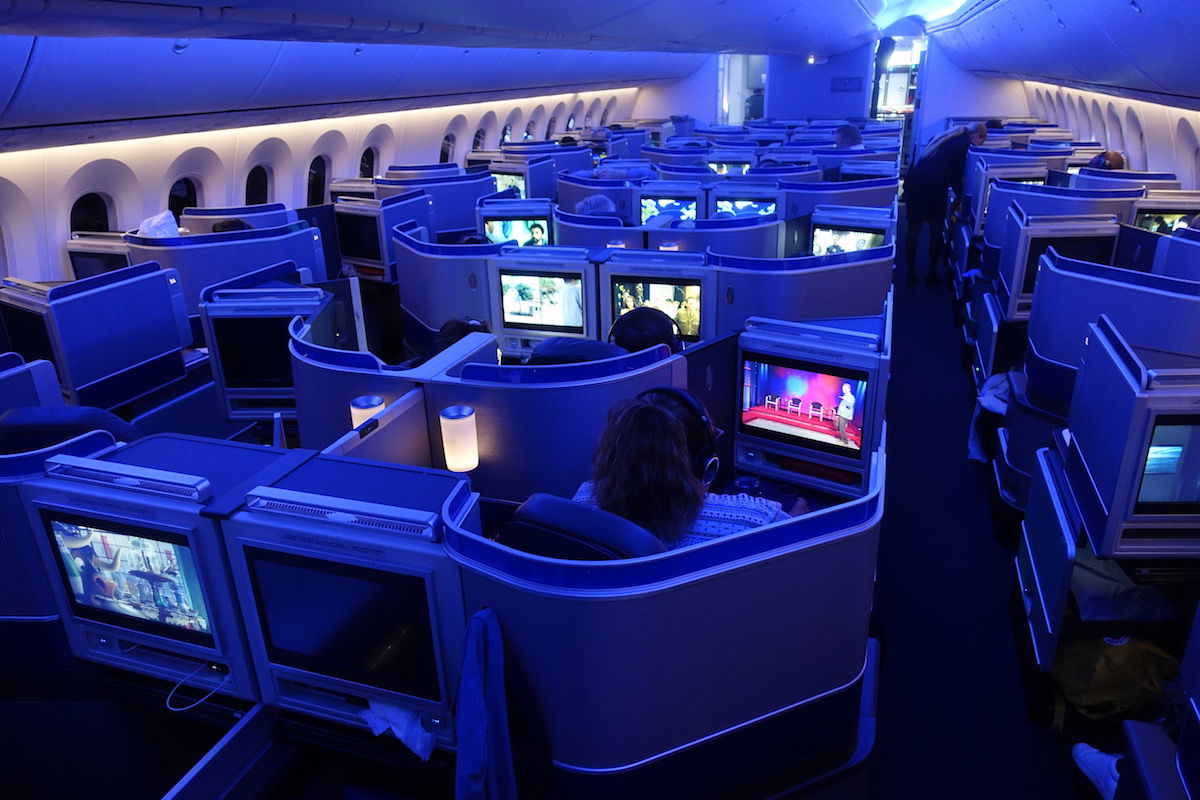 United 787-10 Polaris cabin
I then reclined my seat all the way to get some sleep. After all, I had a long day ahead of me after landing in Brussels.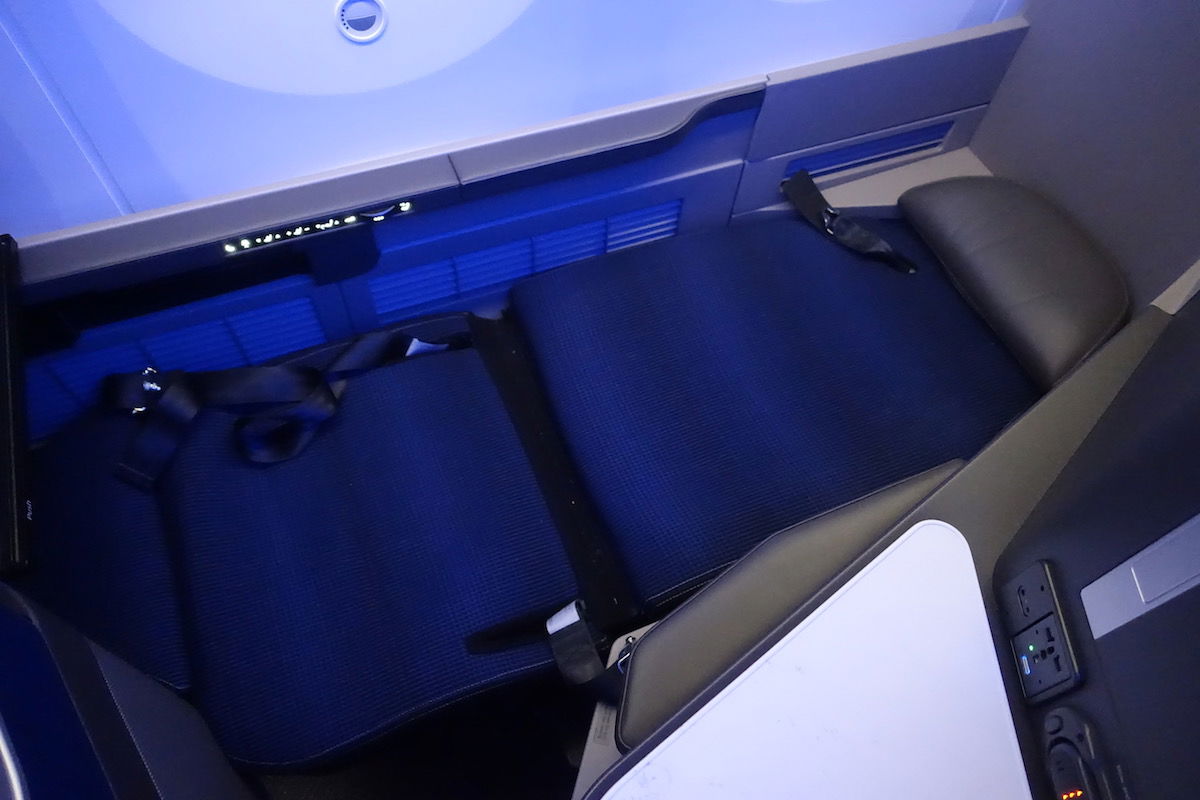 United Polaris business class bed 787-10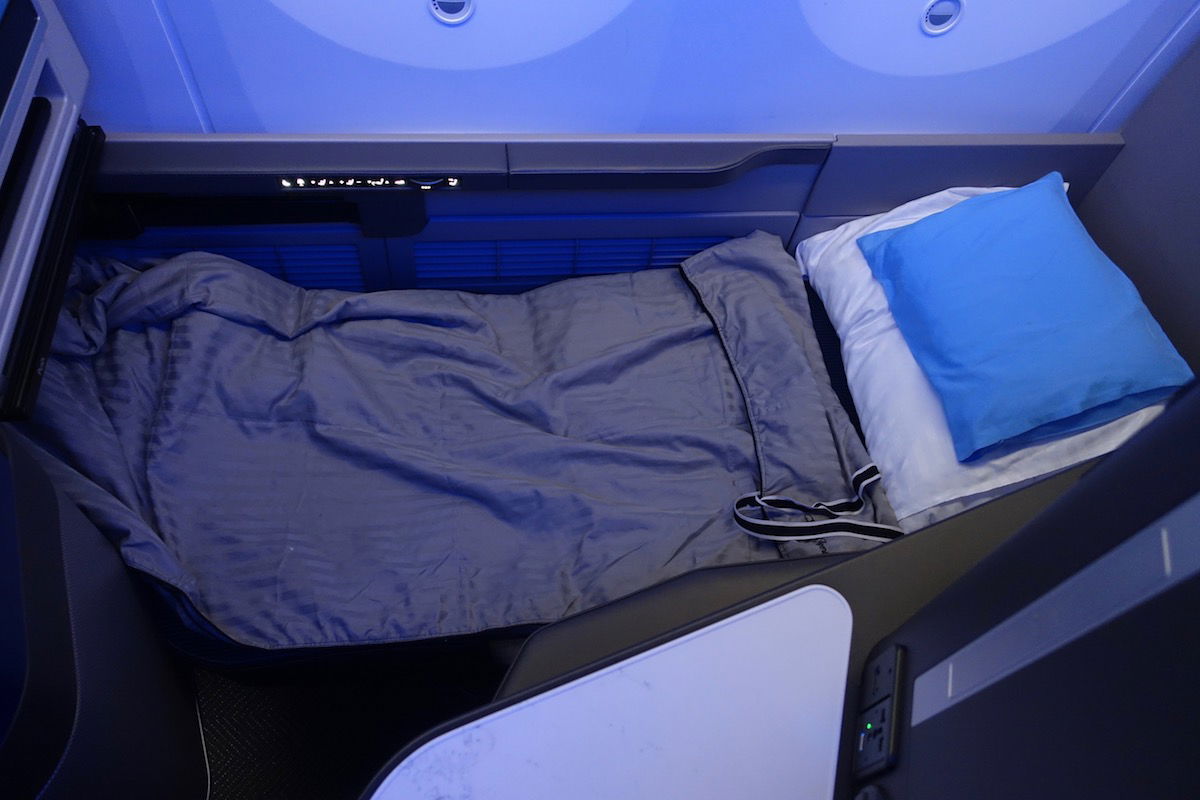 United Polaris business class bed 787-10
I fell asleep just under five hours from landing in Brussels.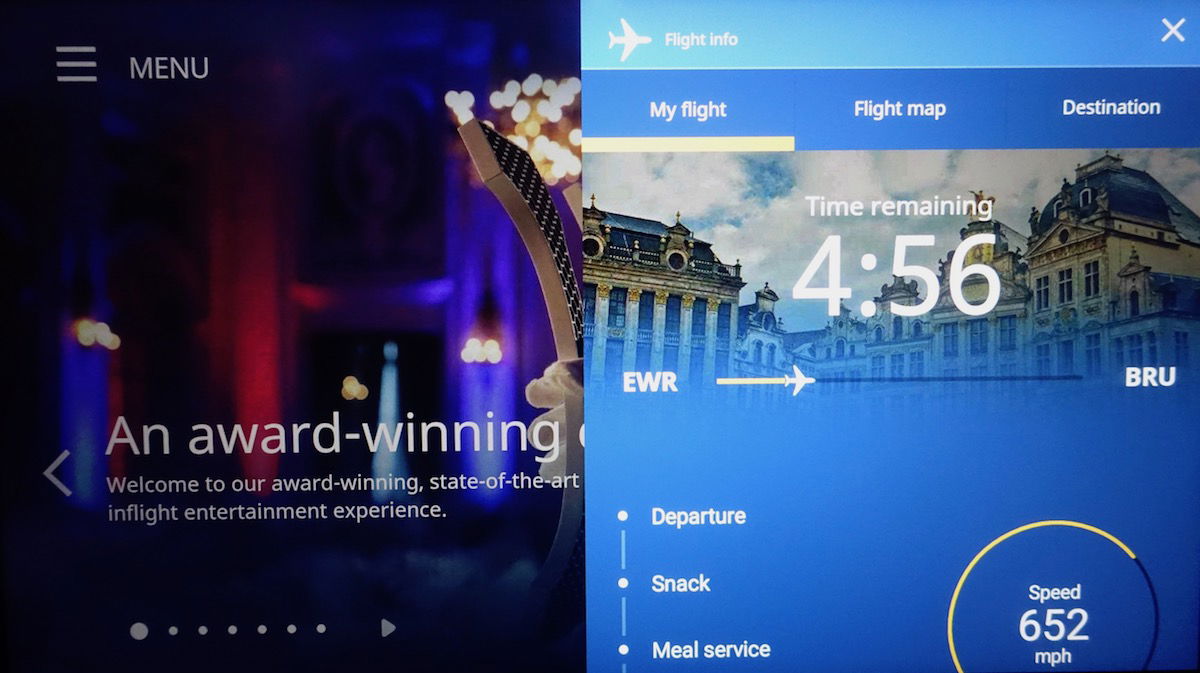 United entertainment system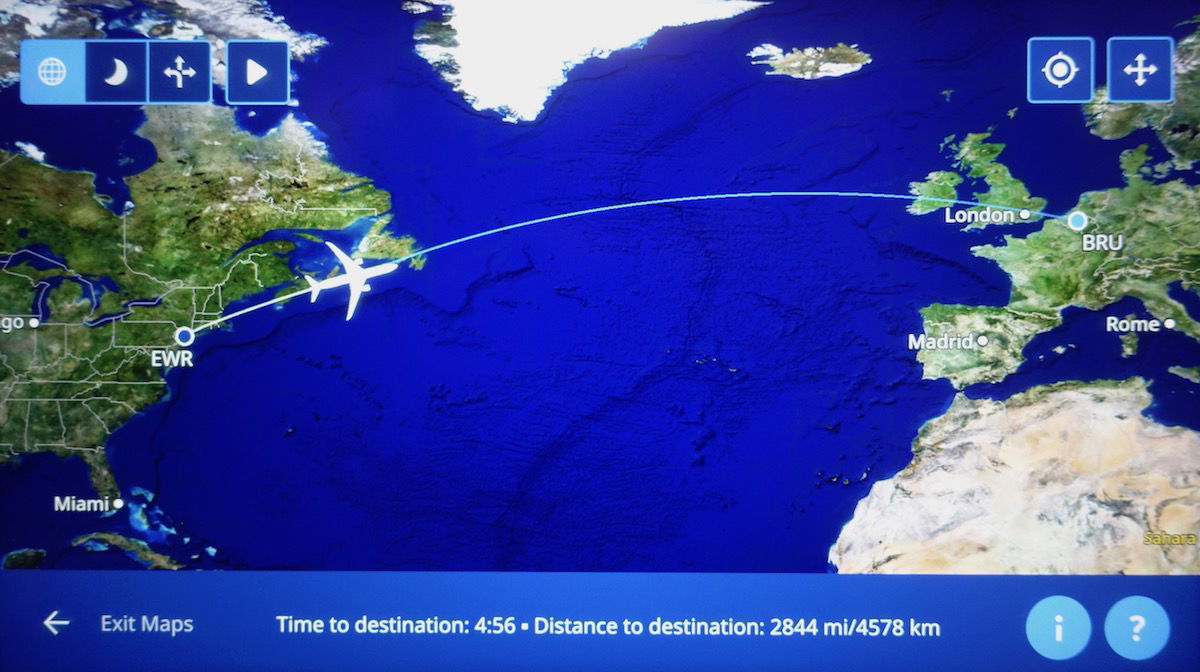 Progress enroute to Brussels
I got a solid 3.5 hours of sleep, and woke up just under 90 minutes before landing.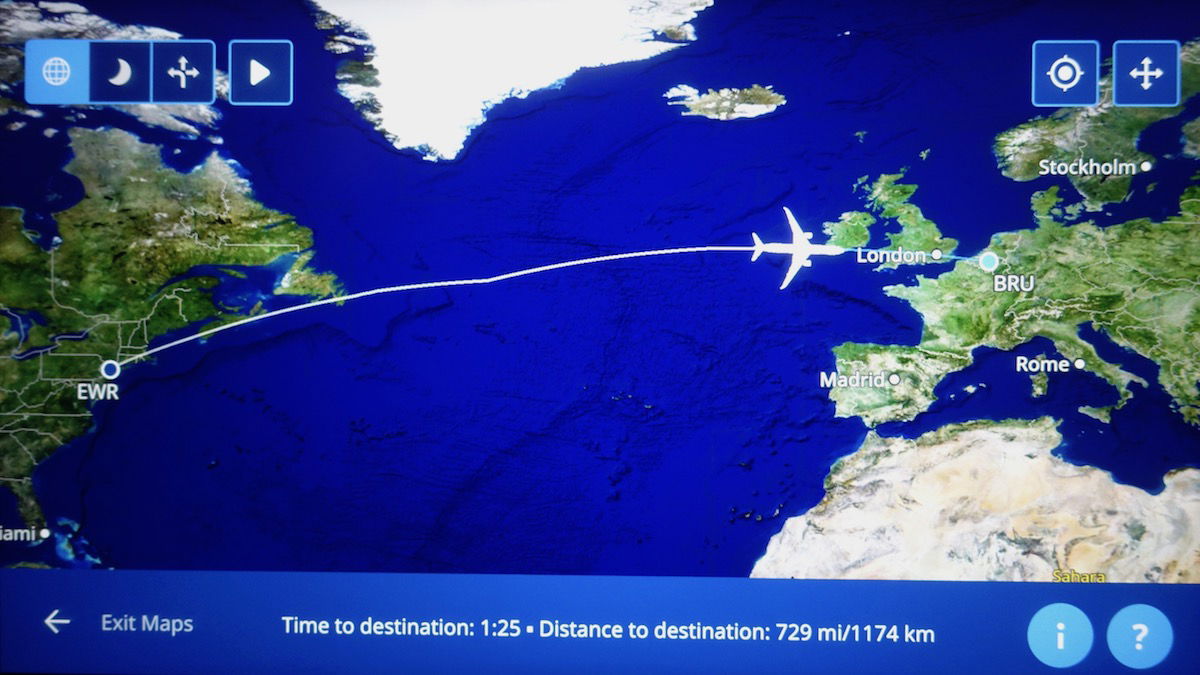 Progress enroute to Brussels
The sleep quality was excellent, and between United's great bedding and having an individual air nozzle, the conditions were perfect.
The cabin lights were turned on a few minutes after I woke up, at which point breakfast service started.
A flight attendant walked by my seat and said "you're not joining us for breakfast?"
This is ultimately minor, but I find this stuff happens on United more than any other airline. Like, I had indicated to the flight attendant when she took the meal order that I wanted to be woken for breakfast, and I was awake before they started serving anyone breakfast.
So was the flight attendant trying to discourage me from having breakfast, or wouldn't the correct question be "would you care to join us for breakfast?"
Etihad has a partnership with Savoy for training their onboard butlers. Maybe United should have a partnership with McDonalds? In some cases it would represent an improvement in standards…
Anyway, the breakfast was quite large when you consider that this is a short transatlantic flight (many airlines just offer a continental breakfast).
For breakfast there was the choice between a fruit salad and a cream omelet. The omelet came with chicken sausage and potatoes. It also came with a side of fruit and a croissant.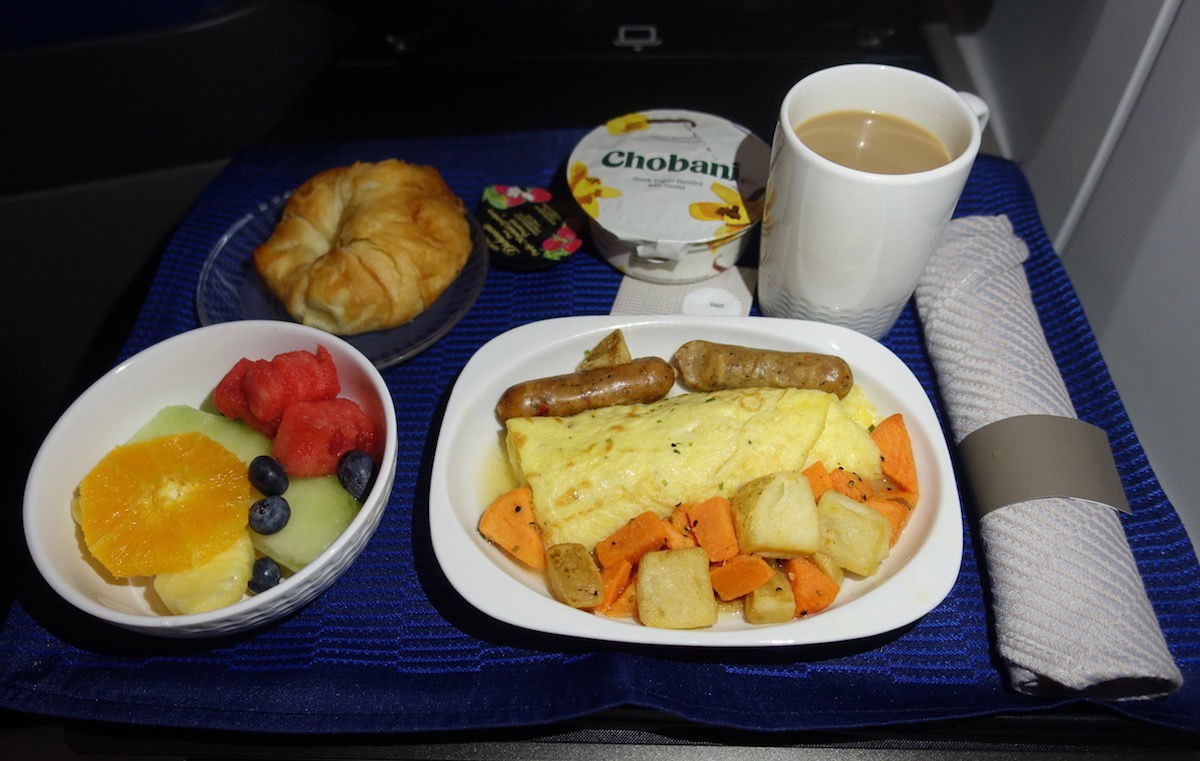 United Polaris breakfast
it was a beautiful morning as we approached Brussels. At 7AM the first officer announced we were just starting our descent and would be landing in 30 minutes.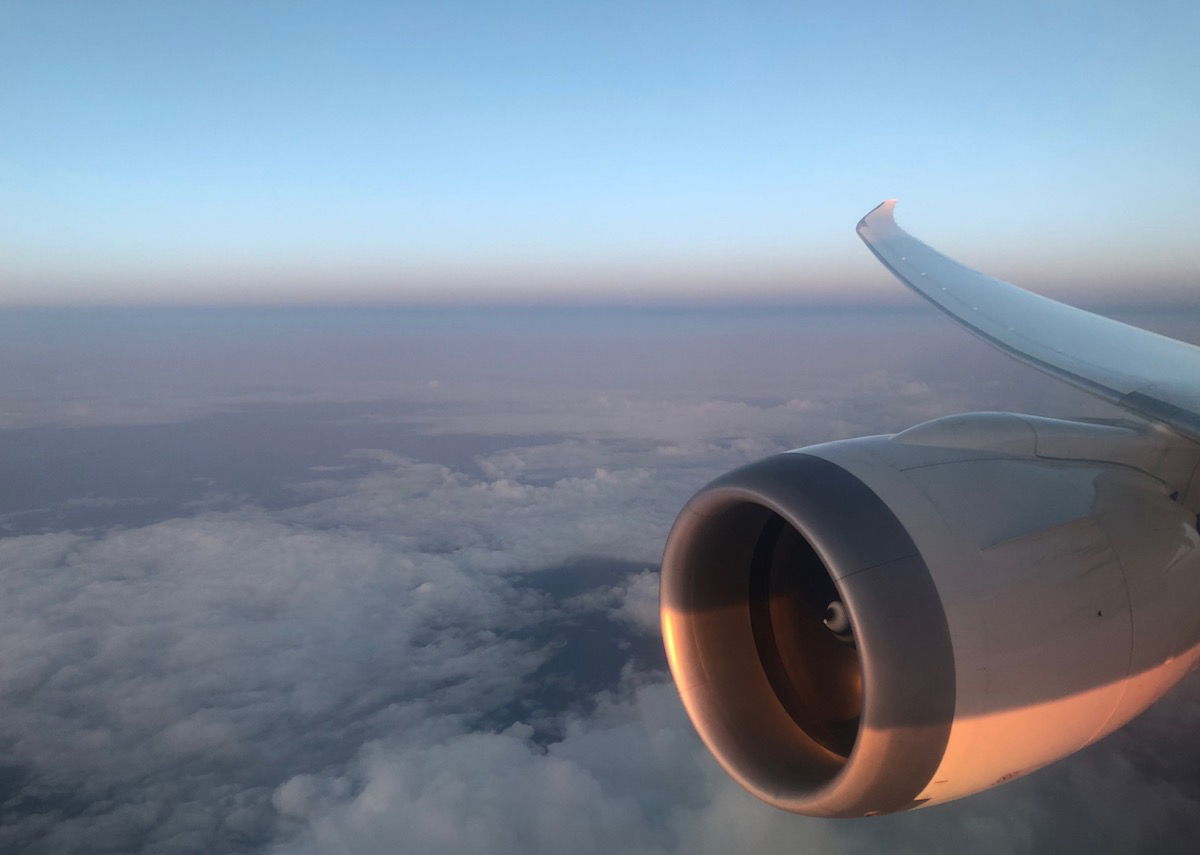 View enroute to Brussels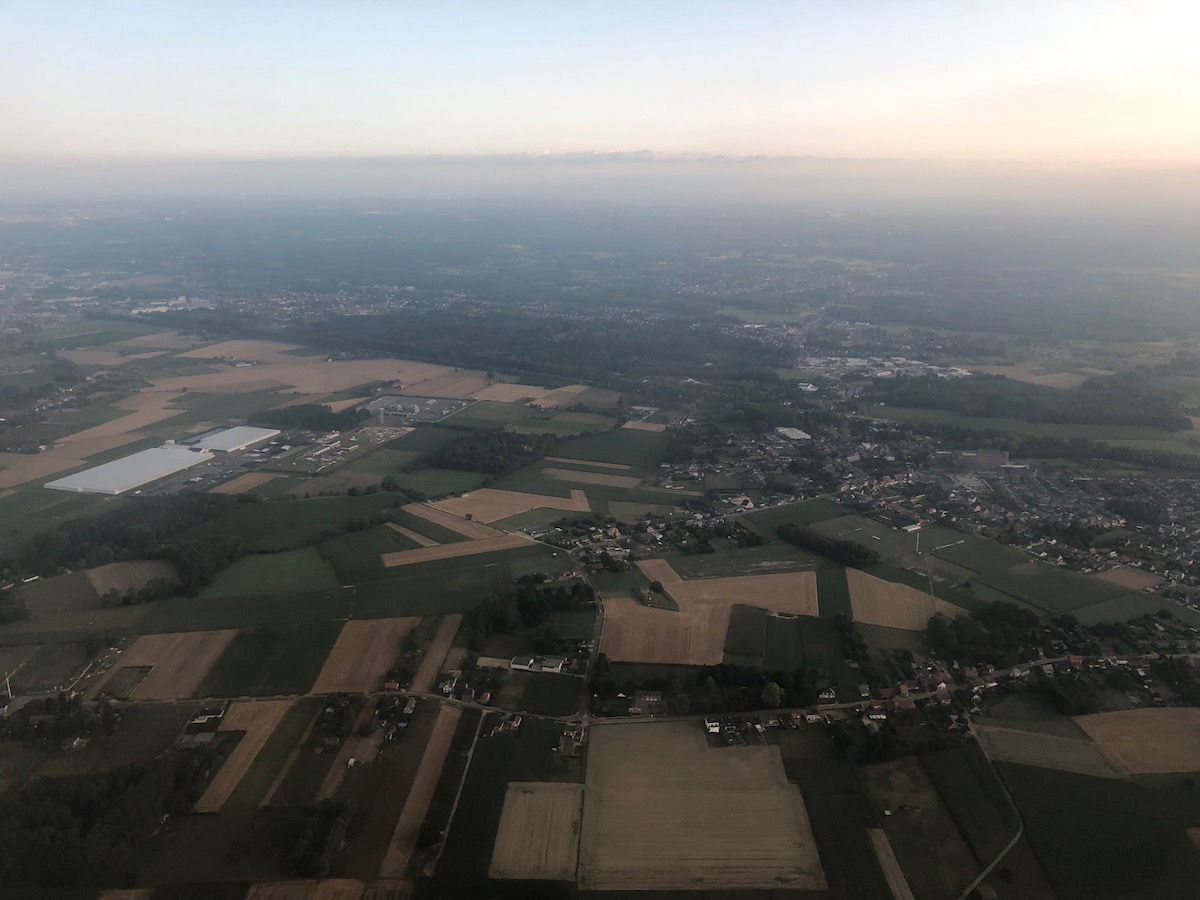 View approaching Brussels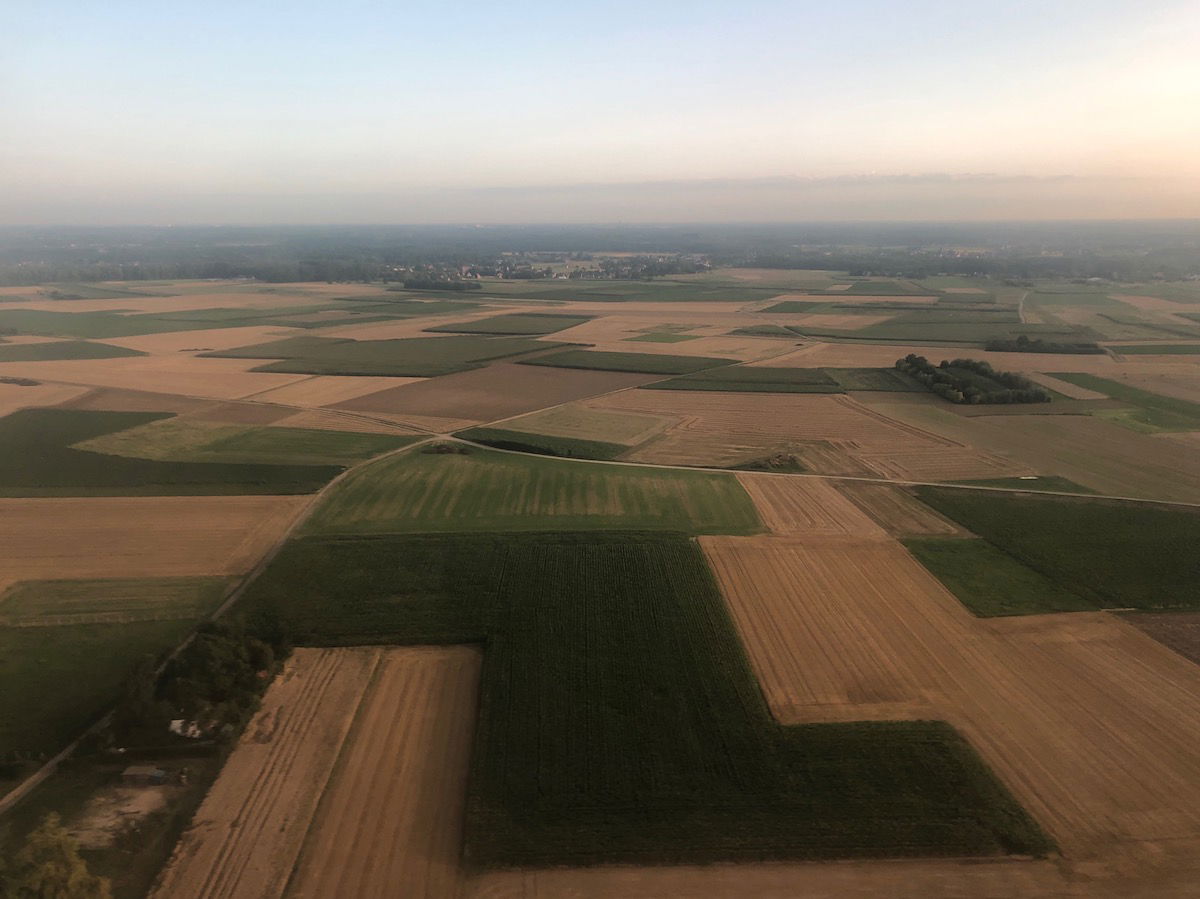 View approaching Brussels
Sure enough, we touched down at exactly 7:30AM, and from there had a 10 minute taxi to our arrival gate. I had a great view of the 787-10 upon deplaning.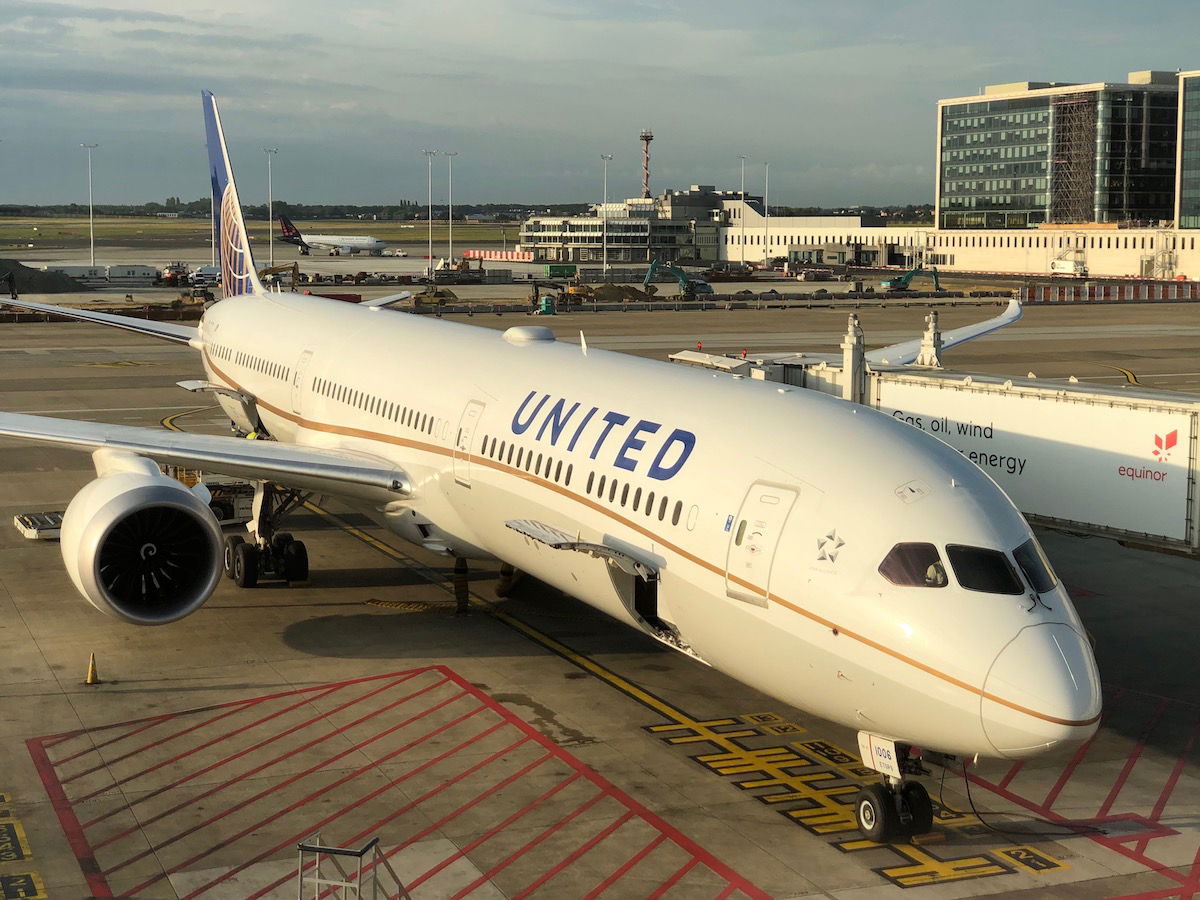 United 787-10 in Brussels
United 787-10 Polaris bottom line
On the plus side, the 787-10 is a gorgeous plane, and in particular United's Polaris cabins are very nice. While Polaris seats aren't my absolute favorite business class seats out there, they're near the top, and I'd say they're on par with reverse herringbone seats.
United's entertainment, Wi-Fi, and bedding are all very good. Furthermore, the pace of service was good, given the short overnight flight.
Everything else left a bit to be desired, though, from the food quality to the service.
Still, on balance I'd say this is a solid transatlantic product.
If you've flown United's new Polaris, what was your experience like?