---
For my second back-to-back redeye, it was time to fly Finnair's A350-900 business class from Helsinki to Singapore. I had flown Finnair's A350 business class from New York to Helsinki a few years ago, but was curious how the experience to Asia compared, especially as they've made some updates to their service.
How I Booked Finnair's A350 Business Class
Rather than redeeming miles I paid cash for my ticket, as I found a great ~1,500USD one-way business class fare from Toronto to Singapore, via London and Helsinki.
The routing was as follows:
12/02 BA92 Toronto to London departing 6:20PM arriving 6:25AM (+1 day)
12/03 AY1344 London to Helsinki departing 1:50PM arriving 6:45PM
12/03 AY131 Helsinki to Singapore departing 11:55PM arriving 5:15PM (+1 day)
Not only was this an excellent fare, but it would allow me to review several new products, and would also earn me lots of American AAdvantage elite miles.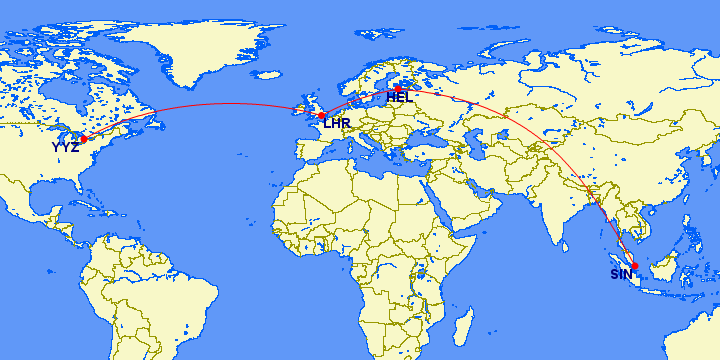 Finnair Business Class A350 Review
Before I get into the review, I should note that shortly before my flight I realized that Finnair has crew bases at many of their Asian gateways, so my flight was actually being operated by a Singapore-based crew. I wondered how that service would compare to Finnair's usual "local" flight attendants.
Finnair 131
Helsinki (HEL) – Singapore (SIN)
Tuesday, December 3
Depart: 11:55PM
Arrive: 5:15PM (+1 day)
Duration: 11hr20min
Aircraft: Airbus A350-900
Seat: 8A (Business Class)
I boarded through the forward door and was pointed down the first aisle towards my seat. The Finnair A350-900 I was on featured a total of 46 business class seats, with 32 business class seats spread across eight rows in the forward cabin, and then another 14 seats spread across four rows in a cabin behind the second set of doors.
Finnair has the Zodiac Cirrus variety of reverse herringbone seats on the A350 (similar to what you'll find on select American and Cathay Pacific planes), and just about the most bare bones version of that seat. Finnair doesn't have any overhead bins in the center section of business class, which gives the cabin a more spacious feel.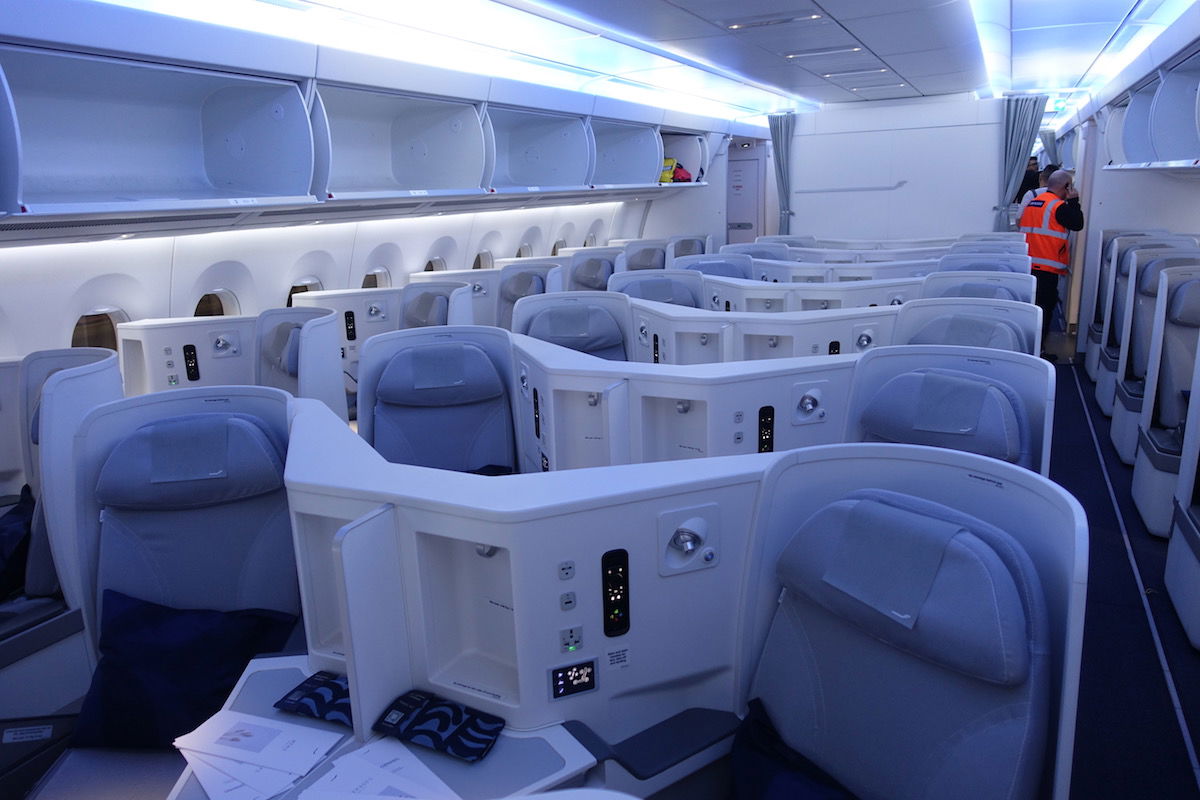 Finnair A350 business class cabin
With reverse herringbone seats the configuration is the same in every row. The center seats angle inwards, so are the better option if you're traveling with someone, though you still have to lean forward a bit to have a real conversation.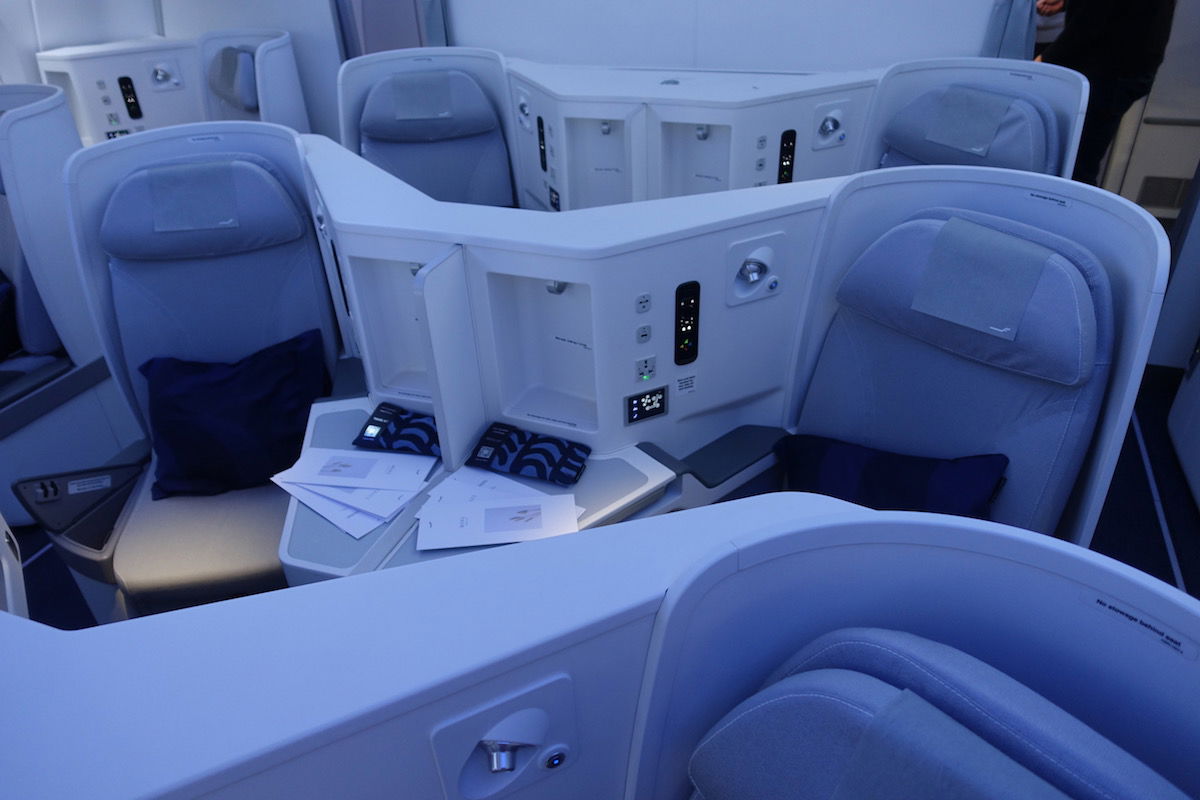 Finnair business class cabin A350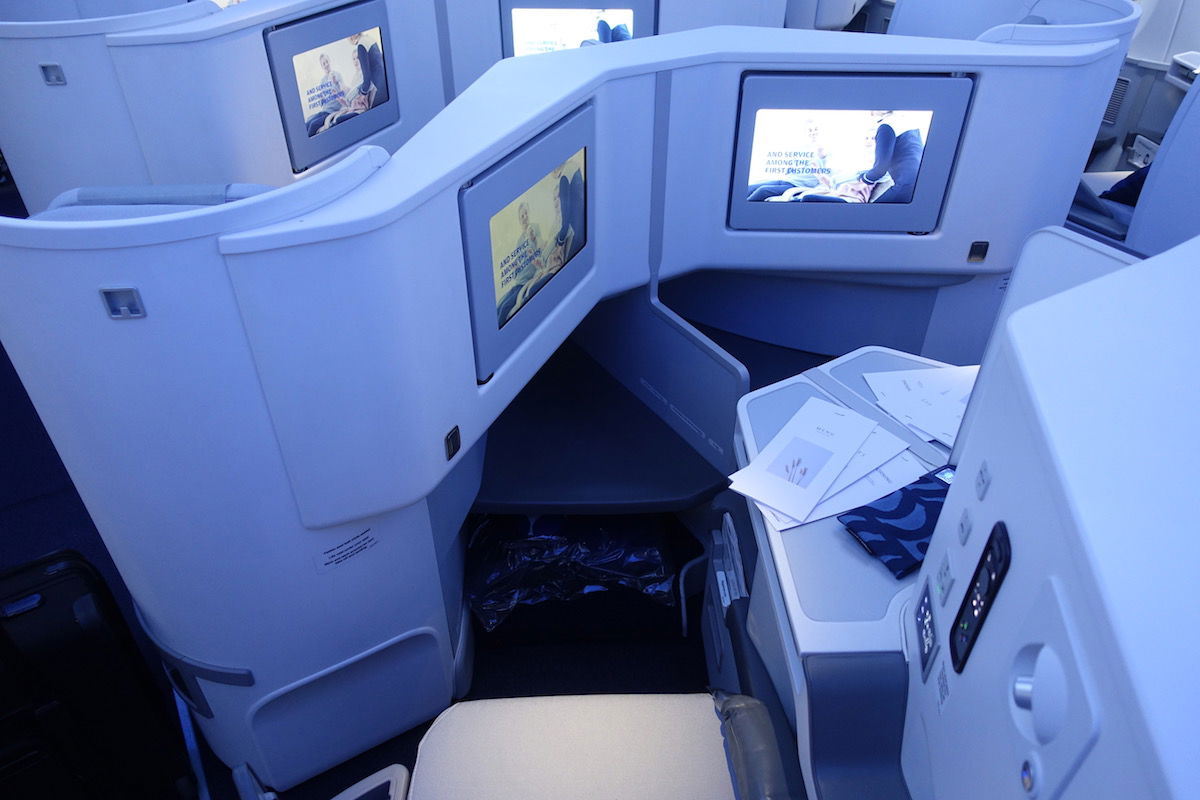 Finnair A350 business class seats
The window seats, meanwhile, face the windows. I assigned myself seat 8A, in the last row of the cabin on the left.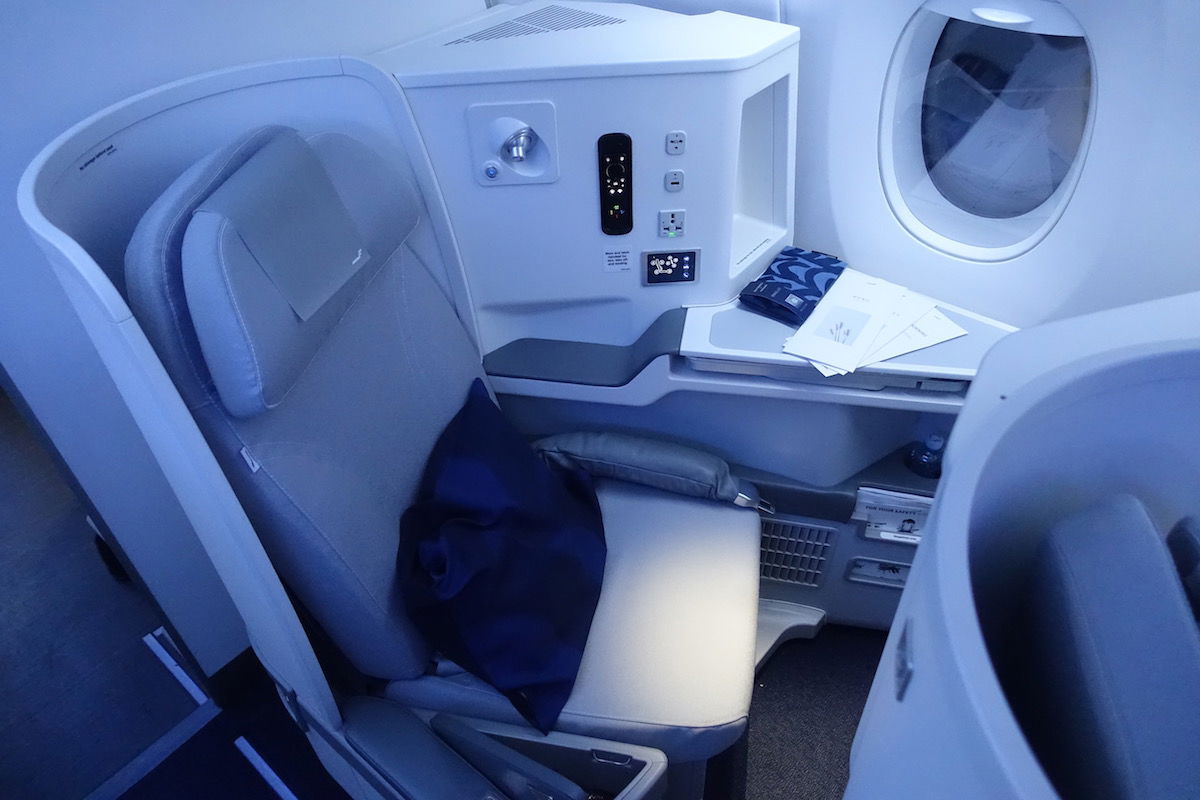 Finnair A350 business class seats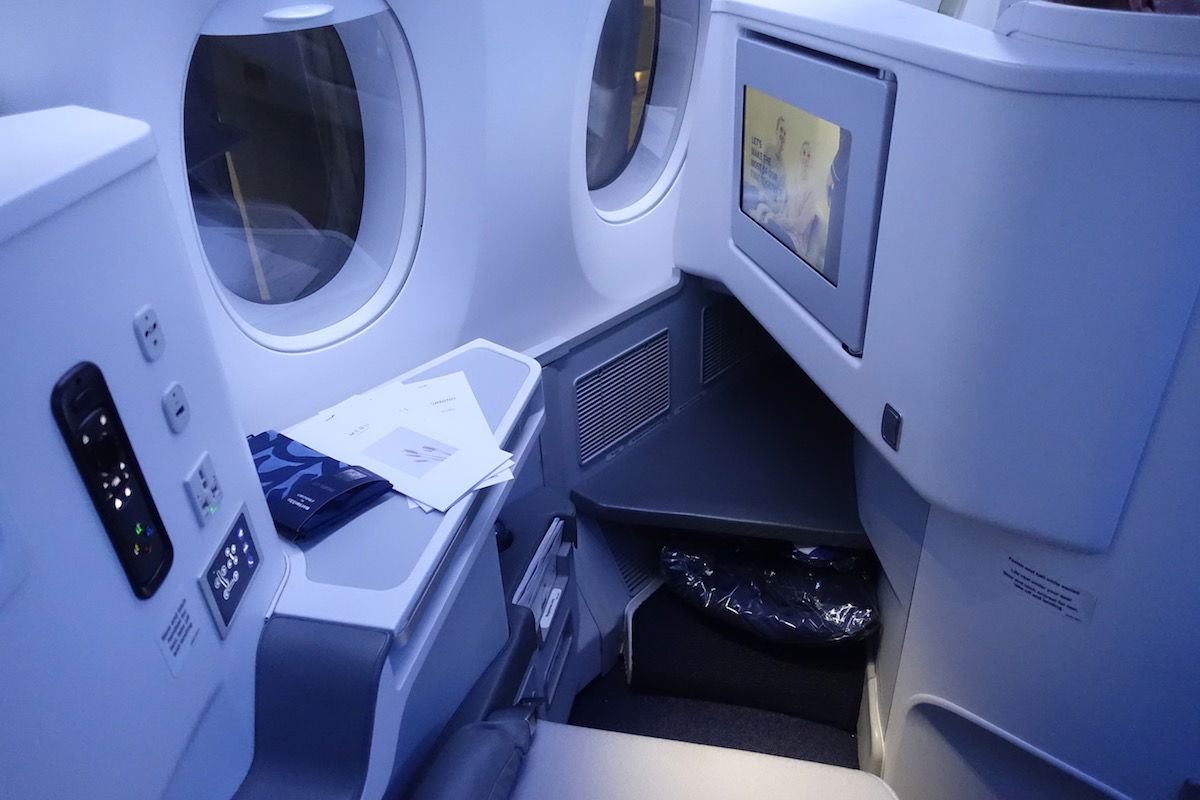 Finnair A350 business class seats
On the panel next to the seat was a reading light, entertainment control, seat controls, the power outlets (110v and USB), and the headphone jack.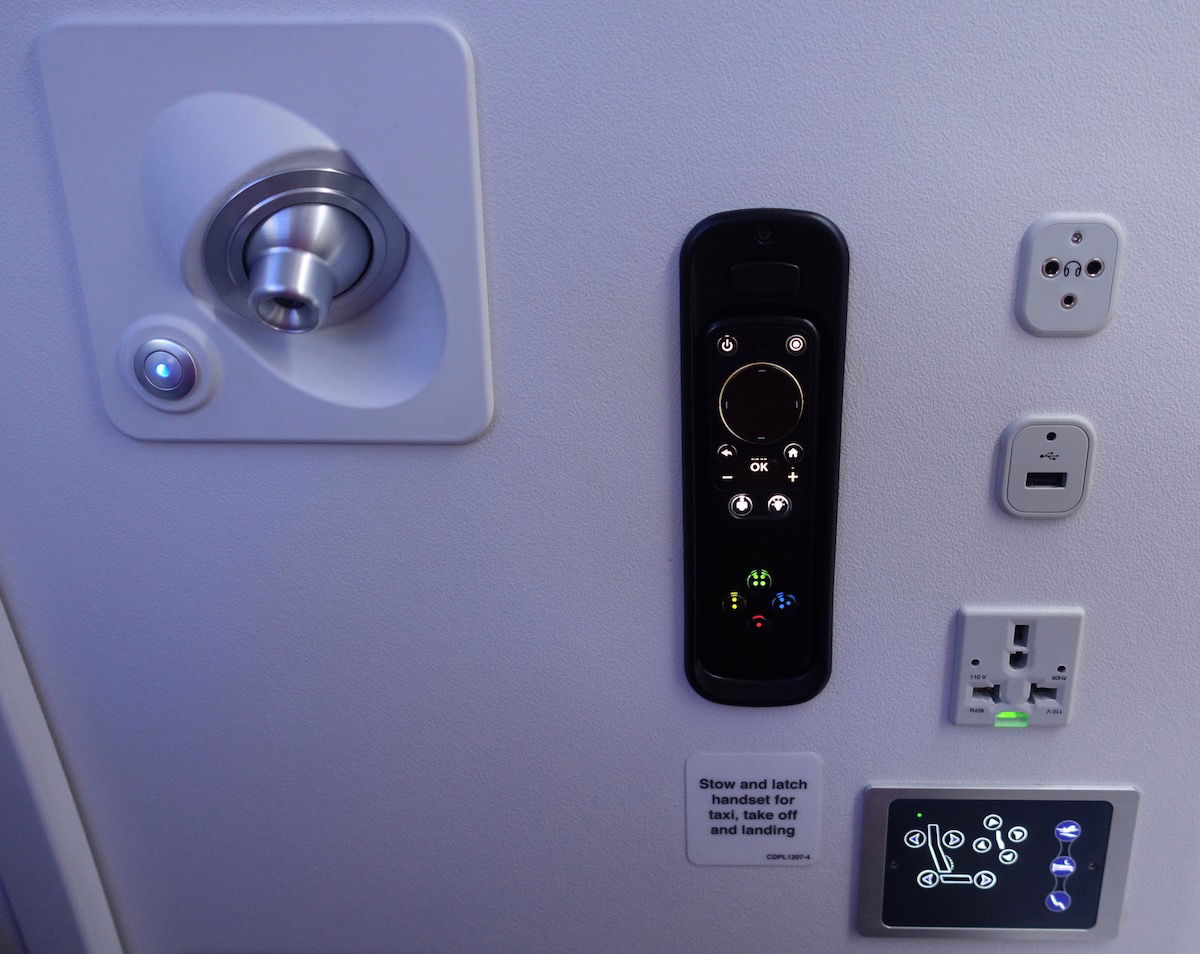 Finnair business class seat controls
To the side of that was a small exposed compartment where you could hang a pair of headphones. This is one example of how this isn't the most evolved version of this seat — other airlines with Cirrus seats have storage compartments here, while Finnair doesn't have that.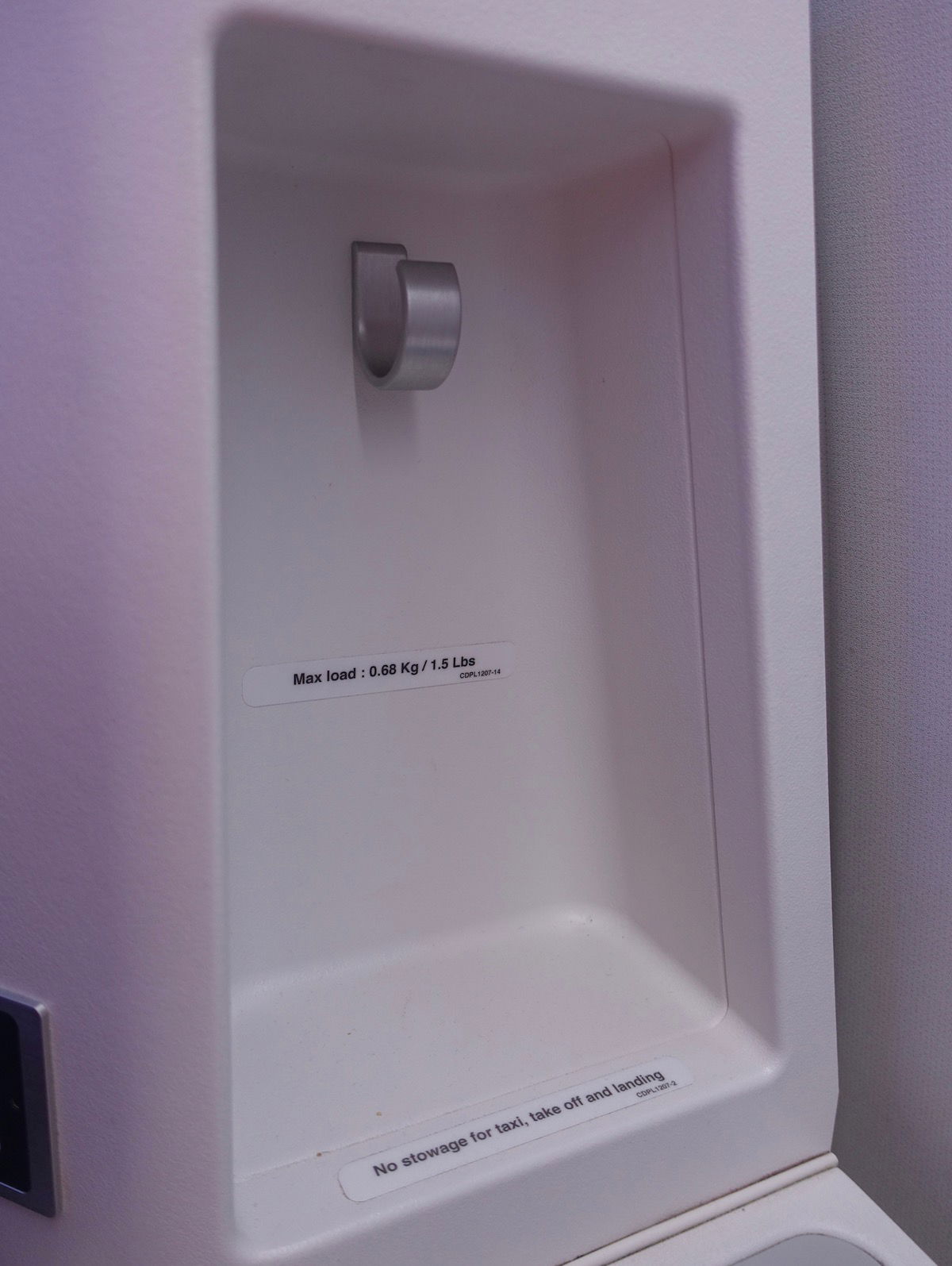 Finnair business class seat storage
The tray table slid out from the left side of the seat, and could be folded over in half.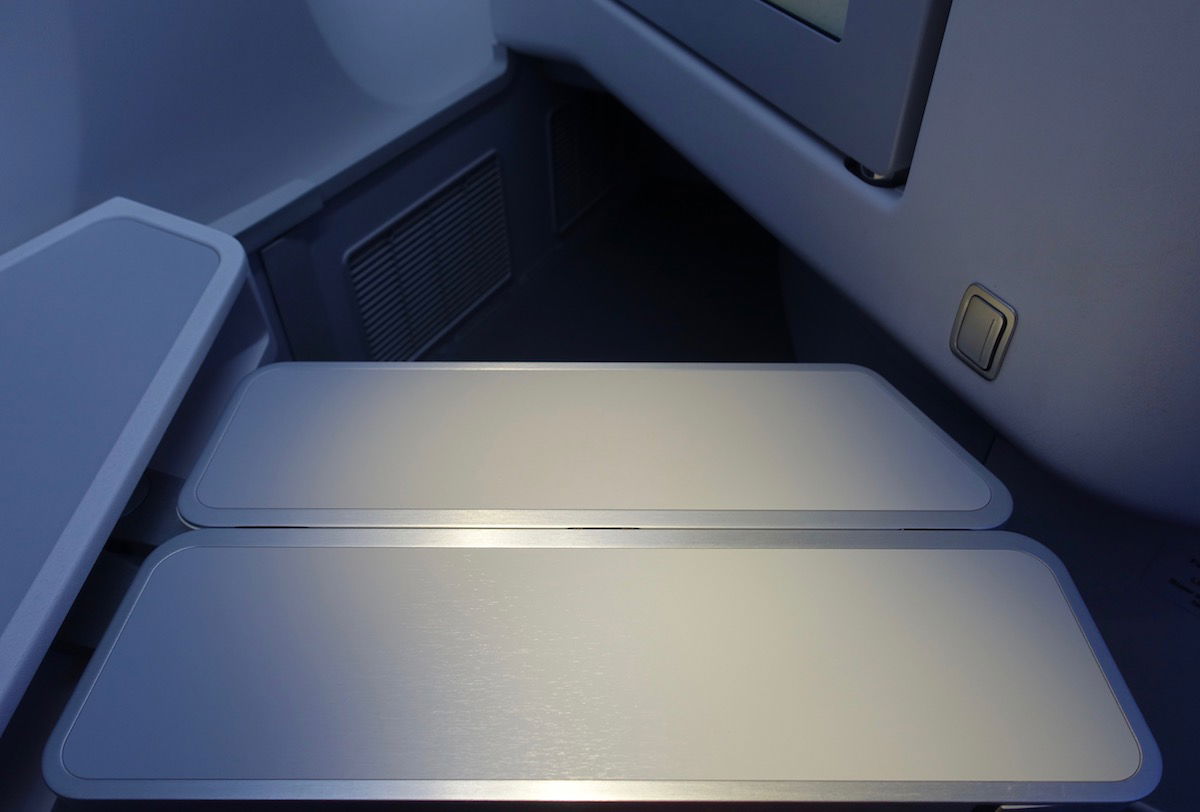 Finnair business class seat tray table
The footwell was a good size, and there was even a bit of storage underneath it.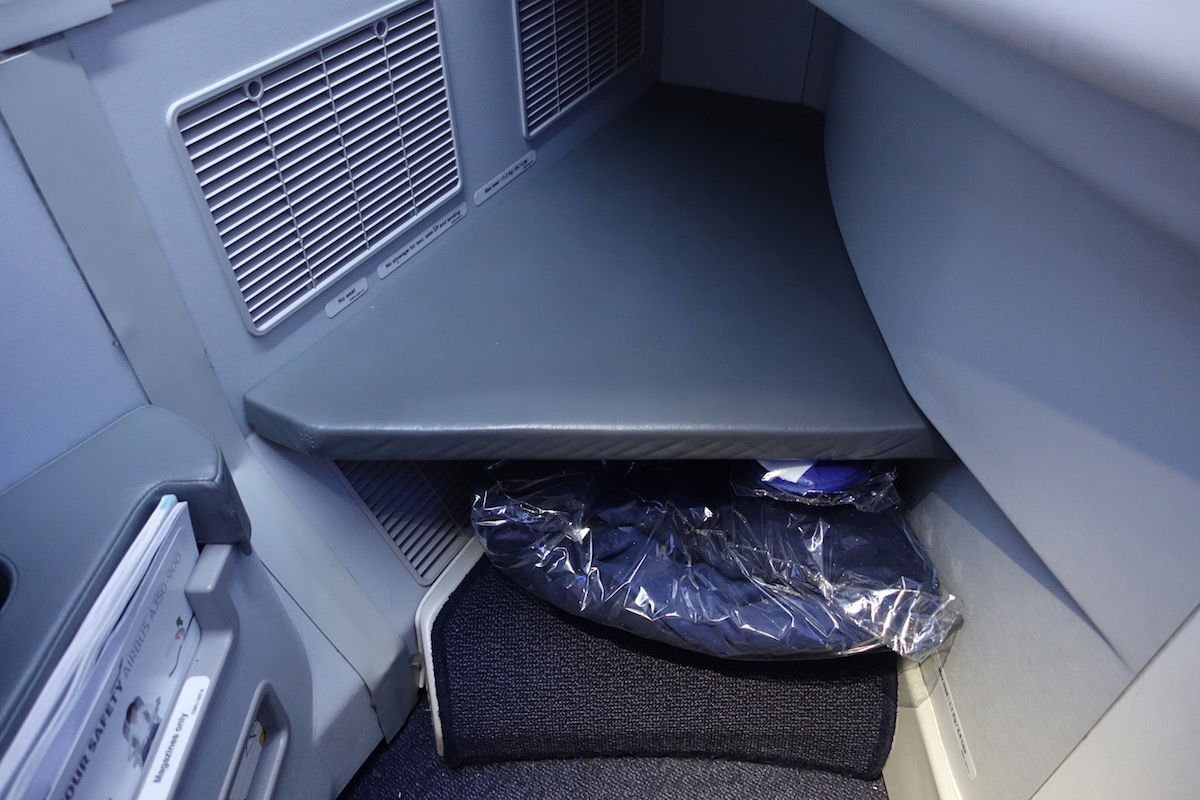 Finnair business class seat footwell
Then underneath the seat and to the left was a literature pocket and a bottle of water.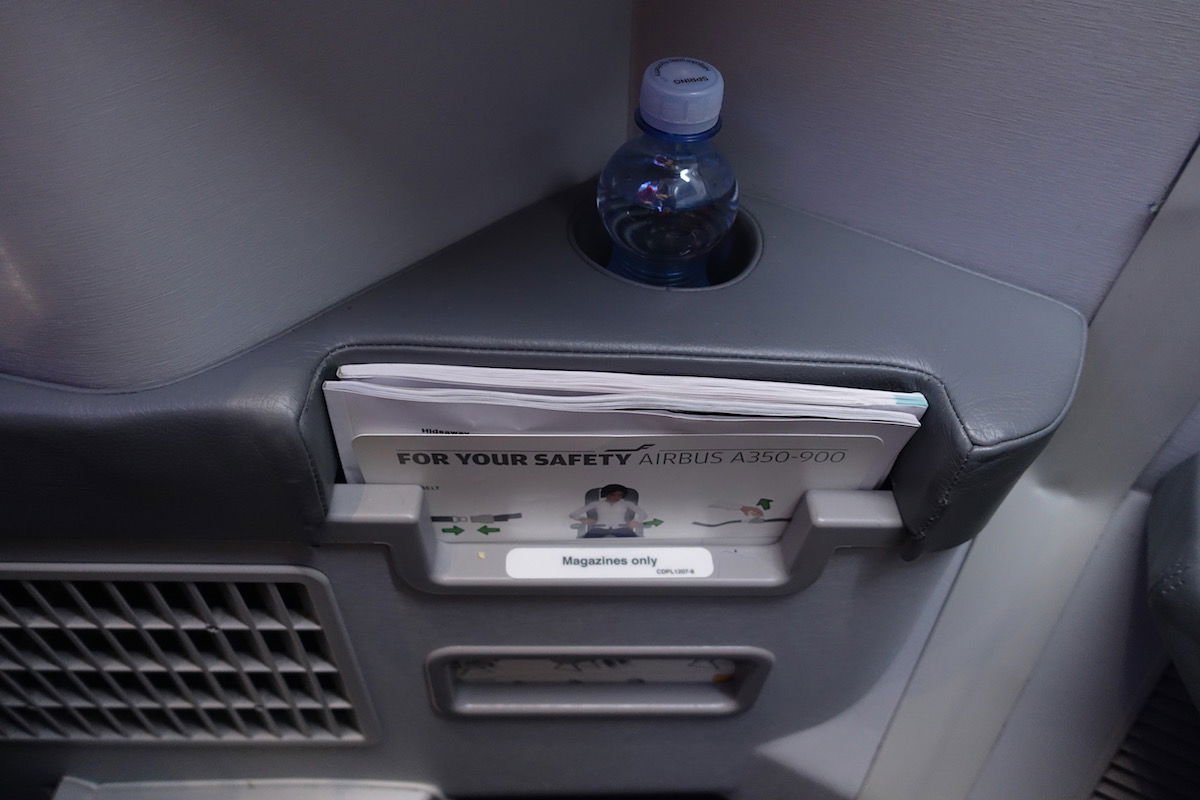 Finnair business class seat literature pocket & water bottle holder
On the right side of the seat was an armrest that had to be lowered for takeoff and landing, but otherwise could be raised. This had a small storage compartment.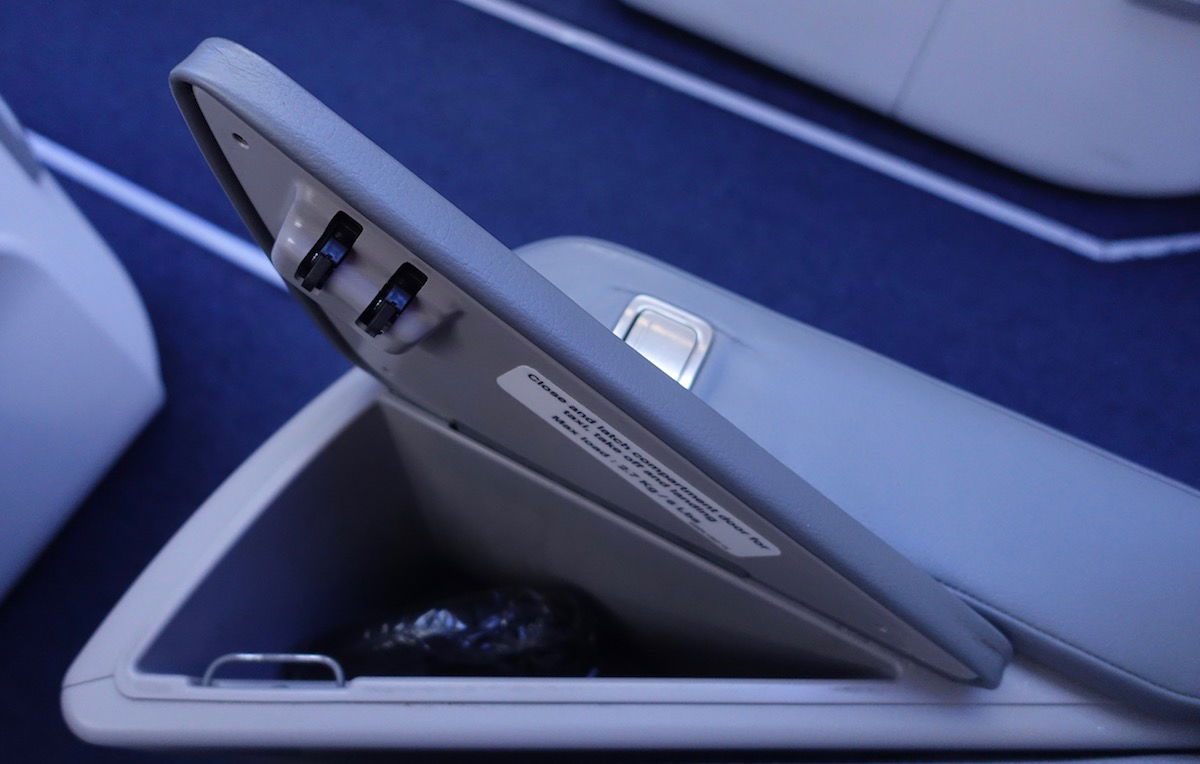 Finnair business class seat storage
Unfortunately Finnair doesn't have individual air nozzles on the A350.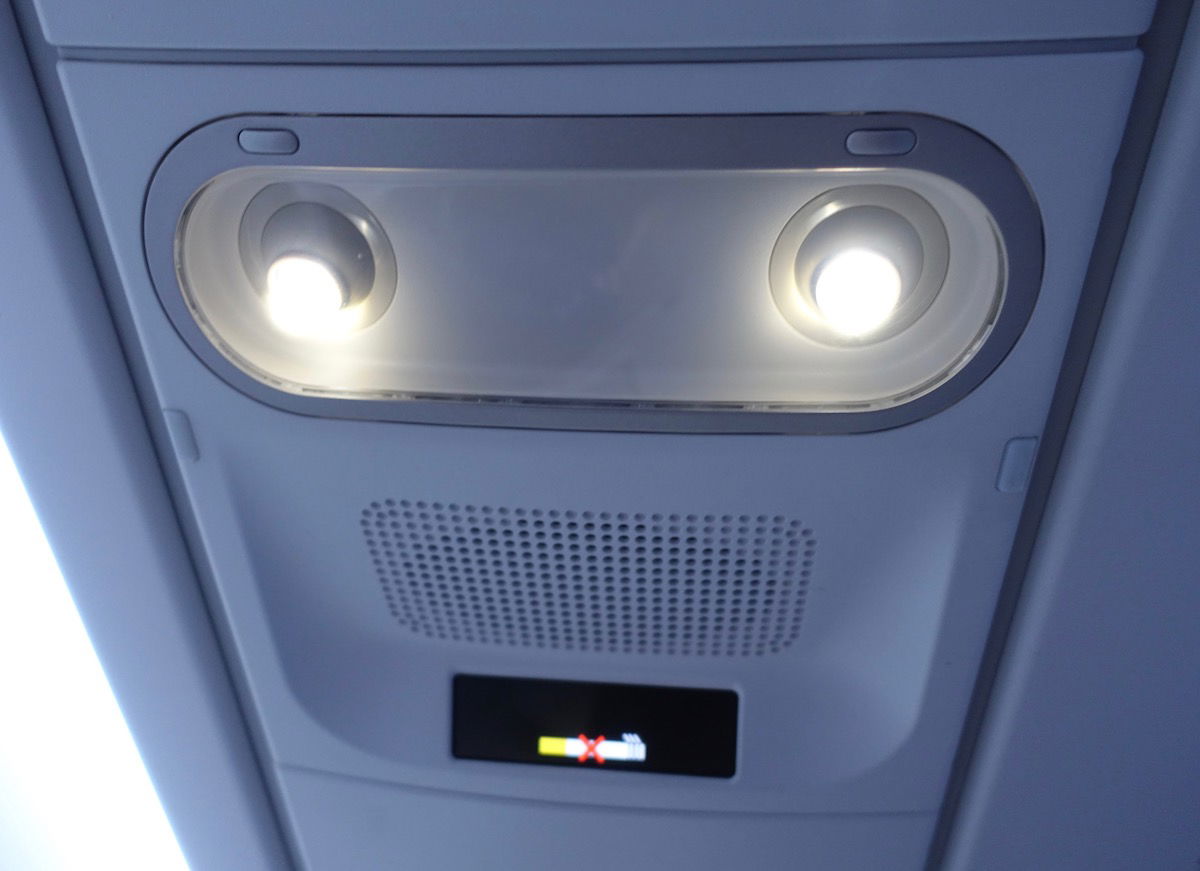 Finnair business class overhead console
Already at the seat upon boarding was the bedding, which included a pretty thin pillow and blanket. Ultimately they were fine, though could have been much better, in my opinion.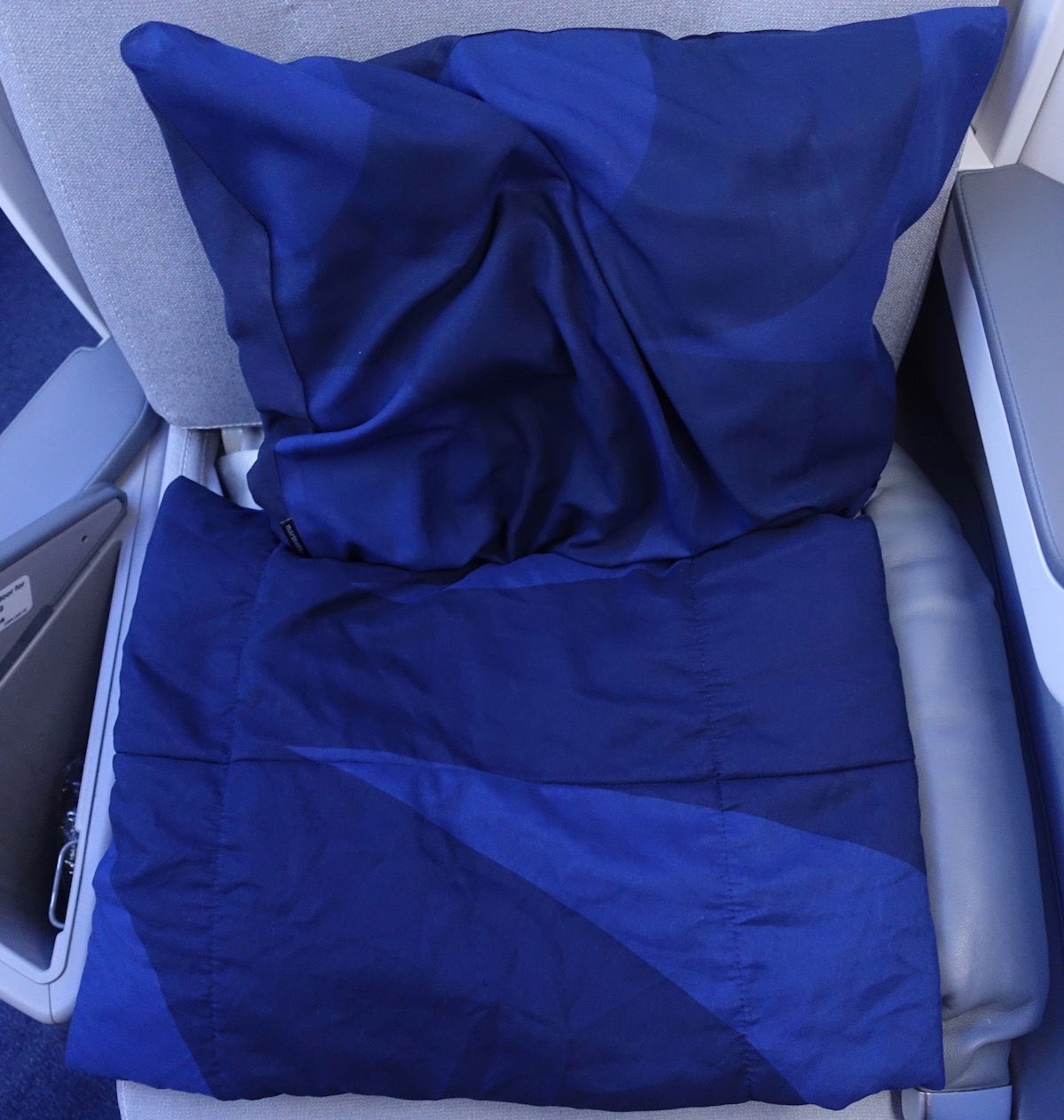 Finnair business class pillow & blanket
Also at my seat was a fairly decent pair of headphones.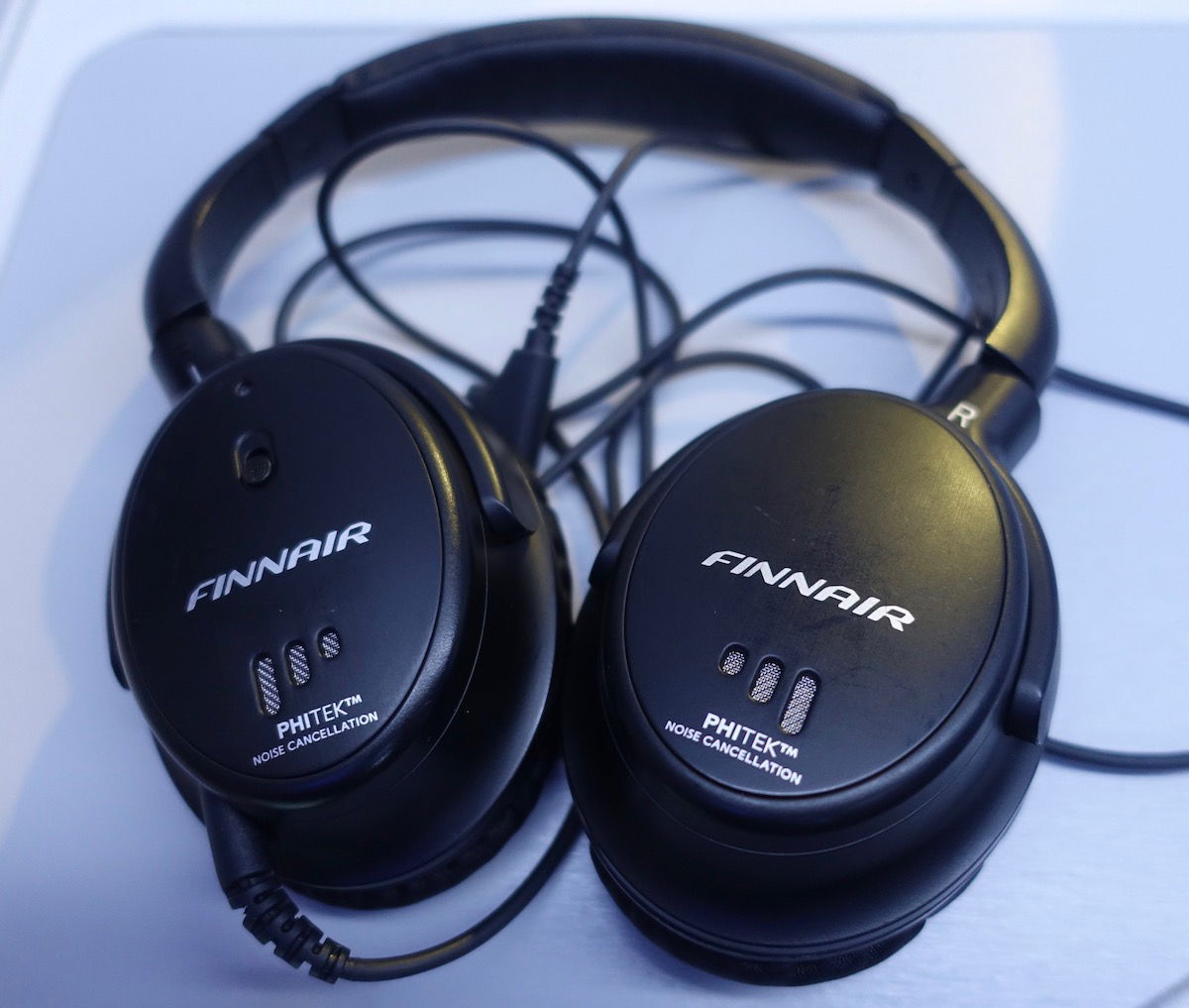 Finnair business class headphones
There was a basic amenity kit at my seat, with just a dental kit, eyeshades, earplugs, lip balm, and lotion.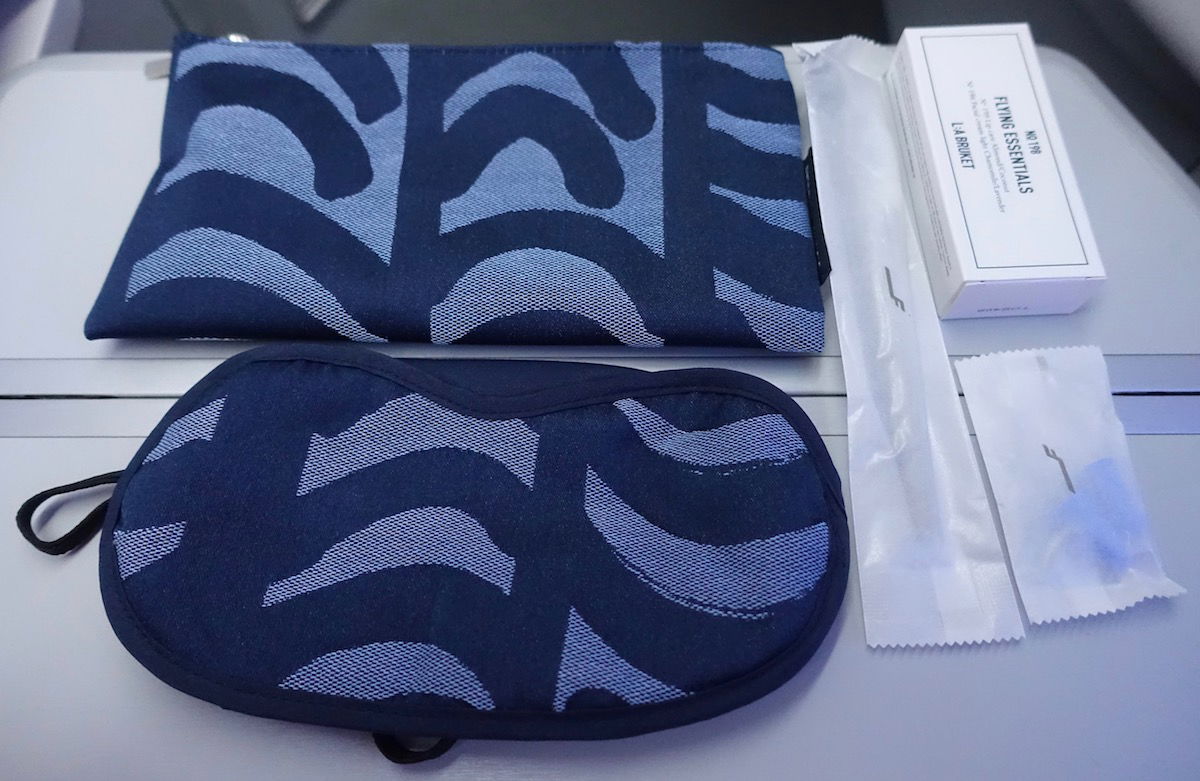 Finnair business class amenity kit
There was also a pair of slippers at my seat — I loved the design, which was a bit more exciting than most of the other cabin finishes.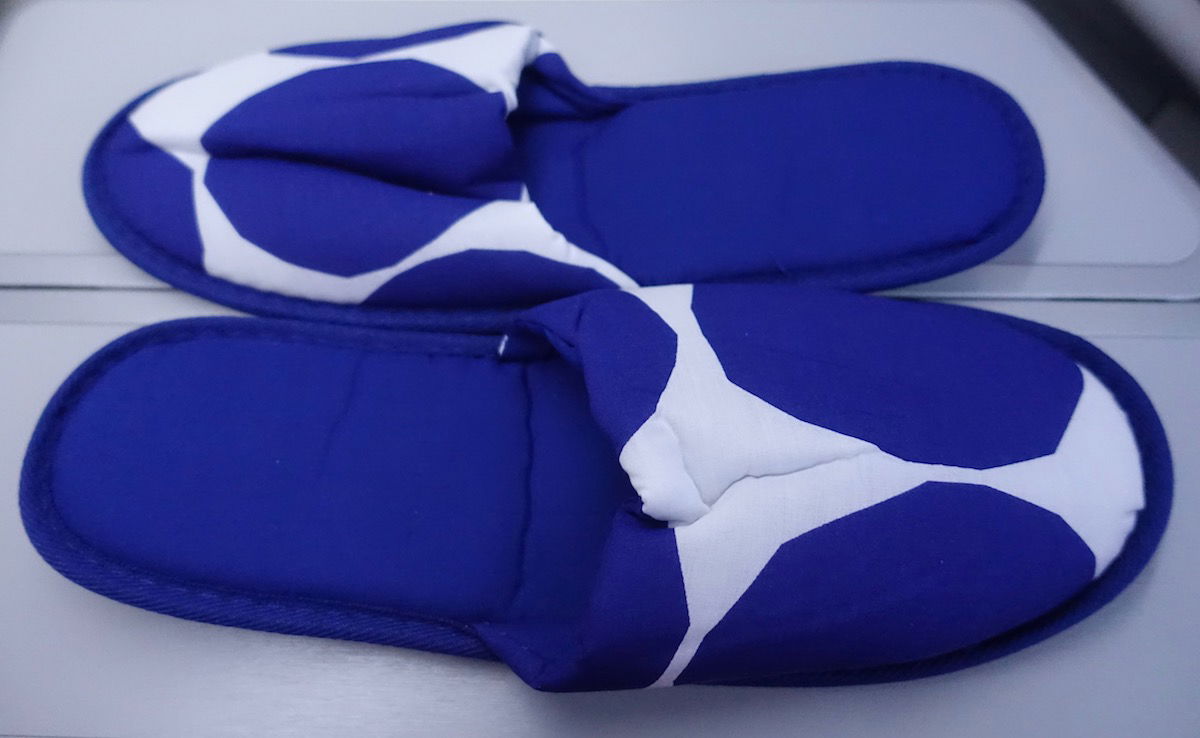 Finnair business class slippers
The menu, drink list, and breakfast card were also waiting at my seat.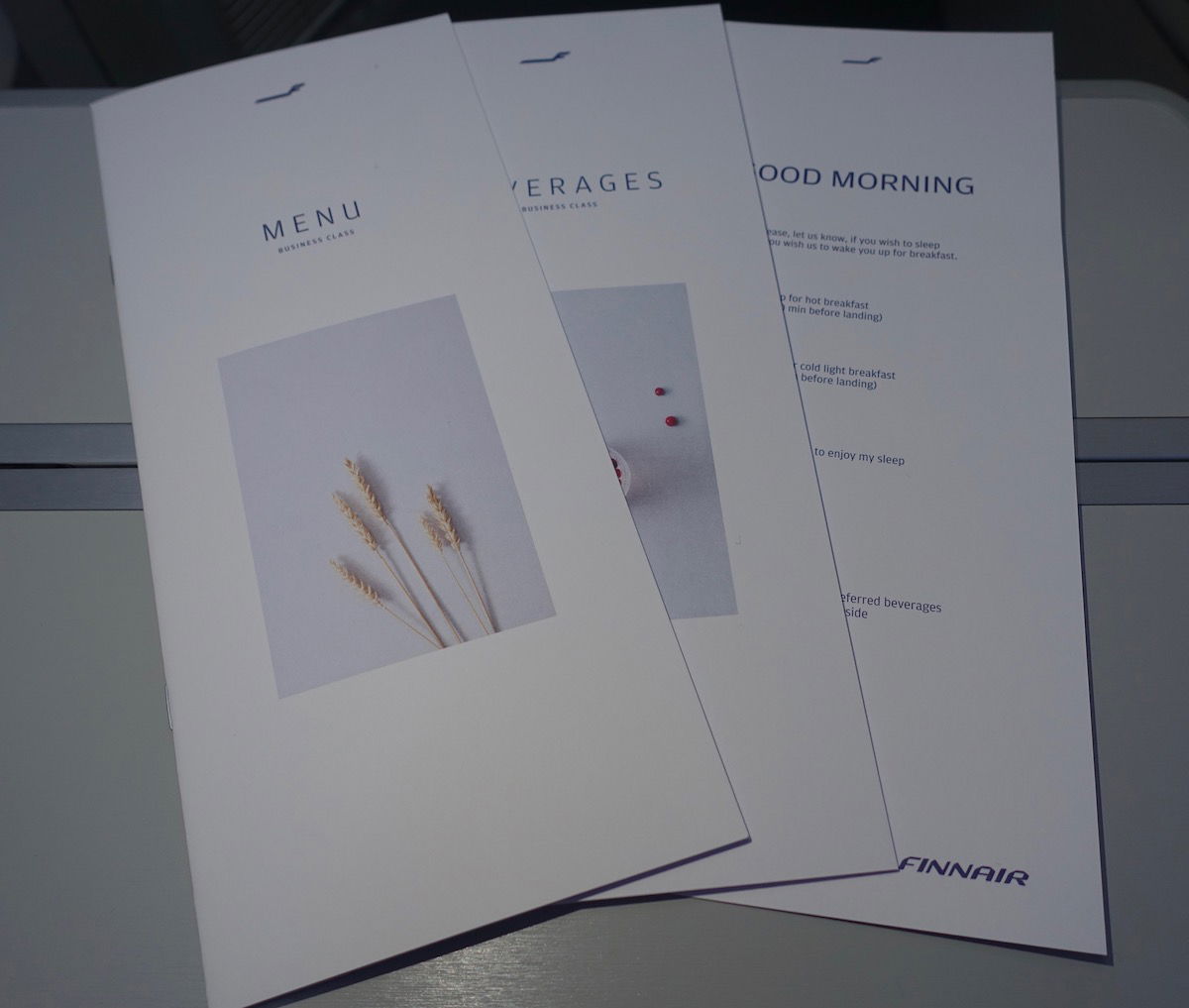 Finnair business class menu
It's so interesting to fly a Finnish airline and have a cabin crew based entirely in Singapore.
About 10 minutes after settling in I was offered a pre-departure drink, and was asked if I wanted champagne, juice, or water. Interestingly this wasn't served on a tray, but rather I was just asked what I wanted, and the glass was brought to me a minute later. Speaking of which, I love Finnair's glassware!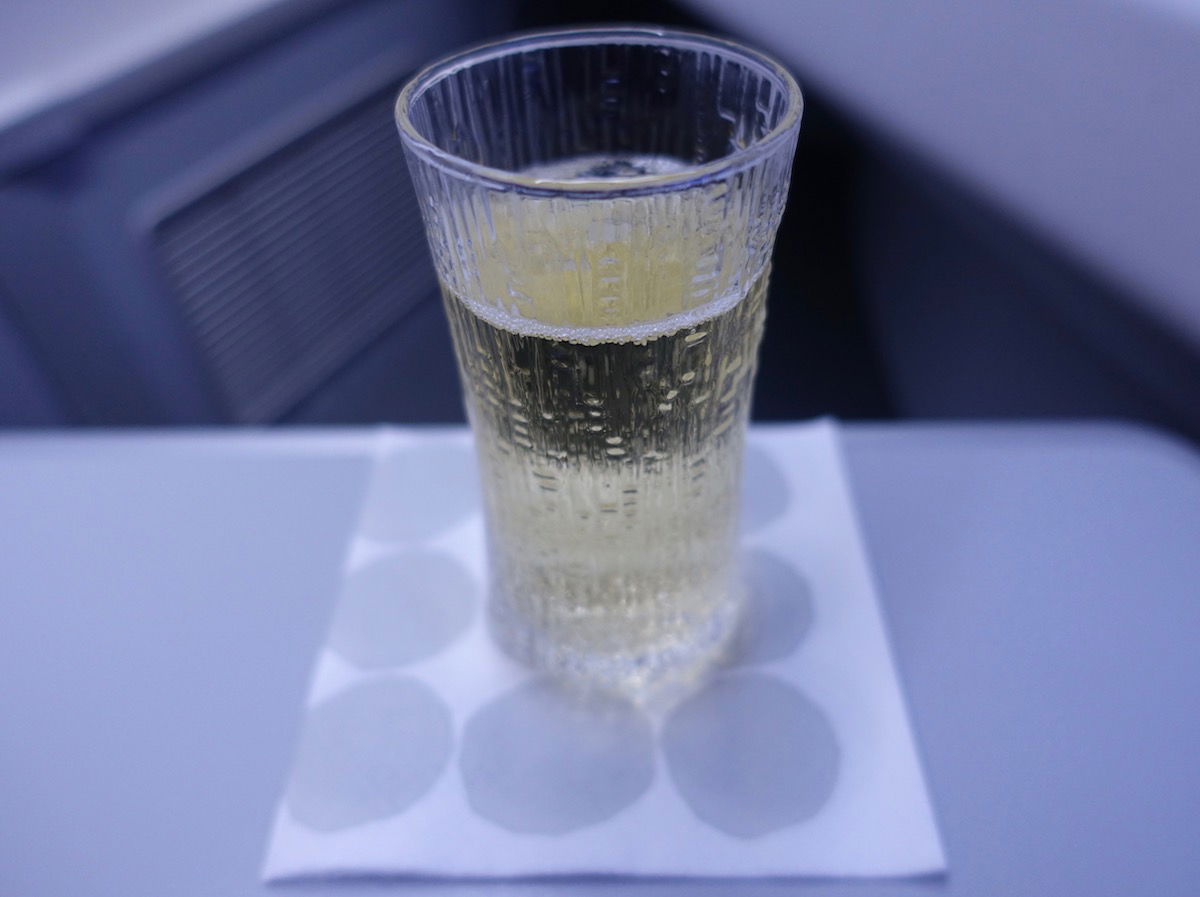 Finnair business class pre-departure champagne
A few minutes later warm towels were distributed.
Boarding was efficient, and was complete by 11:50PM. There were only a couple of empty seats in business class, while economy seemed to be pretty wide open.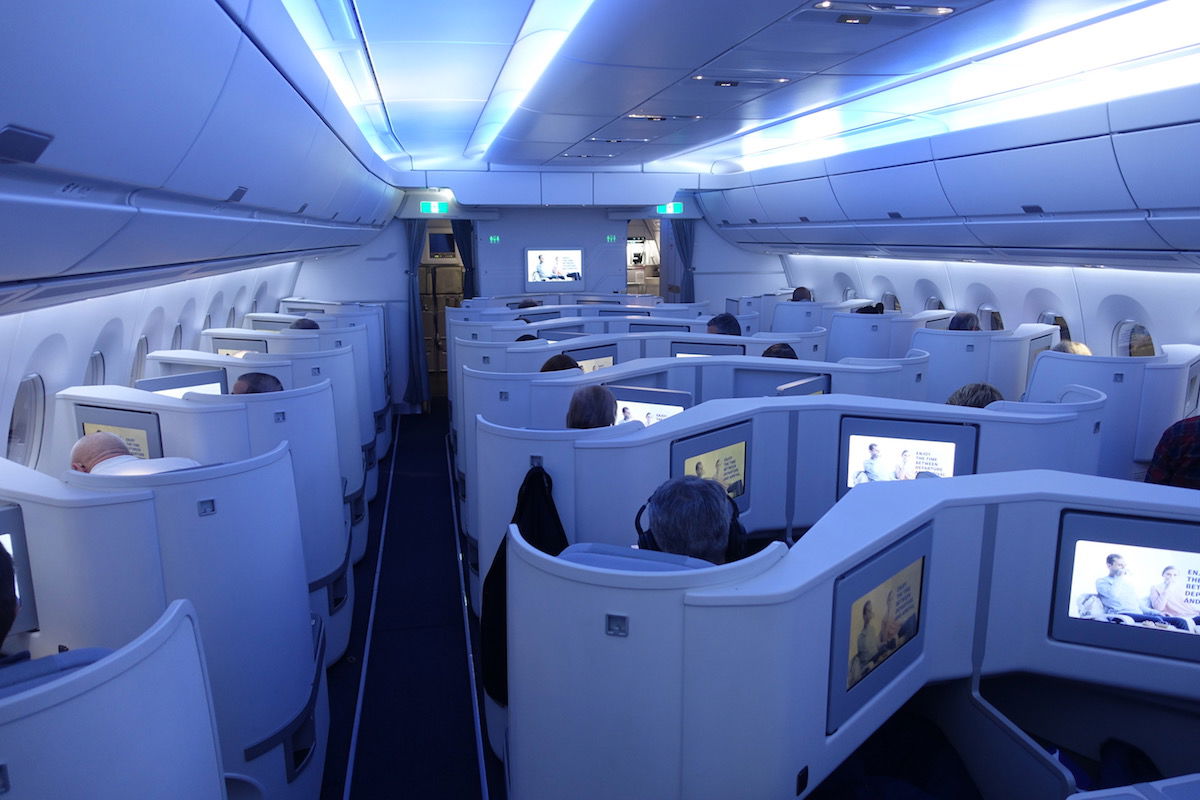 Finnair A350 business class cabin
During boarding the crew took meal orders, and mine was taken around 11:45PM. I was asked for my preferences for both dinner and breakfast right away, including which drinks I wanted with both meals.
At 11:50PM the (Finnish) captain made his welcome aboard announcement, informing us of our flight time of 10hr50min. A couple of minutes later we began our pushback, at which point the safety video was screened.
At 12AM we began our taxi, so I turned on the tail camera to watch our (snowy) taxi to the runway. By 12:10AM we were cleared for takeoff on runway 22R.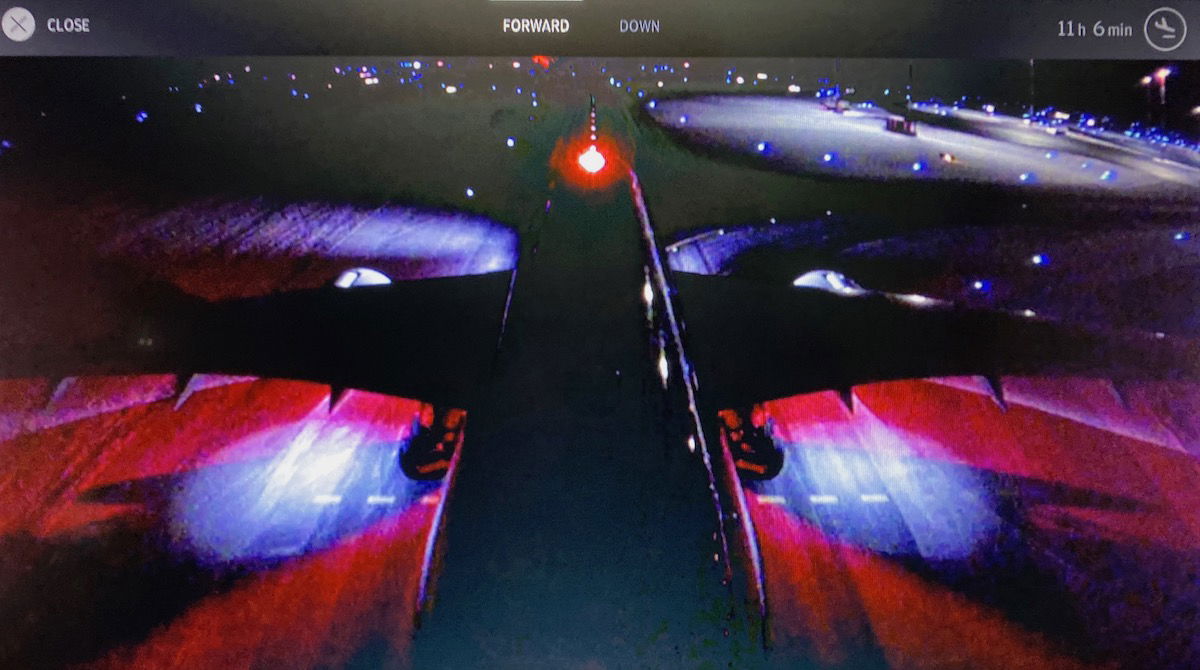 A350 tail camera while taxiing
As we climbed out I browsed the entertainment selection. I like how Finnair has a page that displays the service "plan" for the flight.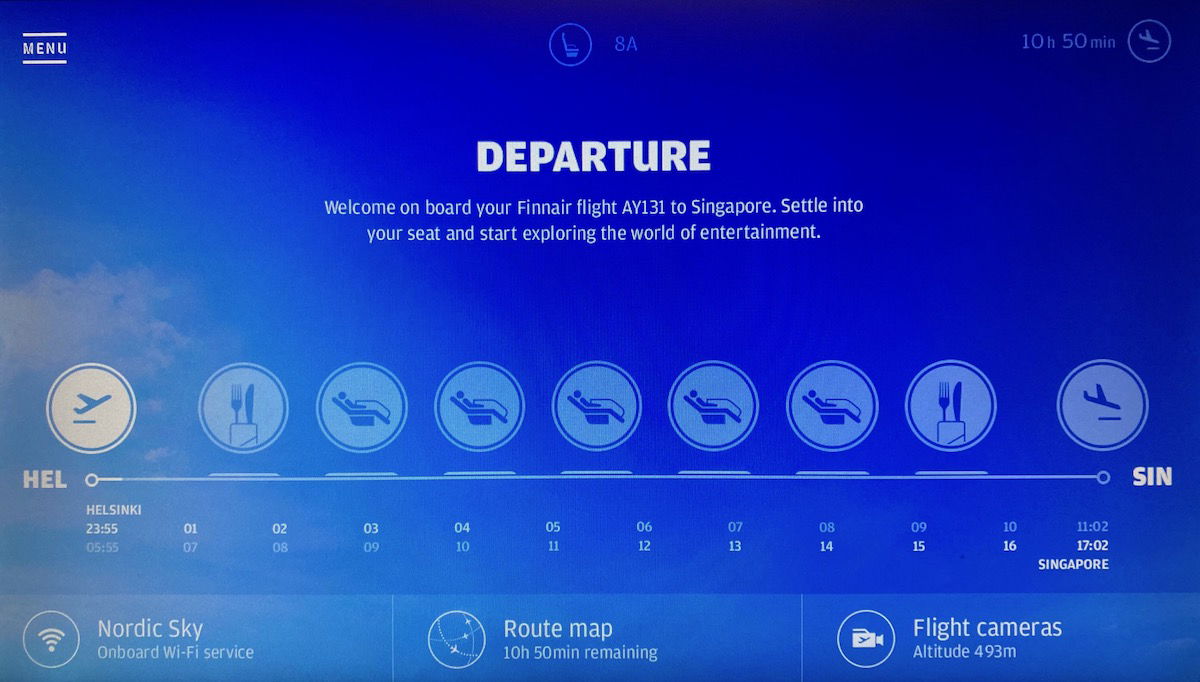 Finnair entertainment system
Finnair's entertainment system was pretty good otherwise, and was high resolution and responsive. By my count there were about 110 movies and about 80 TV shows. So you shouldn't get bored, but it's also not Emirates' ICE system.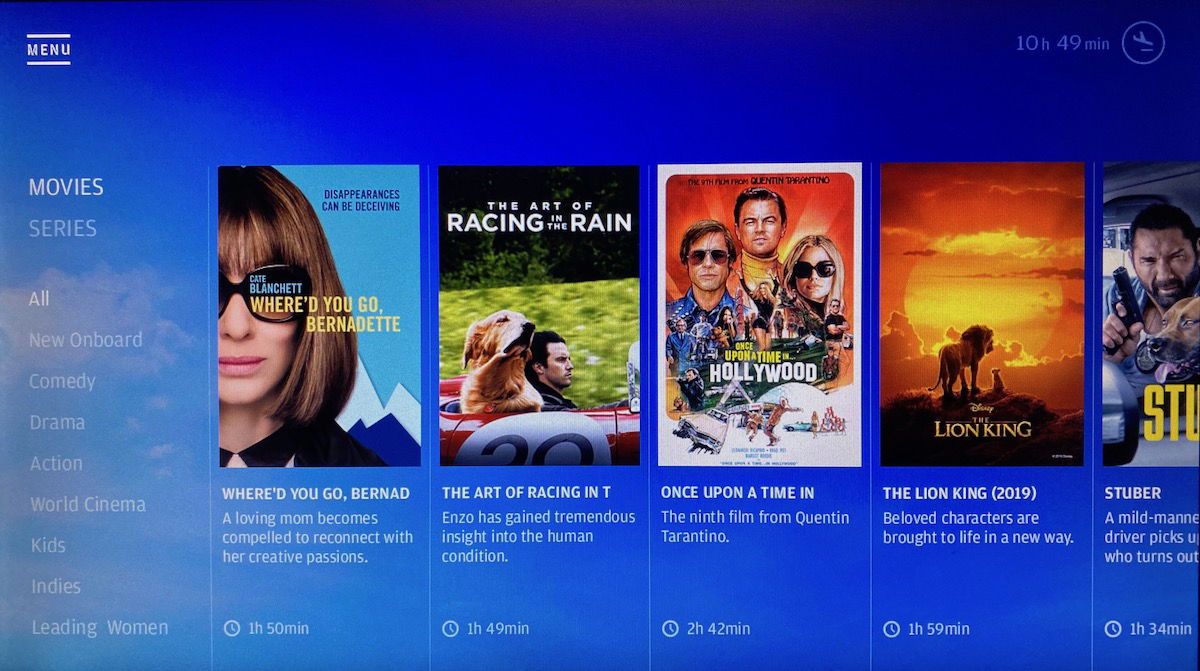 Finnair entertainment selection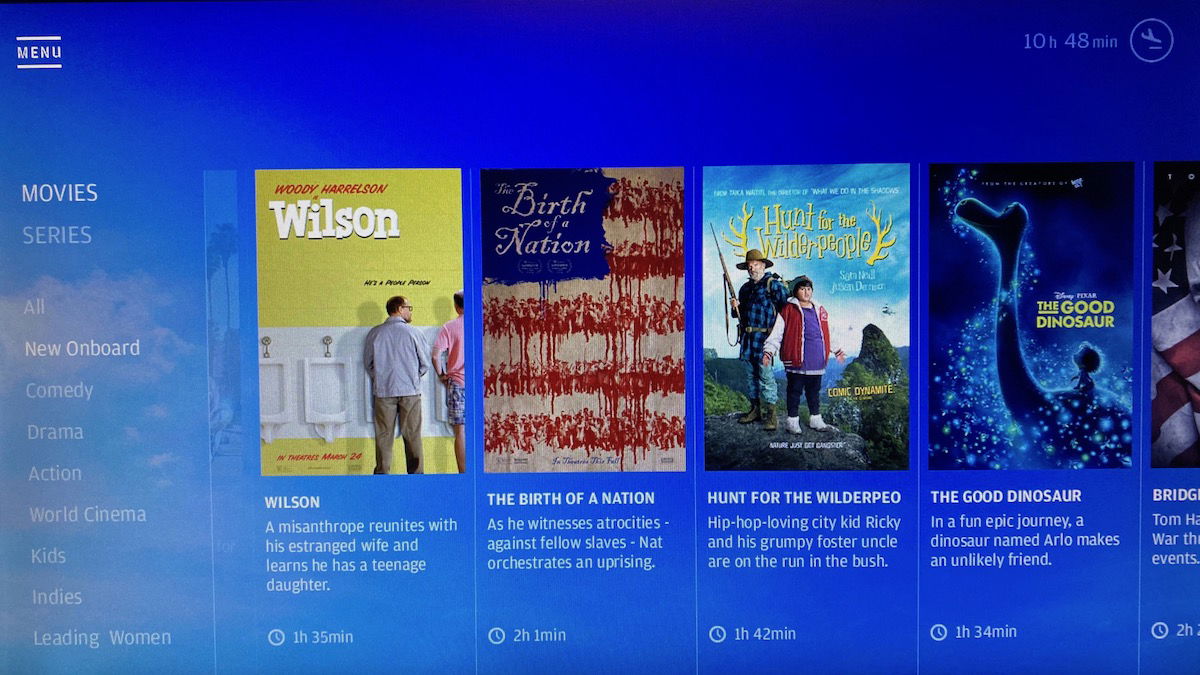 Finnair entertainment selection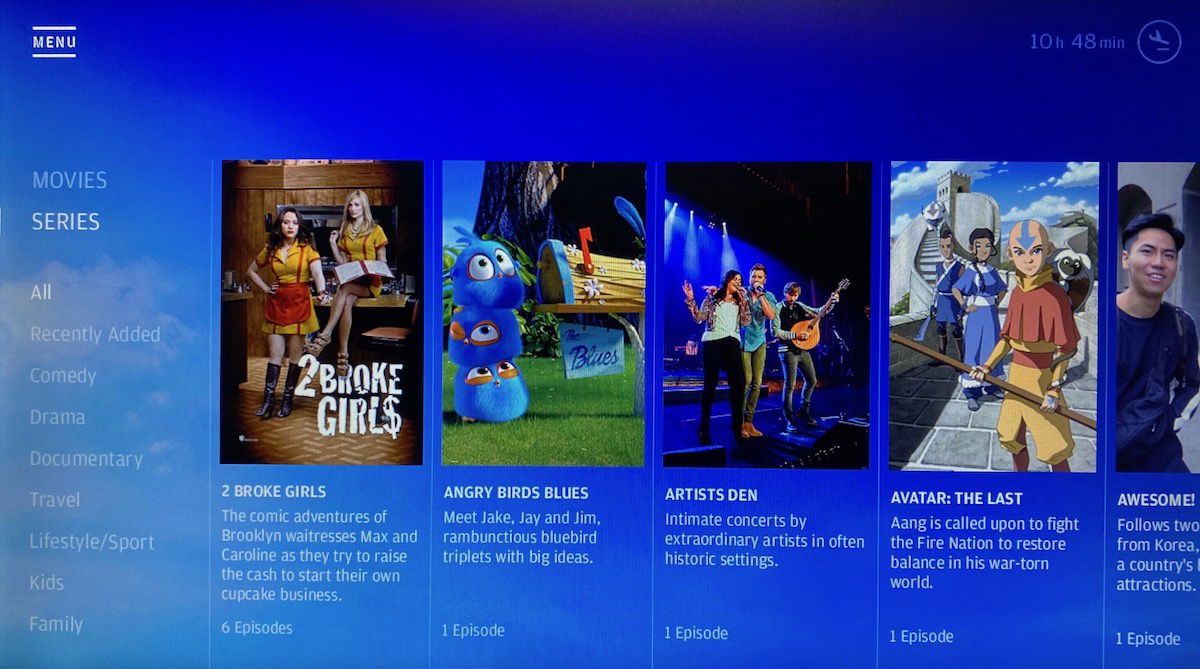 Finnair entertainment selection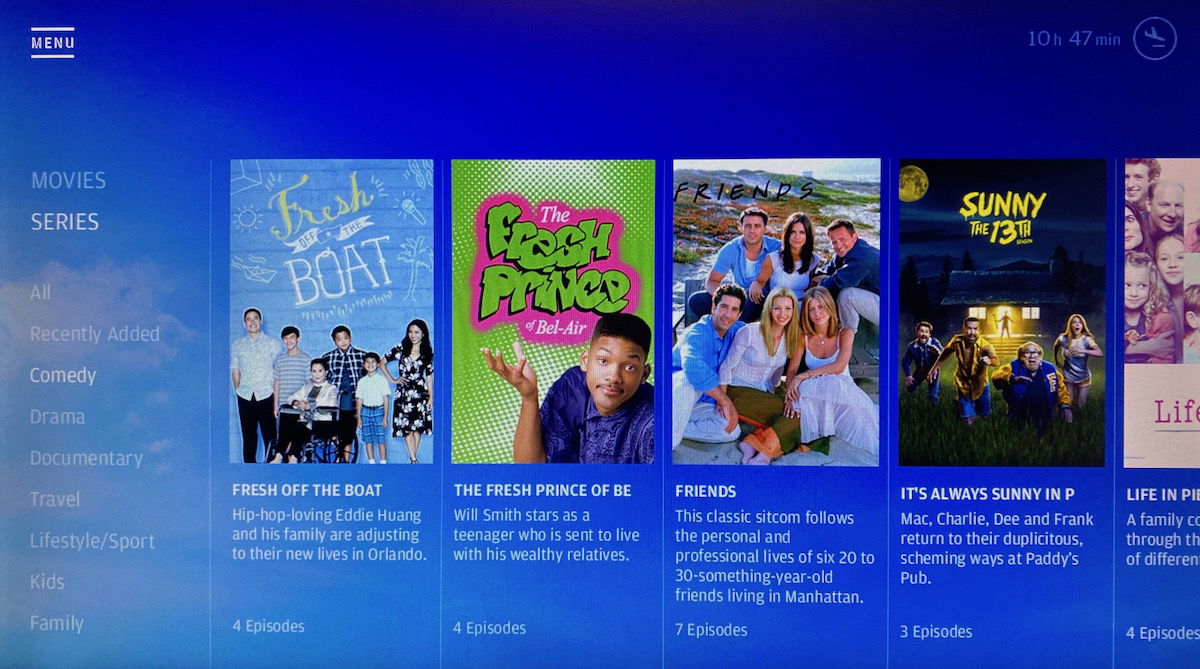 Finnair entertainment selection
Then there's the moving map, which was nice and customizable, since you could pinch and then zoom as much as you wanted.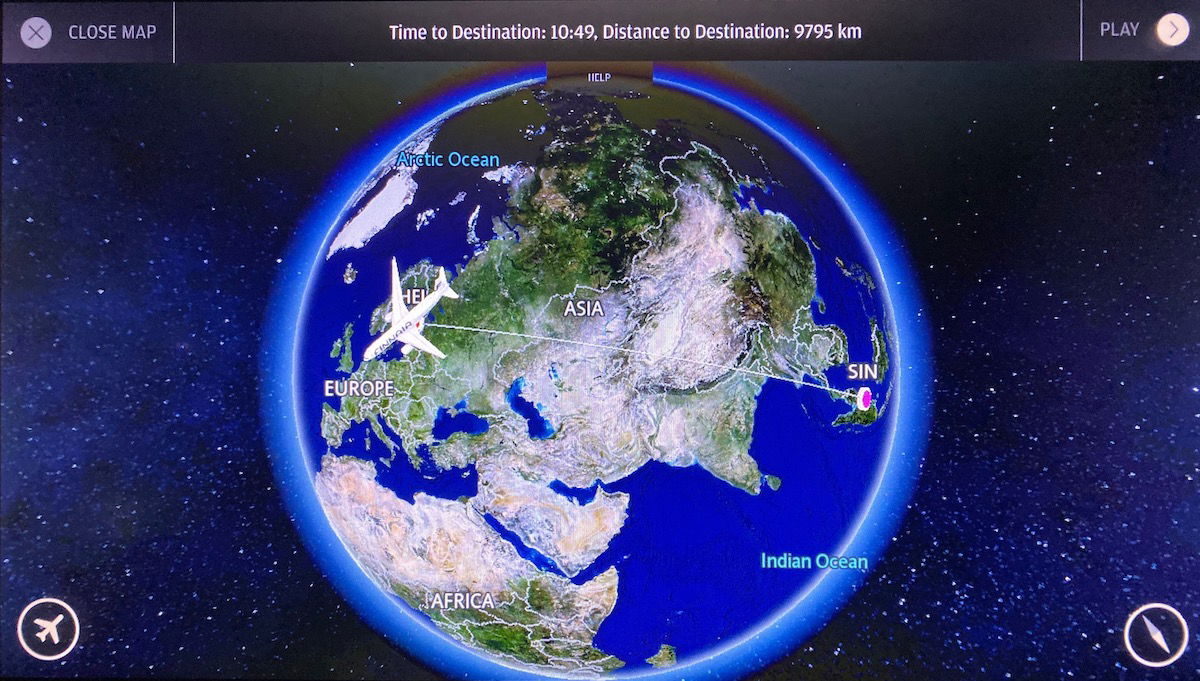 Moving map enroute to Singapore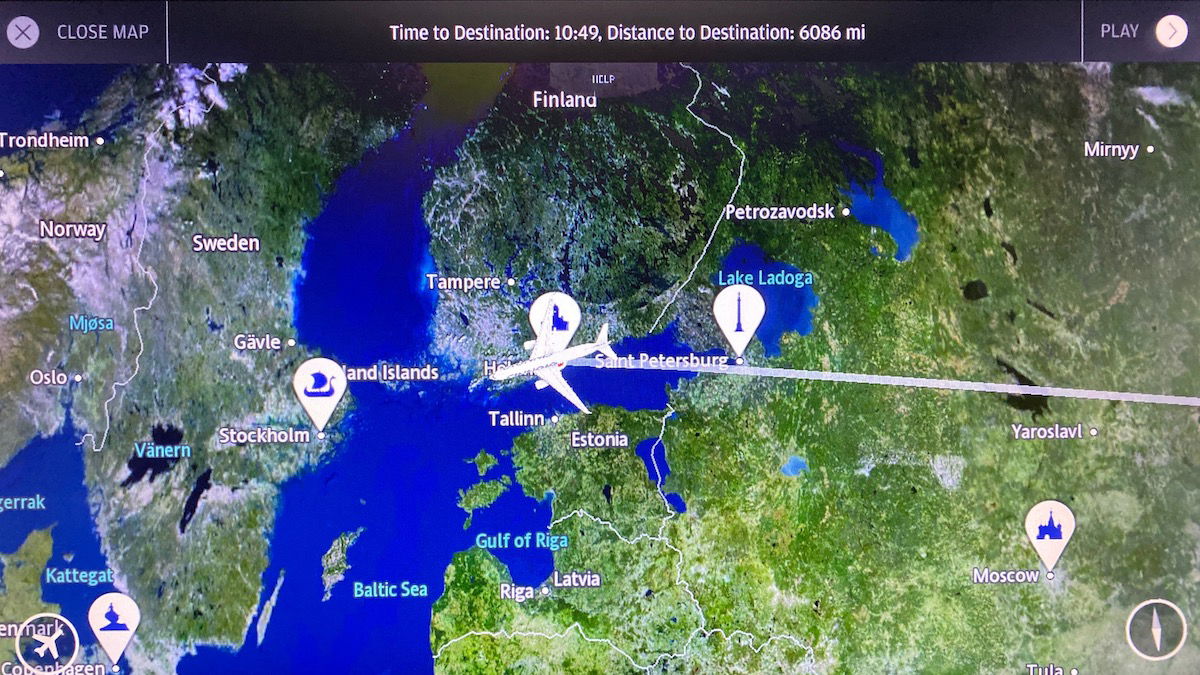 Moving map enroute to Singapore
The real highlight of Finnair's inflight entertainment was their Wi-Fi.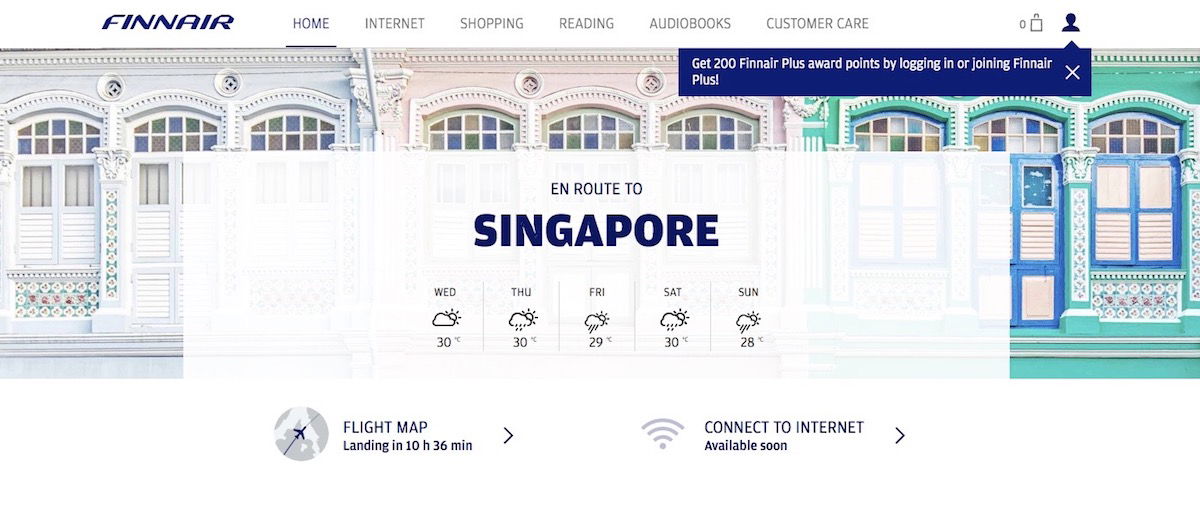 Finnair Wi-Fi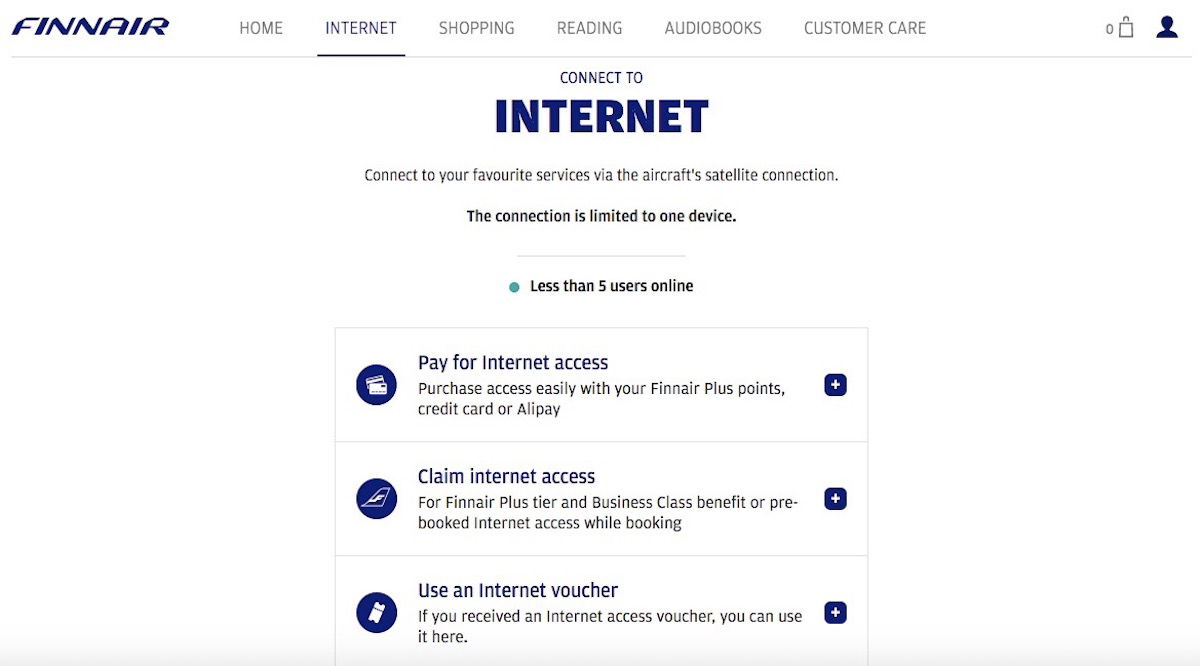 Finnair Wi-Fi options
Business class passengers can receive an hour of free Wi-Fi by entering their seat number and last name.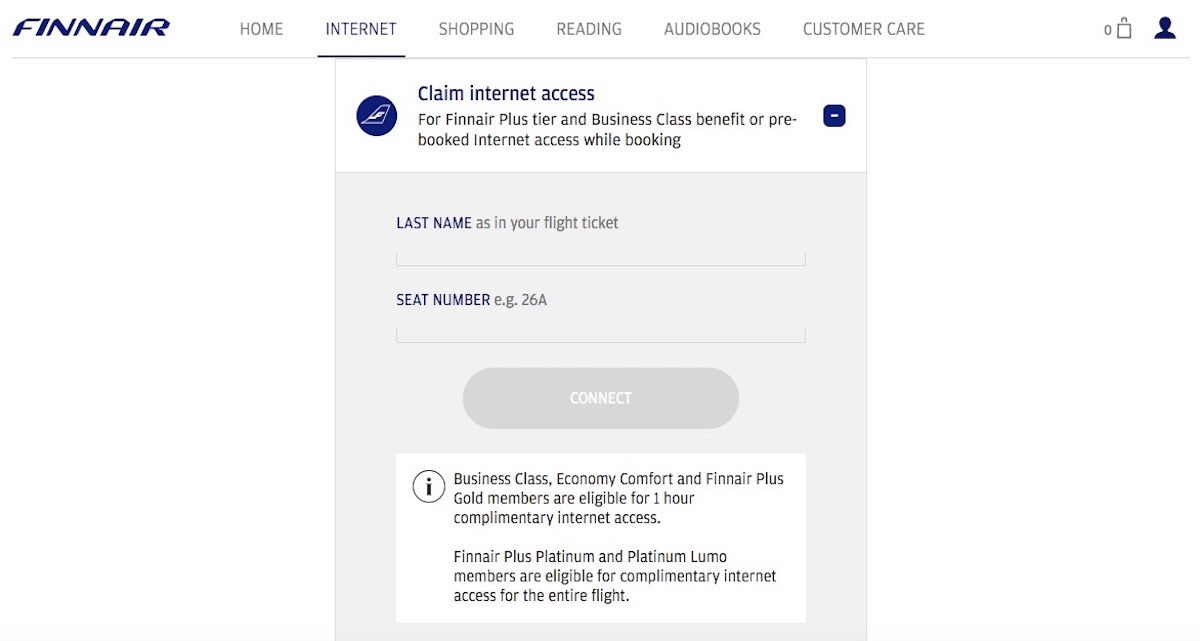 Finnair free business class Wi-Fi
Alternatively pricing is as follows, with no data caps:
One hour for 7.95EUR
Three hours for 11.95EUR
Full flight for 19.95EUR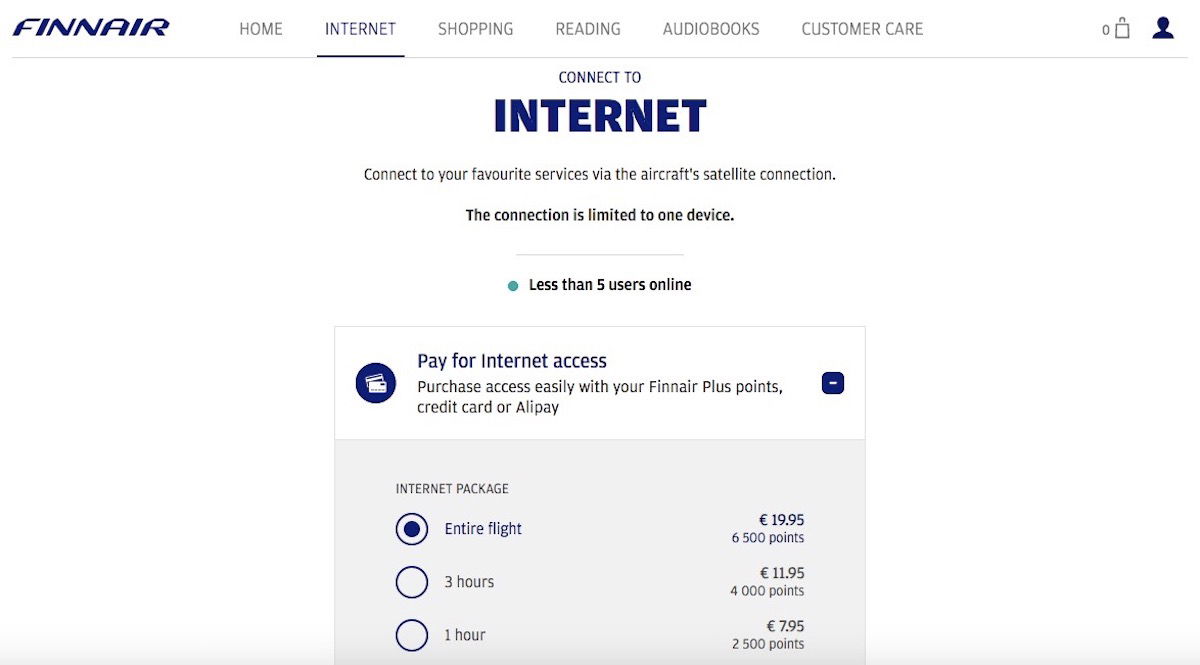 Finnair Wi-Fi pricing
The seatbelt sign was turned off just five minutes after takeoff. About 20 minutes after takeoff the purser stopped by my seat to welcome me onboard. She only came to certain people, so I'm guessing this is a Finnair Plus and oneworld Emerald thing.
Eventually the meal service began. The dinner/midnight menu read as follows: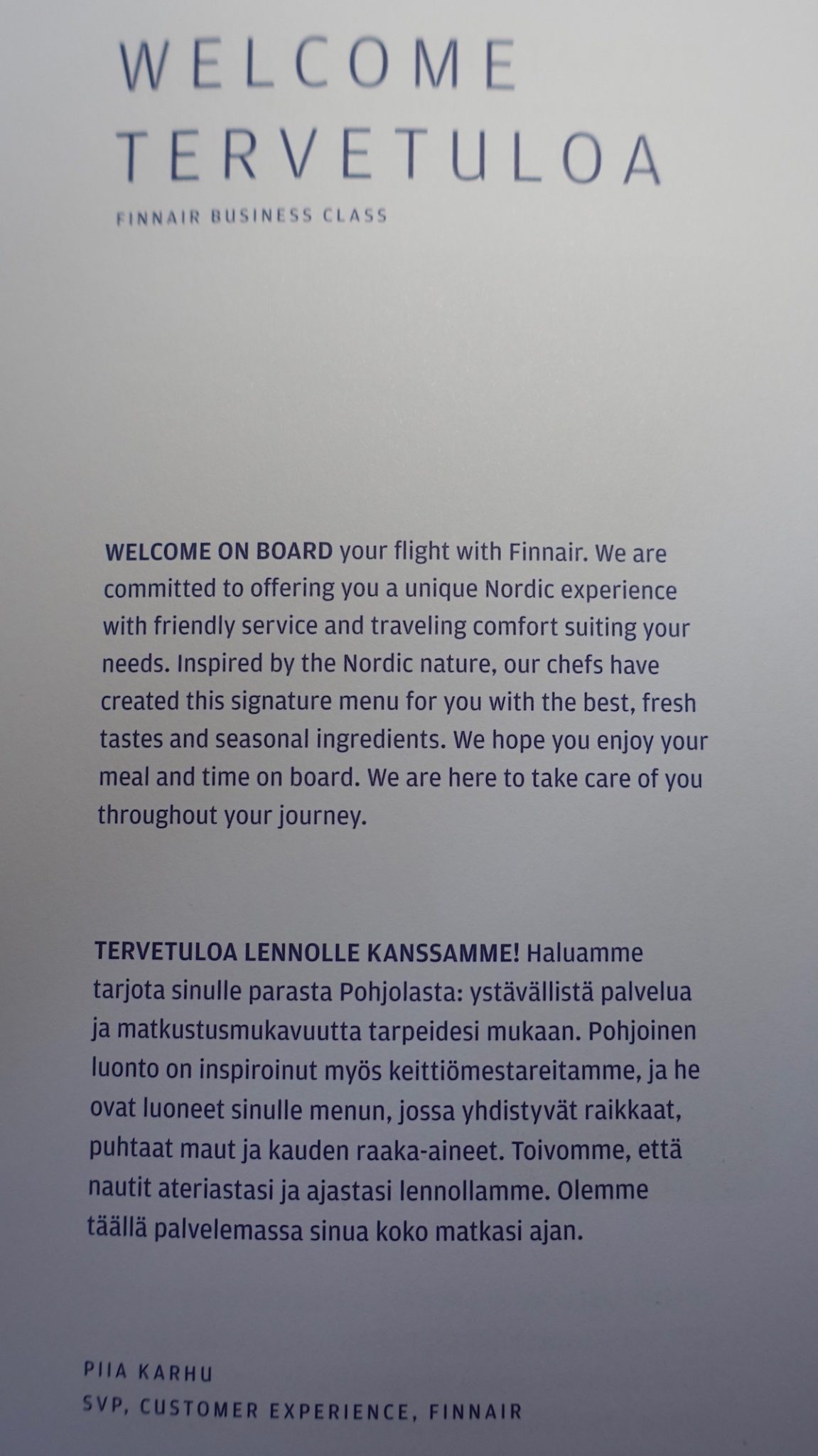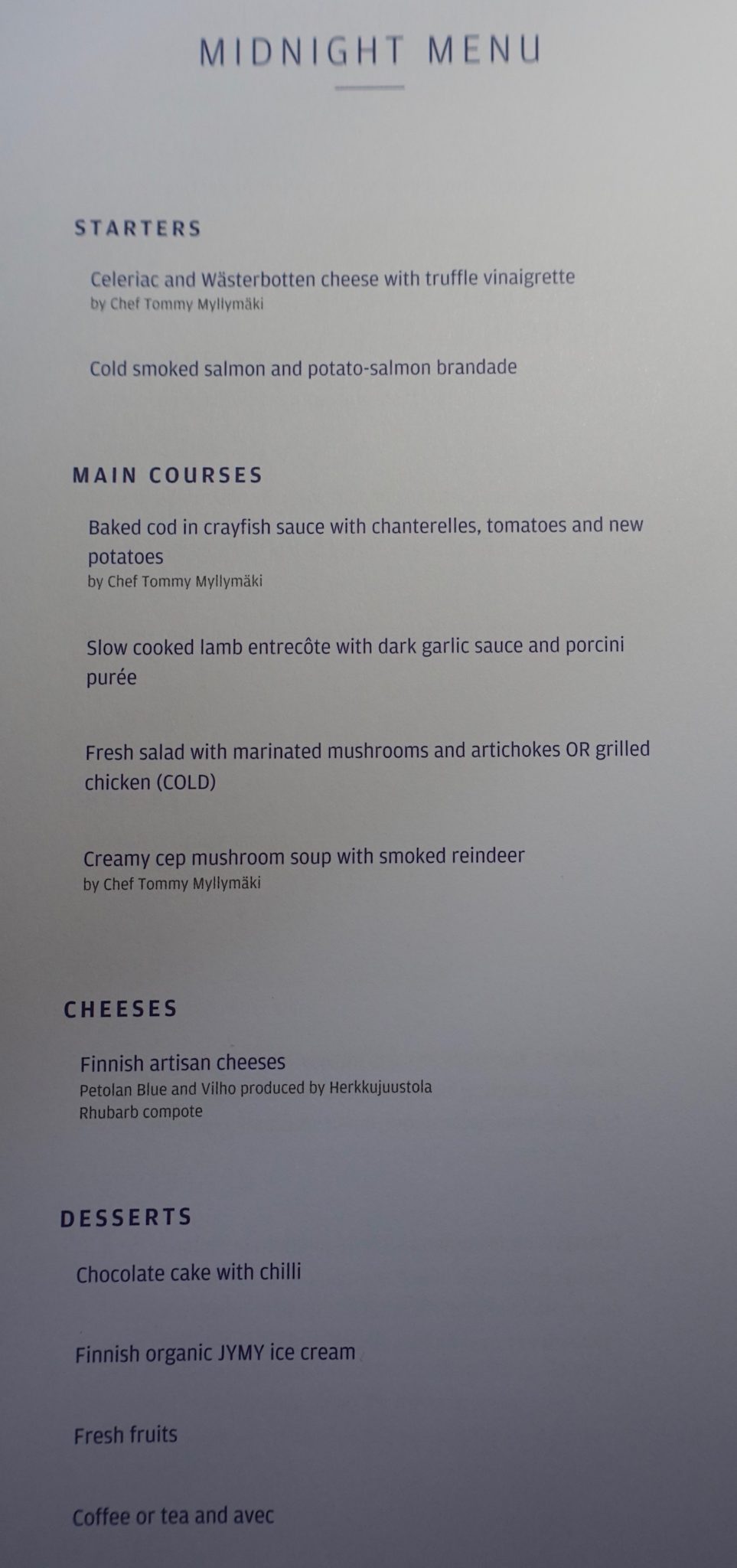 The drink list read as follows: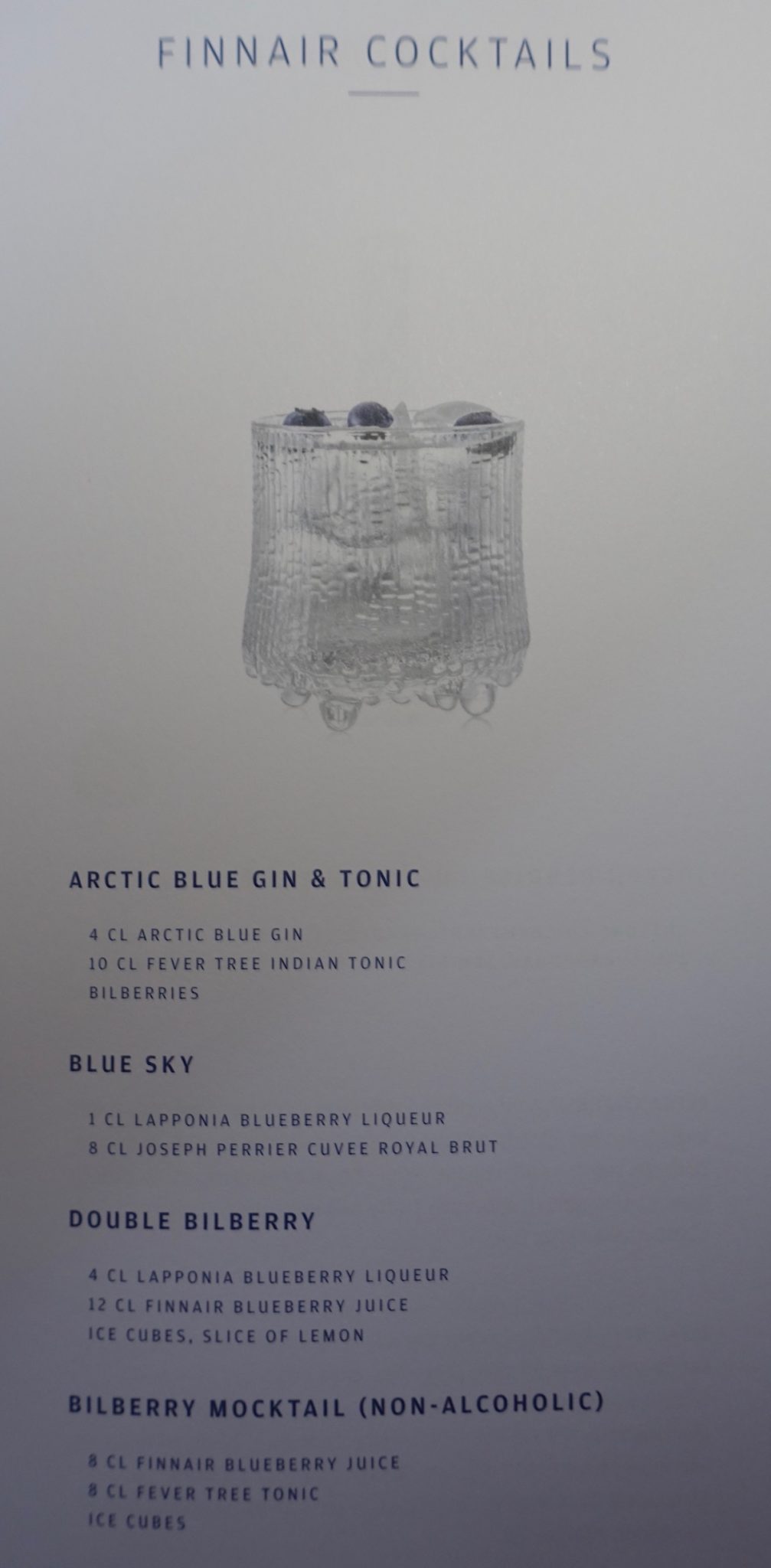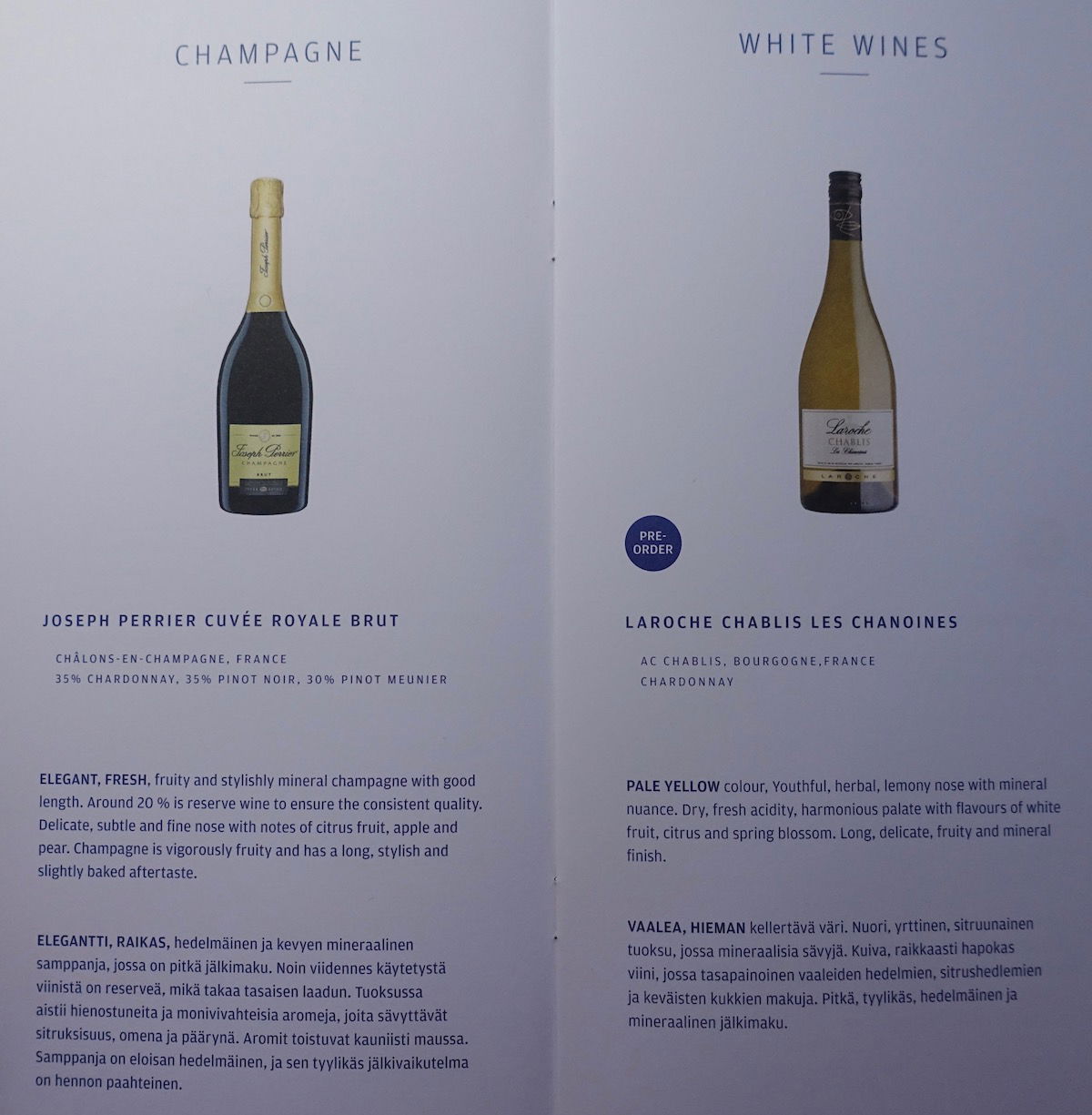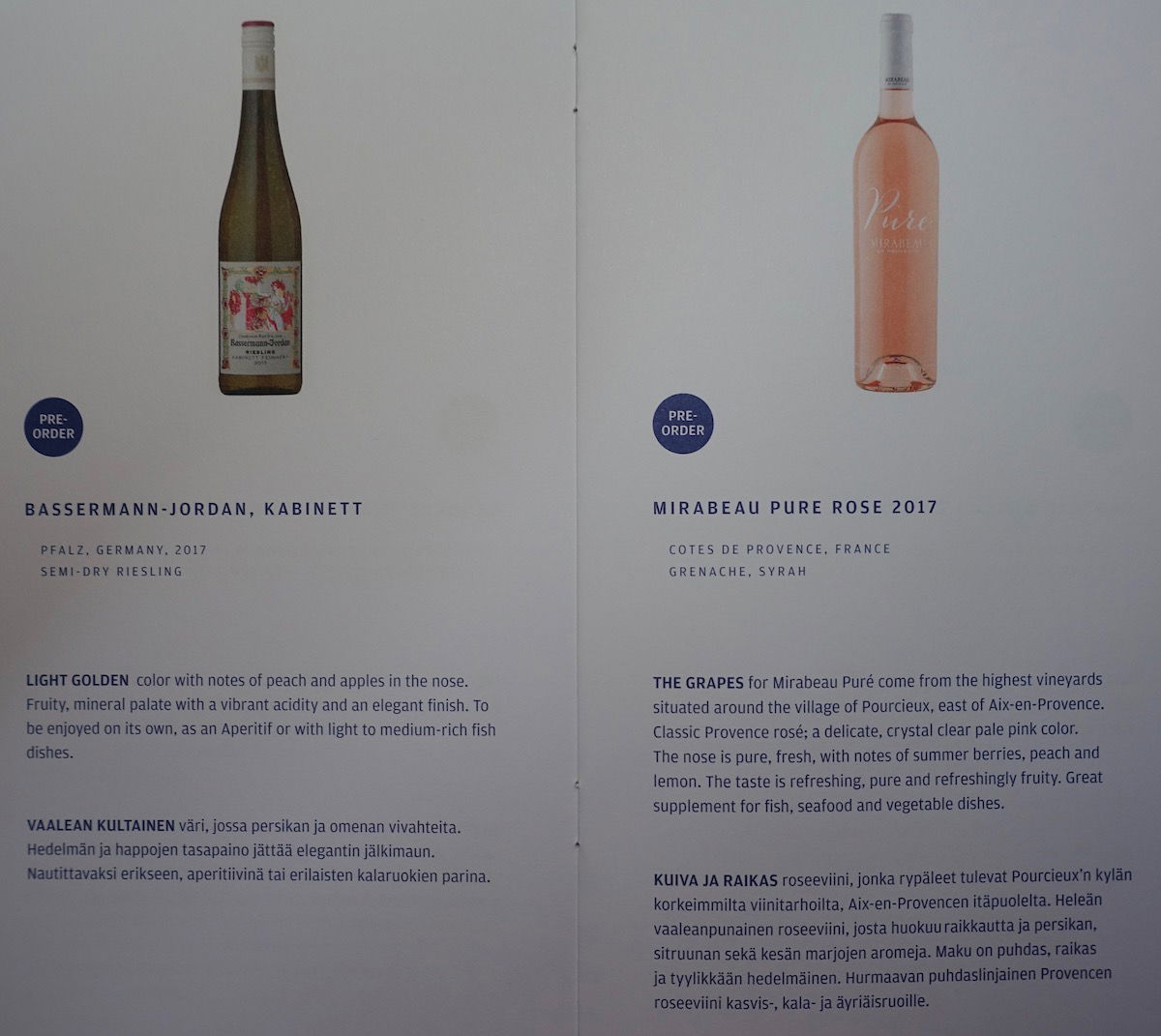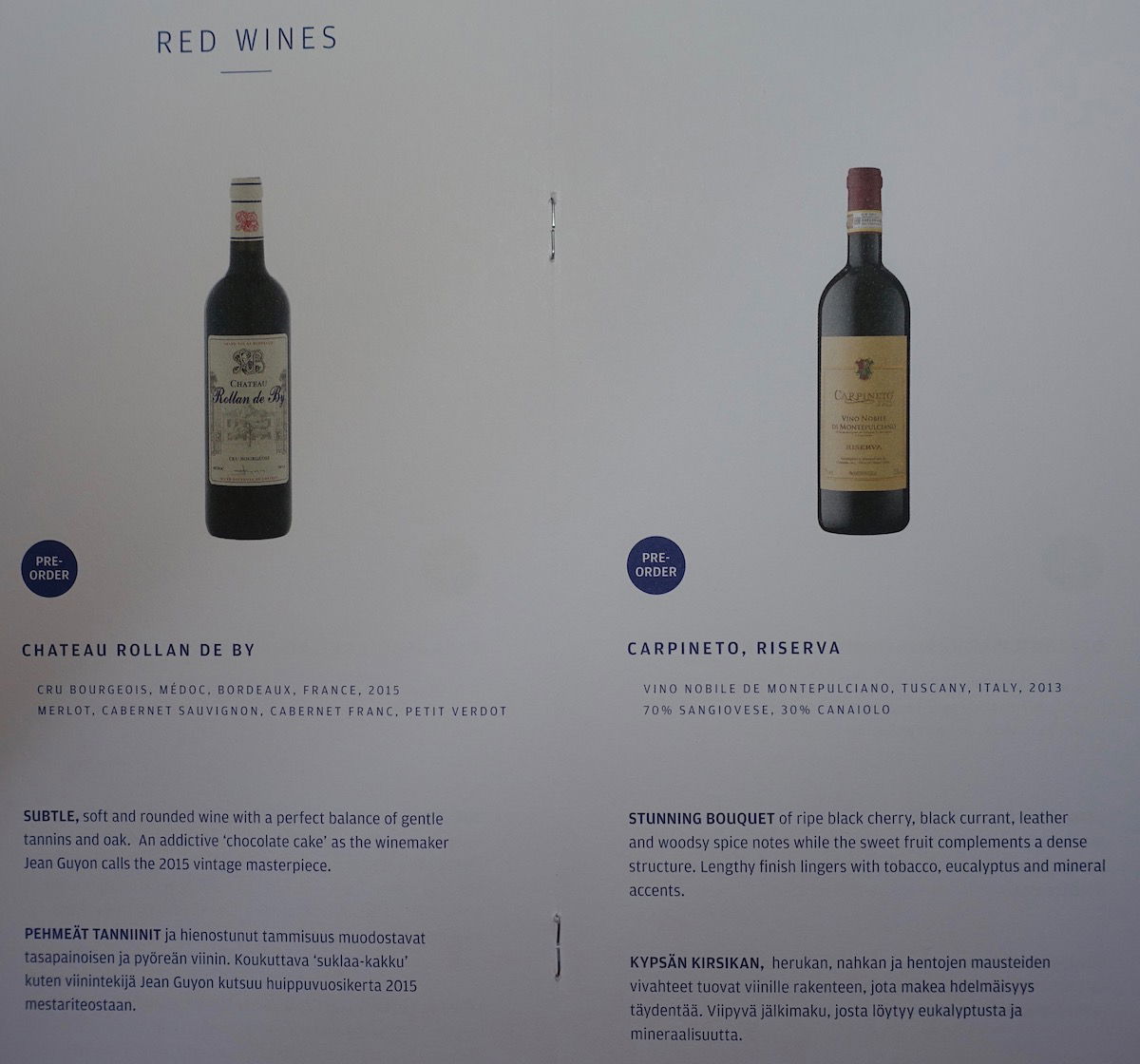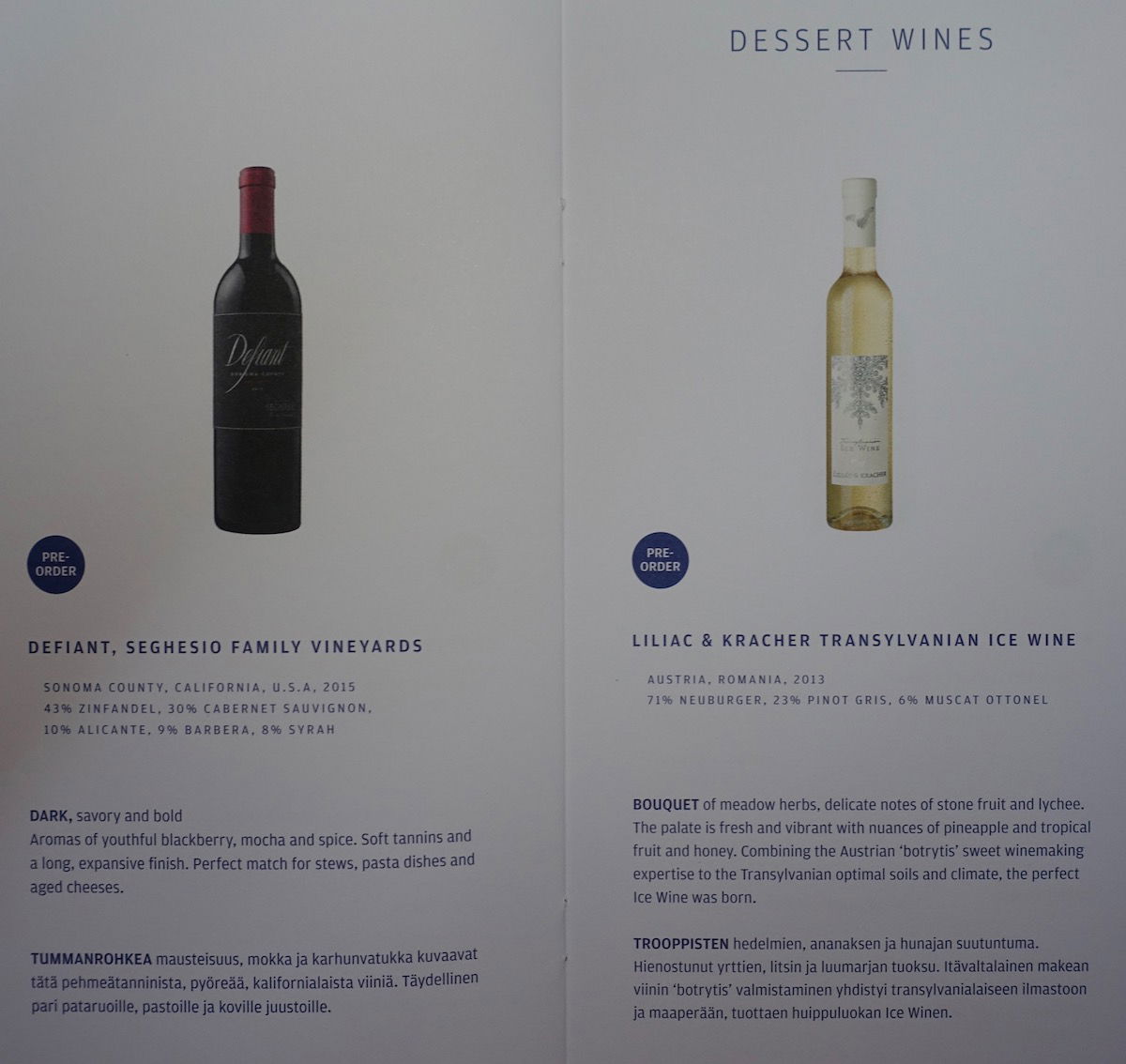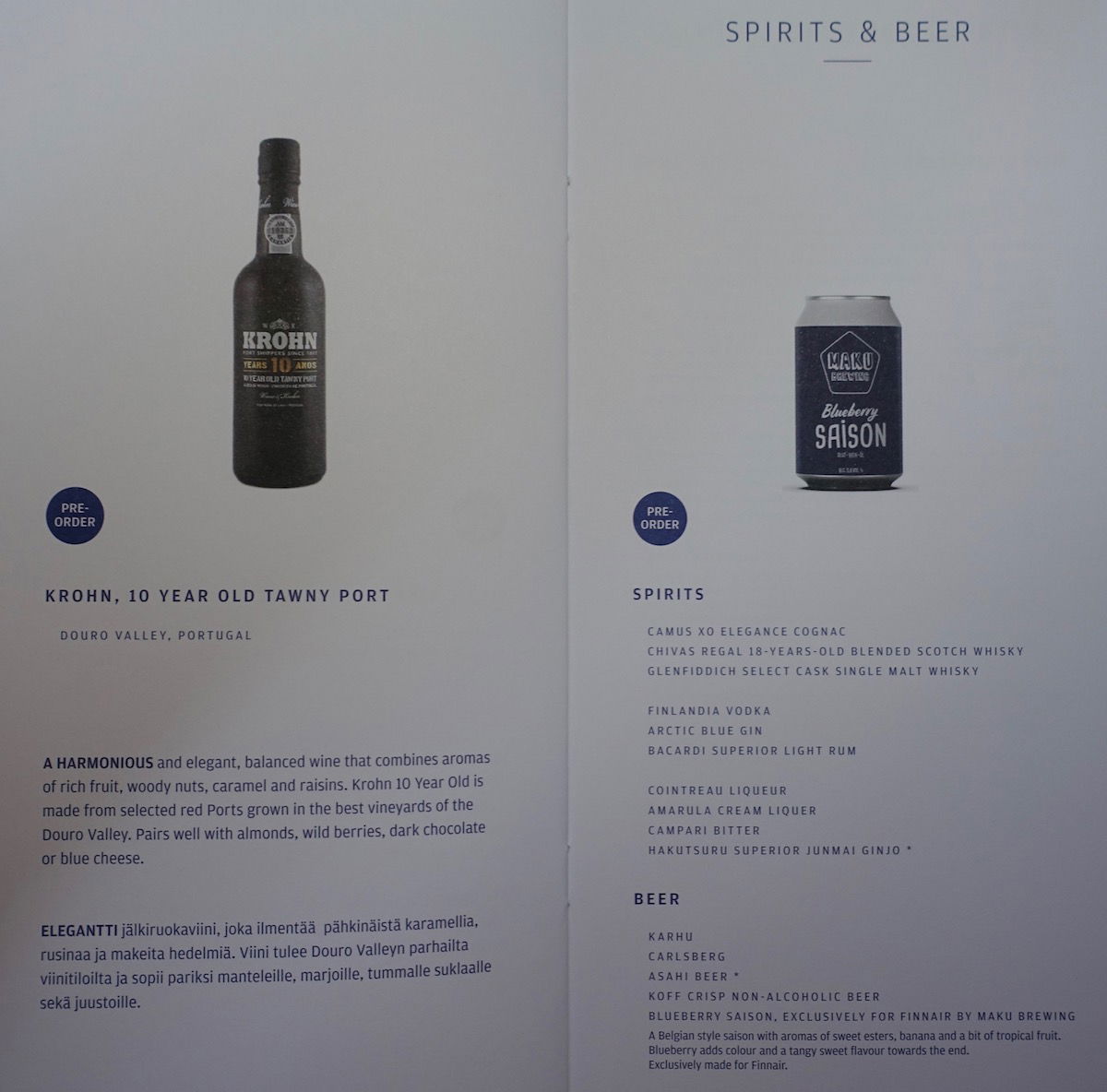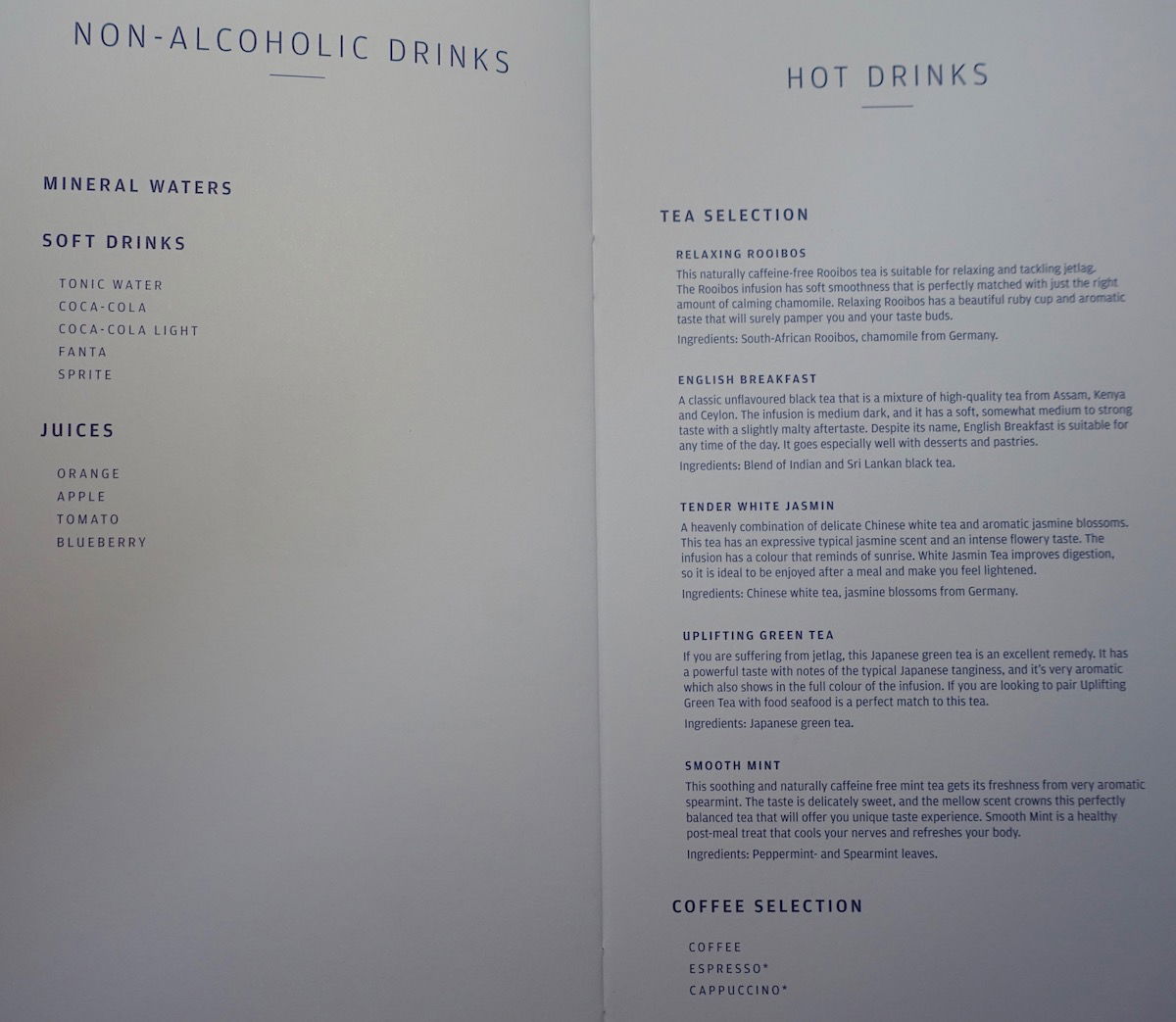 Warm towels were distributed about 35 minutes after takeoff.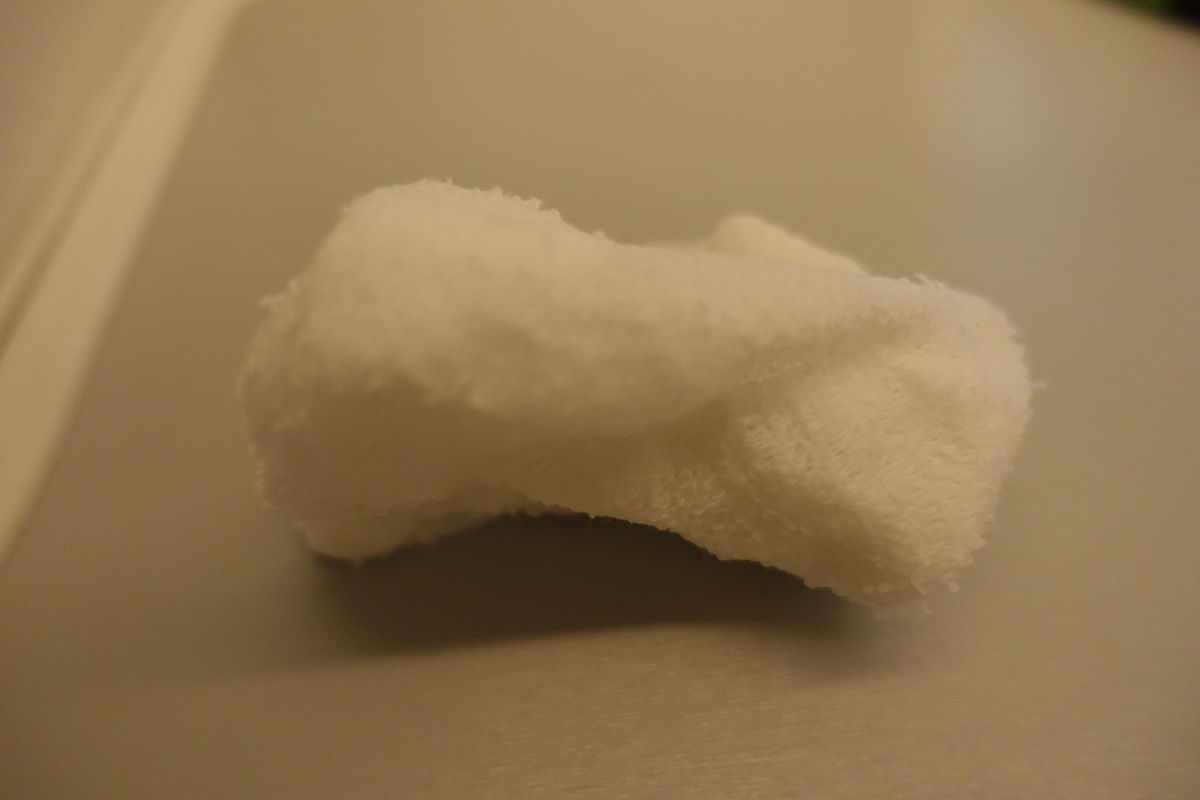 Finnair business class dinner — warm towel
Then about 40 minutes after takeoff drinks were served. The crew didn't use carts, but rather the drinks and meals were brought directly on trays.
To drink I ordered the "arctic blue gin & tonic," as well as a still water. That was served with some salted almonds.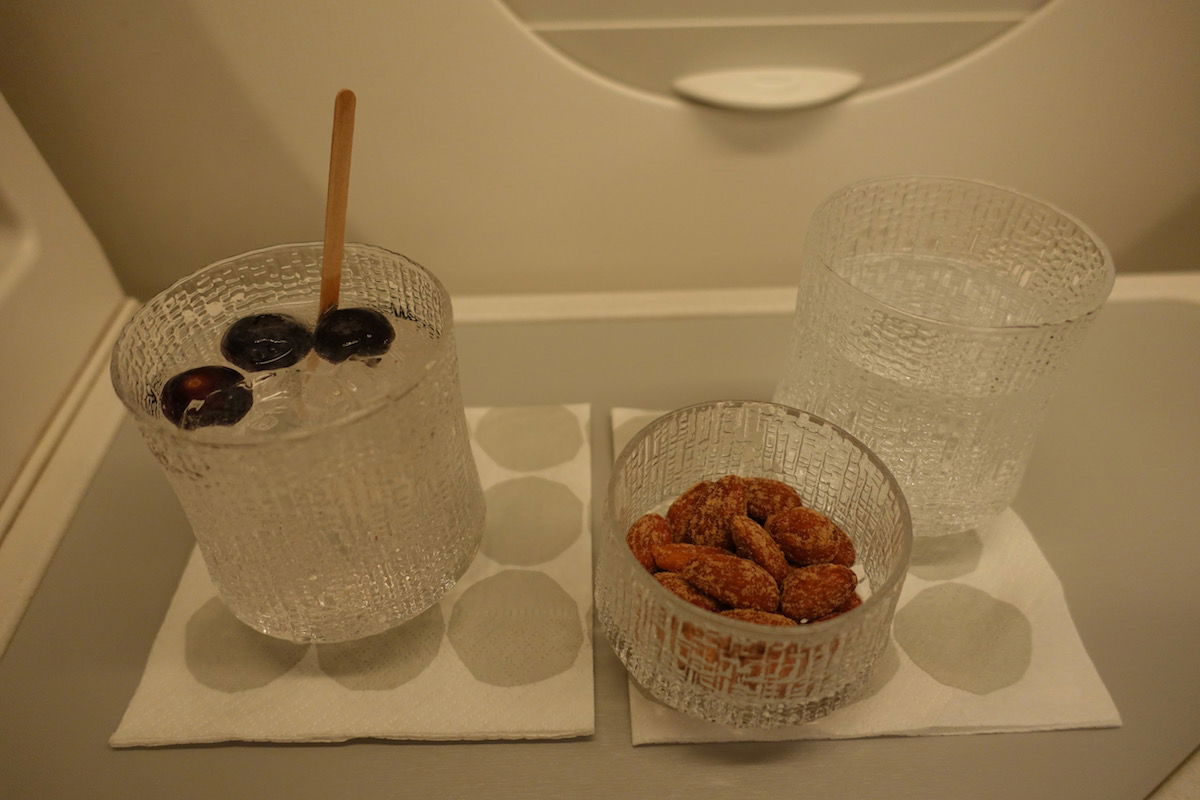 Finnair business class dinner — drinks & nuts
An hour after takeoff tablecloths were brought out, but then it was another 20 minutes until the meal was served. With the exception of dessert, everything was served on one tray about 80 minutes after takeoff.
There was a choice of two appetizers and a choice of four main courses (one of which was a soup, and one of which was a salad).
I selected the cold smoked salmon and potato-salmon brandade as my starter, and selected the baked cod in crayfish sauce with chanterelles, tomatoes, and new potatoes as my main course. I was also offered a selection from the breadbasket.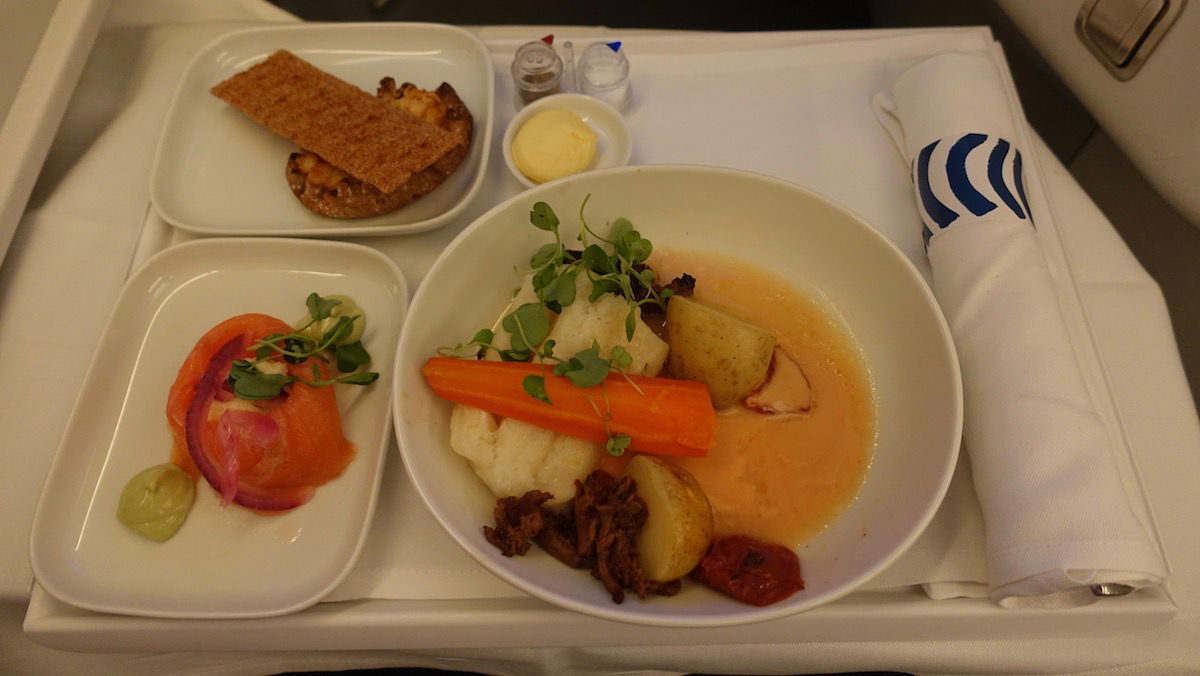 Finnair business class dinner — appetizer & main course
The starter was kind of boring, while I thought the main course was excellent.
Once I finished the meal I was asked if I wanted dessert, with the choice between ice cream, a cheese plate, fresh fruit, and a chocolate cake with chili.
I chose the chocolate cake, which had a nice kick to it thanks to the chili, and also had a cup of coffee to go along with it.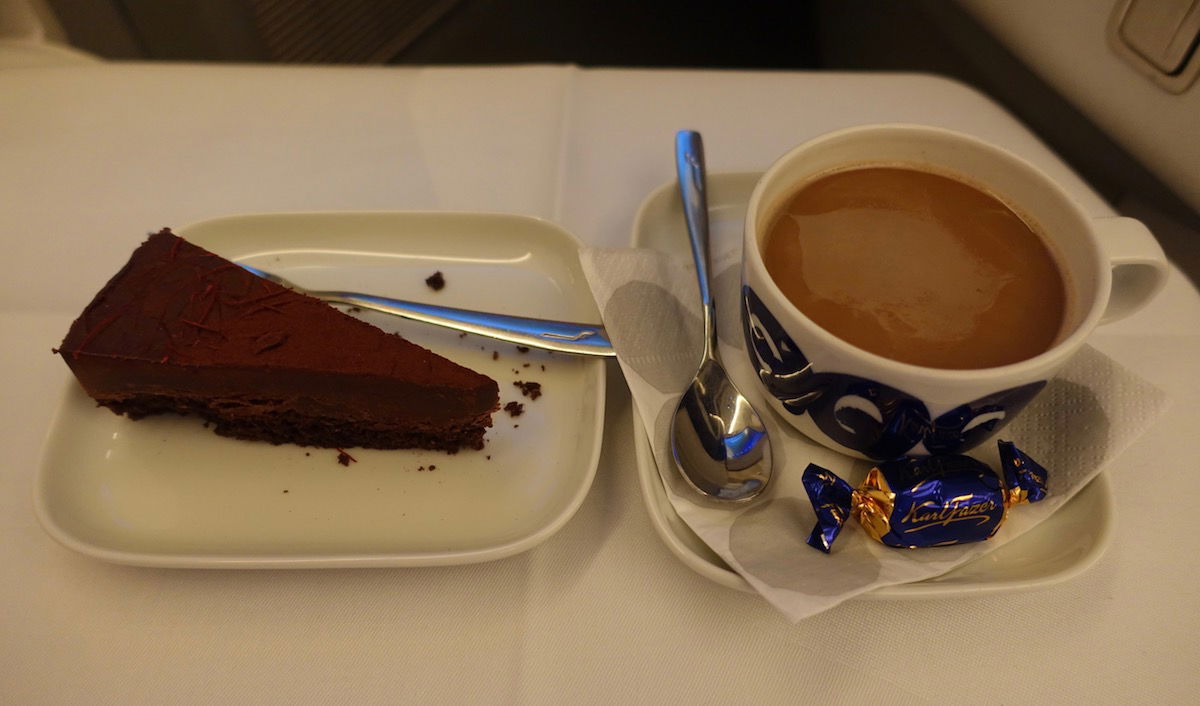 Finnair business class dinner — dessert & coffee
I'm a bit conflicted about service from this Singapore-based Finnair crew The crew was friendly and reasonably accommodating, but I would say attention to detail was lacking. For example, I wasn't offered a drink refill once during the meal, even when my glass was empty.
In theory not using any carts should lead to a more personalized service and less of an assembly line feeling, though I didn't find that to be the case at all.
As far as food quality goes, the highlight of the meal was definitely the main course and dessert. I guess the limited meal service is fair enough, given the late night departure.
By the time the tray was cleared there was about 8hr30min remaining to Singapore, meaning the service took about two hours total.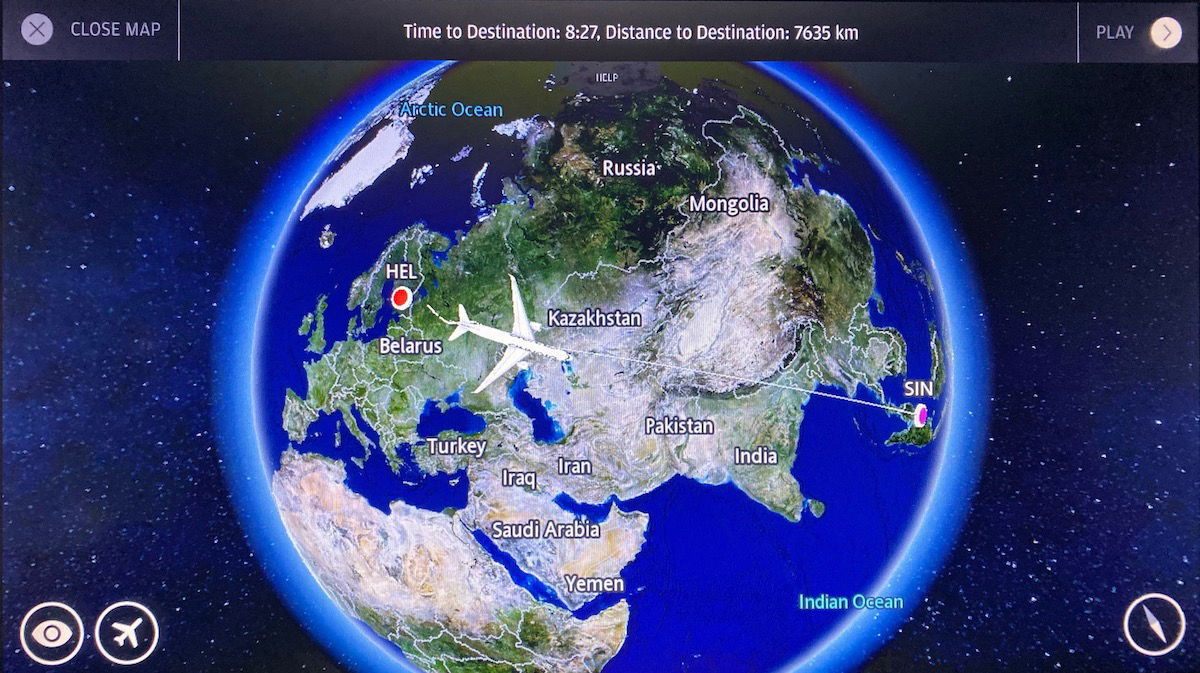 Moving map enroute to Singapore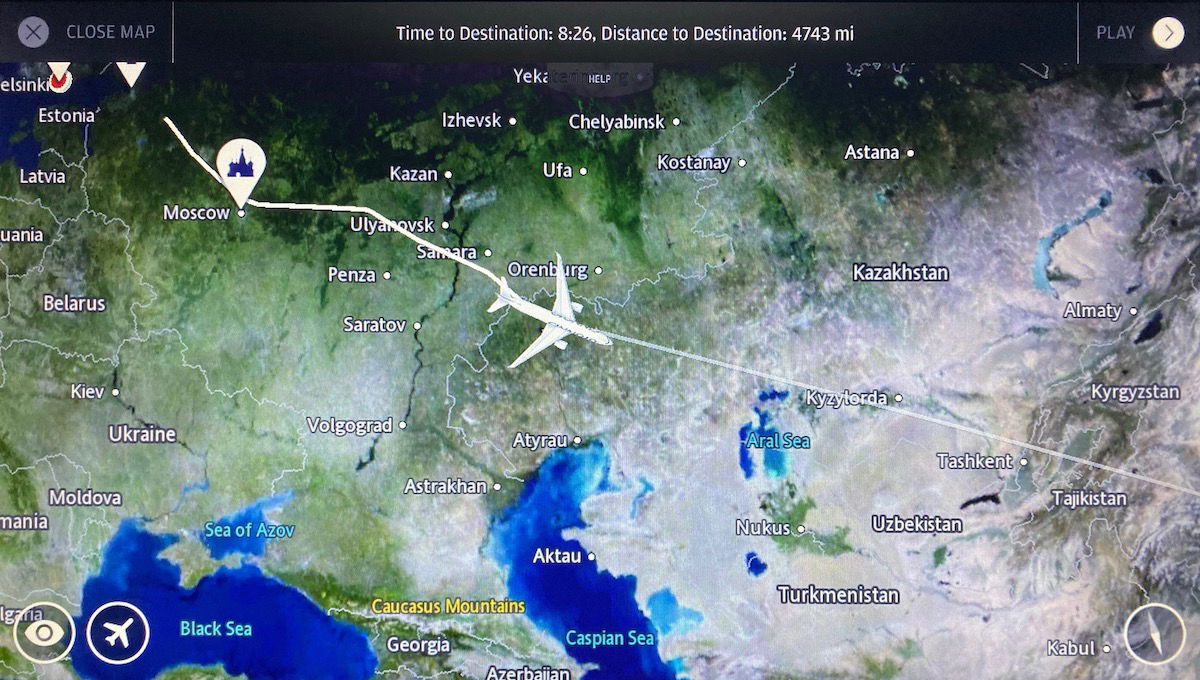 Moving map enroute to Singapore
At this point I checked out the lavatory — there were two at the front of the cabin and two in the center of the cabin, and they were pretty standard.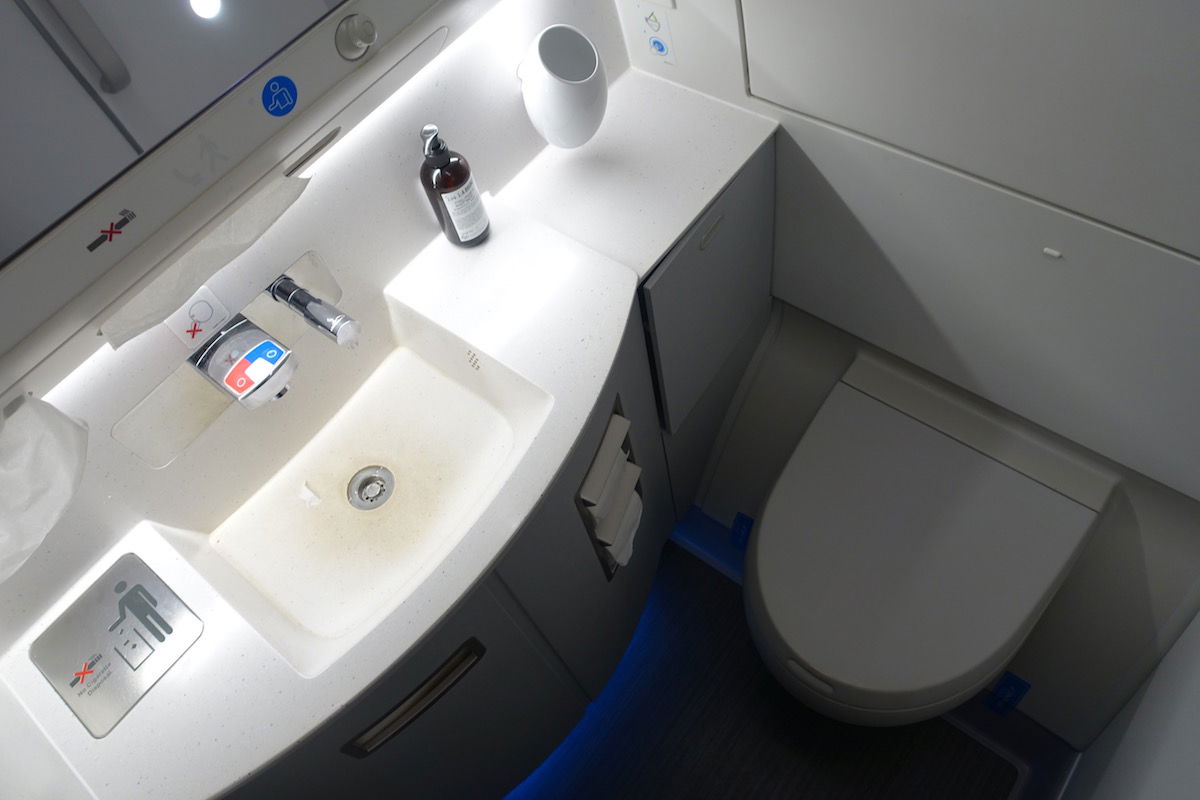 Finnair A350 lavatory
I also noticed that the crew had set up a small snack display on a cart in the mid-galley, with chocolates, some packaged snacks, and chips.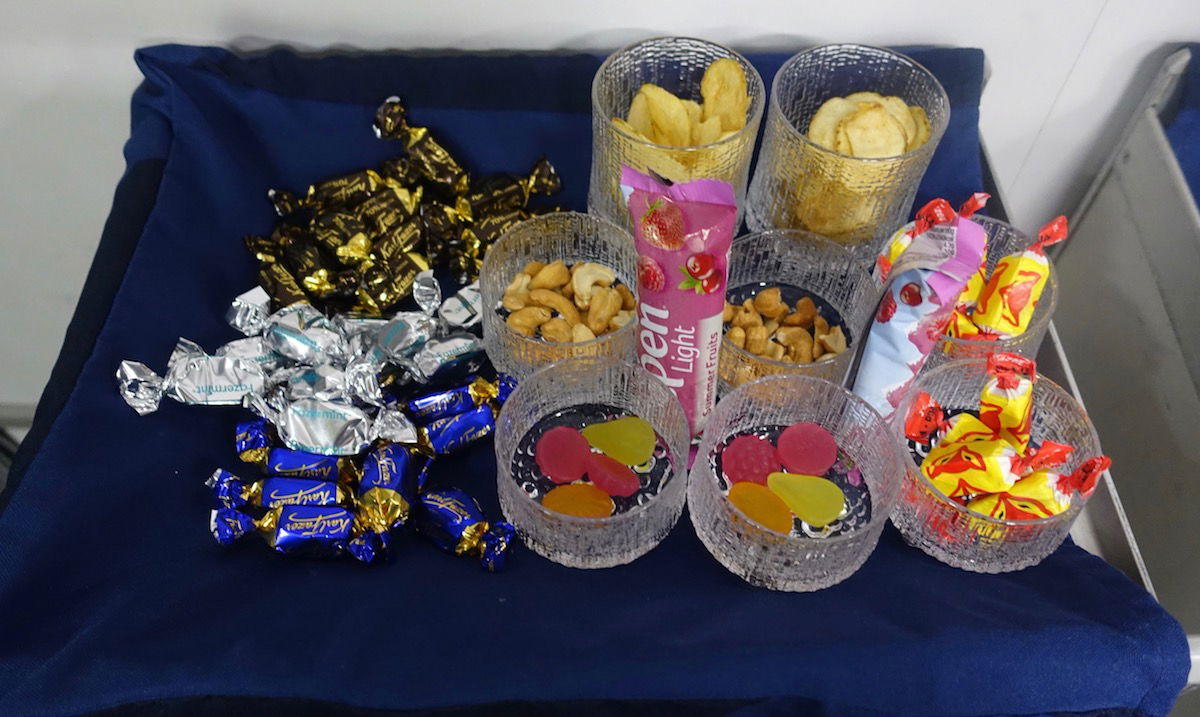 Finnair business class snacks
At this point I reclined my seat into bed mode, and was so ready to sleep, after having been on a redeye the night before as well.
I found the bed to be sufficiently wide, including around the knees. The bedding wasn't amazing, but was sufficient.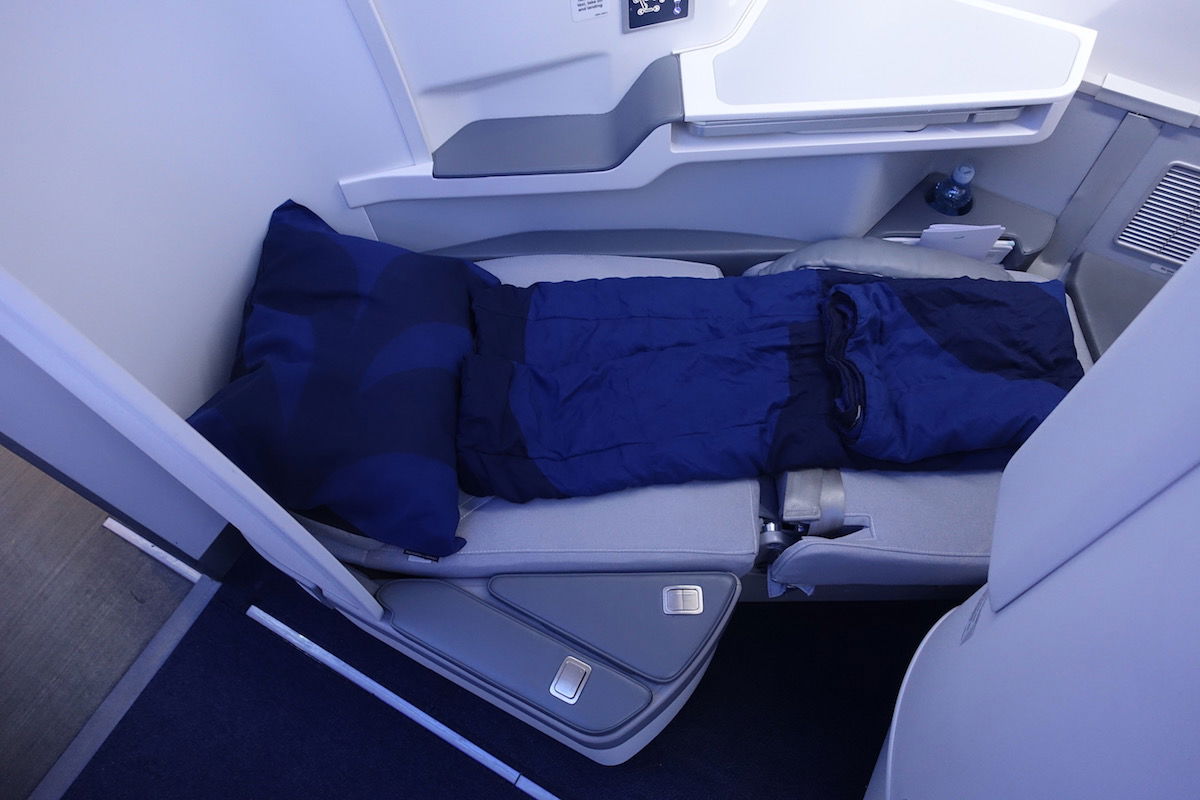 Finnair A350 business class flat bed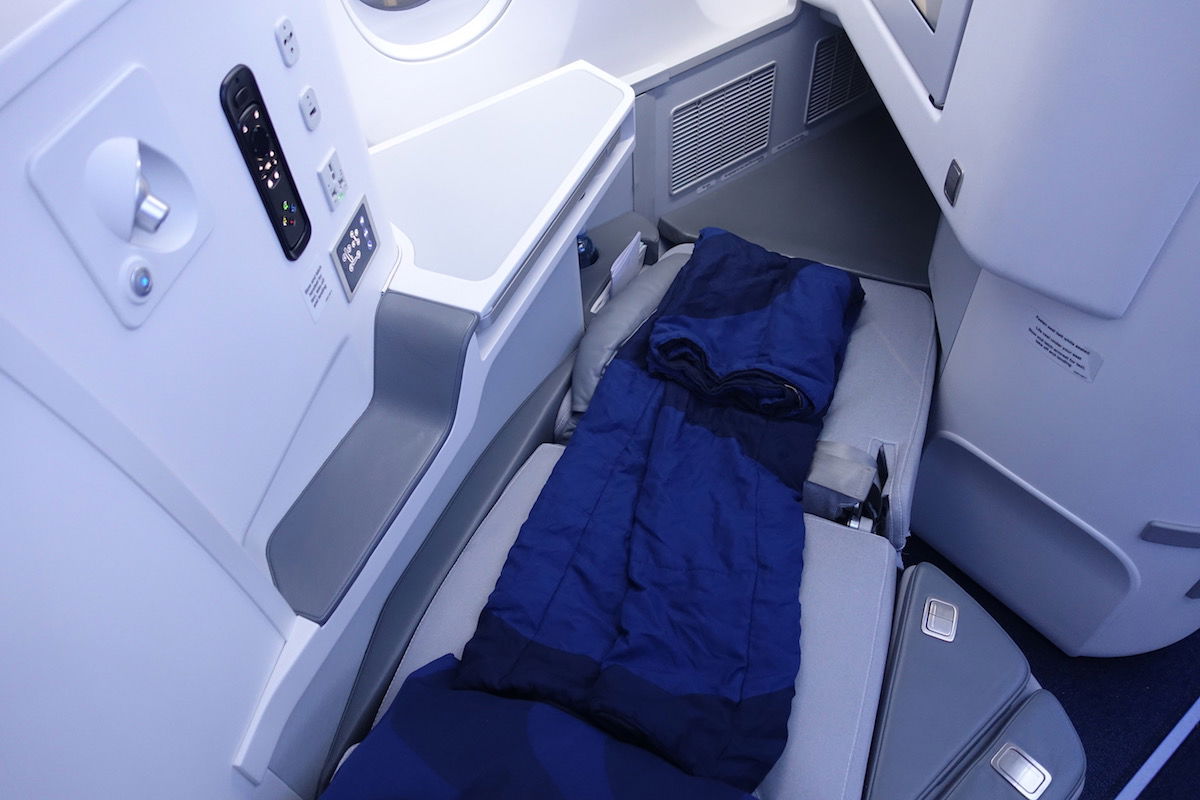 Finnair A350 business class flat bed
I'm so happy that I slept for over six hours, almost interrupted. By the time I woke up we were just about two hours from landing in Singapore.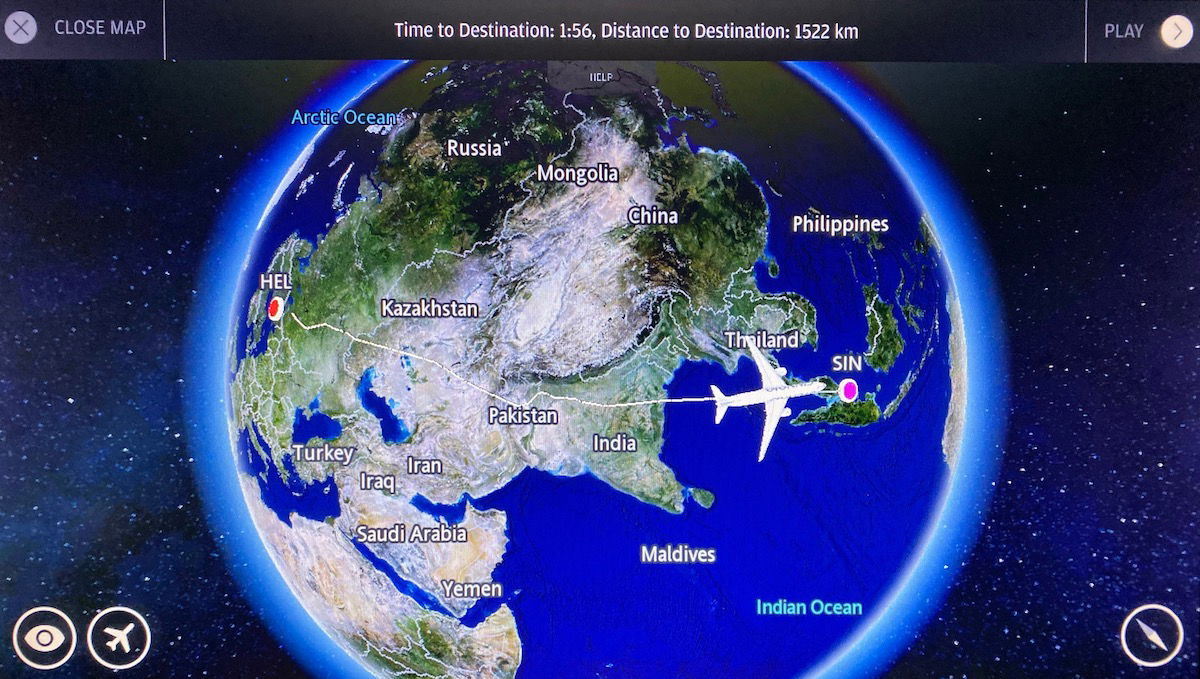 Moving map enroute to Singapore
I turned on the tail camera, and was excited to finally see some daylight again!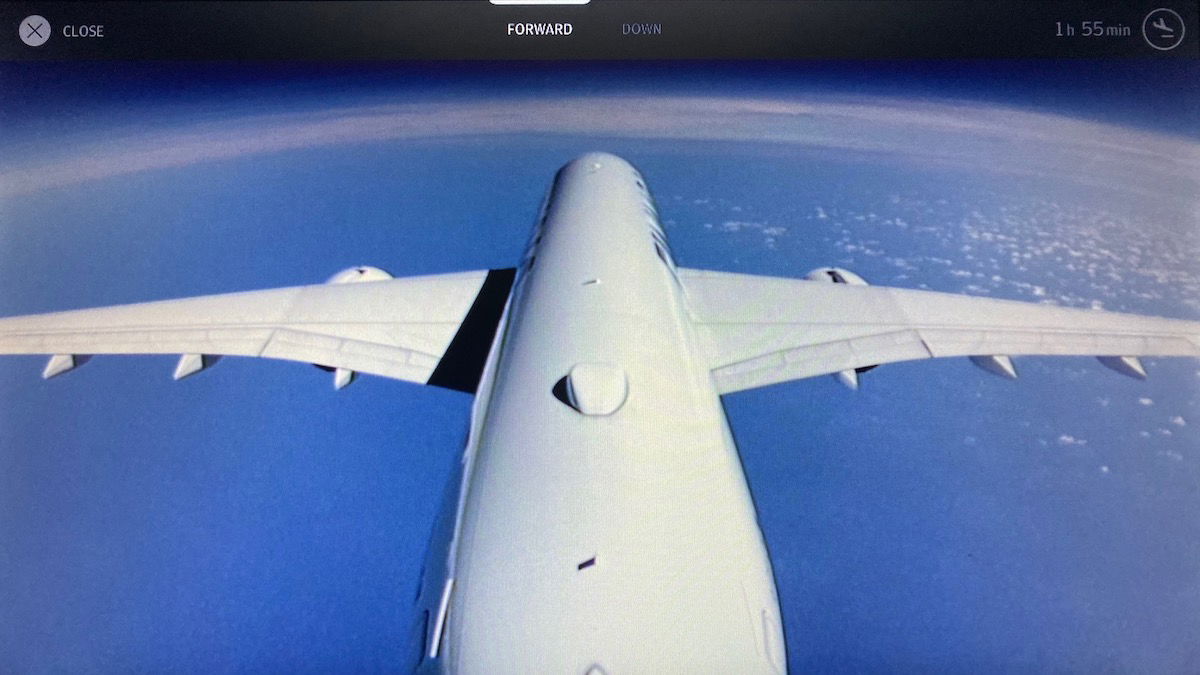 Finnair A350 tail camera
About 90 minutes before landing the crew started turning on some of the cabin lights for the pre-landing service. The menu read as follows: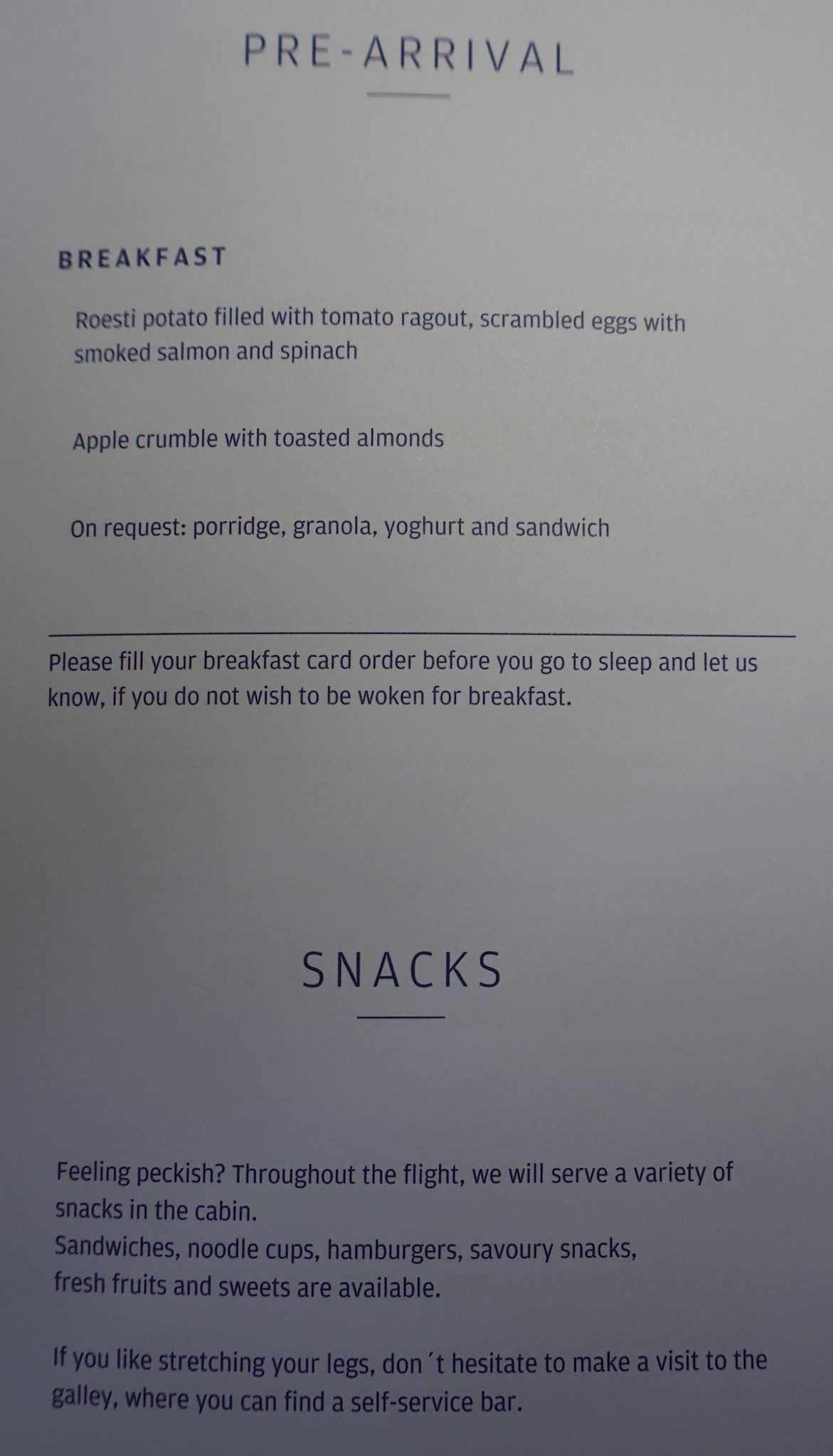 For what it's worth, here's one side of the breakfast card: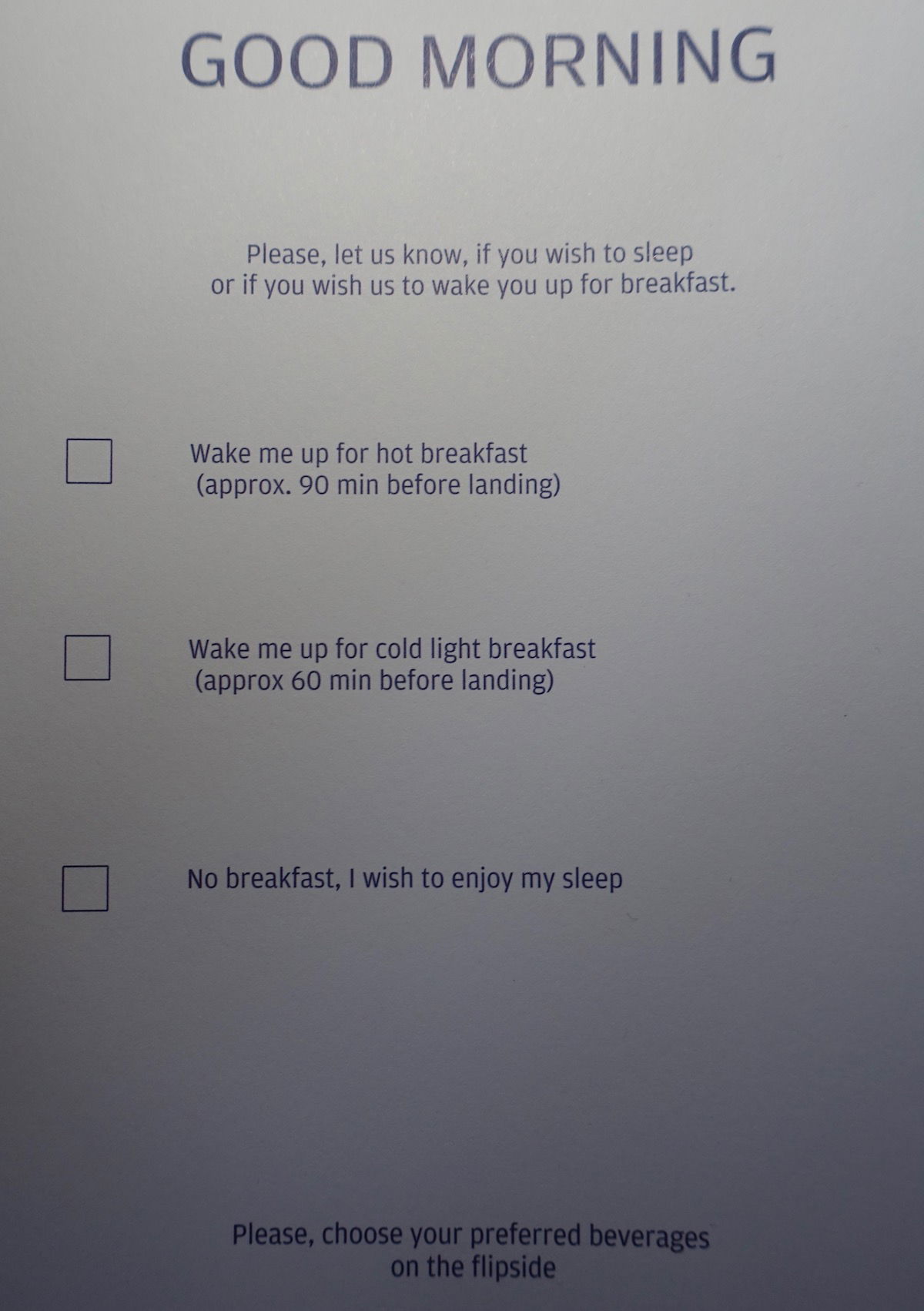 Service began with a tray of drinks and warm towels being brought through the cabin. I had a glass of the delicious blueberry juice, as well as a still water.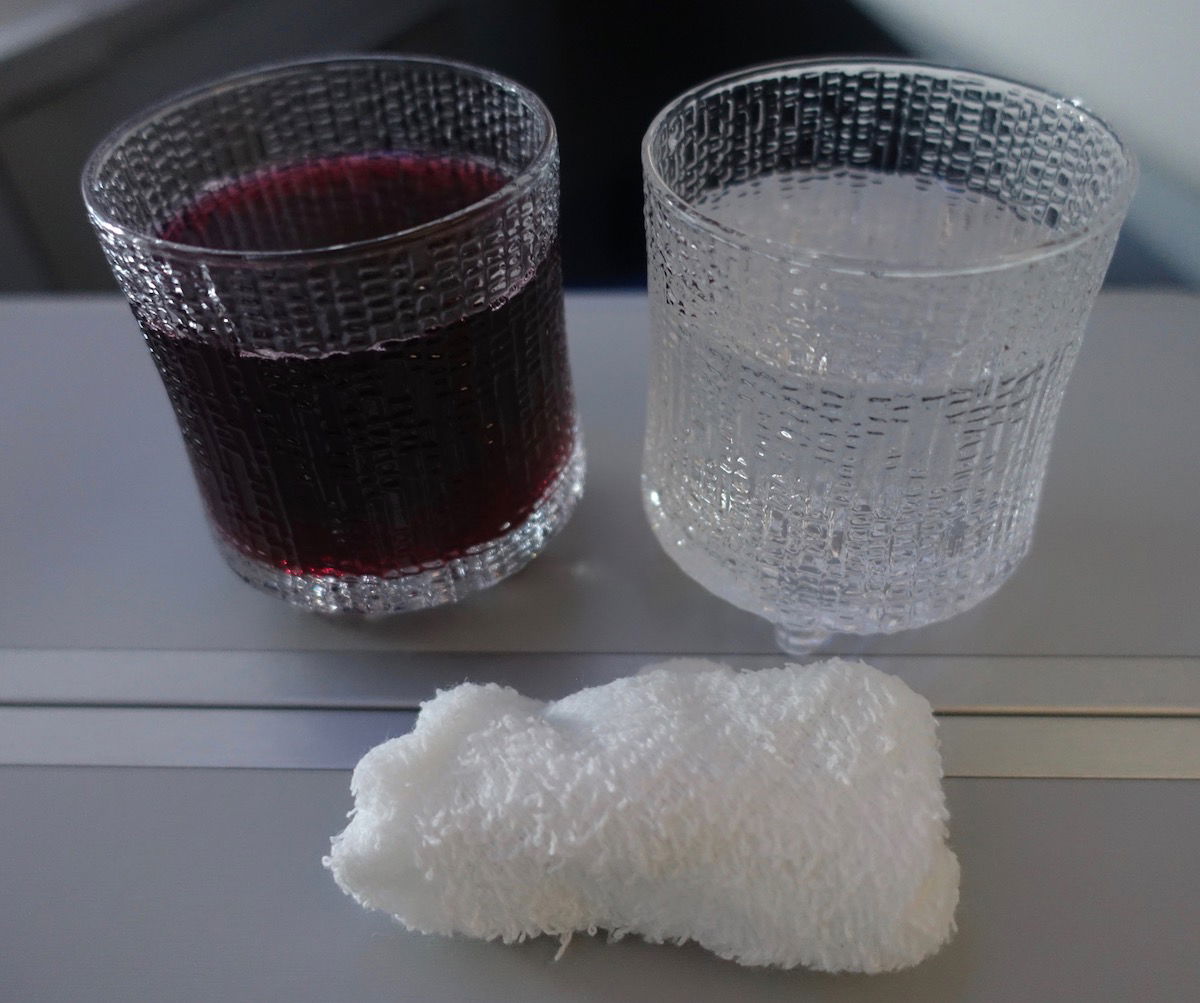 Finnair business class breakfast — juice, water, and warm towel
About 15 minutes later I was brought my breakfast.
Breakfast included a rather bland fruit plate and a croissant and piece of bread. On the plus side, my main dish was excellent. I ordered the roesti potato filled with tomato ragout, scrambled eggs with smoked salmon, and spinach. I feel like airplane breakfast is almost always the same, so I was so happy to see something different on the menu for once.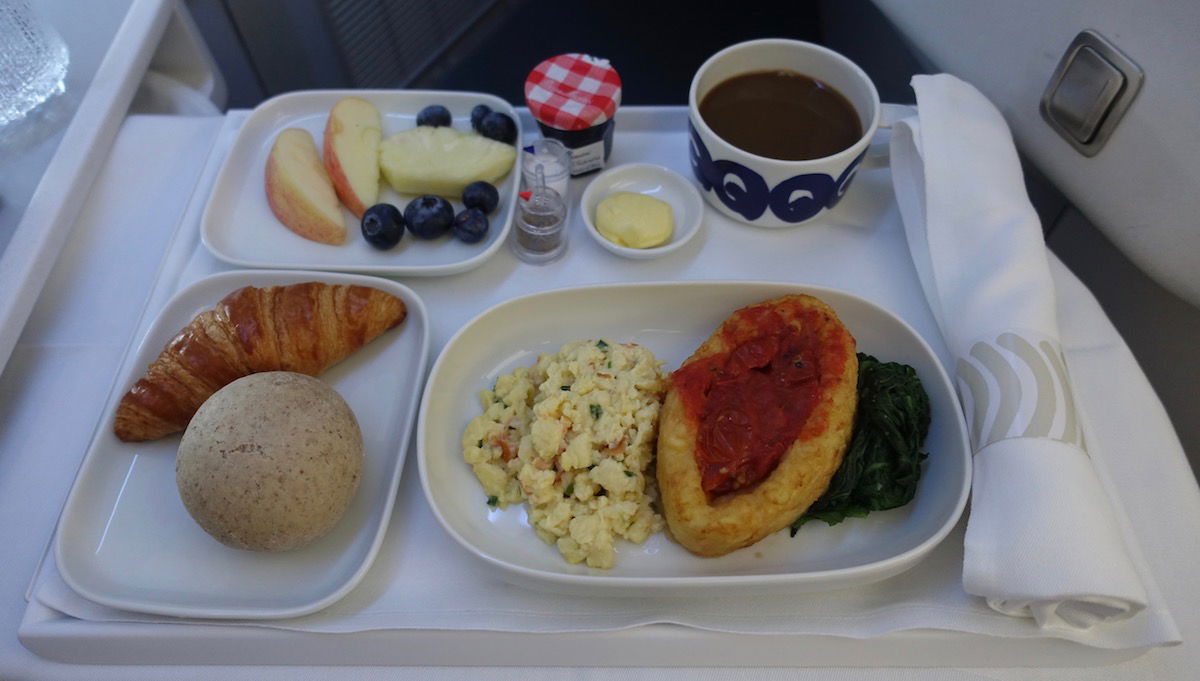 Finnair business class breakfast
At 4:30PM Singapore time the captain announced that we'd be descending shortly and landing in about 30 minutes. About 15 minutes later the seatbelt sign was turned on.
As always I loved the views approaching Changi, especially of all the cargo ships approaching the coastline.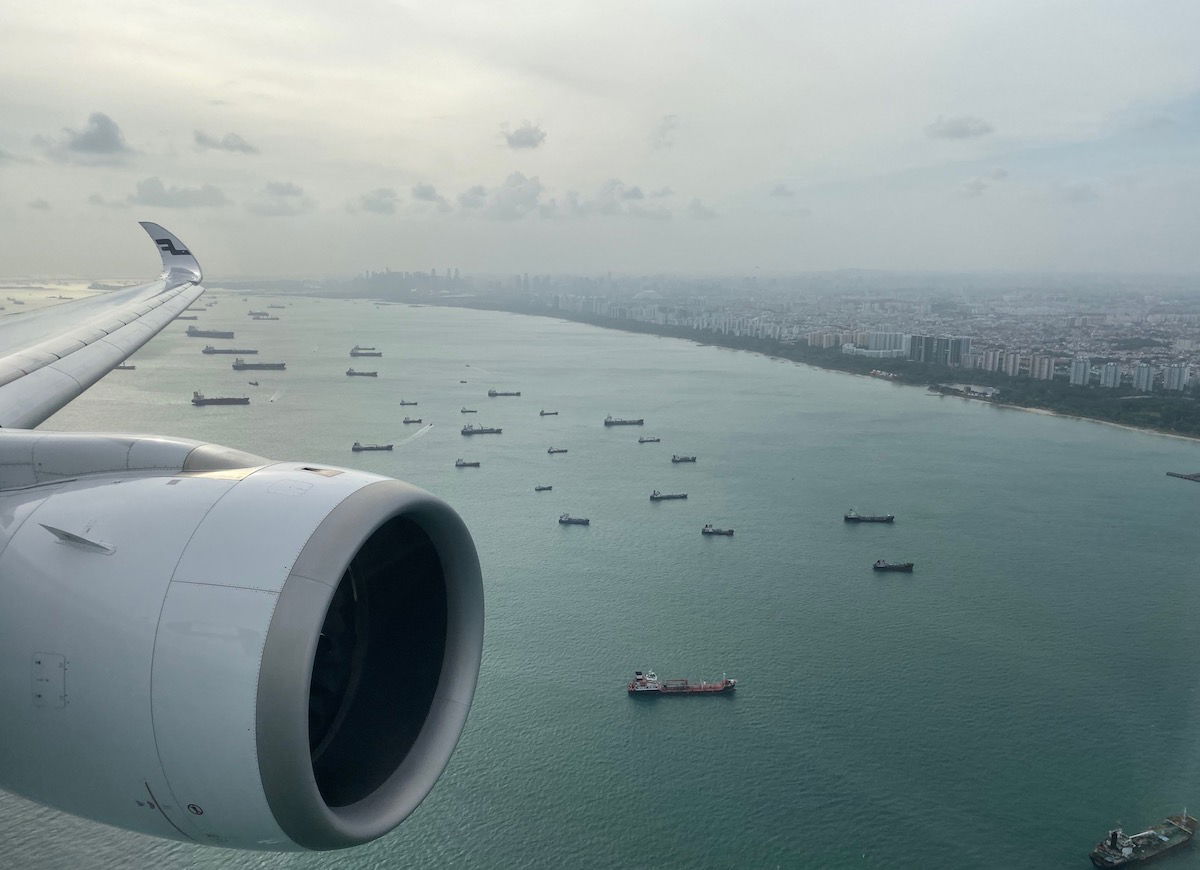 View approaching Singapore
We touched down at Changi Airport at around 5:10PM on runway 2L.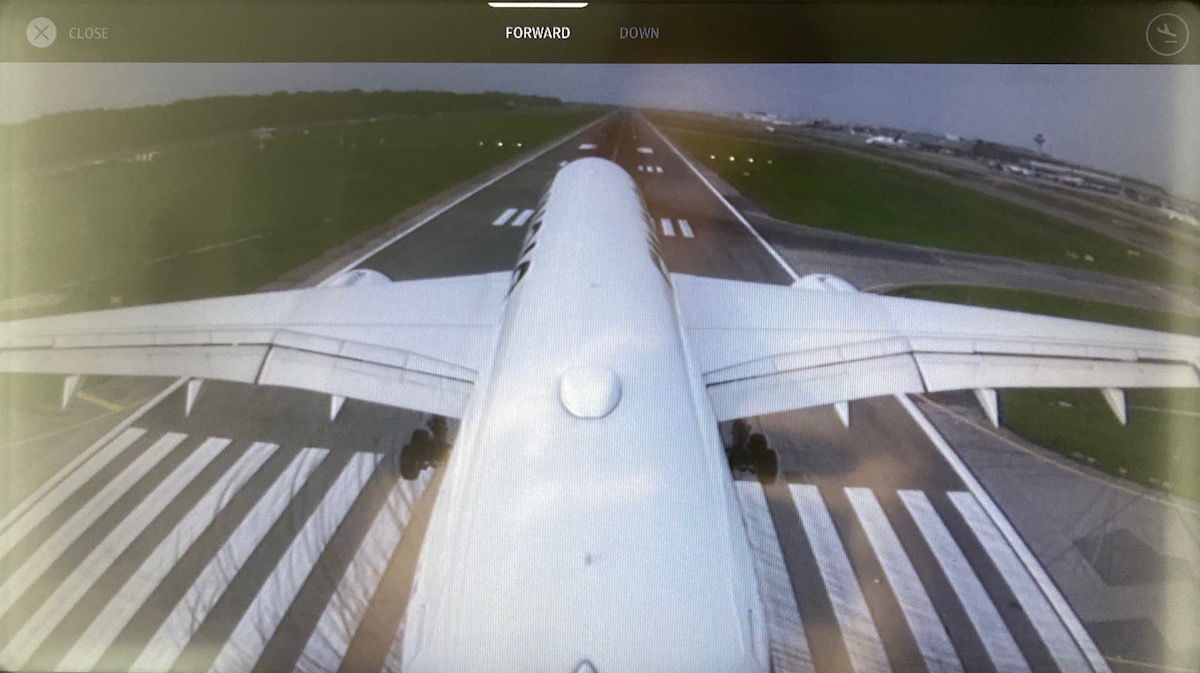 Touching down in Singapore
From there we had a five minute taxi to our arrival gate at Terminal 1. Hello, Singapore Airlines 787-10!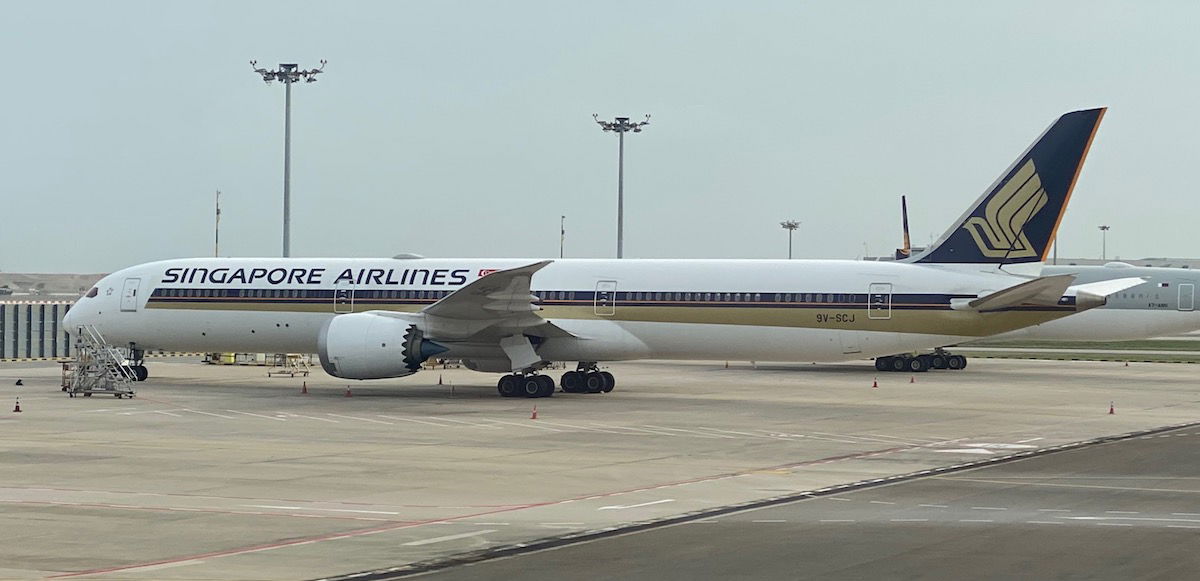 Singapore Airlines 787-10
We parked next to a KLM 777-300ER headed to Bali (which is a flight I've taken before).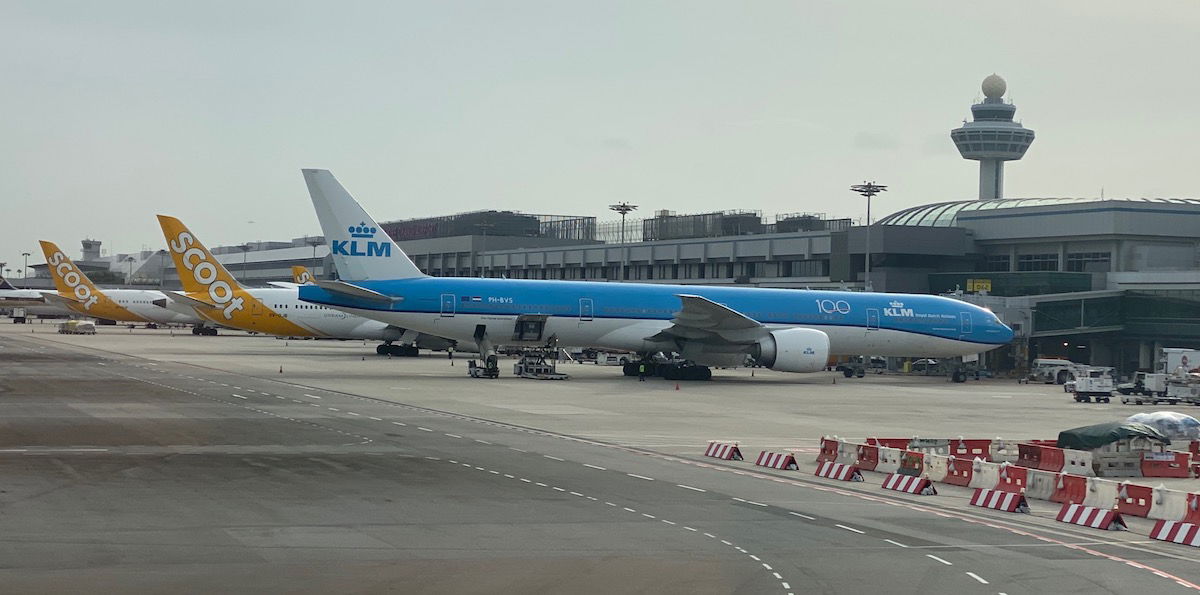 Pulling into gate in Singapore
Finnair A350 Business Class Bottom Line
I feel similarly about Finnair's A350 business class as I feel about Brussels Airlines' new A330 business class — it's good but unmemorable. That's not meant to be a dig, but the reality is that there are some airlines that go above and beyond when it comes to their hard and soft product, and I don't really feel like Finnair does.
As far as European airlines go, I'd say their hard product is significantly above average, especially compared to airlines like Lufthansa. Furthermore, Finnair has good Wi-Fi and entertainment, and I thought the food quality as such was good.
However, other than that I felt like they were largely pretty average. The bedding could have been better, the amenity kits were basic, service wasn't as proactive as it should have been, etc.
All around I think Finnair's A350 business class is solid. I wouldn't avoid it in the future, but also wouldn't necessarily seek it out (of course it depends what the alternative is).
If you've flown Finnair's A350 business class, what was your experience like?