---
I was excited about this Hong Kong to Toronto flight for a variety of reasons. For one, I couldn't wait for a long haul flight where I could hopefully get some real sleep, after an exhausting and largely sleepless few days.
Beyond that, this would be my first flight in Cathay Pacific's long haul business class in several years, and also my first time experiencing their new business class soft product.
Let me give a bit of a spoiler alert up front, to share my impressions of the product at various points in the journey, in chronological order:
"Oh wow, this is nice."
"This is really nice, actually… could this be one of the best business class products out there?"
"Oh no… how are they not getting the basics right?!"
So yeah, if you want more details, here are 4,000 more words for you…
Redeeming Miles For Cathay Pacific Business Class
I booked a Cathay Pacific business class award ticket all the way from Singapore to Toronto. The reason I chose to fly to Toronto is because the Hong Kong to Toronto flight was the only North American Cathay Pacific flight that day to be operated by the A350-1000, and that's the plane I most wanted to review.
So I booked the following:
12/05 CX636 Singapore to Hong Kong departing 8:15PM arriving 12:05AM (+1 day)
12/06 CX828 Hong Kong to Toronto departing 10:35AM arriving 12:30PM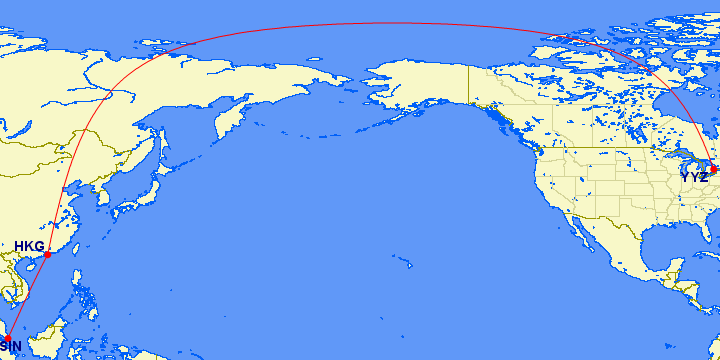 I booked the ticket using 70,000 American AAdvantage miles plus $66.10 in taxes and fees, which I'd say is a great deal.
See this post for the best credit cards for earning American AAdvantage miles.
I'd note that in theory, I could have also redeemed 50,000 Alaska Mileage Plan miles for the ticket, which is an even better value. However, when I called Alaska they couldn't see the award space, unfortunately. See this post for the best credit cards for earning Alaska Mileage Plan miles.
Cathay Pacific Business Class A350 Review
My 10:35AM flight to Toronto was scheduled to board at 9:55AM from Gate 36, so I got there quite a bit early. I had a great view of the A350-1000 from the gate, and my gosh, is it pretty or what?!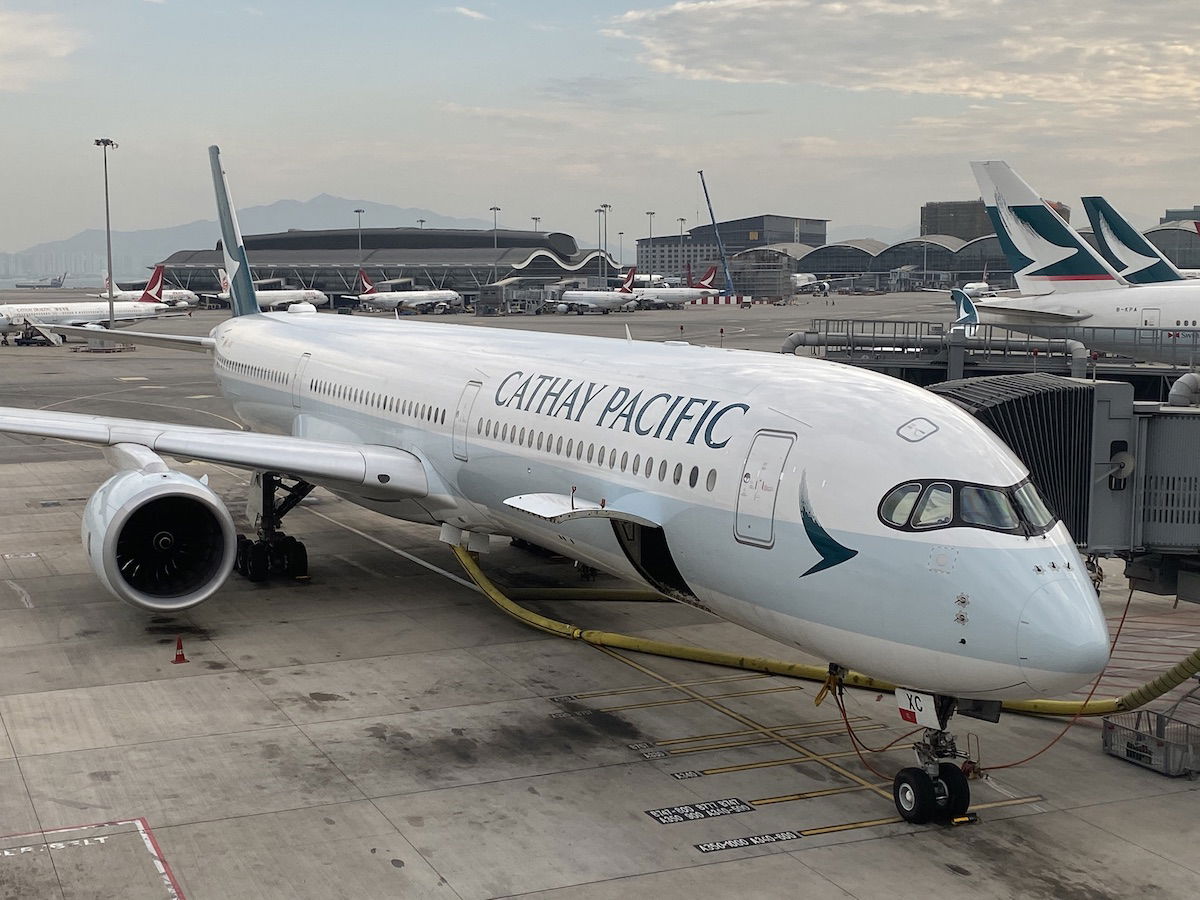 Cathay Pacific A350-1000 in Hong Kong
Boarding ended up starting at 10:05AM. While there is no first class on this plane, they still have a first class and oneworld Emerald boarding lane, meaning oneworld Emerald members are invited to board first. I wouldn't wait to check out this product!
Cathay Pacific 828
Hong Kong (HKG) – Toronto (YYZ)
Friday, December 6
Depart: 10:35AM
Arrive: 12:30PM
Duration: 14hr55min
Aircraft: Airbus A350-1000
Seat: 22A ( Business Class)
I boarded through the forward door, where I was greeted by the inflight service manager and one of the business class flight attendants, and pointed towards my seat. The A350-1000 has a massive cabin between doors one and two, all of which consisted of business class seats.
Cathay Pacific has 46 Cirrus reverse herringbone business class seats on the A350-1000, so there are 12 rows in a 1-2-1 configuration (there are only 11 rows along the windows, but 12 rows in the center).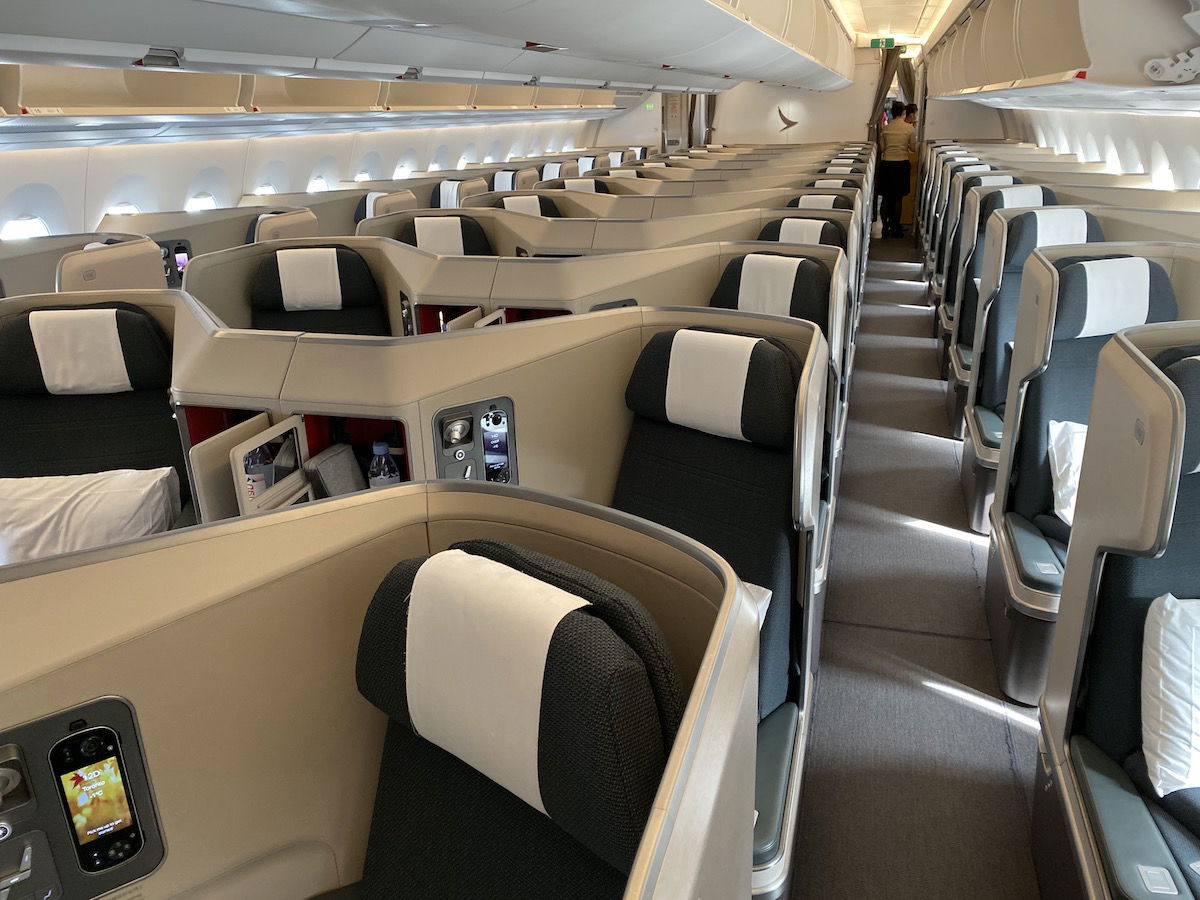 Cathay Pacific A350-1000 business class cabin
One thing I immediately noticed is that Cathay Pacific has overhead bins in the center section of the cabin, just like British Airways does on their A350-1000. While practical, some airlines (like Qatar Airways) don't put overhead bins there, which makes the cabin feel even more spacious..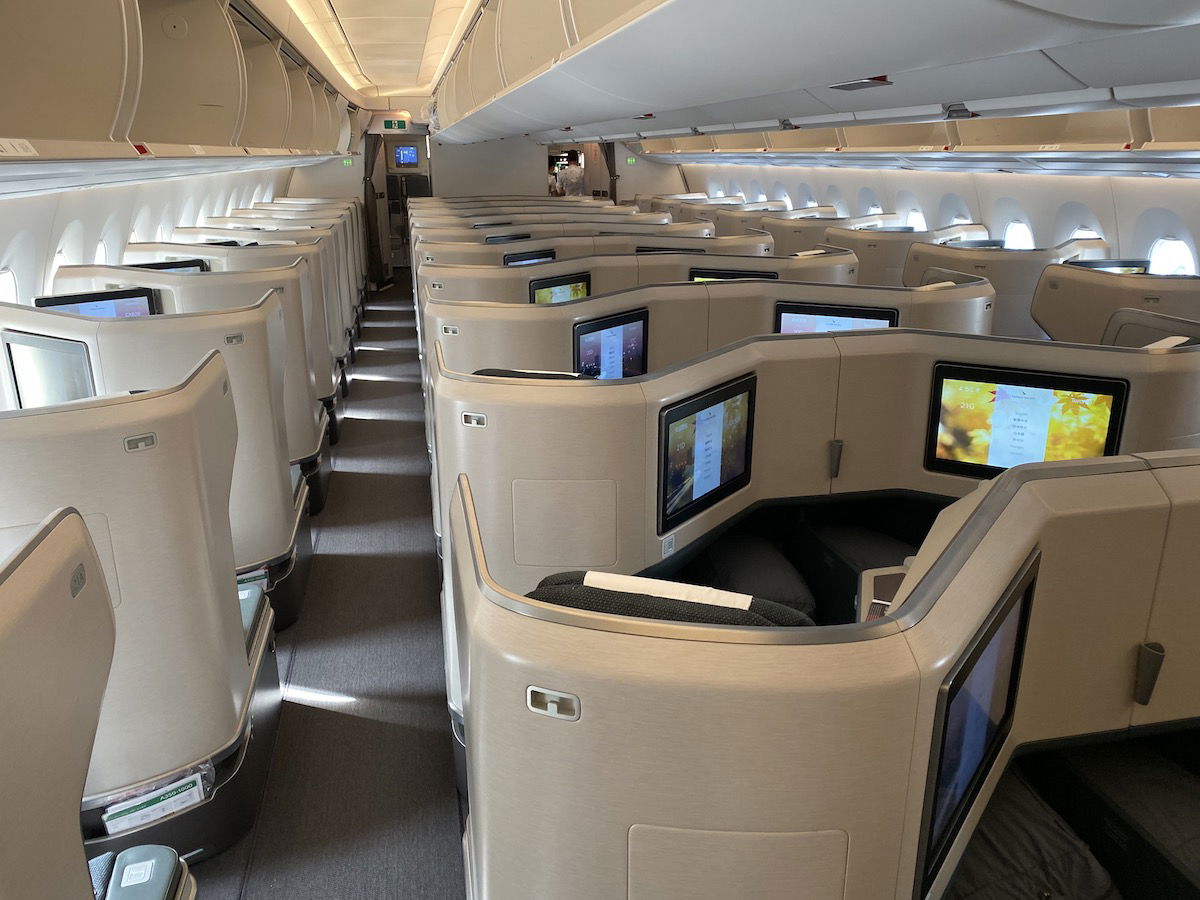 Cathay Pacific business class cabin A350-1000
As is the norm for reverse herringbone seats, the center seats faced towards the center of the aircraft. Some might prefer these if traveling with someone, though the reality is that they're sufficiently private so that you'd have to lean way forward to communicate with your "seatmate." Therefore if traveling with someone I'd probably still select window seats.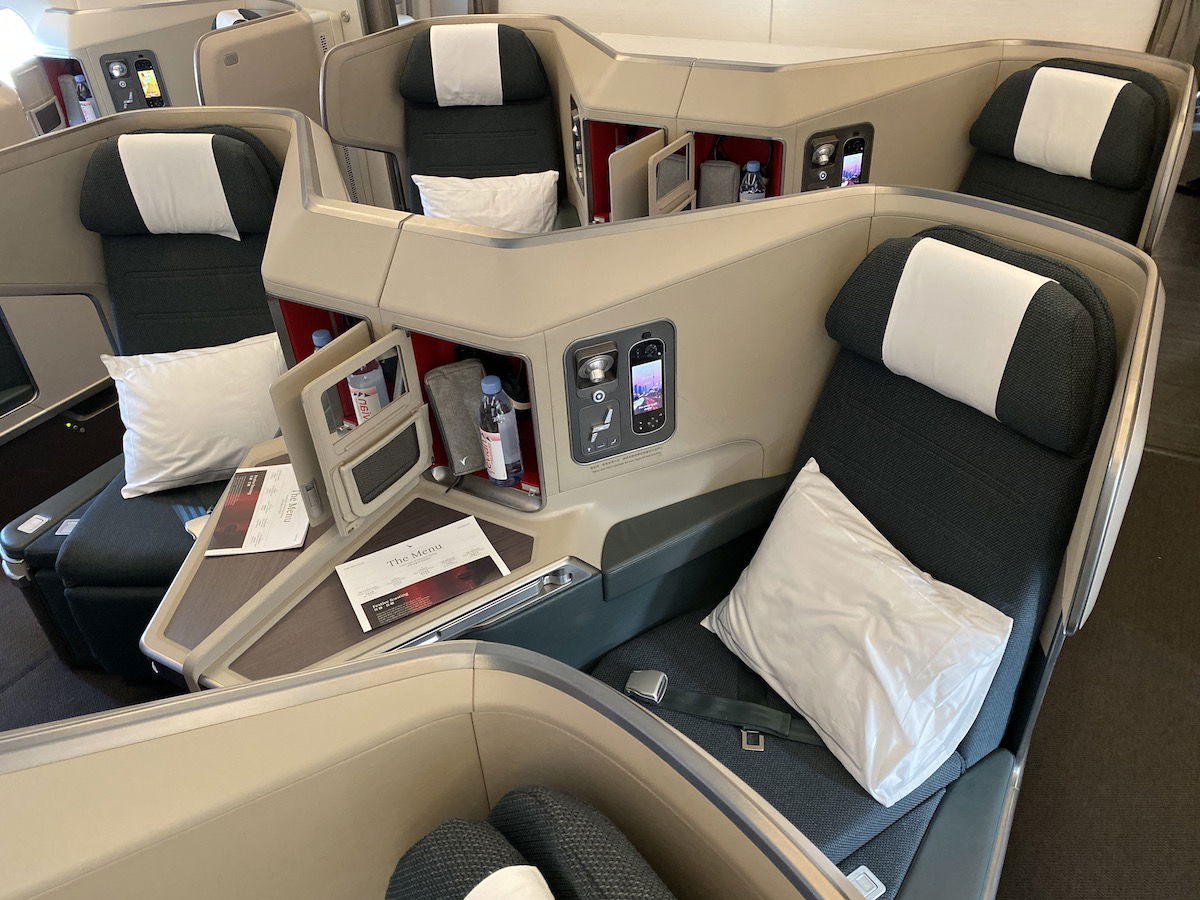 Cathay Pacific A350 business class seats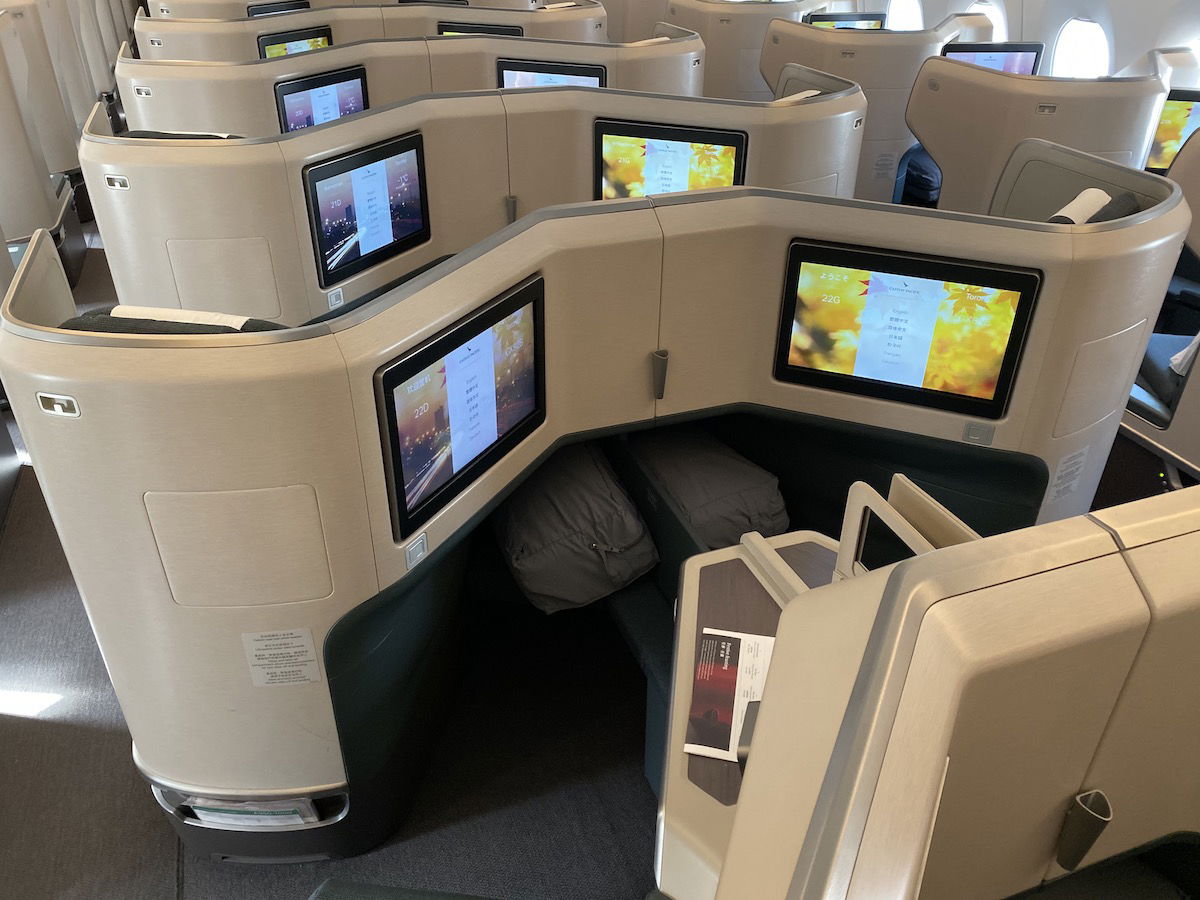 Cathay Pacific A350 business class seats
The window seats face the windows, and are fabulous. The seats and cabin were in great condition, which I guess shouldn't come as much of a surprise since this plane was only delivered in July 2018.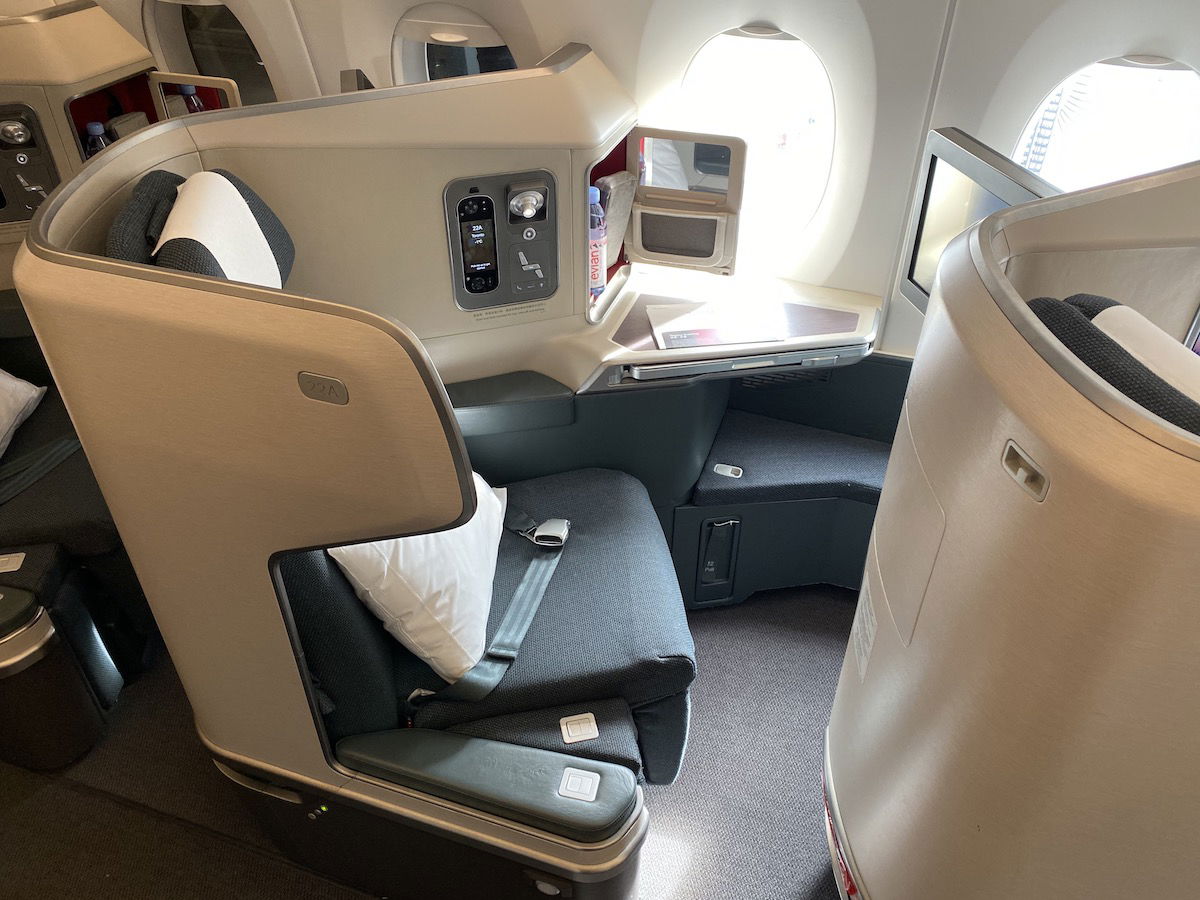 Cathay Pacific business class seats A350
I had assigned myself seat 22A, the seat on the left side in the second to last row of business class.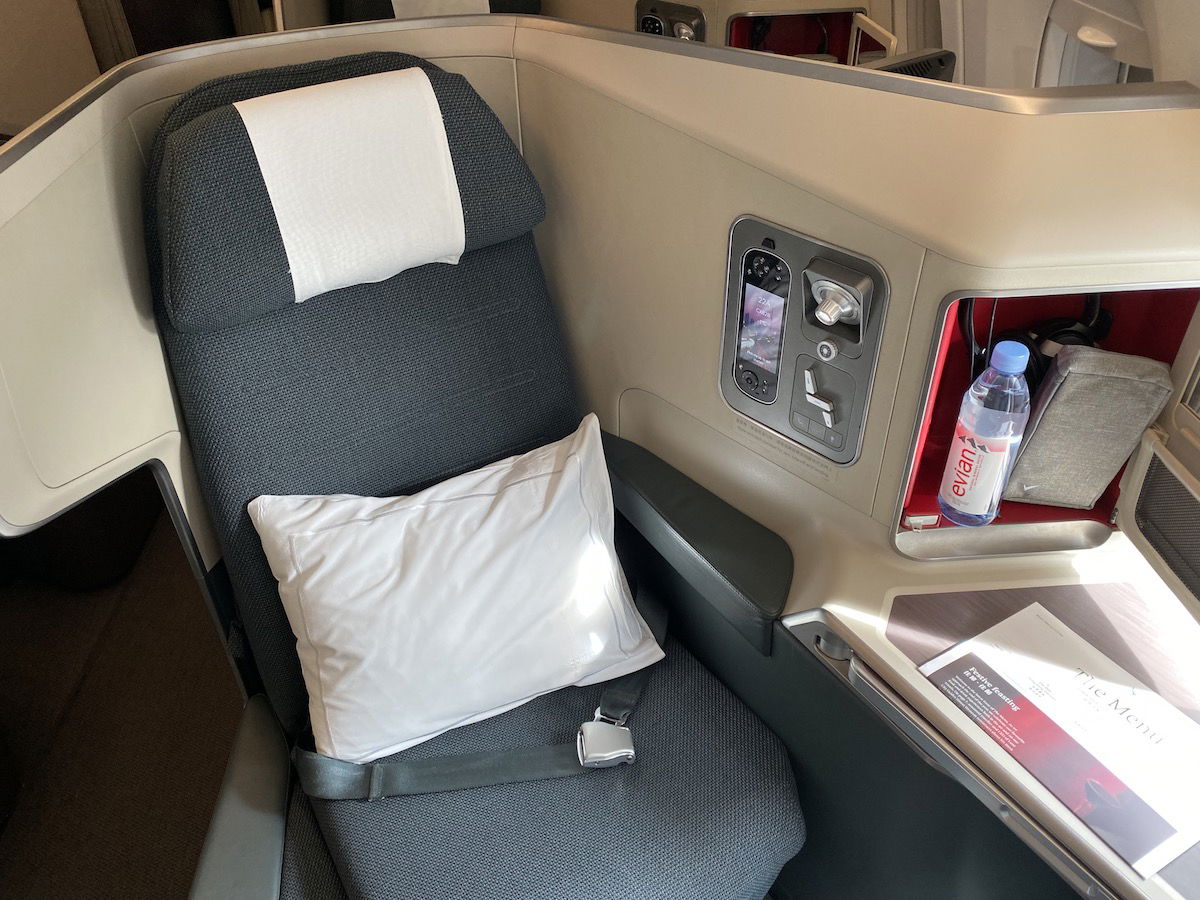 Cathay Pacific business class seats A350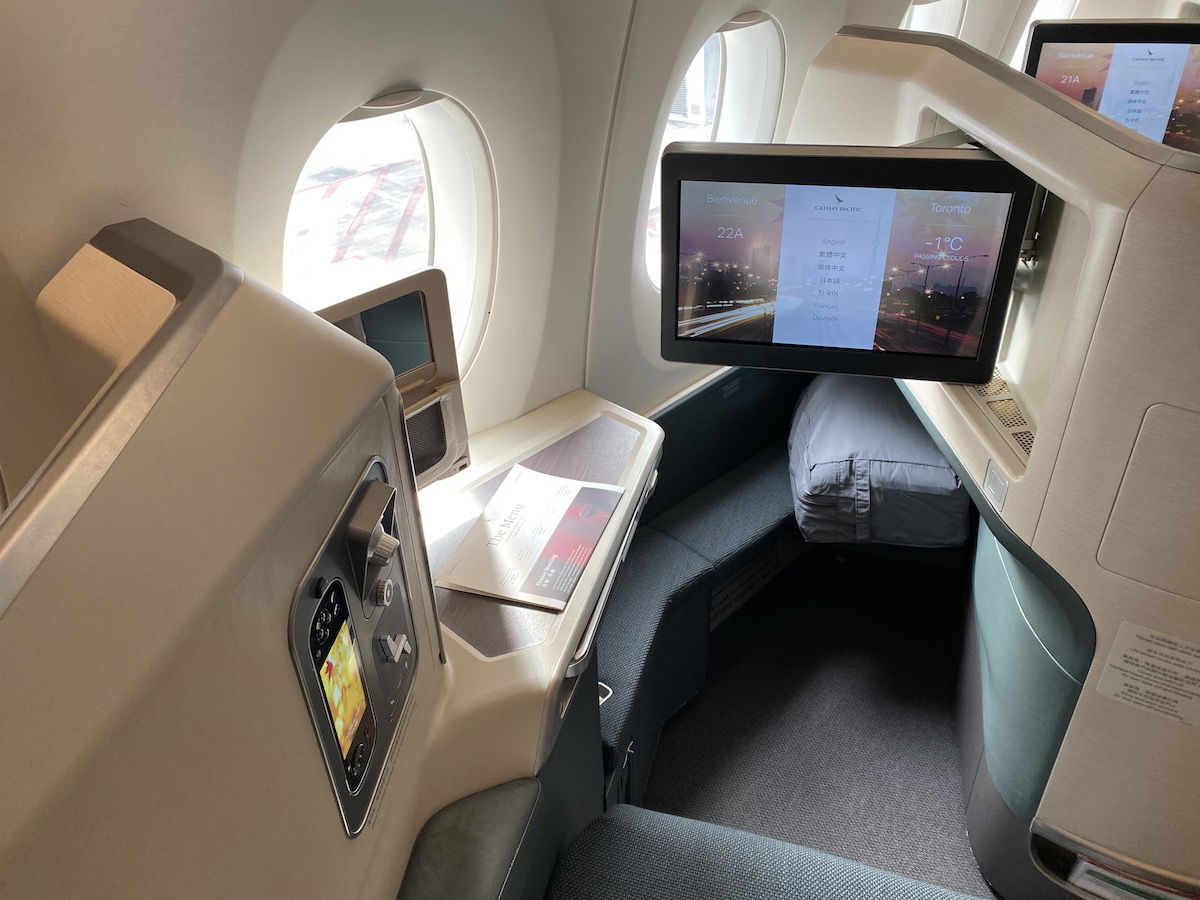 Cathay Pacific business class seats A350
To the left of the seat was a console with the entertainment controller, seat controls, and reading light.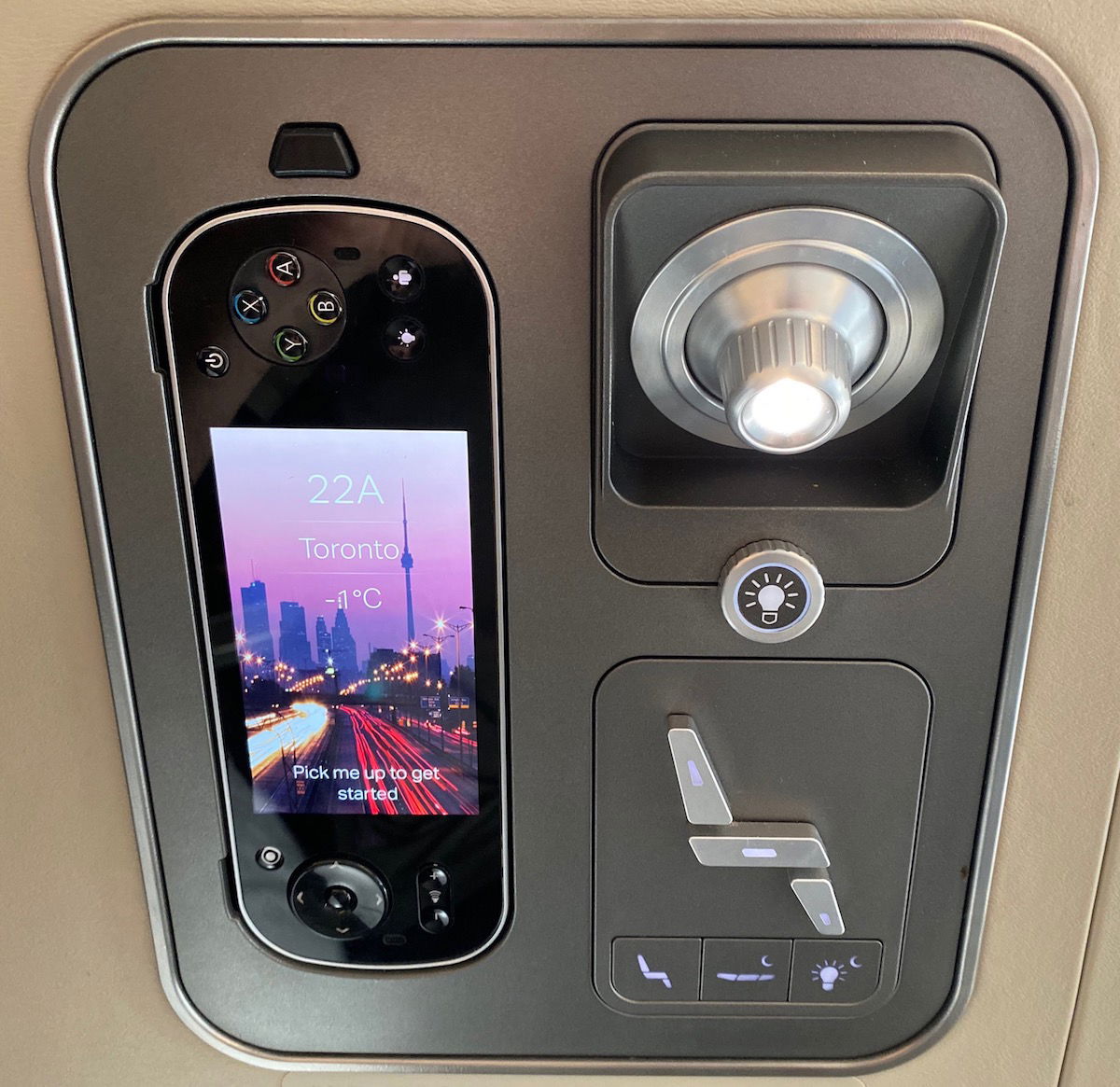 Cathay Pacific business class seat & entertainment controls
To the side of that was a storage compartment that could be closed, which also had a mirror and a pouch.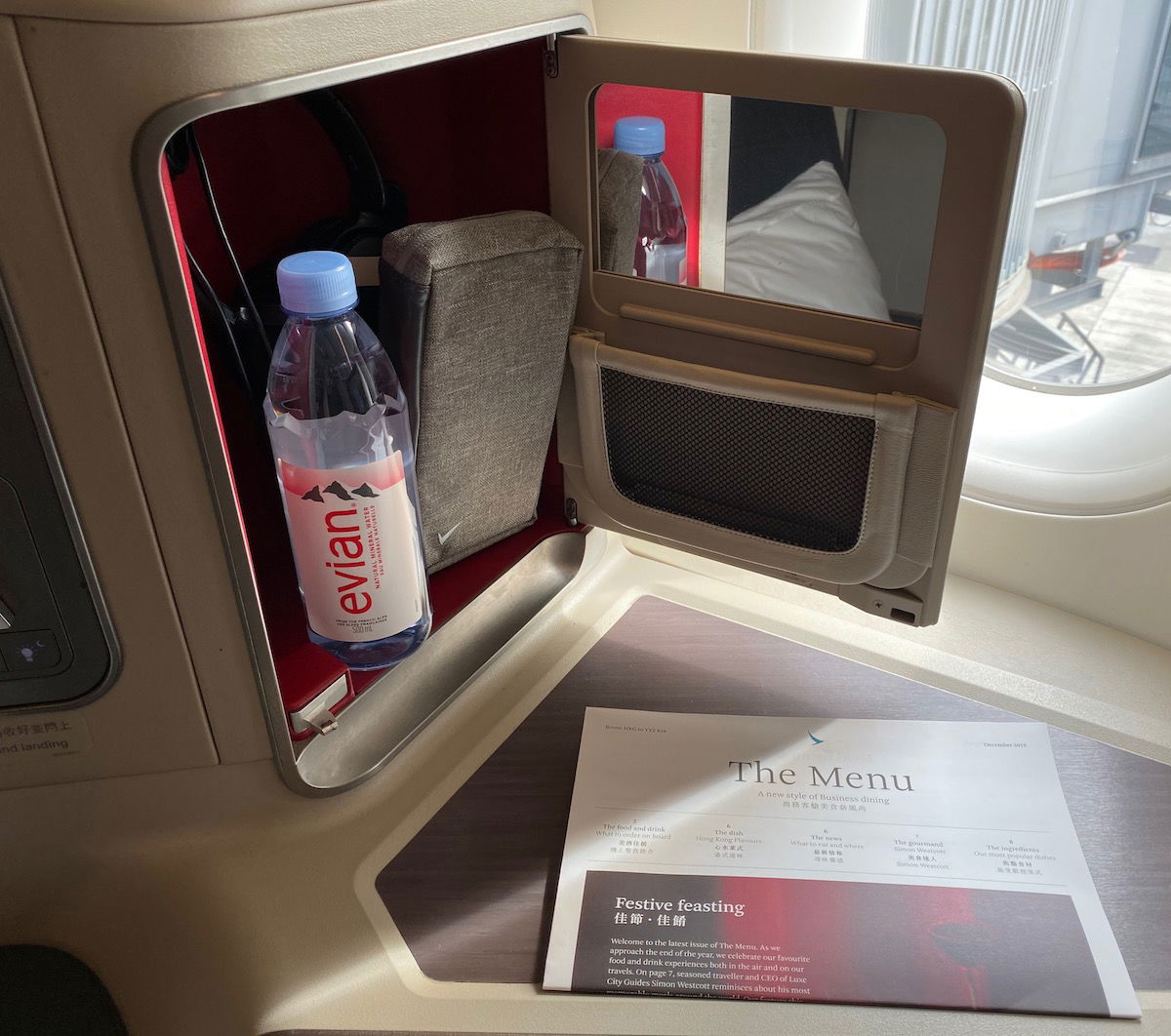 Cathay Pacific business class seat storage unit
Inside the storage compartment was the 110v and USB outlet.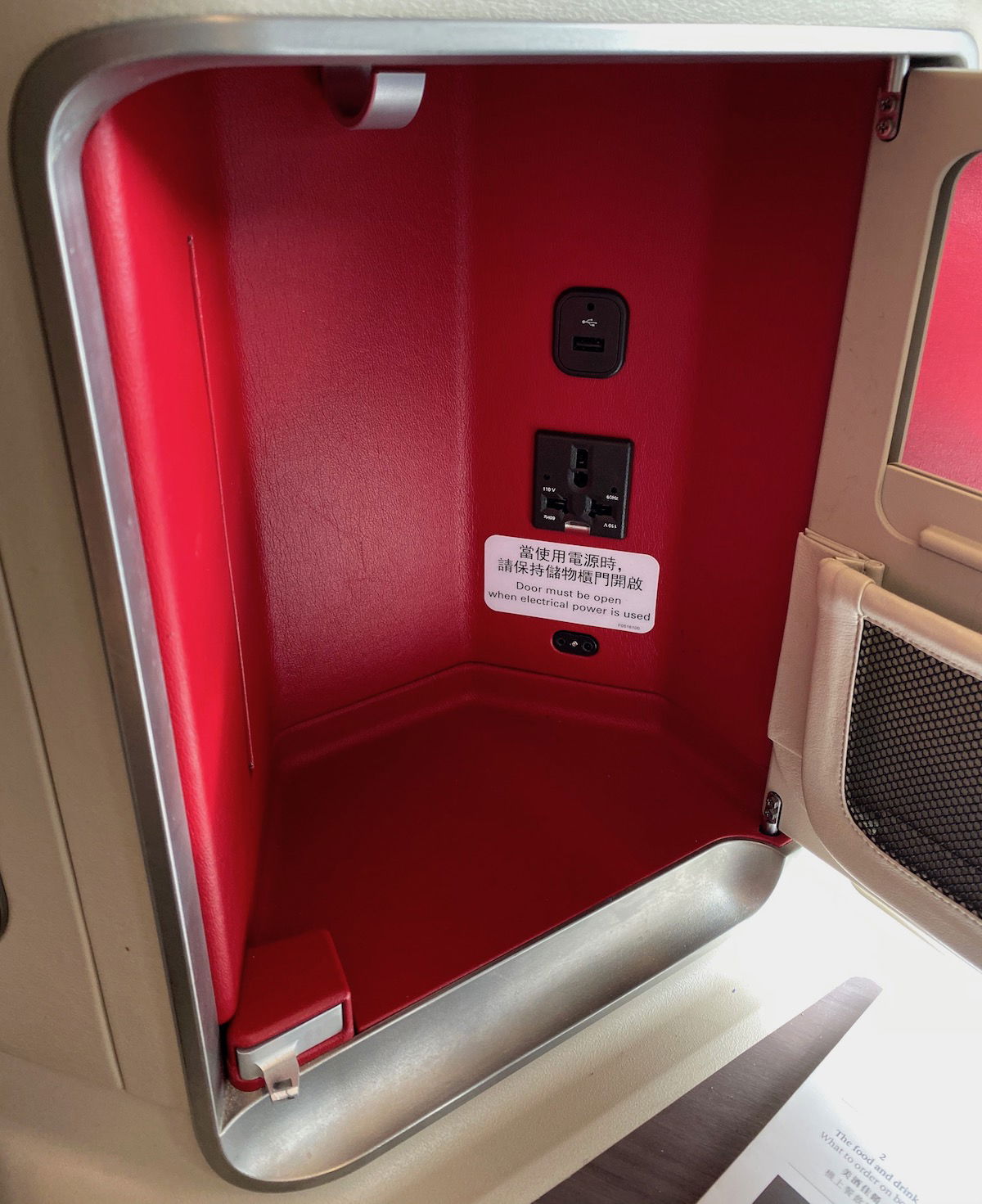 Cathay Pacific business class seat storage unit
I really loved the amount of legroom the seat had, as the area for your feet was huge, and there was even an area along the fuselage that was padded. This was noticeably more spacious than most reverse herringbone seats.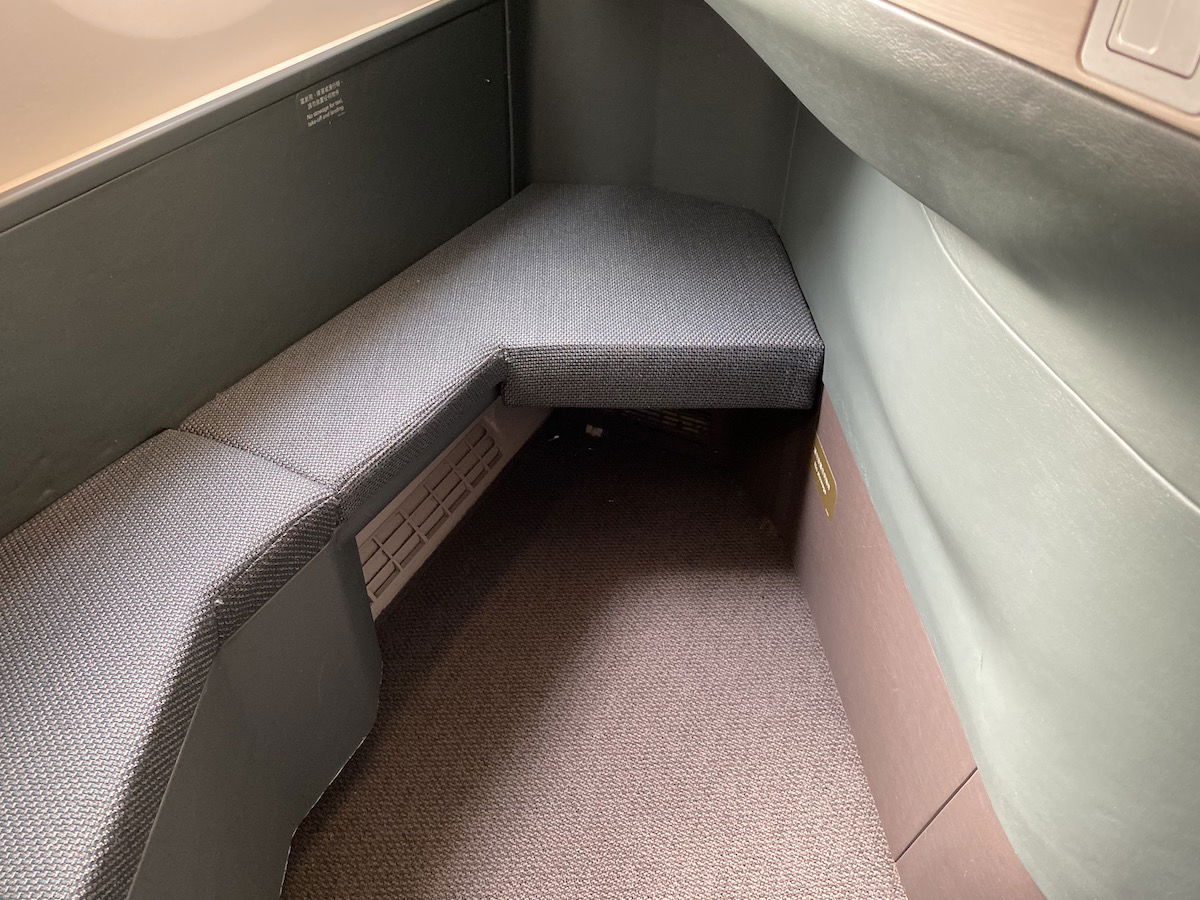 Cathay Pacific business class seat legroom
There was even a huge storage compartment to the bottom left of the seat, which very few reverse herringbone seats have.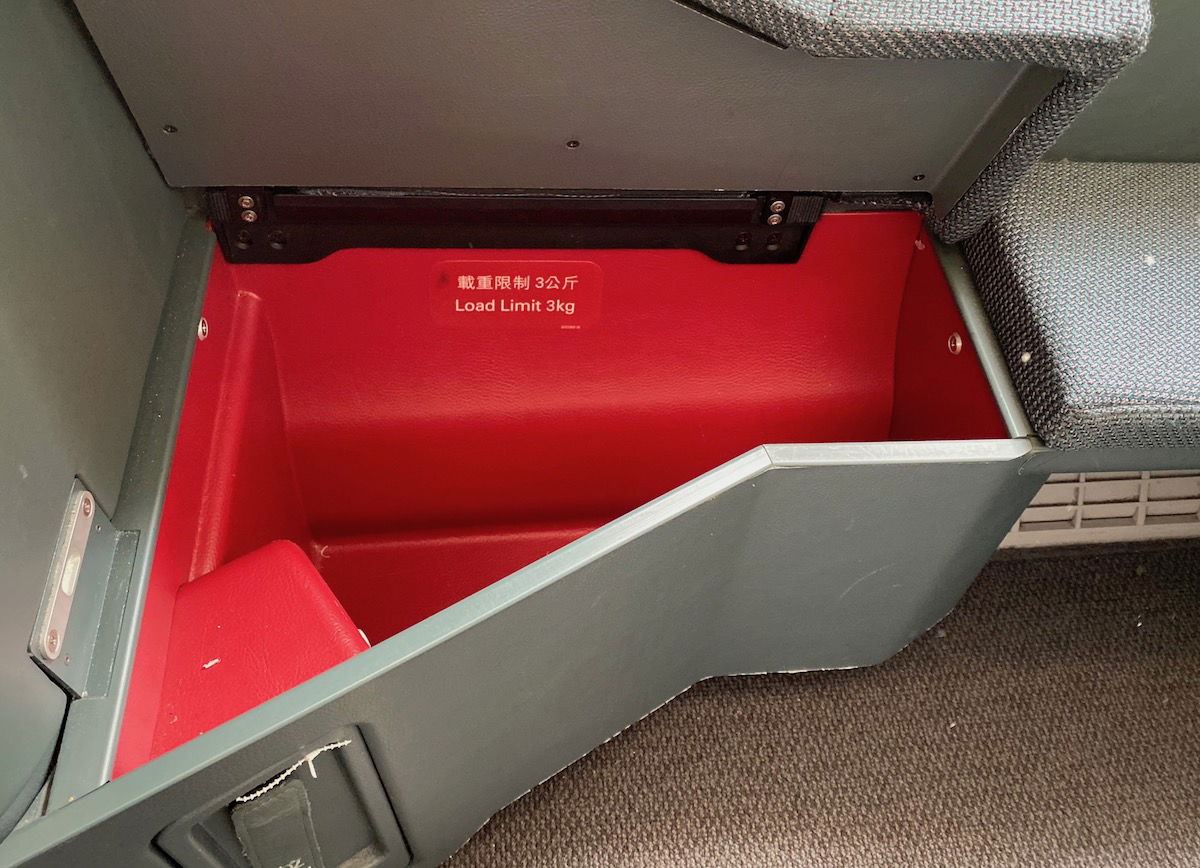 Cathay Pacific business class seat storage
The tray table swung out from the left side of the seat, and could be folded over in half.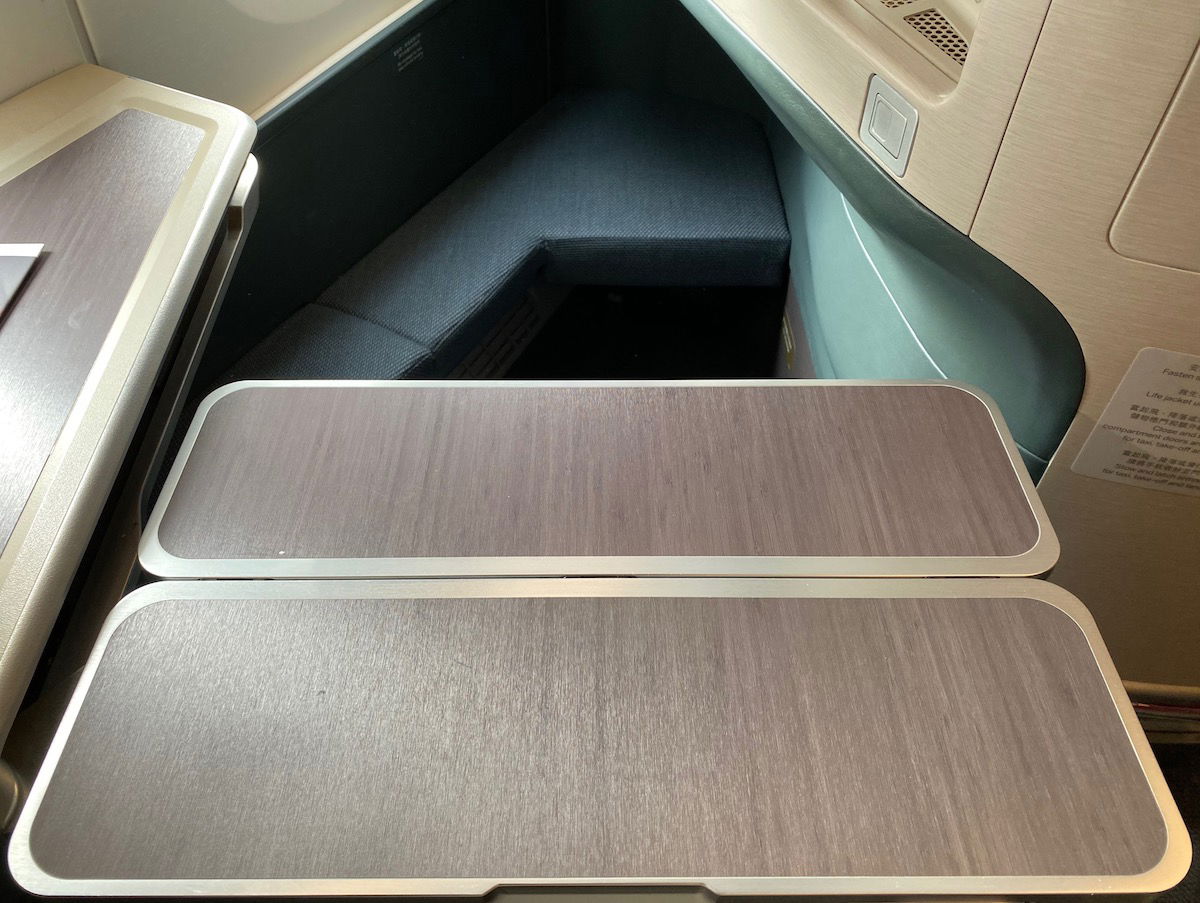 Cathay Pacific business class seat tray table
Then the armrest on the right side of the seat could be raised or lowered, and when raised there was even a water bottle holder.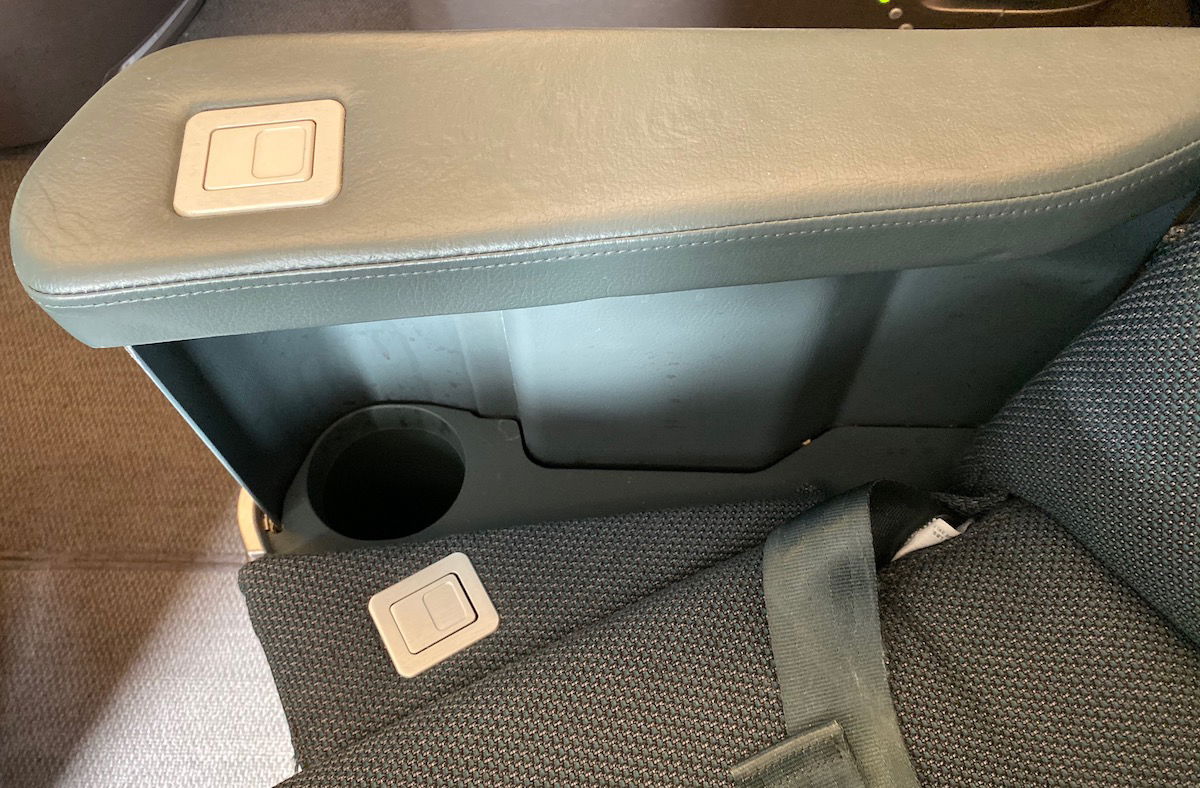 Cathay Pacific business class seat armrest
As usual, the A350 overhead console is quite nice, though annoyingly Cathay Pacific doesn't have individual air nozzles on this plane (on the plus side, the cabin wasn't kept too warm).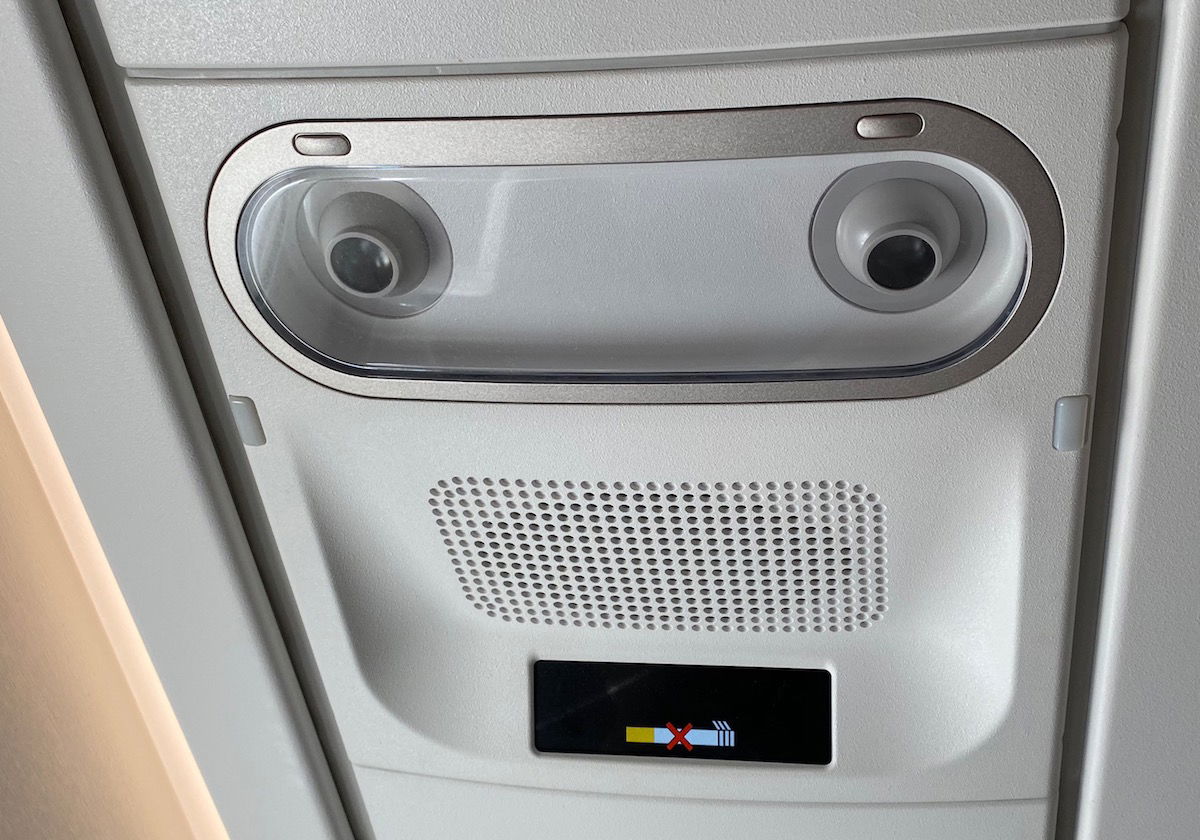 Cathay Pacific business class seat overhead console
Reverse herringbone seats might seem pretty standard nowadays, but I was really surprised by these. With reverse herringbone seats you either have the Collins Super Diamond version (used by all kinds of airlines, like Air Canada), and you have the Cirrus seats (used on select American planes, Cathay Pacific, etc.).
Historically I've preferred the Collins Super Diamond seats, but I actually think Cathay Pacific's evolved Cirrus seats are the best:
The seat has a massive storage compartment to the bottom side of the seat, which no other reverse herringbone products do
The footwell was noticeably larger, especially with all the padding along the fuselage
All the seat controls were well designed, and there was also an enclosed storage compartment along the top side of the seat
So Cathay Pacific did a spectacular job with an evolved Cirrus seat, and I truly think this is the best "standard" reverse herringbone seat (we can debate whether British Airways' reverse herringbone seat with a door is better or not).
So the flight started off on a high, and I was thinking between this seat, the reasonably priced Wi-Fi with no data caps, and a super friendly crew, it would be an amazing flight.
Anyway, waiting at my seat was an amenity kit, featuring a dental kit with mouthwash, eyeshades, earplugs, and a few types of creams & lotions. Best I could tell this wasn't yet Cathay Pacific's new style amenity kit.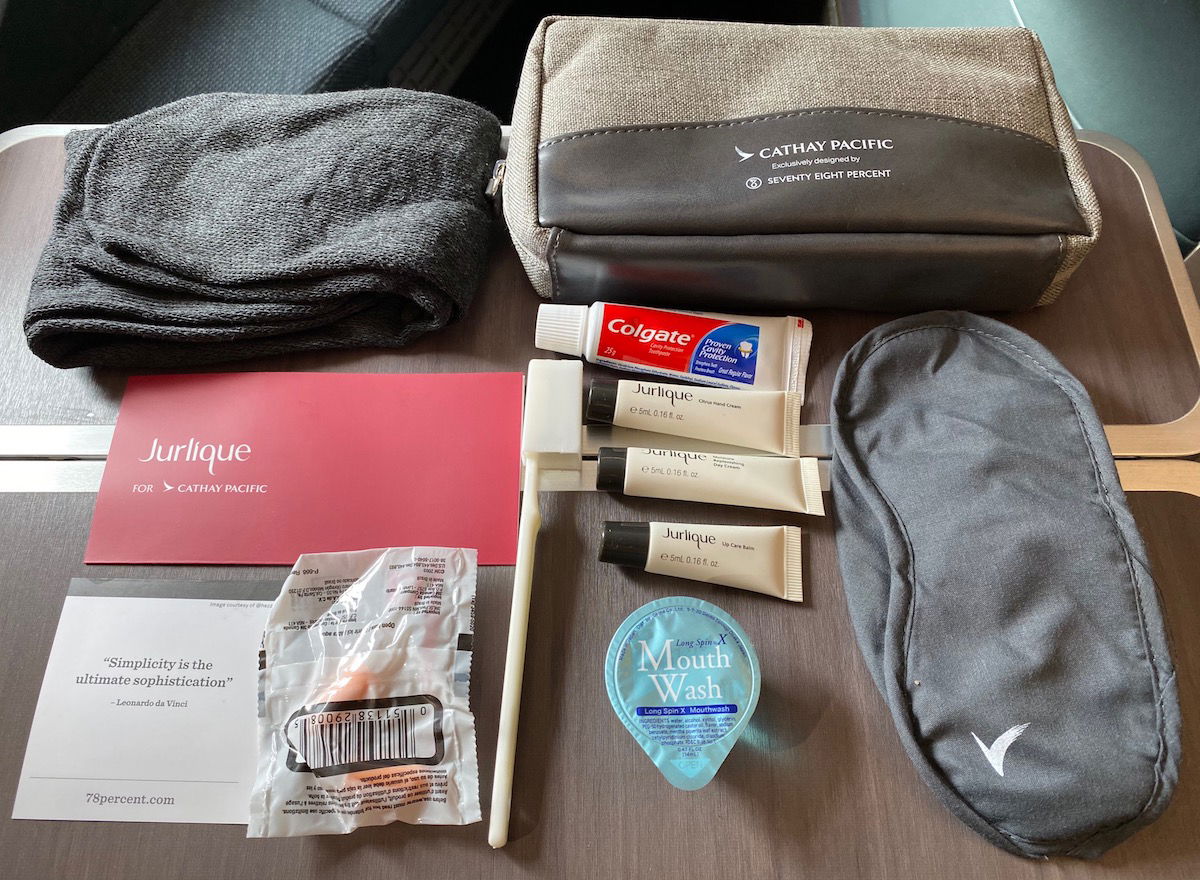 Cathay Pacific business class amenity kit
There were also a pair of slippers waiting at my seat, along with a bottle of Evian water.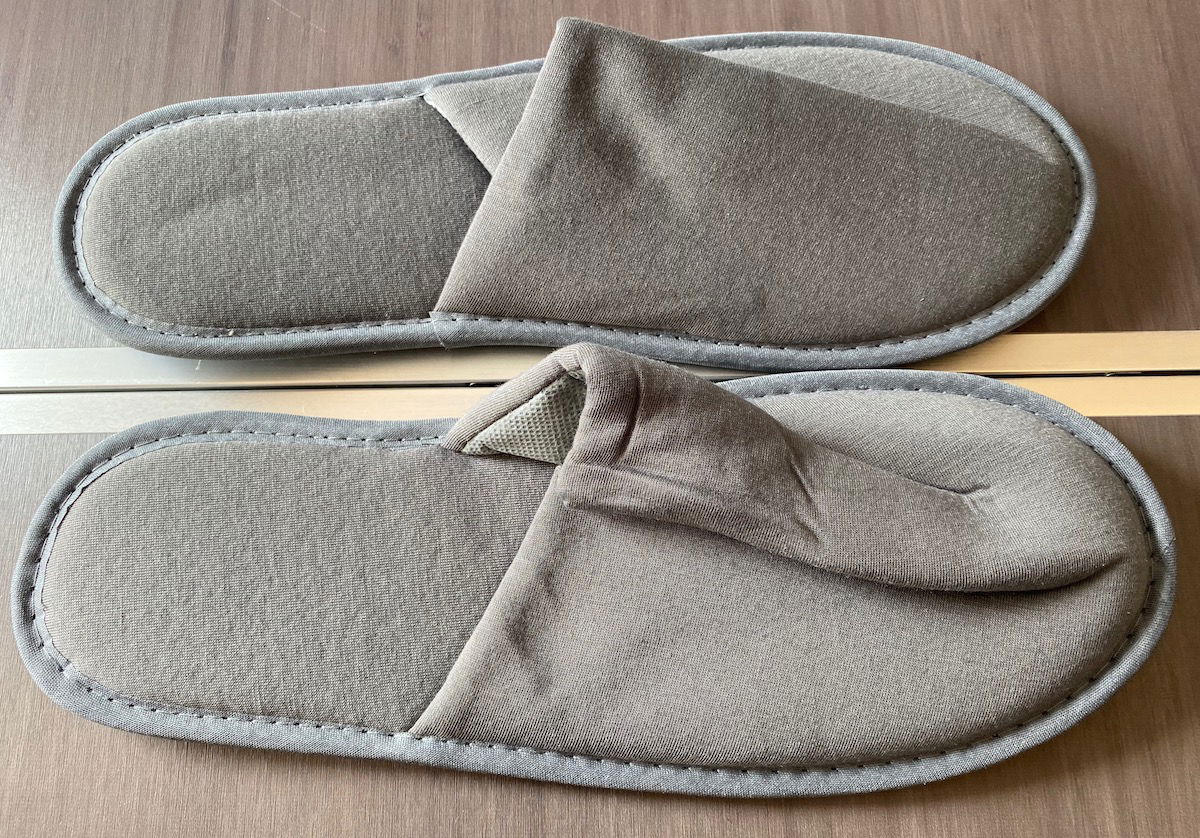 Cathay Pacific business class slippers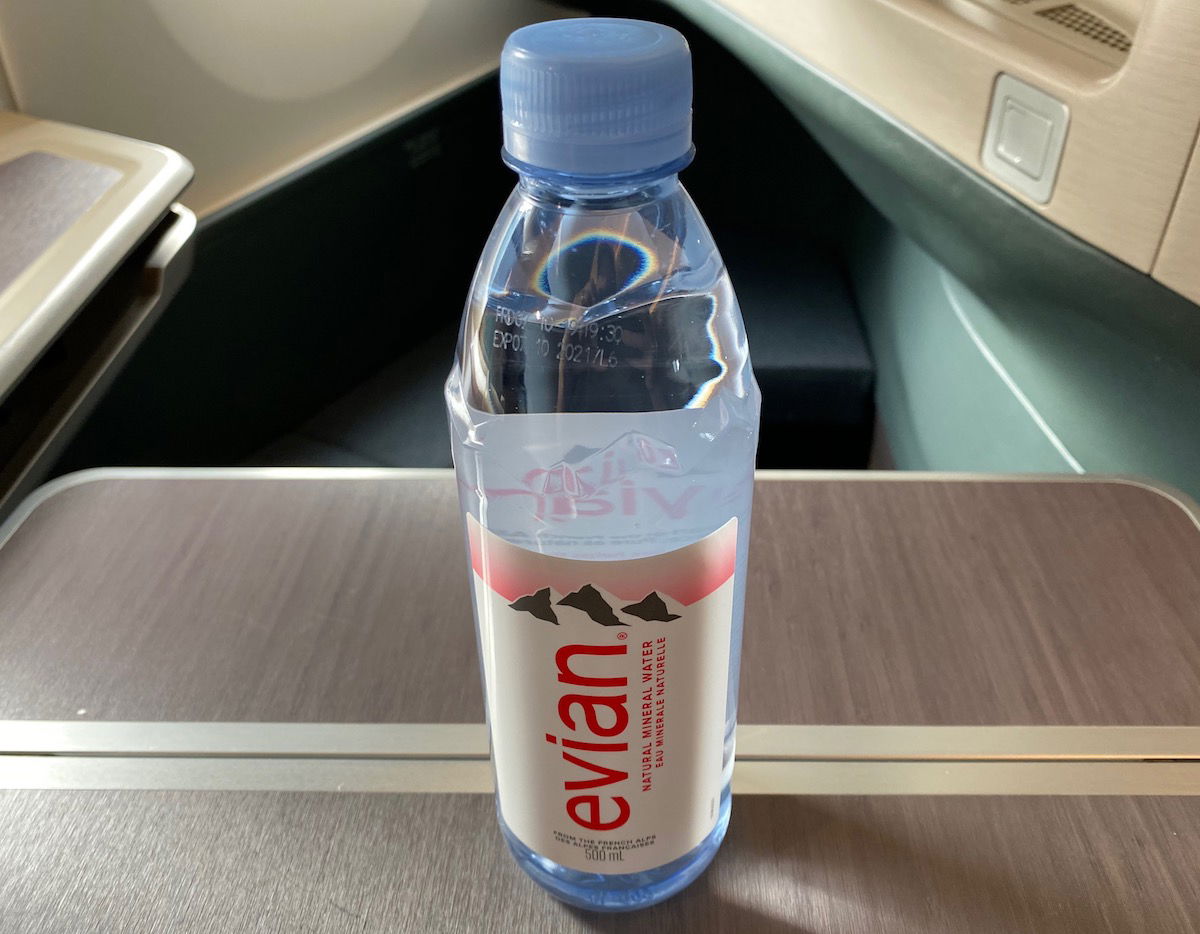 Cathay Pacific business class bottled water
Then there were a pair of alright headphones. The one oddity was that whenever I plugged my phone into the outlet the headphones would make a horrible buzzing noise at the same time, to the point that I just didn't charge my phone while watching TV shows or movies.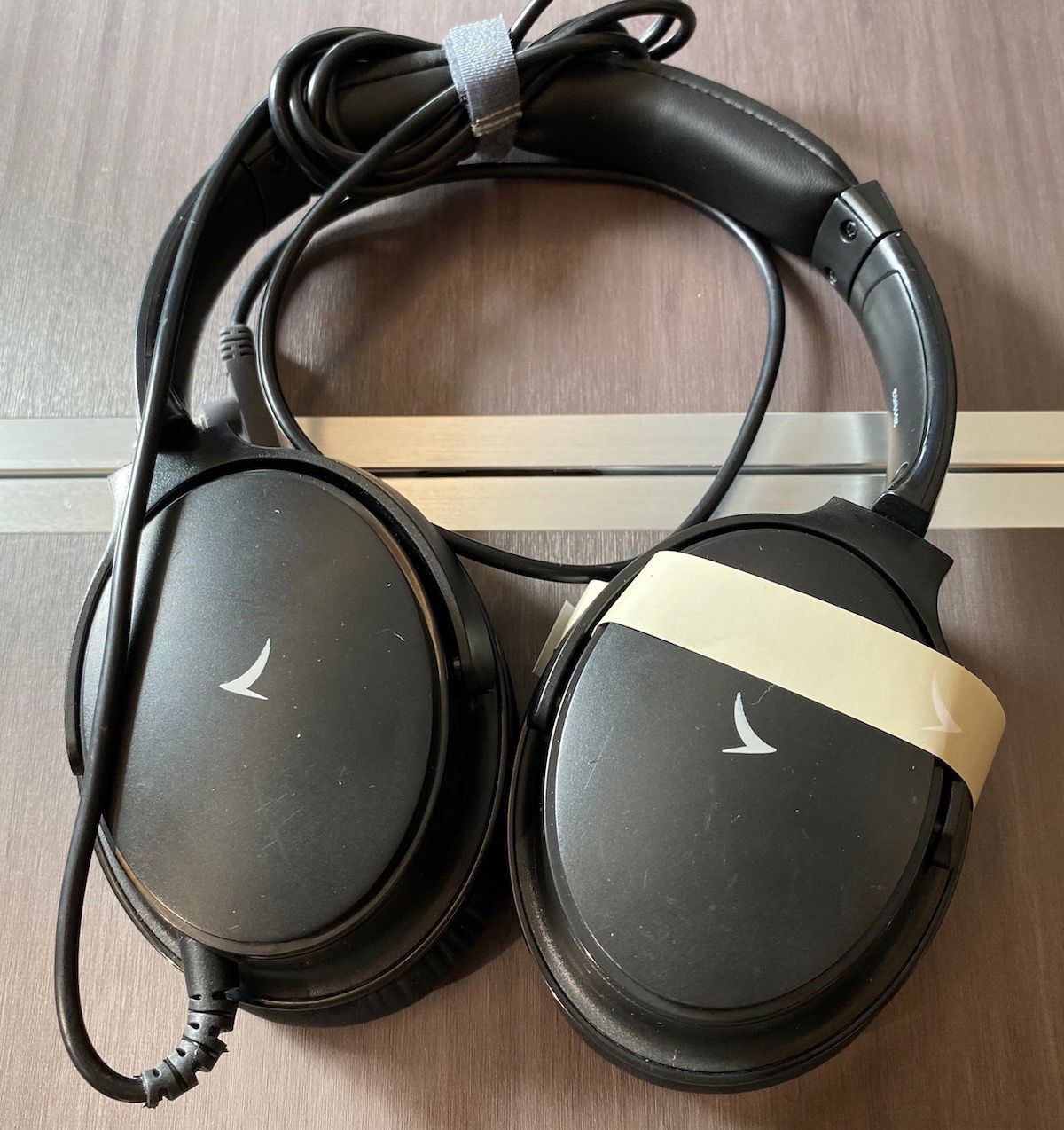 Cathay Pacific business class headphones
Cathay Pacific's business class menus are meant to look like newspapers, which is oh-so-adorable, in my opinion. I love this concept.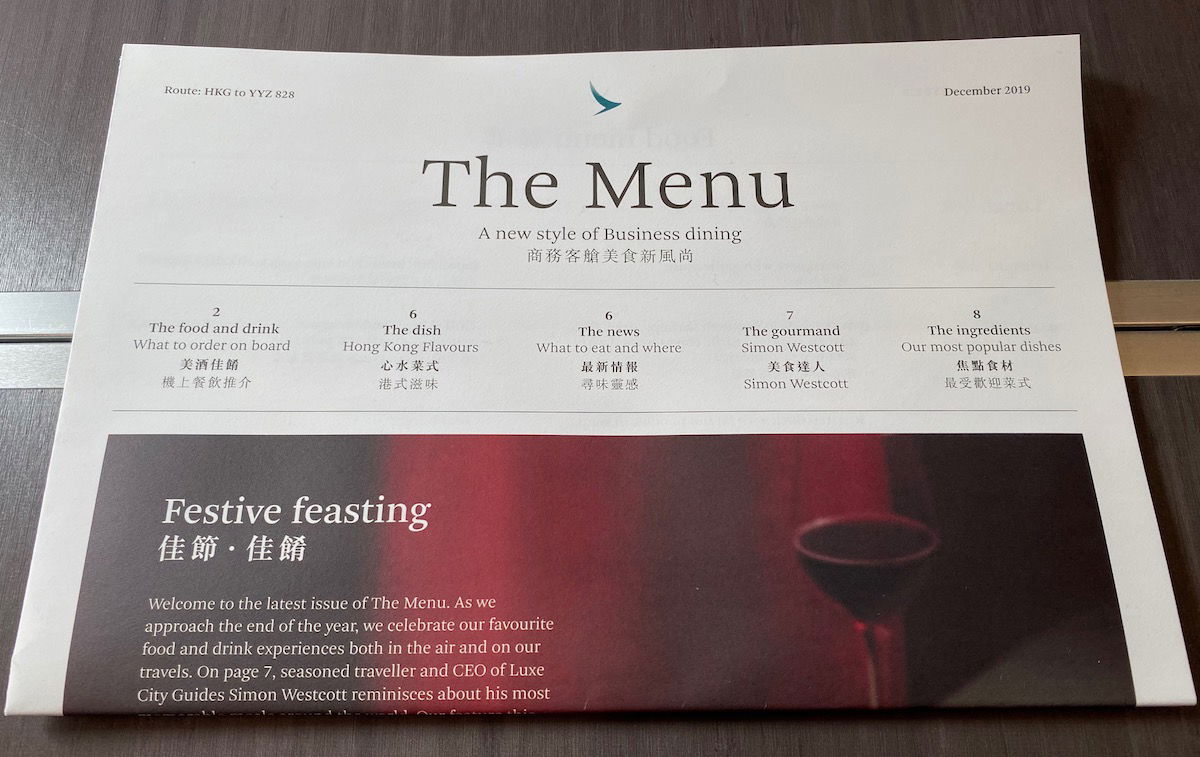 Cathay Pacific business class menu
Also already waiting at my seat was Cathay Pacific's exceptional bedding, including a mattress sheet, and a thick pillow and duvet.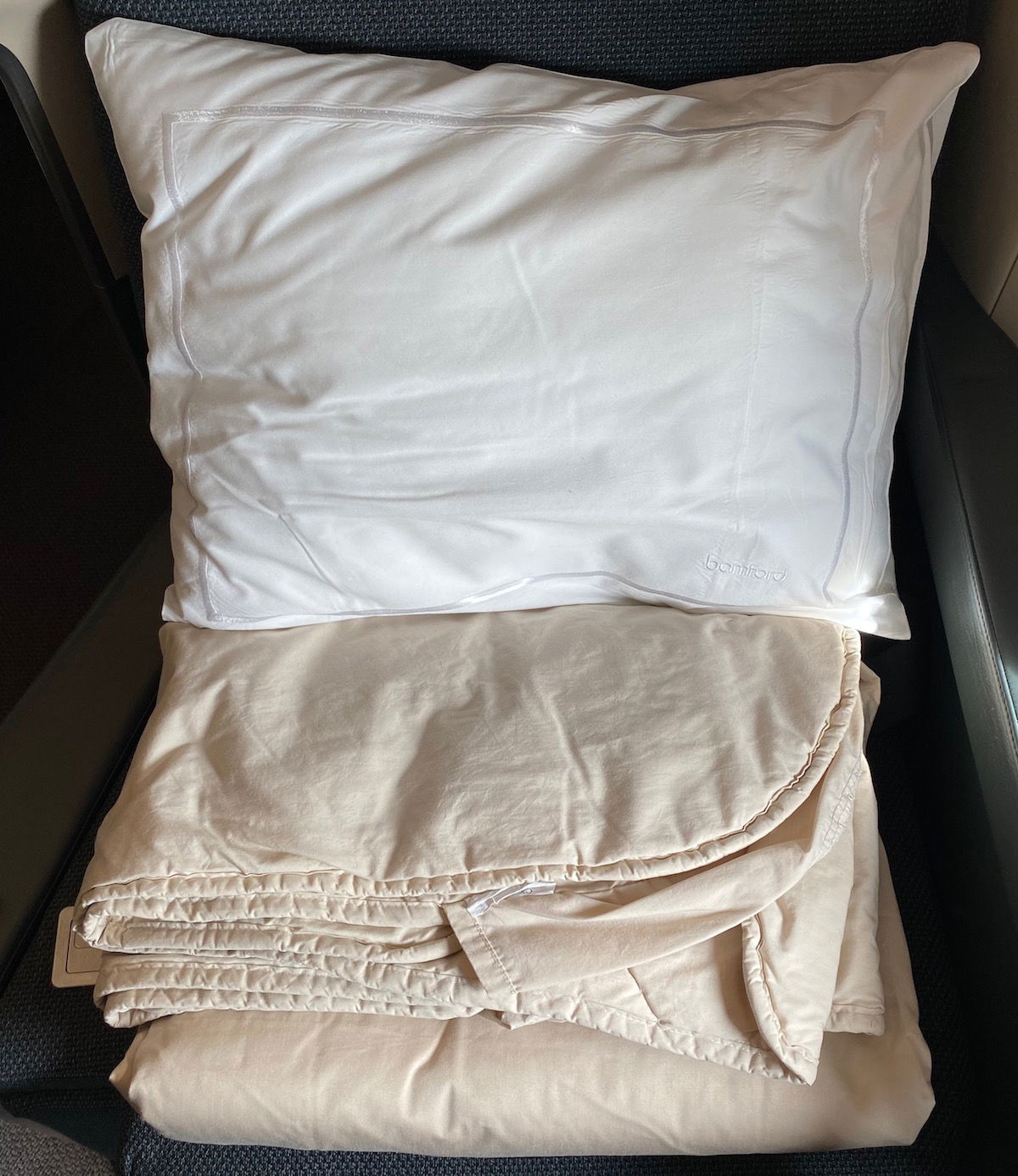 Cathay Pacific business class bedding
I could tell immediately that the crew would be excellent, as I usually find to be the case on Cathay Pacific. However, Cathay Pacific has a different approach to service than many other premium airlines, which is worth understanding:
Cathay Pacific generally has reactive service rather than proactive service, especially during non-meal times, largely intended to minimize disruption in the cabin (and yes, I actually buy into this and don't mind it, because the second you push the call button they appear with a smile on their face)
Cathay Pacific very much has "assembly line" service in business class, though they're supposed to be tackling that with their new dining concept
Anyway, about 15 minutes after settling in I was offered a pre-departure drink, with the choice between champagne, the Cathay Delight, apple juice, or water. I selected the Cathay Delight which is one of the best cold non-alcoholic drinks you'll find on any airline, in my opinion.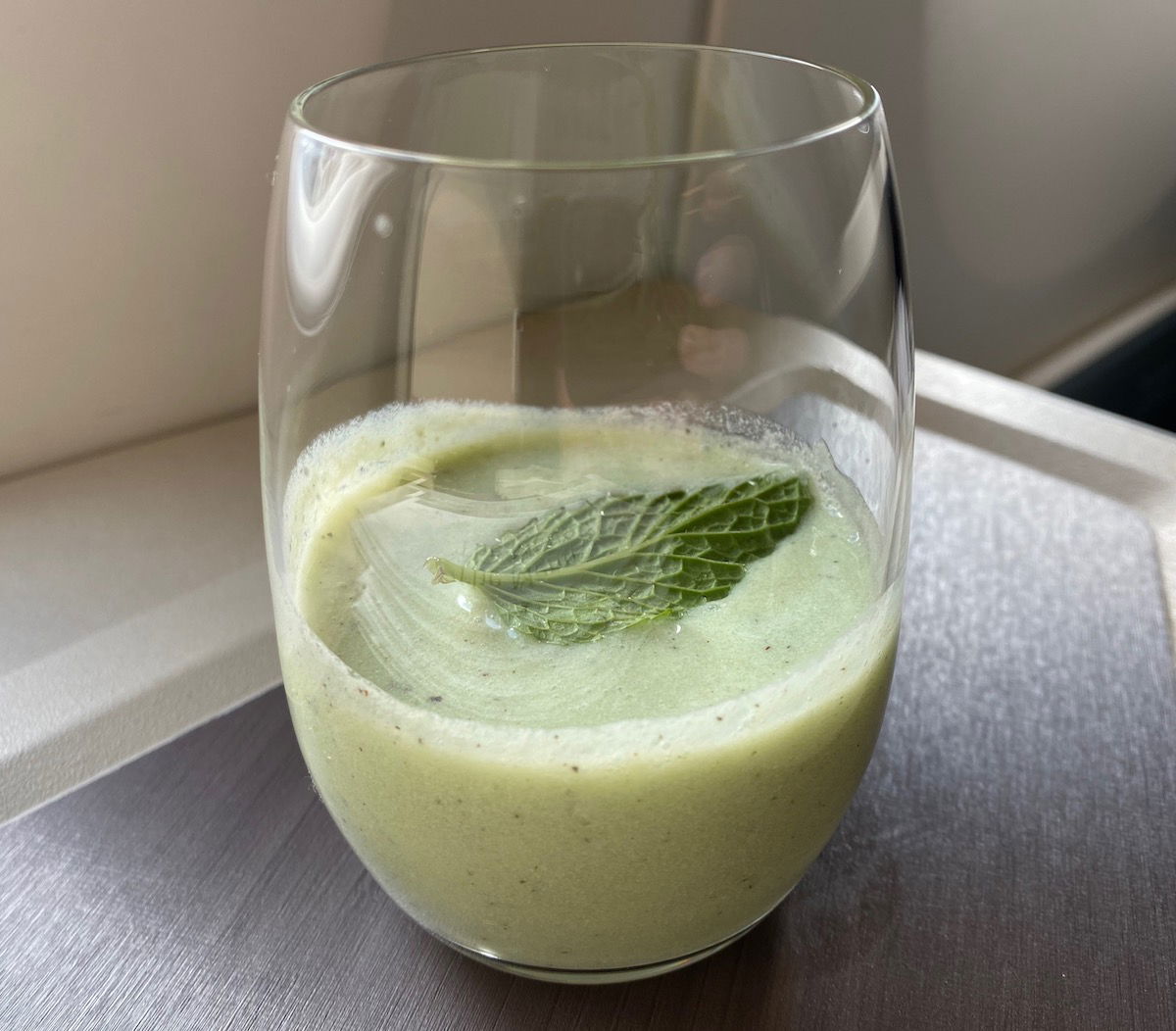 Cathay Pacific business class pre-departure drink
A moment later I was offered a warm towel.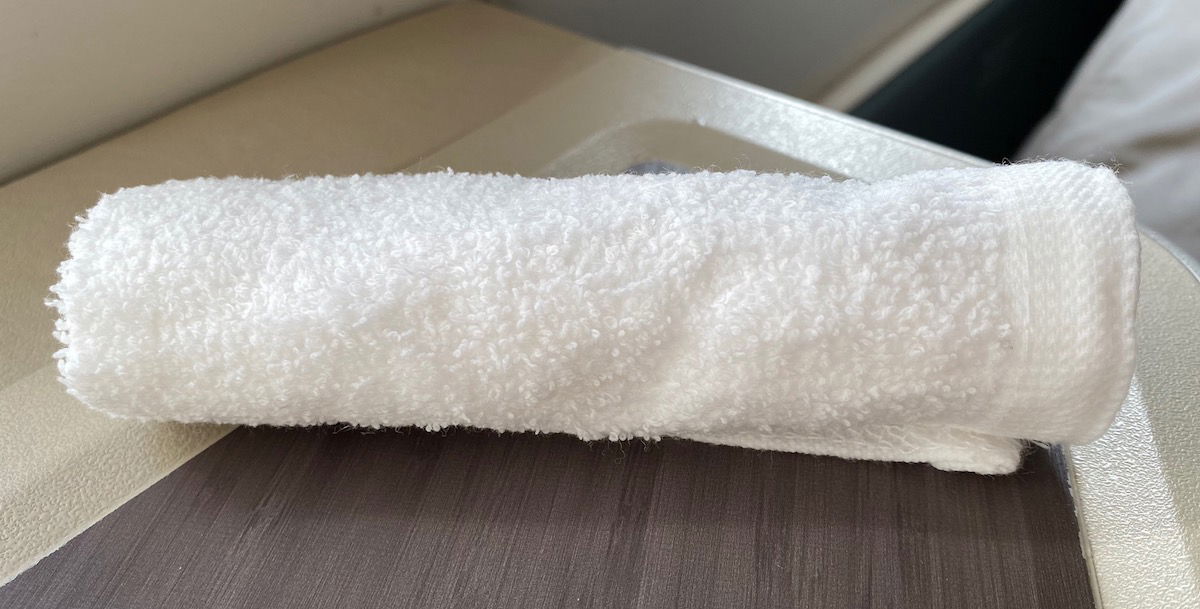 Cathay Pacific business class warm towel
Five minutes later Kelly, one of the flight attendants taking care of me, came by to introduce herself. With the new service concept they seem to have a lovely personalized welcome for every passenger, and she welcomed me on behalf of the inflight service manager Sue, explained there were six flight attendants taking care of us in business class, and that the flight time would be 13hr20min.
She also explained that a meal would be served after takeoff, and then the next meal would be served about four to five hours later, and then they would have a dine on demand concept after that. However, she explained that if I wanted anything moved around I could just let them know, and they could accommodate.
I know part of Cathay Pacific's new service concept is giving flight attendants more of a chance to interact with passengers in a personalized way, and this is really a great way to start off the flight, in my opinion, so they nailed that.
At around 10:35AM the main cabin door was closed with just a few empty seats in business class. At this point the captain made his welcome aboard announcement. Full disclosure, I have a bit of an obsession with Cathay Pacific pilots.
More accurately, as a kid I always wanted to be an airline pilot, and specifically wanted to work for Cathay Pacific. I love how international their pilots are (often all four pilots in the cockpit are from different countries), and I also love how they have pilot bases all around the world. So sometimes you'll get a pilot with a drawling southern US accent, and sometimes you'll get a pilot with a crisp Hong Kong accent.
Anyway, this pilot had one of the coolest names ever, as his last name was the same as a popular junky snack (and no, it wasn't Captain Cheeto or Captain Crunch). While the cockpit crew was Hong Kong based, he was Canadian.
Anyway he advised us that we'd have "a very quick flight time of 13hr24min." Ah, the life of an ultra long haul pilot. And no, he actually wasn't being sarcastic — he explained that the flight time was significantly shorter than usual, and that we'd be waiting about 15 minutes to push back, or else we'd be landing too early in Toronto). 13hr24min is indeed a short flight time for a flight blocked at 14hr55min.
One other funny note — seated behind me in the window was a young kid, and his dad was across the aisle. It was so adorable to hear his reactions to this plane (I wasn't intending to eavesdrop, he just shared all of his opinions very loudly). "This plane is so nice, it's so much better than the Boeing." Then towards the end of the flight his dad tried to get him to sleep, pointing out that they were arriving early in the day and he'd be cranky if he didn't get rest. The kid threw a bit of a temper tantrum, saying "no I want to enjoy the flight." Hah!
A few minutes after the captain's announcement the safety video was screened, and at 10:55AM we began our pushback, and five minutes later we began our taxi.
We taxied out to runway 7R, where we waited for a couple of cargo planes to take off, including a Cargolux 747 headed to Baku (how cool is that?), and also for an all-white Etihad 777 freighter to take off.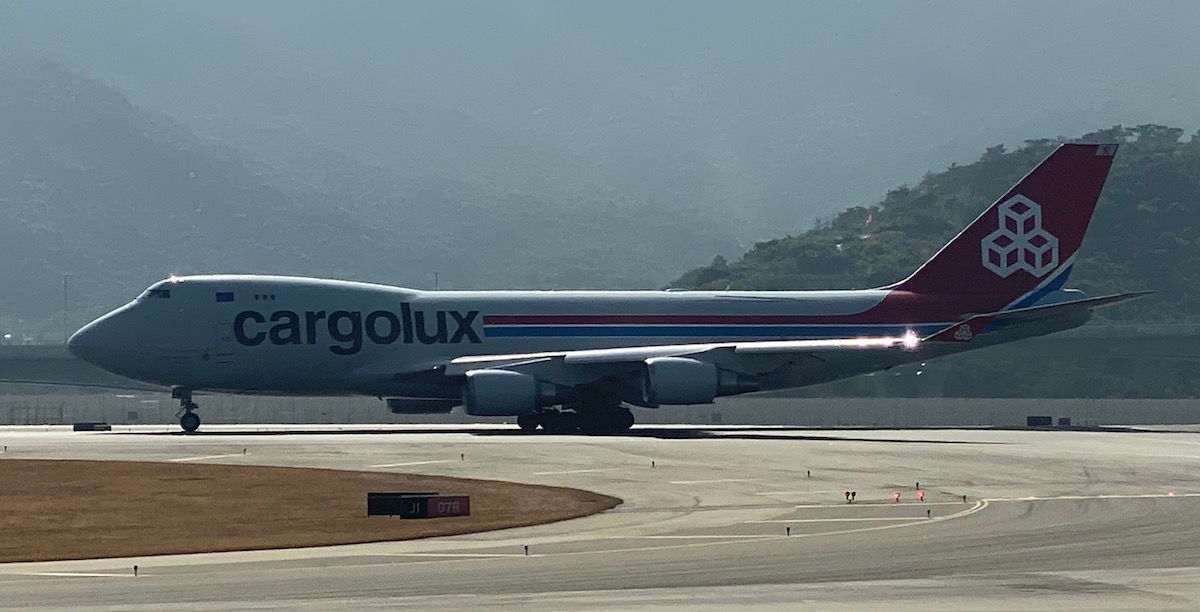 Cargolux 747 Hong Kong Airport
Then it was our turn. The A350 has a tail camera, so it was awesome to watch that during takeoff. What a view!!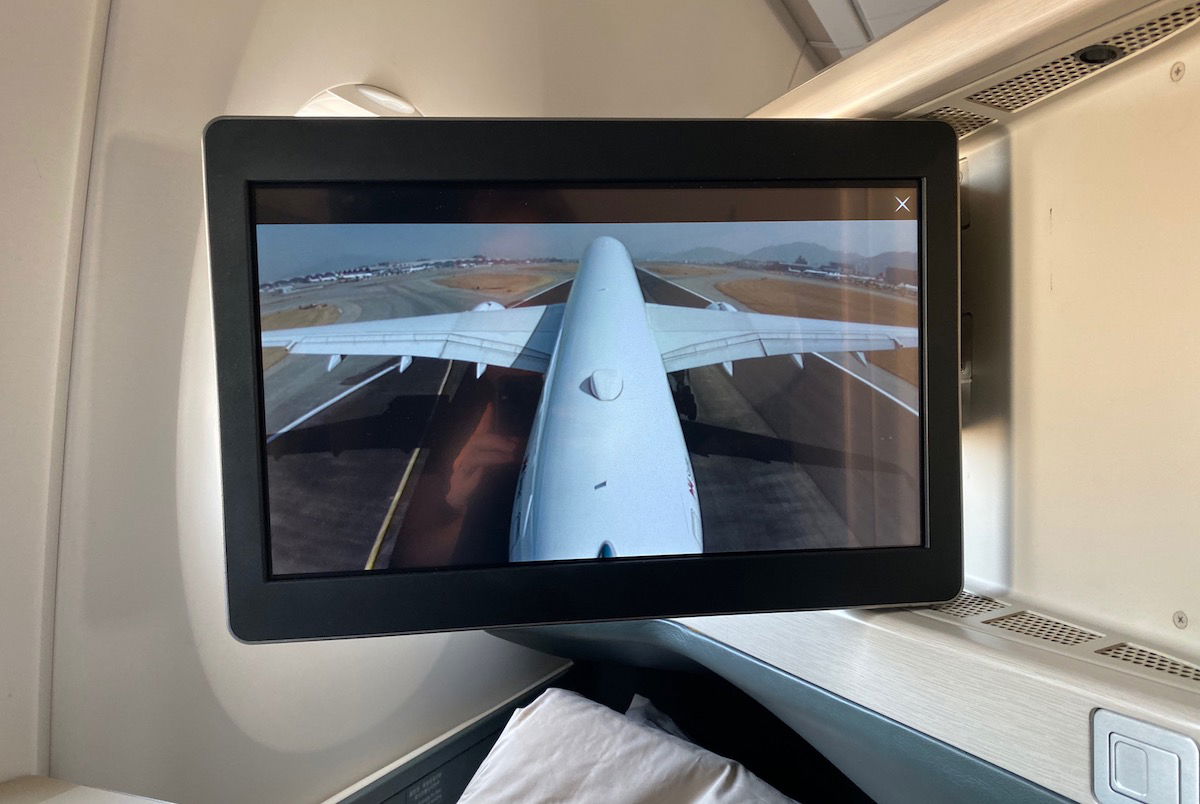 Cathay Pacific A350 tail camera
Usually I'm obsessed with just watching the tail camera, but the views out the window were even better. Also, one reason I love to sit towards the back of business class on the A350-1000 is because of the wing views.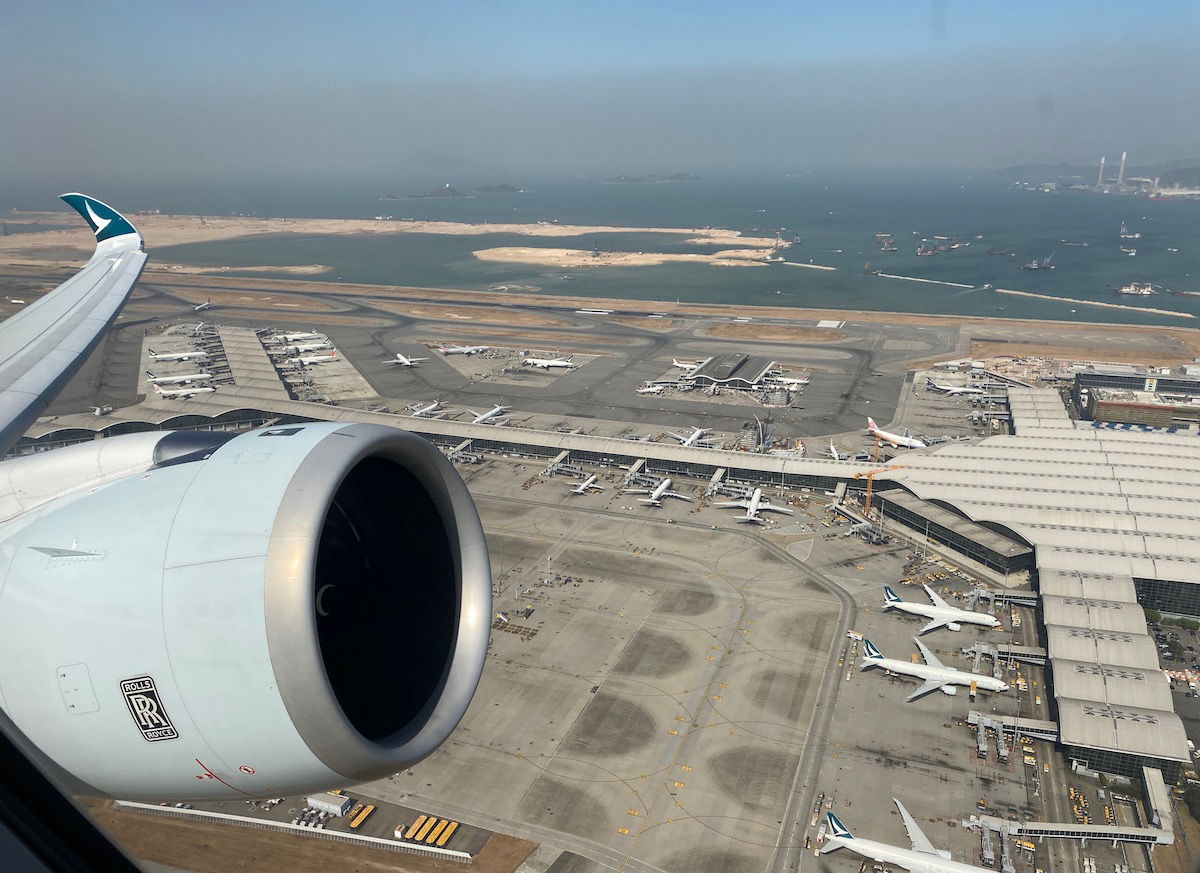 View departing Hong Kong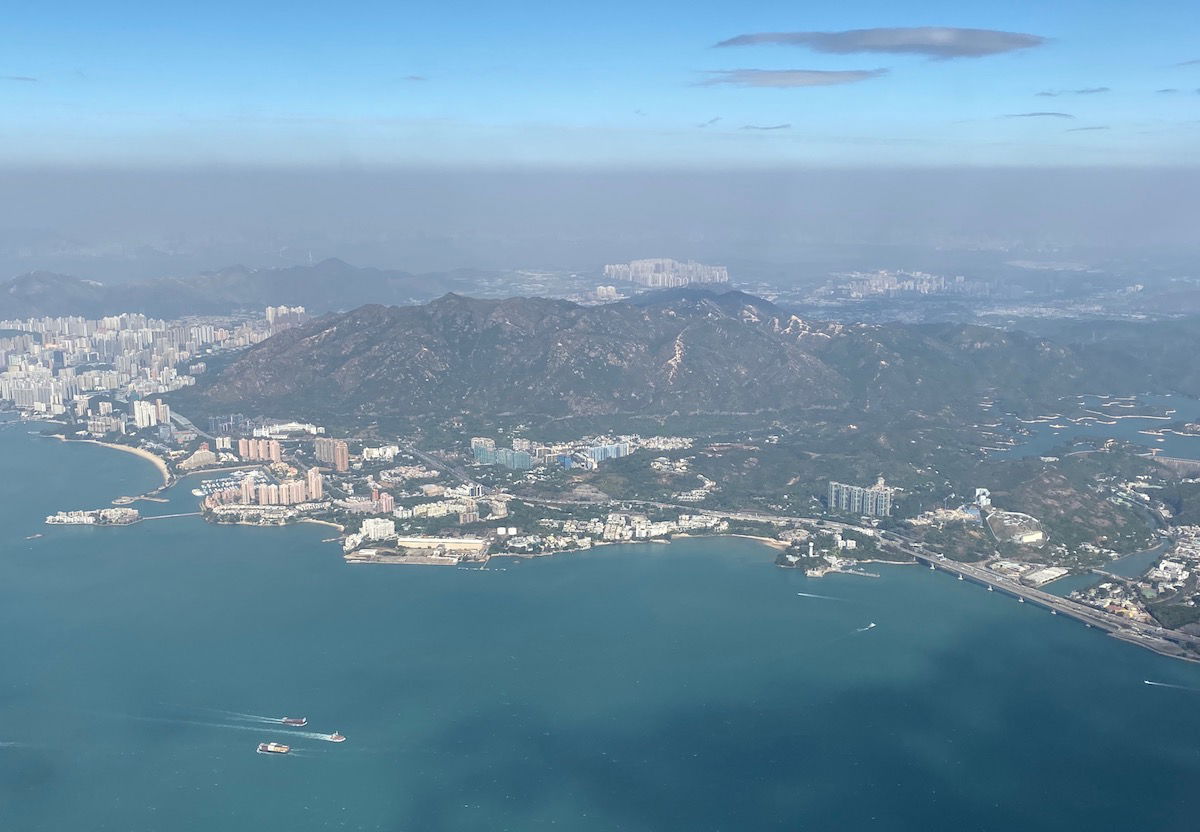 View departing Hong Kong
As we climbed out I played around with the entertainment selection.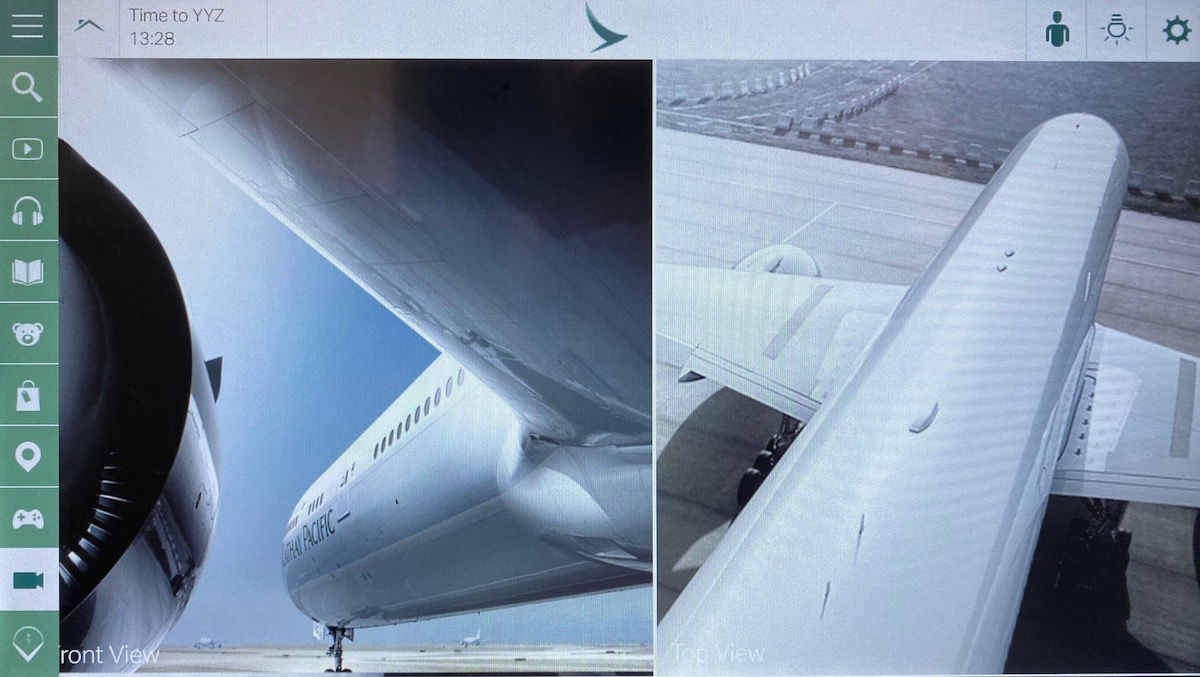 Cathay Pacific entertainment selection
I started looking at the map for our flight, which was highly customizable. You know it's a long flight when you can barely fit the origin and destination on the same screen at once!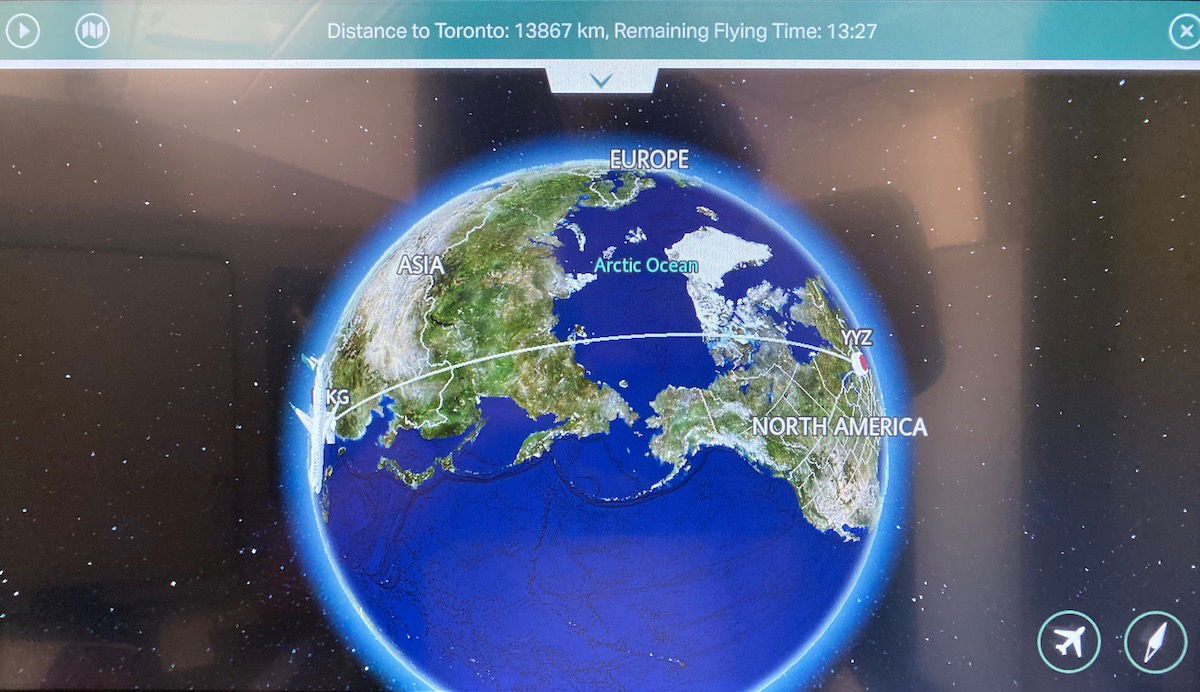 Cathay Pacific moving map to Toronto
Cathay Pacific's entertainment selection is excellent, with endless movies, TV shows, and live TV. Unlike their older system, this one was also highly responsive and high definition.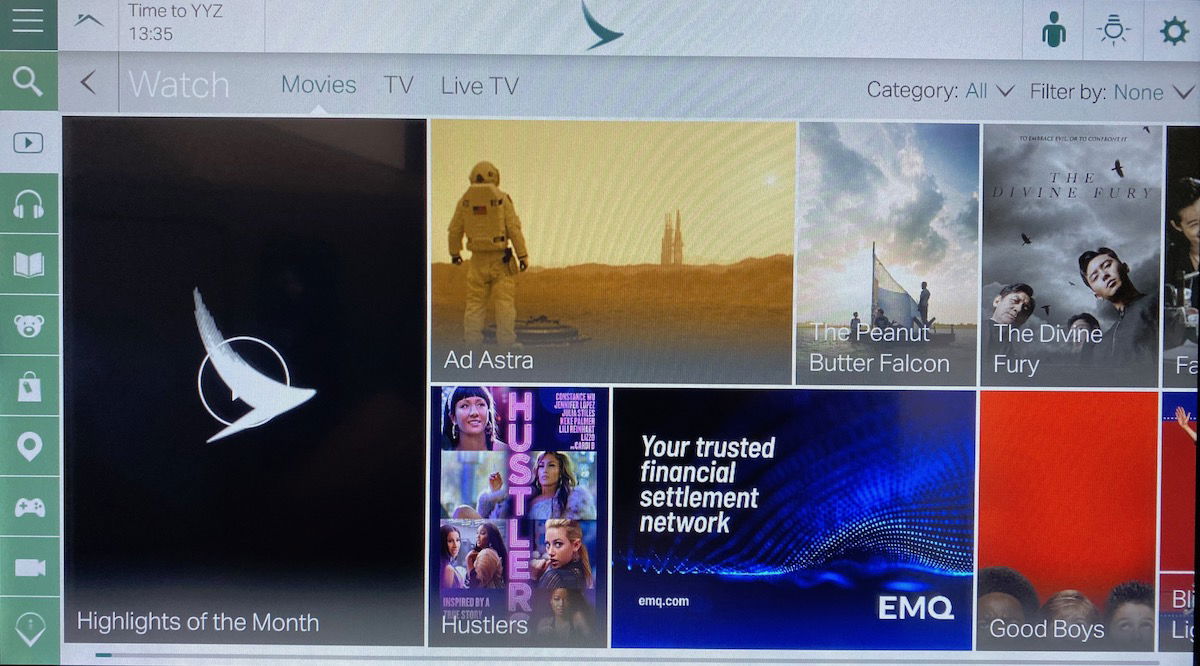 Cathay Pacific entertainment selection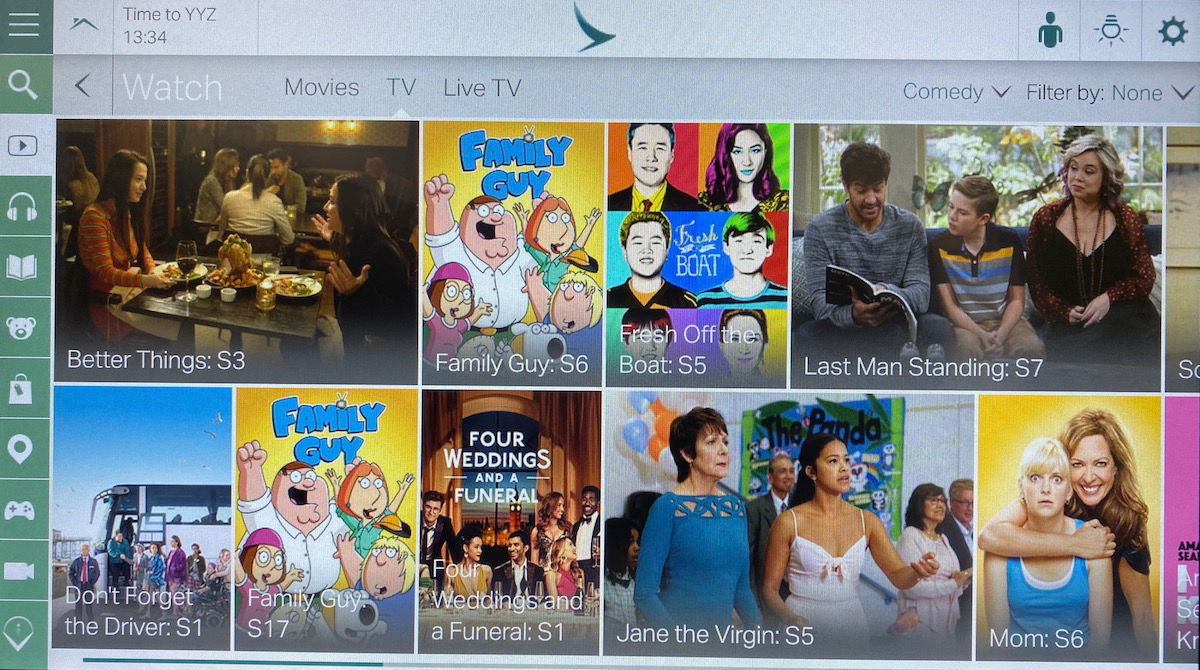 Cathay Pacific entertainment selection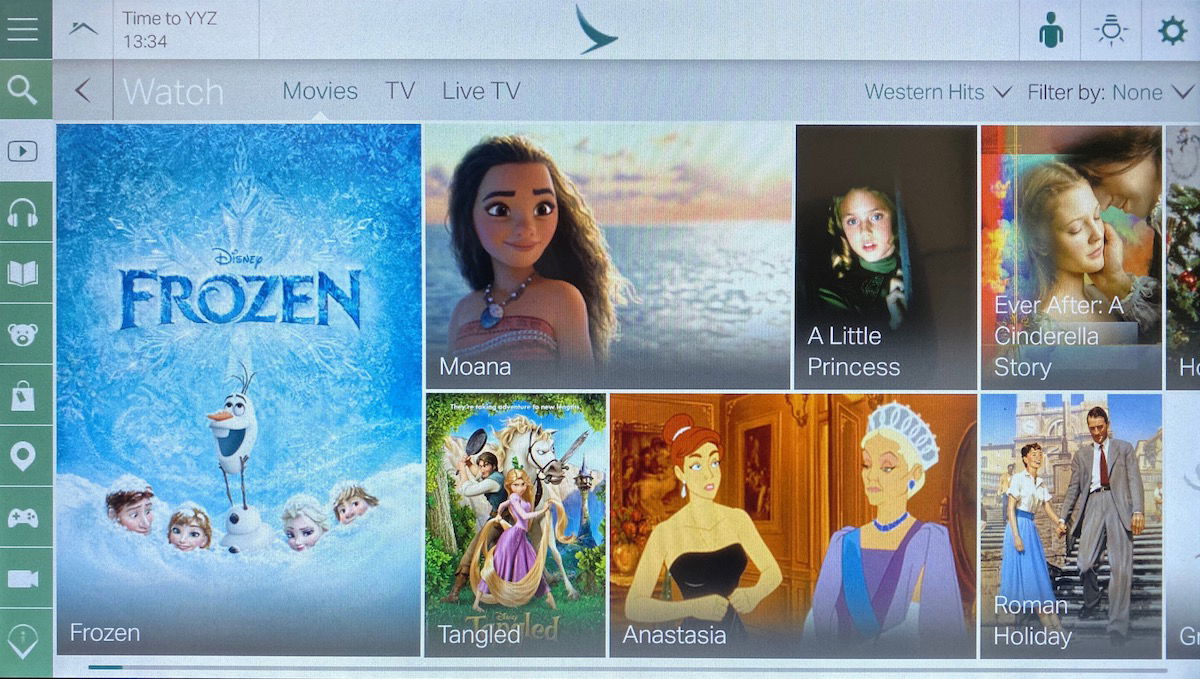 Cathay Pacific entertainment selection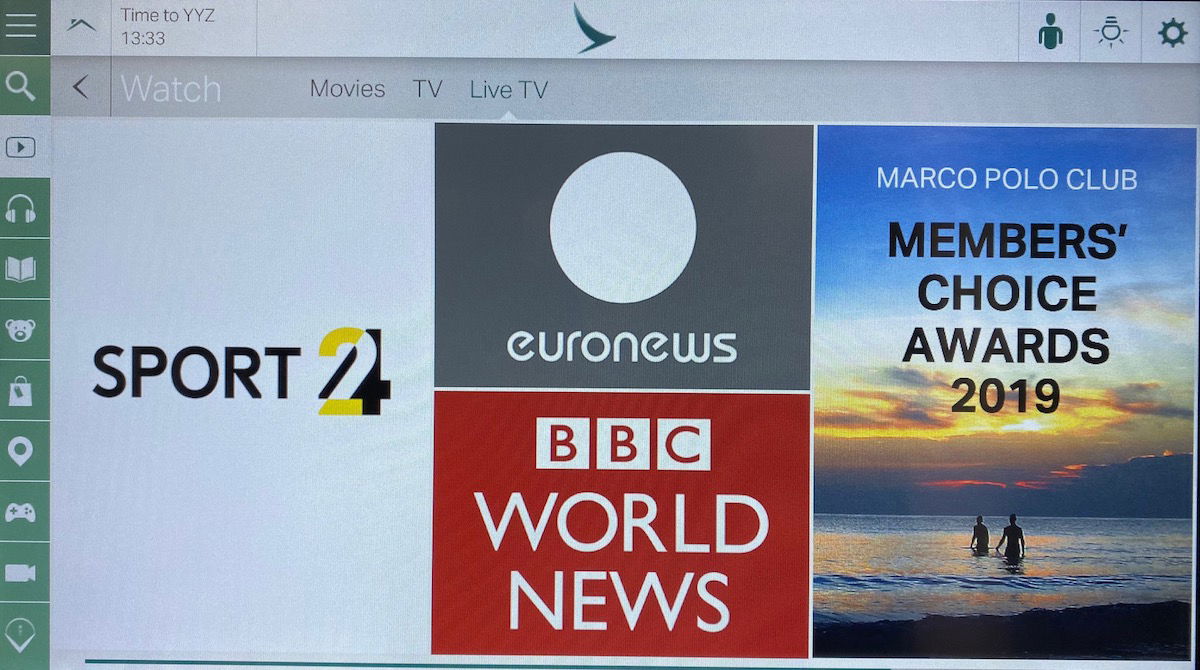 Cathay Pacific entertainment selection
I have nothing but good things to say about the entertainment selection, with my only complaint being the several minutes of ads at the beginning of every show or movie (though you can fast forward through them). I ended up watching a few episodes of "Fresh Off The Boat," because I have really bad taste in entertainment.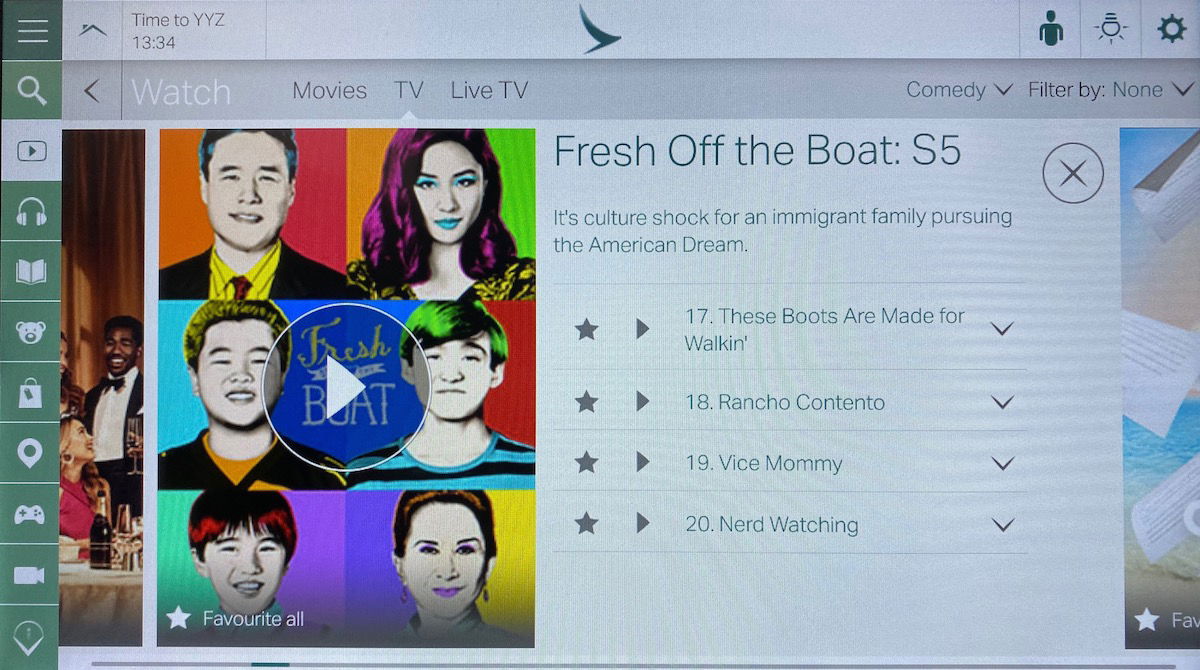 Cathay Pacific entertainment selection
The highlight of Cathay Pacific's A350-1000 entertainment is their Gogo 2Ku Wi-Fi, which is fast, reasonably priced, and has no data caps. There are two passes available:
$9.95 for one hour
$19.95 for the entire flight
That's excellent pricing for Wi-Fi with no data caps, and you can even switch between devices. This is among the best Wi-Fi option of any ultra long haul airline, in my opinion.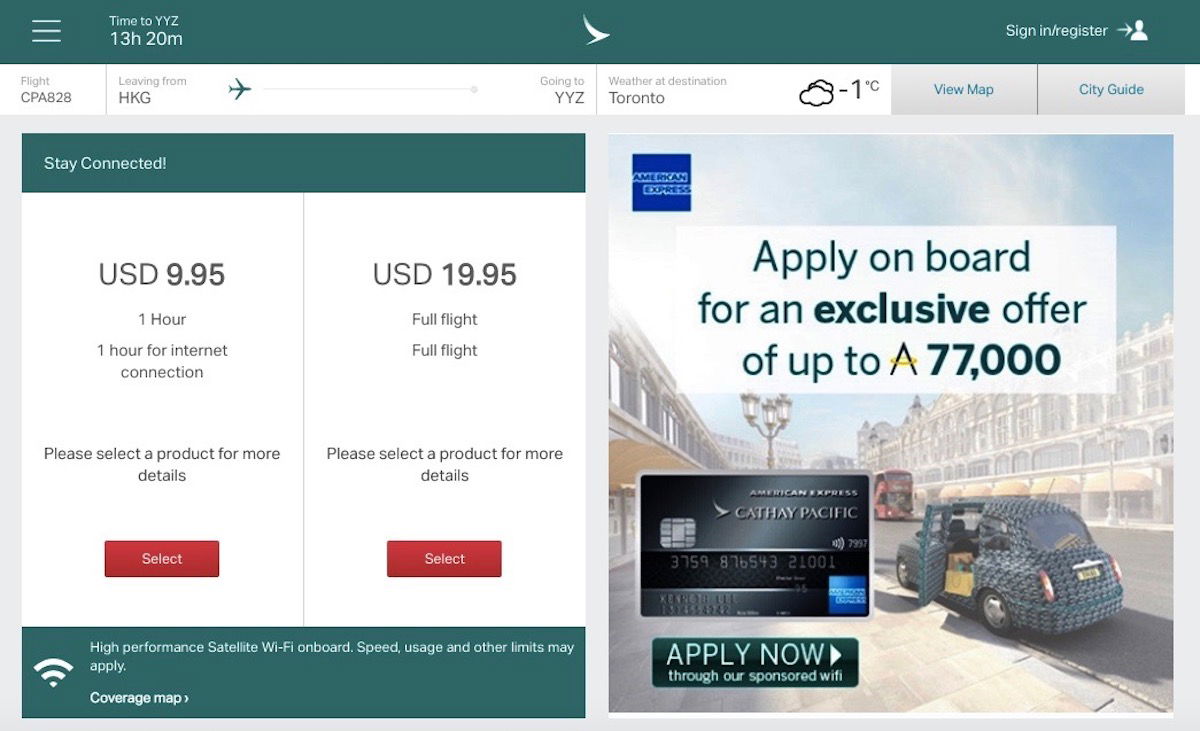 Cathay Pacific A350 Wi-Fi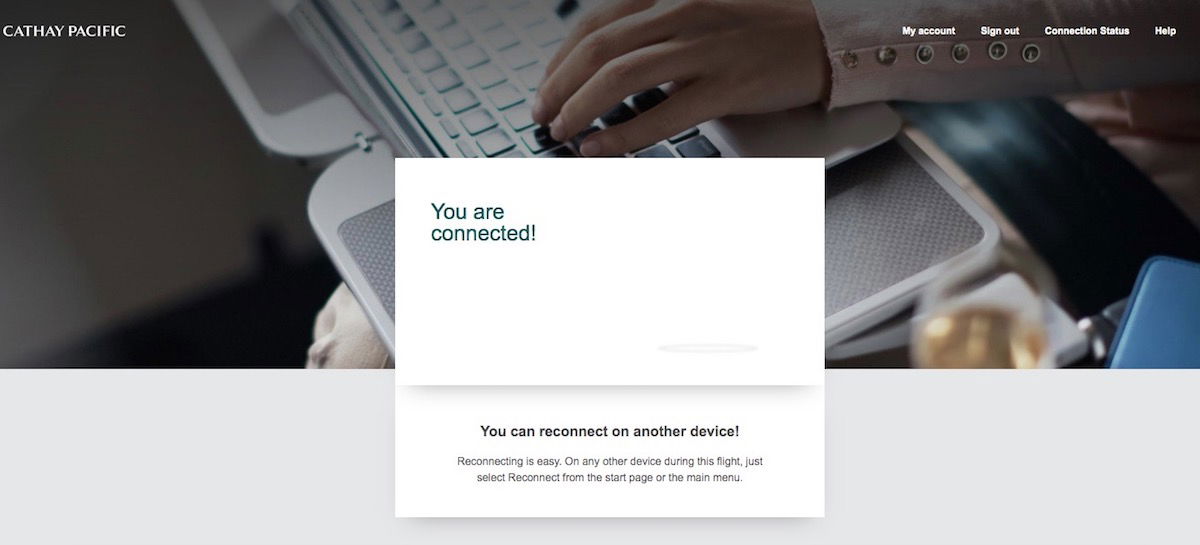 Cathay Pacific A350 Wi-Fi
The seatbelt sign was turned off about 15 minutes after takeoff, so I walked around the cabin a bit.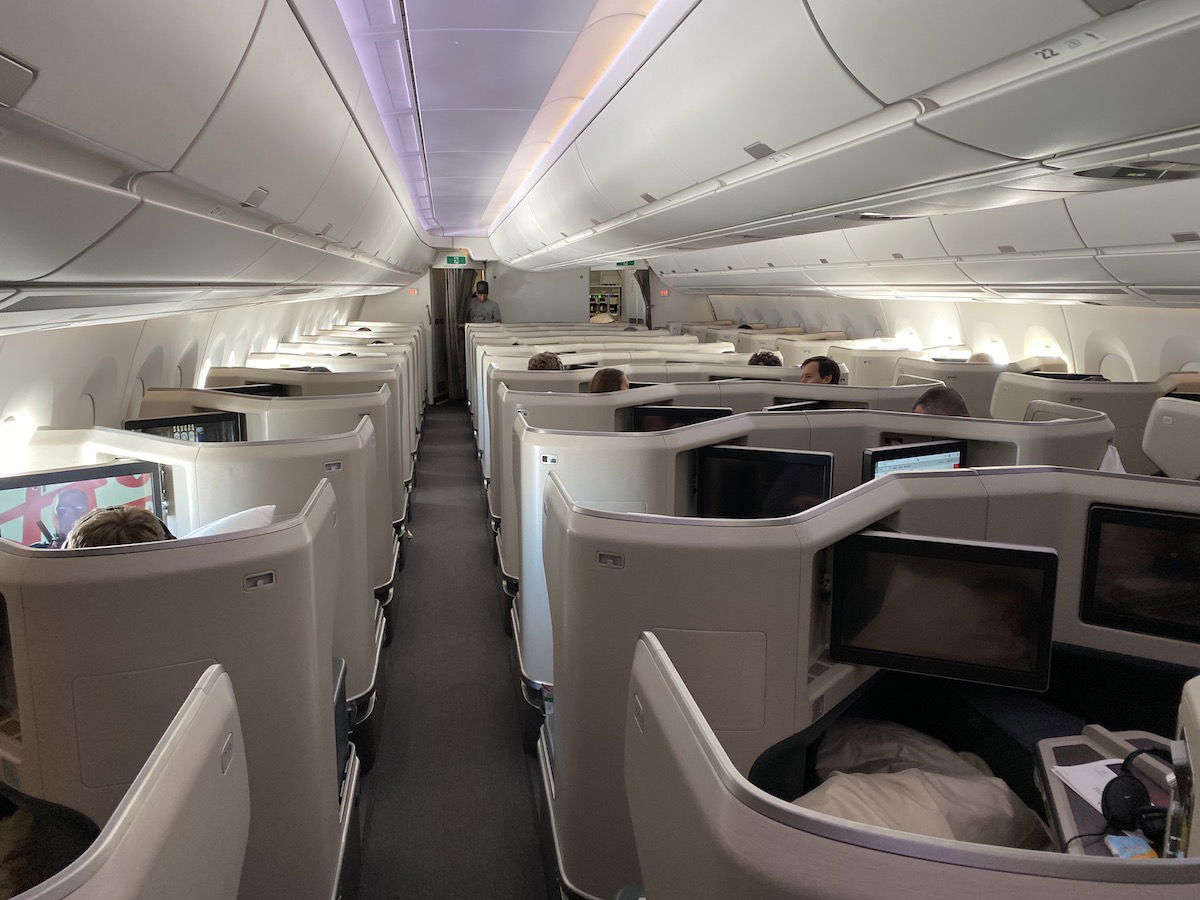 Cathay Pacific A350-1000 business class cabin
The 32 seat premium economy cabin was right behind business class, and unlike business class was mostly empty.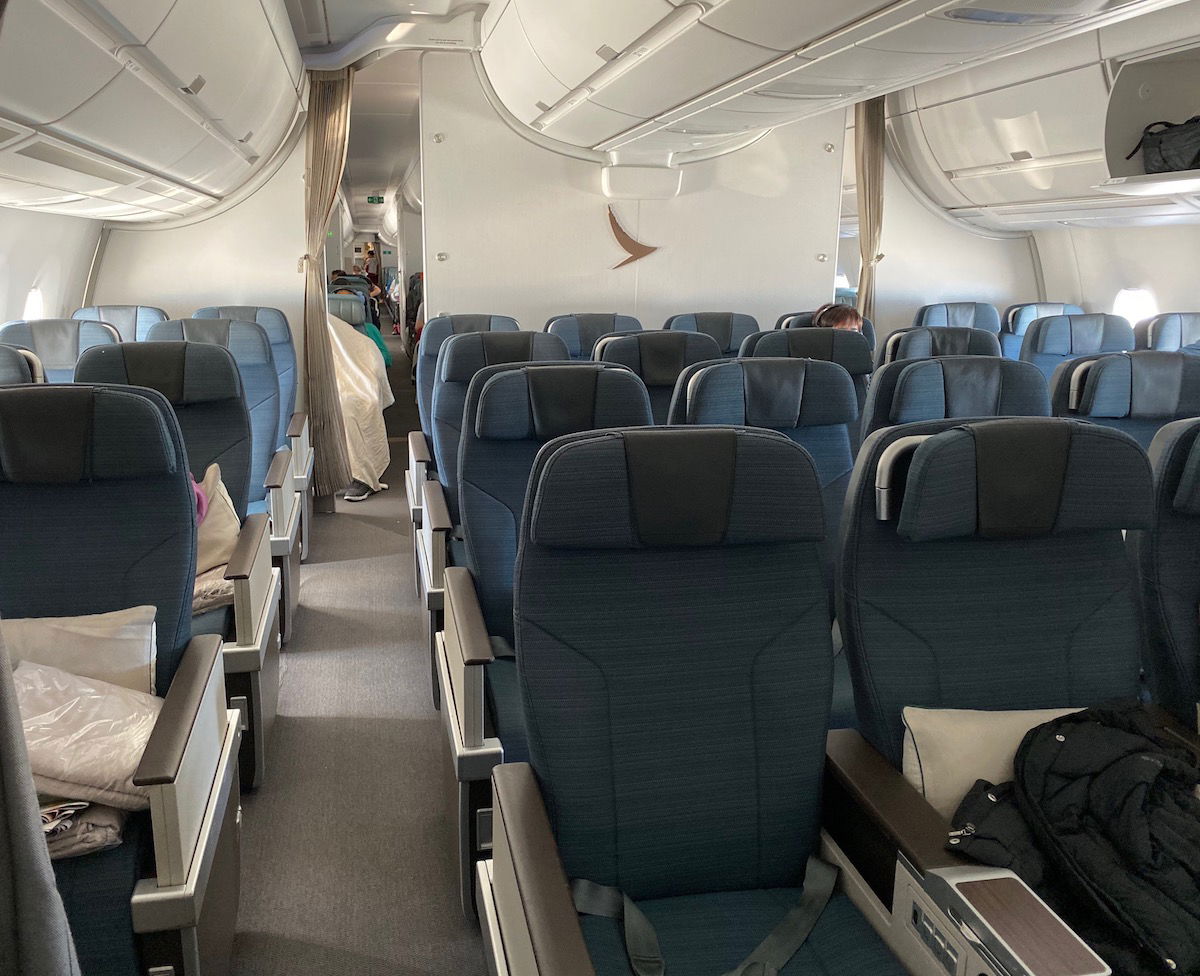 Cathay Pacific A350-1000 premium economy cabin
There were two lavatories behind business class, though one seemed to be reserved for premium economy, while the other was for business class.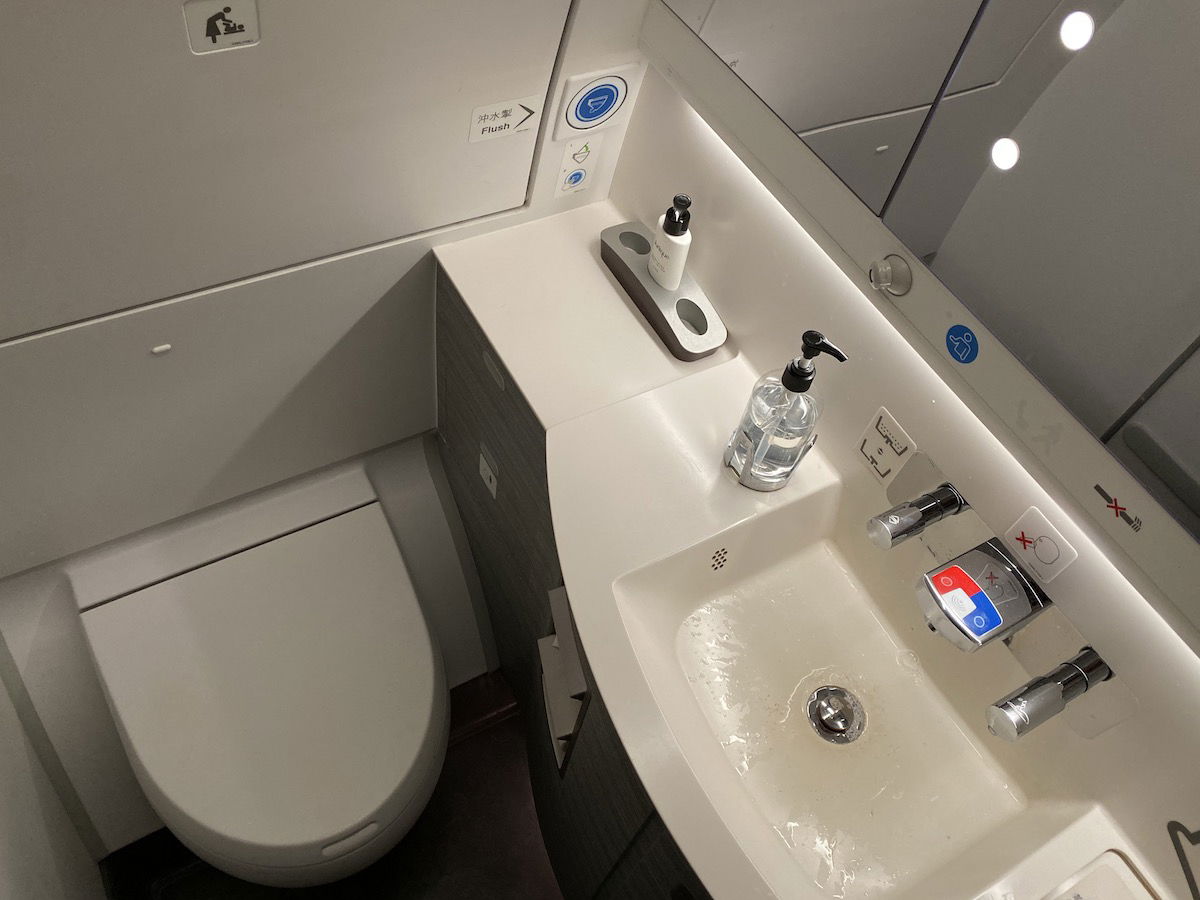 Cathay Pacific A350-1000 lavatory
Then there were two more lavatories in the front, which had the benefit of having windows.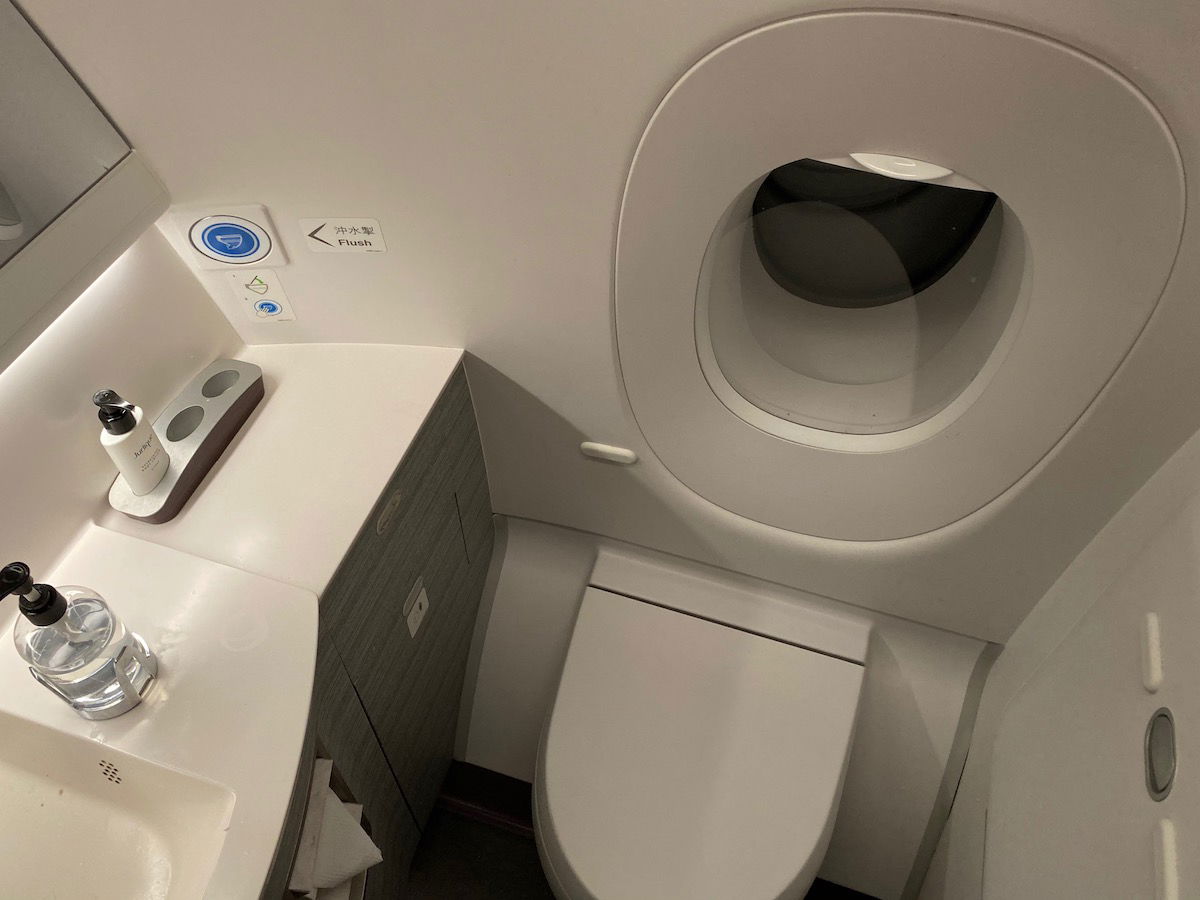 Cathay Pacific A350-1000 lavatory
About 35 minutes after takeoff inflight service manager Sue stopped by my seat to welcome me onboard. Then about 10 minutes later drink and meal orders were taken.
The crew uses tablets for taking orders and throughout the service, which allows them to address passengers by name pretty easily (and they do so in a natural way, not like at some US airlines where they stare at the screen to try to pronounce your name). The other benefit is that the tablet seems to be connected to the galley, since my drink was delivered before the flight attendant ever returned to the galley.
The menu for the flight read as follows: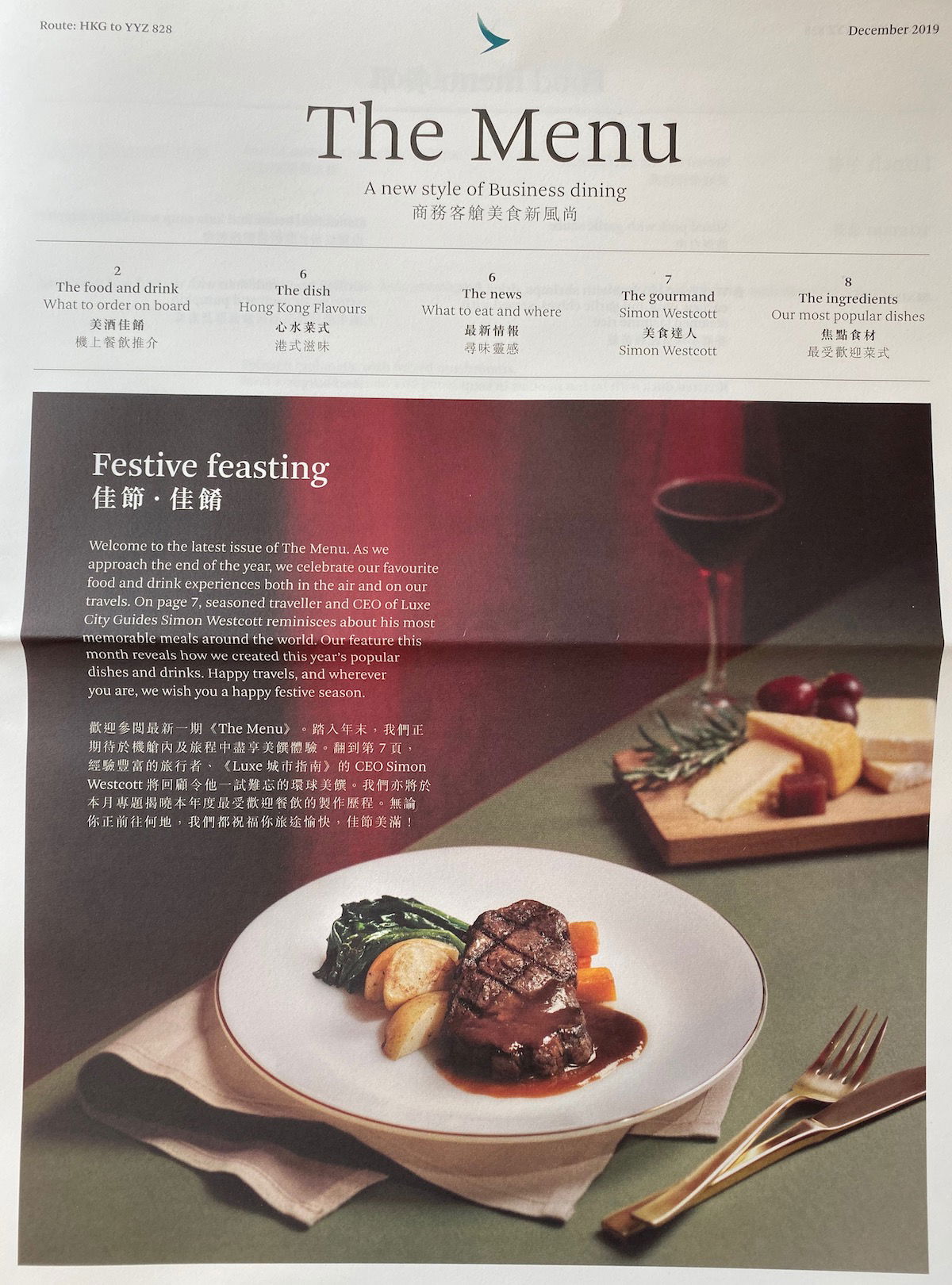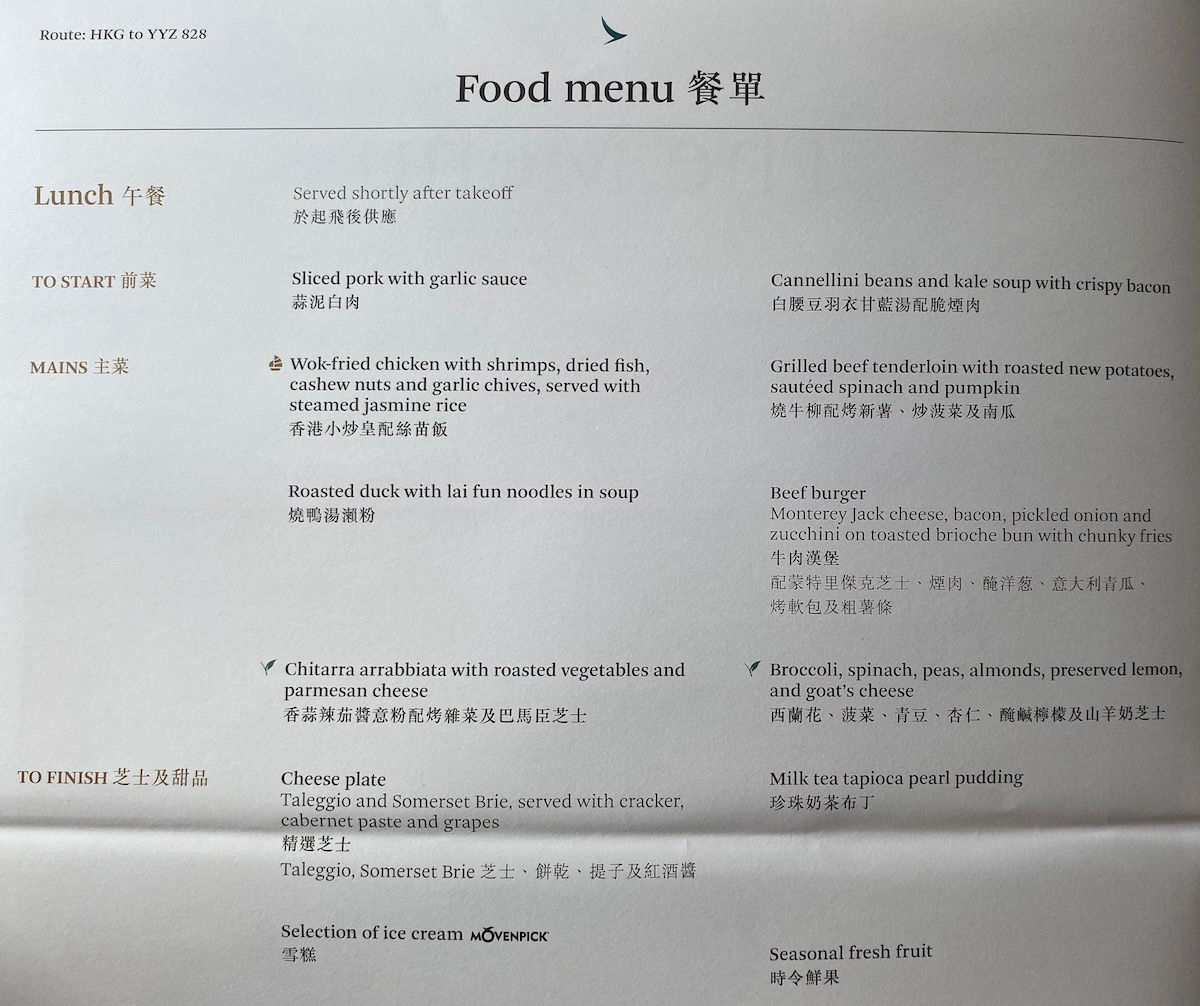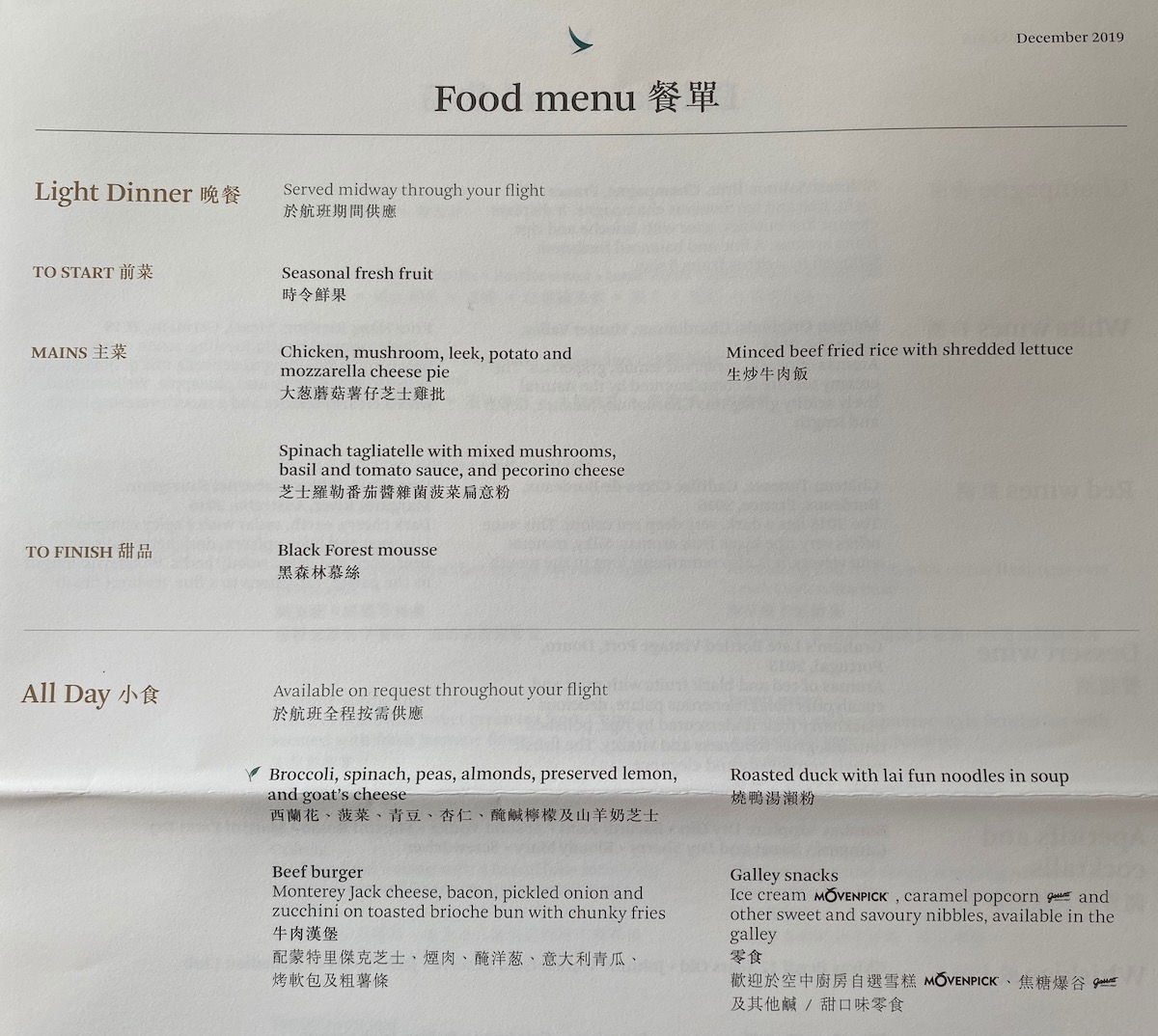 The drink list read as follows: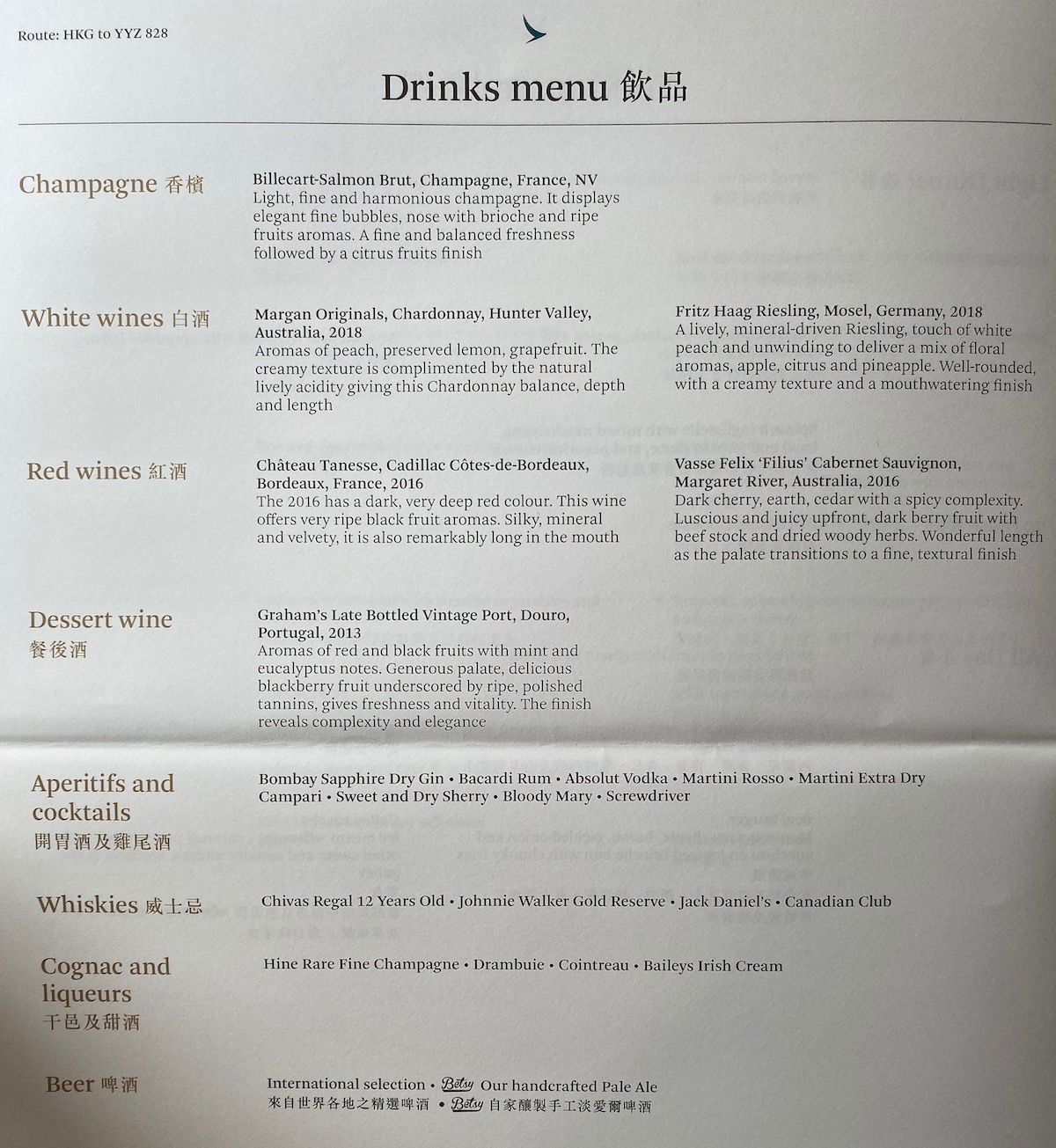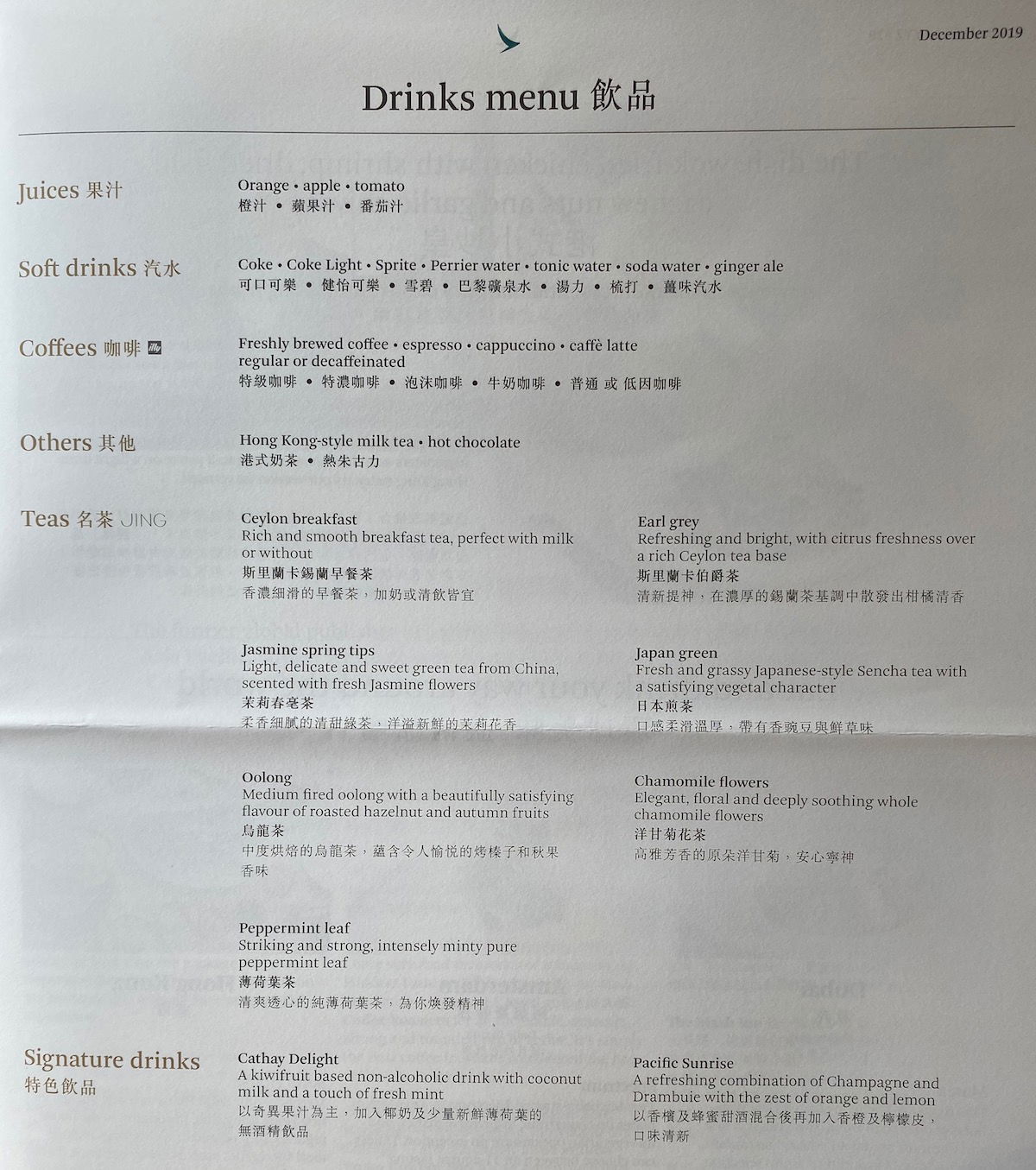 Then there was some more "reading," as follows: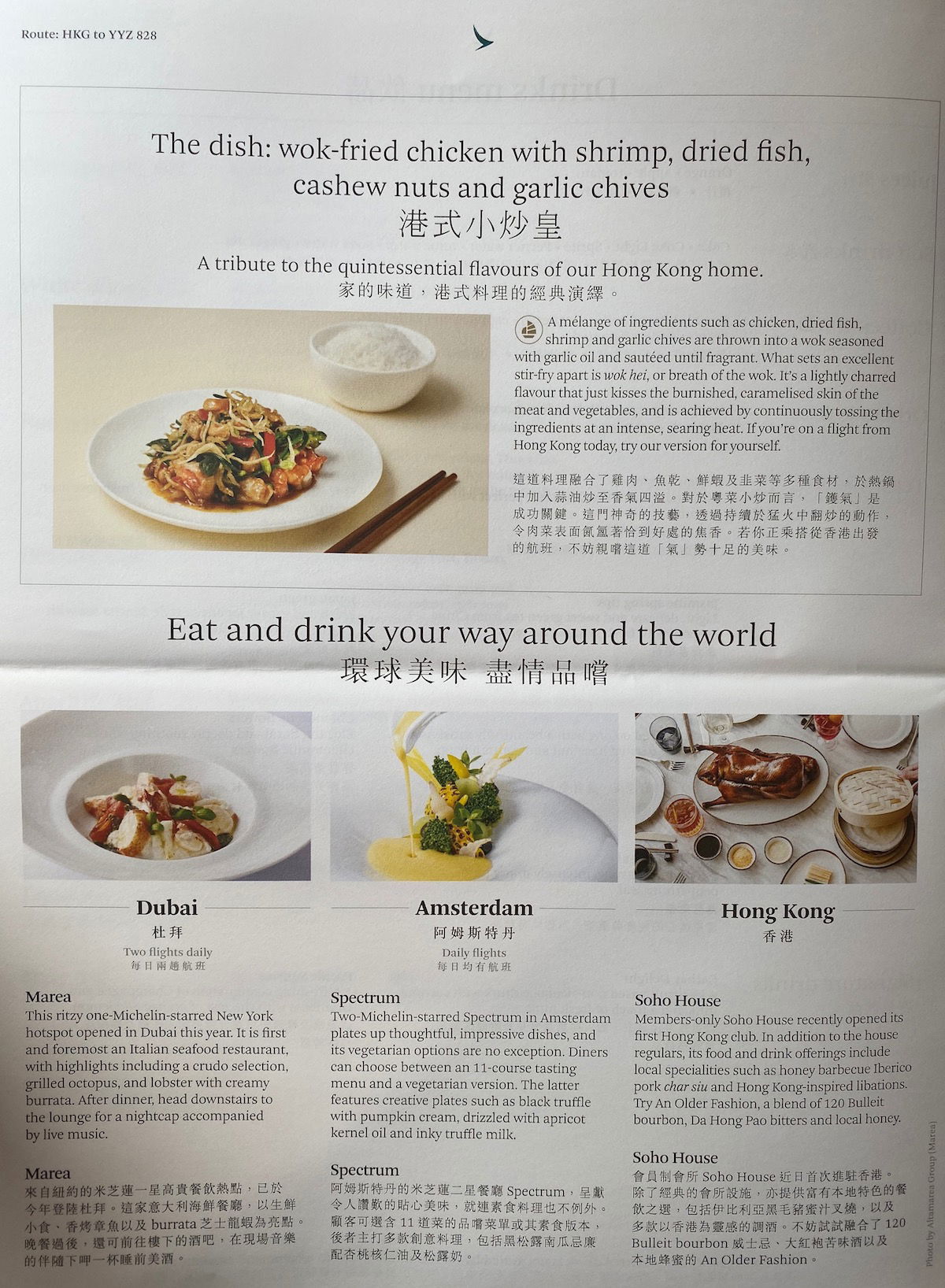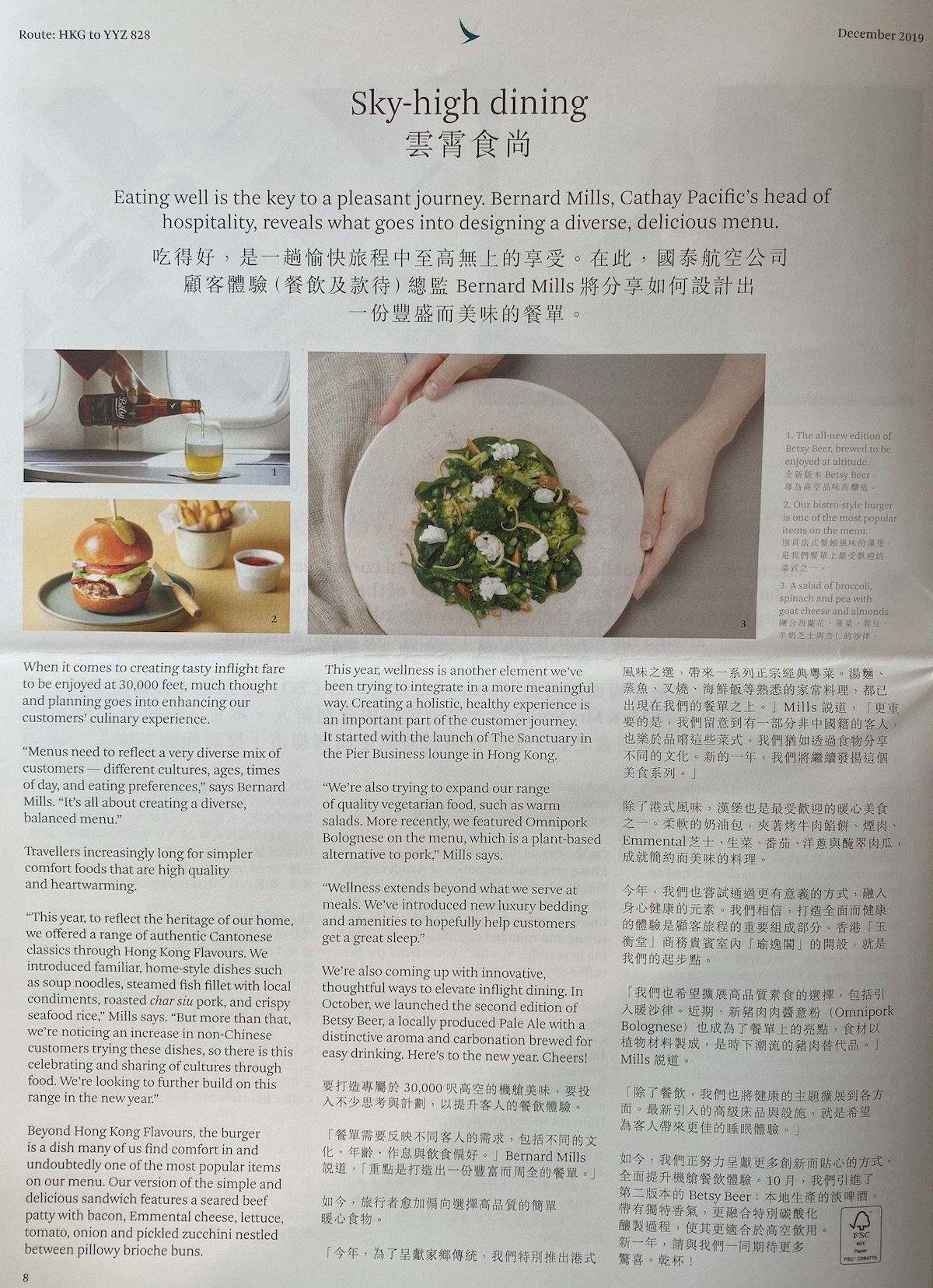 As you can see, they serve the main meal after takeoff, then they serve another meal halfway through the flight, and then they have a limited dine on demand concept for the remainder of the flight.
It's nice that Cathay Pacific has eliminated the trolleys from business class service, as everything is now served directly. The only thing they use trolleys for is when they're clearing trays.
55 minutes after takeoff I was served my first drink — I ordered a glass of the lovely Billecart-Salmon champagne, served with mixed nuts.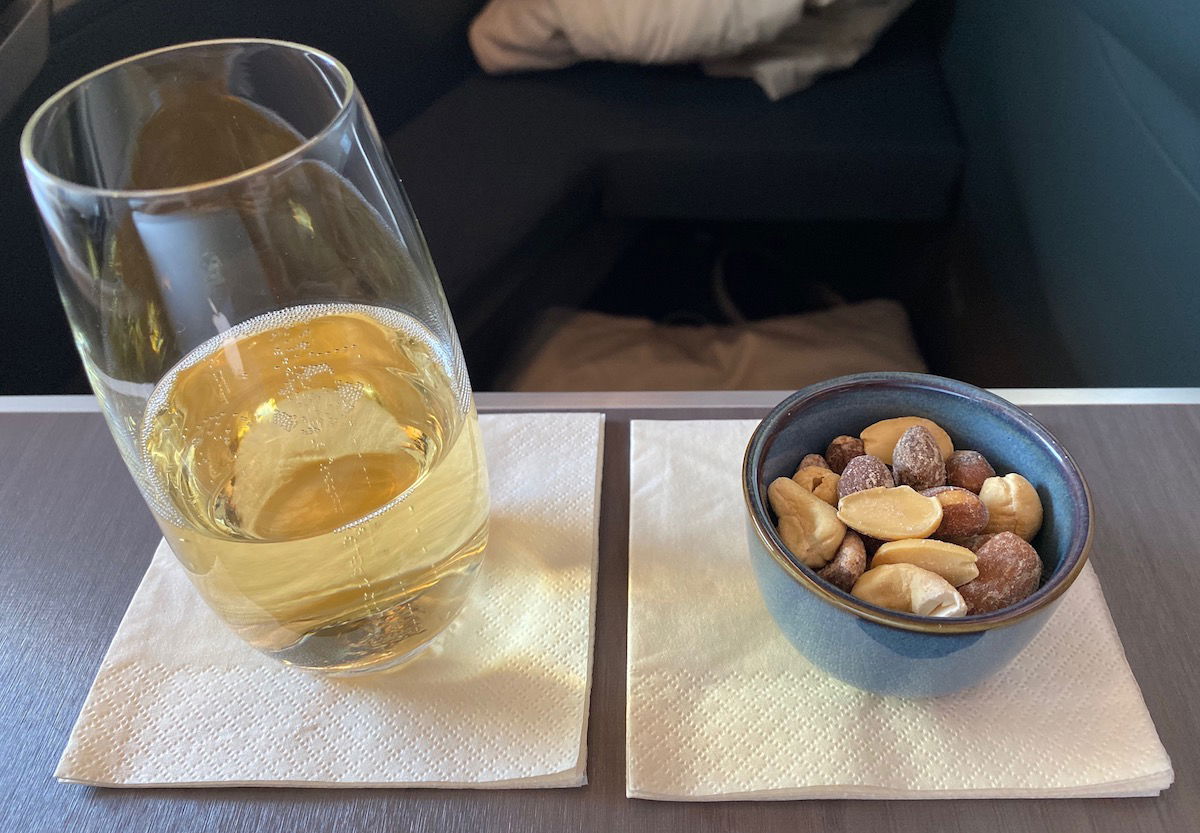 Cathay Pacific business class lunch — champagne & mixed nuts
Even though Cathay Pacific stopped using carts, aspects of the service still feel like an assembly line. For example, when my drink was done the glass was simply cleared, rather than being offered a refill.
85 minutes after takeoff my starter was served. Despite Cathay Pacific switching to more of a dine on demand concept, I still find their options to be quite limited. The only two appetizer choices were sliced pork with garlic sauce or cannellini beans and kale soup with crispy bacon.
When I placed the order they said they were out of the soup. I said then I'd just skip the appetizer because I don't eat pork, and she said she'd see what she could do. They managed to find an extra soup and left out the bacon.
The soup was decent, as was the salad, though it was small. I was also offered a selection from the breadbasket, and chose Cathay's excellent garlic bread. I know Cathay Pacific has also introduced new table-ware, though personally I find it to be kind of boring and bland.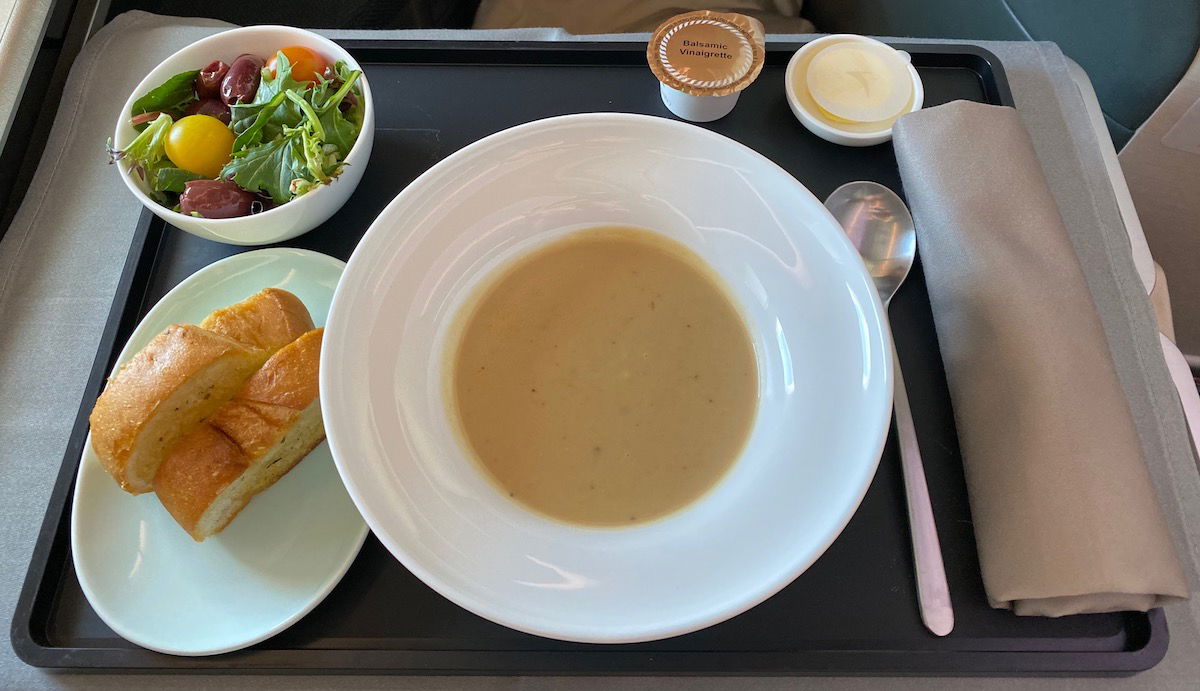 Cathay Pacific business class lunch — soup & salad
It was a full two hours after takeoff before the main course was served. I ordered the wok-fried chicken with shrimp, dried fish, cashew nuts, and garlic chives, served with steamed jasmine rice. This sounded right up my alley, though it wasn't very good. The presentation wasn't good, the portion was small, and the taste was just "meh."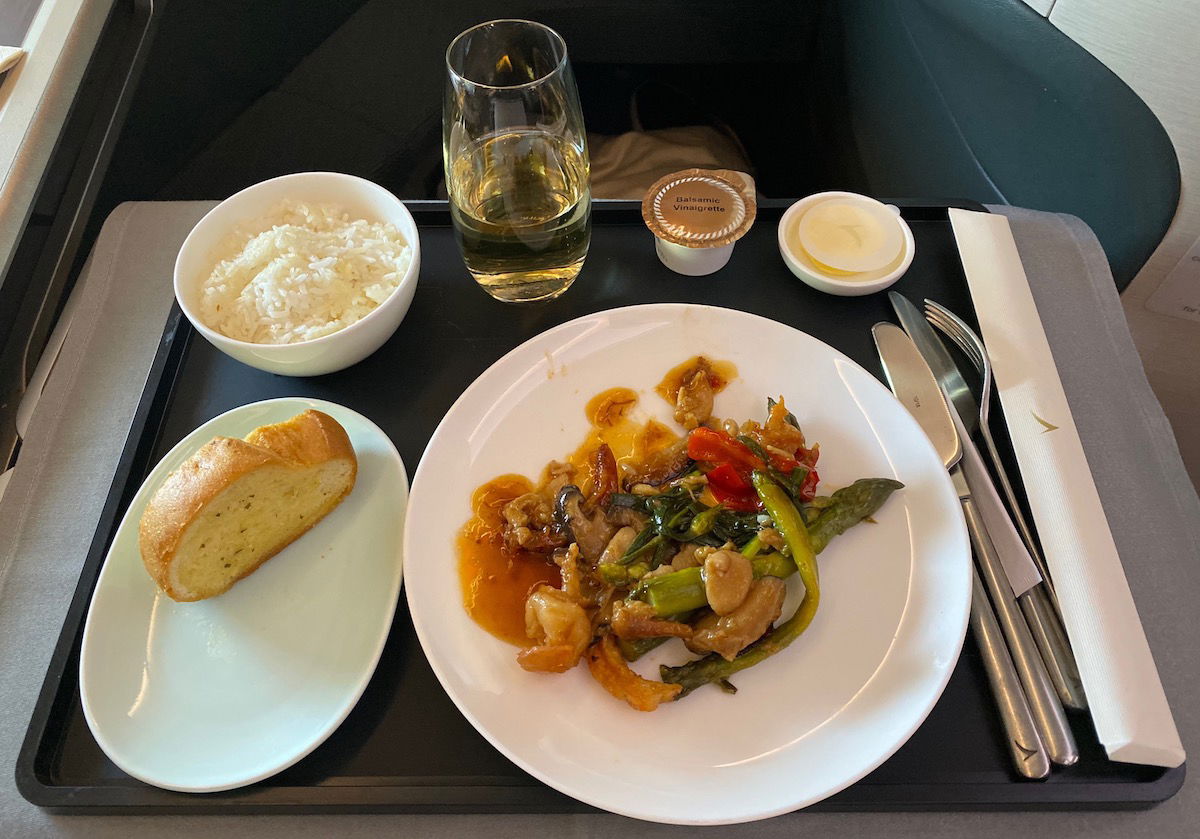 Cathay Pacific business class lunch — main course
About 2hr20min after takeoff my dessert order was taken. I ordered the fruit and cheese plate, not fully realizing that those were two different things. That ended up being served about 2hr45min after takeoff, though was quite good, at least.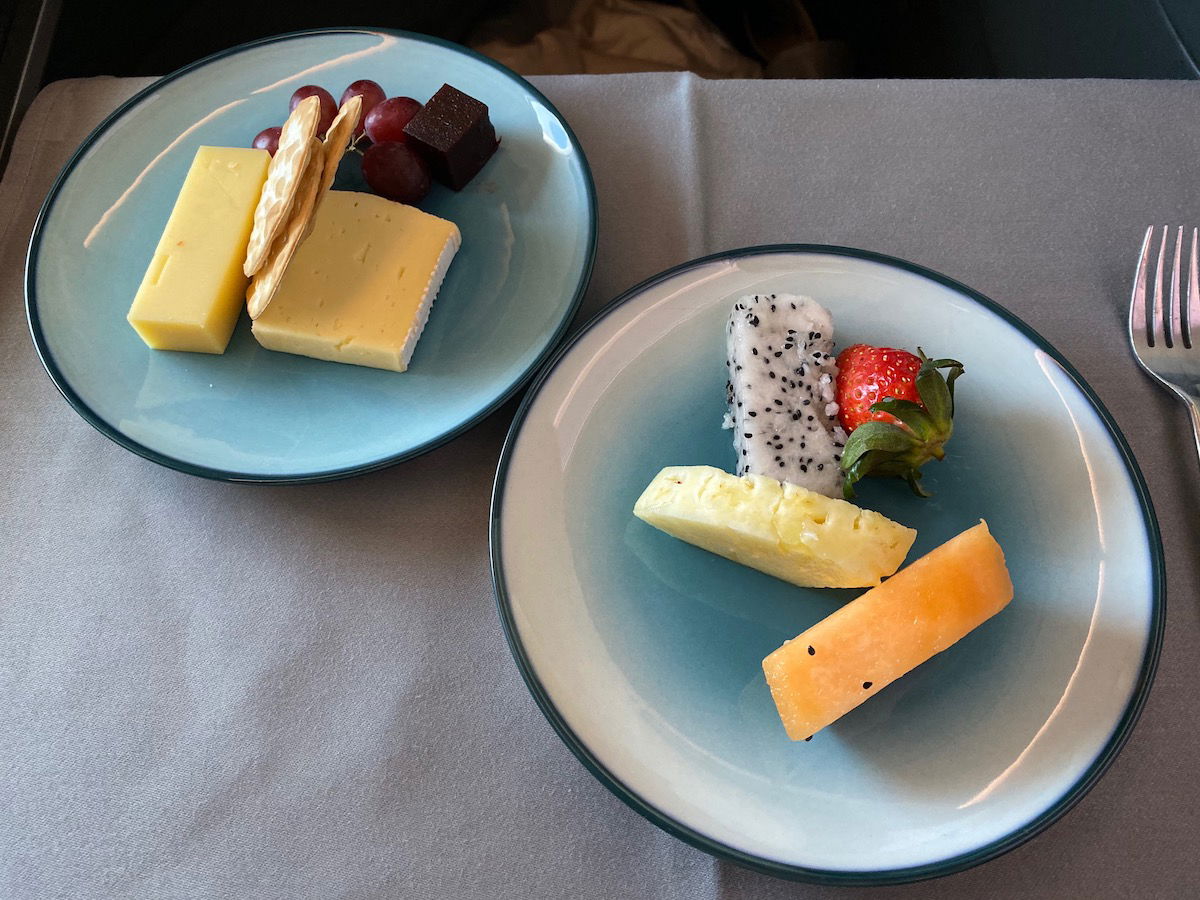 Cathay Pacific business class lunch — cheese & fruit
Since I'm a sucker for any and all Asian desserts, I also asked if I could have the milk tea tapioca pearl pudding, and the crew obliged.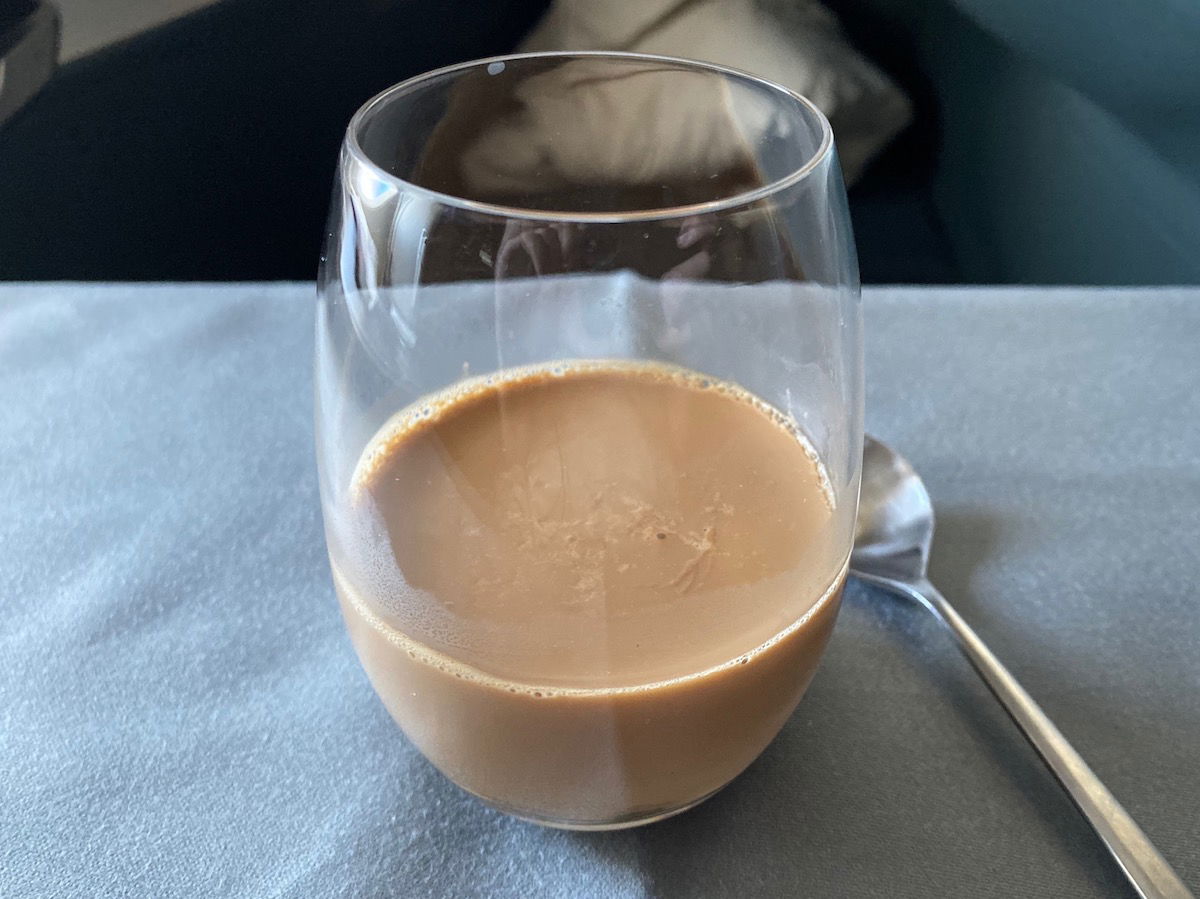 Cathay Pacific business class lunch — dessert
My tray was cleared about three hours after takeoff. While the crew couldn't have been kinder, Cathay Pacific has a lot of optimizing to do with their business class meal service. I appreciate that they got rid of serving everything in business class off carts, but this simply doesn't do the trick:
The service takes way too long given how simple it is; it's not as elaborate as the service offered by Austrian or Turkish, where I could understand it taking that long
The options are still really limited, even though they've intended to go with a more flexible menu
Not only are the options limited, but the food wasn't great for the most part, in particular my main, which was supposed to be a "signature" dish
While the airline is working towards offering more personalized service, I do think that at least during the service they should offer drink refills, rather than just proactively taking away glasses
By the time the meal service was done there were just under 10hr30min remaining to Toronto, and I decided it was time to get some shuteye.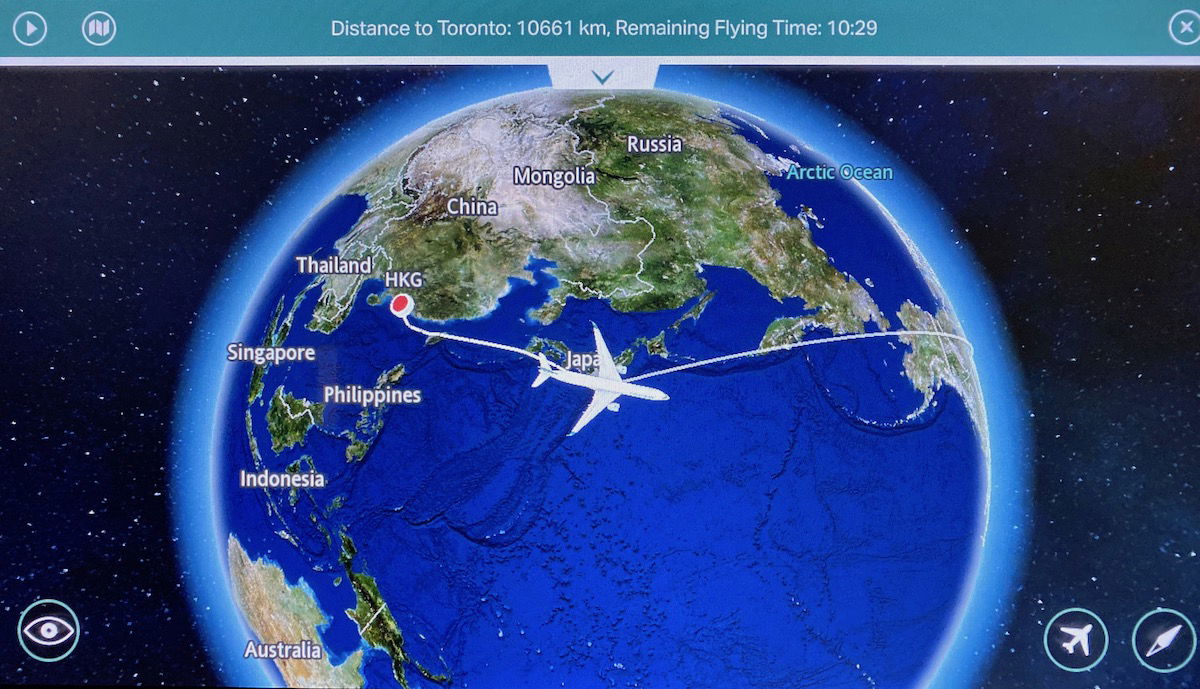 Map enroute to Toronto
While I didn't use it, the entertainment controller lets you select whether you'd like to be woken up for the second meal or for landing, though I don't know to what extent that's observed.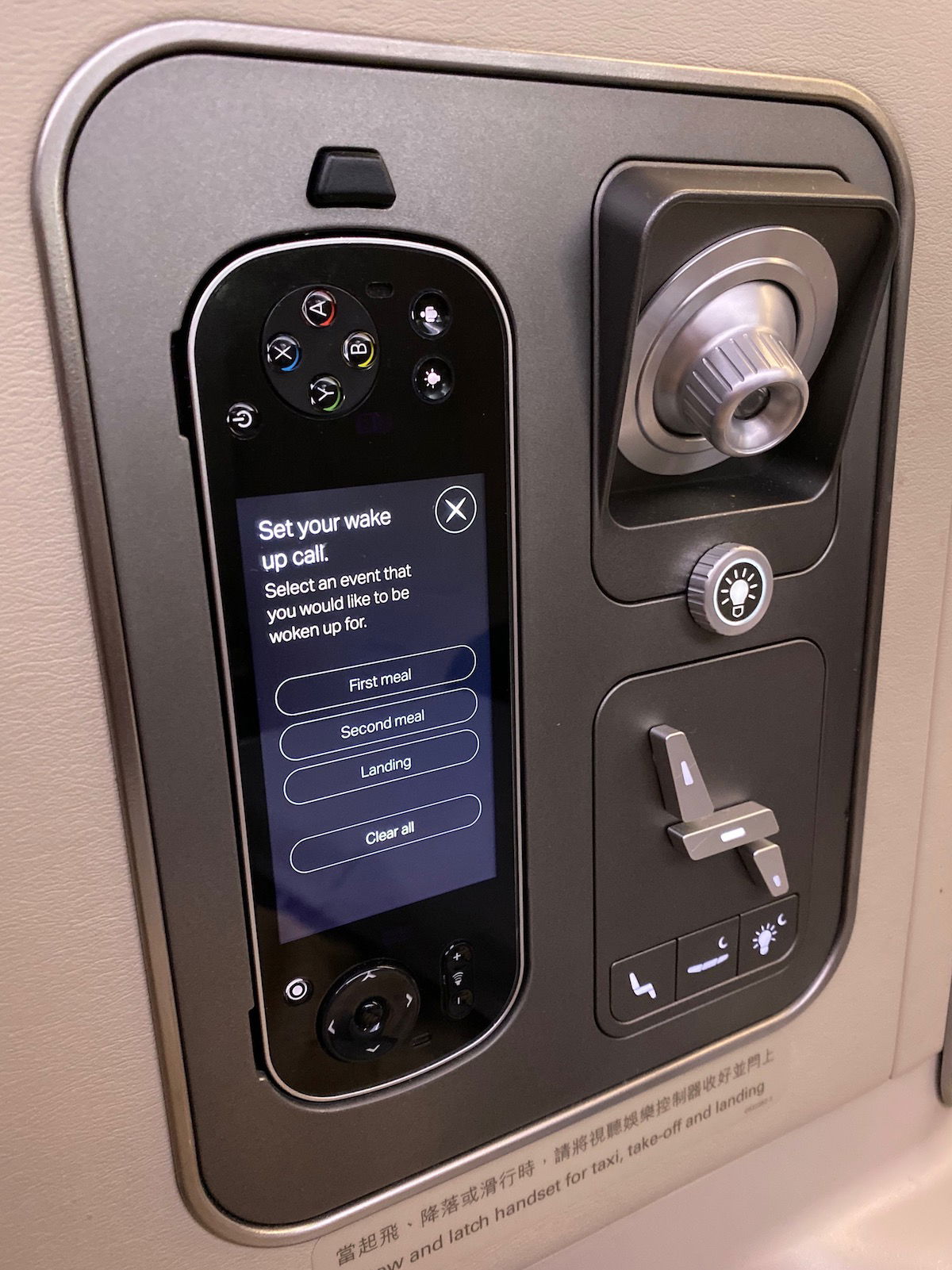 Cathay Pacific business class wake up call
At this point I made my bed, which I found to be extremely comfortable, thanks to the excellent bedding and surprisingly spacious seat.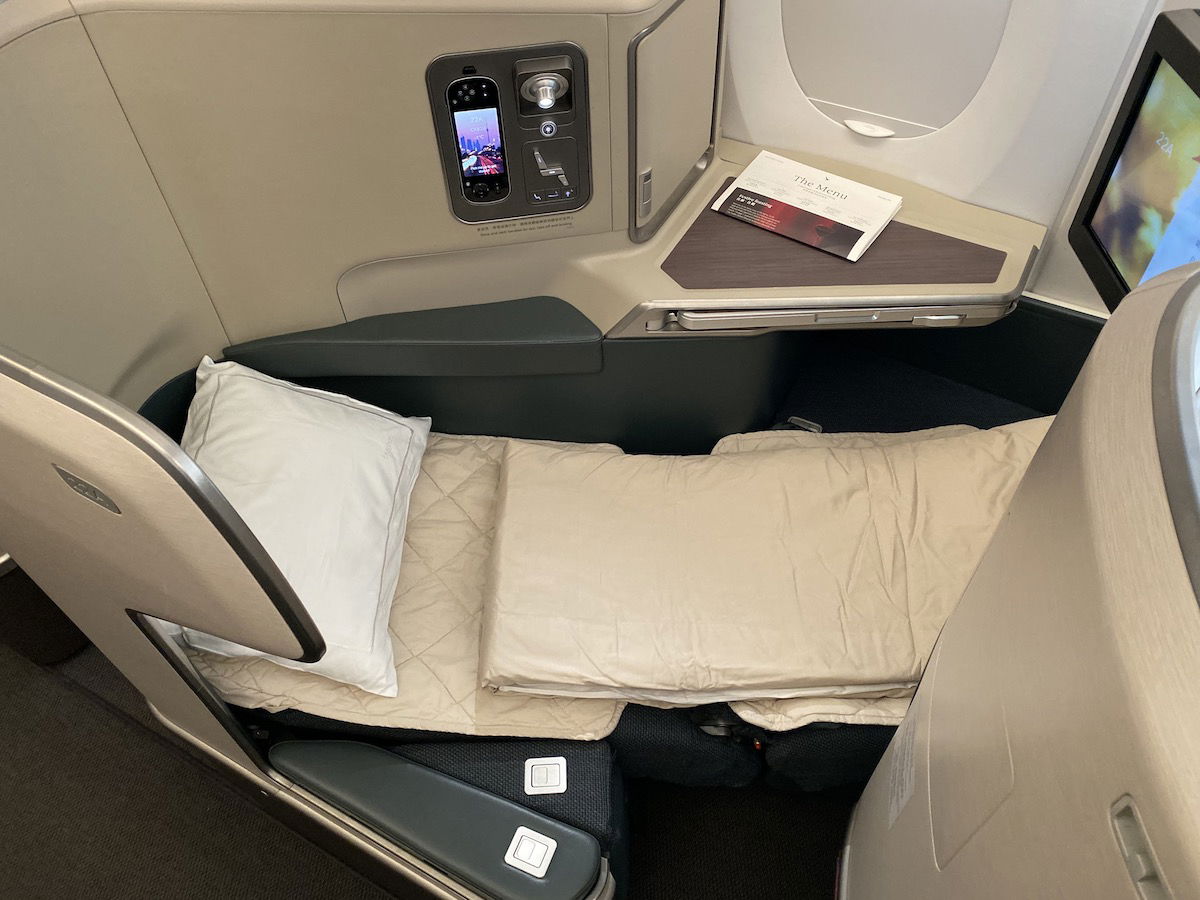 Cathay Pacific business class bed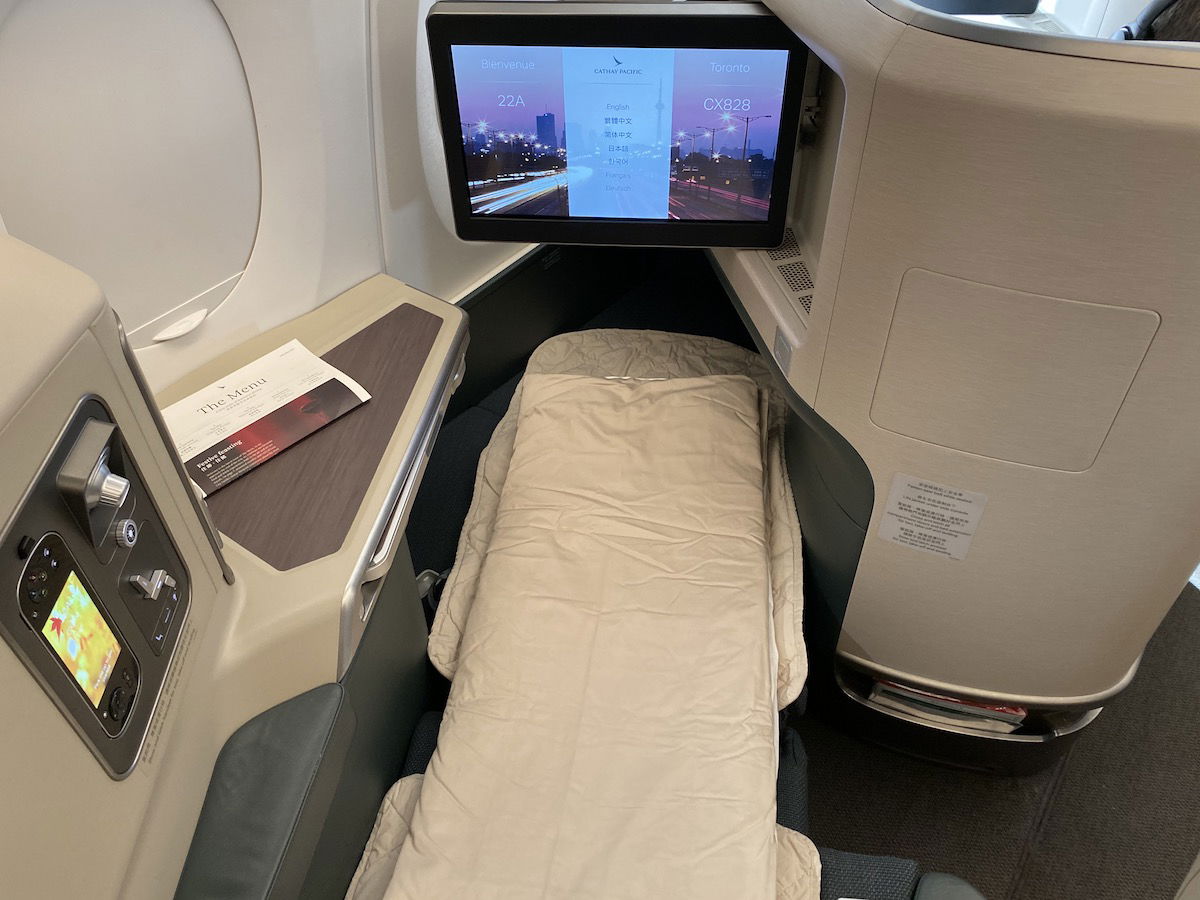 Cathay Pacific business class bed
I got some solid sleep, and woke up about 6hr30min before landing, as we were crossing over from Russia to Alaska.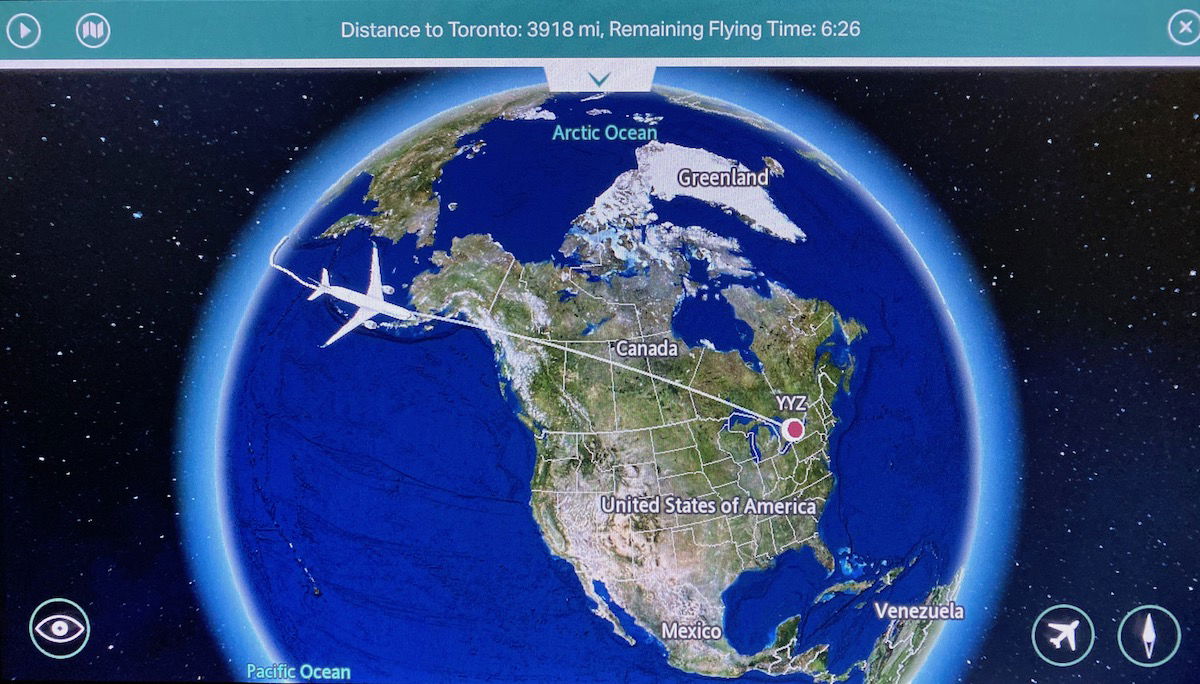 Map enroute to Toronto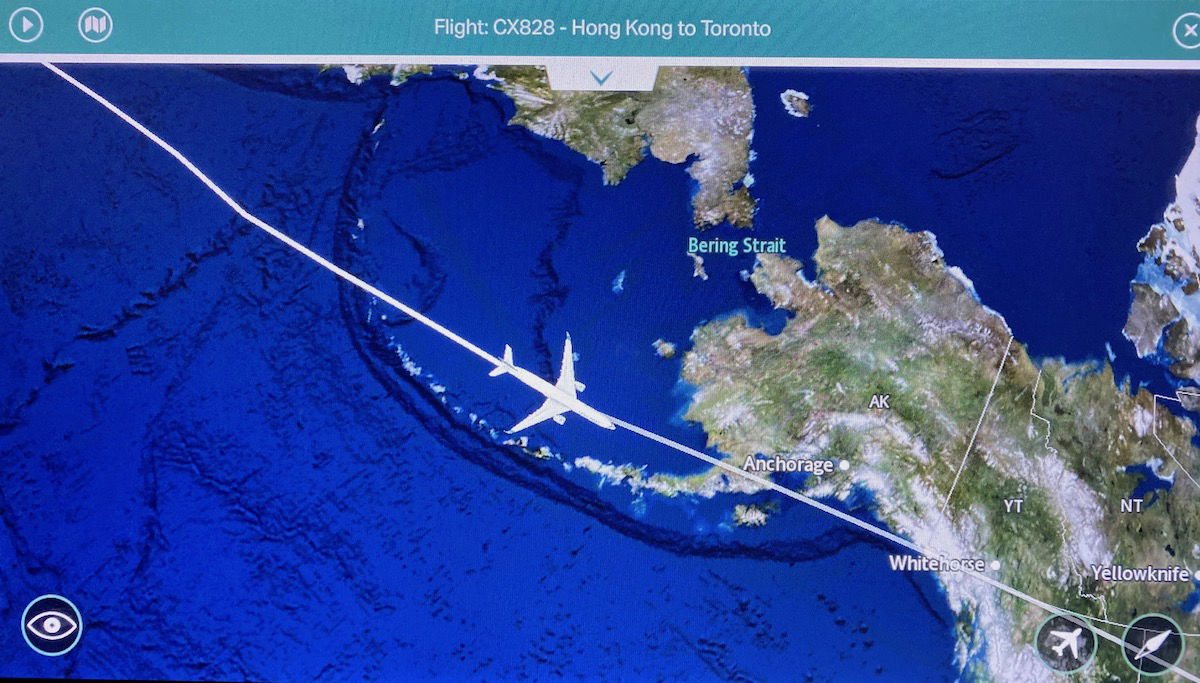 Map enroute to Toronto
I worked for a bit, and then about 30 minutes later the second meal service began. Personally I find Cathay's approach to meal service on this flight puzzling — in my opinion the main meals should be after takeoff and before landing, rather than the second meal being halfway through the flight. This limits the amount of uninterrupted sleep that many people will get to about four hours.
I get that this flight leaves fairly early in the day, but if you're trying to adjust your schedule to Toronto then you'd want to try to sleep at roughly the halfway point of the flight.
While the lights weren't turned to full brightness, they were turned about halfway up during the meal service.
Anyway, service began with a tray of orange juice, apple juice, and water being brought through the cabin.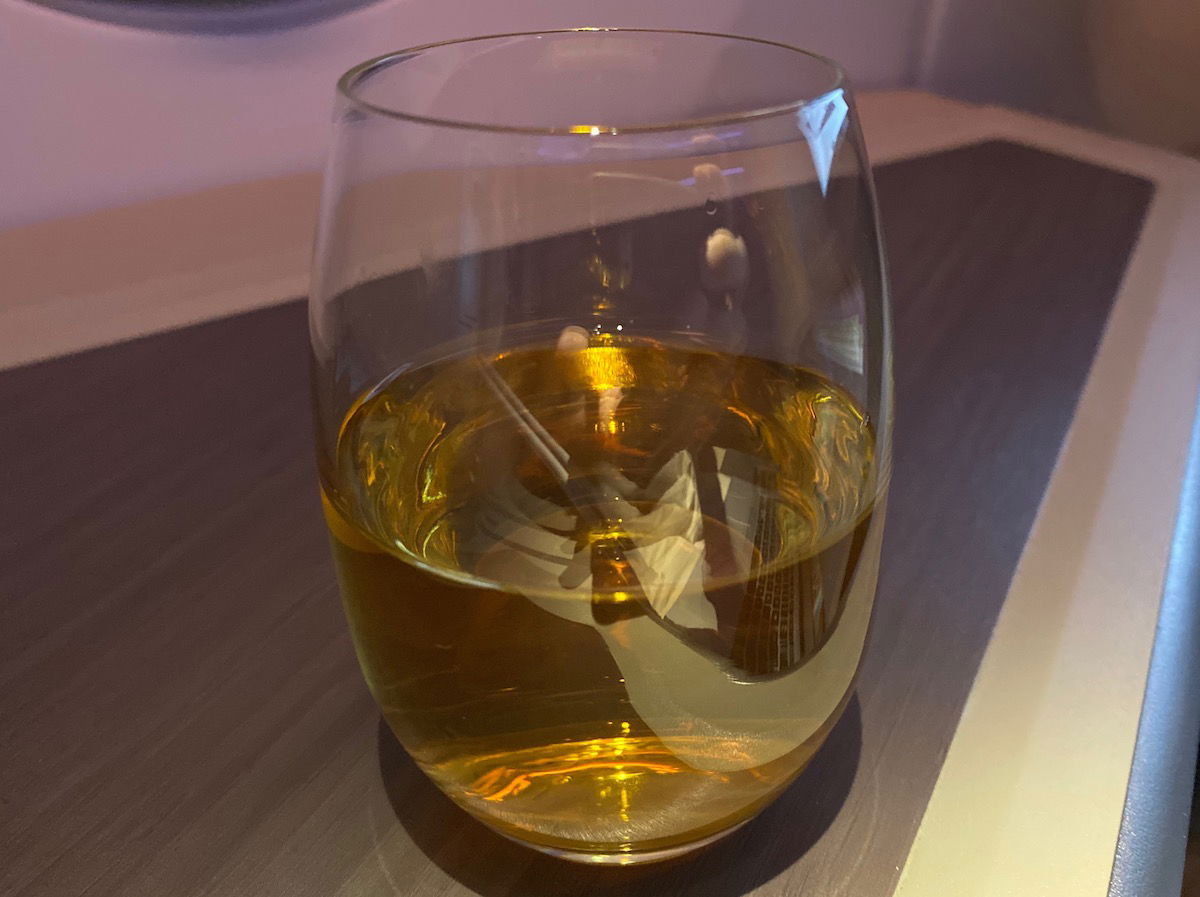 Cathay Pacific business class second meal — drink
This was a light dinner, with everyone being served fresh fruit as the appetizer and a tasty black forest mousse as the dessert. There were three main options, including:
Chicken, mushroom, leek, potato, and mozzarella cheese pie
Minced beef fried rice with shredded lettuce
Spinach tagliatelle with mixed mushrooms, basil, and tomato sauce, with pecorino cheese
I selected the pie, which was tasty, though as one of the two main meals on a long haul flight, seemed rather limited.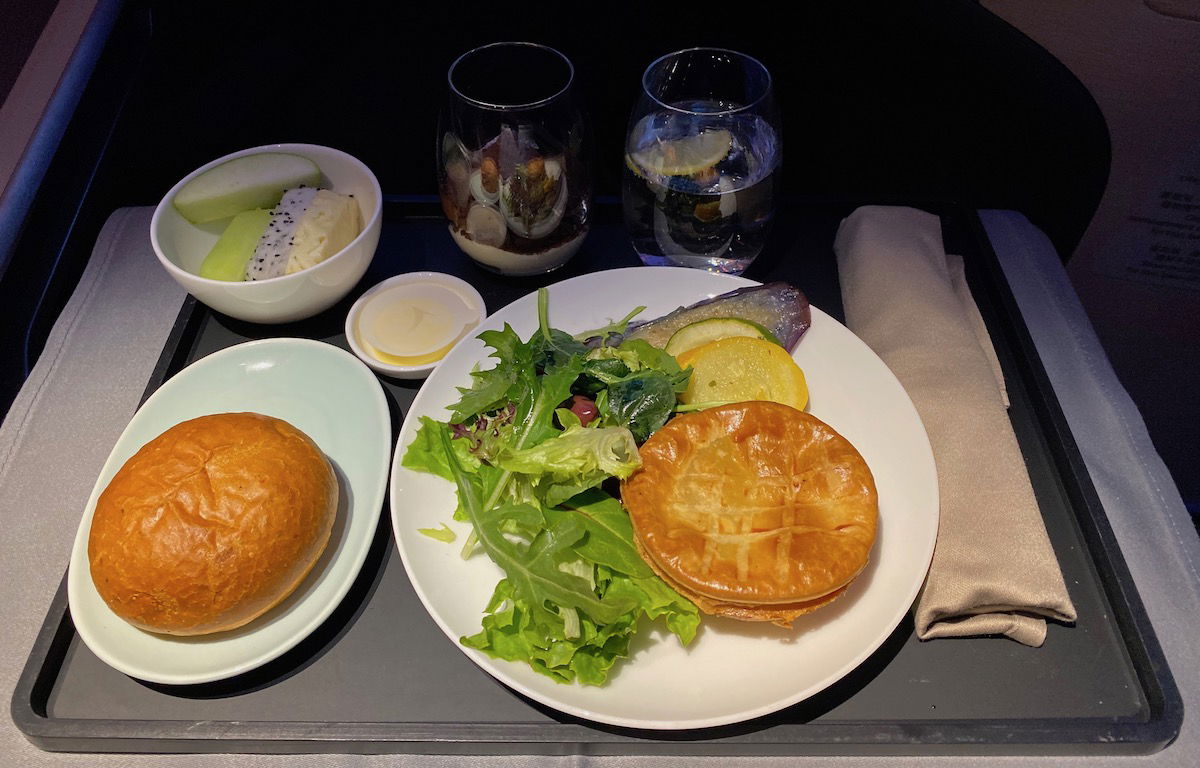 Cathay Pacific business class second meal
After the meal I ordered a cappuccino, which was excellent — I appreciate that Cathay Pacific has espresso based drinks in business class.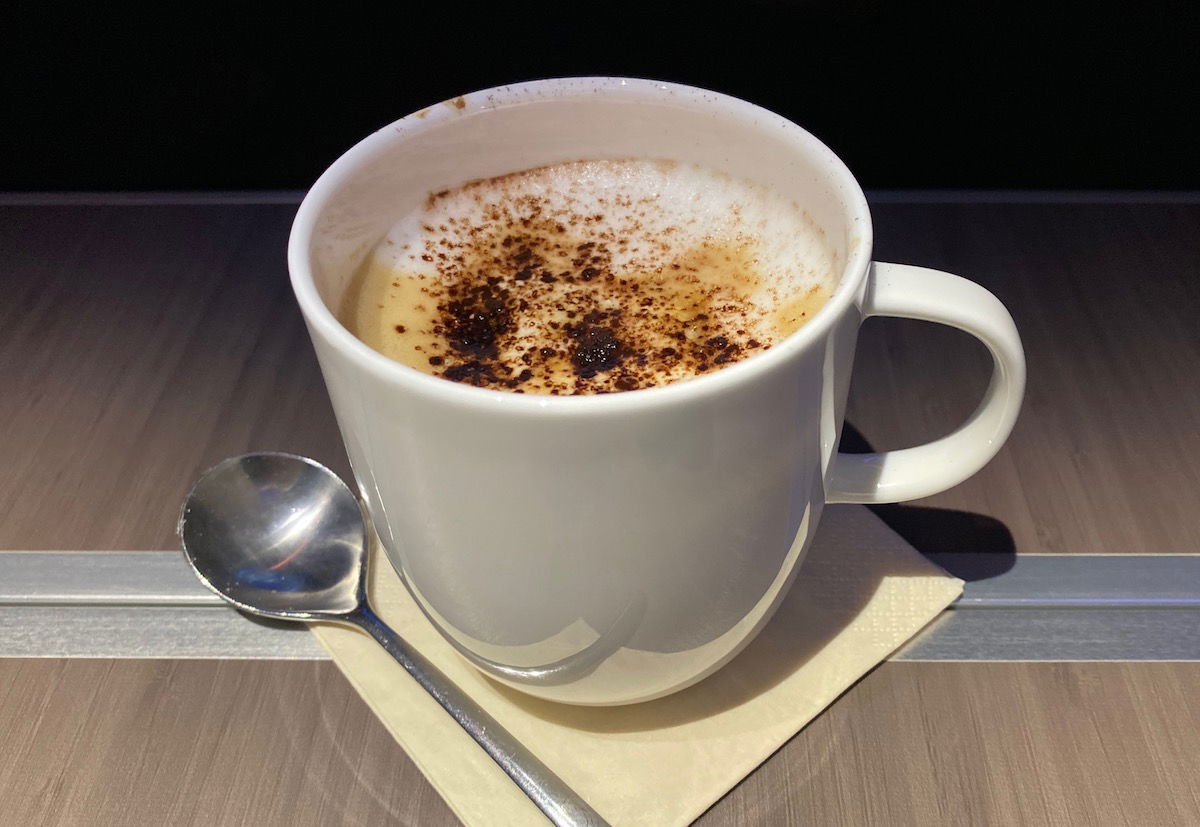 Cathay Pacific business class cappuccino
I worked for another 90 minutes or so, and then managed to take another two hour nap closer to landing. At this point it was a beautiful day outside, at least based on the tail camera.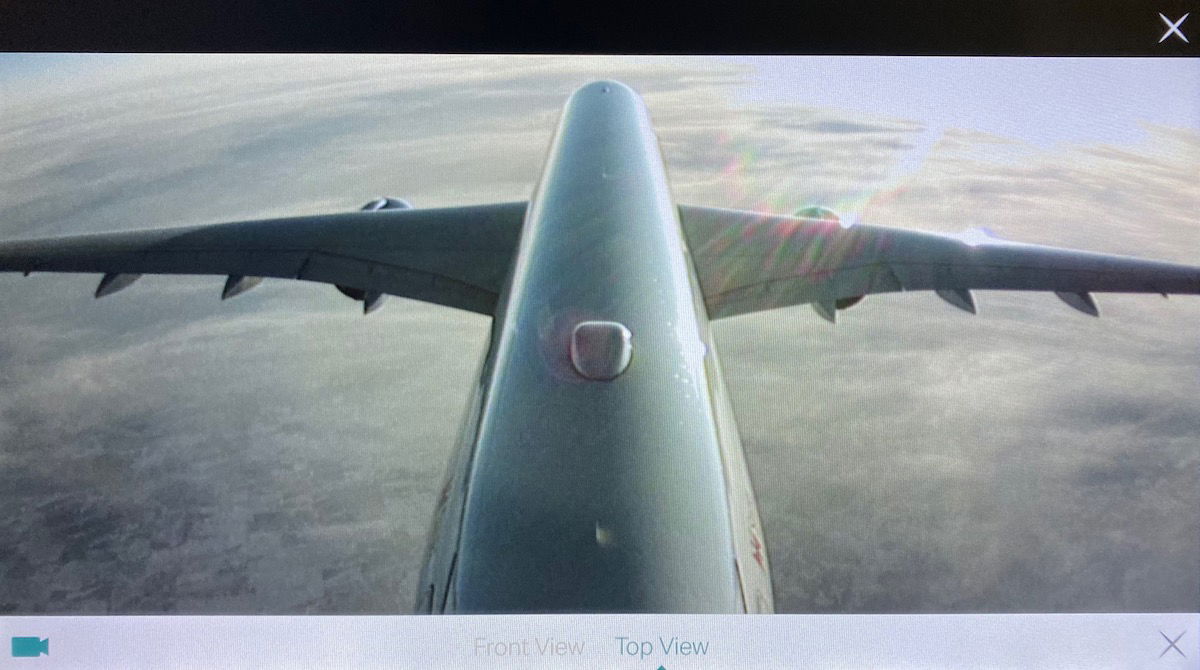 Tail camera enroute to Toronto
I woke up once again just under two hours before landing in Toronto, as we were passing Winnipeg.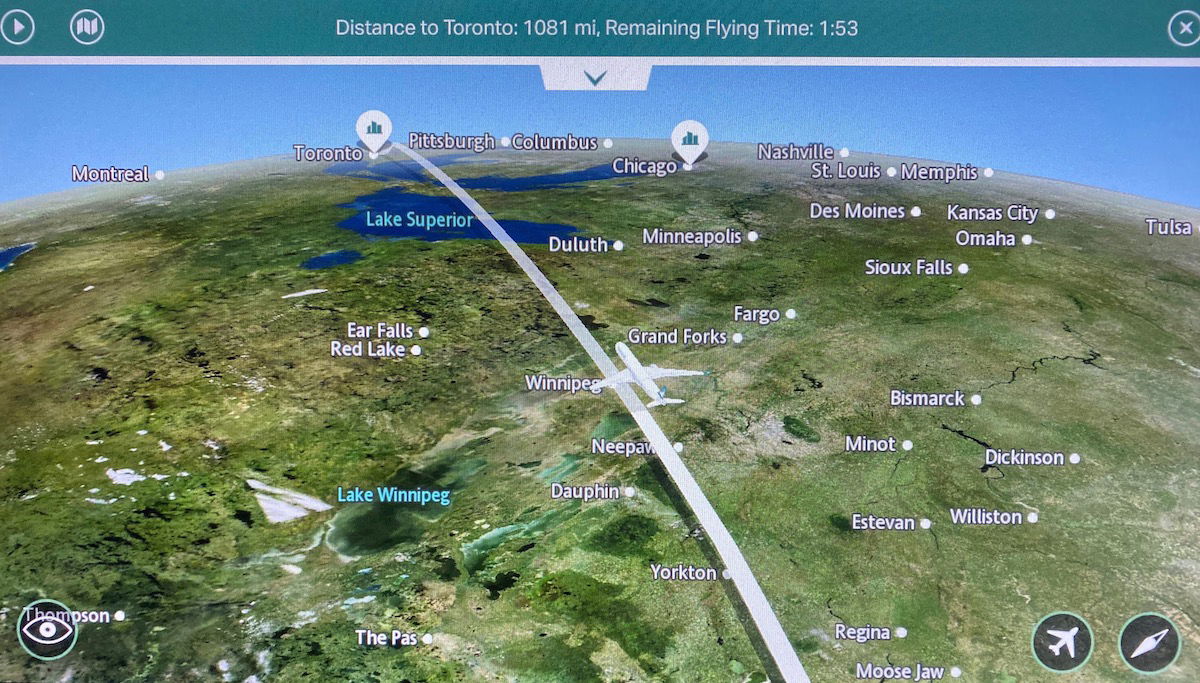 Map enroute to Toronto
In the galley there was a small snack tray with some apples and packaged snacks.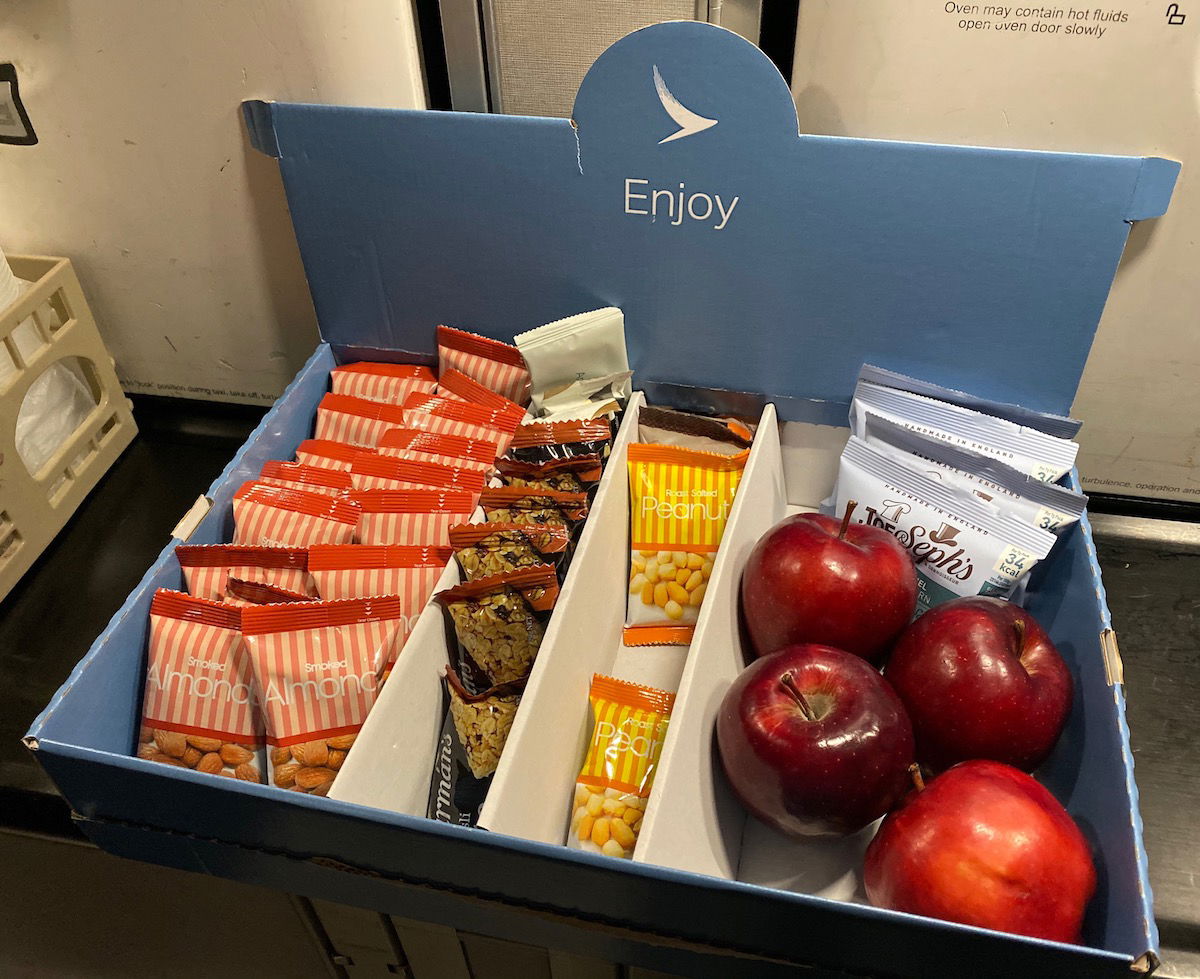 Cathay Pacific business class snacks
About 90 minutes before landing I was asked if I wanted to order anything else before landing. The three options were as follows:
Broccoli, spinach, peas, almonds, preserved lemon, and goat's cheese
Beef burger
Roasted duck with lai fun noodles in soup
I tried to order the first option, though they were out of it. I then ordered the beef burger. I'm not usually a burger guy (and this would be my second burger in 24 hours, though the last one was vegetarian), though I figured I should order it. I hadn't been paying attention so didn't realize there was bacon, so I took that off.
For a plane, both the burger and fries were decent.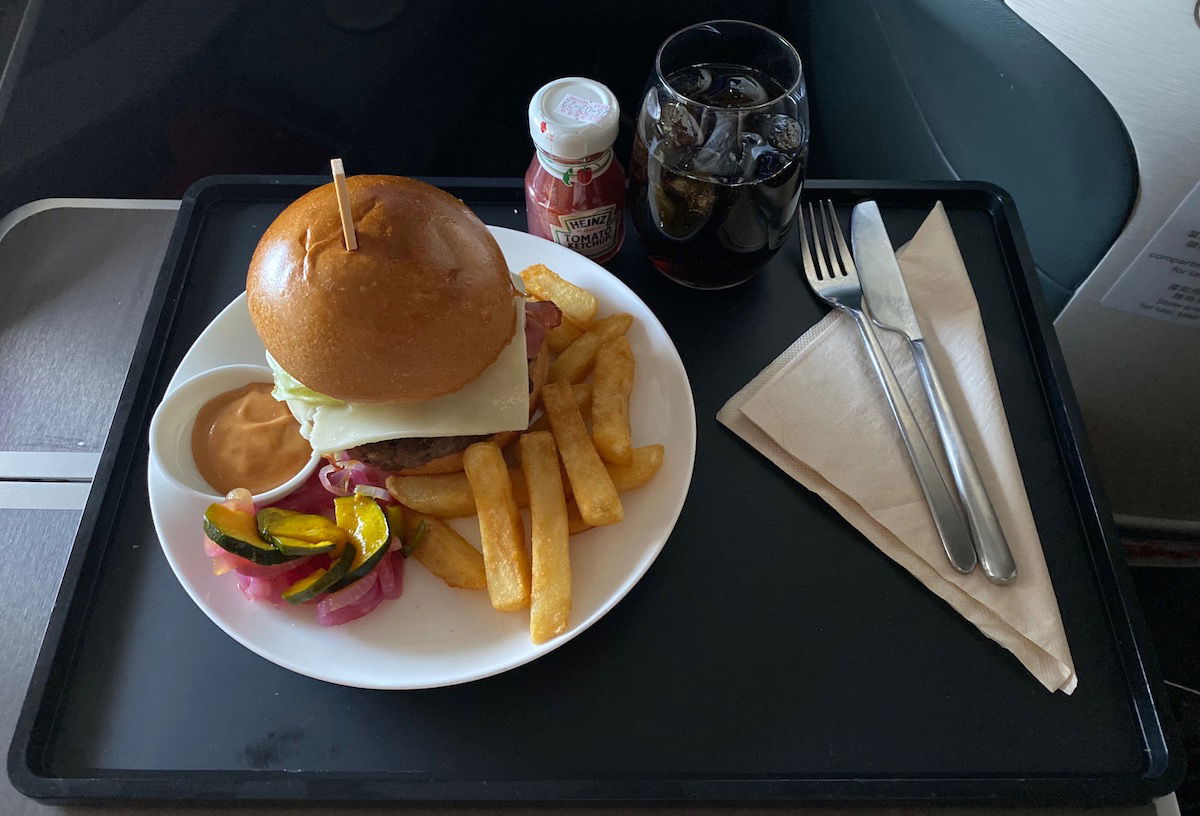 Cathay Pacific business class burger
At around 11:20AM Toronto time the captain announced that we'd descend shortly, and would be landing in Toronto at around 11:50AM. 10 minutes later the crew prepared the cabin for landing, and five minutes later the seatbelt sign was turned on. OMG it was snowy!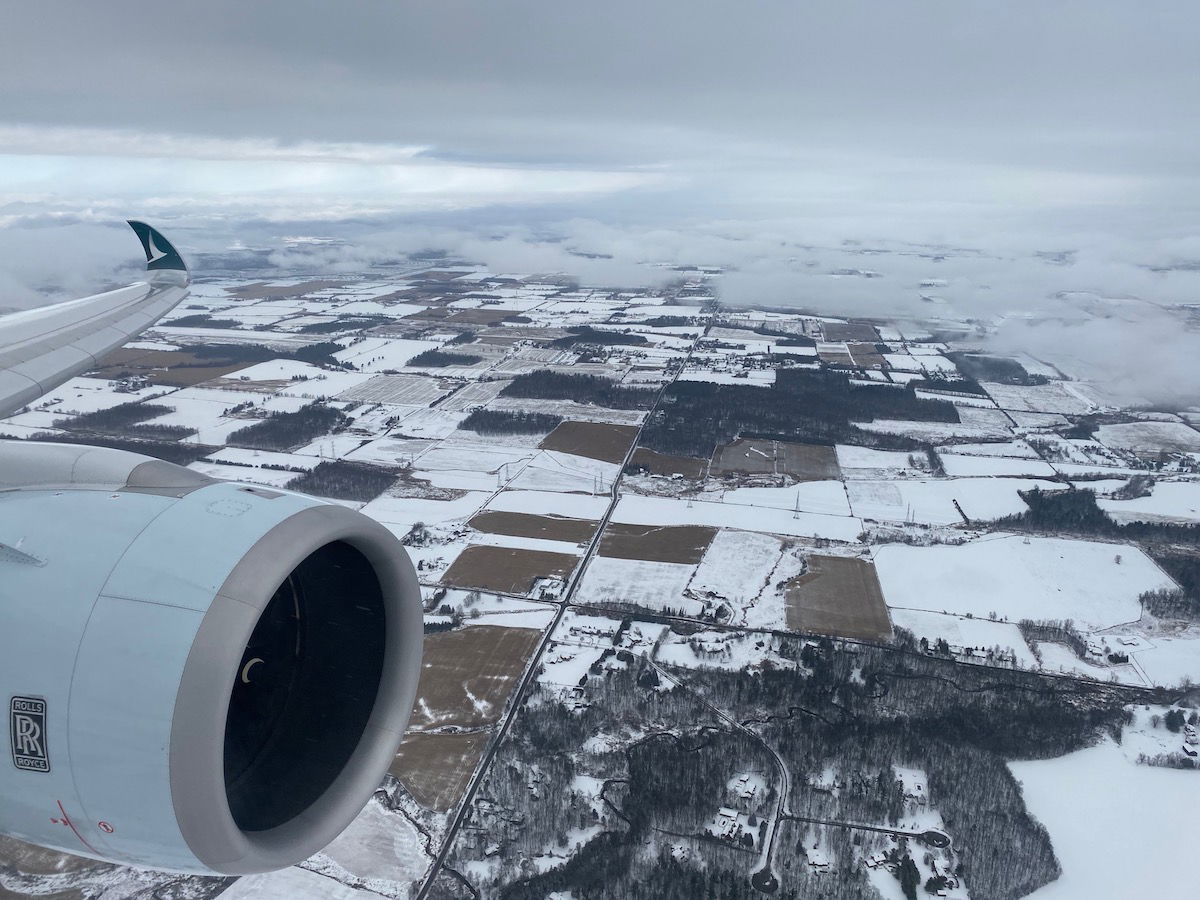 View approaching Toronto
We had a smooth touchdown in Toronto at 11:50AM.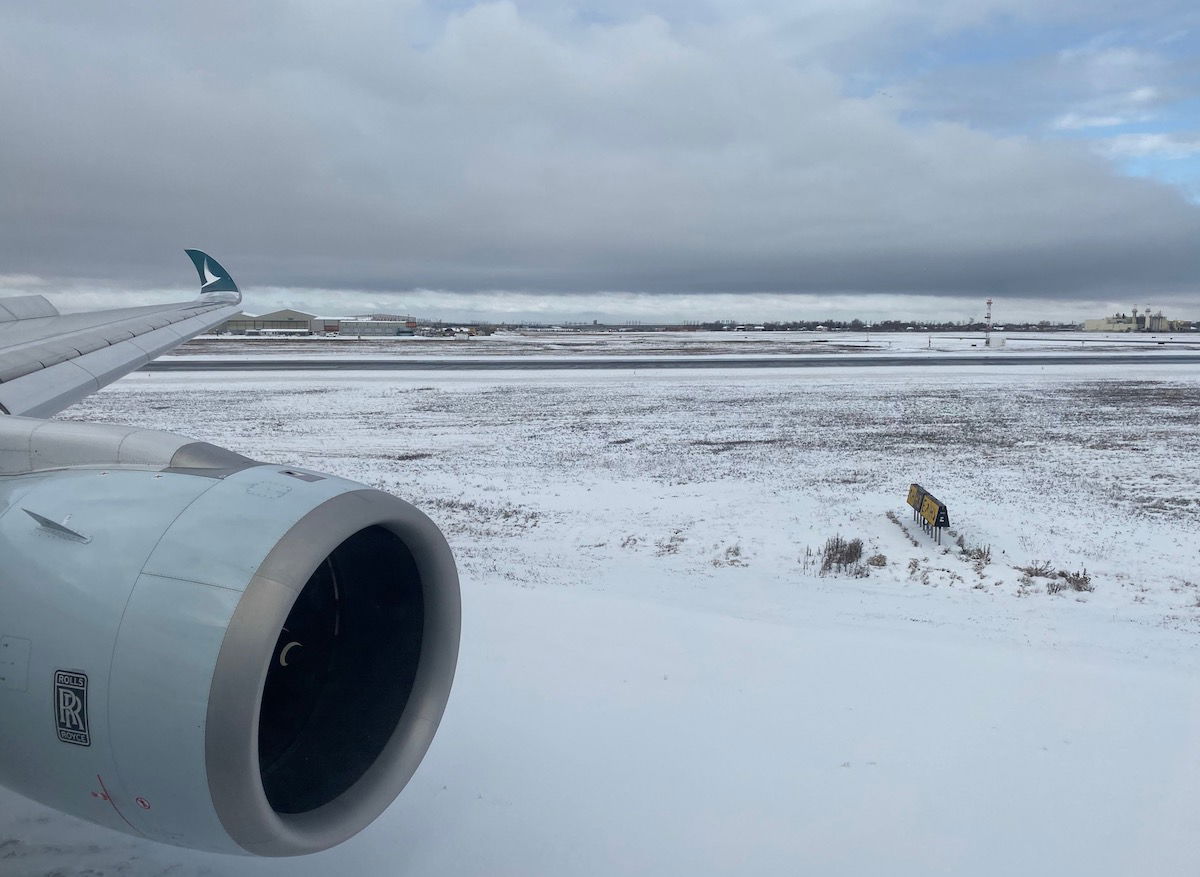 Taxiing in Toronto
From there we had a 10 minute taxi to our arrival gate, where we pulled in next to an Air Transit A330 at 12PM.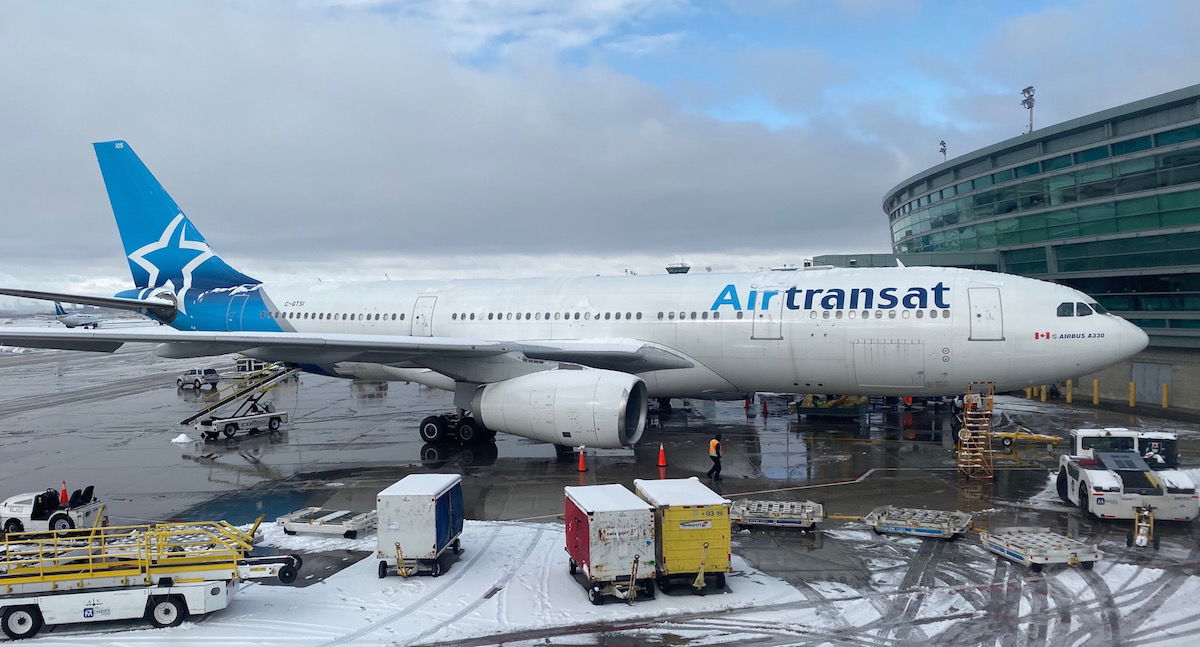 Air Transat A330 Toronto
I had a perfect view of the A350-1000 upon deplaning.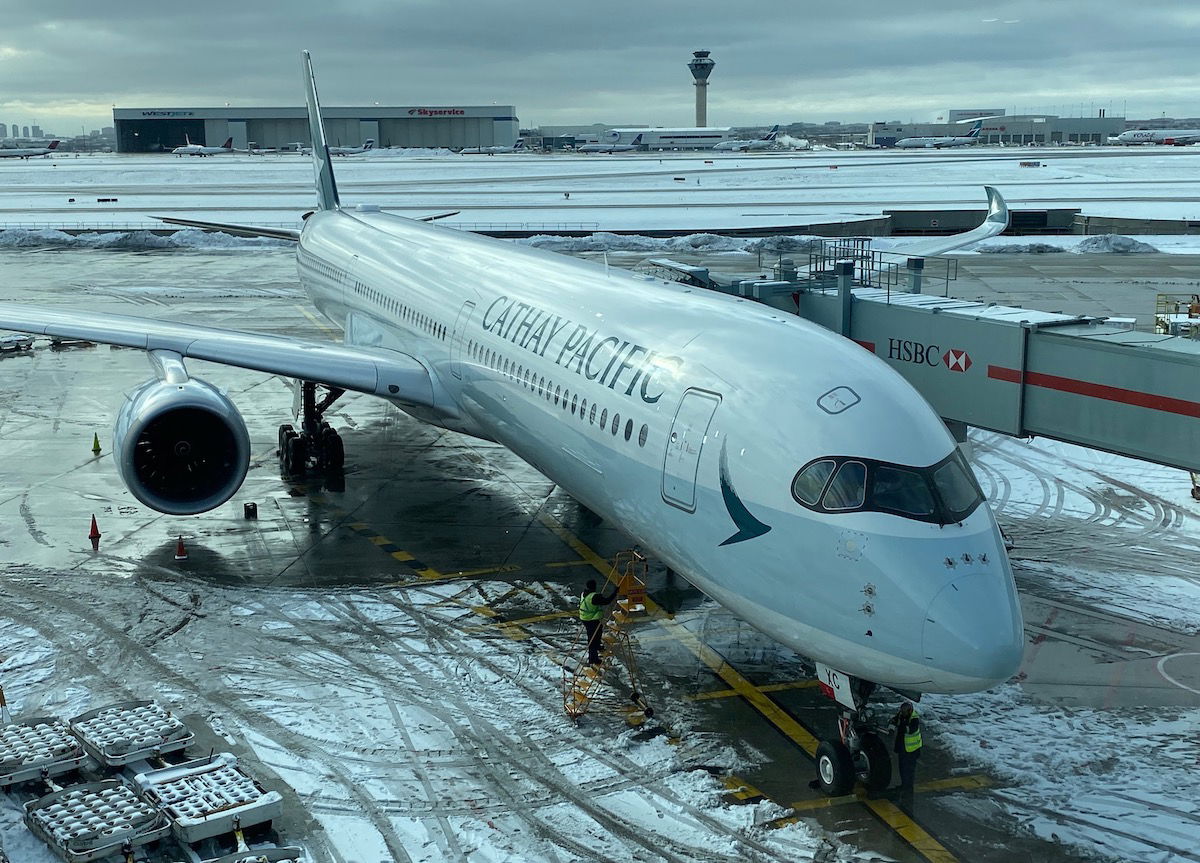 Cathay Pacific A350 Toronto
I headed through immigration, and due to rolling delays on flights headed to the US, I managed to standby on an earlier flight down to Miami, though was in the middle seat in the second to last row, which was a first for me. Talk about a downgrade from Cathay Pacific business class!
Cathay Pacific A350 Business Class Bottom Line
Oh, Cathay Pacific, you're making my job of coming to a conclusion on this product really hard.
I love the A350-1000, Cathay Pacific's reverse herringbone seats on this plane are possibly my favorite reverse herringbone seats out there, the Wi-Fi was among the best you'll find on any long haul airline, the entertainment selection excellent, the bedding was top notch, and the crew was fabulously friendly.
But then there's the actual food quality and service flow. The airline has been testing an optimized business class meal service for a couple of years, and is this really the best they could come up with? The service is outrageously slow, the meal options are still limited (and then they run out of options), they serve a meal halfway through the flight, and the food isn't actually that good.
When I boarded this flight I thought to myself "this could easily be one of the best five business class products in the world," but then I was let down by the actual service flow. C'mon Cathay Pacific, you're so close to offering something something industry leading!
Despite the shortcomings, I'd fly Cathay Pacific's A350 business class again in a heartbeat. Between the excellent seat, bedding, and Wi-Fi, that's a lot of what I look for in a good business class product.
If you've flown Cathay Pacific business class with their new service concept, what was your experience like?