When it comes to airline collectibles, there's no airline quite as cool as KLM. The Dutch carrier offers its long haul business class passengers miniature collectible houses, which are adorable enough to turn anyone into a collector. This might just be even cooler than Lufthansa's collectible first class ducks.
So, let's talk about KLM's miniature houses — what's their history, what makes them interesting, and how do you get them?
What's the history of KLM's Delft Blue houses?
The history of KLM's houses is probably the single thing that makes them the most intriguing. Prior to the Airline Deregulation Act of 1978, the United States' Civil Aeronautics Board (CAB) regulated most aviation policies, including fares, routes, and schedules.
This was intended to create a level playing field between airlines, and one of the regulations prohibited airlines from providing passengers with tangible incentives for booking them over a competitor.
Well, in 1952, KLM found a loophole. As a gift for people choosing to fly with KLM, the airline started passing out little blue-and-white ceramic houses filled with Bols Genever gin. But wait, isn't that a tangible incentive?
KLM argued that it wasn't a gift, but rather the airline was just serving to-go drinks. At the time, KLM replied to the critics with "is there a law that tells us drinks have to be served in a glass?"
That's how the KLM miniature house mania started, and the rest is history…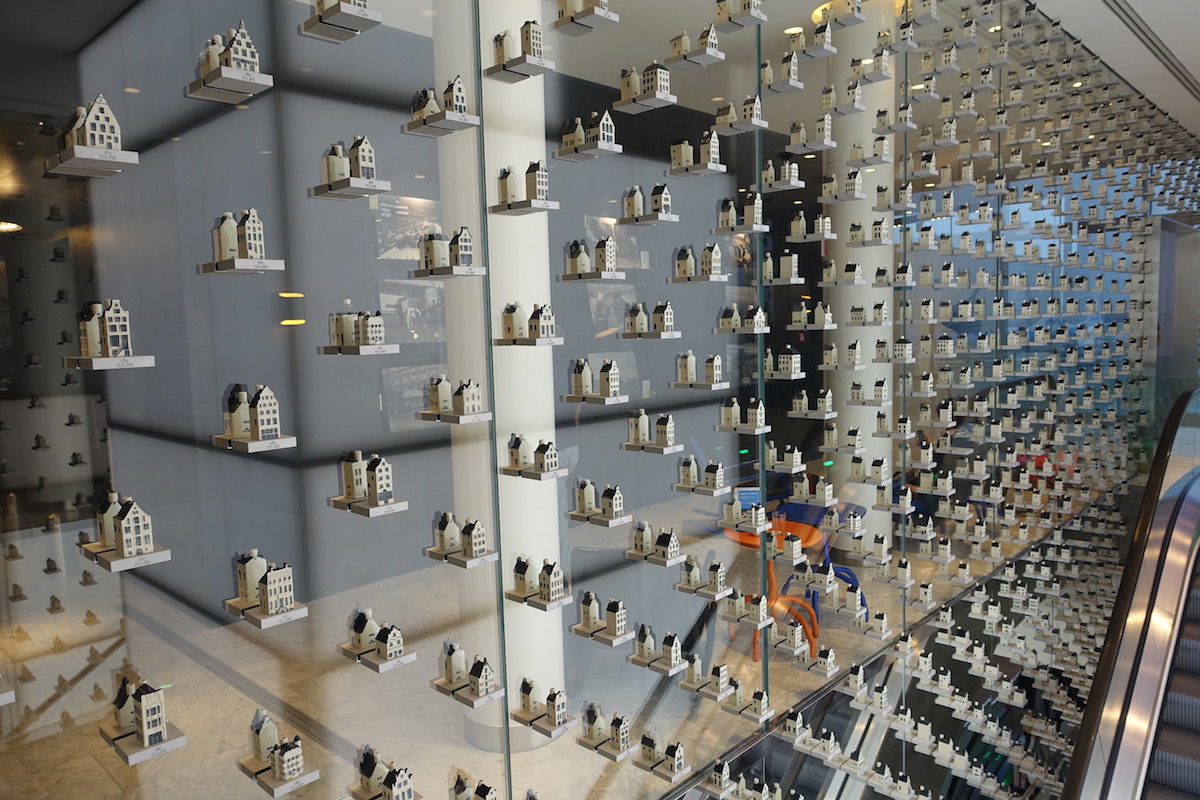 How many KLM Delft Blue houses are there?
KLM currently has 103 different Delft Blue houses, one for each year that the airline has been in business. That's another thing that makes this so cool, as the airline releases a new one each year, specifically on October 7, which is KLM's birthday. So in 2022 we saw the 103rd house introduced, and in 2023 we can expect the 104th house to be introduced.
Now, since KLM didn't offer these houses when it first launched, it had to do some "catching up." So a couple of times we've seen the airline release more than one in a year. For example, in 1994, on KLM's 75th anniversary, the airline released 15 houses. However, on an ongoing basis we now see one new house each year.
A few other interesting facts about these KLM houses:
They measure at most 10 cm x 5.5 cm
They each depict a real Dutch house, with some being generic, and others being rare or special, such as the Rembrandt house and Anne Frank house
All houses are in greater Holland, but only a little over 50 are in Amsterdam; also, house #85 is located in Willemstad, Curaçao
The "houses" aren't actually all houses, with some being of buildings of historical or architectural interest, like the Heineken brewery, the former KLM headquarters, and more
KLM produces around 850,000 of these per year, though roughly 150,000 of them don't have gin, as they're used for destinations to and from the Middle East, where alcohol may be prohibited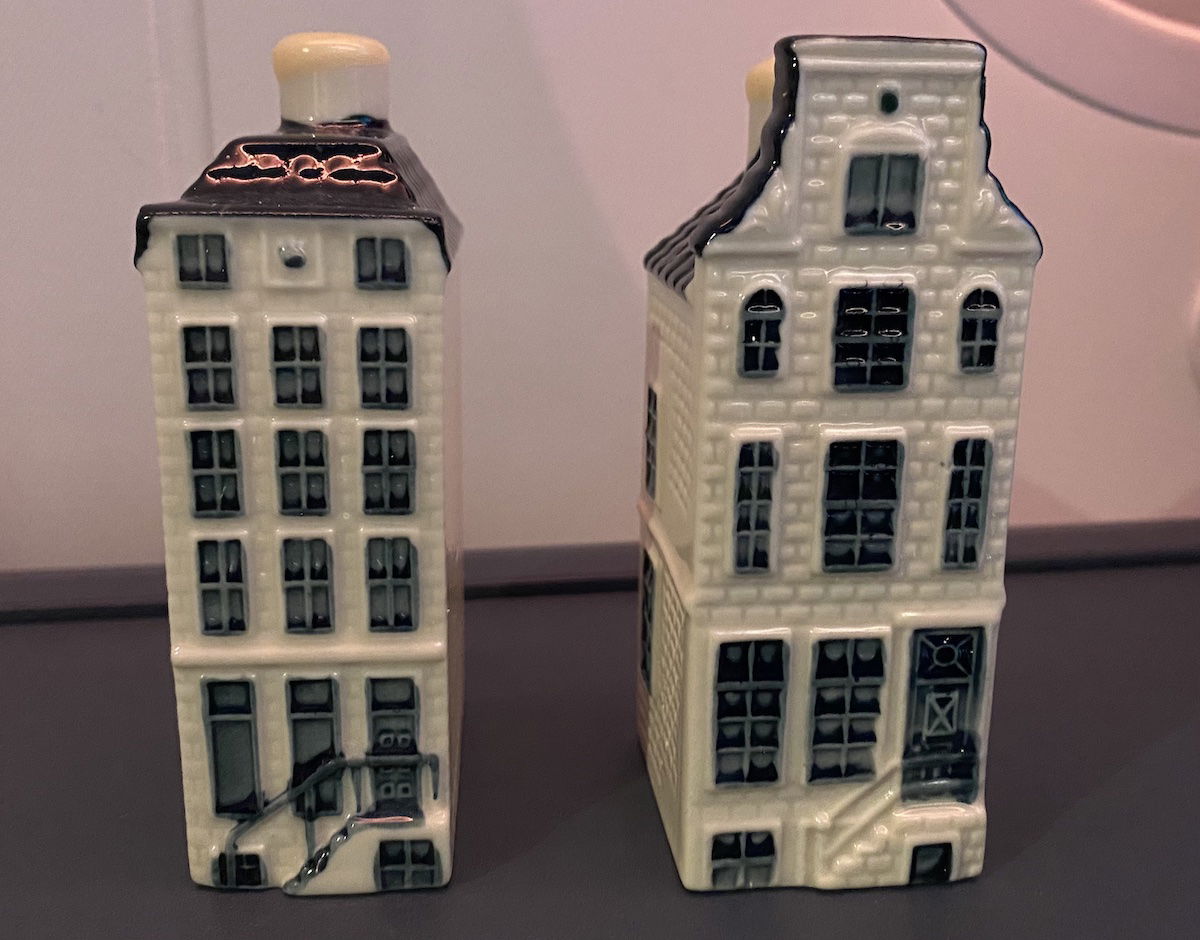 How can you get KLM Delft Blue houses?
The primary way to get a KLM Delft Blue house is to fly an intercontinental flight in KLM business class. Toward the end of the flight, the crew will come around with a tray displaying these Delft Blue houses, and you can pick one. This is available on all intercontinental flights, and you're limited to one per person.
The airline generally stocks a few different houses on each flight, though only a handful are in circulation at any given point in time.
Each house contains a number on it, corresponding to the number that it is in the collection. For those who are serious about collecting these houses, KLM has apps for Apple and Android, so you can keep track of your collection, and also learn the backstory of each house.
Note that while you can only get these houses directly from KLM onboard, there is quite a secondhand market for these, and you'll find a lot of people selling KLM houses online.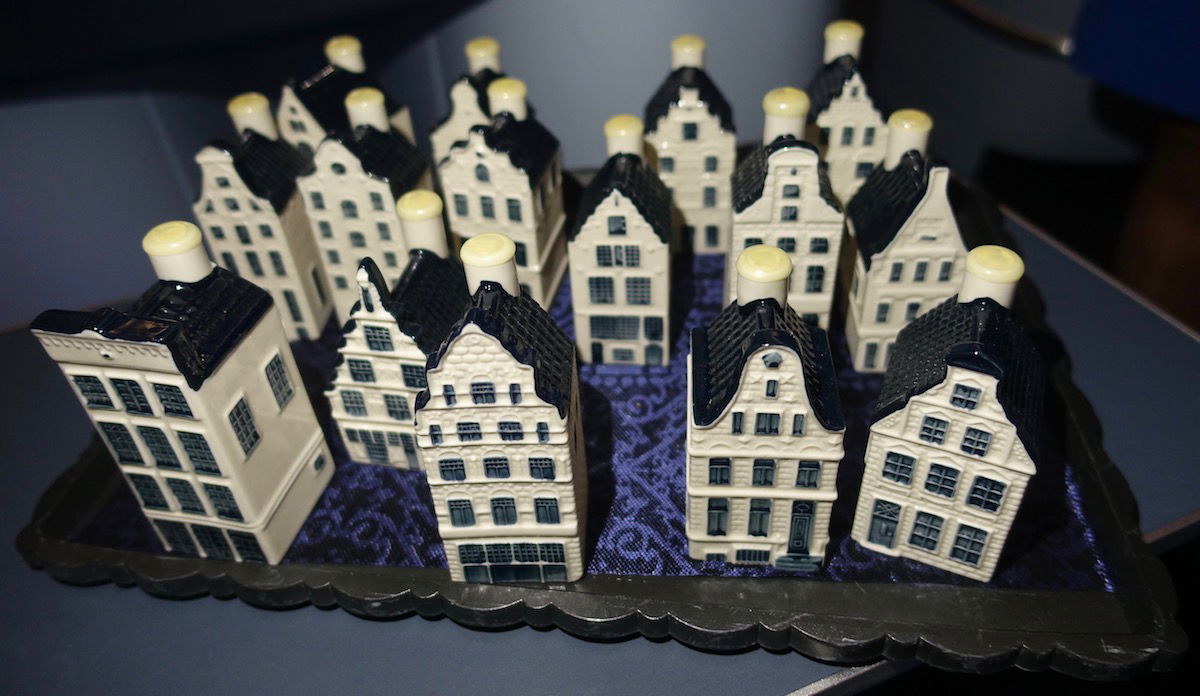 Bottom line
KLM's Delft Blue houses are not only cool for avgeeks and collectors, but they also have quite an interesting history. They were introduced many years ago as a workaround to incentivize passengers to book KLM, and the airline has been releasing a new one every year since.
I think the history is half of the fun of these, so if you're flying KLM but weren't familiar with the backstory, now you know…
What do you make of KLM's miniature houses?