---
We arrived at Abu Dhabi Airport shortly before midnight, plenty early for our 2AM flight to Amsterdam. KLM departs from Terminal 1 in Abu Dhabi.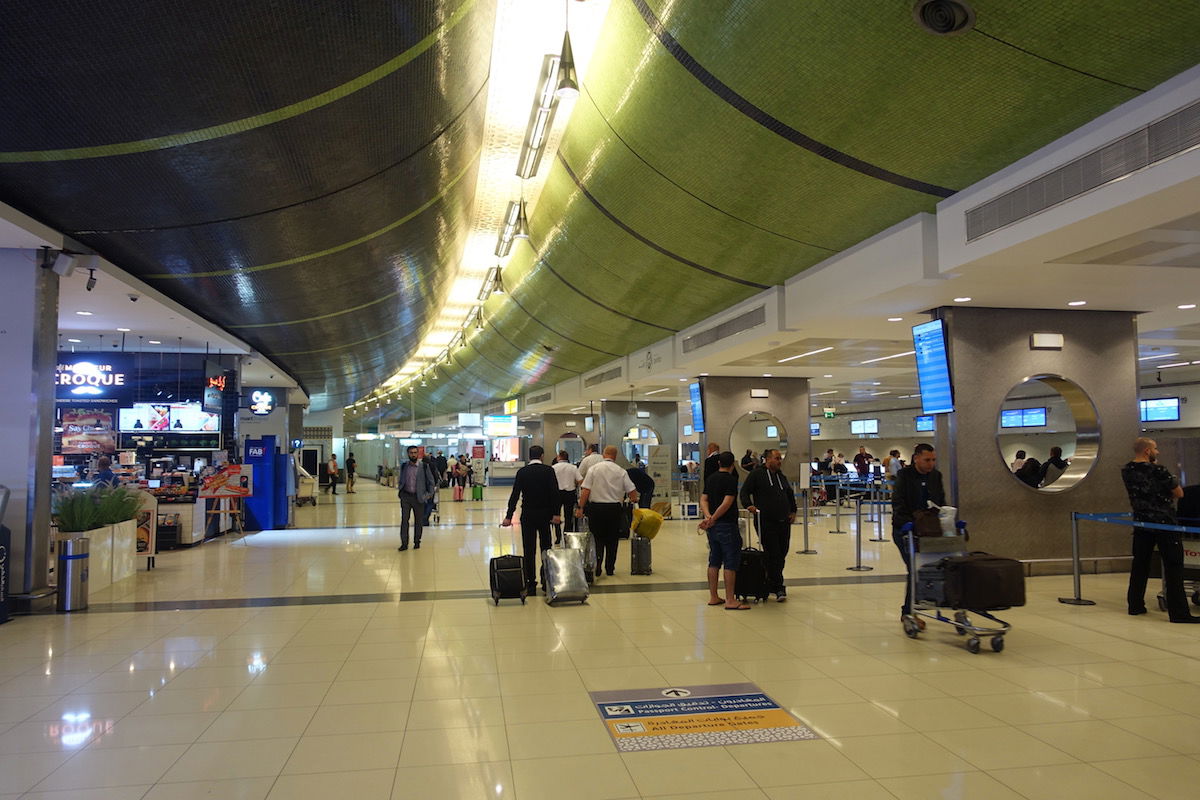 Abu Dhabi Airport
The check-in process was quick, and within a moment we were issued boarding passes all the way to New York. We were also given invitations to the Al Dhabi Lounge, which is the Plaza Premium Lounge that KLM uses for their passengers.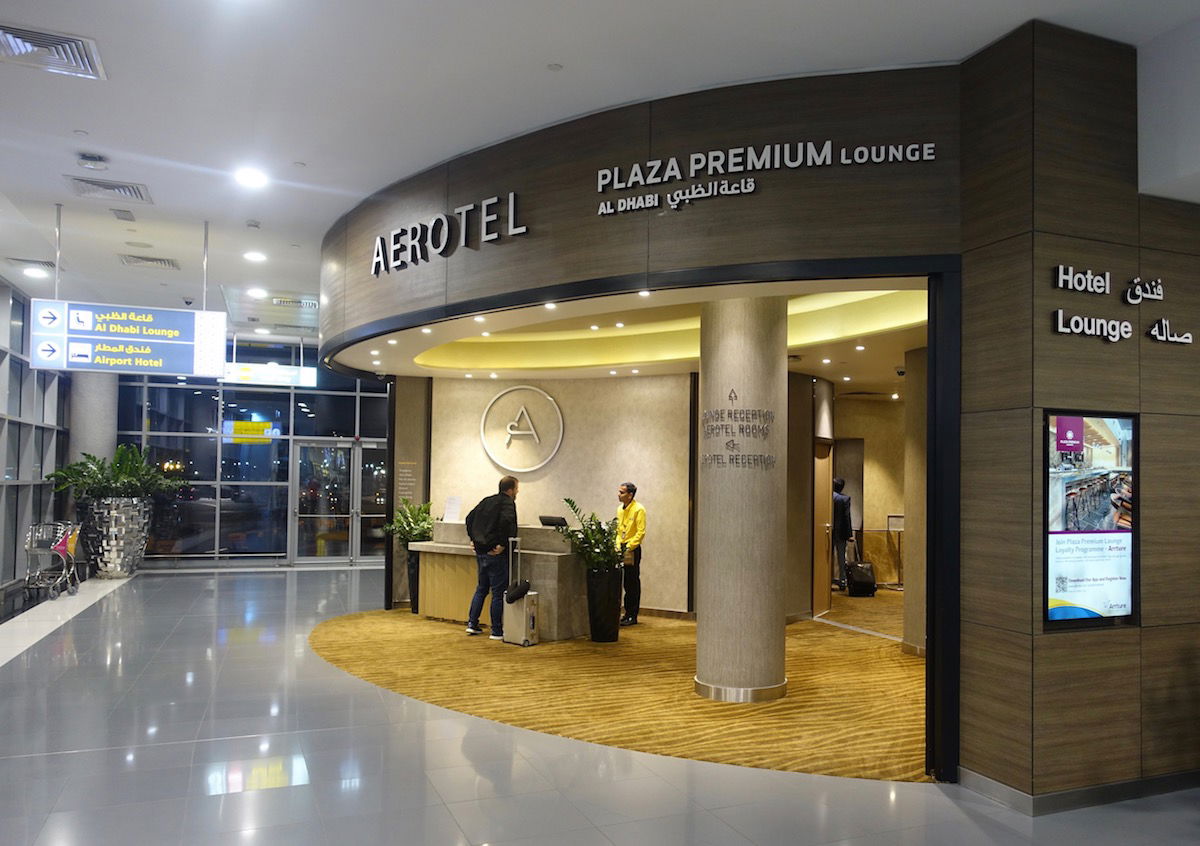 KLM Lounge Abu Dhabi Airport
I won't be reviewing the lounge this time around because it was quite crowded, so I couldn't easily get good pictures. The lounge was nothing special, though was a significant improvement over some of the older contract lounges I've visited in the airport.
Our boarding passes indicated that boarding was scheduled to start at 1:10AM from gate 21, which is a remote gate just a short walk from the lounge.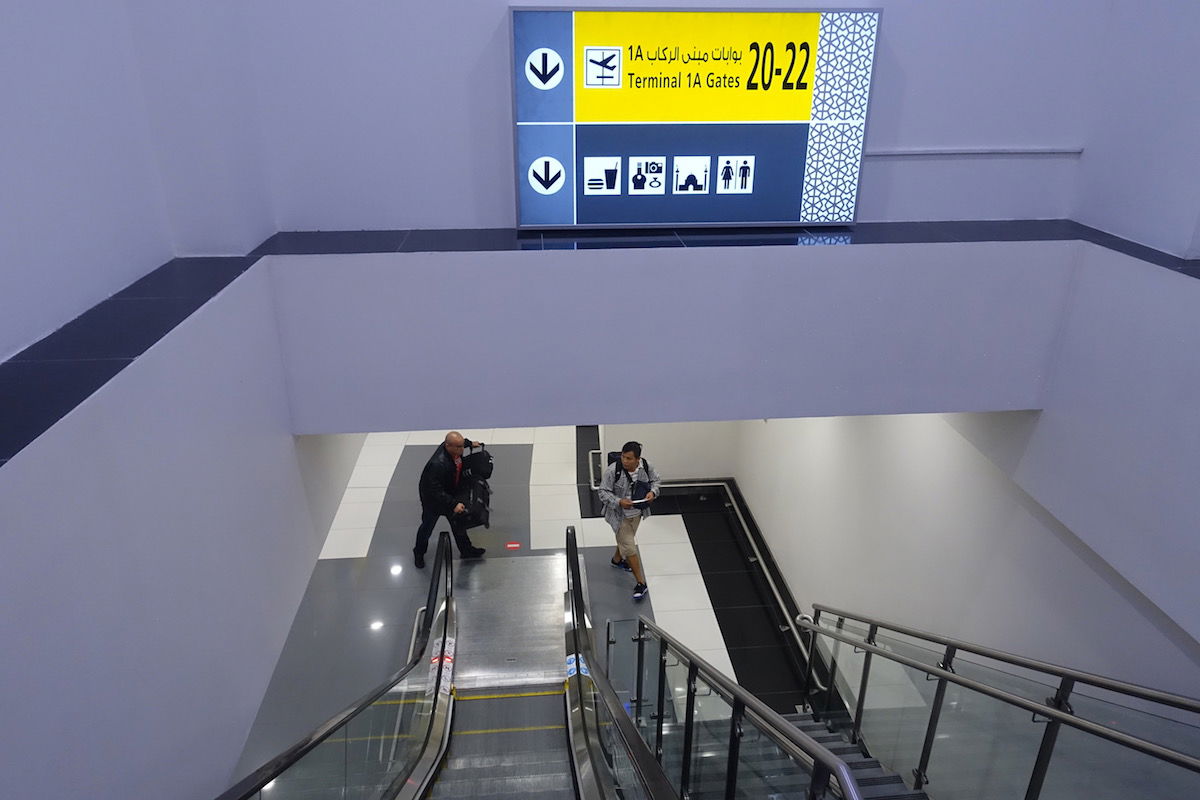 KLM departure gate Abu Dhabi
It was really busy down there — there were two flights departing to Pakistan, and then our flight to Amsterdam.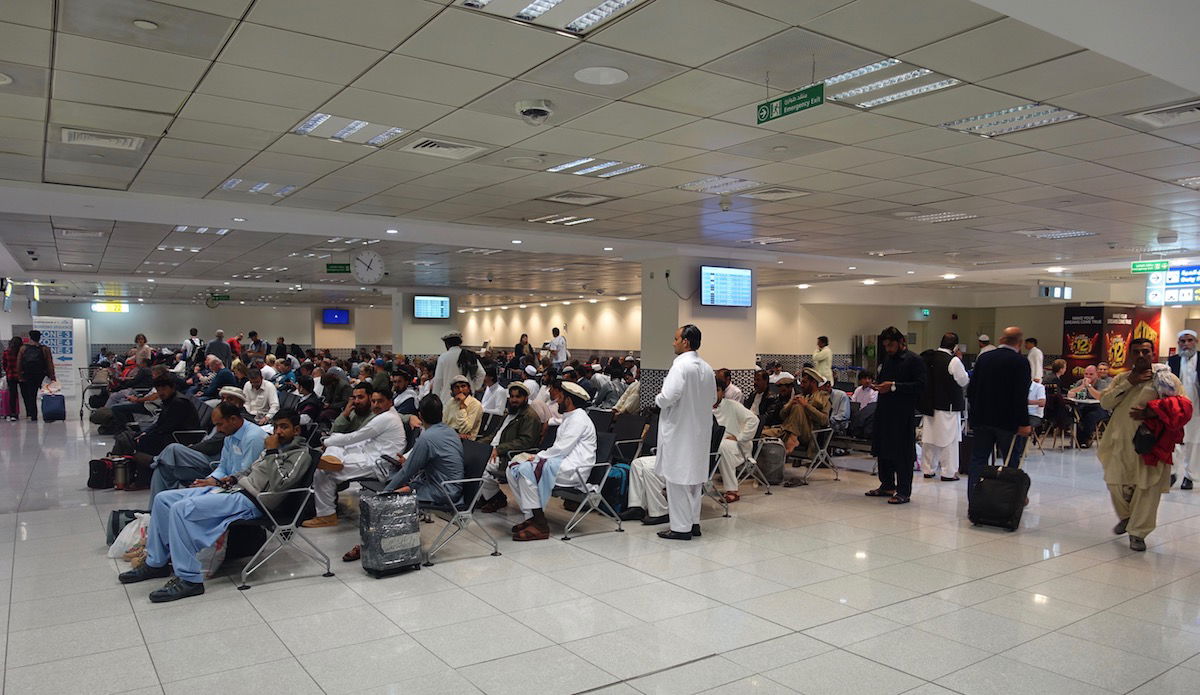 KLM departure gate Abu Dhabi
Boarding didn't actually start at 1:10AM, though. Rather the crew showed up at the gate at 1:15AM. Five minutes later premium boarding started, though we waited for the bus to fill up all the way.
The drive to the plane took about 10 minutes (Abu Dhabi Airport is sprawling), so we were onboard by around 1:40AM.
KLM 452
Abu Dhabi (AUH) – Amsterdam (AMS)
Saturday, February 2
Depart: 2:00AM
Arrive: 6:30AM
Duration: 7hr30min
Aircraft: Airbus A330-200
Seat: 3C (Business Class)
We boarded via stairs through the second set of doors, and then turned left into the business class cabin. KLM only recently reconfigured their A330s with new business class seats, and with that being completed, all of their long haul planes feature fully flat seats in business class.
KLM's A330s feature B/E Aerospace Diamond seats in business class. The cabin has a total of 18 seats, spread across three rows in a 2-2-2 configuration.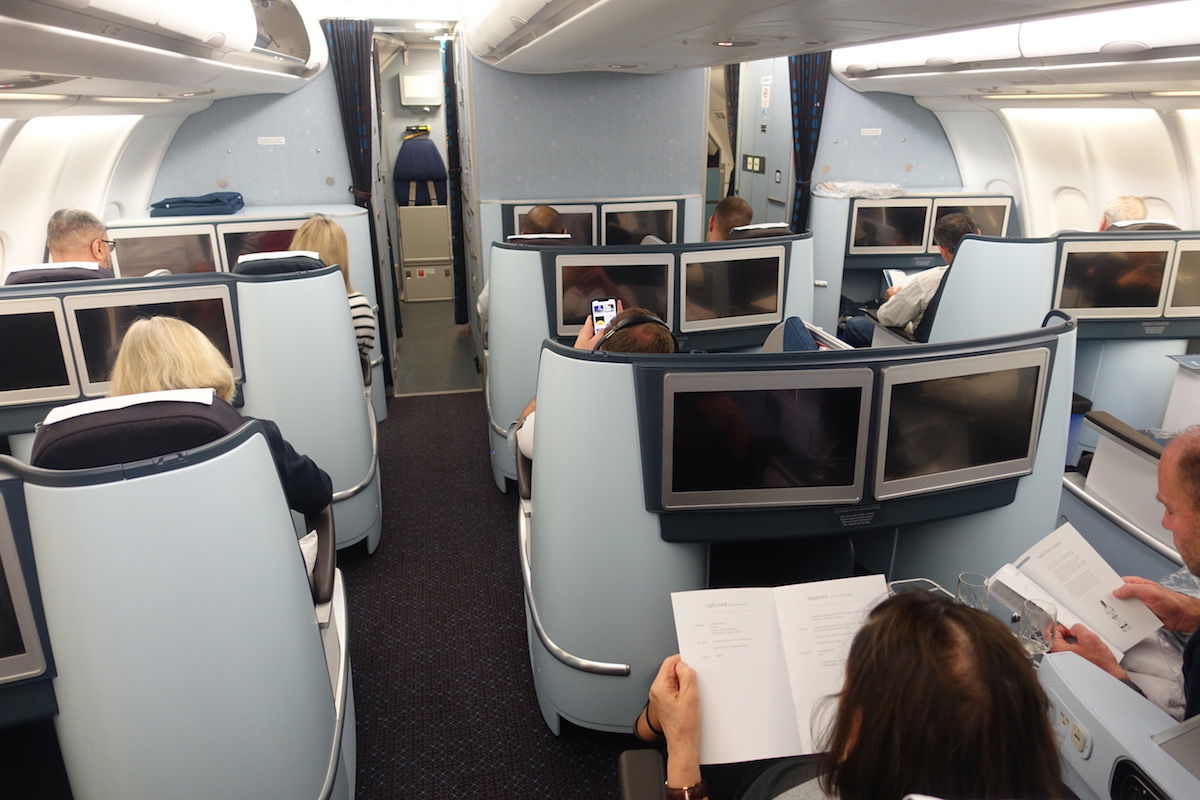 KLM A330 business class cabin
These are very popular business class seats nowadays thanks to how efficiently they use space. While I don't love these seats for ultra long haul flights, for a fairly short redeye they're more than sufficient.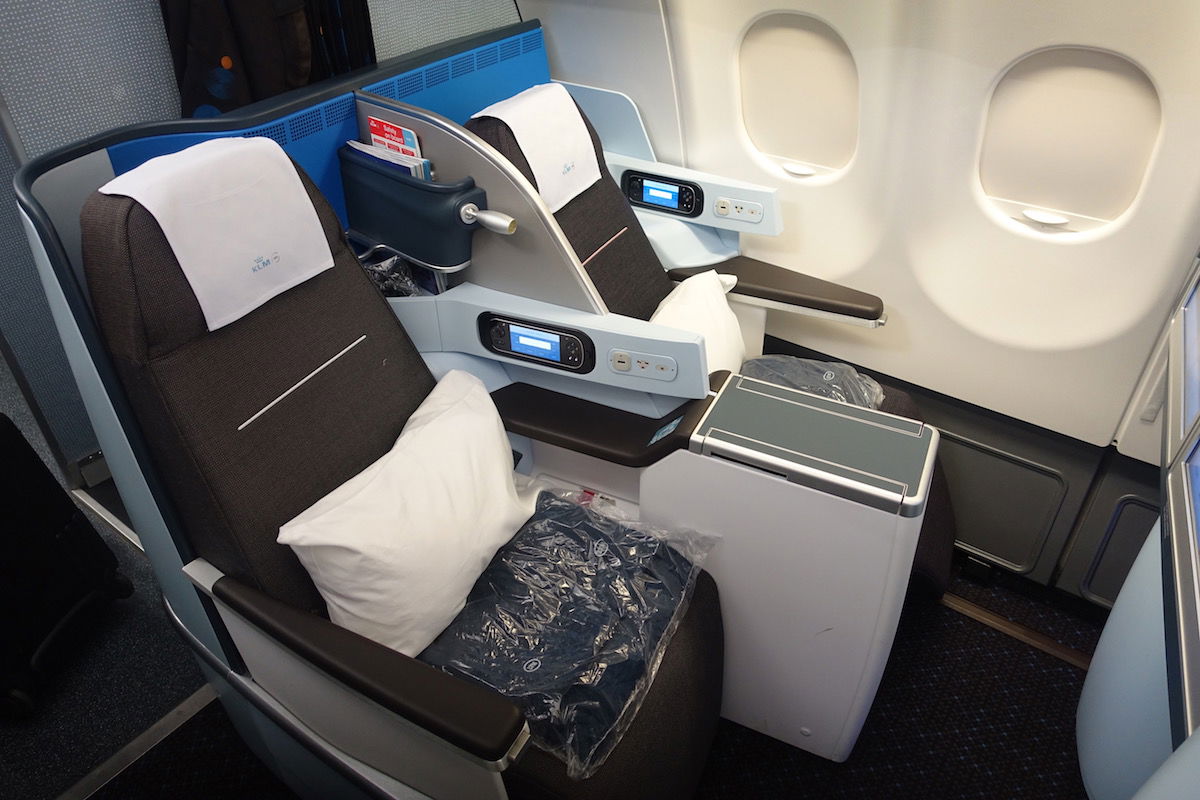 KLM A330 business class seats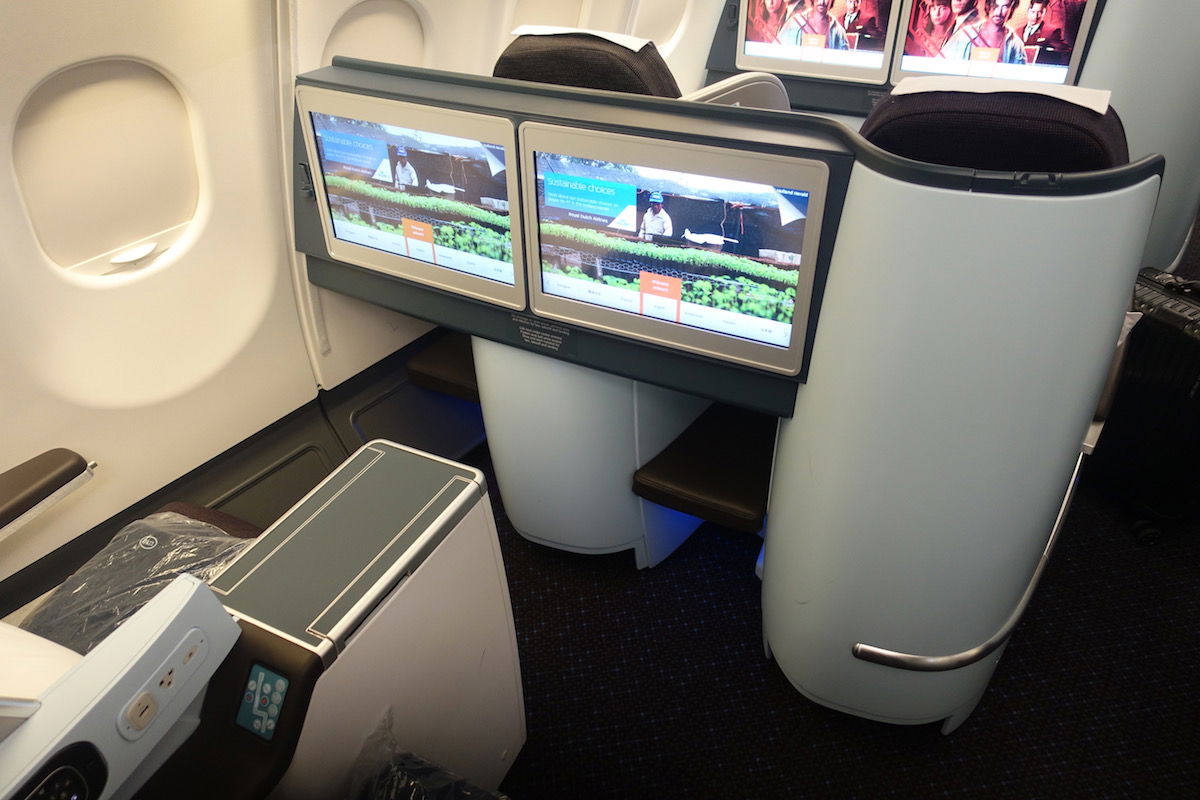 KLM business class seats A330
Ford took the window seat, which is definitely the coziest seat in this configuration, while I took the aisle.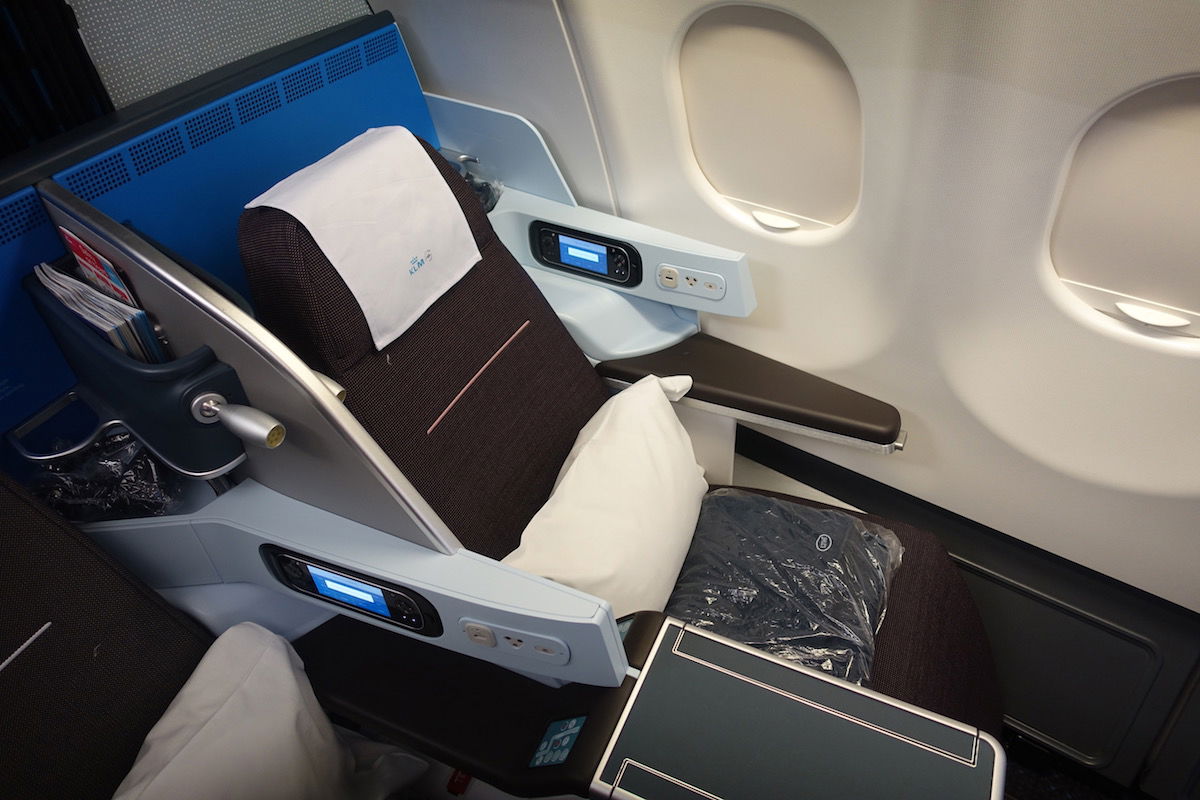 KLM business class seats A330
The reason this configuration is such an efficient use of space is because there's a fairly small footwell in which you place your feet, and that's to the side of the seats in front. That reduces the amount of space needed for each seat.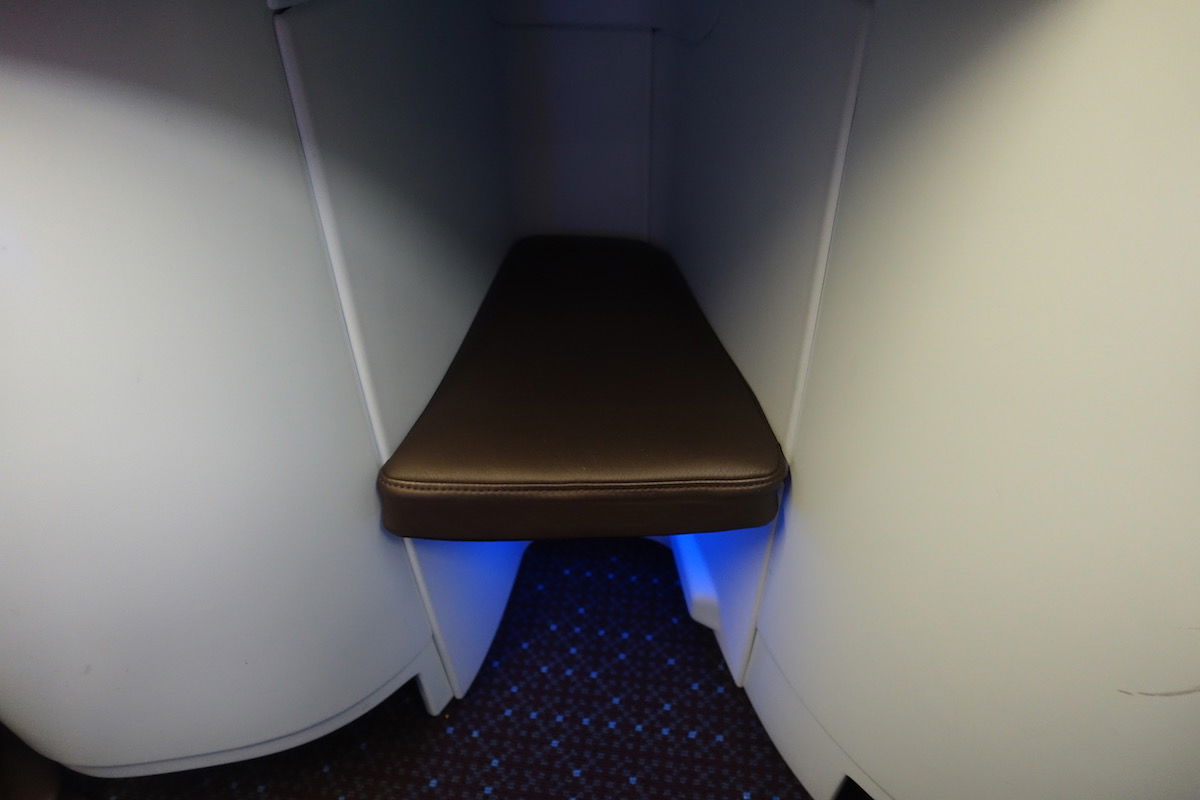 KLM business class seat footwell
To the side of my seat was the entertainment controller, USB outlet, headphone jack, and the seat controls.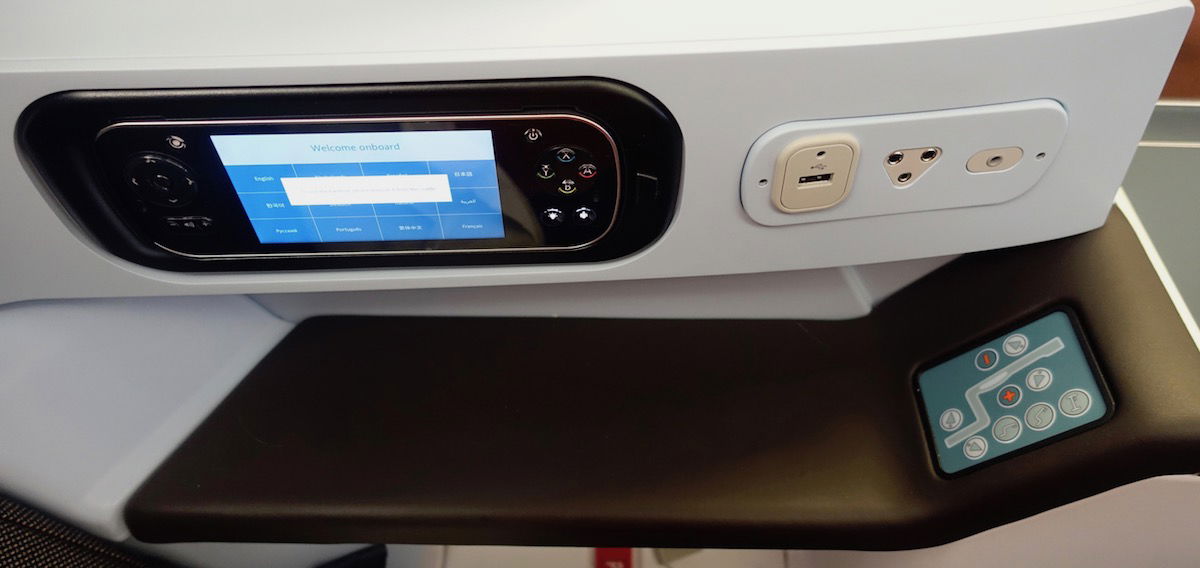 KLM business class seat & entertainment controls
Then behind that (to the left of the seat and back) was a literature pocket as well as a small area where you could store things.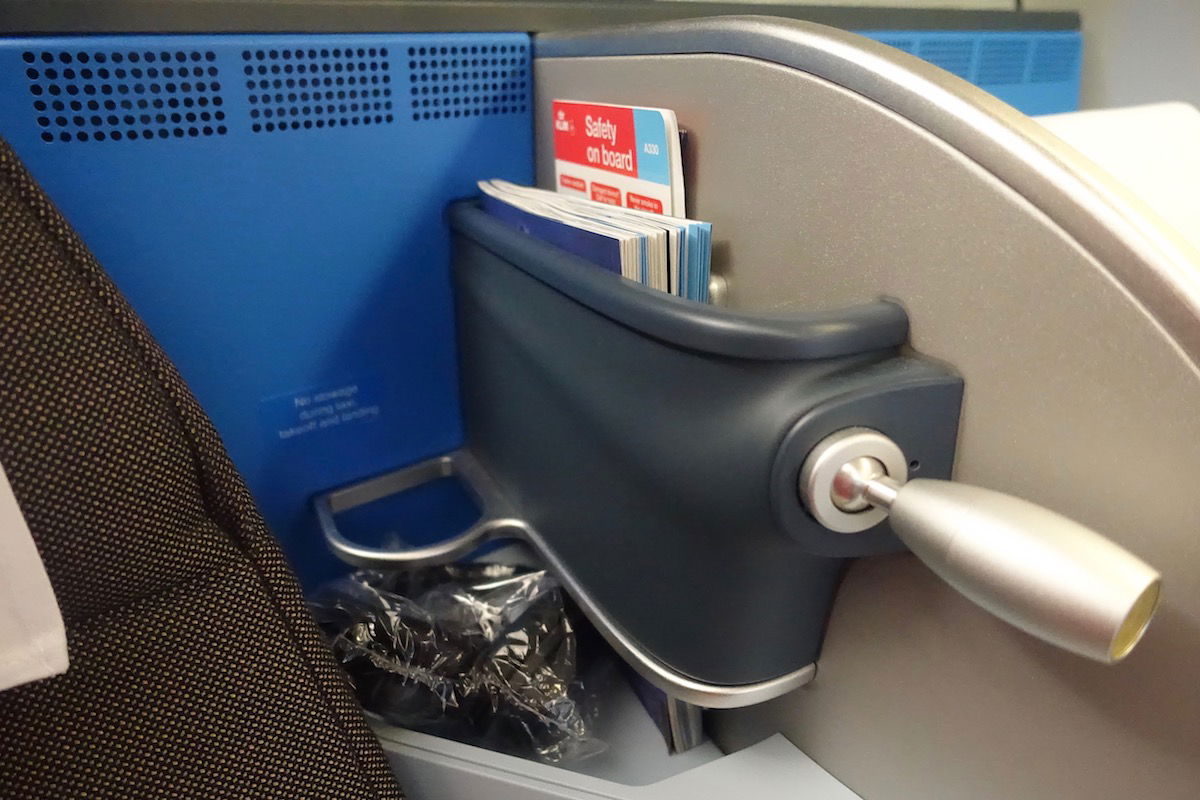 KLM business class seat storage
The 110v outlets were located underneath the center armrest.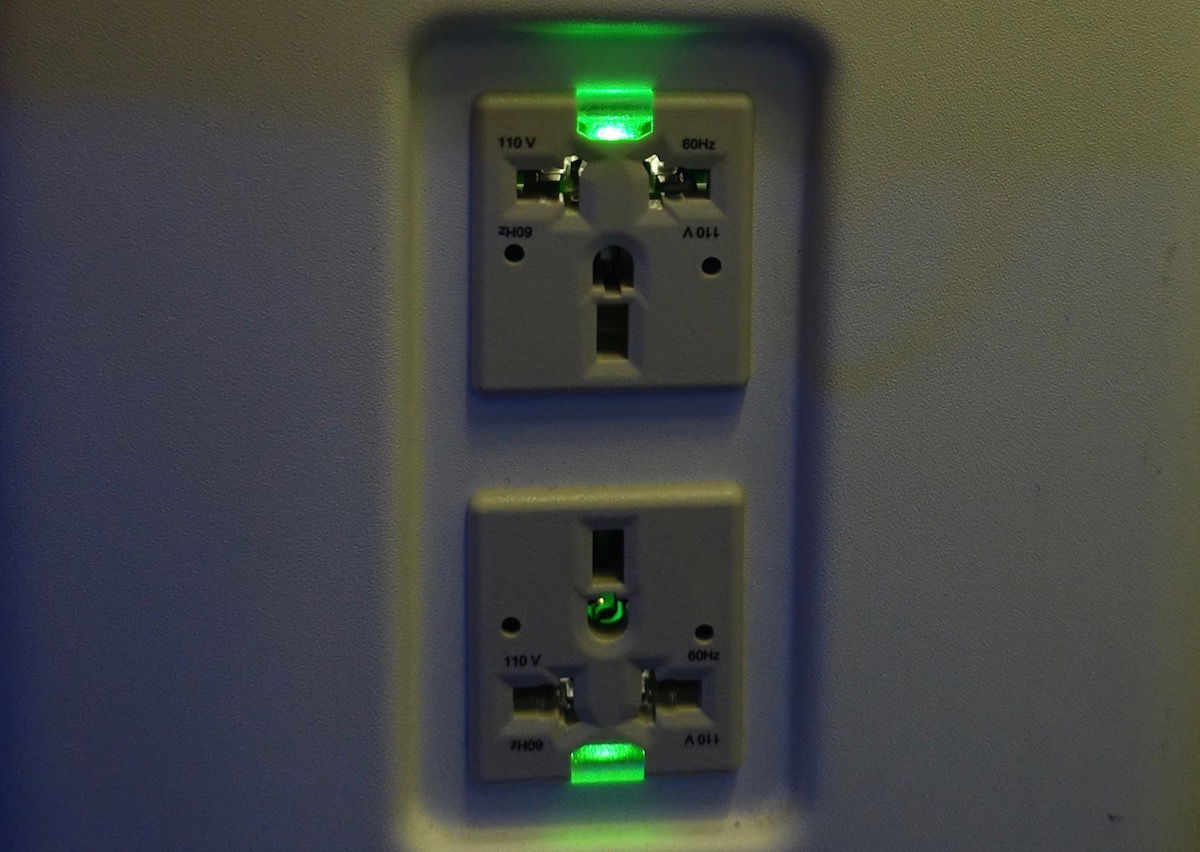 KLM business class power outlets
The tray table folded out from the center armrest, and was a single, solid table, so it couldn't be folded in half, or anything.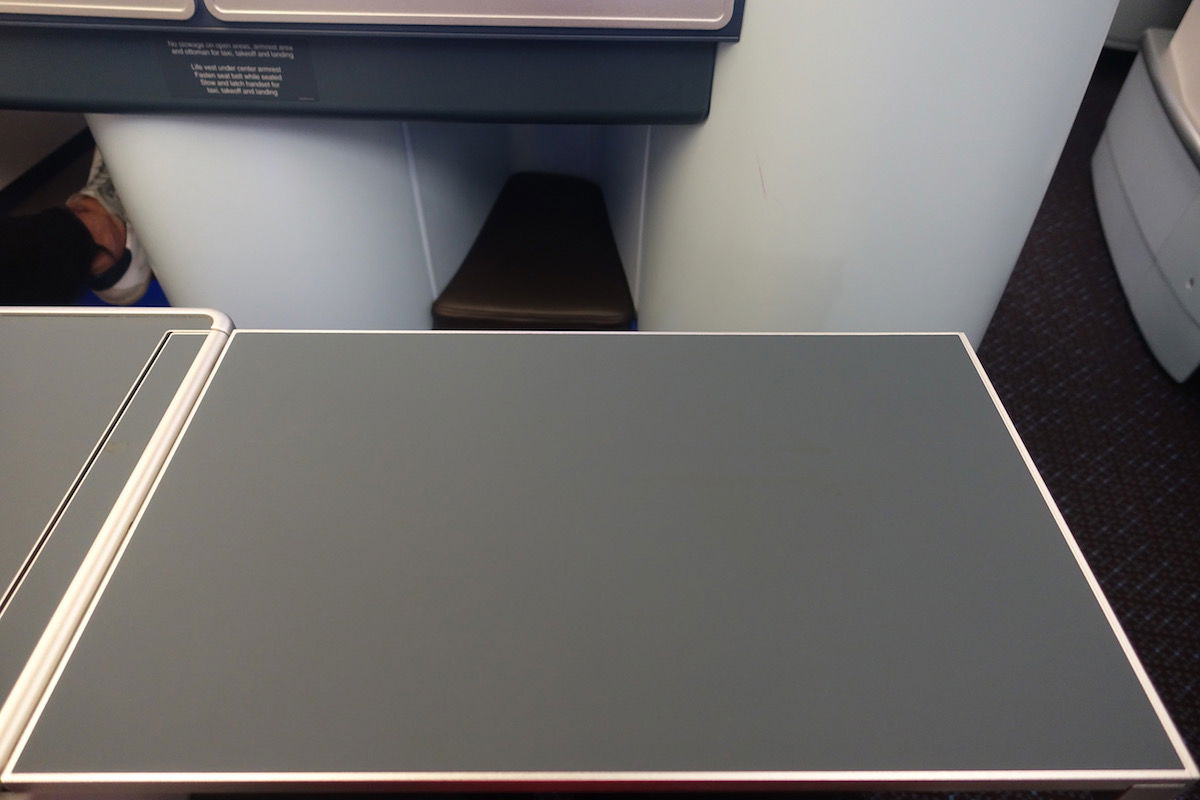 KLM business class tray table
The overhead consoles had individual air nozzles — yay KLM!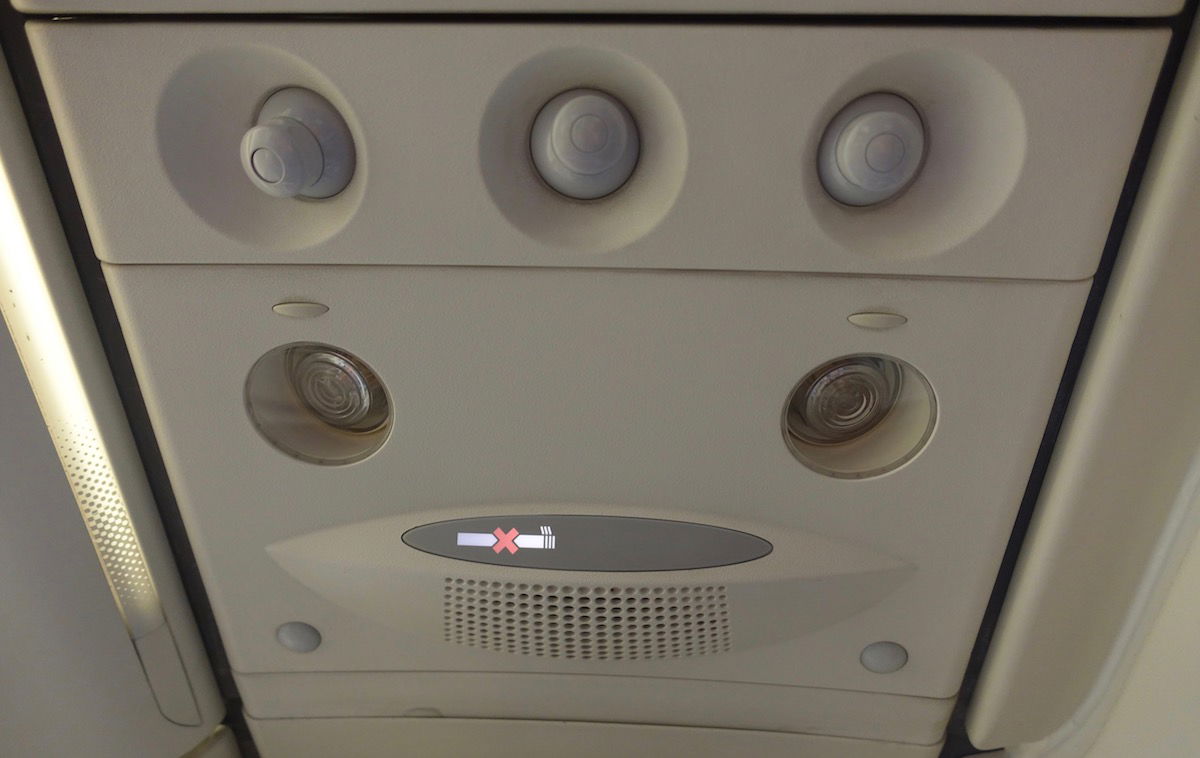 KLM business class air nozzles
Already waiting at each seat upon boarding was a pair of noise canceling headphones, which were among the better non-Bose/B&O headphones I've seen on planes.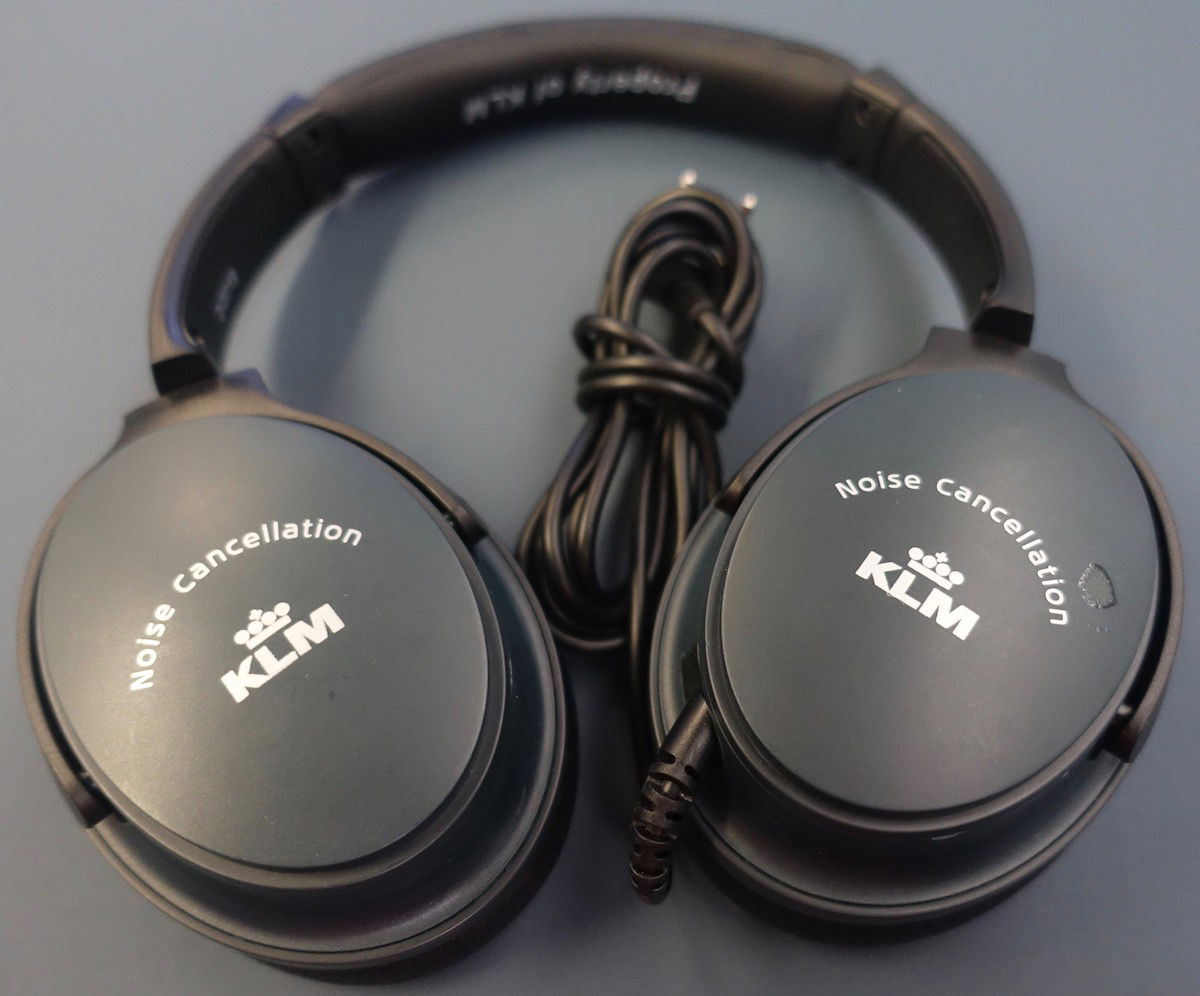 KLM business class headphones
Also waiting at each seat was a pillow and blanket. I'd say both the pillows and blankets were pretty average — they were comfortable enough, but nothing special.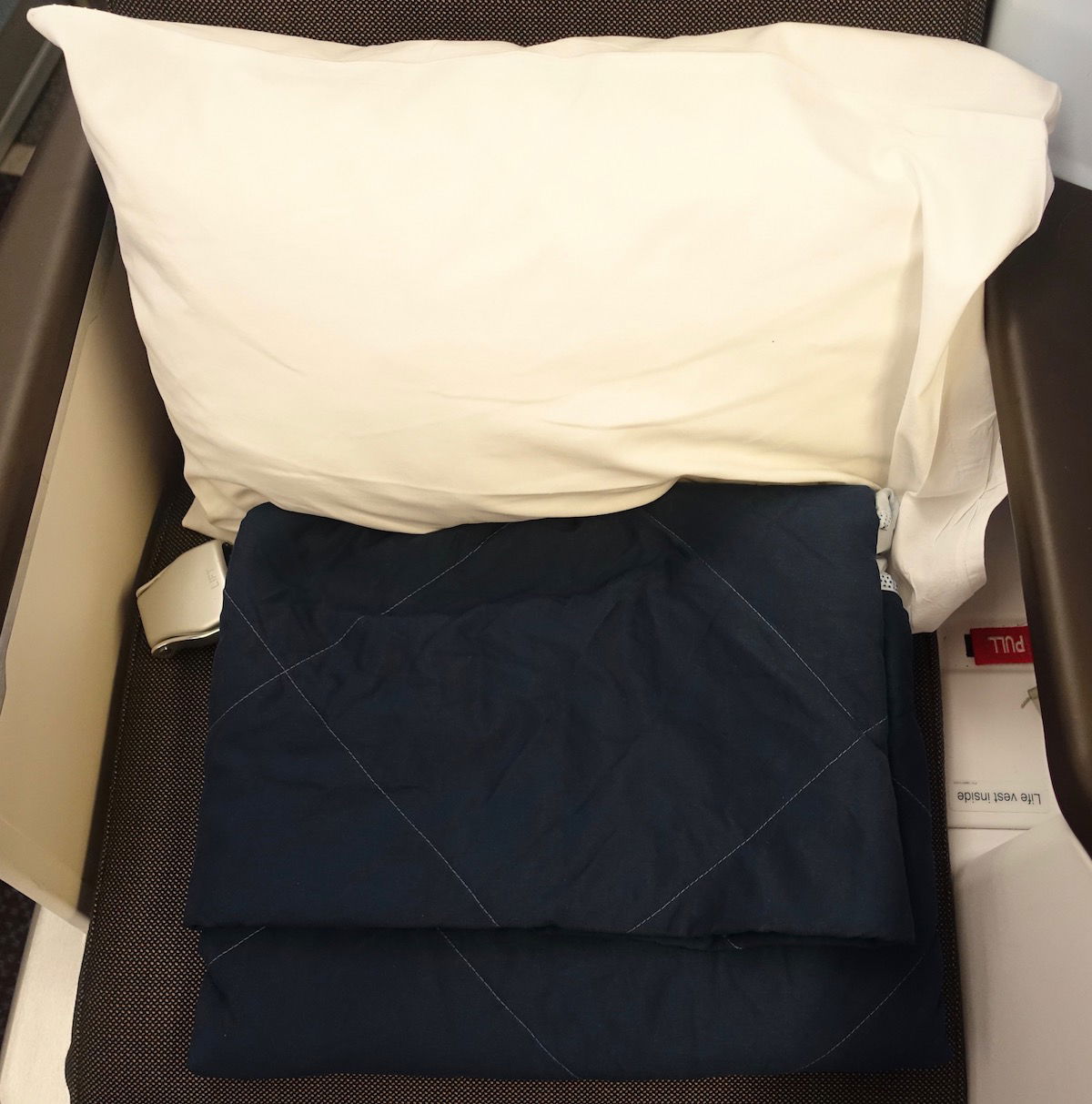 KLM business class pillow & blanket
Within a couple of minutes of settling in, pre-departure drinks were served. Choices included water, orange juice, champagne, or beer in a can… hah! I had a glass of champagne, while Ford had water — both were served in beautiful glassware.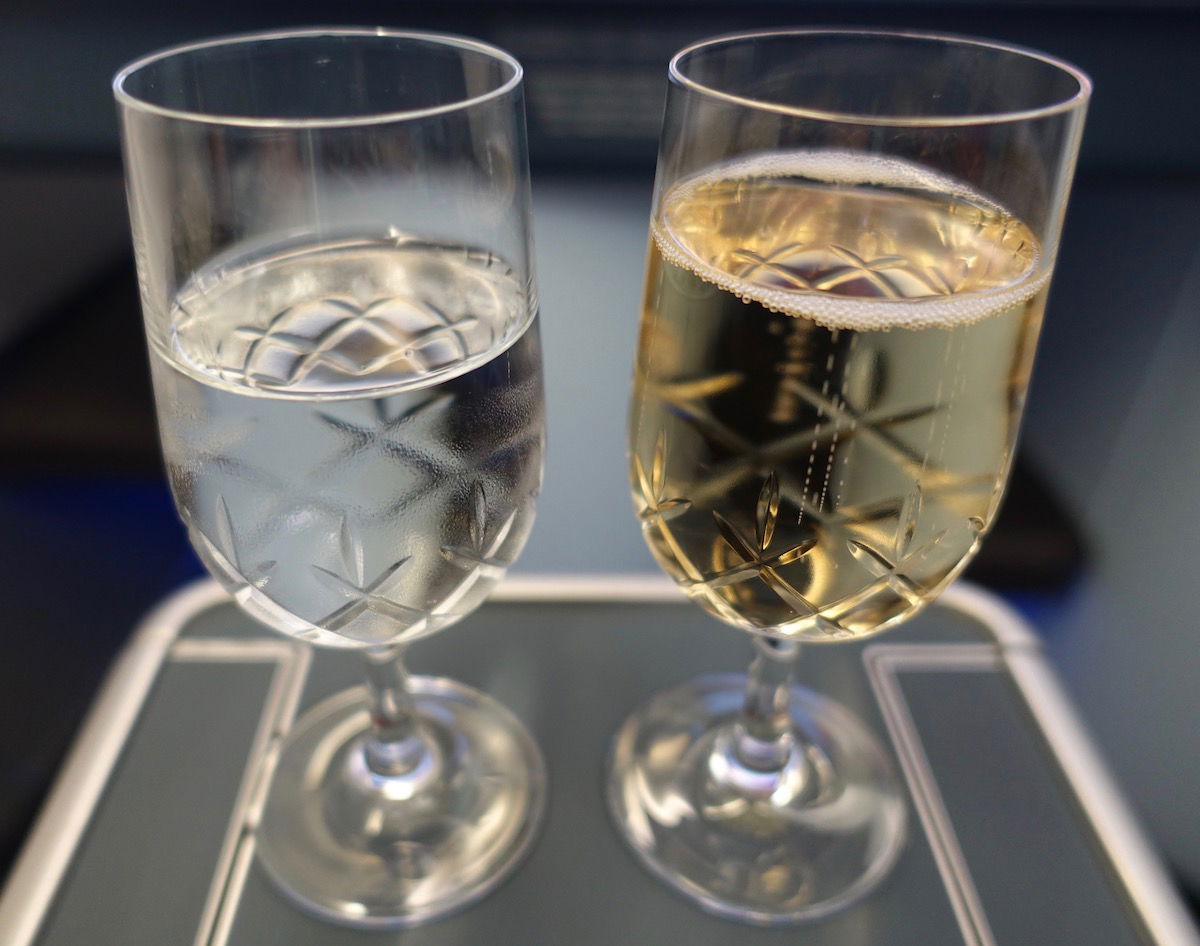 KLM business class pre-departure drinks
A few minutes later amenity kits were distributed. The amenity kits come in two designs, though the contents are identical.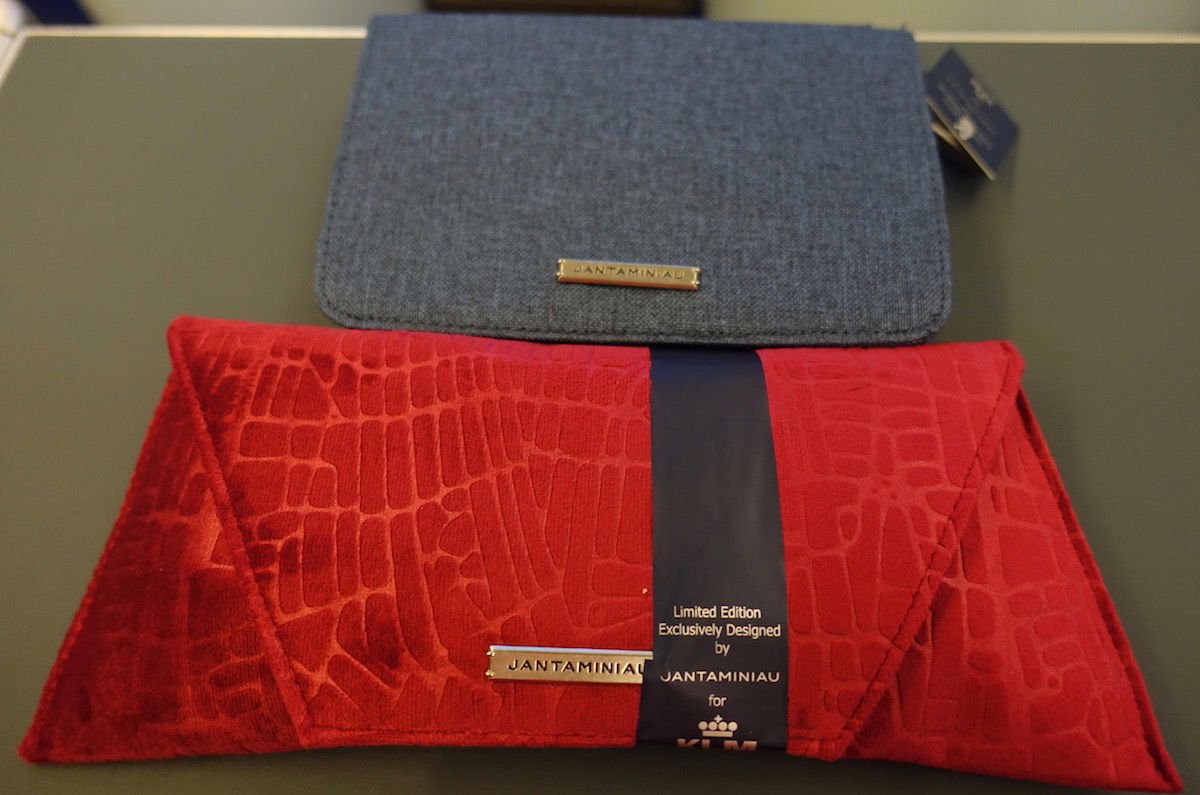 KLM business class amenity kit
The kit had all of the basics, including socks, eyeshades, earplugs, lip balm, lotion, a toothbrush and toothpaste, and a pen.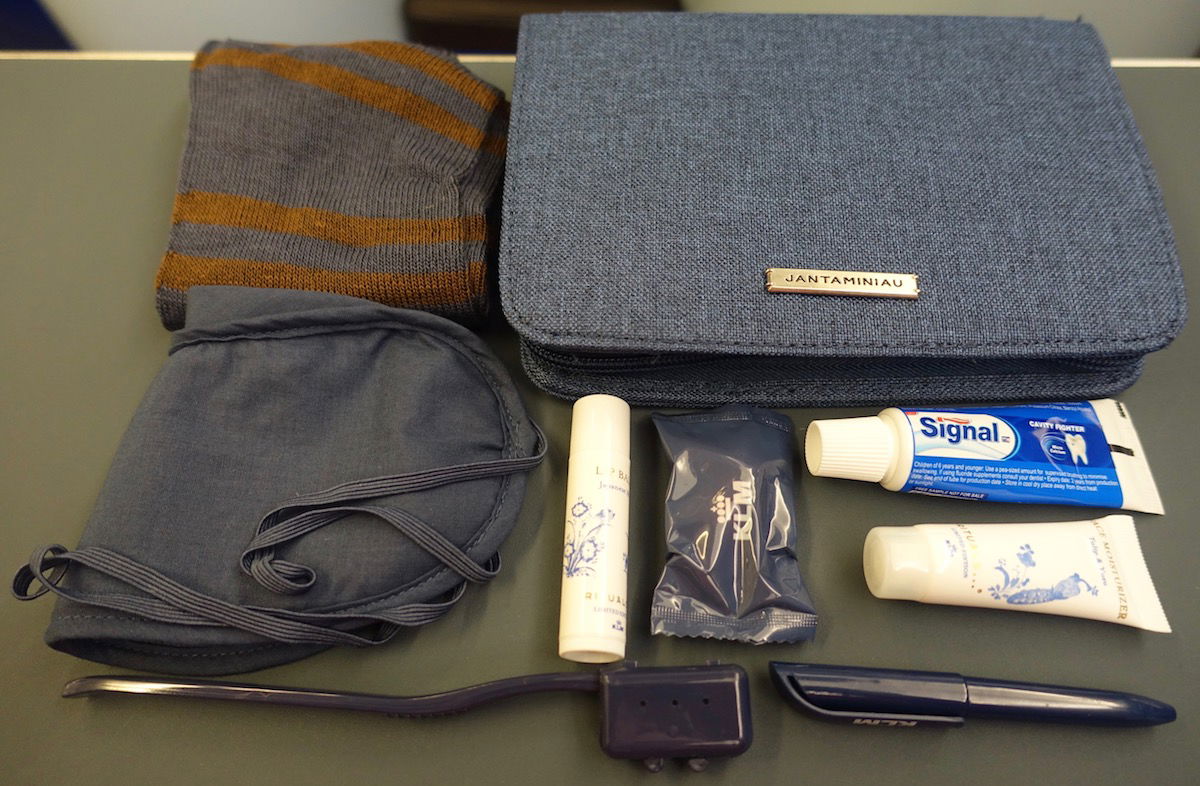 KLM business class amenity kit
Then a couple of minutes later the menu and wine list were distributed.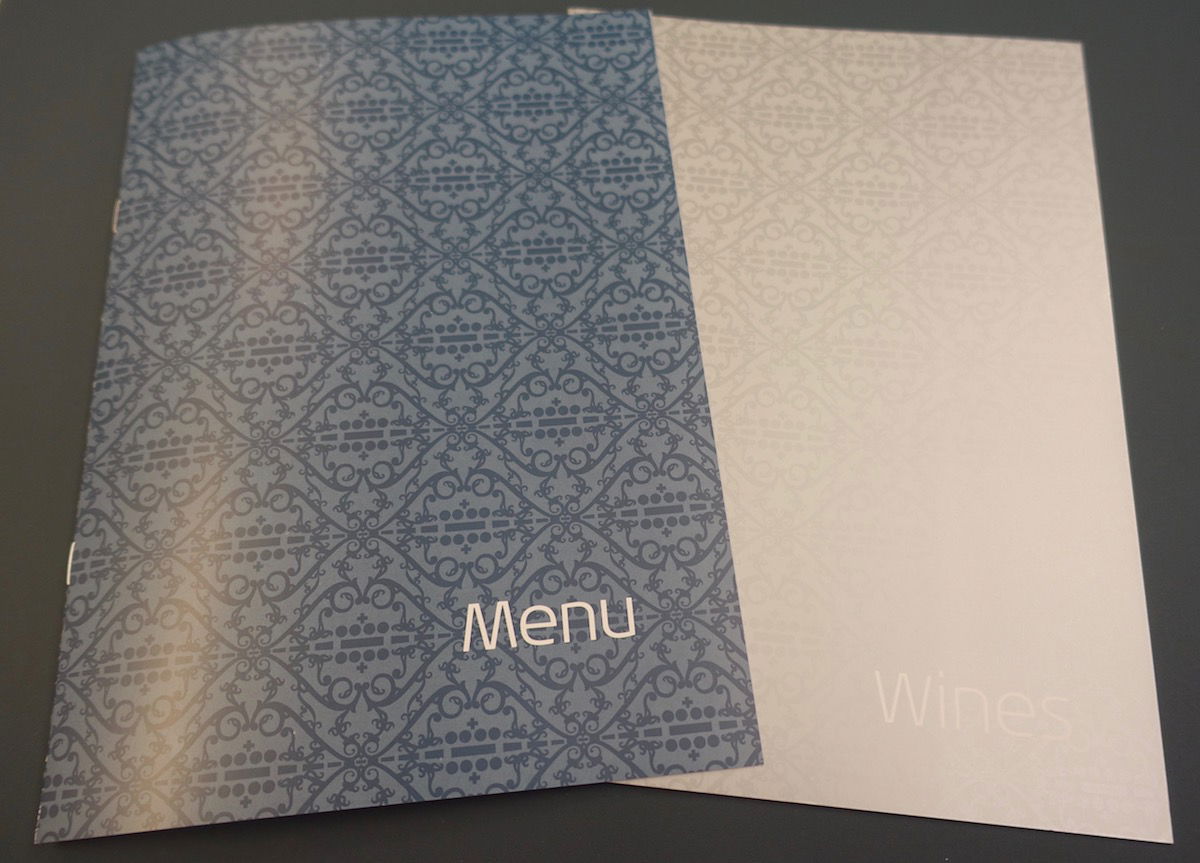 KLM business class menu & wine list
The crew seemed quite friendly, and it was also a nice touch that the captain came around during boarding to greet everyone in business class.
By 1:55AM the door was closed, so the boarding process was efficient in spite of the flight being full, and departing from a remote stand.
At the same time the door closed the captain announced our flight time of seven hours, anticipating that we'd arrive five minutes ahead of schedule. He said there would be light turbulence over Germany and snow in Amsterdam, but that the flight should otherwise be smooth.
A moment later KLM's very cool safety video was screened:
We pushed back at 2AM, and had a very quick taxi to runway 31L, where we were airborne at 2:10AM. I'm used to really long taxis in Abu Dhabi, so that was a pleasant surprise.
The seatbelt sign was turned off about five minutes after takeoff. I first checked out the lavatory at the front of the cabin, which had some amenities.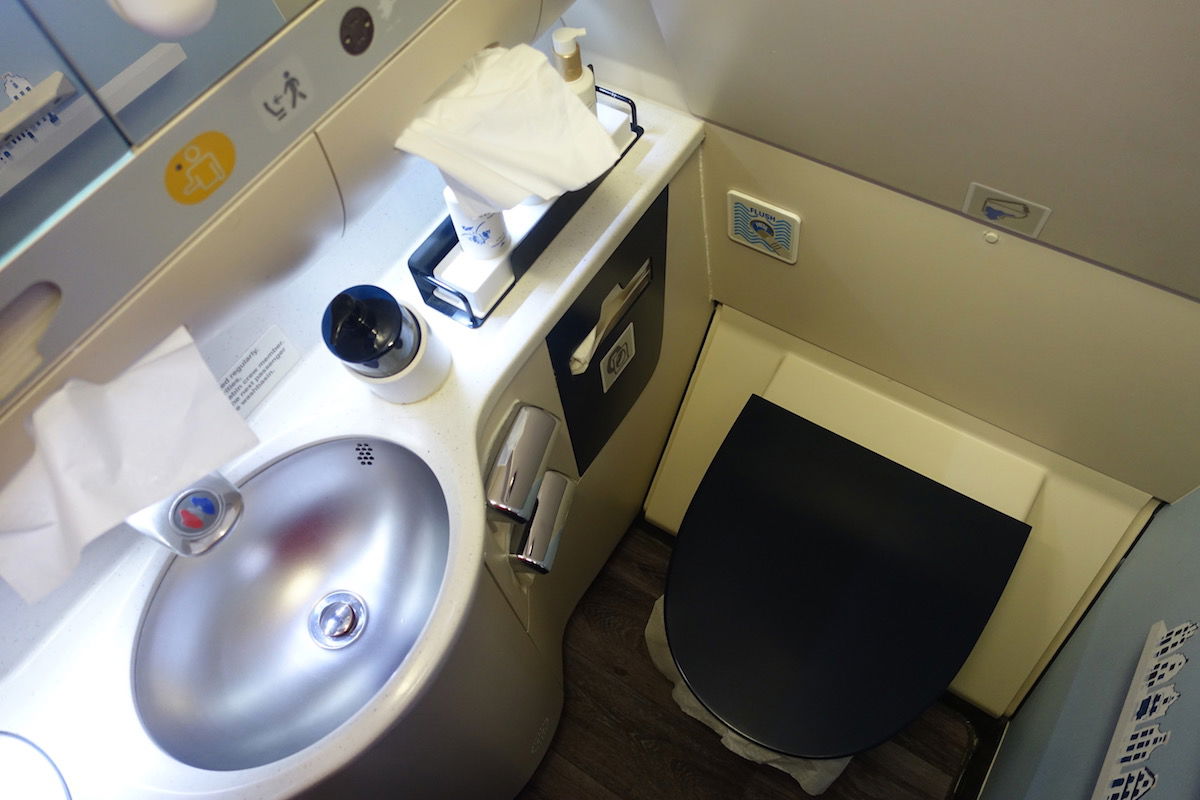 KLM A330 business class lavatory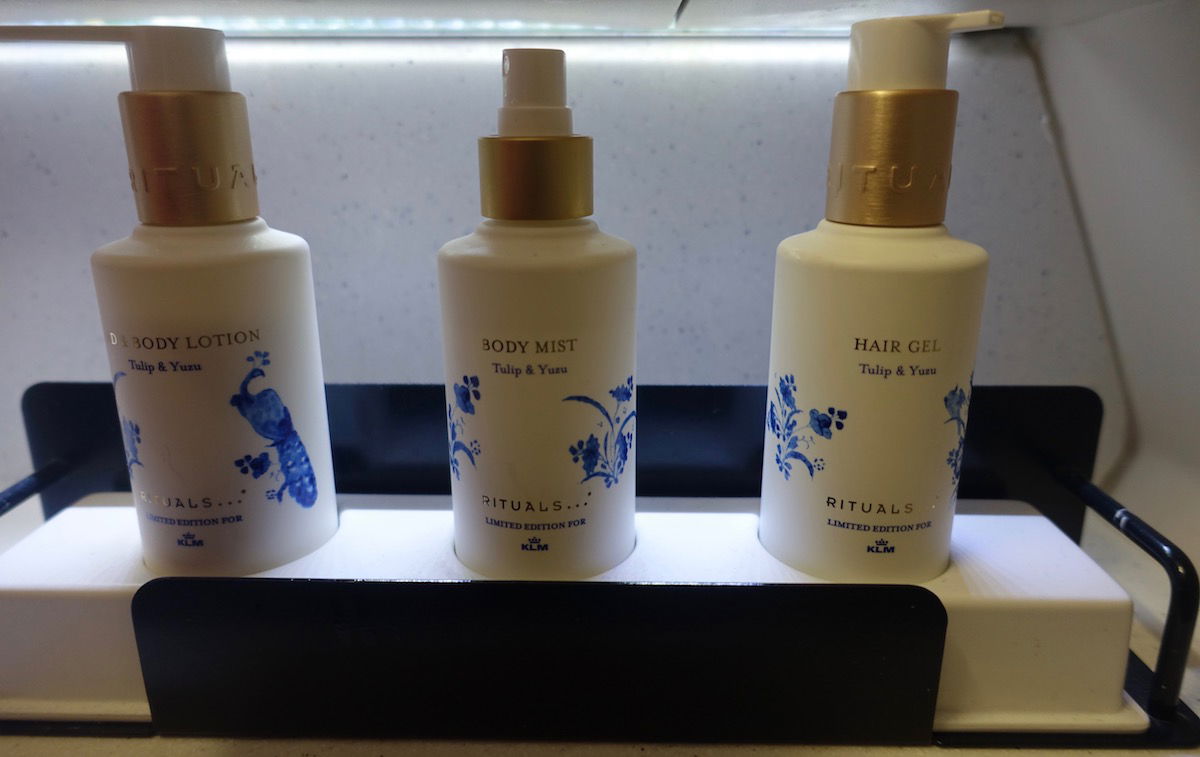 KLM A330 business class lavatory amenities
I loved the wallpaper.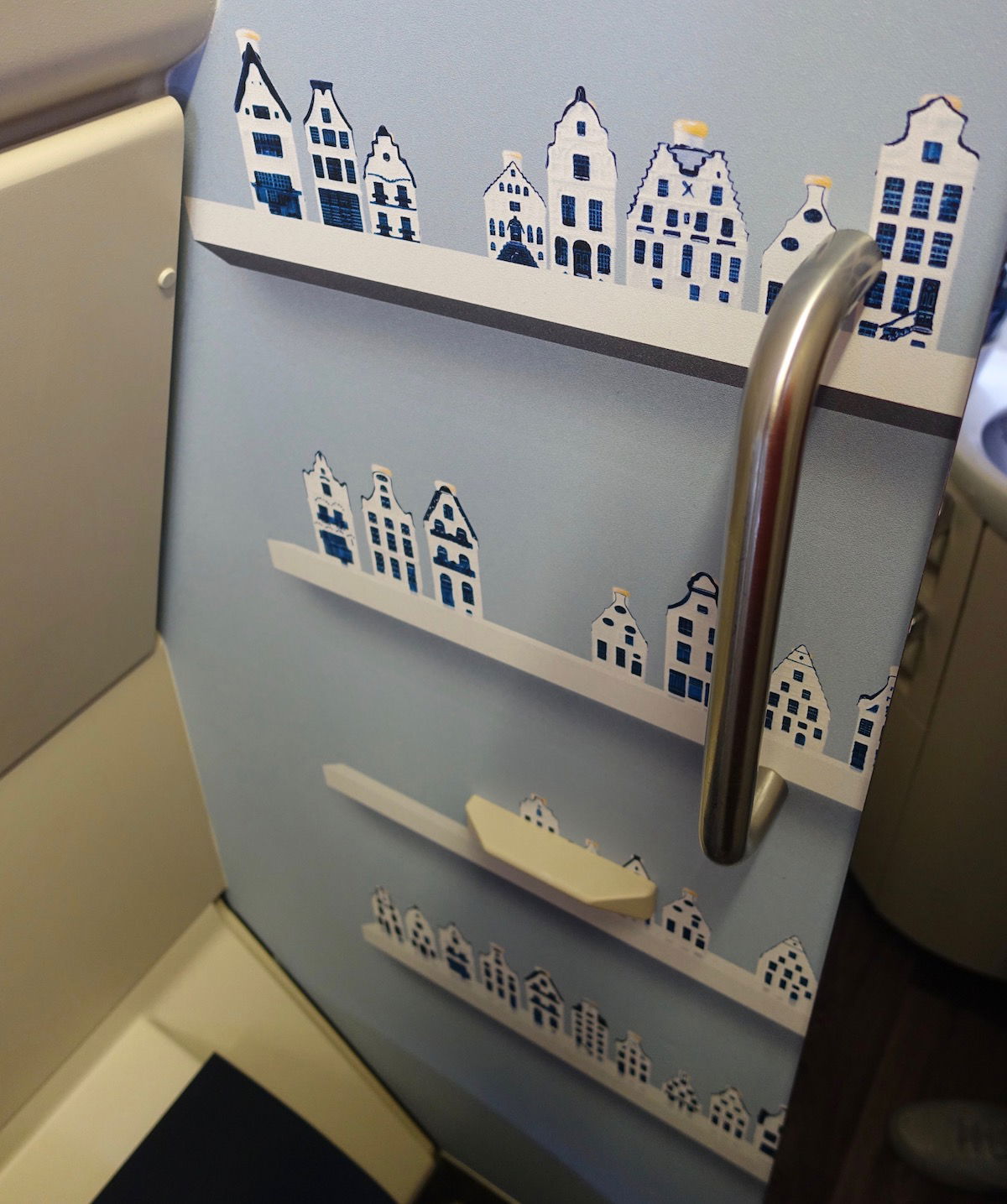 KLM A330 business class lavatory
I also browsed the entertainment selection. While KLM's A330s don't consistently have Wi-Fi yet, they do have an excellent entertainment selection. The system is very responsive with no ads, and also has great TV shows and movies.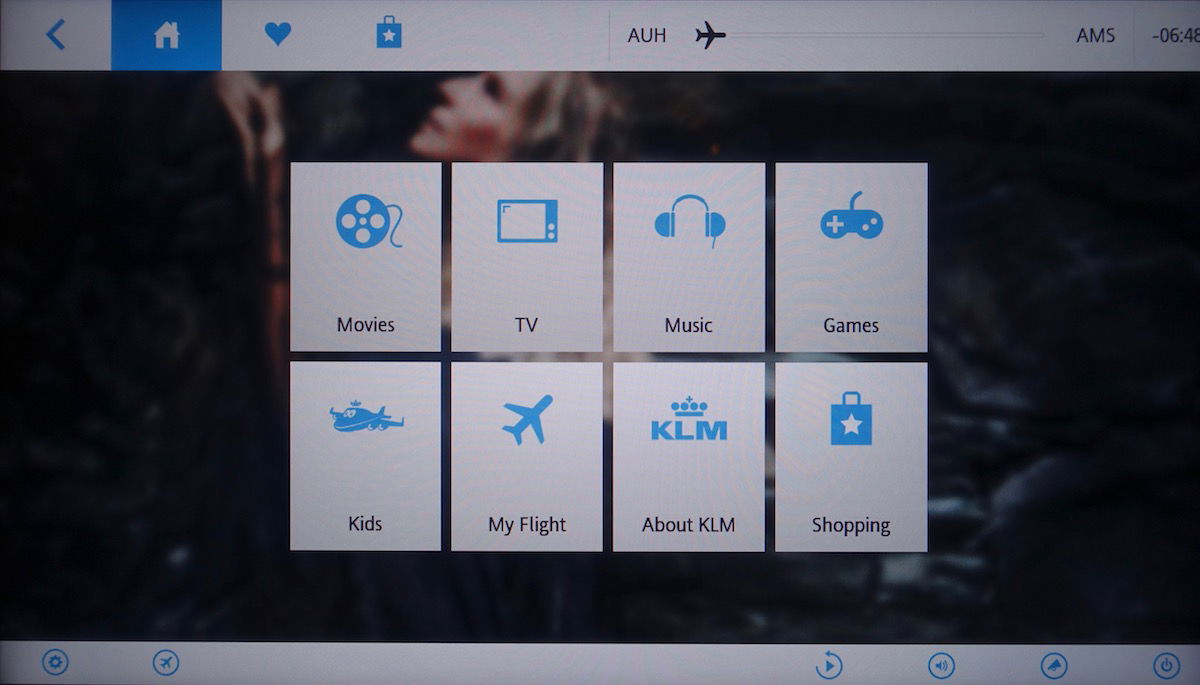 KLM business class entertainment selection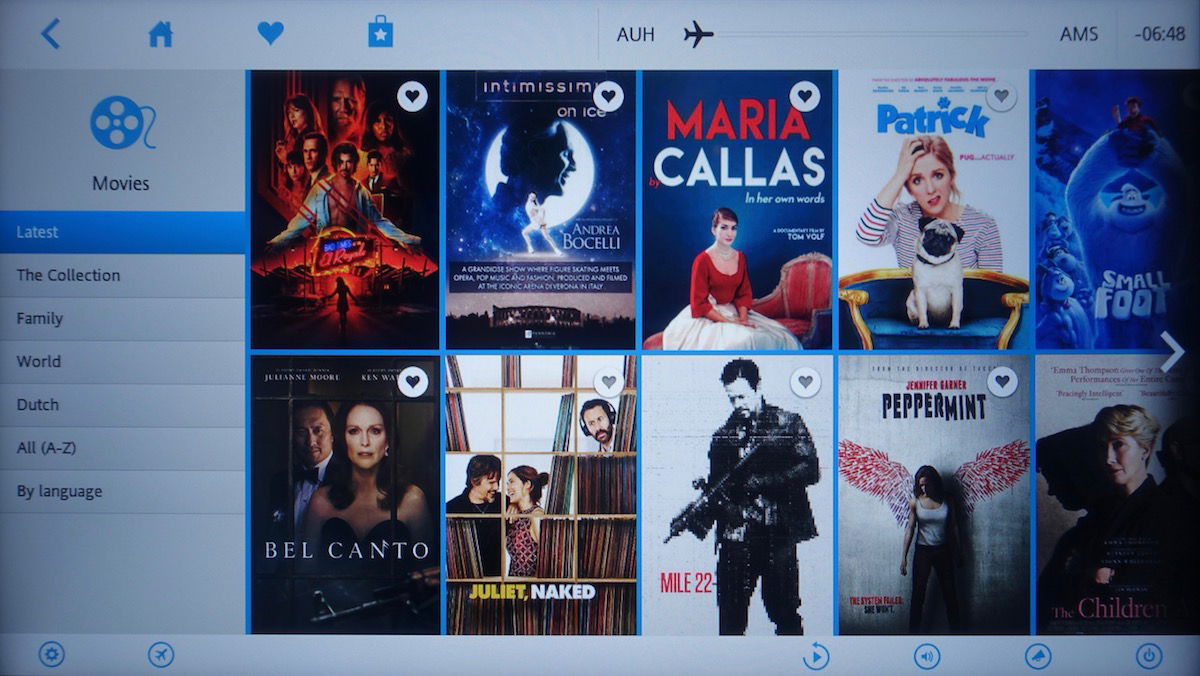 KLM business class entertainment selection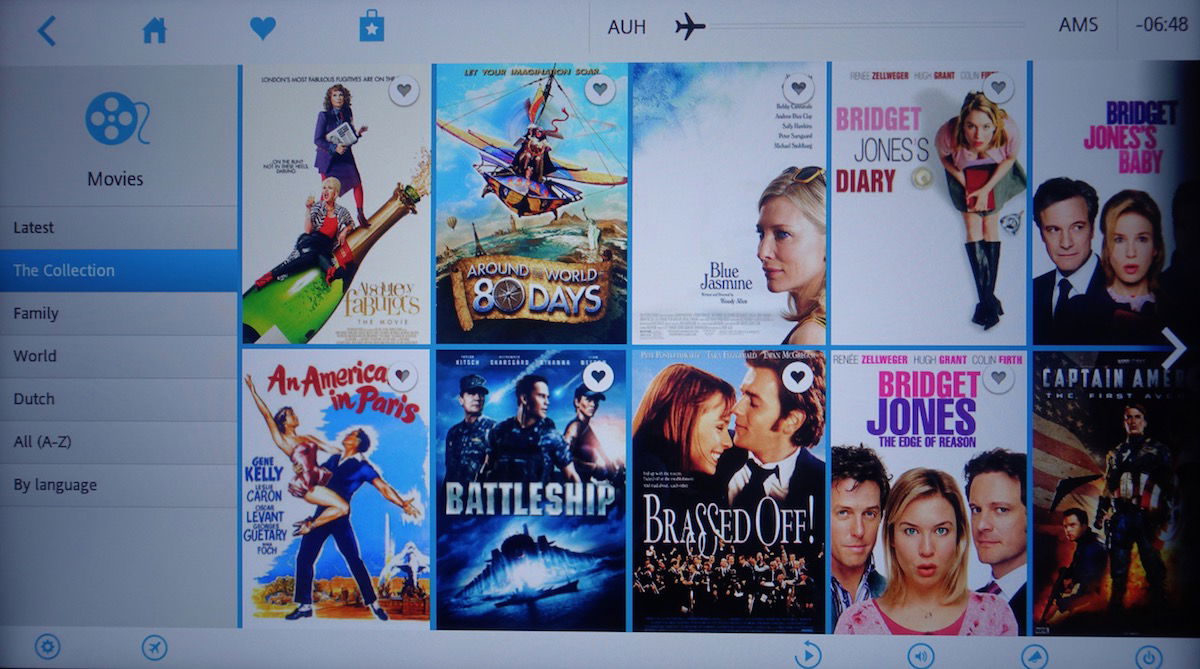 KLM business class entertainment selection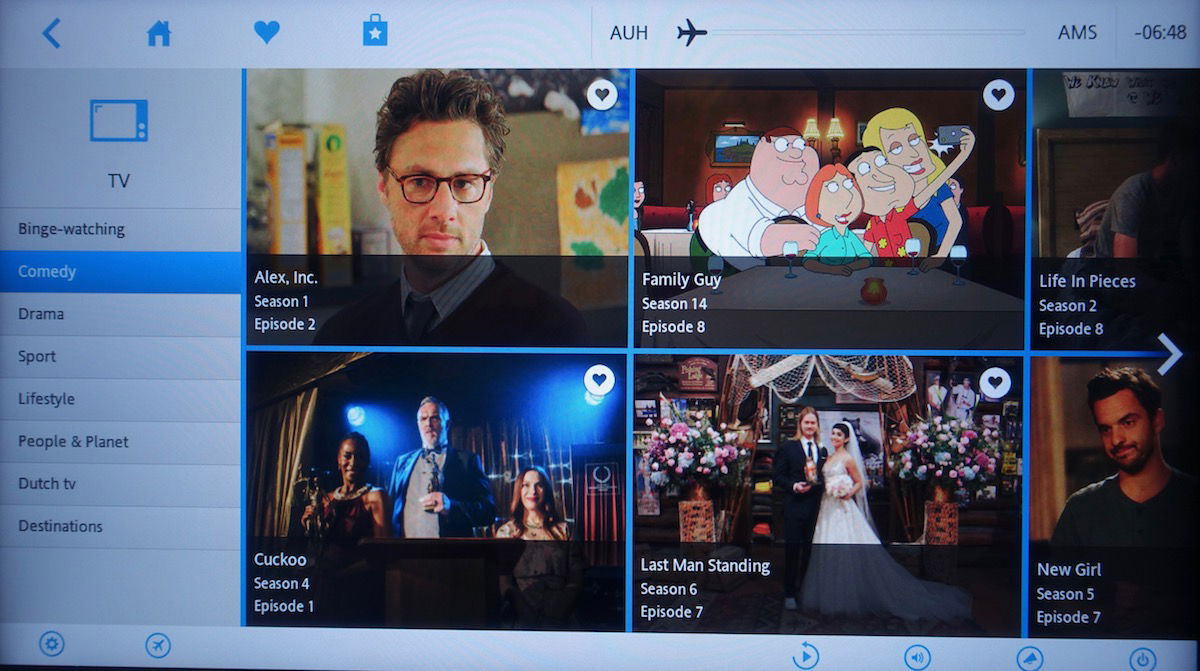 KLM business class entertainment selection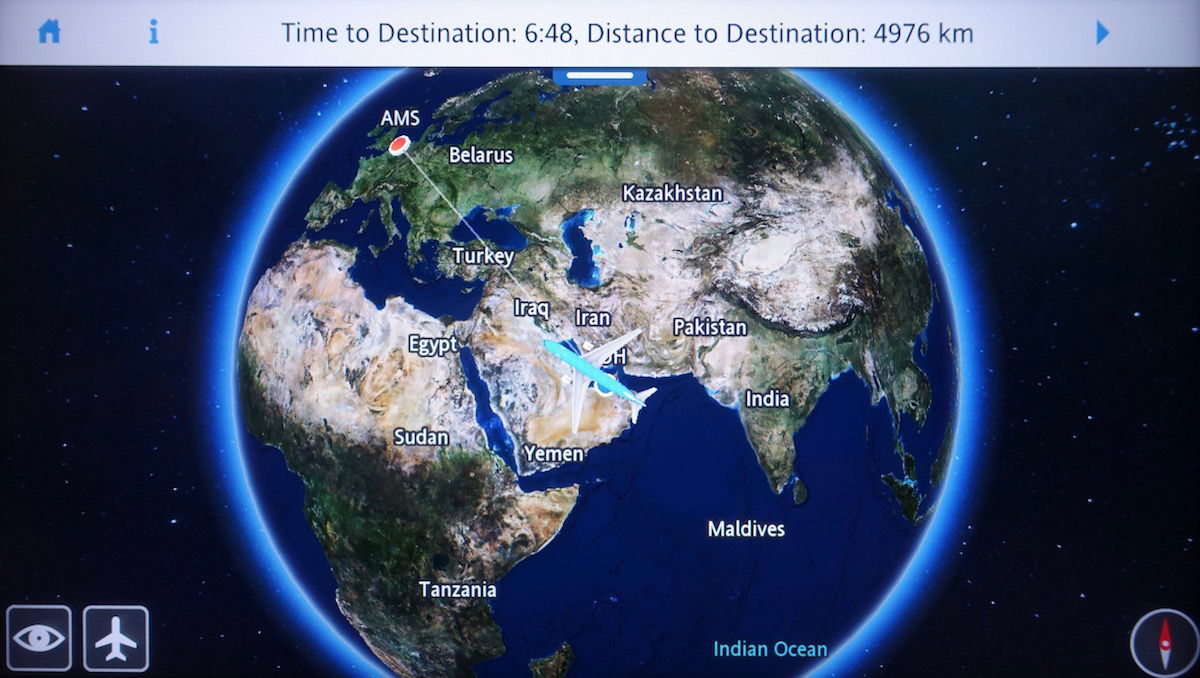 Moving map enroute to Amsterdam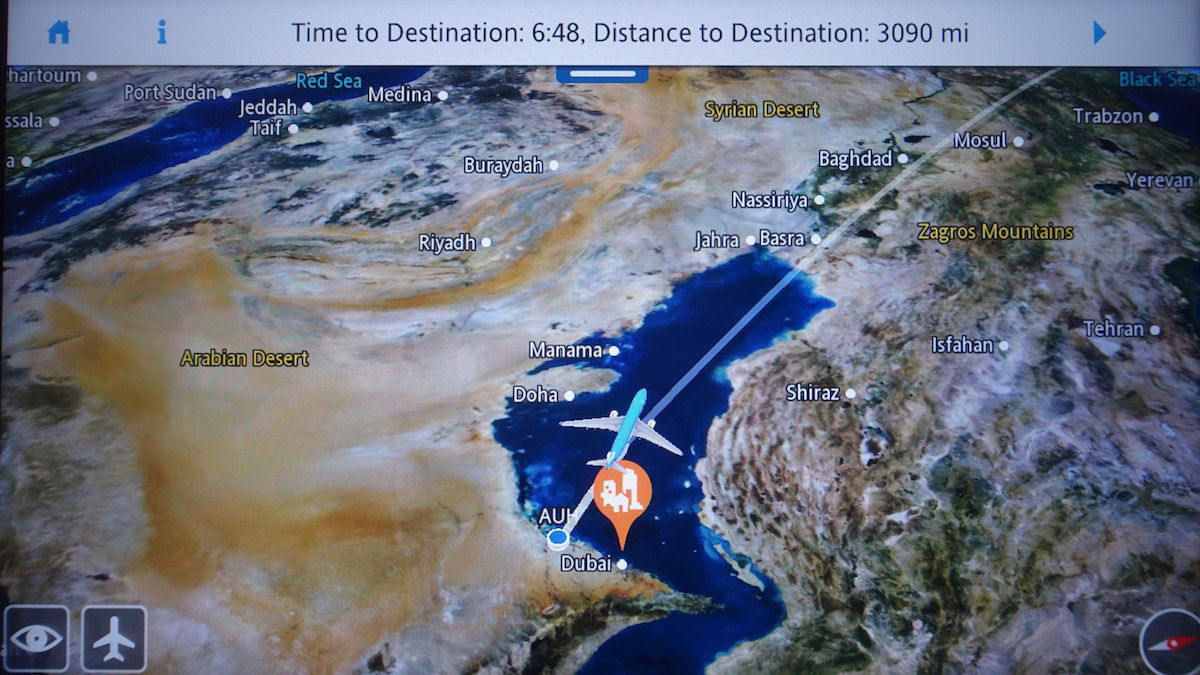 Moving map enroute to Amsterdam
About 15 minutes after takeoff bottles of water and warm towels were distributed.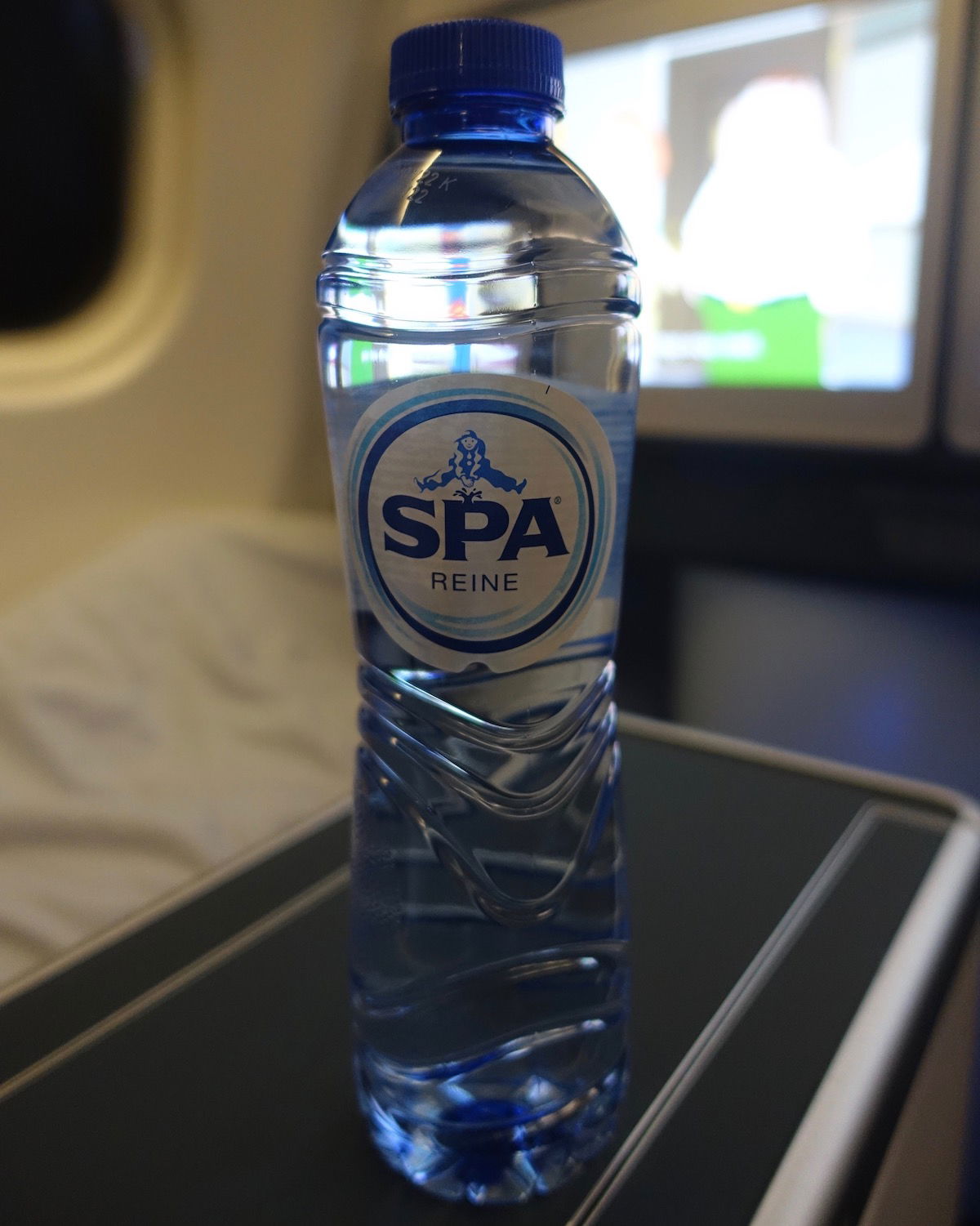 KLM business class bottled water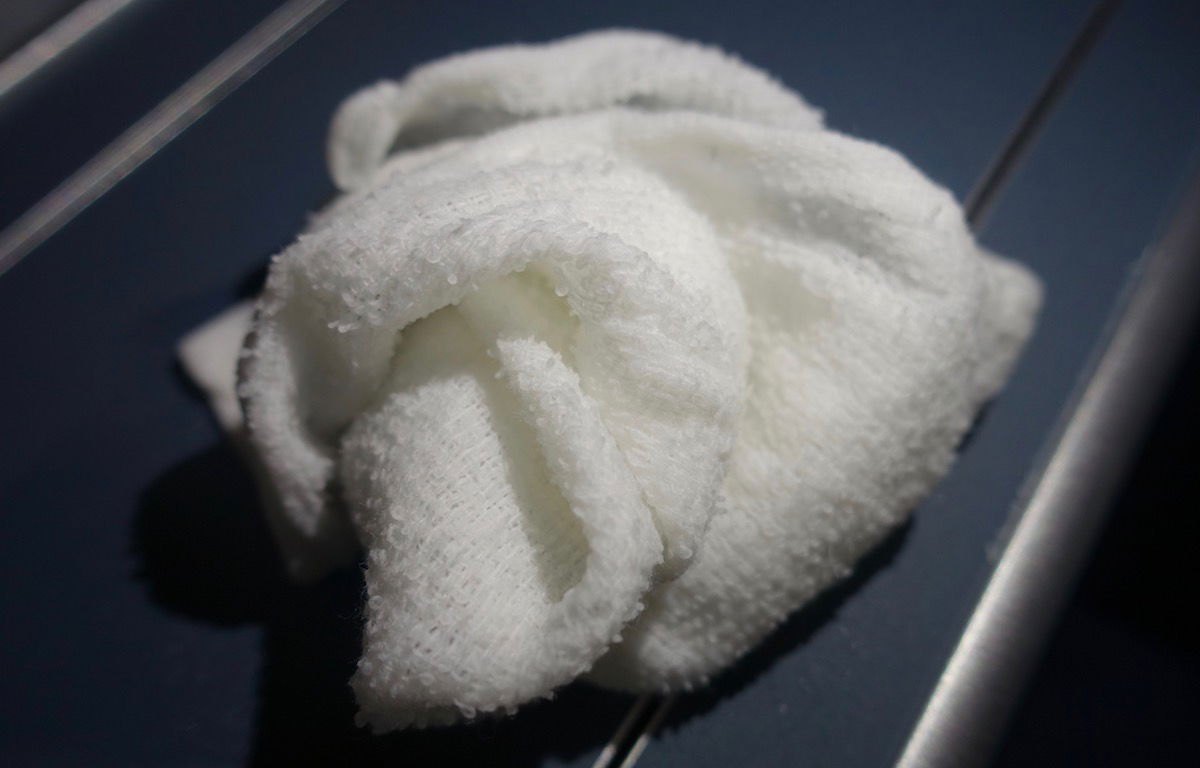 KLM business class warm towel
Shortly thereafter the meal service began. Since this is a fairly short flight departing at 2AM, they serve a snack after takeoff, and then breakfast before landing. The menu read as follows: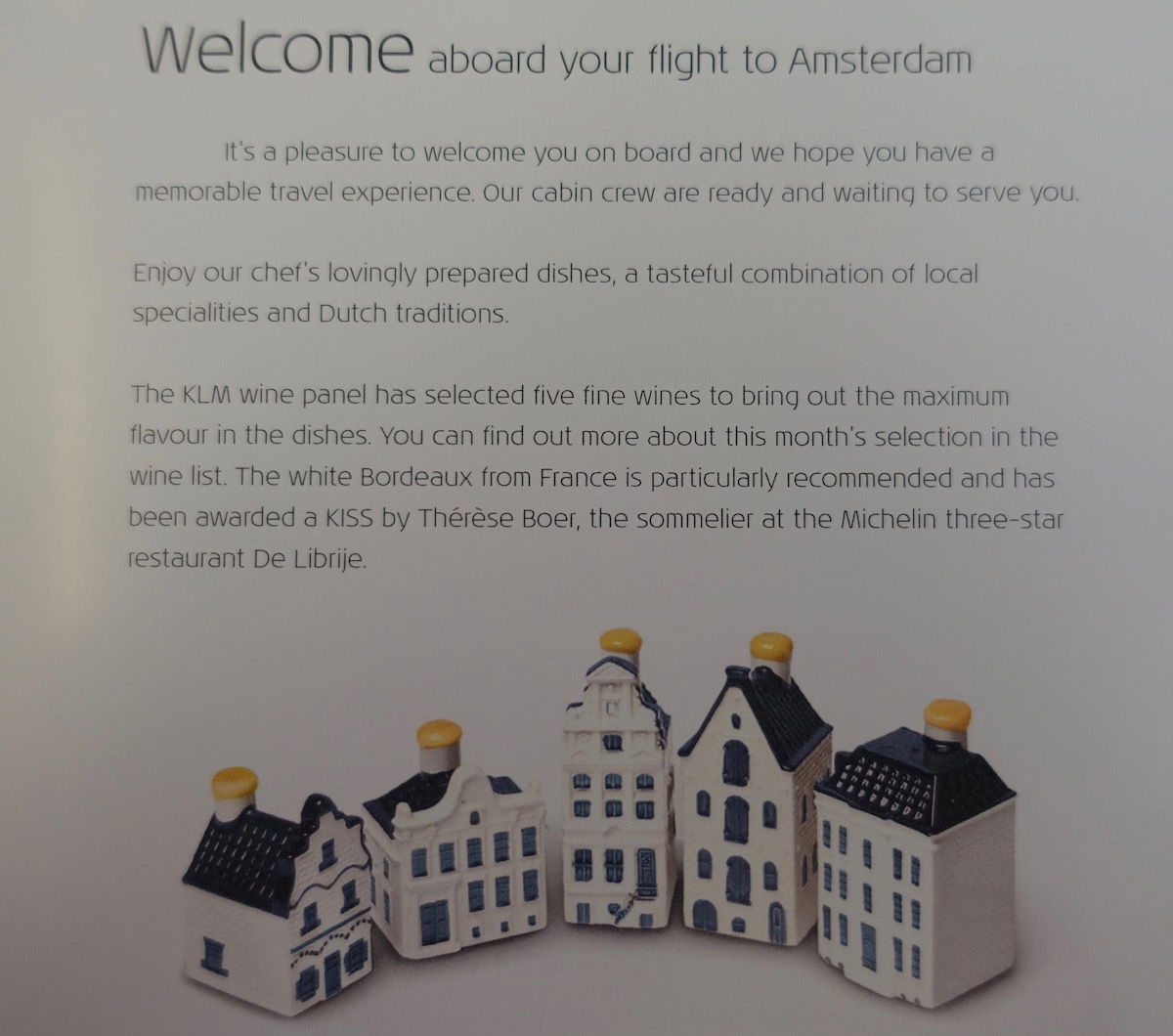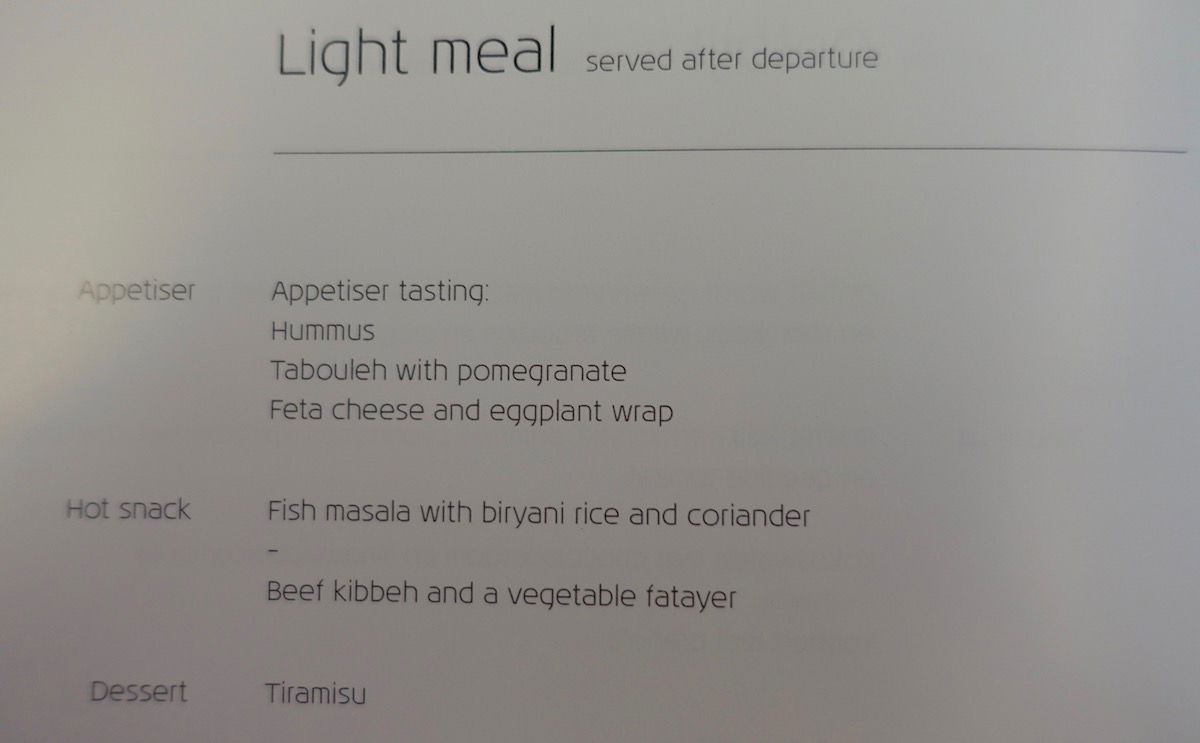 The drink list read as follows: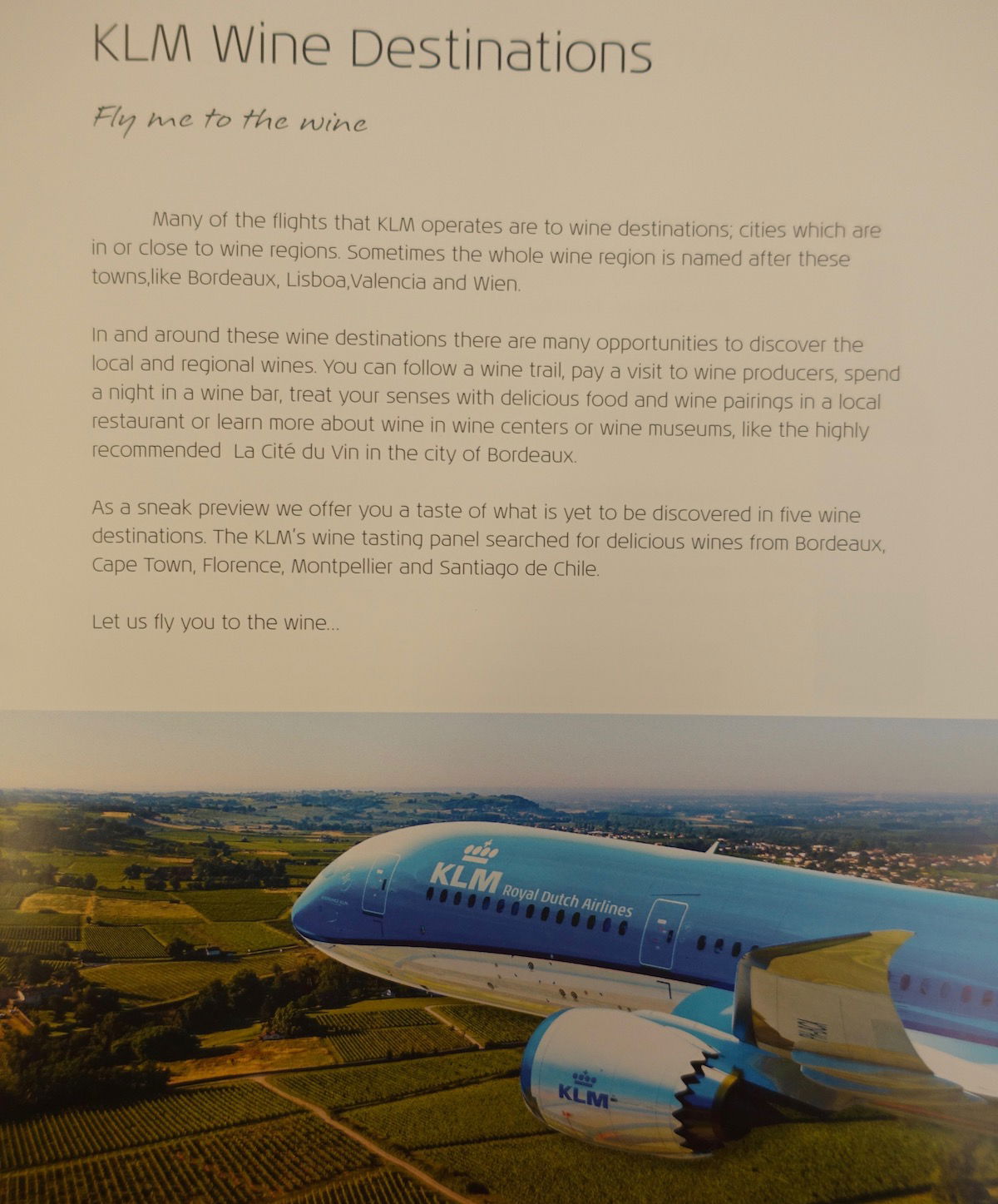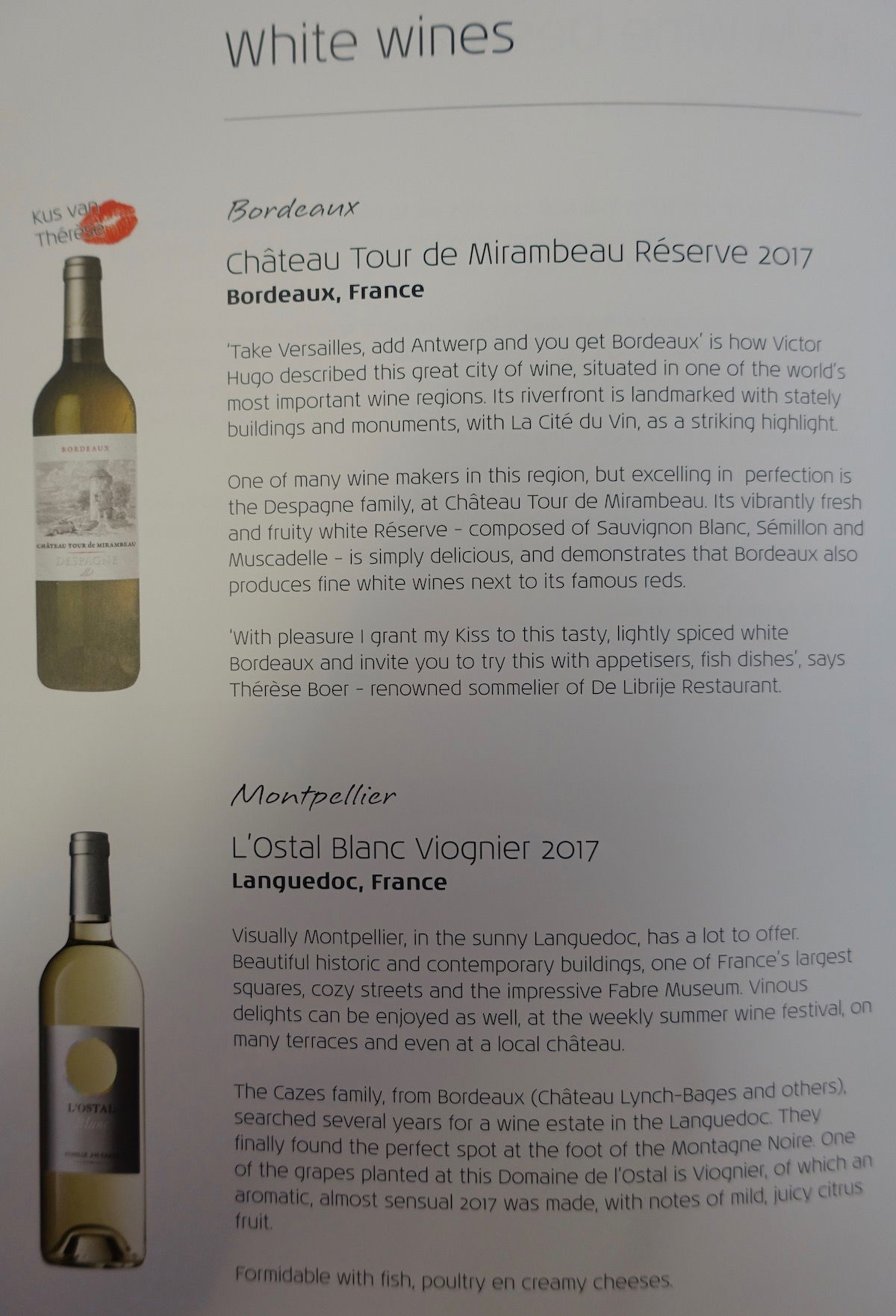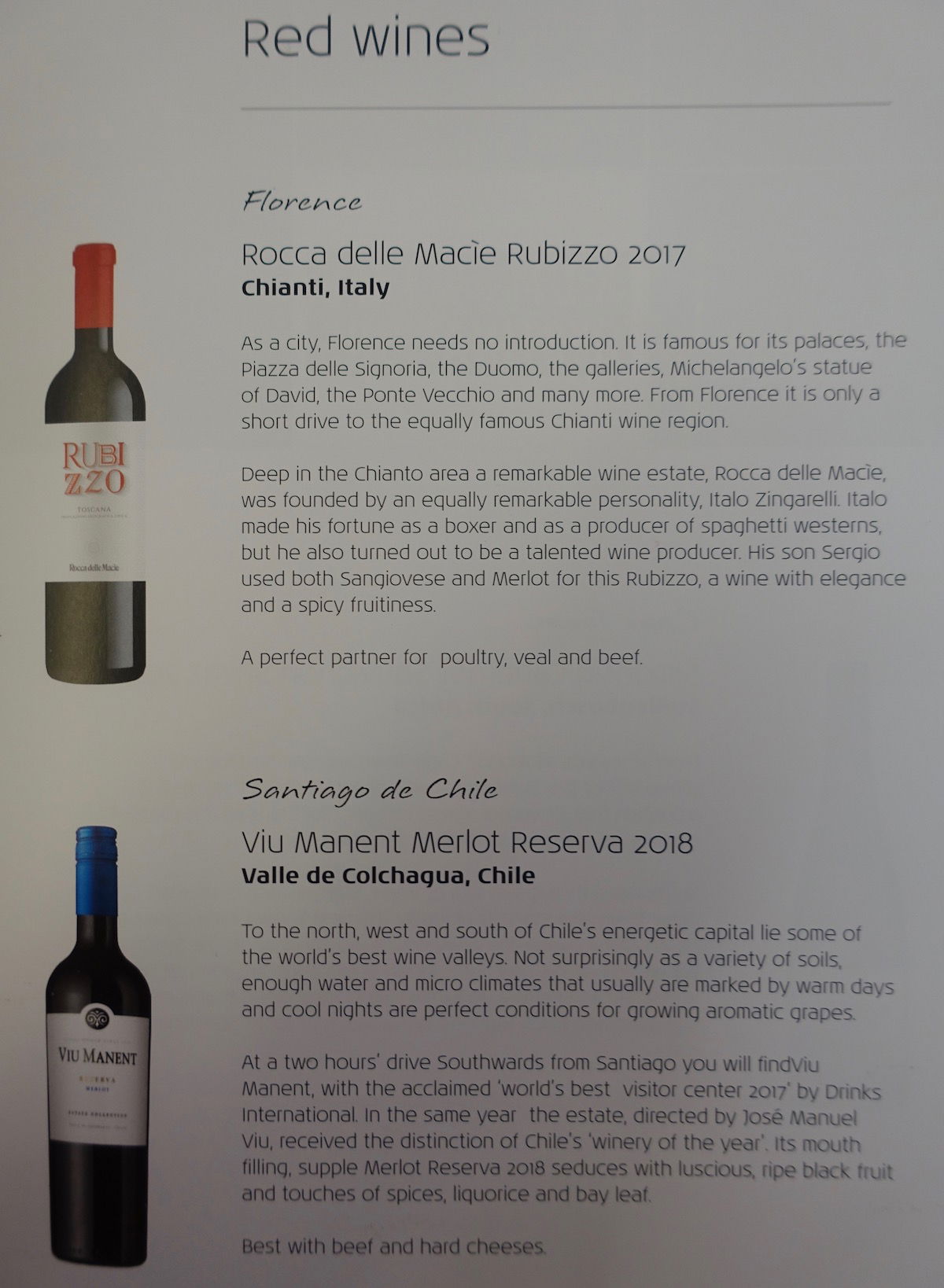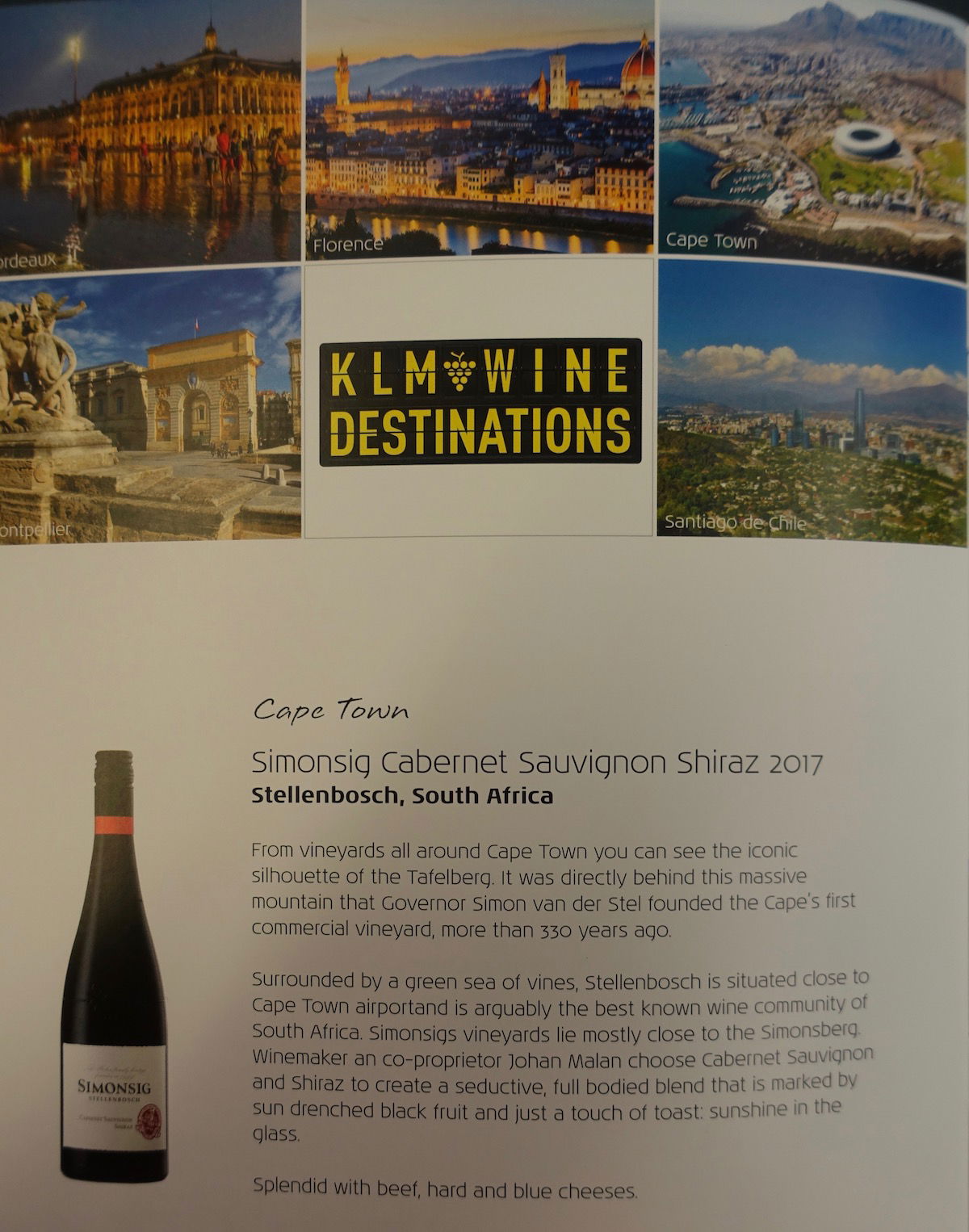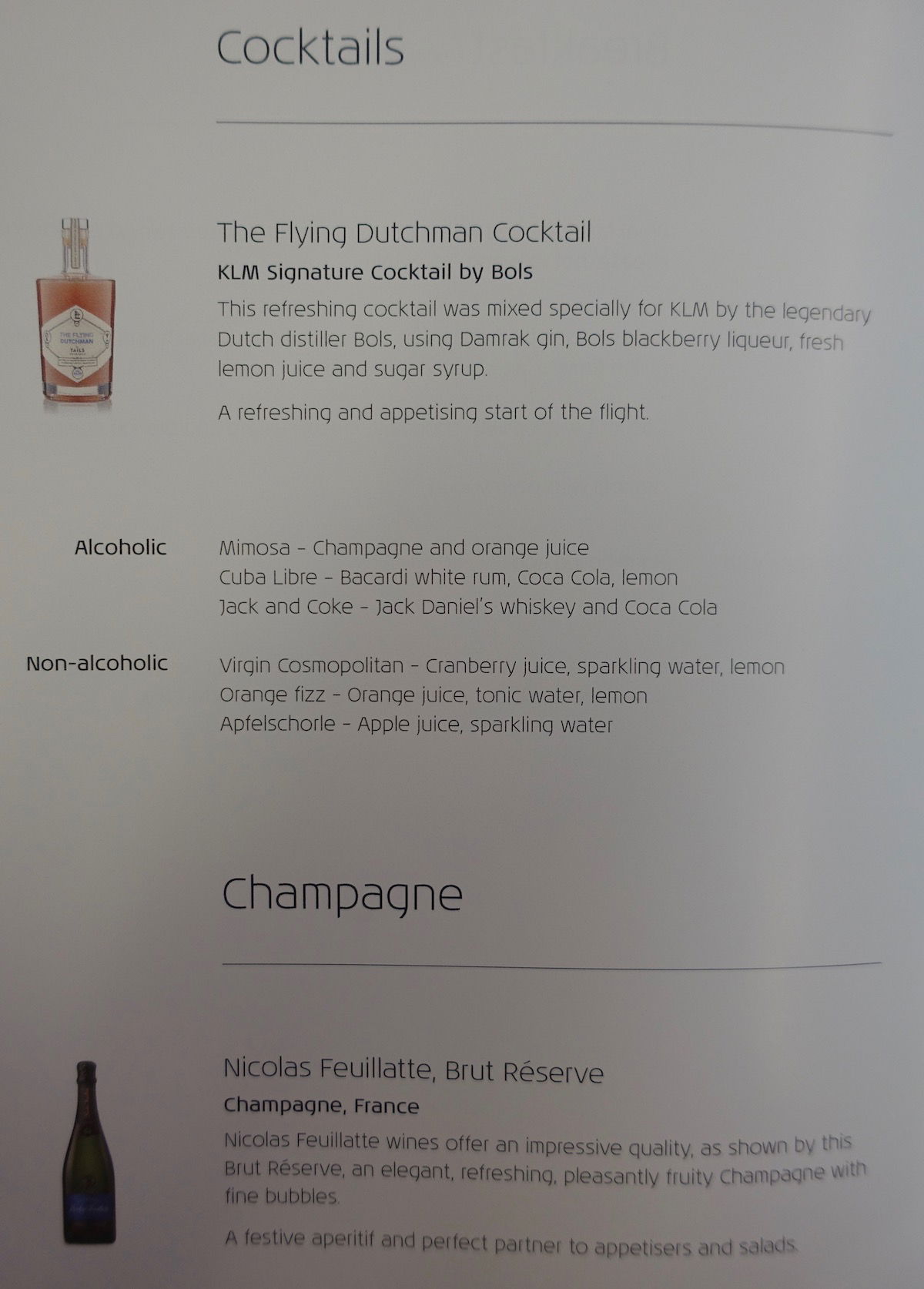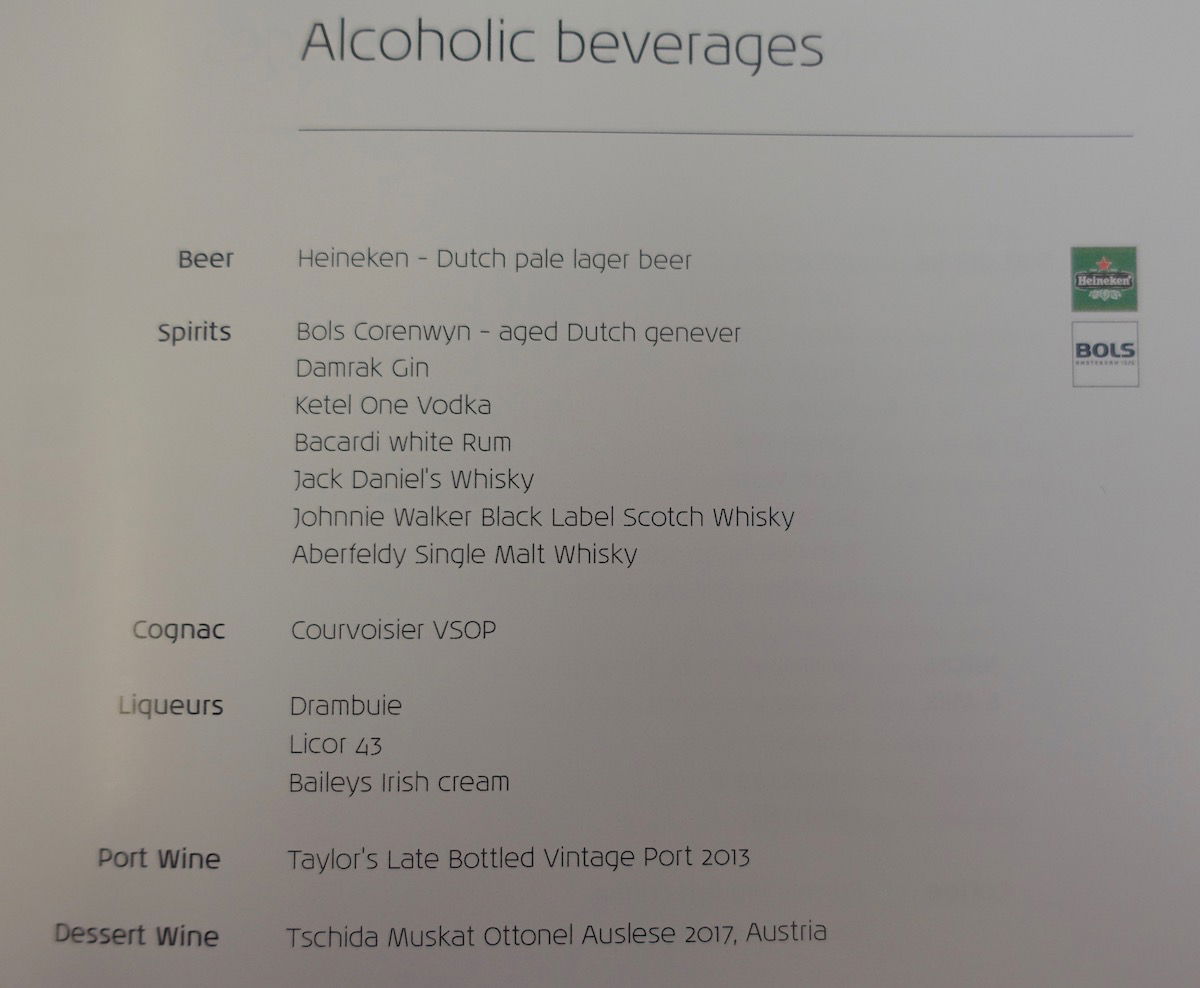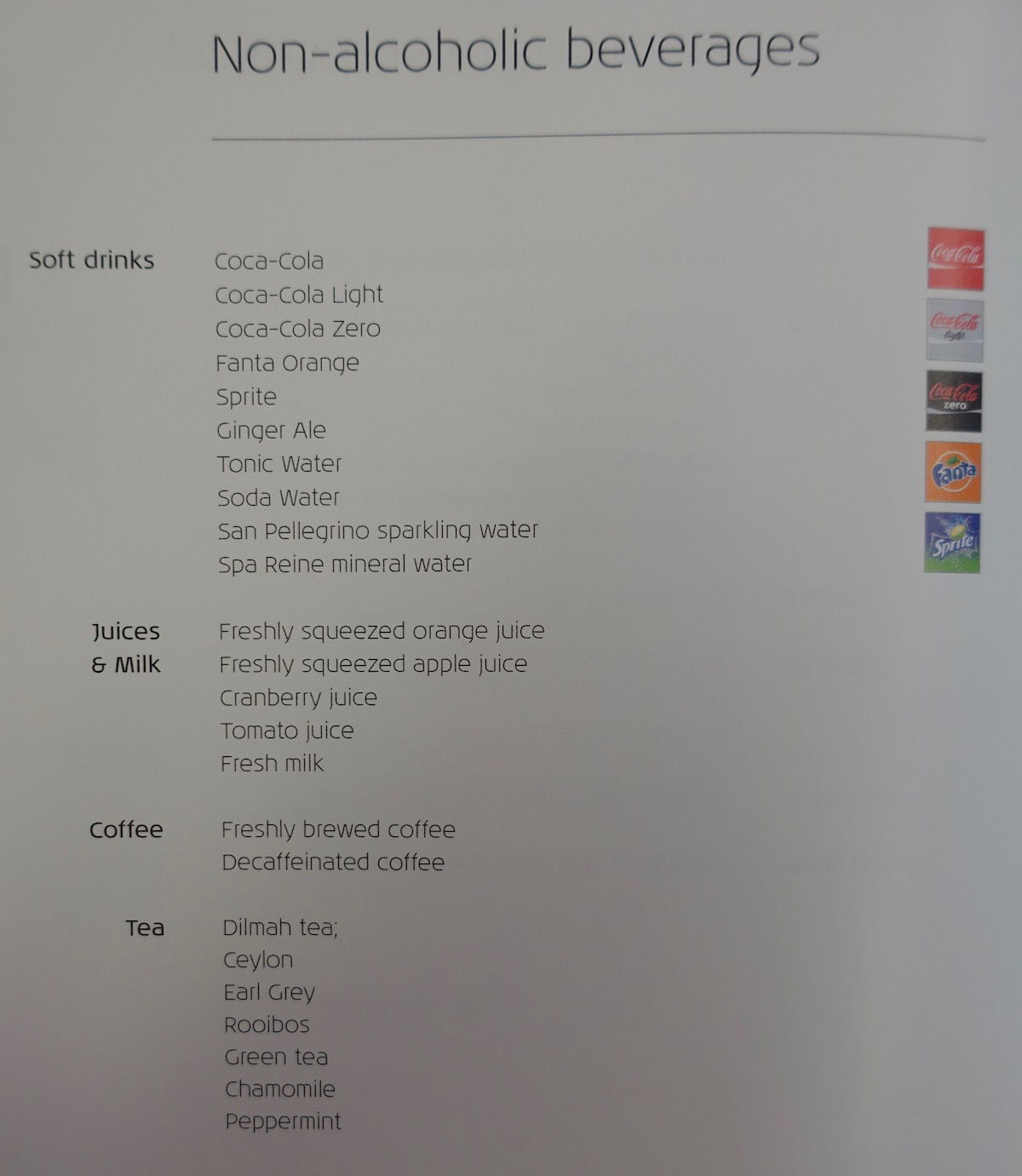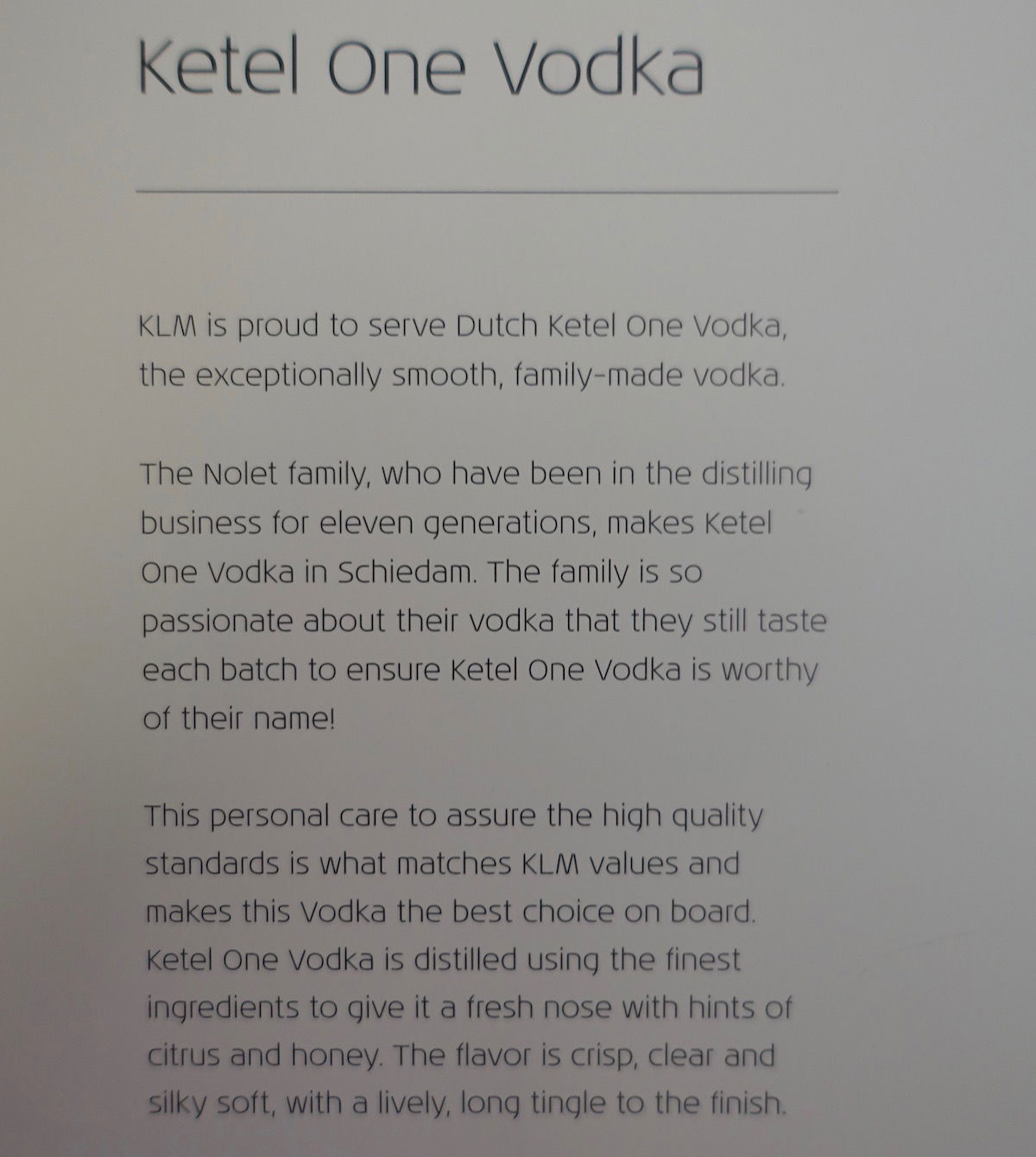 The meal service was commenced pretty quickly. 30 minutes after takeoff the crew rolled carts down the aisle with drinks and a snack.
Everyone received the same starter, which included hummus, tabouleh with pomegranate, and a feta cheese and eggplant wrap. Everyone also got the same tiramisu for dessert.
The only choice was for the main, where you could choose between fish masala with biryani rice, and coriander beef kibbeh and a vegetable fatayer.
I chose the fish masala with rice, while Ford had the beef kibbeh.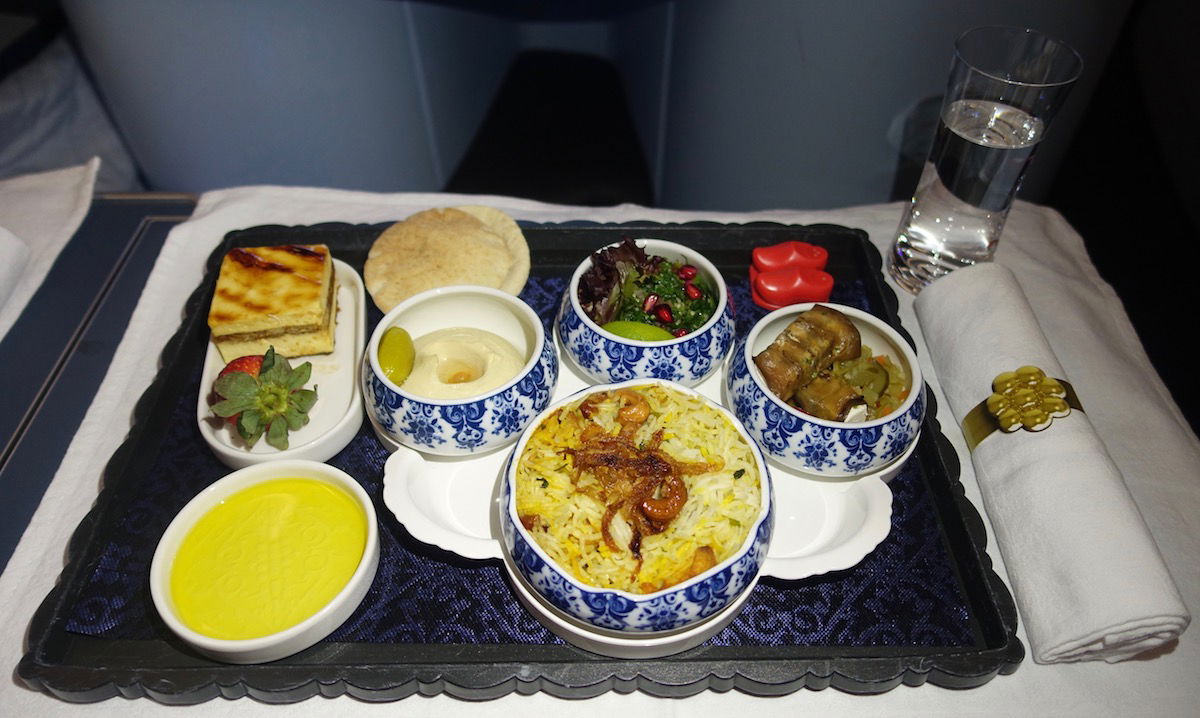 KLM business class snack service (with fish masala)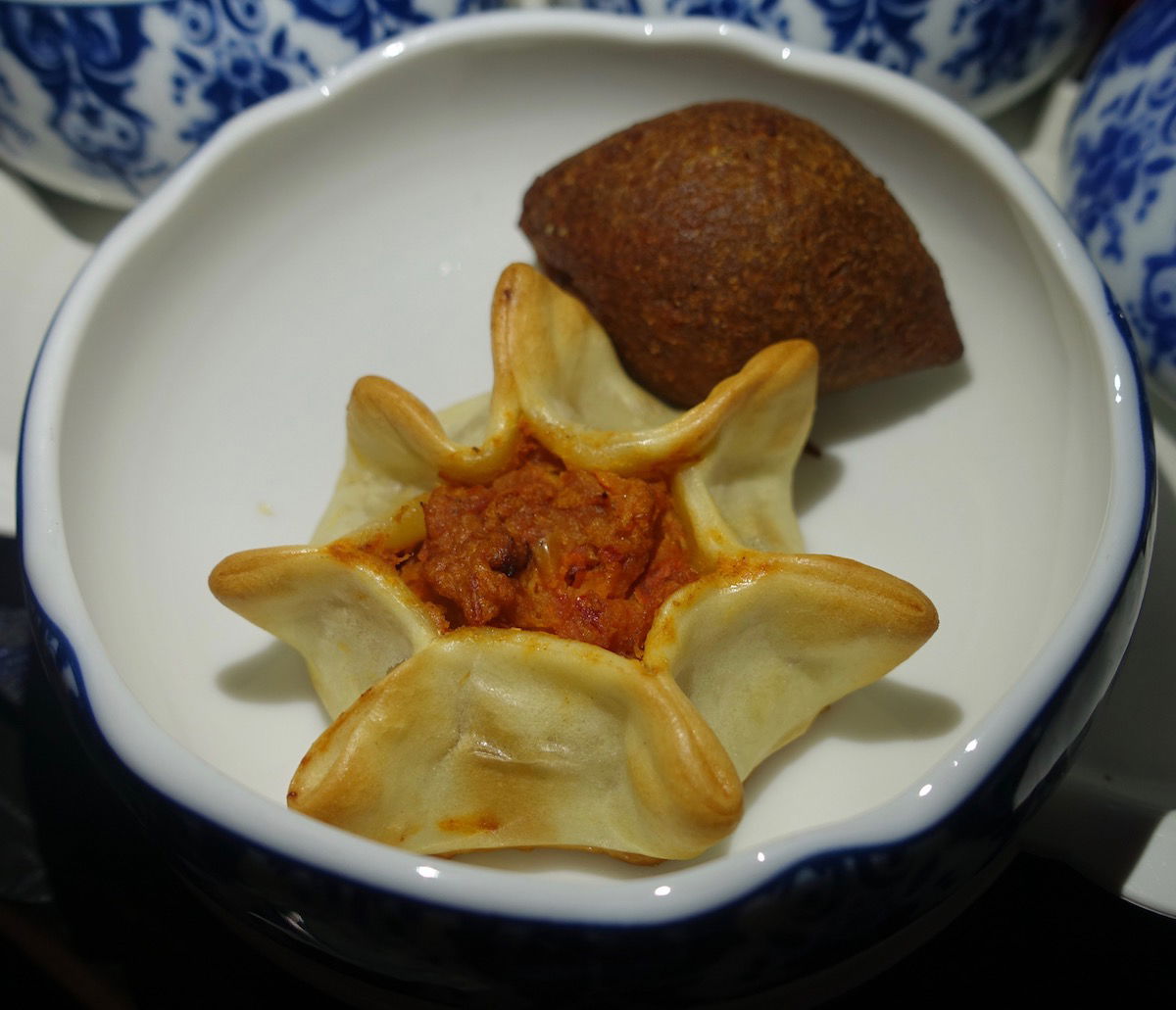 KLM business class snack service (with beef kibbeh)
All the food was delicious, and it was the perfect meal for such a late night flight. I also love the china and silverware that KLM uses, as it just has so much personality. For example, how cute are the clog salt & pepper shakers?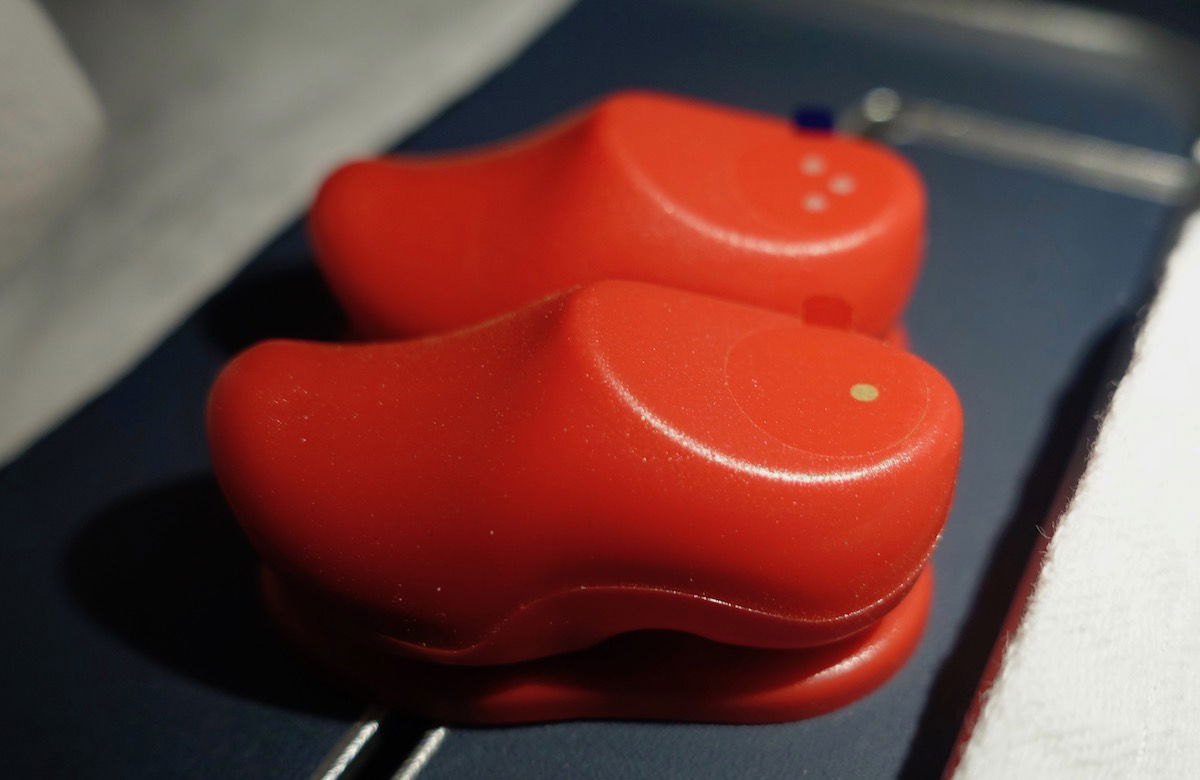 KLM business class salt & pepper shakers
The crew was very quick to clear trays after the meal, so just 45 minutes after takeoff I was able to recline my seat to get some rest.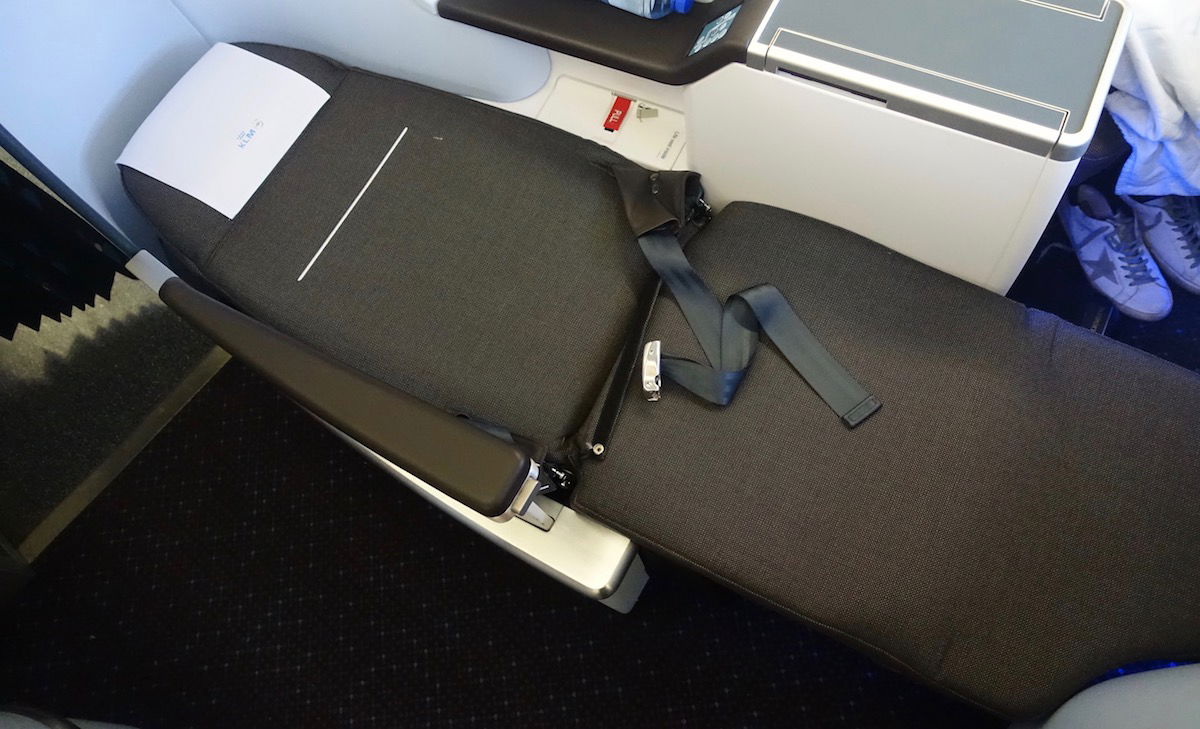 KLM A330 business class flat bed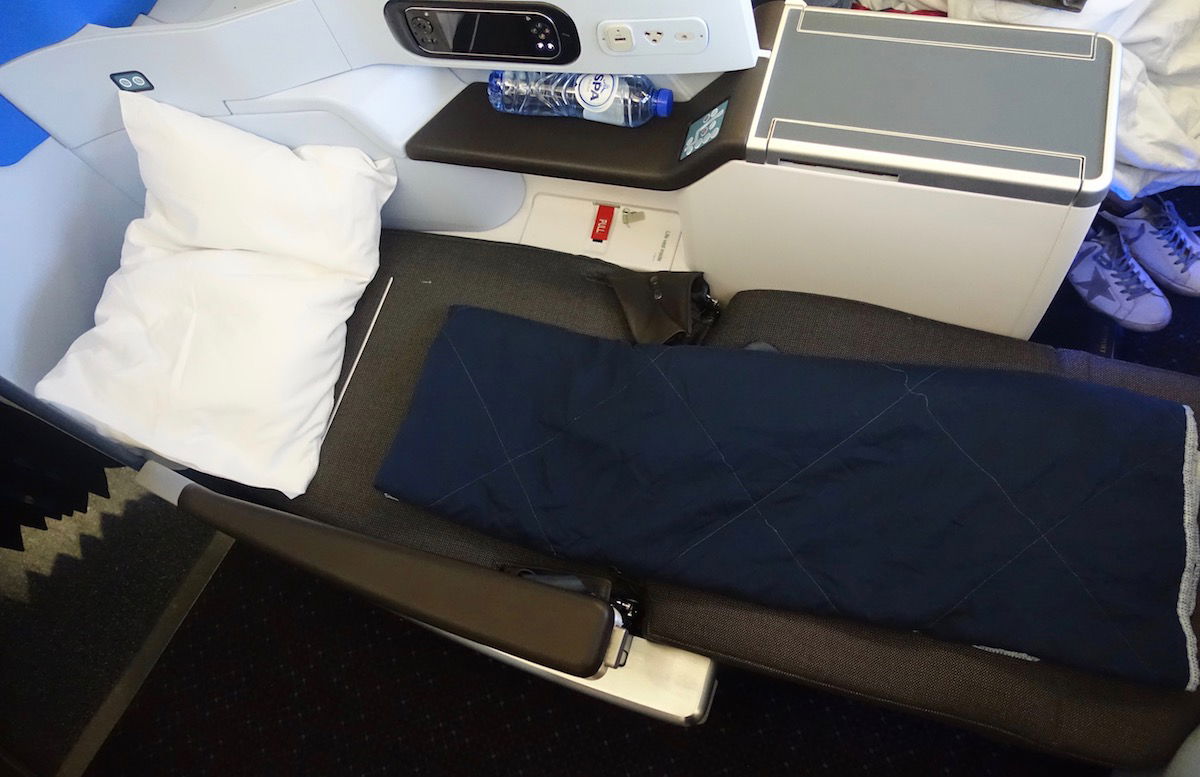 KLM A330 business class flat bed
At this point we had just over six hours remaining enroute to Amsterdam.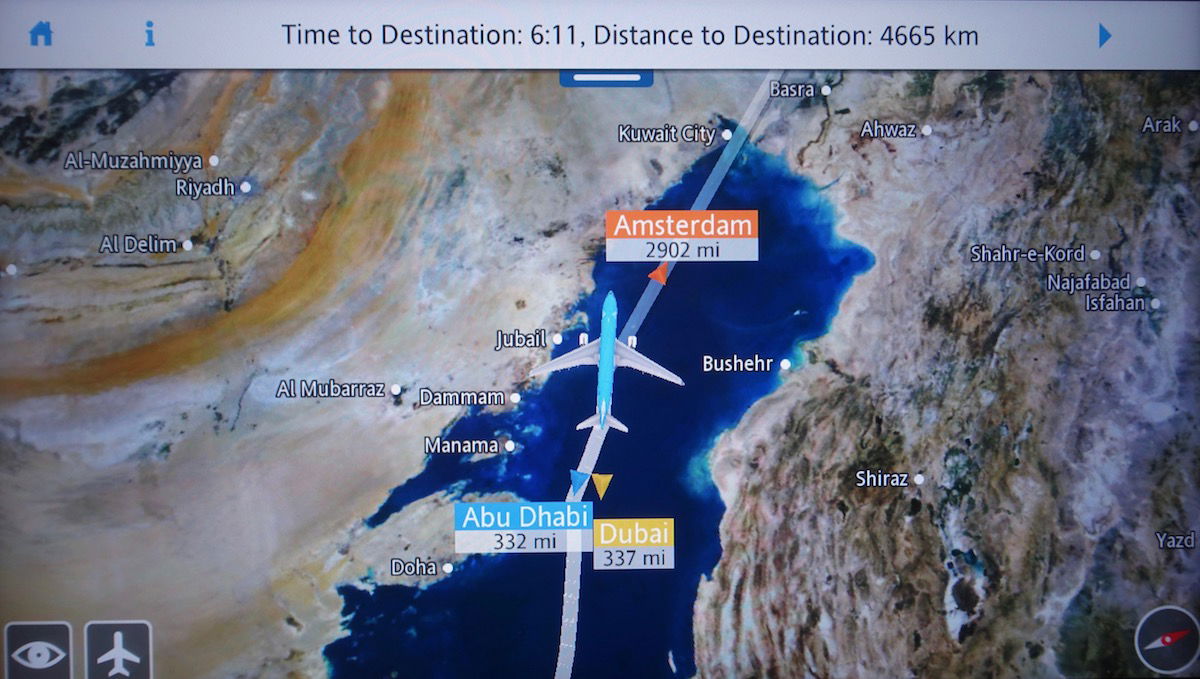 Moving map approaching Amsterdam
I got four hours of excellent sleep (though in fairness I was also really tired), and woke up just over two hours from arrival in Amsterdam.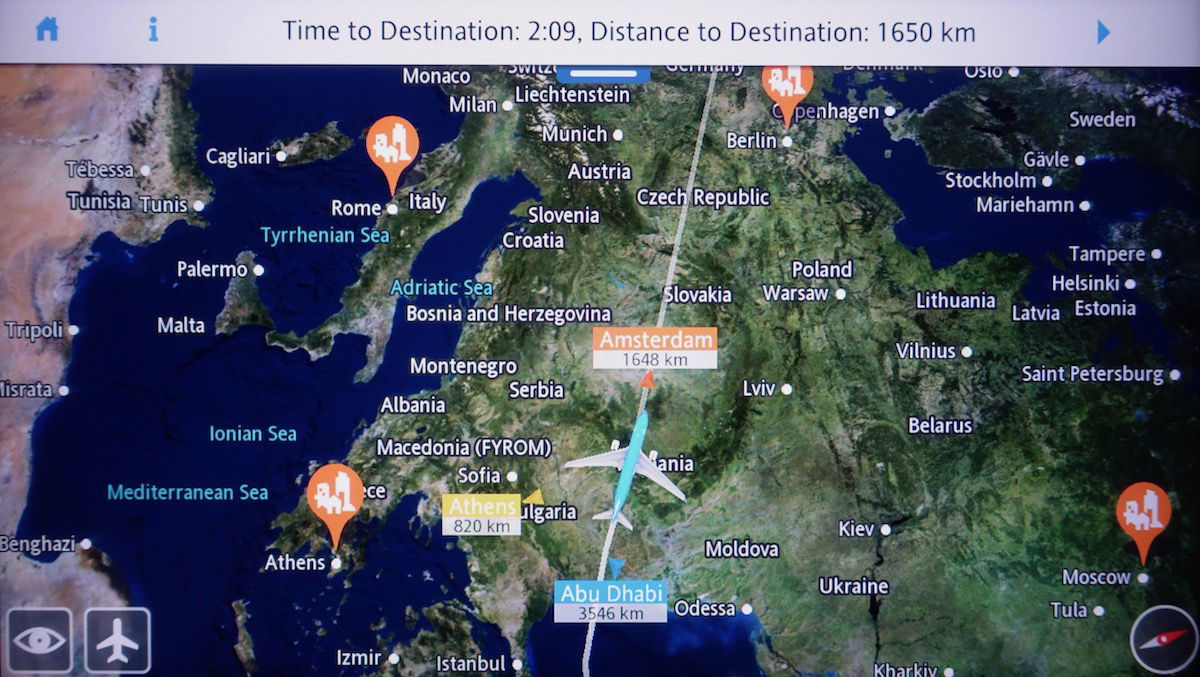 Moving map approaching Amsterdam
About 1hr45min before landing the cabin lights were turned on and the breakfast service began. Service started with warm towels, and was then followed by the choice of a drink, including apple juice, orange juice, cranberry juice, or water.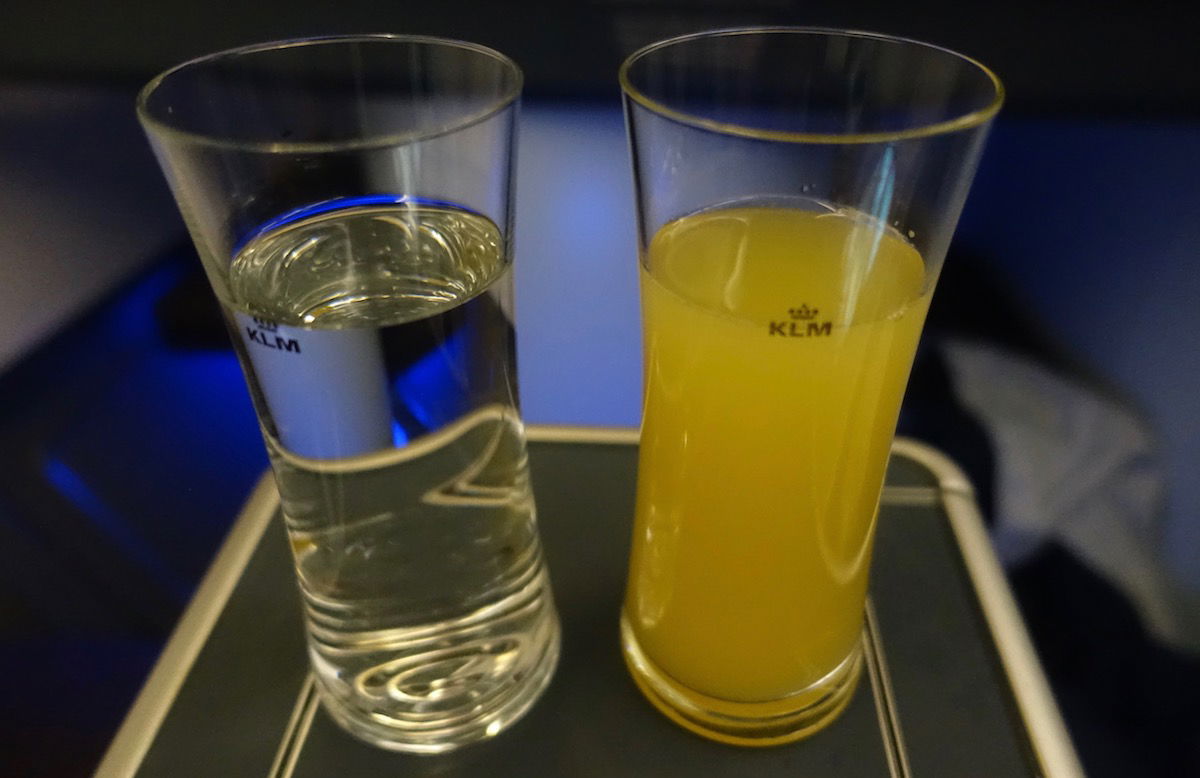 KLM business class breakfast
Then about 90 minutes before landing the meal itself was served. The breakfast menu read as follows: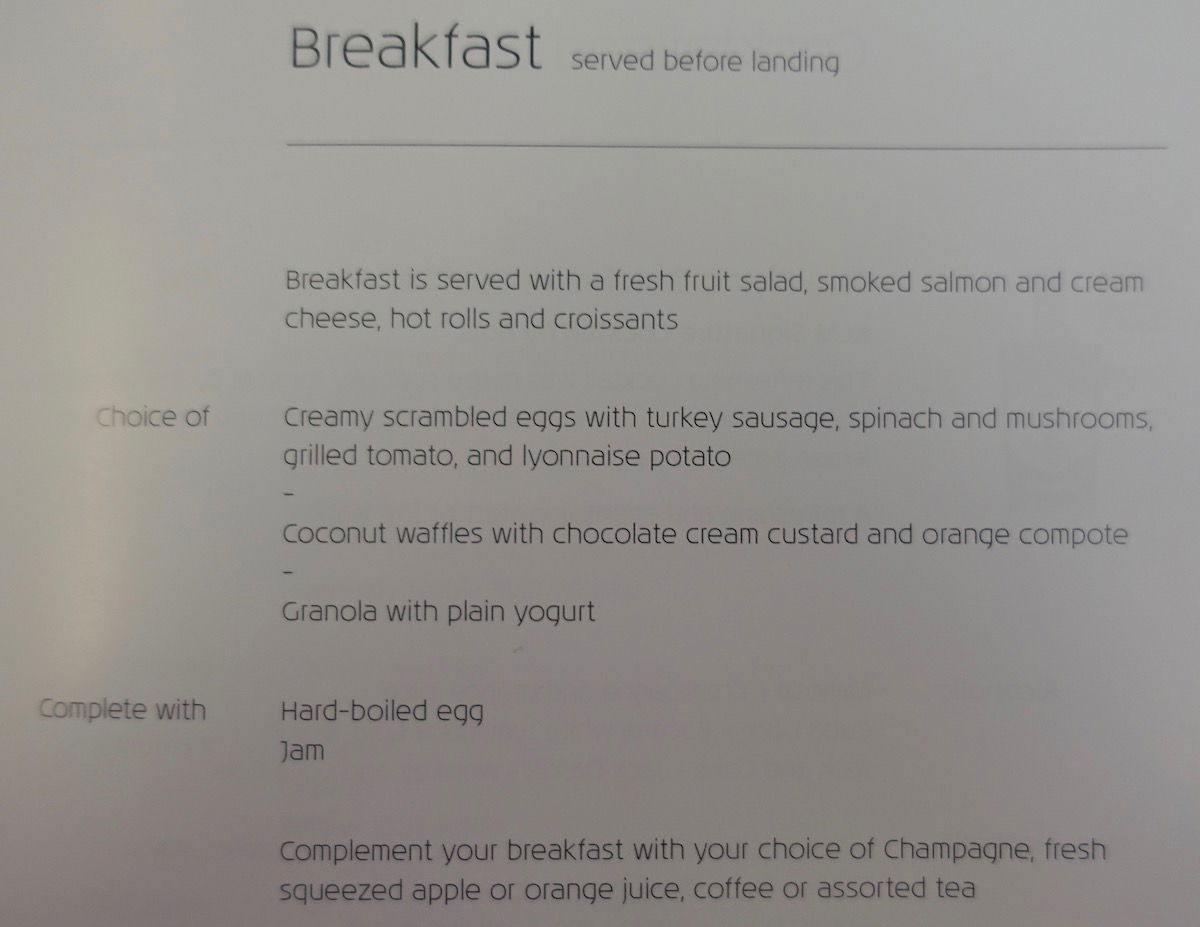 For breakfast I had the granola with plain yogurt, which was served with a fruit salad, smoked salmon with cream cheese, and a selection of bread. I also had a glass of orange juice, as well as a coffee.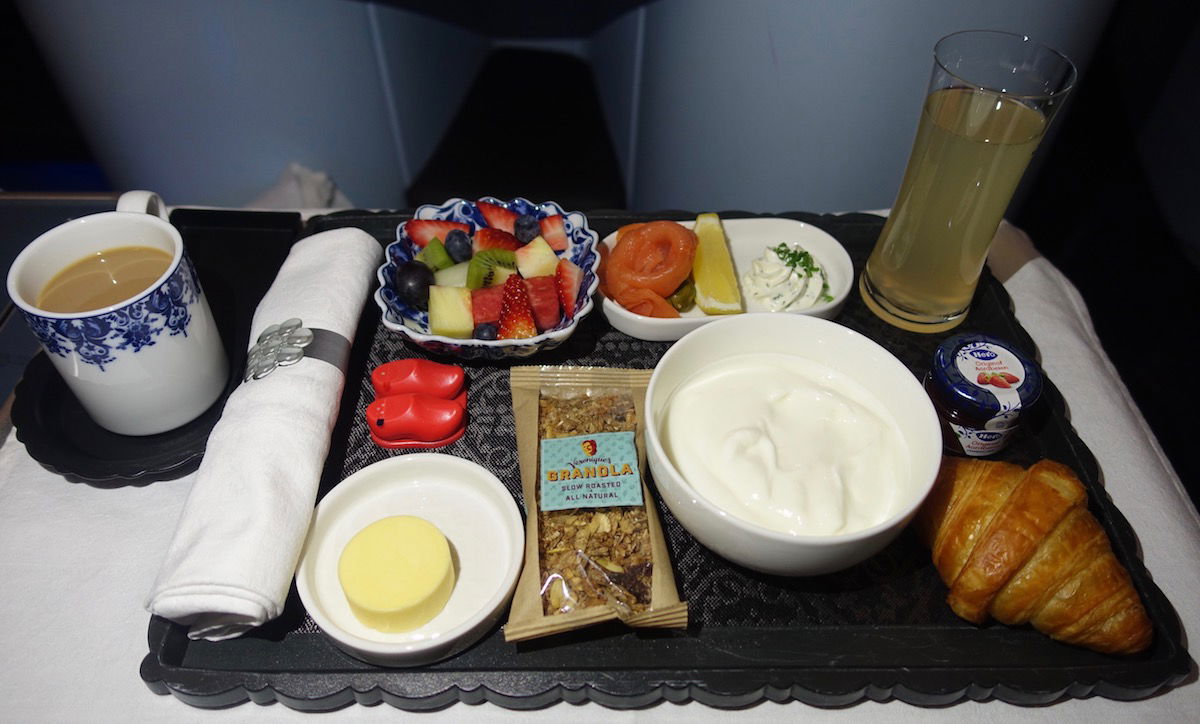 KLM business class breakfast
For his main, Ford instead chose the creamy scrambled eggs with turkey sausage, spinach and mushrooms, grilled tomato, and potatoes.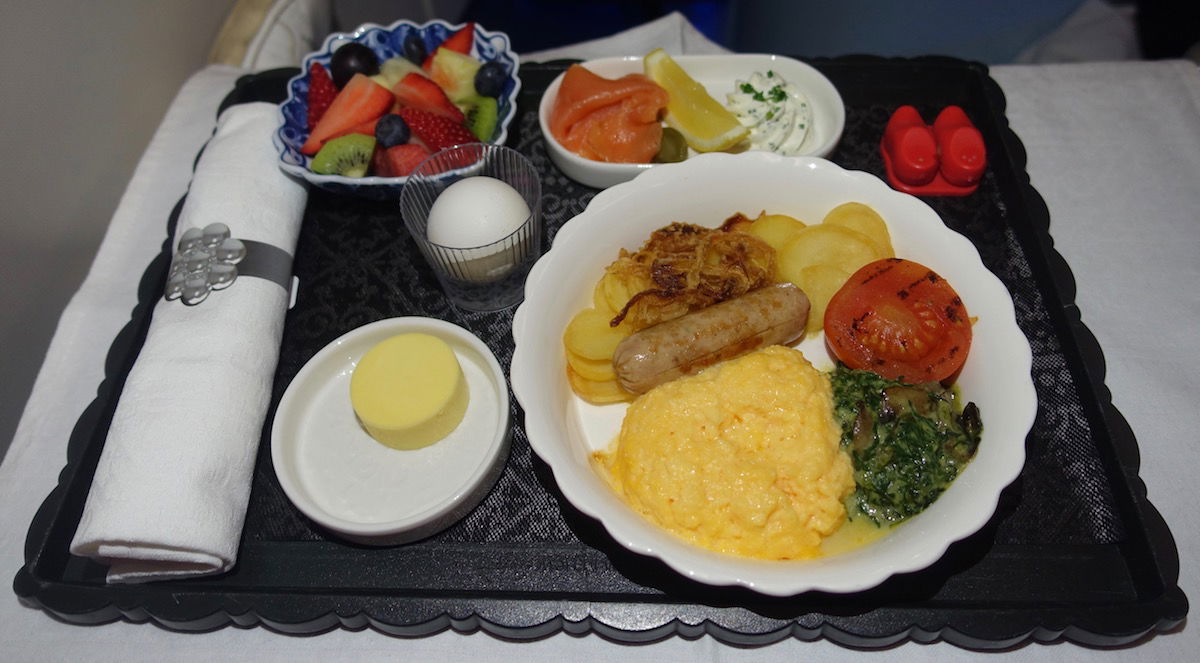 KLM business class breakfast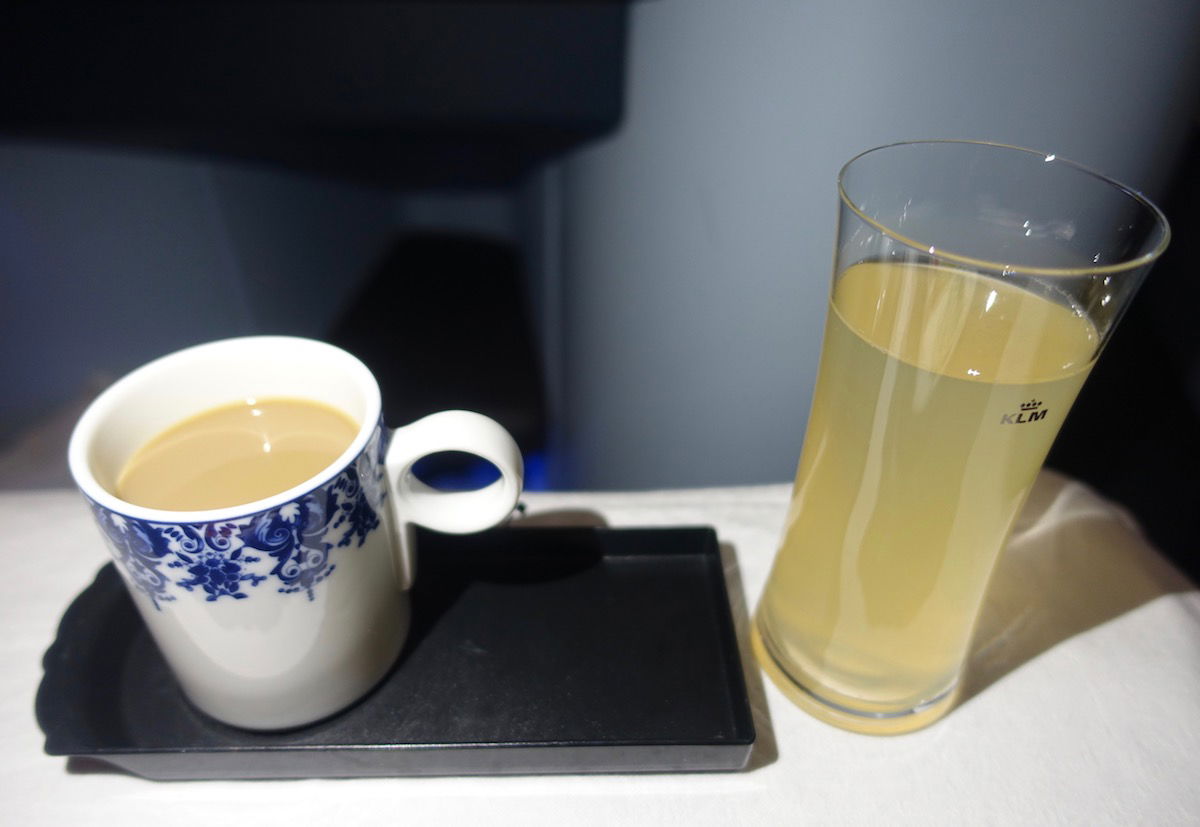 KLM business class breakfast
Both of us enjoyed our meals. Service throughout both meals was quite good. The purser was a nice guy, and was constantly passing through the cabin to see if anyone wanted anything. Then there were two other business class flight attendants — one was extremely friendly, while the other seemed really friendly at times, and seemed to have an attitude at other times, which I found odd.
About 45 minutes before landing the crew brought around a selection of Dutch houses, which is such a cute and memorable aspect of service on KLM. The flight attendant also did an excellent job explaining the history of the houses, how they're incorporated into the service, etc.
Passengers really seem to get excited about this, and several passengers in the cabin had a list of which houses they already have, so they could add new ones to their collection.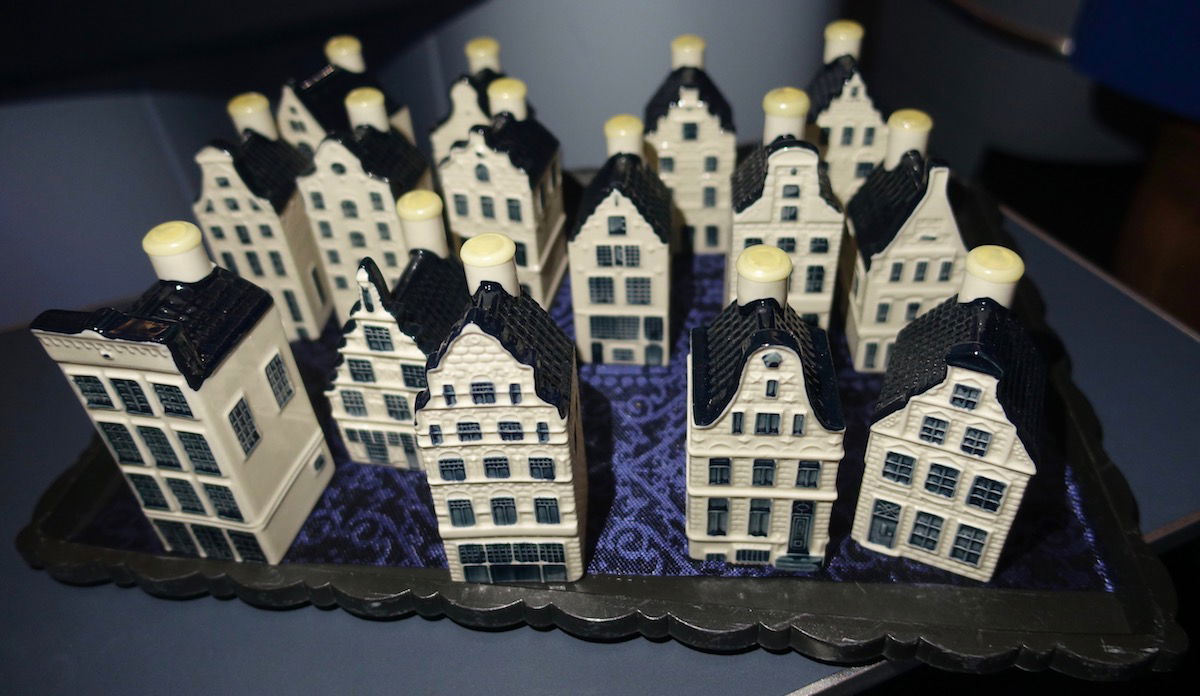 KLM Dutch houses
Below are the ones we selected — #29 and #38.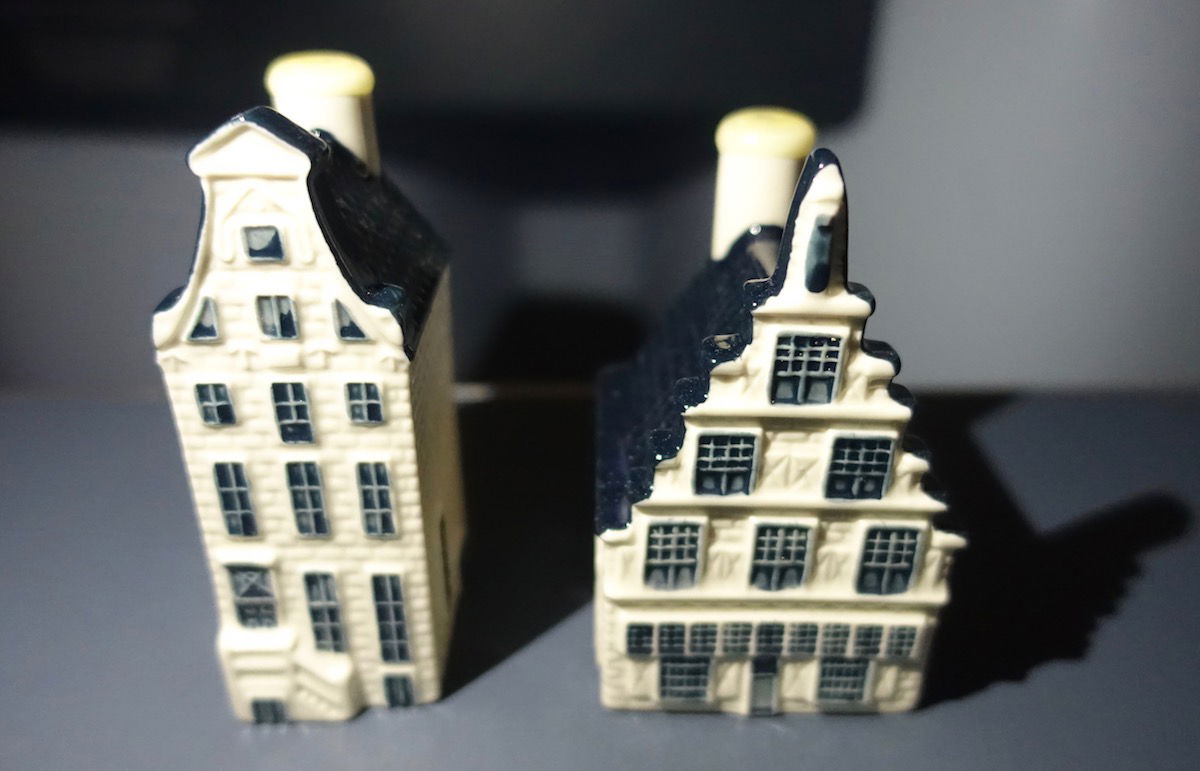 KLM Dutch houses
Since we were connecting internationally and these have gin inside of them, the crew sealed the houses in bags so that we'd be able to take them through security.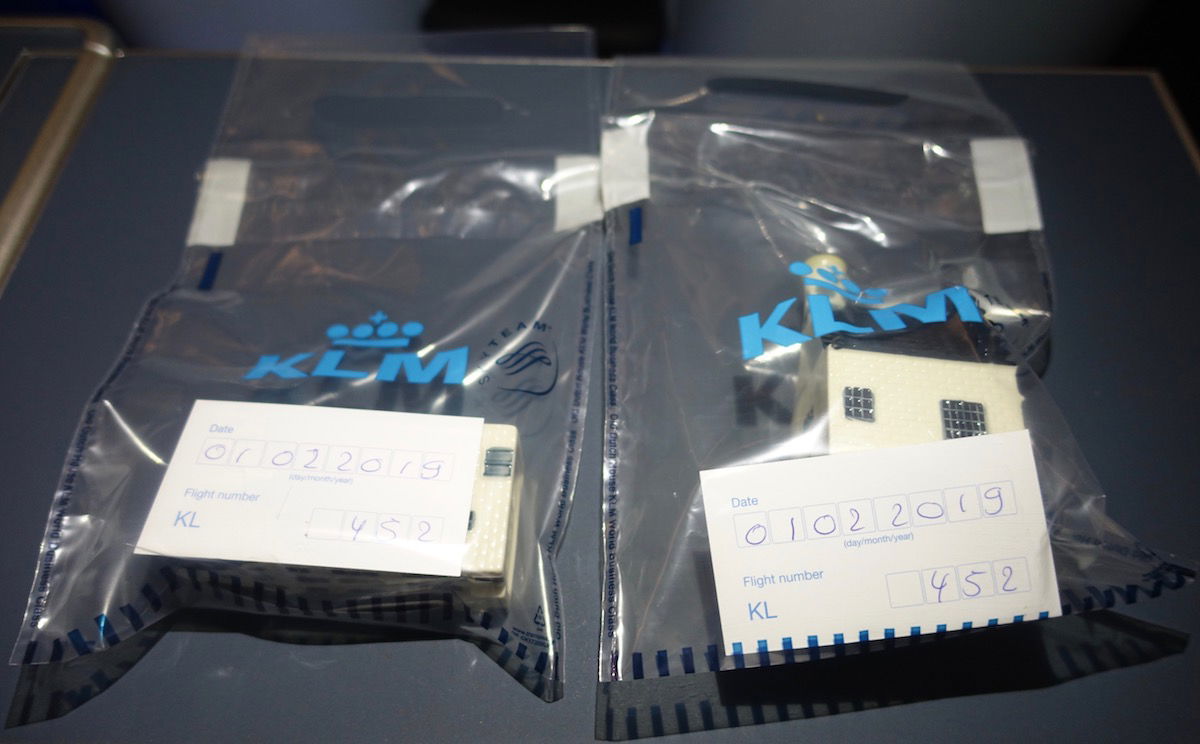 KLM Dutch houses
At 5:55AM Amsterdam time the captain announced that we'd be landing in about 20 minutes, and that with a five minute taxi we'd be arriving about 10 minutes early.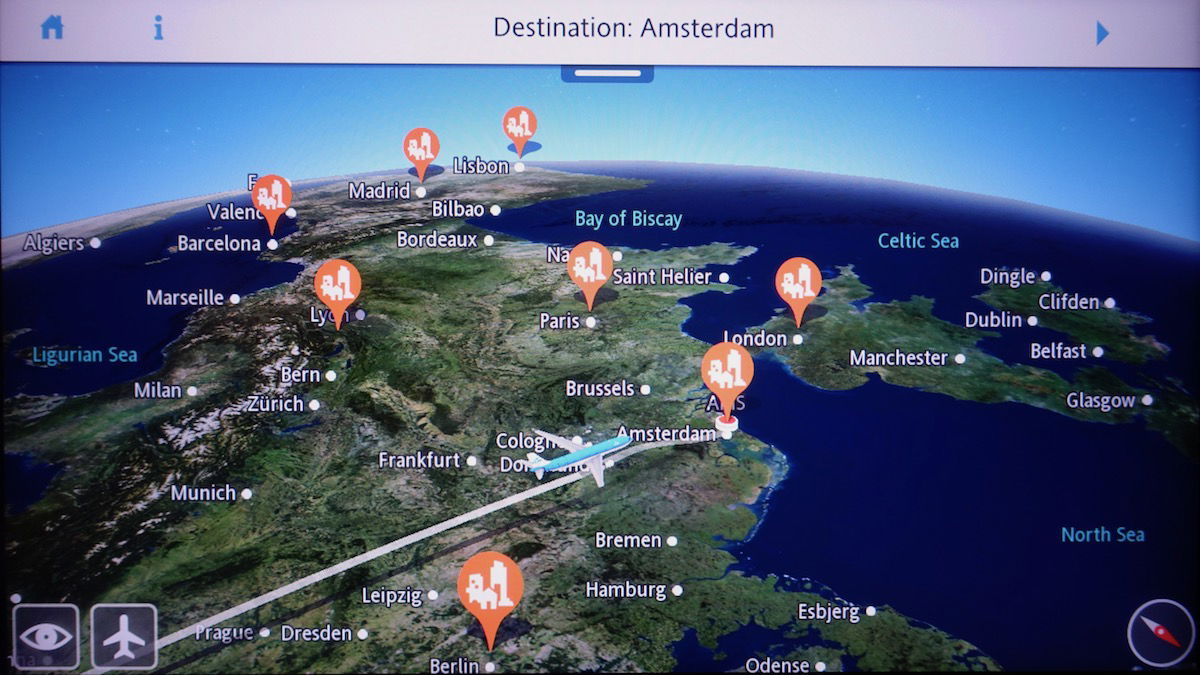 Moving map approaching Amsterdam
We landed in Amsterdam at 6:20AM, and from there had a five minute taxi to our arrival gate, which was E6. We bid farewell to the crew, and then headed towards security so that we could check out KLM's new lounge.
KLM A330 business class bottom line
While KLM's A330 business class seats are nothing to get excited about, I still had an excellent flight and really like the airline. On this flight KLM had very good food, excellent entertainment, and friendly service.
More than anything else, KLM had personality, and that's what I love most about flying with them. From the Dutch houses you get before landing, to the Dutch house wallpaper in the lavatory, to the clog salt & pepper shakers, the airline just makes the experience of flying with them unique, and I really like that.
I'd definitely fly KLM again, if for no other reason than to pick up more of the Dutch houses. 😉
If you've flown KLM business class, what was your experience like?