Fiji Airways has today revealed some very exciting updates to their fleet.
Fiji Airways is getting two A350s
Fiji Airways will be taking delivery of two Airbus A350-900s later this year. The reason the airline is able to get these on relatively short notice is because they're leasing them, and the plan is for the two planes to join Fiji Airways' fleet in November 2019 and December 2019, so these are right around the corner.
These planes were actually supposed to go to Hong Kong Airlines, but we know the financial situation that they're in, so…
This is a really exciting development for Fiji Airways. The carrier's wide body fleet currently consists of six Airbus A330s, including five A330-200s and one A330-300.
Fiji Airways' new A350 business class
Not only will the A350s translate into a significant capacity increase for the carrier, but Fiji Airways is also introducing a new business class product. Fiji Airways will be installing 33 reverse herringbone seats on their A350-900s. Specifically, they'll be going with the B/E Aerospace Super Diamond configuration.
This represents a massive product upgrade for the airline, as Fiji Airways currently has angled business class seats on their A330s, with no plans to improve those. While those seats are fine for the short flight from Fiji to Australia and New Zealand, they're subpar for their flights to/from the US, which are quite long.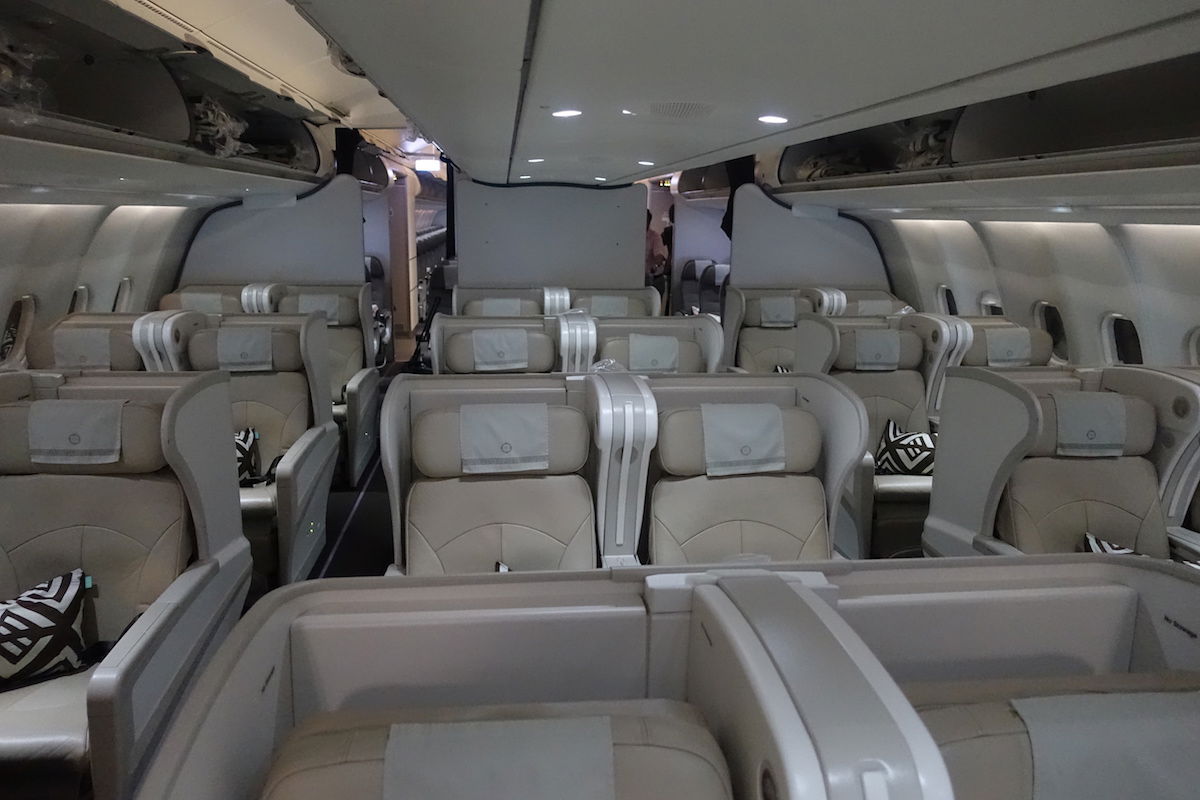 Fiji Airways' route network
Fiji Airways' long haul route network includes flights between their hub in Fiji and the United States, Australia, New Zealand, and Asia. While the airline hasn't yet revealed exactly which flights will get the A350, I'd guess that their flights to Los Angeles and Auckland will be among the first, since those are some of their most important markets.
Fiji is gorgeous, and Fijians are among the friendliest people in the world. So flying from the US to Australia or New Zealand via FIji with a stopover has always been a great option, just as you might do a stopover if flying Icelandair across the Atlantic.
However, with the angled seats it wasn't exactly the most comfortable product out there if paying for business class. With these new reverse herringbone seats, flying Fiji Airways for these routes will become a much more enjoyable experience.
Redeem miles on Fiji Airways
Alaska Mileage Plan is a Fiji Airways partner, and you can redeem just 55,000 Alaska miles for a one-way business class ticket from the US to Australia/New Zealand, with a free stopover in Fiji.
Bottom line
Unfortunately my last trip to Fiji was cut short, so I look forward to these A350s joining Fiji Airways' fleet, and being able to return to the country while enroute to Australia or New Zealand.
Anyone excited to fly Fiji Airways' new A350?