Passengers on Emirates flight EK216 from Los Angeles to Dubai are getting quite the world tour today, as they're stopping in both Toronto and London. This is Emirates' longest flight in the world to begin with (since the Dubai to Auckland route is suspended) — the flight ordinarily covers a distance of 8,339 miles, and is blocked at 15hr50min. On this particular flight, passengers will be onboard for well over 24 hours.
Emirates A380 diverts to Toronto
EK216 departed yesterday evening at around 5:20PM PT from Los Angeles, and began flying northeast, starting the polar route to Dubai. The flight was operated by an Airbus A380 with the registration code A6-EUU, which is a plane that's just under five years old.
Over northeastern Canada, just past Hudson Bay, there was allegedly a medical emergency onboard, so the flight needed to divert. There aren't many airports that far north in Canada that can accommodate an Airbus A380. The decision was made to divert to Toronto (YYZ), which is a major detour.
The flight ended up landing in Toronto at around 3:30AM local time, after a roughly seven hour flight. As a point of comparison, a direct flight between Los Angeles and Toronto would take just four hours, so we're talking about a roughly three hour detour just to get to the diversion point.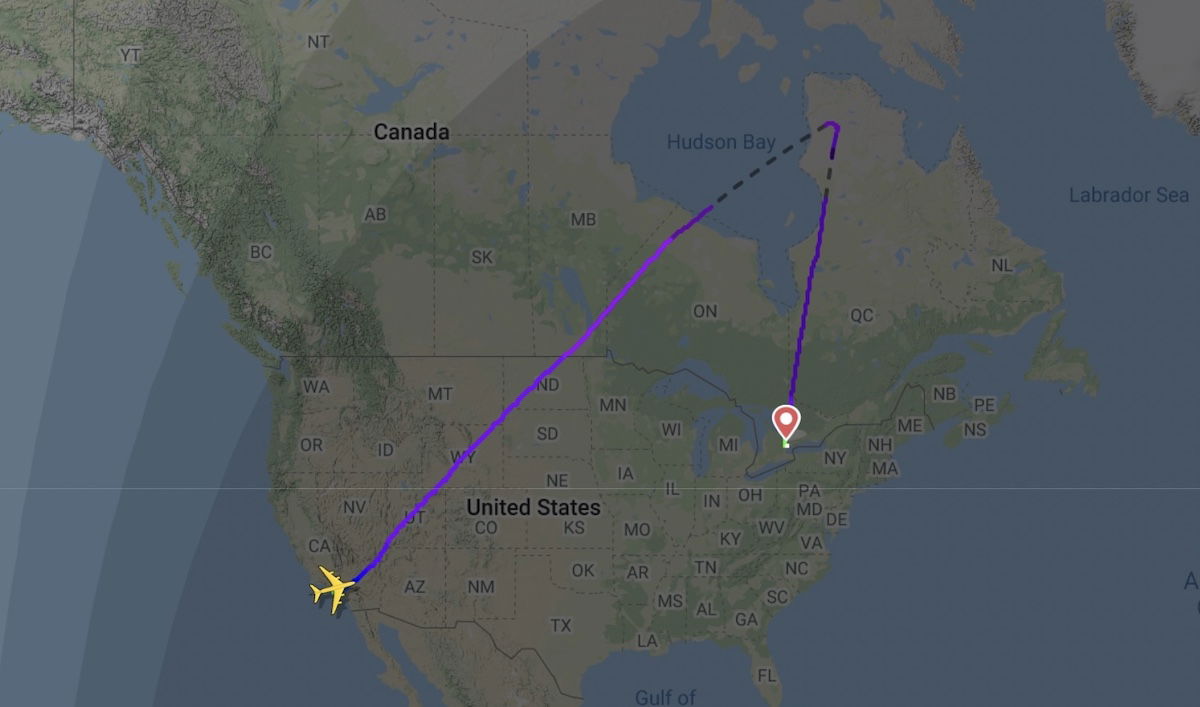 The plane was on the ground there for just over two hours, and took off again shortly before 6AM… but not to Dubai.
Emirates A380 then diverts to London
While Emirates' A380 for an 8,000+ mile flight is very well staffed with four pilots and ~25 flight attendants, ultimately you don't want them working for 20+ hours. At this point the crew didn't have enough duty time left to fly all the way to Dubai.
Emirates' operations team had to find a way to get passengers home, which admittedly is more complicated than ever before, especially with current border restrictions:
Emirates does fly 5x per week to Toronto, but Tuesday is one of the days without service
Not only that, but even if the flight did operate, it leaves at around 10PM, while the flight got to Toronto shortly after 3AM; presumably many passengers weren't even able to enter Canada
That doesn't even account for the fact that if there were a flight, it probably wouldn't have had enough seats for all passengers
Instead the decision was made to operate a flight from Toronto to London. Why?
Emirates currently operates four daily flights to Dubai, three of which are operated by A380s
With several hours of advance notice, it's much easier for Emirates to make sure that a crew is available to operate this flight
Currently the A380 is just past Newfoundland, and should be landing in London later this evening.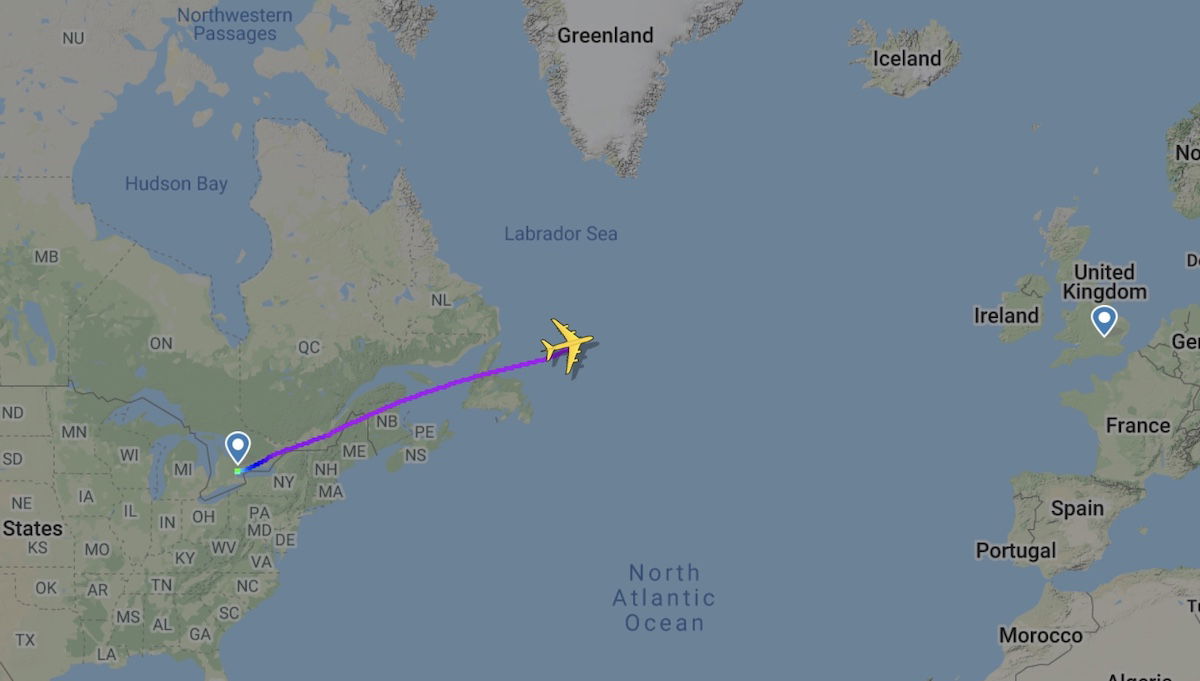 What happens when passengers get to London?
Emirates made the decision to cancel this evening's EK4 from London to Dubai. The flight was scheduled to depart at 8:40PM, and arrive in Dubai at 9:35AM on Wednesday.
Instead the crew that was scheduled to operate EK4 will instead operate EK216, allowing for a crew change, and a seamless transition for passengers (well, as seamless as it can be while double diverting).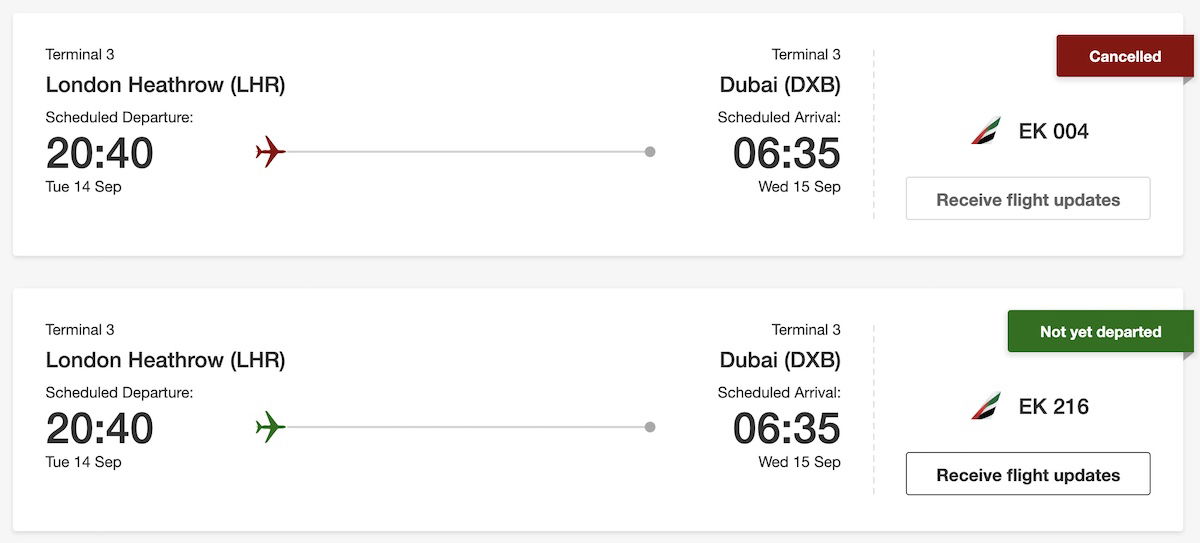 While some London to Dubai passengers will no doubt be inconvenienced by this, this ultimately seems to minimize the disruption for the most number of passengers.
Bottom line
Yesterday evening's Emirates' A380 flight from Los Angeles to Dubai is diverting twice. It first diverted to Toronto due to a medical emergency, which required a huge detour, and meant that first flight took about seven hours.
At that point the crew couldn't fly all the way to Dubai without exceeding maximum duty hours, so the flight is currently enroute to London, where a fresh crew will take over.
Based on what I've seen, Emirates is handling this situation exceptionally well. Medical diversions are inconvenient for everyone, and particularly for the airline, but they're the right thing to do. And it seems that Emirates has done as good of a job as possible with managing this situation, and thinking outside the box to find a way to get passengers to Dubai without having to deal with complicated travel restrictions.
What do you make of this Emirates double diversion? Are any OMAAT readers on this flight?