Emirates has just announced major plans to reconfigure existing aircraft. This update is great news overall, though I also have some concerns.
Emirates installing premium economy on 777s & A380s
At the beginning of 2021, Emirates revealed its highly anticipated new premium economy cabin. This debuted on newly delivered Airbus A380s, though the catch is that Emirates only had six more A380s on order. After that, there were no concrete plans to install premium economy on more planes until the airline took delivery of Boeing 777-9s, which will only join the carrier's fleet in 2024 at the earliest.
That plan has now changed. Emirates will be retrofitting 105 aircraft with premium economy cabins, including 53 Boeing 777s and 52 Airbus A380s. The process of reconfiguring these planes will take around 18 months, but will only start at the end of 2022 (meaning that best case scenario the project will be complete by mid-2024). Once the project is complete, Emirates will have 111 planes with premium economy.
As Emirates President Tim Clark describes the plans:
"Emirates is investing in this retrofit programme to ensure that we continue to serve our customers' needs, and provide the best experiences in the sky. Since we introduced our Premium Economy seats a year back, we've received a hugely positive response. Customers have been amazed by the quality and comfort. As Emirates has done with our signature First, Business and full-service Economy travel experiences, we intend to further develop our Premium Economy into a distinctive Emirates experience that is unmatched in the industry."
In terms of aircraft configurations, we can expect:
Emirates 777s will have 24 premium economy seats, in a 2-4-2 configuration; this will be immediately behind business class, and five rows of economy will be removed to make this possible
Emirates A380s will have 56 premium economy seats, in a 2-4-2 configuration; this will be at the very front of the lower deck, also replacing economy seats
Emirates' premium economy seats feature 40″ of pitch, and they're 19.5″ wide with 8″ of recline. Each seat also features a footrest and a 13.3″ personal seatback television.
Emirates' initial six Airbus A380s with premium economy are expected to fly to Frankfurt, London, New York, and Paris, by the end of December 2021.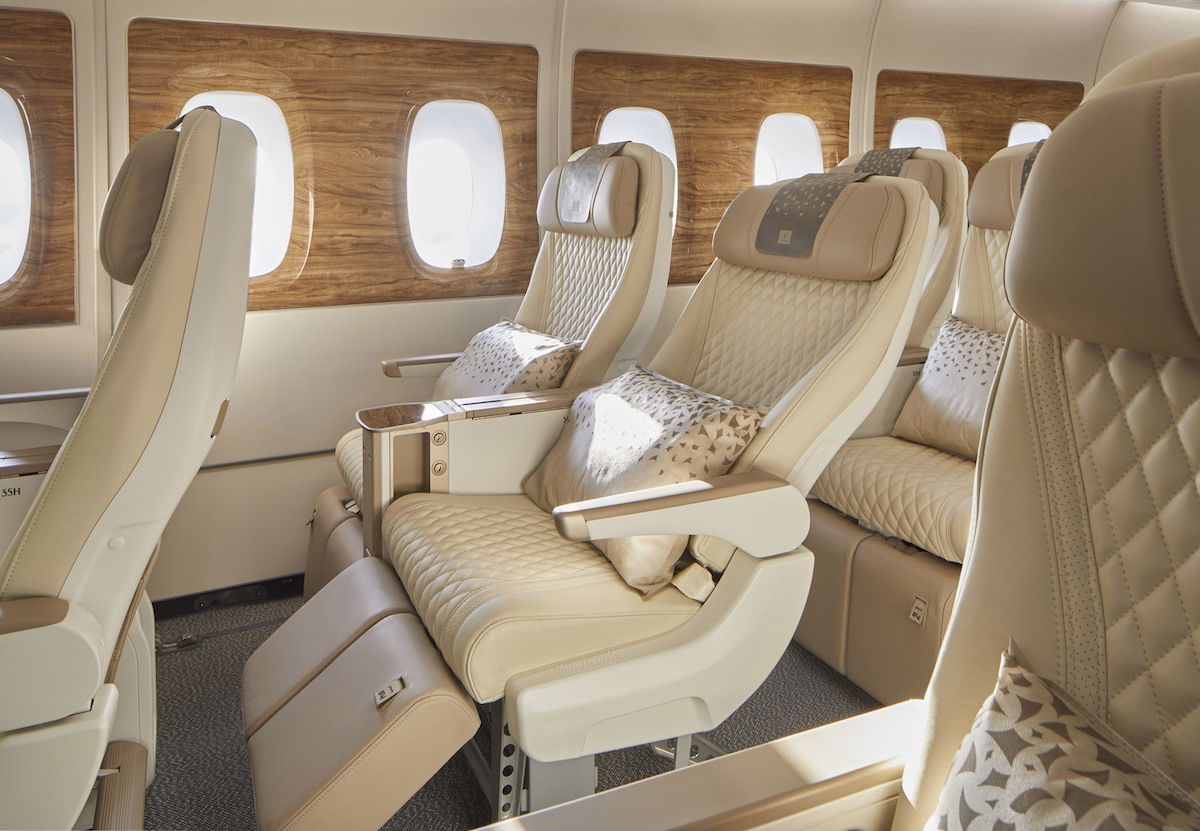 Emirates may install new 777 business class
There's another major update here. When Emirates installs premium economy on Boeing 777 aircraft, the airline may also upgrade its 777 business class with new seats featuring direct aisle access, in a 1-2-1 configuration.
The only official announcement so far is that this is under consideration, and to stay tuned. As Clark describes this:
"We are also considering a brand new Business Class product. More details will be revealed in due course."
So we'll have to wait and see. Emirates' Boeing 777 business class product is incredibly disappointing, with angled seats in a 2-3-2 configuration. There simply shouldn't be a long haul business class product on a top airline with a middle seat that doesn't feature direct aisle access.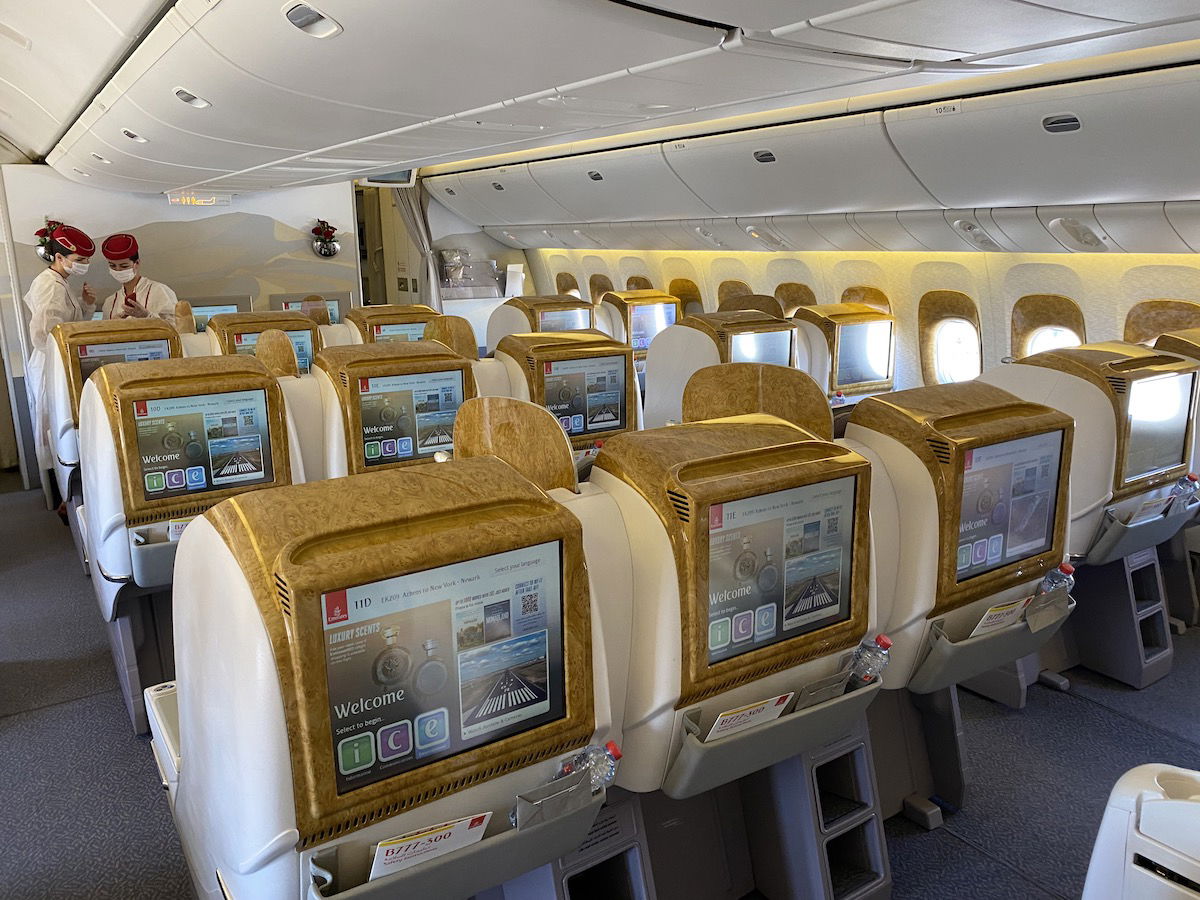 It sure would be great to see Emirates install new business class cabins on these planes. Even if the airline does, I wouldn't expect anything revolutionary. Rather I'd expect something along the lines of Emirates' current A380 business class, perhaps with some upgraded features.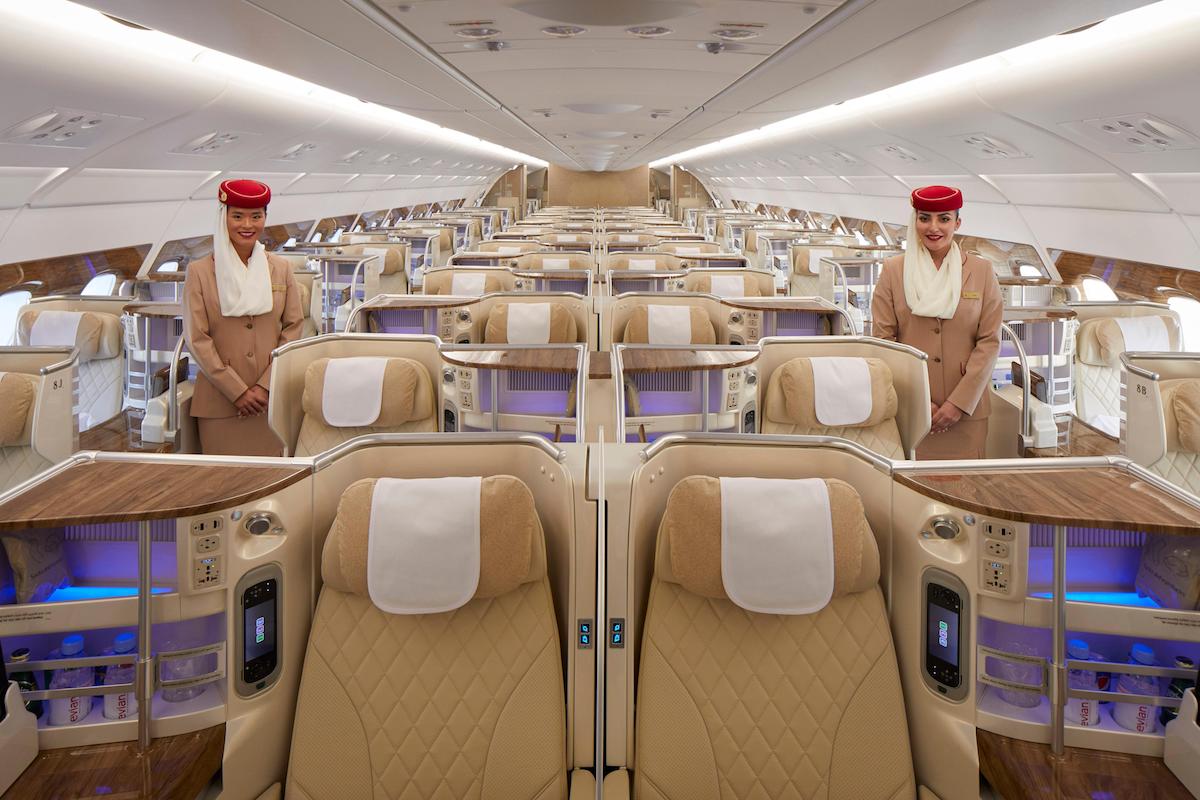 This is exciting, kind of disappointing
Emirates is such a strange airline sometimes. The Dubai-based carrier has been incredibly innovative in so many ways, but at times moves at a snail's pace, and is surprisingly uncompetitive. Today's update is exciting news, though:
It's disappointing that the reconfiguration process will only start in over a year, and will then take a further 18 months
It's disappointing that there are no plans to install Emirates' new first class during these retrofits; the airline introduced this product in late 2017, and four years later only nine Boeing 777s have these seats
I can't believe Emirates is even considering not installing a new business class product on 777s; how embarrassing that in 2024, the carrier's best business class product on the 777-300ER may still be seats in a 2-3-2 configuration
Even on the Boeing 777X, Emirates didn't have plans for a revolutionary business class; with the plane being delayed so much, maybe that will change in the meantime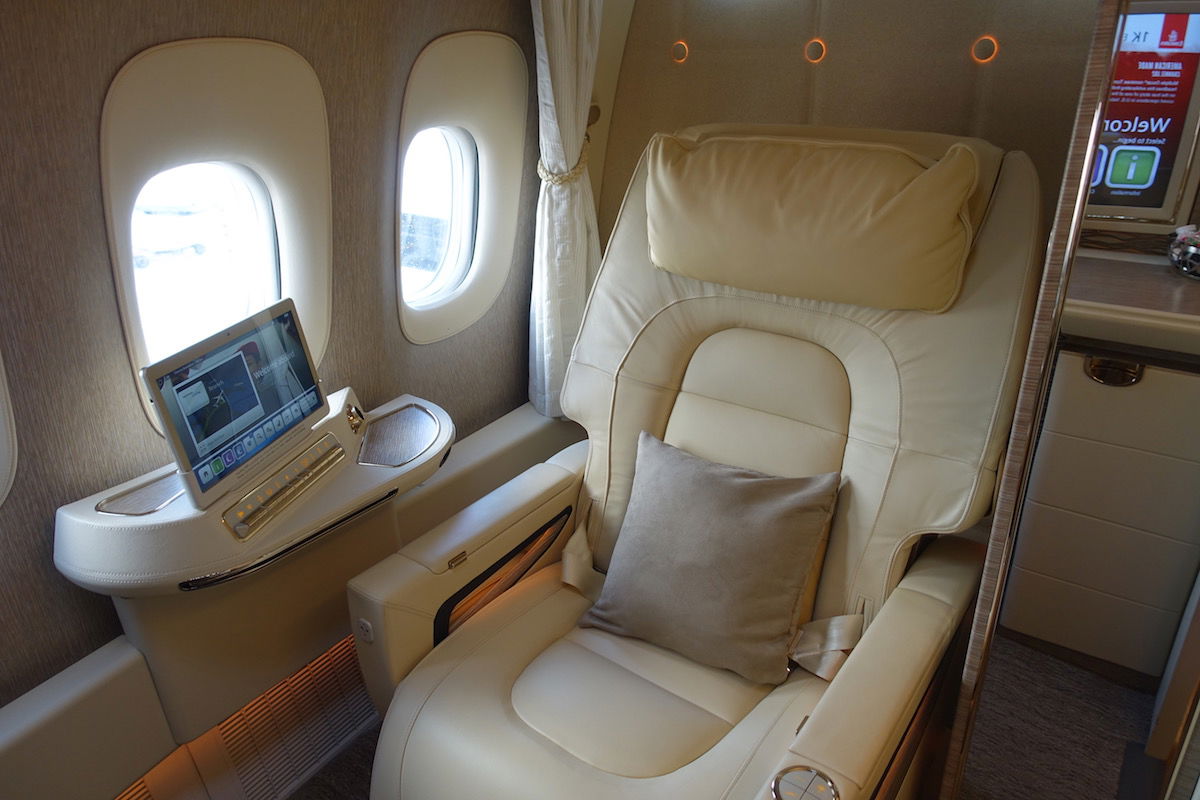 It seems to me that Emirates is in general relying a bit too much on the A380 halo effect, including the popular bar and shower.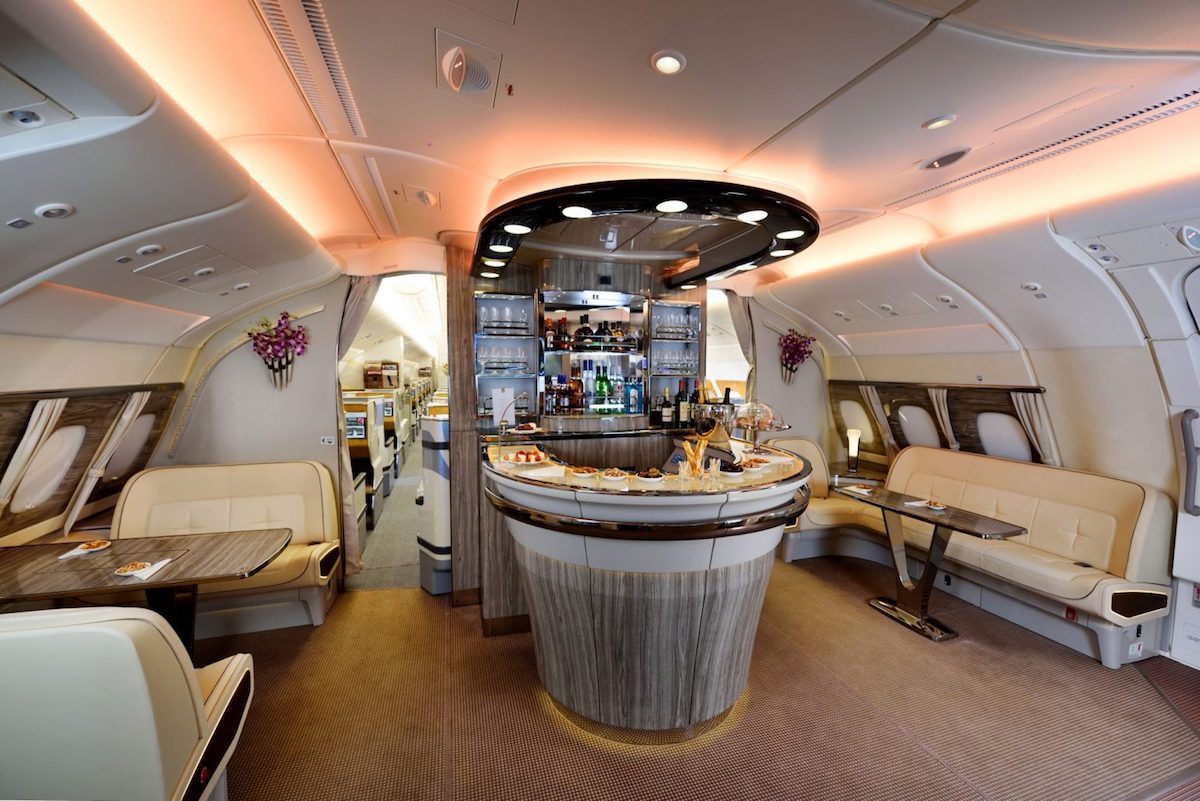 Bottom line
Emirates plans on reconfiguring 105 aircraft with premium economy, including a mix of Airbus A380s and Boeing 777s. The project is expected to start in late 2022, and will take around 18 months. The carrier is also considering installing a new business class product on 777s at that time.
I'm happy to see this initiative from Emirates, though I can't help but be disappointed that new first class seats aren't part of this project, and that the carrier isn't even committed to a new 777 business class seat. Furthermore, this project will only start in over a year.
What do you make of this update from Emirates?