Last November we first learned about some changes that Emirates is making to their fleet of 10 Boeing 777-200LR aircraft. Historically these planes are in a three cabin configuration, featuring first class, business class, and economy. Emirates' plan was to reconfigure these planes in a two cabin configuration, which would allow them to increase the seat count from 266 to 302.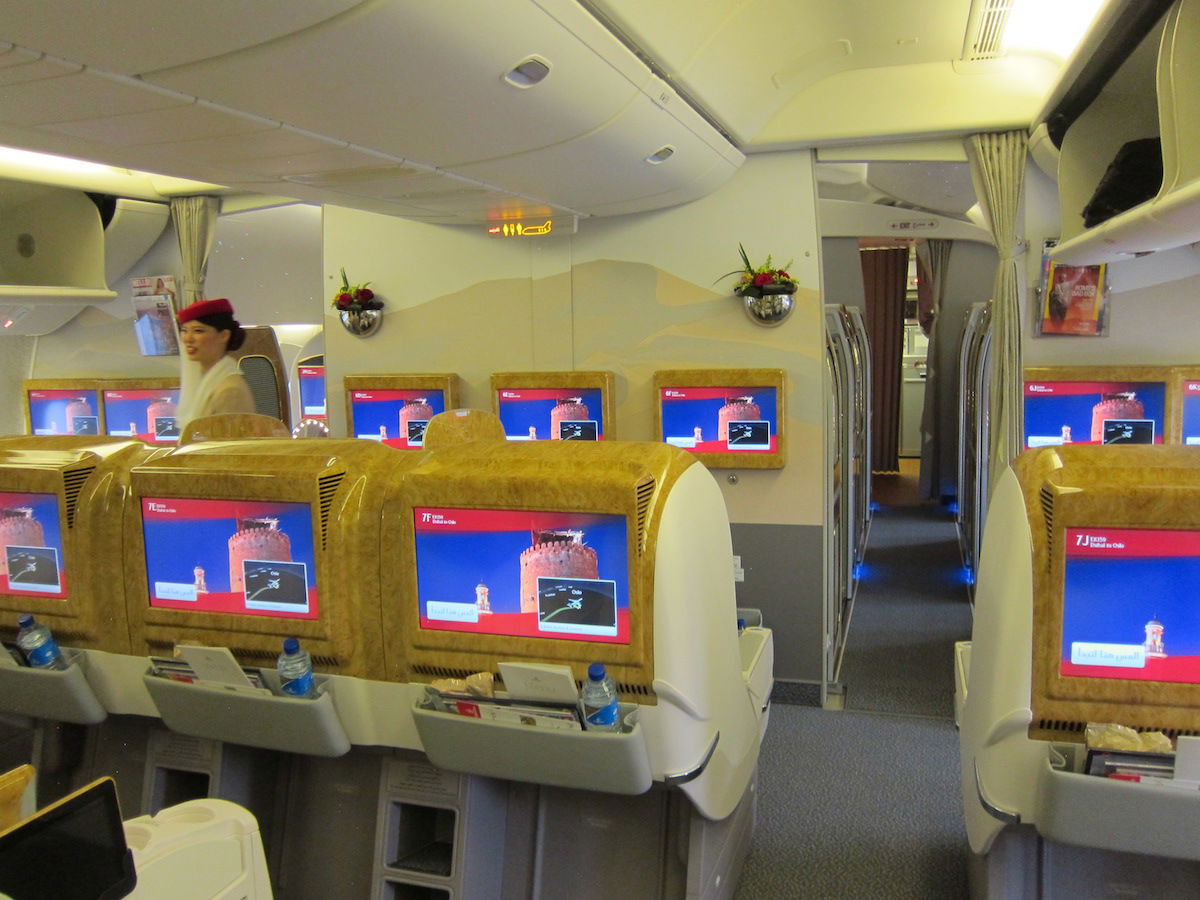 Emirates' old 777 business class
Perhaps most interestingly, Emirates would go from offering seven seats per row in business class on the 777-200LR to offering six seats per row, thereby eliminating the middle seat (which is long overdue). I've been curious all along if Emirates was planning on introducing a slightly modified seat, or if they were just going to have wider aisles.
Now we know, as Emirates has just revealed their new 777-200LR business class cabin, in a 2-2-2 configuration. The plane features 38 business class seats and 264 economy seats.
Emirates has chosen to use the same general design for the seats as on their new 777-300ERs, though they claim that the new seats are two inches wider. Personally I'm a bit skeptical of that based on the pictures, so I'll have to try them myself, I guess. It's also interesting that Emirates has removed the bins from the center of the cabin, to create a more spacious feel. The seat features 72″ of pitch and goes fully flat, and has an IFE screen that's 23″ wide.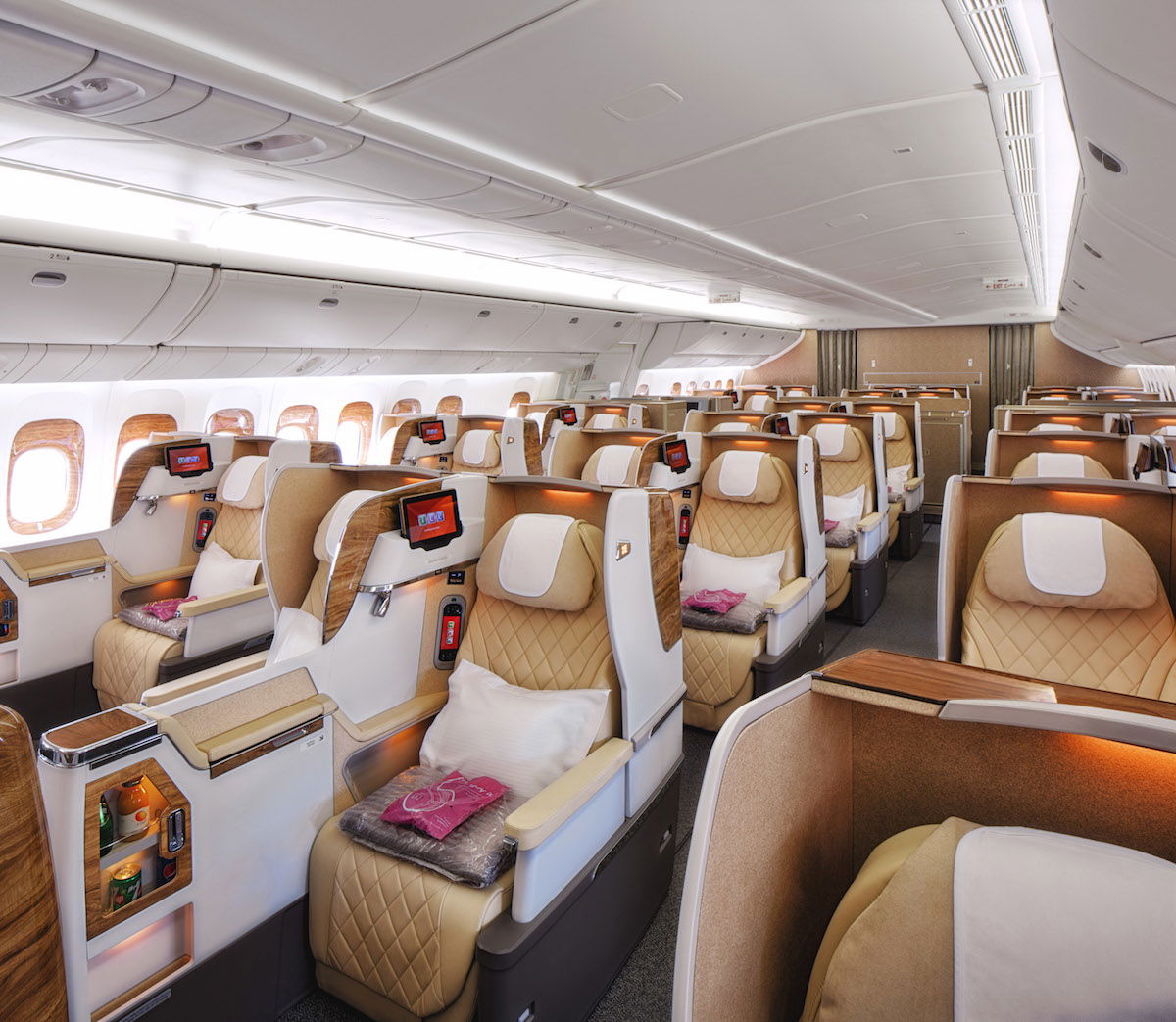 Emirates' new 777-200LR business class
Emirates has also added another unique feature to their 777-200LRs. These planes feature a small business class social area, featuring snacks and drinks that passengers can help themselves to during the flight. Obviously this isn't to the level of Emirates' A380 onboard bar, though it's something. My only concern is that there don't seem to be any privacy partitions between this and the rest of the cabin. In reality I suspect this will be more of a "grab & go" area rather than an area for socializing.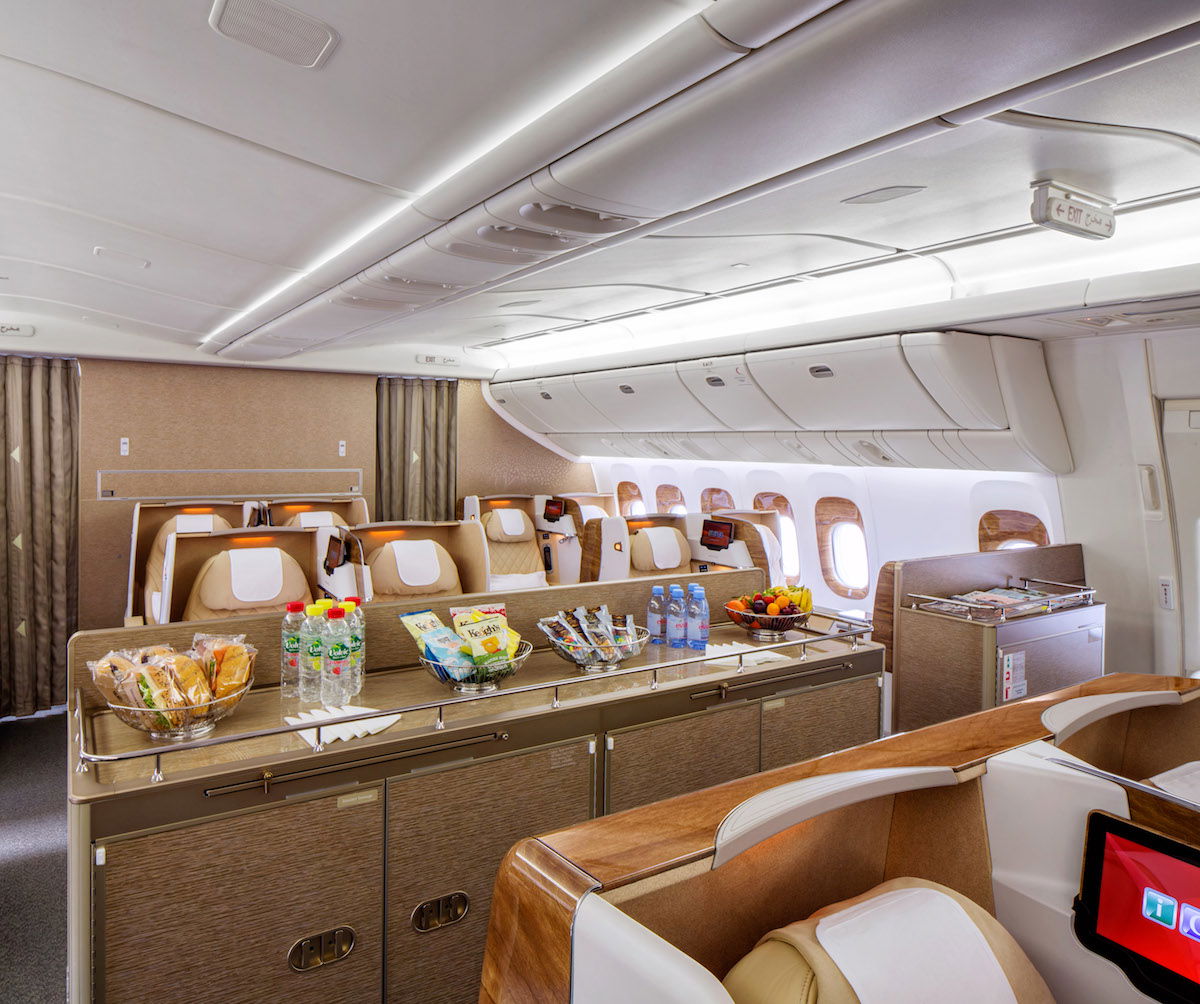 Emirates' new 777-200LR business class
Emirates has also updated the economy cabin on their 777-200LRs, to feature the latest color palette.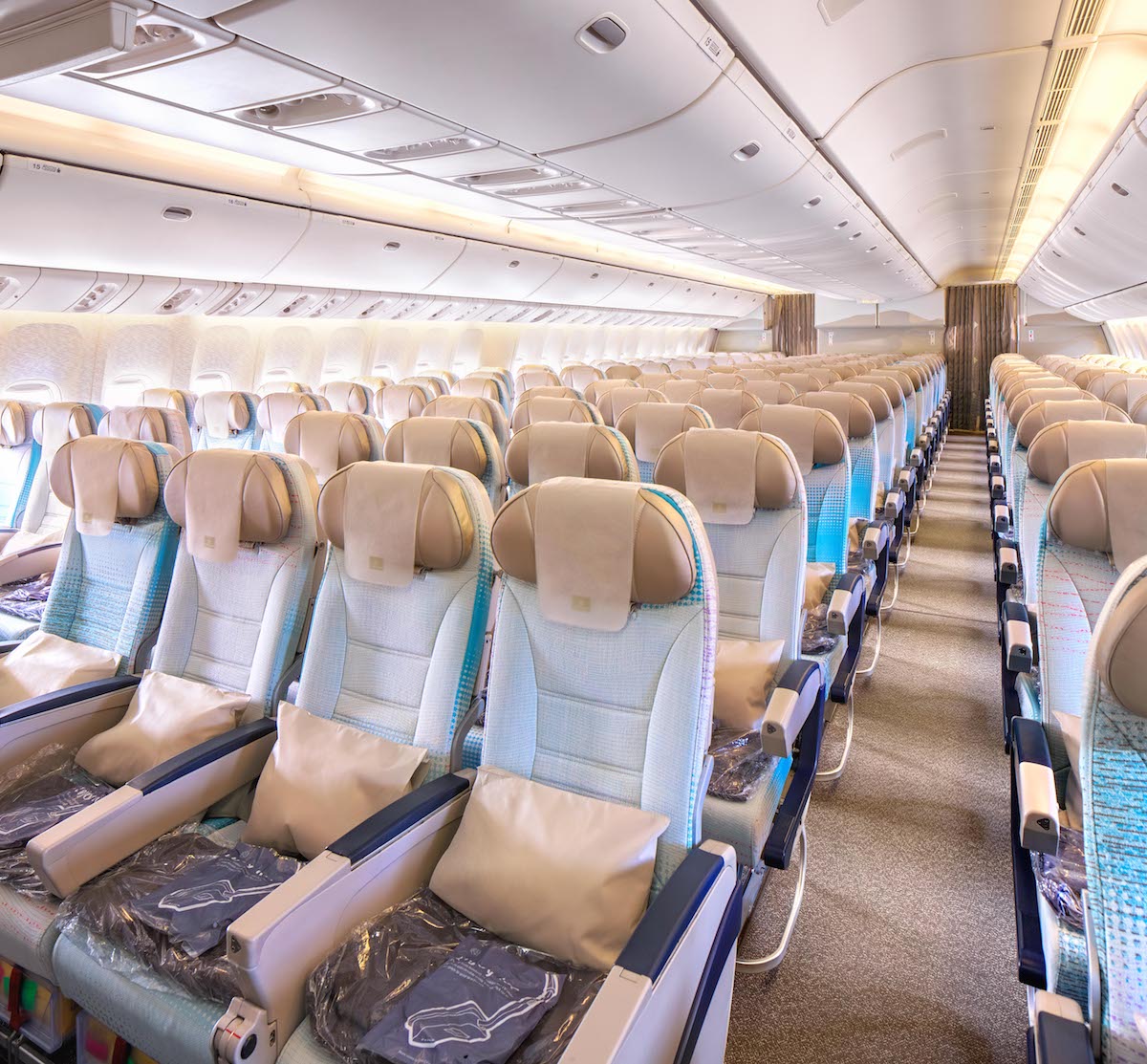 Emirates' new 777-200LR economy class
Emirates claims that they invested over 150 million USD to refurbish these 10 planes. The new plane will go into service as of tomorrow, March 6, to Fort Lauderdale.
Bottom line
Emirates' new 777-200LR business class looks like a nice improvement over their old 777 business class. While Emirates has a nice business class product on the A380, the 777 is the backbone of their fleet, and has featured a lackluster business class seat. Emirates still doesn't have direct aisle access from every seat in business class, but they can get away with it.
Even though the seat is only slightly different than their old business class seat, I'd say this is a significant improvement, thanks to the lack of a middle seat. Hopefully the seats actually are two inches wider, though I'm a bit skeptical. I also like that they eliminated the overhead bins in the center of the cabin, as long as that doesn't lead to a shortage of space (it shouldn't).
What do you make of Emirates' new 777-200LR business class?