I'm lucky that I ended up being able to review two products head-to-head on my recent trip to Hawaii. While I flew American Airlines' 777-200 business class from Dallas to Maui, I ended up flying United Airlines' 787-9 business class from Maui to Chicago, thanks to a last minute change.
I was expecting the experience to be roughly comparable (American vs. United is like Chili's vs. Applebee's), though that didn't end up being the case. What was the experience like on this 7hr21min, 4,000+ mile flight?
How & why I booked United business class
I booked my return flight on United to the mainland on the day of departure. Why?
While I had originally booked a $900 one-way business class fare from Maui to Tampa via Dallas on American, I ended up moving back my return by three days; unfortunately the business class fare for that date was $1,700 one-way, so I decided to just book economy, waitlist a systemwide upgrade, and hope for the best
On the day of departure it became clear that my upgrade was unlikely to clear; while I was number one on the upgrade list, business class was sold out
While I'm not above taking a seven hour redeye in economy if I have to, I'll also do what I can to avoid it if easy/practical; on the morning of departure I decided to take a look at other options
I was pleasantly surprised to find that United had a very reasonable first class fare (similar to what I had originally paid on American) from Maui to Chicago to Tampa, with the Maui to Chicago flight on a 787-9 featuring the new Polaris seats
I remember this flight had been sold out in business class when I originally looked at options, and I realized the reason for this — last minute United had swapped a 787-9 onto the route, rather than the originally scheduled 787-8, and the former plane has an extra 20 Polaris business class seats
That seemed like the best option — thanks to airlines no longer charging change fees, I can use my American Airlines credit towards a future ticket, and ended up spending about as much as I was initially expecting to.
United business class boarding
I was excited to be on a Boeing 787-9 featuring United's new livery, which has grown on me a lot — how gorgeous, especially with the backdrop.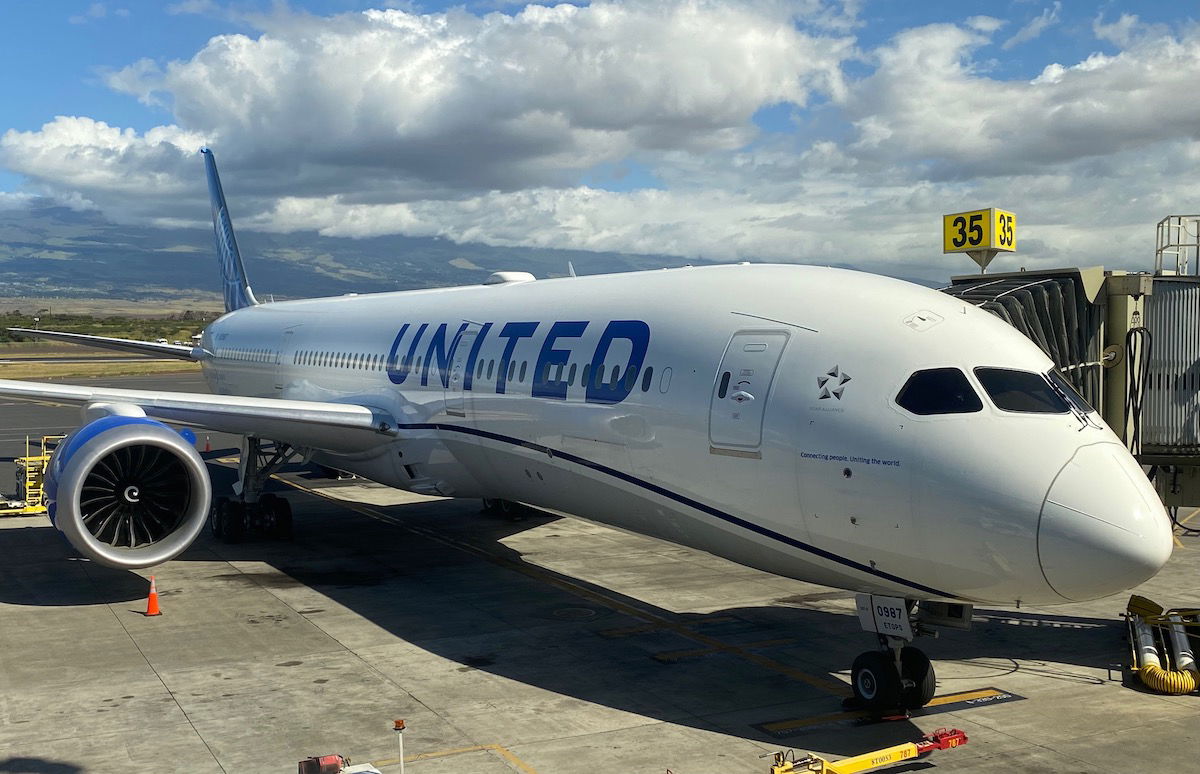 United Airlines Boeing 787-9 at Maui Kahului Airport (OGG)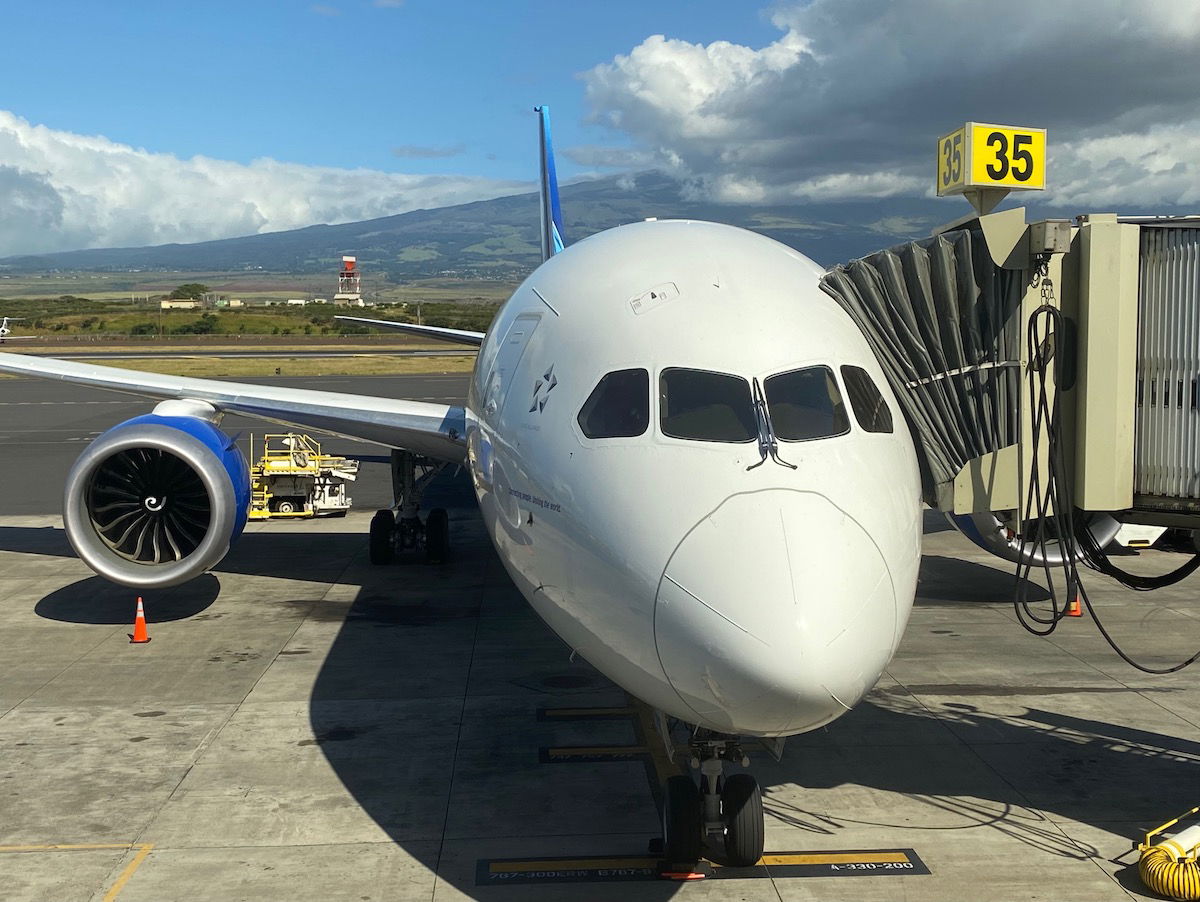 United Airlines Boeing 787-9 at Maui Kahului Airport (OGG)
Just for fun I also snapped a picture of the American 777-200 that I was initially going to fly to Dallas.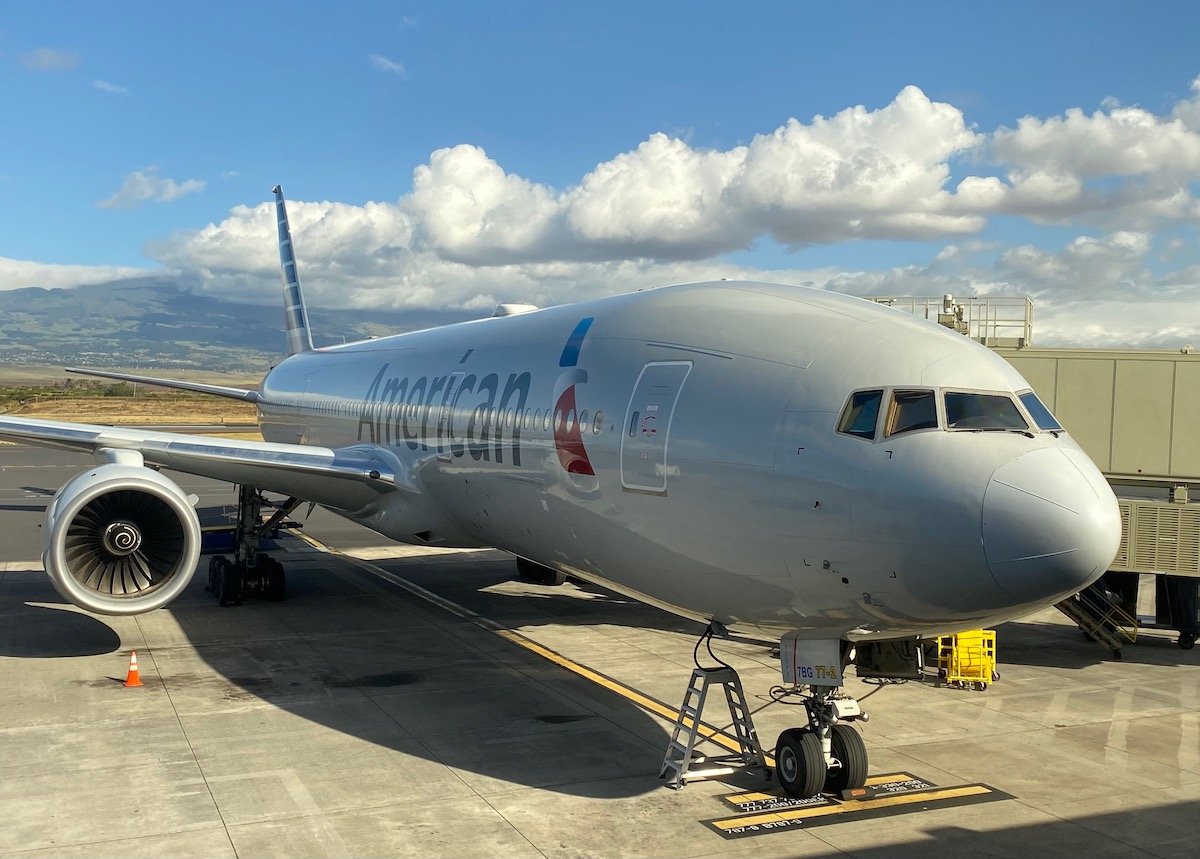 American Airlines Boeing 777-200 at Maui Kahului Airport (OGG)
There were some highs and lows to boarding. The highs include that the gate agent was awesome — she had a great personality, and cracked some jokes that were actually funny. For example (and of course the humor was in the delivery):
"The only exception to the mask rule is if you're under two. And no, acting like you're under two doesn't count."
Speaking of boarding, United is the only airline where you really feel like a second class passenger when flying in the forward most cabin. While some airlines pre-board invitation-only elite services (like American pre-boarding Concierge Key members), that's ultimately not that many people.
United pre-boards Global Services and Premier 1K members. I was the second person in the Group 1 line, yet business class was two-thirds full by the time I boarded. I understand that priority boarding ahead of a premium cabin (for those who don't need extra time) is largely about ego-stroking, but:
It kind of seems impractical, since you have people lining up at the boarding gate, and then other people trying to cut through
It creates confusion, because those in first class not familiar with elite ranks are puzzled as to why so many people are allowed to board before them
As someone in line said to their companion, "I thought we'd get to board first if we're in first class, but I guess we board last"
United 787-9 business class layout & seating
I've flown the new United Polaris business class seats before, including on the 767-300, 787-8, 787-10, and 777-300ER. However, this was my first time flying a United 787-9 with the new Polaris seats.
Polaris cabins are gorgeous, plain and simple, from the cabin finishes to the mood lighting.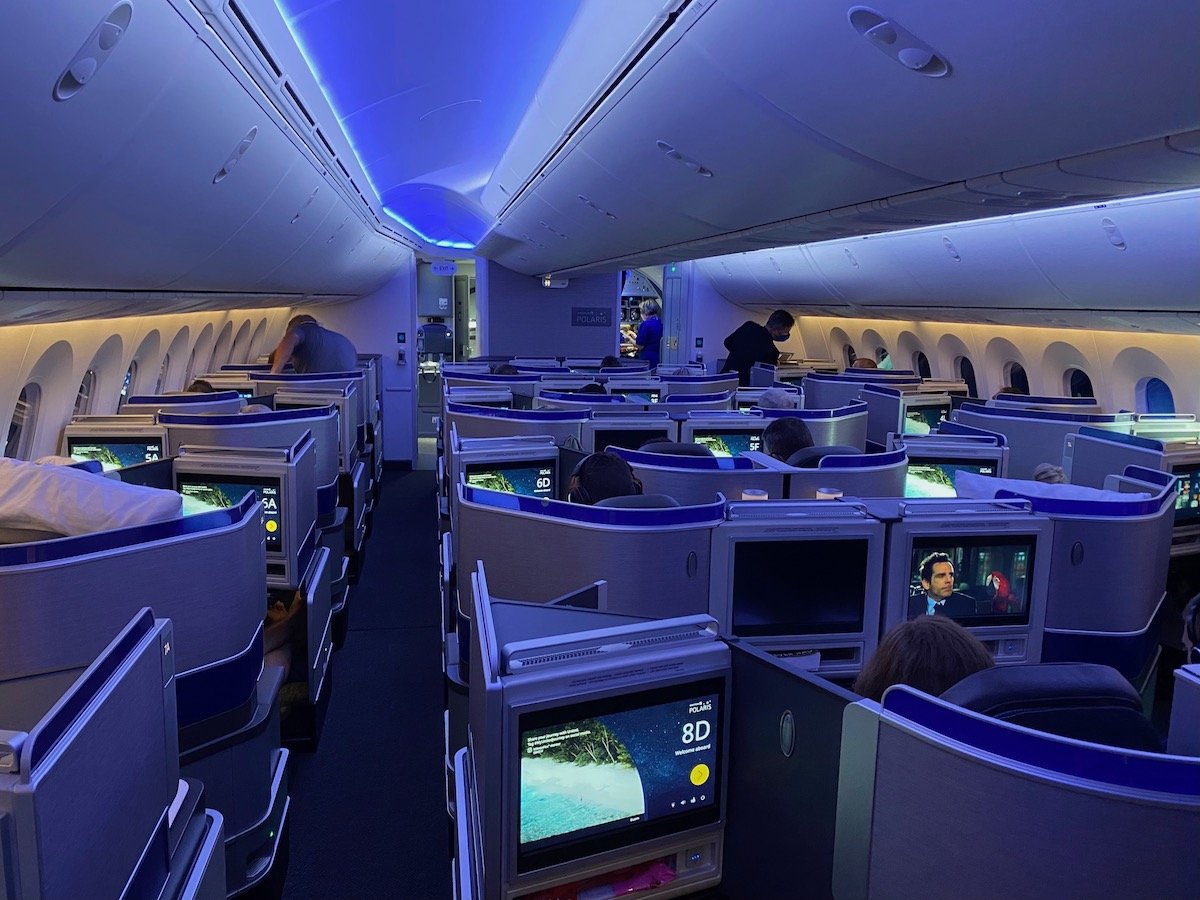 United 787-9 Polaris business class cabin
I won't talk too much about the seats since I've reviewed them in great detail in the past, but in general the seats are staggered, with some being closer to the aisles, and some being closer to the windows. I assigned myself seat 11A, a "true" window seat in the rear business class cabin.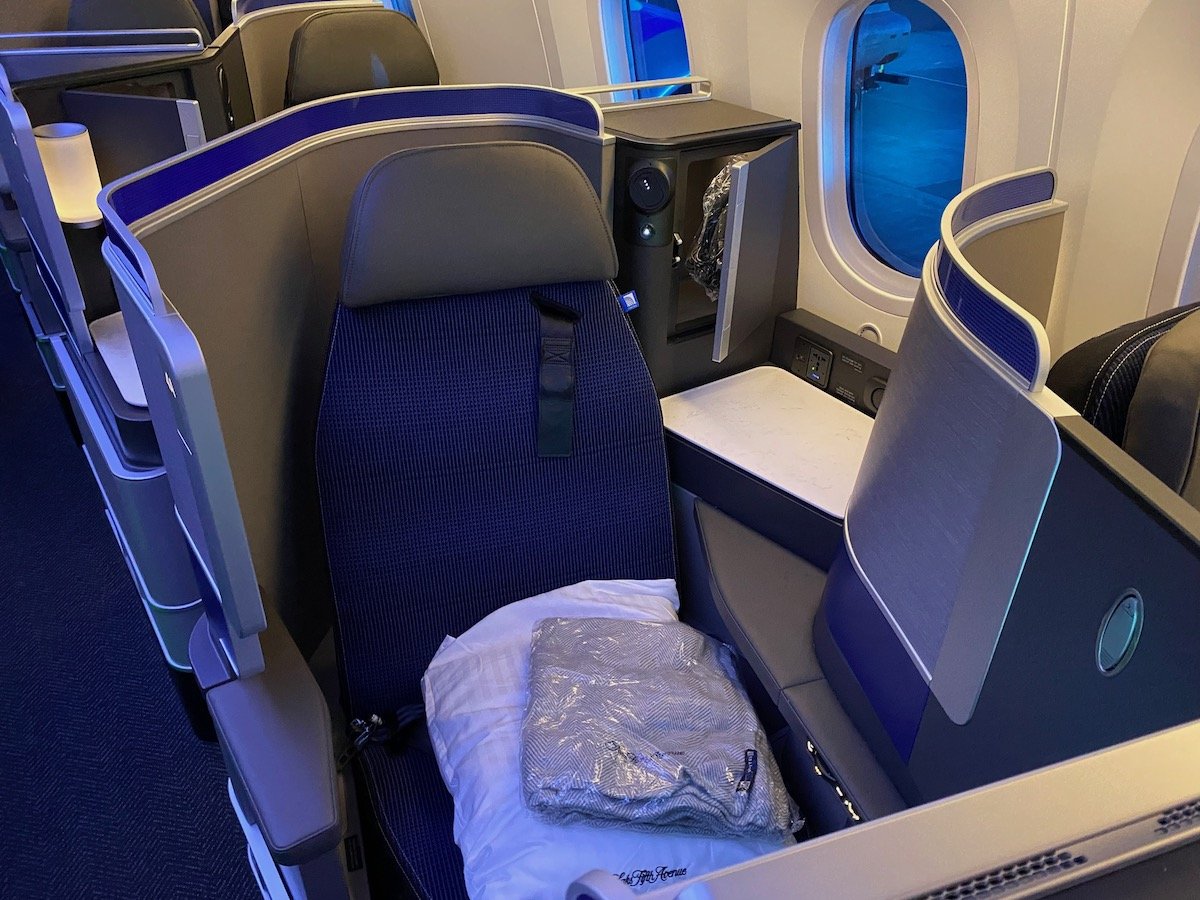 United 787-9 Polaris business class seats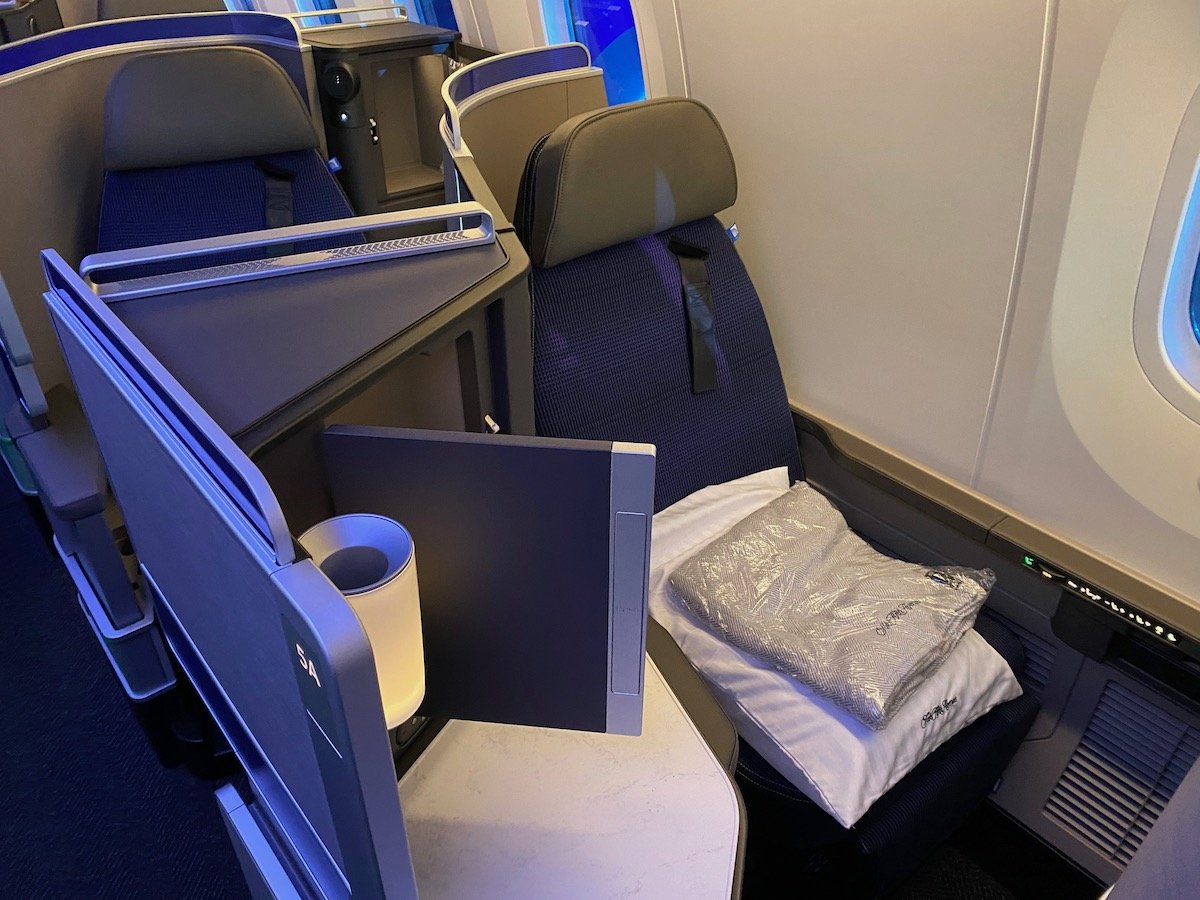 United 787-9 Polaris business class seats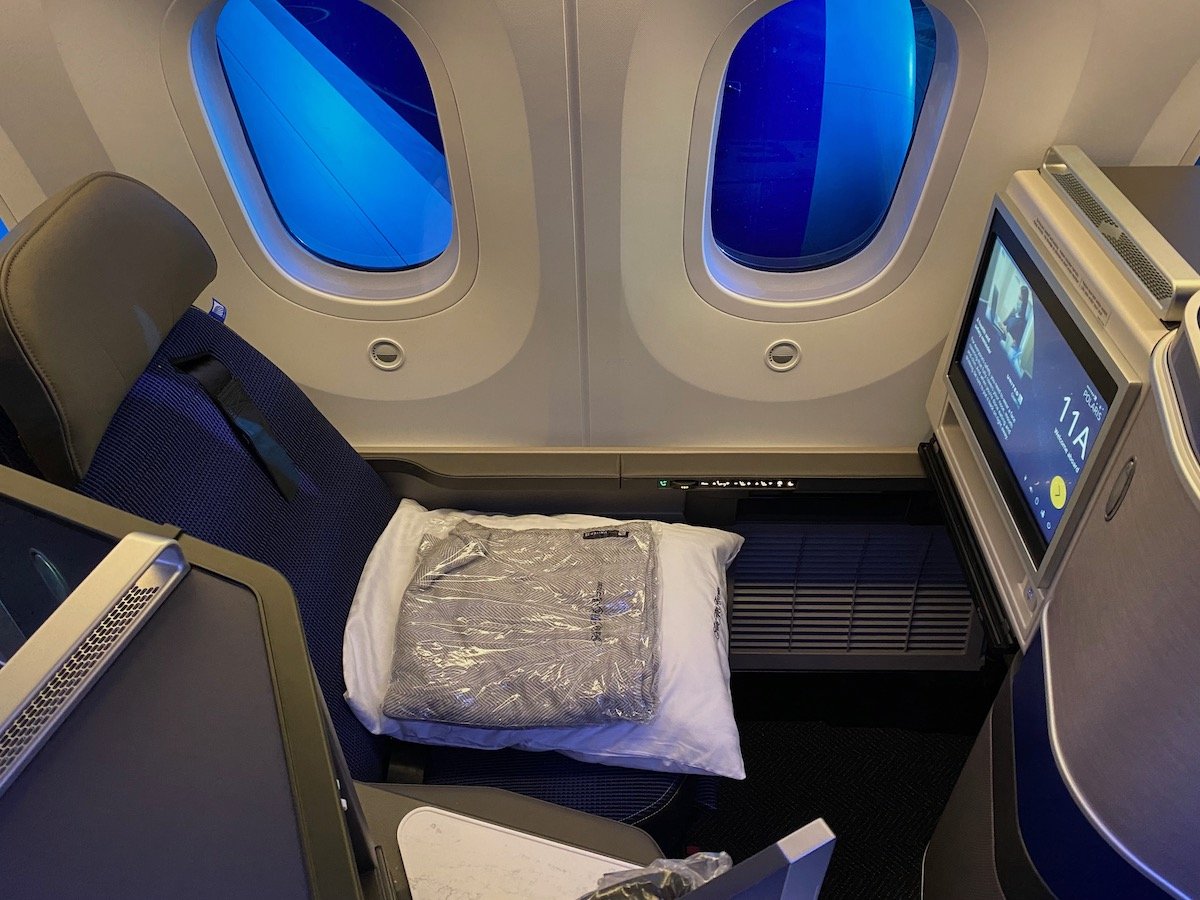 United 787-9 Polaris business class seats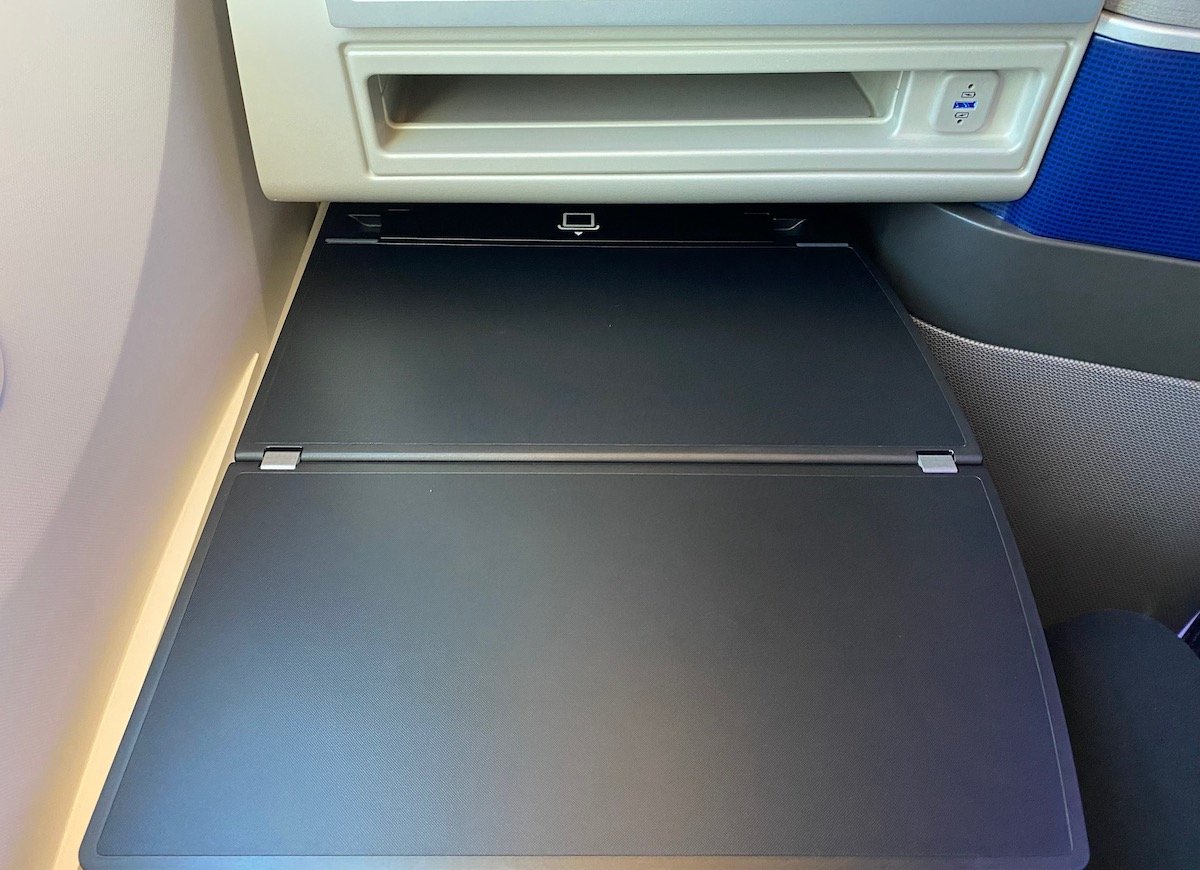 United 787-9 Polaris business class tray table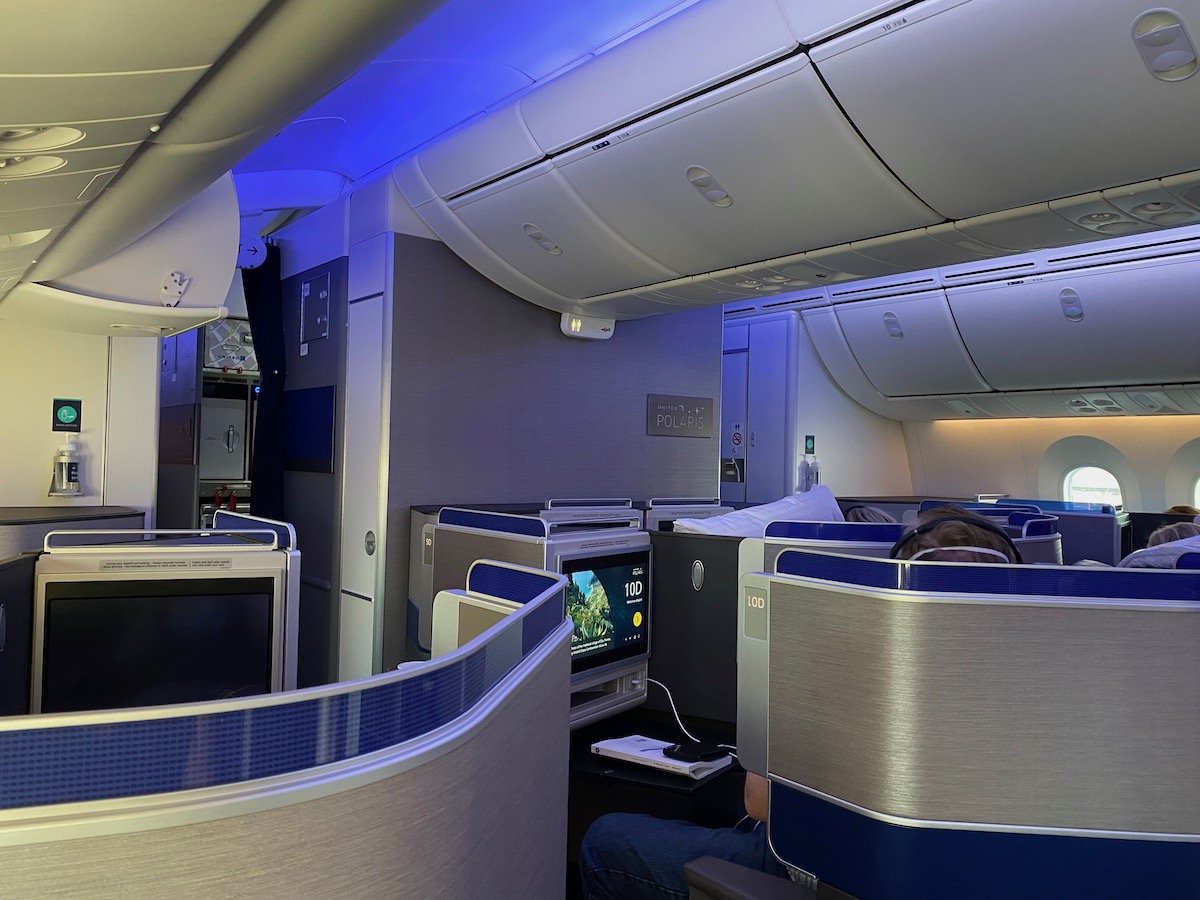 United 787-9 Polaris business class mini cabin
I'm a fan of Polaris seats — personally I think they're roughly on par with reverse herringbone seats, as I don't have a strong preference one way or another. They're no longer really cutting edge, though.
I appreciated that there were individual air nozzles, since airplane cabins can otherwise feel pretty warm, especially when wearing a mask.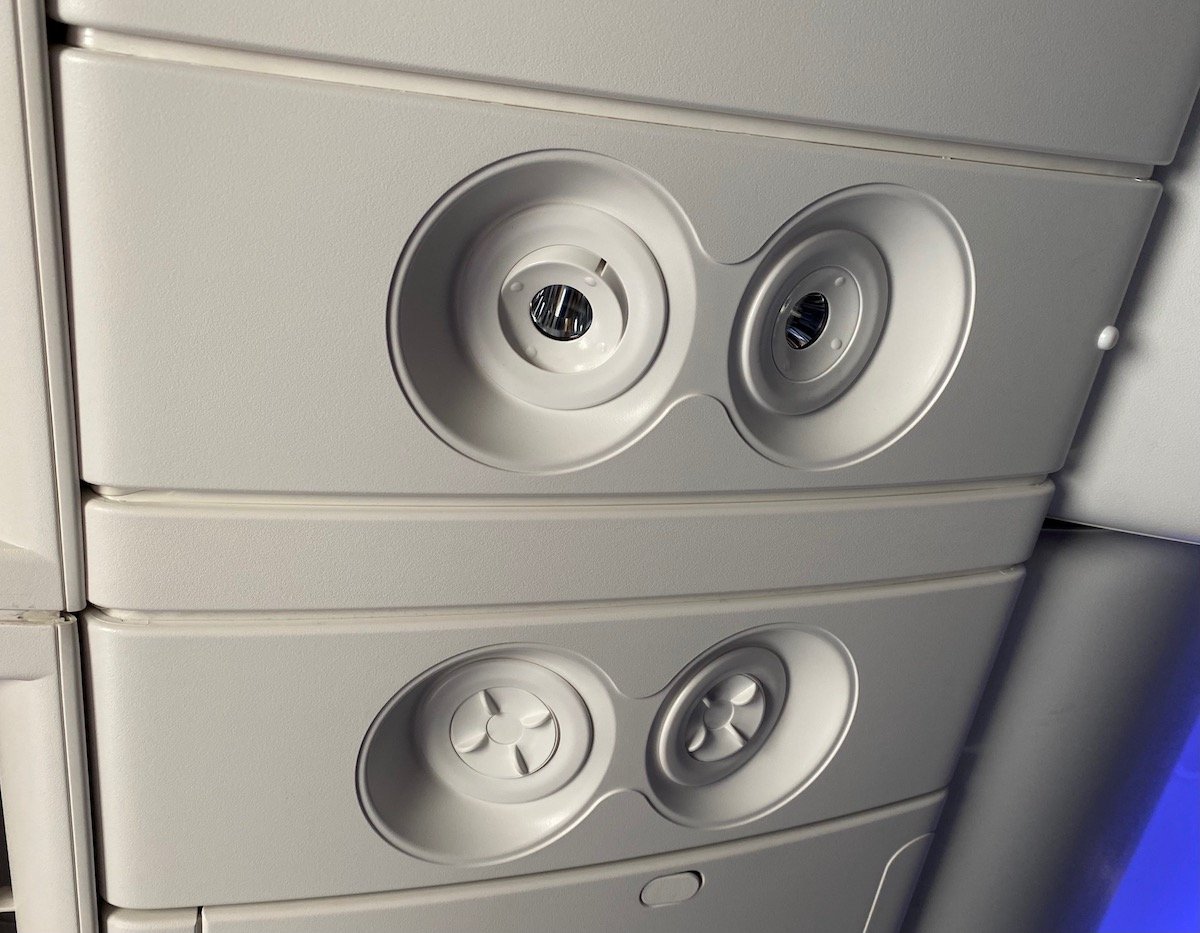 United 787-9 individual air nozzles
One thing I strongly dislike about 787s are the window dimmers, and especially how they can be controlled by the crew. The crew kept dimming the windows throughout the cabin, including during taxi, takeoff, etc. In theory I get it if you're at cruise and going to sleep, but why do crews do this during other phases of flight?
United business class food & drinks
This is where the experience starts to go downhill. Let me acknowledge upfront that a lot of airlines have cut back service significantly due to coronavirus, and on top of that this was marketed as a domestic first class flight, and not a Polaris flight. But still…
Service began during boarding, when bottled water was handed out (there were no pre-departure beverages, understandably).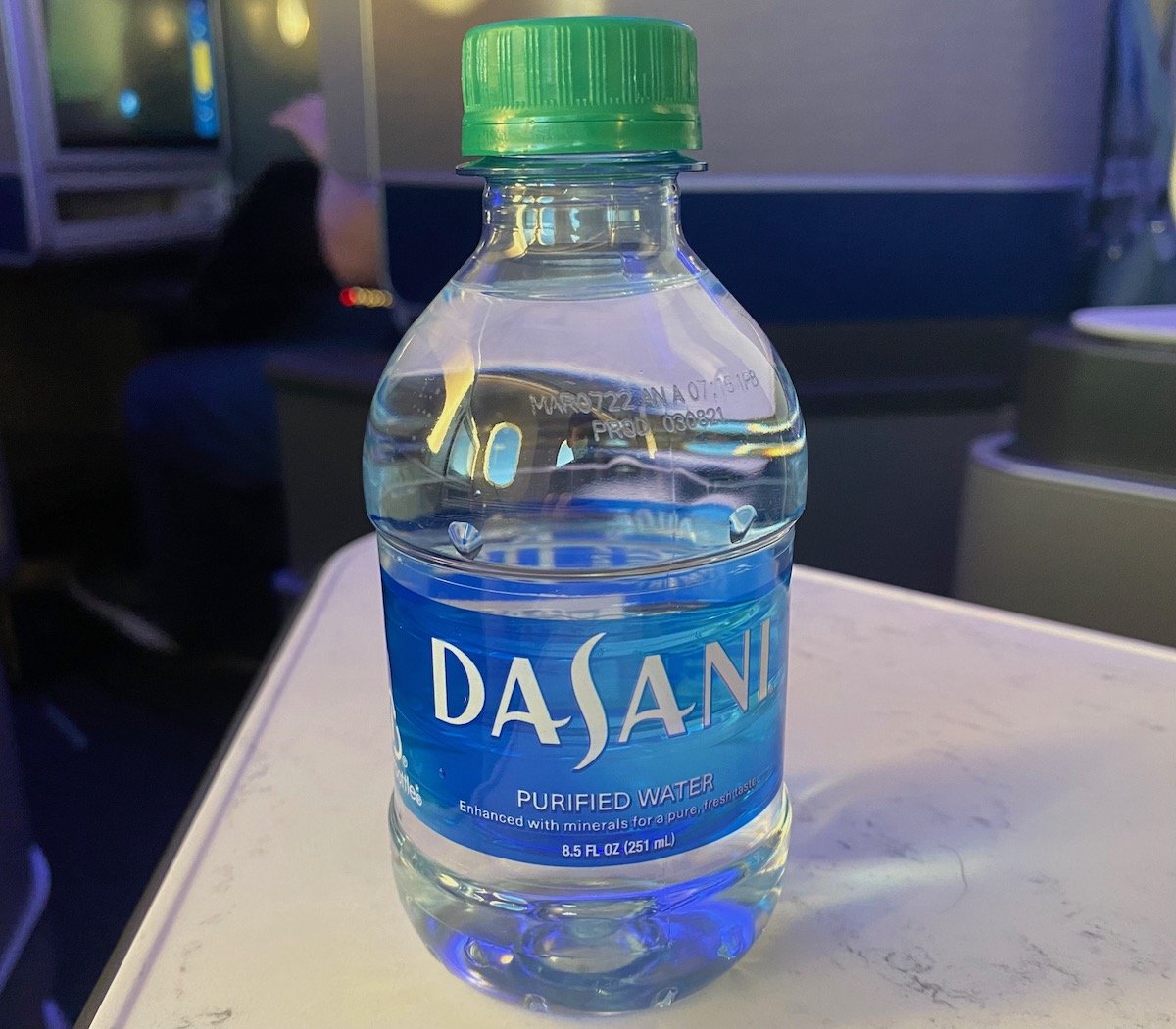 United business class service — bottled water
Drinks and dinner were served shortly after takeoff. Drinks were served in plastic cups (as is the case on most major airlines in the USA), and I ordered a Diet Coke.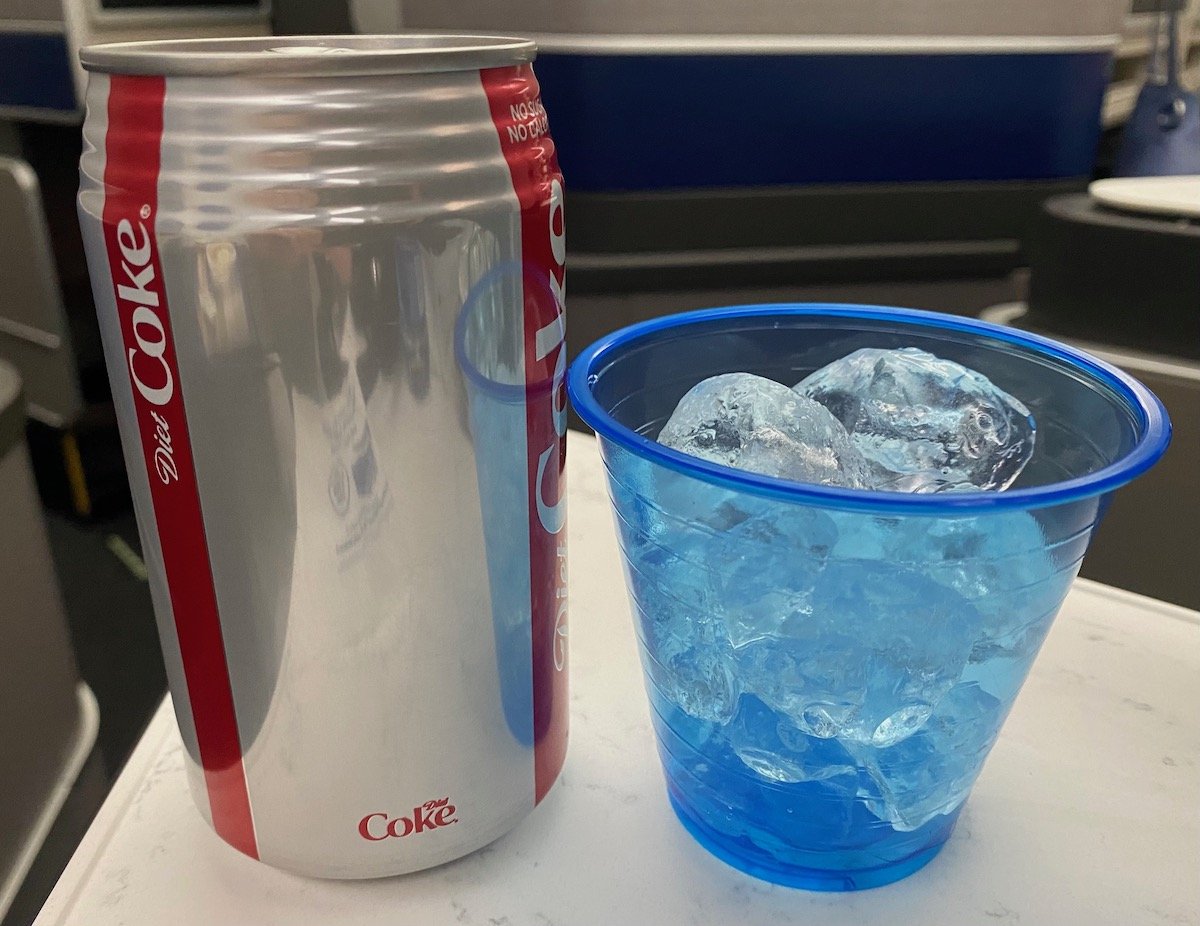 United business class service — Diet Coke
Dinner choices were described as being either cheese ravioli or chicken with rice and veggies. There's no way my stomach would be kind to me if I ordered cheese ravioli minutes before attempting to go to sleep, so I selected the chicken.
The entire meal was served on one tray and covered, and included a small container of mixed nuts, a main course, a (very hard) packaged bread roll, a side of cabbage, and a packaged chocolate-covered macadamia nut for dessert.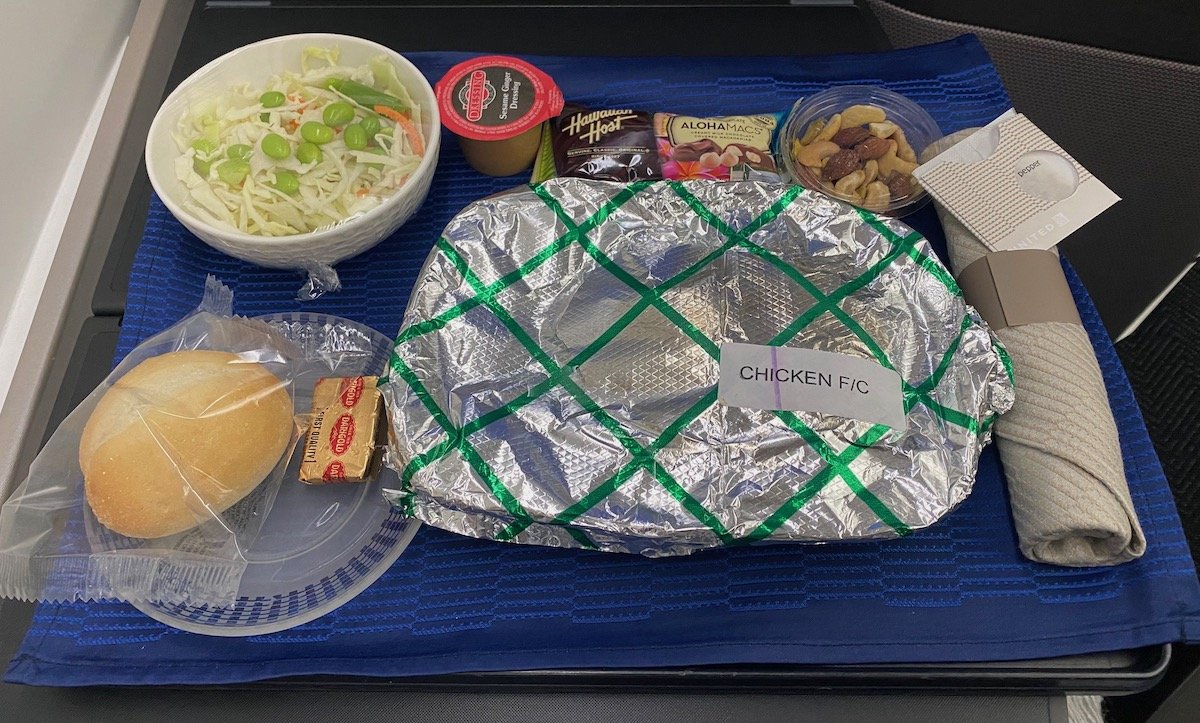 United business class service — dinner
I first unwrapped the entire meal and immediately snapped a picture, to make up for my sins on the outbound flight (where I forgot to snap a picture). 😉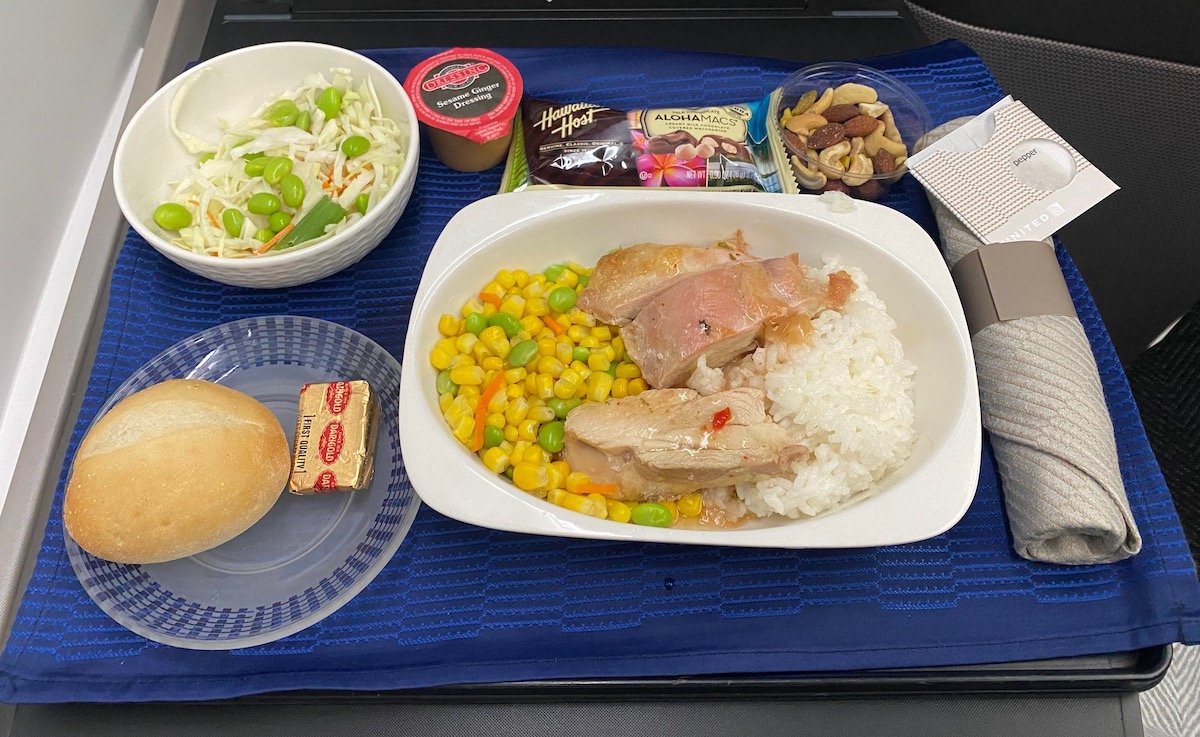 United business class service — dinner
The main dish was simply disgusting, there's no other way to put it. It looked about as good as it tasted. The veggies were soggy and tasteless, and the chicken was chewy as could be. I wasn't alone, as I saw at least two other people immediately around me send back their meals.
I don't understand how an airline can serve this in good conscience? It's one thing if this was a one-off mistake, but this just seems to be what United considers an acceptable dish. Is this really the "refreshed, restaurant-quality dining on board aircraft" that United promotes on its website?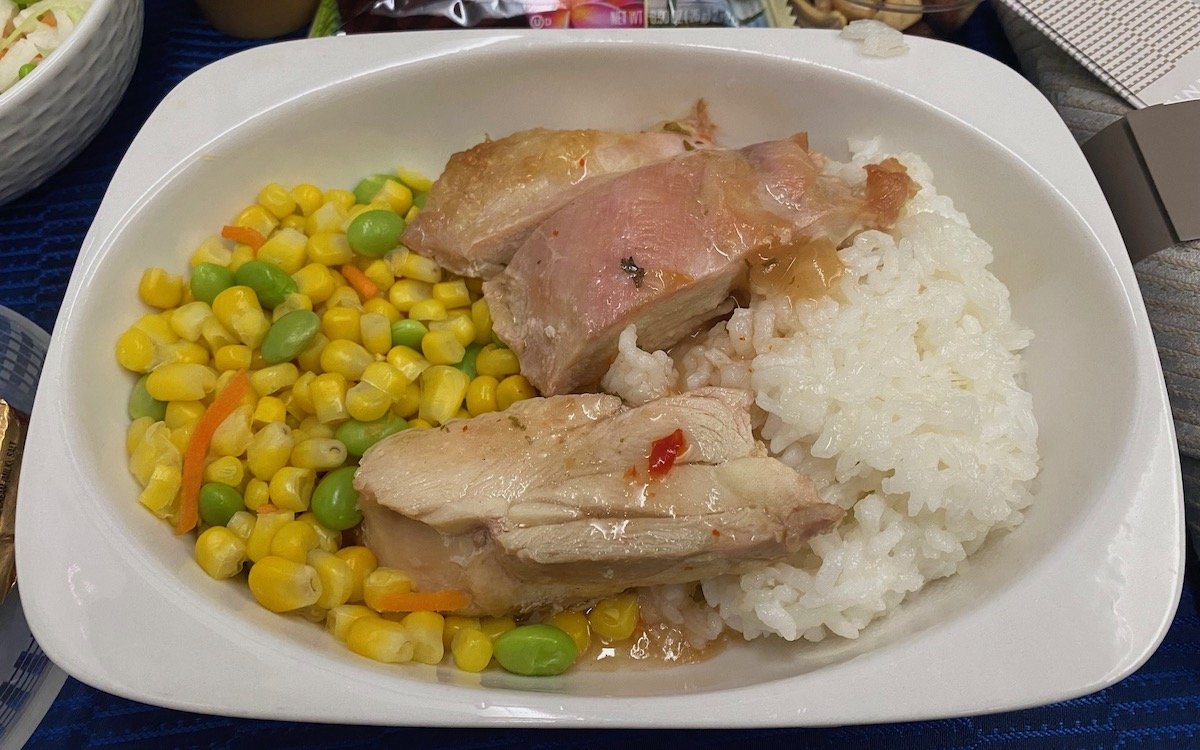 United business class service — dinner
This was possibly even worse than the "carved chicken on Italian focaccia" I was served on a recent United flight.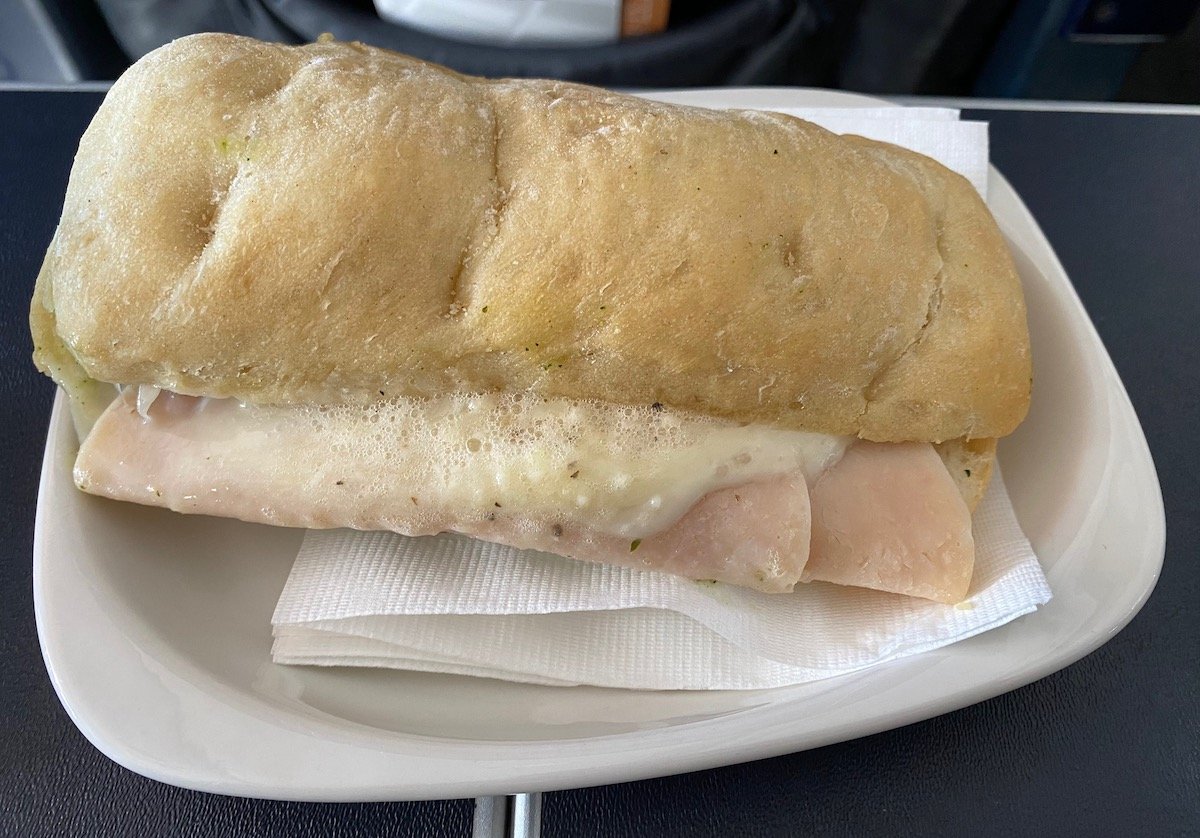 My last United Airlines first class meal
I had a bite of the (tasteless) cabbage, the nuts, and the macadamia nut chocolate dessert, and then called it a night.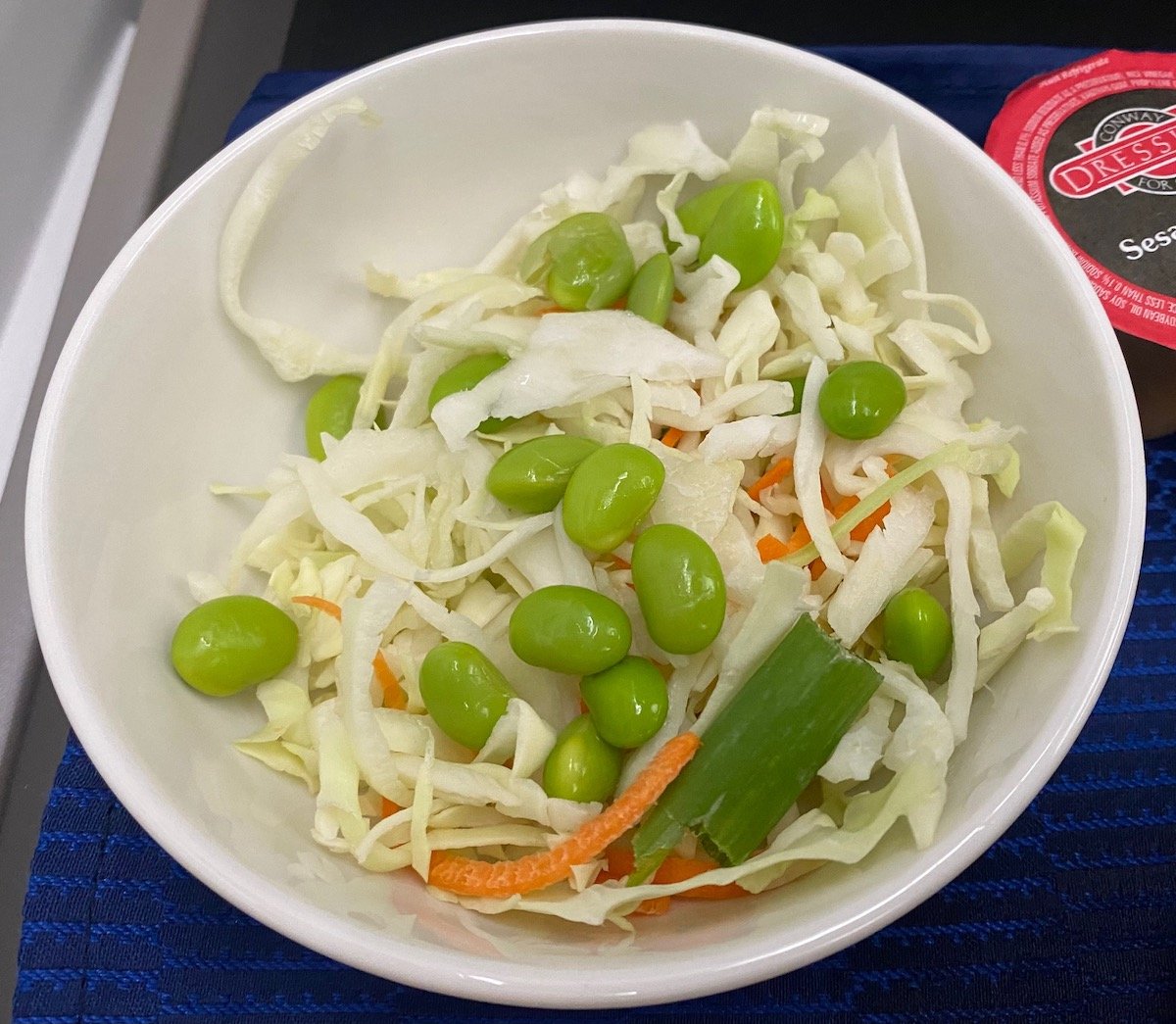 United business class service — dinner
My assumption was that there would be breakfast, not because it's really necessary, but because American serves a (light) breakfast on Maui to Dallas flights, which are even a bit shorter. But nope, an hour out drinks and Biscoffs were served, and that was it.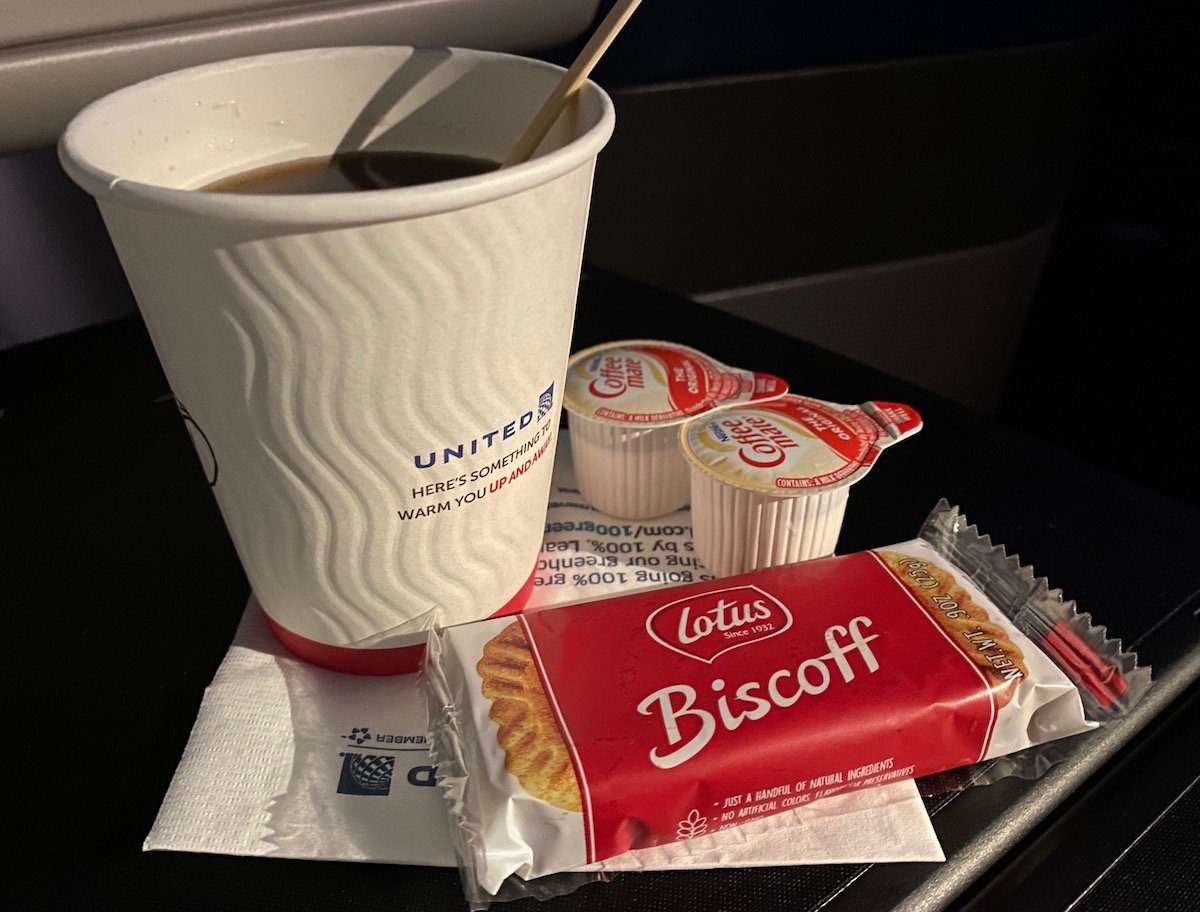 United business class service — coffee & cookies
Usually I'd say that serving two meals on a 7.5 hour redeye is an overkill, but after the dinner service I sure was hungry.
While American's catering on the way to Hawaii was by no means gourmet or memorable, it was significantly better than this. On the bright side, I think this is probably the fewest calories I've ever consumed on a 4,000+ mile flight, so yay?
United business class service
I have low service expectations — after all, I'm an American Airlines frequent flyer — but even so this crew managed to disappoint:
There was no "hello" on boarding, and when service items were distributed they were simply handed out without anything being said; the little talking that did happen typically came in fragments
For example, the first words any crew member said to me was when the flight attendant asked me for my dinner preference — "for dinner tonight do you want grilled chicken breast, rice, and vegetables, or cheese ravioli?"
The most mind-boggling thing to me is how much the crew yelled back and forth at one another; rather than walking to a flight attendant four rows away to ask a question, they literally just screamed, and this happened on multiple occasions
On the plus side, the purser seemed like a nice guy, and his announcements were professional. Unfortunately he wasn't serving the area where I was seated, though he did politely say goodbye as I deplaned (while other crew members hid in the galley).
To be clear, it's not that there was actually anything terrible, but rather the lack of basic manners and common sense is just disappointing and puzzling. I'd consider it okay if at a fast food restaurant one employee yelled to another 10 feet away, but outside of that…
As a point of comparison, my American Airlines crew on the outbound was informal and friendly.
United business class bedding
While United's Polaris bedding is exceptional, unfortunately this flight only had limited bedding. There was a Saks Fifth Avenue pillow and day blanket. The pillow was nice, while the blanket was rather scratchy and warm, and not nearly as good as the Casper bedding that American offered on the outbound.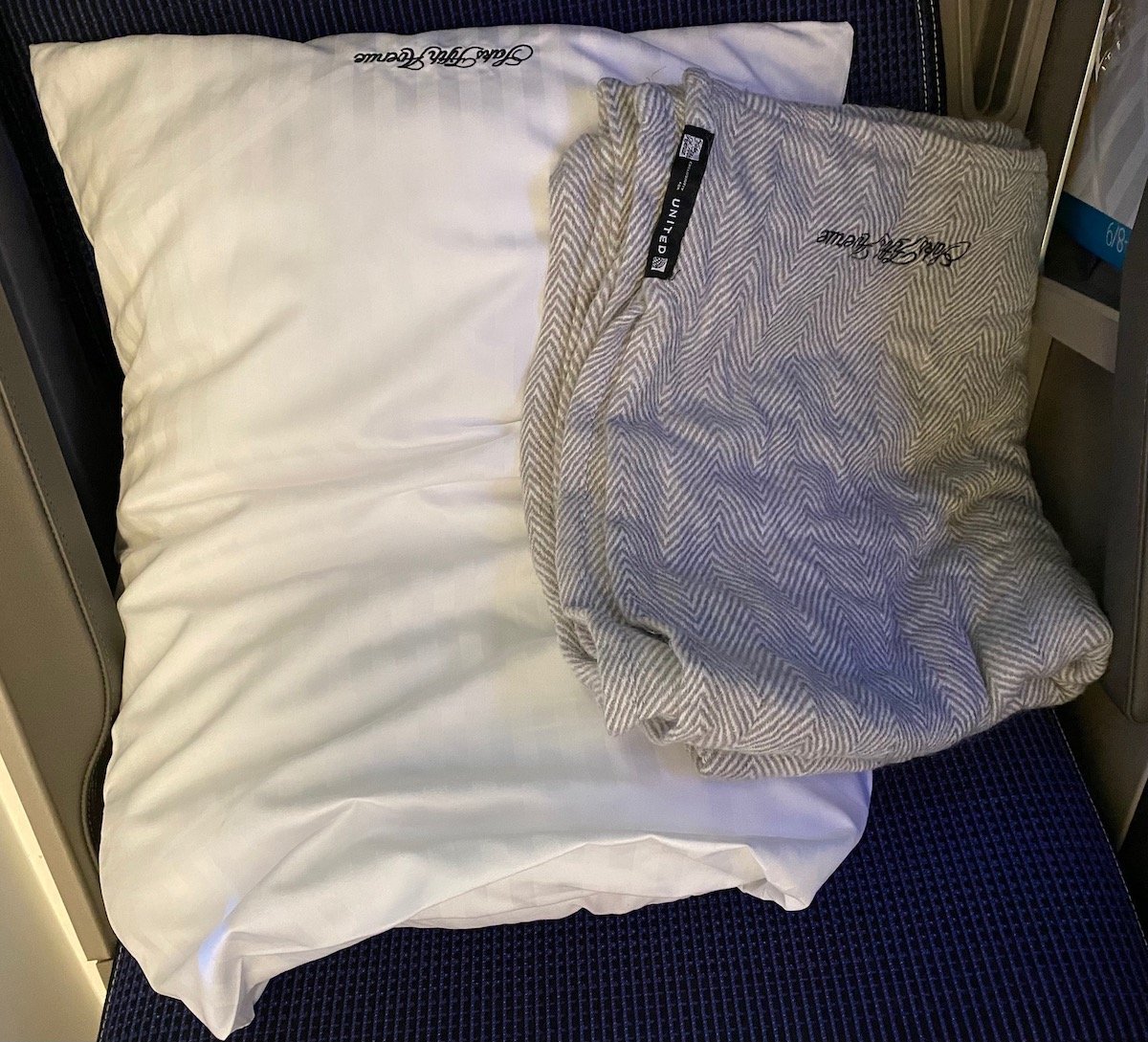 United business class limited Saks Fifth Avenue bedding
United 787-9 business class entertainment & Wi-Fi
United's inflight entertainment is quite good, and there was a big selection of movies and TV shows.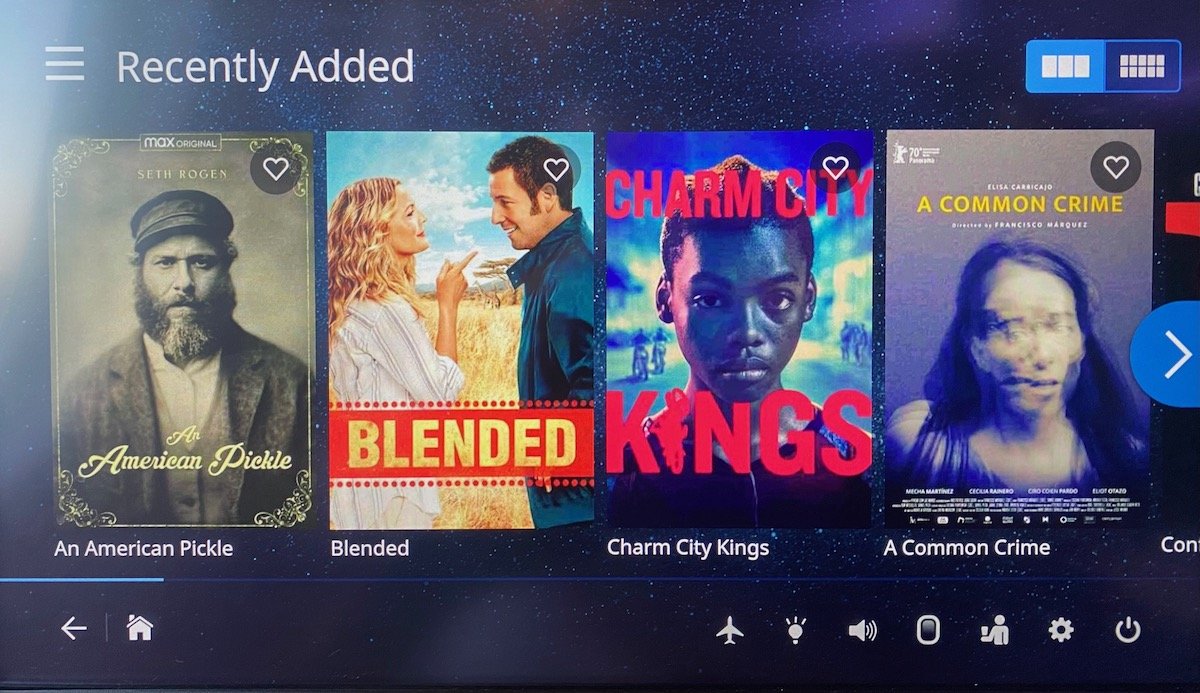 United business class inflight entertainment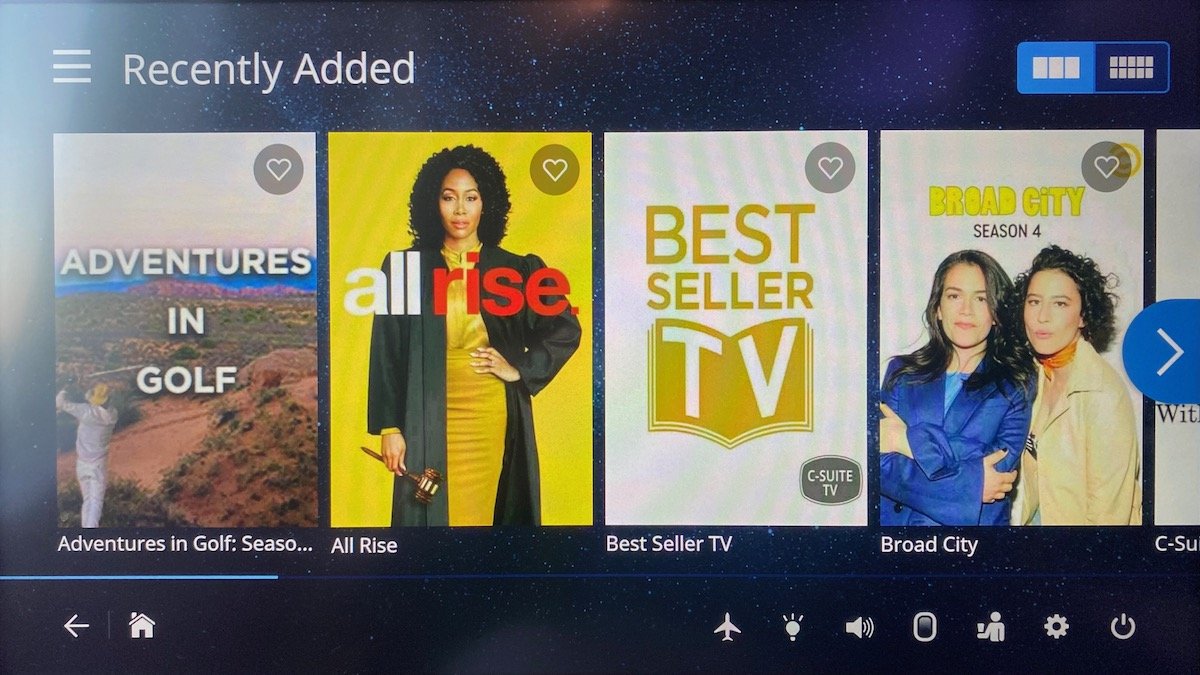 United business class inflight entertainment
Unfortunately the one feature of personal televisions that I like most — the moving map — wasn't working on this flight, so I had to use Wi-Fi to keep track of our flight progress.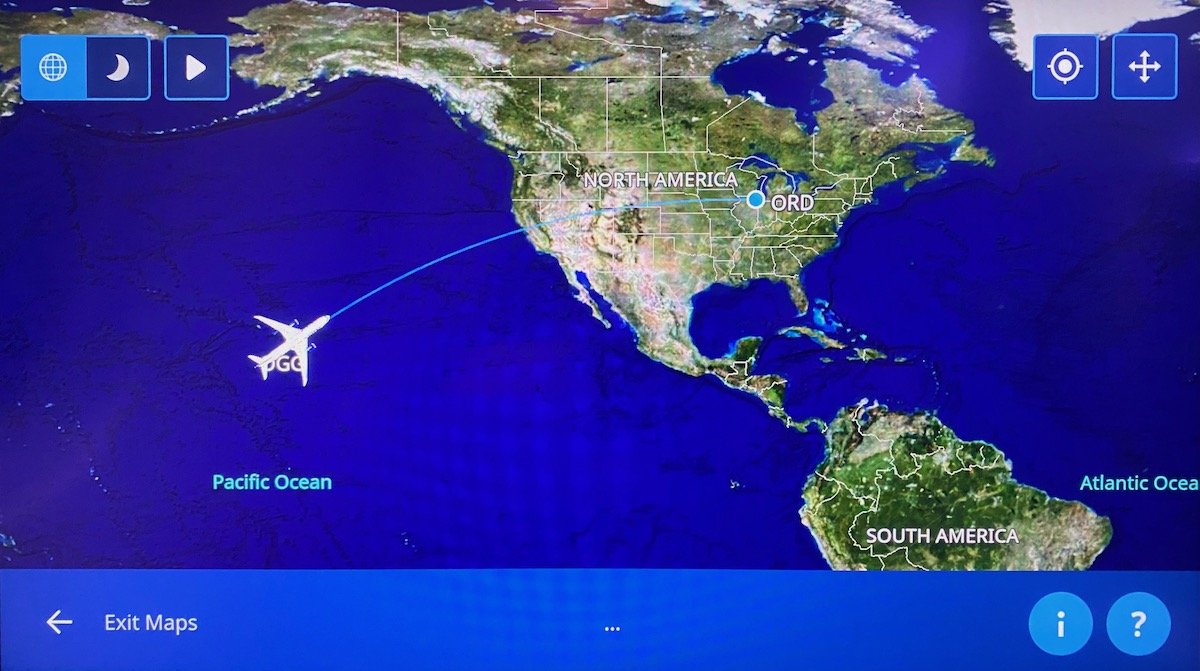 United business class moving map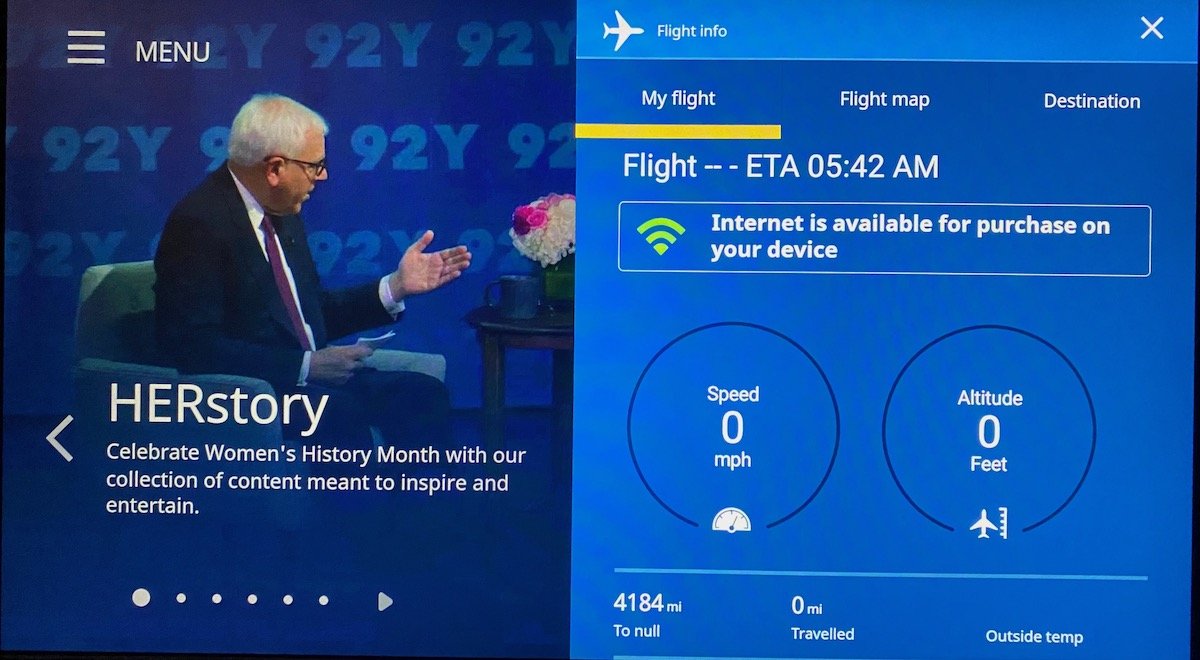 United business class flight data
The headphones were the standard Polaris ones, which are fine for a flight like this, but nothing exciting for a long haul flight.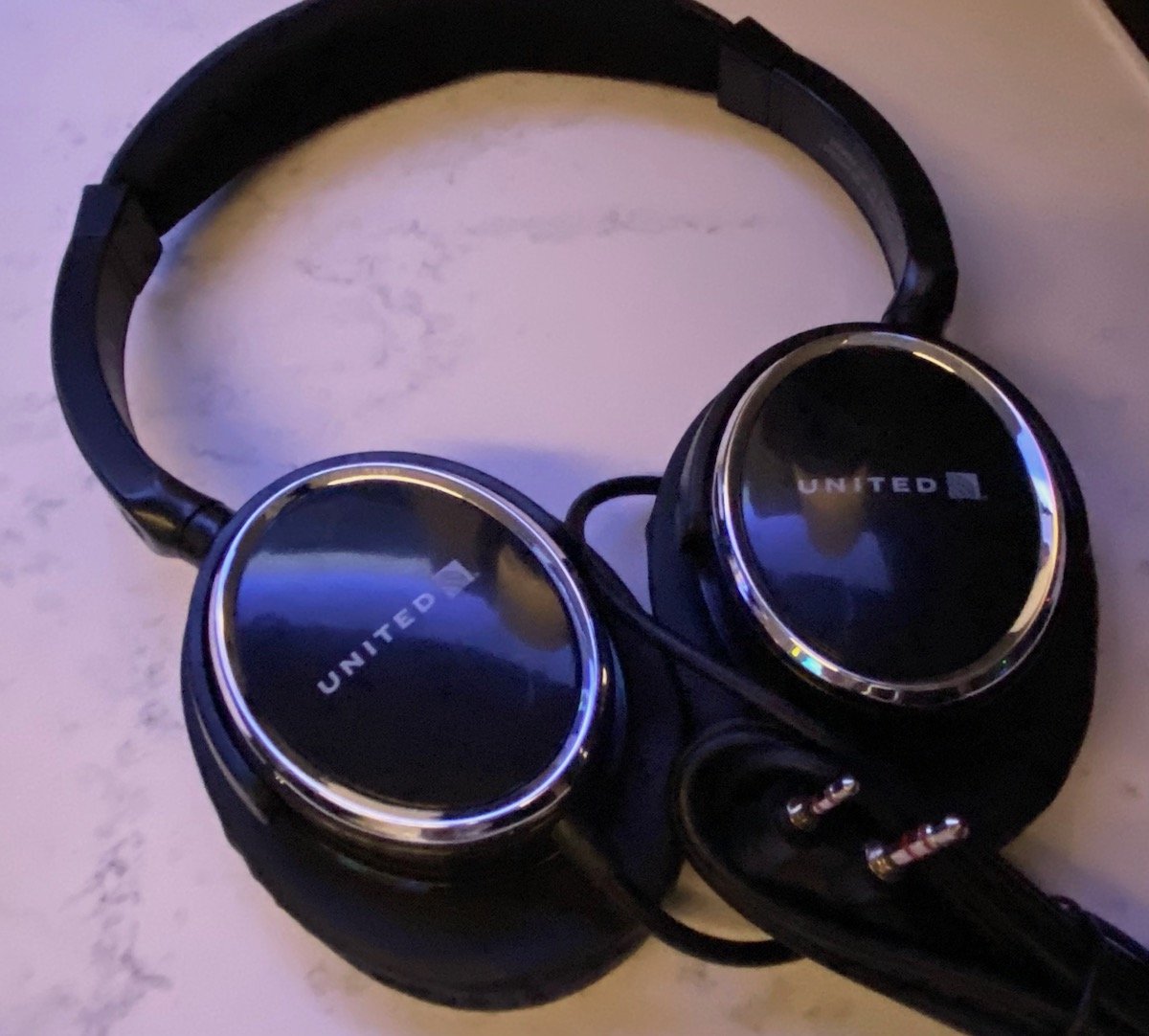 United business class headphones
I did buy Wi-Fi for the flight, which cost $20.99 for the entire flight without data caps. That's good pricing, and speeds were acceptable.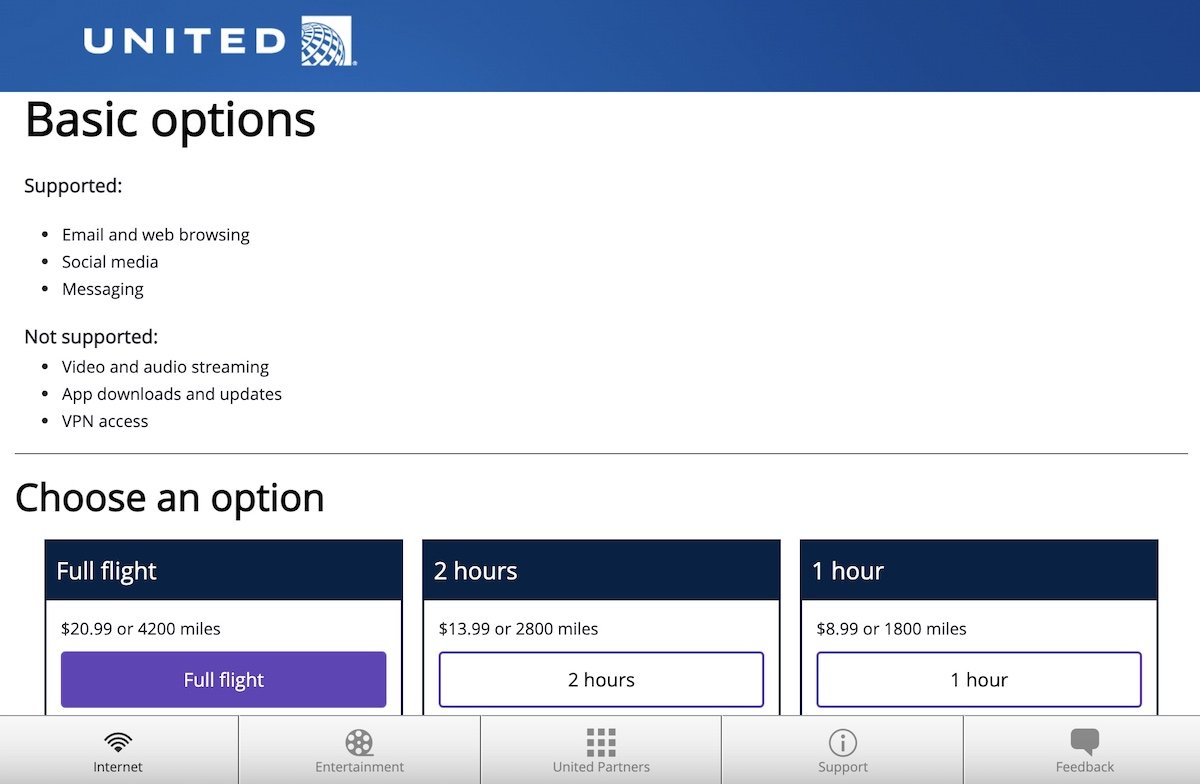 United business class Wi-Fi pricing
Views, views, views!
I've always loved flying, but since the pandemic I've had more of an appreciation than ever before for just looking out the window and enjoying views. We had some gorgeous views, both departing Maui and arriving in Chicago.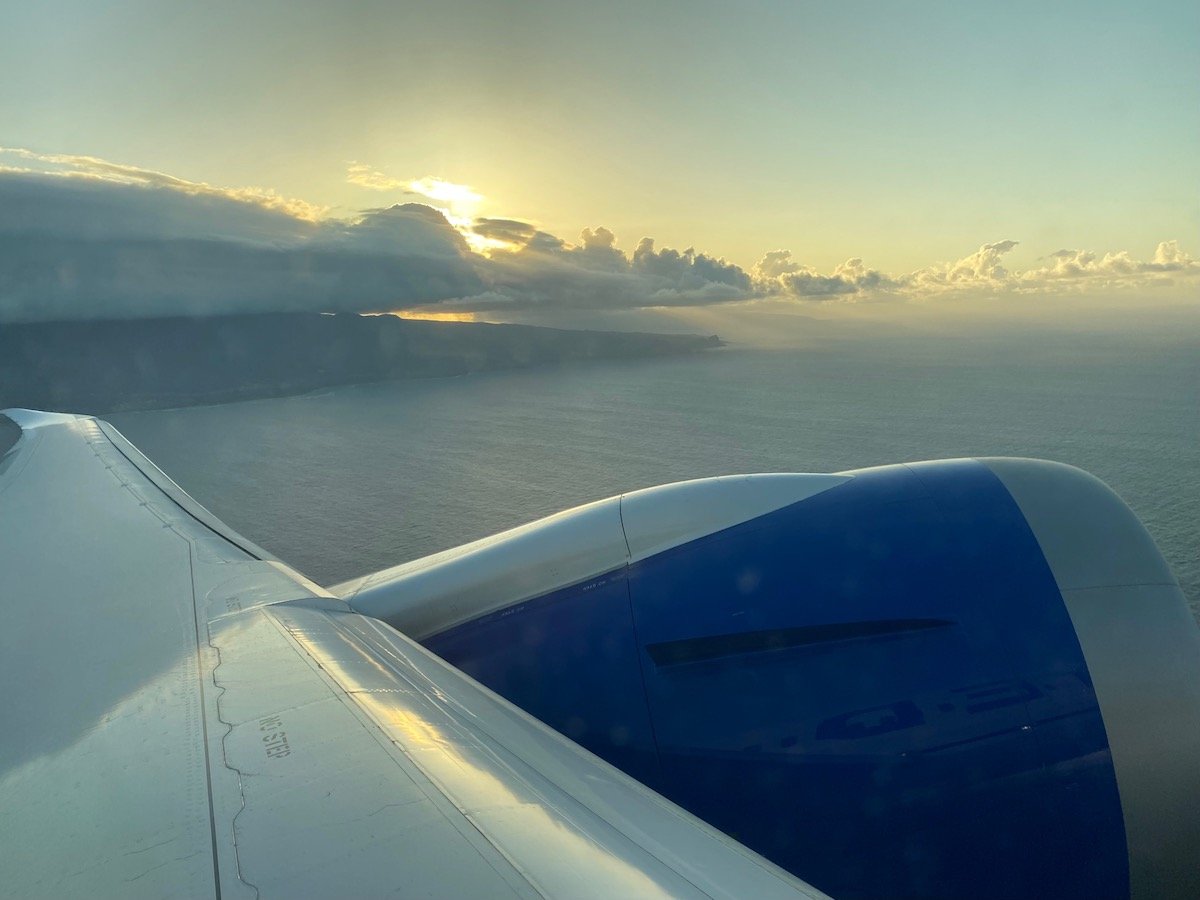 View after takeoff from Maui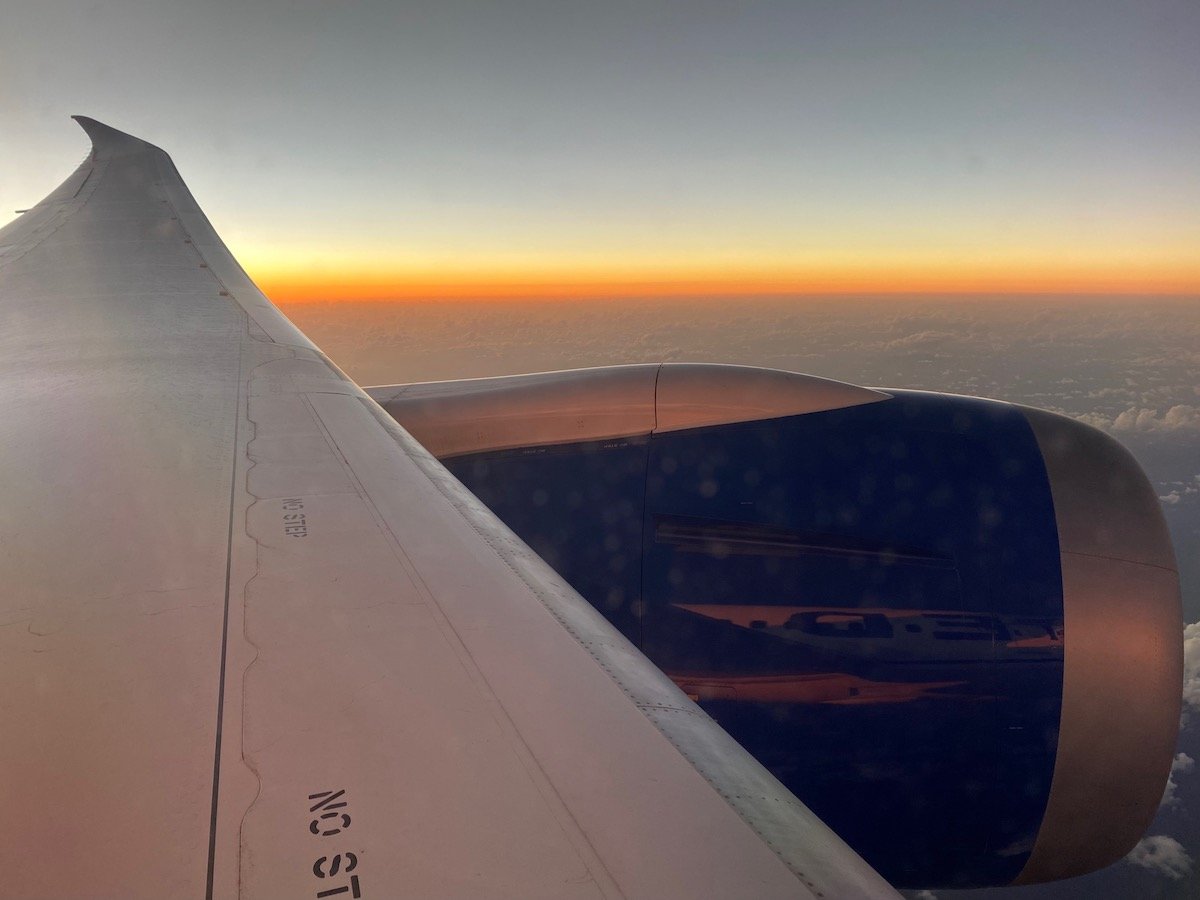 Gorgeous sunset shortly after takeoff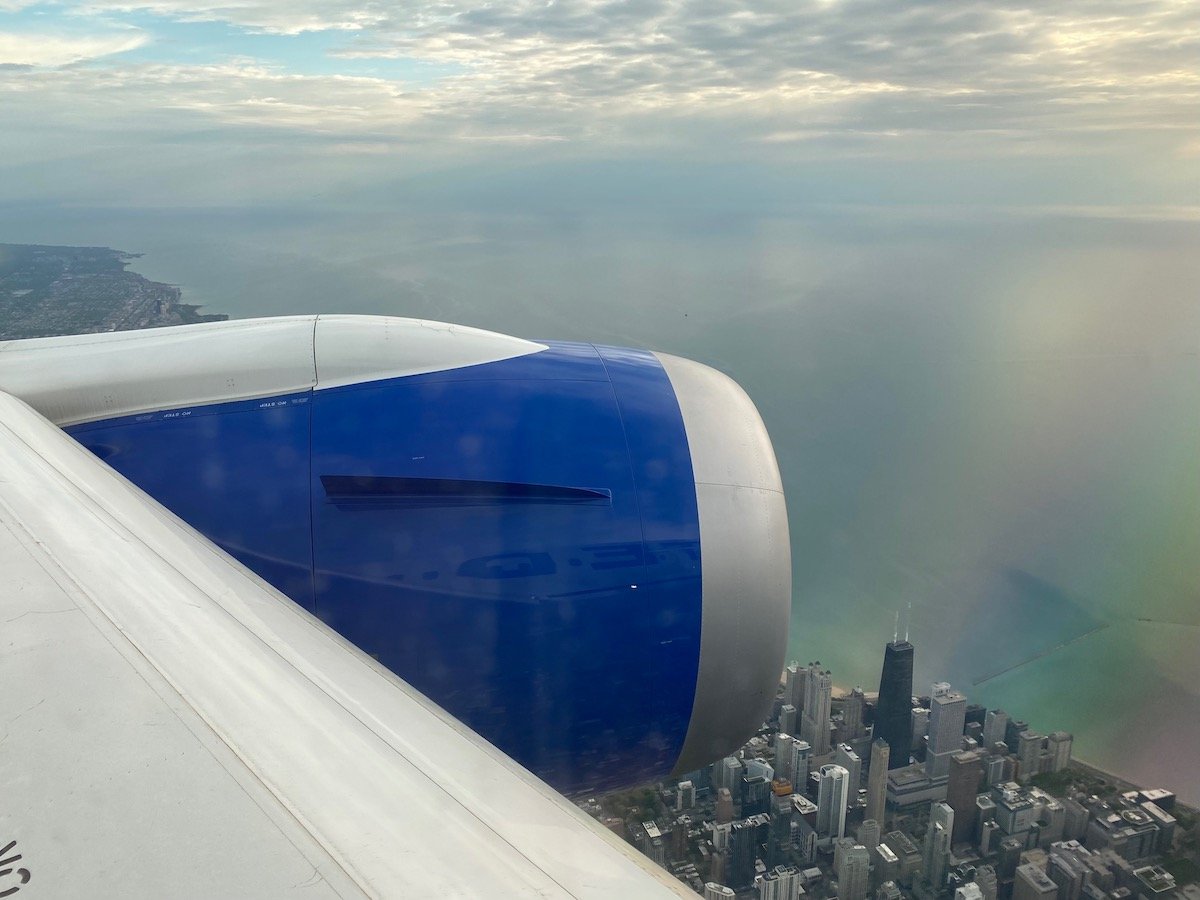 View approaching Chicago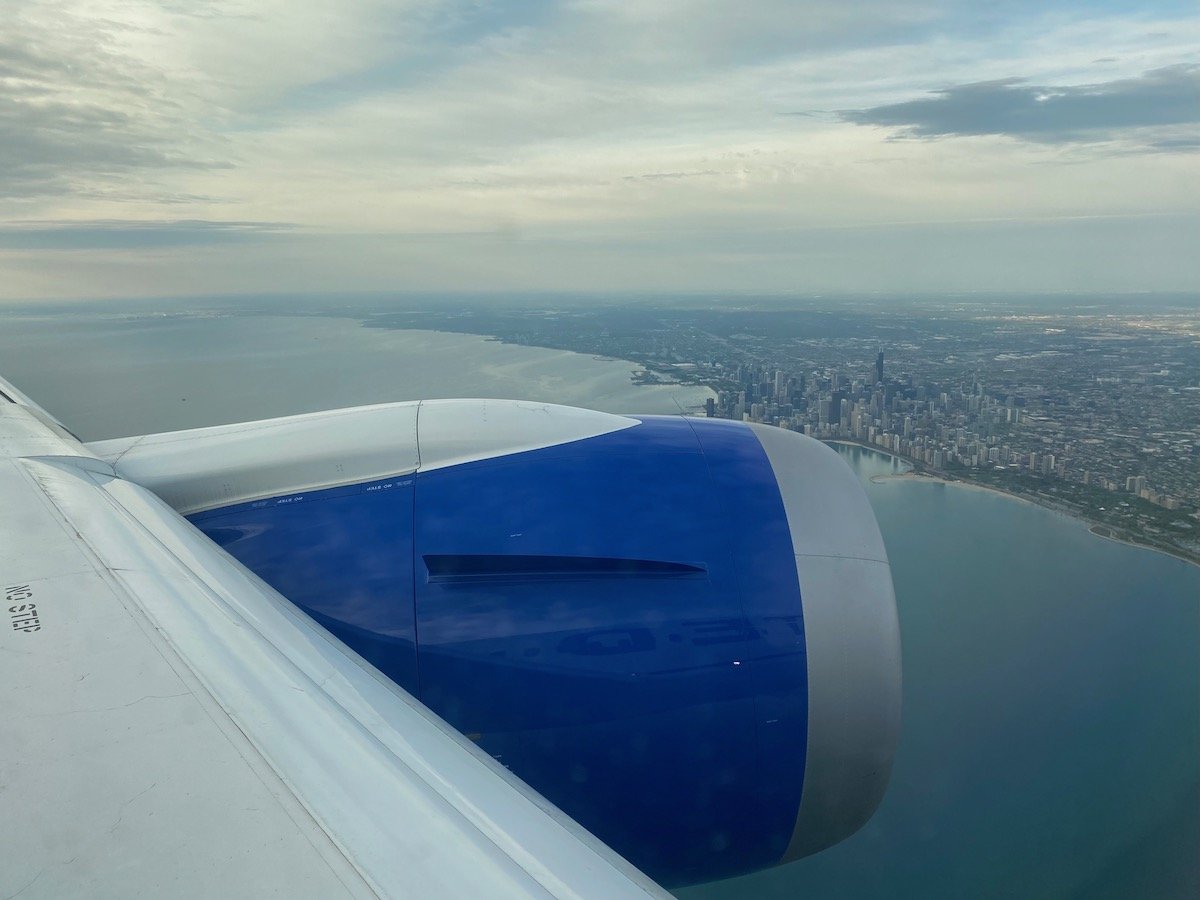 View approaching Chicago
Bottom line
I'm grateful I was able to swap flights at the last minute to be able to fly home in a flat bed, given that the upgrade on my rebooked American flight wouldn't have cleared. I was also happy that this would allow me to write a head-to-head comparison of American and United on roughly comparable Hawaii routes.
To my surprise, American won by a long shot — while United Polaris seats are solid, the food, service, and bedding, all lagged significantly.
If you've flown United business class to or from Hawaii, what was your experience like?