---
To return from Mykonos to the US we decided to fly British Airways, given what a convenient routing they had available.
Redeeming miles on British Airways
Getting from Mykonos to the US same day without leaving at the crack of dawn is a challenge. Furthermore, it's great to be able to skip Athens, given how frequently delayed flights between Athens and the islands are.
So I felt really lucky when I found award availability for two people on the following flights:
BA651 Mykonos to London departing 1:45PM arriving 3:45PM [Business]
BA239 London to Boston departing 7:55PM arriving 10:20PM [First]
We booked this using British Airways Avios — the cost was 100,000 Avios per person, plus $341 in taxes, fees, and carrier imposed surcharges.
While British Airways is known for their steep surcharges, they vary greatly depending on where you originate, and these were among the lowest transatlantic fuel surcharges I have ever seen for travel on British Airways.
While 100,000 Avios is a lot, in reality I transferred over Avios from Amex last year with a 40% bonus, so I was really paying 72,000 Amex points per person, which I didn't think was too bad.
This would also allow me to try British Airways' new first class service for the first time, and it would also be my first time flying first class on their 777 (I've flown first class on the British Airways 747, 787, and A380).
See this post for all the best credit cards for earning British Airways Avios.
Departing Mykonos Airport
While our flight from Mykonos to London was scheduled to depart at 1:45PM, I know we'd be delayed. The inbound flight from London was about an hour late due to an air traffic control delay, and the plane wasn't arriving until around 1:50PM.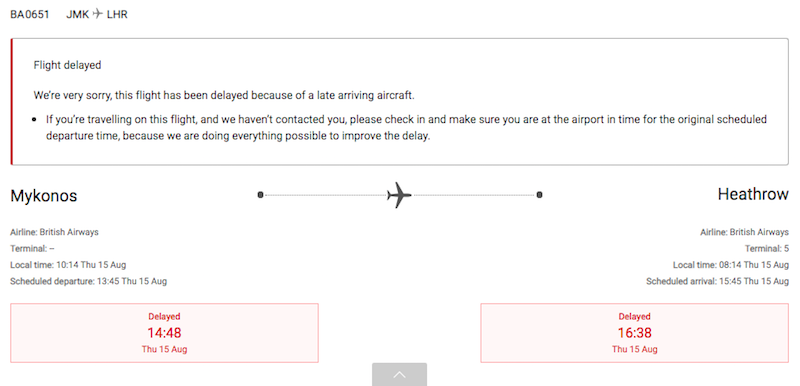 We ended up getting to the airport at around 12:30PM. All the stories I had heard about the airport sounded horrible, so I wanted to be sure we were leaving plenty of time.
The airport wasn't far from the hotel, and upon pulling up to the airport it didn't seem to be too crazy at first.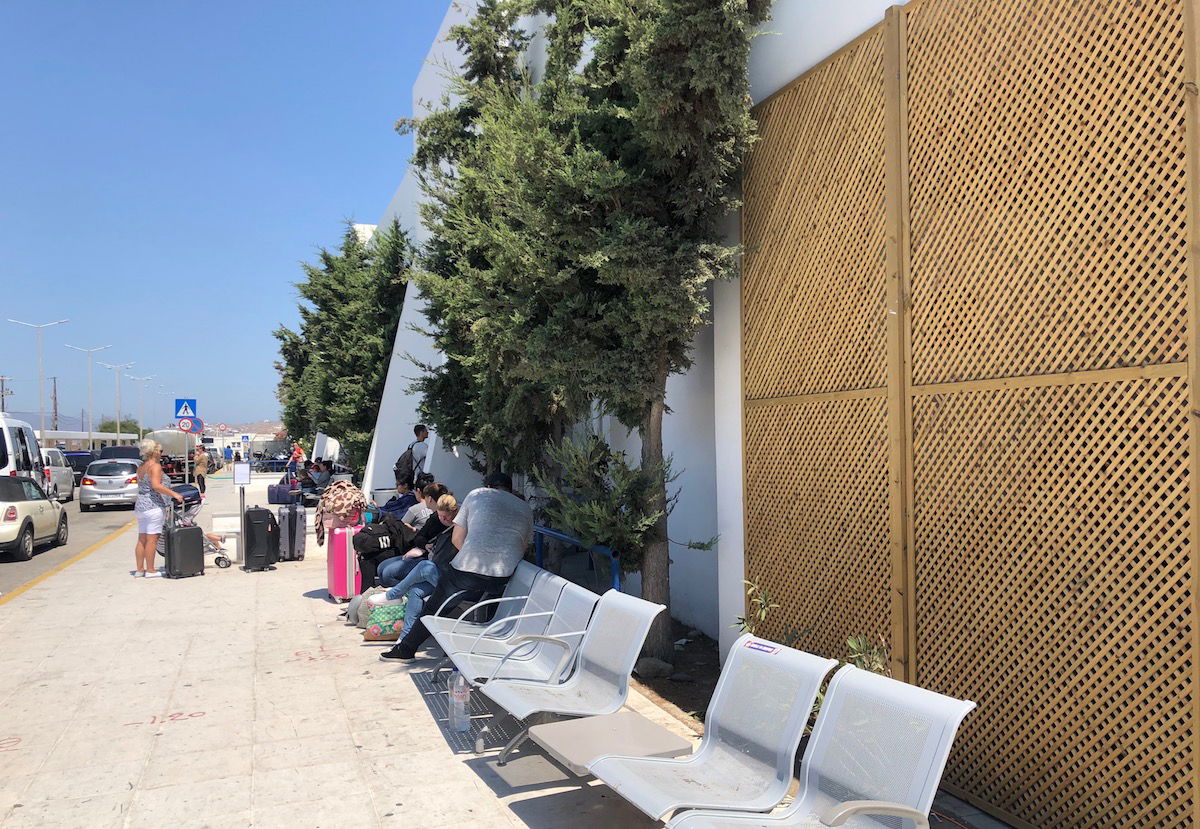 Mykonos Airport exterior
The terminal was incredibly compact, though, given how much growth this airport has seen (even Qatar Airways flies here now!). A majority of the terminal consisted of queueing lines, so there was only a very small area where you could actually walk.
There were two check-in counters for British Airways, with one being for business class, and one being for economy.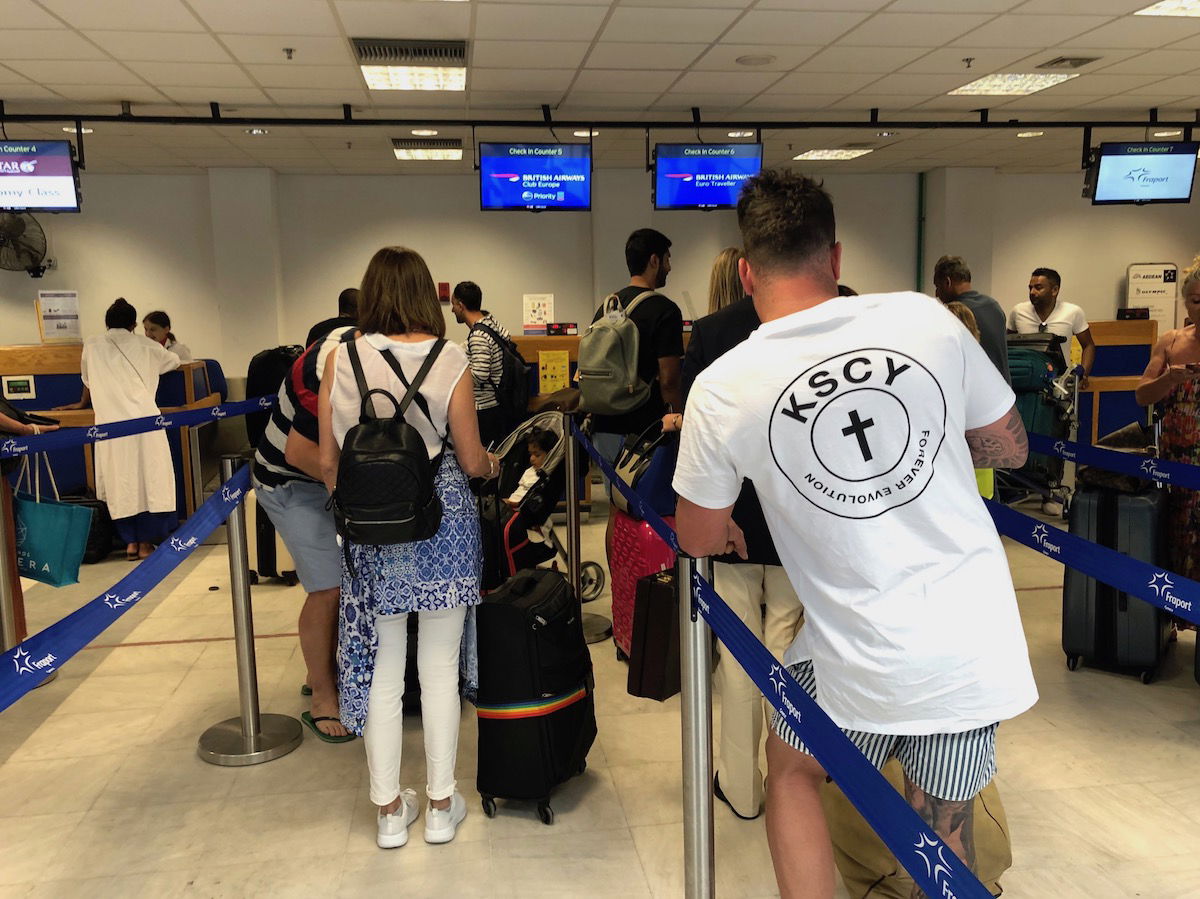 Mykonos Airport check-in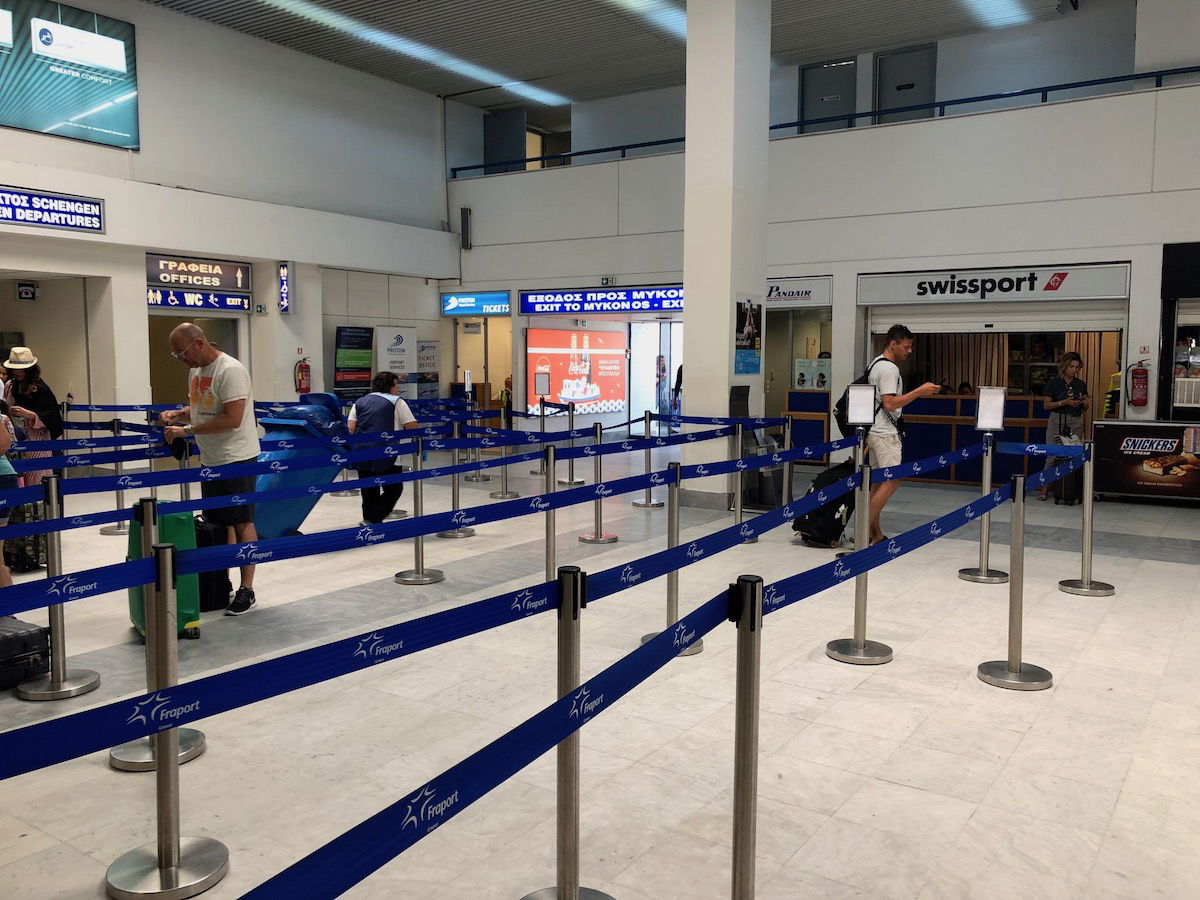 Mykonos Airport check-in
We were checked in within about 10 minutes. Ford had a checked bag, so he had to get in a separate line to drop off his checked bag as well.
There are a couple of different security checkpoints, depending on what part of the terminal you're departing from. There was one checkpoint for gates 1-3, and we were also through within about 10 minutes, which was pretty good.
The terminal was crazy busy, especially as there were three flights departing from these gates around the same time — a flight to London, a flight to Beirut, and a flight to Doha.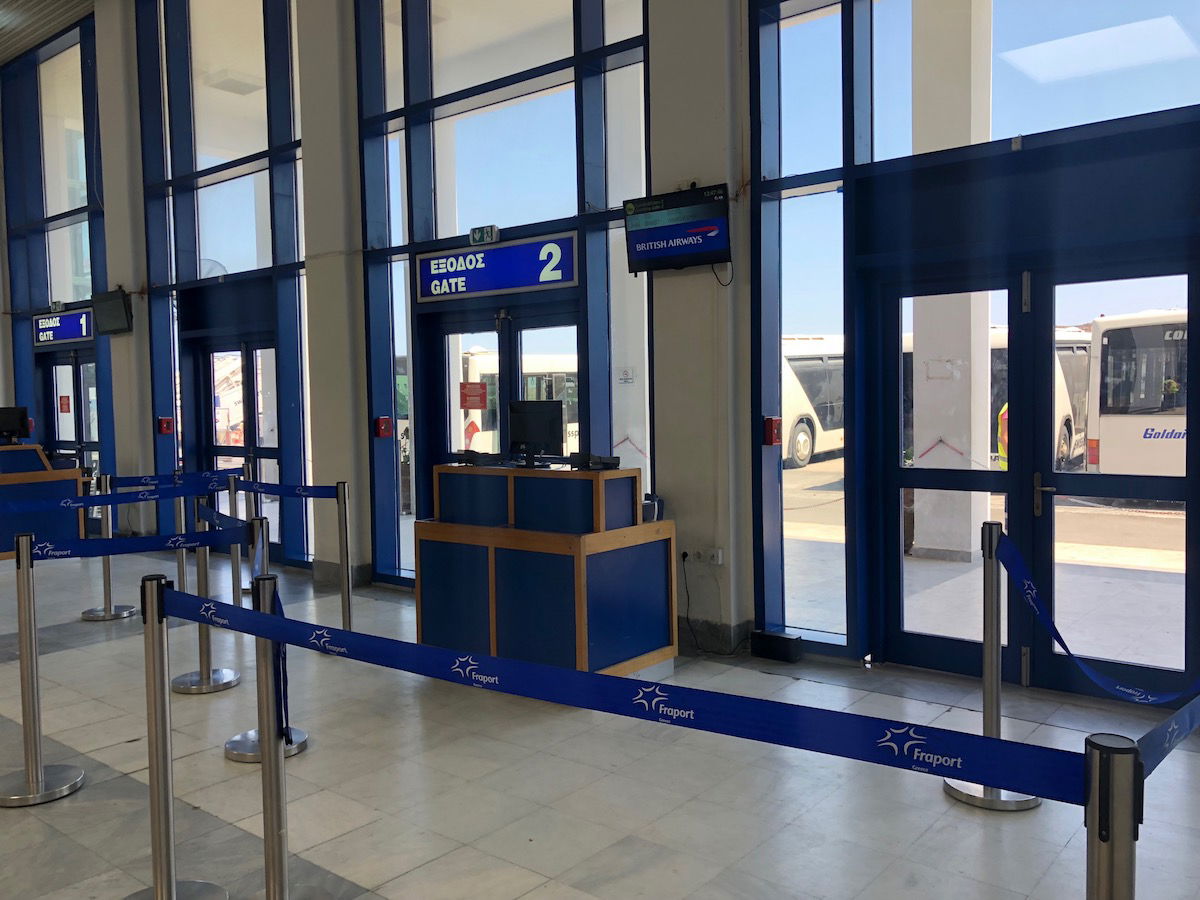 Mykonos Airport gates
Even though there are three separate gates, the problem is that they can only board one flight at a time. That's because once your boarding pass is scanned you're brought out into a "pen" outside, where you're then made to wait until your flight is ready for boarding. So only one flight could be boarded at a time.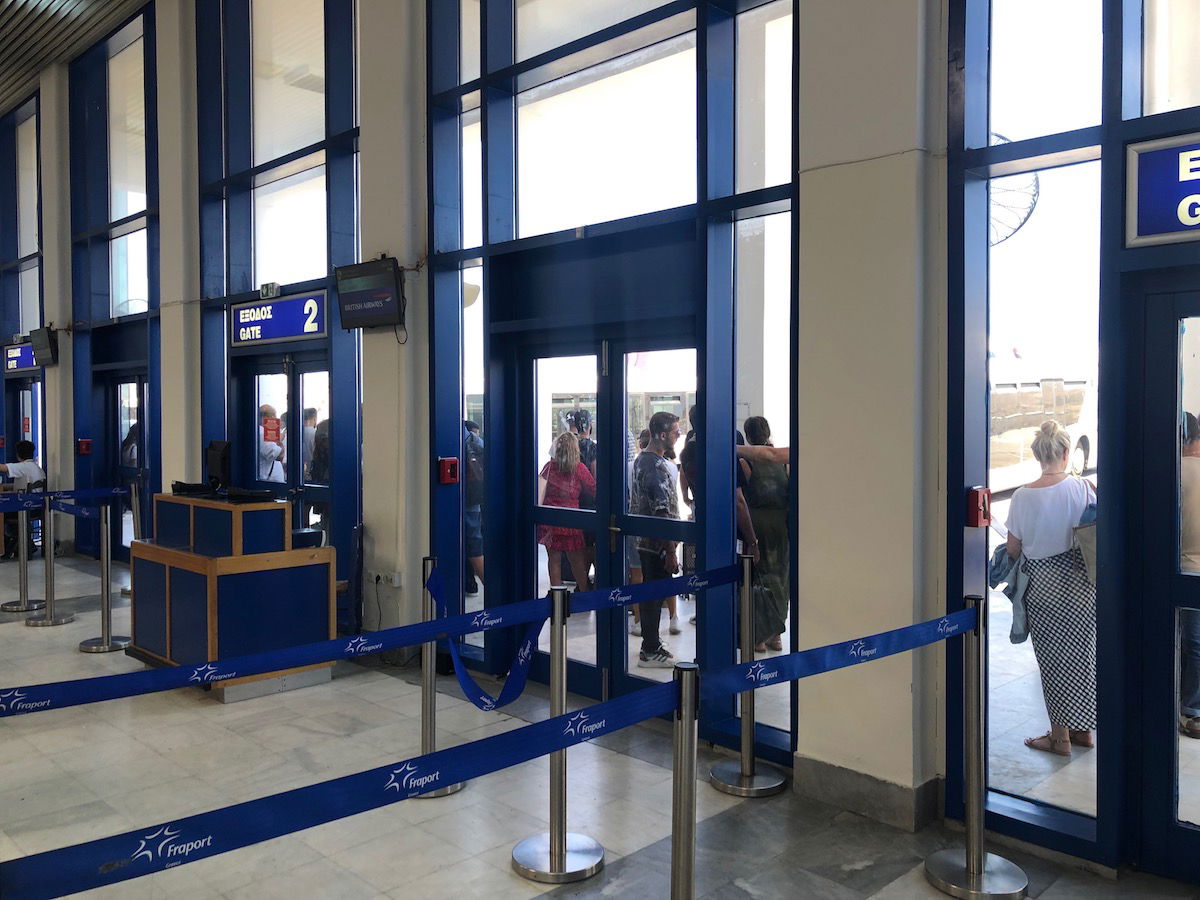 Mykonos Airport gates
Mykonos Airport doesn't have a lounge that's currently operational. I believe the airport used to have the Goldair Handling Lounge, which belonged to Priority Pass, though the lounge is closed (I'm not sure if that's just for this year, or permanent).
Our inbound flight arrived at 1:50PM, and boarding for our flight was scheduled for 2:30PM, according to our boarding passes. However, at 2:15PM we were let into the outside boarding pen.
There then seemed to be some discussion about whether we had to be driven to the plane in a bus, or if we could just walk there, given how close it was.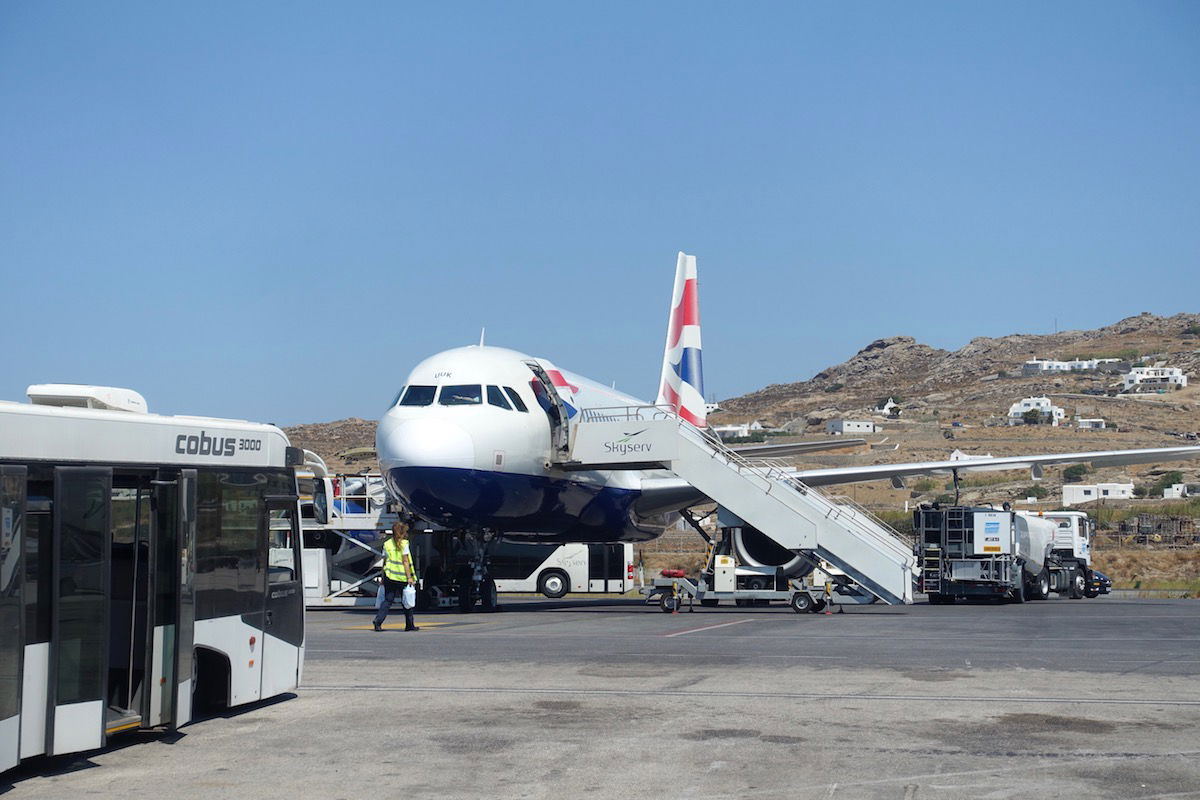 British Airways A320 Mykonos Airport
Sure enough, at 2:30PM we were told we could walk to the plane, which wasn't far away. They had setup stairs both in the front and rear.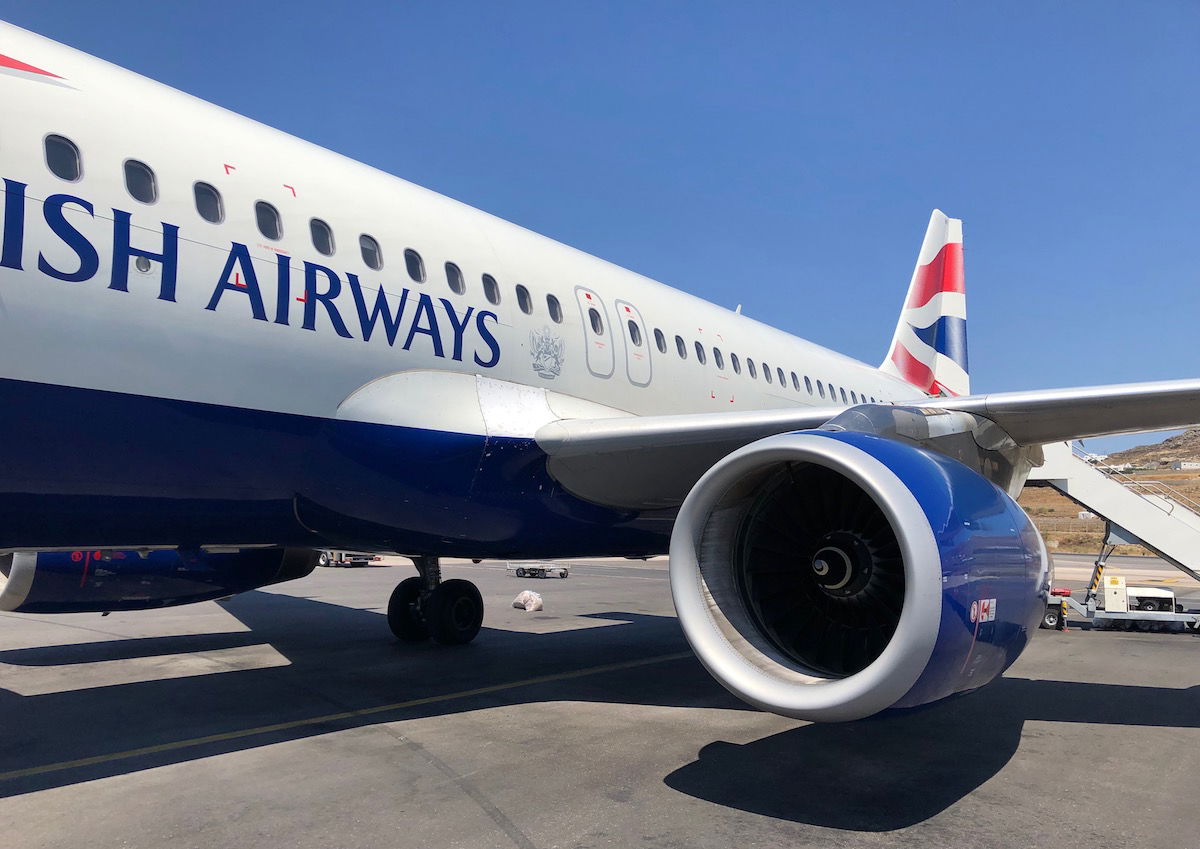 British Airways A320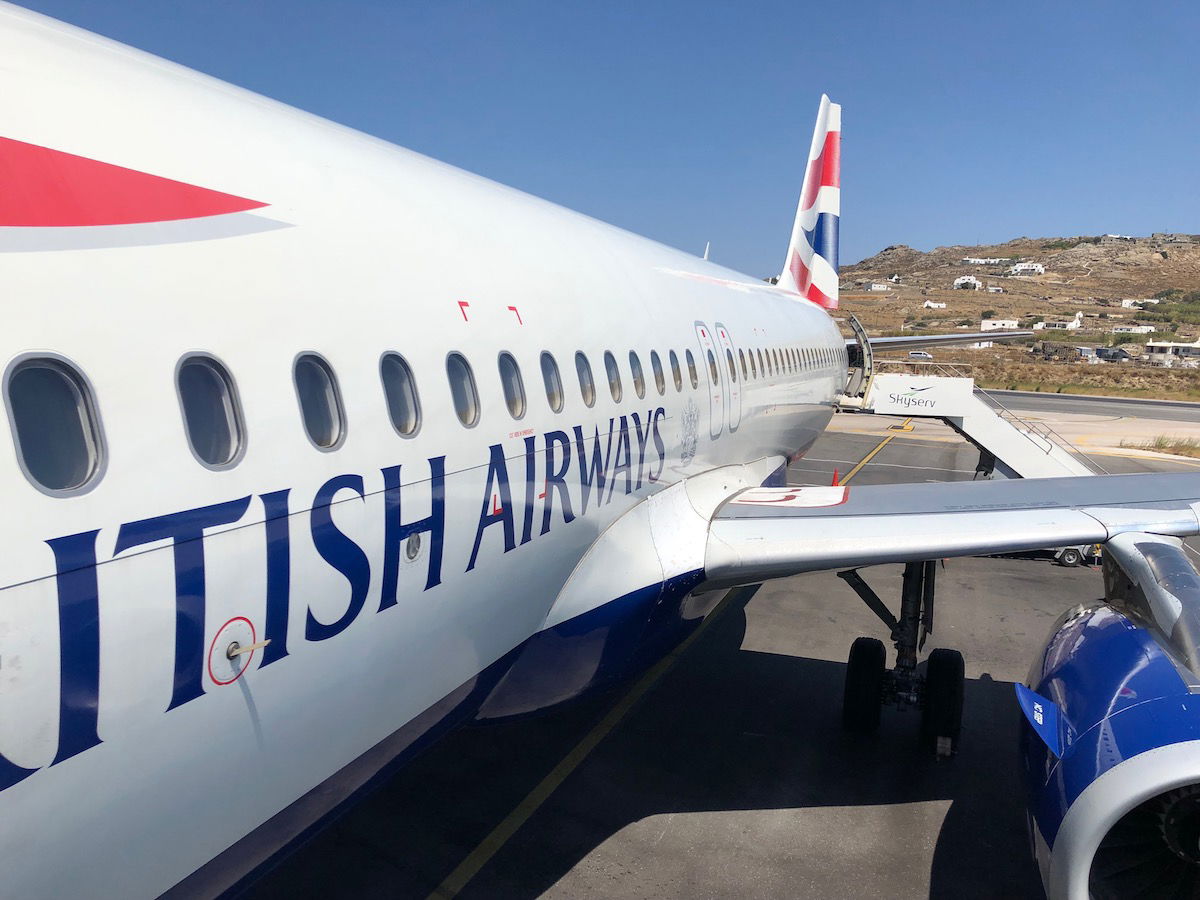 British Airways A320
British Airways 651
Mykonos (JMK) – London (LHR)
Thursday, August 15
Depart: 1:45PM
Arrive: 3:45PM
Duration: 4hr
Aircraft: Airbus A320
Seat: 1D (Club Europe Business Class)
Ah, intra-Europe business class. While it might not be much to get excited about, it was luxurious compared to my outbound flight on EasyJet.
This was the biggest business class cabin I've ever seen on an intra-Europe flight, as business class went all the way back to row 12, which is the exit row — that's nearly half the plane!
As is the norm within Europe, business class simply consists of economy class seats with blocked middles.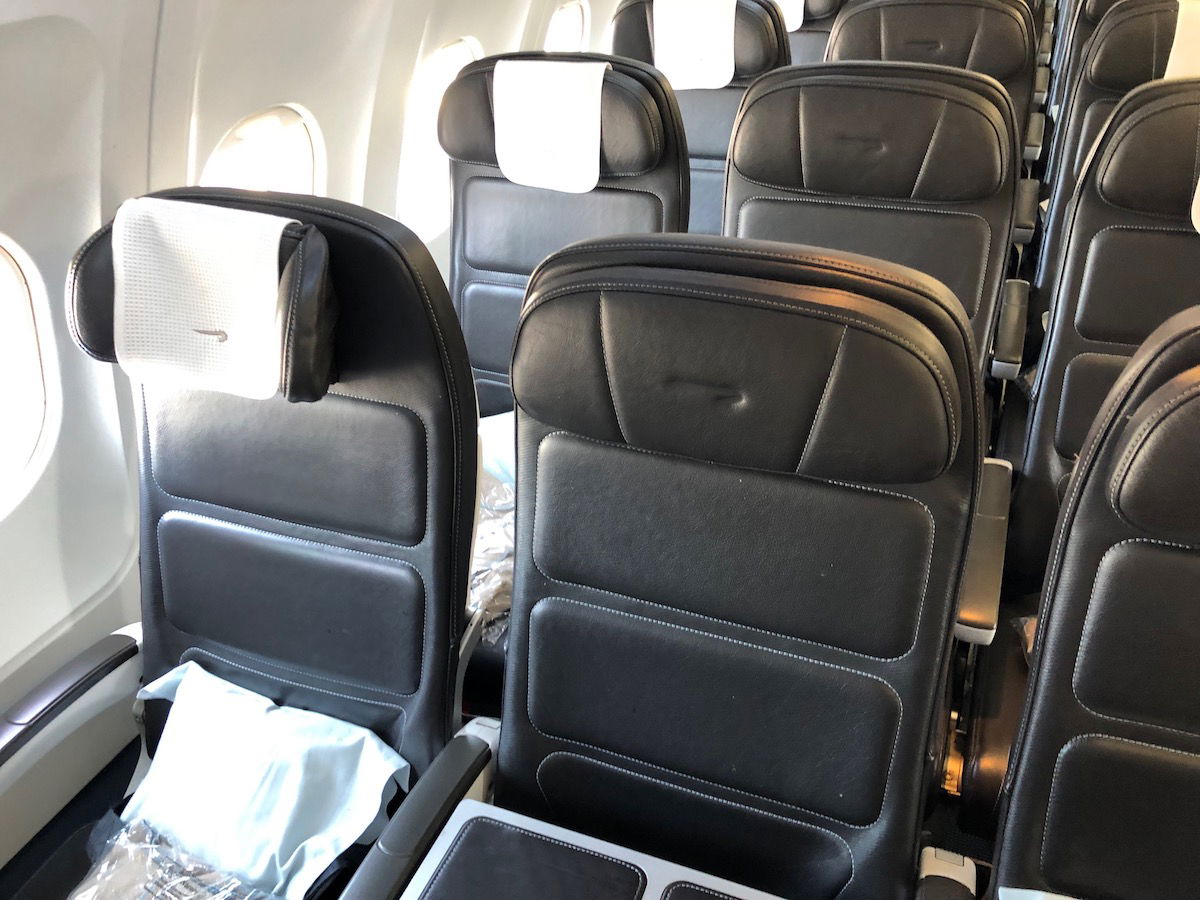 British Airways A320 Club Europe seats
I selected seats 1D & 1F for us. While I'm not usually a fan of bulkhead seats, the exception is intra-Europe flights, where I go out of my way to select these seats, since it's better to be in a bulkhead than to be in a seat with 30″ of pitch.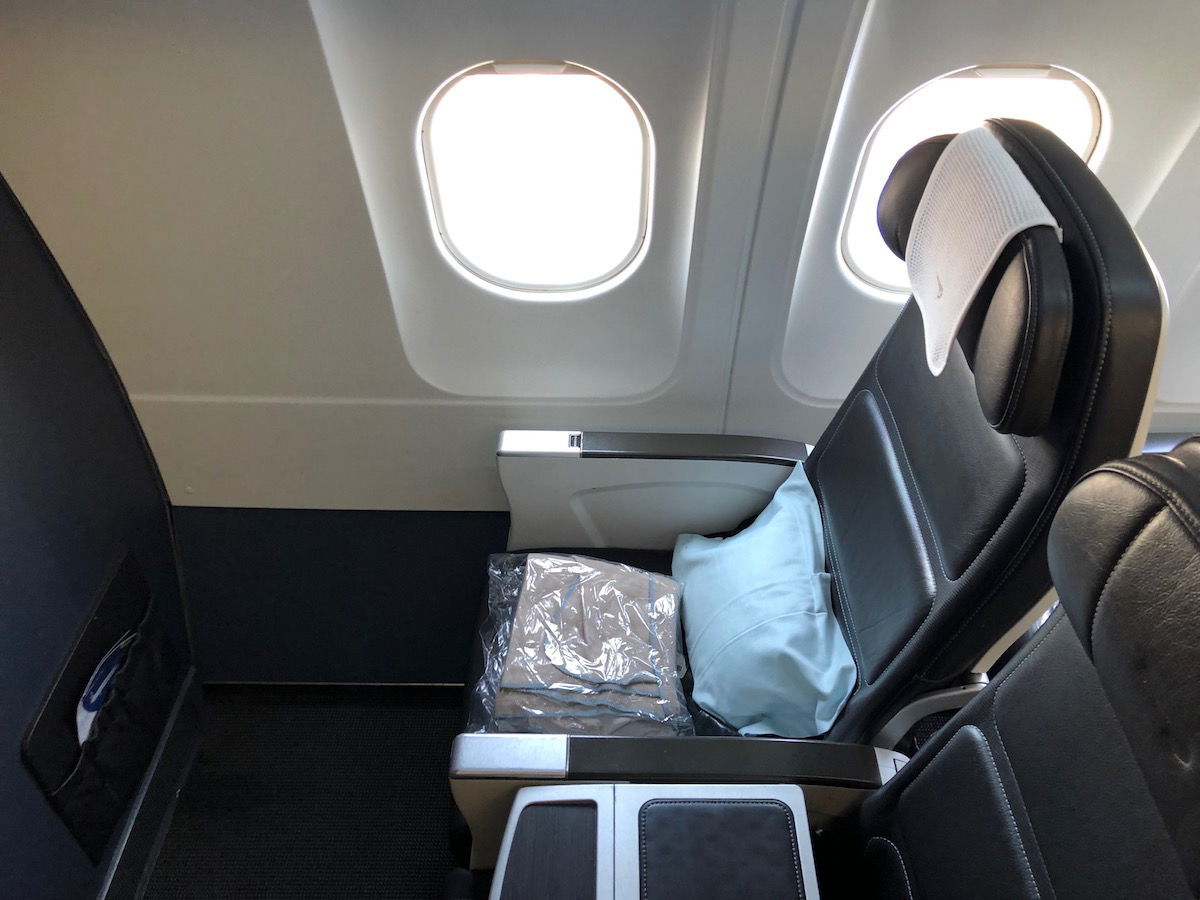 British Airways A320 Club Europe seats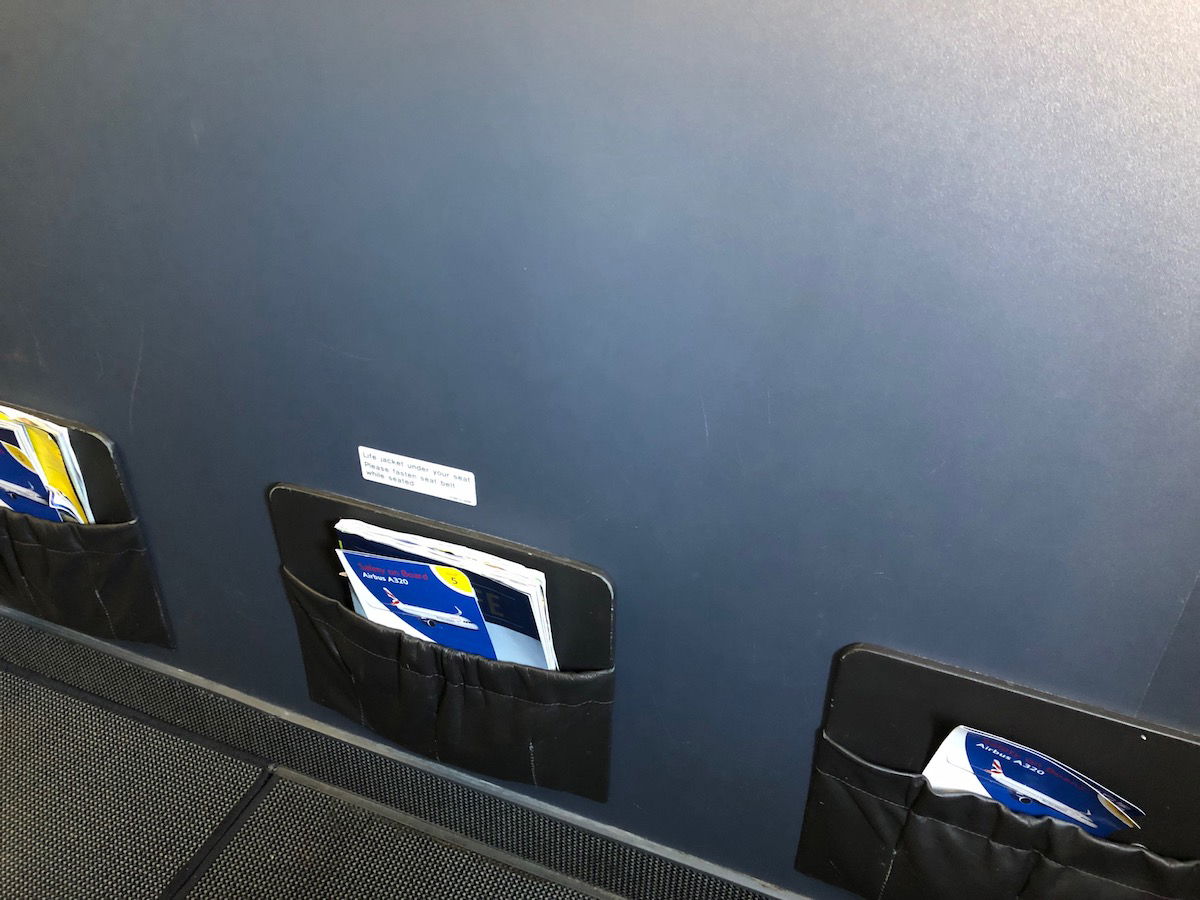 British Airways A320 Club Europe bulkhead legroom
On the center seat was a table that could be used to store things during the flight.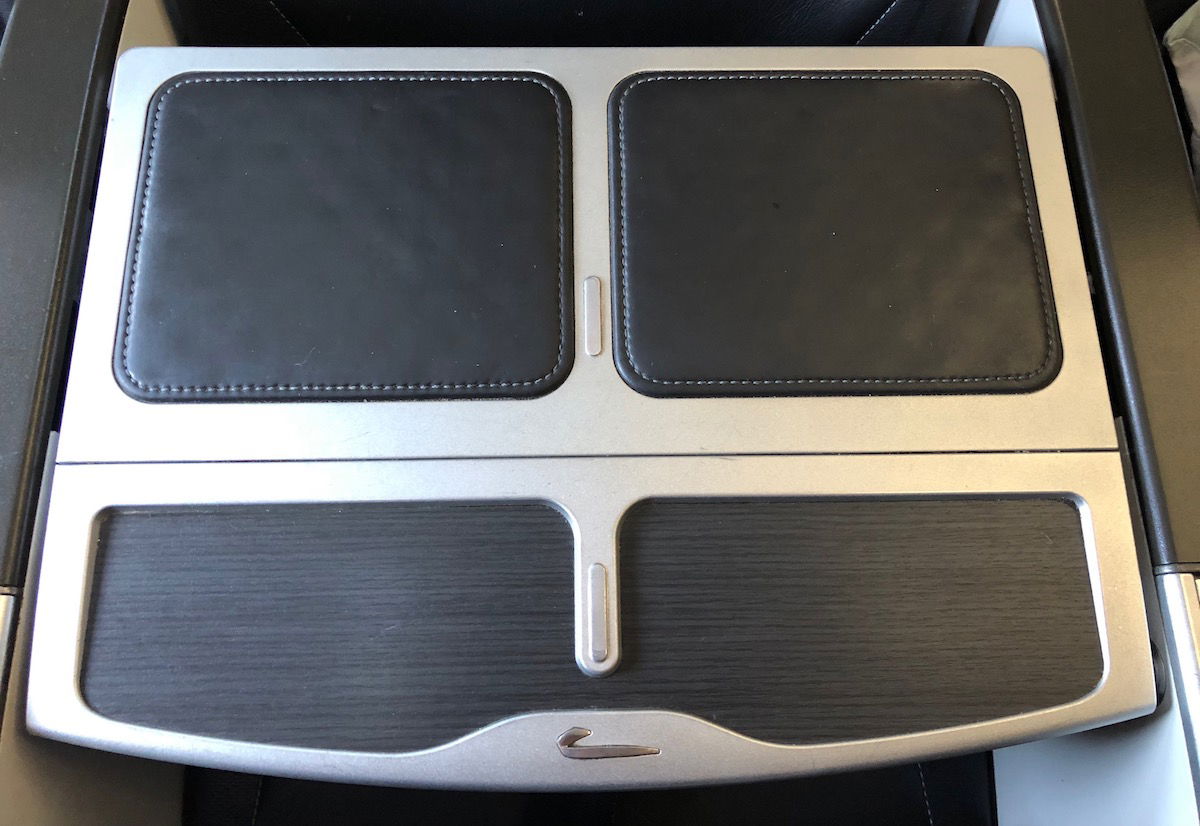 British Airways A320 Club Europe blocked center seat
Like I said, the bulkhead was comfortable, but the legroom was really limited in the rest of the cabin.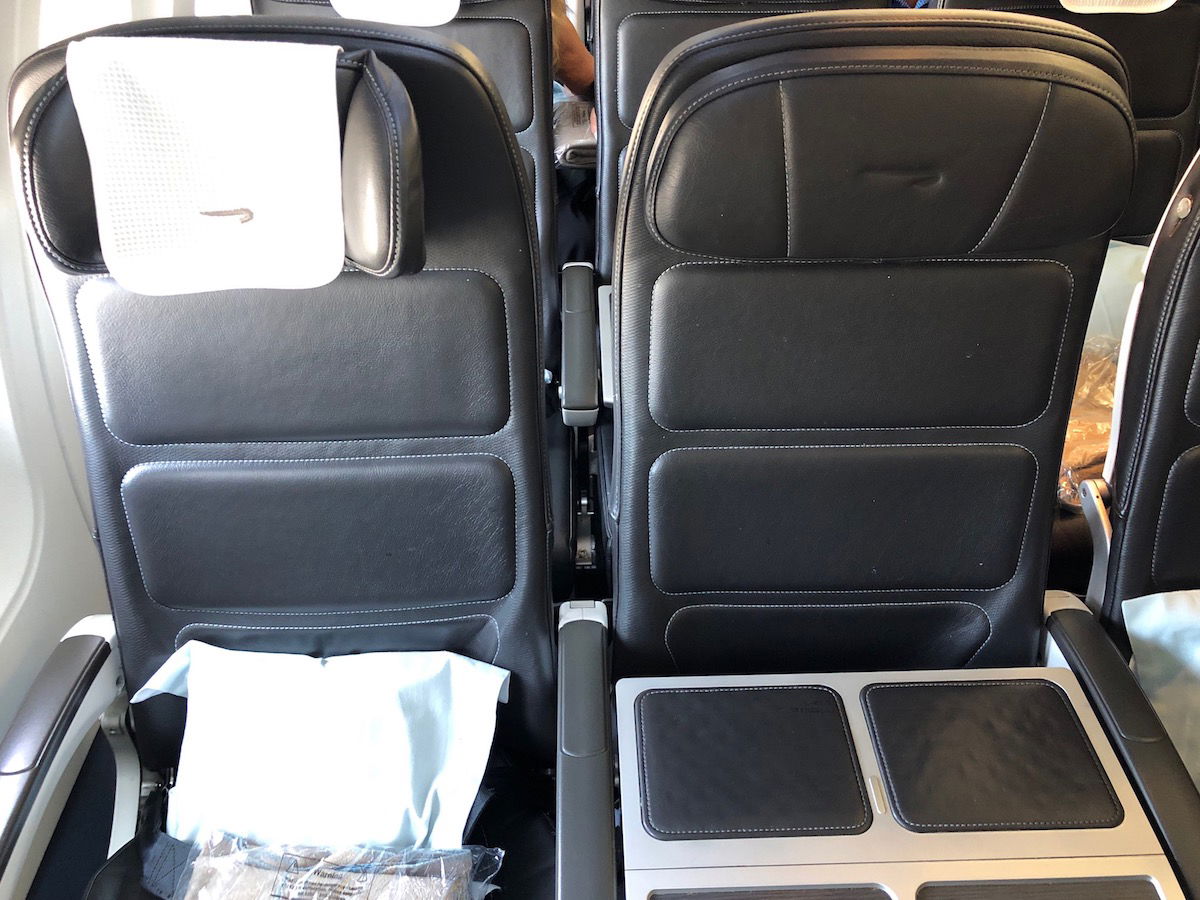 British Airways A320 Club Europe seats
Since I was in the bulkhead, the tray table was in the armrest.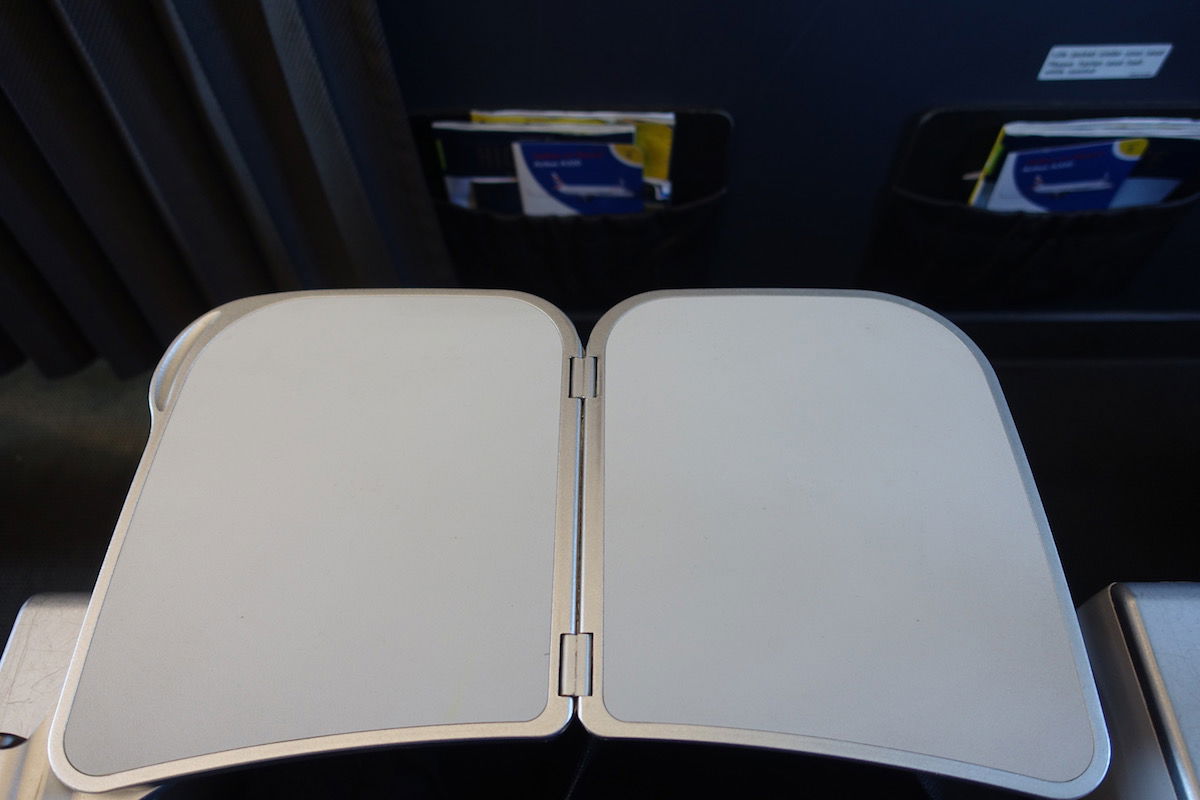 British Airways Club Europe tray table
Unfortunately, this British Airways A320 didn't have power ports or Wi-Fi. British Airways is progressively installing both of those things on these planes, though go figure this flight didn't have either. That sure would have been nice, given that this is one of the longest routes operated by the BA A320 (but I get that's not how aircraft assignments work).
Waiting at each seat was a decent enough pillow and blanket, which is more than you get on most British Airways regional flights.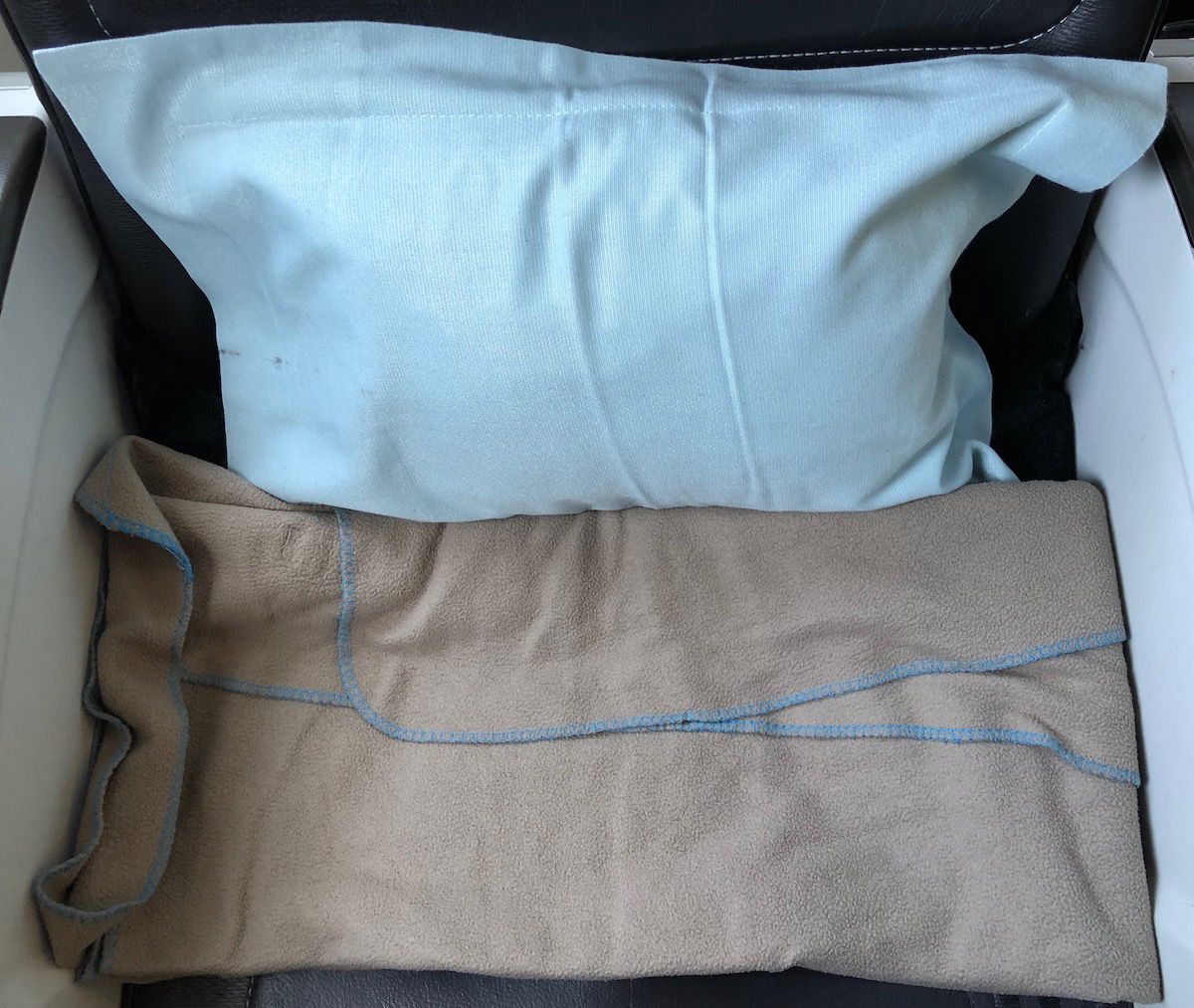 British Airways A320 Club Europe pillow & blanket
About five minutes after settling in, the crew offered us menus for the flight. This was a mixed fleet crew (British Airways' generally younger and less experienced crews), and while they were well-intentioned, they weren't particularly polished.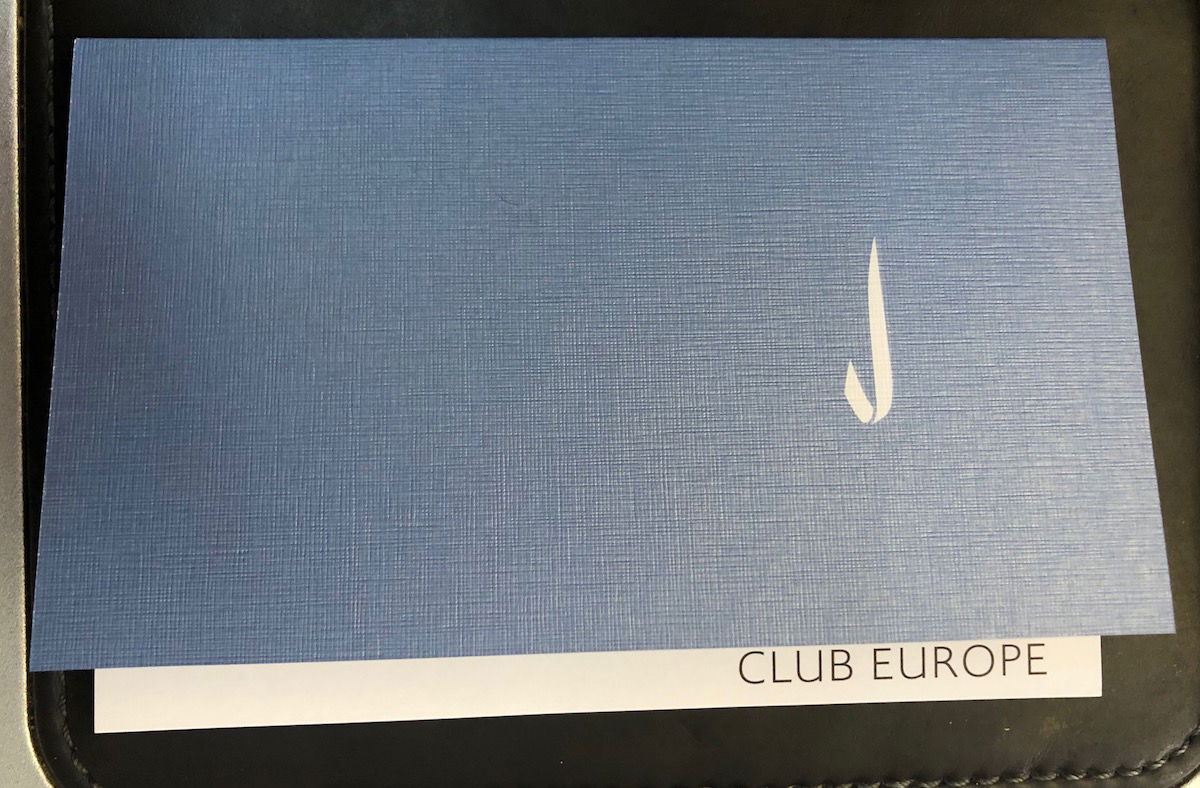 British Airways Club Europe menu
At 2:50PM the main cabin door closed, with 32 of the 48 business class seats taken. At 3PM the captain came on the PA to inform us of our flight time of 3hr45min, and he explained the reason for the delay — "it was purely that we had a big slot delay out of Heathrow and we just had to sit there and wait for it." He said we should be departing shortly.
Unfortunately, at 3:20PM the captain announced that ATC gave us a 4:05PM departure slot, so we'd have to sit and wait longer. At this point, quite a few passengers were at risk of missing their connections, since that represented a delay of over two hours.
As we sat there I observed some of the traffic out the window. The Qatar Airways A320 departed…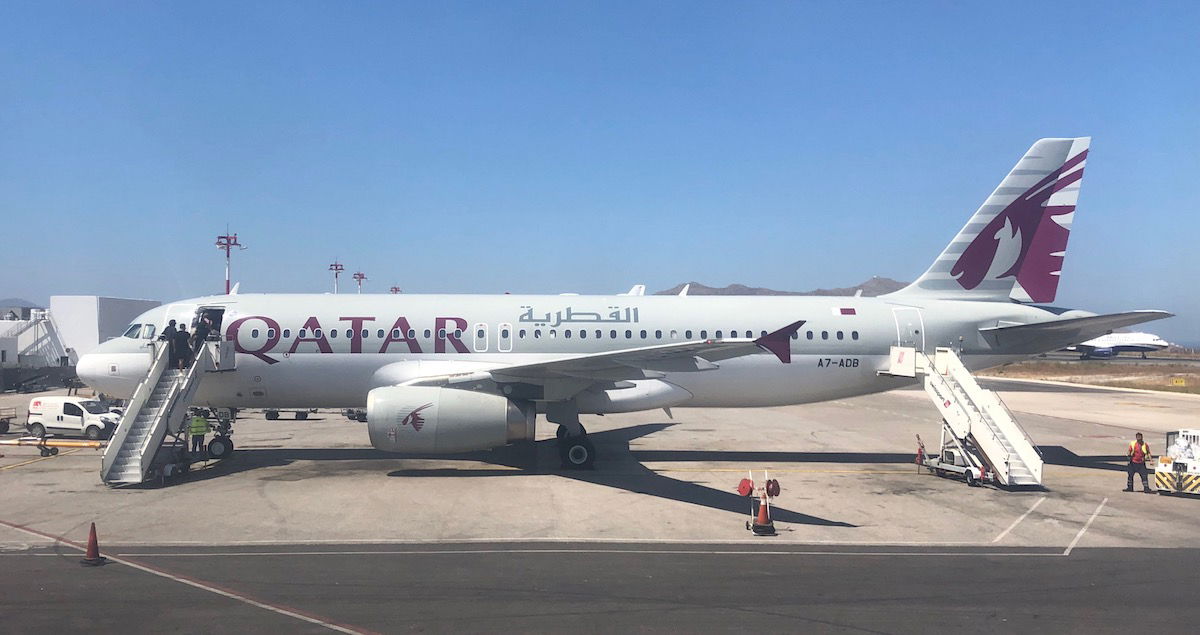 Qatar Airways A320 Mykonos Airport
An Aegean plane pulled into its spot.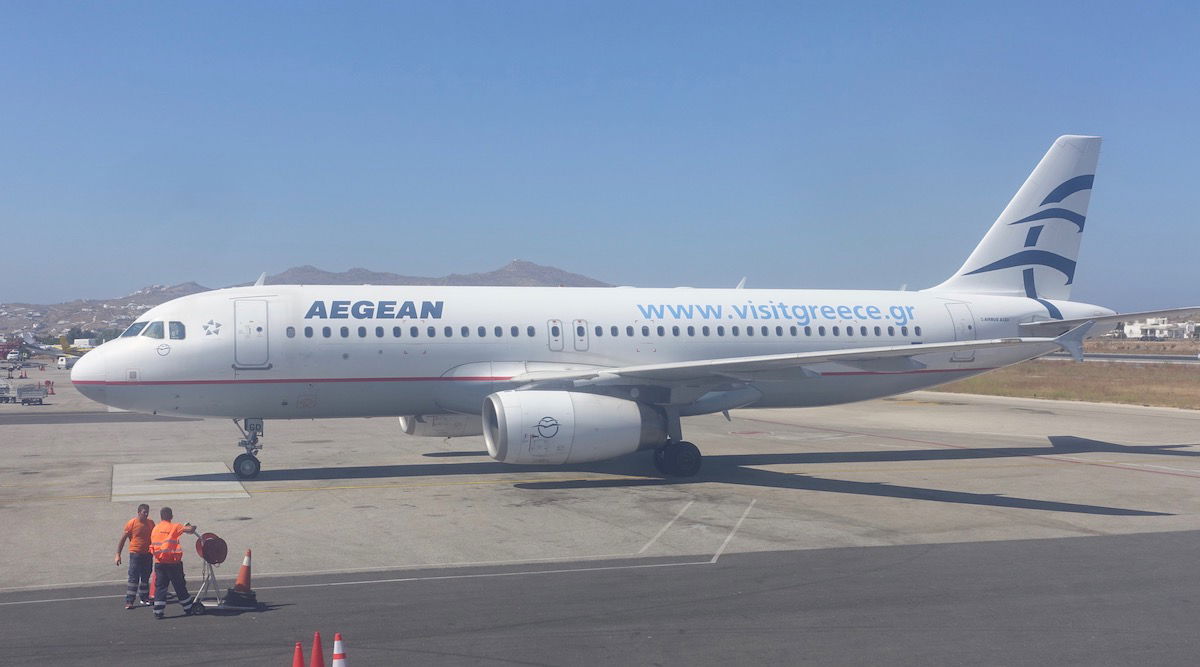 Aegean A320 Mykonos Airport
Meanwhile, an EasyJet plane came and went.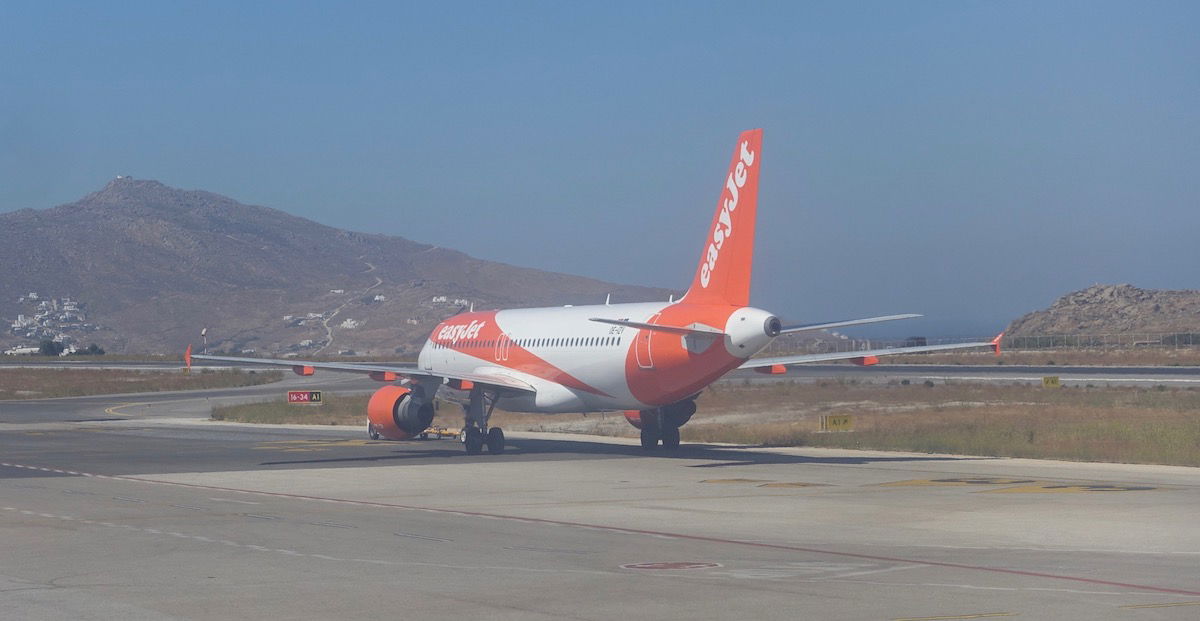 EasyJet A320 Mykonos Airport
The most intriguing plane at the airport was an unmarked 737. I immediately recognized that the tail number started with "A6," meaning it was a UAE registered plane. After looking up the full tail number, it appears this was a swanky looking Emirati business jet.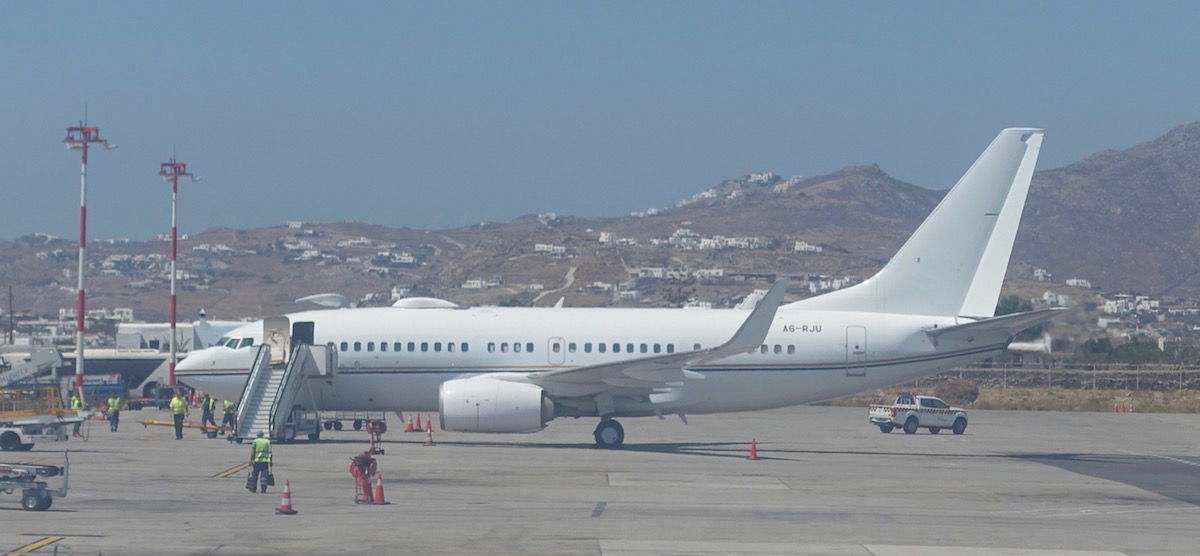 Royal Jet 737 Mykonos Airport
I couldn't help but feel like the crew was kind of lazy. Or perhaps more accurately, I find that British Airways does the least to encourage their employees to be proactive during delays. At a minimum, you'd think they could have served some water in plastic cups, given that we had already been delayed prior to that. But there was simply no service.
At 3:40PM the captain once again got on the PA. "Bad news, unfortunately, things are looking worse." After saying that he stopped his announcement for about 30 seconds, and then returned. "We just got a slot and can leave right now, please take your seats right away." Hah, it seems we literally got good news mid-announcement.
At 3:45PM we started our taxi.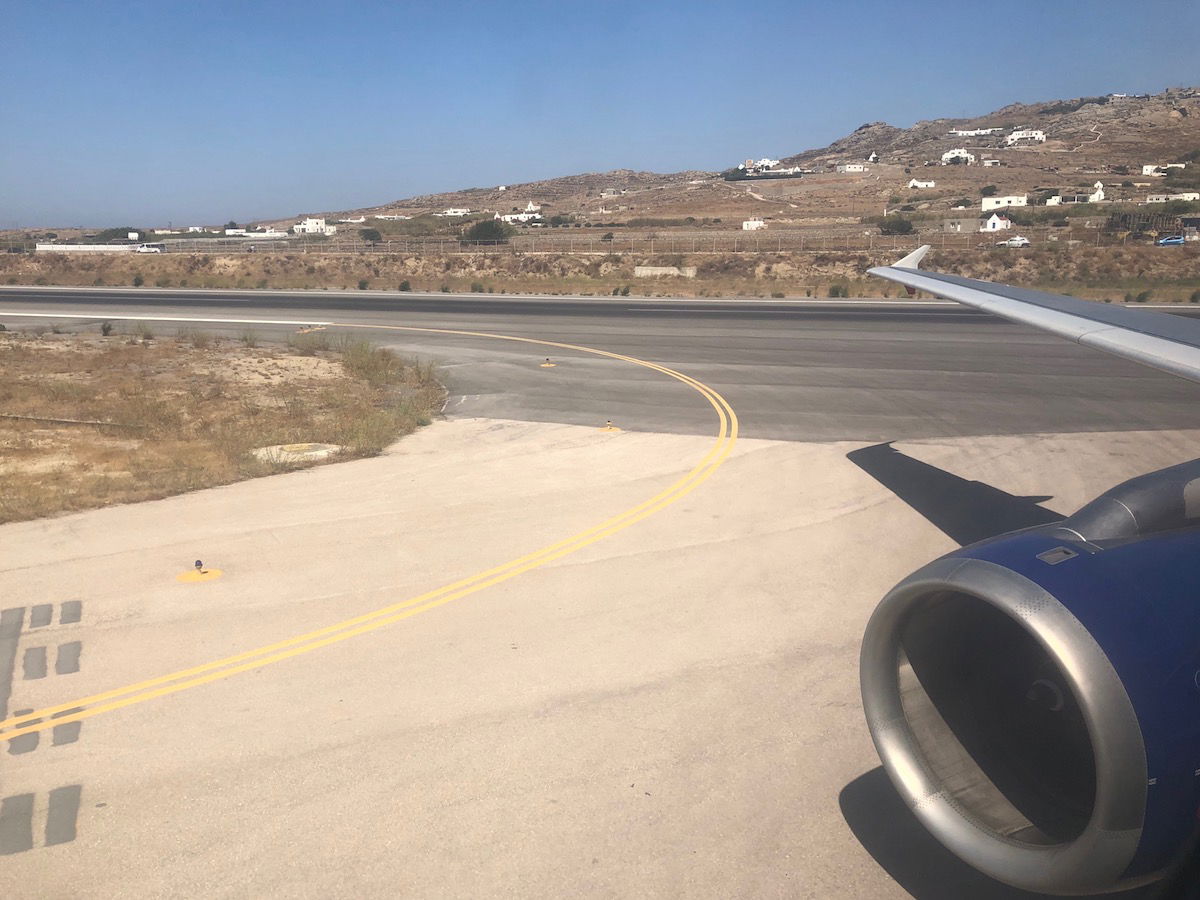 Taxiing Mykonos Airport
Mykonos Airport is tiny, so within a few minutes we were back taxiing on the runway, and by 3:50PM we took off on runway 34.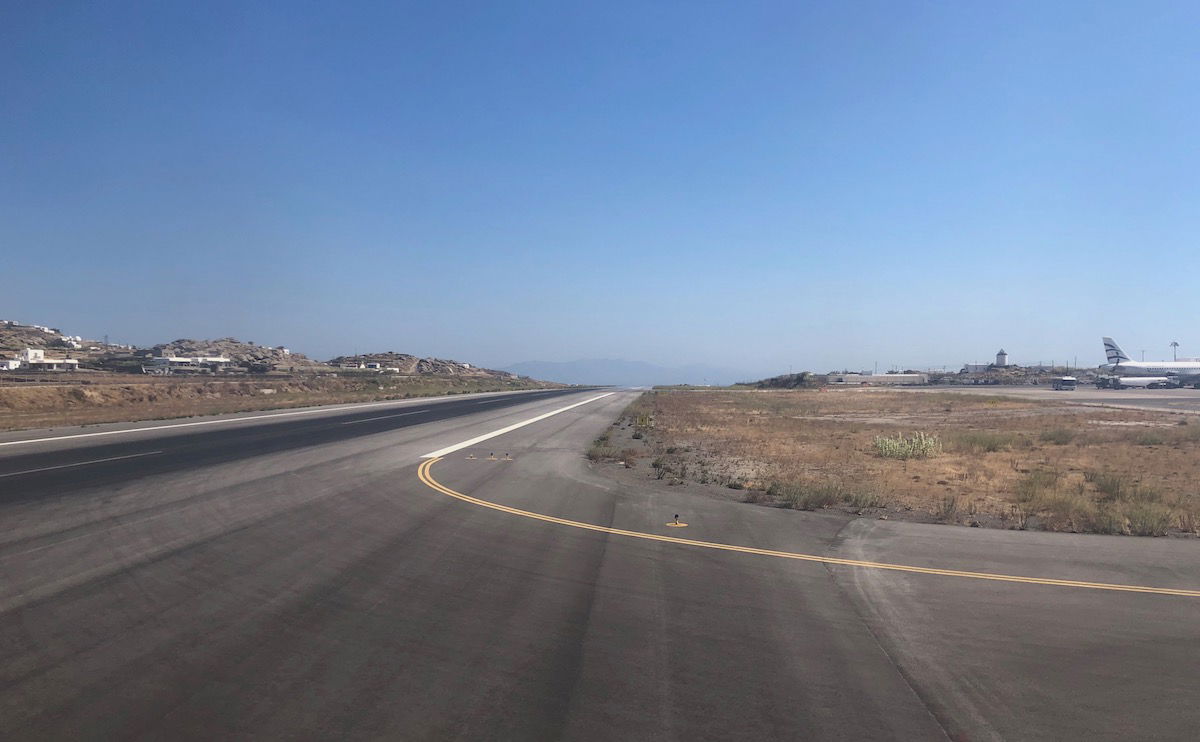 Taxiing Mykonos Airport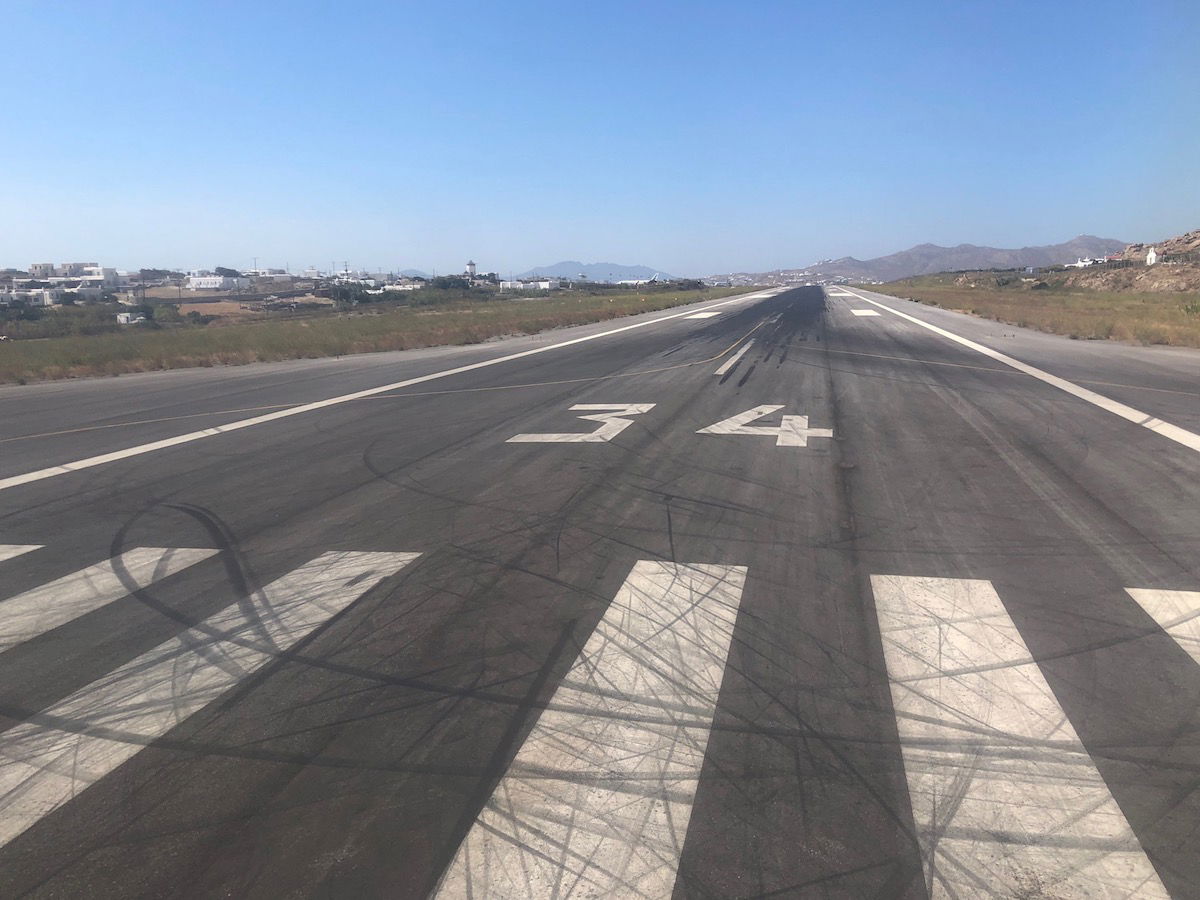 Taking off from Mykonos
The wind had died down a bit on our day of departure, so it wasn't too bumpy on the climb out. Bye, Mykonos!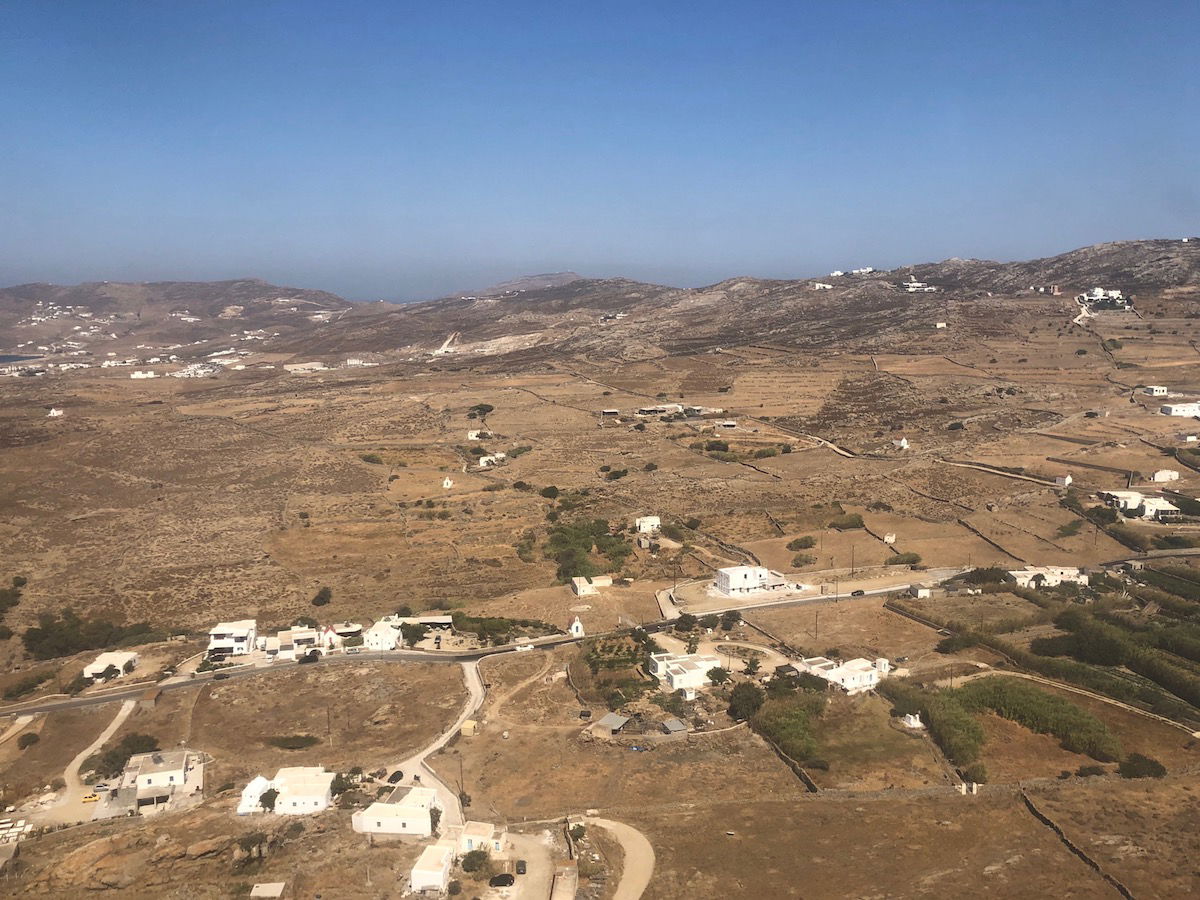 View after takeoff from Mykonos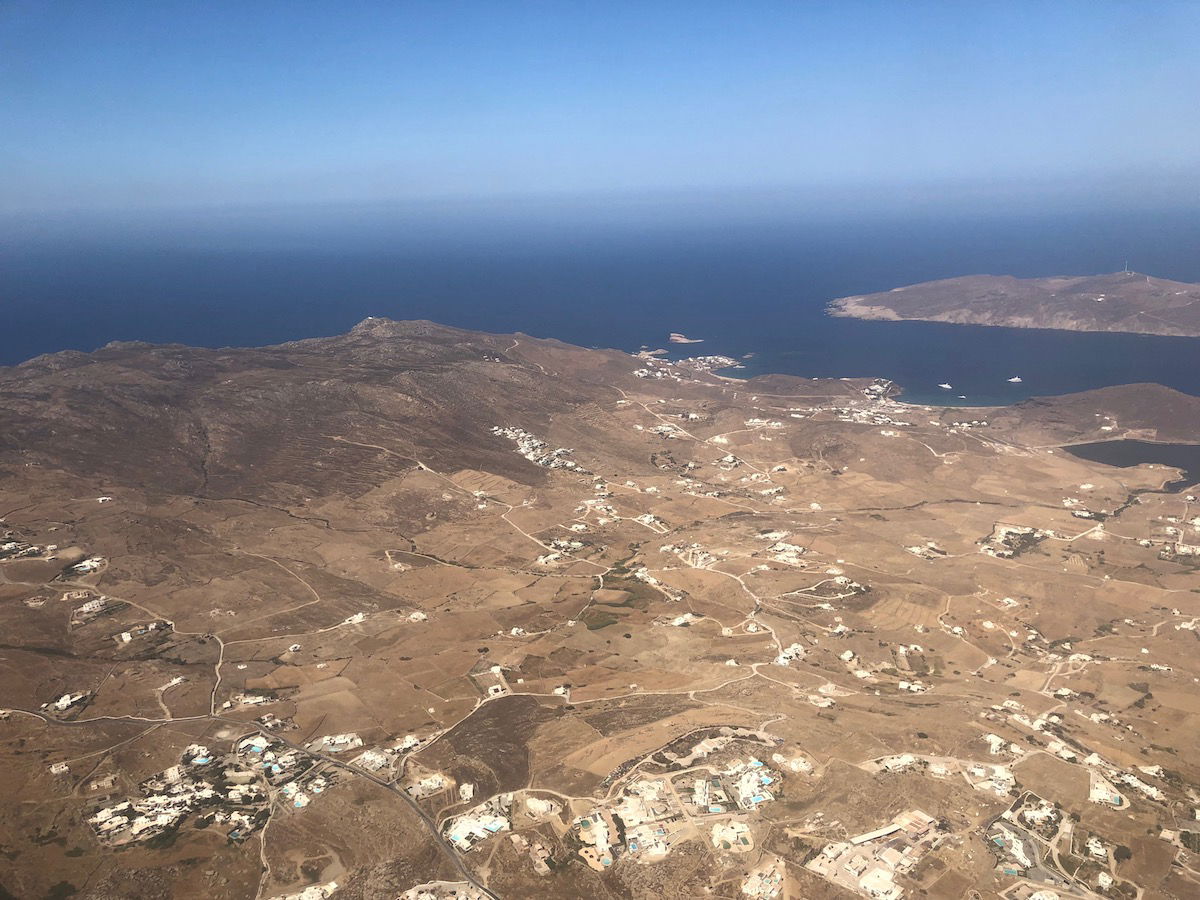 View after takeoff from Mykonos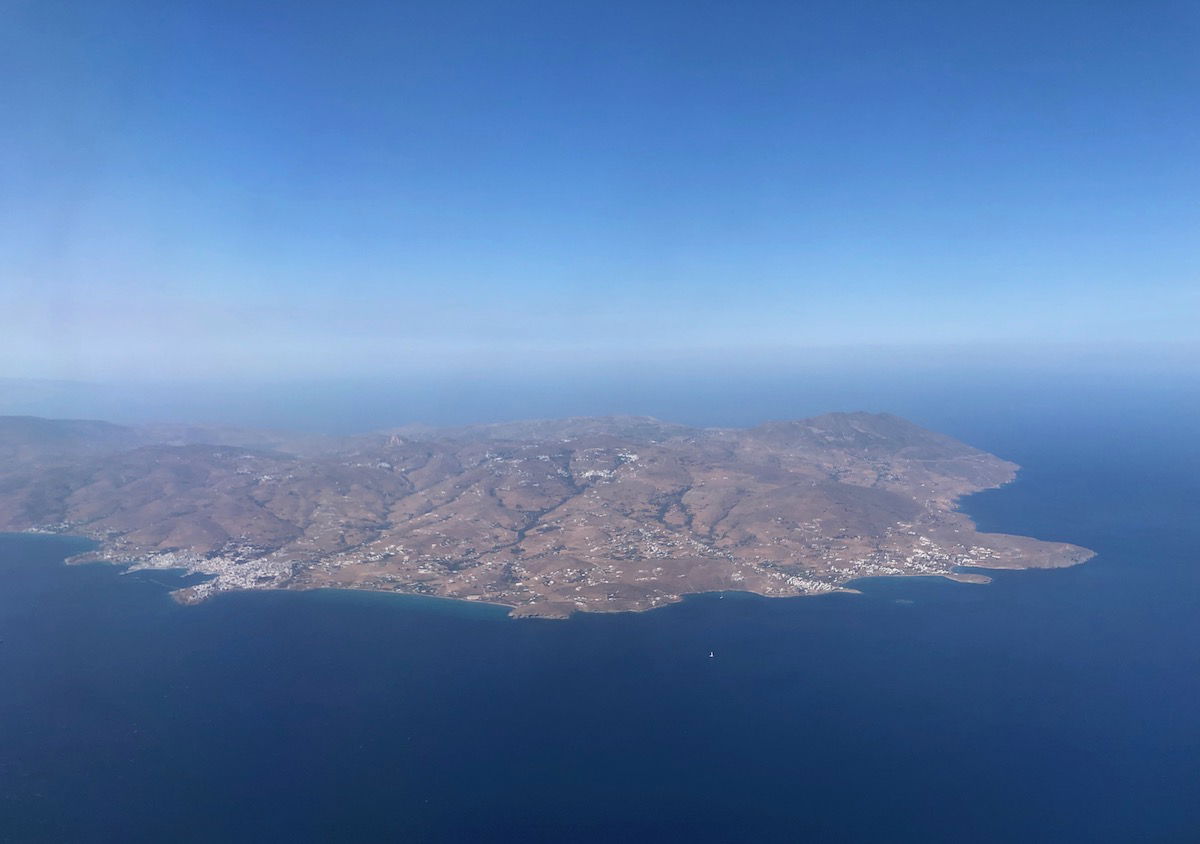 View after takeoff from Mykonos
The seatbelt sign was turned off just three minutes after takeoff, and at that point, I walked to the back of business class, just for some perspective on how big the business class cabin was.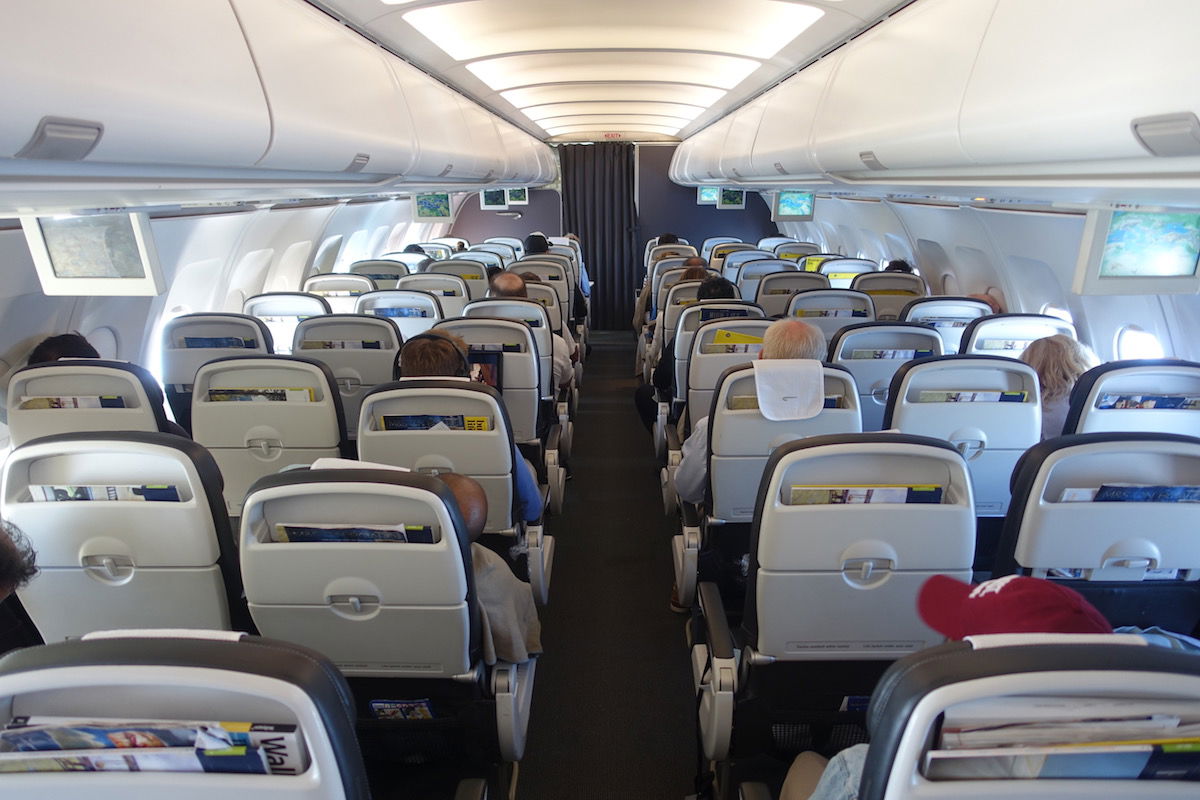 British Airways Club Europe A320 cabin
The service began pretty quickly after takeoff. The lunch menu read as follows: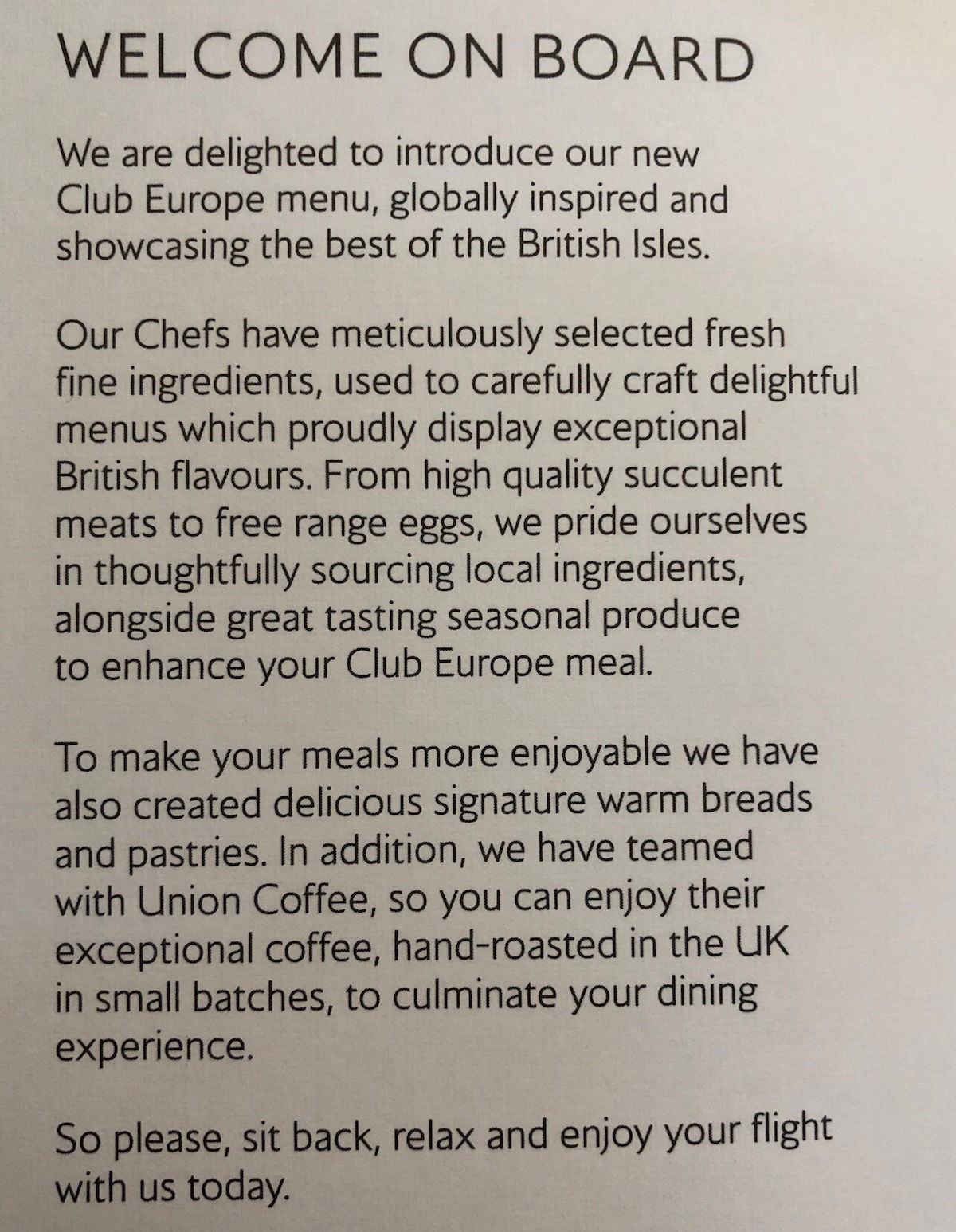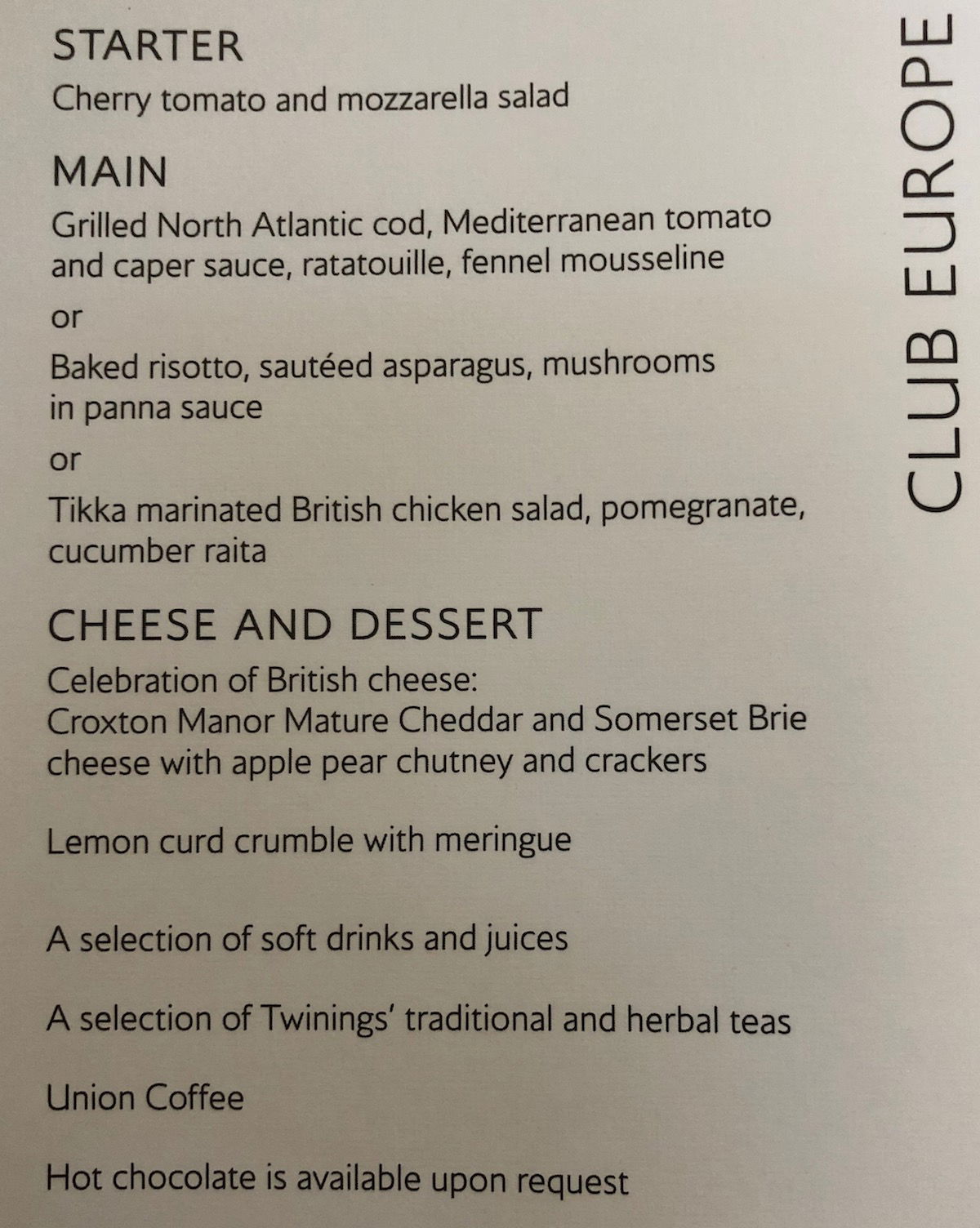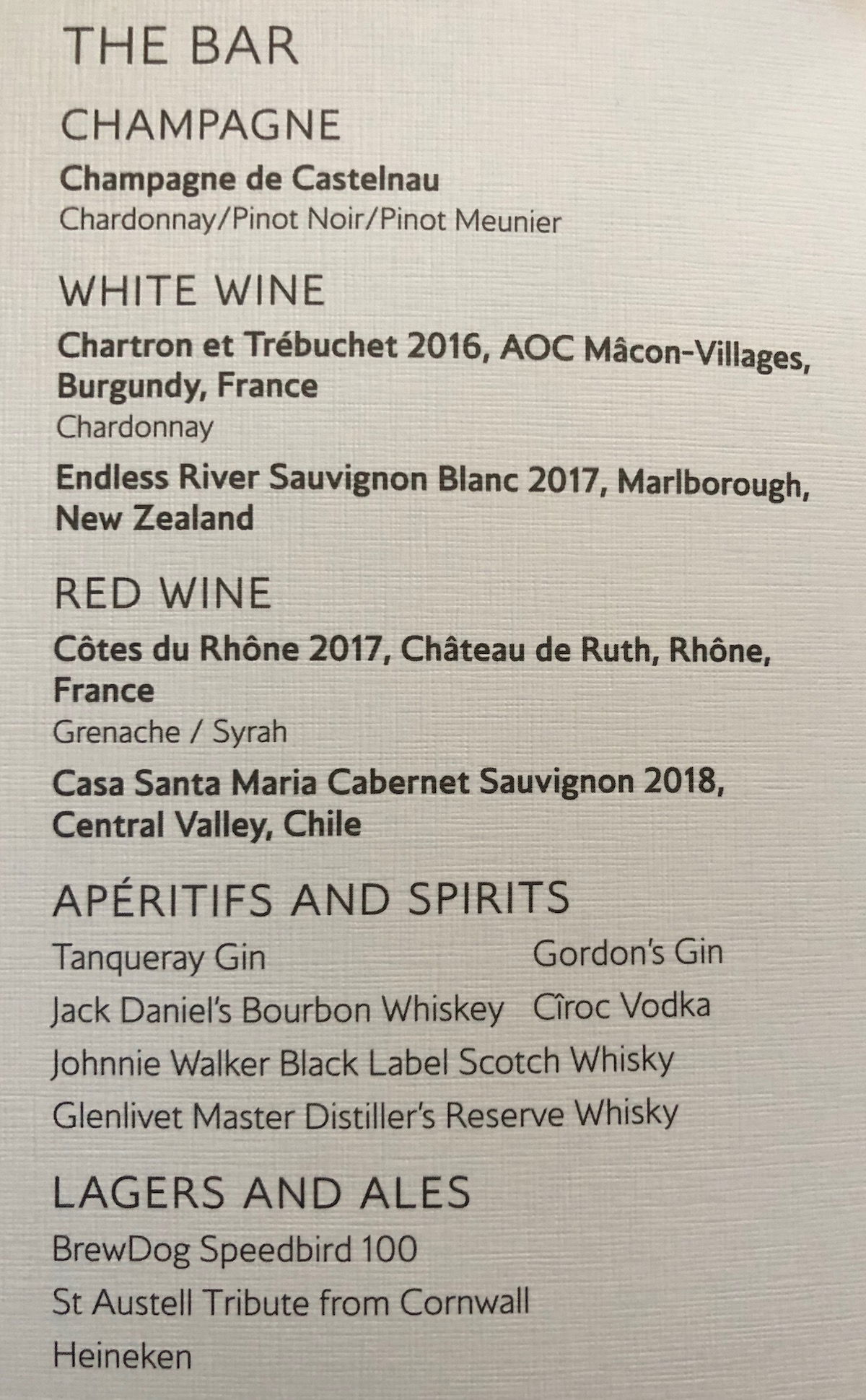 Warm towels were offered about 15 minutes after takeoff.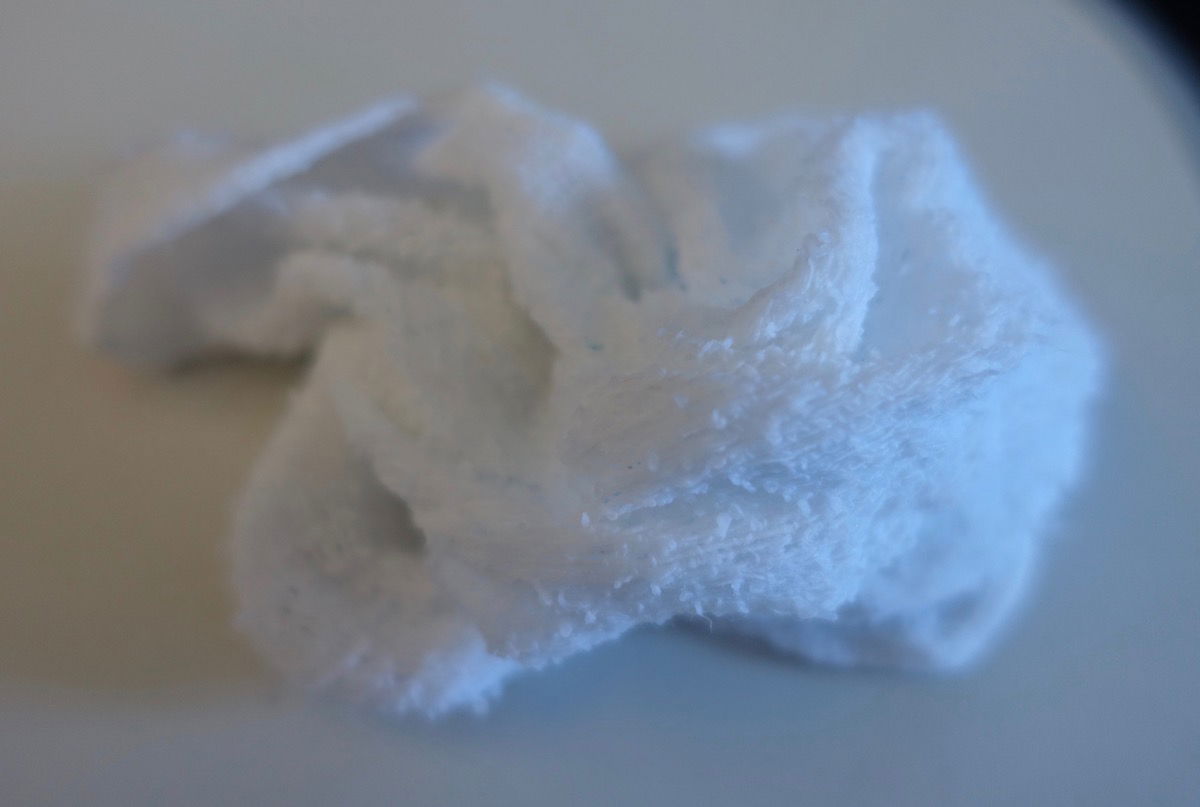 British Airways Club Europe warm towel
Then 25 minutes after takeoff the first round of drinks was served. I had a glass of champagne and some sparkling water, and was offered packaged snack mix to go along with it.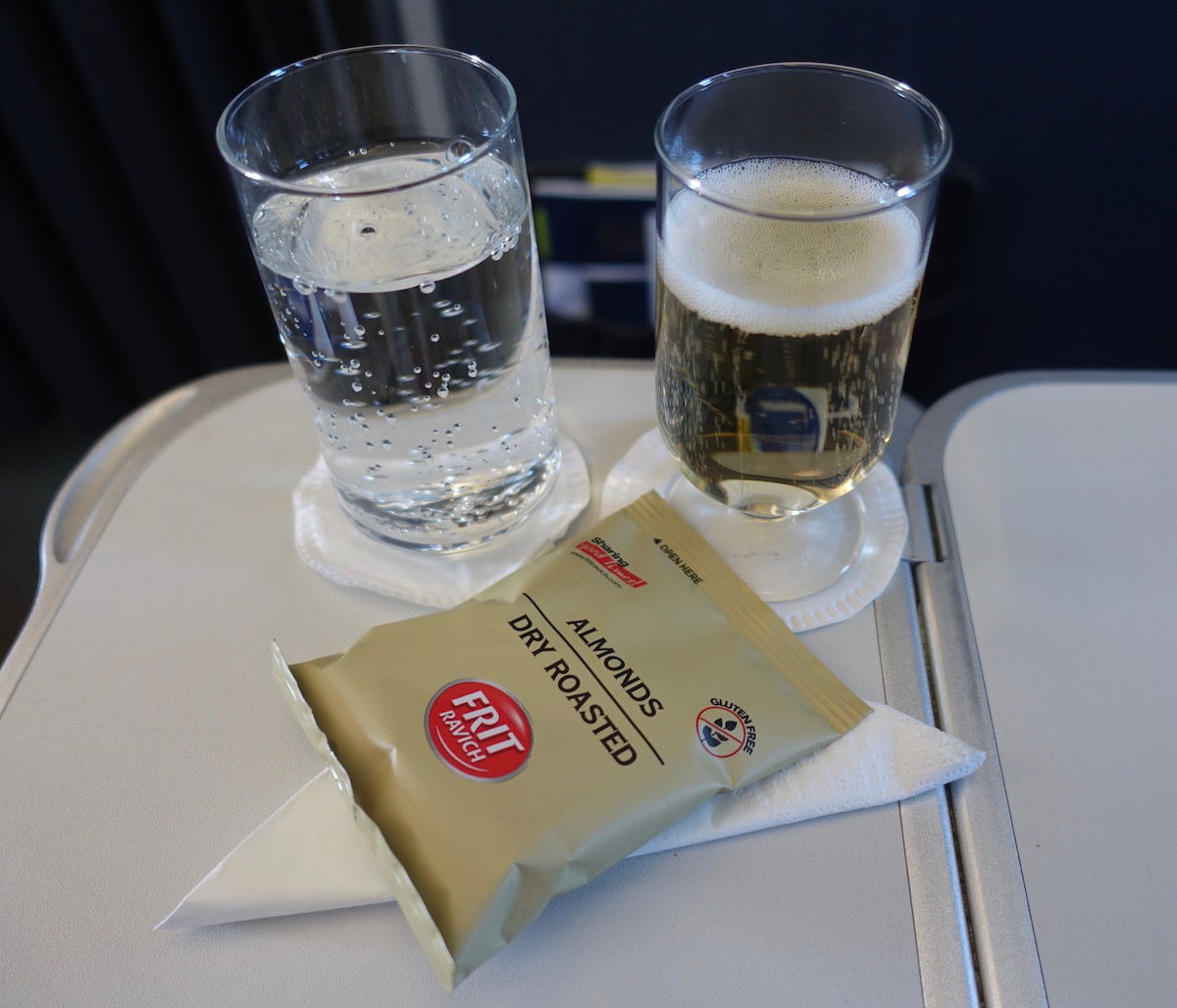 British Airways Club Europe drinks
While the first round of drinks was quick, it was 75 minutes after takeoff before the meal was served. What I found puzzling was that no drink refills were offered in the meantime. In other words, the crew came and took empty glasses, when you'd think they'd see if you wanted something else to drink.
75 minutes after takeoff two carts were rolled down the aisle — first, there was one with the food, and then there was one immediately behind it with drinks.
For my meal, I selected the grilled North Atlantic cod, Mediterranean tomato and caper sauce, ratatouille, and fennel mousseline. That was served with a starter of cherry tomato and mozzarella salad, along with a small portion of cheese, and a dessert consisting of lemon curd crumble with meringue. There was also a bread roll to go along with it.
The food quality was quite good, all things considered — British Airways now has DO&CO catering on these flights, and it is a noticeable improvement. However, not surprisingly there's not much difference in terms of what you get on this 3hr45min flight vs. a flight half the length.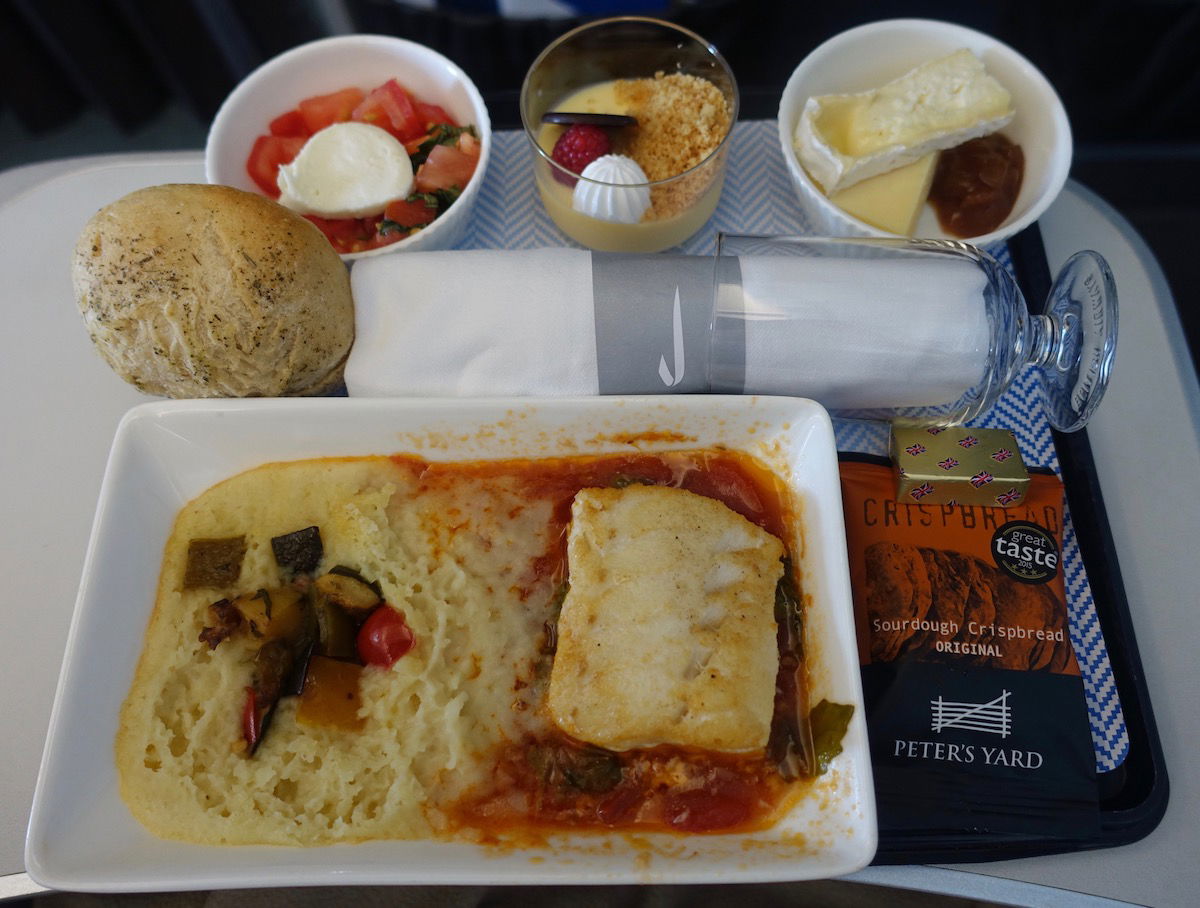 British Airways Club Europe lunch
Ford had the lighter option, which had all of the same sides, but for the main consisted of a tikka marinated British chicken salad, pomegranate, and cucumber raita.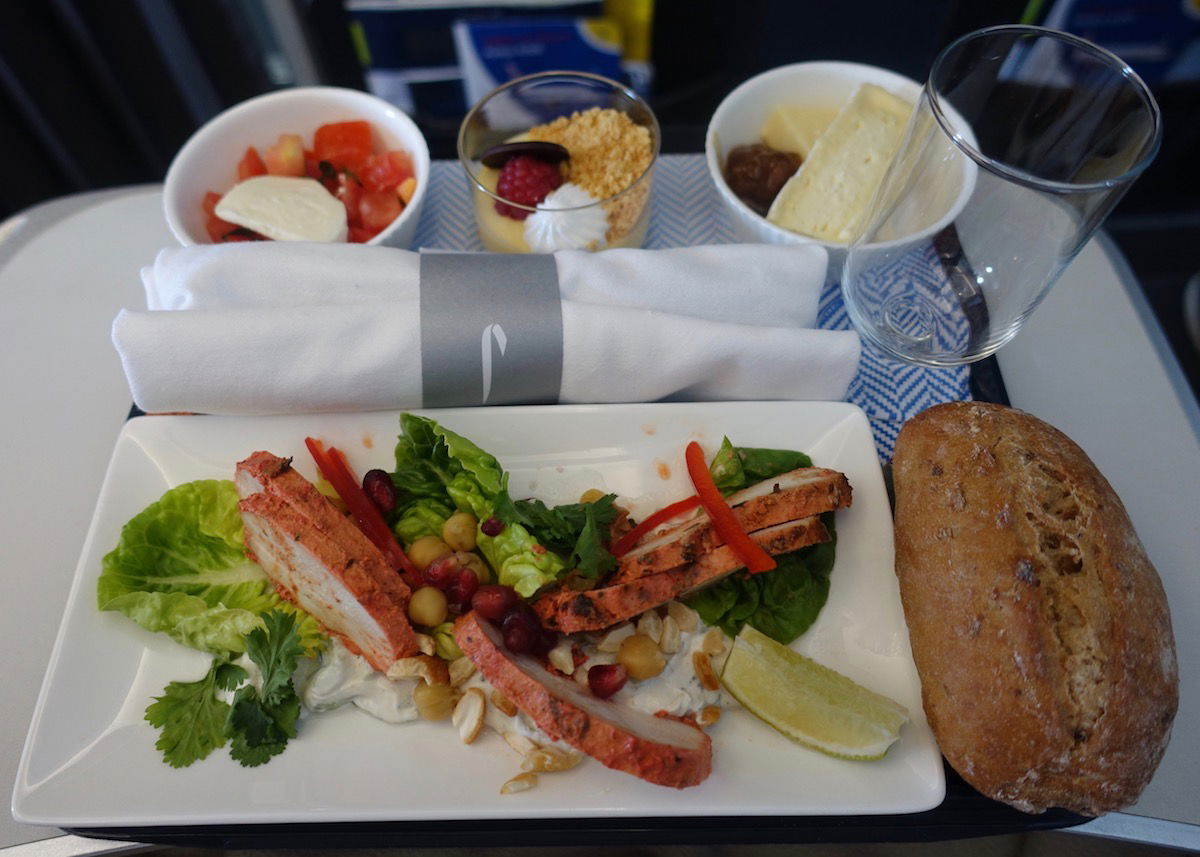 British Airways Club Europe lunch
Overall the meal was pretty good and the flight attendants were friendly, though I found the lack of ongoing service to be puzzling. The crew didn't once come through the cabin to ask if anyone wanted anything else to drink, there was no separate tea or coffee service after the meal, etc.
Of course I could have asked for any of those things, but usually, I find that crews are a bit more attentive on intra-Europe flights.
Given how big the business class cabin was, the only downside to being in row one was that it was right by the bathroom, and there was almost a constant line for it.
While I took the below picture towards the front of the flight, towards the end of the flight the bathroom was absolutely filthy, to the point that I took it upon myself to clean it a bit (by taking a couple of paper towels and using them to remove all the toilet paper from the floor). I understand it's not the crew's duty to clean the lavatories, but a little bit of refreshing would have been nice.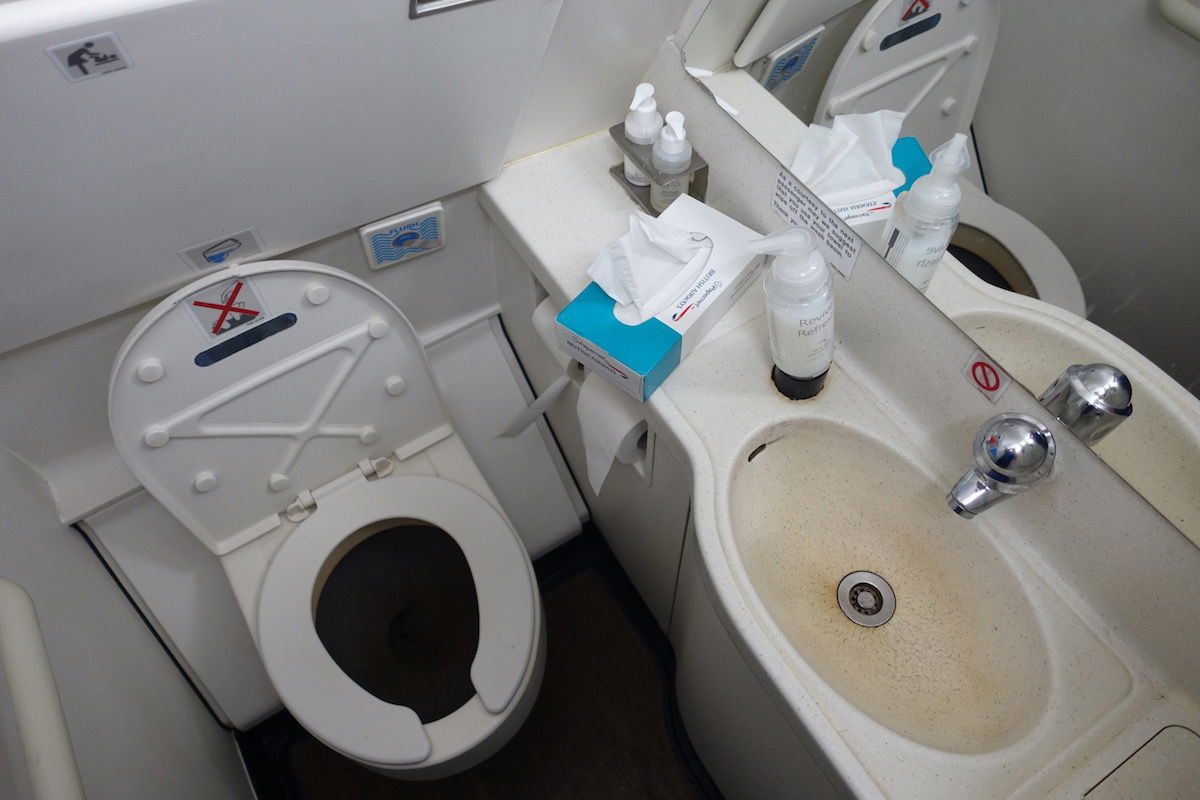 British Airways A320 lavatory
I'd also note that starting about halfway through the flight there was no more running water in the lavatory sink. Nice.
I spent most of the flight working on my laptop, and at around 4:55PM London time the captain announced we'd be descending shortly and should be landing in about 30 minutes.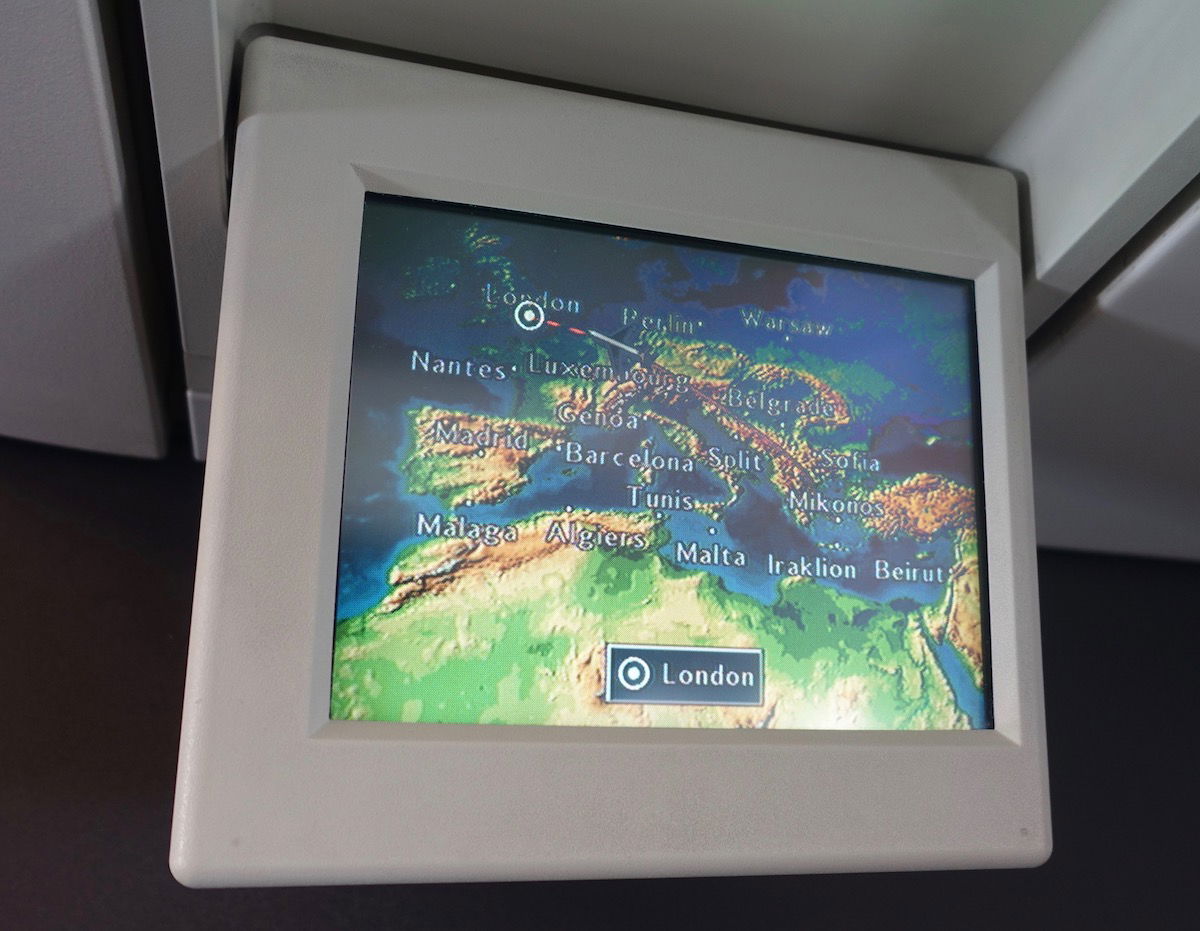 Moving map to London
Our views on the approach were lovely, and we had direct views of the city, even.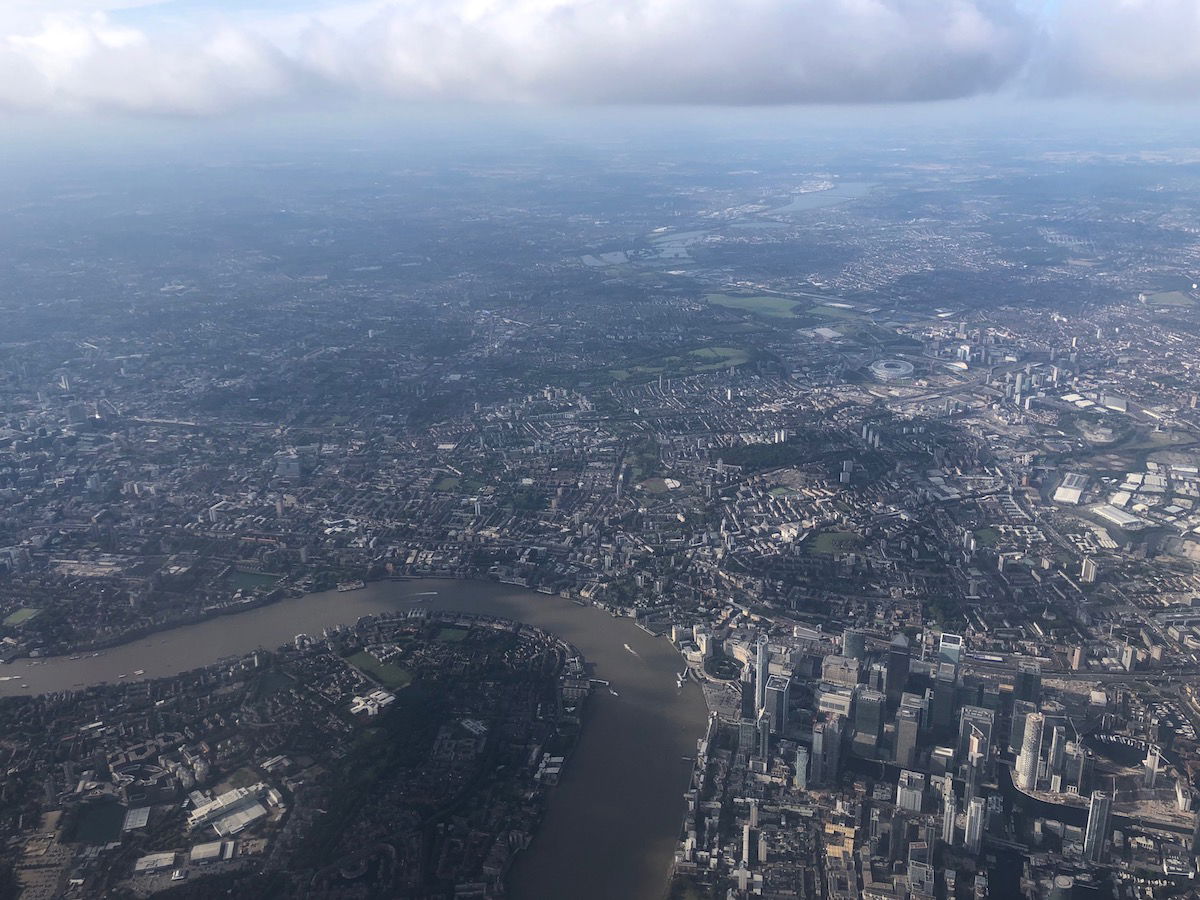 View approaching London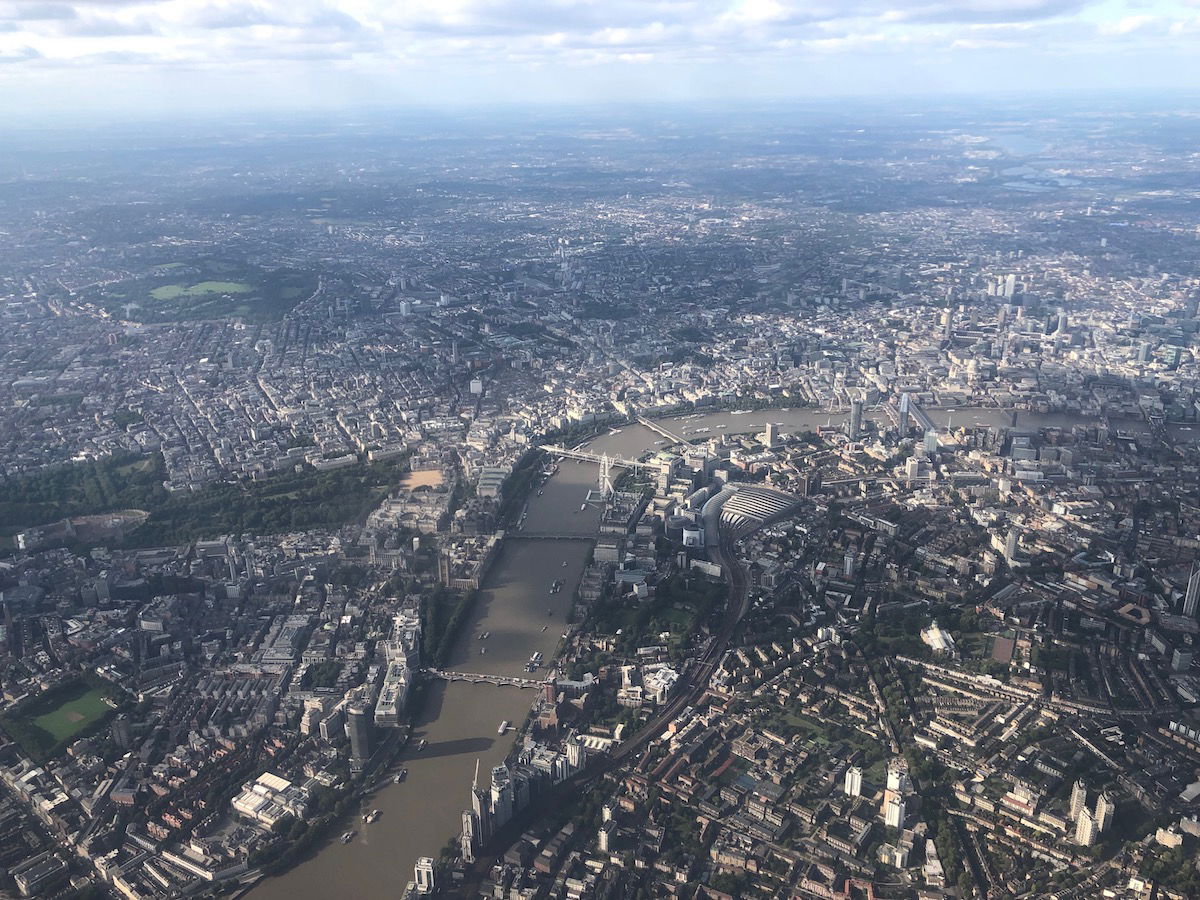 View approaching London
We touched down in London at 5:25PM.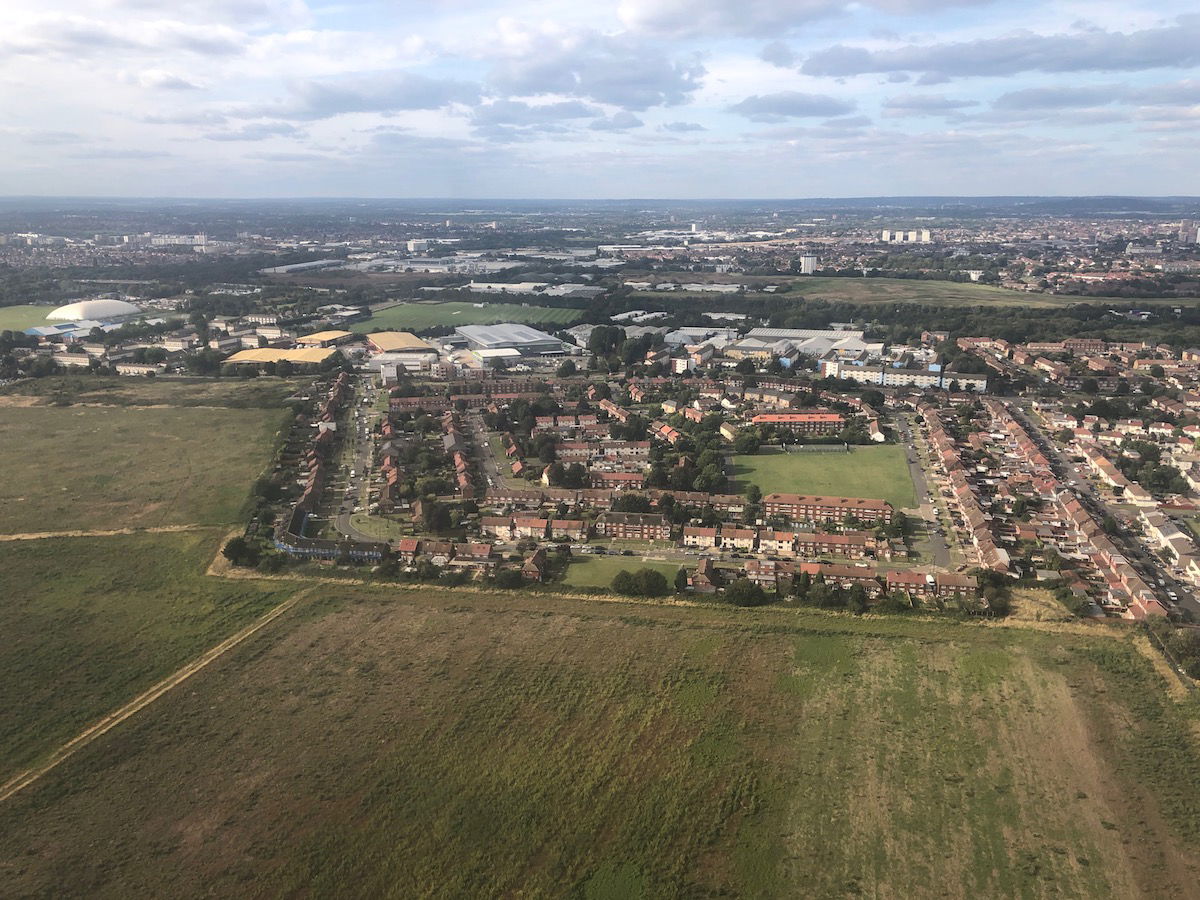 View approaching London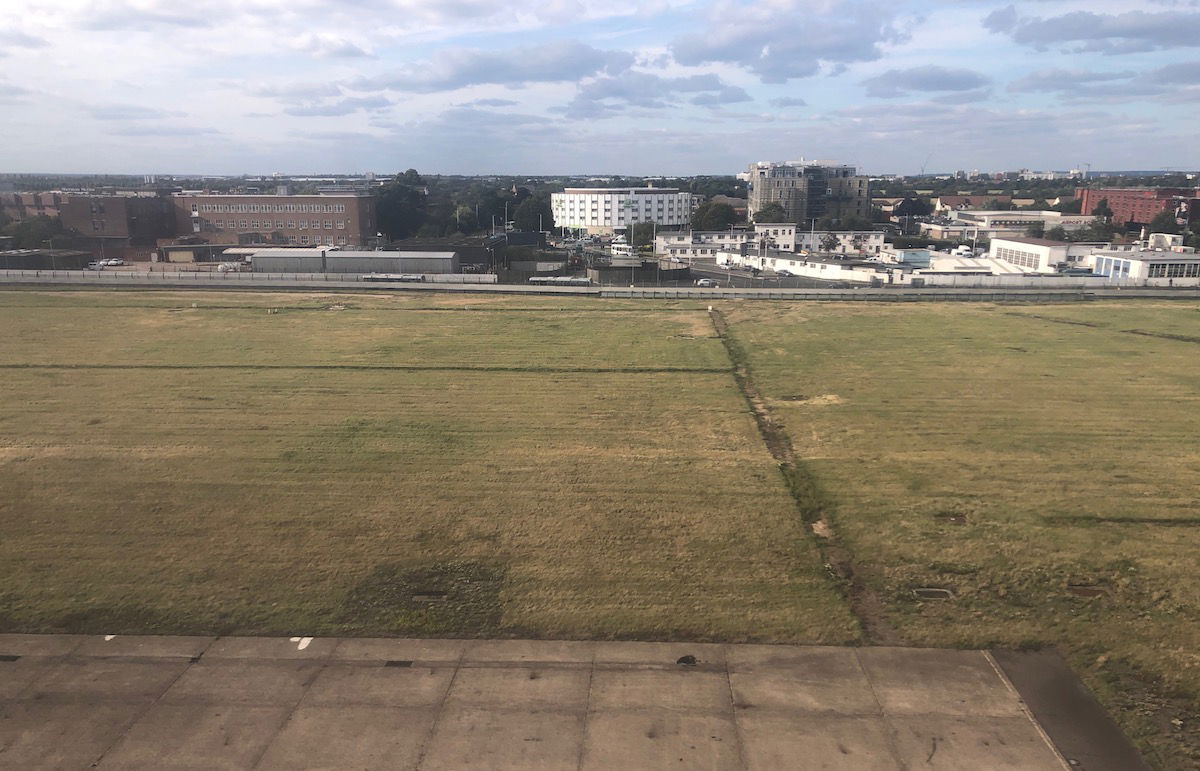 Landing at Heathrow Airport
It ended up taking about 15 minutes to get to our arrival gate, as we stood still for nearly 10 minutes after vacating the runway.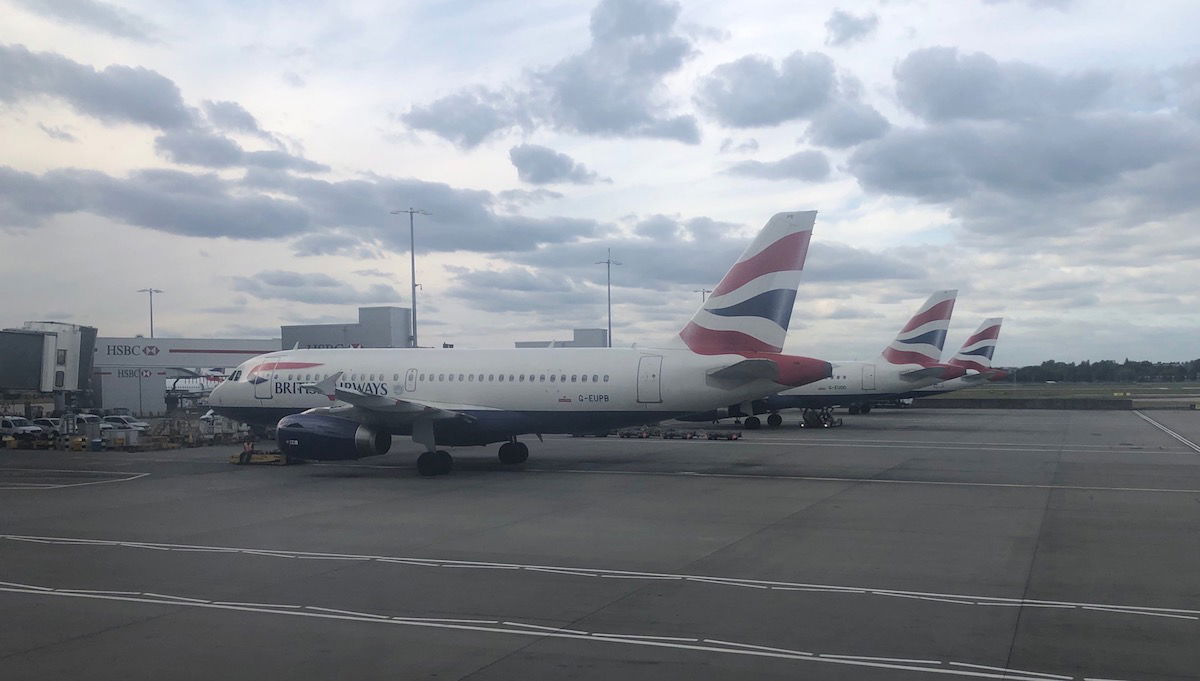 Heathrow Airport taxi
British Airways A320 business class bottom line
Compared to my outbound on EasyJet, this was quite a comfortable way to get out of Mykonos. The food quality was fairly good and the delay wasn't British Airways' fault.
However, beyond that I found the product to be quite underwhelming. The crew seemed well-intentioned, though wasn't attentive or proactive at all. Furthermore, the lavatory was filthy, and stopped having running water halfway through the flight.
Furthermore, while I'm happy British Airways is finally adding power ports and Wi-Fi to their planes, mine had neither of those, which was disappointing for such a (relatively) long flight.
If you've flown British Airways' A320 business class, what was your experience like?