Hello from Seattle, as I'm currently on a review trip! I just flew Condor's impressive business class from Frankfurt to Seattle. This is found on the carrier's A330-900neos, which will eventually become the backbone of Condor's long haul fleet.
Condor is a well established leisure airline in Germany. Back in the day the airline was known for its unique route network of vacation destinations and good pricing, but Condor's 767 business class left a lot to be desired in terms of passenger experience. Now the airline is totally reinventing itself, and I couldn't be happier about it.
So, what's my takeaway? This is a competitive and generally lovely business class product, and I can't wait for the fleet to grow, as it has fantastic implications for transatlantic business class pricing. I wanted to share some initial thoughts in this post, and then soon I'll have a full review.
Condor's incredible business class pricing
Value is obviously an important thing to consider when it comes to an airline experience. The reality is that across the Atlantic, you'll almost never find reasonable point-to-point one-way business class fares. The major airlines belonging to transatlantic joint ventures consistently try to charge many thousands of dollars for business class tickets.
Condor now offers the best value business class product across the Atlantic. For example, it's totally normal to see Condor have fares of ~$1,100 or so across the Atlantic (and that includes Germany's departure taxes, which are ~$150). That's significantly under a quarter the cost of what Lufthansa charges for the same route.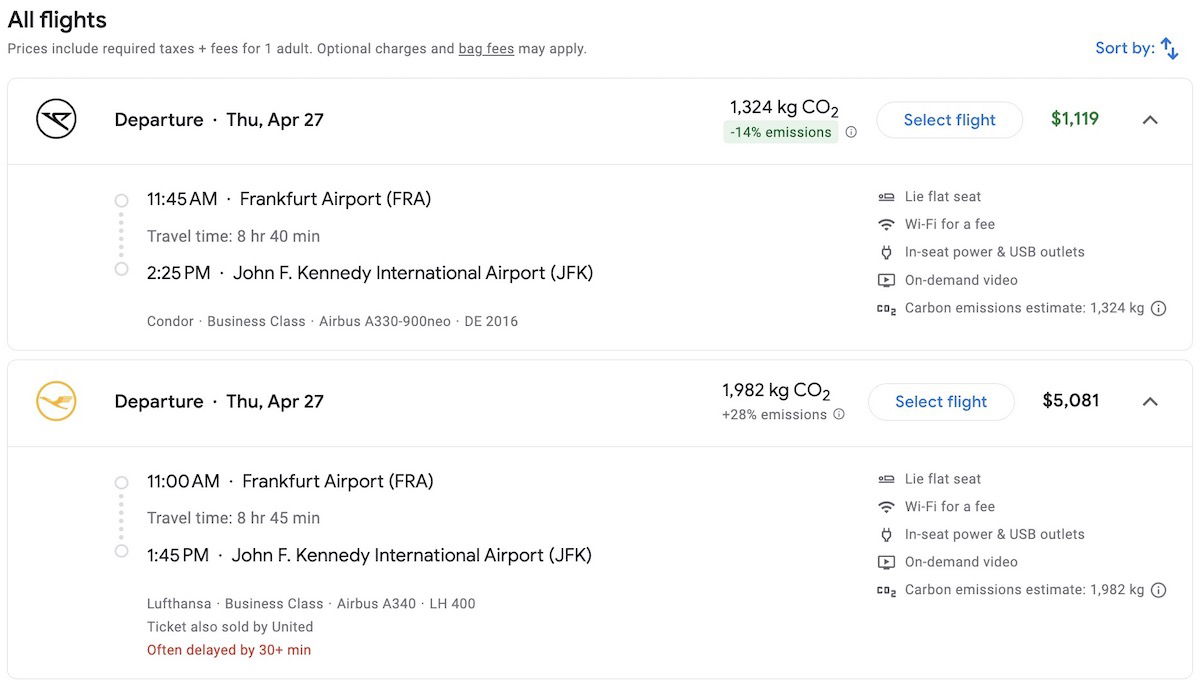 If you ask me, Condor has the chance to disrupt premium pricing across the Atlantic the way that JetBlue has done within the United States with its Mint business class product. Admittedly the catch is that Condor's route network is limited, but if Condor serves a market you're looking at traveling in, the value can't be beat.
In the past I considered Condor to be a pretty good deal, given that the airline had attractive pricing but a very subpar business class. Now the airline has a solid business class, with that same attractive pricing… for now.
Condor's A330-900neo business class is solid
Before we even talk about the interior of the aircraft, can we just acknowledge that Condor's new livery is the greatest thing ever? When it was first introduced, I wasn't sure what to think. Having now seen it in person several times, I absolutely love it. It's so bold and interesting and fun, and I love how planes are all painted in different colors.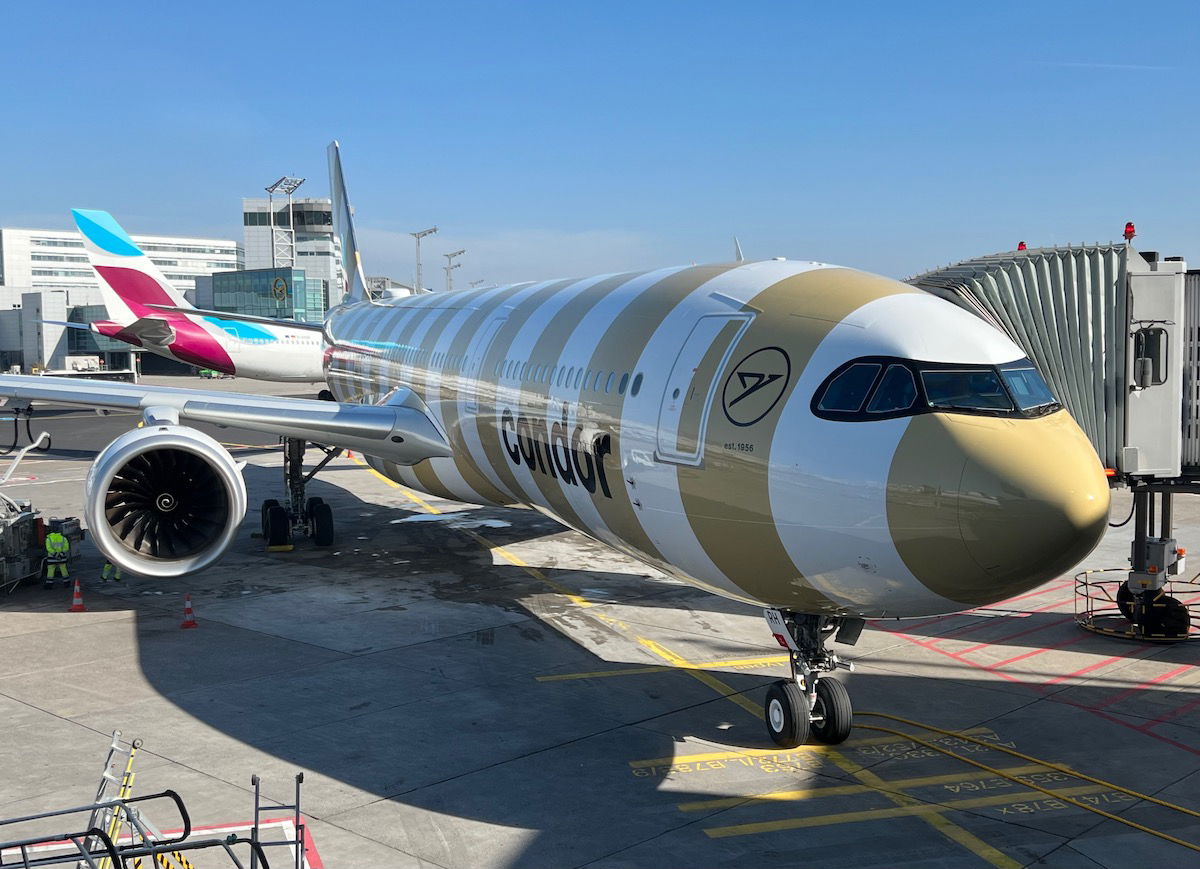 Fortunately it's not just the outside of Condor planes that's impressive — the new interiors are pretty awesome as well. Condor's A330-900neo has staggered seats in business class. It's exciting to see Condor now offering fully flat beds with direct aisle access from every business class seat. I love how the striped pattern continues in the cabin.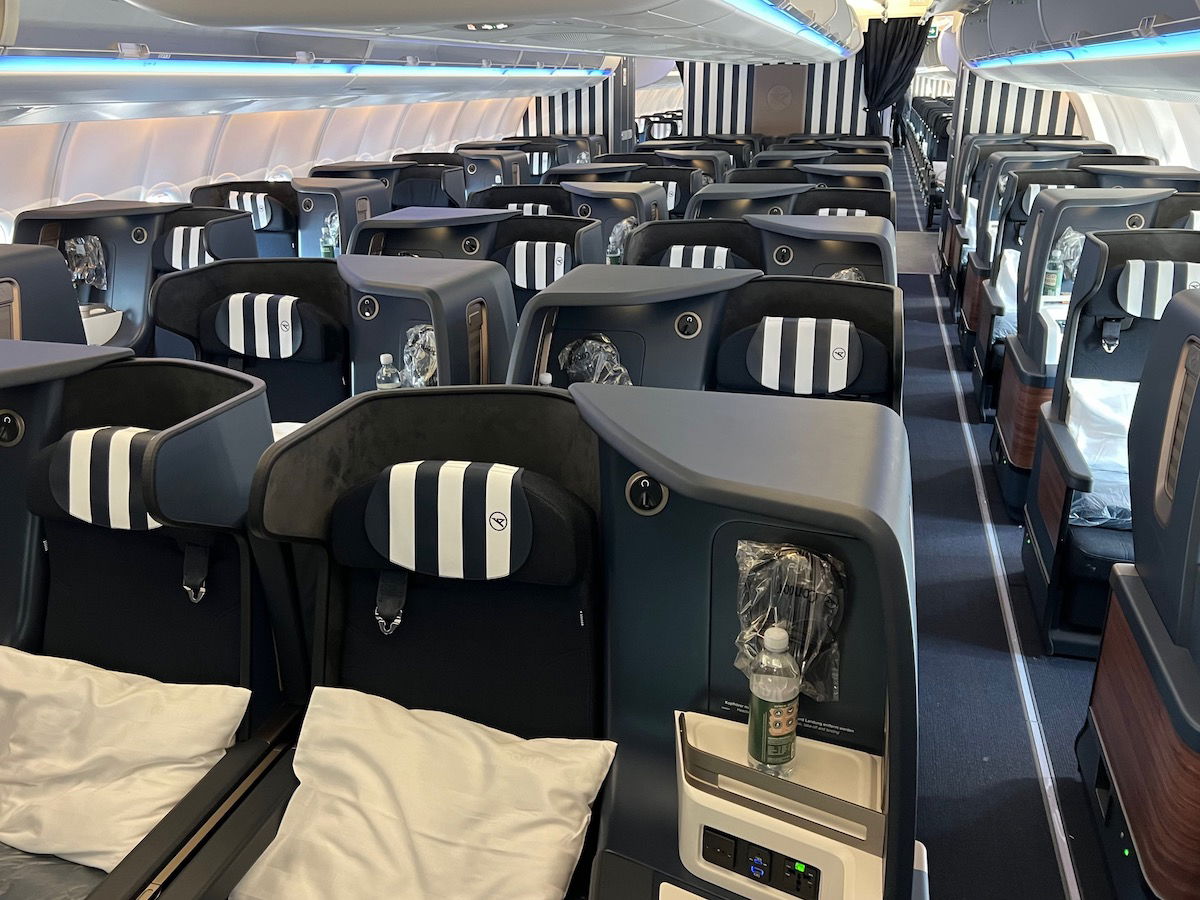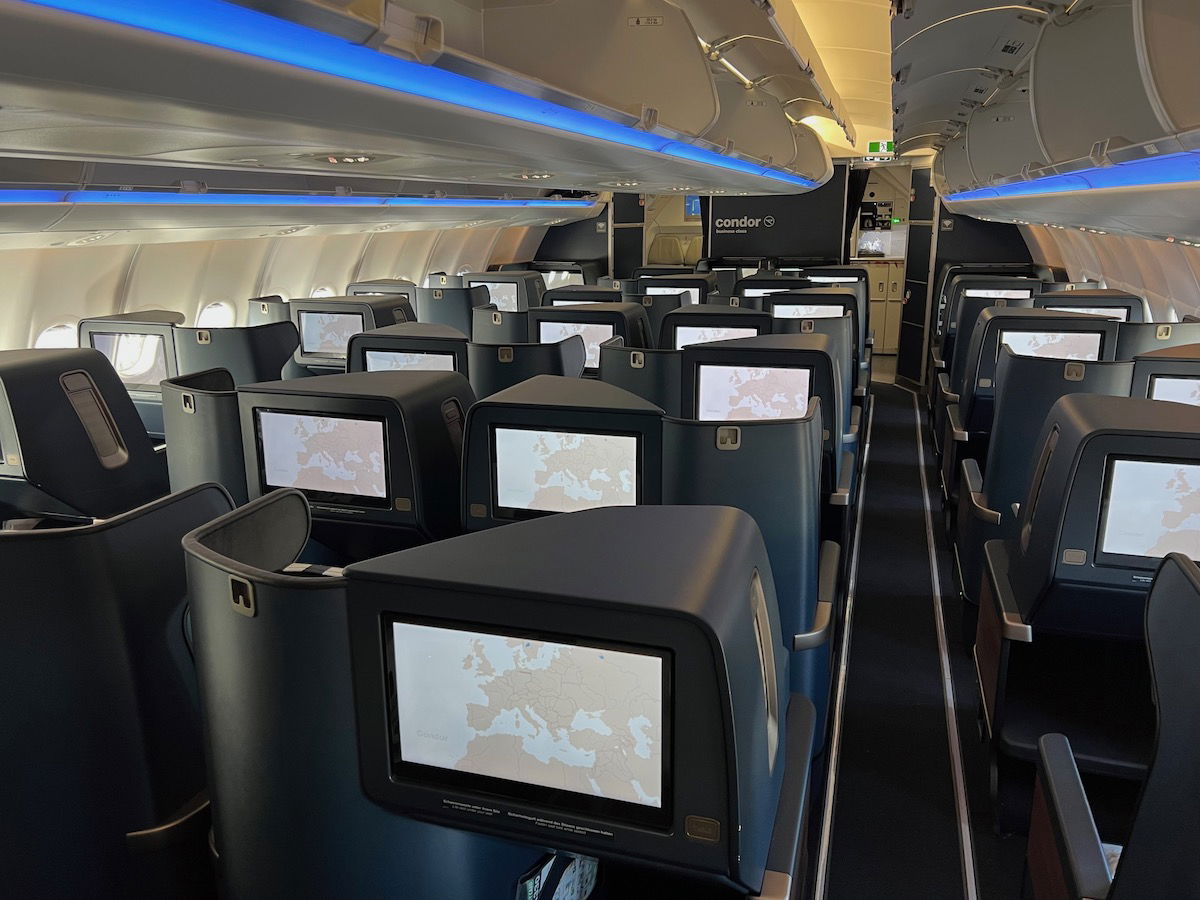 When you consider the pace at which Condor is taking delivery of A330-900neos, the airline will soon overtake Lufthansa when it comes to business class hard product quality, given how slowly Lufthansa's new "Allegris" business class is expected to be rolled out.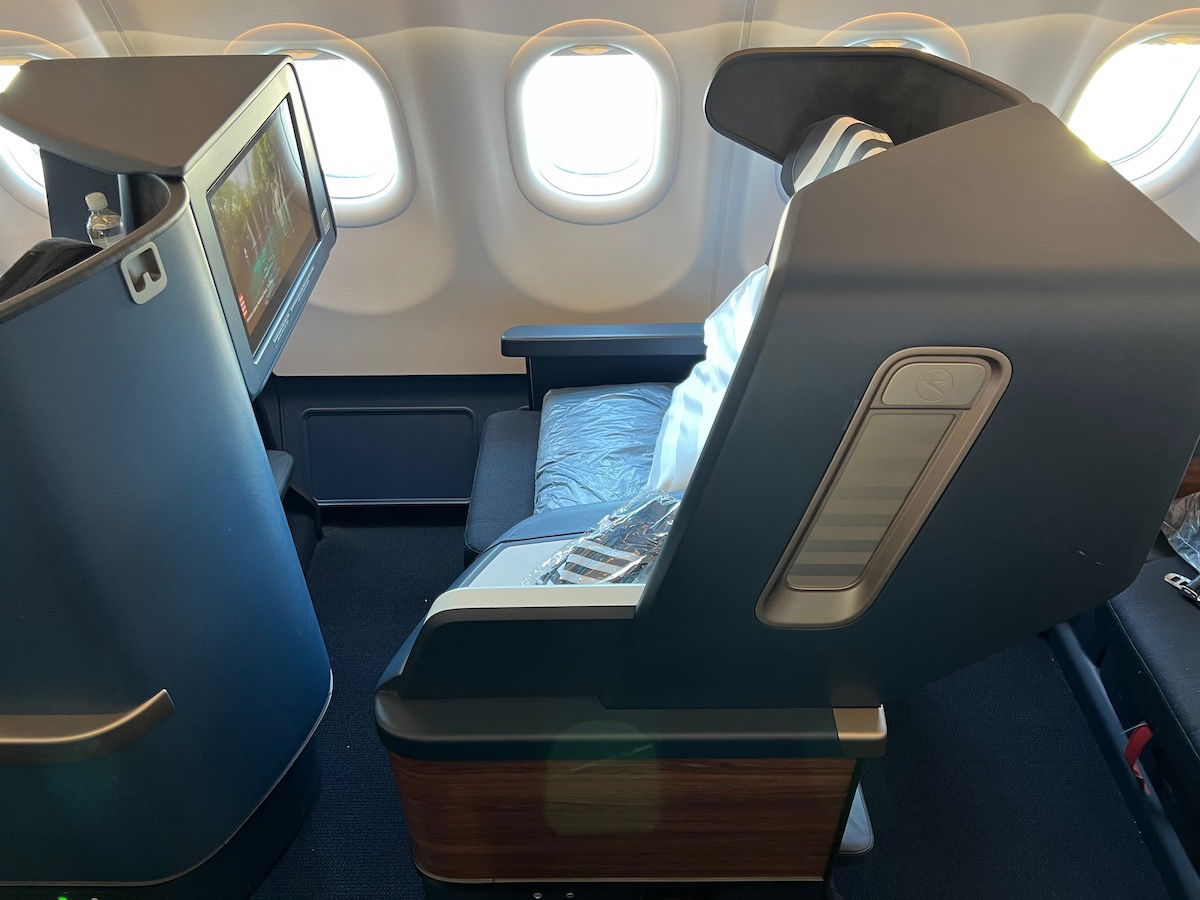 Condor's Prime Seats are pretty awesome
Condor's first row business class seats are known as Prime Seats, and this is a special business class plus product. As you can probably tell, this seat is way more spacious than the other business class seats.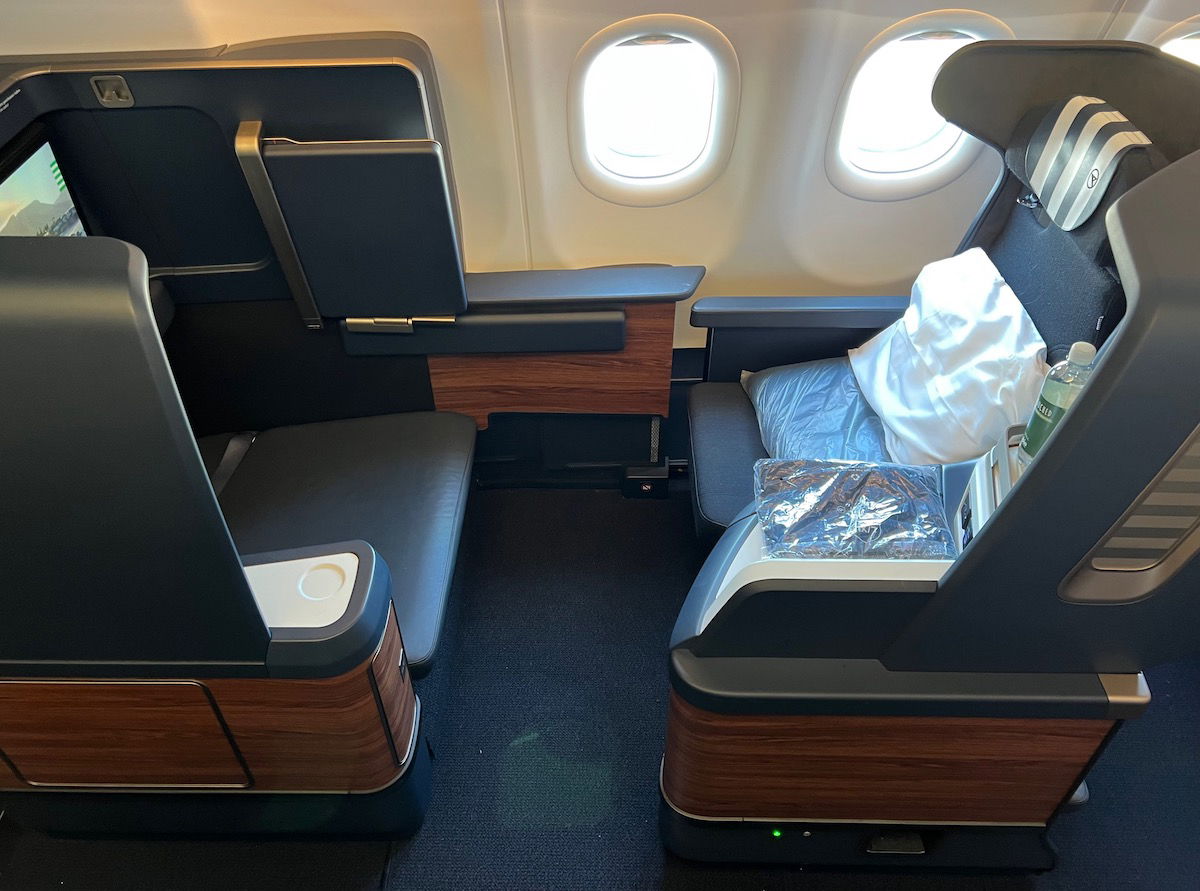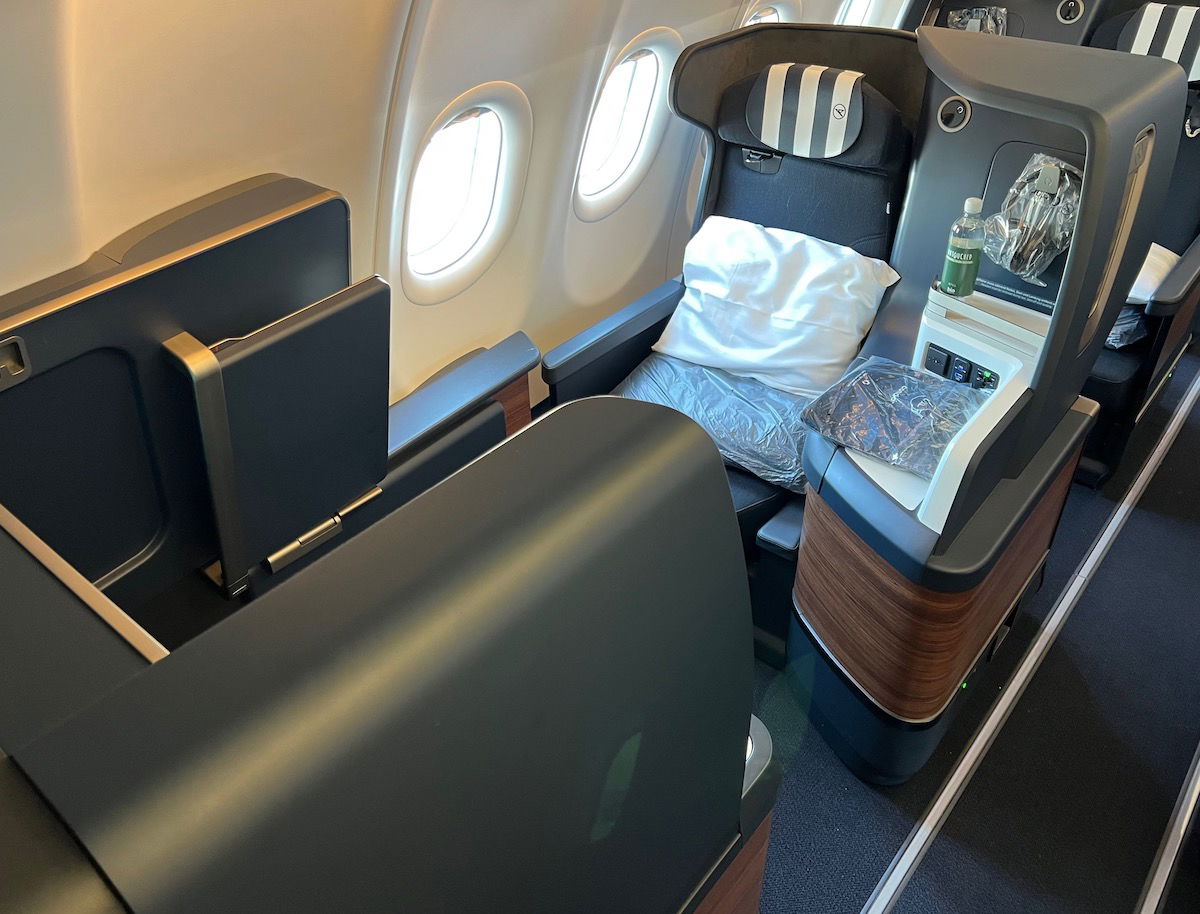 The seat itself is no different than any of the other business class seats.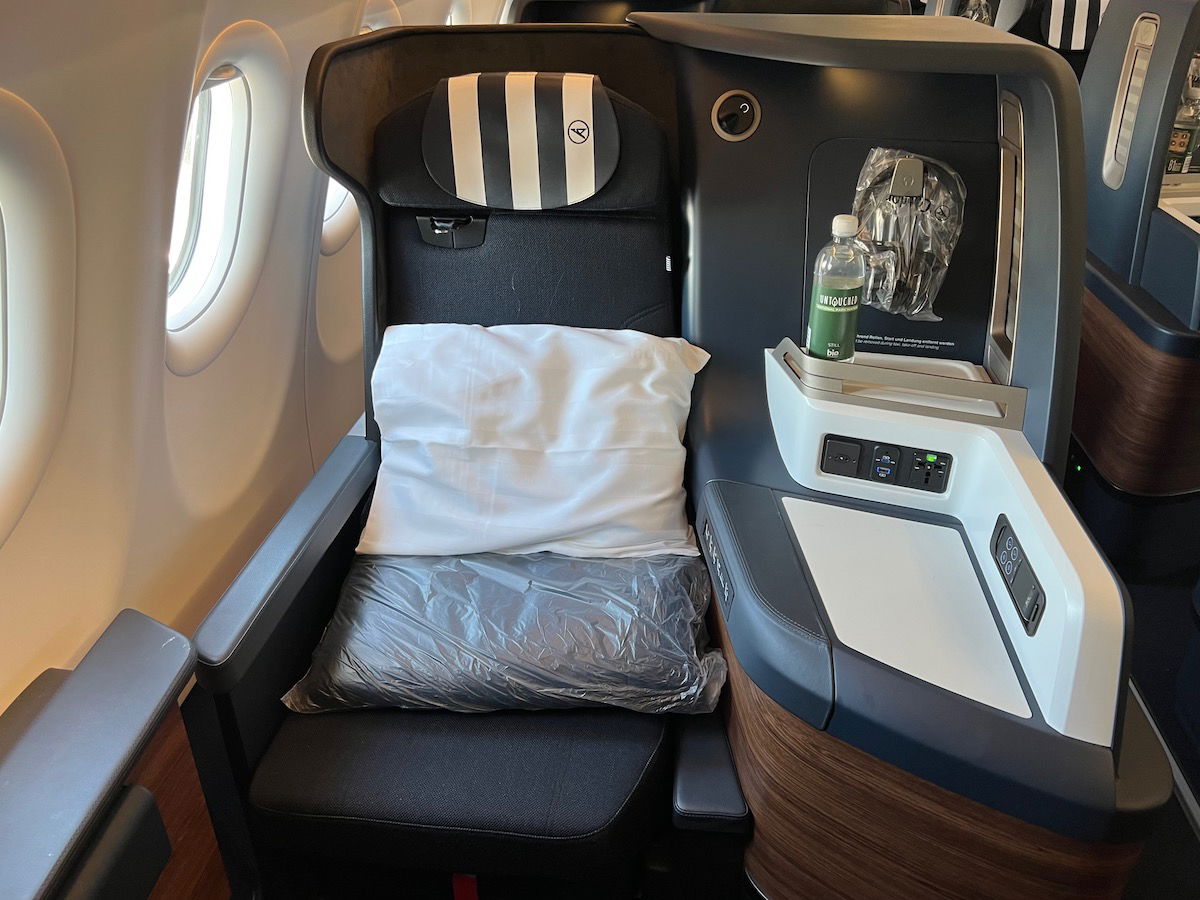 What makes this totally different is the massive ottoman you get, which can even be used as a buddy seat so that you can dine with someone else. This was extremely spacious, comparable to some first class products out there.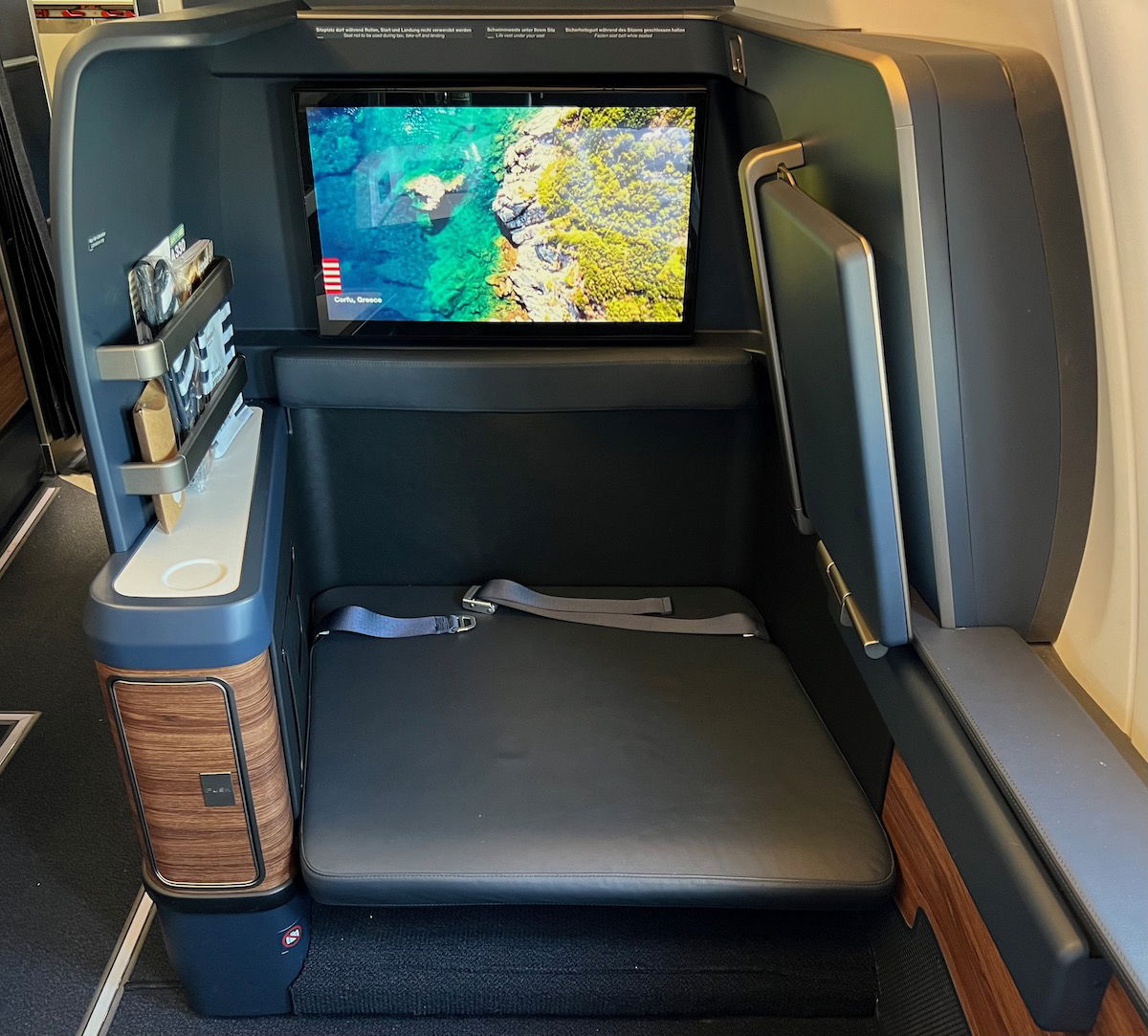 Condor's Prime Seats even come with extra amenities, including complimentary pajamas, a special snack basket, and free inflight messaging.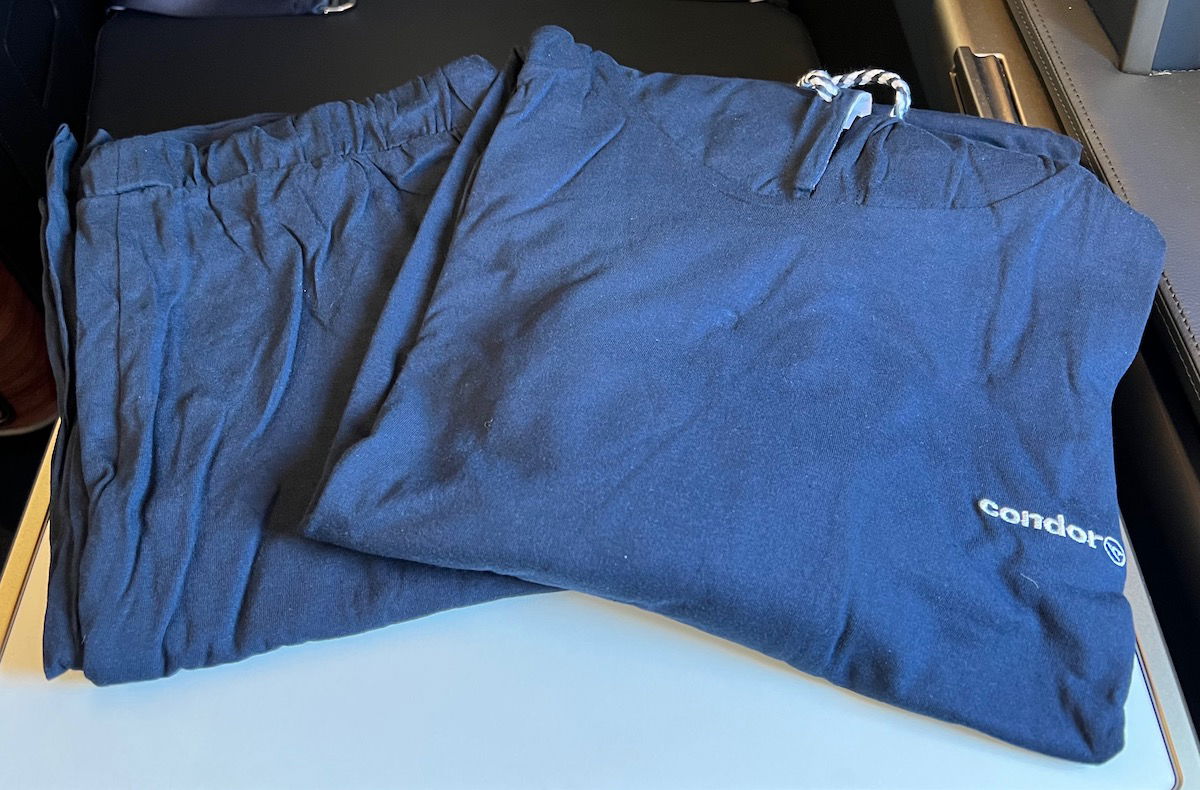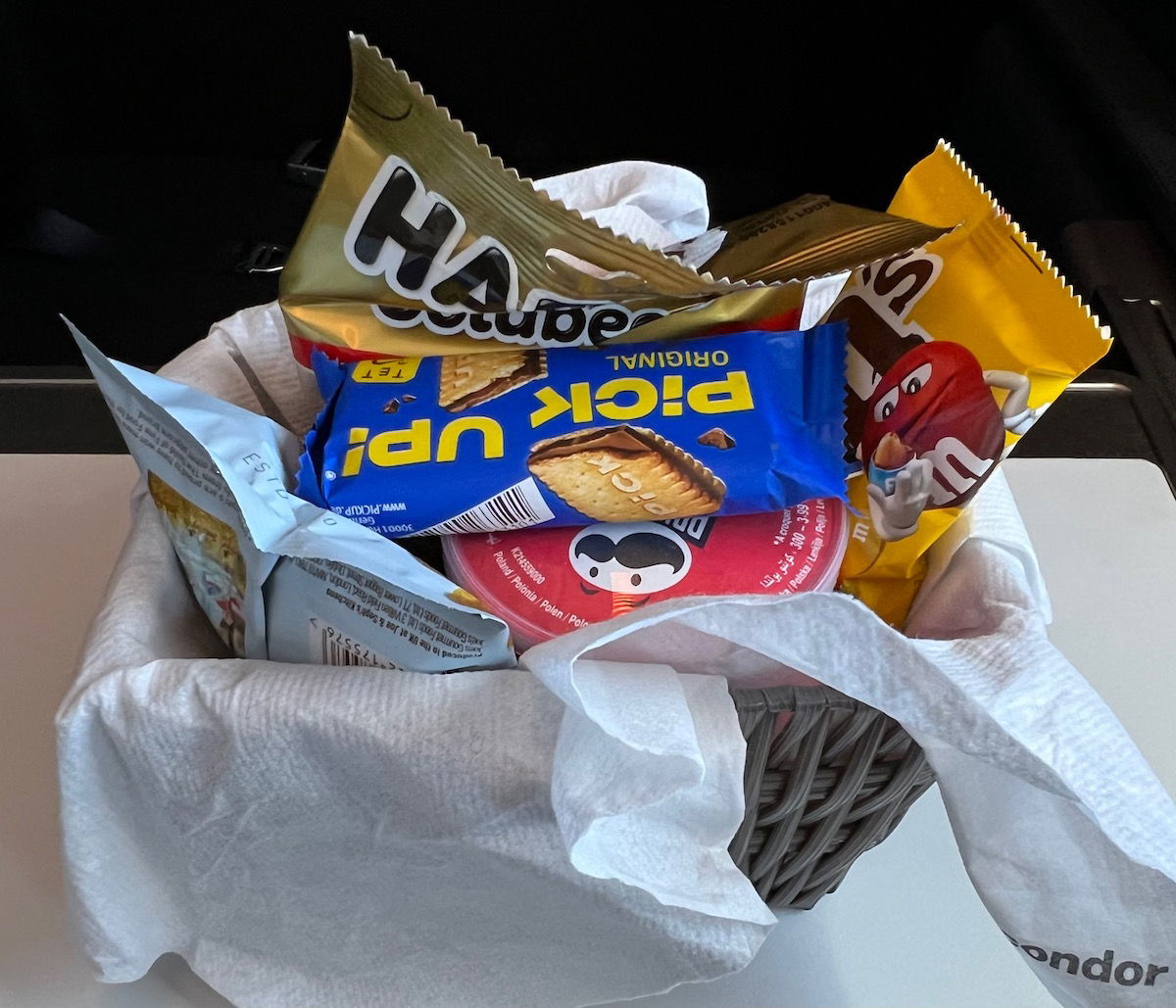 Now, I will say that I think the pricing is on the steep side. On my flight, assigning one of these seats cost $360 (best I can tell, that's consistently the price on transatlantic flights). That seems like a high upgrade cost, especially given Condor's reasonable business class fares to begin with. I think pricing in the $250-300 range would be the upper end of what's appropriate.
Then again, I actually feel like I didn't get a half bad deal. I booked my ticket using Alaska Mileage Plan miles, and in the end my "out of pocket" was significantly less than I would have paid in fuel surcharges if booking an award on an airline like British Airways.
Condor's soft product at least matches Lufthansa's
Not only does Condor now have an excellent hard product, but the carrier's soft product is quite good as well, and in my opinion beats what's offered by Lufthansa. There were a lot of cute touches to the Condor experience.
For example, in addition to an amenity kit, there were also slippers, which you won't find in business class on most transatlantic Lufthansa flights.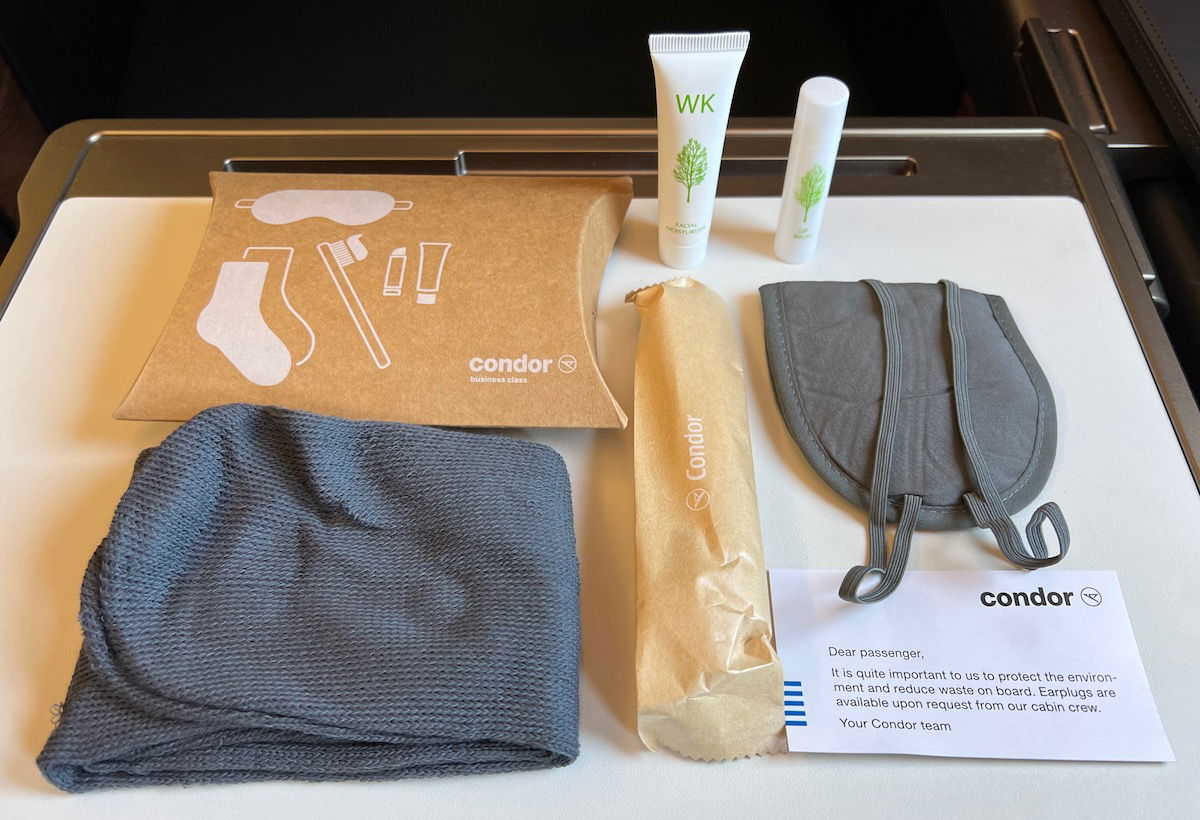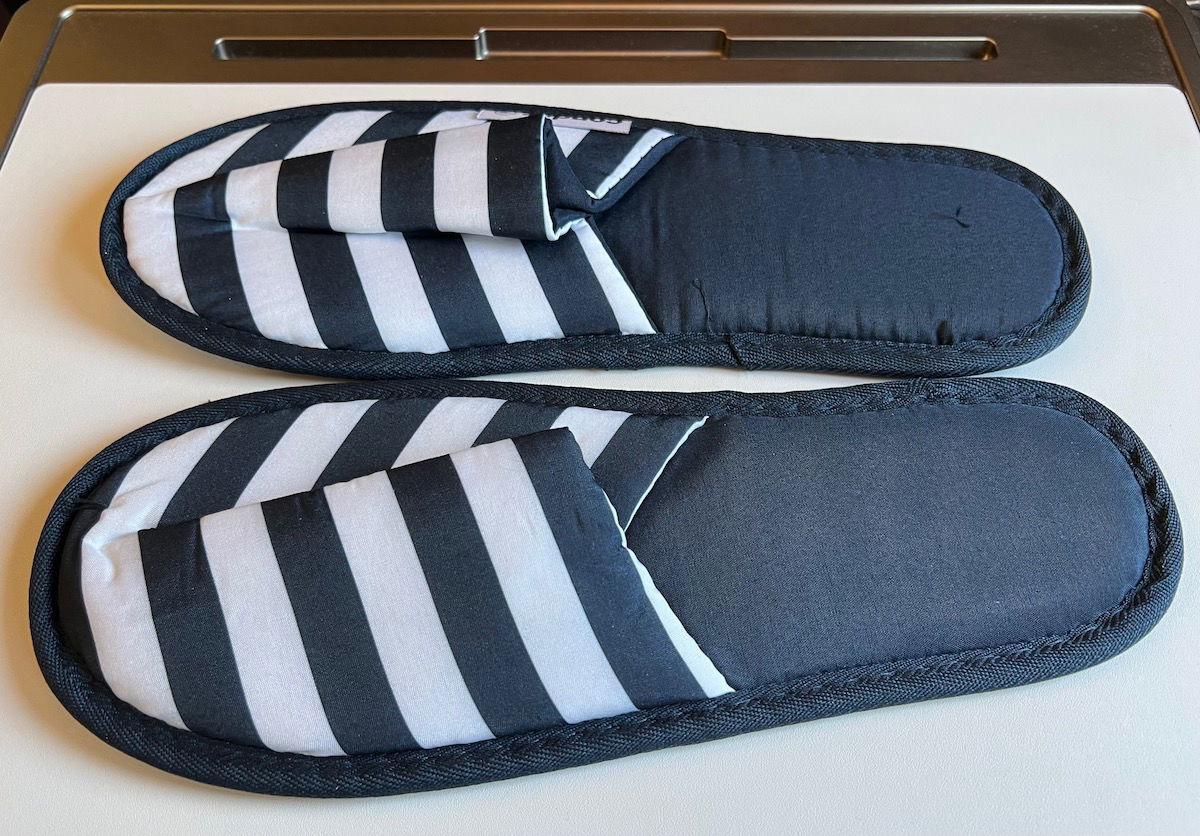 Pre-departure drinks were served with packaged nuts, which I also found to be a thoughtful touch.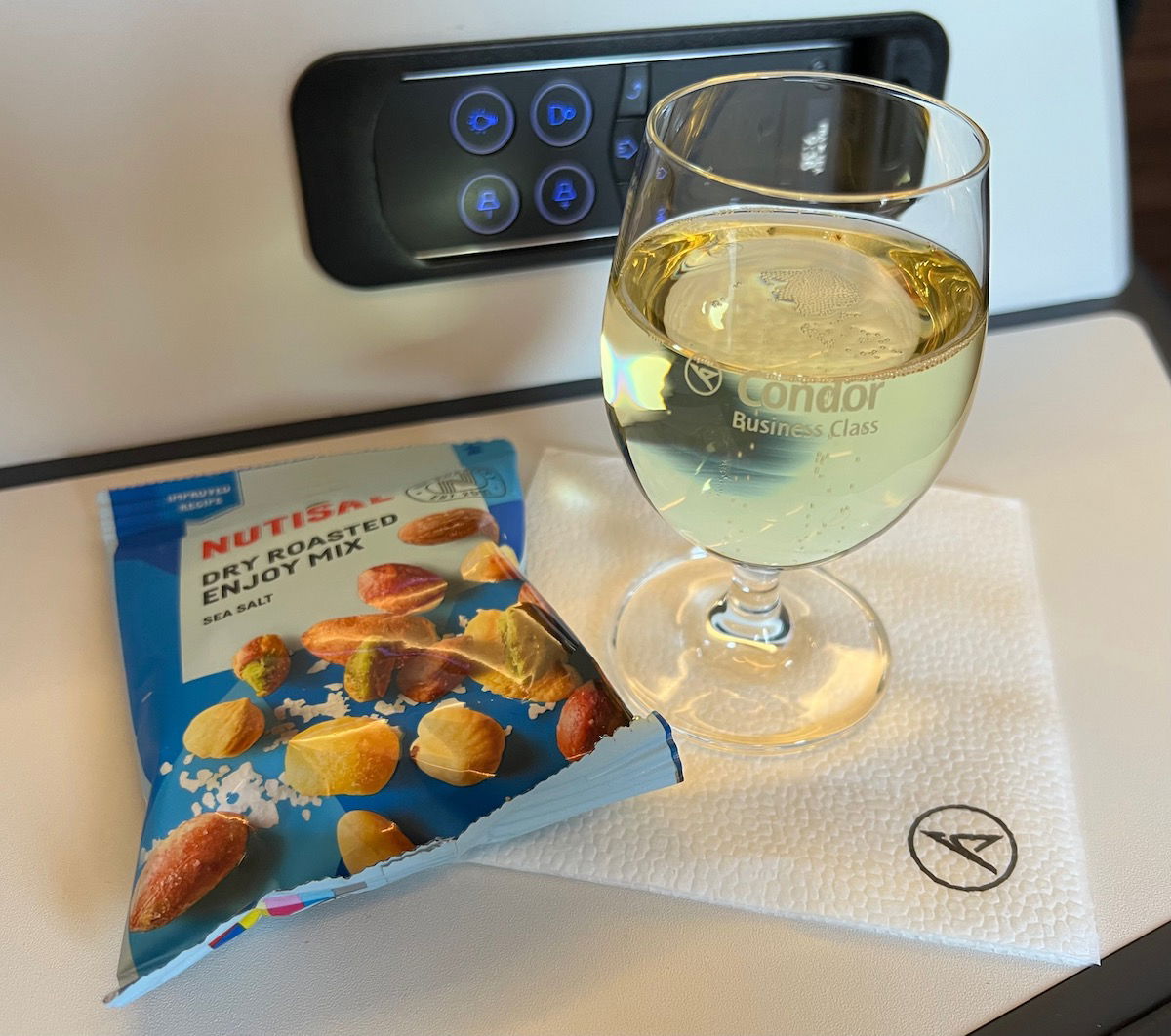 After takeoff, drinks were served with nuts in a ramekin.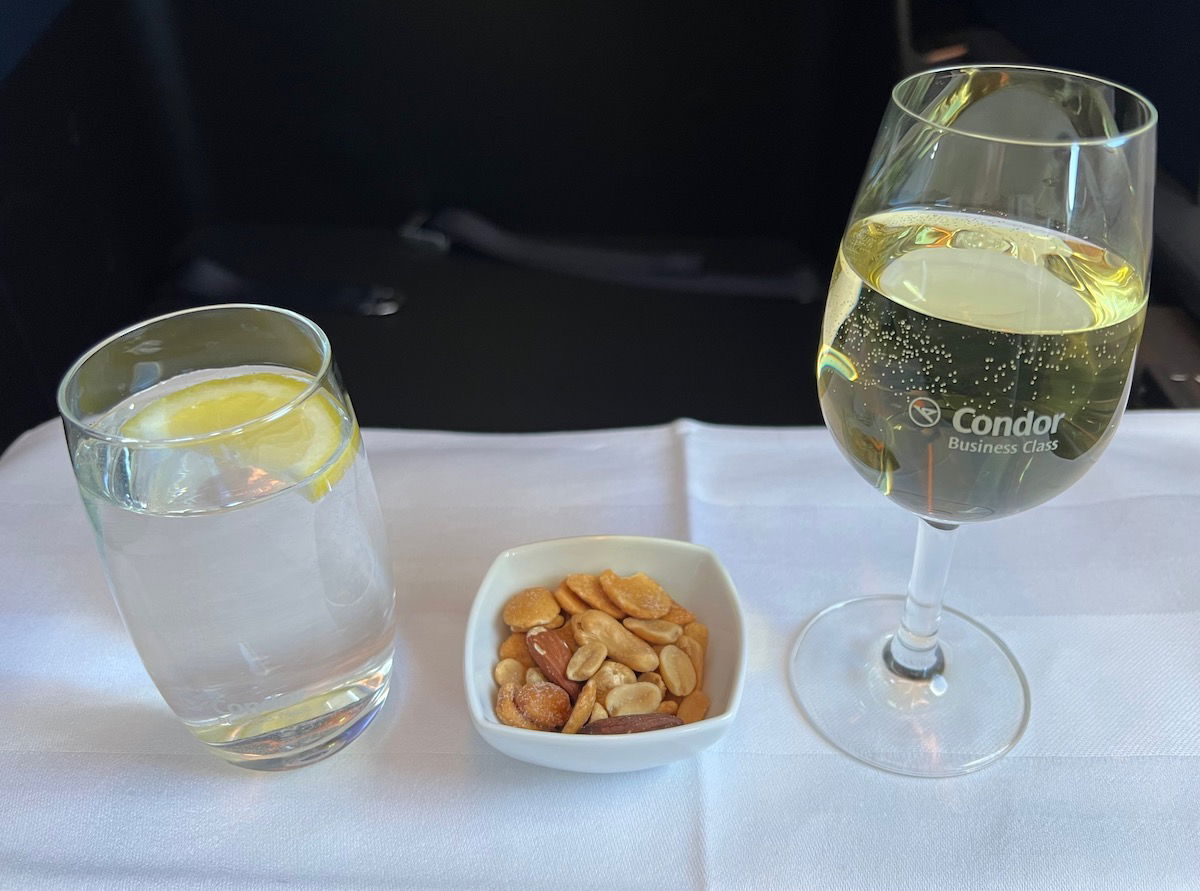 For lunch service, each passenger was served two different appetizers (smoked beef with a chicken couscous praline, plus salmon with beetroot cream), in addition to a salad and bread.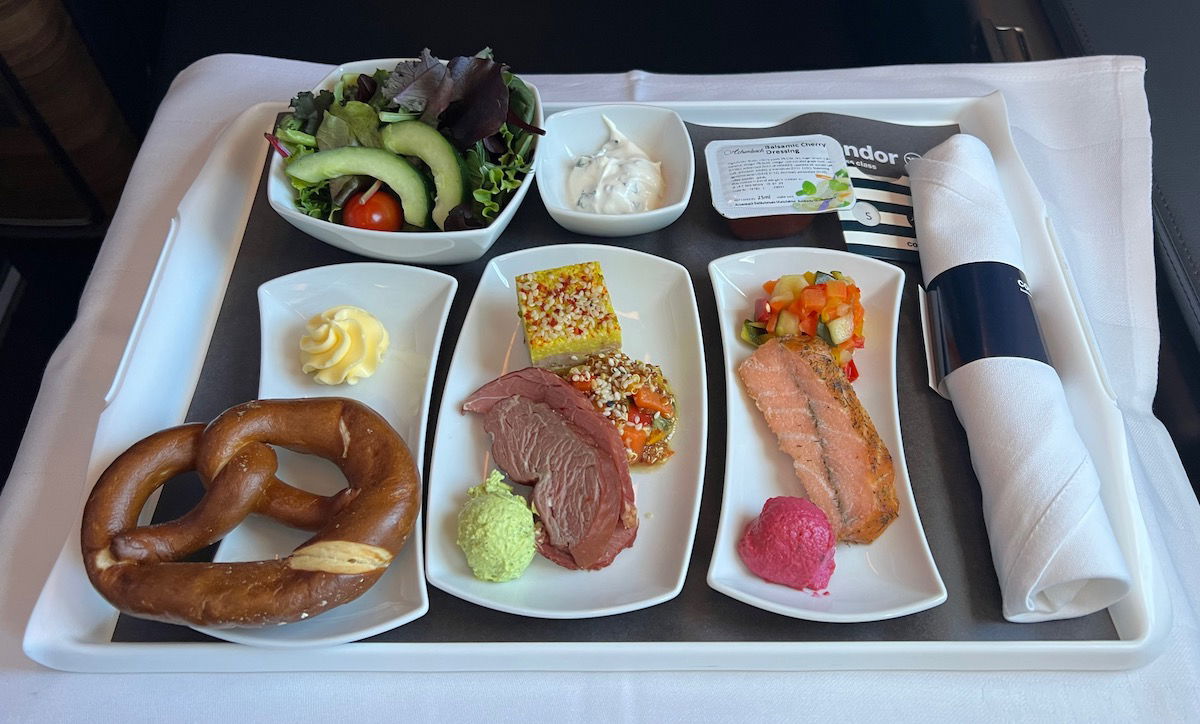 There were three main courses, and I selected the cod with a bread mustard crust, mashed potatoes, cabbage, and carrots.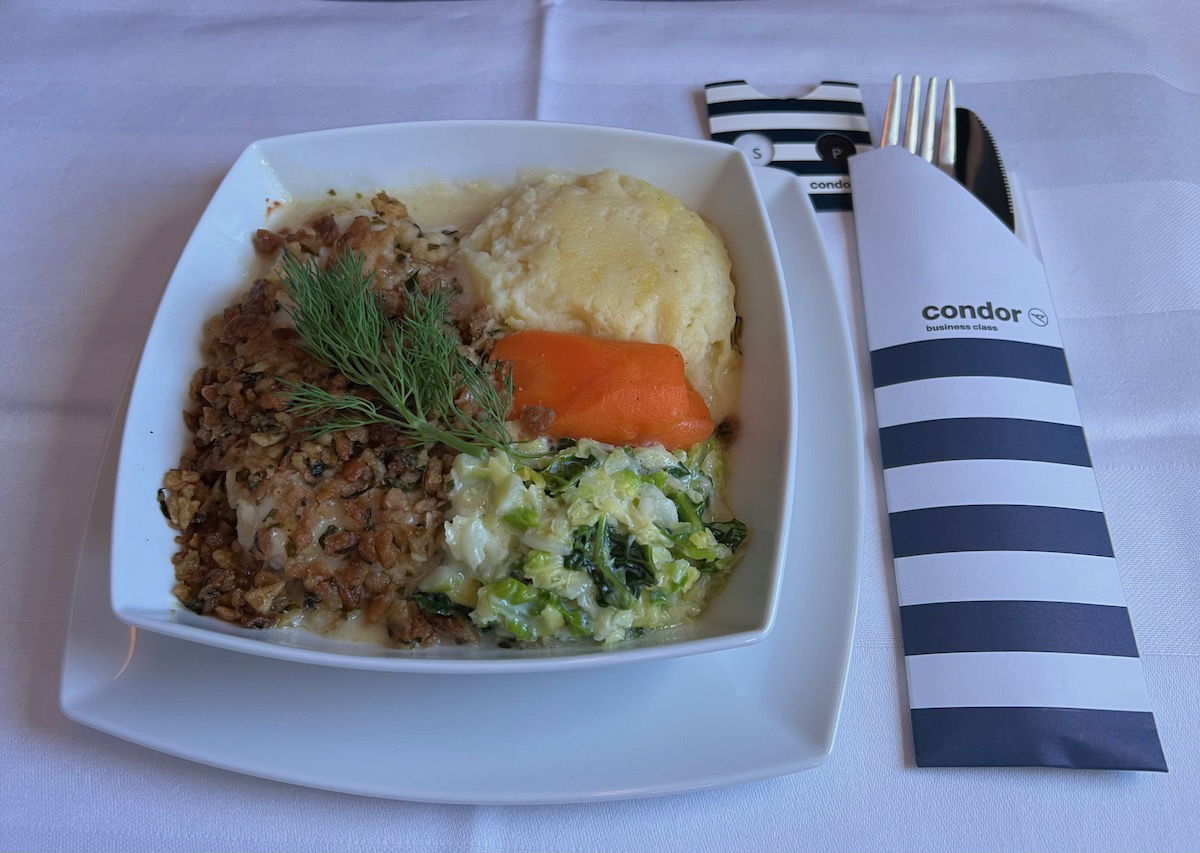 Then there was a cheese trolley, with montagnoso, matured sheep's cheese, and gouda with pesto.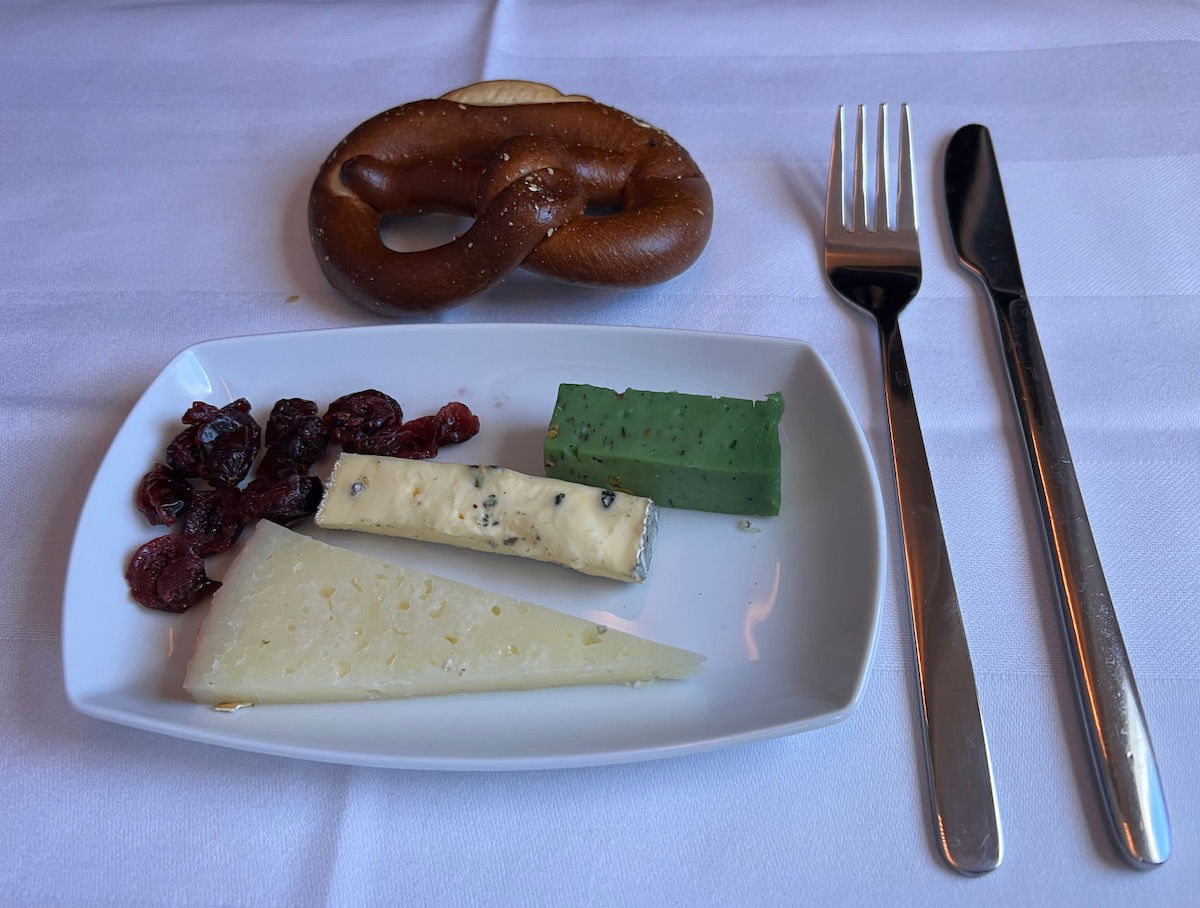 Lastly for dessert, there was a cheesecake with wild berry sauce.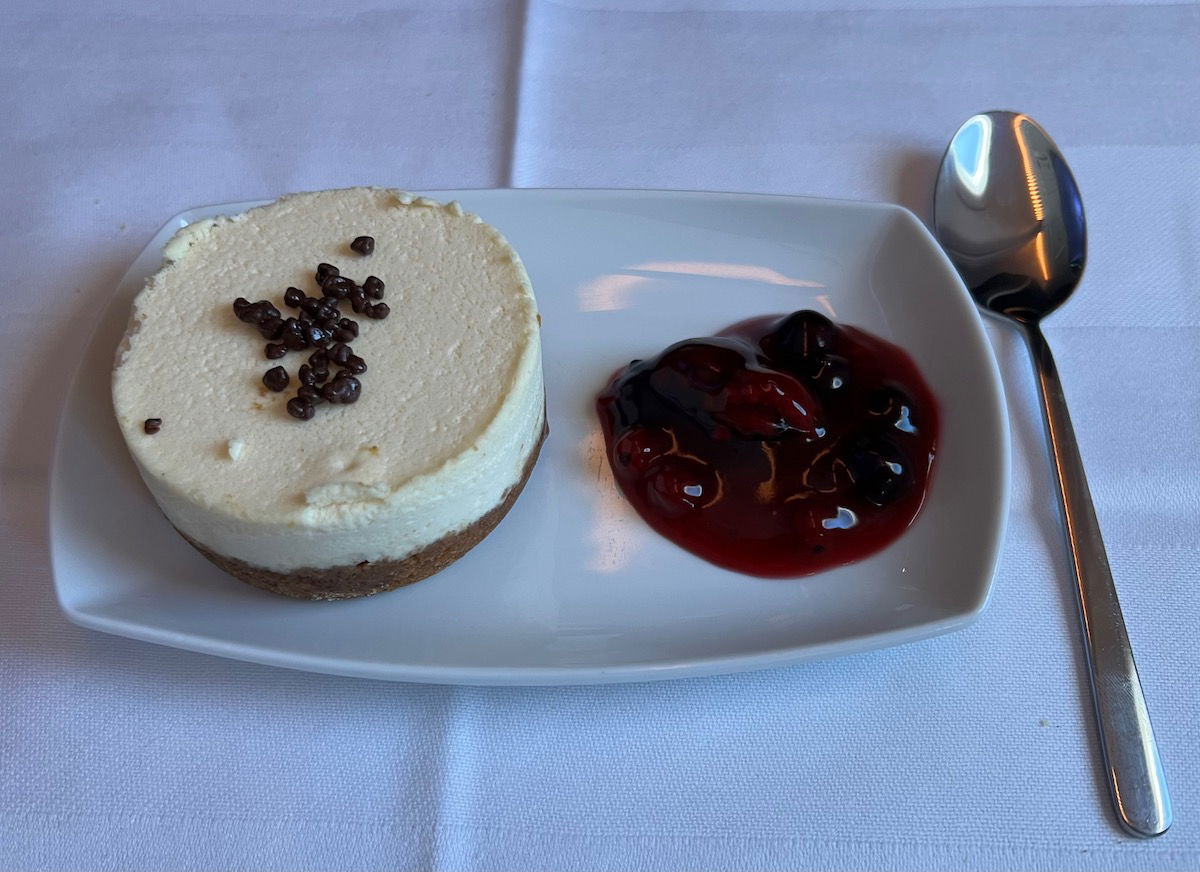 Condor also has espresso onboard, in addition to filtered coffee.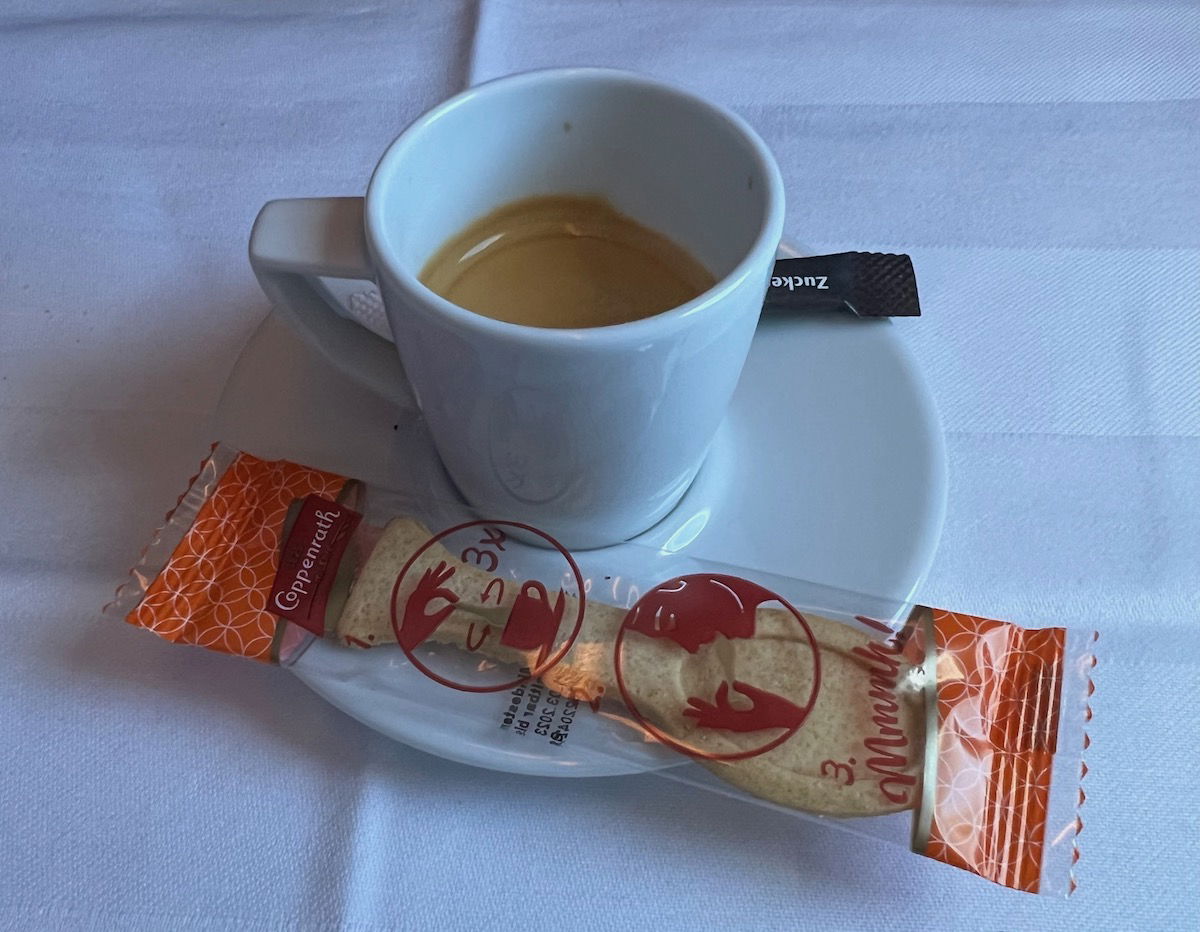 There was even a hot midflight snack, which you also won't find on Lufthansa, and then a pre-arrival meal.
I was extremely impressed by the soft product, with a couple of caveats.
First of all, Condor's Wi-Fi offering is disappointing, and I'm not sure what the airline was thinking, given that these are newly delivered planes. The Wi-Fi speeds were among the slowest I've had in quite some time. Not only that, but the pricing, was uncompetitively high — it cost 20 Euro for every four hours. That's way too high, especially given the quality.
Next, the meal service was very slow, with the first service taking around 3.5 hours. That's not a big issue on a daytime flight where most people are awake, though I'm just confused by why the service flow was so slow, as I hope it's faster on overnight flights.
Bottom line
I'm so thrilled I had the chance to fly Condor's new Airbus A330-900neo, and I'm extremely impressed by how the airline is evolving. Condor holds a special place in my heart — I started flying with Condor when I was a little kid, as we'd fly with the airline from Tampa to Frankfurt to visit family every summer. This was back in the day when Condor even had a smoking section onboard.
Suffice it to say that this is no longer the Condor of my childhood, in all the best way possible. Condor now has a legitimately good business class product that can easily compete with what Lufthansa is offering, all at a fraction of the cost. Even if you don't plan on flying Condor, I'm sure everyone can agree that Lufthansa could use some competition.
I'd say Condor now offers the best value business class product across the Atlantic. Assuming the price is right, I can't recommend the carrier's A330-900neo enough.
What do you make of this new era of Condor?