In a previous installment, I reviewed Condor business class on the Airbus A330-900neo. Not only does this plane have an all-new business class product for Condor, but it even has a special "premium" business class, known as Prime seats. What are these seats, and are they worth it?
What are Condor's Prime seats?
Recently we've seen several airlines introduce a special product in the first row of business class. The logic is that most modern business class products efficiently use the space to the side of the seat in front in order to minimize each seat's footprint. When you're in the bulkhead, that doesn't apply, so airlines can use that space to do something special.
In the past, airlines kind of just wasted that space, while nowadays airlines are sometimes maximizing this by creating an exclusive product that can be booked at an extra cost. That's exactly what Condor has done on the Airbus A330-900neo, which is its newest aircraft, and will eventually be the carrier's sole long haul plane.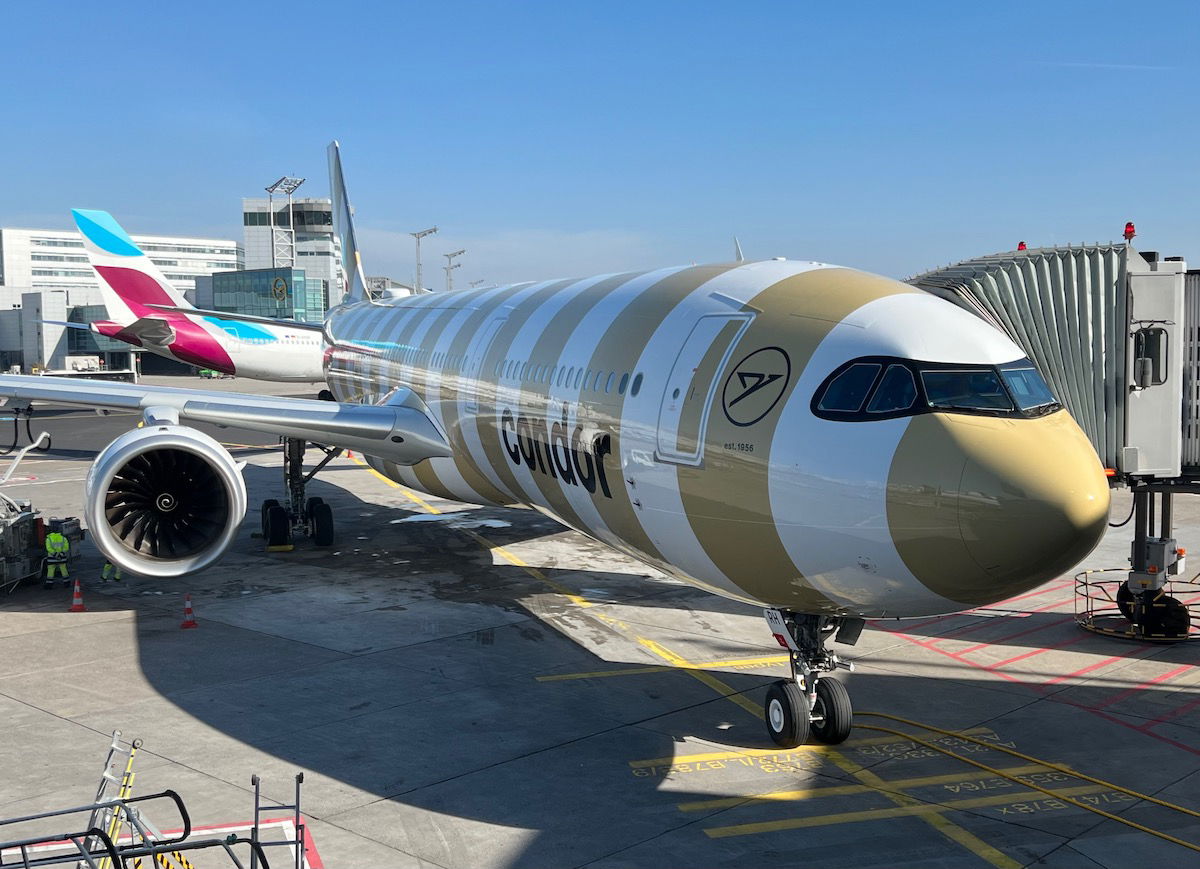 These planes feature a new business class product. Condor now has fully flat beds and direct aisle access from every seat, which is a massive improvement over the carrier's old Boeing 767 business class.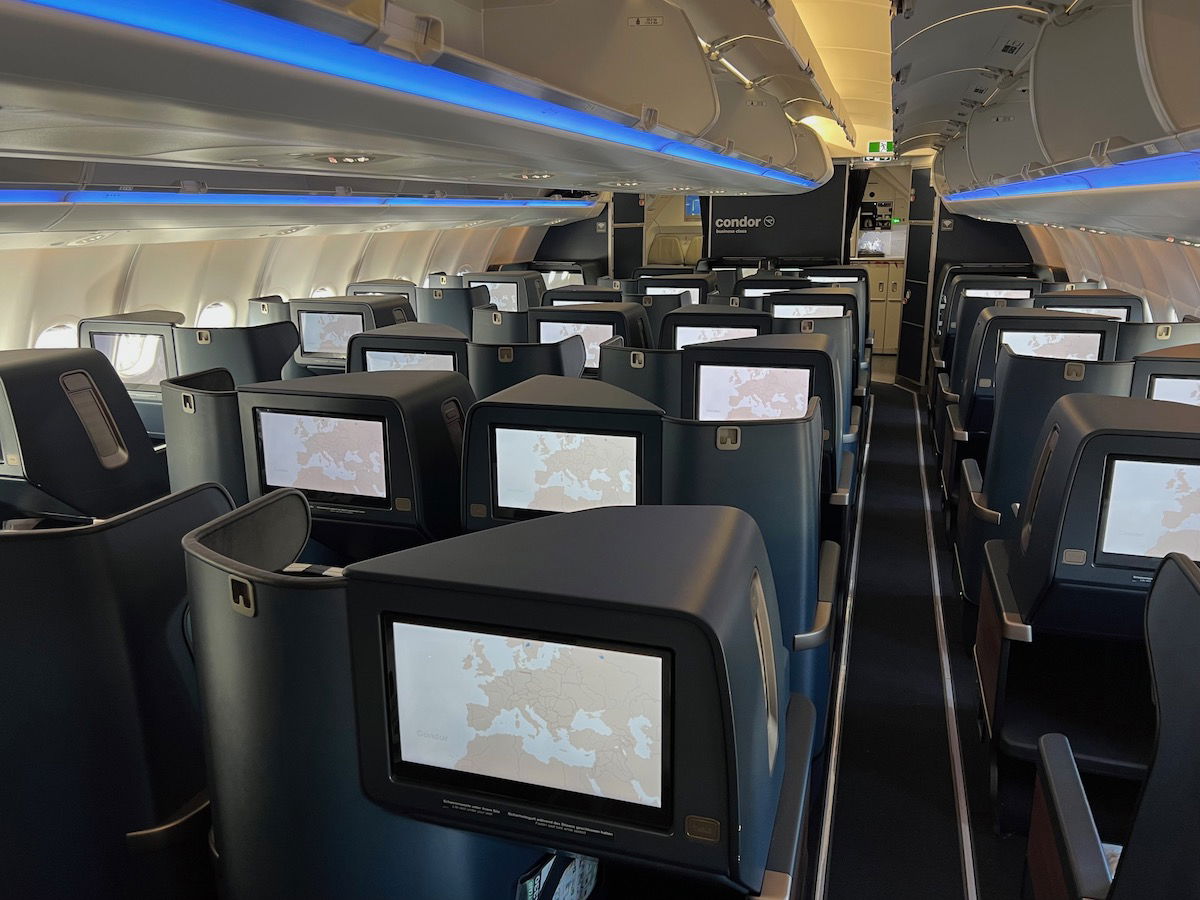 In addition to that, the airline has introduced Prime seats. Specifically, the four seats in the first of the cabin are special seats that come with significantly more space than standard business class seats, and also come with some extra amenities… at a cost.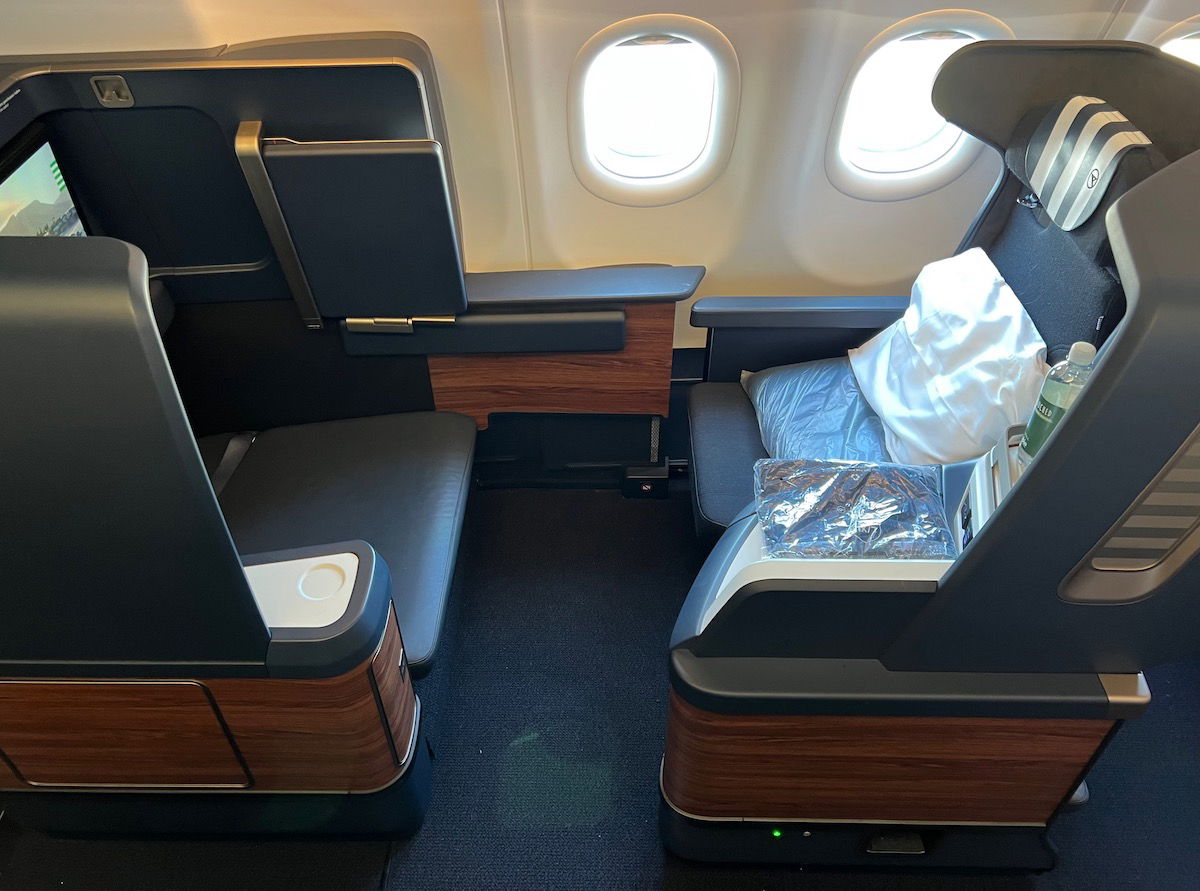 This is the same general concept as Virgin Atlantic's Retreat Suites, which are in the first row of the carrier's new A330-900neo Upper Class.
What's different about Condor's Prime seats?
What makes Prime seats different than regular business class seats? If you look at the seats themselves (rather than the ottoman), they look like pretty standard business class seats.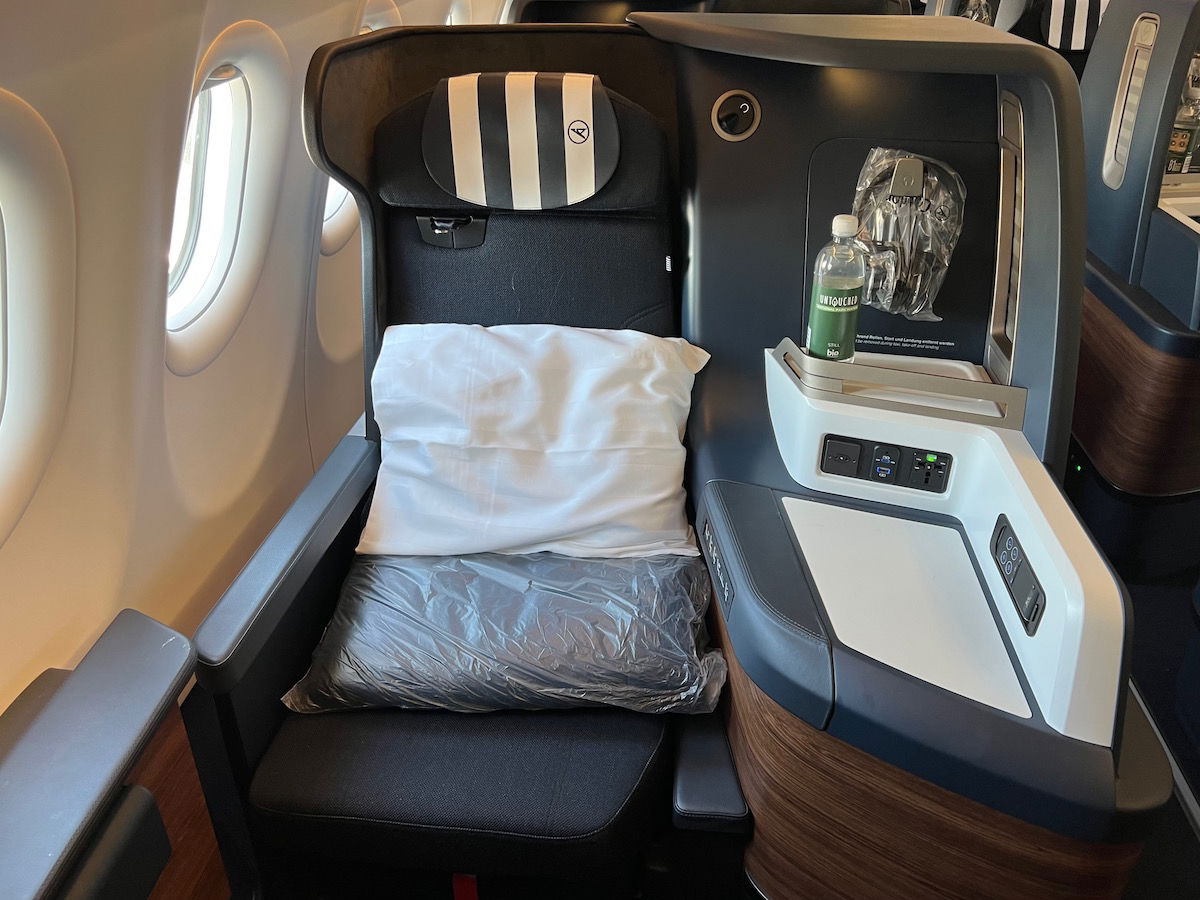 What makes them special is when you look in the other direction. As a reminder, below is what the footwell situation is for a regular Condor business class seat in this configuration.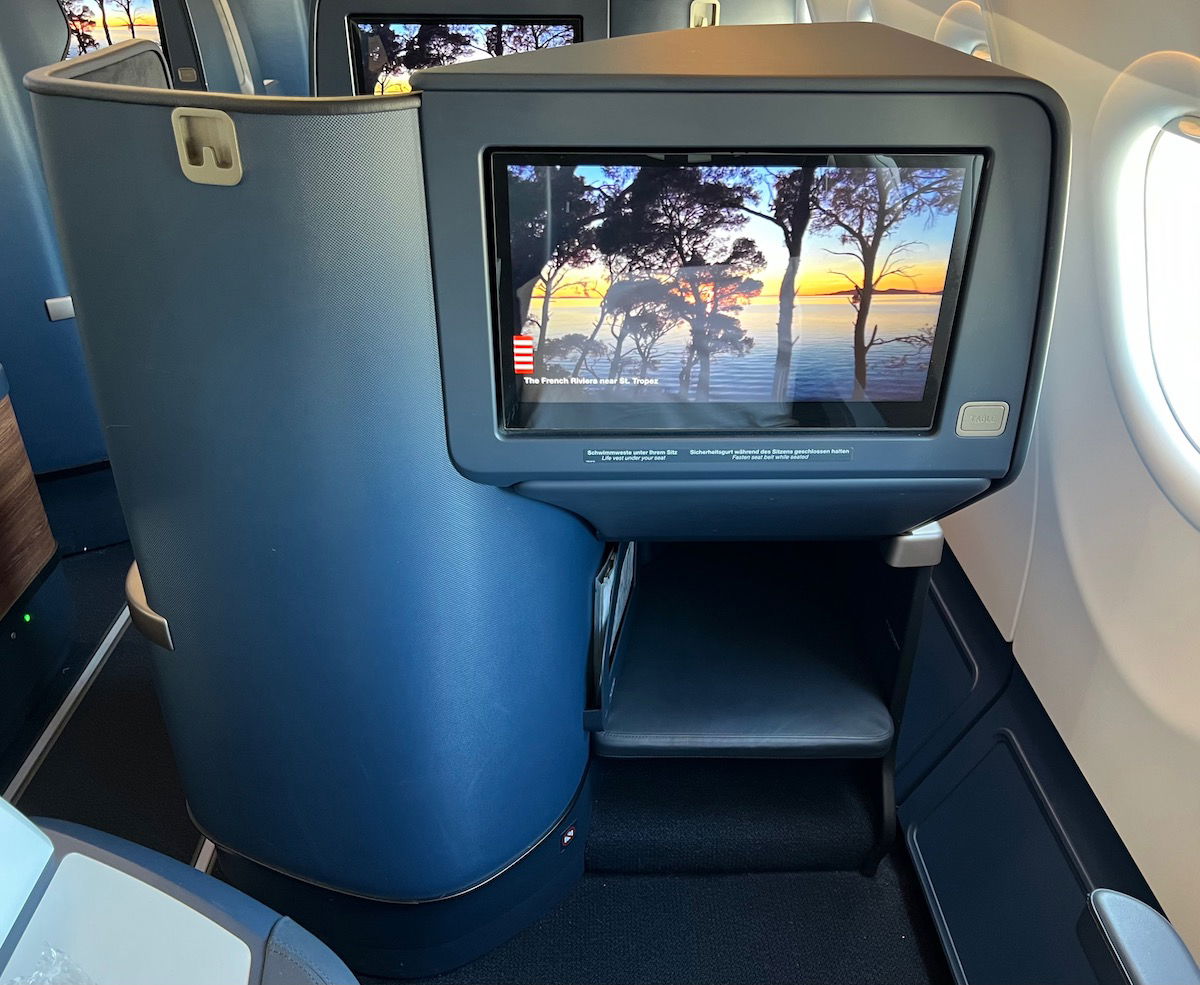 Meanwhile below is what it's like in the Prime seats.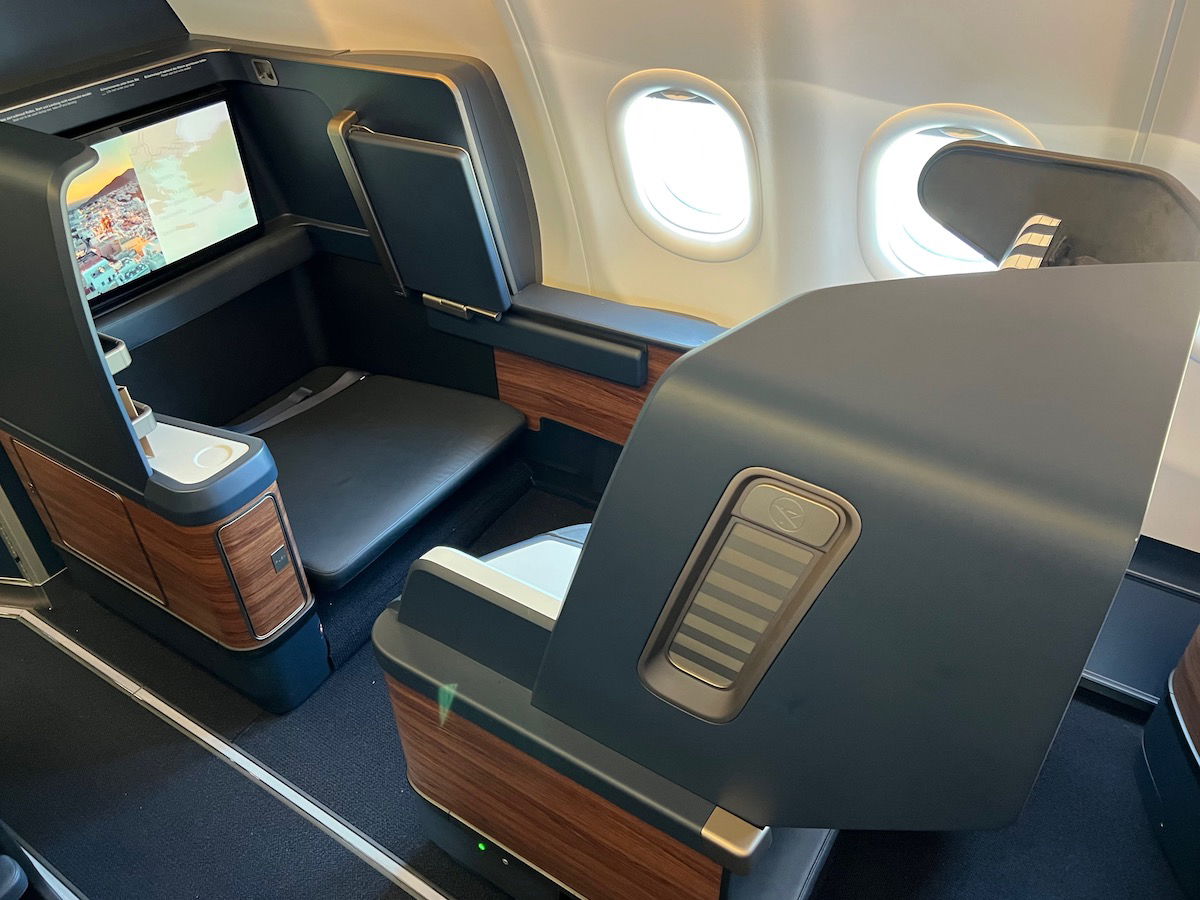 Rather than having a small footwell in which you have to place your feet, these seats have huge ottomans, which are in a completely different league than what you'll find at the other seats. Not only do these ottomans make the seat much more comfortable if you want to sleep, but they can even double as buddy seats, so that you can dine face-to-face with a travel companion, if you'd like to.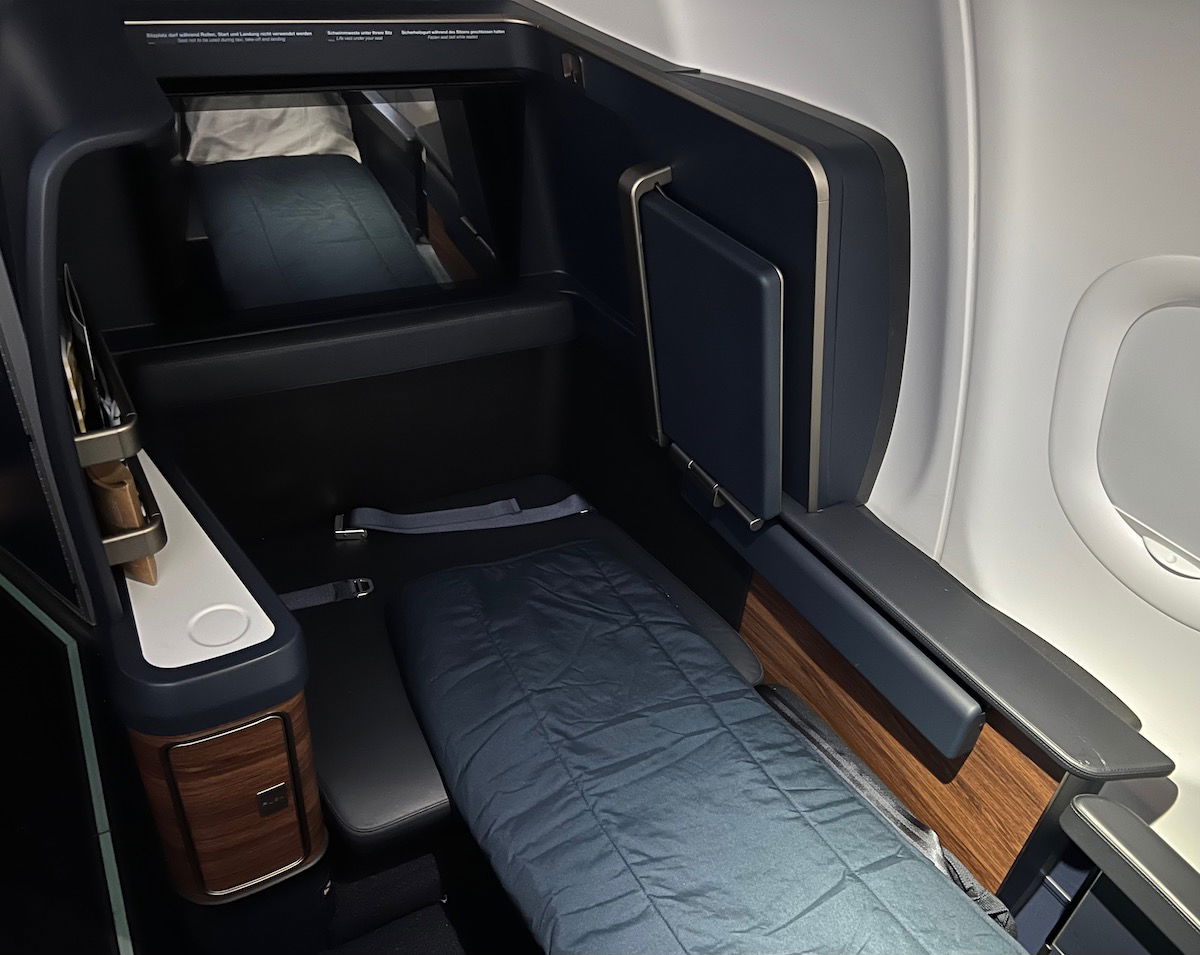 Furthermore, rather than having 17.3″ personal televisions, the Prime seats have 24″ entertainment screens, so they're way larger (they're also farther away from you, due to how much space you have).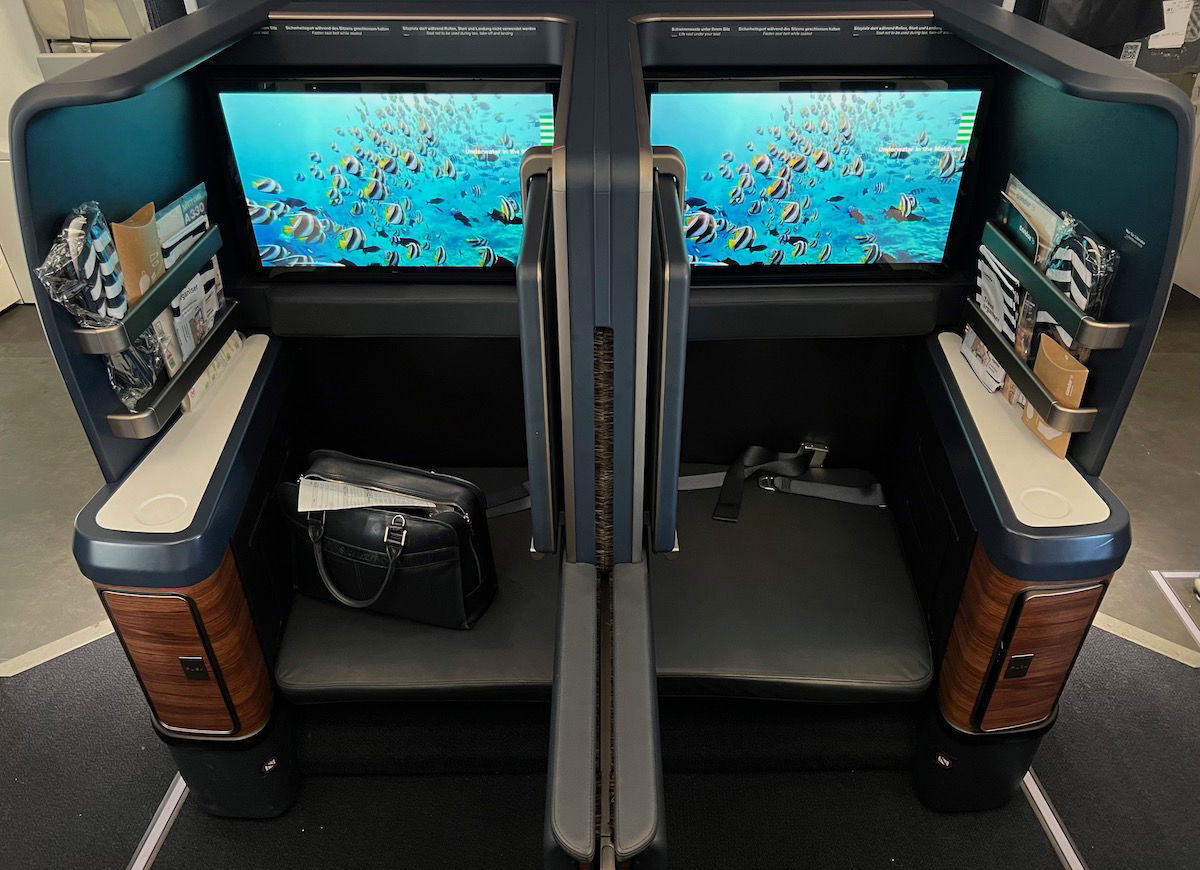 On top of that, the seats have a storage compartment next to the ottoman, which you won't find in other seats.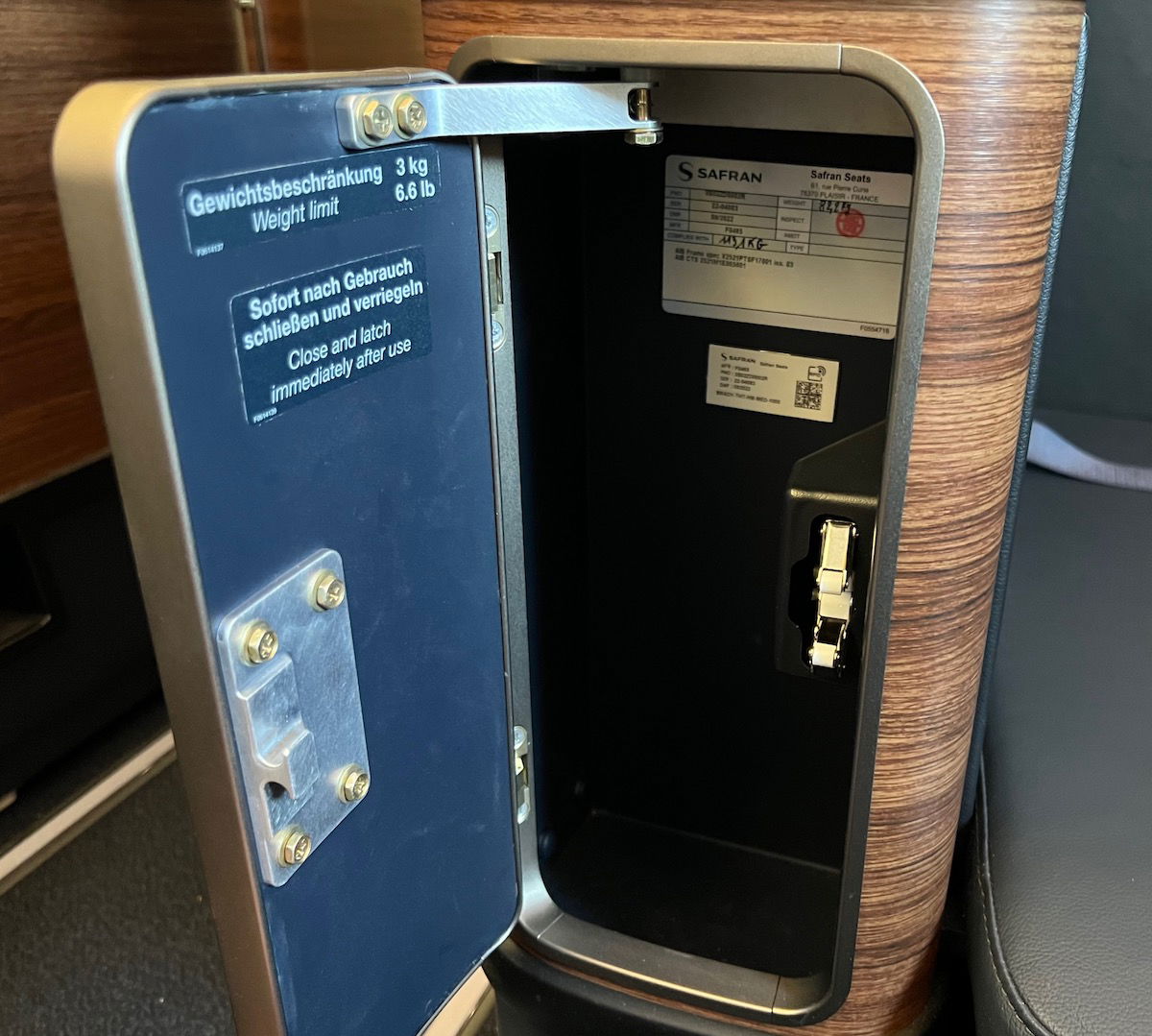 Admittedly one concern that people may have when seated in the front of the cabin is the proximity to the galley and lavatory. For what it's worth, on the A330-900neo, two lavatories are behind the cabin, and only one lavatory is in front of the cabin, and it's all the way up by the cockpit. Sitting in one of the Prime seats, I didn't notice any noise issues.
Another cool aspect of the Prime seats is that Condor tries to differentiate the soft product in some subtle ways. Passengers seated in Prime seats receive pajamas, slippers, and a snack basket, which other business class passengers don't receive.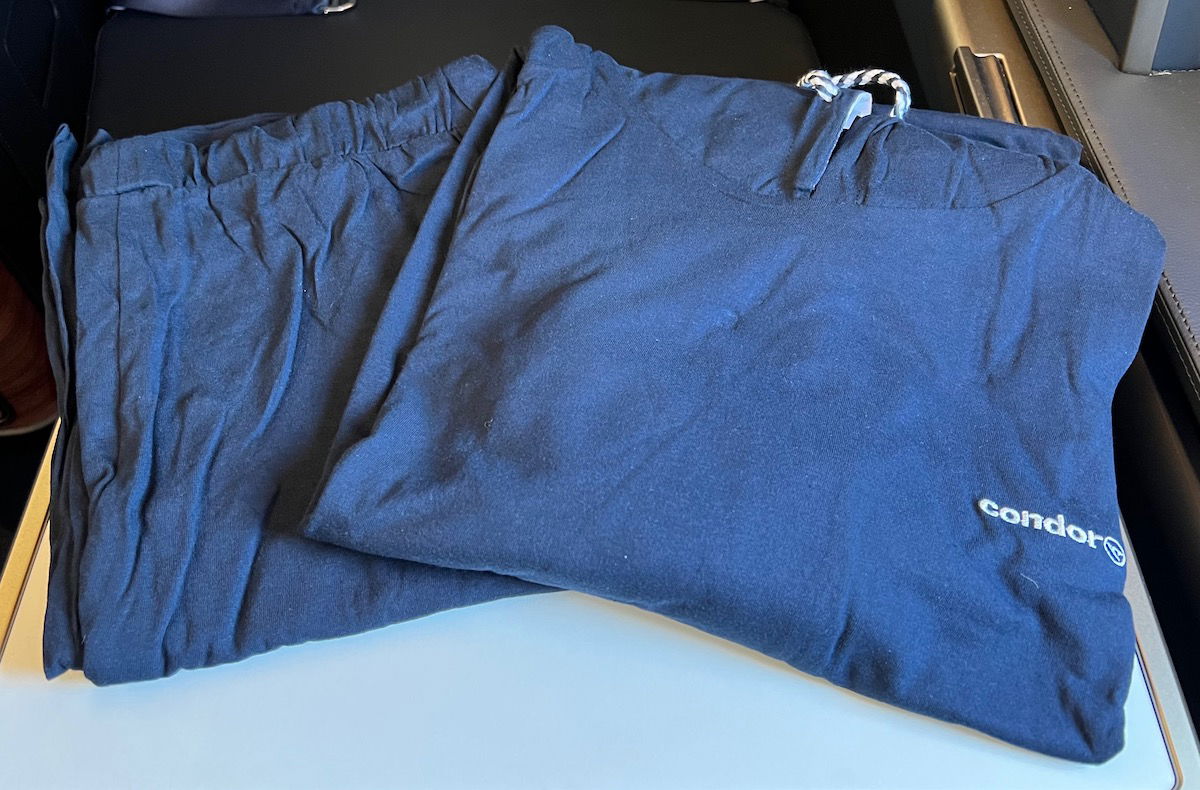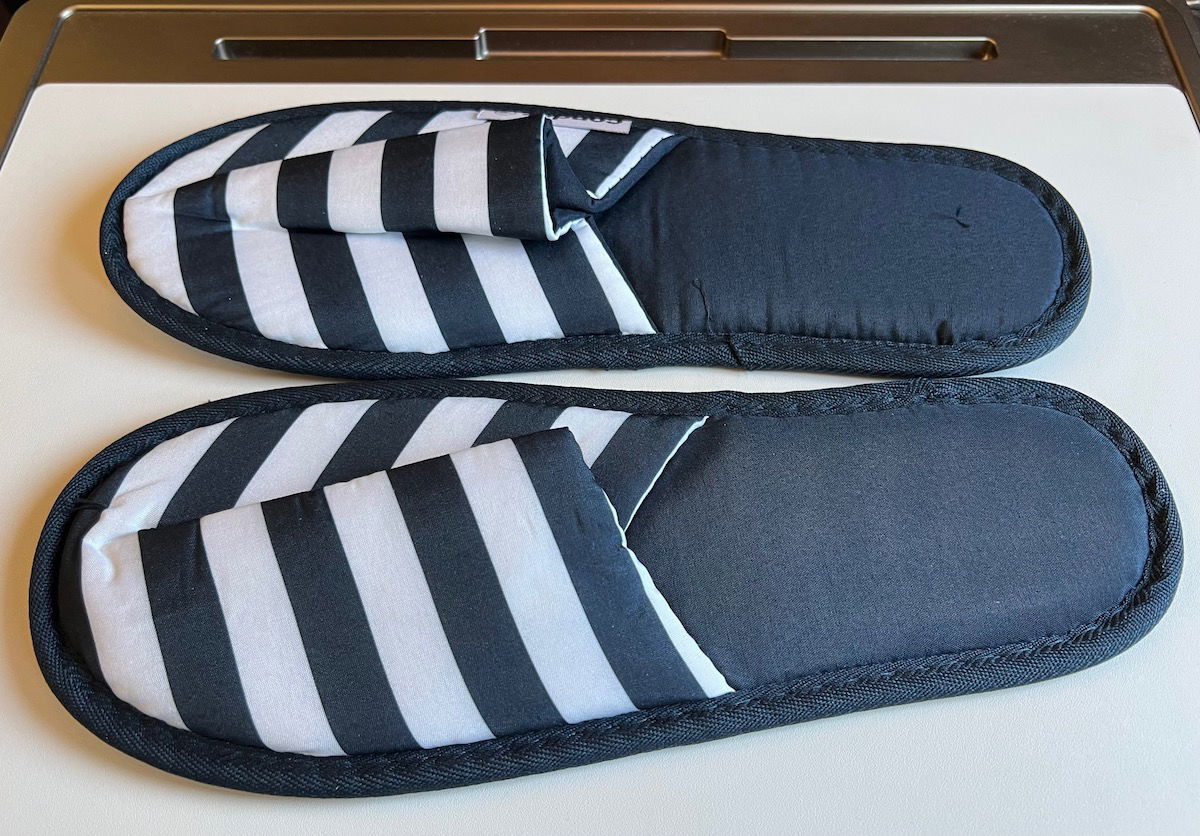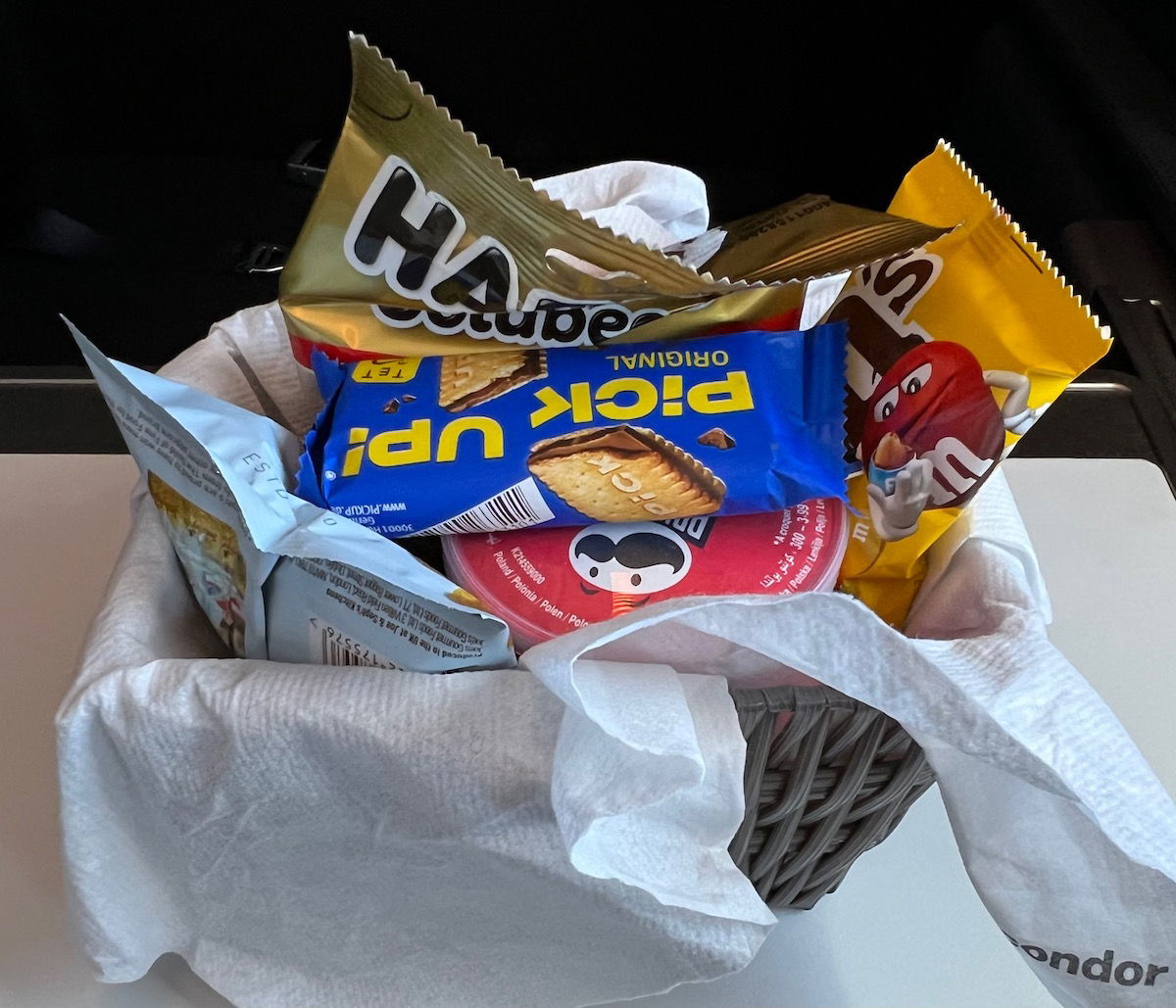 How much do Condor's Prime seats cost?
As it currently stands, the Condor Prime seats can be booked by anyone with a confirmed ticket in business class. You can reserve these seats anytime between booking and departure, and currently the price seems to be a $360 upcharge for most markets. It doesn't matter if you booked your ticket with cash, or upgraded, or redeemed points, as you can assign these seats at that cost no matter what.
The cost for all four of the Prime seats (2A, 1E, 1F, and 2K) are identical.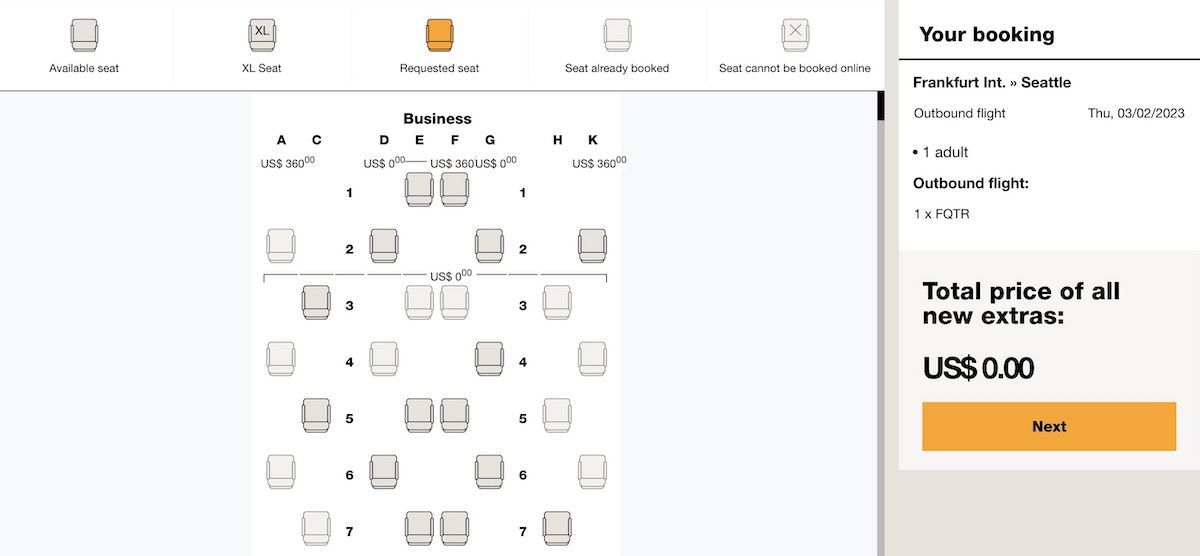 Are Condor's Prime seats worth it?
Condor's Prime seats are really excellent, and exceeded my expectations. While Condor's new business class seats are great in general, the Prime seats are particularly spacious, and will almost make you feel like you're in a first class suite.
Are they worth the money, though? At a cost of $360 over a standard business class seat, the pricing is definitely on the steep side. That's especially true when you consider that Condor is a value oriented airline, and generally has very attractive pricing.
While expensive, I do think Prime seats could be worth the upgrade. A few thoughts:
Personally I found the window Prime seats to appear more spacious than the center Prime seats, so I'd much rather pay that amount to upgrade to a window seat than a center seat
Another consideration is which other seats you can assign; when I booked, there were no "true" window seats left in business class, so I would have been at one of the business class seats closest to the aisle, making the Prime seats a more attractive alternative
If you're someone who struggles to sleep on a plane when you have to place your feet in a small footwell, reserving a Prime seat could be the difference between getting a good night of sleep and not
Personally I'd probably be more likely to pay for a Prime seat again on a daytime flight than an overnight flight; for example, I don't think I would have paid this fee on a seven hour overnight flight from New York to Frankfurt, while on a 10+ hour daytime flight from Frankfurt to Seattle, I thought the value was there
I redeemed miles for my flight, so the way I rationalized the upgrade cost is that I was still paying less in cash than I would have paid if redeeming miles with an airline that has steep carrier imposed surcharges, as you'll sometimes find across the Atlantic
So I guess in conclusion, I think it's a great product, but the pricing is also steep. I'm curious how Condor Prime seat pricing changes over time.
Bottom line
It's great to see more airlines creatively taking advantage of space in the first row of business class, to create special new products. That's exactly what Condor has done with its A330-900neos, in the form of new Prime seats. Not only do the seats offer quite a bit more space, but they also offer a few extra amenities.
I flew in one of these from Frankfurt to Seattle, and found it to be an excellent product. The pricing is a bit steeper than it ideally would be, but we'll let the market decide whether it's fair or not.
What do you make of Condor's Prime seats? Would you pay for one if flying Condor business class?