Here's the story of how I spent my Saturday night, nearly missing my connection in spite of having 6hr20min to do so. This is partly a rant, and partly to share what I learned from the experience.
I'm an experienced Cairo Airport traveler
Some of us intentionally book travel through Cairo in order to score low fares, since many airlines publish really low premium cabin fares from Cairo. For example, in this case I was flying from Cairo to Muscat to London in Oman Air's brand new first class, and the fare was just $1,200 one-way.
Connecting there can be a hassle, though I've always found it to be a bit of an adventure, and I like that.
In January 2017 I wrote a post entitled "The Most Premium Yet Back-Alley Airport Transit Ever," about a connection I had at Cairo Airport. To me that's a pretty typical experience — the whole thing is disorganized, but somehow everything always works out, though it make take some tipping.
The way the Cairo transit process is supposed to work
In this case I needed to transfer from Terminal 3 (EgyptAir) to Terminal 2 (Oman Air). This is a transfer I've made many times before. The process seems really unofficial, but the way it's supposed to work is as follows:
You go to the transfer desk and explain what you're trying to do, and then they ask you to have a seat while they call someone to drive you to the other terminal (this can take 30-60 minutes)
You're patient, and sometimes you have to remind them once or twice that you're there
You're then walked through all sorts of "do not enter" areas, the guy escorting you hugs and kisses just about every airport security worker, you're driven to the other terminal in a private car, and then you're dropped off in the transit zone there
You're then escorted to the airline check-in desk without going through immigration, and then are escorted back through immigration, as if you never entered the country (they have to accompany you since leaving immigration without officially entering the country)
Sounds easy enough (or something), right?
My HORRIBLE Cairo transit
Unfortunately all of that isn't what happened this time around. I landed on EgyptAir at 6:50PM, and my connection on Oman Air was at 1:10AM. I intentionally left a lot of time since I had little leeway in my schedule otherwise, and wanted to be sure I didn't miss my connection.
I landed on-time and went to the Terminal 3 transfer desk. I was told to have a seat while they call someone. After about 45 minutes I went to ask on the status of that. They told me it might be another hour, but then a minute later someone got me and said "let's go." Perfect, this was going better than I had expected.
I was driven to Terminal 2, and then they dropped me in the international arrivals hall, so I followed the signage towards international connections. This brought me to the below room, which I've sat in several times before.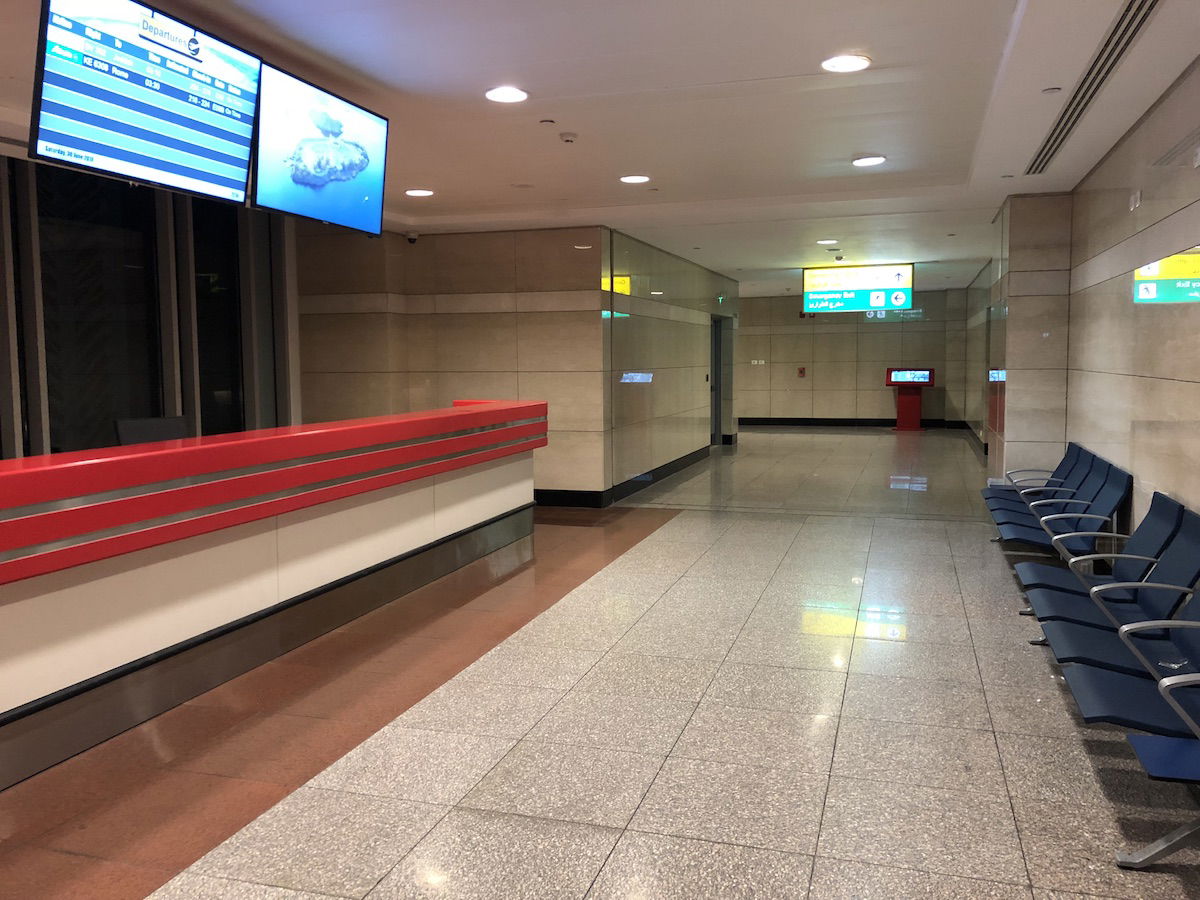 The way it works is that you give the immigration officer your passport, and they ask you to have a seat. Then once airline check-in opens they call a representative from the airline to pick you up, bring you to check-in, and then bring you back to the international zone. It's such a convoluted process.
I knew Oman Air check-in opened four hours before departure, so I figured I'd have to wait about an hour, until 9PM. So I sat down and was patient. I'd note that there are no outlets in this area, and there's nowhere to buy water or anything, since it's the international arrivals hall. Also, expect this area to smell like smoke — the immigration officers (and their buddies) sit at the desk smoking the whole time, so the area smells like a smoking lounge. Lastly, while you can get 30 minutes of free Wi-Fi, the option to buy Wi-Fi wasn't working, so at some point I just sat there twiddling my thumbs.
At 9PM I checked with the officer on the progress. "Soon." So I had a seat again.
Then it was 9:30PM.
"Any update?"
"Soon."
Then it was 10PM.
"Do you know when someone might get me?"
"Five minutes."
Then it was 10:15PM.
Then it was 10:30PM.
"Just five more minutes."
All the time the guy would be dialing some number, and it would just ring a couple of dozen times with no one picking up. I wasn't sure if it was for me or not.
It was then 10:45PM.
Then 11PM.
At this point I had been sitting and waiting for a total of four hours, with over three hours of waiting here. My computer was dead, I desperately wanted some water, and the smell of smoke was starting to get to me.
I asked the immigration officer if I could just clear immigration and go to check-in myself. He insisted no.
I once again approached the guy. "My flight is in two hours, what's going on?"
"Five minutes."
Then it was 11:15PM. And 11:30PM.
"What is going on? I've been waiting here for almost four hours."
"No one from the company is answering, don't worry, you have plenty of time."
I really didn't have plenty of time, because the whole process of getting a boarding pass isn't quick.
"I don't understand. I've been told five minutes for the past couple of hours. What happens if no one from the company answers?"
"There's nothing I can do, I can just call."
Finally at just shortly before midnight — over five hours into my connection, and four hours into sitting in the same room — a representative came and collected me and walked me to check-in.
But wait, there's more!
The check-in area was pure chaos, though I was thrilled to be able to stretch my legs after having sat for hours. I was walked right to the check-in desk, and the agent looked at my reservation.
She called over a supervisor, and a supervisor immediately picked up his phone. Then they called over someone else.
"Do you have your e-ticket number?"
Uh oh. Clearly there was something wrong with my reservation.
I provided that and asked "is something wrong?"
"Please just be patient."
Little did they know how patient I had already been for the past several hours. 😉
This ended up taking 45 minutes, so by the time I was walked back through security, my flight was supposed to be on final boarding.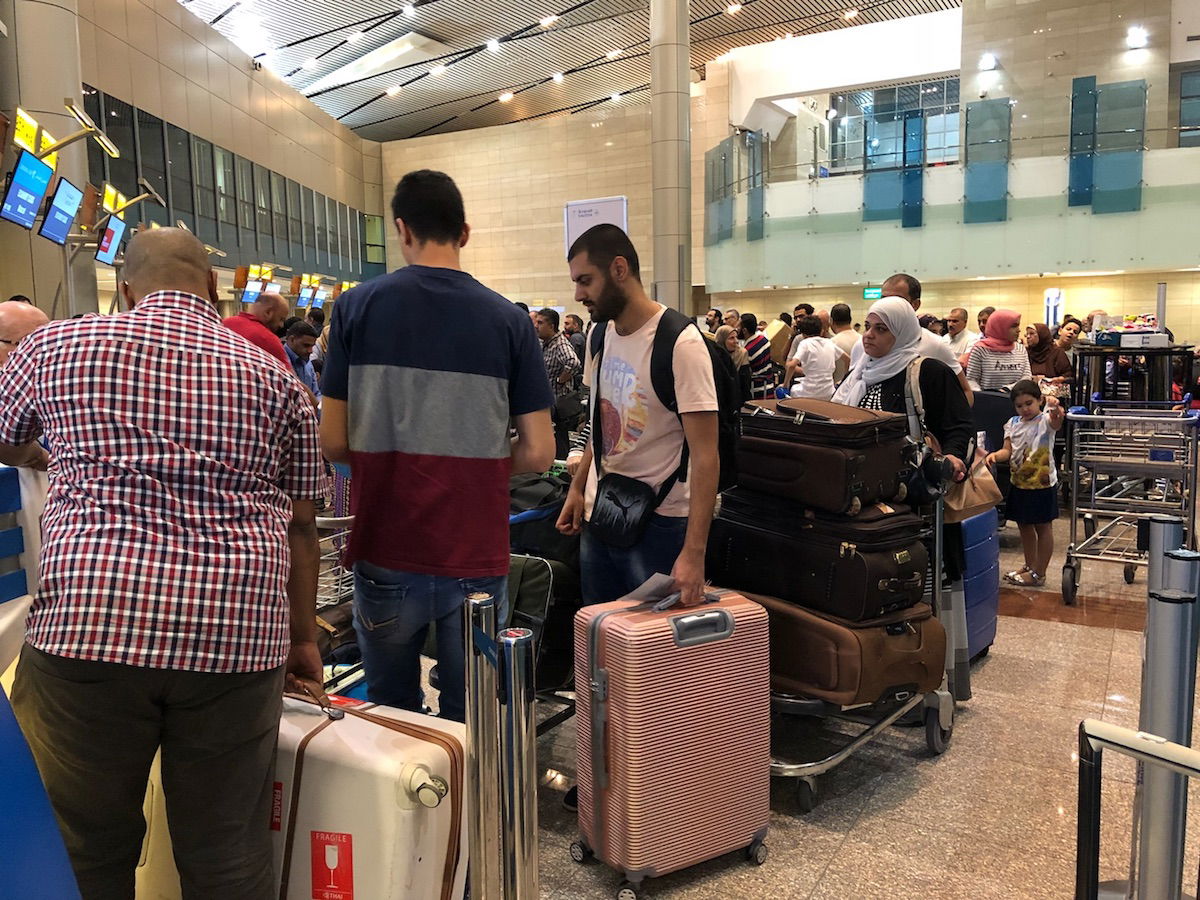 But wait, there's even more!
This is more of a "jerk" situation than a real problem, but I have to share it nonetheless. As I boarded the plane my boarding pass scanned, and I was told I needed to go back to the desk, because my seat on the plane was broken.
The one gate agent shouted over to the other explaining the situation, and once she was done with that I said "sir, whenever you're able to select my seat, could you please make sure I get a window seat" (since this was an A330 with Apex Suites, and window seats are much better).
I don't know if the guy was having a bad day or what, but out of nowhere he said "why don't you shut up and let me do my job? Can't you see I'm logging into my system?"
Well no, I can't see that you're logging into your system, and why the attitude?!
So I didn't say anything, and then he printed me a boarding pass… for an aisle seat.
I'm usually too passive, and had certainly been so for the past five hours, but I couldn't help but least let this guy have it a little.
"Rather than being a jerk, maybe you should have listened to me. I was trying to save you time, and that's exactly the seat I didn't want. I asked for a window seat."
Bottom line
In a backwards way I've always enjoyed transiting Cairo, in the sense that it was always an adventure, and always felt like organized chaos. Suffice to say that's not the feeling I got this time around. Having a layover of over six hours and nearly missing my flight wasn't fun, especially since I felt like nothing was within my control. Add in the check-in issues, and it was one of the least pleasant airport experiences I've had.
The lesson I learned is that in the future I'm just going to enter Egypt (even paying the visa on arrival fee) so that I can avoid the mess which is sterile transfers between terminals. That way I at least won't feel totally hopeless, and can take whatever situation arises into my own hands.