I frequently write about cheap premium cabin fares, and for years one of the best markets in the world for these has been Cairo. You can fly just about anywhere in the world out of Cairo in first or business class for a fraction of what it could cost if traveling in the other direction.
It's possible to do a same day turn in Cairo, where you arrive on one flight and turn right around on a separate ticket. That's sort of what I was doing today, as I was arriving at Terminal 3 on EgyptAir, and then departing from Terminal 2 on Royal Jordanian. I figured I'd cover the basics of the experience, since it was simultaneously the most premium and sketchiest airport transfer I've ever made.
The moral of the story?
$10 goes a long way
An airport that serves tens of millions of people per year has the most back-alley system for getting passengers between terminals
What I was expecting
Going in, my assumption was that I'd be best off clearing immigration in Cairo, making my own way to Terminal 2, and then starting the check-in process again there.
In the past I've used the airport's VIP service (which I've found to be well worth the money). When I asked if they could help with me with a Terminal 3 to Terminal 2 transfer, they said:
Kindly be informed that you may reserve two service for arrival and departure it`s charges 1000EGP for Egyptian and 200$ for non-Egyptian. And kindly noted that you will transfer from terminal three to terminal two by yourself may use free airport shuttle bus.
So I can pay twice and they still won't actually help get me between terminals. That's not helpful at all.
"Have a seat outside"
I was departing from Terminal 2, which is Cairo Airport's new terminal, so I figured I'd ask at the transfer desk on arrival how I should get there.
"You don't need to clear immigration, follow me." He brought me to the chief immigration officer's office and explained the situation, and the guy said "have a seat outside."
If there's one thing I've learned about transiting Cairo Airport it's that the staff get things done, but they do so on their time.
So I sat down and worked on my laptop for 45 minutes, thanks to the functioning Wi-Fi. I had a three hour layover, so was in no rush. At that point I figured I'd check with the immigration officer again since I hadn't heard anything, having realized he didn't have my passport, didn't know when my connecting flight was, etc.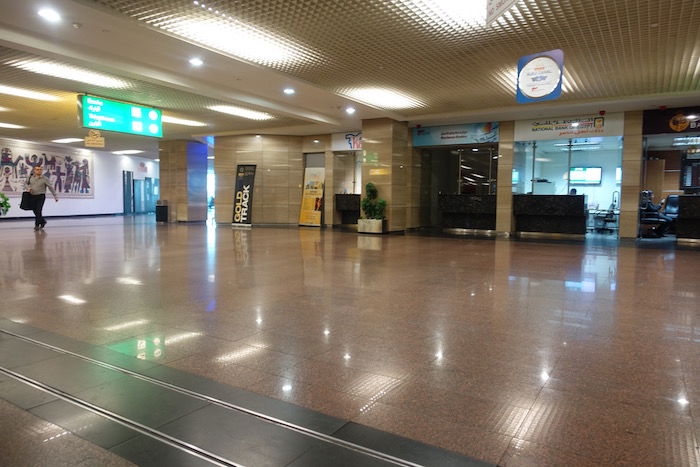 This time around there was a guy sitting in his office reading a newspaper. As it turns out, it was the guy who would be taking me between terminals. I wonder how long he had been sitting there.
What happened after that was simultaneously the sketchiest and most premium non-premium transit experience I've ever had.
"You tip me money, yes?"
If you combined the Lufthansa First Class Terminal with the shadiest ground experience in the world, you'd get what was about to happen.
The guy walked me through the terminal and then through about five sets of secret doors. Several times we'd have to stop, he'd greet security officials with kisses on both cheeks, they'd look at my passport, and then they'd motion with their eyes that we could continue.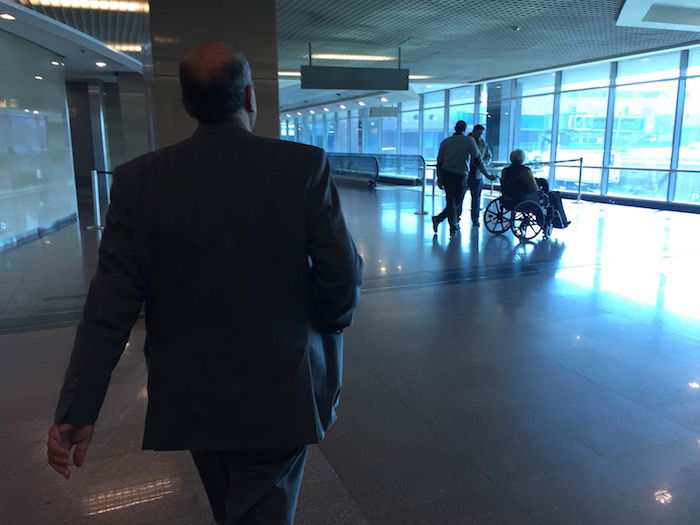 Eventually we found ourselves on the tarmac, as he drove me to Terminal 2. As we drove he said "you tip me money, yes?"
"Sure." Tipping at Cairo Airport is pretty common (I remember a couple of years back being encouraged to tip to even enter the terminal), and I appreciated the service he was providing.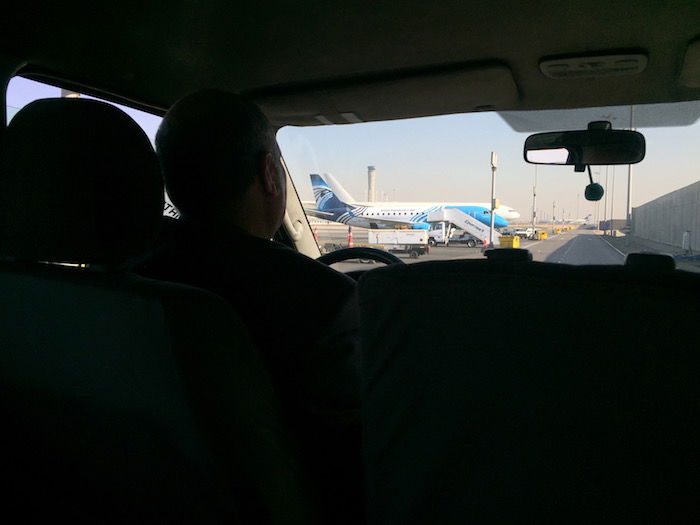 At this point we were in Terminal 2, though there didn't seem to be a system in place for us to enter the terminal. We walked up to a bolted door, so the the guy started knocking on it. Eventually someone opened it. A couple more kisses and glares at my passport later, we were allowed in.
We walked through several more back entrances, and eventually I was told to literally walk through a metal detector with my bags (rather than actually having to go through the security checkpoint). I had to ask him twice if that's what he meant, because I was caught so off guard by that.
Eventually we were at Royal Jordanian check-in, where the guy escorted me to the very front of the line (though he had no clue whether I was in economy or business class, as I hadn't shown him my ticket).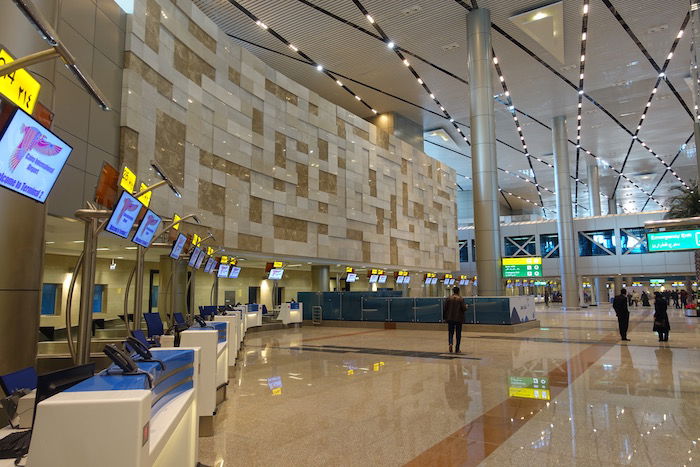 Once I had my boarding pass, another guy escorted me back past the immigration checkpoint in the other direction, given that I didn't have an Egyptian stamp in my passport.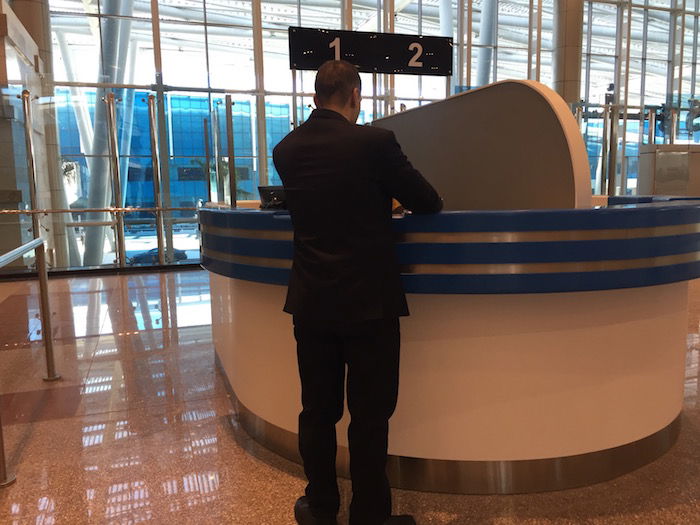 That whole experience took a bit over an hour, and boy was it amusing.
Cairo's new Terminal 2 is gorgeous!
Cairo Airport is a dump… at least it was in the past when I visited. However, the new Terminal 2 is a legitimately nice terminal, and it even has a nice lounge (unlike the crappy lounge I've had to use in the past). I'll have more about the terminal in a future post, but well done, Cairo Airport!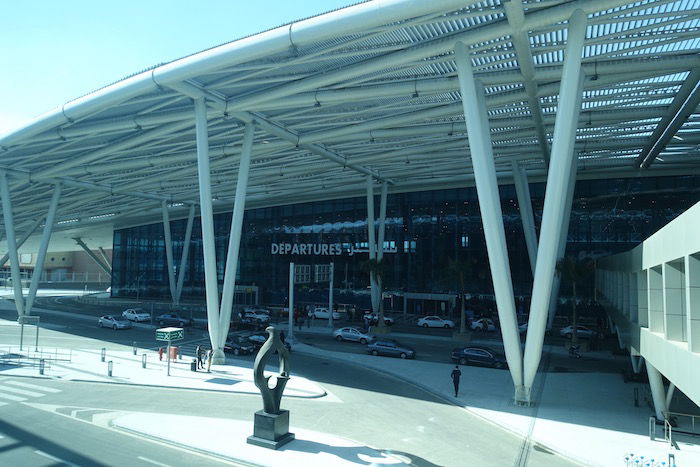 Bottom line
This was probably the most amusing transfer experience in my life. It's amazing the system they have in place for changing terminals at an airport that serves tens of millions of people involves a dozen back doors and being privately escorted and driven across the tarmac.
At the same time I appreciate how helpful they were, since they could have just as easily told me to clear immigration and walk there by myself.
Transiting Cairo Airport is always an adventure!