---
Despite the blog posts I've made (here, here, and here), I'm actually quite happy with my move to Seattle. It's a change of scenery, and I tend to think that in the end we regret the things we didn't do more than the things we did. And I guess that's kind of why I moved to the Pacific Northwest on a whim.
As much as I disparaged Tampa, one thing's for sure — the sun is a beautiful, beautiful thing, and I took it for granted far too much living in Tampa. It's hard not to be happy when it's always 80 degrees outside, sunny, and you live in a city with a relatively low cost of living.
It has been quite a while since I've taken an international trip, and I've been experiencing some withdrawal symptoms. The cold, rainy weather, and short days only make me long for warm climates even more. A friend had a long weekend thanks to Veterans Day, so it seemed like a good opportunity to get away. The problem was that I didn't have more than a five day period to "escape" before the end of the year, so I figured this was as good of an opportunity as any. In the end we decided on Bangkok for a couple of nights.
It's my goal to try as many new airline products as possible over the coming months, and I outlined the products that interest me the most in this post. The problem is that sometimes you have to compromise with a travel companion, so that's what I ended up doing. Oddly China Southern and Korean Air don't sound as tempting as Cathay Pacific or Lufthansa. I have plenty of trip reports of totally "new" products coming over the next few months, though hopefully you guys enjoy this one as well.
For the outbound we used 70,000 MileagePlus miles per person (transferred from Chase Ultimate Rewards) for first class from Seattle to Bangkok via Frankfurt. This was bookable 14 days, as that's when Lufthansa releases first class award space to partner airlines.
The "no brainer" part of the outbound was flying Seattle to Frankfurt on Lufthansa in first class, as I was quite looking forward to my first nonstop international flight out of my home airport. The tough decision was trying to figure out how to get from Frankfurt to Asia. Originally we booked Frankfurt to Tokyo to Bangkok, with Frankfurt to Tokyo operated by Lufthansa's Airbus 380 and Tokyo to Bangkok scheduled to be operated by a Thai 747 featuring the new first class.
I was most excited about Thai's new first class, as it's one of the products on my "bucket list." However, a few days before departure the seatmap no longer showed the flight as being operated by a 747 with the new first class, so we were back to the drawing board. As it turned out Frankfurt to Bangkok was scheduled to be operated by the Thai 747 with the new first class cabin, so we switched to the nonstop instead, and decided on Bangkok as the destination. I literally monitored the tail number scheduled to operate the flight till it took off from Bangkok to Frankfurt, since Thai is notorious for equipment swaps.
For the return we used 67,500 AAdvantage miles for Cathay Pacific first class. Cathay Pacific is great about releasing award space last minute, and most flights between Hong Kong and the US had between three and five first class award seats, so we really had our pick. While I've flown Cathay Pacific first class several times before (previous trip reports can be found here, here, here, here, here, and here), it's such an amazing value that I couldn't say no, not to mention that I was curious how their product was holding up. Besides, in a single weekend it's not really practical to route via Europe twice. 😉
We also maximized the return award by adding on a "free" one-way ticket from San Francisco to New York. Our return routing was really Bangkok to Hong Kong to San Francisco to Seattle, though instead of including that segment from San Francisco to Seattle on the award ticket, we instead redeemed 7,500 Avios per person to book that separately in coach.
This allowed us to have a "free" stopover in San Francisco (since it's the international gateway city), and then we booked a Flagship Service first class ticket from San Francisco to New York as part of the same award for 10 months out. We can change the date on that later, though I'm sure it'll come in handy. And I'd certainly value a Flagship Service first class transcontinental seat at more than a short hop from San Francisco to Seattle.
Besides, by booking San Francisco to Seattle separately we could book an illegal connection of just 70 minutes in San Francisco, allowing us to get home earlier. Thanks to Global Entry I was quite confident in being able to make that connection, and I preferred that over having to wait 3+ hours for the next flight.
In the end our itinerary looked as follows:
11/08 Lufthansa 491 Seattle to Frankfurt departing at 2:00PM and arriving at 9:10AM (+1 day)
11/09 Thai 921 Frankfurt to Bangkok departing at 2:10PM and arriving at 6:20AM (+1 day)
11/12 Cathay Pacific 614 Bangkok to Hong Kong departing at 1:10PM and arriving at 4:50PM
11/13 Cathay Pacific 870 Hong Kong to San Francisco departing at 2:05PM and arriving at 10:00AM
11/13 Alaska 301 San Francisco to Seattle departing at 11:10AM and arriving at 1:20PM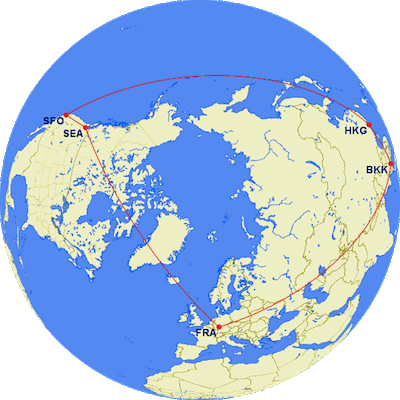 So sit back, relax, and enjoy the report. I'll crank this one out quickly!