---
We arrived at Terminal 3 at around 8PM, with over four hours until our departure time. We first walked around the terminal for a bit to observe the other airlines that were departing around the same time as us. It seemed that they were for the most part heading to the Caribbean.
The monitor which showed which counters operate for which airlines had a blank space next to Cathay Pacific's Hong Kong flight, which I assumed meant that check-in wasn't open yet. By chance we stumbled into the check-in area, only to notice that plenty of people were already lined up.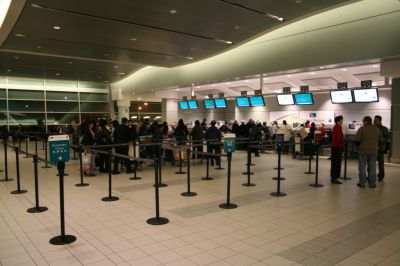 Cathay Pacific check-in area
Not surprisingly no one was waiting in the first class line, given that there was only one other passenger booked in first. within a few minutes check-in opened and we were helped. The agent was friendly and efficient, and asked us whether we wanted access to the arrivals lounge in Hong Kong. We indicated that we did, and within a couple of minutes she tagged our bag and gave us boarding passes, an invitation to the KLM lounge, and an invitation to the Cathay Pacific arrivals lounge in Hong Kong.
While there was no line at security it still took about 15 minutes, thanks to the incredibly slow screening person we had at our lane. If I didn't know any better I'd say she was playing a game of memory, whereby she wanted to memorize what everyone had in their carry-ons.
Once past security the terminal was empty. We headed towards the lounge, which is located near gate 32. They have the dumbest security imaginable beyond the security checkpoint: as you keep going towards the further gates, you have to constantly show your boarding passes at "checkpoints." Fine, whatever, but it gets dumber (stay tuned later on).
After a long walk we made it to the lounge elevator, which took us to the KLM lounge. There was a British Airways lounge there as well, which looked quite nice. Unfortunately Cathay Pacific uses the KLM lounge.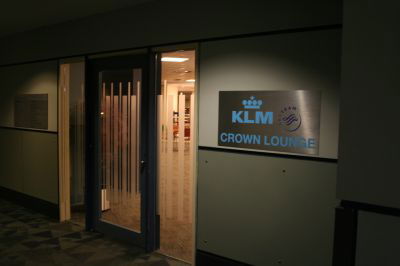 KLM Crown Lounge
The agent dressed in a KLM uniform snatched our lounge invitations without so much as a word. When I asked her about internet access she threw a fortune cookie "strip" at me…. or maybe just a tiny strip of paper with a six digit code on it.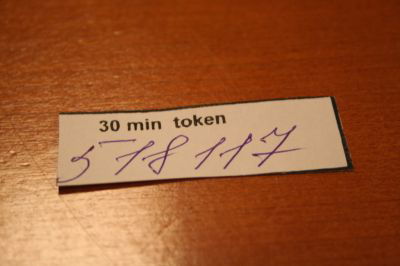 My fortune…. or not
The lounge was underwhelming. It's not that it was awful or anything, but it was just an embarrassing contract lounge for an airline like Cathay Pacific, in my opinion.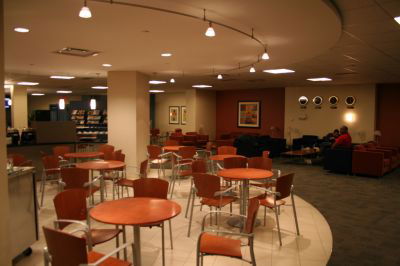 Either the airport cafeteria or KLM lounge…. I can't remember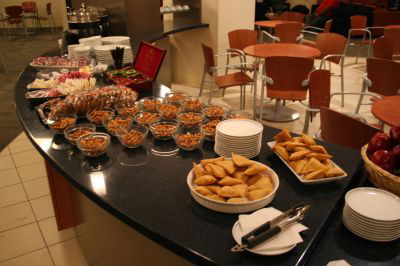 The "snack" selection
I think the three hours spent in this lounge can be summed up as the most boring hours of my life. The internet connection couldn't have been any slower, so I eventually gave up. I'm pretty sure I could have picked up a stronger signal on my flight as we're passing over Mongolia.
The lounge filled up for a while, and then emptied out again with the last KLM departure to AMS. It slowly began to fill up again, although was never overcrowded. Eventually we decided to walk around a bit, given that we were about to get on a 16 hour flight.
We walked around a bit, only to get back to the boarding pass "checkpoint," which seemed stupid enough on the way out. As we walked the other way, the agent again asked to see our boarding passes. Ummm, why? She insisted it was for "duty free reasons." What the hell does that mean? It's not like she checked whether I had duty free stuff on me or not. Oh well, I guess questioning security really isn't worth it.
We walked around for a while, and went to the gate at around 11PM. We stood there and observed the relatively full gate area for a while. At around 11:30PM they started lining up all those passengers in wheelchairs. There were at least 20 of them, and it was pretty interesting to watch as they lined them all up at once and then drove them down the jetway at basically the same time. Shortly thereafter, at around 11:45PM, boarding began for first class, business class, and Marco Polo members.
Before I go any further, I have a question. It seems to me like most premium international airlines never pre-board first class, but instead board first class, business class, and elites together. Why? Considering how strict they are about disembarking passengers based on class of service, this makes no sense to me. Come on, even United typically pre-boards first class on international flights!
Anyway, I was thrilled as I handed the agent my passport and boarding pass, as I was anticipating boarding the flight of a lifetime.
Cathay Pacific 827, YYZ-HKG, Boeing 777-300ER
Sunday, March 8
Depart: 12:15AM
Arrive: 4:55AM (next day)
Seat: 2K (First Class)
As we entered through door 2L (the only door being used for boarding), one of the flight attendants took my boarding pass, welcomed me aboard, and asked me to follow her. As we reached seat 2K she said "Here you are, Mr. Lucky. Enjoy your flight." My jaw dropped as I saw the cabin and the seats. First class was even more incredible than I had imagined.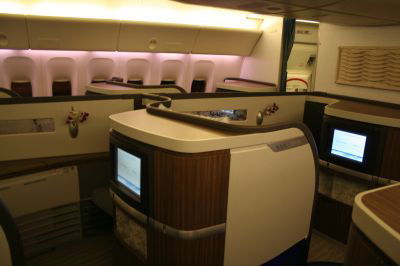 The cabin!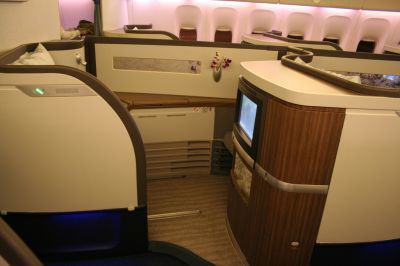 2D, my dad's suite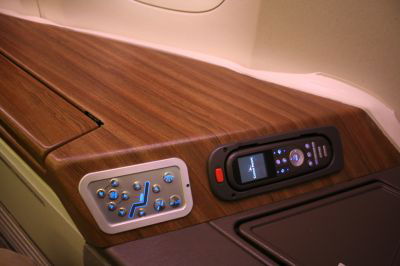 Seat controls and TV remote
I think the pictures speak for themselves. I was like a five year old in the world's biggest candy shop.
Before I could sit down one of our flight attendants, May, welcomed us aboard and helped us stow our bags. To make the cabin feel more spacious there are no overhead bins, so instead carry-ons are stowed in the individual closets that each seat have. In the picture above you'll see it immediately to the right of the TV.
My dad was equally impressed by the cabin, and I quickly snapped a few pictures of my suite.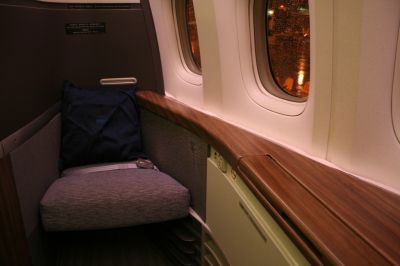 Ottoman which doubles as a seat for a guest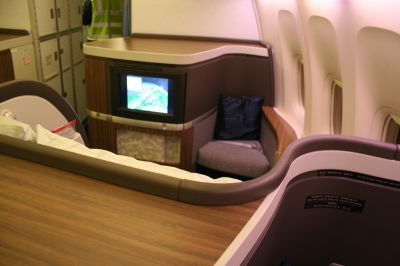 Picture of 1K, the suite in front of mine
Before the business cabin filled up too much I snapped a quick picture of the mini-cabin located immediately in front of door 2L and behind first class.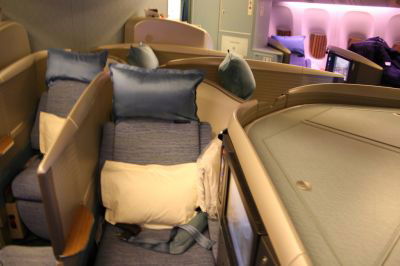 Business Class, which also looked quite comfortable
As we settled down May welcomed us aboard again, introduced herself, and said she'd be taking care of us today. I asked her to call me Ben, and she seemed to have a hard time pronouncing that, yet surprisingly enough she mastered my last name, which is far more complicated. Shortly thereafter she offered us pre-departure beverages. I asked for an orange juice, which was delivered within seconds. She then handed us the menu and wine list.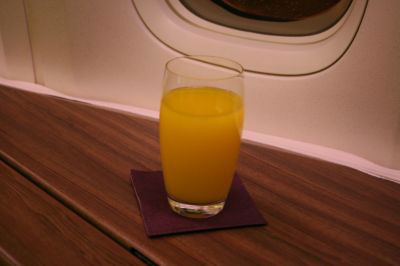 Pre-departure orange juice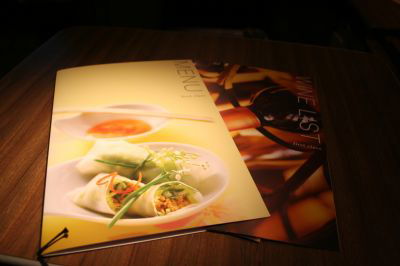 Menu and wine list
Moments later we were brought hot towels.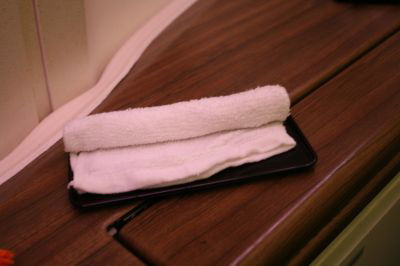 Hot towels
I'd like to point out that the first class cabin is great for just standing around. During boarding we were able to stand comfortably with drinks on the wooden tops of the suites without looking like complete idiots (I hope).
Eventually the other first class passenger was escorted to seat 1K, right in front of us, although the flight attendant suggested he move to seat 2A, which is on the other side of the cabin. He thanked her for the suggestion and agreed.
As boarding continued our flight attendant offered us Shanghai Tang pajamas and amenity kits.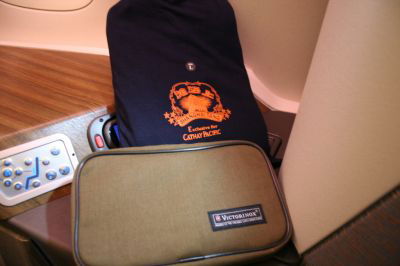 Amenity kit and pajamas
As the door was ready to close the captain came on the PA to welcome us aboard the flight, telling us our flight time would be a quick 14hr30min, and that we would be arriving in Hong Kong around an hour ahead of schedule. He went on to refer to our flight attendants as "safety professionals" and advised us to pay close attention to the safety video. This, along with his excessive use of the seatbelt sign and accent makes me think he used to work at a legacy.
Seconds after the door closed pushback began, at which point the safety video started playing. The safety video was entertaining, featuring mostly animations instead of real people. Shortly thereafter the cabin lights were totally dimmed, and the captain advised the flight attendants to prepare for takeoff. We rocketed down the runway, and after a long roll were airborne.
I was expecting the seatbelt sign to come off right as we passed through 10,000 feet, but there was no such luck. Instead it stayed on as we climbed through the dark and cloudy evening, and didn't come off until over 15 minutes after takeoff. As soon as the flight attendants heard the chime they sprang into action, starting with closing the curtains between first and business class and then the curtains between first class and the galley. They then adjusted the cabin lights from dark to the cool "mood" lighting.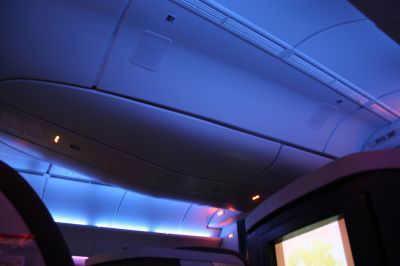 Cool mood lighting
I took that opportunity to snap a couple of pictures of the pajamas and amenity kit.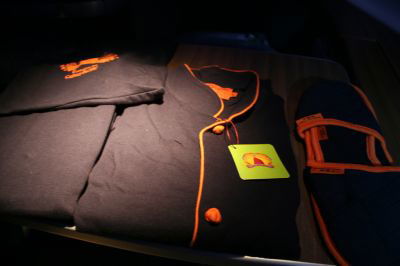 Pajamas and slippers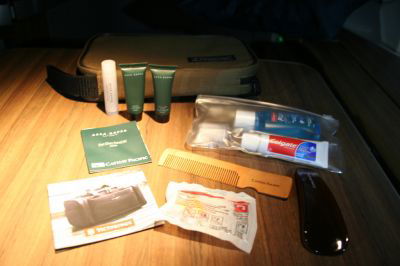 Contents of the amenity kit
The contents of the amenity kit were underwhelming. On Singapore Airlines, in contrast, you get a full bottle of Salvatore Ferragamo cologne. This felt more like a mediocre business class amenity kit than anything else.
I reclined my seat into a more comfortable position in preparation for the meal service. At this point the in-flight service manager introduced herself to us and asked us to let her know if we needed anything.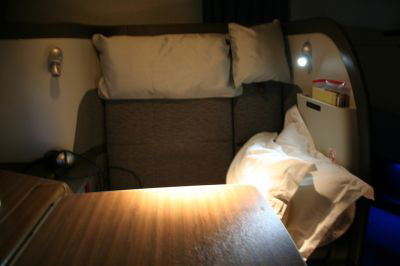 Seat and massive tray table
Our flight attendant then came around asking us what we'd like to drink and eat. The dinner menu read as follows:
Supper

Caviar, Smoked Salmon and Champagne
Caviar with Balik salmon "Tsar Nicolaj" with Krug grande cuvee

Starters
Seafood chowder

Mesclun salad with marinated bocconcini, pine nuts, kalamata olives and lemon herb vinaigrette

Main Courses
Grilled beef tenderloin with cognac cream sauce, garlic red skin mash potatoes, young carrots, turnip and zucchini

Mushroom ravioli with tomato, Parmesan and Alfredo sauce

Chinese Favourites
Double boiled chicken with young coconut soup

Cold plate – preserved vegetables with soy beans

Stir-fried lobster with ginger and spring onion served with steamed rice, stir-fried choy sum, carrots and mushrooms

Barbecued duck in noodle soup

Hot pot rice with minced pork patty with mushroom and water chesnut served with chicken broth

Snack
Crab cakes with tartar sauce and rocket

Cheese and Dessert
Mini Oka, Goat Herb Cheese, Cheddar, Cambozola

Ice cream

Fresh seasonal berries with citrus syrup

Crème brulee

Chocolate lava cake with vanilla ice cream and berry coulis

Black sesame soup

Tea and Coffee

Pralines and Cookies
And more importantly for most of you, here's the wine list:
Drink List

Juices
orange, apple, tomato

Soft Drinks
Coke Zero, Coke, Coke Light, Sprite, Perrier water, tonic water, soda water and ginger ale

Coffee
freshly brewed coffee, espresso, cappuccino and caffè latte regular or decaffeinated

Teas
Fuding jasmine silver fur, Anqi supreme Ti Guan Yin, Ceylon Japanese, Hong Kong style milk tea
organic selection: camomile, earl grey and peppermint

Hot Chocolate

Wine List

Champagne
Krug Grande Cuvèe Champagne
Made from the finest wines from the Marne district of Champagne, Krug Grande Cuvèe is known throughout the world for its unique qualities of elegance, fine mousse and distinctive flavor. Skilful blending under the personal control of Henri Krug makes the Grande Cuvèe an exceptionally harmonious champagne in the unique Krug style.

White Wines
Cuvaison Estate Selection Chardonnay Napa Valley Carneros 2004
The 2004 Cuvaison Estate Selection Chardonnay has a fabulous nose with layers of tropical fruits. The palate is succulent, rich and plush with notes of clove, white peach and key lime. This is a beautiful wine with a delightful combination of rich fruits and a bright beam of acidity and a long persistent aftertaste. It makes an excellent accompaniment to white meat dishes.

Bouchard Père & Fils Meursault Les Clous 2005
Meursault is a large village located in the southern part of the Cote de Beaune, Burgundy, France, which produces some of the best Chardonnay wine in the world. The 2005 Bouchard Père & Fils Meursault Les Clous possesses a stony, mineral nose allied to pithy citrus fruit, whilst the palate has a bright fresh acidity to complement supple, moneyed fruits with a light touch of oak. It is pure with a silky structure. Fish and poultry dishes with cream sauce will pair wonderfully with this wine.

Red Wines
Domaine Jacques Prieur Beaune Champs Pimont Premier Cru 2005
The Jacques Prieur Estate is one of the most prestigious estates in Burgundy. This Cote de Beaune Premier Cru is deep ruby in color and presents a concentrated nose, rich in vibrant red fruits and spice. The palate is silky rich, with a beautifully integrated ripe tannic structure. Supple and richly textured, this wine is best suited to roast meats, poultry and fine cheeses.

Felipe Rutini Reserv Malbec 2006
Felipe Rutini Reserve Malbec is made from the best grapes from vines which are up to 65 years old, grown in San Carlos, Mendoza, Argentina, at 1,000 meters above sea level. The 2006 vintage has a concentrated nose with notes of wild berries, tobacco and vanilla. The palate is full, with rich black fruit flavors and a long, lingering finish and a touch of black pepper. This rich and complex wine could be enjoyed with red meat dishes.

Chateau Lynch Bages 20014
The 2001 Chateau Lynch Bages is a ruby garnet in color. It is pure and lush with aromas of black olives, cedar, blackcurrant and liquorice. This seductive wine is full-bodied with soft tannins, an excellent accompaniment to roast beef, braised lamb and numerous Chinese dishes.

Port
Ramos Pinto Quinta de Ervamoira 10 Year Old Tawny Port
Produced from grapes grown in the vineyard Quinta de Ervamoira, this tawny offers all the maturity of an aged wine while still displaying the vigour of youth. It is smooth and full bodied, with aromas and flavors of apricot and plum balanced with vanilla scents from the aged casks.

Aperitifs and Cocktails
Campari
Martini Rosso
Matrini Extra Dry
Tio Pepe Sherry
Harveys Bristol Cream Sweet Sherry
Gordons Dry Gin
Stolichnaya Russian Vodka
Bloody Mary
Screwdriver

Whiskies
Chivas Regal 12 Years Old
Johnnie Walker Blue Label
Canadian Club
Gentleman Jack Bourbon
Glenfiddich Ancient Reserve Single Malt Whisky

Cognac
Tesseron Lot 76 XO Tradition

Liqueurs
Grand Mariner
Cointreau
Drambuie
Kahlua
Bailey's Irish Cream

Beer
International selection

CX signature drinks
Oriental Breeze
A sour-plum tea and cranberry juice based non-alcoholic drink with honey and fresh lemon juice and a hint of rose water.

Cloud Nine
A refreshing combination of Vodka, Cointreau and Sprite with a refreshing touch of lemon flavor.
As much as the thought of a five or six course meal scares me, I try to have a little bit of everything, if for no other reason than to snap a quick picture. I went with the caviar, chowder, salad, ravioli, and dessert. My dad went with the same, except he took the beef for the main course. Our flight attendant asked if we wanted to dine together, and we agreed. At first I didn't really like the idea since I didn't think all the food could fit on a single tray table, but they actually have a table "extender," which makes dining together a more comfortable experience. My dad came over to my seat and sat on my ottoman, which he found comfortable. For those thinking I'm rude for making him sit there, the lighting is better from the main seat, and I needed that for picture taking…. or maybe that's just a convenient excuse.
Within a few minutes our friendly flight attendant set our table and brought out our drinks. She was sociable, friendly, and constantly smiling. The first course was caviar and salmon.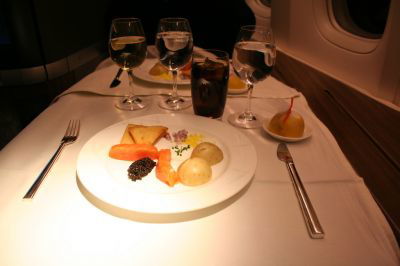 Caviar and salmon
I was extremely impressed by the presentation. I love Cathay's glassware, silverware, and plating. The flight attendants paid incredible attention to detail, which is always something I appreciate. They were certain the logos were always facing the right direction and that everything was placed on the table symmetrically.
One of the two flight attendants taking care of us constantly came by to check on us, and service was particularly attentive because the other passenger in first class decided to sleep after takeoff.
The seafood chowder came shortly after we finished our first course. It too, was delicious. This is also when they delivered the "bread basket." I love bread, so I was happy to see it. The basket also contained garlic bread. Yum!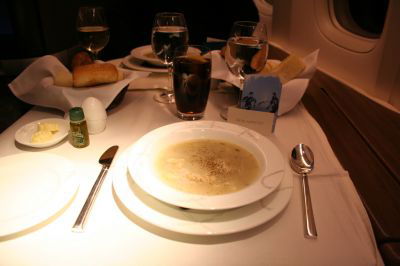 Seafood chowder
You'll notice the right side of the table has a football card and a Bon Appetit card, as shown below.
Written inside the card was:
Dr. Mr Lucky,
It is a pleasure to have you on board.
<3 May Linng & Winnie
When we commented to May what a nice touch it was, she said "I wrote it myself, enjoy."
Once the seafood chowder was finished, May brought the salad out. It was delicious and tasteful.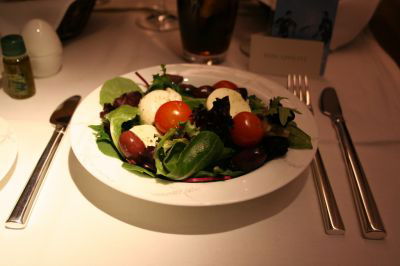 Salad
Drinks were constantly being refilled, and within a few more minutes the main course was delivered, which was ravioli for me and beef for my dad.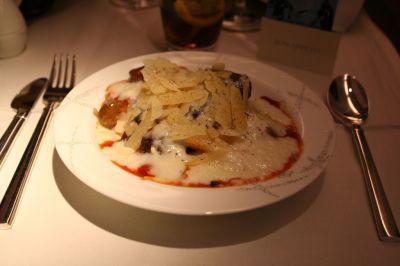 Ravioli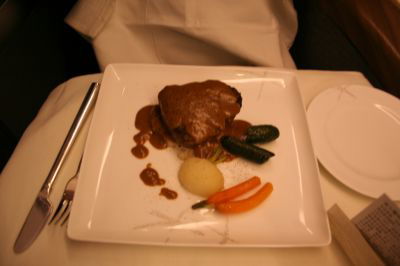 Beef
Most of you are probably wondering why the hell I'd go with ravioli in international first class. The answer is simple: 1) I wanted a picture of different meal options and 2) I wasn't really hungry by the time the main course came around, so didn't feel as bad "wasting" a bowl of ravioli.
As we wrapped up the main course May came around with a big plate with different types of cheese. I was saving room for dessert so passed, but my dad asked for a little bit of everything.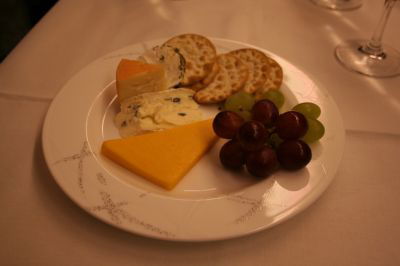 Cheese course
May advised me that it would be about 15 minutes before dessert was ready, since they were still heating up my lava cake. She commented that it smelled so good and that she was certain I'd enjoy it.
Well, she was right on both counts. It took about 15 minutes, and damn was it good!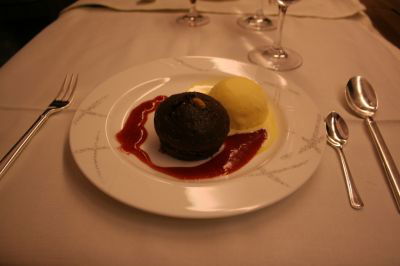 Chocolate lava cake with ice cream
My dad went with the crème brulee, which I tried as well. Incredible!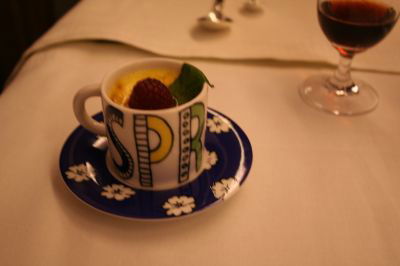 Crème brulee
Coffee, tea, and chocolates were offered, all of which I declined. I was impressed by the meal service, and I'd say the overall presentation was better than that of Singapore Airlines in first class, and the rest was just about on par.
While I thought I'd be exhausted after dinner given that it was after 2AM, I wasn't. We had another 12hr30min to go till landing, and I was feeling awake as ever. I went to the lavatory to change into pajamas, and May asked whether I'd like my seat make into a bed. While I wasn't planning on sleeping yet, I figured it would be comfortable to watch TV while reclined in "bed." As I went to the lavatory I saw one of the "second officers" along with the "first officer" standing in the galley chatting with the flight attendants.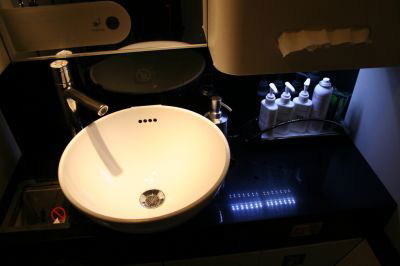 The nicest sink I've ever seen on airplane!
Sure enough the bed was fully made by the time I got back to my seat.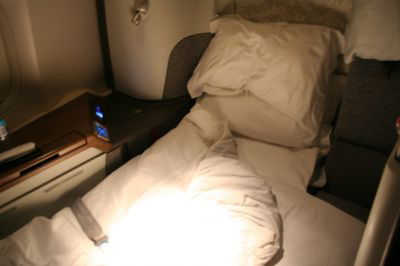 My seat in the reclined position
In addition, a bottle of water, towel, chocolate, and toothpicks were placed on the console on the side of my seat.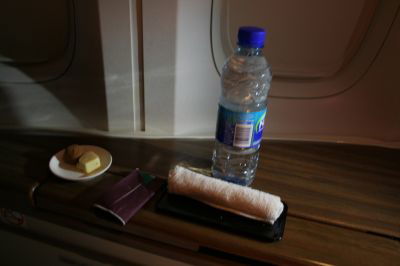 Nice touch!
At this point in the flight I didn't have the attention span to watch a whole movie, so I just watched a few sitcoms, including episodes of Two and a Half Men (one of my favorite shows), The Simpsons, The New Adventures of Old Christine, and The Onion News Network. Cathay has a huge variety of movies, shows, games, etc. It's impossible to get bored from their selection. I'd say it's even a notch above Singapore's selection.

Movie menu
What was a bit disappointing, on the other hand, is that I didn't see either of our flight attendants pass through the cabin once during this time. I'm not sure whether this is intentional or not, given that it's a night flight and they may want to limit "foot traffic" through first class, but it was disappointing. On Singapore they're constantly roaming the aisles without seeming overly-attentive, and I like that. Don't get me wrong, when I pushed the call button they were there within 10 seconds with a smile, so it's not like I felt I was bothering them. It's just that the service didn't feel quite as attentive as I expected from the world's best airline.
Before I knew it we were down to ten hours left in-flight, so I decided it was time to sleep. I closed my eyes, only to wake up with about five hours left to Hong Kong! Nothing beats waking up refreshed, and I was feeling good. This is a bold statement since I haven't tried every first class product in the world, but I would be willing to bet Cathay has the best mainstream first class seat in the industry. There's not one thing I would change about the seat, and that's saying a lot since I *always* find problems with seats.
I decided it was time to try something out from the snack menu, which was quite limited.
Snacks

Braised beef brisket in noodle soup

Ice cream
When I rang the call button May informed me they also had crab cakes, so I went with that, along with some ice cream. My dad went with the noodle soup. Both options were fantastic.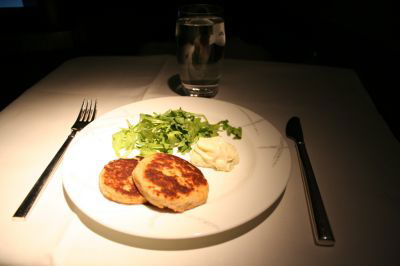 Mid-flight snack of crab cakes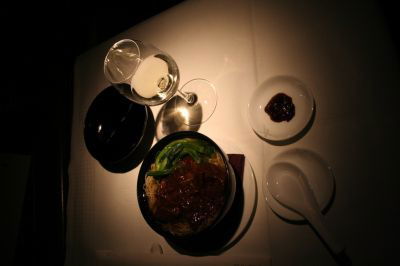 Beef noodle soup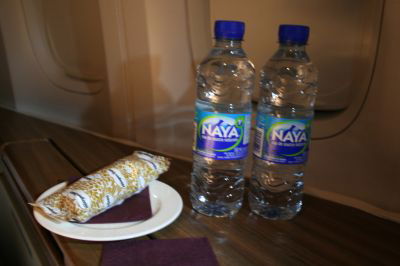 Ice cream
I watched another sitcom, only to fall asleep half way through. I got another two hours or so of rest, and woke up just in time for breakfast. My dad was awake as well, so we decided to have breakfast together. The breakfast menu reads as follows:
Breakfast

Starters
Orange juice or apple juice

Strawberry, kiwi and banana energiser

Fresh seasonal fruit

Natural, fruit or low fat fruit flavored yoghurt

Assorted cereals

Main Courses
Eggs ~ freshly scrambled, fried or boiled served with your choice of grilled Canadian ham, streaky bacon, pork sausage, bubble and squeak or Roma tomato

Assorted Chinese dim sum

Chicken and abalone congee with spring onion pancake

Bread Basket
Assorted breakfast bread and fresh toast served with preserves, honey and butter

Tea and Coffee
May took our orders and once again added the table extender so that there would be plenty of room for both of us to dine. She also gave us immigration cards, which I promptly filled out.
I lost count of the amount of silverware, glassware, china, and service items placed on the table, but suffice it to say that it was an impressive sight.
I went with orange juice, coffee, fruit, yoghurt, toast, cereal, and scrambled eggs without anything on the side. The service was done at a leisurely pace, which was nice given that we had two hours until our arrival. First came the fruit and toast. The fruit was fresh and a great start to what would be a long day, given that we were arriving at around 4AM.

Fruit, toast, and juice
Once we both finished our first course the cereal was brought out, which was Corn Flakes.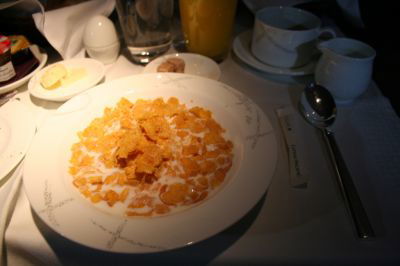 Cereal
Then came the yoghurt. Now I realize I pay a bit too much attention to detail at times, but what's up with serving yoghurt in a yoghurt container in international first class? Come on Cathay, put it in a bowl to make it look nicer like every other world class airline does.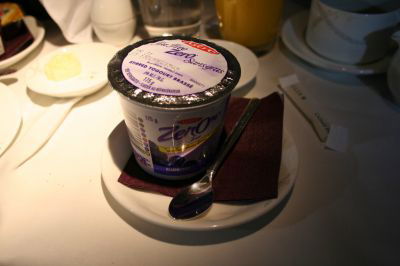 Yoghurt
Then came the main course. My dad went for breakfast "with all the trimmings," and I asked for scrambled eggs. Unfortunately I got fried eggs instead, but that problem was quickly corrected.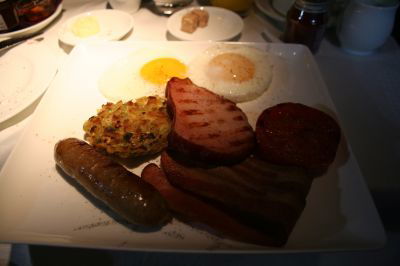 My dad's full breakfast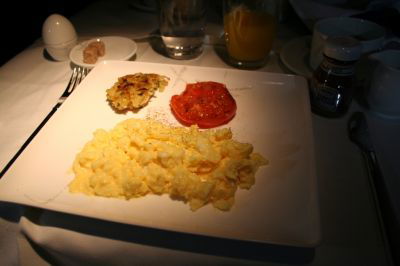 My scrambled eggs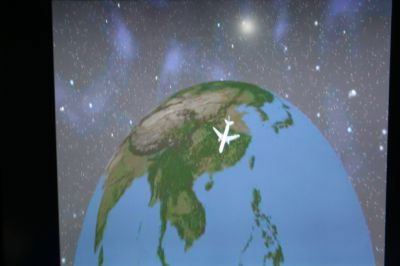 Our location on the map during breakfast
By the time our table was cleared we were beginning our initial descent, a whopping hour early! The captain came on the PA advising us about Hong Kong weather conditions and our early arrival, ending with "cabin crew, 30 minutes till arrival."
The flight attendants began preparing the cabin for landing, and due to some bumps on the descent the seatbelt sign was turned on over 20 minutes out. I changed out of my pajamas and put my seat into the upright position and sat watching the airshow. We flew around the airport a couple of times before beginning our approach and landing on runway 7L (if I recall correctly). After a lot of thrust and brakes and a quick taxi, we were at the gate. As the seatbelt sign was turned off the flight attendants quickly jumped up and closed the curtains between first and business class. We thanked our crew for a great flight and disembarked into the empty (for once) HKG airport.
So before I go any further, how would I rate Cathay Pacific first class? Amazing! I'm convinced the seat and entertainment are the best in the sky. The food service was slightly better than Singapore's, in my opinion, and the service was good. There was a bit of "we're the best airline in the world" attitude missing in the service as outlined above, but don't get me wrong, the flight attendants were friendly and efficient.
Anyway, customs and immigration was a breeze. We were the first to clear customs and also the second to get our bag, so we were landside by around 4AM.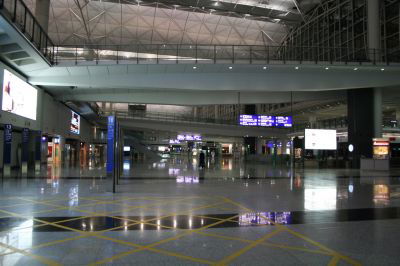 HKG EMPTY!
Now, in all fairness I knew that the arrivals lounge only opened at 5AM, although I was thinking maybe they'd open it early given that our flight got in so early. No such luck. Maybe it's just me, but I find it a pretty poor performance to offer an arrivals lounge, only to not have it open upon arrival. At the very least they should train their employees in Toronto to remind passengers that "The Arrival" only opens at 5AM.
Furthermore, finding "The Arrival," which is located between terminals one and two, can be a challenge. Nowhere is it explained (not even on the invitation), so it's a good thing I read a review the night before leaving talking about how hard it can be to find. The fact that there are no directions is ridiculous, in my opinion.
Since we had time to kill we walked around the terminal for a while, which can be fun when it's totally empty. At around 4:45AM we went towards the lounge, which was still closed.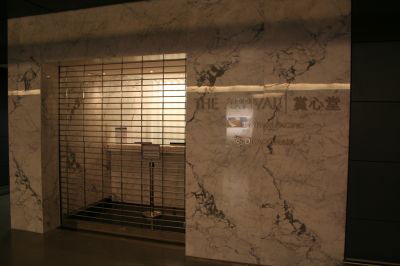 The entrance to "The Arrival"
A few minutes before 5AM the gate opened, and we were the first (and only ones) in. For those wondering, "The Arrival" is open to first class passengers and OneWorld Emerald members (top tier), regardless of cabin of service.
"The Arrival" was small, but it served its purpose. It had a small dining area, eight showers, several PC's, and a few Mac computers.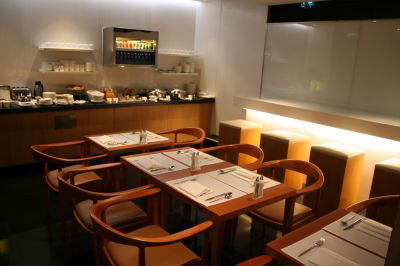 Dining area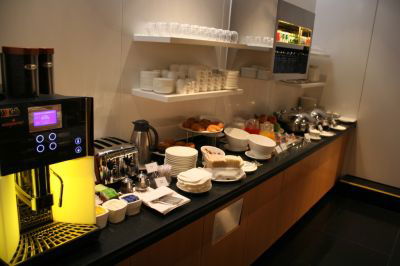 Food options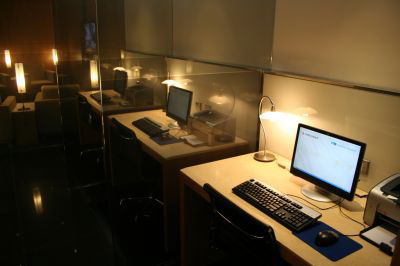 PC's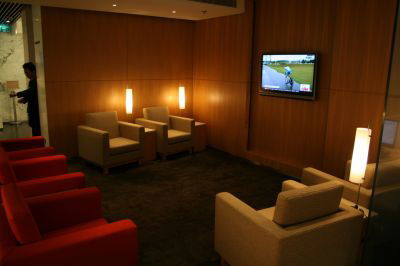 Sitting area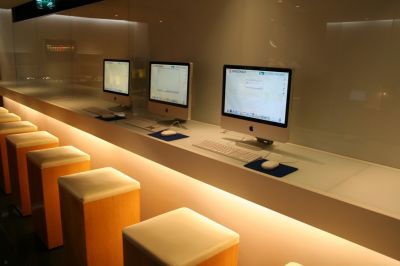 Mac computers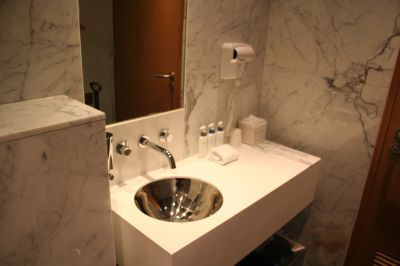 Shower room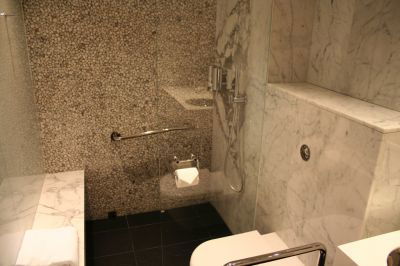 Shower
The internet was fast, the food selection was good (although we weren't hungry), and the lounge was basically empty the whole time we were there. My one minor complaint would be the shower rooms. First of all, there's no barrier between the shower and the rest of the room, so water flows quite freely. Second of all, they have shampoo and body wash dispensers. I think it would be nice to have individual bottles for passengers, although if you don't want to invest in that, at least make it so that the bottles dispense properly!
Arrivals lounges are rare among airlines in Asia, so kudos to Cathay for investing in this service.
At around 6:30AM we decided to head downtown to the Grand Stanford in hopes of being able to check-in early. We were refreshed, clean, and ready to enjoy the day!