We proceeded to Cathay Pacific check-in to reprint our boarding passes for our ongoing journey to Hong Kong. While we had initially selected seats 2A and 2K, we were informed that seat 2A was inoperative. Instead, my brother was placed in 1A. The agent was very professional in handling the situation and apologized profusely. He printed us our boarding passes all the way to Bali, along with lounge passes for both San Francisco and Hong Kong.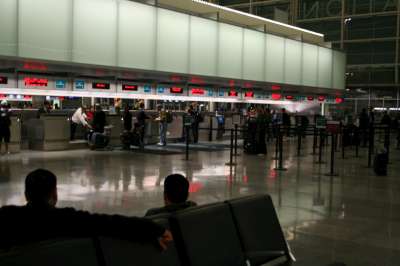 Cathay check-in at SFO
We proceeded to security, where we waited for about five minutes in the "premium" line. As luck would have it, I was once again randomly chosen to go through the full body scanner, which I again refused to do. The agent rather rudely asked me why, and I responded with "because." I could never say that to my mother, so I figured I'd at least get it in while I could. Had he asked nicely I would have given him an honest answer, but being a jerk when I'm not required to answer a question isn't the right approach to take.
After a really quick pat down I was sent on my way, and we proceeded to the British Airways lounge, which Cathay Pacific uses at SFO. The agent, while dressed in a Cathay Pacific uniform, seemed to be there "primarily for our safety," based on the magazine she was glued to as we approached. She let us into the lounge, although didn't direct us to the first class room (although we found our own way there quite easily).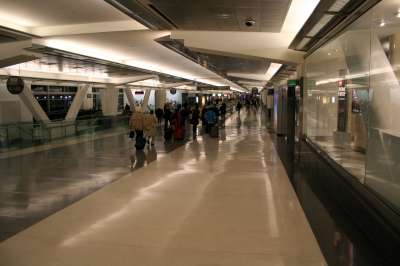 International terminal A airside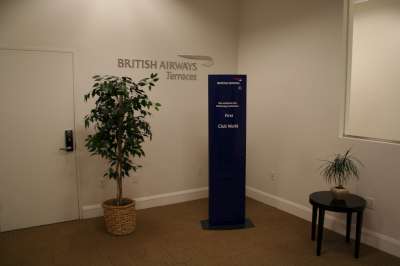 Entrance to the British Airways Terraces lounge
The first class lounge was pathetic. It was tiny and packed, and had nothing but basic snacks. Not that I wanted a meal after that American flight and before a huge dinner on Cathay, but it seemed like a Red Carpet Club at best. Nothing "first class" about it. Also, it seemed like anyone could enter the first class lounge. It was just separated by a door which was left open most of the evening.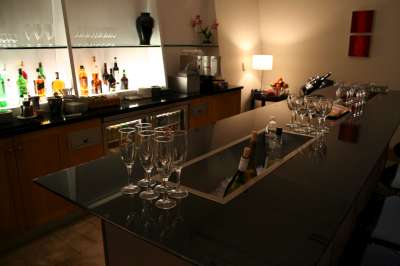 First class serving area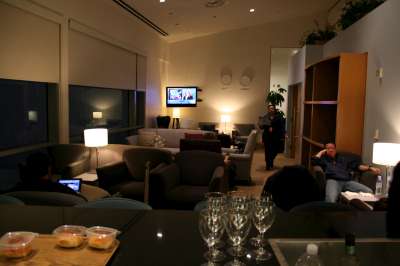 First class lounge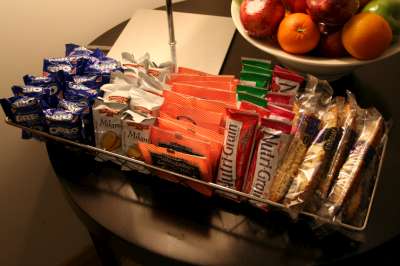 Snacks…. seriously?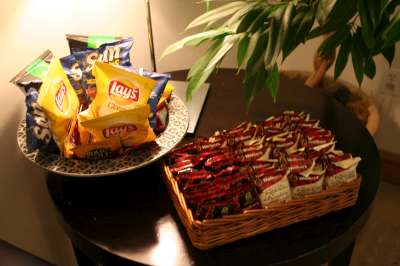 Fo' real?
My brother wanted to take a quick shower before the flight, so I took the opportunity to snap a picture of the shower room.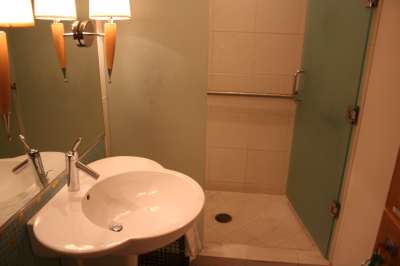 Shower room
I took a quick peek at the business class lounge, which was much less crowded although not exactly nice either.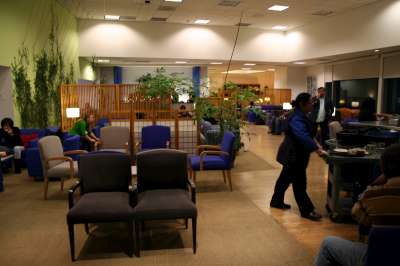 Business class lounge
After browsing the web for a bit, boarding was called. One of the (few) nice things about the lounge is that they board the plane directly through the lounge. Of course that also makes it a bit of a cattle call experience, with 60 people lining up at once to board. We were towards the end of the line, but soon enough it was our turn and we were thrilled to be walking down the jet bridge onto the jumbo that would be taking us to Hong Kong.
Cathay Pacific 873, SFO-HKG, 747
Monday, March 8
Depart: 12:05PM
Arrive: 6:50AM +1
Duration: 14hr45min
Seat: 1K (First Class)
There aren't all that many thrills in life greater than boarding a Cathay Pacific 747 and turning left into the nose. As I boarded the in-flight service manager directed me towards my seat, explained to me that I could store my bags in my personal closet, and offered to hang my coat for me. As soon as I settled in I was offered something to drink by a flight attendant that introduced herself as Faith, assuring me she would be taking good care of us throughout the flight, along with her colleague Astor. And you can bet they did.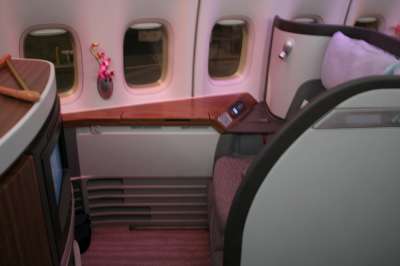 Seat 2K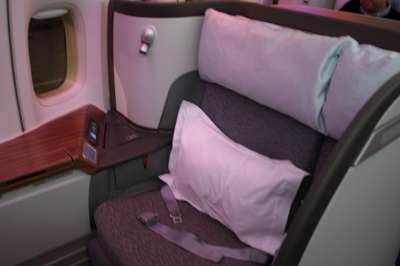 Very comfy!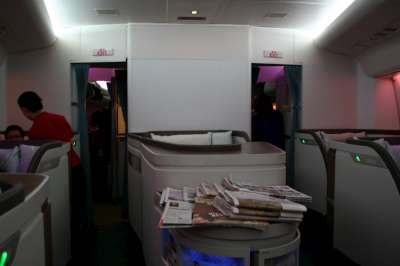 Sleek cabin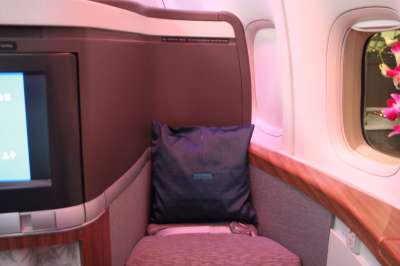 Ottoman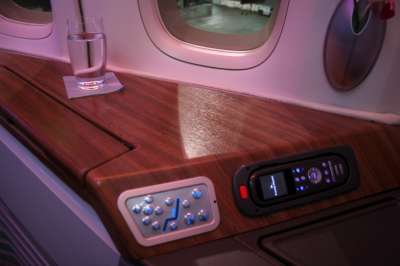 Pre-departure water
Eventually the lady seated in 1K showed up, noticing that my brother and I were traveling together. She graciously offered to switch seats with me, so I moved up to seat 1K, right in the nose.
As we settled in Faith came around to offer us pajamas. She asked what size I wanted, and I said medium. She said "hmm, I think large would be better." I assured her medium would fit, and she eventually budged. She also offered newspapers, magazines, and a Bally amenity kit. I took the opportunity to immediately change into my pajamas — one less thing to worry about after takeoff.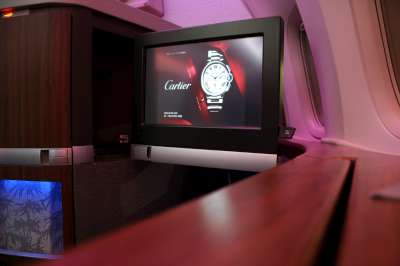 View from seat 1K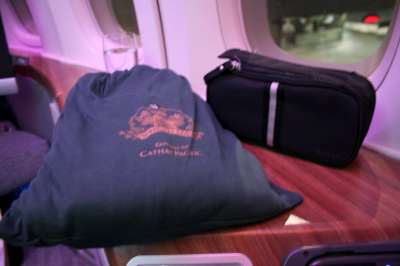 Shanghai Tang pajamas and Bally amenity kit

Moments later I was offered a warm towel.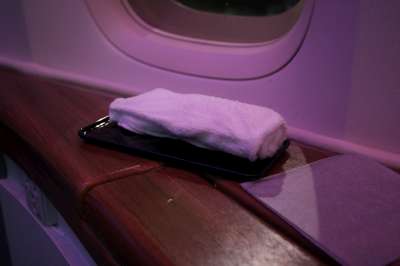 Warm towel
After a few texts and last minute phone calls the door was just about ready to close, and Captain Beech came on the PA with his fancy accent (yes, Cathay pilots consistently have "fancy" accents) to welcome us aboard. I couldn't help but smile when he informed us the flight time would he 14hr9min and that we would be arriving in Hong Kong right on schedule. He said we'd hear from him again only on the descent into Hong Kong so that we could enjoy a restful night.
In no time the safety demo started playing and we began our taxi over to runway 28R. Now SFO is probably the airport I frequent second most often, and it's usually on a boring United domestic flight. There's something exciting about taxiing out to the runway on the sexy, sleek Cathay Pacific 747s. Actually, one of the things I was looking forward to most was taking off on runway 28R, the slightly longer runway at SFO. On many occasions I've flown out of SFO listening to Channel 9 on United, as air traffic control tries to give a Cathay flight runway 28L for takeoff, as the captain proudly boasts to the air traffic controller that it's not long enough for him, and that he'll instead need full length runway 28R. For once that would be us!
Now here's the real highlight — as we got to the main taxiway we started following a Singapore Airlines B777-300ER, coincidentally, the Singapore Airlines flight that also flies to Hong Kong. It's just amazing to think that the planes are so close to each other, and will once again be right by each other on the other side of the globe, after having traveled about 7,000 miles separately. Of course I knew that while they would be taking off before us, we'd beat them there. I was actually kind of curious by how much, as I later found out.
After a reasonably long takeoff roll (although I was expecting a bit longer, thinking back with fond memories to my flight from Chicago to Hong Kong on United, as we took up almost every last inch of runway) we were airborne and on our way to Hong Kong. Our initial climb out was slow, but within a few minutes the seatbelt sign was turned off and the UNICEF video started playing throughout the cabin.
While I was tired, my excitement kept me up. As we leveled off the inflight service manager, Alex, introduced himself to us, giving us more information about the flight. The cabin soon brightened courtesy of the soothing mood lights.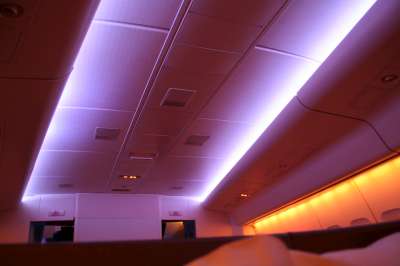 Lighting
Shortly thereafter Faith handed us the dinner menus and hot towels and asked us what we'd like to drink. I went with a Diet Coke with lemon, because unfortunately Cathay Pacific doesn't seem to have lime. This was promptly served with a ramekin of cashews.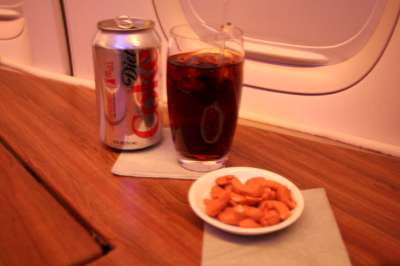 Diet Coke and cashews
At that point our dinner order was taken, and my brother and I indicated to the flight attendant that we wanted to dine together, as she called over her colleague to set up the table extender.
The dinner menu read as follows:
Supper
Caviar and Fine Smoked Salmon
Caviar and fine smoked salmon

International Favourites
Fennel and apple soup with caramelized fennel and dill

Mesclun salad with tear drop tomatoes, cranberries, pecans and balsamic vinaigrette

Grilled prime New York steak with fingerling potatoes, young zucchini, carrots, beets, roasted shallots and garlic
or
Lobster and crab ravioli with roasted red pepper coulis and balsamic glazed asparagus

Chinese Favourites
Pork with mountain yam and wolfberries soup

Cold plate – Marinated Gluten with cucumber

Kung po chicken with steamed rice and stir-fried mixed vegetables

Cheese and Dessert
Cambozola, Yellow Cheddar, Munster, Herb Goat Cheese

Fresh seasonal berries with cream

Bread and butter pudding with Vanilla ice cream and chocolate sauce

Black sesame dessert

Tea and Coffee

Pralines
And the wine list read as follows:
Champagne
Krug Grande Cuvee Champagne

White Wines
Wente Riva Ranch Chardonnay 2006
Henri de Villamont Meursault 2005

Red Wines
Bouchard Pere & Fils Morgon 2009
Felipe Rutini Reserve Malbec 2006
Chateau Lynch Bages 2003

Port
Ramos Pinto Quinta da Ervamoira 10 Years old Tawny Port
Ah, lovely! Since it was my brother's first Cathay dining experience, we decided to go all the way — caviar and salmon, soup, salad, main, and dessert.
Within minutes of our order being taken our table was set and our silverware was meticulously placed onto the table. You know airlines that give you the "tingle" feeling? Where you have that feeling where your head tickles as a result of the deliberate actions on the part of someone else? That's what really separates world class airlines, and Cathay gave me plenty of "tingles." The precision with which every aspect of the service was performed amazed me. The flight attendants always ensured all the logos were facing us, that the silverware was precisely placed, and as the Faith delivered each course she would wave her hand at the food after serving, as to gesture that we should enjoy the meal, followed by a "please enjoy."
The first course, consisting of caviar and salmon, was phenomenal as usual.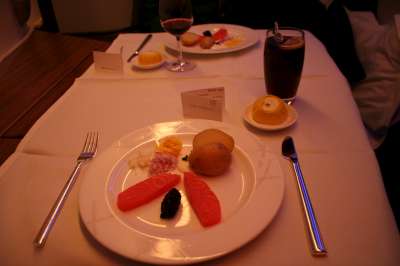 Caviar and fine smoked salmon
Next came the soup, which was a bit sweet for my taste but still good.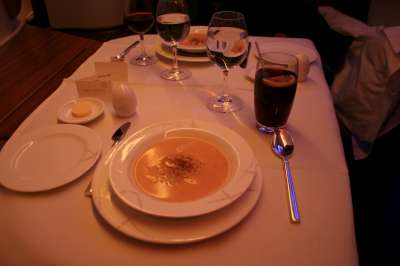 Fennel and apple soup with caramelized fennel and dill
At that point the bread basket was brought out, consisting of four pieces of bread.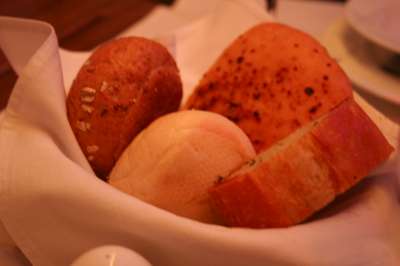 Bread basket
Next came the salad, which was once again very tasty.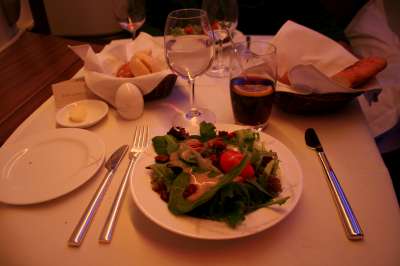 Mesclun salad with tear drop tomatoes, cranberries, pecans and balsamic vinaigrette
For the main course I went with the steak while my brother went with the Kung po chicken. I haven't commented a whole lot on the service, because frankly it was flawless. The courses were delivered at our pace. As we were on our main course others were on their dessert while others were on their appetizers. And the flight attendants had their hands full with seven out of nine seats taken, but it didn't show.
It's also worth noting that I was seated in the ottoman, while my brother was in the seat. Most might think an ottoman is uncomfortable, but it really isn't. It's quite spacious, even for a 1.5 hour dinner.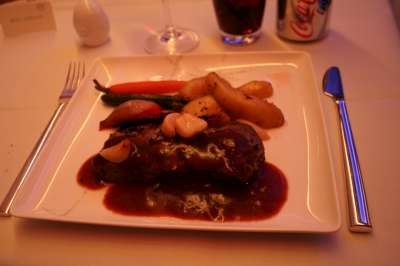 Grilled prime New York steak with fingerling potatoes, young zucchini, carrots, beets, roasted shallots and garlic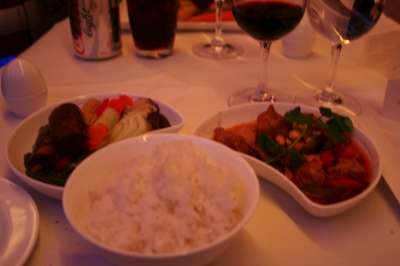 Kung po chicken with steamed rice and stir-fried mixed vegetables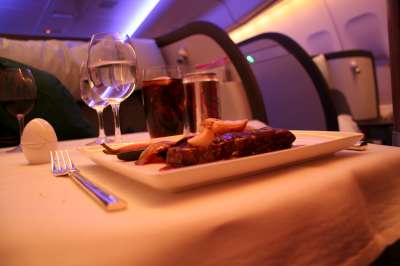 Main course
As we finished the main course we were asked for our dessert selection, and we both went with the bread and butter pudding with ice cream. We were informed it would be about eight minutes as they heated it up, and it was indeed delivered eight minutes later. While the dessert was delicious, the ice cream was rock solid. While I realize it's a challenge to "coordinate" ice cream when you have seven people dining at different paces and you don't know what they want for dessert, it really shouldn't happen. I couldn't even stab the ice cream with a knife, that's how hard it was.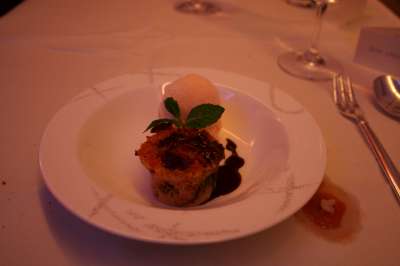 Bread and butter pudding with Vanilla ice cream and chocolate sauce
To finish off the meal we were offered pralines, a hot towel, and a toothpick, along with bottled water.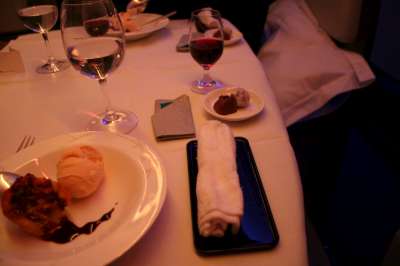 Pralines, hot towel, and toothpick
Faith asked whether she should go ahead and make my brother's bed as we finished up dinner, which he of course accepted. As soon as that was done they cleared our table and made my bed as well. Without even taking a look at the incredible selection of movies available on "Studio CX," Cathay's entertainment system, I decided it was time to sleep. We had 12 hours to go to Hong Kong, so I figured I could get eight hours of sleep and still have a few hours to go. Besides, we had three more Cathay flights to enjoy, so sleep was a priority.
The beds on Cathay Pacific are among the most comfortable beds in the sky. The bedding is great, the pillows are plush, and there's plenty of room to stretch out.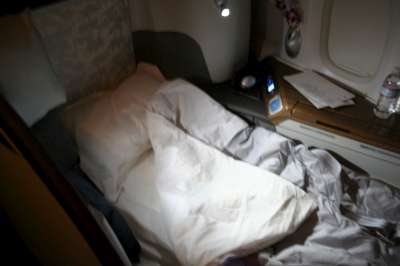 My brother's bed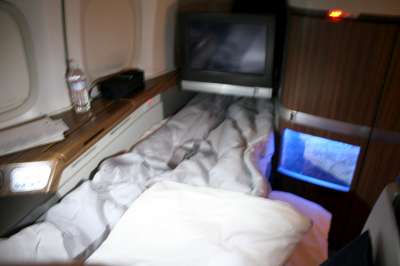 My brother's bed
As I had hoped, I slept for a solid eight hours. I woke up with four hours to go to Hong Kong, and decided to play with the entertainment system a bit. I didn't have the attention span to watch a whole movie, so instead settled on about six episodes of Two and a Half Men. After an episode or two I decided to sample something from the snack menu, which read as follows:
Snacks
Maryland crab cakes with tartar sauce

Smoked chicken panini with Mesclun salad

Wontons with noodle in soup

Haagen-Dazs Ice Cream

From our series of classic signature dishes
Hot pot rice with minced pork patty with water chestnut and mushrooms, served with chicken broth
I remembered how great the crab cakes were on my last Cathay Pacific flight, so I went for that, along with a sparkling water with lemon. And the crab cakes didn't disappoint.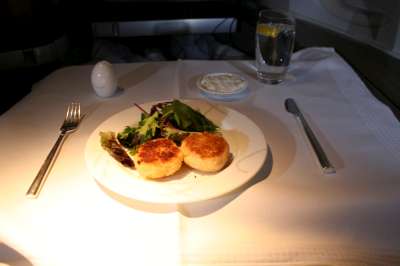 Maryland crab cakes with tartar sauce
After my Two and a Half Men marathon and an episode or two of The Big Bang Theory (funniest show ever) Faith asked me what I would like for breakfast. The menu read as follows:
Breakfast
Starters
Orange juice or apple juice

Mango smoothie

Fresh seasonal fruit

Natural or fruit yoghurt

Assorted cereals

Main Courses
Eggs~freshly scrambled, fried or boiled
served with your choice of grilled Nuernberger sausage, apple wood smoked bacon, rosti potato, mushrooms or Roma tomatoes

Dim Sum Served with chili sauce
Shrimp dumpling, siu mai, mini glutinous rice wrapped in lotus leaf and crabmeat dumpling

Lobster congee with spring onion pancake

Bread Basket
Assorted breakfast breads and fresh toast
Served with preserves, honey and butter

Tea and Coffee
My table was immediately set, although this time my brother and I decided to dine separately (let's be honest, The Big Bang Theory is much funnier than he is). 😉
The amount of china Cathay Pacific uses for their breakfast service never ceases to amaze me. First I got an orange juice, smoothie, and coffee, along with toast and fresh fruit.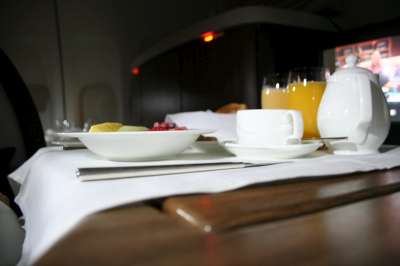 Breakfast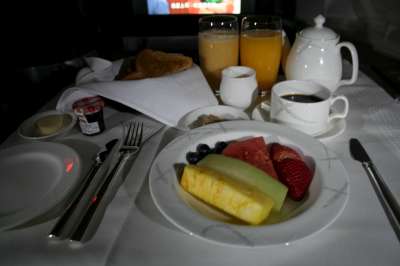 Breakfast
Next came muesli and strawberry banana yogurt.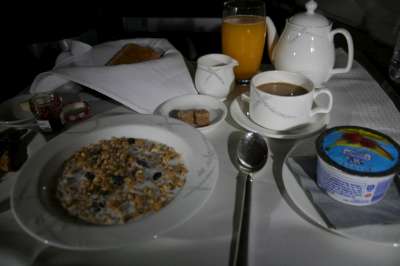 Muesli and strawberry banana yogurt
And finally scrambled eggs with all the trimmings (even though I asked just for hash browns).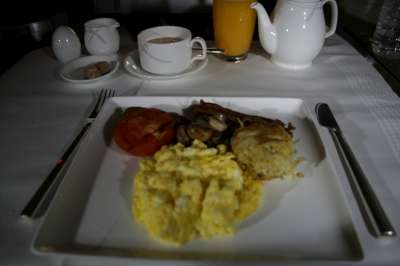 Scrambled eggs
As I finished up breakfast the sun began to rise on the left side of the aircraft, which was beautiful.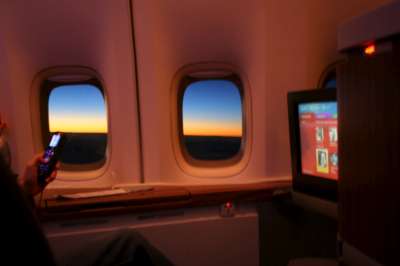 Sunrise
All too soon our 14 hours was coming to an end as Captain Beech once again came on the PA wishing us a pleasant morning and advising us that we had 30 minutes to go to Hong Kong. He mentioned there was a bit of a monsoon in Hong Kong, so we should expect some bumps on the way down.
As we began our initial descent there were indeed quite a few bumps, which only got worse the lower we went. There were no views to speak of, except for our final approach. There's one thing that's incredible about sitting in the nose of the 747 — being able to see forward, basically outside the front of the aircraft. Seeing the runway lights of HKG was just spectacular, and I could basically see the runway up until touchdown. This had to be one of the coolest "aviation geek" moments of my life.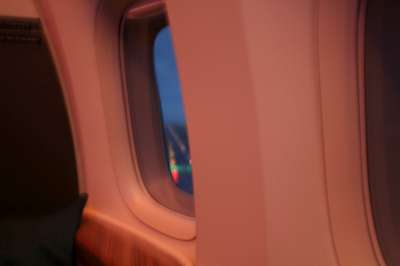 View out the front of the aircraft
With a graceful landing and a quick taxi to the gate, most of the outbound journey was behind us. As we bid farewell to our two excellent flight attendants and in-flight service manager, I was looking forward to a shower in The Cabanas and finally relaxing in Bali.