I realize I probably pay more attention to aircraft product types than most, so when I share these minor observations I assume I'm only speaking to about 1% of you. But that won't stop me. A few days ago I shared possible signs of Thai Airways' first Airbus 380 route, which will feature their brand new first class product.
The great news is that they're actually reconfiguring several of their 747s with the new first class product as well, as discussed in Aircraft Interiors International and viewable below: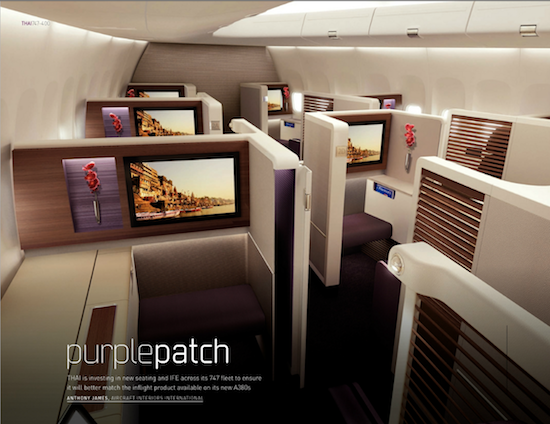 This will be a huge step up from the current first class product on the 747. As a refresher, Thai currently has two types of 747 configurations. One type is their more modern longhaul configuration, which I just flew from Bangkok to Hong Kong a few weeks ago. It's a perfectly nice product, though nothing cutting edge. Then they have their ancient first class product, which they operate on select regional and longhaul flights. That being said, for the routes on which they fly the aircraft longhaul, they only market the first class product as business class, given how lackluster it is.
Anyway, it looks like Thai plans on launching the new configuration on TG920/921 between Bangkok and Frankfurt starting August 1, 2012.

The way you can tell is that the seatmap for the flight shows the new configuration, which only has nine seats: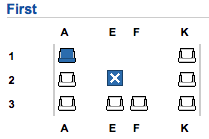 The old configuration, on the other hand, has 10 seats: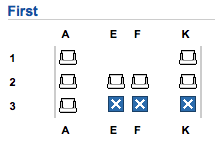 Anyway, while the cabin type seems to be loaded into the system, keep in mind that the route and especially date the aircraft will be featured on are subject to change. But nonetheless if you have the choice between a couple of flights, you might as well go with the one which maximizes your chances of being on this aircraft.
Apparently the aircraft will start flying the Munich to Bangkok route as of the middle of August as well, once a few more planes are reconfigured.
Thai's first class ground experience in Bangkok has always been spectacular, so it's nice to see them stepping up their in-flight product as well!