---
Ah, driving in Manila on Sundays is such a joy. For the first time in Manila our cab moved at an average of more than 5km/hour, so we made it to the airport in about 15 minutes. Our cab driver was rather cheery and started repeatedly honking his horn and making hand gestures to the cab driver next to us. For a while we couldn't figure out why he was so angry, but then he laughed and said "he my friend."
We arrived at the airport at around 9AM, a good two hours before our flight. The Manila airport security circus is a fun one. First the cab was searched as we arrived at the airport. Then our bags were scanned and tickets were checked as we entered the building, which was painless enough. Cathay check-in was right near where we entered, so we proceeded to the business class counter, which had no line (there was no first class counter, probably because most Cathay flights to Manila only have two cabins).
As we approached the counter we noticed a sign which read "WET PAINT," so we kept our distance. The agent was friendly and gave us our boarding passes within no time.
We proceeded to security, although first we had to wait in line to pay our departure tax and have our passports stamped. Don't worry, I won't rant too much about departure taxes, but I find it to be one of the most annoying "taxes" in the world. Unfortunately the line was nearly half an hour despite only having about a dozen people in front of us. One bad part of getting used to premium travel is having no patience for waiting in lines anymore, unfortunately.
Eventually it was our turn, and the emotionless agent stamped our passports like some United flight attendants crush the ice pre-departure to let out their anger at Glenn Tilton (you United flyers know what I'm talking about).
After that came security, which makes the US look good. Not only were we asked to take off our belts, shoes, jackets, and told to take out our laptops and liquids, but everyone also gets a full pat down. When I say full pat down I mean full pat down.
We then found ourselves in the rather run down terminal, where we tried to find the Cathay Pacific lounge, which was located after yet another security checkpoint.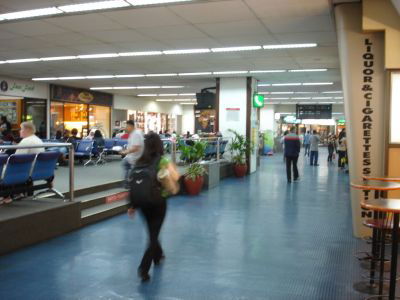 Terminal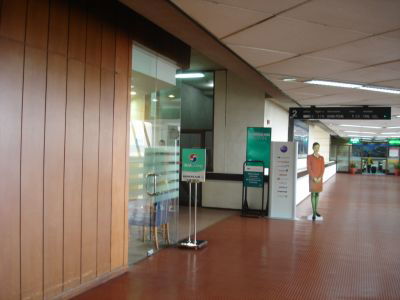 OneWorld lounge
We were promptly admitted after handing the agent our lounge invitations, and he gestured that we go through the other door, which was labeled "FIRST CLASS." Talk about feeling special!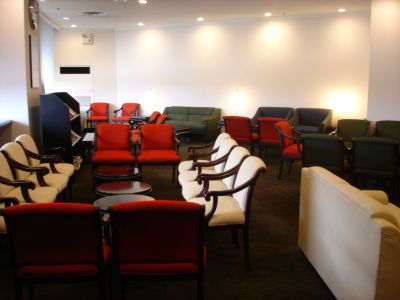 Business class portion of the lounge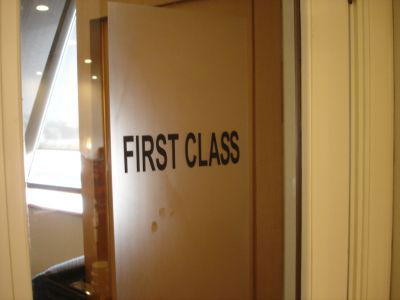 I wonder what's behind the door?
On the other side of the door was a lounge that looked remarkably similar to the one we just left, down to the muffins they had on display.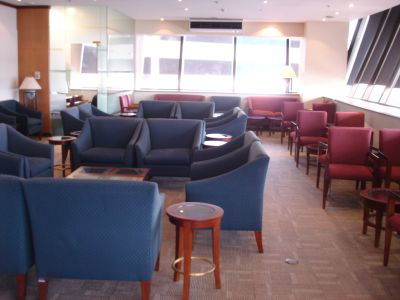 (Not so) first class lounge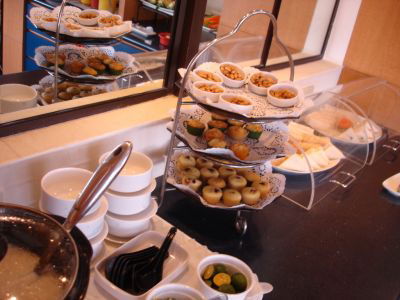 Incredible snack selection!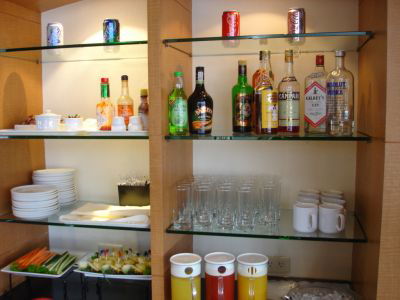 Dom or Krug?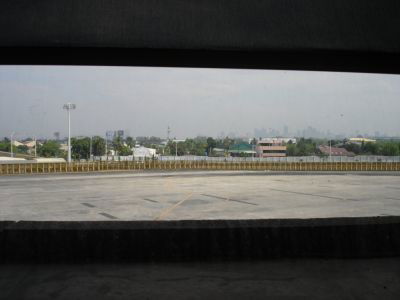 Panoramic views of the bustling tarmac
As you can see, this is a world class lounge. If only The Wing and The Pier were modeled after this lounge, they'd be ranked higher than number five in the world.
Anyway, you get my point. While there was a wireless network, I couldn't connect to it. The lounge was fine at first, though it got so full that there were hardly any empty seats after about 30 minutes. Furthermore there was a family of five with three of the most misbehaved kids I've seen in a lounge in ages. They ran around, screamed, and threw food at each other.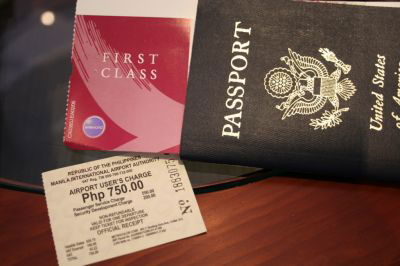 Passport, departure tax receipt, and passport
Given how bad the lounge was we decided to walk around the terminal for a while, despite boarding only starting in 30 minutes. As we left the lounge the agent told us boarding hadn't started yet, and we explained we just wanted to walk around for a while. The agent gave us the most confused look, as if he couldn't understand why on earth anyone would want to leave the luxurious confines of his lounge.
Outside the lounge was a walkway with a nice view of the active runway, where we watched planes touch down every few minutes. The traffic was interesting, from Gulf Air to some of the more shady airlines. We were expecting our plane to land from Hong Kong, but there was no sign of it yet. We headed down to our gate and asked one of the gate agents whether our flight was delayed, given that boarding was supposed to start in ten minutes and there was no plane in sight. He responded with "we are not informed." I thanked him and we headed back to the area in which we could watch planes land.
Within a few more minutes we saw the Cathay 747 land, which was a beautiful sight. The 747 is still the queen of the skies as far as I'm concerned — so graceful yet beastly. OK, I guess the latter doesn't typically describe a queen.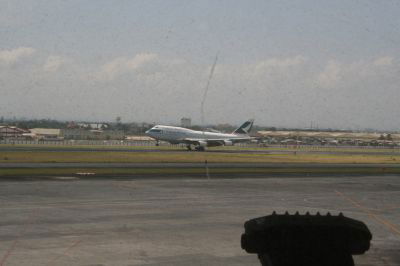 Our plane landing
At that point we headed down to the gate, where we had to present our boarding passes to enter into the gate area. I found the seating configuration in the gate area to be hilarious, because chairs were literally set up like rows on an airplane.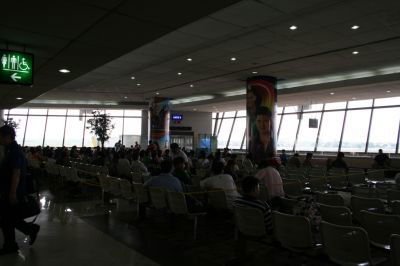 Gate area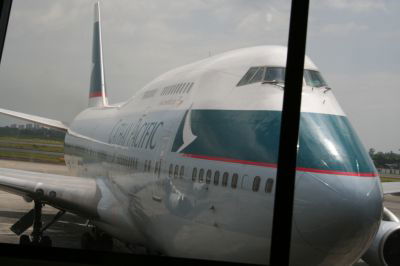 Our beast
Passengers began deplaning right around the time boarding was supposed to begin, and the agents were acting frantically as if they'd never seen a delay before in their lives. They decided to push back the departure to 12PM, nearly an hour late.
We waited patiently for our boarding time of 11:30AM. It rolled around soon enough, and we were the first ones aboard.
Cathay Pacific 906, MNL-HKG, 747-400
Sunday, March 15
Depart: 11:10AM
Arrive: 1:10PM
Seat: 1K (First Class)
As we entered through door 1L we were greeted by one of our flight attendants, who introduced herself as Gladys and escorted us to our seats in the nose of the 747, 1A and 1K. The 747's first class cabin is even nicer looking than the 777's, if that's even possible. It's modern yet classy with the curvature of the nose, which I love oh so much.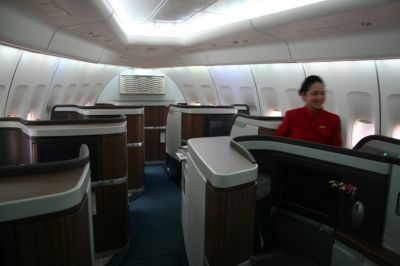 The first class cabin in the nose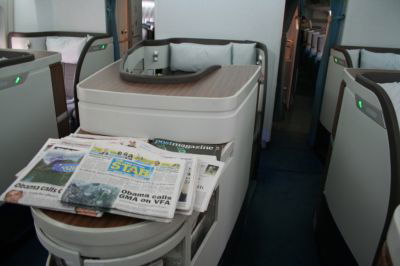 Newspapers and the "middle" seat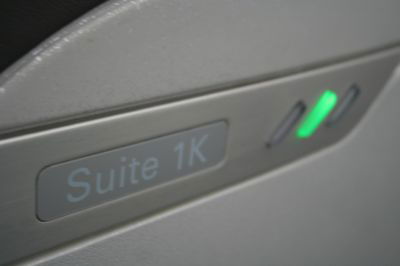 How fitting, eh?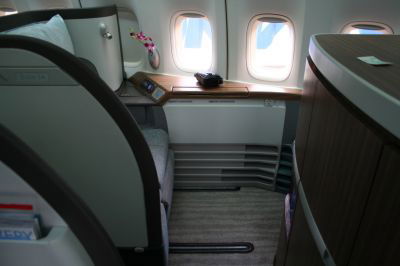 My dad's suite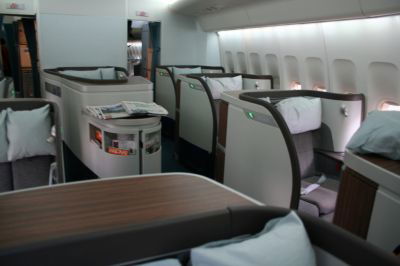 First class cabin from my seat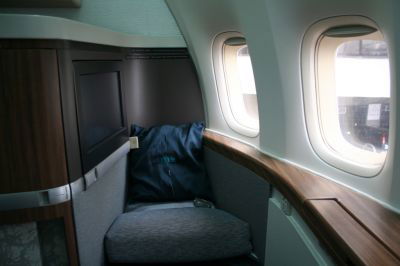 My ottoman
Before we could finish settling in our other flight attendant, Paige, introduced herself and offered us drinks. My dad and I both went with champagne. That was quickly followed by Gladys bringing us hot towels and offering us newspapers and magazines, which we declined.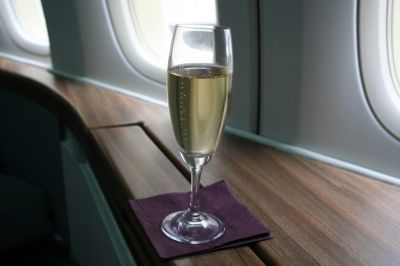 Pre-departure champagne
Seats 1A and 1K are great for people traveling together. While you still have the privacy of the suite, you're closer to your travel partner, which is great. These seats are different than the rest of the first class seats in two ways. First, the personal closets were slightly smaller, although there's a larger closet in the center which you can store stuff in if you need to. Second, the TV screens are at an angle and need to be taken out for viewing, as opposed to the screens in the other suites which you can watch even without taking out.
One more passenger joined us in first, seated behind me in 2K. I overheard Gladys carrying on a conversation with him, saying something along the lines of "So did you get your boarding pass without a problem?" While I didn't hear the whole conversation, it sounded to me like he was doing a direct turnaround as he explained that he went to the transit desk for his boarding pass and it wasn't a problem at all. Since the crew seemed so familiar with him I can't help but think that he was on a mileage run, since there are some great premium fares out of Manila.
Eventually our captain, Captain Eaton, made an announcement welcoming us aboard. He explained that our flight time would be 1hr40min, and he apologized for the late departure.
Soon enough we pushed back and the safety video commenced. Since the screens in row one are at an angle the flight attendant had to take them out for us during the safety video.
We taxied out towards runway 06, where we waited for ages. While we were number five for takeoff, there was also one arrival for every departure, so it took quite a while. After a KLM 777 lifted off it was our turn, and we were airborne after a quick 6,000 foot roll.
The views of Manila were great as we climbed out.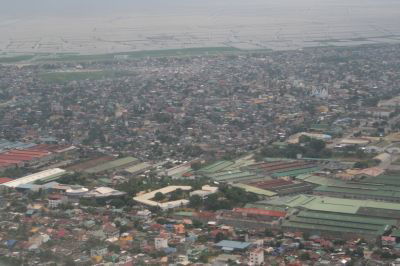 Manila
One thing I forgot to mention in my other reviews of Cathay is the post-takeoff video they play throughout the cabin. It's basically a five minute video with audio throughout the cabin about the entertainment, Cathay's award winning service, donating to UNICEF, and exercises you should do on a plane. While I don't have a problem with that on a 15hr flight, it gets quite annoying on a short flight where we want to watch a couple of sitcoms, especially since Cathay turns off their entertainment system during the initial descent stages.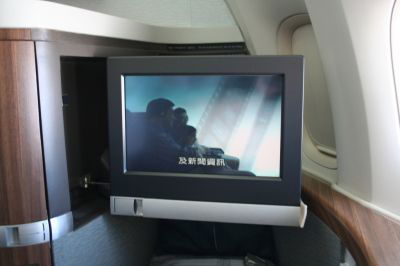 Cathay's post-departure video
As we continued climbing out the ISM, Candice, introduced herself and welcomed us aboard. Shortly thereafter Gladys offered us the menus for our flight, which read as follows:
Refreshment

Starter
Fresh seasonal fruit

Main Courses
Grilled beef tenderloin with potato gratin, baby carrots and

Braised fish with bean curd sheets, black mushrooms, steamed jasmine rice, oyster mushrooms and baby cabbage

Dessert
Baked cheese cake with blueberry compote

Drink List

Juices
orange, apple, tomato

Soft Drinks
Coke Zero, Coke, Coke Light, Sprite, Perrier water, tonic water, soda water and ginger ale

Coffee
freshly brewed coffee

Teas
Fuding jasmine silver fur, Anqi supreme Ti Guan Yin, Ceylon Japanese, Hong Kong style milk tea
organic selection: camomiles, earl grey and peppermint

Hot Chocolate

Wine List

Champagne
Curvee William Deutz Brut 1998
This charming champagne is crystal clear with a pale gold hue. The rich aromas of baked apples are followed by hints of preserved ginger and nutmeg. It is pure with complexity, which is the hallmark of the Cuvee William Deutz. This is an ideal wine for matching most of the delicate dishes offered onboard

White Wines
Henri de Villamont Meursault 2005
Meursault is a large village located in the southern part of the Cote de Beaune, Burgundy, France, which produces some of the best Chardonnay wine in the world. The 2005 Henri de Villamont Meursault possesses abundant ripe fruit with an added supple richness and hints of butterscotch. It is elegant with a stylish structure. Fish, poultry dishes with cream sauce and strong ripe cheese will pair wonderfully with this wine.

Helen's Hill Yarra Valley Chardonnay 2006
Helen's Hill Estate is located in Yarra Valley – Victoria's oldest wine region. This tempting Chardonnay is a light straw color. The ripe peach and citrus characters are complemented by an attractive mineral layer, toast and vanilla cream. It has a great length with excellent balance. This is a great accompaniment to roast pork or chicken dishes.

Red Wines
Chateau Branaire-Ducru 2001, 4eme Cru Classe
Chateau Branaire-Ducru is an elegant Grand Cru wine from Saint Julien of Haut Medoc, Bordeaux. The 2001 vintage offers beautiful aromas of crushed berries and currants, with hints of violets. It is full boded with lively acidity giving the wine excellent balance. This seductive wine has soft and smooth tannins and a long and caressing finish. It goes perfectly with all kinds of red meat and stewed dishes.

Possums Vineyard McLaren Vale Shiraz 2004
The vines for this delicious wine are planted in Blewitt Springs, an elevated sub-region of McLaren Vale, South Australia. The 2004 Possums Vineyard Shiraz has dark purple and vibrant violet hues. It displays intense aromas of blackberry and raspberry, which marry beautifully with the spiciness of the oak. It is full bodied and well structured with supple tannins. This wine matches well with stews and also many Chinese dishes.

Terrabianca "Campaccio Riserva" Toscana IGT 2004
This wine is produced from 50% Sangiovese and 50% Cabernet Sauvignon grapes. It offers aromas of red fruits, roasted coffee and liquorice with a touch of vanilla note. It is very rich on the palate and silky, with sweet tannins. A delicious wine that goes well with most meat dishes.

Port
Ramos Pinto Quinta de Ervamoira 10 Year Old Tawny Port
Produced from grapes grown in the vineyard Quinta de Ervamoira, this tawny offers all the maturity of an aged wine while still displaying the vigour of youth. It is smooth and full bodied, with aromas and flavors of apricot and plum balanced with vanilla scents from the aged casks.

Aperitifs and Cocktails
Campari
Martini Rosso
Matrini Extra Dry
Tio Pepe Sherry
Harveys Bristol Cream Sweet Sherry
Gordons Dry Gin
Stolichnaya Russian Vodka
Bloody Mary
Screwdriver

Whiskies
Chivas Regal 12 Years Old
Johnnie Walker Blue Label
Canadian Club
Gentlement Jack Bourbon
Glenfiddich Ancient Reserve Single Malt Whisky

Cognac
Tesseron Lot 76 XO Tradition

Liqueurs
Grand Mariner
Cointreau
Drambuie
Kahlua
Bailey's Irish Cream

Beer
International selection

CX signature drinks
Oriental Breeze
A sour-plum tea and cranberry juice based non-alcoholic drink with honey and fresh lemon juice and a hint of rose water.

Cloud Nine
A refreshing combination of Vodka, Cointreau and Sprite with a refreshing touch of lemon flavor.
Cathay's menu options for a flight of this length are great, in my opinion. I'm a big fan of the fruit, which was uniformly fresh and tasty. My dad and I both went with the beef tenderloin for our main course.
As we had come to expect by this point in our travels with Cathay, the service was top notch. The flight attendants were friendly, efficient, paid a great deal of attention to detail, and were personable. They truly provided flawless service.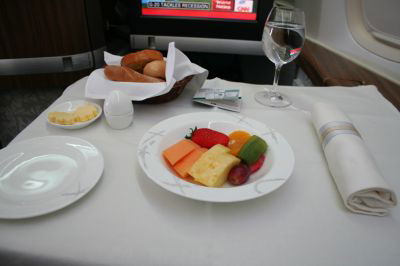 Starter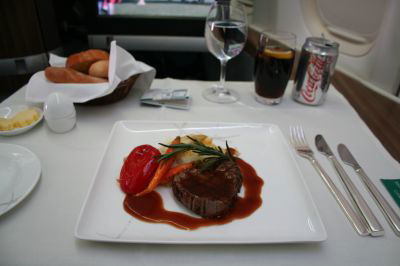 Main course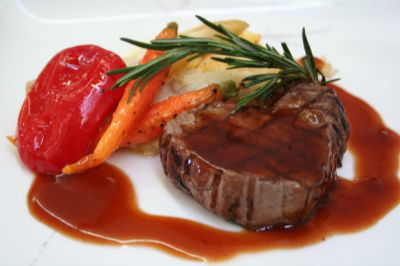 Beef tenderloin close-up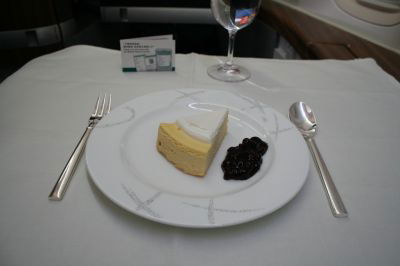 Cheesecake

Coffee
The food was excellent. I watched an episode of The Simpsons during lunch, but chatted with the flight attendants for most of the rest of the flight.
As we began our descent I paid a quick visit to the lavatory, which was once again the most nicely appointed one I've seen in the air.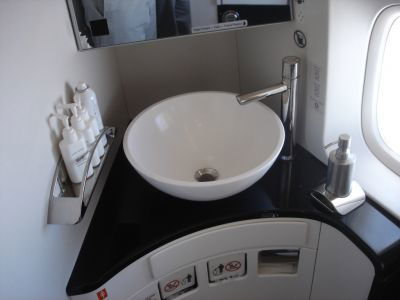 Lavatory
As we were descending both Gladys and Paige thanked us for flying Cathay Pacific "in these tough economic times," and after asking them about premium loads lately they explained how empty the premium cabins are. I assured them that their excellent service would lead to their continued success.
There were some stunning views during our final approach into Hong Kong, which I got a few pictures of.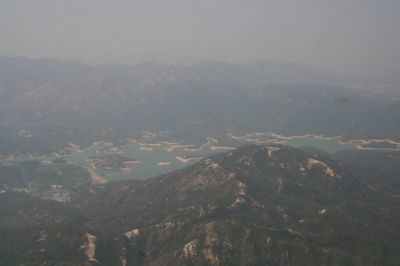 On approach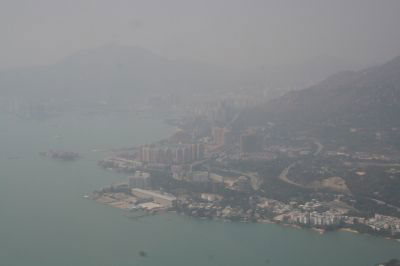 On approach
After a smooth landing about 40 minutes behind schedule yet another incredible Cathay Pacific flight came to an end.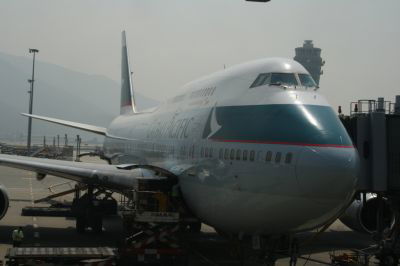 Our plane
We proceeded to immigration and our bag was once again the first off the belt, so we were out in no time. We headed towards the Marriott airport desk from which we'd be transported to the brand new Marriott SkyCity.