---
We made it to the gate at around 12:45PM, right as boarding was called. As I mentioned in the previous installment, it was a long walk from the lounge to our departure gate, C1.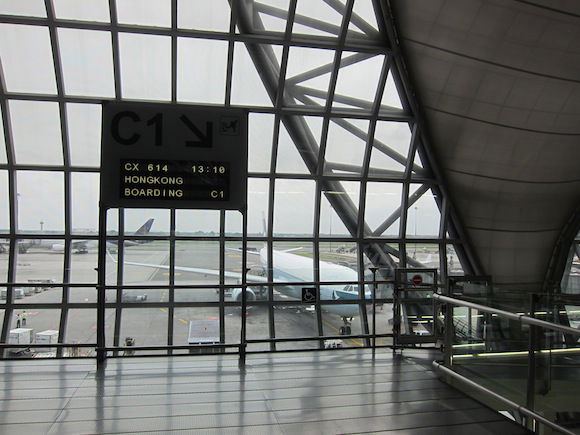 Departure gate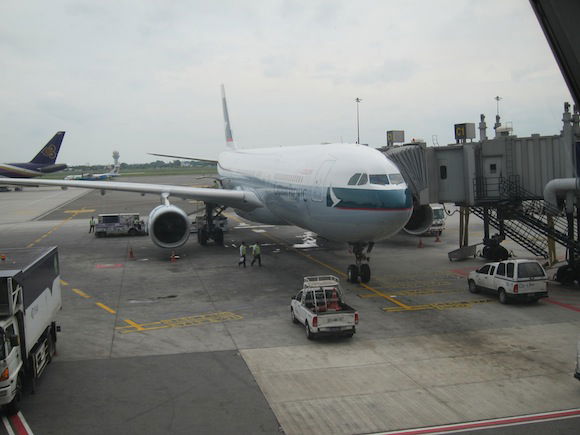 Our aircraft to Hong Kong
Cathay Pacific 614
Bangkok (BKK) – Hong Kong (HKG)
Monday, November 12
Depart: 1:10PM
Arrive: 4:50PM
Duration: 2hr40min
Aircraft: Airbus 330
Seat: 21K (Business Class)
While this was just a short intra-Asia hop, I was extremely excited about trying Cathay Pacific's new business class, which I've heard great things about.
Once aboard we were greeted by the in-flight supervisor and directed to the far aisle. Business class consists of two cabins — the cabin in the front, which we walked through, and then the mini cabin in the back, where we were seated.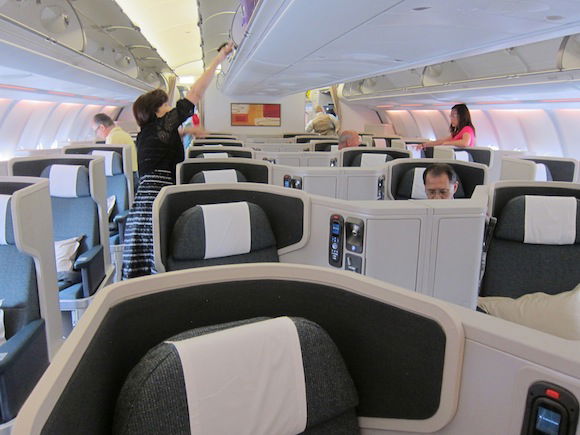 Main business class cabin
Before settling in I snapped a picture of the premium economy cabin which was immediately behind business class, and looked quite a bit like domestic first class in the US.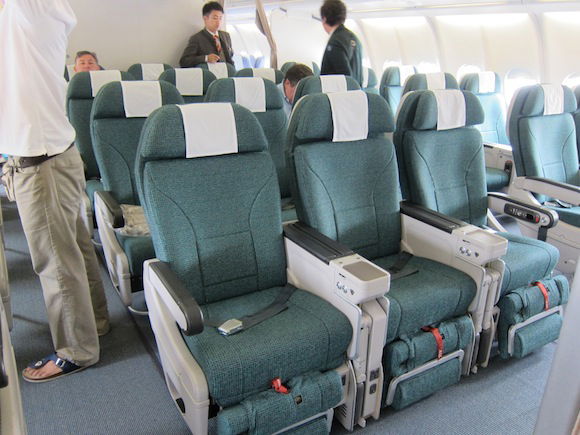 Premium economy
I was assigned seat 21K, which is in the last row of business class. To say I was blown away by the product would be an understatement. My business class seat had more personal space than many first class suites I've flown in. And given that the cabin is in a 1-2-1 configuration that makes sense, as that's the same configuration most airlines have in first class.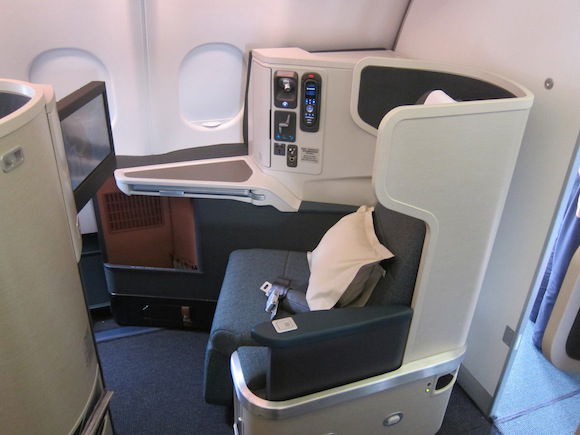 Business class seat
The seat has utmost privacy though maybe feels a little claustrophobic compared to some first class seats, though I didn't find that to be an issue. The seats are angled slightly towards the wall of the aircraft, and feature a large ottoman.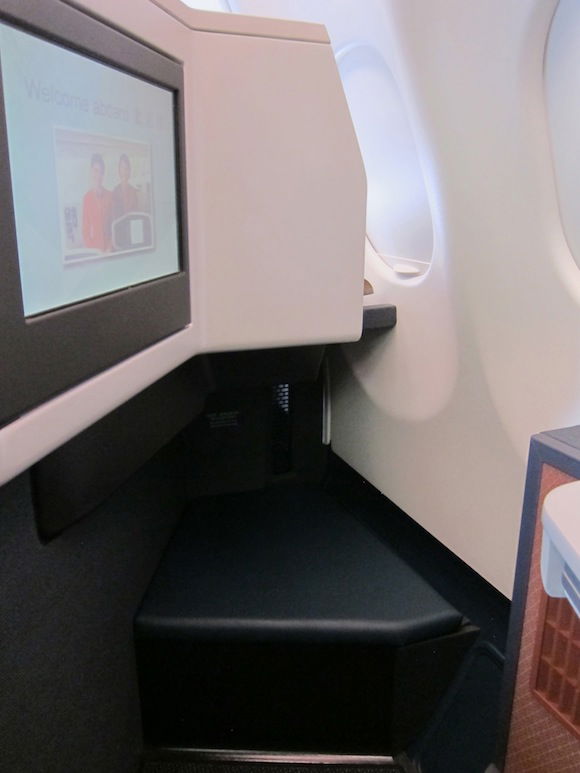 Legroom
To the right of the seat was the console, which housed the entertainment and seat controls, power ports, and reading light.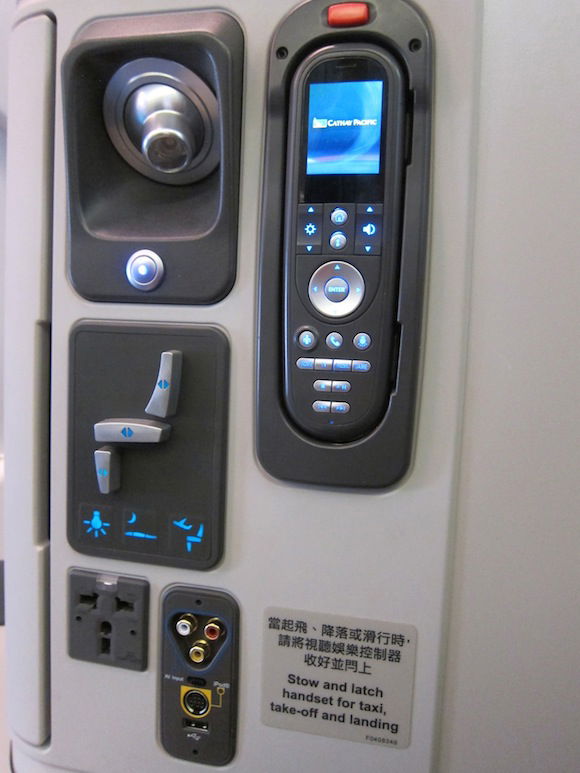 Seat console
Next to that was a small cabinet for storage and also for the headphones.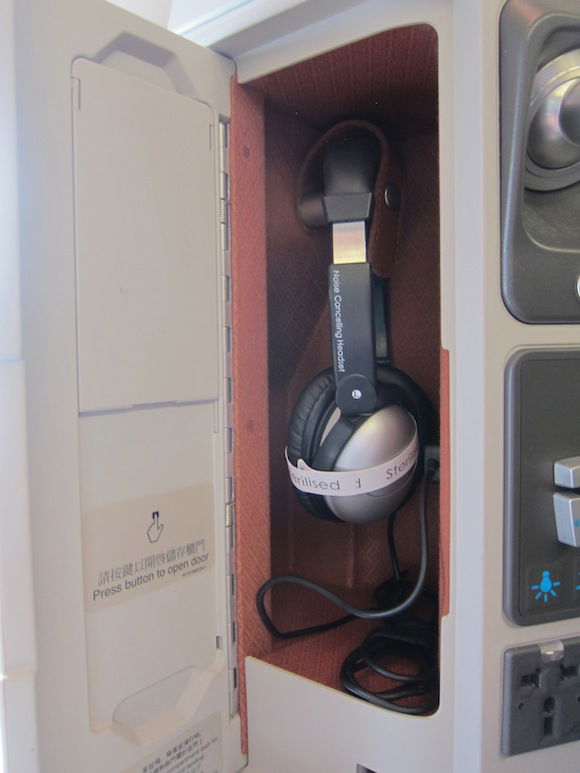 Headphones
Below the seat to the right was a storage pouch great for magazines, headphones, shoes, etc.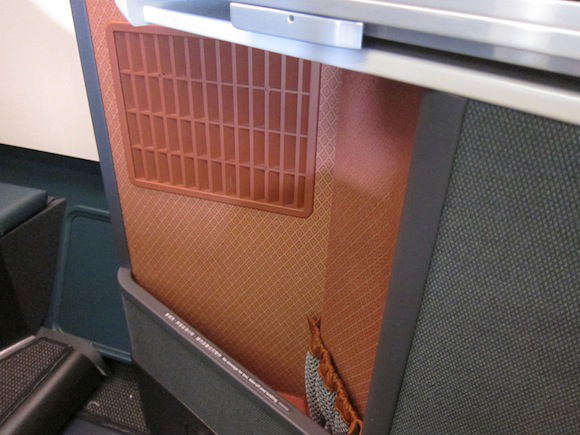 Storage pouch
And while on the surface sitting in the back of the cabin sucks (since it means you're served last), I loved the mini cabin for the privacy, and would choose it again in a heartbeat.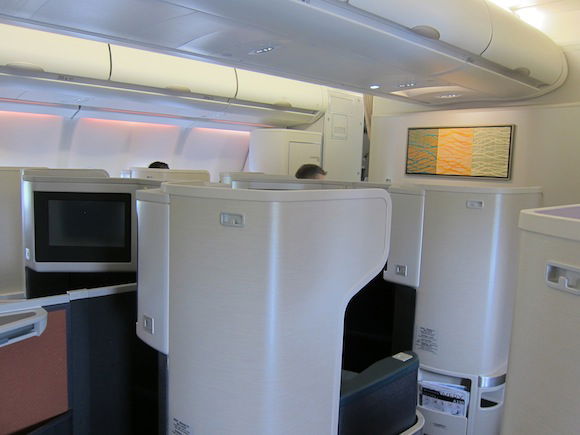 Business class mini cabin
As soon as I was settled in one of the friendly flight attendants offered me a choice of pre-departure beverages from a tray. I selected a glass of water. That was quickly followed by a hot towel service and distribution of the landing forms.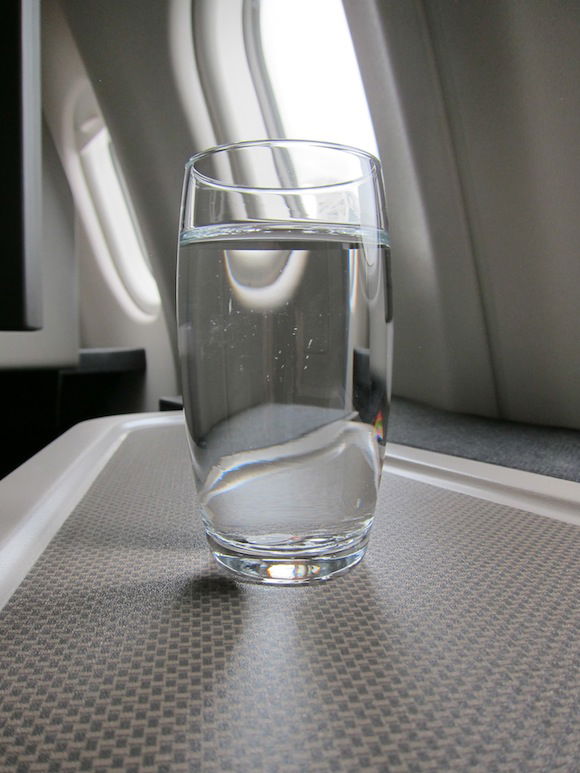 Pre-departure beverage
After that the flight attendant working my aisle, Simon, introduced himself and presented the menu and wine list for the flight.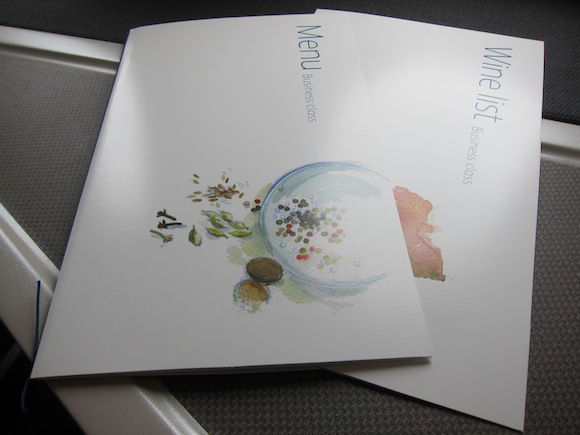 Menu and wine list
I requested a blanket, which Simon quickly brought me. It was a great blanket for a short-haul flight, though hopefully they have more substantial ones for longhaul flights.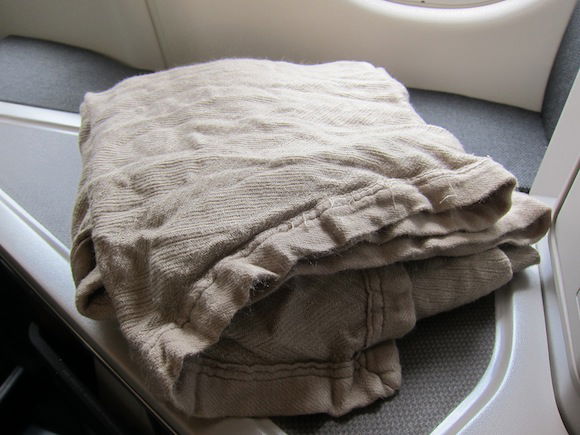 Blanket
As departure time rolled around the captain made his welcome aboard announcement, sporting a thick British accent. He advised us of our flight time of 2hr10min, and anticipated an arrival in Hong Kong ahead of "shed-jewel."
We pushed back right on time and began our long taxi to the departure runway, 1L.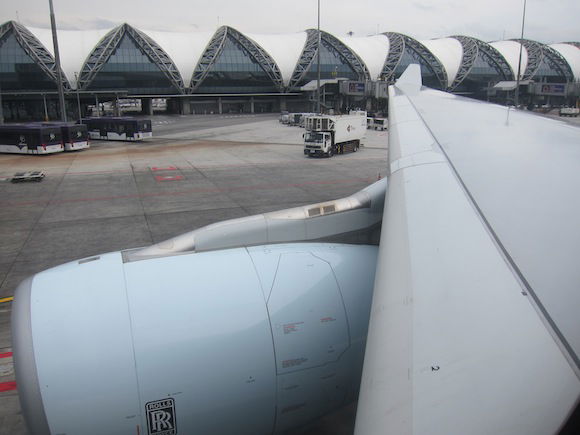 View while pushing back
Fortunately there were plenty of aircraft to keep me entertained all the way to the runway, including an Emirates Airbus 380, Transaero 767 (Transaero is probably the airline I want to fly most, as they're so mysterious to me), Korean Air 737, Bangkok Airways Airbus 320, and Saudi Arabian Cargo MD-11.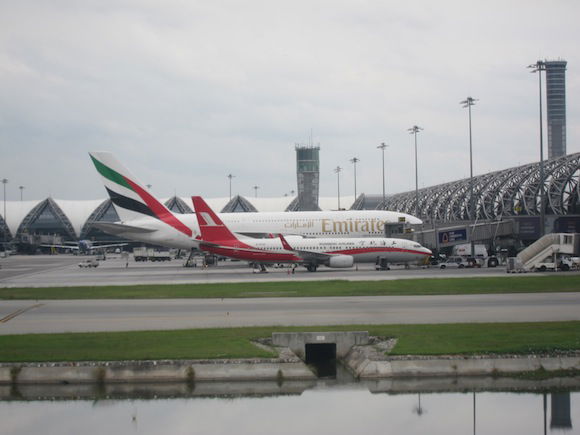 Emirates Airbus 380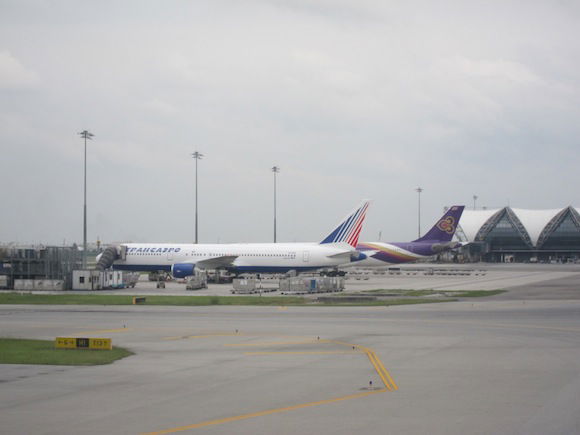 Transaero 767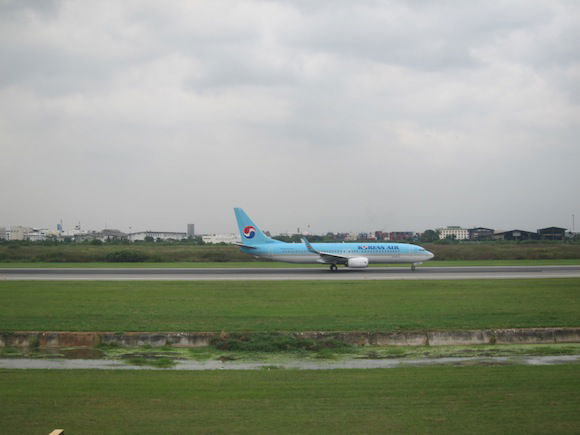 Korean Air 737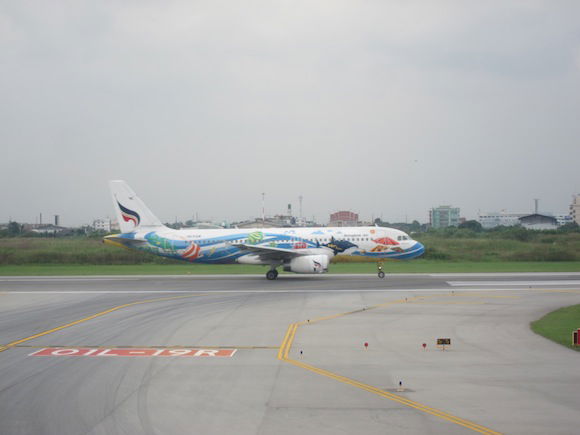 Bangkok Airways Airbus 320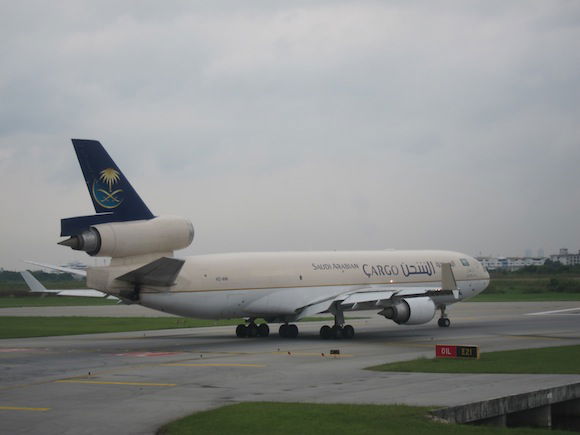 Saudi Arabian Cargo MD-11
Soon enough it was our turn, and we had a quick takeoff roll and steep climb out.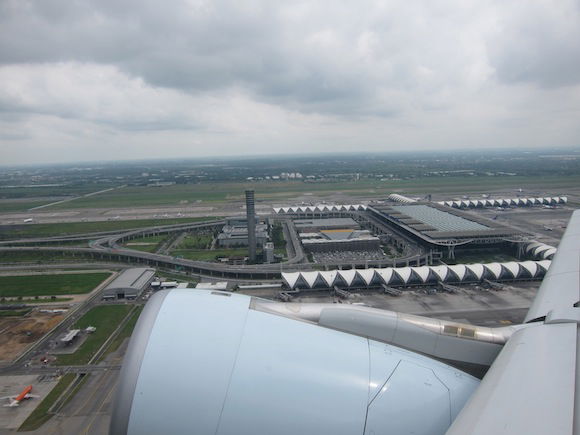 View of the airport after takeoff
As we took off I browsed the entertainment selection, which was extensive, with hundreds of TV shows, movies, CDs, etc. In the end I settled on "Day in the Life," a series by Morgan Spurlock that follows around famous people for a day. The episode I watched documented a day in the life of comedian Russell Peters.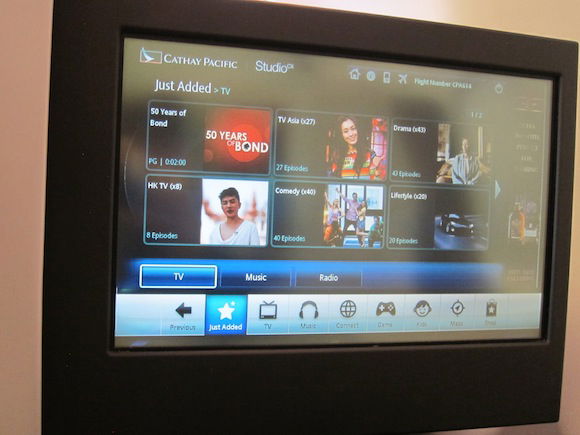 Entertainment selection
The seatbelt sign was turned off about 15 minutes after takeoff, so I took the opportunity to snap a quick picture of the main business class cabin.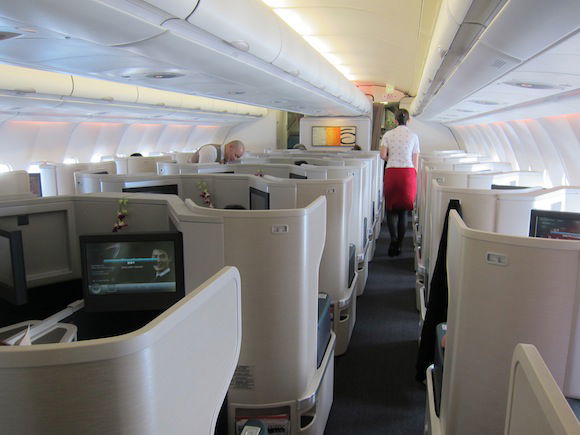 Business class cabin
One of the downsides of business class (compared to first class) on a short-haul flight is that service is really slow. When you have a few flight attendants trying to serve 40 meals on a two hour flight, there's not all that much personalization that can be done.
About 20 minutes after the service began I was offered a beverage by one of the friendly flight attendants.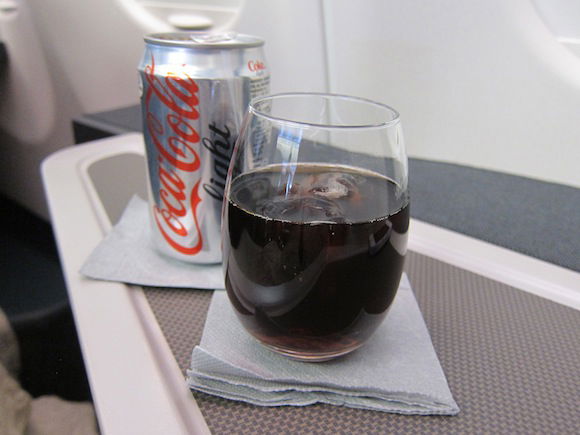 Diet Coke with lime
Another 15 minutes later the cart came around with the lunch offerings. The menu read as follows: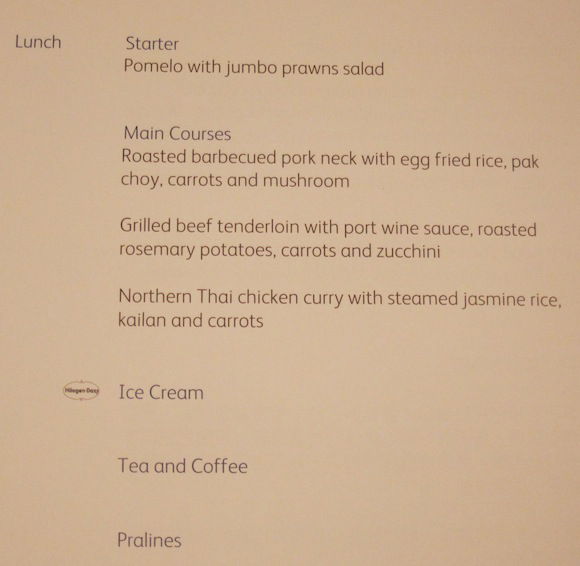 And the wine list read as follows: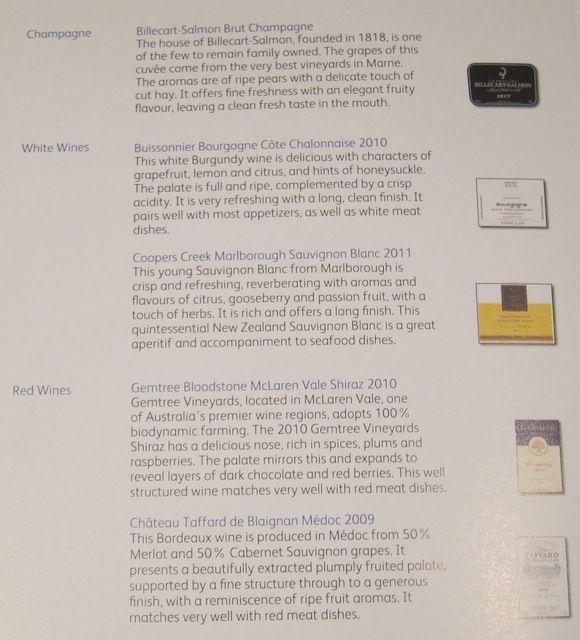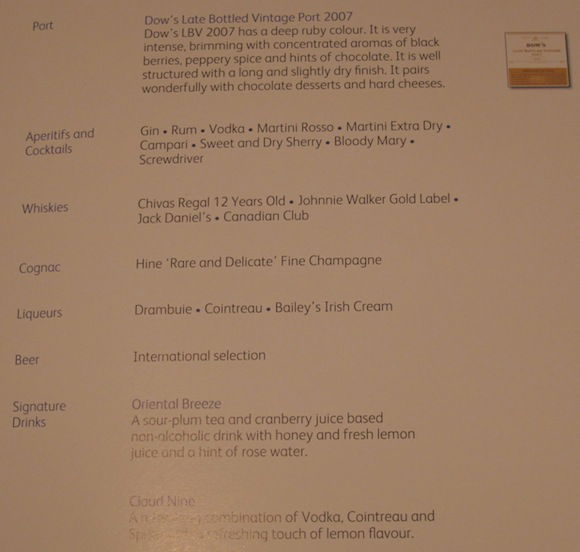 I selected the grilled beef tenderloin as my main course, and also selected a piece of pretzel bread and garlic bread from the bread basket. The starter was pretty bland and the beef tenderloin a bit tough, though at least the bread was warm and delicious. 😉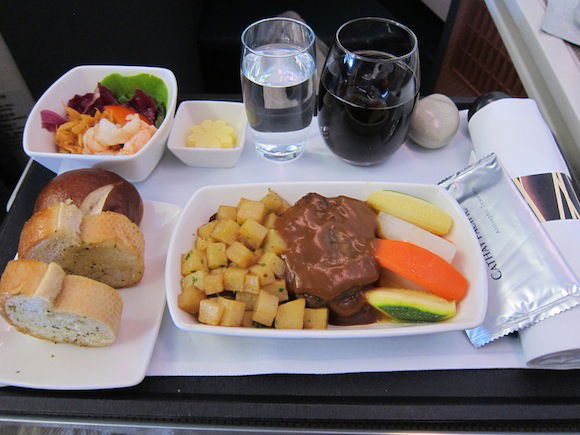 Lunch
About 20 minutes later the flight attendants came around to clear trays and offer dessert. They had a variety of ice cream flavors, and I selected cookies and chocolate (which I learned is different than cookies and cream… who knew?).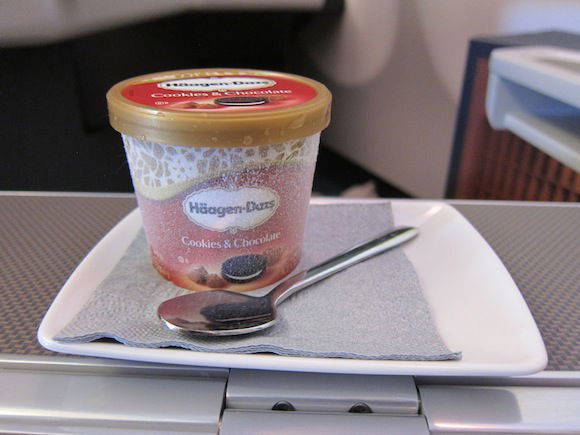 Dessert
With under an hour left to go to Hong Kong, I decided to test the most important feature of the seat — the fully flat position. All I can say is "wow." It's as comfortable as most first class suites. The bed is really long, and I suspect could easily accommodate someone 6″6′ tall. The only benefit of some of the leading first class suites compared to Cathay Pacific's new business class is added width when in the bed position.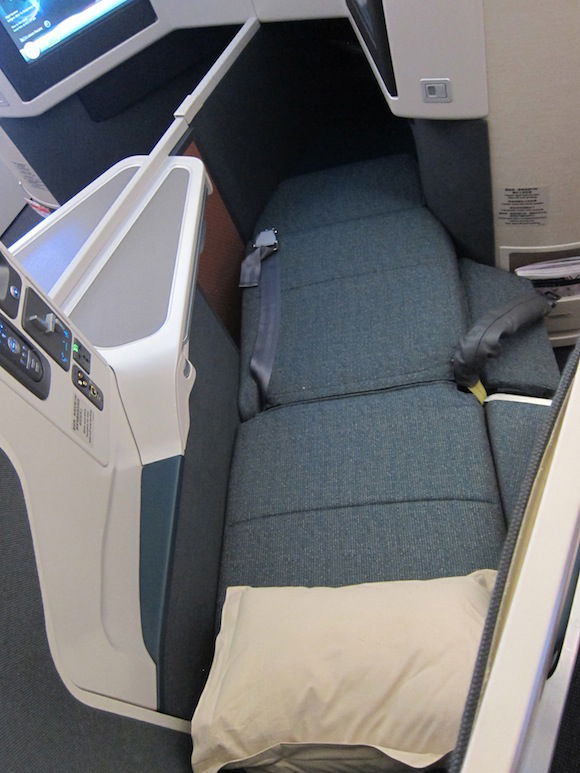 Business class seat in bed position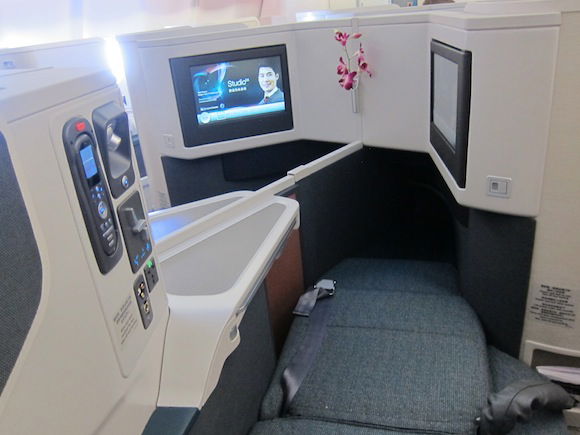 Business class seat in bed position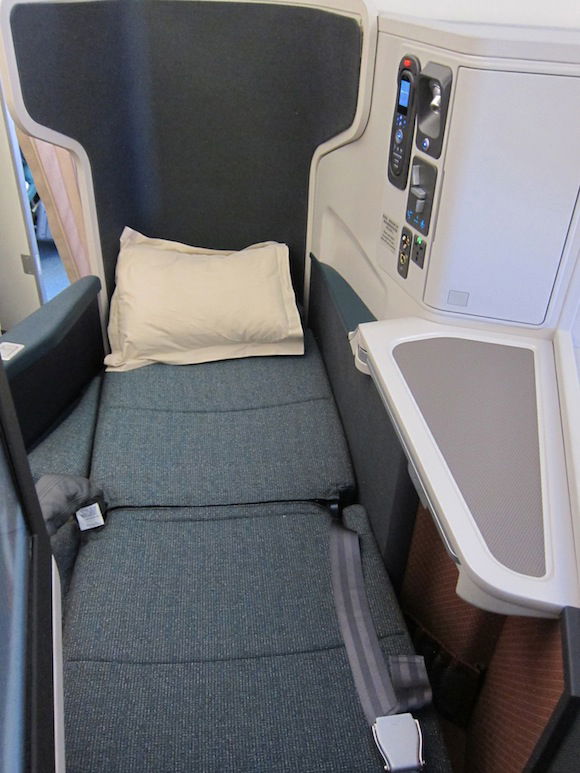 Business class seat in bed position
I spent much of the rest of the flight talking to one of the fantastic flight attendants, Simon. He was from Bangkok though based in Hong Kong (even though Cathay Pacific has Bangkok based flight attendants), and it was great to hear his thoughts on the industry. Even though he was based in Hong Kong he commuted to Bangkok all the time and chose to be based in Hong Kong so he could get a better variety of routes. Cathay Pacific's Bangkok based flight attendants only fly to Hong Kong, Colombo, and a couple of places in India.
About 10 minutes before landing the seatbelt sign was turned on and we began our final descent into Hong Kong. We landed on runway 7L, which translated into a very short taxi to the terminal.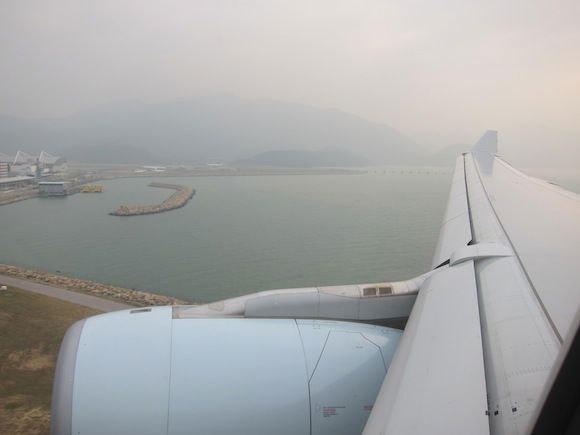 View on final approach
While the airline traffic in Frankfurt is probably my favorite in the world, Hong Kong is a very close second. I love the number of Cathay Pacific heavies in Hong Kong.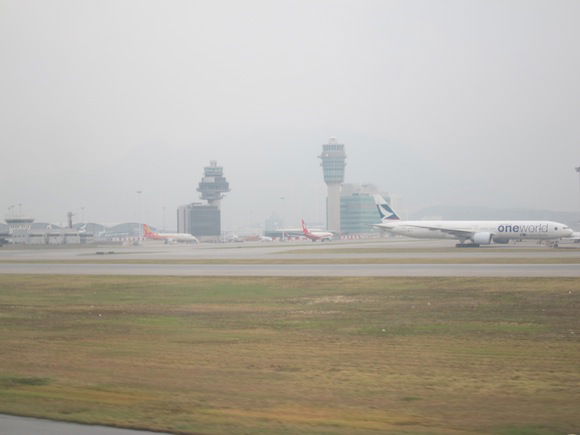 View upon landing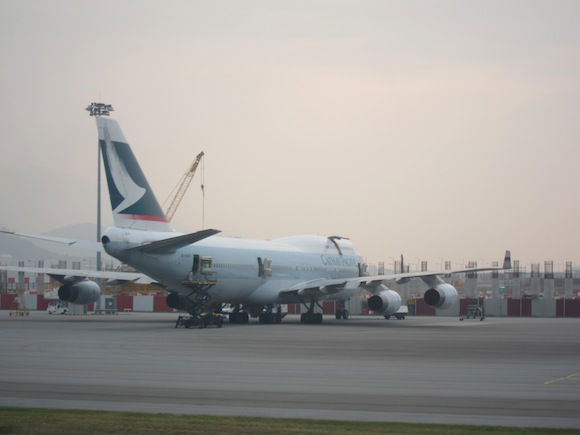 Cathay Pacific 747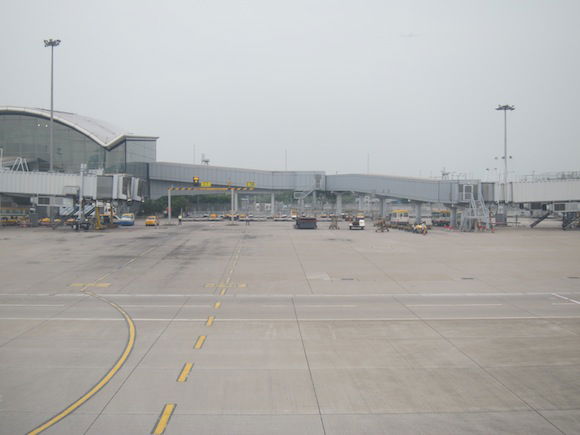 Pulling into our gate
We arrived a few minutes ahead of schedule and headed straight for immigration, though as usual I had to stop and snap a few pictures of Cathay's last few beautiful 747s on the way.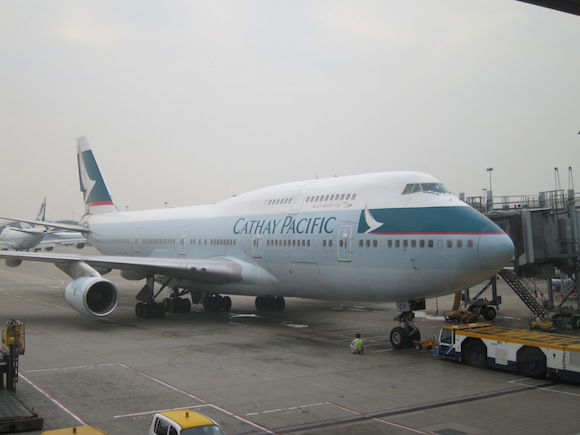 Cathay Pacific 747
The queue for immigration was only about five minutes, so by shortly after 5PM we were in a taxi on our way to the city (if I'm alone I'll take the Airport Express, though with two people the cost difference is minimal).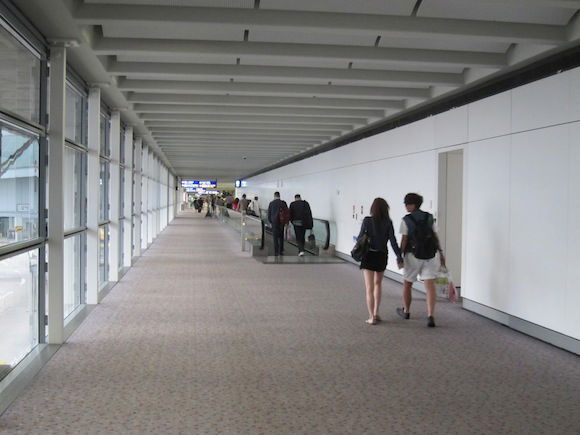 Terminal
Cathay Pacific's new business class product is a huge winner, and makes even me rethink the value of first class. US Airways has a similar product on their Airbus 330 aircraft, and American will soon be rolling out a similar product on their 777-300ER aircraft. This is no doubt the business class product of the future.