---
Bangkok is probably the best city in the world for reasonably priced luxury hotels. The cost difference between a four and five star hotel is very small, so it's often tempting to go with the likes of the Four Seasons, Peninsula, Mandarin Oriental, etc.
But I do love loyalty programs, so have stayed almost exclusively at Starwood hotels in Bangkok. Two visits ago I stayed at Le Meridien Bangkok, which was a beautiful hotel and a phenomenal value. During my last visit I stayed at the St. Regis Bangkok, which I think is one of my favorite Starwood hotels in the world. The problem with many "true" five star hotels in Bangkok is that they're several decades old and don't feel especially modern, so the St. Regis mixes great service and modern amenities.
However, this time we were staying for two nights over the weekend with an early morning arrival, so the choice was a no brainer — it would be the InterContinental for a couple of a reasons. First of all, I had a buy one get one free weekend night certificate to redeem, which worked perfectly for this stay. But another reason was that as a Royal Ambassador with InterContinental you're entitled to guaranteed 8AM check-in, which would be very useful for such an early arrival.
I ended up booking a club room for roughly $250USD (with the second night free), and was upgraded to an executive suite.
We took a taxi to the InterContinental and arrived at around 8AM. The hotel is located in the Ratchaprasong district, along with many other luxury hotels. The drive from the airport took about 30 minutes and cost less than $10USD.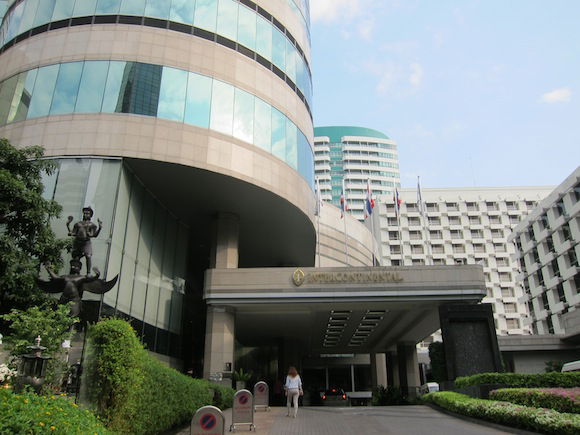 Hotel exterior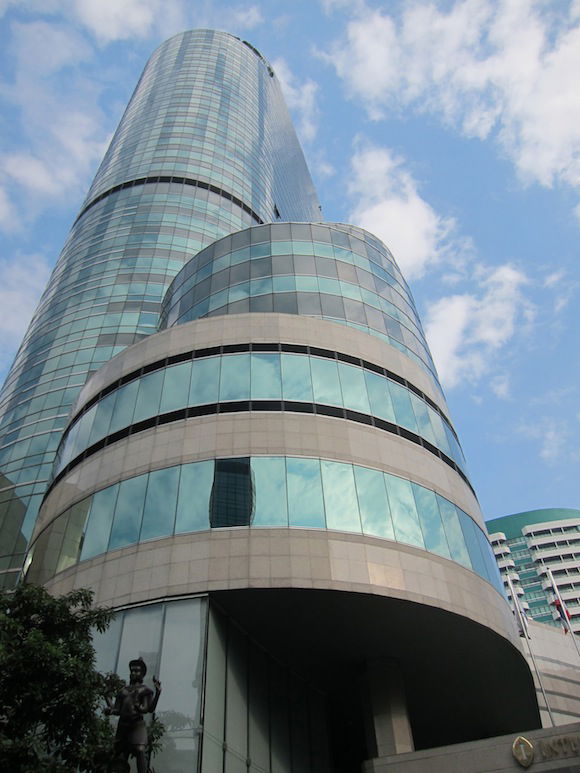 Hotel exterior
The lobby of the hotel is impressive with super-high ceilings and plenty of space. We were greeted immediately at the check-in desk, though upon seeing that I was a Royal Ambassador, we were directed to the 37th floor club lounge for check-in formalities. Almost all hotels do that, and I still can't decide whether it's something I love or hate. On one hand it's nice to have a more "personalized" experience in the lounge, though it's extremely inefficient when you're already standing at the check-in counter.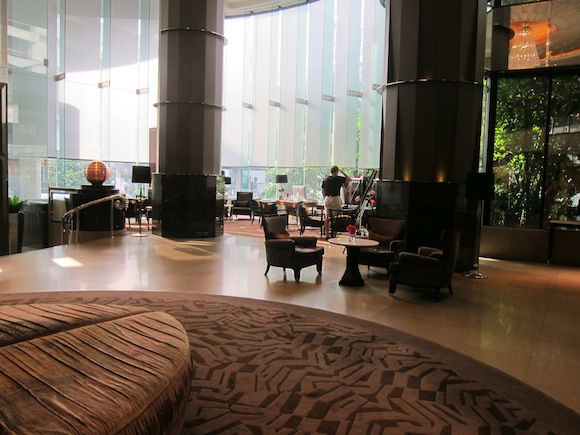 Lobby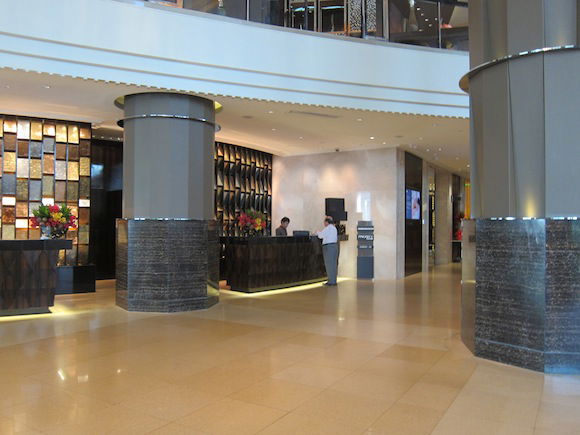 Lobby
Once in the club lounge we were greeted by a lovely Bavarian lady named Julia. She processed our check-in quickly and offered us a welcome drink.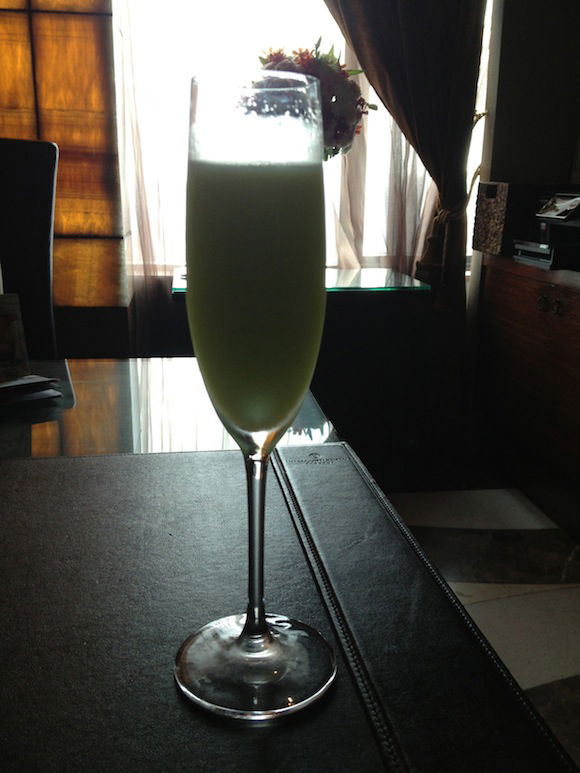 Welcome drink
Within a few minutes we were escorted to our executive suite on the 34th floor, which was huge.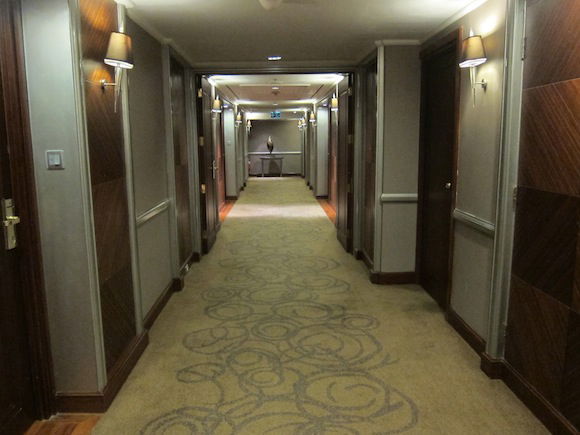 Hallway
The suite featured a living room with a couch and a couple of chairs, along with a desk.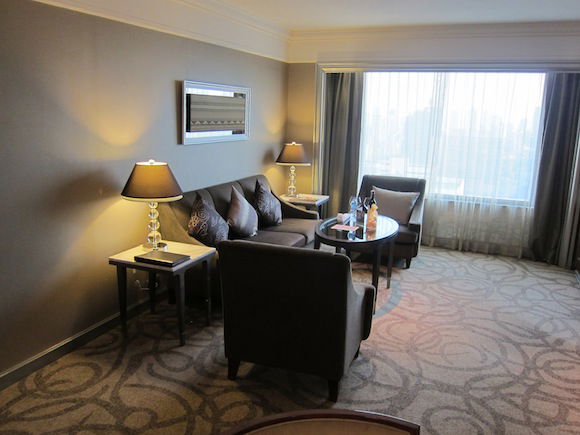 Living room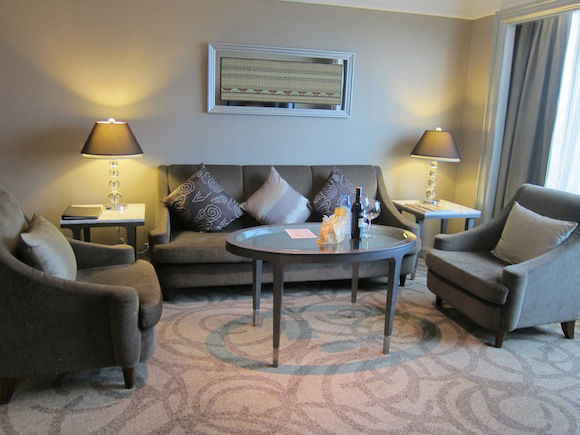 Living room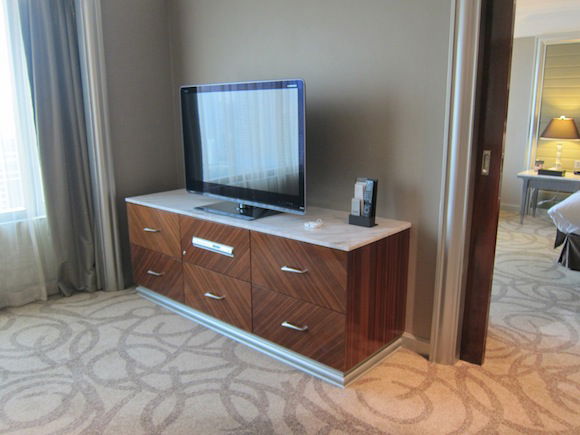 TV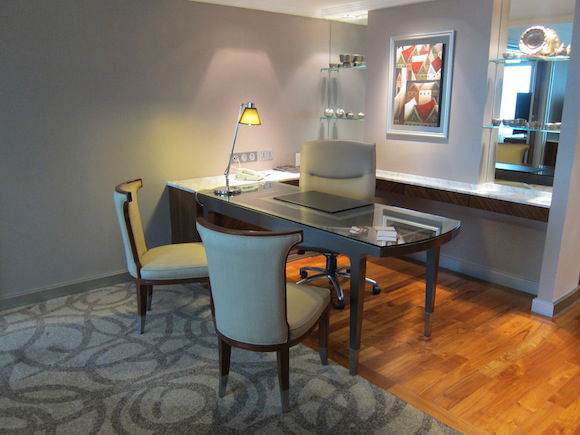 Desk
On the table was the welcome gift consisting of a bottle of wine and an elephant toy.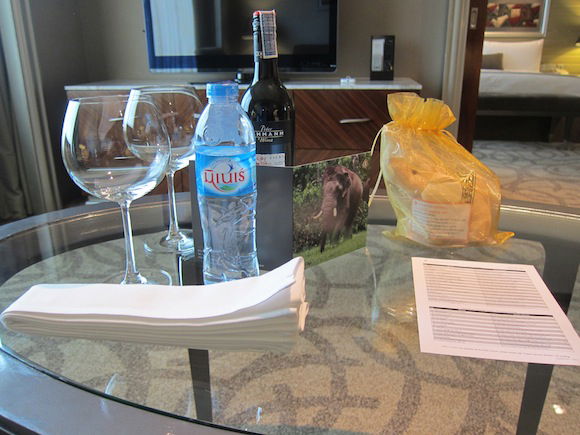 Royal Ambassador welcome amenity
The living room featured a view of the Bangkok skyline.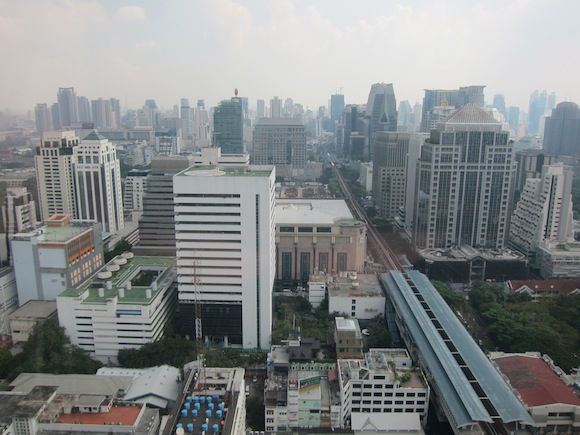 View from the room
By the door was both the minibar and half bath. The minibar featured plenty of juice, water, and beer, though no booze.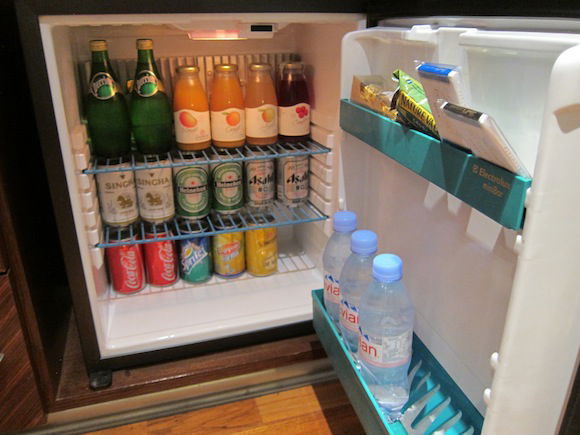 Minibar
The half bath was spacious.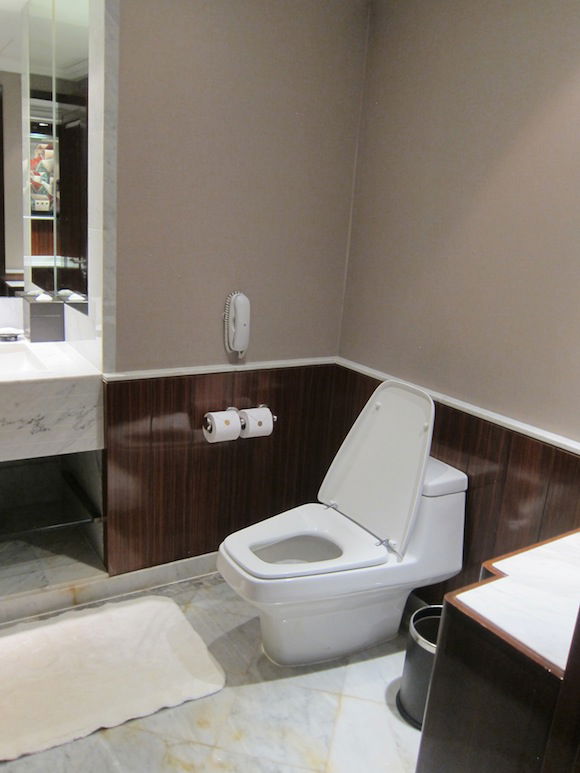 Half bath
The living room connected to the bedroom via sliding doors. The bedroom boasted a king size bed, chair near the window, and vanity mirror with seat.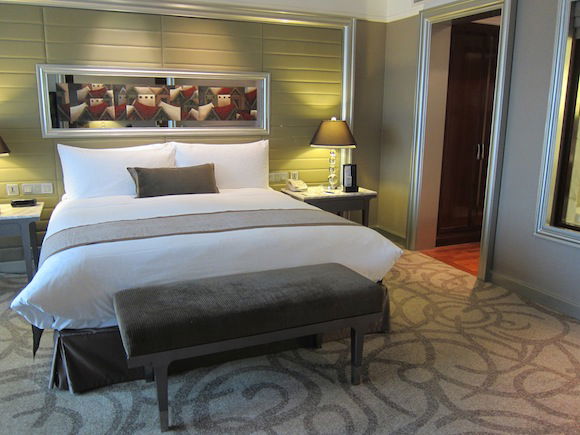 Bedroom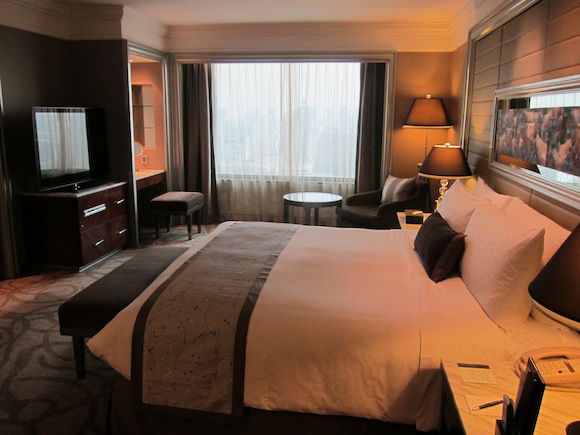 Bedroom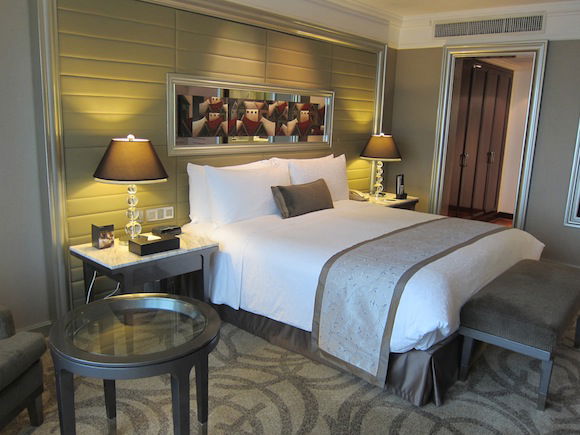 Bedroom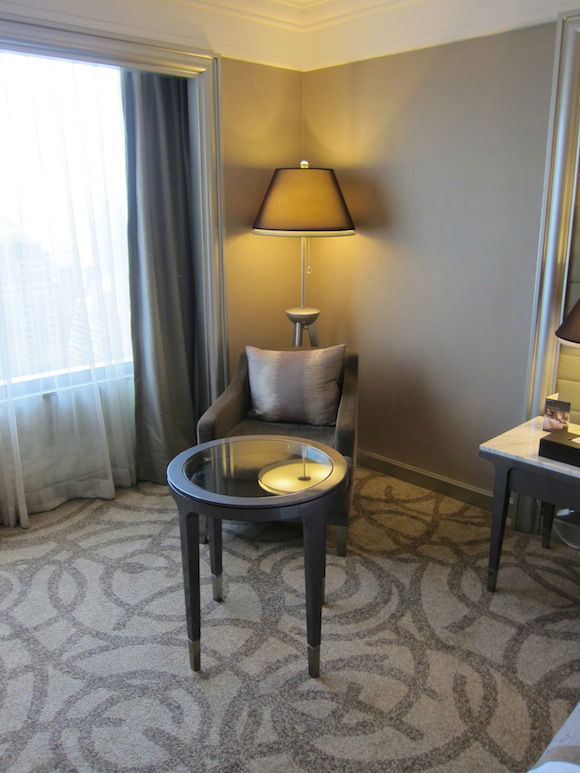 Chair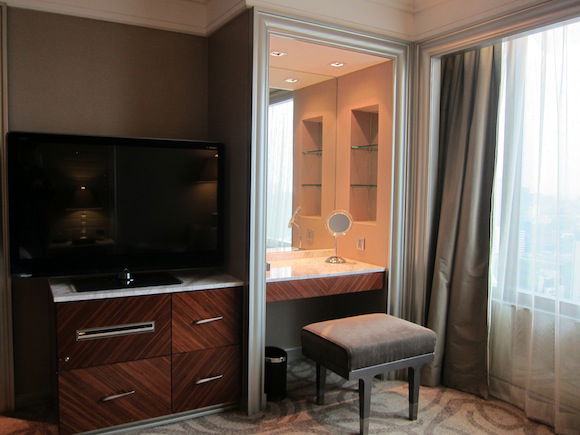 Vanity mirror/TV
The bedroom connected to the bathroom via a small hallway.

Hallway to bathroom
The bathroom featured a tub, walk-in shower, double sinks, and toilet.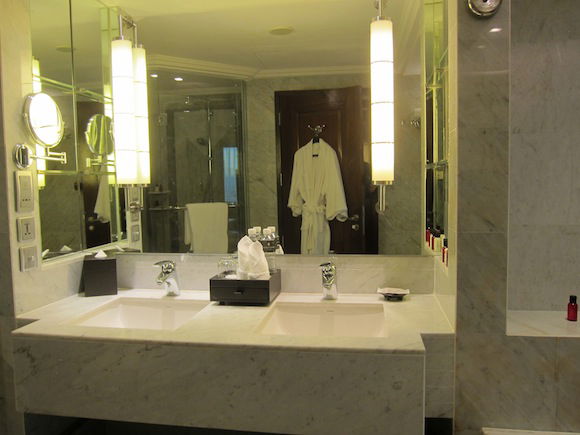 Sink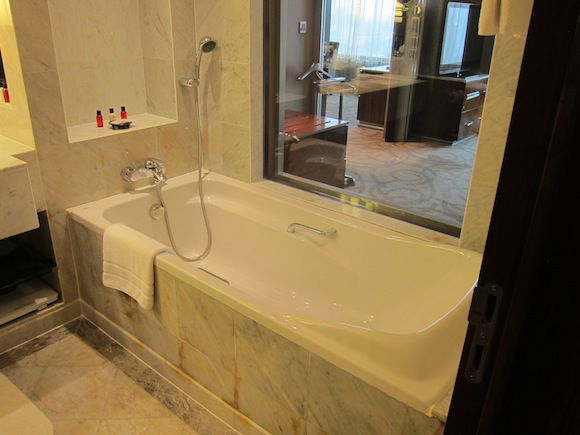 Tub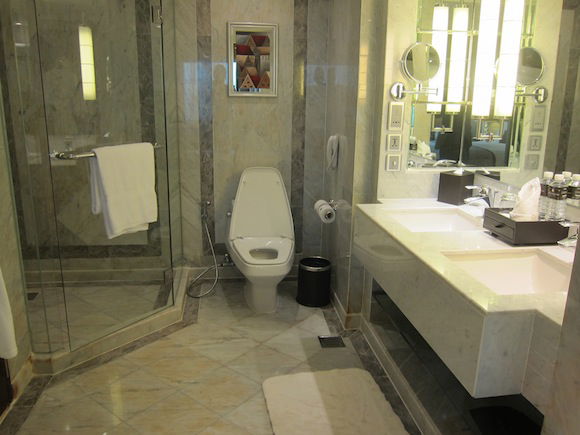 Toilet and shower
On the whole the room was modern, spacious, and felt "fresh."
Another highlight of the hotel was the club lounge, which is a huge facility on the 37th floor. Physically it's a beautiful space with plenty of seating and great views.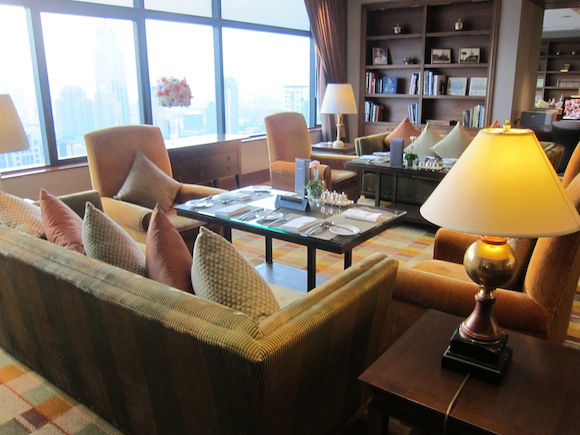 Club lounge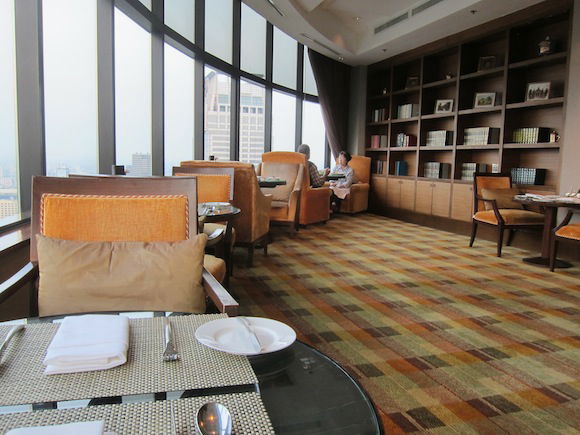 Club lounge
They had three main servings a day. The first was breakfast, which was served daily from 6AM till 10:30AM (I love what a big window that is). The spread was extensive, and featured all the continental options you could possibly want, plus you could order off a menu, as follows: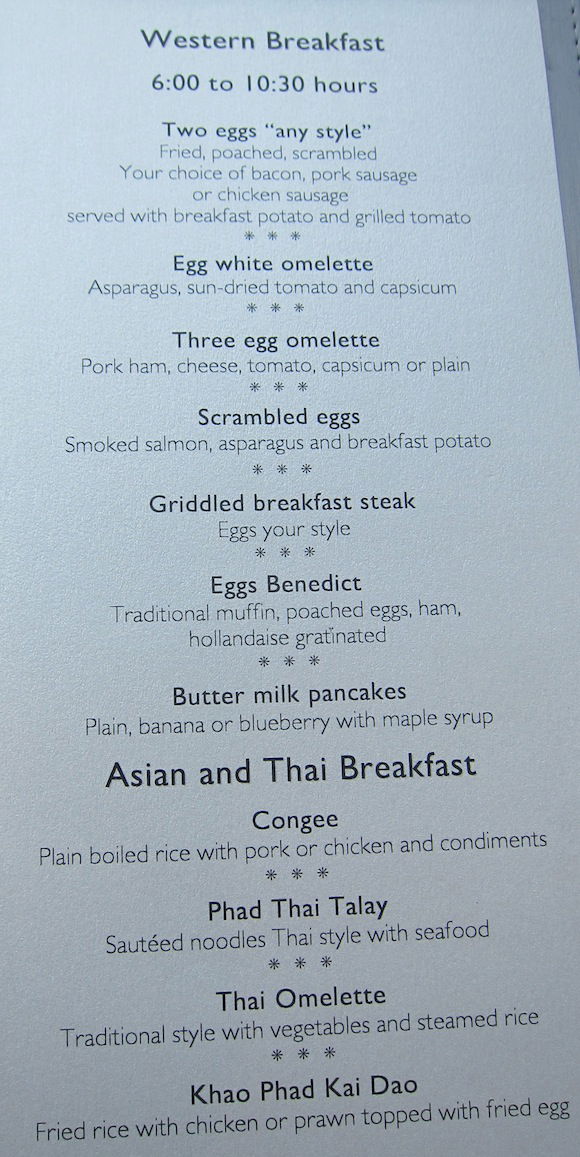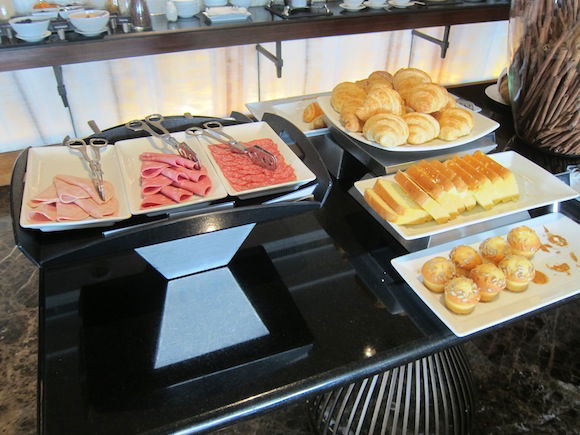 Breakfast spread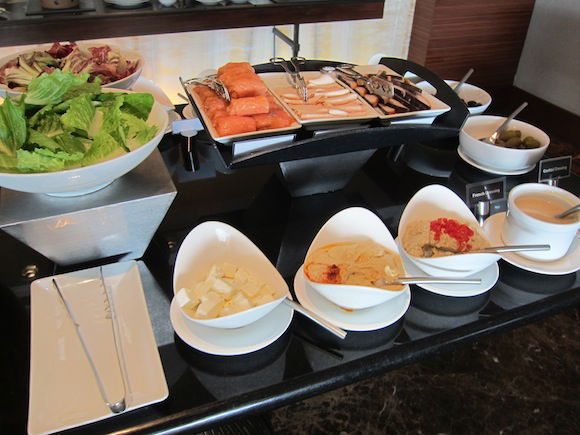 Breakfast spread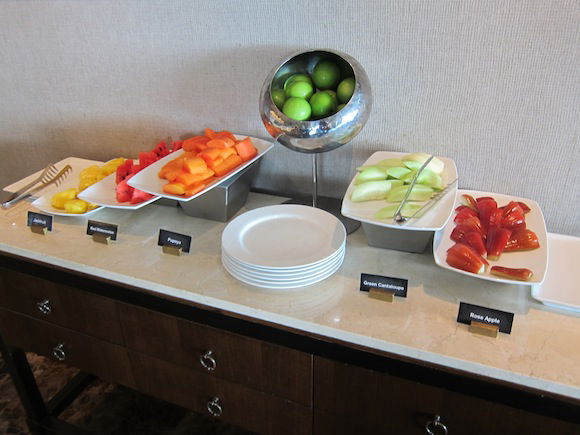 Breakfast spread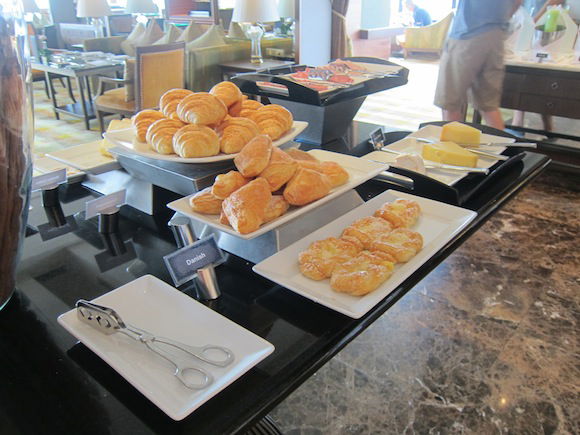 Breakfast spread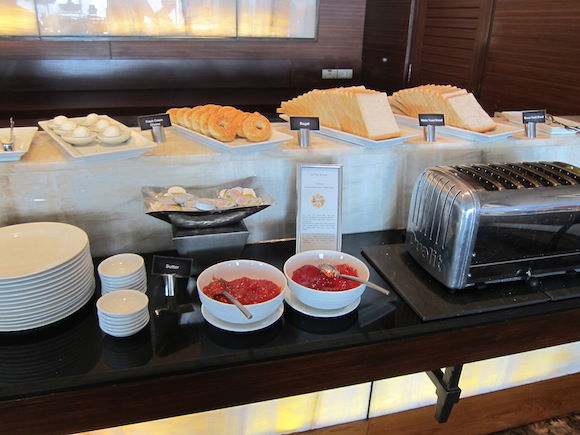 Breakfast spread
I also loved the Thai iced tea with breakfast every morning.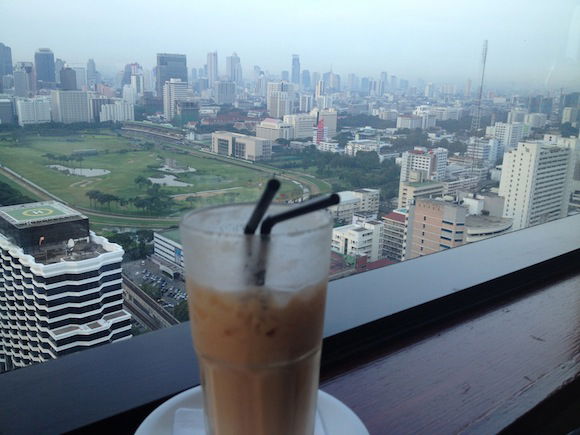 Thai iced tea
The club lounge also served afternoon tea from 2:30PM to 5PM, which was a fairly nice spread. It consisted of finger sandwiches, cakes, scones, muffins, etc.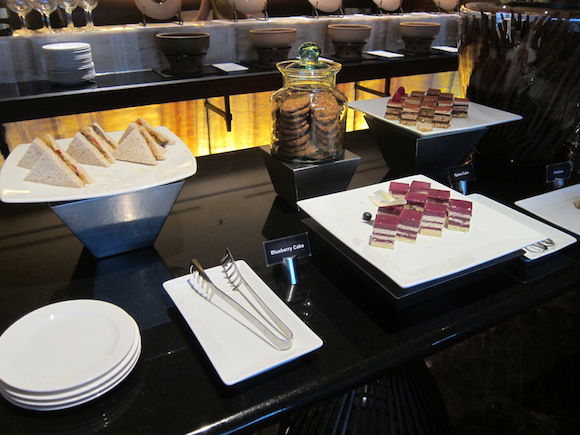 Afternoon tea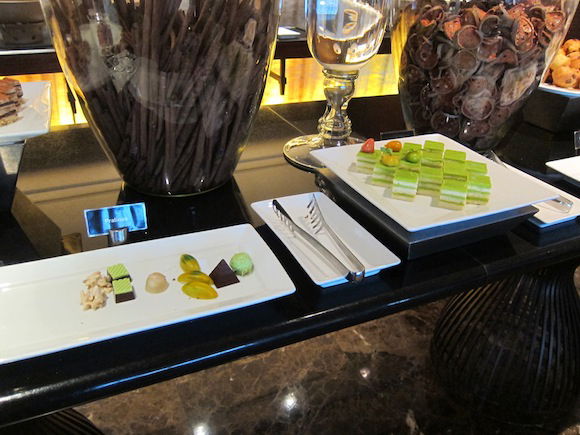 Afternoon tea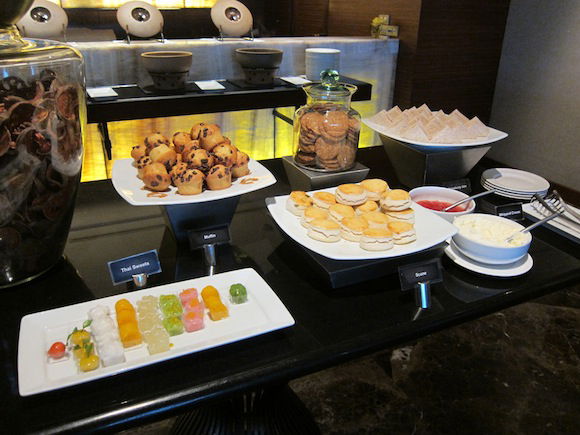 Afternoon tea
The evening spread was available from 5:30PM till 8PM, and was definitely one of the larger spreads I've seen anywhere. It had a variety of cold options and also four or five hot dishes that were frequently refilled. There were also waiters roaming around clearing plates and offering anything you could want to drink.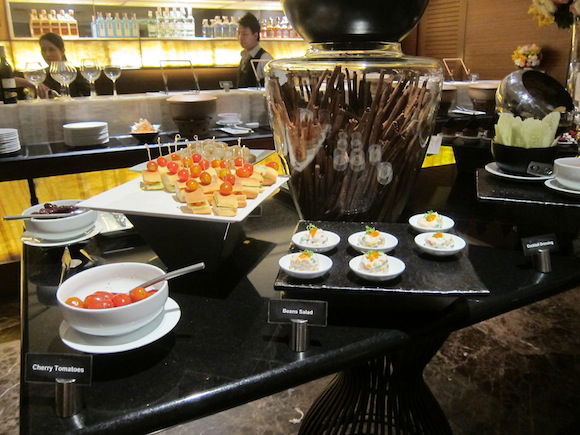 Evening spread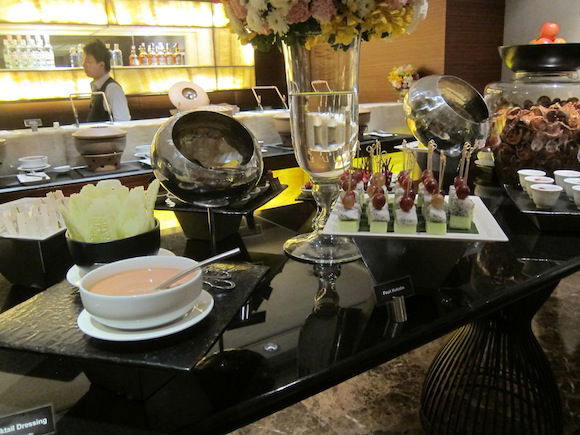 Evening spread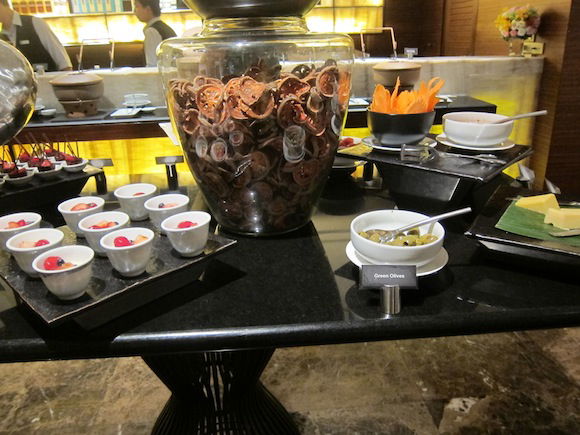 Evening spread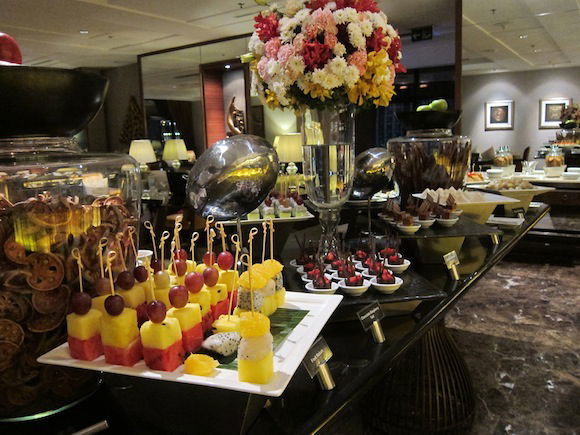 Evening spread
As far as the hotel's other facilities go, there was a massive (though oddly furnished) gym with great views of the city.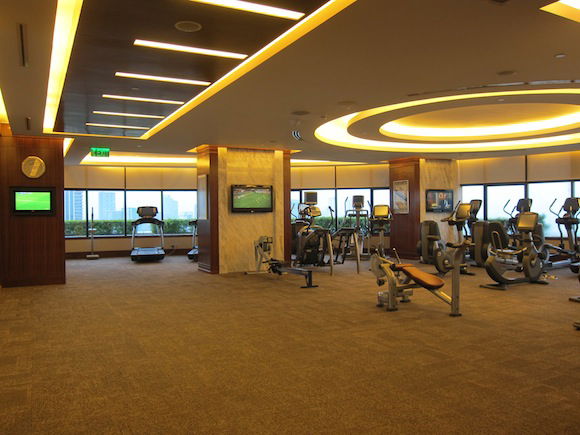 Gym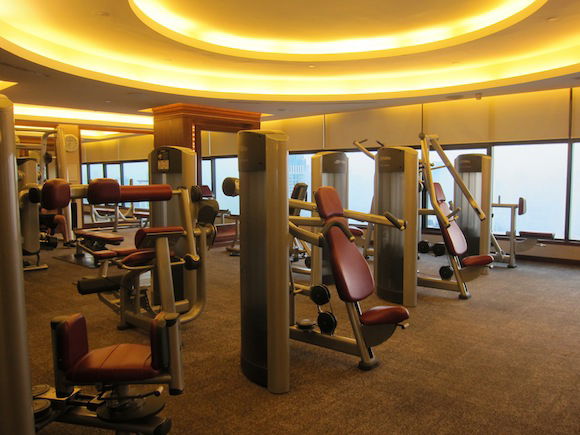 Gym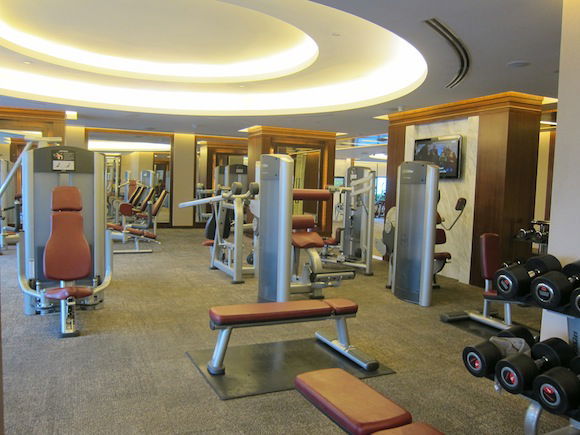 Gym
There was also an outdoor pool on the 37th floor, which seemed to offer a bit more style than substance.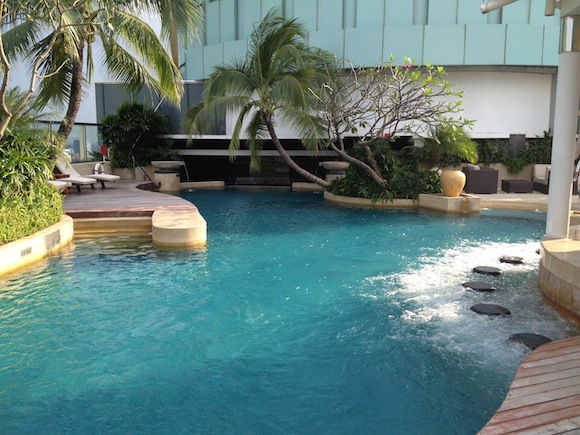 Pool
The one slight scare I had during my stay was when an earthquake in Myanmar was felt at the top of the InterContinental during breakfast one morning, which freaked me the heck out. You can read more about that here.
On the whole the service at this hotel was very good. The club lounge staff — especially Julia — were exceptional, and the rest of the employees were generally helpful too. I was a bit surprised that quite a few of the employees in the lobby, including the concierge, didn't speak English. I had asked him about a place to buy bubble tea, and he looked at me like I was from a different planet. He asked me to write it down on a piece of paper, which I did. He then Googled it and proceeded to tell me there were none in Bangkok. I went back to the club lounge to ask Julia, and she could recommend one just a few feet from the hotel right off the top of her head.
Anyway, on the whole this is quite a good hotel. As a Royal Ambassador this hotel is a phenomenal value, especially given how nice the club lounge is (and Julia, who staffs it). That being said, if I didn't have status I probably wouldn't stay here. I still really love the St. Regis, so while I'd definitely consider staying here again, it isn't a "no brainer."