---
Frankfurt is one of the few airports in the world where arriving at a remote stand can be a good thing, assuming you're a first class passenger. Upon our arrival from Seattle there was a Mercedes waiting on the tarmac for the three first class passengers, so we were quickly whisked off to the terminal before anyone else even had the chance to deplane. I've taken dozens of car rides on the tarmac at Frankfurt Airport, though this was by far the longest, which I'm sure as heck not going to complain about. The ride to the terminal took nearly 15 minutes.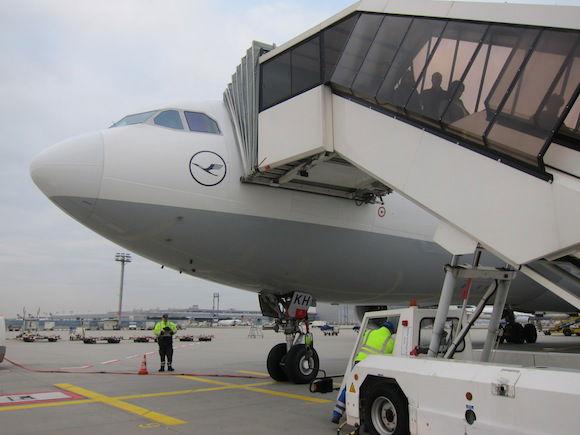 The Airbus 330 that flew us to Frankfurt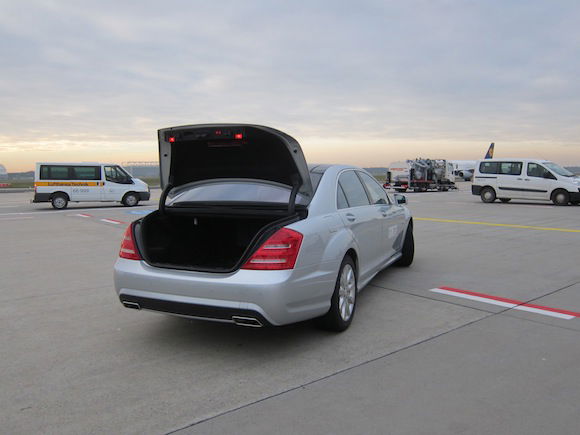 Our ride to the terminal
The views during the ride were stunning, as we must have driven right under at least a dozen widebody aircraft.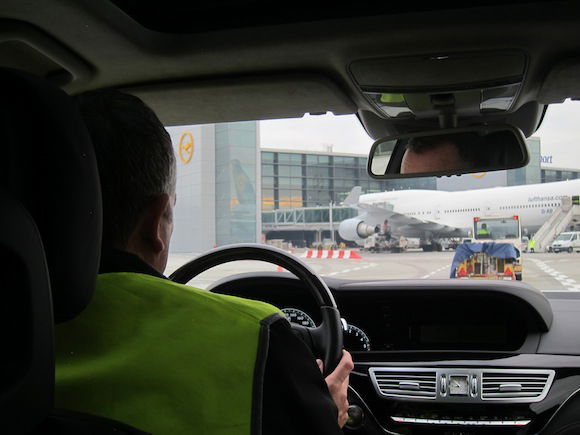 Tarmac views
We were dropped off at the security/immigration area, where we cleared security for our connection to Bangkok. Once airside there were great views of Lufthansa's aircraft, including a Boeing 747-8 that had just landed from Washington Dulles.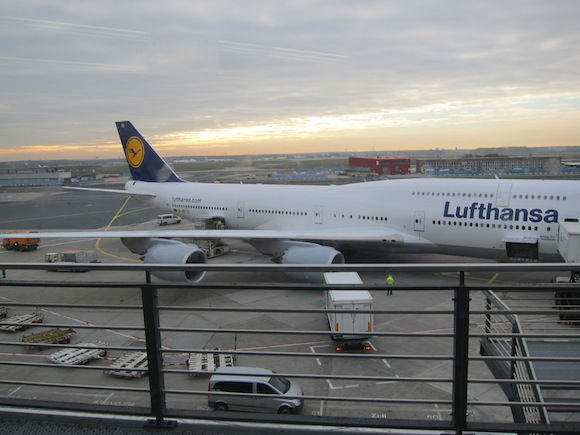 Boeing 747-8
While most airlines will allow passengers traveling on a partner airline in first class to access their first class lounges, Lufthansa will not. They restrict access to their FCLs (First Class Lounges) to same day Lufthansa and Swiss first class passengers. Our connection on Thai in and of itself only got us access to the Senator Lounge, but since we had arrived in Lufthansa first class same day we could use the FCL. Lufthansa gets away with this because they consider their Senator Lounge to be their first class lounge, while they technically consider their First Class Lounge to be a "HON Circle" lounge, which is their top tier elite status.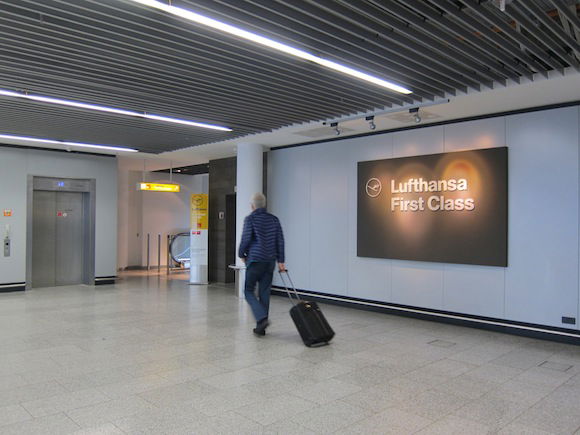 Entrance to the FCL
The agent at the entrance was friendly, and joked that he was offended by the fact that we chose to fly Thai to Bangkok over Lufthansa, though I reminded him that the Lufthansa flight only left eight hours later.
While Lufthansa has several FCLs and also the FCT (First Class Terminal), they're all more or less the same in terms of design. They feature plenty of seating, a dining area and bar, office cubicles, nap rooms, and spacious showers. The only major difference I notice between the FCLs and FCT is that the service seems to be a bit more attentive in the FCT, in that the waiters roam around ensuring glasses are never empty.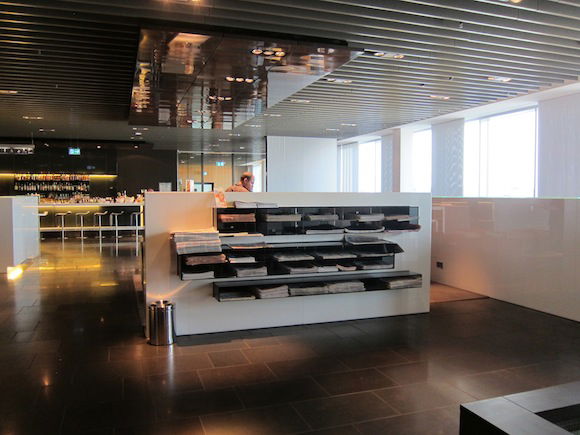 First Class Lounge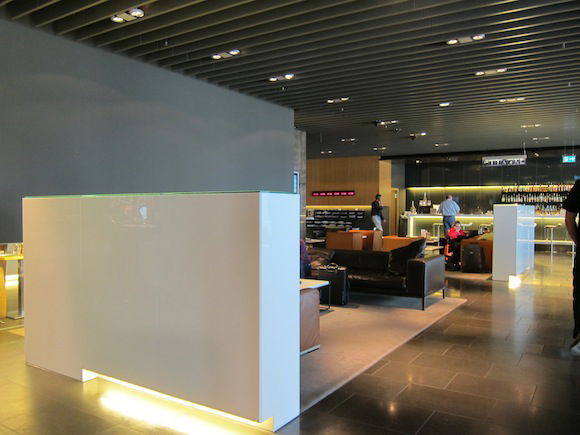 First Class Lounge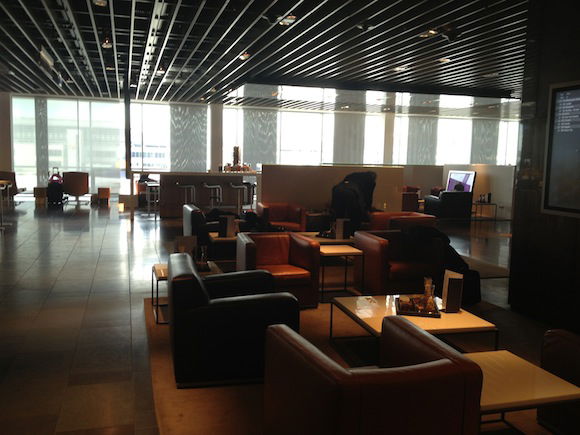 First Class Lounge
One of the benefits of the FCL over the FCT is that while the FCT is disconnected from the terminal/tarmac, the FCL features great views of the tarmac.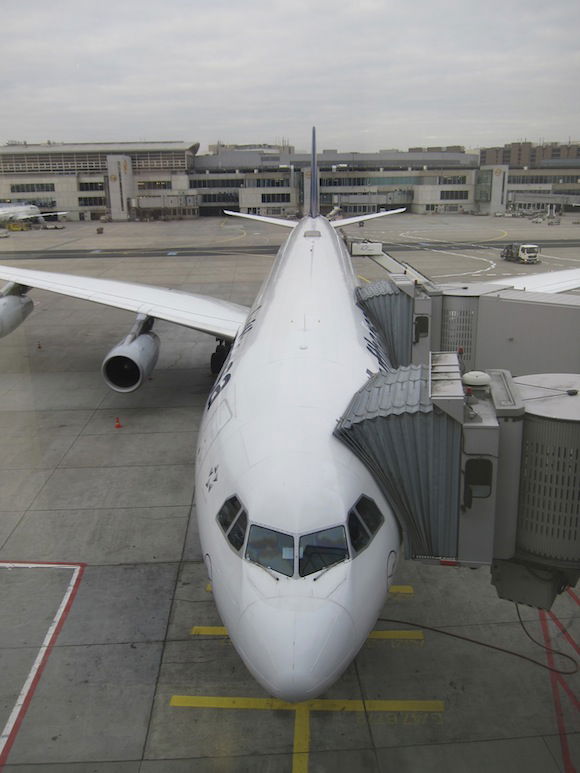 Tarmac views
The first thing I did was request a shower room so that I could freshen up before my connection.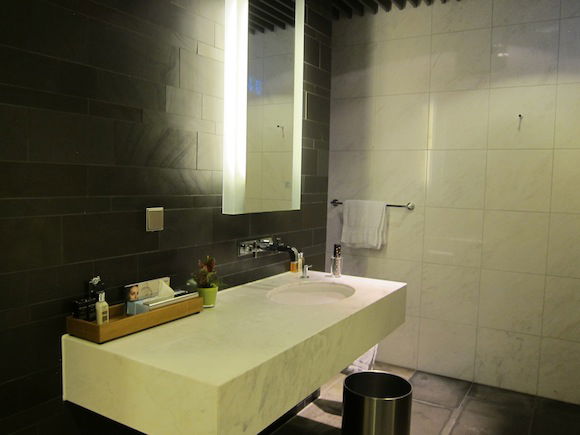 Shower room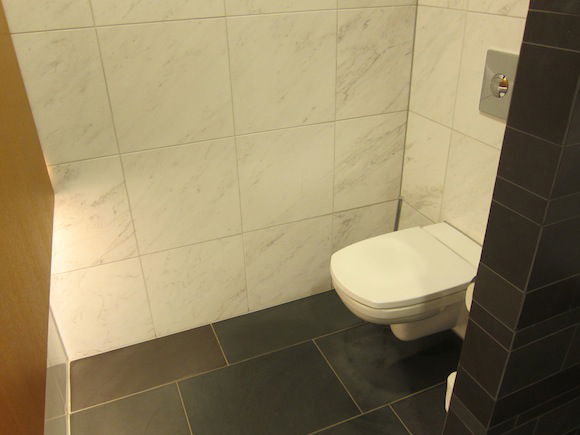 Shower room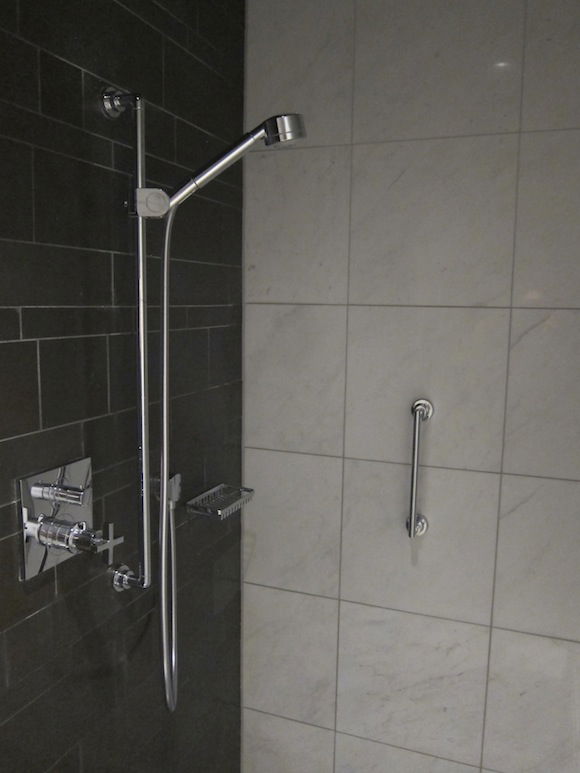 Shower room
After that I grabbed a cubicle so I could get caught up on some work. Of course since I only had a five hour layover in Frankfurt in which to maximize my Fanta and pretzel consumption, I got right to it. Fanta and pretzels make the world a better place.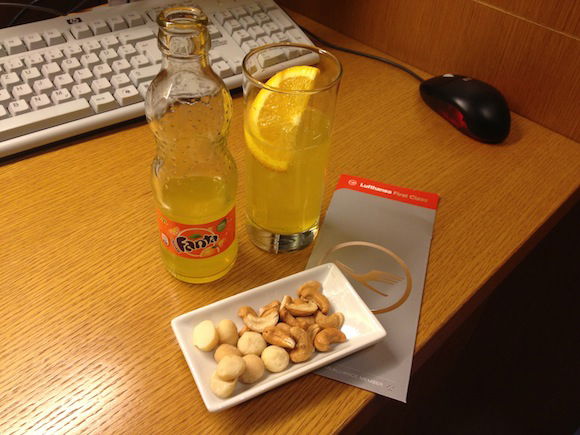 Fanta!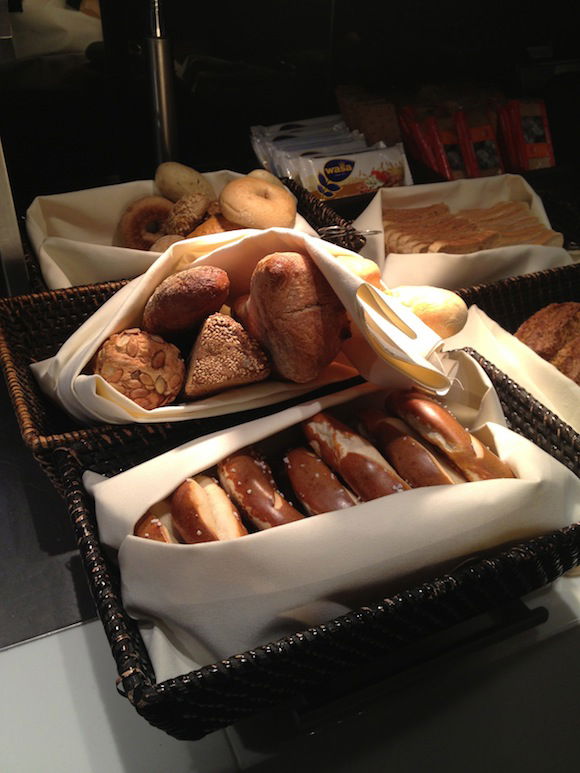 Pretzels!
At around 12PM, about two hours before our departure to Bangkok, we headed to the dining area for lunch. As usual the buffet spread was fantastic.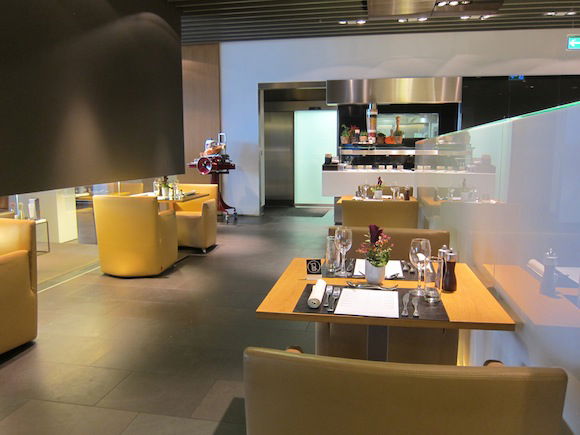 Dining area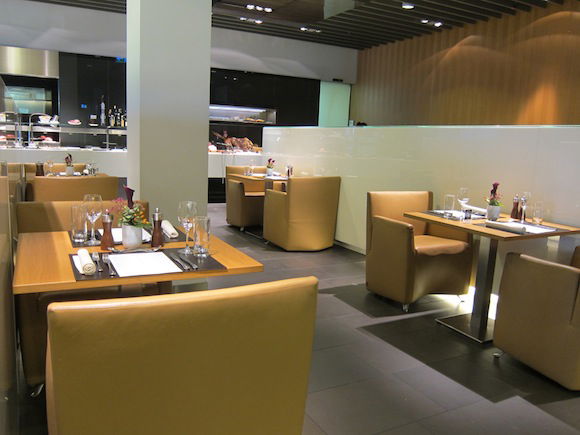 Dining area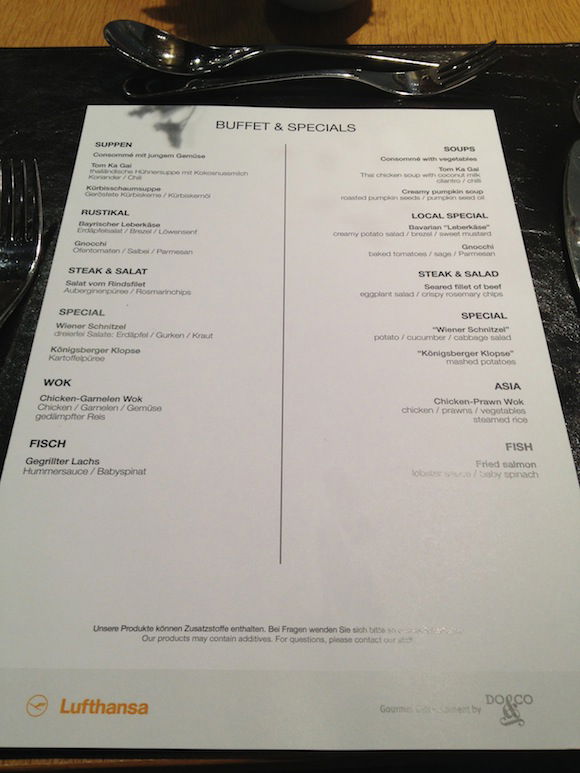 Menu
I'm not sure whether to be proud or ashamed to admit that I didn't actually eat other than finishing the pretzel I had been munching on.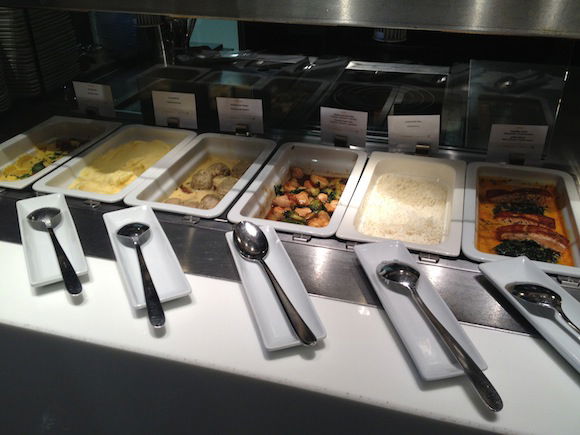 Buffet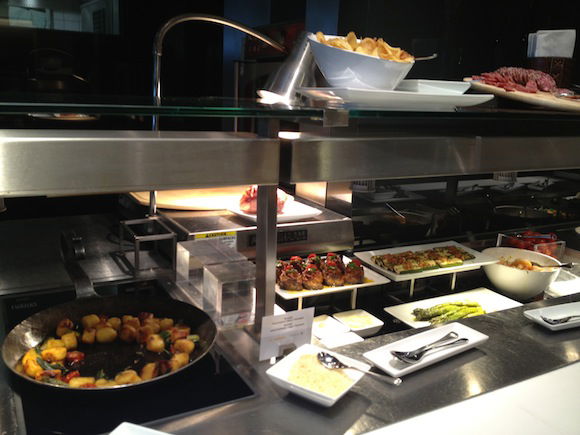 Buffet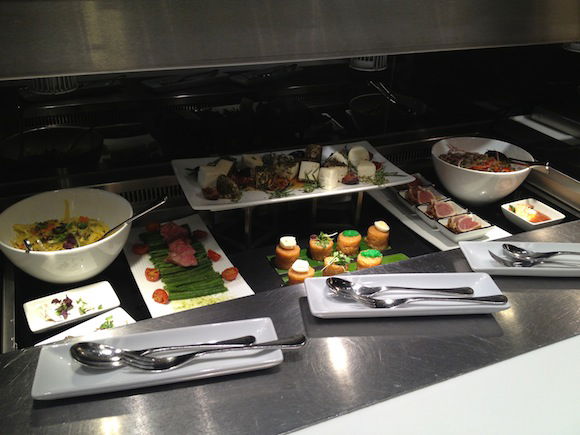 Buffet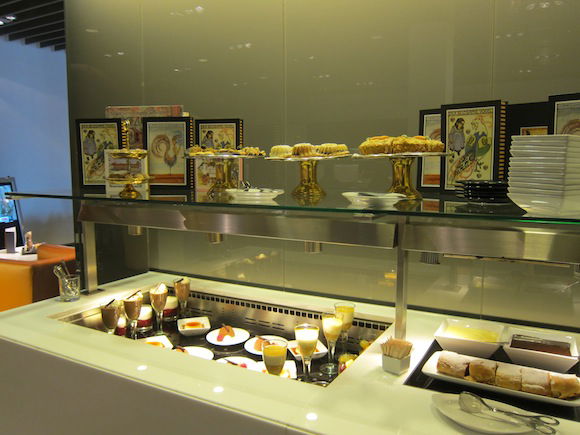 Buffet
At around 1PM we decided to head to our departure gate, B46, which was only about a five minute walk away.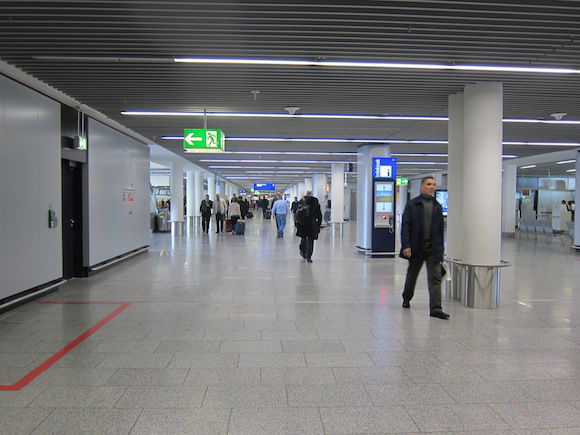 Terminal
Once at the gate we checked with the gate agent about the possibility of a seating change, since we were hoping to both sit in row one, though the agents in Seattle weren't able to change our seat assignments. They told us that seat 1K was occupied in the meantime, though encouraged us to use the Senator Lounge which was right around the corner, as an escort would pick us up and walk us to the plane when they were ready for boarding. So that's what we did.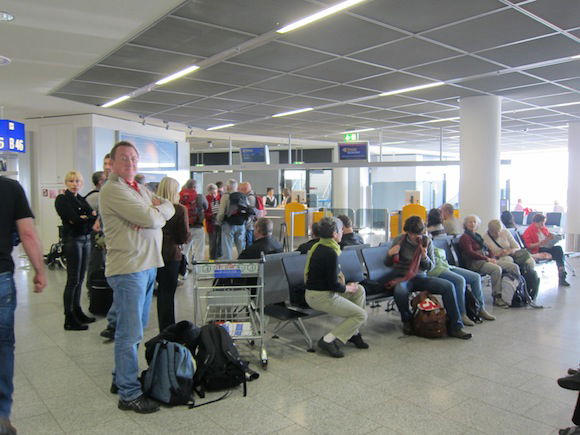 Departure gate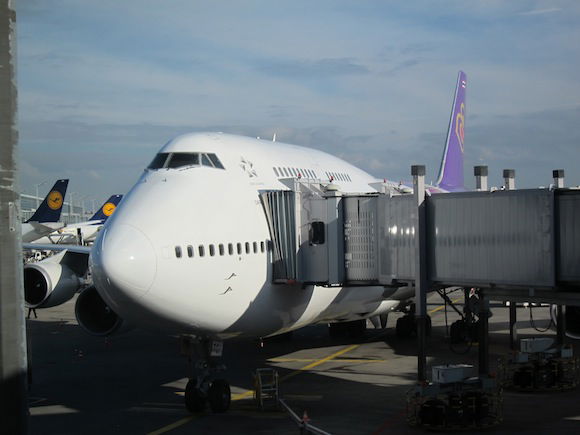 Thai 747 taking us to Bangkok
While not quite as spectacular as the FCL, the Senator Lounge was surprisingly nice. It was spacious and wasn't overcrowded, which is a rarity for Senator Lounges, in my experience. I believe this specific lounge is a new design they're going with, so don't expect all Senator Lounges to be this nice.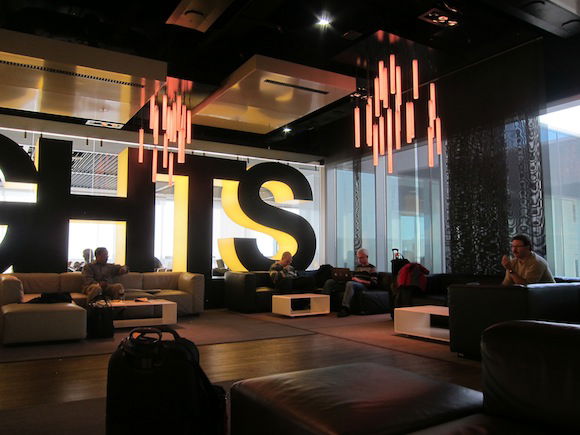 Senator Lounge seating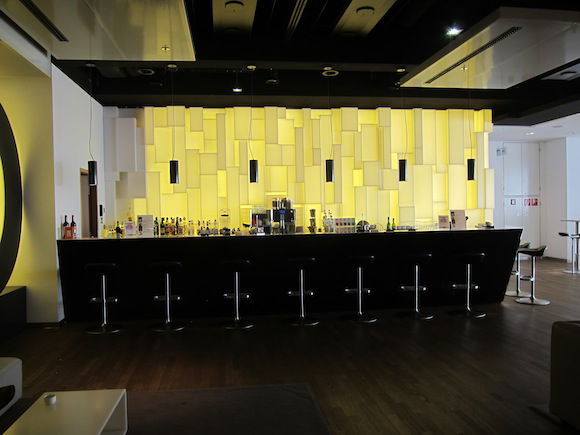 Senator Lounge bar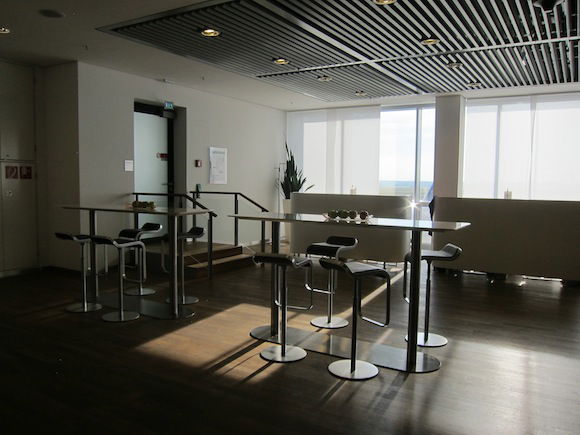 Senator Lounge seating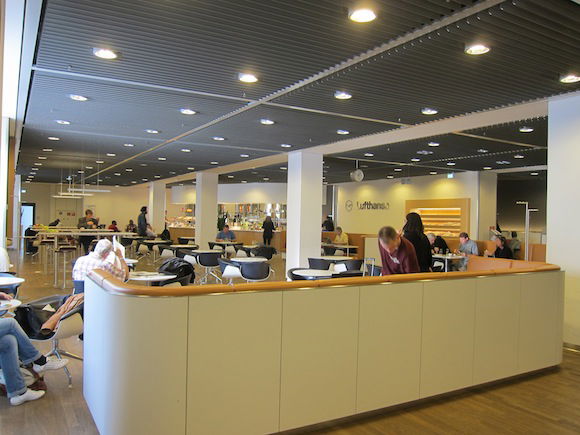 Senator Lounge seating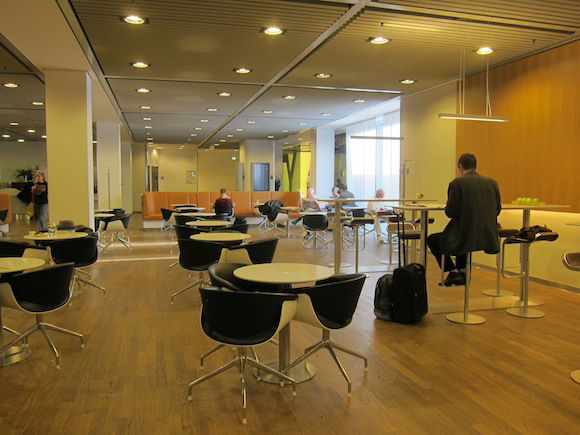 Senator Lounge seating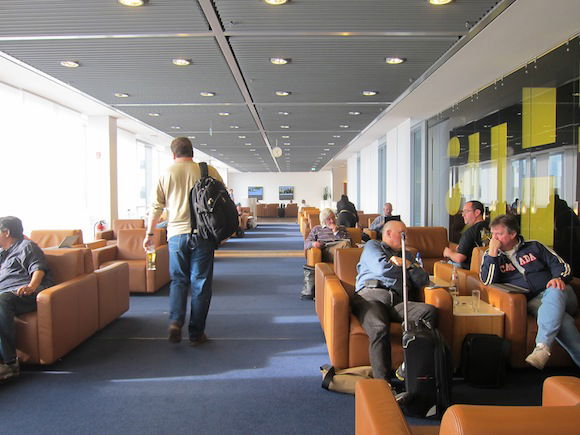 Senator Lounge seating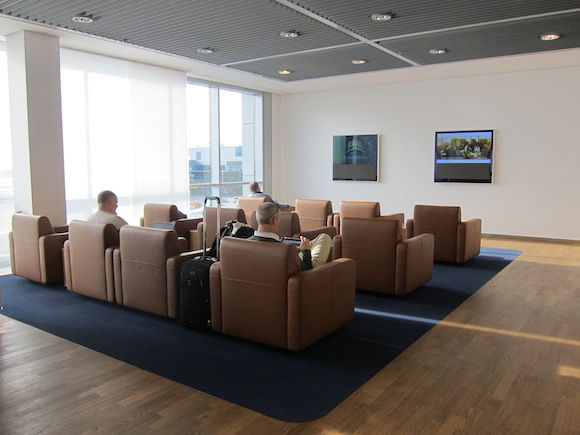 Senator Lounge seating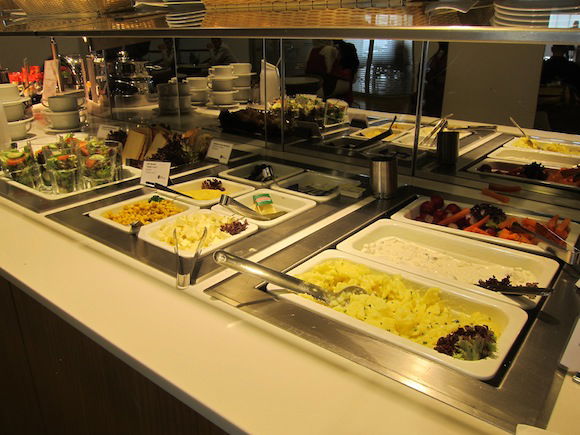 Senator Lounge buffet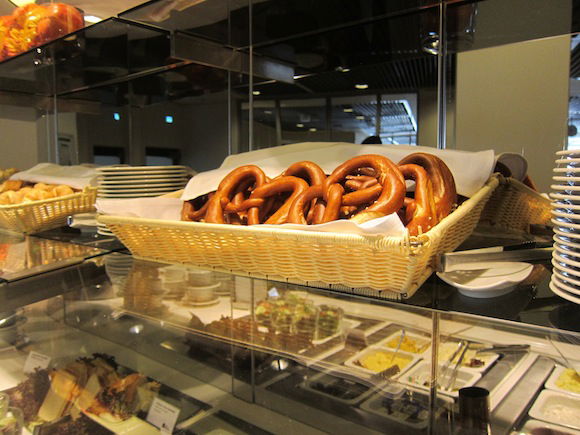 Senator Lounge buffet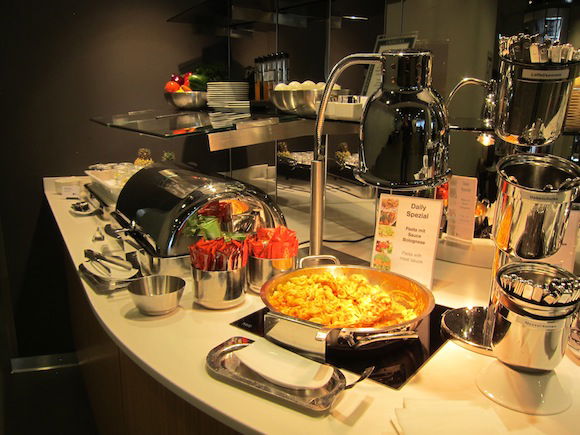 Senator Lounge buffet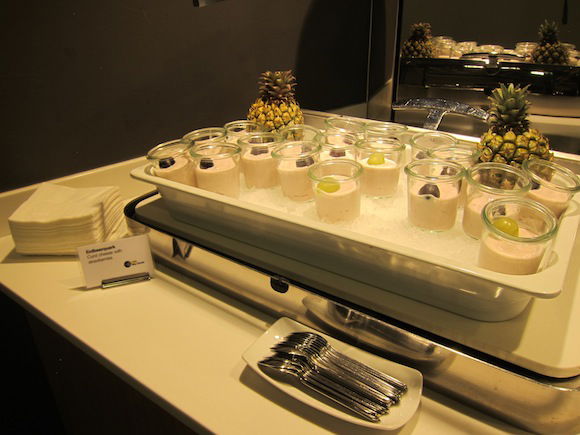 Senator Lounge buffet
At around 1:30PM we were picked up by the Thai Airways escort and brought to our departure gate for our flight in new Thai first class to Bangkok.