---
Upon arrival at the airport we headed straight for first class check-in, which has an interesting setup. There are about a dozen agents standing around, and as we walked up to the check-in area an agent walked with us to a counter to check us in. A porter immediately took our checked bag and left a tag with the agent. At first my dad was a bit concerned that the bag wouldn't be tagged correctly, but they seem to have the system down pretty well.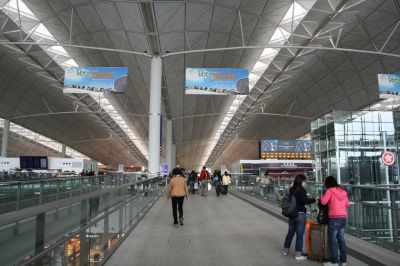 My favorite airport in the world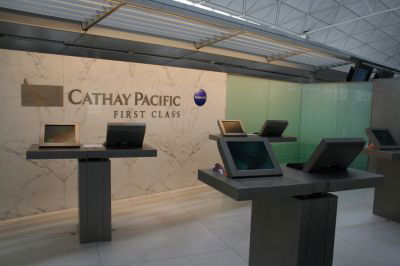 First class check-in counters
After a few minutes the agent printed our boarding passes and lounge invitations, without so much as explaining where the lounge is located. Maybe it's just me, but the whole check-in experience is underwhelming for an airline like Cathay Pacific. There's no escort past security, no proper explanation of where the lounges are located. It just has a very sterile, impersonal feel.
We walked towards security, where there was a short wait of about five minutes. There's nothing more civil than security in Hong Kong. No shoe carnival, no taking off belts, no taking off sports coats, etc.
When we made it through we started looking for the lounge. The lounge invitation read "The Wing/The Pier/G16." Being a Cathay Pacific virgin and not understanding what the difference is between The Wing and The Pier, I figured it was the same facility. Based on that description I assumed they were located at G16, which was about a 15 minute walk. When we got there we realized it was actually a DragonAir lounge, nicknamed the "G16 lounge." Oops!
We wanted the full lounge experience, so we walked all the way back to The Wing. After giving the agent there our lounge invitations I asked for clarification regarding the difference between The Wing and The Pier. The agent explained that The Wing had nicer shower facilities, but that they're the same otherwise. Hmmm, ok.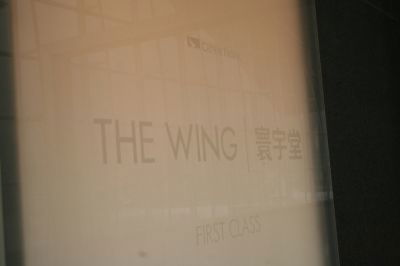 The Wing entrance sign
After taking an elevator ride up a floor we proceeded to the "first class" area, which was separated by a sign. While the furnishings were nice, it looked more like a nice business class lounge than a first class lounge.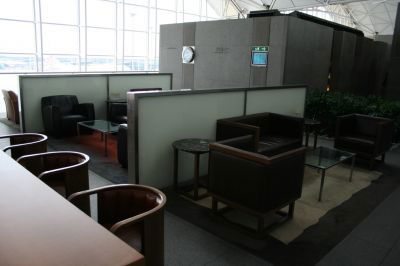 The Wing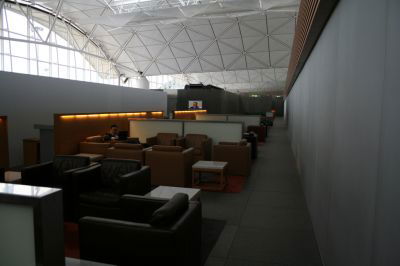 The Wing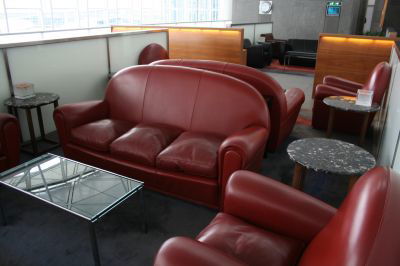 Comfortable couches
We took a seat and within a few moments a waiter came by offering us drinks. The service was fantastic, as they were around all the time to top off drinks. The Wi-Fi connection was quite good as well.
I did some exploring and found "The Library" right around the corner.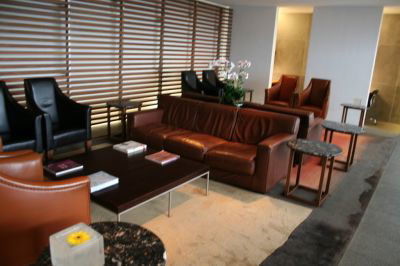 The Library
I'm not sure what purpose The LIbrary serves now, but if I had to guess I'd say it used to be the smoking area, before Hong Kong got stricter than the US when it comes to smoking.
I also checked out the world famous shower facilities, known as The Cabanas. Trying to explain to the agent that I just wanted to see the showers and didn't actually need a shower was half the fun.
The Cabanas are awesome. They're huge rooms with a bathtub, and even a lounge chair with a small pond at the end. Very neat looking.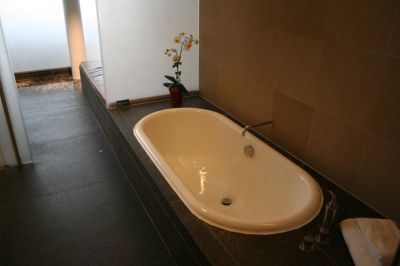 The Cabanas bath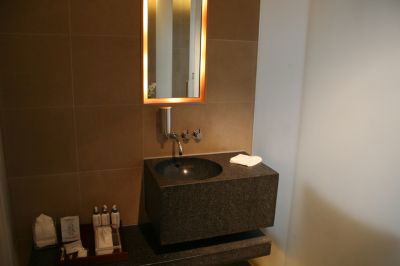 The Cabanas sink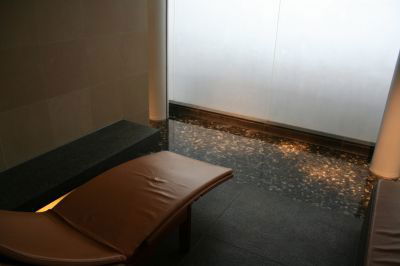 The Cabanas lounge chair and pond
The lounge began to fill up at around 2PM, which made it uncomfortably full. Basically every seat was taken, further adding to the business class feel of the lounge. This is also when I overhead the interesting conversation I reported on in a previous update:
By the way, the most entertaining part of sitting here has to be the guy sitting across from me. I'm not sure what nationality he is (I'd guess French), but he has been on his phone for the past five minutes trying to make an "appointment" for tonight. He's requesting a "female" show up at his hotel at 10PM tonight for 90 minutes. Maybe he wants a massage….. or a "massage?"
We decided to go The Haven, which is the restaurant area in the lounge. After waiting for a couple of minutes for a table to clear up, we were seated.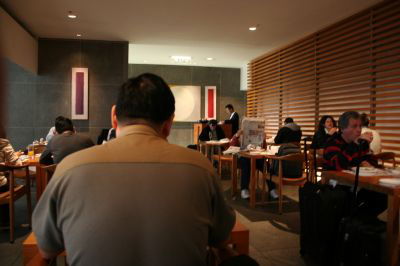 The Haven
There are waiters which serve drinks, but the actual food service is buffet-style. There are tons of options, although I would call it more a snack place than a full-out dining experience, as evidenced by the size of the plates. The fact that they have plastic knives is also pretty weak, although I'm guessing it's not necessarily their choice.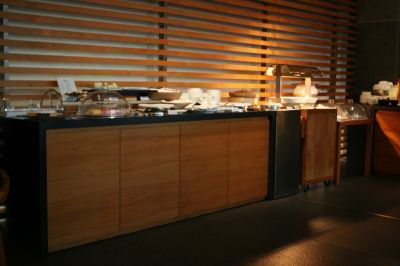 Buffet area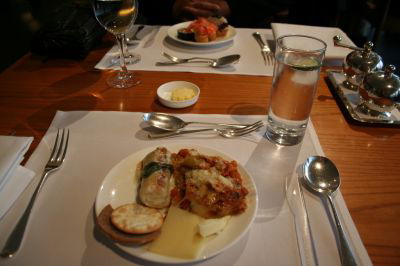 Lunch
At around 3PM we decided to leave the lounge and wander around the terminal. So what was my overall impression of the lounge? Well, it wasn't bad, but it wasn't that great either. It was exactly what I was expecting, actually, given what I had heard. I can't agree with Skytrax giving this a top five ranking as far as first class lounges go, but I respect that everyone has different tastes. We checked out The Pier on our way to Tokyo on the return, so stay tuned for that, as my impressions were a bit different.
Our gate was a good 15 minute walk from the lounge. As much as the long walks at HKG can suck (given the design of the airport and when trying to make a connection), it still has to be the most exciting airport to walk around in. One moment you're walking past a plane heading to London, the next moment you're walking past a plane heading to Sydney, and the next moment you're walking past a plane heading to New York. Can it get any better than that?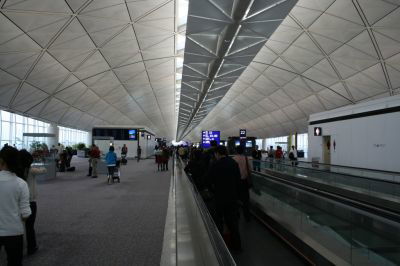 Walking to our gate
When we got to our gate I was excited to see the plane that was waiting for us. It was the special paint scheme 777 promoting Hong Kong, the same plane we flew from Toronto the night before! That answered my dad's question as to whether or not the same plane turns around and goes back to Toronto.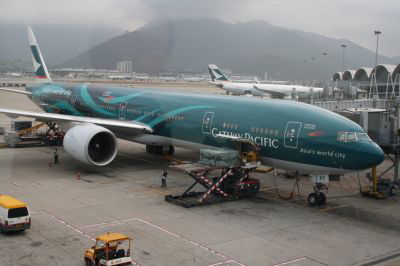 Our plane
Since we still had plenty of time we decided to walk around the terminal for a while. We got back to the gate at around 4PM, about ten minutes before boarding started. Within a few minutes our passports were checked, and shortly thereafter first class, business class, and elites were welcomed aboard.
Cathay Pacific 903, HKG-MNL, Boeing 777-300ER
Tuesday, March 10
Depart: 4:40PM
Arrive: 6:45PM
Seat: 1K (First Class)
Upon entering we were welcomed aboard by the purser, who escorted us to our seats. She helped us stow our bags and immediately asked what she could get us to drink. As the service progressed I saw just how consistent Cathay Pacific is. First pre-departure beverages, then an introduction from the other first flight class flight attendant, then hot towels, then menus, then an introduction by the in-flight service manager, then an announcement by the captain, etc.
I just wanted to point out something interesting I consistently noted about the in-flight service manager on Cathay Pacific. Based on all four of my flights, the ISM has a very hands-off job. Not once did I see the ISM in the cabin providing any service like they do on Singapore, which I'm not really a fan of. I'm not sure if they help out in business, but for the most part I just saw them do paperwork. One of the things I like about the ISM's on Singapore is that they provide service and master small talk.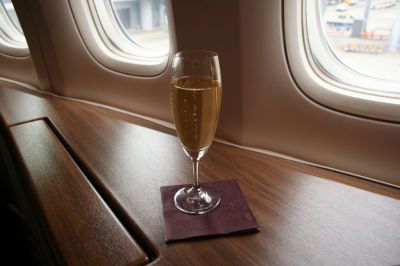 Pre-departure champagne
One of our flight attendants asked about our stay in Manila, as she was Filipino, so she offered some suggestions about what to do in Manila, and I also got to talking to her about her job. It was interesting to hear that she lives in Manila and commutes to Hong Kong for work. I didn't realize Cathay's flight attendants had commuting privileges like that.
Eventually one more passenger was seated in 1A, so the flight attendants had to take care of him for a few minutes. The captain came on the PA and welcomed us aboard, informing us of our flight time of 1hr30min to Manila. I couldn't quite pin down his accent (not quite Australian, not quite British), but I loved his pronunciation of the word "schedule." As he said it, "shed-jewel," which I believe is a pretty common pronunciation for Brits (correct me if I'm wrong, please). It has been a while since I've heard that pronunciation, but ever since I can't get the word out of my head. As a matter of fact I find myself saying the word over and over and over again. Weird, eh?
We had a long taxi to the other end of the field, where we were airborne after a quick roll. After a few minutes the "ding" was heard throughout the cabin and the flight attendants sprung into action. They started by taking meal and drink orders.
The menu and wine list read as follows:
Refreshment

Starter
Fresh seasonal fruit

Main Courses
Pan-fried sea bass fillet with pommery mustard sauce, crushed potatoes and roasted vegetables

Shanghainese braised pork ball with steamed jasmine rice and braised marrow with garlic and dried shrimps

Dessert
Fruit gateau with raspberry sauce

Drink List

Juices
orange, apple, tomato

Soft Drinks
Coke Zero, Coke, Coke Light, Sprite, Perrier water, tonic water, soda water and ginger ale

Coffee
freshly brewed coffee

Teas
Fuding jasmine silver fur, Anqi supreme Ti Guan Yin, Ceylon Japanese, Hong Kong style milk tea
organic selection: camomiles, earl grey and peppermint

Hot Chocolate

Wine List

Champagne
Curvee William Deutz Brut 1998
This charming champagne is crystal clear with a pale gold hue. The rich aromas of baked apples are followed by hints of preserved ginger and nutmeg. It is pure with complexity, which is the hallmark of the Cuvee William Deutz. This is an ideal wine for matching most of the delicate dishes offered onboard

White Wines
Henri de Villamont Meursault 2005
Meursault is a large village located in the southern part of the Cote de Beaune, Burgundy, France, which produces some of the best Chardonnay wine in the world. The 2005 Henri de Villamont Meursault possesses abundant ripe fruit with an added supple richness and hints of butterscotch. It is elegant with a stylish structure. Fish, poultry dishes with cream sauce and strong ripe cheese will pair wonderfully with this wine.

Helen's Hill Yarra Valley Chardonnay 2006
Helen's Hill Estate is located in Yarra Valley – Victoria's oldest wine region. This tempting Chardonnay is a light straw color. The ripe peach and citrus characters are complemented by an attractive mineral layer, toast and vanilla cream. It has a great length with excellent balance. This is a great accompaniment to roast pork or chicken dishes.

Red Wines
Chateau Branaire-Ducru 2001, 4eme Cru Classe
Chateau Branaire-Ducru is an elegant Grand Cru wine from Saint Julien of Haut Medoc, Bordeaux. The 2001 vintage offers beautiful aromas of crushed berries and currants, with hints of violets. It is full boded with lively acidity giving the wine excellent balance. This seductive wine has soft and smooth tannins and a long and caressing finish. It goes perfectly with all kinds of red meat and stewed dishes.

Possums Vineyard McLaren Vale Shiraz 2004
The vines for this delicious wine are planted in Blewitt Springs, an elevated sub-region of McLaren Vale, South Australia. The 2004 Possums Vineyard Shiraz has dark purple and vibrant violet hues. It displays intense aromas of blackberry and raspberry, which marry beautifully with the spiciness of the oak. It is full bodied and well structured with supple tannins. This wine matches well with stews and also many Chinese dishes.

Terrabianca "Campaccio Riserva" Toscana IGT 2004
This wine is produced from 50% Sangiovese and 50% Cabernet Sauvignon grapes. It offers aromas of red fruits, roasted coffee and liquorice with a touch of vanilla note. It is very rich on the palate and silky, with sweet tannins. A delicious wine that goes well with most meat dishes.

Port
Ramos Pinto Quinta de Ervamoira 10 Year Old Tawny Port
Produced from grapes grown in the vineyard Quinta de Ervamoira, this tawny offers all the maturity of an aged wine while still displaying the vigour of youth. It is smooth and full bodied, with aromas and flavors of apricot and plum balanced with vanilla scents from the aged casks.

Aperitifs and Cocktails
Campari
Martini Rosso
Matrini Extra Dry
Tio Pepe Sherry
Harveys Bristol Cream Sweet Sherry
Gordons Dry Gin
Stolichnaya Russian Vodka
Bloody Mary
Screwdriver

Whiskies
Chivas Regal 12 Years Old
Johnnie Walker Blue Label
Canadian Club
Gentlement Jack Bourbon
Glenfiddich Ancient Reserve Single Malt Whisky

Cognac
Tesseron Lot 76 XO Tradition

Liqueurs
Grand Mariner
Cointreau
Drambuie
Kahlua
Bailey's Irish Cream

Beer
International selection

CX signature drinks
Oriental Breeze
A sour-plum tea and cranberry juice based non-alcoholic drink with honey and fresh lemon juice and a hint of rose water.

Cloud Nine
A refreshing combination of Vodka, Cointreau and Sprite with a refreshing touch of lemon flavor.
I wasn't particularly hungry after the snack in The Haven and the main courses didn't sound particularly appealing to me, so I just went with the starter and dessert. The flight attendant tried to convince me to go with a main course, but I refused. I also ordered a "Cloud Nine," their signature drink.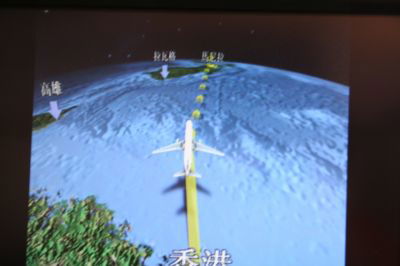 Our fight path
Due to the short duration of the flight there were no movies available, which was fine by me. I went with an episode of The Simpsons. Within minutes my table was set, with plenty of attention paid to detail.
The fruit starter was delicious, fresh, and ripe.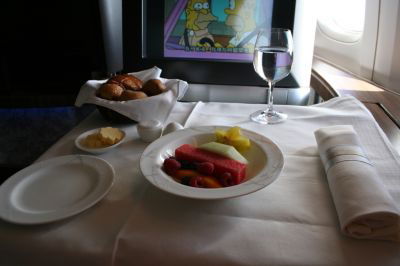 Fruit starter, bread, water
The "Cloud Nine" I ordered was delivered shortly thereafter.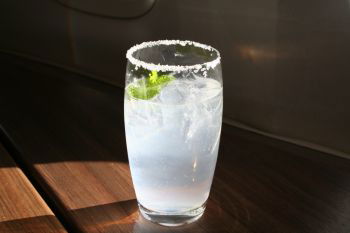 Cloud Nine
The dessert was brought out within a few more minutes, which was also delicious.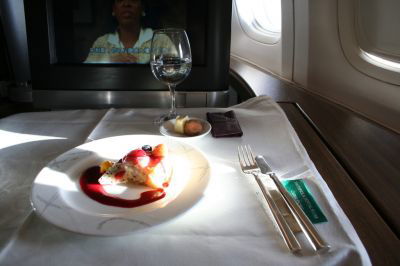 Dessert
I was then offered tea or coffee. I went with coffee, which was served with pralines.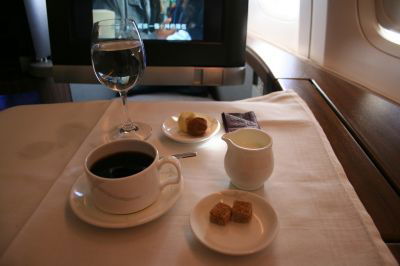 Coffee and pralines
The flight attendant made sure I didn't want anything else, because she insisted I didn't have a proper lunch, but reluctanty cleared my table. She went on to ask some more questions about our stay in Manila, and proactively made some suggestions about what we should do.
I can't commend this crew enough. They were constantly on their feet, easy to talk to, and incredibly charming. Simply unbeatable service.
At this point the captain came on the PA with arrival information, and also did the standard "cabin crew, 30 minutes till landing" announcement.
Before we knew it the sun began setting and we were descending into Manila.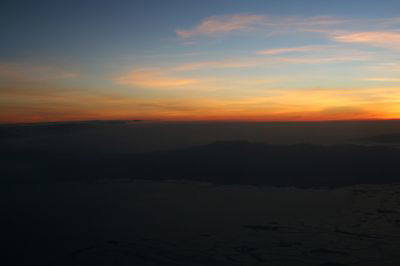 Approaching Manila
We touched down at around 6:35PM, and were at the gate a few minutes after that. We bid farewell to our crew, and entered the relatively crummy Manila airport.
Fortunately there was no wait for immigration, although the agent wasn't particularly efficient or friendly. It didn't take long for the bags to arrive, and our bag was the first one out.
We headed towards the taxi stand, where there was no wait and we were on our way to the Crowne Plaza immediately.