---
Thai Airways is notorious for equipment swaps, which is why I was really worried about this flight. They currently have four types of first class seats:
Today we'd be flying their single reconfigured 747, which has the tail number HS-TGY. You can track the tail number here, and as you can see the plane has been all over the place, so we really lucked out with having it on our flight to Frankfurt.
Anyway, we were picked up from the lounge at around 1:45PM and escorted to gate B46, where boarding was underway.
Thai 921
Frankfurt (FRA) – Bangkok (BKK)
Friday, November 9
Depart: 2:10PM
Arrive: 6:20AM (+1 day)
Duration: 10hr10min
Aircraft: Boeing 747-400
Seat: 2A (First Class)
We boarded through door 1L, and once we showed our boarding passes were directed to our seats. My initial impression of the cabin was that it was spacious and nicely decorated. There are just nine seats in the nose of Thai's new 747s, so there's plenty of personal space. British Airways crams 14 first class seats into the nose of their 747s, on the other hand.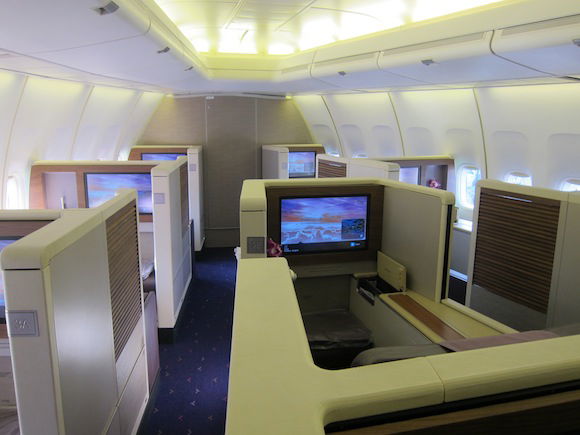 First class cabin
I was assigned 2A, which was probably the most private seat in the cabin along with 2K.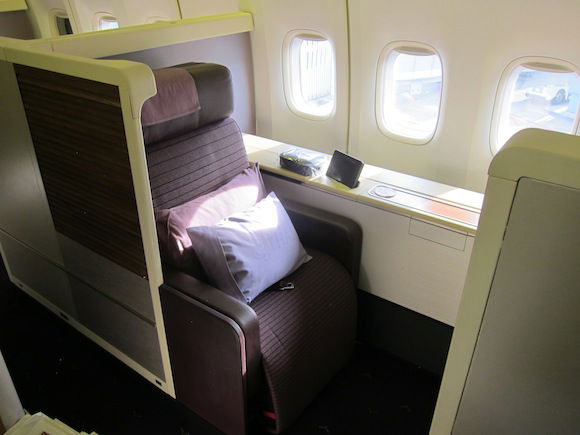 Seat 2A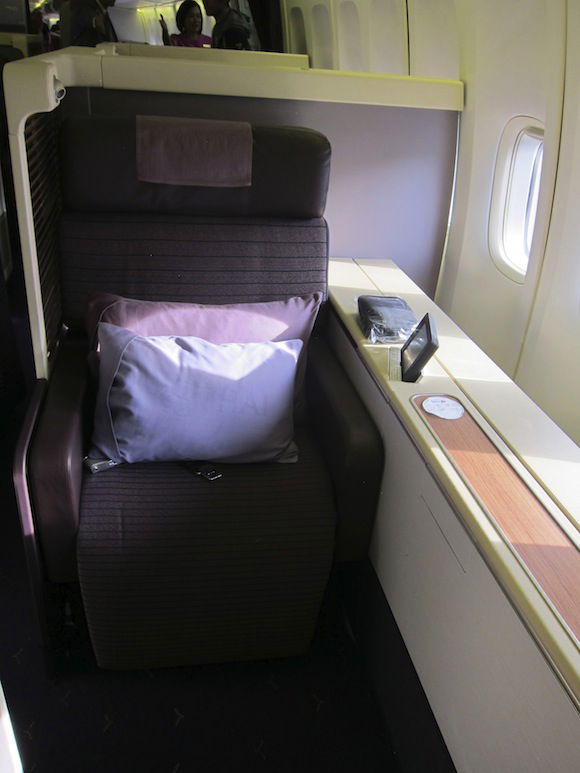 Seat 2A
The "suite" was interesting in that it has the same design as most fully enclosed airplane suites, except doesn't have a door. So it's kind of only semi-private. The finishes look impressive on the surface (that's not a pun, by the way), though felt a bit cheap when you actually touched them — not that it's the end of the world.
The entertainment screen was huge, as was the side console.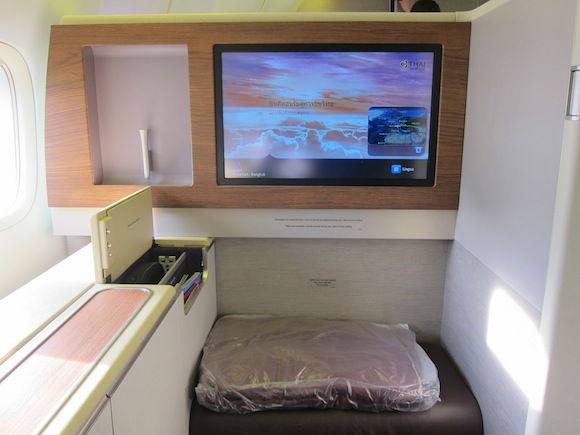 Entertainment system
Each suite also featured a closet, though they were really, really small, hardly wide enough to even hang a jacket.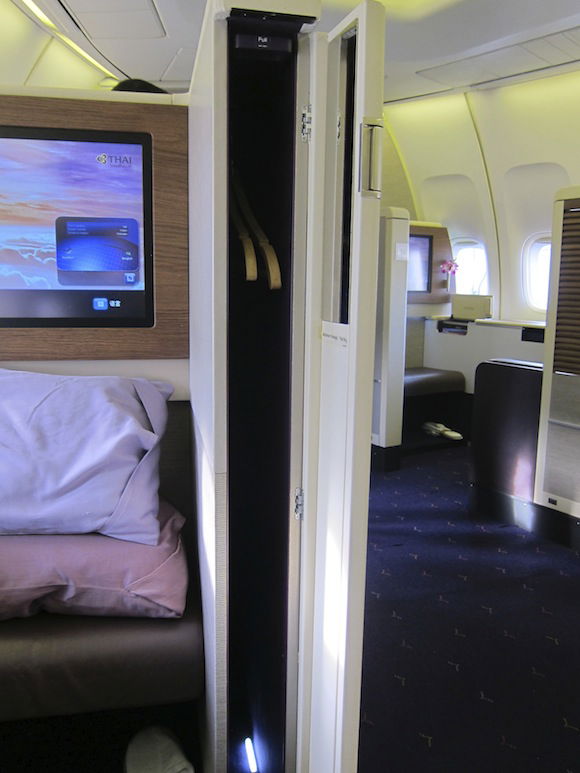 Closet
To the left of the seat was a console containing the entertainment control along with some additional storage for reading glasses, headphones, etc.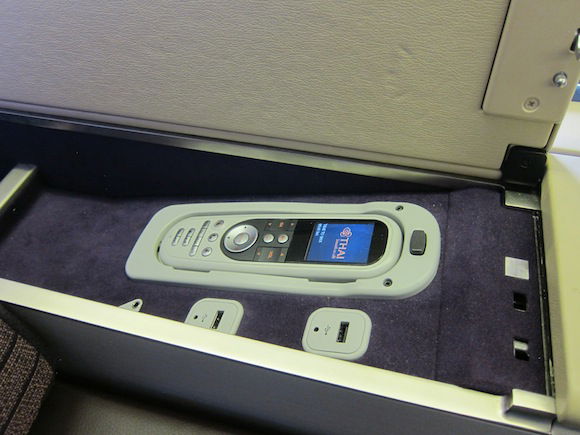 Remote control
Row one is great for people traveling together, though if traveling alone I'd definitely choose row two, as the seats in row one are quite close together.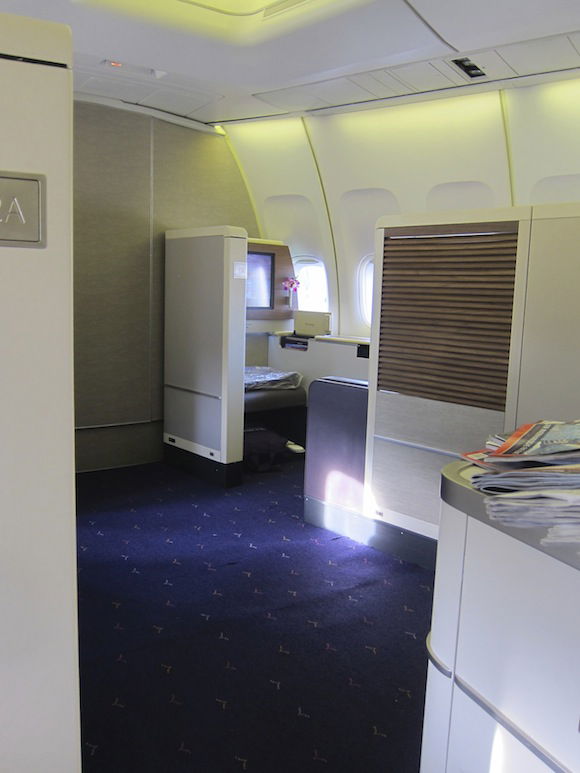 View from my seat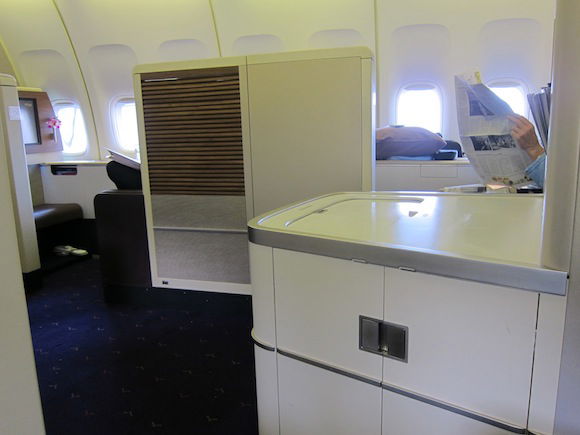 View from my seat
Once half of the first class passengers were settled in the service began. Instead of asking what everyone wanted to drink they just came around with a bottle of Dom and a bunch of glasses, asking "champagne?" Not an especially personalized service for first class, but I guess most passengers drink champagne anyway.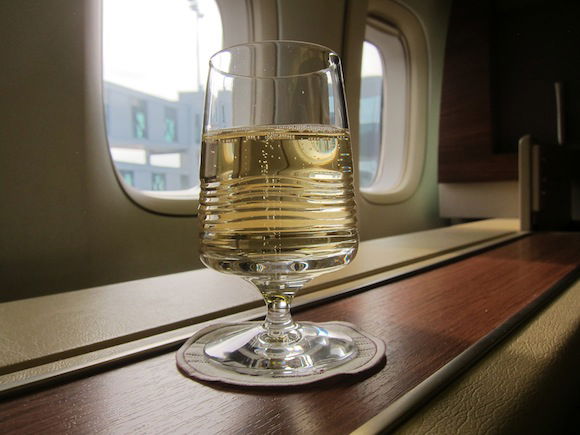 Champagne
I was also offered an amenity kit which was Porsche branded, though I believe it's actually the business class kit, as Thai currently offers Tumi kits in first class. The contents were fairly basic.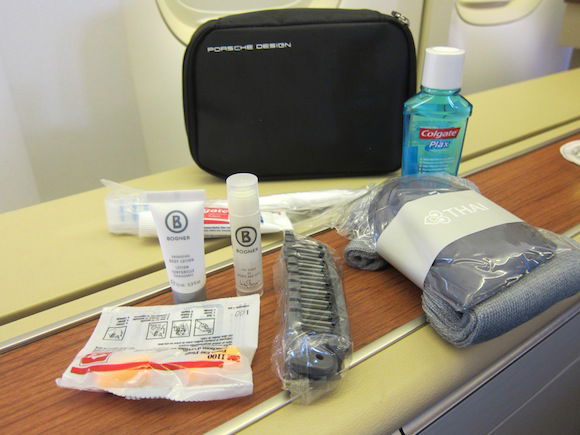 Amenity kit
I was also offered slippers and pajamas, which were soft though a bit oddly colored.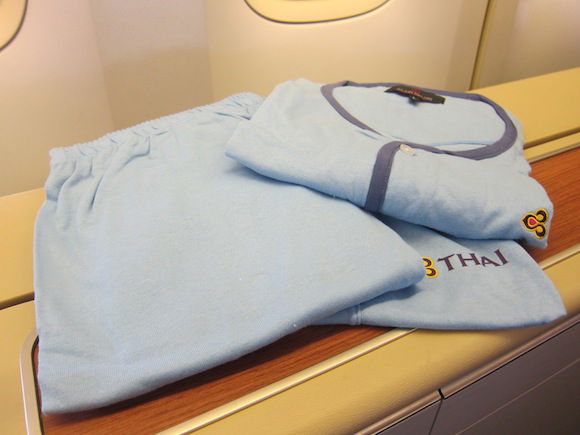 Pajamas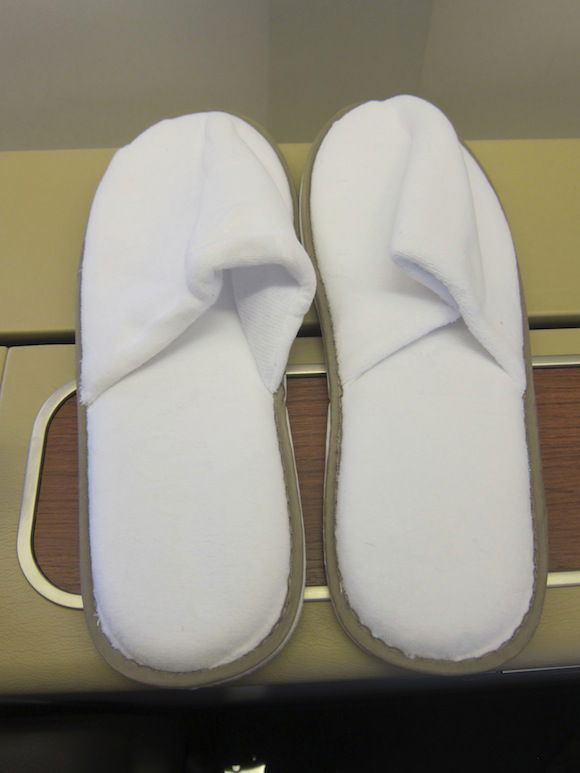 Slippers
Lastly I was offered a menu and drink list.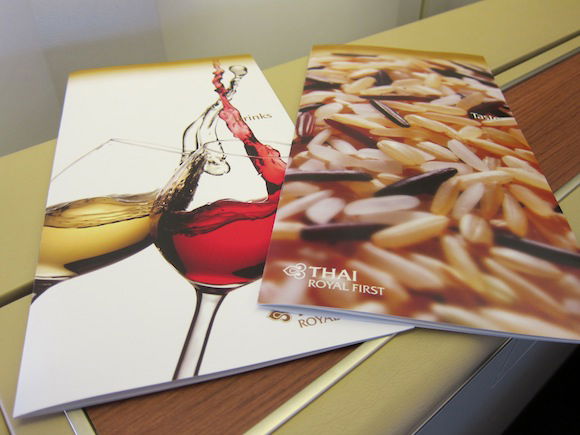 Menu and drink list
There were also some noise canceling headphones already waiting at the seat.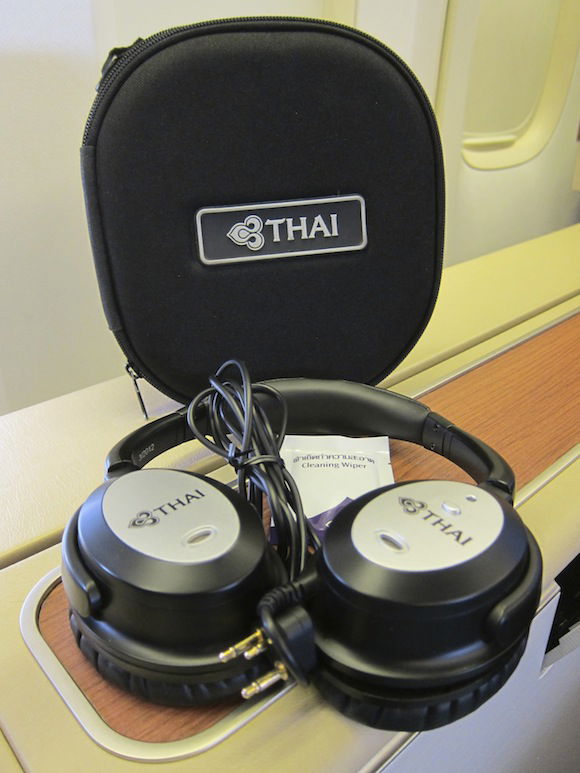 Noise canceling headphones
At around 2PM the captain came on the PA to welcome us aboard and advise us of our flight time of 9hr50 min, anticipating an on-time arrival in Bangkok. By the time the door closed all nine first class seats were occupied.
We began our long taxi to runway 18, which took about 15 minutes. As usual the traffic on the taxi out was quite exciting, with airlines from all over the world.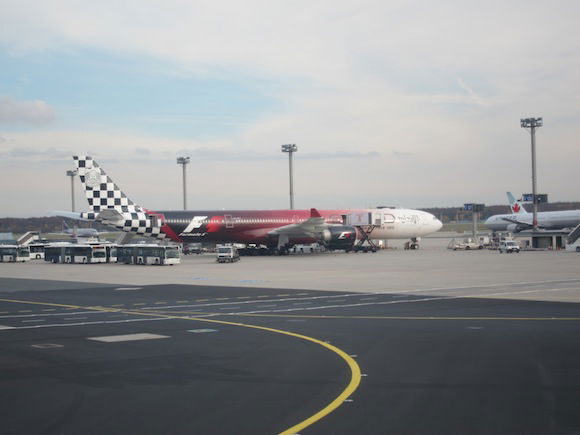 Etihad Airbus 340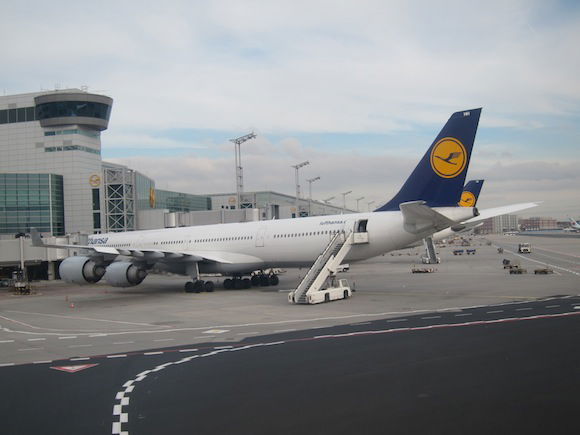 Lufthansa Airbus 340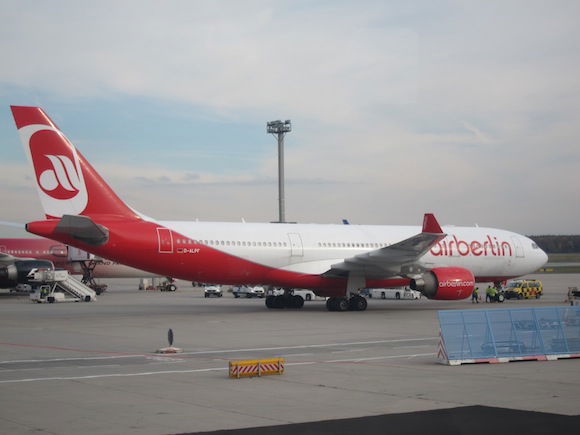 Air Berlin Airbus 330 (anyone know which airport Air Berlin serves with an A330 out of FRA?)
Once at the runway we were cleared for takeoff and had a slow climb out. After about 10 minutes the seatbelt sign was turned off, and I changed into my pajamas.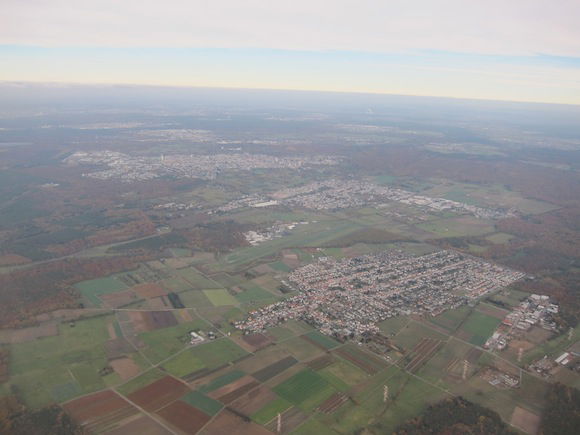 View on takeoff
I started playing around with the seat controls and entertainment system. The seat's functions can be controlled using a monitor at the side of the seat, similar to the seats on their leased 777s.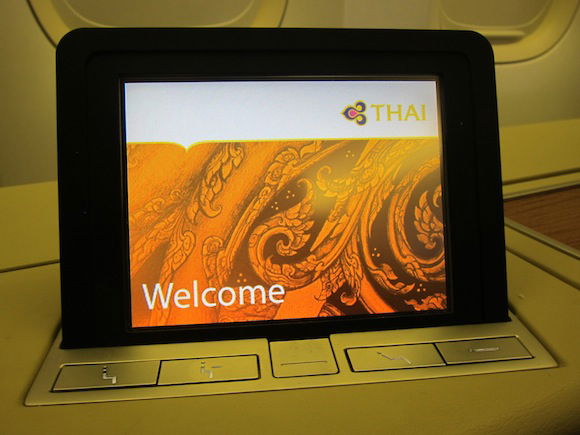 Seat controls
About 20 minutes after takeoff the meal service began. The dinner menu read as follows: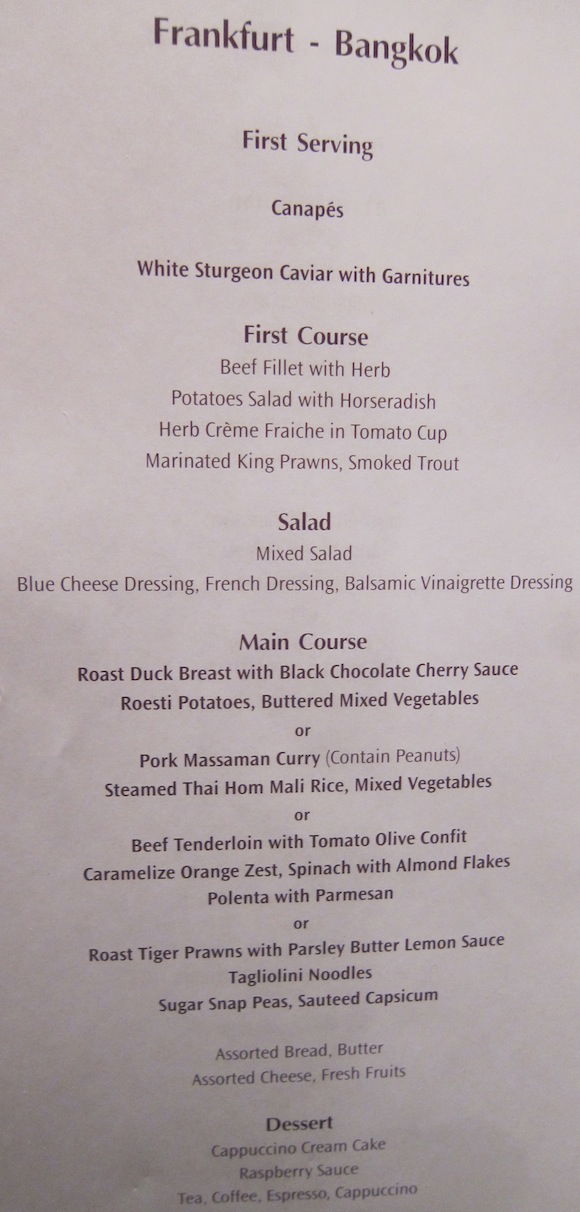 And the wine list read as follows: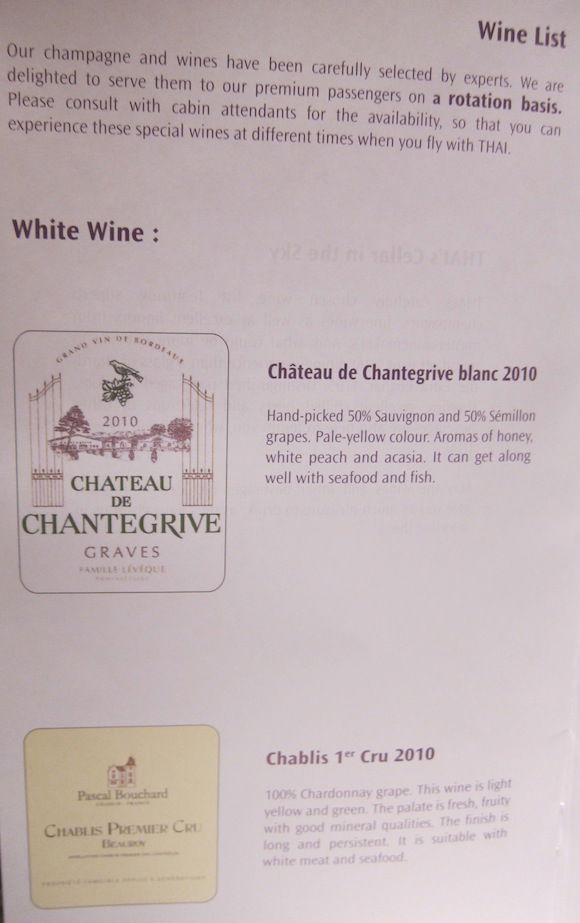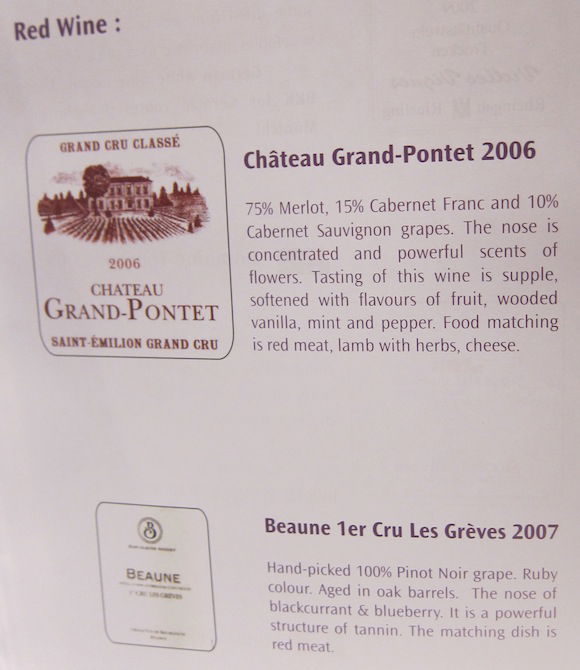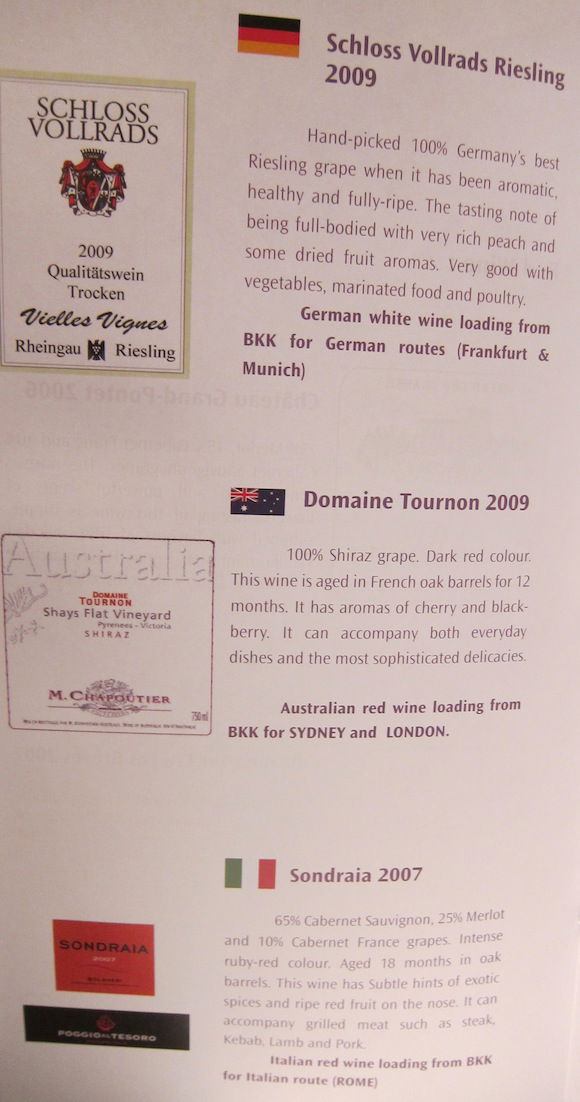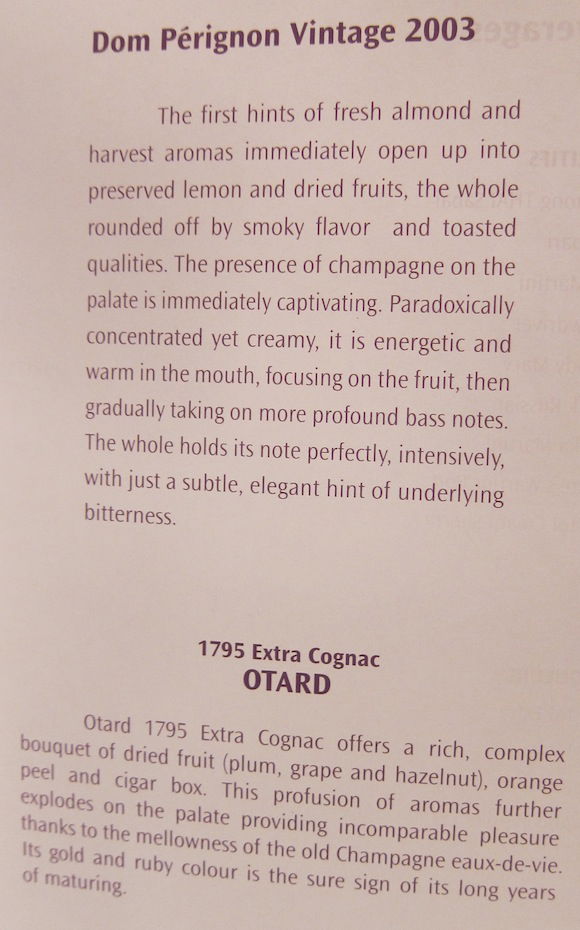 I ordered a Diet Coke, though was served a Coke Zero, which was served with some mixed nuts.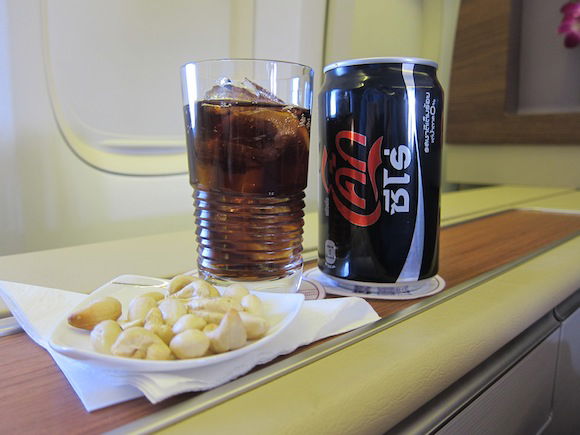 Coke Zero and mixed nuts
Next there was a selection of canapes. I saw the flight attendant serve the passenger in 1K, and after a few minutes he decided he didn't want it, so sent it back. What did she do? Plop it down on my tray. I didn't say anything, but didn't touch it either.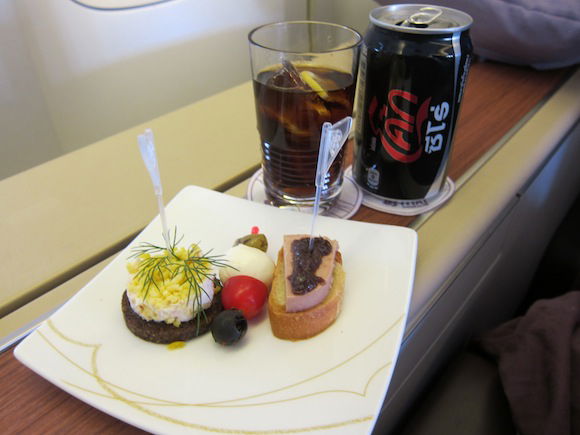 Canapes
Next the table was set, including a breadbasket with some rolls and garlic bread.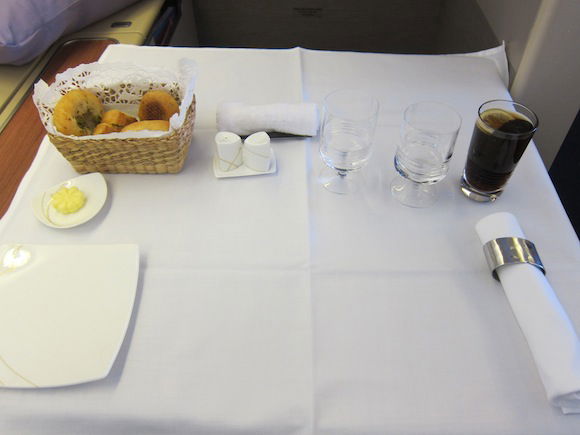 Table setup
The next course was caviar, which I thought was nicely presented.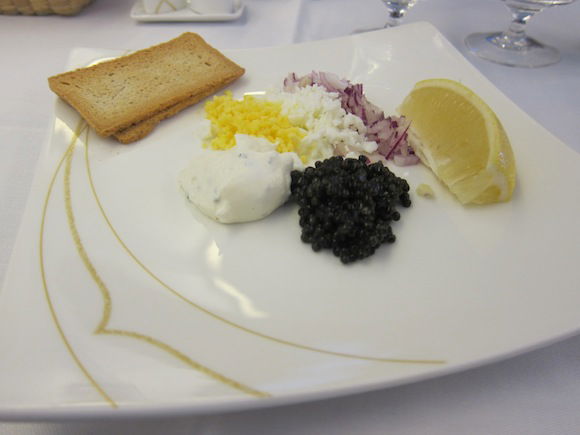 Caviar
Unfortunately that's where the decent tasting part of the meal ended. The rest of the meal was what you'd expect in business class on a mediocre airline at best.
The next course consisted of some prawns, beef, potato salad, and smoked trout. They were all fairly dry and tasteless.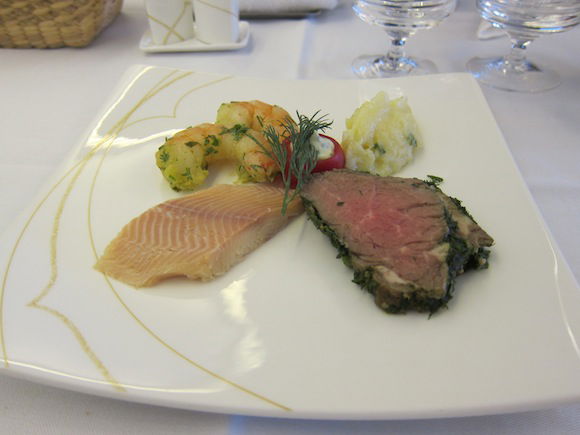 Appetizer
I skipped the salad and chose the prawns as my main course. They were also quite tasteless and chewy, and the pasta accompanying it wasn't very good either.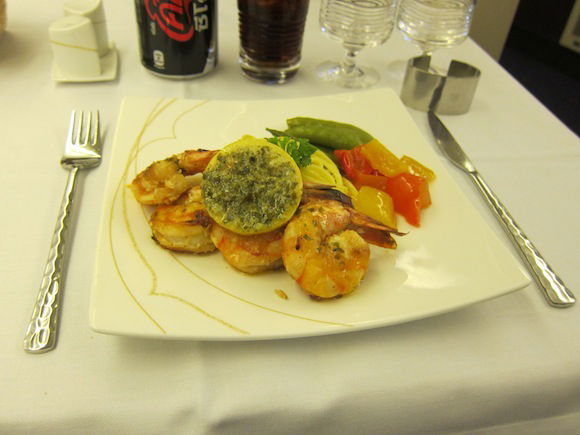 Main course
For dessert I had the cappuccino cream cake, and ordered some tea along with it. The cake was alright, though nothing special.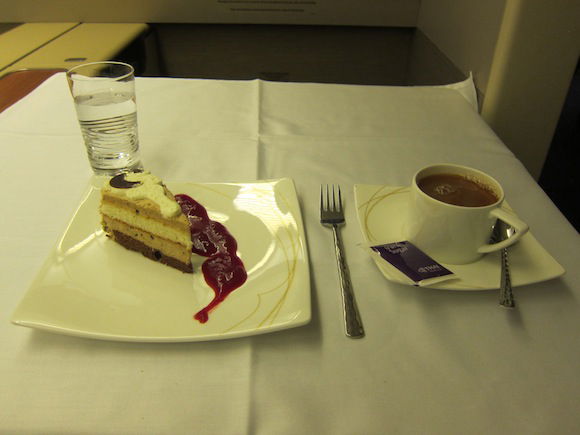 Cappuccino cream cake
On the whole the service was pretty "bleh." There were four flight attendants working the cabin, though they were extremely uncoordinated. They were nice enough though didn't go out of their way to smile or talk. They simply placed things on the tray table, removed things from the tray table upon request, and provided refills only when specifically asked.
One thing that frustrated me was that they wouldn't remove any trash from the tray unless specifically asked. For example, I had a bunch of the plastic wrappers from the amenity kit, blankets, etc., and they all stayed on my console until halfway through the flight I specifically asked a flight attendant to toss them out.
After dinner I browsed the entertainment selection, which was extensive. I decided to watch an episode of "Undercover Boss UK," and followed that up with a show about Costco, entitled "Costco Craze." Both were interesting.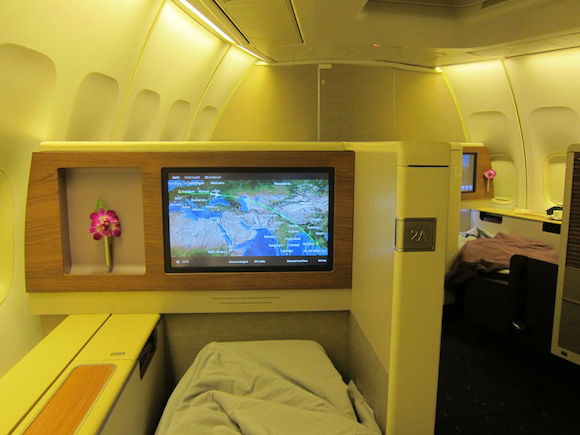 Cabin view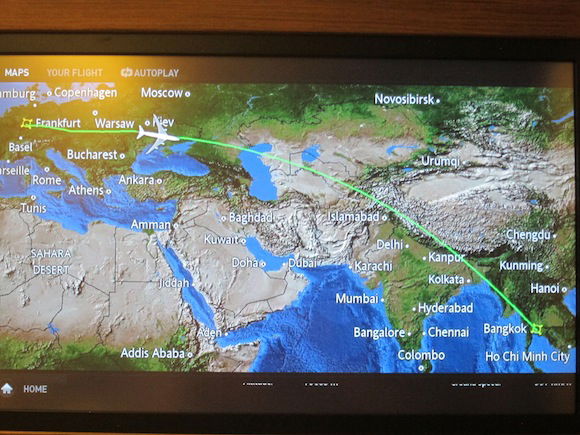 Location after dinner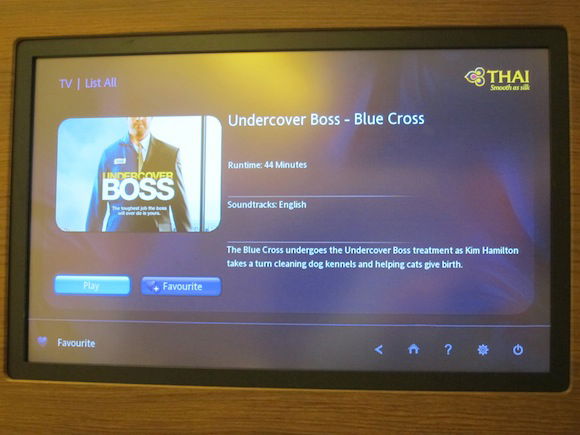 Entertainment lineup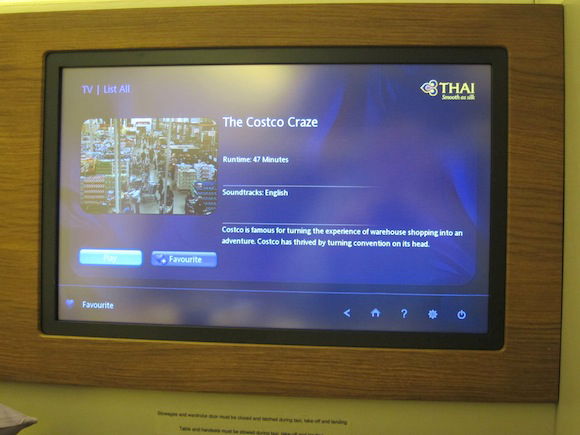 Entertainment lineup
After that we had about six hours to go to Thailand, and I decided it was time for some sleep. I was thrilled to see that Thai finally added mattress pads, as they didn't previously offer them. This is a huge improvement, something I was perhaps overly excited about.
Unfortunately this also means the crew has to do turndown service, which I believe included them testing the bed based on how neatly they made it.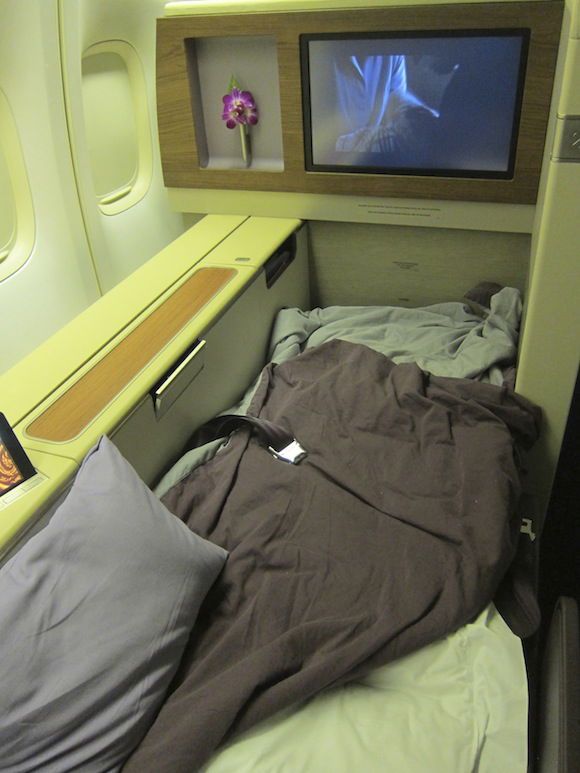 Turndown service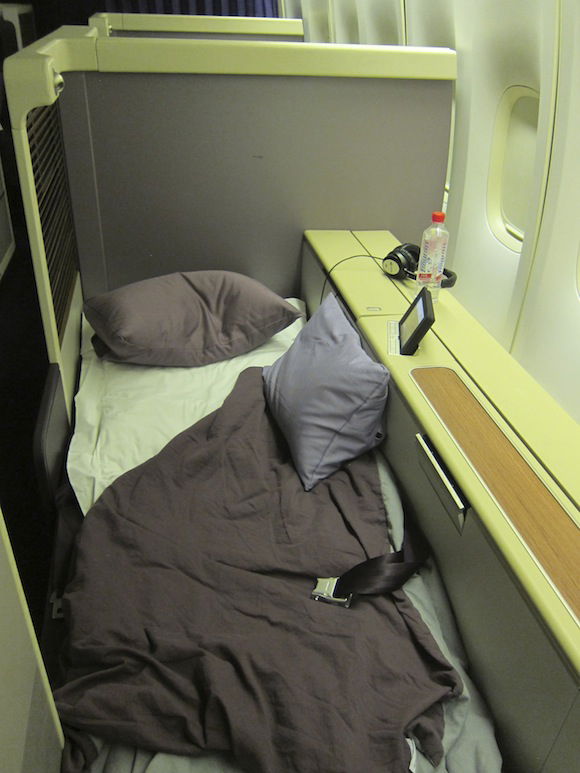 Turndown service
I woke up about 90 minutes out of Bangkok, right as the breakfast service began.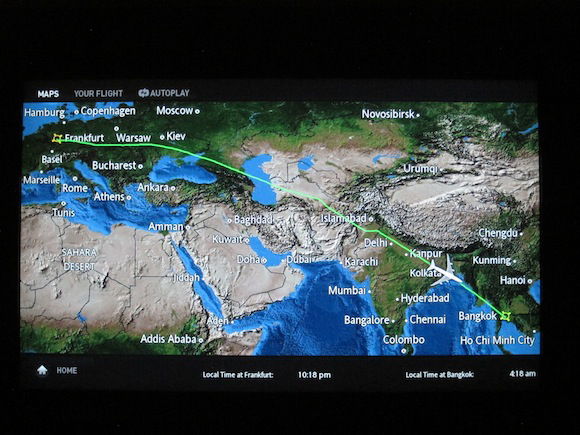 Location upon waking up
The breakfast menu read as follows: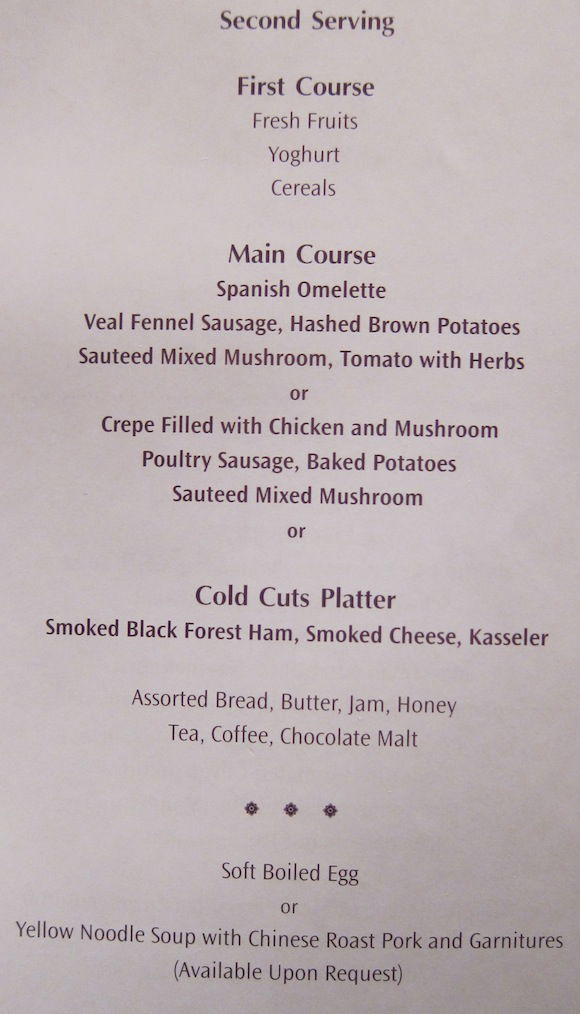 After flying for nearly 24 hours and eating far more than I should I wasn't especially hungry, so just ordered some cereal, fruit, and yogurt.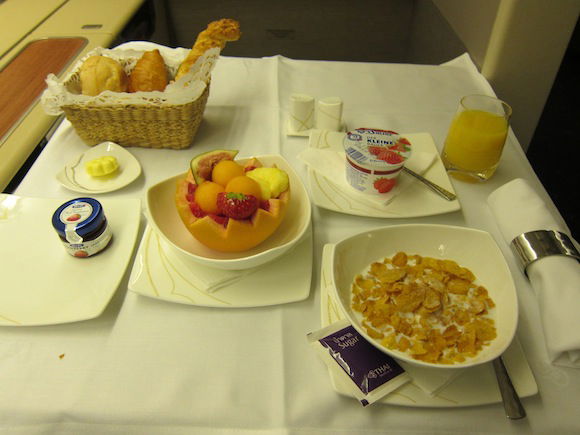 Breakfast
About 30 minutes out of Bangkok the captain came on the PA to advise us of our anticipated on-time arrival. I took the opportunity to change out of my PJs, and snapped a quick picture of the cabin.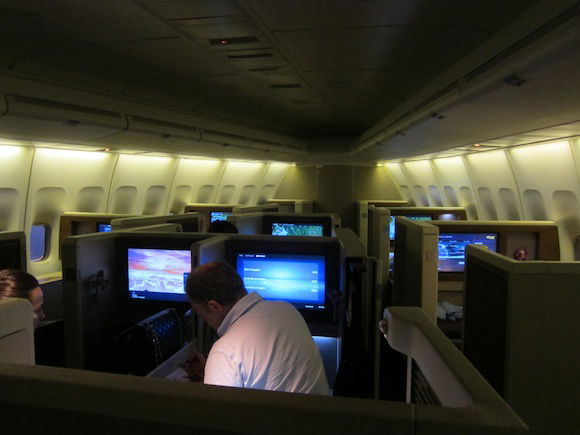 First class cabin
As I was near the galley I asked one of the flight attendants about getting a landing card. She looked at my like I was crazy and instead handed me a Thai Royal Orchid Plus frequent flyer application. I told her I'm already a member of their partner's program, and she responded "we better, and I pick out special frequent flyer number for youuuu." Well, in that case…
About 15 minutes before landing all the crew walked around together to thank each passenger for flying Thai and offered them an orchid.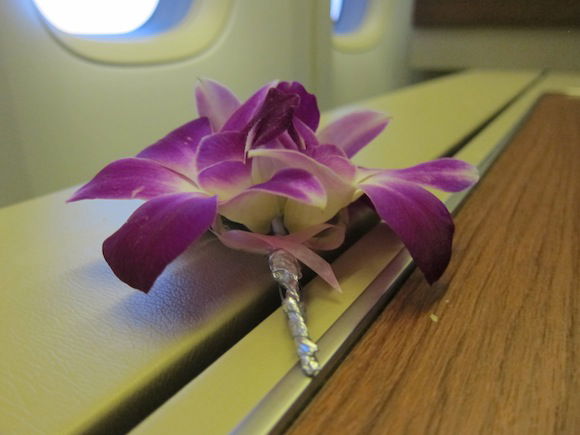 Parting gift
The sun rise as we descended was beautiful, and we had an uncharacteristically smooth landing (Thai's landings are one thing that consistently aren't "smooth as silk," in my experience).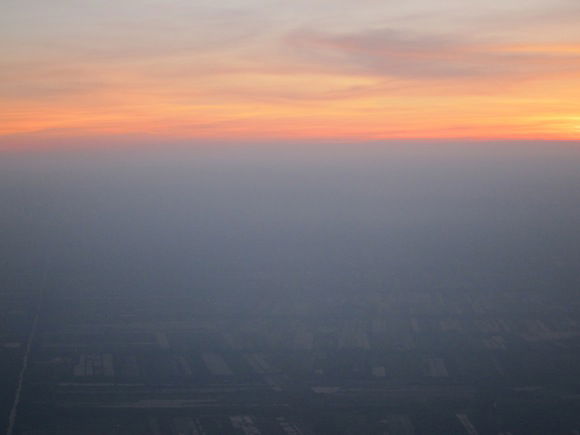 View on descent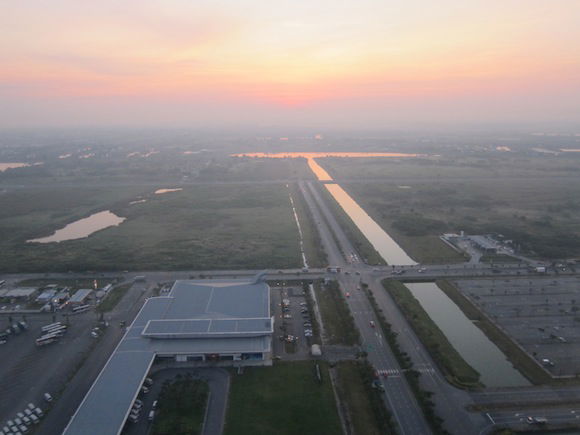 View on descent
After an extremely long taxi we made it to our arrival gate, where there was an army of golf carts waiting for first class passengers. We were driven to immigration where we cleared within minutes.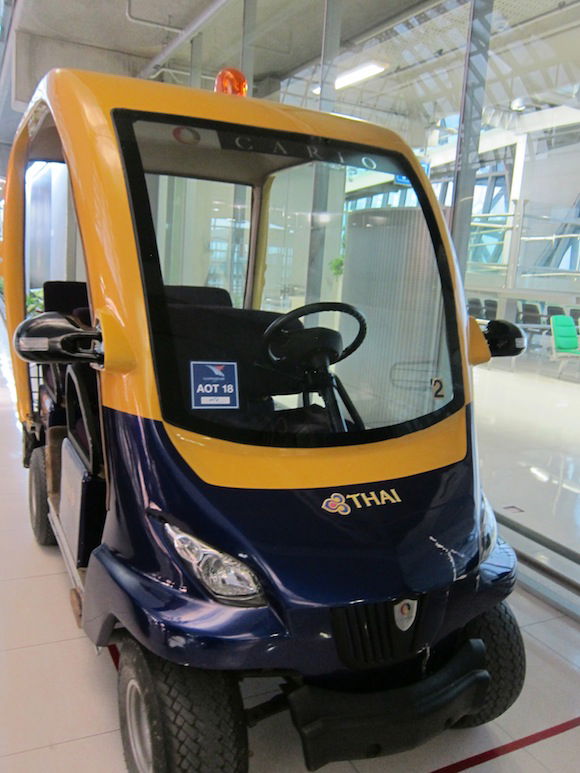 Our ride to immigration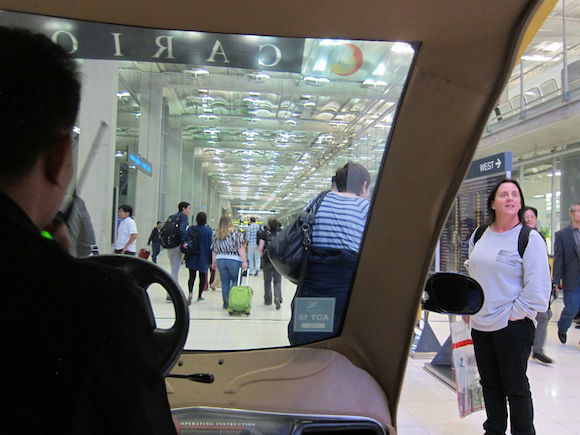 View from our ride
Thai's new first class is a huge improvement over their old product. While the seat itself isn't perfect, it's extremely private and also comfortable for lounging and sleeping. I still slightly prefer the seats on the 777-300ERs, as those suites are fully enclosed. Then again, some of the 777-300ERs are starting to show their age, so the suites aren't in great condition.
I'd probably only fly Thai longhaul first class again if it's departing Bangkok, assuming there are other options. The onboard service can be a hit or miss and the food usually isn't great. That being said, the ground services in Bangkok are phenomenal, especially for departing flights. But in terms of onboard service and food I think Asiana, Cathay Pacific, Lufthansa, Swiss, etc., are in a higher league.