I'm three days into my move to the west coast, though I spent the first two nights at the Westin Bellevue, which is a five minute walk from my new apartment. I ordered a W king size mattress a couple of weeks ago during their 35% off sale, but little did I know it would take 2-3 weeks to be delivered. So I spent last night on an air mattress and am praying the real mattress arrives soon.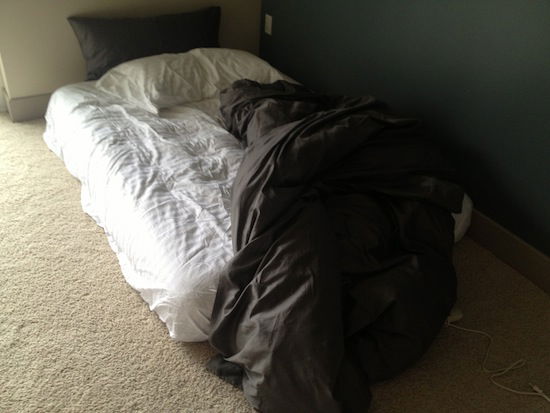 Anyway, even though I've only been here a few days, I've already learned a few things, so figured I'd share.
A red Mustang isn't useful for anything… especially moving
My car is being shipped from Florida and due to arrive next Monday, and since I'm in the process of moving I really needed a car. So I rented one at the Hertz down the road for just $150 for the entire week including tax, with the underage fee waived.
I booked a standard car, and got this: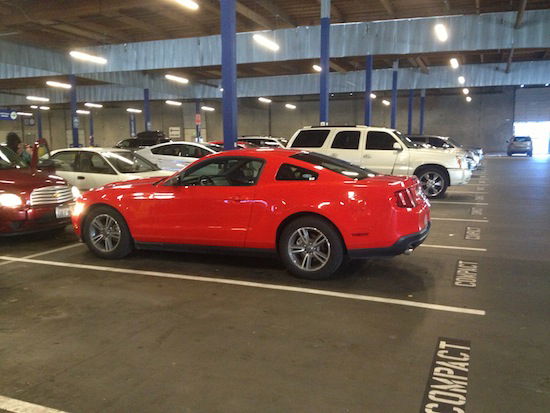 I haven't felt this cool since I stopped wearing velcro shoes. This would be a great car for helping Ken and Barbie move their playhouse castle, but aside from that it's not especially useful.
The weather has been beautiful!
Seattle had one of their nicest summers ever, with over two months of no rainfall. This week there was supposed to be torrential rain and awful weather, but it has been beautiful – it's 60 degrees and sunny. I could get used to this!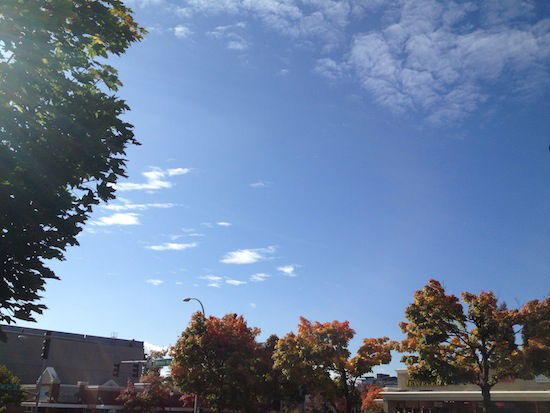 Double line crossing
In this part of the country cops sure take not crossing a double white line on the interstate seriously. Sheesh.
Traffic metering accomplishes what exactly?
Admittedly I'm no scientist and not the greatest person in the world with math (or meth, for that matter), but can someone explain the logic behind limiting the number of cars on the interstate? I could understand if the system led to better traffic on the interstate, though it's still bumper to bumper, so why bother?
Whole Foods Paycheck is the greatest thing ever
I don't know how any restaurant stays in business with a Whole Foods in the area. Have you seen their lunch buffet? Where else can you have eggplant parmesan, curry, and guacamole all on the same plate, with a side of pretzel bread? I don't know how I'll survive (in terms of my girth and my wallet).
At least there's cheap frozen yogurt in hell
I've lost my faith in the afterlife. Surely it can't be worse than IKEA?! Having spent about 20 of the last 30 hours there, I really can't imagine hell could be that much worse… can it? On the plus side, at least the frozen yogurt there is awesome and only a dollar.
I'm directionally challenged
There are people that are bad with directions, and then there's me. After living in Tampa for 10 years I still couldn't get to the supermarket next to my apartment without getting lost at least five times. That's one of the many reasons I got a navigation system in my new car (along with the fact that it's the only way I can get a girl to talk to me… other than Siri).
I'm mildly addicted to Starbucks, so I was quite looking forward to visiting my closest one after a 46-hour pilgrimage to IKEA. I saw one on the road though missed the turn, so drive around the block (not the fastest process in Bellevue). Then I make another round and can't find it anymore. Crap. So I make another round, and decide to park at Safeway, since I recall the Starbucks being right next to it. I proceed to walk up and down the same block four times (roundtrip, not one-way, mind you), thinking I'm missing it. Surely I can't be going so crazy that stuff is disappearing on me, right? My iPhone was dead at this point, by the way — a trip to IKEA will do that to you.
So I remembered there was another Starbucks just a few blocks away, so I decide to walk there. Besides, I want to get to know the area, so a bit of extra walking won't kill me. I get there and place my order, only to realize I forgot my wallet in the Mustang. So I tell the barista I left my wallet in my car, and that I left my car at Safeway, so returned about 15 minutes later with my wallet. She thought I was crazy. But I guess I kind of am. The whole Starbucks experience took a little over an hour.
I'm a bitter old man
Now here's something I feel rather bad about. I feel like a total douche driving that red Mustang. Nothing against people that drive it, but it just ain't my style (I'm more into Old Navy…). When I went to get my wallet from the Mustang at Safeway, I decided to just drive it to Starbucks. There's a group of kids sitting at one of the tables there, and I parked right in front of it. As I walk in one of the kids says "cool car, bro." I figured he was being sarcastic — shame on me, perhaps, but if a friend drove up with a bright red Mustang I'd probably say the same thing, minus "bro" — so rolled my eyes and said "whatever." Little did I know he was actually being serious. Now I feel bad.
Are towels part of your investment portfolio?
Yesterday I was at Bed, Bath & Beyond trying to buy some bath towels. I asked the associate for help, and proceeded to listen to what must have been the biggest babbling brook of bull$*&% I've ever heard. She asked me whether I "wanted towels [I] could throw away in five or six years, or whether [I'm] looking for investment towels that [I] could keep longer than that?" While I'm all for diversifying investments, I don't think I'll be making towels part of my retirement portfolio.
Counting down the days till I have an accident
Remember my car accident in Germany? Well, it happened in a parking garage that's exactly like the one at my new apartment building: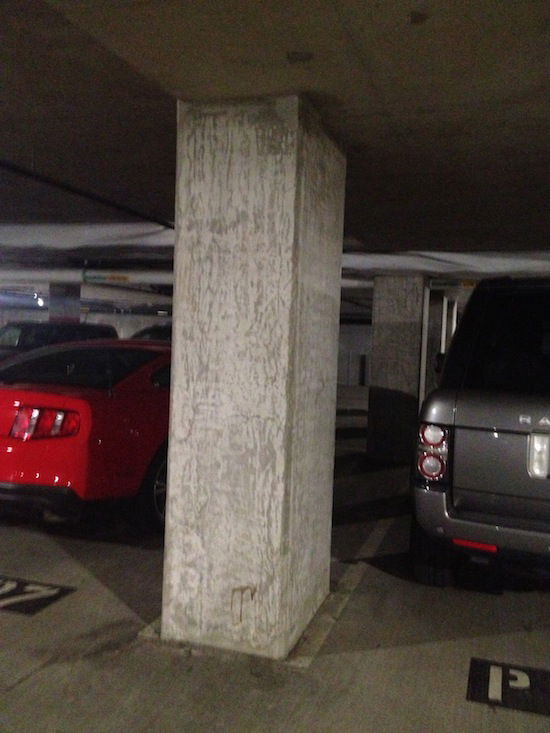 I'm doing my best, but those damn pillars kill me… who needs 'em anyway?
So yeah, I'd say my move is going great so far…