---
We got to the airport shortly before noon for our 2:05 PM departure.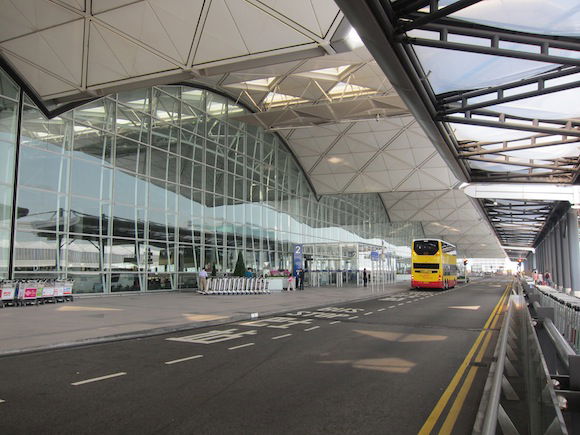 Terminal exterior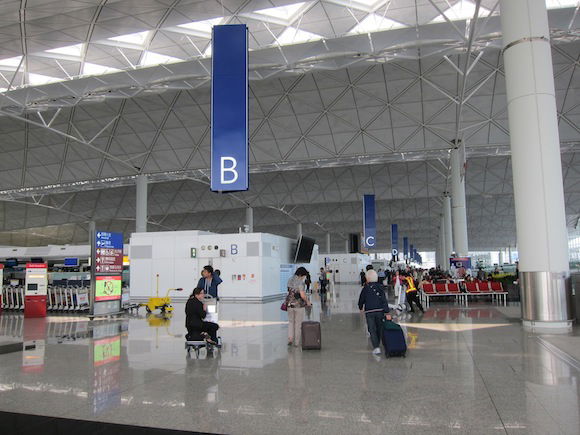 Terminal interior
Cathay Pacific's first class check-in is at the far end of the terminal, and they have an interesting setup, in a way similar to what's found at Andaz hotels. Instead of having traditional check-in counters, you approach the first class check-in area, where an agent welcomes you and walks you to a "podium." They're by you as they check you in, and there's a screen which displays all your flight information.
The process took only a few minutes, and aside from the lounge is unfortunately the extent of Cathay Pacific's ground services in Hong Kong. There are no escorts to the lounge or gate, though Cathay Pacific has never really excelled when it comes to ground services.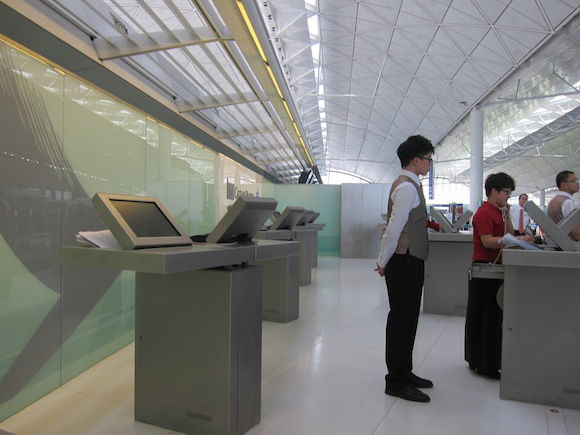 Cathay Pacific first class check-in
After checking in we headed towards security and immigration, which had among the shortest queues I've ever seen in Hong Kong.
We also really lucked out in terms of gates, as we were departing from gate four and "The Wing" is near gate two, both of which are only a couple of minutes walk from the security checkpoint.
Once in "The Wing" we handed over our invitation and took the elevator up to the second floor. Somehow as we exited the elevator the agent knew to direct us to the first class portion of the lounge.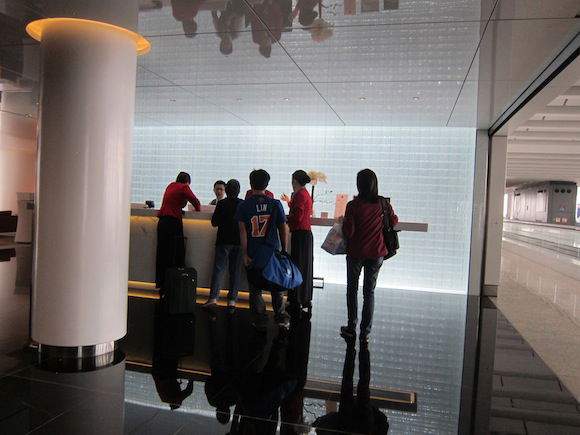 "The Wing" entrance
Now, here's the thing — "The Wing" first class lounge has been closed for a while now as it's being renovated, so they just have a temporary area partitioned off for first class passengers. However, you can find previous reviews of "The Wing" first class lounge here, here, and here. Cathay Pacific's other first class lounge, which was open, is called "The Pier." However, it was at the far end of the terminal and didn't seem worth the walk to visit. Here's a previous review of "The Pier" first class lounge, though.
Anyway, back to this lounge. The first class portion of the lounge was surprisingly empty, and for the first hour we had the lounge to ourselves. There was a waitress roaming around offering drinks, I suppose to differentiate this lounge from the business class one.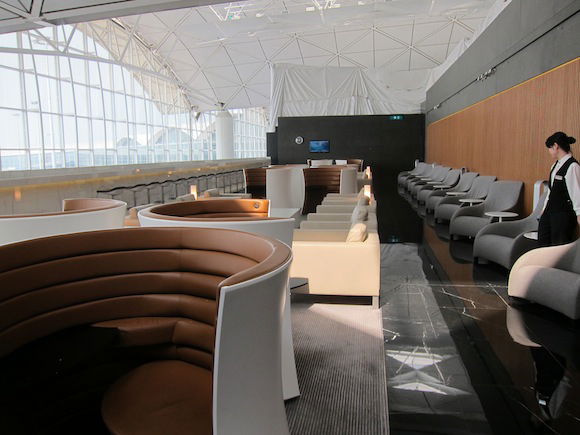 First class portion of "The Wing"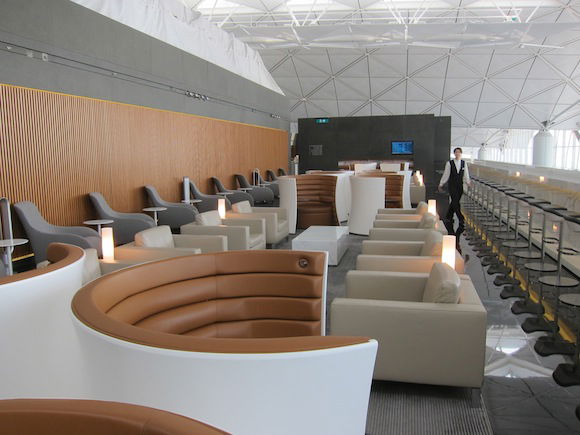 First class portion of "The Wing"
To drink I ordered what any sane person would — Hong Kong milk tea and champagne, of course!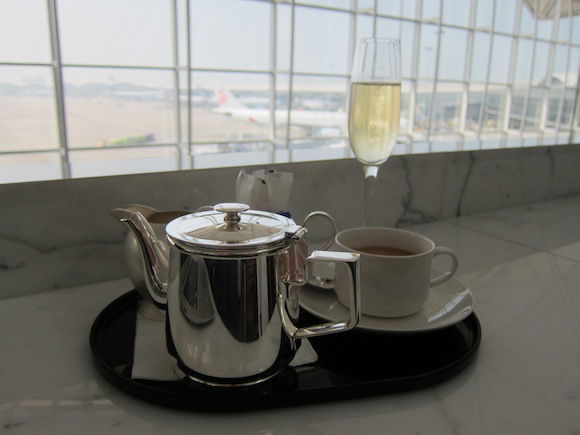 Drinks with a view
The food spread is located in the business class lounge, so I walked over there to see what they had on offer.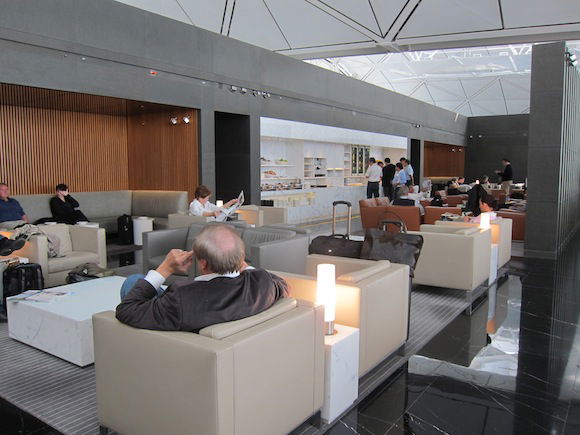 Business class portion of "The Wing"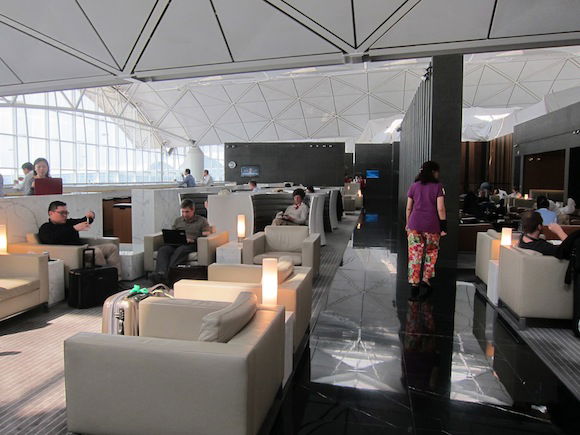 First class portion of "The Wing"
At the far end of the lounge is the noodle bar, which has a few options to choose from. Once you place your order you're given a buzzer, and within five minutes your food is ready.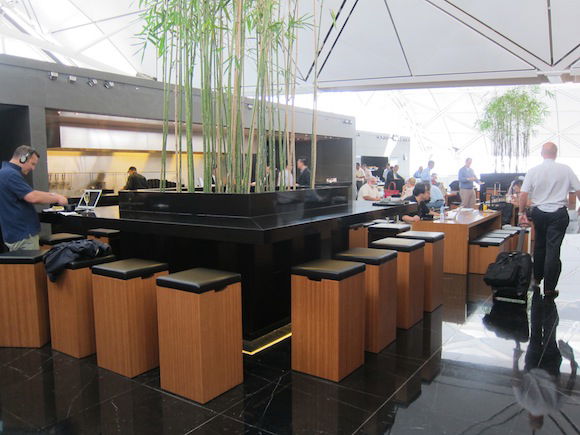 Noodle bar
There's also a small buffet with fried rice, soup, etc.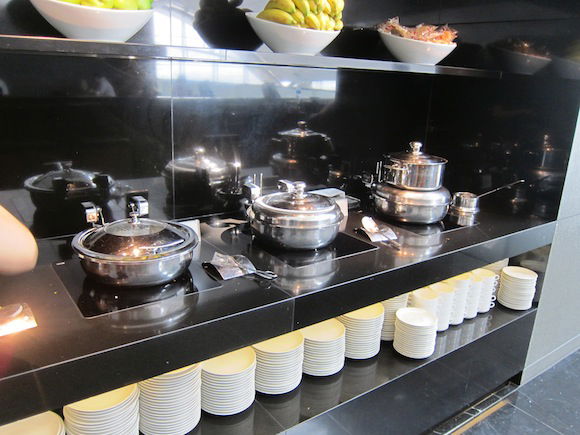 Buffet
I ordered some wonton soup and dumplings.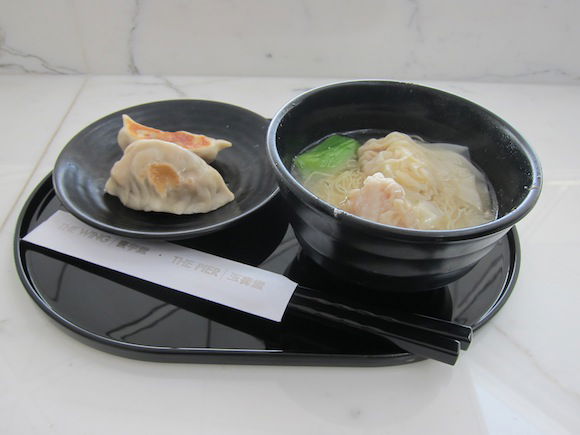 Wonton soup and dumplings
At around 1:40PM we left the lounge to head to our gate, where boarding was well underway.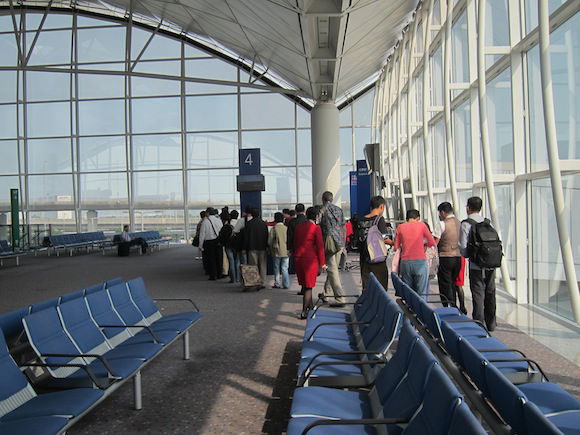 Departure gate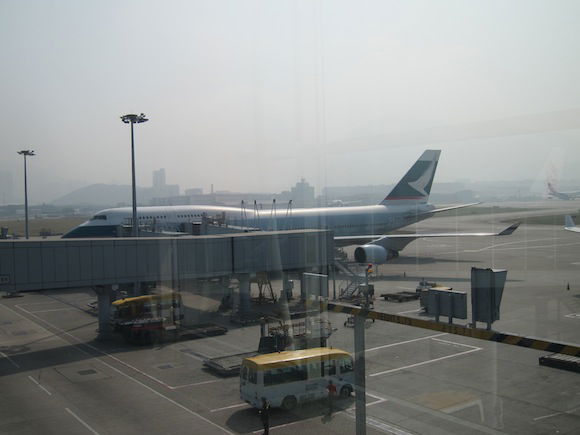 Our beauty to San Francisco
I had flown this exact flight in 2010, so was excited to see how it compared a couple of years later.
Cathay Pacific's first class ground services are relatively "no frills" compared to the likes of Lufthansa and Thai, though it's always the onboard experience that has drawn me to Cathay Pacific.