---
Cathay Pacific 872
Hong Kong (HKG) – San Francisco (SFO)
Tuesday, November 13
Depart: 2:05PM
Arrive: 10:00AM
Duration: 11hr55min
Aircraft: Boeing 747-400
Seat: 2A (First Class)
We boarded through door 1L and were immediately greeted by the in-flight service manager and escorted to our seats in row two.
She introduced herself as Faith, and one of the other first class flight attendants introduced herself as Margaret. Wait a second — my memory isn't very good, but I flew this exact route a couple of years ago and specifically remember the names Margaret and Faith — as it turns out it was the same crew, in part. You can read my review of that flight here. Unfortunately neither of them would be serving us in-flight, though.
You might ask how on earth I ended up with two of the same flight attendants again. One of the things that's unique about Cathay Pacific is that they have crew bases at most of their destinations. So in this case the crew was San Francisco based, and they exclusively work the daytime flights between San Francisco and Hong Kong (while the night time flights are operated by Hong Kong based crews). Hong Kong based crews are generally preferred as they're a bit more polished, while the US/Canada based crews are a bit more lax/laid back, and often not quite as attentive.
Anyway, back to the actual flight. I settled into 2A, which is one of my favorite seats on the 747 thanks to how private it is. While Cathay Pacific's first class suites have been around for a while now, they're still some of my favorite in the sky. They're extremely spacious without being claustrophobic, and comfortable both for lounging and sleeping, something that isn't the case with many products.

Seat 2A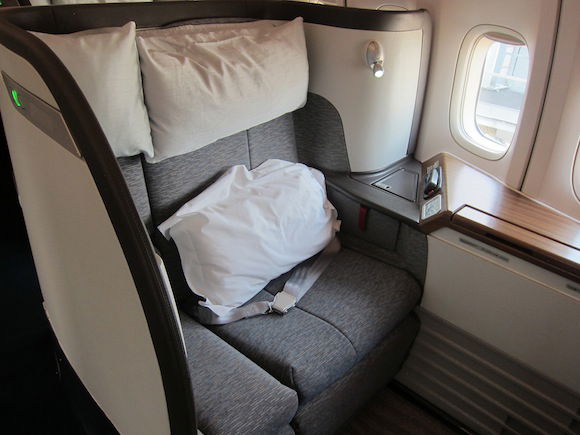 Seat 2A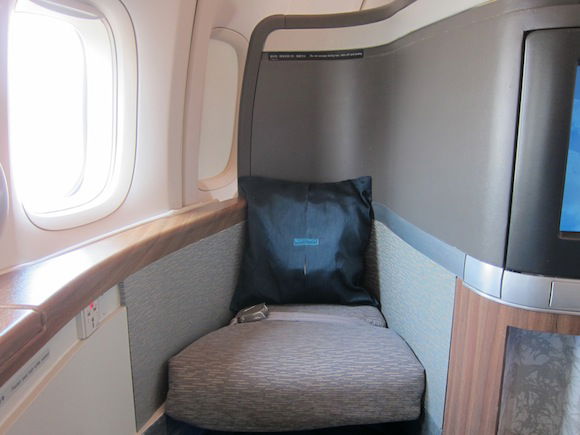 Seat 2A ottoman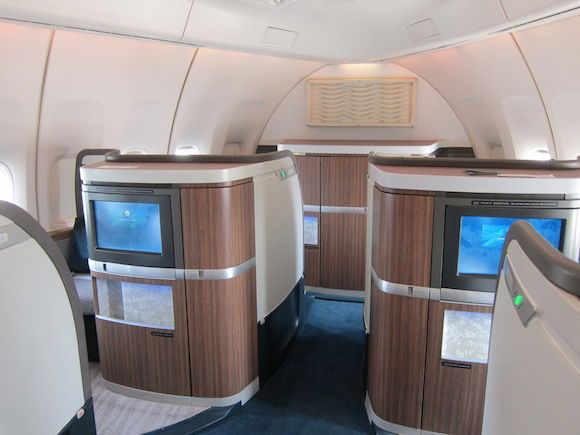 View of the nose
The seats have very large closets in which a standard sized carry-on can be accommodated, while laptop bags easily fit underneath the ottoman. There were three flight attendants working the first class cabin (Faith was supervising all cabins and Margaret was working business class). The crew consisted of a young Chinese guy, a young Thai girl, and an older Filipino lady. Most of the service was done by the two younger crew members, and while they were friendly, they weren't as polished or as enthusiastic as other Cathay Pacific flight attendants I've had.
Once settled in I was offered something to drink, and requested a glass of Krug, which was promptly served.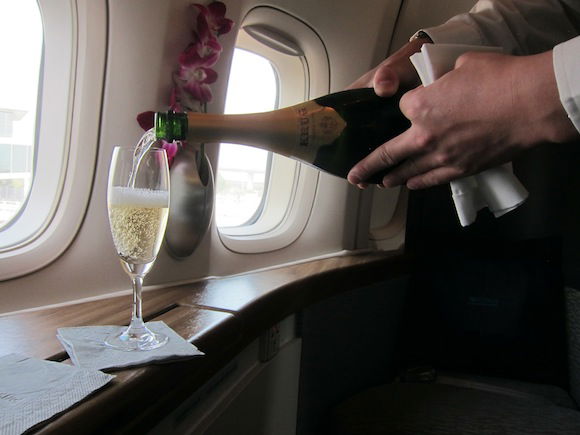 Pre-departure Krug
I was also proactively offered a glass of water and a bottle of Evian, which was much appreciated, followed by hot towels.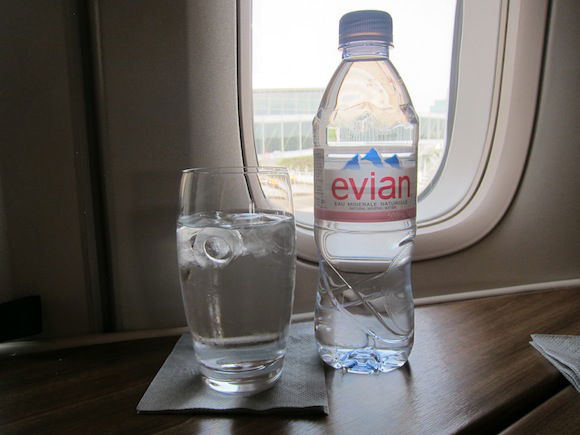 Water (yes, that's what it looks like)
After that I was offered an amenity kit and a pair of Shanghai Tang pajamas. There aren't many airlines with higher quality pajamas than that, so kudos to Cathay Pacific for not cutting them over the years.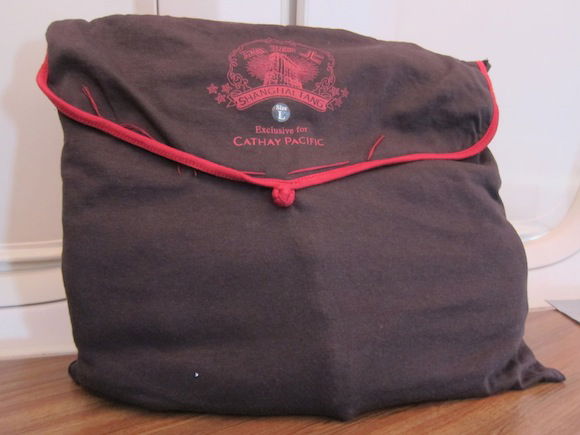 Shanghai Tang pajamas
In the bag were a pair of slippers as well.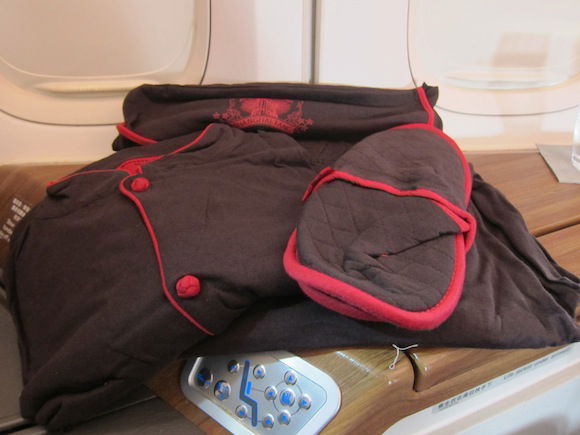 Pajamas and slippers
The menus and wine lists were distributed at that point.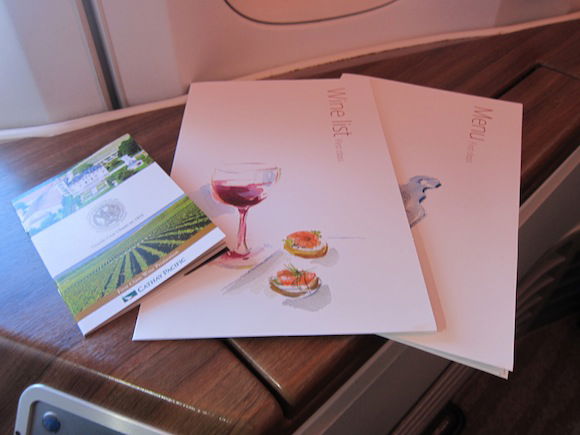 Menu and wine list
By the time boarding finished up all nine seats in first class were occupied with a surprisingly leisurely crowd. In row one was a young couple, in row three was an old couple, and in row four were two back packer types and a person in a suit. Both of the couples asked the crew to take lots of pictures of them, and the guy in row one even had an Executive Platinum tag. Me thinks American was picking up the tab for much of the first class cabin. 😉
At around 2PM the captain came on the PA to advise us of our flight time of 11hr27min, anticipating an on-time arrival in San Francisco. We pushed back right on-time, and made the quick taxi to runway 25L. We really lucked out on our departure runway, as it was a two minute taxi from the gate.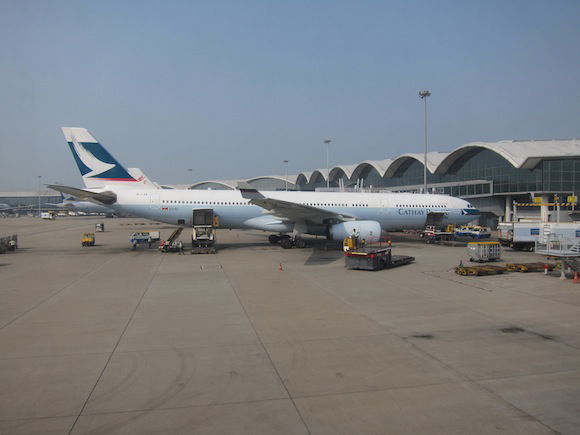 View on pushback
Once at runway 25L there was a short queue for takeoff, as we waited for a Qatar Airways Cargo 777, Dragonair Airbus 320, and Mandarin Airlines Embraer to take off.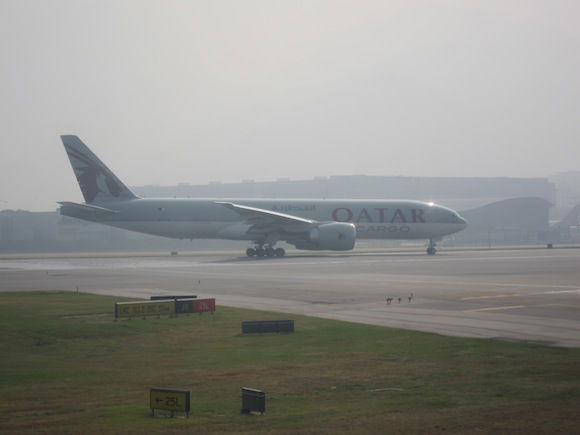 Qatar Airways Cargo 777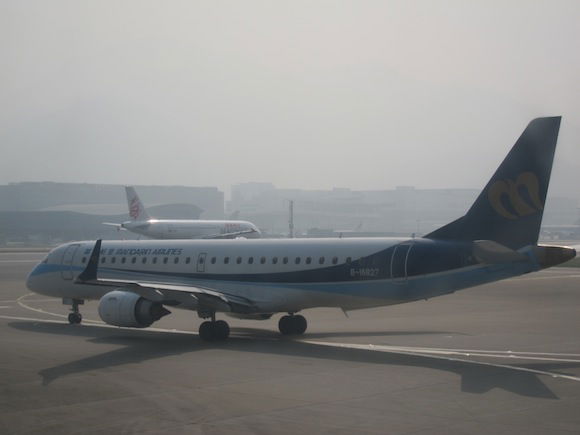 Dragonair A320 and Mandarin Airlines Embraer

Within about five minutes it was our turn, and we began a long take-off roll and gradual climb, before making a turn towards the east.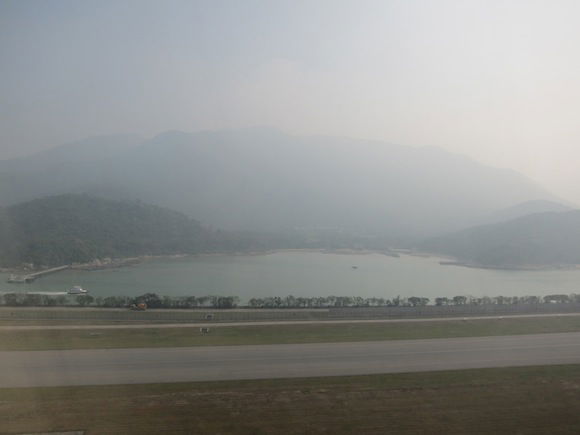 View on climb out
As we climbed out I perused the entertainment selection, and eventually decided on a couple of episodes of "Two and a Half Men."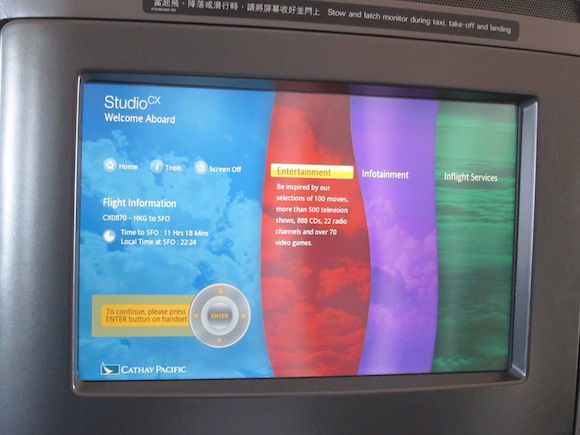 Entertainment system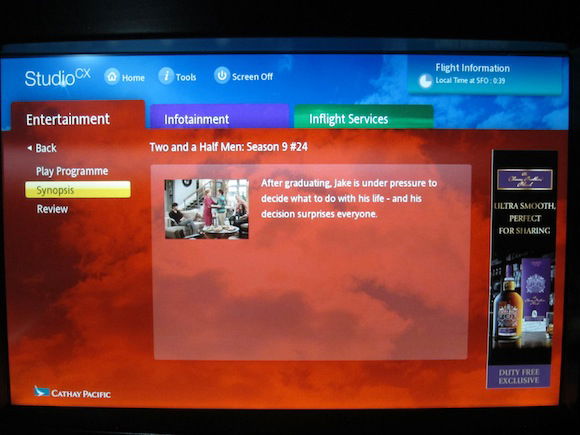 Two and a Half Men
About 20 minutes after takeoff the beverage service began. I ordered a Diet Coke, which was served with mixed nuts.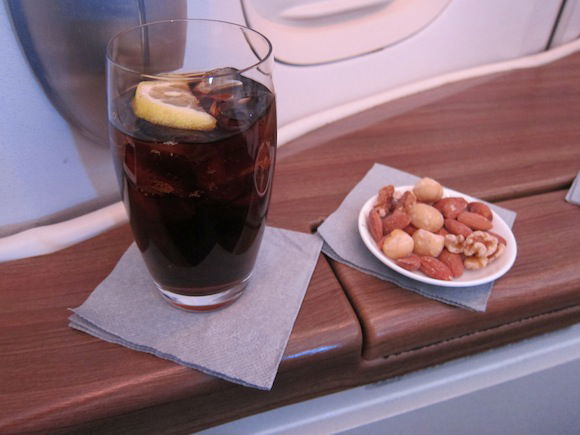 Diet Coke and mixed nuts
After that the lunch service began. The lunch menu read as follows: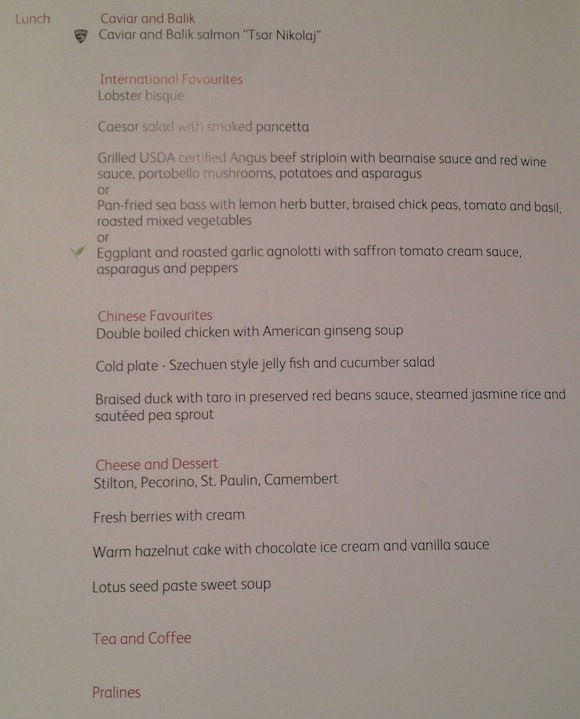 And the drink list read as follows: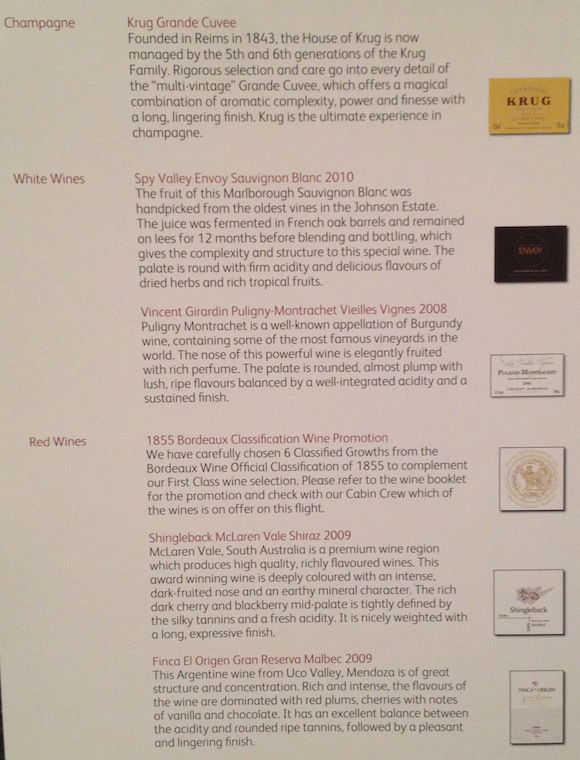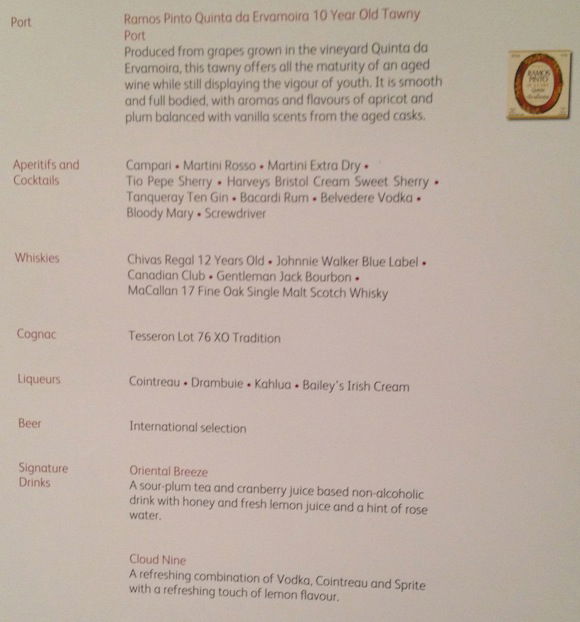 There's something fun about sharing a meal on an airplane, so we decided to dine together. The ottoman is plenty spacious for a guest, and the crew specifically have table extenders so that there's plenty of room to serve two people. So I headed over to 2K for lunch.
While the table was carefully set, I was surprised to see that the crew didn't distribute any "greeting cards." Every Cathay Pacific first class flight I've taken has featured a small card on the tray where the crew writes something along the lines of "it's great to have you aboard," though that was absent this time.
The appetizer was served within a few minutes of the table being set. The appetizer consisted of caviar and Balik salmon. We were also offered a breadbasket, which had some delicious garlic and pretzel bread.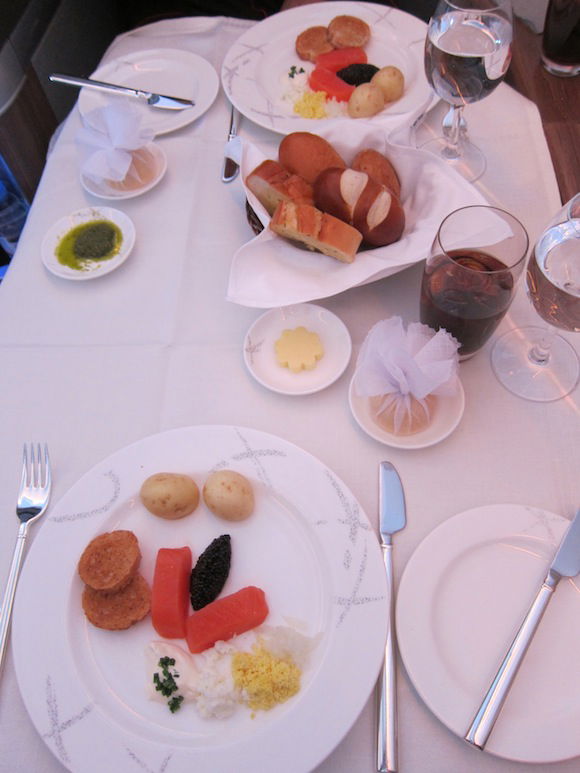 Table setup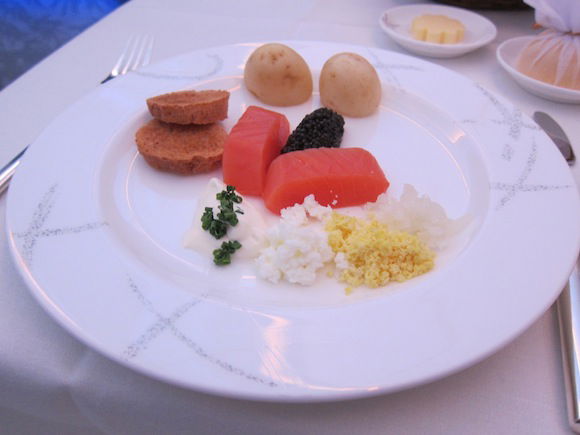 Caviar and Balik salmon
The next course was a tasty lobster bisque.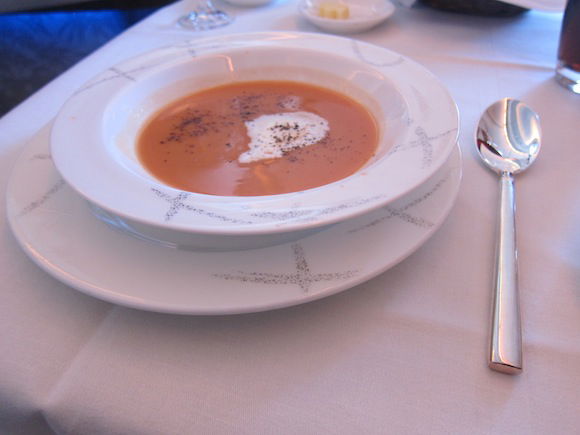 Lobster bisque
The next course was a "Caesar salad with pancetta." It was more of a wedge salad smothered in creamy dressing, neither of which I'm a fan of.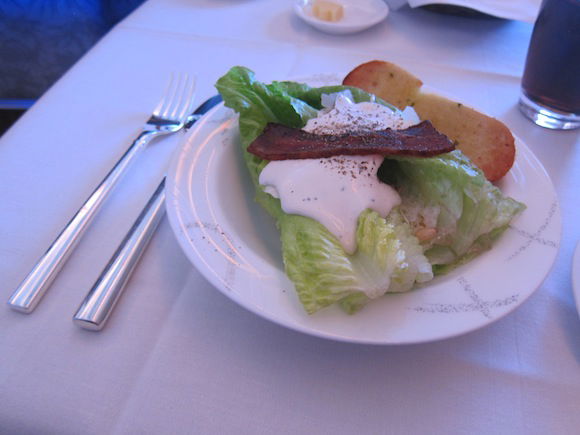 Caesar salad with smoked pancetta
I chose the vegetarian pasta dish as my main. I realize I'm probably crazy but I try to avoid eating meat courses when I know I won't be able to finish them, so I let my conscience get the best of me. The pasta was bland. I realize some will say that all airplane pasta dishes are bland, though I actually haven't found that to be the case.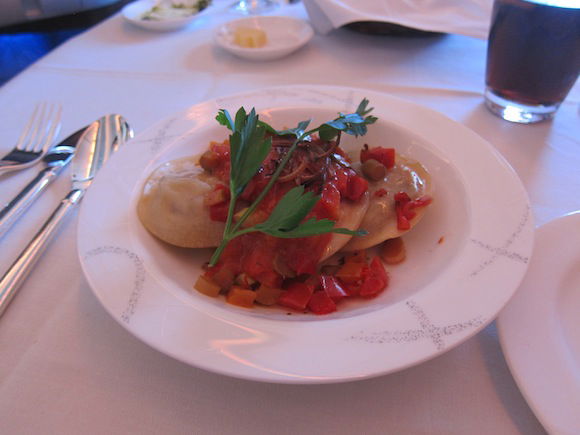 Eggplant and roasted garlic agnolotti with saffron tomato cream sauce, asparagus and peppers
Meanwhile my friend had the steak, which he quite enjoyed.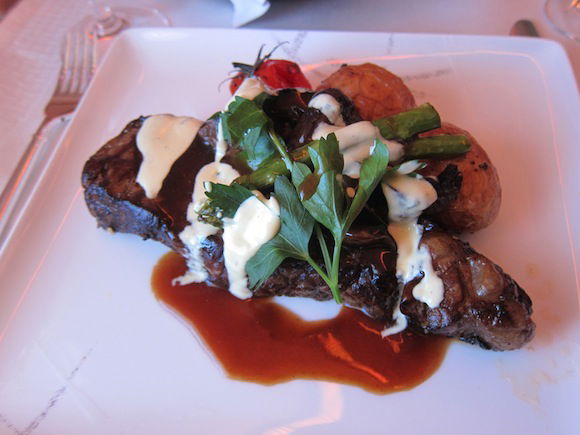 Angus beef striploin with Bearnaise sauce and red wine sauce, portobello mushrooms, potato, and asparagus
For dessert I had the cake, which was amazing, while my friend had the berries and cream.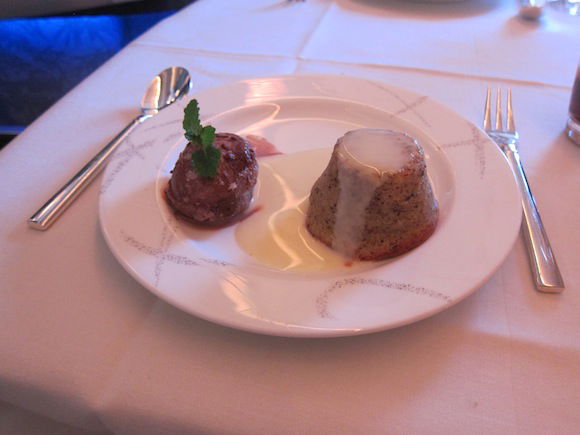 Warm hazelnut cake with chocolate ice cream and vanilla sauce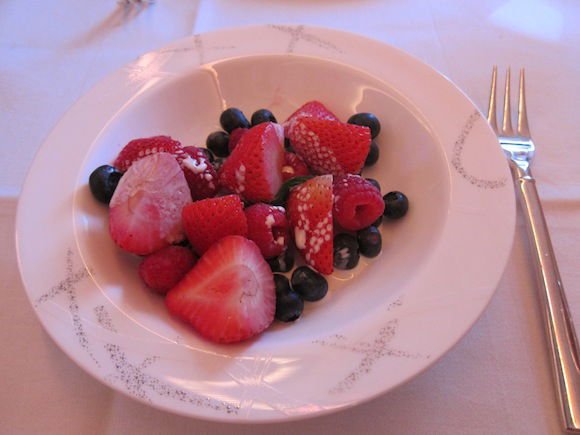 Fresh berries with cream
To finish off the meal I ordered some Hong Kong milk tea, which was served with pralines.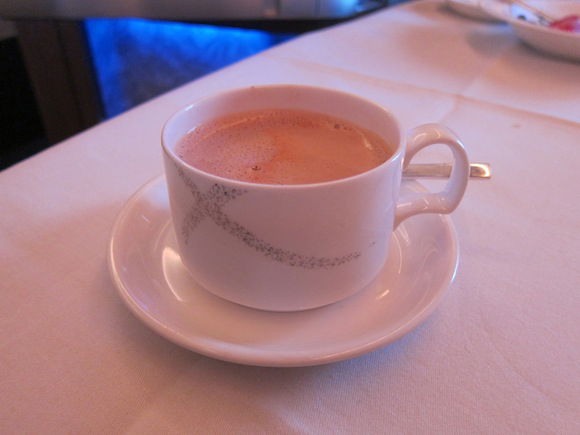 Hong Kong milk tea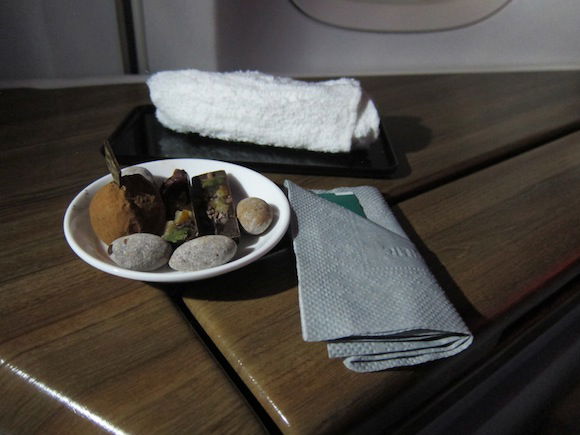 Pralines
I spent much of the dinner gazing out the window, as there's still something miraculous to me about having a quality meal with a view like this…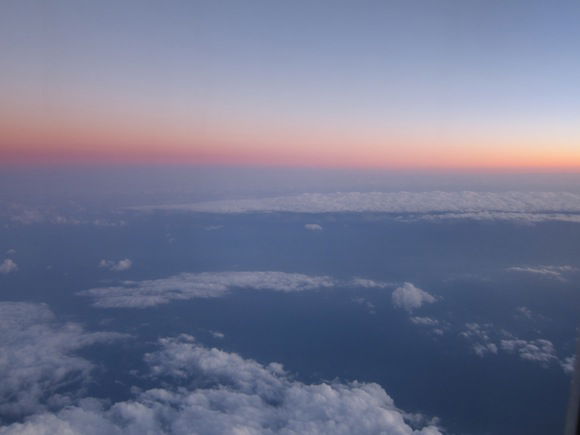 Dinner with a view
After lunch I requested turndown service, which was promptly taken care of. Cathay Pacific's bedding is fantastic, and I find it to be one of the most comfortable beds in the sky.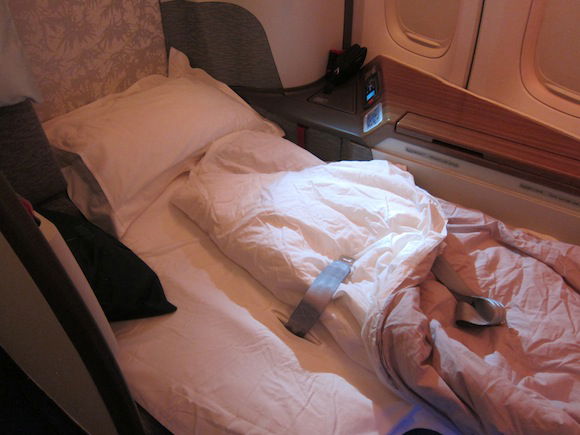 Turndown service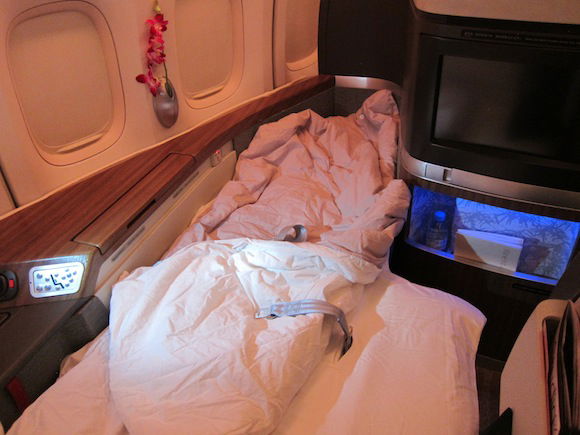 Turndown service
Once tucked in under the covers I decided to watch a movie, as I wasn't quite tired yet. I decided on "The Watch," which must be the most bizarre movie ever. Watch out for aliens at Costco!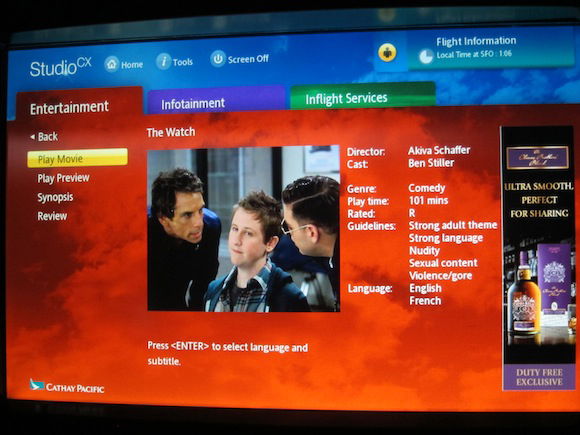 The Watch
By the time the movie finished we had about seven hours to go to San Francisco, and I decided to get some rest. I got a solid five hours of sleep, and woke up with about two hours to go to San Francisco. I freshened up at that point, and within about 30 minutes the breakfast service began.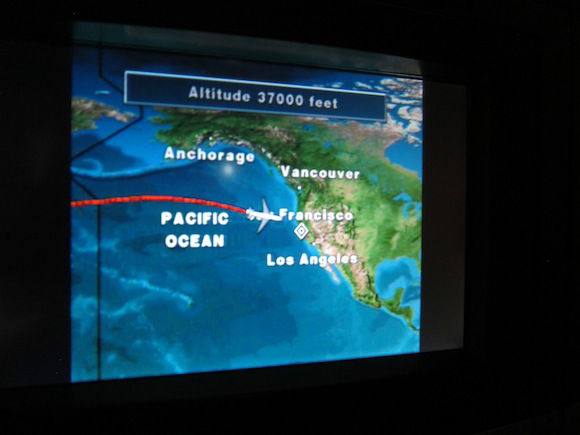 Approaching San Francisco
While I never took advantage of it, here's what the snack menu looked like:

And here's the breakfast menu: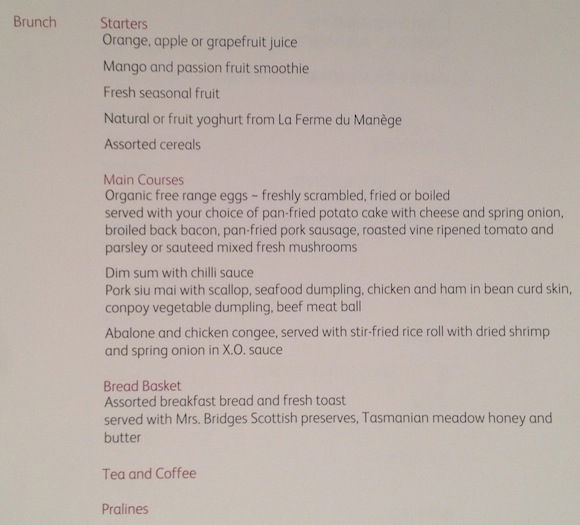 For breakfast I started with some fruit, yogurt, and muesli. That was served with orange juice and a fruit smoothie.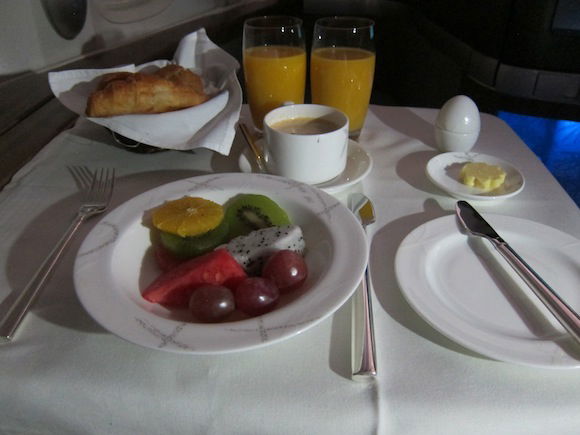 Fresh fruit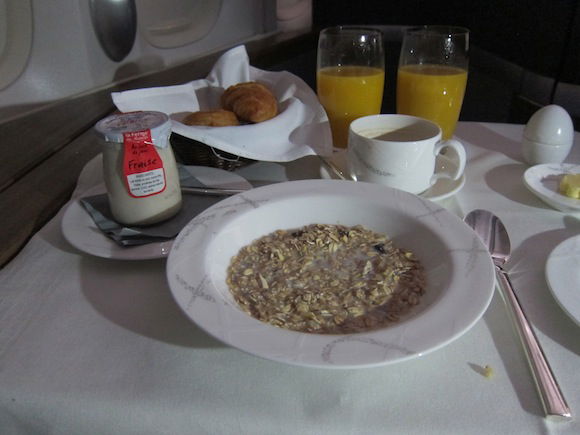 Muesli and yogurt
For the main I had some scrambled eggs with potato cakes. Cathay Pacific prepares the egg dishes freshly aboard, and they're delicious. In my opinion the biggest difference in meal service between a mediocre airline and a great airline is with their breakfast service.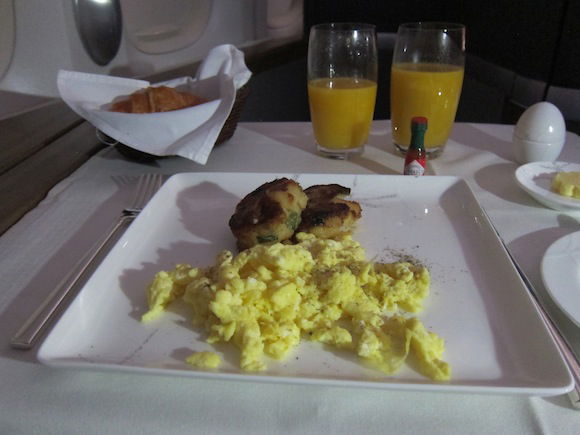 Scrambled eggs
About 30 minutes out we began our descent and I changed out of my pajamas. As usual the views on approach were fantastic, as it was a clear day in San Francisco.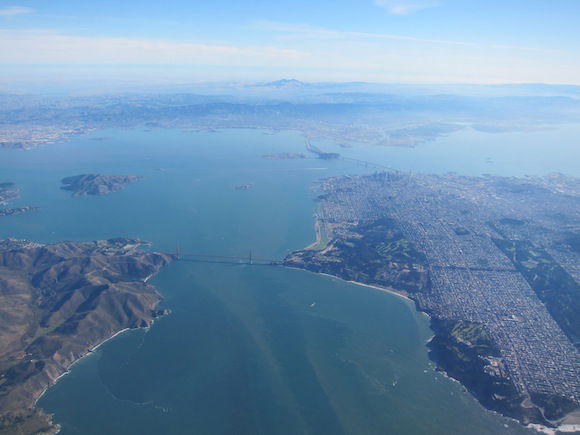 Views on approach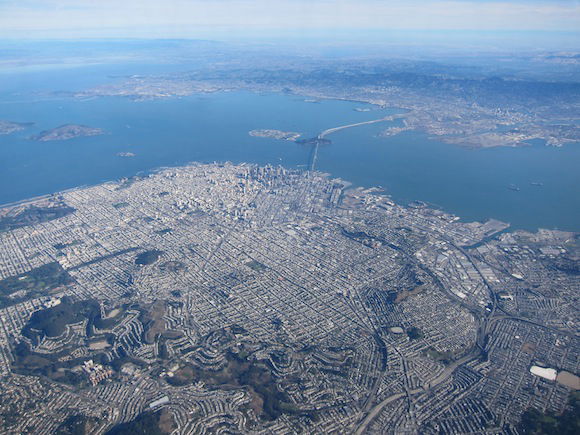 Views on approach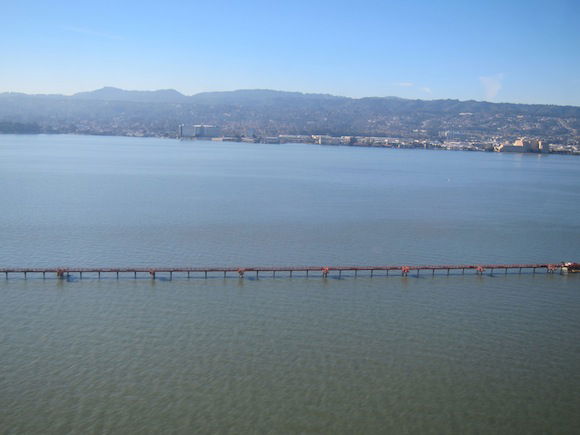 Views on approach
We had a smooth touch down on runway 28R, and a quick taxi to our gate for an on-time arrival.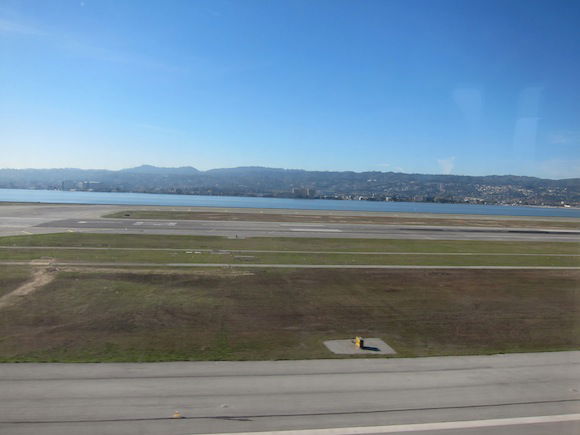 Touching down
Ironically enough we pulled in right next to the Alaska plane we'd be flying to Seattle, despite the fact we'd first have to clear customs and go to terminal one to get our boarding passes.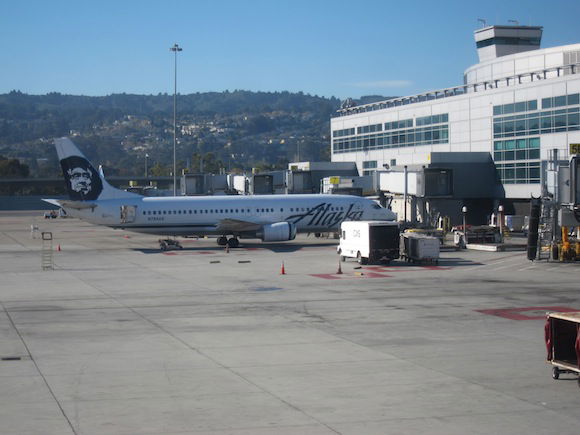 Our Alaska plane to Seattle
Thanks to Global Entry immigration only took a couple of minutes, and we headed over to terminal one to check-in for our Alaska flight to Seattle. Alaska seems to use one gate in the international terminal, so we had to run back there to catch our flight, and made it with a few minutes to spare.
Cathay Pacific offers one of the all around most solid first class products. There's no area in which they absolutely blow you away, though they're extremely consistent — their first class lounges are nice, their service and food are generally quite good, the entertainment is fantastic, and they have one of the most comfortable beds in the sky. No airline is perfect, though Cathay Pacific is about as close as it gets to a well rounded product, in my opinion.