---
We got to the airport at around 7:15AM for our 9:05AM flight. Unlike last time, first class check-in was packed, and all agents were even busy, although one finished up right as we approached. It took a bit longer to check us in since we were continuing on JAL from Narita. While the agent could check our bag through to JFK, she was only able to print the Cathay Pacific boarding pass to Narita.
Security was a breeze and we were airside by 7:30AM. Conveniently enough we were leaving from gate 65 today, which is right by The Pier. As you may recall, Cathay Pacific has two first class lounges, The Wing and The Pier. Last time we checked out The Wing, so this was a great opportunity to check out The Pier.
Gate 65 is about a 20 minute walk, so we got there shortly before 8AM. This time we went through the correct entrance. I was surprised to see it was under the main concourse level, since most Hong Kong lounges are up a level and boast great views of the airport.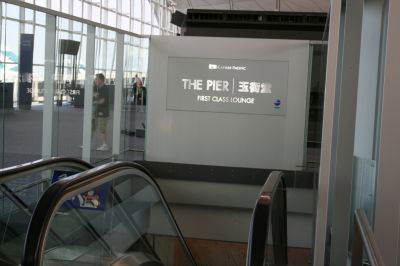 The Pier entrance
We were promptly admitted after showing our lounge invitations, and were actually quite impressed. While The Pier lacks the airy feel of The Wing (and basically all other lounges in Hong Kong), it has a much more elegant feel to it.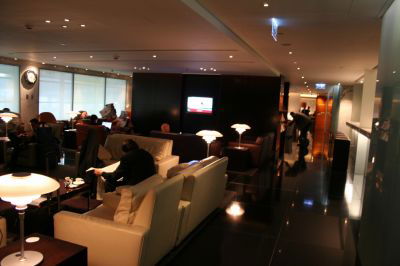 The Pier
This lounge also has The Haven (dining area), comfortable couches, a computer area, as well as quiet rooms and showers. The service was attentive with waiters constantly walking around for empty glasses.
I was curious about the whole "Quiet Room" concept, so I went to one of the waiters, who swapped out my boarding pass for a key to one of the rooms. I was assigned room six and had no clue what to expect, but I was damn impressed. It's basically a private room with a big, comfortable seat and ottoman with a TV screen, music, etc.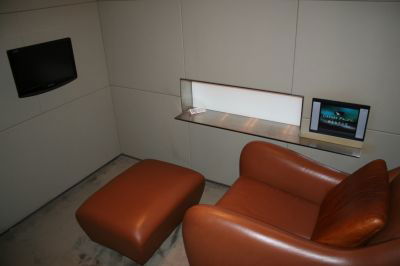 The Quiet Room
The cool thing was the screen next to the seat, which had all kinds of options. You could adjust the lighting (making the room totally dark), close the blinds, adjust the temperature, set an alarm, listen to a selection of music, or watch TV. I love this idea, and could probably spend hours relaxing in one of those rooms on my next layover. Given how crowded the lounge was, I was surprised they weren't all occupied, given that there are only six.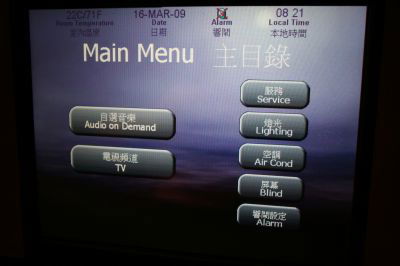 Our time at The Pier quickly came to an end, and we definitely got more of a first class feel from this lounge than The Wing. Our gate was only a short walk from the lounge, where our beautiful 747 was waiting to take us to Narita.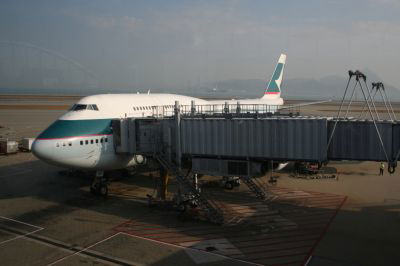 Our plane to Narita
Within a few minutes of arriving at the gate, boarding began, starting with passport checks. We were aboard in no time.
Cathay Pacific 504, HKG-NRT, 747-400
Monday, March 16
Depart: 09:05AM
Arrive: 2:00PM
Seat: 3K (First Class)
As soon as we were greeted at the door I could tell it would be a great flight, despite this being the fullest load of all our Cathay flights (with 7/9 seats being occupied). We were escorted to our seats, 3A and 3K, which are actually about as far apart as they get, given the table in the center of the cabin separating them.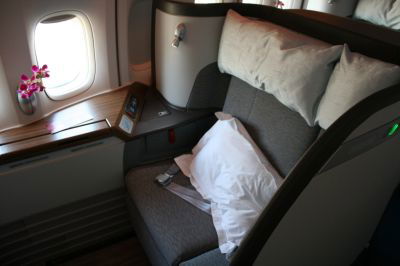 My seat, 3K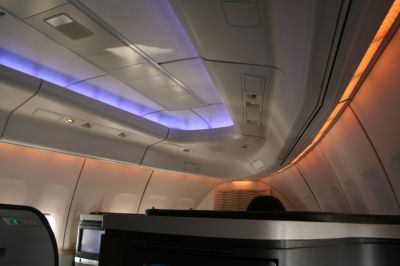 View from my seat
Before we could settle down both of our flight attendants, Angel and Candy, introduced themselves. With those kinds of names I wasn't sure whether I was on Cathay Pacific flight or in a…. well, never mind. Anyway, they couldn't have done a better job taking care of us. They were by far the most charming and attentive of the crews (and the other crews were charming and attentive as well).
As I sat down I saw an older couple board, both sporting thick Texan accents. As the wife settled down in 1A she proclaimed to her husband loudly that "this is better than Southwest, honey." LMAO!
Anyway, we were almost immediately offered menus, pre-departure drinks, hot towels, blankets, pillows, etc. By now I knew the drill.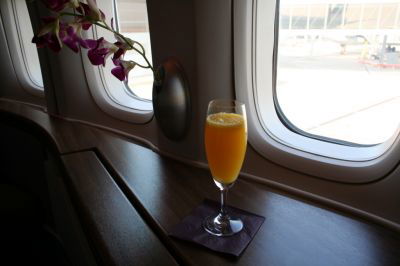 Pre-departure drink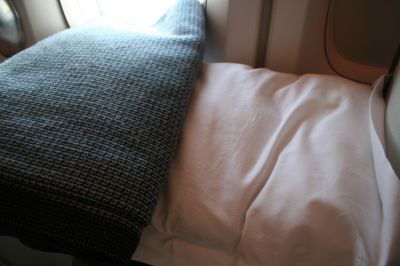 Pillow and blanket
The Captain came on the PA for a quick announcement, explaining our flight time was 3hr26min and that we should be arriving on shed-jewel, er, schedule. Shortly thereafter we pushed back, where I saw a Cathay OneWorld A340. That was a first for me.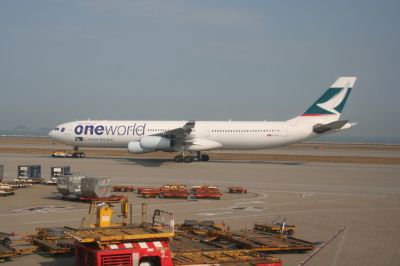 Cathay OneWorld A340
After a long taxi to runway 7R we taxied into position, and after a 58 second roll were airborne. The seatbelt sign came off a few minutes later, at which point we could hear all kinds of noise in the galley as the flight attendants prepared for their service. The in-flight service manager, Anne, came around introducing herself. Shortly thereafter Angel came by to take meal orders. The menu read as follows:
Brunch

Starter
Juice selection

Duck confit and goose liver terrine with roasted vine ripen tomato

Minestrone with pesto

Main Courses
Pan-fried cornfed chicken with rosemary jus, grilled new potatoes, French beans, capsicum and mushrooms

Assorted Chinese dim sum

Sautéed prawns with tomato fish sauce, steamed jasmine rice and Chinese mixed vegetables

Dessert
Cheese selection

Fresh seasonal fruit

Fruit gateau with raspberry sauce

Tea and Coffee

Pralines

Drink List

Juices
orange, apple, tomato

Soft Drinks
Coke Zero, Coke, Coke Light, Sprite, Perrier water, tonic water, soda water and ginger ale

Coffee
freshly brewed coffee

Teas
Fuding jasmine silver fur, Anqi supreme Ti Guan Yin, Ceylon Japanese, Hong Kong style milk tea
organic selection: camomiles, earl grey and peppermint

Hot Chocolate

Wine List

Champagne
Curvee William Deutz Brut 1998
This charming champagne is crystal clear with a pale gold hue. The rich aromas of baked apples are followed by hints of preserved ginger and nutmeg. It is pure with complexity, which is the hallmark of the Cuvee William Deutz. This is an ideal wine for matching most of the delicate dishes offered onboard

White Wines
Henri de Villamont Meursault 2005
Meursault is a large village located in the southern part of the Cote de Beaune, Burgundy, France, which produces some of the best Chardonnay wine in the world. The 2005 Henri de Villamont Meursault possesses abundant ripe fruit with an added supple richness and hints of butterscotch. It is elegant with a stylish structure. Fish, poultry dishes with cream sauce and strong ripe cheese will pair wonderfully with this wine.

Helen's Hill Yarra Valley Chardonnay 2006
Helen's Hill Estate is located in Yarra Valley – Victoria's oldest wine region. This tempting Chardonnay is a light straw color. The ripe peach and citrus characters are complemented by an attractive mineral layer, toast and vanilla cream. It has a great length with excellent balance. This is a great accompaniment to roast pork or chicken dishes.

Red Wines
Chateau Branaire-Ducru 2001, 4eme Cru Classe
Chateau Branaire-Ducru is an elegant Grand Cru wine from Saint Julien of Haut Medoc, Bordeaux. The 2001 vintage offers beautiful aromas of crushed berries and currants, with hints of violets. It is full boded with lively acidity giving the wine excellent balance. This seductive wine has soft and smooth tannins and a long and caressing finish. It goes perfectly with all kinds of red meat and stewed dishes.

Possums Vineyard McLaren Vale Shiraz 2004
The vines for this delicious wine are planted in Blewitt Springs, an elevated sub-region of McLaren Vale, South Australia. The 2004 Possums Vineyard Shiraz has dark purple and vibrant violet hues. It displays intense aromas of blackberry and raspberry, which marry beautifully with the spiciness of the oak. It is full bodied and well structured with supple tannins. This wine matches well with stews and also many Chinese dishes.

Terrabianca "Campaccio Riserva" Toscana IGT 2004
This wine is produced from 50% Sangiovese and 50% Cabernet Sauvignon grapes. It offers aromas of red fruits, roasted coffee and liquorice with a touch of vanilla note. It is very rich on the palate and silky, with sweet tannins. A delicious wine that goes well with most meat dishes.

Port
Ramos Pinto Quinta de Ervamoira 10 Year Old Tawny Port
Produced from grapes grown in the vineyard Quinta de Ervamoira, this tawny offers all the maturity of an aged wine while still displaying the vigour of youth. It is smooth and full bodied, with aromas and flavors of apricot and plum balanced with vanilla scents from the aged casks.

Cloud Nine
A refreshing combination of Vodka, Cointreau and Sprite with a refreshing touch of lemon flavor.

Aperitifs and Cocktails
Campari
Martini Rosso
Matrini Extra Dry
Tio Pepe Sherry
Harveys Bristol Cream Sweet Sherry
Gordons Dry Gin
Stolichnaya Russian Vodka
Bloody Mary
Screwdriver

Whiskies
Chivas Regal 12 Years Old
Johnnie Walker Blue Label
Canadian Club
Gentlement Jack Bourbon
Glenfiddich Ancient Reserve Single Malt Whisky

Cognac
Tesseron Lot 76 XO Tradition

Liqueurs
Grand Mariner
Cointreau
Drambuie
Kahlua
Bailey's Irish Cream

Beer
International selection

CX signature drinks
Oriental Breeze
A sour-plum tea and cranberry juice based non-alcoholic drink with honey and fresh lemon juice and a hint of rose water.
I chose the chicken as the entree and ordered a Diet Coke. I browsed the entertainment selection in search of a movie to watch, since I had seen just about every sitcom by this point. While most people have an easy time selecting a movie from dozens of choices, I don't. I'm not much into movies as I usually don't have the attention span, and if I do it better be worth time. For me there's nothing worse than watching a two hour movie and then saying "why the hell did I just waste my time on that?" Oh, I also don't like drama movies. There are enough sad things in the world without movies.
That narrowed down the options quite a bit, and I eventually settled on Wild Child, featuring Emma Roberts. It was entertaining enough, despite the rather predictable storyline.
Anyway, I'm not Ebert or Roeper, so I'll stick to reviewing my flight. Japanese snack mix and Diet Coke were brought out promptly. Seconds were offered, which I accepted.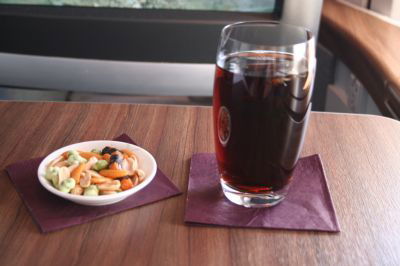 Snack mix and Diet Coke
Shortly thereafter Angel set my table and also served the appetizer. I'm not really a fan of goose liver, so I enjoyed the cherry tomatoes and orange slice.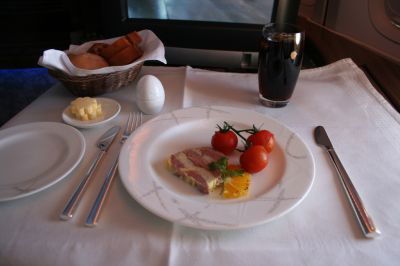 Appetizer
Shortly thereafter Angel served the minestrone soupe, which was delicious.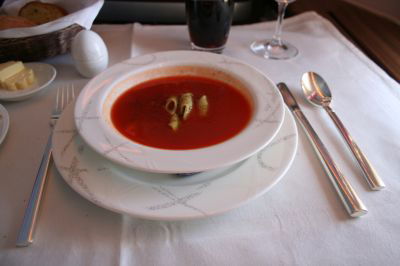 Soup
The main course was also quite good.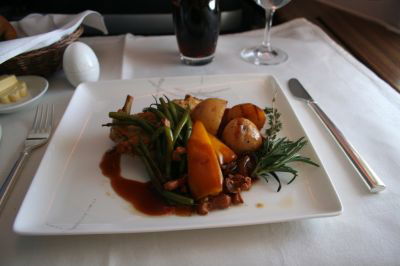 Main course
Lastly came the dessert, which was out-of-this-world delicious.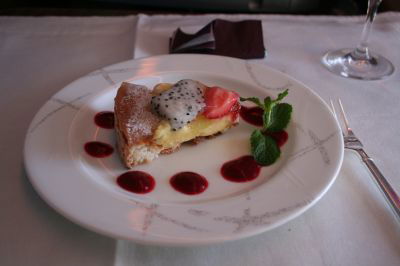 Dessert
As I finished up the meal, Candy insisted on bringing me some pralines, which I couldn't turn down.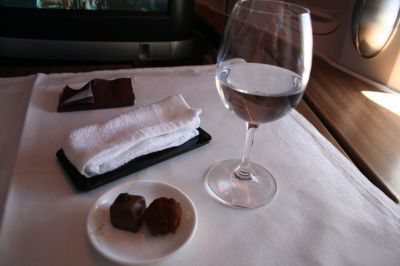 Pralines
My movie finished right around the same time as the meal service. As I was finishing up Angel asked whether I would be willing to fill out an in-flight survey. I agreed, mainly because in-flight surveys usually come with airline pens, and I wouldn't turn down an opportunity to add to my collection of airline pens.
That being said, am I the only one that doesn't like these in-flight surveys? Don't get me wrong, I don't blame the flight attendant for asking me, as they're just following orders, but when you have a 3.5 hour flight and are in three cabin first, do you really want to spend 20 minutes filling out a survey? What annoys me even more about the survey is that it's basically all ratings on a scale of one to five. I'd at least like to have some room to write down constructive comments, as opposed to just contributing to a statistic. I think they should just have online surveys so it's a bit more voluntary.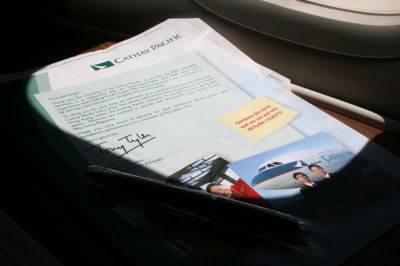 Cathay Pacific survey
After the survey I watched another sitcom, and before we knew it we were beginning our descent into Narita.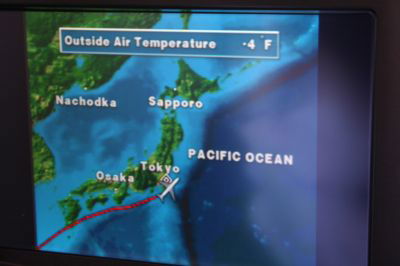 Descending
As we were descending Angel and Candy both came to each passenger and thanked them for flying Cathay Pacific, especially in these tough times, as they called them. Angel also mentioned how we were the nicest passengers aboard and how she was surprised by how much we said "thank you." I explained to her that on the airline I usually fly, it's a requirement if you want service. We thanked both of them again for the great flight, and we slowly approached Narita.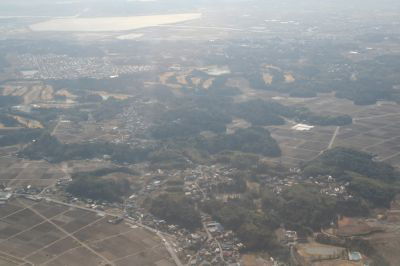 On final approach
We touched down at around 1:40PM and began our long taxi. If I didn't know any better I'd say we landed in Osaka and taxied over to Narita (yes, on water).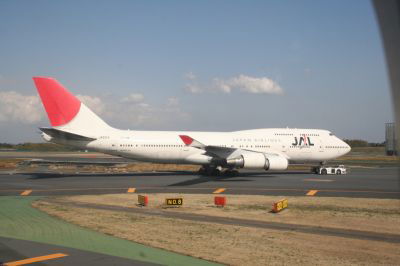 JAL 747
We got to the gate right on-time, and once again thanked Angel and Candy for the great job they did. Since there were no other flights arriving at that time there was no line at transit security, which was a nice change for once. I always enjoy security at Narita. The agents are always friendly and it's generally a hassle-free experience.
Immediately past security was the JAL transit desk, which is where we picked up our boarding passes for our connecting flight to New York.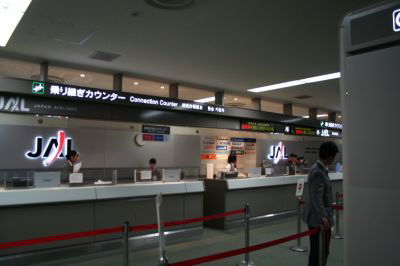 JAL transit desk
As much as I love Narita, my experiences at transit desks there are always pathetic. While the agents are friendly, I can't help but get a wee bit impatient when it takes them 20 minutes to print a simple connecting boarding pass. Eventually the friendly agent handed us our boarding passes and directed us towards the lounge, which wasn't far away.
The lounge entrance is for both first and business class. As is common at Narita, there were about a dozen agents at the welcome desk. All of them smiled and bowed as we entered, and as they saw our first class boarding passes they escorted us to the first class side, where our boarding passes were checked again.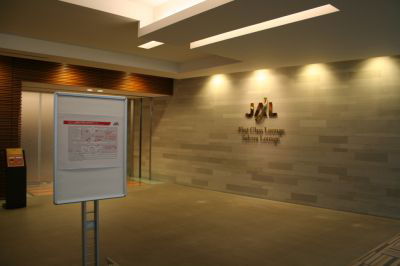 Entrance to the lounge
Near the entrance was the desk where you book massages, and there was a sign indicating the next available appointment was at 4PM, so we booked immediately. Just so there's no misconception, this isn't a Thai Airways Spa experience where you get a 1.5 hour massage. Instead it's a quick ten minute massage, but it sure is better than nothing given that it's free! There were three choices to choose from, and I went with the back rub. The agent noted our appointment time on our boarding passes, and we checked out the rest of the lounge.
The main first class lounge area was one large room with plenty of seating, a bar, buffet, computers, etc. Furthermore there was a humane smoking lounge (as my dad put it). It was just as nice as the rest of the lounge, except separated by a door.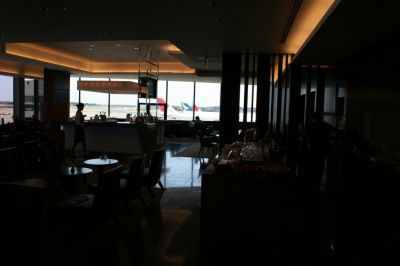 Lounge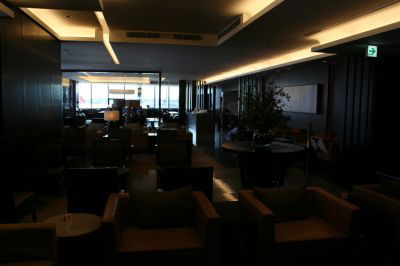 Lounge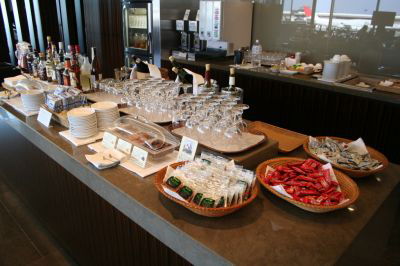 Drink/snack buffet…. those little red things are the smallest Kit Kats I've seen anywhere in the world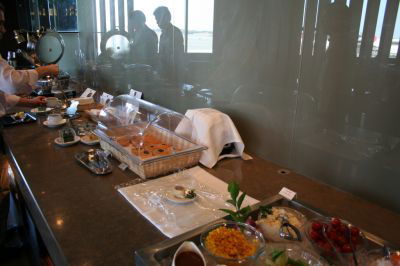 Buffet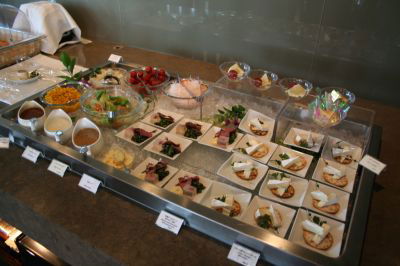 Buffet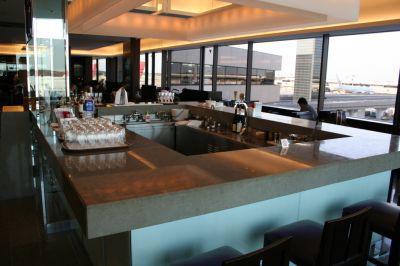 Bar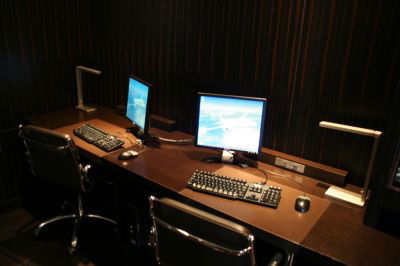 Computers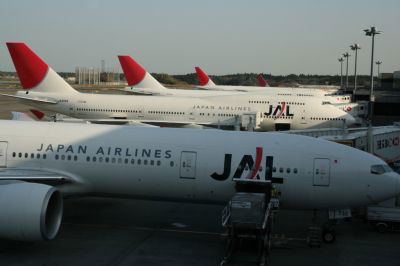 View from the lounge
Having been to the ANA first class lounge many times, I have to say this was far superior. The massages, the decor, and the food selection were substantially better than what I've seen in the ANA lounge at NRT. The one thing I noticed was that this lounge *really* filled up as the afternoon progressed, while the ANA F lounge is usually quite empty.
Given the long day ahead of us and the fact that we'd be meeting my brother for dinner upon landing in New York, I decided to shower. The shower rooms were uber-futuristic, with fancy automatic doors. The shower sprayed water from more directions than I knew existed.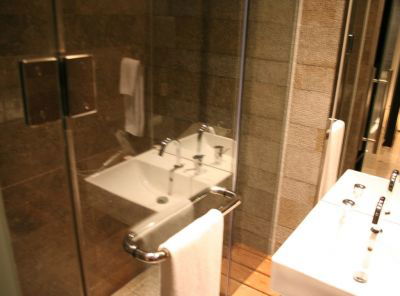 Shower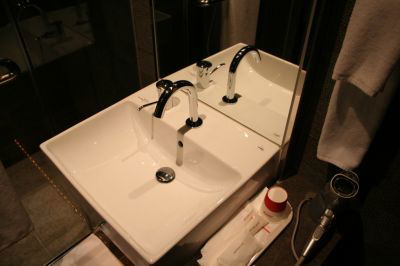 Sink
After showering I browsed the web for a while via their (fast) Wi-Fi network, and then enjoyed the massage chair. I've been in lots of massage chairs in Japan, but this was probably the most extreme I've ever seen. At first I thought I was on death row, since they basically cuff your hands and feet. Really good, though!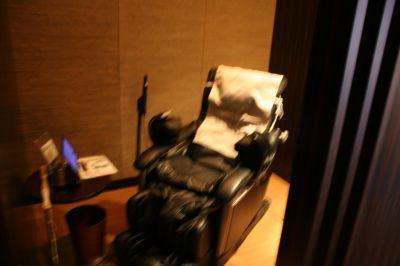 Massage chair
Soon enough 4PM was approaching, so it was time for my massage. I got there at around 3:55PM, five minutes ahead of schedule, and was immediately helped. The guy massaging me was a rather large guy. He asked me whether I wanted my massage firm, medium, or gentle, and I went with medium. Suffice it to say I should have gone with gentle. Unfortunately the massage was only eight minutes, but again, better than nothing.
At this point we decided to check out the American Airlines Admirals Club, just to compare. It's located less than five minutes away from the JAL lounge, and besides, I want American to get back some of the money they lost from us flying JAL. 😉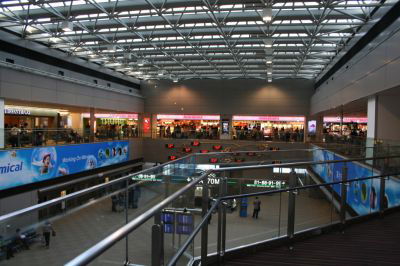 Center of the terminal
The Admirals Club is located down one level, and at first we had a hard time spotting it.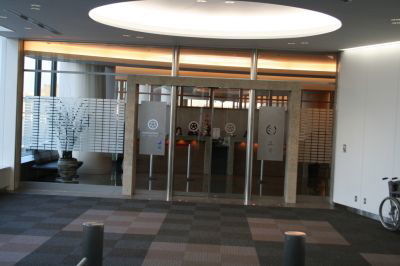 Entrance
I was expecting the agent to say something along the lines of "Are you sure you want to use this lounge?" Instead we were welcomed in after about 30 seconds of frantic writing by the agent. It was also interesting to note that the agents weren't dressed in uniforms, just like the Admirals Clubs in the US. The lounge was quite full, I guess because all of the American flights were about to depart. It was about as nice as the Red Carpet Club at Narita, although designed somewhat differently.
The snack selection was quite limited, although I believe they also have one of the world famous beer machines.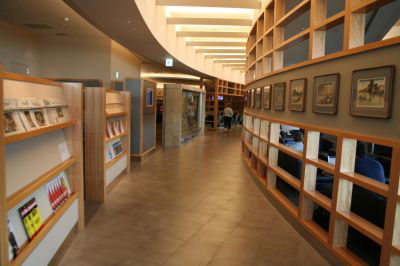 Admirals Club corridor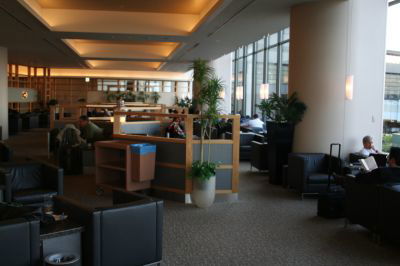 Admirals Club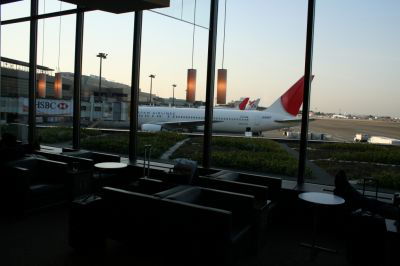 View from the Admirals Club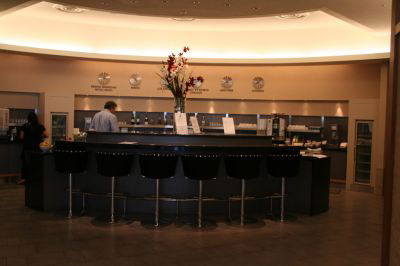 Bar area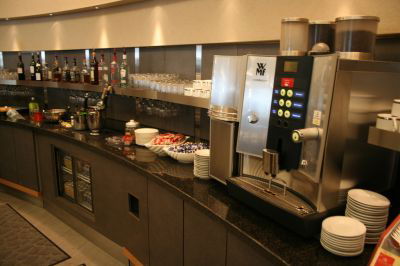 Snacks/drinks
At around 5PM we decided to go back to the JAL lounge for a while, since it was nearby. Boarding was only starting at 6:05PM, so there was plenty of time. We hung out there for another 45 minutes, before heading to gate 62 for our flight to New York.
The walk to the gate was interesting, to say the least. We crossed paths with two separate American Airlines crews. They uniformly couldn't have looked any unhappier to be alive, both in terms of their facial expressions as well as their demeanor. I was happy to be flying JAL.
We got to the gate shortly before 6PM. Our boarding passes stated boarding was supposed to start at 6:05PM, but the monitor at the gate indicated 6:15PM.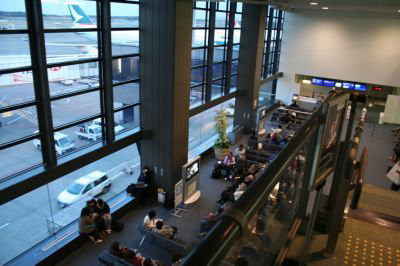 Our gate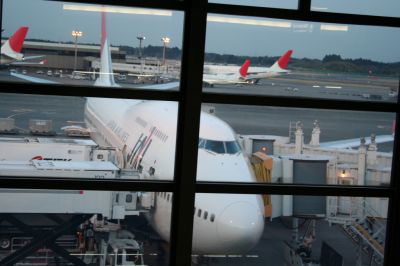 Our plane to New York
We observed as the eight or so agents stood around looking pretty for the better part of 15 minutes, and at around 6:14PM we got into line to board. We watched as the gate agent literally counted down on his clock till precisely 6:15PM, at which point boarding began for first and business class. We were reminded that no electronic devices may be used on the ground and that all cell phones have to be shut off.
Japan Airlines 008, NRT-JFK, 747-400
Monday, March 16
Depart: 06:40PM
Arrive: 6:25PM
Seat: 2K (First Class)
We boarded through door 1L, where the flight attendants greeted us and pointed us towards our seats, which were located in row two. Japanese airlines (both JAL and ANA) are at a natural disadvantage as far as pre-departure services go, since neither are allowed to serve pre-departure beverages and electronic devices can't be used either. I find that policy to be ridiculous, but oh well.
The pictures I've seen of JAL First make the cabin look futuristic, fresh, and bright. Unfortunately I didn't get the same feeling aboard our flight. The seats looked rather old and run-down.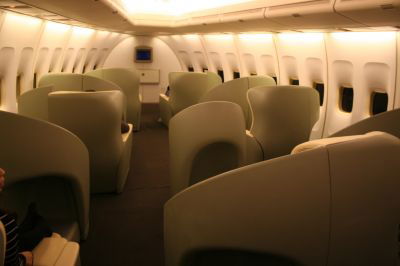 First class cabin
I stowed all my carry-ons in the overhead bin, which was a pretty tight fit without the personal closets that Cathay has. The biggest change between this and Cathay was being able to see my dad, who was seated across from me in 2A. On Cathay all the suites were so private that it was impossible to see another passenger.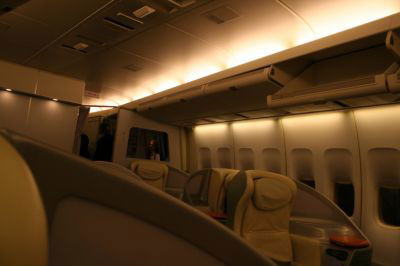 View from seat 2K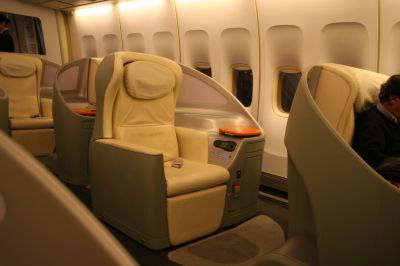 View from seat 2K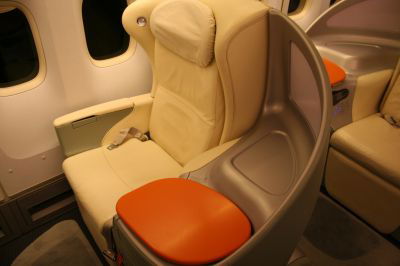 My seat, 2K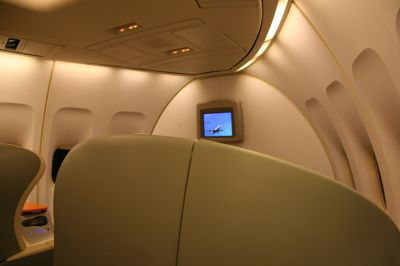 Looking forward from 2K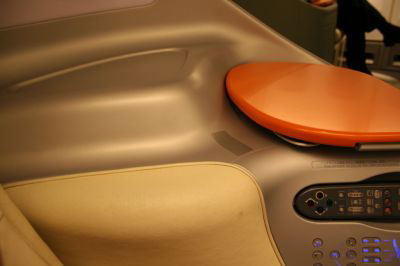 Seat controls, remote and side table
The cabin just struck me as being particularly poorly designed. I don't know who had the idea of making seats cream colored, but the leather was in rather bad shape and had lots of black spots. Furthermore, the orange side table (in the picture above) was probably made by Fisher Price based on the sturdiness.
As we settled down our friendly flight attendants offered us newspapers, magazines, etc. Their English wasn't nearly as good as most of the flight attendants I've had on ANA either. We were then given pajamas, headphones, slippers, and menus. The menu came in a leather case. VERY nice!
As boarding continued an older lady was assisted aboard by about five employees, and she took the seat in front of me, 1K. While I couldn't understand her, she seemed to be complaining based on her expressions and tone of voice. The whole first class cabin was settled in soon enough, and there were two empty seats, meaning there were a total of nine people in first class. Except for us everyone else seemed to be Japanese.
The one good aspect of the boarding process at JAL is the music. I believe it was this track:
https://www.youtube.com/watch?v=M8N2Jh6-pww
The boarding process was speedy (it better be when you have to board a 747 in 20 minutes!), and the door closed on-time. The captain made his welcome aboard announcement over the PA which I couldn't understand, not because of his accent but because he wasn't talking into the mic.
Shortly thereafter the safety video was played on the screen on the front wall, which was more like an arcade game than a safety demo based on the sound effects. Oddly enough the purser came around and introduced herself to each first class passenger during the safety demo! What happened to them being there primarily for our safety? 😉
As the safety video wrapped up we began our taxi. JAL has nose cameras, so it's pretty cool to see the taxi and takeoff on the front screen. There was a pretty long wait for takeoff at runway 34L, but within about 30 minutes we were airborne.
I was expecting the seatbelt sign to be turned off almost immediately, but it wasn't. We hit a few bumps on the way out and the flight attendants had to remain seated, I assume. Well, about five minutes after takeoff the older lady sitting in front of me pushes the flight attendant call button. Most people just wait till a flight attendant comes, but not this lady. She turned off the call button and pushed it again (talk about being resourceful). And again. And again. It sounded like a "ding" concert. The flight attendants remained seated (I assume they had to), but this lady didn't give up. Eventually the flight attendant comes to her seat and apologizes for the wait. As it turns out all this lady just wanted to know how to get her video screen out. You're kidding me, right?
Since we were airborne I could use my camera to snap some more pictures. As the lady in front of me reclined, I noticed that the seats actually recline into the space of the person behind them. I thought that was illegal in international first class?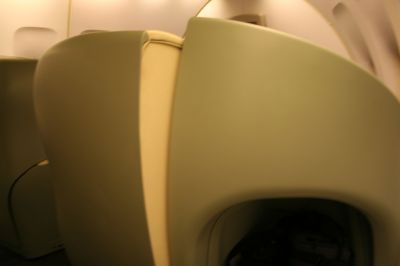 Recline
Each seat has a foot well, which is kind of small since it's the only place to put your feet when you want to sleep. The bottom opens up so you can store your shoes in it.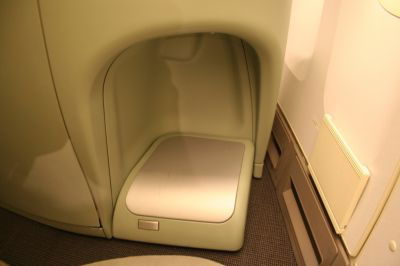 Legroom
We were then given pillows and blankets, which were rather underwhelming for international first class.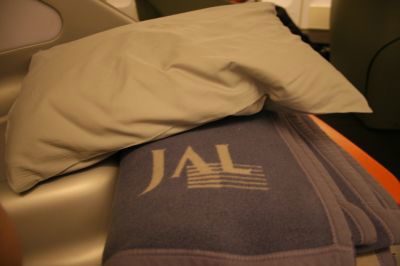 Pillow and blanket
The leather folder had a menu, wine list, immigration form, and note taking us for flying JAL inside of it.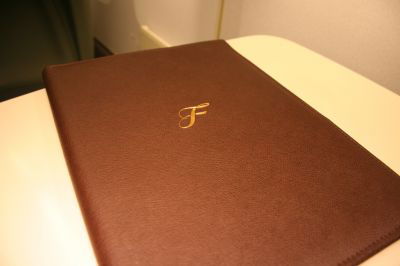 Menu folder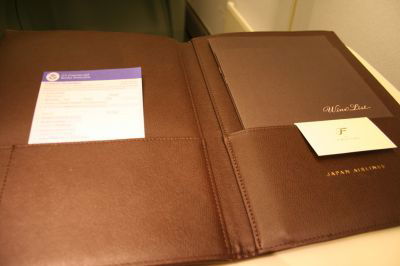 Menu and wine list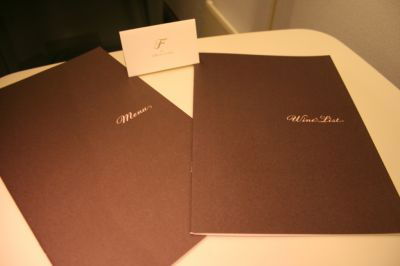 And again….
I also snapped some pictures of the Quiet Comfort 2 headsets they provide (with the JAL logo on them), along with the pajamas. The pajamas were awesome. Probably my favorite pair yet, although Lufthansa's can be a close second.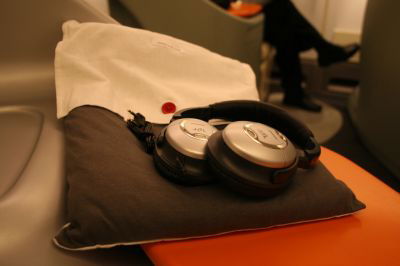 Pajamas and QC2 headsets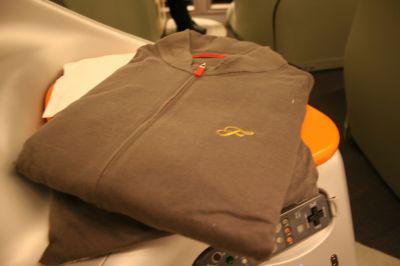 I love the "F"
I changed into the pajamas right away as I wanted to keep my "real" set of clothes clean. The lavatory had to be one of the coolest in the world. No, the lav itself wasn't that great, but it had music!!! When I unlocked the lav it stopped playing, and when I locked it again it started. Nifty!
When I got back to my seat I snapped some pictures of the 63 pounds of in-flight magazines JAL has, along with the slippers.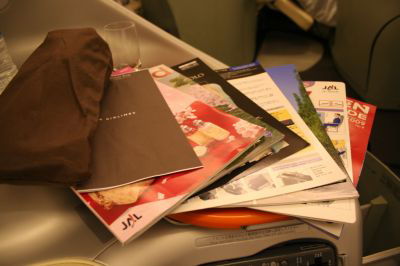 In-flight magazines
In the meantime flight attendants were coming through the cabin distributing hot towels followed quickly by snack mix. They then took drink orders. I asked for a Diet Coke.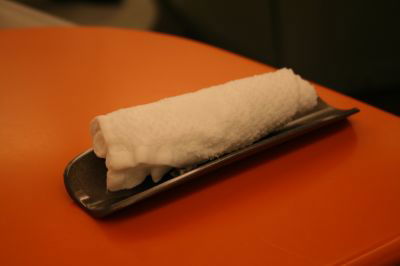 Hot towel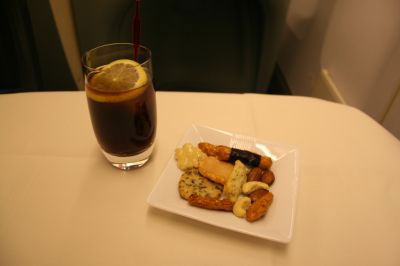 Diet Coke and snack mix on a fancy plate
Little bags of snack mix were then offered as refills.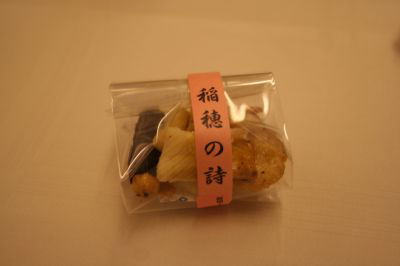 More snack mix
And more snack mix….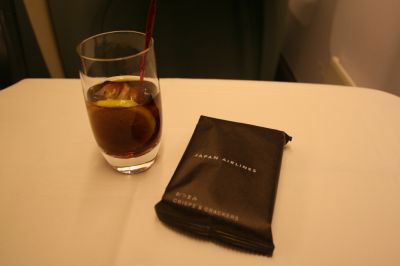 Snack mix to take home
I then reclined my seat a bit and made myself comfortable. I started watching the airshow. Overall the seat was ok for lounging, although not that great.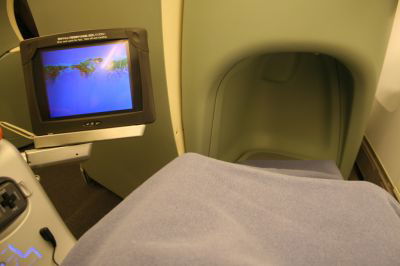 Airshow before dinner
Meal orders were then taken. Unfortunately the lady sitting in front of me insisted on doing her duty free shopping right then and there, and she insisted that the flight attendant taking meal orders be present. The flight attendant stood there for at least ten minutes as the older lady browsed the magazine, obviously trying to be polite. Throughout the rest of the service it always seemed to take about ten times as long to serve this lady than anyone else.
The menu read as follows:
Chef's Recommendations

Amuse Bouche

Steamed "Sakura" Shrimp on Sherry Royal Custard

Caroline of Foie Gras Fondant scented by Rose Confit

Smoked Fish Ceviche on Lemon Jelly accompanied by Pepper Stick Pie

Hors d'Oeuvre (Choice)

Caviar

Parfait of "Ayu" Fish with Onion Pimento Confit served with Balsamico & Basil Sauce

Iberico Pork Raw Ham with Special Grown Salad

Main Dish (Choice)

Seared Fillet of Wagyu Beef Chateaubriand Steak with Chasseur Sauce

Provence Style Loin of Lamb with Tapenade & Herbed Tomato Confit

Steamed Sea-bream Roulade with Seaweed & Walnut, Low Fat Vin Blanc Sauce

Grand Dessert from Escoffier

Almond Blanc-manger with Melon Jelly on Lemon Mousse Cake

Exotic Caramel Cake

Vanilla Ice Cream with Cristal Orange Tuile
served with Custard & Berry Sauce

Beverages

Coffee
Espresso
Cappuccino
Tea
Herbal Tea

Spring Taste of Japan

Zatsuki

Fried Fermented sea-slug

Japanese Appetizer

Mukouzuke

Fillet of Sea-bream "Sashimi" Style

Tsubo

Braised Hard Clam & "Udo" Salad with Egg Yolk Vinegar Sauce

Shiizakana

Foie Gras in Jelly Orange Cup / Deep-simmered Octopus in Sweet Soy Sauce
Halfbeak Egg Yolk Sushi Style / Baked Squid / Salmon Roll with Cream Cheese

Kobachi

Mixed "Yuba" Crepe & Soft Fish Roe with Sea Urchin Soy Sauce
Deep-simmered Sea-break Roe & Bamboo Shoots
Poached Abalone with Sweet Soy Vinegar Jelly

Dainomono

Braised Fillet of Sea-bream & Tofu in Kelp Boat

Seasoned Rice with Scallop or Steamed Rice
We are pleased to offer freshly steamed Koshihikari rice

Japanese Clear Soup

Japanese Pickles

Sweets

Grean Tea

Liqueur & Spirit

Aperitif / Cocktail
Tio Pepe, Dry Sherry
Martini Rosso, Sweet Vermouth
Martini Extra Dry, Dry Mermouth
Campari
Lejay Creme de Cassis
Plum Wine
Martini
Mimosa
Kir Royal
Kir
Bloody Mary

Whisky
Chivas Regal Royal Salute
Suntory Hibiki
Bourbon

Spirits
Bombay Sapphire Gin
Absolut Vodka

Japanese SakeRemi Martin X.O. Premier Cru
Cointreau
Baileys Irish Cream

Beer

Brandy / Liqueur

Port Wine
Graham's Tawny Port 30 Year Old

Champagne

Champagne Salon S 1997
Champagne Henroit Brut Millesime 1996

White Wine

Domaine Latour Giraud, Meursault 1er Cru Genevriere 2007 (Bourgogne France)
Clos du Bois: Chardonnay 2006 (California USA)
2007 Duerkheimer Hochmess Riseling Spaetlese Trocken (Germany)
Chuo Budoshu Cuvee Misawa Koshu Private Reserve 2007 (Katsunuma Japan)

Red Wine

Chateau Smith Haut-Lafitte 2004 Pessac Leognan (Bordeaux France)
Bouchard Pere & Fils Pommard 1er Cru 2004 (Bourgogne France)
Artesa Merlot 2004 Sonoma Valley (California USA)
Haras de Pirque: Albis 2003 Maipo Valley (Chile)

High Quality Japanese Sake

Isojiman, Junmai Dai-Ginjyo
Kokuryu
Born Wing of Japan
I went with the caviar and the Fillet of Wagyu Beef, which I've heard is excellent.
The service began with the appetizer, which was more pleasing to the eye than the palate, in my opinion, although this is coming from someone that enjoys caviar as much as a bag of Doritos, so take it with a grain of salt. Speaking of grains of salt, the flight attendant was explaining how they used special salt, and recommended I put some extra on the beef.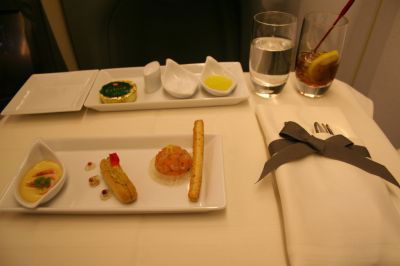 Appetizer
Then came the caviar. I'm not a huge fan of caviar, but I'll eat it. It was quite good.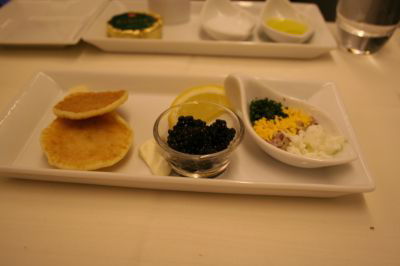 Caviar
The beef, as others have mentioned, was fantastic.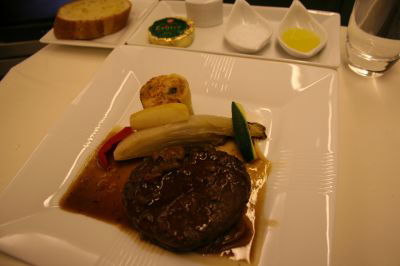 Main course
Then came the dessert, which consisted of a few things. Thank God, because originally I thought I had to choose, and there's no way in the world I could have done that! My one issue was that the plate was hot so the ice cream was melting faster than Al Gore would like us to think the icecaps are.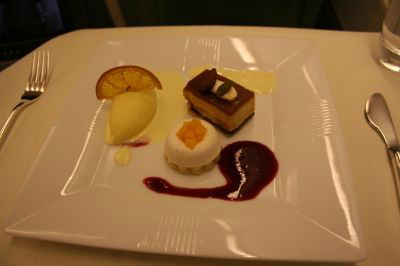 Dessert
Overall the service was at a good pace, probably a bit on the fast side for international first, but I actually appreciate that. The meal service was done less than 1.5 hours after takeoff, which meant we had another ten hours to go to New York.
At this point the amenity kits were distributed. This is where JAL shines, especially after Cathay Pacific offering such a disappointing kit. The men's kit contained Shiseido products and had everything you could possibly want. I also asked for a women's kit (for my mom), which I was given without a problem.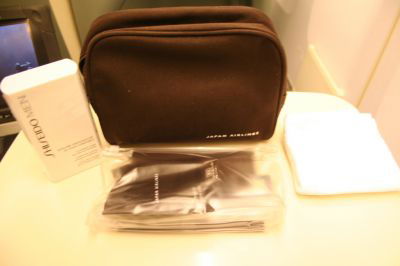 Amenity kit
Individual bottles of water were then distributed, and I decided to watch a movie. The western entertainment options are probably JAL's biggest weakness. Not only was the system impossible to use, but the selection was also limited. There were no sitcom options, and the movies were limited to the following options:
MOVIES AND VIDEOS:

Quantum of Solace
The Day the Earth Stood Still
Madagascar: Escape 2 Africa
Changeling
K-20: Legend of the Mask
252: Signal of Life
I'd Rather Be a Shellfish
The Express
Beverly Hills Chihuahua
Disney Channel on JAL
King of Trivia
Key Moments in Japanese History
Sweet November
Addams Family Values
None of the movies interested me even a little, so I went for the most absurd looking movie — Beverly Hills Chihuahua. That's right, I watched dogs of all breeds and nationalities talk to each other for about 90 minutes, and in the end coming to the rescue of the Paris Hilton of dogs. And ya know what's even scarier? It wasn't half bad for an airplane movie….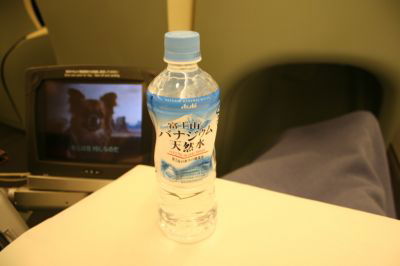 Bottled water
After the movie I decided to sleep, with about 8.5 hours to go to New York. The flight attendants brought out a duvet for my seat. Let me tell you, it's tough transitioning from Cathay Pacific to JAL as far as sleeping goes. On Cathay Pacific I had ample space, while I couldn't help but feel confined in this seat. The rather tight foot well didn't help either. Nonetheless I managed to get about six hours of sleep, although it was mostly "airplane sleep" and not "real sleep" like I got on Cathay.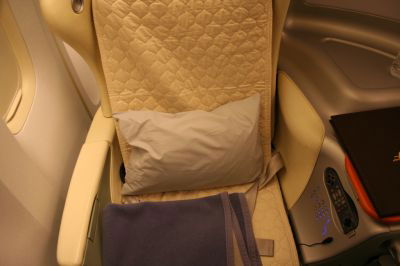 Duvet
As I woke up I discovered a pretty cool seat function — personalized mood lighting on the side of the seat.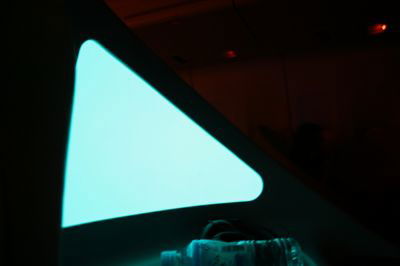 Mood lighting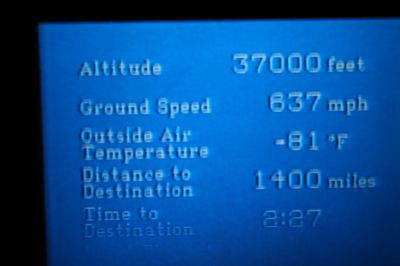 Airshow when I woke up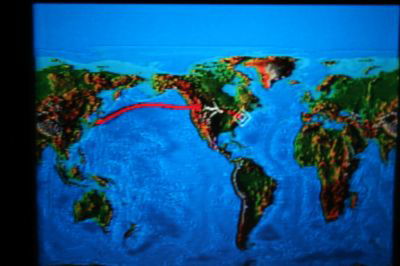 Location upon waking up
I decided to watch another movie. This time I went with Addams Family Values. I have to say, it was actually kind of funny. With about two hours to go flight attendants came around to start the second meal service. The menu read as follows:
A La Carte

Japanese Delicacies

Sauteed Foie Gras with Misco Vinegar Mustard Sauce

Simmered Japanese Butterbur & Small Sardine in Japanese Pepper Soy Sauce

Depp-simmered Beef in Sweet Soy Sauce

"Yakitori" Skewered Chicken Grill

Japanese A La Carte

Soy Sauce Seasoned Short-necked Clam on Steamed Rice

Sea-bream & Shrimp Sushi Logs

Vegetable Curry with Steamed Rice

Japanese Pickles

Western A La Carte

Japanese Beef Hamburger Steak with Demi-glace Sauce

Popular Omelet with Chicken Fried Rice

Everyone's Favorite

Linguine with Spinach & Pancetta Cream Sauce

Assorted Cheese with Roasted Nuts & Fig Red Wine Compote

Noodle

Chinese "Ramen" Noodles in Soup with "Kagoshima" Pork Fillet

Healthy Menu Selection

Clam Chowder

Special Grown Fresh Salad

Prepared Fresh Fruits

Sweet

Tiramisu Ice Cream

Chocolate

Japanese Tray

Braised Fried Bean Curd Mousse with Vegetable Starch Sauce

Simmered Spring Vegetable with Vinegar Radish Sauce

Steamed Rice

Miso Soup

Japanese Pickles

Western Tray

Mixed Mushroom Quiche

Yogurt

Bread
This is by far the most varied and extensive pre-arrival menu I've ever seen. I had a hard time choosing what to go with, since I wasn't in the mood for breakfast (as I should have been), but I wasn't in the mood for dinner either. I wasn't too hungry and knew we'd be eating upon landing. I ended up deciding on the linguine.
The flight attendants did a horrific job with the second meal service. My dad and I ordered around the same time, but his meal was served (and cleared!) before mine was delivered. Once they cleared my dad's meal I reminded them about mine, and they said it would be out shortly.
Sure enough mine came shortly thereafter. The linguine was good, although the ice cream was melted! Like, completely melted. I ordered ice cream, not a milkshake in a cup!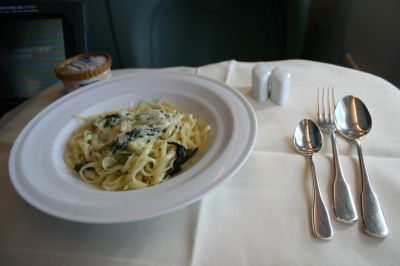 Meal
As my meal was served my dad ordered an espresso. That was only delivered 15 minutes later, and it wasn't hot anymore. He brought this to the attention of the flight attendant, and shortly thereafter she brought him a coffee. Considering that half of the cabin didn't have a pre-arrival meal, I have no clue why the service was so bad.
As we began our descent I changed out of my pajamas and packed all of my stuff, including all three of our amenity kits, the two sets of PJ's, three sets of slippers, the menu, etc. My bag was definitely a lot heavier than it was when I boarded! The flight attendants came around thanking everyone for flying JAL.
We hit some serious bumps on the way down, probably the worst I've experienced in the past year or so. Oddly enough, the seatbelt sign remained off.
As we continued our descent there was plenty of stuff to see. We had a pretty short approach at JFK, probably not more than a four mile final approach.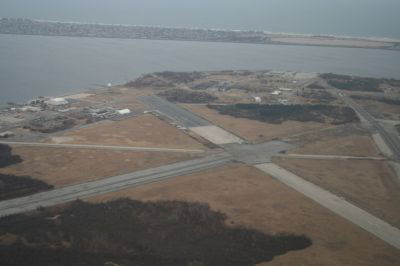 Anyone know what airport this used to be?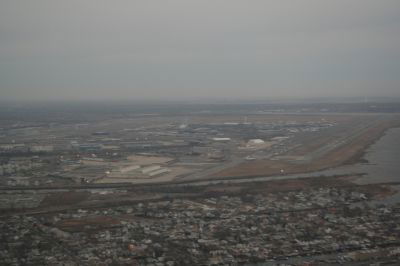 JFK
After a firm touchdown we had a long taxi to the gate, where we parked right next to another JAL plane.
There was no line at immigration, where we had a funny (although far too "America's-the-best-country-in-the-universe-even-though-I've-never-left-it" type) immigration officer. My dad is a German citizen and could get US citizenship, although hasn't yet. He explained that he likes German citizenship because he's basically a citizen of 25 countries. The guy asked him "How can you pledge allegiance to 25 countries?" I couldn't help but be a smartass and make reference to our 50 states. Well, at least it didn't get us an extra search.
Our bags were out almost immediately, and we were in New York relatively well rested!