---
We arrived with two hours to go before our departure and headed straight for Cathay's first class check-in. They have an interesting check-in setup, with a bunch of agents (maybe a dozen) standing around in the first class area, and as passengers arrive they escort them to open kiosks, where they process check-in.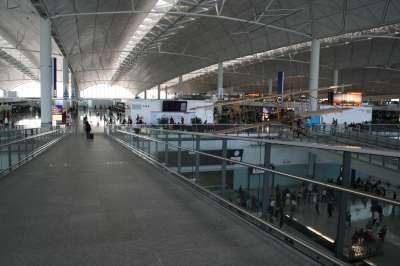 Entering the airport
Since none of the agents were busy, my brother and I were processed separately. The agents were very friendly and efficient, and we had our boarding passes within minutes.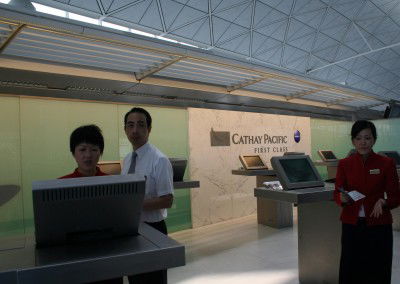 First class check-in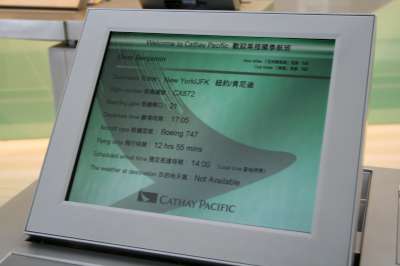 Kiosk with flight information
One of the porters took my checked bag and we headed to security with lounge invitations and boarding passes in hand. While Cathay is an all around great airline, the first class ground services are really lacking. Many world class airlines escort you all the way to the lounge (hell, even drive you there), but Cathay doesn't. There's not even a premium security line. Not sure why airlines spend hundreds of millions of dollars investing in new seats while completely ignoring the area that's most valuable to business travelers — being able to save time, which can best be done on the ground.
The security line and passport checks took about 15 minutes total (as usual, security in Hong Kong is painless, with liquids staying in bags and shoes, belts, and jackets staying on), at which point we took the left turn straight to "The Wing." While I was hoping to show my brother "The Pier," it was just too far from our departure gate. If you're interested in reading a bit about "The Pier," which I really like, check out my Cathay Pacific trip report from last year. It's much different in that it has more of a library feel to it with no views. I love the quiet rooms they have as well.
Anyway, we handed the agent our lounge invitations and were directed up the elevator to the first class lounge. I checked my email for a few minutes and then my brother and I decided to go to "The Haven" for a light meal. Obviously a bad idea right before boarding an international first class flight, but eating and flying seem to go together quite nicely.
"The Haven" was busy but we managed to snag a table without a wait. We were immediately offered drinks and headed for the buffet, which had a decent selection (although nothing like a Lufthansa or Swiss first class lounge)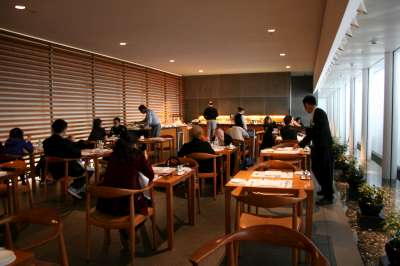 The Haven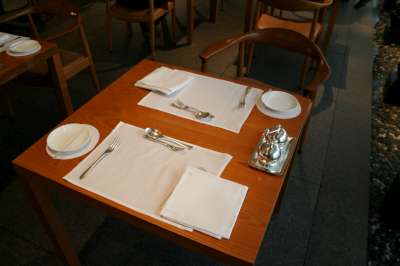 Our table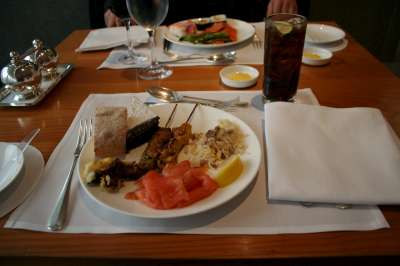 Food
After a quick meal I spent about 20 minutes checking my email, at which point it was approaching boarding time for our flight to San Francisco.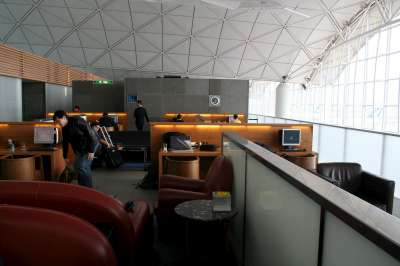 The Wing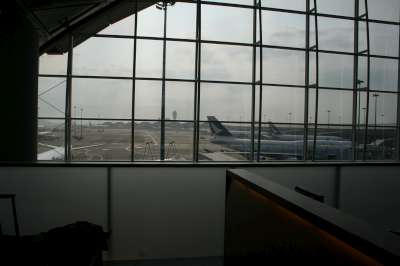 View from the Wing (still love you, Gary) 😉
We headed to gate 21, which was only a few minutes away. I couldn't help but notice the obscenely long jetway for this gate. Holy cow. For a moment I thought they built a bridge all the way to San Francisco and were gonna make us walk.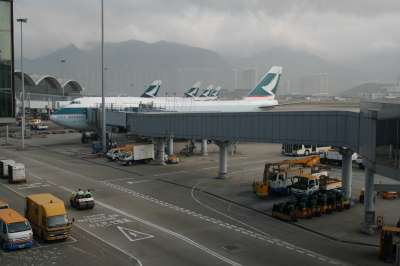 Gate 21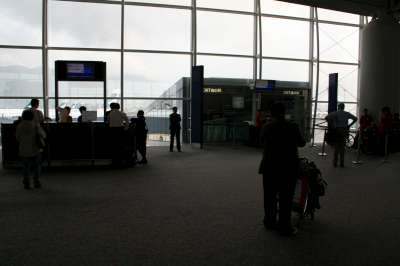 Boarding gate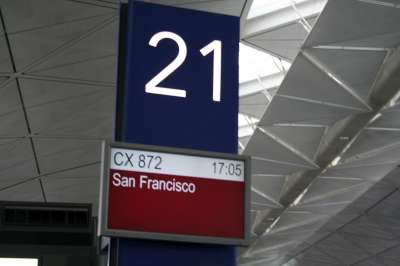 Gate 21
The boarding area was packed but eventually two queues formed, one for first and business class, and one for coach. Passports were checked and moments later boarding began. As we proceeded down the jetway we made it to the area where the jetway turns into two (one for door 1L, one for door 2L), but both were roped off, so we were stuck waiting for about 10 minutes. Poor planning on their part. Eventually they opened the ropes but as is the norm with US bound flights, there were a dozen security officers on the jetway ready to inspect every garment of clothing in our bags. Fortunately I was one of the first ones so I was aboard within a few minutes. While a bit flustered, I knew It'd be 11+ hours of relaxation, so I felt just fine. 😉
Cathay Pacific 872, HKG-SFO, 747
Sunday, March 14
Depart: 5:05PM
Arrive: 2:00PM
Duration: 12hr55min
Seat: 1A (First Class)
Once through door 1L I was escorted to 1A by Maggie, who introduced herself as one of the first class flight attendants. She immediately offered to take my coat and offered me a beverage. I went with champagne again (two for two!).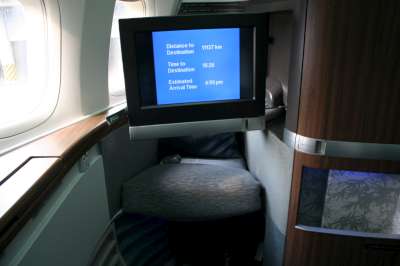 Suite 1A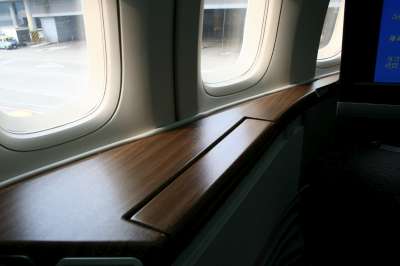 Console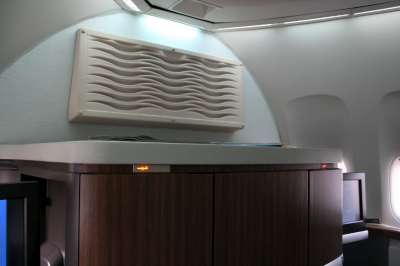 Looking forward
The cabin continued to fill up to the point that eight of the nine seats were taken.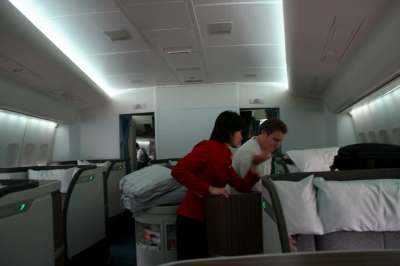 Looking back
As soon as my brother settled in, Maggie was back with the bottle of champagne, a glass, and a napkin, as she poured me a glass on the center console between 1A and 1K.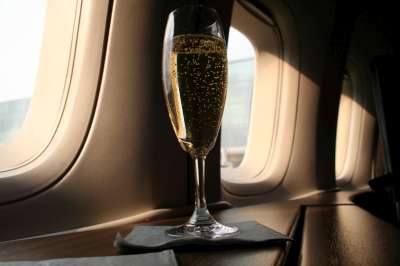 Champagne
The other flight attendant, Margaret, then introduced herself and offered me an amenity kit and asked what size "Shanghai Tang" (obviously inferring I should be impressed by the offerings) pajamas I wanted. I once again said I wanted medium, and Margaret responded with "are you sure, I think large would be better?" Sheesh, I'm six feet tall and 170lbs, I hardly think that qualifies me as huge. Even the mediums were big on me. I changed into them almost immediately.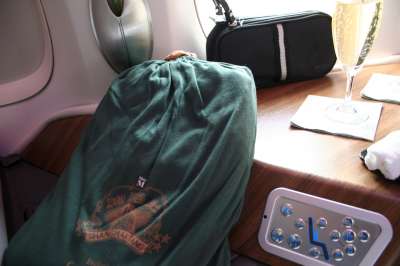 Shanghai Tang Pajamas and Bally amenity kit
The boarding process on non-US airlines is typically so quick that the door was closed before I knew it. The captain came on the PA to welcome us aboard our flight, advising us of our flight time of "a very quick 11hr37min." Another thing that makes me jealous of Cathay pilots. Only at Cathay Pacific is that considered a quick flight. 😉
Nonetheless he indicated we'd be a bit behind schedule. I'm a bit confused, as our block time was 12hr55min, over an hour more than the air time. The only thing I can think of is that the time changed in the US that same night, so maybe they didn't factor that into the schedule somehow?
We pushed back and began our lengthy taxi to the other end of the field, where we had to wait for a Cathay A340 and Eva B747 to takeoff, before it was our turn. I took a video of the takeoff (pardon the poor quality, it was taken with my iPhone):
As you can see it was a rather long takeoff roll, and I don't think there's a more exciting place to be than 1A when it comes to a takeoff, with the exception of the cockpit. Within minutes of being airborne the seatbelt sign was turned off, the UNICEF video played throughout the cabin, and service began.
The inflight service manager came around to welcome all first class passengers aboard, and once again he was very social and professional. Moments later Maggie distributed the menu and wine list.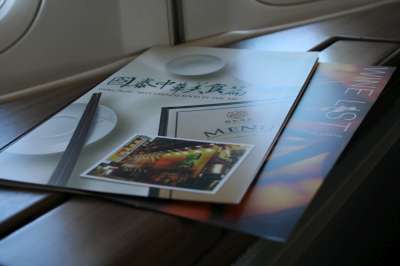 Menu and wine list
The dinner menu read as follows:
Dinner
Caviar and Balik
Caviar and Balik salmon "Tsar Nicolaj"

International Favourites
Minestrone with pesto soup

Traditional Caesar salad

Grilled beef tenderloin with red wine sauce, green peas potato mash, baby carrots, asparagus and red capsicum
or
Fettuccine with roasted red pepper thyme sauce, chanterelle mushrooms and sauteed spinach

Chinese Favourites
Pork with lotus root and octopus soup

Cold plate – pork shank terrine with black vinegar

Stir-fried prawn paddy with asparagus
or
Hong Kong style curry chicken

Served with steamed jasmine rice, broccoli, shiitake mushrooms and red pepper

Cheese and Dessert
Bleu de Chevre, Cheddar, Reblochon, Tomme

Fresh berries and rose syrup

Warm raspberry friand cake with vanilla ice cream and chocolate sauce

Sweet red bean soup

Tea and Coffee

Pralines
And the wine list read as follows:
Champagne
Krug Grande Cuvee Champagne

White Wines
Wente Riva Ranch Chardonnay 2006
Henri de Villamont Meursault 2005

Red Wines
Bouchard Pere & Fils Morgon 2009
Felipe Rutini Reserve Malbec 2006
Chateau Lynch Bages 2003

Port
Ramos Pinto Quinta da Ervamoira 10 Years old Tawny Port
As we leveled off service began, and I took the usual, which was served with a ramekin of cashews. Per my brother's suggestion, I began watching Tropic Thunder, which sure was entertaining.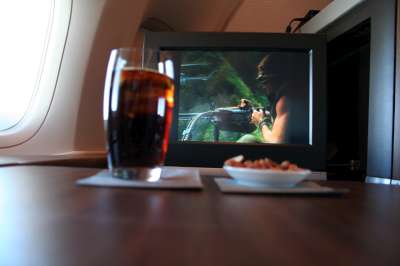 Diet Coke and nuts
As our dinner orders were taken we indicated to the flight attendants that we'd like to dine together, so moments later they set up our table in my brother's seat, 1K. This time he sat on the ottoman and I sat in the seat.
There was something remarkably enjoyable about this dinner. Nothing beats having a nice meal with good company with a great view of a sunset out the window, as you know you're going 550 miles across the ocean to a faraway place, with a world class entertainment system and comfortable bed at your fingertips. How anyone can't appreciate international premium cabins is beyond me, really….
After sitting for a few minutes Maggie set our table, although didn't quite have the attention to detail the other flight attendants had. The silverware wasn't placed with as much precision, and for my first course one of the potatoes had fallen over. No travesty in the grand scheme of things, but usually it's all about presentation at Cathay (which obviously isn't the case on some other airlines).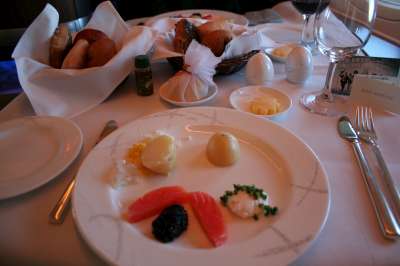 Caviar and Balik salmon "Tsar Nicolaj"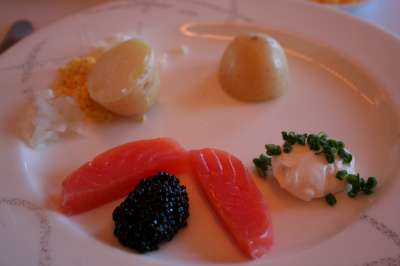 Caviar and Balik salmon "Tsar Nicolaj"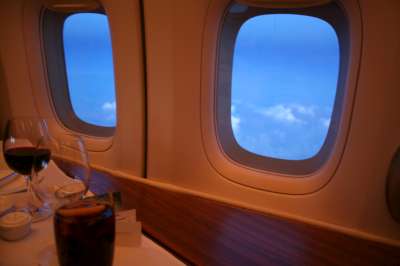 Not a bad view out the window
The flight attendants were obviously overworked so it took a while for them to clear the plates, though the soup was well worth the wait. Truly delicious.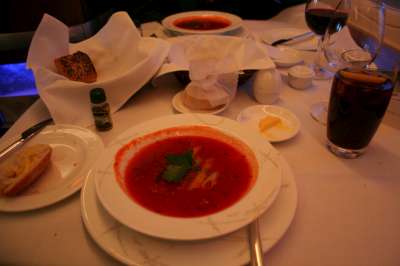 Minestrone with pesto soup
Next we were served a Caesar salad, which was once again delicious.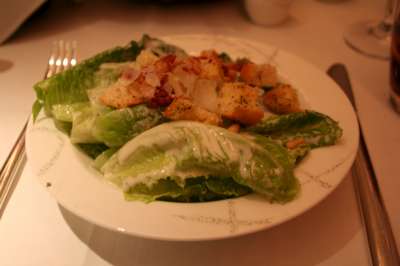 Traditional Caesar salad
Between a big breakfast at the hotel, snack in "The Haven," and the meal so far, I wasn't all that hungry for a main course, so I went with the fettuccine while my brother went with the beef tenderloin. The fettuccine was alright. Not as good as the other pasta dishes I've had on planes in the past year, which have been surprisingly good, but nonetheless tasty. My brother enjoyed his beef tenderloin. It's worth noting that the flight attendants were a bit slow with service on this flight, so glasses often remained empty for ten minutes or so.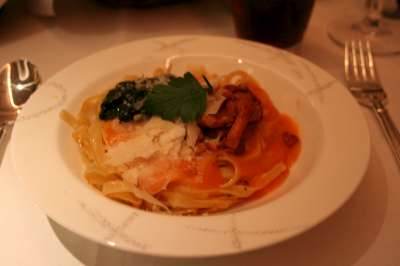 Fettuccine with roasted red pepper thyme sauce, chanterelle mushrooms and sauteed spinach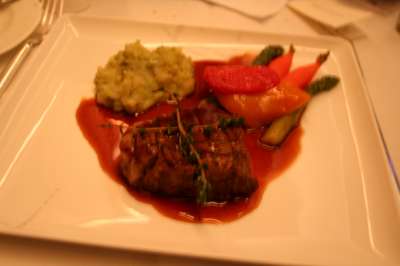 Grilled beef tenderloin with red wine sauce, green peas potato mash, baby carrots, asparagus and red capsicum
Since this was our last big meal together, we decided we'd get a plate of cheese to share. Maggie presented us with the selection, and we asked for a little bit of everything to share. She brought us a lot more than a little!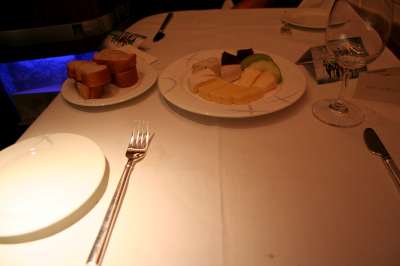 Cheese plate
Maggie stopped by for a few minutes to talk to us, and in our conversation mentioned that we reminded her of her nephews. Hmmm, ok, cool, right? I guess so, until she said "they're one and three." I couldn't help but burst out in laughter. Hope we weren't misbehaving that much.
As we were enjoying the cheese plate we went from smooth air to light turbulence (and that's a pilot's definition of light turbulence, as opposed to "chop") and immediately tightened our seatbelts and held up our glasses. I was even nice enough to save my brother's glass of wine, as I was buckled in and picked it up as soon as I felt the first jolt. Fortunately the turbulence lasted for only a minute or two, at which point the air smoothed out and service resumed.
My brother and I both ordered the raspberry cake with vanilla ice cream and chocolate sauce. Maggie indicated it would take about eight minutes to heat, and she was right to the minute. This time the ice cream wasn't rock hard either. For some strange reason she served my brother the fresh berries. He didn't want the dessert anyway, or else he would have requested the correct one.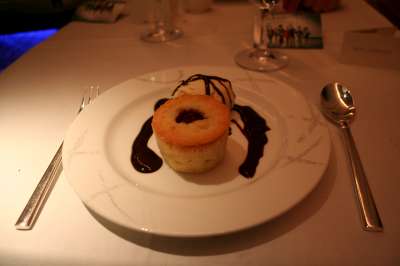 Warm raspberry friand cake with vanilla ice cream and chocolate sauce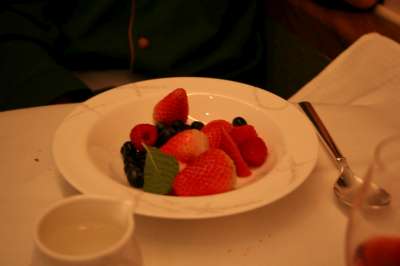 Fresh berries and rose syrup
To finish off dinner we were offered bottled water, towels, toothpicks, and pralines. Maggie went ahead and made my bed as we finished up dinner, at which point she cleared my brother's table and made his bed too.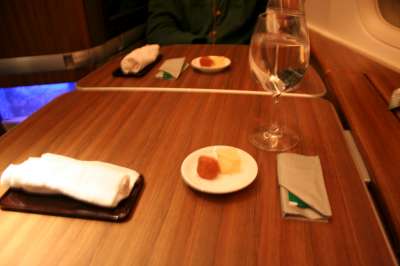 As I snuggled in 1A I finished Tropic Thunder, which was great. With about 8.5 hours to go to San Francisco I was getting a bit tired, and, knowing what a long day it would be, decided to get some rest. I slept for a solid five hours, waking up with a bit over three hours to go to San Francisco. While the snack menu looked somewhat tempting, it was approaching breakfast time, so I passed. For the record, it read as follows:
Snacks
Smoked haddock and leek pie, salad and lemon wedge

Assorted sandwiches

Taiwanese braised beef with noodle in spicy soup

Roasted duck with noodle in soup

Haagen-Dazs Ice Cream

From our series of classic signature dishes
Hot pot rice with minced pork patty and mui choy vegetable, pork soup with kaza root and red beans
Since I had time for one more movie and had seen all the comedies, I went with Me and Orson Welles. It kept me busy, but that's about all I can say about the movie. About half way through the movie Margaret came by to ask if I wanted brunch.
The brunch menu read as follows:
Brunch
Starters
Orange, apple or grapefruit juice

Pink guava smoothie

Fresh seasonal fruit

Natural or low fat fruit yoghurt

Assorted cereals

Main Courses
Eggs~freshly scrambled, fried or boiled
served with your choice of back bacon, Cumberland sausage, potato cake with cheese and spring onion, mushrooms or Roma tomato with herbs

Dim Sum Served with chili sauce
Pork sui mai with scallop, shrimp dumpling, pork and chive dumpling and mini pork glutinous rice wrapped in lotus leaf

Fish congee with gingko nut, served with baked spring onion puff

Bread Basket
Assorted breakfast breads and fresh toast
Served with preserves, honey and butter

Tea and Coffee

Pralines
I wasn't all that hungry, so decided I'd skip the main course but would go with most of the other stuff — juice, a smoothie, fruit, cereal, and croissants. Margaret seemed genuinely concerned that I wasn't interested in the scrambled eggs — she even pronounced, quite unnaturally that "Maggie whips up some mean scrambled eggs." As compelling of an argument as it was, I just wasn't that hungry. It appeared I was the first person to eat breakfast, so the service was done very much at my pace, starting with a towel.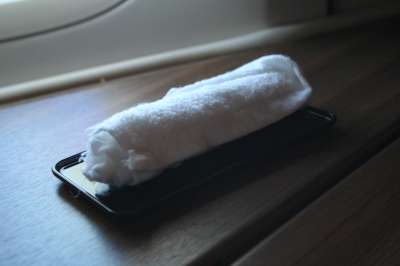 Towel
Fresh orange juice, wheat toast and croissants, and a fruit starter were served shortly thereafter.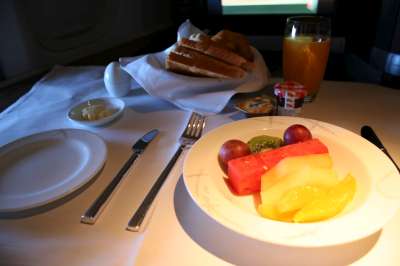 Breakfast
Next I was offered muesli, which was good too. I was full, so decided I'd stop there, even though the flight attendant once again tried to convince me to try the scrambled eggs. When I said no she even had Maggie come to my seat to try and convince me. You'd think they're being paid on a commission basis for how many eggs they whip up on a given flight (and yes, the eggs are actually scrambled aboard, I saw the "stove").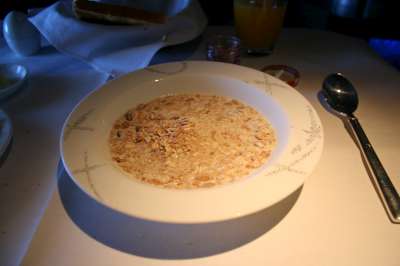 Muesli
Service finished off with yet another towel.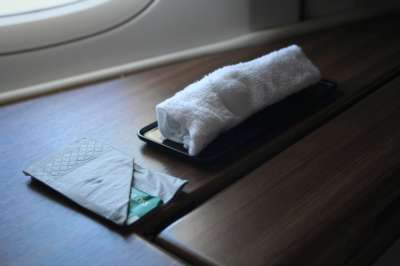 Towel
As I finished up breakfast my brother woke up and started his breakfast, which was light as well — fruit and yogurt. Despite having ordered a smoothie, it wasn't delivered until after breakfast. Hmm, ok. It was well worth the wait, though.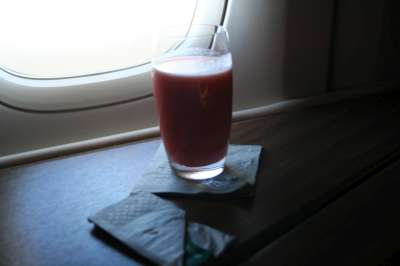 Smoothie
I watched an episode of The Simpsons as we had about an hour to go, which finished up as the captain made the typical "30 minute prior to landing" announcement. A US immigration video began to play at which point I decided to change back into my clothes, brush my teeth, and freshen up for our day in San Francisco.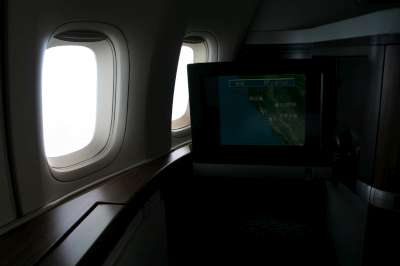 The final stretch
As we began our final descent the seatbelt sign was turned on and we began a beautiful approach right over downtown San Francisco, the Golden Gate Bridge, and eventually the typical final approach for 28R.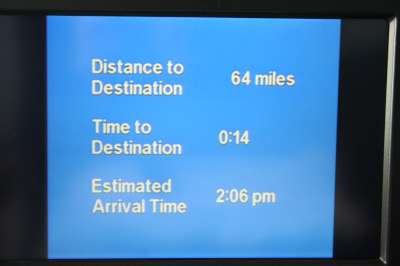 On approach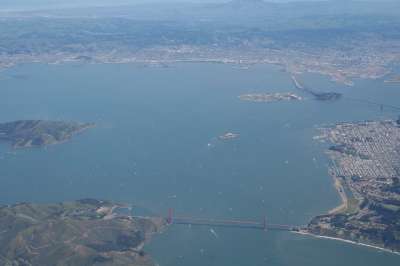 Beautiful day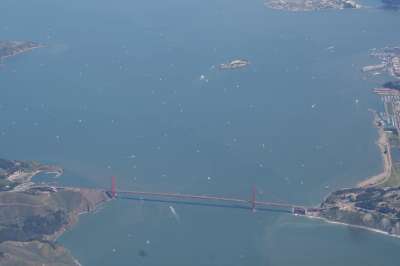 Some bridge 😉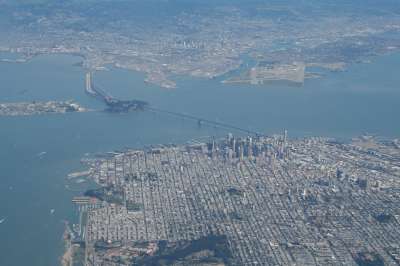 Downtown San Francisco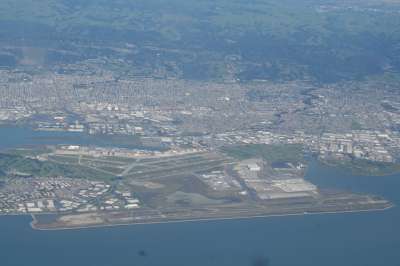 Some airport?

With a smooth touchdown on runway 28R and quick stop we exited the runway and held short of 28L, at which point we began our quick taxi to the gate, about 20 minutes behind schedule. How we were late is still beyond me.
We bid farewell to the crew and headed straight for customs. I really do love arriving internationally in San Francisco. There was no line and we even had our choice from a dozen immigration officers. Our officer was nice, didn't ask any questions, and within moments we were at the baggage carousel waiting for my checked bag. It arrived about ten minutes later, at which point we headed to American's check-in counter to recheck my bag for our redeye to New York. Fortunately we still had the afternoon to enjoy beautiful San Francisco…. or so we thought.