---
After an amazing stay at the InterContinental Berchtesgaden, I was quite looking forward to trying the Schloss Fuschl hotel (a Starwood Luxury Collection property), which is located about 20 minutes from Salzburg, Austria. I had booked our two night stay using "free nights" from Starwood's second quarter promotion, whereby one could earn one free resort night after every three Starwood stays.
The hotel retailed for 550 Euros per night, so I was quite looking forward to seeing what all the fuss was about, given that it's about triple the price of the InterContinental we stayed at the night before.
After a one hour drive from Berchtesgaden we made it to the hotel, which is located down in a valley right on Fuschlsee, a very nice lake.
The hotel is stunning from the outside, given that it's a several hundred year old hunting lodge which was transformed into a hotel. While the InterContinental was modern, this hotel was much more classic. Generally I prefer modern, though it was clear that this hotel was also well maintained.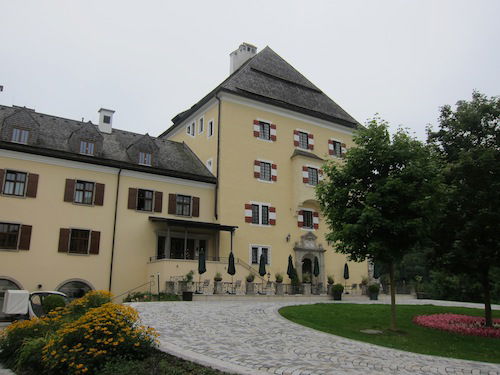 Hotel exterior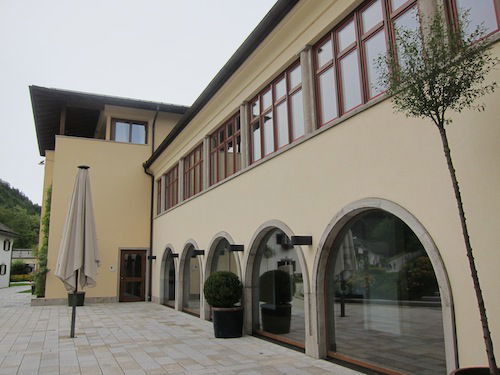 Hotel exterior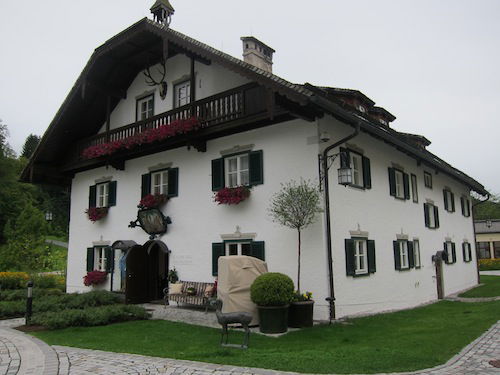 Hotel exterior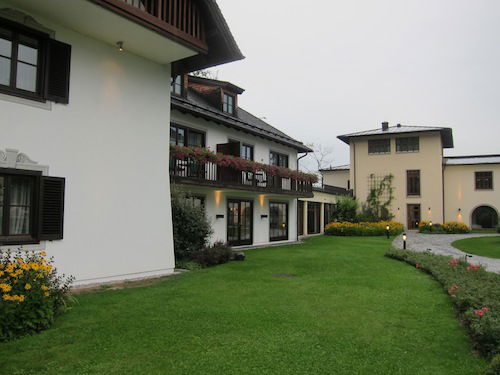 Hotel exterior
At the entrance the bellman helped us with our bags and parked our car. Valet parking is complimentary at the hotel, which is a big plus.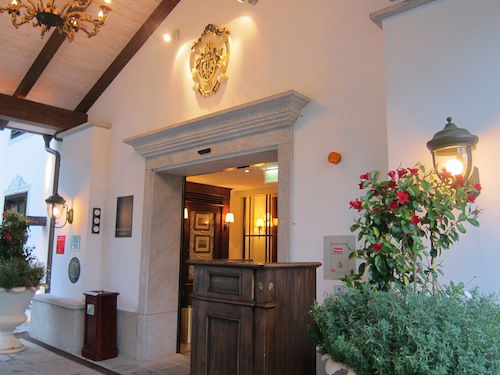 Hotel entrance
The lobby in the hotel is small though nicely appointed. It was rather busy as there are only two agents working the "front desk," though within a few minutes we were helped.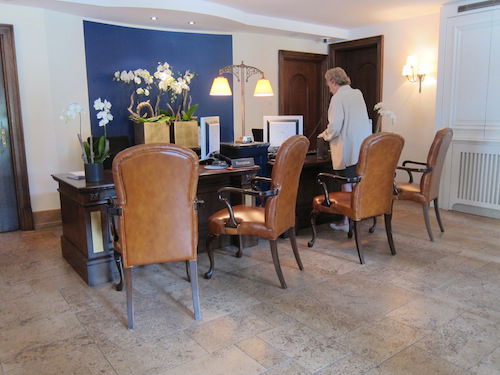 Lobby

The agent that helped us was efficient and professional, though in no way "warm." She informed us that as a Starwood Platinum we had "of course received a room upgrade," and gave us our key. The keys are magnetic, though they attach them to a big keychain to make them look more "classic." It's nice in theory, though in practice it's a pain to lug around.

Key
We took the stairs down to the first floor where our room was located.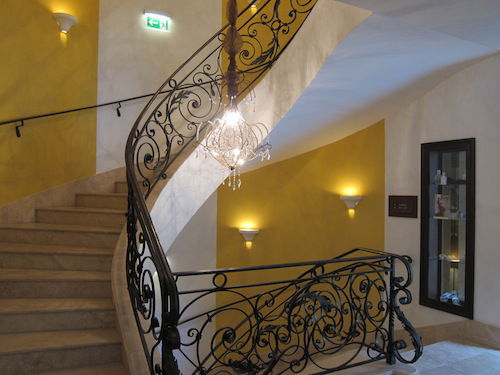 Stairs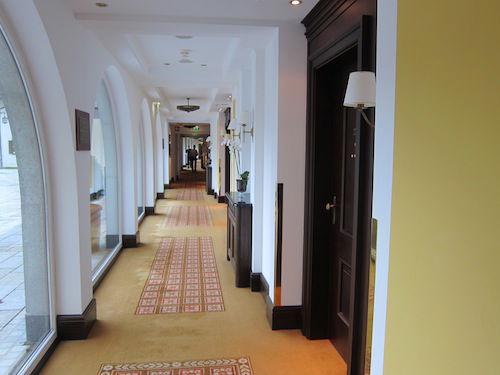 Hallway
When we made it to our room it seemed a whole lot like we were assigned a standard room. After a few minutes I decided to go to the front desk and just ask if a further room upgrade might be available. If they said they didn't have it available I wouldn't have held it against them, though it certainly can't hurt to ask.
I went to the front desk and after waiting for a few minutes was helped by the other agent. I just asked if they might have any better rooms available for upgrade on account of my Platinum status. After typing in the computer for a few seconds he responded with "we have already upgraded you." I said "well it seems like a standard room, what kind of an upgrade is it?" He explained it was a deluxe room, so I asked him if there was maybe a nicer room available, since Starwood Platinum entitles one to the best available room, up to a standard suite.
I would have dropped it if he said "no, nothing else is available," though instead he responded with "well since you're on a free stay we have the discretion of how far we want to upgrade you." Aw, hell no.
He wanted to go down that road, so I was ready to play. For those of you not familiar with how loyalty programs work, there is no such thing as a "free" stay. Starwood Preferred Guest (the loyalty program) pays the hotel for every award stay above marginal cost, and if the hotel has high occupancy that night they pay them close to the flexible rate for an award stay. So given that the hotel was fairly full, the hotel was probably making more off of us than most guests — not what I call a "free" stay as far as the hotel is concerned by any stretch of the imagination. It's like telling a business traveler that their stay is "free" because their company is paying for it.
After explaining to the agent that Starwood's terms and conditions don't distinguish between "free" and revenue stays he simply gave me a blank look, so I left and did what any reasonably intelligent person would do in the situation — tweeted @SPGInsider.
15 minutes later I had a call in our room from the manager on duty, saying that she "heard on the Twitter that [I] am not satisifed with [my] room." I explained the situation, and within five minutes she assigned us a junior suite instead. God bless Twitter…
While the junior suite was on the "junior" side, it was still very nice.
It featured a king sized bed and then down a couple of steps a sofa, chair with ottoman, and table.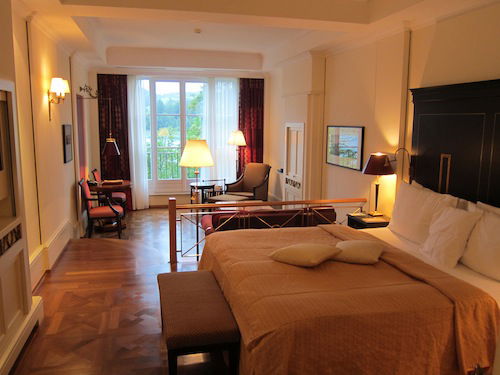 Junior suite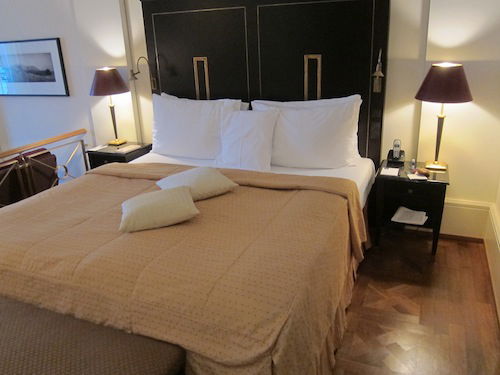 Bed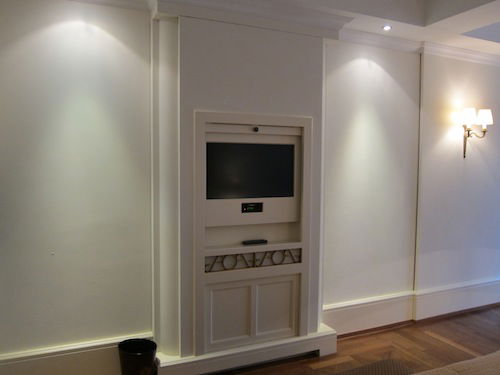 TV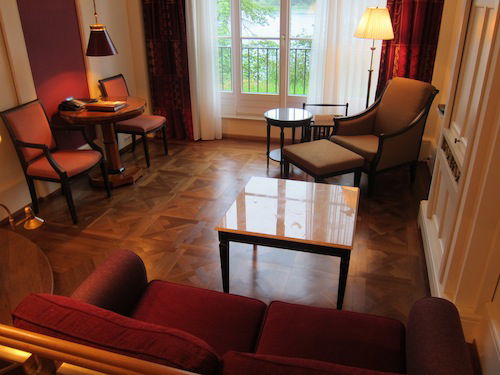 Sitting area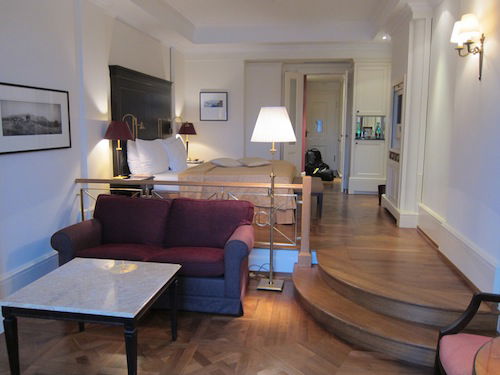 Junior suite from other side
The bathroom featured a shower, tub, double sinks, and toilet.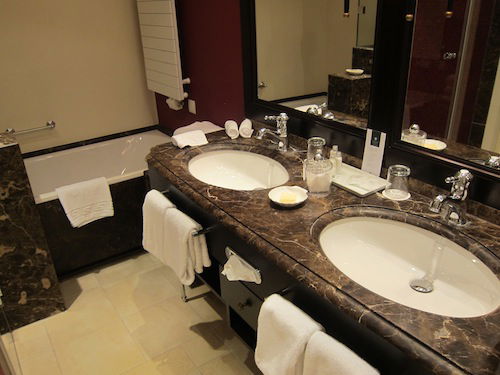 Bathroom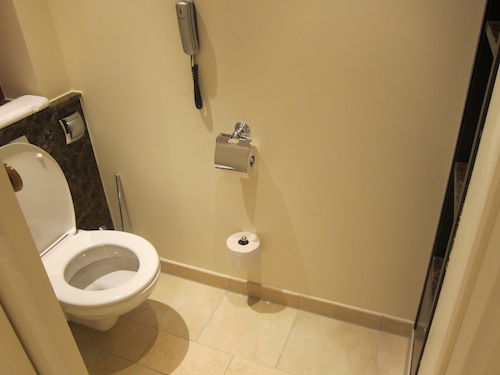 Toilet
On the whole the room was nicely decorated. It was "classic" yet well maintained with modern technology.
One of the cool things about the hotel is that minibar soft drinks were free, which included water, soda, and juice.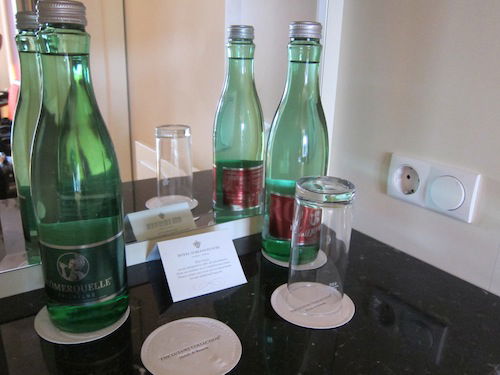 Minibar drinks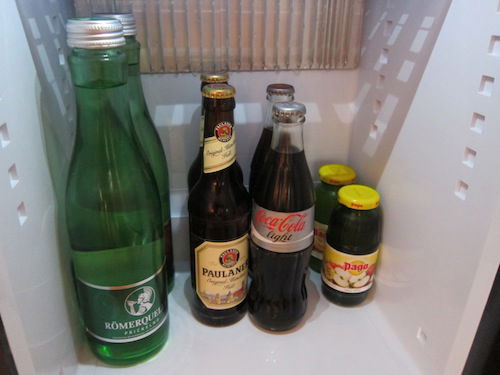 Minibar
The room featured views of Fuschlsee. Not quite as scenic as Berchtesgaden, though it was still fairly nice.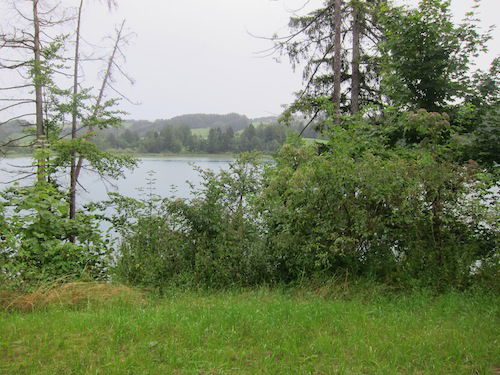 View from room
The second day a fruit and chocolate plate along with a card from the GM was left in our room. I'm not sure if this was a standard Platinum amenity or if it was on account of me being a member of "the Twitter."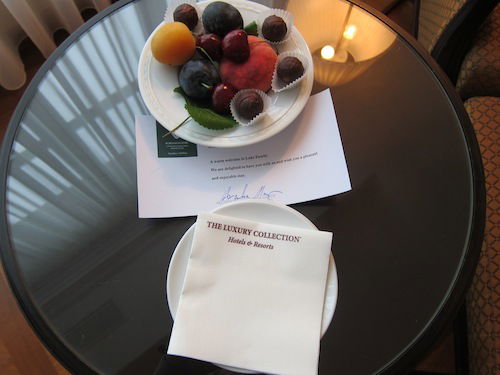 Fruit/chocolate plate
There were a few other nice touches, like at night during turndown service they left Mozart chocolates.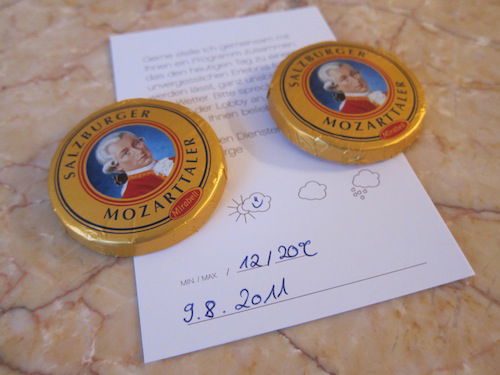 Turndown service
While the hotel's facilities were nice, I really just didn't feel comfortable staying here. We were the youngest people staying here probably by over 40 years. I'm perfectly fine with that, other than the fact that it was nothing but "upper society" retired German folks. In other words, you were scoffed at if you wore anything short of slacks and a polo shirt in public.
So while I like elegant and luxury hotels, I don't like ones that you have to dress up to enjoy. It takes some of the fun out of it, in my opinion. And I don't hold that against the other guests, because clearly this hotel was designed for them, and that's totally fine. But it's not my "style" of hotel, much like Andaz hotels might not be their style.
The hotel did feature a nice spa/pool area, with a decent sized indoor pool, sauna, and even an outdoor hot tub.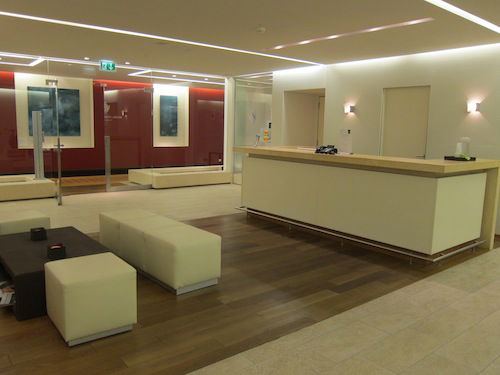 Spa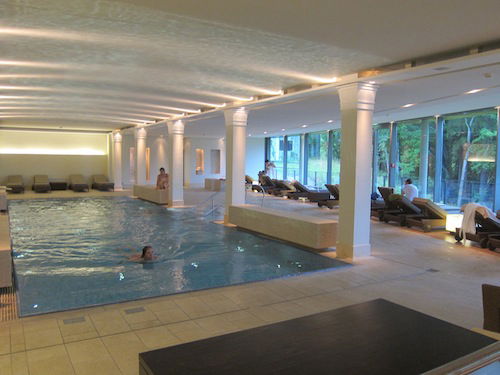 Pool
At the same time I was mildly entertained by the sign at the entrance.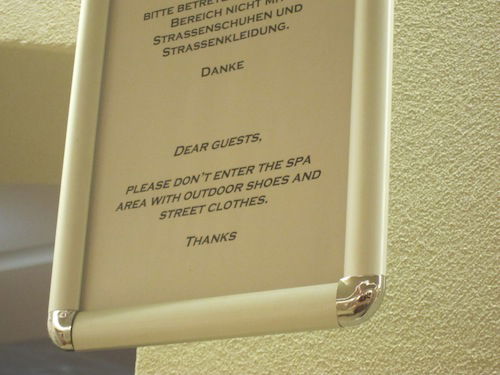 No street clothes!
Then there's the actual lake, which is beautiful, and apparently they have boats you can rent, though whenever we went down there everything was empty. The weather wasn't nice for most of our stay, which may have something to do with it.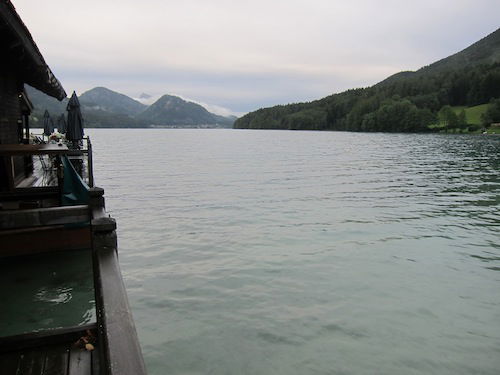 Fuschlsee
Other hotel activities included watching the automatic lawnmower do it's thang…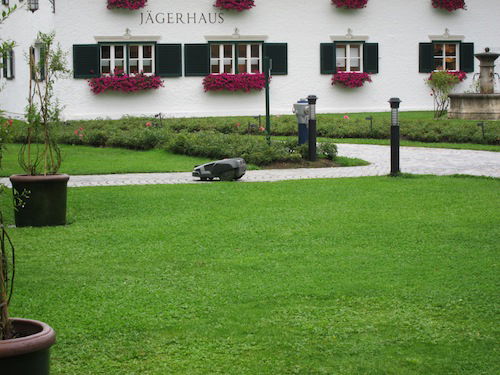 Hey, it's kinda cool
Salzburg is an awesome city that's about 20 minutes from the hotel, but I found parking in the city to be an absolute nightmare, so if I were to return to visit the city I would want to stay in the city center.
One other area I quite enjoyed was the town also located on Fuschlsee, just a couple of minutes from the hotel. It was called Fuschl am See, and featured some pretty "quaint" restaurants and shopping. The hotel food was way overpriced, so we ate there both days instead.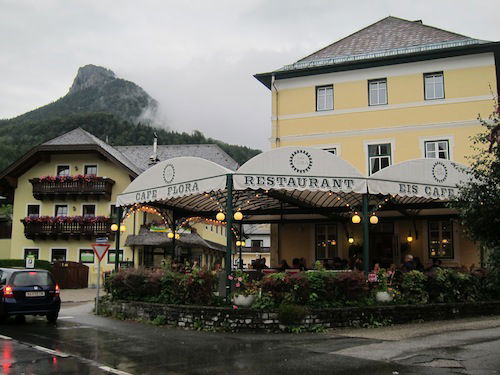 Fuschl am See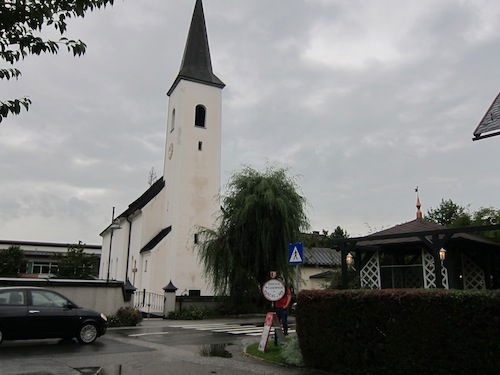 Fuschl am See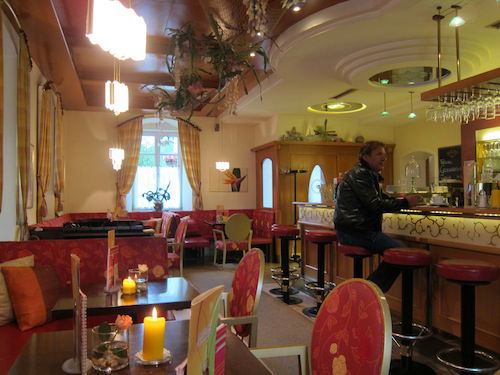 Restaurant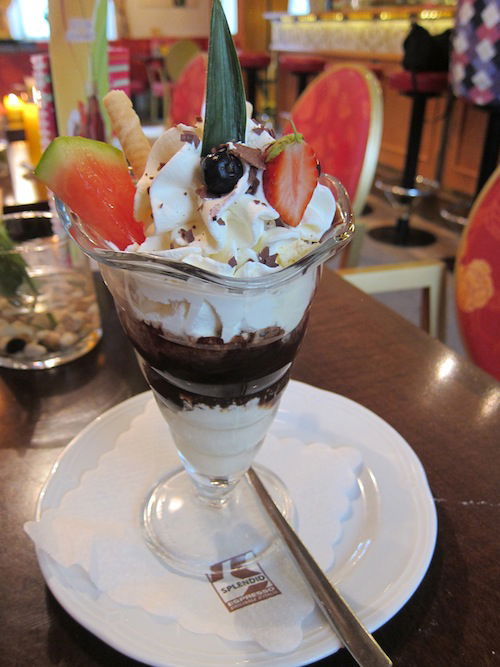 Ice cream
To sum it up, the hotel has a target demographic, and obviously I'm not part of it. Even for their target demographic I can't see how the hotel is worth the money ($700USD+/night), but then again based on the cars I saw at the hotel I doubt money is much of an issue.
The rooms were nice. The service was okay at best. Everything was very formal.
I'd return to the InterContinental Berchtesgaden in a heartbeat, though this place, not so much. But if you're part of their target demographic (and money isn't an issue), I'm sure you'll have a nice stay.