---
We arrived at Bangkok Airport at around 10:15AM, with plenty of time to spare before our flight.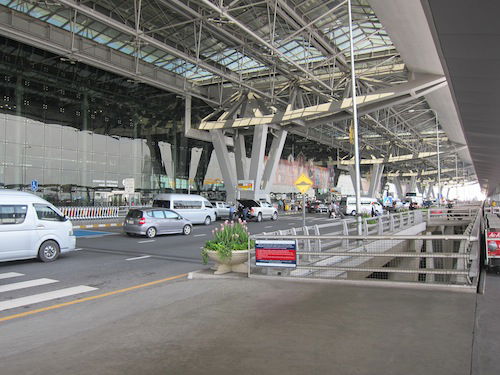 Airport exterior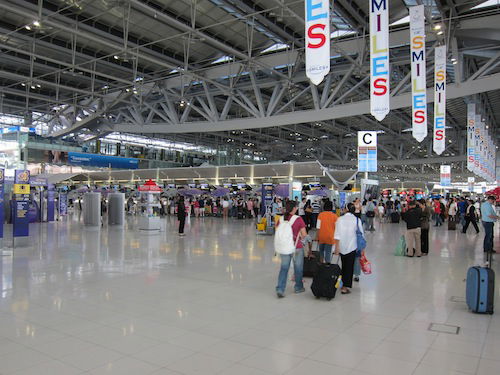 Check-in area
Thai has separate domestic check-in which can be easily identified by the fact that the counters have tropical umbrellas over them.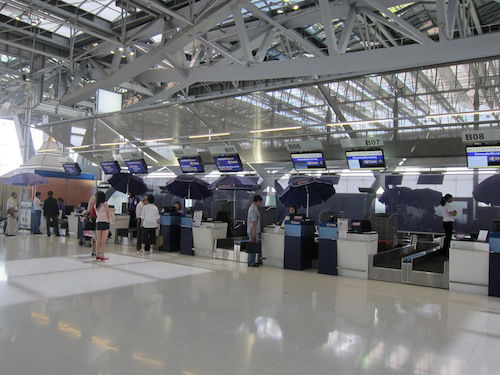 Check in was quick and we were assigned a window and aisle seat in the second to last row of business class. Thai doesn't allow seats to be pre-assigned for domestic flights, so I suspect we were among the last to choose seats since most other passengers were probably connecting from other places.
The security checkpoint wasn't far from check-in and we were through in a matter of minutes. We sought out the Royal Silk Lounge which was rather out of the way for our departure gate, though we had lots of time to spare.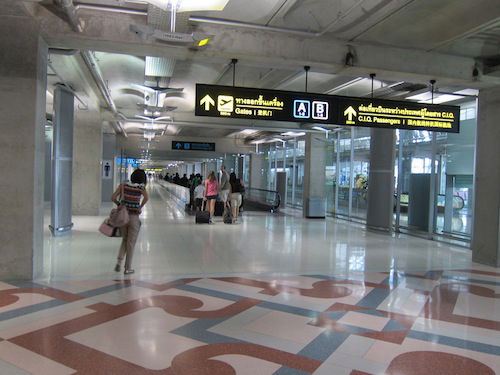 Airside
The only lounge I've ever used at Bangkok Airport is the Thai first class lounge so this was certainly a downgrade, though still quite nice for a domestic lounge. The Wi-Fi was reasonably fast and the food selection was decent, consisting of sandwiches, chicken and shrimp pies, spring rolls, brownies, and more.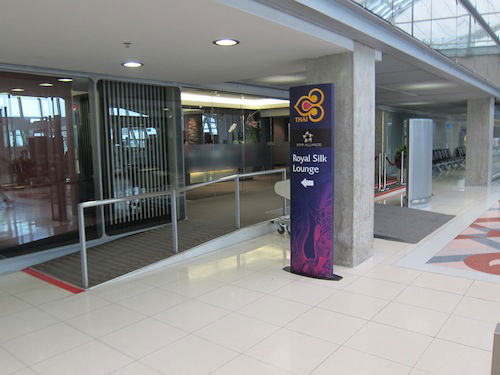 Lounge exterior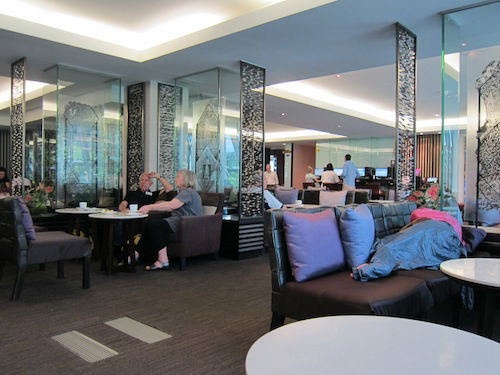 Domestic lounge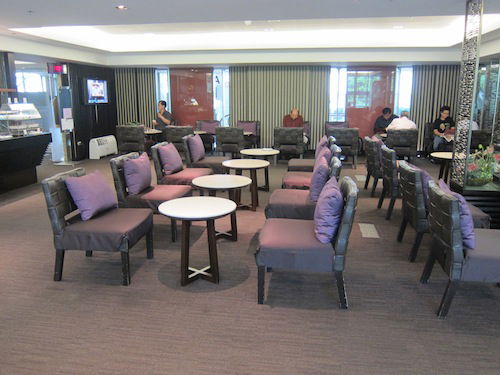 Domestic lounge

Snack selection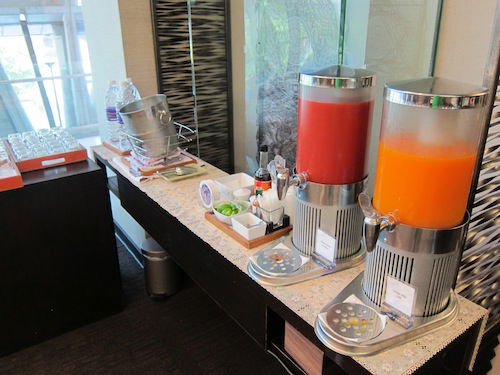 Drinks
At around 11:45AM we headed to our departure gate, B6, for boarding.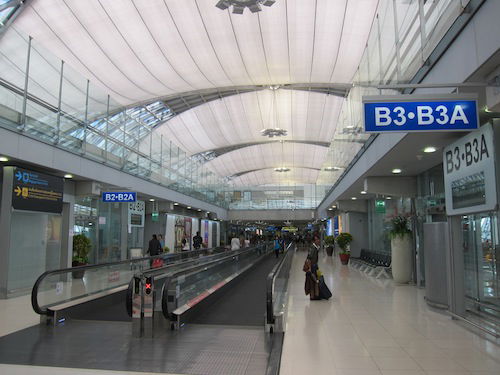 Domestic terminal
While the gate area was packed there was no sign of boarding for at least 15 minutes, at which point it was an absolute free for all.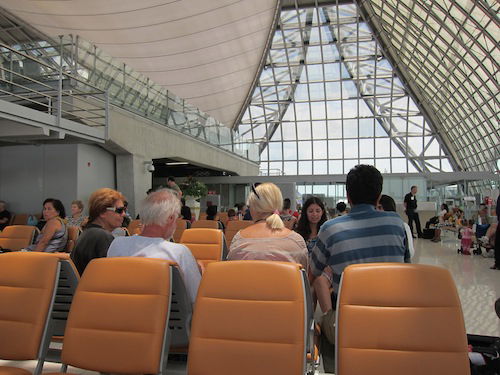 Gate area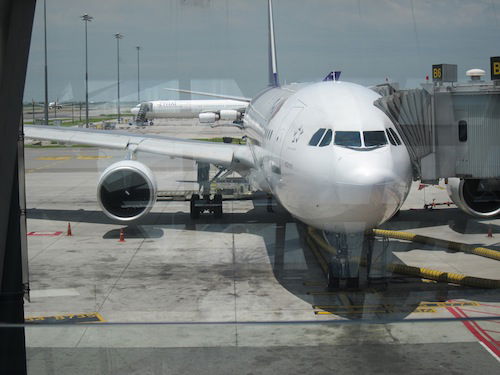 Our plane
Thai 211
Bangkok (BKK) – Phuket (HKT)
Friday, July 29
Depart: 12:25PM
Arrive: 1:45PM
Duration: 1hr20min
Aircraft: Airbus 330
Seat: 23J (Business Class)
For a domestic flight Thai's A330s are quite comfortable. They're configured for regional flying though the legroom is generous, so you really can't beat it for an hour-long flight.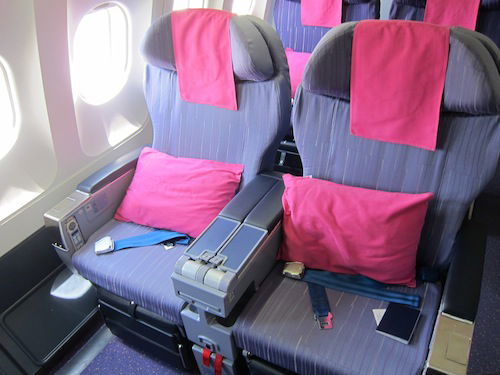 Business class seats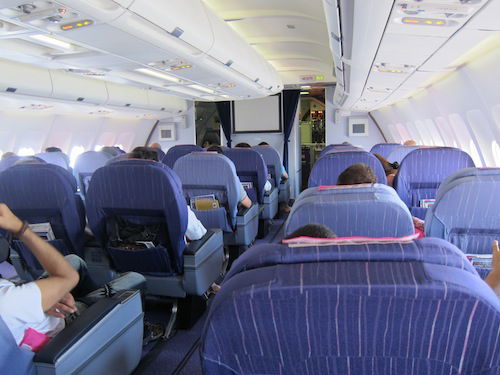 Business class cabin
The business class cabin only had a couple of empty seats so service was rather rushed as the flight attendants tried to provide pre-departure beverage and hot towel service.
For pre-departure beverages we both went with some sort of an iced tea drink.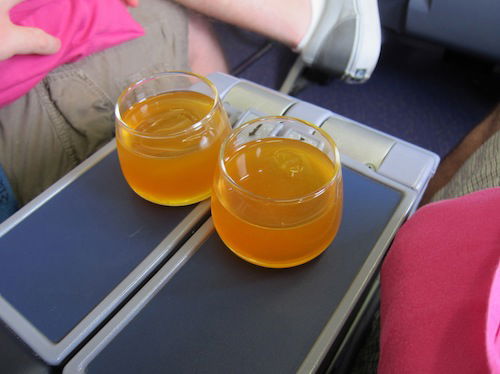 Iced tea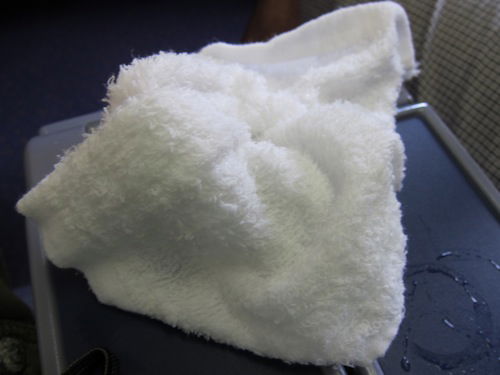 Hot towel
The door closed right on time, the safety video played, and within 15 minutes we were airborne.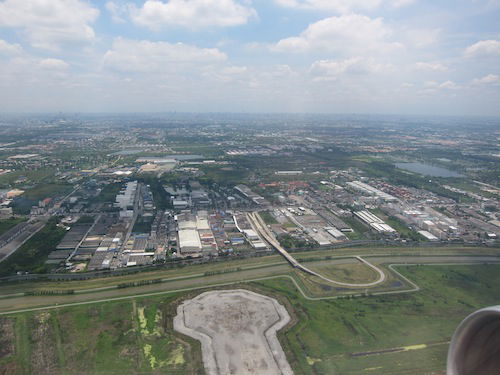 Airborne
10 minutes after takeoff the seatbelt sign was turned off and the captain advised us of our flight time of 1hr5min.
The flight attendants immediately rolled a cart down the aisle with the lunch service. There wasn't a choice and I wasn't sure what exactly it was, though it was a fatty meat and rice dish served with some sort of cake.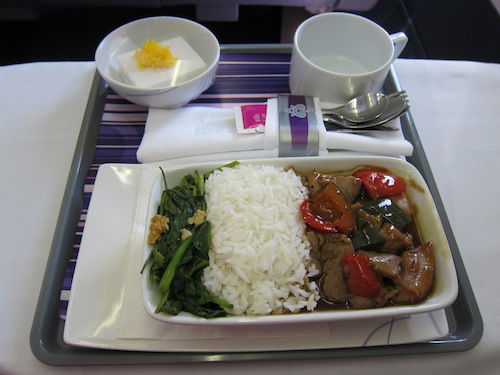 Lunch
The way the service was done, the meal was brought out before drinks, which were only brought out maybe 10-15 minutes later.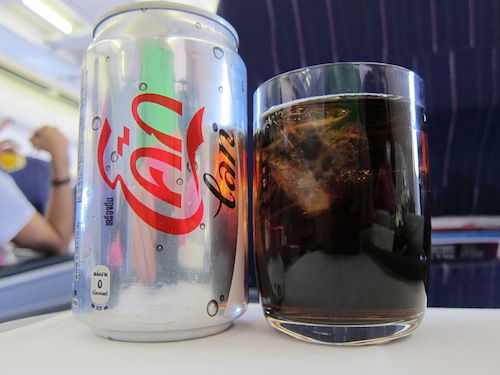 Diet Coke
The crew was efficient though I don't think any of them cracked a smile even for a minute. Then again, it's not all that glamorous to be working such labor intensive hour-long hops.
About 20 minutes before landing the seatbelt sign was turned on and we began our descent into Phuket. Despite the weather the views were beautiful and I was quite looking forward to our stay.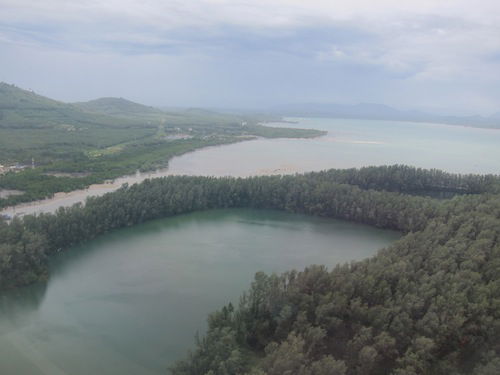 Views on approach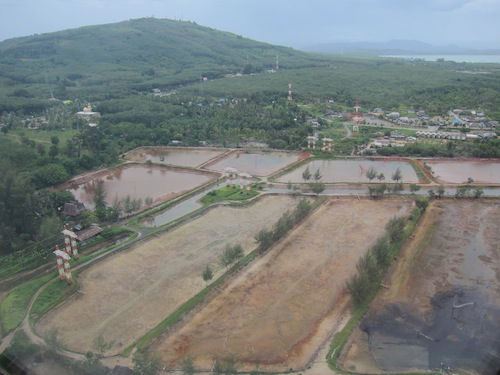 Views on approach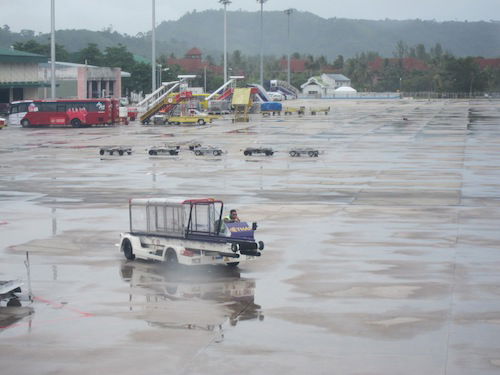 Ramp
Upon deplaning we headed for baggage claim, where our bags were the first ones out.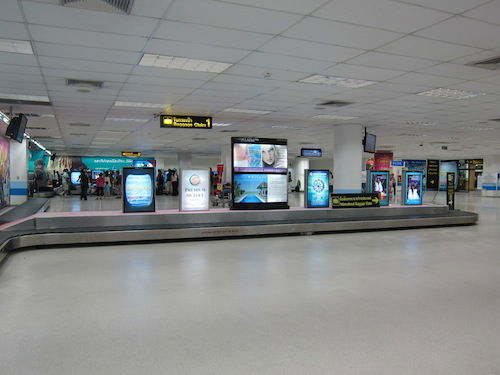 Baggage claim
Once we exited the building we immediately saw a guy with a sign for the Westin Siray Bay, with which we had pre-arranged transportation.
Paradise at last!