---
One of the things I love about traveling from the US to Asia via Europe, even if I'm not actually planning on visiting anywhere in Europe, is to arrive in Europe in the morning and leave at night. Longhaul first class flights are part of the fun of a trip, though frankly two first class longhauls in a row aren't especially fun. It's nice to be able to sleep in a "real" bed between flights, and also to wait a bit between five course meals.
To that end, we had booked a dayroom at the Hotel Kempinski Frankfurt Airport. As a Lufthansa first class passenger on a connecting flight this is a complimentary benefit, whereby they'll give you a complimentary dayroom with roundtrip airport transfer. I had emailed the hotel a couple of days before our stay to ask about availability, and they responded within hours confirming our stay.
Instead of heading straight to the hotel, though, we first visited the Lufthansa First Class Lounge closest to our arrival gate.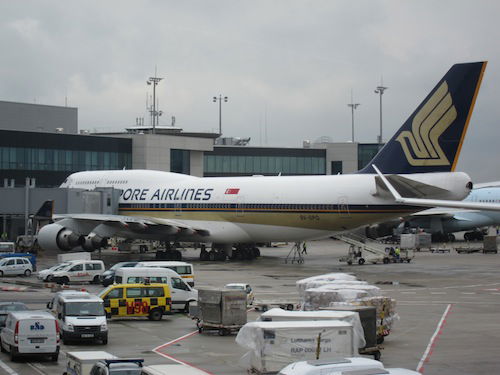 Our plane upon arrival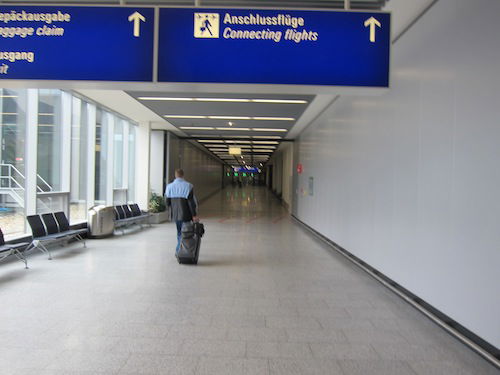 Arrivals hall

We wanted to catch up on email a bit before heading to the hotel (since I don't believe they have free Wi-Fi) so dropped by the First Class Lounge. This worked out pretty well since we would be going straight to Lufthansa's First Class Terminal later in the day.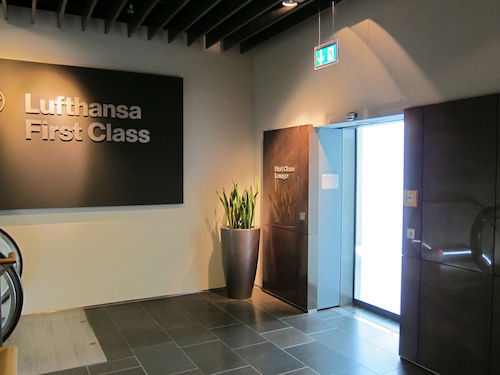 Lounge entrance
At the entrance we were greeted by an agent who informed us that our flight would be leaving from the same apron, though mentioned it was subject to change.
All of the Lufthansa first class lounges are designed in a similar way, with a very industrial, minimalistic design, which I love.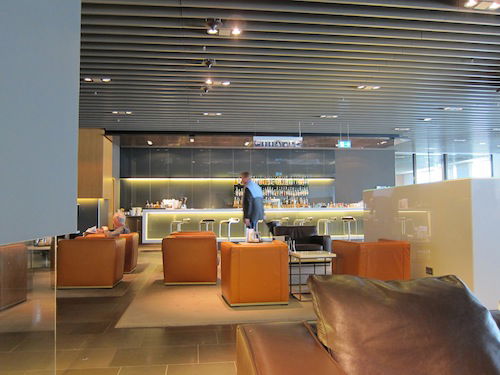 Lufthansa First Class Lounge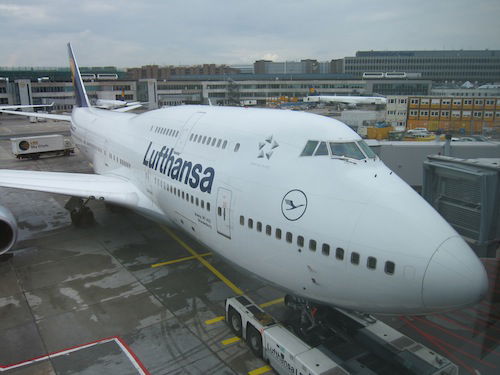 View from the lounge
We sat down on one of the couches and I got working for about an hour. Moments after sitting down one of the waiters came by to offer us drinks. They have really good smoothies, so I went with one of those.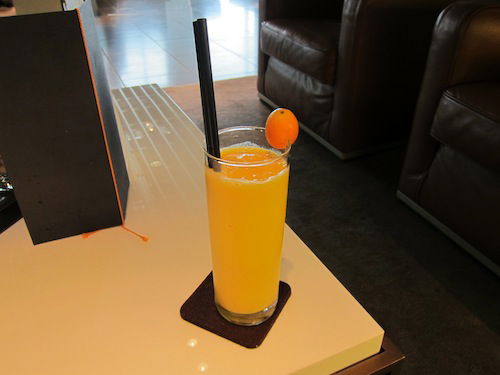 Smoothie
After about an hour we exited the terminal and proceeded to the arrivals area where we found the courtesy phone for the Hotel Kempinski. They promised to pick us up within 20 minutes, and with typical German precision they were there just under 20 minutes later.
We got picked up in a van for the 15-minute ride to the hotel. After almost a day of flying it's certainly nice to go to a retreat like the Hotel Kempinski, given that it's very secluded.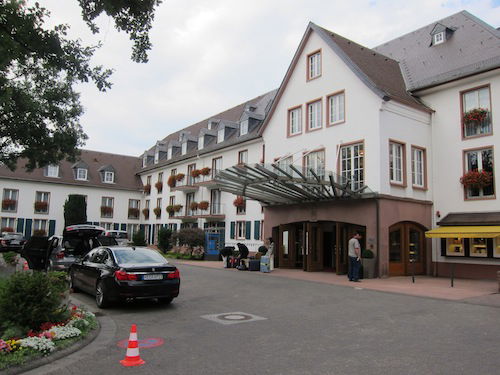 Hotel Kempinski exterior
The exterior of the hotel is very "German," though the hotel as such is well past its prime.
At the reception we were quickly given a key to our room after presenting our boarding passes and a credit card for any incidentals. The agents was friendly and explained he had a very quiet room for us at the end of the hallway.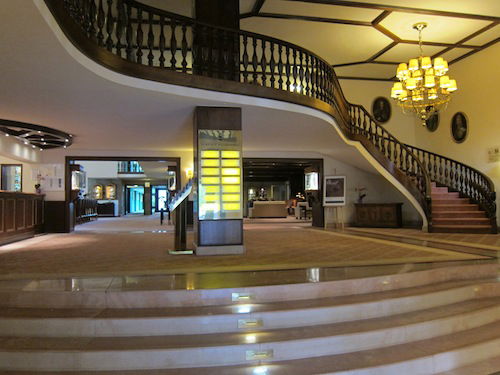 Lobby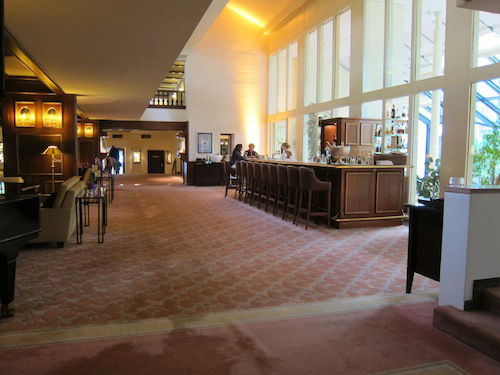 Lobby
He was right on both counts – the room was quiet and the room was way the hell at the other end of the hall. It must have been a five-minute walk.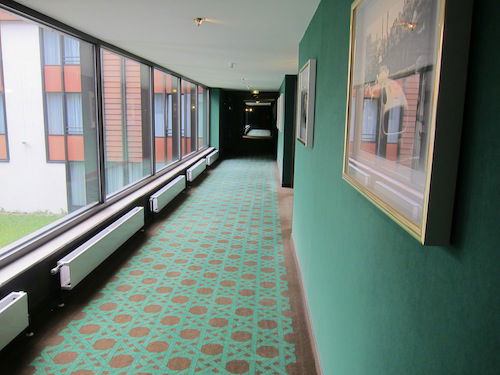 Hallway
While we all have different interior design tastes I'm sure (and some of us, like me, are more or less indifferent), I would have a hard time choosing a more hideous interior design than this hotel if I tried.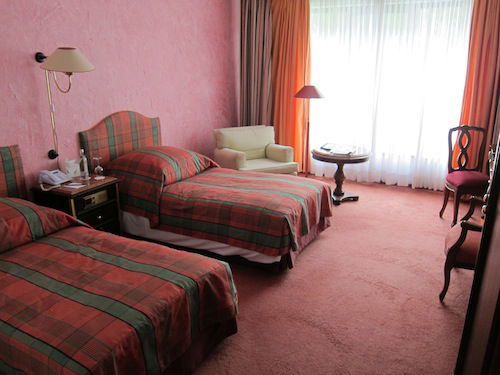 Room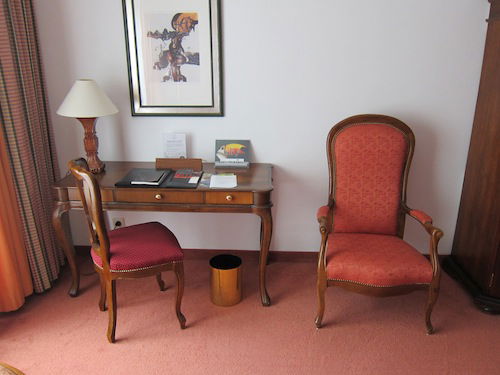 Room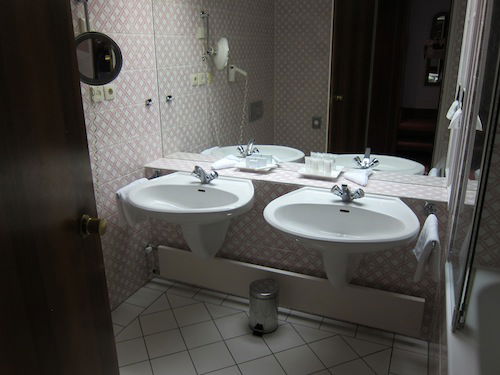 Bathroom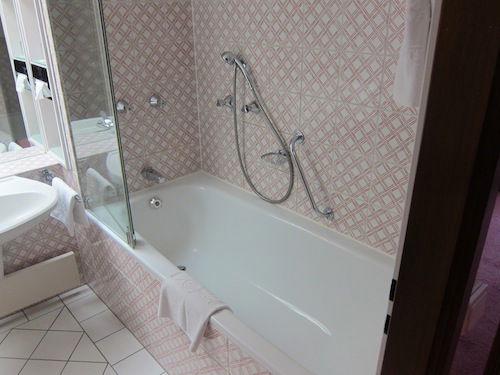 Shower
I'll let the pictures speak for themselves.
Either way I found the room quite, erm, charming, and it was perfect for a four-hour nap. And indeed there was something relaxing about the setting, given that we really felt like we were at the end of the world.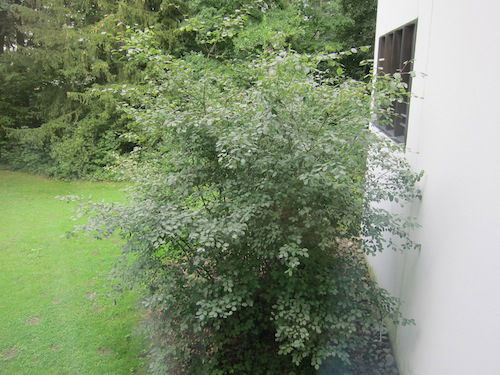 View from the room
After a nap and shower we headed back downstairs to catch the shuttle to the airport. It's also worth noting that the hotel has a pool and gym, though we didn't have time to check that out this time around.
The shuttle bus driver was very friendly and drove us and an older Thai couple back to the airport. He dropped us off at the First Class Terminal which was very convenient.
While the interior design of the place is borderline unbearable, I really do like the hotel for just getting away, and also love the fact that Lufthansa offers this as an amenity for first class passengers. It's so nice to be refreshed between long flights on a layover, especially when it's free!