---
Reality bites. After a most enjoyable Thai Airways flight we found ourselves in what I usually consider to be hell on earth, more commonly known as Charles de Gaulle. Except this time it wasn't actually that bad.
We had a long layover due to the lack of award availability between Paris and Munich, so had about five hours to kill. We decided to head over to the Lufthansa Senator Lounge, which was quite a hike.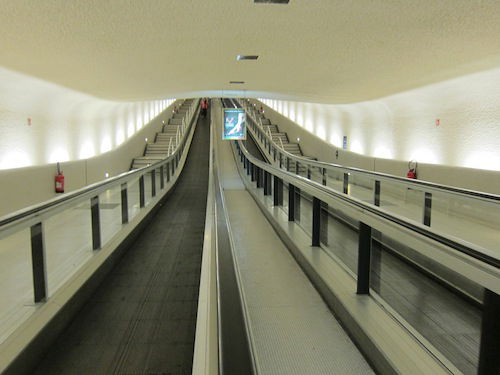 Walkway
After about a 15 minute walk and then clearing security, we took the elevator down to the Lufthansa lounge. There we were greeted by two very friendly agents that checked the status of our flight and invited us to the Senator side of the lounge.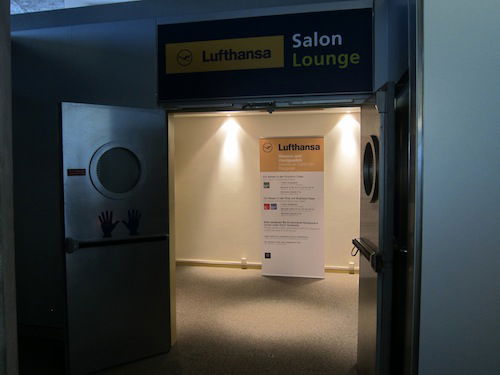 Lufthansa lounge
As is the case with most Lufthansa lounges, it was fairly sterile/industrial, which I quite like. We took a seat and started getting caught up on email. Ah, the joys of flying for 12 hours and being disconnected.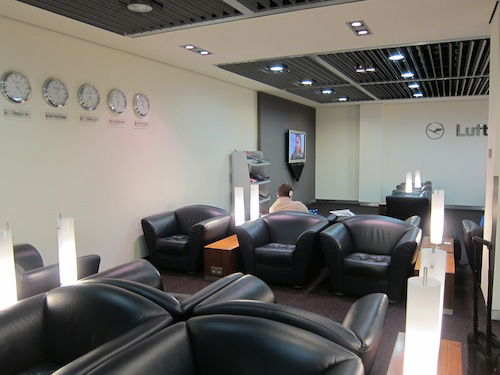 Lufthansa Senator lounge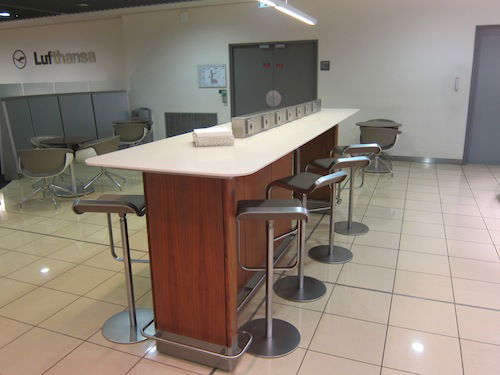 Lufthansa Senator lounge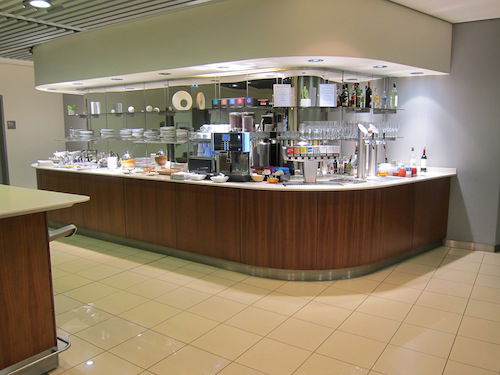 Lufthansa Senator lounge buffet
After about an hour my friend decided he wanted a shower. Great idea, though there's one slight problem — the Lufthansa lounge doesn't have showers. Look, on the whole I find French people to be fairly friendly, though I've learned not to expect "one time exceptions." So yeah, he wants a shower and I want a pony. Both are equally likely to happen.
He went up to the Lufthansa agent and asked if there was any way to get a shower. The agent said unfortunately there was not, at which point my friend suggested that the Star Alliance lounge had showers, and asked about the possibility of getting a pass to visit it. You see, we're idiots, because we actually passed the lounge on the way to the Senator lounge upon arrival from Bangkok, though it's located airside in a different terminal, and since we were flying intra-Europe we no longer had access to it.
So the lady made a phone call to the Star Alliance lounge, who said they would allow us entrance, though we needed to find a way to get into the terminal. My friend asked if they couldn't issue some sort of a gate pass. Instead of laughing at him and saying "of course not," she called the check-in desk to see what they could do. After about five minutes on the phone she told us to go to Lufthansa check-in where they could issue us a gate pass.
My friend packed up his bags right away, though I was skeptical. I figured our chance of actually getting a gate pass of some sort was, oh, I dunno, 0%. I would've told my stubborn friend to just go on his own, but this is Charles de Gaulle and I knew that if we parted ways I'd never see him again, and I was responsible for driving him to Berchtesgaden later that afternoon.
So I played along. If nothing else it's an adventure… right? We tried to exit the secure area, though there wasn't actually an exit, so we had to literally walk through the metal detectors in the opposite direction.
We queued in the first class line at check-in, and after a few minutes were helped. We explained to the agent that we were offered a gate pass and were supposed to come to check-in to get that taken care of. She was surprised and asked who told us that. Instead of telling us to go to hell or laughing at us she picked up the phone for about ten minutes to make a few phone calls.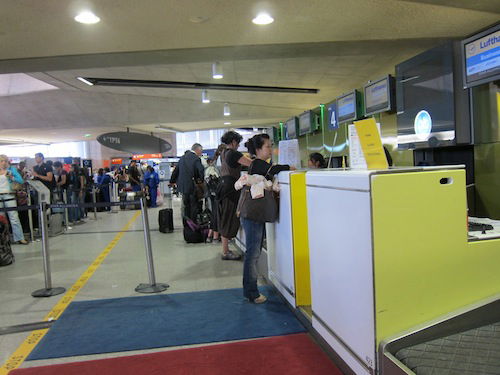 Lufthansa check-in
Sure enough, after about ten minutes she wrote us lounge invitations, saying "we're not supposed to do this, but I'll make an exception." This is possibly the best customer service experience I've had in a long time, and I never expected that would happen in Paris!
After a long walk we made it to the Star Alliance lounge, where we were directed to the business class side, which is located in the "basement."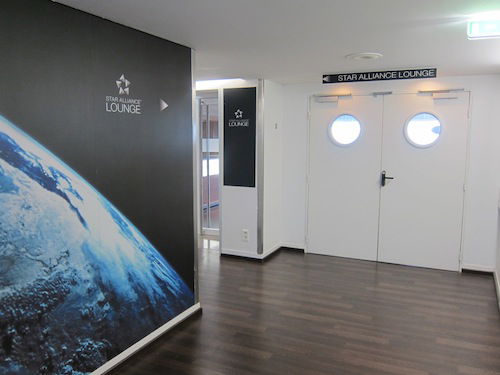 Star Alliance lounge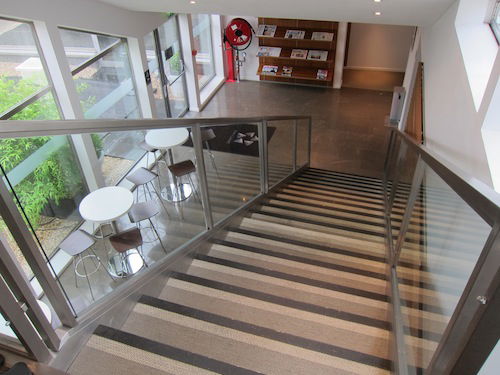 Stairs to business class lounge
The lounge was actually really nice, with plenty of seating, desktops, and relaxation areas.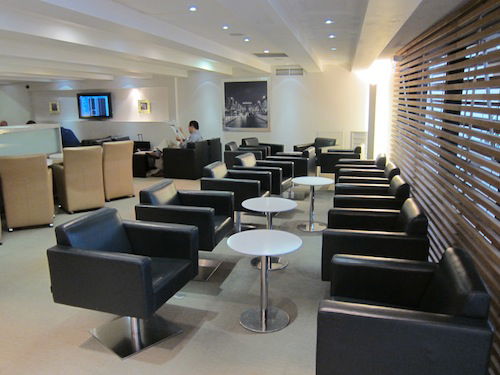 Star Alliance lounge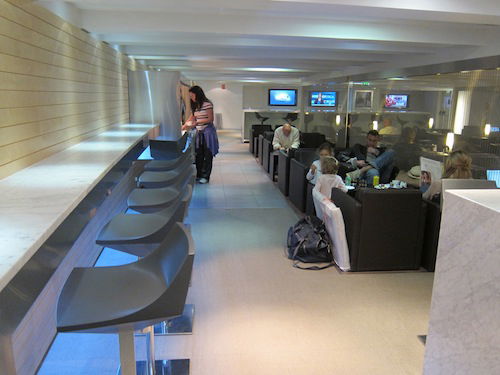 Star Alliance lounge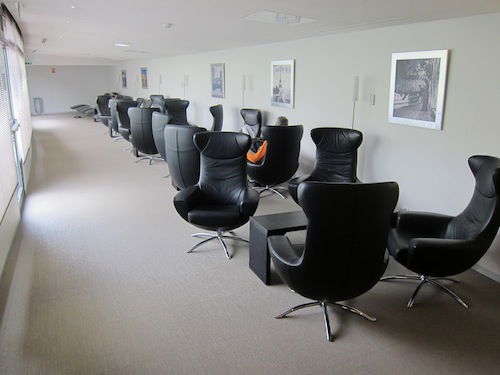 Star Alliance lounge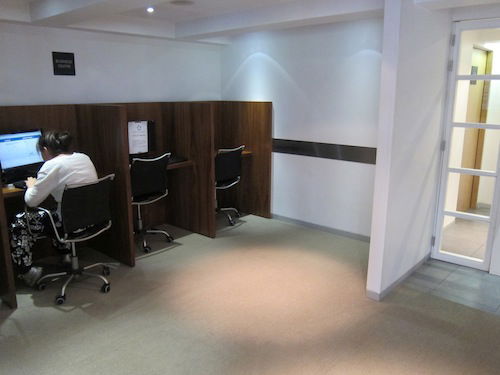 Computers
Even better was the snack selection. They had sandwiches, soup, hot dishes, desserts, and baguette.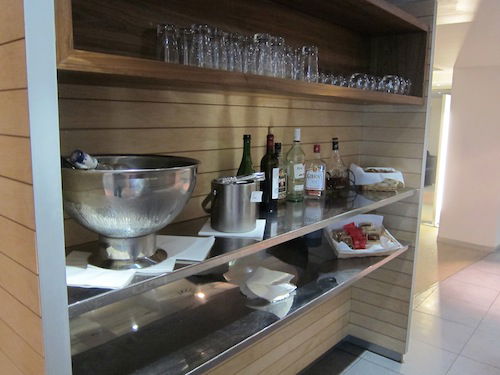 Buffet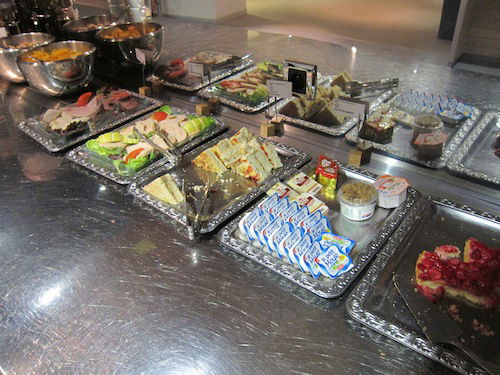 Buffet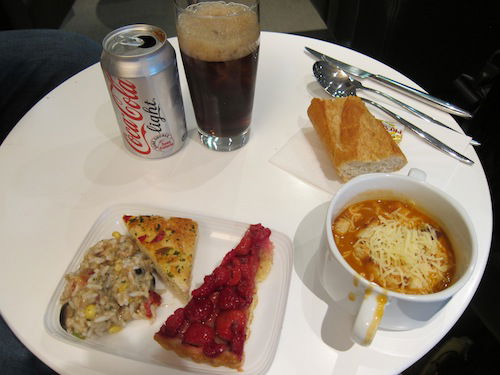 Lunch
Given how much work it took to get to a lounge with showers, I figured I might as well take one. While the shower room was perfectly fine, the issue is that it had no sort of ventilation, so I was sweating my rear off due to the room probably being well over 100 degrees. I left the shower soaking wet, kind of eliminating the point of it to begin with.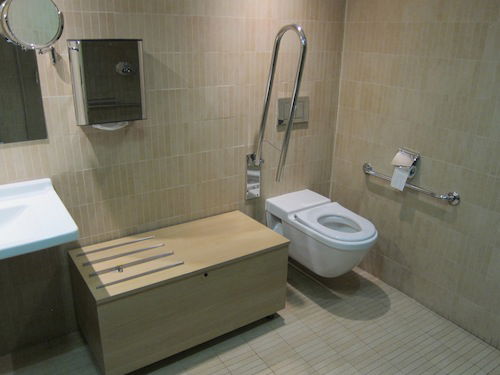 Shower room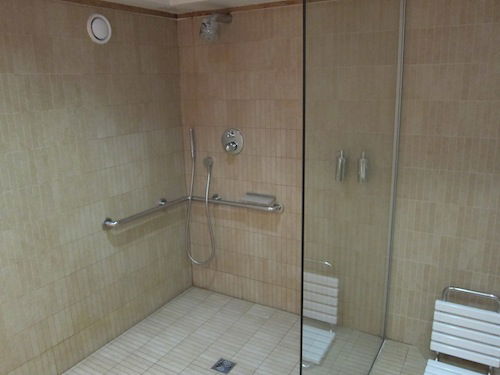 Shower
After spending another hour in the Star Alliance lounge we headed back to the terminal from which our Lufthansa flight would be departing. In the Senator lounge we were greeted by the same cheery agents that asked if everything worked out okay.
In the meantime they had put the lunch spread out, which was quite decent. The only thing I care about is that they had pretzel bread.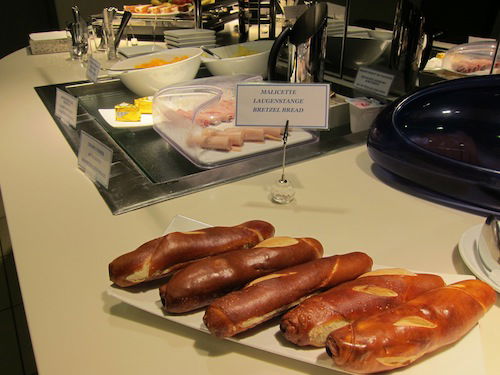 Lufthansa Senator lounge buffet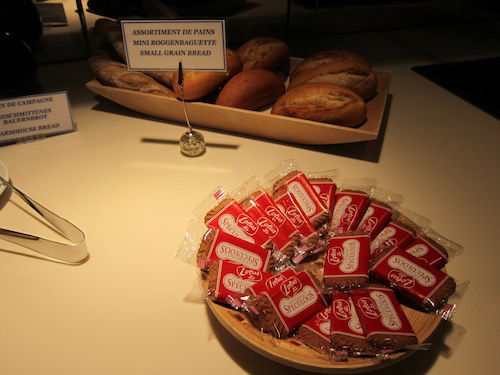 Lufthansa Senator lounge buffet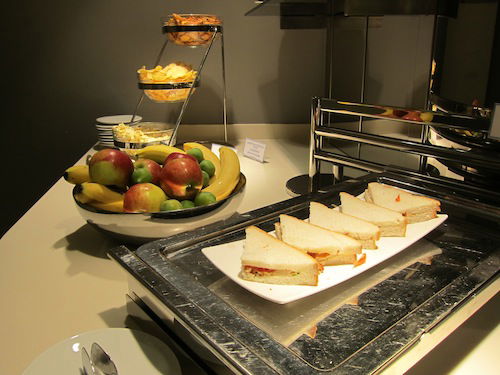 Lufthansa Senator lounge buffet
At around 12:30PM we headed to gate 62, where boarding was already well under way.

Plane to Munich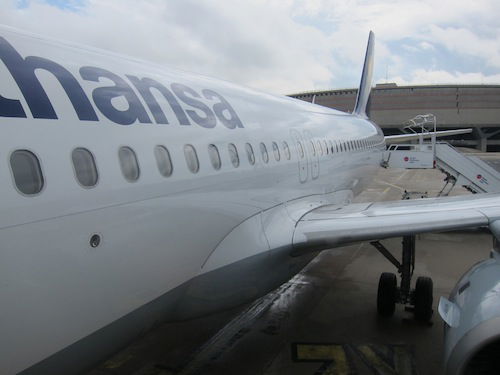 Plane close-up
Lufthansa 2231
Paris (CDG) – Munich (MUC)
Friday, August 5
Depart: 1:05PM
Arrive: 2:35PM
Duration: 1hr30min
Aircraft: Airbus 320
Seat: 2D (Business Class)
Once aboard we settled into seats 2D & 2F, which featured Lufthansa's fairly new "slimline" seats. Intra-Europe business class sucks, there are no two ways about it. While the service is nice, the seats are just economy seats with a blocked middle seat. I'll take a bigger seat with no service anyday over intra-Europe business class.
The legroom featured maybe 31″ of pitch, and the seats weren't very comfortable given that they lacked padding.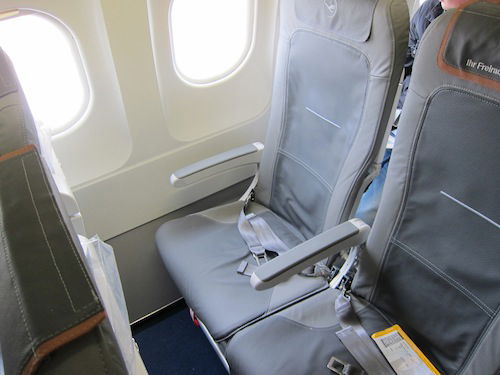 "Business Class"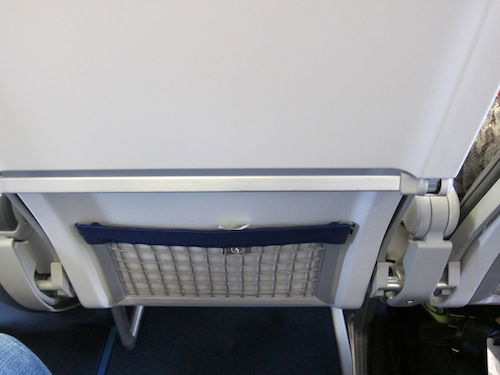 Legroom (or lack thereof)
After an efficient boarding process we began a long taxi to our departure runway, where we were airborne within about 15 minutes.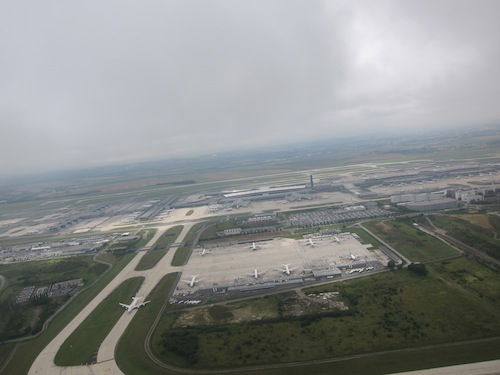 View after takeoff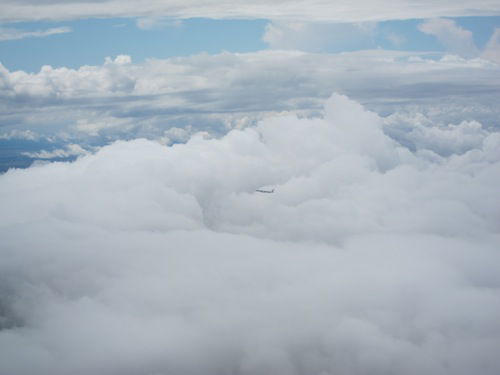 Approaching cruise altitude
The seatbelt sign was turned off after about 15 minutes at which point the flight attendants started the in-flight service. The flight time was about one hour.
As a snack we had the choice between tuna with cheese and a fruit cup or a boxed salad. I went with the tuna, while my friend went with the salad.
The tuna from my snack was rather inedible, so I just had a bit of cheese and fruit.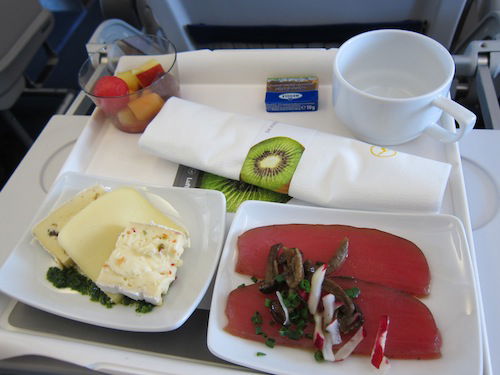 Snack
I'm a bit confused by my friend's snack, though. I'm not sure if they miscatered the flight and the flight attendants had to buy some packaged salads at the airport or what, as the snack wasn't served on a tray or with anything else.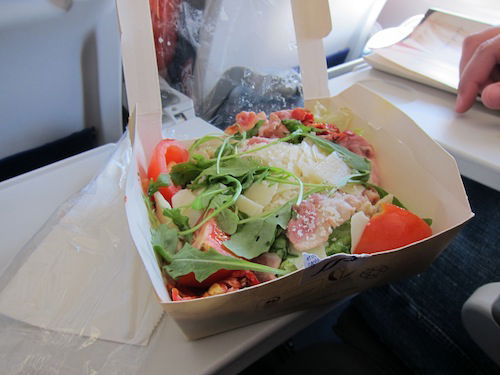 Salad or something?
So neither of us really ate the food, though that was fine since we were still full from earlier. As the trays were cleared we began our descent into Munich. Ah, beautiful Bavaria.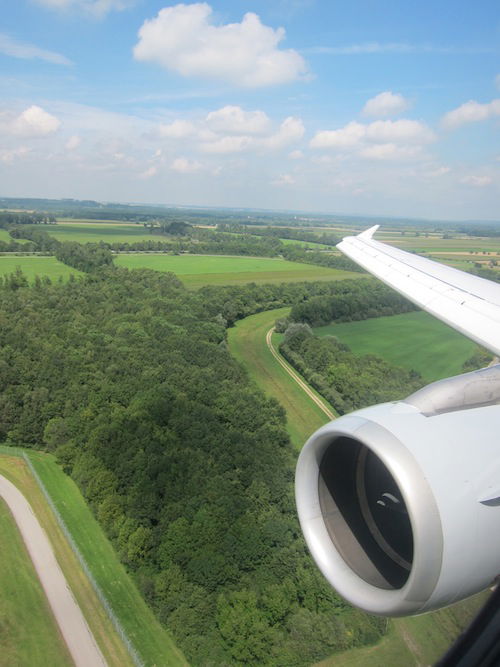 Final approach
We had a quick taxi to the gate, where we disembarked and headed for baggage claim.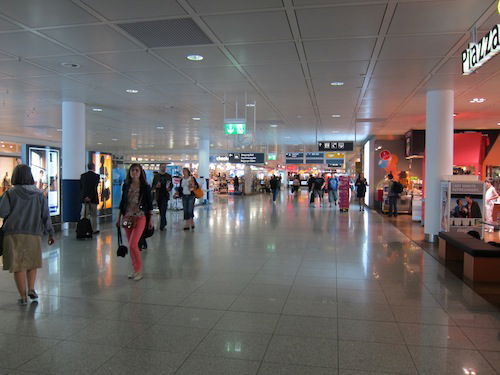 Munich Terminal
It took about 20 minutes for our bags to arrive, at which point we headed to the rental car area to pick up our rental car for our drive to Berchtesgaden.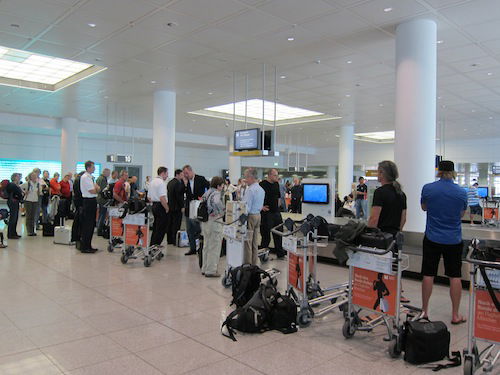 Baggage claim
And with that, my favorite part of the trip began. I think I finally found my favorite vacation destination ever.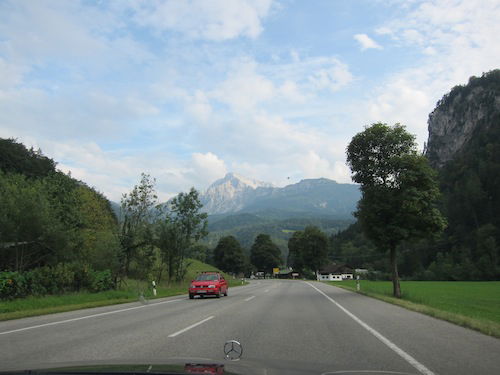 Approaching Berchtesgaden