---
My whole family is from Germany, and as a result I got to explore Europe extensively when I was younger. My mom and I would spend about six weeks in Germany every summer. We'd spend half of that time with family, and the other half of the time exploring Europe, typically a different country each year.
That was back in the days when the dollar was still worth something. As I got into mileage running I focused most of my mileage redemptions on Asia for a variety of reasons. For one, it was an entirely new world to me, so I realized there was so much I hadn't yet seen. Beyond that, it seemed like the better "bang for the buck" for my miles, not only because I got more hours of flying for the same cost as traveling to Europe, but also because the dollar goes so much further in most of Asia than in Europe.
But after this most recent trip I'm dying to explore Europe once again. I think I found my new favorite place in the world, which would be Bavaria generally, or more specifically Berchtesgaden.
Anyway, let's step back a bit. I think we all have those times where we're dying to go on a trip. One of the benefits of being self-employed is that I can really work from anywhere. In mid-July a friend (also a points junkie) called me up and said "hey, want to go to Asia?" Without missing a beat I said "of course, what did you have in mind?" We spent a few days finalizing our trip, and in the end ticketed it only three days before departure.
When it comes to booking awards you'll typically find first class award availability to be best right before departure, as unsold seats are released into award inventory. That's why we were able to lock in Singapore, Lufthansa, and Thai first class all on the same itinerary.
In terms of destinations we were originally going to do a big city in Asia, but instead decided on Phuket. I had never visited Phuket before, so that worked for me.
My only "request" on the trip was that we stop in Munich on the way back. I've been wanting to visit the InterContinental Berchtesgaden for years, and now that I'm finally old enough to rent a car I figured it would be the perfect time. We planned a stopover of about a week in Europe on the way home to visit Munich, Salzburg, and Berchtesgaden. Little did I know it would quickly become one of my favorite spots.
In the end the ticket cost us 160,000 US Airways Dividend Miles per person, plus a little over $250 per person in taxes and fees (due to the close-in ticketing and processing fees). Our routing would be as follows:
07/26 US1822, Tampa to Charlotte, 8:30AM-10:11AM, A321
07/26 US0374, Charlotte to New York, 1:05PM-3:02PM, A320
07/26 SQ0025, New York to Frankfurt, 9:25PM-11:15AM (+1 day), 747
07/27 LH0782, Frankfurt to Bangkok, 10:45PM-2:10PM, 747
07/29 TG0211, Bangkok to Phuket, 12:25PM-1:45PM, A330
08/04 TG218, Phuket to Bangkok, 6:25PM-7:50PM, 747
08/05 TG0930, Bangkok to Paris, 12:05AM-7:05AM, 777-300
08/05 LH2231, Paris to Munich, 1:05PM-2:35PM, A320
08/11 LH0111, Munich to Frankfurt, 11:40AM-12:45PM, A320
08/11 LH0432, Frankfurt to Chicago, 5:35PM-7:30PM, 747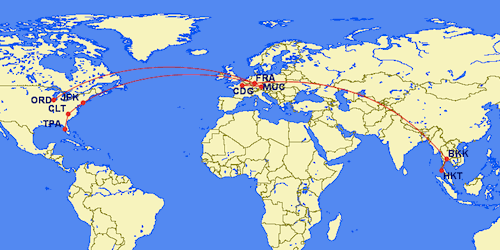 While I'm always excited to share the details of my travels, I'm especially excited to share the details of this trip because almost every aspect of the experience was perfect.
I'm traveling nonstop over the coming weeks so I'll try to roll the report out over a reasonable time period, though your patience is appreciated in advance! There's no way I can push the report back any further since I have at least one major international trip planned every month for the foreseeable future.
Sit back, relax, and enjoy the ride!