---
My dad dropped me off at Tampa Airport 60 minutes before departure, which is earlier than I'd usually arrive, but I had decided to check a bag for this trip. I proceeded to US Airways check-in where I got in the first class check-in line. Instead of helping me, the agent directed me to one of the kiosks (which I really wasn't interested in using given how complicated my itinerary was and that I was checking a bag).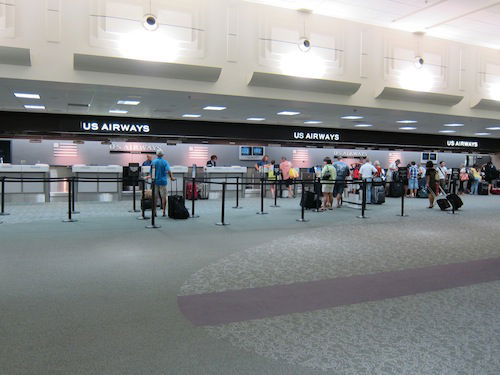 US Airways check-in
Sure enough the kiosk only wanted to check my bag as far as Frankfurt, when my real destination was Bangkok. I explained this to the agent, though instead of helping me he brought me to another kiosk and typed in the confirmation number. This is always so frustrating to me since they just end up doing exactly what you did and have the same issue.
In a way it's funny to me, because it has been a general trend over the past couple of years that check-in agents always want to force you to use the kiosk. I can't help but want to point out every time "you realize that machine is replacing the need for your job, right?" Of course instead I just stand there and smile. And they wonder why a third of the jobs in the US airline industry have been cut over the past decade…
After taking me to the check-in desk and looking at my itinerary ("Wow, you're flying Singapore Airlines first class, I hear that's real nice") I experienced a first – the agent pulled out a blank baggage tag. He literally wrote all of my segments on there without any of it being printed as it usually is, because he said the computer wasn't wanting to check my bag all the way through. At that point I said to myself "that's the last time I'll ever see of that bag," though I hoped for the best since there wasn't much of an alternative.
I went up the escalator to the main terminal where I took the train to the F concourse. Security lines there were short and I managed to avoid the full body scanner, so I was through in no time and headed to the US Airways Club with time to spare.
There I was checked in by a friendly agent named Charlotte. What a fitting name for a US Airways agent, eh? I don't remember the last time I had a United agent named Chicago or Delta agent named Detroit, though I guess she was born to work for US Airways.
I've been to the US Airways Club a million times before and it had the usual "spread" (or lack thereof), including muffins, danishes, yogurt, oatmeal, etc. After surfing the web for a few minutes it was time to head to my gate for boarding.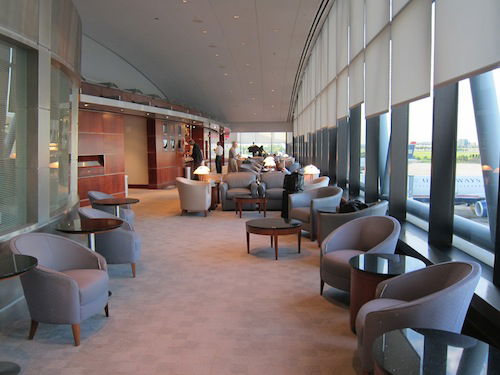 US Airways Club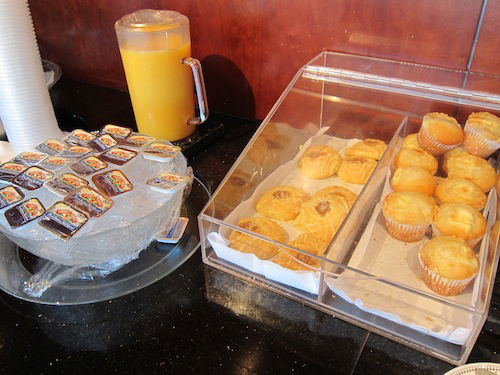 Breakfast spread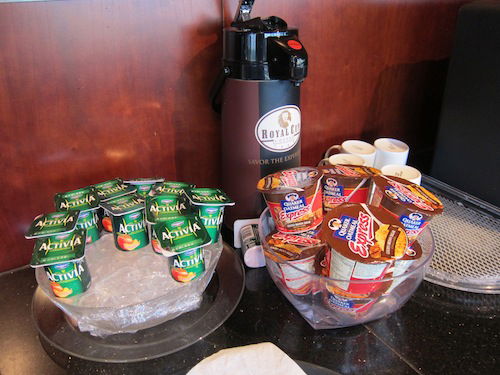 Breakfast spread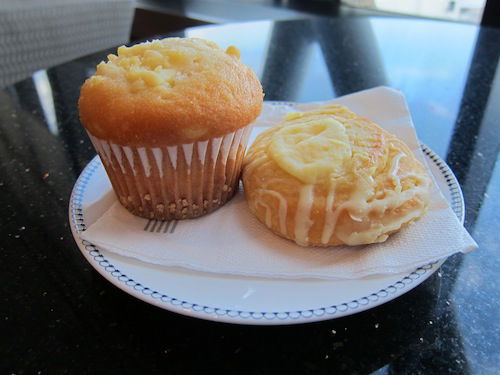 Snacks
Within a few minutes of getting there first class boarding was announced.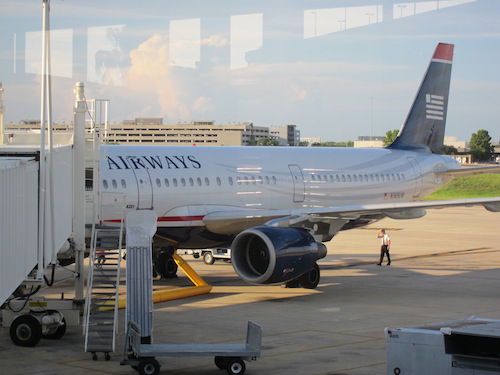 Plane
US Airways 1822
Tampa (TPA) – Charlotte (CLT)
Tuesday, July 26
Depart: 8:30AM
Arrive: 10:11AM
Duration: 1hr41min
Aircraft: Airbus 321
Seat: 2C (First Class)
Once onboard I settled into my seat in row two. It has been a while since I've flown US Airways, and the first class legroom was a lot tighter than I recalled. The pitch was almost uncomfortably tight.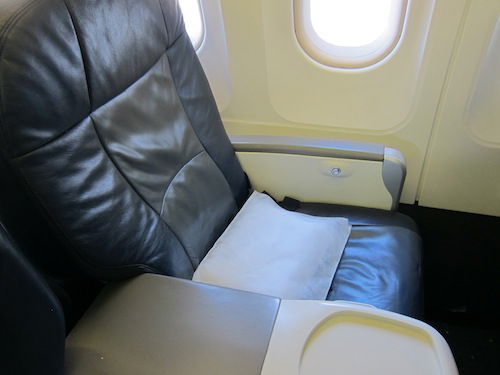 First class seat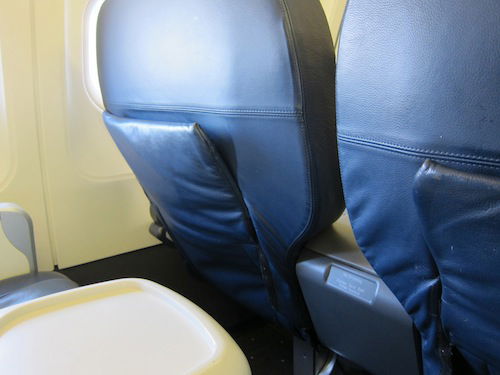 Waiting for me at my seat was a pillow and thin (basically see through) blanket.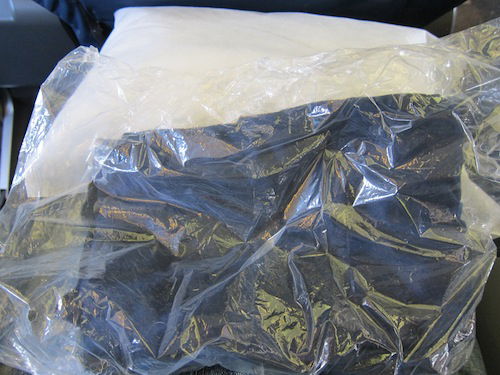 Pillow and blanket
As boarding finished up pre-departure beverages were offered, and I went with water.
At this point I overheard an interesting conversation between the purser and captain. The purser had the snack basket that was supposed to be used for first class in her hand (the actual basket was in a trash bag, so the contents weren't visible) as she spoke with the captain. All I overheard was the captain saying "just take it, I'll take the blame for it, don't worry about it."
I immediately thought "really, they'll go that low? They're really stealing snacks from the plane?" I didn't realize the times in the airline industry were that tough. 😉
Once we leveled off I found out the real story, though I spent the first 30 minutes shaking my head at the crew.
As we pushed back the captain announced our flight time of 1hr30min, anticipating an on-time arrival.
We taxied to the south end of the airport where we were quickly airborne.
Since this flight was operated by an Airbus 321 it featured Wi-Fi, which I gladly purchased for $4.95.
When I took the tray table out to start working on my laptop I noticed US Airways has tray table ads. I knew they had them in coach, but even in first class? Wow…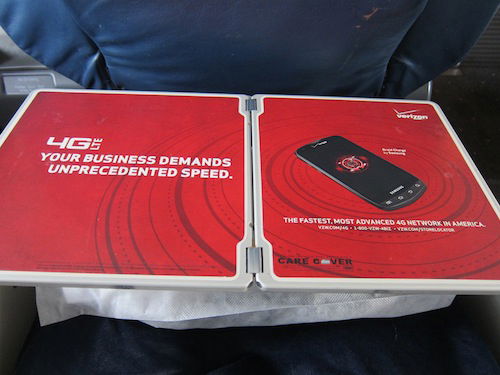 Classy tray table
Once we leveled off the flight attendant passed through the cabin with a beverage service, and I went with a glass (or in the case of US Airways, cup) of water.
Then I found out the real story behind the snack basket. As it turns out catering forgot to load the snacks for the first class snack basket, so the flight attendant filled the basket with the buy on board snacks from coach.
I couldn't help but laugh after previously thinking the crew was stealing snacks. I was actually impressed by their creativity when they could have just as easily said "sorry, they forgot to cater the snacks."
I went with some pretzel M&Ms. I was saving my hunger for the Singapore flight later in the day so didn't actually eat them, though instead stashed them in my bag. I knew I'd get to them eventually while jetlagged in a hotel room somewhere.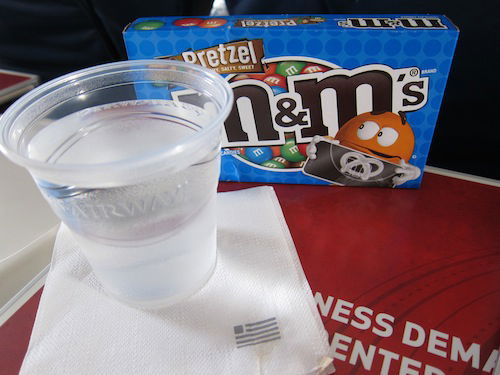 Water and M&Ms
30 minutes before arrival we began our descent and the seatbelt sign was turned on. Despite a quick descent and otherwise early arrival, we had to wait for our gate to be ready. I don't think the captain could have communicated the slight delay any less eloquently – "um, we're waiting for our gate, or the alley way, or whatever you want to call it, to free up."
Upon landing I headed to the US Airways Club, where I presented my Singapore Airlines boarding pass and ID, and was promptly admitted.
The club itself was surprisingly nice, with plenty of seating and one of the better snack selections I've seen for a US airline. And by "better" I really mean a snack selection that's easy to swipe.

US Airways Club Charlotte
They had baked chips with salsa, cookies, and snack mix. It always cracks me up how many people in airline lounges put snacks in their bags to take with them. There was a lady standing there who was almost constantly having to replace the packaged snacks. I told her "looks like they're keeping you busy," to which she responded "yeah, I love it, it keeps me employed – take all the snacks you want!"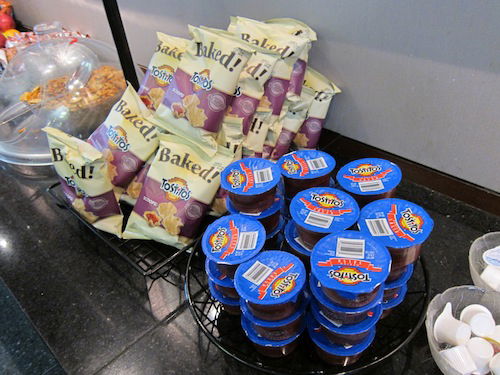 Snacks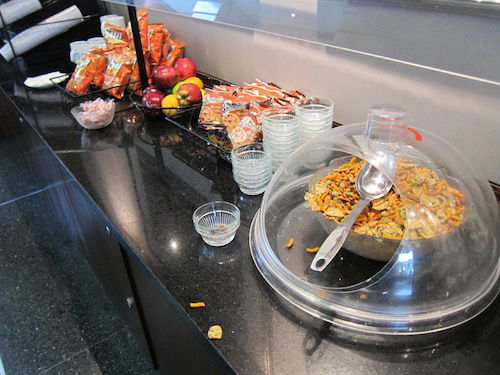 Snacks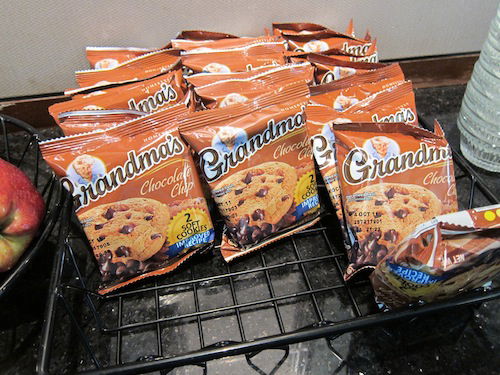 Cookies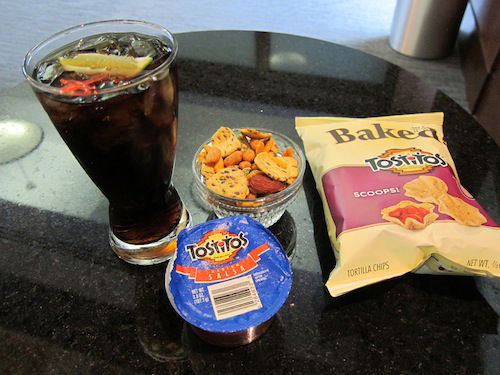 Snacks
After spending a couple of hours in the lounge I headed to my departure gate for my fight to JFK. Boarding started a few minutes late.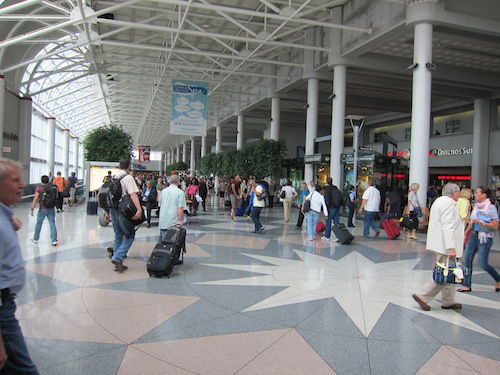 Charlotte Airport
US Airways 374
Charlotte (CLT) – New York (JFK)
Tuesday, July 26
Depart: 1:05PM
Arrive: 3:02PM
Duration: 1hr57min
Aircraft: Airbus 320
Seat: 3C (First Class)
Once onboard I was welcomed by two blonde, big-haired Southern ladies that couldn't have been friendlier.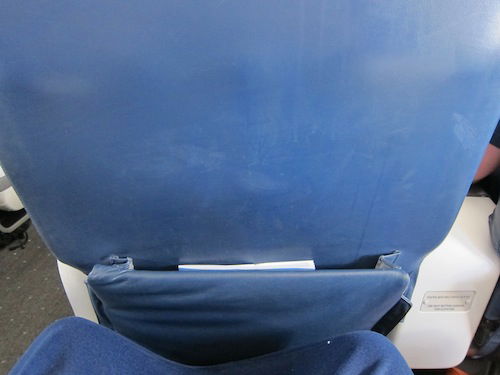 Legroom
As boarding finished up pre-departure beverages were offered. I once again went with water. Blog readers often remind me they know what water looks like, so I'll refrain from posting a picture. 😉
We started our push back right on-time though there was a bit of a queue for takeoff.
Service began about 30 minutes after we were airborne, starting with drinks. This time around I went with a Diet Coke with lime and a few items from the snack basket.

Diet Coke with lime and snacks
Seated in front of me was a 14-year-old boy that was headed to Finland. As we approached New York he asked the flight attendant "excuse me, do you know how I can get my boarding pass for my connecting flight on Air Finland?" She looked at him and said "aren't you too young to be going to Finland alone?" He explained he was visiting a friend for a few weeks, and she said "wow, I wish I had rich parents like that."
The rest of the flight was uneventful and we landed in New York right on time.
Ultimately US Airways is fine up and down the East Coast, though I don't really have any desire to fly with them on longer flights. That being said, all the employees I interacted with were incredibly friendly, my flights were on-time, and the aircraft were all fairly clean.
Now it's time for the real fun!