---
My friend was arriving on a United Premium Service flights just minutes after my flight was scheduled to arrive. Fortunately US Airways and United both use terminal 7 at JFK, so I just waited for him at his gate. Once he arrived we took the AirTrain over to terminal 4, where our Singapore Airlines flight would be departing from.
We had about six hours before our Singapore Airlines flight and Singapore check-in wouldn't be opening for another three hours, so we headed straight to the Virgin Clubhouse.
At JFK, Singapore Airlines uses the Virgin Clubhouse for their first and business class passengers. In theory it's a bit disappointing flying Singapore Airlines first class and only having access to a business class lounge, though as I discovered on my trip on Virgin Atlantic back in March, Virgin's Clubhouses are better than your average business class lounge. I was actually quite looking forward to comparing the Virgin Clubhouse in New York to the one I experienced in San Francisco a few months earlier.
In terminal 4 all of the airline lounges are located landside. For the most part this is bad news since you have to leave the lounge early to leave plenty of time for clearing security. At the same time it meant we could easily use the lounge even without boarding passes.
The good thing about the Clubhouse is that they have a list of all Singapore Airlines passengers that are eligible for lounge access, so as long as your name is on the list you don't need a boarding pass to enter.
The lounge is located on the second level across from the check-in area, right next to the Swiss lounge.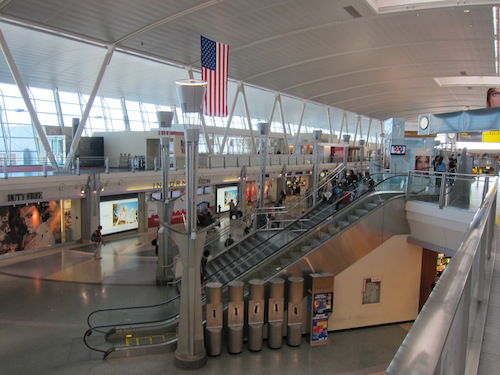 Terminal
At the entrance we were welcomed and given a tour and explanation of the lounge, which I felt was a nice touch.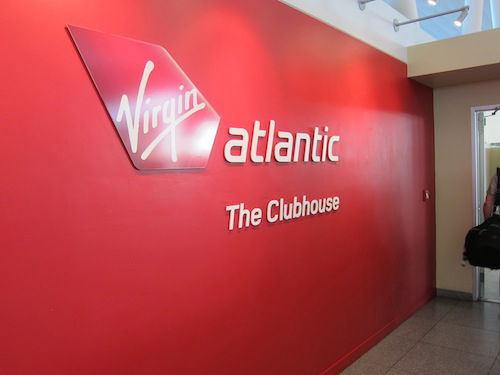 Lounge entrance
The lounge is beautiful, with plenty of areas to sit, either for lounging, working, or eating.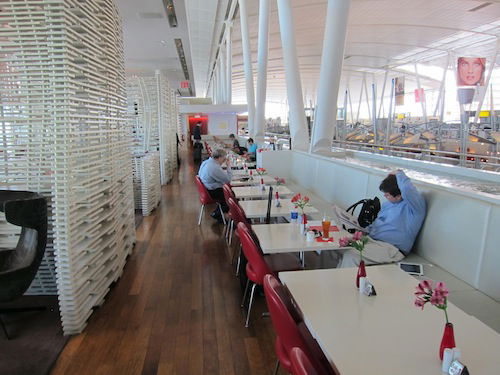 Dining area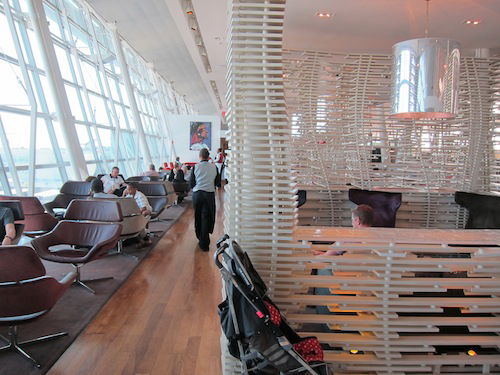 Lounging area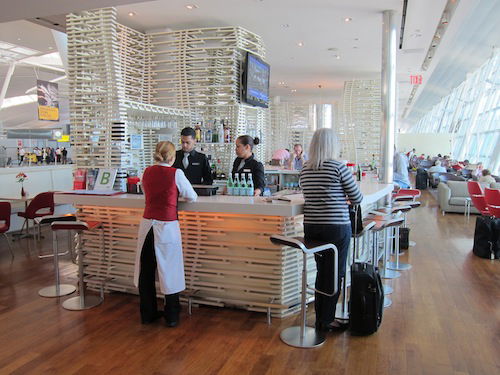 Bar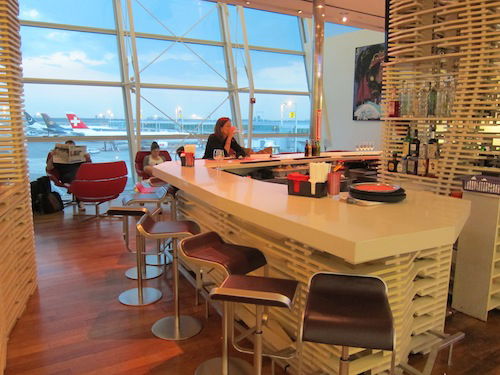 Bar
The tarmac views were spectacular, both of the gates and the runway.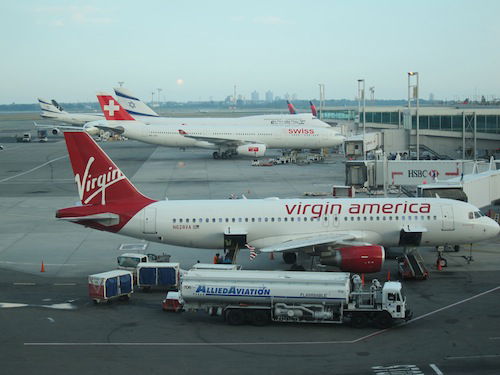 Tarmac view
My one major complaint is that the lounge itself is "open air" and not separated from the rest of the terminal, meaning you hear all the announcements and noise from the terminal.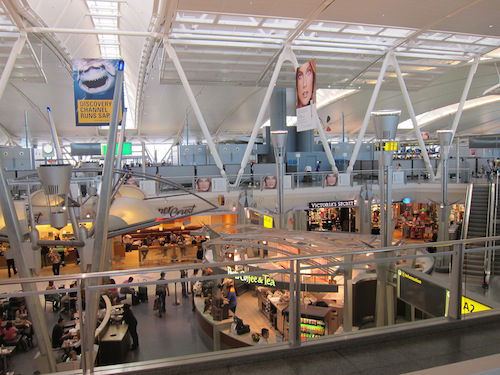 Terminal view from lounge
My friend and I both hadn't eaten a whole lot that day so decided to have a meal in the Clubhouse as soon as possible so that it wouldn't interfere with our dinner on Singapore Airlines several hours later.
We sat down at a table and within moments a cheery waitress introduced herself to us and explained the menu. I ordered a Diet Coke with lime.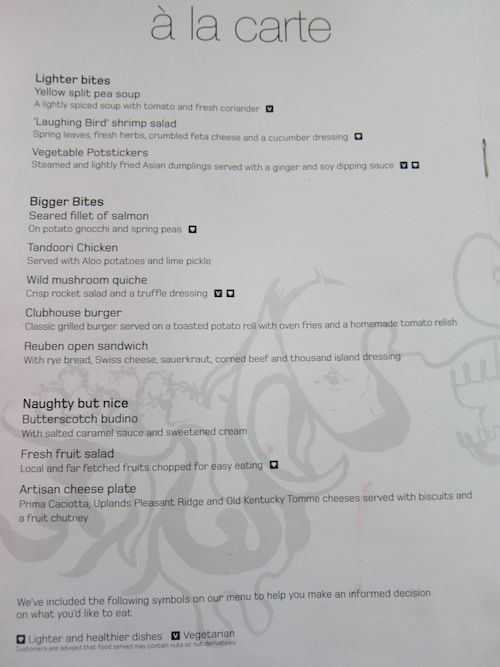 Menu
The menu looked fantastic, so I went with a shrimp salad, mushroom quiche, and best of all, butterscotch dessert.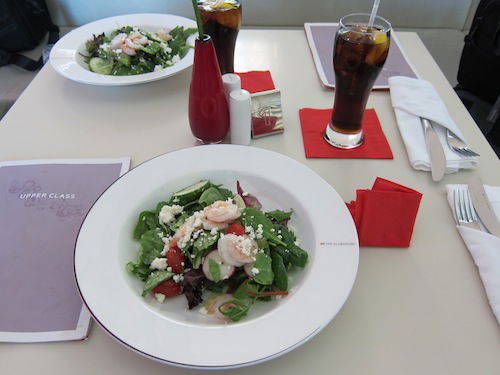 "Laughing Bird" shrimp salad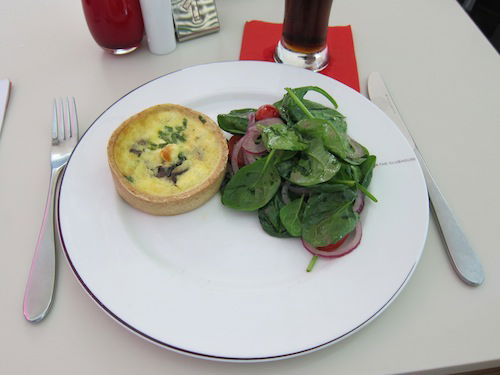 Wild mushroom quiche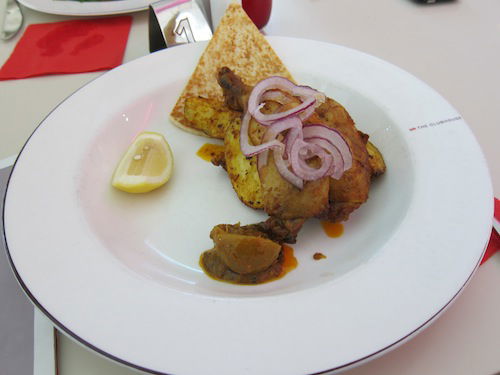 Tandoori chicken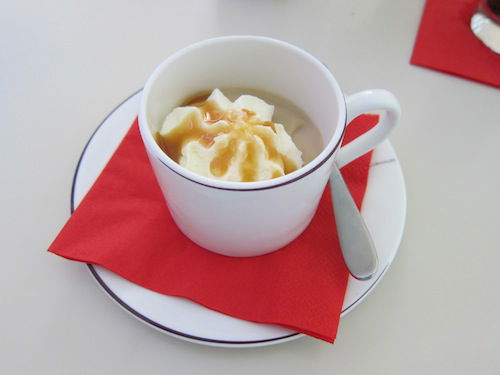 Butterscotch budino
The pace of the service was great and refills were constantly offered. I would assume it's tough to find "good help" at JFK given that they probably don't pay their servers especially well and working in the airport as a waitress isn't all that desirable, though the service was spectacular. I left the waitress a tip (I didn't feel pressured to, though she was just so professional that it felt right) and my Diet Coke wasn't once less than half full over the next several hours. 😉
After lunch I tried to log onto the internet to get some work done, only to get this error message: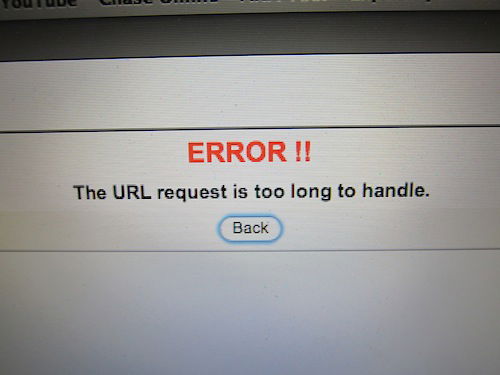 No comment…
It took a bit of help from one of the agents, though within about five minutes my internet was working just fine. Unfortunately the internet was incredibly slow, making it very tough to get any work done.
Around that time I decided to take a shower. The lounge boasts multiple spacious shower rooms featuring Bumble & Bumble products. The water pressure and temperature were also excellent.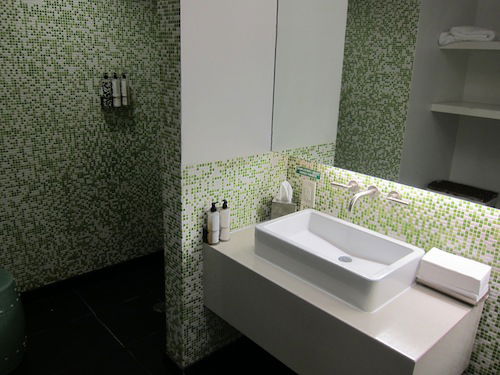 Shower room
Overall the Clubhouse was awesome, much like the one in San Francisco. The service, food, and design of the lounge were all great. Comparing this lounge to San Francisco, I'd probably give San Francisco a slight advantage since the lounge is "enclosed," meaning it's much quieter and peaceful given the lack of terminal noise.
About two hours before departure we decided to head to Singapore Airlines check-in just to get a boarding pass reprint and ensure our bags were properly checked through.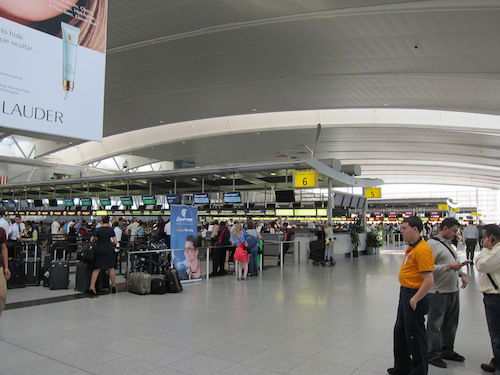 Terminal 4 check-in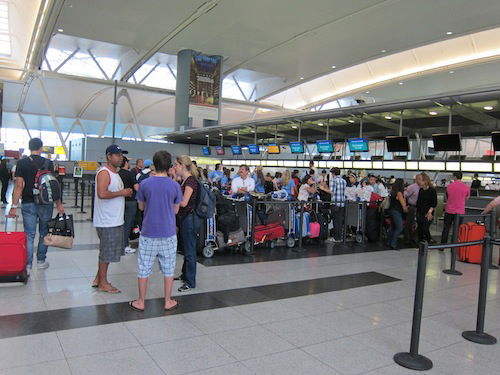 Singapore Airlines check-in
While there were long queues for economy, there was no one in the first class line.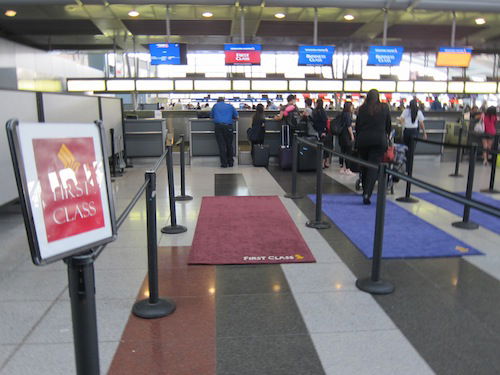 First class check-in
The agent was friendly though had a puzzling expression on her face when I presented her with my handwritten baggage tag. After asking me some questions and making a few calls she assured me the bag would be checked through properly all the way to Bangkok.
Before she let us go she made us place our carry-ons on the scale. Singapore's cabin baggage allowance is a measly 15 lbs. and suffice it to say we were both carrying substantially heavier bags. Believe it or not out of hundreds of segments in international first and business class, this was the first time I was ever asked to weigh my bag – and I've flown tons of airlines with very strict baggage policies.
Of course I wasn't about to check my carry-on given how complicated the routing was, so as I placed it on the scale intentionally made it so only half of the bag was on the scale while the other half was hanging over. The agent didn't bat an eyelash.
After that we had boarding passes in hand and decided to head to the Swiss lounge to see if they had faster Wi-Fi. Unfortunately we were only admitted to the business class lounge, though at least the Wi-Fi was faster, which is all we wanted.
The lounge was reasonably nice for a business class lounge. It wasn't as nice as the Clubhouse and certainly wasn't anywhere close to a first class lounge, though as far as business class lounges go, it was decent.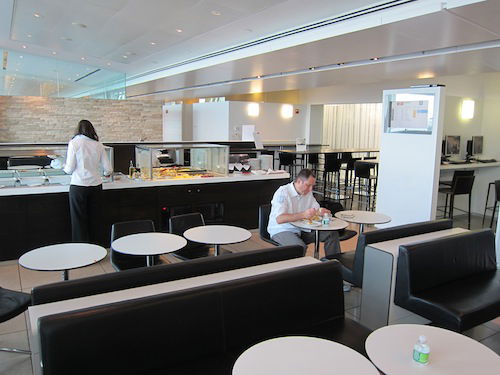 Swiss business class lounge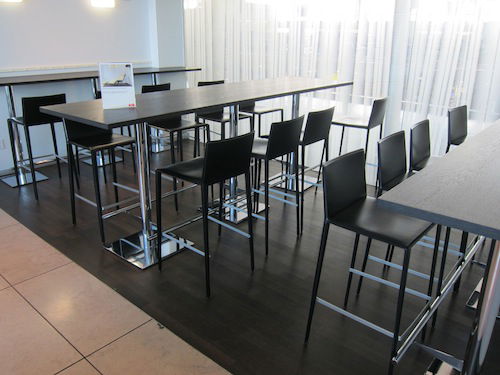 Swiss business class lounge seating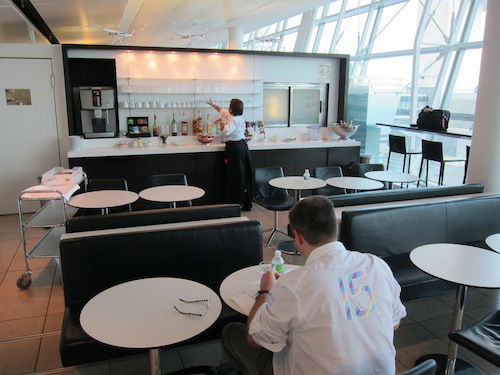 Swiss business class lounge
The lounge featured plenty of seating and a buffet with a variety of fresh items, like pasta, potatoes, fruit, desserts, etc.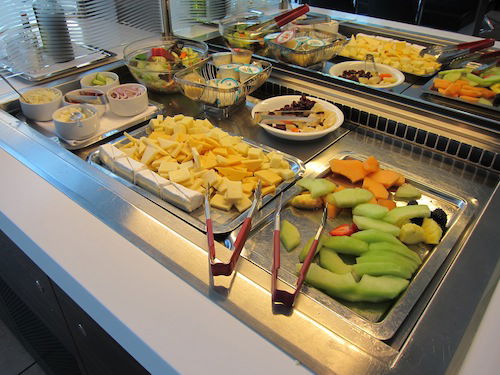 Food spread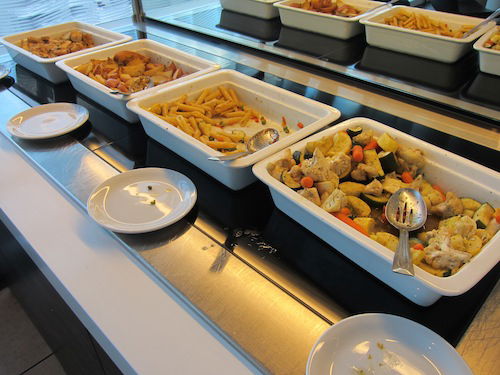 Food spread
About an hour before departure we decided to head towards security given that we were expecting long lines since many flights to Europe were leaving around the same time as our flight.